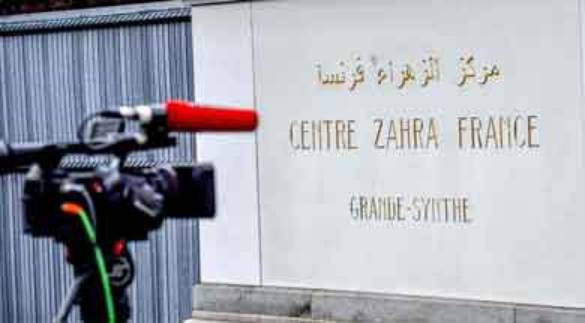 A picture taken in Grande Synthe near Dunkirk in northern France early on October 2, 2018 shows a camera at the entrance of the "Centre Zahra France" Shia organization during a police raid. (Photo by AFP)
-------
Wahhabi Saudi Arabia spreading sectarianism, Shiaphobia
No place for minorities in Pakistan
Rohingya refugees in India struggle with hatred, fear as first group is deported
Taliban kill at least 10 police in central Afghanistan clashes
Arab World
Wahhabi Saudi Arabia spreading sectarianism, Shiaphobia
Bahraini regime committed some 850 grave human rights violations in July: Rights group
Ankara-Backed Terrorists Hide Heavy Weapons in Lattakia
Druze People in Israeli-Occupied Golan Hoist Syrian Gov't Flag
Tahrir Al-Sham's Security Commander Killed during Infighting in Idlib
Eastern Syria: US Conducts Another Heliborne Operation to Rescue ISIL Terrorists
US Spying Drone Spotted Near Russia-Run Base in Western Syria
Turkey-Backed Militants Claim Withdrawal under Sochi Agreement in Northern Syria
US Army Sends More Military Convoys to Military Airport in Northeastern Syria
Syrian Army Gives Crushing Response to Terrorists' Recent Attack in Hama
Syrian fighters 'to remove heavy weapons from buffer zone within days'
--------
Pakistan
No place for minorities in Pakistan
Cleric declares himself 11th Imam of Islam
Why Pakistan minister's presence with Hafiz Saeed leaves Imran Khan with explaining to do
SDA optimistic to win by-election in Swabi
Treason case: LHC orders removal of Cyril Almeida's name from ECL, withdraws warrants
FATF team arrives to examine steps taken against terror financing
Fazl says resolving Kashmir issue vital for establishing peace
--------
India
Rohingya refugees in India struggle with hatred, fear as first group is deported
Wasim Rizvi makes inappropriate remarks against khulfa-e-rashideen; Muslim leaders call for his arrest
Kerala Muslims economically better and literate, population growth rate higher: Report
India defies unilateral US injunctions, prioritises strategic interests by maintaining commercial ties with Iran
NIA to probe Assam's Hizbul operative
Kashmiri student who went missing from Dehradun joins Hizbul Mujahideen, say police
Will be a privilege to meet you, King Khan says to Malala
--------
South Asia
Taliban kill at least 10 police in central Afghanistan clashes
Muslim Communities Lack Freedom of Movement in Myanmar's Rakhine State
US peace envoy reaches Kabul as Taliban ramp up attacks
Turkey supports Bangladesh during Rohingya crisis: FM
District police chief killed during the clashes with Taliban in Wardak
Taliban vow to attack Afghan security forces during elections
Jailed Bangladeshi ex-PM Khaleda Zia fights bad health, graft cases ahead of December polls
--------
Mideast
Growing number of Houthi abductions of students in Sanaa
Saudi 'MASAM' project removes over 7,000 Houthi-planted mines in Yemen
Two Israelis shot in West Bank attack die from wounds
Yemen: Senior Houthi leader killed in coalition strikes in Hodeidah
Military reinforcement reach Yemen's Hodeidah as offensive looms
Erdogan hoping for positive outcome on Jamal Khashoggi case
Iran MPs pass controversial bill on fighting terror financing
Yemeni retaliatory attacks left 38 Saudi soldiers dead in September: Report
Netanyahu to meet Putin after Russia gives S-300 to Syria
--------
North America
Muslim Americans Share Stories, Dispel Myths in Play at UAlbany
US urges Pakistan to ensure Taliban cut link with Afghan cadres
Quebecers protest against racist measures proposed by new provincial government
Muslim Group Meets With Councilman Over Posts About Islam
--------
Europe
Muslim London: 423 new mosques, 100 Shariah courts
Why Would Russian Agents Target Muslim Channel in UK?
The Latest: Muslim candidate in Bosnia urges EU integration
Bloody history and anti-Muslim stance colour Hungary-Turkey links
Amazon scheme supports Islamic extremists
Muslims who 'peddle hatred' against Jews being challenged by 'progressive-thinking imams', Lord Ahmad says
'London is more Islamic than many Muslim countries'
--------
Southeast Asia
Why Muslims accused of Shariah offences lack access to justice
After cashier 'shamed' for refusing alcohol sale, mufti warns of rising anti-Muslim sentiment
More grassroots programmes for Malay/Muslim community
Amirudin: Hassan Azhari's death a great loss to Islam
Muslim leaders jumped the gun to criticise me on moral policing, Mujahid says
Terror suspect taught up to three classes per week
Jokowi, Prabowo campaigns highlight sharia-based economy
--------
Africa
Report blames Boko Haram insurgency, North-east conflicts on poor governance
Libyan PM reshuffles ministers to broaden support after Tripoli clashes
Compiled by New Age Islam News Bureau
URL:
--------
Wahhabi Saudi Arabia spreading sectarianism, Shiaphobia
Oct 7, 2018
By Catherine Shakdam
Researcher at al-Bayan Centre for Planning and Studies
Earlier this October, following calls and intelligence initiated by Saudi Arabia, France ordered a police raid against the Zahra Centre in Paris - a Shia organization, which creed has long been declared war to by Wahhabism/Salafism on account it rejects any and all forms of religious fundamentalism and indoctrination as a founding principle to its faith.
Built around the concept of resistance against oppression - whichever form, shape, or label such oppression may be embodied in and/or under, Shia Islam has been systematically demonized by Saudi Arabia, and those who hold to those schools of thoughts selling bloodshed as a religious axiom.
France has rationalized its aggression based on allegations that the Zahra Center is actively promoting radical Islam and thus falls within France's counter-terrorism mandate. If such reasoning may hold on paper - if we accept in fact that France is interested in placating radicalism by denouncing the source of its ideology, France's logic melts before the demands of a rational mind.
By electing Zahra Center as a legitimate target of France's counter-terrorism efforts, the French authorities are inferring that Shia Islam is the source of terror's underlying ideology … only we know this to be untrue.
In fact no religious denomination across history has suffered more than Shia Islam by the hands of Islamic radicals. For well over 14 centuries, radicals have declared 'open season' on Shia Muslims - destroying their places of worships, vilifying their scholars, mocking their beliefs, outlawing their creed, criminalizing their worship, advocating religious cleanses against their communities.
Examples have been many and well documented. So much in fact that the Al Baqee Organization will on October 11th, challenge Saudi Arabia's rights violations against religious minorities at the United Nations Human Rights Council.
But to give Caesar his due I will happily admit that none more than the absolute monarchs of Al Saud have been more intent on disappearing Shia Islam from the face of the earth.
In September, I wrote an article for the New Eastern Outlook outlining the kingdom's new efforts in outlawing Shia Islam ahead of the Arbaeen pilgrimage in Iraq. A commemoration marking the 40th day of the martyrdom of Imam Hussain - grandson of the Prophet Mohammed, Arbaeen far exceeds in number (by over 17 million to be precise) the pilgrimage of the Hajj, an affront Al Saud has been keen on rectifying as they view themselves as owners of Islam rather than mere practitioners of its tenets.
Where most recoil in horror before the horrors preached by Wahhabism/Salafism, communities have found solace under Shia Islam - safe under the guarantee that all faiths will be offered protection and freedom of practice.
I write in my analysis: "By HRW's own admission such patterns of behaviors [sectarianism] have comforted radicals in their sectarian pursuit. "The Islamic State and al-Qaeda have used it to justify targeting Saudi Shia with violence: Since mid-2015, the Islamic State has carried out attacks against six Shia mosques and religious buildings in Eastern province and Najran, a southwestern city that also has a large Shia population, killing more than 40 people," the rights group stated."
Wahhabist Saudi Arabia sees Shia Islam as its main contender in the pursuit of power over the Muslim world. Only in this imaginative race, Saudi Arabia is chasing its own tail. Shia Islam does not play by Wahhabism's rules, it sides instead with individuals' right to choose whichever and whatever they believe.
The likes of al-Qaeda, ISIS, Boko Haram, al-Nusra and other terror denominations have spent rivers of ink calling for the murder of all "Shia infidels" so that none would contend Wahhabism/Salafism's dogmatic worldview.
How many countries in the Middle East have we seen burn under such cries? Have we forgotten the millions of innocent lives lost in Syria, Iraq, Afghanistan, Yemen, Bahrain, and Nigeria?
According to Paris authorities Zahra Centre's activities will be "followed in particular because of the strong support for the leaders of several terrorist organizations and for movements advocating ideas contrary to the values of the republic."
Now … and this is important, those are dangerous lines heavy with double-entendre.
France under the guise of defending its republic is slowly setting the tone for anti-Shiism, thus adding one more arrow to its anti-Iranian bow. I believe we have seen such scenario play out too many times but naive to its real political motives.
France is not concerned about Zahra Centre … if indeed it wanted to address terror it would most certainly cut ties with those selling murder as state policies, namely Saudi Arabia and other vengeful genocidal regimes in the region, France wants to introduce the idea that Shia Islam and Iran are one so that it could very nicely focus its ire on all Shia Muslims and feed Saudi Arabia's psychosis against the Islamic Republic.
Although Iran has made a stand for all people on the basis of such principles as freedom, human rights, sovereignty, and political self-determination, it does not speak for the entirety of the Shia community … nor does it claim to.
A flag-bearer of Shia Islam most certainly, the Custodian of Shia Islam no. Iran does not claim to such title, Iran does not ambition to imprint its name or its system of governance onto the Muslim world either - that would be Saudi Arabia.
The same Saudi Arabia countless officials have warned against by the nature of its political and religious creed.
I once more refer to US Department of Treasury's Under-Secretary Stuart Levey's comments when he warned in 2009, "We must focus on educational reform in key locations to ensure that intolerance has no place in curricula and textbooks. Unless the next generation of children is taught to reject violent extremism, we will forever be faced with the challenge of disrupting the next group of terrorist facilitators and supporters. And Saudi Arabia is one such key location."
If anything is endangering France's republican values, it is its friendship with Saudi Arabia, a nation so intent on dissolving all opposition to its rule that it has resorted to cannibalism. Following the arrest and alleged torture of over 30 members of its ruling elite in November 2017 and the kidnapping this October of Jamal Khashoggi, a prominent journalist for the Washington Post and former Saudi intelligence official, I would say that the kingdom is a dangerous friend to have indeed … Shia Islam on the other hand has already proven to be an invaluable partner in the defeat and opposition of terror.
https://www.presstv.com/Detail/2018/10/07/576352/Saudi-Arabia-France-Zahra-Centre-Shia-Islam
--------
No place for minorities in Pakistan
08 October 2018
Prafull Goradia
Soon after his appointment to the Economic Advisory Council, Pakistan Prime Minister Imran Khan Niazi was induced to remove Dr Atif Mian because he is an Ahmadiyya, which is a Muslim 'sect' considered blasphemous by mainstream Sunnis. Two other economists, although Sunni, namely Dr Imran Rasul and Dr Asim Ijaz Khwaja, disapproved of the action and resigned. Ahmadiyyas believe themselves to be a sect of Islam, but in Pakistan, orthodoxy had them expelled some 50 years ago. The concept of a minority does not sit well in Islam and Pakistan was created as a Muslim holy land or Darul Islam. Anyone who is not a Muslim is looked down upon as a non-believer or a kafir who can theoretically be made to pay jizya and is de facto a dhimmie or a 'protected' or inferior citizen. S/he may, of course, be offered conversion to Islam, or alternatively enslaved or exiled or killed according to doctrinal law. No minority, therefore, has a future in Pakistan.
If there was any doubt whatsoever on this score, it was removed by the cruel and expeditious manner in which Hindus and Sikhs were killed or chased out by early 1948. In East Pakistan, the process was slower but equally callous. This religious cleansing was consistent with what Justice MC Chagla wrote in his autobiography entitled, Roses In December: "To Pakistan everything is communal. She cannot understand how Hindus and Muslims can live peacefully and have the best of relations. Pakistan's philosophy is that in the very nature of things Muslims must hate the Hindus and the Hindus must hate the Muslims. If Hindus and Muslims constitute two separate nations, then the inevitable result must follow that the 50 million Muslims in India are aliens in their own homes."
Following the disposal of Hindus and Sikhs, the next round of minority purging was inaugurated against the Ahmadiyyas or Qadianis. During the late 19th century, a devout Muslim called Mirza Ghulam Ahmad of the Qadian township in Gurdaspur district of east Punjab reportedly saw a divine vision. A significant number of people followed his leadership. The orthodox clergy, especially of the Barelvis and the Deobandis, saw in this development a phenomenon of apostasy. How could anyone dare experience a divine vision after Prophet Muhammad had seen a series and, based on them, delivered the final message of God? Thereafter, there could only be khalifas or his representatives or imams. There cannot be another divine vision. Nevertheless, the followers of Ghulam Ahmad continued to consider themselves Muslim and pressed for the creation of the holy land or Pakistan as vociferously as any other member of the Muslim League.
Sir Muhammad Zafarullah Khan, an eminent lawyer, single-handedly drafted the League's Pakistan resolution of March 23, 1940. In 1931-32, he had been President of the Muslim League, and from 1935 to 1941 he sat on the Viceroy's Executive Council. When Partition happened, he was a judge of the Federal Court of India (the apex court in New Delhi). Sir Zafarullah was appointed the Foreign Minister of Pakistan. He also represented the country at the United Nations. This gentleman is only one example but any number of his sect identified themselves in the service of their new holy land. Yet, in 1952, virulent riots were ignited against the Ahmadiyyas and Sir Zafarullah's house was set on fire at Lahore. He soon transferred himself out and joined the International Court of Justice at The Hague. In the wake of another agitation in 1977 when Zulfikar Ali Bhutto was the Prime Minister, the Ahmadiyyas were declared non-Muslims. Soon after, President Zia-ul-Haq had the Constitution amended to formalise the Bhutto declaration. This particular amendment read, non-Muslim means a person who is not a Muslim and includes a person belonging to the Christian, Hindu, Sikh, Buddhist or Parsi community, a person of the Qadiani group or the Lahori sect, or a Bahá'í, and a person belonging to any of the scheduled castes. After the Ahmadis were officially declared non-Muslim in 1947, a new campaign began to subject the Shias to similar prescriptions.
On August 11, 1947, Quaid-e-Azam MA Jinnah gave his presidential address to the Constituent Assembly of Pakistan. He observed: "You are free to go to your temples, you are free to go to your mosques or to any other places of worship. In this state of Pakistan, you may belong to any religion or caste or creed that has nothing to do with the business of the state. Now, I think we should keep that in front of us as our ideal and you will find that in course of time, Hindus would cease to be Hindus and Muslims would cease to be Muslims, not in the religious sense, because that is the personal faith of each individual, but in the political sense as citizens of the state." The statement was an affirmation of what Jinnah had told a Reuters correspondent in 1946: The new state would be a modern democratic state with sovereignty resting in the people and the members of the new nation having equal right of citizenship regardless of their religion, caste or creed.
In this context, Farahnaz Ispahani observes: "This vision outlined by the founder remains unfulfilled. At the time of Partition in 1947, almost 23 per cent of Pakistan's population, which then included Bangladesh, comprised non-Muslim citizens. The proportion of non-Muslims has since fallen to approximately three per cent in the western wing. Furthermore, the distinctions among Muslim denominations have become far more accentuated over the years. Groups such as the Shias, who account for over 20 per cent of the population, are often targeted by violent extremists. Ahmadis, barely one per cent of the population, have been declared non-Muslims by a writ of the state. Minorities such as Christians, Hindus and Sikhs have been the victims of bomb attacks on their neighbourhoods, some of them have been converted to Islam against their will. Houses of worship have been attacked and bombed while filled with worshippers. Pakistan has descended to its current state of religious intolerance through a series of political decisions by Jinnah's successors." (Purifying the Land of the Pure: Pakistan's Religious Minorities by Farahnaz Ispahani, published by Harper Collins, India, 2015.)
The descent began in 1949 with the Constituent Assembly declaring the objective of Pakistan's Constitution to be the creation of an Islamic state. It reached a nadir with the 'Islamisation' drive under General Zia during the 1980s.
At the time of Partition, Christians thought that the division of India had taken place on the basis that Muslims could not co-exist with Hindus. Moreover, Christians thought they were (people of the book), and therefore, would not be harassed in Pakistan. Unfortunately, with the demise of Jinnah, the so-called tolerance for even Christians vanished. General Zia introduced Islamic laws which were openly against the minorities. The military rulers of Pakistan did nothing to control the violence of the fundamentalist outfits. Since then, Christians have been prosecuted and killed mainly on grounds of blasphemy. Salman Taseer, a Minister in the Sharif Government in Punjab was assassinated. His crime, according to fundamentalists, was that he asked for a fair trial of Christians charged with blasphemy.
Hindus and Sikhs were the first to be driven out of Pakistan during 1947-48. A very small proportion of them stayed behind. Their population, according to estimates, is about 14 lakh. A majority of them are based in Sind. Many among them are agricultural labourers. In the last 30 years, women from the community have often been kidnapped, forced to embrace Islam and married off to Muslims. When parents of these girls have tried to get the state through police and law courts to return their abducted children, the reply they have got is the women embraced Islam voluntarily and married Muslims of their own volition. The suffering of the Shias should not be overlooked. The number of times they have been bombed while praying in their mosques is becoming difficult to keep track of. Extremists like the Wahabis have expressed a desire to expel the Shias from Islam; what was earlier done with the Ahmadiyyas. Serious intra-Islamic 'cleansing' efforts began at the time of Zia. The obvious target of brutalisation were the Shias. Sunnis were provoked to look upon the Shia community as 'a worm in the Muslim apple of Pakistan'. The required poison was manufactured in madrasahs associated with the Deobandi and Ahle-Hadith traditions. As written by the distinguished Shia scholar Vali Nasr in his book, The Shia Revival: How Conflicts within Islam Will Shape the Future: "The Pakistan ulema began to share Saudi Arabia's perception of the Iranian and Shia threat." The extent of the establishment hatred is such as that a Sunni Muslim terrorist group called Sipah-e-Sahaba Pakistan targets and kills only Shias and is alleged to enjoy the covert patronage of the state. Whither minorities?
https://www.dailypioneer.com/2018/columnists/no-place-for-minorities-in-pakistan.html
--------
Rohingya refugees in India struggle with hatred, fear as first group is deported
Oct 07, 2018
Hours after Indian TV channels flashed that the country was deporting seven Rohingya Muslims to Myanmar, Sahidullah said he received a call from his nephew: "Uncle, please get us out of here. They will send us back too."
Sahidullah, a Rohingya living in the far north of India after fleeing what he called persecution in Buddhist-majority Myanmar in 2010, said his relative, Sadiur Rahman, 40, was lodged in one of several detention centres for illegal immigrants in the distant northeastern state of Assam.
Rahman, he said, had been incarcerated with his brother and eight other relatives since being caught in 2012 at a railway station as they fled to India via Bangladesh. Sahidullah had taken the same route two years earlier, but like many others had escaped detection.
He said Rahman made the phone call when he was taken out for a routine medical checkup on Oct. 3, the day when India moved the seven Rohingya men out of a similar detention centre and took them to the border.
They were handed to the Myanmar authorities the next day, the first ever such deportations of Rohingya here, spreading panic among an estimated 40,000 refugees who have fled to India from its neighbour.
About 16,500 of the refugees, including Sahidullah, have been issued identity cards by the United Nations High Commissioner for Refugees (UNHCR) that it says helps them "prevent harassment, arbitrary arrests, detention and deportation".
India says it does not recognise the cards and has rejected the UN's stand that deporting the Rohingya violates the principle of refoulement – sending back refugees to a place where they face danger.
"Anyone who has entered the country without a valid legal permit is considered illegal," said A. Bharat Bhushan Babu, a spokesman for the Ministry of Home Affairs. "As per the law, anyone illegal will have to be sent back. As per law they will be repatriated."
In recent days, Reuters interviewed dozens of Rohingya in two settlements, one in the northern city of Jammu and a smaller one in the capital, Delhi, and found communities who feel they are being increasingly vilified.
Many now fear Prime Minister Narendra Modi's government is about to act on its stated position – that it wants to deport all Rohingya Muslims from the country. With a general election due by next May, they worry that targeting them will be a populist tactic used by Modi and his ruling Bharatiya Janata Party (BJP).
Addressing an election rally in the central state of Madhya Pradesh on Saturday, BJP chief Amit Shah said that all illegal immigrants were "like termites eating into the nation's security".
"Elect us back next year and the BJP will not allow a single one of them to stay in this country," Shah said, without specifically mentioning any group of migrants.
Hatred growing
Sahidullah – who like many Rohingya goes by only one name - is not just worried about his detained relatives but also his family living in Jammu & Kashmir.
The Himalayan state has the biggest population of Rohingya in the country with around 7,000 people scattered in various makeshift settlements, largely in the Jammu region.
"We came to India because people told us things were better here, there's more work and one could move freely unlike back home," said Sahidullah, who works as a cleaner at a car showroom in Jammu city to support his aging amnesiac mother, wife and four children.
"All that's true and we are thankful to India for letting us live here. But hatred against us is growing," he told Reuters as he sat on a colourful linen sheet laid on the floor of his self-made wood and plastic-sheet house built on a rented plot of land. Mohammed Arfaat, a 24-year-old Rohingya youth leader in Jammu, said that locals often accuse them of having links with militants without any proof.
"They want us out of here and that has got our families worried," said Arfaat, switching between English and Hindi as nearly a dozen community elders seated around him on the rough concrete floor of a Rohingya house started leaving for Friday prayers. "Everybody here is aware of the deportation and is afraid."
Indian authorities said that the repatriation of the seven was a routine procedure and that it sends all illegal foreigners back home.
But the UNHCR voiced deep concern on Friday about the safety and security of those expelled, saying they had been denied access to legal counsel and a chance to have their asylum claims assessed.
"Current conditions in Myanmar's Rakhine state are not conducive for safe, dignified and sustainable return of stateless Rohingya refugees," said UNHCR spokesman Andrej Mahecic.
Most Rohingya used to live in Rakhine.
In August last year, attacks by Rohingya fighters on security posts in Rakhine led to a bloody military crackdown that caused around 700,000 Rohingya to flee across the border to Bangladesh.
The United Nations has accused Myanmar of acting against the Rohingya with "genocidal intent," a charge Myanmar refutes, saying its military did not use excessive force and was reacting to militant attacks.
Increasingly ugly
The atmosphere facing the Rohingya in India has been getting increasingly ugly.
Jammu's Chamber of Commerce & Industry last year threatened to launch an "identify and kill movement" against the settlers, which it said pushed the government into taking the issue of Rohingya more seriously.
The chamber's president, Rakesh Gupta, told Reuters on Friday that there was nothing new in taking the law into one's hands if "someone becomes a threat to our security, to the nation's security, and the security forces don't tackle them".
In some of the more virulent parts of India's media, the Rohingya are not only accused of being terrorists but also of trafficking in drugs and humans, and of having the money to elbow out local businesses.
The Pioneer newspaper, which supports the BJP, said in an editorial on Saturday that "the Rohingya are a problem", declaring that those that are radicalized Islamist extremists need to be dealt with ruthlessly and the rest are economic migrants that India cannot afford to help.
India, which considers itself a victim of Islamist militancy and is trying to boost economic ties with Myanmar to counter China, said late last year that it shared Myanmar's concern about "extremist violence" by Rohingya militants.
India's home ministry has told the Supreme Court that it had reports from security agencies and other authentic sources "indicating linkages of some of the unauthorised Rohingya immigrants with Pakistan-based terror organisations and similar organisations operating in other countries".
"It's definitely an election issue," said Kavinder Gupta, a BJP legislator in Jammu & Kashmir and former deputy chief minister of the state.
"It's our decision to throw them out keeping in mind the security situation of the state," he told Reuters on the sidelines of a campaign meeting for municipal elections. "We have made the home ministry aware of the need to send them back to their country."
Senior Jammu police officials said on condition of anonymity that they had identified all Rohingya in the area in preparation for their eventual deportation. They added they had not found any link of Rohingya with militants.
Around 600 km (370 miles) south of Jammu, residents of a makeshift refugee camp in Delhi's Shaheen Bagh also said they fear deportation.
"We don't want to leave India. Where will we go?" said Mohammed Harun, a 47-year-old Rohingya elder in Delhi. "There are refugees from other countries in India too. Why are we being targeted? Why do they send us to jail? It is only because we are Muslims. They don't do this to the other refugees."
https://www.hindustantimes.com/india-news/rohingya-refugees-in-india-struggle-with-hatred-fear-as-first-group-is-deported/story-thR8viQIvlEdWKHe4u6iXJ.html
--------
Taliban kill at least 10 police in central Afghanistan clashes
OCTOBER 8, 2018
At least 10 policemen were killed in clashes with Taliban fighters in the central Afghan province of Wardak, officials said on Sunday, amid fighting to wrest control of arterial highways a day after Taliban fighters blew up bridges. The Taliban set fire to a government building in Wardak's Sayeed Abad district and killed the district police chief along with nine other policemen on Saturday night, a senior police official said.
Repeated assaults by insurgents on strategically important provinces, such as Wardak and nearby Ghazni have underscored how volatile security remains in Afghanistan two weeks before nationwide parliamentary elections.
At least 25 Taliban insurgents were killed by Afghan security forces, government officials said, and reinforcements from neighbouring provinces were deployed to regain control of contested highways. Officials said Afghan forces had driven out Taliban insurgents from the highway that connects Afghanistan's capital, Kabul, to the major southern city of Kandahar. Abdul Rahman Mangal, a spokesman for the Wardak governor's office, said the Taliban raided some civilian houses after killing 10 policemen in that province, destroyed newly built checkpoints and cut power to some parts of the city. Government forces counter-attacked to stop the insurgents from approaching the city, Mangal said. Afghanistan's power supply company, Da Afghanistan Breshna Sherkat, said in a statement major power lines serving Wardak and Ghazni had been cut. The power cuts also affected parts of the nearby provinces of Logar and Paktia. It said teams would be sent to repair the lines as soon as security improves. A statement from the Taliban's main spokesman, Zabihullah Mujahid, said the insurgents had taken the centre of Sayeed Abad in Wardak and all surrounding security checkpoints, killing numerous members of the security forces and seizing weapons, ammunition and vehicles. Mohammad Arif Noori, a spokesman for Ghazni's governor, said one soldier was killed by Taliban fighters as they tried to gain control over parts of the province nearly two months after being pushed back from the city by U.S.-backed Afghan forces. The Taliban attacked Ghazni, a strategically important centre straddling the main highway linking Kabul with Afghanistan's south, in August. It was the largest tactical operation launched by the Taliban since they overran the northern city of Kunduz in 2015.
https://dailytimes.com.pk/307519/taliban-kill-at-least-10-police-in-central-afghanistan-clashes/
--------
Arab World
Bahraini regime committed some 850 grave human rights violations in July: Rights group
Oct 7, 2018
An independent human rights group has documented 844 cases of grave human rights violations in Bahrain during the month of July as the ruling Al Khalifah regime relentlessly continues with its crackdown on human rights activists and pro-democracy campaigners in the tiny Persian Gulf kingdom.
The Bahrain Forum for Human Rights (BFHR) said in a statement on Saturday that 50 cases involved arbitrary arrests, while torture was used in another 54 instances. Regime forces also carried out 94 warrantless raids on private homes.
The BFHR added that Bahraini regime forces were involved in the forcible disappearance of 18 people in seven different towns and villages during July.
Moreover, Bahraini courts handed down a total of 20 years of prison to political dissidents.
The human rights group stressed that defendants were put on trial in 70 cases, in what it described as a "flagrant violation of their freedom of expression and right to peaceful assembly."
Meanwhile, the International Center for Supporting Rights and Freedoms (ICSRF), a member of the Coalition for the International Criminal Court, has called upon Bahraini authorities to release the head of the opposition al-Wafa Islamic Movement, Abdulwahab Hussain Ali Ahmed Esmael, whose health is in a critical health situation.
The ICSRF also urged the Manama regime to ensure all those being held in Bahraini detention centers are humanly treated, and that the UN Standard Minimum Rules for the Treatment of Prisoners (SMRs) are observed.
The center further highlighted that Hussein suffers from inflammation of joints, high blood sugar, blood pressure, neck and back disc herniations as well as foot ulcers.
Thousands of anti-regime protesters have held demonstrations in Bahrain on an almost daily basis ever since a popular uprising began in the country in mid-February 2011.
They are demanding that the Al Khalifah regime relinquish power and allow a just system representing all Bahrainis to be established.
Manama has gone to great lengths to clamp down on any sign of dissent. On March 14, 2011, troops from Saudi Arabia and the United Arab Emirates were deployed to assist Bahrain in its crackdown.
Scores of people have lost their lives and hundreds of others sustained injuries or got arrested as a result of the Al Khalifah regime's crackdown.
On March 5, 2017, Bahrain's parliament approved the trial of civilians at military tribunals in a measure blasted by human rights campaigners as being tantamount to imposition of an undeclared martial law countrywide.
Bahraini King Hamad bin Isa Al Khalifah ratified the constitutional amendment on April 3 last year.
https://www.presstv.com/Detail/2018/10/07/576321/Bahraini-regime-committed-some-850-grave-human-rights-violations-in-July-Rights-group
--------
Ankara-Backed Terrorists Hide Heavy Weapons in Lattakia
Oct 07, 2018
The London-based Syrian Observatory for Human Rights (SOHR) reported that there has been no clear indication of a retreat by militant groups from the weapons-free zone after the Sochi agreement between Russia and Turkey, adding that 70% of the demilitarized region is still under the occupation of militants.
It said that Ahrar al-Sham, Faylaq al-Sham and the Coastal Regiments 1 and 2, affiliated to the National Liberation Front (NFL), have not retreated from Northern and Northeastern Lattakia, noting that they have only concealed their heavy weapons in tunnels.
NFL's spokesman had on Saturday claimed that the process to transfer heavy weapons from the demilitarized zone in Northern Syria has started.
The SOHR also reported on Saturday that the militants had not withdrawn from the demilitarized zone in Northern Syria agreed by Turkey and Russia under the Sochi Agreement, adding that they were even reinforcing their positions in the region.
It that the militant groups, including the Turkey-backed NFL, had not retreated from the weapons-free zone at the administrative borders of Idlib, Hama, Lattakia and Aleppo provinces.
The SOHR, meantime, added that the militant groups have, instead, strengthened their positions and strongholds in the demilitarized zone, specially areas in Northern Lattakia.
Syrian sources said on Thursday that Tahrir al-Sham Hay'at (the Levant Liberation Board or the Al-Nusra Front) terrorist group and the Turkish army disagree on the implementation of the Sochi agreement between Moscow and Ankara, adding that the militants seek control over key passageways in the demilitarized zone.
The Arabic-language al-Watan newspaper quoted sources close to the militants as saying that Tahrir al-Sham has demanded control over certain crossroads on M5 highway which links Aleppo to Hama and M4 highway that links Aleppo to Lattakia.
They added that the Turkish intelligence body has opposed the demand, specially about the passageways located between the Syrian army-controlled areas and those occupied by the terrorists in Idlib, Western Aleppo and Sahl al-Qab in Northwestern Hama, adding that Turkey wants to deliver their control to the National Liberation Front militants who are supported by Turkey.
Full report at:
http://en.farsnews.com/newstext.aspx?nn=13970715001095
--------
Druze People in Israeli-Occupied Golan Hoist Syrian Gov't Flag
Oct 07, 2018
A number of Druze people in the small town of Majdal Shams in the Israeli-occupied Golan took to the streets to celebrate the army's victories against terrorists and declare their support for President Bashar al-Assad.
The Druze people rallied along the ceasefire line, carrying the Syrian government flag and images of Bashar Assad.
The Syrian side of the Golan Heights had been under militants' control since 2014, but was retaken by government forces in August.
Local sources reported that the Israeli Army has kept forces on alert in the small towns of Massade and near Majdal Shams.
Earlier reports said that gathering along a fence separating them from the Syrian-controlled side of the Golan Heights, Druze commemorated the anniversary of the start of the 1973 Arab Israeli War while celebrating Syria's successes in its recent war against the terrorists.
Carrying Syrian flags, portraits of Bashar Assad, binoculars and megaphones, the Druze community in the village of Massade chanted loyalty to the Syrian government, with troops and civilians on the other side of the border shouting and waving back.
In the meantime, local resident Emil Masoud told Reuters that the rally was meant to "celebrate the final stages of the war…and to celebrate with our people in Syria the final stage of victory."
The village of Massade, part of Syria's Quneitra District, has been under Israeli occupation since the Arab-Israeli War of 1967.
Israel occupied 1,200 square kilometers of the 1,800 square-kilometer Golan Heights during the Six-Day War, and formally annexed it in 1981. The UN Security Council condemned the decision and called the move to impose Israeli "laws, jurisdiction and administration" over the territory "null and void and without international legal effect."
During the conflict in Syria, much of southern Syria, including the Syrian-controlled portion of the Golan Heights, was occupied by militants, including the ISIL. This summer, Syrian forces won back control of their Southern border areas from the terrorists.
Full report at:
http://en.farsnews.com/newstext.aspx?nn=13970715000913
--------
Tahrir Al-Sham's Security Commander Killed during Infighting in Idlib
Oct 07, 2018
The London-based Syrian Observatory for Human Rights (SOHR) reported on Sunday that Khattab al-Homawi, a senior official of Tahrir al-Sham, was killed after a bomb was detonated in al-Iqab prison in Saraqib region of Eastern Idlib.
Also, in Northern Idlib, Tahrir al-Sham terrorists attacked an ISIL stronghold in the town of Ma'arat Misrin, killing at least 6 ISIL militants.
Tahrir al-Sham also arrested two ISIL commanders in the town of Armanaz in Northwestern Idlib.
Infighting among the terrorist groups has increased in Idlib and Aleppo provinces days ahead of the implementation of the first phase of the Sochi Agreement in Northern Syria.
In a relevant development on Saturday, Tahrir al-Sham and Nouralddeen al-Zinki and National Liberation Front terrorists engaged in a fresh round of infighting in the village of Kafr Halab in Southwestern Aleppo that left several militants and 7 civilians dead.
Nouralddeen al-Zinki sent a long military convoy to the village of Kafr Nouran in Western Aleppo after Tahrir al Sham laid siege on the village of Kafr Halab.
A field sources, meantime, said that al-Wataniyah Front dispatched 40 military vehicles from Afrin and Northeastern Aleppo to Western Aleppo to counter Tahrir al-Sham.
The sources further said that the infighting has spilled over to the village of Tadil and the town of al-Abzamou in Western Aleppo and Tal Adah in Northern Idlib, inflicting several casualties on both warring sides.
In the meantime, Commander of Nouralddeen al-Zinki threatened Tahrir al-Sham that in case the siege on the village of Kafr Halab continues, al-Zinki will kick off a heavy offensive in Northern Syria to kill Tahrir al-Sham Chief Commander Abu Mohammad al-Joulani.
Full report at:
http://en.farsnews.com/newstext.aspx?nn=13970715000989
--------
Eastern Syria: US Conducts Another Heliborne Operation to Rescue ISIL Terrorists
Oct 07, 2018
SANA reported that the US helicopters, in a new heliborne operation, flew away a number of injured ISIL terrorists from Southeastern Deir Ezzur.
It further said that the heliborne operation was done in an ISIL-held region near the small town of al-Sha'afah, adding that the evacuated terrorists were all foreigners coming from different countries.
In July, the sources said that an American military helicopter, accompanied by several military vehicles of the Washington-backed Kurdish militias, conducted a heliborne operation between the villages of Tal Mashhan and Tal Dowayem in al-Ya'arabiyeh region in Eastern Hasaka near the border with Iraq.
The sources further said that three ISIL members, including an Iraqi terrorist, were rescued in the US heliborne operation and were transferred to an unknown destination.
Full report at:
http://en.farsnews.com/newstext.aspx?nn=13970715000885
--------
US Spying Drone Spotted Near Russia-Run Base in Western Syria
Oct 07, 2018
The Arabic-language website of Russia's state news agency, Sputnik, reported that Western sites that are monitoring flights across the glob have detected an American RC-135 V reconnaissance aircraft flying almost 14 hours along Syria's coast 60 km away from the Russia-run Humeimim base.
It further said that the US drone, carrying ID number 14848-64, took off from Sodabi Base in Crete Island in Eastern Mediterranean.
The RC-135 V aircraft is one of the most important electronic devices of the US air force used for countering planes and air defense system, including anti-aircraft missile systems.
The report underlined that the US spying drones' presence near the Russia-run base testifies Pentagon's concerns about delivery of Russia's S300 system to Damascus.
A media outlet reported on Tuesday that several huge Russian cargo planes arrived in the Russia-run Humeimim airbase in Western Syria after Moscow announced in late September that it would equip Syria with S300 air defense system.
The Arabic-language website of Russia's state-run news agency, RT, quoted western websites that monitor military movements across the globe as reporting that several Antonov 124 cargo planes have been landing in Humeimim airbase since Thursday.
It further said that the flights to Humeimim in Western Lattakia came immediately after Russia's decision to deliver S300 Missile System to Syria's air defense units.
The Arabic RT went on to say that an Antonov-124 cargo plane with RA-82035 serial number landed in Humeimim military airport last night that was the sixth of this kind since Thursday.
In the meantime, a large cargo vessel named Sparta-3 arrived in Russia-run Tartus naval base in Western Syria, adding that another large cargo vessel named Nicolay Vlichenkov of the Russian navy in the Black Sea has approached to the region.
A Russian language paper reported last month that the Russian Defense Ministry started dispatching advances electronic military instruments to Syria to reinvigorate its defense-combat capabilities after its Il-20 planes was downed in Syria's airspace in late September.
Izvestia reported that the first set of Russia's advanced electronic military instruments were sent to a Russia-run base in Syria on a Il-76 plane.
It further said that the dispatched electronic military instruments were capable of sabotaging radars, communication devices and navigating boards of intruding aircraft on Syria.
The paper went on to say that the Russian electronic instruments can also sabotage satellite navigating systems, including those that are deployed to regions around the Mediterranean Sea.
In the meantime, another Russian paper, Kommerisant, quoted a well-informed source as reporting that Moscow will send four S300 Air Defense Missile Systems to Syria in the next two weeks, adding that the number of systems can also rise to 6 or 8 if needed.
During a briefing, Russian Defense Minister Sergei Shoigu said Moscow will deliver the S-300 air defense systems to Syria within two weeks as an adequate response to Israel's role in the downing of the Russian Il-20 plane last week.
"The Syrian Armed Forces will be supplied with the advanced S-300 air defense missile system within two weeks. It is capable of intercepting air threats at a range of more than 250 kilometers and simultaneously hitting several aerial targets," Shoigu stated, adding that the S-300 would significantly boost Syria's combat capabilities, Sputnik reported.
Furthermore, Shoigu emphasized that command posts of the Syrian air defense forces would be equipped with automatic equipment that would ensure the identification of Russian aircraft by Syrian air defenses.
"Command posts of the Syrian troops and military air defense units will be equipped with automatic control system, which have been supplied only to the Russian Armed Forces. This will ensure the centralized management of all Syrian air defense forces and facilities, monitoring of the situation in the airspace and prompt target designation. Most importantly, it will ensure identification of all Russian aircraft by the Syrian air defense forces," Shoigu stressed.
The defense minister stated that Russia would jam satellite navigation, on-board radars and communication systems of combat aviation over the waters of the Mediterranean Sea.
"Russia will jam satellite navigation, on-board radars and communication systems of combat aircraft, which attack targets in the Syrian territory, in the regions over the waters of the Mediterranean Sea bordering with Syria," Shoigu said.
He proceeded to say that Moscow had stopped delivery of S-300s to Damascus back in 2013 at Israel's request, but the situation around the supplies has changed "through no fault of Russia".
According to the defense minister, an Israeli F-16 jet used the Russian Il-20 aircraft as a shield, which resulted in the downing of the plane by Syrian air defense systems.
"This forced us to take an adequate response aimed at improving the security of Russian troops performing tasks to combat international terrorism in Syria," he added.
Shoigu further stressed that if measures taken by Russia following the Il-20 crash over the Mediterranean fail to cool "hotheads", "we will have to respond in line with the situation".
"We are convinced that the implementation of these measures will cool hotheads and prevent ill-considered actions threatening our servicemen. Otherwise we will have to respond in line with the current situation," Shoigu stated.
Meanwhile, the Israeli Embassy in Russia has refused to comment on the statements made by Shoigu so far.
At the time, the Russian defense ministry accused the Israeli Air Force of providing misleading information about the area of the planned airstrikes on Syrian targets, thereby violating its agreement with Russia. Shortly after that, Israeli Defense Minister Avigdor Lieberman stated that Tel Aviv would continue its military operation in Syria despite the Il-20 incident.
"We won't let Syria be turned into a main Iranian military facility against the Israeli state. We continue to act… and we have all the necessary means and opportunities to this end," he said.
On September 17, the Russian Il-20 aircraft with 15 servicemen on board vanished from radar screens near Humeimim Airbase in Syria. According to the Russian ministry of defense, the disappearance coincided with an attack by four Israeli F-16 military jets on Syrian targets in the province of Lattakia.
Full report at:
http://en.farsnews.com/newstext.aspx?nn=13970715001020
--------
Turkey-Backed Militants Claim Withdrawal under Sochi Agreement in Northern Syria
Oct 07, 2018
Naji Mustafa, the NLF spokesman, was quoted by the Arabic-language website of Sputnik as saying that the group has started pulling back heavy weapons from demilitarized zone in Idlib in coordination with Turkish side.
It further said that the NLF's contact line, fighters in the first line and their positions will remain in the demilitarized zone.
There has not thus far been any reaction from Tahrir al-Sham Hay'at (the Levant Liberation Board or the Al-Nusra Front) to the NLF's retreat.
On Saturday, infighting between Tahrir al-Sham Hay'at and NLF terrorists increased in Idlib and Aleppo provinces, less than ten days ahead of the implementation of the first phase of the Sochi Agreement in Northern Syria.
Tahrir al-Sham and Nouralddeen al-Zinki and NLF engaged in a fresh round of infighting in the village of Kafr Halab in Southwestern Aleppo that left several terrorists and 7 civilians dead.
Nouralddeen al-Zinki sent a long military convoy to the village of Kafr Nouran in Western Aleppo after Tahrir al Sham laid siege on the village of Kafr Halab.
A field sources, meantime, said that al-Wataniyah Front dispatched 40 military vehicles from Afrin and Northeastern Aleppo to Western Aleppo to counter Tahrir al-Sham.
The sources further said that the infighting spilled over to the village of Tadil and the town of al-Abzamou in Western Aleppo and Tal Adah in Northern Idlib, inflicting several casualties on both warring sides.
In the meantime, Commander of Nouralddeen al-Zinki threatened Tahrir al-Sham that in case the siege on the village of Kafr Halab continues, al-Zinki will kick off a heavy offensive in Northern Syria to kill Tahrir al-Sham Chief Commander Abu Mohammad al-Joulani.
Full report at:
http://en.farsnews.com/newstext.aspx?nn=13970715000784
--------
US Army Sends More Military Convoys to Military Airport in Northeastern Syria
Oct 07, 2018
The US army forwarded a military convoy from its base in the town of Tal Issa to Tabaqa military airport in Western Raqqa.
The convoy included ten military vehicles, a field source said, adding that the fresh troops are to resume patrolling around military positions in Western Raqqa, including positions of the SDF training camp for especial forces West of Tabaqa.
In the meantime, local sources reported that a number of SDF militias were injured after unknown raiders targeted their positon near the village of al-Sahbiyah Qarbi in Raqqa province.
The sources further said that a number of civilians were arrested in the small town of al-Mansourah amid a new round of SDF's forced recruitment in Western Raqqa.
The London-based pro-opposition Syrian Observatory for Human Rights (SOHR) reported in September that the US-led coalition forwarded a sum of 150 vehicles carrying military-logistic equipment to the SDF-held regions on the Eastern bank of the Euphrates River via Simalka passageway at Iraq-Syria border.
Full report at:
http://en.farsnews.com/newstext.aspx?nn=13970715000609
--------
Syrian Army Gives Crushing Response to Terrorists' Recent Attack in Hama
Oct 07, 2018
The Arabic-language al-Watan daily reported that Tahrir al-Sham conducted mortar attack on army's positions in the small town of Zalin in Northern Hama on Saturday.
It further said that army's artillery and missile units, in response, pounded Tahrir al-Sham's strongholds in the villages and towns of Wadi al-Dorat, al-Zakat, Albueizah, al-Latamina and a region between al-Latamina and Lahaya in Northern Hama and in the village of Jisr Beit al-Raas in al-Ghaab Plain, inflicting heavy casualties on the terrorists and major damage on their equipment.
On Thursday, the army's artillery units targeted a group of Kata'eb al-Izzah terrorists who intended to gain control of the military regions near the town of Morek in Northern Hama, killing and wounding several militants and destroying their military equipment.
The remaining terrorists fled to their positions inside Morek, field sources said.
Full report at:
http://en.farsnews.com/newstext.aspx?nn=13970715000534
--------
Syrian fighters 'to remove heavy weapons from buffer zone within days'
October 07, 2018
AL-EIS: Turkish-backed fighters said Sunday they expected to finish withdrawing heavy weapons from a planned buffer zone in northwestern Syria within days under a deal to stave off a regime attack.
The National Liberation Front (NLF) announced Saturday that it has begun withdrawing heavy arms from the zone as part of an agreement between Syrian regime ally Russia and rebel backer Turkey.
The accord, reached on September 17, aims to stave off a massive regime assault on Idlib province, the last major rebel bastion in Syria, by creating a 15 to 20-kilometre (9-12 mile) buffer zone ringing the area.
Under the deal, all rebels in the demilitarised zone, which surrounds Idlib and also parts of the adjacent provinces of Aleppo and Hama, must withdraw heavy arms by Wednesday, and radical groups must leave by October 15.
"We began to withdraw our heavy weapons from the demilitarised zone to rear positions," NLF spokesman Naji Mustafa told AFP.
"The operation will last several days," he said, adding that the weapons will be held by fighters deployed in positions outside the demilitarised zone.
The NLF is the main Turkey-backed rebel alliance in the Idlib region, but jihadist heavyweight Hayat Tahrir al-Sham (HTS) holds a large part of the province and the zone.
HTS, led by former Al-Qaeda fighters, has yet to announce its stance on the buffer zone deal.
On Sunday, an AFP correspondent saw NLF fighters on the frontline inside the planned buffer zone on the Idlib region's eastern flank.
They waited in trenches armed with light weapons on a hill in the area of Al-Eis in Aleppo province, overlooking regime-held territaory several kilometres (miles) away.
The correspondent did not see any heavy weapons in Al-Eis.
"According to the set deadline, the withdrawal of heavy weapons will end on October 10. The operation is ongoing," an NLF commander on site told AFP.
"We are reinforcing our positions and are ready to face any violation" from the regime side, he added.
In recent weeks, Turkey has deployed troops at "observation posts" it set up in rebel-held areas of Idlib and neighbouring Aleppo.
Nawar Oliver, an analyst from the Turkey-based Omran Centre for Strategic Studies, said pro-Ankara fighters giving up their heavy weapons on the front line leaves them vulnerable to a regime attack.
But "the Turkish military should have some kind of heavy artillery" with them, he said.
On Saturday, a media spokesman for Faylaq al-Sham, one of the NLF factions, confirmed the withdrawal of arms.
Seif Raad said it included pulling back missile launchers, tanks and mortars.
The Syrian Observatory for Human Rights war monitor said the withdrawal of weapons had already started a week ago and would continue for several more days.
"But the rebels only hold a third of the buffer zone," the head of the Britain-based monitor, Rami Abdel Rahman, said.
HTS and other jihadists, who control around 70 percent of the planned demilitarised area, pose the main challenge to its implementation, he said.
Full report at:
http://www.arabnews.com/node/1383846/middle-east
--------
Pakistan
Cleric declares himself 11th Imam of Islam
Oct 8, 2018
A maulvi, Abdullah bin Moneeb, has declared himself 11th Imam of Islam. Quoting Hazrat Muhammad (PBUH), Imam Abdullah said, 'I, Imam Abdullah bin Moneeb, with the grace of God and kindness of the last Prophet (PBUH), announce that I'm the 11th Khalifa Rashid of Islam and anyone who opposes me and my followers will be damned'.
In a video released on YouTube, he was addressing a press conference on Friday from an unknown place. He claimed that Hazrat Muhammad (PBUH) had predicted about him. He also quoted a Hadith in this regard. He said that he was also the guardian of the appearance of Imam Mahdi. He also invited the youth of Pakistan to join him for uprising of Islam. He asked the people to 'bayt' (oath of allegiance) him otherwise they would be effused of Islam (Islam se kharij).
He said the sacrifices of innocent people of Kashmir, Palestine and other countries would not go waste. He warned the people not to humiliate or ridicule him, his family and the people related to him. He asked COAS Qamar Bajwa and PM Imran Khan to follow him otherwise God's wrath was inevitable.
According to the latest reports, the police were raiding the different places to find the self-proclaimed khalifa.
https://www.pakistantoday.com.pk/2018/10/07/maulvi-declares-himself-11th-imam-of-islam/
--------
Why Pakistan minister's presence with Hafiz Saeed leaves Imran Khan with explaining to do
by Nirupama Subramanian
October 8, 2018
On September 30, Noor-ul-Haq Qadri, Pakistan Minister for Religious Affairs and Inter-faith Harmony, shared the stage with Laskhar-e-Taiba and Jamat-ud-dawa founder Hafiz Saeed. It has triggered a controversy that throws the spotlight yet again on Prime Minister Imran Khan's dalliance with extremist elements.
The minister
Qadri is from Khyber agency, a Federally Administered Tribal Area. He is a Sunni Barelvi pir, and was elected as an independent candidate to the National Assembly in 2002, 2008 and 2018; he lost in 2013. He served in the Pervez Musharraf cabinet as Religious Affairs Minister, and in the Pakistan People's Party (PPP) cabinet of Prime Minister Yusuf Raza Gilani as Minister for Zakat and Ushr. He offered support to Imran Khan's government and was taken into the Cabinet.
Pakistan Foreign Minister Shah Mahmood Qureshi, who was publicly questioned in Washington last week about Qadri's presence alongside Saeed, a UN-designated terrorist, said: "I think he (Qadri) should've been more sensitive, but it wasn't that he subscribes to his (Saeed's) point of view," he said.
The event at which Qadri rubbed shoulders with Saeed was a meeting of the Difa-e-Pakistan Council (Defence of Pakistan Council). It was founded by the LeT/JuD chief in October 2011. In 2012, the US announced a reward of $10 mn for information leading to Saeed's arrest. In his speech at the meeting, Qadri made it clear that it was on Prime Minister Imran Khan's orders that he was there.
The DPC includes some 40 religious groups brought together by Saeed. Its main objectives at the time were to stop Pakistan from improving ties with India (a new visa regime between the two countries was in the works and the PPP government was mulling grant of the long overdue MFN status to India), and with the United States. Others in the DFC include the Jamiat-e-Ulema Islami led by Sami-ul-Haq (he is the president of the DFC), who runs the Darul Uloom Haqqania seminary in Akora Khattak. The madrasa is well known as a Taliban factory. It counts among its graduates Mullah Omar, founder of the Taliban, and Jalaluddin Haqqani of the Haqqani network. There is also the sectarian Ahle Sunnat Wal Jamat, earlier known as Sipah-e-Sahaba Pakistan, from which was born the Laskhar-e-Jhangvi, a banned terrorist organisation that targets Shia and Ahmadi.
Imran and extremists
Imran Khan sent a special message to the DFC at its very first rally in December 2011, and in February 2012, sent party vice-president Ejaz Chaudhary to its Karachi rally, where he said the Pakistan Tehreek-e-Insaf (PTI) leader was fully supportive of the objectives of the DFC.
In January 2018, after the PTI entered into an electoral alliance with Sami-ul-Haq's JuI, the then PTI Chief Minister of Khyber Pakhtunkhwa, Pervez Khattak , attended a DFC rally in Peshawar called the Tahaffuz Baitul Muqqadas Conference. Saeed addressed it by telephone, while another JuD leader, Abdul Rehman Makki, was present on the stage. Makki is Saeed's brother-in-law. The US has offered a reward of $2 mn for information leading to his arrest.
But the international censure never forced Pakistan to act against either Saeed or Makki. This year, the LeT/JuD entered the electoral stakes as part of a "mainstreaming" project, which could not have been undertaken without the blessings of the security establishment. The group was allowed to contest as the Allah u-Akbar party. It did not win any seats.
At the September 30 meeting, among the others who shared the stage with Qadri and Saeed were Sami-ul-Haq and former ISI chief Asad Durrani, according to a comprehensive report on the website of Middle East Media Research Institute, quoting several Pakistani Urdu newspapers.
Quoting the Jang, MEMRI reported Sami- ul-Haq saying in his speech that "the government should make such a policy that India cannot threaten us. The Kashmir issue cannot be resolved without jihad." Various religious and Kashmiri leaders, who spoke on the occasion, said: "Pakistan has not made a nuclear bomb to keep as a decoration in an almirah." Quoting the Roznama Umat, the MEMRI report says the declaration adopted at the meeting demanded that "the Indian terrorism in Kashmir be investigated by an international war crimes tribunal," and that "India be declared a terrorist country."
At various times, Imran Khan has sought to explain these dalliances, including with groups and individuals who are designated terrorists, as an effort at engagement with "all stakeholders" of Pakistan. Most recently, he did this during US Secretary of State Mike Pompeo's brief visit to Pakistan. The Indian Express learns that Prime Minister Khan put up an earnest defence of "mainstreaming" groups such as the LeT/JuD. Army chief Qamar Javed Bajwa and then ISI chief Naveed Mukhtar were also present at the meeting where the Pakistani Prime Minister is said to have told Pompeo that the LeT was too powerful to be taken on by the military, and that mainstreaming — its participation in the elections under the banner of Allah u-Akbar party was the first step — was the best way forward.
While Pompeo's visit is said to have given the US and Pakistan an opening to reset ties, the Secretary of State also left a sting in the tail before he flew to India: "In all of his meetings, Secretary Pompeo emphasized the important role Pakistan could play in bringing about a negotiated peace in Afghanistan, and conveyed the need for Pakistan to take sustained and decisive measures against terrorists and militants threatening regional peace and stability," according to a readout by the State Department.
Now what
Going forward, Pakistan will need to explain Qadri's presence at the DFC meeting to the intergovernmental Financial Action Task Force, which has "grey-listed" Pakistan for its failure to take adequate steps on terrorism financing and other measures to deal with UN-designated individuals and groups on its territory.
Full report at:
https://indianexpress.com/article/explained/why-pakistan-ministers-presence-with-hafiz-saeed-leaves-imran-khan-with-explaining-to-do-5390980/
--------
SDA optimistic to win by-election in Swabi
October 08, 2018
SWABI: The leaders of Swabi Democratic Alliance (SDA) showed optimism on Sunday to win the upcoming by-election in PK-44, Swabi-II, against Pakistan Tehreek-i-Insaf.
Pakistan Muslim League-Nawaz, Pakistan Peoples Party, Jamiat Ulema-i-Islam-Fazl, Awami National Party, Qaumi Watan Party and Jamaat-i-Islami all have joined hands on the SDA platform against the ruling party and vowed to support ANP candidate Ghulam Hassan in the Oct 14 by-elections.
"It would be a great embarrassment for all the alliance partners if we face defeat despite the electoral alliance of so many parties," said Mohammad Jamil advocate, a QWP leader.
In July 25 elections, Asad Qaiser, the incumbent National Assembly Speaker, had got 31,658 votes from this constituency, ANP candidate Gul Zamin Shah 20,801 and Babar Saleem of PML-N 17,998 votes. Aqibullah Khan is the PTI candidate in coming by-election in PK-44, which was vacated by his brother Mr Qaiser.
The SDA leaders said that the total votes of PML-N and ANP candidates in July 25 electionswere 38,799 and if the alliance partners worked hard and reached their workers the ANP leader would win the by-election.
Former PPP district president Javid Inqilabi and former PML-N MPA Mohammad Shiraz said that it would be a humiliation for them if Mr Hassan faced defeat on Oct 14. They said that they had to tighten their belts and approach all the voters.
PML-N PROTEST: Local PML-N leaders staged a protest demonstration against the arrest of their party president Shahbaz Sharif by National Accountability Bureau. They gathered at the party's district office and marched from there to Karnal Sher Khan Chowk where their leaders addressed them. They were holding placards inscribed with anti-government slogans. They criticised the PTI government for arresting their central president and opposition leader in the National Assembly Shahbaz Sharif before the upcoming by-election. They claimed that the arrest was made to pave the way for victory of the ruling party candidates.
District president Shiraz Khan and general secretary Dildar Khan said that the arrest of Mr Shahbaz was an act of victimisation.
Meanwhile, MPA Rangaiz Khan's father, who passed away on Sunday, was laid to rest in his ancestral graveyard in Baja village. His funeral was attended by politicians, officials of the district administration and local people.
Full report at:
https://www.dawn.com/news/1437523/sda-optimistic-to-win-by-election-in-swabi
--------
Treason case: LHC orders removal of Cyril Almeida's name from ECL, withdraws warrants
Rana Bilal
October 08, 2018
Former prime ministers Nawaz Sharif and Shahid Khaqan Abbasi and Dawn Assistant Editor Cyril Almeida appeared before a full bench of the Lahore High Court (LHC) on Monday for hearing of a petition seeking treason proceedings against the two ex-PMs and journalist.
As the hearing commenced, the three-judge bench comprising justices Syed Mazahar Ali Akbar Naqvi, Atir Mahmood and Chaudhry Masood Jahangir ─ which had in the last hearing placed Almeida's name on the Exit Control List and issued non-bailable warrants for his arrest for not attending previous court proceedings ─ ordered that the journalist's name be removed from the no-fly list and the warrants withdrawn.
The newspaper editor, Zaffar Abbas, had already announced that Almeida is a law-abiding citizen and would definitely appear before the court on Oct 8. Abbas is also in court today.
Sharif, who was recently released from jail after receiving bail in the Avenfield case, had also been absent from previous hearings as he had been receiving condolences over the death of his wife.
Sharif, Abbasi and Almeida's attendance was noted and all three respondents were ordered to submit written replies to the court.
The court observed that the case was about a sensitive issue, and Justice Jahangir asked whether any action had been taken in the case on an official level.
The attorney general was not present today, and was subsequently summoned to attend the next hearing scheduled for Oct 22.
Security was tight around LHC premises, with a contingent of Rangers and police officials deployed outside the court, and greater vigilance at the entry and exit points of the court.
The controversy
Civil society member Amina Malik, had filed the petition on the basis of an interview given by Sharif to Dawn on May 11. According to the petition, the former PM spoke about cross-border militancy and the need to end it.
After the publication of the interview, the National Security Council held a meeting to deliberate on the matter. Shahid Khaqan Abbasi, who was prime minister at the time, called on Sharif to take him into confidence about the deliberations.
Full report at:
https://www.dawn.com/news/1437603/treason-case-lhc-orders-removal-of-cyril-almeidas-name-from-ecl-withdraws-warrants
--------
FATF team arrives to examine steps taken against terror financing
October 08, 2018
ISLAMABAD: Pakistan will try to convince on Monday a nine-member visiting team of global experts through its legal and institutional systems and framework to establish that it has done enough to block terror financing through money laundering and illegal remittances, including Hundi and Hawala.
The team of the Asia Pacific Group (APG) — an arm of the Paris-based Financial Action Task Force — arrived here on Sunday to begin a 12-day "on-site inspection" of the country. The team will review systems, networks and mechanisms of various institutions and agencies to ascertain if Pakistan was following through on its global commitment to get out of the FATF grey list.
The on-site inspection will verify actions taken and progress made by Islamabad.
The APG delegation comprises experts from British Scotland Yard, US Department of Treasury, Financial Intelligence Unit of Maldives, Indonesian Ministry of Finance, Peoples' Bank of China, Justice Department of Turkey and three members of the APG will stay here and review progress made by authorities on a 10-point action plan it was given in June this year to address global concerns.
The FATF decided in February to place Pakistan on its grey list in June on a campaign pushed through by the United States and its European allies for allegedly not doing enough to ban UN- and US-designated religious organisations and rein in their activities.
The ministries of interior, finance, foreign affairs and law besides the State Bank of Pakistan (SBP), Securities and Exchange Commission of Pakistan (SECP), National Counter-Terrorism Authority (Nacta), Federal Investigation Agency (FIA), Federal Board of Revenue (FBR), National Accountability Bureau (NAB), Anti-Narcotics Force (ANF), Financial Monitoring Unit (FMU), Central Directorate of National Savings and provincial counter-terrorism departments would remain available for briefings and explanations.
Last week, the government announced that it had finalised amendments to relevant laws — Federal Investigation Agency (FIA) Act, 1974, Foreign Exchange Regulation Act, 1947(FERA), Customs Act, 1969, and Anti-Money Laundering Act, 2010, that would be presented to the prime minister and his cabinet for approval.
Under the proposed changes, punishments on account of illegal financial transactions at home and abroad have been increased to a minimum of three years imprisonment and up to 10 years along with fines going up to Rs50 million each and attachment of properties for up to six months instead of 90 days. The proposed changes also allow access of bank accounts to FIA and other law-enforcement agencies.
The then government negotiated a 10-point action plan to meet about 40 standards of the FATF by September 2019 to get out of the grey list.
In August this year, the APG as part of the pre-site mutual evaluation identified a series of deficiencies in Pakistan's anti-money laundering/counter-terror financing laws and mechanisms.
The two sides would jointly go through technical compliance through various legislative, administrative and regulatory instruments. There are some tough tasks also relating to extradition treaties Pakistan has signed with other countries or where these treaties do not exist at all so far and how these could be revised to include AML/CFT offences.
Full report at:
https://www.dawn.com/news/1437592/fatf-team-arrives-to-examine-steps-taken-against-terror-financing
--------
Fazl says resolving Kashmir issue vital for establishing peace
Oct 8, 2018
CHICHAWATNI: Former Kashmir Committee chairman and Jamiat Ulema-e-Islam-F chief Fazlur Rahman has said that resolving Kashmir issue is very important for establishing durable peace in the region.
Talking to journalists here on Sunday, he said that international human rights organisations should raise voice against Indian atrocities on innocent Kashmir people. He said that the international community should no more remain silent on this issue and pressure India to resolve the Kashmir issue.
He severely criticised recent statement of the Indian Army chief, terming it a blatant aggression. He said that if India committed any mistake, the whole nation and the army would unitedly thwart its evil design. "We all are united on issues of the national interests," he said.
https://www.pakistantoday.com.pk/2018/10/07/fazl-says-resolving-kashmir-issue-vital-for-establishing-peace/
--------
India
Wasim Rizvi makes inappropriate remarks against khulfa-e-rashideen; Muslim leaders call for his arrest
Oct 08, 2018
Lucknow: Declared as the most anti-Muslim Muslim man of India, Wasim Rizvi Chairman UP Shia Waqf Board has yet again sparked controversy by issuing a provocative statement. Angry over his recent remark against khulfa-e-rashideen (the rightly guided successors), President Sahaba Action Committee Abdul Waheed Farooqui lodged a complaint in the police station against Rizvi. The report stated that Rizvi had made inappropriate remarks against khulfa-e-rashideen and hurt the religious sentiments of Muslims, which is condemnable.
According to Inquilab Abdul Waheed Farooqui said Wasim Rizvi is continuously hurting our sentiments. In order to save his post, he is stooping down too much. First, he took a different stand from all Muslims on Babri Masjid issue; which is nefarious conspiracy to weaken the case. Then he made insulting remarks against madaris and ulamas. Now the time has ripe that he be sent behind the bars.
https://www.siasat.com/news/wasim-rizvi-makes-inappropriate-remarks-against-khulfa-e-rashideen-muslim-leaders-call-his-arrest-1417701/
--------
Kerala Muslims economically better and literate, population growth rate higher: Report
OCT 07, 2018
Increasing population and limited participation in higher education are mainly blamed for backwardness of Muslims, but a new report questions this argument, saying the community's population in Kerala rose by 15 lakh between 2001-2011 despite being economically better and literate.
Though the economic status and the literacy level of Muslims in Kerala are better, still the rate of their population growth is higher that the national average, says the report by Centre for Policy Analysis, an independent and non-profit policy research body.
The centre, evaluating India's minority policy and Muslim community's social and economic status, said the Muslim population in Kerala rose to 3.34 crore in 2011 from 3.18 crore in 2001.
Giving a break-up of the increase in population in the state during the period, the report said the Muslim population grew by 10.10 lakh, Hindu population by 3.62 lakh and Christians by 84,000.
It said the economic status of Muslims in Kerala is sound and their literacy rate too is better than the national average.
Hindus constitute 54.9 per cent of the total population in Kerala, Muslims 26.6 per cent and Christians 18.4 per cent, it said. However in 2015, Hindus contributed 42.87 per cent to child births, Muslims 41.5 per cent and Christians 15.42 per cent.
On the contribution of Muslim women in education and workforce, the report suggests the government seriously look into this important issue related to the minorities in the country.
According to the report, several programmes are run by the government for minorities but the schemes are not yielding the desired results because of their "improper" execution.
The report citing the 2011 census said women participation in the workforce at the national level is 24.64 per cent but this rate is lowest in the Muslim community at 15.58 per cent.
It said the low literacy rate negatively affects the availability of economic opportunities, which in turn affects the participation in the workforce.
Full report at:
https://economictimes.indiatimes.com/news/politics-and-nation/kerala-muslims-economically-better-and-literate-population-growth-rate-higher-report/articleshow/66110175.cms
--------
India defies unilateral US injunctions, prioritises strategic interests by maintaining commercial ties with Iran
Suhit K Sen
Oct 07, 2018
The Indian government has for once shown itself to be both courageous and independent in its dealings with other nations by defying unilateral ukases issued by the United States (US). Thus, its decisions to go ahead with the purchase of five S-400 Triumf missile defence systems from Russia in a big-ticket defence deal and maintain commercial ties with Iran in the shape, mainly, of crude oil purchases.
I will focus on the latter. To begin with, the sanctions imposed against Iran have no legal backing. They are unilateral and have not been routed through the United Nations (UN). No country is bound to play along with Uncle Sam's ingrained prejudices and strategic interests. Moreover, the International Court of Justice (ICJ) has ruled less than a week ago that the sanctions must be lifted, in so far as they apply to the movement of humanitarian goods. Unsurprisingly, the United States has contested this judgement. Secretary of state Mike Pompeo, a pugnacious West Asia hawk-like his boss, President Donald Trump, has said that the ICJ has no jurisdiction (its rulings are binding and cannot be appealed, even though the court has no means of ensuring compliance). He has also said that the United States will abrogate the 'Treaty of Amity' between the two countries signed in 1955, on which the ICJ ruling was based. In this context, there can be no earthly reason for New Delhi to kowtow to Washington's dictates, other than a desire to adopt a supine and spuriously unquestioning reliance on the United States.
There is more, however. Trump's animosity towards Iran is based on a particular view of its interests in West Asia. Its two main allies in the region are Israel and the Saudi Arabia-led Gulf alliance. Washington's calculations are not hard to decode. Israel is, of course, a prohibited area for both strategic and deeply etched ideological reasons. No US administration will ever do anything that even remotely risks alienating Tel Aviv. Saudi Arabia is a strategic ally, being one of the biggest producer of crude oil in the world and the principal supplier to the United States. Its often deranged delinquencies must be condoned. The US accuses Iran of two things, principally. First, it says that the international nuclear deal signed with Iran is worthless because the country has not suspended its nuclear arms programme in response to the easing of sanctions Washington has pulled out of the deal that Barack Obama, the former president, signed up to alongside the European Union (EU) in 2015. Second, it accuses Iran of fomenting terror in West Asia by extending moral and material support to militant groups like the Hezbollah.
The first charge is patently untrue. Periodic inspections by international monitoring agencies have certified that Iran is, in fact, in compliance with the agreement. The European Union (EU), too, has rubbished the positions taken by the Trump administration because the deal is crucial to its security. The foreign ministers of the EU, France, Germany and the United Kingdom issued a statement in early August saying that they would do everything within their powers to ensure that entities engaged in legitimate trade with Iran could continue to do so unhindered, though some companies have pulled out. India is in a similar position now. Even though the government is sticking to its commitments, faced with payment problems that will kick in from 4 November, when the sanctions become operational, some companies have stopped purchases. China and Russia, also signatories to the agreement, are obviously not going to play ball. The 'tough' sanctions envisaged by the Trump administration will hopefully prove to be infructuous.
The second charge has greater substance. It is true that Iran supports the Hezbollah and the Huthi rebels in Yemen. The reasons for doing so is the protection of Shia communities in the Arab world, for instance in Iraq, and the propagation of its influence in the region. To condemn Iran unreservedly for following its strategic interest, would be both unfair and naïve. After all, the US's allies in West Asia are also guilty of supporting terrorists in other West Asian countries. Saudi Arabia's most important export throughout the world, apart from petroleum, is, lest we forget, the Wahhabi brand of Islam, that toxic fount of global terrorism. Saudi Arabia is also the most significant exporter and backer of terrorism. Al-Qaeda and its former leader Osama bin Laden — a Saudi national — are prime examples.
Saudi Arabia is also the perpetrator of possibly the dirtiest war being fought in the word today – in Yemen, where it has indiscriminately bombed civilians and innocents, including children and hospitals using sophisticated US-supplied weaponry. Israel's human rights abuses in the West Bank and Gaza Strip and its blatant disregard for the sovereignty of other nations and all its appurtenances is the stuff of legendary notoriety. That it can pursue its illegal activities with impunity is a blot on the international community's already soiled and tattered escutcheon.
So, when the US talks of Iran's destabilising influence in West Asia and the Gulf region, we need to ask of ourselves all the questions we try to keep in abeyance. It is, of course, true that Iran is a theocratic state and, as is true of all theocratic states including Saudi Arabia and Israel (whatever it and its backers say), is involved in some serious human rights abuses. There are international agencies tasked with bringing such countries to book. This problem does not fall within Uncle Sam's bailiwick.
But it would not be out of place to take a small peek at the historical record to investigate how Iran became a theocratic state. In the early twentieth century, Iran underwent a process of constitutional reform (1905-1909). Under a constitution modelled on Western exemplars, a legislative body was created, though the monarchy was retained. The Majlis (parliament) had significant legislative rights and elected executives were accountable to it. To all intents and purposes, Iran became a constitutional monarchy. Iran was, however, in economic turmoil and it suited the world's largest colonial power, the United Kingdom (UK), to keep matters that way. Elected governments were destabilized and with the US getting into the act in 1925, Colonel Reza Khan seized power after a coup with the backing of the two forces. Khan adopted the traditional name of Pahlavi and became an autocratic ruler: The Shah of Iran. The power of the constitutional reforms, however, forced him to continue with elected, though severely attenuated, governments. As discontent and opposition to the Shah's rapacious and brutal kleptocracy grew apace, so did support for a communist group and a centrist nationalist party, the National Front, led by a charismatic leader Muhammad Mossadeq. In 1951, Mossadeq, who wanted to nationalise the country's oil reserves, was elected as the prime minister.
As Mossadeq's power also grew, the Shah was forced to flee Iran in 1953. This was not compatible with the strategic interests of the colonial and neo-colonial powers, to wit, the UK and the US. Together they successfully plotted the overthrow of Mossadeq's elected government, just another Cold War casualty, reinstated the much-reviled Shah and kept him in power. The forces of Iranian nationalism deprived of a democratic space in which it could grow and flourish, gradually took on the colour of an orthodox Shia nationalism, led by the expatriate Ayatollah Khomeini, who finally overthrew the US-backed kleptocratic Shah and came to power.
Full report at:
https://www.firstpost.com/world/india-defies-unilateral-us-injunctions-prioritises-strategic-interests-by-maintaining-commercial-ties-with-iran-5334941.html
--------
NIA to probe Assam's Hizbul operative
Oct 7, 2018
GUWAHATI: The National Investigation Agency (NIA) will formally take over investigation of the spread of terrorist outfit Hizbul Mujahideen to as far as Assam from Uttar Pradesh police, who are currently handling the case.
The Hizbul's new foothold in the state came to light after the arrest of one of its trained operatives, Qamar uz Zaman in Kanpur by anti-terrorist squad of Uttar Pradesh in Kanpur on September 13. The arrest of Qamar uz, who is from Jamunamukh in Assam's Nagaon district, led to arrest of his eight companions in different locations in Assam by Assam Police.
"We have brought Qamar uz here from UP police on a transit remand yesterday and he was produced before a local court today. We have to take him back to UP for production in court on October 11 from where NIA will take over the investigation,"
special director general (special branch) of Assam Police, Pallab Bhattacharya said.
Police said that NIA has already started its investigation for couple of few weeks along with Assam and UP police and only the formal hand over was pending.
NIA, being more specialized in investigating terror activities will be looking for the money trail, the extent of the spread of Hizbul outside J&K and the Assam and northeast connection, particularly arms supply deals.
"The Assam Police have so far found that Hizbul was searching for new recruits in Assam and Qamar uz was given that reasonability. They were also trying to purchase some sophisticated arms and had even initiated communication with the clandestine arms market in Dimapur but they have not purchased any weapons so far. Any terror activity can't be carried out without money and the money trail from J&K to Assam needs to be investigated further," a source said.
Qamar uz had left his Jamunamukh home in 2012 to work at a garment shop owned by his relatives in Kashmir. In 2017, he went missing; his family lodged missing reports in Kashmir and here only to resurface in the social media this year with his new identity as a Hizbul operative.
Full report at:
https://timesofindia.indiatimes.com/india/nia-to-probe-assams-hizbul-operative/articleshow/66109913.cms
--------
Kashmiri student who went missing from Dehradun joins Hizbul Mujahideen, say police
Oct 07, 2018
A Kashmiri student who was studying engineering at a college in Dehradun has joined a militant outfit two weeks after he went missing, police said on Sunday. "He has joined the Hizbul Mujahideen outfit," said Kulgam superintendent of police Harmeet Singh. Shoaib Ahmed Lone , 21, was a BTech (IT) student at Dehradun's Alpine Institute of Management and Technology (AIMT). He left Dehradun on September 20 saying he had a flight for Srinagar from Chandigarh, but never reached home.
His family members came to know about his joining the militant outfit from photographs on social media. Locals said that Lone was raised by his mother after his father, a militant, was killed in the early nineties. The SP also confirmed the fact.
AIMT director SK Chauhan said, "We came to know about his joining militancy after officials from security agencies inquired about him". Chauhan said after sitting for his fourth semester examination in June, Lone left for home and was supposed to return to college in August. "When we enquired about him at his house, they said his mother was ill due to which he couldn't return".
"However, on September 19, he returned to the institute but left within a day saying his mother is seriously ill and he has a flight from Chandigarh for Srinagar..."
Full report at:
https://www.hindustantimes.com/india-news/kashmiri-student-who-went-missing-from-dehradun-joins-hizbul-mujahideen-say-police/story-Rbzl8ucAsfARs3OqADj3iI.html
--------
Will be a privilege to meet you, King Khan says to Malala
Oct 8, 2018
Replying to British journalist Alan Charles Rusbridger's tweet invitation for a talk at the Oxford University, Bollywood superstar Shahrukh Khan said that he would love to come.
The Indian star seemed to have gotten the motivation from our very own activist and youngest Nobel Prize laureate, Malala Yousafzai, who tweeted that she was waiting for Shahrukh's response on the offer.
Soon after, Shahrukh replied to Malala saying that he would not only love to be part of a talk and also mentioned that meeting the Pakistani activist would be nothing less than a privilege.
https://www.pakistantoday.com.pk/2018/10/07/will-be-a-privilege-to-meet-you-king-khan-says-to-malala/
--------
South Asia
Muslim Communities Lack Freedom of Movement in Myanmar's Rakhine State
October 07, 2018
GENEVA —
U.N. officials report Rohingya Muslims live in fear and mistrust and are not allowed to move around freely in Myanmar's Rakhine State. The U.N. refugee agency and U.N. development program recently carried out their first assessments of conditions in northern Rakhine State since the mass exodus of Rohingya refugees to Bangladesh more than one year ago.
The two agencies visited 23 villages and three village tracts in Myanmar's Rakhine State. They said their teams were able to go wherever they wanted and to meet with whomever they wished.
UNHCR spokesman Andrej Mahecic said the focus of their meetings was to find out the conditions under which people are living and the challenges they face.
"These assessments are happening in the context of the crisis that unfolded last year. So, clearly there is also an impact on how people live and everybody that the teams have met are facing a very difficult situation, especially in making ends meet," he said.
Mahecic said people in Rakhine spoke about their inability to make a living and get basic services because of severe restrictions on their freedom of movement. He said mistrust, fear of neighboring communities and a sense of insecurity are prevalent in many areas.
"Fear and mistrust, has an impact on access to education, health and other basic services. It also limits interactions between communities, hindering prospects for confidence-building and social cohesion. The communities we visited frequently spoke of challenges in getting to health services as well as restrictions on the Muslim population in accessing education," said the spokesman.
The UNHCR and UNDP signed a Memorandum of Understanding with Myanmar in early June. The MOU seeks to create conditions conducive to the voluntary, safe, dignified and sustainable return of Rohingya refugees from Bangladesh and their reintegration in Rakhine State.
On the basis of these initial assessments, Mahecic said it is clear that none of these conditions have been met.
https://www.voanews.com/a/muslim-communities-lack-freedom-of-movement-in-myanmar-s-rakhine-state/4603224.html
--------
US peace envoy reaches Kabul as Taliban ramp up attacks
Oct 8, 2018
KABUL: Senior US envoy Zalmay Khalilzad on Sunday reached Kabul for talks with Afghan leaders in his first trip to the Afghan capital since being appointed to lead peace efforts with the Taliban, an official said.
The visit by Khalilzad, a former US ambassador to Kabul, Baghdad and the United Nations, comes as the Afghan government and international community intensify efforts to end the 17-year war.
A spokesman for the Afghan President Ashraf Ghani said Khalilzad would have dinner with Ghani and other officials. However, no further details were provided about Khalilzad's visit.
Khalilzad is also scheduled to visit Pakistan, the United Arab Emirates, Saudi Arabia and Qatar as part of a 10-day trip to "coordinate and lead US efforts to bring the Taliban to the negotiating table", the US State Department said last week.
His arrival comes as the Taliban and the Islamic State group ramp up attacks across the country ahead of this month's long-delayed parliamentary elections that are seen as a dry run for next year's presidential vote.
In the latest incident, Taliban fighters killed 14 members of the security forces in a district in eastern Afghanistan that straddles the strategic Kabul-Kandahar highway linking the Afghan capital and the group's southern strongholds.
The Sayedabad district police chief was among those killed in the heavy fighting overnight, Wardak Governor Spokesman Abdul Rahman Mangal said.
Another seven were wounded, Deputy Interior Ministry Spokesman Nasrat Rahimi said in a statement.
The Taliban also suffered "heavy casualties", Rahimi added. The group claimed its fighters had killed dozens of security forces.
An electricity cable was destroyed in the battle, severing power to Wardak, Ghazni, Logar and Paktia provinces, power utility Da Afghanistan Breshna Sherkat said in a statement.
The attack on Sayedabad district, which is less than two hours' drive from Kabul, came shortly after militants destroyed several bridges along the same highway in neighbouring Ghazni province, forcing its temporary closure.
A major Taliban assault on Ghazni's provincial capital in August triggered five days of fighting with security forces that left hundreds dead.
Separately, the defence ministry is investigating reports of "possible civilian casualties" during clashes in Paktia province on Saturday, spokesman Ghafoor Ahmad Jawed said.
Other local sources said at least 10 people had been wounded in the aerial bombardment.
Full report at:
https://www.pakistantoday.com.pk/2018/10/07/us-peace-envoy-arrives-in-kabul-as-taliban-ramp-up-attacks/
--------
Turkey supports Bangladesh during Rohingya crisis: FM
07.10.2018
By Tugcenur Yilmaz
DHAKA, Bangladesh
Turkey is supporting us on the Rohingya crisis, said the Bangladeshi foreign minister on Sunday.
As part of the "Visit Bangladesh 2018" program, Abul Hassan Mahmood Ali met around 50 reporters from Turkey, Canada, Saudi Arabia, Japan, Oman, Brazil, Ethiopia, India, Philippines and South Korea in the capital city of Dhaka.
Expressing pleasure over the September 2017 visit of a delegation with the Turkish Foreign Minister Mevlut Cavusoglu and Turkish President Recep Tayyip Erdogan's wife Emine Erdogan to the Rohingya camps in Cox's Bazar, he said: "Turkey is supporting us. There are a lot of plans regarding the Rohingya issue."
He said Turkey had built a hospital in the region for the persecuted Rohingya and carried out numerous activities in many fields.
Turkey was in the forefront of Rohingya issue on the ground with its state-sponsored humanitarian aid institutions and nongovernmental charity organization as well as on international level by organizing emergency meeting of the Organization of the Islamic Cooperation (OIC) and advocating for Rohingya at the UN General Assembly.
Turkish aid agencies have been building thousands of shelters for Rohingya in the refugee camps in Cox's Bazar area while the Turkish Red Crescent has been providing food to thousands of Rohingya in the camps on a daily basis.
Former Turkish Prime Minister Binali Yildirim visited Rohingya camps in Cox's Bazar, launching a 50-bed field hospital last December.
Stating that some of the Rohingya, who are staying in the camps in Cox's Bazar, will be relocated to Bhasan Char, a remote island in the Bay of Bengal, due to the population density in the camps, Ali said they were still working on the project and the plan was going to be realized once the houses on the island are ready.
Recalling their visit to the Rohingya villages in the western Rakhine state of Myanmar in August, he said: "The Indian government has built 250 houses for the Rohingya there. The Chinese government will build a thousand houses.
"I told them to build the houses in the places where the Rohingya came from."
The Bangladeshi FM also reiterated his government's insistence on the safe repatriation of the Rohingya.
Myanmar and Bangladesh signed a deal for the return of refugees earlier this year, but with the repatriation delayed, concern is growing over the lack of involvement by international organizations in the process.
While asking about the exact date of the repatriation, Ali said it was an ongoing process.
Since Aug. 25, 2017, nearly 24,000 Rohingya Muslims have been killed by Myanmar's state forces, according to a report by the Ontario International Development Agency (OIDA).
More than 34,000 Rohingya were also thrown into fires, while over 114,000 others were beaten, said the OIDA report, titled "Forced Migration of Rohingya: The Untold Experience".
Some 18,000 Rohingya women and girls were raped by Myanmar's army and police and over 115,000 Rohingya homes were burned down and 113,000 others vandalized, it added.
According to Amnesty International, more than 750,000 Rohingya refugees, mostly children, and women, fled Myanmar and crossed into Bangladesh after Myanmar forces launched a crackdown on the minority Muslim community in August 2017.
The Rohingya, described by the UN as the world's most persecuted people, have faced heightened fears of attack since dozens were killed in communal violence in 2012.
Full report at:
https://www.aa.com.tr/en/asia-pacific/turkey-supports-bangladesh-during-rohingya-crisis-fm/1275302
--------
District police chief killed during the clashes with Taliban in Wardak
Oct 07 2018
The district police chief of Syedabad Gen. Syed Nazrab Shah Hashemi has been killed during the clashes with the Taliban militants in central Maidan Wardak province.
According to the local officials, at least six other security personnel have also lost their lives during the clashes.
Provincial governor's spokesman Abdul Rahman Mangal confirmed the incident and said a group of Taliban militants launched coordinated attacks on security posts in Syedabad district late on Saturday night.
Mangal further added that the Taliban militants have also suffered casualties during the clashes but the exact number has not been ascertained so far.
He said the attack has been repulsed by the security forces and the security of the district is under full control of the national defense and security forces.
In the meantime, another sources says at least ten security personnel, including the police chief of Syedabad have been killed during the clashes.
Full report at:
https://www.khaama.com/district-police-chief-killed-during-the-clashes-with-taliban-in-wardak-06103/
--------
Taliban vow to attack Afghan security forces during elections
October 08, 2018
KABUL: The Taliban on Monday vowed to target government security forces in upcoming parliamentary elections, as US peace envoy Zalmay Khalilzad met with Afghan leaders to discuss ways to end the 17-year war.
Describing the polls as a "malicious American conspiracy," Taliban spokesman Zabihullah Mujahid said the militants would pull no punches to disrupt the long-delayed ballot scheduled for October 20.
"People who are trying to help in holding this process successfully by providing security should be targeted and no stone should be left unturned for the prevention and failure" of the election, Mujahid said in a statement published in English.
The Taliban — Afghanistan's largest militant group that was toppled from power in the 2001 US-led invasion — typically issue inflammatory and hyperbolic statements about the Afghan government and its international backers.
But this latest declaration comes just days before the parliamentary election, which is seen as a crucial dry run for next year's presidential vote and has already been marred by deadly violence.
It also comes as Khalilzad meets with Afghan leaders for the first time since his appointment last month to steer peace efforts with the militants.
Chief Executive Abdullah Abdullah, Afghanistan's equivalent of prime minister, welcomed the visit by Afghanistan-born Khalilzad in televised remarks on Monday.
"We believe if more attention is paid to the (peace) process, there is a good chance of success," Abdullah said.
Khalilzad — a high-profile former US ambassador to Kabul, Baghdad and the United Nations — is on a 10-day regional trip that also includes Pakistan, the United Arab Emirates, Saudi Arabia and Qatar.
He met with President Ashraf Ghani and other top leaders on Sunday night to discuss "an Afghan-led and Afghan-owned peace process," Ghani's office said in a statement.
Afghan and international players have been ratcheting up efforts to hold talks with the Taliban.
An unprecedented cease-fire in June followed by talks between US officials and Taliban representatives in Qatar in July fueled hopes that negotiations could bring an end to the fighting.
Full report at:
http://www.arabnews.com/node/1384226/world
--------
Jailed Bangladeshi ex-PM Khaleda Zia fights bad health, graft cases ahead of December polls
October 07, 2018
DHAKA: Jailed Bangladeshi ex-Prime Minister Khaleda Zia could still fight in the December parliamentary elections despite bad health and a graft case that is still pending.
A five-member medical board visited Zia at Bangbandu Sheikh Mujub Medical University (BSMMU) on Sunday.
The medical board, led by Professor Abdul Jalil Chowdhury of BSMMU, examined all her previous reports and said "her treatment will continue as before," hospital director, Brig. Gen. Abdullah Al Harun, told Arab News.
Zia's personal physician, Dr. Mamun, was also present during the visit of the medical board, said Harun.
The board will visit the ailing former premier again on Monday, he added.
Zia was admitted to BSMMU on Saturday according to a high court directive issued last Thursday which ordered her to be moved from prison to hospital to ensure better treatment and the formation of a five-member medical board to examine her.
Zia is serving a five-year sentence in erstwhile Dhaka Central Jail, in Zia Orphanage Trust corruption case. She was put behind bars on Feb 8, 2018, after the court ruled against her.
The thrice former premier of Bangladesh has been suffering from a problem in her knees and other ailments for a long time.
However, Zia's imprisonment has put her Bangladesh Nationalist Party (BNP) in a tight spot for the forthcoming parliamentary elections scheduled to take place by the end of this year.
There are also mixed opinions about her eligibility to compete in the forthcoming polls.
"She has filed an appeal petition against the verdict and the trial process is still going on. As long as the appellate division of the supreme Court is not issuing any final verdict over her petition, there is no bar on her competing in the next election," says Mahbub Uddin Khokon, her lawyer and former lawmaker of the country.
The graft case against Zia is "still a very much pending issue ... Nothing is decided yet," Khokon told Arab News.
Professor Ataur Rahman, a renowned political scientist and teacher at Dhaka University, said: "At present, her political career is in uncertainty and it might not be very smooth in the coming days.
"In Bangladesh political leaders have not only competed in elections while in jail but have also won the race."
Demanding an election period caretaker government, the BNP boycotted the last parliamentary election of 2014, which was a "political blunder," said Rahman.
"That crucial decision has put her political career at stake and if a leader like her commits this type of a mistake, then ultimately it hampers the credibility of the leadership."
Full report at:
http://www.arabnews.com/node/1384066/world
--------
Mideast
Growing number of Houthi abductions of students in Sanaa
7 October 2018
Cases of abductions of students from the University of Sanaa continue to be reported in Yemen.
Human rights groups and security sources say that the number of detainees kidnapped by the Houthi militias, mostly students from Sanaa University, rose to 80.
Armed groups belonging to the Houthis have been carrying out raids and arrests in various neighborhoods of Sanaa, based on a list prepared in advance which includes their targets.
The arrests target political and human rights activists, bloggers, and media personalities who speak against the militias. The Yemeni government condemns the militia's actions against unarmed civilians who are usually tortured and severely beaten.
The Yemeni government, in a statement, urged the international community and the United Nations to denounce these systematic crimes.
On Saturday the militias clamped down on a demonstration called the "Hunger Revolution" in which civilians protested the high cost of living and non-payment of salaries. Houthi militias were heard mocking the protest.
https://english.alarabiya.net/en/News/gulf/2018/10/07/Growing-number-in-Houthi-abductions-of-students-in-Sanaa-.html
--------
Saudi 'MASAM' project removes over 7,000 Houthi-planted mines in Yemen
7 October 2018
The Saudi Project for Landmines Clearance in Yemen, MASAM, extracted 7,146 mines within 102 days of its launching, ranging from anti-personnel mines to other explosive devices and unexploded ordnances.
The report showed that the team successfully cleared 787 mines from Marib and the West Coast in the first week of October. These included 12 anti-personnel mines, 478 anti-machine mines, 287 explosive devices and 10 unexploded ordnances.
The project MASAM is part of a $40 million initiative by the King Salman Humanitarian Aid and Relief Center. The project aims to remove mines left behind by Houthi militias in the past 12 months, and to train 400 Yemeni experts to do so as well.
In its report presented in Geneva on the sidelines of the Human Rights Council's 39th session, the Yemeni Coalition for monitoring human rights violations (RASD coalition) said that about 2000 Yemenis have been killed by landmines and improvised explosive devices planted by the Houthi militias in four years. Also, that 906 people were killed by mines and improvised explosive devices that the Houthis and elements of al-Qaeda in 19 Yemeni provinces, pointing out that among the dead 133 children and 60 women. The report also stated that the injury of 1034 others distributed in 17 Yemeni provinces, including 183 children and 56 women, were caused by of mines and explosive devices planted by the Houthis during the period from 21 September 2014 to 30 June 2018.
https://english.alarabiya.net/en/News/gulf/2018/10/07/Saudi-MASAM-project-removes-over-7-000-Houthi-planted-mines-in-Yemen.html
--------
Two Israelis shot in West Bank attack die from wounds
7 October 2018
A shooting attack by a Palestinian at an industrial zone for a West Bank settlement on Sunday killed two Israelis and wounded another, the army said.
Army spokesman Jonathan Conricus said the 23-year-old Palestinian had worked in the Barkan industrial zone, where the attack took place in the occupied West Bank.
Security forces were searching for the Palestinian.
A Reuters witness said Israeli security forces had closed off the area.
https://english.alarabiya.net/en/News/middle-east/2018/10/07/Three-Israelis-shot-in-West-Bank-settlement-attack-.html
--------
Yemen: Senior Houthi leader killed in coalition strikes in Hodeidah
7 October 2018
A prominent leader in the pro-Iranian Houthi militias, Hisham Abdul-Samad al-Khalid, was killed with other associates in airstrikes launched by the Arab coalition backing the Yemeni national army, targeting positions in the western coast of Hodeidah governorate.
The coalition warships also bombarded positions and other gatherings of the Houthi militias, east of the directorate of al-Durahimi and the outskirts of the city of Hodeidah.
Field sources reported that the bombardment targeted the reinforcements of the militias which were completely destroyed east of the city of Hodeidah.
Meanwhile, Military reinforcement units of the Arab Coalition arrived at a number of military fronts in the west coast of the port city of Hodeidah on Sunday to strengthen the presence of the legitimate government in Yemen. Full story
https://english.alarabiya.net/en/News/gulf/2018/10/07/Yemen-Senior-Houthi-leader-killed-in-coalition-strikes-in-Hodeidah.html
--------
Military reinforcement reach Yemen's Hodeidah as offensive looms
7 October 2018
Military reinforcement units of the Arab Coalition arrived at a number of military fronts in the west coast of the port city of Hodeidah on Sunday to strengthen the presence of the legitimate government in Yemen.
Military sources confirmed that a unit of Sudanese forces operating in Yemen under the Coalition command was deployed in the area within their control to enforce the troops there in order to complete the liberation of the remaining areas that are still under the control of elements of the Houthi militias.
According to military sources, the reinforcement include large numbers of well-equipped Sudanese forces who will participate in the fighting in south of the city of Hodeidah and its eastern entrance. Additional units of an elite force from the Arab Coalition also arrived in the area to reinforce the troops stationed at the southern and eastern borders of the city.
The forces are conducting continuous combing operations to track the remaining pockets of militias in the farms and forests in the areas of East al-Durahimi district in Hodeida.
The arrival of the elite units in Hodeidah coincides with calls by the Arab Coalition, warning the residents of Hodeidah port city, especially commuters on a major road connecting between Hodeidah and Sanaa, to stay away from the area, to ensure their safety and not to become target of random shelling by the Houthi militias.
The media center of the Arab Coalition forces deployed in areas south of Hodeidah, and at the eastern and southern borders of the city, said that they distributed leaflets appealing to the local population in the areas detailed in a map pictured inside the leaflets, not to approach these areas.
Full report at:
https://english.alarabiya.net/en/News/gulf/2018/10/07/Military-enforcement-to-Yemen-s-Hodeidah-as-offensive-looms.html
--------
Erdogan hoping for positive outcome on Jamal Khashoggi case
7 October 2018
Turkish President Tayyip Erdogan said, Sunday, that he is hoping for a positive outcome on case of Saudi journalist Jamal Khashoggi, who disappeared last week, adding that he was personally following the matter.
Erdogan told reporters that authorities were looking into all camera records and monitoring incoming and outgoing airport transits, but added that Turkey would await the results of the prosecutor's investigation.
Erdogan's statements contradict earlier reports which suggested that the Saudi writer was killed.
Saudi Arabia has strongly denounced outrageous, baseless allegations surrounding the disappearance of Saudi journalist Jamal Khashoggi.
The Saudi government has stressed that it is keen on the safety of its citizens, wherever they are in the world, and that it will not rest before 'knowing the secrets behind Khashoggi's disappearance in a foreign country.'
Saudi Arabia has sent a security delegation of investigators to Istanbul to follow up with Turkish authorities.
Many observers have warned over an orchestration of a campaign to use the incident to target the Saudi government.
The charge d'affaires at the Saudi Embassy in Beirut Walid al-Bukhari sadi on his official Twitter account using the widely used hashtag 'Jamal Khashoggi play': "The Khashoggi play is a conspiracy and an intelligence plot rigorously designed to undermine the reputation of Saudi Arabia and abuse it."
There has been a Twitter uproar on social media by political activists and opinion writers talking about they called the "exposed play", and the strange Muslim Brotherhood supporters who tweeted that Khashoggi died two days ago, which was seen by many to expose the systematic and deliberate game. Meanwhile many fingers continue to point at his fiancée as the perpetrator.
Khashoggi's disappearance was first reported by a Qatari channel that quoted a Turkish woman as saying she accompanied him to the Saudi consulate in Istanbul to retrieve his divorce documents so they could marry. She said he never left the consulate.
The diplomatic mission later said that Khashoggi had completed what he came to do and left the consulate building long before the end of official working hours.
But Qatari news channels and Turkish parties said Khashoggi was still being held at the consulate.
In response, the Saudi consul opened up all rooms of the consulate to the press, confirming Khashoggi was not there.
Full report at:
https://english.alarabiya.net/en/News/world/2018/10/07/Erdogan-hoping-for-positive-outcome-on-Jamal-Khashoggi-case.html
--------
Iran MPs pass controversial bill on fighting terror financing
Oct 7, 2018
The Iranian parliament has passed a bill on combating the financing of terrorism as part of the country's implementation of international standards set by the Financial Action Task Force (FATF).
The combating the financing of terrorism (CFT) bill, one of four put forward by the government to meet FATF demands, was passed on Sunday by 143 votes to 120, according to the ISNA news agency.
To become law, however, Iran's oversight Guardian Council should vet the bill for compliance with the Constitution.
Back in June, the Paris-based FATF gave Iran until October to implement its standards in order to remove Tehran from investment blacklists. The group also warned Tehran of "appropriate and necessary actions" if it does not enact amendments in full compliance with its standards.
The FATF cannot impose sanctions, but individual states that are its members have used the group's reports to take punitive measures against their adversaries. As a result, Iran has been targeted by US and European sanctions.
For years, Tehran has been implementing anti-money laundering (AML) and combating the financing of terrorism (CFT) standards set by the FATF, but the group says it is not satisfied with the measures.
Domestic proponents of the measures are pressing Iran to go the extra mile, but critics argue that membership in the group will only make the country vulnerable to outside meddling.
They say Iran's implementation of FATF standards so far has not only failed to attract investment, but it has also exposed various institutions to extraterritorial regulations and penalties.
Iran's Foreign Minister Mohammad Javad Zarif on Sunday dismissed demands by opposing lawmakers that he guarantee the CFT approval would resolve problems.
Zarif said by not approving the bill, however, Iran could give a pretext to the US to pile up pressure on the Islamic Republic.
"Today, Majlis is facing a historic decision and will need to make a decision in line with the interests of the nation and take away any future excuses from the US," he said ahead of the vote.
Zarif also defended the 2015 nuclear deal, called the Joint Comprehensive Plan of Action (JCPOA), saying the accord isolated the US in the world and demonstrated Iran's righteous position.
In May, President Donald Trump pulled the US out of the JCPOA despite objections from other signatories.
Trump then moved to re-impose new sanctions on the Islamic Republic, including a ban on Iran's access to the US dollar, as well as prohibitions against the country's trade in gold and other precious metals.
The US president has said the sanctions will "ratchet up to another level" on Nov. 4 when the second round targeting Iran's oil sector kicks in.
Iran's President Hassan Rouhani has warned that the US unilateral sanctions constitute a form of "economic terrorism and a breach of the 'Right to Development.'
Full report at:
https://www.presstv.com/Detail/2018/10/07/576307/Iran-parliament-terror-finance-bill
--------
Yemeni retaliatory attacks left 38 Saudi soldiers dead in September: Report
Oct 7, 2018
A recent report has revealed that Yemeni army soldiers and fighters from allied Popular Committees killed and injured dozens of Saudi soldiers in the kingdom's southwestern border regions in September as part of their retaliatory raids against the Riyadh regime's aerial bombardment campaign.
Yemen's Arabic-language al-Masirah television network, citing unnamed Saudi social media activists, reported that Yemeni forces and their allies fatally shot 42 troopers in the regions of Jizan, Najran and Asir last month.
Another 24 also sustained injuries in retaliatory attacks.
This is while the Saudi Press Agency asserted that only 32 soldiers had been killed in clashes with Yemeni troops and allied fighters.
The latest figures take to 467 the number of Saudi soldiers, who have been killed in skirmishes with Yemeni troopers and Popular Committees fighters within the first nine months of this year. A total of 293 Saudi soldiers have sustained injuries as well.
A number of Saudi-sponsored militiamen loyal to Yemen's former president Abd Rabbuh Mansur Hadi were killed on Sunday after Yemeni soldiers and their allies targeted four military vehicles of theirs in Yemen's strategic western province of Hudaydah.
Separately, Yemeni forces and their allies attacked the positions of Saudi mercenaries in the Maqbanah district of the country's southwestern province of Ta'izz, dealing a stinging blow to them.
Saudi Arabia and a number of its regional allies launched a devastating military campaign against Yemen in March 2015, with the aim of bringing the government of Hadi back to power and crushing the country's popular Ansarullah movement.
Some 15,000 Yemenis have been killed and thousands more injured since the onset of the Saudi-led aggression.
Full report at:
https://www.presstv.com/Detail/2018/10/07/576340/Yemeni-retaliatory-attacks-left-38-Saudi-soldiers-dead-in-September-Report
--------
Netanyahu to meet Putin after Russia gives S-300 to Syria
Oct 7, 2018
Israeli Prime Minister Benjamin Netanyahu says he will soon meet President Vladimir Putin amid tensions over the downing of a Russian aircraft during Israel's bombing of Syria last month.
Netanyahu made the announcement at a cabinet meeting on Sunday, without citing a specific date or venue for the talks with Putin.
Netanyahu has traveled to Russia several times in the past in order to mollify Moscow over frequent Israeli airstrikes in Syria under the pretext of confronting Iran and Lebanon's Hezbollah.
Last month, Israel angered Putin after a Russian Il-20 reconnaissance aircraft was shot down and all 15 servicemen on board were killed during Israeli airstrikes in the northwestern Syrian province of Latakia.
The Russian leader held Israel responsible for the downing and ordered the delivery of advanced S-300 missile system to Syria, which Netanyahu had successfully prevented in the past with his visits to Moscow.
Russian Defense Minister Sergei Shoigu told Putin during a meeting on Tuesday that the delivery of the surface-to-air missile system to Syria had been completed.
Russian Deputy Foreign Minister Sergei Vershinin told Sputnik news agency on Thursday that the delivery of the S-300 systems will be followed by additional steps, but did not provide any further details.
He also issued a veiled warning to Israel, saying Russia hoped the Tel Aviv regime would exercise "good judgment" on the shipment of the S-300 batteries to Syria and other steps being taken.
Russia will further start to electronically jam aircraft flying in to attack targets in Syria, Minister Shoigu said last Sunday.
"We are convinced that these measures will calm down some hotheads and keep them from careless actions which pose a threat to our troops," he said.
Netanyahu had earlier warned that giving the S-300 to Syria was "irresponsible," and vowed to continue airstrikes against what he called Iran-related targets in Syria.
A senior Israeli official has admitted that Russia's delivery of the systems to Damascus would pose a serious "challenge" to Tel Aviv.
General Joseph Votel, who heads the US Central Command in the Middle East, called the Russian deployment of advanced anti-aircraft missiles in Syria a "needless escalation".
The delivery of the anti-aircraft batteries constitutes a game-changer in the seven-year-old war in Syria, with Israel and the United States trying to adjust to the new realities.
Full report at:
https://www.presstv.com/Detail/2018/10/07/576315/Syria-Israel-Russia-Netanyahu-Putin-plane-crash-S300
--------
North America
Muslim Americans Share Stories, Dispel Myths in Play at UAlbany
October 7, 2018
When Maha Syed, a Pakistani Muslim, moved to a majority-white high school on Long Island the year before 9/11, she said no one knew anything about Islam. After the terror attacks, she said everyone suddenly thought they knew everything they needed to know. Immediately, she banded together with five Muslim friends and formed a Muslim Students' Association.
Seventeen years later, Syed has joined another group of five young Muslims sharing their experiences of identity, faith and family while coming of age post-9/11. She's a performer in Ping Chong and Company's production "Beyond Sacred: Voices of Muslim Identity," an interview-based play seen by 20,000 people in eight states over the past three years that's now coming to the Capital Region.
The University at Albany Performing Arts Center will host a public performance on Sunday, Oct. 14, and a private event for about 500 local high school students on Monday, Oct. 15. Kim Engel, associate director of the center, heard about the play last year and knew it would have an impact on campus.
Sara Zatz, the play's co-director and co-author, insisted the show is not about immigration or politics, but about "human beings living their lives."
"We are literally opening up our lives and vulnerabilities," Syed said. "Sara always says that you can argue with politics and opinions, but you can't argue with people's lived experience. There's a real magic to the way that the show is done that really opens people in the audience."
There are more than 3.4 million Muslims in America, according to the Pew Research Center — an increase from 2.75 million in 2011. Syed and her fellow performers are as diverse as their community across the country. Their backgrounds are Pakistani, Trinidadian, African-American, Afghan and Egyptian-Puerto Rican. Three were born in the U.S. and two immigrated as teenagers, one within the past five years.
"One of the overlying themes of the script is it's not just about Islam, it's not just about being Muslim. We have socioeconomic and gender struggles," Syed said. "We are whole people with really complex lives."
The show is part of Ping Chong and Company's project "Undesirable Elements" that since 1992 has produced works to give voice to marginalized communities in the U.S. In 2015, the company collaborated with LaGuardia Community College in New York City to create a play about Muslim identity and put out a call for applications.
Zatz, who is also the theater troupe's associate director, said most of the people who applied were young — a reflection, she believes, of fear and mistrust in the Muslim community in New York City in the wake of 9/11, where police implemented surveillance and informant policies.
The show premiered in May 2015. It was six months before then-presidential candidate Donald Trump called for a ban on Muslims entering the U.S. and a year and a half before, as President, he signed an executive order to ban seven-Muslim majority countries. In the play's first performance the week after the 2016 election, each performer responded with raw emotions. The show is constantly being rewritten, Zatz said, as the lives of the individuals evolve.
Syed, born in Kuwait to Pakistani parents who were then displaced by the Gulf War, moved between a dozen countries growing up. After immigrating to New York City as a high school student, she worked for the Peace Corps and as an activist before becoming the executive director of New York Legal Services Coalition.
For Syed, a self-described radical feminist with left-wing politics who speaks her mind and dresses the way she wants, being a part of the project has allowed her to represent a different side of Islam and connect with diverse members of her own community. She said after one show where she talked about how she doesn't look like the traditional picture of a pious Muslim, two girls with light skin and wearing shorts approached her to say thank you — because people often didn't think they are Muslim, too.
"We don't all look one way, we don't all practice one way," Syed said.
She didn't tell her family what she was doing until she'd already agreed to be in the show. After the fact, she had to probe for family history from relatives who usually don't discuss uncomfortable subjects. Now, her parents have attended the most shows of anyone who's not in the cast or crew.
The director and performers thought the play would only last a couple weeks, but interest snowballed, calls for more shows kept coming and three years later, the project shows no signs of slowing down. The show will be hitting six states — four for the first time — over the next six months, including visiting SUNY Oswego in February.
Their most common criticism, Zatz said, is that they preach to the choir by not doing the show in conservative parts of the country.
"No matter what bubble you're living in, you can be a part of change in your community," she said.
https://www.timesunion.com/news/article/Muslim-Americans-Share-Stories-Dispel-Myths-in-13282060.php
--------
US urges Pakistan to ensure Taliban cut link with Afghan cadres
October 08, 2018
WASHINGTON: The US military has spelled out two things it wants Pakistan to do: de-link the Pakistan-based Taliban leaders from their cadres in Afghanistan and force them to participate in peace talks.
Gen Joseph L. Votel, commander, US Central Command (Centcom), explained the two points while commenting on Foreign Minister Shah Mehmood Qureshi's recent visit to Washington at a Pentagon news briefing this weekend.
As Centcom chief, Gen Votel is directly responsible for the US-led war in Afghanistan, which also includes stopping the alleged cross-border attacks from Pakistan.
"And they need to do that by making absolutely sure that there are no instructions, direction, other things coming from Taliban leadership that remains in Pakistan to their fighters on the ground," he said.
"They need to ensure that there can be no movement back and forth and that fighters can't come back into Pakistan to get aid or medical care or other things with that."
The Pakistanis also "need to use their influence with the Taliban to force the Taliban leadership to come to the table," he added.
Responding to the argument that Pakistan may or may not have enough influence on the Taliban to force them to talk, Gen Votel said: "They can do this, they can put pressure on them to do this."
On Oct 3, at the end of his 10-day trip to the United States, Mr Qureshi spoke at a seminar at the US Institute of Peace, Washington, where he challenged the assumption that Pakistan was still allowing Afghan militants to use its territory for conducting attacks into Afghanistan.
He urged the US military and members of Congress to visit Pakistan to review the situation. "We'll take you anywhere you want to go, to show there are no safe havens any longer and that over the last two years, the dynamic in Pakistan have changed in regard to what Islamabad is doing to help bring a political solution to Afghanistan," he said.
Commenting on the foreign minister's statement, Gen Votel said: "There is no doubt, and we've acknowledged this, that Pakistan has conducted operations in their country to root out terrorist organisations in certain areas, particularly areas up along the border with Afghanistan."
The general, however, also shared the US assessment of why Taliban were still able to attack targets inside Afghanistan. "We do assess there still is (Taliban) presence in Pakistan and we need them (Pakistanis) to continue to do that (push them out)," he said.
Referring to Mr Qureshi's meeting with US Secretary of State Michael Pompeo and National Security Adviser John Bolton in Washington on Oct 2, Gen Votel noted that the Pakistani foreign minister emphasised his country's determination to continue to support efforts for an Afghan-owned and led peace and reconciliation process.
"And he further acknowledged that peace and stability in Afghanistan was vital for their own stability and progress," Gen Votel added.
The US military, he said, maintained regular contacts with Pakistani military leaders and discussed these and other issues with them.
"We need them to continue to stay engaged in this. We need them to help lower the violence in Afghanistan," said the CENTCOM chief while explaining what US generals expect from their Pakistani counterpart.
Underlining the two things that he identified in his statement — de-linking Taliban leadership from their cadres and forcing them to talk — Gen Votel said: "Those are the two things that we have continued to emphasise with Pakistan" but "I do acknowledge that they have done a lot in their own country".
Full report at:
https://www.dawn.com/news/1437594/us-urges-pakistan-to-ensure-taliban-cut-link-with-afghan-cadres
--------
Quebecers protest against racist measures proposed by new provincial government
Oct 8, 2018
Thousands of people have staged an anti-racism rally in the Canadian city of Montreal to denounce the policies proposed by the newly-elected provincial government, which the protesters say would target immigrants and religious minorities in Quebec Province.
Some 50 community groups, including members of the First Nations Indigenous community and anti-capitalist activists, marched through the city's downtown on Sunday.
Local media put the number of protesters at around 3,000.
The protesters voiced opposition to the proposal of right-wing Premier-designate Francois Legault, who seeks a law banning public servants in positions of authority from wearing religious symbols such as hijab, Jewish kippahs and Sikh turbans.
Legault's Coalition Avenir Quebec (CAQ) won 74 of Quebec's 125 seats in last week's election.
Shortly after the election win, the premier-elect vowed to press ahead with his plans, which would also see the CAQ government cut immigration by 20 percent and expose the immigrants to mandatory "Quebec values" and French language tests.
Failing the tests could leave the immigrants open to deportation.
A large number of Muslim families were among the demonstrators protesting to the anti-diversity measures set forth by Legault.
"Stop telling us to take off our clothes," read a sign that was accompanied by a hand-drawn picture of a woman with her head covered.
Yazid Mahlah, 18, explained he was there for his mother, who wears a Muslim head covering. "If you take away my mother's veil, basically you take my mother from me," he said. "You take her identity from her."
Meanwhile, Jennifer Jerome, an indigenous woman attending the protest, said, "We are first peoples here, and we shouldn't have any politician discriminate against others that are coming here and creating our diversity -- in Montreal especially."
"Quebec wouldn't be anything without immigration," she emphasized.
Jewish activists present at the event also said the new government's proposed plans would create division in Quebec's society.
"We are concerned about the CAQ election because they have been trying to divide Quebecers into real Quebecers and immigrants," said Scott Weinstein of the Independent Jewish Voices during the demonstration.
Canadian Prime Minister Justin Trudeau has cautioned the new Quebec premier against the policies he plans to pursue.
Full report at:
https://www.presstv.com/Detail/2018/10/08/576383/Quebec-Protest-Rally-Racism-Legault
--------
Muslim Group Meets With Councilman Over Posts About Islam
Oct. 7, 2018
ANNAPOLIS, Md. (AP) — The president of a Muslim organization in Maryland has met with a local councilman who had shared social media posts that were considered to be Islamophobic and xenophobic.
The Capital Gazette reported Saturday that Anne Arundel County Muslim Council president Rudwan Abu-Rumman had confirmed Friday's meeting. County Councilman John Grasso did not respond to the newspaper's requests for comment.
Abu-Rumman described the meeting as education-focused. He told the newspaper that politicians should "know their community before they start taking sides and sending nonsense posts or sharing posts without understanding what it means."
Grasso shared Facebook posts in September about Muslims and Islam, including one that said "Share if you think President Trump should ban Islam in American Schools."
Full report at:
https://www.usnews.com/news/best-states/maryland/articles/2018-10-07/muslim-group-meets-with-councilman-over-posts-about-islam
--------
Europe
Muslim London: 423 new mosques, 100 Shariah courts
2018-10-07
London —Britain has been acquiring an increasingly Islamic face, with hundreds of official Shariah courts operating in the capital and many mosques dotting many cities.
"London is more Islamic than many Muslim countries put together," Maulana Syed Raza Rizvi, an Islamic preacher, was quoted as saying in the local media.
"Terrorists can not stand London's multiculturalism", London Mayor Sadiq Khan said after the deadly terror attack at Westminster last year.
There are 423 new mosques in London and most of these mosques are crowded at prayer times unlike many churches which rarely see visitors.
The Daily Mail published photographs of a church and a mosque a few meters from each other in the heart of London. At the Church of San Giorgio, designed to accommodate 1,230 worshipers, only 12 people gathered to celebrate Mass. At the Church of Santa Maria, there were 20
The nearby Brune Street Estate mosque has a different problem: overcrowding. Its small room can contain only 100.
By 2020, estimates are that the number of Muslims attending prayers will reach at least 683,000, while the number of Christians attending weekly Mass will drop to 679,000.
Since 2001, 500 London churches of all denominations have been turned into private homes. During the same period, British mosques have been proliferating. Between 2012 and 2014, the proportion of Britons who identify themselves as Anglicans fell from 21% to 17%, a decrease of 1.7 million people, while, according to a survey conducted by the respected NatCen Social Research Institute, the number of Muslims has grown by almost a million. Churchgoers are declining at a rate that within a generation, their number will be three times lower than that of Muslims who go regularly to mosque on Friday.
London is also full of Shariah courts. There are officially 100. The advent of this parallel judicial system has been made possible thanks to the British Arbitration Act and the system of Alternative Dispute Resolution.
British universities are also advancing Islamic law. — Agencies
http://saudigazette.com.sa/article/545051/World/Europe/Muslim-London-423-new-mosques-100-Shariah-courts
--------
Why Would Russian Agents Target Muslim Channel in UK?
October 8th, 2018
Dozens of British Muslims have been left in shock after Russian military intelligence agents launched a 2015 cyber-attack on UK-based TV station the Islam Channel, channel owner Mohamed Ali Harrath said.
The incident at the time gave Kremlin-backed hackers complete control over the broadcaster's computer networks.
According to the Financial Times newspaper, Russian intelligence had been targeting the channel's database for a while, going unnoticed until British security services informed channel management of what's going on in 2015.
Islam Channel is a 24-hour, free-to-air broadcaster based in Ilford in the eastern suburbs of London, but which transmits its programs to Europe, Africa and Asia.
It confirmed at the time that the cyber-attack was launched on a state level and not carried out by the occasional group of amateur surveillance hackers.
Islam Channel is popular among several million Muslims living in Britain.
"Our media success is what drives enmity against us," he said in a phone interview with Asharq Al-Awsat.
"Government statistics show that 60 percent of British Muslims follow the channel's programs," added Harrath.
"Although we have changed the cyberinfrastructure of the station, which costs a lot of money, we may still be hacked," Harrath, a Tunisian Islamist, told Asharq Al Awsat.
Harrath brands Islam Channel as "a voice for those without a voice" or "the voice of the oppressed."
"We are the first English-speaking broadcaster transmitting from the heart of Europe," he added.
Islam Channel reaches up to 100 countries worldwide. It airs on eight different satellites across five continents. There are 30 million Muslims in Russia watching around-the-clock programs aired by the channel, Harrath said.
"Since the station launched, we provided coverage for many Islamic activities in Russia, including the Holy Quran Award in Moscow in 2015, and never attacked Russian interests or policies around the world," he added.
Full report at:
https://www.albawaba.com/news/why-would-russian-agents-target-muslim-channel-uk-1196330
--------
The Latest: Muslim candidate in Bosnia urges EU integration
Oct 8, 2018
BANJA LUKA, Bosnia-Herzegovina – The Latest on Bosnia's general election (all times local):
11 a.m.
A leading Muslim candidate for Bosnia's three-person presidency says he is confident of a victory and expects the country to move forward after the election.
Sefik Dzaferovic said upon casting his ballot Sunday "I expect massive support from all citizens of Bosnia-Herzegovina." He says Bosnia needs "stability, economic prosperity and (EU) integration."
He says politicians in Bosnia must start working "as early as tomorrow ... to form governments at all levels and begin fulfilling the above-mentioned goals."
Dzeferovic is from the Muslim Party of Democratic Action, or SDA. If he wins, Dzaferovic will replace the party leader Bakir Izetbegovic in the Bosnian presidency that also has a Serb and a Croat member.
Bosnia consists of a Serb regional government and a Muslim-Croat one tied loosely by central institutions, including the presidency.
___
8 a.m.
Bosnians were voting Sunday in a general election that could install a pro-Russian nationalist to a top post and cement the ethnic divisions of a country that faced a brutal war 25 years ago.
The ballot is seen as a test of whether Bosnia will move toward integration in the European Union and NATO or remain entrenched in rivalries stemming from the 1992-95 war.
Some 3.3 million people are eligible to vote for an array of institutions in Bosnia's complex governing system, which was created by a peace accord that ended the war that killed 100,000 people and left millions homeless.
The country consists of a Serb regional government and a similar Muslim-Croat entity joined in a central government. Voters are casting ballots for the three-person Bosnian presidency, the Serb president, and the two entities' parliaments and cantonal authorities.
Full report at:
https://www.foxnews.com/world/the-latest-muslim-candidate-in-bosnia-urges-eu-integration
--------
Bloody history and anti-Muslim stance colour Hungary-Turkey links
Oct 8, 2018
On a sultry late-summer day in southern Hungary, Prof Norbert Pap forged on through snagging branches and tangled undergrowth, disturbing dragonflies, butterflies and a foraging deer, to reach the site of his latest discovery.
Hidden deep in a thicket of trees on the swampy fringes of the River Danube, the hillock in question doesn't look like much, but Pap is certain that it has a remarkable history.
Today it is surrounded by quiet fields straddling the Hungary-Croatia border, close to the security fence that Hungarian prime minister Viktor Orban built in 2015 to block refugees and migrants moving north from Turkey into the European Union.
But on August 29th, 1526 – as most Hungarians and many Turks know – this farmland near the town of Mohacs was a vast and bloody battlefield, the site of the greatest military clash in medieval central Europe.
At least 60,000 Ottoman soldiers led by Sultan Suleiman the Magnificent routed some 27,000 Hungarian, Polish, Czech, Croat and others troops. And Hungary's King Louis II died along with many of the bishops, barons, counts and knights that made up the nation's elite of the time.
"Mohacs was one of the five most important battles in Ottoman history," says Pap, a professor at the nearby University of Pecs.
"And it is considered the blackest day of Hungarian history. In the Hungarian identity, Mohacs is the explanation for almost all subsequent negative developments. Suleiman destroyed the medieval Hungarian kingdom," he explains.
"The Ottomans wrote that the sultan came to the hill to watch the battle and pray for victory," the professor says after climbing down from the buried ruins of a Roman fort that would have offered a fine vantage point over the Mohacs battlefield.
Later, the Ottomans built a pavilion on the hill to mark their triumph, and Pap and his team hope to find evidence of the monument here.
"What is the significance of this site? This is where the greatest Ottoman ruler watched one of the greatest battles in Ottoman history and saw the destruction of a serious Christian medieval power . . . It led to the decline of central European powers like the Czech kingdom and Polish kingdom. And it threw Hungary into civil war and caused the rise of the Habsburgs."
Pap's record on such claims is strong: two years ago, 90km west of Mohacs, he unearthed the tomb where Suleiman's organs were interred after he died of natural causes during the 1566 Battle of Szigetvar; there, the Ottomans suffered such losses in victory that they scrapped plans to take Vienna, which later prompted French diplomat Cardinal Richelieu to call it "the battle that saved civilisation".
Now, sites with such close links to Suleiman are regaining their significance for Turkey, as its president Recep Tayyip Erdogan evokes the glory of great sultan's empire to rekindle his nation's pride in its Ottoman heritage.
Erdogan will visit Hungary on Monday and there were suggestions that he would go to Szigetvar to see the excavations of Suleiman's memorial complex.
It now seems that he will stay in Budapest, however, where the highlight will be the unveiling of the renovated tomb of Gul Baba, a dervish poet and close friend of Suleiman who died in Buda shortly after the Ottomans occupied it in 1541.
Orban and Erdogan are on good terms – they share autocratic tendencies, a love of football and a loathing for lectures from the European Union – and the Hungarian was the only EU head of government to attend the Turkish leader's inauguration in July.
Some Turkish businessmen are also doing well in Hungary. In particular Adnan Polat, a tycoon who acts as an unofficial intermediary between Budapest and Ankara, attending football matches with Orban, doing deals with his son-in-law and running the foundation that has overseen the restoration of Gul Baba's tomb.
And yet events, both of recent years and remote centuries, inevitably complicate relations between the leaders.
In rejecting refugees and migrants as a threat to Europe's security and identity, Orban has said the long shadow of Ottoman rule gives Hungary the "right to decide that we do not want a large number of Muslim people in our country".
"I have to say that when it comes to living together with Muslim communities, we are the only ones who have experience because we had the possibility to go through that . . . for 150 years," he added.
For Orban, Hungary's Ottoman era is a black chapter in its history, while Erdogan – who has been described as a "neo-Ottoman" – the expansion of Suleiman's empire marked a glorious period that should inspire his nation today.
The leaders will bring these opposing views of history to Gul Baba's tomb, which, by some accounts, was renovated as a kind of compensation to Ankara after Orban's government scrapped plans for a big Turkish-funded mosque in Budapest; officials say the €7 million cost of the restoration was split between the two countries.
"I wouldn't call it tension, but there is certainly some delicacy which has to be handled," Hungarian government spokesman Zoltan Kovacs said of how Orban and colleagues approach historical matters with their Turkish counterparts.
"Obviously for Hungarians (the Ottoman occupation) is an important historical fact and an integral part of our past. But at the same time, we still commemorate that we lived under Turkish rule for 150 years," he added.
Hungary finally drove out the Ottomans in 1699 but, after the Austro-Hungarian empire seized Bosnia in 1878, thousands of Muslims again took up residence in Budapest, including about 600 elite fighters garrisoned at Buda Castle.
"A serious problem for them was that there was no mosque in Hungary," explains Pap.
"But they did have something else – the Gul Baba tomb, which was a traditional pilgrimage place and somewhere they could gather and pray. It was a symbolic centre for the Muslim community in Hungary."
There is still no purpose-built mosque for the 30,000 or so Muslims who now live in Hungary. And they have kept a low profile as Orban has donned the mantle of Christian Europe's defender and demonised refugees and migrants from the east.
If Orban joins Erdogan in honouring the memory of Gul Baba, it will be striking to see him for once acknowledge Hungary's many centuries of interaction with the Islamic world without depicting that relationship as an existential threat.
"This is a good example of how it is possible to co-operate regarding historical legacies even in the hottest circumstances," said Kovacs.
"Turkey is a big country, a regional power with obvious regional and cultural ambitions, so you have to be aware of that and calibrate how you orchestrate the relationship, commemorations and political relations," he added.
History may divide them, but the two leaders will have much to discuss on migration, energy supplies and what they see as unfair foreign criticism of Erdogan's brutal crackdown on critics and Orban's anti-democratic reforms.
"A lot depends on Turkey, if we talk about the security of Europe, migration and the local balance of power," said Kovacs.
Full report at:
https://www.irishtimes.com/news/world/europe/bloody-history-and-anti-muslim-stance-colour-hungary-turkey-links-1.3654721
--------
Amazon scheme supports Islamic extremists
October 8 2018
Amazon has agreed to fund a hardline British charity whose leading ideologue supports child marriage, female genital mutilation and stoning people to death for adultery.
Under its charitable programme, the internet giant will make donations to the London-based group whenever its supporters buy products.
The Muslim Research and Development Foundation (MRDF) has been described by the government's counter-extremism commissioner, Sara Khan, as "the main Salafist organisation in the UK".
Its founder and former chairman is Haitham al-Haddad, 52, a Saudi-born Islamic scholar whose beliefs led him to be labelled "one of the most dangerous men in Britain" by the head of the counter-extremism Quilliam Foundation.
https://www.thetimes.co.uk/article/amazon-scheme-supports-extremists-vdzsfvsls
--------
Muslims who 'peddle hatred' against Jews being challenged by 'progressive-thinking imams', Lord Ahmad says
Jenni Frazer
October 7, 2018
One of Britain's most senior Muslim figures, Lord Ahmad, believes there has been "a real step change among progressive-thinking imams" in the Islamic community towards those who "peddle hatred against the Jewish community".
Lord Ahmad, a Conservative peer and the prime minister's special representative for freedom of religion and belief, was speaking after delivering an address to the United Nations General Assembly last week in which he spelled out a renewed commitment by the British government to stamp out antisemitism.
Lord Ahmad, who formerly worked with Prime Minister Theresa May in the Home Office as communities minister, said: "I'm proud to reaffirm Britain's commitment to combatting the scourge of antisemitism."
Britain, he said, was the first government to adopt the International Holocaust Remembrance Alliance definition of antisemitism.
It led the way in dealing with antisemitism, he said, and added: "All governments can and must do more to tackle antisemitism, and learn from each other. As global leaders we must act responsibly to ensure future generations reflect on the lessons from the Holocaust and recognise our shared humanity.
"Seven decades after the Holocaust, society still cannot say that antisemitism has been eradicated; nor can it claim that genocide is a thing of the past. As recently as last month the United Nations concluded that the Burmese military had inflicted genocide against the Rohingya.
"The UK government is committed to religious tolerance in the UK and globally. Through the government-backed Holocaust Educational Trust and their world-leading Lessons from Auschwitz programme, 36,000 students have visited Auschwitz.
"The British government is determined that the genocide of six million Jews will never be forgotten. A spectacular and poignant Holocaust Memorial and Learning Centre will be erected right next to Parliament, reminding all of us of the depths to which humanity can sink, and the importance of robustly opposing all forms of bigotry."
Lord Ahmad has been involved in tackling antisemitism for a number of years, visiting Auschwitz with a group of British teens in 2015 and spending time in Israel, with his family, earlier this year.
He said: "It is precisely because I am a Muslim that I speak out against antisemitism.
"When I was a child of eight, I attended a Christian school, and we were learning about Judaism. I didn't really understand so I went home and asked my mother about the different faiths. And she told me that when we build a house we build the foundations. And she said that we believe the foundations are Judaism, the walls are Christianity, and that Islam is the roof.
"Our faith is the source of ending hatred: we stand up for commonality and humanity. I am very much committed to standing up against antisemitism and there are many notable Muslim communities who are doing great work in this regard".
The peer said he was "proud" of the harmony which existed between faiths in Britain and of the work done in tackling antisemitism and discrimination.
Speaking on the day in which Home Secretary Sajid Javid had announced that the government was prepared to proscribe the political wing of Hezbollah, Lord Ahmad said he thought it was "tragic" that the Labour Party "is going through the turmoil it is" in relation to antisemitism. He said: "It is very important that political parties which seek to govern can sort out this issue."
Hezbollah's stance in seeking the annihilation of the Jewish state was "unacceptable", the peer said. "Their first step must be to renounce violence and accept the existence of Israel."
Lord Ahmad spoke warmly of the diversity of Britain, saying that he believed that "if you are Jewish, you will speak up for Christians, if you are Christian you will speak up for Muslims, if you are Muslim you will speak up for Jews".
Full report at:
https://www.thejc.com/news/uk-news/muslims-who-peddle-hatred-against-jews-being-challenged-by-progressive-thinking-imams-lord-ahmad-1.470614
--------
'London is more Islamic than many Muslim countries'
October 7, 2018
London: Britain has been acquiring an increasingly Islamic face, with hundreds of official Shariah courts operating in the capital and many mosques dotting many cities.
"London is more Islamic than many Muslim countries put together," Syed Raza Rizvi, an Islamic preacher, was quoted as saying in the local media.
There are 423 new mosques in London and most of these mosques are crowded at prayer times unlike many churches which rarely see visitors.
The nearby Brune Street Estate mosque has a different problem: Overcrowding. Its small room can contain only 100.
By 2020, estimates are that the number of Muslims attending prayers will reach at least 683,000, while the number of Christians attending weekly Mass will drop to 679,000. Since 2001, 500 London churches of all denominations have been turned into private homes. During the same period, British mosques have been proliferating.
The Daily Mail published photographs of a church and a mosque a few meters from each other in the heart of London. At the Church of San Giorgio in United States, designed to accommodate 1,230 worshipers, only 12 people gathered to celebrate Mass. At the Church of Santa Maria, there were 20.
Between 2012 and 2014, the proportion of Britons who identify themselves as Anglicans fell from 21% to 17%, a decrease of 1.7 million people, while, according to a survey conducted by the respected NatCen Social Research Institute, the number of Muslims has grown by almost a million.
Churchgoers are declining at a rate that within a generation, their number will be three times lower than that of Muslims who go regularly to mosque on Friday.
London is also full of Shariah courts. There are officially 100. The advent of this parallel judicial system has been made possible thanks to the British Arbitration Act and the system of Alternative Dispute Resolution. British universities are also advancing Islamic law.
A recent survey had also shown that teachings of the Holy Quran are better represented in Western societies than in Islamic countries, which have failed to embrace the values of their own faith in politics, business, law and society.
A study of 208 countries and territories has found that the top countries in both economic achievement and social values are Ireland, Demark, Luxembourg and New Zealand. Britain also ranks in the top ten.
Full report at:
http://www.ummid.com/news/2018/October/07.10.2018/london-is-more-islamic-than-many-muslim-countries.html
--------
Southeast Asia
Why Muslims accused of Shariah offences lack access to justice
08 October 2018
KUALA LUMPUR, Oct 8 — Three unrepresented Muslim women were sentenced to caning after pleading guilty in two Shariah cases for attempted lesbian sex and prostitution in Terengganu, throwing the spotlight on the lack of legal representation in Islamic criminal cases.
Like them, others accused of Shariah offences — which open them up to three years' imprisonment and public caning over mostly victimless crimes like consuming alcohol or extramarital sex — often appear in court unrepresented.
Although the National Legal Aid Foundation (YBGK) — which is jointly coordinated by the Bar Council and the government — provides legal assistance in criminal cases, it does not provide regular aid to Muslims charged with Shariah offences due to lack of training and a proper scheme.
"As far as the YBGK steering committee is concerned, we're trying to get it sorted out by this term to finalise the Shariah module for YBGK," steering committee co-chairman Ravin Singh told Malay Mail, referring to a February 2019 deadline.
"We're seeking a meeting with the Attorney-General to discuss a few YBGK matters — this is one of it."
Ravin said YBGK lawyers must undergo compulsory training to qualify for such cases, but very few attend training for Shariah work. Some lawyers did take on Shariah criminal cases a year or two ago, but the work has since stopped, he said.
The government's Legal Aid Department also does not provide assistance in Shariah criminal cases; it handles Shariah family matters.
Persatuan Peguam Syarie Malaysia (PGSM) president Musa Awang said his group will launch Shariah Legal Aid Centres in December throughout the country, starting in the Kuala Lumpur Shariah Court, to provide legal assistance in Shariah family and criminal cases.
The centres dubbed BAGUS (Pusat Bantuan Guaman Shariah) will focus on Shariah family matters first, said Musa, before tackling Shariah criminal cases hopefully by July 2019.
"BAGUS will be set up in special rooms, the PGSM secretariat, or lawyers' rooms at the Shariah court (depending on the available facilities)," Musa told Malay Mail.
"PGSM will appoint a panel of accredited Syarie lawyers, who have a Syarie certificate of practice in the relevant state, as the BAGUS Syarie Lawyer Panel."
Legal aid under BAGUS will be limited to those earning RM30,000 a year or less, or those with an annual income of between RM30,000 and RM50,000.
Musa said PGSM, which currently has 600 members, manages YBGK's Shariah matters throughout the country except for Kelantan, Terengganu, and Pahang, as the association was still setting up branches in those states, which it hoped to complete by next year.
He also said Shariah courts should have the prosecution notify PGSM or YBGK before filing charges so that legal aid could be provided if needed.
"There is no such procedure currently. It depends on the client to get a lawyer. Such a procedure should be implemented."
Datuk Kuthubul Zaman Bukhari, chairman of the Bar Council Shariah Committee, said the panel has recommended a scheme for Shariah criminal work similar with the civil courts' criminal jurisdiction.
"The same rate to be given when they appear as counsel when the accused is charged in court. The prosecution needs to inform before charging so that a counsel can attend court.
"For the criminal court, the Bar Council Legal Aid Committee will be notified. So there must be similar mechanism, but you must ask YBGK who the prosecution needs to contact," Kuthubul told Malay Mail.
He said it was in the best interest of the accused to be represented by lawyers in all criminal matters, including Shariah-related cases.
"Hence the government must ensure that everyone has access to justice. It is a fundamental human right."
Most accused Shariah criminals don't get lawyers
One Shariah judge who requested anonymity said most Muslims charged with Shariah offences did not have lawyers acting for them.
"One of the biggest reasons is because of the fine. The maximum fine that can be imposed is RM5,000.
"So if they want to appoint lawyers to represent them, they have to pay more than the fine that will be imposed on them," the judge told Malay Mail.
The Shariah judge also said by right, Shariah courts should typically impose lighter punishments if the accused pleaded guilty and if it was a first offence. The two recent Terengganu cases involving a lesbian couple and a single mother saw the accused receiving the maximum sentence of six strokes despite their guilty pleas.
Shariah court sentences are limited to three years' jail, six lashes of the cane, or a RM5,000 fine. PAS has been pushing for legal amendments to raise the sentencing limits to 30 years' jail, 100 strokes, and RM100,000 fines.
Justice for Sisters (JFS), an advocacy group for the lesbian, gay, bisexual and transgender (LGBT) community, said it has experienced difficulty obtaining legal representation for its clients who were charged under anti-crossdressing state laws, among other Shariah offences.
JFS has dealt with six to eight cases this year.
"We have been in situations where transwomen have had to change their pleas and plead guilty due to lack of friendly lawyers and lack of adequate counsel," JFS co-founder S. Thilaga told Malay Mail.
"We have had Shariah lawyers who were unwilling to present transwomen in court.
"We have also dealt with Shariah lawyers who are willing to represent transwomen, but are not respectful of the trans-women's gender identity, for example, misgendering of trans-women.
"When lawyers misgender transwomen, it immediately creates barriers and lack of confidence in the lawyers to provide adequate legal counsel and representation trans-women in court."
The LGBT activist also said although JFS sometimes obtained lawyers who were willing to represent transwomen, they did not provide adequate counsel and refused to make "progressive" arguments in court.
"Some common situations that we have dealt with include suggestions to plead guilty to cut down time and hassle and get it over and done with. As a result, trans women have limited access to justice and right to due process."
Muslim women's rights group Sisters in Islam described the problem of getting legal representation for people charged with Shariah offences as a "systemic" one.
"Many provisions under the Shariah Criminal Offences Act (SCOA) intrude into the lives and privacy of Muslims and contradict fundamental liberties that they rightfully have under the Federal Constitution.
"This makes the duties of a Shariah lawyer not only complicated, but also brings in an unnecessary moral dimension to the cases that they undertake," SIS told Malay Mail.
SIS said its Telenisa helpline provided free legal advice on one's rights in relation to Muslim family law and the SCOA.
"Over the years, we have helped thousands of clients with all kinds of issues with regards to their rights."
Equating legal representation to defending "enemies" of Islam
Rosli Dahlan, a civil rights and Syarie lawyer, said Shariah courts sometimes took the position that people accused of religious offences should not be defended because their alleged crimes were "wrong".
So as a result, not many lawyers want to do such cases," Rosli told Malay Mail.
"With the antagonistic attitude of the Shariah judiciary, it is very difficult for Syarie lawyers to earn a livelihood. The bulk of their cases is family (matters). It could affect their livelihood, so they would rather not do it."
Rosli, who successfully defended the late Muslim intellectual Kassim Ahmad from Shariah charges of insulting Islam and defying religious authorities, said he was perceived as being "with the enemies of Islam against Islam" in that case.
"It's a bit of an anomaly. We must give people the right to be defended. But because of Shariah attitude and Muslim attitude per se, every time I fight against the Shariah prosecutor, it's as if I'm defending wrongdoers against Islam," the lawyer said.
"How do I say I don't support LGBT, but I believe they are to be defended?"
https://www.malaymail.com/s/1680315/why-muslims-accused-of-shariah-offences-lack-access-to-justice
--------
After cashier 'shamed' for refusing alcohol sale, mufti warns of rising anti-Muslim sentiment
08 October 2018
KUALA LUMPUR, Oct 8 — Perlis Mufti Datuk Mohd Asri Zainul Abidin has warned today of allegedly growing anti-Muslim attitude in Malaysia, following an incident where a cashier was "shamed" for refusing to handle sales of alcohol in a convenience store.
The mufti has accused the perpetrator of being rude, and symptomatic of those who are similarly antagonising Muslims here.
"This attitude is growing day by day. Muslims should be aware of this bad development," he said in a post on his Facebook page last night.
In response, he urged for "a special conference" to be held to discuss this alleged phenomenon to ensure a peaceful nation for all.
Asri admitted that the man has a right to complain to the manager if he was dissatisfied with the cashier's service, he did not need to 'insult' the 7-Eleven employee by recording the incident in a disrespectful manner.
"The girl was responding in a good manner. Such a person is not fit to live in a multi-religious and multi-faith country. What more a Muslim-majority country like Malaysia," he said, comparing it to the treatment of non-Hindus in India.
Asri also urged that Muslims not be made to work in stores that sell alcohol.
"This is because Islam regards alcohol as destructive to the body and soul, so it is irrational for a good Muslim to serve something destructive to others as well," he said.
He also suggested that the cashier was trying to find an excuse so she would not be involved with the sale, saying that it is a sin in Islam.
"Her mistake was working in a premise that sells alcohol. However, we do not know the real situation of the girl's life. She must have tried everything she could to avoid the prohibited thing," he said.
The mufti also urged Muslims to offer another job to the girl, so she could avoid sinning.
Full report at:
https://www.malaymail.com/s/1680468/after-cashier-shamed-for-refusing-alcohol-sale-mufti-warns-of-rising-anti-m
--------
More grassroots programmes for Malay/Muslim community
Tan Tam Mei
Oct 8, 2018
The launch of a new network of volunteers will see more grassroots programmes serving the Malay/ Muslim community in Pasir Ris-Punggol.
The network, comprising more than 20 professionals, managers, executives and technicians (PMETs), comes under the collaboration of the Islamic Religious Council of Singapore (Muis), self-help group Mendaki and the People's Association Malay Activity Executive Committees Council (Mesra) - popularly known as M³.
Mr Zainal Sapari, an MP for Pasir Ris-Punggol GRC who announced this yesterday, said: "Their immediate task is to have a greater understanding of the resources and needs of the community when developing specific programmes."
The volunteers come from diverse backgrounds and will provide expertise in areas like educational programmes, mentoring classes and financial literacy skills.
Mr Abdul Wahab Mohamed Yusoff, 56, vice-president of a cyber security firm, is one of the volunteers and brings with him 30 years of experience in the tech industry.
"The initiatives are still in their infancy... but I hope I can contribute in taking care of the youth and teaching them how to motivate and apply themselves," said the father of three.
Mr Zainal, who spoke at the Malay Cultural Village event at Pasir Ris Elias Community Club, also touched on another M³ initiative called the KelasMateMatika@Pasir Ris East (KMM@Pasir Ris East).
Also at the event were Deputy Prime Minister Teo Chee Hean, who is also an MP for Pasir Ris-Punggol GRC, and Minister-in-charge of Muslim Affairs Masagos Zulkifli.
Full report at:
https://www.straitstimes.com/singapore/more-grassroots-programmes-for-malaymuslim-community
--------
Amirudin: Hassan Azhari's death a great loss to Islam
07 October 2018
SHAH ALAM, Oct 7 — The Selangor government regarded the death of renown religious scholar Tan Sri Hassan Azhari as the loss of a gem in the religious field.
Mentri Besar Amirudin Shari said Hassan had contributed a lot in the field of religion, especially in Quran studies, in the country.
"He was also the Islamic religious teacher to the royal family, including His Majesty Sultan Sharafuddin Idris Shah since the time of the sultan's grandmother and father.
"And because of his (Hassan) deeds, His Majesty (Selangor Sultan) consented to him (Hassan) to be buried at the royal mausoleum befitting his contributions to the country," he told reporters after Hassan's funeral at the Shah Alam Royal Mausoleum, Section 5 here today.
Also present at the funeral were the Sultan of Selangor Sultan Sharafuddin Idris Shah and the Tengku Laksamana of Selangor, Tengku Sulaiman Shah.
Hassan, 90, who often served as a judge during the Annual Quran Reading Assembly, died of lymphoma cancer at about 5pm yesterday at the Kuala Lumpur Hospital.
His remains were buried at the royal mausoleum at about 9.40am after the funeral prayers which were held at the Sultan Salahuddin Abdul Aziz Shah Mosque here.
Full report at:
https://www.malaymail.com/s/1680208/amirudin-hassan-azharis-death-a-great-loss-to-islam
--------
Muslim leaders jumped the gun to criticise me on moral policing, Mujahid says
08 October 2018
PETALING JAYA, Oct 8 — Minister in the Prime Minister's Department Datuk Mujahid Yusof Rawa has slammed some Muslim leaders today for jumping the gun and criticising him over a remark he made on moral policing.
The minister in charge of religious affairs said he was disappointed by those who read the headline of a news report on his interview — in which he spoke about vice raids — and jumped to conclusions about his credibility as the minister tasked with protecting Islam.
"Dear sirs, in Malaysia, this thing about the issue of Islam has always been a sensitive topic. From this issue, we are able to gauge the state of our mentality," he said at a roundtable discussion at the International Institute of Advanced Islamic Studies here.
"There are some who did not see the transcript as a whole. They just read the headlines, and then degrade and insult, as if the religious affairs minister is that stupid. As if he does not have a religion. Please.
"I am not taken aback by what social media users say. It's not our level to discuss, but sometimes, who are the ones who do that? Religious scholars. Those from the levels respected by the community," he added.
Mujahid said religious experts who criticised him could at least have asked him for an explanation and heard him out.
"This thing affects Islam. In the end, when I pointed out the mistake in the heading and requested them to read the transcript, where are we going to put our faces?" Mujahid asked.
"That's why I do not speak unless I know what I'm talking about. Don't underestimate," he added.
Mujahid came under fire over the weekend after The Star ran a story about khalwat raids from an interview with him, saying he had called for an end to the practice of "knocking on doors at night".
The minister later denied making those remarks and accused the editor of putting words in his mouth, pointing to The Star's transcript of the interview, which did not contain the remarks as reported.
Full report at:
https://www.malaymail.com/s/1680443/muslim-leaders-jumped-the-gun-to-criticise-me-on-moral-policing-mujahid-say
--------
Terror suspect taught up to three classes per week
8 Oct 2018
KUALA LUMPUR: A 33-year-old Middle Eastern man arrested for spreading extremist Salafi Jihadi teachings had been holding up to three classes per week in Kuala Lumpur.
The man used to be one of the teachers at an Islamic Learning Centre in Perlis that authorities now believe is a starting point for a Yemen-based terror group.
Before police swooped in, the centre had been recruiting new members and promoting their teachings, which permitted the killing of non-Muslims and even Muslims who do not follow their ways.
"The suspect was arrested in KL as he left the centre a while back.
"He had up to three classes per week. It is very alarming," a source said yesterday.
It is learnt that the authorities, specifically the police's Counter Terrorism Division, is now tracking down the suspect's movement and whom he had met and even recruited before his arrest.
He was among eight men – seven foreigners and a Malaysian – detained on Sept 24 in Perlis, Kuala Lumpur and Johor with links to the centre that had been operating for seven years.
Intelligence sources revealed that the centre's administrators had attempted to hide their true activities under the guise of only teaching Islamic-based syllabus.
"However, it is an entirely different story inside the centre where they teach and practise their own twisted version of Islam.
"Salafi Jihadi is a belief that many terror groups based their struggle on.
"The authorities believe that the centre is a starting point for a Yemen-based terror group to plant its seeds in Malaysia as well as make the country a hub of Salafi Jihadi teachings in the region," a source said.
Authorities are also working towards identifying other students and teachers of the centre.
"This is not just a cult but it is a terror movement. Most of the foreigners detained have links with other terror suspects in their home countries. They are also being investigated for connections with terror activities there," the source said.
When contacted, Bukit Aman Special Branch Counter Terrorism Division head Deputy Comm Datuk Ayob Khan said the spreading of Salafi Jihadi teachings was a very serious matter that must be curbed.
"We are working to collect actionable intelligence to prevent the spread of such teachings as well as working with relevant authorities.
Full report at:
https://www.thestar.com.my/news/nation/2018/10/08/terror-suspect-taught-up-to-three-classes-per-week/
--------
Jokowi, Prabowo campaigns highlight sharia-based economy
October 8, 2018
Presidential hopeful Prabowo Subianto and running mate Sandiaga Uno were on the campaign trail with visits to different pesantren (Islamic boarding school) over the weekend.
During his visit to the Sidogiri pesantren in Pasuruan, East Java, on Saturday, Sandiaga was clad in a white shirt, green sarong and black peci (rimless hat), similar to the garb that of rival vice presidential candidate and Muslim cleric Ma'ruf Amin.
At the pesantren, Sandiaga repeated the Prabowo-Sandiaga campaign's economic message, saying that santri (pesantren students) are the backbone of the country's economy and that they should become entrepreneurs, or what he referred to as "santripreneurs".
The message, however, is not authentic as it also has been voiced by Ma'ruf, who runs alongside incumbent President Joko "Jokowi" Widodo. The cleric said he wanted to focus on the "Muslim economy".
"I'm certain that one of the movers of the Indonesian economy is the Muslim economy," he said as quoted by Antara. "An economy that can empower [people]."
Ma'ruf previously said that he wanted to establish a "new wave" in the economy based on sharia.
Prabowo, at the same time visited the As Syafi'iyah Pulo Air pesantren in Sukabumi, West Java, on Sunday, and also reiterated his focus on the economy, saying that he would do his best to eradicate poverty if he won the election.
"I feel the support of people in Sukabumi is very strong and this gives me hope that I will win," he said at the pesantren, as quoted by radarsukabumi.com.
Despite having the support of several conservative Islamic groups such as the National Movement to Safeguard Fatwas (GNPF), a recent survey conducted by Indikator Politik Indonesia found that respondents considered the Prabowo-Sandiaga ticket to be less pious than its rival.
Around 76 percent of the respondents considered President Joko "Jokowi" Widodo to be religious and pious, while only 58 percent said Prabowo was religious and pious.
Full report at:
http://www.thejakartapost.com/news/2018/10/07/jokowi-prabowo-campaigns-highlight-sharia-based-economy.html
--------
Africa
Report blames Boko Haram insurgency, North-east conflicts on poor governance
October 7, 2018
The conflicts, terror and violence ravaging Nigeria's North-east region are consequences of the failure of government and deficit in governance in the region, the United Nations Development Programme (UNDP) said it its latest National Human Development Report (NHDR).
The 94-page report titled, "Achieving Human Development in North East Nigeria", focused on the six states of Adamawa, Bauchi, Borno, Gombe, Taraba and Yobe mostly affected by the activities of the Boko Haram terror group.
Findings in the report said the Boko Haram insurgency is "in a significant sense, a response to the consequences of progressive failure of governance", particularly the persistence of governance deficits frustrating freedom of political choice in the region.
"When the perception of bad governance is coupled with widespread poverty, the youth have become highly sceptical about a democratic system that has brought hem little benefit and only serve the interests of a smaller political elite.
"Hopelessness and frustrations as a result of unemployment and widespread poverty have therefore lured the largely youthful population to embrace resistance," the report said.
The report, launched on Friday in Abuja, highlighted four main findings from the study, which showed a significant relationship between perceptions of exclusion, inequality, widespread unemployment, poverty, religious bigotry, western education and consequences of raging conflicts, terror and violence in the region.
Also, the report said there was a significant convergence of the consequences of the conflicts and violence on infrastructure, loss of property, unemployment, loss of lives, psychological trauma and resultant loss of livelihood.
Other findings included that perceptions of exclusion extended to health, education, agriculture, developmental infrastructure and other livelihood amenities.
Some of the recommendations for preventing the crisis include addressing conclusively, rather than glossing over the root causes; early detection of potential crisis triggers; delinking state from religion; strengthening rule of law; promoting peace building and peace education initiatives.
Supervising minister of finance, Zainab Ahmed, in her speech, bemoaned the changing socio-economic status of the region as a result of the orgy of conflict, terror and violence inflicted on many innocent victims in the area.
The minister said the federal government was committed to address, conclusively, the crisis currently ravaging the country's North-east region.
She said it remained unfortunate that the North-east, once known for its immense potential and rich historic contribution to Nigeria's wealth and development, including previously as centre of commerce, is at the moment best known for nothing except for the conflict, terror and violence.
"Our country's North-east region is now probably one of the most famous geographic locations of the world, largely due to its association with the Boko Haram insurgency," Mrs Ahmed said.
To ensure the region's contributions to Nigeria's socio-economic development were not easily forgotten, she said the current administration was determined to do all within its capacity to bring the crisis to an end.
The decision by UNDP to focus national and global attention to the North-east region, she noted, was extremely important, particularly as it would place the developmental issues and challenges it's facing in the global context it rightly deserves.
She expressed hope that the report will provide understanding to the humanitarian and developmental challenges of the people of the region and propose lasting remedial measures to end the crisis.
The report discusses the causal factors and possible internal as well as the external enablers fuelling violence and conflict leading to the monumental humanitarian challenge the region is currently grappling with.
Evidence of the negative impact of the crisis in the region, the minister noted, has been tens of thousands of deaths and the displacement of close to two million Nigerians across the six states between 2009 and 2016.
"The North-east in its entirety has also faced other forms of human destruction that are extremely disturbing, including the abduction and trafficking of persons – mostly boy children used as foot soldiers, and girl children used as sex slaves; displacement of persons from their homes and livelihoods, and radicalization of populations through religiously articulated ideological indoctrination and extremist political propaganda," the minister said.
Apart from the destruction of the socio-economic and agricultural basis of livelihoods in the region, she said the stigma associated with displacement and homelessness of the people has been a source of great worry to Nigerians and the government.
Other concerns include the long-term psycho-social impacts of terror and destruction on education and health facilities as well as the environment.
The report is the outcome of a study aimed at identifying historical, socio-cultural an economic cause of the conflict and violence in the North-east region.
Also, the study was to assess the specific contribution of the main socio-economic factors, especially the place of perceived 'exclusion' and 'marginalisation' in exacerbating conflicts, violence and insurgency in the region.
The report is the 8th edition to be published in Nigeria.
https://www.premiumtimesng.com/news/top-news/289048-report-blames-boko-haram-insurgency-north-east-conflicts-on-poor-governance.html
--------
Libyan PM reshuffles ministers to broaden support after Tripoli clashes
8 October 2018
Libya's UN-backed Prime Minister Fayez al-Serraj changed the interior minister and reshuffled other cabinet posts on Sunday, in a move seen as a bid to broaden his support nationwide and bolster security in the capital after weeks of clashes.
Tripoli has been hit by fighting between rival armed groups competing over access to public funds and power, part of chaos in Libya since the toppling of Muammar Gaddafi in 2011.
The United Nations has been trying to impose a ceasefire by calling on a broader security arrangement.
In the reshuffle, Serraj appointed Fathi Ali Bashagha as interior minister.
Bashagha comes from the western city of Misrata.
The government also named a new economy and industry minister, Ali Abdulaziz Issawi, who comes from Benghazi in eastern Libya.
Issawi is a veteran figure from the rebels who toppled Gaddafi.
Serraj's spokesman Mohamed al-Salak told Reuters in a brief phone message that the changes were made "in the context of promoting economic and security reforms." He did not elaborate.
The UN mission to Libya, UNSMIL, said on Twitter it was ready to "support the new ministers to implement the new security arrangements in the capital Tripoli, to move forward with economic reforms and to seek the unification of Libyan national institutions."
Megerisi, a visiting fellow at the European Council on Foreign Relations, said Serraj was seeking to broaden his support as the United Nations works to unify rival bodies to prepare Libya for elections.
"The appointment of Bashagha could also be an attempt to ensure Misrata continue to support the work of the committee to implement security provisions and keep Misrata on board," he said.
The decree appointed Faraj Bomtari as finance minister and Bashir al-Qantri as youths and sport minister.
Full report at:
https://english.alarabiya.net/en/News/north-africa/2018/10/08/Libyan-PM-reshuffles-ministers-to-broaden-support-after-Tripoli-clashes.html
--------
URL: http://newageislam.com/islamic-world-news/new-age-islam-news-bureau/wahhabi-saudi-arabia-spreading-sectarianism,-shiaphobia/d/116583
New Age Islam, Islam Online, Islamic Website, African Muslim News, Arab World News, South Asia News, Indian Muslim News, World Muslim News, Women in Islam, Islamic Feminism, Arab Women, Women In Arab, Islamophobia in America, Muslim Women in West, Islam Women and Feminism