New Age Islam News Bureau
21 Dec 2013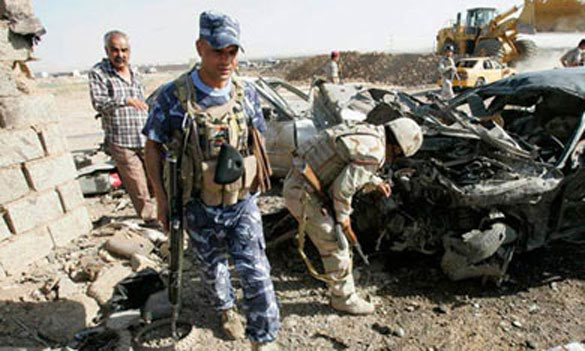 In Iraq when the assault began, the soldiers were hit by suicide bombers, and when they entered buildings several booby traps exploded, the sources said.— File photo
-------------
Arab World
• Wahhabi Cleric, former Haram Imam Denied Entry to London for Divisive Views
• Iraq general among 15 killed attacking Qaeda: army
• Syrian Army Kills More Members of Terrorists Groups in Several Operations
• Syria views Saudi Arabia as number one enemy
• 'Fatwa Wars' over Egypt constitution referendum
• Hezbollah to 'punish' Israel for killing of top leader
• "Moderate" Myth is Dropped, West Prepares to Leverage Terror Threat to End War in Their Favour
• Research group: Thousands of foreigners have fought in Syria
Pakistan
• Fall of Dhaka: 'We should apologise to Bengalis for the discrimination'
• Hopes for peace dashed over Taliban's 'unwillingness' to talk
• Satellite images show progress on Pak's fourth reactor
• Pakistan troops pound militant hideouts
• More deaths and clashes in North Waziristan
• Achakzai asks Pakhtuns to unite against conspiracies
South Asia
• Bombs, gunpowder cache seized at Geneva camp at Dhaka, again
• Hefazat-e Islam calls govt support for Dec 24 rally
• Maldives MP files four misconduct cases against Judge Mohamed
India
• India, Iraq can fight terrorism together: Iraqi NSA
• Muslims should learn to introspect and Progress with the changing times," said Sultan Shahin
• India begins training Afghan commandos as ties deepen ahead of 2014
• Will not bow before terror threat: J&K panchayat body
Africa
• Nigerian Islamists attack barracks in volatile northeast: Army
• Ban, UNSC strongly condemn deadly attack on UN base in South Sudan
• Libya haunted by chronic security problems
• Libyan told he cannot pursue rendition claim in case it harms UK interests
Southeast Asia
• Indonesian Muslims protest Christmas in Aceh
• In Malaysia, Spat Between Civil Servant and MP Over Wahhabi Issue Intensifies
• Kindest cut: Malaysian charity styles the homeless
North America
• American Soldiers Leave Behind Dark Messages in Afghan Barracks
• American-Islamic civil rights group asks FBI to investigate vandalism
• Local GOP leader goes after history textbook as 'propagating' Islam
• Hagel urges Pakistan to reopen Torkham route
• Obama tells Congress 'no need' for new Iran sanctions
Europe
• Syria regime raining death on Aleppo: HRW
• Iran should attend Geneva confab on Syria: UN chief
• British intelligence agency faces investigation over torture of terrorism suspects
• Video Raises Worries of Britons Fighting With Syria Militants
• UN adopts Iran's World Against Violent Extremism Act
• West increasingly wary of Assad ouster by Islamists: Russia
Mideast
• Turkey favours any measures against radical groups in Syria: FM
• 'Sectarian' clashes kill nine in northern Yemen
• Turkish PM to US ambassador: 'Mind your business
• Abbas briefs Arab League chief on peace talks
Compiled by New Age Islam News Bureau
URL: https://www.newageislam.com/islamic-world-news/new-age-islam-news-bureau/wahhabi-cleric,-former-haram-imam-denied-entry-to-london-for-divisive-views/d/34950
-----------
Arab World
Wahhabi Cleric, former Haram Imam Denied Entry to London for Divisive Views
Dec 21, 2013
TEHRAN (FNA) - Saudi Sheikh Adel al-Kalbani, a former senior imam of the Grand Mosque in Mecca, was prevented from boarding his plane in Riyadh to fly to London over his divisive sectarian views.
Al-Kalbani planned to fly to London, where he had been expected to give a lecture in Whitechapel and another one in Wembley, Daily Express reported on Friday.
Since 2008, the Sunni cleric has been quoted expounding potentially divisive views regarding Shiite Muslims.
There has been increasing concern among extremism experts over attempts to divide Shiite and Sunni Muslims in Britain.
Concerns raised higher when followers of radical hate preacher Anjem Choudary led a demonstration in London in May against Shiite Muslims.
Al-Kalbani was quoted as saying, "I was stopped at the door of the plane and told that the authorities received a message from the British Embassy saying that I was not allowed to enter Britain."
A Home Office spokeswoman said she was unable to comment on specific individuals, but added, "All visa applications are considered on their individual merits and in line with the immigration rules."
http://english.farsnews.com/newstext.aspx?nn=13920930000812
-----------
Iraq general among 15 killed attacking Qaeda: army
2013-12-21
BAGHDAD: Five senior Iraqi officers, including a major general, and 10 soldiers were killed Saturday in clashes with insurgents in the west of the country, military sources reported.
Major General Mohammed al-Karoui and the other 14 all died in an assault on "a hideout of the Al Qaeda network" in Sunni-majority western Anbar province near the border with Syria, the sources said.
They were killed attacking a militant camp near Rutba, 380 kilometres west of Baghdad, senior officers said.
When the assault began, the soldiers were hit by suicide bombers, and when they entered buildings several booby traps exploded, the sources said.
http://www.dawn.com/news/1075499/iraq-general-among-15-killed-attacking-qaeda-army
-----------
Syrian Army Kills More Members of Terrorists Groups in Several Operations
Dec 21, 2013
The Syrian army killed dozens of terrorists in several operations in Damascus Countryside.
An army unit ambushed an armed terrorist group affiliated to the "Islamic State of Iraq and the Levant (ISIL)" and killed all its members who were attempting to sneak into Aqraba town in Damascus Countryside.
A source said that an army unit killed all members of an armed terrorist group in Douma city in the countryside.
Among the dead terrorists were Nazeh al-Shumari and Masoud al-Soderi from Saudi Arabia.
The source added that another army unit destroyed a terrorists' den along with the weapons and ammunition inside it in al-Hajariyeh farms in Douma.
The source pointed out that an army unit clashed with terrorists to the East of the Water Establishment in Harasta, killing and injuring scores of them.
Meanwhile, the army units destroyed a den for the al-Nusra Front terrorists in Rema farms in Yabroud area and killed many of them, while another army unit clashed with terrorists in al-Jamiyat neighborhood in Maaloula city, killing and injuring scores of them.
In Afra mountains in al-Zabadani city, an army unit killed and inured a number of terrorists, including Yaseen al-Mallat.
Another army unit targeted a terrorist group to the East of the sewage establishment and near al-Othman Mosque in Adra area in the countryside, killing and injuring scores of them.
http://english.farsnews.com/newstext.aspx?nn=13920930000526
-----------
Syria views Saudi Arabia as number one enemy
Dec 21, 2013
Syria now views Saudi Arabia as its number one enemy and accuses it of trying to destroy the country by arming jihadists and other rebels fighting to oust President Bashar al-Assad.
The oil-rich Gulf monarchies have sided with the opposition from the start of Syria's conflict in March 2011, with Riyadh leading calls for the fall of Assad.
Syrian Deputy Foreign Minister Faisal Muqdad told AFP this week that Saudi Arabia was providing unfettered support for "terrorist groups" in Syria, while other nations had reviewed their positions.
"I think that all those who supported these terrorist groups have the feeling now that they have made big mistakes," Muqdad said in an interview on Thursday, referring to the rebels seeking to topple Assad.
"The only party who is declaring the full support to the terrorist groups, to Al-Qaeda, is Saudi Arabia," he said.
Muqdad urged the world to press Saudi Arabia to halt its support for the rebels, to prevent what he said was "another 11 September incident".
"I think that if the world wants to avoid another 11 September incident, they must start telling Saudi Arabia 'enough is enough'," he said, referring to Al-Qaeda's 2001 attacks on the US.
Earlier this month, Assad's government urged the United Nations to take a stand against Saudi support for Islamist groups whose influence has grown on the battlefield.
"We call on the UN Security Council to take the necessary measures to put an end to the unprecedented actions of the Saudi regime, which is supporting takfiri (Sunni extremist) terrorism tied to Al-Qaeda," the foreign ministry said in a message to UN chief Ban Ki-moon.
It was the first time the Syrian government has appealed to the international body to take action against Riyadh.
"Saudi Arabia is not content to merely send weapons and to finance but also mobilises extremist terrorists and sends them to kill the Syrian people," the Syrian message said.
Saudi-Syrian relations had been tense for years, long before the start of the brutal conflict that has now killed an estimated 126,000 people.
The Sunni-ruled kingdom severed diplomatic relations with Damascus following the February 2005 assassination in Beirut of Lebanese ex-premier Rafiq Hariri who had close ties with Riyadh.
Four years later, diplomatic ties resumed and Assad, who belongs to the Alawite Shiite sect, paid an official visit to Riyadh in March 2009.
Saudi King Abdullah, who rarely embarks on official visits abroad, reciprocated in October that year and made a landmark visit to Damascus to seal ties.
But relations deteriorated from the onset of the Syria war and were finally severed, with Riyadh repeatedly calling for the end of Assad's regime.
Saudi officials have simultaneously chided the West for its reluctance to intervene militarily on the side of the armed opposition.
On Tuesday, the Saudi ambassador to Britain, Prince Mohammed bin Nawaf bin Abdul Aziz, published in The New York Times a bluntly worded assessment of the West's policies on Syria and Iran.
"We believe that many of the West's policies on both Iran and Syria risk the stability and security of the Middle East," he wrote in the commentary.
The senior diplomat said Saudi Arabia has "global responsibilities", both political and economic, and vowed it will continue to support the rebel Free Syrian Army and opposition fighters.
"We will act to fulfil these responsibilities, with or without the support of our Western partners," wrote the ambassador.
He also acknowledged the threat of Al-Qaeda-linked groups in Syria, arguing however that the best way to counter the rise of extremists among the rebels was to support the "champions of moderation".
Muqdad on Thursday told AFP that "Saudi Arabia should be put on the list of countries supporting terrorism."
Outside regime circles, there is also growing animosity towards Saudi Arabia.
Earlier this month, a film which depicts the Saudi royal family in an unflattering light was screened at the Damascus opera house.
"It was important for me to show this movie," said director Najdat Anzour of his "The King of Sands" movie, which opens with Al-Qaeda's 9/11 attacks on the US.
"Al-Qaeda didn't come from Mars but from Saudi Arabia, from the Wahhabi, extremist way of thinking," Anzour told AFP.
Anzour said a Saudi cleric has issued a fatwa, Islamic decree, authorising his killing.
http://english.ahram.org.eg/NewsContent/2/8/89642/World/Region/Syria-views-Saudi-Arabia-as-number-one-enemy.aspx
-----------
'Fatwa Wars' over Egypt constitution referendum
World Bulletin / News Desk
21 December 2013
Religion appears to have added a new dimension to the ongoing row between Egypt's rival political camps over an upcoming popular referendum on an amended version of the country's suspended 2012 constitution.
Earlier this week, Egypt's former grand mufti Ali Gomaa called on Egyptians to vote "yes" on the amended charter as a public endorsement of an army-imposed roadmap imposed by the military following the July 3 ouster of President Mohamed Morsi.
"Go endorse the constitution," Gomaa said at a debut press conference for a new pro-government coalition. "God supports it [the revised charter] because it favours productivity and stands against corruption, infidelity, hypocrisy, schism and misbehaviour."
Local media also reported that a number of clerics had used their Friday sermons to urge congregants to vote "yes" in the upcoming referendum.
Full report at:
http://www.worldbulletin.net/?aType=haber&ArticleID=125397
----------
Hezbollah to 'punish' Israel for killing of top leader
Dec 21, 2013
BEIRUT: Hezbollah chief Hassan Nasrallah warned on Friday that his Lebanese Shia movement will "punish" Israel for the killing of a top leader earlier this month.
"The killers will be punished sooner or later... Those who killed our brothers will not know safety anywhere in the world," he said in a televised tribute to Hassan al-Lakiss, whose killing Hezbollah blamed on Israel despite its denials.
http://timesofindia.indiatimes.com/world/middle-east/Hezbollah-to-punish-Israel-for-killing-of-top-leader/articleshow/27688585.cms
----------
"Moderate" Myth is Dropped as West Prepares to Leverage Terror Threat to End War in Their Favour
Dec 21, 2013
TEHRAN (FNA)- The alleged fleeing of General Selim Idriss of the so-called "Free Syrian Army" (FSA), was more symbolic than anything else. Whether or not he really fled, and whether he is in Turkey or Qatar is of little consequence. The so-called "moderates" he commanded were nothing more than a smokescreen, a cheap veneer applied to the hardcore Wahabist extremists of Al-Qaeda's Al Nusra franchise and similar fronts that have formed the core of foreign-backed militancy turned against the Syrian people from the very beginning of the conflict.
Full report at:
http://english.farsnews.com/newstext.aspx?nn=13920924000520
-----------
Research group: Thousands of foreigners have fought in Syria
Dec 21, 2013
BEIRUT — Between 3,300 and 11,000 fighters from more than 70 nations, including a rising number from Western Europe, have joined the struggle in Syria against President Bashar Al-Assad, a research group reported.
After security forces repressed peaceful protests against more than 40 years of Assad family rule in 2011, an armed revolt ensued with an increasingly sectarian element.
Well over 100,000 people have been killed and millions forced from their homes.
"We estimate that — from late 2011 to 10 December 2013 — between 3,300 and 11,000 individuals have gone to Syria to fight against the Assad government," said the International Center for the Study of Radicalization (ICSR), a partnership of five universities based at King's College London.
Full report at:
http://www.saudigazette.com.sa/index.cfm?method=home.regcon&contentid=20131221190152
-----------
Pakistan
Fall of Dhaka: 'We should apologise to Bengalis for the discrimination'
December 21, 2013
LAHORE: "Bangla is an older language than Urdu yet in his 1948 speech in East Pakistan Quaid-i-Azam declared Urdu the national language of Pakistan," Journalist Khalid Chaudhry said on Friday.
He was speaking at a discussion titled Fall of Dhaka Who is Responsible, here at the South Asian Free Media Association auditorium.
Chaudhry said not many countries were established on the basis of religion. "We should apologise to the Bengalis for the discrimination they faced," he said.
SAFMA Secretary General Imtiaz Alam said the Hamoodur Rehman Commission report should be published and its gist included in the curriculum.
Alam said Bengalis were discriminated against. "Not a single chief secretary was from East Pakistan," he said.
Full report at:
http://tribune.com.pk/story/648538/fall-of-dhaka-we-should-apologise-to-bengalis-for-the-discrimination/
-----------
Hopes for peace dashed over Taliban's 'unwillingness' to talk
December 21, 2013
ISLAMABAD: Hopes are dashed, for now, of an urgently-needed political settlement in Afghanistan after Pakistan's national security Adviser Sartaj Aziz stated Taliban insurgents are "unwilling to talk to the Afghan High Peace Council."
Complying with President Hamid Karzai's longstanding demand, Pakistan allowed the council's chairman, Salahuddin Rabbani, to secretly visit senior Taliban leader Mullah Abdul Ghani Baradar last month, who Karzai believes could be useful in facilitating the peace process.
Despite the Taliban's firm stance of not talking peace with Kabul, Prime Minister Nawaz Sharif agreed to arrange a meeting between Afghan negotiators and Baradar. Furthermore, disregarding the insurgent group's policy that a detainee cannot represent the movement, Nawaz assured Karzai during his visit to Kabul on November 30 that he will ensure additional sessions with Baradar are arranged.
Full report at:
http://tribune.com.pk/story/648437/hopes-for-peace-dashed-over-talibans-unwillingness-to-talk/
-----------
Satellite images show progress on Pak's fourth reactor
Dec 21, 2013
Recent satellite imagery appears to have "clearly" revealed that Pakistan has completed the external construction of its fourth reactor building at the Khushab nuclear site located 200 kilometers south of Islamabad, a think-tank here has reported.
According to an report by Institute for Science and International Security (ISIS), which has monitored and catalogued changes at the Khushab complex using commercial satellite imagery to at the site, Pakistan started the construction of the fourth reactor at the end of 2010 or early 2011.
ISIS noted that a January 2011 image showed the building, similar in layout to the the second and third reactors at the same site, early in its construction but by April 2011, the frame of the reactor building and the main reactor hall were visible.
Full report at:
http://www.thehindu.com/news/international/south-asia/satellite-images-show-progress-on-paks-fourth-reactor/article5484958.ece
-----------
Pakistan troops pound militant hideouts
Dec 21, 2013
MIRANSHAH, Pakistan — Pakistani troops pounded suspected militant hideouts in a lawless tribal district for a third day Friday, as the death toll rose to 40 and local residents claimed the operation had left a number of civilians dead.
Clashes between security forces and militants have been rocking North Waziristan district, on the Afghan border, since Wednesday evening when a suicide bombing killed five soldiers at a checkpoint in the town of Mir Ali.
Militants attacked security forces on Wednesday as they returned after rescuing soldiers wounded in the bombing, prompting the military respond with mortars, artillery and helicopter gunships in a search operation to catch the insurgents.
The death toll from the clashes rose to at least 40 on Friday as four more bodies were recovered from the debris of two hotels that came under heavy fire after fleeing militants used them to take refuge.
Full report at:
http://www.saudigazette.com.sa/index.cfm?method=home.regcon&contentid=20131221190171
-----------
More deaths and clashes in North Waziristan
PAZIR GUL
2013-12-21
MIRAMSHAH: The violence in North Waziristan Agency triggered by a Wednesday-night suicide attack against security forces continued on Friday as another three people were killed after security forces opened fire on a vehicle during curfew hours near Khajori check post. The death toll in this week's clashes has reached 53 according to locals.
Still unclear is whether the individuals who have been killed in this week's clashes are civilian or militant. Indeed, the entire chain of events that has left the whole of North Waziristan under a curfew for four days is shrouded in confusion. Competing version of events between military sources, militant groups and local residents cannot yet be reconciled in an area that is inaccessible to most journalists.
Full report at:
http://www.dawn.com/news/1075314/more-deaths-and-clashes-in-north-waziristan
-----------
Achakzai asks Pakhtuns to unite against conspiracies
2013-12-21
MINGORA: Pakhtunkhwa Milli Awami Party (PkMAP) chairman Mahmood Khan Achakzai said on Friday that conspiracies against Pakhtuns had resulted in massive human losses in the region and called for unity to face challenges and restore peace.
Addressing a public gathering here at Aligarama area of Swat, he said that they had been struggling for the rights of Pakhtun. He said that provision of justice to all individuals was important to keep the society intact.
He said that the people of Khyber Pakhtunkhwa and Balochistan had rendered a lot of sacrifices for their homeland, but still they were labelled as terrorists.
"Pakhtun are true patriots and not terrorists," Mr Achakzai said, adding that Pakhtun areas had been converted into a dump of explosives through a conspiracy. "We should unite and collectively work for foiling such conspiracies," he said.
Full report at:
http://www.dawn.com/news/1075451/achakzai-asks-pakhtuns-to-unite-against-conspiracies
-----------
South Asia
Bombs, gunpowder cache seized at Geneva camp at Dhaka, again
Dec 21, 2013
One more bomb making den was raided at the capital's Geneva Camp from where more than 100 crude bombs and 1kg of gunpowder were recovered yesterday. The Rapid Action Battalion (Rab) recovered the bombs and the gunpowder within a few hours into an explosion that left two injured, while they were allegedly making bombs at the Geneva Camp. The injured Md Shaheen, 35, and Sabbir, 19, were admitted to the Dhaka Medical College Hospital (DMCH). Shaheen's condition in particular was reported to be critical. "They sustained injuries while making bombs at a shanty inside the camp around 2:30pm", said Senior Assistant Commissioner of Police, Raihan Uddin Khan, also the operation officer of Rab-2. Speaking with the Dhaka Tribune, the Rab-2 operation officer said immediately after the explosions, they had raided the location and recovered more than 100 bombs and 1kg of gunpowder from the den. The ASP said the bombs were being made for subversive acts during the hartal and blockade programmes and also for other criminal purposes. He added that they were trying to arrest other members of the gang involved in the bomb manufacturing operation. However, the injured Shaheen and Sabbir claimed they had sustained the injuries while passing through the area by rickshaw when the bombs were hurled at them by some unknown miscreants.
http://www.dhakatribune.com/law-amp-rights/2013/dec/21/100-crude-bombs-recovered#sthash.I1tVB0SR.dpuf
----------
Hefazat-e Islam calls govt support for Dec 24 rally
Dec 21, 2013
Hefazat-e Islam expressed strong determination on holding their December 24 rally at Shapla Chhattar, Motijheel in a press conference in Dhaka on Saturday. A call was also made to government for all cordial supports in order to make the Hefazat rally "a success." Hefazat's Dhaka metropolitan convenor and central Nayeb-e-Amir Nur Hossain Quashemi was speaking during the press briefing held at a Baridhara madrassa. The December 24 rally will demand implementation of 13-point demand, which included curbing women's rights, and release of all arrested Hefazat leaders, he said. Also, the rally will demand for an independent judicial probe panel over what the Hefazat leader said May 5 genocide. This will be the second time Chittagong-based Hefazat, claiming themselves to be a pro-Islamic and non-political organisation, will be holding a rally in Motijheel. This time, however, the date for the rally has been called just weeks ahead of the January 5 national elections amidst an agitation programme of the BNP-led 18-party alliance.
Full report at:
http://www.dhakatribune.com/bangladesh/2013/dec/21/hefazat-firm-dec-24-rally#sthash.TFzDF56m.dpuf
-----------
Maldives MP files four misconduct cases against Judge Mohamed
By Mohamed Naaheed | December 19th, 2013
Opposition Maldivian Democratic Party (MDP) MP Hamid Abdul Ghafoor has filed four cases of judicial-misconduct against the former Chief Judge of Criminal Court Abdulla Mohamed at the Judicial Service Commission (JSC).
The MDP in a statement (dhivehi) published on its official website claimed that the four cases filed against the judge had been based upon his misconduct during Hamid's recent criminal trial.
Full report at:
http://minivannews.com/politics/opposition-mp-files-four-misconduct-cases-against-judge-abdulla-mohamed-73715
-----------
India
India, Iraq can fight terrorism together: Iraqi NSA
Dec 21, 2013
New Delhi, Dec 20 (IANS) India could be an ideal partner for Iraq in tackling international terror, visiting Iraqi National Security Advisor Falih Al Fayyadh said Friday. "India with its historical ties with Iraq and a country which itself is inflicted with terrorism could be an ideal partner with Iraq in tackling international terror," Fayyadh said at an interaction at the Institute of Defence Studies and Analysis here. With around seven million Indians working in Gulf, India has strong interests in the region. "India like Iraq faces same challenges from externally supported extremist groups. Therefore, it is logical that both India and Iraq cooperate over the issue of terrorism," said Fayyadh, who is here on an official visit.
Full report at:
http://www.firstpost.com/fwire/india-iraq-can-fight-terrorism-together-iraqi-nsa-1299821.html?utm_source=ref_article
-----------
Muslims should learn to introspect and Progress with the changing times," said Sultan Shahin
Pune: December 17, 2013
Muslims should learn to introspect and Progress with the changing times," said Sultan Shahin, Founder Editor of multi-lingual Islamic website New Age Islam.com. He was speaking on "Muslim: Education, Reform and National Integration" at a talk organized by Dnyaneshwar Mulay Education Society at S M Joshi hall on December 14. The lecture was organized as part of monthly lecture series "Towards light". The session was chaired by Syed Bhai, president of Islam Satyashodhak Samaj, Pune.
Source: Indian Express, Pune
---------
India begins training Afghan commandos as ties deepen ahead of 2014
Dec 21, 2013
(Reuters) - - India is training a group of Afghan special forces in the deserts of Rajasthan, army officials said on Friday, deepening its involvement with Afghanistan as its military prepares to secure the country after NATO's withdrawal in 2014.
Afghan military officers have been attending courses in India for years, but this is the first time members of its special forces have held joint exercises with Indian commandos.
Afghanistan has been pressing India for military equipment including helicopters, tanks and field guns as well as greater involvement in the training of Afghan forces as foreign troops withdraw, leaving the Afghan military to deal with a resilient Taliban insurgency.
Full report at:
http://in.reuters.com/article/2013/12/20/india-afghanistan-idINDEE9BJ05E20131220
-----------
Will not bow before terror threat: J&K panchayat body
Sanjay Khajuria,TNN | Dec 21, 2013
JAMMU: The All Jammu and Kashmir Panchayat Conference (AJKPC) on Friday refused to succumb to the threats of Lashkar-e-Toiba, calling it a cowardice act.
Shafiq Mir, chairman AJKPC, the apex body of panchayat members, such threats by militants would not weaken their resolve to stand for democracy. "And such acts will expose them before the world how they are carrying attacks on unarmed innocent people," he said. "I appeal to all the panchayat members of the state not to succumb before any pressure and not to resign under any pressure."
Full report at:
http://timesofindia.indiatimes.com/india/Will-not-bow-before-terror-threat-JK-panchayat-body/articleshow/27697028.cms
-----------
Africa
Nigerian Islamists attack barracks in volatile northeast: Army
Dec 21, 2013
Fighters from Nigeria's Boko Haram Islamist sect armed with anti-aircraft guns and grenade launchers attacked a barracks in the volatile northeast and battled soldiers for several hours, the military said.
The army said it used troops and planes to repel Friday's assault in the town of Bama, the second Islamist attack on a military base this month.
Boko Haram, which wants to set up an Islamic state, is seen as the main security threat to Africa's biggest oil producer.
Full report at:
http://english.ahram.org.eg/NewsContent/2/9/89665/World/International/Nigerian-Islamists-attack-barracks-in-volatile-nor.aspx
-----------
Ban, UNSC strongly condemn deadly attack on UN base in South Sudan
PTI | Dec 21, 2013
UNITED NATIONS: UN chief Ban Ki-moon and the Security Council have strongly condemned the attack on a UN base in South Sudan that killed 22 people, including two Indian peacekeepers, and asked the government there to swiftly investigate the "criminal act".
"The Secretary-General condemns in the strongest terms the attack on the UN Mission in South Sudan (UNMISS) base in Akobo, Jonglei State by armed elements," a statement issued by Ban's spokesperson said adding that the Secretary-General reiterates his call for all parties to exercise restraint and to cease hostilities.
Full report at:
http://timesofindia.indiatimes.com/world/us/Ban-UNSC-strongly-condemn-deadly-attack-on-UN-base-in-South-Sudan/articleshow/27711841.cms
---------
Libyan told he cannot pursue rendition claim in case it harms UK interests
Dec 21, 2013
A prominent Libyan dissident cannot pursue his "well-founded" claim that he was unlawfully abducted in a joint MI6-CIA operation, and later tortured, because to do so would damage Britain's relations with the US, a high court judge ruled on Friday.
The judge ruled that Abdel Hakim Belhaj could not sue MI6 and the former foreign secretary Jack Straw, even though he admitted that parliamentary oversight and police investigations were "not adequate substitutes" for a decision by a court of law.
Though the ruling, by Mr Justice Simon, dismissed Belhaj's case, it directly challenged the British government's argument that the parliamentary intelligence and security committee (ISC) was the proper body to investigate MI6 operations involving the rendition, detention, and alleged abuse of terror suspects.
Full report at:
http://www.theguardian.com/world/2013/dec/20/libyan-rendition-claim-uk-interests
-----------
Libya haunted by chronic security problems
Dec 21, 2013
The Libyan army has started roaming the streets of Tripoli in place of armed militias for the first time since 2011. Many Libyans in the capital are thrilled by the move after being fed up with the arms-wielding fighters taking charge of their city's security.
At least 40 have been killed as a result of clashes between the armed forces, militias, and local residents, who took to the streets in mid-November to demand an end to the rule of revolutionaries-turned-militias. The fighting broke out when truck-loads of fighters swept into the city from Misrata, interrupting a mass demonstration. The army then stepped in on the residents' side.
Full report at:
http://english.ahram.org.eg/NewsContent/2/8/89598/World/Region/Libya-haunted-by-chronic-security-problems.aspx
---------
Southeast Asia
Indonesian Muslims protest Christmas in Aceh
Dec 21, 2013
BANDA ACEH, Indonesia — A group of Muslims on Friday protested against Christmas and New Year celebrations in Indonesia's conservative Aceh province.
About 70 protesters took part in the protest at the governor's office and at a hotel in the provincial capital, Banda Aceh.
The protest came days after an influential Islamic clerics' organization, the Ulema Consultative Assembly, issued an edict prohibiting Muslims in the city from offering Christmas wishes or celebrating on New Year's Eve.
The protesters called on authorities to ban the celebrations, claiming they are prohibited by Islam.
Full report at:
http://www.washingtonpost.com/world/asia_pacific/indonesian-muslims-protest-christmas-in-aceh/2013/12/20/a01848b6-698b-11e3-997b-9213b17dac97_story.html
-----------
In Malaysia, Spat Between Civil Servant and MP Over Wahhabi Issue Intensifies
Dec 21, 2013
A spat between religious officer Zamihan Mat Zain and Datuk Seri Shahidan Kassim on Wahhabi issues continued, with Zamihan now saying he will take legal action on anyone who tried to tarnish his reputation.
Zamihan, who is assistant secretary of the Home Ministry's internal security and public order division, said Shahidan should contact Home Minister Datuk Seri Ahmad Zahid Hamidi if he had any problems with him, not attacking him through the media.
On Shahidan, Zamihan said: "The minister should be supporting the government aspiration and civil servant like me and not resort to bullying.
Full report at:
http://www.themalaysianinsider.com/malaysia/article/spat-between-civil-servant-shahidan-over-wahhabi-issue-intensifies
-----------
Kindest cut: Malaysian charity styles the homeless
Dec 21, 2013
KUALA LUMPUR — Homeless Kuala Lumpur resident Indera Abha struggles to eke out a meager existence by selling salvaged recyclables, so personal-appearance concerns understandably take a back seat.
But a Malaysian charity that offers free haircuts along with meals helps him to salvage some pride as well.
"I like to get my hair cut. I feel good, and it is free," Indera, 49, said with a smile missing several teeth, as strands of his thin black hair floated to the ground around him.
Wielding the scissors is stylist Azmina Burhan, who runs her own salon but volunteers with the Pertiwi Soup Kitchen to provide for an often-overlooked homeless need.
"To me, how people look is very important. You want to look good every day when you wake up, no matter how rich you are, how poor you are," said the bubbly 26-year-old.
Azmina joined the charity shortly after its establishment in 2010, helping to give out food and water several times a week.
Full report at:
http://www.saudigazette.com.sa/index.cfm?method=home.regcon&contentid=20131221190173
----------
North America
American Soldiers Leave Behind Dark Messages in Afghan Barracks
Dec 21, 2013
MEHTAR LAM, Afghanistan—Drawn in black marker across the closet mirror in Room #13 of the abandoned barracks is a large smiley face. It is placed so the soldier who once lived here would see it superimposed over his own as he geared up for the day's mission.
Beneath it, the soldier wrote a dark joke about Taliban marksmanship: "Smile. They'll stop missing sooner or later."
The 12-year war in Afghanistan has left its marks on the soldiers who fought it, and the soldiers in Mehtar Lam have, in turn, left their marks on Afghanistan. The things they left behind when they filed out of their barracks for the last time hint at anger, fear, doubt and a recognition that war had changed them.
Inside the wardrobe door of Room #19, a soldier ticked off each mission he had completed, clumped in fives like days gouged in a prison-cell wall. He left off after 113.
Near the final mission tick is written, "IED. Buca." An improvised explosive device. Was Buca a dangerous village? A wounded friend? He didn't say.
Full report at:
http://online.wsj.com/news/articles/SB10001424052702303497804579240792332273258
-----------
American-Islamic civil rights group asks FBI to investigate vandalism
Bluefield Daily Telegraph
Dec 21, 2013
WASHINGTON, D.C. — The Council on American-Islamic Relations (CAIR), the nation's largest Muslim civil rights advocacy organization, has called on state and federal authorities to investigate the vandalism at the I.S.A.R. (Islamic Society of the Appalachian Region) Worship Center in Green Valley as a possible hate crime, according to a CAIR press release.
"Just as we have requested following past hate incidents targeting American mosques, we urge the FBI to join with local authorities in investigating this case," Ibrahim Hooper, CAIR national communications director was quoted in the press release as stating.
During a telephone interview on Thursday from Washington, Hooper said that his office has already heard back from the FBI. "They acknowledged that they have received our request," Hooper said. "That doesn't mean that they have agreed to conduct an investigation. We won't know when they start if they choose to investigate it."
Full report at:
Source: Bluefield Daily Telegraph
-----------
Local GOP leader goes after history textbook as 'propagating' Islam
Dec 21, 2013
The School Board recently heard complaints from conservative activists, including the head of the Marion County Republican Party, that a state-approved textbook slights Christianity and Judaism while being favorably biased toward Islam.
A spokeswoman for the publisher counters that the book meets state standards in accordance with Florida's adopted history curriculum, which directs that Christianity and Judaism be explored more fully in earlier grades.
The critics of "World History," published by Pearson Prentice Hall, one of the biggest publishing houses in the world, demanded at the School Board's meeting in late November that the book be pulled from area schools.
Full report at:
http://www.jewishheritagemonth.com/judaism/local-gop-leader-goes-after-history-textbook-as-propagating-islam.php
-----------
Hagel urges Pakistan to reopen Torkham route
2013-12-21
WASHINGTON: US defence and military chiefs have said that while they will continue to use other communication options and routes to Afghanistan, Pakistan needs to reopen the Torkham gate as soon as possible.
Defence Secretary Chuck Hagel and Martin E. Dempsey, the chairman of the US Joint Chiefs of Staff, noted that keeping the ground communication lines through Pakistan open was particularly important now as the United States planned to withdraw most of its combat troops and equipment from Afghanistan in 2014.
"Logistics is about options, and it always is. And we have options to the north," Secretary Hagel said. "And we have another route to the south. We do use air now."
But he also acknowledged that the air option was "a lot more expensive" and noted that the United States was "still moving on a couple of other ground lines".
Full report at:
http://www.dawn.com/news/1075429/hagel-urges-pakistan-to-reopen-torkham-route
-----------
Obama tells Congress 'no need' for new Iran sanctions
December 21, 2013
WASHINGTON: President Barack Obama issued a stern defense of his outreach to Iran on Friday, warning US lawmakers not to derail diplomatic efforts to curtail the Islamic state's nuclear program.
In an end-of-year news conference, Obama said efforts in Congress to pass tougher economic sanctions could damage recent moves to halt Tehran's alleged drive to refine nuclear fuel and build a weapon.
And he once again underlined that any break in the diplomatic momentum towards a deal could force Washington into another military conflict with a Middle East power.
Obama said the six-month interim agreement struck last month between Iran and world powers should stand as a test of Tehran's willingness to come to a deal with the international community.
Full report at:
http://tribune.com.pk/story/648685/obama-tells-congress-no-need-for-new-iran-sanctions/
----------
Europe
Syria regime raining death on Aleppo: HRW
Dec 21, 2013
Syrian regime forces are raining death on Aleppo, killing hundreds of people in air strikes that were either "criminally" indiscriminate or "deliberately" aimed at civilians, a rights group said Saturday.
"Government forces have really been wreaking disaster on Aleppo in the last month, killing men, women, and children alike," said Ole Solvang, senior emergencies researcher at Human Rights Watch.
"The Syrian Air Force is either criminally incompetent, doesn't care whether it kills scores of civilians -- or deliberately targets civilian areas," Solvang added.
The HRW statement comes six days after the launch of a massive aerial campaign against opposition-held areas of Aleppo, once Syria's commercial capital, involving dozens of warplane strikes and helicopter attacks using TNT-packed barrels.
Full report at:
http://english.ahram.org.eg/NewsContent/2/8/89663/World/Region/Syria-regime-raining-death-on-Aleppo-HRW.aspx
----------
Iran should attend Geneva confab on Syria: UN chief
Dec 21, 2013
EHRAN – United Nations Secretary General Ban Ki-moon has once again underlined the importance of Iran's presence in the long-awaited Geneva conference on Syria.
During a telephone conversation with Iranian Foreign Minister Mohammad Javad Zarif on Wednesday, Ban briefed him on his efforts to hold the peace conference, due to take place on January 22, aimed at finding a political solution to the ongoing conflict in Syria.
The UN chief also underscored that all influential voices as well as the United Nations should make every effort to achieve a comprehensive political solution on the Syrian crisis.
Zarif, for his part, reiterated Iran's support for a political solution to the crisis n the Arab country.
Full report at:
http://www.tehrantimes.com/politics/112941-iran-should-attend-geneva-confab-on-syria-un-chief
-----------
British intelligence agency faces investigation over torture of terrorism suspects
Dec 21, 2013
The so-called Gibson enquiry has confirmed that former intelligence members and former managers will face a serious of questions about the participation of the UK in the torture of the terrorists suspects after 9/11.
The operations included kidnapping the detainees and making them fly around the globe and being interrogated at the same time. After the examinations of about 20,000 documents on that matter, Mr. Gibson along with his colleagues raised 27 questions regarding the involvement of Britain in the war of terror. They have informed the MI5 and MI6 officers that they have a month to respond.
Full report at:
http://voiceofrussia.com/news/2013_12_21/British-intelligence-agency-faces-investigation-over-torture-of-terrorism-suspects-5018/
-----------
Video Raises Worries of Britons Fighting With Syria Militants
By Mark Hosenball o
December 21, 2013
Washington. An Internet video surfaced this week depicting a masked man in Syria with a working-class British accent, urging British Muslims to travel there and join one of the most radical Islamist rebel militias fighting to oust President Bashar al-Assad.
In the three-minute video, the man, wearing a black hood with eyeholes, loads what he says is a Glock 19 pistol with bullets he says come from the Free Syrian Army, a more moderate rebel group supported by the West.
"Where are you when they are slaughtering our children and our fathers?," the man says during the course of a diatribe in which he taunts fellow British Muslims and encourages them to go into battle.
Full report at:
http://www.thejakartaglobe.com/international/video-raises-worries-of-britons-fighting-with-syria-militants/
-----------
UN adopts Iran's World Against Violent Extremism Act
Dec 21, 2013
TEHRAN – The United Nations General Assembly has overwhelmingly voted to adopt a resolution proposed by Iran that calls on all the countries in the world to denounce violence and extremism.
The Iranian text of the World Against Violent Extremism (WAVE) Act, whose 11 co-sponsors included Syria and Cuba, was approved "by consensus" on Wednesday, with no member state calling for a recorded vote.
The WAVE Act condemns "any advocacy of national, racial or religious hatred that constitutes incitement to discrimination, hostility or violence," and countries are reminded of their obligation to refrain from "the threat or use of force against the territorial integrity or political independence of any state."
Full report at:
http://www.tehrantimes.com/component/content/article/94-headline/112951-un-adopts-irans-world-against-violent-extremism-act
-----------
West increasingly wary of Assad ouster by Islamists: Russia
Dec 21, 2013
Western diplomats are increasingly saying that President Bashar al-Assad keeping power is a better option for Syria than his overthrow by Islamist militants, Russia's foreign minister was quoted as saying on Friday.
"Not only in private meetings but also in public comments, the idea is occurring to some Western colleagues that...Assad remaining in office is less of a threat for Syria than a takeover of the country by terrorists," Sergei Lavrov told RIA news agency in an interview published on Friday.
Russia has been Assad's most important supporter during Syria's civil war, blocking Western-backed efforts to condemn Assad at the U.N. Security Council or to push him out of power.
Moscow says it is not trying to prop up Assad but that his departure cannot be a precondition for peace moves.
Full report at:
http://www.hurriyetdailynews.com/west-increasingly-wary-of-assad-ouster-by-islamists-russia.aspx?pageID=238&nID=59929&NewsCatID=359
-----------
Mideast
Turkey favours any measures against radical groups in Syria: FM
Dec 21, 2013
Turkey is against all extremist groups that are fighting in Syria and "favours any measures" taken against them, Foreign Minister Ahmet Davutoğlu told European Union envoys in a meeting in Ankara.
Minister Davutoğlu had lunch with EU envoys in Ankara yesterday, at which the Cyprus issue and relations with Turkey and EU were the main items on the agenda, a participant in the meeting who wanted to remain anonymous told the Hürriyet Daily News.
Davutoğlu's remarks came in reply to questions asked by EU ambassadors regarding allegations that extremists leaked into Syria through the Turkish border.
The foreign minister also told the envoys that Turkey aims to "accelerate momentum" on relations between Ankara and Brussels, not only for EU negotiations, but also for the Transatlantic Trade and Investment Partnership (TTIP), a free trade agreement process between the EU and the US which Ankara wishes to be included in. Davutoğlu added the relations between Turkey and the EU should also focus on the strategic dialogue and the visa dialogue.
Full report at:
http://www.hurriyetdailynews.com/turkey-favors-any-measures-against-radical-groups-in-syria-fm.aspx?pageID=238&nID=59927&NewsCatID=338
-----------
'Sectarian' clashes kill nine in northern Yemen
Dec 21, 2013
Nine people have been killed in sectarian fighting that was ongoing Friday in northern Yemen between Shiite Huthi rebels and Sunni Islamists backed by local tribes, a tribal source said.
Huthi rebels have been battling the Sanaa government for nearly a decade in the remote Saada province, but the outbreak of fighting with Sunni militants has deepened the sectarian dimension of the unrest.
"Seven Huthis and two tribesmen were killed on Thursday in the clashes, which were continuing intermittently," particularly in the Kitaf area in the north of Saada and in neighbouring Amran province, the source told AFP.
Full report at:
http://english.ahram.org.eg/NewsContent/2/8/89609/World/Region/Sectarian-clashes-kill-nine-in-northern-Yemen.aspx
-----------
Turkish PM to US ambassador: 'Mind your business
World Bulletin / News Desk
21 December 2013
Turkish prime minister Recep Tayyip Erdogan addressed crowds who had gathered to greet him in the Turkish Black Sea city of Samsun upon his arrival at the city's Carsamba Airport.
Erdogan was highly expected to speak publicly about the anti-graft case that has gripped the country this week, after dozens of people including top businessmen, bankers and bureaucrats allied with the ruling AK Party government were arrested across Istanbul as part of a corruption probe.
Speaking on the operations, which many believe is an indication of an official split between Erdogan's administration and former ally Fethullah Gulen, who heads the most influential lobby in Turkey, known as the Hizmet Movement, Erdogan said:
'The recent allegations against the Turkish government are the work of international and local subcontractors. This is a move against the government and is an operation conducted by both external and internal forces.'
Full report at:
http://www.worldbulletin.net/?aType=haber&ArticleID=125416
-----------
Abbas briefs Arab League chief on peace talks
World Bulletin / News Desk
21 December 2013
Palestinian President Mahmoud Abbas on Friday briefed Arab League chief Nabil al-Arabi on the progress of US-sponsored peace talks with Israel.
Abbas arrived in Cairo earlier in the day to attend an emergency Saturday meeting of Arab League foreign ministers.
A Palestinian official who attended the meeting told Anadolu Agency that Abbas had updated al-Arabi on the situation in the Palestinian territories, recent Israeli violations, and ongoing Israeli settlement construction on occupied Palestinian land.
Saturday's emergency Arab League session is being convened at Abbas' request.
He requested the meeting to discuss recent developments in the Palestinian file and the progress of ongoing talks between Palestinian and Israeli negotiators, diplomatic sources told AA.
Full report at:
http://www.worldbulletin.net/?aType=haber&ArticleID=125400
-----------
URL: https://www.newageislam.com/islamic-world-news/new-age-islam-news-bureau/wahhabi-cleric,-former-haram-imam-denied-entry-to-london-for-divisive-views/d/34950