New Age Islam News Bureau
3 Nov 2014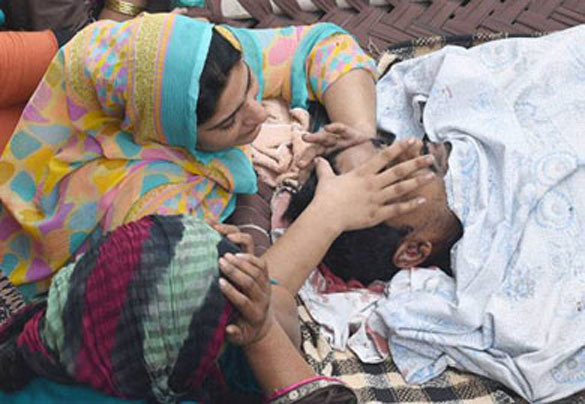 Relatives mourn over the body of a blast victim in Lahore, a day after the suicide bombing at the Wagah border. (AFP Photo)
-----------
Pakistan
• TTP Splinter Groups Claim Wagah Attack; 60 Dead
• Mehsud Jirga Meets Sajna to Negotiate Deal
• Fresh Explosives Defused Near Wagah Bomb Site
• Wagah attack: Terror moves eastward
• Senator urges govt to tell people about Jundullah
• Displaced families from Bara take shelter in abandoned shops
• Security beefed up across country amid terrorism threats
• Sikhs of Karachi 'ignored' in formation of committee
• Lawyers and journalists protest against Musharraf's 2007 emergency
-----------
Arab World
• Iraq Says IS Killed Over 300 from Single Sunni Tribe
• Avoid Seditious Websites: Imam of the Mecca Grand Mosque
• Bomb attacks kill 34 Shia pilgrims in Iraq capital
• Arab League warns of Jerusalem 'red line'
• Iraqi Peshmerga forces join anti-ISIL battle in Kobani
• Iraq army intensifies operations in Anbar province
• ISIL says seizes second gas field in Syria
• Egypt Suspends Judges Supporting Former President
-----------
South Asia
• Bangladesh Huji Men Being Trained In Pakistan
• 4th FMs' moot focuses on ensuring Afghan peace
• Jamaat calls Hartal for Wednesday too
• Mir Quasem Ali, the Terror, was reborn
---------
Mideast
• Qaeda suspects kill 13 Yemen soldiers, capture 15
• Palestinians in West Bank protest at al-Aqsa closure
• Turkey 'should not' be left alone in ISIL fight
• Turkish Leader, Using Conflicts, Cements Power
• Hamas unhappy with UN's rebuilding plan
• Shia Muslims around the World hold rituals to mark Karbala tragedy
• Israel closure of Gaza crossings violates truce: Hamas
------------
Europe
• Britons urged to be 'vigilant' against terror plots
• Doctor unsure about cause of Muhammad Ali's condition
• Ukraine battalions 'ready for attacks inside Russia'
----------
North America
• FBI To Keep Visiting Mosques despite Muslim Complaints
• Winnipeg Muslims rally in support of Canada's soldiers
• In Canada, Anti-Muslim Bullying On the Rise Following Ottawa Attacks
• Americans Think the Country's Muslim Population Is Much Bigger Than It Really Is
-----------
Southeast Asia
• Indonesian pilgrims want to stay longer in Madinah
• Developing Islamic finance through research
------------
Africa
• Clashes erupt between army, protesters in Burkina Faso
• Residents of Benghazi port area urged to evacuate
Compiled by New Age Islam News Bureau
URL: https://www.newageislam.com/islamic-world-news/new-age-islam-news-bureau/wagah-attack--toll-61,-young-jihadi-used-20kg-of-explosives,-hid-some-in-suicide-jacket/d/99846
----------
Pakistan
TTP splinter groups claim Wagah attack; 60 dead
Umar Farooq | Zahir Shah Sherazi | Wasim Riaz
Nov 3, 2014
LAHORE: At least 60 people were killed on Sunday in a blast near the Wagah border, the responsibility of which was claimed separately by the outlawed Jundullah and TTP-affiliated Jamaat-ul-Ahrar outfits.
Victims include 10 women and seven children, while more than 110 people have been injured.
Punjab police chief Inspector General Mushtaq Sukhera told AP that the bomb exploded outside a restaurant near a paramilitary soldiers' checkpoint at Wagah border on the outskirts of Lahore city. He also added that the explosion could have been the result of a suicide blast.
Lahore police chief Amin Wains confirmed it was a suicide attack. "People were returning after watching the parade at Wagah border when the blast took place. Ball bearings were found at the scene," he said.
Emergency has been declared at all hospitals in Lahore. Prime Nawaz Sharif has taken notice of the explosion and called for a report on the incident.
Wagah is the only road border crossing between the Indian city of Amritsar and the Pakistani city of Lahore.
An Indian security official told Reuters that the Indian side of Wagah border is "safe" after blast on Pakistani side.
TTP splinter groups claim responsibility
The Jamaat-ul-Ahrar splinter group of the proscribed Tehreek-i-Taliban Pakistan (TTP) claimed responsibility for the Wagah border attack as its spokesman Ehsanullah Ehsan, speaking to Dawn on telephone from Afghanistan, said it was carried out by one of their men.
When asked if it was more than one suicide bomber, he said one man carried out the attack.
"We will continue such attacks in the future," Ehsan said.
"Some other groups have claimed responsibility of this attack, but these claims are baseless. We will soon release the video of this attack," he said.
"This attack is revenge for the killing of innocent people in North Waziristan," the banned militant group's spokesman said.
Earlier Jundullah, another outlawed group which was behind a suicide bombing that killed at least 78 Christians at a church in Peshawar last September, had also claimed responsibility for the Wagah border attack.
The spokesman of the splinter group of the TTP Ahmed Marwat via telephone said that the attack is a reaction to military operation Zarb-i-Azb and Waziristan operation.
Jundullah and the much larger Pakistani Taliban are among loosely aligned militant groups that frequently share personnel, tactics and agendas. Claims for specific incidents are often hard to verify.
The group has claimed various attacks including the October 23 attack on Maulana Fazlur Rehman in Quetta .
On September 22, 2013, a twin suicide bomb attack had killed 127 people at a Peshawar church. This was the deadliest attack on the Christian minority in the history of Pakistan. Jundallah had wasted no time in accepting responsibility of this attack too.
18 Shia Muslims traveling from Rawalpindi to Gilgit-Baltistan on a bus in February 2012 were stopped in Kohistan and massacred based on their religious affiliation by individuals dressed in Military uniforms. Jundallah had also claimed responsibility for the act by contacting the media.
In June 2013, Jundallah had claimed responsibility for the killing of tourists and their Pakistani guide in Gilgit–Baltistan. The tourists were mountain-climbers who had hoped to climb Nanga Parbat. The dead included five Ukrainians, three Chinese, and their guide.
As most of the dead and injured were shifted to the nearby Ghurki Hospital, reporters said the premises was swarming with police, security agencies and the families of victims.
Hospital administration confirmed that at least 40 dead and over 50 injured have been received by hospital authorities.
"We received 35 bodies including those of women and children and 60 to 70 were wounded," Deputy Medical Superintendent of Ghurki Hospital near the Wagah border crossing, identified only as Dr Khurram, told domestic television channels earlier.
Later, medical superintendent Dr Iftikhar confirmed that over 100 people have been brought to Ghurki Hospital. More injured have been shifted to Lahore hospitals as GH does not have the capacity to treat further patients.
The explosion reportedly took place as the Rangers concluded the ceremony at Wagah, and the flags were being lowered.
For years, a military flag-lowering ceremony that takes place every evening at the Wagah border post, which draws crowds of partisan tourists who cheer every hostile strut and stare traded by the border guards on both sides.
Director General Rangers Punjab Khan Tahir Khan confirmed that the explosion is a suicide blast.
"The parade venue is about 600 metres ahead of the blast site. Because of the strict checking the suicide bomber detonated the bomb away from the parade venue."
Blast site
Footage shows shops and nearby buildings destroyed at the site of the blast. Security and rescue personnel rushed to the site of the blast.
Journalists have been instructed to clear the area, which the Rangers have cordoned off for security reasons. Forensic teams are currently present at the site and are collecting evidence as part of the investigation.
An eyewitness speaking to DawnNews said people were coming out of the shops when the bomb explosion took place."There were several bodies at the scene of the blast. It was a very powerful blast."
http://www.dawn.com/news/1142006/ttp-splinter-groups-claim-wagah-attack-60-dead
----------
Mehsud jirga meets Sajna to negotiate deal
November 03, 2014
PESHAWAR: A tribal jirga representing Mehsud tribesmen met the Mehsud Taliban chief Khan Said alias Sajna and other commanders on Sunday to negotiate for a peace agreement between the government and Tehreek-e-Taliban Pakistan (TTP).
According to report an 11-member jirga which was announced a few days ago in Tank has started efforts for a peaceful settlement of the conflict between the government and the TTP. The jirga held an initial meeting with the Mehsud Taliban and would put forth their suggestions to the official authorities. Headed by Ikramuddin, father-in-law of the slain TTP founder and chief Baitullah Mehsud, the jirga comprised ten other key Mehsud tribal elders. Sources said the jirga had been empowered to hold talks with all Mehsud factions, including the groups of Khan Said and Shehryar. It will hold discussions with two little known factions – Shamim group and Hazratullah group, also known as Toora Shpa (Black Night) –the matter of a peace agreement. The formation of the Mehsud jirga is part of the government's reconciliatory policy towards the Taliban, particularly Mehsud factions. The jirga had a one-point agenda of persuading the Mehsud Taliban to reach an accord with the government.
http://www.dailytimes.com.pk/national/03-Nov-2014/mehsud-jirga-meets-sajna-to-negotiate-deal
----------
Fresh explosives defused near Wagah bomb site
Mateen Haider
Arif Malik
LAHORE: Security personnel conducted a search operation in the areas adjoining the Wagah border crossing near Lahore and recovered a large quantity of explosives and suicide vests which were defused, Rangers sources told Dawn.
A search operation was conducted in the populated areas located near the Wagah border after intelligence agencies received information regarding the presence of a 'suspicious person' in the area.
An initial report over the Sunday blast near the Wagah border was presented to Shahbaz Sharif during a high-level meeting presided by the Punjab chief minister.
The attack was discussed in detail during the meeting, following which Sharif directed for the formation of a joint investigation team to probe the incident. He also instructed for tightening of security for Ashura.
At least 60 people were killed on Sunday in a blast near the Wagah border, the responsibility of which was claimed separately by the outlawed Jundullah group and TTP-affiliated Jamaat-ul-Ahrar outfits.
Victims include 10 women and seven children, while more than 110 people have been injured.
The United States condemned the senseless terrorist act at the Wagah border post on November 2, 2014 and offered to provide assistance to authorities investigating the incident.
"On behalf of the American people, I extend my heartfelt sympathies and condolences to the families of the victims as well as to the Government and people of Pakistan," US ambassador to Pakistan Richard Olson said in a statement issued in Islamabad.
The US envoy said this act demonstrates terrorists' blatant disregard for life.
He said that the United States remains steadfast in its commitment to the people of Pakistan in their efforts to counter terrorism, uphold the rule of law, and build a peaceful future for themselves and their children.
"We support Pakistan's efforts to bring all those involved in planning and executing this attack to justice and stand ready to provide any appropriate assistance to authorities investigating this tragic attack", the US ambassador said.
India and Pakistan have suspended a daily military ritual on their main land border crossing after a suicide attack that killed dozens of people, the first time the colourful parade has been called off since the two countries went to war in 1971.
India's home ministry said India's Border Security Force agreed to a Pakistani request to suspend the flag-lowering ceremony to allow mourning.
At least 60 people were killed and more than 100 wounded on Sunday by the explosion that ripped through a carpark about 500 metres from Pakistan's border gate just as hundreds of people left the popular daily performance.
Every day, thousands of Indians and Pakistanis flock to watch the elaborate show where border security officials kick their feet high and grimace in mock aggression in a peacock-like display of patriotism.
The crowds pack out bleachers set up on either side of the each country's border gates, which are adorned with large, facing portraits of their founding fathers, Mahatma Gandhi on the Indian side and Mohammed Ali Jinnah on the Pakistani side.
"It is the first time we have suspended the ceremony after the war. The ceremony was not suspended even during Kargil," India's home ministry spokesman K.S. Dhatwalia said on Monday, referring to a 1999 conflict between the neighbours in the town of Kargil.
Two kilometres before the border, India's police stopped tourists from entering the area on Monday. Four buses carrying 180 people including students on a trip from Agra to see the border ceremonies were stopped and decided to go back.
http://www.dawn.com/news/1142188/fresh-explosives-defused-near-wagah-bomb-site
----------
Wagah attack: Terror moves eastward
Michael Kugelman
Nov 3, 2014
There's something ominous about the location of Sunday night's horrific suicide attack in Wagah.
The tragedy may portend a geographic shift in South Asian militancy – one that lurches eastward from the Afghanistan/Pakistan border regions to the Pakistan-India frontier, and into India.
With foreign troops leaving Afghanistan, numerous militants fighting foreign forces in that country – such as Lashkar-e-Taiba – will be in search of a new target. Redirecting their attention to India is a logical next step.
Also read: Wagah blast: An attack that was waiting to happen
Additionally, this year has marked the reemergence of various anti-India militant leaders – figures that had been relatively quiet in recent years.
Take Masood Azhar of Jaish-e-Mohammed, whose voice was heard in a recording broadcast at an anti-India rally earlier this year. His sudden reappearance points to the possibility that he and his like-minded extremists could be preparing for a new campaign. Also read: The return of Masood Azhar
More recently, al Qaeda announced a new South Asia affiliate. It claims it wants to establish a presence throughout the broader region, including Bangladesh and Burma.
But let's face it: India is likely the biggest target.
The new affiliate's leader, Asim Umar, has long been an al Qaeda propagandist (he also had an affiliation with the Pakistani Taliban), and his diatribes often fixate on India. Umar has often invited Indian Muslims to mobilise for jihad.
"How can you remain in your slumber when the Muslims of the world are awakening?" he has demanded of them.
It's doubtful al Qaeda Central launched this new faction as a response to the Islamic State's outreach in the region (South Asia, with its various al Qaeda-aligned militants, is an unlikely spot for Islamic State to gain major ground).
Instead, al Qaeda – which reportedly has sought this new affiliate for several years, before Islamic State had become what it is today – simply wants to strengthen its presence in a part of the world where it believes it has lost influence in recent years. And with Asim Umar at the helm, this means that India will figure prominently in this plan.
To be sure, militancy will not be leaving Afghanistan anytime soon. The withdrawal of foreign troops will create security vacuums that strengthen jihadists there.
Additionally, if the pronouncements of their leaders and spokespersons are to be believed, various Pakistani militant groups – from Lashkar-e-Jhangvi to Pakistani Taliban factions – claim they will be marching into Afghanistan to join in the Afghan Taliban's fight.
And of course, to state the obvious, militancy will certainly not be leaving Pakistan anytime soon.
Also read: Questions about breach at Wagah abound
The country's security situation had been deceptively calm in recent months since the military launched its offensive in North Waziristan.
Still, so long as ties with all militant groups are not severed, militancy will not end. It's as simple as that. It's telling that, as of this writing, most, if not all, of the groups claiming responsibility for the Wagah attack have staged or attempted attacks in Pakistan during the relatively quiet last few months.
Additionally, arguably the sole target of the North Waziristan offensive, the Pakistani Taliban, is rapidly fracturing – thereby setting the stage for new and possibly more ferocious sources of anti-state terror.
The upshot?
Extremist violence will continue unabated on both sides of the Durand Line. Yet, it could soon enjoy a new renaissance on both sides of the Line of Control as well.
And unfortunately, it's the innocents who will suffer the most, such as those Pakistanis in Wagah on Sunday night.
The author is the Senior Program Associate for South Asia at the Woodrow Wilson International Center for Scholars in Washington, DC.
http://www.dawn.com/news/1142187/wagah-attack-terror-moves-eastward
----------
Displaced families from Bara take shelter in abandoned shops
Ibrahim Shinwari
Nov 3, 2014
LANDI KOTAL: Hundreds of displaced families from different parts of Bara have started taking shelter in abandoned shops at Shalobar and Akkakhel due the official apathy and shortage of rented houses in Peshawar and its adjoining areas.
Members of the displaced families told Dawn that the slow process of enlistment by the officials of Fata Disaster Management Authority (FDMA) at Ring Road, Peshawar, and the inability of most of the poor families to get houses on rent in Peshawar had led to the 'occupation of abandoned shops' at Shalobar market and Niazi market.
Niaz Mohammad, a resident of Akkakhel, told this correspondent that he waited for two days at the main Ring Road for enlistment of his family, but had to return disappointed due to the slow pace of enlistment. He said that he along with his family ran short of food items and had to borrow money for his return journey to Niazi market in Akkakhel.
Shareefullah, a father of seven children and shopkeeper by profession, said that he had no resources to travel to Peshawar and find a safe shelter. He said that he was compelled to vacate his house in Nala-Malikdinkhel and take temporary refuge in Shalobar market. He said that a number of other families from Sipah, Malikdinkhel, Kamarkhel and Akkakhel had also taken refuge in the markets as security forces had in recent days intensified its aerial strikes and artillery shelling against militant hideouts in different parts of Bara.
Shortage of rented houses in Peshawar, slow enlistment stated to be among main reasons
Qasim Khan, a Sipah resident, said that their biggest fear was artillery shelling as most of the private houses were damaged due to falling of mortar shells, which also caused civilian casualties and injuries to a number of children and women.
Full report at:
http://www.dawn.com/news/1142176/displaced-families-from-bara-take-shelter-in-abandoned-shops
----------
Security beefed up across country amid terrorism threats
November 03, 2014
ISLAMABAD: Countrywide security arrangements for Muharram processions have been completed, and the federal and provincial governments are putting in extra efforts to ensure peace and tranquillity on the occasion of Ashura.
There are fears that the TTP and other militant groups could carry out explosions and terrorist attacks during the Muharram processions and mahfils on Muharrram 9 and 10. The government has imposed a ban on pillion riding in Islamabad on Muharram 9, 10 and 11, whereas mobile services will also be suspended on the routes of processions. Reportedly, as many as 32,695 personnel from army, Rangers and Frontier Corps (FC) have been deployed for the security. In Karachi, the security arrangements have been finalised for the central mourning processions in connection with Ashura. In the meantime, the city police have also completed their preparations for the purpose.
The route of the central procession has been secured by plugging the link roads leading up to MA Jinnah Road with shipping containers. All the shops located on MA Jinnah Road – the procession route, have also been sealed for security purposes. Several adjoining roads and locations including Preedy Street, Empress Market Chowk and Sarmad Road have been barricaded for vehicular traffic. The traffic will not be allowed to go past Sea Breeze Plaza on MA Jinnah Road. Also, Saddar Dawakhan Road will remain closed during Muharram processions. Data has been configured from those living in the pathways of main processions while security officers in plainclothes will be positioned there.
Full report at:
http://www.dailytimes.com.pk/national/03-Nov-2014/security-beefed-up-across-country-amid-terrorism-threats
-----------
Sikhs of Karachi 'ignored' in formation of committee
Nov 3, 2014
KARACHI: The recent appointment of members to the Sikh Gurdhwara Prabandhak Committee in Lahore has irked the Pakistan Sikh Council (PSC) patron in Karachi.
Speaking to Dawn, PSC head Sardar Ramesh Singh said: "The Sikh community in Karachi has been ignored during the selection of the Prabandhak Committee. The committee has been there since 1999 and not even once a member from Karachi has been taken in it."
The appointment to the Prabandhak Committee, which simply means a committee that looks after religious affairs, is a sought-after affair in the Sikh community.
The prime minister recently gave the nod to a 13-member committee on recommendation of Evacuee Trust Property Board chairman Siddiq ul Farooq. Additional secretary of shrines Khalid Ali will be its secretary.
Selection of the committee head will, however, be done after Baba Guru Nanak's birth anniversary celebrations beginning on Tuesday in Punja Sahib, Hasan Abdal, on Nov 8. The PSC reservations in this regard are about not taking "enough members" from Sindh. Ramesh Singh said: "Only two members have been appointed and that too from Deherki, Sindh, where Sikhs are already in a very small number". He said there were just 20 families there, whereas in Karachi there were 5,000 Sikhs and the representation would have been much fairer, had the committee chosen to look towards the city as well.
Full report at:
http://www.dawn.com/news/1142051/sikhs-of-karachi-ignored-in-formation-of-committee
----------
Arab World
Iraq Says IS Killed Over 300 from Single Sunni Tribe
November 03 2014
BAGHDAD: Fighters of the Islamic State (IS) group have killed 322 members of an Iraqi tribe in western Anbar province, including dozens of women and children, the government has said in the first official confirmation of the scale of the massacre.
The systematic killings, which one tribal leader said were continuing on Sunday, marked some of the worst bloodshed in Iraq since the Sunni militants swept through the north in June with the aim of establishing a 'caliphate' there and in Syria.
The Albu Nimr, also Sunni, had put up fierce resistance against IS for weeks but finally ran low on ammunition, food and fuel last week as the Islamist militants closed in on their village Zauiyat Albu Nimr.
"The number of people killed by Islamic State from Albu Nimr tribe is 322. The bodies of 50 women and children have also been discovered dumped in a well," the country's Human Rights Ministry said on Sunday.
One of the leaders of the tribe, Sheikh Naeem al-Ga'oud, said he had repeatedly asked the central government and army to provide his men with arms but no action was taken.
State television said on Sunday that Prime Minister Haider al-Abadi had ordered air strikes on IS targets around the town of Hit in response to the killings.
Full report at:
http://www.dawn.com/news/1142081/is-shot-dead-300-members-of-iraqi-tribe-says-govt
----------
Avoid Seditious Websites: Imam of the Mecca Grand Mosque
2 November 2014
Sheikh Saleh Bin-Humaid, imam and preacher of the Grand Mosque in Makkah, said people of the country should do some soul-searching, determination and some hard work to stand in the face of the enemies of the Muslim nation who use all means and methods to instill sedition in them.
In particular, the imam warned against some social networking sites that spread rumours and lies and belittle the country's gains and attack the leadership and sacred symbols.
According to Bin-Humaid, the goals of these websites are to shake the Kingdom's credibility and stability and the confidence its people have in its scientists and good loyal citizens.
He cited some sarcastic comments that are meant to be humorous but in fact serve to shake the confidence and convictions of people. Such opinions, comments and tweets, Bin-Humaid believes, are the fastest way to confuse the people and they represent a kind of media and psychological war to destroy the principles of the nation.
Full report at:
http://www.arabnews.com/saudi-arabia/news/653826
----------
Bomb attacks kill 34 Shia pilgrims in Iraq capital
Nov 3, 2014
Multiple bomb explosions have killed at least 34 Shia pilgrims in the Iraqi capital, Baghdad, amid the violence that continues to plague the country.
In one of the blasts in the neighbourhood of Sadr City on Sunday, 14 people lost their lives near a tent used by Shia pilgrims.
The pilgrims were preparing to commemorate Ashura, which is the tenth day of the lunar month of Muharram and marks the anniversary of the martyrdom of Imam Hussein (PBUH), the third Shia Imam.
Earlier in the day, two other bomb attacks in the city killed at least 20 more people.
Iraqi officials usually blame similar terrorist attacks on Takfiri militants and former Ba'athists, who Baghdad says have formed an alliance to destabilize the country.
Baghdad has also pointed the finger at Saudi Arabia, saying Riyadh is funding terrorists operating in Iraq.
Full report at:
http://www.presstv.ir/detail/2014/11/03/384578/34-shia-pilgrims-killed-in-iraq-bombings/
----------
Arab League warns of Jerusalem 'red line'
2 November 2014
CAIRO: The Arab League warned Sunday that Israel has reached a "red line" after fresh clashes in Jerusalem, urging international pressure to stop what it branded "violations" in the holy city.
Clashes around the flashpoint Al-Aqsa mosque compound — the third holiest site in Islam and Judaism's holiest — prompted Israel on Thursday to close the site for a day.
Al-Aqsa and adjacent neighborhoods have seen months of violence, with the mosque compound a rallying point for Palestinian resistance to perceived Jewish attempts to take control of it.
"Israel has reached a red line," Arab League deputy chief Ahmed Ben Hilli said after an assembly of the 22-member bloc's delegates.
He called on Arabs and the international community "to put a stop to these practices by the Israeli occupation authorities in Jerusalem."
Full report at:
Israel considers east Jerusalem, conquered in 1967, to be part of its "eternal" capital.
http://www.arabnews.com/middle-east/news/653906
----------
Iraqi Pershmerga forces join anti-ISIL battle in Kobani
Nov 3, 2014
Iraqi Peshmerga forces have joined fellow Syrian Kurds in their battle against the ISIL Takfiri militants operating to seize the Arab country's northern border town of Kobani.
Idriss Nassan, a Kurdish official in Kobani, said on Sunday that Iraqi Kurdish forces had joined the anti-ISIL fight in the embattled Syrian town, known in Arabic as Ain al-Arab, on Saturday night.
A group of 150 Peshmerga fighters, armed with heavy weaponry, including anti-aircraft machine guns and mobile rocket launchers, entered the border town through Turkey earlier on Saturday to reinforce Syrian Kurdish armed groups.
"The Peshmerga joined the battle late yesterday and it made a big difference with their artillery. It is proper artillery," Nassan said, adding, "We didn't have artillery; we were using mortars and other locally made weapons. So this is a good thing."
The arrival of Iraqi fighters in Kobani marks the first time Turkey has allowed troops from outside Syria to assist Syrian Kurds in the face of ISIL attacks.
Meanwhile, the so-called Syrian Observatory for Human Rights also reported fierce clashes between the Kurdish forces and the ISIL terrorists in some areas of the Syrian town, with both sides suffering casualties.
Full report at:
http://www.presstv.ir/detail/2014/11/03/384576/iraq-kurds-join-kobani-antiisil-fight/
----------
Iraq army intensifies operations in Anbar province
Nov 3, 2014
The Iraqi army has intensified its operations in the western province of Anbar, where the ISIL Takfiri militants recently massacred a large number of Sunni people, Press TV reports.
The militants have executed more than 300 people from Albu Nimr tribesmen in the town of Hit in Anbar province since last week, according to tribal authorities.
Iraqi army warplanes have so far launched several rounds of airstrikes against the ISIL positions in Anbar.
The army has released a statement, saying that it has succeeded in clearing a road which connects the holy city of Samarra to Anbar and the city of Fallujah. The move will help besieged Sunni tribes.
"The Iraqi armed forces and the Iraqi government and volunteer forces support the tribes against ISIL," Adnan al-Sarraj, an Iraqi political analyst, told Press TV.
"The military operations conducted today in Hit, which will continue for the next few days, will make a difference and will lead to the liberation of these areas," Sarraj said.
Security forces and Anbar tribes launched a large-scale military operation in Hit and Haditha's al-Baghdadi area to bring them under their control.
Full report at:
http://www.presstv.ir/detail/2014/11/03/384565/iraq-army-boosts-operations-in-anbar/
----------
ISIL says seizes second gas field in Syria
November/03/2014
Islamic State of Iraq and the Levant (ISIL) fighters in Syria said on Nov. 3 they had taken control of a gas field in the central province of Homs, the second gas field seized in a week after battles with government forces.
The hardline Sunni Islamist group posted 18 photos on social media showing the ISIL flag raised in the Jahar gas field as well as seized vehicles and weaponry, according to the SITE jihadist website monitoring service.
Full report at:
http://www.hurriyetdailynews.com/isil-says-seizes-second-gas-field-in-syria.aspx?pageID=238&nID=73793&NewsCatID=352
-----------
Egypt suspends judges supporting former president
Nov 2, 2014
Egypt has suspended dozens of the country's judges from duty for allegedly supporting ousted president, Mohamed Morsi, reports say.
Judicial sources said 56 judges were suspended on Sunday on charges of supporting the former president and the Muslim Brotherhood, the Egypt-based al-Ahram Arabic news website reported.
The judges are accused of signing a pro-Morsi statement following his ouster in a military coup by the current President Abdel-Fattah el-Sisi last year.
The sources said the judges have been referred to a disciplinary council by the Supreme Council of the Judiciary. They said the judicial authorities' decision could lead to the dismissal of the accused judges.
Egypt's judicial system bans judges from engagement in political activities. Tens of Egyptian judges were suspended earlier this year on charges of supporting the banned Muslim Brotherhood.
Full report at:
http://www.presstv.ir/detail/2014/11/02/384535/egypt-suspends-judges-backing-morsi/
----------
South Asia
Bangladesh Huji Men Being Trained In Pakistan
November 03, 2014
In an effort to revive the activities of outlawed Harkat-ul-Jihad-al-Islami (Huji), some of its operatives have taken military training from Pakistan-based militant group Lashkar-e-Taiba in the last two years, and recently come back home to groom co-jihadists, the Detective Branch (DB) of police said yesterday.
The operatives received two months' training in Pakistan and Pakistan-Afghanistan border area, the DB said, after interrogation of three Huji operatives who were arrested in the capital's Postogola Saturday night.
The three--Md Abdullah, Md Redwan, and Shafiqul Islam alias Ripon--were working under the command of Huji leader Rafique Ahmed alias Sajid, said Joint Commissioner Monir ul Islam of DB of Dhaka Metropolitan Police in a briefing at DMP media centre.
On October 25, a DB team arrested Rafique and three other Huji men and unearthed a laboratory at Fatullah in Narayanganj, which Huji was using to "make powerful bombs", detectives said earlier.
Full report at:
http://bd.thedailystar.net/city/huji-men-being-trained-in-pakistan-48644
---------
4th FMs' moot focuses on ensuring Afghan peace
November 03, 2014
ISLAMABAD - Pakistan would host 2015 Ministerial Conference of the Istanbul Process. However, dates for this event would be finalized at a later stage.
According to Foreign Office, this would be a follow-up conference to the 4th Foreign Ministerial Conference of the Istanbul Process on Afghanistan concluded in Beijing on Sunday.
Adviser to the PM on National Security and Foreign Affairs Sartaj Aziz, while addressing the conference, said that Pakistan fully supports China's constructive contribution and five-point proposal envisaged by Premier Li Keqiang for Afghan peace and economic development.
He said that as co-lead with Kazakhstan on the Disaster Management CBM, Pakistan had been steering the agreed priority activities. The Adviser underscored that Afghanistan had undergone historic transfer of power after recent elections.
Full report at:
http://nation.com.pk/islamabad/03-Nov-2014/4th-fms-moot-focuses-on-ensuring-afghan-peace
----------
Jamaat calls hartal for Wednesday too
November 03, 2014
Jamaat-e-Islami today called a 24-hour hartal for Wednesday protesting the death penalty of party leader Muhammad Kamaruzzaman, putting the country on a nine-day hiatus till Sunday.
The hartal call was made through a press release floated this morning by Jamaat hours after the apex court upheld Kamaruzzaman's death verdict.
Earlier on Wednesday, Jamaat called the 72-hartal for Thursday, Sunday and Monday after International Crimes Tribunal-1 handed down death penalty to Jamaat chief Motiur Rahman Nizami for his crimes against humanity during the Liberation War in 1971.
On Sunday, it called another 24-hour hartal for next Thursday protesting the death penalty of war criminal and Jamaat leader Mir Quasem Ali.
Full report at:
http://www.thedailystar.net/jamaat-calls-hartal-for-wednesday-too-48686
----------
Mir Quasem Ali, the Terror, was reborn
November 03, 2014
Though his crimes have finally caught up with him, war criminal Mir Quasem Ali in the last four decades established himself as a top businessman in Bangladesh. He emerged as a leading business tycoon of the very country, the birth of which he vehemently opposed in 1971.
Quasem not only dodged the trial for the crimes he committed during the nine-month-long Liberation War, but also reorganised anti-liberation elements following the political changeover in August 1975.
It was under his leadership that the hideous Islami Chhatra Sangha, the then student wing of Jamaat-e-Islami, of 1971 re-emerged as Islami Chhatra Shibir in 1977. Since its inception, Shibir was dreaded for its atrocities, and last year was ranked the third most active non-state armed group in the world by a US-based defence think-tank.
When the victims of his heinous crimes and their family members were crying for justice, they unfortunately had to see the dramatic rise of Quasem in the country's political and business arenas. He fully owns and has shares in a large number of business firms, media outlets, charities and social organisations. Through these institutions, he allegedly financed Jamaat activities.
Quasem also represents several foreign charities in Bangladesh and allegedly channelled huge sums of money to his party instead of serving the stated purposes of the charities.
However, yesterday's verdict might have brought some relief to the justice seekers.
The International Crimes Tribunal-2 sentenced Quasem, the chief of Chittagong Al-Badr, an auxiliary force of the Pakistan army, for killing, torturing and confining pro-liberation people in Chittagong in 1971.
Quasem was born to Mir Tayeb Ali and Rabeya Begum in Munsidangi Sutalori of Manikganj on December 31, 1952. He got involved in Chhatra Sangha in 1967 while studying at Chittagong Collegiate School.
Later, he became president of Chhatra Sangha's Chittagong College and Chittagong town units. On November 6, 1971, he became the general secretary of its East Pakistan unit, according to prosecution documents. The defence didn't dispute these facts.
As a top leader of Chhatra Sangha that turned into Al-Badr in 1971, he became the chief of the infamous force in the port city and set up several torture camps in Chittagong town during the Liberation War, the prosecution said.
Full report at:
http://bd.thedailystar.net/backpage/terror-was-reborn-48653
----------
Mideast
Qaeda suspects kill 13 Yemen soldiers, capture 15
November 03, 2014
SANAA - Suspected Al-Qaeda militants killed 13 Yemeni troops and captured 15 others in an attack in the Red Sea port city of Hudeida, security and tribal sources said Sunday.
The overnight attack targeted security headquarters in Hudeida, which Shiite Huthi rebels seized in mid-October as they expanded across several towns and cities with almost no resistance from government forces. Al-Qaeda frequently carries out attacks on Yemen's security forces and it has been locked in deadly battles with the Huthi rebels.
Dozens of Al-Qaeda suspects took part in the attack on the security forces headquarters in Jabal Ras, in Hudeida, 'killings 13 soldiers, wounding 10, and capturing 15 others,' a security official said. The assailants seized the building but three of the militants were also killed, the official said.
Full report at:
http://nation.com.pk/international/03-Nov-2014/qaeda-suspects-kill-13-yemen-soldiers-capture-15
----------
Palestinians in West Bank protest at al-Aqsa closure
Nov 3, 2014
Palestinians have staged a rally in the occupied West Bank city of Ramallah to protest Israel's decision to close the al-Aqsa Mosque, Press TV reports.
Scores of Palestinians on Sunday took part in the march to Qalandiya flashpoint checkpoint between Ramallah and East al-Quds (Jerusalem) to protest the Israeli decision.
The protesters said they would not allow Israel to desecrate Islam's third holiest site.
"We are here today to send a clear message to the occupation that we will continue fighting and struggling against the Israeli escalation in Jerusalem and against the daily attacking in the al-Aqsa Mosque," Esam Baker, a Palestinian activist said.
The Palestinians insisted that East al-Quds will always remain their capital, and they will always defend the city and the al-Aqsa Mosque by their flesh and blood. They also vowed to continue their demonstrations.
"We have always been stressing that East al-Quds is our capital and we will not be silent to any forms of attacks on the al-Aqsa Mosque because what Israeli forces are carrying out are part of a war declared on the holy city. This is why rallies should continue to defend al-Aqsa Mosque from ongoing Israeli measures," said Jamal Shehadeh, a member of the executive committee of the Palestine Liberation Organization (PLO).
As the protesters started marching towards the checkpoint, Israeli soldiers fired teargas and stun grenades to disperse the participants. Clashes then erupted between Israeli soldiers and the protesters.
At least one Palestinian was wounded and many others suffered suffocation due to inhaling teargas.
Full report at:
http://www.presstv.ir/detail/2014/11/03/384556/palestinians-in-wb-protest-aqsa-closure/
----------
Turkey 'should not' be left alone in ISIL fight
November 03 2014
Israel's highest ranking diplomat in Turkey, newly appointed Consul-General Shai Cohen has said the fight against ISIL should not be left to the Turkish government and Turkish security forces alone. "There should be an international cooperation on that and all of the relevant states should be involved in this fight," Cohen told daily Hurriyet in a recent interview.
Cohen, the new Consul-General of Israel had been the Head of the Counter-Terrorism and Regional Security Department in the Israeli Ministry of Foreign Affairs before his appointment to Istanbul. Cohen spoke with Hurriyet following Turkish President Recep Tayyip Erdoğan signing his executor.
It has been five years since the Israeli "Cast-Lead" operation on Gaza and four years after the Mavi Marmara incident, Cohen said. "It is not a secret that there is some kind of a stalemate in the normalization process between the two countries. In this period of the last 4-5 years, there has been a decline in the relations between the two countries, especially in the political and strategic fields. On the other hand, in the last 7 weeks that I have been here in Turkey, I have seen that there is a lot of opportunity to develop relations in other fields. But our general approach is, we preach normalization between the people of the two countries," he added.
Erdoğan signed the executor
Cohen said there were many aspects that might postpone the normalization process between the two countries; however, the fact that Erdoğan signed the Consul-General's executor was a message to continue business as usual.
Full report at:
http://www.hurriyetdailynews.com/turkey-should-not-be-left-alone-in-isil-fight.aspx?pageID=238&nID=73775&NewsCatID=359
----------
Turkish Leader, Using Conflicts, Cements Power
By TIM ARANGOOCT. 31, 2014
Sprawling over nearly 50 acres of forest land that was once the private estate of Turkey's founding father, Mustafa Kemal Ataturk, a new presidential compound has nearly 1,000 rooms, an underground tunnel system and the latest in anti-espionage technology. It is larger than the White House, the Kremlin and Buckingham Palace.
The reported price: nearly $350 million.
Then there is a new high-tech presidential jet (estimated price, $200 million), not to mention the new presidential office in a restored Ottoman-era mansion overlooking the Bosporus, all of which have been acquired to serve the outsized ambitions of one man: President Recep Tayyip Erdogan.
Mr. Erdogan has been in power for more than a decade, an Islamist politician and prime minister who was often touted as a role model in the Muslim world for having reconciled his faith with democracy. But these days Mr. Erdogan stands for something quite different, having essentially pulled a Putin. Like Russia's president, Vladimir V. Putin, it does not matter which position he holds: He is his nation's paramount leader.
In Turkey, the president is technically second to the prime minister. But in practice, when Mr. Erdogan was elected president in August, he absorbed the power and privilege of the prime minister's post into his new position. And like Mr. Putin, who also shifted between the presidency and prime minister's office, the stronger Mr. Erdogan has grown, the tenser relations have become with the United States.
"He really has both offices, in a lot of ways," said Steven A. Cook, a Turkey expert and fellow at the Council on Foreign Relations, referring to Mr. Erdogan.
At the beginning of the year, none of this was assured. Still reeling from the sweeping antigovernment demonstrations of the summer of 2013, Mr. Erdogan was confronted with a wide-ranging corruption scandal that targeted him and his inner circle, prompting many analysts to predict the demise of his government.
Instead, he has used his conflict with Washington and his political enemies as a force to help consolidate power, as he continues to carry out the duties associated with the prime minister. He has rallied his conservative base behind his religiously infused agenda, clashing with United States policy for confronting Islamic State militants, while also blaming foreign interference for the growing catalog of crises he faces. As Turkey's challenges have magnified — fighting on its border with Syria, strained relations with its NATO allies, pressure on the economy — Mr. Erdogan's authority has grown only stronger.
In a recent speech, Mr. Erdogan offered an assessment appealing to his religious Sunni Muslim base — and echoed by militants with the Islamic State — that the Middle East crisis stems from the actions of the British and French after World War I, and the borders drawn between Iraq and Syria under the Sykes-Picot pact. Mr. Erdogan invoked Sykes-Picot saying, "each conflict in this region has been designed a century ago." He suggested a new plot was underway, and that "journalists, religious men, writers and terrorists" were the collective reincarnation of T.E. Lawrence, the British diplomat and spy immortalized in the movie "Lawrence of Arabia."
Full report at:
http://www.nytimes.com/2014/11/01/world/europe/erdogan-uses-conflict-to-consolidate-power.html
------------
Hamas unhappy with UN's rebuilding plan
3 November 2014
GAZA CITY: The Hamas militant group says it opposes a UN reconstruction plan for the Gaza Strip following a 50-day war against Israel this summer.
Hamas spokesman Sami Abu Zuhri on Sunday called the UN mechanism "unacceptable, inefficient."
The UN announced the plan in September, creating a system to bring in badly needed reconstruction materials while sidelining Hamas.
Despite its unhappiness with the system, Abu Zuhri gave no indication that Hamas will disrupt the shipments.
Full report at:
http://www.arabnews.com/middle-east/news/654196
----------
Shia Muslims around the World hold rituals to mark Karbala tragedy
Nov 3, 2014
Millions of Shia Muslims around the world annually commemorate the great tragedy of Karbala with various forms of traditional ceremonies.
The mourners take part in processions held in mosques and streets with different traditions to mark the martyrdom anniversary of Prophet Muhammad (PBUH)'s grandson Imam Hussein (PBUH) and his companions in Karbala.
Around 680 AD, Imam Hussein (PBUH) along with his 72 followers was massacred in the battle of Karbala in Iraq by the forces of the tyrant ruler of the time, Yazid, the second Umayyad caliph.
The mourning ceremonies reach their peak on the 9th day of Muharram, or Tasua, and the 10th day, or Ashura, when Imam Hussein (PBUH) and his companions were martyred.
Muharram ceremonies symbolize the eternal and unwavering stance of truth against falsehood and humanity's struggle against tyranny, the cause for which Imam Hussein (PBUH) was martyred.
Shia rituals and observances on Ashura consist primarily of public expressions of mourning and grief such as beating one's chest as well as beating one's back with light chains to remind the mourners of the pain and suffering of Imam Hussein (PBUH) and his followers on that day.
Iranian people across the country traditionally cook and distribute charity food among their neighbors, family and the poor.
Full report at:
http://www.presstv.ir/detail/2014/11/03/384606/the-shia-muslim-rituals-of-muharram/
----------
Israel closure of Gaza crossings violates truce: Hamas
Nov 3, 2014
The Palestinian resistance movement Hamas has slammed the Israeli regime for closing Gaza's border crossings, saying such a move violates the terms of an Egyptian-brokered truce deal between the two sides.
In a statement issued on Sunday, Moussa Abu Marzooq, a senior Hamas official, said the recent closure of Erez and Kerem Shalom crossings is irresponsible and "totally rejected."
"Imposing these measures…is a clear violation of what has been agreed upon" under the ceasefire deal that put an end to Tel Aviv's 50-day war on the blockaded Gaza Strip in August, Abu Marzooq said, stressing the move breaches international law.
On Sunday, the Israeli military shut down the two Tel Aviv-controlled border crossings after the alleged firing of a rocket from the blockaded Gaza Strip towards the occupied Palestinian territories.
Full report at:
http://www.presstv.ir/detail/2014/11/03/384602/hamas-decries-closure-of-gaza-crossings/
----------
Europe
Britons urged to be 'vigilant' against terror plots
Nov 2, 2014
The UK Foreign Office has issued a fresh alert for Britons abroad to be watchful over "terrorists", who may launch attacks on them in revenge for coalition airstrikes in Syria and Iraq.
The Foreign Office statement has called on British nationals not to travel to Syria and most of Iraq.
"There is considered to be a heightened threat of terrorist attacks globally against UK interests and British nationals from groups or individuals motivated by the conflict in Iraq and Syria. You should be vigilant at this time," the statement warns.
The UK Home Secretary Theresa May has already announced that acts of terrorism against British interests are "highly likely".
On August 26, the UK parliament approved a motion allowing the British military to launch airstrikes in Iraq against the ISIL. Prime Minister David Cameron described the proposal as critical to national security, saying removing the terrorists was a matter of urgency.
For a deeper insight into the story, Press TV interviewed London-based Lindsey German from "Stop the War Coalition."
Press TV: Some believe warnings of this type are aimed spreading panic among the public and preparing it for foreign intervention? What's your take on that?
Lindsey German: "The government has a very clear policy of exaggerating this threat and may have every interest in claiming that and the reason for that is because they believe it justifies present interventions as we have the bombing of Iraq at the moment and also future interventions. So, it plays the role of making people think the war is necessary. It also plays a role in helping to create an atmosphere where there could pressure on civil liberty as we have seen many times in this country."
Full report at:
http://www.presstv.ir/detail/2014/11/02/384530/uk-issues-fresh-terror-alert/
----------
Doctor unsure about cause of Muhammad Ali's condition
November 03 2014
LONDON: Muhammad Ali's doctor has said he cannot be certain that the boxing legend's remarkable career in the ring contributed to the former world heavyweight champion suffering from Parkinson's disease.
It has long been asserted that the effect of taking punishing head blows in fights against the likes of George Foreman in the 'Rumble in the Jungle', whose 40th anniversary was celebrated last week, have been a key factor in Mr Ali suffering from Parkinson's, a neurological condition which can cause its sufferers to shake and have problems with their balance.
Know more: Boxing: Fate twists the Rumble legacies of Ali, Foreman
However, most of Parkinson's victims have not suffered anything like the head trauma that came Mr Ali's way during a 21-year ring career.
And Dr Abraham Lieberman, the Medical Director of the Muhammad Ali Parkinson Centre, said on Sunday it was impossible to be sure regarding the root cause of American sporting hero's condition.
"It's only over the last 10 years that he's had a lot of trouble walking, with falls," Mr Lieberman told BBC Radio Five Live's Sportsweek programme.
"So his course has been more that of typical Parkinson's disease. If you look at the MRI of his brain it looks pretty good but it's very difficult to factor in what sort of role did boxing play.
"People ask me about this and I tell them: look at George Foreman. He boxed longer than Muhammad did, took many more blows to the head and he's on television selling his cookware.
"I think that he (Ali) has typical Parkinson's disease. Did the boxing contribute? I don't know. It may have."
Full report at:
http://www.dawn.com/news/1142078/doctor-unsure-about-cause-of-muhammad-alis-condition
----------
Ukraine battalions 'ready for attacks inside Russia'
Nov 3, 2014
A Ukrainian lawmaker, who is also the leader of a volunteer battalion, says brigades like his are ready to "intrude" into Russia to carry out attacks on Russian territory.
Yuri Bereza, the leader of the Dnepr-1 battalion, made the remarks during a televised interview with a Ukrainian broadcaster.
"Today, we are ready not just to defend [Ukraine], but to invade the Russian Federation, break into it with reconnaissance detachments and sabotage groups," said Bereza.
The Ukrainian MP also spoke about conducting bomb attacks inside Russia before he was cut off by the host of the program.
Bereza's volunteer battalion is one of the dozens of brigades set up this year by pro-EU protesters and members of right-wing party Right Sector following the ouster of President Viktor Yanukovych.
Full report at:
http://www.presstv.ir/detail/2014/11/03/384584/ukraine-brigades-ready-to-raid-russia/
----------
North America
FBI To Keep Visiting Mosques despite Muslim Complaints
November 2, 2014
TAMPA — With the Islamic State making vague threats of an attack on the American homeland, FBI agents are visiting and questioning leaders in the U.S. Muslim community to gather information they say might help head off any danger to the American public.
And those visits will continue despite complaints from an organization that works to protect Muslims' civil rights. The Florida chapter of the Council on American-Islamic Relations, or CAIR, is advising Muslims not to talk to FBI agents without a lawyer present.
Agents have called on the imams of several major Florida mosques, including some in the Tampa area, CAIR leaders said in an advisory to Muslims issued in the past week.
Similar complaints have come from Muslims across the nation, the statement said.
"CAIR has documented how these interviews have been used to coerce law-abiding American Muslims to become agent provocateurs," the advisory said. "Therefore it is highly advisable never to meet with the FBI without a lawyer present.
"If the FBI truly has a legitimate reason to speak to you," the advisory said, "they will have no problem doing so through your lawyer as the American legal system establishes."
Local FBI spokesman David Couvertier said agents have visited mosques all around West Central Florida but that the effort is nothing new.
"It's been ongoing," he said. Agents, he said, "have been going out doing outreach, not only with the Muslims, but other communities as well. ... We are contacting local community leaders to be proactive. It's normal outreach. We are trying to build bonds to let them know we are here."
Tips from the Muslim community led law enforcement to Sami Osmakac, who recently was convicted of planning a terrorist attack at a nightclub in South Tampa. He was found guilty in federal court of attempted possession of a weapon of mass destruction and possession of an unregistered machine gun. He is awaiting sentencing.
It is that type of information the FBI is seeking, Couvertier said, in the hopes of preempting a terrorist attack.
Full report at:
http://tbo.com/news/politics/fbi-to-keep-visiting-mosques-despite-muslim-complaints-20141102/
----------
Winnipeg Muslims rally in support of Canada's soldiers
Nov 02, 2014
People in Winnipeg's Muslim community held a rally at the Legislative Building to protest against violence against Canadian soldiers.
Ottawa shooting: Canadian Muslims denounce attacks
Supporters at the solidarity rally said they stand shoulder to shoulder with fellow Canadians and unequivocally condemn radicalization and all acts of terror.
The rally comes on the heels of two recent attacks on members of Canada's military, one in Saint-Jean-sur-Richelieu, Que., which left Warrant Officer Patrice Vincent dead. Days later, reservist Nathan Cirillo was shot dead on Parliament Hill.
Full report at:
http://www.cbc.ca/news/canada/manitoba/winnipeg-muslims-rally-in-support-of-canada-s-soldiers-1.2821314
----------
In Canada, Anti-Muslim Bullying On the Rise Following Ottawa Attacks
By Richard Valdmanis
11/01/2014
Reports of anti-Muslim harassment in Canada have risen, Muslim organizations say, after attacks last week in which two soldiers were killed by people authorities say were inspired by the militant group Islamic State.
The National Council of Canadian Muslims said it has seen a tenfold increase in reports of harassment, including racial slurs on public buses, notes left on car windshields and bullying at schools.
"There are some very positive signs that we've noticed in the form of calls of support and examples of people resisting bigotry," said Amy Awad, the group's human rights coordinator. "But there has been a large increase in complaints, too."
She said a normal volume of reports of anti-Muslim incidents nationwide is about five a week. "That has gone up about tenfold, with a real surge in the past few days," she said.
Worries about homegrown extremism have risen in Canada after a gunman shot a soldier and charged into the Parliament building in Ottawa on Oct. 22. Two days earlier, a man rammed two soldiers with his car near Montreal, killing one.
Several Canadian Muslim groups quickly condemned the attacks, which came as Canada sent warplanes to take part in air strikes against Islamic State fighters in Iraq. A handful of high-ranking politicians in Canada have also urged residents not to lash out against Muslims.
Adil Charkaoui, coordinator of the Quebec Collective Against Islamophobia, said his group has received 30 complaints of harassment since last week. It marked the largest number of complaints the group has collected since a failed attempt earlier this year by the province's former government to enact a charter that would ban religious headgear such as Jewish kippas and Muslim hijabs in Quebec's public workforce, he said.
"Since the end of the episode with the Charter of Values we have received very few complaints," said Charkaoui, a Moroccan-born Canadian citizen. "With these tragic events, it has all started again."
Full report at:
http://www.huffingtonpost.com/2014/11/01/canada-muslim-bullying_n_6082644.html?utm_hp_ref=religion
----------
Americans Think the Country's Muslim Population Is Much Bigger Than It Really Is
By Carol Kuruvilla
11/02/2014
This type of ignorance isn't bliss.
Americans have a tendency to overstate the number of Muslims living in the United States -- and at least 13 other countries are dealing with the same misconception.
Only 1% of America's more than 319 million residents are Muslim, according to the research group Ipsos MORI. But during a recent global survey, Americans told researchers that the Muslim population is 15 times greater than it really is.
On the other hand, Americans grossly underestimated the number of Christians living in the country -- with an average guessing around 56% when the true figure is closer to 78%.
The countries that fared the worst at accurately guessing the number of Muslims within their borders were France and Belgium, both of which guessed 23 percentage points too high.
Japan did the best, falling only 4 percentage points away from the truth.
While the figures only represent guesses, the research group's managing director Bobby Duffy said that these misperceptions may have a real impact on policy-making.
"We are sending a message about what's worrying us as much as trying to get the right answers," Duffy told the Guardian.
Edgar Hopida, communications director for the Islamic Society of North America, says the Muslim community is feeling the ramifications of these misconceptions very deeply -- with some politicians trying to pass anti-Sharia laws and police departments expanding surveillance on Muslim organizations.
Full report at:
http://www.huffingtonpost.com/2014/11/02/american-muslim-population_n_6076872.html
----------
Southeast Asia
Indonesian pilgrims want to stay longer in Madinah
3 November 2014
Pilgrims on their way home after successfully completing the Haj are often sad at leaving the Kingdom having a fulfilling spiritual experience in the two holy cities and holy sites. Many of them buy souvenirs to remind them of their journey of a lifetime. Arab News recently met a group of Indonesian pilgrims in a market near the Prophet's Mosque to record their experiences of their stay in the Kingdom. With the help of a translator, the Indonesian pilgrims expressed their feelings and impressions of their visit to the holy sites and Haj services in general.
Siraj Nour said: "I am overwhelmed with having completed the Haj successfully and appreciate all the services in place to facilitate the rituals so smoothly."
He said he was impressed by the large-scale projects in the Two Holy Mosques being implemented by the Saudi government, in addition to the services being provided to visitors to the holy shrines.
Mohamed Zain, another Indonesian pilgrim, said that the Indonesian people held the Kingdom in high regard for its being the land of revelations and the cradle of Islam, adding that they had performed Haj with ease thanks to the generous services provided by the Saudi government.
Full report at:
http://www.arabnews.com/saudi-arabia/news/654221
----------
Developing Islamic finance through research
November 03 2014
In response to the slow growth of Islamic banking and finance, OJK organized the Islamic Finance Research Forum. Scholars and students are expected to take part in developing the Islamic financial sector.
The Financial Service Authority (OJK), in cooperation with the Bogor Agricultural University (IPB), recently organized the seventh Islamic Finance Research Forum to boost Indonesia's Islamic financial services sector by stimulating research, development and innovation.
The forum, held from Oct. 14 to 16 at the IPB campus, brought together students, scholars and practitioners of Islamic finance industry to exchange new ideas to help propel the sector's performance.
The three-day forum also featured two prominent scholars in the Islamic finance sector, namely the professor of Islamic economics and finance at Hamad Bin Khalifa University in, Qatar, Mabid Ali Al Jarhi, and Savas Alpay, the director general of the Statistical, Economic and Social Research and Training Centre for Islamic Countries (SESRIC), which is a subsidiary of the Organization of Islamic Cooperation (OIC), to provide insights based on their experiences in their respective jobs.
Indonesia's Islamic financial services industry
The Islamic financial services industry in Indonesia displays an interesting paradox. Indonesia is a country with the biggest Muslim population in the world, with approximately 202.9 million Indonesians out of a total of more than 240 million people identifying themselves as Muslims, making up 88.2 percent of the population.
However, the Islamic financial services industry - that consit of Islamic banking, insurance, mutual funds, financing companies, pawning and pension fund - market remains small, at only around 3.0 to 6.0 percent. The Islamic banking as the frontier of this sector reach only 4.9 percent market share. Furthermore, the total assets managed by Islamic banks in Indonesia amount to only US$24 billion, lagging behind that of Malaysia, which stands at US$135 billion.
The total assets of Indonesia's Islamic banks are only slightly larger than those of England's six Islamic banks, which hold US$19 billion-worth. This is ironic given that England's Muslim population is much smaller than that of Indonesia. The high growth of the industry's performance in England is partly due to the establishment of a Task Force for Islamic Finance. The task force, established in 2013, is led by ministerial-level public officials. Malaysia also has one.
Full report at:
http://www.thejakartapost.com/news/2014/11/03/developing-islamic-finance-through-research.html
------------
Africa
Clashes erupt between army, protesters in Burkina Faso
Nov 2, 2014
Clashes have broken out between protesters and army in the capital of Burkina Faso, Ouagadougou, following demonstrations that challenged the army's stepping into power.
According to reports on Sunday, thousands of people gathered at Place de la Nation square in the center of the capital to condemn the army's takeover of power.
"I am here to stop the army from stealing our victory," said Boubacar Sow, a protester.
The clashes came after the military top brass on Saturday named Lieutenant Colonel Yacouba Isaac Zida, the deputy commander of the elite presidential guard, to lead the country's transition.
A day earlier, President Blaise Compaoré was forced to step down following two days of mass protests against his attempts to change the constitution to extend his rule for a fifth term.
The clashes erupted after the protesters accused the military of hijacking their revolution. The protesters also called for an immediate departure of the army and a civilian transfer of power.
Full report at:
http://www.presstv.ir/detail/2014/11/02/384543/protesters-army-clash-in-burkina-faso/
----------
Residents of Benghazi port area urged to evacuate
Nov 3, 2014
The Libyan military has urged residents of a central district of Benghazi to evacuate as it pushes ahead with an offensive against militants in the country's second-largest city.
"The chief of staff asks all residents of the Assabri district to leave by 12:00 noon [on Monday]," Ahmed al-Mesmari, spokesman for the chief of staff, said on Sunday.
Assabri is the main commercial area of the eastern city and also home to its seaport, which is employed for wheat and petrol imports.
He did not give details, but the army had previously said that members of the so-called Ansar al-Sharia militant group had escaped there after the army had captured other districts.
In a separate development, the Red Crescent evacuated Benghazi's main childbirth hospital due to clashes close by. The childbirth clinic, which will be moved to another hospital, was struck several times.
Libya's army, supported by forces loyal to retired General Khalifa Haftar, has launched an operation against militant groups in the coastal city. At least 230 people have been killed since the offensive started.
Full report at:
http://www.presstv.ir/detail/2014/11/03/384574/libya-urges-benghazi-residents-to-leave/
----------
URL: https://www.newageislam.com/islamic-world-news/new-age-islam-news-bureau/wagah-attack--toll-61,-young-jihadi-used-20kg-of-explosives,-hid-some-in-suicide-jacket/d/99846