New Age Islam News Bureau
11 Apr 2018
• Voice Note by ISIS Terrorist Declares Peace School in Kerala Has Their Supporters
• Myanmar Soldiers Jailed For 10 Years over Massacre of Rohingya Muslims
'• Drawn Sword of Islam': Pak-Turk Maiden Naval Exercise Concludes In Arabian Sea
• Why Penalise Ahmadis Under Shariah, If Considered Non-Muslims? Court Asked
• Nigeria: Muslim Lawyers Reject FCT High Court's New Dress Code
India
• Voice Note by ISIS Terrorist Declares Peace School in Kerala Has Their Supporters
• He Left Home as a Muslim, Returned As a Sikh 40 Years Later
• Karnataka Election 2018: Muslims Want Cong to Give Community One Seat in Each District
• Manipur Muslim organisations call 32-hour strike to protest shifting of hospital, normal life disrupted
• Peace Foundation Official Akbar Trying to Conceal Facts on IS Links, Says Leader of Kerala Module
• Two Army jawans killed in Pakistan firing in Rajouri
• Wakf board's Taj Mahal claim draws SC retort
• J&K: Pakistan violates ceasefire in Kupwara, resorts to small arms firing
• Terror groups use social media for coordination, says Rajnath Singh
--------
South Asia
• Myanmar Soldiers Jailed For 10 Years over Massacre of Rohingya Muslims
• Why Russia Exaggerates Islamic State's Presence in Afghanistan
• Fight between Security Forces, Taliban in Afghanistan Leaves 17 Killed - Reports
• French IS fighter among 8 killed in North of Afghanistan: MoD
• Properties Destroyed In Anti-Muslim Riots; Sri Lankan Corporals Arrested
• Protest against attack on Afghan civilians: Hefazat-e-Islam to hold rally Friday
• US military release video showing the killing of ISIS-K top leader in Jawzjan
• Reconciled ISIS commander regrets for his acts of terror
• Myanmar Minister to Visit Rohingya Camps as Bangladesh Seeks Refugees' Return
--------
Pakistan
• 'Drawn Sword of Islam': Pak-Turk Maiden Naval Exercise Concludes In Arabian Sea
• Security Forces Unearth Terrorist Network in Kurram Agency
• Seminaries upset over slow-paced registration: report
• CJP says 'head hangs in shame' over Hazara Shia killings
• Three terrorists held, weapons seized in IBO in Kurram Agency
• The far-right vote that no longer adjusts in the mainstream
• CTD nicks three terrorists with explosives
--------
Southeast Asia
• Why Penalise Ahmadis Under Shariah, If Considered Non-Muslims? Court Asked
• Indonesia's Bootleg Booze Death Toll Climbs To 90
• Don't blame EC for weekday polls, Hadi tells rivals, voters
• Islamic boarding school teacher arrested over meth possession
• How Local Charity Rumah Zakat Helps Eradicate Poverty
--------
Africa
• Nigeria: Muslim Lawyers Reject FCT High Court's New Dress Code
• Somalia: Al-Shabaab Reportedly Overran Kenyan Troops
• UAE denounces Somalia's holding of its civilian aircraft, seizing money
• US Stages Annual Military Exercise as Questions Linger About Its African Role
• Nigeria: Islamic Group Renews Call for Zakzaky's Release
• Boko Haram: Troops nab terrorists' bomb specialist, kill 3 in Borno
--------
Mideast
• Israel Defends Soldiers Appearing To Rejoice In Shooting Palestinian
• Israeli Sniper Who Shot Unarmed Palestinian Deserves Medal: Lieberman
• Leader's Top Aide Underlines Tough Response to Israeli Missile Strike on Syria
• US, Israeli actions in Syria meant to boost terrorists' morale: Iran
• Yemeni drones target Saudi airport in Asir, Aramco facility in Jizan
• Israel strikes Hamas after bomb explodes on Gaza border
--------
Europe
• Global Muslim Body Urges Europe to Assimilate Migrants Better
• French Council of the Muslim Faith: KSA Is 'The Incubator of Islam and Muslims'
• ISIS makes new bloodshed vow against Putin, World Cup
• Spain sentences 10 jihadists who plotted Barcelona attacks
• Will Saudi Crown Prince Mohammed bin Salman reform Wahhabism in Europe?
• Muslim community attacked by viral post on social media
• Rivaling US, Russia resolutions on Syria chemical weapons fail at UNSC
• Turks in Germany demand action against PKK supporters
• Macron's Overtures to Catholic Church Make Waves in Secular France
--------
Arab World
• Eurocontrol Warns Airlines of Possible Missile Strikes into Syria
• Saudi Cabinet slams Israeli violations of Al-Aqsa Mosque, Palestinians
• Syrian Army Finds White Helmets' Video Shooting Location
• Lebanon To File Complaint With UN Against Israeli Violations Of Airspace
• Syria Using 40 Advanced Pantsir-S1 for Air Defense
• Rifts Widening among Terrorists over Southern Syria Operation
• Tens of People Killed, Wounded in Bloody Blast in Northwestern Syria
• Syrian Army's Anti-Terror Operation Moving Closer to US-Run Al-Tanf Base
• People in Douma Seize Control of Terrorists' Food Stockpile
• Syria invites OPCW to investigate alleged chemical attack in Douma
• 'US-led jets flying over Syria amid looming threats of military strike'
--------
North America
• Controversial Imam Dropped From Canadian Islamic Conference
• Trump and May Agree To Respond To Alleged Syria Gas Attack
• Muslim group sues to block Trump terrorism report
• Trump updates travel ban, lifts restrictions on Chad
• Syrian chemical weapons attack was false flag operation, Fox News host suggests
• US has mechanism to probe Syria chemical attack
Compiled by New Age Islam News Bureau
URL: https://www.newageislam.com/islamic-world-news/voice-note-isis-terrorist-declares/d/114897
--------
Voice Note by ISIS Terrorist Declares Peace School In Kerala Has Their Supporters
April 10, 2018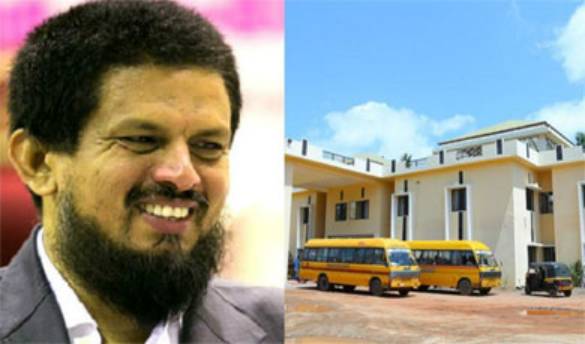 Voice Note by ISIS Terrorist Declares Peace School In Kerala Has Their Supporters
------
A voice note, allegedly made by Kasargode man Abdul Rashid Abdulla who is believed to be the kingpin behind recruiting Keralites to the Islamic terror outfit ISIS, has claimed that many staffers in Kerala's Peace International school were ISIS supporters.
"Write this down, in the next ten years, majority of the people who will do hegira (migration) and come here will be associated with Peace School," the audio clip said. According to NIA sources, the clip was sent by Rashid on a Telegram group used by the terror outfit to radicalise people in Kerala. Rashid is currently believed to be in Afghanistan.
Implicating MM Akbar, the founder of Peace International School who recently claimed neither he nor his school had anything to do with ISIS, the audio clip said, "Although the school management is making teachers lie that they are not teaching terrorism, what they are teaching is Salafism. May be they are not teaching terrorism directly. By Salafism, I mean learning Islam from its source."
The audio clip was aimed at convincing listeners that 'puritan Islam' stands for what ISIS believes in.
"In Kerala, although Salafi organisations are not teaching jihad and hegira, in the process, unknowingly they are asking the students to learn Quran from its source… puritan Islam. In that process, ultimately, what will happen? The same that happened to me. When I learnt it from its source, I understood the reality. All the people who have joined ISIS have understood that reality," the voice note, purportedly made by Rashid, said.
Rashid's audio message, reported by TOI, is seen as a rebuttal to an interview given by MM Akbar, Managing Director of Peace International School, to Malayalam channel Reporter TV. The episode was aired in the second week of March.
The Peace International School chain in Kerala has been in the eye of a storm after it came to light that many of the 21 people from the state who joined ISIS in 2016, had worked as staffers in different branches of the school. This list included Abdul Rashid himself.
Last year, the school in Ernakulam came under the scanner after objectionable and communally inflammatory content was found in their syllabus.
Subsequently, its founder and preacher MM Akbar was arrested by the police.
Weeks after Akbar was released on bail, in the Reporter TV interview, he attempted to absolve Peace School of allegations that the institution had, in effect, worked as a launchpad for ISIS recruitment. Akbar said in the interview, that although four among the 21 missing people were connected to the institution in some way, the school never endorsed extremist ideologies.
"All the four of them joined ISIS after resigning from our school. Then how is the school responsible if they joined the outfit?" Akbar had claimed in the interview.
In the 56th audio message shared on a Telegram group, Abdul Rashid, who is believed to be in the Khorosan province in Afghanistan, refuted Akbar's statements.
Rashid said that Akbar had lied about the number of people connected to Peace school who had joined ISIS.
"The ones he did not mention include Shihaz. He was Peace Foundation's supply manager. He was a prime member of the foundation. Why didn't Akbar talk about Shias? Shias and his family were with us till recently, but they have become martyrs. Another is Yahiya. Akbar spoke about Merin, who converted to Islam and attended an interview at the school. But he kept mum about Merin's husband Yahiya, who also worked at the school in Ernakulam, Kollam and Mathilakam," Rashid said in the audio clip.
Adding that Yahiya had taken classes for students in various branches of the school, the audio clip said, "Akbar said that we left the school because we did not get a favourable environment to build a network that is not true. In fact there are so many people in the foundation, many teachers and parents, who are ISIS supporters."
Rashid has been circulating several voice notes through the Telegram group meant for Keralites, in which he urges believers to join the outfit.
https://www.thenewsminute.com/article/voice-note-isis-terrorist-declares-peace-school-kerala-has-their-supporters-79345
--------
Myanmar Soldiers Jailed For 10 Years over Massacre of Rohingya Muslims
10 Apr 2018
Seven Myanmar soldiers have been sentenced to "10 years in prison with hard labour in a remote area" for participating in a massacre of 10 Rohingya Muslim men in a village in north-western Rakhine state last September, the army said on Tuesday.
The military said in a statement that seven soldiers have had "action taken against them" for "contributing and participating in murder".
The massacre was being investigated by two Reuters journalists – Wa Lone, 31, and Kyaw Soe Oo, 28 – who were subsequently arrested in December and are still behind bars facing charges of violating the country's Official Secrets Act.
The authorities told Reuters in February the military had opened an internal investigation independently and that it was unrelated to the Reuters reporters, who are accused of obtaining unrelated secret government papers.
The Rohingya men from the northern Rakhine village of Inn Din were buried in a mass grave in early September after being hacked to death or shot by Buddhist neighbours and soldiers.
The murders were part of a larger army crackdown on the Rohingya, beset by allegations of murder, rape, arson and looting, unleashed in response to Rohingya militant attacks on security forces in late August. The United Nations and the United States have described it as ethnic cleansing – an accusation Myanmar denies.
"Four officers were denounced and permanently dismissed from the military and sentenced to 10 years with hard labour at a prison in a remote area. Three soldiers of other rank were demoted to the rank of 'private', permanently dismissed from the military and sentenced to 10 years with hard labour at a prison in a remote area," read the military statement.
It added that legal proceedings against the police personnel and civilians "involved in the crime" were still under way.
On 10 January, the military said the 10 Rohingya men belonged to a group of 200 militants who had attacked security forces. Buddhist villagers attacked some of them with swords and soldiers shot the others dead, the military had said.
The military's version of events is contradicted by accounts by Rakhine Buddhist and Rohingya Muslim witnesses.
Buddhist villagers reported no attack by a large number of insurgents on security forces in Inn Din. And Rohingya witnesses told Reuters that soldiers plucked the 10 from among hundreds of men, women and children who had sought safety on a nearby beach.
Nearly 700,000 Rohingya have crossed into southern Bangladesh since August, creating one of the world's largest refugee camps.
https://www.theguardian.com/world/2018/apr/10/myanmar-rohingya-muslims-massacre-burma-soldiers-sentenced-jailed
--------
'Drawn sword of Islam': Pak-Turk maiden naval exercise concludes in Arabian Sea
April 10, 2018
The maiden bilateral exercise Turgutries meaning 'Drawn sword of Islam' between the Pakistani and Turkish naval forces in North Arabian Sea has concluded.
"TCG Gelibolu, a frigate from Turkish Navy and Pakistan Navy ships Saif, Aslat, Nasr, Quwwut, Azmat and Zarrar including fixed and rotary wing aircraft of Pakistan Naval Aviation participated in the exercise," said the Navy in a statement on Tuesday.
"Fighters from PAF [Pakistan Air Force] also took part in the exercise," it added.
The exercise covered a wide range of maritime operations encompassing anti-surface, anti-air and anti-submarine warfare as well as maneuvering and communication exercises.
The communique further said that counter piracy drills were also carried out in which boarding teams demonstrated practical boarding operations on board a suspect vessel.
Pakistani flotilla takes part in 24 countries military drills in Saudi Arabia
The main objective of [the] exercise was to enhance interoperability between [the] two brotherly navies.
It proved mutually rewarding to hone professional skills of participating personnel from both navies and learn from each other's experiences.
The statement said that Consul General of Turkey Tolga Ucake who was hosted on-board TCG Gelibolu and PNS Aslat witnessed the exercise at sea.
He congratulated the navies for successful conduct of first ever bilateral exercise and hoped that this will become a regular feature between both the navies in future.
The exercise, the communique added, is a testimony of Pakistan Navy's resolve to work towards regional peace and maintain close relations with all brotherly navies. It was aimed at further booting and strengthening ties between Pakistan and Turkish navies in times to come.
https://tribune.com.pk/story/1682142/1-pak-turk-maiden-naval-exercise-turgutries-culminates-arabian-sea/
--------
Why Penalise Ahmadis Under Shariah, If Considered Non-Muslims? Court Asked
BY YISWAREE PALANSAMY
April 10, 2018
SHAH ALAM, April 10 — The Ahmadiyya community should be allowed to practise their faith since they are not considered Muslims by Selangor, the Shah Alam High Court was told today.
Lawyer Aston Paiva, who represented 39 Ahmadis arrested by the Selangor Islamic Religious Department (Jais), said the latter cannot attempt to charge the community with Shariah offences when they have refused to recognise the Muslim sect as adherents.
"This is not an apostasy case where they say that they renounce Islam. That cannot happen to an Ahmadi. An Ahmadi will never say they are no longer a Muslim. It defeats their whole purpose," he said.
The Ahmadis, who are derogatorily called Qadianis here, adhere to the same beliefs as the Sunni branch of Islam, but also believe that their founder Mirza Ghulam Ahmad was the Imam Mahdi, Islam's prophesied redeemer.
"In other words, the government has treated them as non-Muslims, so they should just be treated how they want to be treated.
"On the one hand, you say they are not Muslims; on the other hand, you are arresting them and taking them to the Shariah Court to face charges," Aston added, referring to the Selangor religious enforcers.
The Ahmadis are seeking a judicial review following Jais' arrest of its community members — which included eight Pakistani asylum seekers, two Indian nationals, one Indonesian and three minors — on April 11, 2014 for performing Friday prayers in a place that was not a mosque.
The group was told that it had not obtained written permission to use the premises — a shoplot in Dolomite Park, Batu Caves — for purposes which may only be carried out on, in or by a mosque, contrary to Section 97 of the Administration of the Religion of Islam (State of Selangor) Enactment 2003.
The group was granted leave by the Kuala Lumpur High Court on August 14, 2014, before the proceedings were transferred to the Shah Alam High Court on September 15, 2015. A stay of proceedings was granted on February 5, 2016 pending the judicial review.
On May 5, 2017, an application was filed at the High Court to refer constitutional law questions to the Federal Court for determination, and on September 29 that year, it was allowed.
Two constitutional law questions were posed to the Federal Court: Whether the Shariah court has the jurisdiction to try offences relating to mosques, and whether the Shariah court has jurisdiction over members of the Ahmadiyya community.
However, on March 26 last month, the Federal Court referred the case back to the Shah Alam High Court.
Today, lawyer Hasnan Hamzah who represented the Selangor chief religious enforcement officer and chief Shariah prosecutor maintained that the arrest was lawful, as the Ahmadis were not authorised to use the premises as a mosque.
"It is unauthorised. When the raid was conducted, they did not have the authority to set up in the mosque," he said, adding that the community needs to obtain a declaration from the Shariah court that they are "not Muslims".
Judge Datuk Vazeer Alam Mydin Meera then quizzed Hasnan on the need for an official declaration, when the Selangor Fatwa Committee had already decreed the community as "kafir" or non-believers, and that any individual who follows it is an apostate on June 22, 1998.
However, Hasnan argued that the jurisdiction for such a declaration lies with the Shariah court and not a fatwa.
Meanwhile, lawyer Mohd Syahrizal Syah who represented Jais and the Selangor government said the Shariah offence charge against the 39 was constitutional, and the case should have been argued in the Shariah court and not the civil court.
Vazeer Alam then questioned Syahrizal on how such a law would apply to Ahmadis who are foreigners, but the latter insisted that they should have obtained official verification on their religious status before being allowed to practise their faith.
"They failed to show that they had received any verification that they are not Muslims. What was available were only a few documents from the United Nations, and their own identification papers to show they are refugees," Syahrizal said.
Vazeer Alam then postponed the case for decision on May 30.
http://www.themalaymailonline.com/malaysia/article/why-penalise-ahmadis-under-shariah-if-considered-non-muslims-court-asked
--------
Nigeria: Muslim Lawyers Reject FCT High Court's New Dress Code
10 APRIL 2018
By John Chuks Azu & Abass Jimoh
Muslim Lawyers' Association of Nigeria (MULAN) has rejected the new dress code for lawyers by the FCT High Court and the ban of hijab in the Law School.
In a statement released at the end of its National Executive Council meeting in Benin City, Edo State on March 31, MULAN condemns the directive that prohibits the use of any apparel underneath wigs by lawyers and by extension the hijab by female Muslim lawyers.
In the release signed by its president, Dr. Kamal Dawud, Esq., the association said the new rule ran contrary to the 2004 resolution of the Body of Benchers which allowed female Law School students and legal practitioners to use head cover underneath their wigs.
"On this ground and by the provisions of Section 38 of the Constitution of the Federal Republic of Nigeria, this directive is unfortunate, draconian, illegal, unconstitutional and unlawful," Dawud said in the statement.
"MULAN NEC condemns the directive in the press release in the strongest term and urges the FCT High Court to reverse its decision contained in the press release forthwith."
On the hijab controversy, MULAN said the constitutional provision affirmed the religious rights of citizens, and resolved to design a hijab compliant collaret with bib for use by Muslim female legal practitioners to conform with the tradition of the legal profession.
http://allafrica.com/stories/201804100647.html
--------
India
He left home as a Muslim, returned as a Sikh 40 years later
Apr 11, 2018
Lucknow: He left home as a Muslim and returned as a Sikh. Ali Raza, a resident of Bharwa village in Bahraich district, had left home about 40 years ago in search of work. He was 35 years old then. He went to Punjab with a group of friends and found work there. Gradually, he moved from one district to another in search of better work opportunities and slowly lost touch with his friends from the village.
Then the Operation Bluestar took place and riots began. His friends form the village returned home but there was no news of Mr Ali Raza.
As the months rolled into years, his family believed that he had probably died in the riots and his wife Aisha started leading life as a widow.
Last week, an old man with a white bear and a turban came to their house . No one could recognise this "sardar" but Ms Aisha, after peering at him for a few minutes, suddenly recognised him. His neuighbours also came him and recognised Mr Ali Raza.
"We were all in Punjab when insurgency began. In the riots, my friends and I got separated. I kept moving from one place to another and finally took refuge in a Gurdwara in Chandigarh. No one asked me about my religion but I told them that my name was Shyam Kumar. I started working in the Gurdwara. After some time, I stopped cutting my hair and began wearing turban", he recalls.
Mr Ali Raza said that he had given up the idea of returning home and even got married there. However, his second wife passed away after a few years. Since the past few years, he had been seeing a dream repeatedly in which a saint-like person would tell him to go back home. "I was getting restless so I decided to what I was being told. I had no hopes of meeting my family here", she says.
http://www.asianage.com/india/all-india/110418/he-left-home-as-a-muslim-returned-as-a-sikh-40-years-later.html
--------
Karnataka election 2018: Muslims want Cong to give community one seat in each district
Apr 11, 2018
BENGALURU: A group of Muslim leaders from Karnataka on Tuesday demanded that the Congress party reserve at least one constituency in each district of the state for Muslim candidates.
Banking on the sizeable 12% Muslim population in these constituencies, a group led by former MP K Rahman Khan held a meeting with the party's central election committee members in New Delhi to convince senior leaders as to why Muslims should get a better deal this time.
"The high voter turnout from Muslim strongholds could be a game-changer for Congress. We are demanding tickets from our community from those areas where our candidates are in a position to win," said a Congress leader. They also reeled out statistics to suggest Muslim candidates can win 28 seats in the state, provided they are given a chance to contest.
In 2013, about 19 Muslim aspirants were given party tickets in different constituencies and 10 had won.
The committee interacted with select Dalit leaders from the state, who sought more tickets for Madigas. Dalit community in Karnataka is divided broadly into Holeyas, the right-wing faction, and Madigas, the left-leaning side, who have dealt with worst caste atrocities.
The Congress in Karnataka is already in a fix with the left faction demanding implementation of Justice AJ Sadashiva Commission report, which recommended internal reservation for Madigas within the SC quota.
Full report at:
https://timesofindia.indiatimes.com/india/muslims-want-cong-to-give-community-one-seat-in-each-district/articleshow/63706803.cms
--------
Manipur Muslim organisations call 32-hour strike to protest shifting of hospital, normal life disrupted
Apr 10, 2018
Imphal: A 32-hour general strike called by a Muslim body in Manipur on Tuesday disrupted normal life in the state, officials said.
The strike, called by the All Manipur Muslim Organisations Coordinating Committee (AMMOCC) from 6 am, was a complete success in the Muslim-dominated areas. No vehicular movement was allowed along Imphal-Ukhrul highway in Imphal east district as the people were protesting against the shifting of the hospital site from Sagolmang to Keirao.
Manipur chief minister N. Biren Singh said: "The government is evicting illegal encroachers at reserved forest areas near the Nomaiching mountain. The authority shall evict all encroachers irrespective of community. It is very deplorable that some persons are talking about communal politics. Encroachment in the reserved forest is illegal." He also appealed to the AMMOCC not to play communal politics.
Some people were injured during the protest. The Sub-Divisional Police Officer (SDPO) of Moirang police station was injured in stone pelting by some Muslim youths at Kwakta in Bishnupur district.
Full report at:
https://www.firstpost.com/india/manipur-muslim-organisations-call-32-hour-strike-to-protest-shifting-of-hospital-normal-life-disrupted-4426117.html
--------
Peace Foundation Official Akbar Trying to Conceal Facts on IS Links, Says Leader of Kerala Module
April 10, 2018
Thiruvananthapuram: In a serious allegation, the leader of the Islamic State module from Kerala has said the Salafi preacher M M Akbar has concealed information about the links of Peace Foundation with those who migrated from India and joined IS.
In the 56th audio clip sent from Khorosan province in Afghanistan, Abdul Rashid Abdullah who hails from Thrikkarippur in Kasargod claimed that there are IS supporters among the teachers and parents of the students at the Peace International Schools where Akbar is the Managing director.
The 12.51-minute-long message came as a reaction to the remarks made by Akbar in an interview to a Malayalam TV channel.
According to Rashid, some of those who worked with Peace School had migrated to IS along with him and Akbar tried to conceal the names of two former employees.
"One is Shihas from Kasaragod. He was the supply chain manager of the Peace Foundation. He was one of the prime members of the foundation who supplied materials including books and uniforms to all the schools under it," Rashid said.
"Why did Akbar hide this fact as he was an employee of the foundation as well as the school? Shihas was with the school. However, he along with his family became martyrs recently. Shihas was an employee who was on the official payroll of the foundation," Rashid added.
"Then, Yahya alias Bexton Vincent who was converted from Christianity. He was the husband of Merin, a teacher of Ernakulam Peace School, who was mentioned by Akbar in the interview. He was in charge of the training and observation of teachers of the three schools under Peace foundation such as Ernakulam, Kollam and Mathilakam. Yahya was also the main teacher of another institution, Triple IS (International Institute of Islamic Sciences) owned by Akbar," said Rashid.
According to Rashid, in the beginning, the classes of Triple IS were conducted at the Salafi Mosque at Ernakulam Vyttila and it was later shifted to Wayanad. "You ask any student of the first batch. They will tell you about Yahya as he stayed with them and was very popular among them. Akbar hides this fact too," added Rashid.
Rashid termed Akbar's assertion that Rashid had left the Peace School as he could not influence anybody from there to IS as a ' lie'.
"It is not correct, 100%. We migrated to IS only to satiate Allah and not for any other gain. I shall tell you one thing frankly, there are IS supporters among the members of the Peace Foundation, teachers and the parents of the students at the Peace school. And even there are students. I don't want to disclose their names because I do not want to trouble them," Rashid said.
The IS leader claimed that the students of the Peace School would be the majority among those who would join IS in the next 10 years.
"This is because they are being taught Salafism in the school. They may not be supporting IS direct. However, Salafism means the study of Quran and Hadith direct from the source unlike the other Sunni factions. Those factions have a belief which is adulterated by the beliefs of forefathers including Hinduism. They can be even called Sufis. They are also trying to teach many things by concealing some portions such as Hijr (migration) and Jihad (Holy war). However, when you learn Salafism, the puritanical Islam without any adulteration, they will follow our path. All those who follow IS across the globe do this and it will happen to those students who learn pure Islam when they begin to think. Then children will seek what Akbar wanted to conceal. A majority of those who seek truth will turn to Jihad. Everyone who can browse can learn and will join real Islam," Rashid said.
He also ruled out it Akbar's assertion that it is a local issue of Kasargod as Yahya is from Palakkad.
Akbar was detained at the Hyderabad airport when he was travelling from Australia to Qatar on February 25. His interview was aired soon after he was released from the judicial custody.
Full report at:
https://www.news18.com/news/india/peace-foundation-official-akbar-trying-to-conceal-facts-on-is-links-says-leader-of-kerala-module-1714473.html
--------
Two Army jawans killed in Pakistan firing in Rajouri
Sanjay Khajuria
Apr 10, 2018
JAMMU: Two Army jawans were killed in ceasefire violation by Pakistan along the Line of Control (LoC) in Jammu and Kashmir's Sunderbani sector on Monday evening.
"Pakistan Army initiated unprovoked and indiscriminate firing of small arms, automatics & mortars from 1715 hours in Sunderbani sector along the LoC," said Jammu defence spokesperson, adding that the Indian Army "retaliated strongly and effectively."
The deceased were identified as riflemen Vinod Singh, 24, and Jaki Sharma, 30. They were grievously injured in the firing and later died. Vindo, a resident of Danapur village in Akhnoor district, is survived by his father Ajit Singh, while Jaki, a resident of Sanhail village in Jammu, is survived by his wife Rajni Devi.
Full report at:
https://timesofindia.indiatimes.com/india/two-army-jawans-killed-in-pakistan-firing-in-rajouri/articleshow/63701601.cms
--------
Wakf board's Taj Mahal claim draws SC retort
April 11, 2018
"Who in India will believe it belongs to Wakf Board? These kind of issues must not waste the time of the Supreme Court court".
This was the retort from a three-judge bench Tuesday when a plea by Archaeological Survey of India (ASI), challenging the Uttar Pradesh Sunni Wakf Board's July, 2005, decision to declare Taj Mahal a Wakf Property came up before it.
The bench comprising Chief Justice of India Dipak Misra and Justices A M Khanwilkar and D Y Chandrachud told the board's counsel that the 17th century monument and other heritage structures built by the Mughals had passed on to the British after the Mughal rule, came to be vested with the government of India after Independence and were being managed by the Archeological Survey of India (ASI).
The counsel replied that none other than Emperor Shah Jahan himself had declared it a Wakf.
The bench then insisted that the board show it the original deed executed by Shah Jahan. "Show us the signature", said the CJI as the counsel sought more time to produce relevant documents. The court granted the prayer.
The board's decision to declare Taj Mahal a Wakf had come on a direction from Allahabad High Court in a petition filed by one Mohammad Irfan Bedar who contended that the Taj was a Wakf property and that he should be declared its caretaker.
Bedar had approached the board in 1998, requesting it to register Taj Mahal as a Wakf property.
As a decision got delayed, he moved the Allahabad High Court, which after hearing him, asked him to approach the board afresh.
Full report at:
http://indianexpress.com/article/india/wakf-boards-taj-mahal-claim-draws-sc-retort-5132407/
--------
J&K: Pakistan violates ceasefire in Kupwara, resorts to small arms firing
April 11, 2018
A day after two Indian soldiers were killed in unprovoked firing, Pakistan violated ceasefire again on Wednesday along the Line of Control at Tanghdar sector in Kupwara district. As per latest reports, Pakistan resorted to small arms firing at Sadpora sector at 1 am. No casualties have been reported till now.
The incident comes after two soldiers – rifleman Vinod Singh and Jaki Sharma – were killed in unprovoked ceasefire violation by Pakistan along the Line of Control (LoC) in Rajouri district's Sunderbani sector early Tuesday. Last week, the Rajya Sabha was informed that Pakistan violated ceasefire along the LoC and the International Border (IB) 633 times in just two months of this year.
http://indianexpress.com/article/india/jk-pakistan-violates-ceasefire-in-kupwara-5132425/
--------
Terror groups use social media for coordination, says Rajnath Singh
April 10, 2018
Union Home Minister Rajnath Singh on Tuesday said terrorist groups were using social media networks for spreading their ideology and coordination. "Terrorists pose a threat not only to a country but to entire mankind. Today terrorism poses new challenges. You must have seen that it is continuously changing its face." "Where terrorists indulge in barbaric and cruel acts, there social media networks have become a platform for contact points, coordination and made easy to spread their ideology," Singh said at the inauguration of NSG Regional Hub at Hyderabad.
"Barring Jammu and Kashmir (J&K), our security forces were successful in containing terrorist activities. Even in J&K, army and other security forces achieved successes during the past few years," he added. Lauding the efforts of National Security Guards (NSG) in tackling terror activities, the Home Minister said, the morale of terrorists was down due to the constant efforts of security forces.
"The Hyderabad centre (NSG hub) will help security agencies of Telangana and Andhra Pradesh combat terrorism," he said. He suggested NSG to continuously upgrade its tactical and technical capabilities as the elite force has multi-dimensional responsibilities. Besides indulging in counter-terrorism, the NSG also provides security to VVIPs and provides backup security to important national and international events, the Minister noted.
From time to time, the black cat commando outfit in association with security forces of various state governments conducts joint exercises from which the other agencies also receive professional excellence in anti-terror activities. The NSG team is going to undertake Mission Everest 2019, he said. The regional hub complex of the elite anti-terror force at Ibrahimpatnam near Hyderabad, has been designed and completed with global standards at an expenditure of Rs 157.84 crore.
In his address, NSG Director General Sudeep Lakhtakia said, the 200-acre complex will have residential and office accommodation and modern training facilities such as Baffle firing range, indoor shooting range, 26 obstacles, swimming pool, sports complex, and artificial rock craft wall.
Full report at:
http://indianexpress.com/article/india/terror-groups-use-social-media-for-coordination-says-rajnath-singh-5131927/
--------
South Asia
Why Russia Exaggerates Islamic State's Presence in Afghanistan
By Samuel Ramani
April 10, 2018
On February 20, 2018, Russian Foreign Minister Sergey Lavrov met with his Pakistani counterpart Khawaja Muhammad Asif to discuss the threat of the Islamic State (ISIS) in Afghanistan. In a press conference after their meeting, Lavrov described the presence of ISIS in northern and eastern Afghanistan as "rather serious," and alleged that there were thousands of ISIS gunmen operating across the war-torn country.
Lavrov's statement on the ISIS threat in Afghanistan was widely criticized in the United States. In an interview with the BBC World Service, General John Nicholson, the commander of NATO's Resolute Support Mission in Afghanistan, argued that Russia has exaggerated the ISIS threat in Afghanistan to justify its provisions of military assistance to the Taliban. Navy Captain Tom Gresback, the public affairs director at Resolute Support headquarters, also concurred with Nicholson's assessment by claiming that there is little evidence that ISIS is expanding its military presence in Afghanistan.
Russia's frequent exaggerations of the Islamic State's presence in Afghanistan are closely intertwined with Russian President Vladimir Putin's broader internal consolidation and foreign policy objectives. Russian policymakers have emphasized the ISIS threat to unite anti-Western nationalists around Russia's expanded diplomatic involvement in Afghanistan, strengthen Moscow's alliances with Central Asian countries, and establish common ground with Pakistan on the resolution of Afghanistan's political crisis. Enjoying this article? Click here to subscribe for full access. Just $5 a month.
Since U.S. President Donald Trump authorized a MOAB ("mother of all bombs") strike in April 2017 that killed 92 ISIS militants in Afghanistan, Russian officials have argued that U.S. policymakers have become complacent about the Islamic State's ability to threaten regional stability. To highlight this perceived policy failure, Russia's special envoy to Afghanistan Zamir Kabulov released a statement in December 2017 that praised Russia for being one the first countries to label ISIS as a major security challenge, and claimed that over 10,000 ISIS militants were present in Afghanistan, with many arriving from Syria and Iraq.
Even though Kabulov downgraded his estimate to 7,000 fighters on February 1, the narrative that Washington has not adequately responded to the Islamic State's rise remains at the forefront of Russian official rhetoric on Afghanistan. In late February, Lavrov reiterated Kabulov's concerns about ISIS fighters migrating from the Middle East to Afghanistan, and decried NATO's failure to devote adequate resources to defeating this threat.
Even though Lavrov has struggled to sell the case for a rising ISIS threat to U.S. policymakers, the notion that the United States is facilitating the rise of ISIS in Afghanistan resonates powerfully within Russia. Quoting statements from Iranian military officials and Afghan policymakers, Russian state media outlet Sputnik has prominently featured allegations that the United States is supporting ISIS in Afghanistan to weaken the Taliban's influence in the country. As these conspiracy theories are gaining broader acceptance in Russia, highlighting the ISIS threat ensures that anti-Western policymakers accept the need for an expanded Russian diplomatic role in Afghanistan.
In addition to bolstering internal support for the revival of Russia's diplomatic presence in Afghanistan, Russia has focused on the ISIS threat in Afghanistan to establish more mutually beneficial alliances with its Central Asian partners. This strategy has reaped dividends, as Central Asian countries view ISIS as a legitimate security threat and a highly visible nemesis to rally public support against. Although Kyrgyzstan was noncommittal about assisting Russia's military intervention in Syria, it has cooperated closely with Moscow against the ISIS threat from Afghanistan. The Kyrgyz military has also been active participant in Russian-led military drills aimed at increasing the Collective Security Treaty Organization (CSTO)'s preparedness against the threat of ISIS in Afghanistan.
Even though Russian officials have historically chastised Tajikistan for its ineffective border security policies, Moscow's emphasis on the ISIS threat in Afghanistan has created a sense of urgency in Dushanbe that has enhanced Russia-Tajikistan security cooperation. In recent months, Tajikistan has allegedly assisted Moscow's supplies of light weaponry to the Taliban's anti-ISIS operations, and facilitated Russia's pre-emptive defensive measures against ISIS by acting as a conduit for the movement of Russian armored vehicles to Afghanistan's frontiers.
Russia views these displays of support against ISIS as encouraging, because they allow Moscow to frame itself as a benevolent protector of Central Asian countries against terrorism rather than as a hegemonic actor. As many Central Asian governments continue to view the securitization of Islamic extremism as a useful tool for regime consolidation, Moscow is likely to be able to use its anti-ISIS efforts in Afghanistan to bolster the effectiveness of its regional alliances.
The Russian government's successful engagement of its Central Asian partners against the ISIS threat in Afghanistan has encouraged Kremlin officials to focus on ISIS during their diplomatic negotiations with Pakistan. While joint pledges from Islamabad and Moscow to combat ISIS have been largely rhetorical in nature, Russian policymakers have been cautiously optimistic that increased dialogue on combatting ISIS will result in more extensive bilateral cooperation with Pakistan.
On March 21, Russia held a Joint Working Group (JWG) on counterterrorism with Pakistan at the Pakistani Ministry of Foreign Affairs in Islamabad. After this JWG, officials from both countries described the threat of ISIS in Afghanistan as a "grave concern," and argued that the diffusion of foreign fighters from Iraq and Syria to South Asia was a major threat to regional stability.
Despite the lack of evidence for a rising ISIS presence in Afghanistan, Pakistani officials have shared Russia's focus on ISIS in Afghanistan, because Islamic State's rise is a symbol of the ineffectiveness of U.S. counterterrorism strategies in South Asia. As Pakistan continues to face international scrutiny for its links to the Taliban and Haqqani Network, Russia's strategy of blaming Washington for the poor security situation in Afghanistan is appealing to Pakistani policymakers, and could cause collaboration against ISIS to act as a stepping stone for a more comprehensive Russia-Pakistan security partnership.
Even though ISIS appears to be a declining force in Afghanistan, Russian officials have exaggerated its presence to gain domestic support for Moscow's diplomatic initiatives in Afghanistan, upgrade its alliances with Central Asian countries, and strengthen Russia's burgeoning partnership with Pakistan. The success of this strategy ensures that Russia will continue to frame its involvement in Afghanistan around combatting the receding threat of ISIS for the foreseeable future.
https://thediplomat.com/2018/04/why-russia-exaggerates-islamic-states-presence-in-afghanistan/
--------
Fight Between Security Forces, Taliban in Afghanistan Leaves 17 Killed - Reports
20:18 10.04
MOSCOW (Sputnik) - At least 17 individuals have been killed in a clash between the Afghan forces and the Taliban terror group in the western Herat province, Khaama Press News Agency reported.
The members of the Afghan security forces, killed in the fight, include a soldier and a member of the public uprising forces, represented by local militias, Khaama Press News Agency reported, citing provincial governor's spokesman Jilani Farhad.
Four other members of the Afghan forces and eight Taliban* militants were also injured in the fight, the media outlet stated.
The incident reportedly took place in Chesht-e Sharif district on April, 9.
Violence related to terrorist activities has not occurred frequently in Herat over the past years. However, militants have been attempting to destabilize the situation in the region by staging attacks on civilians.
In the most recent case, five people were killed and seven others were injured by a blast of several explosive devices attached to a motorcycle in Herat.
Full report at:
https://sputniknews.com/asia/201804101063411556-afghanistan-fight-security-forces-talibab-killed/
--------
French IS fighter among 8 killed in North of Afghanistan: MoD
Apr 11 2018
The Ministry of Defense of Afghanistan says at least eight militants including a French national apparently fighting in ISIS ranks have been killed in northern Jawzjan province of Afghanistan.
The source further added that the terrorists were killed in Darab district of Jawzjan during a clearance operation.
No further details have been regarding the identity of the militants killed during the operation but foreign nationals from Central Asian States and other countries are actively operating in ISIS ranks in this province.
This comes as the Afghan Intelligence, National Directorate of Security (NDS), said late in March at least five ISIS suspects including a French woman have been arrested during a Special Forces operation in the North.
The local security officials in Jawzjan had also confirmed the report and had said that the woman was arrested from the vicinity of Darzab district.
The district police chief Faqir Mohammad Jawzjani said the French woman was arrested during a joint operation of the Afghan Special Forces and the foreign forces based in Afghanistan.
Earlier, Darzab district administrative chief Mohammad Dawar has told the AFP that "A number" of Algerian and French nationals entered the largely IS-controlled district of Darzab in northern Jowzjan province in November.
Full report at:
https://www.khaama.com/french-is-fighter-among-8-killed-in-north-of-afghanistan-mod-04848/
--------
Properties Destroyed In Anti-Muslim Riots; Sri Lankan Corporals Arrested
April 10, 2018
COLOMBO: Sri Lankan police have arrested two army corporals for their suspected involvement in anti-Muslim riots in the central highlands district of Kandy last month, police said on Tuesday.
It was the first arrest of serving soldiers for the worst sectarian violence since 2014. It was not immediately clear if any more senior officers are suspected. At least two ex-military officials have also been arrested.
Scores of mosques, Muslim homes and businesses were destroyed as Buddhist mobs ran amok for three days early last month in Kandy, a district previously known for its diversity and tolerance.
An officer at the police spokesman's office told Reuters 342 suspects have been arrested. The corporals were arrested on Monday.
Muslims comprise about nine percent of Sri Lanka's population of 21 million. Buddhists make up about 70 percent and Hindus about 13 percent.
Full report at:
https://www.ndtv.com/world-news/properties-destroyed-in-anti-muslim-riots-sri-lankan-corporals-arrested-1835573
--------
Protest against attack on Afghan civilians: Hefazat-e-Islam to hold rally Friday
April 11, 2018
They will also hold a rally near the north gate of Baitul Mukarram National Mosque in Dhaka the same day
Hefazat-e-Islam Bangladesh will bring out a procession on Friday to register their protest against the April 2 attack by Afghan special forces that left at least 70 people dead and countless more injured.
They will also hold a rally near the north gate of Baitul Mukarram National Mosque in Dhaka the same day.
Issuing a statement on Tuesday, the hardliner Islamist group also criticized the United Nations and Islamic countries for their apparent silence over the killing of civilians in Afghanistan.
Full report at:
http://www.dhakatribune.com/bangladesh/dhaka/2018/04/11/protest-attack-afghan-civilians-hefazat-e-islam-hold-rally-friday/
--------
US military release video showing the killing of ISIS-K top leader in Jawzjan
Apr 11 2018
The US Military has released a new video apparently showing the killing of a top leader of the Islamic State of Iraq and Syria Khurasan (ISIS-K) in northern Jawzjan province of Afghanistan.
The video purportedly shows a large gathering of the ISIS loyalists in Jawzjan in the beginning and ends with an airstrike on two individuals in an open area.
This comes as the NATO Special Operations Component Command-Afghanistan in a report had earlier stated that a U.S. airstrike killed Qari Hikmatullah and his bodyguard in Bal Chiragh district, Faryab province, Afghanistan, Apr. 5, 2018. At the time of his death, Hikmatullah was the senior ISIS-K commander and the main facilitator of ISIS-K fighters into northern Afghanistan.
The report further adds that ISIS-K in Jowzjan province is the main conduit for external support and foreign fighters from Central Asian states into Afghanistan. Hikmatullah was the key leader for those operations.
Hikmatullah, a native Uzbekistani, had a history of divided loyalties; first as an Islamic Movement of Uzbekistan leader, followed by allegiance to the Taliban, and ultimately ISIS-K.
Full report at:
https://www.khaama.com/us-military-release-video-showing-the-killing-of-isis-k-top-leader-in-jawzjan-04847/
--------
Reconciled ISIS commander regrets for his acts of terror
Apr 10 2018
A commander of the ISIS group who joined peace process in eastern Nangarhar province of Afghanistan says he regrets for the acts of terror he has committed while was serving in the ranks of the terror group.
According to the local officials, a group of fifteen militants belonging to Taliban and ISIS group joined peace process due to the efforts of the Afghan Intelligence Agency in Nangarhar.
The provincial government media office in a statement confirmed that two commanders of the ISIS group are also among those renounced violence.
A member of the provincial peace council Haji Jan Mohammad said at least five ISIS militants and ten Taliban insurgents have joined peace process and handed over their weapons to the local authorities.
A commander of the ISIS group Sar Mohammad admitted that he was trained in Pakistan regarding the military tactics and was deployed to Nangarhar to conduct acts of terror.
Mohammad also admitted that he has carried out various types of terrorist related activities while serving as ISIS commander including destruction of bridges, roads, religious schools and government schools as well as attacks on civilians and government officials and security personnel.
Full report at:
https://www.khaama.com/reconciled-isis-commander-regrets-for-his-acts-of-terror-04844/
--------
Myanmar Minister to Visit Rohingya Camps as Bangladesh Seeks Refugees' Return
April 11, 2018
Dhaka. A Myanmar government minister will visit Rohingya refugee camps in Bangladesh on Wednesday (11/04), officials said, a rare trip Dhaka hopes will help speed the return home of hundreds of thousands of the neighboring nation's Muslim minority.
Win Myat Aye, Myanmar's minister for social welfare, relief and resettlement, will speak with some of the roughly 700,000 Rohingya Muslims the United Nations and aid groups say fled a military crackdown in their Buddhist-majority country since last August.
"So many people of his country are here and it's their moral obligation to see their conditions," Mohammed Abul Kalam, Bangladesh's refugee relief and rehabilitation commissioner, told Reuters.
"His country may want to show the global leaders that they are sincere to repatriate. Bangladesh expects to resolve the problem soonest, as it is a huge burden for this country, which we cannot bear."
The Myanmar minister confirmed to Reuters last week that he was visiting Bangladesh.
Kalam will accompany Win Myat Aye on the visit to the camps in Kutupalong, where many refugees live in shacks made of bamboo and plastic sheets that are unlikely to withstand heavy rains and storms brought by the monsoon season when it starts in June.
"Bangladesh Foreign Ministry official said his country wanted to show the visiting minister the challenges it was facing in hosting the refugees in the coastal district of Cox's Bazar, bordering Myanmar.
Win Myat Aye, the minister charged by Myanmar leader Aung San Suu Kyi with leading rehabilitation efforts in the country's Rakhine State that the Rohingya call home, is likely to meet Bangladesh's foreign minister on Thursday, said the official, who declined to be identified, citing government policy.
Myanmar said it has already verified several hundred Rohingya refugees for possible repatriation.
Full report at:
http://jakartaglobe.id/international/myanmar-minister-visit-rohingya-camps-bangladesh-seeks-refugees-return/
--------
Pakistan
Security forces unearth terrorist network in Kurram Agency
Apr 11, 2018
RAWALPINDI: Security forces unearthed a major terrorist network in Kurram Agency on Tuesday.
According to details, security forces personnel conducted an operation in the agency and arrested three militants. On information provided by the nabbed terrorists, the security forces recovered a cache of arms, ammunition, explosives, suicide vests, mines and improvised explosive devices that were buried underground.
Inter-Services Public Relations (ISPR) said that the security forces along with intelligence agencies conducted the operation.
The network was involved in terrorist activities, including suicide bombings and IED attacks in Parachinar.
The nabbed terrorists were later shifted to an undisclosed location for further interrogation.
https://www.pakistantoday.com.pk/2018/04/10/security-forces-unearth-terrorist-network-in-kurram-agency/
--------
Seminaries upset over slow-paced registration: report
Apr 11, 2018
ISLAMABAD: The seminaries have expressed their concerns over slow-paced registration process being carried out by the provincial governments in an effort to reform the religious education system, reported a local English newspaper.
These concerns were expressed by umbrella organisation-Tanzeemat-i-Madaris-and religious scholars during a meeting held to review the progress of the reforms of seminaries and mainstreaming of their graduates.
The meeting was chaired by National Security Advisor (NSA) Lt Gen (r) Nasser Khan Janjua, whose secretariat is leading the process.
https://www.pakistantoday.com.pk/2018/04/11/seminaries-upset-over-slow-paced-registration-report/
--------
CJP says 'head hangs in shame' over Hazara Shia killings
Apr 11, 2018
QUETTA: Chief Justice of Pakistan Mian Saqib Nisar on Tuesday said that "his head hangs in shame due to targeted killings of the Hazara Shia community".
"We don't have the privilege to legislate and those who do have it are not legislating," the CJP said while addressing lawyers in Quetta registry's bar room.
Earlier, while addressing officials of the Balochistan High Court and district courts, the top judge also sought to clarify the surge in judicial activism, saying the objective of the suo motu notices was to provide basic rights to citizens.
"However, this is not a clarification on my behalf, and neither should the media take it as such," the CJP went on to say.
The top judge said that he was kick starting legal reforms and urged the lawyers to end the culture of court boycotts to ensure the provision of swift justice.
CJP Nisar said the judges have a lot of work and are thus unable to wrap up cases on time as he attempted to explain backlog of cases.
The CJP also urged the people of Balochistan to invest in education for their children, adding that the struggle for education will have to be fought by the people themselves.
REPRIMANDS GOVT OFFICIALS:
Earlier in the day, Chief Justice Nisar rebuked the top officials of the province over the deplorable state of public welfare as he resumed hearing a suo motu case on various issues of public interest.
A three-judge bench, headed by the CJP and comprising Justice Sajjad Ali Shah and Justice Mansoor Ali –was hearing cases at the SC's Quetta Registry, regarding the plight of public hospitals and medical colleges, and the young doctors' strike in the province.
During the hearing, the CJP warned Provincial Health Secretary Saleh Nasir of withholding his salary until the province's doctors are paid their dues. He also said that it was a matter of great concern that the province pays its doctors Rs24,000 a month whereas a driver of the Supreme Court gets paid Rs35,000.
Moreover, Education Secretary Noorul Haq Baloch informed the court that half of the schools in the province don't have water and added that 11,000 toilets were constructed in the province's schools in the last three years.
The secretary also informed the court that at least 1,135 primary schools under government supervision do not have all the required facilities. Upon which, the CJP remarked that the provincial government has failed to live up to its promise of 'good governance'.
The education secretary said that improvement in the region is hindered by a lack of funds and blamed the teachers' union for politicising everything.
The CJP censured the officials in attendance in the court, saying they haven't done any paperwork, but are just paying lip-service. Upon this, the secretary said he has prepared data about schools based on the ground realities, but awaited funds to resolve the issues.
He then asked him to submit a policy report in 15 days, observing that, "I used to think the situation in is Sindh is dire but it is worse here."
The CJP on Monday directed two former chief ministers of Balochistan — Dr Abdul Malik Baloch and Nawab Sanaullah Zehri — to appear before the SC and explain what they did for the improvement of governance in the province during their respective tenures.
"Three chief ministers came during one tenure but what did they do to improve governance?" the CJP had asked, ordering the former provincial chief executives to appear in court and inform the judges about the efforts they made in the last four years to provide relief to the people.
Full report at:
https://www.pakistantoday.com.pk/2018/04/10/cjp-says-head-hangs-in-shame-over-hazara-shia-killings/
--------
Three terrorists held, weapons seized in IBO in Kurram Agency
APRIL 11, 2018
RAWALPINDI: A special intelligence based operation (IBO) was carried out on Tuesday by security forces along with intelligence agencies in Kurram Agency against terrorists networks involved in three major terrorist activities in Parachinar.
According to a statement issued here by Inter Services Public Relations (ISPR), the terrorists networks were also involved in suicide bombing, vehicle borne
improvised explosive devices (IEDs) and IED attacks.
Busting of these terrorist networks and apprehensions of 3 terrorists revealed that these networks were also involved in illegal weapons/ammunition, explosives dealing and smuggling inside Kurram Agency.
Full report at:
https://dailytimes.com.pk/226510/three-terrorists-held-weapons-seized-in-ibo-in-kurram-agency/
--------
The far-right vote that no longer adjusts in the mainstream
Umair Rasheed
APRIL 11, 2018
Tehrik-e-Labbaik Pakistan's sit-in camp in front of the Data Darbar was only sparsely populated in the afternoon last Saturday. The campers sat in small groups of three or four, some catching up on sleep using backpacks as headrests. "This is not the true strength of the dharna," said Muhammad Bilal, sitting all by himself holding a textbook of business law he brought along to prepare for a test next week.
"At this hour of the day, many people leave the camp to visit the darbar or to take some rest in nearby mosques. They return around Asr when speeches begin," he said.
Bilal's father cultivates a small plot of agricultural land in Rasoolpur Jatta, a village near one of Sheikhupura's small towns Manawala. His elder brother had spent two days at the dharna before he arrived on Friday night with plans to stay till Sunday evening. With his three brothers running small-scale businesses of construction work and transport, he's the only sibling to have made it to college to study commerce, which was not his first choice though. "I wanted to study science subjects, but my [intermediate] marks were not enough. I will do my master's degree in science now, either statistics or computer science."
TLP leader Pir Zaheerul Hasan Shah and his sons are campaigning in his area and Bilal, not yet a full-time member, is hopeful that residents will support them in the upcoming election. He identifies himself as a Sunni devoted to the cause of Nizam-e-Mustafa. Asked what does the cause entail exactly in an Islamic republic, he said mainstream parties were driven by an agenda to promote liberalism and 'fahashism', a neologism he explained in the following words: "Look at their jalsas, men and women dance together and listen to music."
Noticing my gaze turn to his earphones plugged into the smartphone, he was quick to clarify that he was watching a video about the recent attack on a seminary in Afghan province Kunduz with naats playing in the background.
Though he hasn't checked for himself but based on information gathered on social media, he was certain that the government was purging schools' syllabus of all Islamic references. "What is the point in making us read Mr Chips? Let us instead read the seerat of the Holy Prophet (PBUH) or the sahaba."
Sitting a few feet from Bilal, Sajid Rizvi introduced himself as the TLP candidate from PP-35 Pasrur, a tehsil of Sialkot. Having followed TLP leader Khadim Hussain Rizvi's sermons on the Internet during his stay in Dubai where he and his brothers have a construction business, he said he returned to the country after learning about Mumtaz Qadri's death sentence in 2015 and started working with the 'tehrik'. As part of his election campaign, he said he has set up units in every union council of PP-35, with an 11-member teams to oversee affairs at the unit level. The teams comprise nazims for public welfare, finance, education, media as well as for traders and lawyers' wings.
A man sitting beside Rizvi said he had a job in the Nestle Pakistan factory but he took days off to participate in the dharna on Pir Zaheerul Hasan's call.
Next to the two men was a child wearing a custom-made T-shirt with TLY logo and its election symbol of crane. He had come as part of a delegation from his seminary in Bahawalnagar.
Groups from Muzaffargarh were less forthcoming, excusing themselves from a conversation because 'they weren't allowed to speak to the media'.
Towards the end of the camp, there was a makeshift food court with dozens of crates of bottled water and carbonated beverages. After examining my press card, Hassaan Butt, who introduced himself as the TLP operations incharge in Lahore, said the food court was run with donations. "Though there is langar available at the darbar but we provide food for the participants on our own."
When the TLP concluded its 21-day sit-in at Faizabad following a controversial agreement with the federal government brokered by the Chief of the Army Staff, Ashraf Jalali-led Tehrik-e-Labbaik Ya Rasoolullah (RLY) continued its sit-in in Lahore for another week, demanding among other things resignation of Punjab Law Minister Rana Sanaullah.
Coinciding with the TLP's ongoing sit-in, on Saturday, TLY held its annual dastar bandi ceremony at the recently renovated Greater Iqbal Park to recognise graduates of its country-wide network seminaries run under the Tehreek-e-Sirat-e-Mustaqeem (TSM) banner. "The jalsa is also significant given the prevailing political scenario. Jalali sb will announce our future course of action today," said Muhammad Younas Qadri, introduced to me as one of the central organisers at the venue. Qadri is the principal of TSM's Al-Ma'arij Institute in Taj Bagh area in the Lahore constituency from where Jalali plans to contest National Assembly election this year. "We haven't yet entered into an alliance with the TLP but we hope to soon reach an agreement on seat adjustment with them and Sunni Tehrik," he says.
Though, young activists of TLY's youth front Al-Ghaliboon were certain that a seat adjustment agreement had been reached among all major Sunni (barelvi) parties, including apolitical and missionary Dawat-e-Islami. For them, the jalsa was 'a power show against the blasphemers' and blasphemy was a such a loose category that it covered the death sentence awarded to confessed assassin Mumtaz Qadri, Muslims' participation in Holi, a Hindu religious festival, and statements in support of constitutional rights of the country's Ahmedi community. These views were expressed Muhammad Babar Jalali, a native of Azad Kashmir who has been residing in Lahore because of a prayer leader job at a mosque in Batti Chowk area. He is also the TLY nazim-e-ala for UC-48.
Other youngsters looking after seating and lighting arrangements in the lawns spread from the Minar-e-Pakistan to the boundary wall of the Park said they were part of social media teams that managed Jalali Media and Tauheed TV, platforms from where the organisation disseminates its videos and memes.
These youngsters associated with the organisation's mosques and social media teams shared a uniform appearance: their heads were covered in dark-coloured turbans similar to the one worn by Jalali and they were dressed up in immaculately pressed shalwar kameez suits. Those part of the security team shared a rather rugged look. They were without turbans, and were dressed up causally in Tees and trousers. Saqib Jalali and Ali Raza Jalali were amongst this group. Both came for the ceremony from People's Colony Gujranwala where their families were associated Jalali for over a decade. They left education after high school. Ali Raza has since been running an auto repair workshop and Sajid tried his luck with work in Saudi Arabia. Economic distress from rising costs led him to return to Gujranwala a couple of years ago where he's now learning sanitary work.
Full report at:
https://dailytimes.com.pk/226472/the-far-right-vote-that-no-longer-adjusts-in-the-mainstream/
--------
CTD nicks three terrorists with explosives
April 11, 2018
BAHAWALPUR-The Counter-Terrorism Department Tuesday claimed to have thwarted an imminent terrorism plan and arrested three terrorists.
The CTD sources informed the terrorists belong to band Emarat-e-Islami Afghanistan while explosives, detonators and ball-bearings were recovered from them.
According to the CTD, acting on a tip-off, the lawmen carried out a raid at Mauza Houtwala near Southern Bypass and arrested three terrorists. The officials said the terrorists, belong to outlawed Emarat-e-Islami Afghanistan/TGI, were planning attack on sensitive installations in Bahawalpur. Later, the terrorists were identified as Abu Ameer, Muhammad Mudassar and Muhammad Taqi.
Full report at:
https://nation.com.pk/11-Apr-2018/ctd-nicks-three-terrorists-with-explosives
--------
Southeast Asia
Indonesia's bootleg booze death toll climbs to 90
April 11, 2018
JAKARTA - Indonesia's deadliest bootleg liquor crisis in years has killed at least 90 people, authorities said Tuesday, prompting one region to declare a state of emergency.
Police are warning the toll could rise again as they conducted raids in cities across the world's biggest Muslim-majority country to arrest vendors selling toxic homebrew.
In 2016, 36 people died in Central Java after drinking locally bought homebrew.
On Tuesday, authorities said at least 90 people have died over the past two weeks in Jakarta, West Java province and easternmost Papua, while dozens more are in critical condition in hospital from drinking tainted booze.
At least nine people have been arrested as of Tuesday, but authorities are still looking for major distributors of the bootleg booze which is usually sold under the table by street vendors, who sometimes make the toxic concoction themselves.
One suspect admitted having mixed mosquito repellent, pure alcohol and cough medicine into his homemade brew, police said.
In another case, an arrested vendor said he had mixed pure alcohol with Coca-Cola and an energy drink, police said.
The string of deaths prompted Bandung, a major city east of Jakarta, and its surrounding area to declare a state of emergency Tuesday.
"This is a wake up call... for all of us," said National Police spokesman Setyo Wasisto.
In 2015, Indonesia banned the sale of alcohol in most convenience stores and small shops outside holiday hotspot Bali, although it is still available in supermarkets, bars and hotels throughout most of the country.
"When alcohol sales were banned (in convenience stores), underground sellers seized the opportunity to meet demand," University of Indonesia lecturer Devie Rahmawati told AFP.
"Those with strong purchasing power won't be affected but low-income people seek out alternatives."
https://nation.com.pk/11-Apr-2018/indonesia-s-bootleg-booze-death-toll-climbs-to-90
--------
Don't blame EC for weekday polls, Hadi tells rivals, voters
April 11, 2018
KUANTAN, April 11 — The Election Commission (EC) has the right to fix polling on any day it chooses, including Wednesday, said PAS president Datuk Seri Abdul Hadi Awang
He said the important thing was for the people to be aware of their responsibility as voters and for the party machinery to get its voters staying outside their respective polling area to return to exercise their right.
"Don't blame the EC. We don't want to interfere because that is its right to have polling on any day. For us, no matter what day, we will go to the polls, even if it's a Friday, (because) it's not the whole day that we perform the Friday prayer," he said.
Abdul Hadi said this at the "Amanat Piilihan Raya Pas Teraju Pahang" programme in Cenderawasih here last night, which was also attended by Pahang PAS commissioner Rosli Jabar and his deputy, Andansura Rabu.
Yesterday, the EC announced May 9 as the polling date, resulting in some quarters to express their disappointment because it falls on a working day and in the middle of the week.
Meanwhile, on the action by DAP in placing three Malay candidates to contest in Pahang for the 14th general elections (GE14), Abdul Hadi said it was a strategy by the party so as not to be seen "chauvinistic".
He said the willingness by DAP to use the PKR logo in the coming general elections also could be regarded as wanting to attract Malay voters.
Last Sunday, DAP named three Malay candidates to contest in Pahang, namely Tengku Zulpuri Shah Raja Puri , who is the incumbent Mentakab assemblyman, for the Raub parliamentary seat, Abu Bakar Lebai Sudin (Pulau Manis state seat) and Young Syefura Othman or Rara (Ketari state seat).
On the PAS candidates, Abdul Hadi said an announcement on the matter would be made on April 19 with the party having more "energetic young people" as its candidates.
"We (also) have non-Muslim candidates where they will be fielded in places we want them to win," he said.
Asked whether he would defend his Marang parliamentary seat and the Rhu Rendang state seat, Abdul Hadi said he was leaving the matter to the party, but added "InsyaAllah, I will".
Full report at:
http://www.themalaymailonline.com/malaysia/article/dont-blame-ec-for-weekday-polls-hadi-tells-rivals-voters
--------
Islamic boarding school teacher arrested over meth possession
April 10, 2018
National Narcotics Agency personnel have arrested a teacher at an Islamic boarding school, or pesantren, in Surakarta, Central Java, for allegedly possessing 10 grams of crystal methamphetamine.
The suspect, identified as AGR, 47, could face the death penalty if found guilty.
AGR was reportedly driving a Toyota Avanza with another Surakarta resident, SYN, 53, when he was arrested. Local residents had reportedly tipped off the agency about a possible drug sale between the two, who were allegedly caught red-handed.
National Narcotics Agency Central Java head Brig. Gen. Tri Agus Heru Prasetya said AGR had planned to go on the minor haj with his wife on Monday, but that plan had been foiled by his arrest. AGR's wife then decided to proceed with the pilgrimage on her own.
AGR reportedly admitted that he had been addicted to methamphetamine since 1998, and that he had tried to quit in 2002, "but I continued to consume it after a reunion with an old friend. The friend also asked me to sell [the drug]," he told the media.
The agency is currently searching for the person who sold the narcotic to AGR, identified as Bejo.
"This case shows us that narcotics can even spread to pesantren. We will intensify communication with religious groups to launch a campaign on the danger of illegal substances," Tri said.
Meanwhile, Surakarta pesantren Ta'mirul Islam Surakarta was quick to deny any affiliation with AGR. The pesantren's principal, Mohammad Adhim, said AGR was not a staffer at the pesantren, though he acknowledged that AGR had frequented the pesantren to attend sermons.
Full report at:
http://www.thejakartapost.com/news/2018/04/10/islamic-boarding-school-teacher-arrested-over-meth-possession.html
--------
How Local Charity Rumah Zakat Helps Eradicate Poverty
April 11, 2018
Jakarta. Established amid the country's political and economic crisis in 1998, local Islamic-tax collector Rumah Zakat has transformed itself as a non-governmental organization focused on helping the poor.
Zakat is an Islamic term denoting the obligation for wealthy Muslims to give charity to the poor.
Rumah Zakat started its activity by informally collecting donations to help orphans around Bandung, West Java, where its headquarters are currently located.
The organization began to formalize itself in 2005 its under first chief executive, Virda Ekaputra, who is now president director of Bandarudara Internasional Jawa Barat.
The organization began hiring full-time employees under Virda's tenure. It now employs more than 400 full-time employees and thousands of volunteers who are available at branches in 18 provinces.
"At that time, we began applying corporate models to our team in running the organization. Employees who came late to the office would have their salaries reduced as punishment, for instance," Rumah Zakat chief marketing officer Irfan Nugraha said during a media visit at the Jakarta Globe's offices last week.
From managing only Rp 800 million ($56,000) in its early formation, Rumah Zakat now manages a Rp 200 billion fund, which is distributed for developing communities through several programs, ranging from health, education, economy to infrastructure.
About 60 percent of the fund comes directly from zakat, while 35 percent is generated from other non-obligatory donations, called infaq and sadaqah in Arabic.
Rumah Zakat also sources around 5 percent of its total income from corporate social responsibility (CSR) of companies like Bank Mandiri, who feel more comfortable with professional charity management offered by the organization.
Focusing on Empowering Villages
When Rumah Zakat was founded in 1998, around 49.5 million people were living in poverty. However, a growing economy and government programs helped improve the livelihoods of millions.
Today, 26.5 million people, or 10 percent of the country's population, live under the poverty line, according to the Central Statistics Agency (BPS).
Rumah Zakat has helped more than 1.2 million people since its inception. As six in 10 impoverished people live outside of major metropolitan areas, the charity focuses its efforts in villages.
Under a program called Desa Berdaya, or "empowered village," Rumah Zakat has so far helped 1,056 villages in 21 provinces, mostly in Java.
"We help people in these villages to sustainably make income from selling agriculture and grocery products. And also by forming a cooperative," Irfan said.
Rumah Zakat expects to help as many as 1,234 villages this year and sets a target of 5,323 empowered villages by 2023.
Rumah Zakat deploys experts to assist beneficiaries in sustaining their businesses.
When a village can sustain itself, then it is deemed as an independent village and Rumah Zakat slows down its support for it.
"By now, we only have more than 20 villages that are already deemed independent," Irfan said.
Rumah Zakat claimed it helped 10,794 people through its economic programs last year and almost two thirds of the beneficiaries were lifted out of poverty.
Big Potential
Muslims are obliged to pay zakat, which accounts for 2.5 percent of income, and is paid either monthly or annually. This system is known as zakat mal.
Zakat al-fitr, on the other hand, is paid by wealthy Muslims once a year during the Eid Al-Fitr with any 2.7-kilogram of staple food, such as rice or wheat.
The government supports Islamic charity activities in the country and offers encouragement for Muslim citizens to fulfill their obligations. Zakat or other religiously-obliged donations to registered charities are tax deductible.
Irfan said that the potential for zakat collection is more than Rp 217 trillion a year, citing an estimation from the Ministry of Religious Affairs.
Full report at:
http://jakartaglobe.id/business/local-charity-rumah-zakat-helps-eradicate-poverty/
--------
Africa
Somalia: Al-Shabaab Reportedly Overran Kenyan Troops
10 APRIL 2018
The Al-Shabaab has attacked Kenyan military forces in Fahfahdhun area in Somalia's southwestern Gedo region, killing an unknown number of soldiers.
The attack began with a roadside bomb blast targeted a convoy carrying KDF soldiers in the small town of Fahfahdhun and followed by a direct gun battle between the two sides.
There were reports of casualties on both KDF and Al Shabaab, but, the number has not yet been confirmed.The local villagers reported heavy gunfire and explosion during the attack.
Kenyan military is yet to comment on the Al Shabaab attack against the KDF forces of AMISOM contingent. The raid was the latest in series of attacks on AU forces in Somalia.
Last week, Al Shabaab said it killed 59 Ugandan peacekeepers in car bombings and gun attack on AMISOM base in Bula Marer area, about 120Km southwest of Mogadishu.
http://allafrica.com/stories/201804100512.html
--------
UAE denounces Somalia's holding of its civilian aircraft, seizing money
10 April 2018
The United Arab Emirates on Tuesday denounced Somalia's seizure of a civilian aircraft this week and money on board, according to a statement on the state news agency WAM.
"Money allocated to support the Somali army and trainees was seized at gunpoint by Somali security personnel, who disrespected some members of the UAE forces," it said.
Some $9.6 million in cash was taken from the plane that had landed from the UAE at Mogadishu airport, police and government sources had said.
https://english.alarabiya.net/en/News/gulf/2018/04/10/UAE-denounces-Somalia-s-holding-of-its-civilian-aircraft-seizing-money.html
--------
US Stages Annual Military Exercise as Questions Linger About Its African Role
April 10, 2018
Amid unresolved questions about the role of its military in Africa, the U.S. has kicked off a two-week exercise in Agadez, Niger, designed to strengthen security partnerships and train elite counterterrorism units in the volatile Sahel region.
Flintlock, an annual military exercise directed by the chairman of the U.S. Joint Chiefs of Staff, involves participants from eight African countries and 12 Western countries. The event helps regional partners learn to work together to patrol vast, ungoverned spaces where terrorist groups such as al-Qaida in the Islamic Maghreb, Ansar Dine and Boko Haram operate.
Major General J. Mark Hicks, the commander for Special Operations Command Africa, said the investment in training in the region is crucial because the terror groups control only patches of territory and can still be destroyed.
"Africa matters to us because it is a 'preventive-medicine theater' versus an 'emergency-medicine theater,' " Hicks told reporters in a conference call on April 5.
"These threats, as they exist in Africa, are at a level where they can be dealt with … by, with and through our African and European partners, at a very low cost," he said. That cost efficiency, he said, makes them comparable to preventive health care, "versus something like Iraq and Syria, where you have to go into emergency medicine and large military activities."
Enabling regional partners
One regional effort taking shape that Flintlock organizers hope to support is the G5 Sahel, a 5,000-person joint military force created by Burkina Faso, Chad, Mali, Mauritania and Niger. The U.S. is contributing $60 million toward the G5 Sahel project, but believes the training offered at Flintlock offers unique value.
"We are enabling the G5 Sahel partners both to command and control tactical formations, to cooperate across national boundaries and deal transnationally with transregional threats," Hicks said. "We're also providing tactical training to tactical units, which will be fielded in the context of the G5 Sahel immediately after the exercise."
This year's Flintlock exercise is the first since an ambush last October in which four U.S. soldiers and four Nigerian troops and an interpreter were killed while on patrol near the border with Mali. The exercise location rotates annually and was already planned to be held in Niger.
"The focus this year on Niger is really centered on the increasing threats that we see, both from al-Qaida-aligned JNIM (Group for Support of Islam and Muslims) and ISIS-aligned ISIS Greater Sahara. They are descending through central Mali, threatening not only Mali but Burkina Faso and Niger," Hicks said. "So we are mindful of the changing facts on the ground, and this exercise is focused to enable our partners that are part of the G5 to deal more directly and more effectively with those threats."
U.S. involvement
Since the October attack on U.S. forces, many have questioned the U.S. military presence on the continent. The Pentagon has yet to release its report investigating the incident, but reporting by The New York Times concludes that "a series of intelligence failures and strategic miscalculations" led to the attack in October, and leaked drafts suggest the Pentagon will pull back on its presence on the ground in West Africa.
Five U.S. senators recently returned from a one-week, bipartisan congressional trip to Africa, including a stop in Niger. The senators met with U.S. Africa Command and U.S. Special Operations Command officials and were briefed on the October ambush.
"The United States has some of our best military personnel, diplomats and aid workers serving on the front lines in Africa," Senator Cory Booker, a Democrat from New Jersey, said in a statement. "My past week in Niger, South Africa, Zimbabwe and Burkina Faso has been an eye-opening testament to the vital economic, political and security assistance partnership between the U.S. and African countries.
"In each of our meetings this week, we reaffirmed the value we place on U.S.-African relations and the dire need for a fully staffed, empowered U.S. diplomatic corps committed to working to advance fundamental freedoms, the rule of law, and democratic transparency and accountability," he added.
According to U.S. Ambassador to Niger Eric Whitaker, who also participated in the conference call, Americans cannot wall themselves off from the issues affecting the region and must play a role in helping local partners find solutions.
Full report at:
https://www.voanews.com/a/united-states-stages-annual-military-exercise-questions-linger-african-role/4341163.html
--------
Nigeria: Islamic Group Renews Call for Zakzaky's Release
10 APRIL 2018
The Academic Forum of the Islamic Movement in Nigeria on Tuesday urged the U.S. to prevail on the Federal Government to release their detained leader, Sheik Ibrahim Zakzaky.
The group staged a peaceful protest at the U.S Embassy in Abuja and said that it had become expedient for the government to release the Islamic leader because of his failing health.
The leader of the protesters, Malam Abdullahi Musa, told the News Agency of Nigeria (NAN) that the protest was the 91st the group was embarking on since Zakzaky was detained in 2015.
"Recent medical check-up carried out by concerned Nigerians and medical professionals show that the only remaining eye of Sheik Zakzaky which was affected with glaucoma was deteriorating.
We will continue to protest against El-Zakzaky's detention, say Shiites
"An urgent surgery is needed abroad as no hospital in Nigeria can handle his situation successfully.
"It has also been confirmed that Sheik is still suffering from the impact of the stroke he suffered from some weeks ago and bullet injuries, such that he is still ill and in urgent need of medical attention abroad.
"His wife, Zeenah, suffers from increasingly frequent stomach pains due to bullets and other harmful particles that are in her stomach.
"She also suffers from cartilage problem (osteoarthritis) which makes it difficult for her to walk and is in dire need of medical attention abroad," he said.
Musa said that Zakzaky had been shot at close range, but Allah kept him alive from the barbaric attack of December 2015.
He said that Allah was with the cleric, "who was attacked because of his stance against injustice, corruption, crime against humanity, disunity of the people and imperialism.
"We will not be satisfied until Sheik Zakzaky is free from tyrannical detention, until all those that are involved in the killing of over 1, 000 innocent people in Zaria and other places are brought to book."
No official of the U.S embassy came out to address the protesters who sang and chanted other things for about 20 minutes.
Full report at:
http://allafrica.com/stories/201804110014.html
--------
Boko Haram: Troops nab terrorists' bomb specialist, kill 3 in Borno
April 11, 2018
By Maina Maina
Combined Operatives of Operation Lafiya Dole and the Department of State Services, conducting Counter Terrorism Operations in north eastern Nigeria have arrested a Boko Haram terrorist who specializes in making Improvised Explosive Devices (IED) for the terrorist group.
A statement from Colonel Onyema Nwachukwu, Deputy Director Public Relations Theatre Command Operation Lafiya Dole on Tuesday said, Adamu Hassan, aka Baale, was nabbed by the operatives at Kaltungo in Gombe State during a stop and search Operation along Bauchi – Gombe road.
In another development, troops of operation Lafiya Dole in a joint operation with Vigilantes on Monday evening busted a raid operation by elements of the Boko Haram terrorists rummaging for food and logistics at Kudiye community, along Dikwa – Gulumbagana Road.
The four man raid team was intercepted by troops following a tip- off that the insurgents were on their way to loot the community.
"The insurgents who revealed that they belong to the Abubakar Shekau faction of the Boko Haram terrorists group have been taken into custody and are making useful confessions.
"Troops also recovered two motorcycles, bags of grains and tamarin from the insurgents," the statement said.
Meanwhile, troops conducting clearance operations killed three Boko Haram insurgents in two separate encounters in the mountainous region of Bokko Hilde, along Ngoshe – Pulka road and Mujigine general area respectively.
The statement said troops neutralised the insurgents during clearance operations to rid the areas of elements of the Boko Haram insurgents who had escaped from troops' offensive operations in the Sambisa forest.
"Troops also recovered two AK 47 rifles and a motorcycle from the insurgents.
"It is expedient to bring to public awareness, that in its desperation to survive troops' onslaught and remain relevant in the eyes of the public, the Boko Haram terrorists group has continued to make frantic efforts to infiltrate communities with Person Borne Improvised Explosive Devices (Suicide bombers) to callously unleash terror and fear on the populace.
Full report at:
http://dailypost.ng/2018/04/11/boko-haram-troops-nab-terrorists-bomb-specialist-kill-3-borno/
--------
Mideast
Israel defends soldiers appearing to rejoice in shooting Palestinian
April 11, 2018
JERUSALEM - Two Israeli right-wing ministers on Tuesday defended soldiers after a video appearing to show them shoot a Palestinian and rejoice in it spread widely on social media and news sites.
The video comes at a highly sensitive time for Israel's military, which has faced mounting criticism over its use of live fire on the Gaza Strip border, where 31 Palestinians have been killed since late March as mass protests have led to clashes. Israel's military said the incident in the video "apparently" dated back several months, adding that it "will be thoroughly investigated".
Senior Palestinian official Hanan Ashrawi said the video showed what Palestinians have long alleged regarding soldiers' actions on the Gaza border, "but nobody has been listening".
The shooting in the video appears to take place along Gaza's border with Israel. Voices can be heard discussing opening fire on what seems to be Palestinians posing no immediate threat near the fence. A shooter then appears to open fire on one, knocking the person to the ground. "Wow. What a video! Yes! That son of a bitch," one of the voices behind the camera says in Hebrew.
Israeli Public Security Minister Gilad Erdan downplayed the actions of those in the video that began to spread widely on Monday night. "We are going overboard with this video," said Erdan, from Prime Minister Benjamin Netanyahu's Likud party. "It doesn't show gunfire at everyone, but at a terrorist who approaches the barrier in an unauthorised zone coming from an area controlled by Hamas terrorists," he told public radio.
"I am convinced that everything is OK," he added, while also speaking of a "human reaction" by the soldiers confronted with a "tense situation". Education Minister Naftali Bennett of the far-right Jewish Home party also justified the behaviour depicted in the video.
"Judging soldiers because they are not expressing themselves elegantly while they are defending our borders is not serious," Bennett told army radio.
It was not possible to determine whether the person shot in the video died. Israeli newspaper Yediot Aharonot reported that the video was recorded in December.
"We have been complaining about this, but unfortunately nobody believes it unless an Israeli source documents it," Ashrawi told AFP.
"The issue of sniper fire is not something new at all, but it is time for the world to see and to believe what we have been saying all along."
Mass protests along the Gaza border beginning on March 30 have led to clashes in which Israeli forces have killed 31 Palestinians and wounded hundreds of others.
There have been no Israeli casualties.
Israel has faced criticism over its use of live fire, while the European Union and UN Secretary-General Antonio Guterres have called for an independent investigation.
Israel says its forces only open fire to stop attempts to damage the fence, infiltrations, bids to carry out attacks and at those seeking to harm soldiers.
It accuses Hamas, the Islamist movement that runs the Gaza Strip and with whom it has fought three wars since 2008, of seeking to use the protests to carry out violence.
Palestinians say protesters are being shot while posing no threat to soldiers.
For Israelis and Palestinians, the video was a reminder of another one from March 2016 that showed an Israeli soldier shooting dead a prone Palestinian assailant.
Caught on video by a human rights group and spread widely online, it showed the 21-year-old Palestinian lying wounded on the ground, shot along with another Palestinian after stabbing and wounding a soldier, according to the army.
Some 11 minutes after the initial shooting, Israeli soldier Elor Azaria shot him in the head without any apparent provocation.
Azaria was convicted of manslaughter after a trial that captivated Israel and highlighted deep divisions in public opinion between those who denounce the shooting and others who say it was justified.
Top military brass strongly denounced Azaria's actions, but right-wing politicians, including Netanyahu, called for him to be pardoned.
Azaria was initially sentenced to 18 months in prison, but his sentence was later reduced to nine months.
https://nation.com.pk/11-Apr-2018/israel-defends-soldiers-appearing-to-rejoice-in-shooting-palestinian
--------
Israeli sniper who shot unarmed Palestinian deserves medal: Lieberman
Apr 10, 2018
Israel's minister of military affairs Avigdor Lieberman has praised an Israeli sniper who has been filmed targeting an unarmed Palestinian in the besieged Gaza Strip.
"The sniper deserves a medal, the photographer a court martial," Lieberman said at a press conference on Tuesday.
Lieberman described the Israeli military as "the most moral army in the world," saying such "tensions" sometimes happen on the frontline.
In the video, which was widely shared on Twitter and WhatsApp messaging application Monday, the troops can be heard talking about the target and how to shoot him, as the sniper trains his rifle on the Palestinian, who does not appear to be armed and is several meters away from Gaza's fence.
Following Lieberman's remarks, the army revealed that the video was filmed on December 22, 2017 in the area of Kissufim near the Gaza Strip.
In the footage, the commander is heard asking the sniper before he takes the shot, "Do you have a bullet in the chamber? Are you [trained] on him?"
The sniper and the other soldiers are heard rejoicing following the "successful" shooting.
Another soldier is heard saying, "Wow, [he] shot him in the head."
A fellow accomplice, who is filming the incident, then exclaims, "Of course I filmed it," in response to a question, before calling it "a legendary video."
"Yes!" "What a fabulous video," the others cry with joy. "He flew in the air."
The victim is then seen carried away by a group of Palestinians. It is unclear whether he survived the shooting or not, but the Israeli army says he was shot in the leg and injured.
The chief of staff of the Israeli military, Lieutenant General Gadi Eizenkot, and its top commanders promised to investigate the video "without hesitation."
The footage has drawn widespread condemnation from Israeli lawmakers and human rights organizations.
Rights bodies have argued that the video represents what is the rule for the Israeli army, rather than the exception.
The Israeli rights group, B'Tselem, said the military issues "illegal orders telling soldiers to shoot people who endanger nobody."
The incident comes shortly after Palestinian journalist Yaser Murtaja was shot by Israeli forces along Gaza's eastern border near Khan Younis despite wearing a bulletproof vest imprinted with the word 'Press' on it. He later died of his wounds in hospital.
According to the Palestinian Health Ministry, at least 31 Palestinians, including Murtaja, have been killed by Israeli forces since March 30, when the demonstrations began in the coastal enclave.
On that day, Palestinians marched to the fence separating Gaza from the occupied territories at the start of a six-week protest, dubbed "The Great March of Return," demanding the right to return for those driven out of their homeland.
The demonstrations turned violent after Israeli forces used tear gas and live fire against the protesters.
Israel has tightened military presence on the Gaza fence, deploying armored vehicles, back-up special forces and snipers. The regime's forces have permission to open fire on unarmed Gazans.
Full report at:
http://www.presstv.com/Detail/2018/04/10/558080/israel-liberman-Gaza-sniper
--------
Leader's Top Aide Underlines Tough Response to Israeli Missile Strike on Syria
Apr 10, 2018
Velayati was quoted by the Arabic-language al-Mayadeen news channel as saying upon arrival in Damascus on Tuesday that the Israeli missile attack on the Syrian T4 airbase "will not remain unanswered".
He also lauded the Syrian army for its "vital" victories against the terrorists in the Eastern Ghouta of Damascus.
Velayati is in Damascus at the invitation of the Syrian officials for the latest coordination in the fight against the terrorist groups.
Tehran declared on Monday that four of its military advisers have been martyred in Israel's overnight airstrikes on T4 airbase in Homs, although later reports said the number of the Iranian casualties stand at 7.
Two Israeli fighter jets attacked the Syrian army's T4 military base in Homs province from the Lebanese airspace on Sunday night, killing and wounding over a dozen militaries, including 7 Iranian military advisers.
The Russian Defense Ministry said on Monday that Israeli F-15 fighter jets targeted Syria's airbase. The warplanes fired eight guided missiles, but Syrian air defense units shot down five before they could hit the airfield. Three of the missiles reached the Western part of the airfield.
The Israeli fighters did not enter Syrian airspace and launched the strikes while flying over Lebanon.
The Tel Aviv regime has launched sporadic attacks against various targets on Syrian soil over the past few years, in assaults slammed by Damascus as attempts to boost terrorist groups who have been suffering heavy defeats on the battlefield with President Bashar Assad forces.
The latest such attacks took place in mid-February when Israel bombed a Syrian Army facility in Central Syria. Damascus shot down at least one Israeli F-16 returning from the bombing raid.
Full report at:
http://en.farsnews.com/newstext.aspx?nn=13970121001336
--------
US, Israeli actions in Syria meant to boost terrorists' morale: Iran
Apr 10, 2018
Iran's foreign minister says fresh claims of a chemical attack by the Syrian government and threats of a military response to the alleged incident are yet another attempt by the US and its allies to boost the morale of terror groups, which are taking heavy blows on the battlefield in the Arab state.
Mohammad Javad Zarif made the remarks on Tuesday upon his arrival in Brazil from Senegal, on the second leg of his tour of four African and Latin American states. Uruguay and Namibia will be his next stops.
Asked about Israel's recent missile attack on a Syrian air base, the top Iranian diplomat said it was not unprecedented.
"The situation of US-backed terrorists is Syria is not good and every day they are suffering new blows. The Zionist regime and the US have in different stages rushed to the scene to boost the morale of terrorists," he said.
"Whenever the terrorists face defeats, the Zionist regime launches operations and so do the Americans," he added.
The suspected chemical weapons attack hit Douma late on Saturday. It reportedly killed at least 60 people and wounded more than 1,000 others.
The Western countries rushed to blame the incident on the Syrian government. Damascus rejected the accusations as "chemical fabrications," which were made by the terrorists themselves in a bid to halt pro-government forces' advances.
Syria, backed by the Russian air force, has already liberated almost all Eastern Ghouta and has reached an evacuation deal with the terrorists to leave Douma, their last stronghold in the suburban area near Damascus.
Elsewhere in his remarks, Zarif warned of the repercussions of the "dangerous" policies adopted by Washington and Tel Aviv in the region, among them the relocation of Daesh terrorists.
The Iranian minister described the terrorists as a highly dangerous American "investment," saying, "There is authentic intelligence that the US is relocating the Daesh terrorists" to use them in different regions.
"These policies are very dangerous and their outcome will be dangerous for both regional and international peace and security as well as the US itself," he added.
Asked about an alleged gas attack on the militant-held Syrian town of Douma last weekend, Zarif reiterated Iran's opposition to any use of chemical weapons by any party, adding, however, "We think the US government is seeking a pretext for intervention."
In the pre-dawn hours Monday, Israeli F-15 warplanes carried out strikes via Lebanese air space on T-4 air base in Syria's Homs Province, killing and wounding several people.
US President Trump, however, warned that Russia, Iran and Syria will have a "big price to pay" following the suspected chemical attack, saying his administration will soon be making "some major decisions" on Syria.
Full report at:
http://www.presstv.com/Detail/2018/04/10/558012/Syria-Iran-Zarif-Israel
--------
Yemeni drones target Saudi airport in Asir, Aramco facility in Jizan
Apr 11, 2018
Drones operated by Yemeni armed forces have targeted a Saudi airport and a facility belonging to the state-run oil giant Aramco in the kingdom's southern border regions.
Yemeni media reported that the army's remote control drones carried out a strike on the Abha International Airport in Saudi Arabia's southwestern Asir region on Wednesday.
Yemeni sources said flights at the airport have been canceled due to the airstrikes.
Media reports also noted that Yemeni Qasef-1 drones had targeted an Aramco facility in the nearby Jizan region.
Meanwhile, Arabic-language al-Masirah television network quoted Saudi sources as saying that 33 troops have been killed and 12 others injured in Yemeni retaliatory attacks in the first 10 days of April.
On Monday, Yemeni forces fired a domestically-manufactured ballistic missile at Nahouqa military base in Saudi Arabia's southern Najran region.
Yemeni forces regularly target positions inside Saudi Arabia in retaliatory attacks against the Riyadh-led military operation on Yemen.
Saudi Arabia and its allies launched the war on Yemen in March 2015 in support of Yemen's former Riyadh-friendly government and against the Houthi Ansarullah movement, which is currently running state affairs.
The military campaign has killed and injured over 600,000 civilians, according to the latest figures released by the Yemeni Ministry of Human Rights.
Full report at:
http://www.presstv.com/Detail/2018/04/11/558122/Yemen-Saudi-Asir-Jizan-Aramco
--------
Israel strikes Hamas after bomb explodes on Gaza border
Apr 11, 2018
JERUSALEM: The Israeli military says it has struck several Hamas targets in Gaza after a bomb planted on the border exploded near Israeli troops.
The military says the explosive device was placed along the border fence area during protests that have been taking place there. It exploded near an Israeli bulldozer on Wednesday.
No one was wounded by the bomb, and there were no immediately reports on casualties from the retaliatory strikes.
Israel says it holds Hamas responsible for all violence emanating from Gaza and will not allow the border area to become a combat zone.
Full report at:
http://www.arabnews.com/node/1282686/middle-east
--------
Europe
Global Muslim body urges Europe to assimilate migrants better
APRIL 10, 2018
RIYADH (Reuters) - Europe must do more to assimilate Muslim immigrant populations and criminalise religious hate speech, said the head of a global Muslim missionary society trying to help Saudi Arabia mend its reputation as a promoter of intolerant ideology.
The Muslim World League (MWL) and the kingdom itself have been accused for decades of spreading the strict Wahhabi strain of Islam, often criticised as the philosophical basis for radical Islamist militancy worldwide.
Recent gestures of interfaith tolerance follow Crown Prince Mohammed bin Salman's promise to promote a more moderate form of Islam, and his warning that extremists' main aim is to radicalise Muslim communities in Europe.
Critics say the mosques and Islamic centres around the world controlled by the MWL promote intolerance and hatred of some religions and Muslim sects — a charge the group denies.
Secretary-General Mohammed al-Issa said the organisation, headquartered in Mecca, could assist in assimilation and the eradication of extremist ideology abroad.
"We believe that European countries, where there is much debate now, and other countries around the world ... need to enhance national assimilation programmes and criminalise hatred and contempt for adherents of religions because this threatens the safety of the community," he told Reuters in an interview.
"The League has programmes and curricula that enhance national assimilation and which can courageously and forcefully confront all forms of extremism, as well as special programmes to thwart efforts to infiltrate the Muslim community."
He would not elaborate on specific measures.
Saudi Arabia last month ceded control of Brussels' Grand Mosque, previously run by the MWL, to local authorities over concerns that it promoted radicalism. [nL8N1QY3M9] [nL8N1PX2DJ]
Prince Mohammed has traced some of the kingdom's most restrictive practices to 1979, the year of the Shi'ite Muslim revolution in Iran and an attack on Mecca's Grand Mosque by Sunni extremists.
WOMEN'S RIGHTS
He has loosened social restrictions in the past two years, scaling back the role of the religious police and allowing women more independence, including the right to launch their own businesses and drive a car.
Critics, however, accuse the 32-year-old heir to the throne of trying to rewrite history and absolve the government of blame for decades of promoting intolerant ideas.
Saudi Arabia, one of the world's most gender-segregated nations, is ranked 138 of 144 states in the 2017 Global Gender Gap, a World Economic Forum study on how women fare in economic and political participation, health and education.
Last month, a U.N. rights watchdog said Riyadh still needed to end discriminatory practices against women and enforce a recent order that would entitle them to obtain a passport, travel or study abroad and access health care without having to seek consent from a father, husband or son.
Issa, who also sits on the kingdom's top clerical body, the Council of Senior Religious Scholars, said there was no reason why women should be barred from obtaining a passport or travel without the consent of a male guardian.
"The intention of sharia (Islamic law) must be understood within religious texts ... and we must understand that fatwas (religious decrees) differ according to various times, places and circumstances," he said.
"A woman can nowadays travel anywhere safely and therefore I cannot tell her that she cannot travel ... This may take time for individuals to accept but, from a legal perspective, this does not require time."
He said women would still be required to obtain their guardian's consent for marriage in order to "safeguard" society and families.
Saudi Arabia has no written legal code to go with the texts making up sharia. Police and judiciary have long citing social customs in enforcing certain prohibitions on women.
https://uk.reuters.com/article/uk-saudi-europe-islam/global-muslim-body-urges-europe-to-assimilate-migrants-better-idUKKBN1HH2KQ
--------
French Council of the Muslim Faith: KSA is 'the incubator of Islam and Muslims'
10 April 2018
Makkah: Saudi Arabia has won itself a strong position that allowed it to competently serve Muslims, the President of the French Council of the Muslim Faith in Paris, Ahmet Ogras, said on Monday.
He stressed that the Kingdom represents Muslims around the world and voices their concerns.
This came on the sidelines of the Guests of the Custodian of the Two Holy Mosques event in Makkah, and after the guests had spent six days in Madinah.
"Saudi Arabia has devoted its financial and human resources to support Islamic causes, unite Muslims, and support them," Ogras said.
He pointed out that the ideal logistic and security services provided to pilgrims and visitors were experienced by Muslims from across the Islamic world.
Ogras believes that the visit of Crown Prince Muhammad bin Salman to France has been the focus of Muslims' attention in France and the whole world.
"We look forward to strengthening the friendship between France and Saudi Arabia in order to serve Muslims and support their causes," he said.
Ogras described Saudi Arabia as the incubator of Islam and Muslims, owing to its strong economy and knowledge.
He added that his ongoing visits to Saudi Arabia allowed him to be introduced to the Kingdom's huge projects for serving Muslims.
The UK-based astronomy professor Dr. Louay Fatouhi said the Guests of the Custodian of the Two Holy Mosques program is proof of King Salman's sincerity and generosity.
"King Salman has been serving Islam for decades, and Saudi Arabia has always given so generously to serve Muslims without expecting anything in return," he said.
Fatouhi highlighted the economic changes and the projects being implemented in Makkah and Madinah, in addition to the tremendous change this country's visitors experience, which have won it the appreciation, love, and respect of the whole world.
"Saudi Arabia is going through a new era of facing and overcoming challenges with determination," he said.
Neurosurgery professor Mohammed Chaudhry, of the University of Oslo, said that at a time when the KSA is being targeted by misleading media campaigns, it has demonstrated its greatness without caring for skeptics and is overcoming all challenges with its honesty and respect for international conventions and covenants.
Chaudhry emphasized that scientists, intellectuals, researchers, and ordinary people from across the world are experiencing the Kingdom's generosity and are aware of the services it provides to Muslims during the Hajj and Umrah seasons.
Genetics professor Abdul Hamid Al-Ameen, also from the University of Oslo, described Saudi Arabia as "the country of faith."
Full report at:
http://www.arabnews.com/node/1282456/saudi-arabia
--------
ISIS makes new bloodshed vow against Putin, World Cup
April 10, 2018
Suicide bomb-making blowhards ISIS are vowing Russian President Vladimir Putin will "pay the price" during the World Cup "for killing Muslims."
In a bizarre, bravado-fuelled poster campaign, the diminished death cult is indicating they'll unleash bloodshed this summer in Russia.
One poster shows a jihadi emerging from an explosion while armed with an AK-47 — a packed soccer stadium is in the background.
On the left side of the poster is an image of Putin with a target drawn on him.
Written on the bottom, like a hair band's tour poster: "Russia 2018. Putin you disbeliever. You will pay the price for killing Muslims."
The poster made the rounds on Twitter after being picked up from messaging app Telegram.
Islamic State has made a series of threats against the soccer extravaganza over the last few months as it tries to reignite its faltering popularity.
Last month, the terror troubadours targeted Argentinian star, Lionel Messi. The superstar is shown kneeling next to a proud jihadi on the grounds of Moscow's Luzhniki Stadium.
He is wearing an orange jumpsuit similar to what many of the terrorists' captives wear.
Other posters have shown AK-47 toting jihadis unfurling the ISIS flag in front of stadiums.
Eleven cities across Russia will be hosting the World Cup for a month, starting June 14.
Russia has been at odds in the Middle East by supporting Syrian thug Bashar Al-Assad's battle against ISIS. In addition, ongoing fighting in Chechnya has also stoked jihadist fever.
Full report at:
http://torontosun.com/news/world/isis-makes-new-bloodshed-vow-against-putin-world-cup
--------
Spain sentences 10 jihadists who plotted Barcelona attacks
11/04/18
Ten members of a jihadist cell linked to the Islamic State group (ISIS) who planned to attack Jewish institutions in Spain were sentenced to 8-12 years in jail on Tuesday, AFP reported.
The defendants included five Moroccans, four Spaniards and a Brazilian, the National Court, which handles terror cases, said in a ruling.
In addition to planning attacks in Barcelona, they also plotted to film a decapitation.
They were "ready to wage an attack against institutions such as the police, banks or Jewish institutions in Spain at any time, or to join the ranks of Daesh," it added, using the Arabic acronym for ISIS.
The cell was based in Terrassa, not far from Barcelona, the Catalonian capital.
Last year, another jihadist group killed 16 people in attacks there and on the nearby popular seaside city of Cambrils.
The 10, whose cell was called "Islamic Fraternity, Group for preaching jihad," were sentenced for "belonging to a terrorist organization" the court said.
The three leaders of the group were given 12 years in jail while the seven others got eight years.
In March 2015, the main leader of the cell, a Spaniard who had converted to Islam, proposed to kidnap and decapitate an "infidel" whom he had already identified, film the killing and then broadcast the video online before fleeing to Syria.
He had previously proposed that the group "commit an attack against the Catalan parliament, which no one had objected to," according to the court ruling.
"He also justified decapitations and talked about making handmade bombs to commit attacks."
Police found documents calling for jihad at his home and books on European organizations such as the Basque separatist group ETA or Germany's far-left Red Army Faction, the ruling said.
Members of the cell had also gone on a recce in Barcelona, the Catalonian capital, where they took photos of the train station, a luxury seaside hotel, a shopping mall and a police station.
One member went to Syria in April 2014 and died in Fallujah in Iraq the following year. Three others tried to follow in his footsteps at the end of 2014 but were detained at the border between Bulgaria and Turkey.
According to the interior ministry, close to a third of all arrests for "jihadist terrorism" in Spain were made in Catalonia last year.
Full report at:
https://www.israelnationalnews.com/News/News.aspx/244241
--------
Will Saudi Crown Prince Mohammed bin Salman reform Wahhabism in Europe?
11th April 2018
PARIS: Saudi Arabia's crown prince has pushed to curb the power of hardline clerics and prominent sheikhs who promote the kingdom's uncompromising version of Islam but analysts warn that moderating the exportation of Wahhabism could be more difficult.
Currently in Europe as part of a drive to woo the West, Mohammed bin Salman has recognised his country's association with Wahhabism is a problem and moved to impose a more open form of Islam.
The draconian religious ideology has been accused of fuelling intolerance and global terrorism. Dozens of conservative Saudi religious figures have been detained under a crackdown initiated by the prince.
But when asked last month about his decision to break away from the Wahhabists, MBS, as he is often called, denied they even existed.
"What's Wahhabist?", the 32-year-old said in an interview with Time magazine. "There is nothing called Wahhabist."
In a separate interview, he indicated the spread of Wahhabism was a consequence of the West asking Saudi Arabia to use its resources in Muslim countries to counter the Soviet Union during the Cold War.
"I believe Islam is sensible, Islam is simple, and people are trying to hijack it," he told The Washington Post last month, while admitting Saudi governments had lost track of how resources were used abroad.
- 'There is no Wahhabism' -
The prince's public relations exercise to promote moderate Islam and encourage global investment is now backed up by the Muslim World League, often regarded as a diplomatic arm of the kingdom and heavily funded by Saudi petrodollars.
"For us, there is no Wahhabism. There is an Islam, full stop," said secretary general Mohammed Al-Issa in Paris in November.
The shift from supporting a decades-long policy of a virulently anti-Western ideology, viewed by some as a basis for jihadism, has been welcomed in many European countries, but analysts warn they need to take independent action too.
"At no time have I heard MBS say he will put a stop to money transfers by private operators or charities supporting these retrograde versions of Islam," said Michael Privot, director of the European Network Against Racism.
In Belgium, the government terminated Saudi Arabia's half-century old lease of the Grand Mosque in Brussels last month over concerns it was promoting radicalism. It had been run by the Muslim World League.
Belgian politicians accused the mosque of promoting a "Salafi-Wahhabi" form of Islam that was suspected of "playing a very significant role in violent radicalism".
The move came after a number of jihadist attacks, including bombings at Brussels airport and a city metro station that killed 32 people in March 2016.
France and Germany have also shut mosques suspected of radicalising and encouraging young Muslims to travel to war zones including Syria and Iraq.
- Power of clerics -
"It was symbolically necessary to take the keys of the Grand Mosque (in Brussels) from Saudi Arabia. They had to show that 'no, we do not accept this version of Islam'," said Privot.
Even though the management of the mosque is changing, he warns that "everything else is still there: the publishing houses, websites and TV channels."
Senior Wahhabi clerics' teachings broadcast online have endorsed beheadings for offences that include apostasy, adultery and sorcery, while also opposing women's right to drive or work.
"Social networks play an infinitely more important role than institutional channels, especially among everyday believers", said Nabil Mouline, a political scientist in Paris.
"Wahhabism stands out as the new orthodoxy. It will take years or even decades to deconstruct it," he said.
The former Muslim faith advisor to the French interior ministry, Bernard Godard, noted the apparently reformist steps MBS has taken but was also cautious.
Full report at:
http://www.newindianexpress.com/world/2018/apr/11/will-saudi-crown-prince-mohammed-bin-salman-reform-wahhabism-in-europe-1799954.html
--------
Muslim community attacked by viral post on social media
April 10, 2018
Several letters stated April 3 would be "Punish a Muslim Day". They were sent out anonymously to various Muslim communities throughout late March in the United Kingdom.
The letter read, "They have hurt you, they have made your loved ones suffer. They have caused you pain and heartache. What are you going to do about it? Are you a 'sheep'? Only you can turn this thing around, only you have the power. Do not be a sheep!"
Below the description contained a point-based system that "awarded" attackers of the Muslim community, such as 10 points for verbally abusing a Muslim; 25 points for physically attacking and pulling off the head-scarf of a Muslim woman and 500 points for murdering a Muslim with any weapon.
The letters were posted to social media, where many shared their concerns and thoughts on them, and the letters were shared worldwide.
NEIU President of the Muslim Student Association Nida Kidwai noticed the post on social media after her Muslim friends shared it on various platforms. She was shocked when she initially first read the letter and the point system.
"I had Muslim friends and colleagues asking me if it's even safe for us to be going to school on that day or week," Kidwai said. "I reached out to a couple people who reported to the NEIU police on behalf of us. (The police) responded quickly, reassuring us that not only was there no threat here in our community but that the officers will be doing extra patrols on and around campus.
"This definitely made me feel slightly safer. I was slightly on edge and very alert constantly watching my back from the school parking lot as I walked to the BBH building. Along the way, I was greeted by a smiling officer. This made me feel much more at ease," Kidwai said.
"I'm very glad to be a part of this NEIU community who not only supports our diverse students but also protects each one of us equally," she concluded.
On the Muslim Student Association (MSA) Instagram page, the group wrote "Muslims on campus: stay aware, travel with a buddy and say your prayers for protection. Take out some time to get to know your NEIUPD, as they are here for your safety."
NEIU Chief of Police John Escalante told the MSA, "We are aware of the letter circulating on social media. The Illinois State Police (ISP) advised all police agencies within the state of this letter on Friday. I can assure you based on the latest information provided by both the ISP and the Chicago Police Department's Crime Prevention and Information Center (CPIC) there are no credible threats in the state or Chicago area.
"A similar letter was sent via social media in May 2017 but did not get as much attention. ISP and CPIC are monitoring the situation and if they deem there are threats to any community in the State they will provide us with that update," Escalante said.
"As far as what the NEIUPD can do for our NEIU community, we can certainly provide a more visible presence on campus and pay special attention to any classes or meetings the MSA would like to see a police officer," he said.
Escalante was not able to provide comment before the publication of this article.
Full report at:
https://neiuindependent.org/10218/news/muslim-community-attacked-by-viral-post-on-social-media/
--------
Rivaling US, Russia resolutions on Syria chemical weapons fail at UNSC
Apr 10, 2018
Rivaling US and Russia drafted UNSC resolutions aimed at creating a new inquiry into chemical weapons attacks in Syria have both failed to garner votes at the council.
During the Tuesday session, seven members voted against the Russian-drafted resolution and two abstained, shortly after the US-drafted resolution was vetoed by Russia.
The US drafted resolution proposed to launch a new inquiry to find the sources of the chemical attacks, while the rivaling Russian resolution called for the launching of a probe which would require the UNSC to attribute responsibility.
"History will record that, on this day, Russia chose protecting a monster over the lives of the Syrian people," said US Ambassador to the United Nations Nikki Haley.
"The United States is again trying to mislead the international community and is taking yet one more step toward confrontation," said Russian UN Ambassador Vassily Nebenzia.
"It is clear that the provocation step has nothing to do with a desire to investigate what happened," he noted.
"If you made a decision to carry out an illegal military endeavor, we hope that you will come to your senses. You will be responsible for it yourselves," he added.
"Why do you need the attribution mechanism, if you've already named the perpetrators before any investigation?," he further noted.
An alleged chemical weapons attack hit the town of Douma in Eastern Ghouta region in the suburban area near Damascus late on Saturday, reportedly killing at least 60 people and wounding more than 1,000 others.
The Western countries blamed the incident on the Syrian government. Damascus rejected the accusations as "chemical fabrications," which were made by the terrorists themselves in a bid to halt pro-government forces' advances.
Damascus said that the so-called Jaish al-Islam Takfiri terrorist group, which has dominant presence in Douma, was repeating the accusations "in order to accuse the Syrian Arab army, in a blatant attempt to hinder the Army's advance."
Third UNSC resolution on Syria fails
A second Russian drafted resolution on supporting a fact-finding mission by the OPCW chemical weapons watchdog also failed during the Tuesday season.
After the measures failed, Nebenzia appealed to the US to "refrain" from any action it might be planning to take against Syria.
"The threats you are proffering that you're stating vis-a-vis Syria should make us seriously worried, all of us, because we could find ourselves on the threshold of some very sad and serious events," he said to Haley.
"I would once again ask you, once again beseech you, to refrain from the plans that you're currently developing for Syria," he added.
OPCW heading to Syria's Douma
The Organization for the Prohibition of Chemical Weapons (OPCW) has announced that it will send a fact-finding mission to Syria's town of Douma in the Eastern Ghouta region to investigate claims of alleged use of chemical weapons there.
"Since the first reports of alleged use of chemical weapons in Douma were issued, the OPCW has been gathering information from all available sources and analyzing it," said a statement released by the OPCW on Tuesday.
"At the same time, OPCW's Director-General, Ambassador Ahmet Uzumcu, has considered the deployment of a Fact-Finding Mission (FFM) team in Douma to establish facts surrounding these allegations," it added.
"Today, the OPCW Technical Secretariat has requested the Syrian Arab Republic to make the necessary arrangements for such a deployment," it added.
The OPCW made the announcement following a request by the Syrian government and Russia.
The Syrian Foreign Ministry issued a statement expressing preparedness to devote all its efforts to cooperate with OPCW experts based on transparency and reliable evidence on Tuesday.
"Syria is ready to provide all necessary assistance to the mission," read the statement released earlier.
France to target Syrian government's chemical weapons capabilities
Meanwhile, French President Emmanuel Macron has announced that his country will target the Syrian government's chemical weapons capabilities if it decides to take military action over the alleged chemical weapon.
Macron made the announcement following talks with visiting Saudi Crown Prince Mohammad bin Salman, noting that a decision would be "in the coming days", in conjunction with the US and UK.
"Our decision will not target allies of the regime or attack anyone but rather attack the regime's chemical capabilities," he said, adding that he did "not want an escalation."
Saudis may join military action in Syria
Meanwhile, Salman said that the kingdom may take part in military action in Syria if its allies do so.
"If our alliance with our partners requires it, we will be present," he said.
Full report at:
http://www.presstv.com/Detail/2018/04/10/558091/russia-syria-unsc-veto
--------
Turks in Germany demand action against PKK supporters
10 April 2018
Head of Turkish association in Germany on Monday called German authorities to take immediate action against supporters of the terrorist PKK group to prevent them from targeting Turkish establishments in the country.
"Please do not allow those who are trying to disturb the peace," head of the European Turkish-Islamic Union (ATIB), Ihsan Oner, said in a statement.
"The Turkish community here is about to run out of patience because of such attacks. We are calling everyone for common sense to protect the rights of the Turkish community like any other community."
PYD/PKK supporters vandalized two shops owned by Turks and a mosque over the weekend in Darmstadt city in Hessen state, shattering windows and spray-painting racial slurs on their walls, according to Umit Cengiz, the head of Darmstadt Foreigners' Council. The PYD/PKK terror group and far-left organizations have claimed responsibility for dozens of attacks since Jan. 20 to protest against Turkey's counterterrorism operation in northwestern Syria.
The PKK terrorist organization has been banned in Germany since 1993, but it remains active, with nearly 14,000 followers among the Kurdish immigrant population in the country.
Ankara has long criticized Berlin for not taking serious measures against the PKK and its Syrian branch PYD, which use the country as a platform for their fund-raising, recruitment, and propaganda activities.
Germany has a 3 million-strong Turkish community, many of whom are second- and third-generation German-born citizens whose Turkish grandparents moved to the country during the 1960s.
Full report at:
http://www.worldbulletin.net/europe/200900/russia-nixes-us-draft-security-council-syria-resolution
--------
Macron's Overtures to Catholic Church Make Waves in Secular France
10, 2018
PARIS —
Emmanuel Macron has blurred a line that has kept French government free of religious intervention for generations, critics said on Tuesday, after he called for stronger ties between the state and the Catholic Church.
The issue is particularly sensitive in historically Catholic France, where matters of faith and state were separated by law in 1905 and which is now home to Europe's largest Muslim and Jewish communities.
The president's remark might have raised fewer eyebrows had he left it until later in a one-hour speech on Monday night to Church dignitaries in Paris, where he began by saying that just arranging such a gathering was an achievement in itself.
"If we've done so, it must be because somewhere we share the feeling that the link between Church and State has been damaged, that the time has come for us, both you and me, to mend it," he said.
Critics, many his natural political opponents, took the president to task.
"It took three centuries of civil war and struggle to get to where we are and there's absolutely no reason to turn the clock back ... because of an intellectual whim of the president's," said hardline leftist Jean-Luc Melenchon, a candidate in the election that brought Macron to power last May.
Former prime minister Manuel Valls and Socialist Party head Olivier Faure said the separation of church and state must remain a mainstay of political life, in a country where public service employees are banned from wearing Muslim veils and other dress with religious connotation.
Gay rights groups, who fought a bitter campaign against the Church over the introduction of same-sex marriage in 2013, were also critical.
The role of Islam
Raised in a non-religious family, Macron was baptized a Roman Catholic at his own request when he was 12. His government is now struggling to redefine the role of France's second most popular religion, following a spate of attacks by Islamist militants that have killed around 240 people since early 2015.
Hardline Islam sits uneasily with France's secular foundations, and Macron is under mounting pressure to address voter fears that its influence may spread via mosques and prisons that offer fertile ground for radical proselytizers.
Prime Minister Edouard Philippe responded in February by introducing prison isolation zones and more stringent licensing rules for faith-based schools.
France's guiding principles also hold that religious observance is a private matter, for all faiths.
Catholic leaders present for Macron's speech seemed less persuaded than his political detractors that might soon again be exerting influence on government.
Cardinal Georges Pontier, who met the president on Monday night, told CNews TV he read the remarks as nothing more than an invitation to more open dialogue.
Full report at:
https://www.voanews.com/a/macrons-overtures-catholic-church-make-waves-secular-france/4341034.html
--------
Arab World
Eurocontrol warns airlines of possible missile strikes into Syria
April 11, 2018
Pan-European air traffic control agency Eurocontrol on Tuesday warned airlines to exercise caution in the eastern Mediterranean due to the possible launch of air strikes into Syria in next 72 hours.
Eurocontrol said that air-to-ground and/or cruise missiles could be used within that period and there was a possibility of intermittent disruption of radio navigation equipment.
U.S. President Donald Trump and Western allies are discussing possible military action to punish Syria's President Bashar Assad for a suspected poison gas attack on Saturday on a rebel-held town that long had held out against government forces.
Trump on Tuesday canceled a planned trip to Latin America later this week to focus instead on responding to the Syria incident, the White House said. Trump had on Monday warned of a quick, forceful response once responsibility for the Syria attack was established.
The Eurocontrol warning on its website did not specify the origin of any potential missile threat.
"Due to the possible launch of air strikes into Syria with air-to-ground and/or cruise missiles within the next 72 hours, and the possibility of intermittent disruption of radio navigation equipment, due consideration needs to be taken when planning flight operations in the Eastern Mediterranean/Nicosia FIR area," it said, referring to the designated airspace.
Aviation regulators in countries including the United States, United Kingdom, France and Germany have previously issued warnings against airlines entering Syrian airspace leading most carriers to avoid the area.
The only commercial flights above Syria as of 1:15 am GMT on Wednesday were being flown by Syrian Air and Lebanon's Middle East Airlines, according to flight tracking website FlightRadar24.
The Eurocontrol statement included a broader area outside the airspace controlled by Damascus.
The Nicosia flight information region named in the Eurocontrol statement on Tuesday covers the island of Cyprus and surrounding waters, according to a map on the agency's website. The same map did not designate any specific territory as being the "Eastern Mediterranean" region.
There has been heightened awareness by regulators and airlines of the risks that conflict zones pose to commercial jets since Malaysia Airlines flight MH17 was downed by a surface-to-air missile over Ukraine in 2014, killing all 298 people on board.
Last year, North Korea tested missiles without warning, leading some airlines to re-route flights to avoid portions of the Sea of Japan.
Eurocontrol's warning cited a document from the European Aviation Safety Agency, Europe's safety regulator, a copy of which was not immediately available.
https://nation.com.pk/11-Apr-2018/eurocontrol-warns-airlines-of-possible-missile-strikes-into-syria
--------
Saudi Cabinet slams Israeli violations of Al-Aqsa Mosque, Palestinians
Apr 11, 2018
JEDDAH: The Saudi Cabinet on Tuesday reiterated its condemnation of Israeli violations against Al-Aqsa Mosque and the Palestinian people.
It also emphasized the Kingdom's firm support for the Palestinians' cause and legal rights, especially the establishment of an independent state with East Jerusalem as its capital, in accordance with the 2002 Arab Peace Initiative.
Chaired by King Salman at Al-Yamamah Palace, the Cabinet expressed its appreciation of the Trump administration and the American people for the warm reception and generous hospitality accorded to Crown Prince Mohammed bin Salman and his delegation during their official visit to the US.
The talks and fruitful meetings with President Donald Trump and senior US officials will contribute to deepening and strengthening historical and strategic bilateral relations, and mutually beneficial cooperation in various fields, the Cabinet said.
It added that it is looking forward to the results of the crown prince's official visit to France, and his meetings with the president, prime minister and other officials to enhance bilateral ties and discuss issues of common concern.
The Cabinet reviewed reports on the latest regional and international developments. It condemned the attack by Yemen's Houthi rebels on a Saudi oil tanker in international waters.
The Cabinet stressed the need to hold the Houthis and their Iranian backers accountable for violating international law, and to ensure the speedy and comprehensive implementation of relevant UN Security Council resolutions.
It also stressed the importance of placing Yemen's Hodeidah port under international supervision to prevent Houthi weapons smuggling, which threatens freedom of navigation and global trade via the Bab El-Mandeb Strait and the Red Sea.
The Cabinet condemned the chemical attack on the Syrian city of Douma, and reiterated the need to put an end to the tragedies facing the Syrian people.
The international community should assume its responsibility to protect Syrian civilians and pursue a peaceful solution to the conflict, it said.
The Cabinet reiterated its condemnation of the ramming of a van into a crowd in the German city of Munster.
Full report at:
http://www.arabnews.com/node/1282551/saudi-arabia
--------
Syrian Army Finds White Helmets' Video Shooting Location
Apr 10, 2018
Al-Ahd news website reported that the army has discovered a location in the small town of Saqba in Eastern Ghouta that was used by the White Helmets to shoot and produce videos that depict the army as a savage force that kills civilians mercilessly.
It further said that the army men found a series of cameras and film-production equipment at the site.
On Sunday, the Russian Defense Ministry denied reports of an alleged chemical bomb being dropped on Douma, suggesting that a number of Western states as well as NGOs like the White Helmets turned to such claims in order to undermine the evacuation of Jeish al-Islam terrorists from the area.
"We strongly deny these claims and announce our readiness to send Russian experts in radiation, chemical and biological defense to Douma after its liberation from terrorists to gather evidence, which would prove that the allegations on the chemical weapons use was staged," Maj. Gen. Yuri Yevtushenko, commander of the Russian Center for Syria reconciliation, said.
The Syrian government has also denied allegations of having used chemical weapons in the city of Douma in Eastern Ghouta, saying it doesn't need such measures to stop the terrorists.
According to the statement, issued by the Syrian authorities on the state-run SANA news agency, such claims have been made by terrorists and are aimed at hindering Syrian forces, which have made "a swift and determined advance" and do not need such measures to deter the terrorists.
"The chemical fabrications, which did not serve the terrorists and their sponsors in Aleppo and Eastern Ghouta, will not serve them today either, as the Syrian state is determined to end terrorism in every square inch of Syrian territory," the statement read.
The US State Department has voiced concern about the reports of chemical weapons being used in Douma, suggesting that Russia was accountable for the brutal targeting of countless Syrians.
Washington has also accused Damascus of chemical weapons use, alleging that "history" of such weapons being used by the country's government was "not in dispute".
Earlier, several media outlets had cited militants in Syria accusing the authorities in Damascus of using chemical weapons in Douma, with Jeish al-Islam claiming that the government forces had dropped a chemical bomb on Eastern Ghouta.
Last month, Damascus reported that several foreign experts were working on staging a chemical attack, which would be carried out with the help of the infamous White Helmets and would be covered by mainstream media. The same warning was issued by the Russian Center for Syria reconciliation in January.
Full report at:
http://en.farsnews.com/newstext.aspx?nn=13970121001313
--------
Lebanon to file complaint with UN against Israeli violations of airspace
Apr 10, 2018
Lebanon's Foreign Ministry has strongly denounced recent Israeli violations of Lebanon's airspace to launch airstrikes in Syria, saying Beirut intends to lodge a formal complaint with the United Nations Security Council.
"The Foreign Ministry condemns the air raids launched at the Syrian Arab Republic and affirms its previous position that Lebanon's airspace should not be used to attack Syria. Lebanon will make a formal complaint with the UN Security Council," said a statement released by the ministry on Tuesday.
Early on Monday, a pair of Israeli F-15 warplanes carried out strikes from Lebanese air space on T-4 air base in Homs that killed and wounded a number of people. Syrian air defense systems shot down five out of eight missiles fired.
Shortly after the airstrikes, Damascus warned about the "dangerous repercussions" of Israeli assaults on its territories, stressing that the recent attack on Homs would not have been possible without massive US support.
In a statement, Lebanon's Army Command-Orientation Directorate, however, said that four Israeli warplanes had breached Lebanon's airspace to conduct the airstrikes.
According to the statement, the fighter jets violated the Lebanese airspace at 3:25 a.m. local time flying over the sea to the west of Jounieh, a coastal city about 16 kilometers north of the Lebanese capital, adding that the warplanes had flown east over the city of Baalbek and then left the country's airspace at 3:35 a.m. local time.
The Lebanese people have also called on the government to take serious measures to stop Israel's violations of their country's sovereignty. The call comes as observers in Lebanon are calling for retaliatory measures against Israel, which has a long history of violating Lebanon's sovereignty and targeting Lebanese patrol soldiers. It also violates Lebanon's airspace on an almost daily basis by sending in drones on spy missions.
The occupying regime has already launched two wholesale wars on the Arab country in 2000 and 2006, in both of which the Hezbollah resistance movement, backed by the Lebanese National Army, inflicted heavy losses on the Israeli military. However, Israeli officials have even threatened another war on Lebanon.
Tel Aviv further exasperates Lebanon by making plans to erect walls on reservation areas along the Blue Line, the UN-designated line, which set the limits for Israel's withdrawal from southern Lebanon in 2000.
Full report at:
http://www.presstv.com/Detail/2018/04/10/558075/Lebanon-Israel-airspace-UN
--------
Syria Using 40 Advanced Pantsir-S1 for Air Defense
Apr 10, 2018
The Arabic-language website of Sputnik quoted a military source in the Russian Defense Ministry as reporting that Russia has delivered 40 different models of advanced Pantsir-S1 air defense systems to Syria in recent years.
It further said that the Russia-made Pantsir-S1 has been designed for protecting military and non-military sites and for protecting other mid-range and long-range anti-aircraft missile systems, including S300 and S400 against aerial threats.
The system is also capable of destroying ground and sea targets that use light shields from 20km in distance.
The Arabic-language website of RT reported in January that the Syrian Army was vastly using Mirage-2 Electronic Defense System to deactivate the US-manufactured TOW anti-tank missiles.
The Arabic RT further said that the System that was mounted on the army tanks, armored and light vehicles was capable of deactivating TOW missiles.
Full report at:
http://en.farsnews.com/newstext.aspx?nn=13970121001350
--------
Rifts Widening among Terrorists over Southern Syria Operation
Apr 10, 2018
Al-Watan daily quoted Adham al-Akrad, a commander of the terrorists' Operation Room known as al-Bonyan al-Marsous, as disclosing that the militants have been divided after disputes over how to deal with government troops' advances in Dara'a.
Al-Watan further reported that a group of terrorists demand an assault on the army by a small number of forces and a small volume of equipment while others have underlined strong opposition to the stated plan, warning that they would retreat if the first group continues with this plan.
The daily went on to say that most of terrorists in Dara'a are afraid of the army operation, intending to apply for government amnesty instead of being killed in "a senseless battle".
A military source said on Friday that Jordan asked the Syrian Army to delay its upcoming Dara'a offensive in order to convince the rebel forces to reconcile with the government.
The source said that the Syrian Army agreed to respect Jordan's request and would once again attempt to hold reconciliation talks with the militant groups in Dara'a.
The Syrian Army and Russian military had earlier sent a delegation to Dara'a to negotiate a reconciliation deal that was similar to an agreement in Eastern Ghouta; however, the militants rejected the offer.
Full report at:
http://en.farsnews.com/newstext.aspx?nn=13970121000930
--------
Tens of People Killed, Wounded in Bloody Blast in Northwestern Syria
Apr 10, 2018
The SOHR said that a sum of 19 people was killed in a huge blast near al-Motlaq square in Idlib city on Monday night.
It further said that 81 more were wounded in the blast, adding that the death toll is rising as some of the injured are in critical conditions.
Syria's Tahrir Front and Tahrir al-Sham Hay'at (the Levant Liberation Board or the Al-Nusra Front) have been engaged in fierce clashes in Idlib province in recent months.
Nasr Azkor nom de guerre Abu Marwan, a notorious commander of Jeish al-Izzah, was killed in a booby-trap blast on the road to the town of Khan Sheikhoun in Southern Idlib on Saturday.
Abdul Rahman al-Dayeri, an aid to Azkor, was also killed in the blast.
Full report at:
http://en.farsnews.com/newstext.aspx?nn=13970121000960
--------
Syrian Army's Anti-Terror Operation Moving Closer to US-Run Al-Tanf Base
Apr 10, 2018
The Arabic-language newspaper al-Watan reported, citing field sources, that the Syrian government forces have exchanged fire with ISIL in al-Mo'ayzileh region in Eastern Badiyeh (desert) as well as in the Eastern part of al-Alyaniyeh area in Homs, and inflicted a major blow on terrorists.
The sources reportedly told al-Watan that army units have successfully moved further in the Eastern Homs Badiyeh towards al-Tanf region – where the US-led coalition has set up a training base.
At the same time, according to the sources, the army has sent more forces and equipment from the ancient city of Palmyra to Southern Badiyeh of Homs to tighten security around the town of al-Quaryatayn, Huwarin village and the strategic region of Maheen South-West of the province.
The army has reportedly taken precautions in order to prevent further infiltration of militants, and expanded the buffer zone around al-Quaryatayn to 80 kilometers in the Eastern and Southern directions. Such measures, according to al-Watan, will hinder the terrorists from drifting between Eastern and Western Qalamoun region to ther al-Tanf military base.
Since 2016, the US has been training different groups of militants at its military base in al-Tanf, a move that has drawn much criticism from Damascus and Moscow, with the latter voicing concerns that Washington was "spewing ISIL mobile groups who make inroads to launch subversive terrorist operations against Syrian troops and civilians."
Full report at:
http://en.farsnews.com/newstext.aspx?nn=13970121000632
--------
People in Douma Seize Control of Terrorists' Food Stockpile
Apr 10, 2018
Civilians in Douma stormed several food warehouses of Jeish al-Islam and seized control over them.
Hundreds of tons of fuel and food stuff had been hoarded in the warehouses by Jeish al-Islam that refused to distribut them among people in Douma.
Local sources reported that hoarding food stuff was used as a pressure lever by Jeish al-Islam commanders to control civilians in militant-held regions in Eastern Ghouta.
In the meantime, the Russian Defense Ministry announced that a sum of 3,637 terrorists have left Douma via al-Wafedeen safe corridor in the last 24 hours.
Local sources said earlier today that tens of the civilians that had been kidnapped by Jeish al-Islam in Eastern Ghouta in the last few years were released last night and transferred on two buses to the army-controlled regions via al-Wafedeen safe corridor.
In the meantime, other sources said that the total number of people that were in Jeish al-Islam's jails did not exceed 200, but the Saudi-backed terrorists had pretended to have thousands of civilians in their jails to use the fake figures as a bargaining chip in negotiations with the Syrian army.
They further confirmed reports on the release of all abducted civilians that are alive, adding that bodies of the dead prisoners will be delivered to the government forces soon.
Full report at:
http://en.farsnews.com/newstext.aspx?nn=13970121001247
--------
Syria invites OPCW to investigate alleged chemical attack in Douma
10 April 2018
The Syrian government has invited the Organization for the Prohibition of Chemical Weapons to send a team to investigate allegations of a chemical attack in the eastern Ghouta town of Douma, state media reported on Tuesday.
"Syria is keen on cooperating with the OPCW to uncover the truth behind the allegations that some western sides have been advertising to justify their aggressive intentions," state news agency SANA said, quoting an official source in the Foreign Ministry. https://english.alarabiya.net/en/News/middle-east/2018/04/10/Syria-invites-OPCW-to-investigate-alleged-chemical-attack-in-Douma.html
--------
'US-led jets flying over Syria amid looming threats of military strike'
Apr 11, 2018
US-led warplanes are reportedly flying over Syria's border areas with Iraq amid Washington's threats of a military strike against the Arab country over an alleged chemical attack there.
Sky News reported early Wednesday that the US-led fighter jets are patrolling at a low altitude over the Syrian border town of al-Tanf in Homs Province, where Washington runs a military base.
Other reports say the US-led coalition's aircraft have been spotted in the Iraqi and Jordanian skies heading towards Syria.
"Heavy flight of US & coalition aircraft over the Syria-Iraq border," said a journalist on the ground, according to the UK's Daily Express.
A Twitter user also said, "Coalition jets soaring the skies in large Dayr al-Zawr desert."
Russian planes are also in flight over Syria's Idlib Province, according to pro-militant forces.
Meanwhile, the US Navy has said the USS Harry S. Truman aircraft carrier will be deployed for a mission to the Middle East and Europe on Wednesday.
The warship, which carries 6,500 sailors, will set sail with seven attack ships and will replace the USS Theodore Roosevelt Strike Group that completed a four-month deployment to the Middle East.
Russia, which is assisting Syria in its counter-terrorism battles, has warned the US against any "illegal action" in the Arab country.
Meanwhile, the DPA news agency reports that the Syrian army has put all its positions on high alert, including airports and bases, for 72 hours. The alert covers the military bases located in the provinces of Suwayda, Aleppo, Latakia and Dayr al-Zawr.
Separately, the al-Masdar online newspaper says the Russian Navy's Black Sea fleet has also been placed on high alert after a US destroyer was deployed within striking range of Syria.
Civilian aircraft warned
In another development on Tuesday, the pan-European air traffic control agency warned airlines to exercise caution in the eastern Mediterranean due to possibility of airstrikes into Syria in the next 72 hours.
Eurocontrol has said that radio navigation equipment are subject to disruption in the coming days.
"Due to the possible launch of airstrikes into Syria with air-to-ground and/or cruise missiles within the next 72 hours, and the possibility of intermittent disruption of radio navigation equipment, due consideration needs to be taken when planning flight operations in the Eastern Mediterranean/Nicosia FIR area," the agency said.
The developments came after a suspected chemical weapons attack hit the Syrian town of Douma late on Saturday. It reportedly killed at least 60 people and wounded more than 1,000 others.
Western countries rushed to blame the incident on the Syrian government. Damascus rejected the accusations as "chemical fabrications" made by the terrorists themselves in a bid to halt pro-government forces' advances.
The Syrian Foreign Ministry sent an official invitation to the Organization for the Prohibition of Chemical Weapons (OPCW) to send a fact-finding mission to Douma and investigate the alleged use of chemical weapons there.
US President Trump, however, warned that Russia, Iran and Syria will have a "big price to pay" following the suspected chemical attack, saying his administration will soon be making "some major decisions" on Syria.
Washington's allies, including Saudi Arabia, France and Australia, have also said they would join a possible military action against Syria over the alleged attack.
At the United Nations Security Council on Tuesday, Washington and Moscow opposed each other's rival motions to set up an international investigation into chemical weapons attacks in Syria.
Washington's UN Ambassador Nikki Haley had earlier made it clear that the US will act against the Syrian government with or without the world body's blessing.
Full report at:
http://www.presstv.com/Detail/2018/04/11/558110/Syria-Douma-UN
--------
North America
Controversial Imam Dropped From Canadian Islamic Conference
April 10, 2018
A conference organized by several Muslim organizations in Ontario's Niagara region has removed an Egyptian imam from its list of speakers, after Jewish groups alerted the organizers to his history of promoting anti-Semitism.
Omar Abdelkafy was scheduled to be the keynote speaker at the Niagara Muslim Family Conference on April 14, until B'nai Brith Canada and the Centre for Israel and Jewish Affairs (CIJA) appealed to the organizers to rethink their choice.
One of the incidents B'nai Brith cited involved a sermon delivered by Abdelkafy – that was recorded and posted on YouTube – in which he quoted from the hadith: "The day of judgment will not come about until Muslims fight the Jews, when the Jew will hide behind stones and trees. The stones and trees will say O Muslim, O Servant of Allah, there is a Jew behind me, come and kill him."
Abdelkafy can also be seen in an online video accusing Zionists of collaborating with Freemasons to "spread corruption on Earth," and quoting from the anti-Semitic document, The Protocols of the Elders of Zion.
Abdelkafy found himself embroiled in controversy in 2015, when he promoted conspiracy theories about the 9/11 attacks on New York during a sermon.
"This play, to which the Muslims are subjected ad nauseam across the world, is the sequel to the comedy film of 9/11. The first part took place in New York, and the sequel is taking place in Paris," he said in an online video.
Earlier this month, the New York- based American Center for Democracy cited posts on Abdelkafy's Facebook page that were translated from Arabic, in which he wrote, "O Allah, liberate Al Aqsa Mosque from the filth of the Jews the aggressors … count their number; slay them one by one and spare not one of them," and, "O Allah, humiliate the Jews everywhere, destroy them with their plans and kill them with their weapons."
A post on the Facebook page promoting the upcoming conference said that, "The Niagara Family Conference organizers have revised the list of speakers for the upcoming conference following community input."
In a statement, Michael Mostyn, CEO of B'nai Brith Canada, said he was grateful for the organizers' quick response and for their decision to remove the imam from its list of speakers, after considering the concerns of the Jewish community.
"Someone who believes in slaughtering Jews and promotes anti-Semitic conspiracy theories is not an appropriate speaker for a family conference," Mostyn said.
CIJA CEO Shimon Koffler Fogel said he was also pleased that the Muslim leadership was receptive to the concerns CIJA presented to them, on behalf of the Jewish community.
"Egyptian imam Omar Abdelkafy is well known to us for both his anti-Semitic rhetoric and for peddling conspiracy theories about 9/11 and the Paris terrorist atrocities. We are appreciative that the organizers were responsive to our outreach, though remain puzzled that Abdelkafy was deemed an appropriate speaker for Canadian audiences," Fogel said in a statement.
http://www.cjnews.com/news/canada/controversial-imam-dropped-from-canadian-islamic-conference
--------
Trump and May agree to respond to alleged Syria gas attack
Apr 10, 2018
US President Donald Trump and British Prime Minister Theresa May have said the world must act to ensure those behind a suspected chemical attack in Syria are held accountble.
According to a White House statement on Tuesday, Trump and May "agreed not to allow the use of chemical weapons to continue." May spoke with Trump by telephone agreeing that the reported attack was "utterly reprehensible."
"They agreed they would continue working closely together and with international partners to ensure that those responsible were held to account," a statement from May's office said.
An alleged chemical attack on Saturday in the militant-held town of Douma in the Eastern Ghouta region left dozens dead and drew international condemnation from various countries and international bodies.
May had earlier agreed the same thing in a call with French President Emmanuel Macron.
Former British Prime Minister Tony Blair had also said that Britain should support a military action against Syrian President Bashar al-Assad in response to the recent alleged chemical weapons attack in Syria.
The US and its allies have been bombarding what they call Daesh positions inside Syria since September 2014 without any authorization from the Damascus government or a UN mandate.
The strikes have on many occasions resulted in civilian casualties and failed to fulfill their declared aim of countering terrorism.
When asked whether Britain would join the United States if Washington decided on further military action in Syria, she declined to answer the question directly.
"We believe that those responsible should be held to account," she told reporters in Cambridgeshire.
With less than a year to go until Brexit, May seeks to deepen its so-called "special relationship" with the United States with a wide-ranging free trade deal that would help cushion the impact of leaving the European Union (EU).
Full report at:
http://www.presstv.com/Detail/2018/04/10/558086/Trump-and-may-agree-to-respond-to-alleged-Syria-gas-attack
--------
Muslim group sues to block Trump terrorism report
By Stephen Dinan
April 10, 2018
Two anti-Trump organizations filed a lawsuit Monday arguing that a government report earlier this year linking immigrants to most of the country's terrorism cases since 2001 is so misleading that it violates federal law.
The request seeks to recruit federal judges to police the accuracy of the administration, in what — if it's successful — could become a model for anti-Trump groups to push back on a president they see as having a tenuous connection to the truth.
The January report concluded that 73 percent of the 549 people convicted of international terrorism between 2001 and 2016 were foreign born.
Activists were infuriated by the report at the time, and now two groups — Muslim Advocates and Democracy Forward — have sued, saying the investigation "misleadingly inflates the threat they pose to the United States," and "inaccurately" focuses on Muslims.
"The report perpetuates the ongoing stigmatization of immigrants and Muslims by the administration," the groups said. "For example, the Trump administration has used the report to justify its sweeping ban on the entry of nationals from six Muslim-majority countries into the United States. It has also specifically tied the report's findings to its calls for an end to the issuance of diversity and family reunification visas, which would have a significant negative impact on Muslim immigrants."
At stake is the Information Quality Act, which lays out the goal of government information being accurate, and creates a process for the public to demand corrections, with the agencies required to respond to those requests within 60 days.
Neither the Justice Department nor Homeland Security, which co-authored the report, responded to the groups' requests, they said.
The groups want the courts to declare the report inaccurate and issue an order banning them from disseminating it.
The Justice Department declined to comment.
The report has been widely used by the Trump administration, which pointed to the findings in calling for stricter immigration and travel controls.
Full report at:
https://www.washingtontimes.com/news/2018/apr/10/muslim-group-sues-block-trump-terrorism-report/
--------
Trump updates travel ban, lifts restrictions on Chad
April 10, 2018
President Trump removed Chad from his "extreme vetting" travel ban policy Tuesday, saying the country had made enough strides in cooperating on sharing data and boosting security that its citizens can again be admitted to the U.S.
Iran, Libya, North Korea, Somalia, Syria, Venezuela and Yemen remain on the list — though Mr. Trump said Libya is also making strides toward better cooperation.
Mr. Trump said they considered adding another country, which he didn't name, to the list, but said for now the nation doesn't rise to the level of danger that would earn it a place on the ban.
Chad is a majority-Muslim country — one of six that had been on the current banned list.
The president said the country seemed eager to meet the heightened security standards the U.S. has laid out.
"Specifically, Chad has improved its identity-management practices by taking concrete action to enhance travel document security for its nationals, including taking steps to issue more secure passports and sharing updated passport exemplars to help detect fraud. The Government of Chad also improved handling of lost and stolen passports, the sharing of which helps the United States and other nations prevent the fraudulent use of such documents," the president said in a lengthy explanation of his decision-making.
Scratching Chad from the ban could bolster Mr. Trump's argument that the ban isn't anti-Muslim and is instead based on security decisions.
The Supreme Court is slated to hear arguments on the travel ban later this month.
Mr. Trump is on his third version of the travel ban, after his first two suffered defeats in the courts. The Supreme Court has allowed the current version to remain largely in effect, however, while the legal challenges proceed.
Opponents say Mr. Trump's harsh rhetoric about Muslims during the campaign and some comments he's made as president prove he's anti-Muslim, which they said makes his policy unconstitutional.
The administration, though, has taken pains to back up its decision-making with more data. The current version of the ban was released only after the Homeland Security and State departments did a review of global travel rules and cooperation offered by other countries in verifying that their travelers are who they claim to be.
Full report at:
https://www.washingtontimes.com/news/2018/apr/10/trump-updates-travel-ban-lifts-restrictions-chad/
--------
Syrian chemical weapons attack was false flag operation, Fox News host suggests
Apr 10, 2018
Fox News host Tucker Carlson has suggested that the recent suspected chemical weapons attack in Syria was a false flag operation and that the government of Syrian President Bashar al-Assad was not responsible for it.
In his current affairs program broadcast on Monday night, Carlson slammed the American media pundits and politicians who are calling for a war against Syria over the alleged attack near the capital Damascus on Saturday.
The attack in the militant-held town of Douma in the Eastern Ghouta region left dozens dead and drew international condemnation from various countries and international bodies. The Assad government strongly rejected the allegation of using chemical munitions.
"The push to war in Syria by the way has united politicians from both sides," Carlson said in his introductory remarks.
"Lindsey Graham and Howard Dean typically agree on very little, not much at all. But today both are calling for war in Syria," he added.
"Graham is demanding massive attacks on the Syrian military. Dean is even going further than that. On Twitter, he called the president 'a wimp' for merely sending thousands of troops and launching tens of bombs at Syria," he said.
"That's not enough for Howard Dean, who, if you may remember, once ran for the president as a peace candidate. Tonight he wants total war in Syria," the commentator stated.
Carlson said that Americans "should be skeptical to this, starting with the poison gas itself."
"All the geniuses tell us Assad killed those children. But do they really know that?" he asked. "Of course, they don't really know that. They are making it up. They have no real idea what happened."
"How it would benefit Assad using chlorine gas last weekend? Well, it wouldn't. Assad's forces have been winning the war in Syria. The [Trump] administration just announced to pull American troops out of Syria, having vanquished ISIS [Daesh]. That's good news for Assad. And the only thing he could do to reverse it and hurt himself would be to use the poison gas against children," he added.
"Well, he did it anyway, they tell us. He's that evil. Please keep in mind, this is the same story they told us last April. Remember that? It was almost exactly a year ago," the analyst noted.
"The new administration announced it is no longer seeking to depose Assad from power, the regime change is no longer a policy. So the usual war hawks in Washington started yelping and went berserk. And days later Assad supposedly used sarin gas against civilians in syria. There was a video. We bombed the Syrian airbase in response to that," he continued.
Carlson makes Senator Wicker look foolish
And, then Carlson brought on a hawkish Republican senator to ask about possible US military action against Assad, and things got very tense.
"What's the American national security interest that would be served by the regime change in Syria?" he asked his guest, Senator Roger Wicker.
"Well, if you care about Israel you have to be interested at least in what's going in Syria. We're fighting ISIS there. Iran is seeking to dominate the whole region. I think, we have national interests in Syria," replied the senator.
The answer left the host with his eyes wide opened. He repeated the question. "What's the American national security interest that is served?" And then he added another question, "How this country [America] would become safer by overthrowing Assad?"
Wicker changed his tone, saying, "I'm not sure the regime change is our goal there. It was the goal of Barack Obama. It hasn't really been our stated goal during the Trump administration. But defeating ISIS in Iraq and Syria is still our goal. And I think that is in the national interest."
"But wasn't defeating ISIS [Daesh] one of the goal of the Assad government" the Fox News host asked.
"Well, you are correct in this sense. You're correct in many ways. It's complicated in Syria. There's no question about it. I'm very interested in the question that you are asking that whether this is some sort of hoax, or whether this poison gas attack really did not happen. It was done by someone else," he replied.
As Carlson retorted that he wasn't suggesting that, the Mississippi lawmaker added that "Mr. Putin is asking and he has a right to ask it and so do you -- I find myself on the other side of the issue."
"I'm not sure I understand that implication," the host responded.
Carlson told the senator that he hoped Wicker wasn't trying to impugn his motive and tie him to Putin "as some on the left do."
"Let me ask again, we were told a year ago that the sarin gas attack in Syria was committed by Assad's" government Carlson stated, adding that there is still no evidence the Syrian president used sarin gas in April 2017.
An initial assessment by the United States has not determined whether the chemical attack in Douma was carried out by Syrian government forces, according to Reuters.
The assessment also suggested that a nerve agent was used in the suspected poison attack, but further evidence was needed to determine the type of agent, US government sources told the news agency.
Full report at:
http://www.presstv.com/Detail/2018/04/10/558055/Syrian-chemical-weapons-attack-was-false-flag-operation-Fox-News-host-suggests
--------
US has mechanism to probe Syria chemical attack
11 April 2018
The U.S. does not doubt that chemical weapons were used on Syrian civilians in Eastern Ghouta, and is set to use its "own mechanisms" to investigate the attack, the State Department said Tuesday.
"The United States is convinced and knows that some sort of a chemical weapon was used," spokeswoman Heather Nauert told reporters when asked whether the U.S. will wait for an investigation by the Organization for the Prohibition of Chemical Weapons (OPCW).
"We do not know their timeline for being able to get in, collect information," she said, referring to the OPCW. "We have our intelligence, and then they have their information from the ground. So we have different kinds of information."
Citing the OPCW's announcement that it will soon gather evidence on the ground, she said Washington sees the group as an "impartial body" able to collect evidence but that the U.S. government also has its own mechanisms.
Assad regime forces struck targets in Eastern Ghouta's Douma district on Saturday, using a toxic gas which left at least 78 civilians dead, according to Syrian Civil Defense, also known as the White Helmets.
On Monday President Donald Trump vowed to respond to the Assad regime's latest use of chemical weapons before meeting with his top generals to discuss Washington's response.
It remains unclear what or when the U.S. will do.
The Damascus suburb of Eastern Ghouta has been under siege for the last five years, and humanitarian access to the area, which is home to 400,000 people, has been completely cut off.
Full report at:
http://www.worldbulletin.net/america-canada/200925/us-has-mechanism-to-probe-syria-chemical-attack
--------
URL: https://www.newageislam.com/islamic-world-news/voice-note-isis-terrorist-declares/d/114897
New Age Islam, Islam Online, Islamic Website, African Muslim News, Arab World News, South Asia News, Indian Muslim News, World Muslim News, Women in Islam, Islamic Feminism, Arab Women, Women In Arab, Islamophobia in America, Muslim Women in West, Islam Women and Feminism