New Age Islam News Bureau
12 May 2012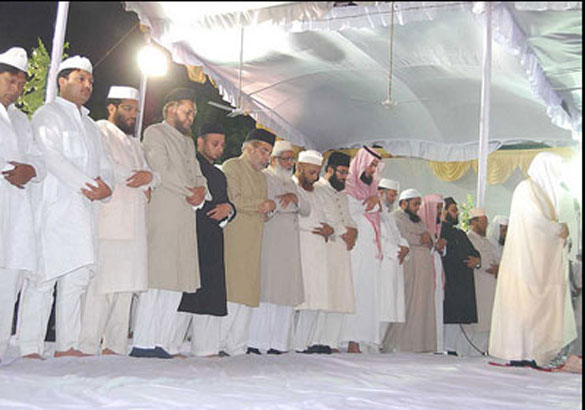 India
• Visits of Imam-e-Haram: Is this meant to promote Saudi agenda of promoting Shia-Sunni strife?
• Indian Muslims Have A Better Sex Ratio Than Hindus
• Muslim Personal Law Board: Keep off personal laws
• MCOCA charges to be dropped against Abu Salem
• IB and R&AW pass the buck
• Terror alert in India: 2 more identified as Pak traders
Pakistan
• Pakistanis deported from Greece
• Al-Zawahiri video urges Somali militants to fight
• Policeman killed, 17 injured in Pak. blast
• Unidentified gunmen kill Pakistan reporter, brother, friend
• Pakistan has to cooperate more, says Kerry
• Gilani denies reports of Pakistan's exclusion from Nato summit
• Rabbani suggests highest civil award for Manto
• 'Don't use visas as political weapon against Baloch'
• Danish princess visits to support conservation of Pak heritage
• Govt urged to implement Urdu as official language of the country
• Chronicler of history loved & loathed
Europe
• UK Muslims under Islamophobic attacks following Asian child sex ring gang conviction
• Russia seeks India, Pakistan to join Shanghai Cooperation Organisation
• Britain's MI6 key to al Qaeda agent: Officials
• UN calls for funds to resolve Muslim refugee crisis
• Survey shows discrimination against Muslims in Netherlands
• No creed is beyond the reach of misogyny
• Andrew Jackson Jihad Get Dirty in New Video
Southeast Asia
• Malaysia to host world conference on maternal mortality issues
• Malaysian tribunal finds Bush guilty of war crimes
• Irshad Manji book tour in Indonesia runs into trouble with Islamic 'thugs'
• Attacks on author raise questions on pluralism in RI
South Asia
• 2 NATO Troops Die in Afghanistan, 1 in Bomb Blast
North America
• Pak 'terrorism accountability' bill introduced in US Congress
• US lawmakers want Haqqani network named 'terrorist' group
• United States partially resumes military supplies to Bahrain
• Legislature approves bill to bar use of Islamic law
Africa
• Senior Boko Haram Commander Caught: Nigeria Police
• First Salafist party licensed in Tunisia
• Finding a Match, and a Mission: Helping Blacks Survive Cancer
North Africa
• Moderate Islamists expect gains in Algerian elections
Mideast Asia
• Iran, IAEA talks under scrutiny ahead of Baghdad
• Iran wins release of Turkish journalists in Syria
• Iran unites in choking on Persian Gulf omission from Google Maps
• Turkish religion officials rule out Haram fatwa for protests
• Turkish town bans alcohol for 'public good'
• 19,000 Syrian refugees return home from Turkey: Turkish government
• Turkey wants to open fresh page in relations with France
• Egyptian Campaign Focuses on Islam's Role in Public Life
• Saudi King Abdullah sacks conservative adviser
• Iran Presses for Official to Be Next Leader of Shiites
• WHO urges Israel to act on Palestinian hunger-strikers
• Syrian troops shell rebel stronghold of Homs, say activists
• Syria 'foils' Aleppo suicide attack
• Shaikh Mohammed to honour federal govt excellence award winners
• Militant video claims responsibility for deadly Syria blasts
• Nuclear Negotiator Seeks 'Beginnings of the End' of Iran Dispute
Complied by New Age Islam News Bureau
Photo: Imame-e-Haram Sheikh Dr Khalid Bin Ali al Ghamidi leading prayer in Lucknow in May 2012
URL: https://newageislam.com/islamic-world-news/new-age-islam-news-bureau/visits-of-imam-e-haram--is-this-meant-to-promote-saudi-agenda-of-promoting-shia-sunni-strife?/d/7311
---------
India
Visits of Imam-e-Haram: Is this meant to promote Saudi agenda of promoting Shia-Sunni strife?
12 May, 2012
Lucknow: Imam-e-Haram Sheikh Dr Khalid Bin Ali al Ghamidi was on a seven day visit to Lucknow (May 1-6), the capital of Uttar Pradesh. Ruling Samajwadi Party (SP) government rolled out a red carpet while Muslims thronged in large numbers to offer Namaz behind and listen to the Imam.
Imam-e-Ka'ba, they are more than one, are held in high esteem by Muslims. No doubt they command respect from the community. During past one year Imam Ghamidi was the second Imam-e-Ka'ba to visit UP. Earlier Sheikh Abdur Rehman Al-Sudais had arrived in Deoband on March 25, 2011.
Imame-e-Haram Sheikh Dr Khalid Bin Ali al Ghamidi leading prayer in Lucknow in May 2012
No fingers are being raised over their visit but let us have a closer look at their visits and the effects following their trips.
Firstly, the Imam-e-Ka'ba usually comes at invitation. In previous two occasions, the invitations were extended by religious clerics. In Sheikh Sudais case the invitation was extended by Maulana Arshad Madani for participation in Azmat-e-Sahaba conference organised at Ramlila ground in Delhi. Shiekh Sudais also paid a trip to Islamic seminary Darul Uloom Deoband and also to Parliament Annexe for a dinner. He also led prayers at Deoband and Delhi.
In Al Ghamidi's case the invitation was extended by Maulana Salman Nadwi, a faculty member of Nadwatul Uloom. He laid foundation stone of several educational institutions, participated in several seminars, led prayers at Nadwa, Tile Wali Masjid, Aishbagh Eidgah and visited Barabanki also.
The common thing between their visits was government's involvement. In Sheikh Sudais case a minister flew with him to Deoband from Delhi in a chopper. He attended the dinner at Parliament Annexe. Al Ghamidi on the other hand was received at airport by CM Akhilesh Yadav. In Lucknow, he hosted a dinner at his residence, several ministers followed Ghamidi's programme while foolproof security arrangements with elaborate force was put in place. Perhaps it is used as a means to show their concern for Muslims.
What do the general Muslims feel during the visits of Imam-e-Kaaba? They try their level best to have his glimpse, offer namaz behind him and listen to his sermons. The Muslims consider themselves lucky if they get a chance to shake hands with him. The Muslim mass is satisfied and returns happily enduring all hardships in meeting him.
Those who had invited them however are on other platform. They get a chance to show their proximity to Imam-e-Ka'ba. Their intention is to convey the message to respective governments that they are close to Muslim religious heads and thus are important. Nothing can be said about their role after the visit of Imam-e-Ka'ba. They also get a chance to interact with high and mighty as the rich, influential and powerful will use all means to come close to Imam-e-Ka'ba who is their guest. Incidents of misbehaviour by the hosts at Farangi Mahal while Al Ghamidi was part of a seminar are still fresh in the memories of Lucknow Muslims. Younger brothers of Khalid Rasheed Farangi Mahali namely Naeem and Nadeem misbehaved with guests. MLAs, Officers, businessmen were allowed entry inside the hall while Muslims who arrived there holding the invitation card given by Farangi Mahli himself were asked to wait outside. At Lunch, even those low profile Muslims who had managed to sneak inside the hall were asked by Naeem and Nadeem to leave the hall. None of them protested because it was the dignity of Imam-e-Ka'ba.
A closer look at Al Ghamidi's public functions reveals that they were more than religious. He laid foundation stone of a medical institute hosted by FI Builders, a school by Khalid Rasheed Farangi Mahli, released books on Farangi Mahal and new building at Integral University. Each one of them had personal motives and not every one of them is all out for Muslims.
Al Ghamidi also stirred another debate. He did not meet any Shia cleric. Kalbe Jawwad was busy with his Shia Mahasammelan on May 6 while Kalbe Sadiq was not in Lucknow. Going by Sadiq's previous history he prefers a Hindu seer more than a Muslim cleric so he is not accounted. Maulana Yasoob Abbas ridiculed Kalbe Jawwad's invitation to Al Ghamidi for leading the prayer at Shia Asafi Masjid. He stated that grave of Bibi Fatima Zohra has been dismantled by Saudis and this should have been raised.
Al Ghamidi's visit may have brought Muslim masses closer but it reflected the rift in Muslim ministers in UP. Cabinet Minister for health and family welfare Ahmed Hasan was present during the visit but another influential minister Azam Khan was nowhere in the scene. Khan even did not attend the dinner hosted in honor of Al Ghamidi by CM Akhilesh and Mulayam Singh Yadav.
Some experts cite Iran connection for the frequent visit of Imam-e-Ka'ba. US foreign minister Hillary Clinton too arrived while Ghamidi left India. She openly vouched for curtailing crude oil import from Iran. Who knows ground for her visit was prepared in advance!
http://twocircles.net/2012may11/visits_imameharam_there_something_more_
---------
Indian Muslims Have A Better Sex Ratio Than Hindus
12 May 2012
NEW DELHI – The first episode of the much-hyped and eagerly awaited talk show ''Satyameva Jayate'' recently went on air on Star Plus. The show, hosted by Bollywood actor Amir Khan, aims to bring social issues to light. Khan, who is being hailed as India's Oprah Winfrey has managed to do what countless organizations and government initiatives have failed to do: put female feticide in the national spotlight.
The statistical evidence presented in the show is indeed disturbing. As per 2011 census, the sex ratio of children under the age of six was 914 girls for every 1000 boys. Studies show that in a natural world, without human interference or manipulation, the sex ratio should ideally be 1,020 females per 1,000 males.
An interesting fact, however, is that India's Muslims have a better sex ratio. According to the data analyzed from the 2001 census, the sex ratio of Hindus who make up close to 80 percent of the population was 931 while that of Muslims who make up less than 15 percent of the population was 936. A difference of five extra girls per 1,000 boys may seem small but when it's analyzed in the larger context, it makes a significant difference. This comes as a slap-on-the face of all who believed Islam oppresses women.
There is compelling evidence to show that this analysis is not just a fluke. So, does this finding reflect the Muslim beliefs and values? It's certainly possible but could something in addition to this also be at work? India RealTime takes a look at this interesting phenomenon.
http://thelinkpaper.ca/?p=16500
---------
Muslim Personal Law Board: Keep off personal laws
12 May 2012
THANE: Muslim leaders Friday came down heavily on governments and courts for what they termed as "interference" in the Muslim personal law, a spokesperson said.
Thousands gathered at Bhiwandi, around 45 km from Mumbai, for a convention on Muslim personal law.
In his keynote address, Maulana Tauqeer Raza Khan of the Muslim Personal Law Board said a recent Supreme Court observation seeking to mandate registration of "nikaah" was an example of interference.
"This cannot be tolerated. Moreover, it goes against the government's assurance that it will not interfere or tamper with Muslim personal laws," Khan thundered amid applause.
He added that some recent judgements and observations of the courts as well as government policies go against the spirit of the assurances given by the government.
Khan added that many innocent Muslim youths arrested across the country have been forcibly linked to terror cases.
Citing the example of the Malegaon blasts of 2006, he said that innocent Muslims were picked up and released after many years in prison.
Renowned Islamic scholar Allama Qamruzzaman Khan Azmi said a proposed bill by the Maharashtra government was seeking to make all married women equal partners in their husband's property.
Azmi said the move had hurt the sentiments of Muslims and that the bill contravened the existing legislation on Muslim women's rights.
There was also a demand to let Muslims offer Namaz in all the religious shrines and mosques controlled by the Archaeological Survey of India.
The speakers asked the government to ensure that the Right to Education Bill did not interfere with madrasa education.
Other prominent speakers included Sayed Khwaja Gulam Kibriya Sahab Chishti, Sajjada Nasheen, M. Saeed Noori and Maulana Yaseen Akhtar Misbahi.
http://timesofindia.indiatimes.com/city/thane/Keep-off-personal-laws-Muslim-leaders/articleshow/13098155.cms
---------
MCOCA charges to be dropped against Abu Salem
12 May 2012
Delhi High Court quashes designated lower court's order against the underworld don
Allowing a Delhi Police petition against the slapping of Maharashtra Control of Organised Crime Act charges on underworld don Abu Salem, the Delhi High Court on Friday quashed an order by a designated lower court here on framing the charges under the Act.
Quashing the lower court order of August 28, 2009, Justice V.K. Shali said: "The petition of the Delhi Police is allowed. The order dated August 28, 2009 passed by the designated lower court is set aside. The state is permitted to withdraw the charges under the Maharashtra Control of Organised Crimes Act (MCOCA)."
Salem is facing prosecution in the 1993 Mumbai serial blasts. The city police had sought dropping of the charges in the backdrop of the Lisbon High Court in Portugal and later the Supreme Court there terminating the extradition of the underworld don for breach of the extradition conditions by India by booking him under MCOCA.
The police argued that the charges against the underworld don were framed by the local court here despite argument by the investigating agency that it was against the terms and conditions of Salem's extradition to face trial in the Mumbai serial blasts case of 1993.
Salem had also filed a petition seeking dropping of the MCOCA charges against him. The Court declared his petition infructuous in view of the order passed on the Delhi Police petition, saying that "there was no need to pass an order on his petition."
The police argued that according to the conditions for Salem's extradition from Portugal, he could be awarded the maximum punishment of 25 years of imprisonment by Indian courts while under MCOCA he could be even be awarded death sentence.
Salem was extradited from Portugal in 2005. He was booked under the MCOCA by the Delhi Police for allegedly making extortion calls to a Delhi-based businessman, Ashok Gupta, in 2002.
Among the conditions under which Salem was extradited from Portugal to India was that he cannot be awarded the death sentence or tried under any special law and can only be sentenced to a maximum of 25 years of imprisonment.
http://www.thehindu.com/news/national/article3409456.ece
---------
IB and R&AW pass the buck
By Aman Sharma
12 May 2012
THE Intelligence Bureau (IB) and the Research & Analysis Wing (R& AW) are busy indulging in a blame game following the goof- up in the terror list sent out by the Centre to four states last week which claimed five Pakistanis had entered India to carry out attacks.
Surprisingly, three of the five men, whose photographs were put out in the terror alert, turned up at a police station in Lahore on Wednesday saying they were civilians who had never been to India.
Pakistan on Friday slammed the Indian government, with its foreign ministry spokesperson being quoted as saying that these charges by the Indian intelligence agencies were mischievous and without any substance.
"We are looking into these unfounded allegations," the Pakistan foreign ministry spokesperson has reportedly said.
In Delhi, the Union home ministry and the external affairs ministry stayed mum on Friday though home secretary R. K. Singh had a day earlier stood by the ' terror alert', saying it was issued to the states based on credible information.
In the meantime, the IB and the R& AW are busy blaming each other for the alleged goof- up.
Full report at:
Mail Today
---------
Terror alert in India: 2 more identified as Pak traders
May 12 2012
Lahore: Two Pakistani men named among five terror suspects by intelligence agency RAW and whose photos were carried by the media in India have been identified as traders linked to a bustling electronics market in this eastern Pakistani city.
Amjad Ali Khan is an employee at a cell phone shop at the electronics market at Hafeez Centre while Nadeem Malik runs a business dealing in used cellular phones, media reports said.
Earlier, the three other men named as terror suspects -- Mehtab Ahmed Butt, Atif Butt and Babar Shabbir -- too were identified as traders and a security guard at Hafeez Centre.
It is yet to be established how their photos were issued by Indian security agencies to the media.
Khan and Malik have been associated with businesses at Hafeez Centre for more than four years, Muhammad Fiaz Butt, the head of the local traders' association, told the media.
Full report at:
http://www.indianexpress.com/story-print/948567/
--------
Pakistan
Pakistanis deported from Greece
12 May 2012
ISLAMABAD: Ten Pakistani nationals have been deported from Greece for illegally entering the country, a media report said on Friday.
The men, who had illegally crossed into Greece after passing through Iran and Turkey, reached Islamabad Friday, Online news agency reported.
Nine are from Punjab province and one is from Peshawar. They were taken to the Federal Investigation Agency's Anti-Human Trafficking Cell for questioning.
http://timesofindia.indiatimes.com/world/pakistan/Pakistanis-deported-from-Greece/articleshow/13097921.cms
---------
Al-Zawahiri video urges Somali militants to fight
12 May 2012
KAMPALA (UGANDA): Al-Qaida leader Ayman al-Zawahiri has released a new video in which he encourages Somali militants to fight on despite the challenges.
In the video, reported Friday by the Site Intelligence Group which monitors militant activities, al-Zawahiri urges al-Shabab militants not to be deterred by US drone attacks.
It is al-Zawahiri's second video address to al-Shabab, which formally joined al-Qaida in February.
Al-Shabab has increasingly come under pressure in recent times from regional armies and government forces who are pushing it from three sides inside Somalia.
Somalia's prime minister said last month that al-Shabab militants were fleeing up north, into the semiautonomous region of Puntland.
Somalia has lacked a stable government since 1991.
http://timesofindia.indiatimes.com/world/rest-of-world/Al-Zawahiri-video-urges-Somali-militants-to-fight/articleshow/13100361.cms
---------
Policeman killed, 17 injured in Pak. blast
12 May 2012
A policeman was killed and 17 others were injured on Saturday in northwest Pakistan's Peshawar city when a roadside bomb targeted a security van that was taking prisoners to a court.
The bomb targeted a police van on the main road at Gulbahar area, police officials and witnesses said.
The police van was destroyed by the blast. Several other vehicles were also damaged.
The injured were taken to a nearby hospital, where a policeman died of injuries.
Officials described the condition of two injured policemen as critical.
The road was closed for traffic after the blast.
Officials said the police van was taking prisoners to a court in another city when it was attacked.
It was unclear if any militants were among the prisoners.
No group claimed responsibility for the attack though such incidents are usually blamed on the Taliban.
This was the second bomb attack in two days that targeted police in Peshawar, the capital of Khyber—Pakhtunkhwa province.
A senior police officer escaped unhurt in a roadside bomb attack yesterday.
http://www.thehindu.com/news/international/article3411628.ece
---------
Unidentified gunmen kill Pakistan reporter, brother, friend
12 May 2012
A television reporter, his brother and a friend were gunned down by unidentified men in Sindh province of southern Pakistan, according to a media report.
Aurangzeb Tunio, a correspondent for KTN, the most popular news channel in Sindh, was killed with his brother Rustam Tunio and friend Deedar Khaskheli at Lalurounk town of Qambar district.
Tunio was sitting in his office when a group of 20 armed men arrived there and opened fire, killing the three men instantly, Dawn newspaper reported. His family accused members of the Mughiri clan of committing the crime.
http://www.dailypioneer.com/world/64615-unidentified-gunmen-kill-pakistan-reporter-brother-friend.html
---------
Pakistan has to cooperate more, says Kerry
12 May 2012
WASHINGTON: US Senator John Kerry, a leading proponent of US aid for Pakistan, has said called for Pakistan to be more cooperative in eliminating alleged sanctuaries of Afghan militants in Pakistan.
The chairman of the Senate Foreign Relations Committee raised the issue of the continued danger of a sanctuary war being prosecuted against the forces in Afghanistan at a congressional hearing on the upcoming Nato summit in Chicago.
"I am a veteran of a sanctuary war and I know how insidious it can be, and I personally think that it is unacceptable to have a zone of immunity for acts of war against armed forces and against the collective community that is trying to accomplish what it is trying to accomplish," the Democratic senator said in a statement.
"That means Pakistan has to become more assertive and more cooperative, and we may have to resort to other kinds of self-help depending on what they decide to do," the influential lawmaker added.
The US has been accusing Pakistan of offering assistance to militants from the so-called Haqqani network and of providing the group's leadership a sanctuary in the North Waziristan tribal region.
http://dawn.com/2012/05/12/pakistan-has-to-cooperate-more-says-kerry/
---------
Gilani denies reports of Pakistan's exclusion from Nato summit
12 May 2012
LONDON: Prime Minister Syed Yousuf Raza Gilani on Friday said there is no case of corruption against him and he is performing his role to protect the constitution.
Addressing a press conference at the inauguration ceremony of Consular Hall of Pakistan High Commission here, he said, "If all institutions work within the constitution then there will be no conflict and he has been working within the parameters of the constitution."
He said Sharif brothers are making interpretations of the constitution on their own and "I will not accept their interpretation".
"We do not believe in two interpretations, one of the courts and the other of the Sharif Courts," he added.
The Prime Minister said nobody in the world is giving acceptability to the views of the opposition.
He said he held useful meetings with the British Prime Minister, Ministers, business leaders and members of the Pakistani community.
"I came to Britain on the invitation of British Prime Minister David Cameron."
To a question about Pakistan-US relations, he said the two countries are holding discussions on ways to take forward their relationship.
He said Pakistan wants to have relations with all countries on the basis of mutual respect and mutual benefit.
The Prime Minister said the Parliamentary Committee on National Security presented their unanimous recommendations to the Parliament, which led to a resolution.
Full report at:
http://dawn.com/2012/05/12/no-case-of-corruption-against-me-gilani/
---------
Rabbani suggests highest civil award for Manto
12 May 2012
ISLAMBAD: Pakistan People's Party (PPP) Senator Mian Raza Rabbani on Friday suggested the President Asif Ali Zardari to confer the highest civil award for prominent short-story writer late Saadat Hassan Manto to acknowledge his services.
"The 100th birth anniversary of Manto is being observed today. For his literary works, he had not only earned fame within Pakistan but in international community also," Rabbani said while speaking on a point of order.
He said at a time when there is chaos and polarisation in the country, besides other remedial measures, if we respect the literary figures, it could help improve situation.
He said Zulfikar Ali Bhutto had established Pakistan Academy of Letters that had been patronising the literary figures besides working for their promotion but currently its role has been diminishing.
He said the intellectual renaissance that had begot during Bhutto's period is direly needed today.
Rabbani said a lot of people have been conferred awards in the past though some of them did not even deserve that distinction but Manto has not been given any such award despite his remarkable services in literature.
He requested the Chairman Nayyar Hussain Bokhari to propose the president to confer the highest civil award to the said literary figure.
Later, the chair asked Leader of the House Jahangir Badar to consider the proposal, who also supported the idea.
http://dawn.com/2012/05/11/rabbani-suggests-highest-civil-award-for-manto/
---------
'Don't use visas as political weapon against Baloch'
12 May 2012
* US representative concerned about visa problems for Baloch leaders
LAHORE: US Rep Dana Rohrabacher has sent a letter to Homeland Security Secretary Janet Napolitano inquiring about the 2008 incident when the representative to the Unrepresented Nations and Peoples Organisation for Balochistan, Noordin Mengal, was denied entry into the US, said a press release.
It said Mengal is a British citizen and carried a British passport, but was still detained entry at Newark's Liberty Airport and put on a flight out of the US.
Additionally in 2010, Mengal was denied a visa to come to the US specifically to address a meeting sponsored by an organisation associated with a major university regarding human rights in Balochistan, the press release said.
Rohrabacher wrote to Secretary Napolitano that "our government needs to end its partnership with the ISI" in repressing the Baloch.
Full report at:
http://www.dailytimes.com.pk/default.asp?page=2012\05\12\story_12-5-2012_pg7_15
---------
Danish princess visits to support conservation of Pak heritage
12 May 2012
ISLAMABAD: Danish Princess Alexandra, niece of Queen of Denmark Margrethe II, arrived in Pakistan as part of her work with UNESCO, World Heritage Centre, to view steps taken for the protection of Pakistan's cultural heritage, says a press statement.
Princess Alexandra has been working with UNESCO for many years now as part of their team to promote world heritage across the world. This is Princess Alexandra's third visit to Pakistan, where she has been visiting several cultural places as well as meeting with government officials.
Speaking about her visit to Pakistan, the princess shared that through her work in UNESCO, World Heritage Centre, she has had the great privilege to be able to visit Pakistan on many occasions – "My first visit was in 2007, and I have been back three times since then. I have always been met with the utmost hospitality and I am profoundly grateful for all the kindness, and wonderful humour, that I have experienced while visiting and travelling within Pakistan. I have been able to witness an immense determination and great efforts to make changes and improvements, which is particularly noteworthy in view of the difficult circumstances in which Pakistani people live," said Princess Alexandra.
The main objectives of these missions have been to assist the authorities in identifying the measures they need to take to be able to adequately protect and conserve their cultural heritage.
Speaking on the occasion, Danish Ambassador Uffe Wolffhechel expressed great enthusiasm about the visit of the Danish Princess Alexandra. "We are indeed excited to having a member of the Danish royal family visit Pakistan."
http://www.dailytimes.com.pk/default.asp?page=2012\05\12\story_12-5-2012_pg7_18
---------
Govt urged to implement Urdu as official language of the country
12 May 2012
* Justice Khairi says according to the 1973 Constitution implementation of Urdu as national language should have been done within 15 years from the commencing day, but our political parties remained in deep slumber
KARACHI: Writers, educationalists and intellectuals have demanded of the government to implement Urdu language as the official language of the country.
Speaking at the meeting of Shura Hamdard Karachi, they urged the government to implement Urdu as a national language according to the clause 251 (i) of the Constitution of Pakistan, 1973.
The meeting was held on Thursday evening on the theme of 'The importance of national language in development and progress of the country', presided over by Justice (r) Haziqul Khairi at a local hotel.
President Hamdard Foundation Pakistan Sadia Rashid was also present at the meeting.
Speaking on the occasion, renowned poetess, writer and intellectual Fehmida Riaz said that Urdu was not the mother tongue of the people of any region of Pakistan. But, in spite of that it is understood and spoken countrywide and the only source of communication among the people of Pakistan. However, when we were going to implement it as a national language we should definitely keep in mind the possible repercussion by the people of Pakistan's provinces, she added.
She said that we should also keep in mind that the Bangla language was one of the main reasons of creation of Bangladesh and fall of Dhaka. To stop a volcano from bursting we should also give status of national languages to our regional languages together with Urdu, she stressed.
Full report at:
http://www.dailytimes.com.pk/default.asp?page=2012\05\12\story_12-5-2012_pg12_10
---------
Chronicler of history loved & loathed
May 12, 2012
Disturbed by the repercussions of the political decision to break up the unity of the subcontinent, that famously came to be called as the Partition, the man, Saadat Hasan Manto, who chronicled 1947's epic dislocation with telling insight, sensitivity and even-handedness stands on his 100th birthday as a crusader of humanity re-bonding the people who were only recently friends. That's what right-thinking evangelists from both India and Pakistan believe. In his time, Manto was much loved and loathed.
Fifty-seven years after his death, Manto is still causing a passionate debate, bringing about a constant flow of his fans through the hi-tech manned check posts bordering the rival nations.
As the two countries continue to feast on Manto's centenary celeberations, which began on Friday at his birthplace - Paproudi village in Samrala, near Ludhiana- his admirers say they are thankful to the cult Urdu writer for showing them that humanity has not been killed with human depravity. And, here lies a strong 'aman ki asha' that this iconic writer gives rise too.
"My father had the power of looking into things with a magnifying glass. He looked at everything he saw as a thing to be narrated, told and then discussed. We wish his writings had brought the nations together," said Nighat Patel, Manto's daughter, from Pakistan.
Full report at:
http://timesofindia.indiatimes.com/india/Chronicler-of-history-loved-loathed/articleshow/13103798.cms
---------
Europe
UK Muslims under Islamophobic attacks following Asian child sex ring gang conviction
12 May 2012
London, May 12 (ANI): Anti-Islamist groups in Britain are exploiting the conviction of nine Asian men accused of grooming vulnerable white girls as young as 13 for sex, to create a 'climate of hate' against Muslims, community leaders have warned.
The men, jailed for a total of 77 years, were convicted of a wide range of vile paedophile, rape and grooming offences, and it was claimed that they saw the naive white girls as 'mere trash'.
According to The Guardian. Muslim groups in the UK said they have seen an upsurge in hate mail and abusive phone calls since the trial ended this week, and community leaders are bracing themselves for more Islamophobic attacks on individual Muslims and mosques across the country.
"We are already receiving hate mail and hate phone calls even though we issued a very strong statement condemning those involved," the paper quoted said a spokesman for the Muslim Council of Britain, as saying.
"If it can happen to MCB, you can just imagine what ordinary Muslims are facing as they go about their day-to-day business," the spokesman added.
Eight of the nine men convicted at Liverpool crown court for their involvement in a gang that sexually exploited girls were of Pakistani heritage.
Muslim groups claimed far-right organisations such as the British National party and the English Defence League (EDL) have used the trial to demonise and abuse the entire community.
Full report at:
http://www.newstrackindia.com/newsdetails/2012/05/12/153-UK-Muslims-under-Islamophobic-attacks-following-Asian-child-sex-ring-gang-conviction.html
---------
Russia seeks India, Pakistan to join Shanghai Cooperation Organisation
May 12, 2012
BEIJING: Russia has given a call to speed up the process of India and Pakistan's accession to the Shanghai Cooperation Organisation (SCO), an intergovernmental mutual-security organisation, RIA Novosti reported.
The call was given by Russia's acting Foreign Minister Sergei Lavrov while participating in a meeting of foreign ministers of the SCO member states in Beijing Friday.
He also said delaying the decision on their membership was "counterproductive".
The SCO, set up in 2001, includes Russia, China, Uzbekistan, Kazakhstan, Tajikistan and Kyrgyzstan.
Pakistan, India, Iran and Mongolia have observer status while Turkmenistan and Afghanistan attend SCO gatherings as guest nations.
Full report at:
http://timesofindia.indiatimes.com/world/china/Russia-seeks-India-Pakistan-to-join-Shanghai-Cooperation-Organisation/articleshow/13103543.cms
---------
Britain's MI6 key to al Qaeda agent: Officials
12 May 2012
WASHINGTON: The double agent in the foiled al Qaeda bomb plot had a British passport, making the UK's intelligence agency key to the international sting operation.
Two officials briefed on the investigation said the double agent had a British passport.
The officials requested anonymity to discuss the operational details. One official said the British intelligence agency, MI6, gave the double agent the passport as part of the ruse.
Al Qaeda wants terror recruits that have a US or British passport because they are more likely to be able to travel to and from the West without raising suspicion.
British Prime Minister David Cameron's office on Friday declined to comment in any detail on the reports of the country's role in thwarting the new bomb plot uncovered in Yemen.
Full report at:
http://dawn.com/2012/05/12/britains-mi6-key-to-al-qaeda-agent-officials/
---------
UN calls for funds to resolve Muslim refugee crisis
12 May 2012
ASHGABAT: Syria, Sudan, and Mali are the biggest refugee hotspots, the UN refugee commissioner said Friday at a conference in Turkmenistan, calling on governments to help alleviate a humanitarian crisis.
The conference on refugees in the Muslim world opened Friday in the capital of Central Asia's most isolated country, organised by the Organisation of Islamic Cooperation (OIC) and the United Nations High Commission for Refugees. In 2011, the 57 members of the OIC took in 17.6 million people, including refugees and asylum seekers, said UNHCR's high commissioner Antonio Guterres in his opening remarks. "The three most acute crises are Syria, Sudan, and Mali," he later told AFP on the sidelines of the conference, stressing the importance of finding the money to assist refugees amid an economic slowdown.
Regarding Syria, "Turkey is currently accepting 25,000 refugees, and 30,000 in Jordan need assistance," he said. He expressed the hope that the conference would help "mobilise the region's governments" to "find the solutions to protect the refugees."
http://www.dailytimes.com.pk/default.asp?page=2012\05\12\story_12-5-2012_pg14_7
---------
Survey shows discrimination against Muslims in Netherlands
12 May, 2012
A recent opinion poll indicates the widespread religious intolerance against the Muslim community in the Netherlands as Islamophobia intensified across Europe.
The survey conducted by Maurice De Hond pollster found more than half of the Muslim immigrants in the country complaining about religious discrimination.
Fifty-eight percent of the respondents believed that the behavior of the Dutch government and people to Muslims is discriminatory in comparison with immigrants of other religions.
Two percent of the participants said they did not know whether such discrimination exists while 40 percent said of fair behavior to the Muslim immigrants.
The poll questioned 700 Muslim adults face-to-face and by the telephone on 22-25 April 2012 and was published on May 4.
The Muslims community in the Netherlands comprises mostly of workers from Morocco and Turkey who have moved to the European nation through legal channels.
The foreigners are normally granted Dutch citizenship after a five-year-long stay in the country, and enjoy the right to take part in local elections.
Muslim immigrants, however, seldom take an active role in the votes due to the discriminatory behavior from the Dutch public and government.
http://presstv.com/detail/240569.html
----------
No creed is beyond the reach of misogyny
12 May 2012
Perverted interpretations of Islamic ideas may well be among the factors in the case of the Rochdale paedophile ring
Much has been made of the rural Pakistani and Muslim background of nine Asian men imprisoned for their involved in a paedophile ring based in Rochdale.
It is said the men justified the abuse because these were girls of the decadent west, and therefore unworthy of respect. This is deeply hurtful to Muslims. Islam, they argue, is the cure for such behaviour, not a reason for it. Yet this too is a variation of "decadent west, unworthy of respect". It doesn't help.
No cultural formula entirely insulates any human society from misogyny. Misogynists always appropriate the fragments of their own background that are useful to them in order to fuel and rationalise their hatred.
A mass of factors made these girls vulnerable: family breakdown, intergenerational deprivation, an over-sexualised culture, fear of playing into the hands of racists, inadequate social services and much more. However, it is ridiculous to suggest that perverted interpretations of Islamic ideas could not be on this list. No creed is beyond the reach of those who wish to use it to justify their own repressive or evil thoughts and deeds. It would be nice if all right-thinking people of any faith, or none, could at least agree on that.
http://www.guardian.co.uk/uk/2012/may/12/rochdale-child-sex-ring-religion?newsfeed=true
---------
Andrew Jackson Jihad Get Dirty in New Video
12 May, 2012
Asian Man Recording artists Andrew Jackson Jihad have always been known for fierce lyrics. They're all about those uncomfortable blunt truths and the hyper-honest self-depreciating admissions, delivered with a lot of humor in an upbeat folk-punk style.
Up until recently they hadn't shot a proper music video. So for their first, they chose the angry, punk rock song "The gift of the Magi 2: The return of the Magi" off of their 4th full length, Knife Man. It is likely to be just as polarizing as their lyrics.
The Arizona duo found a way to visually represent their biting, self-hating humor with such a simple yet perfect idea. In the video, they run behind a moving camera for the duration of the song along with a half dozen other random people, who toss eggs, garbage and other projectiles at them. It's silly and stupid and of course shows that they are more than willing to take a hit for their fan's amusement. But like their lyrics, it's also insightful. Andrew Jackson Jihad are punk rock jesters, traveling the world serving a much needed function for thousands of people, bringing a big cathartic release to all that come to their shows.
http://activate.metroactive.com/2012/05/video-andrew-jackson-jihad-get-dirt-in-new-video/
----------
Southeast Asia
Malaysia to host world conference on maternal mortality issues
12 May 2012
KUALA LUMPUR: Malaysia will become the first Asian nation to host a world conference dedicated to reducing maternal mortality and achieving universal access to reproductive health.
The Global Women Deliver Conference 2013, the third in the series, is expected to attract 5,000 delegates and generate an estimated RM47.4 million in economic impact.
The conference has been held in London and Washington previously.
Malaysia was chosen to be the host country due to its status as a fast-growing democratic and liberal progressive country with stability and sound socio economic and developmental policies, said Datuk Dr Raj Karim, a consultant of Women Deliver.
Women Deliver, which has its headquarters in New York, is a global advocacy organisation which brings together voices from around the world to call for action to improve the health and well-being of girls and women.
It will organise the conference with the support of the Malaysia Convention & Exhibition Bureau (MyCEB).
Dr Raj said Malaysia had been noted for its efforts to improve women's health and reduce maternal mortality as a national initiative and a national priority long before international agencies called for attention to lower maternal mortality.
She said the selection of Malaysia as the venue of the conference was based on the government's commitment to improve the health of the people.
"Malaysia is internationally recognised for its comprehensive and well-planned health care system reaching out to remote rural populations and providing free or affordable health care across all ages.
Full report at:
http://thestar.com.my/news/story.asp?file=/2012/5/12/nation/20120512122404&sec=nation
-----------
Malaysian tribunal finds Bush guilty of war crimes
12 May 2012
Kuala Lumpur, May 12 (ANI): A war crimes tribunal in Malaysia has convicted former US President George W. Bush and seven of his allies as war criminals for torture and inhumane treatment of people at US military bases.
Being a tribunal of conscience, however, the five-member panel chaired by tribunal president judge Lamin Mohd Yunus had no power to enforce or impose custodial sentence on the convicted eight.
"We find the witnesses, who were victims placed in detention illegally by the convicted persons and their government, are entitled to payment of reparations," The Star quoted Yunus, as saying.
He added that the tribunal's award of reparations would be submitted to the War Crimes Commission and recommended the victims find a judicial entity that could enforce the verdict.
Meanwhile, on Thursday, head of the prosecution Prof Gurdial Singh Nijar said Bush had issued an executive order to commit war crimes in Iraq and Afghanistan.
Five former Iraqi detainees, who were tortured while being detained in various prisons including Guantanamo Bay, were called to give their testimonies before the Tribunal during the trial, which started on May 7.
http://www.newstrackindia.com/newsdetails/2012/05/12/33-Malaysian-tribunal-finds-Bush-guilty-of-war-crimes-.html
-----------
Irshad Manji book tour in Indonesia runs into trouble with Islamic 'thugs'
Tristin Hopper
12 May, 2012
Police crackdowns and attacks by religious extremists have attempted to derail the book tour of famed Muslim Canadian author Irshad Manji through Indonesia, a country she previously described as a symbol of "meaningful moderation in Islam."
"Four years ago, I came to Indonesia and experienced a nation of tolerance, openness and pluralism," said Ms. Manji. "Things have changed."
On Wednesday, after five tumultuous days of security threats and cancelled events, a book discussion with Ms. Manji was violently attacked by religious extremists believed to be with the Indonesian Mujahidin Council. "As the gangsters shouted, 'Where is Manji?' citizens shielded my body with theirs," said Ms. Manji in a statement she posted to Twitter on Thursday.
A colleague of Ms. Manji, Emily Rees, was rushed to hospital after her arm was struck by a metal bar. Two other attendees suffered head injuries.
Raised in Vancouver, Ms. Manji rose to prominence as an advocate for progressive Islam with her 2003 book The Trouble With Islam Today. Most controversially to many of her religious critics, she is openly lesbian.
Full report at:
http://news.nationalpost.com/2012/05/10/irshad-manji-book-tour-in-indonesia-runs-into-trouble-with-islamic-thugs/
----------
Attacks on author raise questions on pluralism in RI
12 May, 2012
Indonesia's claims that Islam and democracy can live together in peace have been called into question by the series of violent hard-line Muslim attacks on Canadian liberal author Irshad Manji.
Eva Kusuma Sundari, a lawmaker from the Indonesian Democratic Party of Struggle (PDI-P), said the attacks might taint Indonesia's image as a democratic country that promotes pluralism.
"Although I personally disagree with Manji's views, the attacks against her because of her standpoint were unacceptable," Eva told The Jakarta Post on Thursday.
Eva was commenting on the attack on Manji led by the Indonesian Mujahidin Council (MMI) during the launch of her book, Allah, Liberty and Love, at the Institute for Islamic and Social Studies (LKiS) Foundation in Yogyakarta on Wednesday.
Members of the MMI have defended the attack, which injured five.
Also on Wednesday, the rector of Gadjah Mada University in Yogyakarta cancelled a planned discussion of Manji's book on campus for "security reasons"
Last Friday, a similar discussion at the Salihara Cultural Center in Jakarta was stopped by police responding to concerns raised by a few dozen local residents, including members of the violent, hard-line Islam Defenders Front (FPI), who were angered over Manji's viewpoint that Islam should accept homosexuality.
Full report at:
http://www.thejakartapost.com/news/2012/05/11/attacks-author-raise-questions-pluralism-ri.html
----------
South Asia
2 NATO Troops Die in Afghanistan, 1 in Bomb Blast
12 May 2012
KABUL, Afghanistan (AP) — NATO says a bomb attack has killed one of its service members in southern Afghanistan, while another has died of non-battle related injuries.
NATO provided no other details about Saturday's deaths, including the nationalities of the troops. The coalition normally waits for member nations to provide those details.
Elsewhere, the spokesman for the governor of the northwestern province of Badghis says four police officers were killed Saturday when their vehicle was hit by a roadside bomb in Qadis district.
So far this month, 16 NATO service members have been killed in Afghanistan.
http://www.nytimes.com/aponline/2012/05/12/world/asia/ap-as-afghanistan.html?ref=world&gwh=C336772FC140A9352812141F3EDB380B
---------
North America
Pak 'terrorism accountability' bill introduced in US Congress
May 12, 2012
WASHINGTON: A far-reaching legislation has been introduced in the US Congress that would deduct USD 50 million from the aid to Islamabad for every American killed by terrorists operating from the safe havens in Pakistan with the "support" of ISI.
"Pakistan has for decades leveraged radical terrorist groups to carry out attacks in India and Afghanistan," Congressman Dana Rohrabacher said introducing the 'Pakistan Terrorism Accountability Act of 2012'.
The legislation would require the Department of Defence to list all Americans killed by terrorist groups operating with impunity inside Pakistan and Afghanistan and supported by elements of Pakistani government.
For each person killed, USD 50 million would be subtracted from US foreign assistance to Pakistan -- a requested USD 2.2 billion -- and given to the victim's family.
"For too long America has funded the Pakistani government, giving it free money, while elements of the ISI and Pakistan's military operate radical Islamic groups that are actively murdering Americans. Americans will not accept this," Rohrabacher, Chairman of the House Foreign Affairs Oversight and Investigations Subcommittee, said.
Full report at:
http://timesofindia.indiatimes.com/world/pakistan/Pak-terrorism-accountability-bill-introduced-in-US-Congress/articleshow/13107455.cms
---------
US lawmakers want Haqqani network named 'terrorist' group
May 12, 2012
WASHINGTON: The leaders of US congressional intelligence committees, who recently returned from a trip to Afghanistan, urged secretary of state Hillary Clinton on Friday to immediately designate the militant Haqqani network as a "terrorist" group.
US officials blame the al-Qaida-linked network for attacks in Afghanistan including assaults on embassies and the parliament in Kabul. The former chairman of the Joint Chiefs of Staff, Mike Mullen, called the Haqqani group a "veritable arm" of Pakistan's intelligence service.
The top Republican and Democrat on the Senate and House of Representatives intelligence committees, in a letter to Clinton, said their trip to Afghanistan last week reaffirmed concerns about the network.
"It was clear that the Haqqani Network continues to launch sensational and indiscriminate attacks against US interests in Afghanistan and the group poses a continuing threat to innocent men, women, and children in the region," the letter said.
Full report at:
http://timesofindia.indiatimes.com/world/pakistan/US-lawmakers-want-Haqqani-network-named-terrorist-group/articleshow/13106067.cms
---------
United States partially resumes military supplies to Bahrain
May 12, 2012
WASHINGTON: The United States said Friday it was partially resuming sales of military supplies to Gulf Arab ally Bahrain after having frozen most shipments last year amid a bloody crackdown on protests.
But in a nod to concerns over ongoing pro-democracy demonstrations, State Department spokeswoman Victoria Nuland said "the items that we are releasing are not used for crowd control."
Tear gas and stun grenades were excluded from the sales, according to US officials.
A senior US administration official told reporters on condition of anonymity that a frigate and harbor security boats as well as upgraded F-16 engines would be transferred to Bahrain as well as other items he declined to disclose.
The equipment and services were released "for the purpose of helping Bahrain maintain its external defense capabilities," Nuland said in a statement that did not describe the items.
She urged Bahrain to tackle "serious unresolved human rights issues" and warned the "country is becoming increasingly polarized."
"We are concerned about excessive use of force and tear gas by police," Nuland said.
Full report at:
http://timesofindia.indiatimes.com/world/us/United-States-partially-resumes-military-supplies-to-Bahrain/articleshow/13102912.cms
---------
Legislature approves bill to bar use of Islamic law
12 May 2012
TOPEKA, Kan — A bill designed to prevent Kansas courts or government agencies from making decisions based on Islamic or other foreign legal codes has cleared the state Legislature after a contentious debate about whether the measure upholds American values or appeals to prejudice against Muslims.
The Senate approved the bill Friday on a 33-3 vote. The House had approved it, 120-0, earlier in the week. The measure goes next to Republican Gov. Sam Brownback, who hasn't said whether he'll sign or veto the measure.
The measure doesn't specifically mention Shariah law, which broadly refers to codes within the Islamic legal system. Instead, it says that courts, administrative agencies or state tribunals can't base rulings on any foreign law or legal system that would not grant the parties the same rights guaranteed by state and U.S. constitutions.
But several supporters specifically cited the potential use of Shariah law in Kansas as their concern. Though there are no known cases in which a Kansas judge has based a ruling on Islamic law, supporters of the bill cited a pending case in Sedgwick County in which a man seeking to divorce his wife has asked for property to be divided under a marriage contract in line with Shariah law.
Full report at:
http://www.washingtonpost.com/national/on-faith/legislature-approves-bill-to-bar-use-of-islamic-law-other-foreign-codes-in-kansas-courts/2012/05/11/gIQAjLUBJU_story.html
---------
Africa
Senior Boko Haram Commander Caught: Nigeria Police
12 May 2012
ABUJA (Reuters) - Nigeria's police said on Saturday they captured a senior commander of the militant Islamist sect Boko Haram in Kano, the largest city in the north and scene of attacks this year that have killed hundreds of people.
Security sources also said that the man police say they caught, Suleiman Mohammed, was known to be a leading Boko Haram figure in Kano. The sect has denied the arrest of senior members claimed by the police in the past.
"We made an arrest Friday based on intelligence reports concerning his hideout and he was arrested successfully with his wife and children in his hideout," the police commissioner in Kano State, Ibrahim Idris, told Reuters.
"He is now being interrogated by the security agents. He has been flown to Abuja. He is Suleiman Mohammed, a Nigerian, Yoruba by tribe. He is the operational leader of the sect in Kano."
The Yoruba tribe is mostly based in the southwest, away from the focus of Boko Haram's violence in the north. The Yoruba are split between Christians and Muslims.
Full report at:
http://www.nytimes.com/reuters/2012/05/12/world/africa/12reuters-nigeria-bokoharam.html?ref=global-home
---------
First Salafist party licensed in Tunisia
12 May 2012
TUNIS: Tunisia's Islamist-led government has granted a license to a political party based on puritanical Salafi Islam for the first time in one of the most secular Arab nations, the party founder and a government source said yesterday.
While Islamists did not play a prominent role in the 2011 uprising that toppled secular President Zine Al-Abidine Ben Ali, a struggle over the role of religion in government has since polarized politics in the North African state.
Banned under Ben Ali, who severely repressed Islamists, the moderate Islamist Ennahda party won 42 percent of seats in Tunisia's first free election in October and now leads the government.
But ultra-conservative Salafi Islamist groups, who have pushed for the creation of an Islamic state and the imposition of Shariah, or Islamic law, did not take part in that ballot.
The newly-licensed Islah (Reform) Front will be eligible to take part in parliamentary elections due next year.
Mohammed Khoja, the head of the Reform Front told Reuters his Salafists respected democracy and the civil nature of the state. "There are some religious currents that say politics is dirty and does not agree with religion," he said by telephone.
Full report at:
http://arabnews.com/middleeast/article632572.ece
---------
Finding a Match, and a Mission: Helping Blacks Survive Cancer
By DONALD G. McNEIL Jr.
12 May 2012
A month after his 2009 graduation from Yale Law School, Seun Adebiyi learned he had not one but two lethal blood cancers and began an odyssey to find a bone-marrow donor. Mr. Adebiyi, 28, who came to this country from Nigeria as a child, made appeals through Yale, on radio stations, in a YouTube video and even on a trip to Nigeria to ask law students to volunteer.
But finally, his doctor called, saying that a Nigerian woman in this country had donated her baby's umbilical cord blood to a "cord-blood bank" and that the stem cells in it were a close enough match. After his own marrow — the source of his cancers — was wiped out, those cells were infused into him at Memorial Sloan Kettering Cancer Center. He has been in remission since.
Now he is trying to repay that debt, with an effort that experts say may save the lives of both Nigerians and black Americans. In February, he helped start Nigeria's national bone-marrow registry, the first in Africa outside South Africa. He is now raising money to start a cord-blood bank there.
Millions of Nigerians have blood cancers like leukemia or lymphoma, and about 4,000 black Americans die annually of them. Less than 20 percent of black Americans now find the perfect donor matches that could save their lives, while more than 70 percent of whites do. Without a registry and cord-blood bank, no Nigerians do.
Full report at:
http://www.nytimes.com/2012/05/12/health/a-match-and-a-mission-helping-blacks-battle-cancer.html?ref=world&gwh=401FB8A89636B26E648814E21D941EDB
---------
North Africa
Moderate Islamists expect gains in Algerian elections
12 May 2012
* Government hails remarkable turnout
* Analysts say legislative election can only maintain status quo
ALGIERS: The Algerian regime hailed a "remarkable" turnout as polling officials tallied votes Friday for legislative elections expected to hand a bigger share of power to moderate religious party.
Turnout had been expected to be very low after a campaign that produced no new faces and failed to draw crowds, but the interior minister announced a relatively high figure of 42.9 percent after polling closed Thursday.
The breakdown of the next national assembly was due later Friday but early estimates by the parties suggested that President Abdelaziz Bouteflika's National Liberation Front would retain the top spot, followed by its Islamist allies.
Speaking on the north African country's only channel in front of a framed picture of Bouteflika, Interior Minister Daho Ould Kablia hailed a "remarkable" turnout for polls that he said confirmed Algeria's democratic credentials.
The Green Algeria alliance had hoped to cash in on the wave of religious electoral triumphs that followed Arab Spring revolutions in Tunisia and Egypt. "The estimates I had Friday morning showed the FLN in the lead and the Green Alliance in second position," said Abderrahmane Saidi, an official from the alliance's main party, the Movement of Society for Peace (MSP).
Full report at:
http://www.dailytimes.com.pk/default.asp?page=2012\05\12\story_12-5-2012_pg4_1
---------
Mideast Asia
Iran, IAEA talks under scrutiny ahead of Baghdad
May 12 2012
Vienna : World powers will on Monday be closely following Iran's first talks with the UN nuclear agency in three months, for clues on whether Tehran means business at an upcoming crunch meeting in Baghdad.
The last time that Iran's envoy to the International Atomic Energy Agency, Ali Asghar Soltanieh, and chief inspector Hermann Nackaerts met officially was in early February on the second of two fruitless IAEA visits to Tehran.
Soltanieh said the resumption of the talks "proves Iran's determination to cooperate with the agency, confirms that claims against Iran are baseless, and shows that all of the Islamic republic's nuclear activities are peaceful."
The two days of discussions behind closed doors in Vienna "will be a good test of Iran's intentions in the whole (nuclear) issue," Bruno Tertrais, senior research fellow at the Foundation for Strategic Research in Paris, told AFP.
"The world powers will be watching closely to see if there are any signs of Iran shifting its position and becoming more accommodating," agreed Mark Fitzpatrick of the International Institute for Strategic Studies in London.
He cautioned however that any signs that Iran was using cooperation with the IAEA as a "bargaining chip" ahead would "get the Baghdad discussions off to a bad start".
Full report at:
http://www.indianexpress.com/story-print/948555/
---------
Iran wins release of Turkish journalists in Syria
12 May 2012
May 12 (Reuters) - Two Turkish journalists who went missing while reporting on the uprising in Syria two months ago were released on Saturday with Iran's help, Foreign Minister Ahmet Davutoglu announced.
The release of the pair demonstrated Iran's influence with its ally Syria, which lost Turkey's friendship when it cracked down on pro-democracy protests that erupted last year. Iran and Syria, both isolated by the West, have stuck by each other.
The two journalists were flown to Tehran, where they told Turkey's Anatolian news agency they were in good health and looking forward to being reunited with their families.
Full report at:
http://www.reuters.com/article/2012/05/12/syria-turkey-journalists-idUSL5E8GC10X20120512
-----------
Iran unites in choking on Persian Gulf omission from Google Maps
12 May 2012
US internet firm says 'body of water' was never labelled on mapping service, though Iranians still take to web to cry foul
It might have been mentioned by ancient cartographers and can be found on almost any atlas, but the Persian Gulf, a source of national pride for Iranians, has no place on Google Maps.
In a rare show of unity between the authorities and opposition, thousands of Iranians have taken to the internet to express their anger at the fact that it is not named, a move they suspect was politically motivated. They say Google removed the Persian Gulf's label from its mapping service. Users who search for it are directed to the right place on the map but the name is missing.
A Google spokesperson told the Guardian the reports were exaggerated and that it had not removed the term Persian Gulf, saying that "the body of water" had not been labelled from the beginning, like many other places.
The Persian Gulf is surrounded by Iran and its Arab neighbours, including Saudi Arabia, United Arab Emirates, Bahrain, Oman, Qatar and Kuwait. The term is not disputed internationally, with the UN and western countries referring to it by name. Arab states, however, often refer to it as the Arabian Gulf. Many media outlets avoid the controversy altogether by simply calling it as the Gulf.
Iran's Irna state news agency reported that Google had deleted the Persian Gulf's label from its maps service. Bahman Dori, a deputy in the country's ministry of culture and Islamic guidance, accused the organisation of spreading lies.
He told Irna: "By removing the Persian Gulf from internet, Google would not be able to hide the truth."
Full report at:
http://www.guardian.co.uk/world/2012/may/11/iran-persian-gulf-google-maps
---------
Turkish religion officials rule out haram fatwa for protests
12 May 2012
Malaysians will no longre gather to show their support for opposition parties after an Islamic body in the country issues a fatwa declaring anti-gov't rallies haram. REUTERS photo
An Islamic body in Malaysia, the National Fatwa Committee, announced May 6 that it was not permissible for Muslims to participate in any rally intending to oust a government or cause disturbance in the country. However, a religious official in Turkey disagreed, saying it was a constitutional right for people to participate in protests.
"Rioting, causing disturbances and damaging public property are all forbidden by Islam. This also applies to any intention to topple an elected government by organizing such demonstrations," the body's Chairman Dr. Abdul Shukor Husin said.
"No one is exempt and no one should support any efforts that can cause harm, anxiety or unrest among Muslims to the point of the community becoming split. Especially if there is bloodshed," he said.
Full report at:
http://www.hurriyetdailynews.com/turkish-religion-officials-rule-out-haram-fatwa-for-protests.aspx?pageID=238&nID=20227&NewsCatID=356
-----------
Turkish town bans alcohol for 'public good'
12 May 2012
The inner Aegean province of Afyonkarahisar has banned the sale and consumption of alcohol in public places, citing the interests of the "public good," daily Hürriyet reported this morning.
The ban, the first of its kind in Turkey, followed a statement by Health Minister Recep Akdağ on fighting against alcohol as well as smoking.
The ban forbids the sale and consumption alcohol in public places, including parks, picnic areas, gardens, bus stations, streets, gravesites, bridges, places of worship, cultural and historical sites and abandoned buildings.
Drinking alcohol in all kinds of vehicles, including public transportation, is also banned.
Explaining the reason for the decision, the Afyonkarahisar Governor's Office said the ban was designed to "ensure peace and security within the city's borders and prevent crimes."
"Alcohol consumers frequently occupy a number of places in the city, causing unrest in these areas and traffic accidents," the governor's office said. "This regulation was formed to keep the public order intact within the city and to prevent traffic accidents from occurring."
Those who violate the ordinance can be assessed a fine of 82 Turkish Liras.
http://www.hurriyetdailynews.com/turkish-town-bans-alcohol-for-public-good.aspx?pageID=238&nID=19413&NewsCatID=341
-----------
19,000 Syrian refugees return home from Turkey: Turkish government
12 May 2012
The Turkish government has announced that nearly 19,000 Syrian refugees who fled violence into neighboring Turkey have now returned home.
The Prime Ministry Disaster and Emergency Management Directorate said in a statement that some 22,632 Syrian refugees are now living in Turkish camps, down from more than 41,000 refugees who had fled to Turkey since mid-March 2011 when the unrest hit Syria.
The statement added that more than 1,000 Syrian refugees left Turkey during the past week alone.
The refugees have been camping in Turkish provinces such as Hatay, Gaziantep, Urfa and Kilis near the Syrian border.
Syria has been the scene of deadly unrest since early last year. Opposition groups blame Damascus for the deadly violence but the government says foreign-backed armed gangs are behind the bloody unrest.
A number of UN observers are currently monitoring a ceasefire in Syria that took effect on April 12.
The ceasefire was part of the peace plan proposed by Annan in March.
http://www.presstv.ir/detail/2012/05/12/240805/syrian-refugees-return-turkey/
-----------
Turkey wants to open fresh page in relations with France
12 May 2012
Turkey has threatened to freeze diplomatic relations with the EU when Cyprus takes on the rotating EU presidency for six months in July if there is no reunification deal. (File photo)
Turkey is hoping that new French president Francois Hollande will open a fresh page in relations with Ankara and, unlike his predecessor, back the Muslim-majority country's EU bid.
"We are hoping that he (Hollande) would open a new page in the very deep and fruitful historical relations between Turkey and France," Turkey's European Affairs Minister Egemen Bagis told AFP.
Ankara would like to see France "become one of the champions of Turkish integration in the EU," as it was under president Jacques Chirac, he said.
That was not the case under the outgoing French leader Nicolas Sarkozy, who opposed Turkey becoming a full member of the European Union.
Tensions between Ankara and Paris also flared this year over a French law making it a crime to deny the Armenian massacre by Ottoman Turks, a point of World War I history that Turkey disputes. The law was eventually overturned by the French Constitutional Court.
Full report at:
http://english.alarabiya.net/articles/2012/05/12/213581.html
-----------
Egyptian Campaign Focuses on Islam's Role in Public Life
By DAVID D. KIRKPATRICK
12 May 2012
CAIRO — Twelve days before a presidential election, a televised debate that carried on into the early morning hours Friday has put the role of Islam in Egypt's government at the center of the campaign, with the self-described liberal Islamist in the race coming under fire over whether his agenda is too religious or too secular.
The four-hour debate — which would have been unthinkable before last year's ouster of Hosni Mubarak — returned repeatedly to questions about the meaning of Islamic law, its place in Egypt, and the role of Islamist groups like the Muslim Brotherhood. Although all the candidates say public security and the economy are the most salient issues to voters, the debate established the polarizing question of the role of Islam in public life as the main point of contrast among the leading candidates.
And both during the debate and outside, the attacks from both secularists and Islamists on Abdel Moneim Aboul Fotouh, who is campaigning as a liberal Islamist, suggested that rivals now see him as the candidate to beat.
During the debate, Amr Moussa, a former foreign minister running as the secular alternative to an "experiment" in Islamist rule, repeatedly accused Mr. Aboul Fotouh of harboring a hard-line Islamist agenda — sometimes by relying on distortions of his rival's record.
Full report at:
http://www.nytimes.com/2012/05/12/world/middleeast/egypt-election-dominated-by-question-of-islam.html
---------
Saudi King Abdullah sacks conservative adviser
12 May 2012
Saudi King Abdullah has sacked one of his most hardline advisers, Sheikh Abdelmohsen al-Obeikan.
Sheikh Obeikan, who was an adviser to the royal cabinet, opposed moves to relax gender segregation.
The dismissal comes shortly after Sheikh Obeikan attacked plans by "influential people to corrupt Muslim society by trying to change the natural status of women".
Saudi officials did not give a reason for Sheikh Obeikan's departure.
His recent comments were taken to be an attack on tentative steps towards relaxing some stricter interpretations of Saudi law.
King Abdullah has promised women the right to vote in future elections, has opened the country's first co-educational university and introduced measures against domestic violence.
The head of Saudi Arabia's religious police, the "mutawa", was also replaced in January, with the new head widely seen as more moderate than his predecessor.
Sheikh Obeikan achieved a degree of notoriety several years ago with a decree suggesting that unrelated Saudi men and women could mix so long as the man drank the woman's breast milk, thus creating a maternal bond between them.
http://www.bbc.co.uk/news/world-middle-east-18042467
---------
Iran Presses for Official to Be Next Leader of Shiites
By TIM ARANGO
12 May 2012
NAJAF, Iraq — As the top spiritual leader in the Shiite Muslim world, Grand Ayatollah Ali al-Sistani has instructed his followers on what to eat and how to wash, how to marry and to bury their dead. As a temporal guide, he has championed Iraqi democracy, insisting on direct elections from the earliest days of the occupation, and warned against Iranian-style clerical rule.
Frail at 81, he still greets visitors each morning at his home on a narrow and sooty side street here, only steps from the glimmering gold dome of the Imam Ali Shrine. But the jockeying to succeed him has quietly begun, and Iran is positioning its own candidate for the post, a hard-line cleric who would give Tehran a direct line of influence over the Iraqi people, heightening fears that Iran's long-term goal is to transplant its Islamic Revolution to Iraq.
The succession, a lengthy and opaque process in which the outcome is by no means assured, could shape the interplay of Islam and democracy not only in Iraq, where Shiites are the majority, but also across a Shiite Muslim world that stretches from India to Iran, Lebanon and beyond. The ayatollah's prescriptions for daily living are imbued with the force of law among the majority of the world's 200 million or so Shiites who follow him, his religious teachings are sacrosanct and his political sway is powerful.
Full report at:
http://www.nytimes.com/2012/05/12/world/middleeast/iran-promotes-its-candidate-for-next-shiite-leader.html?ref=global-home&gwh=C2D418170D74E5FD1506F34929A458AF
---------
WHO urges Israel to act on Palestinian hunger-strikers
May 12, 2012
JERUSALEM: The World Health Organisation today urged Israel to give quick and suitable health care to Palestinian hunger-strikers, including their transfer to civilian hospitals.
Close to 1,600 Palestinian prisoners are currently refusing food in protest against solitary confinement, detention without charge and restrictions on family visits, education and various privileges.
The WHO said it was "extremely concerned" about their health, noting one was suffering from the blood condition thalassaemia and has "refused his regular life-saving blood transfusions in addition to food."
"WHO calls on the Israeli authorities to ensure immediate and adequate access to appropriate ongoing health care for the hunger-strikers," it said in a statement from its Jerusalem office.
"WHO also requests Israel to ensure that... release to hospital be facilitated for prisoners requiring medical treatment."
The hunger strikes have drawn international attention, with the European Union and United Nations expressing concern.
Two of those protesting, Bilal Diab and Thaer Halahla, marked their 73rd day without food today.
Full report at:
http://timesofindia.indiatimes.com/world/middle-east/WHO-urges-Israel-to-act-on-Palestinian-hunger-strikers/articleshow/13101531.cms
---------
Syrian troops shell rebel stronghold of Homs, say activists
12 May 2012
At least two people were wounded on Saturday when Syrian troops bombarded areas in the dissident province of Homs, opposition activists said, in the latest violation of a month-old United Nations-brokered ceasefire.
Omar Homsi, an activist based in Homs, said: "Heavy shelling targeted the district of Al Koussor." He told DPA that troops also stormed suburban areas in the central province of Hama, another focal point in the anti-regime revolt.
Homs has been a key stronghold of rebels demanding the ouster of President Bashar al-Assad since a pro-democracy uprising erupted in March 2011.
The military on Saturday set up more checkpoints across the northern city of Aleppo after an overnight bombing targeted the offices of the ruling Baath Party, killing at least one person, according to the opposition.
The blast came hours after the authorities claimed to have foiled a suicide attack in Aleppo.
Twin suicide bombings Thursday in the capital Damascus killed at least 55 people, and wounded 372.
The ceasefire that went into effect on April 12 was a key element of UN-Arab League envoy Kofi Annan's peace plan. Its near-daily violations and the persistent violence has raised doubts about the viability of the plan.
http://www.thehindu.com/news/international/article3411861.ece
---------
Syria 'foils' Aleppo suicide attack
12 May 2012
Tens of thousands of protesters defied Syrian regime gunfire and took to the streets, as state TV said the army foiled a would-be suicide attack a day after twin bombings in Damascus killed dozens.
At least 12 people died across Syria, including a guard gunned down after a large explosion outside Baath party offices in Aleppo on Friday evening, hours after the suicide bombing was reportedly thwarted in the northern city.
"The blast was powerful but we do not know what was the origin," said Rami Abdel Rahman of the Syrian Observatory for Human Rights. "We can confirm one death — the guard of the Baath party office."
An opposition activist on the ground in Aleppo, Syria's second-largest city, told AFP the blast happened near a park which regime forces had emptied out of before it went off at around 8:45 pm (1845 GMT).
The activist, Mohammed al-Halabi, added however that there was a chance the explosion was caused by a sound bomb.
It came only hours after forces loyal to President Bashar al-Assad opened fire on protesters during a demonstration Aleppo, killing one civilian, said the Observatory.
Also on Friday, state television said the army foiled a would-be suicide attack in Aleppo by a bomber whose car was laden with 1,200 kilos (2,640 pounds) of explosives.
Full report at:
http://www.khaleejtimes.com/kt-article-display-1.asp?xfile=/data/middleeast/2012/May/middleeast_May155.xml&section=middleeast
---------
Shaikh Mohammed to honour federal govt excellence award winners
12 May 2012
His Highness Shaikh Mohammed bin Rashid Al Maktoum, Vice-President and Prime Minister of the UAE and Ruler of Dubai, will the award ceremony of the second cycle of Emirates Government Service Excellence Award in Abu Dhabi on May 13.
The event will be organised at the Emirates Palace by the Shaikh Khalifa Government Excellence Programme (SKGEP). Shaikh Mohammed will honour the winners in the presence of a group of Shaikhs, ministers and senior officials.
The Emirates Excellence Award is part of the Shaikh Khalifa Government Excellence Programme which was approved last year by Shaikh Mohammed in a drive to make the UAE government one of the best in the world.
The first of its kind at the federal level, the programme was designed to provide federal public institutions a road map to help them improve their performance, to support a healthy economy and to unify their management practice in a balanced holistic model.
The Prime Minister's medals are granted to distinguished employees in six employment positions: supervisory, technical, technological and administrative areas, field work and distinguished novice employee.
The award is the highest ranking corporate excellence decoration and has five categories: the main category, which includes awards for entities, zones and departments based on the total number of excellence points; the sub-categories, which include awards for the entity, zone or department that achieves the highest results according to each excellence criteria; the Best Practice category, which covers creativity, performance management, information management, electronic excellence and government.
http://www.khaleejtimes.com/kt-article-display-1.asp?xfile=data/nationgeneral/2012/May/nationgeneral_May182.xml&section=nationgeneral
---------
Militant video claims responsibility for deadly Syria blasts
12 May 2012
BEIRUT (AP) – A video posted online in the name of a shadowy militant group late Friday claimed responsibility for twin suicide bombings in the Syrian capital this week that killed 55 people.
In the video, a group calling itself the Al-Nusra Front says the bombing was in response to attacks on residential areas by the regime of President Bashar Assad.
"We fulfilled our promise to respond with strikes and explosions," a distorted voice says, reading black text that rolls across a white screen while Islamic chanting plays in the background.
The video's authenticity could not be independently verified. The Al-Nusra Front has claimed past attacks through statements posted on militant websites. Little is known about the group, although Western intelligence officials say it could be a front for al-Qaida.
Western officials say there is little doubt that Islamist extremists, some associated with al-Qaida, have made inroads in Syria as instability has spread since the start of the uprising against President Bashar Assad 14 months ago.
But much remains unclear about their numbers, influence and activities inside Syria.
Their presence adds a wild card element to the Syria conflict that could further hamper international efforts to end it.
World powers are backing a peace plan presented by international envoy Kofi Annan that calls for a cease-fire to allow for talks on a political solution to the conflict.
Full report at:
http://www.usatoday.com/news/world/story/2012-05-12/video-deadly-syria-bombings/54915868/1
---------
Nuclear Negotiator Seeks 'Beginnings of the End' of Iran Dispute
By RICK GLADSTONE
12 May 2012
The lead negotiator for the six-nation group bargaining with Iran over its contentious uranium enrichment program said Friday that she hoped to achieve "the beginnings of the end" of the dispute at the next meeting, to be held in Baghdad on May 23.
The negotiator, Catherine Ashton, the European Union's foreign policy chief, did not offer specifics about the substance of the next meeting, the second since Iran and the so-called P5-plus-1 nations — the five permanent members of the United Nations Security Council plus Germany — announced on April 1 that they were resuming discussions after a lapse of more than a year. Both sides described the first meeting in Istanbul on April 13 and 14 as constructive.
Western powers suspect that Iran is enriching uranium as part of an effort to achieve the ability to make nuclear weapons. Iran has insisted that its enrichment is for peaceful purposes and has defied Security Council demands that it suspend the program. The dispute has escalated tensions in the Middle East and raised fears that Iran's nuclear facilities would be attacked by Israel, which regards Iran as its top enemy. But the belligerent-sounding rhetoric has quieted somewhat with the resumption of talks.
Full report at:
http://www.nytimes.com/2012/05/12/world/middleeast/nuclear-negotiator-seeks-beginnings-of-the-end-of-iran-dispute.html?ref=world
---------
URL: https://newageislam.com/islamic-world-news/new-age-islam-news-bureau/visits-of-imam-e-haram--is-this-meant-to-promote-saudi-agenda-of-promoting-shia-sunni-strife?/d/7311