New Age Islam News Bureau
16 Dec 2018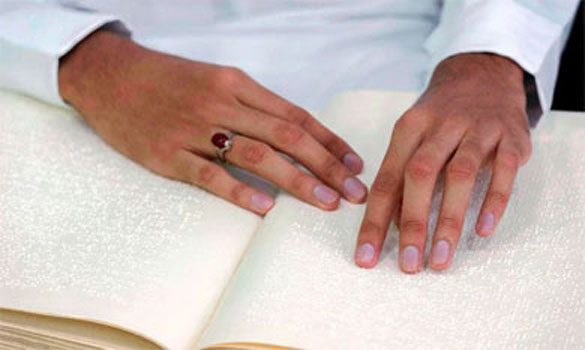 A blind Saudi reads in braille a copy of the Quran, Islam's holy book, inside a mosque on the first day of the holy fasting month of Ramadan in the coastal town of Qatif, 400 kms east of Riyadh, on May 27, 2017. (AFP)
-----
• 'Visit Our Mosque' Programme: To Understand Islam and Its Rituals, a Special Tour Inside a Mosque in Pune
• Sign Language and Braille Qur'ans To Help Pilgrims At Two Holy Mosques
• Al Qaeda Man Held in Bangladesh While Coordinating Campaign In Favour Of Photographer Shahidul Alam
• Jamaat Is a Threat to Bangladesh's Democracy, Progress: US Congressman Banks
• Mujahid: Don't Treat Non-Muslim Amanah Members as Second-Class Citizens
India
• 'Visit Our Mosque' Programme: To Understand Islam and Its Rituals, a Special Tour Inside a Mosque In Pune
• Babri, Triple Talaq to Be On Agenda at AIMPLB Meet In Lucknow on Sunday
• Muslim Arm of RSS To Join Temple Rally
• 7 civilians die trying to stop J&K encounter, 3 Hizbul men also killed
--------
Arab World
• Sign Language and Braille Qur'ans To Help Pilgrims At Two Holy Mosques
• Arab Parliament Urges Arab League To Reinstate Syria
• Report: Damascus to Reciprocate Israel's Offensives Equally
• US Setting up More Military Bases in Raqqa near Border with Turkey
• Tens of US-Backed SDF Forces Flee As Turkish Army Prepares for Assault in Northern Syria
• Turkish Army Pounds Kurdish Positions in Northern Syria Near Border with Turkey
• Daesh Terrorists Abandon Commander While Fighting SDF Forces
--------
South Asia
• Al Qaeda Man Held In Bangladesh While Coordinating Campaign In Favour Of Photographer Shahidul Alam
• Can We Stop Xenophobia That Led To Genocide Of The Rohingya?
• Taliban's military commission chief killed in coalition airstrike in Helmand
• Afghanistan and Pakistan sign MoU to fight against terrorism
--------
North America
• Jamaat Is a Threat to Bangladesh's Democracy, Progress: US Congressman Banks
• US State Lawmaker Accused Of Funding Anti-Muslim Hate Group
• Georgia Career Institute student expelled for converting to Islam
• War on jihadists won't end unless West tackles root causes, say experts
--------
Southeast Asia
• Mujahid: Don't Treat Non-Muslim Amanah Members as Second-Class Citizens
• China, Afghanistan, Pakistan Agree On Joint Anti-Terror Efforts
• Malaysia's pilgrims' fund scandal strikes at core of Malay worries
• PPBM the natural choice for Sabah Umno leaders, say analysts
--------
Mideast
• Palestinians Slam Australia's Recognition of Jerusalem Al-Quds as Israel Capital
• Yemen's Houthis Dismiss UN Claims about Final Truce in Hudaydah
• Palestinians slam Australia's move on Jerusalem
• Houthi militias loot Hodeidah port ahead of agreed withdrawal
• Turkey won't 'give up' on Khashoggi murder probe: Minister
• Israel's Chief of General Staff travelled to UAE twice last month: Report
• Israel razes home of 'Palestinian stone thrower'
--------
Europe
• Austrian Ban on Muslim, Turkish Symbols Denounced
• War on Militants 'Won't End Unless West Tackles Root Causes'
• EU urges Turkey to refrain from 'unilateral' Syria move
• UK to establish military base in Kuwait: Report
• EU calls on Turkey to refrain from any unilateral action in Syria
• Father of Strasbourg attacker said his son backed Daesh
--------
Africa
• ISIS Leaflets Containing Detailed Terror Attack Plans Found In Libya
• Conditions improving for American return to Libya: US Marine commander
• Israeli weapons fueling South Sudan civil war: Report
--------
Pakistan
• Pakistan Army Chief Confirms Death Sentence for 15 Militants
• Pakistan Court Acquits 2 Prime Suspects in Sarabjit's Murder Case
• BBC says omission of Jadhav's mention from Pak minister interview 'not an act of censorship'
• Afghan border fence to be ready by Dec 2019: ISPR
• Social media companies cooperated with Pakistan: Fawad
• Kartarpur corridor: Russian envoy acknowledges Pakistan's commitment to peace
Compiled by New Age Islam News Bureau
URL: https://www.newageislam.com/islamic-world-news/visit-our-mosque-programme-understand/d/117171
--------
'Visit Our Mosque' Programme: To Understand Islam And Its Rituals, A Special Tour Inside A Mosque In Pune
December 16, 2018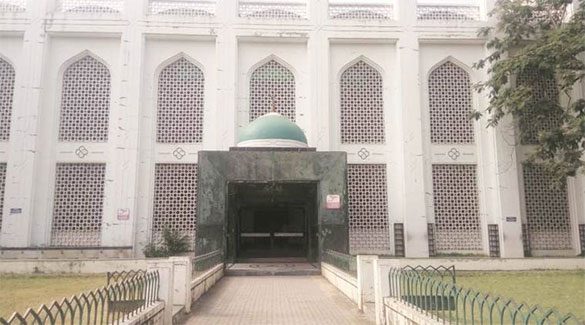 Azam Campus Mosque
--------
"I always had a curiosity about Islam and what actually happens behind the closed doors of a masjid," said Vikas Gavali, who visited the Azam Campus Mosque under the 'Visit Our Mosque' programme, wherein people from other religions were given a tour of the Islamic place for prayer.
Islamic Information Centre, Pune, has organised the two-day programme on Saturday and Sunday to promote harmony and goodwill. "Though our beliefs are different, we all are children of the same God. We want more and more people to come here, see what exactly Islam means. That is why we have organised this visit," said Mushtaq Bhai, who acted as a guide for the tour.
He took the visitors to a row of water taps and small seats in front of them, where, before entering the mosque, 'Wazu', a cleansing ritual, is performed.
After that, the group entered the main mosque where namaaz is performed. "Every Muslim, while doing namaaz, faces Mecca. The black stone in Mecca can 'neither benefit, nor harm', but we all face it as a symbol of unity and togetherness," said Karimuddin Sheikh. After this, Mushtaq Bhai recited the first part of namaaz for the visitors.
They were then taken to a small compartment, where the Imam sits and recites namaaz. "A Muslim is expected to perform namaaz five times a day. Each mosque has specific timings for this. Usually we recite first seven verses of the Quran," Karimmuddin added.
It was followed by a question and answer session, where visitors asked questions about 'Sunnat, Dargah, Burkha' and answers were provided without hesitation, he said. When asked about the burkha, Karimuddin said: "Burkha is for the safety of women. But burkha does not stop them from getting education and working."
"We go to churches, Gurudwaras etc, but visiting a mosque is altogether a different experience. I have entered a mosque for the first time. Before this, neither were we offered a visit, nor had we asked for it. May be, we were afraid. But after today's visit, many of my misunderstandings have been cleared," said Gayatri Vaidya of Stree Mukti Sanghatna.
https://indianexpress.com/article/cities/pune/to-understand-islam-and-its-rituals-a-special-tour-inside-a-mosque-5495713/
--------
Sign language and Braille Qur'ans to help pilgrims at Two Holy Mosques
December 16, 2018
MAKKAH: Sign language, Braille Qur'ans and electric wheelchairs are some of the new features in Makkah and Madinah to help pilgrims with disabilities to execute the religious rites of Hajj and Umrah.
An official at the General Presidency for the Affairs of the Two Holy Mosques described those with disabilities as "highly motivated people with special powers" and that services had been established to aid them, providing them with ease and comfort and avoiding complications even during peak times.
Ahmed Al-Burqati, who is tasked with helping people at the presidency, told Arab News there were designated entrances to ease access to prayer areas, including the ones on the ground and first floors of the King Fahd expansion at the Grand Mosque in Makkah.
Other provisions include a pen that serves as a Qur'an reader, and help for holding and carrying Qur'ans for people unable to hold them. Copies of the Qur'an in Braille along with other religious booklets are available, as are on-site specialists to help pilgrims during prayer times and guide them through the mosque sites, he added.
Ahmed Badawi, an Egyptian pilgrim performing Umrah, said he was not expecting to find such services awaiting him in the Grand Mosque compound.
Other special services at the holy mosques include: Wheelchairs transported in golf carts to prayer areas; designated entrances; sign language interpreters for those with hearing or speech impairments; canes for the blind and visually impaired; and electric wheelchairs to perform key religious rites such as tawaf.
http://www.arabnews.com/node/1421391/saudi-arabia
--------
Al Qaeda Man Held in Bangladesh While Coordinating Campaign In Favour Of Photographer Shahidul Alam
December 15, 2018
An active member of banned militancy outfit Hizbut Tahrir, who also has connections with Al Qaeda has been arrested in early hours of December 15, 2018 while coordinating campaign in favour of photographer Shahidul Alam.
According to information, members of the law enforcing agencies arrested Mehedi Masnad Saimum from Dhaka's Baridhara DOHS area as he was giving direction to the members of Hizbut Tahrir in pasting posters at different parts of the city demanding withdrawal of the case filed against Shahidul Alam. It may be mentioned here that, charges under the Cyber Crime Act of Bangladesh was brought against Shahidul Alam for inciting anarchy in the country by using school children. As per suggestions of Al Jazeera English service, Shahidul Alam had used the school children in a "road safety" movement, as Al Jazeera told him, using school children in such movements would bring huge media attention in favour of Mr. Alam.
Our correspondent said, Hizbut Tahrir posters were found in various parts of Dhaka city, where the militancy group demanded withdrawal of "false case" brought against "prisoner of conscious" Shahidul Alam. This group had circulated separate posters in English and Bangla. In the Bangla poster, Hizbut Tahrir had termed Prime Minister Sheikh Hasina as a "traitor". It also called for establishing Caliphate under the leadership of Hizbut Tahrir.
Arrested Hizbut Tahrir man Mehedi Masnad Saimum completed his Masters in Business Administration from the Independent University of Bangladesh in 2018. He is working with a local business conglomerate named Bally Group. Since 2016, he was motivated by an Al Qaeda man named Siam. He has been associated with Hizbut Tahrir since many years.
Mehedi Masnad Saimum has been one of the most active member of Hizbut Tahrir and he was giving jihadist indoctrination to local youths and luring them in joining "battle against the enemies of Islam."
According to information, international terror outfits are using Hizbut Tahrir as their local franchise and were plotting attacks on the Western diplomats in Dhaka prior to the upcoming general election in Bangladesh.
Commenting on the arrest of Al Qaeda linked Mehedi Masnad Saimum and Hizbut Tahrir's exposed solidarity with photographer Shahidul Alam, counterterrorism experts said, the sudden emergence of Shahidul Alam as a "blue-eyed" darling of several prominent figures in the world already sound dubious. It is gradually becoming clear that Mr. Alam has political ambition and has already started giving his opinion on the Bangladeshi politics to the global media.
They added, Hizbut Tahrir has strong base in the UK and it is most likely, Shahidul Alam had established discreet connections with this militancy outfit through any of his contacts in Britain.
It may also be mentioned here that, Shahidul Alam is violently anti Israel and considers ISIS kingpin Abu Bakr al Baghdadi as a "creation of Mossad."
Although Bangladesh government had banned Hizbut Tahrir many years back, the website of the militancy group is still live. In a post dated November 29, 2018, this militancy group had termed India as a "Musrik" (apostate) and "Enemy" state. The headline of the post is: "Week Long Tour by 25 Bangladesh Army Officers and their Spouses in India: An Evil Ploy by this Mushrik Enemy State to Recruit its Agents with the Cooperation of Treacherous Hasina Regime."
Hizbut Tahrir's media office is mentioned to as: Al Mazraa, P.O. Box 14-5010, Beirut, Lebanon, Tel: +96-113-07594, Mobile: +96-171-724043.
Hizbut Tahrir has 29 branches throughout the world including America. The America chapter of Hizbut Tahrir is maintaining a separate website. In America, this militancy group's phone number is +1-202-930-1924.
Hizbut Tahrir's Palestine chapter website is here, while the Britain chapter's website of this militancy outfit is here.
Hizbut Tahrir (Hizb ut-Tahrir) preaches Caliphate and has expanded to 50 countries with over one million followers. This group was founded in 1953 by a Palestinian named Taqiuddin-at-Nabhani [Muhammad Taqi al-Din bin Ibrahim bin Mustafah bin Ismail bin Yusuf al-Nabhani]. He studied Sharia law at Al-Azhar University and the Dar-ul-Ulum college of Cairo.
In the Western nations, this militancy outfit is extremely active in the United Kingdom and has been recruiting members mostly from the educational institutions. This militancy group maintains deeper ties with international terror outfits such as Al Qaeda and ISIS. It also has been recruiting jihadists for joining war against the Jewish State.
https://www.weeklyblitz.net/news/al-qaeda-man-held-in-bangladesh-while-coordinating-campaign-in-favor-of-photographer-shahidul-alam/
--------
Jamaat is a threat to Bangladesh's democracy, progress: US Congressman Banks
2018-12-15
"Bangladesh is a young democracy that struggles with radical groups attempting to subvert Bangladesh's progress all while seeking political power for themselves," Congressman Jim Banks (R-Indiana) said.
He was speaking at a discussion on "Stability, Democracy, and Islamism in Bangladesh" at Hudson Institute in Washington on Thursday afternoon.
The institute convened a panel to discuss politics in Bangladesh and the country's upcoming elections.
Panellists included Liberty South Asia's Seth Oldmixon, the Middle East Forum's Sam Westrop, and Abha Shanker of the Investigative Project on Terrorism.
The panel was moderated by Ambassador Husain Haqqani, Hudson Institute Director for South and Central Asia programming.
In his opening remarks, Congressman Banks who recently introduced a bipartisan resolution in the House of Representatives said these violent theocratic groups have committed violent acts against religious minority Christians, Hindus, Buddhists and moderate Muslims in an attempt to silence their voices and discouraged them from participating in a democratic process.
He said just days ago, two campaign workers were killed and dozens injured as tensions rise before the elections on Dec 30. Other political actors see these groups as a threat as well.
Banks said the Gono Forum president earlier had stated his party will not join the Bangladesh Nationalist Party if the Jamaat remains part of it.
The Congressman said the United States should support the efforts of Bangladesh government to combat the radical Islamist groups and to reaffirm the rights of the religious minorities.
Banks said the resolution he introduced has called on the USAID and the US State Department to refrain from any partnership or any funding arrangement from any organisations affiliated with radical Islamist groups in Bangladesh.
He recalled that previous elections have been the breeding grounds for these violent radical groups who have committed hundreds of acts of violence against religious minorities, minority-owned businesses and houses of worships.
The congressman said Bangladesh is a booming democratic country in the South Asia region with the growing presence in the global stage. "However, Islamist groups like Jamaat-e-Islami threatened the country's prosperity."
Banks said Bangladesh is a majority Muslim country that has an overwhelmingly positive view of the United States. Quoting a recent PEU opinion survey, he said 76 percent of those in Bangladesh have a positive view of the US.
He said Bangladesh shares critical strategic partnership with the US. In July 2017, the US and Bangladesh leaders dedicated a multipurpose training facilities for Bangladesh Institute for peace support training operations.
The US has provided $3.6 million to facilitate training to peacekeepers deployed for the UN peace mission.
The Congressman praised Bangladesh as one of the largest contributors of military personnel to the UN machines, playing a vital role in security cooperation.
Keeping in mind the upcoming elections in Bangladesh, Banks said in a few weeks, the world will watch the elections on December 30. The U.S. stands with the people seeking free, fair and safe democratic elections and religious freedom, he added.
Founded in 1961 by strategist Herman Kahn, Hudson Institute challenges conventional thinking and helps manage strategic transitions to the future through interdisciplinary studies in defence, international relations, economics, health care, technology, culture, and law.
https://bdnews24.com/politics/2018/12/15/jamaat-is-a-threat-to-bangladeshs-democracy-progress-us-congressman-banks
--------
Mujahid: Don't treat non-Muslim Amanah members as second-class citizens
December 16, 2018
PETALING JAYA: Amanah vice-president Mujahid Yusof Rawa today warned that stern action would be taken against those who sidelined the party's non-Muslim members.
The Star reported that Mujahid, who is the minister in charge of Islamic affairs, said the non-Muslim members should not be treated as second-class citizens.
"This is a warning from me, if there are any complaints of them (non-Muslims) being sidelined, action will be taken.
"Don't even, or ever, think that they don't have any rights merely because they are non-Muslims. Be careful," the English daily quoted him as saying at Amanah's National Convention in Ipoh.
Mujahid said those who viewed Amanah's non-Muslim members as second-class citizens were not fit to be in the party.
"I mean it from the bottom of my heart," the Parit Buntar MP said.
Amanah had in the past said that the party's greatest achievement was that non-Muslim members were completely equal to its Muslim members.
In 2016, the party's secretary-general Anuar Tahir said non-Muslim members were given leadership roles equal to their Muslim counterparts be it at the divisional, state or national level.
https://www.freemalaysiatoday.com/category/nation/2018/12/16/mujahid-dont-treat-non-muslim-amanah-members-as-second-class-citizens/
--------
India
Babri, triple talaq to be on agenda at AIMPLB meet in Lucknow on Sunday
Dec 15, 2018
LUCKNOW: Around 50 members of the All India Muslim Personal Law Board's (AIMPLB) executive committee (EC) will be meeting on Sunday to discuss the legal course to be taken by the board on the Babri Masjid-Ram Janmbhoomi dispute.
The annual EC to be held at Darul Uloom Nadwatul Ulama will be held under the president-ship of Maulana Rabey Hasani Nadwi, where the legal committee of the board will be presenting its report to the EC on the Ayodhya issue. EC member and parliamentarian Asaduddin Owaisi is also expected to be part of the meeting.
The EC might also put a stamp on the decision to approach the Supreme Court (SC) if the central government brings in an ordinance for Ram temple construction.
Among other decisions taken in the July meeting of AIMPLB held in Delhi, to be reviewed by the EC, the members will also deliberate on the government's ordinance on instant triple talaq. "The board will discuss what implications the ordinance has on Muslims as a whole and women and what the board can do about it," said AIMLPB member, Maulana Khalid Rasheed.
The board, on Saturday held a one-day workshop of its women's wing in Lucknow which was presided over by AIMPLB general secretary Maulana Wali Rahmani. "Islamic Shariat is one that is protective of women." Secretary of the board, Zafaryab Jilani said that the women's wing has been formed to disseminate the board's message to each and every Muslim household."
https://timesofindia.indiatimes.com/city/lucknow/babri-triple-talaq-to-be-on-agenda-at-aimplb-meet-in-lucknow-on-sunday/articleshow/67109822.cms
--------
Muslim arm of RSS to join temple rally
Dec 16, 2018
Pune: The Pune wing of the Muslim Rashtriya Manch (MRM) issued a statement saying its members would be joining Indresh Kumar, the chief patron of MRM India, in Delhi on December 16 in support of building the Ram Mandir in Ayodhya.
"MRM India has called all its members to assemble and show their unity. We have requested our members in Pune as well as any others who are interested in promoting peace to join the movement (to build the Ram Mandir)," said Ali Daruwalla, who was recently appointed the president of MRM-Pune, which is an affiliate of the Rashtriya Swayamsevak Sangh (RSS).
Daruwalla added, "To restore peace (among all communities), the best solution lies in the Muslims taking the lead in the Ram Mandir construction issue."
https://timesofindia.indiatimes.com/city/pune/muslim-arm-of-rss-to-join-temple-rally/articleshow/67110601.cms
--------
7 civilians die trying to stop J&K encounter, 3 Hizbul men also killed
Dec 16, 2018
SRINAGAR: The father of a three-month-old was among seven civilians killed when security forces opened fire at civilians protesting in Kharpora Sirnoo area of Pulwama in south Kashmir where a face-off between state forces and Hizbul terrorists was on. An Army jawan was killed in combat.
All three holed-up terrorists were gunned down in the encounter that reportedly wrapped up in 90 minutes.
The Valley is tense following the encounter and deaths of civilians.
Agitated protesters took to the streets in some areas, stone-pelters included. As more and more supporters came out in support of a threeday hartal call from Monday by Syed Ali Shah Geelani, Mirwaiz Umar and Yasin Malik, authorities imposed Section 144 for Saturday.
The seven civilians killed were among the residents of a clutch of villages trying to disrupt the anti-terror operation in Kharpora Sirnoo, where soldiers had cordoned off the terrorists' hideout in an open orchard. Villagers marched towards the encounter site and started pelting stones at the forces. The soldiers tried to disperse the crowd with warning shots and tear-gas, then resorted to firing upon them. Several civilians were injured, one died on the spot and six succumbed to injuries in a Srinagar hospital.
Police said the "crowds had come dangerously close" to the battle and did not heed the security forces' warning shots in the air, and that the deaths were "unfortunate".
Three Hizbul men were killed in an encounter in Pulwama (south Kashmir) on Saturday, including a jawan-turned-militant, Zahoor Ahmad Thokat of 173 Territorial Army, who had gone missing along with his service rifle from his camp in Baramulla on July 5, 2017. Police had at the time denied the desertion. His desertion is among a number of cases of police and security
forces joining militants' ranks since 2015. His induction into terrorism was confirmed by Hizbul chief Syed Salahuddin in Julyend last year, within days of his desertion.
Saturday's encounter was the 430th terror-related incident in the Valley in 2018, under Governor's rule since June 20 this year.
The Valley has seen a steady year-on-year uptick of such incidents since 2014, with overall rising numbers of soldiers, terrorists and civilians killed.
Seven civilians were killed while trying to stop the anti-terror operation, taking the number of civilians killed in protests and terror-related incidents in J&K so far this year to 79. Saying protests around encounter sites were the new normal, National Conference's Omar Abdullah criticised the forces, saying the encounter was "badly executed". "Any way you look at it this was a badly executed encounter. Protests around encounter sites are now the norm not the exception. Why are we unable to learn how to handle them better?" he said.
He said there was no explaining the "excessive use of force, none whatsoever. This is a massacre and that's the only way to describe it."
7 dead. There is no explanation for this excessive use of force, none what so ever. This is a massacre & that's the only way to describe it. Former CM and PDP president Mehbooba Mufti, who had led the state government in alliance with BJP till governor's rule kicked in, said in a series of tweets: "South Kashmir has been reeling under fear for the last 6 months. Is this what was expected from Gov rule? Admin has failed in securing civilian lives…".
She also tweeted: "How long are we going to shoulder the coffins of our youngsters? So many civilians killed today post encounter in Pulwama. No country can win a war by killing its own people…".
How long are we going to shoulder the coffins of our youngsters? So many civilians killed today post encounter in…
https://t.co/4dRHYZQQBV
— Mehbooba Mufti (@MehboobaMufti) 1544860406000
Peoples Conference chief Sajad Lone said the administration must abandon its "Rambo mindset", and "call off operations if there's even a remote chance of civilians being killed". He said, "If you end up killing seven civilians in order to kill three militants… time for heads to roll."
Following the killing of seven civilians, there was spontaneous shutdown across south Kashmir, Srinagar and parts of Budgam. Shops shuttered and internet services were either snapped or slowed down in south Kashmir and Budgam. J&K Police have registered an FIR into the incident, but no one has been named, sources said.
Full report at:
https://timesofindia.indiatimes.com/india/7-civilians-die-trying-to-stop-jk-enconter-3-hizbul-men-also-killed/articleshow/67110849.cms
--------
Arab World
Arab Parliament urges Arab League to reinstate Syria
Dec 15, 2018
The Arab Parliament has called on the Arab League to end its suspension of Syria's membership at the 22-member pan-Arab body, Egypt's state news agency MENA reported on Friday.
The Cairo-based body suspended Syria's membership in November 2011 after a series of protests degenerated into a foreign-backed militancy which has plagued the country to this day.
"The decision to suspend the Syrian seat in the Arab League was, in my opinion, a very hasty decision," Arab League Secretary General Ahmed Aboul Gheit said in April.
Earlier this week, head of the Russian National Defense Management Center Colonel General Mikhail Mizintsev said Syria should rejoin the Arab League in order to help support the process of a political solution to the ongoing crisis.
Some Arab countries have recently stepped up efforts to normalize ties with Syria as the country's troops have been making sweeping gains against foreign-backed terrorists.
In November, Russian daily Nezavisimaya Gazeta reported that the UAE was negotiating the reopening of its embassy in Syria and return of its envoy to Damascus.
A source in Damascus said Emirati officials had been meeting with the Syrian government over the issue.
An Emirati diplomat, the source said, was based permanently in Damascus, while other officials made regular visits to the Syrian capital.
Government forces and their allies now control most parts of Syria while anti-Damascus militants occupy just small pockets of territory on the country's fringes.
Idlib and its surroundings are now the only significant area still held by Takfiri elements, with the US and its European allies sabotaging the Syrian army's plan to liberate it.
The US and its allies have repeatedly warned of an imminent chemical attack which they have used in the past to attack government positions whenever the Syrian army has geared up to retake Idlib.
On Thursday, the US-led coalition purportedly fighting Daesh terrorists said it will continue its operations in Syria.
"The Coalition mission in northeast Syria remains unchanged. We continue our normal operations, including observation posts in the border region to address the security concerns of our NATO ally Turkey," it said in a statement.
The alliance launched its aerial assaults in September 2014 without any authorization from the Damascus government or a UN mandate. The attacks have on many occasions resulted in civilian casualties and failed to fulfill their declared aim of countering terrorism.
'Syria humanitarian crisis should not be politicized'
On Friday, Syria's UN Ambassador Bashar al-Ja'afari called for an end to the politicization of the humanitarian situation in Syria through providing false information and turning a blind eye to realities on the ground.
"The humanitarian crisis emerged only in the areas where terrorist organizations are spread along with the illegitimate presence of foreign forces," he told a UN Security Council session.
Ja'afari also demanded that the Security Council assume its responsibility to immediately halt the US-led coalition's "illegitimate" attacks and systematic destruction of the infrastructure in Syria.
He further expressed Syria's determination to combat the remaining terrorist groups in Idlib and other areas and expel all foreign aggressors from the country.
"The Syrian government, people and army have a very clear image of who is an enemy and who is a friend as Syria realizes well that combating terrorism is a war imposed by the sponsors of terrorism," he said.
The war, he said, was launched to drain Syria's energy and press the enemy's unjust schemes "at the forefront the Palestinian cause" and push "the peoples of the region into bloody darkness, in which the extremist Wahhabi thought is its fuel."
"Syria will fail all these schemes," Ja'afari added.
https://www.presstv.com/Detail/2018/12/15/582980/Syria-Arab-League-membership
--------
Report: Damascus to Reciprocate Israel's Offensives Equally
Dec 15, 2018
The Arabic-language al-Rai newspaper quoted Syrian army commanders as saying that the country's army has changed the rules of clashes with Israel and intends to equally retaliate any Israeli attack with similar offensives on Israeli airbases or military positions, Russia's state-run RT reported.
The Arabic-language website of RT quoted the Kuwaiti daily as reporting that the decision was taken after Russia showed a firm position against Israel's attacks on Syria after the downing of its Il-20 plane in Syria and the killing of 15 Russian military forces last September.
The report quoted the commanders also as saying that Moscow has shown a green light to Damascus to target Israel in case of any air or missile attack against military targets in Syria.
They added that after the incident for Il-20 plane, Moscow warned Tel Aviv that the Russian forces might be stationed at any Syrian military base and any attack on Syrian territories could potentially end up in casualties among the Russian forces, which Moscow warned, it would never allow to happen.
The sources said that despite Tel Aviv's claims, Syria is in possession of precision-striking missiles which can target Israel, adding that they have received long and mid-range missiles which work with GLONASS (Global Navigation Satellite System) which is the Russian edition of the GPS.
Also, based on reports, despite Israel's wrong assessments that it has ruined Syria's missile power, the country is in the final stage of production of home-made missiles.
The report referred to the accidental downing of Russia's Il-20 reconnaissance aircraft with 15 servicemen on board by Syria's S-200 launchers in September, which were at the time responding to a wave of Israeli strikes on state institutions in Lattakia Province.
Full report at:
http://en.farsnews.com/newstext.aspx?nn=13970924000934
--------
US Setting Up More Military Bases in Raqqa Near Border with Turkey
Dec 15, 2018
The Syrian Observatory for Human Rights (SOHR)said the US military bases have been built in the surroundings of Tal Abyaz city in Northern Raqqa near the Syria-Turkey border as the Turkish army is readying for military assault on Eastern Euphrates.
The SOHR noted that the US military bases have been set up in Tal Rakbeh and al-Jeib regions in the surrounding areas of Tal Abyaz. The source recalled that the US has established three military bases in Raqqa province over the past 20 days.
The field sources, meantime, said that the SDF has dispatched military convoys comprising hundreds of its fighters together with heavy military hardware, including tanks and artillery units to Tal Abyaz region in Northern Raqqa and Ain al-Arab in Northern Aleppo.
The Turkish army has also dispatched a new military convoy to the city of Jilianbiner near the border with Ras al-Ain in Northwestern Hasaka.
The Turkish army has also sent several military convoys to the border regions with Syria, specially Hatay and Kelis, in recent days.
In a relevant development in late June, a prominent Russian military analyst revealed that "the US is training terrorists in 19 military bases in Syria" in pursuit of its military and political objectives in the country.
Vladimir Kozin, a military expert at Moscow State Institute of International Relations, was quoted by the Arabic website of RT as saying that the US has 19 bases in Syria to train the terrorists.
He added that the weapons, ammunition, fuel and foodstuff needed in these centers are provided by 22 US military bases outside Syria.
Kozin said that the American forces train the terrorists at al-Tanf base in Syria's Badiyeh region in the South, adding that the US army has closed the airspace of this region in a radius of 50km without any agreement with the Damascus government.
He described Washington's military and technical support for terrorist groups as a violation of the UN Charter and agreements to decrease tensions in Syria, and said the US supports the terrorists to maintain its influence on the political and military situation of the country.
Also in June, media sources reported that the US occupying forces were attempting to open different ways to transfer terrorists between al-Tanf, Deir Ezzur and Homs by contacting the tribes in Eastern Syria for cooperation.
The Arabic website of Sputnik news agency quoted tribal sources in Eastern Syria as saying that the US forces transfer the ISIL terrorists from the desert region bordering Iraq to al-Tanf through al-Sukhneh in Homs.
Meantime, one of the prominent tribal leaders in Eastern Syria revealed that Mohannad al-Tala, a US proxy and commander of the so-called New Syrian Forces group in the US base in al-Tanf, has contacted the Syrian tribes, calling on them to open a passage for the terrorists to leave al-Tanf for Deir Ezzur to reach al-Omar oil field.
He added that the US forces fear uprisings by the people in Eastern Syria, noting that one of their goals to approach the tribes is to keep deployment in the region as Washington attempts to win the cooperation of the tribes in Manbij, Hasaka and Deir Ezzur have all failed.
Meantime, the US-backed Syrian Democratic Forces (SDF) has freed its militant inmates and sent them to the battlefield to attack al-Tanf-Sukhneh road in Homs and open a passageway and the Jordan road to al-Tanf.
Full report at:
http://en.farsnews.com/newstext.aspx?nn=13970924000504
--------
Tens of US-Backed SDF Forces Flee As Turkish Army Prepares for Assault in Northern Syria
Dec 15, 2018
"Tens of SDF fighters have defected and fled in several regions of Raqqa and Hasaka provinces," field sources in Northern Syria reported.
The sources pointed to the defection of a group of SDF forces from al-Hos village in Eastern Raqqa, and said that a new wave of arrests of SDF members has occurred in the surrounding areas of the city of Ras al-Ain in Northwestern Hasaka after defection of their comrades in Raqqa.
Meantime, a number of SDF members have surrendered themselves to the Turkish army in al-Mobarakieh village East of Ras al-Ain city in Northwestern Hasaka, the sources said.
The sources, meantime, unveiled that the defection of the US-backed militants from their ranks has created rifts in several border regions with Syria near Ras al-Ain in Hasaka, Quntara in Soluk region East of Tal Abyaz in Northern Raqqa.
Meantime, a number of border settlers have fled al-Mohata, al-Abreh and al-Kharabat regions in Ras al-Ain in Northern Hasaka.
Turkish President Rajab Tayyip Erdogan said on Wednesday that Ankara would launch an operation in the East of Euphrates in Syria in a few days to save it from separatist terrorist organization.
"We expressed that we will launch an operation in East of Euphrates in a few days to save it from a separatist terrorist organization," Erdogan stated at the Turkish Defense Industry Summit.
Erdogan added Turkey's target has never been US soldiers, but rather members of terror group.
"It is clear that the purpose of US observation points (in Syria) is not to protect our country from terrorists but to protect terrorists from Turkey," Erdogan noted.
A possible mission East of the Euphrates, which Turkey's leadership has been suggesting for months, would follow two successful cross-border Turkish operations into Syria --- Operation Euphrates Shield and Operation Olive Branch – which were both meant to eradicate the presence of YPG/PKK and ISIL terrorists near Turkey's borders.
Full report at:
http://en.farsnews.com/newstext.aspx?nn=13970924000631
--------
Turkish Army Pounds Kurdish Positions in Northern Syria Near Border with Turkey
Dec 15, 2018
Sources close to militants in Northern Syria said that the Turkish army's artillery units pounded several military positions of the Kurds in Zour Moghar and Shoyoukh Foqani in the surrounding areas of Ain al-Arab in Northern Aleppo and near the border with Turkey, destroying one of their military positions.
The sources, meantime, pointed to the Kurdish forces' attacks on the Ankara-backed militants' positions from Harbal, Sheikh Issa and Um Khosh regions in Ma'areh region, and reiterated that intense fighting has broken out between the two sides in the surrounding areas of Tal Rafat city.
The sources close to the Syrian Democratic Forces (SDF) also reported that the Kurdish forces targeted and pounded one of the positions of the Turkish army in Kimar village in Shirava region of Afrin in Western Aleppo, which resulted in the destruction of the military point and death of five Turkish soldiers.
The Kurdish-language Hawar news reported on Thursday that the 'Executive Council for Autonomous Forces in Northern and Eastern Syria' ordered all troops to go on alert after Turkish President Recep Tayyip Erdogan threatened to launch military operations against Kurds in coming days.
The Kurdish forces in a statement claimed Ankara attempts to support the ISIL, calling on the US-led coalition, the international community, specially the UN, and the NATO members to voice opposition to Ankara's aggressive plans.
Full report at:
http://en.farsnews.com/newstext.aspx?nn=13970924000416
--------
Daesh terrorists abandon commander while fighting SDF forces
Dec 15, 2018
Recent video footage has been published on social media networks, showing members of the Daesh Takfiri terrorist group abandoning their commander and fleeing for their lives while fighting the so-called Syrian Democratic Forces (SDF) in northeastern Syria.
The video, which has been filmed with a forehead camera, shows several Daesh terrorists in an open terrain near the town of Hajin, which lies in the Abu Kamal district of the eastern Syrian province of Dayr al-Zawr, firing indiscriminate shots at the US-backed forces.
One of the terrorists, identified by the nom de guerre Abu Aisha, faces his commander Abu Ayman al-Iraqi, and urges him to order fellow Takfiris to retreat.
Iraqi, in return, refuses and commands Daesh terrorists to carry on fighting.
The terrorists at last decide to abandon their commander and escape from the area onboard a military vehicle.
Iraqi, who is badly injured in the fierce exchange of gunfire with Kurdish-led forces, died of his gunshot wounds hours later.
On Friday, the SDF succeeded in capturing the entire town of Hajin, which served as one of the last Daesh strongholds in eastern Syria.
The recent advance of the US-backed militants came as Turkey said that there would be a campaign against "terrorists" in the eastern Euphrates region.
The SDF commander-in-chief said on Thursday that his fellow fighters would respond strongly to any Turkish attack, but noted that the US-supported Kurdish-led forces were pressing diplomatic efforts to deter an assault.
Mazloum Kobani told Reuters that Washington had made "serious attempts" to prevent a Turkish offensive, but the US should ramp up its efforts further.
Kobani warned that a Turkish assault would tie up militants from the People's Protection Units (YPG), who are purportedly fighting Daesh remnants in eastern Syria, which would allow the Takfiris to spread again.
"We are ready for any attack and will respond strongly ... within our areas. "Till now, our diplomatic attempts are ongoing to deter this," he said.
Full report at:
https://www.presstv.com/Detail/2018/12/15/583030/Video-Daesh-terrorists-abandon-commander-while-fighting-SDF-forces
--------
South Asia
Can we stop xenophobia that led to genocide of the Rohingya?
By Habib Siddiqui
2018-12-16
The Merriam-Webster dictionary defines Xenophobia as – fear and hatred of strangers or foreigners or of anything that is strange or foreign. Thus, one need not necessarily be a foreigner or newcomer to a territory to be a target or an object of this crime. Even an indigenous people who are a minority that look or behave differently than the majority can be victims of xenophobia.
In recent years, xenophobia has become a powerful political factor in many parts of our world, especially in Europe, emboldening the far right, extremist and fascist forces. In India, despite their existence for more than a thousand years, Muslim and Christian minorities are viewed as intruders, outsiders or foreigners. Under the fascist Hindutvadi BJP government scores of Muslim-sounding names of towns, cities and places are being replaced with Hindu-sounding names to revise history and delink Muslims from those places as if they don't belong there any longer in Modi's India. Under the pretext of saving cows (Gau-rakhsha), Muslims are lynched to death. Mosques and churches are also routinely attacked and demolished to make ways for building Hindu temples or other development projects.
But nowhere is this intolerance more acute than in Burma (officially called the Republic of the Union of Myanmar), a country in Southeast Asia that borders India and Bangladesh to its west, Thailand and Laos to its east and China to its north and northeast.
The Rakhine state (formerly called Arakan) is Burma's western most state. Historically, the Arakan littoral of the Bay of Bengal, sandwiched between the Muslim-majority Bengal and the Buddhist-majority Burma, was an independent state. It had a typical frontier culture where Buddhists, Muslims and Hindus lived together. The territory was annexed by Bodaw Paya, a Burmese king in 1784 C.E. His savage forces massacred many of the conquered people of Arakan and forced hundreds of thousands of survivors to flee and take refuge inside East Bengal (today's Bangladesh), which was then administered by the East India Company (of Great Britain). In 1824, Arakan was conquered by the East India Company, thus, putting an end to the brutal occupation by the Burman race, and encouraging resettlement of the refugee families.
For the most of its independent years since 1948 when Burma gained independence from the Great Britain, contrary to the aspirations of the non-Burman people living along the frontier states that make up most of the religious and ethnic/racial minorities, the country has been ruled (irrespective of whether the government was military or civil) solely by people from the dominant Burman race. Their power is essentially rooted in Buddhist religio-racism that has permeated Burmese society for centuries. This racism is not limited to the racial supremacy complex alone, but also plays the card of ethnic racism of one against the other. Thus, we see the racism of the Burmans against the Karen and the Shan, the Karen against the Burmans, the Shan against the Wa, the Wa against the Shan, the Rakhine against the Rohingyas, the Mon against the Burmans, the Burmans against the Chinese, the Christians against the Buddhists, the Buddhists against the Muslims, etc. This list is by no means a comprehensive one, but the bottom line is: the ruling power has always exploited this 'divide-and-rule' policy to turn people against each other and thereby increase its hold onto power in this artificially glued country of many races, ethnicities and religions.
For decades, the military regime's propaganda, therefore, encouraged a blind racist nationalism that was full of references to 'protecting the race' - meaning that if Burmans do not oppress other nationalities then they will themselves be oppressed, 'national reconsolidation' - meaning assimilation, and preventing 'disintegration of the Union' - meaning that if the Army falls then some kind of ethnic chaos would engulf the divided nation. Sadly, that toxic strategy to justify violence against 'others' that are considered racially and/or religiously different has not changed an iota under the new civil administration of Suu Kyi.
Race, religion and ethnicity have been exploited to justify the genocidal crimes, brutal oppression and subjugation of non-Buddhists inside Burma. As a result, the country has been engrossed in rampant ethnic and religious strife, and its myriad ethnic groups have been involved in one of the world's longest-running ongoing guerilla wars to restore their fundamental rights that were snatched away from them.
In 2011, the military junta, which had ruled the country for half a century since 1962, was officially dissolved following a 2010 general election, and a quasi-civilian government was installed under an ex-general Thein Sein. Aung San Suu Kyi (daughter of country's founding father Aung San), then touted – rather falsely – as a democracy icon, and some political prisoners were released ushering hope of a new beginning and improved human rights record and foreign relations for the country that had hitherto been looked down as a pariah state. The transition led to the easing of trade and other economic sanctions. In the landmark 2015 election, Suu Kyi's party won a majority in both houses of the parliament. However, the Burmese military (Tatmadaw) remains a powerful force in politics.
Of all the minorities, the worst sufferers have been the Rohingya people who live in the Arakan state. They are vilified, maligned and persecuted. Denied citizenship and every one of the thirty rights enshrined in the Universal Declaration of Human Rights, they became the target of elimination in a highly sinister national project that enjoys wide support from all sections of the Buddhist society inside Myanmar. The rationale behind such heinous crimes is the fearmongering myth that if Muslims are not eliminated, Myanmar will become a Muslim country. Consider, for instance, the remarks of Maung Thway Chun, the editor of a newsweekly for hardline Buddhist ultra-nationalists. He told Joe Freeman, a journalist based in Rangoon:"[W]e don't want Muslims to swallow our country … Then this country will be a Muslim country. It is such a shame for us that the land we inherited from our former generations will be lost in our time."
For most westerners, it is difficult, if not incredible, to imagine this dreadful side of Buddhist fascism – known as Myanmarism – that has defined the country in recent decades. Myanmarism is a toxic apartheid ideology in which race and religion, much like Nazism, defines identity and legitimacy to Myanmar. The non-Buddhists who are viewed as outsiders or intruders by the Buddhist majority have no place or legitimacy; they are made the targets of elimination inside Burma to make the land pure for the Buddhists and free of the non-Buddhists.
Myanmar's 2014 census counted the population to be 51 million people. As of 2018, the population is about 55 million. Rohingyas were not counted in that census and were not allowed to field their candidates in the 2015 election. Based on the estimates from international NGOs and rights group, it is, however, believed that Rohingyas numbered at least two million, thus, making up at least 4 percent of the total population inside Myanmar or about 40 percent of population in the Rakhine state. More than three million Rohingyas are now settled or forced to live as legal or illegal refugees outside their ancestral home in Arakan.
Since the so-called democratic transition that began in 2011, thousands of Muslims, esp. Rohingyas living in the Rakhine state, have been killed in targeted pogroms by both the government security forces and armed Rakhine Buddhist vigilantes. Thousands of Rohingya females were raped by Buddhists as a weapon of war to terrorize this most persecuted community of our time. The latest of such criminal activities in 2016 and 2017 have been recognized by the world community, including the UN, as a genocide that has forced the exodus of nearly a million to Bangladesh. Before the latest crisis hit them, some 140,000 Rohingyas were already internally displaced and living in concentration camps inside Arakan. Since 2017, tens of thousands are living along the no-man's land, bordering Bangladesh. Since August 2017 Doctors Without Borders have treated thousands of Rohingya refugee females for sexual assault (i.e., rape).
Genocidal crimes don't happen in a vacuum and require hate provocateurs to prepare the ground for such a 'final solution' of the targeted group. In the context of Myanmar, this evil task was jointly carried out by the various propaganda outlets (including the Facebook) at the disposal of the central and local (Rakhine) state governments, Buddhist monks (e.g., Wirathu and his fascist 969 Movement), ultra-nationalist politicians and intellectuals (esp. Rakhine) like Aye Chan, Aye Kyaw, Khin Maung Saw and others. Thanks to their willful distortion, the Rohingyas whose origin to the Arakan littoral predates those of the Rakhine Buddhist community were portrayed as outsiders or infiltrators to Arakan and as a virus that needed to be eradicated.
There is no doubt that xenophobia against the Muslims, esp. the Rohingyas, provided the necessary backdrop for their "Final Solution" (genocide) in 2016-17. Without those hate provocateurs we may have been spared of this latest human tragedy. As we have seen with the Nazi hate provocateur Julius Streicher preparing and mobilizing the Germans to bring about the Jewish Holocaust in Germany so is the case with evil Buddhist fascist ideologues like Aye Kyaw, Khin Maung Saw and Aye Chan (author of xenophobic works like the "Who are the Rohingyas?", "The Development of Muslim Enclave in Arakan" and "The Influx Viruses") among the Rakhaings (the majority Buddhist race inside the Rakhine state, also called the Rakhine), steering the wheel of xenophobia against the Rohingyas of Burma.
Xenophobia in Arakan has also been abused by powerful Buddhists for political and economic gains. In their victimization of Rohingyas today, the Rakhaings see and find themselves as benefactors the same way the Nazi Germans saw and found themselves in their xenophobia against the German Jews. They possess what once belonged to the 'other' race.
Can xenophobia be defeated or tackled? I like to believe that with proper upbringing, education, and enactment and strict enforcement of laws, it can surely be tackled to minimize its harmful effects. However, xenophobia cannot be defeated easily without understanding its underlying causes, the roles the society, politics and economics play.
The second step will involve challenging the ultra-nationalist views concerning xenophobia. The third step will involve accepting xenophobia as a crime against humanity and thereby stopping it at any cost both at local and international level. Harsh punishments must be meted out to the preachers and practitioners of xenophobia. Lastly, the latter groups must learn from history that xenophobia has not benefited any nation and will surely not benefit theirs either. Hopefully, a greater dissemination of knowledge right from childhood and deeper appreciation of human diversity will spur us to stop xenophobia once and for all time.
It is worth mentioning here that on May 23, 1945, two weeks after Germany's surrender, Julius Streicher was captured by the Americans. Chief Justice Jackson, chief counsel for the prosecution, spoke to the tribunal and said that the prosecution did not wish to incriminate the whole German race for the crimes they committed, but only the planners and designers of those crimes, the inciters and leaders without whose evil architecture the world would not have been for so long scourged with the violence and lawlessness of this terrible war.
Julius Streicher was included in that short list. He was found guilty of crimes against humanity at the Nuremberg War Crimes Trial and sentenced to death on October 1, 1946.
What is important here to stress is that Julius Streicher was not a member of the military. He was not a typical person prosecuted for international war crimes, given his civilian profession. He was not part of planning the Holocaust, the invasion of Poland, or the Soviet invasion. Yet his role in inciting the extermination of Jews was significant enough, in the prosecutors' judgment, to include him in the indictment.
I earnestly hope that one day the Buddhist hate provocateurs like Wirathu, Aye Chan and Khin Maung Saw and others would be tried in the International Criminal Court for inciting genocide against the Rohingyas of Myanmar. Surely, they know and understand what they are doing and the consequences thereof.
I hope that world community will demand not only the restoration of the ethnic and citizenship rights of the Rohingya community in Myanmar by repealing discriminatory xenophobic laws that are at odds with international and UN laws but also demand for protective status for them as an endangered community in the northern Arakan, their ancestral homeland. Anything short of these remedial measures will simply make them an extinct community.
http://asiantribune.com/node/92386
--------
Taliban's military commission chief killed in coalition airstrike in Helmand
Dec 16 2018
The officials in southern Helmand province are saying that the military commission chief of the Taliban Haji Barakat has been killed in an airstrike of the coalition forces in Greshk district.
The provincial government media office in a statement said the coalition forces carried out airstrikes on Taliban hideouts in Yakhchal area of Greshk district, leaving the military commission chief of the group for Yakhchal area dead.
The statement further added that two other accomplices of Haji Barakat were also killed in the airstrikes and another militant was wounded.
A hatchback type vehicle and a motorcycle were also destroyed during the same airstrike, the provincial government added.
At least two militants were killed and a motorcycle was destroyed n a separate airstrike conducted in Washir district, according to provincial government.
Full report at:
https://www.khaama.com/talibans-military-commission-chief-killed-in-coalition-airstrike-in-helmand-02936/
--------
Afghanistan and Pakistan sign MoU to fight against terrorism
Dec 15 2018
Afghanistan and Pakistan on Saturday signed a Memorandum of Understanding (MoU) to step up fight against terrorism.
Pakistan's Foreign Minister Shah Mehmood Qureshi said the Memorandum of Understanding was signed on the sidelines of the trilateral summit between Afghanistan, Pakistan, and China.
Speaking during a press conference alongside his Afghan and Chinese counterparts, Mr. Qureshi said he visited Kabul to strengthen bilateral relations by bridging the trust gaps.
He said Pakistan supports Afghan peace process, emphasizing that Pakistan would benefit from peace and stability in Afghanistan.
China's Foreign Minister Wang Yi said Kabul and Islamabad have agreed to improve bilateral relations between the two nations.
Calling Afghanistan and Pakistan as strategic partners of China, Mr. Wang Yi said all three nations have agreed to step up fight against the terror groups.
He also called on Taliban group to accept the Afghan government's offer for peace talks.
In his turn, the Afghan Foreign Minister Salahuddin Rabbani said the second round of trilateral summit was organized with the focus to expedite joint efforts for peace and stability in Afghanistan and the region.
Rabbani further added that the issues of fight against terrorism and political reconciliation in Afghanistan were discussed during the summit.
Full report at:
https://www.khaama.com/afghanistan-and-pakistan-sign-mou-to-fight-against-terrorism/
--------
North America
US state lawmaker accused of funding anti-Muslim hate group
Dec 15, 2018
A US state lawmaker from Washington is accused of violating election campaign finance laws to donate to an anti-Muslim group and promote his radio show on a conspiracy website associated with a far-right secessionist movement.
Republican Representative Matt Shea, a member of the Washington State Legislature, is being investigated by the state's Public Disclosure Commission over the use of surplus funds from his election account.
The commission has confirmed to KHQ, a local news channel, that they have two open complaints to review Shea's alleged campaign finance violations.
Washington state campaign finance rules allow candidates to use leftover funds to pay off campaign funds, or donate to the state treasury, their political party, or a state-registered charity.
Instead, Shea's campaign donated to two fringe groups - Americans for America, and Citizens for Free Speech.
The Southern Poverty Law Center (SPLC), a civil rights advocacy organization that monitors hate groups, has described Americans for America as an anti-Muslim hate group and Citizens for Free Speech as a "far-right nonprofit organization."
The Federal Bureau of Investigation (FBI) released new statistics in November showing a dramatic rise in hate crimes in the US for the third consecutive year in 2017.
The annual FBI report revealed that there were a total of 7,175 cases of hate crimes last year, up from 6,121 in 2016, with more incidents motivated by racial, ethnic and religious bias than in previous years.
The FBI said anti-Muslim offenses accounted for 19 percent of anti-religious hate crimes in 2017.
https://www.presstv.com/Detail/2018/12/15/582973/US-Washington-state-lawmaker-Matt-Shea-antiMuslim
--------
Georgia Career Institute student expelled for converting to Islam
December 15, 2018
Washington: Linde McAvoy, a 21-year-old student of Georgia Career Institute (GCI) in Tennessee has been expelled after she converted to Islam and started wearing a Hijab.
"The hostility started the moment I started wearing my hijab," said McAvoy. "I thought GCI would be a place where I could learn a trade but instead, they took my money, openly discriminated against me and kicked me out for being a Muslim."
"It's not right and it's not fair", she added.
Following the incident, Muslim Advocates and the law firm Beldock Levine & Hoffman LLP have sent a demand letter to Georgia Career Institute (GCI) asking the college to refund Linde McAvoy's tuition and amend its dress code.
"Almost immediately after she started wearing it, Ms. McAvoy began facing harassment from GCI administrators. For example, Joyce Meadows—GCI's President and CEO, who is also the Campus Director for the Murfreesboro Campus—started insisting that Ms. McAvoy remove the hijab, citing the school's dress code", Muslim Advocates said in the letter sent to GCI.
"Even after Ms. McAvoy explained that she wore her hijab out of religious obligation, Ms. Meadows insisted on its removal, despite the fact that the dress code does not prohibit religious headcoverings. Ms. McAvoy was repeatedly ejected from her classes for wearing her hijab", the letter said.
Through the letter, McAvoy is seeking a full refund, monetary settlement, a clear dress code that does not violate federal civil rights law, and anti-discrimination training for all GCI staff and its owner to ensure that no other GCI student endures this type of harassment and discrimination.
"GCI's behavior is reprehensible, discriminatory, and illegal. GCI receives federal student loans and has to comply with federal antidiscrimination mandates," said Nimra Azmi, staff attorney for Muslim Advocates. "GCI promised Ms. McAvoy a pathway to accreditation in her field, but instead expelled her simply because she is a practicing Muslim."
Full report at:
http://www.ummid.com/news/2018/December/15.12.2018/georgia-career-institute-student-expelled-from-college-after-conversion-to-islam.html
--------
War on jihadists won't end unless West tackles root causes, say experts
15 DEC 2018
WASHINGTON: Western powers fighting Islamist groups around the globe are condemned to a never-ending battle if they only tackle the symptoms and not the underlying causes of jihadist insurgency, experts say.
"Beyond the tactical victories on the ground, the current strategy is failing," said Katherine Zimmerman, who wrote a recent report for the American Enterprise Institute entitled "Terrorism, Tactics and Transformation: The West vs the Salafi-Jihadi Movement."
"Every soldier and intelligence analyst that has worked on this problem understands what is happening," Zimmerman told AFP.
"They understand that what they are doing is a temporary solution. It's ending the immediate threat but not stabilising or moving us forward. The problem comes down to policy and politics," she noted.
"It's easy to say, 'We're going to kill the person responsible for making the bomb.' It is much more difficult to say that our partner government has disenfranchised this group and it's one of the reasons why this person joins the terrorist group. And now he is the bomb maker."
Driven from lands it once held sway over in Syria and Iraq, the Islamic State group has returned to its origins as an underground jihadist outfit because the conditions that spawned it — a deep discontent among most Iraqis and Syrians — have persisted, experts say.
"The West is on the road to winning all the battles and losing the war," warned Zimmerman.
'Development problems'
In a report last month on the resurgence of IS as a clandestine guerrilla group, the Centre for Strategic and International Studies (CSIS) said that "while the United States and allied governments have weakened some groups like the Islamic State, many of the underlying causes have not been adequately addressed."
Those root causes include a "fragile state with weak or ineffective governing institutions" in areas affected by jihadist activity, where the Islamists can establish a sanctuary, the CSIS experts said.
They took maps showing areas where Al-Qaeda and IS were active and compared them to maps displaying "government effectiveness," based on World Bank statistics.
The result was clear: most of the countries where the insurgents are active — Yemen, Syria, Iraq, Afghanistan, Libya, Mali, Nigeria, Somalia — are also in the bottom 10 per cent for government effectiveness.
At a conference this week in Washington, retired Marine general John Allen — who once commanded US forces in Afghanistan and now heads the prestigious Brookings Institution — said the West had to get ahead of the issue and ask, "Where should we be looking for the next problems?"
"We should spend a great deal more time looking at those areas that are in fragile or failing states," said Allen, who also served as presidential envoy to the international coalition battling IS.
"We have to recognise the hotspots where the human condition prompts the radicalisation of large sectors of the population," he added.
"Often we join the conversation when the process of radicalisation has been in place for quite a long time."
Allen noted that the problem is "a development issue, much more than a counter-terrorism issue."
At the annual conference on terrorism, organised by the Jamestown Foundation, many experts noted that in Iraq, the grievances of the Sunnis — the branch of Islam that gave rise to Al-Qaeda and IS — were compounded by the involvement of powerful Shiite militias both in the Baghdad government and in areas recovered from Islamist insurgents.
Full report at:
https://www.thesundaily.my/world/war-on-jihadists-won-t-end-unless-west-tackles-root-causes-say-experts-HE273119
--------
Southeast Asia
China, Afghanistan, Pakistan agree on joint anti-terror efforts
Dec 15, 2018
China has pledged to help Afghanistan and Pakistan put into effect a memorandum of understanding signed by the three sides on security cooperation aimed at curbing militancy and ending longstanding suspicions between Kabul and Islamabad over security issues.
Foreign ministers of the three countries met in the Afghan capital, Kabul, in a trilateral meeting on Saturday.
Beijing used its influence on both countries to try to bring the two uneasy neighbors closer against the widespread militancy in Afghanistan.
The meeting was also the latest round of diplomacy aimed at opening talks with the Taliban militant group to end the Afghan war.
According to a joint statement released after the Second Afghanistan-China-Pakistan Foreign Ministers Dialogue, the three sides reaffirmed their commitment to further boosting their ties, deepening cooperation and advancing connectivity under the Belt and Road Initiative, Regional Economic Cooperation Conference on Afghanistan (RECCA) and other regional economic initiatives.
The statement also maintained that the three sides had strong resolve to fight terrorism in all its forms and manifestations, and without any distinction.
"China approves of this, and is willing to provide support and help for Pakistan and Afghanistan to improve their ties," said the Chinese government's top diplomat, State Councilor Wang Yi, in a joint press conference after the meeting.
The United States, along with a number of fellow-NATO members, invaded Afghanistan in 2001, toppling a Taliban regime in control of most of the country at the time, but it has failed to restore security in a country plagued by militancy and terrorism.
Over 8,000 people lost their lives or were wounded in Afghanistan between January and September this year, with the country on track to be deadlier than Syria in 2018. Kabul blames the Taliban for the bulk of the deaths.
Direct talks between Kabul and the Taliban collapsed in 2015, and the militant group, which is fighting to drive out international forces, has repeatedly rejected direct peace negotiations offered by the Western-backed Afghan government. However, however, Taliban has opened contacts with the Washington to prepare for possible talks to end the war in the country.
"We support Afghanistan and Pakistan efforts for peace and we call on the Taliban to join the peace process," said Wang, adding that both Kabul and Islamabad have agreed to resolve disputes through "friendly consultations."
The United States has long accused Pakistan of ignoring or even collaborating with groups which attack Afghanistan from safe havens along the border between the two countries. Islamabad strongly denies supporting militants of the Afghan Taliban.
In addition, Pakistan and Afghanistan also regularly accuse each other of sheltering militants. Both sides, however, deny such allegations.
Pakistan's Foreign Minister Shah Mahmood Qureshi said his country was committed to stability and peace in neighboring Afghanistan.
"By blaming, no one moves ahead, we have to stop pointing fingers at each other that why I am here to build mutual political trusts and facilitate the peace process of Afghanistan," the minister said at the presser.
Addressing the press conference, Afghan Foreign Minister Salahuddin Rabbani said the meeting was focused on security and counterterrorism and that they emphasized security, ending violence, and implementation of Afghanistan-Pakistan action plan.
"We discussed regional peace and regional projects to connect the countries. The projects will improve economic development. We hope china will implement economic projects in Afghanistan," Rabbani said at the press conference.
The first such meeting was held last year and the three foreign ministers are expected to meet again in Islamabad next year.
https://www.presstv.com/Detail/2018/12/15/583029/Afghanistan-China-Pakistan
--------
Malaysia's pilgrims' fund scandal strikes at core of Malay worries
Dec 16, 2018
A RM9 billion (S$3 billion) shortfall in Malaysia's Muslim pilgrimage savings fund Tabung Haji (TH) revealed by the Pakatan Harapan (PH) government last week is set to be the hottest political potato pitting the Mahathir Mohamad administration against the two main opposition parties, Umno and Parti Islam SeMalaysia.
The alleged mismanagement will strike close to home as it concerns the hard-earned savings of nine million Malay Muslims, unlike distant scandals like 1MDB or the various failed government projects uncovered since Umno's six decades of hegemony was broken in the May 9 election.
The government has announced what is effectively a bailout plan for the haj fund that manages RM73 billion in savings. The government is taking over assets TH bought for nearly RM20 billion that are now worth RM9 billion less.
The government's announcement on TH by de facto Islamic Affairs Minister Mujahid Yusof Rawa confirmed a Dec 2 report in The Sunday Times that the haj fund would be restructured as its liabilities outstripped assets by RM4 billion on paper last year, and that the actual shortfall was higher at RM9 billion as accounts were falsified.
Mr Mujahid said TH was "illegally" paying dividends between 2014 and last year, as its liabilities were larger than its assets.
The government analysis of TH was announced after a review of its accounts by Pricewaterhouse-Coopers (PwC), with the report presented in Parliament last Monday.
Tackling the TH problem head on is seen as a big risk taken by Prime Minister Mahathir Mohamad due to its hallowed status among Malay Muslims in Malaysia.
TH was set up 55 years ago to help Muslims save up for the haj, a pilgrimage to Mecca they are obligated to perform at least once.
Over the decades, TH gained wide respect in the Islamic world for its management of the savings and efficient organisation of the haj, performed by 30,000 Malaysians every year.
The TH scandal has put Umno and PAS on the the defensive as they have just enjoyed a successful pro-Malay Muslim rally that saw over 50,000 gathered in the heart of Kuala Lumpur.
But analysts say exposing the TH troubles only provides the seven-month PH government temporary relief from growing anxiety among Malays that their special rights and privileges are being sidelined. They are being prodded by Umno and PAS - both of which have long positioned themselves as defenders of the majority race.
"It can be an effective issue for PH on the Malay ground but it bears the risk of a potential collapse of trust of the institution. You can already see Umno and PAS questioning PH's motive and objectivity," Mr Amir Fareed, strategy director of political risk consultancy KRA, told The Sunday Times.
Former premier Najib Razak and his close confidante, Datuk Seri Azeez Rahim - who was TH chairman until he resigned following the general election - have made swift rebuttals, claiming an alternate study of TH accounts by Ernst & Young (EY) showed that the fund has more assets than liabilities, contradicting the PwC report tabled by the government.
PAS leader Khairuddin Aman Razali joined them in casting doubt over the credibility of the PwC review, curiously calling for an "external and independent" audit.
But EY has denied it had audited TH or that its reports can be used to justify dividends paid out, saying it was merely providing input on the impact of marking investments to current values on TH's balance sheets.
Several Malay opposition figures want a Royal Commission of Inquiry to be set up, a move seen as an attempt to take the matter out of the hands of PH politicians.
Among them are PAS president Abdul Hadi Awang, who "advises the government not to politicise the issue to the point that it damages Tabung Haji's image. Don't let a drop of indigo spoil a whole pot of milk".
In the meantime, the new leadership of TH has lodged police reports against Umno-appointed predecessors, including former chairman Azeez.
These include allegations of abuse of millions of dollars for political financing and hiding information on a 2012 sale of an Indonesian plantation for US$910 million (S$1.25 billion), which TH has yet to receive.
A former chief executive of subsidiary TH Heavy Engineering was, meanwhile, charged with graft last Wednesday.
In TH's Facebook account, where it announced the financial restructuring, hundreds of comments were posted describing the anger and anguish of depositors.
Some blamed the previous Umno-led government, while others accused "Chinese-controlled" PH of wanting to destroy the haj fund.
Umno, and by extension PAS, will have more curveballs on Malay issues to deal with in the future.
The PH government is preparing a White Paper on another beloved Malay Muslim institution, the federal land development agency Felda that resettled nearly 113,000 poor Malay families in plantation estates.
The government has postponed the tabling of the White Paper in Parliament to the next sitting early next year.
The Sunday Times has learnt that the government is set to reveal yet more mismanagement at Felda, as well as graft under the previous government.
Rajaratnam School of International Studies senior fellow Johan Saravanamuttu believes that despite the pushback from Malay nationalists against PH, the government stands on solid political ground as "Umno's ultimate collapse is a foregone conclusion" under the weight of these scandals.
And PAS, he said, may "mop up Umno residuals eventually but it remains a regional party".
ISEAS - Yusof Ishak Institute fellow Norshahril Saat told The Sunday Times that to gain wider trust, "PH needs to ensure governance is clean and efficient, while maintaining Malaysia's identity as multiracial with strong Malay Muslim character".
Full report at:
https://www.straitstimes.com/asia/se-asia/malaysias-pilgrims-fund-scandal-strikes-at-core-of-malay-worries
--------
PPBM the natural choice for Sabah Umno leaders, say analysts
Robin Augustin
December 16, 2018
PETALING JAYA: The Umno elected representatives in Sabah who quit the party recently are more likely to join PPBM than Warisan, says a former top Umno politician in the state.
Speaking on condition of anonymity, he said it is "emotionally less painful" to join PPBM, as it is a Bumiputera party that those from Umno are more comfortable with.
There have been fears from Warisan leaders that PPBM could form its Sabah chapter through the 30 Umno leaders who quit the party on Wednesday.
The move has fuelled speculation of PPBM entering Sabah, having launched its chapter in neighbouring Sarawak.
Warisan is currently in a coalition government with Pakatan Harapan parties, PKR and DAP, in Sabah.
The former leader said rumours that Warisan was involved in giving Filipino immigrants citizenship, supposedly to tip the balance of political power in favour of the Bajau Suluk community, has made the Umno leaders "uncomfortable".
"Sabahans are not racial by nature but they have not forgotten the marginalisation of the Kadazan Dusun Murut community during the chief ministership of Tun Mustapha, a Suluk," he said, referring to the late Mustapha Harun.
"This unnerves many Umno leaders who left the party," he added.
Meanwhile, analyst Tony Paridi Bagang from UiTM Sabah says it is just a matter of time before PPBM sets foot in Sabah.
He said PPBM is the natural choice for former Umno leaders as the party has a strong position at the federal level.
"There is no doubt that in Sabah politics, the federal factor is very significant in its political dynamics."
He said that PPBM's presence in Sabah meant a return to a "vicious old circle" where national parties play a dominant role in state politics.
Universiti Malaya's Awang Azman Pawi, too, said former Umno leaders would opt for PPBM.
He said the party was similar to Umno, with Malays and Islam at the centre of its ideology.
"In Sabah, the Muslim Bumiputera agenda looks more prominent with PPBM as they will want the Muslim Bumiputera to be in power, while in Warisan other races may dominate after the era of its president, Shafie Apdal has passed," he said.
He said PPBM's presence in Sabah was a "big threat" to Warisan as it would draw Bumiputeras to the party.
Full report at:
https://www.freemalaysiatoday.com/category/nation/2018/12/16/ppbm-the-natural-choice-for-sabah-umno-leaders-say-analysts/
--------
Mideast
Palestinians slam Australia's recognition of Jerusalem al-Quds as Israel capital
Dec 15, 2018
The Palestinian leadership has denounced the latest decision by the Australian government to recognize Jerusalem al-Quds as the capital of the Israeli regime, describing the move as "irresponsible" and in violation of international law.
Hanan Ashrawi, a member of the Executive Committee of the Palestine Liberation Organization (PLO), called on Australian Prime Minister Scott Morrison to reverse his decision on occupied Jerusalem al-Quds, and to ensure his country's firm adherence to its obligations under international law.
Ashrawi noted that such a measure "would be unilateral, illegal, and would jeopardize the chances for peace."
She pointed out that the dramatic shift in Canberra's policy on Jerusalem al-Quds would constitute a violation of United Nations Security Council resolutions.
The secretary general of the Palestine Liberation Organization Saeb Erekat also spoke out against the move.
"From the beginning, we've perceived the Australian government's decision to recognize al-Quds as Israel's capital as one wherein petty domestic politics steer irresponsible policies that contradict world peace and security," he said in a statement.
"All of al-Quds remains a final status issue for negotiations, while East al-Quds, under international law, is an integral part of the occupied Palestinian territory," he added.
Earlier on Saturday, the Australian government followed US President Donald Trump's lead and recognized the contested holy city of Jerusalem al-Quds as Israel's capital.
Trump announced his decision to recognize Jerusalem al-Quds as Israel's capital and relocate the US embassy in the occupied territories from Tel Aviv to Jerusalem al-Quds on December 6 last year.
On December 21, 2017, the United Nations General Assembly overwhelmingly voted in favor of a resolution that calls on the US to withdraw its controversial policy shift.
Despite the vote, the US went ahead with the embassy transfer on May 14, triggering demonstrations in the occupied Palestinian territories, Iran, Turkey, Egypt, Jordan, Tunisia, Algeria, Iraq, Morocco and other Muslim countries.
Israel's crackdown in Gaza left over 60 protesters dead in the impoverished coastal enclave on that day alone.
Angered by Trump's move, Palestinian President Mahmoud Abbas boycotted his administration, saying Washington was no longer qualified to serve as the sole mediator in the decades-long conflict with Israel, and that an international mechanism should be devised to replace the US in the so-called peace process.
Jerusalem al-Quds remains at the core of the Israeli–Palestinian conflict, with Palestinians hoping that the eastern part of the city would eventually serve as the capital of a future independent Palestinian state.
https://www.presstv.com/Detail/2018/12/15/582998/Palestinians-slam-Australia-recognition-of-Jerusalem-alQuds-as-Israel-capital
--------
Yemen's Houthis dismiss UN claims about final truce in Hudaydah
Dec 15, 2018
The spokesman of Yemen's ruling Houthi Ansarullah movement has expressed doubts about United Nations' assertions about a recent peace deal on the war-torn city of Hudaydah, saying the agreement for implementing a ceasefire in the northwestern port city is yet to be finalized.
In a detailed interview with the Press TV, Mohammed Abdul Salam, who represented the Houthis in the recent UN-sponsored peace talks in Sweden, said the agreement on Hudaydah reached on Thursday between the National Unity government in Sana'a, led by the Houthis and the Saudi Arabia-backed exiled government, led by former Yemeni president Abd Rabbuh Mansur Hadi, was just a deal on the main issues involved and there was no binding agreement on how to implement the ceasefire in the port city.
Contradictory to the UN statements, Abdul Salam told Press TV's Robert Carter that no final agreement had been reached on Hudaydah and that the talks were far from over.
"If we want to describe the manner of talking with the UN then I'd say yes, we're close from certain issues in politics, economy, and humanitarian aid, but how it would be implemented depends on the other party, and the question lies if they're ready to do so," said Abdul Salem, who led the Sana'a delegation to the talks.
"Concerning Hudaydah, we made progress in terms of form and ideas, but in the content there was nothing. In the issue of the general spectrum, we had progress in ideas, but there were no agreements," he added.
The comments came following UN Secretary-General Antonio Guterres' speech on the final day of the negotiations on Thursday.
"We have reached an agreement on Hudaydah port and city, which will see a mutual redeployment of forces from the port and the introduction of a governorate-wide ceasefire," said Guterres.
Ansarullah's Abdul Salam was quite clear that the agreement details had not been finalized and expressed doubts about the ability of his rivals to implement such measures on the ground.
"They don't have any actual presence, neither on the ground, nor in politics, nor military-wise, nor in the media," he said.
Although the Yemeni official did acknowledge that the Yemeni government in Sana'a was interested in the implementation of the ceasefire while negotiations continue on other issues.
One of the most significant causes of civilian death in Yemen is the Saudi-coalition's bombing campaign.
Responding to Press TV's question on what would happen if the Saudi-led coalition continued to attack Yemen, Abdul Salam said, "If the agreement wasn't implemented or nobody, especially the other party, announces a serious ceasefire, this means that nothing happened, the war will continue, and it means that the UN has failed to do anything, and that UN envoy Martin Griffiths has failed."
Since the comments were made at the end of the UN peace talks, reports have already surfaced of Saudi-coalition airstrikes and local gun battles taking place in Hudaydah province.
Yemen's army, which is allied with the Houthi movement, said that Saudi Arabia and its allies have conducted 21 airstrikes on Hudaydah over the past 24 hours in violation of Thursday's truce.
Foreign meddling
Journalists covering Yemen peace talks in Sweden were quite shocked to hear about the number of accusations of foreign meddling in the negotiations.
It became clear that Sana'a delegation had been willing, and even attempted, to meet for face-to-face talks during the week.
However, the Riyadh-backed delegation rejected the meeting and was alleged to have been checking in with Saudi and the United Arab Emirates' officials for directions and possibly even authorization of what agreements they could accept or reject.
When asked about these rumors, Abdul Salam confirmed the accusations had truth to them.
"Yes, of course, it's not only that you've heard, but that's the reality of the matter. The ambassadors are present in the consultations, those of permanent seats in the UN Security Council and Saudi Arabia and the UAE," he said.
The issue of foreign meddling came to light after a fellow Yemeni delegate, Salim Al-Mugalis, commented about the progress of the talks last Tuesday.
"The other delegation is absent in certain discussions. We see them referring back to the countries of the (Saudi-led) coalition," said Al-Mugalis.
A second delegate, Hamid Assen, said about this a day earlier that the Ansarullah-led delegation had been happy to meet for face-to-face talks since the beginning, but the Riyadh-backed delegation was "told" not to do so.
A member of the rival delegation told Press TV that it was the Houthis who looked to Tehran for support. "This is an absurd claim," said Othman Hussein, adding, "They (Ansarullah) are the ones waiting for orders from Hezbollah and Iran."
Abdul Salam categorically rejected claims of Iran's interference in the talks.
"Was Iran affecting the course? No. The true effect in Yemen is from the US and the UK," he said.
Both the US and the UK are allies of Saudi Arabia who have been accused of profiting from the war selling arms to Saudi Arabia.
Some could argue that this was just a mud-slinging exercise between rival factions in the talks, and there is little proof to support the accusations.
However, US Ambassador to Yemen Matthew Tueller had admitted himself during an exclusive interview with a pro-Saudi newspaper in Sweden that the Saudi ambassador was making "suggestions" to the Yemeni delegation during the week.
"I really respect the Saudi Ambassador to Yemen Mohammed Al-Jaber," Tueller said, adding, "He is such a helpful man, with constructive ideas, and he is representing the interests of his country, which wants this war to end."
The same article also claimed that Martin Griffiths, the UN envoy leading the effort in Sweden, had also thanked the coalition "led by Saudi Arabia" for its "contribution" to the success of the peace negotiations.
Abdul Salam admitted he was left frustrated by the lack of independence of the other delegation.
"As a national force in Yemen, we have our own independent and sovereign decision. The other party didn't have any decision, and the question is that why didn't they engage in direct talks?" he asked.
UN failures
It would be wrong to claim that the talks were a complete failure but the issue remains that the UN has clearly failed to protect the negotiations from outside interference.
Many believe that the fact that Saudi Arabia and the UAE, two countries accused of war crimes in Yemen, were allowed to flex political muscle at these talks in any form is, without a doubt, a great disgrace and an insult to Yemenis.
The Ansarullah said the UN failure in this regard has damaged the credibility of the UN efforts in the eyes of the Sana'a delegation.
"This reflects on the UN role, and the credibility of the international community and the continuation of the war will have serious economic and humanitarian implications," Abdul Salam said, adding, "If we don't reach a solution, then the other party holds full moral and humanitarian responsibility because we've provided a lot of compromises to stop this destructive war."
Hope remains
Despite the ongoing issues, Abdul Salam made clear that the Ansarullah wanted another round of consultations, but it would require "honest intentions" from the US and the UK if any hope for lasting peace were to be achieved.
That comes as the Ansarullah knows that the talks in Sweden could become another historic failure. Just as the Oslo Peace Accords failed the Palestinians, the so-called "Rimbo Accord" could fail Yemen too.
There is no doubt that the UN's Griffiths and Sweden's Foreign Minister Margot Wallström were being genuine when they said "We will do everything we can" to support the peace effort but apparently they seem ignorant of what is really happening in Yemen.
Some argue that Saudi Arabia's continued membership in the UN Human Rights Council, despite widespread condemnations, is a sign that the UN has become too corrupt an entity, which can be bought by Arab dictatorships in the Persian Gulf for their own selfish aims.
What is clear is that Yemen deserves better than what the UN conjured up in Sweden, and before UN chief Guterres can congratulate himself, he must first remember that Yemenis will continue to die from Saudi-imposed starvation and US and UK bombs being dropped on their cities.
Full report at:
https://www.presstv.com/Detail/2018/12/15/583038/Yemen-peace-talks-Sweden-Ansrullah-Hudaydah
--------
Palestinians slam Australia's move on Jerusalem
15 December 2018
The Palestinian leadership on Saturday, described as "irresponsible" Australia's recognition of west Jerusalem as Israel's capital, saying it violated international law.
The country became one of just a few to follow US President Donald Trump's lead and recognize the contested city as Israel's capital, saying.
Australia said it would open a defense and trade office in the west of the holy city and Prime Minister Scott Morrison also committed to recognizing a future state of Palestine with east Jerusalem as its capital.
Both Israelis and Palestinians claim Jerusalem as their capital.
Most foreign nations avoided moving embassies there to prevent inflaming peace talks on the city's final status - until Trump unilaterally moved the US embassy there earlier this year.
Senior Palestinian official Saeb Erekat said in a statement that the Australian decision to open a trade office in the city violated a United Nations resolution.
"From the beginning, we've perceived the Australian government's decision to recognize Jerusalem as Israel's capital as one wherein petty domestic politics steer irresponsible policies that contradict world peace and security," he said in a statement.
"All of Jerusalem remains a final status issue for negotiations, while east Jerusalem, under international law, is an integral part of the occupied Palestinian territory," he added.
Morrison earlier Saturday announced his country's move on Jerusalem.
Full report at:
https://english.alarabiya.net/en/News/middle-east/2018/12/15/Palestinians-slam-Australia-s-move-on-Jerusalem.html
--------
Houthi militias loot Hodeidah port ahead of agreed withdrawal
16 December 2018
Sources said that Houthi militias have looted equipment, documents and goods owned by traders and investors in the port of Hodeidah ahead of an agreed-upon withdrawal from the city.
Foodstuffs, cars, supplies and other items that were on their way through the port were also stolen by the Houthis, sources confirmed.
Sources said that in the past three weeks, the city of Hodeidah has witnessed systematic plundering of government institutions as militias have replaced their uniforms with military ones, concealed their military vehicles and replaced them with other colors as camouflage.
Full report at:
https://english.alarabiya.net/en/News/gulf/2018/12/16/Houthi-militias-loot-Hodeidah-port-before-agreed-withdrawal.html
--------
Turkey won't 'give up' on Khashoggi murder probe: Minister
Dec 15, 2018
DOHA: Turkey's foreign minister said on Saturday his country would "not give up" on finding out the truth about the murder of Saudi journalist Jamal Khashoggi inside the kingdom's consulate in Istanbul.
"We haven't received any new information or outcome of the investigation from the Saudi side," Mevlut Cavusoglu said on the sidelines of a conference in Turkish ally Qatar.
"Turkey will not give up on this, we will go to the end."
Earlier this month, the minister said Turkey was in talks over a possible United Nations investigation into the October 2 murder, which has provoked global outrage.
The 59-year-old Khashoggi, a palace insider turned critic of the Saudi regime, was strangled and his body cut into pieces by a 15-strong Saudi hit squad, according to Turkish officials.
The US Senate gave its unopposed backing on Thursday to a resolution holding the kingdom's de facto ruler, Crown Prince Mohammed bin Salman, responsible for the murder after the Central Intelligence Agency reportedly concluded he gave the orders.
Full report at:
https://timesofindia.indiatimes.com/world/middle-east/turkey-wont-give-up-on-khashoggi-murder-probe-minister/articleshow/67106729.cms
--------
Israel's Chief of General Staff travelled to UAE twice last month: Report
Dec 15, 2018
The president of the American Israel Public Affairs Committee (AIPAC) says the chief of staff of the Israeli military, Gadi Eisenkot, secretly traveled twice in November to the United Arab Emirates, where he met with senior officials, as a number of Arab countries in the Persian Gulf region are warming their relations with the Tel Aviv regime after clandestine contacts.
Mort Fridman said the 58-year-old Israeli commander-in-chief met with Crown Prince of Abu Dhabi and Deputy Supreme Commander of the UAE Armed Forces Sheikh Mohammed bin Zayed bin Sultan Al Nahyan besides a number of high-ranking Emirati military officials, Israel's Arabic-language MAKAN 33 public television network reported.
The senior AIPAC official further noted that an agreement on the sale of Israeli military hardware to the UAE was struck during the meeting.
The Israeli side also agreed to make adequate preparations for the imminent visit of top-brass Emirati officers to Israel.
Israeli Transportation and Intelligence Minister Yisrael Katz visited Oman on November 4 to attend an international transport conference and pitch a railway project that would link the Persian Gulf to the Mediterranean via the Israeli-occupied territories.
Israeli Prime Minister Benjamin Netanyahu in late November visited Oman, where he met Sultan Sayyid Qaboos bin Said Al Said at the Bait al-Barakah Royal Palace in the coastal city of Seeb near the capital Muscat.
Israel's English-language daily newspaper The Jerusalem Post reported that the two men had discussed ways to advance the so-called Middle East peace process as well as mattes of mutual interest with regard to the region's stability.
Netanyahu was accompanied by senior officials, including the head of the Mossad spy agency and his national security adviser.
Netanyahu's unpublicized visit to Oman came on the same day that Israeli Culture and Sports Minister Miri Regev traveled to the UAE to accompany Israel's judo team at the Abu Dhabi Grand Slam 2018.
Regev arrived in Abu Dhabi on October 26, and she participated in the opening ceremony of the international event at the Emirati capital's Zayed Sports City, Palestinian Arabic-language Ma'an news agency reported.
Her visit to the UAE marked the first of its kind by an Israeli minister to a Persian Gulf littoral state.
Tel Aviv and Abu Dhabi have no diplomatic ties and the UAE does not recognize Israel, but the two sides have increased backchannel cooperation in recent years. There have been numerous reports of growing contacts between Saudi and Israeli officials too.
Among Arab countries, Israel has diplomatic relations only with Egypt and Jordan.
Full report at:
https://www.presstv.com/Detail/2018/12/15/583004/Israels-Chief-of-General-Staff-Eizenkot-travelled-to-UAE-twice-last-month-Report
--------
Israel razes home of 'Palestinian stone thrower'
Dec 15, 2018
A video shows Israeli forces blowing up the house of a Palestinian prisoner who is accused by Tel Aviv of killing an Israeli soldier in March.
Palestinian Al-Quds television network reported that the explosion destroyed Islam Abu Hamid's house in the al-Am'ari refugee camp in the occupied West Bank city of Ramallah on Saturday. The network also posted on its Twitter account a picture of the aftermath of the blast.
Footage was also circulated online showing the house going up in smoke and dust.
The demolition came amid an intense search operation across the occupied territories after two soldiers were killed near Ramallah.
On Friday, the military said it had rounded up as many as 40 Palestinians, trying to hunt down the suspect.
The two Israeli troops were killed after an attacker emerged from a vehicle and shot at soldiers near the settlements of Beit El and Ofra on Thursday.
The alleged shooting came after Israeli forces killed three Palestinians in separate operations over the span of six hours.
In total seven people were killed in the most violent day to hit the occupied West Bank and Jerusalem al-Quds in months.
Israeli forces attack Iran TV crew
Also on Friday, Israeli forces targeted the crew of Iranian Arabic-language al-Alam news channel in the Gaza Strip, injuring the Iranian reporter Asra Behisi.
Israeli forces were trying to prevent the network from reporting on weekly protests in support of Palestinians' right to return to their homes in the occupied territories.
Footage of the incident featuring Behisi showed the forces hitting her with rubber-coated bullet, despite her wearing a "press vest" clearly distinguishing her.
Full report at:
https://www.presstv.com/Detail/2018/12/15/582977/Israel-explosion-house-Palestinian-suspect-killing-Israeli-special-force-West-Bank-alAlam-reporter-injured-Gaza
--------
Europe
Austrian ban on Muslim, Turkish symbols denounced
December 15, 2018
A move by Austria to include Muslim and Turkish symbols as banned signs of extremism has drawn the ire of these communities who denounce it as a politically-motivated move amid the rise of the far-right in Europe.
Austrian parliament approved the amendment on Wednesday for the ban of what the law called extremist symbols, including a gesture of the "grey wolf," a symbol of the Turkish opposition Nationalist Movement Party (MHP) and the "rabaa" (or rabia in Turkish), a hand gesture commonly used by the Turkish government and Muslims to symbolize unity.
The ban, which will come into force in March 2019, brings fines up to 10,000 euros for the use, distribution of badges and other material containing the symbols.
Farid Hafez, an Austrian-born Georgetown University researcher and a prominent political scientist, told Anadolu Agency that the amendment did not openly mention symbols but openly mentioned the Muslim Brotherhood and the Austrian Turkish Federation.
"What is more dangerous for Muslims that the [Austrian] interior ministry can define any group as extremist and ban them. It openly targets Muslims and wants to disturb the Muslim community in the country," Hafez said. He says the Austrian coalition government of far-right and center-right parties pushed for more bans recently and pointed out that the new law did not ban symbols belonging to racist and far-right groups. "They don't do anything against their own 'extremists'," Hafez said. He says this "discrimination" indicated that the government was not actually fighting extremism as it claims.
Murat Durdu, the head of the Land of All Cultures (HAK) party that was founded by Turks in Austria, spoke about the ban on "grey wolf" gesture and said the Austria chapter of the Idealists' Club, a famous nationalist organization of Turkey, was not on the watch list of Austrian authorities for extremism.
"The club does not have any illegal or any anti-Austrian agenda. The law aims to portray Turks and Muslims as criminals," Durdu said, adding that it was part of a vicious policy which also manifested itself in a planned ban on headscarves.
Wilhelm Lagthaler, an activist and writer, described the ban as "anti-democratic" and said that the far-right government sought to polarize people by targeting some communities with such bans.
"Bans drive communities to marginalization and remove the chance of co-existence," Lagthaler said.
The Turkish Foreign Ministry denounced the ban on Wednesday in a statement. "It is worrying and concerning that a legal action with an ambitious goal like cooperation in counterterrorism was deviated from its course by a political and populist move. It is clear that the law does not comply with democratic values and it does target political establishment and democracy as a whole, not only those who use the symbols," the statement said.
https://www.dailysabah.com/turkey/2018/12/15/austrian-ban-on-muslim-turkish-symbols-denounced
--------
War on militants 'won't end unless West tackles root causes'
December 15, 2018
WASHINGTON: Western powers fighting militant groups around the globe are condemned to a never-ending battle if they only tackle the symptoms and not the underlying causes of militant insurgency, experts say.
"Beyond the tactical victories on the ground, the current strategy is failing," said Katherine Zimmerman, who wrote a recent report for the American Enterprise Institute.
"Every soldier and intelligence analyst that has worked on this problem understands what is happening," Zimmerman told AFP.
"They understand that what they are doing is a temporary solution. It's ending the immediate threat but not stabilizing or moving us forward. The problem comes down to policy and politics," she noted.
"It's easy to say, 'We're going to kill the person responsible for making the bomb.' It is much more difficult to say that our partner government has disenfranchised this group and it's one of the reasons why this person joins the terrorist group. And now he is the bomb maker."
Driven from lands it once held sway over in Syria and Iraq, Daesh has returned to its origins as an underground militant outfit because the conditions that spawned it — a deep discontent among most Iraqis and Syrians — have persisted, experts say.
"The West is on the road to winning all the battles and losing the war," warned Zimmerman.
In a report last month on the resurgence of Daesh as a clandestine guerrilla group, the Center for Strategic and International Studies (CSIS) said that while the US and allied governments have weakened some groups like Daesh, "many of the underlying causes have not been adequately addressed."
Those root causes include a "fragile state with weak or ineffective governing institutions" in areas affected by militant activity, where the extremists can establish a sanctuary, the CSIS experts said.
They took maps showing areas where Al-Qaeda and Daesh were active and compared them to maps displaying "government effectiveness," based on World Bank statistics.
The result was clear: Most of the countries where the insurgents are active — Yemen, Syria, Iraq, Afghanistan, Libya, Mali, Nigeria, Somalia — are also in the bottom 10 percent for government effectiveness.
At a conference this week in Washington, retired Marine Gen. John Allen — who once commanded US forces in Afghanistan and now heads the prestigious Brookings Institution — said the West had to get ahead of the issue and ask, "Where should we be looking for the next problems?"
"We should spend a great deal more time looking at those areas that are in fragile or failing states," said Allen, who also served as presidential envoy to the international coalition battling Daesh.
"We have to recognize the hotspots where the human condition prompts the radicalization of large sectors of the population," he added.
"Often we join the conversation when the process of radicalization has been in place for quite a long time."
Full report at:
http://www.arabnews.com/node/1421326/middle-east
--------
EU urges Turkey to refrain from 'unilateral' Syria move
15 December 2018
The European Union's foreign policy chief on Saturday asked Turkey to forgo any unilateral military action in Syria, where Ankara has threatened a fresh offensive against a US-backed Kurdish militia.
"The statements of a possible Turkish military operation in northeast Syria are a source of concern," Federica Mogherini said in a statement.
"We share the goal of ending violence, defeating terrorism and promoting stability in Syria and the wider region. We expect the Turkish authorities therefore to refrain from any unilateral action likely to undermine the efforts of the Counter-Daesh Coalition or to risk further instability in Syria," she said, using the Arabic acronym for ISIS extremist group.
President Recep Tayyip Erdogan said Wednesday that Turkey will launch a new operation in Syria within days against Kurdish People's Protection Units (YPG) militia, which have Washington's support but which Ankara considers a terrorist group.
The Pentagon warned Wednesday that any unilateral military action in northern Syria would be "unacceptable".
Mogherini, calling Turkey "a critically important actor in this crisis and in the region", said that "as the fight against Daesh is entering its final stages, all parties must work towards the goal of ensuring its upcoming defeat".
Any Turkish military move against YPG would be complicated by the likelihood of Ankara's armies coming face to face with US troops deployed with the Kurdish militia.
Although Turkey and the US are NATO allies, their relationship has come under strain in recent years, notably as Washington's help for the Kurds triggered Ankara's anger.
Full report at:
https://english.alarabiya.net/en/News/middle-east/2018/12/15/EU-urges-Turkey-to-refrain-from-unilateral-Syria-move.html
--------
UK to establish military base in Kuwait: Report
Dec 15, 2018
The UK government has reached an agreement with Kuwait to establish a military base in the tiny Persian Gulf country, local Kuwaiti media reports claim.
Kuwait's Al Rai newspaper first reported, citing unnamed diplomatic sources, that officials from both countries were scheduled to meet Thursday to discuss cooperation between the two sides, including in military, security, economy, culture and education, according to Middle East Monitor.
Kuwait's Al-Qabas newspaper also confirmed the report, citing its own unnamed sources, noting that the base was about to begin work soon albeit in a limited capacity.
Neither Kuwaiti nor British authorities commented on the report.
British Ambassador to Kuwait Michael Davenport had signaled in October that the two side were going to discuss the operational and logistic aspects of a British military presence in Kuwait once they meet in December.
"We're looking at all the possibilities. We're not talking about a major deployment I don't think, but we're looking at what might work for both the United Kingdom and for Kuwait. As I say, it's at a very early stage," he said then.
Al Rai quoted Kuwaiti Deputy Foreign Minister Khalid Al-Jarallah as saying that the future British military base had nothing to do with a long-running border dispute between Kuwait and neighboring Saudi Arabia.
In 1922, the two countries agreed to establish the Partitioned Neutral Zone (PNZ) to settle a territorial dispute over shared oil resources. According to estimates by the US Energy Information Administration and the Oil and Gas Journal, the 6,200-square-mile area holds 5 billion barrels of oil and 1 trillion cubic feet (Tcf) of natural gas.
If true, this will be Britain's second military base in the Persian Gulf region next to the UK Naval Support Facility in Bahrain's Salman Port.
That base is also located off the coast of Saudi Arabia and has room for up to around 500 Royal Navy personnel, including sailors, soldiers and airmen.
Earlier this year, when the facility was officially opened, London said having a base in the region allows the UK Royal Navy to carry out longer-term deployments in the Persian Gulf and makes it easier to provide engineering and logistical support for British ships there.
Full report at:
https://www.presstv.com/Detail/2018/12/15/582949/Uk-Kuwait-military-base
--------
EU calls on Turkey to refrain from any unilateral action in Syria
Dec 15, 2018
European Union's top foreign policy official has called on Turkey to avoid taking any unilateral action in Syria that could destabilize the Arab country.
Federica Mogherini said in a statement on Saturday that Turkey's promise for launching a fresh offensive into northern Syria to battle Kurdish militants was a source of concern, adding that such unilateral moves would undermine efforts by a Western military alliance in Syria that alleges to be fighting the Daesh terrorist group and other militants.
"The statements of a possible Turkish military operation in northeast Syria are a source of concern," said Mogherini, adding, "We expect the Turkish authorities therefore to refrain from any unilateral action likely to undermine the efforts of the Counter-Daesh Coalition or to risk further instability in Syria."
The top EU diplomat further urged Turkey to help preserve West's efforts meant to end the Daesh-led militancy in Syria.
"As the fight against Daesh is entering its final stages, all parties must work towards the goal of ensuring its upcoming defeat" she said.
Mogherini's statement came days after the United States, which leads the so-called anti-Daesh coalition in Syria, condemned Turkish President Recep Tayyip Erdogan's announcement that Ankara was planning to launch an offensive against US-backed Kurdish militants of People's Protection Units (YPG) in northern Syria.
Ankara and Washington have been largely at odds over the YPG and its role in Syria as Turkey continues to designate the group as terrorist while the US claims it has been a major help in the fight against Daesh and other terror groups.
Washington has tolerated Turkey's previous military operations against Syrian Kurds in areas west of the Euphrates river but there is a serious risk the two NATO-allied countries might directly clash with each other if Ankara decides to expand its offensive to the east of the river.
Full report at:
https://www.presstv.com/Detail/2018/12/15/583041/Turkey-Syria-operation-EU-US-Kurds
--------
Father of Strasbourg attacker said his son backed Daesh
December 16, 2018
PARIS: The man described as the father of the 29-year-old suspect in this week's deadly Christmas market attack in Strasbourg says his son subscribed to the beliefs of the Daesh group.
The interview with Abdelkrim Chekatt by the state-run France 2 television channel was shown Saturday night, two days after the son was killed in a confrontation with three police officers in his childhood neighborhood in Strasbourg following a massive manhunt. Four people died in the Tuesday night attack. A dozen others were wounded.
The Christmas market in the eastern city of Strasbourg, seat of the European Parliament, is the largest in France. It reopened on Friday after being closed during the search for the suspect.
Chekatt said he had seen his son, Cherif Chekatt, three days before the attack but couldn't contact him while he was on the run.
He acknowledged that his son backed the Daesh group.
"He'd say, for example, that Daesh, fights for the just cause and all that," the red-bearded father said, using the common term in France and elsewhere for the Daesh group.
The interview, initially outdoors with the father, continued briefly inside with Cheriff Chekatt's mother, Rouadja Rouag, who expressed shock and sorrow for the deaths. France 2 said the couple had been divorced for a long time.
Abdelkrim Chekatt, a French-Algerian, said he'd tried in the past to dissuade his son from backing the Islamic State, saying, "You don't see the atrocities they commit." The son would reply that "it's not them," the father said.
Shortly after Chekatt's death, the Daesh group's Amaq news agency claimed he was a "soldier" of the group. French Interior Minister Christophe Castaner rejected the claim as "totally opportunistic."
The father and mother and two siblings of the suspected killer were among seven people held for questioning. French media reported that the family members were released. The three others, still in custody, are unrelated but close to Chekatt.
The young Chekatt had been on a French intelligence watch list for radicalism and was convicted 27 times for criminal offenses — the first time at age 13 — mainly in France but also in Germany and Switzerland. Investigators are trying to determine whether he had accomplices or logistical support.
The father said he went to police of his own accord and on a suspicion the night of the son's rampage with a handgun and a knife.
He said he told police that "if ever you locate Cherif, tell me. I'll go to him and try to reason with him to give up."
Full report at:
http://www.arabnews.com/node/1421516/world
--------
Africa
ISIS leaflets containing detailed terror attack plans found in Libya
15 December 2018
Libyan security authorities found leaflets containing plans by the ISIS extremist group to carry out terrorist bombings targeting state headquarters, in addition to written threats to assassinate a number of security and military officials.
According to a statement released on Friday by the media office of the security directorate of the interim government's interior ministry in al-Rajban city, the publications belonging to ISIS were found in a coffee shop, including threats to blow up and sabotage al-Zintan airport. It also had detailed plans to bomb the headquarters of security directorates, police stations and other security services such as internal and external security and intelligence, in addition to assassinating security and military officials.
The statement did not specify the method of execution that ISIS planned to use in the alleged planned bombing, but since the emergence of the extremist group in Libya, it has adopted methods based on car bombs or suicide bombers in its attacks.
Accordingly, Rajban's security directorate announced a state of high alert and appealed to all police members to absent from work in all cities as well as military personnel who are not stationed to join their ranks and carry out their duties in order to maintain stability and security.
ISIS, which is still active in southern and central Libya, announced this year that it was responsible for several major terrorist attacks in various parts of Libya that killed dozens, namely security personnel.
https://english.alarabiya.net/en/News/north-africa/2018/12/15/ISIS-terror-plans-to-assassinate-officials-bomb-Zintan-Airport-in-Libya-thwarted.html
--------
Conditions improving for American return to Libya: US Marine commander
Dec 16, 2018
A US military commander has declared that conditions are improving on the ground in Libya for the return of an American diplomatic post in the country, six years after the US envoy was killed there in an attack on the Benghazi consulate.
"There were indications that ... recent improvements in the landscape and the operating environment of Libya were suggestive that a reintroduction a diplomatic mission was on the near horizon," Commander of Special Purpose Marine Air-Ground Task Force-Crisis Response Africa, Col. Adam Chalkley, stated on Friday as quoted in the US-based military.com news website.
According to the report, the taskforce was established as a result of the September 11, 2012 attack on the Benghazi diplomatic post that killed US Ambassador Chris Stevens and three other Americans.
Chalkley further asserted during a presentation at the Virginia-based Potomac Institute for Policy Studies that he spent much of his time on a recent six-month deployment in the war-torn North African nation helping to ensure there would be no repeat of the deadly attack that also burnt down the US consulate.
"State Department was putting a lot of effort into building that out and doing key leader engagements that would enable [this] from a national interest perspective, so that really dominated what we were doing," he said.
"There is obviously a large desire to return to a US diplomatic presence," Chalkley further underlined, pointing out that conditions looked favorable for a time and then declined. "But there is still engagement; there are still things happening on a diplomatic front and building diplomatic ties."
The crisis-response task force deployed in March and spent seven months operating out of Morón Air Base in Spain and Sigonella Naval Air Station in Italy.
"I had three KC-130s, six MV-22s and a reinforced infantry company," Chalkley added, describing his force of approximately 850 US Marines and sailors.
He further explained: "It's not just our team going in and being the sole responders. Special operations forces and other elements arrayed across the continent ... they are able to do the things they do because they know that we are there to backstop them.
According to the Marine commander, "We are there to facilitate and ensure that they are able to do their very discreet, very important missions in a manner that, again, helps serve as a deterrent, helps uncover potential threats [and] puts pressure on those organizations that serve as threats."
Chalkley further expressed confidence about not allowing another threat against US facilities to go unnoticed, saying: "The reason those things aren't happening is because people know that we are there and ready to come in. There is an absolute recognition that operations and forces postured on the periphery, able to respond is a great deterrent for people behaving badly."
His task force, the report added, worked directly for US Marine Forces Europe and Africa but spent considerable time working at the State Department and Special Operations Command Forward (SOF) - North and West Africa.
"In many ways, our tie with SOF and our tie with Department of State efforts to reintroduce a diplomatic mission into Libya really dominated the entirety of our time," Chalkley emphasized.
He further clarified that the unit's primary mission was to provide limited crisis and contingency response, conduct operations to safeguard American citizens, facilities and interests in theater.
The development came nearly two weeks after scores of Libyans waged a protest rally against a new US airstrike on a desert area in the country's southwestern town of Uwaynat, near the Algerian border, insisting the strike targeted and killed civilians.
The rally was staged by members of the ethnic Tuareg tribe living in the area pounded by US forces.
They demanded that the Tripoli-based government launch a probe into the deadly attack.
Full report at:
https://www.presstv.com/Detail/2018/12/16/583057/US-military-Libya-Marine-commander-Bol-Adam-Chalkley-Benghazi-consulate-attack
--------
Israeli weapons fueling South Sudan civil war: Report
Dec 16, 2018
Millions of dollars worth of Israeli weapons ended up in South Sudan, thus extending the duration of a deadly civil war there, the Jerusalem Post newspaper has reported.
Israel has close ties with the South Sudan regime which is accused of using Israeli arms and surveillance equipment in the civil war, which has left close to 400,000 people dead since 2013.
Former head of the Israeli army's operations directorate Israel Ziv has been cited as one of the agents who used legal entities as a cover for the sale of millions of dollars worth of weapons to South Sudan.
His name was revealed after being sanctioned by the US Treasury Department on Friday for fueling the conflict in South Sudan where Washington has its own vested interests.
According to a Treasury statement, Ziv used an agricultural company that was nominally present in South Sudan to carry out agricultural and housing projects for the government.
The projects, however, were "a cover for the sale of approximately $150 million worth of weapons to the government, including rifles, grenade launchers and shoulder-fired rockets," the statement said.
Ziv was paid through South Sudan's oil industry and is said to have "maintained the loyalty of senior Government of South Sudan officials through bribery and promises of security support," it added.
Being in close collaboration with a major multinational oil firm, he also planned attacks by mercenaries on South Sudanese oil fields and infrastructure, in an effort to create a problem that only his company and affiliates could solve, the report said. Israel recognized South Sudan on July 10, 2011, a day after it seceded from Sudan. The youngest country in Africa has been embroiled in a civil war since December 2013 after a political disagreement between President Salva Kiir and the former vice president he had sacked, Riek Machar.
Back in 2016, an Israeli Channel 2 investigation implicated Ziv in the organization of public relations operations for President Kiir.
With the death toll estimated at 400,000, millions of people have also been displaced from their homes in the fighting.
Israel is said to be seeking to take advantage of the insurgency and Takfiri militancy gripping parts of Africa to sell advanced military equipment to conflict-ridden states such as South Sudan.
A 2016 UN report said that Israel's Micro Galil automatic rifles are "present in larger numbers than before the outbreak of the conflict" in South Sudan.
Full report at:
https://www.presstv.com/Detail/2018/12/16/583062/Israel-South-Sudan-weapons
--------
Pakistan
Pakistan army chief confirms death sentence for 15 militants
December 16, 2018
ISLAMABAD: Pakistan's army chief has approved death sentences for 15 people convicted by military courts of involvement in attacks that killed 32 security forces and two civilians.
A military statement issued Sunday says Gen. Qamar Javed Bajwa also approved prison terms for 20 alleged militants. It says they were involved in attacks on security forces and Christians, and the destruction of educational institutions. It did not say when the men would be executed.
Military trials are not open to the public in Pakistan, but defendants can hire their own lawyers.
Pakistan lifted a moratorium on the death penalty after a 2014 militant attack on an army-run school in Peshawar that killed more than 150 people, mostly schoolchildren.
The fourth anniversary of the attack is being observed Sunday.
http://www.arabnews.com/node/1421571/world
--------
Pakistan court acquits 2 prime suspects in Sarabjit's murder case
Dec 15, 2018
LAHORE: A Pakistani court on Saturday acquitted two prime suspects in the murder case of Indian national Sarabjit Singh in 2013 in the Kot Lakhpat jail here, citing "lack of evidence" against them.
The Lahore Sessions court announced its verdict in the case which was pending for more than five years.
According to a court official, Lahore's additional district and sessions judge Muhammad Moin Khokhar acquitted the main suspects – Amir Tamba and Mudassar – after all witnesses turned hostile.
"Not a single witness testified in the court against both the suspects. The court acquitted them for lack of evidence against them," the official said.
He said both suspects made their presence in the court through a video link from the Kot Lakhpat Jail because of security concerns.
Amir and Mudassar, two Pakistani death row prisoners, attacked Singh, 49, in Lahore's Kot Lakhpat jail in 2013 resulting in his death.
In previous hearings, the judge had expressed his anger as the prosecution failed to bring forth prosecuting witnesses to record their statement.
One witness in the previous hearing told the court that Singh was brought to the Services Hospital in a critical condition.
"I wanted to record Singh's statement but the doctors stopped him, terming his condition very serious," the official quoted the witnesses.
Singh died before recording his statement before the doctors.
A one-man judicial commission of Justice Mazhar Ali Akbar Naqvi of Lahore high court had initially investigated Singh's murder case before the trial kicked off in the Sessions court.
Naqvi recorded the statements of some 40 witnesses in the case and submitted its report to the government which is yet to make its findings public.
The one-man commission had also issued notices to Singh's relatives through the foreign ministry to record their statements and produce any evidence they had regarding his death.
However, Singh's family did not record their statements, the officials had said.
Tamba and Mudassar, in their statements to the commission, had confessed to the crime and said they killed Singh as they wanted to avenge the killing of people in Lahore and Faisalabad in bomb blasts allegedly carried out by the Indian national.
Full report at:
https://timesofindia.indiatimes.com/world/pakistan/pakistan-court-acquits-2-prime-suspects-in-sarabjits-murder-case/articleshow/67106013.cms
--------
BBC says omission of Jadhav's mention from Pak minister interview 'not an act of censorship'
Dec 15, 2018
ISLAMABAD: British public broadcaster BBC has defended the omission of Kulbhushan Jadhav's mention in Pakistan from its interview with Pakistan's finance minister Asad Umar, saying it was "not an act of censorship".
In an interview to BBC's Stephen Sackur for the 'Hardtalk', the finance minister answered questions on various issues of national importance, including the state of Pakistan's economy and China–Pakistan Economic Corridor.
The TV version of the interview, however, did not contain his mention of Jadhav, who was sentenced to death in 2017 by a Pakistani military tribunal on alleged spying charges.
Human rights minister Shireen Mazari criticised the BBC for deleting the part about Jadhav, terming it "typical bias" on the part of the broadcaster.
"Shameful how BBC censored and chopped off Asad's mention of Indian spymaster Jhadav! Typical bias of BBC!," she tweeted.
BBC 'Hardtalk' on Twitter, however, clarified that Jadhav's name had been omitted from the TV version of the interview and not the radio version, and that it was not done to censor the minister's words.
"The reason Kulbhushan Jadhav's name was deleted from the TV version of the HARDtalk interview with Asad Umar has a simple technical explanation. The recorded interview was too long for our broadcast slot and so had to be edited. This was done separately for radio and TV," it tweeted.
The reason Kulbhushan Jadhav's name was deleted from the TV version of the HARDtalk interview with Asad Umar
has a… https://t.co/DXVSg0OtTT
— BBC HARDtalk (@BBCHARDtalk) 1544718885000
"His name was omitted from the TV version. This was not an act of censorship, but clearly confusion has been caused, so we are happy to restore that short section to the TV broadcast and we'll give the new programme an extra airing tonight as well as tomorrow morning," the broadcaster said.
On BBC's clarifictaion, the human rights minister said, "As pathetic an explanation as any! BBC's bias has always been there and then there are mega bucks to be earned from India!"
As pathetic an explanation as any! BBC's bias has always been there and then there are mega bucks to be earned from… https://t.co/fV88BKiIE8
— Shireen Mazari (@ShireenMazari1) 1544759651000
Pakistan alleges that its security forces arrested Jadhav from Balochistan province in March 2016 after he reportedly entered the country from Iran.
India denies all the charges and maintains that Jadhav was kidnapped from Iran where he had business interests after retiring from the Navy and that he has no links with the government.
After Jadhav was sentenced to death, India moved the International Court of Justice against the verdict in May 2017.
The world court has halted Jadhav's execution on India's appeal pending the final verdict by it.
Full report at:
https://timesofindia.indiatimes.com/world/pakistan/bbc-says-omission-of-jadhavs-mention-from-pak-minister-interview-not-an-act-of-censorship/articleshow/67102311.cms
--------
Afghan border fence to be ready by Dec 2019: ISPR
December 16, 2018
KARACHI: The Pakistan Army announced on Saturday that work on fencing along the border with Afghanis­tan was going apace and that the project would complete by next December.
Pakistan and Afghanistan share a long porous border and Islamabad believes it could help contain terrorist activities on this side of the mountainous border — running from tribal areas in Khyber Pakhtunkhwa to borderlands in Balochistan — if cross-border movement of militant elements is checked.
In May, Chief of the Army Staff Gen Qamar Javed Bajwa inaugurated the work for erecting fences along the Afghan border near the Panjpai area of Balochistan.
The director general of the Inter-Services Public Rela­tions (ISPR), the army's public affairs wing, released the details of the progress on the construction of fencing and posts in a tweet on Saturday. "Work on forts & fence continues on Pak-Afg Bdr. Total length 2611 KM. Work on 233 of 843 forts & 802 of 1200 KM pri 1 areas completed. Aiming speedy completion in pri 1 areas, overall completion [is expected] by Dec 2019 IA [InshaAllah]. Shall benefit peaceful people of Pak & Afg while restricting terrorists."
Prime Minister Imran Khan during his first visit to North and South Waziristan tribal districts on Nov 26 witnessed the ongoing work on border fencing.
Accompanied by the army chief, the premier while addressing a jirga on the occasion said that Pakistan believes in peace beyond borders and would play its role in the Afghan peace process.
Mr Khan witnessed the fencing work in the Ghulam Khan border area. The ISPR at the time had said the prime minister hailed achievements of the security forces and intelligence agencies for their successful operations against terrorists.
Full report at:
https://www.dawn.com/news/1451677/afghan-border-fence-to-be-ready-by-dec-2019-ispr
--------
Social media companies cooperated with Pakistan: Fawad
Dec 16, 2018
The federal government wants to prevent "hate speech and not to curb free speech", Information Minister Fawad Chaudhry said Friday night, adding that "social media companies have cooperated with us".
Speaking to a private news channel, Fawad said the Pakistan Electronic Crime Act and the Federal Investigation Agency's (FIA) cyber wing are inactive.
He, however, said that "social media companies have cooperated with us, especially with regard to some recent developments."
"It was [the Pakistani government's] request that led Facebook to block most of the accounts," the minister said. "We desire the prevention of hate speech and not to curb free speech."
Earlier, microblogging website Twitter had published a report, wherein it stated that the Pakistani officials reported more than 3,000 accounts in the first six months of 2018 for allegedly spreading hate speech and inciting violence.
According to the social media platform's report for the January-June 2018 period, Islamabad forwarded requests to block 243 accounts. Of these, Twitter found 141 to be violating its guidelines and shut them down.
A total of 3,004 accounts were reported by the Pakistani government during the first six months of 2018.
In the preceding period (July-December 2017), 674 accounts were reported to Twitter and requests to block 75 accounts were forwarded.
Full report at:
https://www.pakistantoday.com.pk/2018/12/15/social-media-companies-cooperated-with-pakistan-fawad/
--------
Kartarpur corridor: Russian envoy acknowledges Pakistan's commitment to peace
Dec 16, 2018
ISLAMABAD: Russian Ambassador in Pakistan Alexey Dedov said that Pakistan's commitment and efforts for regional peace and stability are highlighted by the country's decision to open the Kartarpur Corridor.
The Kartarpur Corridor, the groundbreaking ceremony of which was held late last month, will provide visa-free access to Sikh pilgrims from India.
The Russian ambassador made the comments while speaking on the topic of "Russia's Stabilising Role in South Asia" at an event organised by the Pakistan Institute of International Affairs.
Dedov said that Russia wishes to improve its bilateral relations with Islamabad and expressed appreciation for Pakistan's counter terrorism efforts under Operation Zarb-e-Azb and Raddul- Fasaad.
He also laid emphasis on Russia's desire to improve trade relations with Pakistan and China, while adding that the country is also a part of China's Belt and Road Initiative.
In addition, the ambassador highlighted the need to improve cultural, economic and social relationship between the two countries.
"Dynamic changes in the region have occurred. On one side we have globalisation and technological progress while on the other hand we are facing international terrorism, drugs and human trafficking which changes the international landscape so quickly," he said.
Full report at:
https://www.pakistantoday.com.pk/2018/12/15/pakistans-commitment-to-peace-highlighted-by-kartarpur-corridor-russian-ambassador/
--------
URL: https://www.newageislam.com/islamic-world-news/visit-our-mosque-programme-understand/d/117171
New Age Islam, Islam Online, Islamic Website, African Muslim News, Arab World News, South Asia News, Indian Muslim News, World Muslim News, Women in Islam, Islamic Feminism, Arab Women, Women In Arab, Islamophobia in America, Muslim Women in West, Islam Women and Feminism