New Age Islam News Bureau
6 May 2020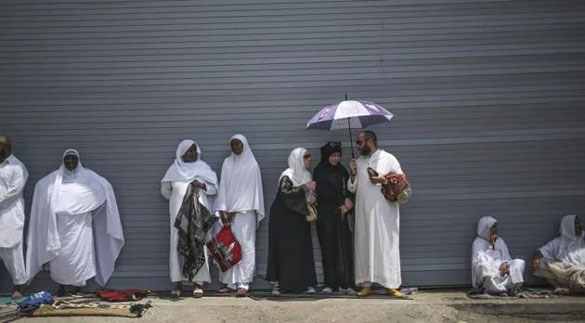 Saudi authorities have ordered the arrest of a citizen for abusing a non-Muslim Asian expatriate and asking him to embrace Islam, according to a media report on Tuesday.(AP file photo for representation)
-----
• Virus Misinformation Fuels Hatred Against Muslims In India: AFP
• Saudi Arabia Orders Arrest of Its Citizen for Abusing Non-Muslim Asian Expat
• Dabirul Islam Choudhury, 100, Raises More Than £70,000 For Covid-19 Victims of Both the UK And Bangladesh While Fasting for Ramadan
• Why the Court Ruled That the Ban on Religious Gatherings Is Not Unconstitutional
• Beware of Hypocrites, Nigerian Scholar Cautions Muslims
• Lahore High Court Moved for Separate Graveyards for Coronavirus Victims
• Iran: Mullahs' Judiciary Admits Arrest of Amir Hossein Moradi and Ali Younesi, Sharif University of Technology Elite Students
• Joint Statement by The Government of The Islamic Republic of Afghanistan And the United • Nations Assistance Mission in Afghanistan
• Leading Thai Muslim Cleric,Sheikhul Islam Issues Edict to Refrain from Observing Friday Prayers
-------
India
• Virus Misinformation Fuels Hatred Against Muslims In India: AFP
• UP: Villagers Bar Entry of Muslims After Infection in Nearby Hamlet, 3 Arrested
• Old video from Pakistan viral as Muslim women caught shopping during lockdown in India
• Plea in High Court Seeks Removal ofZafarul Islam Khan as Delhi Minorities Commission Chairman
• India will remember Covid-19 as blessing in disguise, says health minister
------
Arab world
• Saudi Arabia Orders Arrest of Its Citizen for Abusing Non-Muslim Asian Expat
• Saudi Cabinet Affirms Palestinian Cause Will Remain 'Central Issue' For Arabs And Muslims
• Ramadan 2020: tradition and technology combine to put virtual iftars on the menu
• Egypt gears up to repatriate stranded citizens abroad by end of Ramadan
• Doha Festival City, QC distribute Ramadan food baskets to workers
• Custodian of The Two Holy Mosques Iftar Program Distributes Food Baskets in Bosnia
------
Europe
• Dabirul Islam Choudhury, 100, Raises More Than £70,000 For Covid-19 Victims of Both the UK And Bangladesh While Fasting for Ramadan
• Prominent Muslim Scholars Around the World Issue COVID-19 "Message to Humanity"
• UK Muslim Charities Report Unexpected Level of Donations Amid Ramadan in COVID-19 Crisis
• Manchester's Young Audiences Content Fund announces new slate of projects
• Coronavirus prompts German discussion on the call to prayer
• Cambridge Central Mosque helping local community
• Sheffield organisations come together to deliver Ramadan food boxes to essential workers during coronavirus crisis
• Call to prayer broadcast for first time in London borough for lockdown Ramadan
• British Muslims go digital for socially-distanced Ramadan
• ISLAMIC FINANCE AND THE Sdgs: FRAMING THE OPPORTUNITY, "London and Kuala Lumpur collaborate on promoting the SDGs through Islamic Finance
------
North America
• Why the Court Ruled That the Ban on Religious Gatherings Is Not Unconstitutional
• Zoom Calls, Donuts and Social Media Challenges: How an Olympic Champion Is Observing Ramadan During the Coronavirus Pandemic
• Observing Ramadan Remotely, without Campus Community
• CAIR to Announce Filing of EEOC Complaint by Maryland Muslim Woman Denied Right to Pray,
• Trump Exposes the 'Great Disparity': Islam Good, Israel and Christianity Bad
------
Africa
• Beware of Hypocrites, Nigerian Scholar Cautions Muslims
• Boko Haram jihadists in deadly clash with army in southwestern Niger
• COVID-19 may sweep people like Boko Haram – Borno govt warns residents
• Boko Haram;NAF wings another female pilot, ten others in Abuja as service trains 114 pilots in 4 years
-----
Pakistan
• Lahore High Court Moved for Separate Graveyards for Coronavirus Victims
• 'Hamdard' Marks Youm-E-Babul Islam, Muhammad Bin Qasim For His Bravery and Valour
• Clerics claim mosques following SOPs, data points otherwise
• Violation of SOPs for mosques aggravates virus situation in KP
• Cabinet approves easing lockdown after May 9
• IHC proposes policy to decide criminal pleas in three months
------
Mideast
• Iran: Mullahs' Judiciary Admits Arrest of Amir Hossein Moradi and Ali Younesi, Sharif University of Technology Elite Students
• Turkish charity distributes Ramadan aid in Yemen
• 15% Rise in Imam Khomeini Port Operations
• Travel magazine lists Iran's 'Pink Mosque' among top destinations for 2020
• How a 10th-century Muslim surgeon revolutionised surgical procedures
------
South Asia
• Joint Statement by The Government of The Islamic Republic of Afghanistan And the United Nations Assistance Mission in Afghanistan
• Afghan government strongly reacts to killing of dozens of Afghans in Iran border
• 16 Taliban militants killed, wounded in Badakhshan province
• Afghan forces repulse Taliban attack in Wardak province: 203rd Thunder Corps
• Afghan government releases 102 Taliban prisoners, vows to release more upon start of talks
• Senior official killed, many others wounded as explosions target power pylons in Afghanistan
• Bangladeshis stranded in USA to be brought back on May 14 or 15
• Students in China's virus centre Wuhan return to school
------
Southeast Asia
• Leading Thai Muslim Cleric,Sheikhul Islam Issues Edict to Refrain from Observing Friday Prayers
• Ninja Van Employees Work Graveyard Shifts to Meet Next-Day Ramadan Deliveries During CMCO
• Broadcaster shutdown crosses dangerous line for Philippines
• Indonesia's economy heads into turbulence as Q1 growth plunges: Economists
• Health Ministry lodges police report over social media posts
Compiled by New Age Islam News Bureau
URL; https://www.newageislam.com/islamic-world-news/virus-misinformation-fuels-hatred-muslims/d/121773
------
Virus Misinformation Fuels Hatred Against Muslims In India: AFP
May 6, 2020,
Gayur Hassan's Hindu neighbours came at night, throwing stones at his family's home in a northern Indian village and setting his workshop on fire. All because his son "liked" a social media post.
The Facebook post that Hassan's 19-year-old son endorsed had denounced the targeting of India's Muslim minority since the nation of 1.3 billion went into a coronavirus lockdown in late March.
According to the police who arrested two men, his family was threatened with further retribution unless they shaved off their beards and stopped wearing skull caps.
"My forefathers lived here and I was born here," Hassan, 55, told AFP by phone from Keorak, their village where a dozen Muslim families live among about 150 Hindu households.
"We lived like a family and religion was never an issue here," the welder said. But now there is "an atmosphere of fear and hate everywhere".
The attack on the Hassan family was just the latest ugly incident in the wake of a torrent of coronavirus misinformation that is stoking hostility towards India's Muslims.
Hindu nationalists are using the coronavirus to foment hatred against Muslims, using online platforms and some mainstream media to accuse them of spreading the disease.
Critics partly blame Prime Minister Narendra Modi, who they accuse of seeking to remake India as a Hindu nation, undermining the secular and pluralist roots of the world's biggest democracy.
Over the past two months AFP's fact check team has debunked hundreds of social media posts that falsely targeted Muslims in regards to the coronavirus pandemic in India.
In one post debunked by AFP, a photo was shared on Facebook and Twitter with a false claim that it showed Indian Muslims flouting social distancing rules by praying on a rooftop.
Hundreds of thousands of online posts have also used the hashtag #CoronaJihad, some of which have been shared by members of Modi's ruling Bharatiya Janata Party (BJP).
The trolls were given extra ammunition when it emerged that a Muslim group, Tabligi Jamaat, ignored coronavirus guidelines with a religious gathering in March in New Delhi.
At one point the group was linked to almost one third of India's coronavirus cases, with around 40,000 people linked to the event or its attendees in quarantine.
Newspapers and television channels — as well as the government — have also been accused of stirring tensions, with alarmist anchors calling Tabligi Jamaat members "human bombs".
His first term as prime minister saw a rise in "cow vigilantism" — Hindu extremists lynching Muslims accused of eating beef or killing cows, which are sacred to many Hindus, according to activists.
His second term last year began with revoking the autonomy of India's only Muslim-majority state, and new citizenship legislation criticised as discriminatory.
In February, Delhi's worst religious riots in decades left more than 50 dead, two-thirds of them Muslims. A local BJP lawmaker was accused of being a main instigator.
Activists say that in recent weeks, with media attention focused on the pandemic, police have stepped up arrests over the unrest, most of them Muslims and some under anti-terror laws.
"They are making sure there is no one to raise a voice for the community after the pandemic is over," K. Rahman Khan, a former minority affairs minister, told AFP.
But Shahid Siddiqui, from the Indian Muslims for Progress and Reforms, a civil society group formed to battle Islamophobia, said the state was involved in stoking the hatred.
Coronavirus had added a new dimension, turning Muslims into the new "untouchables", Siddiqui said, a word usually used to refer to India's lowest castes.
"It (has been) a deliberate attempt by media and the government to divert the attention of the country from the crises and allow hate politics to rule."
Https://Timesofindia.Indiatimes.Com/Blogs/Foreign-Media/Virus-Misinformation-Fuels-Hatred-Against-Muslims-In-India-Afp/
------
Saudi Arabia Orders Arrest of Its Citizen for Abusing Non-Muslim Asian Expat
May 06, 2020
Saudi authorities have ordered the arrest of a citizen for abusing a non-Muslim Asian expatriate and asking him to embrace Islam, according to a media report on Tuesday.
A video went viral on social media showing the expat being insulted by an Arabic-speaking man, who does not appear in the clip, for having not embraced Islam and for not fasting, the official Saudi Press Agency reported.
A monitoring centre affiliated with the public prosecution examined the video which "shows the citizen's use of abusive words against the Asian resident on the pretext of inviting him to Islam," an official source at the Public Prosecution was quoted as saying.
"The public prosecution ordered the arrest of the abusive citizen," the source added.
https://www.hindustantimes.com/world-news/saudi-arabia-orders-arrest-of-its-citizen-for-abusing-non-muslim-asian-expat/story-JKccBXDf35ucl3M9HftgrI.html
-----
Dabirul Islam Choudhury, 100, Raises More Than £70,000 For Covid-19 Victims of Both the UK And Bangladesh While Fasting for Ramadan
HARRIET BREWIS
28 minutes ago
A 100-year-old Muslim man has raised more than £70,000 for coronavirus victims after being inspired by Colonel Tom Moore.
Dabirul Islam Choudhury is fundraising for those affected by the Covid-19 pandemic in both the UK and Bangladesh by walking laps of his community garden while fasting for the religious festival of Ramadan.
Following in the footsteps of national treasure Colonel Moore, Mr Choudhury began walking 100 laps of his 80-metre garden on April 26 to raise £1,000.
Since then Mr Choudhury's JustGiving page has raised more than £73,000 for the Ramadan Family Commitment (RFC) Covid-19 crisis initiative, run by British-Bangladeshi television broadcaster Channel S.
He plans to continue fundraising for the entire month of Ramadan – which this year runs from April 23 to May 23 – while continuing to observe religious fasting.
The RFC initiative raises money for vulnerable individuals during the 30-day period, which is observed by Muslims worldwide as a time of prayer, reflection and community.
Mr Choudhury is "one of the highest respected individuals" in his community and fundraisers said his involvement in the RFC has been inspiring.
"We like to invite people who have got a legacy, who have contributed a lot, who are inspiring and Mr Dabirul Choudhury is one of the highest respected individuals in our community.
Mr Choudhury was born on January 1 1920 in British Assam, now modern-day Bangladesh, and moved to London to study English literature in 1957.
His son, Atique Choudhury, told BBC London: "When we started, we started at a small pace but he's been increasing his number of laps he's doing.
https://www.standard.co.uk/news/uk/coronavirus-fundraising-dabirul-islam-choudhury-100-captain-tom-moore-a4433351.html
------
Why the court ruled that the ban on religious gatherings is not unconstitutional
5 May 2020
By Tanveer Jeewa
Last month a court order was sought to declare the lockdown regulations unconstitutional to the extent that they prohibit congregational worship. The applicants – Muhammed Bin Hassim Mohamed, Anas Mohammed Chothia and the As Saadiqeen Islamic Centre – wanted the Pretoria High Court, on an urgent basis, to direct the minister to amend the regulations to allow all places of religious worship to remain open, subject to conditions determined by a magistrate.
News of the application caused turmoil in the Muslim community. There was no consensus on whether praying in congregation was compulsory. The United Ulama Council of South Africa (UUCSA), an amicus curiae (friend of the court) in the case, held that many Muslims believed it would not be Islamic to allow the reopening of the mosques. A second amicus curiae, the Women's Cultural Group, representing numerous Muslim mothers and children's interests, also aligned with the UUCSA's position.
On 23 April, the case was heard. The applicants argued that their constitutional rights to freedom of movement, freedom of religion, freedom of association (including religious association) and right to dignity were being unjustifiably limited by the lockdown regulations, and were unconstitutional. The applicants believed that, upon hearing the call to prayer, Muslims are under a duty to respond by going to a mosque to pray in congregation and the lockdown barred them from exercising this right to practice their religion. Since praying in congregation had now been criminalised, they argued that they were given no choice but to disobey their religion.
According to them, despite the fact that there is no formal hierarchy of rights, as Muslims they believed that the right to religion is foundational, and should they not be able to exercise it, it would mean that they would not lead a dignified life.
The applicants further argued that the government had already made many exceptions to the "gathering" rule by allowing people to gather to take taxis, to gather for funerals, and also not limiting purchases to essential items only.
The state responded that it is not enough to show that a right has been limited, the court must also be convinced that the limitations are not justifiable. Under section 36 of the Constitution, all rights may be justifiably limited, and this determination involves a balancing exercise considering various factors including but not limited to: the nature of the right, the importance of the purpose of the limitation, the nature and extent of the limitation, the relation between the limitation and its purpose and, less restrictive means to achieve the purpose.
The view of the state was that the limitation was justified because it aimed to preserve every citizen's right to life, right to access to health care, and right to dignity given the threat that the coronavirus poses. The state respectfully conceded that not allowing people to pray in congregation is a painful limitation, but it is necessary given the circumstances.
The state argued that it was impractical to require police officials to regulate every place of worship. Additionally, magistrates would not be qualified to impose conditions under which places of worship were allowed to be opened, due to their lack of information and scientific expertise on this topic.
The Women's Cultural Centre added that it was common for Muslim men to proclaim that they represented the view of the Islamic community, while simultaneously ignoring Muslim women's opinions. If the men of the household were to be allowed to pray in congregation, Muslim women and children would be potentially exposed to the virus and their rights to life and dignity would be affected.
Judge Brenda Neukircher, on 30 April, dismissed the application as the applicants had failed to show that the limitations on their rights were unjustifiable.
The judgment pointed out that making exceptions for praying in congregation was not comparable to purchasing essentials for daily living, bidding loved ones goodbye at a funeral, or not having access to private transport and so having to make use of taxis to go to work as an essential worker.
Judge Neukircher acknowledged the plight of the applicants, and noted that all religions were equally affected but also highlighted that everyone has to make sacrifices and do their part in this time of crisis.
This dispute caused outrage in both Muslim and non-Muslim communities, from Islamophobic sentiments to a call for Muslims to publicly oppose the views of the applicants. However, at a time when legislation is being promulgated frequently and in a rush, it is easy for the state to abuse its power or unknowingly promulgate unconstitutional legislation. Consequently, a positive outcome of this case is that citizens could go to court to challenge limitations on their rights and the public could get clarity on the rationale behind the lockdown regulations and their constitutionality. (No cost order was sought or made against the applicants.)
There has been a common misconception that Muslims are being discriminated against based on their religion. The Constitution prevents unfair discrimination on the ground of religion in section 9(3) and the lockdown regulations do not discriminate on the basis of religion, as they are laws of general application. That means the regulations apply to everyone, regardless of religion, race or any other listed ground for unfair discrimination in section 9(3). Under the regulations, every religious denomination is prevented from praying in congregation, and not only Muslims. Muslims have not been discriminated against on the basis of their religion.
While the applicants' pleadings were centered around the Muslim's alleged duty to pray in congregation, they were seeking the relief on behalf of every religious entity. Muslims, like every other religious denomination in this country, have a right to freedom of religion, and may and should appear in court if they believe this right to have been infringed. This is a sign of a thriving democracy where the people keep the state in check, despite that national state of disaster.
However, in his interview on his stance about Muslims praying in congregation after the court proceedings, Attorney Zehir Omar (for the applicants) emphasised that he believed that the court proceedings were a tacit endorsement of Muslims' right to pray in congregation as the hearing itself had been a gathering. He proceeded to encourage Muslims to defy lockdown regulations and pray in congregation at mosques, exclaiming that he would personally represent them at no cost if they were to be arrested. It is highly probable that the applicants will take this case on appeal, especially now that some regulations have been relaxed but defying lockdown regulations is illegal.
Although one may believe the law to be wrong, openly encouraging people to defy the law is potentially illegal. It is also highly damaging to the rule of law, especially if the statement comes from an authority figure who is deemed to be knowledgeable of the law in the eyes of the public.
https://www.groundup.org.za/article/why-court-ruled-ban-religious-gatherings-not-unconstitutional/
------
Beware Of Hypocrites, Nigerian Scholar Cautions Muslims
May 6, 2020
An Islamic scholar, Prof. AbdulRazzakAlaro, has admonished Muslims to beware of hypocrites.
According to him, there are some hypocrites who knows the right thing but still tries to criticise those that are doing the right thing.
"These people are confused human beings and will try all things possible to mislead others, but the well knowledgeable Muslims will not fall for their evil plan.
"There is no reason to be confused, once you are sure of your religion, and you continue to seek for more knowledge from good scholars that knows the Qur'an and Sunnah, there will be no problem," he said.
He urged Muslims to seek for more knowledge about Islam and know the right way of worshipping Almighty Allah, so as not to be misled.
Muslims, he said, should be well knowledgeable about their religion and be educated enough to understand and explain the religion amidst intimidation.
The scholar said that there was no need for Muslims to be shy, rather they should learn more about the religion, as it teaches all human beings how to live a noble life.
"Even in the western countries, Islam is known as the fastest growing religion, and many people around the world knows about the religion," he said.
Alaro said Muslims should seek for knowledge about what they did not understand, through the holy Qur'an and Sunnah (way of life of prophet Muhammad (peace be upon him).
"Muslims should know about their religion and be ready to answer any question about Islam anywhere they are. There is no harm in asking questions, no matter your age, try and seek for more knowledge.
"It is better to seek for knowledge and listen to correction from those who know, than to be humiliated and end up been confused by others," Alaro said.
The scholar said that Islam is not about personal ideas or belief, rather it is the rules and regulations stated in the Qur'an and Sunnah of the prophet.
"All the things that Almighty Allah ask us to do and all the prohibited things mentioned in the Qur'an is for our own good, and whoever refused will face the consequence, even before the judgment day.
"Just like the law of karma, whatever people do is what will be done on them, no matter its secrecy or how long," he said.
https://thenationonlineng.net/beware-of-hypocrites-scholar-cautions-muslims/
-----
Lahore High Court Moved for Separate Graveyards for Coronavirus Victims
May 06, 2020
LAHORE: The Lahore High Court on Tuesday issued notices to the provincial and district governments on a petition seeking establishment of separate graveyards for people dying of coronavirus.
A citizen, Syed Husnain Haider, filed the petition, saying the patients of Covid-19 were supposed to be kept in isolation due to the fear of spread of the virus. In case any of the patients died, they were buried under strict precautionary measures in graveyards, he added.
The petitioner argued that the people dying of the virus should be buried in separate graveyards to avoid spread of the virus. He asked the court to order the government to immediately restrain burial of coronavirus patients in public graveyards. He also sought a direction for the government authorities to establish dedicated graveyards for coronavirus victims.
Justice Shakilur Rehman heard initial contention of the petitioner and issued notices to the respondents for May 11.
https://www.dawn.com/news/1554817/lhc-moved-for-separate-graveyards-for-virus-victims
-----
Iran: Mullahs' Judiciary Admits Arrest of Amir Hossein Moradi and Ali Younesi, Sharif University of Technology Elite Students
5th May 2020
Names of 18 other detainees – Mrs. Rajavi calls for the release of prisoners, dispatch of an International Delegation
Judiciary spokesman: Amid the Coronavirus this was a conspiracy by the enemies; they wanted to wreak havoc in the country, which was fortunately thwarted by the vigilance and timely action by our intelligence agents."
The Iranian regime's judiciary finally admitted the arrest of two elite students from Sharif University of Technology after detaining them for 26 days. Amir Hossein Moradi disappeared on April 10, and Ali Younesi was brought home in the evening of the same day, with injuries and torture marks.
After a few hours, his parents were taken away with him and interrogated for hours under pressure. Subsequently, the students at Sharif University protested and demanded to know about the status and fate of their friends.
Ali won the gold medal of the 12th International Olympiad on Astronomy and Astrophysics, held in China in 2018. Earlier, he had won the silver and gold medals of the National Astronomy Olympiad in 2016 and 2017. Amir Hossein also won the Olympiad silver medal in 2017.
The Judiciary Spokesman Gholam-Hossein Esmaili today acknowledged the arrests of Amir Hossein Moradi and Ali Younesi, saying they had linked up with the PMOI (MEK). Reciting a series of trumped-up charges, he added that they had engaged in "diversionary actions" and were "attempting to carry out sabotage operations." "Explosive devices used in sabotage operations were discovered when their homes were searched," he said.
"Amid the Coronavirus, this was essentially a conspiracy by the enemies; they wanted to wreak havoc in the country, which was fortunately thwarted by the vigilance and timely action of intelligence ministry agents," Esmaili added.
Terrified of the uprising, the religious fascism ruling Iran finds no other option other than resorting to intimidation, suppression, and stepping up repression. The flip side of the mullahs' intelligence ministry tactics is to resume the ridiculous circus by its agents on social media who pose at families of the PMOI in Albania.
https://www.ncr-iran.org/en/ncri-statements/iran-mullahs-judiciary-admits-arrest-of-amir-hossein-moradi-and-ali-younesi-sharif-university-of-technology-elite-students/
----
JOINT STATEMENT BY THE GOVERNMENT OF THE ISLAMIC REPUBLIC OF AFGHANISTAN AND THE UNITED NATIONS ASSISTANCE MISSION IN AFGHANISTAN
5 May,2020
KABUL - Last week H.E. First Vice-President Amrullah Saleh and Special Representative of the Secretary-General Deborah Lyons held their first meeting since assuming their respective offices. Together they discussed the Covid-19 pandemic and its socio-economic impacts on people's lives in Afghanistan. Both agreed that the collective efforts of all Afghans are needed to tackle this pandemic that has already killed nearly a quarter million people around the world.
Vice-President Saleh affirmed that the government wants to hold regular strategic meetings with the United Nations on the Covid-19 response to maximize the contribution of UN agencies and ensure full coordination with the government's efforts.
Special Representative Lyons' discussions with Vice-President Saleh took place after she had held consultations with President Ashraf Ghani who has designated his first vice president to lead the government's relation and coordination with the UN agencies.
Special Representative Lyons, who is also head of the UN Assistance Mission in Afghanistan (UNAMA), recognized the government's leadership role to date, and acknowledged the importance of the eight priorities which the government has identified. This work has already established a detailed plan for the health sector by the Ministry of Public Health, and would soon lead to plans in the other priority areas. The United Nations will work in support of such plans in key areas such as health, education, food-security and livelihoods, as well as returnees and internally displaced people.
Vice-President Saleh asked the United Nations to respect and support the government's leadership in handling this crisis and invited the Special Representative and the Humanitarian Coordinator, Toby Lanzer, to join him in attending the Inter-ministerial Emergency Committee and in creating a joint framework for action whereby United Nations' agencies can work closely in support of individual ministries. Special Representative Lyons highlighted the need for deep collaboration with all partners to create a united front against Covid-19.
https://unama.unmissions.org/joint-statement-government-islamic-republic-afghanistan-and-united-nations-assistance-mission
-----
Leading Thai Muslim Cleric, Sheikhul Islam Issues Edict to Refrain from Observing Friday Prayers
4 May 2020
PHUKET: The Office of the Sheikhul Islam, the leading Muslim cleric in the country, has issued an edict announcing that Muslims may now attend Friday mass prayers at mosques, but must follow measures to help prevent the spread of the COVID-19 coronavirus.
Chatchai Promlert, Permanent Secretary for Interior Office of the Permanent Secretary, issued a notice marked "urgent" yesterday (May 3) informing people of the Sheikhul Islam's re-issued edict.
Mr Chatchai's notice, calling for all Muslims to observe the measures as given by the Sheikhul Islam, known in Thai as the Chula Ratchamontri, was shared by the Phuket office of the Public Relations Department today (May 4).
In the notice issued yesterday, Aziz Phitakkumpon, the Sheikhul Islam of Thailand, pointed out that an edict issued by his office on March 25 had instructed Muslims to refrain from observing Friday prayers at mosques from March 27 onwards to help prevent the spread of COVID-19.
However, the edict issued yesterday (May 3) noted, "Right now, the number of infected people is decreasing because there is a government policy that is proactive and cooperates with people and is relevant. This includes Muslim people, who are to follow the measures in every area.
"So it is reasonable to relax the requirement [and allow people] to attend prayers on Fridays, which is still in accordance with the [measures issued under the] state of emergency declared on May 1," it added.
"Provincial Islamic committees are to discuss this with Imams at local mosques and with provincial governors in order to disseminate this information to the public, along with a request for cooperation from Muslims in every province," the edict said.
If mosques are to resume their Friday prayers, the prayers are to be no more than 20 minutes long, and mosque administrators or health officials are to check every person entering the mosque for elevated body temperatures.
All people entering the mosque are to cleanse their hands with alcohol-based sanitiser at the door, the edict issued yesterday added.
"Also, no waters are to be shared during ceremonies and the mosque floor must be cleaned every time after people have finished their Friday prayers.
"Do not turn on the air conditioning, or open the window or curtains to allow for airflow. Mark spaces 1.5 to 2 meters apart [for people to use when praying]. And, control the flow of people when they enter and leave.
"People who join [mass prayers], must be clean from the house, use a private prayer mat brought from their home, use alcohol gel to clean their hands, wear a facial mask at all times while they are praying.
"Under the guideline, Muslims are advised to avoid touching, hugging and cheek kisses during religious rites and instead use the greeting of raising their hands.
"Women and children are banned from praying at the mosque. Anyone who has fever, cough or runny nose, do not come to join the prayers.
"Muslims are also advised to avoid attending any gatherings of many people in the same place. Also, it is also advised to avoid holding any special Ramadan gatherings.
"These measures are suitable to prevent harm to people's lives and to avoid harm to the community. The presidents of provincial islamic committees are to inform the leaders of mosques of these measures," the edict added.
"People should also follow announcements by the Sheikhul Islam Office regarding COVID-19 preventive measures until the situation returns to normal or until otherwise informed," said the notice issued by Permanent Secretary Mr Chatchai.
https://www.thephuketnews.com/sheikhul-islam-issues-edict-for-return-to-friday-prayers-75958.php
------
India
UP: Villagers bar entry of Muslims after infection in nearby hamlet, 3 arrested
May 5, 2020
by Manish Sahu
Police in Prayagraj district on Monday arrested three villagers, and lodged a case against them and three more men for putting up barricades and a poster saying Muslims were not allowed to enter the village.
According to the police, the poster was put up in Dusauti village in the Handiya police station area on Sunday, three days after a young man in a neighbouring village tested positive for the novel coronavirus disease (COVID-19).
Seventy per cent of Dusauti's residents are Hindus, while half the population in the nearby village are from the majority community.
After a photograph of the poster went viral, the police went to the village to gather details of the six men seen in it. The District Magistrate and Senior Superintendent of Police in Prayagraj also visited the village on Monday morning.
Three of those in the photograph, identified as Sanjay Kumar, Ashwani Pandey, and Shiv Baba, were arrested from their homes. All of them are in their twenties. Handiya Station House Officer Sunil Kumar said a local court sent them to judicial custody later in the day. The police are looking for the other accused.
"The youths put up barricades on the road that leads to a neighbouring village. They later pasted the controversial poster over the barricading, which read that people of Muslim community were not allowed to enter the village. Someone in the village clicked the photograph and circulated it on social media," village head Basant Lal, whose role is also being investigated, told The Indian Express. He added that the residents of his village had got scared after hearing about the positive test report.
The accused have been charged with promoting enmity on the grounds of religion, engaging in malicious acts intended to outrage religious feelings, and disobeying orders duly promulgated by a public servant.
Police in Ayodhya district have booked the former head of Monapur village for allegedly inviting a large number of people to his home for his mother's terhvi (the final day of mourning and prayers for someone who has died).
The police went to the village after coming to know that tents were being set up near Jagan Nath Yadav's and arrangements were being made for a feast.
Patranga Station House Officer Santosh Singh said the day before the police had warned Yadav not to invite a large number of people. "On getting to know tents are being erected, we rushed to the spot and brought them down. We also got FIR lodged against Jagan Nath for violating lockdown orders," Singh added.
The former village chief, however, was not arrested. He has been charged under IPC sections 188 and 269 (negligent acts likely to spread infection of disease, and posing danger to life), the Epidemic Disease Act, and the Disaster Management Act.
https://indianexpress.com/article/india/up-villagers-bar-entry-of-muslims-after-infection-in-nearby-hamlet-3-arrested-6394961/
-----
Old video from Pakistan viral as Muslim women caught shopping during lockdown in India
Pooja Chaudhuri
5th May 2020
A video of burqa-clad women escaping from the first floor of a building is massively viral on messaging platforms. It is being claimed that Muslim women caught shopping in the middle of the nationwide lockdown were trying to flee from the police. A Facebook page 'Jabir Hayaat Ansari AIMIM' shared the clip with the caption, "Drama drama and only drama. These women had stepped out for shopping during the lockdown. Police took out the shop owner and locked these women inside the shop." He has now deleted the tweet however the same caption was used by several other users.
Another page 'Like All Page' shared it with the following message, "khawateen shutter bndkr k shopping krrhe the, time khtmhva to police ne bahar s seal krdia, ab khawateenchalang mar rhe h ….. dekheaye." However, the most widely circulating claim reads, "Aajkitaza khabar yeh aourton ko shopping kebaghairmoutajaty, lock down mein police ne owner ko baherkarke showroom ko lock kardiye, lekin yeh ladies ooper store meinchupgayee thein baadmein balcony se tamashadekho." Alt News had received multiple fact-check requests that carry the same message.
According to Google maps, Tariq book store is located in Commercial Area Defence V Defence Housing Authority, Karachi, Pakistan. It is right beside Hot N Spicy. As per Google maps, both stores are located in Khadda market.
https://www.altnews.in/old-video-from-pakistan-viral-as-muslim-women-caught-shopping-during-lockdown-in-india/
-----
Plea In High Court Seeks Removal Of Zafarul Islam Khan As Delhi Minorities Commission Chairman
May 05, 2020
New Delhi: A plea was filed in the Delhi High Court today seeking to remove Delhi Minorities Commission Chairman Zafarul-Islam Khan against whom an FIR has been lodged for his alleged seditious and hateful acts.
The PIL, which is likely to come up for hearing on May 11, said that on April 28, Khan published a post having seditious and hateful comments through his official page on the social media.
The plea, filed by retired bank official Subhash Chandra, said that on May 2, based on a complaint, the Delhi Police Special Cell has lodged an FIR against Mr Khan under Sections 124A and 153A of the Indian Penal Code (IPC) for the alleged offences of sedition and promoting feelings of hatred between different groups on the grounds of religion, race, place of birth, residence and language.
"Despite registration of FIR, the respondent no.4 (Khan) declared on May 3, that he still stands by his aforesaid incendiary comments. He said that it was ''erroneously'' reported by sections of the media that he had deleted his tweet containing the crude remarks.... He said that he stands by his words and convictions," the plea, filed through advocate Alakh Alok Srivastava, said.
The petition alleged that it was evident from the public post on his Facebook account that it was "provocative, deliberate and seditious, intended to cause disharmony and create a rift in the society".
"By making such a hateful statement, the respondent no.4, who is holding such a responsible post, has endangered the unity and integrity of the country, tried to tarnish the secular image of India and spread hatred among two communities. The statement of khan is factually incorrect, derogatory and anti-national," it claimed.
The plea sought direction to the Delhi Minorities Commission, Delhi government and Lieutenant Governor to forthwith remove Mr Khan from the post of Chairman of the Delhi Minorities Commission for his alleged seditious and hateful acts.
Earlier, another plea was filed in the high court seeking lodging of an FIR against Mr Khan for his alleged "inflammatory and threatening statements against the Hindu community". The plea is also listed for hearing on May 11.
The petition by Delhi resident Manoranjan Kumar has claimed that the commission's chairman has posted statements on his Facebook account in which he allegedly referred to the Hindu community as "Hindutva bigots".
https://www.ndtv.com/delhi-news/plea-in-high-court-seeks-removal-of-zafarul-islam-head-as-delhi-minorities-commission-chairman-2223844
-----
India will remember Covid-19 as blessing in disguise, says health minister
May 06, 2020
Union health minister Dr Harsh Vardhan said on Tuesday that India will remember the coronavirus pandemic as a "blessing in disguise" if people imbibe good hygiene practices.
"By now we know that fighting coronavirus is no rocket science. If behavioural changes such as hand, environmental and respiratory hygiene, which are being practised more rigorously during this period, get imbibed in society it will become the new normal," Vardhan said.
"Other than smallpox and polio, no other viral infection has been completely eradicated from this country. Other diseases keep recurring," the minister said, indicating that Covid-19 might be here for the long haul.
The total number of cases came very close to 50,000-mark Wednesday. The Union health ministry data on Wednesday morning showed the country recorded 2,958 new cases and 126 deaths in the last 24 hours (between Tuesday and Wednesday).
On Tuesday, Prime Minister Narendra Modi chaired a meeting of a taskforce on the coronavirus vaccine development, drug discovery, diagnosis and testing and reviewed India's efforts in the fight against Covid-19, news agency PTI reported.
There are concerns that India's tally may increase further with the government announcing plans to bring back a large number of Indians from various countries, in what is being called the world's biggest ever evacuation programme. PTI reported that over three lakh people have registered for the evacuation from the Gulf region itself.
The absolute number of cases and the death toll in India is lower than many others - more than 2.5 lakh people having lost their lives and over 35 lakh having been infected worldwide ever since the emergence of this virus in China last December.
The focus now seems to have shifted globally towards developing a vaccine with several world leaders committing more than US $8 billion since Monday for this purpose.
The government officials, meanwhile, maintained that India has managed to stave off a community transmission risk and the country remains in a "comfortable" position in terms of managing the Covid-19 crisis.
The recovery rate in India has improved to 28.17 per cent, joint secretary at the health ministry Lav Agarwal said during a press briefing on the Covid-19 situation on Tuesday.
https://www.hindustantimes.com/india-news/india-will-remember-covid-19-as-blessing-in-disguise-says-health-minister/story-VvnZU8GPlMUHRsMXfqHXyL.html
------
Arab world
Saudi cabinet affirms Palestinian cause will remain 'central issue' for Arabs and Muslims
May 06, 2020
Saudi Arabia's cabinet affirmed late on Tuesday that the Palestinian cause will remain a "central issue" for Arabs and Muslims, Saudi news agency said in a statement issued early on Wednesday.
The statement added the cabinet also reviewed the results of the emergency Arab League meeting which condemned the Israeli authorities plans to annex any Palestinian land.
https://www.yenisafak.com/en/world/saudi-cabinet-affirms-palestinian-cause-will-remain-central-issue-for-arabs-and-muslims-3518731
-----
Ramadan 2020: tradition and technology combine to put virtual iftars on the menu
Anam Rizvi
May 6, 2020
As safety measures adopted to combat Covid-19 continue to keep people at a distance, a mix of tradition and technology is ensuring the bonds of friendship and family remain unbroken during Ramadan.
Instead of gathering around dining tables to break fast once the call for prayer is heard, many are instead settling down in front of laptops and reaching for smart phones to enjoy virtual Iftars.
A school in Dubai took the idea a step further, and had their grade 12 pupils cook with their friends though the help of video calls.
With two hours to go until Iftar, 17-year-old Nadine Abdelhalim was busy making white sauce pasta and chocolate truffles as her friend chatted with her on a zoom video call.
Nadine, a grade 12 Egyptian pupil at Dubai American Academy, cooked with eight friends who prepared a variety of dishes in their homes.
Instead, the school organised a virtual senior Iftar where pupils got together on video calls and cooked dishes which would be awarded for creativity and presentation.
Nine friends came together on their group to cook up tasty treats such as white sauce pasta, chocolate truffles, Kunafa balls, banana bread, brownies, rice bowls and miso salmon.
Rory Courlander, grade 12 senior advisor at Dubai American Academy, said the the school announced the names of the valedictorian on Google Meets last week.
Al Manar Centre, a non-profit organisation in Dubai, is planning a virtual Iftar for community members, dignitaries and religious leaders which will held in the next two weeks.
"Iftar is a beautiful opportunity to bring people together to build bridges and we did not want to miss out on it this year. We will use technology to host a virtual Iftar," said Ahmed Hamed, a spokesman for the centre.
Dubai Municipality has also launched an initiative called virtual Ramadan Tent, which is an online meeting place for their employees to replace the traditional gatherings in Ramadan tents.
The weekly meetings will have discussions on various social and cultural issues such as the impact of social distancing, how each of us can protect our family and society, motivating people to do good deeds during the month of fasting, and contributing to UAE's Food drives.
https://www.thenational.ae/uae/education/ramadan-2020-tradition-and-technology-combine-to-put-virtual-iftars-on-the-menu-1.1015310
-----
Egypt gears up to repatriate stranded citizens abroad by end of Ramadan
May 6, 2020
Egyptian authorities stressed they will continue to repatriate all citizens stranded abroad by the end of the Muslim holy month of Ramadan, Minister of Immigration Nabeela Makram said on Tuesday.
According to statement posted on the cabinet Facebook page, Makram explained the committee formed under the chairmanship of Prime Minister Mostafa Madbouly has prioritized a number of segments in its plan, including humanitarian cases, expats with expired residency permits, and those whose contracts have terminated.
On Tuesday, the foreign ministers of Egypt and Kuwait expressed over the phone satisfaction with the level of ties between the two states and rejected all bids intended to strain historic bonds.
Anwar, who lost his job in Kuwait over the coronavirus crisis, added that "my family was living in fears because my residence permit has been expired."
Egypt's prime minister said "the country has taken several measures to arrange isolation buildings for the citizens coming from abroad to prevent the spread of the virus," according to the cabinet statement.
Some universities' dormitories have been detected to serve the 14-day quarantine period, he added, noting all the expenses will be paid by the government.
On April 22,Egypt's President Abdel Fattah al-Sisi said that around 3,500 Egyptians are stranded abroad over coronavirus, affirming that authorities are committed to bringing them back despite "hard circumstances."
An airplane carrying 327 Egyptians who were stranded in the United States, including 37 orphans, landed in MarsaAlam International Airport on Tuesday.
It is the fourth repatriation flight arrived in Egypt from Washington. Two flights arrived in early April and a third flight landed on May 2, repatriating 339 stranded Egyptians.
Egypt's Ministry of Aviation in cooperation with the Ministries of Immigration, Foreign Affairs and Tourism organized a total of 22 special flights between April 21 and May 5 to return Egyptians who were stranded abroad due to worldwide flight bans.
The maritime transport sector in Red Sea province would organize sea voyages as well, to return Egyptians from Saudi Arabia's coastal city Duba, according to the Health Ministry.
Egypt recorded on Monday 348 new coronavirus cases and seven deaths, which raises the total infected patients of COVID-19 to 6,813 and the total deaths to 436.
http://www.china.org.cn/world/2020-05/06/content_76010265.htm
-----
Doha Festival City, QC distribute Ramadan food baskets to workers
May 05 2020
In collaboration with Qatar Charity, Doha Festival City donated 500 boxes to workers living in Doha's industrial area. The Ramadan donations boxes, which contained food essentials including rice, oil, lentils, sugar, dates, juices and tea, were distributed with the support of Qatar Charity employees and volunteers. "Doha Festival City is always committed to providing support and care to our community. Now more than ever, with the impact of the coronavirus outbreak and during the holy month of Ramadan, a sense of unity is so important," general manager Robert Hall said.
"We are grateful to Qatar Charity for their collaboration with us on this worthy cause. We hope that through this initiative, we can positively impact the lives of those affected right now," he added.
Doha Festival City is one of the largest such developments in the Middle East, offering almost a quarter of a million sqm of leasable space. Qatar Charity thanked the Doha Festival City management for the support, which would contribute to the efforts aimed at curbing the spread of the coronavirus and reducing infections. Qatar Charity urged other companies and organisations to support the initiative and meet the needs of the workers and low-income families in the blessed month of Ramadan.
https://www.gulf-times.com/story/662457/Doha-Festival-City-QC-distribute-Ramadan-food-bask
-----
Custodian of The Two Holy Mosques Iftar Program Distributes Food Baskets in Bosnia
2020/05/05
Riyadh, May 5, 2020, SPA -- The Custodian of the Two Holy Mosques King Salman bin Abdulaziz Al Saud Iftar (Breaking-fast) Program for 1441 AH continues to distribute Iftar food baskets in Bosnia and Herzegovina, through the Ministry of Islamic Affairs, Call and Guidance represented by King Fahd Cultural Center in Sarajevo. The distribution targeted a number of districts and villages including regions that suffered multiple environmental disasters during the past years such as floods and landslides that caused the demolition of houses.
During the past three days, nearly 1000 food baskets were distributed, benefiting more than 6,000 needy people according to the Ministry's precautionary measures and with an integrated system to achieve the goals of the program and the inclusiveness of its beneficiaries.
For their part, the beneficiaries of the program expressed thanks and appreciation to the Custodian of the Two Holy Mosques and HRH Crown Prince for their insight into the needs of Muslims everywhere, and in Bosnia and Herzegovina in particular in this holy month of Ramadan and the difficult circumstances that the world is experiencing as a result of the COVID-19 pandemic, confirming that the Kingdom's stances throughout history with the Bosnian people will not be forgotten.
https://www.spa.gov.sa/viewfullstory.php?lang=en&newsid=2082725
------
Europe
Prominent Muslim scholars around the world issue COVID-19 "Message to Humanity
17 hours ago
The document entitled 'A Message to Humanity' is essentially calling on mankind to seriously ponder and reflect on the drastic changes that have occurred as a result of the global COVID-19 crisis.
From understanding the scale of the deadly but mainly invisible virus, to how entire countries and industries have come to a halt, the message encourages readers to question their human limitations and understand the magnificence of God's existence and divine will.
Shaykh Sharif Ibrahim Saleh Alhussaini (Grand Mufti of Nigeria), Mufti TaqiUsmani (Pakistan), Dr Zakir Naik (India), Dr Ali Muhammad Muhammad al-Sallabi (Libya), Shaykh ShadiAlsuleiman (Australia), Dr Yasir Qadhi and Imam Omar Suleiman (U.S.).
Prominent scholars and educators from the UK include Shaykh Haitham al-Haddad, Shaykh Zahir Mahmood, Shaykh Asrar Rashid, Abdurraheem Green, Dr Anas Altikriti and Hamza Tzortzis.
The statement acknowledges the outpour of generosity and charity that the pandemic has led to with increased charitable relief work and grassroots support, when it mentions:
"Many of us have shown great compassion and unity, irrespective of our differences. This is why we believe that, even in these unprecedented times, coronavirus can be the means for an intellectual and spiritual awakening. What follows are some key points for us to consider."
Among the various Quranic verse and statements of the Prophet Muhammad (peace be upon him) cited, the message presents the Islamic concepts of monotheism, human dependency, the reality of life, death and purpose of existence, worldwide corruption and injustice and eternal salvation.
The message concludes by calling on humanity to "accept the fact that God is the only deity worthy of worship and that Prophet Muhammad (may God's peace and blessings be upon him) is His final messenger, or we can reject the truth and by virtue of that risk punishment from God—because we have chosen to reject His guidance and mercy."
Current global cases of COVID-19 stands at 3.7 million with more than 255,000 deaths. Turkey and Iran are the two Muslim-majority countries that have been mainly affected by the virus with a joint death toll of nearly 10,000 and more than 226,000 positive cases.
https://5pillarsuk.com/2020/05/05/prominent-muslim-scholars-around-the-world-issue-covid-19-message-to-humanity/
-----
UK Muslim charities report unexpected level of donations amid Ramadan in COVID-19 crisis
BY RICHARD WHITEHEAD
05 MAY 2020
The first Ramadan to begin under COVID-19 lockdown in most countries has not stopped British Muslims from giving charity, providing some relief to fundraisers who were fearing the worst.
In late March, after the UK had gone into lockdown, the National Council for Voluntary Organisations had warned that the overall sector faced £4 billion in losses over the second quarter of 2020. This would represent a drop of almost a third in income for Britain's 168,000 registered charities.
Of course, Muslim faith charities were bracing for the worst, not least because Ramadan was looming. As in other countries, Ramadan is the most crucial period for charity fundraising in the UK.
According to the Muslim Charities Forum, British Muslims form "the most charitable religious community in the UK" and last year, donors contributed over £130 million to British Muslim non-profits for campaigns in 40 countries.
"When this all started to unravel about six weeks ago, there was a concern we would lose a lot of charitable income. We were able to project what things might look like with this loss of income, and it was worrying," Yasrab Shah, director of fundraising at Muslim Hands, told Salaam Gateway.
"Fundraising is the life-source of the charity. If you compare it to a tree, we are the roots and visible programs we carry out are the branches, so to speak. If the roots—fundraising—fail, the branches will dwindle.
The uncertainty has since turned into hope for Nottingham-based Muslim Hands, an international aid agency with projects in the Middle East, Africa and Asia, as well as in Britain. As things stand, donations have increased by 20% this Ramadan over the same month last year.
It has been fortunate for the charity that its approach to fundraising was not more vulnerable in the face of a national lockdown. Other good causes rely heavily on their charity shops and fundraising events for their income, whereas Muslim Hands appeals more directly to donors.
"A lot of our donors are people who are self-employed, driving taxis or owning takeaways. These are people who have been directly affected by movement restrictions and seen a loss of income," said Shah.
Instead of furloughing its employees, Muslim Hands has been able to merge its events staff and volunteers with its contact centre team. The extra funding is being spent on more project work.
This includes new, coronavirus-inspired initiatives like a helpline to assist with advice for Muslim burials during the epidemic and supplying funeral societies with personal protective equipment. It has also helped increase the capacity of major charity Age UK's call centre in Nottingham to help older people who are alone in lockdown.
"There is a very strong Islamic tradition of giving charity to divert calamity. We're absolutely seeing that in play now, and that prediction of loss of income: we are seeing the opposite," said Shah.
British people are also experiencing for themselves what it is like to live amid food shortages and under restrictions, giving them an idea of what Ramadan is like for many Muslims in other parts of the world even in normal times, continued Shah.
"Because we have literally felt this in the UK, I think it has triggered a natural response. People have been donating abroad, to Syria, Yemen, to the Rohingya, to Kashmir, not just to local charities. We have been seeing donations across the board."
In Yorkshire, Zia Salik was preparing to spend the night taking donation calls during a live appeal broadcast on the Islam Channel when he spoke to Salaam Gateway.
The director of fundraising at Islamic Relief UK had been forced to scale down physical activities almost entirely from the usual 400 or so during the Ramadan period, and instead has focused on fundraising through digital and broadcast media.
Salik's approach has been influenced by a combination of a larger online budget given over from the cancellation of expensive physical engagement events, and also the youthful profile of the British Muslim community.
"Dinners and gatherings have been very effective but they are expensive to put on. We have channelled the cost of these events into our online fundraising," he said.
"What works in our favour is the demographic of the Muslim community in the UK. If you look at the 2011 census, there has been a boom in a digital-savvy and social-media connected Muslim community that's mostly under the age of 50."
In its realigned approach to fundraising this year, the charity has been urging Muslims to donate sadaqah and zakat to its campaigns in Britain and overseas.
"We've been getting in touch with our donors and telling them about the projects we will be delivering this Ramadan and the people we will be supporting. The digital space is our focus and probably is with other charities too now," said Salik.
"From a charity's perspective, if people don't have as much disposable cash to give, we expect a drop in donations. But so far, we don't seem to have felt that drop yet."
Though incomes have so far been constant, there remains some tense weeks ahead for the charity's fundraising team this Ramadan. A big proportion of the month's income tends to come during the last 10 days.
"When we see what happens then, it will be a better indication of how this Ramadan has performed in terms of fundraising," said Salik, as his charity counted down to the start of its Islam Channel fundraising transmission.
Broadcasting since 2004 in the UK, the station regularly hosts nighttime appeals for charities during Ramadan. It recently launched the Islam Channel Giving app to make it easier for viewers to donate through their smartphones.
"We've always held these televised appeals whereby, large numbers are raised due to the reach Islam Channel has. There have been nights when over a million pounds have been raised," said the broadcaster's managing director, Mohamed Harrath.
The channel recently revealed the findings of a survey of the Muslim charities it supports, finding that they expect to raise an average of 40% of their annual income during Ramadan, though one is hoping to take in as much as 80% of its funding this month.
According to the survey, British Muslims donate £123 each in Ramadan, almost three times the average monthly UK donation to charity.
"The findings lead to key points: One is that Ramadan is a super-key period, with close to half of annual fundraising coming in one month on average," said Harrath.
"The second is that some charities report up to 60% from offline fundraising. Even though we are all locked down, it still shows that charity bucket in the mosque is still needed.
https://www.salaamgateway.com/story/british-muslim-charities-report-unexpected-boost-in-donations-this-ramadan
-------
Manchester's Young Audiences Content Fund announces new slate of projects
04 May 2020
by Simon Austin
The Fund, which is supporting a variety of new television projects for all ages up to 18, has awarded 63 development applications in its first 12 months, with a committed spend of £1,719,620.
Jackie Edwards, Head of the Young Audiences Content Fund (above), said: "We're incredibly proud of the range of projects we're able to support within our development slate, nurturing stories and concepts we feel will enrich television for young audiences.
"Throughout the first year, we have been overwhelmed by the quality of the development applications, and I'm hugely excited about the exciting new UK talent we have been able to support.
"We are of course continuing to support and fund applications through lockdown, and as the majority of development activity can be accomplished remotely, we encourage producers with great new ideas to continue submitting applications."
John Whittingdale, Minister for Media and Data, added: "It is hugely important that the diverse experiences of young people across the country are represented on screen.
"This publicly-funded scheme continues to support homegrown talent and original content that not only inspires our younger generation but is also properly representative of the world we live in."
The latest round of development funding awards, made over the last six months, embraces all techniques, genres and audiences, and includes a mix of programmes addressing key social issues such as LGBTIQ+, disability, climate change and racial discrimination.
Elysian Film Group's teen drama 'Future Hot', about a group of young climate change activists who decide to take action - only for the corporate world to strike back.
Singer Films' documentary series 'Redefining Refugees', following refugee and Olympian Yusra Mardini and aimed at inspiring young Muslim women in the UK to compete in professional sport whilst confronting the misrepresentation of refugees.
Duck Soup Films' teen drama 'Dance School', about an ethnically and socio-economically diverse group of students aged 16-25 attending a world-renowned dance school in Chapeltown, Leeds.
Empress Films' documentary series 'They', chronicling the lives of four extremely contrasting LGBTIQ+ teenagers across the UK. Shining a light on teenage experience, exploring what unites and divides them and emphasising the positive that comes with being queer, young and proud.
Bryncoed-television's teen drama 'As Dead As It Gets' is a rites of passage series about a group of 16-year-old school friends from Croydon. On completion of their GCSE exams and energised by their new-found freedom, our teens dive into experience with little regard for the consequences - navigating drugs, sex, trauma, death and redemption.
Shudder Film's scripted comedy from Gavin Williams and Jack Tarling, 'Synch Estate' takes an urgent social issue – and gives it a satirical, sci-fi twist. Fast-paced, funny, sexy, and rude, it will reflect the spirit of the UK blending edgy, bawdy humour with grounded character-driven drama.
Bowled Over Media's exclusive film 'Young Bee Keepers of the World Unite' will follow young British bee-keepers at schools and bee clubs as they work towards representing their country at the International Meeting of Young Beekeepers (IMYB). As children all over the world take tackling the climate crisis into their own hands, bee-keeping is a practical response growing in popularity.
Scattered Pictures' imagination grabbing comedy series 'Ella and Sir Whoopsalot' has been created by Newcastle-based comedy writer Bridget Deane, directed by Emmy Award winner Simon Gibney, and set in a real-life castle. 'Ella & Sir Whoopsalot' is centred around the friendship and adventures of nine-year-old Ella Chambers and her best friend, Sir Whoopsalot – who just happens to be a six-hundred-year old knight.
Bandit Cornwall's 'Alien8ed', a contemporary sci-fi action drama series sees a group of Cornish teens test their friendships, prove their maturity, ingenuity and bravery by working together to smash a growing threat.
Animation Garden's 'Mustard and Ketchup' is an animated comedy sketch show providing positive and age appropriate representation for the LGBT community, with the character's sexuality incidental to their madcap adventures.
Mackinnon and Saunders' 'Mix Mups', an animation series created by journalist Rebecca Atkinson, founder of #ToysLikeMe, a not-for-profit organisation which aims to increase the representation of disability in toys. This series seeks to better represent disability in children's television.
Love Love Films' mixed media preschool show 'Pop Paper City', which incorporates live action instructional craft sequences into animation with the aim of inspiring children to create their own worlds and stories.
Eagle vs Bat mixed media show 'The Sound Collector' uses stop-motion to share short stories about a little guy and his love for sound. The Sound Collector's lead character wears hearing aids and is a rare representation of disability (hearing impairment) on screen.
Illuminated Films' snappy, thoughtful and rewarding preschool adventure 'Rocket' is based on the book Look Up! by Nathan Bryon and Dapo Adeola. Rocket is an inquisitive, excitable young girl with an insatiable thirst for knowledge and understanding. We follow her journey growing up testing, trying, and learning new things (to varying degrees of success) and exploring her identity as a young girl of West Indian heritage, living in a diverse and bustling inner city.
https://www.prolificnorth.co.uk/news/broadcasting-news/2020/05/manchesters-young-audiences-content-fund-announces-new-slate-projects
------
Coronavirus prompts German discussion on the call to prayer
06.05.2020
In the current coronavirus era, in which mosques are closed and communal prayers cannot take place, many Muslim associations and mosques are pressing for the call to prayer to be issued via loudspeaker. Is this permissible under German law?
Mathias Rohe: The call to prayer falls in principle under religious freedom and is therefore legally permissible. Nevertheless, conflicting interests must be considered. For example, protection against noise. Other factors affecting whether it is allowed or not include the location and the time of day. The situation is different depending on whether you're in an industrial or residential area.
So a dawn call to prayer wouldn't be possible in a residential area?Rohe: It wouldn't be legal early in the morning or late at night. You also need to differentiate between Friday prayers – in which worshippers are summoned to the mosque – and other prayers that can be conducted at home. The midday call to Friday prayers would perhaps be the least intrusive.
Rohe: The call to prayer is part of the ritual prayer. The ritual prayers are always initiated with the call to prayer sounded by the imam in the mosque. The question is simply whether this should also be issued over a loudspeaker. This is by no means obligatory and does not affect the validity of a prayer. Of course, the first muezzin in Islam, Bilal, didn't have a loudspeaker and simply used his hands to amplify his voice.
Rohe: Essentially yes, because in most cases this is a religious practice protected as a religious freedom. But neither is mandatory – neither in Christianity nor Islam. So yes, we can put them on an equal footing, also in terms of the effect they have on the surrounding area. They're both sounds that affect people more intensively than, for example, the mere sight of a church tower or a minaret.
Rohe: Followers of other religions, or those with no religion at all, must tolerate this sound and the message it contains. But in particular cases, individual basic rights such as freedom of thought, religious freedom and also negative liberty – or in other words the right not to be confronted with religion at all – must be weighed up against one another.
Rohe: The call to prayer originates from Muslim majority societies where it was simply part of everyday life. Nowadays, most Muslims have some sort of prayer app on their smartphone. This reminds them when they need to pray, so the call isn't really necessary anymore.
Many mosque associations also dispense with the call to prayer because they know that in a population where Muslims aren't in the majority, it won't be reaching the intended recipients. They also want to avoid stoking any kind of societal tension in the area.
On the other hand, the call to prayer may also be seen as an indication of how Muslims are part of German society and as an expression of this. It could also be a way for Muslims to say: "We belong".
Die viersunnitischenRechtsschulensindsicheinigdarüber, dass der RufzumGebeteineverpflichtendeVorstufe des gemeinschaftlichenGebetesist. Der ersteGebetsruf in der Geschichte des Islamssoll von Bilal al-Habaschi, einemengemVertrauten des ProphetenMohammed, imJahr 622 oder 623 nach Christus gerufenworden sein. In DeutschlandswirdmeistimInneren der Moschee in ZimmerlautstärkezumGebetgerufen.
Rohe: In the places where there has up to now been a call to prayer, people have mostly reached an acceptable compromise, consisting of a call only once a week – to Friday prayers. I think in some cases this would be a viable option – even after corona.
If you look at some online Muslim responses to the first call to prayer from the minaret of the Duisburg Central Mosque, it's being hailed as a sign that Islam is gaining currency in Germany – what's your take on this?
Rohe: For sure, some people will view this as a show of force. From a standpoint of religious freedom, they deduce that by being allowed to issue a call to prayer they have "won". But as far as I'm concerned, they've got it completely wrong. The constitutional state is more robust than they perhaps think. It is simply robust enough to grant a minority its rights.
Unfortunately, many Islamic countries fail to adopt this approach when dealing with other religions. In my view, the strength of the constitutional state can be measured by its ability to guarantee rights to minority groups such as Muslims – even if there is the parallel need for an intensive societal debate on the call to prayer via loudspeaker.
https://en.qantara.de/content/interview-with-the-islam-scholar-and-law-professor-mathias-rohe-coronavirus-prompts-german
-----
Cambridge Central Mosque helping local community
6 May 2020
Faisal Malik is one of the organisers. "It's not just about the food," he says. "It's that people know that there is someone thinking about them, that someone cares and is there to take care of them."
They're delivering around 100 hot and cold food parcels a day – to those who can't get out, homeless shelters, vulnerable groups and refugee families.
"A lot of Muslims would say you get a new lease of life, more energy during Ramadan – despite the fact you're fasting. And especially as the situation is now, there's a lot of motivation to help as many people as we can."
Thirty-five hot food meals a day also go to staff working at the critical care unit at the Royal Papworth Hospital. "It's the least we can do", says Faisal. "We love the NHS and what they're doing for us."
"It is just so kind to provide something so that, when we finish a long day, we can come away and in a couple of minutes we have something to nourish us. Thank you so much."
Dr SejadMekic is the Principal Imam at Cambridge Central Mosque. He's delighted how the Mosque's volunteers have come together to help.
"They've been brave enough to give so much of their time and energy and resources", he explains. "We have so many people doing different things. For example we have a helpline where anyone can call up anytime to talk about their issues or ask for help. It makes a big difference".
Elsewhere volunteers from the mosque are helping deliver prescriptions and essential supplies, offering free journeys and food deliveries for NHS workers and fundraising for the city's foodbank.
The Mosque is an important place for many in Cambridge. But now, more than ever, it's playing a vital role in the lives of even more.
https://www.itv.com/news/anglia/2020-05-06/cambridge-central-mosque-helping-local-community/
------
Sheffield organisations come together to deliver Ramadan food boxes to essential workers during coronavirus crisis
13 hours ago
By Lizzie Day
Organisations across Sheffield have joined together in order to deliver more than 150 food boxes for Muslim NHS and social care workers who are fasting during the coronavirus crisis.
Sheffield charity, Faith Star – who provide faith based accountancy services – came up with the idea to help the essential workers who are abstaining from food and drink – alongside Sabia Rehman, a Muslim Chaplin at Sheffield Teaching Hospitals NHS Foundation Trust.
Two portions of curry and rice are now being delivered to over key workers in South Yorkshire to have during their sehri meal – before dawn, when they start their fast for the day – and at their iftar meal – after sunset, to close their fast.
Chief Executive of Faith Star, Shahida Siddique said: "We're absolutely passionate about supporting all our front line workers but we were just really conscious that at this particular moment there were some doing that at a time when physically, they are not able to eat or drink for such long days."
"We've got lovely, lovely messages saying 'thank you so much, I'm doing crazy hours at work and to come home and find a meal is just phenomenal'.
https://www.thestar.co.uk/news/people/sheffield-organisations-come-together-deliver-ramadan-food-boxes-essential-workers-during-coronavirus-crisis-2843893
-------
Call to prayer broadcast for first time in London borough for lockdown Ramadan
5 May 2020
Jen Mills
Local authority Waltham Forest agreed that nine mosques could perform the Adhaan as mosques are closed and Muslims are unable to pray communally as they would usually at this time. The call to prayer was first broadcast yesterday and will continue at sunset daily throughout the fasting month of Ramadan, as well as again for Friday Juma prayers. ArfanAbrahim, who was part of the group asking the council to allow it, told Metro.co.uk: 'It happens in Whitechapel at the East London mosque and has been happening for many years, but in this side of London never, and in this borough specifically, never. TOP ARTICLES 1/5 READ MORE Europe hit by coronavirus mutation that spread much more quickly 'So this is history for us.' Coronavirus updates Visit our live blog for the latest updates: Coronavirus news live Waltham Forest Council of Mosques requested permission to broadcast the call to prayer given the special circumstances. Call to prayer broadcast for first time in London borough Play Video Loaded: 0% 0:00Progress: 0% PlayMute Current Time0:00 / Duration Time6:27 Fullscreen Mr Abrahim, 35, said this Ramadan had been a very different experience than usual as people could not go to the mosque and pray. He said: 'Because the mosque is such a focal point, especially this month not being able to go is very emotional. 'It's something that I don't want to experience ever again, but we have to adapt and the plus point is we are spending more time at home with family and praying together as a family, spending more time with the kids.' He said hearing the call to prayer provided a connection to the mosque for people. 'For my parents at home, they were in the garden and heard it so at least they could listen to it and hear it coming directly from the mosque,' he said. 'It meant a lot for them – that the mosque is still there and serving its purpose. Hopefully this will be over very soon and we can get back to some sort of normality.' The Adhaan was broadcast from a rooftop (Picture: Waltham Forest Islamic Association) Nine mosques were given permission to broadcast the call to prayer publicly (Picture: Waltham Forest Islamic Association ) He said that before the call to prayer was broadcast, he and others had leafletted houses in the surrounding area to explain what would be happening. 'It has become quite a good talking point which breaks down barriers,' he added. 'A lot of the time we get a lot of negative views and bad publicity. At large the Muslim community is lumbered with quite a heavy burden. 'We have had generally a positive response, but some negative which we expect. Overall it has been absolutely brilliant.' During Ramadan, many Muslims abstain from food and drink between the hours of sunrise and sunset. Mr Abrahim added: 'When the sun sets is when we break the fast so when we hear the call to prayer we know "Okay guys, we can break our fast now."' What does the prayer mean? The prayer broadcast, in Arabic, states: God is Great I bear witness that there is nothing worthy of worship except God I bear witness that Muhammad is the Messenger of God Pray in your homes Come to success God is Great There is nothing worthy of worship except God Vice general secretary of Waltham Forest Islamic Association Irfan Akhar said in a video released showing the Adhaan: 'Normally we break fast together and pray together in the mosque but because of coronavirus now is a time that we can't enter the mosque. 'Hopefully those who are close to the mosque will hear the call to prayer and find some solace. 'Please everyone stay at home and stay safe.' Waltham Forest Council of Mosques said: 'We trust this will not inconvenience anyone and hope you enjoy the melodious Adhaan. The Adhaan will take less than five minutes and due care will be taken not to cause nuisance to the neighbourhood. 'We stand shoulder to shoulder with our neighbours and we are sure that you will support us in this endeavour.' Leader of Waltham Forest Council, Clare Coghill said: 'The holy month of Ramadan is normally a time for the Muslim community to come together to pray and break their fast. 'Like many aspects of all our lives, this has been affected by Covid-19 and the requirement to remain socially distant. 'As an alternative form of connection during this special month, the Waltham Forest Council of Mosques contacted the council to request that as an alternative to congregating they announce a short call to prayer at a number of mosques adapted to remind worshippers to stay at home. 'The council considered the request as it would with any religious or faith group looking to responsibly worship during this difficult time.
https://metro.co.uk/2020/05/05/call-prayer-broadcast-first-time-london-borough-lockdown-ramadan-12658639/
-----
British Muslims go digital for socially-distanced Ramadan
5 May, 2020
For millions of Muslims around the world living under lockdown, this Ramadan is unlike any they have experienced before.
Restrictions on movement introduced by governments to combat the Covid-19 pandemic mean the traditions of large family iftars, group prayers at the mosque, and public celebrations are now off-limits.
In the UK, a group of tech-savvy British Muslims has seized the unique opportunity provided by this "socially-distanced" Ramadan to channel their digital skills towards helping communities stay connected and create new traditions during the holy month.
Over the final weekend before fasting began, developer network Deen Developers hosted a remote hackathon that challenged teams of tech whizzes from across the country to create apps on the theme of 'Ramadan at Home'.
"It's about inspiring people who work in tech to use their skills to give back to the community," Ibrahim Javed, a technology consultant and founding member of Deen Developers, told The New Arab.
OnKhair, one of the five apps to come out of the hackathon, provides a unified platform for mosques and Islamic organisations to live-stream the religious lectures, lessons and conferences that would usually attract large crowds during Islam's holiest month.
"We can't go to our masjids (mosques), but we can learn from home and connect with other people remotely," Kaddo said. OnKhair provides a fully interactive experience, with viewers using live chats to interact and ask questions of the imam or sheikh delivering the lecture, thanks to social media and web conferencing platforms like Zoom.
Once strict social distancing measures are lifted, Kaddo and her team predict that OnKhair will form part of a wider shift towards increased remote communication.
"I believe we will see a change in how lectures and lessons are taught," Kaddo said. "I think many will continue online even after the lockdown."
While apps like OnKhair and IlmQuiz, which hosts daily Islamic quizzes, aim to bring Muslims closer to God and their own communities, other developers at the hackathon focused their efforts on charity and helping others - another key aspect of Ramadan.
Share Iftar is a web app that registers mosques and charitable organisations that are preparing meals for breaking fast and organises free distribution for those in need. According to one of the app's designers, Ikbal Hussain, inspiration for ShareIftar came from a hadith, or saying of the Prophet Muhammad:
"This Ramadan is going to be very difficult for a lot of people," Hussain said. ShareIftar aims to provide iftar meals to the most vulnerable in society, including the elderly, those self-isolating with coronavirus symptoms, or people living in poverty who usually depend on the mosque for food.
Even once the month of Ramadan is over, Hussain hopes ShareIftar can continue to feed vulnerable members of the community and contribute to the fight against food waste.
Beyond the Deen Developers hackathon, many community-minded organisations have been forced to turn to digital solutions to adapt to this unexpected Ramadan.
Since its foundation in 2013, The Ramadan Tent Project has fed over 100,000 people at public iftars and hosts the UK's largest iftar events.
With their usual mass iftar meals out of the question due to a nationwide ban on public gatherings, the project's organisers have taken the concept online to create MyOpenIftar.
Those who sign up receive a MyOpenIftar pack containing recipes, Ramadan trivia, factsheets and advice on wellbeing and mental health in lockdown.
When maghrib (the time to break fast) approaches, participants can join a virtual iftar via Zoom and social media where they can listen to talks by guest speakers, share their at-home fasting experiences and hear the call to prayer together.
"This is new for all of us, but we are embracing the digital," Ahmed said. "We're keeping conversation and the Ramadan spirit alive."
Also tapping into the Ramadan spirit is MiniDeed - a crowdfunding social media app where users donate to charity rather than liking posts and pictures.
"One of the hadiths (sayings) of the Prophet says that one of the most beloved deeds to Allah are those that are most consistent, even if it is small," the app's marketing manager Sakib Ahmed explained.
"And MiniDeed makes doing small deeds effortless by letting you donate a few pennies with a simple tap each day, all of which add up, especially during this blessed month."
The app's MiniRamadan campaign asks users to share their lockdown fasting experiences and encourage them to donate to charity. On Friday, the first day of fasting for many Muslims and the first day of the MiniRamadan campaign, many of the posts centered on excitement for the first iftar meal.
"Because of the mosques being closed, Muslims are trying to find other ways to get the spiritual connection of Ramadan," Ahmed said. "This Ramadan is really what you make it."
https://english.alaraby.co.uk/english/society/2020/5/5/british-muslims-go-digital-for-socially-distanced-ramadan
------
ISLAMIC FINANCE AND THE SDGs: FRAMING THE OPPORTUNITY, "London and Kuala Lumpur collaborate on promoting the SDGs through Islamic Finance
5 May 2020
UK – 5th May 2020, The Islamic Finance Council UK (UKIFC), in partnership with Malaysia based International Shari'ah Research Academy for Islamic Finance (ISRA), has launched the first report in a thought leadership series that aims to assist and encourage active engagement in support of the UN Sustainable Development Goals (SDGs) by the global Islamic finance sector.
The report provides an introduction to the SDGs within the context of Islamic finance, emphasising the opportunity the SDGs present to the Islamic finance sector.
The SDGs seek to address global economic, social, governance and environmental challenges by 2030 and have been adopted by 193 countries. They recognise that ending poverty and other deprivations complement strategies that improve health and education, reduce inequality, and spur economic growth – all while tackling climate change and working to preserve our natural environment.
With a $2.5 trillion per year financing gap the UKIFC has committed to a 24-month action oriented programme of activities to address barriers blocking Islamic Financial Institutions from embracing the SDGs. The report follows the launch of a global Islamic Finance and SDG Taskforce that is supported by the UK Government and involves senior level participants from across the globe.
With Covid-19 exposing the fragility of people and the planet the SDGs is a recognised global framework upon which we can, collectively, build our social, environmental and economic resilience. With its underlying Shari'ah principles, Islamic finance is naturally aligned to, not only support but, lead the financial services sector's efforts towards achieving the Global Goals.
TAKEAWAYS FROM THE REPORT INCLUDE:
• There has been limited participation from Islamic finance sector in leading UN initiatives (such as Principles for Responsible Investment, Principles for Responsible Banking and Principles for Sustainable Insurance) that support financial institutions to align with the SDGs.
• To achieve SDG targets, Islamic Development Bank Member Countries need annual funding of between US$700 billion and US$1 trillion which represents around 40% of the total global SDG financing gap.
• Opportunity for Islamic finance to tap into emerging agnostic global liquidity pools seeking SDG-aligned products and increase tactical alignment with development bank funders.
• Alignment with the SDGs supports the tayyib (wholesome) concept which contends that the focus of Islamic finance products and services should be on the evaluation of wider societal impact rather than an overly legalistic analysis of Shari'ah compliance.
• With assets expected to reach US $3.8 trillion in 2022, through its adeptness at innovative financial structuring, Islamic finance is well placed to create instruments that drive capital towards the SDGs.
With a deep rooted commitment to social benefit Islamic finance should be at the front and centre of this new, sustainable economic paradigm. With the SDGs emerging as the shared blueprint for peace and prosperity for people and the planet, now and into the future, it is time for the global Islamic finance sector to step up and demonstrate its credentials for driving finance for positive change.
"The UKIFC firmly believes that the Shari'ah principles which underpin Islamic finance make the sector well positioned to lead in promoting the SDGs to achieve global economic and social justice combined with sustainability and to drive home the point that we are all vice regents with temporary custody of the world's finite resources and so need to act in a way that recognises this." Richard de Belder UKIFC Advisory Board Member
"Islamic finance has a lot in common with impact investment and can play a major role in addressing the problems faced by society. It also has the potential to bring added value to the efforts to mobilize resources for the sake of realizing the SDGs." Dr AkramLaldin, Executive Director, ISRA
"The world is undergoing unprecedented challenges, requiring global coordination and action. The UN SDGs serve as a guide to address these challenges and to achieve a better and more sustainable future for all. Our research shows a strong correlation between the SDGs and Islamic finance values and, as the global representative of the Islamic financial services industry, we welcome and support the UKIFC and ISRA in their efforts to promote greater awareness and coordinated action to reduce the SDG funding gap." Dr.AbdelilahBelatik, Secretary General, CIBAFI.
"The 17 SDGs are an incredibly important resource as they provide a roadmap to address some of the world's most pressing matters, from battling climate change to reducing social inequality and raising global living standards. Every institution, regardless of size, can and should seek to align its work with the objectives of the 17 goals. Furthermore, there is a natural alignment between the SDGs and the core values in our industry. UKIFC's Islamic Finance and SDGs Thought Leadership Series provides us with the opportunity to call to action and inspire greater engagement of the global Islamic banking and wider financial industry in delivering against the targets set within the SDGs. We are proud to support the UKIFC's valuable work during the publication of this important series of reports." Stella Cox, CEO, DDCap Group
"The environmental and social challenges facing the world impact everyone and equally we must all play our part in affecting change for the better. Islamic Finance institutions already champion fairness and ethics through Shariah principles and by working to align our business activities with the UN's SDGs we can further solidify that commitment. As the first UK Shariah-compliant bank to become a signatory to the principles we have seen first-hand how oversight from the UN encourages us to scrutinise the impact of our activities and importantly, assess where we can improve. This is an important global scheme that we would encourage other Islamic finance providers to be part of to drive positive change." Charles Haresnape, CEO, Gatehouse Bank
The Islamic Finance Council UK (UKIFC) is a specialist, not-for-profit, advisory and developmental body focused on promoting and enhancing the global Islamic and ethical finance industry. It has helped six countries develop enabling regulatory frameworks for Islamic finance, enhancing financial inclusion to over 15 million people, established the award-winning Ethical Finance Round Table series running since 2010, launched the world's first joint venture between Islamic finance and the Church of Scotland, and delivered development sessions to over 500 Islamic scholars across the globe. In 2020 the UKIFC, alongside the British Government's Treasury department, established the Islamic Finance and Sustainable Development Goals (SGDs) taskforce, which will be anchored in London.
https://pressreleases.responsesource.com/news/99549/islamic-finance-and-the-sdgs-framing-the-opportunity-london-and/
------
North America
Zoom calls, donuts and social media challenges: How an Olympic champion is observing Ramadan during the coronavirus pandemic
May 6, 2020
The holy month of Ramadan is usually a time for families and friends to come together, but the coronavirus pandemic has changed everything.
Holy sites and mosques are closed, loved ones are separated from each other. Many traditions and routines have had to be altered because of a virus which has changed the world.
At the 2016 Olympics, Muhammad won gold in the 400 meters hurdles on a rainy night in Rio de Janeiro. Her victory made her one of two American Muslim women to win medals at the Games (fencer Ibtihaj Muhammad won a bronze). Last year, Muhammad broke her own world record in claiming the 400m hurdles world title in Doha.
Over the month of Ramadan -- which this year started on the evening of April 23 -- Muslims abstain from food and water during daylight hours, a practice that is seen as one of the five pillars of Islam. They can eat before sunrise, and break their fast after dusk each day.
With athletics events canceled across the globe, these unusual times have at least given Muhammad, 30, a chance to fast for the whole month, something she would not normally be able to do when competing.
"I'm definitely using this opportunity to fast more than I normally would," she explained. "I always try to fast some days during the season. It's just honestly extremely difficult for me to train as hard as I do and fast.
"I'm never able to do the full 30 days or the full month and this time I kind of made a promise myself to really do it. I can do it now that my training isn't as intense. There's no major championships to get ready for."
Muhammad poses next to the screen reading the new world record she set in the Women's 400m hurdles at the 2019 IAAF Athletics World Championships at the Khalifa International stadium.
Muhammad poses next to the screen reading the new world record she set in the Women's 400m hurdles at the 2019 IAAF Athletics World Championships at the Khalifa International stadium.
At this time of year daylight can last for over 13 hours in Los Angeles, where New Yorker Muhammad lives. So, fasting is no easy feat and, of course, there are cravings to overcome and traditions to keep.
"Growing up, my father always broke his fast with dates and just being home in California, I'm just kind of keeping that tradition," she said.
"I've been craving sweets right now, and that's something I never really crave. I'm not like a big sweet person, but for whatever reason, even last night [April 27] I was craving a cinnamon bun, I was like crossing my fingers that Cinnabon would be open. Of course, it was not. So definitely craving sweets; had some Dunkin Donuts last night."
"My father implicated that we need to do this once a week. I don't think we've made it quite once every week, but we do try to make a time to do Zoom calls. Just see everyone's face. I've definitely been FaceTiming a lot."
In March, it was announced that the Tokyo Olympics, originally scheduled to take place this summer, would be postponed to 2021 "to safeguard the health of the athletes, everybody involved in the Olympic Games and the international community."
"But, for me personally, it was a little bit disappointing. We as athletes, our lives are planned around these four years and we know every fourth year is going to be an Olympic Games and we kind of schedule our training around it and really our lives, our personal lives."
Since the announcement of the initial postponement, Tokyo 2020 Games president Yoshiro Mori has indicated that if the pandemic continues the Olympics could be canceled.
"That would be really heartbreaking," admitted Muhammad. "We sacrifice so much for the Olympic Games and just to represent our country, and we love what we do.
"I'm striving to get a medal at the Olympics and I'd be the reigning champ, Olympic champion, and so it has definitely been disheartening. We'll just have to see how it all plays out."
With running tracks closed, Muhammad has been training in the grass fields in Northridge, Los Angeles. After initially training alone, she has now resumed working with her coaches while keeping a social distance from members of the public -- though there are the dogs to navigate around.
Muhammad said: "There are a lot of dogs in the park right now, a lot of people walking their dogs and the dogs are not doing that [social distancing]!
"I'm honestly enjoying just kind of running for fun again. I think we focus so much on the competition aspect and, of course, that's important being a professional athlete, but I'm really just enjoying getting out there and running."
She helped tee off an indoor relay challenge on her Instagram account with other Nike-sponsored sports stars, including NFL wide receiver Odell Beckham Jr., while fellow American hurdler Queen Harrison got her to take part in a Don't Rush-style challenge, which features people seamlessly transforming from everyday clothes to more glamorous attire with the flick of a make-up brush.
"It was just a way for us to kind of express ourselves. Get on some nice clothes, or some different clothes, that we normally wear when we're out training, so it was fun," she said.
https://edition.cnn.com/2020/05/06/sport/dalilah-muhammad-ramadan-spt-intl-cmd/index.html?utm_source=feedburner&utm_medium=feed&utm_campaign=Feed%3A+rss%2Fcnn_latest+%28RSS%3A+CNN+-+Most+Recent%29
------
Observing Ramadan Remotely, without Campus Community
May 6, 2020
Rich Barlow
With her family longtime residents of nearby Malden, Mass., Aya Zeabi anticipated observing Ramadan, falling April 23 to May 23 this year, both with BU friends and at home. Her parents have hosted or attended dinners to break the holy month's daily fast "for as long as I can remember," Zeabi (Sargent'20) says. "Half the month, we didn't even cook, because we were invited to dinner elsewhere." Plus, there were the community iftars (fast-breaking meals) and other events hosted by the Islamic Society of Boston University (ISBU).
Of course, Ramadan is turning out to be quite different this year. Along with her campus peers, Zeabi lost her collegiate community when the COVID-19 pandemic required students to move home. She also works as a communications coordinator at Massachusetts General Hospital, where her floor has COVID-19 patients. She dreads bringing home the virus to her folks or her 18-month-old sister. Taking precautions has kept her family healthy; meanwhile, working 12-hour shifts ending at 7 or 11 at night makes it hard to break her fast.
"It's difficult to get away from the craziness and have a meal," she says. "Normally I end up just drinking some water and eating an energy bar to keep me going till I can go home and have a good meal. I also get more tired during the day when I am fasting, but it's manageable."
Ramadan has become the third celebration of the Abrahamic faiths, after Passover and Easter, to be upended by social distancing and bans on congregating, forcing the faithful to adjust their accustomed rituals of worship—and to plumb this sacred time for spiritual insights for coping with the pandemic.
Revered by Muslims as the time when the Prophet Muhammad received the revealed Koran, Ramadan has been robbed by the coronavirus of traditions beloved by students, like bringing home-cooked food door-to-door for Faraz Zaidi (CAS'21) to help Muslim residents in his Queens, N.Y., apartment building end their fast. Zaidi enjoyed sharing his home practices with BU friends, and he helped organize last year's campus observances, from iftars to taraweeh (night prayers) for them.
"Usually during the night the Koran was revealed, known as LaylatulQadr, Muslims stay up the entire night together, joining in special prayers and supplications in synchrony," he says. "This was one of my favorite parts of Ramadan, as it helped me feel especially spiritually uplifted, but unfortunately, that also will not happen this year."
For other students, even online iftars together are out; scattered to different time zones, they break their fast at different hours, depending on when sundown is where they live, says Azanta Thakur (Sargent'20), ISBU president. "Plus, eating dinner over Zoom can be a little awkward."
Yet she and others are plumbing Ramadan's spiritual insights to cope with the straitjacket the pandemic has imposed on their religious life, and life in general. Fasting, Muslims believe, activates the Koranic insight that self-denial heightens awareness of God, while also enabling empathy for the needy. "Fasting isn't just about abstaining from food and water from sunrise to sunset," says Thakur. "It's about taking away worldly desires, including sexual relations, to focus on your faith completely and your relationship to God.
"Perhaps this pandemic will give us all a chance to walk away, after these 30 days, closer to our religion and our faith than ever—and that will be completely worth it," she says. "I'm still grateful that I have the ability to spend time with my family at home in Florida and that we have the ability to set food on the table every night. I'm still connecting with my friends every evening or afternoon and even connecting with friends I haven't spoken to since I was in high school."
"Many people have experienced suffering, grief, and loss amidst this pandemic," says Nada Shalash (CAS'21), ISBU incoming vice president, "and it is more important now than ever to be compassionate and be there for others, in the true spirit of Ramadan. We really are all in this together."
Shalash has participated in her New Jersey mosque's live-streaming of Koran recitation and spiritually focused webinars. "This situation in many ways has actually brought us closer together, even though we are physically apart," she says. "People are trying to stay connected and be there for each other, especially during Ramadan, which is really heartwarming to see."
"This is the first time we are all forced to observe Ramadan in solitude," says Reem Shaikh, BU's Muslim chaplain. "This gives us the opportunity to focus solely on the worship of God and our connection with Him without any distractions."
As fasting reminds Muslims not to take their blessings for granted, Shaikh says, "this pandemic has helped us understand the power of God, and how we should never take our realities for granted.
"As for illnesses and death, we believe that difficulties in life are a natural part of life to test our faith and patience, and we are meant to trust God's process. Ramadan allows us to strengthen our spirituality and build our connection with God, which helps build our trust in Him."
Zeabi has undergone a personal change this Ramadan as she juggles her busy hospital job. An obsessive planner who has always scheduled herself to the last minute, the pandemic has taught her to slow down.
"I realized that I don't want to go through life looking at my calendar," she says. "I just want to live in the moment, enjoy my friends, my family, the good times, and all the memories because this life is not guaranteed and anything can happen.
https://www.bu.edu/articles/2020/students-observing-ramadan-remotely/
------
CAIR to Announce Filing of EEOC Complaint by Maryland Muslim Woman Denied Right to Pray, Dress Modestly at Work
Ibrahim Hooper
May 5, 2020
(WASHINGTON, DC, 5/5/20) — On Wednesday, May 6, representatives ofthe Council on American-Islamic Relations (CAIR) will hold an online news conference to announce the filing of a U.S. Equal Employment Opportunity Commission (EEOC) discrimination complaint on behalf of a Maryland Muslim woman and cashier at beauty supply store Beauty Max who was denied her rights to pray and to wear modest clothing at work.
On the woman's first day at Beauty Max, in January 2020, employees and management denied her accommodation to pray in the store and told her, "I know you people have to pray, but you can't do that here, none of that." Beauty Max employees and management also denied the woman an accommodation to wear a full-length skirt. The woman repeatedly explained her faith's requirements, but Beauty Max employees insisted she go home and change. The Maryland Muslim woman was forced to resign.
CONTACT: CAIR Staff Attorney ZanahGhalawanji, 202-516-4733, zghalawanji@cair.com; Director of CAIR Office in Maryland Zainab Chaudry, zchaudry@cair.com, 410-971-6062; CAIR Senior Litigation Attorney Gadeir Abbas, 720-251-0425, gabbas@cair.com; CAIR National Communications Director Ibrahim Hooper, 202-744-7726, ihooper@cair.com
CAIR has reported an unprecedented spike in bigotry targeting American Muslims, immigrants and members of other minority groups since the election of Donald Trump as president.
The Washington-based civil rights organization offers a booklet, called "An Employer's Guide to Islamic Religious Practices," to help employers gain a better understanding of Islam and Muslims in the workplace.
La misión de CAIR es proteger las libertadesciviles, mejorar la comprensión del Islam, promover la justicia, y empoderar a los musulmanesen los Estados Unidos.
https://www.cair.com/press_releases/cair-to-announce-filing-of-eeoc-complaint-by-maryland-muslim-woman-denied-right-to-pray-dress-modestly-at-work/
------
Trump Exposes the 'Great Disparity': Islam Good, Israel and Christianity Bad
May 6, 2020
Raymond Ibrahim
Ramadan is upon us and many Americans—not least the millions who were denied church access during Easter—are wondering: will mosques experience the same ban or will the usual double standard prevail?
Among those wondering is America's president, Donald Trump. Recently asked at a press briefing why he retweeted a tweet by author Paul Sperry—"Let's see if authorities enforce the social-distancing orders for mosques during Ramadan (April 23-May 23) like they did churches during Easter"—Trump said:
I would like to see that…. I would say there could be a difference. But we'll have to see what will happen. Because I've seen a great disparity in this country; I've seen a great disparity. I mean, I've seen a very strong anti-Israel bent in Congress with Democrats…. The things they say about Israel are so bad, and I can't believe it. So I would be interested to see that, because they go after Christian churches, but they don't tend to go after mosques. And I don't want to see them go after mosques, but I do want to see what their bent is…. Our politicians seem to treat different faiths very differently; and they seem to think—I don't know what happened to our country—but the Christian faith is treated much differently than it was, and I think it's treated very unfairly.
Needless to say—and despite the fact that at least some mosques, including in NYC, America's coronavirus "epicenter," were reported as open for Ramadan—Trump's otherwise accurate observations were lambasted by politically active Muslims and their American allies/dupes. The terrorist-linked Council on American-Islamic Relations (CAIR) did what it does best—accusing Trump and his administration of being "insulting … Islamophobic, white supremacist and racist." All the Daily Beast could do was throw its hands up in the air and appeal to the Islamic deity in an article titled, "Allah Willing, Let This Be Donald Trump's Last Ramadan in Office."
Meanwhile, back in the real word, the concerns Trump raised—particularly of the "great disparity" in how Islam is treated on the one hand, and how Israel and Christianity are on the other—have been validated over and over again, and often in more insidious ways.
Thus, in August 2019, after the Consortium for Middle East Studies (CMES), a program run by Duke University and the University of North Carolina, hosted what was described as a "Three-Day Anti-Israel Hate-Fest," the U.S. Dept. of Education warned it in a letter to stop misusing federal grants by advancing "ideological priorities."
The letter further accused the consortium of "lack[ing] balance as it offers very few, if any, programs focused on the historic discrimination faced by, and current circumstances of, religious minorities in the Middle East, including Christians, Jews, Baha'is, Yadizis, Kurds, Druze, and others." Instead, "there is a considerable emphasis placed on understanding the positive aspects of Islam, while there is an absolute absence of any similar focus on the positive aspects of Christianity, Judaism, or any other religion or belief system in the Middle East. This lack of balance of perspectives is troubling…"
While the Dept. of Education letter was directed at CMES, virtually every other Middle East Studies department in America—whence so many Middle East "experts," "analysts," and policymakers emerge—can be accused of the same exact things, including whitewashing and promoting Islam, while ignoring its victims.
Nor is this double standard limited to higher education; basic indoctrination begins in public schools. For example, Caleigh Wood, an eleventh grade Christian student in a Maryland high school received a failing grade because she refused to compromise her faith by making a written profession of the Muslim creed or shahada—"There is no god but Allah and Muhammad is the messenger of Allah"—which formally converts its reciters to Islam.
School officials denied her father's request that she be allowed to be given an alternative assignment. She was, moreover, forced to view a series of pro-Islamic PowerPoint slides, which included the following statements: "Most Muslims' faith is stronger than the average Christian"; "Men are the managers of the affairs of women" and "Righteous women are therefore obedient."
I'm not aware of any public school which has forced a Muslim student to write the Lord's Prayer or John 3:16: "For God so loved the world, that he gave his only begotten Son, that whosoever believeth in him should not perish, but have everlasting life." Yet, under the pretext of teaching history or social studies, public schools across America are promoting the religion of Islam in ways that would never be tolerated for Christianity or any other religion. It's disappointing that the Supreme Court did not take this opportunity to clarify the test which lower courts should use when ruling on establishment clause and free speech challenges to public school classes on religion….Many public schools have become hot beds of Islamic propaganda. Teaching Islam in schools has gone far beyond a basic history lesson. Prompted by zealous Islamic activism and emboldened by confusing court decisions, schools are now bending over backwards to promote Islam while at the same time denigrating Christianity.
In short, Trump is right: there is "a great disparity in this country"; there is "a very strong anti-Israel bent"; and "the Christian faith" is "treated very unfairly."
Worse, the many "disparities" in the public education system—those mentioned above are just the tip of the iceberg—are insidiously dangerous in ways than the very visible disparity of having mosques open for Ramadan during COVID-19 are not. For it is through schools—to say nothing of the indoctrination emanating from media, Hollywood, and the newsrooms—that the worldview of young Americans is forged: hence the often inexplicable admiration and sympathy for Islam; hence the often inexplicable contempt and worse for Christianity and Israel.
http://www.frontpagemag.com/fpm/2020/05/trump-exposes-great-disparity-islam-good-israel-raymond-ibrahim/
------
Africa
Boko Haram jihadists in deadly clash with army in southwestern Niger
06/05/2020
Boko Haram fighters clashed with government forces on Sunday in Diffa, the largest city in southwestern Niger, in what the jihadists said was a successful attack on a military camp.
Conflicting versions of the outcome emerged on Tuesday, with the Islamists claiming to have overrun the site but local residents telling AFP that the assailants had been repelled.
A propaganda video released by the Islamic State West Africa Province (ISWAP), a Boko Haram splinter group affiliated to the so-called Islamic State, purports to show heavily-armed insurgents storm an army camp following sustained fighting and heavy weapons fire.
The area around Diffa, a city of around 200,000 people located near the Nigerian border, has been repeatedly attacked by the jihadist group, which emerged in Nigeria in 2009.
"We heard gunfire, especially heavy weapons, between 4:30 pm and 7:00 pm on the southern side of the city," LawanBoukar, a local resident, said.
"It was an audacious infiltration attempt by Boko Haram, who were then forced back to the bridge at Doutchi," he said, referring to a cross-border bridge about 30 kilometres (18 miles) away.
Another resident said the attackers "came over from the Nigerian side in late afternoon, when the Ramadan fast was about to break -- they were obviously hoping to catch our soldiers unawares."
A security source confirmed "the attack" but did not give details. The defence ministry, contacted by AFP, said it would release a statement later.
Boko Haram's insurgency has claimed more than 36,000 lives since it began in northeastern Nigeria in 2009 and displaced nearly two million from their homes.
The violence spilt over into neighbouring countries in the Sahel in 2015, especially in the Lake Chad region, where the borders of Cameroon, Chad, Niger and Nigeria converge.
The Diffa region is home to 120,000 refugees from Nigeria as well as 110,000 people internally displaced within Niger, according to UN data released in October.
Sunday's attack came after an air-and-ground offensive against the group by Chad following a brazen attack in which nearly 100 soldiers were killed.
In late March, Niger's defence ministry claimed that a "leading figure" in Boko Haram, Ibrahim Fakoura, had been killed in an operation in the Lake Chad region.
In 2015, heavy fighting broke out between Niger soldiers and Boko Haram fighters around the strategic bridge at Doutchi and near Damasak, a Nigerian border village which the jihadists seized in October 2014.
Around 4,000 people were killed in Mali, Niger and Burkina Faso last year in jihadist violence, which is often intertwined with inter-community tensions, according to a UN estimate.
https://www.france24.com/en/20200506-boko-haram-jihadists-in-deadly-clash-with-army-in-southwestern-niger
-----
COVID-19 may sweep people like Boko Haram – Borno govt warns residents
May 5, 2020
By MainaMaina
Borno State, Deputy Governor, Alhaji Usman Kadafur, has observed that people are still taking the issues of COVID-19 lightly like they did with Boko Haram until the situation ran out of hand and managing it became a problem until now.
Kadafur said when Boko Haram began initially, residents of Maiduguri undermined the fact that the hardliners could turn out to be monsters just like the way they are treating the COVID-19 pandemic.
He lamented the non-compliance of residents on social distancing, hand-washing, use of sanitizers, face masks and personal hygiene to prevent the spread.
Kadafur, who doubles as Chairman of COVID-19 response team said: "It's highly sad that despite the increasing rate of the spread of the pandemic, a lot of residents do not believe the existence of the virus."
He noted that it is rather unfortunate that many people participated in burial ceremonies and still observe congregational prayers against the rules of social distancing.
"The response team; is working round the clock to establish a new isolation centre, as two existing ones at Ngaranam and that of the University of Maiduguri Teaching Hospital (UMTH) are overstretched by over 50 per cent capacity.
"Our COVID-19 response team and other partners; have engaged in serious meetings on the establishment of the new isolation center in the past two days.
"This makes it very difficult for me to personally attend the daily media briefings for the last few days. Despite the best responses of the team; there are some people out there who want to discredit not only the state response team but the whole nation.
"Even if I'm to be infected, I have to be taken there, so we'll have to put in our best. And as far as I'm concerned, the response team is doing its best and we'll do our best towards that."
https://dailypost.ng/2020/05/05/covid-19-may-sweep-people-like-boko-haram-borno-govt-warns-residents/
-----
Boko Haram;NAF wings another female pilot, ten others in Abuja as service trains 114 pilots in 4 years
5th May 2020
The winging ceremony which held at the service headquarters in Abuja, brings to 114 the total number of pilots winged so far in the last four years and are currently engaged in operations in different theaters across the country.
In his address at the occasion, Chief of the Air Staff (CAS), Air Marshal Sadique Abubakar, while urging the young pilots to remain disciplined and constantly develop a balance critical thinking, leadership skills and the right attitude, reminded them
that the art of flying goes beyond the innate technical ability that earned them wings.
"You are obliged to possess the desire to learn and must always pay attention to details so as to avoid errors as there is no room for errors in the sky. You must develop the ability to remain calm under pressure.
He also charged them to abide by the provisions stipulated in the Local Operating Procedures (LOPs) and Standard Operating Procedures (SOPs) and stay away from harmful narcotic substances.
He said "The current National security situation requires that we remain highly committed and focused. We must be willing, able and ready always. I therefore urge you to be ready to respond swiftly wherever and whenever you are called upon in the defence of our National sovereignty and interests",
While expressing delight over the successful training of the young pilots, Abubakar, said the NAF would continue to fulfill its constitutional mandate by improved its operational capacity through training and retraining.
While noting that the winging marked another milestone in the history of the NAF, ABUBAKAR pointed out that in the last four years, the service has remained resolute in conscientiously developing human capacity of both aircrew and non-aircrew through qualitative training to adequately reposition the Service for timely employment of Air Power in response to Nigeria's national security imperatives.
He said "the 12 pilots winged today had their flying training both in Nigeria and abroad, and have completed the 9 months comprehensive flying training programme. I am happy that we have among the 12 the second ever female helicopter pilot".
He said "as at May 5, 2020, the NAF had successfully winged a total of 114 pilots since July 2015 while another 26 student pilots were currently undergoing or scheduled to begin basic flying training abroad.
"Upon completion of their training, one would become the second ever female fixed-wing fighter pilot in the NAF, while the other would graduate as the first ever female Qualified Flight Instructor (QFI) in the 56 years history of the Service. We have equally increased capacity for in-country flying training. At the moment, there are also 39 student pilots undergoing various stages of training in NAF flying schools".
He reassured that the NAF workday remain committed to the successful execution of its constitutional roles even as he thanked President Muhammadu Buhari, for providing the enabling environment for the NAF to effectively discharge its constitutional mandate professionally and responsibly in the face of harsh economic realities.
https://www.sunnewsonline.com/boko-haramnaf-wings-another-female-pilot-ten-others-in-abuja-as-service-trains-114-pilots-in-4-years/
------
Pakistan
'Hamdard' Marks Youm-E-Babul Islam, Muhammad Bin Qasim For His Bravery and Valour
May 6, 2020
Signifying the importance of 10th Ramazan, Hamdard chairperson Sadia Rashid paid tribute to Muhammad bin Qasim for his bravery and valor.
Youm-e-Babul Islam is a day to pay tribute to one of the greatest Muslim Generals of the golden age of Islamic history Muhammad bin Qasim.
Founder of Hamdard Pakistan, Shaheed Hakim Mohammed Said used to celebrate this day with great joy and passion by holding festive events at Hamdard Public school every year.
After his martyrdom, Hamdard Pakistan followed the principles of its founder and continued to hold annual event to mark the day. Due to pandemic, this year's related activities have been called off.
Hamdard chairperson Sadia Rashid paying the tribute to Muhammad bin Qasim for his bravery and valor said Muhammad Bin Qasim was 17 years old when he conquered both Sindh and hearts of natives with his military strategies, administrative prowess, political wisdom and enforcing justice and rule of law.
"This victory embarks a new leaf in the history of Indian subcontinent that forever changed the political, social and religious landscape of subcontinent", she added.
To honour the Muslim army, Hakim Mohammed Said established one of a kind city of knowledge 'Madinat-al-Hikmah' on the same grounds where Muslim army stationed for few days before marching ahead, she mentioned.
Young students should make Qasim their role-model because his life and accomplishments have many valuable lessons for personal development, she urged.
https://www.brecorder.com/2020/05/06/594753/hamdard-marks-youm-e-babul-islam/
-----
Clerics claim mosques following SOPs, data points otherwise
13 HOURS AGO
LAHORE: The Pakistan Ulema Council and WafaqulMasajidMadaris-e-Pakistan on Tuesday claimed that 70 per cent mosques were following the standard operating procedures (SOPs) signed between the clerics and the government, however it is contrary to multiple reports that state that a majority of mosque administrations across the country are ignoring the protocols.
According to a report in a local daily, the number of people at the Islamabad mosques surged "dramatically" after the lifting of the ban. It said none of the prayer-goers were following social distancing measures. Another report quoting an NGO claimed that over 80 per cent mosques were found violating the SOPs during taraweeh prayers, contrary to what they had promised the government.
The data released by the NGO showed that in 96pc of the observed mosques, people were found praying on pavements and roads and nearly 89pc of the worshippers did not wear face masks. Besides, in 72pc and 69pc of the observed mosques, the worshippers did not maintain the 6ft distance and were found doing ablution in the mosques.
In the few mosques where some distance was maintained, this did not amount to 6ft. Photos clearly established massive violation of the important mitigation measure. In more than two-thirds of the observed mosques, children were also found alongside their elders.
The observation was made in Islamabad, Lahore, Faisalabad, Kamalia, Jhang, Layyah, Multan, Toba Tek Singh, Muzaffargarh, Dera Ghazi Khan, Taunsa, Shorkot, Kot Addu and Alipur.
Meanwhile, the Rawalpindi district police have served 460 notices on the administrations of the mosques for violating the 20-point guidelines.
However, in a statement issued on Tuesday, the clerics claimed that majority of Ulema were cooperating with the local authorities in implementing the SOPs. The statement said that though the ratio of mosques following the SOPs in the urban areas was 70pc, in rural areas over 60 per cent mosques were violating the agreement signed with the government.
Doctor across the country have warned of the country's already fragile healthcare system collapsing in the government allows relaxations in the COVID-19 lockdown.
Pakistan Medical Association (PMA) Secretary General Dr Qaiser Sajjad regretted had said: "I have to say, with all due respect, that our government has made a very wrong decision and our ulema have demonstrated extreme insensitivity [akin to] playing with human lives. This fight is between the coronavirus and doctors, so please listen to us […] You (government and scholars) have held a meeting without including any technical person.".
https://www.pakistantoday.com.pk/2020/05/05/clerics-claim-mosques-following-sops-data-points-otherwise/
----
Violation of SOPs for mosques aggravates virus situation in KP
Manzoor Ali
May 06, 2020
PESHAWAR: The brazen violation of standard operating procedures (SOPs) set for mosques led to critical situation of Covid-19 in the province, according to official reports.
The reports informed provincial government that if the practice was allowed unchecked, it was likely to further exacerbate an already grim situation.
Details available with Dawn show that a presentation made to the provincial government termed the situation "critical" as cases were continued to rise alarmingly.
The presentation also contained photographic evidence of brazen violations of SOPs for mosques during Taraweeh and Friday prayers all over the province including some of the largest mosques of the provincial capital.
In the photographs, the worshippers could be seen standing shoulders to shoulder in violation of the SOPs. The document states that on April 24, nearly 650 people gathered at Jamia Masjid Qasim Ali Khan, the mosque where unofficial Ruet-i-Hilal committee headed by Mufti Shahabuddin Popalzai is based.
Another mighty gathering in provincial capital took place at Jamia Masjid Umer Farooq in Hayatabad, where about 500 people turned up for Friday prayers.
The presentation, which covered the number of cases till April 26, said that provincial capital accounted for nearly 35 per cent of positive cases from all over the province.
It said that the death ratio in the provincial capital was also high and stood at 8.75 per cent. It said that positive cases in the province were 14.9 per cent while the ratio of deaths stood at 34 per cent. KP's death ratio of 5.19 per cent was the highest in the country as compared to national average of 2.1 per cent.
Detailing the violations of mosques SOPs all over the province, the document noted that about 1,000 people gathered on the same Friday at Andorn Bazaar Mosque in Jamrud area of Khyber tribal district.
Nearly 1,800 worshippers gathered at Teshil Bazaar Mosque in Shabqadar area of Charsadda district, 1,000 at Masjid MadinaJehangira in Nowshera, 500 at Sheen Masjid Khawazakhela in Swat, 700 at College Mosque Swari in Buner, 1100 at Shah Ismail Mosque in Balakot, 1,000 at Abdullah Bin Masood Mosque in Kohat, 2,300 at Mushti Mela Mosque in Orakzai, 1,000 at Jmaia Masjid Hussain in Lower Kurram, 2,500 at Jamia Masjid Jafar Khan in Bannu and 1,000 gathered at Masjid Paharpur in Dera Ismail Khan.
It stated that at least 200 people turned up for Taraweeh at Usmania Mosque in Soraizai Pagan area of Peshawar on April 24, while about 500 worshippers gathered at Masjid AzharaMubashara in Phase-7 Hayatabad.
On the same night, 200 people offered prayers at Jamia Masjid HajiabadUmerzai in Charsadda, another 200 at Jamia Masjid Pabbi in Nowshera, 100 at Masjid Hikmat Khan in Swabi, 1,200 at Masjid Jafar Khan in Bannu, 200 at Masjid Faizan Raza Pezu in LakkiMarwat and 700 at Masjid Mirza Ali Khan in North Waziristan tribal district.
A day later on April 25, nearly 500 people gathered for taraweeh prayers at Sarai Masjid LandiKotal, 400 at Masjid Maulana Noor Mohammad Wana South Waziristan, 200 at Masjid Taleemul Quran Daggar Buner,
The document asked the provincial government to strictly implement SOPs for mosques and take prayer leaders and mosques committees into confidence. It said that rural areas should not be ignored in that drive.
The document warned that any laxity on the part of people or leniency shown by local administrations all over the province was likely to further aggravate an already grim situation.
https://www.dawn.com/news/1554899/violation-of-sops-for-mosques-aggravates-virus-situation-in-kp
------
Cabinet approves easing lockdown after May 9
May 06, 2020
ISLAMABAD: The federal cabinet on Tuesday approved easing lockdown restrictions in the country gradually after May 9 to open earning facilities to workers and daily wage earners provided strict implementation of the coronavirus-related preventive measures suggested by the government is ensured.
The National Coordi­nation Committee (NCC) will meet on Wednesday (today) in which the Centre and provinces will decide which businesses and industries will be reopened during the easing of restrictions.
The cabinet also took another decision by approving a summary of the religious affairs ministry for not including Ahmadis in the National Commission for Minorities (NCM).
"Prime Minister Imran Khan, who always remains concerned about poor, daily wage earners and weak segments of society, decided that small businesses and transport to some extent should be reopened so that these people could have a chance to earn," Infor­mation Minister Shibli Faraz said at a post-cabinet meeting press conference.
He said the prime minister, however, warned that threat from the viral disease was not over and could strike again if the government's standard operating procedures (SOPs) were not followed. "The prime minister was of the view that the situation can turn worse if SOPs are not implemented and followed after soft opening of businesses and industries," Mr Faraz added.
The government is going to open more businesses and sectors despite a surge in Covid-19 cases that crossed the 22,000 mark with over 500 deaths in the country. Punjab and Sindh have also announced some relaxation in lockdown by allowing reopening of some businesses like garment/cloth, shoes, automobile and spare parts.
The prime minister again urged the nation to follow SOPs and maintain social distancing when the lockdown was lifted gradually. "The meeting endorsed Aviation Minister Ghulam Sarwar Khan's note that this is the only war [against coronavirus] which can be won by staying at home," the information minister said.
He said the cabinet had decided not to include Ahmadis in the National Commission for Minorities as its members. "Today the religious minister has come up with a summary that suggested non-inclusion of any Ahmadi in the commission because they do not fall in the definition of minorities," he added.
Interestingly, it was re­ported in the media a few days ago that the religious affairs ministry had prepared a summary under whi­ch Qadyanis will be­come part of the NCM. The news generated a new controversy in the country as some clerics strongly opposed the move and reacted against the government.
Mr Faraz said the cabinet made the decision about the NCM formation with consensus and none of the cabinet members raised objection over non-inclusion of Qadyanis in the commission.
He said it was decided in the meeting that all cabinet members would deposit their one-month salary in the PM's Coronavirus Relief Fund. He said the meeting was apprised that a total of 1,376 decisions had so far been made by this forum [cabinet], of which 86 per cent had been implemented.
About the criminal justice system, the prime minister stressed the need for completing the required reforms in six months and ordered changing police stations' culture in the country.
The prime minister, Mr Faraz said, also reviewed import of life-saving drugs from India whose import was allowed despite a ban on all kinds of trade with the neighbouring country due its illegal actions in held Kashmir. "In fact the prime minister wanted to know if there was any violation of his order to import only life-saving drugs and nothing else," he added.
Later, Shibli Faraz lashed out at the opposition for criticising the government and said the opposition was only doing politics instead of helping the government in hours of need. He said if the National Accountability Bureau called Shahbaz Sharif in any case, it had nothing to do with the government. "If NAB summons Shahbaz Sharif he must go because NAB is a law enforcement institution," he added.
https://www.dawn.com/news/1554927/cabinet-approves-easing-lockdown-after-may-9
------
IHC proposes policy to decide criminal pleas in three months
Malik Asad
May 06, 2020
ISLAMABAD: A day after ordering acquittal of some suspects in criminal cases and acknowledging loopholes in the criminal justice system, the Islam­abad High Court (IHC) on Tuesday proposed a policy to conclude criminal app­eals within three months which otherwise linger on for decades.
According to the propo­sed draft policy for fixation of criminal appeals against conviction, the IHC administration has "laid down the procedure for fixing the criminal appeal for hearing, prescribed the timeframe for completing legal formalities and then set the schedule to conclude the appeals".
IHC Chief Justice Athar Minallah on Monday deci­ded seven criminal appeals and acquitted the suspects who had been kept behind bars for over a decade.
Justice Minallah obser­ved that the existing criminal justice system "fails to prevent and prosecute crime" while it was "perpetuating miscarriages of justice and appears to have become a source of grave injustice" and "appears to be on the brink of collapse".
Under the existing criminal justice system, criminal appeals take years to decide and some time suspects are acquitted posthumously, after dying of natural causes while in incarceration.
According to the proposed policy, "every criminal appeal against conviction is decided and disposed of within ninety (90) days from the date it has been entertained on the judicial side".
Criminal appeals against conviction are received in two modes: either through the superintendent of the prison where the convict is incarcerated or through a counsel engaged by the latter.
The proposed draft states: "Criminal appeals against conviction shall be fixed in the week following the date on which they have been received."
In the next step, it suggests that after the court entertains an appeal, the registrar office will issue notices to the parties through police station concerned and ensure service of the notice in 10 days.
The office will ask the parties while serving notices to intimate the names of the counsels. In case a party fails to give intimation within 10 days from service of the notice, the case will be fixed as per the schedule.
The parties after receipt of notices are supposed to furnish written submissions. The office after receiving the written submissions will provide the copies to the parties in the matter or their lawyers.
Likewise, the advocate general, attorney general and relevant organisations "shall be responsible to nominate their respective representatives to receive and submit documents".
"It shall be the duty of the registrar office to complete all the aforementioned formalities within 30 days from the date when the appeal against conviction has been entertained. The appeal shall be fixed in the week following completion of the formalities after seeking consent of the counsels," the proposed policy states. "The hearing shall not be adjourned due to absence of a counsel and the appeal shall be decided on the basis of written arguments/submissions."
Under the policy, district and sessions judges are also asked to ensure that trials in criminal cases are concluded expeditiously, preferably within 90 days from the date of submission of report under section 173 of the Criminal Procedure Code (CrPC), commonly known as police challan.
The IHC additional registrar judicial has circulated the draft among the stakeholders, including judges, the Pakistan Bar Council, Islamabad Bar Council, presidents of IHC bar and district bar associations and superintendent of Rawalpindi Central Jail for "circulation amongst the inmates of the prison whose cases are pending before this court [IHC] or any other court within its jurisdiction".
dawn.com/news/1554926/ihc-proposes-policy-to-decide-criminal-pleas-in-three-months
-----
Mideast
Turkish charity distributes Ramadan aid in Yemen
Ali Semerci
06.05.2020
The Turkish Red Crescent (Kizilay) distributed 500 food parcels Tuesday to needy families in Yemen's temporary capital, Aden.
Mustafa Aydin, head of the Kizilay delegation, told Anadolu Agency that Kizilay is also planning to distribute food parcels in Maarib, Abyan, Lahij, Al-Mahwit and Taiz provinces in the coming days.
The Turkish Red Crescent is the largest humanitarian organization in Turkey, with an international network to help nations in need.
Yemen has been beset by violence and chaos since 2014, when Houthi rebels overran much of the country, including the capital Sana'a.
The crisis escalated in 2015 when a Saudi-led military coalition launched a devastating air campaign aimed at rolling back Houthi territorial gains.
Tens of thousands of Yemenis, including civilians, are believed to have been killed in the conflict, which has led to the world's worst humanitarian crisis as millions remain at risk of starvation.
https://www.aa.com.tr/en/middle-east/turkish-charity-distributes-ramadan-aid-in-yemen/1830438
------
15% Rise in Imam Khomeini Port Operations
May 05, 2020
Unloading of non-oil products at Imam Khomeini Port in southwestern Khuzestan Province increased by 15% in the month leading to April 19 to reach 1.79 million tons.
"A total of 30 container ships carrying more than 1.74 million tons of essential goods, including animal feed, docked at Imam Khomeini Port during the one-month period," director general of Khuzestan Ports and Maritime Organization, Adel Deris, announced.
To help regulate the market during the holy month of Ramadan, more than 1.42 million tons of essential goods were shipped from the port to several destinations across the country via road and rail, he was quoted as saying by Fars News Agency.
A total of 25.09 million tons of essential goods worth close to $15.5 billion were imported into Iran during the last fiscal year (March 2019-20) to register a 20.77% and 17.13% increase in weight and value respectively, compared with the year before, according to the spokesman of the Islamic Republic of Iran Customs Administration, RouhollahLatifi.
This volume of essential goods imports accounted for close to 71% and 35% of the volume and value of last year's total imports respectively, the official was quoted as saying by ISNA.
"The imported essential commodities included wheat, sugar, corn, rubber, barley, processed tea, rice, seeds, red meat, soybeans, pulses, paper, fertilizers and industrial machinery," he added.
Also known as necessity goods, essential goods are products consumers will buy, regardless of changes in income levels.
https://financialtribune.com/articles/domestic-economy/103202/15-rise-in-imam-khomeini-port-operations
-----
Travel magazine lists Iran's 'Pink Mosque' among top destinations for 2020
May 5, 2020
TEHRAN – Condé Nast Traveler, a New York-based lifestyle and travel magazine, has listed Iran's Nasir al-Molk Mosque, commonly known as "The Pink Mosque" among its top travel destinations for the year 2020.
"Also known as 'The Pink Mosque,' Nasir al-Molk Mosque in Shiraz, southern Iran, is famous for its stunning array of colors— thanks to a unique combination of stained glass windows and mosaics," reads a part of the article titled "beautiful sacred sites around the world" published on April 30.
"When Nasir al-Molk was built in 1888, it was specially designed to take advantage of morning light, and the sun filtering through the windows creates a rainbow effect, highlighting the jewel-toned tiles and rugs in the interior."
The article also introduces Ghats of Varanasi, one of India's seven sacred cities, the Buddhist monastery and temple of Taktsang in Bhutan, Wat Rong Khun temple in Thailand, the iconic Buddhist temple of Borobudur in Indonesia and Abu Simbel Temples in Egypt as its recommendation titled "19 Sacred Sites Around the World."
Stonehenge in the UK, the twelfth-century temple of Angkor Wat in Cambodia, Uluru landmark in Australia, Spanish Synagogue in the Czech Republic, Church of St. George in Ethiopia, Sistine Chapel in Italy and Cathedral of St. John the Divine in the U.S. are on the list as well.
According to Bridget Hallinan and Alex Erdekian, the authors of the article, these spiritual destinations and the world's most beautiful sacred places are easy to appreciate.
Authors believe that visiting these sacred places, whether through pilgrimages or solo trips, can give people spiritual experiences usually in times when they need an awakening the most.
The atmospheric Nasir al-Molk Mosque, situated in Shiraz, southern Iran, has long been a prime destination for international and domestic travelers.
One of the most photographed mosques in southern Iran, the 19th-century monument is in fact an amalgam of history, architecture, and arts. The name "Pink Mosque" is driven from abundant pink-colored tilework that dominates its courtyard and exteriors facade.
Filled with carved pillars and lavishly-created polychrome faience, the prayer hall appears gorgeous when it is lit up through the vast stained-glass windows.
Delicate stuccowork interwoven with arabesque designs and tilework dominated by the remarkably deep shade of blue form a peaceful atmosphere for the visitors, in particular when mirrored in the vast yet shallow pool in the courtyard.
Reflection of light through the stained-glass sheets, abundant carved pillars, and lavishly-created polychrome faience are amongst elements that enhance the beauty of the mosque's prayer hall.
In case one is willing to get shots it is widely recommended to come as early as possible in the morning to picture the prayer hall when it is lit up through the colorful glass frames.
The mosque is named after the Qajar-era merchant Mirza Hasan Ali (Nasir al-Molk) who ordered its construction in close collaboration with designer Mohammad Hasan-e Memar and architect Mohammadreza Kashisaz Shirazi.
Here is a select of comments that visitors to the mosque have posted to TripAdvisor, one of the most popular travel websites in the world:
It is a very nice mosque with wonderfully colored windows. Even in the afternoon it's beautiful. But you should come in the morning when the sunlight shines through the windows. (Julia S. from Switzerland, visited October 2016)
A pleasant trip around this location the rainbow of lights formed with reflections of sunlight through windows and an interesting museum room. (Ray C. from England, visited October 2016)
The main thing about this mosque - as others have said - is the stained glass windows which cast beautiful colors on the rugs in the mosque. That is both a positive and a negative. Negative because people (largely young people) come in droves to pose for cameras and take selfies. You get shooed out of the place when prayers start so do watch the clock as you plan your visit. Definitely something to see in Shiraz. (Tracy K. from the U.S., visited October 2016)
Go early to see beautiful patterns made by the stained glass windows on the carpet. The light changes with the position of the sun and creates different effects. (Crescentra from Singapore, visited October 2016)
https://www.tehrantimes.com/news/447541/Travel-magazine-lists-Iran-s-Pink-Mosque-among-top-destinations
------
How a 10th-century Muslim surgeon revolutionised surgical procedures
17 HOURS AGO
The translations of Al Zahrawi's work on surgeries were taught in European universities for several centuries.
Abu al Qasim al Zahrawi was a man ahead of his time. Known as the father of operative surgery, he invented over 200 surgical tools in the 11th Century, which saved millions of lives. He was not given enough credit for his discoveries, however.
One of Al Zahrawi's highly acclaimed books is 'Al Tasrif', the first illustrated encyclopedia of surgical tools, which was used as a manual in European universities for over 500 years, influencing modern scientific perspectives on operative surgery and contributing to Europe's Renaissance. The book has 30 chapters, a result of Zahrawi's 50 years of medical practice and experience.
Commonly known by his Latin(ised) name Albucasis, al Zahrawi's skills and knowledge of surgery earned him the title of the greatest medieval surgeon of the Islamic world and the Middle Ages. He pioneered the use of catgut for internal stitches and his surgical instruments are still used today. Al Zarhawi was influenced by the treatments of diseases as told by the Prophet Muhammed and used them to treat people.
He developed surgical tools for C-sections and cataract surgeries and was also the first to discover the root cause of paralysis. Before him, it was not known what exactly caused paralysis. Al Zahrawi explained how it comes from fracturing the spine. He's also known for using a unique combination of chemicals for sterilisation of surgical tools, which had a similar impact to anti‐bacterial properties in our age.
Over a hundred years after Zahrawi's death, the famous Italian translator of scientific manuscripts Gerard of Cremona arrived in Spain to translate his work from Arabic to Latin. By 1250, England had its first, now oldest, medical manuscript and according to the British Medical Journal, it has a "startling similarity" with Al Zahrawi'sencyclopedia.
The period between the 8th Century and the 13th Century commonly known as the Islamic Golden Age has produced countless scholars. Muslim intellectuals made groundbreaking inventions, contributing to various branches of human knowledge such as philosophy, astronomy, mathematics and medicine.
Al Zahrawi also played a pivotal role in neurosurgical diagnosis, which includes management of head injuries, spinal injuries, skull fractures, hydrocephalus and subdural effusions.
Once in his lifetime, he came across a baby boy whose head was abnormally large. His diagnosis was spot on as he vividly described how the abnormality, now known as hydrocephalus, occurs due to the defective drainage of cerebrospinal fluid, a colourless body fluid found in the brain and spinal cord.
Born in 936 in El Zahra near Cordoba in southern Spain, Zahrawi came of age during the time of the Umayyad Caliphate, one of the most prosperous periods of Islamic history.
As a medical genius he spent more than 50 years serving as the court physician to the second caliph of Cordoba, al Hakam II, and al Mansur, the de facto ruler of Muslim Spain after the death of al Hakam.
Al Zahrawi has made significant contributions to pediatric surgery as well. He was the first to explain medical aspects of haemophilia in detail.
He was said to have been the first surgeon to use cat intestines for sutures. The practice of stitching up internal cuts and wounds using a thread like material made of animal intestines was followed for several centuries.
Al Zahrawi also described the tracheotomy operation and performed it as an emergency on one of his servants. He was the first to detail the classic operation for breast cancer, lithotripsy for bladder stones, techniques for removing thyroid cysts, treatment of sebaceous cysts using an exploratory needle, and treatment of lacrimal fistula by converting it to a fistula into the nasal cavity using cautery.
In the field of obstetrics and gynaecology, Al Zahrawi described several instruments used for delivery and was the first to describe the "Walcher position" in obstetrics and also first to teach the lithotomy position for vaginal operations.
Zahrawi's 30-volume medical encyclopedia consists of three books on cauterisation, incision, perforation, venesection, wounds and bone-setting. In the pharmacology and therapeutics section, he discussed several drugs from cardiac drugs and laxatives to cosmetology and dietetics. In his book, 'Liber Servitoris', Zahrawi also gave some tips about how to prepare the simple and compound-complex drugs used in those days.
In the surgery section, he handled eyes; ear, nose and throat; head and neck; general surgery; obstetrics and gynaecology in all its aspects while including military medicine, urology, orthopaedics – even what later became known as "Kocher's method" for reducing a dislocated shoulder.
Furthermore, he described how to ligate blood vessels 600 years before Ambroise Pare. Besides, he wrote extensively about bones and joints while mentioning fractures of the nasal bones and vertebrae.
His book contains pictures of gynaecological instruments used in the 10th Century, in his book Al Zahrawi also described the surgical options of treating gynecomastia and his techniques are still considered for such conditions nowadays.
Al Zahrawi's medical writings were highly regarded in the West following their translation by Gerard of Cremona, RogeriusFrugardi, RonaldusParmensis and others. General acceptance believes that his surgical teachings were the most advanced in the Middle Ages until the thirteenth century.
The famous 14th-century French surgeon Guy de Chauliac quoted him over 200 times in his book, which was published in cities such as Venice, Basel and Oxford up until the 18th Century.
https://www.trtworld.com/magazine/how-a-10th-century-muslim-surgeon-revolutionised-surgical-procedures-36039
-------
South Asia
Afghan government strongly reacts to killing of dozens of Afghans in Iran border
06 May 2020
The Afghan government strongly reacted to the killing of dozens of Afghans in Afghanistan-Iran border, calling it an 'Unforgivable' crime.
SediqSediqqi, a presidential spokesperson, issued a statement on Twitter, stating that the brutal and inhuman act along the border with Iran, which led to the martyrdom of some of Afghan nationals, is an 'unforgivable' crime.
This comes as some of the Afghan migrants accused the Iranian forces, border guards, of throwing 57 people into a river which resulted in the killing of at least 23 of them.
Certain of the survivors of the incident have claimed that the Iranian border guards initially arrested the migrants from a bordering region and later threw them in to Harirod River.
According to reports, the incident took place earlier last week as the migrants were on their way to Iran, apparently for work opportunities.
https://www.khaama.com/afghan-government-strongly-reacts-to-killing-of-dozens-of-afghans-in-iran-border-07784/
-----
16 Taliban militants killed, wounded in Badakhshan province
06 May 2020
The Afghan forces killed 9 Taliban militants during a raid in North-eastern Badakhshan province of Afghanistan, the Special Operations Corps said.
However, the Special Operations Corps in a statement said the Afghan forces launched a preemptive raid to thwart the attack plan and killed at least 9 militants during the raid.
The statement further added that the security forces also wounded 7 other militants and cleared 7 villages during the same raid.
Badakhshan is among the relatively volatile provinces in North-eastern parts of the country where Taliban militants and terrorists belonging to other groups are actively operating and often attempt to carry out attacks against the government.
https://www.khaama.com/16-taliban-militants-killed-wounded-in-badakhshan-province-07782/
-----
Afghan forces repulse Taliban attack in Wardak province: 203rd Thunder Corps
06 May 2020
The Afghan forces repulsed an attack by Taliban militants in central Maidan Wardak proivnce, killing at least 2 militants, the Afghan military said.
The 203rd Thunder Corps in a statement said a group of Taliban militants attacked the Charka area located in the outskirts of the provincial capital of Maidan Wardak.
The statement further added that the Afghan forces effectively responded to the attack, killing at least 2 militants and wounding 2 others.
The Afghan forces also destroyed some weapons and munitions of the militants during the operation, the 203rd Thunder Corps added.
https://www.khaama.com/afghan-forces-repulse-taliban-attack-in-wardak-province-203rd-thunder-corps-07781/
-----
Afghan government releases 102 Taliban prisoners, vows to release more upon start of talks
05 May 2020
The Afghan government 102 Taliban prisoners, a day after releasing a group of 98 prisoners, vowing that more Taliban prisoners would be released upon the launch of talks.
"Pursuant to Pres. @ashrafghani decree, the gov't released 102 Taliban yesterday. Over 850 has been released, getting us more than halfway to 1,500. More can be released upon the start of talks. Taliban should resume release of ANDSF personnel off the list the gov't has shared," Javid Faisal, a spokesperson for the Office of National Security Council said in a Twitter post.
This comes as Taliban had earlier welcomed the release of at least 300 prisoners of the group but added that the current pace of prisoners release is inadequate to help the launch of intra-Afghan talks.
"In the last 3 days, our 300 prisoners were released from the Kbl Adm. prisons which we welcome," Suhail Shaheen, a spokesperson for the political office of Taliban said in a Twitter post.
The Office of the National Security Council on Monday announced that the government released the 98 Taliban prisoners from Pul-e Charkhi prison on Sunday evening.
The government took into consideration the health condition, age and remaining prison term of the inmates as well as the ongoing efforts aimed at supporting the peace process and countering the spread of coronavirus, according to a statement released by Office of National Security Council.
https://www.khaama.com/afghan-government-releases-102-taliban-prisoners-vows-to-release-more-upon-start-of-talks-07780/
-----
Senior official killed, many others wounded as explosions target power pylons in Afghanistan
05 May 2020
Another explosion targeted a power pylon in northern Parwan province of Afghanistan late on Tuesday night, killing a senior official of the state-run utility firm dead.
Da Afghanistan Breshna Sherkat (DABS) in a statement said the personnel of the firm were busy repairing a transmission tower when an explosion went off, killing at least one and wounding many others.
The statement further added that the blast killed Murtaza Sarwari, the deputy commercial director of Parwan electricity directorate.
DABS had earlier announced that an explosion targeted the vehicle of the firm in Golghondi area of Parwan province, which partially damaged the vehicle but did not inflict casualties on DABS personnel and engineers.
This comes as clashes damaged two more electricity transmission towers in northern parts of Afghanistan, days after the militants destroyed two transmission towers in capital Kabul.
DABS in a statement said the 262 transmission tower was damaged due to clashes 72km away from Pul-e Khumri city, the provincial capital of Baghlan.
The statement further added that another transmission tower, Tower#265, was destroyed in clashes 25.5 away from Pul-e Khumri city, cutting the supply of electricity supply from Tajikistan.
https://www.khaama.com/senior-official-killed-many-others-wounded-as-explosions-target-power-pylons-in-afghanistan-07779/
------
Bangladeshis stranded in USA to be brought back on May 14 or 15
May 06, 2020
The government has taken an initiative to bring back Bangladeshis stranded in the United States amid the coronavirus pandemic in a chartered flight either on May 14 or 15.
Bangladesh Embassy in Washington DC in coordination with Bangladesh consulates in New York and Los Angeles will facilitate their return by a Qatar Airways chartered flight, said a media release issued by the Bangladesh Consulate in New York.
The flight will depart either from Dulles International Airport or John F Kennedy International Airport for Hazrat Shahjalal International Airport.
Those who are interested to return home have been asked to complete online registration visiting http://galaxyaviationbd.com/airticket/ and buy the desired ticket as soon as possible as the flight has a limited number of seats.
The media release said the Bangladesh Embassy in Washington, DC is closely monitoring the COVID-19 situation in the USA, Argentina, Belize, Colombia, Dominican Republic, Guyana and Venezuela.
https://www.thedailystar.net/country/bangladeshis-stranded-in-usa-be-brought-back-may-14-or-15-1899961
-----
Students in China's virus centre Wuhan return to school
May 06, 2020
Chinese youngsters in the global virus epicentre of Wuhan filed back to class on Wednesday, wearing masks and walking in single file past thermal scanners.
Senior school students in 121 institutions were back in front of chalk boards and digital displays for the first time since their city -- the ground zero of the coronavirus pandemic -- shut down in January.
"School is finally reopening!" posted one user of Weibo, China's Twitter-like short messaging platform.
"This is the first time that I'm so happy to go back to school, although I have to sit a monthly examination on the 8th."
Teenagers sat at individual desks spaced a metre apart, seeing their teachers in the flesh after months of distance learning.
Wednesday's back-to-school was the latest step in a gradual normalising of life in Wuhan and surrounding Hubei province, where the coronavirus is believed to have emerged late last year before spreading around the world.
Officials in Wuhan say students and staff must all have had virus tests before going back to school, and campuses have been disinfected and cleaned.
Elsewhere in China, schools that have been closed or online-only since January began gradually reopening last month, with Beijing and Shanghai letting some students return last week.
China's major cities are gradually returning to normal after imposing strict travel restrictions and closing huge swathes of the economy to control the spread of the virus.
In recent months infections nationwide have dwindled, and there have been no new cases reported in Hubei province for over a month.
Over a five-day holiday at the start of the month, there were 115 million domestic trips, with many tourist sites reopening -- although with limited attendance.
Shanghai Disneyland will reopen next week, the entertainment giant said Tuesday, with enhanced safety measures including temperature screening and social distancing.
However, foreigners are still banned from entering the country as China works to contain infections being brought in from overseas.
https://www.thedailystar.net/coronavirus-deadly-new-threat/news/students-chinas-virus-centre-wuhan-return-school-1899964
-----
Southeast Asia
Ninja Van employees work graveyard shifts to meet next-day Ramadan deliveries during CMCO
06 May 2020
BY TAN MEI ZI
PETALING JAYA, May 6 — Essential workers in the logistics industry are working around the clock to ensure Malaysians can still have a joyful Ramadan as we move towards our "new normal."
With the conditional movement control order (CMCO) in place, the fulfilment team at Ninja Van has gone full steam ahead to complete next-day deliveries for Ramadan essentials purchased online.
It's business almost as usual, as employees still have to wear masks, practise social distancing, and keep their hands sanitised as they get packages from point A to point B.
Ninja Van freight customs coordinator Farah Faisal is on the graveyard shift, clocking in from 8pm to 5am at the warehouse to monitor the fulfilment of next-day deliveries during this busy period.
"In the latter stages of the movement control order (MCO) and early stages of Ramadan, the warehouse team has seen quite an increase in parcels processed daily.
"My shift starts at 8pm and we have to unload parcels picked up by our drivers and sort them by destination and according to coverage areas.
"We've only got a very short window to ensure next-day delivery, so we have to rush to prepare parcels to be loaded into our linehaul trucks," Farah told Malay Mail.
Ninja Van Malaysia country head Adzim Halim said that there was an initial dip in the number of deliveries at the start of the MCO but the numbers quickly ramped up once businesses started adjusting to the new normal.
"We have seen a general increase in volume since then, due to the fact that most retail outlets are closed and consumers are looking to e-commerce to get what they need.
"We have had to hire significantly more warehouse staff to cope with the short-term increase in demand for bulkier parcels during the MCO.
"It has been difficult because we still have to also respect social distancing measures, but we've definitely had to scale up," he told Malay Mail.
Household essentials and electronics like washing machines, televisions and microwaves are some of the most common items that make their way through the warehouse daily, along with parcels containing baju raya in conjunction with the upcoming festive season.
It hasn't always been easy navigating the new standard operating procedures and Farah said there have been hurdles popping up in the workplace that have impacted their productivity.
"There are mandatory temperature checks daily, frequent hand sanitisation, and we have to wear a face mask in the warehouse for our own safety.
"Imagine having to move items like washing machines and chest freezers while wearing face masks during Ramadan. As a result, our productivity has taken a slight hit."
While her family did have concerns about the risks of exposure, Farah said that taking pre-emptive safety precautions and sticking to the rules has helped allay their fears about her going to work each day.
"We understand that not everyone is allowed to work and that puts us in an important position since we are able to continue working.
"Being able to serve the community during these tough times keeps me motivated to continue working hard to make sure people who are stuck at home can get their packages."
https://www.malaymail.com/news/life/2020/05/06/ninja-van-employees-work-graveyard-shifts-to-meet-next-day-ramadan-deliveri/1863591
-----
Broadcaster shutdown crosses dangerous line for Philippines
Joshua Melvin
May 6, 2020
The shutting down of the Philippines' top broadcaster crosses a dangerous line in eroding the nation's democracy and sends a warning to those who risk angering President Rodrigo Duterte, watchdogs said.
Since rising to power in 2016, Duterte has steadily tightened his grip on the nation's key institutions and jailed or sidelined his loudest detractors, but until now his worst threats against critical media had not been fully realized.
Tuesday's halting of broadcasting giant ABS-CBN's operations marks the first time a major, independent outlet was shut down since Duterte took office in a step that echoes the country's grim authoritarian past.
"This is a dark day for media freedom in the Philippines, reminiscent of martial law when the dictatorship seized control over news agencies," said Amnesty International's Butch Olano.
ABS-CBN's main channels fell silent hours after a surprise government shutdown order issued over a stalled operating license renewal.
Its 25-year franchise expired on Monday, but officials had previously given assurances the radio, TV and internet giant would be allowed to operate provisionally.
The outlet, which reaches tens of millions of Filipinos daily, ran afoul of Duterte in 2016 and since then the notoriously outspoken leader has repeatedly threatened it in speeches.
Early in his term, Duterte accused the media group of failing to broadcast his 2016 election campaign advertisements and not returning the payments made for them.
"All this stems from President Rodrigo Duterte's personal vendetta against the network," said the National Union of Journalists of the Philippines (NUJP).
Duterte arrived at the summit of Philippine politics as an outsider from the southern city of Davao and immediately set about consolidating his power.
His critics have been jailed, including Senator Leila de Lima, who has been behind bars for years on drug charges she insists were fabricated to silence her criticism of Duterte's deadly drug war.
Others have been pushed from high-profile posts like Maria Lourdes Sereno, who was kicked off the nation's top court in a procedure that critics said pushed the limits of constitutionality.
Institutions such as the Supreme Court have shown little appetite to rule against Duterte on key issues, and the legislature is controlled by his allies or backers.
He has also pushed back hard against independent media outlets such as website Rappler and major newspaper Philippine Daily Inquirer. Both have narrowly averted government moves to shut them down.
Journalist Maria Ressa, who is chief executive of Rappler, faces years behind bars in a cyberlibel case she says is retribution for her site's critical reporting.
As pressure on the media intensifies, the Philippines has continued to fall in Reporters Without Borders' World Press Freedom Index, hitting 136 out of 180 nations in 2020.
The Philippines has long ranked as one of the world's most dangerous places to work as a journalist. In 2009, 32 media workers were among 57 people killed in the country's worst political massacre.
He noted that ABS-CBN was a major prize for Duterte that was also coveted by former dictator Ferdinand Marcos, who used martial law to shutter the legislature, muzzle the media and jail opponents in one of the Philippines' darkest periods.
https://www.thejakartapost.com/seasia/2020/05/06/broadcaster-shutdown-crosses-dangerous-line-for-philippines.html
-----
Indonesia's economy heads into turbulence as Q1 growth plunges: Economists
Adrian Wail Akhlas
May 6, 2020
Indonesia's economy is heading into turbulence as the COVID-19 pandemic is expected to further batter growth after the country recorded the weakest economic expansion since 2001 in the first quarter of the year, economists have warned.
The country's gross domestic product (GDP) grew 2.97 percent year-on-year (yoy) in the first three months of the year as household spending and investment growth slowed amid the coronavirus outbreak, Statistics Indonesia (BPS) announced on Tuesday. The growth is weaker than the government's, the central bank's and economists' projections of around 4 percent.
"The sudden stop in economic activity during the first quarter marks the beginning of weak GDP growth caused by the pandemic," University of Indonesia economist Fithra Faisal told The Jakarta Post on Tuesday. "We are heading into the weakest growth since the 1998-1999 Asian financial crisis."
He expected the economy to contract 0.8 percent if the pandemic continued into the third quarter, adding that the economy would grow at a range of between 1.2 and 2 percent if the health crisis subsided by June.
The Jakarta Composite Index (JCI) erased some of its gains on Tuesday after the announcement but closed trading up 0.53 percent to 4,630.13 while the rupiah appreciated by 0.13 percent to Rp 15,080 per US dollar on the day.
Four provinces and 22 regencies/cities nationwide have implemented large scale social restrictions to contain the virus spread, forcing businesses to close and hitting demand as people are required to stay at home. More than 12,000 people have contracted the disease in Indonesia with a death toll reaching at least 870 as of Tuesday afternoon, official data showed.
Household spending, which accounts for more than half of GDP, grew sluggishly by 2.84 percent in the first quarter – far lower than the 5.01 percent recorded over the same period in 2019, while investment, the second-largest contributor, grew 1.7 percent versus the 5.03 percent recorded in January-March last year.
Government expenditure grew by 3.74 percent in the first quarter, lower than the 5.22 percent growth recorded in the same period last year. Exports increased by 0.24 percent while imports contracted by 2.19 percent as Indonesia's major trading partners, such as China, went into lockdowns.
Fitch Solutions wrote in its research note on April 22 that it expected consumer spending growth to tank to 1.2 percent this year as more Indonesians lose their jobs during the pandemic.
"The second quarter GDP growth is expected to be significantly lower than that of the first quarter as the prolonged pandemic limits people's travel and activities," Bank Mandiri economist AndryAsmoro said. "Furthermore, high uncertainty about when the COVID-19 pandemic will completely end could drag down the full-year figure to below 2 percent."
The government has forecast the country's economy to expand by 2.3 percent this year in the baseline scenario, or contract by 0.4 percent in the worst-case scenario.
Permata Bank economist JosuaPardede called on the government to expedite its spending on social safety nets, as well as to re-allocate more funds to mitigate the economic devastation caused by the pandemic.
"The economy may grow between zero to 1 percent this year if economic activity does not pick up in the third quarter," Josua told the Post.
"The government's budget re-allocation must be improved to focus more on COVID-19 relief in a bid to protect households' purchasing power," he said, adding that the zero growth projection would translate into 5 million to 8 million people losing their jobs in the months ahead as the pandemic chokes companies' cash flows.
Around 2.8 million people had been laid off as of mid-April, according to the Manpower Ministry and the Workers Social Security Agency (BPJS Ketenagakerjaan), with more than half of them on paid or unpaid leave.
The Finance Ministry's Fiscal Policy Agency (BKF) head, Febrio Nathan Kacaribu, said the government would speed up the distribution of its social assistance in the second quarter, especially the stimulus for micro, small and medium businesses.
"With this kind of cushion, the government is hoping to ease the pressure on households and businesses, particularly small and medium businesses," Febrio said in a statement to reporters.
The government has allocated funds of Rp 436.1 trillion (US$28.9 billion), mainly for healthcare spending, social safety nets and incentives for laid-off workers, among other things, as it works to soften the pandemic's impact on the economy.
https://www.thejakartapost.com/news/2020/05/06/indonesias-economy-heads-into-turbulence-as-q1-growth-plunges-economists.html
-----
Health Ministry lodges police report over social media posts
05 May 2020
PUTRAJAYA (Bernama): The Ministry of Health (MOH) has lodged a police report over alleged statements on social media claiming five officials from the ministry had been detained by the Malaysian Anti-Corruption Commission (MACC).
The ministry in a statement said the report was filed at the Putrajaya police headquarters against posts made on several Facebook and Twitter accounts.
According to the MOH, the posts claimed that the MACC had arrested two of the Health Minister's senior officers and three other ministry officials in connection to an investigation against a company said to have obtained a RM30mil contract.
"The MOH expresses regret over the slander," it said, hoping that the police and the Malaysian Communications and Multimedia Commission (MCMC) would take appropriate action against the alleged perpetrators. - Bernama
https://www.thestar.com.my/news/nation/2020/05/05/health-ministry-lodges-police-report-over-social-media-posts
-----
URL: https://www.newageislam.com/islamic-world-news/virus-misinformation-fuels-hatred-muslims/d/121773
New Age Islam, Islam Online, Islamic Website, African Muslim News, Arab World News, South Asia News, Indian Muslim News, World Muslim News, Women in Islam, Islamic Feminism, Arab Women, Women In Arab, Islamophobia in America, Muslim Women in West, Islam Women and Feminism