New Age Islam News Bureau
28 March 2014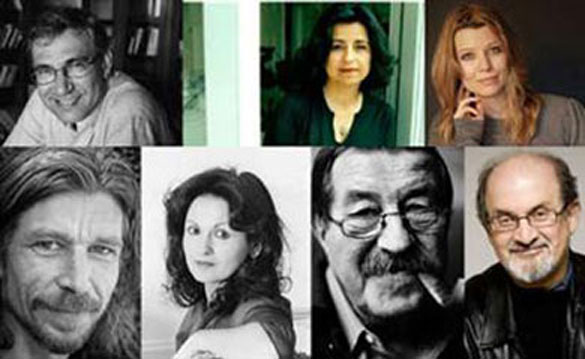 International writers call for greater freedom of expression in Turkey, PEN International photo
-------------
Arab World
• Video Shows Syria's Al-Nusra Front Preparing to Execute Saudis
• At least 12 killed in Thursday's Baghdad bombings
• Triple bombing hits Baghdad market area, killing 4
• Fatah to sign neutrality pact after Islamists agree to end assassinations
• 3000 Syrian Christians flee Armenian village as Islamist rebels take control
• Syrian Kurds, rebels find common enemy in ISIS
• Saudi law targets Brotherhood sympathisers
• Sharjah stage show Clusters of Light chronicles the birth of Islam
• Islamist Coalition Calls for Demonstration against Sisi's Bid for Presidency
Africa
• Libya releases video of Al-Saadi Qadhafi s apology
• Nigeria kills 11 Boko Haram fighters near Cameroon border
• Kenya: Polygamy bill 'threatens family values'
• South Sudan troops in disputed Abyei threaten peace: Bashir aide
• Tanker captain craved salvation from Libya rebels
Southeast Asia
• Activist Kassim Ahmad Claims Trial to Contravening 'Fatwa' Charge
• Increase in Child Abuse Cases in Jakarta a Cause for Concern
• Philippines 'Muslim Rebels Joyous, But Wary, at Peace Prospects
• Sarawak CM tells Christians to stop those destroying racial, religious harmony
• Politicians have failed religious minorities, so ordinary folk must stand up, says Muslim group
'• Muslim' groups in M'sia defend govt over MH370, claim anti-Islam agenda in critical US reports
Mideast
• International writers call for greater freedom of expression in Turkey
• Turkey blocks YouTube after intelligence leaked on plans for Syrian operation
• Gaza protesters accede to Hamas request to avoid Israeli border
• Cyber attack equal to military attack, says Turkish FM
• PA officials: Jews have 'no right to pray' at Western Wall
• Turkish tomb in Syria becomes flashpoint for conflict
• At confab, experts, former gov't officials voice pessimism on Mideast peace talks
Pakistan
• Pakistani Christian gets death in blasphemy case
• Talks deadlocked; TTP rigidity blamed
• Taliban refuse to set free sons of Gilani, Taseer
• Bilawal Bhutto claims receiving threats from banned Lashkar-e-Jhangvi
• Pakistan tightens rules on Islamic banking windows
• Taliban peace talks: Govt pledges to take political, religious parties into confidence
• Lahore High Court seeks more arguments on petition favoring Taliban's office in Pakistan
• TTP want Pakistan to disassociate itself from the US war: Imran Khan
• Altaf for repealing dual nationality law
North America
• US senators introduce resolution condemning Turkey for Twitter, YouTube ban
• Obama has to tread very lightly on ties with Iran
• Muslims supports NYC Council member's move to introduce Halal option in school cafeterias
• 11 Years after US Invasion, Bearing Witness to Iraq War's Lasting Harm
India
• Indian Mujahideen's next leadership ready to take over reins, cops say
• 150-year-old theatre group from Pakistan casts its spell in Ludhiana
South Asia
• Government forms taskforce to list fugitive Bangladeshis living abroad
• Voters said yes to peace and stability, says President Yameen
• More Russian scholarships for Bangladeshi students
• Afghan intelligence foil suicide car bombing plot in Jawzjan province
• Prosecution eyes setting history by trying Jamaat
Europe
• Move To Allow Islamic 'Sharia Compliant' Wills, In Britain, Called 'Deeply Disturbing'
• U.N. warns of militant links between Iraq, Syria
• Rights group slams Syria's failure to allow aid access
• WUC Urges German Chancellor to Raise Uyghur Human Rights Situation with Chinese President
Compiled by New Age Islam News Bureau
URL: https://newageislam.com/islamic-world-news/video-shows-syria's-al-nusra/d/66315
----------
Arab World
Video Shows Syria's Al-Nusra Front Preparing to Execute Saudis
March 28, 2014
A video released on YouTube shows the al-Qaeda-linked al-Nusra Front preparing to execute two Saudi fighters in Syria.
According to the unidentified executioner heard speaking in the video, the men were accused of "betraying" the jihadists by joining the Islamic State of Iraq and Syria (ISIS), another extremist militia that is fighting in Syria against the al-Nusra Front.
The executioner recited verses from the Quran, identified the birthplaces and ages of the men, and recited the charge against them.
The video ends after the executioner chants "Allahu Akbar" (God is great), and before the supposed execution by shooting.
More than 7,000 foreigners from 50 countries, many of them in Europe and the Middle East, have joined militant groups in Syria, James Clapper, U.S. director of national intelligence, said in January.
The main two extremist groups fighting in Syria are ISIS and the al-Nusra Front. Both are fighting against Syrian government forces, as well as each other.
The conflict in Syria has claimed the lives of more than 140,000 people.
http://english.alarabiya.net/en/News/middle-east/2014/03/27/ISIS-kill-two-Saudis.html
----------
At least 12 killed in Thursday's Baghdad bombings
March 28, 2014
Three sets of bombings in Baghdad killed at least a dozen people Thursday evening, the latest in a surge in bloodshed in Iraq just weeks ahead of scheduled parliamentary elections.
Two roadside bombs that exploded in Amriyah in western Baghdad, a car bomb in the northern district of Adhamiyah -- both of which are Sunni-majority -- and another vehicle in the Saidiyah neighborhood also wounded at least 30 people, the sources said.
The car bomb in Adhamiyah, which struck near the massive Abu Hanifa mosque, killed at least seven people and wounded 22, while the twin bombings in Amriyah left four others dead.
Another car bombing in Saidiyah killed one more.
The blasts came just ahead of the weekend in Baghdad, when markets and cafes are typically packed, and continue a trend of post-sunset attacks in the capital.
Violence in the city had previously been concentrated during morning rush hour.
No group immediately claimed responsibility for the attacks.
Sunni militant groups such as the powerful Islamic State of Iraq and Syria (ISIS) jihadist group are often blamed for such bombings targeting civilians, including those against Sunnis, because the insurgent groups do not regard them as sufficiently faithful.
Elsewhere in Iraq, attacks north of the capital killed three people including a police colonel.
Violence in Iraq is at its highest level since 2008, with near-daily attacks across the country and anti-government fighters in control of an entire town on Baghdad's doorstep.
The bloodshed has been driven principally by anger among the Sunni Arab minority, who complain of mistreatment by the Shiite-led government and security forces, as well as by the civil war in neighboring Syria.
More than 450 people have been killed so far this month and upwards of 2,100 since the beginning of the year, according to AFP figures based on reports from security and medical sources.
Analysts and diplomats have called for the Shiite-led authorities to do more to reach out to the disaffected Sunni minority in a bid to reduce support for militancy.
But with the elections looming on April 30, political leaders have been loath to be seen to compromise.
http://english.alarabiya.net/en/News/middle-east/2014/03/28/Baghdad-bombings-kill-12.html
----------
Triple bombing hits Baghdad market area, killing 4
March 28, 2014
BAGHDAD: Iraqi authorities say a triple bombing has struck a busy market area in northern Baghdad, killing four people.
Police officials say the three bombs went off near-simultaneously at the entrance of the market in the city's Sulaikh district.
The officials say the explosions also wounded 16 people.
Medics confirmed the casualty figures. All officials spoke on condition of anonymity because they are not authorized to talk to the media.
Friday's attack came only a day after a series of attacks targeting commercial areas killed 26 people.
Violence has escalated in Iraq over the past year. The country last year saw its highest death toll since the worst of the country's sectarian bloodletting began to subside in 2007, according to United Nations figures.
http://www.dailystar.com.lb/News/Middle-East/2014/Mar-28/251538-triple-bombing-hits-baghdad-market-area-killing-4.ashx#ixzz2xJgOBrJN
------------
Fatah to sign neutrality pact after Islamists agree to end assassinations
March 28, 2014
SIDON, Lebanon: The Fatah Movement has agreed to sign a memorandum of understanding aimed at insulating Palestinian refugee camps from Lebanese conflicts and the crisis in neighboring Syria, after the Islamist Jund al-Sham and Fatah al-Islam factions agreed to stop assassinating Fatah members.
The memorandum is the outcome of an initiative put forth by Islamic Jihad and will also be signed by Hamas, the Osbat al-Ansar group and Sheikh Jamal Khattab, the spiritual leader for Islamist groups inside Ain al-Hilweh. The memorandum is an effort to quell escalating tensions between Hezbollah and the Amal Movement on one side and Palestinian Islamist factions on the other, as both groups hold conflicting stances toward the conflict in Syria and the terrorist attacks that have targeted areas associated with Hezbollah.
The initiative aims not only to distance Palestinians from Lebanese conflicts but also to take precautions to protect the Palestinian identity and the right of return, specifically by rejecting resettlement projects and supporting the unity of Lebanon, boosting Lebanese-Palestinian relations and supporting Palestinian resistance against Israel.
Fatah's condition for signing the MOU was a statement that all relevant parties would stop assassinating its party's members. Fatah introduced the statement after a number of Palestinian officials, many from Fatah, were killed. The movement's leadership in south Lebanon approached Islamist groups, notably Hamas, Islamic Jihad, Osbat al-Ansar and Sheikh Khattab, over the assassinations, saying there was clear evidence Islamists were the culprits but that they would not retaliate in order to maintain stability in the camps.
The statement, named the Gathering of the Muslim Youth, was signed by Islamists Haitham al-Shaabi, Bilal Badr, Jamal Hamad, Ziad Abu Naaj and Osama Shehabi – all of whom are wanted by Lebanese authorities. Hamas, Islamic Jihad,and Osbat al-Ansar leaders supervised the signing of the statement.
"We at Ain al-Hilweh camp find ourselves targeted for our religion and our cause, which is one of the most just causes on earth. ... Conspiracies are being hatched against us at all levels," the statement said.
It goes on to say that the group rejects the killing or physical harming of any Muslim, adding that Palestinians at the camp are united under one religion, and that killing is prohibited under God's law.
"We denounce the recruitment of individuals from the Palestinian camps in Lebanon to carry out security or military operations," the text said. "And the concerned authorities have been notified in this regard, and we received enormous support."
The statement also called on all Palestinian leaders and parties to cooperate with Lebanese figures.
The Palestinian factions will sign the MOU Friday at 4 p.m. at the Ziad Atrash Hall in Ain al-Hilweh. The memorandum, which features 19 points, addresses the various aspects of the political, legal and security issues of the Palestinian presence in Lebanon and spells out the duties of both the Lebanese and the Palestinian authorities.
Palestinian leaders are hoping that the initiative will strengthen relations between both sides to safeguard Palestinian camps, as they consider it part of a larger initiative to maintain Lebanon's security and stability.
The Palestinian initiative aims at "preserving the Palestinian camps and neutralizing them under the slogan of the [Palestinian] refugee cause, working on preventing sectarian strife and preventing Palestinian-Lebanese or Palestinian-Palestinian fighting, protecting Lebanese national identity by maintaining the right of return and refusing land resettlements, displacements and alternative housing, supporting Lebanon's unity and its security and stability and reinforcing Lebanese-Palestinian relationships," the memorandum said.
Palestinian Ambassador Ashraf Dabbour is expected to speak Friday, along with seven others from different Palestinian factions.
Articles of the MOU outline how to fight different forms of strife, denounce attacks and assassinations across Lebanon, refuse to shelter extremist elements involved in security operations, and stress neutrality.
http://www.dailystar.com.lb/News/Lebanon-News/2014/Mar-28/251507-fatah-to-sign-neutrality-pact-after-islamists-agree-to-end-assassinations.ashx#ixzz2xJgYpsKO
------------
3000 Syrian Christians flee Armenian village as Islamist rebels take control
March 28, 2014
An Armenian Syrian pastor, whose family is from Kessab, close to Syria's northern border with Turkey, has reported that they have fled the village after Syrian rebel jihadists took control of the area. The fighting in the predominantly Armenian Christian town started Friday March 21st. World Watch Monitor has seen a letter in which he said fighters of the Al-Nusra front and ISIS (Islamic State of Iraq and Sham - greater Syria) entered North West Syria from Turkey and progressively took control over the town the same day.
Kessab is about 10Km from the Mediterranean, and the most northern Syrian town near the coast.
Full report at:
http://www.worldwatchmonitor.org/2014/03/article_3076140.html/
----------
Syrian Kurds, rebels find common enemy in ISIS
March 28, 2014
ERBIL — The Kurdish People's Protection Units (YPG) and the Free Syrian Army (FSA) have found a common enemy in the Islamic State of Iraq and al-Sham (ISIS) in the countryside of Aleppo. This new alignment represents a reversal of the situation in summer 2013, when the same rebel group fought with ISIS against the Kurds, accusing the main Kurdish party, the Democratic Union Party (PYD), of abetting the Syrian regime. Today, however, accusations of collaborating with the regime are being directed at ISIS, and PYD leader Salih Muslim is accusing the regime of supporting jihadist attacks against the Kurds.
The YPG's strategy is to work through Jabhat al-Akrad, the Kurdish faction with links to the FSA, to end the ISIS siege on the Kurdish enclaves of Afrin and Kobani, in Aleppo province close to the Turkish border, and to create easier access between the Kurdish areas interspersed among mixed Arab-Turkmen areas. It is difficult, however, to access these areas without support of local Arabs and Turkmens.
Full report at:
http://www.al-monitor.com/pulse/originals/2014/03/syria-kurds-pyd-ypg-isis-rebels-kobani-afrin.html#ixzz2xIws3p23
----------
Saudi law targets Brotherhood sympathizers
March 28, 2014
The Saudi royal decree against terrorism in February 2014, and later the Interior Ministry declaration in March banning several Islamist groups, can be considered as the general framework of the new security doctrine that will govern the behavior of the Saudi government in the coming period. This takes into account that potential court cases against those targeted by the two declarations will remain closer to the interests of political decision-makers, which may vary from case to case and time to time.
According to the new security doctrine, there are two main types of threats: solid threats, represented by al-Qaeda, the Houthis and Saudi Hezbollah (Hezbollah in the Hijaz),; and soft threats, represented by writings related to religion, or the so-called phenomenon of atheism, rights activism, and Islamist groups represented mainly by the Muslim Brotherhood.
Full report at:
http://www.al-monitor.com/pulse/originals/2014/03/saudi-muslim-brotherhood-islamist-salafi-terror.html#ixzz2xIxlcnrk
----------
Sharjah stage show Clusters of Light chronicles the birth of Islam
March 28, 2014
Right after the maghrib prayers one evening this week, Arabic poems and a narration of chapters from the life of the Prophet ­Mohammed filled the Al Majaz ­Island Theatre in Sharjah. It was the beginning of a rehearsal for Clusters of Light, a 90-minute piece that inaugurates Sharjah Islamic Culture Capital 2014 (SICC).
Last December, the international team of musicians, theatre professionals and technology experts who had been commissioned to develop the show had only drawings of the venue to work with.
Full report at:
http://www.thenational.ae/arts-culture/sharjah-stage-show-clusters-of-light-chronicles-the-birth-of-islam#ixzz2xIpLYyyB
----------
Islamist Coalition Calls for Demonstration Against Sisi's Bid for Presidency
March 28, 2014
Cairo — - The National Coalition for Supporting Legitimacy has called for rallies on Friday to protest Field Marshal Abdel Fattah al-Sisi's declaration of his intention to run for presidency in the upcoming election.
Sisi tendered his resignation on Wednesday and announced he will enter the presidential race in response to the public's demands.
"The fake mask fell off the face of the coup's leader after he had said he will run for presidency," the alliance said on its Facebook page.
Full report at:
http://allafrica.com/stories/201403280811.html?aa_source=sptlgt-grid
----------
Africa
Libya releases video of Al-Saadi Qadhafi s apology
Mar 28, 2014
Libyan state TV has aired footage showing one of late Dictator Muammar Qadhafi's sons jailed in Libya apologising to the nation and asking for forgiveness.
Prison authorities said the video, broadcast late Thursday, is in response to "rumours" that Al-Saadi Qadhafi is being tortured in custody.
Al-Saadi was extradited to Libya earlier this month from Niger, where he had taken refuge as his father's regime crumbled in 2011.
The Libyan government is preparing to prosecute him for his alleged role in trying to suppress the uprising against Qadhafi's rule.
Full report at:
http://www.thehindu.com/news/international/world/libya-releases-video-of-qadhafi-sons-apology/article5844470.ece
----------
Nigeria kills 11 Boko Haram fighters near Cameroon borde
World Bulletin / News Desk
March 28, 2014
The Nigerian military announced late on Thursday that it had killed eleven Boko Haram rebels and several others captured in attacks near the Cameroonian border.
"The terrorists, who were cornered while trying to escape to Cameroon through Taraba and Adamawa states, came under fire from troops on patrol of the area in the ongoing counter-terrorism campaign," army spokesman Chris Olukolade said in a statement.
"Some of the Boko Haram terrorists had come out of hiding when they could no longer bear the hunger in their makeshift camps in the forest," he added.
Full report at:
http://www.worldbulletin.net/world/132227/nigeria-kills-11-boko-haram-fighters-near-cameroon-border
----------
Kenya: Polygamy bill 'threatens family values'
2014-03-28
Nairobi - The adoption by Kenya's parliament of a controversial bill that legalises polygamy has provoked a fierce national debate pitting modern secular values and Christianity against local traditions.
Opponents are already lobbying President Uhuru Kenyatta not to sign off on the legislation, saying it threatens family values in a Christian-majority country, with female deputies also arguing that it also undermines women's rights.
Supporters, however, argue that the bill merely recognises multiple customary unions which are still common in many Kenyan communities.
"The bill is a threat to our family values, considering that the majority of our people are Christians," fumed Wanjiku Muhia, a female MP and one of many women deputies who stormed out of parliament last week in protest.
Full report at:
http://www.news24.com/Africa/News/Kenya-Polygamy-bill-threatens-family-values-20140328
----------
South Sudan troops in disputed Abyei threaten peace: Bashir aide
AFP, Friday 28 Mar 2014
A top aide to Sudanese President Omar al-Bashir says the presence of South Sudanese troops in the disputed border area of Abyei threatens peace less than three years after the two countries split.
In an interview with AFP, presidential assistant Ibrahim Ghandour said peace was possible by an April deadline in Sudan's rebellious state of South Kordofan, where conflict has raged since just before partition.
But while being "relatively optimistic" about the prospects for an end to war in South Kordofan, Ghandour said the presence of South Sudanese security forces in Abyei was "not conducive for peace between the two countries and may create problems again".
Full report at:
http://english.ahram.org.eg/NewsContent/2/8/97743/World/Region/South-Sudan-troops-in-disputed-Abyei-threaten-peac.aspx
----------
Tanker captain craved salvation from Libya rebels
March 28, 2014
TRIPOLI: Pakistani sea Capt. Mirza Noman Baig knew he was trapped when dozens of fighters armed with rifles boarded his tanker just off a rebel-held port on Libya's coast.
A militia from the country's restive east forced his crew to load oil onto Baig's vessel, the Morning Glory, and demanded they escape the Libyan navy before the ship was stormed by U.S. special forces on March 16, according to his account of events.
After their two-week journey, the 38-year-old captain and his crew are now being held at a police facility in a southern area of the Libyan capital.
The authorities plan to send them home after concluding an investigation into the attempted sale of the oil by the rebel militia, who are campaigning for a greater share of the petroleum wealth and more eastern autonomy.
Full report at:
http://www.dailystar.com.lb/News/Middle-East/2014/Mar-28/251516-tanker-captain-craved-salvation-from-libya-rebels.ashx#ixzz2xJgzNR8Z
--------------
Southeast Asia
Activist Kassim Ahmad Claims Trial To Contravening 'Fatwa' Charge
March 28, 2014
PUTRAJAYA: Former politician and social activist Kassim Ahmad pleaded not guilty at the Syariah High Court here to charges of insulting Islam and contravening a Federal Territories fatwa (edict) on groups that questioned the Hadith (practices of Prophet Muhammad).
Kassim @ Osman, 81, was charg­ed with committing the offences at a seminar on The Thoughts of Kassim Ahmad at the Perdana Leadership Foundation in Presinct 8 here on Feb 15 and Feb16.
On the first count, he was alleged to have tabled a script for his speech entitled National Political Conference to Determine the Direction of Malaysia over the Next 30 Years which allegedly criticised Islamic practices.
The script allegedly touched on the merit of giving praise to Prophet Muhammad and the issue of women's hair as aurat (parts of body deemed forbidden for public display).
On the second count, he was alleged to have tabled the same script which allegedly insulted, or was not in compliance with, religious authorities and defied an order issued by the Yang di-Pertuan Agong, as head of the Islamic affairs, and the fatwa that was issued by the mufti.
The second charge pertains to quotations from two books Hadis Satu Penilaian Semula and Hadis: Jawapan Kepada Pengkritik, which were banned by the Federal Territories Islamic authorities as they were deemed to support an anti-hadith group.
Kassim was charged under Section 7 (b) and Section 9 of the Syariah Criminal Offenses (Federal Territories) Act.
He faces a fine of up to RM3,000 or a jail term of up to two years, or both, upon conviction.
http://www.thestar.com.my/News/Nation/2014/03/28/Activist-claims-trial-to-contravening-fatwa-charge/
----------
Increase in Child Abuse Cases in Jakarta a Cause for Concern
March 28, 2014
Jakarta. The increasing instances of violence against children makes Jakarta far from being a child-friendly city, according to data from the capital's women and children's empowerment integrated service centers, or P2TP2A.
Their latest report shows recorded cases of violence against women and children surged drastically by 40 percent in between 2012 and 2013.
More than half of the reported cases of violence against children came in the form of sexual intercourse, with 53 percent of reported cases, followed by molestation (28 percent), rape (14 percent), and other forms of sexual harassment (5 percent).
The data also showed that East Jakarta recorded the highest number of cases (31 percent), followed by Central Jakarta (18 percent), West Jakarta (15 percent), North Jakarta (15 percent) and the Thousand Islands district (7 percent).
Full report at:
http://www.thejakartaglobe.com/news/increase-child-abuse-cases-jakarta-cause-concern/
----------
Philippines 'Muslim Rebels Joyous, But Wary, at Peace Prospects
March 28, 2014
Sultan Kudarat, Philippines. Joyous shouts of "Allahu Akbar" echoed across the headquarters of the Philippines' biggest Muslim rebel group as a pact to end four decades of bloodshed was signed, but there were also fears war clouds had yet to pass.
The Moro Islamic Liberation Front (MILF) ended its rebellion on Thursday when its leaders signed a deal in Manila with the government that would create a new, autonomous Muslim homeland in the southern Philippines.
Various armed Muslim groups have been fighting since the 1970s for an independent Islamic state or autonomous rule in the south, which they regard as their ancestral home, and the conflict has claimed tens of thousands of lives.
Full report at:
http://www.thejakartaglobe.com/international/muslim-rebels-joyous-wary-peace-prospects/
--------
Sarawak CM tells Christians to stop those destroying racial, religious harmony
March 28, 2014
The people of Sarawak should not allow outsiders to destroy the unity, racial harmony and religious tolerance that they have enjoyed, Chief Minister Tan Sri Adenan Satem said in Mukah today today.
He said there had always been respect and tolerance among the people of various religions and background in the state.
"Let us all keep it that way. That ought to be the way for us to go forward," he said at a gathering with about 200 Mukah Christian community at the St.Peter's and St.Paul's Church meeting centre while campaigning for the upcoming Balingian by-election.
In Mukah, he said there are situations where families living under one roof had different Full report at:
http://www.themalaysianinsider.com/malaysia/article/stop-others-from-destroying-racial-inter-faith-harmony-in-sarawak-adenan-te
----------
Politicians have failed religious minorities, so ordinary folk must stand up, says Muslim group
March 28, 2014
Politicians, from Barisan Nasional and Pakatan Rakyat, have failed to protect the freedom of worship for all religions and it is now up to the ordinary citizen to stand up.
At the same time, faith groups must band together to push the government for a formal mechanism to protect that freedom and to which people can seek help when that freedom is violated, an interfaith symposium concluded last night.
This was the take-away from a forum organised by a Muslim group which brought together Christians, Hindus, Buddhists, Sikhs and other faiths to heal rifts that have opened up in a climate of heightened religious tension.
The symposium was held just hours after an 81-year-old Muslim scholar and activist was hauled to court by the Federal Territory Islamic Religious Department (Jawi) and Department of Islamic Development Malaysia on charges he had insulted Islam and disobeyed a fatwa (religious decree).
Full report at:
http://www.themalaysianinsider.com/malaysia/article/politicians-have-failed-religious-minorities-so-ordinary-folk-must-stand-up
----------
'Muslim' groups in M'sia defend govt over MH370, claim anti-Islam agenda in critical US reports
March 28, 2014
KUALA LUMPUR - US media outlets are attempting to tarnish Malaysia's moderate-Muslim image by highlighting the religion of the pilots from Malaysia Airlines flight MH370, Islamic groups here said today.
Pointing to the example of a talk show by the Fox News network, they said featured guest analysts on the programme highlighted that both the captain and his assistant were Muslim when they proposed that MH370 had likely crashed into the Indian Ocean due to pilot suicide.
"As international organisations what they are doing is utterly humiliating. They are reporting without facts and some were blatant defamation.
Full report at:
http://www.malaysia-chronicle.com/index.php?option=com_k2&view=item&id=252552:let-
----------
Mideast
International writers call for greater freedom of expression in Turkey
March 28, 2014
Leading writers from around the world, including Turkey's Nobel laureate Orhan Pamuk and novelist Elif Şafak, have called on Turkish authorities to respect freedom of expression as a universal and fundamental human right, in a joint letter published by PEN International and English PEN.
In the letter, published March 28, the signatories expressed grave concern over the severe threats to free of expression in the country and called on Turkey to create an environment in which all citizens are able to express themselves freely without fear of censorship or punishment.
The letter followed recent moves by Ankara to block access to Twitter and YouTube following a much-debated new Internet law, which gives the national telecommunications authority (TİB) almost unlimited power in tightening its control over the Internet.
The letter calls on Turkish authorities, "not to retreat from democracy and its keystone, freedom of speech, but rather to recognize their obligations under international treaties … We urge them to remember this beautiful country will be stronger and happier when, and if, it appreciates pluralism, diversity and the freedom of words."
Full report at:
http://www.hurriyetdailynews.com/international-writers-call-for-greater-freedom-of-expression-in-turkey.aspx?pageID=238&nID=64228&NewsCatID=359
----------
Turkey blocks YouTube after intelligence leaked on plans for Syrian operation
March 28, 2014
ISTANBUL - Turkish Prime Minister Tayyip Erdogan described the leaking on YouTube on Thursday of a recording of top security officials discussing possible military operations in Syria as "villainous" and the government blocked access to the video-sharing site.
The anonymous posting followed similar releases on social media in recent weeks which Erdogan has cast as a plot orchestrated by political enemies to unseat him ahead of March 30 elections. But it took the campaign to a higher level, impinging on the most sensitive areas of national security.
An anonymous YouTube account posted what it presented as a recording of intelligence chief Hakan Fidan discussing possible military operations in Syria with Foreign Minister Ahmet Davutoglu, Deputy Chief of military Staff Yasar Guler and other top officials.
Full report at:
http://www.jpost.com/Middle-East/Turkey-blocks-YouTube-after-intelligence-leaked-on-plans-for-Syrian-operation-346719
--------
Gaza protesters accede to Hamas request to avoid Israeli border
March 28, 2014
Hamas came to an agreement recently with leaders of demonstrations in the Gaza Strip, in which they would refrain from protest activities along the border fence that could lead to conflict with Israel.
According to Israel Radio, the arrangement came in the wake of a message Israel passed along to the Islamist group through Egypt. As a result, fewer protesters have been showing up at the fence to demonstrate on Fridays.
Still, leaders of youth movements in the Strip are calling on their followers to demonstrate along the fence on Sunday to mark Land Day.
Full report at:
http://www.timesofisrael.com/hamas-asks-gaza-protesters-to-stay-away-from-israel-border/#ixzz2xIpkZxtP
----------
Cyber attack equal to military attack, says Turkish FM
World Bulletin / News Desk
March 28, 2014
Turkish Foreign Minister Ahmet Davutoglu said Friday everybody and everything will be investigated to find the "pawns and the mastermind behind" responsible for eavesdropping of a high-level security meeting.
"This is not an attack on the AK Party. This is an attack on the Turkish Republic," said Davutoglu. "Because we were talking about the security of Turkish army and land in the meeting."
Full report at:
http://www.worldbulletin.net/todays-news/132257/cyber-attack-equal-to-military-attack-says-turkish-fm
----------
PA officials: Jews have 'no right to pray' at Western Wall
March 28, 2014
Two Palestinian Authority officials recently asserted that Islamic law forbids Jews from praying at the Western Wall of the Temple Mount, both adding that the wall was an integral part of the Al-Aqsa Mosque compound
"Allah decreed that the blessed Al-Aqsa Mosque is Islamic and belongs to Muslims alone," Tayseer Al-Tamimi, former Chief Justice of PA Religious Court said last month, according to a translation newly provided by watchdog NGO Palestinian Media Watch.
"It is part of the religious belief of a billion and a half Muslims, and the Jews have no right to it… or the right to pray in any part of it. The Al-Aqsa Mosque includes all its courtyards… and specifically, its western wall," al Tamimi said
Full report at:
http://www.timesofisrael.com/pa-official-jews-have-no-right-to-western-wall/#ixzz2xIqnupBk
----------
Turkish tomb in Syria becomes flashpoint for conflict
March 28, 2014
"When I was a child, Turkish soldiers guarding the Tomb of Suleiman Shah in the foothills of Jabel Fortress used to carry their water from the Euphrates River on donkey back to their base. They were putting the water in tin cans without lids. We used to throw pebbles at the donkeys. Startled, they jumped about and spilled their water and we laughed. The soldiers did not react too much. One day when we were throwing pebbles with three of my cousins, my father caught us. I was punished by two days' confinement to the house."
This is a flashback of Saad Abdunnur abu Basil's childhood around the Tomb of Suleiman Shah, the only sovereign Turkish territory inside Syria. The tomb, put under Turkish custody as stipulated by the 1921 Treaty of Ankara with the French, is on the agenda as a potential pretext for Turkey to mount a cross-border operation into Syria. The case of the video recording of a threat by the Islamic State of Iraq and al-Sham [ISIS] was circulated on the Internet. The Internet message said: "We are giving you three days [to evacuate] the soldiers in this tomb which is on the Islamic land of Aleppo. Or, we will raze the tomb."
Three days passed and there was no attack, but Turkey remained focused on that threat. Full report at:
http://www.al-monitor.com/pulse/originals/2014/03/turkey-tomb-suleiman-shah-syrian-territory-pretext-incursion.html#ixzz2xIwbvhtx
----------
At confab, experts, former gov't officials voice pessimism on Mideast peace talks
March 28, 2014
Israeli experts and former high ranking government officials voiced pessimism regarding the chances for any agreement with the Palestinians, at a conference Thursday at Bar-Ilan University's Begin-Sadat Center for Strategic Studies (BESA).
The conference, titled "Israeli-Palestinian Negotiations: Whereto?", seemed to conclude that the current reality dictates that no agreement is possible and the best that can be hoped for is some kind of step-by-step agreement that does not seek to solve the fundamental points of conflict.
Full report at:
http://www.jpost.com/Diplomacy-and-Politics/At-confab-experts-former-govt-officials-voice-pessimism-on-Mideast-peace-talks-346786
----------
Pakistan
Pakistani Christian gets death in blasphemy case
March 28, 2014
A court convicted a Pakistani Christian man and sentenced him to death Thursday in a blasphemy case that sparked a riot last year in the eastern city of Lahore, according to his lawyer.
Naeem Shakir, the lawyer for Sawan Masih, said a judge announced the verdict during a hearing at the jail where the trial has been held out of fears that Masih might be attacked on his way to court. Shakir said he would appeal.
Although Pakistan has never executed anybody under the law, crowds angered over blasphemy accusations have been known to take the law into their own hands and kill those they suspect of violating it. Once an accusation is made it is extremely difficult to reverse, in part because law enforcement personnel do not want to appear to be going easy on suspects.
Full report at:
http://english.alarabiya.net/en/News/asia/2014/03/28/Pakistani-Christian-gets-death-in-blasphemy-case.html
----------
Talks deadlocked; TTP rigidity blamed
2014-03-28
PESHAWAR: Despite a degree of optimism and feel-good impression generated by the militant-handpicked committee, insiders believe the first direct face-to-face interaction with militants has hit a stalemate and unless some quick decisions are taken, it will be difficult to prolong the ceasefire. The ceasefire is to expire on Monday.
According to an insider, the militants have set two conditions for continuation of the peace talks. One, the creation of a demilitarised peace zone in mountainous Shaktoi, South Waziristan, to allow freedom of movement and two, the release of non-combatants.
The insider said the five-member militants' committee sought written guarantees before they could commit to an extension in the month-long ceasefire. "For nearly seven hours, we talked to them about the destruction wrought by over a decade of violence, the loss of lives and property and displacement of people.
Full report at:
https://www.dawn.com/news/1096105/talks-deadlocked-ttp-rigidity-blamed
----------
Taliban refuse to set free sons of Gilani, Taseer
2014-03-28
ISLAMABAD: The Taliban have refused to release the sons of former prime minister Yousuf Raza Gilani and slain Punjab governor Salman Taseer, but have conditionally agreed to set free the former vice-chancellor of Peshawar's Islamia College University.
Sources privy to a meeting between Interior Minister Chaudhry Nisar Ali Khan and members of the government negotiating team held here on Thursday, a day after the first face-to-face talks with Shura members of the outlawed Tehreek-i-Taliban Pakistan, told Dawn that in return for release of Professor Ajmal Khan, the Taliban wanted the government to free their two men who were in a jail in Sindh.
Full report at:
https://www.dawn.com/news/1096100/taliban-refuse-to-set-free-sons-of-gilani-taseer
----------
Bilawal Bhutto claims receiving threats from banned Lashkar-e-Jhangvi
PTI | Mar 28, 2014
KARACHI: Bilawal Bhutto, the chairperson of the Pakistan Peoples Party, has claimed he received threats from the banned Lashkar-e-Jhangvi.
"Received threat letter from LEJ. Will hold Punjab govt responsible 4 LEJ attacks if Sharif cont 2 give them protection & refuse2 take action," Bilawal, son of late Prime Minister, Benazir Bhutto and former President, Asif Zardari tweeted on Thursday night.
The PPP which rules the southern Sindh Province, has in the past accused the Punjab government of sheltering the LeJ, which is also reported to have sent threat letters to the provincial government, warning them to stop "atrocities", otherwise they would resort to targeting law enforcing agents and government officials.
Full report at:
http://timesofindia.indiatimes.com/world/pakistan/Bilawal-Bhutto-claims-receiving-threats-from-banned-Lashkar-e-Jhangvi/articleshow/32816454.cms
-----------
Pakistan tightens rules on Islamic banking windows
28th March 2014 | Reuters
KARACHI: Pakistan's central bank has issued new rules for the operation of Islamic banking windows, aiming to strengthen their role in the world's second-most populous Muslim nation.
The new requirements come at a time when Pakistan is stepping up efforts to develop Islamic finance, prompting several banks to expand their operations in the sector.
Banks will have to obtain written approval from the State Bank of Pakistan before opening each Islamic window, as well as providing the regulator with additional details on staffing, training and marketing arrangements.
Islamic windows allow conventional lenders to offer Islamic financial services, provided client money is segregated from the rest of the bank.
Full report at:
https://www.dawn.com/news/1096166/pakistan-tightens-rules-on-islamic-banking-windows
----------
Taliban peace talks: Govt pledges to take political, religious parties into confidence
March 28, 2014
NOWSHERA / ISLAMABAD: The federal government will take the country's main political and religious parties into confidence regarding the progress achieved in the ongoing peace talks with the Tehreek-e-Taliban Pakistan (TTP), an official said on Thursday.
The decision was taken after the five-member government committee, comprising current and former civil servants, briefed Interior Minister Chaudhry Nisar about their first face-to-face meeting with members of the TTP Political Shura.
The government committee travelled to the tribal areas on Wednesday and held direct talks with the militant outfit as part of the government's initiative to strike a peace deal.
There was no official release issued by the interior ministry about the committee's meeting with Nisar.
Full report at:
http://tribune.com.pk/story/688270/taliban-peace-talks-govt-pledges-to-take-political-religious-parties-into-confidence/
----------
Lahore High Court seeks more arguments on petition favoring Taliban's office in Pakistan
March 28, 2014
Lahore- Lahore High Court (LHC) has sought further arguments from the petitioner on his petition on talks with Taliban and opening of Taliban's political office in Pakistan.
Chief Justice LHC Omar Atta Bandial heard the petition today. The petitioner Kashif Sulemani advocate took the plea that negotiations with Taliban cannot be successful without allowing them to open their political office in Pakistan. Court should take a suo moto notice on making the talks with Taliban successful so that peace could be restored in the country.
Full report at:
http://www.nation.com.pk/national/28-Mar-2014/lahore-high-court-seeks-more-arguments-on-petition-favoring-taliban-s-office-in-pakistan
----------
TTP want Pakistan to disassociate itself from the US war: Imran Khan
March 28, 2014
ISLAMABAD- Pakistan Tehreek-i-Insaaf (PTI) chairman Imran Khan said that Taliban did not want to enforce Shariah in the country at gunpoint. Khan was speaking to journalists today before leaving for the Supreme Court in the federal capital. Khan said TTP want Pakistan to disassociate itself from the US war and this has also been a demand of PTI for the past ten years. Khan was optimistic about the positive outcomes from the dialogue process. Khan underscored that the government's negotiators should have given priority to tribal areas for peace talks, adding that tribal people held the key to dialogue. Imran further said that ceasefire should continue and the non-combatants (women, children and the elderly) should be released.
Full report at:
http://www.nation.com.pk/national/27-Mar-2014/ttp-want-pakistan-to-disassociate-itself-from-the-us-war-imran-khan
----------
Altaf for repealing dual nationality law
March 28, 2014
KARACHI - Muttahida Qaumi Movement chief Altaf Hussain has directed the party parliamentarians to take steps to repeal the dual nationality law through constitutional amendments immediately and contact the government and other parties in this connection.
He urged them to play their role to give overseas Pakistanis the right to participate in elections.
Addressing a joint session of London and Pakistan Coordination Committees, he said: "Overseas Pakistanis send a large sum of foreign exchange every month.
Full report at:
http://www.nation.com.pk/karachi/28-Mar-2014/altaf-for-repealing-dual-nationality-law
---------
North America
US senators introduce resolution condemning Turkey for Twitter, YouTube ban
March 28, 2014
U.S. Senators Chris Murphy and Ron Johnson have introduced a resolution condemning the Turkish government for blocking the social media sites Twitter and YouTube, and restricting freedom of expression.
"The touchstone of a modern and legitimate democracy is the freedom of expression enjoyed by its people. In 2014, a fundamental expression of that freedom is a people's access to social media sites that allow them to share information and contribute to a conversation about the world around them," said Murphy, Chairman of the Foreign Relations Subcommittee on European Affairs.
Full report at:
http://www.hurriyetdailynews.com/us-senators-introduce-resolution-condemning-turkey-for-twitter-youtube-ban.aspx?pageID=238&nID=64219&NewsCatID=339
----------
Obama has to tread very lightly on ties with Iran
Hindustan Times
New Delhi, March 28, 2014
United States President Barack Obama really has his task cut out for him. On a three-day visit to Saudi Arabia, he will have to delicately balance human rights issues and realpolitik in Riyadh, where he will be meeting King Abdullah bin Abdulaziz Al Saud.
More than 50 representatives, both Republicans and Democrats, have signed a petition asking Mr Obama to publicly address human rights violations in the desert kingdom. One of the suggestions by Amnesty International is that Mr Obama has a female Secret Service personnel drive his car. While there was much debate, and rightly so, about the Twitter ban in Turkey, little focus has been given to the way the Saudi authorities have been harassing citizens who have been critical of the government. A group of three lawyers, who had criticised the legal system, have been sued by the justice ministry and have been accused of 'defying the regime'.
Full report at:
http://www.hindustantimes.com/comment/obama-has-to-tread-very-lightly-on-ties-with-iran/article1-1201233.aspx#sthash.wdbdZjzL.dpuf
---------
Muslims supports NYC Council member's move to introduce Halal option in school cafeterias
March 28, 2014
WASHINGTON, DC: The Council on American-Islamic Relations' New York chapter (CAIR-NY) has joined with New York City Council member Rafael L. Espinal, Jr. to introduce a bill that would create a halal option in grade school cafeterias throughout the city.
The bill, entitled Resolution 54, urges that "New York City's public schools should be required to offer lunch options that meet Islamic dietary laws, thereby ensuring that Muslim students are meeting religious standards and are not virtually excluded from the school lunch system."
The proposal follows another that CAIR-NY introduced to the New York State Senate, which says that any city with a population of over one million citizens should offer halal lunches by default.
Full report at:
http://www.americanbazaaronline.com/2014/03/26/muslim-body-supports-nyc-council-member-rafael-espinals-move-introduce-halal-option-school-cafeterias/
----------
11 Years After US Invasion, Bearing Witness to Iraq War's Lasting Harm
March 28, 2014
Eleven years after the U.S. invasion of Iraq, the war has largely disappeared from the corporate media, and President Obama recently took the widely-criticized step of defending the invasion and claiming the Iraqi people now have "sovereignty." Yet, on Wednesday night, Iraqi civil society organizers and U.S. military veterans gathered at a "People's Hearing" in Washington, DC to tell a different story: of a war that is not over, that is still taking life, spreading trauma, and poisoning Iraq.
In two hours of emotionally-charged testimony — curated by the Right to Heal campaign, a joint effort of Organization for Women's Freedom in Iraq, Federation of Workers Councils and Unions of Iraq, and Iraq Veterans Against the War — the hearing traced the ongoing impacts of the U.S.-led war and occupation. This legacy includes environmental poisoning, Iraqi government repression, sectarian conflict, poverty, trauma, displacement, and death.
Throughout the event, which was moderated by journalist Phil Donahue and followed an earlier briefing in the House featuring the testimony of witnesses, an overwhelming call emerged. The U.S. must give reparations to the Iraqi people, clean up its toxic legacy, and stop waging wars and occupations around the world.
"Relations based on militarism need to be changed," said Yanar Mohammed, president and co-founder of the Organization of Women's Freedom in Iraq. "The change can come from places like this."
Toxic Legacy
Speakers described a country poisoned for decades by the U.S. military — from depleted uranium used in the 1991 Gulf War and recent Iraq War, chemical weapon white phosphorous used in the 2004 U.S. attack on Fallujah, and burn pits — which are run by the U.S. military and private contractors and burn munitions, chemicals, rubbers, plastics, and a host of other substances often within close proximity of Iraqi civilians. The toxic legacy in Iraq was repeatedly compared to the U.S. nuclear legacy in Japan and Agent Orange attacks in Vietnam.
Full report at:
http://www.commondreams.org/headline/2014/03/27-0
----------
India
Indian Mujahideen's next leadership ready to take over reins, cops say
Deeptiman Tiwary,TNN | Mar 28, 2014
NEW DELHI: Even though the entire known leadership of Indian Mujahideen in India is in police net with the recent arrest of Tehsin Akhtar and Waqas, intelligence agencies are not patting their back as yet. Investigations have found out that IM has already prepared the next leadership for the outfit.
At least two operatives who are fully trained, ready and close to the top bosses are out in the field to take reins of the outfit. While one of them, from Bihar, has been trained by Yasin Bhatkal and is said to be as sharp as Tehsin, another has been sent by Pakistan-based IM founder Riyaz Bhatkal. To make matters worse, Bodhgaya and Patna blast key accused Haidar Ali, who was indoctrinated by Tehsin, is yet to be caught.
In fact, security agencies missed the operative from Bihar by whisker when they arrested IM's former India boss Ahmed Siddibappa alias Yasin Bhatkal. The operative had been staying with Yasin in Pokhara, Nepal till days before he was arrested on August 29, 2013.
Full report at:
http://timesofindia.indiatimes.com/india/Indian-Mujahideens-next-leadership-ready-to-take-over-reins-cops-say/articleshow/32815715.cms
----------
150-year-old theatre group from Pakistan casts its spell in Ludhiana
Written by Divya Goyal | Ludhiana | March 28, 2014
To mark World Theatre Day, a 150-year-old group from Pakistan gave special performance in the city on Thursday.
Toti Sabri Drama Party, a group of folklore artistes from Chicha Watni, Pakistan, in coordination with Punjab Lok Raas, Sahiwal, Pakistan, gave a scintillating performance with their play Gopi Chand at Punjab College of Technical Education on Thursday.
The 15-member group will also be staging play Puran Bhagat on Friday at Guru Nanak Khalsa College, Civil Lines. The group was accorded a special welcome at Jalandhar Bypass by Ludhiana Lok Kala Manch.
Full report at:
http://indianexpress.com/article/cities/ludhiana/150-year-old-theatre-group-from-pakistan-casts-its-spell-in-city/
-------
South Asia
Government forms taskforce to list fugitive Bangladeshis living abroad
March 28, 2014
The government has taken an initiative to bring back fugitive Bangladeshi nationals, including the killers of Bangabandhu Sheikh Mujibur Rahman, from abroad for trial or executing the sentences that were already given against them.
Already, the cabinet division had formed a high-power ten member taskforce, led by Law Minister Anisul Haque, to prepare a list of fugitive Bangladeshi criminals or accused living abroad and their whereabouts after consulting with stakeholders.
Other members of the taskforce are State Minister for Foreign Affairs Shahriar Alam and State Minister for Home Affairs Asaduzzaman Khan Kamal, the attorney general, senior secretary of the home ministry, the foreign secretary and law and justice secretary, the inspector general of police and the director generals of the Directorate General of Forces Intelligence and the National Security Intelligence.
Full report at:
http://www.dhakatribune.com/bangladesh/2014/mar/28/government-forms-taskforce-list-fugitive-bangladeshis-living-abroad#sthash.BeQIyK24.dpuf
----------
Voters said yes to peace and stability, says President Yameen
By Ahmed Naish | March 27th, 2014
Voters said yes to peace and stability in Saturday's parliamentary elections and rejected an ideology that was ruining the country, President Abdulla Yameen said at a rally held in Malé last night to celebrate the Progressive Coalition's victory at the polls.
Voters said no to the opposition Maldivian Democratic Party's (MDP) ideology because the country did not have the "energy to bear the wounds any further," he said.
Voters also rejected foreign interference in Maldivian domestic affairs, Yameen added.
The Maldivian people supported the government's efforts to develop the nation and fulfil campaign pledges, he continued, and endorsed plans to "take Maldivian youth out of the crime environment, offer a second chance to persons serving sentences, and bring them back to society for rehabilitation."
Full report at:
http://minivannews.com/politics/majlis-elections-voters-said-yes-to-peace-and-stability-says-president-yameen-81097
----------
More Russian scholarships for Bangladeshi students
March 28, 2014
The Russian Federation has expressed intentions to extend academic scholarship for Bangladeshi students.
Deputy Head of Russian Federal Agency for Cooperation with Foreign Countries Alexander Chesnokov said: "Russia will offer more scholarships to Bangladeshi students if response is received by the government."
The foreign delegate came up with the offer at a press conference in the capital on Thursday after a meeting with Cultural Affairs Minister Asaduzzaman Noor.
Earlier, a four-member delegation led by Chesnokov met the minister at his office.
"About 650 international students are enrolled in Russia for higher education under government scholarship programme," Chesnokov said.
Full report at:
http://www.dhakatribune.com/foreign-affairs/2014/mar/28/more-russian-scholarships-bangladeshi-students#sthash.JOcP2YAg.dpuf
----------
Afghan intelligence foil suicide car bombing plot in Jawzjan province
Mar 28 2014
Afghan intelligence – National Directorate of Security (NDS) announced Friday that a deadly suicide car bombing plot was foiled by NDS operatives in northern Jawzjan province of Afghanistan.
National Directorate of Security (NDS) said in a statement that Afghan intelligence operatives discovered and seized a vehicle packed with explosives during an operation in Jawzjan province.
The statement further added that militants had planted 300 kg of explosives inside the 4×4 vehicle, and were looking to target an election campaign in Shebarghan city.
NDS did not disclose further information regarding the detention of any suspected militant in connection to the bombing plot.
Full report at:
http://www.khaama.com/afghan-intelligence-foil-suicide-car-bombing-plot-in-jawzjan-province-2928
--------
Prosecution eyes setting history by trying Jamaat
March 28, 2014
The war crimes tribunal prosecution will soon submit the formal charges against Jamaat-e-Islami for its role during the 1971 Liberation War, after scrutinising the report submitted by the investigation agency yesterday.
Investigation Officer Md Matiur Rahman handed over the probe report and other related documents to Chief Prosecutor Ghulam Arif Tipoo yesterday afternoon at the prosecution's office.
Tipoo said: "A prosecution committee headed by Tureen Afroz will now go through the documents and prepare the formal charges." He claimed that they could set history by this case as it was unusual to try an organisation for war crimes.
Full report at:
http://www.dhakatribune.com/law-rights/2014/mar/28/prosecution-eyes-setting-history-trying-jamaat#sthash.RCWGl1FA.dpuf
----------
Europe
Move To Allow Islamic 'Sharia Compliant' Wills, In Britain, Called 'Deeply Disturbing'
March 28, 2014
LONDON — Islamic law is to be effectively enshrined in the British legal system for the first time under guidelines for lawyers on drawing up "Sharia compliant" wills.
Under ground-breaking guidance, produced by The Law Society, lawyers will be able to write Islamic wills that deny women an equal share of inheritances and exclude unbelievers altogether.
The documents, which would be recognised by Britain's courts, will also prevent children born out of wedlock — and even those who have been adopted — from being counted as legitimate heirs.
Anyone married in a church, or in a civil ceremony, could be excluded from succession under Sharia principles, which recognise only Muslim weddings for inheritance purposes.
Nicholas Fluck, president of The Law Society, said the guidance would promote "good practice" in applying Islamic principles in the British legal system. Some lawyers, however, described the guidance as "astonishing", while campaigners warned it represented a major step on the road to "parallel legal system" for Britain's Muslim communities.
Full report at:
http://news.nationalpost.com/2014/03/26/british-law-societys-move-to-allow-islamic-sharia-compliant-wills-called-deeply-disturbing/
----------
U.N. warns of militant links between Iraq, Syria
March 28, 2014
Islamist militant networks are increasingly forging links across the border of Syria and Iraq in moves that are fueling sectarian tensions in a region that has suffered from years of bloodshed, the United Nations warned Thursday.
"The ongoing conflict in Syria has added a regional dimension to sectarian tensions and is affording terrorist networks the occasion to forge links across the border and expand their support base," Reuters quoted U.N. special envoy to Iraq Nickolay Mladenov as telling the 15-nation Security Council.
Violence in Iraq reached new highs in 2013, when nearly 8,000 civilians were killed.
Its political elite remains deeply divided along sectarian lines, as it has been since after the U.S.-led invasion of Iraq 11 years ago this month.
Full report at:
http://english.alarabiya.net/en/News/middle-east/2014/03/28/U-N-warns-of-militant-links-between-Iraq-Syria-.html
----------
Rights group slams Syria's failure to allow aid access
28 March 2014
Syria has failed to comply with a U.N. resolution calling for unimpeded humanitarian access to civilians throughout the country, the Human Rights Watch group said on Friday.
By refusing to allow aid to cross opposition-held border crossings, the Syrian government "is undermining aid deliveries to hundreds of thousands of desperate people," the group said.
In February, the U.N. Security Council urged all parties to the Syrian conflict to allow aid to cross conflict lines and borders to reach civilians.
Since then, the Syrian government has allowed aid to enter the country through a regime-held border crossing with Turkey in the northeast of the country.
But it has refused to allow aid groups to use rebel-held crossings, HRW said.
"No one should be fooled by Syria's agreement to open a single border crossing in the north," the group's deputy Middle East and North Africa director Nadim Houry said.
Full report at:
http://english.alarabiya.net/en/News/2014/03/28/Rights-group-slams-Syria-s-failure-to-allow-aid-access-.html
----------
WUC Urges German Chancellor to Raise Uyghur Human Rights Situation with Chinese President Xi Jinping
March 28, 2014
The World Uyghur Congress (WUC) urges German Chancellor Angela Merkel to ensure that Uyghur human rights remain not only at the top of the agenda but also of conditional importance to diplomatic relations taking place during Mr Xi's visit to Germany. President Xi's visit to Germany presents a rare opportunity for Germany to show leadership in the international arena with regard to human rights in the People's Republic of China (PRC) and more specifically concerning Uyghur rights which have markedly deteriorated under President Xi's leadership.
Full report at:
http://www.uyghurcongress.org/en/?p=22252
---------
URL: https://newageislam.com/islamic-world-news/video-shows-syria's-al-nusra/d/66315