New Age Islam News Bureau
20 Jan 2018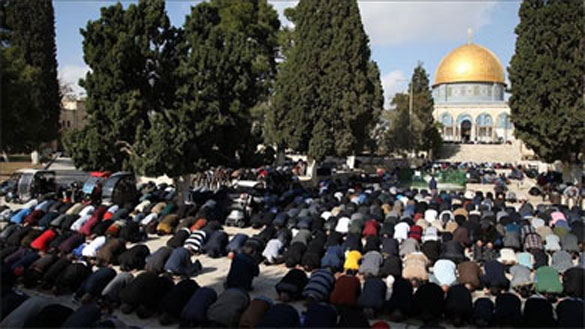 Some 20,000 Palestinian Muslims prayed at Jerusalem's Al-Aqsa Mosque on Friday despite inclement weather according to Awqaf Authority
----
• Video of Rajasthan Man Hacking, Burning Alive a Muslim 'Horrendous': Indian Supreme Court
• Senate Chairman Terms US, Zionist Nexus a Threat to Ummah
• Iraq's War with Islamic State: 1.3 Million Children Displaced, States UNICEF
• 20,000 Palestinians Perform Friday Prayers at Al-Aqsa
• 18 Militants Killed, 5 Wounded In Kunduz Airstrikes and Operations: MoD
India
• Video of Rajasthan Man Hacking, Burning Alive a Muslim 'Horrendous': SC
• J-K: Pakistan Violates Ceasefire near Akhnoor, Firing Underway
• Pakistan Brings Up Kulbhushan Jadhav In UN Security Council Debate
• 26/11 trial: Prosecution examines Rahul Bhatt for his links with David Headley
• Jawan, BSF head constable among 4 killed in Pak shelling
--------
Pakistan
• Senate Chairman Terms US, Zionist Nexus a Threat to Ummah
• Pakistan Can't Act Against Hafiz Saeed sans Proof, US Told Again
• MMA picks Shariah enforcement as polls slogan
• Army chief approves death sentences of 10 terrorists
• Taliban, Haqqani network must go back to Afghanistan: Pakistan
• Waging war against Pakistan army prohibited in Islam: TNSM chief
• Upsurge witnessed in terrorism-related incidents in FATA
• Fighting Stereotyping Through Preservation of Buddhist Art
--------
Arab World
• Iraq's War with Islamic State: 1.3 Million Children Displaced, States UNICEF
• 'Gangster Jihadist' Rapper Who Married FBI Translator Killed In Syria
• Lebanon says foiled Islamic State holiday attacks
• Conflicts between Al-Nusra, Other Terrorist Groups Intensified in Idlib
• Syrian Army Ready to Launch New Phase of Operations in Aleppo
• Syria: 1,500 Syrian Families Return to Damascus
• Hezbollah among most effective forces fighting terror in Mideast: Nasrallah
--------
Mideast
• 20,000 Palestinians Perform Friday Prayers at Al-Aqsa
• Israel Army Considers Taking over Security in East Jerusalem Al-Quds
• Time to break silence on Palestine, Yemen
• Turkey begins assault on Kurdish-held enclave in Syria
• Turkish troops shell Afrin to oust US-backed Kurdish militia
• Yemeni army liberates areas in al-Jawf governorate
• New Footage Shows Hamza Bin Laden At His Wedding in Iran
• Yemeni retaliatory attacks leave eight Saudi soldiers dead
• Turkey to reject any option short of full EU membership
--------
South Asia
• 18 Militants Killed, 5 Wounded In Kunduz Airstrikes and Operations: MoD
• 5 Senior Al-Qaeda Leaders Killed In Afghan Forces Raid in Nangarhar
• Pakistani officials says Taliban delegation refuse talks with Afghan govt
• Suicide bomber killed by own explosives before reaching to his target
• Rohingya Refugees in BD Protest Repatriation Move
• More Rohingya flee to Bangladesh despite repatriation deal
--------
Southeast Asia
• Indonesian Christian Whipped For Selling Alcohol in Aceh
• Education Minister denies saying he will sack pro-Opposition educators
--------
Africa
• US-Backed Somalia Commandos Kill Four Al-Shabab Extremists
• Boko Haram Kills Five in NE Nigeria Village
• Libyan forces launch operation against militants
--------
North America
• Military Shifts Focus to Threats by Russia and China, Not Terrorism
• Trump appointee quits after CNN unearths anti-Muslim rants
• Supreme Court to Consider Challenge to Trump's Latest Travel Ban
• 'We will fight': 9/11 families renew bid to sue Saudi
--------
Europe
• Greek Neo-Nazi Group Threatens Muslim Association
• Germany Stops Arms Sales to Saudi Arabia
• Russian FM slams US efforts to create 'alternative authority' in Syria
• Luton Islamic school complains over critical Ofsted report
Compiled by New Age Islam News Bureau
URL: https://www.newageislam.com/islamic-world-news/video-rajasthan-man-hacking-burning/d/114005
--------
Video of Rajasthan Man Hacking, Burning Alive a Muslim 'Horrendous': Indian Supreme Court
Jan 19, 2018
The Supreme Court on Wednesday termed as "horrendous" the video of a Muslim labourer from West Bengal being hacked and burnt alive in Rajasthan's Rajsamand district on December 6 last year.
A bench comprising Chief Justice Dipak Misra and Justices AM Khanwilkar and DY Chandrachud was inclined to issue notice on the plea filed by Gulbahar Bibi, wife of 50-year-old deceased Mohammed Bhatta Sheikh, seeking an impartial SIT probe into the dastardly murder.
"The video is horrendous," the bench said, adding it was willing to consider the plea and issue appropriate directions.
The top court, however, said the petition was poorly drafted and asked senior advocate Indira Jaising, representing the wife of the slain labourer, to file a better plea and fixed January 29 as the next date of hearing.
Jaising said the video has already been seen by millions of people and a direction be issued to the Centre and the state government to ensure that it was not circulated further and withdrawn from the internet.
She also said the victims be granted their fundamental right to access to justice, as "unruly crowd has been attempting to stall the judicial process to favour the accused."
Jaising said "unruly crowd" rush to the trial court during the proceedings in the case in support of the accused, leading to denial of access to justice to the victims.
The Muslim labourer, hailing from West Bengal, was allegedly hacked and burnt alive on December 6 last year and the murder was recorded on camera by the minor nephew of accused Shambhulal Regar. The accused is now in judicial custody.
Regar, after killing Sheikh was seen on a video ranting that he did it to 'stop Love Jihad', a term publicised to refer to Muslim men marrying Hindu women.
In the video, later uploaded on social media, the accused is seen threatening on camera and saying "Those who will commit love jihad will meet with the same fate".
http://www.hindustantimes.com/india-news/video-of-rajasthan-man-hacking-burning-alive-a-muslim-horrendous-sc/story-NNNVJ4OC7PVqjXLGTsSyJK.html
--------
Senate Chairman Terms US, Zionist Nexus a Threat to Ummah
JAN 19TH, 2018
Senate Chairman Mian Raza Rabbani warned the Muslim world that the emerging nexus between the United States and the Zionist Regime is a major threat to the Ummah. According to a press release issued by the Senate secretariat, Rabbani said this while addressing the 13th session of the Parliamentary Union of Islamic Countries (PUIC) in Tehran.
He said that Pakistan strongly opposed the US attempt to alter the legal and historical status of Al Quds, adding that the US move was a blatant violation of international law and United Nations Security Council's resolutions. The co-sponsoring of the UN resolution on the Al Quds issue had brought US pressure on Pakistan and the Muslim world should realize that, the Senate Chairman said.
"Today it is Pakistan and Iran, tomorrow it can be any other country. We must rise above divisive conflicts, be it sectarian, ideological or communal. I propose that the way forward lies in enhancement of multi-stratum cooperation in areas such as economy, trade, infrastructure, investment, education, health, science and technology, agriculture, energy and defense," he said.
The senate chairman said that Pakistan had borne the brunt of the war on terror for over one-and-a-half decades. Thousands of Pakistanis - military personnel as well as civilians - had lost their lives and almost as many had been maimed and wounded, he added.
Despite that, Rabbani said, Pakistan would continue to play a proactive role against this tide of extremism and anarchy. He called for collective efforts to root out the menace of terrorism, and said that the Muslim world must not let a handful of extremists and transnational terrorists to malign Islam for their vested interests. He stressed the need for promoting the true image and message of Islam as a religion of peace, tolerance and respect for human dignity, rights and freedom of speech.
The Senate Chairman said that being a forceful institutional voice of the Muslim world, the PUIC could play an important role (in this regard) through elected representatives of people. He termed the PUIC a step forward for increased mutually-beneficial integration within the Muslim world as it envisaged "strengthening of contacts, cooperation and coordination between various Muslim countries' parliamentary, governmental and non-governmental organizations, with the aim of advancing common objectives."
https://fp.brecorder.com/2018/01/20180119336763/
--------
Iraq's war with Islamic State: 1.3 million children displaced, states UNICEF
January 19, 2018
About half the 2.6 million people displaced in Iraq after a three-year war with Islamic State militants are children and persisting violence hampers efforts to ease their suffering, the United Nations said on Friday. While the Baghdad government last month declared victory over Islamic State after wresting back almost all the territory IS seized in 2014, persistent bombing and shooting attacks make it difficult to rebuild the lives of displaced people, according to UNICEF, the UN children's agency.
"We believe that as a result of the conflict, a lack of investment over the years, and the poverty … that there are 4 million children now in need across Iraq," said Peter Hawkins, UNICEF chief representative in the country.
He told a Geneva news briefing by telephone from Baghdad that 1.3 million of the 2.6 million displaced by the often devastating fighting with Islamic State were children. "While the fighting has come to an end in several areas, spikes of violence continue in others – just this week, three bombings went off in Baghdad," UNICEF Regional Director Geert Cappelaere said in a statement.
"Violence is not only killing and maiming children; it is destroying schools, hospitals, homes and roads. It is tearing apart the diverse social fabric and the culture of tolerance that hold communities together." Hawkins said UNICEF was also helping children of alleged IS militants now in detention by providing comfort and legal aid, and is trying to reunite those separated from their families, including those abroad.The issue of civilians uprooted from Sunni Muslim areas previously under control of Sunni IS jihadists has become the latest bone of sectarian-tinged political contention in Iraq.
Sunni politicians are lobbying for postponing parliamentary elections due in May to allow the displaced to return to their hometowns to cast their ballots there. Shi'ite Muslim politicians including Prime Minister Haider al-Abadi insist on the vote taking place as planned on May 12. The United States called on Thursday for the elections to be held on time, saying that delaying them "set a dangerous precedent, undermining the constitution and damaging Iraq's long-term democratic development".
http://indianexpress.com/article/world/iraqs-war-with-islamic-state-1-3-million-children-displaced-states-unicef-5031628/
--------
20,000 Palestinians perform Friday prayers at Al-Aqsa
19 January 2018
Some 20,000 Palestinian Muslims prayed at Jerusalem's Al-Aqsa Mosque on Friday despite inclement weather that caused several road accidents in the Palestinian territories, according to Firas al-Dibs, a spokesman for Jerusalem's Religious Endowments (Awqaf) Authority.
On Wednesday, Israeli police allowed Jewish settlers to perform "Talmudic rituals" -- in an "unprecedented" manner -- inside the Al-Aqsa compound, authority officials said.
Authority officials also accused the Israeli authorities of prohibiting the planned renovation of the iconic mosque and surrounding buildings.
Authority officials further accuse Israel of stepping up an ongoing campaign against both the Al-Aqsa and the Jordan-run endowments authority, which is responsible for the mosque's upkeep.
http://www.worldbulletin.net/islamic-world/198005/20000-palestinians-perform-friday-prayers-at-al-aqsa
--------
18 militants killed, 5 wounded in Kunduz airstrikes and operations: MoD
Jan 20 2018
At least eighteen militants were killed during the operations of the Afghan armed forces in northern Kunduz province of Afghanistan, the Ministry of Defense (MoD) said Saturday.
According to a statement by MoD, the operations were conducted with the close air support of the Afghan Air Force in Chahar Dara district.
The statement further added that five militants were also wounded and three others were arrested during the same operations.
The Afghan security forces also destroyed a vehicle and seven improvised explosive devices during the operations while some weapons and ammunition were confiscated, MoD said.
The anti-government armed militant groups including the Taliban insurgents have not commented regarding the report so far.
This comes as the 209th Shaheen Corps officials said Thursday at least five Taliban insurgents were killed and five others were wounded during the operations in the past 24 hours.
The officials further added that the Afghan armed forces also confiscated an Improvised Explosive Device and 300 rounds of Ak-47 ammunition during the operations.
The Pamir-17 operations are underway in the restive parts of the country in the North to suppress the insurgency activities of the militants who are attempting to expand foothold in the key provinces.
https://www.khaama.com/18-militants-killed-5-wounded-in-kunduz-airstrikes-and-operations-mod-04296
--------
India
J-K: Pakistan violates ceasefire near Akhnoor, firing underway
January 20, 2018
Pakistani Rangers continued resorting to unprovoked mortar shelling and small arms fire along the international border in Jammu and Kashmir for the third day on Saturday.
Giving details, sources said that they were firing on forward Indian positions and civilian areas from R S Pura to Kanachak and Pargwal sectors. The BSF personnel were retaliating strongly and effectively.
Meanwhile, the state government has ordered closure of schools falling within five kilometres distance from both the international border and Line of Control in Jammu region as a precautionary measure. People at a number of villages falling on the zero line along international border in R S Pura, Arnia and Ramgarh sectors have shifted to the houses of their relatives safer places.
Since Wednesday, six people, including an Army jawan and two BSF personnel, have been killed and over three dozen, mostly civilians, injured in unprovoked mortar shelling and small arms fire from across the international border and LoC. An army jawan and a BSF head constable were among four killed on Friday.
The loss of life and property on Pakistan side is reportedly much higher. Official sources claim that over a dozen Pakistani Rangers have been killed and many injured so far, besides their half a dozen mortar bases destroyed.
http://indianexpress.com/article/india/jammu-kashmir-ceasefire-violation-line-of-control-loc-akhnoor-bsf-indian-army-5032229/
--------
Pakistan brings up Kulbhushan Jadhav in UN Security Council debate
Jan 20, 2018
UNITED NATIONS: At a high-level Security Council meeting, Pakistan has raised the case of Kulbhushan Jadhav, whom Islamabad has accused of being an Indian spy and given him a death sentence.
"Those who speak of changing mindsets (about terrorism) need to look within and their own record of subversion against my country as our capture of an Indian spy has amply demonstrated and proved beyond any shadow of doubt," Pakistan's permanent representative Maleeha Lodhi said during the UNSC meeting on Afghanistan. She did not mention his name.
Her statement was response to India's statement in the Council meeting on Afghanistan that India is a victim of the same Pakistani "mindset" that promotes terrorist attacks everyday in Afghanistan.
India has denied that Jadhav, a retired navy officer, worked for the government and said that he was abducted by Pakistan from Iran to stage a show-trial.
Denying that Pakistan was giving terrorists a safe haven or support, Lodhi also took a swipe at the US saying it needed a "reality check." The administration of President Donald Trump suspended security aid to Pakistan this month citing its provision of sanctuaries and assistance to terrorists attacking Afghanistan.
Jadhav was captured by Pakistan in 2016 and was sentenced to death by a military court martial last year. India appealed to the International Court of Justice against his sentence and the court has stayed his execution.
Lodhi was originally listed to address the Council two spots before India's Permanent Representative Syed Akbaruddin, but she chose to speak later and amended her prepared speech with the response to him.
Akbaruddin said that after Prime Minister Narendra Modi visited Lahore in December 2015 in a bid to promote peace with Pakistan, "a heinous and barbaric terrorist attack" was launched on the Pathankot airbase in a week's time by "the very same mindsets which attack the spirit of Afghanistan every day."
"These mindsets differentiate between 'good' and bad terrorists," he said. "These mindsets refuse to see reason in peace."
"These mindsets,a Akbaruddin declared, "need to change."
Lodhi said that Pakistan was against terrorism, being itself a a victim.
She blamed the conditions in Afghanistan and the drug trade, which she said brings terrorists $400 million every year, for the insurgency and asserted that they didn't need outside support or sanctuaries because "over 40 per cent of the country is under insurgent control, contested or ungoverned."
"Afghanistan and its partners, especially the US, need to address these challenged inside Afghanistan rather than shift the onus for ending the conflict on to others," she said.
Full report at:
https://timesofindia.indiatimes.com/india/pakistan-brings-up-kulbhushan-jadhav-in-un-security-council-debate/articleshow/62577622.cms
--------
26/11 trial: Prosecution examines Rahul Bhatt for his links with David Headley
January 20, 2018
In the trial of the 26/11 terror attack case, the prosecution examined Rahul Bhatt as a witness in connection with his association with accused-turned-approver David Headley earlier this month.
Bhatt, the son of film director Mahesh Bhatt, told the court that he had been introduced to Headley in 2006 through a gym trainer since both went to the same gym. Headley was granted pardon in December 2015, and made a prosecution witness. He is currently serving a jail sentence in the US for his role as a conspirator in the November 26, 2008, attacks.
Full report at:
http://indianexpress.com/article/india/26-11-trial-prosecution-examines-rahul-bhatt-for-his-links-with-david-headley-5032085/
--------
Jawan, BSF head constable among 4 killed in Pak shelling
by Arun Sharma
January 20, 2018
An Army jawan, a BSF Head Constable and two civilians were killed and 26 injured on Friday as Pakistan resorted to unprovoked mortar shelling and small arms fire along the international border and Line of Control. BSF Head Constable Jagpal Singh and civilians Bachno Devi (42) and Sahil Choudhary (17) were killed as Pakistan Rangers stepped up mortar shelling and small arms fire targeting at least 40 border outposts along a stretch of over 150 km of international border, from Kanachak in Jammu to Hiranagar in Kathua. This comes two days after BSF Head Constable A Suresh was killed in shelling by Pakistan along the international border.
Pakistani troops also resorted to mortar shelling along Line of Control in Mendhar, Nowshera and Keri sectors. Lance Naik Sam Abraham was killed, while a civilian was injured in the shelling. Abraham, 34, hailed from Poonakam village in Kerala's Alleppey district and is survived by wife Anu Mathew and a year-old daughter.
Among the 26 injured along the international border are two BSF personnel and five-year-old Rano Devi, hailing from Chadwal in Kathua. Most of the injuries took place in R S Pura, Arnia and Ramgarh sectors. Pakistan Rangers fired 82 mm and 60 mm mortar shells, sources said, adding that they appear to have increased the range as these fell deep inside civilian areas. Several residents of Nai Basti village in R S Pura sector had a narrow escape. A large group, comprising women and children, had gathered at a local temple in the morning after "prabhat pheri". Shortly after they left, a mortar shell landed on the premises.
In a precautionary measure, the state government has ordered closure of schools within the firing range of Pakistan. Police have started evacuating residents at various places along the border in R S Pura, Arnia and Ramgarh sectors. Residents of several places along the international border want the government to settle the issue of cross-border firing "once and for all". "Let the government shift us to safer places away from the border and then the both sides may exchange fire to their satisfaction," said Shano Devi of Korotana. Swaran Lal of the same village rued that he has not been able to bring fodder for his cattle from the fields since morning.
Krishan Lal of Nai Basti wants the government to talk to Pakistan for bringing an end to the ongoing hostilities between two sides. "Otherwise, it should shift us to safer places and ensure jobs for our children," he said. Pointing out that BSF is retaliating strongly and effectively, official sources said that at least six Pakistan Rangers and two Pakistan Army personnel were gunned down on Friday across the international border opposite R S Pura, Arnia and Ramgarh sectors. Pakistan's four mortar positions and a defence installation too have been damaged, they added.
Full report at:
http://indianexpress.com/article/india/jawan-bsf-head-constable-among-4-killed-in-pak-shelling-5032072/
--------
Pakistan
Pakistan Can't Act Against Hafiz Saeed sans Proof, US Told Again
January 20, 2018
ISLAMABAD - Pakistan has told the United States that it cannot act against Jamaatud Dawa chief Hafiz Mohammed Saeed without evidence amid calls from Washington to arrest and try India's most wanted cleric, The Nation has learnt.
Senior officials at the foreign ministry, who remain in contact with the US, said Islamabad had conveyed to Washington that it was taking action against all the terrorists and terror sponsors without discrimination.
An official said: "Hafiz Saeed is a free man because there is no evidence against him. If India or the US have any evidence they must share it with Pakistan ."
Another official said: "We have told them clearly that the law does not allow keeping him behind bars for no reason and no charge. Pakistan cannot act without evidence."
Earlier, Prime Minister Shahid Khaqan Abbasi had said that Saeed was freed because there were no charges against him. The prime minister said India or the US could charge him internationally, if there was substance to the accusations against him.
This week, the United States said the JuD chief should be prosecuted to the fullest extent of the law as Washington regarded him as a terrorist. Heather Nauert, spokesperson for the US Department of State said that the US had made its points and concerns clear to the Pakistani government in that regard.
Nauert rejected PM Abbasi's stance on the matter, saying: "We regard him as a terrorist, a part of a foreign terrorist organisation. He was the mastermind, we believe, of the 2008 Mumbai attacks which killed many people, including Americans as well. We have made our points and our concerns to the Pakistani government very clear. We believe that this individual should be prosecuted to the fullest extent of the law."
The State Department spokesperson stressed that Saeed's name is on the United Nation's list of designated terrorists, adding: "He is listed by the UN Security Council 1267, the Al Qaeda Sanctions Committee for targeted sanctions due to his affiliation with Lashkar-e-Taiba (LeT), which is a designated foreign terror organisation."
The Indian Ministry of External Affairs also echoed US sentiments, saying: "If somebody is designated global terrorist, it's done based on lot of evidence available in public domain. You can close your eyes, pretend nothing happened but they (Pakistan) have to realise what's in front of them and take action against such people," said Raveesh Kumar, the ministry's spokesman.
This month, Pakistani government banned companies and individuals from making donations to the JuD, Falah-e-Insaniyat Foundation, and other organisations on the UNSC sanctions list. The Securities and Exchange Commission of Pakistan (SECP) said all companies had been prohibited from "donating cash to the entities and individuals listed under the United Nations Security Council sanctions committee's consolidated list." The UNSC sanctions list includes the names of Al-Qaeda, Tehreek-e-Taliban Pakistan , Lashkar-e-Jhangvi, the JuD, the FIF, Lashkar-e-Taiba and other organisations and individuals. The development came as the government decided to take action against organisations and individuals linked to terrorism at a recent high-level meeting on national security.
Hafiz Saeed , one the most wanted men in India, has been blamed for masterminding attacks in held Kashmir and India including the 2008 Mumbai attacks. The JuD chief denies the allegations. The White House has already warned that there would be repercussions unless Islamabad takes action to detain and charge Saeed.
Saeed was released last year after the Lahore High Court rejected the government's request seeking a further extension in his house arrest. The review board of the court said that there was not sufficient evidence to keep the JuD chief under house arrest. The JuD chief and four of his aides were detained in January 2017 after the government told a court they presented a threat to peace and security. The move was largely attributed to the US pressure.
In May 2008, the United States Department of the Treasury designated Saeed as a specially designated global terrorist. Saeed was also individually designated by the United Nations in December 2008 following the November 2008 Mumbai attacks in which six American citizens were killed.
This week, Pakistan and the US returned to the talks' table after tension rose to an unprecedented level, threatening to break the alliance altogether.
Principal Deputy Assistant Secretary of State Ambassador Alice Wells flew to Islamabad to hold talks with Foreign Secretary Tehmina Janjua in a damage-control bid.
In the first formal talks after US President Donald Trump's hostile tweet last month, Wells termed Pakistan's support critical to the success of the US strategy for Afghanistan.
https://nation.com.pk/20-Jan-2018/pakistan-can-t-act-aginst-hafiz-saeed-sans-proof-us-told-again
--------
MMA picks Shariah enforcement as polls slogan
January 20, 2018
LAHORE - The Mutthida Majlise Amal will enter into next general election with the slogan of enforcement of Shariah in Pakistan.
A senior leader of the MMA , the recently revived alliance of five religious parties (JUI-F, JI, JUP-Imam Noorani, Islami Tehreek and Markazi Jamiat Ahlehadith), said on Friday, that the enforcement of Islamic values under Nizam-e-Mustafa was the prime objective of the alliance.
He said that the "secular lobbies will be confronted in next general election."
The MMA would soon launch its countrywide campaign for creating awareness in the society against "secular lobby", said the leader. The religious parties in the alliance would also observe countrywide solidarity day with Kashmiris' freedom struggle on Feb 5 under united banner.
The MMA , Thursday late night meeting, also constituted the Central Executive Council of the alliance.
Markazi Jamiat Ahlehadith Chief Professor Sajid Mir said that the Central Executive Council will elect central office-bearers in next meeting scheduled for Feb 15 in Islamabad.
Full report at:
https://nation.com.pk/20-Jan-2018/mma-picks-shariah-enforcement-as-polls-slogan
--------
Army chief approves death sentences of 10 terrorists
Jan 20, 2018
RAWALPINDI: Army chief General Qamar Javed Bajwa has confirmed death sentences of 10 "hardcore terrorists" who had been convicted by the military courts.
According to an Inter-Services Public Relations (ISPR) statement on Friday, besides these 10 terror convicts, three more were awarded imprisonment for varying periods.
The convicted militants on death row included Samiur Rahman, Azeem Khan, Arshad Bilal, Anwar Ali Muhammad Aleem, Fazal Aleem, Rasool Muhammad, Sohail Ahmed, Naimat Ullah, and Rahmat Ali.
The convicts were involved in terror activities, killing of innocent civilians, attacks on educational institutions, slaughtering of soldiers, and attacking the law enforcement agencies and armed forces of Pakistan.
In totality, these 10 terrorists were involved in killing 41 personnel while injuring 33. Caches of arms and explosives were also recovered from their possession. All of them had admitted their offences before the magistrate and the trial court.
SAMIUR RAHMAN AND AZEEM KHAN: The convicts were members of a proscribed organisation. They were involved in attacking the LEAs and armed forces, which resulted in the death of Major Muhammad Ihsan, nine soldiers, as well as two police officials and injuring 13 others. These convicts admitted their offences before the magistrate and the trial court.
ARSHAD BILAL AND ANWAR ALI: They were sentenced to death for involvement in attacks on the armed forces which resulted in the death of nine soldiers and injuries to nine more. Bilal and Ali were also involved in the destruction of the government school in Langer area of Swat.
MUHAMMAD ALEEM AND FAZAL ALEEM: They were involved in attacking the armed forces and LEAs, resulting in the death of four soldiers. They were also involved in the destruction of the Government Boys High School, Nangolai region of Swat.
RASOOL MUHAMMAD: He was convicted for killing four soldiers and abetting other terrorists in slaughtering a civilian Said Raheem, as well as Assistant Sub Inspector Irshad Ali, Head Constable Sarwar Ali Khan and Head Constable Sher Ahmed.
SOHAIL AHMED: Ahmed was involved in the killing of innocent civilians and assailing LEAs. He had killed killing three civilians, Sub Inspector Mustafa Khan, a constable of the police, injuring four others. He was also found in possession of explosives.
NAIMATULLAH: The convict was involved in attacking the armed forces, wherein he caused the death of two soldiers and injuries to four others.
RAHMAT ALI: The convict was involved in attacking the armed forces that resulted in the death of a soldier. He was also found in possession of firearms.
Full report at:
https://www.pakistantoday.com.pk/2018/01/19/army-chief-approves-death-sentences-of-10-terrorists/
--------
Taliban, Haqqani network must go back to Afghanistan: Pakistan
JANUARY 20, 2018
ISLAMABAD: Pakistan on Friday said that it wanted to send Taliban and Haqqani network leaders back to Afghanistan to join the mainstream politics in their own country, according to BBC Urdu.
In an interview to the British broadcast network, Pakistan's Ambassador to the United States Aizaz Chaudhry rejected allegations of providing shelter to Afghan Taliban and the Haqqani network operatives. "There are no terrorist safe havens in Pakistan. However, if US has any information [on the issue] then they must share it with us as we too want to eliminate them [Taliban and Haqqanis]," he said.
Chaudhry said the Taliban and Haqqanis had a control over 43 per cent land in Afghanistan. "However, they have relations with the Afghan refugees living in Pakistan and that's why we want them [refugees] to return to Afghanistan as well," he said. "Our position on the issue is very clear: we want them back to their country… we don't want Taliban and Haqqanis living with us. In fact, we are forcing them to go and live in Afghanistan and join the political mainstream there and they're not accepted here anymore," he asserted.
The ambassador said that the refugees were becoming a security threat for Pakistan as their youth was being hired by the terrorists. "We want them to go back too so that the border is secured and bad people don't travel across anymore," he added.
Commenting over intelligence sharing between Pakistan and the US in the aftermath of recent war of words, the ambassador said the two countries were still in contact at different levels including 'intelligence sharing at working level'.
"We want the doors of dialogue to remain open including intelligence cooperation which is at working level at the moment and officials are engaging each other," he said.
He said Pakistan and US shared the common target of bringing peace and stability in Afghanistan. he said Pakistan and Afghanistan would mutually benefit by thorough surveillance of the border.
Full report at:
https://dailytimes.com.pk/184897/taliban-haqqani-network-must-go-back-afghanistan-pakistan/
--------
Waging war against Pakistan army prohibited in Islam: TNSM chief
Jan 20, 2018
Days after he was released from an eight-year-long imprisonment, Maulana Sufi Muhammad on Friday said Islam prohibits waging war against the Pakistan army or killing any person who recites the Kalima.
Speaking to a private news channel, the leader of the banned Tehreek Nifaaz-e-Shariat Muhammadi (TNSM) said that the Tehreek-e-Taliban Pakistan (TTP) retains all the signs of being Kharijites, and death penalty is the only punishment that its chief, Mullah Fazlullah deserves.
The country would have been divided if it was not for the efforts of the Pakistan army, the soldiers of which are like Mujahideen, he added.
This was his first interview to a news channel following his release earlier this month, after the Peshawar High Court had accepted the 93-year-old ailing cleric's bail plea as he had served a long time in prison despite his old age and deteriorating health condition.
Further criticising the activities of the TTP, Sufi Muhammad who is the father-in-law of Mullah Fazlullah – Pakistan's most-wanted terrorist – said that Islam strictly prohibits the murder of women and children, and those responsible for the APS Peshawar massacre were worse than non-believers.
He lamented the 2012 terrorist attack on Malala Yousufzai and said that she was a child and should not have been attacked. He also said that he is not opposed to education of children, while adding that he had raised awareness in writing regarding the permission for children's education.
The TNSM chief was charged under Sections 120-B (hatching criminal conspiracy), 121-A (waging war against Pakistan), 124-A (sedition), 148 and 149 (rioting) and 506 (criminal intimidation) in the first case against him, while he was charged under Sections 121 and 121-A (war against Pakistan), 324 (attempted murder), 341 (wrongful restraint), and 353 (obstructing public servant) of the IPC in the second case.
Sufi Muhammad was arrested after the failure of the peace deal and the launching of the military operation in Malakand division, following which the government also restored the old cases against him and his followers.
Full report at:
https://www.pakistantoday.com.pk/2018/01/19/waging-war-against-pakistan-army-prohibited-in-islam-tnsm-chief/
--------
Upsurge witnessed in terrorism-related incidents in FATA
BY HAMID KHAN WAZIR
Jan 20, 2018
ISLAMABAD: The terror-stricken Federally Administered Tribal Areas (FATA) witnessed an upsurge in incidents of violence during 2017, after a total of 324 violent incidents – including 153 incidents of terrorism and 171 counter-terrorism actions, have been reported in the tribal areas, thus marking a 16 per cent increase in terrorism incidents as compared to the preceding year. The new wave of terrorism has resulted in 1,207 casualties across FATA.
The situation is becoming worrisome for the local population because the areas have been experiencing a relative calm since the launch of the military operation Zarb-e-Azb in the tribal areas in June 2014.
The revelations were made in the FATA Annual Security Report issued by the FATA Research Centre (FRC), a non-partisan, non-political and non-governmental research organisation based in Islamabad.
According to the report, out of the total 153 terrorist incidents in 2017, around 73 terrorist attacks (48 per cent) targeted the security forces while 71 attacks (46 per cent) were directed at civilians. Seven terrorist attacks (five per cent) targeted members of the civil militia or Amn Lashkar. Two incidents of infighting between terrorist groups were also reported during the same year.
The violent incidents arising from both terrorist and counter-terrorist actions have resulted in a total of 1,207 casualties – including 539 killed and 668 injured – across FATA, thus marking an increase of 37 per cent in the overall casualties. Of the total casualties, 760 (138 killed and 437 injured) were suffered by civilians, accounting for 63 per cent of the overall casualties. Further, around 128 casualties (63 killed and 65 injured) were inflicted upon the security forces which makes 11 per cent of the overall casualties. Similarly, 29 casualties (11 killed and 18 injured) were suffered by the civil militia during 2017.
Civilian casualties were particularly high in Kurram Agency, which borders Nangarhar Province of Afghanistan on its west, as a total of 575 civilian casualties – 138 deaths and 437 injuries – were recorded in the area, thus accounting for three-quarters of the overall civilian casualties. Bajaur Agency remained second in terms of civilian casualties by suffering 18 terrorist attacks which resulted in 68 civilian casualties (16 killings and 52 injuries), making up nine per cent of all civilian casualties.
Similarly, 39 casualties (seven killings and 32 injuries) were reported from Mohmand Agency, while South Waziristan, North Waziristan and Khyber Agencies shared three per cent casualties each. Orakzai Agency remained the most peaceful agency with the least number of civilian casualties as only 18 civilian casualties (five killings and 13 injuries) were reported from Orakzai, thus accounting for two per cent of the overall civilian casualties.
Tehreek-e-Taliban Pakistan (TTP), Islamic State of Khorasan (IS-K), Khan Said and Hakeemullah group of Mehsud Taliban, Wazir Taliban, Haqqani network, Lask-e-Jhangvi Almi and TTP-Jamat-ul-Ahrar (TTP-JuA) remained the major actors in the theatre of terrorism created in the tribal areas of Pakistan. These terrorist groups, which are currently based in Afghanistan by forming new alliances and re-invigorating the old ones, managed to carry out terrorist attacks against security forces, civilians and members of the Amn Lashkar from January to December 2017.
FATA Research Centre Islamabad Senior Security Analyst Irfan Din said that the recent surge in terrorist attacks in FATA illustrates the growing threat of terrorists after militant outfits re-established their networks inside Afghanistan.
"IS-K has already established new bases in Jawzjan, Faryab, Balkh, Kunduz, Takar, Badakhshan, Nuristan, Kunar, Nangarhar, Paktia, Khosht and Paktika provinces of Afghanistan. To further entrench its network, IS-K is offering 1,000 US dollars for fresh recruits and disgruntled Taliban fighters, particularly in areas close to North Waziristan, Kurram and Khyber Agencies of FATA, which has created new threats for the FATA region," he maintained.
Full report at:
https://www.pakistantoday.com.pk/2018/01/19/upsurge-witnessed-in-terrorism-related-incidents-in-fata/
--------
Fighting Stereotyping Through Preservation of Buddhist Art
By P.K.BALACHANDRAN
Jan 20, 2018
In a video address at the opening of the Pakistan Single Country Exhibition here on January 12, Prime Minister Shahid Abbasi made a fervent plea. He asked his audience of Sri Lankan businessmen and entrepreneurs not to shun Pakistan, misled by the image of that country as portrayed by the Western media.
"Pakistan is not what you see on CNN," Abbasi said, and added: "We have won the war against terrorism, and with peace restored, we are taking great strides in economic development."
While Abbasi's focus was, understandably, on investment and trade, there is another side to Pakistan which was crying to be bought out, namely, the image makeover that the country has been at for the last decade or so through the discovery, restoration, preservation and exhibition of its pre-Islamic heritage, especially its Buddhist heritage as represented by Gandhara art.
That there is much appreciation for this endeavor among Buddhists in other countries was evident at the Gandhara art stall at the Single Country Exhibition in the Sri Lankan capital earlier this month.
Although replicas of Gandhara Buddhist sculptures were not displayed to the dismay of art lovers, there were well written and well produced coffee table books and DVDs on Gandhara art, which were given out free of charge to all who wanted them.
Intrigued by the sight of Buddhas's pictures in an Islamic country's exhibition, people made a beeline to the Gandhara stall and gratefully accept the books and DVDs. The Pakistan High Commission, which bore the expenses of the stall and its contents, had thoughtfully brought out the literature in Sinhala as well as English, so that the message of a tolerant Pakistan would reach the entire Buddhist population in Sri Lanka.
"I have had to bring in replenishments from the High Commission several times to meet the constant demand," remarked Press Attache Intesar Ahmad Sulehry.
Pakistan has been working hard to let the world know of its glorious pre-Islamic past which includes the ancient site at Mohenjodaro, the Buddhist university at Taxila, Gandhara art and Buddhist stupas containing relics in the North Western part of the country.
During the tenure of High Commissioner Seema Baloch (2011-13), Pakistani Buddhist relics were, for the first time, brought to Sri Lanka and publicly exhibited in various parts of the island. A group of 40 Buddhist monks were taken to see the Buddhist sites in Pakistan. This did help correct (albeit only to a small extent), the image that Pakistan had nothing to offer Buddhists and had little or nothing to so with Buddhism.
In June 2016 Pakistan widened the scope its portrayal of itself as a liberal and tolerant country by holding an exhibition of Gandhara art in Colombo, to attract art lovers as a whole, whether Buddhist or not.
Today Pakistan is 95% Muslim, but Buddhism flourished in what is now called Pakistan, between 2 nd. Century AD and the 10 th. Century, giving the world a distinct style of Buddhist art called Gandhara art. The home of this art form is in North-Western Pakistan corresponding to the Vale of Peshawar and having extensions into the lower valleys of the Kabul and Swat rivers.
In ancient times, Gandhara region was a trade and cultural meeting place between India, Central Asia and the Middle East. The region was subject to Achaemenian Persia in the 6th and 5th centuries BC and was conquered by Alexander the Great in 4th Century BC. It was thereafter ruled by the Mauryan dynasty of India, under whom it became a center for the spread of Buddhism to Afghanistan and Central Asia.
Gandhara was successively ruled by Indo-Greeks, Shakas, Parthians, and Kushans. After its conquest by Mahmud of Gazni in 11th century AD the region was held by various Muslim dynasties.
Taxila and Peshawar were important cultural centers at that time. From the 1st century BC to the 6th–7th century AD, Gandhara was the home of a distinctive art style that was a mixture of Indian Buddhist and Greco-Roman influences. Depictions of the Buddha and Bodhisatvas (Enlightened Beings) was the mainstay of Gandhara art.
A number of sculptures that have survived the ravages of time and depredations of iconoclasts show the narrative of Buddha's life through symbols and footprints. But it is the representation of the Buddha in human form that went on to influence art in China, Japan, Korea, and other parts of Asia. It is said that the Gandhara region has the world's only statue of a fasting Buddha – a Buddha in skin and bones and ribs jutting out.
The ancient Buddhist sites and the art therein, which had been neglected for centuries, was discovered by British archaeologists in the colonial period. Their work was continued by Pakistani archaeologists after independence in 1947. Successive Pakistani governments, except the one led by Gen.Zia-ul-Haq, had sustained the archaeological and conservation projects.
But in 2006-2007, the Taliban banned the preservation of these objects because even the existence of the idols in the midst of Muslims was "haram". The Taliban had damaged the face of a giant Buddha statue in Swat. However, President Pervez Musharraf had stood like a rock behind the conservationist lobby and negotiated the withdrawal of the Taliban from its destructive project. Later, when the area was cleared of the Taliban zealots, archeologists and art lovers in Pakistan and abroad breathed a sigh of relief.
Pakistan also started the exhibition of Gandhara art in various places in the world including the US. At an exhibition in New York of art works brought from the Lahore and Karachi museums, the then Pakistani Ambassador in the UN, Abdullah Hussain Haroon, waxed eloquent about the Buddha. He said that the Buddha was a human being whose ethereal qualities and enormous wisdom showed the path to several others like Gandhi down the centuries.
In 2016, Pakistani archaeologists discovered an ancient site at Bhamala in the Swat district of Khyber Pakhtunwala Province in which there was a 14 meter (48 ft) long Kanjur stone "Sleeping Buddha" statue. The 3rd. Century AD statue is the world's oldest Sleeping Buddha statue.
When the find was presented, the Khyber Pakhtunwala leader and President of the Pakistan Tehreek-i-Insaaf (PTI) party, Imran Khan, said: " It is a world heritage site and because of that, people will come for religious tourism and see these places. The majority of the Pakistani population wants such sites restored."
Apart from the government, individual Pakistanis have also rendered yeoman service in preserving and protecting Buddhist sites against depredations by the Taliban, idol thieves and smugglers. 45 year old Osman Ulasyar had stopped local boys from playing cricket in a field full of Ist. Centry AD Buddhist stupas (burial sites containing relics). Then, at this own cost, he built a 300 ft wall to protect the stupa court.
Ulasyar's keenness to preserve a non-Islamic heritage is not alien to the historical ethos of Swat, though it cannot be denied that the inherited spirit of tolerance suffered a blow during the fanatical regime of Zia-ul-Haq from which it is yet to recover fully.
Dr.Abdul Samad, Director of Archaeology and Museums in Khyber Pakhtunwala province told Reuters: " Gandhara was the center of religious harmony. It is here that one finds Greek, Roman, Persian, Hindu and Buddhist gods in a single panel in Peshawar museum."
But the common Pakistani's awareness of his non-Islamic past is pathetically low, not only because of the re-assertion of the Islamic character of Pakistan during Zia-ul-Haq's rule (1978 -1988) but because of the fact that history books had blacked out the pre-Islamic past in 1971, a good seven years before Zia's advent.
This grievous flaw in the academic field would need to be corrected at the earliest in the interest of the preservation of Gandhara art and the enormous tourist potential which is in it.
The other danger that lurks constantly, is the destruction, stealing and smuggling of ancient artifacts by unscrupulous elements. Thieves cite Islamic principles to justify their disrespect for idols, but government has armed itself with the Antiquities Act to protect the sites and also to prevent domestic and international sale of these antiquities.
Full report at:
https://kashmirmonitor.in/Details/141489/fighing-stereotyping-through-preservation-of-buddhist-art
--------
Arab World
'Gangster jihadist' rapper who married FBI translator killed in Syria
9/01/2018
German rapper turned ISIL fighter Denis Cuspert was killed Wednesday fighting in Deir ez-Zor province, eastern Syria, according to pro-jihadist media.
This is not the first time pro-ISIL media has falsely announced his death but this time a network released pictures of his bloodied corpse, according to SITE Intel Group, a US company that tracks online activity jihadist organizations.
Who was Denis Cuspert?
Cuspert, 41, grew up in Berlin, born to a German mother and Ghanaian father.
During his youth, he was involved in gang culture and convicted of a series of minor offences for which he spent time in young offenders' institutes.
Rap career
Known as "Deso Dogg" in Germany, Cuspert, 41, released three albums before quitting music in 2010.
In 2006, he toured with US rapper DMX.
Support for so-called Islamic State
Cuspert converted to Islam around 2007 but became interested in radical materials after he was involved in a car accident in 2010.
He helped create an organisation in Germany dedicated to jihadist propaganda called Millatu Ibrahim (Community of Abraham).
After travelling to Syria via Egypt in 2013, where he went by Abu Talha al-Almani, he was labelled a global terrorist by the US in 2015.
The ex-rapper was an influential recruiter who appeared in propaganda videos, notably holding a severed head in one.
Marriage to an ex-FBI translator
Cuspert was briefly married to an FBI translator assigned to monitor him.
Daniela Greene, 38, who had top-secret security clearance, according to CNN, lied to the FBI about visiting her parents in Germany when instead she flew to Istanbul, then crossed the border to Syria in June 2014.
As well as momentarily being married to the jihadist, she also warned Cuspert he was under investigation.
US media reported that Greene realised within weeks that she had made a mistake and fled back to the US, where she was arrested upon arrival and agreed to cooperate.
The ex-translator was sentenced to two years in a federal prison on charges of making false statements concerning international terrorism.
She was released in the summer of 2016 and the BBC reported in 2017 that she was working as a hostess at a hotel.
Cuspert's death comes as ISIL has lost next to all of its territory in Syria and Iraq.
It now controls a few enclaves dispersed across the countries.
http://www.euronews.com/2018/01/19/-gangster-jihadist-rapper-who-married-fbi-translator-killed-in-syria
--------
Lebanon says foiled Islamic State holiday attacks
January 19, 2018
BEIRUT, Jan 19 — Lebanon thwarted jihadist plans to attack places of worship and government buildings over the holidays after gaining rare access to an Islamic State group operative, the interior minister said today.
Nuhad Mashnuq said at a press conference that an elite unit in Lebanon's Internal Security Forces (ISF) had arrested an Iraqi IS commander in Beirut last June.
The commander, known as Abu Jaafar al-Iraqi, had been tasked by the IS leadership to establish an IS network in Lebanon, according to information presented at the briefing.
This network would not only carry out attacks in Lebanon, but could have potentially hosted top IS officials fleeing Iraq and Syria.
Full details of the operation and the current whereabouts of Abu Jaafar were not revealed.
But Mashnuq said that for five months after the Iraqi commander's arrest the ISF kept tabs on him through a mysterious "volunteer," who had gained his trust and rented a home for him that was bugged by Lebanese authorities.
"This is one of those rare operations where you have someone this important in the terrorist organisation, and you're able to use him for five months to find out about the plans supposed to happen during the holidays, against places of worship and government buildings," Mashnuq told reporters.
"The nature of this operation, as we explained, is unprecedented in the Arab world," he claimed.
IS's now-defunct "caliphate" spread across swathes of Iraq and Syria but never officially included territory inside Lebanon.
Jihadists from IS were entrenched along the Lebanese-Syrian border for several years however and claimed several deadly attacks in Lebanon.
According to a film shown at Friday's briefing, Lebanese authorities had worked since the end of 2016 to lure Abu Jaafar to Lebanon with the help of Arab and international authorities.
An intermediary, trained in Turkey and cooperating with the ISF, rented out an apartment for Abu Jaafar that was being surveilled and met with him there several times.
Audio and video clips from the apartment were aired during the press conference.
Abu Jaafar allegedly asked IS leaders in Iraq and Syria for help in planning attacks on New Year's Eve in Lebanon, and they said they may be able to provide suicide belts and automatic weapons.
He was ultimately unable to pull together an operation, the clip said.
Full report at:
http://www.themalaymailonline.com/world/article/lebanon-says-foiled-islamic-state-holiday-attacks#1gFdyMBJcQWdw8s1.97
--------
Conflicts between Al-Nusra, Other Terrorist Groups Intensified in Idlib
Jan 19, 2018
The Arabic-language al-Watan newspaper reported that Muhammad Aloush, the political leader of Jeish al-Islam terrorist group, has accused the al-Nusra Front (Tahrir al-Sham Hay'at or the Levant Liberation Board) of surrendering Idlib to the Syrian army through its unilateral actions.
He wrote on his social media page that the al-Nusra has actually sold Idlib province to the Syrian army by its attacks against 20 other militant groups, seizing their weapons and forcing their commanders and members to move to Turkey.
Aloush said that al-Nusra which had gained control of Idlib by its measures and erecting checkpoints in different parts of the province, now seeks other militants groups' assistance.
The Al-Nusra had earlier in a statement admitted its defeats, claiming that other terrorist groups have launched a media war against it concurrently with the Syrian army's offensives against the terrorist-held areas.
Reports said earlier this week that a large number of terrorists have been killed or wounded in heavy infighting between the ISIL and Al-Nusra Front in the Palestinian Yarmouk Refugee Camp in the Southern countryside of Damascus city.
The sources said that ISIL stormed the Al-Nusra's positions in al-Balaha, Hayfa and al-Rijeh neighborhoods in Yarmouk camp.
Full report at:
http://en.farsnews.com/newstext.aspx?nn=13961029000349
--------
Syrian Army Ready to Launch New Phase of Operations in Aleppo
Jan 19, 2018
Field sources reported that the Syrian army has dispatched a large number of forces and equipment to the town of al-Hazer in Western Aleppo.
They added that the army wants to launch a new phase of operations against the al-Nusra Front (Tahrir al-Sham Hay'at or the Levant Liberation Board) terrorists in the region.
Meantime, the al-Nusra has sent 15 military vehicles and a number of forces to Tal Ais and adjacent areas near al-Hazer.
Dissident-affiliated websites reported on Thursday that tens of fighters of the Al-Nusra Front have joined the ISIL terrorist group amid the Syrian Army advances in Southern Aleppo.
The news websites reported that a sum of 60 terrorists of Al-Nusra have joined ISIL after the Al-Nusra suffered heavy defeats in recent clashes with the army men in Southern Aleppo.
The websites further said that most of the defected members were Al-Nusra fighters in Badiyeh (desert) or former members of Jund al-Aqsa that came under siege of the army men in Southern Aleppo.
Full report at:
http://en.farsnews.com/newstext.aspx?nn=13961029000247
--------
Syria: 1,500 Syrian Families Return to Damascus
Jan 19, 2018
Syria's Arabic-language al-Watan newspaper quoted Damascus Governor-General Alaa Monir Ibrahim as saying that 30% of the people who had left their homes in Damascus have returned in the past 3 months.
He underlined that 1,500 Syrian families have returned to their homes in al-Zabadani in the Northwestern countryside of the capital Damascus near the Lebanese border, adding that efforts are underway to persuade more expatriate Syrian families to return to their country.
Al-Zabadani has sustained huge destruction due to the intensity of the battles as it was one of the first that fell to the militants in Northwestern Damascus in January 2012.
The town is of strategic importance due to its proximity to the Lebanese border, as the rebels had used it as a conduit to smuggle fighters and weapons between Syria and Lebanon.
Full report at:
http://en.farsnews.com/newstext.aspx?nn=13961029000273
--------
Hezbollah among most effective forces fighting terror in Mideast: Nasrallah
Jan 19, 2018
The secretary general of the Lebanese Hezbollah resistance movement has described his group as one of the most effective forces in the fight against terrorism across the Middle East region.
Speaking at a ceremony marking the martyrdom anniversary of Hezbollah fighters in Syria's southwestern Quneitra region on Friday afternoon, Sayyed Hassan Nasrallah stated that the sacrifices made by Hezbollah martyrs were behind all victories over US-Israeli plots in the region.
He noted that the United States has long sought to designate Hezbollah as a terrorist outfit, and has even leveled unsubstantiated allegations of involvement in drug trafficking against the resistance movement.
Nasrallah then advised US statesmen to launch a full-scale investigation into the drug-related activities of their own intelligence bodies.
Elsewhere in his remarks, the Hezbollah chief underlined that his movement supports the Lebanese government and military in the face of threats being posed by Israel at border positions.
Nasrallah also warned the Tel Aviv regime against any provocative move on the border between Lebanon and the occupied Palestinian territories, condemning efforts aimed at normalization of diplomatic relations with Israel.
"The Lebanese government and the Arab League have both censured attempts meant to normalize ties with the Zionist regime (of Israel)," he pointed out.
Turning to the car bomb explosion in the southern Lebanese city of Sidon that slightly wounded a member of Palestinian Hamas resistance movement, Nasrallah said "it is the beginning of a dangerous Zionist scheme to undermine the country's security."
"The United States plans to keep its military deployment in Iraq and Syria under the pretext of preventing the return of the terrorists. This is while the entire world knows it was the US administration that created the Takfiri group," Nasrallah also commented.
He said, "Iraqis and Syrians can well prevent the resurgence of Daesh, and do not need US help in this regard."
Full report at:
http://www.presstv.com/Detail/2018/01/19/549472/Hezbollah-among-effective-forces-fighting-terror-in-Mideast-Nasrallah
--------
Mideast
Israel army considers taking over security in East Jerusalem al-Quds
Jan 19, 2018
The Israeli military is reportedly considering a plan to take over from police the control of the situation at a Palestinian refugee camp and an Arab neighborhood in East Jerusalem al-Quds amid ongoing tensions there over a controversial US policy shift on the occupied city.
Citing unnamed sources, Haaretz said the Israeli ministry for military affairs has confirmed the army is studying the plan to assume responsibility for the situation in the Shuafat refugee camp and the Kafr Aqab district in East Jerusalem al-Quds.
Those areas are in the jurisdiction of Jerusalem al-Quds, but are cut off from the rest of the occupied city by Israel's Apartheid Wall, which has been under construction since 2002.
The International community designates Israel's administrative control over East Jerusalem al-Quds as occupation since the regime invaded the area during the 1967 Arab War and then annexed it.
Clashes have intensified in the area since last month, when US President Donald Trump ignored a consensus about the fate of the city, which many say should be decided in talks with Palestinians, and declared that Washington was recognizing the entire Jerusalem al-Quds as Israel's "capital."
Report say there has been almost daily clashes between Israeli forces and the Palestinian protesters, especially the youths from the Shuafat refugee camp and the district of Kafr Aqeb. That has prompted the Israeli army intervene and control the situation in the neighborhoods of Jerusalem al-Quds, according to Haaretz.
Israeli authorities have indicated that if the army takes control, the municipality of occupied Jerusalem al-Quds may no longer have a jurisdiction, and local councils will take over.
Some 150,000 people, most of them Arabs, live in Shuafat and in Kafr Aqeb and all have ID cards and residency status.
The East Jerusalem al-Quds is home to the al-Aqsa Mosque compound, the third holiest site in the Muslim world and a focus of decades of Palestinian uprising against the Israeli occupation.
US embassy relocation accelerates
Meanwhile, new reports suggest the Trump administration is moving faster than expected to relocate the American embassy from Tel Aviv to a facility in West Jerusalem al-Quds that has been providing visa and other consular services.
US Secretary of State Rex Tillerson insisted last month that the move would not happen until the end of Trump's term.
The fresh reports, however, said the US State Department is working on a plan to retrofit an existing US diplomatic facility in Arnona in instead of constructing a completely new embassy in the Jerusalem al-Quds as proposed last month by Tillerson.
The top US diplomat had said the construction would take at least three years to complete.
http://www.presstv.com/Detail/2018/01/19/549428/Israel-military-East-Jerusalem-Quds
--------
Time to break silence on Palestine, Yemen
Jan 20, 2018
Referring to the recent 13th Session of the Parliamentary Union of the member states of the Organization of Islamic Cooperation (PUIC) in Tehran which ended on Wednesday, Ayatollah Mohammad Emami Kashani pointed out "Muslims need to break their silence on Yemen and Palestine, adding "the Islamic world needs more courage and solidarity."
The senior cleric stated "enemies have surrounded this country and their goal is to eliminate Islam," calling on Iranians "to unite around the leader."
Full report at:
https://en.mehrnews.com/news/131398/Time-to-break-silence-on-Palestine-Yemen
--------
Turkey begins assault on Kurdish-held enclave in Syria
19 Jan 2018
The Syrian Kurdish YPG militia has said Turkish forces have fired about 70 shells at Kurdish villages in the Afrin region of north-western Syria, as Ankara said its threatened military assault was "de facto" under way.
The bombardment from Turkish territory began at around midnight and continued into Friday morning. Turkey considers the Syrian Kurdish militia as an extension of Kurdish rebels fighting Turkey and has vowed to attack their Afrin enclave, massing troops and tanks on its border for several days.
Military action, however, risks further inflaming relations with the US, which allied with the Kurdish-led Syrian Defence Force in its campaign against Islamic State.
The Turkish defence minister, Nurettin Canikli, on Friday said the assault had begun.
"The operation has actually started de facto with cross-border shelling," Canikli told the broadcaster A Haber. "When I say 'de facto', I don't want it to be misunderstood. It has begun. All terror networks and elements in northern Syria will be eliminated. There is no other way."
Rojhat Roj, a YPG spokesman in Afrin, told Reuters that Friday's assault marked the heaviest Turkish bombardment since the Turkish government stepped up threats to take military action against the Kurdish region.
Roj, speaking from Afrin, said the YPG would respond with utmost force to any attack on Afrin.
Military action would mean confronting Kurds allied to the United States at a time when Turkey's relations with Washington are reaching breaking point. The US state department has called on Turkey to focus on the fight against Isis and not send its troops into Afrin.
"We would call ... on the Turks to not take any actions of that sort," the state department spokeswoman Heather Nauert told a briefing this week. "We don't want them to engage in violence but we want them to keep focused on Isis."
Turkey sent its military chief to Moscow on Thursday, seeking approval for an air campaign in the Kurdish-controlled region, although Damascus has warned it could shoot down any Turkish planes in its skies.
Full report at:
https://www.theguardian.com/world/2018/jan/19/turkey-begins-assault-kurdish-enclave-in-syria
--------
Turkish troops shell Afrin to oust US-backed Kurdish militia
January 20, 2018
REYHANLI - Turkey on Friday started fresh shelling of the Syrian town of Afrin in a move to oust a US-backed Kurdish militia that Ankara considers "terrorists" and vowed to press on with a full-scale operation against them.
The Turkish government has repeatedly warned it will strike Syrian towns controlled by the Kurdish People's Protection Units (YPG) militia, including Afrin , after the US said it was training a 30,000-strong border force there. "The Afrin operation will take place," Defence Minister Nurettin Canikli told A Haber television.
"The presence of all the terror lines in northern Syria will be removed. There's no other way out," he said.
Turkish troops fired on several YPG targets in Afrin to prevent the formation of a "terror corridor" on the border, the state-run Anadolu news agency reported.
Army howitzers in the frontier Hatay province launched at least 10 rounds of artillery fire, targeting the "terror nests of the terror organisation in Afrin ," Anadolu said.
A military convoy of 20 buses carrying Syrian opposition rebels backed by Ankara also crossed over into Syria through the Oncupinar border crossing in the Kilis province, Turkish media reported.
Separately, around 30 buses full of Syrian fighters headed towards the Cilvegozu border crossing in the town of Reyhanli, an AFP photographer said.
Canikli said with the shelling "in fact, the operation has de facto started."
Asked about the timing of a ground incursion, Canikli said: "It could be tomorrow, it could be in the evening. What we say is that this operation will
take place."
Syria's deputy foreign minister Faisal Mekdad warned on Thursday that the Syrian air force could destroy any Turkish warplanes used in a threatened assault on the war-torn country.
The YPG is a major bone of contention in ties between Turkey and the US which considers it a key ally in fighting IS.
President Recep Tayyip Erdogan had reacted with fury to the announcement of the US-backed border force, denouncing it as an "army of terror".
The Pentagon said it does not plan to create an "army" and that the force is aimed at fighters from the Islamic State group and maintaining stability in areas recaptured from the jihadists.
Ankara however said it was not satisfied with the US assurances.
Turkey accuses the YPG of being a branch of the outlawed Kurdistan Workers' Party (PKK) that has waged an insurgency in its southeast since 1984.
Meanwhile, mortar fire on the Syrian town of Azaz just across the border from Turkey and held by Turkish-backed rebels wounded at least 14 people in a psychiatric hospital, a monitor said on Friday.
The Syrian Observatory for Human Rights, a Britain-based monitor of the war, said the mortar rounds on Thursday were fired by the Syrian Democratic Forces, a US-backed alliance dominated by the YPG.
The Turkish army condemned the mortar fire and said wounded civilians were also taken across the border into Turkey for treatment.
Analysts say Turkey needs the green light from Russia for a full cross-border operation because of Moscow's military presence in the area.
Full report at:
https://nation.com.pk/20-Jan-2018/turkish-troops-shell-afrin-to-oust-us-backed-kurdish-militia
--------
Yemeni army liberates areas in al-Jawf governorate
19 January 2018
Yemeni army forces have liberated several areas in the Bart al-Anan District, northwest of al-Jawf governorate, which is adjacent to Saada, the major stronghold of Houthi militias on the Jawf front.
Commander of the First Brigade Brigadier Haykal Hantaf said the Yemeni army liberated the areas of Eafi, Quaif and al-Tamr in addition to the strategic Habash mountain which overlooks several important roads such as al-Jawf, Saada and the international roads and the road that links the Khob and Al-Shaaf districts with Bart al-Anan District.
He also said that army forces will continue to advance to liberate whatever is left of the district, adding that Houthis suffered huge losses as battles have killed and injured a number of Houthi fighters while several fighters fled.
The Yemeni army, aided by the Arab coalition air force, seized control of the strategic Shawkan Mountain and the Shaman Mountain which overlooks the Quaif area on Wednesday and captured 15 Houthi fighters.
Meanwhile, local sources said there are divisions among the ranks of the Houthi militia in Al-Masloub District in Al-Jawf, adding that some commanders have withdrawn and abstained from participating in the Houthis' battles due to "treason."
Full report at:
https://english.alarabiya.net/en/News/gulf/2018/01/19/Yemeni-army-liberates-areas-in-Al-Jawf-governorate.html
--------
New Footage Shows Hamza Bin Laden At His Wedding in Iran
19 January 2018
Al Arabiya has received new footage and details surrounding the wedding of Hamza bin Laden, the son of al-Qaeda extremist group's mastermind Osama, when he was 17 years old in Iran.
The younger bin Laden is said to have married the daughter of al-Qaeda's second-in-command and deputy to current leader Ayman al-Zawahri, Abdullah Ahmad Abdullah, nicknamed "Abu Mohammed al-Masri".
The clip, which Al Arabiya was briefed on its details, was among the latest documents released by the CIA in regards to the Abbottabad files.
Wedding guests
The video showed a group of al-Qaeda leaders who are listed on the international terrorism list, including Mohamed Shawki al-Islambouli, the brother of the assassin of the late Egyptian president Anwar Sadat, along with Kuwaiti Suleiman Abu al-Ghaith, son-in-law of Osama bin Laden and the former al-Qaeda spokesman, along with Saif al-Adl, who was most probably responsible for documenting the wedding with his cameras.
Al-Ghaith is the husband of Fatimah bin Laden, who seemed to show no interest in appearing in the wedding video but was shown at one point telling one his stories with Osama bin Laden and Ayman al-Zawahiri during their presence in Kandahar.
Hamza also had a number of his brothers beside him, including Saad bin Laden, who was killed by a drone strike in Waziristan after he left Iran. He tells his brother Hamza in the video: "Hamza, the ninth brother to get married".
Full report at:
https://english.alarabiya.net/en/features/2018/01/19/New-footage-shows-Hamza-bin-Laden-at-his-wedding-in-Iran.html
--------
Yemeni retaliatory attacks leave eight Saudi soldiers dead
Jan 19, 2018
At least eight Saudi soldiers have been killed when Yemeni army soldiers and fighters from allied Popular Committees launched separate attacks in Saudi Arabia's southwestern border regions of Jizan, Najran and Asir as they continue their retaliatory raids against Riyadh regime's aerial bombardment campaign.
A Yemeni military source, speaking on condition of anonymity, told Arabic-language al-Masirah television network that Yemeni forces and their allies fatally shot five soldiers just outside Hamezah village of Jizan, located 967 kilometers southwest of the capital Riyadh, and al-Shabakah military camp on Friday afternoon.
Later in the day, Yemeni army forces shot and killed two other Saudi soldiers in Raqabat al-Zour military base of Najran region, located 844 kilometers (524 miles) south of Riyadh.
Furthermore, Yemeni soldiers and Popular Committees fighters killed a Saudi serviceman in the al-Majazah area of Asir region.
Also, Yemeni forces and their allies fired a salvo of artillery rounds at al-Nahouqah military camp in Najran, with no casualties reported
On Friday morning, Saudi fighter jets carried out three airstrikes against an area in the Razih district of Yemen's northwestern region of Sa'ada.
At least 13,600 people have been killed since the onset of Saudi Arabia's military campaign against Yemen in 2015. Much of the Arabian Peninsula country's infrastructure, including hospitals, schools and factories, has been reduced to rubble due to the war.
The Saudi-led war has also triggered a deadly cholera epidemic across Yemen.
According to the World Health Organization's latest count, the cholera outbreak has killed 2,167 people since the end of April and is suspected to have infected 841,906.
On November 26, the United Nations children's agency (UNICEF) said that more than 11 million children in Yemen were in acute need of aid, stressing that it was estimated that every 10 minutes a child died of a preventable disease there.
Additionally, the UN has described the current level of hunger in Yemen as "unprecedented," emphasizing that 17 million people are now food insecure in the country.
Full report at:
http://www.presstv.com/Detail/2018/01/19/549456/Yemeni-retaliatory-attacks-leave-seven-Saudi-soldiers-dead
--------
Turkey to reject any option short of full EU membership
Jan 19, 2018
Turkey would reject any offer of partnership with the European Union that falls short of membership, Ankara's minister for EU affairs said, warning that the current situation gave Turkey no reason to maintain its refugee deal with the bloc.
"A privileged partnership or similar approaches, we don't take any of these seriously. Turkey cannot be offered such a thing," Omer Celik told Reuters in an interview.
"Whatever it would be called, a privileged partnership or cooperation against terrorism, such an offer will not even be considered by Turkey," he added.
France's President Emmanuel Macron said two weeks ago that developments in Turkey did not allow for progress in its decades-long push to join the European Union.
Macron said discussions should change focus, mentioning the possibility of a partnership that would fall short of full membership.
The EU has expressed concern over Turkey's crackdown on the suspected supporters of a failed 2016 coup.
Around 50,000 people have been arrested pending trial and 150,000, including teachers, journalists and judges, sacked or suspended from work.
Celik said the European Union was not honoring all parts of a deal to stem the flow of refugees westwards from Turkey in return for three billion euros in financial aid to Turkey and other support.
Full report at:
http://www.presstv.com/Detail/2018/01/19/549435/Turkey-EU-membership-any-other-option
--------
South Asia
5 senior Al-Qaeda leaders killed in Afghan forces raid in Nangarhar
Jan 19 2018
At least five senior leaders of the Al-Qaeda terrorist network were killed in an operation of the Afghan security forces in eastern Nangarhar province of Afghanistan.
The provincial government media office said Friday that the senior leaders of the Al-Qaeda network were killed in an operation conducted by the Special Forces of the Afghan intelligence directorate.
According to an official statement, the five senior Al-Qaeda network leaders, hailing from Afghanistan, Pakistan, and Chechnya, were actively involved in planning and coordinating suicide attacks in the country.
The statement further added that three of those killed hailed from Chechnya, one hailed from Afghanistan, and one of them was a Pakistani national.
At least two others have also been arrested during the operation conducted in Shirzad district of Nangarhar province, the statement added.
The provincial government also added that the Afghan national killed in the operation has been identified as Mullah Sundi who was also famous as Siraj and was actively involved in spreading propaganda in favor of the terrorists.
At least four Ak-47 rifles, a PKM machine gun, a pistol and some ammunition were also confiscated, the statement said, adding that the local residents and security personnel have not suffered any casualties during the operation.
The anti-government armed militant groups including the Taliban and Al-Qaeda affiliates have not commented regarding the report so far.
https://www.khaama.com/5-senior-al-qaeda-leaders-killed-in-afghan-forces-raid-in-nangarhar-04295
--------
Pakistani officials says Taliban delegation refuse talks with Afghan govt
Jan 18 2018
The Pakistani officials have said the Taliban group is not prepared to hold talks with the government as reports indicate that the Taliban supreme leader Mullah Hebatullah Akhundzada has sent a delegation to Islamabad to explore ways for reviving peace talks.
Pakistani officials privy of the development have confirmed to Dawn News that a delegation of the Taliban including Shababuddin Dilawar and Malawi Rasool, came from Qatar to explore prospects of resuming talks.
However, they have said the Taliban remained unmoved. "They are sticking to their past stance. They want to negotiate with the US through the Qatar Office, but refused to negotiate with the Afghan government."
The officials have also added that Islamabad has proposed to the Taliban delegation to hold direct talks with the Afghan government which has been turned down by the group.
This comes as sources privy of the development within the Taliban ranks had earlier told Reuters that supreme leader Haibatullah Akhundzada had approved Monday's exploratory meeting in Islamabad on restarting talks to end the war that kills thousands of Afghans each year.
However, a Taliban group spokesman Zabiullah Mujahid had earlier rejected the participation of the group's representatives in the unofficial talks that took place in Turkey.
"This is an intelligence game that aims at defaming and damaging the real peace process in Afghanistan," he had said in a statement.
Full report at:
https://www.khaama.com/pakistani-officials-says-taliban-delegation-refuse-talks-with-afghan-govt-04294
--------
Suicide bomber killed by own explosives before reaching to his target
Jan 18 2018
A suicide bomber was killed in an explosion triggered by his own explosives and before reaching to his target in eastern Nangrhar province of Afghanistan.
The provincial government in a statement said the incident took place late on Wednesday evening in the vicinity of Jalalabad city, the provincial capital of Nangarhar.
The statement further added that the suicide bomber's explosives went off in the 6th police district of the city, leaving himself dead along with another individual.
The suicide bomber was being chased by the security forces to be arrested based on the tip off received by Nangarhar police, the statement said.
According to the governor's office, the other individual killed in the explosion has been identified as Maghfoor.
The statement also added that the suicide bomber has been identified as Raifullah who was originally a resident of Pacher Agam district.
The anti-government armed militant groups including the Taliban and ISIS insurgents have not commented regarding the incident so far.
Nangarhar is among the relatively calm provinces in East of Afghanistan where fewer incidents have been reported since the fall of the Taliban regime.
Full report at:
https://www.khaama.com/suicide-bomber-killed-by-own-explosives-before-reaching-to-his-target-04293
--------
Rohingya refugees in BD protest repatriation move
January 20, 2018
DHAKA - Hundreds of Rohingya refugees staged protests in Bangladesh Friday against plans to send them back to Myanmar, where a military crackdown last year sparked a mass exodus.
The refugees chanted slogans and held banners demanding citizenship and guarantees of security before they return to their home state of Rakhine in Myanmar. The protest came ahead of a visit by UN special rapporteur Yanghee Lee to the camps in southeastern Bangladesh where around a million of the Muslim minority are now living. Bangladesh has reached an agreement with Myanmar to send back the around 750,000 refugees who have arrived since October 2016 over the next two years, a process set to begin as early as next week. But many Rohingya living in the crowded, unsanitary camps have said they do not want to return to Rakhine after fleeing atrocities including murder, rape and arson attacks on their homes.
Rights groups and the UN say any repatriations must be voluntary.
They have also expressed concerns about conditions in Myanmar, where many Rohingya settlements have been burned to the ground by soldiers and Buddhist mobs.
The government has said it is building temporary camps to accommodate the returnees, a prospect feared by Rohingya , said Mohibullah, a refugee and former teacher.
"We want safe zones in Arakan (Rakhine) before repatriation ," he told AFP by phone from Cox's Bazar, where the camps are located.
"We want a UN peacekeeping force in Arakan. We want fundamental rights and citizenship. We do not want repatriation without life guarantees," Mohibullah said.
Police said they were unaware of the protests.
A Bangladesh official said around 6,500 Rohingya currently living in no man's land between the two countries would be among the first to be repatriated.
Full report at:
https://nation.com.pk/20-Jan-2018/rohingya-refugees-in-bd-protest-repatriation-move
--------
More Rohingya flee to Bangladesh despite repatriation deal
January 19, 2018
DHAKA, Bangladesh (AP) – Rohingya refugees are continuing to flee from Myanmar into Bangladesh, even after the two countries said they will begin repatriating members of the minority ethnic group next week, a Bangladesh official said Friday.
Over 650,000 Rohingya Muslims poured into Bangladesh after Myanmar's military launched a brutal crackdown against them in August.
More than 100 Rohingya have entered Bangladesh in the past two days, according to Mohammed Mikaruzzaman, a top official in Bangladesh's Ukhiya sub-district, where the refugees are living in sprawling camps.
Mikaruzzaman would not say why the latest refugees fled, but the Bangladeshi media has said some reported being forced by the Myanmar military to work without pay and food. The Associated Press could not independently verify those allegations.
Myanmar and Bangladesh signed an agreement in November on repatriating Rohingya refugees, and officials said earlier this week that some would return to Myanmar beginning next Tuesday. The process is expected to take about two years.
However, it's unclear if there will be more than a handful of symbolic repatriations. Mikaruzzaman said very few preparations had been made.
"I have visited some border points to see the possible routes for repatriation over last few days, but we have not finalized anything yet," he said, calling it a "huge task" to coordinate among government departments, international agencies and the Rohingya.
Many Rohingya have expressed fears about going back to Myanmar.
A statement issued Thursday by nearly two dozen Rohingya organizations around the world demanded security guarantees for the refugees and their property before they return. The statement said there had been "no change of attitude of the Myanmar government and its military toward Rohingya."
Under the November agreement, Rohingya will need to provide evidence of their residency in Myanmar in order to return – something many do not have.
Rohingya Muslims are denied citizenship in Myanmar, along with many basic rights, though many have lived in the predominately Buddhist country for generations. They are widely seen as illegal migrants from Bangladesh.
In Myanmar, a top official insisted the repatriations would begin as planned, with the paperwork for the first 1,100 refugees already finished in both countries.
"These refugees can be sent on Jan. 23 because they are already verified to come back," said Win Myat Aye, the minister of social welfare, relief and resettlement.
Full report at:
http://wsav.com/2018/01/19/more-rohingya-flee-to-bangladesh-despite-repatriation-deal/
--------
Southeast Asia
Indonesian Christian whipped for selling alcohol in Aceh
January 20, 2018
BANDA ACEH: An Indonesian Christian was publicly flogged on Friday for selling alcohol in conservative Aceh province, a violation of Islamic law, as a crowd of onlookers including children jeered.
Jono Simbolon grimaced in pain when a masked religious officer lashed his back with a rattan stick on a makeshift stage outside a mosque in the provincial capital Banda Aceh.
He is only the third non-Muslim to suffer a public whipping since Aceh, on Sumatra island, began implementing Islamic law after it was granted special autonomy in 2001 – an attempt by the central government to quell a long-running separatist insurgency.
"This is our government's commitment to enforcing Islamic law," said Banda Aceh mayor Aminullah Usman.
"If there is a violation (of the law), immediately report it to the sharia police and we will carry out a punishment like today's caning," he said, referring to religious authorities.
A doctor checked on Simbolon's condition after 10 strokes before the flogging continued.
He was one of 10 people – eight men and two women – caned after Friday prayers for offences including pimping, prostitution and gambling.
One unmarried couple received 20 strokes each for being too physically close to each other – seen as a prelude to banned pre-marital sex.
Simbolon was arrested in October and sentenced to 36 lashes for selling illegal alcohol.
About 98 per cent of Aceh's five million residents are Muslims subject to religious law, known locally as Qanun.
Non-Muslims who have committed an offence that violates both national and religious laws – such as selling bootleg liquor – can choose to be prosecuted under either system.
"(Simbolon) is a Christian but he decided to bow to Qanun," chief prosecutor Erwin Desman said, adding that the man may have chosen a flogging to avoid a lengthy criminal prosecution.
Aceh is the only province in Indonesia, the world's most populous Muslim-majority country, which implements Islamic law, or Sharia.
Last year, two gay men who admitted to having had sex were flogged in Aceh, with each receiving 100 strokes of the cane, drawing heavy criticism from rights groups.
Gay sex is not illegal in the rest of Indonesia, which mainly follows a criminal code inherited from former colonial ruler the Netherlands. -- AFP
https://www.nst.com.my/world/2018/01/326939/indonesian-christian-whipped-selling-alcohol-aceh
--------
Education Minister denies saying he will sack pro-Opposition educators
January 20, 2018
KUALA LUMPUR, Jan 20 — Education Minister Datuk Seri Mahdzir Khalid has denied threatening to sack educators and civil servants who support the federal Opposition.
Mahdzir posted a screenshot of a Malaysian Insight article allegedly quoting him as saying so on his Instagram account, with an accompanying caption comment refuting the contents of the report.
"I have never come up with such a statement, and in fact have no wish to disturb educators involved in politics up to the point of having them fired. Instead I requested they conduct themselves professionally in their capacities as civil servants," he said.
Yesterday, national newswire Bernama reported that the minister was merely reminding educators involved in politics against breaking the rules binding the civil service.
He reportedly said that as civil servants, they were bound to certain rules in the civil service, especially on matters which were opposed to government policies.
"Although there are some educators who support Opposition political parties, they need to 'fine tune' and put a 'buffer zone' between their career and political ideology so as not to highlight the character of haters and anti-government elements," he had said when commenting on the tendency of educators to go on the Opposition stage to publicly disclose what they did not like with regard to the ruling government.
He said the ministry did not intend to disturb the educators to the point of finding it necessary to remove them from service but asked them to act professionally as civil servants.
Full report at:
http://www.themalaymailonline.com/malaysia/article/education-minister-denies-saying-he-will-sack-pro-opposition-educators#PdG5T8SFH0I8Y4xq.97
--------
Africa
US-backed Somalia commandos kill four al-Shabab extremists
20 January 2018
Somali and US commandos stormed a camp for al-Shabab extremist fighters in an overnight raid, killing at least four of the fighters and rescuing child conscripts, a Somali intelligence official said on Friday.
The official, who spoke on condition of anonymity because he was not authorized to speak to the media, said special forces raided the camp in Jame'o village in Middle Shabelle region. A local commander was among those killed, he said.
A second official confirmed the raid, which was carried out with the support of helicopters that later evacuated the young recruits.
Human Rights Watch earlier in the week accused al-Shabab of the forced recruitment of hundreds of children in recent months. The recruitment of children is a long-standing practice of the al-Qaida-linked group which faces growing military pressure across south and central Somalia.
It was not immediately clear how many children were rescued during the overnight raid.
US airstrike
Also on Friday, the US military said it had carried out an airstrike in Somalia that killed four members of the al-Shabab extremist group.
A statement from the US Africa Command said the strike was carried out Thursday about 50 kilometers northwest of the port city of Kismayo. The statement said no civilians were killed.
The US military carried out more than 30 drone strikes last year in the long-chaotic Horn of Africa nation after President Donald Trump approved expanded military efforts against al-Shabab.
The extremist group was blamed for the October truck bombing in Somalia's capital, Mogadishu, that killed 512 people. Thursday's US airstrike was the first since one early this month that killed two al-Shabab extremists and destroyed a vehicle carrying explosives, "preventing it from being used against the people in Mogadishu."
Last year, Somalia's Somali-American president vowed that his government would drive the extremist group out of the country.
https://english.alarabiya.net/en/News/world/2018/01/20/US-backed-Somalia-commandos-kill-4-al-Shabab-extremists.html
--------
Boko Haram kills five in NE Nigeria village
January 20, 2018
KANO - Boko Haram jihadists have killed five people in an attack on a village in Adamawa state, northeast Nigeria , a community leader and a local resident said on Friday.
A group of 10 militants stormed Kaya village at about 9:00 pm (2000 GMT) in the Madagali area late on Thursday and broke into two homes, killing four people.
Another resident was shot dead when he tried to come to the rescue of the victims, Maina Ularama, a former Madagali local government chairman, told AFP.
"Five people were shot dead last night by Boko Haram in Kaya village, three of them brothers living in the same house," he said.
"They killed another person in a house close by. The fifth victim was killed when he rush towards the area to rescue the victims after hearing their cries for help."
Samson Lawan, who lives in Kaya, gave a similar account. He said the gunmen looted medical supplies at the village clinic before fleeing into the bush.
"They were overheard saying telling one of them who wanted to set fire to homes that they were not in the village for arson," Lawan said.
Kaya village has been attacked before in the insurgency, which since 2009 has killed at least 20,000 in northeast Nigeria and displaced more than 2.6 million.
In June 2016 Boko Haram jihadists killed 18 mourners in an attack on the village.
Adamawa was said to have been cleared of Boko Haram in late 2015, after they rampaged across the northeast, seizing towns and territory.
But attacks have continued in the north of the state, particularly around Madagali, which borders Borno state and the militants' Sambisa Forest stronghold.
On Monday militants killed three people in a raid on nearby Pallam village where they burnt buildings and looted food supplies, in the first attack in Adamawa this year.
Elsewhere, nine others were killed in two separate attacks on people collecting firewood near the border town of Ngala, in Borno.
Full report at:
https://nation.com.pk/20-Jan-2018/boko-haram-kills-five-in-ne-nigeria-village
--------
Libyan forces launch operation against militants
19 January 2018
Commander Khalifa Haftar's forces, backed by Tobruk-based House of Representatives in Libya, started an operation Thursday against the Justice and Equality Movement, which fights the Sudanese government in Darfur.
According to a written statement by one of Haftar's forces Kufra military zone commander Al-Mabrouk Al-Gazwi, an operation named "Rage of Desert" has been launched against the militants of the Justice and Equality Movement.
Haftar is the commander of troops loyal to a rival administration based in Tobruk in eastern Libya.
During the operation, Haftar forces' warplanes dropped bombs on the militant's vehicle and killed some of the militants, Gazwi said in the statement.
He also said that patrols deployed in some areas would prevent the militants' illegal activities in the desert.
Gazwi also stated that the operation would continue until the Justice and Equality Movement militants -- who are deployed in the country's southeast region -- are wiped out and security is established.
Since 2003, two main rebel movements -- the Sudan Liberation Movement and the Justice and Equality Movement -- have fought the Sudanese government in Darfur.
The movement militants are deployed in deserts between Sudan and Libya.
Libya has been dogged by chaos and political uncertainty since 2011, when a bloody uprising led to the ouster and death of longtime leader Muammar Gaddafi after more than four decades in power.
Full report at:
http://www.worldbulletin.net/africa/197982/libyan-forces-launch-operation-against-militants
--------
North America
Military Shifts Focus to Threats by Russia and China, Not Terrorism
By HELENE COOPER
JAN. 19, 2018
WASHINGTON — The United States is switching its priority to countering Chinese and Russian military might after almost two decades of focusing on the fight against terrorism, Defense Secretary Jim Mattis said Friday, unveiling a national defense strategy that Pentagon officials say will provide a blueprint for years to come.
The new strategy echoes — on paper, if not in tone — a national security blueprint offered last month in which President Trump described rising threats to the United States from an emboldened Russia and China, as well as from what was described as rogue governments like North Korea and Iran.
But where Mr. Trump struck a campaign tone during the unveiling of his national security strategy, with references to building a wall along the southern border with Mexico, Mr. Mattis took a more sober route by sticking to the more traditional intellectual framework that has accompanied foreign policy doctrines of past administrations.
Drawing inspiration from Winston Churchill, who once said that the only thing harder than fighting with allies is fighting without them, Mr. Mattis said that the United States must strengthen its alliances with other powers.
"History proves that nations with allies thrive," Mr. Mattis said in remarks at Johns Hopkins School of Advanced International Studies. "Working by, with and through allies who carry their equitable share allows us to amass the greatest possible strength." (One of those allies, Britain's defense secretary, quickly released a statement welcoming Mr. Mattis's words.)
Unlike Mr. Trump, who said Russia and China "seek to challenge American influence, values and wealth" without mentioning Russian interference in the 2016 election, Mr. Mattis appeared to take direct aim at Russia. "To those who would threaten America's experiment in democracy: If you challenge us, it will be your longest and worst day," he said.
In seeking to shift the military emphasis to Russia and China after years fighting terrorism, the Trump administration is echoing many of the same pronouncements made by the Obama administration, which famously sought to pivot to Asia after years of fighting in Iraq. But the rise of the Islamic State, which declared a caliphate in Iraq and Syria, put a stop to the Asia pivot talk in Mr. Obama's final years in office.
Now a new administration is again seeking to leave the terrorism fight behind. Mr. Mattis described increased "global volatility and uncertainty, with great power competition between nations a reality once again." He declared the defeat of the Islamic State's physical caliphate in Iraq and Syria.
"We will continue to prosecute the campaign against terrorists, but great power competition — not terrorism — is now the primary focus of U.S. national security," Mr. Mattis said.
But the United States is still at war in Afghanistan, where Mr. Trump has promised to set no artificial deadlines for withdrawing troops against a resilient Taliban. And American pilots and Special Operations forces continue to go after militants fighting with the Islamic State, Al Qaeda and the Shabab from Syria to Yemen to Somalia.
But as tensions in the Korean Peninsula have continued to rise over the past year, American military commanders and senior defense officials have fretted over whether 16 years of counterinsurgency fighting has left the military unprepared for a great powers land war.
Pentagon officials say that the need to do both — fight insurgents and prepare for a potential war among great powers — is pushing a military that is already stretched. Added to that is the uncertainty that has plagued the Pentagon's budget since 2011, when mandatory spending caps were put in place.
Congress has been unable to pass a spending bill, and on Friday the federal government was, once again, teetering on the edge of a shutdown. Mr. Mattis, during his speech on Friday, took aim at the budget shenanigans.
"As hard as the last 16 years of war have been, no enemy in the field has done more to harm the readiness of the U.S. military than the combined impact of the budget control act's defense spending caps, and nine of the last 10 years operating under continuing resolutions, wasting copious amounts of precious taxpayer dollars," he said.
https://www.nytimes.com/2018/01/19/us/politics/military-china-russia-terrorism-focus.html?mtrref=www.google.co.in&gwh=0F49C1FC49320755A88F81D7A3B2B4F3&gwt=pay
--------
Trump appointee quits after CNN unearths anti-Muslim rants
JANUARY 19, 2018
A U.S. official appointed by President Donald Trump has resigned after CNN posted excerpts of him making racist and Islamophobic comments on a radio show he used to host, the news network reported.
Carl Higbie resigned from his post as external affairs chief at the Corporation for National and Community Service, according to a statement from CNCS spokeswoman Samantha Jo Warfield, CNN said.
Higbie, the CNCS - an agency that runs volunteer groups including AmeriCops, Senior Corps and the Social Innovation Fund - and the White House were not immediately available for comment.
CNN KFile, the network's investigative reporting team, posted recordings of Higbie's internet talk radio show "Sound of Freedom" from 2013 and 2014 in which he expresses his dislike of Muslims, black people and homosexuality.
"I just don't like Muslim people. People always rip me a new one for that. 'Carl, you're racist, you can't, you're sexist.' I'm like, Jesus Christ, I just don't like Muslim people because their ideology sucks," he says in one excerpt, describing Islam as "the ideology of a child molester".
In another he tells Muslims: "Go back to your Muslim shithole and go crap in your hands and bang little boys on Thursday nights."
Trump was accused by Democratic Senator Dick Durbin of repeatedly using the word "shithole" when speaking about African countries during a meeting about immigration last week at the White House, causing diplomatic outrage in many African countries.
Full report at:
https://www.reuters.com/article/us-usa-trump-appointee/trump-appointee-quits-after-cnn-unearths-anti-muslim-rants-idUSKBN1F818B
--------
Supreme Court to Consider Challenge to Trump's Latest Travel Ban
By ADAM LIPTAK
JAN. 19, 2018
WASHINGTON — The Supreme Court announced on Friday that it would consider a challenge to President Trump's latest effort to limit travel from countries said to pose a threat to the nation's security, adding a major test of presidential power to a docket already crowded with blockbusters.
The case concerns Mr. Trump's third and most considered bid to make good on a campaign promise to secure the nation's borders. But challengers to the latest ban, issued as a presidential proclamation in September, said it was tainted by religious animus and not adequately justified by national security concerns.
The decision to hear the case, Trump v. Hawaii, No. 17-965, came almost a year after the first travel ban, issued a week after Mr. Trump took office, caused chaos at the nation's airports and was promptly blocked by courts around the nation. A second version of the ban, issued in March, fared little better, though the Supreme Court allowed part of it go into effect in June when it agreed to hear the Trump administration's appeals in two cases.
But the Supreme Court dismissed those appeals in October after the second ban expired. There is no reason to think the latest appeal will fizzle out, as the September order, unlike the earlier ones, is meant to last indefinitely. The justices are likely to hear arguments in the latest case in the spring and to issue a decision in late June.
The ban restricts travel from eight nations, six of them predominantly Muslim. For now, most citizens of Iran, Libya, Syria, Yemen, Somalia, Chad and North Korea will be barred from entering the United States, along with some groups of people from Venezuela.
The restrictions vary in their details, but for the most part, citizens of the countries are forbidden from emigrating to the United States and many of them are barred from working, studying or vacationing here.
In December, in a sign that the Supreme Court may be more receptive to upholding the September order, the court allowed it to go into effect as the case moved forward. The move effectively overturned a compromise in place since June, when the court said travelers with connections to the United States could continue to travel here notwithstanding restrictions in an earlier version of the ban.
Justices Ruth Bader Ginsburg and Sonia Sotomayor dissented from the December ruling.
Hawaii, several individuals and a Muslim group challenged the latest ban's limits on travel from six predominantly Muslim nations; they did not object to the portions concerning North Korea and Venezuela. They prevailed before a Federal District Court there and before a three-judge panel of the United States Court of Appeals for the Ninth Circuit, in San Francisco.
The appeals court ruled that Mr. Trump had exceeded the authority Congress had given him over immigration and had violated a part of the immigration laws barring discrimination in the issuance of visas.
In his brief urging the Supreme Court to hear the case, Solicitor General Noel J. Francisco wrote that the president has vast constitutional and statutory authority over immigration. He added that the third order had been the result of "an extensive, worldwide review by multiple government agencies."
"The courts below," Mr. Francisco wrote, "have overridden the president's judgments on sensitive matters of national security and foreign relations, and severely restricted the ability of this and future presidents to protect the nation."
The appeals court based its ruling on immigration statutes, not the Constitution's prohibition of religious discrimination. But both sides urged the Supreme Court to consider both the statutory and constitutional questions if it agreed to hear the case.
Lawyers for the challengers told the justices that Mr. Trump's own statements provided powerful evidence of anti-Muslim animus. The latest order, they said, was infected by the same flaws as the previous one.
"The president has repeatedly explained that the two orders pursue the same aim," the challengers wrote. Nine days before the September order was released, they wrote, "the president demanded a 'larger, tougher and more specific' ban, reminding the public that he remains committed to a 'travel ban' even if it is not 'politically correct.'"
On the day the September order became public, the challengers added, "the president made clear that it was the harsher version of the travel ban, telling reporters, 'The travel ban: the tougher, the better.'"
Mr. Francisco said discrimination had played no role in the September order. "The proclamation's process and substance confirm that its purpose was to achieve national-security and foreign-policy goals, not to impose anti-Muslim bias," Mr. Francisco wrote.
Full report at:
https://www.nytimes.com/2018/01/19/us/politics/supreme-court-trump-travel-ban.html?mtrref=www.google.co.in&gwh=B70AD919D56ED5E97CF7EB876D122B9E&gwt=pay
--------
'We will fight': 9/11 families renew bid to sue Saudi
January 19, 2018
According to Al Jazeera, Saudi Arabia has again defended its government against allegations of providing support to the perpetrators of the September 11, 2001, attacks in New York, as the kingdom's lawyers faced family members of victims in a Manhattan federal courtroom.
Thursday's hearing marked the third time a group of families of 9/11 victims and survivors have tried to sue the Saudi government for damages relating to the attack that killed nearly 3,000 people.
Fifteen of the 19 attackers were Saudi citizens.
It was the first hearing since Congress passed legislation removing aspects of sovereign immunity that had prevented previous cases against the Saudi government from being heard.
Victims' relatives, survivors and insurance companies have claimed that members of the Saudi government supported the al-Qaeda-affiliated men who hijacked and crashed planes into New York's World Trade Center, the Pentagon outside Washington, and a Pennsylvania field.
They also accuse Saudi Arabia of funding charities that supported al-Qaeda.
Terry Strada, national chair of 9/11 Families and Survivors United for Justice Against Terrorism, fought for the legislation to limit sovereign immunity.
She said her group would keep pushing to expose what she sees as clear financial ties between the attack and the royal family.
"I'll never be tired of doing this," Strada told Al Jazeera. "We will fight until the end."
She said her life had not been the same since she lost her husband, Tom, the father of her three children.
"I don't have anything else. I'm going to take this as far as I can."
In 2015, the suspicion that the Saudi attackers had help from their government was investigated and dismissed for lack of evidence by the 9/11 Commission.
But lawyers for the plaintiffs say the commission's report was inconclusive, and new evidence has since come to light, including previously classified documents and supporting testimony from two former FBI agents and former Senator Bob Graham of Florida, who served on the 9/11 Commission.
'Hearsay and speculation'
Lawyers for Saudi Arabia say the accusations are "baseless" and are again trying to get the case dismissed, arguing in court documents that the new evidence is "hearsay and speculation, insufficient to support the findings required for jurisdiction over Saudi Arabia".
The families believe the evidence shows that US-based Saudi government agents helped the hijackers and that the government knowingly funded charities that supported "anti-Western, jihadist ideology".
Lawyer Sean Carter, who represents victims and their family members, told the judge that the charities were "the principal source of funding for al-Qaeda leading up to the 9/11 attacks".
He argued the judge should allow the case to move forward to the next phase, when the plaintiffs would be able to summon prominent members of the Saudi royal family and religious leadership to testify and provide documents.
Saudi officials are trying to stop that from happening and accuse the plaintiffs of equating Islam with "terrorism".
"To equate missionary work, building mosques, providing Qurans, with terrorism is not proper in this court," lawyer Michael Kellogg argued in court.
Full report at:
https://nation.com.pk/19-Jan-2018/we-will-fight-9-11-families-renew-bid-to-sue-saudi
--------
Europe
Greek neo-Nazi group threatens Muslim association
by Patrick Strickland
Jan 20, 2018
Athens, Greece - A neo-Nazi organisation has threatened the Muslim Association of Greece and pro-migrant organisations, amid an uptick in anti-immigrant violence in the Greek capital.
On Thursday, the organisation said it had received a menacing phone call from Crypteia, a far-right group that attacked the home of an Afghan child last year.
"We are the group that kills, burns, hits and tortures immigrants, mainly Muslims," the caller said, according to Anna Stamou of the Muslim Association of Greece.
The caller contacted the organisation from a blocked number and identified himself as part of Crypteia.
He boasted of the group's attack on the home of an 11-year-old Afghan refugee, identified only as Emir in Greek media, in November.
Then, masked men had attacked the boy's home after he gained national attention for being prevented from carrying a Greek flag during a school parade. They threw beer bottles and stones at the home, shattering the windows, and left a note reading: "Go back to your village. Leave."
"We reported [Thursday's phone call] to officials here, then late at night we discovered that many organisations had the same threat," Stamou told Al Jazeera, explaining that the Greek Forum for Migrants and others received similar phone calls.
Other civil society groups, which requested anonymity, confirmed that they were among those threatened.
"We are not intimidated as groups, Muslims or anti-fascists. The whole society is being targeted by these actions," Stamou added. "We don't accept threats."
Crypteia's name is an apparent reference to a group of ancient Spartans who were notorious for attacking slaves. The vigilante outfit is believed to have stemmed from the neo-fascist Golden Dawn party, which has 16 seats in the Greek parliament.
Greek police were not immediately available for comment.
There are around 200,000 Muslims in Athens, according to the Muslim Association of Greece, a civil society group advocating for indigenous Muslims, Greek converts, refugees, migrants and others.
In 2010, the Pew Research Center said there were 500,000 Muslims in the country, but this number has increased with refugees and migrants, most of whom come from Muslim-majority countries.
Tina Stavrinaki, legal officer at the Racist Violence Recording Network, said it was clear that "Muslims are the target".
"They said the same thing [to all the groups threatened]," she told Al Jazeera.
"They said they take responsibility for attacks against migrants almost everywhere."
Rising hate crimes
Racist violence is rising in Greece, targeting migrant labourers in neighbourhoods in Piraeus, a port city near Athens.
Between December 25 and January 5, the anti-racist activist group Keerfa recorded attacks on the homes of more than 30 migrant labourers, mostly Pakistanis, in Renti and Nikaia, two neighbourhoods in Piraeus.
While 48 hate crimes motivated by race, skin colour or national origin took place in Greece in 2016, 47 incidents were recorded during the first six months of last year alone, according to police statistics provided to Al Jazeera.
Although Golden Dawn has a long history of attacks on immigrants and political opponents, it has scaled back its violence in recent years.
That decline has coincided with the Golden Dawn's ongoing trial, which saw 69 of its members arrested and charged with running a criminal organisation after one of the party's members murdered anti-fascist rapper Pavlos Fyssas in September 2013.
Most of those threatened by Crypteia are witnesses in the Golden Dawn trial, Stamou said.
"This is a hate crime," she said.
The Muslim Association of Greece has had pigs' heads thrown at its office entrance in recent years and been mailed threatening letters.
"We will chop you up like chickens," one of the notes read.
"This is their routine," Stamou said. "We are not surprised."
http://www.aljazeera.com/news/2018/01/greek-neo-nazi-group-threatens-muslim-association-180119103914680.html
--------
Germany stops arms sales to Saudi Arabia
Jan 20, 2018
Germany has stopped selling weapons to Saudi Arabia and almost all of its allies waging war on Yemen, in a decision likely to have both an impact on the Riyadh regime and a domino effect on other Western and non-Western countries exporting arms to Saudi Arabia.
German government spokesman Steffen Seibert said on Friday that the Federal Security Council was no longer issuing export licenses that "are not in accordance with the conclusion of the exploratory talks," Germany's official DPA news agency reported.
The official was referring to ongoing negotiations among the German political factions of the Christian Democratic Union, the Christian Social Union, and Social Democrats on the formation of a new coalition government.
A draft paper on arms exports that came out of those talks said "the federal government, with immediate effect, will no longer export arms to countries as long as they are involved in the Yemeni war."
Around 13,600 people have died since Saudi Arabia started leading a number of its vassal states in an invasion of Yemen in March 2015.
The war, which enlists the participation among others of the United Arab Emirates, Jordan, Egypt, Bahrain, Kuwait, Morocco, Sudan, and Senegal, has been reinforced by weapon supplies and logistical support from the United States and the United Kingdom.
Washington signed a $110-billion arms deal with Riyadh last year.
By stopping its own arms sales to Saudi Arabia, European heavyweight Germany may become a model for other Western and non-Western powers already under pressure to end their arms sales to the Riyadh regime. Rights groups have long called for an arms embargo on Saudi Arabia over potential war crimes in Yemen.
A United Nations panel recently compiled a detailed report of civilian casualties caused by the Saudi military and its allies during the war, saying the Riyadh-led coalition has used precision-guided munitions in its raids on civilian targets.
"The attacks were carried out by precision-guided munitions, so it is likely these were the intended targets," the panel's report said, according to Al Jazeera.
Saudi Arabia and the UAE were among the top recipients of German-made weaponry in 2016.
The DPA report said, "The German public is traditionally wary of arms deals and [Chancellor Angela] Merkel has been pressured to end sales to countries with precarious human rights records."
Full report at:
http://www.presstv.com/Detail/2018/01/20/549523/Germany-arms-sales-Saudi-Arabia-Emirates-Yemen-war
--------
Russian FM slams US efforts to create 'alternative authority' in Syria
Jan 20, 2018
Russian Foreign Minister Sergei Lavrov has lashed out at the US for undermining the territorial integrity of Syria through efforts to form "alternative bodies of authority" across the Middle Eastern country.
"The US [is] trying to form... alternative bodies of authority on vast... parts of the Syrian territory," Lavrov said in a Friday news conference at the UN headquarters in New York.
"That is a fact and that does contradict their own obligations... to the territorial integrity and sovereignty of Syria," he added.
On Wednesday, US Secretary of State Rex Tillerson said US troops would stay in Syria for the foreseeable future, adding that the US would not fund the reconstruction of any part of Syria, where President Bashar al-Assad is in power.
Tillerson elaborated on a US plan to push for a faster political transition in the country by discouraging economic relationships between Damascus and any other country.
Syria strongly condemned the US plan to maintain its military presence in the country as interference in its internal affairs and a blatant violation of international law.
According to figures the Pentagon released in December, there are at least 2,000 US troops in Syria as well as a diplomatic presence in cities such as Kobani.
'US confrontational strategy'
Lavrov also rejected US allegations that China and Russia were undermining efforts to enhance the international security, describing the strategy as "confrontational."
"It is regrettable that instead of having a normal dialogue, instead of using the basis of international law, the US is indeed striving to prove their leadership through such confrontational strategies and concepts," Lavrov said.
He made the remarks in reaction to the latest US national defense strategy released by Defense Secretary Jim Mattis on Friday which shifted focus from the country's so-called campaign against terror to "competition" with great powers.
Mattis claimed that Russia and China seek to "create a world consistent with their authoritarian models."
The Russian foreign minister described the strategy as the Pentagon's campaign for "additional financial resources."
Lavrov expressed Russia's preparedness "for dialogue" over military doctrines and expressed confidence that many US military officials understand the need for "strategic stability" which involves cooperation between Moscow and Washington.
Criticism of Russophobic intrigues
Elsewhere in his remarks, Lavrov urged Trump to counter "Russophobic" intrigues against the US president, in an attempt to improve relations between Washington and Moscow.
He argued that any improvement in Moscow-Washington relations is contingent upon "the preparedness and capability of Mr. Trump to counter the domestic intrigues which are directed first and foremost against him."
"Such intrigues are playing the Russophobic card," Lavrov said.
The senior Russian diplomat expressed confidence that Americans will eventually get tired of the anti-Russia rhetoric and recognize the fact that mending bilateral ties will be in their own interest.
"We see that all problems are blamed on Russia, and this domestic political life is using the Russophobic card for bad purposes," Lavrov said.
"But I am positive that the time of those who use such practices will pass," he added.
Since early 2017, American intelligence agencies have claimed that Russia interfered in the 2016 election to try to help Trump defeat Democratic nominee Hillary Clinton. They alleged at the time that Moscow's interference included a campaign of hacking and releasing embarrassing emails, and disseminating propaganda via social media to discredit Clinton's campaign.
Trump, for his part, has long denied any collusion between his campaign and Russian operatives during the White House race, which led to Clinton's loss.
Full report at:
http://www.presstv.com/Detail/2018/01/20/549505/Russia-US-Syria
--------
Luton Islamic school complains over critical Ofsted report
19 January 2018
Governors at an Islamic school have lodged a complaint over a highly critical report.
Ofsted found pupils at the independent Olive Tree Primary School in Luton had to ask for toilet paper and wash their cutlery in toilet sinks.
Chair of governors Dr Nurul Islam said a number of issues had been "rectified" and a formal complaint lodged over the report's findings.
Ofsted said it would investigate and took all complaints "seriously".
Inspectors found a number of standards were not met, reporting that "inappropriate books" that "did not promote British values" had been found during a previous inspection.
Despite school leaders stating the titles had been removed, the books, including some by a banned author with "extreme views about punishment by death", were still on the shelves when inspectors re-visited the establishment in November.
'Religious principles'
The report also raised concerns about health and safety standards in the school, for which Luton Borough Council has safeguarding responsibilities.
An Ofsted spokeswoman said it did not comment on individual complaints but all schools were inspected "against the same framework and standards".
"We do not expect faith schools to abandon their religious principles.
"We do, however, expect them to ensure pupils are adequately prepared for life in modern Britain."
Labour councillor Mahmood Hussain said the council had a "high level of concern" over the quality of education and health and safety practices at the school, which it had shared with the Department for Education and Ofsted over "an extended period of time".
"If [a good a quality education] cannot be achieved at Olive Tree then we would want to see the DfE as regulator for independent schools to take robust action," he said.
Full report at:
http://www.bbc.com/news/uk-england-beds-bucks-herts-42733563
--------
URL: https://www.newageislam.com/islamic-world-news/video-rajasthan-man-hacking-burning/d/114005
New Age Islam, Islam Online, Islamic Website, African Muslim News, Arab World News, South Asia News, Indian Muslim News, World Muslim News, Women in Islam, Islamic Feminism, Arab Women, Women In Arab, Islamophobia in America, Muslim Women in West, Islam Women and Feminism