New Age Islam News Bureau
25 Nov 2018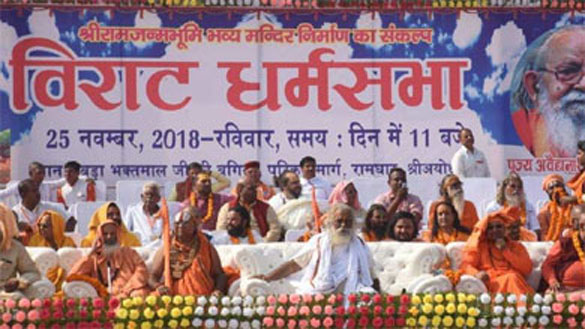 Vishwa Hindu Parishad's 'Dharma Sabha' is being touted as the largest congregation of 'Ram bhakts' in Ayodhya since the 1992 'kar seva'
-----
• VHP Says Namaz on Grabbed Land Not Acceptable, Tells Muslims to Handover Land For Ram Temple
• Eerie Calm Grips Muslim Areas in Ayodhya, Many Move Out
• Hefazat Leader Kashemi Terms EC Directive on Waz Mahfil Anti-Islam, Anti-Constitution
• Clashes Follow Detention of Ultra-Right Pakistani Tehreek-e-Labbaik Cleric
• Brazil Conference Highlights Islamic Tolerance, Coexistence
• UK Army Chief: Russia Poses Bigger Threat than Terror Groups
India
• VHP Says Namaz on Grabbed Land Not Acceptable, Tells Muslims To Handover Land For Ram Temple
• Eerie Calm Grips Muslim Areas in Ayodhya, Many Move Out
• Dharma Sabha: Ayodhya Turns into Fortress, Muslim Areas Sealed
• Amid rising encounters in Kashmir, jihadists resort to Islamic State-like tactics to instil 'fear', command deference
• Six militants, soldier killed in Shopian encounter
• Terror attack from Pak still a threat, but Mumbai Police better equipped: Top cop
• Ensure safety of Muslims during VHP meet: Babri Masjid Action Committee convener
• Kartarpur corridor: Pakistan invites Sushma Swaraj, she names two ministers instead
• 26/11 Mumbai terror attacks: Father remembers Major Sandeep Unnikrishnan
--------
South Asia
• Hefazat Leader Kashemi Terms EC Directive on Waz Mahfil Anti-Islam, Anti-Constitution
• Kabul's Ulema Council Chief Shot Dead by Unknown Gunmen
• ISIS-K spokesman killed in Afghan Special Forces operation in Nangarhar
• 48 militants killed, wounded in Pamir operations in Kunduz: 209 Shaheen Corps
• Hasina film versus Khaleda book in poll-bound Bangladesh
--------
Pakistan
• Clashes Follow Detention of Ultra-Right Pakistani Tehreek-e-Labbaik Cleric
• Pakistan's Checked Fundraising By Hafiz Saeed's Outfit With Media Ban
• 'Enemies Out Against Islam' Says Dr Tahirul Qadri
• Brothers of man involved in consulate attack held in Quetta
• Bajwa hails SSG role in anti-terror efforts
• KP governor sees foreign hand in Orakzai, Karachi terror attacks
• 'Lone' Labbaik struggles following Rizvi, others' arrest
• Islamic State claims credit for Orakzai bombing
• Pakistan to attend UN conference on Afghan peace
--------
North America
• Brazil Conference Highlights Islamic Tolerance, Coexistence
• Trump Administration To Brief Congress On Saudi Arabia
• Second US Navy SEAL charged in alleged Iraq war crime cover-up
• US warns of credible terrorist threat against American installations in DR Congo
• Russia says US views Daesh as ally to push regime change in Syria
--------
Europe
• UK Army Chief: Russia Poses Bigger Threat than Terror Groups
• British Businessman Jailed For Making Millions Smuggling Jet Parts To Iran
--------
Southeast Asia
• When It Comes To ICERD, Neighbours Malaysia, Myanmar, Brunei Of Same Mind
• Indonesia's New Party Draws Fire for 'Islamophobic' Comments
• Ashamed to be a Malay Muslim Malaysian
• Anwar: Colour-blind policy needed
• Umno to join PAS in celebratory Dec 8 rally
• 'Bin Abdullah' ruling shelved as Putrajaya seeks time to explore options
--------
Arab World
• Saudi Arabia's Prince Turki Al-Faisal Says CIA Cannot Be Trusted on Khashoggi Conclusion
• Daesh Attacks Kills 47 US-Backed Fighters In East Syria: Monitor
• More Notorious Terrorist Commanders Gunned Down in Northern Syria
• Raqqa: People Protest Against US Deployment, Call for SDF Expulsion
• S. Arabia, UAE Threatening Trump over Khashoggi's Case
• Iraqi Sources: US Plots to Keep Al-Baghdadi in Power
• Turkish Army Trying to Link Idlib to Aleppo's Afrin Region
• US Prepares to Attack Hashd Al-Shaabi Bases in Iraq
• US-Backed SDF Retreat after Defeat in Battle against ISIL in Deir Ezzur
• Shelling exchange kills nine in Syria's Idlib, injures dozens in Aleppo city
• Airstrikes by US-led coalition take lives of 20 more civilians in Syria
--------
Mideast
• Al-Quds Will Remain Integral Part Of Palestine: Hezbollah Deputy Chief
• Iran Urges Muslims To Unite Against US, Including Saudi 'Brothers'
• Lavrov: Russia ready to mediate between Palestinians and Israel
• Yemeni army liberates Yemen's al-Dhaher district in Saada
• US promoting human rights based on arms deals: Iran
• EU blasts new Israeli demolition campaign in East al-Quds
• 5 Emirati troopers killed in attack on UAE base in Yemen's Abyan: Report
• Gaza ministry: 14 Palestinian protesters wounded by Israeli gunfire
• Erdogan's AKP gets local election boost from nationalists
--------
Africa
• Nine Dead in Suspected ISIS Attack in Libya
• Nigeria's military acknowledges major attack by extremists
• Nigeria admits Boko Haram attack on army base
Compiled by New Age Islam News Bureau
URL: https://www.newageislam.com/islamic-world-news/vhp-says-namaz-grabbed-land/d/116976
--------
VHP Says Namaz on Grabbed Land Not Acceptable, Tells Muslims to Handover Land For Ram Temple
By Umesh Raghuvanshi and Pawan Dixit | Nov 25, 2018
Security tightened in Ayodhya
Vishwa Hindu Parishad's 'Dharma Sabha' is being touted as the largest congregation of 'Ram bhakts' in Ayodhya since the 1992 'kar seva', with the Hindu outfit claiming a large number of people will attend it.
The congregation is happening less than two weeks ahead of the 26th anniversary of the demolition of the 16th century Babri Mosque that had triggered unrest in this pilgrim town and riots in other parts of India.
Here are the updates:
14:51 PM IST
VHP tells Muslims to handover land for Ram temple
VHP in the Dharma Sabha tells Muslims to handover land for Ram temple before BJP's move for ordinance or else they will include demand for Kashi, Mathura and other temples.
14:47 PM IST
VHP's Dharma Sabha resolves
Vishwa Hindu Parishad's Dharma Sabha resolves for construction of Ram temple. The organisation has not come up with any deadline and there is no demand for an ordinance.
Vishwa Hindu Parishad's Dharma Sabha resolves for construction of Ram temple (HT Photo)
14:09 PM IST
People from intelligence agencies have been deployed: ADG (law and order)
We received alert by the Intelligence Bureau (IB) a few days back, it was a non-specific alert. Action is being take. People from intelligence agencies under state government and centre have been deployed there and are monitoring the situation, says ADG (law and order) on input by IB of an attack in Ayodhya.
14:02 PM IST
Hindus want Ayodhya, Kashi and Mathura: RSS
Krishna Gopal of RSS says Hindus want Ayodhya, Kashi and Mathura. We will follow whatever decision is taken at this Dharma Sabha.
13:59 PM IST
Drone cameras being used to assess crowd: ADG (law and order)
ADG (law and order) says heavy deployment of CAPF(Central Armed Police Forces), PAC(Provincial Armed Constabulary), ATS(Anti-Terrorism Squad) has been done.Drone cameras being used to assess crowd. 13 parking spots have been designated, 2000 buses from various places have come to Ayodhya.
13:47 PM IST
Ayodhya has been divided into red and yellow zones: Police
Ayodhya has been divided into zones and security scheme has been implemented, says police.
13:14 PM IST
Traffic jam at Lucknow- Gorakhpur highway
Traffic jam at Toll plazas located on Lucknow- Gorakhpur highway.
Traffic jam at Toll plazas located on Lucknow- Gorakhpur highway. (HT Photo)
13:06 PM IST
Negligible presence of police
There is almost negligible presence of cops. Only RAF personnel are regulating traffic movement on the Faizabad- Ayodhya highway.
13:04 PM IST
People from Barabanki district have come to attend rally
People from as far as Barabanki district have also come to attend the rally. Slogans like 'Baccha Baccha Ram Ka, Janmabhoomi ka kaam ka', 'Bharat Mata ki Jai' and 'Jai Sri Ram' are being raised by people arriving for the rally.
13:02 PM IST
Around 2 lakh people have already reached rally venue
There is constant movement of people from adjoining areas to the VHP's Dharma Sabha at Bade Bhakt Mahal in Ayodhya. Around 2 lakh people have already reached the rally venue. People are still coming on bikes, pick-up vans, school buses, trucks and cars.
Around 2 lakh people have already reached the rally venue. (HT Photo)
12:22 PM IST
Ram Lalla is in lock up: VHP
Ram Lalla is in lock up and we have to take him out to a magnificent temple. Ramanujacharya fire of 1992 has not died down, says VHP.
12:10 PM IST
Ayodhya is a pilgrimage of the Hindus: VHP
Ayodhya is a pilgrimage of the Hindus, so only a temple should be constructed here. There is no name of Babri masjid in India. Some will try to mislead the Hindus, says Rai.
12:05 PM IST
Namaz on grabbed land not acceptable: VHP
Namaz on grabbed land not acceptable. This land was taken by force. No one should test our patience, says Champat Rai.
12:02 PM IST
We do not want division of land: VHP
We do not want division of land. We want the entire land. Government of India should fulfil its commitment, says Champat Rai.
11:58 AM IST
Fight for Ram temple is continuing for 490 years: VHP
Some intellectuals think Ram temple issue is over with demotion of Babri masjid, says VHP vice president Champat Rai. The fight for Ram temple is continuing for 490 years.
11:55 AM IST
Drone cameras deployed at the venue
Drone cameras deployed for security at the venue.
11:52 AM IST
Virat Dharma Sabha begins
Virat Dharma Sabha begins with chanting of Vedic hymns.
11:51 AM IST
High security at the Vishwa Hindu Parishad venue
High security at the Vishwa Hindu Parishad venue for Virat Dharma Sabha.
11:43 AM IST
Had Balasaheb been alive, he would have prevented Uddhav: UP Deputy CM
There is no problem in Uddhav Thackeray catching a glimpse of Ram Lalla... But, had Balasaheb Thackeray been alive, he would have prevented Uddhav from doing whatever he is doing, Uttar Pradesh deputy chief minister Keshav Prasad Maurya told news agency PTI.
11:18 AM IST
Ram temple will definitely be built: Uddhav
This government needs to understand that if the Ram temple is not built, they might not come back to power. But the temple will definitely be built, says Thackeray.
11:08 AM IST
Don't play with the sentiments of the Hindus: Uddhav
If the matter is under legal jurisdiction, then the party should not use it as a poll plank.I have come here to say this only that don't play with the sentiments of the Hindus, says Uddhav.
11:00 AM IST
Temple should be constructed at the earliest: Uddhav
Shiv Sena chief Uddhav Thackeray says temple should be constructed at the earliest.
10:53 AM IST
I have no hidden agenda in coming to Ayodhya: Uddhav Thackeray
Saints who blessed me yesterday,I had told them that the work which we are about to begin can't be done without their blessings.I have no hidden agenda in coming to Ayodhya.I have come to express sentiments of all Indians and Hindus across the world.All are waiting for Ram Temple, says Thackeray.
10:50 AM IST
Tight security near Hanuman Gadi Temple
Tight security near Hanuman Gadi Temple and Ram Janm Bhoomi in Ayodhya.
Tight security near Hanuman Gadi Temple and Ram Janmbhoomi in Ayodhya (HT Photo)
10:00 AM IST
Police recovers a weapon from a Bajrang Dal activist
Police recovers a weapon from a Bajrang Dal activist near Ram Janmbhoomi.
09:55 AM IST
VHP workers leaving for Ayodhya from Gorakhpur
Vishwa Hindu Parishad workers are leaving for Ayodhya from Gorakhpur.
Vishwa Hindu Parishad workers are leaving for Ayodhya from Gorakhpur. (HT Photo)
09:51 AM IST
Thackeray returns to the hotel after visiting the Ram Mandir
Shiv Sena chief Uddhav Thackeray visits Ram Mandir, set to address media shortly.
09:47 AM IST
Hindu Yuva Vahini volunteers going to Ayodhya
Volunteers of Hindu Yuva Vahini (raised by Yogi Adityanath in 2002) going to Ayodhya from neighbouring Basti district.
Volunteers of Hindu Yuva Vahini are going to Ayodhya from neighbouring Basti district. (HT Photo)
09:44 AM IST
Arrangements made for parking
Police ensures that arrangement is in place and everything would be done in an organised way.
22 people are talking about this
Twitter Ads info and privacy
09:35 AM IST
Alert on Indo-Nepal border
Alert on India-Nepal border in Bahraich and Siddharthnagar district as large number of people from Nepal are also going to Ayodhya to participate in the VHP Dharma Sabha.
09:13 AM IST
Slogans changing to Raja Ram Chandra ki Jai
Slogans changing to Raja Ram Chandra ki Jai, Har Har Mahadev and Jai Sri Ram. Security allowing entry only in small numbers.
09:09 AM IST
Blowing conch shells and raising Jai Ram slogans
Blowing conch shells and raising Jai Ram slogans, the people including devotees and VHP workers are reaching the entry point to the make shift temple.
09:06 AM IST
Long queue for 'darshan' at make shift temple
People are coming in large numbers for 'darshan' at the make shift temple.
09:04 AM IST
Sena workers reaching
Shiv Sena workers are reaching Ram janmbhoomi at a makeshift temple in large numbers before arrival of Udhav Thackeray.
8:48 AM IST
VHP volunteers started reaching Ayodhya from last night
Buses carrying Vishwa Hindu Parishad volunteers started reaching Ayodhya on Saturday night.
8:37 AM IST
Police diverting all vehicles
Police stopping and diverting all vehicles, even media vehicles are not being allowed. Those in Ayodhya are also finding it difficult to come to other side.
08:11 AM IST
Security tightened in Ayodhya
Security has been tightened in Ayodhya ahead of the separate events of Shiv Sena and VHP being organised in the city today over the matter of Ram Temple.
Security has been tightened in Ayodhya ahead of the separate events of Shiv Sena and VHP being organised in the city today over the matter of #RamTemple.
Source: https://www.hindustantimes.com/india-news/ayodhya-ram-mandir-live-update-security-tightened-in-ayodhya/story-UEzsfUEhhhJJdYl6Vu4rvK.html
------
Eerie calm grips Muslim areas in Ayodhya, many move out
Nov 25, 2018
Rajesh Kumar Singh
A sense of uneasiness shrouds Muslim-dominated areas of Ayodhya and adjoining districts ahead of Sunday's Vishwa Hindu Parishad (VHP) Dharm Sabha, despite the presence of large police teams.
The large-scale mobilisation of VHP volunteers has jogged memories of the communal violence that erupted in 1992 when the Babri Masjid was razed, said Iqbal Ansari, a party to the Ram Janmabhoomi-Babri Masjid title suit in the Supreme Court.
So much so that several Muslim families settled in Alambagh Katra locality of the temple town have shifted their women and children to safer places, he said.
One way to instil confidence among minorities would be deploy central paramilitary forces, he added.
The VHP is organising foot marches and motorcycle rallies that will pass through Muslim settlements in Ayodhya and adjoining districts.
"Provocative slogans being raised by these volunteers might instigate members of the other community to react," said Ansari.
Highways and roads leading to Ayodhya, apart from neighbouring Gonda, Barabanki, Basti, Sultanpur, Ambedkar Nagar and Rae Bareli districts, have a large proportion of Muslims.
ADG (law and order) Anand Kumar told HT superintendents of police of all districts have been directed to deploy extra forces in communally sensitive areas as well as areas dominated by the minority community. Police have also been told to monitor VHP rallies in urban and rural areas, he said, adding that strict action will be taken against those who violate the law.
VHP Awadh unit leader Hari Agarwal said volunteers have been directed to take out rallies peacefully and not raise slogans while passing through minority-dominated areas.
Gauri Prasad, a resident of Wazeerganj locality in Ayodhya, said though police contingents had been deployed, people were anxious as violence had erupted during earlier such gatherings. People have stocked up on food supplies and other essentials, he said.
Mahant Dharamdas, a party from the Hindu side in the title dispute case, said rumours were flying fast and furious as hordes of Shiv Sena and VHP workers were arriving in the temple town. An uneasy calm was prevailing, he said.
Asked what measures had been taken to counter rumours, ADG Kumar said the state police had raised a team of digital volunteers to monitor social media. Police officers have been asked to hold press briefings and the district administration told to make regular announcements on public address system to calm sentiments, he said.
A district police officer said adequate forces have been deployed to maintain law and order but the main challenge would be when the crowds start returning to their respective districts.
Police have been directed to streamline movement of people after the rally, he said.
P D Gupta, the Ayodhya ADM, said section 144 of the Criminal Procedure Code has been imposed restricting assembly of more than four people. People will be permitted to have darshan in batches. Security personnel have been directed to frisk visitors, he said.
Ayodhya ASP Sanjay Kumar said policemen have been directed to remain vigilant in bordering areas of the district as majority of the participants will be moving towards Ayodhya by road.
https://www.hindustantimes.com/india-news/eerie-calm-grips-muslim-areas-in-ayodhya-many-move-out/story-j5sUOtDccFsy5t3smfBPNJ.html
--------
Hefazat leader Kashemi terms EC directive on waz mahfil anti-Islam, anti-constitution
Nov 25,2018
The Jamiat Ulama-E-Islam Bangladesh secretary general Nur Hossain Kashemi, also Hefazat-e-Islam nayeb-e-amir, on Saturday alleged that the Election Commission's direction of not holding waz mahfils before the upcoming elections was anti-Islam and anti-constitution.
Kashemi made the allegation through a statement, signed by Jamiat Ulama-E-Islam Bangladesh publicity secretary Jainul Abedin.
In the statement, Kashemi alleged that the EC had been working following the government's order and it was proved through the EC's directives about holding waz mahfils.
He said that the EC was trying to develop an anti-Islam mindset among people and religious scholars would not obey the EC's directives.
Kashemi said that the EC's directive was a part of the government's multiple steps against Islam and the Muslims.
Mentioning such directive before elections unprecedented, he said that the EC was trying to make the government stay in power through violating the civil rights and stopping discussion in favour of justice.
He alleged that the EC had given such directive as they thought that discussion on justice and ideals of Islam in waz mahfils might go against the government.
On November 19, the EC gave instructions to the returning officers across the country not to allow any waz mahfil before the upcoming general elections, rescheduled to be held on December 30.
http://www.newagebd.net/article/57015/hefazat-leader-kashemi-terms-ec-directive-on-waz-mahfil-anti-islam-anti-constitution
--------
Clashes Follow Detention of Ultra-Right Pakistani Tehreek-e-Labbaik Cleric
Nov 24, 2018
LAHORE: Pakistan on Saturday detained scores of protesters in a continuing crackdown against followers of a hardline Islamic cleric who led three days of protests over blasphemy laws and whose arrest overnight triggered violent clashes with police.
Members of cleric Khadim Hussain Rizvi's Tehreek-e-Labbaik (TLP) party had shut down major cities in protest earlier this month at the acquittal of a Christian woman who had spent eight years on death row on blasphemy charges.
At least five people were wounded in last night's clashes between Rizvi's supporters and police in the eastern city of Lahore after police arrested the cleric on Friday night.
A spokesman for the Punjab chief minister's office said Rizvi's second-in-command, Afzal Qadri, had also been detained.
"Afzal Qadri and Khadim Rizvi have been sent to jail. Qadri has been admitted to the jail's hospital. A crackdown is underway across Punjab against TLP activists," Shahbaz Gill told Reuters.
Information Minister Fawwad Chaudhry said on Twitter that Rizvi had been placed in protective custody after he refused to withdraw a call for further protests on Sunday.
"It's to safeguard public life, property and order," he said.
Rizvi had urged his supporters to take to the streets if he was arrested. Late on Friday his son said he had been taken away in a raid on his religious school, or madrassa, in Lahore.
A police document seen by Reuters listed 10 other leaders of Rizvi's group who had also been detained.
TLP leaders had threatened the Supreme Court judges who acquitted Asia Bibi - urging their cooks and servants to kill them.
But the group called off protests following negotiations with the government and an agreement to open a review of the court's decision on Bibi.
It is unclear whether Rizvi will appear before a court to face charges. Pakistan has detained Islamist leaders in the past but failed to keep them in custody.
Bibi and her family are in hiding after her release. She was convicted in 2010 for allegedly making derogatory remarks about Islam after neighbours objected to her drinking water from their glass because she was not Muslim. She has always denied committing blasphemy.
In 2011, a bodyguard assassinated Punjab provincial governor Salman Taseer after he began pushing for Bibi's acquittal. The TLP was founded out of a movement that supported the assassin, Mumtaz Qadri.
https://timesofindia.indiatimes.com/world/pakistan/clashes-follow-detention-of-ultra-right-pakistani-cleric/articleshow/66783683.cms
--------
Brazil Conference Highlights Islamic Tolerance, Coexistence
November 25, 2018
Participants at the 31st session of the International Conference of Latin American and Caribbean Muslims called for rejecting extremism and terrorism and upholding universal Islamic principles in order to preserve the spirit of Islamic tradition and correct misconceptions.
The conference, organized by the Islamic Dawah Center in Latin America and the Caribbean in cooperation with the Saudi Ministry of Islamic Affairs, Call and Guidance, was held in Sao Paulo, Brazil, under the theme: "Teaching Arabic in Latin American and Caribbean countries." It was attended by some 400 scholars and religious figures from 50 countries.
The Saudi deputy minister of Islamic affairs, call and guidance delivered a speech by Minister Dr. Sheikh Abdullatif bin Abdul Aziz bin Abdulrahman Al-Sheikh underscoring that the Kingdom's participation in the conference reflects its support for initiatives that serve Arab and Islamic communities and contribute to human coexistence and community building.
Al-Sheikh stressed the Kingdom's resolve to help spread correct Islamic knowledge and combat extremism and terrorism through various forums, including colleges, universities, foundations, centers and intellectual associations at home and abroad.
He also highlighted Riyadh's steadfast political and economic support for Palestine in global forums, both directly and through international organizations.
Al-Sheikh thanked Brazil's government for hosting the conference. He praised the country as a role model for tolerance, coexistence and openness to receiving immigrants, including from Arab communities, and granting them the opportunity to prosper.
Ahmed ben Ali Saifi, head of the Islamic Dawah Center in Latin America and the Caribbean, lauded Saudi efforts to serve Islam and Muslims, and support Muslim minorities worldwide.
The conference is an expression of the Kingdom's support for preserving Islamic values and identity worldwide, he said.
Ibrahim Al-Zaban, Palestinian ambassador to Brazil, underscored the conference's importance in helping the Muslim community preserve its cohesion by strengthening and maintaining the use of the Arabic language.
Brazilian government officials said the conference sheds light on Islam as a religion of tolerance, compassion and peace.
Mahmoud Al-Habbash, adviser to the Palestinian president, called for the preservation of Arab and Islamic values and identity, saying the conference's recommendations should be implemented so as to help spread awareness of the importance of the Arabic language.
Dr. Mohammed Al-Bashari, secretary-general of the World Council of Muslim Communities, highlighted Saudi efforts to support Muslim communities worldwide.
He urged countries to stand by Saudi Arabia against regional threats in order to maintain peace and security in the Middle East.
The head of the Sunni religious court in the Lebanese city of Tripoli, Judge Samir Kamal, said understanding the Arabic language "helps Muslims to comprehend religious texts, allowing them to worship God properly."
http://www.arabnews.com/node/1410561/saudi-arabia
--------
UK army chief: Russia poses bigger threat than terror groups
Nov 24, 2018
LONDON: Russia "indisputably" now poses a bigger threat to Britain's security than terrorist groups like Islamic State (IS) and Al-Qaeda, the head of the British army said in an interview published Saturday.
General Mark Carleton-Smith warned Moscow had shown a willingness to use its military to pursue its national interests while seeking to "exploit Western vulnerabilities".
"Russia today indisputably represents a far greater threat to our national security than Islamic extremist threats such as Al-Qaeda and (IS)," he told The Daily Telegraph.
"Russia has embarked on a systematic effort to explore and exploit Western vulnerabilities, particularly in some of the non-traditional areas of cyber, space, undersea warfare."
Relations between Russia and Britain have sunk to historic lows this year. London has blamed the country's military intelligence service for orchestrating the poisoning with a nerve agent of ex-Russian spy Sergei Skripal and his daughter Yulia in the English city of Salisbury in March.
The incident prompted a wave of tit-for-tat diplomatic expulsions between Moscow and the West, as well as a ratcheting up of US sanctions.
Carleton-Smith said following IS battlefield losses in Syria and Iraq, the Western alliance must switch focus to the threat posed by Russia- and do so through NATO.
"The physical manifestation of the Islamist threat has diminished with the complete destruction of the geography of the socalled Caliphate," he said.
"We cannot be complacent about the threat Russia poses or leave it uncontested.
"The most important conventional military response to Russia is the continued capabilities and coherence of the NATO alliance." The former special forces commander was speaking in his first interview since becoming Britain's chief of the general staff in June.
He made the comments after visiting British troops deployed in Estonia as part of a NATO battle group intended to deter aggression from neighbouring Russia.
Carleton-Smith also took the opportunity to downplay the need for a separate European army, as recently encouraged by French President Emmanuel Macron.
"I would not support any initiative that diluted the military effectiveness of NATO," he said.
"NATO represents the fundamental gravity of European security.
"It has been an extraordinarily successful alliance and, in my experience, we should reinforce success."
https://timesofindia.indiatimes.com/world/uk/uk-army-chief-russia-poses-bigger-threat-than-terror-groups/articleshow/66785077.cms
--------
India
Dharma Sabha: Ayodhya turns into fortress, Muslim areas sealed
Nov 25, 2018
AYODHYA: In the wake of the Dharma Sabha, Muslim localities in Ayodhya were turned into a fortress for the VHP function on Sunday where prominent Hindu seers were likely to spell out their stand and strategy for construction of a grand Ram temple.
The massive rally is expected to begin at at 11 a.m. Section 144 has already been clamped and according to Times OF India, localities such as Ram Kot, Tehri Bazaar, Sutahti, Qaziyana, Dorahi Kuan and Sayyadbaara were cordoned off since early Saturday.
Earlier minorities living in Ayodhya urged the Government to ensure their security.
To avert any untoward incident, all roads leading to the residence of Muslims litigants in Ramjanmabhoomi-Babri Masjid dispute Iqbal Ansari, Haji Mahboob, and local cleric Haji Sayyad Ekhlaq were sealed.
Faizabad divisional commissioner Manoj Mishra said, "The security arrangements have been done to instil security among Muslim residents, some of whom were feeling scared. There is no threat of any violence. These measures will continue till the end of VHP's Dharm Sabha."
There are 48 companies of the provincial armed constabulary (PAC) and 15 companies of para-military forces deployed on all major roads and intersections.
VDO.AI
Barriers have been put up on busy thoroughfares to ensure that crowd control is easy in case of any untoward incident.
Close circuit cameras have been installed at more than 150 places in the twon along with drone-mounted ones hovering over the streets to keep an eagle eye on the surging crowds.
This major event will be the largest congregation after the demolition of Babri Masjid in 1992. The purpose of this meeting is to review the plans of construction of Ram Temple.
On Saturday, 17,680 people visited Ram Lalla, a number which on Friday was 49,112.
https://www.siasat.com/news/dharma-sabha-ayodhya-turns-fortress-muslim-areas-sealed-1437181/
--------
Amid rising encounters in Kashmir, jihadists resort to Islamic State-like tactics to instil 'fear', command deference
Rayan Naqash
Nov 24, 2018
A bright-pink blanket was wrapped over Huzaif Kutay's head, binding it to the neck from which it had almost been severed by his killer's knife. His executioners had recorded the last moment of the teenager's life in their cellphones, in a style the world was introduced to by the Islamic State: masked men standing over the teenage boy, announcing judgement in God's name for being an army informer.
He had begged for forgiveness. "They said they would give me Rs 10,000 (for every militant). I thought it will help me waive off some of my loan," Kutay told his interrogators.
"This time we are leaving his head so that it serves as a lesson," a killer announced in the video.
"Next time, whoever is caught, their head will be thrown in the river," he added.
Few of the thousands of people who live in the village of Mazngam in south Kashmir's Kulgam district, came to his funeral. Their absence helps understand why jihadists have turned to this pornography of violence, and why it is succeeding.
More than 200 militants have been killed in the Kashmir Valley this year — thirty-six between 20 October and 17 November, the day Kutay was murdered. The jihadists simply can't sustain that level of attrition, nor launch enough operations to deter the offensive. Thus, terrorising the civilians into breaking ranks with security forces has become a key strategy, and social media has become a platform for their project.
"There is an increasing pressure on the militants," a senior police officer in Srinagar said. "Their area has been squeezed and their logistic networks challenged. Besides, recruitment has also been brought under control," the officer informs.
Lacking strong links to their organisations' headquarters in Pakistan-occupied Kashmir, and compelled to raise both finances and weapons locally, fear has become a key weapon for the new generation of jihadists who began to emerge in 2014. Like narcotic gangs in other countries, many jihadists now operate in and around their native villages, and are dependent on terror to both deter informers, and ensure the deference of the established village élite.
In April this year, a father-son duo were again kidnapped. While the father managed to escape. The next month, 38 year old Mohammad Yaqoob Wagay's throat was slit in front of his family, including his seven-year-old son.
Hajin is the stronghold of the Pakistan-based jihadist outfit, Lashkar-e-Taiba (LeT). However, the LeT, denied its involvement.
In August, a woman was shot dead at point-blank range in Pulwama district's Drubgam village — the native village as well as the site of the gunfight in April which claimed the life of Hizb-ul-Mujahideen commander Sameer Bhat, also known by the alias 'Tiger'.
A WhatsApp group run from a Pakistani number, identifying itself with the Hizbul Mujahideen, circulated a message shortly after her death, charged her with having betrayed the Hizb-ul-Mujahideen commander.
"This lady Shameema Akhtar had contacts with all the police officers and army officials. She had blood of our brothers on her hands," the message read.
Killings like these have been a part of Kashmir's grim landscape for over two decades: executions, often involving beheading and mutilation, have occurred with depressing regularity. The difference now is that they are being advertised. In the past, killings of civilians were attributed to mysterious "unidentified gunmen", but now, jihadists do not shy away from taking responsibility.
In a widely-circulated recording of a phone conversation between Riyaz Naikoo, the Hizb-ul-Mujahideen 's chief in Kashmir, and the outfit's Shopian head, the latter agrees with Naikoo's instruction to "throw acid in their (informers) eyes and cut their legs so they become handicapped and a burden on their families".
Though the killings have attracted condemnation from figures like former Chief Minister Omar Abdullah, in jihadists' funerals across Kashmir, slogans attacking collaborators have become enmeshed with slogans like "Mukhbiran byoul, khodayen goel (may god obliterate informers)".
Political leaders in south Kashmir say that the killings, in fact, enjoy a degree of social sanction. However, other activists claim that the killings are intended to put down stirrings of rebellion against militancy.
Full report at:
https://www.firstpost.com/india/amid-rising-encounters-in-kashmir-jihadists-resort-to-islamic-state-like-tactics-to-instil-fear-ensure-deference-from-locals-5609491.html
--------
Six militants, soldier killed in Shopian encounter
Nov 25, 2018
SRINAGAR: Six militants and a soldier were Sunday killed in an encounter between ultras and security forces in district of south Kashmir, Srinagarbased defence spokesman Col Rajesh Kalia said.
He said a soldier also lost his life in the operation.
Col Kalia said the identity and group affiliation of the slain militants is being ascertained.
He said weapons and war-like stores have been recovered from the encounter site.
Security forces launched a cordon and search operation in the area around midnight following specific information about the presence of militants there.
Full report at:
https://timesofindia.indiatimes.com/india/jk-four-terrorists-killed-in-kulgam-encounter/articleshow/66791767.cms
--------
Terror attack from Pak still a threat, but Mumbai Police better equipped: Top cop
Nov 25, 2018
MUMBAI: More than the Islamic State (IS), it is the threat of terror attacks from Pakistan that Mumbai needs to be prepared for, the city's police commissioner Subodh Jaiswal told TOI.
Stating that Pakistan was still "desperate to attack" a decade after Ajmal Kasab and nine other Lashkar-e-Taiba-trained terrorists entered the city and killed 166 people at various spots, Jaiswal, who earlier held key positions in India's intelligence agencies, said that in the past decade, the Mumbai police had taken significant steps in improving systems, processes, training, weaponry and above all, their response to be able to tackle any situation. Co-ordination with other security agencies and sharing of intelligence too is far better today, he said in response to a question about the official 26/11 review report which had highlighted shortcomings in the security apparatus.
It will be 10 years on Monday since Ajmal Kasab and 9 other Pakistani terrorists attacked Mumbai. After 26/11, questions were raised about Mumbai police's capability of handling such terror strikes. The government set up a committee comprising exhume secretary Ram Pradhan and ex-special secretary, cabinet secretariat, V Balachandran, to review matters, and it brought to light shortcomings.
While failure to follow a standard operating procedure and shortage of modern weapons and manpower were among things remarked on, equally highlighted was lack of coordination among agencies involved in intelligence-sharing and handling law and order. On the eve of the attacks' 10th anniversary, Mumbai police commissioner Subodh Jaiswal, an IPS officer of the 1985 batch, told TOI in an exclusive interview that the force is fully prepared to take on any attack and ensure the safety and security of Mumbai's citizens. Excerpts.
The Ram Pradhan committee had said handling 26/11 was beyond the capacity of Mumbai police. It spoke of lack of coordination and sharing of intelligence among stakeholders and of lapses in handling the situation. Where do we stand now?
We have the State Multi Agency Centres mechanism. It is for sharing and processing intelligence with all stakeholders. Inputs on threats received are shared, thus preventing attacks. Over 10 years, intelligence-sharing has resulted in prevention of all terror attacks except two – at Gurdaspur and Pathankot. Attacking the Indian hinterland with the use of Lashkar-e-Taiba and Jaish-e-Muhammad is a given for the Pakistan establishment. At the moment, they are desperate to carry out an attack. In 10 years we have upgraded our systems and are prepared to tackle any situation. Our SOPs are much better, our Quick Reaction Teams (QRTs) are better-trained, we carry out location familiarisation exercises, multiple scenarios are discussed, the chain of command is thought through and situational awareness is high. I put a lot of emphasis on the capacity to respond. Like they say, you have to be lucky a 100 times, the terrorist has to be lucky only once.
After 26/11, it was said the way 5-6 alerts were analysed failed to provide leads. Do we have the ability to process alerts and draw better conclusions?
All alerts are received by the police commissioner through SMAC and other establishments, including state intelligence department and ATS. There is a mechanism to share intelligence. A meeting is held every month. Every alert is thought through, discussed threadbare. Inter-agency and inter-service coordination is spot on. With CISF taking care of port security now, there is an additional set-up providing inputs. Several threats have been neutralised based on information gathered.
Is there improvement in police-people relations, a key factor contributing to better policing?
People are much more aware. The environment has changed. They sense what is happening, call up the control room or on dedicated numbers and provide information, which has helped us. Our Twitter handles work as force multipliers. We also have support from the Koli community and Sagar Suraksha Kavach initiative for vigil along the coast.
Lack of manpower has been a concern for the force. And shortage of bullet-proof jackets and ammunition for training has come in for criticism.
We have an adequate number of bullet-proof jackets, ammunition and firing ranges for practice. In fact, we are in the process of preparing a new firing range. Compared to 2008, we have adequate manpower. We have acquired 5,000 state-of-the-art weapons and 20 boats which are operational. Our response to any call to the control room is in less than 5 minutes. QRTs are alert. There is frequent checking of QRT and the control room's response. We have QRTs in six regional control rooms. We are aware what kind of attacks are possible. It would be a fallacy to think that since 26/11, there have been no improvements in weaponry, training, response. Training is very important. We've institutionalised the system of carrying out a tactical exercise at the level of DCPs and officers reporting to them. Every police station also has anti-terror cells.
Is the SOP in practice now?
We have drafted a comprehensive SOP, which is implanted in letter and spirit, so there is no confusion. SOPs, once in place, should not be disturbed.
Are you satisfied with suburban rail security, one of the most vulnerable areas? What about coordination with railway cops?
We have close coordination with RPF and GRP. They have a decently-equipped control room. The problem is the way railway infrastructure is spread out, there are many leakages. It is difficult for any system even with baggage scanners and metal detectors to capture everything. But there is a lot of effort on to make it safer.
Two key agencies, Force I and NSG, are far away from South Mumbai. In an emergency, traffic jams would hinder movement.
Any plans to have dedicated helicopters?
We are asking for two hovercrafts for movement of troops from north to south in the city. At the same time, we have enough latitude for movement in any situation. Our aim is to identify, localize and neutralise.
The Islamic State is sending money and receiving funds through crypto-currency. How serious is the IS threat?
We have around 30-35 cases. I am more bothered about the attack from Pakistan.
Coastal security has been an issue of concern. What is the current role of stakeholders including Coast Guard, marine police, Customs and Navy?
All coastal police stations are fully operational and prepared to take on any eventuality. We are in charge of 5km of the sea. We have 20 fully operational boats and carry out regular meetings with all stakeholders. There is no reason to worry.
The committee had stressed the need for a CCTV network for the city. What is the status?
Our cameras work effectively. We have about 5,000 in operation and are getting more. We also get feeds from a lot of cameras on private premises, on railway land. There is a central command and control room and 5 regional control centres where footage is constantly analysed. We also provide feeds to some police stations.
On public perception about the force…
Full report at:
https://timesofindia.indiatimes.com/india/terror-attack-from-pak-still-a-threat-but-mumbai-police-better-equipped-top-cop/articleshow/66790683.cms
--------
Ensure safety of Muslims during VHP meet: Babri Masjid Action Committee convener
November 25, 2018
BABRI Masjid Action Committee convener has written a letter to the state Chief Secretary, the Director General of Police and the Home Department fearing tensions arising from the VHP and Shiv Sena programmes in Ayodhya on Sunday and the day after. He also demanded that central security forces, including RAF, CRPF, BSF, be deployed in the area so that any kind trouble can be avoided.
"The political leadership of the state government may collude with the demonstrators. It is up to the state government officials to ensure that status quo is maintained at the disputed Babri Masjid site," said Zafaryab Jilani, the convener of Babri Masjid Action Committee, in a letter addressed to state Chief Secretary, Anoop Chandra Pandey. A copy of the four-page letter citing the Allahabad High Court and the Supreme Court rulings has also been sent to the principal secretary, Home, Arvind Kumar and DGP OP Singh Friday.
"The order of the Supreme Court clearly indicates that any kind of violation of its order may result in contempt proceedings against the officers. They will also be held responsible if for their negligence or collusion any effort is made to change the status quo of any portion of the entire acquired area of the disputed site in Ayodhya," stated the letter.
"There is no doubt that the event is being organised for political motive. This is being done keeping in mind the ongoing assembly elections in five states and also to prepare ground for the 2019 Lok Sabha polls," said Jilani, adding that he demanded that central security forces be deployed in Ayodhya.
"The Muslims in the area are extremely disturbed and feeling quite unsafe apprehending serious threat to their life and property on the occasion. I am confident that the officers of the state government will take adequate security measures and ensure safety of the residents in Ayodhya, especially Muslims," said Jilani.
Full report at:
https://indianexpress.com/article/cities/lucknow/ensure-safety-of-muslims-during-meet-babri-masjid-action-committee-convener-5463207/
--------
Kartarpur corridor: Pakistan invites Sushma Swaraj, she names two ministers instead
November 25, 2018
A day after Prime Minister Narendra Modi invoked the fall of the Berlin Wall to underline the potentially transformative nature of developing the Kartarpur corridor between the two countries, Pakistan Foreign Minister Shah Mahmood Qureshi on Saturday extended an invitation to External Affairs Minister Sushma Swaraj to attend the groundbreaking ceremony at Kartarpur on November 28, which will be attended by Pakistan Prime Minister Imran Khan.
Swaraj, however, responded by saying that she would not be able to attend the ceremony since she had "prior commitments" at the election campaign in Telangana. However, she nominated her Cabinet colleagues, Harsimrat Kaur Badal and Hardeep Singh Puri, to attend the ceremony as the Indian government's representatives.
"We hope that the Government of Pakistan will expedite construction of the corridor in order to ensure that our citizens can pay their respects at the Gurudwara Kartarpur Sahib using the corridor as soon as possible," she said, in her reponse. This is the second time Pakistan has reached out to India since a new government led by Imran Khan came to power in August. In September, within 24 hours of accepting Pakistan's invitation for a meeting of foreign ministers on the sidelines of the United Nations General Assembly in New York, India had declined the offer, citing the "killing of Indian security forces" and the "glorification" of terrorists.
Qureshi tweeted on Saturday evening, "On behalf of Pakistan, I have extended an invitation to External Affairs Minister Sushma Swaraj @SushmaSwaraj, Capt Amarinder Singh @capt_amarinder & Navjot Singh Sidhu @sherryontopp to attend the groundbreaking ceremony at #Kartarpura on 28 Nov, 2018. #PakistanKartarpuraSpirit".
In response, Swaraj tweeted late on Saturday, "I thank HE Makhdoom Shah Mahmood Qureshi Foreign Minister of Pakistan for inviting me to attend the groundbreaking ceremony of the Kartarpur Sahib corridor on the Pakistan side of the International boundary on 28 November 2018… Since I am unable to travel to Kartarpur Sahib on the scheduled date, Government of India will be represented by my esteemed colleagues Mrs.Harsimrat Kaur Badal and Mr.H.S.Puri."
On Friday, a day after Pakistan and India announced they would develop a pilgrim corridor on both sides of the border to help pilgrims from India access Gurdwara Darbar Sahib in Kartarpur, Modi had said, "Kisne socha that ki Berlin ki deewar gir sakti hai. Shayad Guru Nanak Devji ke aashirwad se Kartarpur ka corridor sirf corridor nahi, jan-jan ko jodne ka bahut bada kaaran ban sakta hai (Who thought the Berlin Wall would fall. Maybe with the blessings of Guru Nanak Devji, Kartarpur corridor will not only be a corridor but can be a reason to bring people together)." Modi was speaking at a function to mark the birth anniversary of Guru Nanak Dev at the New Delhi home of Union Minister Harsimrat Kaur.
Former Prime Minister Manmohan Singh on Saturday welcomed the building of the Kartarpur corridor, that's proposed to link India's border district of Gurdaspur with the historic Gurdwara Darbar Sahib in Kartarpur on the Pakistani side. Asked about Prime Minister Narendra Modi's comments that the corridor would act as a bridge between the people of the two countries, Singh cautioned that there were many hurdles to cross before it could be achieved.
"There are many hurdles and one should not underestimate those hurdles. But any beginning is a good beginning, I hope it is successful," he told reporters on the sidelines of a conference titled 'Towards Peace, Harmony and Happiness: Transition to Transformation', organised by the Pranab Mukherjee Foundation. Singh, however, did not specify what he thought the hurdles were. On Friday, Pakistan had said that the decision to open the Kartarpur Sahib corridor could be "a step forward in the right direction from conflict to cooperation, animosity to peace and enmity to friendship".
Full report at:
https://indianexpress.com/article/india/kartarpur-corridor-sushma-swaraj-pakistan-narendra-modi-guru-nanak-jayanti-5463152/
--------
26/11 Mumbai terror attacks: Father remembers Major Sandeep Unnikrishnan
Nov 25, 2018
Pictures of 26/11 martyr Major Sandeep Unnikrishnan are everywhere in his two-storey house tucked in a quiet locality here.
The gallery in the two-storey house of the National Security Guard Commando is full of memories and a collection of personal articles stare from the shelves and whisper stories of valour into ears of visitors.
The constant presence of these articles is painful, but also joyful and inspiring for any visitor.
They narrate the winning-attitude, valour and charitable nature of Sandeep, who lost his life while battling the Pakistani Lashkar-e-Taiba terrorists during the 26/11 attack on Mumbai in 2008. Sandeep always had a winning attitude and liked Sachin Tendulkar for the same reason, his father Unnikrishnan said.
Also Read: 'They called me Kasab ki beti': 9-year-old shot during 26/11 Mumbai attacks recounts horror
"My son always had this attitude of winning in everything that he did. He liked Sachin Tendulkar for this reason.
"Sandeep always wanted our country to win. When India lost a match, he used to be very disappointed.He also used to console me whenever an ISRO project failed. He did not like defeat," the retired ISRO officer told PTI in an interview here.
Talking about Sandeep's charitable nature, Unnikrishnan said, "I did not know about it.Only after he had gone I realised it. Going through his bank balance, I only found Rs 3,000 to Rs 4,000, though he was drawing a decent salary".
"I thought he could not save much because he could have been buying costly branded products. But his colleagues talked about his charity.One of his colleagues told me that he had borne all health expenses of his mother, who was suffering from a spine problem," he said.
Also Read: 26/11 attacks anniversary: Lessons shrouded in lethargic strategic culture
"Also, Sandeep was regularly donating money to a number of charitable institutions.I realised this when I started receiving reminders on renewal of donations after his departure," he added.
Sandeep was a nationalist too.
"He always supported nationalism.For him nationalism meant that you do something good for the country, not extract benefits from it. Somebody should decide whether you are a nationalist, not that you go around calling yourself a nationalist. He always opposed these people," Unnikrishnan said.
The last message of the braveheart to his personnel while carrying out the operation was, "Don't come up, I will handle them." These words have left a deep impression on his troop commandos.
"Sandeep used to say he did not want to see a mother weeping over his colleague's body and preferred his mother to bear the loss," said Unnikrishnan, as he recollected the sterling qualities of his braveheart son.
Full report at:
https://www.hindustantimes.com/india-news/26-11-mumbai-terror-attacks-father-remembers-major-sandeep-unnikrishnan/story-QcuX9orK6KnXBak88n1ZMM.html
--------
South Asia
Kabul's Ulema Council Chief shot dead by unknown gunmen
Nov 24 2018
The Chief of Ulema Council of Kabul Mawlavi Abdul Basir Haqqani has been shot dead by unknown gunmen, security officials and Ulema Council sources have said.
The incident has reportedly taken place in the vicinity of the 7th police district of Kabul city.
No individual or group has so far claimed responsibility behind the attack.
The attack on Ulema Council Chief of Kabul was carried out days after a deadly attack targeted a gathering of religious scholars in Kabul city.
A suicide bomber detonated his explosives among the religious scholars in a hotel late on Tuesday evening, leaving more than 50 people dead.
Similarly, a suicide bomber detonated his explosives among the participants of Friday prayer in a unit of the Afghan army in southeastern Khost province of Afghanistan.
According to reports, at least twenty six people lost their lives in the attack in army mosque on Friday.
https://www.khaama.com/kabuls-ulema-council-chief-shot-dead-by-unknown-gunmen-02804/
--------
ISIS-K spokesman killed in Afghan Special Forces operation in Nangarhar
Nov 25 2018
The spokesman of the Islamic State of Iraq and Syria Khurasan (ISIS-K) was killed during the operations of the Afghan Special Forces in eastern Nangarhar province of Afghanistan.
The 201st Silab Corps of the Afghan Military in the East in a statement said the ISIS-K spokesman Sharafat Shafaq was killed in Deh Bala district last week.
The statement further added that Shafaq was also the head of media wing of the terror group who was also spreading propaganda in favor of ISIS-K group, mainly aimed at recruiting militants for the terror group from the other parts of the country.
The ISIS Khurasan loyalists have not commented regarding the killing of the group's spokesman so far.
Nangarhar has been among the relatively calm provinces in East of Afghanistan but the security situation in some of its remote districts has deteriorated during the recent years.
Full report at:
https://www.khaama.com/isis-k-spokesman-killed-in-afghan-special-forces-operation-in-nangarhar-02807/
--------
48 militants killed, wounded in Pamir operations in Kunduz: 209 Shaheen Corps
Nov 24 2018
The Afghan Military in the North claims that 48 militants have been killed or wounded during the latest operations conducted as part of Pamir operations in Kunduz province.
The 209th Shaheen Corps in a statement said the Afghan Commandos and 0905 unit of the Afghan intelligence conducted operations in Dasht Archi district which have resulted in killing of at least 41 militants so far.
The statement further added at least seven militants were also wounded during the same operations.
According to 209th Shaheen Corps, Pamir operations were launched four days ago in Dasht district and are still being conducted to suppress the militant groups.
The anti-government armed militant groups including Taliban have not commented regarding the operations so far.
Kunduz is among the relatively volatile provinces in North of Afghanistan but the security situation of has deteriorated more during the recent years.
Full report at:
https://www.khaama.com/48-militants-killed-wounded-in-pamir-operations-in-kunduz-209-shaheen-corps-02806/
--------
Hasina film versus Khaleda book in poll-bound Bangladesh
24 November 2018
Ahead of general elections in Bangladesh, arch rivals Sheikh Hasina and Khaleda Zia are wooing the electorate in the predominantly Muslim south Asian nation with a film and a book respectively.
The slickly produced documentary, Hasina - A Daughter's Tale, and the hardbound volume Begum Khaleda Zia: Her Life, Her Story, have become a hot topic of discussion in the politically charged atmosphere before 160 million Bangladeshis exercise their franchise on December 30.
The warring Begums, Hasina and Zia, are grandmothers in their seventies but their rivalry bordering on enmity is the stuff of legends. By all accounts, they are not even on talking terms!
While Prime Minister Hasina heads the Awami League which has ruled Bangladesh for two terms and is eying a third, Zia, the undisputed leader of the opposition Bangladesh Nationalist Party has been premier twice but is currently in jail on what her party believes are trumped up charges.
Opposition front
The New Delhi-backed Awami League had a head start in the electoral race but last month BNP stitched together a coalition of opposition parties called the National Unity Front which has thrown the competition wide open and become a headache for Hasina.
Hasina's biggest plus point is that she is the daughter of Sheikh Mujibur Rahman – Bangladesh's charismatic founder – and PM since 2009. But she is accused of being increasingly authoritarian and an Indian stooge. Championing the Rohingya cause has improved her ratings but a question mark still hangs over her future.
Zia's 720-page political biography was launched in Dhaka on 18 November soon after the election date was announced. Its author, journalist Mahfuz Ullah, calls Zia a "lighthouse" for Bangladeshis and chronicles her rise from a military dictator's wife used to the luxuries of a cantonment to a twice- elected PM – including the first woman to head Bangladesh.
Published by Universal Academy, it's priced at Tk 2000. Mahfuz Ullah said that the original title of the book was Begum Khaleda Zia: Her Life, Her Struggle but replaced 'struggle' with 'story' at Zia's son, Tareque Rahman's insistence. Rahman is Zia's heir apparent and second in command in the BNP which he runs from London where he lives since his conviction in Bangladesh.
Haunting scenes
The voluminous book was released two days after the premiere of the Hasina film on 16 November. Urging cine buffs to watch it, Rejaur Rahman Khan Piplu, director of the 90-minute long documentary, says that scenes from the film will haunt viewers long after they have left the auditorium.
Hasina and her younger sister Rehana had a miraculous escape when Mujibur Rahman and his family were gunned down in a palace coup in 1975. Hasina lived in exile in India for many years before she returned to Bangladesh to reclaim her legacy and capture power through the ballot.
Piplu calls his docu-drama a "riveting story against a tragic backdrop which infuses universal appeal to the narrative". The music has been scored by Calcutta-based composer Debojyoti Mishra whose family migrated to India from East Pakistan which subsequently became modern day Bangladesh in 1971.
Full report at:
https://english.alarabiya.net/en/features/2018/11/24/Hasina-film-versus-Khaleda-book-in-poll-bound-Bangladesh-.html
--------
Pakistan
Pakistan's checked fundraising by Hafiz Saeed's outfit with media ban
Nov 24, 2018
ISLAMABAD: The purpose of a ban on media coverage of Mumbai attacks mastermind Hafiz Saeed's charity organisation was to curb its fundraising activities, Pakistan's foreign affairs ministry informed the Islamabad high court. The ban targeted Falah-iInsaniat Foundation (FIF), a charity wing of Jamatud Dawa (JuD), headed by Saeed.
Earlier this year, the previous government of Pakistan Muslim League-Nawaz (PML-N) had banned JuD through a presidential ordinance and issued directions for banning the media coverage of FIF. The FIF, however, had filed a petition against the move in the Islamabad HC.
A day earlier, the foreign affairs ministry had submitted a written reply against the petition in the court, stating, "Placing a ban on any kind of media coverage is intended to prevent the generation of funds and donations through media advertisement and coverage of these organisations which is a violation of the asset freeze requirement under UNSC 1267 sanctions."
Justice Aamer Farooq of the Islamabad HC had reserved his decision on the petition after hearing the counsel for the ministry, Pakistan Electronic Media Regulatory Authority (Pemra), Ministry of Information and Broadcasting and the petitioner.
"Implementation of the decision of UN Security Council (UNSC) taken under Article 41 of the United Nations Charter is an international obligation from which there is no exception," the foreign ministry said in its reply, adding that restriction, in this case, has been imposed in pursuant to the implementation of sanctions of the 1267 Sanction Regime of the UNSC.
According to the reply, the UNSC imposed sanctions on FIF because of its association with Lashkar-e-Taiba (LeT), the parent organization of JuD and FIF responsible for a number of terrorist activities in India.
In its written reply, the electronic media regulator stated that on Jan 18, 2018, the information ministry made a written request for a ban on FIF's media coverage. The Pemra then issued directions to the electronic media accordingly.
FIF's counsels Raja Rizwan Abbasi and Sohail Warraich requested the court to direct Pemra and the information ministry to lift the media ban on FIF.
Deputy Attorney General Raja Khalid Mehmood Khan reportedly pointed out that the government had frozen FIF's assets rendering it unable to pay for advertisements to run a media campaign. He requested the court to avoid lifting the ban as it would send out a negative signal to the international community.
https://timesofindia.indiatimes.com/world/pakistan/pakistans-checked-fundraising-by-hafiz-saeeds-outfit-with-media-ban/articleshow/66789270.cms
--------
'Enemies Out Against Islam' Says Dr Tahirul Qadri
November 25, 2018
LAHORE - Terrorist activities in various Islamic countries have the backing of the anti-Islam forces who want to malign the divine religion and prove that it is "not a living religion", says Dr Tahirul Qadri, a prominent religious leader who founded the Pakistan Awami Tehrik.
In a TV interview, he said the enemies of Islam want to confine Islam to mosques, just like Christianity was restricted to churches as a result of a campaign launched some 200 years ago. That campaign, he recalled, made many European countries God-less societies, totally secular in character.
Author of a large number of books on a variety of subjects, Dr Qadri was of the opinion that the campaign against Islam would have been launched long ago but the brains behind it delayed it to first 'deal with communism'.
And now that Communism has been effectively wiped out, the anti-Islam forces have targeted the divine religion, said the PAT founder.
Answering a question, he said in fact the very elements who pose to be opposed to terrorism are its real supporters. He said to malign Islam, such religious leaders are encouraged to represent Islam in the media whose own character was hateful and drove people further away from religion.
Replying to a question, Dr Qadri said 100 days was too short a period to assess the performance of the PTI government. However, he was hopeful that Prime Minister Imran Khan would honour his commitments to the nation.
Answering another question, he believed that the families who had lost their nears and dears in the 2014 police firing in Model Town would get justice as a result of the new JIT to be constituted on the Supreme Court orders.
He claimed that four families who had lost their relatives in the tragedy had been silenced by the police because of which they did not mention the names of such people in the FIR.
Full report at:
https://nation.com.pk/25-Nov-2018/-enemies-out-against-islam
--------
Brothers of man involved in consulate attack held in Quetta
Saleem Shahid
November 25, 2018
QUETTA: Law enforcement agencies arrested two brothers of Abdul Razzaq Baloch, who had been killed with two other militants of the banned Balochistan Liberation Army (BLA) during Friday's attack on the Chinese consulate in Karachi, in Kharan on Saturday.
The investigation agencies found that one of the slain militants — Razzaq Baloch — belonged to Kharan. Sources said that law enforcement agencies conducted raids in different areas of Kharan on Saturday and took two of his bothers — Mohammad Aslam and Khosti — in custody. They were handed over to the authorities for interrogation.
Meanwhile, Balochistan Home Minister Mir Saleem Ahmad Khosa said that the name of Razzaq Baloch had been put on the missing persons' list over the past two years. He said that a large number of people mentioned in the list had gone aboard for terrorism training.
The minister said that BLA commander Aslam alias Acho had been injured in a gun battle with security forces last year, but he managed to escape and later went to India where he was provided medical treatment.
He said that many BLA commanders had been killed in that operation conducted by security forces. The minister said that India was directly involved in the worsening situation in Baloch­istan.
Full report at:
https://www.dawn.com/news/1447529/brothers-of-man-involved-in-consulate-attack-held-in-quetta
--------
Bajwa hails SSG role in anti-terror efforts
November 25, 2018
TARBELA: Chief of the Army Staff Gen Qamar Javed Bajwa on Saturday showered praise on the Special Service Group (SSG) of the Pakistan Army, calling it the best special force of the world.
The army chief said the SSG had proved this through professional performance and great sacrifices rendered with sweat and blood.
This he said at the SSG headquarters that he visited on Saturday in connection with the installation ceremony of the group's colonel commandant.
Earlier upon arrival, the COAS laid a wreath at the Martyrs Monument, according to a press release issued by Inter-Services Public Relations.
Maj Gen Abid Rafiq was installed as the first colonel commandant of the SSG.
Talking to the guests including serving and retired officers and men of the SSG, Gen Bajwa hailed their unmatched contributions, especially during counterterrorism operations.
Full report at:
https://www.dawn.com/news/1447528/bajwa-hails-ssg-role-in-anti-terror-efforts
--------
KP governor sees foreign hand in Orakzai, Karachi terror attacks
Ali Akbar
November 24, 2018
Khyber Pakhtunkhwa Governor Shah Farman said on Saturday that the terror attacks in Karachi and Orakzai tribal district yesterday "are part of the same conspiracy" and that "foreign elements are involved who want to destabilise the China-Pak Economic Corridor (CPEC) project".
The governor along with Corps Commander Lt Gen Shaheen Mazhar and Inspector General Frontier Corps Maj Gen Rahat Naseem Ahmed visited the site of the blast in lower Orakzai district which claimed 34 lives.
The explosion, which according to officials was a suicide bombing, took place near an imambargah on Friday morning.
While talking to reporters, Governor Farman said stern action would be taken against the culprits behind the attack.
Lt Gen Mazhar confirmed that the blast was a suicide attack and that 12 kilogrammes of explosives had been used.
The lower Orakzai area, formerly an agency, is situated near the Hangu district, and the explosion took place in main Kalaya bazaar of the district.
Prime Minister Imran Khan had "strongly condemned" the terrorist attack in Orakzai as well as the one foiled on the Chinese Consulate in Karachi.
He labelled the twin attacks "a planned campaign to create unrest in the country by those who do not want Pakistan to prosper".
Full report at:
https://www.dawn.com/news/1447408/kp-governor-sees-foreign-hand-in-orakzai-karachi-terror-attacks
--------
'Lone' Labbaik struggles following Rizvi, others' arrest
Nov 25, 2018
LAHORE: Following the detainment of firebrand cleric and Tehreek-e-Labbaik Pakistan (TLP) chief Khadim Hussain Rizvi as well as other party members, none of the religious parties of the country has shown any solidarity with Labbaik, Pakistan Today learnt Saturday.
According to sources, TLP workers were trying to contact different religious parties while seeking their support and trying to organise a joint protest against the arrests of their leaders, but none of the parties had yet stepped forward.
"It is another U-turn of the government as earlier it had made certain promises to TLP," Jamaate Islami Lahore chief Ameerul Azeem said while speaking to Pakistan Today.
"Labbaik should have reconciled with all other religious parties and brought them on the same page. We are ready for any consultations that TLP needs but no one has contacted us so far."
Allama Raghib Naeemi of Jamia Naeemia, on the other hand, said that they would accept any action taken by the government to maintain law and order in the country. "The state should take all necessary measures to curb extremism," he said.
The spokesperson of Tehreek-e-Labbaik Islam (TLI) founder Dr Ashraf Asif Jalali, Jameel Baig, told Pakistan Today that they had directed party workers to remain calm and refrain from any agitation.
"So far, the party leadership has not passed on any directions," Jameel said.
Amid the religious parties' disinterest in the affairs of TLP, a similar voice resonated in different quarters of the general public.
EXPERTS:
"Whoever violates the law should be brought to justice. Many leaders have been arrested in the 70-year long history of the country whereas TLP has no apparent agenda and challenged the writ of state only to incite people," writer and analyst Farrukh Suhail Goindi said while speaking to Pakistan Today.
The arrests, he added, were "long overdue".
A lawyer, Azhar Siddique, said that arrests were made according to Maintenance of Public Order (MPOs) in the past, but a notice should have been sent to the leaders who were being held.
"If the arrests were made in cases the TLP leaders are facing, it would add fire to the situation. All damage caused to public and private properties was on their call but these people have not yet been convicted."
"We should not lead the matters towards chaos, rather, laws should be formulated according to which such sensitive cases can be dealt with," he added.
"They [Khadim Rizvi and others] have been arrested as per Section 3 of MPOs under which anyone can be detained for 30 days, but for future, we need legislation to neutralise situations before they reach such a high," Azhar commented.
Senior analyst Rasool Bux Raees said that the state is not left with many options when someone is determined to block the roads and has a history of challenging its writ.
"If he would have been allowed to do it all over again for the third time, eyebrows would have been raised over the credibility of the state," he said, adding that there is a provision in the constitution regarding taking anyone into custody to ensure public safety and maintain peace.
He is in protective custody and not exactly arrested; however, if the cases registered against him are opened, Rizvi would have to face those and seek bail, Raees said.
LAW MINISTER:
Meanwhile, Punjab Minister for Law and Parliamentary Affairs Raja Basharat said the government had requested them [TLP] to hold their protest at a place where it does not disrupt the routine life of the citizens but they did not listen.
Full report at:
https://www.pakistantoday.com.pk/2018/11/24/lone-labbaik-struggles-following-rizvi-others-arrest/
--------
Islamic State claims credit for Orakzai bombing
Nov 25, 2018
Islamic State on Saturday claimed responsibility for a suicide bomb attack a day earlier in northwestern Pakistan, the group's Amaq news agency said.
It said the bomber had targeted Shi'ite Muslims in a market in Orakzai and put the death toll at 57.
The IS claim came a day after at least 33 people, including three belonging to the minority Sikh community, were killed and dozens injured when a bomb hidden in a carton of vegetables ripped through a crowded marketplace.
The explosion, which according to some reports was a suicide bombing, took place near an imambargah in the morning. The injured had been shifted to the KDA Teaching Hospital in Kohat.
"According to our initial investigation, it was an improvised explosive device (IED) hidden in a carton of vegetables," senior local official Khalid Iqbal had told AFP. He, however, did not confirm whether it was remotely triggered.
Shahbaz Ali, a resident who was buying fruit in the market, said he had seen a boy with his face covered ride up on a motorcycle. "Suddenly a blast took place and then I was unconscious," he added.
The weekly bazaar is quite popular and people from nearby villages come here to buy fruits and vegetables at comparatively cheaper prices.
Survivors told media persons that the powerful explosion shook the entire bazaar and the bang was heard within a radius of several kilometres. According to Bomb Disposal Squad, the IED weighed around 20 kilos.
Full report at:
https://www.pakistantoday.com.pk/2018/11/24/islamic-state-claims-credit-for-orakzai-attack/
--------
Pakistan to attend UN conference on Afghan peace
Tahir Khan
NOVEMBER 25, 2018
Pakistan will participate in a key international conference on Afghan peace and development being held in Geneva on Nov 27-28, officials said on Saturday. Foreign Secretary Tehmina Janjua will lead a high-level Pakistani delegation at the event.
According to the UN office in Kabul, the goal of the conference is to express solidarity with the Afghan people and the government in their efforts for peace and prosperity and for the Afghan government to renew its commitment to development and reform. "This is a crucial moment for the Afghan government and the international community to demonstrate progress and commitment, and maintain the momentum for elections and opportunities for peace," the United Nations Assistance Mission in Afghanistan (UNAMA) said.
The conference will also be an opportunity to emphasise the importance of the development and reform agenda and the need to advance it as a constructive contribution to peace and security, the UNAMA said on its website. The conference will also be crucial in measuring results against the $15.2 billion committed by the international community for Afghanistan in 2016.
The Geneva conference on Afghanistan will be held between two pledging conferences: the Brussels Conference on Afghanistan (2016) and the next pledging conference expected to be held in 2020.
"Pakistan attends every process and conference which helps in peace, security and development in Afghanistan," an official told Daily Times. A Pakistani delegate will also speak during a side event on 'people on the move' focussing on the refugees. Pakistan still hosts nearly 2.4 million Afghans, now divided into three categories: registered with proof of registration cards; those documented recently and have Afghan Citizenship Cards; and the undocumented.
Full report at:
https://dailytimes.com.pk/325824/pakistan-to-attend-un-conference-on-afghan-peace/
--------
North America
Trump administration to brief Congress on Saudi Arabia
Nov 24, 2018
US President Donald Trump's administration is expected to brief Senators on Saudi Arabia that could determine whether Congress goes forward with sanctions.
Defense Secretary James Mattis and Secretary of State Mike Pompeo will likely conduct an "all-senators briefing" regarding the longtime US ally, two congressional sources said as quoted by The Hill website on Friday.
The briefing which is scheduled for after Thanksgiving could create harmony in conflicting views about passing sanctions or blocking a major arms deal with Saudi Arabia following the Jamal Khashoggi murder.
Trump doubts the possibility that Saudi Crown Prince Mohammed bin Salman had any involvement in the assassination of the dissident journalist.
Despite evidence provided by Turkey, Trump has turned a blind eye about the role played by Saudi Arabia's MbS in the brutal murder of Khashoggi.
Senators are divided about punishment of the Saudi leadership over the murder of Khashoggi. "That will be really important ... I'm not sure adding sanctions will happen but the Saudi situation is not over," The Hill quoted a Republican Senate aide as saying.
The president warned on Tuesday that oil prices could go "through the roof" if Washington-Riyadh relations deteriorated over the Khashoggi killing.
On Wednesday, Trump thanked Saudi Arabia for bringing the price of oil, the kingdom's main commodity, down to $54 a barrel.
Trump has continuously stressed that maintaining strong relations with the Saudis is beneficial to the US.
GOP aides said Trump's pro-Saudi stance raised strong reactions from Democrats and several key Republicans, rekindling impetus for punishments. "That statement yesterday only made matters worse in some ways for the administration," a Senate GOP aide was quooted by The Hill as saying.
https://www.presstv.com/Detail/2018/11/24/581021/Trump-Administration-Senators-Saudi-Arabia-Pompeo-Mattis
--------
Second US Navy SEAL charged in alleged Iraq war crime cover-up
Nov 25, 2018
A Second US Navy SEAL – a platoon commander – has faced charges of failing to act when notified of atrocities carried out by another SEAL during a 2017 deployment in Iraq, including stabbing an injured teenage ISIL militant, and gunning down a little girl and an elderly man.
Evidence was presented in a San Diego military courtroom last Tuesday to determine whether Lt. Jacob Xavier Portier will be tried on seven charges under the Uniform Code of Military Justice, including conduct unbecoming to an officer and a gentleman and dereliction of duty, San Diego Union-Tribune reported Friday.
According to the report, US military prosecutors allege that Portier was made aware about the atrocities committed by Special Operations Chief Edward Gallagher, who stands accused of stabbing to death a wounded 15-year-old Daesh (ISIL) militant in the northern Iraqi city of Mosul. In the hours after the killing, Portier conducted a reenlistment ceremony for Gallagher next to the teenager's corpse.
Portier then, according to the prosecution, ordered his platoon to take a group photo next to the killed prisoner of war. Prosecutors further emphasized that although Portier was not present during the killing, he was informed of it by other SEAL service members.
Marine Capt. Conor McMahon argued the government's case before Navy Cmdr. Phil Hamon, who presided over the hearing at Naval Base San Diego, the report added.
"This case is about a Navy lieutenant who didn't possess the moral courage to do the right thing," said McMahon, in his closing comments. "Lt. Portier didn't take out a hunting knife and stab a prisoner in the neck. He didn't get behind a sniper rifle and shoot at a little girl trying to escape from ISIS and he didn't shoot an old man taking water jugs to the river. But he knew about it -- and he did nothing."
Military prosecutors further allege that other, unnamed members of the platoon came to Portier throughout the deployment with concerns about Gallagher's criminal actions in the field, including shooting at least two non-combatant civilians.
Even after the platoon returned to San Diego, some of its members continued to lobby Portier to hold Gallagher accountable for his actions, prosecutors underlined.
"It got so bad that by February or March 2018, (the two SEALs) were so frustrated that they went to Lt. Portier and told him if an investigation wasn't launched, they were going directly to NCIS, the Commodore or Fox News," McMahon said.
He added, "This is not a case about any minor misconduct by the enlisted sailors in the platoon or any perceived guilt by association. This is about Chief Gallagher killing civilians indiscriminately and the chain of command that did nothing about it."
Prosecutors also allege Portier made false statements when questioned about Gallagher's actions by his commanders.
The defense, however, argued that Portier reported Gallagher as soon as the lieutenant found out about the incidents.
Full report at:
https://www.presstv.com/Detail/2018/11/25/581035/US-Navy-SEAL-platoon-commander-Lt-Jacob-Xavier-Portier-war-crime-Iraq-deployment-Mosul-ISIL-militant
--------
US warns of credible terrorist threat against American installations in DR Congo
Nov 25, 2018
The US Embassy in the Democratic Republic of Congo has claimed to have received "credible and specific" information about a potential terrorist threat against American installations in the capital of the Central African country.
The security alert issued Saturday by the American Embassy in Kinshasa, however, did not elaborate on the details, calling on US citizens in the impoverished country to keep a low profile, US-based CBS News reported.
The embassy further urged Americans living throughout DR Congo to "maintain a heightened level of vigilance and practice good situational awareness."
The report also cited the US State Department as stating that security in parts of the African nation "remains unstable due to the activities of rebel and other armed groups and ongoing military operations."
The security alert was issued just a day after Congo's two leading opposition parties declared that they were joining forces to campaign for the country's next presidential election -- originally planned for next month but reportedly likely to be postponed to April 2019 – to replace President Joseph Kabila.
Top two candidates, Felix Tshisekedi and Vital Kamerhe, have united and called on other opposition parties to rally behind them. However, other opposition parties had already reached an agreement to support yet another candidate, Martin Fayulu.
The eastern DRC has been troubled for decades by inter-ethnic bloodshed and militia violence, a crisis that has escalated this year.
The city of Beni, home to up to 300,000 people, is under threat from the Allied Democratic Forces (ADF), a shadowy armed group rooted in Ugandan extremism that has killed hundreds of people since 2014.
The region is also battling an Ebola outbreak that has left more than 200 dead.
The US has maintained diplomatic ties with DR Congo since 1960, following its independence from Belgium, which colonized the country in 1908. In recent decades, US spy agency CIA has been involved in Congo -- particularly in its bid to assassinate the country's first Prime Minister Patrice Lumumba – and eventually blamed for his murder.
Even prior to the independence of the nation, Washington attempted to facilitate the election of a pro-western government by identifying and supporting individual pro-US leaders. The CIA was also notably involved in a campaign against Lumumba's successor, which led to his eventual imprisonment and long exile from Congo.
Full report at:
https://www.presstv.com/Detail/2018/11/25/581033/US-embassy-security-alert-Democratic-Republic-of-Congo-credible-terrorist-threat-Kinshasa-American-facilities
--------
Russia says US views Daesh as ally to push regime change in Syria
Nov 24, 2018
Russian Foreign Minister Sergei Lavrov says the United States is using the Daesh Takfiri terrorist group as a pretext to maintain its military presence in Syria and views the terror outfit as an ally to push regime change in the Arab country.
Lavrov, who was speaking at a joint press conference with Portuguese Foreign Minister Augusto Santos Silva in Lisbon on Saturday, said the US has set conditions for defeating Daesh, which indicates Washington has a "covert agenda in Syria."
"The US State Department has declared that Daesh has not been completely defeated and that the main condition for its defeat is regime change in Syria and the withdrawal of any Iranian or pro-Iranian units from the country," said Lavrov.
"This confirms my theory that the Americans view Daesh as an excuse for their presence in Syria and almost as an ally in the fight against the Syrian regime. In other words, the main task [for Washington] now is regime change, not defeating Daesh."
Russia's top diplomat said the main remaining hotbed of Daesh activity in Syria is now located on the east bank of the Euphrates River, where the US runs military bases.
There are several thousands of militants in the area around the settlement of al-Tanf in southern Syria, "where the United States has illegally created a zone which they control with a radius of 55 kilometers", said Lavrov.
Those militants are regarded by the United States as "off-limits, allowing the Americans to make excuses for their presence" on the Syrian territory, he said.
Earlier in October, Russian President Vladimir Putin warned that Daesh was expanding its presence in the Syrian regions controlled by Washington and its allied Kurdish militants, revealing that the Takfiri terror outfit had managed to take hundreds of people hostage in those areas.
The US, along with a coalition of its allies, has been conducting airstrikes inside Syria since September 2014 without any authorization from Damascus or a UN mandate. It has repeatedly been accused of targeting Syrian civilians and infrastructure.
On the contrary, Russia has been providing the Syrian army with both advisory and on-the-ground assistance in its counter-terrorism battles. Thanks to that help, Syrian armed forces have managed to liberate most of their homeland from the clutches of terrorists.
At Damascus' request, Tehran has also been providing military advisory support to the Syrian military fighting foreign-backed terrorism and militancy since 2011. The Islamic Republic says it will maintain the role as long as it is required by the Syrian government.
The mid-northern parts of Syria are under the control of the so-called Syrian Democratic Forces, a Kurdish-dominated alliance of militants receiving arms and training from the US.
The SDF militants, mainly active in the eastern part of the Euphrates River, are purportedly fighting against the remnants of Daesh, which has already been driven out of all its urban bastions both in Iraq and Syria.
Damascus, however, regards them as occupying forces since they refused to return the areas they captured from Daesh to government control.
Back in June, the Russian military said that the last pockets of land occupied by Daesh were "only in areas controlled by the US."
It had also said in March that the US had set up around 20 military bases in areas controlled by the Kurdish militants.
Full report at:
https://www.presstv.com/Detail/2018/11/24/580998/Russia-Lavrov-US-Daesh-Syria
--------
Europe
British businessman jailed for making millions smuggling jet parts to Iran
November 24, 2018
He told British customs officials that he traded goggles, wheelbarrows and gloves but on Thursday an Old Bailey court convicted Alexander George of earning 5 million pounds (Dh 23.6 million) smuggling fighter jet parts to Iran.
The retired 77-year-old British businessman from Somerset in the west of England was sentenced to two and a half years under weapons of mass destruction control laws. He was found guilty of shipping the parts, which included Russian MiG and US F4 Phantom jet components, through a network of companies across the Middle and Far East that were eventually smuggled into Iran over a period of six years from 2010.
Alongside George, 65 year old Paul Attwater and his wife Iris, 65, were handed suspended six-month prison sentences for their part in helping source and ship the weapons parts in violation of UK arms laws.
Judge Michael Grieve QC called the couple "very, very naive" as he sentenced them saying that he accepted their claim that George had manipulated pair.
"The fact that you were, in effect, groomed by Mr George I accept - he deceived you … I do not, for one moment, think that either of you are bad people. You have, in my view, been very, very naive."
The Attwaters told the court that they had been tricked by George and had only wanted to earn some extra holiday money and to get a season ticket to Crawley Town football club, British media reported.
In his sentencing remarks, Judge Grieve told George that "Unlike you, they [the Attwaters] could not see how innocuous objects like nuts and bolts could be, or would be, put to nefarious use in Iran.
"You, by contrast, knew that that was precisely why your customers in Iran wanted them."
George claimed he had no idea that the parts could have ended up in the Iranian nuclear programme despite being warned of the possibility by authorities.
Under UK law, companies handling or shipping military equipment or 'duel use' items that have both civilian and military industries require permission from the government.
George was investigated by Her Majesty's Revenue and Customs (HMRC) who suspected he was shipping the weapons parts and interviewed George at Heathrow airport in August and December 2010. He told the officers he had nothing to do with jet parts and that his business was simply in the sale of goggles, wheelbarrows and gloves.
But investigators didn't buy George's story.
"These three sold banned items that ended up in Iran. They didn't care what these parts might be used for, as long as they got paid," said Simon York, the director of HMRC's fraud investigation service, according to the UK's Guardian newspaper.
"This was a calculated and cynical attempt to undermine strict trade embargoes and internationally agreed controls. They knew the rules and weaved increasingly elaborate plans to stay under the radar."
George brought in the Attwaters' Pairs Aviation in West Sussex to buy the aircraft parts from the US and ship them through his companies in Malaysia and Dubai before they secretly smuggling them to Iran. When they became worried about investigations, they added another step by shipping the parts through the Netherlands. The court heard that when George also searched the internet for information on people wanted by the CIA, FBI and Interpol for selling weapons parts to Iran.
https://www.thenational.ae/world/europe/british-businessman-jailed-for-making-millions-smuggling-jet-parts-to-iran-1.795422
--------
Southeast Asia
When it comes to ICERD, neighbours Malaysia, Myanmar, Brunei of same mind
22 November 2018
KUALA LUMPUR, Nov 22 — Malaysia shares something with its neighbours Brunei and Myanmar, as well as North Korea when it comes to the hottest five-letter word of the month: ICERD.
None of them have committed to eventually complying with the United Nations' (UN) International Convention on the Elimination of All Forms of Racial Discrimination (ICERD).
If the ICERD sounds like a mouthful, just remember that it is mainly about countries agreeing to adopt policies to end racial discrimination, and to criminalise the spread of ideas based on racial superiority or hatred, among other things.
The ICERD seeks to oblige countries to ensure that everyone, regardless of race, is able to enjoy a long list of rights some may take for granted, including the right to freedom of expression, the right of peaceful assembly, the right to work, the right to housing, the right to medical care, social security, education and even the right to access places for the public's use such as restaurants, theatres and parks.
There's currently heated debate about whether the ICERD requires constitutional amendments if Malaysia were to adopt it.
Back to Malaysia and ICERD; it is currently one of 14 countries that have neither signed nor ratified the treaty.
The 14 countries include the fairly young country of South Sudan, and island nations Cook Islands, Vanuatu, the federated states of Micronesia, Marshall Islands, Kiribati, Samoa, Niue and Tuvalu.
Out of 197 countries, 179 countries have ratified, acceded or succeeded and agreed to be bound by the ICERD.
These 179 countries include Israel, which signed in 1966 and ratified the ICERD in 1979.
PAS president Datuk Seri Abdul Hadi Awang recently objected to the ICERD, which he alleged was unfair towards Islam and Malaysia's Bumiputera community, and argued that ICERD should instead be raised towards Israel and Myanmar over what he described as "cruelty" towards those of different race or religion in their countries.
Four other countries apart from the 179 — Angola, Bhutan, Nauru and Palau — have not ratified the ICERD, but have at least signed the treaty. (This indicates their willingness to consider ratifying it, and is not legally binding but obliges them to refrain from doing things that will be against the ICERD's purposes.)
Below is a quick look at where the 14 countries who have not accepted the ICERD are located:
Malaysia's scorecard in the region
Continuing on the topic of international human rights treaties, it is interesting to see how well Asean countries fare.
For the ICERD, the earliest adopter within South-east Asia is the Philippines (1967), followed by Laos (1974), Vietnam (1982), Cambodia (1983), Indonesia (1999).
Thailand acceded to the ICERD in 2003, while Singapore became in November 2017 the latest within Asean to ratify it.
The Philippines, Cambodia and Indonesia share the honour of having ratified the most regionally at eight out of nine international human rights treaties, while Thailand, Laos and Vietnam ratified seven out of nine.
The treaties that these nations have yet to ratify are either those relating to the rights of migrant workers, or the protection of people from enforced disappearances such as those done or backed by the government, or both.
The rest are stragglers with Myanmar and Singapore having ratified four each, while Malaysia and Brunei ratified a mere three although the latter has signed a fourth treaty against torture.
For the record, Malaysia has to date ratified only three core human rights treaties which are related to children, women and the disabled: Convention on the Rights of the Child (CRC); Convention on the Elimination of All Forms of Discrimination against Women (Cedaw); and Convention on the Rights of Persons with Disabilities (CRPD).
Malaysia has yet to ratify or even sign six others, including the ICERD, International Covenant on Civil and Political Rights (CCPR), Convention against Torture and Other Cruel, Inhuman or Degrading Treatment or Punishment (CAT).
The others unsigned and unratified are the International Covenant on Economic, Social and Cultural Rights (CESCR); International Convention on the Protection of the Rights of All Migrant Workers and Members of their Families (CMW); and International Convention for the Protection of All Persons from Enforced Disappearance (CED).
Foreign Minister Datuk Saifuddin Abdullah had in July said that Malaysia aspires to sign the remaining human rights conventions, as promised by Pakatan Harapan in its manifesto for the 14th general elections.
Malay-Muslim groups continue to oppose the government's plan to formalise the convention, arguing that doing so will strip the Bumiputera community of its constitutional safeguards and privileges.
https://www.malaymail.com/s/1695796/when-it-comes-to-icerd-neighbours-malaysia-myanmar-brunei-of-same-mind
--------
Indonesia's new party draws fire for 'Islamophobic' comments
November 25, 2018
JAKARTA: Police in Muslim-majority Indonesia have questioned the head of one of its newest and most progressive parties, who is battling accusations of 'Islamophobia' from rival politicians, after she said her party opposed the growth of bylaws based on religion.
Indonesia is officially secular and has a tradition of pluralism but Islam has increasingly crept into politics in a country home to significant Christian, Hindu and other religious minorities.
Grace Natalie set up the Indonesian Solidarity Party (PSI), often dubbed the 'millennials party', in 2014 to offer an alternative for young voters disillusioned by traditional parties often run by an entrenched elite.
In a speech this week attended by President Joko Widodo, Natalie, who is ethnic Chinese, spoke out against intolerance, saying PSI would not support local regulations based on Islamic law or Christian scripture.
"We want to return back to the constitution so that there is a guarantee for all citizens, whatever their background, or religion they believe, or faith they have," said Natalie, whose party is part of a coalition backing Widodo's
bid for a second term in 2019 elections.
Police questioned Natalie following a complaint filed by Eggi Sudjana, a lawyer and politician of an Islamic party, who told Reuters her comments breached laws on hate speech and attacked religion. He urged her to apologise.
Some rival politicians also accused her of 'Islamophobia', while defending the adoption of bylaws based on sharia or religious values.
Jakarta police are still investigating to determine if any law was broken, said spokesman Argo Yuwono.
In a party statement, Natalie said that during six hours of questioning she had told police
her speech referred to "a willingness to implement equality and justice for all citizens before the law".
She also said it was based on an academic study showing how religion-based rules could affect women and minority groups.
The only province in Indonesia allowed to enforce Islamic law is Aceh, but other regions have adopted bylaws enforcing elements of sharia.
Such bylaws were divisive, said Muhammad Abdullah Darraz, director of the Maarif Institute, which promotes religious and cultural harmony, who defended Natalie.
"We have witnessed identity politics recently emerging and it has the potential to divide the unity of the nation," he said.
Indonesia's state ideology includes national unity, social justice and democracy alongside belief in God, and enshrines religious diversity in a secular system of government.
But religious and political tension has spiralled in the last few years after hundreds of thousands in Jakarta protest against the capital's then governor, an ethnic Chinese Christian charged with insulting the Quran.
Full report at:
http://www.theborneopost.com/2018/11/25/indonesias-new-party-draws-fire-for-islamophobic-comments/
--------
Ashamed to be a Malay Muslim Malaysian
Nov 25, 2018
Over the last two weeks, the issue of Icerd had received significant prominence. What appears to be an issue that requires proper legal and intellectual discourse has been hijacked by politicians, leading to the loss of the objectivity of the original issue.
The politicians' propaganda was misleading and had stirred up unnecessary emotions. The facts have been blurred, and the reality is politicians have only one agenda: to create unrest and seize power using race and religious issues.
The facts on Icerd are very clear and are available on the world-wide-web and yet many chose not to read it themselves but rely on the propaganda made by political leaders.
The facts show that Malaysia is one of the 14 countries world-wide alongside North Korea, Myanmar and Sudan that did not ratify Icerd. It makes us looks bad to be in the same boat as such countries.
The facts also show that 55 out of 57 Muslim countries agreed to ratify Icerd. Is Islam in Malaysia different from Islam practised worldwide? Why is it that the 55 countries chose to ratify it? Only two Muslim countries chose not to - Malaysia and Brunei. There are 36 countries with constitutional monarchy system that have signed it.
The allegation that Icerd contradicts our Federal Constitution and affects Islam and bumiputera need to be evaluated clinically with proper studies and not on the basis of emotions.
Icerd has provisions within its Article 1(4). Article 153 of the Federal Constitution is ingrained in the formation of Malaysia. Something that is ingrained in the constitution cannot be touched. We accept that. It is no different from the American Constitution. Some things cannot be changed.
Quite clearly, the legal process to change it is a long-drawn one that involves parliament. The reality is Article 1(4) of Icerd is no different from Article 153 of the Federal Constitution.
While I can accept the differences in views on whether Icerd ratification will have an impact on Article 153, I cannot accept the way this issue is being handled. Using race and religion shows the weakness of us Malays of which I am not proud of.
I believe many like-minded Malays like me can argue this case professionally in the right forum and decide whether it has an impact on Article 153. I don't need politicians who claim that as Muslims we are for discriminatory policies against people of other religions and races.
There is a big difference in being discriminatory and giving certain handicap to a segment of the society to allow it to catch up or having a law that protect the interest of Malays and Islam. Protecting the interest of Malays and Islam is definitely not the same as creating discriminatory policies against other ethnic groups in Malaysia.
The country is at its critical juncture. I think as responsible Malaysians, if we cannot help the government to improve the nation's financial position and create jobs for the people, we should at least try not to make it worst.
Politicians like Ahmad Zahid Hamidi and Hadi Awang are hypocrites. They have no issue with keeping silent on corruption. Does Islam allow corruption and stealing? It is because of this (corruption and stealing) that Umno was rejected at the recent general election.
Had Umno been open to internal check and balance and be transparent on matters, BN would still be ruling the country. Had Hadi been clear and follow the true teachings of Islam and not play politics, PAS would have been part of the government today.
Full report at:
https://www.malaysiakini.com/letters/453280
--------
Anwar: Colour-blind policy needed
25 Nov 2018
PETALING JAYA: Malaysia needs a colour-blind policy to help the poor regardless of race, says PKR president Datuk Seri Anwar Ibrahim (pic).
The Port Dickson lawmaker said many, including in his constituency, are plagued by abject poverty.
The fishermen and plantation estate workers are struggling des­pite Port Dickson being a tourist attraction, he said.
"They are not just Malays, but Chinese and Indians too.
"These are the people who were in my mind when I raised the issue of continuing subsidies and incentives for fishermen, farmers and smallholders during last week's Budget 2019 debate.
"There is a need to push for a poverty-busting agenda that is colour blind, a national narrative that is humane in nature and seeks to help those in need irrespective of race," he said in a statement yesterday.
Anwar said he will work to attract investment that does not only look good on paper but one that will improve the daily reality of those who are currently left behind by the nation's economic growth.
The lawmaker said he is pro market reform but detests any system that does not pay attention to those who are unable to uplift themselves, or ones that do not lead to fair and equitable growth.
"I am anti-discrimination and believe in fairness for all human beings.
"This is not mutually exclusive to my love and pride in being a Malay and a Muslim," he added.
Anwar also paid tribute to famous writer and linguist Tan Sri Zainal Abidin Ahmad, better known as Za'ba, and his alma mater Universiti Malaya.
Anwar spoke at the Syarahan Za'ba 2018 event titled "Melayu dan Islam Dalam Era Malaysia Baharu (Malays and Muslims in the New Malaysia Era)" in Universiti Malaya on Friday morning.
In his speech, Anwar said Za'ba was a man ahead of his time, fearless in criticising people from his own race for blindly following some of their leaders without applying critical thought.
"This has not changed decades later – today we have individuals who choose to focus on issues like the implementation of Islamic law, but conveniently ignore the billions of ringgit that have been stolen by some Muslim leaders.
"Za'ba voiced the importance of speaking the truth even when inconvenient, and that call rings even louder today," he said.
Anwar also believed the goal of an educational institution should be to elevate the pursuit of knowledge that brings both joy and insight to the student, and not just to obtain a certificate or a job.
"Universities should strive to not only provide information and knowledge but to being about wisdom.
Full report at:
https://www.thestar.com.my/news/nation/2018/11/25/anwar-colourblind-policy-needed-the-poor-regardless-of-race-need-our-help-says-port-dickson-mp/
--------
Umno to join PAS in celebratory Dec 8 rally
24 November 2018
KUALA LUMPUR, Nov 24 — After PAS, Umno today confirmed that it will proceed with participating in a mass rally at Dataran Merdeka on December 8.
"We thank the government for deciding to reject the ratification of ICERD.
"We will attend the rally en masse to say thank you, alright?" he was quoted by news portal Malaysiakini as telling reporters at the Putra World Trade Centre here.
"We will attend the rally en masse," he was quoted by news portal Malaysiakini as telling reporters at the Putra World Trade Centre here.
ICERD refers to the International Convention on the Elimination of All Forms of Racial Discrimination.
The treaty had divided public opinion nationwide, with Umno and PAS leading calls for its rejection on grounds that it was unconstitutional and insinuating that its ratification would spell the beginning of the end of political power held by the Malay-Muslim demographic group purported to have been agreed upon by Malaysia's forefathers in a "social contract" at the nation's founding.
Several groups that had supported the ratification had expressed their dismay with the Pakatan Harapan (PH) government's latest stance, calling it a backwards move.
Yesterday, the Prime Minister's Office issued a statement saying the government will not ratify the ICERD, and will instead continue to defend the Federal Constitution "in which is enshrined the social contract that was agreed upon by the representatives of all the races during the formation of the country".
Ahmad Zahid had denounced the statement as being improperly issued and not official as Prime Minister Tun Dr Mahathir Mohamad had not put his signature on the document.
The Opposition leader insisted the government table its rejection of ICERD in Parliament as a formal decision.
PAS mouthpiece Harakah had earlier confirmed the December 8 gathering will go on, adding that it will now be an "assembly of the rakyat's victory and gratitude in rejecting ICERD".
The Islamist party deputy president Datuk Tuan Ibrahim Tuan Man was also reported saying the rally events will consist of prayers and speeches.
Full report at:
https://www.malaymail.com/s/1696734/umno-to-join-pas-in-celebratory-dec-8-rally
--------
'Bin Abdullah' ruling shelved as Putrajaya seeks time to explore options
22 November 2018
PUTRAJAYA, Nov 22 — The Federal Court chose to postpone today its long-awaited decision on whether an illegitimate Muslim child can use his father's name instead of being forced by the National Registration Department (NRD) to use "bin Abdullah".
President of Court of Appeal Tan Sri Ahmad Maarop, who chaired the Federal Court's three-man panel today, unanimously approved the government's application to defer the decision despite already having prepared to deliver it today.
"We are actually ready to deliver a decision. In fact, our written judgment is ready," he said, adding that the apex court panel allowed the application to defer after considering the views of all parties involved.
"We order that this decision be adjourned to a date to be fixed," he said.
When asked by lawyer Datuk Sulaiman Abdullah if the prepared decision and the written judgment would be delivered, Ahmad replied: "I'm not saying any more than what I have said."
Senior federal counsel Datuk Amarjeet Singh Serjit Singh had this morning requested that the Federal Court defer its decision that was scheduled to be delivered today, in order to allow the government to resolve the matter involving the naming of the Muslim illegitimate child in his birth certificate.
"The government is seeking the adjournment. The government is of the view that the delicate subject matter has far-reaching implication and as such requires a solution by other means.
"I'm advised by the Attorney-General that the executive feels it needs to address the matter very carefully," he told the Federal Court, adding that the executive arm of the federal government wishes to consult a wide range of stakeholders.
"In view of the seriousness of the matter, I am instructed to inform that the executive will commence efforts to seek a solution commencing today," he added.
K. Shanmuga, a lawyer who represented the Johor Muslim couple who were seeking to remove the illegitimacy tag of "bin Abdullah" from their child's name, did not object to the request.
"In light of the reasons given by the senior federal counsel and the indication that the executive would themselves find a solution, I would agree with the request for an adjournment.
"And given this involves the best interests of the child and there are other children in similar cases, executive or legislative action may be the most suitable avenue to resolve this. Because of that, I would agree to the request," he said.
Sulaiman, who represented the Johor Islamic Religious Council who intervened in the case, had earlier objected to the application for the decision to be deferred.
"This is evidently a legal matter involving the unalterable laws of Islam and hence the issue that arises, I would submit, is not something that can be settled by executive or legislative means," he said.
Sulaiman argued that the government lawyers should not have raised this request to defer the decision at the last moment, but should have raised it earlier in October when there was a seven-man panel convened to rehear the case due its status as a public interest case.
The Chief Justice had in October decided that the seven-man panel would not rehear the case, but would let the remaining three judges of the initial five-man panel that had heard the case in February to deliver its decision.
Sulaiman also argued that the country has seen many examples of festering problems after solutions sought fail to materialise, adding that it would be unfair for his client to go through another hearing again if one or more of the judges on the three-man panel retires by the time the decision is to be delivered.
"There must be some finality to this case, nothing can be more final than a court decision," he said.
The two other judges today are Federal Court judges Datuk Seri Balia Yusof Wahi and Tan Sri Aziah Ali. Both of them are serving their six-month extension after reaching age 66, with Balia Yusof expected to retire next year and Aziah believed to retire this month.
The two other judges on the initial five-man panel, then Chief Justice Tun Md Raus Sharif who chaired the panel and Federal Court judge Tan Sri Hasan Lah, resigned in July and retired in September respectively.
Hope for all Muslim illegitimate children?
When met outside the court, Amarjeet confirmed that the solution sought by the government would be an "overall solution" for all Muslim illegitimate children facing the "bin Abdullah" problem and would not be limited to the child in this lawsuit, saying: "It is wider than one case."
He said there was no timeframe fixed for the government to find a solution to the issue.
When asked what would happen if one of the three judges retires, Amarjeet said there would have to be a fresh hearing by the Federal Court if a decision is required.
"If one of the judges retire, then there are only two left. And two judges cannot deliver a decision, then if at all anything happens, you have to rehear the whole appeal again.
"But as the government pointed out, the best solution is not through the courts, it's elsewhere," said Amarjeet who heads the Attorney-General's Chambers' civil division.
The case
On September 3, 2015, the Johor Muslim couple — given the initials of M.E.M.K and N.A.W — and their child had filed a judicial review application against the NRD, the NRD director-general and the government of Malaysia to seek the change of the "bin Abdullah" patronym to the father's name in the birth certificate.
The High Court had on August 4, 2016 ruled that the NRD director-general's refusal to change the "bin Abdullah" patronym in the birth certificate of the Johor Muslim couple's child was lawful.
But the Court of Appeal had on May 25, 2017 unanimously delivered a landmark ruling that quashed the NRD director-general's decision to use "bin Abdullah", also ordering the official to correct the patronym in the birth certificate as the official had no powers to override the father's wishes and statutory right to have his name used.
The Court of Appeal had also noted that the NRD director-general's decision to use "bin Abdullah" was based on two fatwas or religious edicts, but ruled that a fatwa is not law and has no force of law and cannot form the legal basis for the official's decision.
The NRD had then appealed to the Federal Court.
Full report at:
https://www.malaymail.com/s/1695942/bin-abdullah-ruling-shelved-as-putrajaya-seeks-time-to-explore-options
--------
Arab World
Saudi Arabia's Prince Turki Al-Faisal says CIA cannot be trusted on Khashoggi conclusion
November 24, 2018
ABU DHABI: Saudi Arabia's Prince Turki Al-Faisal has cast doubt upon the reported CIA finding that Saudi Crown Prince Mohammed bin Salman ordered the killing of journalist Jamal Khashoggi in Istanbul last month, saying the agency could not be counted on to reach a credible conclusion.
"The CIA is not necessarily the highest standard of veracity or accuracy in assessing situations. The examples of that are multitude," Prince Turki told journalists in Abu Dhabi on Saturday.
The prince, a former Saudi intelligence chief who has also served as ambassador to the US, said the agency's conclusion that Iraq possessed chemical weapons before the US invasion in 2003 showed it could be unreliable.
"That was the most glaring of inaccurate and wrong assessments, which led to a full-scale war with thousands being killed," he said, speaking at an event hosted by the Beirut Institute.
"I don't see why the CIA is not on trial in the United States. This is my answer to their assessment of who is guilty and who is not and who did what in the consulate in Istanbul."
US President Donald Trump has disputed that the agency reached a conclusion on the murder, saying instead "they have feelings certain ways."
Khashoggi was killed at the Saudi consulate in Istanbul on Oct. 2.
Saudi Arabia said Khashoggi was killed and his body dismembered after negotiations to persuade him to return to Saudi Arabia failed.
The Kingdom's public prosecution is seeking the death penalty for five suspects charged in the murder, but has said Prince Mohammed had no prior knowledge of the operation.
http://www.arabnews.com/node/1410371/saudi-arabia
--------
Daesh attacks kills 47 US-backed fighters in east Syria: monitor
November 24, 2018
LONDON: Daesh has killed 47 US-backed fighters in two days in an attack launched from its embattled holdout in eastern Syria, a war monitor said Saturday.
The Syrian Democratic Forces (SDF) Kurdish-led alliance backed by the US-led coalition is battling to expel the militants from a pocket in the eastern province of Deir Ezzor on the Iraqi border.
The Britain-based Syrian Observatory for Human Rights monitor said the jihadists broke out of that pocket on Friday to attack a nearby village where SDF fighters and coalition advisers are based.
"IS launched a broad attack on the village of Al-Bahra next to its holdout, taking advantage of the fog," Observatory chief Rami Abdel Rahman said using a name for Daesh.
Abdel Rahman said 47 SDF fighters were killed in the attack, and violent clashes continued to rage on Saturday as coalition air planes carried out air strikes in the area.
Twenty-seven Daesh militants were killed in clashes and air strikes in the same period, according to the Observatory, which says it relies on sources inside Syria for its information.
The monitor said coalition raids has also killed 17 civilians, including five children, in the Daesh-held pocket since Friday.
Coalition spokesman Sean Ryan said he had not received any reports of civilian casualties, and insisted its air strikes had been "very limited due to the weather."
The anti-Daesh alliance has repeatedly denied previous reports of civilians killed in its air strikes, and said it does its utmost to avoid targeting non-combatants.
Deir Ezzor activist Omar Abu Leila said the attack on Al-Bahra was "very scary" and that Daesh fighters were able to move quickly "taking advantage of the fog."
Daesh overran large swathes of Syria and neighboring Iraq in 2014, proclaiming a "caliphate" in land it controlled but has lost most of it to offensives by multiple forces in both countries.
In Syria, the militants are largely confined to the pocket in Deir Ezzor, but they also have a presence in vast Badia desert that stretches across the country to the Iraqi border.
Since 2014, the US-led coalition has acknowledged direct responsibility for over 1,100 civilian deaths in Syria and Iraq, but rights groups put the number much higher.
Full report at:
http://www.arabnews.com/node/1410356/middle-east
--------
More Notorious Terrorist Commanders Gunned Down in Northern Syria
Nov 24, 2018
Unknown assailants have killed several terrorist commanders, including two from Tahrir al-Sham Tahrir al-Sham Hay'at (the Levant Liberation Board or the Al-Nusra Front), in Idlib and Aleppo provinces.
A commander of Tahrir al-Sham named Abdollah Ansari was killed in an attack by unknown gunmen in the town of Ahsam in Jebel al-Zaviyeh region in Southern Idlib, field sources in Idlib said.
Meantime, another Tahrir al-Sham commander nom de guerre Abu Jalbib was shot dead by unidentified assailants in the town of al-Dana in Northern Idlib, they added.
In Western Aleppo, a former commander of Jeish al-Mojahedin was also killed by unknown gunmen in Batbou village.
Meantime, the field sources pointed to the new wave of arrests of Tahrir al-Sham militants in Northwestern Hama, and said Tahrir al-Sham has arrested one of its former commanders namely Maher Fajr al-Khalil in the town of Kafar Zita.
In a relevant development on Thursday, commander of Faylaq al-Sham affiliated to the so-called National Liberation Front (NLF) terrorist group supported by Turkey named Abu al-Bara al-Homsi was killed by gun fire of unknown raiders in the village of al-Janodiyeh in Western Idlib.
Also, a commander of Tahrir al-Sham Hay'at named Abu Abdolsami was killed near the town of Kafr Nobl in Southwestern Idlib by unknown assailants.
The sources said that tensions have heightened among the NLF and Tahrir al-Sham in Southwestern Idlib, adding that the NLF has closed the road between the village of al-Anqawi and Jabal al-Zawiyeh region after Tahrir al-Sham strengthened its positions in the region.
Meantime, the Arabic-language al-Watan newspaper quoted sources affiliated to the terrorists in Northern Syria as saying that humanitarian organizations have stopped their activities in the region after harsh insecurities in areas occupied by the terrorists in Idlib province.
In a relevant development on Monday, a senior field commander of Tahrir al-Sham Hay'at was killed after unknown attackers opened fire at him in Southern Idlib.
Mohammad Kibar nom de guerre Abu Zeid, a notorious field commander of Tahrir al-Sham, was assassinated by unidentified raiders on a road connecting the village of Kafr Sanjah to the town of Kafr Nabl in Southern Idlib.
In the meantime, a field source said that infighting between Tahrir al-Sham and Horras al-Deen is still underway over the French members of Horras trapped in the town of Harem in Southern Idlib.
Full report at:
http://en.farsnews.com/newstext.aspx?nn=13970903000624
--------
Raqqa: People Protest Against US Deployment, Call for SDF Expulsion
Nov 24, 2018
"Tens of Raqqa residents revolted against the US deployment and SDF forces in al-Mansour district of Raqqa city and called for their expulsion," media activists in Raqqa said.
The sources, meantime, said that the Raqqa residents in their slogans called on the Syrian army to free the region from the occupiers, and said that the protests took place after the SDF forces launched attacks on civilians which resulted in the eruption of clashes between the two sides.
In the meantime, the SDF forces arrested several protesters in a new wave of suppression of civilians.
Raqqa residents have many times held uprising against the US occupiers and their allies in Raqqa region.
In a relevant development on Tuesday, clashes were reported in Southern Hasaka after protesters from various Arab tribes took to the streets and called for the expulsion of the US army men and Syrian Democratic Forces (SDF) from Northeastern Syria.
Baladi news website reported that protesters, mainly from the Arab al-Mahasen tribe, clashed with the US soldiers in al-Aam street in the town of al-Shadadi in Southern Hasaka after the US artillery attack killed the entire members of a family from the same tribe.
Baladi further said that a large number of civilians in al-Shadadi and in the villages of al-Hana Sharqi, al-Sarab and Saleh al-Leil in Southern Hasaka took to the streets, protesting against the US-backed SDF and SDF-affiliated security forces of Asayesh.
In the meantime, field sources reported that the protestors attacked 2 bases of Asayesh and set fire at their flags and their leaders' photos, calling for their expulsion from their region.
They added that the SDF, in response, opened fire at the protestors and launched artillery attacks on several neighborhoods, injuring several civilians.
A militant-affiliated website reported on Sunday that Arab tribes in Hasaka province in Northeastern Syria demanded the Syrian Army to deploy its guards at border with Turkey after the Ankara forces' threats to launch an imminent large-scale operation against the Kurds on the Eastern bank of the Euphrates River.
Zaman al-Wasl reported that the Kurdish militias try to hold different meetings with Arab tribes in Hasaka, Raqqa and Aleppo provinces to persuade them to join them in battle against the Turkish troops.
It further said that the Kurds had several meetings with Arab tribes in al-Safir region in the town of Ra'as al-Ein in Northwestern Hasaka, adding that all tribal elites called on the SDF to hand over border control to the Damascus force to deter a Turkish invasion.
In the meantime, local sources in Hasaka province pointed to the Kurdish concerns about the Turkish troops' operation, and said that the Kurds have transferred prisoners and detainees from their Alaya jail in the town of Qamishli in Northeastern Hasaka to their central jail in Hasaka city.
Full report at:
http://en.farsnews.com/newstext.aspx?nn=13970903000381
--------
S. Arabia, UAE Threatening Trump over Khashoggi's Case
Nov 24, 2018
The Arabic-language Khaleej Online quoted a senior Saudi prince as saying that Saudi Crown Prince Mohammed bin Salman has threatened Trump that if he helps a coup against him after the scandal over the murder of prominent Saudi journalist Jamal Khashoggi, he will release documents and details of the deals which will trouble Trump and his administration.
According to the source, similar threats have also been posed by Abu Dhabi Crown Prince Mohammed bin Zayed who has declared since the first moments of revelations about Khashoggi's case that he would stand beside bin Salman.
The source added that bin Salman has also threatened Trump that he would cancel the major arms deals between the two countries and would withdraw financial support for tens of billions of dollars of financial investment in the US.
The report came after Trump said the CIA did not conclude that bin Salman ordered the murder of Khashoggi.
Khashoggi was killed on 2 October in the Saudi consulate in Istanbul.
The US officials have reportedly said that such an operation would have needed the prince's approval. But Saudi Arabia maintains it was a "rogue operation".
"They didn't conclude," Trump said when asked about the CIA's reported evaluation by reporters in Florida.
Full report at:
http://en.farsnews.com/newstext.aspx?nn=13970903000603
--------
Iraqi Sources: US Plots to Keep Al-Baghdadi in Power
Nov 24, 2018
Jabbar al-Ma'mouri was quoted as saying by the Arabic-language Baghdad al-Youm newspaper that given the strong alliance between the US and Baghdadi, Washington has started early elimination of his rivals to keep him in power after reports about his death an injury weakened his rule over the terrorist group.
He added that a number of rivals and opponents of Baghdadi have in recent months been killed by the US drones, and said a powerful bomb was also detonated a few days ago at the venue of a secret meeting of key ISIL commanders who were plotting a coup against al-Baghdadi.
"5 Iraqi, Syrian and possibly Moroccan ISIL leaders were killed in the explosion," he continued.
Al-Ma'amouri also quoted Iraqi officials as saying that the ISIL terrorists are stationed at the Syria-Iraq borders, adding that reports indicate al-Baghdadi's presence in these areas.
Relevant reports said last month that al-Baghdadi had called on hundreds of followers to be executed for disloyalty to the group.
Massdar news reported that Baghdadi ordered 320 members of the terrorist group to be executed for disloyalty in Syria and Iraq.
It further said that Baghdadi "issued an order to kill 320 of his followers for their betrayal of the ISIL and their recklessness, a matter which inflicted heavy losses on the group in both Iraq and Syria".
Full report at:
http://en.farsnews.com/newstext.aspx?nn=13970903000908
--------
Turkish Army Trying to Link Idlib to Aleppo's Afrin Region
Nov 24, 2018
"Turkey's army and its allied terrorist groups have cut a large number of trees in Deir Balout village in Afrin's Jandariseh area to construct a 40-meter-wide road from Atameh village in Idlib to Deir Balout village in Jandariseh," the Kurdish-language Hawar news quoted sources in Afrin region as saying.
Meantime, it has been reported that the terrorists continue plundering people's assets and properties as tensions between the Turkish army and its allied forces are still underway.
In a relevant development last week, Ankara-backed militants continued plundering people's assets in the occupied town of Afrin in Northwestern Aleppo amid a two-day-long infighting between the Turkish troops and militants in the town.
An Ankara-backed militant group known as the National Army is looting civilians' assets in residential areas and trade centers in the occupied town of Afrin as Turkish army troops and some of their allied militants are exchanging fire with Tajamo'a al-Sharqiyah, another Ankara-backed militant group that has recently been defying orders issued by the Turkish army.
A local source said that people's assets have been looted in al-Vilat and al-Mahmoudiyah neighborhoods, where infighting in underway.
The source further said that a number of people, including civilians, have been killed and injured in blasts and heavy exchange of fire between the two sides, including a bomb-laden motorcycle explosion in Afrin.
In the meantime, militant-affiliated Zaman al-Wasl news website quoted a well-informed source as disclosing that recent infighting between the Turkish troops and Tajamo'a al-Sharqiyeh is due to old differences between Tajamo'a al-Sharqiyah and Ahrar al-Sharqiyah (another Ankara-backed militant group), adding that Ahrar contributes a major role in the Turkish army attacks on Tajamo'a al-Sharqiyah.
Local sources said earlier today that Mahmoud Azazi, a commander of Ankara-backed Firqa al-Safawah terrorist group, was killed in clashes with rival groups and Turkish troops in Afrin region in Northwestern Aleppo.
They added that heavy infighting is underway between the Turkish army and its allied militants and Tajamo'a al-Sharqiyah in Mahmoudiyah neighborhood and al-Filat street in the occupied town of Afrin that has thus far inflicted major casualties on both sides.
Mahmoud Azazi nom de guerre Abu Nawarah, a notorious commander of Firqa al-Safawah affiliated to Turkish troops, has been killed in the infighting.
Turkish army tanks and military vehicles have entered the battlefield and the Turkish artillery units are pounding the positions of Tajamo'a al-Sharqiyah in Afrin.
At least 25 militant have been killed and tens more have been wounded in the infighting that has been unprecedented in the last 8 months.
In the meantime, militant-affiliated sources said that Deputy Commander of Jeish al-Sharqiyah Abu Abdullah al-Masrab has declared its affiliation to Tajamo'a al-Sahrqiyah, condemning attacks by the Turkish troops and allied militants.
Full report at:
http://en.farsnews.com/newstext.aspx?nn=13970903000537
--------
US Prepares to Attack Hashd Al-Shaabi Bases in Iraq
Nov 24, 2018
The Arabic-language al-Ma'aloumeh news website quoted Karim Aliwi, al-Fatah coalition's representative at the Iraqi parliament, as saying that the US forces have started reconnaissance operations to collect intel all Hashd al-Shaabi bases in Baghdad to target them in coming weeks.
Meantime, local sources in al-Anbar province reported that the US has mounted a highly-advanced CCTVs across the town of al-Ratbah, including one at the gates of the town.
Iraqi security sources disclosed in 2016 that Washington was exerting pressure on the Baghdad government to end Hashd al-Shaabi's partnership in war against ISIL and dissolve the militia army that has the lion share in the war on terrorism in the country. "The US government has conveyed the message to the Iraqi government through its diplomats that there is no need to Hashd al-Shaabi forces and their role should come to an end," a senior Iraqi source, speaking on condition of anonymity, told FNA at the time.
http://en.farsnews.com/newstext.aspx?nn=13970903000954
--------
US-Backed SDF Retreat after Defeat in Battle against ISIL in Deir Ezzur
Nov 24, 2018
Sources affiliated to the militants in Syria reported on Saturday that the SDF fully withdrew from its strongholds in the town of al-Bahrah after ISIL militants deployed in the town of Hajin in Eastern Deir Ezzur staged a raid on the US-backed militants in the neighboring town.
Meantime, media activists referred to the ISIL attacks against the SDF positions near al-Tanak oilfield in Eastern Deir Ezzur, saying that over 35 Kurdish forces were killed and wounded and 5 of their military points were destroyed.
They also added that a large number of SDF forces fled the scene of clashes with the ISIL.
Local sources in Eastern Syria disclosed last month that the US forces' backup for ISIL had enabled the terrorists to recapture the entire lands they had lost to the SDF in Eastern Deir Ezzur in the last 2 months.
The Arabic-language website of RT quoted the sources as disclosing that in complete absence of the US-led coalition forces to support the Washington-backed SDF to counter ISIL's heavy offensive, the terrorists managed to recapture the small but key towns of al-Sousah and al-Baqouz in Southeastern Deir Ezzur.
It pointed to ISIL's control over al-Baqouz Foqani, and said that ISIL had recaptured all the territory it had lost to the SDF in past one and a half months.
In the meantime, Syria's state-run al-Watan daily quoted experts as stating that ISIL's victory against the SDF and their advances in Southeastern Deir Ezzur and their access to the Iraqi border came through the US cooperation as American military left the Kurdish militia alone in battles against ISIL.
Full report at:
http://en.farsnews.com/newstext.aspx?nn=13970903000929
--------
Shelling exchange kills nine in Syria's Idlib, injures dozens in Aleppo city
25 November 2018
Government shelling killed nine people on Saturday in Syria's rebel-held Idlib, a monitor said, and state media said insurgent shells wounded dozens in Aleppo causing breathing problems.
The Syrian Observatory for Human Rights said the two women and seven children were killed in Jarjanaz village in Idlib province, where Russia and Turkey have agreed a buffer zone.
The UK-based Observatory also said shelling on Aleppo city, which in under government control, wounded at least 24 people including four children, causing breathing difficulties.
State news agency SANA said militants hit two districts of Aleppo with shells containing substances that caused 44 people to choke.
The deal to create the demilitarized zone staved off an army offensive against the Idlib region, including nearby parts of Aleppo and Hama provinces.
Intermittent exchanges of fire have broken out in northwest Syria since the agreement between Russia, a key ally of Damascus, and Turkey, which backs some rebel factions.
The United Nations says nearly 3 million people live in the northwest region and has warned against a battle to restore state rule there.
Among an array of factions controlling Idlib, the dominant force is Tahrir al-Sham, an Islamist alliance led by fighters formerly linked to al Qaeda.
Full report at:
https://english.alarabiya.net/en/News/middle-east/2018/11/25/-Shelling-exchange-kills-nine-in-Syria-s-Idlib-injures-dozens-in-Aleppo-city.html
--------
Airstrikes by US-led coalition take lives of 20 more civilians in Syria
Nov 24, 2018
Twenty civilians, including women and children, have been killed in airstrikes carried out by the coalition led by the United States in the town of Hajin situated in Syria's eastern province of Dayr al-Zawr.
Local sources, requesting anonymity, told Syria's official news agency SANA that nine children and eight women were among the dead after an airstrike targeted a local market on Saturday.
No statement has been made about the number of wounded people.
Earlier in the day, SANA reported another coalition strike in the same province, where 11 civilians, including three women and five children, were killed.
Coalition aircraft have been regularly striking civilian targets and residential areas in Dayr al-Zawr under the pretext of targeting Daesh Takfiri terrorists. The strikes have led to the displacement of hundreds of civilians.
Last week, the so-called coalition killed at least 40 people after its warplanes struck the village of al-Buqa'an on the outskirts of Hajin.
On November 15, local reports claimed coalition warplanes had killed 23 civilians, including 17 people of the same family, after firing missiles at buildings in the village of Albu Badran.
The regular strikes on Syrian civilians, notably a bloody attack on the town of al-Shaafah with 60 casualties on November 13, have prompted the response of the Syrian Ministry of Foreign Affairs and Expatriates, which has stated the massacre clearly points to the fact that members of the military alliance have no respect for moral values and international regulations.
Earlier this month, the ministry had also sent two separate letters, addressed to United Nations Secretary General Antonio Guterres and the rotating president of the UN Security Council, Ma Zhaoxu, calling on the Council to fulfill its responsibilities and stop US-led aerial assaults.
Furthermore, the US-led coalition has on multiple occasions used internationally-banned white phosphorus munitions in bombing raids across the province, according to various sources including Human Rights Watch.
The Russian Foreign Ministry recently slammed US military operations in the country, expressing concern for the use of white phosphorus and continued terrorist training operations.
The US-led coalition has been conducting airstrikes inside Syria since September 2014, without any authorization from the Damascus government or a UN mandate.
Full report at:
https://www.presstv.com/Detail/2018/11/24/581004/USled-air-raids-kills-20-civilians-in-eastern-Syria
--------
Mideast
Al-Quds will remain integral part of Palestine: Hezbollah deputy chief
Nov 24, 2018
A senior official of Lebanon's resistance movement Hezbollah says Jerusalem al-Quds will always remain an integral part of Palestine despite US and Israeli attempts to distort this reality.
Addressing an annual international conference on Islamic unity in the Iranian capital Tehran, Hezbollah Deputy Secretary General Sheikh Naim Qassem said on Saturday that Palestinians would refuse to give up even an inch of their land.
He went on to say that al-Quds was the pivotal issue of the Muslim world and would remain the eternal and indivisible capital of Palestine.
"One cannot break up the territories of a nation," he said.
Qassem stressed that Hezbollah had "managed to defeat" the Israeli regime in the direct wars and confrontations by "focusing on the issue of Palestine" over the past years.
The Hezbollah official noted that Israeli entity was created in the heart of the Middle East region in order to further colonial agenda and block the progress of regional Muslim countries.
"Israel occupied Palestinian territories in order to block the development of the region," he noted.
Describing Israel as "the axis of evil," Qassem said that the Israeli regime's goal was to divide the region, and to cause rifts between Muslim nations.
In an earlier address on November 17, Qassem described Israeli Prime Minister Benjamin Netanyahu, US President Donald Trump and Saudi Crown Prince Mohammed bin Salman as '"the triangle of evil," stating that that they had become united in order to advance their "vicious" agenda against Palestinian people.
Elsewhere in his remarks, Qassem pointed out that American imperialism was the main source of "suppression and crimes" in the world.
Also at the Tehran conference on Saturday, the leader of the Palestinian Hamas resistance movement, Ismail Haniyeh, strongly warned the Arab world against "restoring" ties with Israel, saying all efforts had to be directed at preventing the occupying regime from "infiltrating" the Muslim world.
Saudi Arabia has hostile ties with resistance movements in the Palestinian territories, including Hamas which is fighting the Israeli occupation.
Last year, US President Donald Trump officially declared the disputed city of Jerusalem al-Quds as Israel's capital, despite warnings from around the world that the measure risks triggering a fresh wave of violence in the Middle East.
Last December, the United Nations General Assembly overwhelmingly voted in favor of a resolution that calls on the US to withdraw its controversial policy shift.
In defiance of the vote, the US also transferred its embassy in Israel from Tel Aviv to Jerusalem al-Quds on May 14, triggering demonstrations in the occupied Palestinian territories, Iran, Turkey, Egypt, Jordan, Tunisia, Algeria, Iraq, Morocco and other Muslim countries.
Angered by Trump's move, Palestinian President Mahmoud Abbas boycotted his administration, saying Washington was no longer qualified to serve as the sole mediator in the decades-long conflict with Israel.
Palestinians want the West Bank as part of a future independent Palestinian state with East Jerusalem al-Quds as its capital.
https://www.presstv.com/Detail/2018/11/24/580999/Hezbollah-Israel-Palestine--Jerusalem-alQuds--Sheikh-Naim-Qassem
--------
Iran urges Muslims to unite against US, including Saudi 'brothers'
Nov 24, 2018
Iranian President Hassan Rouhani urged Muslims worldwide on Saturday to unite against the United States and assured Saudis they were "brothers" who had nothing to fear from Tehran.
US President Donald Trump abandoned a landmark 2015 nuclear deal between major powers and Tehran in May and has since reimposed crippling unilateral sanaction.
"What the United States wants of (the Middle East) today is enslavement," Rouhani told an Islamic unity conference in Tehran.
Instead of "rolling out the red carpet for criminals," Muslim governments should unite against the United States and "the region's cancerous tumour", Israel, he said.
Rouhani urged Shiite Iran's Sunni rival Saudi Arabia to end its dependence on "insulting" US military aid.
"We are ready to defend the Saudi people's interests against terrorism and superpowers with all our might," he said.
"We do no ask $450 billion for it and will not insult you." Riyadh cut diplomatic ties with Tehran in January 2016 after protesters stormed its diplomatic missions in Iran following its execution of a prominent Shiite cleric.
Full report at:
https://www.hindustantimes.com/world-news/iran-urges-muslims-to-unite-against-us-including-saudi-brothers/story-tygnVj0VqeUQ7AykGK2uGO.html
--------
Lavrov: Russia ready to mediate between Palestinians and Israel
24 November 2018
Russia would be ready to host a meeting between Palestinians and Israel and to act as a mediator, Foreign Minister Sergei Lavrov said on Friday.
Lavrov was speaking to reporters during a two-day trip to Rome.
At least 14 Palestinians were wounded by Israeli gunfire on the same day, during protests along the Gaza border, the enclave's health ministry said, as a lull in deadly violence held after a truce deal last week.
Thousands of demonstrators turned out for the protests but largely kept their distance from the fortified frontier.
Full report at:
https://english.alarabiya.net/en/News/middle-east/2018/11/24/Lavrov-Russia-ready-to-mediate-between-Palestinians-and-Israel.html
--------
Yemeni army liberates Yemen's al-Dhaher district in Saada
25 November 2018
The Yemeni army announced on Saturday that it has liberated the al-Dhaher district, southwest of Saada, which is considered one of the main strongholds of the Houthi militias. The army said that it is advancing towards the Hidan directorate amid severe losses in the Houthis' frontlines.
The army's media center stated that the national army, with the support of the Arab Coalition, was also able to liberate the al-Malahit front as well as the Maran triangle. They also liberated a government building complex as part of their large-scale military operation to gain complete control of the al-Dhaher district.
A military source was quoted as saying: "Following the continuation of advancements in the eastern direction of the Directorate of al-Malahit, our armed forces were able to liberate a major factory, while in the northern side, a number of strategic sites were controlled, including command posts, that represented the most important reinforcements of the Houthi coup militias."
The military source added that the fighting is continuing until Marran, where the army is preparing to enter the Hidan directorate and rid it of the Houthis.
The source said that the al-Malahit triangle is the link between Yemen and Saudi Arabia, which leads to the Hajjah province, then to Maran, up till the kingdom.
Meanwhile, the Yemeni army, supported by the coalition, continued its field advances in the Baqim district of Saada.
Full report at:
https://english.alarabiya.net/en/News/gulf/2018/11/25/Yemeni-army-liberates-Yemen-s-al-Dhaher-district-in-Saada.html
--------
US promoting human rights based on arms deals: Iran
Nov 24, 2018
Iran has rejected new US claims about Tehran's acts of terror and violence abroad, saying American officials are explicitly and shamelessly promoting a new paradigm of defending human rights based on the volume of arms deals and under the guise of deceptive human rights slogans and cries.
Iranian Foreign Ministry Spokesman Bahram Qassemi said on Saturday that a country like the US did not see any need to conceal its previous double standards.
"One cannot expect more from officials of a government that link the issues of human rights and the lives of humans with the volume of trade transactions and the amount of dollars from the US deals," he added.
The Iranian spokesperson emphasized that US officials were allowing some of their allied anti-human regimes to slaughter millions of children, women and innocent people in some regional countries, expose them to years of famine and disease, and bomb schools, hospitals as well as wedding ceremonies and funeral processions with the most advanced fighters.
Under such circumstances, the US cannot and should not whine in a false and completely discredited place for global security and human rights in other countries, Qassemi said.
He added that the US government's support for human rights in return for the amount of dollars it received would only mock the human rights.
The Iranian spokesperson made the remarks following a post on US State Department spokeswoman Heather Nauert's Twitter account on Wednesday in which she claimed that "tough action" was needed to stop what she called Iran's terror and violence abroad and to improve its human rights record at home.
Full report at:
https://www.presstv.com/Detail/2018/11/24/580996/Qassemi-Iran-US-terrorism-human-rights-Heather-Nauert
--------
EU blasts new Israeli demolition campaign in East al-Quds
Nov 25, 2018
The European Union has denounced Israel's new demolition campaign in East Jerusalem al-Quds under which a number of shops and petrol stations have been demolished since Wednesday.
EU foreign policy chief Federica Mogherini issued a statement on Saturday against Israel's "policy of settlement construction and expansion," saying it is undermining any chances of peace with Palestinians.
The policy "continues to undermine the possibility of a viable two-state solution, with Jerusalem [al-Quds] as the future capital of both states, which is the only realistic way to achieve a just and lasting peace," she said.
Israeli bulldozers destroyed 16 shops and three petrol stations at the Shuafat refugee camp in East al-Quds on Wednesday as troops stood by.
The EU also denounced Israel;s advancement of plans for construction of close to 800 units for settlers in in East Jerusalem al-Quds.
Last week, the bloc condemned Israel's "legal proceedings" that could lead to the eviction of 700 Palestinians living in the Silwan neighborhood of Est Jerusalem al-Quds.
"The European Union is strongly opposed to Israel's settlement policy, illegal under international law, and actions taken in that context, such as forced transfers, evictions, and demolitions," Mogherini's office said.
"The EU expects the Israeli authorities to reconsider and reverse these decisions," the statement added.
Israel occupied the Palestinian territory of the West Bank, including East al-Quds, in 1967. It later annexed East al-Quds in a move never recognized by the international community.
Ever since the occupation, the Israeli regime has been setting up hundreds of illegal settlements across the West Bank in direct violation of the international law, which bans construction on occupied territory.
In order to make room for settlements, it regularly levels Palestinian homes, claiming they had been built without a "building permit."
Full report at:
https://www.presstv.com/Detail/2018/11/25/581046/Israel-European-Union-condemnation-demolition-shops-settler-units-East-Jerusalem
--------
5 Emirati troopers killed in attack on UAE base in Yemen's Abyan: Report
Nov 24, 2018
At least five Emirati soldiers have been killed when a military base run by the United Arab Emirates (UAE) came under attack in Yemen's southern province of Abyan, a report says.
Turkey's official Anadolu news agency, citing an unnamed local source, reported on Friday that the attack was carried out after unknown gunmen started firing at the base with light weapons and RPGs, leaving another Emirati trooper wounded.
The base, located in the vicinity of Abyan city, is run by Emirati servicemen and armed militia loyal to Yemen's former President Abd Rabbuh Mansur Hadi, the source said, adding that the attack could likely be carried out by militants of the al-Qaeda in the Arabian Peninsula (AQAP) Takfiri terrorist group.
The source also said the gunmen left the scene without leaving any casualties, citing previous similar attacks by the same group against numerous military bases in the region.
In August 2017, local authorities in Abyan announced they purged AQAP militants from the city, but the outfit has conducted a number of attacks and killed scores of troopers and militia ever since.
Leading a coalition of its allies, most prominently the UAE, Saudi Arabia invaded Yemen in March 2015 in an attempt to reinstall Hadi, who had resigned amid popular discontent and fled to the Arab kingdom.
The aggression initially consisted of a bombing campaign but was later coupled with a naval blockade and the deployment of ground forces to Yemen.
Since the onset of the imposed war, the Yemeni army, backed by fighters of the country's popular Houthi Ansarullah movement, has been defending the impoverished nation against the brutal aggression. The coalition is also resolute to crush the movement as another goal in its war on Yemen, which is teetering on the edge of famine.
More than three and a half years into the war, Saudi Arabia has achieved neither of its objectives. Riyadh had declared at the start of the invasion that the war would take no more than a couple of weeks.
Back in June, the UAE forces, backed by armed militia loyal to Hadi, launched a full-scale offensive against the Houthi-held Hudaydah, which is currently under a tight siege imposed by the invaders. The so-called liberation operation, however, failed to achieve its objective, which is overrunning the vital port and defeating Houthi fighters, backed by those from the Popular Committees.
Over the past several months, humanitarian organizations have warned that military operations against Hudaydah threaten to cut off essential supplies to millions of Yemeni people. More than 70 percent of Yemen's imports pass through Hudaydah's docks.
The coalition claims Houthis are using Hudaydah for weapons delivery, an allegation rejected by Ansarullah fighters.
The Saudi-led war has also taken a heavy toll on the country's infrastructure, destroying hospitals, schools, and factories. The UN has already said that a record 22.2 million Yemenis are in dire need of food, including 8.4 million threatened by severe hunger. According to the world body, Yemen is suffering from the most severe famine in more than 100 years.
Full report at:
https://www.presstv.com/Detail/2018/11/24/581022/Yemen-UAE-Abyan-
--------
Gaza ministry: 14 Palestinian protesters wounded by Israeli gunfire
24 November 2018
At least 14 Palestinians were wounded by Israeli gunfire Friday during protests along the Gaza border, the enclave's health ministry said, as a lull in deadly violence held after a truce deal last week.
Thousands of demonstrators turned out for the protests but largely kept their distance from the fortified frontier.
Health ministry spokesman Ashraf al-Qudra said 14 people were injured by Israeli army fire along the border, including "a child shot in the chest east of the al-Bureij refugee camp" in the central Gaza Strip.
An AFP correspondent said protesters held back from launching burning tires or balloons carrying flaming material towards Israel -- tactics they have frequently employed since the border protests began in March.
Demonstrators were directed "to keep back from the separation fence and to maintain peaceful protests... to give a chance to Egyptian efforts to calm things down", an organizer told AFP.
It marked the second straight Friday of lighter protests since an Egyptian-brokered ceasefire on November 13 ended the worst flare-up between Israel and Gaza's rulers Hamas since a 2014 war.
Efforts to reach a more lasting truce have angered Israeli right-wing rivals of Prime Minister Benjamin Netanyahu.
It brought the government to the brink of collapse when the defense minister resigned last week and took his party out of the ruling coalition.
Netanyahu was able to avoid snap elections when another key minister pledged on Monday to stay on board, despite sharp disagreements with the premier.
Gaza border tensions have soared since the March 30 start of what the Palestinians call the "Great March of Return", a mass protest movement demanding the right for Palestinians to return to homes they fled or were expelled from during the war surrounding Israel's creation.
Protesters have often moved right up to the border fence every Friday and occasionally breached it.
At least 235 Palestinians have since been killed, mostly by Israeli fire during border clashes but also by air strikes.
Two Israeli soldiers have been killed over the same period.
A senior Hamas official said a delegation headed by the group had arrived in Cairo on Wednesday to meet with Egyptian officials on efforts to "stabilise the truce" with Israel.
Full report at:
https://english.alarabiya.net/en/News/middle-east/2018/11/24/Gaza-ministry-14-Palestinian-protesters-wounded-by-Israeli-gunfire.html
--------
Erdogan's AKP gets local election boost from nationalists
November 24, 2018
ISTANBUL: Turkey's nationalist MHP will support President Tayyip Erdogan's AK Party candidates in local elections in three key cities next year, the MHP leader said on Saturday, in a boost to the AKP's election prospects.
The AK Party and the Nationalist Movement Party (MHP) formed an alliance before presidential elections last June, but were subsequently at loggerheads over a disagreement about the MHP's call for an amnesty for some jailed criminals.
A month ago MHP leader Devlet Bahceli said his party would not seek an alliance with the AK Party in the March 2019 municipal elections which are being held across Turkey.
At the time his comments triggered a weakening of the lira over concerns that it would lead to political instability.
However, Bahceli announced a change of position on Saturday saying the MHP would not put forward city mayoral candidates for Istanbul, Ankara and Izmir, Turkey's three biggest cities.
"Whoever the Justice and Development Party's (AKP) candidates are in these three big cities our support will be total," Bahceli told officials from his party in a speech in Antalya.
The MHP's candidates in other municipalities across Turkey would continue to stand, he said, adding there was no "secret agreement" behind his party's decision.
It was not clear what prompted the change in Bahceli's position.
Bahceli and his MHP party had been staunch critics of Erdogan's AK Party before they reached agreement on their election alliance this year. Their alliance had been expected to continue despite last month's decision not to cooperate in the local elections.
The local elections themselves will have little impact on the balance of power in Turkey generally.
Full report at:
http://www.arabnews.com/node/1410216/middle-east
--------
Africa
Nine dead in suspected ISIS attack in Libya
24 November 2018
At least nine security service members were killed in a suspected ISIS attack in the southeastern Libyan town of Tazerbo on Friday, a senior security official said.
Eleven other people including civilians and a security chief were also "kidnapped" by members of the extremist group, which attacked a police station in the oasis town, added the official.
The Tazerbo desert region is controlled by the forces of strongman Khalifa Haftar, who heads the self-styled National Libyan Army (ANL).
The capital Tripoli is the seat of a rival administration -- the internationally-backed government led by Fayez al-Sarraj.
The attack, which has not yet been claimed, is the second in less than a month targeting forces loyal to Haftar.
The first, claimed by ISIS, killed at least five people in October in the central Kufra region.
Another attack in August claimed by ISIS killed 11 people including nine members of the ANL.
Torn apart by power struggles and undermined by chronic insecurity, Libya has become a haven for extremists since the ouster and killing of Moamer Kadhafi in 2011.
ISIS took advantage of the chaos to gain a foothold in the city of Sirte in 2015 but forces loyal to a UN-backed Government of National Accord (GNA) resumed control of the city in December 2016 after eight months of deadly fighting.
Since then, some extremists have returned to the desert in an attempt to regroup and reorganize.
In September, ISIS claimed responsibility for a suicide attack on the headquarters of the Libya's National Oil Company (NOC) in the heart of Tripoli which left two dead and 10 wounded.
Four months earlier, it also claimed an attack on the electoral commission headquarters which left 14 dead.
https://english.alarabiya.net/en/News/north-africa/2018/11/24/Tunisian-cabinet-approves-gender-equality-in-inheritance.html
--------
Nigeria's military acknowledges major attack by extremists
November 24, 2018
LAGOS, Nigeria: Nigeria's military on Saturday acknowledged a major attack against it by extremists after opposition lawmakers said 44 soldiers were killed, while public pressure on President Muhammadu Buhari grew over the failure of his pledge to defeat Boko Haram.
The military statement issued overnight didn't say how many are dead after the Nov. 18 attack in Metele in the northeast, but it dismissed media reports citing even higher tolls and called the situation under control. Nigeria is often reluctant to expose the number of casualties after such attacks.
As Buhari faces growing pressure over insecurity ahead of next year's presidential election, an aide said the president had summoned military chiefs and sent the defense minister to neighboring Chad for an "urgent meeting" with President Idriss Deby. A multinational force combating Boko Haram is based in Chad.
Nigeria's leader is "worried by Boko Haram's renewed attacks on military bases," aide Bashir Ahmad said in a post on Twitter.
The Daesh West Africa Province, the largest Daesh-linked extremist group in Africa and a recent offshoot of Boko Haram, claimed responsibility for Sunday's attack, according to the SITE Intelligence Group that monitors extremist messaging. The group last month caused outrage by killing an abducted health worker despite an urgent plea from the International Committee of the Red Cross to spare her life.
Nigerians are increasingly concerned about reports of growing casualties among troops fighting extremists.
Buhari, who made the defeat of the Nigeria-based Boko Haram a major goal of his presidency when he was elected in 2015, "is preoccupied with re-election campaigns" while many homes are filled with mourners, human rights activist Okechukwu Nwanguma said in a statement on Saturday.
The government under Buhari, a former military dictator from the north, has claimed in the past that Boko Haram has been "crushed," but the extremists continue to carry out deadly suicide bombings and abductions in the northeast and wider Lake Chad region.
Full report at:
http://www.arabnews.com/node/1410241/world
--------
Nigeria admits Boko Haram attack on army base
24.11.2018
Nigeria has admitted the local media reports over a recent Boko Haram attack on army base that allegedly left multiple casualties in the restive northeast Borno state.
A late Friday statement by the Nigerian army read that the insurgents attacked troops of 157 task force battalion but insisted on not giving casualty figures until families of the affected soldiers have been briefed.
The confirmation is the first time since local media broke the news of the attack earlier in the week.
Media reports said up to 113 soldiers were killed with several others still missing in deadly attack in Metele area of Borno while many weapons were also stolen.
The army however said the reports in the media were exaggerated, warning against unintended spread of Boko Haram propaganda.
"Whilst it is true that there was an attack on the location on 18 November 2018, it has however, become necessary to correct several misinformation being circulated with regards to this unfortunate event," it said.
On Friday, Daesh also released a five-minute video detailing the attack and how its fighters purportedly went away with several military hardwares.
"It is important for the public to note that the Nigerian Army has laid-down procedures for reporting incidents that involve its personnel who fall casualty in action," said the army, urging the public to avoid exacerbating the grief of the victims' families.
'Nigeria will prevail over Boko Haram'
Nigerian president also expressed "deep shock" over the Boko Haram attack on the military personnel in Metele, assuring that "immediate measures are being taken to ensure that the loopholes which led to the fatalities are blocked once and for all."
Muhammadu Buhari said that his administration remains ever committed and focused on the security of military personnel and other citizens.
"No responsible Commander-in-Chief would rest on his oars or fold his hands to allow terrorists to endanger the lives of its military personnel and other citizens.
"Our loyal forces have proved their strength over the terrorists and we are ready to give them all the needed support in terms of equipment and manpower to succeed in ending the renewed threat," he said.
Buhari also noted that he is engaging the Military and Intelligence Chiefs in extensive discussions in the coming days "on the next steps we shall be taking."
Nigeria has been battling Boko Haram insurgency since 2009 when the group turned violent following the death of its former leader Mohamed Yusuf in police custody.
Full report at:
https://www.aa.com.tr/en/africa/nigeria-admits-boko-haram-attack-on-army-base/1320581
--------
URL: https://www.newageislam.com/islamic-world-news/vhp-says-namaz-grabbed-land/d/116976
New Age Islam, Islam Online, Islamic Website, African Muslim News, Arab World News, South Asia News, Indian Muslim News, World Muslim News, Women in Islam, Islamic Feminism, Arab Women, Women In Arab, Islamophobia in America, Muslim Women in West, Islam Women and Feminism