New Age Islam News Bureau
12 March 2019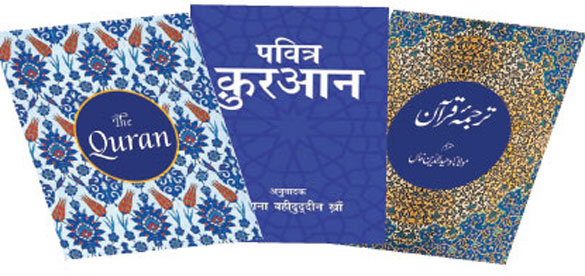 Photo courtesy of Creative Commons: Muslim couple produces braille Quran in English
------
• Verifiable Action to Dismantle Terror Infrastructure Must For Tackling Terror: India to Saudi Arabia
• India, US Call for Pakistan to Take 'Concerted Action' To Dismantle Terror Network
• US Agents Faked Trail to Infiltrate As LeT Recruits
• 'US Govt. Sides With Saudi Arabia Over 9/11 Victims'
• Anti-Extremist Policy Targeting UK Muslims Successfully Appealed
• 'This Is About Equality': Muslim Couple Produces Braille Quran in English
• Taliban's Mullah Omar Lived Near US Base in Afghanistan for Years, Book Says
• Do Away With Archaic Laws on 'Insult to Religion'
• Israeli Settlers Seal Mosque in Al-Quds amid Rise of Violence against Palestinians: Report
• Paper Reveals US, France's Role in Unrests in Algeria
India
• Verifiable Action to Dismantle Terror Infrastructure Must For Tackling Terror: India to Saudi Arabia
• India, US Call for Pakistan to Take 'Concerted Action' To Dismantle Terror Network
• Muslim Leaders Demand Better Deal for Community from TDP
• Can't go to Delhi for questioning due to safety concerns, Mirwaiz tells NIA
• Talk to Pakistan, Mehbooba Mufti Urges India amid Kashmir Tension
• 2017 terror-funding case: Mirwaiz Umar Farooq fails to appear in NIA HQ
--------
North America
• US Agents Faked Trail to Infiltrate As LeT Recruits
• 'US Govt. Sides With Saudi Arabia Over 9/11 Victims'
• Trump Says He'd Win If He Ran In Israeli Prime Ministerial Elections
• US envoy defends his criticism of Chinese religious persecution
• US' Pence discusses Syria with Jordan king
• US hails Morocco for repatriating citizens from Syria
--------
Europe
• Anti-Extremist Policy Targeting UK Muslims Successfully Appealed
• 'This Is About Equality': Muslim Couple Produces Braille Quran in English
• Greece's Muslims Say Free, State-Built Mosque Too Small
• Russian prosecutors seek four years for Chechnya activist
• 2018 deadliest year yet for children in Syria: UNICEF
• UN envoy: Situation in Myanmar must be referred to ICC
--------
South Asia
• Taliban's Mullah Omar Lived Near US Base in Afghanistan for Years, Book Says
• UN envoy fears 'new crisis' for Rohingya Muslims if moved to remote Bangladesh Island
• Kabul rejects reports Mullah Omar lived near US base
• Afghan officials: Taliban kill 13 troops in country's west
• Prominent Taliban commander identified as Shafiullah killed in Logar province
• ARG Palace rejects claims in latest biography of Taliban group founder
• UN: 10,000 civilians forced from homes in Myanmar's Rakhine since November
--------
Southeast Asia
• Do Away With Archaic Laws on 'Insult to Religion'
• Adrift in Malaysia, Burmese Muslim refugees in desperate cry for recognition
• PAS allays fears, declares it stands with non-Muslims
• For Penang Islamic Council, a costly RM3m and nine years to regain Waqf land
• MCA backs PKR rep's review call for man convicted of insulting Islam
--------
Mideast
• Israeli Settlers Seal Mosque in Al-Quds amid Rise of Violence against Palestinians: Report
• Israel's Attorney General to Release Netanyahu Evidence after Elections
• Rouhani Sets Off On Historic Visit To Iraq In Major Blow To Trump
• More than a dozen Houthis killed in clashes with government troops
• Palestinians in Gaza receive new Qatari aid
• Arms dealers complicit in Saudi war crimes in Yemen: Iran
• 22-year-old Palestinian dies in Gaza after clashes with Israeli forces
--------
Africa
• Paper Reveals US, France's Role in Unrests in Algeria
• Sudan's parliament shortens state of emergency to six months
• Nigeria's Boko Haram birthplace elects professor as governor, first across north
• Air Force strikes Boko Haram in Lake Chad
--------
Pakistan
• Imran Khan Says Tipu Sultan Is His 'Hero', But For The Sake Of Peace, Pakistan PM Should Look At Jinnah as His Role Model
• India can't stop water from flowing into Pakistan: Official
• Own syllabus for Pakistani Christian prisoners
• Pakistan Elected OIC Body's Deputy Chairman
--------
Arab World
• US-led Airstrikes Claim Dozens of Civilian Lives in Syria's Dayr Al-Zawr
• 46 Militants Killed In Egypt's Anti-Daesh Campaign In Sinai
• Tens of Civilians Killed in US-Led Coalition Airstrikes on Refugee Camp in Eastern Syria
• Foreign Terrorist Commanders Killed in Syrian Army Airstrikes in Idlib
• Syria: US Hides ISIL Commanders in Al-Rukban Camp near Border with Iraq
• Dozens of militants killed in shootouts in Egypt's Sinai, says military
• Gunfire, landmines slow SDF advance in ruins of ISIS final pocket in Syria
Compiled by New Age Islam News Bureau
URL: https://www.newageislam.com/islamic-world-news/verifiable-action-dismantle-terror-infrastructure/d/118003
--------
Verifiable Action To Dismantle Terror Infrastructure Must For Tackling Terror: India To Saudi Arabia
Mar 11, 2019
NEW DELHI: In a clear reference to Pakistan, India on Friday conveyed to Saudi Arabia that an "immediate, irreversible and verifiable action" to dismantle terror infrastructure is essential to fight the menace of terrorism.
This was conveyed during a meeting between external affairs minister Sushma Swaraj and Saudi state minister for foreign affairs Adel al-Jubeir, who paid a four-and-a-half-hour visit to India, days after his trip to Islamabad.
Sources, however, said there was no offer, either earlier or now, from the Saudi side to mediate in de-escalating tensions between India and Pakistan.
Jubeir held extensive talks with Swaraj here with a focus on deepening cooperation to combat terrorism.
It is learnt that the recent tensions triggered by the Pulwama attack and India's subsequent air strike on a terrorist training camp in Pakistan also came up during the meeting.
"They (Swaraj and Jubeir) took note of significant developments after the visit of His Royal Highness (Saudi Crown Prince Mohammad bin Salman) to India. EAM reiterated that an immediate irreversible and verifiable action to dismantle terror infrastructure is essential to fight the menace of terror," a Ministry of External Affairs (MEA) statement said, without naming Pakistan or the post-Pulwama tensions between India and Pakistan.
During his four-and-a-half-hour visit, Jubeir also called on Prime Minister Narendra Modi and discussed bilateral issues, officials said.
"The Prime Minister thanked the leadership of Saudi Arabia for expressing full solidarity with India in the fight against terrorism in all its forms and manifestations," the MEA said.
"It was agreed that Saudi Arabia and India should work together for irreversible, verifiable and credible steps against all terrorists without any discrimination," it said.
Jubeir briefed Prime Minister Modi on the follow up of the outcomes of the "historical visit" of the Saudi Crown Prince in February 2019.
"Both the countries have taken significant steps including to boost trade and investment and to achieve $100 billion investment from Saudi Arabia into India, which was announced during the visit of the Crown Prince," the statement said.
At her meeting with Jubeir, Swaraj is learnt to have raised the issue of cross-border terrorism and the need for ramping up pressure on Islamabad to take action to dismantle terror infrastructure in that country.
During the meeting, it was agreed to set up the strategic partnership council at the earliest.
The gesture from Saudi side to increase India's Haj quota to 2 lakh and the pardon to 850 Indian prisoners was highly appreciated, the MEA said.
The Saudi minister's visit here comes against the backdrop of global efforts to de-escalate tension between India and Pakistan triggered by the suicide attack by JeM in Pulwama on February 14 in which 40 CRPF personnel were killed and subsequent aerial strike by India on a training camp of the Jaish-e-Mohammed (JeM) terror outfit in Balakot on February 26.
Pakistan retaliated the next day by unsuccessfully attempting to target Indian military installations.
Last week, Jubeir visited Islamabad and met Pakistan Prime Minister Imran Khan. During the meeting, he delivered to Khan a "special message" from Crown Prince Mohammad bin Salman, according to Pakistani media reports.
He also held talks with Pakistan foreign minister Shah Mehmood Qureshi.
Countries like the US, the UK, China, Saudi Arabia and the UAE were involved in easing tensions between India and Pakistan.
Jubeir's visit to the two countries comes weeks after the Crown Prince's stand-alone visits to India and Pakistan soon after the Pulwama terror attack.
https://timesofindia.indiatimes.com/india/verifiable-action-to-dismantle-terror-infrastructure-must-for-tackling-terror-india-to-saudi/articleshow/68364701.cms
--------
India, US call for Pakistan to take 'concerted action' to dismantle terror network
Mar 11, 2019
India and the United States on Monday renewed their call to Pakistan to "take concerted action to dismantle" terror infrastructure in the aftermath of the Pulwama attack.
The two countries also called for holding accountable all those who support and abet terrorism in "any form", according to a readout of a meeting between visiting Indian foreign secretary Vijay Gokhale and US secretary of state Michael R Pompeo.
The two officials also discussed bilateral trade, an issue that hit headlines last week with the Trump administration announcing its intention to end a zero-tariff preferential system for over $5 billion worth of imports from India over market access for US goods. Gokhale underscored the "significant" reduction in US trade deficit with India and a willingness to remain engaged with the US to for a "meaningful and mutually acceptable package on trade issues".
This was the first high-level in-person contact between India and the United States, following intense engagements over phone, after the Pulwama terrorist attack that killed 40 CRPF personnel on February. And, significantly, it took place just two days ahead of a crucial UN Security Council decision on Wednesday to designate, or not, Masood Azhar, founder of the Pakistan-based Jaish-e-Mohammad, which has claimed responsibility for the attack.
The United States is one of the three joint movers of the designation proposal, with the United Kingdom and France. This is the fourth attempt to sanction Azhar. China, which blocked the three previous moves, holds the key, and has appeared non-committal. It could not be immediately ascertained if Gokhale and Pompeo discussed the upcoming UNSC decision.
Secretary Pompeo "expressed his understanding of India's concerns regarding cross -border terrorism", said the Indian embassy in a readout of the meeting. "They agreed that Pakistan needs to take concerted action to dismantle the terrorist infrastructure and to deny safe haven to all terrorist groups in its territory. They also agreed that those who support or abet terrorism in any form should be held accountable."
Both India and the United States want Pakistan to go beyond the present, and episodic, crackdown on terrorists it harbors and uses as a foreign policy tool and take demonstrably credible and verifiable action.
The foreign secretary also conveyed India's appreciation to the US and the secretary personally "for the firm support that India received from the US in the aftermath" of the Pulwama attack.
The United States was the only major power to back India's right to self-defence and the airstrike on a Jaish-e-Mohammad terrorist camp in Balakot calling it "counter-terrorism actions". It joined the UK and France, then, to press the UN Security Council to pass a "path-breaking" statement condemning the Pulwama attack, despite stiff resistance from China, on behalf of Pakistan.
And the three countries, and Afghanistan, joined India to oppose an appeal by Hafiz Saeed, founder and head of Lashkar-e-Toiba that carried out the Mumbai attacks in 2008, to be removed from the UNSC list of designated terrorists. An ombudsman for the world body rejected Saeed's petition on Wednesday.
The foreign secretary will meet his US counterparts Under Secretary of State for Political Affairs David Hale and Under Secretary of State for Arms Control and International Security Andrea Thompson later during his visit.
"These are regular high-level dialogue mechanisms to review bilateral relations, exchange views on major foreign policy and security-related developments and coordinate respective positions on issues of common interest, a spokesperson for the ministry of external affairs said in a statement issued in New Delhi earlier. Gokhale is also likely to meet with senior leaders in the US administration and US Congress.
https://www.hindustantimes.com/india-news/india-us-tell-pakistan-to-dismantle-terror-infrastructure-in-its-territory/story-NQmjd0MIqeIFBLUguCujnK.html
--------
US Agents Faked Trail To Infiltrate As LeT Recruits
MAR 12, 2019
NEW YORK: US intelligence agents laid a cyber trail all the way to a fake terror camp in Pakistan, mastered idioms and style of Islamic terrorists giving a convincing portrayal of jihadis in a bid to infiltrate a Lashkar-e-Taiba (LeT) recruitment ring.
In what seemed to read like a spy-thriller their strategy led to the arrest of an American teenager, who was at the centre of an alleged conspiracy to recruit fighters for the Pakistan-based LeT, and a suspected co-conspirator, who was stopped on his way to join the terrorist group.
The transcripts of their cyber interactions in court documents give chilling insights into the raging hate of the world of jihadis.
The cases against the two, who were arrested, point to a disturbing trend that with the collapse of the Islamic State (IS) in Syria and Iraq, Pakistan-based terror organisations operating against India may become an attractive alternative for aspiring jihadis.
Michael Kyle Sewell, the teenaged recruiter, told Jesus Wilfredo Encarnacion, 29, whom he was guiding that "he should not join the IS because IS had no territory", instead he suggested the "LeT and the Taliban" as "worth joining".
The "LeT was a well-funded group in Pakistan operating in Kashmir, Afghanistan and India", is what he said according to court filings.
Both men were arrested in February and now face trial on terrorism-related charges.
Documents filed in federal courts in two separate cases, one against Sewell in Dallas, and another against Encarnacion in New York, include expletive-filled accounts of interactions between the alleged terrorists and the undercover operatives that give a peek into terrorism networks.
The two cases deal separately with each of the accused and the documents mention the person in the other case only as a "coconspirator", but when IANS put the two affidavits by FBI agents in the two cases side-by-side, the parallels make the link between Sewell and Encarnacion obvious.
To infiltrate the group, Federal Bureau of Investigation (FBI) operatives, an agent and an employee, took on the persona of jihadists, adopting their terminology and way of communicating, and one of them created a fake trail into Pakistan as if he had joined the LeT there, according to transcripts in an affidavit by counter-terrorism Special Agent Seth Yockel in the New York case.
The document says that the ring they infilitrated was made up of nine people who operated through "a group chat for American Jihadis" on social media.
The FBI agent and the "undercover employee" vouched for each other convincingly in their communications and Sewell told Encarnacion that the employee would help him travel to Pakistan to get terrorist training, according to the affidavit.
At one point, according to the transcripts of interactions, the FBI employee takes a swipe at President Donald Trump to build their terrorist credentials writing, "US all infidels. With the king Trump."
He also boasts, "We strike heart of India. ... You hear Mumbai attack"? - a reference to the 2008 attack that killed 163 people.
The transcripts don't reveal much about the lives of Sewell and Encarnacion, other than that Encarnacion lived in New York's Washington Heights neighbourhood and said he was from a family from the Dominican Republic, and Sewell was a native-born American.
Sewell's lawyer, a court-appointed public defender, did not return a call from IANS.
Forensic scientist Malini Subramanyam wrote in the Forensic Research and Criminology International Journal in 2018 that some, who become terrorists were "in search of an identity ... seeking a sense of purpose and self-worth."
The two seem to fit this profile. Encarnacion, who used the screen name "Jihadistsoldgier", introduced himself to the jihadi group saying, "I want to fight till death alongside the Islamic State. ... I'm a lone wolf looking for a family I can strike the crusaders. ... I want to be part of a family willing to kill not afraid of death", according to Yockel's affidavit.
Sewell also described himself to the undercover employee as "lone wolf and lone lion of Tawhid".
An indication of one of Encarnacion's other possible motives appears at one point in the transcript where Encarnacion says, "Kuffar treat me bad", but does not further identify the "Kuffar" or what they did.
Encarnacion appears to have been inspired by the British IS terrorist Mohammed Emwazi who became notorious with the nickname "Jihadi John" as the group's executioner on propaganda videos. "Please. I want to kill on video. Terrify our enemies", he pleaded.
The transcripts of interactions portray Sewell and Encarnacion as blood-thirsty persons motivated by blind hatred, not only against Hindus, but also moderate Muslims.
In November last year, Encarnacion wrote to the undercover employee, "You guys are against India. I read up on ya. You are beefing with India over Muslim land.
"I (expletive) hate Hindus. They can go to hell and I'm going to help you," according to the document. He added, "Will I live in Pakistan? I
want to fight. I want to execute. I want to behead".
Sewell goaded the FBI undercover employee "to '[expelitive] up' and 'slaughter' the 'Hindu Kafir', destroy their shrines and idols", and send him photos of the destruction, according to an affidavit by Special Agent Michael Phillipp in the Dallas case.
He is quoted as saying that he could "kill anyone and not feel anything" and wanted to kill "liberal Muslims", liberal "Hijabis" and Saudis, "execute" a female political activist, who was not identified, and threatened to "disembowel" a social media user.
Sewell, according to the New York affidavit, put Encarnacion in touch with the undercover employee, who, he said, would lead him to the LeT, and simultaneously messaged him that he found a "new brother who wants to go do jihad Fisimbillah Â… So he will be a Lashkere-Taiba fighter".
Encarnacion contacted the undercover employee, who verified the contact with Sewell, and sent him hundreds of messages.
In October, the undercover agent messaged Sewell through an encrypted application that he was "flying out tonight inshaAllah". And when Sewell asked him the next day, where he was, he replied, "Alhamdulillah Pakistan Â… InshaAllah I will be training with the mujahideen of Lashkar-e-Taiba soon".
Now appearing to be ensconced in Pakistan, the undercover agent told Encarnacion in November to fly to a city in Europe for which he would not need a visa and "brothers" would meet him there and give him visa and onward ticket to Pakistan.
Encarnacion sent him copies of his passport and flight confirmation for Europe on a flight on February 7.
When he came to New York's JFK airport to catch the flight, the FBI was waiting to capture him.
The next day, officials announced the arrest of Sewell in Dallas.
https://economictimes.indiatimes.com/news/defence/us-agents-faked-trail-to-infiltrate-as-let-recruits/articleshow/68369337.cms
--------
'US govt. sides with Saudi Arabia over 9/11 victims'
Mar 11, 2019
Head of the 9/11 Families and Survivors United for Justice Against Terrorism group Terry Strada has claimed that past US administrations have sided with Saudi Arabia against a lawsuit assessing Riyadh's alleged role in the attack.
"They have sided with the Saudis more than they have sided with the 9/11 families," said Strada speaking to The Hill on Monday.
"They've all handled it the same," she said, adding that "Democrat, Republican, past administrations, they usually side with the Saudis."
Strada, who lost her husband in the September 11, 2001 attacks, believes ignorance of the kingdom's alleged role in assisting the attack's perpetrators comes as Saudi Arabia continues to fund terrorist organizations.
"I have no reason to believe it stopped because we've never fully admitted it existed in the first place," she said.
Strada's organization represents many 9/11 survivors and affected family members who filed a lawsuit against the kingdom in 2017.
The action came after the US Congress overrode a veto from then-President Barack Obama and passed the Justice Against Sponsors of Terrorism Act (JASTA) in September 2016, opening the door to a legal case assessing Riyadh's role in the incident.
"That's what this lawsuit will do, it will shed a light on the flow of money that continues from the kingdom to the terrorist organizations, and right into the terrorists' hands," said Strada.
"They [the 9/11 hijackers] were here for 12 to 18 months prior to the attacks, buying first-class airline tickets, practicing on our airplanes, learning how fly in our flight schools. All funded by the kingdom of Saudi Arabia," she added
Saudi Arabia has reportedly lobbied heavily to kill the 9/11 law, threatening the US of consequences if it pushes forward with the measure.
A US District Court judge rejected a Saudi request urging American authorities to abandon the lawsuit last year.
The oil-rich kingdom has also faced mounting pressure in recent years over its brutal onslaught on Yemen and the murder of Saudi dissident journalist Jamal Khashoggi.
Saudi Arabia launched a war on the impoverished nation in 2015, resulting in tens of thousands of deaths and putting 14 million Yemenis on the brink of imminent famine.
Saudi Crown Prince Mohammed bin Salman has also been reported to have administered the assassination of Khashoggi – an outspoken critic of his policies – last October at Riyadh's Istanbul consulate.
https://www.presstv.com/Detail/2019/03/11/590797/US-govt-Saudi-Arabia-911-victims
--------
Anti-extremist policy targeting UK Muslims successfully appealed
DR SALMAN BUTT
March 12, 2019
The landmark legal challenge ruled that guidance given to universities and colleges which saw speakers with 'extremist views' being banned from events was unlawful.
The UK's so-called 'counter-extremism' Prevent strategy has always been a controversial policy. Not only have its negative consequences been felt and condemned in the United Kingdom, but its inherently flawed basis has been exported across the globe in the form of Countering Violent Extremism (CVE) strategies.
Now an important judgment from the UK Court of Appeal has begun to tentatively turn the tide against Prevent, particularly in UK universities where it has had a chilling effect on students' ability to have open discussions on important issues.
Prevent is one of the four strands of the UK government's counter-terrorism strategy, which is known as Contest. Unlike the other strands—which exist to deal with things related to actual terrorism—Prevent was created to combat 'extremism', which the government defined as the opposition to 'British values'.
A toxic policy
Despite successive attempts to enforce Prevent using legislation, compelling more and more arms of the state and public sector to engage with it, the strategy is possibly now more toxic than ever before.
As a policy it has been rejected by both the National Union of Students, and the National Union of Teachers (now called National Education Union), criticised by the British Medical Association, countless human rights groups, legal experts, politicians and hundreds of academics, even drawing condemnation from many UN representatives including Special Rapporteurs for racism, privacy and freedom of assembly.
The pressure has finally forced the government to launch an independent review into Prevent, which is cautiously being welcomed by critics, depending on how impartial it will be.
The many symptoms of the toxic policy may be reduced to a few fundamental problems that are baked into the very DNA of Prevent and the global CVE policies that it has germinated.
The first is that it is based on pseudoscience, namely the belief that something called 'extremist' ideology causes terrorism, despite the wealth of peer-reviewed scientific research to the contrary.
In 2016, more than 140 academics criticised the previously secret 'research' underlying the Prevent strategy as 'flawed science', used to justify an ancient—yet sadly persistent—myth blaming ideas for the causes of some types of violence.
As professor Arun Kundnani traces, this was the same logic used to crack down on anti-colonial activism and labour movements in the last century. Despite the government distancing itself from the refuted 'radicalisation' theories underlying Prevent, they were unearthed as still being used in family courts as recently as 2018 to justify removing children from their families, 'based on subjective and inaccurate perceptions of ideology' rather than actual abuse.
The second issue is that Prevent is inherently racist and discriminatory. As one racial equality organisation in England put it, Prevent is "built on a foundation of Islamophobia and racism", and as a criminology lecturer wrote in The Guardian: "[It] gives people permission to hate Muslims."
The UK Home Office's own published statistics showed that—despite Muslims representing five percent of the population, and accounting for less than five percent of terrorism across the UK, 65 percent of Prevent referrals were of Muslims, with 95 percent of those referrals being unnecessary.
Muslims are 40-50 times more likely to be referred to Prevent than non-Muslims. This is partly why some academics such as Professor David Miller have said that the sprawling counter-terrorism apparatus is one of the "five pillars of Islamophobia" in the UK, and possibly beyond.
The third problem is that Prevent is actually counterproductive to its stated aims. In other words, it exacerbates the empirically-determined conditions and causes of terrorism, rather than reducing them.
This is why the UN's special rapporteur on the right to freedom of assembly said: "By dividing, stigmatising and alienating segments of the population, Prevent could end up promoting extremism, rather than countering it."
Tom Hickey, a lecturer at the University of Brighton and member of the Universities and Colleges Union (UCU) Committee, said it was as though Prevent was "almost designed to have the opposite effect".
History shows us that it is when non-violent 'radical' movements experience state suppression that a minority of them turn to armed action. Even the UK Foreign Affairs Committee stated in 2016 that so-called "Political Islam" is a firewall against violence in the Muslim world.
Despite its many essential and subsidiary flaws, those with a professional or ideological investment in Prevent have continued to champion it, citing it to intimidate organisations or venues to cancel events, push assimilationist agendas against minorities (particularly Muslims), uphold racialised myths about the causes of Muslim-perpetrated violence, and demonise Prevent's critics as somehow pro-terrorism.
They have been able to get away with this partly due to the confusing (and often contradictory) messaging and guidance issued by government departments, and the overall lack of clarity in the public domain about the legal and scientific status of Prevent. Landmark legal challenge
In order to bring some legal clarity on Prevent and address some of the injustice caused by it, we launched a judicial review against the UK government in 2016. On Friday, the UK Court of Appeal released a judgement with an important win for universities and colleges in that regard.
Judges ruled that the Prevent Duty Guidance given to higher education bodies was unlawful, because it was overly prescriptive and gave the impression to colleges and universities that they should not allow events with speakers with so-called 'extremist views' to go ahead, thus leading many to breach their duty to ensure to freedom of speech on campus.
The judges also reiterated that the Prevent 'duty' guidance is only a recommendation that public bodies are not compelled to follow. If universities wish to do so they are within their rights to completely disregard it in favour of, for example, preserving free speech.
This includes the infamously loose and open-to-abuse definition of an 'extremist' being someone who opposes so-called 'British values'. Universities are not obliged to prevent this 'extremism' on campus, but rather to have due regard to stopping people being drawn into terrorism, which has a legal definition and is far more restricted than 'extremism'.
During the legal case, we also uncovered a previously secretive department within the Home Office, called the Extremism Analysis Unit. The Home Office admitted to harvesting information on Muslim speakers and activists from the likes of the openly and proudly Islamophobic Henry Jackson Society, whose associate director urged for in the past that "conditions for Muslims in Europe must be made harder across the board".
We argued that the government breached data protection and surveillance laws by effectively outsourcing surveillance to such shady third-party organisations, and using sophisticated automated research tools such as RIPJAR (created by a private company) to search and process private citizens' data across all different social media platforms, without their knowledge.
The court dismissed our claims on this ground, and we look forward to taking this to the Supreme Court because we understand the power and extremely personal insights that our data harvested in such a way can yield.
While the road to holding the government to account is a long one, Friday's result was an important milestone. Universities and colleges that previously prevented events on the basis of Prevent or so-called 'extremism' need to redraft their policies and start to undo the damage Prevent has caused to discussion and debate.
Campuses are supposed to be a place where radical thinking is encouraged, and Islamic societies in particular—who bore the brunt of this discriminatory chilling of free speech—need to take the lead in breaking the cycle of fear and culture of self-censorship and intimidation.
If your views go against popular norms or government policy, that is nothing to be afraid of. As one judge said in court recently to the government's barrister: "Is not one man's extremist, another man's serious radical thinker?"
https://www.trtworld.com/opinion/anti-extremist-policy-targeting-uk-muslims-successfully-appealed-24844
--------
'This is about equality': Muslim couple produces braille Quran in English
March 11, 2019
Aysha Khan
(RNS) – When Yadira Thabatah converted to Islam 13 years ago from Catholicism, she was eager to learn everything she could about her new religion.
The only thing slowing Yadira down was that the 34-year-old mother of four living in Fort Worth, Tex., was born blind. When she and her husband, 33-year-old Nadir Thabatah, who is legally blind but has partial vision, looked for high-quality, English-language resources that she could read, they found nothing.
So in 2017, she and Nadir decided it was time for some DIY action. They spent eight months converting a popular English-language translation of Islam's holy book into braille characters, then used a crowdfunding site to raise money to buy a braille embosser and began producing Quran translations right in their garage.
In the past three years, under the auspices of their nonprofit, Islam By Touch, the couple has sent more than 150 braille Qurans to U.S. mosques for distribution to visually impaired Muslims as well as to individuals directly. They have also launched an app to help visually impaired Muslims learn about their faith.
The first time Yadira was able to read the Quran for herself was when she was proofreading her own braille rendering of an English translation.
"I actually cried," Yadira told Religion News Service. "I'm a reader by nature. Going from being Muslim for about a decade and never having read the Quran, the word of Allah, to actually giving this amazing opportunity to other blind people. I can't put it into words."
Other Muslims had recommended audio tapes of Islamic literature over the years, and Yadira did listen to plenty, as well as CDs with translations of the Quran. They got the job done, she said, but she still longed to read the Quran with her own hands.
"How do you expect blind Muslims to have a certain level of faith if they can't even read their own book?" Nadir asked.
Mahdia Lynn, a disability rights advocate and executive director of inclusive Chicago mosque Masjid Al Rabia, said that many religious organizations consider accessibility to scripture as an afterthought, not considering that it is a matter of "life or death."
"We're talking about entryway into the hereafter, and about having a more fulfilling life here on earth," Lynn said. "So if as a community leader you fail to make your space accessible to anyone who wants to come in the door, that's a moral and ethical failing."
Invented almost 200 years ago in France, braille is a tactile writing system that allows blind and visually impaired people to read and write. Patterns of dots — typically raised on embossed paper, so that they can be read by touch with the fingers — represent letters and symbols in any language.
The Quran itself has been available in braille in Arabic since at least the 1980s, when a braille Quran was first published in Turkey. Braille Qurans are now fairly available to Muslims around the world, in part because of the efforts of a blind Turkish man named Selahattin Aydin, who founded the International Union of Braille Quran Services in Istanbul in 2013. Aydin's group has since helped improve access to braille Qurans around the world.
But braille versions in other languages are harder to come by.
Abdullah Yusuf Ali's popular English translation is available in a braille version at the Library of Congress. In 2004, the Ahmadiyya Muslim Community's publishing division printed a 12-volume braille rendering of the popular English translation by Maulavi Sher Ali, available for about $100. The Centre for Peace and Spirituality International in New Delhi, India, has also produced a two-volume braille version of Maulana Wahiduddin Khan's English translation.
But Islam By Touch claims that existing braille Qurans in English offer inaccurate translations. The Thabatahs chose to transcribe the Sahih International translation — a "reliable" translation, Nadir said — and make copies available to the public for free.
"I know for a fact there are errors in braille Qurans left and right," Nadir said, "because the quality control when you send these projects overseas is terrible. So it was important for us to do it ourselves."
The couple says their version is a major step forward for blind Muslims, who can often be shut out of Islamic communities due to inaccessibility, which feeds insensitivity about their disability.
"This is about removing stigma toward people who are blind," Yadira said. "This is about equality and justice. Blind Muslims have just as much autonomy and ability to thrive. We are not charity cases, we are not 'brave' for simply existing."
Yadira said she felt traumatized by her experiences in traditional mosques soon after she converted, partially because of patronizing attitudes of other congregants as well as misunderstandings about her guide dog. She has avoided integrating into Muslim spaces since then. When her early search for Islamic literature in braille was frustrated over a decade ago, she initially moved on.
But as their children got older, Yadira decided to homeschool them to teach them about their faith and began looking for resources in braille. In 2016, Nadir had just lost his longtime job in sales. (According to Nadir, his company failed to accommodate his visual impairment when it updated its software, and his sales numbers dropped.)
"So I approached her and said, why don't we take this step in making Islam a more accessible thing to the blind community?" Nadir said.
Their single 10-volume translation takes about six or seven hours to print and costs around $250 to produce. (To make it transportable, they had to break the book down into several volumes.)
They try to print about two or three Qurans per week, between visiting mosques to deliver talks and sermons, working with advocacy organizations focused on visually impaired people, and preparing braille renderings of other Islamic literature.
Blind Muslims can now access braille Qurans at more than 20 mosques around the country, including at the Bayyinah Institute, a Texas school that offers popular intensive courses on Quranic studies.
The Thabatahs consider that just a start for Islam By Touch. They hope to create accessible spaces for visually impaired Muslims to feel connected both to God and to the rest of the Muslim ummah, or community. According to the 2016 National Health Interview Survey, 25.5 million American adults reported experiencing vision loss, but there are no numbers on that breakdown among faith groups.
"Our low, low estimate is that there are probably about 50,000 blind Muslims in America," Nadir said. "We want to create a connection between people, so people know that they're not the only blind Muslim in their community, that there are other people who understand."
https://religionnews.com/2019/03/11/this-is-about-equality-blind-muslim-couple-distributes-free-english-braille-qurans/
--------
Taliban's Mullah Omar lived near US base in Afghanistan for years, book says
Mar 11, 2019
KABUL: A biography of one-eyed former Afghan Taliban leader Mullah Omar says he lived near a US base in Afghanistan for years, not in Pakistan as U.S. officials have said, exposing Western failure to track him down, but a spokesman for the Afghan president described the claim as "delusional".
In her book "Op Zoek Naar De Vijand (Searching for an Enemy)", Dutch journalist Bette Dam says Omar never hid in neighbouring Pakistan.
He lived in hiding just three miles from a major U.S. military base in his home Afghan province of Zabul, said Dam, who says she spent five years interviewing Taliban members for the book.
Omar's hardline Taliban ruled Afghanistan from 1996 until 2001, and has waged an anti-government insurgency since then.
Omar, who delegated effective Taliban leadership after 2001, appears to have acted as more of a spiritual leader, according to the book, and the militant movement kept his death in 2013 secret for two years.
He was wanted in the United States for providing a safe haven for al Qaeda leader Osama bin Laden, who masterminded the 9/11 attacks on the United States and lived in hiding in Pakistan, and Washington had placed a $10 million bounty on his head.
U.S. forces even searched his accommodation on one occasion, but failed to find Omar's hiding place, Dam told Reuters.
"The book underlines the failure of Western intelligence at a time when U.S. and Taliban officials are holding peace talks to end the 17-year-old war in Afghanistan," she said.
The U.S. Embassy in Kabul did not immediately respond to a request for comment. The United States has halted the disbursement of Coalition Support Funds to Pakistan due its perceived failure to take decisive action against Afghan Taliban militants operating from Pakistani soil.
Haroon Chakhansuri, a spokesman for Afghan President Ashraf Ghani, "strongly rejected" the book and it was a "delusional claim" that Omar lived in Afghanistan.
"We have sufficient evidence which shows he (Omar) lived and died in Pakistan. Period!", he said in a Tweet.
Amrullah Saleh, a former Afghan intelligence chief running in upcoming vice presidential polls, also dismissed the book.
"The so-called investigative report claiming Mullah Omar lived and died in Afghanistan is nothing but a manipulative piece of propaganda," he Tweeted.
In July 2015, the Taliban officially confirmed Omar had been dead for more than two years.
Omar's eldest son, Mohammad Yaqoob, said in an audio tape released in September 2015 that his father had been suffering from hepatitis C and died in Afghanistan.
Dam has previously published a book on Afghanistan and is a guest lecturer on Afghanistan at Sciences Po in Paris.
Dam's book was published in Dutch last month, and will be available in English shortly.
https://timesofindia.indiatimes.com/world/south-asia/talibans-mullah-omar-lived-near-us-base-in-afghanistan-for-years-book-says/articleshow/68361894.cms
--------
Do away with archaic laws on 'insult to religion'
March 12, 2019
We, speaking up for what we believe to represent the majority of peace loving and responsible Malaysians, condemn the unhealthy trend of irresponsible individuals and political parties in capitalising on the issue of "insult to religion" to gain popularity among voters.
Such callous actions by these individuals and groups, bordering on rabble rousing, will put the country in a heightened state of uneasiness and fear.
The government of the day seems unwilling or unable to respond to these acts of opportunism by irresponsible parties for their own selfish ends.
The background relating to the issue of "insult to religion" lies in our colonial and recent past which saw limited education and the mixing of cultures between the different communities.
Hence the past need for restrictive laws to preserve public order.
However, after 60 years as a nation state making its way towards modernity and the matured liberal, scientific and progressive future envisaged in Vision 2020, it is high time to revisit and revise these laws.
On May 9, citizens of Malaysia voted out a failing government and ushered in what we hoped would be a new era of mature political discourse and freedom of expression.
As with any new manifestation of political culture, there will be teething problems. These problems need to be analyzed and objectively dealt with in the way which developed and mature societies would handle them.
In our country, institutions of religions have been set up to administer each religion with Islam acknowledged in a special situation in the constitutional sphere. Article 3(1) states that, "Islam is the religion of the Federation; but other religions may be practised in peace and harmony in any part of the Federation."
What this means is that insulting Islam is unacceptable in respect of the current laws.
Similarly, other religions in the country – even if not enjoying the status of Islam – need to be equally respected.
Striking a balance
In the application of laws prohibiting insulting religion, we must strive for a rational and liberal balance with the protection of the freedom of expression while being mindful of the religious sensitivities of our multi-religious communities. Open mindedness and moderation should be the norm in the interpretation and application of the existing laws.
The following are some examples which the holders of state power should not automatically or as a reflex action seek prosecution and punishment just because some individuals or groups label them as constituting religious insult or disrespect:
1. The use of cartoons and caricature to poke fun at religious practices and personalities is an acceptable form of modern mass communication in the world. The production or reproduction of religion-related literature and art by Malaysians should be permitted and protected under the law so long as the author is not engaged in what is clearly an act of religious hate crime.
2. Opinions on social issues such as child marriages, female circumcision or other similar subjects are perfectly defensible and permissible as they bear no intention of insult.
On the contrary, they provide a contemporary understanding of what are traditionally accepted norms and practices sanctioned by religious authority. The sharing of knowledge on such issues with social and religious institutions and authorities should be encouraged rather than be penalised by the law.
3. Professional opinions on technological, planning design and environmental issues concerning religious buildings or religious actions and rituals should be welcomed as they will help create more sustainable forms and structures that would benefit all members of society.
4. Discourses on spirituality, different forms of religious belief and even agnosticism and atheism should be permitted. Such exchanges of theological and non-theological constructs will enable the nation to grow spiritually as well as be part of the growing universality that is replacing narrow religious, cultural and social constructs.
Protection of the above and other similar expression of thoughts, ideas and constructs are absolutely necessary for Malaysia to grow to become that "psychologically liberated, secure and developed nation" as envisaged in Vision 2020.
National Unity Consultative Council
Together with the above, in view of the recent national and international attention and publicity given to the ten year sentence levelled on a recent offender accused of insulting Islam on social media, we call for an urgent phasing out of the laws related to "insult to religion" by instituting the following replacement:
Cases construed as "insult to religion" should not be the sole judgement of a single judge for fear of ethnic and religious bias.
Such decision should be referred to the National Unity Consultative Council under the purview of the Ministry of National Unity.
NUCC should comprise noted personalities in societies with representatives of officials from the various religious groups.
Secondly, for the period before the laws of "insult to religion" are to be phased out, punishment should not go beyond a commensurate fine within the financial status of the person being charged.
Thirdly, once the laws have been phased out, acts pertaining to so-called "insult to religion" should be referred to NUCC for action. Such action can include collaboration with the respective religious institutions or authorities to ensure that there are no adverse ripple effects from the alleged insult or disrespect; and counselling of the individuals or groups engaging in such action or activities.
Fourthly, religious leaders in their sermons must regularly advise congregants and members of the faith against insulting others and also to turn the other cheek if there are perceived to be insults against their own religion.
We remind our fellow citizens that the resort to law to criminalise opinions and views on religion is a double-edged sword.
Let us put that sword away so we do not end as a cut up and impaired nation.
https://www.freemalaysiatoday.com/category/opinion/2019/03/12/do-away-with-archaic-laws-on-insult-to-religion/
--------
Israeli settlers seal mosque in al-Quds amid rise of violence against Palestinians: Report
Mar 11, 2019
Israeli settlers have sealed a mosque in the Old City of the occupied Jerusalem al-Quds, a month after a United Nations report revealed that violence and vandalism committed by Israelis against Palestinians and their property have increased since the beginning of this year.
According to a report by the Palestinian Ma'an news agency on Monday, Israeli settlers spread an adhesive substance mostly on the lock of the door of Sheikh Makki Mosque earlier in the day, virtually making the door sealed shut.
The report, citing those responsible for maintaining the mosque, said the police were immediately informed of the incident and later on the substance was removed with some effort and the door reopened before taking some pictures of what was described as an act of vandalism against Muslims.
Last month, the UN Office for the Coordination of Humanitarian Affairs (OCHA) said in a report, which covered the period from January 29 to February 11 this year, showed a weekly average of seven Israeli attacks resulting in injuries or property damage compared to an average of five in the same period in 2018 and three in 2017.
It said that the Israeli settlers also attempted to torch a local mosque in Deir Dibwan Village in Ramallah during the period.
According to the report, 425 Palestinian-owned trees had also been vandalized by Israeli settlers in three separate incidents in al-Khalil (Hebron) in the southern West Bank and in Jalud Village in Nablus, located in the northern West Bank.
Separately, Israeli settlers punctured the tires of 14 Palestinian-owned vehicles, spray-painted racist graffiti in al-Lubban al-Sharqiya and Huwwara villages, south of Nablus, and in al-Khalayleh, near the Jerusalem al-Quds district, the OCHA's report further said.
About 600,000 Israelis live in over 230 illegal settlements built since the 1967 Israeli occupation of the Palestinian territories of the West Bank and East Jerusalem al-Quds.
Palestinians want the West Bank as part of a future independent Palestinian state with East Jerusalem al-Quds as its capital.
Israel's continued settlement expansion on Palestinian territories has been a major sticking point in Israeli-Palestinian talks, which have stalled since 2014.
https://www.presstv.com/Detail/2019/03/11/590789/Israeli-settlers-mosque-Quds-
--------
Paper Reveals US, France's Role in Unrests in Algeria
Mar 11, 2019
"A central operations room has been formed to manage the revolution in Algeria with Rabat city in Morocco as its headquarters. 4 American and 6 Moroccan intelligence officers are present in the operations room as well as 12 Serbian nationals who are called as destruction experts and they are financially supported by the US," the Arabic-language al-Bana newspaper wrote on Monday.
It added that two other rooms for field operations have also been established in Wajdah city in Northeastern Morocco, near the border with Algeria, which is controlled by 11 US, Moroccan, Serbian and Algerian operations officers.
According to the paper, the second room for field operations has been established in the town of al-Rashidiyeh which is 80km away from Algeria, saying that 8 officers from the aforesaid countries and two French intelligence-military officers work for it.
Amid the biggest threat to his 20-year rule, Algerian President Abdelaziz Bouteflika arrived at an airbase Southwest of the capital, Algiers, according to state media.
His aircraft on Sunday flew into the Boufarik military airport from the Swiss city of Geneva, where the 82-year-old leader - whose bid to seek a fifth term has been met with unprecedented protests - had a two-week medical trip.
State TV carried a statement from the presidency saying he had returned to Algeria after routine medical checks. Images later showed a convoy departing the airport.
The president, who is confined to a wheelchair, has rarely been seen in public since suffering a stroke in 2013, prompting critics to question whether he is being used as a puppet candidate by a faction of civilian and military figures.
Massive protests began on February 22 to denounce Bouteflika's plans to extend his rule in the April 18 polls.
Bouteflika has offered to limit his term after the election and has vowed to change the "system" that runs the country. The promises, however, have failed to quell public anger, galvanizing discontent among different sectors, particularly students and other young people.
Some long-time allies of Bouteflika, including members of the ruling FLN party, have expressed support for the protesters, revealing cracks within a ruling elite long seen as invincible.
http://en.farsnews.com/newstext.aspx?nn=13971220000489
--------
India
Muslim Leaders Demand Better Deal for Community from TDP
MARCH 12, 2019
Muslims, who stood by the TDP through thick and thin were being sidelined by the party high command due to misrepresentation by local leaders and vested interests, Dr. S.A. Rahaman, former MLA and Dr. Zaheer Ahmed, former city president of the party, told the media here on Monday.
The lack of representation for the community in the first list was a reflection of the raw deal being given to the community. Their problems like rampant poverty, illiteracy and social problems were not getting due attention of the government.
They wondered what justice would the party leadership do to the community when popular leaders were being denied tickets to accommodate others. Party president Chandrababu Naidu had expressed the view that 15 seats should be given to Muslims at the party's 'Nara Hamara' programme.
Citing an example, they said Ameer Babu, a staunch supporter in Kadapa, was denied the ticket. In Hindupur, former MLA Abdul Gani had joined the YSRCP as he was sidelined to accommodate Nandamuri Balakrishna in the last elections. Similarly, K. Nagul Meera (Vijayawada) was denied ticket and should be accommodated at least now.
They said there was no dearth of Muslim leaders in Visakhapatnam. Dr. Rahaman said both he and Dr. Zaheer Ahmed had very good following in the region and one of them should be given the ticket for the South constituency, where there was a sizeable population of Muslim voters.
Dig at Vasupalli
He alleged that Visakhapatnam South MLA Vasupalli Ganesh Kumar had been disrespectful towards the Muslim leaders in the region by not inviting them to party meetings for quite a long time. They tolerated his high-handedness as disciplined party leaders. Dr. Rahaman said: "Our followers are questioning how long we should tolerate injustice being done to the community and we have no answer."
https://www.thehindu.com/news/national/andhra-pradesh/muslim-leaders-demand-betterdeal-for-community-from-tdp/article26505613.ece
--------
Can't go to Delhi for questioning due to safety concerns, Mirwaiz tells NIA
Mar 11, 2019
Hurriyat Conference chairman Mirwaiz Umar Farooq has asked the National Investigation Agency (NIA) to question him in Srinagar instead of Delhi as he fears for his security in view of "prevailing condition of hostility".
The NIA on Saturday summoned Hurriyat chairman Mirwaiz Umar Farooq and Syed Naseem Geelani, son of hardline Hurriyat leader Syed Ali Shah Geelani, to Delhi on Monday for questioning in connection with a terror funding case.
Mirwaiz's counsel Ajaz Ahmad Dhar in a letter to the NIA cited various reasons including security concerns for the Hurriyat Conference leader not appearing at the New Delhi office of the agency.
"The notice in question appears to have been issued on the basis of fallacious assumptions and misinformation solely aimed at maligning the Mirwaiz –i- Kashmir, knowing his status and position, it appears to be outcome of considerations other than law. My client is not acquainted with the subject matter of FIR/NIA Crime no RC 10/2017/NIA/Dli, referred in the notice,'' said the counsel in the letter.
The counsel said that "under the prevailing condition of hostility wherein there is a threat to the personal safety of my client it becomes unwise for my client to travel to Delhi. If the NIA wants to examine my client they can do so in Srinagar. He is willing to cooperate as he has nothing to hide.''
On February 26, the NIA carried out searches at seven locations, including the residences of Farooq, Geelani, JKLF leader Yaseen Malik, Shabir Shah, Ashraf Sehrai and Zaffar Bhat in connection with the same case.
An NIA spokesperson said officials seized incriminating documents, including property papers, financial transactions receipts and bank account details during the raids. Electronic devices, including laptops, e-tablets, mobile phones, pen drives, communication system and DVRs, were also seized, he added.
Full report at:
https://www.hindustantimes.com/india-news/can-t-go-to-delhi-for-questioning-due-to-safety-concerns-mirwaiz-tells-nia/story-luliB393A3GXC8eLlcWhOL.html
--------
Talk to Pakistan, Mehbooba Mufti urges India amid Kashmir tension
March 12, 2019
India should talk to Pakistan and separatists in Kashmir to defuse tension arising from a suicide attack on a Central Reserve Police Force (CRPF) convoy that was claimed by Pakistan-based militants, a former chief minister of the state said.
Mehbooba Mufti, who was chief minister of Jammu and Kashmir from early 2014 to June last year when Prime Minister Narendra Modi's party withdrew support for her regional party, said an ongoing crackdown on militants and those supporting secession could further alienate the people.
India has vowed to kill all the militants in the country's only Muslim-majority state if they do not give up arms, after a 20-year-old local man killed 40 paramilitary troopers in a suicide attack last month. Indian security forces have killed 18 militants in Kashmir since then, the army said on Monday.
Ads by ZEDO
The attack nearly led to another war between arch-rival India and Pakistan, both of which claim the Himalayan region in full but rule in part.
"I strongly feel that there has to be a dialogue process internally as well as externally, with Pakistan," Mufti said in an interview on Friday. "The situation is going to get worse if some kind of political process is not initiated on the ground now."
Indian officials have repeatedly ruled out talks with Pakistan unless it acts against militant groups based there. India says its warplanes late last month bombed a militant camp in Pakistan, which responded with an aerial attack the next day.
U.S. Secretary of State Mike Pompeo met in Washington with Indian Foreign Secretary Vijay Gokhale and told him the United States stands with India against terrorism.
"Secretary Pompeo and Foreign Secretary Gokhale discussed the importance of bringing those responsible for the attack to justice and the urgency of Pakistan taking meaningful action against terrorist groups operating on its soil," the State Department said in a statement.
Gokhale said on the day of the strike that it had killed many Jaish-e-Mohammed "terrorists". Pakistan said no one was killed.
Pakistan Prime Minister Imran Khan, who has sought to speak with Modi amid the hostility, said no militant group would be allowed to operate from his country to carry out attacks abroad, days after his government announced a sweeping crackdown against Islamist militant organisations.
"This confrontational attitude - no talks, no discussion -has an impact," Mufti said. "Whatever relationship we have with Pakistan, it has a direct impact on Jammu and Kashmir and we are the worst sufferers of this animosity."
Indian authorities have arrested many separatist leaders in Kashmir in the past few weeks, and the Bharatiya Janata Party (BJP) chief said recently that the government had made it clear to them that "if they want to live in India, they will have to speak the language of India, not Pakistan's".
Mufti, whose father was also a chief minister of Jammu and Kashmir, said the tough stance by India would only lead to "some calm on the surface". India killed 248 militants in Kashmir in 2018 - the highest in a decade.
"Once you start choking the space for dissent in a democracy, people feel pushed to the wall and then it leads to further dissent and alienation," she said.
Mufti said India's general election - starting April 11 and whose results will be declared on May 23 - could delay the process of any inter-party talks on Kashmir.
'ELIMINATING MILITANTS'
Lieutenant-General Kanwal Jeet Singh Dhillon, India's top military commander in Kashmir, said on Monday that security forces had killed 10 local and eight foreign militants in the region in the past three weeks.
He said most of the dead were from Jaish-e-Mohammed, which claimed responsibility for the attack on the paramilitary convoy in the district of Pulwama on Feb. 14.
"Our main emphasis after the convoy attack was to eliminate the JeM leadership and we have been successful in that," he told a press conference in Srinagar, the summer capital of the state.
Full report at:
https://www.indiatoday.in/india/story/talk-to-pakistan-mehbooba-mufti-urges-india-amid-kashmir-tension-1475893-2019-03-12
--------
2017 terror-funding case: Mirwaiz Umar Farooq fails to appear in NIA HQ
Mar 11, 2019
Kashmiri separatist leader Mirwaiz Umar Farooq and Naseem Geelani, the son of Hurriyat hardliner Syed Ali Shah Gilani, on Monday skipped a summons by the National Investigation Agency citing security reasons, their lawyer said.
On Saturday, the two were issued the summons to appear before the NIA at its Delhi headquarters in connection with a 2017 terror funding case.
The notice in question appears to have been issued on the basis of fallacious assumptions and misinformation solely aimed at maligning the Mirwaiz-i-Kashmir (Farooq), knowing his status and position, it appears to be outcome of considerations other than law. My client is not acquainted with the subject matter of FIR/NIA Crime no RC 10/2017/NIA/Dli, referred in the notice," Farooq's counsel Ajaz Ahmad Dhar said.
"It is on record that in 2004 and 2005 Mirwaiz and his colleagues from the Hurriyat engaged in a dialogue initiated by the then Prime Minister of India Atal Bihari Vajpayee and continued by his successor Manmohan Singh. The government of India facilitated the travel of Mirwaiz and his colleagues to Pakistan to pave the path for peaceful resolution of issue," Dhar said.
The lawyer also said that "under the prevailing condition of hostility wherein there is a threat to the personal safety of my client it becomes unwise for my client to travel to Delhi". "If the NIA wants to examine my client they can do so in Srinagar. He is willing to cooperate as he has nothing to hide.''
Full report at:
https://www.hindustantimes.com/india-news/2017-terror-funding-case-mirwaiz-umar-farooq-fails-to-appear-in-nia-hq/story-DPoP5VUUKcNZkIJjnBWBoO.html
--------
North America
Trump says he'd win if he ran in Israeli prime ministerial elections
Mar 11, 2019
US President Donald Trump says he would gain 98 percent of the vote if he ran for Israeli prime ministerial vote.
Speaking at a closed meeting with Republican Party donors at Trump's Mar-a-Lago residence, Trump pointed to his rare popularity among the Israelis.
He cited his controversial decision to recognize Jerusalem al-Quds as Israel's "capital" and relocate the US embassy to the city as the reasons for his support base.
Jerusalem al-Quds remains at the core of the Israeli–Palestinian conflict, with Palestinians hoping that the eastern part of the city would eventually serve as the capital of their future independent state.
The businessman-turned-president, however, seems to be taking his trade war to Israel.
According to Bloomberg, US trade negotiators will be visiting Israel this week to discuss upgrading the existing agricultural trade pacts and reducing tariffs for American farm exports to Israel.
Under the existing deal, virtually any product produced in Israel that can be competitive in the US market, can enter the US duty-free.
In contrast, US products continue to face high tariffs in many sectors limiting their access to the Israeli market, according to a 2018 report from the US Department of Agriculture's Foreign Agricultural Service.
The US trade deficit with Israel, an economy 55 times smaller, was about $14 billion in 2017.
Ever since taking office in 2017, Trump has repeatedly vowed to reduce US trade deficits with its trade partners, calling out India, China and a number of European countries for their high tariffs.
The president has put tariffs on $250 billion of Chinese goods, as well as on most foreign steel and aluminum, solar panels and washing machines.
Trump pulled the United States out of the Trans-Pacific Partnership and renegotiated the North American Free Trade Agreement, both of which he called some of the "worst" deals.
However, the US government's Census Bureau revealed this week that the country's trade deficit hit a 10-year high in 2018 as it grew to 621 billion dollars. That's over $100 billion since he entered the White House.
Trump views the trade deficit as a measure of whether the US is winning or losing on trade.
https://www.presstv.com/Detail/2019/03/11/590747/Trump-win-sraeli-elections
--------
US envoy defends his criticism of Chinese religious persecution
11 March 2019
US envoy for religious freedom Sam Brownback defended his remark that China is "at war with faith" after the Chinese foreign ministry issued an angry statement condemning the envoy's words as a "malicious attack and slander on China's religious policies". Brownback criticized the Chinese government in a speech on Friday in Hong Kong, saying the Chinese government is engaged in the persecution of Muslim Uighurs, Tibetan Buddhists, Christians and Falungong practitioners.
He described China's "war with faith" as "a war which they will not win".
The speech prompted a sternly worded response from the Chinese foreign ministry office in Hong Kong saying "we ask the US to respect the facts, stop the arrogance and prejudice and cease using religious issues to interfere in China's internal affairs".
Speaking to reporters in Taiwan on Monday during a forum on religious freedom, Brownback said his office has a list of hundreds of names of individuals in China who were missing and allegedly persecuted for their faith.
"Where are they? What is happening to them? Why can't their family members hear from them?" Brownback asked, challenging the Chinese government to respond to questions regarding the whereabouts of these individuals.
"The United States has designated (China) in its most problematic category of countries that persecute people of faith ... since 1999. And the situation has gotten notably worse in the last two years," he added. "We are calling on alliances of countries and individuals to step up and to oppose these things when they take place."
According to UN experts, nearly one million Uighurs and other Turkic language-speaking minorities are being held in detention centers in Xinjiang. Beijing denied the claim saying they are in "vocational education centers".
Around half of China's 100 million Christians encounter persecution, "the worst it's been in more than a decade" following "new laws seeking to control religious expression," said Open Doors, a global advocacy group in a January report.
Brownback was in Taiwan for a two-day forum on religious freedom jointly sponsored by Taiwan and the United States.
President Tsai Ing-wen said in her opening address Taiwan will always choose to stand with "those who were oppressed and whose religious rights were taken away by authoritarian regimes".
Full report at:
https://english.alarabiya.net/en/News/world/2019/03/11/US-envoy-defends-his-criticism-of-Chinese-religious-persecution.html
--------
US' Pence discusses Syria with Jordan king
Michael Hernandez
12.03.2019
WASHINGTON
U.S. Vice President Mike Pence discussed the decision to leave a "residual U.S. presence in Syria" with Jordanian King Abdullah on Monday, according to the White House.
The leaders also discussed "opportunities to work more closely on countering terrorism in the region."
About 400 U.S. troops are expected to remain in Syria after a pullout unexpectedly announced by President Donald Trump in December that rattled close U.S. allies abroad and Trump's closest legislative partners.
Trump conceded to allow for some U.S. troops to remain after the withdrawal to allay their concerns, and about half the force is expected to take part in what Washington is calling an international peacekeeping force in northeastern Syria while others will be used to secure a garrison in southern Syria.
Abdullah went on a whirlwind tour of Washington on Monday, and met Secretary of State Mike Pompeo and Acting Defense Secretary Patrick Shanahan.
The Pentagon said Shanahan and Abdullah discussed Jordan's contributions to the U.S.-led coalition to defeat Daesh as well as other defense and security issues.
Full report at:
https://www.aa.com.tr/en/americas/us-pence-discusses-syria-with-jordan-king/1415339
--------
US hails Morocco for repatriating citizens from Syria
Safvan Allahverdi
11.03.2019
WASHINGTON
The U.S. on Sunday hailed Morocco for repatriating eight of its nationals from war-torn Syria.
The State Department spokesman Robert Palladino said in a statement that Rabat's actions "should encourage other nations to repatriate" foreign fighters from Syria, adding that the U.S. appreciates Morocco's commitment to fighting against terrorism.
"Repatriating foreign terrorists to their countries of origin is the best solution to prevent them from returning to the battlefield," the statement read.
Moroccan interior minister announced earlier in the day that they had brought home eight nationals from "conflict zones" in war-torn Syria.
The ministry said the returnees will be questioned over any possible connection to terrorism.
Moroccan security spokesman Boubaker Sibek said earlier that the return of Moroccan Daesh fighters from Syria and Iraq "was posing a challenge to the country's security".
Full report at:
https://www.aa.com.tr/en/africa/us-hails-morocco-for-repatriating-citizens-from-syria-/1414430
--------
Europe
Greece's Muslims Say Free, State-Built Mosque Too Small
March 11, 2019
ATHENS – The first official mosque in Greece for the country's Muslims, the 800,000-euro ($910,202) cost being borne by Greek taxpayers, is too small, the President of the Muslim Association has complained.
Naim Elghandour told Thema 104.6 radio that the grey, boxy, nearly-windowless mosque in the downtown district of Votanikos looks more like a big kiosk than a place of worship to replace the unofficial mosques Muslims have been setting up in basements and elsewhere.
"Is this the mosque they've been telling us about for so many years?" He said that the mosque, which will have no minarets or loudspeakers, will fit just 300 men and 50 women. Greece, he claimed, has a Muslim population of around 500,000 people, which would be some 5 percent of the country's population.
The government is bearing the cost during a crushing economic crisis as it's been cutting pension benefits and education and health care budgets.
The 1,000-square meter facility will include a worship area for 300 men, a worship area for 50 women, auxiliary rooms, an office for the imam and an office for the muezzin.
Officials from the ultra-extreme right Golden Dawn charged with using neo-Nazi techniques earlier protested the mosque and warned there would be violence if the ruling Radical Left SYRIZA kept pushing the construction.
The mosque won't be allowed, Golden Dawn said in an ominous warning from Ilias Panagiotaros, one of the most strident of the party's lawmakers, all of whom are on trial on charges of running a criminal gang.
He said, "With the help of God – I repeat that – this mosque will not have a good end," the news agency Reuters reported he said.
The mosque has been a special source of consternation to critics because it's being paid for the by state during a crushing economic crisis that has seen workers, pensioners and the poor take the brunt of austerity measures – although others note that the Greek state pays the salaries of Greek Orthodox clergy.
While Greece is building and paying for the mosque, Turkish President Recep Tayyip Erdogan has talked about turning the venerable Hagia Sophia Church into a mosque. It already has minarets around it.
After Greek Premier Alexis Tsipras visited Turkey earlier this year, raising hopes for the reopening of the Halki Seminary, Erdogan said that won't happen unless Greece puts minarets on a mosque in a popular tourist area in Athens besides building the mosque in Votanikos.
The atheist Radical Left SYRIZA leader Tsipras, who is moving for separation of Church and State, visited the seminary and called for a joint visit with Erdogan.
"Look you want something from us, you want the Halki seminary. And I tell you [Greece], come, let's open the Fethiye Mosque," Turkish news website Ahval quoted Erdogan as saying during a rally in Edirne ahead of local elections on March 31.
Halki seminary, which trained Orthodox clergy in Turkey until its closure in 1971, is broadly seen as a symbol of the rights of minority groups but Erdogan has similarly pushed for the rights of what he called a Turkish minority in Greece, which Greece calls Muslim Greeks and bars them from electing their own mufti, a religious leader.
Turkey said reopening the seminary is dependent on reciprocal steps from Greece to improve the rights of its Turkish minority in the northeastern area which borders the two countries.
In his speech, Erdogan complained about the lack of minarets on Athens' Fethiye Mosque which was built in 1458 during the Ottoman occupation of Greece but has not been used as a mosque since 1821.
"They said, 'We are opening the mosque,' but I said, why isn't there a minaret? Can a church be a church without a bell tower?" Erdogan was quoted as saying, adding, "We say, you want to build a bell tower? Come and do it… But what is an essential part of our mosques? The minarets."
https://www.thenationalherald.com/234422/greeces-muslims-say-free-state-built-mosque-too-small/
--------
Russian prosecutors seek four years for Chechnya activist
11 March 2019
Russian prosecutors on Monday asked a court to sentence a top rights activist in Chechnya to four years in a penal colony over what campaigners say are trumped-up drug charges.
Oyub Titiyev, the 61-year-old head of the Chechnya branch of rights group Memorial, was arrested at the start of last year.
His lawyers say the case is connected to Titiyev's investigations into the secretive prison system of a republic that is notorious for rights abuses.
"We ask that Titiyev be found guilty and sentenced to four years in a penal colony, along with a fine of 100,000 rubles ($1,500, 1,350 euros)," prosecutors told a court in Chechnya, according to Russian news agencies.
A verdict in the trial, which has been ongoing since last summer, is expected shortly.
Observers say drug charges have been used repeatedly in the past to silence critical journalists and rights workers in the region.
In a statement on Monday, Amnesty International called for Titiyev to be "released immediately and unconditionally".
"Amnesty International believes Oyub Titiyev is a prisoner of conscience, imprisoned solely for his work for the victims of human rights in Chechnya," the rights group said.
Memorial is the last rights organization to retain a visible presence in Chechnya while remaining critical of local leader Ramzan Kadyrov.
The group said its offices in the neighboring Ingushetia republic were torched following Titiyev's arrest and colleagues in Dagestan, another Caucasus republic, were attacked.
The group speaks out about human rights violations in Russia and has accused the Chechen leader of overseeing a "totalitarian" regime that uses kidnappings and torture.
Titiyev's predecessor as the regional leader of Memorial, Natalya Estemirova, was kidnapped and killed in 2009.
Full report at:
https://english.alarabiya.net/en/News/world/2019/03/11/Russian-prosecutors-seek-four-years-for-Chechnya-activist.html
--------
2018 deadliest year yet for children in Syria: UNICEF
Nilay Kar
11.03.2019
2018 was marked by the highest death toll of children in Syria as the civil war enters its ninth year, the UN agency for children, UNICEF, announced on Monday.
"Children in parts of the country remain in as much danger as at any other time during the eight-year conflict," UNICEF Executive Director Henrietta Fore said in a statement.
"In 2018 alone, 1,106 children were killed in the fighting -- the highest ever number of children killed in a single year since the start of the war.
"These are only the numbers that the UN has been able to verify, which means the true figures are likely much higher," she said.
Fore said that 262 attacks were carried out against education and health facilities in 2018, which she described as a "record high".
She voiced concern about the situation in Idlib in northwestern Syria where "an intensification of violence has reportedly killed 59 children in the past few weeks alone."
"Children and families in no man's lands continue to live in limbo. The situation of families in Rukban, near the Jordanian border, continues to be desperate, with limited access to food, water, shelter, health care, and education," she said.
Worsening conditions in Al Hol camp
UNICEF director is also "alarmed by worsening conditions in Al Hol camp in the northeast [in al-Hasakeh governorate], now home to over 65,000 people, including an estimated 240 unaccompanied or separated children."
"Since January this year, nearly 60 children reportedly died while making the 300-kilometer [186.4 miles] trek from Baghouz [in eastern Syria] to the camp. "
The fate of children of foreign fighters in Syria remains unclear, she noted.
UNICEF "urges member states to take responsibility for children who are their citizens or born to their nationals, and to take measures to prevent children from becoming stateless."
Call for protection of children
The UN Agency, Fore said, renewed its call on "all parties to the conflict, as well as those who have influence over them, to prioritize the protection of all children, no matter who controls which area and regardless of the alleged affiliations of a child's family."
"We also renew our call for unconditional, safe access to the families in need and for sustained, voluntary, long-term solutions to those choosing not to return."
Ahead of the pledging conference in Brussels between March 12-14, Fore urged donors to "maintain their generosity towards the children of Syria and neighboring countries".
Syria has only just begun to emerge from a devastating conflict that began in 2011 when the Assad regime cracked down on demonstrators with unexpected ferocity.
Full report at:
https://www.aa.com.tr/en/europe/2018-deadliest-year-yet-for-children-in-syria-unicef/1415298
--------
UN envoy: Situation in Myanmar must be referred to ICC
Nilay Kar
11.03.2019
GENEVA
The UN Special Rapporteur on Myanmar called on Monday for the situation in Myanmar to be referred to the International Criminal Court (ICC) by the Security Council, or a state party or group of states parties.
Speaking at the 40th session of the Human Rights Council, Yanghee Lee said: "Victims must not be forced to wait in the purgatory of international inaction; if it is not possible to refer the situation to the ICC, the international community should consider establishing an independent tribunal," Lee said.
Lee said that she is "fearful of an increasingly internationalized situation of the Rohingya, with deportations from India and Saudi Arabia recently, as well as a boat arrival in Malaysia just last week".
"I am troubled to hear reports from Bangladesh Government officials that in April they plan to relocate 23,000 Rohingya refugees from the camps in Cox's Bazar to Bhashan Char, a recently emerged island in the Bay of Bengal."
"Ill-planned relocation, and relocations without the consent of the refugees concerned have the potential to create a new crisis," the UN rapporteur warned.
"It is incumbent on the Government of Bangladesh to ensure that this is not brought about," she said.
- Conflict between ethnic armed organizations
The UN envoy also voiced her concern over the conflict between ethnic armed organizations in the northern Myanmar state of Shan.
"Despite the four-month unilateral ceasefire declared by the military in December in the north and east of the country, I am increasingly concerned about the conflict between ethnic armed organizations in Shan State," she said.
"There are recent reports of civilian deaths and thousands of people have been temporarily displaced from their homes over the last few months, with 1,700 people fleeing from Namtu and Hsipaw since 27 February.
"This repeated and ongoing violation serves only to traumatize and re-traumatize adults and children, disrupting their daily lives, education and livelihoods, and impacting on their ability to access healthcare and basic services. This must not continue." She reiterated her call to "all parties to conflicts around the country to protect civilians and take precautions, and to end hostilities."
Two Rohingya refugees accompanied Lee during the conference.
Hamide Hatun said that her husband and many members of her family were killed by the Myanmar army and urged the international community to bring justice for Rohingya Muslims.
"We want to return to our country in an honored and secure way, and want our full citizenship rights to be granted," she said.
Muhip Ullah, the other Rohingya refugee, also called on everybody at the meeting to see their current situation in Cox Bazaar, expressing their expectation from the UN more action than words.
- Persecuted community
The Rohingya, described by the UN as the world's most persecuted people, have faced heightened fears of attack since dozens were killed in communal violence in 2012.
According to Amnesty International, more than 750,000 Rohingya refugees, mostly women, and children, have fled Myanmar and crossed to Bangladesh after Myanmar forces launched a crackdown on the minority Muslim community in August 2017.
Since Aug. 25, 2017, nearly 24,000 Rohingya Muslims have been killed by Myanmar's state forces, according to a report by the Ontario International Development Agency (OIDA).
More than 34,000 Rohingya were also thrown into fires, while over 114,000 others were beaten, said the OIDA report, titled "Forced Migration of Rohingya: The Untold Experience."
Some 18,000 Rohingya women and girls were raped by Myanmar's army and police and over 115,000 Rohingya homes were burned down and 113,000 others vandalized, it added.
The UN has also documented mass gang rapes, killings -- including of infants and young children -- brutal beatings and disappearances committed by Myanmar state forces.
Full report at:
https://www.aa.com.tr/en/europe/un-envoy-situation-in-myanmar-must-be-referred-to-icc/1415289
--------
South Asia
UN envoy fears 'new crisis' for Rohingya Muslims if moved to remote Bangladesh island
March 12, 2019
A United Nations human rights investigator on Myanmar has voiced deep concern at Bangladesh's plan to relocate 23,000 Rohingya refugees to a remote island, saying it may not be habitable and could create a "new crisis".
Bangladesh says moving refugees to Bhasan Char — a name meaning "floating island" — will ease chronic overcrowding at Cox's Bazar, where some 730,000 Rohingya people have taken shelter, creating the world's largest refugee camp.
The UN says the Muslim minority fled mass killings and rapes committed during an army crackdown in Rakhine state in Myanmar since August 2017.
Some humanitarian groups have criticised the relocation plan, saying the island is vulnerable to frequent cyclones and cannot provide a livelihood for thousands of people.
"There are a number of things that remain unknown to me even following my visit, chief among them being whether the island is truly habitable," said Yanghee Lee, UN special rapporteur on Myanmar, who visited the island in the Bay of Bengal in January.
"It is incumbent on the government of Bangladesh to ensure that this is not brought about."
There was no immediate reaction from Bangladesh.
Ms Lee, who is banned from visiting Myanmar, also told the UN Human Rights Council in Geneva that up to 10,000 civilians are reported to have fled their homes in Myanmar's Rakhine state since November due to violence and a lack of humanitarian aid.
She urged the UN Security Council to refer alleged atrocities against Rohingya and other ethnic groups in Myanmar to the International Criminal Court (ICC), and later said that ICC officials were in Bangladesh as part of a preliminary examination of whether a prosecution over the alleged deportations of Rohingya could be launched.
"I am very hopeful. This is something that was unprecedented," Ms Lee said.
Last September the ICC prosecutor opened a preliminary examination into whether alleged forced deportations of Rohingya from Myanmar could constitute war crimes or crimes against humanity.
But Myanmar's permanent representative to the United Nations, Kyaw Moe Tun, said the Hague-based court — which is legally independent from the UN — had "no jurisdiction over Myanmar whatsoever".
"Whilst the Government is unable to accept this legally dubious intervention by the ICC, Myanmar is fully committed to ensuring accountability where there is credible evidence of human rights violations committed in Rakhine State," he said.
The most pressing task is to focus on a speedy start to repatriating the refugees, he said, without using the word "Rohingya" — who are mostly stateless in Myanmar.
https://www.abc.net.au/news/2019-03-12/un-envoy-fears-new-crisis-for-rohingya-muslims/10890932
--------
Kabul rejects reports Mullah Omar lived near US base
March 11, 2019
KABUL: The Afghan government denied allegations on Monday that one of the world's most wanted men, Mullah Mohammad Omar, lived undetected near a US military base for several years.
The claim, made by Dutch journalist Bette Dam in her new book "Searching for an Enemy," contradicts statements by US and Afghan officials who maintain Omar fled to Pakistan in 2001, where he later died.
Dam — who has written extensively on Afghanistan and published a book on the former president, Hamid Karzai — suggested Omar lived within walking distance of a base in Zabul province for some time, albeit as a virtual hermit, refusing to meet family members and writing a journal in an invented language.
Haroon Chakhansuri, a spokesman for President Ashraf Ghani, said the claim was untrue.
"Not only (do) we reject it, we see it as an effort to create an identity for the Taliban and their foreign backers. Evidence shows Omar lived and died in Pakistan," he told Arab News.
Surveillance
The book, released during peace talks being held between the group and US diplomats in Doha, has drawn criticism from across Afghanistan.
Ahmad Saeedi, a former Afghan diplomat in Pakistan, said the report would "boost the Taliban's image" by suggesting its leader escaped US attention despite "America's sophisticated surveillance technology."
Amrullah Saleh, who served in Afghan intelligence and cooperated with the Central Intelligence Agency during the US invasion, said the report was wrong.
"I could give very hard evidence that he lived in Pakistan and died there," he said, before claiming he would provide it at a later stage when pressed by Dam on Twitter.
Dam, for her part, says she spent over five years researching Omar, including interviewing Jabbar Omari, the bodyguard who protected him after 2001.
She said Omar listened to BBC Pashto for news broadcasts every evening, but that — even when learning of Al-Qaeda leader Osama bin Laden's death — he rarely commented on the outside world or the affairs of the group.
Full report at:
http://www.arabnews.com/node/1465241/world
--------
Afghan officials: Taliban kill 13 troops in country's west
March 12, 2019
KABUL: Officials say the Taliban killed at least 13 Afghan soldiers in battles that raged for three days in western Badghis province where insurgents overran several army checkpoints.
Jamshid Shahabi, the provincial governor's spokesman, says the fate of a dozen other soldiers is unknown.
He says the fighting erupted on Saturday in Bala Murghab district. The military carried out several airstrikes and dispatched reinforcement. Shahabi says 42 insurgents were killed and 15 troops were wounded in the fighting.
However, Mohammad Naser Nazari, a member of the provincial council, gave a higher casualty toll, saying that 20 soldiers were killed and 20 others remain missing.
Full report at:
http://www.arabnews.com/node/1465426/world
--------
Prominent Taliban commander identified as Shafiullah killed in Logar province
11 Mar 2019
A prominent Taliban commander identified as Shafiqullah has been killed during the operation of Afghan National Defense and Security Forces in central Logar province.
The Ministry of Interior (MoI) in a statement said the Afghan National Defense and Security forces conducted a joint operation in Mohammad Agha district, leaving at least five militants dead, including Shafiqullah, one of the prominent commanders of Taliban.
The statement further added that the operations as conducted as part of Khyber-5 operations during which two Taliban militants were also wounded.
According to Ministry of Interior, at least 500 kgs of explosives were also destroyed during the operation and 8 motorcycles, a vehicle, a Dragunov sniper rifle, and 3 Ak-47 assault rifles were confiscated.
Full report at:
https://www.khaama.com/prominent-taliban-commander-identified-as-shafiullah-killed-in-logar-province-03464/
--------
ARG Palace rejects claims in latest biography of Taliban group founder
11 Mar 2019
The ARG Presidential Palace has rejected the claims regarding the hideout of Taliban group founder Mullah Mohammad Omar.
"We strongly reject this delusional claim and we see it as an effort to create and build an identity for the Taliban and their foreign backers," Haroon Chakhansuri, deputy chief of staff of President's Office said in a Twitter post.
Chakhansuri further added "We have sufficient evidence which shows he lived and died in Pakistan. Period!"
A Dutch writer has claimed in her latest book the Mullah Mohammad Omar, the founder and former leader of Taliban group, was living within walking distance of U.S. base in Afghanistan.
The book 'searching for an Enemy' reveals that Mullah Omar lived as virtual hermit, away from his family.
Mullah Omar was also listening to BBC Pashto news broadcast, was filling notebooks with jottings in an imaginery language, and used an old Nokia mobile phone, without a sim card, to record himself chanting verses from Holy Quran.
He was rarely commenting on developments outside the world despite learning about the death of Al-Qaeda leader Osama Bin Laden in an American operation.
According to Dam, Mullah Omar remained hidden despite ongoing patrols and search operations which were conducted by the American forces in the area.
Full report at:
https://www.khaama.com/arg-palace-rejects-claims-in-latest-biography-of-taliban-group-founder-03462/
--------
UN: 10,000 civilians forced from homes in Myanmar's Rakhine since November
Mar 11, 2019
A United Nations (UN) human rights investigator says up to 10,000 civilians have been forced to flee their homes in Myanmar's northwestern state of Rakhine since November last year as a result of continued violence and a lack of humanitarian aid due to government restrictions.
Yanghee Lee, the UN's special rapporteur on human rights in Myanmar, made the revelation on Monday, calling on the UN Security Council to refer Myanmar to the International Criminal Court (ICC) over its atrocities against Rohingya Muslims and other ethnic minority groups in the conflict-ridden state.
"The situation in Myanmar must be referred to the ICC by the Security Council or a state party or group of state parties," Lee said, adding that, "Victims must not be forced to wait in purgatory of international inaction. If it is not possible to refer the situation to the ICC, the international community should consider establishing an independent tribunal."
Thousands of Rohingya Muslims were killed, injured, arbitrarily arrested, or raped by Myanmar's soldiers and Buddhist mobs mainly between November 2016 and August 2017, when the surviving members of the community started fleeing to Bangladesh en masse.
The Rohingya Muslims, who have lived in Myanmar for generations, are denied citizenship and are branded illegal emigrants from Bangladesh, which likewise denies them citizenship.
The United Nations has described the Rohingya as the most persecuted community in the world.
Partly because of the poor conditions in the camps, and partly because of the prospect of repatriation to Myanmar, the Rohingya Muslims have occasionally attempted to flee Bangladesh.
'New crisis' for Rohingya if moved to Bangladesh island
Bangladesh is currently hosting more than one million Rohingya Muslim refugees who have fled Myanmar's deadly army crackdown and persecution since 2017.
The government in Bangladesh has for long been pushing a controversial plan to relocate thousands of Rohingya refugees to an isolated and flood-prone island in the Bay of Bengal, where they may be stranded forever.
Lee also expressed deep concern about Bangladesh's plan to move 23,000 Rohingya refugees from camps in Cox's Bazaar to Bhashan Char Island in April, saying the island may not be "habitable" and that the relocation plan would create a potential "new crisis."
The UN official paid a visit to the island in January.
"I had the opportunity to visit the island on my last visit to Bangladesh and saw with my own eyes the works that the Bangladesh government has undertaken. However, there are a number of things that remain unknown to me even following my report, chief among them being whether the island is truly habitable," Lee told the UN Human Rights Council on Monday.
"Ill-planned relocation, and relocations without the consent of the refugees concerned, have the potential to create a new crisis. It is incumbent on the government of Bangladesh to ensure that this is not brought about," she added.
Bhasan Char, whose name means "floating island," emerged from the silt about 20 years ago and is located about 30 kilometers from mainland Bangladesh. The island is flat, shape-shifting, and inundated by regular floods during the months of June and September every year.
Humanitarian groups and aid workers have on numerous occasions lashed out at the relocation plan, saying the island is vulnerable to frequent cyclones and cannot sustain the livelihood of thousands of people.
Myanmar widow pleads for peace
In a separate development on Monday, a Myanmar woman who lost her husband in a latest deadly attack by Buddhist rebels in Rakhine called on the army and militants to lay down arms, halt the violence and start peace talks.
Myanmar's armed forces are currently engaged in a conflict with the Arakan Army (AA), a Buddhist rebel group calling for greater autonomy for Rakhine.
During an attack in the northwestern state on Saturday night, nine people were killed and Ma Oo Khin's husband was among one of the victims.
"I want to ask both sides to negotiate with each other. I don't want to see anyone else die," she told AFP. "The AA is asking for their people's autonomy, but the police are serving the country too."
The area has been on strict lockdown since the attack.
The Buddhist rebel group conducted raids on police border posts on January 4, killing 13 people.
Full report at:
https://www.presstv.com/Detail/2019/03/11/590772/UN-Yanghee-Lee-Rakhine-civilians-violence-humanitarian-aid
--------
Southeast Asia
Adrift in Malaysia, Burmese Muslim refugees in desperate cry for recognition
Ainaa Aiman
March 12, 2019
KUALA LUMPUR: Four years ago, mother-of-three Thuzar Maung put on jeans and a T-shirt rather than her customary Muslim garb and slipped aboard a flight to Malaysia.
Ethnic Burmese Muslims in Myanmar are considered terrorists, so she and her family had been facing persecution for years.
They feared for their lives after mob violence exacted a heavy death toll on their community.
"When the authorities claimed I was linked to rebel groups, I knew I had to flee Myanmar," Thuzar told FMT.
The higher profile Rohingya conflict taking place on the other side of the Arakan Mountains in Rakhine state, causes repercussions in central Myanmar where Thuzar lived.
"We are treated as badly as the Rohingya. Just like them, the Myanmar government refuses to recognise us as citizens.
"We are considered outsiders in our own country. We have no rights, and many of us have no identification card, without which we don't exist.
"When we are taken to court we get much tougher sentences than Buddhists found guilty of similar offences."
In March 2013, anti-Muslim riots broke out in central Myanmar, the most violent of them in Meiktila, near Mandalay.
Thuzar recalled how a Buddhist mob attacked and torched the Mingalar Zayone Islamic Boarding School.
It was reported officially that security forces were heavily outnumbered and could only stand by as rioters killed 32 teenage students and four teachers.
The mob then moved on, targeting Muslim houses and mosques in nearby towns. At least 9,000 residents were displaced by the violence.
"That was six years ago, and still there's no stern action by the government," she said.
She condemned Nobel prize laureate and de facto head of government, Aung San Suu Kyi, who has remained silent despite garnering massive support from Muslims during her campaign.
When Thuzar made her escape she had to leave her children behind, but the authorities started harassing them.
"They repeatedly questioned my kids. They came to my house and to their father's house, demanding to know where I was.
"After surviving in Malaysia for two years, I was finally able to bring my children here."
She said Burmese Muslims are not officially recognised as a marginalised group in need of support in Malaysia.
"Most people and organisations forget about us."
In 2017, she founded the Myanmar Muslim Refugee Community to provide support to Myanmar Muslims seeking asylum in Malaysia.
She helps fellow refugees access education and healthcare, and arranges for legal representation when they get arrested.
She also acts as their representative when they are treated in hospital, vouching for their status as refugees.
"Many of us here are unregistered and so are scared to go to the hospital. We help them understand their rights.
"If they have no employment, we help them find a job. We even go to court with them. Sometimes we lose the case and people get deported."
Her three children, aged 17, 13, and 11, now go to a school for refugees in Kuala Lumpur where they learn core subjects including Bahasa Malaysia.
Plans to open a dedicated school and a clinic are well under way, financed by donations.
"Right now, my kids and I are registered in Malaysia as asylum-seekers. This means the children's lives are safe and comfortable here," she said.
"But many of my people live in fear. They are scared to go out. I want to raise the quality of life for everyone in my community.
"The Rohingya are the most well-known Muslim victims of Myanmar government persecution.
"But Burmese Muslims are the same religion as the Rohingya and we are also victims."
https://www.freemalaysiatoday.com/category/nation/2019/03/12/adrift-in-malaysia-burmese-muslim-refugees-in-desperate-cry-for-recognition/
--------
PAS allays fears, declares it stands with non-Muslims
March 10, 2019
PETALING JAYA: PAS stands with non-Muslims and will not declare war on them, party vice-president Iskandar Samad said today.
In rebutting remarks made by DAP's Nga Kor Ming that a union between Umno and PAS could turn Malaysia into a "Taliban" state, Iskandar said the presence of the non-Muslim PAS Supporters Congress (DHPP) was an indication of this.
Speaking at a national unity seminar organised by DHPP, Iskandar said such statements likely arose from the fear as a result of the formal cooperation pact between Umno and PAS.
"In PAS, we have the DHPP, which is made up of non-Muslims. We do not force them to convert and they have been alongside PAS in its struggle all this while.
"PAS is not only for Muslims, but for all.
"With these DHPP supporters, at least we can prove to the people that PAS cares and is supported by all," he said.
He added that it was impossible to declare war on non-Muslims and the allegations were not true.
"How can PAS declare war on non-Muslims? We are together with non-Muslims.
"These allegations are untrue."
Commenting further, he expressed agreement with MIC president SA Vigneswaran's reported statement on alleged double standards of parties cooperating with PAS.
"Why is it that only DAP can cooperate with PAS?" asked Iskandar in reference to his party's previous alliance with DAP under the former Pakatan Rakyat opposition pact.
Nga was reported earlier this week as claiming that the Umno-PAS cooperation would give rise to a Taliban-like government in Malaysia.
Full report at:
https://www.freemalaysiatoday.com/category/nation/2019/03/10/pas-allays-fears-declares-it-stands-with-non-muslims/
--------
For Penang Islamic Council, a costly RM3m and nine years to regain Waqf land
11 March 2019
By Opalyn Mok
GEORGE TOWN, March 11 — After nine long years, four court orders and RM3 million spent, the Penang Islamic Religious Council (MAINPP) today served its final two-weeks eviction notice to the last house on Tanah Waqf Abdul Cauder in Butterworth.
To the council president Datuk Abdul Malik Abul Kassim, a lot of time and resources have been spent to evict 46 settlers on the land dedicated for Muslim use.
"If all of the 46 families moved out in 2010, we would already have a low-cost flat built on the land and 470 families would be living there," he said in a press conference today.
When MAINPP first issued eviction notices to the 46 in 2010 with generous settlements, Abdul Malik said 32 agreed to it.
Each family was offered a free 1,000 sq ft low-cost unit, RM500 monthly rental to rent a transition house pending completion of the low-cost housing, RM4,000 moving out allowance and RM3,500 moving back in allowance.
The remaining 14 families had refused to move out which led to a nine-year court battle to evict them.
"We applied for four court orders to evict them and at the same time, we continued paying rental for those who had moved out so this is costing us over RM3 million to resolve this issue," he said.
He said the 14 families were effectively depriving more than 400 Muslim families from living in the planned low-cost flats on the land.
Today, MAINPP served its final two weeks' notice to the last house on the site.
He said the occupants have two weeks to deliver vacant possession before they demolish the house.
He brushed off allegations that MAINPP had cruelly evicted the residents especially after so many years of negotiations and legal recourse.
He said they even offered temporary homes to some of those evicted to rent but some had taken the offer while some refused it.
"All who finally agreed to move were immediately paid RM4,000 and we will start paying them the monthly RM500 too," he added.
He said MAINPP had given the settlers one of the best offers in eviction cases in the country.
He claimed some groups had been goading the settlers to fight back against MAINPP over the eviction in the past few weeks.
It also led to a scuffle last Thursday when MAINPP, with the presence of police and court bailiff, moved to demolish houses on the land.
Abdul Malik said MAINPP officers were injured and a policeman fractured his leg in the scuffle.
The police have since arrested 11 men over the obstruction of the demolition works.
MAINPP is planning to build a 470-unit, 22-storey low-medium cost apartment on the 2.7-acre land.
Full report at:
https://www.malaymail.com/news/malaysia/2019/03/11/for-penang-islamic-council-a-costly-rm3m-and-nine-years-to-regain-Waqf-lan/1731400
--------
MCA backs PKR rep's review call for man convicted of insulting Islam
11 March 2019
By Lazareen Thaveethu Moses
KUALA LUMPUR, March 11 — In a rare show of agreement, MCA today supported a PKR lawmaker's review bid for a man sentenced to be jailed 10 years and fined RM10,000 for an offensive Facebook post against Islam.
The Barisan Nasional Chinese component's publicity bureau called the sentence "excessive" against the 22-year-old man, Alister Cogia, who pleaded guilty.
"Sentencing a young adult whose mental capacity is in question behind bars for a decade as opposed to armed robbers, terrorists, sexual offenders, child abusers, wife batterers, assailants who are given lighter sentence is akin to weaponising the law to kill a mockingbird," Chan Quin Er said in a statement representing MCA.
She said her party does not condone insults or slander against Islam or any other religion, but urged for justice to be tempered with mercy.
Chan added that locking up Alister, who has no prior conviction record, with hardened criminals would be detrimental to his and the society's wellbeing.
The MCA spokesman also suggested that Alister be allowed to undergo counselling if the man who dropped out of school in Form One was found to have a learning disability.
Alister, who was unrepresented at the Sessions Court in Kuching last Friday, pled guilty to uploading offensive materials on Islam and Prophet Muhammad on social media.
Full report at:
https://www.malaymail.com/news/malaysia/2019/03/11/mca-backs-pkr-reps-review-call-for-man-convicted-of-insulting-islam/1731348
--------
Mideast
Israel's attorney general to release Netanyahu evidence after elections
11 March 2019
Israel's attorney general says he will only release material from the corruption investigations into Prime Minister Benjamin Netanyahu after the country's April 9 election.
The Justice Ministry said in a statement Monday that Attorney General Avichai Mandeblit agreed to delay handing Netanyahu's attorneys evidence in the corruption cases until after the elections out of concern over media leaks.
Mandelblit recommended criminal charges against Netanyahu in three corruption cases last month, shaking up re-election prospects for the long-serving Israeli leader.
Charges can only be filed after a hearing. The Justice Ministry said that would take place by July 10.
The charges include allegations that he accepted gifts from billionaire friends, and promoted beneficial regulations for a telecom magnate in exchange for positive coverage on a news site.
Netanyahu denies any wrongdoing.
https://english.alarabiya.net/en/News/middle-east/2019/03/11/Israel-s-attorney-general-to-release-Netanyahu-evidence-after-elections.html
--------
Rouhani sets off on historic visit to Iraq in major blow to Trump
Mar 11, 2019
Iranian President Hassan Rouhani is in Baghdad on a trip aimed at solidifying strategic ties despite US efforts to keep the two neighbors apart and curb Iran's influence in the region.
He met with his Iraqi counterpart Barham Salih shortly after arrival on Monday for important talks which the Iranian president described as "very good."
"Strengthening ties between Tehran and Baghdad works to the benefit of both countries and we won't let this positive path towards progress slow down to a halt," Rouhani said at a joint news conference.
Salih described the trip as "very important" and said the two sides had agreed on new frameworks for cooperation which would be unveiled later in the day.
"We need to get past trivial details in mutual relations and think about the bigger and broader space for cooperation and ties because this would best serve the interests of both countries," he added.
The Iranian president also thanked Iraq for hosting millions of Iranians who pour into the neighboring country every year to mark the occasion of Arba'een, which is the 40th day after the martyrdom anniversary of Imam Hussein (AS).
The trip, described as "historic and noble" by Iranian Foreign Minister Mohammad Javad Zarif, has been viewed by experts as Iran's response to US President Donald Trump's snap trip to Iraq in December.
Trump slipped into Iraq on Christmas and spent most of his short visit outlining how he wanted to keep US troops in the Arab country in order to "watch" Iran with which Iraq shares a 1,400-kilometer-long border.
The unannounced visit drew fire from Iraqi officials and regional leaders, including President Rouhani, who said the secret visit - as if to a US state - undermined Baghdad's sovereignty.
Unlike Trump, who had to land in a military base in the dark of the night with no Iraqi officials on hand to welcome him, Rouhani touched down in Baghdad in broad daylight and was received by high-ranking authorities.
Reacting to Trump's secret visit then, Rouhani asserted that flying into Iraq under the cover of darkness meant "defeat" for the US in Iraq and asked the US president why he did not opt for an "open and official visit" instead.
The Iranian president told reporters in Tehran before departure on Monday that ties between Iran and Iraq were nothing like the relations between Baghdad and the "occupying" American forces.
"The US is despised in the region; the bombs they dropped on the people of Iraq, Syria and other countries are not forgettable and at the same time, Iran's brotherhood towards countries of the region will always be remembered," he said.
The trip comes on the heels of the Daesh terror group's defeat in Syria and Iraq, an achievement that is widely believed to have been impossible without Iran's critical role in providing advisory assistance to both governments.
Iran and Iraq enjoy "strategic" relations that cannot be weakened by any country, Zarif said in Baghdad Sunday, noting that the two countries' youths fought side by side against Daesh.
"We consider this trip a new start in our relations with Iraq," Zarif said, describing Iran and Iraq as a beating heart of the region. "Without Iran and Iraq, the region won't be safe and stable," he added.
Rouhani said last week that without Iran's support "Baghdad and the Kurdistan region would have definitely fallen and Daesh would have dominated the region."
Many observers have described the trip as a milestone in Iran-Iraq ties and a humiliating defeat for the US-led campaign to alienate the two neighbors.
What the campaign's main supporters have seemingly failed to account for in their dealings is the unshakable bond that the Iranian nation has developed with its neighbors, with whom it shares thousands of years of history.
President Salih best portrayed Baghdad's disregard for such attempts, saying on Sunday that Iraq won't join the American push against Iran even though it knows the stance will harm Baghdad's own interests.
"Let me tell you that Iraq will not become part of the US unilateral sanctions regime against Iran. There is no doubt that we will be affected by these sanctions, but it is certain that we will not be part of them," he said.
"Iraq insists that the interests of our friendly and neighboring country must be met. We will do our best to reduce tensions in this regard and decrease the damage that will be done to the Iranian nation," added Salih.
Rouhani said last week that without Iran's support "Baghdad and the Kurdistan region would have definitely fallen and Daesh would have dominated the region."
Many observers have described the trip as a milestone in Iran-Iraq ties and a humiliating defeat for the US-led campaign to alienate the two neighbors.
What the campaign's main supporters have seemingly failed to account for in their dealings is the unshakable bond that the Iranian nation has developed with its neighbors, with whom it shares thousands of years of history.
President Salih best portrayed Baghdad's disregard for such attempts, saying on Sunday that Iraq won't join the American push against Iran even though it knows the stance will harm Baghdad's own interests.
"Let me tell you that Iraq will not become part of the US unilateral sanctions regime against Iran. There is no doubt that we will be affected by these sanctions, but it is certain that we will not be part of them," he said.
"Iraq insists that the interests of our friendly and neighboring country must be met. We will do our best to reduce tensions in this regard and decrease the damage that will be done to the Iranian nation," added Salih.
President Rouhani's three-day trip starting on Monday includes meetings with President Salih as well as Prime Minister Adil Abdul-Mahdi.
The Iranian president is slated to meet with Parliament Speaker Mohammed al-Halbusi and a number of prominent lawmakers.
He will also make stops at Shia holy sites and meet top Iraqi Shia cleric Grand Ayatollah Ali al-Sistani who is a major source of influence in the Arab country.
Diplomatic trips between the two countries have been on the rise as of late, signaling a strong resolve to expand the existing ties. Rouhani's trip comes months after Salih visited Tehran in November.
Rouhani told reporters on Monday morning that the trip was aimed at enhancing security cooperation while also focusing on trade, roads and environment to broaden the close relationship.
Iran is currently Iraq's top trade partner, with an annual turnover of about $13 billion, which they hope to increase to $20 billion.
Full report at:
https://www.presstv.com/Detail/2019/03/11/590728/Iran-Rouhani-trip-Iraq-US-Trump
--------
More than a dozen Houthis killed in clashes with government troops
March 12, 2019
Yemen's National Army killed 13 Iran-backed Houthi militants during clashes in Al-Jawf province on Monday.
The militia were caught trying to infiltrate national posts in Al-Motoon discrict, according to a statement on Yemen's national army website "September net."
Other Houthis were injured when coalition planes bombarded their vehicles in the district.
http://www.arabnews.com/node/1465406/middle-east
--------
Palestinians in Gaza receive new Qatari aid
March 11, 2019
GAZA: Tens of thousands of Palestinians in Gaza began receiving $100 payouts from Qatar on Monday, the latest tranche of funds under an informal deal between the territory's Islamist rulers Hamas and Israel.
A flare-up of violence along the border fence between Israel and the Gaza Strip this month has threatened another escalation between the two sides, but the Qatari cash could help ease tensions.
Israeli Prime Minister Benjamin Netanyahu on Sunday warned Hamas he would not hesitate to launch a "large-scale operation" in Gaza.
Many analysts however believe he wants to avoid a conflict with unpredictable results while campaigning for re-election in Israel's April 9 polls.
The Qatari Gaza Reconstruction Committee, in a statement, said "disbursement began Monday of the fourth payment of cash assistance to poor families in the Gaza Strip."
In total 55,000 families in the strip would receive payments of $100 each.
Thousands of Palestinians could be seen queueing early at post offices across Gaza.
"I am here to receive $100, but $100 does not solve the crisis," said Bassam Khalil Jaber, 40. "We need permanent solutions, and this grant is a temporary solution."
In November, the Gulf state, which is a longtime Hamas ally, committed to around $15 million a month in aid over six months.
In exchange, Hamas committed to relative calm along the Israeli border, which has been rocked by often violent Hamas-backed protests since March 2018.
But the deal became a major bone of political contention in Israel — whose territory was used for delivery of the cash — and also in Gaza.
Part of the funds were originally used to pay salaries of Hamas employees, but this was stopped after political criticism in Israel.
Instead much of the money will be funneled into cash for work programs with the United Nations.
The impoverished strip, which has a population of around two million, has been under a crippling Israeli blockade for more than a decade.
Full report at:
http://www.arabnews.com/node/1465031/middle-east
--------
Arms dealers complicit in Saudi war crimes in Yemen: Iran
Mar 11, 2019
Iran has censured the latest Saudi airstrikes in Yemen's northwestern province of Hajjah, saying the so-called advocates of human rights are complicit in Riyadh's crimes as they sell arms to the regime.
"The so-called advocates of human rights not only remain silent in the face of daily killings of women and children in Yemen, but they are also complicit in these crimes by selling weapons to the aggressors," Iranian Foreign Ministry Spokesman Bahram Qassemi said on Monday.
He criticized human rights organizations and circles for remaining tight-lipped in the face of inhumane war crimes committed by the aggressors against Yemen.
The Iranian spokesperson added that innocent defenseless Yemeni women and children, who have suffered from years of famine and the consequences of the human tragedy in the country, are falling victim in the most brutal manner to the arms donated and sold to the invaders by some Western countries, but their voice is not heard as long as they are alive.
However, their deaths will go down in history as proof of disgrace for those who falsely claim to be advocates of human rights, Qassemi said.
Saudi warplanes bombarded residential buildings in Talan village of Kushar district in Yemen's Hajjah on Sunday afternoon, leaving 9 women and 14 children dead, according to Arabic-language al-Masirah television network.
The channel quoted local sources, speaking on condition of anonymity, as saying that the attacks leveled five houses to the ground. Saudi warplanes also reportedly targeted ambulances, preventing doctors and paramedics from reaching the area.
Saudi Arabia and a number of its regional allies launched a devastating military campaign against Yemen in March 2015, with the goal of bringing the government of former president Abd Rabbuh Mansur Hadi back to power and crushing the Ansarullah movement.
According to a report by the Armed Conflict Location and Event Data Project (ACLED), a nonprofit conflict research organization, the Saudi-led war has so far claimed the lives of around 56,000 Yemenis.
The war has also taken a heavy toll on the country's infrastructure, destroying hospitals, schools, and factories. The United Nations has already said that a record 22.2 million Yemenis are in dire need of food, including 8.4 million threatened by severe hunger. According to the world body, Yemen is suffering from the most severe famine in more than 100 years.
The UN in February warned that the situation in war-ravaged Yemen is further deteriorating as the Arab country is facing the biggest humanitarian crisis in the world.
Full report at:
https://www.presstv.com/Detail/2019/03/11/590759/Qassemi-Hajjah-Yemen-Saudi-Arms-human-rights
--------
22-year-old Palestinian dies in Gaza after clashes with Israeli forces
Mar 11, 2019
A young Palestinian man has succumbed to wounds he sustained in clashes with Israeli troops during an anti-occupation protest in the Gaza Strip two weeks ago.
Bassam Sami Safi, 22, who was critically injured east of Khan Younis in the southern parts of the blockaded Palestinian territory, "died this morning," said Ashraf al-Qidra, spokesman for the Palestinian Health Ministry in Gaza, on Monday.
He said the young protester had been hit in the head with a tear gas canister on February 22.
Gaza has been under an Israeli blockade since June 2007. The blockade has caused a decline in the standard of living as well as unprecedented levels of unemployment and unrelenting poverty.
Tensions have been running high near the fence separating Gaza from the occupied territories ever since anti-occupation protest rallies, known as the Great March of Return, began in the Gaza Strip on March 30 last year. More than 260 Palestinians have been killed by Israeli forces. Over 26,000 Palestinians have also sustained injuries.
The Gaza clashes reached their peak on May 14, 2018, on the eve of the 70th anniversary of Nakba Day (Day of Catastrophe), which coincided last year with the US embassy relocation from Tel Aviv to occupied East Jerusalem al-Quds.
The Israeli military also regularly conducts airstrikes across the territory against alleged targets belonging to Palestinian resistance movements.
Later on Monday, Hundreds of Palestinians marched in Sami Safi's funeral procession carrying his body from the Nasser Hospital to his family home before final prayers and burial at the city's cemetery.
Full report at:
https://www.presstv.com/Detail/2019/03/11/590764/Gaza-youth-Palestinian
--------
Africa
Sudan's parliament shortens state of emergency to six months
11 March 2019
Sudan's parliament voted on Monday to shorten a state of emergency declared by President Omar al-Bashir last month from one year to six months, a Reuters witness said.
Parliament may renew the state of emergency.
Bashir declared the nationwide state of emergency, the first since 1999, on Feb. 22 to try to quell persistent protests that have posed the most serious challenge to his three-decade rule.
In a related development, a Sudanese emergency court sentenced on Sunday an opposition leader to a week in jail as police detained several people intent on marching on parliament to protest a state of emergency.
https://english.alarabiya.net/en/News/middle-east/2019/03/11/Sudan-s-parliament-shortens-state-of-emergency-to-six-months.html
--------
Nigeria's Boko Haram birthplace elects professor as governor, first across north
March 12, 2019
Borno State, the birth place of Boko Haram crisis in northeast Nigeria has a new governor following gubernatorial polls held on March 9, 2019.
Governor-elect Babagana Umara Zulum also made history according to reports being the first professor to become governor across the Muslim-dominated north.
He replaces Kashim Shettima who had completed the two-term limit the law allows for a person to serve as governor of a state. Zulum run on the ticket of the ruling All Progressives Congress, APC.
The final results indicated that his election was by a landslide polling over a million votes against less than 100,000 by his main challenger.
He received massive support of outgoing Shettima and was also endorsed by President Muhammadu Buhari – both in Abuja and during his campaign stop in Borno ahead of February 16 polls that were postponed to 23rd.
Zulum inherits a state that still suffers audacious attacks from Boko Haram and the Islamic State in West Africa province, ISWAP, insurgents. The humanitarian crisis is also daunting with widespread displacements.
Buhari beat main opponent Atiku Abubakar in the presidential polls streching Atiku by over three million votes. Atiku and the Peoples Democratic Party, PDP, have alleged fraud and have filed a poll challenge.
The APC also won Buhari's home state of Katsina and Kaduna but is at risk of losing the ancient Kano State, where embattled governor Umar Ganduje is fighting for political survival.
Full report at:
https://www.africanews.com/2019/03/12/nigeria-s-boko-haram-birthplace-elects-professor-as-governor-first-across-north/
--------
Air Force strikes Boko Haram in Lake Chad
March 11, 2019
The Nigerian Air Force said on Monday that it has launched successful air strikes on Boko Haram terrorists at the fringes of Lake Chad, destroying their structures in the process.
Its spokesman, Air Commodore Ibikunle Daramola said in a statement that the attacks were carried out after intelligence reports indicated their presence in the area.
Air Commodore Daramola said :"The Air Task Force (ATF) of Operation LAFIYA DOLE has destroyed Islamic State of West Africa Province (ISWAP) terrorists' vehicle and some logistics infrastructure at Tumbun Sale and Tumbun Allura on the fringes of Lake Chad in Borno State.
"The operation was conducted on 8 March 2019 on the heels of intelligence reports indicating the presence of ISWAP fighters along with some vehicles and logistics support items well camouflaged under the dense vegetation within the settlements.
"Accordingly, a Nigerian Air Force (NAF) Alpha Jet, supported by an Intelligence Surveillance and Reconnaissance (ISR) platform, was dispatched to attack the terrorists' hideouts in successive strikes resulting in damage to several structures as well as the destruction of one of the terrorists' vehicles, which was seen engulfed in flames.
Full report at:
http://thenationonlineng.net/air-force-strikes-boko-haram-in-lake-chad/
--------
Pakistan
Imran Khan says Tipu Sultan is his 'hero', but for the sake of peace, Pakistan PM should look at Jinnah as his role model
Srinivasa Prasad
Mar 11, 2019
Prime Minister of Pakistan Imran Khan has, as they say, a thing for Tipu Sultan. He can't stop talking about the erstwhile Mysore king who, he insists, is his "hero" and no less. With misty eyes and an emotion-choked voice, Khan misses no chance to swoon over the Muslim king who died 220 years ago fighting the British.
Even as Imran flexes his cricket-toned muscles at Narendra Modi's "war-mongering", he doesn't forget to make adulatory references to Tipu. The Pashtun from Lahore did it once again on Friday, at a public meeting that had a good sprinkling of Gujarati-speaking Hindus in Chachro in Pakistan's Sindh province.
This continuing obsession of Pakistan's prime minister is driving an increasing number of his people to Google to find out who in the whole blessed universe Tipu is. And when they finally trace the sultan's provenance to the 18th Century and to a kingdom around the banks of the Cauvery in the deep bowels of South India, the Pakistanis scratch their heads, yawn and ask themselves: "Why him?"
Why not him? Khan might ask. He picked Tipu as his pin-up soldier after short-listing two former monarchs. The other one on the list is Bahadur Shah Zafar, the last Mughal emperor whom the brave Pashtun dismisses with contempt as somebody utterly spineless.
The Pakistan Tehreek-e-Insaf (PTI) leader said on Friday that Tipu was his "real hero who laid down his life while defending his motherland ... (unlike) Zafar who preferred to go into exile after accepting slavery". The former cricket captain got at least some of his history right. After a stint of 20 years, Zafar surrendered to the British in 1857, unlike Tipu, who, after reigning over the Mysore Kingdom for 17 years, fought the British and died in 1799.
However, it isn't as though Khan has taken a sudden shine to Tipu. As far ago as 2012, he had said: "In Pakistan we say, 'you can either leave like Bahadur Shah Zafar or like Tipu Sultan'. The options are to leave like a jackal or like a lion. I would choose to leave like Tipu Sultan."
Khan fought his domestic rivals like Tipu in the 2013 election but came a poor third. He didn't "leave" like Zafar. He fought on and won the 2018 election — with a wink and a nod from the army, of course — and he has decided to keep on fighting like Tipu against Modi.
Even as he exhibited fake magnanimity while announcing the release of captured Indian Air Force pilot Abhinandan Varthaman on 28 February — something he was forced to do under international pressure — Khan made brave noises and referred to Tipu.
But still, the question lingers: Why Tipu? Tipu had as much to do with Pakistan as emperor Chandragupta Maurya had with Texas. But then those who know Khan well have often described him as impulsive and quirky. He enjoys throwing a surprise or two, something his army bosses may have to watch out for.
On the other hand, it has never been a secret that many Pakistanis deify Muslim invaders of the sub-continent because they see them as tormentors of Hindus. The names of some of Pakistan's missiles are proof. Examples: The Ghaznavi, Ghauri, Babur, Abdali and Taimur missiles.
The Karnataka twist
Khan also can't be unaware of the controversy that Tipu periodically kicks up in Karnataka. To woo Muslims, the earlier state government of Congress leader Siddaramaiah celebrated Tipu's birthday for three years since 2015. With no consensus among historians on whether the 18th Century warrior was a benevolent king, or whether he converted Hindus to Islam, or killed them, the Congress opened a communal Pandora's box. The new coalition government of the Congress and Janata Dal (Secular) also commemorated Tipu Jayanti in 2018 but scaled the celebrations down.
With the Prime Minister of Pakistan turning into an ardent fan of Tipu, the annual bash in Karnataka in November is unlikely to be the same again. While the BJP may not be able to resist the temptation of accusing state Congress leaders of conspiring with Khan, any attempt by Pakistan's politicians to join Karnataka's annual war may only make it more vicious.
Jinnah wanted free borders
Khan also swears by Pakistan's founder Muhammad Ali Jinnah in the same routine fashion that Indian politicians parrot the name of Mahatma Gandhi. But it's evidently Tipu that's Khan's real superman, though emulating his "bravery" in the 20th Century can only bring grief to Pakistan, even if it's to defend his country against the imagined "adventurism" of Narendra Modi. On the other hand, it makes better sense for Khan to actually put in practice some of Jinnah's apparently noble thoughts.
After fighting hard to create Pakistan for Muslims, Jinnah wanted the new country to be a secular one with cozy relations with India, according to former Pakistani diplomat Husain Haqqani. In his 2016 book India Vs Pakistan: Why Can't We Just Be Friends?, Haqqani wrote that Jinnah wanted Pakistan and India to be like the US and Canada with — in the words of the first American ambassador to Pakistan— "largely unguarded borders, shared defence, free trade and freedom of movement through several crossing points".
Haqqani said: "That Jinnah did not envisage Pakistan's permanent enmity with India is borne out also by his wish to return to his Mumbai home after retirement as the Governor-General of Pakistan."
If Khan wants peace, as he claims he does, he must listen to Jinnah.
He also must remember that it was Tipu's own army general Mir Sadiq who partly did him in. If the Prime Minister of Pakistan insists on idolising Tipu, he must watch out for Mir Sadiqs in his country's army.
https://www.firstpost.com/india/imran-khan-says-tipu-sultan-is-his-hero-but-for-the-sake-of-peace-pakistan-pm-should-look-at-jinnah-as-his-role-model-6231701.html
--------
India can't stop water from flowing into Pakistan: Official
Mar 11, 2019
ISLAMABAD: India cannot stop the flow of water into Pakistan under the Indus Waters Treaty, a top Pakistani officials said on Monday, asserting that Islamabad will move the International Court for Arbitration if New Delhi halts the water from the Ravi, Sutlej and Beas rivers.
The official of the Permanent Commission for Indus Waters alleged that India had "continuously been involved in water aggression".
Last month, Union minister Nitin Gadkari said in New Delhi that India had decided to "stop" the flow of its share of water to Pakistan after the Pulwama terror attack that killed 40 CRPF soldiers.
Pakistan responded to his remarks, saying it was not concerned over India's plan to stop the flow of its share of water.
"The Ministry of Water and Power is reviewing India's move to stop water from flowing into Pakistan. As per the Indus Water Treaty, India cannot stop water from flowing into Pakistan and if they do so then we will move the International Court for Arbitration," Geo News reported, quoting an official as saying.
"India's Indus Water Commission did not apprise Pakistan regarding the move to stop the flow of water," the official said.
It will take India several years to change the direction of the water to keep it from flowing into Pakistan, the official said.
Full report at:
https://timesofindia.indiatimes.com/world/pakistan/india-cant-stop-water-from-flowing-into-pakistan-official/articleshow/68359515.cms
--------
Own syllabus for Pakistani Christian prisoners
March 12, 2019
A Bible-based syllabus for Christian prisoners will soon be adopted by the 35 prisons of Pakistan's Punjab province, according to Human Rights and Minority Affairs Minister Ijaz Alam Augustine.
"Catechism will be taught in the prisons and participating prisoners will get a special remission on their sentence," Augustine said.
"A syllabus approved by the provincial prison department in 1977 will be adopted," he said.
The minister blamed bureaucratic procedures for delaying the process.
He added that once implemented, the program would clear the way for early Christmas prisoner releases.
The scheme also involves the obtaining of academic and trade qualifications.
The minister was speaking to ucanews.com on the sidelines of a March 9 symposium organised by the Centre for Social Justice and the People's Commission for Minorities' Rights (PCMR) in the cosmopolitan city of Lahore.
Speakers called for the implementation of past court directives dealing with the protection of minorities. This included reforming various curricula to foster communal tolerance as well as the setting up of a 'Commission for Minorities' Rights'.
The prison program is part of an empowerment package announced in December involving job and education quotas for minorities along with the sentence remission system.
According to the official website of Punjab's prison service in the Islamic Republic of Pakistan, Muslim convicts who memorize the Holy Quran can gain sentence remissions of between six months and two years.
However, there has not been a realistic equivalent for non-Muslim jail inmates.
Prison authorities were demanding that Christian prisoners be able to memorize the Bible in order to have their sentences reduced.
But churches in Pakistan do not have a tradition of memorizing scripture.
According to Prison Fellowship International in Pakistan, there are more than 3,000 Christian prisoners in Punjab.
Peter Jacob, a Catholic who is the director of the Centre for Social Justice, warmly welcomed the new Punjabi syllabus for Christian prisoners that he helped develop.
However, Arthur Wilson, a prison chaplain and Pakistan director of Prison Fellowship International, was less optimistic.
He said despite past promises of reform, Christian prisoners continued to be discriminated against by Muslim prisoners and jail administrators.
"Just like their life outside, the Christian prisoners live in ghettos," Wilson said.
Many were called upon to change their faith and prisoners accused of blasphemy against Islam had to be held in isolation cells because of the risk of violent reprisals, he added.
Full report at:
https://www.ucanews.com/news/own-syllabus-for-pakistani-christian-prisoners/84709
--------
Pakistan elected OIC body's deputy chairman
March 12, 2019
ISLAMABAD: Pakistan has achieved another milestone in parliamentary diplomacy by clinching the slot of deputy chairman of general body of the Parliamentary Union of OIC (PUIC).
Besides this, Pakistan's woman representative MNA Naureen Farooq has also been elected vice president of the 8th Muslim Women Parliamentarians Conference.
According to an official announcement, Pakistan has been elected deputy chairman of PUIC's general body on the first day (Monday) of its four-day conference being held in Rabat, Morocco.
Kashmir Committee chairman Syed Fakkhar Imam is leading a four-member Pakistani delegation to the conference. Other members include Qasim Noon, Ahsan Iqbal and Naureen Farooq.
The PUIC is composed of parliaments of member states of the Organisation of Islamic Cooperation. It was established in Iran on June 17, 1999, with its head office situated in Tehran.
The main objective of sending the Pakistani delegation to the conference is to effectively highlight the long-standing issue of Kashmir before the whole world.
Full report at:
https://www.dawn.com/news/1469124
--------
Arab World
US-led airstrikes claim dozens of civilian lives in Syria's Dayr al-Zawr
Mar 11, 2019
Dozens of civilians, including women and children, have been killed after the US-led coalition purportedly fighting the terrorist Takfiri Daesh group carried out a series of aerial assaults in Syria's troubled eastern province of Dayr al-Zawr.
Local sources, speaking on condition of anonymity, told Syria's official news agency SANA that 50 people were killed and scores of others injured on Monday when US-led warplanes targeted families fleeing the last vestiges of Daesh's territorial rule in the besieged village of Baghouz near the Iraqi border.
The sources added that the death toll was expected to rise as some of the wounded were in critical condition.
The development came a few days after US-led coalition warplanes dropped white phosphorus bombs on Baghouz, leaving a number of citizens, mostly women and children, dead.
The US-led coalition has been conducting airstrikes and operations against what are said to be Daesh targets inside Syria since September 2014 without any authorization from the Damascus government or a United Nations mandate.
The military alliance has repeatedly been accused of targeting and killing civilians. It has also been largely incapable of achieving its declared goal of destroying Daesh.
On February 12, the Syrian Ministry of Foreign Affairs and Expatriates, in two separate letters addressed to UN Secretary General Antonio Guterres and the former rotating president of the Security Council, Anatolio Ndong Mba, denounced the coalition strikes conducted against Baghouz a day earlier, saying the US-led warplanes had pounded a refugee camp.
Local sources told the state-run Ikhbariyah Syria television news network that 16 civilians, including seven children, were killed as a result of the raid.
"This new crime is in line with the series of war crimes and crimes against humanity, which the US-led coalition has perpetrated against Syrian people, its continued support for terrorism, and its use of terrorists and separatist militia forces to advance its fiendish plots aimed at Syria's sovereignty, unity and territorial integrity," said the letters.
The ministry also called on the UN Security Council to stand up against such attacks and crimes.
It also demanded that the UN body assume its responsibilities regarding the establishment of international peace and security, conduct an international probe into these criminal acts, condemn them, and put an immediate halt to such air raids as well as the "aggressive" presence of American and other foreign military forces in Syria.
https://www.presstv.com/Detail/2019/03/11/590756/USled-airstrikes-claim-dozens-of-civilian-lives-in-Syrias-Dayr-alZawr
--------
46 militants killed in Egypt's anti-Daesh campaign in Sinai
March 11, 2019
CAIRO: Three soldiers and 46 "very dangerous" militants have been killed in clashes in the northern and central Sinai peninsula, Egyptian authorities said on Monday.
The military also said Egyptian forces had destroyed 15 hideouts and dismantled 204 explosive devices. Troops also found weapons caches, including explosives, in Sinai, the Western Desert and southern Egypt.
Several hundred militants have been killed since the Egyptian military launched a major campaign in February 2018 aimed at eliminating Daesh or related groups in Sinai, the army said.
The Sinai peninsula covers 60,000 square kilometers in northeast Egypt bordering the Gaza Strip and Israel, divided into two governorates.
The north is at the center of a long-running insurgency led by a local affiliate of Daesh known as Sinai Province. The group, formerly called Ansar Beit Al-Maqdis, had links with Al-Qaeda before pledging allegiance to Daesh in 2014.
Militants have stepped up attacks on security forces and also targeted civilians, mainly Egypt's minority Coptic Christians, killing hundreds of people.
"Since 2016, terrorist attacks in Egypt have primarily been carried out by the Daesh affiliates," said Allison McManus of the Washington-based Tahrir Institute for Middle East Policy.
In response, President Abdel Fattah El-Sisi ordered security forces to use "all brute force" to restore stability to Sinai. A year ago Egypt mobilized land, sea and air forces in a nationwide offensive called Sinai 2018.
The operations are focused on North Sinai but also cover parts of the Nile Delta region and the porous western border with Libya.
Full report at:
http://www.arabnews.com/node/1464961/middle-east
--------
Tens of Civilians Killed in US-Led Coalition Airstrikes on Refugee Camp in Eastern Syria
Mar 11, 2019
"About 60 civilians, including children, were killed and 15 others were wounded in the US-led airstrikes and SDF artillery attacks on residential areas in a refugee camp located in the town of al-Baqouz in Eastern Deir Ezzur," the SANA news agency reported.
It said that the US-led airstrikes on al-Baqouz refugee camp left more than 50 civilians, including children, killed.
Meantime, pro-militant Baldi news website also reported that seven civilians, including a number of children, were killed and over 15 others were wounded in artillery attacks by SDF on al-Baqouz.
In a relevant development in February, the US-led coalition fighter jets pounded a camp of Syrian civilians who had fled from the ISIL's captivity in the town of Baghouz in Southeastern Deir Ezzur.
The Arabic-language media said that a sum of 70 Syrians had been killed or wounded in the US-led airstrikes, adding that the toll is expected to rise due to deteriorating conditions of the injured and difficulties in rendering aid to them.
In a relevant air raid in January, the US-led airstrikes killed at least 31 civilians in the village of al-Baghouz Foqani.
"The number of civilians killed in the US airstrikes on people's houses in the village of al-Baghouz Foqani has reached 31 so far," the Arabic-language al-Watan newspaper quoted local sources as saying.
Full report at:
http://en.farsnews.com/newstext.aspx?nn=13971220000580
--------
Foreign Terrorist Commanders Killed in Syrian Army Airstrikes in Idlib
Mar 11, 2019
The Arabic-language service of the Russian Sputnik News Agency quoted a Syrian military source as saying that the Syrian air force pounded the military convoys and important positions of the terrorists, including arms and ammunition depot as well as concentration of military convoys of Tahrir al-Sham al-Hay'at (the Levant Liberation Board or the Al-Nusra Front) in the outskirts of the towns of Khan Sheikhoun, Ma'arat al-Numan, Kafr Nubl, Ma'arat Shomarin and the surroundings areas of the city of Saraqib to the South and West of Idlib.
It noted that the Syrian warplanes also destroyed the meeting of commanders of Turkistani and White Helmets in Sahr al-Rouj to the West of Idlib which resulted in the death and injury of a number of them.
Meantime, the Syrian Army's missile and artillery units also pounded the terrorists' military positions in al-Latamineh, Kafar Zita and al-Arbaeen, inflicting heavy losses and casualties on them.
This is while the terrorists hit Masayef region near the National Hospital in Northern Hama with rockets.
In a relevant development on Saturday, the Syrian Army pounded and destroyed the command headquarters and weapons depot of terrorists in Northern Hama and Southern Idlib.
"The Syrian Army troops engaged in fierce clashes with members of Ajnad al-Qafqaz and Haraseddin terrorist groups who had attacked the government forces' military positions in al-Sakria, al-Baraghiti and Tal Kolbeh West of Abu Zuhour town," a battlefield source said.
The source further said that the Syrian Army's missile and artillery units targeted many gatherings of the terrorists Southeast of Idlib and in the surrounding areas if Saraqib town, destroying their command center and their equipment as well as killing a large number of them.
The Syrian Army units also pounded the movements of the terrorist groups near al-Haviz village in Sahl al-Ghab Northwest of Hama, inflicting heavy losses and casualties on them after warding off their attack.
Also on Thursday, the Syrian army repelled militants' attacks from the demilitarized zone on Northern Hama and Southern Idlib, destroying the terrorists' positions and killing 3 of their commanders.
The Syrian army units launched missile and artillery attacks against the terrorists' moves near the village of al-Zakat and Kafr Zita, al-Arbaeen, al-Latamineh and Qal'at al-Maziq regions in Northern Hama, smashing several military vehicles as well as the terrorists' missile platform, and killing a number of militants, including two commanders of Ansar al-Tawhid namely Abu al-Farouq and Ibrahim Hamadi.
The army forces also pounded the positions and moves of several groups of Tahrir al-Sham al-Hay'at terrorists from the villages of al-Shariah and al-Jamasah as well as Sahl al-Qab region towards the army-controlled areas in Northwestern Hama, destroying a number of their hideouts and killing several terrorists.
Full report at:
http://en.farsnews.com/newstext.aspx?nn=13971220000678
--------
Syria: US Hides ISIL Commanders in Al-Rukban Camp Near Border with Iraq
Mar 11, 2019
"As per reliable information in al-Tanf region which is under the occupation of the US Army troops over 80 percent of the residents of al-Rukban Camp are willing to return to their villages and homes in different parts of Syria, the Arabic-language al-Alam news website reported.
It pointed to the US' policy to prevent the exit of civilians from al-Tanf region, and said that the US occupying forces are using this region to hide the ISIL commanders who have fled from the Eastern Deir Ezzur.
The Al-Alam reported that most of the ISIL commanders have been relocated to al-Rukban Camp by some people from Badiyeh (desert) region of Eastern Deir Ezzur.
The report comes as over 50,000 of Syrian refugees in al-Rukban Camp near the border with Iraq have been under siege of the US Army troops and their allied militants since 2014.
The Rukban refugee camp is located in the Al-Tanf security zone, where a US military base is stationed. Entrances to the zone are controlled by opposition militants. According to the World Health Organization, the camp currently hosts about 40,000 refugees, mostly women and children.
In a relevant development on Thursday, media reports said the US-backed militants hoarded the needed foodstuff for the refugees residing in al-Rukban camp, adding that the American forces prevented the Syrian government's aid cargos from entering the region.
The Arabic-language al-Watan newspaper quoted sources as saying that the terrorists who are supported by the US and are stationed in al-Tanf region, specially Maqawir al-Thawra group, which controls al-Rukban, have threatened the civilians with weapons to avoid leaving the camp for their villages.
They added that the terrorists also force the civilians to pay huge amounts of money to receive permission to leave the camp.
The sources warned of the dire humanitarian situation in the camp, saying that the terrorists in the region prevented the traffic of humanitarian aid cargos and buses sent by the Syrian government to the camp to transfer the refugees to other regions and have hoarded the foodstuff and other vital goods needed by the civilians.
A joint statement by the Russian and Syrian coordination centers said that the US has blocked traffic of the sixth bus sent by the Damascus government to transfer the refugees from al-Rukban to different parts of Syria.
Russian and Syrian coordination centers have urged the US to set free the forcibly held residents of Rukban camp and allow them to return to their homes, Major General Viktor Kupchishin, chief of the Russian center for reconciliation of conflicting sides in Syria, said.
"On March 6, the interdepartmental coordination centers of the Russian Federation and the Syrian Arab Republic came forward with a joint statement, which urges the US to switch from populism to practical steps, which are to release illegally held residents of the Rukban camp and to ensure their right to leave freely for permanent residence places and to guarantee a safe passage of humanitarian motor convoys through illegally seized area of al-Tanf," he added.
Full report at:
http://en.farsnews.com/newstext.aspx?nn=13971220000397
--------
Dozens of militants killed in shootouts in Egypt's Sinai, says military
11 March 2019
Egyptian security forces have killed 46 "very dangerous" extremist militants in shootouts in northern Sinai, the military said on Monday.
The armed forces say several hundred militants have been killed since it launched a major campaign in February 2018 aimed at vanquishing ISIS extremist group or related terrorist groups in Sinai.
"Over the last period" the campaign had resulted in "the elimination of 46 very dangerous members of terrorist elements during exchanges of fire in the north and central Sinai...," the armed forces said in a video recording, without specifying dates or locations of the security operations.
About 100 suspects had been arrested, more than 200 explosive devices found and over 30 cars and scooters confiscated or destroyed, it said. The statement did not give the identity of suspects or their affiliation.
Human rights organizations have accused Egypt of carrying out extrajudicial executions and of trying civilians in military courts as part of the crackdown.
Full report at:
https://english.alarabiya.net/en/News/middle-east/2019/03/11/Dozens-of-militants-killed-in-shootouts-in-Egypt-s-Sinai-says-military.html
--------
Gunfire, landmines slow SDF advance in ruins of ISIS final pocket in Syria
11 March 2019
US-backed fighters are moving slowly into ISIS extremist group's final pocket in eastern Syria to avoid losses in the face of sniper fire and landmines, a commander said on Monday.
Warplanes flew above Baghouz, a cluster of houses on the banks of the Euphrates at the Iraqi border where ISIS fighters still hold out, and smoke rose from the area along with the sound of intermittent clashes.
The defeat of ISIS at Baghouz will mark a milestone in the campaign against the extremist group, ending its control of populated territory in the area straddling Iraq and Syria where it suddenly expanded in 2014 and declared a caliphate.
However, it has already shown it will continue to mount a potent security threat, with a string of insurgent attacks in both countries.
Pro-Syrian government forces hold the opposite bank of the Euphrates across from Baghouz and Iraqi militias are stationed at the border, cutting off any easy escape route for the extremists.
The Syrian Democratic Forces (SDF) has made "modest advances" since resuming its assault late on Sunday, killing and wounding many extremist fighters said Adnan Afrin, a senior commander in the US-backed militia.
The SDF pressed on with operations on Monday along with coalition airstrikes, but Afrin said advances were slow because the SDF wanted to complete the campaign with minimal losses.
ISIS fighters attempted four suicide attacks but the SDF captured an arms dump, said militia spokesman Mustafa Bali. One SDF fighter was killed and four wounded.
Full report at:
https://english.alarabiya.net/en/News/middle-east/2019/03/11/Gun-fire-landmines-slow-SDF-advance-in-ruins-of-ISIS-final-pocket-in-Syria.html
--------
URL: https://www.newageislam.com/islamic-world-news/verifiable-action-dismantle-terror-infrastructure/d/118003
New Age Islam, Islam Online, Islamic Website, African Muslim News, Arab World News, South Asia News, Indian Muslim News, World Muslim News, Women in Islam, Islamic Feminism, Arab Women, Women In Arab, Islamophobia in America, Muslim Women in West, Islam Women and Feminism