New Age Islam News Bureau
16 Sept 2013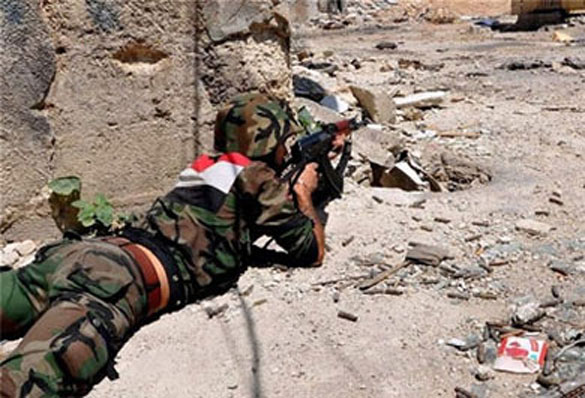 Photo: Syrian Army Destroys Al-Qaeda Base, Kills Tens of Terrorists in Reef Idlib
-------------
Europe
• Veils Are Not Appropriate In Classrooms or Airport Security: Deputy PM, UK
• Half of Syrian rebels are hardline Islamists: British study
• Suicide bomber kills three police in Russia's Chechnya
• Vladimir Putin: arch manipulator with a mission to check US will
• Hollande says 'military option' on Syria not ruled out
• 'Best way to get rid of Assad': France urges strong UN resolution
• Former European leaders call on EU to enforce ban on Israeli settlements
• UN report: Militant opposition groups step up crimes in Syria
Africa
• Somali Govt Foils Over 200 Al-Shabaab Attacks in Mogadishu
• Libya to tender for first private mobile license, says minister
• Competing Jihadist Groups Comment on Reports of Hammami's Death
Arab World
• Syrian Army Destroys Al-Qaeda Base, Kills Tens of Terrorists in Reef Idlib
• Nour Party: Azhar to have final say on Islamic Sharia in constitution
• Syria is transferring chemical weapons to Hezbollah to avoid international inspection
• Egypt army storms Islamist-held town: security
• Suspected Islamist militants bomb police bus in Egypt's Sinai
• Islam to remain state religion in Egypt's new constitution: Spokesperson
• Syria Extremists Massacre People in 3 Villages
• UAE leads Gulf front against Egypt's Islamists
• I'll settle Egypt problems in 3 days, says Mubarak
Southeast Asia
• Philippines launches helicopter assault at Muslim rebels
• Minister reminds Malaysians to never forget Chin Peng was a "terrorist leader"
• Najib's Bumi agenda is unconstitutional, says law professor
North America
• Protest in Montreal over ban on religious garb
• Syria 'lesson' for Iran: Obama
• Israel has 80 nukes, can about triple inventory – report
• Obama warns of action if Syria deal snapped
Mideast
• Iran sees Russia, China as key players to resolve 'Middle East crises'
• An Israeli claim to Temple Mount would trigger unimaginable violence
• Yemen jails Al Qaeda militants for plot to kill president
• Turkey wants US to ready Syria 'Plan B'
• Historic Quran found in mosque in Turkey's Muğla
• Report: Iranian 'military advisors' in Syria seen in online footage
• Rowhani says Iran will accept any elected Syria ruler
• Hamas unable to see Egypt events correctly: Palestinian ambassador
South Asia
• EC announces final first round election results, Nasheed placed first
• Afghan war to continue till foreigners' pullout: Sami
• Dhaka hopeful about land agreement, Teesta
• BNP-Jamaat to bring back graft, militancy
• EC sticks to verdict, Jamaat says it remains 'a party'
• War criminals of Bangladesh barred from contesting polls
• Afghan Presidential Race Kicks off
• Prepare for movement: Khaleda to Islamists
• Outgoing president raises concerns over Maldives vote
India
• Schemes for minorities being cornered by non-Muslims: Report
• Gujarat govt asks SIT not to seek death penalty for Maya Kodnani in 2002 Naroda Patiya massacre case
• 90 'ready-to-use' IEDs found at Indian Mujahideen hideouts in Mangalore, Hyderabad
• First Urdu law dictionary released
• Stone-pelters attack Canada envoy's car in Kashmir
• Bangladesh immigrants are only poll issue: Gogoi
Pakistan
• Religious Ministry announces scholarship for minority students
• MQM sends $10m defamation notice to NYT journalist
• Zardari warns against 'appeasing' Pak militants
• NATO fuel tankers destroyed in Balochistan: Officials
• TTP comeback: Taliban have crept back into strategic stronghold, says ANP
• National consensus: Imran's party to hold national conference on terrorism
• Plot afoot to torpedo peace talks with Taliban: Fazl
• Organ trade gang busted, 6 arrested
• Army not to bow before terrorists terms, vows Kayani
• Pakistan nominates first film for Oscar in 50 years
Compiled by New Age Islam News Bureau
URL: https://www.newageislam.com/islamic-world-news/new-age-islam-news-bureau/veils-are-not-appropriate-in-classrooms-or-airport-security--deputy-pm,-uk/d/13522
----------
Europe
Veils Are Not Appropriate In Classrooms or Airport Security: Deputy PM, UK
16 September 2013
It is not appropriate for students to wear a full veil in the classroom or for people to go through airport security with their faces covered, Nick Clegg has said.
But the deputy prime minister said he did not want to see a state ban on the wearing of religious items of clothing in particular circumstances.
His comments came as a Liberal Democrat minister said the government should consider banning Muslim girls and young women from wearing the veil in public places.
The Home Office minister Jeremy Browne called for a national debate on whether the state should step in to prevent young women having the veil imposed upon them.
His intervention was sparked by a row over the decision by Birmingham Metropolitan College to drop a ban on the wearing of full-face veils amid public protests.
Browne said he was "instinctively uneasy" about restricting religious freedoms, but he added there may be a case to act to protect girls who were too young to decide for themselves whether they wished to wear the veil or not.
"I am instinctively uneasy about restricting the freedom of individuals to observe the religion of their choice," he told the Daily Telegraph.
"But there is genuine debate about whether girls should feel a compulsion to wear a veil when society deems children to be unable to express personal choices about other areas like buying alcohol, smoking or getting married.
"We should be very cautious about imposing religious conformity on a society which has always valued freedom of expression."
Responding to his comments, Clegg said: "I think there is a debate going on already in households and communities up and down the country.
"My own view, very strongly held, is that we shouldn't end up like other countries issuing edicts or laws from parliament telling people what they should or should not wear.
"This is a free country and people going about their own business should be free to wear what they wish. I think it is very un-British to start telling people what pieces of clothing they should wear.
"I think there are exceptions to that as far as the full veil is concerned – security at airports, for instance. It is perfectly reasonable for us to say the full veil is clearly not appropriate there.
"And I think in the classroom, there is an issue, of course, about teachers being able to address their students in a way where they can address them face-to-face. I think it is quite difficult in the classroom to be able to do that."
A number of Conservative MPs have voiced dismay at the way the Birmingham Metropolitan College case was handled.
The college had originally banned niqabs and burqas from its campuses eight years ago on the grounds that students should be easily identifiable at all times.
But when a 17-year-old prospective student complained to her local newspaper that she was being discriminated against, a campaign sprang up against the ban, attracting 8,000 signatures to an online petition in just 48 hours.
Following the college's decision to withdraw the rule, Downing Street said David Cameron would support a ban in his children's schools, although the decision should rest with the headteacher.
However, the prime minister has been coming under growing pressure from his own MPs for a rethink on current Department for Education guidelines in order to protect schools and colleges from being "bullied".
The Tory backbencher Dr Sarah Wollaston said the veils were "deeply offensive" and were "making women invisible", and called for the niqab to be banned in schools and colleges.
Writing for the Telegraph, she said: "It would be a perverse distortion of freedom if we knowingly allowed the restriction of communication in the very schools and colleges which should be equipping girls with skills for the modern world. We must not abandon our cultural belief that women should fully and equally participate in society."
Mohammed Shafiq, chief executive of the Ramadhan Foundation, said he was disgusted by Browne's calls to consider banning Muslim girls and young women from wearing the veil in public places.
"This is another example of the double standards that are applied to Muslims in our country by some politicians," he said.
"Whatever one's religion they should be free to practise it according to their own choices and any attempt by the government to ban Muslim women will be strongly resisted by the Muslim community.
"We take great pride in the United Kingdom's values of individual freedom and freedom of religion and any attempt by illiberal male politicians to dictate to Muslim women what they should wear will be challenged."
He added: "We would expect these sorts of comments from the far right and authoritarian politicians and not from someone who allegedly believes in liberal values and freedom."
http://www.theguardian.com/politics/2013/sep/16/veils-classrooms-airport-nick-clegg
--------
Half of Syrian rebels are hardline Islamists: British study
16 September 2013
Jihadists and members of hardline Islamist groups make up almost half of forces fighting against Syrian President Bashar al-Assad, according to extracts from a British defence study published in Monday's Daily Telegraph.
The analysis by defence consultancy IHS Jane's, due to be published in full later this week, puts the number of rebel forces at around 100,000, the Telegraph reported.
But these fighters have split into as many as 1,000 bands since violence flared two years ago, the study concluded.
Of the rebel forces, IHS Jane's estimates that around 10,000 are jihadists fighting for groups linked to Al-Qaeda and another 30,000 to 35,000 are hardline Islamists, who differ from jihadists in that they are concentrated only on the Syrian conflict, and not on the global Islamist fight.
"The insurgency is now dominated by groups which have at least an Islamist viewpoint on the conflict," Charles Lister, author of the analysis, told the British newspaper.
"The idea that it is mostly secular groups leading the opposition is just not borne out.
"If the West looks as though it is not interested in removing Assad, moderate Islamists are also likely to be pushed further towards extremists," he warned.
The study is based on interviews with militants and on intelligence estimates.
http://english.ahram.org.eg/NewsContent/2/8/81685/World/Region/Half-of-Syrian-rebels-are-hardline-Islamists-Briti.aspx
--------
Suicide bomber kills three police in Russia's Chechnya
September 16, 2013
Three police were killed by a suicide bomber who detonated a bomb in a car outside a police station in Russia's Chechnya region on Monday, an national anti-terrorism body said. Five police were also wounded in the bombing, which highlights the instability in the North Caucasus as Russia
prepares to hold the Winter Olympics in nearby Sochi in February.
Russian President Vladimir Putin has called for increased security in the mainly Muslim region, where insurgents are waging an insurgency to establish an Islamist state.
A regional Interior Ministry official told Russian news agency Itar-Tass that police had tried to stop the car before it reached the police compound, near the border with Ingushetia.
Suicide bombings are rare in Chechnya, where separatists have fought two wars against Russian soldiers since the collapse of the Soviet Union in 1991 and which is now ruled by Kremlin-backed leader
http://www.hindustantimes.com/world-news/europe/Suicide-bomber-kills-three-police-in-Russia-s-Chechnya/Article1-1122734.aspx
---------
Vladimir Putin: arch manipulator with a mission to check US will
Peter Beaumont
16 September 2013
In novelist Victor Pelevin's pungent satire on contemporary Russia, The Sacred Book of the Werewolf, its narrator, a 2,000-year-old shape-shifter, kisses Alexander, a brutish but alluring officer with the FSB, the Russian security service – who is a werewolf, like all his colleagues. In doing so, she unwittingly transforms his inner animal from that of a sleek grey wolf into a black dog that is at first rejected by, and then finally returns to, his former FSB employers.
As an invocation of post-Soviet Russia under the heirs of Mikhail Gorbachev, Vladimir Putin in particular, it is a necessary text in understanding both Putin and Russia today. The world Pelevin describes is one where there are no absolutes of truth or even reality – only what people say is true. The country's new wealth is summoned as if by magic out of the soil by the howling servants of the state. Historic continuity with the Soviet past is visible in the expressions of Alexander and his colleagues: "Faces that used to be around a lot in the old days."
It speaks to – and of – a deep uncertainty. For while Russia may not be the military power it once was at the height of the cold war – the once sharp-toothed grey wolf – it still harbours a lingering nostalgia for that time. The black dog still hankers to be lupine. All of which has underpinned Putin's slick manoeuvres over the last week that have left Barack Obama's foreign policy looking leaden and wrong-footed.
Also, perhaps the White House and State Department in their clumsy and literal interpretation of Putin's motives have fallen for the conjuror's old trick of misdirection. They have taken the Kremlin's interest in Damascus at face value, rather than understanding it for what it is – an expression of Putin's notion of Russia's place in the world.
And so, over the last six months and more, Putin, the former KGB officer, has been a step ahead of Obama, the former constitutional lawyer with his penchant for thinking out loud. First, Putin tweaked Obama's nose with the granting of "temporary asylum" to NSA whistleblower Edward Snowden. Now, with the offer to deliver the disarmament of Syria's chemical weapons in response to an apparently off-the-cuff suggestion by secretary of state, John Kerry, he appears to have wrongfooted the White House again.
The fact that Putin appears to enjoy a more astute understanding than Obama of what the US public wants to hear right now is a reminder of the credo of another of Pelevin's cynical creations, the Russian adman from the novel Homo Zapiens. He declares: "First you try to understand what people will like and then you hand it to them in the form of a lie."
And that, by and large, is what Putin pulled off last week in his op-ed for the New York Times, brokered by his US PR firm Ketchum, with an appeal made directly to the American people's desire to avoid another Middle East military entanglement.
Its cleverness was that it dressed up a self-interested and sometimes credibility-stretching argument, not least over the continuing claims that Syrian rebels were behind the gas attack in Ghouta on 21 August, with enough legitimate criticism of US policy to provide a veneer of credibility. What is surprising in all this is not only the enthusiasm for the Putin initiative from some quarters, but also that it's not very hard to divine what Putin really wants on the world stage.
In February this year, he made the Putin doctrine explicit, presenting the Russian Federation's new foreign policy framework to his security council. Rejecting the efforts seen during Dmitry Medvedev's presidency for greater integration with the west, Putin's emphasis is both more local, eyeing his immediate backyard, and more assertive internationally.
If there is a striking difference between Putin and Obama, it is that the former appears to understand both the limits of post-Russian power and the tools available to him, while the Obama administration, and the US more widely, has failed to internalise its relative decline in power and influence over the last decade.
Putin's assessment of the "polycentric" nature of the global landscape, for now at least, seems the more astute, not least in his bet that the west will no longer be able to "dominate in the world economy and politics".
Putin's op-ed for the New York Times was scathing about the notion of US "exceptionalism" as the indispensable nation. However, to a Russian audience, he is happy to claim the same mantle of "uniqueness" when it comes to seeing Moscow's role – not least on the UN Security Council – as a counterweight to US ambitions.
For Putin, the front line in this struggle is not the fate of Syria or even the risk of instability in wider Middle East, but resisting "implementation of policies aimed at overthrowing lawful governments", not least through the auspices of the UN and through US-democracy promotion.
As the author and analyst David Rohde argued in an opinion piece for Reuters: "There is nothing complicated or altruistic about Putin's strategy in Syria. He is defending Assad in order to preserve his key ally in the Middle East and his own rule in Russia." Rohde added that Putin sees Syria as the sort of American intervention that has unseated rulers. "Dismissing protests against himself and other autocrats as CIA plots, he probably fears he may be next."
While Putin has been mocked for some of his pretensions, not least his penchant for being photographed in the midst of "manly" pursuits, that is seriously to underestimate his nous. This is particularly true when he is speaking to his constituency, an alliance of nationalists, conservatives and a vast, sprawling middle ground. According to Clifford Gaddy, a fellow at the Brookings Institution, Putin interposed himself as a key political fixer under the patronage of Yeltsin-era figure Anatoly Chubais in the mid-1990s. Putin, he says, "understood the principles of the British intelligence chief John Masterman's double-cross system: don't destroy your enemies. Manipulate them and use them for your own goals".
Putin did, and continues to do, precisely that. He has targeted the oligarchs whose secrets he captured in his rise to power, first as the prime minister, under whose auspices the brutal second Chechen war was prosecuted. He has broken those who have stepped out of line.
The manipulation is done, as David Remnick, the New Yorker editor, remarked two years ago, with a disarming cynicism. Remnick described an encounter with Putin's spokesman, Dmitri Peskov, as indicative of the house style. "When [Peskov] lies, he knows that you know, and you know that he knows that you know. The smile is also meant to convey another message to foreign visitors: so, we're cynical. And you're not?"
And while Putin's popularity has certainly declined, not least in large parts of the country's better educated middle class, he has been clever enough to cement his position.
Last week, amid the thumb-sucking in large parts of the US commentariat over whether Putin had thrown a hapless Obama a "lifeline" over the Syrian crisis, it took Human Rights Watch's Anna Neistat to point out the Russian president's multiple evasions, including the transfer of arms to Assad.
She noted: "From the very start of this conflict, Russia has vetoed or blocked any Security Council action that may bring relief to Syria's civilians or bring perpetrators of abuses in Syria to account."
She also underlined how difficult it is to take seriously talk about "democratic values and international law" when his government at home "continues to throw activists in jail, threatens to close NGOs, and rubber-stamps draconian and discriminatory laws".
The reality is that Putin has won this latest round. He has narrowed the terms of the present debate on the war he is arming – which has claimed 100,000 lives and displaced 6.5 million – to the narrow question of disarmament of Syria's chemical weapons, a task that would be difficult enough to accomplish in peacetime. Already, it is clear, not least from the comments of Assad on Russian television, that the negotiation over the details of that disarmament will be spun out.
In the meantime, the horror of the war in Syria will drag on and on. On the question of red lines, Obama's has been crossed to no effect, while Putin's red line on western intervention has been defended at the cost of yet more Syrian lives on both sides of the war and no real prospect of a negotiated peace.
Somewhere, a black dog is smiling a wolfish grin.
THE PUTIN FILE
Born Leningrad, in October 1952, six months before the death of Stalin. Mother Maria Ivanovna Putina was a factory worker and father Vladimir Spiridonovich Putin was conscripted into the Soviet navy before also working in a factory. Divorced from Lyudmila whom he married in 1983. Two daughters.
Best of times Becoming Russian president in 2000 after being hand-picked by former president Boris Yeltsin as his successor.
Worst of times In terms of popularity at home, very few. Being booed after he stepped into the ring at the end of a martial arts fight between Russian fighter Fedor Emelianenko and his American opponent, Jeff Monson, in 2011. It marked the first time that public discontent with his rule broke out into the open.
What he says "It is extremely dangerous to encourage people to see themselves as exceptional, whatever the motivation. There are big countries and small countries, rich and poor, those with long democratic traditions and those still finding their way to democracy. Their policies differ, too. We are all different, but when we ask for the Lord's blessings, we must not forget that God created us equal."
What others say "He ain't exceptional. He's just one more in a long tradition of dictators and thugs." Newt Gingrich
http://www.theguardian.com/theobserver/2013/sep/15/observer-profile-vladimir-putin
--------
Hollande says 'military option' on Syria not ruled out
16 September 2013
Al Arabiya
French President Francois Hollande said on Sunday that he has not ruled out the "military option" against Syria.
"The military option must remain, otherwise there will be no pressure," Hollande said in a televised address.
Hollande, Kerry, French Foreign Minister Laurent Fabius and British Foreign Secretary William Hague will meet in Paris Monday to agree on a draft U.N. resolution that will set out how Syria can secure and destroy its chemical weapons stockpile.
Full report at:
http://english.alarabiya.net/en/News/world/2013/09/16/Hollande-says-military-option-on-Syria-not-ruled-out-.html
--------
'Best way to get rid of Assad': France urges strong UN resolution
September 16, 2013
France is urging an early UN vote on a resolution to support the Russian-US initiative on Syria. President Hollande insists the option of a military strike must remain on the table, otherwise there will be "nothing to stop Syria."
"We can vote on this resolution before the end of the week," French President Francois Hollande told local TF1 television, adding that the proposal "must include the threat of sanctions."
Full report at:
http://rt.com/news/france-syria-un-resolution-897/
--------
Former European leaders call on EU to enforce ban on Israeli settlements
16 September 2013
Former leaders and senior officials from European Union member states have called on EU foreign policy chief Catherine Ashton to stick to new guidelines limiting interaction with Israeli entities beyond the pre-1967 lines, despite Israel-generated pressure.
US Secretary of State John Kerry called earlier this month for a delay in the implementation of the directive, which would see an end to EU financial assistance to Israeli organizations in the West Bank, East Jerusalem and Golan Heights.
Full report at:
http://www.jpost.com/Diplomacy-and-Politics/Former-European-leaders-call-on-EU-to-enforce-ban-on-Israeli-settlements-326239
--------
UN report: Militant opposition groups step up crimes in Syria
16 September 2013
GENEVA - Killings, crimes and other abuses by rebels, including foreign fighters invoking jihad, or holy war, have increased in northern Syria, UN human rights investigators said on Monday.
"Across northern Syria, there has been an upsurge in crimes and abuses committed by extremist anti-government armed groups along with an influx of rebel foreign fighters," Paulo Pinheiro, head of the inquiry, told the UN Human Rights Council.
Full report at:
http://www.jpost.com/Middle-East/UN-report-Militant-opposition-groups-step-up-crimes-in-Syria-326250
--------
Africa
Somali Govt Foils Over 200 Al-Shabaab Attacks in Mogadishu
15 SEPTEMBER 2013
Somali security forces have foiled more than 200 al-Shabaab attacks in Mogadishu in August with the help of a new undercover unit, Minister of Interior and National Security Abdikarim Hussein Guled said Saturday (September 14th).
"We have established an undercover unit deployed among various sectors of the public to gather credible information about the enemy and anyone else who threatens security," Guled told state-run Radio Mogadishu. He said the new unit started its work in July.
Full report at:
http://allafrica.com/stories/201309160121.html
--------
Libya to tender for first private mobile license, says minister
16 September 2013
AFP, Tripoli
Libya will launch a tender in 2014 for the award of the country's first private mobile phone license, Communications Minister Usama Siala told AFP on Monday.
The country's two publicly-owned providers have more than eight million subscribers, one of the highest penetration rates in Africa, but Libya has no private mobile telecoms operators.
"We are going to propose a mobile telephone license for the private sector in three to six months," Siala said in an interview with AFP.
Full report at:
http://english.alarabiya.net/en/business/telecoms/2013/09/16/Libya-to-tender-for-first-private-mobile-license-says-minister-.html
--------
Competing Jihadist Groups Comment On Reports of Hammami's Death
15 SEPTEMBER 2013
Over the past three days, both the Muslim Youth Center, which is Shabaab's affiliate in Kenya, and the Islamic World Issues Study Center, a fringe jihadist outlet that has feuded with Shabaab's leaders, have commented on the reports of the death of American jihadist Omar Hammami. Shabaab is said to have killed Hammami, a Brit named Usama al Brittani, and a Somali earlier this week
Full report at:
http://allafrica.com/stories/201309160701.html
--------
Arab World
Syrian Army Destroys Al-Qaeda Base, Kills Tens of Terrorists in Reef Idlib
16 September 2013
TEHRAN (FNA)- The Syrian army attacked military headquarters of an Al-Qaeda-linked terrorist group in Reef (countryside of) Idlib in Northern Syria, and killed tens of armed rebels.
The army raided concentration camp of the Al-Nusra Front in Kafr Avid region in Reef Idlib and killed 15 terrorists, FNA dispatches said Monday.
Meantime, the Syrian army attacked and destroyed a DshK-equipped vehicle in Northern Motarem in Reef Ariha, killing all the armed rebels on the vehicle.
Full report at:
http://english.farsnews.com/newstext.aspx?nn=13920625000271
----------
Nour Party: Azhar to have final say on Islamic Sharia in constitution
16 September 2013
In an abrupt change from its earlier radical position, the ultra-conservative Salafist Nour Party announced it would welcome the Sunni Islamic institution of Al-Azhar having the final say on whether "Islamic identity articles" are included in Egypt's post-30 June constitution or not.
By "identity articles," the Nour Party means Islamic Sharia articles, drafted by the Islamist-dominated constituent assembly in 2012, including controversial Article 219.
Article 219 states: "The principles of Islamic Sharia include its commonly accepted interpretations, its fundamental and jurisprudential rules and it's widely considered sources, as stated by the schools of Sunna and Gamaa." Critics of the article say it leaves the door open for discrimination against non-Sunni minorities.
Full report at:
http://english.ahram.org.eg/NewsContent/1/64/81656/Egypt/Politics-/Nour-Party-Azhar-to-have-final-say-on-Islamic-Shar.aspx
----------
Syria is transferring chemical weapons to Hezbollah to avoid international inspection
16 September 2013
Syrian President Bashar Assad's forces are smuggling chemical weapons to Hezbollah hidden in trucks carrying vegetables in order to escape international chemical inspection, Syrian opposition member Dr. Kamal Labwani told Saudi newspaper Al Watan on Monday.
The chemical arms are set to be stored in Hezbollah-controlled mountain areas of Lebanon, where it will be difficult to find and monitor them.
Syria has also been able to smuggle the bulk of its chemical arsenal to Russian battleships stationed off the coast of Syria, Labwani said.
On Sunday, Lebanese daily Al-Mustaqbal reported Syria has moved 20 trucks worth of equipment and material used for the manufacturing of chemical weapons into Iraq, but Baghdad has denied allegations that it is helping the Syrian government conceal chemical stockpiles.
Full report at:
http://www.jpost.com/Middle-East/Report-Syria-is-transferring-chemical-weapons-to-Hezbollah-to-avoid-international-inspection-326236
----------
Egypt army storms Islamist-held town: security
September 16, 2013
Troops on Monday stormed a central Egyptian town held for over a month by hardline supporters of ousted Islamist president Mohamed Morsi who had launched a campaign against Christian residents, officials said. Soldiers and police entered the town of Delga in the central Minya province just after dawn, searching homes and arresting several Islamists, a security official told AFP.
All 32 entrances to the village were shut and a daytime curfew imposed as authorities recaptured the town of 120,000 people, held for 31 days by Morsi loyalists, according to the official MENA news agency.
Full report at:
http://www.hindustantimes.com/world-news/africa/Egypt-army-storms-Islamist-held-town-security/Article1-1122793.aspx
---------
Suspected Islamist militants bomb police bus in Egypt's Sinai
16 September 2013
Nine Egyptian police conscripts were wounded in the Sinai Peninsula on Monday after a roadside bomb targeted a bus they were traveling in, security officials said.
The officials said that suspected Islamist militants are believed to have been responsible for the blast.
The bomb exploded on the road outside the town of Rafah, on the border with the Gaza Strip, according to the Associated Press.
The bus has reportedly been escorted by an armored car and was set off by remote control, the officials said.
Full report at:
http://english.alarabiya.net/en/News/middle-east/2013/09/16/Suspected-Islamist-militants-bomb-police-bus-in-Egypt-s-Sinai.html
----------
Islam to remain state religion in Egypt's new constitution: Spokesperson
16 September 2013
Egypt's constitution-drafting committee is unlikely to amend Article Two which defines the role of Islamic law in legislation, committee spokesperson Mohamed Salmawi said on Sunday.
Article Two, which was introduced in the 1971 constitution, states that "Islam is the religion of the state and the principles of Islamic Sharia are the principal source of legislation."
Some leftist members of the 50-member-committee have called for Article Two to be amended in a way that would keep Islam as the official religion of the state while basing legislation on the spirit of all three major monotheistic religions.
Full report at:
http://english.ahram.org.eg/NewsContent/1/64/81649/Egypt/Politics-/Islam-to-remain-state-religion-in-Egypts-new-const.aspx
----------
Syria Extremists Massacre People in 3 Villages
16 September 2013
TEHRAN (FNA)- Al-Qaeda-affiliated extremists in Syria confessed targeting and massacring dozens of people in three Homs villages dominated by Alawites last week.
On Sunday, the Al-Nusra Front terrorist group claimed responsibility for Tuesday's attacks in which at least 30 Alawites, including several women, children and elderly men, were shot dead in cold blood, Al-Alam reported.
Al-Nusra said in an internet statement that its militants entered the villages of Massudiyeh, Maksar al-Hissan and Jab al-Jerah in Homs province and carried out the massacre.
The group said one of its jurists asked them to slay Alawites whom he called "enemies of God".
Full report at:
http://english.farsnews.com/newstext.aspx?nn=13920625000728
----------
UAE leads Gulf front against Egypt's Islamists
AP, Dubai, United Arab Emirates
16 September 2013
More than six months ago, Dr. Mahmoud al-Jaidah was asked to step out of line as he transited through Dubai en route home to Qatar. He has been held ever since, allowed to visit his family once a month after a blindfolded trip from an undisclosed detention facility.
UAE authorities have given no public statements on the case. But the family of the 52-year-old doctor has no doubt why he was detained: He has been caught up in the escalating pressures across the Western-backed Gulf states against the now-battered Muslim Brotherhood and its perceived Islamist allies.
Full report at:
http://www.thedailystar.net/beta2/news/uae-leads-gulf-front-against-egypts-islamists/
--------
I'll settle Egypt problems in 3 days, says Mubarak
16 September 2013
CAIRO – Egypt's former president Hosni Mubarak has reportedly said the country's 2011 uprising that ousted him from power had initiated in 2005 and was instigated by Washington, an Egyptian newspaper reported on Sunday.
Citing leaked recordings in which Mubarak can allegedly be heard, Egypt's independent Youm 7 newspaper published excerpts of the recordings.
Mubarak had stepped down in 2011 following the 18-day uprising against his 30-year rule. He was placed under house arrest last month and is still pending charges of complicity in the deaths of protesters in 2011.
Full report at:
http://www.saudigazette.com.sa/index.cfm?method=home.regcon&contentid=20130916180606
----------
Southeast Asia
Philippines launches helicopter assault at Muslim rebels
September 16, 2013
ZAMBOANGA: The Philippine military launched a helicopter assault Monday at Muslim rebels occupying parts of a major southern city, stepping up efforts to end an eight-day standoff that has left dozens dead.
Two air force helicopters fired rocket rounds towards Moro National Liberation Front (MNLF) rebels held up in coastal villages in Zamboanga city, an AFP reporter witnessed, as the military confirmed the attacks.
"This is a precision close air support directed by ground troops to suppress the enemy," military spokesman Lieutenant Colonel Ramon Zagala told AFP.
The helicopter assault was the first air strikes since troops began their offensive on Friday to defeat the MNLF forces, who have been using civilians as human shields.
Full report at:
http://tribune.com.pk/story/604962/philippines-launches-helicopter-assault-at-muslim-rebels/
---------
Minister reminds Malaysians to never forget Chin Peng was a "terrorist leader"
OLEH HASBULLAH AWANG CHIK
SEPTEMBER 16, 2013
Malaysians must never forget that Chin Peng, who died in Bangkok today, was a "terrorist leader" and his quest for an independent communist state had left thousands of security personnel dead and families without loved ones, said the Home Minister.
"I want Chin Peng to be remembered as a terrorist leader. The security forces which had fought a bloody war with him still cannot forget or forgive him for the atrocities during the Malayan insurgency," Datuk Ahmad Zahid Hamidi (pic) told The Malaysian Insider when contacted.
Full report at:
http://www.themalaysianinsider.com/malaysia/article/minister-reminds-malaysians-to-never-forget-chin-peng-was-a-terrorist-leade
--------
Najib's Bumi agenda is unconstitutional, says law professor
BY LEE SHI-IAN
SEPTEMBER 16, 2013
The new measures and strategies to empower the bumiputera economy are a violation of the Federal Constitution which promises equality, said Universiti Malaya associate professor Dr Azmi Sharom.
He said the Bumiputera Economic Empowerment Agenda announced by Prime Minister Datuk Seri Najib Razak on Saturday is not supported by law.
"These provisions are not mentioned in the constitution but no one is coming out to say this," said Azmi at a forum in Bangsar Baru today titled "50 years of democracy: Has it weakened or strengthened our Federal Constitution", presented by the Malaysian Centre for Constitutionalism and Human Rights (MCCHR).
Full report at:
http://www.themalaysianinsider.com/malaysia/article/najibs-bumi-agenda-is-unconstitutional-says-law-professor
--------
North America
Protest in Montreal over ban on religious garb
AFP
Montreal, Canada, September 16, 2013
Thousands of mostly Muslim protesters took to the street in Montreal to express anger at a plan to ban public sector workers from wearing religious garb in Quebec. The prohibition of headscarves, turbans and other religious garments is part of a proposed overhaul of the Canadian province's "Charter of Values." "No to the charter," the demonstrators shouted, while also chanting "Quebec is not France," — a reference to a similar law which has been in force in that country for more than two years.
Full report at:
http://www.hindustantimes.com/world-news/northamerica/Protest-in-Montreal-over-ban-on-religious-garb/Article1-1122606.aspx
----------
Syria 'lesson' for Iran: Obama
BBC Online
16 September 2013
US President Barack Obama says Iran should draw "a lesson" from the deal reached over Syria's chemical weapons.
Iran's nuclear programme is a "far larger issue" for the US than chemical weapons, Obama told the ABC network.
Obama said despite the fact that the US had not used force against Syria, a "credible threat of force" could lead to a deal.
Obama also confirmed that he had exchanged letters with new Iranian President Hassan Rouhani.
Although the fact that the two leaders have communicated at all will be seen as a step forward, Obama said: "I think this new president is not going to suddenly make it easy."
Full report at:
http://www.thedailystar.net/beta2/news/syria-lesson-for-iran-obama/
--------
Israel has 80 nukes, can about triple inventory – report
September 16, 2013
Israel has never confirmed or denied possession of nuclear weapons, but according to new report by US experts it has at least 80 operative warheads and has enough material to produce up to 190 more.
In a report published in the Bulletin of the Atomic Scientists, nuclear weapon proliferation experts Robert S. Norris and Hans M. Kristensen assess that Israel stopped producing nuclear warheads back in 2004 once it reached around 80 munitions.
Full report at:
http://rt.com/news/israel-nuclear-weapons-mass-destruction-899/
--------
Obama warns of action if Syria deal snapped
September 16, 2013
US President Barack Obama has welcomed a crucial deal with Russia to bring Syria's chemical weapons under international control, but warned there would be "consequences" if the Assad regime does not comply with the agreement in a transparent, expeditious and verifiable manner. After US
Secretary of State John Kerry and his Russian counterpart Sergey Lavrov hammered out the agreement on the Syrian chemical stockpile during talks in Geneva, Obama said the international community expects Syria to live up to its public commitments.
Full report at:
http://www.hindustantimes.com/world-news/americas/Obama-warns-of-action-if-Syria-deal-snapped/Article1-1122611.aspx
---------
Mideast
Iran sees Russia, China as key players to resolve 'Middle East crises'
ATUL ANEJA
Sep 16, 2013
Looking beyond the Syrian crisis, Russia and China have bonded with Iran in anticipation of nuclear talks between the six global powers and Tehran, where the presence of a newly-elected leadership has raised modest hopes of convergence.
While world attention was riveted to the Geneva talks between U.S. Secretary of State John Kerry and his Russian counterpart, Sergei Lavrov, there was frenzied diplomatic activity in Bishkek — Kyrgyzstan's capital — where three heavyweights, President Vladimir Putin of Russia; and his Chinese and Iranian counterparts Xi Jinping and Hassan Rouhani respectively spent quality time to find common ground in anticipation of receding war clouds over Syria. Full report at:
http://www.thehindu.com/news/international/world/iran-sees-russia-china-as-key-players-to-resolve-middle-east-crises/article5132330.ece
--------
An Israeli claim to Temple Mount would trigger unimaginable violence
Giles Fraser
13 September 2013
Saturday is Yom Kippur, the Day of Atonement, the holiest day on the Jewish calendar. It ends a run of days beginning from the Jewish new year, which was last Thursday, in which those who have done wrong are given a last chance to set things right. According to tradition, a person's fate for the coming year is set on this day. Today is the last-chance saloon.
But there is another dimension. The famous 19th/20th century Jewish ethnographer and playwright Shlomo Ansky tells a story about Yom Kippur. This was the only day of the year when the high priest was allowed to enter the Holy of Holies at the heart of the Temple. Full report at:
http://www.theguardian.com/commentisfree/belief/2013/sep/13/israeli-temple-mount-trigger-unimaginable-violence
--------
Yemen jails Al Qaeda militants for plot to kill president
2013-09-16
SANAA, Sept 15: A Yemeni court on Sunday jailed three Al Qaeda militants to between one and seven years after convicting them of plotting to assassinate President Abdrabuh Mansur Hadi and the American ambassador.
The same Sanaa court specialising in terrorism cases freed a fourth defendant held on similar charges based on time already served in prison.
The defendants were accused of conspiring to carry out a suicide attack against Hadi using a vehicle laden with explosives, according to the charges read out by presiding judge Hilal Mahfal.
Full report at:
http://www.dawn.com/news/1043099/yemen-jails-al-qaeda-militants-for-plot-to-kill-president
--------
Turkey wants US to ready Syria 'Plan B'
Serkan Demirtaşserkan.demirtas@hdn.com.tr
16 September 2013
Unable to conceal its skepticism about a Washington-Moscow deal to eliminate Syria's chemical weapons stocks, Ankara is set to ask Washington to prepare a "Plan B" for Syria on concerns that Damascus will abuse the process and continue its alleged attacks on its citizens.
"This process will give more time for [Syrian President] Bashar al-Assad [to stay] in power. The deal should have been more open and straight in outlining the possible sanctions to be imposed on Damascus in the event of the regime's incompliance with the deal," a Turkish diplomatic source said over the weekend.
Full report at:
http://www.hurriyetdailynews.com/turkey-wants-us-to-ready-syria-plan-b.aspx?pageID=238&nID=54496&NewsCatID=338
--------
Historic Quran found in mosque in Turkey's Muğla
16 September 2013
A historic handwritten Quran was discovered in an old mosque in Bodrum. Yüksel Kılınçarslan, the imam of Tepecik Mosque, which has been serving the local community since 1737 on Neyzen Tevfik Avenue, noticed the 1,200 year-old Quran in the imam's room and informed officials about it. At a ceremony, the historic Quran was delivered to the Bodrum Underwater Archaeology Museum with its accompanying protocol.
Full report at:
http://www.hurriyetdailynews.com/historic-quran-found-in-mosque-in-turkeys-mugla.aspx?PageID=238&NID=54475&NewsCatID=375
--------
Report: Iranian 'military advisors' in Syria seen in online footage
16 September 2013
A video which surfaced online this week gives "tangible indicators" of Iran's military involvement in the Syrian conflict, according to a BBC report on Sunday.
The footage reportedly shows at least five Iranians wearing military uniforms, believed to be part of the Revolutionary Guard's Quds Force, among a larger group of pro-government Syrian fighters.
Full report at:
http://english.alarabiya.net/en/News/middle-east/2013/09/16/Report-Iranian-military-advisors-in-Syria-seen-in-online-footage.html
--------
Rowhani says Iran will accept any elected Syria ruler
16 September 2013
Al Arabiya
Iranian President Hassan Rowhani said Monday his country will accept anyone the Syrian people would elect as a ruler.
"Whoever Syrian citizens vote for to rule their country, we'll agree with it," Rowhani said, as quoted by the official news agency IRNA.
His remarks are a slight change of emphasis from comments by other Iranian leaders, which have often emphasized Iran's support for its ally, Syrian President Bashar al-Assad, and blamed the West for the rebellion against him.
Full report at:
http://english.alarabiya.net/en/News/world/2013/09/16/Rowhani-says-Iran-will-accept-any-elected-Syria-ruler.html
--------
Hamas unable to see Egypt events correctly: Palestinian ambassador
16 September 2013
Palestinian Authority Ambassador to Egypt Barakat Al-Farra claimed on Sunday the Hamas Islamist group was "unable" to assess the Egyptian situation following president Mohamed Morsi's ouster.
"Hamas is unable to see the situation correctly and has to review its policies regarding Egypt," he said in an interview on Egyptian satellite channel Al-Hayat.
The ambassador also highlighted Palestinian-Egyptian relations, saying that his country and the Arab world are directly affected by circumstances in Egypt.
Full report at:
http://english.ahram.org.eg/NewsContent/1/64/81691/Egypt/Politics-/Hamas-unable-to-see-Egypt-events-correctly-Palesti.aspx
-------
South Asia
EC announces final first round election results, Nasheed placed first
By Leah Malone | September 15th, 2013
The Elections Commission (EC) has announced the final results from the first round of the presidential election held September 7.
The EC announced the results yesterday (September 14) after the High Court rejected the Jumhooree Party's (JP) request for an injunction to halt the announcement.
Maldivian Democratic Party (MDP) presidential candidate and former President Mohamed Nasheed placed first, winning 95,224 votes, or 45.45 percent.
Progressive Party of the Maldives (PPM) candidate Abdulla Yameen – an MP and half-brother of former autocratic President Maumoon Abdul Gayoom – received 25.35 percent,or 53,099 votes, to place second.
Full report at:
http://minivannews.com/politics/elections-commission-announces-final-first-round-election-results-65539
--------
Afghan war to continue till foreigners' pullout: Sami
2013-09-16
AKORA KHATTAK, Sept 15: Maulana Samiul Haq, who heads his own faction of Jamiat Ulema-i-Islam and runs a seminary described as the university of jihad, has expressed the confidence that the Taliban will soon sweep back to power to Afghanistan.
Tucked away in a dusty town off the main motorway to the Afghan border, his Darul Uloom Haqqania university was the launching pad for the Taliban movement in the 1990s and is still often described as the incubator for Islamists.
Full report at:
http://www.dawn.com/news/1043253/afghan-war-to-continue-till-foreigners-pullout-sami
--------
Dhaka hopeful about land agreement, Teesta
HAROON HABIB
Sep 16, 2013
Bangladesh's Foreign Minister Moni has said she is hopeful that India will ratify the long delayed Land Boundary Agreement (LBA) with its neighbour despite New Delhi's repeated failure to introduce a bill in Parliament.
"We are still hopeful," said Ms. Moni at a news briefing at the Foreign Ministry on Thursday. She, however, made it clear that she was not sure whether India will be able to implement the bilateral accord during her current government's tenure as only a few months are in hand.
Full report at:
http://www.thehindu.com/news/international/south-asia/dhaka-hopeful-about-land-agreement-teesta/article5129431.ece
--------
BNP-Jamaat to bring back graft, militancy
Hasan Jahid Tusher
16 September 2013
Sajeeb Wazed Joy, son of Prime Minister Sheikh Hasina, yesterday said terrorism, militancy and corruption would come back if the BNP-Jamaat alliance returned to power. "Extremists have lined up and will openly appear if the BNP-Jamaat come to power again," he said while addressing a workers' rally in Mymensingh. The ruling Awami League (AL) organised the rally at the gymnasium ground, marking his first ever visit to the district. Joy, a US-educated software businessman, also addressed several roadside rallies in Gazipur on his way to Mymensingh where he had also spoken at another rally.
Full report at:
http://www.thedailystar.net/beta2/news/bnp-jamaat-to-bring-back-graft/
--------
EC sticks to verdict, Jamaat says it remains 'a party'
16 September 2013
While Chief Election Commissioner Kazi Rakibuddin Ahmad says the High Court verdict declaring illegal Jamaat-e-Islami's registration with the EC as a political party remains in force, Jamaat leaders claim it is still legally a registered political party.
"The court's verdict is applicable for all and it will remain in force until the Supreme Court gives any reverse judgment," said the CEC after a meeting with a four-member Jamaat team at the Election Commission (EC) Secretariat yesterday.
Full report at:
http://www.thedailystar.net/beta2/news/ec-sticks-to-verdict-jamaat-says-it-remains-a-party/
--------
War criminals of Bangladesh barred from contesting polls
16 September 2013
Convicted war criminals will not be able to participate in the national election, according to a draft law approved by the cabinet on Monday.
The draft of "Representation of the People (amendment) Act-2013" dictates that persons who are convicted under the International Crimes (Tribunals) Act, 1973 will not be allowed to take part in any national elections.
Cabinet Secretary Musharraf Hossain Bhuiyan announced this to reporters after a regular cabinet meeting at the secretariat.
http://www.dhakatribune.com/bangladesh/2013/sep/16/war-criminals-won%E2%80%99t-participate-polls
--------
Afghan Presidential Race Kicks off
16 September 2013
TEHRAN (FNA)- Afghanistan's presidential race kicked off Monday as election authorities began accepting the nominations of would-be candidates.
The election is set for April 5. Incumbent President Hamid Karzai is barred from running for a third four-year term, RT reported.
Candidates have until October 6 to submit their names, along with a hefty fee and voter identification information of 100,000 people backing them.
No major candidates are expected to submit their nominations until closer to the deadline.
http://english.farsnews.com/newstext.aspx?nn=13920625000809
--------
Prepare for movement: Khaleda to Islamists
Hasibur Rahman Bilu, Bogra
16 September 2013
BNP Chairperson Khaleda Zia called upon Hefazat-e-Islam and 18-party leaders, including Jamaat-e-Islami, to prepare for movement against the government.
She made the announcement at a meeting before leaving Bogra town to attend a public rally in Rajshahi on Monday morning, Hefazat's member secretary and President of Islami Oikkajote Shamsul Haque told the Dhaka Tribune.
Islamist leaders had visited Khaleda Zia in the morning.
Among others present in the meeting were 18-party alliance leaders Alamgir Hossain, Abdul Haque and Tayeb Ali.
http://www.dhakatribune.com/politics/2013/sep/16/prepare-movement-khaleda-islamists
--------
Outgoing president raises concerns over Maldives vote
16 September 2013
COLOMBO — Outgoing Maldivian President Mohamed Waheed raised concerns Sunday about the first round of the polls in which he suffered a humiliating defeat, while calling for "peace and harmony" before the final vote.
Waheed received just 5.13 percent of the vote in the first round on September 7, while ex-leader Mohamed Nasheed took the top spot with 45.45 percent.
Nasheed, however, fell short of the majority mark and now faces a tricky run-off against his nearest rival Abdullah Yameen, who garnered 25.35 percent.
Full report at:
Copyright © 2013 AFP. All rights reserved.
--------
India
Schemes for minorities being cornered by non-Muslims: Report
Deeptiman Tiwary, TNN | Sep 16, 2013
NEW DELHI: Even as minority politics takes centrestage in the wake of recent riots in Uttar Pradesh, a report by the Council for Social Development shows how the UPA government has failed to implement the recommendations of the Sachar Committee, with its response to Muslim deprivation at best being "cautious and minimalist". The report said most of the benefits intended for minorities were being cornered by either the majority population or non-Muslim minorities.
The report listed misplaced focus of minority-oriented programmes, lack of funds and fear of 'minority appeasement' taunts as the reasons for government's failure to fulfil its promises.
The 'Social Development Report 2012: Minorities at the Margins' was prepared by scholars such as Zoya Hasan, Mushirul Hasan, Tanweer Fazal, Javed Alam Khan and Abusaleh Sharif among others.
Full report at:
http://timesofindia.indiatimes.com/india/Schemes-for-minorities-being-cornered-by-non-Muslims-Report/articleshow/22612844.cms
----------
Gujarat govt asks SIT not to seek death penalty for Maya Kodnani in 2002 Naroda Patiya massacre case
PTI | Sep 15, 2013
AHMEDABAD:The Gujarat government has refused permission to the Supreme Court-appointed SIT to file an appeal in a higher court seeking death penalty for former minister Maya Kodnani in the Naroda Patiya riot case.
This was decided on the basis of advocate general Kamal Trivedi's opinion that there was "no direct evidence" against her.
Maya Kodnani and Bajrang Dal activist Babu Bajrangi, along with 30 others, were sentenced to life imprisonment in the 2002 post-Godhra Naroda Patiya riot case, in which 96 people were killed.
Full report at:
http://timesofindia.indiatimes.com/india/Gujarat-govt-asks-SIT-not-to-seek-death-penalty-for-Maya-Kodnani-in-2002-Naroda-Patiya-massacre-case/articleshow/22604162.cms
----------
90 'ready-to-use' IEDs found at Indian Mujahideen hideouts in Mangalore, Hyderabad
Neeraj Chauhan, TNN | Sep 16, 2013
NEW DELHI: Seventeen days after the arrest of Indian Mujahideen chief Yasin Bhatkal, one of India's most wanted terrorists, another discovery has left intelligence agencies stunned.
If sources are to be believed, agencies have recovered a whopping 90 IEDs (improvised explosive devices ) from Zephyr Heights in Mangalore and Abdullapur in Hyderabad among other hideouts, indicating that the terrorist organization was planning a series of bomb blasts across the country.
Full report at:
http://timesofindia.indiatimes.com/india/90-ready-to-use-IEDs-found-at-Indian-Mujahideen-hideouts-in-Mangalore-Hyderabad/articleshow/22615364.cms
----------
First Urdu law dictionary released
Sep 16 2013
Mumbai : Billed to be the first of its kind in India, 'Kanoon Lugat', an Urdu law dictionary was released in Mumbai on Sunday.
"The dictionary, encompassing 52,000 legal terms, has been translated in Urdu for the first time," said chief translator and Supreme Court advocate Muhammad Irshad Hanif, at the event.
Full report at:
http://www.indianexpress.com/news/first-urdu-law-dictionary-released/1169644/
----------
Stone-pelters attack Canada envoy's car in Kashmir
September 16, 2013
The Canadian high commissioner to India and his family got caught up in a street protest in Kashmir Valley as they were making their way to Gulmarg on Saturday.
The incident occurred in Kuzer town of Baramulla district, some 40 km north of Srinagar, and left the diplomat's wife with minor injuries and their car damaged.
Canadian envoy Stewart Beck and his family were 20 km from Gulmarg when they ran into the protestors. "They pelted stones at the car, damaging the windshield," a government source said.
Full report at:
http://www.hindustantimes.com/India-news/jandk/Stone-pelters-attack-Canada-envoy-s-car-in-Kashmir/Article1-1122602.aspx
----------
Bangladesh immigrants are only poll issue: Gogoi
September 16, 2013
In his 13th year at the helm, Tarun Gogoi has broken the record of Bimala Prasad Chaliha as Assam's longest serving chief minister and virtually decimated the opposition in three elections. The going has not been easy for Gogoi, 78, for more than a year now, but he says he has not wavered from his policy of giving space to his rivals within the Congress or beyond. The state is also grappling with illegal influx and statehood demands spurred by Telangana. Following are excerpts from an HT interview with Gogoi:
Full report at:
http://www.hindustantimes.com/India-news/assam/Bangladesh-immigrants-are-only-poll-issue-Gogoi/Article1-1122593.aspx
----------
Pakistan
Religious Ministry announces scholarship for minority students
16 September 2013
ISLAMABAD: The Ministry of Religious Affairs and Interfaith Harmony has announced the Scholarship Programme 2013-14 for deserving students from the minority community studying in various government institutions of the country.
According to an official of the ministry, the aspirants of Hindu, Sikh, Christian, Buddhist and Mirzai community had been directed to submit their applications by October 14 to the Ministry of Religious Affairs and Interfaith Harmony, Green Trust Tower, Eighth Storey, Blue Area, Islamabad.
He said the regular students of the government-run educational institutions who secured at least 50 percent marks in the last examination had been declared as eligible for submitting applications.
Full report at:
http://www.dailytimes.com.pk/default.asp?page=2013\09\16\story_16-9-2013_pg7_14
----------
MQM sends $10m defamation notice to NYT journalist
2013-09-16
KARACHI: The Muttahida Qaumi Movement (MQM) issued a 10-million-dollar defamation notice to The New York Times' former Islamabad bureau chief, Declan Walsh, and the editor, printer and publisher of the newspaper for allegedly causing disrepute to Altaf Hussain in a 'baseless' report published, according to the official website of the MQM.
The notice was served by MQM's counsel Barrister Farogh Naseem which stated that the baseless reporting on behalf of the NYT had caused damage to the repute of MQM chief Altaf Hussain.
Full report at:
http://www.dawn.com/news/1043266/mqm-sends-10m-defamation-notice-to-nyt-journalist
----------
Zardari warns against 'appeasing' Pak militants
PTI | Sep 16, 2013
ISLAMABAD: Former President Asif Ali Zardari has warned against "appeasing" the militants, saying the attack by the Pakistani Taliban that claimed the lives of two top army officers shows the futility of the policy.
"If there has been any doubt about the futility of appeasing the militants, these must be removed by the incident in upper Dir on the eve of International Democracy Day," Zardari said yesterday.
His comments came on a day when the Pakistani Taliban killed Maj Gen Sanaullah, Lt Col Touseef and a Lance Naik in an IED blast in Upper Dir of Khyber Pakhtunkhwa province.
Full report at:
http://timesofindia.indiatimes.com/world/pakistan/Zardari-warns-against-appeasing-Pak-militants/articleshow/22622213.cms
----------
NATO fuel tankers destroyed in Balochistan: Officials
September 16, 2013
QUETTA: At least nine tankers carrying fuel for NATO troops in Afghanistan were destroyed after an explosion in one of the vehicles triggered a huge fire in Hub, Balochistan late Sunday, officials said.
It is not clear what caused the blast, said authorities, as they investigate whether it was an act of terror or an accident.
The incident took place some 45 kilometres from Karachi where the tankers were loaded with oil before setting off for Afghanistan.
"First a blast took place and then more than nine NATO oil tankers caught fire. We are investigating the cause of the blast," Ahmad Nawaz Cheema, a senior police official in the area, told AFP.
Full report at:
http://tribune.com.pk/story/604947/nato-fuel-tankers-destroyed-in-balochistan-officials/
----------
TTP comeback: Taliban have crept back into strategic stronghold, says ANP
September 16, 2013
ISLAMABAD: Awami National Party (ANP) has claimed that Taliban have made their comeback to Swat and Malakand Division during the last three months of Pakistan Tehreek-e-Insaf (PTI) led government in the Khyber-Pakhtunkhwa (K-P) and the killing of senior military officers on Sunday is the outcome of this re-grouping.
Talking to The Express Tribune, ANP spokesperson Senator Zahid Khan said that soon after PTI took charge of K-P, reports are emerging that militants have returned to the province and reinforced their position by taking advantage of PTI's "lenient" policy.
Full report at:
http://tribune.com.pk/story/604838/ttp-comeback-taliban-have-crept-back-into-strategic-stronghold-says-anp/
----------
National consensus: Imran's party to hold national conference on terrorism
September 16, 2013
ISLAMABAD: A week after the All Parties' Conference hosted by the government, Pakistan Tehreek-e-Insaf (PTI) has decided to convene a 'National Conference' to chalk out a strategy to counter the menace of terrorism.
PTI Chairman Imran Khan will preside over the conference scheduled for October 5 in Islamabad. The PTI's conference will focus on how to ensure peace in the volatile areas, particularly in Khyber-Pakhtunkhwa. More than 500 political and religious scholars will attend the conference, which will issue a white paper, highlighting Islamic teachings on peace.
Full report at:
http://tribune.com.pk/story/604788/national-consensus-imrans-party-to-hold-national-conference-on-terrorism/
----------
Plot afoot to torpedo peace talks with Taliban: Fazl
September 16, 2013
ISLAMABAD: The Jamiat Ulema-e-Islam-Fazl (JUI-F) on Sunday warned of a plot hatched within the country and abroad to sabotage the nascent peace negotiations between the government and the Taliban.
Speaking for his JUI-F chief Maulana Fazlur Rehman, the party's spokesperson Jan Achakzai said Sunday's attack in Upper Dir, which claimed the lives of three army officers including a major general and a lieutenant colonel, was part of a bigger conspiracy.
"It is an attempt to keep the army engaged in the Federally Administered Tribal Areas (FATA) forever. There are conspirators inside Pakistan and abroad who do not want to see the talks succeed," said Achakzai.
Full report at:
http://tribune.com.pk/story/604789/attack-on-servicemen-plot-afoot-to-torpedo-peace-talks-with-taliban-fazl/
----------
Organ trade gang busted, 6 arrested
September 16, 2013
LAHORE: Police on Sunday claimed to have busted a gang involved in human organ trade.
The duty officer at the police station said gang members, Ahmed Yar, Muhammad Saleem, Ashraf, Dr Fawad Mumtaz, Saqib Khan and Imran were arrested on a tip off.
He said the gang's laboratory in Rawalpindi had also been raided and attendants Kashif and Ghulam Jaffer had been arrested.
He said while the mastermind was missing, gang members in custody had confessed to buying and selling as many as 30 kidneys.
http://tribune.com.pk/story/604770/public-health-organ-trade-gang-busted-6-arrested/
----------
Army not to bow before terrorists terms, vows Kayani
2013-09-16
RAWALPINDI: Pakistan's army chief General Ashfaq Pervez Kayani vowed Monday that terrorists would not be allowed to take advantage of the military's support to the political process.
"While it is understandable to give peace a chance through a political process…no one should have any misgivings that we would let terrorists coerce us into accepting their terms," a statement issued by the Inter Services Public Relations quoted Kayani as saying. "(The) Army has the ability and the will to take the fight to the terrorists."
Full report at:
http://www.dawn.com/news/1043288/army-not-to-bow-before-terrorists-terms-vows-kayani
----------
Pakistan nominates first film for Oscar in 50 years
AFP
16 September 2013
Pakistan has put forward a film for the Oscars for the first time in nearly 50 years as its struggling film industry shows signs of revival, officials said Monday.
"The Pakistani Academy Selection Committee has selected "Zinda Bhaag"as the first Pakistani film in over fifty years to be submitted for Oscar consideration in the 'Foreign Language Film Award' category at the 86th Academy Awards," a statement issued by the selectors said.
In addition to Zinda Bhaag (Flee Alive), a further three films were submitted to the committee for consideration: Chambeli, Josh and Lamha.
Full report at:
http://www.dhakatribune.com/arts-amp-culture/2013/sep/16/pakistan-nominates-first-film-oscar-50-years
----------
URL: https://www.newageislam.com/islamic-world-news/new-age-islam-news-bureau/veils-are-not-appropriate-in-classrooms-or-airport-security--deputy-pm,-uk/d/13522