New Age Islam News Bureau
7 Oct 2013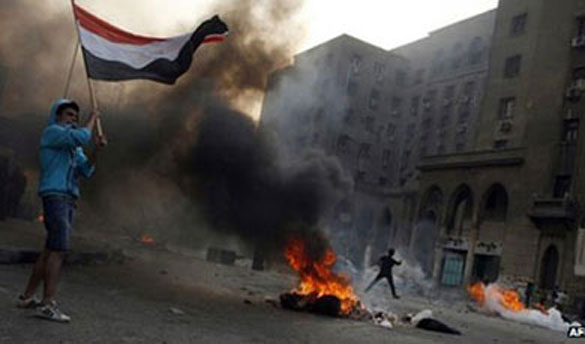 Photo: The violence follows a day of deadly clashes in Egypt
----------
North America
• US Vows 'Relentless' Terror Fight after Somalia, Libya Raids
• U.S. Navy SEALs fail to capture al-Shabaab commander
• US interrogates al-Qaida fugitive on navy ship
• US credits Syria's Assad over chemical weapons destruction
Arab World
• 10 killed in bombing at Egypt security HQ
• Homosexuals 'to be barred from entering Kuwait'
• Attacks across Iraq kill 100 in two days
• Five Egyptian soldiers killed by gunmen: official
• Egypt's Sisi vows to continue people's mandate to 'fight terror'
• Tracking Egypt's Islamic identity in the constitution
• Bahrain jails 9 Shiite 'bombers' for life: judicial source
• Saudis take to twitter to demand better pay
Africa
• "Ethiopians Should Avoid Religious Politics", PM
• Nigerian forces clash with Islamists, 20 people killed
• Rwanda denies M23 child soldier claims as 'ludicrous'
• The draft constitution aside, Libyans aren't enjoying equal rights
• Somalia says working with foreign partners on terror 'no secret'
• Islamists shell Gao in northern Mali: army
• Morocco reaction to Qaeda video reflects growing fears
Europe
• Chechnya's Exclusion from Military Conscription Shows Moscow's Weak Hold over Region
• War in Syria Has Reverberations in the North Caucasus
• Derby's Al-Madinah Muslim free school reopens
• Beckham surprises Malala with Pride of Britain award
Pakistan
• After US raids in Africa, Pak ups security for A Q Khan
• Bomb kills 6 people in Pakistan anti-polio drive
• Afghan Taliban financing militants in Pakistan: TTP
• Provincial govt has turned into an NGO: Fazlur Rehman
• No Pakistani role in Keran sector infiltration, Bashir says
• Ulema reject banishment of capital punishment
• Talks won't succeed till troops pullout, prisoners release: TTP
• Terror group sees Islamabad as a lucrative city for extortions
• Malala eyes politics to 'change the future' of Pakistan
• Pakistan family wants kin punished for 'desecrating Quran'
India
• Indian President Mukherjee, Turkish President Gül to meet in Ankara
• International Seminar on 'Commonalities among World Religions' Set to Begin
• Jamia Urdu Aligarh's Urdu course upheld equivalent to Intermediate by Allahabad HC
• Army officers of India, Pakistan to discuss terrorism: Salman Khurshid
• Separatist leader Yasin Malik detained in Delhi
Mideast
• Netanyahu dressed down for saying Iranians don't wear jeans
• Netanyahu: For peace, Palestinians must recognize Jewish homeland
South Asia
• Explosion at Hefazat-run madrasa
• Maldives Defence Minister dismiss speculations of impending military takeover
• Bangladesh honour for Indians who helped in its liberation
• Bangladesh ratifies extradition treaty with India
• Myanmar police aided attackers, say Muslim victims
Southeast Asia
• Rights Monitors Urge Indonesian Military to Stop Meddling in Civil Affairs
• Court to rule on Putrajaya's "Allah" appeal on October 14
Compiled by New Age Islam News Bureau
URL: https://newageislam.com/islamic-world-news/us-vows-relentless-terror-fight/d/13877
----------
North America
US Vows 'Relentless' Terror Fight after Somalia, Libya Raids
October 7, 2013
WASHINGTON: The United States pledged Sunday to keep "relentless pressure" on terror groups following the daring capture of an al Qaeda operative in Libya and the storming of a Shabab stronghold in Somalia.
The tough talk from Washington, however, was met with questions in Tripoli, where officials demanded answers about the "kidnap" on Saturday of Abu Anas al Libi, who was indicted in connection with the 1998 bombings of US embassies in Kenya and Tanzania.
A US official told AFP that Libi, who was on the FBI's most wanted list with a $5 million bounty on his head, was taken to a US Navy warship in the region and was being questioned there.
Somalia was more welcoming of the US Navy SEAL raid that took place on the same day thousands of miles away in the southern port of Barawe. Prime Minister Abdi Farah Shirdon said cooperation with foreign partners in the fight on terror was "no secret."
The success of that assault on the beachfront villa of a leader of Somalia's al Qaeda-linked insurgents was still unclear, with the fate of the target uncertain.
It came after last month's siege of an upscale shopping mall in the Kenyan capital Nairobi that left 67 people dead.
Defense Secretary Chuck Hagel said the operations sent "a strong message to the world that the United States will spare no effort to hold terrorists accountable."
"We will continue to maintain relentless pressure on terrorist groups that threaten our people or our interests, and we will conduct direct action against them, if necessary, that is consistent with our laws and our values," he added.
Secretary of State John Kerry, speaking in Indonesia, said the United States would "never stop" in its battle on terror.
The operations showed that Washington "never forgets those who are victims of terrorism," National Security Council spokeswoman Caitlin Hayden said.
No US personnel were killed or injured in either operation, officials said.
The twin operations marked a contrast with "boots-on-the-ground" wars, which US President Barack Obama has vowed to avoid, and also from attacks using unmanned drones, a tactic which the United States has controversially pursued against extremists in Pakistan and Yemen.
Former military adviser Seth Jones of the RAND Corp. said that raids by special forces generally result in fewer civilian casualties than drone strikes while allowing for interrogation of suspects and seizure of items of interest.
"You can still accomplish many of the same objectives and collect the intelligence, and it will be a little less controversial" than drone strikes, Jones said.
Libi, 49, had been indicted in US federal court in New York for allegedly playing a key role in the east Africa bombings – which left more than 200 dead – and plots to attack US forces.
The Tripoli operation ended a 13-year manhunt for Libi, whose given name is Nazih Abdul Hamed alRaghie. FBI and CIA agents assisted US troops in the raid, US media reported.
His arrest paves the way for his extradition to New York to face trial. FBI and CIA agents assisted US troops in the raid, US media reported.
Citing surveillance camera footage, Libi's son Abdullah alRaghie said his father had been seized by masked gunmen armed with pistols, and that some of them were Libyans.
He claimed the Libyan government was implicated in his father's disappearance, but Tripoli insisted the raid had no official authorization and demanded answers about the "kidnap."
In the Somalia raid, a US official said a "high-value" Shebab leader was the target, but according to The New York Times, SEAL commandos were forced to withdraw before confirming the kill.
The operation marked the most significant US assault in Somalia since commandos killed key al Qaeda operative Saleh Ali Saleh Nabhan in the same area four years ago.
"US personnel took all necessary precautions to avoid civilian casualties in this operation and disengaged after inflicting some Shebab casualties," the official said.
"We are not in a position to identify those casualties," the official said.
Leaders of the Shebab in Barawe, one of the few ports left in the hands of the insurgents, said commandos attacked from the sea and the air, but failed in their attempt to storm a house belonging to a senior commander and "fled" the scene.
"Our cooperation with international partners on fighting against the terrorism is not a secret," said Farah Shirdon, Somalia's prime minister.
"And our interest is to get a peaceful Somalia… free from terrorism and problems."
http://tribune.com.pk/story/614625/us-vows-relentless-terror-fight-after-somalia-libya-raids/
----------
U.S. Navy SEALs fail to capture al-Shabaab commander
Monday, 7 October 2013
U.S. Navy SEALs have carried out an amphibious raid on a Somali town but failed to capture or kill a senior commander of al-Shabaab movement, which is behind the recent deadly attack on a shopping mall in Kenya.
U.S. officials cited by CNN and the New York Times named the target militant commander as Ikrima, but other reports identified the target as Mukhtar Abu Zubeyr.
Although Ikrima is not suspected behind the Nairobi Westgate shopping mall, he is suspected to have played a role in the 1998 East Africa embassy bombings and the Mombasa attacks of 2002.
The target was reportedly staying at a seaside villa in the town of Baraawe, south of the Somali capital Mogadishu.
The U.S. Special Forces faced unexpected heavy return fire from al-Shabab militants during the operation, forcing them to pull back to avoid civilian casualties, according to U.S. media reports.
Al-Shabab movement later boasted that it has successfully repelled the U.S. raid and it has reportedly released pictures of what it said was American equipment left behind.
"The mujahidin repulsed their attack and in Allah's wishes they have and we chased them until they reached the coast. We have killed one white officer and wounded at least two others," an al-Shabaab spokesperson said, according to All Africa.com.
Baraawe is believed to be a major gathering town for al-Shabaab militants, which had declared allegiance to al-Qaeda, and fights to establish an Islamist state in Somalia.
U.S. Special Forces have also recently carried out an operation in Libya and arrested U. Libyan al-Qaeda leader Abu Anas al-Libi, following a military raid in the streets of Tripoli.
http://english.alarabiya.net/en/News/africa/2013/10/07/U-S-raid-in-Somalia-targeted-al-Shabaab-commander-.html
----------
US interrogates al-Qaida fugitive on navy ship
Benjamin Weiser & Eric Schmitt, New York Times | Oct 7, 2013
An accused al-Qaida operative seized by US commandos in Libya over the weekend is being interrogated while in military custody on a Navy ship in the Mediterranean Sea, officials said. He is expected eventually to be sent to New York for criminal prosecution.
The fugitive, known as Abu Anas al-Libi, is seen as a potential intelligence gold mine, possessing perhaps two decades of information about al-Qaida, from the group's early days under Osama bin Laden in Sudan to its more scattered fragments today.
The decision to hold Abu Anas, 49, and question him for intelligence purposes without a lawyer present follows a pattern used successfully by the Obama administration with other high-value terrorist suspects, most prominently in the case of Ahmed Abdulkadir Warsame, a former military commander with the Somali terrorist group al-Shabab. Warsame was captured in 2011 by the US military in the Gulf of Aden and interrogated aboard a Navy ship for about two months without being advised of his rights or provided a lawyer.
After a break of several days, Warsame was advised of his rights, waived them, was questioned for about a week by law enforcement agents, and was sent to Manhattan for prosecution.
"Warsame is the model for this guy," said one US security official, referring both to the questioning of Abu Anas for what he knows and the eventual prosecution.
Warsame later pleaded guilty and has been cooperating with the government, providing intelligence information about his co-conspirators, who included "high-level international terrorist operatives," federal prosecutors have said in court papers.
Abu Anas is being held aboard the USS. San Antonio, a vessel brought in specifically for this mission, officials said.
Abu Anas, 49, who was born Nazih Abdul-Hamed al-Ruqai, has been indicted in Manhattan on charges of conspiring with bin Laden in plots to attack US forces in Saudi Arabia, Yemen and Somalia, as well as in the 1998 bombings of the US embassies in Nairobi, Kenya, and Dar es Salaam, Tanzania, which killed 224 people.
He has been described as an al-Qaida computer expert and helped to conduct surveillance of the embassy in Nairobi, according to evidence in trials stemming from the bombings. In investigating the attacks, the authorities recovered an al-Qaida terrorism manual in Abu Anas' residence in Manchester, England.
The manual is a detailed treatise on how to carry out terrorist missions. It focuses on forged documents, safe houses, surveillance, assassinations, codes and interrogation techniques. It also cites "blasting and destroying the embassies and attacking vital economic centers," and it endorses the use of explosives in attacks, saying they "strike the enemy with sheer terror and fright."
It is not known if Abu Anas wrote the manual, but federal prosecutors introduced it as evidence in the 2001 trial of four operatives convicted in the bombings conspiracy, and in the prosecution of Ahmed Khalfan Ghailani, the first former detainee at Guantanamo Bay, Cuba, to be tried in the federal system.
The manual was also used in a 2006 trial in Virginia over whether to impose the death penalty on Zacarias Moussaoui, the so-called 20th hijacker in the Sept. 11 plot. (He received a life sentence.)
Defense department, in a statement issued Sunday, said Abu Anas was "currently lawfully detained under the law of war in a secure location outside of Libya."
The statement suggested that the authorities would first interrogate him for intelligence purposes before moving in the direction of a criminal prosecution.
"Wherever possible," the Defense Department said, "our first priority is and always has been to apprehend terrorist suspects, and to preserve the opportunity to elicit valuable intelligence that can help us protect the American people."
Officials declined Sunday to confirm that New York was Abu Anas' destination, but two officials suggested it was likely.
The seizure of Abu Anas was carried out by US troops assisted by FBI and CIA agents. Navy SEALs, meanwhile, carried out a raid on the Somali coast, trying without success to capture a senior leader of al-Shabab, the group that carried out the massacre at the Nairobi shopping mall two weeks ago, which killed at least 60 people.
Another US official emphasized that the commando raids in Libya and Somalia this weekend were both designed to capture the intended targets, not to kill them with Predator drone missiles, the signature counterterrorism strike of the Obama administration.
"If we can, capturing terrorists provides valuable intelligence that we can't get if we kill them," said the official, who like others spoke on the condition of anonymity because of the continuing interrogation.
Abu Anas is one of about two dozen defendants charged in federal court in Manhattan in a series of indictments that began in 1998, when bin Laden was charged, and which expanded over the years to add other operatives. With Abu Anas' capture, only a handful of those operatives are believed to remain alive and at large, most prominently Ayman al Zawahiri, the deputy to bin Laden who succeeded the al-Qaida leader after he was killed in a 2011 US operation.
One of bin Laden's former close aides, a Sudanese named Jamal Ahmed al-Fadl who defected from the group in the mid-1990s and became a cooperating witness for the US government, testified in 2001 that Abu Anas was a computer engineer.
"He run our computers," the witness, Jamal Ahmed al-Fadl, testified in the 2001 trial.
Abu Anas was also part of a small team of al-Qaida operatives that in the early 1990s traveled to Nairobi and carried out surveillance of the US Embassy and other potential bomb targets, according to the indictment and other evidence.
The photographs, diagrams and surveillance report from the Nairobi mission were ultimately reviewed by bin Laden in Khartoum, Sudan, the government has said.
"Bin Laden looked at the picture of the American Embassy and pointed to where a truck could go as a suicide bomber," another member of the surveillance team, Ali A. Mohamed, said in federal court when he pleaded guilty to conspiracy in 2000.
News of Abu Anas' capture was welcomed by family members of victims.
"Of course, our hearts are still very much tied to that day," said Edith Bartley, whose father, Julian L Bartley Sr, the consul general, and brother, Julian L Bartley Jr, a college student working as an intern, were both killed in attack in Nairobi.
Bartley said her mother, Sue, traveled regularly to New York from the Washington area to attend the Ghailani trial in 2010, and she said they would both attend any trial involving Abu Anas.
"It's a reminder to the courts and to others involved that the person who's on trial impacted real people, people who were serving their country abroad," she said.
http://timesofindia.indiatimes.com/world/us/US-interrogates-al-Qaida-fugitive-on-navy-ship/articleshow/23632219.cms
----------
US credits Syria's Assad over chemical weapons destruction
October 07, 2013
Syrian President Bashar al-Assad's government deserves credit for so far complying with a chemical weapons deal, the US secretary of state has said.
John Kerry was speaking after international monitors began the destruction of Syria's stockpile.
The mission was established under a UN resolution, which was passed after a deal between Russia and the US.
The initiative followed international outrage at a chemical weapons attack near Damascus in August.
"The process has begun in record time and we are appreciative for the Russian co-operation and obviously for the Syrian compliance," Mr Kerry said after talks with his Russian counterpart Sergei Lavrov on the sidelines of the Asia-Pacific Economic Co-operation (Apec) summit in Bali, Indonesia.
"I think it's extremely significant that yesterday, Sunday, within a week of the (UN) resolution being passed, some chemical weapons were being destroyed.
"I think it's a credit to the Assad regime, frankly. It's a good beginning and we welcome a good beginning."
The destruction of Syria's chemical arsenal is being overseen by a team from the Organisation for the Prohibition of Chemical Weapons (OPCW).
An official on the joint OPCW-UN delegation said on Sunday: "The first day of destruction and disabling is over and missile warheads, aerial bombs, along with mobile and static mixing and filling units, were dealt with. Work continues tomorrow and in the next few days."
The actual destruction of the stockpile, being carried out by the Syrians, is not expected to be straightforward, as some sites are in combat zones.
It is the first time the OPCW - based in The Hague - has been asked to oversee the destruction of a chemical weapons armoury during a conflict.
The Syrian government gave details of its chemical weapons arsenal last month to the OPCW under the Russia-US agreement which also provided for Damascus to join the Chemical Weapons Convention.
That arsenal is thought to include more than 1,000 tonnes of sarin and the blister agent sulphur mustard among other banned chemicals.
In an interim report earlier this year, UN chemical weapons inspectors confirmed that the nerve agent sarin had been used in the attack in Ghouta on the outskirts of Damascus on 21 August.
It was estimated to have killed hundreds of people and was blamed by the United States and other Western powers on the regime of Bashar al-Assad. But he accuses Syrian rebels of being behind it.
Peace conference
Under the terms of the US-Russia deal, Syria's chemical weapons capability should be removed by the middle of 2014.
The speed with which the team has been able to reach the sites and start the process of destruction underlines the urgency of the mission, says the BBC's Anna Holligan in the Hague.
It was hoped that the new climate of co-operation would help bring about a wider conference in Geneva on ending the Syrian conflict.
UN-Arab League peace envoy Lakhdar Brahimi was quoted on French media on Sunday as saying he was encouraging all parties to come to Geneva in the second half of November but that peace talks were not a certainty.
More than 100,000 people have died since the uprising began in 2011 and millions more have fled Syria.
http://www.bbc.co.uk/news/world-middle-east-24424933
-------
Arab World
10 killed in bombing at Egypt security HQ
October 07, 2013
Ten people were killed on Monday in a bombing of the security headquarters of Egypt's South Sinai province and an ambush of soldiers near the Suez Canal city of Ismailiya, security officials said. Five people died in the car bombing, which occurred as senior officials were holding a meeting, the officials said.
At least 50 people were reported injured in the blast in al-Tor, the provincial capital.
The security building and the adjoining provincial governor's office were damaged in the blast as staff fled in panic, the officials said. Officials said the bomb was thought to have been concealed in a previously stolen police car.
Five soldiers were killed west of the Suez Canal when gunmen opened fire on their patrol, security officials said. Another soldier was hospitalized in serious condition. No immediate claims of responsibility for either attack had been made.
Security forces have come under attack west of the Suez Canal, and Islamist extremist groups have intensified their activity in the Sinai Peninsula to its east since the military's ouster of democratically elected Islamist president Mohamed Morsy in July.
The latest attacks came a day after 53 people were killed as security forces and civilian supporters dispersed marches by Morsy loyalists in Cairo and other cities.
More than 400 people were also reported to have been arrested in the clashes while tens of thousands of supporters of the military-backed interim government celebrated the 40th anniversary of the 1973 Arab-Israeli war in Tahrir Square.
The Islamist National Alliance in Support of Legitimacy called for demonstrators to head to Tahrir again next Friday, calling it "the property of all Egyptians."
http://www.thehindu.com/news/international/world/10-killed-in-bombing-at-egypt-security-hq/article5209913.ece
--------
Homosexuals 'to be barred from entering Kuwait'
October 07, 2013
Manama: The routine clinical screening of expatriates coming into the Gulf Cooperation Countries (GCC) might be also used to "detect" homosexuals, a senior Kuwaiti official has said.
A central committee tasked with the status of expatriates will look into the proposal when it convenes on November 11, Yousuf Mindkar, the director of public health at the Kuwaiti health ministry, has said.
"Health centres conduct the routine medical check to assess the health of the expatriates when they come into the GCC countries," he said. "However, we will take stricter measures that will help us detect gays who will be then barred from entering Kuwait or any of the GCC member states," he said, quoted by local daily Al Rai on Monday.
Full report at:
http://gulfnews.com/news/gulf/kuwait/homosexuals-to-be-barred-from-entering-kuwait-1.1240199
--------
Attacks across Iraq kill 100 in two days
October 07, 2013
BAGHDAD: Two days of attacks across Iraq killed at least 100 people, officials said, including an attack on a primary school that left several children dead.
Violence in Iraq is at a level unseen since 2008, amid persistent fears of a relapse into the kind of intense Sunni-Shiite bloodshed that peaked in 2006-2007 and killed tens of thousands.
In the capital Sunday, a suicide bomber detonated explosives near pilgrims who were walking to a shrine in the north of the capital Baghdad to commemorate the death of Mohammad al-Jawad, the ninth Shiite imam.
Full report at:
http://www.dailystar.com.lb/News/Middle-East/2013/Oct-07/233757-attacks-across-iraq-kill-100-in-two-days.ashx#ixzz2h2N80qxa
----------
Five Egyptian soldiers killed by gunmen: official
October 07, 2013
CAIRO: Gunmen killed five Egyptian soldiers in an attack on an army patrol near the Suez Canal city of Ismailiya on Monday, security officials said.
The attack took place north of the city, where suspected militants have
repeatedly targeted security forces in recent weeks, the officials said.
http://www.thenews.com.pk/article-121443-Five-Egyptian-soldiers-killed-by-gunmen:-official
----------
Egypt's Sisi vows to continue people's mandate to 'fight terror'
7 October 2013
Egypt's army chief General Abdel-Fattah el-Sisi has vowed on Sunday to continue fulfilling "the people's mandate to confront terrorism," in a speech marking the 40th anniversary of the country's military victory in the 1973 Arab-Israeli war.
"We are responsible before God to continue fulfilling the mandate, we will protect Egypt and the Egyptians, this is a promise," Sisi was quoted as saying at Cairo's Air Defence Stadium where he spoke late Sunday.
"We are keen to be the guardians of this order and mandate," he added.
At least 53 people were killed and more than 246 wounded on Sunday as Egyptian security forces clashed with supporters of ousted former President Mohammad Mursi, security and television sources said.
Full report at:
http://english.alarabiya.net/en/News/middle-east/2013/10/07/Egypt-army-chief-vows-to-continue-people-s-mandate-fight-for-terrorism-.html
----------
Tracking Egypt's Islamic identity in the constitution
7 October 2013
The drafting of the new Egyptian constitution has been making headlines since the ouster of Muslim Brotherhood rule. Several articles in the 2012 constitution are currently the subject of controversy, particularly those pertaining to the Islamic identity of Egypt, even though the representation of Islamists in the new constituent assembly has been drastically reduced in favor of liberal forces.
Articles that mention the relationship between Islam and Egypt go back to 1923, the year Egyptians had their first real constitution. Article 149 of this constitution stated: "Islam is the religion of the state and Arabic is its official language." The insertion of this article was unanimously approved by all members of the assembly in charge of the drafting the constitution, including Christians.
Full report at:
http://english.alarabiya.net/en/perspective/analysis/2013/10/07/Tracking-Islamic-identity-in-Egypt-s-constitution.html
----------
Bahrain jails 9 Shiite 'bombers' for life: judicial source
October 07, 2013
DUBAI: A Bahraini court jailed nine Shiite Muslims for life Monday after convicting them of making bombs for "terrorist" purposes and for their alleged involvement in a 2011 attack, a judicial source said.
Four of the defendants were in court for the verdict and the remaining five, tried in absentia, were handed an 10 additional years in jail for failing to hand themselves in. Life imprisonment in Bahrain is a 25-year-sentence.
Monday's ruling brings to 104 the number of Shiites jailed since September 29 in connection with violence in the Sunni-ruled Gulf kingdom that began with the February 2011 uprising.
In court the four men had alleged that they were tortured, mistreated and held in solitary confinement, according to lawyers.
Full report at:
http://www.dailystar.com.lb/News/Middle-East/2013/Oct-07/233823-bahrain-jails-9-shiite-bombers-for-life-judicial-source.ashx#ixzz2h2NyAYmg
----------
Saudis take to Twitter to demand better pay
October 07, 2013
Riyadh: Despite their country boasting the world's greatest oil wealth, many Saudis complain their salaries are not enough to make ends meet, and are taking to Twitter to demand more money.
"The salary is not enough," a hashtag launched in early summer on the micro-blogging website, triggered more than 17.5 million tweets, reflecting the frustration of many Saudis over their purchasing power.
The campaigners called on King Abdullah Bin Abdul Aziz to order "by decree, an increase in the salaries of all civil servants" of the world's top oil exporter.
The basic monthly salary of a public employee ranges from between 3,945 riyals (Dh3862;$1,051) and 24,750 riyals, in addition to various allowances, according to a study prepared by insurance companies.
Full report at:
http://gulfnews.com/news/gulf/saudi-arabia/saudis-take-to-twitter-to-demand-better-pay-1.1240024
--------
Africa
"Ethiopians Should Avoid Religious Politics", PM
October 07, 2013
Prime Minister Hailemariam Desalegn has urged Ethiopians to maintain the freedom of religion guaranteed by the Ethiopian Constitution and restrain themselves from religion encrusted politics.
In his briefing to local journalists on Friday, PM Hailemariam emphasized the need to recognize well those groups who have been running their political agendas under the pretext of religion with the financial support of external forces.
Ethiopians have been exercising and enjoying their rights to have any religion they prefer with no limits as it is ensured by the Ethiopian Constitution, the Prime Minister said, adding that people should detach themselves from groups aiming to set up Islamic Government under duress; imposing on other believers.
Full report at:
http://allafrica.com/stories/201310070120.html
----------
Nigerian forces clash with Islamists, 20 people killed
October 07, 2013
MAIDUGURI, Nigeria: At least 20 people were killed when Islamist group Boko Haram attacked a town in northeast Nigeria, triggering clashes with troops stationed there, the military said on Sunday.
A spokesman for Nigerian forces in northeastern Borno state, which lies at the heart of a four-year-old Islamist insurgency, said the Islamists crept into the town of Damboa in the early hours of Saturday.
They killed five worshippers at a mosque as they said their morning prayers, he said.
"While they were unleashing their mayhem, troops ... engaged the terrorists, killing 15 in the process while others fled," the military spokesman, Captain Aliyu Danja, said in a statement obtained by Reuters.
Full report at:
http://www.dailystar.com.lb/News/International/2013/Oct-06/233740-nigerian-forces-clash-with-islamists-20-people-killed.ashx#ixzz2h2OgvIhi
----------
Rwanda denies M23 child soldier claims as 'ludicrous'
October 07, 2013
Rwanda has strongly rejected allegations that it is helping train child soldiers for rebels in the Democratic Republic of Congo.
Speaking to the BBC, Foreign Minister Louise Mushikiwabo described such claims as "ludicrous".
The US has recently withdrawn military aid to Rwanda, saying it is backing the M23 rebels, believed to recruit minors.
The M23 rebellion has forced tens of thousands from their homes in the eastern DR Congo.
"The idea that Rwanda is associated with child soldiers is just ludicrous," Ms Mushikiwabo told the BBC's Newsday programme.
Full report at:
http://www.bbc.co.uk/news/world-africa-24424868
----------
The draft constitution aside, Libyans aren't enjoying equal rights
October 07, 2013
Two years after the formal liberation of Libya on Oct. 23, 2011, a countryvery different from that envisioned in the Draft Constitutional Charter – a document that declared all Libyans to be equal before the law to enjoy equal civil and political rights – is emerging. Early National Transitional Council decisions proved a harbinger of things to come. Despite women playing an active role in the revolution, women's rights advocates were dismayed when the rebels appointed only one woman, Salwa Fawzi al-Deghali, to the NTC when it was formed in March 2011. She was joined in May by Hania al-Gumati; however, these two women remained the only females on the 40-person NTC until the revolution ended. Mustafa Abdel-Jalil, the NTC chairman, raised fresh concerns about the rights and roles of women in post-Gadhafi Libya when he suggested in October 2011 that a Gadhafi-era law restricting polygamy was contrary to Shariah law and should be abolished.
Full report at:
http://www.dailystar.com.lb/Opinion/Commentary/2013/Oct-04/233478-the-draft-constitution-aside-libyans-arent-enjoying-equal-rights.ashx#ixzz2h1meqplU
----------
Somalia says working with foreign partners on terror 'no secret'
October 07, 2013
Somalia said Sunday it was "not a secret" it is working with foreign governments to fight terror and described the country's Al-Qaeda-linked Shebab militants as a threat to the world.
Prime Minister Abdi Farah Shirdo was commenting after U.S. commandos launched a raid against Shebab militants in Somalia, in tandem with a strike against a wanted Al-Qaeda leader in Libya.
"Our cooperation with international partners on fighting against the terrorism is not a secret," Farah Shirdo said. "Understand me, that fighting is not a secret. And our interest is to get a peaceful Somalia and free from terrorism and problems."
Full report at:
http://english.alarabiya.net/en/News/africa/2013/10/06/Somalia-says-working-with-foreign-partners-on-terror-no-secret-.html
----------
Islamists shell Gao in northern Mali: army
October 07, 2013
BAMAKO: Suspected Islamist militants hit the northern Malian city of Gao with artillery fire on Monday, in the first attack on the insurgents' former stronghold in months, city residents, military and local government officials said.
Gao was the first city freed from Islamist occupation by a French-led military intervention that drove al Qaeda-linked fighters from the country's north earlier this year.
While it bore the brunt of the guerrilla-war waged by remnants of the defeated insurgents in the months following the January offensive, until Monday's violence the area had not seen an attack since May.
Full report at:
http://www.dailystar.com.lb/News/International/2013/Oct-07/233826-islamists-shell-gao-in-northern-mali-army.ashx#ixzz2h2MgBhWZ
----------
Morocco reaction to Qaeda video reflects growing fears
AFP
October 7, 2013
Rabat (Morocco) (AFP) - Morocco has largely avoided the Islamist-related violence rocking much of the region, but a recent Al-Qaeda video calling for jihad prompted authorities to react furiously, reflecting the kingdom's security fears.
The video, which also denounced corruption and lashed out at King Mohamed VI -- contrasting Morocco's sprawling slums with his vast wealth -- led to an independent journalist being arrested and charged with inciting terrorism for posting a link to the website of El Pais, which carried the video.
Full report at:
http://au.news.yahoo.com/world/a/19286914/morocco-reaction-to-qaeda-video-reflects-growing-fears/
----------
Europe
Chechnya's Exclusion from Military Conscription Shows Moscow's Weak Hold over Region
October 07, 2013
Generally, the military conscription campaign in Russia becomes relevant for Chechnya and the North Caucasus twice a year—in the spring and in the fall, when the Russian president issues a decree ordering the start of the draft season (http://www.rg.ru/2013/09/30/prizyv-dok.html). Conscription in Russia is still mandatory, and the intentional evasion of military service is punishable by up to two years in prison or fines of about $6,000 (http://armeyka.net/articles/516/). Despite these drastic measures, Russia still cannot draft enough young people. According to the Russian Ministry of Defense, 300,000 conscripts are drafted every year—an insufficient number for the full staffing of the army. The Russian army is currently manned at 82 percent of its needs and has ceased to be a force with over a million people (http://ria.ru/analytics/20130918/964083066.html).
Full report at:
The Jamestown Foundation's
----------
War in Syria Has Reverberations in the North Caucasus
October 07, 2013
On September 20, the first deputy director of the Federal Security Service (FSB), Sergei Smirnov estimated that 300-400 Russian citizens are participating in the conflict in Syria. "They will come back and that, naturally, is posing a serious danger," the Russian security official said in the Russian city of Yaroslavl during a press conference of the anti-terrorist body of the Shanghai Cooperation Organization. Chechen leader Ramzan Kadyrov had earlier alleged that foreign security services were trying to recruit North Caucasians to participate in the war in Syria and for a long time had even denied there were any Chechens fighting there (http://www.interfax.ru/world/txt.asp?id=330118).
Full report at:
The Jamestown Foundation's
----------
Derby's Al-Madinah Muslim free school reopens
October 07, 2013
A Muslim free school in Derby has reopened almost a week after it was closed during an Ofsted inspection.
The Al-Madinah School shut last Tuesday, citing "health and safety concerns", after one day of inspections.
Sources said the school had been rated inadequate in all areas by Ofsted, but a final report has not yet been filed.
The school has insisted it was closed on undisclosed health and safety grounds and not due to the inspection.
Sources said Ofsted found incomplete records of child protection checks being done for all staff.
Full report at:
http://www.bbc.co.uk/news/uk-england-derbyshire-24427453
----------
Beckham surprises Malala with Pride of Britain award
October 07, 2013
London: David Beckham has presented a Pride of Britain award to an amazing teenager shot in head by the Taliban for protesting about education rights for girls.
Sixteen-year-old Malala Yousafzai was nominated by thousands of members of the public for her courage in standing up against the terrorists - just a year after they attacked her and almost killed her.
UNICEF ambassador Beckham was so impressed by her bravery he immediately agreed to present the award to her for tomorrow night's Daily Mirror Pride of Britain Awards which honours unsung heroes. Malala giggled about David's height as they lined up for the presentation, and said excitedly: "I didn't know you would be here." But she quickly recovered her composure and was soon quizzing the star about his role as a UNICEF ambassador.
Full report at:
http://www.nation.com.pk/pakistan-news-newspaper-daily-english-online/international/07-Oct-2013/beckham-surprises-malala-with-pride-of-britain-award
----------
Pakistan
After US raids in Africa, Pak ups security for A Q Khan
Agencies | Oct 7, 2013
The images, transferred into celluloid in the movie Black Hawk Down, scarred America for many years.
Both the Pentagon and the state department confirmed the raids, the first such publicized incursions after commando operation that led to the killing of Osama bin Laden in Abbottabad , Pakistan.
A fearful Pakistan, which harbours many fugitives wanted in the US and India, is since believed to have tightened security, including stepping up protection for its nuclear technology smuggler A Q Khan.
Full report at:
http://timesofindia.indiatimes.com/world/pakistan/After-US-raids-in-Africa-Pak-ups-security-for-A-Q-Khan/articleshow/23623547.cms
-------
Bomb kills 6 people in Pakistan anti-polio drive
PTI | Oct 7, 2013
PESHAWAR: A police officer says a bomb exploded in northwest Pakistan near a vehicle carrying officials taking part in an anti-polio campaign, killing at least six people.
Police official Samiullah Khan says Monday morning's bomb killed four police officers and two members of a local peace committee riding in the van.
Khan said the bombing happened in the village of Malikhel, outside the provincial capital of Peshawar.
Pakistan is one of three countries in the world where polio is still endemic.
Part of the reason that it is still prevalent is that militants who oppose the campaign often target the workers and threaten people who want to get their kids vaccinated.
http://timesofindia.indiatimes.com/world/pakistan/Bomb-kills-6-people-in-Pakistan-anti-polio-drive/articleshow/23631183.cms
-------
Afghan Taliban financing militants in Pakistan: TTP
013-10-07
SOMEWHERE IN WAZIRISTAN: The Afghan Taliban are financially supporting the Pakistani militants and providing sanctuary to them in Afghanistan, spokesman for the Pakistani Taliban has said.
The disclosure, which the spokesman made on Saturday in an interview with a small group of reporters, is meaningful because Pakistan has long been accused of pursuing a policy of differentiating between the Afghan and Pakistan Taliban as so-called 'good' and 'bad' militants --- even though Islamabad denies this.
"The Afghan Taliban are our jihadi brothers," said Shahidullah Shahid in an interview in Waziristan, the Taliban's main tribal sanctuary in Pakistan along the Afghan border.
"In the beginning, we were helping them, but now they are strong enough and they don't need our help, but they are now supporting us financially."
Full report at:
http://www.dawn.com/news/1048011/afghan-taliban-financing-militants-in-pakistan-ttp
----------
Provincial govt has turned into an NGO: Fazlur Rehman
October 6, 2013
PESHAWAR: In the wake of donor pledges for Khyber-Pakhtunkhwa's (K-P) social sector, Jamiat Ulema-e-Islam-Fazl (JUI-F) chief Maulana Fazlur Rehman accused the provincial administration of turning into a non-governmental organisation (NGO).
"The forces who handed over K-P to children are not aware of the sensitive nature of the province," claimed Rehman on Sunday at a seminar at the JUI-F Provincial Secretariat.
Lashing out at the Pakistan Tehreek-e-Insaf-led government, Rehman stated the government has begun handing over health, education and other important sectors to various NGOs. "It is no longer the provincial government but a provincial NGO," stated Rehman.
"Certain forces want to neutralise religious sentiments of the people of K-P" claimed the JUI-F chief and blamed the PTI government of pursuing such an agenda.
Full report at:
http://tribune.com.pk/story/614498/provincial-govt-has-turned-into-an-ngo-fazlur-rehman/
----------
No Pakistani role in Keran sector infiltration, Bashir says
TNN & Agencies | Oct 7, 2013
HYDERABAD: Pakistan high commissioner Salman Bashir on Sunday trashed reports of infiltration from its soil into Jammu & Kashmir's Keran sector, where the Indian Army's encounter with militatnts entered its 13th day.
"The narrative you are hearing about incursions and infiltrations is baseless. But rather than commenting on this very negative narrative... what we have been saying, and repeat, is let the competent authorities, the military authorities, deal with the issue," he said.
Bashir also took a swipe at the Indian media, saying "Pakistan-bashing" has be-come its "favourite pastime".
Full report at:
http://timesofindia.indiatimes.com/india/No-Pakistani-role-in-Keran-sector-infiltration-Bashir-says/articleshow/23619643.cms
---------
Ulema reject banishment of capital punishment
October 07, 2013
ISLAMABAD - The government's decision to keep moratorium on implementation of death penalty did not go well with the religious elements and over 100 religious scholars belonging to Pakistan Sunni Tehreek Ulema Board rejected the move, terming it a clear violation of the Islamic injunctions.
In a joint statement issued by the Board, these Ulema, including Allama Ghufran Mahmood Sailvi, Mufti Abid Mubarak, Dr Raghib Hussain Naeemi, Sahibzada Mohammad Daud Rizvi and Sahibzada Syed Anayatul Haq Shah demanded of the government to withdraw the decision forthwith and restore capital punishment otherwise they would give tough time to the rulers for this violation of the Islamic injunctions.
Full report at:
http://www.nation.com.pk/pakistan-news-newspaper-daily-english-online/islamabad/07-Oct-2013/ulema-reject-banishment-of-capital-punishment
----------
Talks won't succeed till troops pullout, prisoners release: TTP
October 07, 2013
WAZIRISTAN: The spokesman of the proscribed Tehreek-e-Taliban Pakistan (TTP) said the peace talks cannot be successful until the withdrawal of army troops from the tribal areas and the release of prisoners.
In an interview to a group of journalists at a secret location in Waziristan, the TTP spokesman Shahidullah Shahid also demanded an end to the drone strikes.
He disclosed that they were being funded by Afghan Taliban. He said in the beginning the Pakistani Taliban used to provide financial help to the Afghan Taliban but now the latter had become so strong that they no longer needed support from the former. "Now they extend assistance to others besides providing secure positions in Afghanistan," he added.
Full report at:
http://www.thenews.com.pk/article-121386-Talks-wont-succeed-till-troops-pullout,-prisoners-release:-TTP
----------
Terror group sees Islamabad as a lucrative city for extortions
2013-10-07
For the last couple of years, the capital city has seen an alarming increase in extortion cases. Unable to trace the culprits, the police say an outlawed terror group is behind the crime.
The banned Tehrik-i-Taliban Pakistan (TTP) has a hand in all the small and big extortion incidents. The terror outfit is involved in extorting money from rich people directly and indirectly, a police officer told Dawn on the condition of anonymity.He added that the TTP was found directly involved in targeting big businessmen, traders and professionals, especially doctors. But these cases were not so rampant.
The disturbing factor is that the TTP was also indirectly encouraging small groups to collect extortions and share the money with it. This racket of splinter groups has widened its activities across the city but most of the cases are not reported to the police on time, he said.
Full report at:
http://www.dawn.com/news/1047969/terror-group-sees-islamabad-as-a-lucrative-city-for-extortions
----------
Malala eyes politics to 'change the future' of Pakistan
October 7, 2013
LONDON: Malala Yousafzai said Monday she hoped to become a politician to "change the future of my country".
The 16-year-old, whose continued fight for all children to go to school has made her a favourite for the Nobel Peace Prize this week, also backed dialogue with the Taliban, although she said this was an issue for the government.
"I will be a politician in my future. I want to change the future of my country and I want to make education compulsory," Malala said in a BBC interview.
She added: "The best way to solve problem and to fight against war is through dialogue, and is through peaceful way.
Full report at:
http://tribune.com.pk/story/614707/malala-eyes-politics-to-change-the-future-of-pakistan/
----------
Pakistan family wants kin punished for 'desecrating Quran'
October 07, 2013
In an unusual case, the family of a 33-year-old man in Pakistan has sought "stern" punishment for him for committing blasphemy.
The alleged blasphemer, who has not been named by the police, was brought to a Karachi police station forcefully by his uncle and other family members who
are adamant that he must be punished.
"He is accused of desecrating the Holy Quran, and family members claimed he had been involved in similar incidents earlier as well," a police officer at Taimuria police station said.
According to the family members, the accused, a labourer, committed the act at his home on Friday. They said he had committed such acts in the past also despite being mentally stable.
"He has insulted our religion and anyone doing that should be sternly dealt with," Qalandar Buksh, the complainant and the uncle of the accused, said.
Full report at:
http://www.hindustantimes.com/world-news/pakistan/Pakistan-family-wants-kin-punished-for-desecrating-Quran/Article1-1131744.aspx
--------
India
Indian President Mukherjee, Turkish President Gül to meet in Ankara
October 07, 2013
Indian President Pranab Mukherjee is set to meet with Turkish President Abdullah Gül in Ankara today as he entered the final day of his official visit to Turkey.
The counterparts will discuss contemporary regional and global topics that link the two countries.
It is expected that Mukherjee's visit will improve relations and collaboration between Turkey and India.
Mukherjee will conduct a series of meetings with officials in Ankara, a day after paying a visit to the touristic Cappadocia.
Mukherjee traveled to Cappadocia Sunday, where he did some sightseeing around the touristic region with his daughter Sharmistha, accompanied by Turkish officials. A local craftsman gave a handmade vase to the Indian president following his time at the Zelve Monastery area.
Mukherjee began his visit in Istanbul on Oct. 5, attending a ceremony at İstanbul University, which granted him an honorary doctorate degree. Ankara will be the Indian president's last stop in Turkey.
The visit is the first by an Indian president to Turkey in the past 15 years, according to Anadolu Agency. Turkish President Abdullah Gül also visited India in February of 2010.
http://www.hurriyetdailynews.com/indian-president-mukherjee-turkish-president-gul-to-meet-in-ankara.aspx?pageID=238&nID=55800&NewsCatID=338
-------
International seminar on 'Commonalities among World Religions' set to begin
October 07, 2013
ALIGARH: The Department of Shia Theology, Aligarh Muslim University is organizing a three-day International seminar on "Commonalities among World Religions" during October 8-10, 2013.
The inaugural function of the seminar will be held in the Assembly Hall of Zakir Husain College of Engineering and Technology on October 8 at 10:30 am. AMU Vice Chancellor, Lt. Gen. (Retd.) Zameer Uddin Shah will preside over the inaugural session. Padma Shri Prof. Akhtarul Wasey will deliver the keynote address.
Full report at:
http://nvonews.com/2013/10/06/international-seminar-commonalities-among-world-religions-set-to-begin/
----------
Jamia Urdu Aligarh's Urdu course upheld equivalent to Intermediate by Allahabad HC
October 07, 2013
Aligarh: The Allahabad High Court has upheld Adeeb-e-Mahir of Jamia Urdu course equivalent to Intermediate of U.P. Board.
While chairing a meeting at Jamia Urdu Aligarh, Farhat Ali Khan termed the verdict as historic.
Full report at:
http://twocircles.net/2013oct06/jamia_urdu_aligarh%E2%80%99s_urdu_course_upheld_
---------
Army officers of India, Pakistan to discuss terrorism: Salman Khurshid
Oct 07 2013
Farukhabad (UP): Stating that war was not a solution to any problem, External Affairs Minister Salman Khurshid has said Army officers of both India and Pakistan will meet to discuss the issue of terrorism.
"For keeping a check on terrorism, Army officers of both India and Pakistan will talk. War is not a solution to any problem," Khurshid told reporters here yesterday.
Full report at:
http://www.indianexpress.com/news/army-officers-of-india-pakistan-to-discuss-terrorism-salman-khurshid/1179484/
---------
Separatist leader Yasin Malik detained in Delhi
October 07, 2013
Separatist leader Yasin Malik, chairman of Jammu Kashmir Liberation Front (JKLF), was detained on Monday at Indira Gandhi International Airport in Delhi.
Malik was reportedly headed to Nepal to meet his 19-month-old daughter Razia Sultana and wife Mushal Malik.
However, his passport expired earlier this year and he was thus denied an immigration check. Malik has now returned to Srinagar.
The mother-daughter duo has not been given a visa for India after Mumbai terror attack mastermind Hafiz Saeed, chief of the banned Jamat-ud-Dawa (JuD), was seen at a sit-in organised by Yasin Malik in Pakistan to protest the hanging of Parliament attack convict Afzal Guru.
Full report at:
http://www.hindustantimes.com/India-news/NewDelhi/Separatist-leader-Yasin-Malik-detained-in-Delhi/Article1-1131983.aspx
--------
Mideast
Netanyahu dressed down for saying Iranians don't wear jeans
7 October 2013
While Israeli Prime Minister Benjamin Netanyahu has voiced concerns lately over Iran's diplomatic offensive to build warmer ties with the U.S., his latest comments on Saturday about Iranians not being allowed to wear jeans were perhaps not his finest moment.
In an interview with British Persian-language television, Netanyahu talked about the need for Iran to end its uranium enrichment program, but his statements were overshadowed by his comments on freedoms allowed to Iranians by their government.
"I think if the Iranian people had freedom, they would wear jeans, listen to Western music, and have free elections," Netanyahu said in the interview, which was dubbed into Persian and released late on Saturday, according to Reuters.
The statement sparked reactions from Iranians who published pictures of themselves on Twitter on Sunday wearing jeans addressing their posts to Netanyahu's official Twitter account, saying he was out of touch with Iranians.
Full report at:
http://english.alarabiya.net/en/variety/2013/10/07/Netanyahu-ridiculed-for-saying-Iranians-don-t-wear-jeans-.html
----------
Netanyahu: For peace, Palestinians must recognize Jewish homeland
October 07, 2013
There will be no peace with the Palestinians until they recognize the Jewish right to a homeland in Israel, Prime Minister Binyamin Netanyahu said Sunday night at Bar-Ilan University.
"A necessary condition to getting a true solution [to the Israeli-Palestinian] conflict was and remains clear as the sun: ending the refusal to recognize the right of the Jews to a homeland of their own in the land of their fathers," he said. "That is the most important key to solving the conflict."
Netanyahu's words came at the start of a conference marking 20 years since the founding of the Begin-Sadat Center for Strategic Studies, the site of Netanyahu's famous "Bar-Ilan speech" from four years ago where he stated his willingness for a two-state solution.
Those who anticipated that he might use the same venue to again break new ground on the Palestinian issue were disappointed.
Full report at:
http://www.jpost.com/Diplomacy-and-Politics/Netanyahu-Palestinian-recognition-of-Israel-as-a-Jewish-state-is-crucial-condition-for-peace-328038
----------
South Asia
Explosion at Hefazat-run madrasa
October 07, 2013
An explosion rocked the Lalkhanbazar Madrasa, run by Hefazat-e-Islam leader Mufti Izharul Islam Chowdhury, in the port city of Chittagong Monday morning, injuring five students.
According to sources and witnesses, the magnitude of damage suggested it was a powerful explosion but the cause of the blast was still unclear.
The police were also not commenting on the cause of explosion.
Witnesses said the explosion took place around 11am. A student, Jahirul Islam, said he was in an adjacent room when he heard the explosion. "I came out and saw fire."
Maulana Abu Sayeed, a teacher of the madrasa, claimed the blast was caused by an IPS explosion.
Full report at:
http://www.dhakatribune.com/crime/2013/oct/07/explosion-hefazat-run-madrassa
----------
Maldives Defence Minister dismiss speculations of impending military takeover
By Mohamed Naahee | October 6th, 2013
Defence Minister Nazim and lawyer Shaaheen Hameed dismiss speculations of impending military takeover thumbnail
Prominent Lawyer Shaaheen Hameed and Defence Minister Retired Colonel Mohamed Nazim have dismissed social media speculation of an impending military takeover, should no president be elected by November 11 – the date on which the current five year presidential term expires.
Speculation began circulating on social media after former Minister of Environment and Housing Mohamed Aslam – who is himself an ex-serviceman – wrote on his Facebook status that he had received information of an impending military takeover by the Maldives National Defence Force (MNDF).
Full report at:
http://minivannews.com/politics/defense-minister-nazim-and-lawyer-shaaheen-hameed-dismiss-speculations-of-impending-military-takeover-67749
----------
Bangladesh honour for Indians who helped in its liberation
October 07, 2013
In a historic recognition spreading over two years, Bangladesh concluded giving awards to its 'foreign friends' who played a crucial role for her independence 42 years ago.
In the seventh and last phase of recognition, the country this week honoured more than 60 foreign dignitaries and organisations, including 44 from India. The process began on July 25, 2011.
Full report at:
http://www.thehindu.com/news/international/south-asia/bangladesh-honour-for-indians-who-helped-in-its-liberation/article5207363.ece
--------
Bangladesh ratifies extradition treaty with India
October 07, 2013
Bangladesh ratified an extradition treaty with India on Monday to enable the handing over of suspects and convicted prisoners between the South Asian neighbours, a government spokesman said.
"The treaty will come into force shortly after exchanging copies of the ratified agreement between the two countries," said spokesman Mosharraf Hossain Bhuiyan. India has already ratified the agreement, he added.
Full report at:
http://www.thehindu.com/news/international/south-asia/bangladesh-ratifies-extradition-treaty-with-india/article5210070.ece
--------
Myanmar police aided attackers, say Muslim victims
October 07, 2013
THANDWE, Myanmar — Even as the president came to western Myanmar to urge an end to sectarian violence last week, security forces could not prevent Buddhist mobs from torching the homes of minority Muslims or hacking them to death, at times, unwittingly, even encouraging them.
That has raised questions about the government's ability to quench a virulent strain of religious hatred blamed for the deaths of more than 240 people in the last 18 months.
Five Muslims were killed in the attack Tuesday in Thandwe township, just hours before President Thein Sein touched down for a scheduled visit. He promised an immediate investigation and, with uncharacteristic speed, state-run media by Saturday night said 44 suspects had been arrested, though few other details were released.
Full report at:
http://www.saudigazette.com.sa/index.cfm?method=home.regcon&contentid=20131007182835
----------
Southeast Asia
Rights Monitors Urge Indonesian Military to Stop Meddling in Civil Affairs
October 07, 2013
Jayapura. As the Indonesian Armed Forces commemorated their 68th anniversary on Saturday, civil society groups slammed the institution for still interfering in civilian affairs, such as fielding detectives in law enforcement and election bodies.
They said members of the Indonesian military, known as TNI, have strayed from their constitutional mandate to defend against outside threats, and instead turned their focus inward, resulting in the torture and extrajudicial killing of civilians.
The Indonesian Human Rights Monitor (Imparsial) said over the weekend that TNI members had assumed positions as investigators with the Corruption Eradication Commission (KPK) and as intelligence officers with the National Election Commission (KPU).
"Imparsial views all TNI's involvement in civilian works as a grave mistake," the organization's executive director Poengky Indarti said.
"Such involvement will only pull TNI back to the civilian law enforcement sphere like it used to do during the totalitarian New Order era. It's a real setback for the TNI's reform," she said.
Full report at:
http://www.thejakartaglobe.com/news/rights-monitors-urge-military-to-stop-meddling-in-civil-affairs/
----------
Court to rule on Putrajaya's "Allah" appeal on October 14
BY V. ANBALAGAN
OCTOBER 07, 2013
The Court of Appeal will rule on October 14 whether the Catholic weekly newspaper, Herald, can use the word "Allah" in its Bahasa Malaysia section.
Federal Counsel Andi Razalijaya A. Dadi said the Attorney General's Chambers received a letter notifying them about the date from the Court of Appeal registry today.
On September 10, a three-man bench led by Datuk Seri Mohamad Apandi Ali heard submissions on the issue from lawyers representing Putrajaya, the Kuala Lumpur Archdiocese of the Roman Catholic Church and Muslim religious councils.
Full report at:
http://www.themalaysianinsider.com/malaysia/article/court-to-rule-on-putrajayas-allah-appeal-on-october-14
-----------
URL: https://newageislam.com/islamic-world-news/us-vows-relentless-terror-fight/d/13877