New Age Islam News Bureau
21 Jul 2018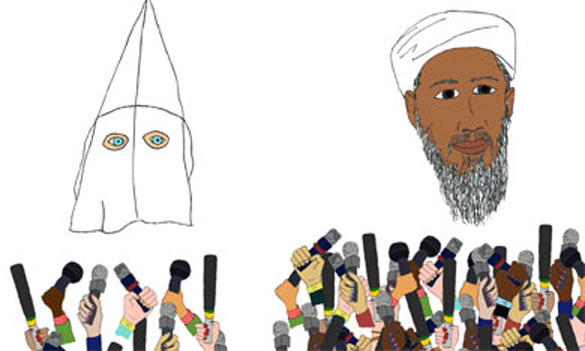 The researchers controlled for factors like target type, number of fatalities, and whether or not the perpetrators were arrested before reaching their final statistic. Illustration: Mona Chalabi
----
• US Voices Concern about LeT Affiliates Contesting Pakistan Elections
• Hindus Acted Like Taliban during Babri Masjid Demolition: Lawyer Tells SC
• The Town That Doesn't Vote: Pakistan's Ahmadis Say Forced To Abstain
• Key Member Resigns from Myanmar Advisory Panel on Rohingya Crisis
North America
• US Voices Concern about LeT Affiliates Contesting Pakistan Elections
• Terror Attacks by Muslims Receive 357% More Press Attention, Study Finds
• El-Sayed Seeks to Become Michigan's First Muslim American Governor
• Canada is Funding and Supporting Terrorism Front Groups with Taxpayers' Money
• Suspected ISIS soldier tricked into joining fight, family says
--------
India
• Hindus Acted Like Taliban during Babri Masjid Demolition: Lawyer Tells SC
• This Mother's Reply to Her Daughter on Why Muslims Wear Skullcaps Is Going Viral for All the Right Reasons
• Fatwa against Nida Khan: UP Minorities Commission to Submit Report To State Govt
• PM Modi to Meet Triple Talaq Victim Nida Khan During Shahjahanpur Rally
• Noted Barelvi cleric Azhari Miyan dies
--------
Pakistan
• The Town That Doesn't Vote: Pakistan's Ahmadis Say Forced To Abstain
• Appeasement of the Far Right: Mainstream Parties Cosying Up to Religious Extremist Groups for Votes
• Extremism is Pakistan's Biggest Threat, Says Bilawal Bhutto
• Mastung bomber studied in Karachi seminary, says CTD
• Ulema wrongly put on Fourth Schedule to be excluded from list
• 5 injured in Chaman blast targeting LEAs' vehicle
• Pakistan troops kill ISIS-linked blast mastermind
--------
South Asia
• Key Member Resigns from Myanmar Advisory Panel on Rohingya Crisis
• Rohingya Report More Violence, Persecution in Myanmar: UN Investigators
• Job seekers from Bangladesh getting trafficked to Malaysia by sea
• Rohingya Muslims report more violence in Myanmar: UN
• ISIS and Taliban militants suffer casualties in Nangarhar operations
• Suicide car bomb attack foiled in Nangarhar province
--------
Southeast Asia
• Couple Are Brutally Caned Under Sharia Law In Indonesia As Punishment For Having Sex Outside Marriage
• 'Blocked from the Bar' because of Zakir Naik
• Two nabbed over death threats against Penang DAP rep
• Indonesian rights body acts against sectarian campaigning
--------
Arab World
• Iraqi Court Sentences Seven Takfiri Daesh Terrorists to Life Imprisonment
• Syria Moves to Retake Control over Golan Heights from Terrorists
• With war over, life trickles back into Syria's Harasta
• Lebanese Bishop praises the courage of the Grand Mufti in defending Mideast Christians
• Air raids on last ISIS pocket in south Syria kill 26 civilians
• Saudi Arabia rejects and denounces the 'Jewish Nation-State' law
• Syrian regime forces enter Quneitra after a brokered deal
• Saudi forces arrest senior preacher: Report
• At least one killed in fresh social protests in Iraq
--------
Mideast
• Palestine, Muslim Nations Will Eventually Eliminate Israeli Apartheid: Iran
• Israel, Hamas Declare Truce But Lieberman Threatens War
• Four Palestinians killed, 120 others injured as Israeli military strikes Gaza Strip
• Coalition airstrike kills four Houthi leaders during 'coup' meeting near Sanaa
• Terrorist attack leaves 10 Iranian forces dead: Fars
• Turkey says working to avoid repercussions of US sanctions on Iran
• Saada elders 'never to give up' in battle against Houthi militants
--------
Europe
• Record Number of Anti-Muslim Attacks Reported In UK Last Year
• Taliban bomb-maker jailed for 40 years in UK
• France, Russia send humanitarian aid to Syria for Ghouta victims
• Ambassador: 'Europe is not going to become a Muslim continent'
--------
Africa
• Al Shabaab Captures Strategic Town In Somalia's Puntland
• US adds Kenyan branch of Al-Shabaab to terrorism list
• Boko Haram: How we neutralized several terrorists – NAF
Compiled by New Age Islam News Bureau
URL: https://www.newageislam.com/islamic-world-news/us-voices-concern-let-affiliates/d/115901
--------
US Voices Concern about LeT Affiliates Contesting Pakistan Elections
Anwar Iqbal
July 21, 2018
WASHINGTON: The United States remains concerned about the participation of Lashkar-e-Taiba-affiliated (LeT) individuals in the July 25 elections and has conveyed its concern to Islamabad as well, says the US State Department.
However, in a statement a copy of which is available with Dawn, the department noted with satisfaction that the Pakistan Election Commission had rejected the registration of Milli Muslim League (MML) in June, "citing its linkages to LeT, an internationally-sanctioned terr­orist organisation".
The statement pointed out that the State Department also amended its Foreign Terrorist Organisation designation of LeT in April to add the MML as a Lashkar alias.
"We have repeatedly expressed our concerns to the Pakistani government about LeT, including the participation of LeT-affiliated individuals in the elections," the statement added.
In an earlier statement, the State Department had stressed the need to continue the electoral process despite recent terrorist attacks targeting senior Pakistani politicians.
'Doomsday': Victims recall horror of Mastung blast
In a similar statement issued in Brussels, the European Union urged Islamabad to ensure that electoral activities in all parts of Pakistan continued in "safe and secure conditions".
Japanese Foreign Minister Taro Kono said last week that Japan strongly hoped the general election would be held this month freely, fairly and peacefully, without giving in" to terrorists who wanted to disturb the democratic process in Pakistan.
In Washington, US State Department's spokesperson Heather Nauert said that such attacks on political candidates and their supporters were "cowardly attempts to deprive the Pakistani people of their democratic rights".
The European Union said that it expected Pakistani authorities to "take all the necessary steps to ensure that electoral activities in all parts of the country take place in safe and secure conditions".
All political contestants and citizens should be able to "exercise their constitutional rights to participate in the forthcoming general elections without intimidation or fear for their security," it added.
https://www.dawn.com/news/1421529/us-voices-concern-about-let-affiliates-contesting-elections
--------
Hindus Acted Like Taliban during Babri Masjid Demolition: Lawyer Tells SC
July 20, 2018
The Supreme Court on Friday resumed hearing the contentious Babri Masjid-Ayodhya land dispute case where senior advocate Rajiv Dhawan, appearing for M Siddiq-an appellant- reiterated his argument that "Hindus acted like Taliban" on the day of Babri Masjid demolition, adding that "what happened on December 6 was an act of terrorism".
Dhavan had earlier also claimed that the mosque in Ayodhya was destroyed by "Hindu Taliban" —like the Buddha statues in Bamiyan in Afghanistan was brought down by the Taliban.
Passions overflowed in the apex court over advocate Dhavan's remarks with a group of lawyers saying he cannot equate the entire Hindu community to Taliban. Dhavan, in reply, said he stands by whatever he said about those Hindus who razed the mosque.
In an attempt to cool tempers, CJI Dipak Misra said decorum must be maintained in court and pointed out that such adjectives should be used outside, not inside. "The adjective was used in an inappropriate sense," the bench said. However, Dhavan refused to agree with the observation and says destruction was an "act of terrorism".
Subsequently, heated arguments ensured as Dhavan repeated that "Hindu Taliban destroyed the mosque". The lawyers then replied "you destroyed temples".
The CJI intervened again and asked counsel opposing Dhavan to leave. CJI Misra also told Dhavan that "we consider it (Hindu Taliban remark) absolutely inappropriate."
The matter is being heard by the bench comprising of Chief Justice Dipak Misra, Justice Ashok Bhushan and Justice S Abdul Nazeer. The Shia Waqf Board had earlier told the Supreme Court in their submission that they wished to settle the dispute amicably. The board also stated that the custodian of the Babri mosque was the Shia and the Sunni Waqf Board, and no one else represents India's Muslims.
The Supreme Court reserved its order on the plea by Muslim groups of the Ram Janmabhoomi-Babri Masjid title dispute seeking reconsideration by a larger bench the observations made by it in a 1994 verdict that a mosque was not integral to Islam.
https://indianexpress.com/article/india/hindus-acted-like-taliban-during-babri-masjid-demolition-lawyer-tells-sc/
--------
The town that doesn't vote: Pakistan's Ahmadis say forced to abstain
JULY 21, 2018
RABWAH, Pakistan (Reuters) - There are no campaign posters in the Pakistani town of Rabwah, and no election rallies on its streets. Though they could be an influential bloc in a key electoral battleground, nearly 90 percent of its residents will not vote in a July 25 poll.
The people of Rabwah, in Punjab province, are predominantly Ahmadi Muslims, and abstain from elections due to what they say are discriminatory laws that target their minority sect.
Pakistan's election laws place Ahmadis on a separate voter registration list categorizing them as non-Muslim. Community leaders say this violates their right to religious self-identify as Muslim.
"It's a matter of our faith so there can be no compromise on that," community spokesman Salim Ud Din told Reuters.
Pakistan's Election Commission did not respond to requests for comment. In a letter sent to Salim Ud Din, the commission said it was "following law which cannot be changed by the commission".
Community leaders say anti-Ahmadi rhetoric has intensified in the lead-up to Wednesday's general election, as politicians seek to shore up support among religiously conservative voters and head off the challenge posed by two new Islamist parties.
Last year, a row over proposed changes to the election law that would have eased some of the barriers on Ahmadis participating in elections saw the group denounced on the floor of Pakistan's parliament, while one of the new Islamist parties held street protests.
The Ahmadis consider themselves to be Muslims but their recognition of Mirza Ghulam Ahmad, who founded the sect in British-ruled India in 1889, as a "subordinate prophet within the fold of Islam" is viewed by many of the Sunni majority as a breach of the Islamic tenet that the Prophet Mohammad was God's last direct messenger.
By law they cannot call their places of worship mosques or distribute religious literature, recite the Koran or use traditional Islamic greetings, measures they say criminalize their daily lives.
A SENSE OF CITIZENSHIP
Syed Qamar Suleman Ahmad voted for the first and last time in the 1977 election.
Three years earlier the sect had been declared "non-Muslim" by Zulfikar Ali Bhutto's Pakistan People's Party (PPP) government. But Ahmad says he still voted for the PPP, because they fielded the best candidate in his constituency.
"Back then the election was still on the basis of being Pakistani, not on the basis of being Muslim," he said. "There was a sense of excitement."
Bhutto was overthrown and later hanged by military ruler General Zia ul Haq, whose government barred Ahmadis from identifying themselves as Muslim. Ahmad has not voted since.
Masood Ahmad Khalid, who last cast a ballot in 1970, remembers missing his bus and having to walk a long distance to the nearest polling station.
"My father was very particular about voting," he recalls, adding that the right to vote reinforces a sense of citizenship. "It's not about wanting to vote, it's about being given my rights."
Salim Ud Din released a statement on July 13 saying the Ahmadi community would once again be disassociating from the elections due to Pakistan's discriminatory laws.
"We have a very rich history of participating in politics," he said, adding that Pakistan has allowed itself to be controlled by the religious right.
Election observers believe if the country's 500,000 Ahmadi were to participate, their vote could swing the results of more than 20 closely contested seats in Punjab, the most populous province where Pakistani elections are won and lost.
"They (the religious right) know we are an organised community, educated, so when we are involved we can have an influence," Ud Din added.
One of the men buried in Rabwah's well-manicured graveyard is Chaudhry Zafrulah Khan, Pakistan's first foreign minister.
Community members often refer to him, saying the country's founding father Mohammad Ali Jinnah chose an Ahmadi as Pakistan's first representative to the world.
To comply with laws forbidding Ahmadis to identify as Muslim, the Ahmadi community have erased all Islamic inscriptions from Khan's gravestone.
https://uk.reuters.com/article/uk-pakistan-election-ahmadis/the-town-that-doesnt-vote-pakistans-ahmadis-say-forced-to-abstain-idUKKBN1KB07L
--------
Key member resigns from Myanmar advisory panel on Rohingya crisis
July 21, 2018
YANGON: A key member of an international advisory panel on Myanmar's crisis-hit Rakhine state has resigned, telling AFP on Saturday that the Aung San Suu Kyi-appointed board risks becoming "part of the problem" in a conflict that forced 700,000 Rohingya Muslims to flee.
Retired Thai lawmaker and ambassador Kobsak Chutikul was secretary for the panel hand-picked by civilian leader Aung San Suu Kyi to advise her government on how to handle the aftermath of a military campaign that drove the minority out of the country.
The brutal crackdown started in August last year and left hundreds of Rohingya villages razed to the ground.
Refugees to Bangladesh have recounted horrifying testimony of widespread murder, rape and torture in violence the UN and US have branded as ethnic cleansing.
Kobsak Chutikul said his position became untenable ahead of a second full meeting of the panel with officials in Myanmar's capital Naypyidaw this week.
"I verbally gave my resignation in a staff meeting last Tuesday (10 July)," he told AFP by phone from Bangkok.
The board, he said, risks becoming a "part of the problem."
"It lulls authorities into thinking they have done enough to respond to the concerns of the international community, that they've ticked that box," he added.
"It becomes dangerous in terms of an illusion that something is being done... that they're going to do something while Rome burns."
The credibility of the advisory board was undermined early on by the resignation of veteran US diplomat Governor Bill Richardson a one-time close confidant of Suu Kyi.
He left the panel in January in a vicious war of words with the Nobel laureate.
The government insisted it had terminated his involvement but Richardson said he stepped down due to fears the committee would only "whitewash" the causes of the Rohingya crisis.
A statement by his office Saturday said that Kobsak's resignation "further reinforces the concerns" he held.
Kobsak, however, told AFP that he thought Governor Richardson's departure had been premature.
But he said the board's poor organization and funding severely curtailed its work.
"We were winging it on the fly, not really in full grasp of the full facts and figures. Everyone was all over the place — we don't have a permanent office anywhere," he told AFP.
Suu Kyi's reputation lies in tatters internationally for her failure to speak up on behalf of the Rohingya Muslims, a stateless group persecuted over decades in Myanmar.
There was no immediate reaction from her office or the panel.
The advisory board has so far dismayed rights groups for not mentioning the word 'Rohingya' — a name Buddhist-majority Myanmar rejects, preferring the pejorative term 'Bengali' that implies the community are illegal immigrants from Bangladesh.
Kobsak Chutikul said the international community should rally round new UN special envoy Christine Schraner Burgener, who he said "offers the best hope in the circumstances."
http://www.arabnews.com/node/1342676/world
--------
North America
Terror attacks by Muslims receive 357% more press attention, study finds
20 Jul 2018
Terrorist attacks committed by Muslim extremists receive 357% more US press coverage than those committed by non-Muslims, according to new research from the University of Alabama. The researchers controlled for factors like target type, number of fatalities, and whether or not the perpetrators were arrested before reaching their final statistic.
Terrorist attacks committed by non-Muslims (or where the religion was unknown) received an average of 15 headlines, while those committed by Muslim extremists received 105 headlines.
The findings, which are illustrated below, were based on all terrorist attacks in the US between 2006 and 2015 according to the Global Terrorism Database. The disparity in media coverage is particularly out of sync with the reality given that white and rightwing terrorists carried out nearly as many terrorist attacks as Muslim extremists between 2008 and 2016.
Not all headlines have the same audience, though. Lead researcher Erin Kearns explained: "We broke it down by the two different types of sources and we found that the over-coverage is much bigger among national news sources than local papers."
A new Guardian documentary, White Fright, follows one case of an attack plotted by a non-Muslim. In 2015, Robert Doggart was convicted for planning an attack on Islamberg, a small community in New York. Doggart's plan was described as "terroristic" by a US attorney.
The study is forthcoming in Justice Quarterly. A previous paper which looked only at the period 2011 to 2015 is available here.
https://www.theguardian.com/us-news/2018/jul/20/muslim-terror-attacks-press-coverage-study
--------
El-Sayed Seeks to Become Michigan's First Muslim American Governor
July 20, 2018
TRAVERSE CITY, MICHIGAN —
It's standing room only in the large ballroom of this northern Michigan resort as people eagerly await the arrival of a young, well-spoken, charismatic Rhodes scholar seeking to reach Michigan's highest elected office.
"When I graduated college, Bill Clinton asked me why I was going to med school, and he asked me if I ever considered running for office. And at that time, I thought that was off limits to me," Dr. Abdul El-Sayed told VOA.
Muslim American El-Sayed grew up in Michigan, where he often faced prejudice.
"I was the captain of my football team, and I was a junior in high school. And the week after 9/11, the games were canceled that week, but the week after, we were back on the field. And I remember that football game. For the first time, people were calling me names that I would hear for the rest of my life: 'Raghead.' 'Osama.' " he recalls. "Funny thing is, my brother's name is Osama. And I used to say, 'You've got the wrong El-Sayed.'"
But he could be the right El-Sayed to make history as Michigan's — and the nation's — first elected Muslim American governor. One of his biggest challenges is convincing enough voters to support him in a state that narrowly helped Republican Donald Trump win the presidency in 2016.
About 90 Muslim Americans are seeking elected office throughout the United States during midterm elections this year. Many are running as Democrats hoping to be part of a "blue wave" that shifts control of the U.S. Congress.
El-Sayed is among 13 Muslim candidates running for office in the state of Michigan, where his faith and ethnicity have been important facets of his life that are now also fueling attacks and accusations by political opponents.
A welcome change
For those in Michigan's large and growing Arab American community, the fact that El-Sayed is a viable candidate at all is a welcome change in politics.
"In the last 10 years, things have changed dramatically for Arab Americans," said Osama Siblani, publisher of Dearborn, Michigan-based Arab American News. But he explains the path to the governor's mansion depends on El-Sayed's overall appeal to a majority of voters.
"When John Kennedy ran, you know, everybody thought, 'This was the first Catholic, would he make it to White House?' And he did," said Siblani. "When Barack Hussein Obama ran, they said, This is the first African-American. Will he make it? Are there enough African-American voters to elect an African- American?' No. But did he make it? Yes. Twice. So, is there a chance for a Muslim-American to win the governorship? Yes."
El-Sayed said he isn't focused on the potential of such a historic moment. He simply wants to give back to the community that shaped him.
"My grandmother was illiterate and never got to go to school. My grandfather had an eighth-grade education. My cousins — just as smart as whatever, as I am — they never got the opportunities that I got. They drive cabs in Egypt, and that's not my life," he said. "That's not my life, because of the opportunities I had here. And I'm watching as we have leaders, whether it be at the city level in Detroit or at the state level, who are making decisions that are taking away access to those basic goods and services from people."
Water and politics
El-Sayed, who gained recognition as Detroit's top health official, seeks to lead a state still dealing with a water contamination crisis in the city of Flint that began during current Republican Gov. Rick Snyder's tenure.
"The responsibility is to promote justice, whether it be with my hands. And if not, then with my mouth. And if not, then at least with my heart," he told VOA. "That promotion of justice, to address racial and ethnic inequalities, social inequalities, regional inequalities, and access to the basic goods and resources that people deserve in their lives. That has been the work that I've committed myself to as a doctor, as an epidemiologist, as a public health practitioner and now as a public servant."
El-Sayed is among several candidates vying for the Democratic nomination for governor in Michigan's primary election August 7.
He's considered a progressive and has the backing of many Michigan voters who supported Vermont Sen. Bernie Sanders in his bid to win the Michigan presidential primary in 2016.
Full report at:
https://www.voanews.com/a/michigan-candidate-first-muslim-american-governor/4490760.html
--------
Canada is Funding and Supporting Terrorism Front Groups with Taxpayers' Money
July 21, 2018
The government of Canada plans to funnel $23 million into a multicultural program, Member of Parliament Iqra Khalid announced last week.
The money is an outgrowth of Canada's M-103 "Systemic racism and religious discrimination" bill that called on the government to "condemn Islamophobia and all forms of systemic racism and religious discrimination."
It is not clear how the money will be divided, but Islamic Relief Canada and the National Council of Canadian Muslims (NCCM), formerly known as CAIR-CAN, are poised to receive significant amounts.
That's a problem because both groups have been accused of supporting terrorists.
NCCM is the Canadian chapter of the Council of American Islamic Relations (CAIR). Islamic Relief Canada is a branch of Islamic Relief Worldwide.
Both the NCCM (CAIR-CAN) and Islamic Relief Canada were identified as Muslim Brotherhood front groups in testimony to the Canadian Senate in 2015.
HSBC bank, based in the United Kingdom, announced in January 2016 that it would close Islamic Relief Worldwide's accounts and cut all links to it "amid concerns that cash for aid could end up with terrorist groups abroad." Swiss bank UBS did the same thing in 2012. The United Arab Emirates included Islamic Relief Worldwide and Islamic Relief UK on its 2014 list of terrorist organizations. In so doing, the UAE also noted that Islamic Relief Worldwide is a part of the global Muslim Brotherhood.
Israel also has listed Islamic Relief Worldwide as a terrorist funding organization, identifying Hamas as the intended recipient of the money. In its own charter, Hamas describes itself as "one of the branches of the Muslim Brotherhood in Palestine."
In Canada, the Financial Post also removed Islamic Relief Canada from its 2014 "25 Charities of the Year" because "its international arm has been banned elsewhere (though not in Canada) for allegedly funneling funds to the terrorist organization Hamas."
Of note, Islamic Relief co-founder and former leader Essam al-Haddad figures prominently in a 2012 "who is who" of the Muslim Brotherhood issued by the Washington Institute for Near East Policy. He was "elected to the [Brotherhood's] Guidance Office … in December 2009," and ran the successful campaign of the Brotherhood's 2012 candidate for president, Mohamed Morsi, the Washington Institute said. He has been imprisoned since 2013.
Al-Haddad's son, Gehad al-Haddad, is a Muslim Brotherhood spokesman.
The case of the National Council of Canadian Muslims (NCCM) is also interesting. As noted above, the NCCM was originally founded as CAIR-CAN. According to its founder, Sheema Khan, CAIR's U.S. leadership "had direct control" over the Canadian chapter's activities. The U.S. Department of State identified CAIR-CAN as CAIR's Canadian chapter. CAIR-CAN acknowledged in 2003 that CAIR was its "parent organization."
The United Arab Emirates in 2014 labeled CAIR as a terrorist group. A federal judge in Dallas ruled in 2009 that the government possessed "ample evidence to establish the associations of CAIR … with Hamas."
In Canada, long-time NCCM (CAIR-CAN) board member, Jamal Badawi, also served on the Brotherhood's North American Shura Council – its leadership board.
Meanwhile, Canadian MP Iqra Khalid is a supporter of Sharia and is Salafist in her orientation. While campaigning for Parliament, she claims she led the York University Muslim Student Association and wrote its new constitution after it took over the Pakistani Student Association. MSA officers should "strive to adhere to the Shari'ah," it says.
And while Khalid is uncovered in public and sports modern, Western clothing, her MSA is Salafist in orientation. Its constitution takes an uncompromising view toward religion: "Any innovations in religious matters or modernization will not be acceptable, as Islam is a way of life for all times and places and hence is not subject to being outdated or needing reform." As often noted, the Muslim Student Association of Canada and the USA was founded by Muslim Brotherhood members.
Iqra Khalid first appeared on the public radar in 2015 after announcing her Liberal Party candidacy for Parliament in Mississauga, Ontario. She received a key endorsement at an Islamic Society of North America (ISNA) property. Just two years earlier, Canada's Revenue Agency revoked the ISNA Development Foundation's charitable status after an audit found it had given money to a Kashmiri charity connected to the Jamaat-e-Islami terrorist group.
The decision to fund these organizations with government money raises several questions, given their links to terrorism funding and extremism. Why did Prime Minister Justin Trudeau's government choose these organizations, ignoring reformist Muslim organizations such as Muslims Facing Tomorrow and the Canadian Thinkers Forum?
Since his 2008 election to Parliament, Trudeau has supported, funded and defended Islamist groups.
He has said that ISIS fighters returning to Canada would be a "powerful voice for deradicalization." This is his position, even though Canada has no deradicalization program and its Centre for Community Engagement and Prevention of Violence has been without a director for years.
Trudeau further believes that it is "Islamophobic" to oppose the return of ISIS fighters, so Canada is no longer providing the names of its returning ISIS fighters to the United Nations committee responsible for tracking international jihadists. Canada does not try to arrest returning ISIS fighters. Few face any consequences, even as one ISIS fighter living in Toronto openly bragged to the New York Times about executing prisoners.
Full report at:
http://moderntokyotimes.com/canada-is-funding-and-supporting-terrorism-front-groups-with-taxpayers-money/
--------
Suspected ISIS soldier tricked into joining fight, family says
July 20, 2018
Dearborn — A Dearborn man captured on an Islamic State battlefield this month was tricked by fellow Muslims into traveling overseas and became trapped in war-torn Syria, his brother said Friday.
Relatives, public records and legal experts helped establish a narrative timeline of Ibraheem Musaibli's final months in the United States, his alleged attempts to escape an Islamic State prison with help from the FBI and potential prosecution in a high-profile criminal case in Detroit. The chronology emerged Friday, one day after it was revealed the Dearborn native had been captured by Coalition-backed forces in Syria while believed to be fighting for the Islamic State, also known as ISIS.
Musaibli, 28, is no terrorist but was lured by fellow Muslims into coming to Syria to study religion and work, younger brother Abdullah Musaibli told The Detroit News on Friday via Facebook Messenger.
"My brother is the best person in the world, however he is very trusting in other Muslims like him," Abdullah Musaibli, 26, of New York City, wrote. "That is why he is in this situation, because other 'Muslims' tricked him into coming to Syria to study religion and work. He had NO idea this group was ISIS."
Abdullah Musaibli said he last communicated with his brother two months ago.
"Me being a Muslim, I despise ISIS and all terrorists with all my heart, because they give Islam a very bad name," he wrote. "Islam is a religion of peace and what they are doing in the Middle East is despicable."
Ibraheem Musaibli is being held at an undisclosed overseas facility but is expected to return to the U.S. as early as next week. He is being detained along with an Indiana woman whose husband was an Islamic State member, according to The New York Times.
Musaibli is believed to be only the second American man captured while fighting on behalf of the Islamic State, and he presents one of the first times the Trump administration could use federal courts to prosecute a returning foreign fighter.
Though Musaibli was captured overseas, he could be prosecuted in Detroit, the federal jurisdiction which covers his hometown of Dearborn, said Peter Henning, a Wayne State University law professor and former federal prosecutor. The Times reported that it is likely Musaibli has been charged in a sealed federal court filing.
"We're not going to have any issues of entrapment or that the government somehow acted unfairly in targeting him. He was on the battlefield," Henning said. "It's much easier when it's a black-and-white case."
The Justice Department in Detroit has experience prosecuting people on terrorism-related charges. Underwear bomber Umar Farouk Abdulmutallab was sentenced to life in federal prison for the failed Christmas Day 2009 terror attack aboard a Detroit-bound airliner, and Detroit resident Sebastian Gregerson, an Islamic State "soldier" accused of plotting violent jihad, was sentenced last year to 45 months in federal prison.
Abdulmutallab and Gregerson were represented by the Federal Defender Office, though Abdulmutallab later defended himself with assistance from a court-appointed attorney.
Miriam Siefer, head of the Federal Defender Office, said she has not been contacted about Musaibli.
"We haven't been appointed yet," she told The News. "If he needs court-appointed counsel, then we will represent him."
Abdullah Musaibli said he doesn't know if his brother has a lawyer but has been trying to find out, fearing Ibraheem will be questioned by law enforcement without representation. His father, Izzy Musaibli, told The News late Friday they're in dire need of legal representation.
The Program on Extremism at George Washington University has identified 71 Americans who have traveled either to Syria or Iraq to wage jihad. At least 24 of those American citizens have been killed. The status of 29 people is unknown while the rest have either returned to the U.S. or are in jail.
"On average, individuals who actually reach Syria or Iraq to join jihadist groups receive lighter sentences than those who get arrested on the way to the airport to travel," said Seamus Hughes, the extremism program's deputy director. "It seems counterintuitive, but they tend to have information to trade, a window into the terrorist organization structure."
From Dearborn to Yemen
Ibraheem Musaibli lived a low-key life in Dearborn. An Edsel Ford High School dropout, Musaibli helped his father operate a perfume shop in Detroit and had no contact with police besides a few minor traffic incidents, according to the Dearborn Police.
"My brother Ibraheem has always been a joking, lovable person," Abdullah Musaibli wrote. "Even after he became religious, he would still joke and laugh with friends and family. He loved to watch TV shows and movies and enjoyed oldies music."
In 2010, Ibraheem Musaibli bought a $32,900 brick bungalow on Riverside Drive on the city's eastern boundary with Detroit, within walking distance of the American Moslem Society mosque.
Eventually, he got married, fathered a son and moved to the port city of Aden, Yemen.
Before leaving, Musaibli attended to trivial personal tasks. He added brother Yousif Musaibli and sister Sumaya Musaibli to the deed on his home in January 2015; two months later, he renewed his driver's license, according to Wayne County and state records.
While in Yemen, Ibraheem Musaibli started talking with fellow Muslims, his brother said, who lured him to Syria in 2015.
Ibraheem Musaibli did not watch online sermons by radical Islamic clerics or seek out Islamic State contacts, his brother said.
"No, he just reads Quran and prays five times a day like any other Muslim," Abdullah Musaibli wrote. "My brother would never hurt anyone."
Two years later, in January 2017, while Ibraheem Musaibli was believed to be in Syria, his signature appears on a quit claim deed that gave the home to his siblings.
Abdullah Musaibli, declined to comment about his brother transferring the house but told The News that Ibraheem Musaibli did intend on returning to the U.S. and is not an ISIS fighter.
Abdullah Musaibli said he hopes to be able to speak with his brother upon his arrival to the United States.
"I love him more than my life," he said. "I'll do anything for my brother."
Musaibli's travel to Syria, and reported ties to the Islamic State, are rare but not unprecedented locally.
Michiganians in Syria
In 2016, federal agents were hunting for Flushing native Mohamed Maleeh Masha, 24, a suburban Flint medical school graduate who had fled to Syria and was believed to be working as a doctor for Islamic State extremists.
The Masha manhunt was revealed in a sealed federal search warrant that was briefly posted on the federal court online case database and obtained exclusively by The News.
The records indicated the FBI was looking for evidence Masha was supporting Islamic State groups, including the Islamic State of Iraq and Syria — known as ISIS.
Nicole Lynn Mansfield, a 33-year-old nurse from Flint, was killed in 2013 in Syria. She reportedly threw a grenade at Syrian soldiers who opened fire on her vehicle.
Musaibli, meanwhile, sent text messages to relatives after leaving Yemen confirming that he was joining the Islamic State, The Times reported, citing two unnamed officials familiar with the investigation.
Musaibli eventually became disillusioned after arriving in Syria, however, and his family tried to negotiate a way out with the FBI, according to the newspaper.
The FBI offered to return Musaibli to the United States if he surrendered. He refused, and negotiations stalled, the newspaper reported.
Izzy Musaibli claims that the prior reports were false and the FBI has been working to help his son escape from an Islamic State prison.
"He's not a fighter, he's been working with the FBI to escape ISIS and after the last time he tried to escape, (ISIS) burned his passport," Izzy Musaibli said. "The FBI knows he's not a fighter and he's only been doing small work there for food to survive."
Izzy Musaibli said the family had brief contact with Ibraheem while he was stuck in Syria, trapped because the militants thought Ibraheem was a spy.
"(ISIS) doesn't represent Islam, they have a totally different ideology, and Ibraheem was preaching against them," he said. "Every time he tried to escape, he was put back in prison, and we've been working with the FBI as a team."
A spokesman for the FBI in Detroit declined to comment Friday on Izzy Musaibli's claims.
Ibraheem Musaibli's sister, Fatima Musaibli, who lives with her parents in a nearby home on Riverside Drive, said it would be uncharacteristic for him to join the Islamic State.
"Ibraheem wouldn't do this," she told The News late Thursday. "He's not violent and not the type to join such a group. We worry for him."
FBI agents searched the family's home nine days ago, Fatima Musaibli said.
"They took our phones, laptops, my brother's old passports, a box full of stuff and said they would return it soon, but it's been more than a week," she said.
It is unclear when the FBI started investigating Ibraheem Musaibli.
Sealed federal court records in Detroit indicate FBI agents were investigating a man with a similar last name last year.
In January 2017, FBI agents served a search warrant on Facebook information for an account belonging to Abu Abdul Rahman Al-Musibli. The still-active account lists several friends with the last name Musaibli, including one woman in Dearborn.
The next month, in February 2017, the FBI received 820 pages of information from the man's account, according to a copy of the search warrant return obtained by The News.
Abdullah Musaibli declined comment about the Facebook account Friday and if it belonged to his brother.
Little known locally
Ibraheem Musaibli was a relative unknown within the broader Muslim community in Metro Detroit, which has about 300,000 members, one of the largest concentrations in the U.S., said Dawud Walid, executive director of the Michigan chapter of the Council on American-Islamic Relations.
Walid said Musaibli's family did not approach CAIR for assistance in helping him return to the U.S.; however, Izzy Musaibli said they've tried to contact CAIR numerous times for assistance.
"I am not familiar with this individual and I am not familiar with anyone from this area being apprehended for trying to join ISIS or having some reservations and trying to give himself up," Walid said Friday.
Walid has concerns about Musaibli being prosecuted if he had tried to leave the terror group.
Full report at:
https://www.detroitnews.com/story/news/local/wayne-county/2018/07/20/suspected-isis-fighter-ibraheem-musaibli-tricked-into-traveling-syria/806698002/
--------
India
This Mother's Reply to Her Daughter on Why Muslims Wear Skullcaps Is Going Viral for All the Right Reasons
July 21, 2018
India is a country of diverse cultures, religions and ethnicities. With multiple cultures, caste, creed, religion and ethnicity, it is only through love and mutual respect that the harmony can be maintained. In one such example, one mother's answer to her daughter's innocent inquiry about why a man was wearing a skullcap is winning hearts on the Internet.
As it happened, the child was travelling with her mother in car share with two different riders. The child noticed the man sitting in front beside the driver had his head covered. Confused about why he was wearing a 'cap' in the evening, she asked her mother, "Why is this uncle wearing a cap in the evening? There is no sun outside!"
In response to the child's query, the mom explained that it's worn as a sign of respect. "Have you not seen me covering my head with a Dupatta, whenever I visit the temple? Or when some elder guests come to our house? Or when I have to touch the feet of your grandparents? It is a sign of respect or to pay our regards, my child," the mother added.
But the inquisitive child's query was not satisfied just yet. She further asked, "But who is this Bhaiya paying respect to? There is no temple here. He is not touching the feet of anyone." The mother again came up with a beautiful reply and the entire conversation is going viral on Facebook with over 22,000 shares, at the time of writing.
The original post was shared on Facebook by a fellow rider, Meghna Athwani, who witnessed the heart-warming conversation and decided such good news must be shared with others. Also starting a conversation about, if this is how we all feel about one another then why is there so much hate around?
What's your thought on this? Tell us in comments below.
https://indianexpress.com/article/trending/trending-in-india/this-mothers-reply-to-her-daughter-on-why-muslims-wear-skullcaps-is-going-viral-for-all-the-right-reasons-5267423/
--------
Fatwa against Nida Khan: UP Minorities Commission to submit report to state govt
Jul 20, 2018
Bareilly: A day after a two-member committee of it investigated the fatwa issued against Nida Khan, chairperson of UP Minorities Commission said that it will submit a report to the state government, along with their recommendations on Tuesday for further action. He said that the commission will not take any direct action in the matter.
Tanveer Haider Usmani, chairperson, UP Minorities Commission said, "The two-member committee which visited Bareilly to probe the matter is compiling a report. I have also sought a report from Bareilly district magistrate, which is yet to come. When I receive both the reports on Monday, we will prepare a third report along with our recommendations. This report will be submitted to the state government so it can take action in the matter.''
Meanwhile, Khan said, "I will lodge a complaint with police regarding the fatwa on Saturday. The fatwa was issued to scare women like me so they stop fighting for their rights. I will contest it as it is a violation of my rights.'' Asked about the conclusion the committee had drawn after talking to all parties, Usmani said, "I can comment only when our report is prepared. However, the Indian law and constitution, not any fatwa, is followed in the country.''
Full report at:
https://timesofindia.indiatimes.com/city/bareilly/fatwa-against-nida-khan-up-minorities-commission-to-submit-report-to-state-govt/articleshow/65075281.cms
--------
PM Modi to meet Triple talaq victim Nida Khan during Shahjahanpur rally
Jul 20, 2018
Prime Minister Narendra Modi will meet Nida Khan, who is fighting a case of instant triple talaq (divorce) against her in-laws of the Ala Hazrat family of Bareilly, during his upcoming visit to Shahjahanpur in Uttar Pradesh on Saturday.
Farhat Naqvi, sister of Union minister Mukhtar Abbas Naqvi and who was also separated from her husband, will accompany her.
The duo was invited by Bareilly MLA, Rajesh Kumar Mishra aka Pappu Bhartol of BJP for a rally that Modi will attend.
"I have only been invited for the rally over phone. I will surely visit the rally if I receive a formal invitation," said Nida Khan.
Local BJP units were planning to send a formal invitation to Khan by the time this report was filed.
"The MLA told me that the Prime Minister will meet us in Shahjahanpur during the meeting," said Farhat Naqvi.
An estimated two lakh supporters are expected to attend the rally.
Based in Bareilly, the two women have been vocal against the practices of nikah halala and instant triple talaq. They also run separate NGOs to help those who have suffered from instant triple talaq and halala.
Instant triple talaq, by which Muslim men can divorce their wives by saying the word talaq thrice, has been banned by Supreme Court.
The Centre has brought a bill in Parliament which seeks to criminalise the act.
Nida (23), who was married into the family of Ahmed Raza Khan aka Ala Hazrat, a famous Sufi scholar, was allegedly harassed by her in-laws for dowry and was given instant triple talaq. She had lodged a complaint against domestic violence and harassment in 2016, but the case is still pending in a local court.
Naqvi is also pursuing a case against her in-laws after being separated from her husband.
Earlier this week, a Barelvi cleric issued a fatwa against Nida.
"Nida Khan has been ousted from Islam for questioning the practice of triple talaq and halala," Md Khurshid Alam Razvi, imam of Jama Masjid mosque in Bareilly, had said during a press conference on July 16.
On Naqvi, Razvi said she "should not comment on the issue of halala and instant triple talaq because she is from Shia community."
Full report at:
https://www.hindustantimes.com/india-news/pm-modi-to-meet-triple-talaq-victim-nida-khan-during-shahjahanpur-rally/story-0qwo8jnWFw0fwCJxBoU7TI.html
--------
Noted Barelvi cleric Azhari Miyan dies
Jul 20, 2018
Bareilly: Chief cleric of the influential Dargah Aala Hazrat here, Mufti Mohammad Akhtar Raza Khan Qadiri aka Azhari Miyan, died on Friday night. Azhari was in his 70s and had been suffering from illness for a long time.
A renowned Sunni Barelvi cleric, Azhari had occupied 24th place in the annual list of 500 "most powerful and influential Muslims" across the world, a record prepared by the Jordanian think tank, Royal Islamic Strategic Study Centre (RISSC), affiliated with the Royal Aal al-Bayt Institute for Islamic Thought in Amman. The RISSC publication highlights people who have influenced and benefitted others within the Muslim community through their practice of Islam. Azhari was one of the few Indians to regularly feature in the list.
Azhari had crores of followers across the country. As news of his demise broke in Bareilly, a large number of people rushed to Dargah Aala Hazrat to pay their respects to the chief cleric. Azhari was the great grandson and successor of one of the most distinguished sub-continental Islamic scholars in history, Ahmad Raza Khan, popularly known as Aala Hazrat. Khan had founded the Barelvi movement in South Asia.
Mufti Mohammad Salim Noori, spokesperson, Dargah Aala Hazrat, said, "Azhari Miyan breathed his last at his house on Friday around 7.25 pm. He has been suffering from illness for a long time. He was discharged from Mission Hospital on Thursday.
People across the world are shocked and sad with his demise."
An author of more than 50 books on Islamic theology and thought in Urdu and Arabic, Azhari inspired hundreds of scholars.
After receiving his basic education at the Manzar-e-Islam madrassa of the Dargah Aala Hazrat and Islamia Inter College, Bareilly, he pursued higher studies at Al-Azhar University, Egypt. He was honoured with the prestigious 'Fakhre Azhar' (pride of Azhar) award by the university.
"He is the lone cleric in India to get a title of "Tajushariya". He was one of the few prominent persons across the world to be allowed to visit inside Kaaba in Mecca," said Noori.
Full report at:
https://timesofindia.indiatimes.com/city/bareilly/noted-barelvi-cleric-azhari-miyan-dies/articleshow/65075272.cms
--------
Pakistan
Appeasement of the far right: mainstream parties cosying up to religious extremist groups for votes
Ailia Zehra
JULY 21, 2018
Candidates for the upcoming elections are trying hard to ensure victory by entering into alliances and seat adjustments, even if it means reaching out to extremist individuals. All three mainstream political parties have sought support from sectarian organisation Ahl-e-Sunnat Wal Jamaat (ASWJ), formerly Sipah Sahaba Pakistan (SSP) in different cities.
Former prime minister and Pakistan Muslim League – N (PML-N) candidate Shahid Khaqan Abbasi met ASWJ leadership at the organisation's Islamabad office on July 10, to seek support for elections. The sectarian organisation had at the time reportedly denied support to Abbasi, but on Tuesday a spokesman confirmed that ASWJ will support him in NA 53 Islamabad. According to ASWJ, the former PM has promised to work on a law to protect 'Namoos-e-Sahaba' (sanctity of the companions of Prophet PBUH).
Earlier, PML-N candidate from NA 244 Karachi and former Finance Minister Miftah Ismael had also visited the office of ASWJ to get support for elections.
When contacted, Ismael said he was unaware of the outfit's hate speech and its leaders' terror links. "I don't condone hate speech against minorities. The meeting was part of our efforts to contact representatives of different sects, but this does not mean I agree with their extremist views," he told Daily Times. Ismael further clarified that he is against sectarianism, adding that he wouldn't have visited the outfit's office had he known about their criminal record.
"After my meeting with the ASWJ leadership, I received calls from a number of activists who lodged their protest and told me that ASWJ candidate Aurangzeb Farooqi was once named in a murder FIR and is involved in terrorism. After the backlash I faced on social media, I think I shouldn't have gone to seek their support" he said.
Candidates belonging to Pakistan People's Party (PPP) whose Chairman Bilawal Bhutto Zardari has been speaking out against 'mainstreaming' of banned organisations also sought ASWJ's support. After pressure from the party's supporters on social media, PPP Karachi President Saeed Ghani issued show cause notices to candidates Jameel Zia, Shahzad Memon and Agha Zahir Shah of NA 251, PS 103 and PS 119 respectively for their meeting with ASWJ leaders. However, several other candidates of the PPP have formed alliance with the banned outfit, and the party is yet to take action against them.
ASWJ has announced support to PPP candidates Sardar Malik in NA 12 Battagram and Fakhar Hayat in NA 86 Mandi Bahauddin. Sardar Malik Jan from NA 12 Battagram, Shehzad Memom from PS 103 Karachi, Ali Hasan Gilani from NA 173 among 3 other PPP candidates are also being supported by ASWJ for the July 25 general elections.
Meanwhile, Pakistan Tehreek-e-Insaf (PTI) leader Asad Umar on Tuesday announced on his official Facebook page that Global Designated Terrorist and terror group Harkat ul Mujahideen founder Fazlur Rehman Khalil has vowed to support PTI in the upcoming elections. After criticism on social media, Umar justified his meeting with the Al Qaeda-linked extremist saying that he has been making efforts for unity and harmony between various religious groups and sects. The PTI leader also said he was unaware that Khalil's name was placed on the US terror watch list.
Apart from forming alliance with the controversial figure, PTI has also contacted ASWJ to get support for the upcoming elections and a total of 47 candidates of the party have been endorsed by the sectarian organisation across the country.
Ejaz Chaudhry from NA 133 Lahore, Faisal Vawda from NA 249 Karachi, Sadaqat Abbasi from NA 57 Rawalipindi, Omar Ayub Khan from NA 17 Haripur, Shaukat Ali from NA 31 Peshawar are among the PTI candidates being backed by ASWJ.
"All major parties try to have these extremist outfits on their side to secure seats in areas where these groups hold strength", analyst Zahid Hussain told Daily Times. He said ASWJ is contesting from a new platform called Pakistan Rah-e-Haq, but Election Commission of Pakistan has turned a blind eye to the political activities of banned outfits under new names.
"These extremist outfits should not have been allowed to contest elections in the first place. Their presence in the electoral process puts a question mark on the state's efforts against terrorism. Their campaign is based on hate speech, and their involvement in the elections will further radicalise the society."
Hussain, however, added that religious vote bank in the country has shrunk and leaders of banned terror outfits will not be able to make it to the assemblies. "Nevertheless, electoral involvement of these groups and mainstream political leaders' appeasement of the far right is concerning", he concluded.
https://dailytimes.com.pk/270810/appeasement-of-the-far-right-mainstream-parties-cosying-up-to-religious-extremist-groups-for-votes/
--------
Extremism is Pakistan's Biggest Threat, Says Bilawal Bhutto
July 20, 2018
Lahore: The "biggest threat" to Pakistan's present and future is extremism, Pakistan Peoples Party co-Chairman Bilawal Bhutto has said as he sought people's support to eradicate "this menace" from the country by electing his party to power in the July 25 polls.
Bilawal, 39, said it was possible to create a peaceful and prosperous Pakistan if people fought extremism together.
"The biggest threat to Pakistan's present and future is extremism. I ask for your support in eradicating this menace from our society," Bilawal said.
"Together, we can fight extremism and create a peaceful, progressive and prosperous Pakistan," he said in a tweet.
Pakistan recently witnessed a series of terror attacks on political rallies, killing over 150 people, including two political leaders.
Bilawal also took a dig at his political opponent and Pakistan Tehreek-e-Insaf (PTI) chairman Imran Khan, saying he had just 0.2 per cent chance of becoming Pakistan's next Prime Minister.
Speaking at a press conference in Chiniot district in the Punjab province, Bilawal claimed that the two "so-called" political parties PTI and Pakistan Muslim League-Nawaz (PML-N) had taken Punjab's politics hostage.
Bilawal said he was serving the masses and did not believe in "U-turns and showbaazi (dramas)".
"The chance of PTI Chief Imran Khan to become next prime minister is 0.2 per cent," Bilawal was quoted as saying by the Duniya News.
"We have to put an end to politics that revolves around hate and foul language..... and for that we need the vote and support of our people," he said.
Bilawal slammed politics of hatred and stressed the need to conform to politics that is based on vision.
He said his ambitions were not just about becoming prime minister, but bringing back the policies that were dear to his assassinated mother and former Prime Minister of Pakistan Benazir Bhutto.
Bilawal also said that a weak democracy was better than a powerful dictatorship, asserting that the alliances had always been formed against his party but it has persevered and will continue to fight.
Full report at:
https://www.news18.com/news/world/extremism-is-pakistans-biggest-threat-says-bilawal-bhutto-1818607.html
--------
Mastung bomber studied in Karachi seminary, says CTD
Imtiaz Ali
July 21, 2018
KARACHI: The man who blew himself up at a Mastung election rally on July 13 and killed nearly 150 people, including Balochistan Awami Party candidate Siraj Raisani, was a student at a seminary in Karachi before being shifted to Afghanistan along with his family, where he got militancy training, it emerged on Friday.
The alleged suicide bomber has been identified by authorities as Hafeez Abbasi, a young man in his early 20s.
Sources in the Sindh police's Counter-Terrorism Department told Dawn that their counterparts in Balochistan had shared with them a preliminary report of the suicide explosion and they carried out further work here.
The CTD-Quetta had provided fingerprints of an unclaimed body to the CTD-Sindh to match it with the record of the National Database and Registration Authority. It transpired that the alleged suicide bomber was a resident of Gharibabad Mohalla in Dhabeji, Thatta.
A special CTD team was immediately sent there on July 17 and to their utter surprise, his father, Mohammed Nawaz, without any hesitation told them that his son Hafeez had been shifted to Afghanistan's Spin Boldak area.
Three sisters, two brothers living in Afghanistan
Mr Nawaz, who is living with another son, Haq Nawaz, in Thatta also told the CTD team that not only Hafeez but his wife, his two other sons and three daughters had also been shifted to Afghanistan.
The family originally hailed from Molia village in Abbottabad.
They said that Abbasi had studied at a seminary in Shah Faisal Colony for three years where he adopted the path toward militancy. His certain colleagues at the seminary were instrumental in motivating him towards militancy and they allegedly sent him to Afghanistan.
The sources disclosed that as per information provided by his father, his three daughters, who had been shifted to Afghanistan, were 'Alima' (religious scholars) and two of them had married IS militants there.
His two more sons, Abdul Aziz and Abdul Shakoor, were also living in Afghanistan, they said, adding that Shakoor recently told his father that now "it's his turn" to become a suicide bomber, said the sources.
Abbasi's eldest sister was married and lived with her family in their hometown in Abbottabad.
The suspected bomber's father along with his son used to sell milk and vegetables in the Dhabeji area.
The CTD sources said that the father did not show any remorse or express any feeling of sadness when they informed him that his son had carried out a suicide attack in the Mastung rally.
Links with former Karachi TTP chief
The father told the CTD that Abbasi was working with Haji Daud there.
A CTD official told Dawn, on the condition of anonymity, that Haji Daud, also known as Daud Policewala, was a policeman in Karachi till mid-2000. He was also appointed as the city chief of the banned Tehreek-i-Taliban Pakistan (TTP) by now slain Mullah Fazlullah.
The official said they got reports that Haji Daud had developed differences with Mullah Fazlullah as he joined the militant Islamic State group. He was also reportedly injured in a clash with TTP militants there.
The sources said that the CTD officials got the mobile phone number of Hafeez from his father and by using latest technology they came to know that he had arrived in Chaman from Afghanistan on June 29.
He was also in touch with at least nine persons, including three belonging to Sindh, they added.
The alleged bomber was later moved to Qila Abdullah and subsequently to Mastung, where he had carried out the suicide attack on Siraj Raisani's election rally.
The CTD-Sindh informed their counterparts in Balochistan about Abbasi's alleged handler in Qila Abdullah and his local facilitator in Mastung.
Important arrests made
In Karachi and Thatta, the sources added that law enforcement agencies conducted raids and made "some important arrests".
A CTD official feared that Abbasi's younger brother Shakoor, who is a teenager, might carry out a terrorist attack.
The official, who wished not to be named, told Dawn that they had arrested some members of the IS network in Karachi.
He added that concerted efforts were under way to 'dismantle' the group before it could strike again in the country.
Full report at:
https://www.dawn.com/news/1421482/mastung-bomber-studied-in-karachi-seminary-says-ctd
--------
Ulema wrongly put on Fourth Schedule to be excluded from list
July 21, 2018
LAHORE: The Punjab home department has assured clerics of rectifying the Fourth Schedule to exclude the scholars from the list containing names of those who may cause law and order issue in the province.
The assurance came in a meeting between Home Minister Shaukat Javed and a delegation of the conglomerate of religious seminaries, led by Qari Hanif Jallandhury, here on Friday.
"All those Ulema will be excluded from the Fourth Schedule who have somehow been wrongly included in it and I'll personally monitor the process," he told the delegation.
He also assured the visitors that help would be extended in recognising seminaries as educational institutions, removing hurdles to register them, making easy the procedure for allowing them to collect sacrificial animals' hides.
Full report at:
https://www.dawn.com/news/1421394/ulema-wrongly-put-on-fourth-schedule-to-be-excluded-from-list
--------
5 injured in Chaman blast targeting LEAs' vehicle
Syed Ali Shah
July 20, 2018
A blast on Mall Road in Balochistan's Chaman area on Friday left at least five people injured and nearby shops and cars damaged, police sources told DawnNewsTV.
The wounded have been taken to Civil Hospital Chaman, police said.
Chaman Station House Officer Gul Muhammad said a vehicle belonging to a law enforcement agency (LEA) was the target of the blast.
According to administration officials, the blast was caused by a remote-controlled motorcycle bomb parked at the side of the ride. The bomb was detonated when the LEAs' vehicle passed by.
The impact of the blast broke the windows of nearby shops and vehicles.
Police, Levies and Frontier Corps officials have cordoned off the site of the blast.
Read more: In Mastung, room in graveyards is fast running out
The latest attack in Balochistan comes exactly a week after a suicide blast in Mastung targeting a Balochistan Awami Party corner meeting left 149 people ─ including BAP leader Siraj Raisani ─ dead and scores injured.
Full report at:
https://www.dawn.com/news/1421335/5-injured-in-chaman-blast-targeting-leas-vehicle
--------
Pakistan troops kill ISIS-linked blast mastermind
21 July 2018
Pakistani security forces on Friday killed the mastermind of the country's worst ever suicide bombing in an early morning shootout in the southwest province of Baluchistan, officials said.
The operation was carried out on an intelligence tip off about the presence of an ISIS operative identified as Hidayat Ullah in a house in Darenjo village of Qalat district in the restive province.
"The Frontier Corps (FC) raided the house and killed Hidayat Ullah after a strong resistance from him," Qaisar Khan, a senior administration official in Qalat, told AFP.
A senior FC official, speaking on condition of anonymity, told AFP Ullah was facilitator of Hafeez Nawaz, who carried out the suicide bombing last week which killed at least 149 people.
ISIS claimed responsibility for the attack at an election rally in Baluchistan's Mastung district.
Provincial authorities identified the bomber as Nawaz, a Pakistani national who stayed in Afghanistan and "waged jihad" against international troops before carrying out the suicide attack in Mastung.
A senior administration official in Mastung district Qaim Lashari also confirmed the Qalat raid.
"Hidayat Ullah led a group of ISIS operatives, who are present in different areas of Baluchistan, and we hope to track them down pretty soon," the official added.
News of Ullah's death coincided with a small explosion in Chaman district bordering Afghanistan which wounded four people.
The bomb planted on a motorbike apparently targeted an FC vehicle and went off seconds after it passed by.
Oil and gas-rich Baluchistan is regularly hit by homegrown militancy and sectarian violence.
Violence in Pakistan has however dropped significantly since the country's deadliest-ever militant attack, an assault on a school in the northwestern city of Peshawar in 2014 that killed more than 150 people, most of them children.
Pakistan's military intensified operations against militants in the tribal areas along the border with Afghanistan in the wake of that attack, leading to dramatic security improvements.
Full report at:
https://english.alarabiya.net/en/News/world/2018/07/21/Pakistan-troops-kill-ISIS-linked-blast-mastermind.html
--------
South Asia
Rohingya Report More Violence, Persecution in Myanmar: UN Investigators
July 21, 2018
Geneva. Muslim Rohingya refugees reaching Bangladesh say violence, including torture, persists against them in Myanmar and the overall environment remains "menacing" for ethnic and religious minorities, UN human rights investigators said on Thursday (19/07).
Members of the Independent International Fact-Finding Mission on Myanmar ended a five-day visit to the refugee camp of Kutupalong in Cox's Bazar where they interviewed new arrivals among the more than 700,000 Rohingya who have fled Rakhine state since an army crackdown last August.
"They referred to the overt threats they faced of violence and persecution, being cut off from their sources of livelihood, and the overall menacing environment that finally compelled them to leave for Bangladesh," the investigators said in a statement, adding that the arrival of new refugees reflects the "the continuing gravity of the human rights violations in Myanmar."
There was no immediate reaction from authorities in Myanmar, where it is a holiday. Previously, they have denied widespread abuses.
The United Nations struck an outline deal with Myanmar in May aimed at eventually allowing hundreds of thousands of Rohingya in Bangladesh to return safely and by choice. But the secret agreement, seen by Reuters, offers no explicit guarantees of citizenship or freedom of movement throughout the country.
"The young men I spoke with were particularly anxious, showing signs of deep trauma. Without education and livelihood I fear for their future," said investigator Radhika Coomaraswamy.
The investigators will report their findings on Sept. 18 to the UN Human Rights Council, a 47-member state Geneva forum which launched the inquiry.
http://jakartaglobe.id/international/rohingya-report-violence-persecution-myanmar-un-investigators/
--------
Job seekers from Bangladesh getting trafficked to Malaysia by sea
Jul 20,2018
Male and female workers from Bangladesh aspiring to work abroad are becoming victims of trafficking to Malaysia through 'risky' sea routes by boats.
Campaigners for protecting migrants' rights expressed concern over the issue though the authorities in the government said that they were not aware about it.
'All the preparations have been taken to repatriate on July 26 at least 17 Bangladeshi migrants now detained at the Langcap Immigration Camp in Perak , ' Bangladesh High Commission in Kuala Lumpur said on July 15, in its official facebook status.
It said that Bangladesh High Commission officials visited the Langcap Immigration Camp in Perak and distributed travel passes and foods among the detained Bangladeshi migrants.
A BHC officials told New Age that the information posted in the Bangladesh High Commission's Facebook was 'authentic'.
According to the information posted on the Facebook two women of Bangladesh were among the 17 persons who were recently trafficked to Indonesia from Bangladesh through the sea route by boats.'
They were arrested by the Malaysian Immigration Police when they were
trying to enter into Malaysia, it says, adding that the traffickers were also detained.
The Bangladesh High Commission got a request from the Malaysian authorities to repatriate the 17 Bangladeshi victims of trafficking including the two women.
Expatriates Welfare and Overseas Employment Ministry joint secretary for monitoring and enforcement Md Najibul Islam told New Age on Tuesday that he was not aware that Bangladeshis were getting trafficked by sea.
He, however, said he would look into matter and take action.
'Usually, we take action on the basis of information from intelligence agencies,' he said.
Ovibashi Karmi Unnayan Program chairman Shakirul Islam described the information as 'very worrisome.'
He said that it was the government's responsibility to identify and bring the traffickers to book.
He said that to achieve Sustainable Development Goals the government was required to ensure safe, orderly and responsible migration.
Independent Peace Activist Pervez Siddiqui who makes films on migration issues said that it was an open secret that trafficking of Bangladeshi workers regularly takes place through the Bay of Bengal.
He asked the authorities to strengthen their vigil for curbing trafficking.
'The presence of Rohinya people in Cox's Bazar has made Bangladesh's border security vulnerable,' Pervez said from Ukhia, Cox's Bazar.
Pervez who interviewed survivors of trafficking by boat in 2015 found many of them interested to go to Malaysia by sea.
Full report at:
http://www.newagebd.net/article/46514/job-seekers-from-bangladesh-getting-trafficked-to-malaysia-by-sea
--------
Rohingya Muslims report more violence in Myanmar: UN
July 21, 2018
Rohingya refugees reaching Bangladesh say violence persists against them in Myanmar and the overall environment remains "menacing" for the Muslim minority in the country's western state of Rakhine.
UN human rights investigators said in a statement on Thursday that the arrival of new refugees reflects the "the continuing gravity of the human rights violations in Myanmar."
"They referred to the overt threats they faced of violence and persecution, being cut off from their sources of livelihood, and the overall menacing environment that finally compelled them to leave for Bangladesh," the statement read.
The statement comes after members of the Independent International Fact-Finding Mission on Myanmar ended a five-day visit to the refugee camp of Kutupalong in Cox's Bazar where they interviewed new arrivals.
"The young men I spoke with were particularly anxious, showing signs of deep trauma. Without education and livelihood I fear for their future," said investigator Radhika Coomaraswamy.
The investigators will report their findings on Sept. 18 to the UN Human Rights Council, a 47-member Geneva forum which launched the inquiry.
The UN struck an outline deal with Myanmar in May aimed at eventually allowing hundreds of thousands of Rohingya in Bangladesh to return safely and by choice. But the secret deal offers no explicit guarantees of citizenship or freedom of movement throughout the country.
In a separate development, Fortify Rights group said on Thursday that the deadly violence against Rohingya last August was premeditated and amounted to "genocide."
The 162-page report, titled "They Gave Them Long Swords" published by the group, found that the Myanmar military was guilty of committing "crimes against humanity and genocide."
A human rights group says Myanmar's army made "systematic preparations" for "genocide" against Rohingya Muslims in Rakhine.
The report detailed how Myanmar authorities had planned for attacks against the Rohingya civilians in Rakhine State.
The brutal campaign has forced some 700,000 Muslims to flee their homeland since August 2017 and seek refuge in Bangladesh.
Full report at:
https://www.thekashmirmonitor.net/rohingya-muslims-report-more-violence-in-myanmar-un/
--------
ISIS and Taliban militants suffer casualties in Nangarhar operations
Jul 21 2018
At least six militants affiliated with the Taliban and ISIS Khurasan groups were killed and five others were wounded during the separate operations in eastern Nangarhar province of Afghanistan.
The provincial government media office in a statement said at least three ISIS Khurasan militants were killed in drone strikes conducted in Mulki and Awghez areas of Haska Mina district.
The statement further added that the airstrikes were carried out late on Thursday night.
In the meantime, the Afghan forces responded to the attacks by the Taliban militants in Jihadi Lisa, Ghazi and Folad areas of Khogyani district, leaving at least three militants dead.
According to the provincial government, at least five militants also sustained injuries during the clashes.
The anti-government armed militant groups including Taliban militants have not commented regarding the report so far.
Nangarhar has been among the relatively calm provinces since the fall of the Taliban regime in 2001 but the anti-government armed militants have been attempting to expand their foothold in this province during the recent years.
Full report at:
https://www.khaama.com/isis-and-taliban-militants-suffer-casualties-in-nangarhar-operations-05632/
--------
Suicide car bomb attack foiled in Nangarhar province
Jul 20 2018
The Afghan National Defense and Security Forces have thwarted a plot by the anti-government armed militants to carry out a suicide attack using a Vehicle-borne Improvised Explosive Device.
The provincial government in Nangarhar said in a statement that a vehicle packed with explosives was discovered before the militants manage to use it for an attack.
The statement further added that the vehicle was discovered from Momandara district and was detonated without causing harm to anyone.
According to the provincial government, the militants were looking to use the car bomb in attack in Ghani Khel district.
The anti-government armed militant groups including Taliban militants have not commented regarding the report so far.
Nangarhar has been among the relatively calm provinces since the fall of the Taliban regime in 2001 but the anti-government armed militants have been attempting to expand their foothold in this province during the recent years.
Full report at:
https://www.khaama.com/suicide-car-bomb-attack-foiled-in-nangarhar-province-05630/
--------
Southeast Asia
Couple are brutally caned under Sharia law in Indonesia as punishment for having sex outside marriage
20 July 2018
A man and a woman have been publicly caned in Indonesia's deeply conservative Aech province after being caught having sex before marriage.
The couple were marched on to a stage in front of a crowd in the city of Jantho, around 36 miles from provincial capital Banda Aech, before being flogged.
The beating was carried out despite a pledge by Aech governor Irwandi Yusuf to only carry out the punishment inside prisons and away from the eyes of the public.
Yusuf said he would issue a decree so that caning would be carried out inside prisons and the public and media allowed to witness but not record images or videos. He also said children would no longer be allowed to witness corporal punishment.
Previously, public caning has been livestreamed and uploaded on the Internet, drawing international criticism.
Erwin Desman, head of the Banda Aceh prosecutors' office, said it had not received any paperwork ordering public canings to stop and called for the issue to be reexamined.
'There are pros and cons for this in society. So we suggest we sit with the governor again (to discuss this),' he told reporters, adding that caning would continue to be held in public for now.
http://www.dailymail.co.uk/news/article-5974435/Couple-caned-Sharia-law-Indonesia-punishment-having-sex-outside-marriage.html
--------
'Blocked from the Bar' because of Zakir Naik
Robin Augustin
July 21, 2018
PETALING JAYA: A law graduate says she has been blocked from being admitted to the Malaysia Bar because of her opposition to Indian Muslim preacher Zakir Naik being granted permanent residence in Malaysia.
The graduate, Asiah Abd Jalil, accused her master of having refused to sign her papers for admittance, and of filing a caveat against her scheduled appearance at the High Court for her admittance.
When contacted by FMT, her master, Kuantan-based lawyer Muhammad Aznel Azaharudin, declined to comment on the matter, pending mention of the caveat case on July 27.
Asiah told FMT that she had been denied her right to be called to the Bar for more than a year.
She said she was due to be called to the Bar yesterday, after no objections were raised by the Bar Council and the Attorney-General's Chambers. But the proceedings were postponed after the caveat was filed against her. She is challenging the caveat.
Asiah said she had graduated from UiTM and completed her nine-month pupillage in February 2017.
(Law graduates serve their pupillage in the chambers of a practising lawyer, who is regarded as their master, before they submit papers for being admitted to the Bar and becoming qualified to practise.)
In March 2017, after her pupillage ended, she and 17 other Malaysian citizens took part in a civil suit against the government to challenge Naik's permanent resident status. The suit was brought by Hindraf chairman P Waythamoorthy (now minister for national unity).
She said she had taken part in the suit on her own accord because she did not agree with Naik's style of preaching, which she felt to be unsuitable in Malaysia's multicultural society.
A day after news of the civil suit was widely reported, Asiah alleged that Aznel expressed his anger and demanded that she recuse herself from the case.
"Aznel said my actions hurt him and the majority of Muslims in the country and that the accusations against Naik were too much." She said he told her that he would not endorse her Long Call paper (part of the final procedure before admittance) unless she called a press conference and apologised to Naik.
Full report at:
http://www.freemalaysiatoday.com/category/nation/2018/07/21/blocked-from-the-bar-because-of-zakir-naik/
--------
Two nabbed over death threats against Penang DAP rep
21 July 2018
KUALA LUMPUR, July 21 ― Two men from Kelantan and Selangor have been arrested for allegedly making death threats against Seri Delima assemblyman Syerleena Abdul Rashid from the DAP.
The Star Online quoted Penang police chief Datuk A. Thaiveegan as saying that the two suspects, aged 27 and 48, were detained late yesterday evening.
Some people commented on Facebook that it was not sinful to kill Syerleena because she was a "traitor" to Islam, based on a poster that claimed she would attack Islamic institutions, especially the Department of Islamic Development (Jakim).
The Muslim DAP representative had also received a handwritten note with the words "maut menanti kamu" (death awaits you) at her service centre in Island Glades in George Town.
Full report at:
https://www.malaymail.com/s/1654511/two-nabbed-over-death-threats-against-penang-dap-rep
--------
Indonesian rights body acts against sectarian campaigning
July 20, 2018
Indonesia's Human Rights Commission will issue a code of conduct seeking the elimination of racial and ethnic discrimination that will be used as a guideline to remove sectarianism from election campaigns.
The move comes after the commission noted how sectarianism played a prominent role in last year's Jakarta governor election and recent local polls.
It will be issued in the next few weeks and distributed among political parties, the general election commission, election supervisory bodies, law enforcers, and religious organizations to study ahead of legislative and presidential elections in April next year.
Lawyers, academics, experts, communities, and religious organizations are helping draw up the document.
"The commission is determined to set out norms to eliminate race and ethnic discrimination during the presidential election in 2019 and other polls, because it is important with regards to national unity," Choiril Anam, a human rights commissioner, told ucanews.com on July 19.
The commission, he said, has monitored
Sectarian campaigns figured highly in the run up to regional elections on June 27, Anam said.
He pointed to the governor election in North Sumatra, where Muslim voters were told to reject candidates from other ethnic and religious groups, namely Jarot Saiful Hidayat, an ethnic Javanese and his deputy Sihar Sitorus, a Christian.
Former Jakarta governor, Basuki Tjahaja Purnama, fell victim to sectarianism in the Jakarta election in 2016 because he is a Christian.
According to Anam, next year's presidential election will be vulnerable to sectarian issues being used against President Joko Widodo.
He is often accused of being anti-Islam and pro-Chinese.
Muhammad Ali Safaat, a lecturer at Brawijaya University in Malang, East Java, said that he was delighted the commission was paying particular attention to preventing race and ethnic discrimination during campaigns.
"Although there is already a law to prevent discrimination, this code of conduct will guide people and make them realize that sectarian campaigns have no place in Indonesian democracy," he said.
Father Paulus Christian Siswantoko, executive secretary of the Indonesian bishops' Commission for the Laity, said the Catholic Church back the move.
However, he also suggested strict sanctions be imposed on those who make discriminatory statements or political parties that allow such things to happen.
Full report at:
https://www.ucanews.com/news/indonesian-rights-body-acts-against-sectarian-campaigning/82877
--------
Arab World
Iraqi court sentences seven Takfiri Daesh terrorists to life imprisonment
Jul 20, 2018
A court in Iraq has handed down life terms to seven Iraqi nationals over membership in the Daesh Takfiri terrorist group and involvement in acts of terror across the war-ravaged Arab country.
Abdul Sattar al-Biraqdar, spokesman for Iraq's Supreme Judicial Council, said in a statement that the country's Central Criminal Court issued the verdicts against the convicts after they confessed to having offered logistic support to the terror outfit and assisted the extremists in their attacks against security and military forces.
On July 8, the Criminal Court of Nineveh sentenced an unnamed Daesh militant to death after he was convicted of killing 16 people at Mosul General Hospital, and planting hundreds of bombs east of the provincial capital city of Mosul, located some 400 kilometers (250 miles) north of Baghdad.
Biraqdar said the convict has confessed to executing civilians, and planting 250 explosive devices across the town of Bartella.
The high-ranking Iraqi judicial official noted the Daesh terrorist had also participated in terrorist attacks against government forces, namely in the area of Ain al-Safra.
Separately, Major General Maan al-Saadi, a security official from the northern oil-rich province of Kirkuk, said members of the Counter-Terrorism Service have disbanded a terrorist cell, and arrested 13 militants who had sneaked into the province in order to carry out bloody terrorist attacks.
On June 30, Iraqi Prime Minister Haider al-Abadi, who is also the commander-in-chief of Iraqi forces, pledged to hunt down Daesh militants across Iraq after recent attacks and abductions carried out by the terrorist group.
"We will chase the remaining cells of terrorism in their hideouts and we will kill them, we will chase them everywhere, in the mountains and the desert," Abadi said.
Abadi declared the end of military operations against Daesh in the Arab country on December 9, 2017.
On July 10 that year, the Iraqi prime minister had formally declared victory over Daesh extremists in Mosul, which served as the terrorists' main urban stronghold in the conflict-ridden Arab country.
In the run-up to Mosul's liberation, Iraqi army soldiers and volunteer Hashd al-Sha'abi fighters had made sweeping gains against Daesh.
The Iraqi forces took control of eastern Mosul in January 2017 after 100 days of fighting, and launched the battle in the west on February 19 last year.
Daesh began a terror campaign in Iraq in 2014, overrunning vast swathes in lightning attacks.
https://www.presstv.com/Detail/2018/07/20/568688/Iraqi-court-sentences-seven-Takfiri-Daesh-terrorists-to-life-imprisonment
--------
Syria moves to retake control over Golan Heights from terrorists
Jul 20, 2018 1
The government of the Syrian President Bashar al-Assad has started operations to evacuate terrorists from areas near the Israeli-occupied Golan Heights through yet another surrender deal.
A group of buses arrived in Syria's southwestern Quneitra Province on Friday to transfer anti-government terrorist groups that agreed to lay down arms earlier this week, the so-called Syrian Observatory for Human Rights reported.
The deal, brokered by Russia this week, would see the terrorists hand over the territory they control in Quneitra in exchange for a safe passage to northern Syria for those who refused to live under government control.
Quneitra is a thin, crescent-shaped province wedged between the buffer zone with Israel to the west and the Syrian province of Dara'a to the east. The area bears a critical strategic significance as it border Jordan, Lebanon and the Israeli-occupied side of the Golan Heights.
Since June 19, the Syrian army has been conducting a major counter-terrorism operation in both Dara'a and Quneitra provinces.
The operation has already led to the liberation of more than 90 percent of Dara'a and several key areas in Quneitra, even though as many as 140,000 people are believed to be still living there, according to the United Nations.
Israel has been on high alert in recent days as Syrian government forces advanced against foreign-backed terrorists near the Golan Heights.
The regime seized 1,200 square kilometers of Golan from Syria in 1967 and later annexed it - a move that the international community still refuses to recognize.
While Damascus has been able to retake large parts of the country through similar deals with the terrorists, it remains to be seen whether it can keep negotiating evacuation deals as it moves further north, where the situation is way more complicated due to the presence of Turkish forces, Kurdish militants and 2,000 US troops on the ground.
US, allies scramble to evacuate White Helmets
Meanwhile, the US and its Western allies are reportedly closing in on an agreement for a two-stage evacuation process to transfer hundreds of White Helmet "volunteer" aid workers out of Syria.
Two officials familiar with the plans said Thursday that the US, Britain and Canada were putting the finishing touches on a deal that would first place the workers in Syria's neighboring countries and would then take them to third countries, including Britain, Germany, the Netherlands and possibly Canada.
The White Helmets was founded in Turkey in 2013 by former British MI5 officer James Le Mesurier.
Since its establishment, the group has received at least $55 million from the British Foreign Office, $23 million or more from the US Office of Transition Initiatives and untold millions from Qatar.
Both Damascus and Moscow have accused the volunteer group of having staged the suspected chemical weapons attack in the town of Douma in Syria's Eastern Ghouta region on April 7.
Full report at:
https://www.presstv.com/Detail/2018/07/20/568675/Syria-Quneitra-evacuation-deal-Israel-Golan-Daraa
--------
With war over, life trickles back into Syria's Harasta
Jul 20, 2018
The Syrian government has undertaken a fast-paced and determined reconstruction push in the city of Harasta in the capital Damascus' suburbs which was in the hands of the terrorists for the past few years.
The city lies in the Damascus countryside of Eastern Ghouta, which was liberated back in March after months of Russia-backed counter-terrorism operations.
Given its proximity to the capital, Eastern Ghouta soon became a prime bastion of the foreign-backed terrorists, when they began their campaign of bloodshed and destruction against the Arab country in 2011. They kept a grip on the countryside for some five years.
Most of the residents of the city of 250,000 left after the start of the war, leaving behind only 15,000.
Domestic and international media outlets have, however, been reporting how the citizens have been trickling back to reclaim their businesses and properties.
On Thursday, AFP said the returnees had begun dumping the rubble from their damaged houses onto main streets before it could be taken away by government vehicles.
"Whatever happens, it's still my house, and my house is so dear to me," one said of his residence, which has suffered during the conflict.
"I wait for families to enter and offer them my services in cleaning and restoration," said another.
Adnan Wezze, who heads the town council running Harasta since the recapture by the government, said authorities were working fast to demolish buildings "at risk of collapse, because they present a public safety threat".
About the yet-unclaimed structures, he said if the owners were not present, "their rights are still protected. We've requested proof of property even before areas are designated as development projects."
"No resident of Harasta will lose his rights – whether they're here or in exile," the official added.
Full report at:
https://www.presstv.com/Detail/2018/07/20/568666/Syria-reconstruction-Harasta-Eastern-Ghouta
--------
Lebanese Bishop praises the courage of the Grand Mufti in defending Mideast Christians
Jul 21, 2018
BEIRUT: The words of the great Mufti Abdel Latif Derian are "more than courageous", they are a "valuable" act that fits "with the spirit" of the Apostolic Exhortation A hope for Lebanon by John Paul II of 1997, said Mgr Maroun-Nasser Gemayel, bishop of the Maronite Catholic Eparchy of Our Lady of Lebanon of Paris, about the Sunni authority in Lebanon, speaking to AsiaNews.He recently had said that the Middle East is destined to disappear if the exodus of Christians from the region continues.During the graduation ceremony of 350 students at Makased institutes, private Islamic schools in Lebanon, the Mufti of the Republic said that "We live in the same country with Christians, we share the air and the daily bread. We have the same destiny: our future will either be together or not."Addressing Muslim students and officials, the 65-year-old Abdel Latif Derian – known as a man of peace and dialogue, critical of those who foment divisions between Sunnis and Shias – added that attacks on Christians are a crime against the entire population. Islamic schools must educate the future generations to accept the good principles of citizenship, as well as love for the Arab identity and the sense of brotherhood towards the whole human family.Mgr Maroun-Nasser Gemayel welcomed the Mufti's words with gratitude. The prelate is very much aware of the Christian exodus from the Middle East to European nations, especially France."Living in the same region, having experienced in the past hours of glory and sadness, Christians and Muslims are called to build together a future of collaboration and conviviality," as Pope John Paul II said in his exhortation.The shared task of "building together" the region should be "shouted out loud", he explained, and "opposed to all the wars" that have devastated the Middle East, starting from the barbarity perpetrated by the jihadists of the Islamic State group.At the same time, the part of the Muslim world that works for dialogue and peace must always find more room and a greater voice because it represents "the wind of hope"."It is necessary that this voice, which meets the expectations of Christians, spread everywhere," the bishop said. It must become the grassroot voice of Muslims, "the voice of everyone" to allows us to enter into a true "logic of peace".A new party must be created, that of "living together. The moment has come for this conviviality to be asserted and consolidated once and for all."More than a week ago, on 7 July in Bari, Pope Francis utter words similar to those pronounced by the Grand Mufti, during an ecumenical prayer with Christian leaders and patriarchs of the East."There is a risk that the presence of our brothers and sisters in faith will be cancelled, disfiguring the very face of the region, because a Middle East without Christians would not be the Middle East."--Asia News
http://www.heraldmalaysia.com/news/lebanese-bishop-praises-the-courage-of-the-grand-mufti-in-defending-mideast-christians/43404/1
--------
Air raids on last ISIS pocket in south Syria kill 26 civilians
21 July 2018
Twenty-six civilians were killed in air strikes Friday on areas controlled by ISIS in southern Syria's Daraa province, a war monitor said.
Rami Abdel Rahman, head of the Britain-based Syrian Observatory for Human Rights, said 11 children were among those killed in day-long strikes by regime and allied Russian aircraft on the last ISIS-held pocket in Daraa.
The Observatory said that hundreds of air raids and barrel bombs struck several towns controlled by a local IS branch known as Jaish Khaled bin Walid.
The bombing caused severe damage to infrastructure, and "whole neighborhoods were destroyed", the monitor said.
The Syrian regime and its allies are currently looking to retake full control of Daraa on the border with Jordan and the Israeli-occupied Golan Heights after forcing rebel groups to sue for peace following a bloody offensive.
Full report at:
https://english.alarabiya.net/en/News/middle-east/2018/07/21/Air-raids-on-last-ISIS-pocket-in-south-Syria-kill-26-civilians-.html
--------
Saudi Arabia rejects and denounces the 'Jewish Nation-State' law
20 July 2018
Saudi Arabia expressed its rejection and denounced the controversial new law "The Jewish Nation-State" passed by the Israeli Knesset on Thursday.
A senior source in the Saudi foreign ministry said that this is contrary to the provisions of international law, the principles of international legitimacy, the principles of human rights, and it would disrupt international efforts to find a peaceful solution to the Palestinian-Israeli conflict, as reported by Saudi press Agency, SPA.
The source called upon the international community to assume its responsibilities and to confront this law or any Israeli attempts aimed at perpetuating racial discrimination against the Palestinian people and obliterating their national identity and undermining their legitimate rights.
Full report at:
https://english.alarabiya.net/en/News/gulf/2018/07/20/Saudi-Arabia-rejects-and-denounces-the-Jewish-Nation-State-law.html
--------
Syrian regime forces enter Quneitra after a brokered deal
20 July 2018
Syrian rebels laid down their weapons and started evacuating their positions near the Golan Heights on Friday, paving the way for President Bashar Assad's forces to retake their positions along the Israeli frontier for the first time since 2011.
Buses carried the first batch of rebels, their family members, and assorted civilians from the southwest Quneitra province to the northwest Idlib province, where they will live among more than one million other Syrians displaced by Syria's seven-year-long civil war.
The state-controlled al-Ikhbariya TV station reported that a second convoy of buses was preparing to depart with another batch of Quneitra fighters.
Since June 19, government forces aided by Russian air power have swept through southwestern Syria to consolidate Assad's control over this strategic corner of the country. It puts the government back on the front-line again with Israel, and opens a sorely needed corridor for trade between Damascus and Jordan.
Rebels have surrendered villages, towns and cities in swift succession, powerless to stop the onslaught.
On Thursday, rebels agreed to give up their positions in the Quneitra province and hand over their medium and heavy weapons. Those refusing to accept the surrender terms are being evacuated to Idlib.
The Syrian Observatory for Human Rights monitoring group said it expected around 4,000 rebels will likely choose relocating to Idlib.
The UN and human rights organizations have condemned the evacuations as forced displacement. Few who have left are expected to be able to return to their homes in the near-term.
Opposition activists and rescue workers are also seeking escape, distrustful of the government's infamous security apparatus.
US officials said on Thursday that the United States was finalizing plans to evacuate several hundred Syrian Civil Defense workers, also known as the White Helmets, and their families from the province through neighboring countries.
Syria and Israel fought two wars over their shared border, in 1967 and 1973, with Israel occupying the Golan Heights in the Quneitra province in the former confrontation.
But Israel has refrained from taking sides in Syria's seven-year-long civil war, and Prime Minister Benjamin Netanyahu has indicated he does not object to the government's return to southwest Syria - as long as Israel's archenemies Iran and the Lebanese militant group Hezbollah stay clear of the frontier.
An affiliate of the Islamic State group continues to hold a sliver of the frontier. The group is not party to the agreement between the government and rebels. Government jets pounded targets in the ISIS-held Yarmouk Basin area on Friday, the Observatory reported.
Meanwhile, Russia's Defense Ministry said it has proposed to the United States the creation of a joint group along with Jordan for organizing the return of refugees to Syria.
The group would be established with the oversight of the US-Russian-Jordanian center established last year in Amman for monitoring the cease-fire in southwest Syria, Maj.-Gen.Milkahil Mizintsev said Friday.
Full report at:
https://english.alarabiya.net/en/News/middle-east/2018/07/20/-Syrian-regime-s-forces-enter-Quneitra-after-a-brokered-deal.html
--------
Saudi forces arrest senior preacher: Report
Jul 21, 2018
Saudi security forces have reportedly arrested a senior preacher alongside seven other people during a raid on the public figure's house.
On Friday, Quds Press International News Agency reported the arrest of Sheikh Ali bin Saeed al-Hajjaj al-Ghamdi, a former preacher at al-Masjid al-Nabawi or the Prophet's Mosque, in the Saudi holy city of Medina.
The Prisoners of Conscience Twitter account, which covers the developments concerning the Saudi nationals who are detained for their political beliefs, confirmed the arrest.
Sheikh Ghamdi, it said, was "arrested along with his brother and his lawyer, and at least 5 other sheikhs, who were in the house during a raid by Saudi security forces!"
The reported arrests come less than a week after the kingdom nabbed Sheikh Safar al-Hawali, an outspoken scholar known for his chronic opposition to some of the country's policies as well as the presence of American troops on Saudi soil.
Since last year, the kingdom has gone on an arrest spree of oppositionists and human rights activists, accusing them of destabilizing efforts and endangering national security.
Last November, hundreds of influential Saudi businessmen and members of the royal family were also rounded up in an alleged "anti-corruption campaign" spearheaded by Crown Prince Mohammed bin Salman.
Bin Salman is accused of using the arrest campaign to muffle all opposition before rising to power.
Retreat to 'Dark Ages'
On Thursday, The Washington Post published an opinion piece, saying Bin Salman seemed determined to take the kingdom "back to the norms of pre-modern Saudi Arabia".
"He has endorsed absolute monarchy more firmly and vociferously than any of his predecessors," the feature added.
It cited an interview Salman had with The Atlantic, in which he defended the ruling system, saying, "If it were not for absolute monarchy, you wouldn't have the United States. The absolute monarchy in France helped the creation of the United States by giving it support."
Full report at:
https://www.presstv.com/Detail/2018/07/21/568753/Saudi-Arabia-arrest-preacher
--------
At least one killed in fresh social protests in Iraq
Jul 21, 2018
Fresh protests against poor economic conditions in southern Iraq have left at least one person killed bringing the total number of fatalities in two weeks of unrest that has shaken the country to nine.
The incident took place on Friday when a crowd targeted the headquarters of a paramilitary group in the city of Diwaniyah, the capital of al-Qadisiyah Province.
The man killed was aged around 20 and died after being shot by a security guard, according to reports by the local media. Two people were also wounded when people threw bricks and stones at the headquarters.
Others killed during previous protests are believed to have been shot by unknown assailants, according to media reports. The Iraqi government has blamed "vandals" which it has accused of infiltrating the protests.
Meanwhile, thousands rallied elsewhere in the south as well as in capital Baghdad.
As was the case with previous rallies, the protesters chanted slogans against rampant corruption, unemployment, high prices, power cuts and a lack of clean water.
In Baghdad, the crowds were dispersed by water canon and tear gas as they headed towards the fortified Green Zone, a high-security neighborhood where the government is headquartered.
In the southern oil hub of Basra where the demonstrations started around two weeks ago, some 3,000 protested near the headquarters of the provincial government.
Social media has been unavailable for nearly a week and the internet was cut for two days from last Saturday, which authorities claimed was due to maintenance work, according to a report by AFP.
Prime Minister Haider al-Abadi, who visited Basra soon after the protests erupted in the city, has promised that his government would fund electricity and water projects there.
Protests first erupted in Basra on July 8.
Basra is an important hub for oil exports, which account for over 95 percent of Iraq's government revenues. Long neglected, the city is one of the few cities in the Middle East without an effective water treatment system. State officials blame a public funding crisis caused by years of low oil prices.
Since the unrest erupted, demonstrators have vented their anger at several major oilfields.
Iraqi officials, however, stressed that the protests have not affected production or export operations in the OPEC member country.
The demonstrators have also previously attacked provincial government buildings, the local headquarters of political parties, and an airport in the holy city of Najaf.
Full report at:
https://www.presstv.com/Detail/2018/07/21/568738/Iraq-attack-paramilitary-headquarters-Diwaniyah-protests-Basra-Baghdad
--------
Mideast
Palestine, Muslim nations will eventually eliminate Israeli apartheid: Iran
Jul 20, 2018
The Iranian Foreign Ministry says Palestinian people, Muslim countries and "freedom-seeking nations" will eventually "eradicate" the racism propagated by the Israeli regime in the occupied Palestinian territories as the "era of racial discrimination and apartheid" has come to an end.
Foreign Ministry Spokesman Bahram Qassemi made the remarks in a statement on Friday night, a day after Israel's parliament (Knesset) adopted a controversial bill that declares the occupying entity "the nation-state of the Jewish people."
The law prioritizes "Jewish" values over democratic ones in the occupied territories, declares Jerusalem al-Quds the "capital" of Israel, allows Jewish-only communities, sets Hebrew as the official language of Israel and relegates Arabic from an official language to one with "special status."
"The illegitimate and racist Zionist regime has been established on the foundation of the occupation of Palestinian territories and the massacre of their true owners, and Israel's parliament recent act is yet another attestation of the racist nature of this regime over the past 70 years," Qassemi added.
The Iranian official further said Washington's support for the Tel Aviv regime, especially the US administration's move to relocate the country's embassy in Israel from Tel Aviv to Jerusalem al-Quds, and attempts made by some Arab countries to normalize ties with Israel, which he said has gone unpunished for its crimes against the Palestinian people, have emboldened the regime to continue with its Judaization of the Palestinian territories.
Qassemi also stressed that Israel's actions in the occupied territories would "undoubtedly lead to further instability in the region."
Earlier in the day, at least four Palestinians lost their lives and nearly 120 others sustained critical injuries when Israeli military aircraft and battle tanks hit targets throughout the Gaza Strip.
Nearly 150 Palestinians have been killed by Israeli forces ever since the "Great March of Return" began in the Gaza Strip on March 30.
A total of 14,811 Palestinians have also sustained injuries of whom 366 are reportedly in critical condition.
The Gaza clashes reached their peak on May 14, on the eve of the 70th anniversary of Nakba Day (Day of Catastrophe), which coincided this year with the US embassy relocation from Tel Aviv to occupied East Jerusalem al-Quds.
On June 13, the United Nations General Assembly adopted a resolution, sponsored by Turkey and Algeria, condemning Israel for Palestinian civilian deaths in the Gaza Strip.
The resolution calls on UN Secretary General Antonio Guterres to make proposals within 60 days "on ways and means for ensuring the safety, protection, and well-being of the Palestinian civilian population under Israeli occupation," including "recommendations regarding an international protection mechanism."
https://www.presstv.com/Detail/2018/07/20/568723/Palestine-Iran-Israel-apartheid-Gaza
--------
Israel, Hamas declare truce but Lieberman threatens war
Jul 21, 2018
Hamas and Israel have announced a ceasefire following an escalation which left four Palestinians and an Israeli soldier dead, but the Israeli minister of foreign affairs warned of a "wide-scale" war on the Gaza Strip.
"With Egyptian and United Nations efforts it has been agreed to return to the era of calm between (Israel) and Palestinian factions," Hamas spokesman Fawzi Barhoum told Reuters late on Friday.
The truce followed dozens of Israeli strikes on Gaza, which left four Palestinians dead and at least 120 others injured.
The air raids came after the Israeli military said one of its soldiers had been killed as a result of a shooting carried out from Gaza.
Elsewhere in his remarks, Barhoum said that Hamas had fired projectiles into the occupied lands in an "immediate response" to Tel Aviv meant to "deliver the message" to the Israeli regime.
However, Israeli minister of military affairs Avigdor Lieberman held Hamas responsible for the fresh Gaza flare-up.
"Hamas leaders are forcibly leading us into a situation where we will have no choice, a situation in which we will have to embark on a painful, wide-scale military operation," he said during a visit to the city of Sderot.
Lieberman also warned that a new military operation on Gaza "will be larger and more painful than Operation Protective Edge," referring to the 2014 Israeli war on the coastal enclave.
He further expressed his frustration with Palestinians sending flaming kites into the occupied territories.
Hamas deputy chief in Gaza Khalil Al-Hayya responded to the threat, saying the Palestinians would resist any Israeli aggression.
"In the face of Zionist threats, we say the resistance will continue, the marches will continue and its tools will continue to vary and take different forms, including the kites," he said.
Israel carries out regular air raids on Gaza, citing Hamas Hamas targets but the attacks mostly kills civilians. The Gaza Strip has been under an Israeli siege since 2007 and witnessed three wars since 2008.
Tensions have been running high near the Gaza fence since March 30, which marked the start of a series of protests, dubbed "The Great March of Return," demanding the right to return for those driven out of their homeland.
The Gaza clashes reached their peak on May 14, the eve of the 70th anniversary of the Nakba Day (the Day of Catastrophe), which coincided this year with the US embassy relocation from Tel Aviv to occupied Jerusalem al-Quds.
Irked by the siege and use of lethal force by the regime forces, the people in Gaza send kites loaded with flammable material to the occupied lands in a show of protest.
Israel unveils new tank for guerrilla warfare
Earlier this week, the Israeli army released details of a new tank designed more for use in guerrilla warfare conditions, a code for urban battles.
The "dual-use" Merkava 4 Barak tank is expected to be operational in three years.
Full report at:
https://www.presstv.com/Detail/2018/07/21/568756/Israel-Palestine-Hamas
--------
Four Palestinians killed, 120 others injured as Israeli military strikes Gaza Strip
Jul 20, 2018
At least four Palestinians have lost their lives and nearly 120 others sustained critical injuries when Israeli military aircraft and battle tanks hit targets throughout the Gaza Strip as the Tel Aviv regime presses ahead with its acts of aggression against the besieged coastal sliver.
Two Palestinians were killed on Friday evening after Israeli artillery units fired two shells reportedly at an observation post belonging to Ezzedine al-Qassam Brigades, the military wing of the Hamas resistance movement, east of the city of Khan Yunis, located about 25 kilometers south of Gaza City, Arabic-language Ma'an news agency reported.
The deceased Gazans were later identified as Mohammed Abu Farhana and Shaaban Abu Khater.
A third Palestinian was killed after Israeli jets carried out airstrikes east of the border town of Rafah. He was identified as Mahmoud Qeshta.
According to Palestinian medical sources, another Palestinian, identified as Mohammed Sharif Badwan, was killed in the Zeitoun district of Gaza.
Separately, two Palestinians were wounded when Israeli forces opened fire at Palestinian houses east of Abasan city. A 14-year-old Palestinian boy was also shot and is now in critical condition.
Israeli artillery units also fired shells at observation posts near al-Awda refugee camp in the eastern part of the Gaza Strip as well as Bureij refugee camp in the central sector of the sliver.
Meanwhile, Israeli media outlets reported that an Israeli soldier was killed after being targeted by a Palestinian sniper in the southern part of the Gaza Strip.
Hebrew-language Yedioth Ahronoth newspaper reported that the Israeli trooper was injured after Palestinian resistance fighters and Israeli military forces engaged in an exchange of gunfire.
'Step back from the brink of war'
Shortly after the Israeli attacks, the UN envoy for the Middle East peace process, Nickolay Mladenov, called on both sides to "step back from the brink" of war.
"Everyone in Gaza needs to step back from the brink. Not next week. Not tomorrow. Right NOW", he tweeted, adding, "Those who want to provoke Palestinians and Israelis into another war must not succeed."
In another development, Israel's minister for military affairs Avigdor Lieberman warned Hamas of a "much tougher" response if the resistance group fired more rockets from Gaza.
"If Hamas continues to fire rockets, then Israel will respond in a much tougher way than they (the Hamas leadership) think," he said.
The Israeli military had earlier claimed that it had intercepted two of three rocket launches from Gaza.
Lieberman's rhetoric, however, was not left unanswered by Hamas, which warned the regime of consequences if it continued attacks on Palestinian protesters.
Nearly 150 Palestinians have been killed by Israeli forces ever since the "Great March of Return" began in the Gaza Strip on March 30.
A total of 14,811 Palestinians have also sustained injuries of whom 366 are reportedly in critical condition.
The Gaza clashes reached their peak on May 14, on the eve of the 70th anniversary of Nakba Day (Day of Catastrophe), which coincided this year with the US embassy relocation from Tel Aviv to occupied East Jerusalem al-Quds.
On June 13, the United Nations General Assembly adopted a resolution, sponsored by Turkey and Algeria, condemning Israel for Palestinian civilian deaths in the Gaza Strip.
The resolution, which had been put forward on behalf of Arab and Muslim countries, garnered a strong majority of 120 votes in the 193-member assembly, with 8 votes against and 45 abstentions.
The resolution calls on UN Secretary General Antonio Guterres to make proposals within 60 days "on ways and means for ensuring the safety, protection, and well-being of the Palestinian civilian population under Israeli occupation," including "recommendations regarding an international protection mechanism."
Full report at:
https://www.presstv.com/Detail/2018/07/20/568715/Four-Palestinians-killed-120-others-injured-as-Israeli-military-strikes-Gaza-Strip
--------
Coalition airstrike kills four Houthi leaders during 'coup' meeting near Sanaa
20 July 2018
Arab coalition fighter jets backing the Yemeni legitimate army air raided a meeting by Houthi leaders at Nahm front east of Sanaa, killing four of them.
The Yemeni national army said in a statement that the air raid killed the Houthi leader Yasser Abdullah Amer and three other leaders and their associates from Saada governorate, a stronghold of the Houthi militias.
The army statement confirmed that the Houthi leader Amer is one of the influential figure among the militias at Nahm front, while the other leaders killed, arrived lately from Saada to supervise over Nahm front.
https://english.alarabiya.net/en/News/gulf/2018/07/20/Coalition-airstrike-kills-four-Houthi-leaders-during-coup-meeting-east-of-Sanaa.html
--------
Terrorist attack leaves 10 Iranian forces dead: Fars
Jul 21, 2018
A terrorist attack on a military checkpoint on the western border with Iraq and subsequent blast at an arms depot has left 10 members of Iran's Islamic Revolution Guards Corps (IRGC) dead, Fars news agency reported Saturday.
The overnight attack in the village of Dari in the Marivan district led to clashes which entailed in an explosion at an arms depot, following which 10 IRGC members were "martyred," it quoted a statement by Hamza Sayyid al-Shohada Headquarters as saying.
"In the clashes, a number of terrorists were killed and several others fled with injuries," the statement said.
"Terrorist and counter-revolutionary groups and their supporters who lack any base among the Iranian nation, especially the wise and revolutionary people of Kurdistan, should anticipate the harsh and deadly retaliation of the brave and devoted warriors of Islam for this crime," it added.
Full report at:
https://www.presstv.com/Detail/2018/07/21/568762/Iran-Kordestan-Marivan
--------
Turkey says working to avoid repercussions of US sanctions on Iran
Jul 20, 2018
Turkey's Foreign Ministry says the country's officials are working to prevent Ankara from being negatively affected by the US move to re-impose nuclear sanctions against Iran in the wake of Washington's withdrawal from a historic nuclear deal signed between the Islamic Republic and the P5+1 group of countries in 2015.
The ministry made the announcement in a statement on Friday after a US delegation of Treasury and State Department officials held talks with Turkish authorities in Ankara on upcoming Washington's sanctions against Tehran.
US President Donald Trump announced on May 8 that Washington was walking away from a nuclear agreement, officially known as the Joint Comprehensive Plan of Action (JCPOA) signed between Iran and the P5+1 group of countries in 2015.
The US president also said that he planned to reinstate US nuclear sanctions on Iran and impose "the highest level" of economic bans on the Islamic Republic.
Under the JCPOA, Iran undertook to put limits on its nuclear program in exchange for the removal of nuclear-related sanctions imposed against Tehran.
The Turkish foreign ministry's statement further emphasized that Iran was an important neighbor for Turkey and that Ankara would continue to monitor the US sanctions within this framework.
Washington has said it would be returning the sanctions in August and threatened the countries that maintain business with Iran despite the bans with "secondary sanctions."
It has also warned countries against keeping up their crude purchases from Iran from November 4 onward.
Iranian Foreign Minister Mohammad Javad Zarif said on Monday that the Islamic Republic has lodged a complaint with the International Court of Justice (ICJ) over the United States' "unlawful" move to re-impose "unilateral" sanctions against Tehran.
"Today Iran filed a complaint [with] @CIJ_ICJ to hold US accountable for its unlawful re-imposition of unilateral sanctions," Zarif said in a post on his official Twitter account on Monday.
Late last month, however, Ankara said it remained determined to maintain trade ties with Iran.
Turkey's Foreign Minister Mevlut Cavusoglu said on June 29 that his country remains determined to maintain trade ties with Iran.
"If the United States' decisions are aimed at peace and stability, then we'll support them, but we don't have to follow every decision. Being allies doesn't mean following every decision word for word," Cavusoglu told the Turkish broadcaster NTV in an interview.
Iran has been Turkey's leading supplier of crude oil for most of the past two decades, ceding first place to Iraq only for three years during the recent period of US sanctions.
Imports last year came to 11.493 million tonnes, or 44.6% of the total supply, at an average of 230,800 barrels per day (bpd), up 66% from the 6.939 million tonnes supplied in 2016, according to reports.
Iranian First Vice President Es'haq Jahangiri said on July 10 that the upcoming US move to re-impose sanctions on Iran will create "difficult conditions" for the country but the Islamic Republic will forcefully resist against the United States' economic war.
"Given the enemy's economic war, we will face new and difficult conditions and must stand against this war with full power," Jahangiri said.
His remarks came a day after Russia's Foreign Minister Sergei Lavrov said the three major European signatories to the landmark nuclear deal with Iran had agreed to establish trade ties with Iran independent of the US dollar.
Full report at:
https://www.presstv.com/Detail/2018/07/20/568702/Turkey-Iran-US-sanctions-Foreign-Ministry
--------
Saada elders 'never to give up' in battle against Houthi militants
July 21, 2018
JEDDAH: Tribal elders in Yemen's Saada said they will never stop fighting to free the region from the control of Houthi rebels, who have ravaged a province that welcomed them decades ago.
They also warned that negotiation and reconciliation with the armed group is not an option, given Iran's interference in Yemen's affairs through its backing for the terrorist Houthi militia.
During a panel discussion on Thursday at the Saudi TV building, Saada elder Sheikh Fahd Talib Al-Sharfi said that prior to 2004, before the Houthis, the province was the food basket of Yemen, exporting 120 baskets of pomegranates a day and known for its grapes and coffee beans.
He said the province had never been in conflict with Saudi Arabia and was an extension of the Arab Peninsula's tribes, but that Iran, through its Houthi militias, aimed to destroy the great and deep connections linking Saada to its Arab roots.
Al-Sharfi noted the resilience of the people of the province in the face of the Houthi assault, and their great sacrifices during the six wars since 2004, leading up to the fall of the province in 2014.
He said Saada does not follow any cult or doctrine but welcomes all Yemenis of different intellectual and political schools. The biggest Salafist school in Yemen, Dar Al-Hadith madrassa, is in Saada, he added.
He expressed his deep thanks and appreciation for the heroes of the Yemeni army and the supporting coalition forces who are putting their lives on the line.
Al-Sharfi called on the legitimate government of Yemen and the Arab Coalition Forces Supporting Legitimacy to continue the battle until the oppressed are freed, rights are restored, and Saada and all Yemeni governorates are liberated.
The panel also discussed the persecution of the people of Saada since the creation in 1990 of Al-Shabab Al-Mu'min, commonly known as the Houthis, a group that spread sectarian and confessional ideology.
Iranian intervention
In 2000, it shifted from spreading extremism to armed action and intimidation. It began in Dammaj, where the group claimed that students were members of Al-Qaeda.
This marked the start of the wars with the Houthis, which led to Qatari and Iranian intervention. As the Houthis became stronger, they were able to seize power in Saada, killing tribal elders, driving out those opposed to their ideas, and terrorizing the remaining inhabitants.
Sheikh Yehya Madid, leader of the elders of Khawlan in Saada, said that Houthi rebels have killed tribal elders and broke familial and tribal ties, while continuing to target religious men and young people to achieve their criminal plan against the Yemeni people. He added that people who support the Houthis have been brainwashed to the point where they are capable of launching missiles at Saudi Arabia.
Dr. Najib Kallab said the Houthis have waged six wars, after each of which they emerged in a weaker position. They made concessions only to subsequently grow even more powerful, he noted.
Negotiating with Houthis will only make them stronger, he said, and so a meeting between the people and elders of Saada and the Arab coalition, led by Saudi Arabia, is a step in the right direction.
"We were fighting Houthis alongside the government," said Sheikh Asaad Othman, leader of the military council in Saada. "We were surprised to find out that the government had a reconciliation with the Houthis, who came back to fight us and when we tried asking the government for help, it did absolutely nothing. We were fighting and sacrificing for our nation, but our state left us a prey to be devoured by Houthis. That was what created the animosity between the community and the state.
"When the Houthis staged their coup, the community had no idea that the rebels were this powerful. We thought that they would fight each other and things would go back to normal. This is where the Houthis took advantage of the community's satisfaction with the coup."
Regarding the formation of a council or reconciliation initiative among Yemeni tribes, Sheikh Othman said the tribes play an important role and lead the battlefronts.
"What we need right now is for the UN not to pressure the state into making peace with Houthis," he said. "This peace will only be in the interests of the Houthis. What we need from the legitimacy is a military rescue and cleansing of Saada because we did not impose war on the Houthis, they did. We call on President Hadi to adopt the military solution until the Houthis return to their senses. Based on our experience with them, peace will not work. I have been displaced along with thousands for six years and we could not even educate our children."
Sheikh Musfir Al-Huzeifi said the Houthis want to divide society into rulers and servants, and when Yemenis realized this they rose up to stop them.
Tribes in all parts of Yemen are working together, he added, while Houthis do not believe in coexistence and peace, but only in blood and war, and most certainly do not believe in agreements, whether tribal or international.
Symposium
In a related development, the Ministry of Media on Thursday hosted a symposium to highlight the importance of liberating Saada from the control of the Houthis, describing the province as the grassroots of the problem and a symbol for believers in liberty and freedom.
Several tribal leaders from Saada thanked King Salman for Saudi Arabia taking a firm stand by the side of Yemeni people, and its support for their legitimate government, led by President Abed Rabbo Mansour Hadi.
They also thanked the King Salman Humanitarian Aid & Relief Center for its efforts to help the needy to survive amid the tough circumstances resulting from the war.
Once the food basket of Yemen, the province has been devastated by the militias, they said, adding that the Houthis also turned the peaceful governorate and city into a base to launch missiles against the Kingdom.
The tribal leaders also said Iran had tried and failed to introduce a new version of Hezbollah into Yemen.
Full report at:
http://www.arabnews.com/node/1342591/saudi-arabia
--------
Europe
Record number of anti-Muslim attacks reported in UK last year
20 Jul 2018
A record number of anti-Muslim attacks and incidents of abuse were reported last year, with women disproportionately targeted by mostly male teenage perpetrators, the monitoring group Tell Mama has said.
In its annual report, the group noted a surge in Islamophobic attacks, with 1,201 verified reports submitted in 2017, a rise of 26% on the year before and the highest number since it began recording incidents.
Experts put the rise down to the growth of the far right, as well as a large number of "trigger" incidents last year, such as the terrorist attacks in London and Manchester, which prompted a backlash of anti-Muslim hate.
Criticism was also aimed at the police, with a recent report from Her Majesty's Inspectorate of Constabulary and Fire & Rescue Services finding large-scale failings in the way hate crimes were dealt with. Tell Mama said victims were often let down by poor recording of incidents and were sometimes left feeling dismissed.
"The world feels a more unstable space and in all of this, the voices of victims and outcomes for them in terms of access to justice have not been great," said Iman Atta, the director of Tell Mama.
More than two-thirds – 839 – of the attacks and abuse occurred offline, or on street level, a 31% rise from 642 last year. A third of incidents were online, up by 16.3% compared with the previous year.
After a suicide bombing at Manchester Arena killed 23 people, more than 70 reports of Islamophobic prejudice, including hate speech and abusive behaviour, were reported.
"It is shocking to learn of a 26% increase in reporting of Islamophobic hate crimes ... While no doubt some of the increase is due to an increase in reporting of incidents, most people especially Muslim women are reluctant to report Islamophobia," said the equalities campaigner Akeela Ahmed.
She added: "These findings reflect the fact that since 2016, a growing minority of people with far-right sympathies have felt emboldened by Brexit and the 2016 US elections."
The sociologist Tahir Abbassaid the findingswere a worrying indication of the rise of populism and nationalism, with Muslims often the target. "Islamophobia feeds into the radicalisation of young Muslims ... Islamophobia is used as a hook but also far-right groups and radical Islamists feed off each other and they are all feeding off of Islamophobia."
The Tell Mama report focused on the trend toward physical incidents, saying: "There has been a marked shift towards more serious offline incidents such as physical attacks, threatening behaviour and abuse more generally."
In 2017, vandalism replaced threatening behaviour as the third most common category of anti-Muslim hate incident; there was a 56% increase in anti-Muslim vandalism when compared with 2016.
Of the victims six out of 10 were women and of the perpetrators eight out of 10 were men, with the majority aged between 13 and 18.
"We are extremely concerned at a younger generation of mainly boys and men who are becoming more aggressive in their targeting of Muslims," said Atta.
Abbas said women were often attacked because of their visibility, which makes them vulnerable. "It's angry men attacking women ... the perpetrators are a part of a generation of angry, disillusioned young men who vent their fury against women per se," he said.
Shelina Janmohamed, the author of Generation M: Young Muslims Changing the World, said: "It has definitely felt like the temperature and volume of explicit hatred against Muslims has escalated ... I think 2017 was a particularly difficult year for everyone in the country and Muslim women, as report shows, really bore brunt of that."
She added: "Lots of Muslims still simply don't report and the numbers are likely to be bigger than the report suggests."
The report noted that inactivity from Twitter when it came to removing anti-Muslim hate material was "deeply worrying" and showed a "wanton lack of desire to understand hatred on its platform".
Janmohamed said she was sent a photo of a woman in a burqa having a gun pointed to her head after sending a tweet about the World Cup. She reported it to Twitter but no action was taken.
The report said Twitter had demonstrated its inability to stop individuals opening up new accounts repeatedly when they have been banned from using the platform. In one case, a victim had to report 11 separate accounts for harassment.
Tell Mama flagged material that was easy to find and clearly should have been removed, including a tweet that said: "Correct me if I am wrong. All Muslim scum must be gassed."
Another tweet read: "We are at war! The UK armed forces must go to the Islamic areas and go door to door and shoot them all."
Twitter said it made more than 30 policy, product and operational changes in the context of safety between 2017 and 2018. It said accounts found to be in violation of the rules faced a range of enforcement actions.
The police watchdog has warned of a "real possibility" Britain's exit from the EU next year could trigger a further surge in hate crime.
Imran Awan, an associate professor of criminology at Birmingham City University, said police were not always sure what to call hate crimes and inconsistency did not help.
He said the best way to tackle hate crime and Islamophobia was through education. "We need to look at the grassroots or the problems, such as the social deprivation in society," said Awan. "A lot of it can be dealt with through education especially at a younger age. That element seems to be missed."
https://www.theguardian.com/uk-news/2018/jul/20/record-number-anti-muslim-attacks-reported-uk-2017
--------
Taliban bomb-maker jailed for 40 years in UK
July 21, 2018
LONDON - A 28-year-old man was sentenced Friday to a minimum of 40 years in jail for making explosives for the Taliban and for plotting a knife attack at the Houses of Parliament in London.
Khalid Ali, from north London, was dramatically arrested by armed police on a street outside parliament in April 2017 with three blades tucked into his clothes.
He was moments from launching an attack on police, politicians or the military, England's Old Bailey central criminal court in London heard during his trial last month.
The plumber was on Tuesday found guilty of preparing terrorist acts in Britain and two charges of possessing explosive substances with intent abroad.
On Friday, judge Nicholas Hilliard handed Ali three life sentences, to run concurrently: one for each charge.
He gave a minimum of 40 years for making improvised explosive devices for the Taliban insurgency in Afghanistan in 2012 and 25 years for the plot to kill in Britain.
"I am absolutely sure you were in Afghanistan. You were a valued member of a team making IEDs that were detonated in combat before January and July 2012," Hilliard said.
The judge said the plotted attack in London was designed to attract "maximum publicity and instil terror".
"I have no doubt whatsoever that there is a very considerable risk of your committing offences of violence in the future and cause death or serious injury as a result."
During the trial, prosecutor Brian Altman told jurors that Ali, who had returned to Britain from Afghanistan in late 2016, planned a "deadly terror attack at the very heart of this country's democracy".
Metropolitan Police deputy assistant commissioner Dean Haydon said he was "an incredibly dangerous individual".
He had returned from a training camp in Afghanistan "with a determination to kill," he added.
In police interviews, Ali said he wanted to deliver a "message" to British authorities.
"Jihad is what we do," he told officers.
During his trial, the court heard Ali admitted involvement in making explosives in Afghanistan, even bragging he detonated more than 300 devices.
In November 2016, he was stopped at Heathrow Airport, interviewed by police and his fingerprints and DNA samples were taken.
The FBI in the United States subsequently matched his fingerprints to caches of explosives recovered by Afghan forces in 2012, and Ali was placed under surveillance in Britain.
The Old Bailey heard he was seen conducting reconnaissance at various sites around London in March and April last year, before making several purchases of knives.
Full report at:
https://nation.com.pk/21-Jul-2018/taliban-bomb-maker-jailed-for-40-years-in-uk
--------
France, Russia send humanitarian aid to Syria for Ghouta victims
July 21, 2018
CHATEAUROUX: France and Russia on Saturday despatched a plane carrying humanitarian aid to the ravaged former Syrian rebel enclave of Eastern Ghouta, which was retaken by government forces in April after a five-year siege.
A Russian Antonov 124 military cargo plane carrying 50 tons of medical aid and humanitarian supplies left the airport at the central French city of Chateauroux at 3am (0100 GMT), the airport's head Mark Bottemine told AFP.
Undertaken as part of a UN Security Council resolution, "the aim of this project is to enable civilian populations better access to aid," a joint Franco-Russian statement said.
The plane is heading for Russia's Hmeimim air base in the west of Syria. It is the first joint humanitarian aid operation between Russia and a western country.
The aid will be distributed on Saturday under the supervision of the UN's Office for the Coordination of Humanitarian Aid (OCHA).
"Humanitarian assistance is an absolute priority and must be distributed in accordance with principles of humanity, neutrality, impartiality and independence across all Syrian territory without exception, where international humanitarian law must be fully respected," the joint statement said.
France had secured "guarantees" from Russia that the Syrian regime would not obstruct the distribution of the aid, and that it would not be misappropriated or diverted for political purposes, the foreign ministry said.
More than 1,700 civilians were killed during the Syrian regime's operation in Eastern Ghouta in March and April. According to the Russian military, more than 160,000 people, both military and civilians, were evacuated from the region.
The cargo comprises medical equipment, tents, cooking utensils and blankets, said an AFP photographer who witnessed the plane being loaded.
Full report at:
http://www.arabnews.com/node/1342711/middle-east
--------
Ambassador: 'Europe is not going to become a Muslim continent'
by Joel Gehrke
July 20, 2018
President Trump's belief that immigration is "changing [the] culture" of Europe is wrong, the European Union's ambassador to the United States said Friday.
"Europe is not going to become a Muslim continent any time soon," Ambassador David O'Sullivan said at the Aspen Security Forum. "This is not an issue in Europe."
Trump expressed that worry repeatedly during his recent trip to the United Kingdom, when he lamented to British media that Europe is "losing its culture" due to an influx of refugees and illegal immigrants from North Africa and the Middle East. Those comments led to a public disagreement with British Prime Minister Theresa May during their joint press conference, when the two leaders addressed a topic that has strained diplomatic relations within the European Union.
"Allowing the immigration to take place in Europe is a shame," Trump told The Sun. "I think it changed the fabric of Europe and, unless you act very quickly, it's never going to be what it was and I don't mean that in a positive way."
May, asked to comment on his remarks at a time when her government was struggling to unify around her plan for how to negotiate Britain's exit from the EU, touted the United Kingdom's "proud history" of embracing immigrants.
"And over the years, overall immigration has been good for the U.K.," she said. "Of course, what is important is that we have control of our borders. What is important is that we have a set of rules that enables us to determine who comes into our country. And of course, that is what, as a government, we have been doing for a number of years and will be able to continue to do in the future."
Trump, speaking moments earlier, disagreed and alluded to the consequences of German Chancellor Angela Merkel's decision to admit approximately 722,000 Syrian refugees into the country in late 2015 and 2016.
"I think that's very much hurt Germany. I think it's very much hurt other parts of Europe," he said. "And I know it's politically not necessarily correct to say that. But I'll say it and I'll say it loud. And I think they better watch themselves because you are changing culture. You are changing a lot of things. You're changing security."
That view is a "gross exaggeration" of the difficulties arising from immigration to Europe, O'Sullivan maintained.
Full report at:
https://www.washingtonexaminer.com/policy/defense-national-security/ambassador-europe-is-not-going-to-become-a-muslim-continent
--------
Africa
Al Shabaab captures strategic town in Somalia's Puntland
21 July 2018
BOSASO - Somalia's Islamist militant group al Shabaab has captured a small but strategic town 100km south of Bosaso city in the semi-autonomous Puntland region, a military officer, al Shabaab and residents said on Friday.
Residents in Af Urur told Reuters that the town is now controlled by al Shabaab.
"When we woke up this morning, we saw many al Shabaab fighters controlling the town. The (Puntland military) forces had left yesterday," Ahmed Nur told Reuters from Af Urur by phone on Friday.
Al Shabaab wants to topple Somalia's Western-backed central government, expel the African Union-mandated peacekeeping force AMISOM and establish a government based on its own strict interpretation of Islamic sharia law.
Af Urur's position is important because the main road that links the cities of Garowe, Bosaso and Mogadishu passes nearby.
Puntland forces and al Shabaab have fought in the town, which has ditch defences, several times in the past.
Mohamed Abdi, a Puntland military officer, told Reuters al Shabaab had taken Af Urur town by Friday morning, adding without elaborating that only a few Puntland military forces had been in the town on Thursday evening.
"We were supposed to be replaced by other forces," Abdi said. "We shall recapture the town from al Shabaab."
Al Shabaab confirmed that they had control of the town.
"Puntland forces ran away as we advanced to the town because they know we had taught them tough lessons before," Abdiasis Abu Musab, al Shabaab's military operations spokesman, told Reuters on Friday. "We now peacefully control Af Urur town."
Somalia has been gripped by violence and lawlessness since the toppling of dictator Mohamed Siad Barre in the early 1990s.
https://www.enca.com/africa/al-shabaab-captures-strategic-town-in-somalias-puntland
--------
US adds Kenyan branch of Al-Shabaab to terrorism list
JULY 20, 2018
The Kenya-based wing of Al-Shabaab, known as Al-Hijra, was added on Thursday to the US list of groups it regards as terrorist organisations.
"Terrorism designations expose and isolate organisations and individuals, and deny them access to the US financial system," the State Department said in explaining the move.
"Moreover, designations can assist the law enforcement activities of US agencies and other governments."
Thursday's announcement notes that Al-Hijra was formed in Nairobi in 2008.
The group "consists primarily of Kenyan and Somali followers of Al-Shabaab in East Africa," the statement added.
"It has openly engaged in Al-Shabaab recruiting in Kenya and facilitated travel of Al-Shabaab members to Somalia for terrorism purposes."
Kenyans affiliated with Al-Hijra -- and consequently with Al-Shabaab -- may have played a role in major terrorist attacks inside Kenya in recent years, including the Westgate Mall massacre in 2013 and the attack on Garissa University College in 2015.
Full report at:
https://www.businessdailyafrica.com/economy/US-Adds-Kenyan-branch-of-alShabaab/3946234-4673130-2n4j0f/index.html
--------
Boko Haram: How we neutralized several terrorists – NAF
July 20, 2018
By Wale Odunsi
The Nigerian Air Force (NAF) says Air Task Force (ATF) of Operation LAFIYA DOLE has successfully neutralised several Boko Haram terrorists at Bulagalaye and Kwakwa, both in Borno.
AVM Olatokunbo Adesanya, NAF's Director of Public Relations and Information, confirmed this in a statement on Friday in Abuja.
"The successful air strikes on both locations were a result of efforts to trail and neutralise fleeing terrorists after Nigerian Army (NA) troops had repelled the attack on their location around Bama.
"Upon receiving reports of the attack, the ATF scrambled an Intelligence, Surveillance and Reconnaissance (ISR) platform and the Alpha Jet aircraft to locate the fleeing terrorists.
"Consequently, the insurgents, who were seen assembled at a staging area in BULAGALAYE, began to disperse upon sighting the attack platforms.
"However, the NAF fighter aircraft acquired and attacked the fleeing insurgents with bombs and rockets.
"As a result of the air strikes, the BHTs were neutralised while their vehicles and weapons were destroyed, leading to a thick cloud of black smoke," he said.
Adesanya said that intelligence reports later revealed that a smaller bunch of the BHTs had re-assembled in a settlement known as Kwakwa.
He revealed that the ATF then conducted a wave of strikes on the location.
Full report at:
http://dailypost.ng/2018/07/20/boko-haram-neutralized-several-terrorists-naf/
--------
URL: https://www.newageislam.com/islamic-world-news/us-voices-concern-let-affiliates/d/115901
New Age Islam, Islam Online, Islamic Website, African Muslim News, Arab World News, South Asia News, Indian Muslim News, World Muslim News, Women in Islam, Islamic Feminism, Arab Women, Women In Arab, Islamophobia in America, Muslim Women in West, Islam Women and Feminism