New Age Islam News Bureau
23 January 2021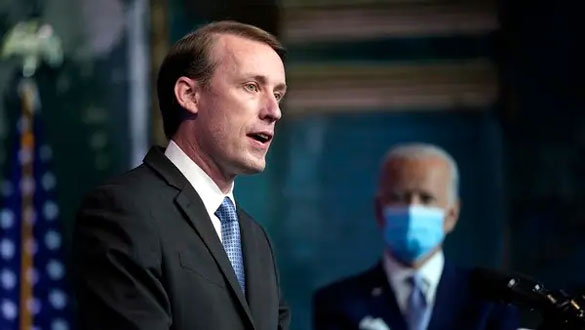 President Biden's national security adviser, Jake Sullivan, speaks, Nov. 24, 2020, in Wilmington, Del. (AP)
-----
• Ashraf Ghani: Taliban Should Sever Ties with Pakistan
• Ugandan Forces In Somalia Kill 189 Al-Shabaab Fighters
• 'Irony', Says India As Pakistan Moves UN Resolution To Protect Religious Sites
• Harmeet Singh, A Sikh News Anchor Of Pakistan Contemplating Leaving Country After Threats
• Chinese Group KLSCAH Women Says Heavier Punishment On LGBT Community Will Spur More Violence Against Them
• Explosions Heard In Syria, Air Defences Confront 'Israeli Aggression' In Hama: Report
North America
• US To Review Peace Deal With Taliban, Senior Biden Official Tells Afghan Counterpart
• Biden Orders Review Of 'Domestic Violent Extremism' Threat In US
• US Suspends Program That Allows Iraqis Refuge In Return For Helping Troops
• US State Department starts to revisit Trump terrorist designation of Yemen's Ansarullah
• Israel lobby trying to thwart Biden return to Iran nuclear deal: Analyst
• UAE To Get F35 Jets And Predator Drones After Normalizing Ties With Israel
• US: Schiff asks spy chief to publicize Khashoggi report
• Biden sworn-in to office with 5-inch thick family Bible
--------
South Asia
• Ashraf Ghani: Taliban Should Sever Ties with Pakistan
• 44 Civilians Killed, Injured As Battle Intensifies In Afghanistan
• NATO to Address Its Training Mission in Afghanistan
• Targeted Killings of Afghan Journalists Threaten Free Media in Afghanistan
• Bangladesh PM Hasina Thanks PM Narendra Modi For Covid-19 Vaccine Gift
--------
Africa
• Ugandan Forces In Somalia Kill 189 Al-Shabaab Fighters
• Christian Group Names Nigeria Hot Spot for Persecution
• Over Two Million People Internally Displaced By Violence In Africa's Sahel Region: UN
• Wagner's mercenaries dig huge trench in Libya
• Somalia: Protests over missing recruits gather steam
• French troops kill over 20 extremists in Burkina Faso
--------
India
• 'Irony', Says India As Pakistan Moves UN Resolution To Protect Religious Sites
• Pak's Secret Tunnel To Push Terrorists For 8 Years In Jammu Detected By BSF
• As Vaccine Diplomacy Continues, Government Says No Request From Pakistan Yet
• Pakistanis jailed in Lanka pushing drugs into India through sea: NCB
• J&K: Militants hurl grenade on police party in Kishtwar; no casualties
--------
Pakistan
• Harmeet Singh, A Sikh News Anchor Of Pakistan Contemplating Leaving Country After Threats
• Family Isolates Mufti Abdul Qavi, Strips Him Of Mufti Title
• Opposition rejects Azmat as Broadsheet probe head
• Biden administration urged to see Pakistan beyond Afghanistan prism
• China to coordinate with companies to 'speed up' vaccine export to Pakistan
• Falcons To Be Exported To UAE As Goodwill Gesture, IHC Informed
• Education ministry sets up committee to oversee curriculum standards
--------
Southeast Asia
• Chinese Group KLSCAH Women Says Heavier Punishment On LGBT Community Will Spur More Violence Against Them
• PKR Youth calls Kedah MB arrogant for cancelling Thaipusam holiday in state
• DAP kowtowed to Mahathir, failed to help Chinese when in govt, says MCA
--------
Arab World
• Explosions Heard In Syria, Air Defences Confront 'Israeli Aggression' In Hama: Report
• Asa'ib blames Saudi, UAE for deadly bombings in Iraqi capital
• Syria writes to UN on Israel air raids, stresses right to self-defense
• UK MPs call for investigation into British company with possible link to Beirut blast
• Arab Coalition intercepts missile, drone attack targeting Saudi Arabia's Riyadh
• Arab Coalition thwarts two attacks by Yemen's Iran-backed Houthis
• Saudi Embassy in Qatar to open within 'days,' says Prince Faisal bin Farhan
--------
Mideast
• Palestinians Defy Israeli Crackdown To Stage New Anti-Settlement Protests
• FM Slams Persian Gulf Arab States' Futile Clinging to Trump
• Terrorist Captured by IRGC in Western Iran
• FM: Iran's UN Membership Payment Hindered by US' Obstructionism
• Iranian human rights lawyer moved back to notorious prison after surgery: Husband
• Israeli settlers leave Palestinian kids bloody, bruised in latest West Bank attack
--------
Europe
• EU, Turkey to work on new roadmap: Top Turkish diplomat
• Man arrested in Birmingham on suspicion of terrorism offences
• Far-right terrorism in Germany: Walter Lübcke's murder and the NSU
Compiled by New Age Islam News Bureau
URL: https://www.newageislam.com/islamic-world-news/us-review-peace-deal-with/d/124138
--------
US to review peace deal with Taliban, senior Biden official tells Afghan counterpart
Joseph Haboush
22 January 2021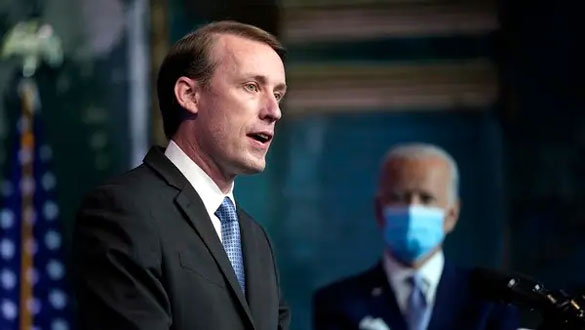 President Biden's national security adviser, Jake Sullivan, speaks, Nov. 24, 2020, in Wilmington, Del. (AP)
-----
The United States will review the peace deal reached with the Taliban under the Trump administration, a senior US official told his Afghani counterpart in a phone call Friday.
National Security Advisor Jake Sullivan "made clear" the US' intention to the review the agreement, a spokesperson from his office said in a statement.
The review will include assessing "whether the Taliban was living up to its commitments to cut ties with terrorist groups, to reduce violence in Afghanistan, and to engage in meaningful negotiations with the Afghan government and other stakeholders," NSC Spokesperson Emily Horne said.
During his call with Afghanistan's Hamdullah Mohib, Sullivan underscored that the US would support the peace process in an effort to achieve "a durable and just political settlement and permanent ceasefire."
Sullivan also voiced US support for protecting the "extraordinary gains" made by Afghan women, girls and minority groups as part of the peace process.
Before the start of the peace talks last year, authorities released more than 5,000 Taliban inmates as demanded by the group in the deal with Washington.
In return, the Taliban agreed to give some security guarantees and participate in peace talks aimed at ending the country's war.
Under the landmark deal signed last year, the US pledged to pull out all foreign forces from Afghanistan by May 2021.
https://english.alarabiya.net/en/News/world/2021/01/23/US-to-review-peace-deal-with-Taliban-NSA-Jake-Sullivan-tells-Afghan-counterpart
--------
Ashraf Ghani: Taliban Should Sever Ties with Pakistan
By Mohammad Haroon Alim
23 Jan 2021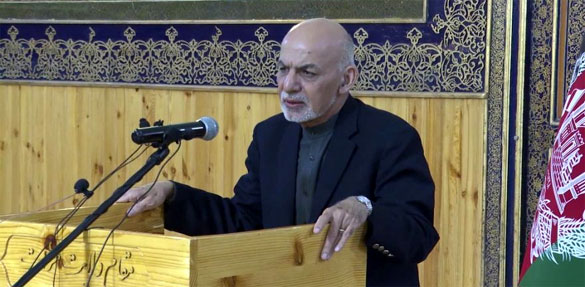 President Ashraf Ghani while addressing a press conference
-----
President Ashraf Ghani while addressing a press conference on Thursday stated that the Taliban should cut ties with Pakistan and that they should not have a safe haven in there.
"One of the basic needs for peace in Afghanistan is that the Taliban should cut their ties with Pakistan. If they call themselves Afghans and want to be in Afghanistan; they should not have dual citizenships," Ashraf Ghani was quoted by Ariana News.
The Afghan president also urged Pakistan to play a positive role in the Afghan peace process.
"I urged PM of Pakistan to tell Taliban that there is no solution without a political settlement," said Ghani.
The President has also criticized the interim government plan, emphasizing a democratic process for the power transfer.
Ghani stated that he will transfer power to the Taliban if they are elected by the people in the elections.
Ghani added, "We hope for peace, but we are ready for every danger,", he also indicated that in the final steps, the people of Afghanistan will decide the outcome of negotiations.
This comes as peace negotiators in Doha are busy discussing the Afghan peace process.
https://www.khaama.com/ashraf-ghani-taliban-should-sever-ties-with-pakistan-443322/
--------
Ugandan Forces In Somalia Kill 189 Al-Shabaab Fighters
Godfrey Olukya
22.01.2021
KAMPALA, Uganda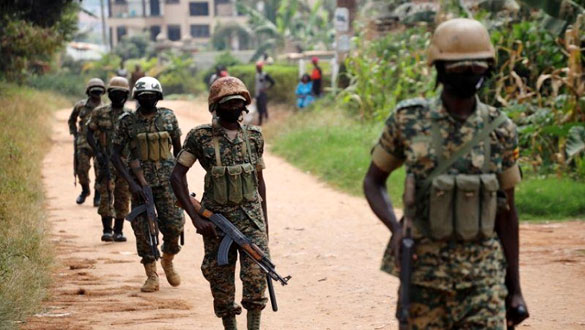 Image: Reuters
----
The Uganda People's Defense Forces (UPDF) Friday claimed killing 189 al-Shabaab fighters in an operation in Somalia.
Talking to Anadolu Agency by phone, army's deputy spokesman Lt. Col. Deo Akiki said: "Today morning, a UPDF contingent under African Union Mission in Somalia (AMISOM) has killed at least 189 al-Shabaab fighters in Somalia."
"This is the biggest number of al-Shabaab fighters killed in a day," he added.
Earlier, the UPDF issued a statement, saying Ugandan troops have raided al-Shabaab hideouts in Sigaale village, approximately 99 kilometers (61 miles) southwest of Mogadishu.
A large number of military hardware and items used by the terrorist were also destroyed, the statement said, adding the UPDF also disrupted an al-Shabaab meeting, injuring several terrorists in Doncadaafeedow which is seven km (4 mi) away from the Janaale town.
For over 10 years, the UPDF has been keeping peace in Somalia and it has lost over 20 soldiers ever since it went there. Uganda was the first country to send peacekeeping forces to Somalia.
In recent days, al-Shabaab militants intensified attacks on security forces as the Africa Union Mission Forces and the Somali National Army soldiers continue pushing the group from strongholds in successive military operations.
https://www.aa.com.tr/en/africa/ugandan-forces-in-somalia-kill-189-al-shabaab-fighters/2119995
--------
'Irony', says India as Pakistan moves UN resolution to protect religious sites
Jan 23, 2021
NEW DELHI: In another India-Pakistan face-off at the UN, after Pakistan co-sponsored a resolution promoting a culture of peace, India described as a matter of great irony that a country where a Hindu temple was recently demolished, and where minority rights are being emasculated, was introducing such a resolution.
The UN General Assembly on Thursday adopted the resolution, promoting a culture of peace and tolerance to safeguard religious sites, that condemned all acts or threats of violence, destruction, damage or endangerment, directed against religious sites as such, that continue to occur in the world, and denounced any moves to obliterate or forcibly convert any religious sites. The resolution was co-sponsored by Pakistan along with 21 other nations.
India, in the explanation of position on the resolution, cited attacks on the Hindu temple in the Pakistani town of Karak, against a Sikh gurdwara as well as destruction of the Bamyan Buddhas in Afghanistan, and said in the world of growing terrorism, violent extremism, radicalisation and intolerance, religious sites and cultural heritage sites remain vulnerable to terrorist acts, violence and destruction.
"The resolution cannot be a smokescreen for countries like Pakistan to hide behind," said India, reiterating its call for application of principles of objectivity, non-selectivity and impartiality to form the basis of discussions at the UN.
https://timesofindia.indiatimes.com/india/irony-says-india-as-pakistan-moves-un-resolution-to-protect-religious-sites/articleshow/80415095.cms
--------
Harmeet Singh, A Sikh News Anchor Of Pakistan Contemplating Leaving Country After Threats
Jan 22, 2021
AMRITSAR: Distressed over receiving intimidating calls from jail coupled with alleged police inaction, Harmeet Singh, a Sikh news anchor of Pakistan is contemplating leaving the nation for the safety and security of his family.
"I will be left with no other option but to leave Pakistan for good if police don't take action against a murder accused. He is threatening me and my family", said Harmeet while talking to TOI over the phone from Islamabad on Friday.
While clarifying that migrating to India was not an option, he said he may explore the option of migrating to some other country.
Notably, in January 2020, Harmeet's younger brother Parwinder was shot dead in Peshawar where he had arrived from his native town of Chakesar in Shangla district of Khyber Pakhtunkhwa.
Earlier it was believed that Parwinder was shot dead by terrorists but the police investigation led to the arrest of Parwinder's fiancé Prem Kumari, her boyfriend Eijaz, and another person Ibrahim.
"Both Prem Kumari and Eijaz are out on bail while Ibrahim is still lodged in the Mardan jail from where he makes threatening calls to me and my family from government number," said Harmeet.
He said pressure was being mounted upon him and his family members by the accused to strike a compromise. "But we don't want a compromise but justice," he said.
He said he had given a police complaint but the police had not taken any action on his complaint. However, he said that the bar association of the Supreme Court had assured to extend every possible help to him and his family.
Meanwhile, Shiromani Gurdwara Parbandhak Committee (SGPC) president Bibi Jagir Kaur has written a letter to Pakistan Prime Minister Imran Khan and governor of Pakistan's Punjab Chaudhary Mohammad Sarwar asking them to ensure the safety and security of Harmeet and his family members. "It's unfortunate that the Pakistan government has so far not taken any action against the persons who are issuing threats to a turbaned Sikh" she said.
https://timesofindia.indiatimes.com/world/pakistan/sikh-anchor-contemplating-leaving-pakistan-after-threats/articleshow/80408257.cms
--------
Chinese group KLSCAH Women says heavier punishment on LGBT community will spur more violence against them
23 Jan 2021
BY R. LOHESWAR
KUALA LUMPUR, Jan 23 — Heavier punishments to prosecute the lesbian, gay, bisexual, and transgender (LGBT) population will only spur more violence and hatred towards the group, The Kuala Lumpur Selangor Chinese Assembly Hall (KLSCAH) Women said.
In a statement, its women's division chairman Ng Geok Chee called out Deputy Minister in the Prime Minister's department (Religious Affairs) Ahmad Marzuk Shaary for stating the Perikatan Nasional (PN) government were mooting amendments to the the Shariah Courts (Criminal Jurisdiction) Act 1965 or Act 355 to provide for heavier punishments on the LGBT community, claiming it will only encourage people to harass the community.
"KLSCAH Women believes that this law amendment will encourage harassment and violence against LGBT groups, placing them in far more dangerous situations, which goes against the government's duty to protect citizens from discrimination and violations of human rights.
"Society, in general, believes that LGBTs not only violate the laws of nature or moral standards but even regard it as a mental illness and has been marginalised for a long time.
"As a Cabinet member, Ahmad Marzuk should have a clearer understanding of the situation. Moreover, Prime Minister Tan Sri Muhyiddin Yassin recently suggested that Asean take a stronger stance against hate speech on gender and sexual orientation at the 1st Asean Digital Ministers Meeting," Ng said in the statement.
Malaysia has had a poor history of treating the LGBT community with each government not embracing the community.
After Pakatan Harapan won the 2018 general elections, the prime minister Tun Dr Mahathir Mohamad said the LGBT lifestyle was a shift in the Westerners' moral values and they wanted to force that lifestyle on other countries.
The same was of former prime minister Datuk Seri Najib Razak when ruling the Barisan National government had cited Islam as justification for his government's exclusion in protecting the human rights LGBT individuals.
Another incident was when former tourism minister Datuk Mohamaddin Ketapin was quoted saying during an event in Berlin, Germany that homosexuality did not exist in Malaysia after being asked if it was a safe travel destination for the LGBT community.
Most recently Selangor Islamic Religious Department (Jais) summoned its enforcers involved in the recent alleged violence during arrest of cosmetics entrepreneur Nur Sajat early this month.
Sajat said authorities raided her home following a report made on her on February 23, 2018 during her religious event held at her guest house in Seksyen 16, Shah Alam.
She said she was handcuffed and assaulted by the officers from the state religious officers during the investigation process, causing bruises all over her body.
She further claimed that the state religious officers had denied her her rights even when she fully cooperated during the whole process on January 6 this year in Kuala Kubu Bharu, Selangor.
KLSCAH Women said many countries have enacted laws to protect the community but the powers in Malaysia are refusing to progress but rather are focusing their energy on enforcing their values on the people.
"LGBTs are neither against nature nor are they morally corrupt. As members of society, everyone should be given equal treatment and rights," said Ng.
"For this reason, KLSCAH Women asks Ahmad Mazruk to stop discriminating against LGBTs and government spending. Inciting hatred based on sexual orientation not only violates the core values of openness and tolerance, but also creates many social problems.
"With the ongoing pandemic and floods, we hope Ahmad Marzuk prioritise
matters and deal with the most pressing issues that concern the people first."
https://www.malaymail.com/news/malaysia/2021/01/23/chinese-group-klscah-says-heavier-punishment-on-lgbt-community-will-spur-mo/1943242
--------
Explosions Heard In Syria, Air Defences Confront 'Israeli Aggression' In Hama: Report
22 January 2021
Syrian air defenses confronted early on Friday "an Israeli aggression" in the governorate of Hama, state media said, after reporting that explosions were heard there.
Israel has carried out hundreds of air strikes in Syria in recent years against suspected Iranian military deployments or arms transfers to Tehran-backed Lebanese Hezbollah guerrillas.
"At about four o'clock in the morning today, the Israeli enemy launched an aerial aggression with a barrage of missiles coming from the direction of the Lebanese city of Tripoli, aiming at some targets in the vicinity of Hama governorate," Syrian state media said, citing a military source.
"Our air defenses confronted the enemy's missiles and downed most of them."
The Israeli military declined to comment.
In previous statements, Israel has described its Syria strikes as necessary to protect its northern front from Iran.
https://english.alarabiya.net/en/News/middle-east/2021/01/22/Explosions-heard-in-Syria-air-defenses-confront-Israeli-aggression-in-Hama-Report
--------
North America
Biden orders review of 'domestic violent extremism' threat in US
23 January 2021
US President Joe Biden has directed law enforcement and intelligence agencies in the United States to conduct a comprehensive assessment of "domestic violent extremism," a phenomenon that officials call a pressing national security threat.
President Biden on Friday ordered the Office of Director of National Intelligence to task the FBI and Department of Homeland Security with conducting a joint threat assessment on domestic violence extremism, White House Press Secretary Jen Psaki told reporters later in the afternoon.
"The Jan. 6 assault on the Capitol and the tragic deaths and destruction that occurred underscored what we all know: The rise of domestic violent extremism is a serious and growing national security threat," Psaki said, adding that the Biden administration "will approach this threat with the necessary resources and resolve."
The threat assessment will be used as a foundation to develop policy to confront the growing threat of violent extremism in the country.
"The key point here is that we want fact-based analysis upon which we can shape policy," the White House spokesperson said. "So this is really the first step in the process, and we will rely on our appropriate law enforcement and intelligence officials to provide that analysis."
The involvement of the national intelligence office -- a senior-level agency created after the September 11, 2001 attacks to oversee the sprawling US intelligence community -- indicates that authorities are looking into how to pivot from international terrorism to the more pressing threat of domestic extremism.
The National Security Council will also carry out a separate policy review to see how information about the threat can be better shared across the US government, Psaki said.
Rep. Adam Schiff, the Democratic chair of the House Intelligence Committee, said it was "critical" that the new administration appeared to be taking the threat of domestic extremism seriously.
"In particular, far-right, white supremacist extremism, nurtured on online platforms, has become one of the most dangerous threats to our nation," Schiff said.
The violent assault on the Capitol, which promoted the House to impeach former President Donald Trump for an unprecedented second time last week, raised questions about whether the US national security apparatus that for decades has focused on thwarting attacks from foreign terror groups is equipped to confront the threat of domestic terrorism.
More than 140 people have been charged in connection with the riot, including some members of far-right militia groups. The assault led to the deaths of a police officer, a rioter and three others.
Big questions remain about the extent to which the intelligence community knew about the potential for violence on January 6, when Congress convened to certify Biden's election victory, especially in light of Trump's incendiary language.
Security experts believe there was a systemic failure across multiple law enforcement and intelligence agencies, including the FBI, DHS and the DC and Capitol Police, all of which were aware of information about threats of violence on social media but failed to act accordingly.
The issue of domestic extremism has repeatedly resurfaced as a topic of national debate over the years after different attacks, including the 2018 shooting rampage at a synagogue in Pittsburgh.
https://www.presstv.com/Detail/2021/01/23/643647/Biden-orders-review-of-domestic-extremism-
--------
US suspends program that allows Iraqis refuge in return for helping troops
Joseph Haboush
22 January 2021
The United States announced Friday the suspension of a program that allowed Iraqis to seek refuge in return for helping Americans in Iraq, according to the State Department.
"Effective January 22, 2021, the United States is suspending the Direct Access Program for US-Affiliated Iraqis for 90 days," acting Secretary of State Daniel Smith said.
The program allowed many Iraqis who helped US troops on the battlefield to find a safe haven in the US.
As an incentive and a way for local residents to cooperate with the US, this program was offered.
The move comes after an investigation unveiled that individuals stole US government records from the State Department's Worldwide Refugee Admissions system "to take advantage" of the program for US-affiliated Iraqis.
Friday's move was necessary, Smith said, in order to "further review and address vulnerabilities."
"The message is clear for those who would seek to take advantage of America's generosity in welcoming the world's most vulnerable people – you will be held accountable," he added.
But the US will continue to provide humanitarian aid. Since 2014, Washington has provided more than $3 billion in humanitarian assistance to Iraq, and for Iraqis in the region, the statement said.
"We recognize the importance of assisting those who legitimately put their lives at risk to provide critical support to the United States in Iraq, and we do not take the decision to suspend this program lightly," Smith said.
Shortly before the Trump administration left office, then-acting Defense Secretary Christoper Miller said that US troops were cut to 2,500.
https://english.alarabiya.net/en/News/middle-east/2021/01/23/US-suspends-program-allowing-Iraqis-to-seek-refuge-in-return-for-helping-troops
--------
US State Department starts to revisit Trump terrorist designation of Yemen's Ansarullah
23 January 2021
A spokesperson at the US State Department says Washington has started a review of a decision by the administration of former US President Donald Trump to designate Yemen's popular Houthi Ansarullah movement as a foreign terrorist organization.
"As noted by Secretary-Designate [Anthony] Blinken, the State Department has initiated a review of Ansarullah's terrorist designations," the spokesperson said on Friday.
"We will not publicly discuss or comment on internal deliberations regarding that review; however, with the humanitarian crisis in Yemen we are working as fast as we can to conduct the review and make a determination," the spokesperson added.
Trump's administration announced the designation of popular Ansarullah movement as a terrorist group on January 11, nine days before new US President Joe Biden took office on Wednesday.
Trump was a staunch ally of Saudi Arabia, offering US logistical help and military sales for its six-year war on Yemen to dislodge the Ansarullah-led and Sana'a-based National Salvation Government, which is controlling much of the war-torn country.
Earlier this week, Blinken said the US State Department would quickly take a look at the terrorist designation of Ansarullah, and end support to the devastating Saudi-led offensive on Yemen.
Blinken said that the Saudis have "contributed to what is by most accounts the worst humanitarian situation anywhere in the world."
The United Nations and aid groups have warned the terrorist designation risks complicating efforts to combat the world's largest humanitarian crisis in the war-wracked country where millions depend on aid to survive.
Stephane Dujarric, spokesman for UN Secretary General Antonio Guterres, has called on the United States to reverse the Trump administration's move.
"Our position on this has not changed. We call on the government to reverse that decision," Dujarric said.
"Our concern from the beginning, that we expressed very clearly, is the impact on the commercial sector," he added.
"The vast majority of food and other basic supplies that comes into Yemen comes in through the commercial sector," Dujarric pointed out.
Over 170 Yemeni NGOs condemn US terrorist designation of Ansarullah
Meanwhile, a total of 173 Yemeni civil society organizations have in a joint statement denounced the terror designation of Ansarullah, and called for the move to be undone.
The organizations rejected the blacklisting as an aggressive step that would pose catastrophic risks to the humanitarian situation in Yemen, and would exacerbate the sufferings of Yemeni people – most of whom are living below the poverty line and are currently at risk of starvation.
Yemenis to stage mass rallies against blacklisting
Thousands of people in Yemen are set to take part in countrywide demonstrations on Monday to condemn the US designation of popular Ansarullah movement.
The organizing committee said in a statement that that the rallies will be held under the motto "The blockade and US aggression are terrorist crimes" in the capital, Sana'a, and elsewhere in the country.
The committee highlighted that the Yemeni nation's resolve and steadfastness will not be damaged in the face of the enemy, whatever the challenges might be.
The US terrorist designation appears to be a desperate attempt by the former US administration to step up pressure on the popular Houthi movement after the Saudi regime failed to fulfill its objectives in Yemen after years of war, despite all the support it received from the US and other Western states.
The Houthi Ansarullah movement, backed by the Yemeni armed forces and allied popular groups, has been successfully defending Yemen against the Saudi aggression, leaving Riyadh and its allies bogged down in the county.
https://www.presstv.com/Detail/2021/01/23/643644/US-State-Department-starts-to-revisit-designation-of-Yemen-Ansarullah-as-terrorists
--------
Israel lobby trying to thwart Biden return to Iran nuclear deal: Analyst
23 January 2021
An American political analyst has said that the Israeli lobby is exerting pressure on US President Joe Biden not to return to the Iran nuclear deal.
Mark Dankof, who is also a broadcaster in San Antonio, Texas, made the remark during a phone interview with Press TV on Friday.
A new report has cited a "very senior Israeli official" as saying that the Tel Aviv regime would start snubbing the US if it reentered a 2015 nuclear deal between Iran and world powers that was ditched by the Trump administration.
"If Biden adopts [former US president, Barack] Obama's plan, we will have nothing to talk about with him," the regime's Channel 12 reported on Wednesday, citing the unnamed official.
Although the channel did not specify what plan the official meant, the online newspaper The Times of Israel said the official was referring to the nuclear agreement, officially called the Joint Comprehensive Joint Action Plan (JCPOA), sealed in 2015 between Iran and the 5+1 group of countries (which was then made up of the US, the UK, France, Russia and China, plus Germany).
The remarks came on the same day as Joe Biden took over the White House following the end of predecessor Donald Trump's tenure.
Trump took the US out of the deal -- that is officially known as the Joint Comprehensive Plan of Action (JCPOA) -- in 2018 following widely reported provocation on the part of Israel and some of its allied regional regimes.
The former president would continually vilify the JCPOA, calling it "the worst deal ever," a term that has also been used for the agreement by Israeli Prime Minister Benjamin Netanyahu.
Biden has suggested he could return the US to the agreement that was signed during Trump predecessor Barack Obama's tenure.
Dankof said that "it's a supreme act of arrogance, and I think it underscores who actually runs the foreign policy of the United States, and in this case, Israel. According to these reports in Israeli Channel 12, as well as in the times of Israel, that they're putting Joe Biden on notice that 'they'll have nothing to do with him in the event that the JCPOA P5+1 deal is entered into again by the United States.'"
"After all, the United States gives them $10 billion a year minimum. The United States is their chief political, economic, and military benefactor in that part of the world. In this particular instance this early on, for the Israelis to do something like this is absolutely outlandish," he said.
"Now having said that, you have Antony Blinken, who is a Zionist Jew, and who is now the new Secretary of State of the United States, basically at the same time telling these Israeli media outlets that in effect he would 'reengage with Israel and its Arab allies' before the United States would consider re-entering this JCPOA treaty. This is already proving that Scott Ritter is correct in what he observed, and that is that Biden was being duplicitous during the presidential election campaign in saying that the United States would re-enter the deal. Ritter, I think had it down correctly Biden, in essence, was committing himself to JCPOA P5+1, which is the correct position to have certainly and I say that as a member of the Buchanan Ron Paul wing of the Republican Party," the analyst said.
"But having said that, Ritter predicted that Biden would attach so many conditions to re-entry of the United States in the JCPOA P5+1 that the Iranians could not possibly be expected to go for all the attachment of all of these new conditions, and that the Iranians quite rightly would reject the deal, only to be blamed for the deal not being restarted again," he noted.
"So this is what's happening here. And we're already beginning to see the evidence of the amount of pressure that the Israeli government and the Israeli lobby are now exerting on Joe Biden and working this time, not through Mike Pompeo and John Bolton, and Nikki Haley, and through all of these Zionist Republicans in Capitol Hill. But in this instance, you're going to see the extent to which all of these Zionists who now surround Joe Biden, including Blinken, including Avril Haines the new CIA director, including Hillary Clinton who is probably going to be our ambassador to the UN, and of course Victoria Nuland now crops up again in a Biden administration, her husband, of course, Robert Kagan, who is a key figure in the project of the New American Century, and the so-called clean break documents. And of course, Robert Kagan is one of the chief Zionist Jews in Israel's lobby in the United States," he said.
"So this is where we are at this particular point in time. This is an example of what I was telling Salaam media in South Africa late last night, and that is that if you look at some of the best sources on this, ranging from Glenn Greenwald, of course, to Caitlyn Johnstone to Finian Cunningham, you're going to see that Joe Biden is absolutely no different from Donald Trump in foreign policy once the cards are out there on the table. I believe this nuclear deal is dead," he said.
"And as I said to South African media last night. Trump's criminal actions in the assassination of Soleimani, have I think set the United States and Iran on a course of action that can lead only to a war, and a war that will be basically started by a false flag, or other means, but we'll have the hands of Israel, and their domestic lobby in the United States behind it," the analyst noted.
"So in this particular case, I think the JCPOA P5+1 treaty is essentially dead. Biden has had an opportunity here to put the Israelis in their place. The signs from Blinken absolutely indicate the opposite. And at the end of the day, I believe I'm going to be proven a sad prophet once again. And that is that this latest presidential administration is going to be no better than all the presidential administrations since the end of World War Two, with the possible exception of John Kennedy, of course, in doing whatever it is that Israel wants," he stated.
https://www.presstv.com/Detail/2021/01/23/643639/Israel-lobby-tries-to-thwart-Biden-return-to-JCPOA
--------
UAE to get F35 jets and Predator drones after normalizing ties with Israel
22 January 2021
Former US President Donald Trump took full advantage of his last hours in office this week to push through a flurry of controversial decisions. One of Trumps final acts was signing a deal to sell state of the art warplanes and drones to the United Arab Emirates. His administration reportedly signed the deal just one hour before Trump's tumultuous presidential term was over.
Under the agreement, the UAE is expected to receive 50 stealth F 35 warplanes and 18 advanced Reaper drones. The Emiratis have long expressed interest in getting the stealth jets. The UAE was promised a chance to purchase them when it agreed to normalize relations with Israel last August, angering the Palestinians.
The arms deal was pushed by the president's son in law, Jared Kushner, who was central to the normalization of ties with Israel. The weapons package is considered another part of Trump's notorious dealings with Persian Gulf Arab allies, which have long records of human rights violations.
Trump boosted weapons transfers despite outcry by human rights advocates
The Emiratis, for instance, have been deeply involved in the devastating Saudi led war on Yemen, which has triggered the world's worst humanitarian disaster. The UAE has carried out a large number of aerial bombardments in Yemen where hospitals, schools, weddings and funerals have been among the targets on the ground; the business minded former US president boosted weapons transfers to its regional allies despite outcry by human rights advocates.
A coalition of human rights organizations recently urged the US to avoid further arms sales to the United Arab Emirates. The rights groups believe more arms for the Emirati's would worsen a set of bloody conflicts in Yemen, Libya and beyond.
Former US President, Donald Trump, was dismissive of such warnings as the United States itself has been deeply involved in the Yemen war ever since it began in 2015. US military support for the Saudis and their Emirati allies has included mid air refueling, military intelligence and logistics.
During his presidential campaign the new US president signaled, a major shift. He has pledged to take a tough line on human rights issues, even when it comes to America's allies. Biden has also hinted at ending weapons transfers and military support to the Saudi led coalition pounding Yemen.
Actions speak louder than words
But critics say actions speak louder than words. They say there is no guarantee that Biden will change America's approach as promised. Saudi and Emirati petrodollars have proven to be irresistible to many American presidents. Is Joe Biden really willing to put human rights first and change America's stance in the region?
I don't think any American government, any American President, is going to step completely away from the Petro dollars coming into the American defense industry. However, I think everyone has to realize in Washington and elsewhere, is that this war, I hate to keep harping on American national security but what does it have to do with American national security?
Brian Downing, Journalist
How will he deal with powerful Saudi and Emirati lobbies in Washington? Biden faces tough choices over Yemen and his ties with the regimes of Saudi Arabia and the UAE as he will probably need to make very important decisions.
https://www.presstv.com/Detail/2021/01/22/643622/UAE-to-get-F35-jets-and-Predator-drones-normalizing-ties-with-Israel
--------
US: Schiff asks spy chief to publicize Khashoggi report
Servet Günerigök
23.01.2021
WASHINGTON
US House of Representatives Intelligence Committee Chairman Adam Schiff said Friday he asked the new head of national intelligence to release an unclassified report on the murder of Saudi journalist Jamal Khashoggi.
In a letter addressed to Director of National Intelligence (DNI) Avril Haines, the Democrat from the state of California called the murder in Istanbul "brutal" and "premeditated."
"For a year the [former President Donald] Trump Admin refused to make public an unclassified report on Saudi Arabia's culpability. I have asked Director Haines to declassify this report. There must be accountability and justice," Schiff said in a tweet in which he included a copy of the letter.
Khashoggi, a Washington Post columnist and US resident, was assassinated inside the Saudi Consulate in Istanbul in October 2018 after being lured there by Saudi officials to receive legal documents he needed to marry.
The CIA reportedly concluded that Saudi Crown Prince Mohammed bin Salman ordered Khashoggi's murder. But Trump resolutely shielded bin Salman from facing consequences for the killing, including blocking the intelligence agency's assessment from being handed to lawmakers.
"The importance of speaking the truth and confronting the powerful over their misconduct is at the heart of bipartisan concerns over the year-long delay in ODNI's production of an unclassified report to Congress regarding Saudi Arabia's culpability," said Schiff.
During her Senate confirmation hearings earlier this week, Haines committed to providing Congress with the unclassified report on the brutal murder.
https://www.aa.com.tr/en/americas/us-schiff-asks-spy-chief-to-publicize-khashoggi-report/2120021
--------
Biden sworn-in to office with 5-inch thick family Bible
Beyza Binnur Dönmez
21.01.2021
US President Joe Biden was sworn in on a 19th-century family Bible on Wednesday, continuing the tradition during his long political career.
Biden, the second Catholic US president after John F. Kennedy, put his hand on the five-inch thick Bible that was held by First Lady Jill Biden and took the 35-word oath administered by Chief Justice John Roberts.
The Bible featuring a Celtic cross on the cover has been part of the Biden family for nearly 130 years and Biden first used it during his first Senate swearing-in in 1973. Since then, he has used it every time he has taken an oath of office, including his swearing-in as vice president in 2009 and 2013.
The heirloom was also used by Biden's son Beau when he was sworn in as Delaware attorney general in 2007.
By convention, incoming presidents in the US raise their right hand and place the left on a Bible while taking the oath of office.
During a pre-inaugural blessing before the now-president left his home state for Washington, D.C., Delaware Rabbi Michael Beals called Biden "our Moses."
"It is indeed bashert that you, our dear president-elect, are being inaugurated on the very week when Jews all around the world are reading from the book of Exodus about Moses freeing us from 400 years of backbreaking, Egyptian slavery at the hands of an autocratic, cruel Pharaoh," according to Beals, who referenced the inauguration at an event Tuesday as "bashert" -- a Yiddish word which means "destiny" or "meant to be."
"In many ways, dear Joe, you are our Moses and Vice President-elect Kamala Harris is our Aaron," he added.
The comparison is similar to how a majority of evangelical Christians saw former President Donald Trump as God's appointee who will "bring change into this nation."
https://www.aa.com.tr/en/americas/biden-sworn-in-to-office-with-5-inch-thick-family-bible/2118086
--------
South Asia
44 Civilians Killed, Injured As Battle Intensifies in Afghanistan
By Mohammad Haroon Alim
22 Jan 2021
According to the preliminary findings of the Afghan Independent Human Rights Commission, 8 civilians were killed in incidents like roadside bomb blasts, targeted magnetic IED killings, unidentified gunmen attacks, mortar shells landing on residential places.
The incidents cover various insurgency attacks in Kabul, Uruzgan, Baghlan, Nangarhar, and Helmand.
AIHRC reported that from the 18th of January to the 20th of December 8 civilians were killed and further 36 others including (Women and Children) were wounded in different attacks across Afghanistan.
Warring parties must abide by the principles and rules of international humanitarian law, AIHRC demanded.
War crimes are not subject to the passage of time, and no individual or group involved in the Afghan war should ignore the rights of the war victims and their access to justice and reparation.
This comes as two people were killed in a targeted attack on an Afghan National Army vehicle in the PD6 Kote Sangi area of Kabul City on Thursday night, the Ministry of Interior said.
Tariq Arian, spokesperson to MOI, blamed "Taliban" for the incident.
The second incident happened in PD6 when a civilian vehicle was targeted by a magnetic IED, killing one person and injuring two others.
Both incidents have sparked outrage among people, Afghan public criticized government security agencies for the lack of proper security plans and their implementation.
People in social media have asked that how can this assassination occur in a busy area, and that police could not chase the perpetrators of this incident.
Security agencies operating are deemed incapable and inexpert in the city.
Meanwhile, European Human Rights Ambassadors in a joint statement condemned civilian casualties in Afghanistan.
According to the statement, the Taliban and different terrorist groups have caused significant casualties in the region.
"The targeted killing of human rights defenders, judges, journalists, media workers & civil society actors is unacceptable."
European Humans Rights Ambassadors calls on accountability and the need for comprehensive investigation in all of the attacks.
They also demanded that all of the perpetrators should be brought to justice.
The world's Islamic dignitaries and leaders are also expected to hold a summit aimed at seeking a settlement to the ongoing war in Afghanistan.
The leader of the Muslim World League, Mohammad bin Abdul Karim Issa in a meeting with Afghan Foreign Minister Hanif Atmar told that a conference will be arranged to bring key Islamic figures in order to find a fundamental solution to the Afghan crisis through a religious perspective.
https://www.khaama.com/44-civilians-killed-injured-as-battle-intensifies-in-afghanistan-334433/
--------
NATO to Address Its Training Mission in Afghanistan
By Mohammad Haroon Alim
22 Jan 2021
Jens Stoltenberg, Secretary-General of NATO in a meeting with Mevlüt Çavuşoğlu, Turkish Foreign minister said, that NATO will address the future of its training mission in Afghanistan by February 2021.
Jens Stoltenberg also reiterated that the North Atlantic Treaty Organisation will support the Afghan peace process.
He added, that "whatever path we choose, it is important that we do so together, in a coordinated and deliberate way".
The international organization will also support the Afghan peace process and stands ready to adjust its presence in the region.
"NATO supports the Afghan peace talks and, as part of this process, stands ready to further adjust its presence," Jens added.
According to NATO, the agenda is also planned for the expansion of NATO's Training Mission in Iraq to help ensure ISIS never returns.
Stoltenberg also welcomed the continuation of NATO-brokered talks between Turkey and Greece on a military deconfliction mechanism in the Eastern Mediterranean. "The de-confliction mechanism has helped to reduce tensions and create the space for political discussions to resolve the underlying issues. I also welcome the Exploratory Talks taking place in Istanbul next week.", the Secretary-General said.
Previously NATO had declared that their Resolute Support mission will be ongoing in Afghanistan.
On the other hand, Shah Mehmood Qureshi, Pakistan's foreign minister called on American President Joe Biden to follow up the Afghan peace process.
Aljazeera quoted Qureshi saying "I think they should realise there is an opportunity in Afghanistan and they should persevere with what was initiated and not reverse things", he added in regards to US troops withdrawal that "We are concerned because we feel violence can vitiate the climate,".
"Pakistan has done a lot, we have really bent backwards to create an environment to facilitate the peace process," Aljazeera quoted Qureshi.
The Pakistani prime minister blamed internal spoilers for the violence escalation.
This comes as violence has intensified and surged in Afghanistan, and many innocent civilians suffer from a lack of insecurity and overall instability.
https://www.khaama.com/nato-to-address-its-training-mission-in-afghanistan-445544/
--------
Targeted Killings of Afghan Journalists Threaten Free Media in Afghanistan
By Roshan Noorzai
January 21, 2021
WASHINGTON - A recent string of targeted killings in Afghanistan has created an atmosphere of fear among Afghan journalists who say they cannot carry out their duties under growing threats.
The Afghan Journalists Safety Committee, a local media advocacy group, has warned that the country might lose one of its main achievements in the past two decades, freedom of expression and press, if the attacks on journalists continue.
At least five journalists have been killed in Afghanistan in the past two months as part of a wave of targeted attacks against women working outside their homes, rights activists, tribal and community leaders, religious figures and journalists.
"If this trend continues, we will lose one of the most noteworthy achievements of this country, which is press freedom and freedom of expression," Najib Sharifi, president of the Afghan Journalists Safety Committee, told VOA.
Journalists in many parts of Afghanistan say they no longer feel safe amid the increased killings of fellow journalists.
"We are in constant fear of being targeted," said Sami Serat, a journalist working with a local radio station in Helmand province. "We do not feel safe in the city, in our offices or even at home."
Serat added that the recent targeted killings of journalists in the country have "negatively affected" news coverage of his home province of Helmand, which has seen intensified clashes between government forces and Taliban militants in recent months.
"We rarely go to the scenes for news coverage. It has become nearly impossible for us to go there because of the fear of being targeted and the ongoing fighting in the city [Lashkargah] and provincial districts," he told VOA.
Serat said that some of his fellow journalists have left Helmand for Kabul because "it has become difficult to work in the province, and some of our own journalists, fearing their lives, are now in Kabul."
Walwala, 23, who worked as a journalist in the northern province of Baghlan, said that she left her job because of security concerns.
"I love my profession, but I had to stop all my social and journalistic activities," she said.
Walwala said the killing of Malalai Maiwandi, a female journalist killed by unknown gunmen on December 10 in the eastern Nangarhar province, "has shocked all the female journalists across Afghanistan," adding that many female journalists "are looking for jobs in other areas."
She added that she would "only start working as a journalist again when the security situation gets better in the country."
Nai, a local media organization in Afghanistan, reported that 11 Afghan journalists and media workers were killed in 2020.
Demand for investigation
The Afghan government says several suspected attackers in some targeted killings have been arrested, including those suspected of killing Mohammad Ilyas Dayee, a journalist with Radio Free Europe/Radio Liberty, who was killed December 12.
However, Mudasar Dawat, Dayee's younger brother, told VOA that the security officials have not informed his family about the arrests.
"The government has not given us any information [about the progress made in the investigation]," he told VOA. "We have seen videos on Twitter and Facebook of someone confessing [to the killing], but that is not enough nor acceptable. We have the right to know about the investigation and who was behind the attack."
Tariq Aryan, a spokesperson for the Afghan Interior Ministry, said the government is investigating into the targeted killings of journalists "in collaboration with media organizations."
He blamed the Taliban for the attacks, claiming that the government has "arrested the killers of Dayee and Malalai Maiwand, and [those killers] were members of the Taliban."
The Taliban have denied any involvement in the recent killings of human rights activists and journalists though they have targeted journalists and media workers in the past.
In 2016, the militant group claimed responsibility for an attack on a bus, killing seven Tolo TV staffers and injuring 25 others. The Taliban at the time described the journalists as "enemy personnel."
Call for protection
In a letter released December 12, Reporters Without Borders (RSF) and a number of other media organizations called on the U.N. to take "concrete measures" for the protection of journalists in Afghanistan.
The letter urged the U.N. Security Council to "take serious actions to reduce violence and pressure the perpetrators to cease targeting journalists."
Danish Karokhel, the head of Pajhwok Afghan News Agency, also believes the international community should pressure the Taliban to stop targeting journalists.
"It is not enough that they send press releases rejecting involvement in these killings. The Taliban should be accountable for the actions of their fighters in the provinces," he told VOA.
The United States signed a peace agreement with the Taliban in February 2020, which paved the way for the start of intra-Afghan negotiations in September 2020.
However, violence in Afghanistan, particularly targeted killings, has surged in Afghanistan as negotiations continue in the Qatari capital, Doha.
Karokhel said that in some instances Taliban commanders and fighters have "created problems" for journalists, though the Taliban political leaders insist that they have changed and do not oppose free media anymore.
In a report released last year, Human Rights Watch (HRW) accused Taliban militants of imposing restrictions on media groups in the areas they control.
John Sifton, the Asia Advocacy director at HRW, told VOA in a recent interview that "what the Taliban say at the leadership level … does not mean that is what happens on the ground," adding that the Taliban commanders in provinces "interpret things their own way."
Afghanistan ranks 122nd out of 180 countries in RSF's 2020 press freedom index.
The establishment of independent media has been considered as one of the main achievements of the post-Taliban Afghanistan, said RSF, adding that "given the country's political and security challenges, this achievement is extremely vulnerable."
https://www.voanews.com/extremism-watch/targeted-killings-afghan-journalists-threaten-free-media-afghanistan?utm_source=iterable&utm_medium=email&utm_campaign=1927205_
--------
Bangladesh PM Hasina thanks PM Narendra Modi for Covid-19 vaccine gift
Jan 22, 2021
DHAKA: Bangladesh Prime Minister Sheikh Hasina has thanked her Indian counterpart Narendra Modi for sending over two million doses of Covid-19 vaccine as a gift to Bangladesh. India on Thursday officially handed over 2 million doses of domestically produced Covishield vaccine to Bangladesh. The vaccines were provided at a crucial time when the number of coronavirus cases in Bangladesh is rising.
"I thank Prime Minister Narendra Modi for sending the vaccine (batch) as a gift," Hasina said at an online international conference held on the occasion of the 100th founding anniversary of the University of Dhaka on Thursday.
She said the government has already planned how it would proceed with the vaccine, the Dhaka Tribune reported.
"We have taken all the steps to face the Covid-19 situation in the country," Hasina said.
Apart from the current delivery of vaccines, Bangladesh is also set to purchase 3 crore doses of India-made coronavirus vaccine.
Hasina hoped that the vaccine that Bangladesh procured from India would arrive by January 25-26, the report said.
Bangladesh has so far recorded 7,966 Covid-19 deaths since the outbreak of the pandemic in March last year, while the total number of infections have surged to over 530,270.
India also handed over 1 million doses of coronavirus vaccines to Nepal on Thursday. On Wednesday, India sent 150,000 doses of Covishield vaccines to Bhutan and 100,000 doses to the Maldives.
https://timesofindia.indiatimes.com/world/south-asia/bangladesh-pm-hasina-thanks-pm-narendra-modi-for-covid-19-vaccine-gift/articleshow/80406346.cms
--------
Africa
Christian Group Names Nigeria Hot Spot for Persecution
By Timothy Obiezu
January 21, 2021
ABUJA - A report by the U.S-based Christian persecution monitoring group Open Doors shows the number of Christians killed in 2020 increased by 60%, mostly because of Islamic violence against Nigerian Christians.
The study says more than 2,200 of 4,761 Christians killed around the world in 2020 died in Nigeria because of radical Islamists.
Open Doors CEO David Curry says the global focus on battling the coronavirus pandemic last year also contributed to an increase in Christian persecution.
But Nigerian Muslim groups say the report is promoting a false impression.
"Nigerian Christians are not persecuted," said Ishaq Akintola, director at Muslim Rights Concern. "What is happening in Nigeria is the persecutor crying out and claiming that he is being persecuted, claiming that he is the victim. And it's because a Muslim is in power that the crying of persecution is so loud."
Another U.S.-based organization, International Christian Concern, estimates 50,000 to 70,000 Christians have died in violent attacks in Nigeria over 18 years, mostly carried out by Boko Haram terrorists or arms-wielding gangs.
Nigeria has been battling insurgents seeking to create an Islamic caliphate in the country's north for more than a decade. The conflict has also affected Nigeria's neighboring countries.
But Akintola says violent groups have no affiliation with Islam.
"There's nothing like that," Akintola said. "Boko Haram is not a Muslim group. This is a fake and misled group, a group that has gone out of the palms of Islam. There's nothing like a caliphate for a violent group."
Last month, the State Department designated Nigeria as a country of particular concern because of religious freedom violations based on a report by the U.S. Commission on International Religious Freedom. It said Nigeria's Christian communities had "weathered particularly egregious attacks."
Nigeria's information minister, Lai Mohammed, rejected the listing and called the allegations untrue.
However, Christian organizations maintain Nigerian Christians are persecuted and say the Nigerian government is not doing enough to address the issue.
"If you go back to the Chibok [mass kidnapping] case, you'll discover that the Chibok schoolgirls, many of them were Christians," said Israel Akanji, northern regional head of the Christian Association of Nigeria. "The church is being persecuted. There are so many places where Christians will not be made to head certain institutions, even when they're very qualified."
Open Doors' report said persecution would likely grow worse as the coronavirus pandemic continues.
https://www.voanews.com/africa/christian-group-names-nigeria-hot-spot-persecution?utm_source=iterable&utm_medium=email&utm_campaign=1927205_
--------
Over two million people internally displaced by violence in Africa's Sahel region: UN
22 January 2021
More than two million people have been forced to flee their homes within their own countries' borders owing to the violence engulfing Africa's Sahel region, the United Nations said on Friday.
The humanitarian response is "dangerously overstretched" in an area covering parts of Burkina Faso, Chad, Mali, and Niger, said UNHCR, the UN Refugee Agency.
Thousands have died since militants launched an insurgency in northern Mali in 2012 that spilled over its borders.
UNHCR spokesman Boris Cheshirkov told reporters in Geneva the "unrelenting violence" must stop.
He said the figure of two million internally displaced people had more than quadrupled since the start of 2019.
"The extreme vulnerability of the Sahel has been laid bare by the impact of forced displacement, caused by widespread and gruesome violence perpetrated by armed insurgent groups and criminal gangs," he said.
"The humanitarian response is dangerously overstretched, and UNHCR is urging the international community to redouble its support for the region."
He said the countries needed help particularly with schools and hospitals, many of which have shut because of the violence.
Lacking basic shelter
More than half of the displaced in the region are in impoverished Burkina Faso, which has been under attack since 2015 when Takfiri militants swept in from neighboring Mali.
The problems in Burkina Faso have intensified in recent weeks, said Cheshirkov.
More than 11,000 people, mostly women, and children fled attacks in and around the northern town of Koumbri earlier this month, he said.
They have reached safety and the UNHCR is erecting shelters and distributing aid.
"Despite the generosity of their hosts, many of the IDPs lack basic shelter and are sleeping under open skies," said Cheshirkov, adding that they urgently needed essential supplies and facilities to stop Covid-19 from spreading.
On top of the internally displaced, more than 850,000 people have fled from Mali and taken shelter in other countries.
Throughout the Sahel, UNHCR and other agencies are working to help hundreds of thousands of displaced people with shelter, aid, and cash, the spokesman said.
"Our teams are also working to prevent and respond to instances of sexual violence, which have become widespread," he added.
https://www.presstv.com/Detail/2021/01/22/643636/Sahel-Africa-UN-displaced-Burkina-Faso
--------
Wagner's mercenaries dig huge trench in Libya
23.01.2021
TRIPOLI, Libya
The CNN network said Friday that a satellite detected a kilometers-long trench dug by Russian-backed Wagner mercenaries between Sirte and al-Jafra in central Libya.
"The trench, which extends dozens of kilometers south from the populated coastal areas around Sirte towards the Wagner-controlled stronghold of al-Jufra, can be seen on satellite imagery and is bolstered by a series of elaborate fortifications," it said.
The network cited a US official who said construction indicates that Wagner fighters have long-term goals, will not withdraw from the country and plan to stay for a long time.
Warring Libyan parties reached a cease-fire deal Oct. 23, with UN mediation, to withdraw foreign mercenaries within 3 months. That deadline ends Saturday.
The government, however, has documented regular breaches by militias affiliated with warlord Khalifa Haftar.
https://www.aa.com.tr/en/africa/wagners-mercenaries-dig-huge-trench-in-libya/2120034
--------
Somalia: Protests over missing recruits gather steam
Magdalene Mukami
22.01.2021
MOGADISHU, Somalia
Hundreds of Somali parents have been camping in the streets of Mogadishu for the last two days, demanding the government tell them about the fate of their sons who were sent to Eritrea for military training.
The protesting parents said they have been unable to contact their children and that their whereabouts remain unknown since clashes between rebel forces and the Ethiopian military started in the northern Tigray region toward the end of 2020.
Abdishakur Kirie, the father of Somali recruit Afyare Abdi Ahmed, told Anadolu Agency that he used to talk to his son regularly, but now he cannot reach him. "I've not heard from him for a long time. We are protesting because we want to know how our loved ones are. We just need to know that they are safe. If the former intelligence official is wrong, then we need proof of their life."
Abdisalan Yusuf Guled, the former deputy spy chief of Somali National Intelligence and Security Agency, last week claimed that over 370 Somali soldiers died in the Tigray conflict. Guled said the soldiers sent to Eritrea for training were redeployed to fight alongside the Ethiopian army, a claim shot down by the Somali government.
Abdullahi Bashir, another parent who does not know the whereabouts of his son, said: "The government should tell me about the fate of my child. If he died in the Tigray battle in Ethiopia, as we are being told, the government should tell us."
"We are almost certain that our children were sent to the Ethiopia war. We want to know if they are alive or dead," said Halima Sagal, a soldier's mother.
Hundreds of Somali parents, whose sons and daughters have been missing since going to Eritrea for military training, took to the streets of the north-central Galkayo city on Wednesday, demanding the government find their children. People in other Somali cities are also protesting.
Ethiopian Foreign Ministry spokesman Dina Mufti also denied the claims, saying: "We have seen reports about Eritrean troops that have crossed into Ethiopia, we are also witnessing similar reports about Somali soldiers participating in the same campaign. Both of these claims are false and unfounded."
https://www.aa.com.tr/en/africa/somalia-protests-over-missing-recruits-gather-steam/2119720
--------
French troops kill over 20 extremists in Burkina Faso
January 21, 2021
PARIS: More than 20 militants have been killed by French troops this month in Burkina Faso near the border with troubled Mali, the French military said Thursday.
One of the poorest countries in the world, Burkina Faso is struggling with a ruthless insurgency by armed Islamists who swept in from neighbouring Mali in 2015.
Almost 1,100 people have died and more than a million people have fled their homes.
French Tigre helicopters on Saturday "neutralised" a "suspicious convoy of 30 motorcycles" on Burkinabe territory near the Mali town of Boulikessi in which some 10 extremists were killed, said Colonel Frederic Barbry, spokesman for the French defence staff.
The same day, a French drone struck a four-wheel drive vehicle heading for Mali, he said.
On Sunday, French helicopters fired on a convoy of 40 motorbikes "allowing us to stop the convoy and neutralise more than 10 armed terrorists and destroy about 10 motorbikes," Barbry added.
France has deployed troops in the region to fight extremists.
https://www.arabnews.com/node/1796376/world
--------
India
Pak's Secret Tunnel To Push Terrorists For 8 Years In Jammu Detected By BSF
By Shishir Gupta
JAN 23, 2021
The Border Security Force on Saturday found a 150-metre long underground tunnel in Jammu and Kashmir that had been used by Pakistani intelligence to infiltrate terrorists into India. This is the second tunnel to be spotted in 10 days by the border guarding force that last year went on campaign mode to detect and destroy a web of tunnels believed to have been built by Pakistan's deep state, a senior BSF official said on Saturday.
The 30-feet deep tunnel has been detected between Border Post number 14 and 15 near BSF's outpost at Pansar, Kathua district. On the other side of the fence are Pakistani border outposts of Abhiyal Dogra and Kingre-de-Kothe in Shakargarh district.
Pakistan's Shakargarh, the area across the fence, is home to a terror training facility overseen by one of Jaish-e-Mohammed's operational commander Kasim Jan who, Indian intelligence believes, was involved in the November 19 Nagrota encounter in Jammu and is the principal accused in the 2016 Pathankot airbase attack. Jan is also one of the main launch commanders of Jaish terrorists into India.
"This is huge," a senior BSF official said. Because the tunnel appears to be at least 6 to 8 years old and would have been used for infiltration for a long time. Also, it is located in a place that has seen action in the past, right from 2012 when Pakistan had mounted a heavy fire assault on the forward duty point and constructed a new bunker on the zero line in the vicinity.
Not far from where the tunnel was found, a BSF assistant commandant Vinay Prasad who was leading a border domination patrol was killed by sniper fire from across the border in January 2019. Ten months later, a group of terrorists was noticed in the same area in November 2019.
It is very important to detect all the tunnels built by the Pakistani military and its terrorists because the infiltration of terrorists through them practically nullifies the utility of deployment of soldiers along the Line of Control. When it becomes too difficult to cross the LoC, Pakistani terrorists use these tunnels, a senior counterterror official said in Delhi.
Border Security Force director general Rakesh Asthana had ordered the force to step up efforts to detect tunnels after the Nagrota encounter in November when security forces were able to trace the route taken by the terrorists who had crossed over using one of the many tunnels that the Pakistani military have built for the terrorists to sneak into India.
Security officials underscore that proper engineering effort had gone into the construction of the tunnels that had been detected in recent times, pointing to the involvement of the Pakistani military along the heavily-guarded border.
BSF seizes weapons
Meanwhile, the BSF carried out an intelligence-backed raid in Poonch district that led to the seizure of one AK-47 rifle, three China-made pistols, an under-barrel grenade launder and a radio set.
https://www.hindustantimes.com/india-news/paks-secret-tunnel-to-push-terrorists-for-8-years-in-jammu-detected-by-bsf-101611386495290.html
--------
As vaccine diplomacy continues, government says no request from Pakistan yet
Jan 23, 2021
NEW DELHI: Faced with queries about whether India would consider supplying Covid-19 vaccine to Pakistan, the government on Friday said it had not received any request from Islamabad for vaccine.
India has so far donated Covishield vaccine to Bangladesh, Nepal, Myanmar, Bhutan and the Maldives in the immediate neighbourhood and is awaiting confirmation of regulatory clearances from Afghanistan and Sri Lanka to deliver the same as grant assistance to them.
"I am not aware of any request for the supply of India-made vaccines to Pakistan on a G2G basis or commercial basis. The other part of the question is hypothetical at this stage and I would not like to respond," said MEA spokesperson Anurag Srivastava, when asked if India could consider donating vaccine to Pakistan as well. China has so far committed 500,000 doses of its Sinopharm vaccine for Pakistan.
The official said that keeping in view the domestic requirements of the phased rollout of Covid-19 vaccines, India will continue to supply the same to partner countries over the coming weeks and months in a phased manner. "It will be ensured that domestic manufacturers will have adequate stocks to meet domestic requirements while supplying abroad," he said, adding that contractual supplies are also being undertaken to Saudi Arabia, South Africa, Brazil, Morocco, Bangladesh and Myanmar.
On the issue of quantity and types of vaccine being supplied, the government said supplies would be based on availability and regulatory approvals in the countries concerned.
Brazil President J M Bolsonaro thanked PM Narendra Modi for the vaccine in a tweet. "Namaskar, Prime Minister Narendra Modi. Brazil feels honoured to have a great partner to overcome a global obstacle by joining efforts. Thank you for assisting us with the vaccines exports from India to Brazil. Dhanyavaad," he tweeted.
https://timesofindia.indiatimes.com/india/as-vaccine-diplomacy-continues-government-says-no-request-from-pakistan-yet/articleshow/80415668.cms
--------
Pakistanis jailed in Lanka pushing drugs into India through sea: NCB
January 23, 2021
An international drug racket operated by Pakistani drug traffickers jailed in Sri Lanka is increasingly pushing narcotics into India through the sea route using Lankan and Maldivian couriers, a recent investigation by Narcotics Control Bureau (NCB) has found.
The drug network, NCB sources said, is spread across Afghanistan, Pakistan, Iran, Sri Lanka, Maldives, Australia and India.
On November 26, in a joint operation with the Indian Coast Guard, NCB had detained Sri Lankan fishing vessel 'Shenaya Duwa' in the territorial waters of India near Tuticorin port. A search of the vessel led to recovery of 95.875 kg of Heroin and 18.325 kg of Methamphetamine. Five pistols and magazines were found in possession of the crew and seized. The six-member crew, all of them Sri Lankan nationals, were arrested and are currently in jail.
Less than two months later, NCB on January 20 arrested two more Sri Lankan nationals, identified as MMM Nawas and Mohamed Afnas from Chennai for allegedly being part of the racket.
"Both Nawas and Afnas hold important positions in the multinational heroin syndicate. They were controlling mid sea pick up and delivery of narcotic drugs from Pakistani and Iranian vessels. Both had fled Sri Lanka when authorities closed in on them. It is also believed that there is an Interpol Red Corner Notice issued by Sri Lankan government against Nawas," an NCB statement said.
The NCB said intelligence shared by the agency with Sri Lankan authorities led to seizure of 100 kg of Heroin there.
"With increased vigil that our border guarding forces keep in the north western borders of India, the traditional route of Afghani-Pakistani heroin is becoming tougher to breach. This has also led to the increased use of sea route by heroin traffickers to smuggle the narcotic into India," an NCB official said.
According to NCB, the largest opium cultivation region of the world, the Golden Crescent comprising Afghanistan, Iran and Pakistan, has two important transit points for processed heroin in the island nations of Sri Lanka and Maldives. The heroin from this region is usually loaded in fishing vessels setting sail from the ports of Iran and Pakistan for mid-sea transfer into similar vessels of Sri Lanka and Maldives.
"However, the mid sea transfers happen in territorial waters of India or very near to its territorial waters. There is a big network of foreign entities controlling this lucrative trade. Very reliable intelligence developed by NCB and Indian agencies over the period indicates that Pakistani drug traffickers lodged in Sri Lankan prisons for drug offences control this trade…" an NCB statement said.
https://indianexpress.com/article/india/pakistanis-jailed-in-lanka-pushing-drugs-into-india-through-sea-ncb-7157982/
--------
J&K: Militants hurl grenade on police party in Kishtwar; no casualties
January 22, 2021
Ahead of the Republic Day celebrations, suspected militants Friday lobbed a grenade on a police party at Dedpath village near Sinthantop on the Kishtwar-Chatroo national highway, which connects Kashmir Valley with the hilly Kishtwar district in Chenab Valley region.
While a policeman suffered a minor injury, there were no reports of any other damage as the grenade missed the intended target and exploded on the roadside. It has been after nearly seven months that militants have made their presence felt in Chenab Valley region as the police and security forces had killed two militants in the adjoining Doda district's Gundna area in May last.
Kishtwar SSP Dr Harmeet Singh Mehta said that the police party on a vehicle were on patrol from Kishtwar to Chatroo when a grenade was lobbed on it near Dedpath. "There has been no loss of life as grenade missed the target," he said, adding that the police have registered an FIR and launched searches in the area.
https://indianexpress.com/article/india/jk-militants-hurl-grenade-on-police-party-in-kishtwar-no-casualties-7157477/
--------
Pakistan
Family Isolates Mufti Abdul Qavi, Strips Him Of Mufti Title
January 23, 2021
MULTAN: The family of Mufti Abdul Qavi has restricted his movement and isolated him in his house.
Addressing a press conference here on Friday, Mufti Qavi's uncle Abdul Wahid Nadeem said Abdul Qavi had been used by different people over the years for media attention.
"We are from a respected family involved in religious teaching through Darul Uloom Obaidia in Multan. We are doing the sacred task without any sectarian divide," he said.
"With a heavy heart, I announce that we have withdrawn the title of Mufti (scholar) from him. He should not be addressed as Mufti anymore as he has damaged our family and its respect. We have seized his mobile phones and now he is under treatment for mental illness he is suffering from," he said.
Dr Hafiz Abdul Kabir, a personal physician of the scholar, said Qavi's "thoughts were not in his control. Now we will try to keep him away from public eye. He has been isolated in his house," he said.
Abdul Qavi is in spotlight again after he was slapped by TikTok star Hareem Shah who filmed the act and uploaded it on social media. Later she accused him of sexual harassment. Earlier in 2016, he remained a central figure in model Qandeel Baloch murder investigation.
https://www.dawn.com/news/1603021/family-isolates-qavi-strips-him-of-mufti-title
--------
Opposition rejects Azmat as Broadsheet probe head
Syed Irfan Raza
January 23, 2021
ISLAMABAD: The appointment of retired justice Azmat Saeed as the head of the inquiry commission on the Broadsheet scandal has become controversial as the opposition has rejected the selection while the government has defended the move.
The opposition has rejected the appointment on the grounds that Justice Saeed was part of the five-member bench of the Supreme Court which announced the verdict against former prime minister Nawaz Sharif in the Panama Papers case.
On the other hand, federal Interior Minister Sheikh Rashid Ahmed and Minister of State for Parliamentary Affairs Ali Muhammad Khan have said that the government had no "bad" intention in retired Justice Saeed's appointment.
The main opposition Pakistan Muslim League-Nawaz (PMLN) has demanded that an undisputed and non-controversial person be appointed as chairman of the commission and its proceedings be made public as the law on inquiry commissions had such a provision.
Recently a UK court gave a verdict against Pakistan in the Broadsheet case. Broadsheet LLC, a UK-based asset recovery firm, was engaged by NAB in 2000 to trace off-shore assets of Pakistani nationals but the agreement was cancelled in 2003. The government has recently paid $28 million to the firm in damages.
Addressing a press conference at Parliament Lodges, former prime minister Shahid Khaqan Abbasi said cases like Broadsheet were the reason why Pakistan had been in a state of crisis. "When institutions are established for tarnishing the image of politicians and slinging mud at them by dubbing them corrupt, the country can never smoothly function," he added.
"These institutions have become instruments of political victimisation and those who created them and pulled their strings have been exposed," he said.
Showing the 14-page contract signed with Broadsheet, he said, the contract was signed by Lt Gen Syed Mohammad Amjad as NAB chairman, Dr Pepper of Broadsheet, then prosecutor general of NAB Farooq Azam Khan and Tariq Fawad Malik as witness. "It was a one-sided agreement signed with a company that was created days before the signing of the agreement," he added.
The former prime minister said Pakistan had so far paid $65 million to Broadsheet and about one-third of the amount was recently paid by the PTI government.
He under the decision made by ECNEC and the cabinet, $28m was transferred into the Pakistani High Commission's account and Broadsheet was permitted to take that money, yet no national institution had the guts to question this.
"Had any such agreement been sponsored by a politician, it would have made headlines for days that a politician has looted a huge amount from national exchequer. He would have been in NAB's custody for 90 days and then perpetually in jail. This matter isn't just about corruption but about an organised effort to destroy Pakistan's political system and taunt its politicians to discredit them", he said.
Mr Abbasi said the PTI government went a step ahead and wanted to take commission over the payment of the remaining one-third amount as Broadsheet owner Kaveh Moussavi had repeatedly said that a representative of the government approached him for their cut for facilitating the payment.
The former PM said retired Justice Saeed was deputy prosecutor general of NAB when the agreement was signed with the Broadsheet. "This establishes a clear and undeniable conflict of interest."
He asked how the inquiry could be impartial and transparent when the commission head had a glaring conflict of interest.
He urged retired Justice Saeed to refuse to accept the position of the inquiry commission head.
He said retired justice Saeed was also a member of Shaukat Khanum Memorial Hospital's (SKMH) board of governors but that was another discussion for another day.
Speaking at the press conference, PML-N information secretary Marriyum Aurangzeb said the administration of the Parliament Lodges had banned media from covering the press conference so that the nation wouldn't know the truth about the scandal.
She said Deputy Speaker National Assembly Qasim Suri had ordered the administration of Parliament Lodges not to let media in. "But when the media persons asked for the written order they said the instructions were issued only verbally."
The Pakistan Peoples Party (PPP) has also rejected the formation of the inquiry commission to probe the Broadsheet issue.
PPP secretary general Syed Nayyar Hussain Bukhari in a statement said that the commission would misguide people of Pakistan by hurling allegations at the opposition and the previous governments.
He said the Broadsheet scandal was a serious issue and should be probed in a transparent way.
Govt defends
Talking to Dawn, Minister of State for Parliamentary Affairs Ali Mohammad Khan said that there was nothing wrong in appointment of retd justice Saeed as head of the inquiry commission. "If he was [deputy] prosecutor general of NAB when Broadsheet agreement was inked, it does not mean that he was involved in decision making."
He said retd justice Saeed had served as a member of board of governors of SKMH, but as an honorary member and he did not take any salary or perks.
Talking about Panama Papers case, the minister said: "If a judge gives any judgement in a case, it does not mean he is biased."
Talking to the media in Karachi, Sheikh Rashid predicted that the Broadsheet fiasco would prove to
be counterproductive for the opposition. Terming it "Panama Papers II" for the PML-N, he advised the leaders of the opposition party to "wait and see."
"I have heard that they [PML-N] have raised objections to the appointment of retd Justice Azmat Saeed as the head of the inquiry commission assigned the Broadsheet probe," said Mr Ahmed. "What's the logic behind that? They want the appointment of judges and head of inquiry commissions of their choice. They are known to influence judges and the judiciary. Everyone knows [the saga of] Justice Malik Qayyum. Should we appoint him as the commission head?"
Imran Ayub in Karachi also contributed to this report
https://www.dawn.com/news/1603062
--------
Biden administration urged to see Pakistan beyond Afghanistan prism
Kamran Yousaf
January 22, 2021
ISLAMABAD:
Prime Minister's Special Assistant on National Security Dr Moeed Yusuf has said Pakistan wants to pursue a bilateral relationship with the US that is not hyphenated or clouded by US interests in other regional countries but is based on mutual understanding.
A day after the Biden inauguration, Dr Moeed addressed a gathering of US policymakers at the Washington-based think tank Wilson Centre titled "US-Pakistan Relations in the Biden Era" on Friday.
Laying out a new vision of Pakistan's engagement with the incoming Biden administration, Dr Yusuf said that the government wants to pursue a bilateral relationship with the US that is not hyphenated or clouded by US interests in other regional countries but is based on mutual understanding.
"In the past, Pakistan was unfortunately seen by Afghanistan prism," he said while emphasising that the world had undergone immense transformation in the past four years and the new administration should look beyond Obama-era conversation to build a truly bilateral relationship with Pakistan.
He told the participants that now you are dealing with a different Pakistan; a Pakistan which is self-confident and whose formal vision is squarely based on economic security paradigm. "Pakistan is talking about becoming a geo-economic melting pot that is ready to consolidate global positive interest in our territory. We are talking about providing the world with economic-bases, not military-bases," he said.
Dr Yusuf while elaborating Pakistan's vision said that "our focus is connectivity and CPEC is an obvious example of it. This is the reason we desire peace and stability in Afghanistan for westward connectivity. Furthermore, we are looking for development partnerships".
He noted that all Western multinational companies in Pakistan earned profits well above their global average, demonstrating that Pakistan remained a lucrative market for foreign companies. "How about having US reprocessing zones? Expanding the ROZs? Having US-China co-investments in regional connectivity?
"Pakistan of today is very different," the SAPM said, adding, "Terrorism in Pakistan is negligible, we have turned the corner," he stated.
While delving into regional peace, he said that we are dealing with a different India; an India which is intolerant, has serious internal tensions, human rights concerns and is taking unilateral decision, including in Indian Illegally Occupied Jammu and Kashmir (IIOJK).
India is destabilising the region and becoming a liability on anyone dealing with it, including the US, he said.
The PM's aide said that we wish to achieve a peaceful region where international obligations are met by all countries.
He also emphasised that the Biden administration and Pakistan could work closely on important global challenges such as climate change – a priority area for both the Biden administration and Prime Minister Imran Khan's government. He also emphasised that there are opportunities for Pakistan to work with the US in regional diplomacy in Afghanistan, the Middle East and elsewhere to decrease global tensions and restore the multilateral system.
https://tribune.com.pk/story/2280972/biden-administration-urged-to-see-pakistan-beyond-afghanistan-prism
--------
China to coordinate with companies to 'speed up' vaccine export to Pakistan
January 23, 2021
The Chinese government will provide a batch of Covid-19 vaccine to Pakistan "as aid" and will "actively coordinate with the relevant Chinese enterprise to speed up export of vaccines to Pakistan", Foreign Ministry spokesperson Hua Chunying said in a press briefing on Friday.
"Since the outbreak of Covid-19, China and Pakistan have been working together to overcome difficulties," she said in response to a question by the Associated Press of Pakistan.
"In order to support our brothers and sisters in Pakistan, the Chinese government has decided to provide a batch of vaccines as aid and will actively coordinate with the relevant Chinese enterprise to speed up export of vaccines to Pakistan. State Councilor Wang Yi shared this decision of the Chinese government with Pakistani Foreign Minister [Shah Mahmood] Qureshi yesterday during their phone call."
She did not, however, confirm the number of vaccine doses that China would provide, nor the name of the "relevant Chinese enterprise".
The confirmation came a day after Qureshi announced that China has promised to provide 500,000 doses of a coronavirus vaccine to Pakistan by January 31.
The minister said he held a detailed conversation with the Chinese foreign minister in which he "discussed Pakistan's requirements", after Prime Minister Imran Khan had directed him to increase interaction with Beijing "considering the sensitivity of the situation".
In a tweet, Qureshi suggested the doses to be provided to Pakistan will be of the Sinopharm vaccine, which the Drug Regulatory Authority of Pakistan (Drap) had approved for emergency use in the country earlier this week.
On December 30, a special cabinet committee for procurement of Covid-19 vaccine, chaired by federal Minister for Planning and Development Asad Umar, had decided to procure 1.1 million doses of vaccine from Sinopharm. It was also announced that the vaccine would be provided to 500,000 frontline healthcare workers as two doses would be given to each worker and the margin of spoilage was 10pc.
Sinopharm's vaccine is able to be stored at two to eight degrees Celsius, or a normal refrigeration temperature.
The jab has already been approved in the United Arab Emirates and Bahrain, and is slated for use next in Morocco.
Trials of a vaccine developed by China National Biotec Group (CNBG) and Sinovac Biotech Ltd are also being held in Pakistan.
Additionally, a member of the Scientific Task Force on Covid-19 constituted in March last year, Dr Ghazna Khalid, had told Dawn last week that the Phase-I trial of the Sinopharm vaccine that was being conducted in Karachi had reached the final stage.
The vaccine has been developed by the Beijing Institute of Biological Products, a subsidiary of state-owned conglomerate Sinopharm. The company announced last month that preliminary data from last-stage trials had shown it to be 79.3 per cent effective.
Last week, Drap also authorised the Oxford University-AstraZeneca Covid-19 vaccine for emergency use.
Earlier this week, Special Assistant to the Prime Minister (SAPM) on Health Dr Faisal Sultan had expressed confidence in the government's ability to procure at least one million doses of coronavirus vaccines by March, saying it ultimately aimed to inoculate 70 per cent of the country's population against the virus.
https://www.dawn.com/news/1603145/china-to-coordinate-with-companies-to-speed-up-vaccine-export-to-pakistan
--------
Falcons to be exported to UAE as goodwill gesture, IHC informed
Malik Asad
January 23, 2021
ISLAMABAD: Deputy Attorney General (DAG) Syed Mohammad Tayyab on Friday informed the Islamabad High Court (IHC) that Pakistan had issued permit to the UAE government for export of falcons as part of goodwill and friendly gesture.
He was responding to a petition filed by former Islamabad Wildlife Management Board (IWMB) chairperson Dr Anisur Rehman against issuance of permit for the export of 150 falcons to Dubai.
The federal government has reportedly issued special permit to Dubai Ruler Sheikh Mohammed bin Rashid Al-Maktoum for the export of 150 rare falcons from Pakistan to Dubai during 2019-20.
IHC Chief Justice Athar Minallah was hearing the petition. He asked the DAG to satisfy the court on export of the falcons.
The DAG told the court that the UAE government had sent a written request for falcons and Pakistani government gifted it to the friendly country in order to strengthen brotherly relations and in the larger national interest.
He said it was not a commercial activity.
Counsel for the petitioner adopted before the court that the government had not been empowered to grant permit or permission for export of falcons.
The counsel said falcons had been declared endangered species. Grant of permission is in violation of Pakistan Trade Control of Wild Fauna and Flora Act 2012, besides the law highlighted in the judgment of the IHC of May 21, 2020 in which the court had ordered relocation of miserably detained animals to the natural habitat.
On court's query, an official of the ministry of climate change told the court that import of falcons had been banned since 2005.
Justice Minallah observed that the government had issued the permission prima facie in violation of the law adding that if this was indispensable, the government should have issued relaxation or amended the law beforehand.
IHC chief justice remarked that the government was bound to protect the endangered species and this matter might be sent to the federal cabinet.
The court extended the stay order against export of falcons till four weeks and adjourned the hearing.
Falcons are protected under various international nature conservation conventions, including the Convention on International Trade in Endangered Species of Fauna and Flora (CITES). Trade in falcons is banned under local wildlife protection laws.
https://www.dawn.com/news/1603104/falcons-to-be-exported-to-uae-as-goodwill-gesture-ihc-informed
--------
Education ministry sets up committee to oversee curriculum standards
Kashif Abbasi
January 23, 2021
ISLAMABAD: The education ministry on Friday notified a 10-member supervisory committee of experts to provide guidance to ensure that the ongoing curriculum renewal process meets necessary requirements.
"The committee will provide overall guidance to ensure that curriculum renewal process adheres to the necessary requirements i.e academic standards, student needs according to age and grade level and international trends," read a notification issued on Friday.
The committee is tasked to review curriculum documents and advise about their accuracy, consistency and relevance. It will also advise about the continuity of knowledge and skills across grades K-12 in the curriculum documents.
Experts to ensure curriculum renewal process adheres to international trends, says notification
The experts will also suggest programme areas that should be included or excluded from the curriculum.
The federal government in collaboration with provinces has already developed a single National Curriculum (SNC) for class one to five, which will be implemented in the upcoming academic session to start in August. However, sources in the education ministry said Sindh was not fully convinced and might refuse to adopt the SNC.
Last month, Sindh Education Minister Saeed Ghani had told Dawn that his province already had an advanced curriculum compared to other provinces so it was not going to adopt the SNC, hinting that if need arises the provincial government will get an input from SNC.
The sources said all provinces had been requested to get the textbooks of 1 to V classes published in accordance with the SNC.
"We have requested all provinces, so now it is up to them to get the books published. The PTI and its allies are in government at the centre, in Punjab, Khyber Pakhtunkhwa and Balochistan so there will be no issue in implementation of the SNC there. Our talks with Sindh are also in progress," said an officer of the federal education ministry. He said the SNC will be introduced in all public and private schools and seminaries.
After launching the SNC at the primary level this year, the government is planning to launch a uniform curriculum from class six to eight next year and from class nine to 12 from 2023.
The committee will mainly supervise the curriculum from class six to 12 as for the primary level the curriculum is already finalised.
"The committee will play supervisory role mainly on curriculum being developed by experts under the National Curriculum Council (NCC) for class six to eight and then from class nine to 12," said an official of the ministry.
The 10-member experts notified for the committee are: Dr Syed Khurshid Hasnain from Quaid-i-Azam University, Dr Irfanullah Chaudhry from University of Engineering Lahore, Afia Salaam, expert on climate change, geography and environment, Dr Mohammad Mustafa from FC College Lahore, Dr Sabieh Anwar from Lums, Dr Fatima Zia Dar from Centre for Teaching Excellence and Learning Innovation, Asia University Malaysia, Dr Irfan Muzaffar from Columbia University, Prof Dr Meraj Mustafa Hashmi from Nust, Dr Sajida Zaki from NED University of Engineering and Technology Karachi and Dr Habibullah Pathan from Jamshoro University.
https://www.dawn.com/news/1603107/education-ministry-sets-up-committee-to-oversee-curriculum-standards
--------
Southeast Asia
PKR Youth calls Kedah MB arrogant for cancelling Thaipusam holiday in state
22 Jan 2021
BY JERRY CHOONG
KUALA LUMPUR, Jan 22 — PKR Youth today condemned Kedah Mentri Besar Muhammad Sanusi Md Nor for cancelling Thaipusam as a special holiday due to the rising number of Covid-19 cases.
Its chief Akmal Nasir and vice-chief Thiban Subramaniam described Sanusi's remarks of 'no celebration, no holiday' (raya pun tidak, cuti pun tidak) as arrogant.
"The irresponsible statement by the Kedah Mentri Besar is a clear indicator that he does not honour the spirit of Malaysia's diversity and as a multiracial and multireligious country," they said in a statement.
Akmal and Thiban said it was even more embarrassing as he represents PAS which touts itself as the ideal approach to a Malay-Muslim government.
"Instead it has given a bad impression of Malay-Muslims to non-Malays and non-Muslims, whereas Islam has never discriminated against any race.
"The blind decision by the Mentri Besar in cancelling Thaipusam on the basis of too many holidays or the movement control order is both irrational and unreasonable. This also indicates that it is not impossible to cancel Chinese New Year and Hari Raya Aidilfitri on the same excuse," they said.
Both leaders urged Sanusi to recognise the immense contribution that the Indian community has made to Kedah, which should be honoured through recognising Thaipusam as a holiday.
"According to the statistics of the Population and Housing Census 2020, Indians constitute 150,100 residents in Kedah, which is a considerable number.
"The decision of the mentri besar in this matter should be revoked, as it has the potential of spreading the fires of racism and threatens the racial harmony in the country," they said.
Sanusi's announcement on Wednesday cancelling Thaipusam, which falls on January 28, in the state drew flak from several quarters, including MIC deputy president and Human Resources Minister Datuk Seri M. Saravanan who called it a shortsighted decision.
In response, Sanusi said the decision was not aimed at denying the rights of Hindu believers, adding that they could still celebrate or observe the holiday as long as the proper standard operating procedures are in place.
https://www.malaymail.com/news/malaysia/2021/01/22/pkr-youth-calls-kedah-mb-arrogant-for-cancelling-thaipusam-in-state/1942978
--------
DAP kowtowed to Mahathir, failed to help Chinese when in govt, says MCA
January 23, 2021
PETALING JAYA: The MCA accused its political nemesis DAP of failing to adequately represent the Chinese community when given the chance to do so, saying it had given in to Malay leaders, especially former prime minister Dr Mahathir Mohamad.
Its vice-president, Ti Lian Ker, said MCA had been instrumental in the past in ensuring Chinese values were upheld in government by standing up against the conversion of non-Muslim minors to Muslims and hudud laws, among other policies.
He said Chinese voters have reached a crossroads now, faced with a choice of supporting the government and having a seat at the table in policy discussion and execution or maintaining loyalty to DAP.
Ti said that despite DAP trying to blame the MCA for all the frustrations of the Chinese community in the past and provoking "anger and hatred" towards the party, the opposition party was unable to fulfil its promises when given the chance in 2018.
"DAP secured 90% of the Chinese vote. The overwhelming support it obtained did not result in any significant changes to their livelihood," he said in a statement.
With 42 MPs against Dr Mahathir's 13, DAP proved that it was much weaker and a bigger letdown to the Chinese than MCA, with DAP secretary-general Lim Guan Eng announcing he was not a Chinese and allowing Mahathir to renege on election promises.
"Instead of moving forward, the Pakatan Harapan (PH) government regressed, and DAP allowed Tun Mahathir to return to a Malay-centric government, for which MCA had been criticised and demonised before."
He said that in not pushing for the post of deputy prime minister and having just four Chinese ministers despite winning the most seats in Parliament, DAP had "forgotten that it was the Chinese community that gave them the greatest support".
"In the end, the PH government maintained most, if not all, Bumiputera policies and appointed Malays as ministers in all key Cabinet and GLC positions.
"DAP even agreed to an increase in the Bumiputera entry quota to local public universities and supported the introduction of Jawi lessons in schools to win over the Malay electorate."
Furthermore, Ti said the same people MCA had stood firm against on Malay and Islamic issues in the past — opposition leader Anwar Ibrahim and Mahathir — were the ones dictating the policies when DAP was in government.
https://www.freemalaysiatoday.com/category/nation/2021/01/23/dap-kowtowed-to-mahathir-failed-to-help-chinese-when-in-govt-says-mca/
--------
Arab World
Asa'ib blames Saudi, UAE for deadly bombings in Iraqi capital
23 January 2021
Iraq's Asa'ib Ahl al-Haq movement, a subdivision of anti-terror Popular Mobilization Forces (PMU) or Hashd al-Sha'abi, has blamed Saudi Arabia and the United Arab Emirates for the deadly twin bombings in the capital Baghdad.
Speaking to Lebanon's al-Mayadeen TV channel on Friday, Saad al-Saadi, a member of Asa'ib's political bureau, said the fingerprints of the Al Saud and Al Nahyan regimes are evident in the attacks.
Additionally, Asa'ib spokesman Jawad Al-Talibawi took to Twitter to say that Saudi Arabia had once again mobilized its agents to shed the blood of the Iraqi nation after former US president Donald Trump's criminal role came to an end in Iraq.
He warned that the Iraqi fighters will not remain indifferent in the face of the crimes committed by Riyadh.
The Baghdad bombings – the deadliest in nearly three years – killed at least 32 people and wounded 110 others in a crowded marketplace on Thursday.
The first attacker drew a crowd at the bustling market in Tayaran Square by claiming to feel sick, and then detonated his explosives belt. As more people then flocked to the scene to help the victims, a second bomber set off his explosives.
The US-sponsored Daesh terrorist group claimed responsibility for the attack.
'Bombings an attempt to keep US forces in Iraq'
Kata'ib Hezbollah group, another PMU faction, said Friday the bombings were meant to implement the US plot in the region and keep its forces in Iraq under security pretexts.
Saudi Arabia wants to bring war into Iraq in line with Trump's self-proclaimed "deal of the century", pushing Baghdad towards normalization with Israel, Kata'ib spokesman Muhammad Mohi stressed.
He further noted that some Takfiri groups are being trained at American bases inside Syria as well as the Iraqi borders with Syria and Jordan.
Maliki calls for probe into foreign involvement
Meanwhile, Nouri al-Maliki, former Iraqi prime minister and current head of State of Law coalition, called for a comprehensive investigation into the terrorist attacks to determine whether they was supported from or planned abroad.
In a post on his Twitter account, he called for the severe punishment of the military and security officials who will be found guilty of negligence.
Daesh began a terror campaign in Iraq in 2014, overrunning vast swathes in lightning attacks.
The PMU played a major role in reinforcing the Iraqi army, which had suffered heavy setbacks against the Takfiri elements.
Iraq declared victory over Daesh in December 2017 after a three-year counter-terrorism military campaign, which also had the support of neighboring Iran.
The terror outfit's remnants, though, keep staging sporadic attacks across Iraq, attempting to regroup and unleash a new era of violence.
Daesh has intensified its terrorist attacks in Iraq since January 2020, when the United States assassinated top Iranian anti-terror commander Lieutenant General Qassem Soleimani and PMU's deputy commander, Abu Mahdi al-Muhandis, near Baghdad International Airport.
Just two days after the cowardly assassination operation, Iraqi lawmakers unanimously passed a bill mandating the expulsion of all foreign troops, including the Americans.
However, recent reports say the US military has transferred Daesh prisoners to the Iraqi-Syrian border in order to provide a pretext for its continued presence in the region.
American forces used choppers to relocate the Daesh inmates from prisons in Hasakah province in northeast Syria to the Iraqi border, al-Mayadeen reported last week.
The Trump administration had stepped up its efforts to weaken the anti-terror PMU and blacklisted the group's chairman Falih al-Fayyadh in early January.
https://www.presstv.com/Detail/2021/01/23/643648/Iraq-Asa-ib-Saudi-UAE-Baghdad-bombings
--------
Syria writes to UN on Israel air raids, stresses right to self-defense
22 January 2021
Syria has written to the United Nations in protest at a new Israeli aerial assault that killed four members of a family near the western city of Hama, saying Damascus reserves the right to defend the Arab state's sovereignty and civilians against such acts of aggression.
The Syria Ministry of Foreign Affairs on Friday sent letters to the UN secretary-general, the UN Security Council and the Human Rights Council in the wake of the Israeli missile strikes, which hit targets in the Hama Province in the early hours of the day.
Syrian air defenses downed most of the missiles, but the projectiles that hit the residential areas killed a man, a woman, and their two children.
"Four other citizens of the same family were wounded, and a number of homes belonging to innocent civilians were destroyed," the letters said.
The ministry further said the Israeli attacks constitute a flagrant violation of Syria's sovereignty and international law.
It also slammed the international community, especially those who call themselves advocates of human rights, for remaining tight-lipped in the face of Israeli aggression, saying the deafening silence only emboldens the occupying regime in Tel Aviv to keep up its attacks "in suspicious coincidence with the crimes of terrorist groups."
The Syrian ministry further called on the United Nations and its Human Rights Council to assume their responsibilities and condemn Israeli raids, which pose a serious threat to regional security and stability.
Syria, it added, reserves the legitimate right to defend its citizens and national sovereignty via all legitimate means, which are guaranteed by international law and conventions.
Israel frequently targets military positions inside Syria, especially those of the Lebanese Hezbollah resistance movement, which has helped Syrian army in its fight against foreign-sponsored Takfiri terrorists.
The Tel Aviv regime mostly keeps quiet about the attacks on Syrian territories which many view as a reaction to Syrian government's increasing success in on the battlefield against the terror groups, many of which have the support of Israel in their push against the Damascus government.
https://www.presstv.com/Detail/2021/01/22/643624/Syria-Israeli-aggression-UN
--------
UK MPs call for investigation into British company with possible link to Beirut blast
22 January 2021
Two senior British parliamentarians called on Friday for an investigation into a British-registered company possibly linked to last year's devastating explosion in Beirut, after Reuters found that the firm had not disclosed its beneficial owners.
The company, Savaro, is registered at a London address, and like all British firms is required to list who owns it with Britain's companies register, known as Companies House.
For all the latest headlines, follow our Google News channel online or via the app.
In an e-mail to Reuters this week, the woman listed as Savaro's owner and sole director at Companies House, Marina Psyllou, told Reuters that she was acting as an agent on behalf of another beneficial owner, whose identity she could not disclose.
"The person who was and has always been the UBO (ultimate beneficial owner) of the company was always the same. As you should be aware, we cannot disclose his name," she said. She did not say why she could not disclose his identity.
Global corporate governance rules define a UBO as someone who receives the benefits of an entity's transactions, typically owning a minimum of 25 percent of its capital.
Margaret Hodge, a British lawmaker and former cabinet minister who headed parliament's public affairs committee from 2010-2015, called the apparent failure to list Savaro's ultimate beneficiary at Companies House "outrageous."
"The UK authorities should investigate this, given inaccurate information appears to have been filed. We need to challenge formation agents where it appears they may have acted improperly."
John Mann, a member of Britain's House of Lords who has investigated the use of UK-registered companies in illicit activity, said the case showed the need for stronger enforcement of Britain's company disclosure rules.
"It is shocking and very damaging to the reputation of the United Kingdom that Companies House and our national system of company registration can be so easily exploited," he said.
Psyllou, who provides corporate registrations for clients through her own Cyprus company, Interstatus, said in a follow-up e-mail to Reuters on Thursday that her company "strictly complies with legislations and reports to relevant Regulators."
She also denied this week that Savaro could have been linked to the Lebanon explosion, saying she believed it had never done any business: "As far as we know the company in question, ever since its registration it remained dormant without any trading or other activity or keeping any bank accounts as the project for which it was incorporated was never realized." She gave no further information about the company's intended purpose.
Fertilizer Shipment
A Reuters investigation last year into the Beirut blast that killed 200 people found that the huge shipment of ammonium nitrate fertilizer that exploded in Lebanon had been held in Beirut while en route to Mozambique. The Mozambican buyer, FEM, identified the company it bought it from as Savaro.
A Lebanese source said a sales contract for the fertilizer identified Savaro, and listed it at the London address where the company was then registered with the UK authorities.
Tracing the shipment could ultimately depend on unravelling exactly who stands behind Savaro, said Ben Cowdock, who investigates international corruption for Transparency International in London.
Under legal changes in 2016 -- introduced as part of an anti-corruption campaign by Prime Minister David Cameron -- that should be a straightforward matter of looking the information up with Companies House, Cowdock added.
Psyllou's firm Interstatus has been listed since 2006 as the company secretary for Savaro, responsible for fulfilling its reporting requirements, and another Interstatus company was initially listed as Savaro's owner.
In July 2016, three months after the Cameron-era rule change requiring companies to list their beneficial owners, Savaro updated its records to name Psyllou herself as the owner.
Lawmakers Hodge and Mann both called on Britain's business ministry to investigate what they said appeared to be a breach of the disclosure rules. The business ministry declined to comment, saying it does not discuss individual companies.
https://english.alarabiya.net/en/News/middle-east/2021/01/23/UK-MPs-call-for-investigation-into-British-company-with-possible-link-to-Beirut-blast
--------
Arab Coalition intercepts missile, drone attack targeting Saudi Arabia's Riyadh
23 January 2021
The Arabi Coalition intercepted an apparent missile or drone attack over Saudi Arabia's capital, Riyadh, launched by Yemen's Iran-backed Houthis.
Social media users posted video of what appeared to be an explosion in the air over Riyadh. Saudi state TV quoted authorities in the kingdom acknowledging the interception.
The Houthis have held Yemen's capital, Sanaa, since September 2014.
Riyadh has been targeted in sporadic missile attacks, while the Houthis also have launched missile and drone strikes.
Western experts, Saudi Arabia and the US say Iran has supplied arms, including ballistic missiles to the Houthis. Iran denies that, though devices in the weapons link back to Tehran.
https://english.alarabiya.net/en/News/gulf/2021/01/23/Arab-Coalition-intercepts-missile-drone-attack-targeting-Saudi-Arabia-s-Riyadh-
--------
Arab Coalition thwarts two attacks by Yemen's Iran-backed Houthis
22 January 2021
The Arab Coalition fighting against Yemen's Iran-backed Houthi movement said had it thwarted two attacks by the Houthis on Friday morning, including destroying an explosive-laden boat in the southern Red Sea, Saudi state TV said on Twitter.
The coalition also intercepted and destroyed an explosive-laden drone launched by the Houthis towards Saudi Arabia, state TV channel Ekhbariya said on Twitter.
The Saudi-led coalition since 2015 has fought the Iran-aligned Houthi movement, which has launched cross-border missile and drone attacks on Saudi cities.
https://english.alarabiya.net/en/News/gulf/2021/01/22/Arab-Coalition-thwarts-two-attacks-by-Yemen-s-Iran-backed-Houthis
--------
Saudi Embassy in Qatar to open within 'days,' says Prince Faisal bin Farhan
21 January 2021
Saudi Arabia will open its embassy in Doha within "days," Foreign Minister Prince Faisal bin Farhan told Al Arabiya Thursday.
"All four countries are in agreement on the importance of reconciliation with Qatar," Prince Faisal added, in reference to Saudi Arabia, United Arab Emirates, Bahrain and Egypt.
The Arab Quartet cut ties with Qatar in June 2017 over its relationship with Iran and funding for radical Islamist movements.
Saudi Arabia formally reopened its airspace and land and sea borders to Qatar on January 4, with commercial flights resuming between Riyadh and Doha as of January 14.
The AlUla Declaration, signed at the conclusion of the GCC Summit earlier this month, put an end to the Gulf dispute.
Leaders of the six-member GCC signed documents named after the Saudi city where this year's regional summit was held and a final communique.
On Thursday, Prince Faisal voiced his optimism that the agreement would be executed. "We believe all parties that signed the AlUla Declaration have the intention of implementing it," he told Al Arabiya.
https://english.alarabiya.net/en/News/gulf/2021/01/21/Saudi-Embassy-in-Doha-to-open-within-days-says-Prince-Faisal-bin-Farhan
--------
Mideast
Palestinians defy Israeli crackdown to stage new anti-settlement protests
22 January 2021
Palestinians have staged several anti-settlement protests in the occupied West Bank, defying a heavy-handed crackdown by Israeli forces.
Israeli forces attacked a protest in the village of Beit Dajan, east of Nablus City, on Friday.
Shehab News Agency quoted local sources as saying that protesters were heading toward the area where a settlement outpost had recently been established in the village when the Israeli troopers fired a barrage of sound bombs and tear gas at them and blocked the road to the outpost.
Meanwhile, tens of Palestinians suffered breathing difficulties in Kafr Qaddum, east of Qalqilya City, due to inhaling tear gas fired by Israeli troops during clashes with participants in the latest of weekly protests in the village.
A protester was also hit by a rubber bullet fired by the Israeli forces in Kafr Qaddum.
Palestinian sources said clashes also erupted in the village of Deir Jarir, east of Ramallah City, on Friday after Israeli forces violently suppressed a rally by Palestinians.
An unspecified number of Palestinians were also injured by rubber bullets during the clashes.
The rally came as Israeli settlers, under the protection of regime forces, set up a tent in the al-Shorfa Mountain area in the village last month and began construction work for a new settlement.
More than 600,000 Israelis live in over 230 settlements built since the 1967 Israeli occupation of the Palestinian territories of the West Bank and East Jerusalem al-Quds.
Emboldened by the anti-Palestine policies of former US president Donald Trump, Israel stepped up its settlement expansion in defiance of United Nations Security Council Resolution 2334, which pronounces settlements in the West Bank and East Jerusalem al-Quds "a flagrant violation under international law."
All Israeli settlements are illegal under international law as they are built on occupied land.
https://www.presstv.com/Detail/2021/01/22/643615/Palestinians-defy-Israeli-crackdown-to-stage-new-anti-settlement-protests
--------
FM Slams Persian Gulf Arab States' Futile Clinging to Trump
2021-January-22
Zarif expressed regret that a few regional governments lost the opportunity to cooperate with Iran due to relying on the former US administration of Donald Trump, adding, "The Islamic Republic of Iran has always sought to have friendly relations with Persian Gulf littoral states."
"This region belongs to all of us and its security is in the interest of all of us," he added.
Zarif stressed that the regional countries should know that they and Iran will stay in this region and others will be gone.
In relevant remarks last year, Supreme Leader of the Islamic Revolution Ayatollah Seyed Ali Khamenei, in a meeting with visiting Qatari Emir Sheikh Tamim bin Hamad Al-Thani in Tehran, called upon all neighboring countries of the region to rely on intra-regional capacities to stop the US from throwing the region into further mayhem.
During the January 12, 2020 meeting with Sheikh Tamim, Ayatollah Khamenei said corrupt actions taken by the United States and its allies are the main cause of the current situation in the region, urging regional countries to boost cooperation to undo such actions.
Describing the current conditions in the region as unfavorable, Ayatollah Khamenei said, "The reason behind this situation in corrupt actions taken by American and its allies and the only way to counter it is to rely on inter-regional cooperation."
In another part of his remarks, the Leader pointed to good political ties between Iran and Qatar, saying, "The two countries' economic relations are not on the same level as political relations and Iran-Qatar cooperation should further improve in common fields."
"The Islamic Republic of Iran has repeatedly announced and Mr. President [Hassan Rouhani] has also explicitly stated that Iran is ready for closer cooperation with regional countries," Ayatollah Khamenei noted.
The Leader stated, "Of course, some parties who have come to this region from across the world are not interested in the expansion of cooperation among regional countries, but this issue has nothing to do with them and regional countries and nations do not accept such bullying and interference anymore."
https://www.farsnews.ir/en/news/13991103000287/FM-Slams-Persian-Glf-Arab-Saes'-File-Clinging-Trmp
--------
Terrorist Captured by IRGC in Western Iran
2021-January-23
The IRGC Ground Force's Najaf Ashraf Base announced in a statement on Friday that following vast intelligence operations, the foreign-backed terrorist who had assassinated Head of Traffic Police of Ravansar County of Kermanshah Province Major Hassan Maleki has been arrested.
The statement added that the terrorist has been handed to Iran's Judiciary.
On August 15, 2018, a foreign-backed element shot dead Major Maleki in Ravansar in front of his young child.
The perpetrator shot the officer several times and martyred him after he had broken the door at him.
Back in October, IRGC Hamzeh Seyed al-Shohada Base had also announced that its forces launched two operations against terrorist and counterrevolutionary elements in Kurdistan province, killing three and arresting one more.
Hamzeh Seyed al-Shohada base said in a statement that during two successful operations against terrorist and counter-revolutionary groups in Kamyaran and Marivan counties of Kurdistan province, three terrorists were killed three others injured one of whom was captured.
The statement added that large amounts of weapons, ammunition, and communication equipment have also been seized by the brave forces of the base.
The statement also said that the captured terrorist is s foreign national.
https://www.farsnews.ir/en/news/13991103000476/Terrris-Capred-by-IRGC-in-Wesern-Iran
--------
FM: Iran's UN Membership Payment Hindered by US' Obstructionism
2021-January-22
"We should have paid $16 million to settle our debts to the UN and secure our right to vote," Zarif said on Friday, adding, "The government allocated the fund and urged that the country's frozen assets in South Korea be used [for the purpose], but the US blocked the payment to the UN account."
He said that Iran's unpaid membership dues are the only reason the UN General Assembly has stripped Tehran of its right to vote.
Article 19 of the UN Charter stresses that a member state in arrears in the payment of its dues in an amount that equals or exceeds the contributions due for two preceding years can lose its vote in the General Assembly.
According to a statement by the UN General Assembly on 13 January 2021, ten member states are subject to the provisions of Article 19 of the Charter, which include Central African Republic, Comoros, Congo, Libya, Niger, Sao Tome and Principe, Somalia, South Sudan, Zimbabwe and Iran.
In relevant remarks on Sunday, Iran's Foreign Ministry Spokesman Saeed Khatibzadeh said Tehran has regularly paid its UN membership fees during the past years despite illegal sanctions imposed by the US.
"During recent years, despite restrictions caused by unilateral US sanctions, the Islamic Republic of Iran has always used few remaining financial channels to pay its UN membership dues," Saeed Khatibzadeh said on January 17.
He added that during the current year, Iran has been in talks with the UN treasury, urging the world body to replace a safe transaction channel after the US blocked the previous channels used by Tehran to transfer money.
"Iran's latest proposal in this regard was to settle arrears using the country's blocked funds in South Korea," the spokesman said, noting that Central Bank of Iran (CBI) has approved the option and talks on using it are underway with the UN secretariat.
He also stressed that Iran insists on the UN not to use an American bank as the "intermediary" for transfer of Iran's payment because of the bleak history of the US in encroaching on Iran's international money, otherwise the UN should guarantee the transaction channel's security.
https://www.farsnews.ir/en/news/13991103000393/FM-Iran's-UN-Membership-Paymen-Hindered-by-US%E2%80%99-Obsrcinism
--------
Iranian human rights lawyer moved back to notorious prison after surgery: Husband
Yaghoub Fazeli
22 January 2021
Prominent Iranian human rights lawyer Nasrin Sotoudeh was moved back to prison this week after being temporarily released due to health concerns, her husband has revealed.
Sotoudeh, 57, returned to the notorious Qarchak prison just days after she underwent an angiogram at a hospital in Tehran, her husband Reza Khandan said.
"Unfortunately, the conditions of prisoners in Iran are miserable, and prisoners with physical problems and illnesses have it worse," wrote on Twitter.
Sotoudeh, a winner of the European Parliament's Sakharov prize, was arrested in 2018 on espionage charges, spreading propaganda, and insulting Iran's supreme leader. She denies all charges.
In 2019, Sotoudeh was sentenced to 38 years in prison and 148 lashes.
Last September, Sotoudeh ended a 46-day hunger strike to protest the risk that political prisoners in Iran face amid the coronavirus pandemic due to deteriorating health.
Protests erupted in several Iranian prisons in late March over concerns about the spread of coronavirus in prisons.
According to the rights group Amnesty International, around 36 prisoners are believed to have been killed by security forces during the protests.
https://english.alarabiya.net/en/News/middle-east/2021/01/22/Iranian-human-rights-lawyer-moved-back-to-notorious-prison-after-surgery-Husband
--------
Israeli settlers leave Palestinian kids bloody, bruised in latest West Bank attack
23 January 2021
Amid a sharp rise in attacks by Israeli settlers against Palestinians and their property across the occupied territories, two little Palestinian children and their mother have been wounded after a group of masked Jewish extremists assaulted their family's car in the West Bank.
Six-year-old Palestinian boy Majd sustained injuries to his face after being hit with a rock on Thursday night, while his three-year-old brother Jad was cut by broken glass. Their mother's arm was hurt by another rock thrown at the vehicle. Their father, Alaa Sawfta, remained relatively unharmed.
The family had just left their home in the central West Bank city of Ramallah, located 10 kilometers (6 miles) north of Jerusalem al-Quds, and were on their way to visit relatives in the northern West Bank city of Tubas when they came under the extremists' attack.
Sawafta said he slowed down and pulled over when two figures on the side of the highway started motioning their flashlights at his car.
"Just two seconds after I came to a stop, dozens of people came out of nowhere from the sides of the road and started attacking the car," he said.
When the Palestinian man saw their clothes and that some of them were masked, carrying knives, bats, large sticks, and huge rocks, he realized his family was under attack from a group of Israeli settlers.
"They started throwing large rocks at the car and beating it with sticks and bats and other objects," Sawafta said.
He added, "It was a total pandemonium, the windows were completely shattered, my wife and kids were screaming and crying, we didn't know what was going on."
Sawafta noted that the settlers at one point started violently pulling at the door handles from outside the car, in an attempt to open them.
He finally pressed on the gas pedal and somehow managed to swerve around the settlers and escape.
Sawafta then drove his family's car up to an Israeli checkpoint outside the Beit El settlement, but Israeli soldiers pointed guns at him and cautioned him not to get any closer when he approached the checkpoint.
"I started shouting and telling them that we needed help, and showed them my kids in the car who were covered in blood. I told them we were attacked by settlers and pleaded with them to call us an ambulance," he said.
An Israeli medic on a motorcycle arrived after more than half an hour at the checkpoint, and gave them first aid until a Palestinian ambulance came and transported them to a hospital in Ramallah.
While Sawafta's family were in the hospital, a number of other Palestinians came in for injuries they said were sustained in attacks by the same group of settlers.
"I'm still in shock over what happened. We didn't sleep all night, we can't believe that we were attacked like that, and that we made it out alive," Sawafta said.
He noted that he believes the attack on his family was not a coincidence, but rather part of a "coordinated effort from settlers in the West Bank against Palestinians."
"We have been seeing attacks like these happening almost every day in the past few weeks," Sawafta added.
He argued that while he plans to file a complaint against the settlers who attacked his family, he has very little hope for justice.
"The Israeli authorities who we expect to help us in these situations, are the same ones who are enabling the settlers to commit this violence," Sawafta said.
"Who am I supposed to ask for help, the Israeli police? Maybe they will open an investigation, but they will eventually close it with no findings, as they always do.
"At the end of the day, the settlers have the green light from the Israeli regime to attack and kill us. And because they are never charged, they will keep doing it without consequence," he noted.
According to Palestine's official Wafa news agency, three of the attacks on Palestinian vehicles that took place on Thursday night "occurred in full sight of Israeli occupation soldiers, who did nothing to stop the settlers and rather provided them with protection."
Hani Nassar, a field researcher for Defense for Children International - Palestine (DCIP), said the attacks from Israeli settlers from the end of 2020 to the beginning of 2021 have increased dramatically.
"It is also very clear that the attacks are being organized and coordinated, not just among the settlers, but with the soldiers as well," he noted.
Israeli human rights organization Yesh Din said they have documented 44 settler attacks against Palestinians in recent weeks.
Palestinian Prime Minister Mohammad Shtayyeh on Thursday denounced the uptick in Israeli settler attacks against Palestinians in the West Bank, and described them as organized terrorism.
He called on the administration of new US President Joe Biden to intervene and put an end to the crimes, saying the policies of former President Donald Trump have led to an upsurge in the Tel Aviv regime's illegal settlements construction and expansion activities as well as settler attacks against Palestinians and their property.
More than 600,000 Israelis live in over 230 settlements built since the 1967 Israeli occupation of the Palestinian territories of the West Bank and East Jerusalem al-Quds. All Israeli settlements are illegal under international law.
According to human rights groups, acts of violence by Israeli settlers against Palestinians and their property are a daily occurrence throughout the occupied West Bank.
https://www.presstv.com/Detail/2021/01/23/643653/Israeli-settlers-leave-Palestinian-kids-bloody-bruised-in-latest-West-Bank-attack
--------
Europe
EU, Turkey to work on new roadmap: Top Turkish diplomat
Busra Nur Bilgic Cakmak
22.01.2021
Turkey and the EU agreed on working on a roadmap for enhancing relations, the Turkish foreign minister said Friday.
Speaking to journalists in Brussels after his two-day working visit, Mevlut Cavusoglu said "2020 was a problematic year" for relations between Turkey and the EU but a more positive dialogue has developed since the EU leaders' meeting in December.
"We interpreted the joint statement of the December meeting as a hand extended towards Turkey and we reciprocate it in a positive way," said Cavusoglu.
Turkey is always ready to improve its relations with any party or institution extending a positive hand, he said, adding that Turkey fulfills its promises.
"But in relations, of course, one side's wish or dedication is not enough, and the EU should also be dedicated. And I'd like to say that in my talks with all my counterparts, I've witnessed a very positive approach and a will to improve our relations," he stressed.
The presidents of the European Council and Commission will visit Turkey upon Turkish President Recep Tayyip Erdogan's invitation for talks on Turkey-EU relations, Cavusoglu noted.
He said the migration pact between Turkey and the EU will hit its fifth anniversary in March but there are still parts of the agreement that the EU has not fulfilled its commitments.
Visa liberalization and modernization of Turkey's 1995 Customs Union with the EU were part of this agreement and "unfortunately no steps have been taken in this regard," said Cavusoglu.
"There were 72 criteria for the visa liberalization and up until last year we were able to fulfill 66 of them. So, only six were left outstanding, and before coming here we looked into the situation again with some colleagues, and only four are left for the time being," said Cavusoglu.
"I think it was because of the impact of certain EU countries which did not want to establish visa liberalization" that "it did not happen so far".
"But we've taken all necessary steps and will continue to do so," he added.
Cavusoglu noted that Turkey's EU membership process should also be kept alive, adding that Ankara is always ready to take steps to fulfill opening and closing criteria of the negotiation chapters.
Cyprus issue
Cavusoglu said the EU expressed willingness to attend the UN-initiated "5+1 unofficial meeting" on Cyprus, between the Turkish and Greek Cypriot communities, and three guarantor countries Turkey, Greece and the UK.
The EU has always attended these meetings as an observer and they still can, but they only supported the Greek Cypriots' rights, while ignoring the rights of the Turkish Cypriots, he stressed.
"Turkish Cypriots' trust should be won back," said Cavusoglu.
The island of Cyprus has been divided since 1974, when a Greek Cypriot coup was followed by violence against the island's Turks and Turkey's intervention as a guarantor power.
It has seen an on-and-off peace process in recent years, including a failed 2017 initiative in Switzerland under the auspices of guarantor countries Turkey, Greece, and the UK.
Cavusoglu, who arrived in Brussels on Wednesday for a two-day visit, met a number of top EU officials, including European Council President Charles Michel, European Commission President Ursula von der Leyen, and the bloc's foreign policy chief Josep Borrell.
https://www.aa.com.tr/en/europe/eu-turkey-to-work-on-new-roadmap-top-turkish-diplomat/2119665
--------
Man arrested in Birmingham on suspicion of terrorism offences
Jan 22, 2021
A man has been arrested on suspicion of collecting and disseminating terrorist publications.
The 21-year-old was arrested at a property in Birmingham on Wednesday, West Midlands Police said.
He was taken to a local police station where he remains in custody, the spokesman added.
The arrest is part of an on-going investigation and there is not believed to be any imminent threat to the public.
https://www.bbc.com/news/uk-england-birmingham-55757439?utm_source=iterable&utm_medium=email&utm_campaign=1927205_
--------
Far-right terrorism in Germany: Walter Lübcke's murder and the NSU
21.01.2021
Ben Knight
The lawyer defending Stephan E.*, the neo-Nazi on trial for the assassination of regional governor Walter Lübcke , has made his final statement to the court ahead of next week's verdict. In the hope of shortening his client's prison term, attorney Mustafa Kaplan argued that the defendant should be found guilty of manslaughter rather than murder.
Lübcke, a conservative politician in the state of Hesse who defended Chancellor Angela Merkel's refugee policies in the 2015 crisis, was shot dead on the porch of his home in June 2019. Stephan E. confessed to the killing, though he told the court that he had been helped by his erstwhile friend and co-defendant, Markus H., another known neo-Nazi, who has denied involvement.
For many observers, among them state prosecutor Dieter Killmer, Lübcke's killing could only be understood as the latest of a series of far-right terrorist attacks in Germany dating back to the Oktoberfest bombing in the 1980s.
But those attacks are not random. For the past 20 years, Germans have learned more and more about an underground network of neo-Nazis who are prepared to assassinate politicians, stockpile weapons, compile lists of the addresses of perceived enemies, and plant nail bombs in minority communities.
The most spectacular evidence of this came to light in 2011, when it emerged that three terrorists calling themselves the National Socialist Underground (NSU) had committed 10 murders and several bombings over the previous decade without ever being officially identified, let alone caught.
In the intervening years, a little light has been shed on some of the questions raised by the subsequent investigation: Who helped the NSU? What did Germany's domestic intelligence agency, known as the BfV, know? Why were the police apparently ignorant of the NSU's existence?
But the answers have consistently raised new questions. Most recently, new connections have emerged between the NSU and the case of the two men currently on trial in Frankfurt for Lübcke's murder.
Though there is no proof that they ever met the members of the NSU, it has become clear that they moved in the same circles, shared acquaintances in the regional neo-Nazi scene, and pursued similar criminal activities.
According to a new article by the German investigative outlet Correctiv, the defendant in the Lübcke case had about 60 contacts in the far-right scene, at least four of whom were investigated in connection with the NSU murders.
In a statement to DW, Hesse's state intelligence agency, reported that dozens of people who met both Markus H. and Stephan E. were currently being investigated, but the agency insisted there was no evidence that either of them met or helped the NSU.
There are plenty of circumstantial similarities between the Lübcke case and the NSU crimes. Like the NSU, Stephan E. compiled lists of enemies, potential targets. Some of the names appear on both lists. Like the NSU, Stephan E. carried out his alleged murder with a single point-blank gun-shot to the head. Like the NSU, Stephan E. built and detonated nail bombs. Like the NSU, the defendants in the Lübcke case, engaged in firearms training. The NSU had a large stash of arms and ammunition. Police also found a stockpile of illegally acquired weapons in Stephan E.'s possession, including five handguns, two rifles, 1,400 rounds of ammunition, and an automatic rifle.
'A helper network'
And yet there are other questions plaguing authorities: Could Lübcke's murder have been prevented? What did the intelligence agencies know about the two defendants, both of whom were prominent neo-Nazis with a history of violence? And could they have helped the NSU commit the one murder the group committed on its doorstep: That of 21-year-old Halit Yozgat in April 2006 in an internet cafe in Kassel (the city Lübcke later governed)? "We are still convinced there was a helper network in Kassel at the time, and that this murder was at least logistically supported," Hermann Schaus, a member of the Left party who served on the Hesse state parliament's committee to investigate the NSU, told DW.
The answer to all these questions may be in the files of the Hesse intelligence agency, which maintains informants in the neo-Nazi scene.
Schaus is now also on the committee investigating Lübcke's murder. For him, the associations are all too obvious — in fact, at one hearing for the NSU committee in 2016, he actually discussed the two neo-Nazis now accused of murdering Lübcke.
"My team and I noticed the names Stephan E. and Markus H. in the Verfassungsschutz documents at the time," he said. "We had already noticed that they were especially militant, but at the time the Verfassungschutz had assessed them as having 'cooled off' — in other words, they were no longer considered dangerous."
That remains an "explosive" question, Schaus said: "Why did we, as politicians — as amateurs, so to speak — turn out to be right, when the Verfassungsschutz was wrong?"
Schaus first learned about Stephan E. and Markus H. in 2016, three years before Lübcke's murder, from a 15-page intelligence dossier dated in 2009 that tracked neo-Nazis in Hesse.
"The description of Stephan E. and his readiness to commit violence — that was very noticeable," Schaus said. As the dossier showed, there was plenty to suggest that Stephan E. could turn out to be a terrorist: He put a pipe bomb in the cellar of a German-Turkish boy's home as a teenager, stabbed an imam in 1992, put another pipe bomb in a car outside a home for asylum applicants in 1993, and in 2009 was in of a crowd of neo-Nazis that attacked a leftist May 1 demonstration in Dortmund.
The mystery of the missing files
After he read that dossier, Schaus invited the officer who wrote it to testify to the committee as a
witness. "I remember asking the officer whether she thought Stephan E. should be considered a right-wing terrorist," Schaus said. "She couldn't confirm that."
But then something odd happened when Schaus asked her how she had prepared for the hearing: The officer told the committee that she had looked for the intelligence reports on the two men, and found that the files on Stephan E. and Markus H. were no longer in the system.
"So I asked: 'What do you mean no longer there? Have the files been deleted?'" Schaus said. "First she said, 'Yes.' Then: 'I don't know — in any case, they're no longer in the Verfassungsschutz system.'"
Much later, after the committee had ended its work, it emerged that the intelligence agency had deleted its files on Stephan E. and Markus H. in June 2016 — the same month that Schaus made his information request regarding the dossier that mentioned them. It's not clear whether the deletion happened before or after the request arrived. "It could be a coincidence," Schaus said. "But that's going to be one of the crucial questions on the committee." If it happened shortly afterward, it could indicate that someone in the intelligence agency was seeking to shield the two men.
As it happens, only the computer files were deleted (which is why the officer couldn't find them when she was preparing for her hearing), but a paper copy of the files was kept and stored away, because of a moratorium on shredding intelligence documents introduced in 2012 following the NSU scandal. "If it hadn't been for that scandal, all those files would've been lost forever," Schaus said. "We should have been given them earlier."
The only problem is: The state of Hesse opted to seal those files for 30 years. All that is known about them is that Stephan E. is mentioned multiple times.
https://www.dw.com/en/far-right-terrorism-in-germany-walter-l%C3%BCbckes-murder-and-the-nsu/a-56304776?utm_source=iterable&utm_medium=email&utm_campaign=1927205_
--------
URL: https://www.newageislam.com/islamic-world-news/us-review-peace-deal-with/d/124138
New Age Islam, Islam Online, Islamic Website, African Muslim News, Arab World News, South Asia News, Indian Muslim News, World Muslim News, Women in Islam, Islamic Feminism, Arab Women, Women In Arab, Islamophobia in America, Muslim Women in West, Islam Women and Feminism