New Age Islam News Bureau
7 March 2019
• US Senators Slam Saudi Rights Record, Call Crown Prince 'Full Gangster'
• Ilhan Omar's Criticism of AIPAC and Israel Is Not Anti-Semitic, Jewish And Muslim Activists
• 'Fear God': Masood Azhar Quashes Death Rumours; Warns Liberals, Pakistan from Attacking 'JeM Institutions'
• JeM Was Used By Intelligence to Target India in My Time: Pervez Musharraf
• UN Rights Chief Warns Against Harassment of Muslims in India
• In Small Gathering, Islamists Say Ready to 'Jihad' Against Enemies
• Pakistan Says It Takes Control of 182 Religious Schools in Crackdown on Militants
• ICC Team in Bangladesh to Probe Atrocities against Rohingyas by Myanmar Military
• Al-Nujaba Spokesman Terms US Sanctions Psychological Warfare
North America
• US Senators Slam Saudi Rights Record, Call Crown Prince 'Full Gangster'
• Ilhan Omar's Criticism of AIPAC and Israel Is Not Anti-Semitic, Jewish And Muslim Activists
• US Designates Iranian Proxy Group and Its Leader as International Terrorists
• House measure condemning anti-Semitism following Omar's remark
• Report: Iranian hackers caused losses in hundreds of millions
• Trump attacks 'shameful' Democrats for not taking tougher anti-Semitism stance
• US, UK arms kill more than 200 Yemeni civilians: Report
• Congress postpones 'indefinitely' vote to rebuke Ilhan Omar
--------
India
• 'Fear God': Masood Azhar Quashes Death Rumours; Warns Liberals, Pakistan from Attacking 'JeM Institutions'
• JeM Was Used By Intelligence to Target India in My Time: Pervez Musharraf
• Militant involved in grenade attack on Jalandhar police station arrested, says NIA
• Pakistan flip-flop: Its Army says Jaish does not exist in the country
• One terrorist killed by security forces in Handwara in J&K
• SC Reserves Ayodhya Order, Muslim Parties Want Mediation
--------
Europe
• UN Rights Chief Warns Against Harassment of Muslims in India
• Russia aims to strengthen ties with Gulf countries in all sectors
• Germany extends ban on arms exports to Saudi Arabia
• UN rights chief criticizes Israel denying war crimes
• Conservative councillors resign over anti-Muslim posts
• Terrorists set for release across EU without proper monitoring
• EU blacklists seven Syrian ministers over links to Assad
--------
Southeast Asia
• In Small Gathering, Islamists Say Ready to 'Jihad' Against Enemies
• In Malaysia, special unit formed to monitor insults against Islam
• Dr M: With 'marriage', has PAS retracted 'infidel' tag against Umno?
--------
Pakistan
• Pakistan Says It Takes Control of 182 Religious Schools in Crackdown on Militants
• Pakistan Blacklists Jeish Al-Adl as Terrorist Group
• In a first: Congregational prayer offered inside National Assembly
• Govt asked to explain if any conditions attached to F-16s deal
• Pakistan, India delegation-level visits to further reduce tensions: Qureshi
• Chinese vice FM reiterates support to Pakistan for regional peace, stability
• German military chief discusses security cooperation with COAS Bajwa
--------
South Asia
• ICC Team in Bangladesh to Probe Atrocities against Rohingyas by Myanmar Military
• Suicide bomb attack in Afghan city of Jalalabad kills 16
• Bangladesh expects $15bn in Saudi investments
• Catalogue of ICNA's Links to Jamaat-e-Islami
• Locals in Cox's Bazar demand Rohingya return to Myanmar
• Prominent Haqqani Network commander arrested in Jalalabad city
• ISIS claims responsibility for deadly attack in Nangarhar province
• 8-year-old child shot dead by Taliban militants in Jawzjan province
--------
Arab World
• Al-Nujaba Spokesman Terms US Sanctions Psychological Warfare
• Saudi Prosecutors Bring Jailed Moderate Sunni Preacher to Secret Trial: Report
• US Aiding ISIL, Other Terrorists in Western Iraq
• Syrian Army Foils Terrorists' Massive Attacks on Hama, Idlib
• US, Allied Militants Help Thousands of ISIL Terrorists Out of Eastern Euphrates
• Syrian Army Heavily Pounds Terrorists' Positions in Hama Countryside
• UAE Foreign Minister: We seek the containment of the Syrian crisis
• Saudi Arabia plays 'pivotal role' in fight against global terrorism: General Abizaid
• Six dead in Daesh attack on Iraqi militia
• Hundreds limp out of besieged Syria Daesh enclave
--------
Mideast
• EU, Russia, China Reaffirm Support for Iran Nuclear Deal
• Western Arms Exporters Complicit In Saudi, Israeli Crimes: Iran
• Israel demolishes home of Palestinian suspect in deadly shootings
• Tale of Palestinian food truck draws Hollywood star to Beirut
• Iran, Iraq reaffirm resolve to bolster neighbourly ties
• Israeli forces shoot down Gaza protester as warplanes launch new airstrikes
• UN Palestine committee slams Trump's unilateralism
• Turkey says to conduct joint raid with Iran against PKK
• Arab Coalition targets Houthi reinforcements in Yemen's Hajar
--------
Africa
• Algerian Army Chief Vows To Secure Protest-Hit Country
• Debts pile up as rival Libyan governments struggle for power
• South Africa exhibits relics of Prophet Muhammad
Compiled by New Age Islam News Bureau
URL: https://www.newageislam.com/islamic-world-news/us-senators-slam-saudi-rights/d/117952
--------
US senators slam Saudi rights record, call crown prince 'full gangster'
Mar 7, 2019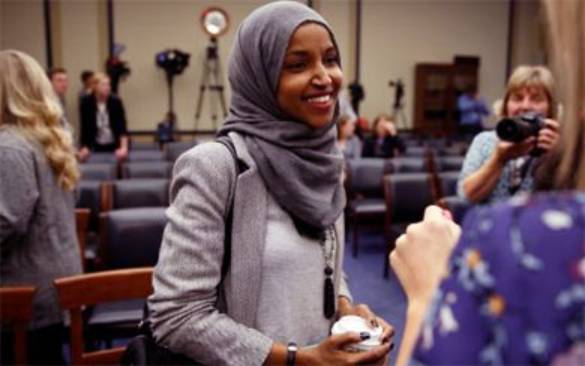 Jewish- and Muslim-American activists gathered across from the US Capitol building on Wednesday to show solidarity with Congresswoman Ilhan Omar
------
A bipartisan group of US senators in Congress have warned against growing human rights violations in Saudi Arabia, saying Saudi Crown Prince Mohammed bin Salman has gone "full gangster."
At the confirmation hearing of new Ambassador to Saudi Arabia John Abizaid on Wednesday, Republican and Democratic US senators censured the kingdom over its devastating war on Yemen and other rights abuses, including the detention and torture of women's rights activists and the grisly murder of dissident Saudi journalist Jamal Khashoggi in Turkey.
Bin Salman is known as the architect of the bloody war on Yemen in his capacity as Saudi defense minister. The heir to the Saudi throne is reported to have ordered the assassination of Khashoggi – an outspoken critic of bin Salman's policies – last October at Riyadh's Istanbul consulate.
Republican Senator Marco Rubio said Saudi Arabia was the "most difficult" US ally "because it almost asks us to agree to stay silent on grotesque violations of human rights both domestically and abroad."
"He is reckless, he's ruthless, he has a penchant for escalation, for taking high risks, confrontational in his foreign policy approach and I think increasingly willing to test the limits of what he can get away with the United States," Rubio said. "He's gone full gangster. And it's difficult to work with a guy like that no matter how important the relationship is."
Abizaid's hearing comes two days after senators received a briefing from administration officials on Khashoggi's killing.
Senator Bob Menendez, Senate Foreign Relations Committee's ranking Democrat, acknowledged the strategic importance of Saudi ties, but said "we cannot let these interests blind us to our values or to our long-term interests in stability."
Committee Chairman Jim Risch said while Saudi Arabia was a strategically important ally, the alliance must be reconciled with American values.
"Saudi Arabia has engaged in acts that are simply not acceptable," he said.
Congressmen have been sharply critical of bin Salman and the Trump administration's inaction on Riyadh's human rights violations at home and abroad.
The Senate and House of Representatives have adopted resolutions that would put an end to US support for the Saudi-led coalition waging war on Yemen.
President Donald Trump's nominee for US ambassador to Riyadh, Abizaid, however, repeatedly stressed the strategic importance of Washington-Riyadh ties and said Washington should keep up support for the kingdom.
"In the long run, we need a strong and mature partnership with Saudi Arabia," Abizaid said, adding, "It is in our interests to make sure that the relationship is sound."
Abizaid, who led US Central Command during the Iraq war, said the Trump administration believes strongly that US support for the kingdom should continue.
https://www.presstv.com/Detail/2019/03/07/590386/US-senators-Saudi-Crown-Prince-bin-Salman-Yemen-Khashoggi-human-rights-abuses
--------
Ilhan Omar's Criticism of AIPAC and Israel Is Not Anti-Semitic, Jewish And Muslim Activists
By Ali Harb
6 March 2019
Jewish- and Muslim-American activists gathered across from the US Capitol building on Wednesday to show solidarity with Congresswoman Ilhan Omar, whose recent criticism of Israel and US foreign policy has sparked heated debate in Washington.
Rabbi Alissa Wise, deputy director of Jewish Voice for Peace, a group critical of Israel's human rights abuses against Palestinians, said Omar was "exactly right" about the pro-Israel lobby's "outsized influence in Washington".
At the news conference on Wednesday morning, Wise said the leadership of the Democratic Party, of which Omar is an elected member, should be standing behind the Minnesota congresswoman.
"In a time of rampant Islamophobia and anti-black racism coming from the halls of power, [the] Democratic leadership needs to be decrying xenophobia, needs to be standing with black Americans and not scapegoating them, as they are doing with Representative Omar," Wise said.
While defending herself from previous accusations of anti-Semitism, Omar was at the centre of a new wave of outrage this week in relation to a recent speech she delivered at an event in Washington.
"I want to talk about the political influence in this country that says it is OK for people to push for allegiance to a foreign country," Omar said at a town hall at Busboys and Poets Cafe last Thursday.
"I want to ask, why is it OK for me to talk about the influence of the [gun lobby] NRA, of fossil-fuel industries, or Big Pharma, and not talk about a powerful lobby that is influencing policy?"
Omar's use of the phrase "allegiance to a foreign country" led to criticism that she was accusing Jewish-Americans of dual loyalty.
Wise told Middle East Eye that she was "confused" by the anger that ensued over the weekend.
"I read her words - what she said at the Busboys and Poets Cafe - and there's nothing in there about dual loyalty," Wise said. "It was a willful reading in order to turn and distort her words."
Rebuked by party leaders
The criticism over her latest comments came after Omar was rebuked by her own Democratic Party's leadership for suggesting last month that support for Israel is driven by the financial and political power of the American Israel Public Affairs Committee (AIPAC), a pro-Israel lobby group.
At that time, critics accused Omar of using an anti-Semitic trope that could have been seen as Jews using money to control society. She later apologised for her remarks.
Omar also has repeatedly denounced anti-Semitism and other forms of bigotry.
Despite this, top Democrats, including Nancy Pelosi, the speaker of the US House of Representatives, prepared a resolution condemning anti-Semitism to indirectly reprimand Omar this week.
The measure was due for a vote on Wednesday, but it was postponed after objections from African-American and progressive lawmakers.
Natalie Bamdad, an activist with IfNotNow, an organisation of young Jewish-Americans who oppose Israeli policies, called on Democratic leaders to combat real anti-Semitism instead of silencing criticism of Israel.
"To those in power denouncing Representative Omar, calling her a terrorist, threatening her, defaming her - you do not have vision for a safe Jewish future," Bamdad said at the news conference on Wednesday.
She said that the proposed resolution against Omar reveals a "clear moral hypocrisy" in Congress around anti-Semitism.
"Representative Omar's words were not anti-Semitic," Bamdad said. "They reflected a valid critique of the occupation and AIPAC, which thousands of young Jews, including me, share."
She added that the push against Omar aims to intimidate Israel's opponents, especially people of colour.
Call to condemn all bigotry
Bamdad and other speakers also pointed to clear examples of anti-Semitism that received less scrutiny than Omar's comments on Israel.
That includes a recent tweet by Republican Congressman Jim Jordan in which he used a dollar sign to spell out the last name of a major Jewish-American donor to the Democratic Party, billionaire Tom Steyer.
Palestinian-American activist and legal scholar Noura Erakat said attacks against Omar show how "vulnerable" US lawmakers who defend Israel are becoming, as more people adopt the Palestinian cause as a human rights issue.
"It you can't stop this movement from the bottom-up, you're going to clamp it from the top down," Erakat said.
"The anxiety here that's being raised is not about the concern for Jewish lives; it is about the concern for Israel's viability as an apartheid state, continuing and entrenching its settler-colonial encroachment," she continued.
"And the United States has been the leader of that effort."
After the news conference, the activists marched to Pelosi's office to deliver a letter calling for her to condemn all forms of bigotry, including Islamophobia.
Last week, Republican Party members in West Virginia displayed a poster in the state capitol building likening Omar to the 9/11 attackers, a show of Islamophobia that Muslim activists said amounted to a threat against the congresswoman's safety.
"A congressional resolution cannot afford to glance over the alarming spike of actual anti-Semitism, Islamophobia, and religious bigotry in the US today, particularly from the far-right that is by far the greatest purveyor of hate crimes, as statistics show," the letter read.
"To single out Congresswoman Omar with unfounded accusations of anti-Semitism in itself perpetuates an Islamophobic stereotype that Muslims are inherently anti-Semitic.
"Americans, including Muslims, can and should be able to criticise Israeli policies or American policies toward Israel without being falsely accused of anti-Semitism," it said.
https://www.middleeasteye.net/news/jewish-and-muslim-activists-express-support-ilhan-omar
--------
'Fear God': Masood Azhar quashes death rumours; warns liberals, Pakistan from attacking 'JeM institutions'
Mar 07, 2019
Islamabad: Hours after Pakistan launched a crackdown on terror outfit Jaish-e-Mohammed under National Action Plan (NAP) the terror group kingpin Masood Azhar issued a stern warning to the country's ruling establishment to stop persecuting mosques and true Muslims.
In the 11:41 minutes audio clip uploaded on JeM chat platforms Azhar talks about India, Pulwama attack and liberals in Pakistan. Full of personal stories and narratives, Azhar starts his speech with his fake death story which circulated in the media. Saying that he is alive and doing well, he calls on his followers to start a jihad against India for oppressing Kashmiris.
In the next part of the speech he talks about liberals like Malala and says that Pakistan being an Islamic country should not allow them to take over the country.
"These liberals couldn't tolerate the Islamisation of Pakistan under Zia-ul-Haq so just imagine what will happen if people like us rise against them," said Azhar. Haq pushed for Sharization in the country and was directly responsible for turning Pakistan into a global centre for political Islam.
Slamming India for putting pressure on Pakistan from all corners and Pakistan for succumbing under the pressure, Azhar says that the political leadership in the country has failed to understand India's ploy.
Taking a dig at Pakistan's foreign minister Shah Mahmood Qureshi, Azhar says that he was saying things under pressure and even then it is failing. Qureshi had earlier accepted that Azhar is in Pakistan but said that "he is really unwell and not even in a position to leave his house."
https://www.timesnownews.com/international/article/jem-jaish-e-mohammed-masood-azhar-pakistan-malala-yousafzai-india-shah-mahmood-qureshi-zia-ul-haq/378103
--------
JeM was used by intelligence to target India in my time: Pervez Musharraf
Mar 07, 2019
New Delhi: Former Pakistan President Pervez Musharraf on Wednesday said the Jaish-e-Mohammed was a terror outfit but indicated that his country's intelligence had used it to carry out attacks in India during his tenure.
Making the disclosure in a telephonic interview to Pakistani journalist Nadeem Malik of Hum News in his talk show, Musharraf also welcomed the action against the JeM, saying it had tried to assassinate him twice in December 2003, as per a video clip shared on the journalist's Facebook and Twitter page.
Asked why he had not taken action against the organisation during his stint in power (1999-2008), he claimed those times were "different". Both India and Pakistan were involved in a clandestine struggle, "carrying out bombings in each other's territory", he said, adding his country's intelligence agencies were engaged in it.
Amid all this, not much action was taken against the Jaish, he said, adding that he had also not insisted.
The JEM, led by Maulana Masood Azhar, is accused of various attacks in India, including the February 14 Pulwama attack which left 40 Central Reserve Police Force troopers dead.
https://www.siasat.com/news/jem-was-used-intelligence-target-india-my-time-pervez-musharraf-1474825/
--------
UN rights chief warns against harassment of Muslims in India
March 7, 2019
The United Nations human rights chief has warned India that its "divisive policies" could undermine economic growth, saying that narrow political agendas were marginalising vulnerable people in an already unequal society.
"We are receiving reports that indicate increasing harassment and targeting of minorities – in particular, Muslims and people from historically disadvantaged and marginalised groups, such as Dalits and Adivasis," Michelle Bachelet said in her annual report to the UN Human Rights Council in Geneva on Wednesday.
A spokesman for India's ruling Hindu nationalist Bharatiya Janata Party (BJP) dismissed Bachelet's comments as "baseless".
"I reject the UN human rights chief's report," said Shahnawaz Hussain, a BJP leader. "These are baseless allegations to tarnish the image of India. India is the best country for Muslims in the world, and Hindus are their best friends."
Bachelet's warning came a day after Amnesty International's India chapter said it had recorded a "disturbing" number of hate crimes, including assault, rape and murder, against marginalised groups in 2018.
Relying on cases reported in mainstream English and Hindi media, the group on Tuesday said it had documented a total of 218 incidents of alleged hate crimes last year. Some 142 were against lower-caste Dalits, while 50 were against Muslims.
'Culture of impunity'
Aakar Patel, executive director of Amnesty India, told Al Jazeera there "was a culture of impunity for hate crimes" in India.
The country's law, with some exceptions, does not recognise hate crimes as specific offences, he said, urging political leaders to be more vocal in denouncing such violence and calling on the police to "take steps to unmask any potentially discriminatory motive in a crime".
"Legal reforms that enable recording of hate crimes and strengthen accountability must be a priority for any government that comes to power following the upcoming general elections," he added.
Prime Minister Narendra Modi is battling for a second term in an election due by May.
In December, Factchecker.in, a data-journalism outfit, in December said the "year 2018 saw the most hate crimes motivated by religious bias in India in a decade".
The group said 30 people were killed in 93 such attacks last year, the highest number of deaths since it began tracking hate crimes in 2009. More than 300 people were wounded, the group said.
Most of the attacks took place in states ruled by the BJP. Uttar Pradesh topped the list with 27 cases. Bihar, with 10 cases, came second. The figures by Factchecher.in show a spike in alleged hate crimes after BJP took power in 2014.
State governments ruled by the BJP have cracked down on the slaughter of cows, an animal many Hindus consider sacred, with vigilante groups beating and killing poor Muslim and Dalit men over allegations of killing cows and eating beef.
Modi has repeatedly said state governments should punish vigilantes who commit violence in the name of cow protection, but his critics say the government has not done enough to prosecute the killings.
Political commentator and former vice chancellor of Islamic University of Science and Technology in Kashmir, Sidiq Wahid said that people in Muslim-majority Kashmir could say with confidence that no one better understands the "deficit in fairness that exists in India, especially, although not exclusively, under the BJP regime".
Wahid told Aljazeera: "The report comes at a time that is both apt and embarrassing. It's apt because India is about to have elections … It is embarrassing, because the report conveys for the entire world to see the true state of democracy in the "world's largest democracy".
Nazia Erum, author of the book Mothering a Muslim, however, said nothing would change in the country unless Indian leaders recognised the toll divisive politics was taking on the country.
"When we work together in recognising the divisive forces at work, and act against them together, only then we can make for a stronger nation," she said. "We simply cannot allow the next generation to grow amidst growing hatred and narrow confines of resentment towards people of other communities."
https://www.aljazeera.com/news/2019/03/divisive-policies-india-hurt-economic-growth-190306214221486.html
--------
In small gathering, Islamists say ready to 'jihad' against enemies
01 March 2019
By Syed Jaymal Zahiid
KUALA LUMPUR, March 1 ― Hundreds gathered outside the National Mosque here today to protest against purported anti-Islam elements they claimed were flourishing under Pakatan Harapan (PH).
Politicians and heads of several hardline Islamic groups said the demonstration was an act of self-defence in the face of what they perceived as a concerted attempt to undermine Islam and the Malay identity.
They warned that Muslims are ready to "jihad" against those who insult the faith.
"If the situation calls for us to jihad, are we ready?" one of the organisers asked.
"Yes we are!" the crowd responded.
The protest held just after Friday prayers, was organised as a response to a case involving a senior citizen who was said to have insulted the Muslim Prophet Muhammad on Facebook recently.
Wai Foo Sing, 68, was charged with uploading the posting on his Facebook account, with the profile name "Foo Sing Wai".
The authorities said his action could cause disharmony, disunity or feelings of enmity, hatred and ill-will on grounds of religion among the people of different religions in the country.
Islamists claimed the incident was yet another sign of minority's eroding respect towards the Malay community, and Islam's official position.
Opposition leaders like Umno youth chief Datuk Asyraf Wajdi Dusuki, who spoke at the demonstration, suggested the Pakatan Harapan administration is to blame.
"We used to live in peace, in harmony but just after they got some power they've already 'naik tocang'," he said, using the Malay phrase to describe the ungracious.
Asyraf alleged the new government has not done much to protect the religion, which encouraged religious provocation.
He claimed Attorney General Tommy Thomas was slow to act when the insult was made, while Islamic Affairs Minister Datuk Seri Mujahid Yusof Rawa was seen as apologetic.
Both have been accused of pandering to the demands of minority.
Several government leaders, however, have also condemned the provocation.
Also present at the gathering was Umno president Datuk Seri Ahmad Zahid Hamidi and PAS vice-president Idris Ahmad.
https://www.malaymail.com/news/malaysia/2019/03/01/in-small-gathering-islamists-say-insult-on-prophet-sign-of-liberal-rule/1728172
--------
Pakistan says it takes control of 182 religious schools in crackdown on militants
March 07, 2019
ISLAMABAD: Pakistan has taken control of 182 religious schools and detained more than 100 people as it intensifies its crackdown on banned militant organizations, the interior ministry said on Thursday.
"Law enforcement agencies have taken 121 people under preventive detention as of today," the ministry said in a statement, adding that religious schools, hospitals and ambulances were taken over.
Pakistan began a crackdown against militant groups this week amid growing international pressure in the wake of a bombing in Indian-controlled Kashmir by a militant group based in Pakistan.
Islamabad denies aiding militants and says its push against banned outfits is unrelated to the Indian and global pressure.
http://www.arabnews.com/node/1462936/world
--------
ICC Team in Bangladesh to Probe Atrocities against Rohingyas by Myanmar Military
Mar 06, 2019
Dhaka: A team from the office of the International Criminal Court prosecutor was in Bangladesh on Wednesday for a preliminary probe into alleged atrocities committed against the Rohingya by the Myanmar military in 2017.
A statement emailed to AFP from the ICC confirmed the tour -- the maiden official visit by the ICC -- but said it was part of prosecutor office's "ongoing preliminary examinations concerning the situation in Bangladesh/Myanmar".
"A preliminary examination is not an investigation. Such visits in the context of preliminary examinations are standard practice, and the delegation will not engage in any evidence collection in relation to any alleged crimes," it said.
"The independent and impartial preliminary examination of the situation in Bangladesh/Myanmar is on-going and following its normal course," it added.
A Bangladeshi official said the ICC would visit Rohingya camps in the country's southeastern district of Cox's Bazar where some 740,000 Rohingya took refuge after they fled a brutal military crackdown in late 2017.
In September, the ICC prosecutor opened a preliminary probe into Myanmar's alleged crimes against the Rohingya Muslim minority, including killings, sexual violence and forced deportations.
A preliminary examination can lead to a formal investigation by the ICC -- which was set up in 2002 to investigate war crimes and crimes against humanity -- and then possible indictments.
Prosecutor Fatou Bensouda will look at whether there is enough evidence to warrant a full investigation into Myanmar's military offensive.
Bensouda said in a statement at that time that the initial probe "may take into account a number of alleged coercive acts having resulted in the forced displacement of the Rohingya people, including deprivation of fundamental rights, killing, sexual violence, enforced disappearance, destruction and looting".
She is not a part of the visiting team, her office said.
The move comes after judges ruled that even though Myanmar has not signed up to the Hague-based ICC, the court still has jurisdiction over crimes against the Rohingya because Bangladesh is a member.
Last week the Organisation of Islamic Cooperation -- of which Bangladesh is a member -- in a meeting in Abu Dhabi unanimously adopted a resolution to move at the International Court of Justice (ICJ) for establishing the legal rights of the Rohingya and addressing the question of accountability and justice, Dhaka's foreign ministry said.
"The resolution to pursue a legal recourse through the ICJ came after a long series of negotiations to seek accountability for crimes committed against humanity and gross violation of human rights in the case of the Rohingyas in Myanmar," it said.
Myanmar's army has denied nearly all wrongdoing, insisting its campaign was justified to root out Rohingya insurgents who staged deadly raids on border posts in August 2017.
https://www.timesnownews.com/international/article/icc-team-in-bangladesh-to-probe-atrocities-against-rohingyas-by-myanmar-military/377814
--------
Al-Nujaba Spokesman Terms US Sanctions Psychological Warfare
Mar 06, 2019
"We do not have any economic and financial interests to be sanctioned by the US, and al-Nujaba's position towards the US is stable and unchangeable," al-Mousavi said on Wednesday.
He added that the US lacks legitimacy to accuse others with terrorism. "But it would be wrong for the US to imagine that it could impose its will on nations."
Al-Mousavi lashed out at Washington for its double-standard approach, saying that the US is a country which supports the killers of a journalist (Jamal Khashoggi) in a diplomatic mission.
The Al-Nujaba Movement had also earlier today announced that it would double its efforts to stand against Washington's plots in the region after it was designated by the US State Department as a terrorist group.
"We in the Islamic Resistance are proud that we are always standing in the forefront of confronting the American terrorism against the oppressed nations," Deputy Secretary-General of al-Nujaba Movement Nasr al-Shamri told the Arabic-language Baghdad al-Youm.
"We are the ones who confront the terrorists and destructive occupation of Iraq and their (the Americans') al-Qaeda and ISIL terrorism," he added.
Al-Shamri underlined that al-Nujaba would confront all US plots in the region, adding that the State Department move would strengthen their determination to insist on their position.
The US added al-Nujaba Movement and its leader Akram Abbas al-Ka'abi, to its sanctions list, the State Department said.
"The Department of State has designated the Iranian proxy group Harakat al-Nujaba (HAN) and its leader, Akram 'Abbas al-Kabi, as Specially Designated Global Terrorists under Executive Order 13224," the State Department said in a statement on Tuesday.
Harakat al-Nujaba is an Iraqi Shiite resistance group that helped the Iraqi government liberate territory captured by the ISIL. It has also deployed forces to Syria to help the Syrian army recapture territories from terrorist groups.
http://en.farsnews.com/newstext.aspx?nn=13971215000974
--------
North America
US designates Iranian proxy group and its leader as international terrorists
6 March 2019
In an executive order, the US State Department has on Tuesday designated the Iranian proxy group Harakat al-Nujaba (HAN) and its leader, Akram Abbas al-Kabi, as global terrorists.
The State Department said: "These designations demonstrate the United States' unwavering commitment to isolate and deny funding to the Iranian regime's terrorist proxies. The United States will continue to stand firm against Iran's malign behavior and efforts to undermine Iraq's sovereignty and stability."
The designations seek to deny HAN and al-Kabi of the resources to plan and carry out terrorist attacks.
Among other consequences, all of their property and interests in property subject to US jurisdiction have been blocked, and US citizens "are generally prohibited from engaging in any transactions with them."
Established in 2013 by al-Kabi, HAN is an Iran-backed Iraqi militia funded by- but not under the control of- the Iraqi government. HAN has openly pledged its loyalties to Iran and Iranian Supreme Leader Ayatollah Khamenei.
According to the media note by the State Departrment, Al-Kabi has publicly claimed that he would follow any order, including overthrowing the Iraqi government or fighting alongside the Houthis in Yemen, if Ayatollah Khamenei declared it to be a religious duty.
Al-Kabi also claimed that Iran supports HAN both militarily and logistically, and stressed HAN's close ties with IRGC-QF Commander Qassem Soleimani and Hezbollah Secretary-General Hassan Nasrallah.
The Department of the Treasury designated al-Kabi as global terrorists in 2008 for planning and conducting multiple attacks against coalition forces, including mortar and rocket launches into the International Zone.
https://english.alarabiya.net/en/News/middle-east/2019/03/06/US-designates-global-terror-tag-on-Iranian-proxy-group-and-its-leader-.html
--------
House measure condemning anti-Semitism following Omar's remark
6 March 2019
Back in January, the Democrats welcomed their brash young newcomers to Congress with smiles and hugs. That was before the new colleagues dragged the party's simmering divisions over Israel out in the open.
Provocative comments from Rep. Ilhan Omar of Minnesota have thrust the Democrats into an uncomfortable debate over Israel policy a few weeks before a high-profile conference where senior Democrats typically make a show of support for the Jewish state.
Increasingly, the rift appears as much generational as ideological, with newly elected Democrats showing less deference to the party line.
Omar became the flashpoint after she suggested last week that Israel's supporters are pushing US lawmakers to take a pledge of "allegiance to a foreign country." It's at least the third time she has forced older, pro-Israel Democrats who run the House into awkward territory over US-Israeli policy.
Republicans have been happy to stoke the furor, with President Donald Trump calling Omar's remarks "a dark day for Israel" and posting a photo of himself in Jerusalem. Inside the Democratic family, meanwhile, leaders are in a bind, torn between a need to admonish Omar for her comments and their desire to defend one of the first Muslim women elected to Congress.
This time Omar is not apologizing. This time pro-Israel Democrats led by Speaker Nancy Pelosi are not just warning her about the dangers of Jewish tropes. They're expected to offer a resolution condemning anti-Semitism on the House floor.
"Accusations of dual loyalty generally have an insidious, bigoted history," an early draft of the resolution reads in part. "The House of Representatives acknowledges the dangerous consequences of perpetuating anti-Semitic stereotypes and rejects anti-Semitism as hateful expressions of intolerance that are contradictory to the values that define the people of the United States."
Pelosi and Majority Leader Steny Hoyer announced in a meeting of leading Democrats late Tuesday that the text will be updated to include anti-Muslim bias, according to a senior Democratic aide who spoke on condition of anonymity to discuss the private meeting.
Other Democrats said an outpouring of support for Omar prompted leaders to consider broadening the measure to avoid dissension. Omar did not speak to reporters outside her office on Tuesday evening.
"There is a lot of emotional disquiet about the situation, and it's a good time to restate our values," said Rep. Jamie Raskin of Maryland, who is Jewish and a member of leadership, as he exited a meeting in Pelosi's office. "That's what I hope our resolution can do."
The text, which includes a history of bigotry against Muslims and blacks as well as Jews, sounds unobjectionable by itself. But the fact that senior Democrats felt obliged to put the House on-record on the topic points to a transformation in the country — mostly among Democrats — about supporting the Jewish state.
In a poll by the Pew Research Center in January of last year, 46 percent of Americans said they sympathized more with Israel and 16 percent with the Palestinians in their Middle East discord.
But Democrats are about evenly divided, with about a quarter sympathizing with each side and the rest saying they side with neither or don't know — and in recent years they have become less likely to sympathize with Israel than they were in the past.
Liberal Democrats were nearly twice as likely to say they sympathize more with the Palestinians (35 percent) than with Israel (19 percent).
Older Americans were much more likely to say they sympathize with Israel than with the Palestinians, with more division among younger Americans.
Omar, a Somali-American, says that what she is questioning the influence game in Washington and she worries that anything she says about Israel and its treatment of Palestinians will be construed as anti-Semitic.
"Being opposed to (Prime Minister Benjamin) Netanyahu and the occupation is not the same as being anti-Semitic," she tweeted on Sunday. "I am grateful to the many Jewish allies who have spoken out and said the same."
But Democrats in Congress remain largely supportive of Israel. Pelosi, for example, often attends the American Israel Public Affairs Committee conference in Washington, which is coming up later this month.
Omar on Tuesday got a boost from allies who point out that the congresswoman, too, has been the target of threats and bigotry.
Rep. Alexandria Ocasio-Cortez suggested in a tweet that her fellow freshman was being treated unfairly. "No one seeks this level of reprimand when members make statements about Latinx + other communities," the New York Democrat wrote.
Jewish groups generally said they support the resolution — but say that they are "concerned that the timing of this resolution will be seen as singling out and focusing special condemnation on a Muslim woman of color as if her views and insensitive comments pose a greater threat than the torrent of hatred that the white nationalist right continues to level against Jews, Muslims, people of color and other vulnerable minority groups," said J Street, a nonprofit that says it's a home for "pro-Israel, pro-Peace Americans."
Full report at:
https://english.alarabiya.net/en/features/2019/03/06/House-measure-condemning-anti-Semitism-following-Omar-s-remark.html
--------
Report: Iranian hackers caused losses in hundreds of millions
7 March 2019
Iranian hackers working to penetrate systems, businesses and governments around the world have caused hundreds of millions of dollars in damages, a report said Wednesday.
Researchers for tech giant Microsoft said the attackers stole secrets and wiped data from computer networks after targeting thousands of people at some 200 companies over the past two years, according to The Wall Street Journal.
Microsoft did not immediately respond to an AFP query on the report. The Journal said Microsoft traced the attacks to Holmium, a group linked to Iran, and that some of the hacking was done for Holmium by another Iranian group known as APT33.
John Lambert, the head of Microsoft's Threat Intelligence Center, told the newspaper the attacks were "massively destabilizing events."
The report said the hackers notably targeted oil-and-gas companies, heavy-machinery manufacturers and international conglomerates in Saudi Arabia, Germany, Britain, India and the United States.
In 2017, the security firm FireEye blamed APT33 for destructive malware that targeted organizations in the Middle East and elsewhere.
Full report at:
https://english.alarabiya.net/en/News/world/2019/03/07/Report-Iranian-hackers-caused-losses-in-hundreds-of-millions.html
--------
Trump attacks 'shameful' Democrats for not taking tougher anti-Semitism stance
7 March 2019
US President Donald Trump said Wednesday it was "shameful" that Democrats have not taken a tougher stance on anti-Semitism, following controversial remarks about Israel by one of the first Muslim women in Congress.
With a single tweet the president weighed into a debate that has caused the latest awkward rift in the Democratic Party, as young progressives clash with the establishment old guard.
"It is shameful that House Democrats won't take a stronger stand against anti-Semitism in their conference," Trump said. "Anti-Semitism has fueled atrocities throughout history and it's inconceivable they will not act to condemn it!"
Donald J. Trump
✔
@realDonaldTrump
It is shameful that House Democrats won't take a stronger stand against Anti-Semitism in their conference. Anti-Semitism has fueled atrocities throughout history and it's inconceivable they will not act to condemn it!
86.8K
1:20 AM - Mar 7, 2019
Twitter Ads info and privacy
49.5K people are talking about this
The criticism comes as Democrats grapple with how to reprimand one of their own, first-term Minnesota Congresswoman Ilhan Omar, for her repeated criticisms of Israel and a powerful pro-Israel lobby in Washington that prides itself on its influence in US politics.
Omar, a former Somali refugee, was assailed by Democrats and Republicans alike for suggesting last Friday that supporters of the Jewish state are urging lawmakers to have "allegiance to a foreign country."
Several lawmakers expressed outrage, warning that Omar was peddling in age-old anti-Semitic tropes about Jews having dual allegiances. The Democratic-led US House had been expected to vote as early as Wednesday on a resolution condemning anti-Semitism.
But on Wednesday in a closed-door meeting of Democrats, the debate appeared to morph into a discussion over broader efforts to address hateful rhetoric, with some lawmakers pushing to include resolution language that decries anti-Muslim bias.
Some Democrats also have expressed anger that Omar could be facing an implicit rebuke while racist statements by Trump and other Republicans go largely unchallenged. Number two House Democrat Steny Hoyer said the language of the resolution was still being worked out, and that a vote date had yet to be set.
Hoyer also offered a defense of sorts of Omar, saying he did not believe she is anti-Semitic. A small group of activists gathered outside the Capitol Wednesday in support of Omar, including Council on American-Islamic Relations head Nihad Awad who warned that House leaders were seeking to "intimidate" the embattled Congresswoman.
Full report at:
https://english.alarabiya.net/en/News/world/2019/03/07/Trump-attacks-shameful-Democrats-for-not-taking-tougher-anti-Semitism-stance.html
--------
US, UK arms kill more than 200 Yemeni civilians: Report
Servet Gunerigok
07.03.2019
WASHINGTON
The Saudi- and United Arab Emirates-led coalition has killed more than 200 people, including women and children, using U.S. and British-made weapons in Yemen, said a report Wednesday.
The report, "Day of Judgment: The Role of the US and Europe in Civilian Death, Destruction, and Trauma in Yemen" was prepared by the U.S.-based University Network for Human Rights and the Yemeni human rights group Mwatana.
The 128-page investigation documented 27 "apparently unlawful" attacks on civilians carried out by the coalition between April 2015 and April 2018.
"These twenty-seven airstrikes killed at least 203 people and injured at least 749. At least 122 children and at least 56 women were among the dead and wounded," said the report.
"Many of the attacks appeared to take place far from any potential military target. Others caused harm to civilians that vastly outweighed any likely military benefit," it said, adding the coalition forces had not taken adequate precautions to minimize harm to civilians.
According to the report, U.S.-made munitions, including cluster bombs, had likely been used in 25 attacks and UK-made munitions, including Paveway IV and "Hakim" precision guided bombs, in five of the attacks.
It said 16 attacks were on civilian gatherings, civilian homes and a civilian boat; five attacks were on educational and health facilities; five attacks were on civilian businesses; and one attack was on a government cultural center.
"These cases reinforce prior evidence demonstrating that the Saudi/UAE-led Coalition is failing to fulfill its obligations under the laws of war and repeatedly using U.S. weapons in apparently disproportionate and indiscriminate attacks," said the report. The release comes weeks after the U.S. House of Representatives overwhelmingly passed legislation that would require President Donald Trump to halt U.S. assistance for the Saudi-led coalition's war in Yemen.
Also in February, an all-party committee of the House of Lords concluded in a report that the British government's arms sales to Saudi Arabia are unlawful.
Yemen has been beset by violence and chaos since 2014, when Houthi rebels overran much of the country, including Sanaa. The crisis escalated in 2015 when a Saudi-led military coalition launched a devastating air campaign aimed at rolling back Houthi territorial gains.
Full report at:
https://www.aa.com.tr/en/americas/us-uk-arms-kill-more-than-200-yemeni-civilians-report/1411253
--------
Congress postpones 'indefinitely' vote to rebuke Ilhan Omar
Joyce Karam
March 7, 2019
Under mounting pressure from its base, the Democratic leadership in the US House of Representatives has indefinitely postponed a vote on an anti-Semitism resolution in response to fellow congresswoman Ilhan Omar's criticism of Israel.
Both the Associated Press and the Washington Post reported late on Wednesday that the vote on the anti-Semitism resolution has been postponed indefinitely. The move was initially planned for Wednesday before being delayed by a day, but then divisions within the Democratic Party and a push from Ms Omar's colleagues on the left, prompted the indefinite delay. Ms Omar is the first Somali American elected to Congress, and one of two first Muslim women in the House of Representatives.
The resolution ̶ which didn't mention the Minnesota congresswoman by name ̶ was in direct response to her remark cautioning against "the political influence in this country [the US] that says it is okay to push for allegiance to a foreign country [Israel]." The remark was read by many supporters of Israel as an accusation of "dual loyalty". Their resolution would have affirmed that it "rejects anti-Semitism as hateful expressions of intolerance that are contradictory to the values that define the people of the United States."
But on Wednesday, ranking figures in the Democratic Party among them two Presidential hopefuls, warned against the effort. "We all have a responsibility to speak out against anti-Semitism, Islamophobia, homophobia, transphobia, racism, and all forms of hatred and bigotry, especially as we see a spike in hate crimes in America," said California senator and candidate for President Kamala Harris in a statement. "But like some of my colleagues in the Congressional Black Caucus, I am concerned that the spotlight being put on Congresswoman Omar may put her at risk" she added.
Ms Harris said: "there is a difference between criticism of policy or political leaders, and anti-Semitism. At the end of the day, we need a two-state solution and a commitment to peace, human rights, and democracy by all leaders in the region, and a commitment by our country to help achieve that."
Senator Bernie Sanders also opposed the campaign against Ms Omar. "What I fear is going on in the House now is an effort to target Congresswoman Omar as a way of stifling that debate. That's wrong," he said.
"Anti-Semitism is a hateful and dangerous ideology which must be vigorously opposed in the United States and around the world," Mr Sanders, who is running for President said in his statement. "We must not, however, equate anti-Semitism with legitimate criticism of the right-wing, Netanyahu government in Israel," he warned.
The divide around Ms Omar statements came as a new Gallup poll revealed that support for Israel in the United States is at the lowest it has been in 10 years. The support for Israel dropped to 59 percent among Americans, compared to 21 percent who said they sympathise with the Palestinians. That's the highest level of support for the Palestinians and the lowest for Israel since 2009.
Full report at:
https://www.thenational.ae/world/the-americas/congress-postpones-indefinitely-vote-to-rebuke-ilhan-omar-1.833983
--------
India
Militant involved in grenade attack on Jalandhar police station arrested, says NIA
Mar 06, 2019
NIA on Wednesday claimed to have arrested a militant who was involved in lobbing grenade on a police station Maksudan in Jalandhar.
Officials said Amir Nazir Mir of Dadsara, Awantipora in Pulwama district of Jammu and Kashmir was arrested in connection with the grenade attack.
Nazir is a key accused as he procured and facilitated delivery of 4 grenades used in the attack on the directions of Ansar Ghazawat-ul-Hind (AGH) chief Zakir Musa.
"He was the active link between the arrested accused and AGH chief Zakir Musa," said an NIA spokesman.
Nazir has been taken on transit remand to be produced before the Special NIA court, Mohali, for obtaining his police custody for interrogation.
On September 14, 2018, grenades were hurled at Maksudan police station, injuring one police personnel.
NIA investigation revealed that the attack was the handiwork of Kashmir based terror outfit Ansar Ghazawat-ul-Hind (AGH).
Two accused, Fazil Bashir Pinchoo and Shahid Qayoom, from Awantipora were earlier arrested in the case.
"They were pursuing their B.Tech (Civil) from St. Soldier Group of Colleges, Jalandhar," the spokesman said.
Two other accused Rauf Ahmed Mir and Umar Ramzan of Pulwama were killed in an encounter with security forces in south Kashmir on December 22, 2018.
https://www.hindustantimes.com/india-news/militant-involved-in-grenade-attack-on-jalandhar-police-station-arrested-says-nia/story-enccAgNtfgH8Kq4CP13UXP.html
--------
Pakistan flip-flop: Its Army says Jaish does not exist in the country
March 7, 2019
Amid global scrutiny on the activities of Jaish-e-Mohammad after it claimed responsibility for the Pulwama terror attack, and with China announcing its Vice Foreign Minister's arrival in Islamabad to discuss India-Pak tensions, the Pakistan Army spokesperson Wednesday claimed that the JeM "does not exist" in the country.
In an interview to CNN, Major General Asif Ghafoor said, "Jaish-e-Mohammad does not exist in Pakistan. It has been proscribed by the United Nations and Pakistan also. Secondly, we are not doing anything under anybody's pressure."
Ghafoor also claimed that the JeM's claim of responsibility for the Pulwama attack had not been made from inside Pakistan. Asked about India's air strike in Balakot, he said "their claims are false".
The remarks came just a day after Pakistan placed 44 "members of proscribed organisations" in "preventive detention" for investigation, including two family members of JeM chief Masood Azhar.
Last week, Pakistan Foreign Minister Shah Mahmood Qureshi had told BBC that Azhar is in the country and is "very unwell", and that the establishment was in touch with the Jaish leadership.
However, sources in Delhi pointed to an earlier CNN interview with Foreign Minister Qureshi in which the interviewer repeatedly referred to Azhar as the "JeM chief". "Qureshi did not deny it even once. This counters Pakistan's claims at the UNSC that Azhar is no longer the leader of JeM, and has retired, is unwell and is a preacher… Qureshi's interview establishes that they not only know that he is in Pakistan, but that they are in touch with them," said sources.
China, meanwhile, called for the creation of an "enabling atmosphere" for its close ally Pakistan to cooperate with "other parties". Chinese Foreign Ministry spokesman Lu Kang said Vice Foreign Minister Kong Xuanyou's visit is "designed for communication with Pakistan for the situation concerning both India and Pakistan". "China will play a constructive role to promote dialogue between them," Lu said.
Asked whether Kong would discuss counter-terrorism efforts with Pakistan, Lu said, "In fact, Pakistan has been making efforts and exercised policies to combat terrorism. We think we should encourage this." Without referring directly to India, he said: "We hope relevant parties will create an enabling atmosphere to help Pakistan to cooperate with other parties to form synergy."
Asked whether Kong would visit India too, Lu said, "China is in contact with India and Pakistan concerning the current circumstances."
Sources said Delhi is asking Beijing to support the terror listing of Azhar at the UN. After 9/1, the US made a choice against Pakistan. Delhi has told Chinese interlocutors that it has to take a call on their strategic ally. Sources said Beijing's envoy has told South Block that it is a "political call" to be taken by the Chinese leadership.
India, meanwhile, is likely to highlight the JeM's activities in J&K and link them to Azhar's statements in its dossier to the UNSC member countries. New Delhi is also learnt to have firmed up evidence to suggest that Azhar is the head of JeM.
The involvement of Jaish cadre in terror incidents in the Valley between 2017-19 will be key, officials said, adding that JeM has carried out attacks every time Azhar's provocative speeches were aired.
On February 5, 2019, nine days before the Pulwama attack in which 40 CRPF personnel were killed, Azhar was heard saying in an audio clip available with Indian agencies about "a befitting reply to India's atrocities on their mothers, sisters and youths".
Sources said India will also cite details of JeM's activities available in the public domain, including its propaganda mouthpiece, Al-Qalam, where Azhar is believed to have written "anti-India propaganda under a pen name 'Saadi'".
Sources also pointed to the suicide attack carried out by JeM on an Army camp in Sunjwan on February 10, 2018, when five officers were killed. They said Al-Qalam claimed that participants of a congregation in Lahore on February 20, 2018, praised the organisational activities of JeM and the role played by Azhar.
Full report at:
https://indianexpress.com/article/india/pakistan-flip-flop-its-army-says-jaish-does-not-exist-in-the-country-pulwama-jem-5614616/
--------
One terrorist killed by security forces in Handwara in J&K
Mar 7, 2019
HANDWARA: One terrorist was killed in an exchange of fire between terrorists and security forces in Handwara in Kupwara district of Jammu and Kashmir, officials said on Thursday.
Another terrorist is believed to be trapped in the joint operation of security forces that is continuing in Handwara.
A search operation is underway.
Meanwhile, Internet services have been snapped in the Valley.
https://timesofindia.indiatimes.com/india/one-terrorist-killed-by-security-forces-in-handwara-in-jk/articleshow/68296616.cms
--------
SC reserves Ayodhya order, Muslim parties want mediation
Mar 7, 2019
The Supreme Court on Wednesday reserved its order on appointing mediators to find an amicable solution to the Ram Janmabhoomi-Babri Masjid land dispute in Ayodhya even as Hindu and Muslim parties to the dispute took diametrically opposite stands on the court's move.
Hindu parties, except Nirmohi Akhara, opposed mediation while Muslim parties to the dispute supported it.
A five-judge Constitution Bench headed by Chief Justice of India Ranjan Gogoi said if the parties to the dispute wanted, they could suggest names of mediators.
On behalf of the UP government, Solicitor General Tushar Mehta opposed mediation, saying it was not advisable in given circumstances.
Hindus believe Lord Ram was born in Ayodhya thousands of years ago. During Mughal emperor Babur's rule, a mosque was constructed at the place in 1528 after destroying the temples existing there. On Wednesday, the Bench said, "We are not concerned about what Mughal ruler Babur had done and what happened later. We can go into what exists in the present moment."
Senior advocate CS Vaidyanathan, representing Ram Lalla, said the temple had to be built at the Janmasthan (birth place). "What can be considered is alternative place for mosque. We are ready to crowd-fund it," he said, opposing mediation. The top court said it was conscious of the gravity of the dispute and the outcome of mediation on the body politic of India. The Bench said the case was not about property alone but also about people's sentiments and faith.
As Hindu Mahasabha counsel said "it is the property of the deity and nobody has the right to mediate… the parties have been waiting for a decision since 1950," the Bench asked him not to "pre-judge" the whole issue.
Full report at:
https://www.tribuneindia.com/news/nation/sc-reserves-ayodhya-order-muslim-parties-want-mediation/739181.html
--------
Europe
Russia aims to strengthen ties with Gulf countries in all sectors
6 March 2019
Russia is working to strengthen ties with the Arabian Gulf states in different sectors, said the Russian Foreign Minister Sergei Lavrov in a joint press conference with his Kuwaiti counterpart Sabah al-Khalid al-Sabah.
Lavrov said that Saudi Arabia sees a necessity in forming a constitutional committee in Syria as fast as possible and that the international community connects delivering aid to Syria with a political solution. From his side, al-Sabah said that the reintegration of Syria with its Arab neighbors would be positive and called for a faster political solution.
He also stressed on Saudi Arabia and Russia are working towards defeating terrorists in Syria.
The Russian FM also expressed his country's desire to hear more about the American plan for a peace process in the region.
On Qatar, the Lavrov said that there are no Russian initiatives to solve the "Gulf crisis" and that Moscow supports the mediating efforts of Kuwait.
Lavrov's trip to Kuwait is part of a regional tour, and he is scheduled to arrive in the UAE on Tuesday evening.
https://english.alarabiya.net/en/News/gulf/2019/03/06/Russia-aims-to-strengthen-ties-with-Gulf-countries-in-all-sectors.html
--------
Germany extends ban on arms exports to Saudi Arabia
Mar 6, 2019
Germany has extended a ban on arms exports to Saudi Arabia imposed over the kingdom's deadly campaign against Yemen and the murder of dissident journalist Jamal Khashoggi.
"We in the government have decided to extend the export ban until the end of March, and we have done this with an eye on developments in Yemen," German Foreign Minister Heiko Maas told journalists in Berlin on Wednesday, confirming last week's reports.
"We believe that the Yemen war must end as soon as possible."
In November 2018, Germany announced it would no longer issue arms export licenses to Saudi Arabia until March 9, following the murder of Khashoggi in Istanbul on October 2 that year.
Saudi Arabia launched the devastating campaign in March 2015, with the aim of bringing the government of former President Abd Rabbuh Mansur Hadi back to power. According to a report by the Armed Conflict Location and Event Data Project (ACLED), a nonprofit conflict-research organization, the Saudi war has claimed the lives of about 56,000 Yemenis so far.
"Not only will there not be any permits issued until the end of this month, but products with permits already granted will also not be delivered," Maas added.
Germany's decision to halt arms sales to the kingdom has drawn criticism of European partners, including France and Britain, due to the fact that the move has impacted joint defense projects.
Last month, Britain warned that the new policy damages Berlin's security commitments while adversely affecting the British military industry.
German magazine Der Spiegel reported on February 19 that British Foreign Secretary Jeremy Hunt had raised the issue of arms exports in a letter to his German counterpart.
Full report at:
https://www.presstv.com/Detail/2019/03/06/590340/Germany-extends-Saudi-arms-ban
--------
UN rights chief criticizes Israel denying war crimes
Beyza Binnur Donmez
06.03.2019
Israel rejecting a report accusing it of committing "war crimes" by killing Palestinian protesters was a disappointment, said the head of the UN Human Rights Council (UNHRC) on Wednesday.
Speaking at the UN offices in Geneva, Michelle Bachelet decried Israel's "immediate dismissal" of the commission of inquiry report "without addressing any of the very serious issues raised."
"The end of this month will mark one year since the start of demonstrations which – as the Council's Commission of Inquiry reported – have been met with deadly, disproportionate force by the Israeli security forces, leading to a very high toll of killings and injuries," she said, referring to the Great March of Return weekly protests by Palestinians in Gaza which started on March 30, 2018.
"All parties concerned should exercise restraint as the date of March 30 approaches," she added.
The protests call for the removal of the blockade on the Gaza Strip by Israel and the return of Palestinian refugees.
Created by the 47-member UN Human Rights Council last May, the commission of inquiry was tasked with investigating all violence linked to demonstrations on the Israel-Gaza border from March 30 to Dec. 31, 2018.
According to the report, 183 Palestinians were killed by Israeli army gunfire -- including 35 children -- since demonstrations along the Gaza-Israel buffer zone first began.
"Another 6,106 Palestinians were injured by live ammunition," the report said, "while a further 3,098 were hurt by shrapnel, rubber-coated bullets, and/or teargas".
Full report at:
https://www.aa.com.tr/en/europe/un-rights-chief-criticizes-israel-denying-war-crimes/1410924
--------
Conservative councillors resign over anti-Muslim posts
March 6, 2019
Two councillors from Britain's ruling Conservative party have resigned after they were accused of sharing Islamophobic posts on social media. It comes after the Tory's suspended 14 members on Tuesday who had posted anti-Muslim videos on a Facebook group.
The BBC named the two men as Len Milner and Chris Smith of East Staffordshire council. They were said to have 'liked' a carton on Facebook that showed the Mayor of London, Sadiq Khan, a Muslim, being beheaded.
Reports said members of the council who were Labour walked out of a meeting in protest on Monday over the posts, which have now seemingly been taken down.
Both Tory men have now quit, although Mr MIlner claimed to have been cleared of any offence.
"We are a proudly anti-racist association and will not tolerate any form of prejudice including Islamophobia or anti-semitism," said Aaron Bell, treasurer of the East Staffordshire Conservative Association.
Former Conservative Chairwoman Baroness Warsi has consistently said members of the party had failed to tack Islamophobia in the party.
The 14 suspended on Tuesday had posted on an unofficial supporters group for Jacob Rees-Mogg, the right-wing and Eurosceptic Conservative member, who distanced himself from their views.
"When we find evidence of members making offensive or inappropriate comments, we consistently take decisive action. Discrimination or abuse of any kind is wrong and will not be tolerated," a Conservative party spokesman said at the time.
Tom Rayner
✔
@RaynerSkyNews
NEW: 11 Labour councillors from East Staffordshire walked out of a council meeting on Monday night after Conservative Mayor Chris Smith refused to answer quesitons about a social media post he was alleged to have 'liked' which showed Sadiq Khan being beheaded by the Queen
1,135
7:39 PM - Mar 6, 2019
Twitter Ads info and privacy
1,123 people are talking about this
https://www.thenational.ae/world/europe/conservative-councillors-resign-over-anti-muslim-posts-1.833970
--------
Terrorists set for release across EU without proper monitoring
Paul Peachey
March 6, 2019
European countries will release 1,500 convicted terrorists over the next 12 months, posing a major security challenge for authorities grappling with the fallout from wars in Syria and Iraq, a London counter-terrorist conference heard on Wednesday.
The wave of releases coincides with pressure to reabsorb thousands of exiled citizens who volunteered for the ranks of ISIS and have been rounded as the group lost its last swathe of territory.
Nearly a third of the prisoners will be set free in France where experts have warned that the prison system has failed to confront extremist ideologies. Some inmates are likely to emerge more dangerous than they went in, according to officials.
"France is struggling with the scale and scope" of the task, said Dr Magnus Ranstorp, research director at the Swedish Defence University, told the Security and Counter Terror Expo in London.
Some 1,900 people from France were reported to have joined ISIS ranks in Syria and Iraq, more than any other European nation, according to a study last year by the London-based International Centre for the Study of Radicalisation.
In addition to returning foreign fighters, senior prosecutors said the release of prisoners – some of whom were radicalised while behind bars for non-terrorist crimes – posed a risk of further attacks in France by its own nationals.
"There is a major risk of seeing people who are not at all repentant at the end of their sentence come out of prison, who could even be more radical given their stay in prison," France's leading counter-terrorist prosecutor Francois Molins said in an interview last year.
Extremists set for release include those who have served their sentences but are still considered dangerous and require continued monitoring, adding a further burden to already stretched police and counter-terrorist agencies across the EU.
Those already released in the last 12 months have included the extremist preacher Anjem Choudary, the former British leader of Al Muhajiroun, a now-banned group which has seen nearly 70 of its followers convicted of terrorist-related offences.
Documents seen by the National suggest that Mr Choudary faces a series of 20 restrictions on his movements to prevent his ability to rally the support of domestic extremists.
But other European nations will find it harder to monitor dangerous prisoners who are able to easily slip across borders under the EU's rules on freedom of movement, said Dr Ranstorp.
"Police can't solve this, security services can't solve this," he said. "Every day they have to decide who they are going to follow. They do it well – but there will be 1,500 across Europe who have been convicted of terrorist offences."
The releases will be the largest scale of convicted terrorists since a wave of terrorism that hit the European mainland starting in 2004 with the Madrid train bombings by Al Qaida that killed 192 people.
Despite the long-term nature of the threat, Dr Ranstorp said that many governments were still experimenting with the best ways to de-radicalise known extremists.
He cited the case of Danish man Omar El Hussein, 22, who was flagged as dangerous extremist while serving a prison sentence for knife crime, but was released without being monitored.
Two weeks after his release, he targeted an arts centre hosting an event with Danish cartoonist Lars Vilks whose depiction of the Prophet Mohammed sparked anger in the Muslim world. Hussein killed one person at the event and then killed another at a synagogue in the city before he was shot dead by police.
"The prison authorities reported that he was radicalised but the authorities didn't respond," said Dr Ranstorp. "If we spend any money and resources we should look at the prison aftercare, reintegration and rehabilitation to make sure we lock them into structures and monitor them so they don't pose a security threat."
His comments came as a British judge jailed a Muslim convert, Lewis Ludlow, for a minimum term of 15 years for plotting an attack in London by mowing down shoppers in a van and providing support for ISIS.
Full report at:
https://www.thenational.ae/world/europe/terrorists-set-for-release-across-eu-without-proper-monitoring-1.833947
--------
EU blacklists seven Syrian ministers over links to Assad
March 6, 2019
The EU added Syria's interior minister and six other ministers to a sanctions blacklist for their role in what it called President Bashar Al Assad's "violent repression" of civilians.
The ministers, who were appointed to Mr Al Assad's government in November, have been barred from travelling to Europe and will have their assets frozen.
Among those added to the blacklist are Maj Gen Mohammad Khaled Al Rahmoun – the interior minister – and Mohammad Rami Radwan Martini, the tourism minister.
Education Minister Imad Muwaffaq Al Azab, Higher Education Minister Bassam Bashir Ibrahim, Housing Minister Suhail Mohammad Abdullatif, Communications Minister Iyad Mohammad Al Khatib, and Industry Minister Mohammad Maen Zein-Al Abidin Jazba were also included in the sanctions.
Alistair Burt
✔
@AlistairBurtUK
The UK will continue to back sanctions against members of the Asad regime and those who support its repressive actions towards the Syrian people. We welcome the news of 7 new cabinet ministers being listed by the EU this week.
56
2:47 PM - Mar 6, 2019
Twitter Ads info and privacy
39 people are talking about this
There are 277 people under EU sanctions for links to the Al Assad regime, as well as 72 entities. Other EU sanctions include an embargo on Syrian oil, investment restrictions and a freeze on Syrian central bank assets within the European Union.
They also cover export restrictions on equipment and technology that Damascus could use to repress its people as well as those it could use to monitor or intercept internet or telephone calls.
On January 21, the EU Council sanctioned a number of prominent businessmen for profiting from their ties with the regime.
They included Anas Talas, chairman of the Talas Group, Nazir Ahmad Jamal Eddine, a leading businessman with significant investments in the construction industry through the company Apex Development and Projects LLC, and Samer Foz, who is involved in the development of Marota City, a luxury residential and commercial development.
Full report at:
https://www.thenational.ae/world/europe/eu-blacklists-seven-syrian-ministers-over-links-to-assad-1.833727
--------
Southeast Asia
In Malaysia, special unit formed to monitor insults against Islam
07 March 2019
BY KENNETH TEE
KUALA LUMPUR, March 7 — The federal government has set up a special unit to monitor insults against Prophet Muhammad and Islam, Minister in the Prime Minister's Department Datuk Seri Mujahid Yusof Rawa announced today.
Mujahid, who is also in charge of religious affairs, said his ministry will not compromise on any acts that insult Prophet Muhammad and Islam, pointing out that the country has laws that should be meted out against those who are found guilty of such.
"The initiative to set up the unit supervised by the Islamic Affairs Department (Jakim) is to monitor any writing or provocation deemed insulting to the Prophet and Islam across all media platforms, including social media.
"I have instructed the unit to accept any complaints about insults directed towards Prophet Muhammad and Islam and to immediately report them to the police and the Communications and Multimedia Commission," he said in a statement here.
He said all complaints can be forwarded via WhatsApp to 010-3005260 or via email to aduan@islam.gov.my.
"I hope all of us can stand shoulder to shoulder to protect and preserve the harmony of our country. I believe the authorities have done the necessary to address this issue," he said.
Earlier Inspector-General of Police Tan Sri Mohamad Fuzi Harun said the police have detained a 28-year-old man for allegedly insulting Islam and the Prophet Muhammad on social media, within 24 hours of detaining a 43-year-old suspect for the same.
Last month, Home Minister Tan Sri Muhyiddin Yassin said that the government will treat seriously any alleged attempts to insult religions and cause disharmony in the country.
Muhyiddin, who described recent alleged attempts to insult Islam as a dangerous trend, noted that it has also triggered outrage among Muslims.
https://www.malaymail.com/news/malaysia/2019/03/07/in-malaysia-special-unit-formed-to-monitor-insults-against-islam/1729974
--------
Dr M: With 'marriage', has PAS retracted 'infidel' tag against Umno?
06 March 2019
By Zurairi AR
KUALA LUMPUR, March 6 — Tun Dr Mahathir Mohamad has lambasted PAS for formalising its collaboration with former rival Umno, pointing to the Islamist party's previous censure of the latter as secular and "infidels".
The Pakatan Harapan (PH) chairman said PAS pioneers were religious scholars who left Umno for the sake of Islam, and no such collaboration had happened as the splinter party has always considered Umno "infidels".
"PAS has never retracted the 'edict'. Has PAS reverted Umno back to Islam?" he asked in a blog post.
Dr Mahathir recalled PAS president Datuk Seri Abdul Hadi Awang's mandate called "Amanat Hadi" against Umno which led to strife between supporters of the two parties — including the refusal of their supporters to participate in Islamic worship and rituals together.
"Have these restrictions and practices been retracted or instructed to be halted? Have Umno folks accepted that they and PAS were dubbed of different faiths, but these differences have been accepted by both sides?" Dr Mahathir asked.
Yesterday, Umno acting president Datuk Seri Mohamad Hasan announced a formalised alliance between his party and PAS, likening it to a "marriage".
Mohamad had said that the two parties will not be contesting under the same banner, but will work together in an unconditional political cooperation especially for by-elections in the interest of uniting Muslims and Malays.
Instead, Dr Mahathir said the collaboration between the two parties only meant to return Datuk Seri Najib Razak as a political leader and "legitimise" his alleged crimes.
"Has PAS assumed that Najib, who is facing graft and power abuse charges, is innocent?" asked the prime minister.
"Can graft, power abuse and crimes be made 'halal' for the sake of Malay and Muslim unity? Is this an 'obligated' lie?" he asked, taking a jab at PAS' previous admission that it lied over an audio recording implying it took money from Umno.
Dr Mahathir also asked if PAS would still accept Najib as its leader if the former Umno president is found guilty of his charges.
Full report at:
https://www.malaymail.com/news/malaysia/2019/03/06/dr-m-with-marriage-has-pas-retracted-infidel-tag-against-umno/1729771
--------
Pakistan
Pakistan Blacklists Jeish Al-Adl as Terrorist Group
Mar 06, 2019
NACTA has so far, listed 69 organizations and their splinter outfits which have been notified as proscribed under Pakistan's Anti-Terrorism Act, 1997.
Facing growing pressure from Iran, Pakistan decided to ban Jeish al-Adl as a terrorist group.
NACTA announced that measures will be adopted against the groups whose activities are banned in Pakistan, adding that the terrorists cannot use the country's territories as a hideout.
Jeish al-Adl, a Pakistan-based radical Wahhabi terrorist group staging cross border attacks into Southeastern Iran from South-West Pakistan, claimed responsibility for the February 13 attack against members of the Islamic Revolution Guards Corps in Iran which killed 27 IRGC personnel.
The group has bases in Southwestern Pakistan and started operations nearly 6 years ago after recruiting the remnants of Jundullah notorious terrorist group and reorganizing them. Iran had captured leaders of Jundullah notorious Wahhabi terrorist group and dismantled the terrorist organization years earlier.
The terror attack has stirred fury among Iranian officials, specially the military brass. On February 19, Military Aide to the Iranian Supreme Leader Major General Yahya Rahim Safavi lashed out at Pakistani Intelligence service's backing for terrorists, advising Islamabad and its intelligence apparatuses that Saudi Arabia is not a reliable partner.
Speaking in Iranian central city of Isfahan, General Safavi said that the Pakistani government and its intelligence service have to respond to the Iranian nation and government, holding Islamabad responsible for the recent terrorist attack in Sistan and Baluchistan.
Meantime, General Safavi reiterated that Iran wants to have good relations with its neighbors as it believes that insecurity in the region only serves the interests of the United States and Zionists who had gathered in Warsaw conference, but vowed that Iran and the IRGC would give a "crushing and proper response in due time to the provocateurs and puppet perpetrators of the terrorist attack against the IRGC".
Also on February 16, Commander of the Islamic Revolution Guards Corps Major General Mohammad Ali Jafari warned Riyadh and Abu Dhabi of Iran's revenge for the terrorist attack, and blasted Pakistan for supporting the terrorist groups which act against Tehran.
"The traitor governments of Saudi Arabia and the UAE should know that the Islamic Republic of Iran's patience has run out and the Islamic Republic will not tolerate your secret supports for the Takfiri grouplets. We will take revenge for our martyrs from the UAE and Saudi governments and want the president to give us more free hands than the past for retaliatory operations," General Jafari said in the Central city of Isfahan, addressing the burial ceremony of the IRGC personnel killed in the terrorist attack.
He said that the Saudi and UAE intelligence agencies were clearly hatching different plots to foment insecurity in Southeastern Iran in addition to the US and Israeli plots to create insecurity and conduct assassination operations, noting that Iran has reliable intel in this regard.
General Jafari also asked the Pakistani army and intelligence body why their country was sheltering Takfiri groups, including Jeish al-Adl which has claimed responsibility for the terrorist attack, and noted, "We believe this silence is kind of support for this grouplet and the Pakistani intelligence organization should account for it."
"Pakistan should also know that it should pay the cost for the Pakistani intelligence organization's support for Jeish al-Zolm (as Jeish al-Adl is called in Iran) from now on and this price will not doubt be very heavy for them," he added.
"Undoubtedly, the Pakistani security organization knows the hideout of the grouplets but it has kept mum," General Jafari said.
Also on February 21, Commander of the IRGC Quds Force Major General Qassem Soleimani warned the Islamabad government to stop cross-border attacks by the terrorists based in neighboring Pakistan.
"We have always offered Pakistan help in the region, but I have this question from the Pakistani government: where are you heading to? You have caused unrest along borders with all your neighbors and do you have any other neighbor left that you want to stir insecurity for," General Soleimani said, addressing a ceremony in the Northern Iranian city of Babol in Mazandaran province.
Addressing the Pakistani government, General Soleimani asked, "Are you, who have atomic bombs, unable to destroy a terrorist group with several hundred members in the region? How many of your own people have been killed in different terrorist operations? We do not want your condolences, how could your condolence help the people of Iran?"
General Soleimani went on to say, "I tell the Pakistani people that the Saudi cash has influenced Pakistan and they want to destroy Pakistan with such measures."
He warned that the Pakistani Army should not let several billion dollars of "a Saudi criminal" burn alive Muslims on a bus and finance other terrorist operations in the region, and said, "I ask the Pakistani government what has been left for Pakistan?"
"I warn you not to test Iran and anyone who has tested Iran has received firm response. We are speaking to Pakistan with a friendly tone and we are telling that country not to allow their borders to become a source of insecurity for the neighboring countries; anyone who has made this plot for Pakistan is seeking to disintegrate that country, the Islamic Republic of Iran will take revenge of its martyrs from those mercenaries who have committed this crime no matter where they are in the world," General Soleimani added. "We will punish this wicked group in any part of the world and we will not allow the blood of our youth to be shed in the country and cleaned (and forgotten) easily."
The US officials have repeatedly stressed that they would take every possible measure to pressure Tehran, including support for groups operating against Iran. The incident came hours before the start of a US-sponsored security conference against Iran in Warsaw, Poland.
In mid October, Jeish al-Adl group abducted 14 Iranian Basijis (volunteer forces) and border guards at Mirjaveh border in Southeastern Sistan-Balouchestan province. Five were released a month later on November 15.
The IRGC Ground Force then blamed foreign intelligence services for supporting and assisting the terrorist group.
Jeish al-Adl also abducted five Iranian border guards in Jakigour region of Sistan and Balouchestan Province and took them to Pakistan in 2014. After two months of abduction, four of them were released and the fifth one was killed. His body was returned to Iran months later.
Then early in March, 2015, Pakistani sources told the country's media that authorities in Southwestern Pakistan had arrested the ringleader of Jeish al-Adl terrorist group as he was traveling on a bus from the lawless border area.
Salam Rigi, cousin of the Jundollah terrorist group's ringleader Abdolmalek Rigi, was seized by Pakistani authorities who were tipped off to his movements and intercepted the bus some 50 km from Quetta, the capital of Pakistan's Baluchistan, a security official said on the condition of anonymity.
Salam Rigi was accused of involvement in suicide bombings in Iran and Pakistan, as well as sending terrorists to the conflicts in Iraq and Syria.
Other sources said the terrorist arrested was Abdo-Sattar Rigi (Abdolmalek's brother), explaining that he was carrying his cousin's ID card at the time of arrest, but further investigations revealed his true identity.
Later reports proved that the captured terrorist was Abdo-Sattar Rigi.
Abdo-Sattar (the third of the notorious Rigi brothers) headed the Jeish al-Nasr terrorist group, but his cousin Salam leads Jeish al-Adl.
Abdo-Sattar's two older brothers, Abdolmalek and Abdolhamid Rigi, who led the more powerful terrorist group, Jundollah, were both captured and condemned to death by Iran earlier.
In early 2009, Abdolhamid Rigi, the Jundullah terrorist group's number two man and brother of its ringleader Abdolmalek Rigi, was arrested by Iranian security forces.
Abdolhamid had conducted a number of bombing operations and other violent attacks in Iran resulting in many casualties and was sentenced to death by the court in 2009, but his execution was delayed on several occasions. Officials did not mention any specific reason for the delayed execution of Abdolhamid at the time.
Iran arrested Abdolmalek Rigi, the number one man of the Jundollah terrorist group in late February 2011. Abdolmalek was executed in June 2011.
Iranian military and police officials voice concern over the presence of terrorist groups in Pakistan's territories, criticizing the Pakistani army and border police's lax control over shared borders.
The two sides' state and military officials have exchanged frequent visits to enhance anti-terrorism cooperation specially in border regions. In early December, top security officials from Iran and Pakistan met in Iran's Southeastern city of Zahedan to hold the 22nd joint meeting on border cooperation between the two countries.
Late in October, Commander of the IRGC Ground Force Brigadier General Mohammad Pakpour announced his forces' preparedness to launch joint operations against the terrorists who abducted the Iranian border guards in Southeastern Iran.
"We have had different contacts with the Pakistani army and urged them to guarantee extradition of the outlaws and healthiness of the abductees and they should show more responsibility," General Pakpour said, referring to the fate of the 9 border guards that are still kept by Jeish Al-Adl.
"These terrorists have a stronghold and a base on Pakistan's soil and we are prepared for any joint operations with the Pakistani army against the outlaws to release the hostages," he added.
http://en.farsnews.com/newstext.aspx?nn=13971215000219
--------
In a first: Congregational prayer offered inside National Assembly
March 7, 2019
ISLAMABAD: The National Assembly on Wednesday saw lawmakers offer prayer in congregation for the first time inside the house.
According to Geo News, Jamiat Ulema-i-Islam-F lawmakers sought permission to present a resolution condemning Federal Minister for Water Resources. The Speaker Asad Qaiser rejected the demand.
The lawmakers gathered in front of speaker's dice and started protesting. Later, they offered prayer which was led by JUI-F Maulana Asaad Mehmood. Pakistan Muslim League-Nawaz lawmakers also attended the prayer.
https://www.thenews.com.pk/latest/440889-in-a-first-congregational-prayer-offered-inside-national-assembly
--------
Govt asked to explain if any conditions attached to F-16s deal
Iftikhar A. Khan
March 07, 2019
ISLAMABAD: The government has been asked to explain if there are any conditions restricting the use of F-16 fighter jets amid reports that the US is investigating if Pakistan 'misused' American-made F-16s during a recent aerial engagement with India.
"What is the use of the F-16 jets if they cannot be used for self-defence?" former chairman of the Senate Mian Raza Rabbani said during the proceedings of the upper house of parliament on Wednesday, asking the government to explain if any conditions were attached to the use of F-16s.
Take a look: Foreign journalists find holes in Indian narrative on F-16 usage, Balakot strike
He recalled the remarks made by former vice chief of air staff Air Marshal Shahid Latif, who had signed the agreement of purchase of latest 18 F-16 Block-52 from Washington in 2008, that no India-specific condition was attached in this defence deal.
Following the recent shooting down of an Indian fighter jet which had intruded into Pakistan's airspace and arrest of its pilot, the Indian Air Force had claimed that Pakistan used US-made F-16 fighter jets in the action, in a possible violation of the terms of use determined by the US.
Pakistan had stated that no F-16s were used in the operation, though it had not specified what military equipment was involved.
A US Department of State official has said that the US is "aware of reports" that the use of F-16 jets might have been in violation of the terms of use agreement and is "looking into them".
Mr Rabbani lashed out at India for its war hysteria and intrusions into Pakistan and said that "message they are taking from Israel is that you can violate international border and international law while looking for so-called terrorists". He said the same was done by Israel against Arab countries.
He said the government needed to reassess and re-evaluate the foreign policy of Pakistan. "The recent shift in foreign policy alignment doesn't seem to have borne fruit as the Abu Dhabi Declaration of the OIC in its 50 points does not talk about Indian aggression against Pakistan. The resolutions that were passed with reference to Indian terrorism in Kashmir were sponsored by Pakistan".
Senator Rabbani said there might have been a flurry of activity in foreign capitals, including Washington, for de-escalation of the tension between Pakistan and India, but at the end of the day it was an activity full of sound and fury signifying nothing. "Despite Pakistan being a victim of Indian aggression, the emphasis was for us to do more," he regretted.
The PPP stalwart advised the government to constitute a joint committee of parliament to look into the emerging situation in the region and form a policy. "The situation is dangerous," he warned.
He said that it was also condemnable that India, which termed itself a leader of human rights, had handed over the "decapitated" body of a Pakistani prisoner to Pakistan. "We should tell the world what the leader of human rights is doing," he said.
Mr Rabbani said the designs of India and its strategic partners, the US and Israel, were long term and dangerous in the region and the parliament should look into this matter and take a step.
Senator retired Gen Abdul Qayyum of the Pakistan Muslim League-Nawaz said there was no restriction on the use of F-16 jets. "We had given hard cash to purchase these aircraft," he remarked.
He said that Pakistan should appeal to the United Nations Security Council to summon an emergency meeting as Indian aggression had become a threat to world peace. He said that under Article 94 of the UN charter, its secretary general could convene a meeting of the Security Council when world peace was in danger.
PPP parliamentary leader in the Senate Sherry Rehman assailed the government for its "failure" to raise the issue of Indian violation at international forums and said there was a compete silence from the government side.
Winding up the debate, Defence Minister Pervez Khattak said he was unaware whether any agreement existed between Pakistan and the US regarding F-16s. "I will inform the house soon if such a deal exists."
He said the India submarine intruded into Pakistan's Exclusive Economic Zone up to 90 nautical miles and the intrusion was foiled. "We are carrying out surveillance and if it is detected in Pakistan's waters again, we will take action," he said.
Case to be registered against India
Minister for Human Rights Dr Shireen Mazari told the house that according to the Foreign Office, Pakistan was going to register a case against the jail superintendent for killing Pakistani prisoner Shakirullah, who was allegedly beaten to death by other inmates at India's Jaipur Central Jail.
Full report at:
https://www.dawn.com/news/1468066/govt-asked-to-explain-if-any-conditions-attached-to-f-16s-deal
--------
Pakistan, India delegation-level visits to further reduce tensions: Qureshi
March 7, 2019
ISLAMABAD: Foreign Minister Shah Mehmood Qureshi on Thursday said that delegation-level meetings between Pakistan and India will further de-escalate the tensions between both countries.
Qureshi met Sohail Mehmood, Pakistani High Commissioner to India, and discussed the bilateral ties between Islamabad and New Delhi.
"Pakistan wants de-escalation and improvement in the current situation," the foreign minister said, adding that the delegation-level visit will be a huge help in this regard.
Qureshi further said that both countries will hold consultations on the Kartarpur corridor in March. "Cordial ties between Pakistan and India will ensure stability and peace in the region," the minister asserted.
The high commissioner was set to leave for India after the meeting with Qureshi.
Earlier in the day, while addressing the All Pakistan Chambers of Commerce in Islamabad, Qureshi said that Islamabad wants peace in the region and has taken several steps in this regard.
Full report at:
https://www.pakistantoday.com.pk/2019/03/07/pakistan-india-delegation-level-visits-to-further-reduce-tensions-qureshi/
--------
Chinese vice FM reiterates support to Pakistan for regional peace, stability
March 7, 2019
ISLAMABAD: China's Vice Foreign Minister Kong Xuanyou has reiterated China's support to Pakistan for peace and stability in the region. He also acknowledged Pakistan's measures against terrorism.
Xuanyou, who concluded his two-day official visit to the country on Wednesday, also underscored Pakistan and China are close friends and partners, said a statement issued by the Foreign Office.
During his stay in Islamabad, he called on Prime Minister Imran Khan, Chief of Army Staff (COAS) General Qamar Javed Bajwa and Foreign Minister Shah Mehmood Qureshi. He also held talks with Foreign Secretary Tehmina Janjua at the Ministry of Foreign Affairs.
The two countries reaffirmed their time-tested and all-weather strategic cooperative partnership during the meetings, said the FO statement, adding that Islamabad thanked Beijing for its steadfast support
The Chinese vice foreign minister was briefed on Pakistan's efforts to resolve all issues with India through dialogue.
Both sides noted with satisfaction the strong bonds in their bilateral relations and agreed to further enhance cooperation and coordination at all levels.
Meanwhile, matters of mutual interest, regional security, bilateral cooperation and current situation between Pakistan and India were discussed in VFM Xuanyou's meeting with Army Chief General Qamar.
"Visiting dignitary appreciated Pakistan's efforts for regional peace and stability," said Inter-Services Public Relations (ISPR) Director General (DG) Major General Asif Ghafoor on Twitter.
The Chinese diplomat's visit comes as tensions between Pakistan and India escalated rapidly following a suicide car bombing on February 14 that killed at least 40 Indian paramilitary police in Indian-occupied Kashmir.
New Delhi accused Islamabad of harbouring the Jaish-e Mohammad group behind the attack, which Islamabad denied, and Prime Minister Narendra Modi promised a strong response.
Pakistan said the Indian planes missed whatever they were aiming at, and that nobody died in the attack outside Balakot in Khyber-Pakhtunkhwa (K-P).
Full report at:
https://www.pakistantoday.com.pk/2019/03/06/chinese-vice-fm-reiterates-support-to-pakistan-for-regional-peace-stability/
--------
German military chief discusses security cooperation with COAS Bajwa
March 7, 2019
RAWALPINDI: Germany's Chief of Defence Staff General Eberhard Zorn called on Chief of Army Staff (COAS) General Qamar Javed Bajwa at GHQ here on Wednesday.
During the meeting, matters of mutual interest were discussed including defence and security cooperation and overall regional security situation particularly standoff between India and Pakistan. Visiting dignitary appreciated Pakistan's positive role for peace and stability in the region. He also made mention of Pakistan's services in UN Peacekeeping and expressed desire to enhance bilateral relations.
Full report at:
https://www.pakistantoday.com.pk/2019/03/06/german-military-chief-discusses-security-cooperation-with-coas-bajwa/
--------
South Asia
Suicide bomb attack in Afghan city of Jalalabad kills 16
6 March 2019
Multiple blasts rattled eastern Afghanistan's Jalalabad early Wednesday killing at least 16 people, officials said, as militants appeared to target a private company near the city's airport.
"Two attackers detonated their vests, and two more were gunned down by security forces," provincial spokesman Attaullah Khogyani told AFP, saying that at least 16 people had been killed.
"Armed suicide bombers attacked and managed to enter the building of a private construction company early this morning," said Nangarhar Provincial council member Zabihullah Zmarai.
"A number of civilian workers of the company have been killed," he added.
No group has claimed responsibility for the attack.
The bombings come as US and Taliban negotiations continue to hold ongoing peace talks in Qatar aimed at ending the nearly 18-year conflict.
Despite a two-day break before the weekend, negotiations continue on "a daily basis right now and progress is being made", US State Department spokesman Robert Palladino told journalists Tuesday.
"These discussions are ongoing and what we're focusing on are the four interconnected issues that are going to compose any future agreement," Palladino said -- listing them as terrorism, troop withdrawal, intra-Afghan dialogue and ceasefire.
US Secretary of State Mike Pompeo said during an exchange with high school students in Iowa he hoped sufficient gains would be made for him to be able to take a trip to help advance the negotiations "in a couple weeks".
The continuation of the talks follows a major attack on a joint US-Afghan base in southwestern Afghanistan's Helmand province last week, with at least 23 security forces killed in the hours-long assault on one of the largest military installations in the country.
Heavy snowfall across large swathes of Afghanistan has led to a sharp reduction in violence this winter, but warmer weather in the country's south will likely spark an increase in bloodshed with the arrival of the spring fighting season.
Analysts have warned that the Taliban are likely to ramp up attacks in the coming months as they seek to maintain momentum on the battlefield and leverage at the negotiating table.
President Donald Trump has repeatedly voiced his eagerness to end America's involvement in Afghanistan, where 14,000 US troops are still deployed.
Afghanistan has been enmeshed in nearly constant conflict since the Soviet invasion of 1979, which was followed by civil war, the Taliban regime, and the US invasion in late 2001.
https://english.alarabiya.net/en/News/world/2019/03/06/Suicide-bomb-attack-in-Afghan-city-of-Jalalabad-casualties-feared.html
--------
Bangladesh expects $15bn in Saudi investments
06 Mar 2019
Kazi M Aminul Islam, executive chairman of Bangladesh Investment Development Authority (BIDA), said the government is expecting $15 billion to $20 billion in investments from the kingdom in at least 16 different projects.
"This will be finalised during the meeting with the delegation on Thursday in Dhaka," Islam said in a press briefing on Wednesday, accompanied by Bangladesh Ambassador to Saudi Arabia Golam Moshi.
The ambassador said this will be the biggest ever delegation of Saudi Arabia in the history of Bangladesh. "Thirty years back they made a small investment in the Islami Bank."
Minister of Commerce and Investment Majed bin Abdullah Al-Qasabi and Minister of Economy and Planning Mohammed bin Mezyed Altwaijri will lead the delegation that will arrive in Dhaka Wednesday night by their special aircraft.
Half of the members of the delegation are from private sector companies such as Aramco, one of the world's biggest oil companies.
The delegation also includes officials representing Saudi Arabia's Public Investment Fund which is worth a quarter of a trillion US dollars and headed by Crown Prince Mohammed Bin Salman.
They will also join a dialogue on investment and trade cooperation with representatives of Bangladeshi ministries and state-owned enterprises at Dhaka's Intercontinental Hotel.
Saudi Arabia is signing investment deals in South Asian countries marked by the Crown Prince's visits to Pakistan, India and China.
The ambassador said their investments in the US and Europe have reached its peak.
"Now they are looking to the East and Bangladesh is a perfect destination for that."
Bangladesh is expecting investments in energy sector, oil refinery storage, electrical equipment, solar, health, and aircraft maintenance and repair, among others.
"Our focus in bilateral relations is now on both employment generation and investment," said the ambassador citing the two million Bangladeshis working in the kingdom, 20,000 more travelling there for work every month.
Bangladesh's relations with Saudi Arabia took a new turn in the last three-and-a-half years during which, Prime Minister Sheikh Hasina has made four official state visits.
Both countries also signed a defence cooperation deal in which Bangladesh will help Saudi Arabia in their efforts to clear landmines along the Yemen border.
The BIDA chief said that relations would scale a "new height" with the arrival of the large Saudi delegation.
He did not reveal the details of the deals which will be signed on Thursday as talks are still ongoing.
On the health sector, the ambassador said that two Saudi companies are coming with the delegation.
They will invest in the biomedical technology sector. They will train Bangladeshi technicians in Mymensingh and Jamalpur and recruit them in Saudi Arabia and other middle-eastern countries.
"They recruit biomedical technicians from across the world. Each year they will train 4,000 Bangladeshi technicians and certify them for jobs in the middle-east and Saudi Arabia.".
They will invest in the aviation industry for maintenance, repair and services.
"We need service support for our aircrafts. We usually send them to other countries for maintenance work. But the prime minister wanted this done in our own country and that's why we made this proposal.
"An international standard service facility for aircrafts will be built in Lalmonirhat. Other countries will be able to send their aircrafts to us for servicing," the ambassador said, adding that the scale of investment in this sector may range from $500 million to $1 billion.
The $100 million solar project will be installed in the Feni district.
"The focus of the current government is to achieve development across Bangladesh. So we are taking investments in every district of the country," the BIDA chief said.
Full report at:
https://bdnews24.com/economy/2019/03/06/bangladesh-expects-15bn-in-saudi-investments
--------
Catalogue of ICNA's Links to Jamaat-e-Islami
by Sam Westrop
March 6, 2019
Representative Jim Banks (R-Indiana) has introduced House Resolution 160, Expressing concern about the threat posed to democracy and human rights by theocratic groups operating in South Asia
This important bill calls on the Governments of Pakistan and Bangladesh to disrupt and dismantle the network of organizations and front groups run by the South Asian Islamist movement, Jamaat-e-Islami. It also names prominent Jamaat proxy groups in the United States, calls for USAID and the State Department to halt all partnerships with Jamaat organizations; and urges an investigation into American Jamaat funding of terrorists in Pakistan and Kashmir.
In particular, the resolution shines a light on the Islamic Circle of North America (ICNA), Jamaat-e-Islami's chief proxy in the United States.
However, ICNA denies that it is a Jamaat-e-Islami organization, stating that it has "no structural, collaborative, organizational or any other ties" with Jamaat.
So, here in this blog post, we'll be keeping a running list of examples of ICNA's ties to Jamaat-e-Islami. We'll update the post each time we find more examples.
Self-Admitted Connections
A 1996 article published in ICNA's own publication, The Message International, states that: "Using the organizational development methodology of Maulana Mawdudi [the founder of Jamaat-e-Islami] and the Jamaat Al-Islami of Pakistan, which lays special emphasis on spiritual development, ICNA has developed a strong foundation."
Another Message article openly states that in the 1970s, ICNA was "striving to recruit Islamic movement oriented Urdu speaking Muslims and to strengthen the Jama'at-e-Islami Pakistan."
The same issue of the Message also includes an interview with the leader of Jamaat-e-Islami Pakistan, Qazi Hussein Ahmed, in which he praises ICNA, discusses his appearance at one of ICNA's conventions, and emphasizes the role of Islamic movements in creating "an Islamic society, an Islamic government and an Islamic state."
An ICNA brochure defines ICNA as "an Islamic Jama'ah (organized group) and movement. The brochure states that at the time of ICNA's establishment in 1971, "several concerned North American Muslims initiated a plan to launch an Islamic movement in this continent. The idea was to inspire and help Muslims adopt and practice the Islamic way of life and share it with fellow residents."
Personnel Connections
Mohammed Naseen, the former head of ICNA's Tarbiyah Program and a member of its Shura Council, is openly named by ICNA as a leader of the Jamaat-e-Islami branch in Lucknow, and a "member of the Central Shura of Jamaat Islami Hind" (Jamaat-e-Islami's national Indian branch).
Yusuf Islahi, a regular speaker at ICNA conventions and the "Chief Patron" of ICNA's WhyIslam project, is a senior leader of Jamaat-e-Islami's Indian branch.
After the 1971 Liberation War, in which Jamaat-e-Islami fighters helped the Pakistani army murder Bangladeshi independence activists, a Jamaat-e-Islami operative named Ashrafuzzaman Khan fled to the U.S. and helped develop ICNA, eventually becoming its Vice-President. Testimony and evidence during Bangladeshi War Crimes Tribunals revealed that Khan served as the "chief executor" of a Jamaat killing squad named Al-Badr.
Mohsin Ansari, the chairman of ICNA's foreign aid charity, Helping Hand for Relief and Development, and the former chairman of ICNA Relief, ICNA's domestic charity, openly identifies as a JI member. He is an alumnus of Islami Jamiat-e-Talaba, the student wing of Jamaat-e-Islami's branch in Pakistan. Today he runs a "networking" group for its graduates in the United States. Ansari refers to convicted Jamaat-e-Islami war criminal as "heroes" whom the "Pakistani nation will remember... for centuries to come." In 2016, Ansari revealed that ICNA was asked to arrange funeral prayers for an executed Jamaat-e-Islami war criminal, Motiur Rahman Nizami, the founder of the Al Badr killing squad. Ansari praised Nizami and noted that his son had "has worked in USA tirelessly for years to help relieve the victimization of Jammat workers in Bangladesh."
Zahid Bukhari, the Executive Director of ICNA's Council for Social Justice, openly identifies as a Jamaat-e-Islami support on social media.
A recent post on ICNA's website eulogizes Ameenuddin Hussaini, a "senior ICNA leader" who served as leading Jamaat-e-Islami activist in Pakistan.
Financial Connections
ICNA is a partner and funder of the Al Khidmat Foundation, the official "welfare arm" of Jamaat in Pakistan, which openly funds designated terrorist movements such as Hamas. ICNA openly acknowledges its long-standing partnership with Al Khidmat on its website.
ICNA's international aid charity, Helping Hand for Relief and Development also works with Al Khidmat in Pakistan. According to the Indian BBC journalist Subir Bhaumik, Al-Khidmat "aids militancy and helps to support the Hizb-ul-Mujahideen, Jamaat's armed wing and other groups."
The Rural Education and Development (READ) Foundation is another Jamaat-e-Islami charity in Pakistan-controlled Kashmir, which ICNA and its various sister organizations describe as their "partner." READ's social-media posts include a homage to Mumtaz Qadri, an Islamic extremist who, in 2011, murdered Punjab governor Salman Taseer in retribution for Taseer's public support for a Pakistani Christian woman convicted of blasphemy. Other READ posts include text denouncing the "American Secular Terrorists . . . dirty people" who "destroyed Iraq and killed 150,000 Iraqis" on the "instructions of Iran."
ICNA's Helping Hand for Relief and Development is also a partner of the Ghazali Education Trust, another official Jamaat charity.
Other Connections/Mentions
ICNA is frequently referred to as a Jamaat organization by other radical Islamist groups.
WHOIS data reveals that the registered agent for ICNA's website, icna.org, was listed as another website – farrukh.net, a website run by Jamaat-e-Islami Pakistan.
ICNA's logo is identical to that of Jamaat-e-Islami's student wing.
ICNA's WhyIslam project, an Islamic educational website, features the work of Abul Ala Maududi, the founding ideologue of Jamaat-e-Islami, as well as religious teachings by Khurram Murad, the late vice-President of JI in Pakistan.
The writings of Abul Ala Maududi, the founder of Jamaat-e-Islami, have been promoted on the website of ICNA's youth division, Young Muslims.
Vali Reza Nasr, a leading Iranian-American academic at John Hopkins, has described ICNA has one of the leading Jamaat-e-Islami institutions in the West.
Full report at:
https://www.meforum.org/islamist-watch/57929/catalogue-of-icna-links-to-jamaat-e-islami
--------
Locals in Cox's Bazar demand Rohingya return to Myanmar
March 6, 2019
Thousands of local residents in Cox's Bazar in southeastern Bangladesh took part in hours-long protests on March 4 demanding the speedy repatriation of Rohingya Muslims to Myanmar, and more jobs with aid agencies operating among the refugees.
Holding banners and placards, about 5,000 people blocked the Cox's Bazar-Teknaf highway for nearly two hours at the Koat Bazar area in Ukhiya, close to the refugee camps, stopping vehicles and putting forth their 14-point list of demands while they formed a human chain.
Apart from demanding the swift return of the Rohingya to their homeland, they called to fence off the camps with barbed wire, and sought employment opportunities with NGOs active in the area.
The Odhikar Bastobayon Committee (Rights Realization Committee) organized the protest.
At one point, police charged with their batons raised to disperse the protesters, who responded by pelting brickbats at them.
At least 16 people, including two policemen, were hurt in the clashes. The protesters also vandalized five vehicles, two of which belonged to the police.
Sharif Azad, one of the committee's leaders, said the Rohingya pose a threat to the local community.
"When they started fleeing to Bangladesh in 2017, we welcomed them with open arms. But now they have become a threat," Azad, a Bengali Muslim, told ucanews.com.
"They recently killed a doctor and an Imam. In the dark of night, they come out of the camps and engage in illegal and anti-social activities," he said.
"They need to be properly fenced off, and the surveillance inside the camps needs to be increased."
While many local people are struggling to find work, the Rohingya are making money working for the NGOs, he alleged.
"Thousands of Rohingya work for the NGOs operating among them, which is illegal and unethical. If this continues, the sense of frustration we feel will only get worse," he said.
Muhammad Kamal Hossain, the chief government officer in Cox's Bazar, dismissed most of their demands as "illogical."
"We already contacted local and international NGOs asking if they could offer jobs to locals, and many local people have been working for them," Hossain told ucanews.com.
"The protesters demands … are illogical. Security has been always tight in the camps and it will continue to be so," he added.
Mazharul Islam, who is running a Rohingya refugee project with Caritas, the social arm of the Church, said most of the NGOs have been supporting the local community.
"Most NGOs rely on them for 30-60 percent of their workforce, but they can't employ people who are not qualified for technical jobs such as engineers, doctors or nurses," he said. "About 60 percent of our staffers are locals."
He agreed that some Rohingya do slip out of the camps after dark, saying the authorities need to impose more stops and checks.
Muhammad Sayed, a Rohingya community leader from Kutupalong refugee camp, sent a message of thanks to their hosts.
"We are grateful to the Bangladeshi people, especially the government and the people in Cox's Bazar, for offering us shelter and support," he said.
"We don't want to stay here forever, and we don't want to cause them any harm. Once we have a more favorable situation in our homeland, we all want to go back."
Rohingya have lived in Myanmar for centuries, but many in the Buddhist-majority country consider them illegal immigrants from Bangladesh.
Cox's Bazar is now home to more than a million Rohingya, mostly from Myanmar's Rakhine State, where they are denied citizenship and basic rights.
The majority fled two military crackdowns in 2016 and 2017 after Rohingya militant groups attacked security forces in Myanmar.
Full report at:
https://www.ucanews.com/news/locals-in-coxs-bazar-demand-rohingya-return-to-myanmar/84657
--------
Prominent Haqqani Network commander arrested in Jalalabad city
07 Mar 2019
A prominent commander of the notorious Haqqani terrorist network has been arrested during an operation in eastern Nangarhar province of Afghanistan.
The Ministry of Interior in a statement said Wednesday that Mullah Mirwais, a prominent Haqqani Network commander was arrested in Jalalabd city on Tuesday.
The statement further added that Mullah Mirwais alias Kamran was during a joint operation of the police forces and security personnel belonging to other National Defense and Security institutions.
According to the Ministry of Interior, Mullah Mirwais was leading a group of 40 militants in Nangarhar province and was involved in planning and coordinating several suicide attacks and assassination of individuals in this province.
Full report at:
https://www.khaama.com/prominent-haqqani-network-commander-arrested-in-jalalabad-city-03438/
--------
ISIS claims responsibility for deadly attack in Nangarhar province
07 Mar 2019
The Islamic State of Iraq and Syria (ISIS) terrorist group has claimed responsibility for the attack on a private construction firm in eastern Nangarhar province.
Amaq News Agency, the pro-ISIS media outlet reported that the attack was carried out by militants affiliated with Islamic State of Iraq and Syria (ISIS) group.
According to reports, at least 16 people lost their lives during the attack which was carried out in the outskirts of Jalalabad city, the provincial capital of Nangarhar.
The media office of Nangarhar had earlier reported that 11 workers of EBE Construction Firm lost their lives in the attack and 9 others have sustained injuries.
According to a statement released by the provincial government, a soldier of the Special Forces of Afghan Intelligence also lost his life in the attack.
Full report at:
https://www.khaama.com/isis-claims-responsibility-for-deadly-attack-in-nangarhar-province-03437/
--------
8-year-old child shot dead by Taliban militants in Jawzjan province
07 Mar 2019
The Afghan military in the North claims that a child was shot dead by Taliban militants in northern Jawzjan province of Afghanistan on Wednesday.
The 209th Shaheen Corps of the Afghan Military in a statement said the 8-year-old child was shot dead on Wednesday morning as he was playing close to the proximity of security outposts.
The statement further added that the child was apparently killed on charges of bringing food and water to security personnel.
Condemning the killing of child as a grave human rights violation, the 209thShaheen Corps said the safety of children remains a top priority even in worst conflicts but the terrorist groups never value the lives of men, women, elders, and children.
Full report at:
https://www.khaama.com/8-year-old-child-shot-dead-by-taliban-militants-in-jawzjan-province-03436/
--------
Arab World
Saudi prosecutors bring jailed moderate Sunni preacher to secret trial: Report
Mar 6, 2019
Saudi public prosecutors have reportedly put an imprisoned political dissident on secret trial as a brutal crackdown led by Crown Prince Mohammed bin Salman against Muslim preachers and intellectuals widens in the oil-rich kingdom.
Abdullah al-Awda wrote in a post published on his Twitter page on Wednesday that his father, Sheikh Salman, had to fight criminal charges leveled against him without a lawyer, and that his family had not heard from him.
Saudi public prosecutors had earlier demanded the execution of the prominent Muslim scholar.
Awda is the assistant secretary-general of the International Union of Muslim Scholars, which the Riyadh regime has listed as a terrorist organization.
Saudi authorities detained Awda on September 7, 2017, and have held him in solitary confinement without charge or trial ever since. The officials have imposed travel bans on members of his family as well.
A family member told Human Rights Watch that the distinguished cleric was being held over his refusal to comply with an order by Saudi authorities to tweet a specific text to support the Saudi-led blockade of Qatar.
Awda, instead, posted a tweet, saying, "May God harmonize between their hearts for the good of their people," - an apparent call for reconciliation between the Persian Gulf littoral states, the US-based rights group said in a statement.
Awda has been prevented from communicating with the outside world since October last year.
Saudi Arabia, the United Arab Emirates, Bahrain and Egypt all cut off diplomatic ties with Qatar on June 2017, after officially accusing it of "sponsoring terrorism."
The administration of the Saudi-backed and former Yemeni president, Abd Rabbuh Mansur Hadi, Libya, the Maldives, Djibouti, Senegal and the Comoros later joined the camp in ending diplomatic ties with Doha. Jordan downgraded its diplomatic relations as well.
Qatar's Foreign Ministry later announced that the decision to cut diplomatic ties was unjustified and based on false claims and assumptions.
Saudi Arabia has lately stepped up politically-motivated arrests, prosecution and conviction of peaceful dissident writers and human rights campaigners.
Saudi officials have also intensified security measures in the Shia-populated and oil-rich Eastern Province.
Eastern Province has been the scene of peaceful demonstrations since February 2011. Protesters have been demanding reforms, freedom of expression, the release of political prisoners, and an end to economic and religious discrimination against the oil-rich region.
The protests have been met with a heavy-handed crackdown by the regime with security forces increasing security measures across the province.
Over the past years, Riyadh has also redefined its anti-terrorism laws to target activism.
In January 2016, Saudi authorities executed Shia cleric, Sheikh Nimr Baqir al-Nimr, who was an outspoken critic of the policies of the Riyadh regime. Nimr had been arrested in Qatif in 2012.
https://www.presstv.com/Detail/2019/03/06/590341/Saudi-prosecutors-bring-jailed-moderate-Sunni-preacher-to-secret-trial-Report
--------
US Aiding ISIL, Other Terrorists in Western Iraq
Mar 06, 2019
The Arabic-language al-Ma'aloumeh news website quoted Qusai al-Anbari as saying on Wednesday that the Americans are assisting a terrorist group called Ghosts of Desert in desert areas of al-Anbar, adding that they have been airdropping foodstuff packages for the ISIL from helicopters hovering over the region in the past few days.
Meantime, Hassan Salem, a representative of Iraq's al-Fatah coalition in the parliament, referred to the American forces' illegal deployment in Iraq and Washington's attempts to revive the terrorist groups in the country, and stressed the legislature's firm determination to expel them and close Ain al-Assad base which is under the US occupation.
Al-Anbari had also warned last week that the US army was training hundreds of ISIL terrorists in al-Anbar province after relocating them from Syria to Iraq to prepare them for a new round of insecurities in the country.
"Between 700 to 1,000 ISIL militants are being trained by the US troops in al-Anbar province," al-Maloumeh quoted al-Anbari as saying.
He pointed to the special conditions considered for the ISIL militants, and said that the US troops had specified redlines for third parties to avoid approaching the region.
This is while the Arabic-language Arabi Post recently disclosed that the US troops had been intensively training the ISIL terrorists in two military bases of Ain al-Assad and al-Habanieh in al-Anbar province under name of Ghosts of Desert.
Full report at:
http://en.farsnews.com/newstext.aspx?nn=13971215000481
--------
Syrian Army Foils Terrorists' Massive Attacks on Hama, Idlib
Mar 06, 2019
The terrorist groups were preparing to launch massive attacks from several directions on the Syrian Army, but the Syrian Army inflicted heavy losses and casualties on the militants after foiling their attempted attack and forcing the remaining terrorists to retreat to the depth of the regions under their control in Southern and Southeastern Idlib.
In Northern Hama, the Syrian Army units also targeted the terrorists' movements near the town of Mourek, killing a number of militants and making the rest retreat.
The Syrian Army troops also targeted and destroyed the positions and hideouts of terrorists in al-Karjat and Qaleh al-Maziq areas of Sahl al-Ghab, killing all the militants inside their hideout.
The Arabic-language service of the Russian Sputnik news agency, meantime, pointed to the attacks by Tahrir al-Sham and their allies on Northern Hama and Southern Idlib from the Ankara-backed monitoring points, and said that Ankara supports these terrorist groups in terms of supplying weapons and military equipment.
In a relevant development on Monday, the Syrian Army made final preparations for cleansing Tahrir al-Sham al-Hay'at terrorists in the demilitarized zone after massive assault by the militants on government forces' military positions there.
The Syrian Army troops are in a state of alert in all contact lines with terrorists in Northern and Northwestern Hama in a bid to launch military operations soon, the Arabic-language service of the Russian Sputnik news agency quoted a Syrian military source as saying.
It reiterated that the Syrian Army cannot always be on a defensive mode against the terrorists' attacks from the demilitarized zone, and said, "After the recent attack by the terrorists on the Syrian Army's military positions in Hama, there are contacts between the Syrian sides to come to a solution for responding to the recent terrorist attacks from the demilitarized zone."
The source added that the primary goal for carrying out military operations against terrorists is to put an end to the presence of the terrorists in demilitarized zone and restoring security to the surrounding areas of towns near the battlefronts of Hama which are exposed to the terrorists' constant missile attacks.
Meantime, the Syrian Army troops engaged in heavy clashes with Tahrir al-Sham and Turkistani Party terrorists as well as other foreign militants who had carried out massive attack on the Syrian Army's military positions in Tal al-Qaleh axis of Abu Ali mountain in Northeastern Lattakia. The terrorists sustained losses and casualties in clashes with the Syrian Army soldiers after their attack was fended off.
In a relevant development on Saturday, the Syrian army attacked terrorists' bases and positions in response to their offensives from the demilitarized zone on safe regions under the army's control in Northern Hama.
The terrorist groups stationed in the demilitarized zone in Northern Hama targeted the Mahrada city with 40 missiles, leaving heavy damage on the city's power plant and residential areas as well as wounding a number of civilians.
The Syrian army units responded the offensive with heavy missile and artillery attacks, targeting the terrorists' positions and moves South of Mourek town in Northern Hama and a military convoy carrying weapons and military equipment. Several hideouts of the terrorists were destroyed and a number of them were killed in the Syrian Army attacks.
Meantime, the Arabic-language service of the Russian Sputnik news agency reported that Jeish al-Izza terrorists also launched a missile attacked Mahrada City in Northern Hama.
A military source, meantime, pointed to the intensified attacks by terrorists from the demilitarized zone in recent days, and said that Haras ul-Din terrorists, stationed near the Turkish-controlled region in the surrounding areas of Mourek town, attacked residential areas in Souran City with several missiles. This comes as the terrorists' missile attacks have been extended to the towns of al-Mahrouseh, Na'or Shatheh and Tal Bazam in Northern Hama.
Meantime, relevant reports said last Tuesday that Tahrir al-Sham al-Hay'at (the Levant Liberation Board or the al-Nusra Front) had recently delivered 3,000 long-range and mid-range missiles jointly produced by a number of Arab states in one of the North African countries to the underground caches of Jeish al-Izza terrorist group in the towns of Kafr Zita and al-Latamineh in Northern Hama.
The Arabic-language service of Sputnik quoted special sources in Idlib as saying that the operations to deliver the missiles was carried out at night and took for two days, adding that commander of Tahrir al-Sham for weaponry named Abu Ahmad al-Checheni has ordered transfer of the missiles from the depots in Idlib city, Saraqib and Ariha in Idlib province to Jeish al-Izza after coordination with its commander Jamil al-Salih.
During the missile attacks by Jeish al-Izza against the residential areas in the town of al-Saqilbeh and Mahrada in Northern and Northwestern Hama, a civilian was killed and 7 others, including a child, were severely wounded and a large number of houses were destroyed.
Based on the report, the terrorists stationed in Southeastern Idlib also launched missile strikes against the Western parts of the town of Abu al-Zohour, killing 7 Syrian military forces and injuring 20 others near the town of al-Sukriyeh.
Meantime, the Syrian army forces in response targeted the terrorists' moves in Western Abu al-Zohour, inflicting over 25 tolls on them and smashing their military equipment.
Full report at:
http://en.farsnews.com/newstext.aspx?nn=13971215000482
--------
US, Allied Militants Help Thousands of ISIL Terrorists Out of Eastern Euphrates
Mar 06, 2019
"More than two thousands ISIL terrorists who were stationed in al-Baqouz town in Eastern Euphrates near Syria's borders with Iraq surrendered to the SDF on Monday after they were given a safe corridor," the Kurdish-language Bas News website reported.
Meantime, the London-based Syrian Observatory of Human Rights (SOHR) reported that a sum of 3,140 ISIL militants and their families left the last areas under their control in Eastern Euphrates.
The pro-militant Baldi news website also pointed to the presence of about 1,000 ISIL terrorists in Baqouz, and said that the surrendered ISIL militants will be transferred to the US-controlled Omar Oil Region.
Meantime, sources close to the SDF said they will impose full control over the town of Baqouz to declare the end of ISIL in Eastern Euphrates in coming days.
In a relevant development last Wednesday, a pro-militant media said that tens of ISIL terrorists were transferred to the US base in Deir Ezzur and the American forces have evacuated family members of ISIL ringleader Abu Bakr al-Baghdadi and other senior commanders from the Eastern parts of the province.
The SOHR reported that over 700 people, including 40 ISIL militants, a large number of them from Turkistani and Asian origins, left Eastern Deir Ezzur on 15 trucks belonging to the SDF.
It added that the ISIL members have been transferred to the US-led coalition's base in Deir Ezzur, noting that 51,750 people with different nationalities have been evacuated from the region so far.
Full report at:
http://en.farsnews.com/newstext.aspx?nn=13971215000620
--------
Syrian Army Heavily Pounds Terrorists' Positions in Hama Countryside
Mar 06, 2019
The Syrian Army's military operation came in response to the terrorists' offensives and repeated violations of the agreement on the de-escalation zone in the Northern countryside of Hama.
The terrorists sustained heavy losses and casualties in the Syrian Army attacks on their movements and positions.
The Syrian Army troops, meantime, destroyed a military vehicle carrying a group of terrorists in al-Latamaneh town in Northern Hama, killing all militants on board.
The terrorists' military positions also came under heavy attacks of the Syrian Army in the town of Mourek, killing a number of terrorists and foiling an attack by another terrorist group from Sakik hill and Sakik region.
In a relevant development on Monday, the Syrian Army backed by Air Force warded off a massive attack by Tahrir al-Sham al-Hay'at (the Levant Liberation Board or the Al-Nusra Front) on government forces' military positions in Northern Hama, killing tens of terrorists.
The Syrian Army engaged in heavy clashes with the terrorists in al-Masasaneh axis in Northern Hama.
A field source pointed to the terrorists' attempted attacks on Syrian Army's military positions in al-Madajen, Zour al-Hayeseh, Kharba Ma'arin, and said the Syrian Army troops fended off the attack, inflicting heavy losses and casualties on the militants and forcing many more to flee the scene.
The Arabic-language service of Russian Sputnik News Agency reported that 48 terrorists were killed in failed attack by Tahrir al-Sham terrorists on government forces' military positions.
Meantime, 20 Syrian Army soldiers were also killed in clashes with the terrorists and some others were also wounded.
Full report at:
http://en.farsnews.com/newstext.aspx?nn=13971214000635
--------
UAE Foreign Minister: We seek the containment of the Syrian crisis
6 March 2019
The United Arab Emirates' Foreign Minister has said that Abu Dhabi seeks to discuss the containment of the Syrian crisis with Moscow during Russian Foreign Minister Sergei Lavrov's visit to the emirate.
UAE Minister of Foreign Affairs Sheikh Abdullah bin Zayed Al Nahyan said there was "intention and desire" by Arab parties in seeing Syria return to the Arab world but added that much work was needed.
"There is no doubt that we have had disagreements with the Syrian government's approach in the many steps it has taken internally. But we are now in front of developments where we see an increase in the influence of Russia and Iran while there is an Arab absence. We think that this Arab absence is unacceptable," he told reporters during a joint press conference with Lavrov.
"For that reason, we have worked with our Russian brothers and others to discuss the containment of the crisis but to also contain Syria. When we say containment, we are talking about Syria being a part of the Arab region; being part of the Arab countries and efforts. Unfortunately, we are now seeing Syria far from that," he added.
For his part, Lavrov said that Russia and the UAE shared common stances on ensuring regional stability and security.
"We also share stances on efforts to ensure stability in the region and we are confident that regional security cannot be achieved unless crises are overcome through diplomatic means based on international legitimacy," Lavrov said.
The UAE Foreign Minister said that Abu Dhabi decided to open its embassy in Damascus to begin such steps but "this needs interaction from Damascus and the Arab parties."
"We believe that we are still at the beginning of this march but this requires joint efforts from Damascus and Arab parties to work together. We are still far from this situation but I believe there is an intention, and a desire, but it still requires much work from different parties," he said.
Full report at:
https://english.alarabiya.net/en/News/middle-east/2019/03/06/UAE-Foreign-Minister-We-seek-the-containment-of-the-Syrian-crisis.html
--------
Saudi Arabia plays 'pivotal role' in fight against global terrorism: General Abizaid
March 06, 2019
WASHINGTON: Retired four-star Army General John Abizaid, President Donald Trump's nominee to be ambassador to Saudi Arabia, said on Wednesday that Saudi Arabia plays a "pivotal role" in the fight against global terrorism.
General Abizaid, speaking on Wednesday at his Senate confirmation hearing, said it would be a "great honor" to work on strengthening the relationship between the US and Saudi Arabia.
"In the long run, we need a strong and mature partnership with Saudi Arabia," Abizaid said. "It is in our interests to make sure that the relationship is sound," he said.
He added that Saudi Arabia's contribution to tackling extremism had effectively cut off funding networks for Daesh — which he said has been "nearly vanquished on the ground," but remains a "potent threat" to the US and its allies — and that any "reduction of relations between America and Saudi Arabia" would undermine regional security.
Abizaid also blamed the Iranian regime for destabilizing the region.
Full report at:
http://www.arabnews.com/node/1462541/saudi-arabia
--------
Six dead in Daesh attack on Iraqi militia
March 07, 2019
BAGHDAD: An official with a mainly Shiite militia organization in Iraq says Daesh militants attacked a bus carrying the group's forces in northern Iraq, killing six militiamen and wounding 31 fighters.
The official from the government-sanctioned Popular Mobilization Forces told The Associated Press that the Wednesday night ambush took place near the town of Makhmour, south of the northern city of Mosul.
The official says the bus was en route from Mosul to the oil-rich city of Kirkuk. He spoke on condition of anonymity because he wasn't authorized to talk to reporters.
Full report at:
http://www.arabnews.com/node/1462916/middle-east
--------
Hundreds limp out of besieged Syria Daesh enclave
March 06, 2019
BAGHOUZ: Veiled women carrying babies and wounded men on crutches hobbled out of Baghouz on Wednesday after US-backed forces pummeled the last militant village in eastern Syria.
The Syrian Democratic Forces (SDF) leading the assault expected more militants to surrender with their families in tow before moving deeper in the Daesh's last redoubt.
Bandaged and bedraggled, gaggles of suspected militants in long brown robes limped away from the hellscape of Baghouz across fields of yellow flowers to reach an SDF screening center.
The tiny village on the banks of the Euphrates River where diehard Daesh miltants have made a bloody last stand has regurgitated unexplained numbers of people.
Kurdish officers in the SDF and aid groups have voiced their surprise that the flow of evacuees never seemed to dry up after weeks of evacuations.
On Tuesday alone, "3,500 people were evacuated from Daesh-held territory," said SDF spokesman Mustafa Bali.
Around 10 percent of the 57,000 people who have fled Daesh's last bastion since December were militants trying to slip back into civilian life, SDF officers and the Syrian Observatory for Human Rights have said.
The operation to smash the last dreg of the proto-state Abu Bakr Al-Baghdadi proclaimed in 2014 resumed on Friday after a long humanitarian pause.
The assumption was that close to no families remained holed up in Baghouz and that those who did were refusing to surrender and choosing to die there. The deluge of fire unleashed by SDF artillery and coalition air strikes at the weekend appears to have broken the determination of some families.
Syrians, Iraqis and militants who had come from France, Finland and other countries to join Daesh turned themselves in to Kurdish troops.
"There's still lots of people inside," said Safia, a 24-year-old Belgian woman who was among those trucked out by the SDF on Tuesday, adding that her French husband was still inside.
Western forces from the US-led coalition — which also includes France, one of the main purveyors of foreign fighters to Daesh — could be seen looking for wanted individuals among the new arrivals.
On Tuesday, the wife of French militant Jean-Michel Clain confirmed her husband had been killed in Baghouz, days after his brother Fabien.
The brothers were featured in a video claiming responsibility for a 2015 shooting rampage in the streets of Paris that remains France's deadliest ever terrorist attack.
Clain's widow Dorothee Maquere fled the embattled enclave with her five children and told AFP she did not want to return to France.
"I want to be left alone after everything I've been through... some place where I can live, where I won't be bothered, where I can live my life."
More than 50,000 evacuees have been squeezed into the Kurdish-run camp of Al-Hol, where the foreigners await a decision on their fate.
Their countries of origin have been reluctant to take them back, wary of the security risk some of them could pose and of a negative reaction from the public.
The SDF have warned however that they would not carry that burden much longer and other avenues are being explored.
Iraq has already confirmed receiving 14 French nationals from Syria to be tried there.
Those filing out of Baghouz are often weak, after living for weeks with scarce food and hiding from bombs in underground shelters.
The authorities in Al-Hol and the other camps where evacuees are dispatched are overwhelmed and entire families have had to sleep rough.
"Families arriving in Al-Hol camp have been without access to health and other essential services for a long period of time and ... in a fragile state, compounded by the fatigue of the journey to the camp," the UN office for human rights said.
Dozens of children are unaccompanied and the toll of those who died shortly after arriving or en route from Baghouz keeps growing.
"90 deaths have been reported; two thirds of them children under the age of five," it said, adding that the main causes of death were hypothermia, pneumonia, dehydration or malnutrition complications.
The militants are massively outnumbered in Baghouz.
The Kurdish-led SDF, who launched their broad offensive on remaining Daesh strongholds in the Euphrates Valley six months ago, say they expect a victory within days.
Full report at:
http://www.arabnews.com/node/1462716/middle-east
--------
Mideast
EU, Russia, China reaffirm support for Iran nuclear deal
Mar 6, 2019
Iran says the remaining signatories of the 2015 nuclear deal have reaffirmed their "strong support" for the Islamic Republic despite the United States' decision to unilaterally leave the agreement last year.
Abbas Araghchi, Iran's deputy foreign minister, said Wednesday that Russia, China, Britain, France and Germany had "acknowledged that the deal can only survive if Iran can receive the benefits of the deal," and remain committed to keeping it in effect.
Araghchi made the remarks in Vienna, the Austrian capital, after a high-stakes meeting with representatives from the remaining signatories to the landmark deal, known as the Joint Commission of the Joint Comprehensive Plan of Action, or the JCPOA.
Under the deal, Iran agreed to limit certain parts of its nuclear energy in exchange for the removal of all nuclear-related sanctions.
However, US President Donald Trump announced May last year that he would re-impose all the sanctions and punish countries who traded with Iran.
Russia and China reacted to Trump's move by reassuring Tehran that they would stick to their commitments.
The remaining three European signatories also promised to come up with a mechanism that would secure trade with Tehran and guarantee Iranian and European companies would stay out of harm's way.
After spending months discussing possible mechanisms to guarantee continued trade with Tehran, the Europeans last month unveiled the Instrument in Support of Trade Exchanges (INSTEX) with strings attached.
Araqchi praised the Europeans' establishment of INSTEX, a barter-type system that is supposed to help businesses on both sides perform direct transactions and evade possible US penalties.
Russia's Permanent Representative to the Vienna-based international organizations Mikhail Ulyanov said Tuesday that the JCPOA and its supporting UN Security Council resolution were aimed at boosting economic and trade ties with Tehran.
"We call on all countries committed to the UN Charter to bear in mind that, according to Resolution 2231, the JCPOA is aimed at boosting economic and trade ties and cooperation with Iran," Ulyanov said.
The Russian envoy said Moscow was confident that the ongoing efforts would help resolve the current challenges.
"The need to restore the balance of interests enshrined in the JCPOA is obvious. Russia will continue to work together with its JCPOA partners and other interested countries," Ulyanov added.
https://www.presstv.com/Detail/2019/03/06/590356/Iran-nuclear-deal-Araqchi-China-Russia
--------
Western arms exporters complicit in Saudi, Israeli crimes: Iran
Mar 7, 2019
Iran has blasted Saudi Arabia and Israel for killing innocent people in Yemen and Palestine, saying the Western countries selling weapons to Riyadh and Tel Aviv are "complicit" in the atrocities the two regimes have been committing.
Esmaeil Baghaei, Iran's ambassador to the United Nations Office in Geneva, made the remarks at the 40th session of the Human Rights Council on Wednesday.
The "organized killings" of the Yemeni and Palestinian people are "a disgrace to humanity," he said, adding that arms exporters to Saudi Arabia and the Zionist regime are "complicit" in their crimes.
Baghaei also criticized the hypocrisy of some countries in exerting pressure on independent states under the pretext of defending human rights.
Widespread rights violations in the Middle East stem from occupation, foreign invasion and illegal interference in the affairs of countries, he said.
The countries, which have turned the region into a "weapons depot" and fuel extremism there in line with their short-sighted political and economic objectives, should be taken to task, he added.
The Iranian envoy further noted that the US, Britain and other European countries must be held accountable for Israeli and Saudi crimes.
Moreover, he strongly denounced illegal US sanctions against other countries such as Iran, saying such bans constitute "crimes against humanity."
Israel uses 'disproportionate force' in Gaza
Separately on Wednesday, the UN human rights chief said she was disappointed with Israel's "immediate dismissal" of a recent report about the regime's deadly crackdown on the 2018 anti-occupation rallies in the Gaza Strip.
The report, commissioned by the UN Human Rights Council, said Israeli forces may have perpetrated "war crimes" or "crimes against humanity" during the Gaza unrest. It infuriated Israel, with Acting Foreign Minister Yisrael Katz calling it "hostile, deceitful and biased."
"The end of this month will mark one year since the start of demonstrations which – as the Council's Commission of Inquiry reported – have been met with deadly, disproportionate force by the Israeli Security Forces, leading to a very high toll of killings and injuries," Michelle Bachelet said.
She also criticized Tel Aviv for expelling an international observer group tasked with safeguarding Palestinians in the flashpoint West Bank city of al-Khalil (Hebron).
Full report at:
https://www.presstv.com/Detail/2019/03/07/590382/Iran-Saudi-Arabia-Israel-crimes
--------
Israel demolishes home of Palestinian suspect in deadly shootings
7 March 2019
Israel on Thursday demolished the home of a Palestinian accused of shooting dead two soldiers in the West Bank and aiding another attack that caused a baby's death, the army said.
A military statement said that troops, border police and defense ministry officials "demolished the residence of Assam Barghouti in Kobar, north of Ramallah," in the Israeli-occupied territory.
Barghouti is accused of shooting the soldiers at a bus stop near the Givat Assaf settlement in the Ramallah area on December 13.
At least two other people - including another soldier - were wounded, the army said at the time.
Israel's domestic security service, the Shin Bet, has also accused him of involvement along with his brother in another shooting attack nearby, close to the Ofra settlement that caused the death of a baby and wounded seven.
In the December 9 shooting, a pregnant woman was seriously wounded and her baby was born prematurely by emergency caesarean and later died.
Barghouti's brother, Salah, 29, was killed during an arrest raid on December 12.
The armed wing of Palestinian movement Hamas, which has fought three wars with Israel since 2008, has claimed Salah Barghouti as one of its "fighters."
In a statement following Assam Barghouti's arrest, last month Hamas praised him and the Palestinian "resistance" without claiming him as a member.
Assaf Barghouti was arrested at the home of an alleged accomplice near Ramallah and was allegedly preparing more attacks, the Shin Bet said.
A Kalashnikov assault rifle, night-vision equipment and ammunition were seized during his arrest, according to the Shin Bet.
Israel regularly demolishes the homes of Palestinians accused of carrying out attacks against Israelis.
Rights groups criticize the practice as collective punishment since family members suffer from the actions of relatives.
Full report at:
https://english.alarabiya.net/en/News/middle-east/2019/03/07/Israel-demolishes-home-of-Palestinian-suspect-in-deadly-shootings.html
--------
Tale of Palestinian food truck draws Hollywood star to Beirut
6 March 2019
Entrepreneur Mariam Shaar's idea of using Palestinians' national cuisine to provide hope and opportunity for refugee women has succeeded beyond her wildest dreams.
Shaar's project "Soufra," which means a table laden with food, drew the attention of Hollywood actress and social activist Susan Sarandon, whose documentary, also called "Soufra," was screened for the first time this week in Beirut.
The film tells the story of Shaar's efforts to set up a food truck and harness the culinary talents of the women living in the refugee camp of Burj al Barajneh, which was established in a southern suburb of Beirut in 1948 and is still home to thousands of Palestinians.
The documentary premiered at the El-Gouna film festival in Egypt in 2017 and created a stir that helped Shaar's NGO, the Women's Program Association (WPA), to raise funds to build a pre-school that will create jobs and educate about a 100 children.
Visiting the 'Nawras' school on Monday, Sarandon expressed her joy at Shaar's success.
"It just goes to show you that when people pull together, you know, things get bigger and bigger and bigger, and especially the school, how fabulous to have that happen," said Sarandon as she sang English nursery rhymes with the kids.
With the United States "whipped into a fearful state of being" over immigrants and asylum seekers, she added, it is vital "to redefine the word 'refugee', to put a face on that story and show how important it is to support people who are displaced or trying to survive in very difficult circumstances."
'Safe place'
Shaar, who escorted Sarandon around the camp, said she also had plans now to establish a small restaurant which could serve as "a safe place for women to come and relax mentally and physically, to come to eat, drink and express themselves more".
Another NGO, Alfanar (Arabic for beacon), helped the WPA to set up Soufra, providing management support, funding, and training.
Alfanar executive director Myrna Atalla said the Soufra project was all about giving refugees the tools to take charge of their own lives.
"Otherwise we're just throwing money at problems and not actually empowering people to shape their destiny," she said.
Echoing that view, the documentary's director Thomas Morgan said the project had helped to change how Shaar and the other women viewed themselves, "like they were contributors for the first time, (that) they were able to do something".
Later Shaar, Sarandon, Morgan, and the refugee women watched the documentary at a screening also attended by US actor Ben Stiller, local artists, and philanthropists.
Morgan gifted the "Soufra" team the awards that the film has garnered worldwide over the past two years.
Full report at:
https://english.alarabiya.net/en/features/2019/03/06/Tale-of-Palestinian-food-truck-draws-Hollywood-star-to-Beirut.html
--------
Iran, Iraq reaffirm resolve to bolster neighbourly ties
Mar 7, 2019
Iraq's top parliamentarian holds talks with high-ranking Iranian officials on a wide range of issues, including ways to bolster bilateral relations, uproot terrorism and strengthen regional peace.
On Wednesday evening, Iranian President Hassan Rouhani received Iraqi Parliament Speaker Mohamed al-Halbousi on the sidelines of a visit to the northern Iranian Province of Gilan.
The two officials reaffirmed the resolve of their nations to further enhance cordial bilateral relations as well as cooperation in the battle against terrorism.
President Rouhani emphasized the significance of stability in neighboring Iraq, saying peace and security in both countries are intertwined.
He congratulated the Iraqi nation for defeating the "dangerous" Daesh terrorists and subsequently holding successful elections, stressing that the Islamic Republic "is ready to broaden bilateral cooperation in the areas of economy and infrastructure."
The Iraqi speaker, in turn, stressed the need for stronger ties with its eastern neighbor, censuring the US's campaign of economic pressure and sanctions against Iran.
Halbousi also thanked Iran for standing by the Iraqi nation in its fight against terrorism. On the back of Iran's military advisory support, Iraqi armed forces managed to liberate their home country from Daesh, the world's most notorious terror outfit, in late 2017.
He said Iraq believes closer cooperation with Iran strengthens regional stability.
Earlier in the day, Halbousi sat down for talks with Iranian Foreign Minister Mohammad Javad Zarif in Tehran over issues of bilateral importance, among them President Rouhani's upcoming official visit to Iraq.
The Iraqi parliament speaker also met with Iran's top security official for talks on defense relations.
During that meeting, Ali Shamkhani, the secretary of Iran's Supreme National Security Council, warned that the American military presence is posing security threats to the troubled region.
Referring to the futility of Washington's military intervention in Iraq under the banner of fighting Daesh, Shamkhani said "experience showed the US is not only not ready to protect nations and governments against terrorists in times of crisis, but even employs all its logistical and intelligence resources to manage terrorism and use it as a tool" in the service of its own goals.
Full report at:
https://www.presstv.com/Detail/2019/03/07/590383/Iran-Iraq-Rouhani-alHalbousi
--------
Israeli forces shoot down Gaza protester as warplanes launch new airstrikes
Mar 7, 2019
Israeli forces have fired at Palestinian protesters during a night-time protest in the Gaza Strip, killing a teenage boy, on the same night when the regime's warplanes launched fresh airstrikes on the besieged enclave.
The 15-year-old boy, identified as Saif al-Deen Abu Zeid, was shot dead by the Israeli forces during a protest rally held in eastern Gaza on Wednesday night, medical sources in the enclave confirmed.
Health Ministry spokesman Ashraf al-Qudra told AFP that the boy died "due to the wounds he sustained a few hours ago."
Several other Palestinian youngsters were also injured by live bullets.
The shooting came as Israeli warplanes also launched fresh air raids on the southern Gaza Strip town of Khan Yunis.
Israeli warplanes have in recent weeks increased their airstrikes on various parts of the besieged Strip, mostly targeting posts belonging to Hamas resistance forces and their military wing, Izz ad-Din al-Qassam Brigades.
The killing of the Palestinian teen came a couple of weeks after the Israeli regime's forces shot dead another Palestinian boy on February 22 and injured dozens more in mass protests along the fence separating the besieged Gaza Strip and the Israeli-occupied territories.
The blockaded Gaza Strip has been witnessing tensions since last March following anti-occupation protests.
Palestinians have held weekly protests on the Gaza border since last year over the siege on the enclave and the right for refugees to return to their homes they were forcibly expelled from during the 1948 creation of Israel.
More than 260 Palestinians have been killed by Israeli forces ever since anti-occupation protest rallies began in the Gaza Strip on March 30, 2018. Over 26,000 Palestinians have also sustained injuries.
Full report at:
https://www.presstv.com/Detail/2019/03/07/590372/Gaza-protest-shooting-Israel-warplane-aritrikes
--------
UN Palestine committee slams Trump's unilateralism
Mar 6, 2019
A United Nations committee charged with pursuing the rights of Palestinians visits Brussels to lobby EU officials, lawmakers and civil society organizations. Members of the delegation are very critical of how the United States is currently treating the people of Palestine.
https://www.presstv.com/Detail/2019/03/06/590366/UN-Palestine-committee-slams-Trumps-unilateralism
--------
Turkey says to conduct joint raid with Iran against PKK
Mar 6, 2019
Turkey says it is planning to carry out a joint attack with Iran against the Kurdistan Workers' Party (PKK) militant group, which has waged a three-and-a-half decade armed campaign against Ankara for independence.
"God willing, we will carry out a joint operation against the PKK together with Iran," Turkish Interior Minister Süleyman Soylu told Anadolu news agency Wednesday.
He did not specify which PKK positions were going to be targeted in the planned operation or when the attack would take place. However, Turkish President Recep Tayyip Erdoğan has in the past indicated that he would order the military to attack militant hideouts in Iraq.
Soylu (pictured below) said the operation was part of Turkey's efforts to eradicate the group after successfully blocking most of its inroads at the border and basically trapping the few hundred PKK militants left in the country.
"There are less than 700 terrorists in Turkey," he said. "The terrorist entry into the country is so little, as well. 12 people entered Turkey since January. We are taking serious measures at our borders."
He also accused the group of recruiting teenagers to fight the Turkish government forces.
Besides Turkey, the European Union and the US have also declared the PKK a terrorist organization. The militant group has been seeking an autonomous Kurdish region since 1984.
Over the past few months, Turkish ground and air forces have been carrying out operations against PKK positions in the country as well as in northern Iraq and neighboring Syria.
In January 2018, Ankara launched a cross-border military operation inside Syria, code-named Operation Olive Branch, with the declared aim of eliminating the Syrian Kurdish militants of the People's Protection Units (YPG).
The YPG forms the backbone of the so-called Syrian Democratic Forces (SDF), an anti-Damascus alliance of predominantly Kurdish militants supported by the United States.
Ankara views the YPG as a terrorist organization and the Syrian branch of the outlawed PKK.
More than 40,000 people have been killed during the three-decade conflict between Turkey and the autonomy-seeking militant group.
Iran's clashes with PKK affiliates
Iran has had its own struggle with the PKK's Iranian offshoot, the so-called Kurdistan Free Life Party (PJAK), which has waged several terrorist attacks in western Iran over the past years.
The terror group carries out attacks in parts of Iran's West Azerbaijan province which borders Iraq, Turkey, and Armenia.
In September last year, Iran's Islamic Revolution Guards Corps (IRGC) fired as many as seven missiles at a gathering of terrorist commanders in Iraq's semi-autonomous Kurdistan region.
Back then, the IRGC said in a statement the missile attack was carried out after terrorist groups affiliated with the global arrogance from the Kurdistan region ignored serious warnings about Iran's determination to dismantle their bases and the necessity to end their aggressive and terrorist acts against the Islamic Republic.
Full report at:
https://www.presstv.com/Detail/2019/03/06/590333/Turkey-Iran-PKK-PJAK-attack-Soylu
--------
Arab Coalition targets Houthi reinforcements in Yemen's Hajar
March 07, 2019
DUBAI: More than 30 Houthi militants, including a commander, were killed by Arab coalition raids aimed at militia reinforcements coming from Imran to the Hajar Front in the province of Hajjah in north-west Yemen.
Coalition forces continued to supply Hajar tribes with food, medical, and logistical supplies, particularly in the besieged Qashar district of the Houthis.
The coalition aircraft carried out an air strike Wednesday night, the seventh since the start of the clashes.
Full report at:
http://www.arabnews.com/node/1462891/middle-east
--------
Africa
Algerian army chief vows to secure protest-hit country
6 March 2019
Algeria's army chief on Tuesday pledged to guarantee the country's security following mass demonstrations against ailing President Abdelaziz Bouteflika's bid for a fifth term in office.
General Ahmed Gaid Salah also criticized those who he said want to return to the "painful years" of the 1992-2002 civil war "during which the Algerian people experienced all forms of suffering and paid a heavy price."
The armed forces chief of staff said in a speech at a military academy outside Algiers that the country's success "in eradicating terrorism... has displeased some parties who are upset to see Algeria stable and safe."
The people will continue to enjoy "security and stability" of which the army "will remain the guarantor", the general, who is close to Bouteflika and considered one of Algeria's most powerful figures, said according to an official transcript.
The army chief, who is deputy defence minister, urged Algerians to be ready to "erect a rampart against anything that could expose Algeria to unpredictable threats".
Protests have seen tens of thousands of people take to the streets of the North African country since last month demanding the 82-year-old president resign.
Public anger
Thousands of students marched in the capital and other cities on Tuesday in the latest display of public anger.
Bouteflika, who suffered a stroke in 2013 and is rarely seen in public, promised on Sunday that if he wins elections in April he will organise a "national conference" to set a date for further polls which he would not contest.
His pledge, made in a letter read out on state television, has been dismissed as an insult by Algerians weary of his two-decade-old rule.
Bouteflika has been in Switzerland since February 24 for what the presidency has described as "routine medical tests".
https://english.alarabiya.net/en/News/north-africa/2019/03/06/Algerian-army-chief-vows-to-secure-protest-hit-country-.html
--------
Debts pile up as rival Libyan governments struggle for power
March 07, 2019
BENGHAZI, Libya: Libya's parallel government in the east has sold bonds worth more than $23 billion to fund its wage bill, bypassing the central bank in Tripoli and creating a potential financial black hole if the country reunifies, bankers and diplomats said.
The eastern government's finance ministry has been selling the debt to a parallel central bank in the east and the proceeds of the sales are used to pay eastern state employees via local banks, in large part using dinars printed in Russia.
The debt has been piling up since 2014, when the country split into two administrations — one in Tripoli and the other in the east — as a result of the power struggle that followed the fall of Muammar Qaddafi in 2011.
The eastern government is backed by Khalifa Haftar, a general whose Libyan National Army (LNA) controls the east and has been deployed in the south since January, taking control of oilfields. The recent success of the LNA has led its supporters to urge Haftar to order his troops north to take Tripoli.
The United Nations has been trying to overcome Libya's divisions but the rival camps have dug in, with the east setting up its own government ministries and oil company.
In Tripoli, the UN-backed authorities and central bank control an annual budget worth 40 billion dinars ($29 billion), but they only partly fund the east, mainly paying wages of public employees hired before 2014.
But since then, the east has hired thousands of soldiers as well as public servants to staff its new ministries.
To cover the wage bill and fund its army, which has just fought a three-year battle for control of Benghazi, the east has raised 32 billion dinars ($23 billion) since 2014 via bonds, bypassing Tripoli.
This year, bonds worth around 7 billion dinars will be issued, eastern central bank governor Ali Salim Al-Hibri told Reuters in an interview in Benghazi.
In order to charge annual interest of 3 percent on the bonds, the east suspended a general ban on such payments under Islamic law.
As the east is suffering a shortage of banknotes, its central bank has had 10 billion dinars printed in Russia — cash that has been used to pay wages and interest on the bonds, diplomats say.
The bonds are sold by the eastern finance ministry to its own central bank branch, now installed in a new building in Benghazi.
Inside, most desks have no computers or telephones, while some offices are empty as staff have little to do. Libya's oil revenues and foreign reserves worth $80 billion are managed by the Tripoli central bank.
But there is little concern in Benghazi about how the eastern bonds will be paid back.
"The law allows me to delay payment of the principal for 15 years," Hibri said. "So there is no problem."
Diplomats are less relaxed, describing the bonds as a liability that Libya will have to cover once the two governments and banks unify under an eventual political deal.
Both central banks will be audited this year, part of a UN peace plan to unify the two branches.
"The east has sold bonds they don't plan to settle. How do you value them in a future deal, at face value or less?" asked one Western diplomat.
He said trouble loomed for state banks that are paying public salaries as the central bank has used part of their deposits to pay interest on the bonds. They might struggle to pay private depositors, entrepreneurs say.
Hibri said he is considering starting a secondary bond market to raise 10 billion dinars from citizens and state bodies in the east, such as social insurance funds and banks.
The east has been spending 400 million dinars every month for public salaries and basic services, said Hibri.
On top of this comes up to 245 million dinars for the salaries of the Libyan National Army, which claims to have tens of thousands of soldiers. Diplomats say part of that money is used to buy equipment.
Military spending is set to increase since the LNA launched a southern offensive in January. Hibri said his bank had sent 82 million dinars in cash to supply banks in the main southern city of Sabha.
In a small reprieve for the east, Tripoli as agreed to public pay salaries from 2018 worth 177 million dinars a month, Hibri said.
Debt
The eastern debt comes on top of an estimated 65 billion dinars that the Tripoli authorities have piled up since 2014, turning to the central bank there to fund a welfare state and expensive public services.
This debt is covered by interest-free quasi loans from local banks to the central bank. Tripoli has also been printing money, this time in Britain.
Husni Bey, a prominent business leader, said borrowing in both west and east had added to the national debt, increased inflation and put local banks at risk.
Like the east, the Tripoli administration has been hiring since 2014, putting members of armed groups on the payroll in a vain attempt to buy loyalty.
University graduates have also been added, swelling the number of public servants in Libya to 1.8 million from little over one million in 2010, diplomats say.
There is little room for development as the budget is almost entirely spent on wages, fuel subsidies, funds for the state oil firm NOC and benefits such as medical treatment abroad.
As a result, Libya has launched no major infrastructure plan since 2011, leaving roads and hospitals in poor shape.
With no budget, most state bodies, especially in the east, do little real work. NOC east employs about 500 people in a Benghazi building but managers admit they have nothing to do as oil exports are handled by Tripoli.
"We are ready to work but we are waiting for orders," said a bored-looking senior manager, sitting in a spacious office with an almost empty desk and a phone that never rings.
Full report at:
http://www.arabnews.com/node/1462901/middle-east
--------
South Africa exhibits relics of Prophet Muhammad
Hassan İsilow
06.03.2019
Muslims in South Africa have been given an opportunity for the first time to view the holy relics of Prophet Muhammad at an ongoing exhibition in the country.
The exhibition is hosted by South African group Chishty Sabiree Jahangiri Khanqa in collaboration with Sayyid Ehraz Ahmad, the 15th generation custodian of the relics housed at the Jama Mosque based in Delhi India.
"There are 10 items to be exhibited. Some of them include a hair of the prophet, one of the prophet's sandals, a prophet's cloak, and a piece of another cloak of the prophet that still has the smell of musk on it," the event's spokesman Naeem Khan told Anadolu Agency via phone from Cape Town.
He also said other items at display include a piece of the prophet's turban, sand from his grave and an ancient lock used on the Prophet's burial place at Medina's grand Mosque.
Khan said the International Sacred Trusts Exhibition opened on Feb. 22 in South Africa, and was hosted in the cities of Johannesburg and Durban. It will end today at the Gatesville Mosque in Cape Town.
"The aim of our exhibition is to inspire people to love the Prophet Muhammad [Peace be upon him] and also protect our Islamic heritage,'' he said.
Full report at:
https://www.aa.com.tr/en/africa/south-africa-exhibits-relics-of-prophet-muhammad/1410739
--------
URL: https://www.newageislam.com/islamic-world-news/us-senators-slam-saudi-rights/d/117952
New Age Islam, Islam Online, Islamic Website, African Muslim News, Arab World News, South Asia News, Indian Muslim News, World Muslim News, Women in Islam, Islamic Feminism, Arab Women, Women In Arab, Islamophobia in America, Muslim Women in West, Islam Women and Feminism