New Age Islam News Bureau
17 June 2022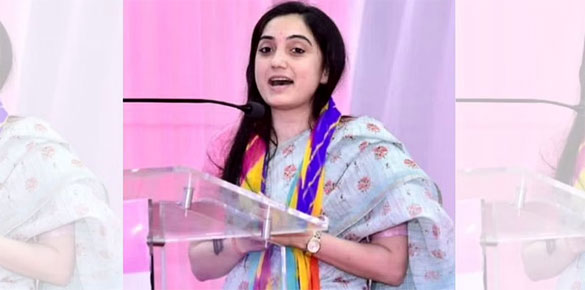 Protestors in Karachi take part in a demonstration against comments made by a former spokesperson of the BJP | Photo Credit: AFP
-----
• Several Thousand Supporters Of, Bangladesh's Islami Andolan Party Demands Resolution to Be Passed in the Parliament Condemning the Remarks over Prophet in India
• Masjid-e-Tur, a Bengaluru Mosque Invites Non-Muslims to Promote Communal Harmony and Fight Communal Elements
• Child Soldiers Aged 10 'Are True Men,' Say Houthis
• Saudi Arabia Calls for Ensuring Safety of Rohingya Muslims in Myanmar
North America
• America-Islamic Group Calls for Federal Hate Crime Charges against Alleged Northwest Minnesota Arson Suspect
• US targets Chinese, Indian brokers in new Iran sanctions
--------
South Asia
• Taliban: No Police Has the Right to Stand at a Police Checkpoint Wearing Civilian Attire
• Afghanistan's Representative in Geneva: Interaction with the Taliban Becomes Impossible for the International Community
• Red Cross: Afghanistan Experiences the "Worst Humanitarian Crisis on Earth"
• Taliban seizes weapons in Afghan province meant to be smuggled to Pakistan
• China places hold on US, India joint proposal to list Pakistan-based terrorist Abdul Rehman Makki under UNSC sanctions
--------
India
• Nupur Sharma Protests: The Police Brutality 'Return Gift' Video That Shocked India
• Why Uttarakhand Govt Is Cracking Down On 'Illegal' Mazars, Mosques, Temples & Churches In Forests
• Prophet Remarks Row: Slap NSA against Muslim Clerics Provoking Violence, Demands Bajrang Dal
• Efforts On to Identify Who Beat Up Muslim Brothers after Asking Their Names: Ranchi Police
• Karnataka Hijab Row: 19 Muslim Students on Verge of Dropping out From College
• Vishal Dadlani stands for Indian Muslims, Shashi Tharoor applauds
• Court raps NIA, frees 4 in terror funding case
--------
Mideast
• Iran's Home-Made 'Zoljanah' Satellite Carrier under Launch Tests
• Iranian Intelligence Forces Arrest Element Connected with Detained French Spies
• Israel announces new entry permits for Palestinians in Gaza
• Israeli forces shoot dead 3 Palestinians in Friday morning operation
--------
Arab World
• Mohammed bin Salman, hard-charging heir reshaping Saudi Arabia
• 'So much at stake,' Biden's pick to be US envoy to Saudi Arabia says
• Russia, Turkey, Iran call for calm in Syria's Idlib
• Saudi, US officials discuss ways to boost economic partnership
• Lebanon's Hariri hails life sentence against 2 Hezbollah members over father's assassination
• Iran says last talks with Saudi Arabia 'positive'
• Head of Libya's High Council of State invited to meet rival in Egypt
• Qatar ruler receives message from Saudi king on bilateral ties
• Egyptian leader affirms depth of country's strategic ties with EU
--------
Europe
• Swedish Imam Charged For Incitement against Jews In Sermon
• Over 800 mosques attacked in Germany since 2014: Rights group
• New terrorism law takes effect in Sweden as of July 1
--------
Pakistan
• All Eyes on FATF As Pakistan Hopes To Come Off 'Grey List' Today
• PM Shehbaz to share details on PTI govt's deal with IMF soon
• Bilawal pitches for engagement with India, says it serves Pakistan's interests
• Pakistan hikes fuel prices by 29% to secure IMF funding
• Security boost for Chinese living in Islamabad
• MQM-P claims victory as violence mars by-poll in Karachi's NA-240
• Sikh Yatrees Attend 'Akhand Bhog Sahib' To Mark Martyrdom of Guru Arjun
--------
Southeast Asia
• State Govts Enable Discrimination, Moral Policing, Says Komuniti Muslim Universal, a Religious Group
• Govt's claim of looking after Muslims and Bumiputeras questioned
• Selangor Sultan says state PAS chief's statement after royal audience about Bon Odori inaccurate
--------
Africa
• Uganda's Army Says It Discovers Training Facility for Islamist Militia
• Nearly 40 extremists killed in drone strikes in Niger: French military
• Morocco's king tests positive for COVID-19
Compiled by New Age Islam News Bureau
URL: https://newageislam.com/islamic-world-news/us-prophet-blasphemous-human-rights/d/127265
--------
US Says It Condemns Remarks against the Prophet and Encourages India To Promote Respect For Human Rights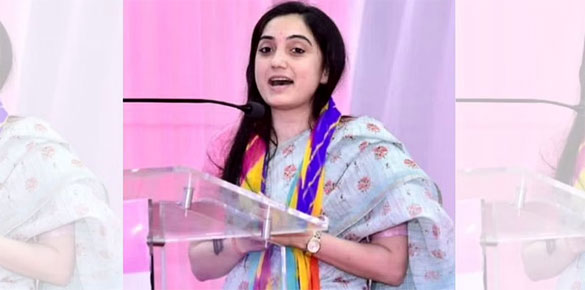 Protestors in Karachi take part in a demonstration against comments made by a former spokesperson of the BJP | Photo Credit: AFP
-----
17.06.22
The US has said it condemns the controversial remarks made by two now-suspended BJP functionaries against Prophet Mohammad and encourages India to promote respect for human rights.
The BJP on June 5 suspended its national spokesperson Nupur Sharma and expelled its Delhi media head Naveen Kumar Jindal after their controversial remarks against the Prophet.
Amid protests by several Muslim countries and groups over the remarks, the party also issued a statement aimed at assuaging the concerns of minorities and distancing itself from these members, asserting that it respects all religions and strongly denounces the insult of any religious personality.
"Well, this is something that we've condemned. We condemn the offensive comments made by two BJP officials, and we were glad to see that the party publicly condemned those comments," State Department spokesperson Ned Price told reporters at his daily news conference on Thursday.
He was responding to a question by a Pakistani reporter.
"We regularly engage with the Indian government at senior levels on human rights concerns, including freedom of religion or belief," he said.
"We encourage India to promote respect for human rights. The Secretary (of State) said, when he was in New Delhi last year, that the Indian people and the American people believe in the same values: human dignity, human respect, equality of opportunity, and the freedom of religion or belief," Price said.
He was referring to US Secretary of State Antony Blinken's visit to India in July last year.
"These are fundamental tenets," Price said.
"These are fundamental values within any democracy, and we speak up for them around the world," Price said.
The Ministry of External Affairs has said that India accords the highest respect to all religions.
The offensive tweets and comments denigrating a religious personality were made by certain individuals. They do not, in any manner, reflect the views of the Government of India. Strong action has already been taken against these individuals by relevant bodies, the MEA Spokesperson said in New Delhi recently.
Countries like Kuwait, Qatar, Indonesia, Saudi Arabia, the Maldives, UAE, Jordan, Bahrain, Oman and Afghanistan were among the several Muslim nations that have condemned the offensive remarks against the Prophet.
Source: Telegraph India
Please click the following URL to read the text of the original story:
https://www.telegraphindia.com/world/us-says-it-condemns-remarks-made-by-two-now-suspended-bjp-functionaries-against-the-prophet/cid/1870407
--------
Several Thousand Supporters Of, Bangladesh's Islami Andolan Party Demands Resolution to Be Passed in the Parliament Condemning the Remarks over Prophet in India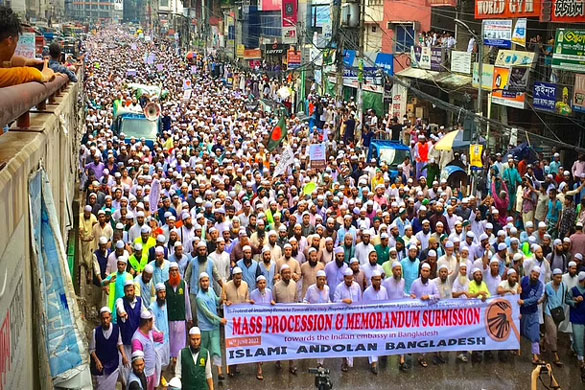 Photo: Swarajya
----
Sahidul Hasan Khokon
Bangladesh
June 17, 2022
One of the largest Islamist political parties in Bangladesh, Islami Andolon Bangladesh, on Thursday organised a protest rally in the capital city of Dhaka against the remarks made by suspended BJP spokesperson Nupur Sharma on the Prophet Muhammad.
The protestors demanded that a resolution be passed in the Parliament condemning the remarks made by the former BJP spokespersons and that the Indian ambassador be summoned along with the demand to arrest the former BJP spokespersons Nupur Sharma and Naveen Kumar Jindal.
Several other like-minded parties also took part in the protest under their own banners.
Several thousand protestors staged a demonstration in front of the downtown Baitul Mokarram Mosque and then headed towards the Indian High Commission in Dhaka, several kilometres away from the spot, defying rains. However, the riot police blocked the protesters in the Shantinagar area.
Indian High Commission Receives Memorandum
Police, however, allowed a delegation of five representatives of the outfit to present a memorandum to the deputy police commissioner's office at Dhaka's diplomatic enclave in Baridhara area, where the Indian High Commission is located.
"We received the memorandum and handed it over to the Indian High Commission," Deputy Police Commissioner Mohammad Asaduzzaman told reporters.
The protesters also demanded that Prime Minister Sheikh Hasina should publicly condemn the controversial remarks and that the Indian authorities should arrest the two now-suspended BJP leaders.
What Was Said At Rally?
Speakers from the rally spoke out against India and former BJP spokespersons Nupur Sharma and Naveen Kumar Jindal.
The speakers also called for a boycott of Indian products.
Meanwhile, the rally drew criticism from Bangladesh PM Sheikh Hasina and her government for not holding formal protests.
Second Protest In Dhaka In A Week
The protest was the second such demonstration in Dhaka in a week. Last Friday, hundreds of people took to the streets in Dhaka and several other major cities in Bangladesh over the issue.
Earlier this week, Information and Broadcasting Minister Hasan Mahmud said that the controversy triggered by remarks made by two former BJP functionaries against Prophet Mohammad is India's "internal issue" and it is not an attention-grabbing matter in Bangladesh unlike in some other Muslim nations.
Talking to a group of visiting Indian journalists here, Mahmud said, "It is not an internal matter (of Bangladesh), but an external issue. This is India's internal issue. Whenever something like this happens in the world, some Islamic parties protest here too and it usually happens."
Source: India Today
Please click the following URL to read the text of the original story:
https://www.indiatoday.in/world/story/bangladesh-islami-andolan-party-protest-rally-prophet-remarks-row-nupur-sharma-1963353-2022-06-17
--------
Masjid-e-Tur, a Bengaluru Mosque Invites Non-Muslims to Promote Communal Harmony And Fight Communal Elements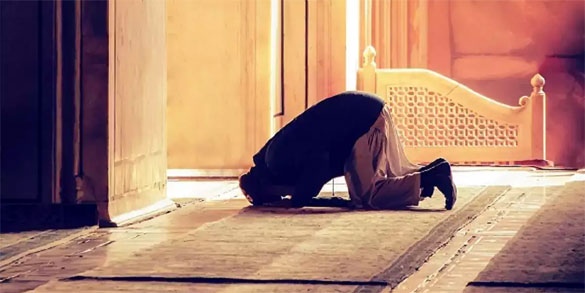 Representative image
----
Jun 17, 2022
Bengaluru: A mosque in Bengaluru has invited non-Muslims to the mosque in an attempt to promote communal harmony and fight communal elements. The authorities of Masjid-e-Tur at Kaval Byrasandra invited guests from all faiths on Sunday for an hour.
The devotees at the mosque also performed Zuhr (afternoon) prayer before the non-Muslim visitors and explained to them the importance and meaning of every namaz.
The mosque officials said they have received a positive response to their masjid darshan initiative. The programme was attended by 70 non-Muslims including women, according to a report in Times of India.
Pulakeshinagar MLA Akhanda Srinivas supported the initiative.
"We told the guests why we chant Allah hu Akbar four times only. It is because nature is made up of four elements-Earth, air, fire and water. The purpose behind this was to tell them that our faith also teaches us the same values," said Abdul Hameed, an office-bearer of Masjid-e-Tur.
A computer study room was also inaugurated at the masjid in the presence of MLA Murthy whose house was set ablaze by protesters during violence at DJ Halli and KG Halli.
According to Murthy, the Muslim devotees gave us a tour of the masjid and informed us about the namaz and what is spoken in the Azan (call to prayer). Murthy said he has also donated some desktops to the mosque computer room.
Authorities said that the masjid was never closed for non-Muslims. Hameed said there is a misconception that Muslim clerics are training youth for sinister purposes. He said they decided to invite people from other faiths to let them know what namaz and azaan is.
Source: Times Now News
Please click the following URL to read the text of the original story:
https://www.timesnownews.com/mirror-now/in-focus/bengaluru-mosque-invites-non-muslims-to-promote-communal-harmony-and-fight-communal-elements-article-92271849
--------
Child Soldiers Aged 10 'Are True Men,' Say Houthis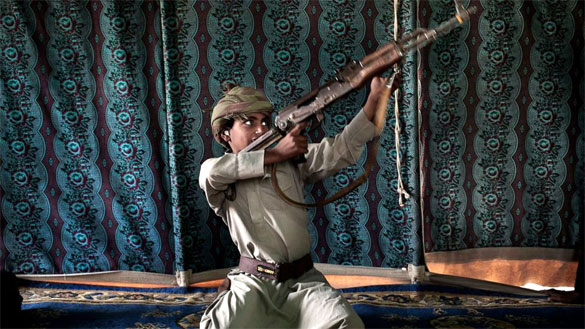 FILE - Kahlan, a 12-year-old former child soldier, demonstrates how to use a weapon, at a camp for displaced persons where he took shelter with his family, in Marib, Yemen, July 27, 2018. emen's Houthi rebels continue to recruit children into their military ranks to fight in the country's civil war, despite an agreement with the U.N. in April 2022, to halt the practice. Two Houthi officials acknowledged to the Associated Press that the rebels have recruited several hundred children, some as young as 10, in the past two months. (AP Photo/Nariman El-Mofty, File)
----
June 16, 2022
JEDDAH: Fighters from the Iran-backed Houthi militia have openly boasted of recruiting child soldiers as young as 10 to fight in the Yemen war.
New video footage on social media shows dozens of children in uniforms standing in military formation in a camp in Dhamar province, declaring allegiance to Abdul-Malek Al-Houthi.
"Soldiers of God," they shout. "We are coming."
An aid worker who operates in remote northern areas described watching children manning checkpoints along the road, with AK-47 assault rifles hanging on their shoulders. Others were sent to the front line, he said, and children had returned wounded from fighting at Marib.
One hard-line Houthi fighter said: "These are not children. They are true men, who should defend their nation."
Nearly 2,000 Houthi-recruited children were killed on the battlefield between January 2020 and May 2021, according to UN experts. Overall, the UN says over 10,200 children have been killed or maimed in the war, though it is not known how many were combatants.
A UN panel of experts said this year that the Houthis had a system to indoctrinate child soldiers, including the use of humanitarian aid to pressure families. Children are told they are joining a holy war against Jews and Christians and Arab countries that have succumbed to Western influence, and seven-year-olds are taught weapons cleaning and how to dodge rockets.
Two farmers in Amran province said Houthi representatives came to their homes in May and told them to prepare their children for camps.
Their five children aged between 11 and 16 were taken in late May to a training center in a nearby school. One father said he was told that if he didn't send his children, his family would no longer receive food rations.
Source: Arab News
Please click the following URL to read the text of the original story:
https://www.arabnews.com/node/2105041/middle-east
--------
Saudi Arabia Calls for Ensuring Safety of Rohingya Muslims in Myanmar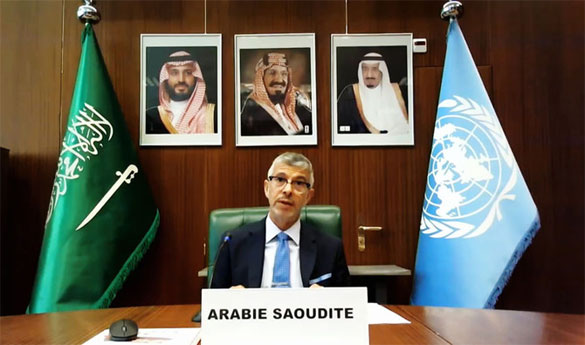 Dr. Al-Wasel called for the renunciation of violence and the resolution of the crisis through dialogue. @KSAPermanentGVA
----
June 16, 2022
GENEVA — Saudi Arabia has reiterated its firm stance in supporting civilians in Myanmar, especially the Rohingya Muslims.
The statement came in a speech delivered by Saudi Arabia's Permanent Representative to the United Nations in Geneva, Dr. Abdulaziz Al-Wasel, who renewed the Kingdom's call for ensuring the safety and security of the Rohingya Muslims and recognizing their fundamental rights.
The Kingdom said recognition of the Rohingya Muslims' rights should include their right to full citizenship, in addition to providing conditions conducive to the safe and dignified return of Rohingya refugees.
While calling for the renunciation of violence against the Rohigya, Dr. Al-Wasel said Saudi Arabia considers the issue of the Rohingya Muslims as "one of the most important issues that it pays great attention to."
"The crisis must be resolved through dialogue and commitment to international recommendations to address the root causes of the problem and the miserable conditions in Rakhine State in order to achieve lasting peace in Myanmar," he said.
Dr. Al-Wasel pointed out that Saudi Arabia stressed the importance of doing everything that would contribute to finding an urgent solution to the crisis of Rohingya Muslims and guarantee their safety and security as well as other minorities.
Source: Saudi Gazette
Please click the following URL to read the text of the original story:
https://saudigazette.com.sa/article/621869/SAUDI-ARABIA/Saudi-Arabia-calls-for-ensuring-safety-of-Rohingya-Muslims
--------
North America
America-Islamic group calls for federal hate crime charges against alleged northwest Minnesota arson suspect
By Meghan Arbegast
June 16, 2022
EAST GRAND FORKS — The Minnesota chapter of the Council on America-Islamic Relations has called for federal hate crime charges to be made for the alleged arson attempt that happened at the East Grand Forks Islamic Center on Sunday, June 5 .
During a news conference Thursday at the Islamic Center, CAIR-MN Executive Director Jaylani Hussein called for an FBI probe of the incident and for federal hate crime charges to be brought against the suspect in the case, Suzette Gay Thompson, 57, of Thief River Falls, Minnesota. Thompson has been charged with two counts of first-degree arson.
Hussein said the incident has impacted those not only in East Grand Forks, but also communities across Minnesota. He called for the Department of Justice to "properly" charge Thompson with a federal hate crime.
"Minnesota Muslims are facing unprecedented attack against our centers," Hussein said. "We are now the highest per-capita in the country of attacks against Muslims and we rank among the highest, fourth in the country, of all attacks against Muslims in America."
Hussein said the reason is linked to anti-Muslim movements, along with a rise in white supremacists and white nationalists who he says have targeted communities throughout Minnesota.
"This incident, it marks the type of worst form of attack against our community," Hussein said. "An attack against one place of worship is an attack against all places of worship. And our community deserves to be safe and in peace."
Hussein said work is being done to get federal support to secure the building, but there are still additional needs to ensure the community feels safe.
The Imam/Director of the East Grand Forks Islamic Center, Mohamed Mohamed, said he believes Thompson was "meticulous " about what she was doing and believes she knew when prayer would be going on and was dressed in attire that is common to East African women.
"She came to terrorize us while we were defenseless," Mohamed said. "She knew what she was doing and she targeted us because of our faith."
East Grand Forks Police were alerted of a potential arson at the Islamic Center at 4:38 a.m. on June 5. According to a press release, after arriving on scene police were notified that the suspect fled westbound. Police were able to identify Thompson from surveillance videos and located her a short time later.
The charge carries a maximum sentence of 20 years in prison and/or $20,000 fine.
Mohamed said since the incident, attendance to services has been down.
"I would like to reiterate and make it clear that our community is traumatized," Mohamed said. "We are fearful of what happened. We've been terrorized."
Mohamed said the fire that happened on June 5 isn't an isolated incident — he has seen similar incidents in previous summers since the Mosque opened in 2018.
The need for community support was another point Mohamed said is crucial.
"We need to know that our friends and community members care for us," Mohamed said. "The first thing in helping someone else is to show empathy, and we would like to see that publicly being spoken out. We are part of this community, too. We exist and we deserve to be heard and appreciated."
Several faith leaders from the East Grand Forks community also showed up in support of the Islamic Center. Pastor Sonja Brucklacher at Bethany/Holy Trinity Lutheran Church, Pastor Paul Trenne at Our Savior's Lutheran Church and Pastor Jeff Brown at St. Paul's Lutheran Church in Crookston all spoke during the news conference.
Source: Inforum
Please click the following URL to read the full text of the original story:
https://www.inforum.com/news/minnesota/america-islamic-group-calls-for-federal-hate-crime-charges-against-alleged-northwest-minnesota-arson-suspect
--------
US targets Chinese, Indian brokers in new Iran sanctions
16 June, 2022
The United States on Thursday imposed sanctions on Iranian petrochemical producers as well as Chinese and Indian brokers, expanding pressure amid a deadlock in negotiations on restoring a nuclear deal.
President Joe Biden's administration said that it still remained committed to diplomacy with Iran to restore a 2015 agreement on curbing its nuclear program.
"Absent a deal, we will continue to use our sanctions authorities to limit exports of petroleum, petroleum products and petrochemical products from Iran," said Brian Nelson, senior Treasury Department official.
The Treasury Department said it was imposing sanctions on a network of Iranian petrochemical firms including alleged front companies in China and the United Arab Emirates for Iran's state-owned company and Triliance, a Hong Kong-based company already under US sanctions for its dealing with Iran.
It also took action against China-based broker Jeff Gao and Indian national Mohammad Shaheed Ruknooddin Bhore for allegedly managing business for Triliance.
The United States has sought to prevent any nation from buying Iranian oil since 2018 after the US walked away from a negotiated agreement, in which Iran drastically scaled back its nuclear program in return for promises of sanctions relief.
China has remained the top buyer of Iranian oil while India reluctantly ended imports under US pressure.
Biden has sought to restore the nuclear deal, saying that the United States would ease sanctions if Iran returns to compliance, but his chief negotiator recently said it was more likely than not that the diplomacy will fail.
Source: Al Arabiya
Please click the following URL to read the full text of the original story:
https://english.alarabiya.net/News/middle-east/2022/06/16/US-targets-Chinese-Indian-brokers-in-new-Iran-sanctions
--------
South Asia
Taliban: No Police Has the Right to Stand at a Police Checkpoint Wearing Civilian Attire
By Saqalain Eqbal
16 Jun 2022
According to Taliban security officials, no police officer in plain and civilian clothes is allowed to check people after the uniforms were distributed to the group's police force.
The Taliban's chief of police in Kabul, Wali Jan Hamza, said the process of distributing uniforms to the group forces had begun and that once the it was completed, no one in plain, local and civilian clothes would be allowed to check the people.
National Television, which is now under the Taliban's control, states that the process of distributing uniforms in Kabul and Kandahar has begun in order to improve city order.
The Taliban's Ministry of Interior introduced the new police uniform last week, which is dark blue rather than the grey-blue uniform in use by police under the previous administration.
Previously, at a news conference, the Taliban revealed a uniform that they said was suitable according to Mullah Hibatullah and was made by an in-house factory.
However, ten months later, Taliban forces are still roaming the cities in plain civilian clothes, and locals have repeatedly complained.
Source: Khaama Press
Please click the following URL to read the full text of the original story:
https://www.khaama.com/taliban-no-police-has-the-right-to-stand-at-a-police-checkpoint-wearing-civilian-attire-78323/
--------
Afghanistan's Representative in Geneva: Interaction with the Taliban Becomes Impossible for the International Community
By Saqalain Eqbal
16 Jun 2022
Afghanistan's representative in Geneva, Nasir Ahmad Andisha, said the Taliban's actions over the last ten months had convinced the international community that interaction with the Taliban was impossible and nothing more than a "dead end" and "deep disappointment".
Andisha told the UN Human Rights Council on Wednesday that the international community had tried every possible way to engage with the Taliban, but that "broken promises" and deep disappointment brings it all to a "dead end".
The Taliban, he said, are "violent extremists" who oppose and challenge all human values.
Afghanistan's representative in Geneva also stated that the Taliban in Afghanistan had denied women of their most basic rights, and that women were no longer participating in public gatherings and had become virtually invisible in society and social life.
Michelle Bachelet, the UN High Commissioner for Human Rights, also told the meeting that information received about the Taliban's treatment of battle wounded, rape of civilians in the northern provinces, and incarceration and killing of civilians by the Taliban was concerning.
Bachelet said in a statement that the Taliban's recent acts against women constituted an "institutionalized, systematic' oppression of Afghan women".
Source: Khaama Press
Please click the following URL to read the full text of the original story:
https://www.khaama.com/afghanistans-representative-in-geneva-interaction-with-the-taliban-becomes-impossible-for-the-international-community-72221/
--------
Red Cross: Afghanistan Experiences the "Worst Humanitarian Crisis on Earth"
By Saqalain Eqbal
16 Jun 2022
The International Federation of Red Cross and Red Crescent Societies has requested 80 million francs to address the humanitarian crisis in Afghanistan and to provide humanitarian assistance in Afghanistan.
While Afghanistan's economy is in shambles and international organizations have repeatedly warned about it, the Red Cross has expressed alarm about the present situation and requested 80 million francs in emergency relief for Afghanistan.
According to the federation, more than half of Afghanistan's population required humanitarian assistance on Thursday, June 16.
According to a Red Cross report, people in Afghanistan are suffering from severe food insecurity as a result of a series of crises.
The organization's report suggested Afghanistan is in the midst of the biggest and the "worst humanitarian crisis on Earth", with about 20 million Afghans facing food insecurity.
Half of children under the age of five suffer from acute malnutrition, according to the International Federation of Red Cross and Red Crescent Societies.
As the humanitarian crisis in Afghanistan worsened, the organization requested an increase in funding from 36 million to 80 million francs.
Source: Khaama Press
Please click the following URL to read the full text of the original story:
https://www.khaama.com/red-cross-afghanistan-experiences-the-worst-humanitarian-crisis-on-earth-78494/
--------
Taliban seizes weapons in Afghan province meant to be smuggled to Pakistan
Jun 16, 2022
The Taliban claimed to have seized another cache of weapons in the Nangarhar province of Afghanistan. General Directorate of Intelligence (GDI), Afghanistan's spy agency, believes that the arms and ammunition were to be smuggled out to the neighbouring Pakistan.
The seizure comes weeks after a Canada-based think tank warned that rampant smuggling of weapons from Taliban-ruled Afghanistan to Pakistan will "eventually be used in cross-border skirmishes against India".
"Taliban has been insisting that there are proper security checks to prevent any weapons smuggling because they are an improved Taliban. But the weapons market is thriving and the weapons that are being smuggled into Pakistan will eventually be used in cross-border skirmishes against India and make their way into India," International Forum for Rights and Security (IFFRAS) said.
The think tank, however, warned that the Pakistan will have to pay a huge price when the separatist and terrorist organisations operating from its land get a hand on these weapons on a large scale.
The US made a hurried exit from Afghanistan in August last year, leaving much of the military equipment and weapons at the disposal of the Afghan forces. The weapons left behind by the fleeing Afghan forces eventually fell into the hands of Taliban after the Sunni Pashtun group took control of the war-torn country.
Source: Hindustan Times
Please click the following URL to read the full text of the original story:
https://www.hindustantimes.com/world-news/taliban-seizes-weapons-in-afghan-province-meant-to-be-smuggled-to-pakistan-101655367116380.html
--------
China places hold on US, India joint proposal to list Pakistan-based terrorist Abdul Rehman Makki under UNSC sanctions
Jun 17, 2022
UNITED NATIONS: China has put a hold in the UN at the last moment on a joint proposal by India and the US to list Pakistan-based terrorist Abdul Rehman Makki as a global terrorist under al-Qaida Sanctions Committee of the Security Council.
Makki is a US-designated terrorist and brother-in-law of Lashkar-e-Taiba (LeT) chief and 26/11 mastermind Hafiz Saeed.
It is learnt that New Delhi and Washington had put a joint proposal to designate Makki as a global terrorist under the 1267 ISIL and al-Qaida Sanctions Committee of the UN Security Council but Beijing placed a hold on this proposal at the last minute here.
Earlier also, China, an all-weather friend of Islamabad, has placed holds and blocks on bids by India and its allies to list Pakistan-based terrorists. In May 2019, India had won a huge diplomatic win at the UN when the global body designated Pakistan-based Jaish-e-Mohammed chief Masood Azhar as a "global terrorist", a decade after New Delhi had first approached the world body on the issue.
A veto-wielding permanent member of the UN Security Council, China was the sole hold-out in the 15-nation body on the bid to blacklist Azhar, blocking attempts by placing a "technical hold".Jaish-e-MohammedAll decisions of the committee are taken through consensus.
In 2009, India had moved a proposal by itself to designate Azhar. In 2016 again India moved the proposal with the P3 - the US, the UK and France in the UN's 1267 Sanctions Committee to ban Azhar, also the mastermind of the attack on the air base in Pathankot in January 2016.
In 2017, the P3 nations moved a similar proposal again. However, on all occasions, China, a veto-wielding permanent member of the Security Council, blocked India's proposal from being adopted by the sanctions committee.
Keeping up the international pressure to designate Azhar as a global terrorist, the US, supported by France and the UK, had moved a draft resolution directly in the UN Security Council to blacklist him.
In November 2010, the US Department of the Treasury had designated Makki as a Specially Designated Global Terrorist.
As a result of this designation, among other consequences, all property, and interests in property, of Makki that are subject to US jurisdiction are blocked, and US persons are generally prohibited from engaging in any transactions with Makki.
"In addition, it is a crime to knowingly provide, or attempt or conspire to provide, material support or resources to the Foreign Terrorist Organisation LeT," the US said.
The US Department of State's Rewards for Justice programme is offering a reward of up to $2 million for information on Makki, "also known as Abdulrahman Maki. Makki has occupied various leadership roles within Lashkar-e-Taiba (LeT), a US-designated Foreign Terrorist Organisation (FTO). He has also played a role in raising funds for LeT operations.
Source: Times Of India
Please click the following URL to read the full text of the original story:
https://timesofindia.indiatimes.com/india/china-places-hold-on-us-india-joint-proposal-to-list-pakistan-based-terrorist-abdul-rehman-makki-under-unsc-sanctions/articleshow/92273051.cms
--------
India
Nupur Sharma Protests: The Police Brutality 'Return Gift' Video That Shocked India
June 17, 2022
A video showing Indian police beating a group of Muslims in custody has been viewed by millions after it was shared by an elected member of the ruling BJP party who praised their brutal actions as a "gift" to the men.
No action has been taken against the officers involved. The families of those who were attacked say their loved ones are innocent and should be freed.
"This is my brother, they are beating him a lot, he's screaming so much."
Zeba breaks down in tears, hands shaking, as she holds her mobile phone to watch a harrowing video of her younger sibling Saif.
"I can't even look at this, he's being hit so badly," she says, as she's comforted by relatives at her home in the north Indian city of Saharanpur.
The distressing footage shows two Indian policemen taking aim at a group of Muslim men in custody, including Zeba's brother.
The officers can be seen thrashing the men with rods which they swing like baseball bats. The sound of the thwack as each blow lands is punctuated by screams.
"It hurts, it hurts…NO!" some of the group yell as they cower in fear, backs against the wall.
As the pounding continues, a man in a green t-shirt folds his hands in prayer. Saif can be seen in a white tunic raising his arms in the air as if to surrender.
Saif, 24, was one of dozens of Muslim men who were rounded up and detained by police last week.
Thousands demonstrated at the town's mosque after Friday prayers, joining nationwide protests over inflammatory remarks about the Prophet Mohammed made by Nupur Sharma, a national spokesperson for the ruling Hindu nationalist Bharatiya Janata Party (BJP).
The party later suspended her amid an outcry from Muslim nations, and said it opposed insulting any religion.
The protests in Saharanpur were largely peaceful, with crowds marching from the mosque past shops in the city.
As tensions rose, some stores owned by members of India's Hindu majority were attacked, and two businessmen sustained minor injuries. Officers used batons to disperse some of the crowds.
Police documents accuse Saif and 30 others of being involved in rioting, instigating violence, voluntarily causing hurt to deter a public servant and endangering life, among other charges.
The family, which ekes out a modest living selling cardboard, says Saif wasn't even at the protests and is innocent.
They say he left home at around 5pm local time on Friday, to book a bus ticket for a friend, when he was arrested by officers and taken to Kothwali police station, in Saharanpur.
When Zeba visited him there she said she saw bruises on her brother's body: "He was blue from all the beating, he couldn't even sit."
The video, which clearly shows police brutality, went viral after it was shared by an elected official from the BJP, Shalabh Tripathi, who posted it with the caption, "a return gift for the rebels".
Mr Tripathi is a former media adviser to one of India's most powerful politicians, Yogi Adityanath, the chief minister of the state of Uttar Pradesh, where this incident happened.
There has been no condemnation of the footage from party officials, or anyone in the BJP government.
Human rights groups say there's been a growing climate of intolerance in India since the BJP swept to power in 2014, with a rise in hate speech and attacks targeting the country's Muslim minority.
The BBC has gathered testimony from half a dozen Muslim families who say their relatives were beaten in police custody at Kothwali police station in Saharanpur, after they were detained on Friday.
The relatives have also identified them in videos, which show police using violence. In other footage the men can be seen being led into a van before being taken to another location - in these images the sign for the Kothwali police station is clearly identifiable.
The police report also cites the station. Despite this, earlier in the week local police denied the incident had happened there.
"No such incidents have happened in Saharanpur, there are two to three videos circulating on social media. If you watch one video on slow motion - you will see the name of some other district in the video," Akash Tomar, a senior police officer, told the BBC.
Mr Tomar has since said he is working to verify the authenticity of the video, and will take action if required.
Other relatives of men seen in the video say their loved ones were detained as they went to visit the station for more information.
Fahmida's son Subhan, who's 19, went to find out what had happened to his friend Asif who'd been arrested, when he was also taken in and beaten.
Dressed in pale yellow, Subhan can be seen dropping to the ground as a policeman strikes a baton in his direction. The family say Subhan didn't even go to the main mosque on Friday, let alone take part in the protests there.
"My son was beaten mercilessly," Fahmida cried.
Officials say they've arrested 84 people they accuse of violence in Friday's protests.
Superintendent Kumar told the BBC that only criminals were arrested. "When we arrest someone we first show their footage of participating in a violent protest and then only we make arrests," he said, his statement at odds with accounts we've heard from families of some of the arrested.
Across town from the police station, the force of the law has been displayed in other ways - bulldozers have destroyed parts of the homes of two Muslim men officials accuse of instigating violence.
Millions of Indians live in makeshift homes without proper planning permissions, but using this as a means of punishment has become a more common tactic deployed by the BJP.
The orders to demolish illegally constructed properties belonging to those accused in recent protests have been endorsed at the highest level.
Uttar Pradesh's Chief Minister Yogi Adityanath tweeted that bulldozer action would continue against alleged lawbreakers.
And, in a tacit reference to Muslims who worship on Fridays, his media adviser Mrityunjay Kumar tweeted a photo of a bulldozer with the caption "After Friday, there is a Saturday."
Last Saturday afternoon, a digger arrived at Muskaan's house and started to demolish the front gate.
The BBC is not responsible for the content of external sites.
Police showed up at the rented property with a photo of her brother asking if he lived there. The 17-year-old had been taken into custody the day before.
"My father confirmed that that was his son, and asked if something had happened," Muskaan said. "They didn't reply, they just suddenly started using the bulldozer."
Officials accuse the teenager of encouraging violence on Friday. An official showed the BBC a video they say shows him instigating the crowd.
In it he can be seen making a speech to those gathered: "The Muslims of this country are sleeping. History is a witness to the fact that whenever a Muslim has risen, he has risen with wrath," he says.
Muskaan denies all the allegations against her brother: "He is not the one to cause destruction, he is not this kind of a boy to break things… All of this is a lie."
Officials told the BBC that the families of those arrested were given notice that their homes were illegally constructed without proper approvals.
"When we investigated we found that his family is living in an unauthorised house of a relative," Rajesh Kumar, a senior police official, told the BBC, justifying their actions.
"The municipal team visited the homes under tight police security and action was taken," Mr Kumar told the BBC, as he warned the homes of more people who've been arrested could be bulldozed.
"The bulldozer will roll if anything illegal comes against those who are arrested and sent to jail," he added.
The bulldozer action was all done according to the law and "as per procedure…nothing is done against the law", Navneet Sehgal, an adviser to Mr Adityanath, told the BBC.
A group of India's top legal experts, including former judges and pre-eminent lawyers, have petitioned the country's Supreme Court over these latest instances of police beatings and the unwarranted use of bulldozers.
Their letter accuses Mr Aditynath of emboldening the police to "brutally and unlawfully torture protesters", and says these latest actions are "shaking the conscience of the nation".
"Such a brutal clampdown by a ruling administration is an unacceptable subversion of the rule of law and a violation of the rights of citizens, and makes a mockery of the Constitution and fundamental rights guaranteed by the state."
Rights group Amnesty international has also accused India's government of suppressing any form of dissent: "The government of India is selectively and viciously cracking down on Muslims who dare to speak up and peacefully express their dissent against the discrimination faced by them.
"Cracking down on protesters with excessive use of force, arbitrary detention and punitive house demolitions by Indian authorities is in complete violation of India's commitments under international human rights law and standards," Aakar Patel, chair of Amnesty International India Board, wrote in a statement.
Back in Saharanpur, Munni Begum is also in distress, as she waits on news of her son and husband, who she says were also beaten by police.
Source: BBC
Please click the following URL to read the full text of the original story:
https://www.bbc.com/news/world-asia-india-61822271
--------
Why Uttarakhand govt is cracking down on 'illegal' mazars, mosques, temples & churches in forests
PRITHVIRAJ SINGH
17 June, 2022
Dehradun: "Illegal" religious structures are now under the scanner of the Uttarakhand government. The forest department has been instructed to conduct a special drive to identify unauthorised mazars (mausoleums), mosques, temples, and churches that have come up on its land, ThePrint has learnt.
The department, according to a source in the Chief Minister's Office (CMO), was instructed to present a report and plan the demolition of such structures as soon as possible. Similar "anti-encroachment drives" will likely also be carried out on other types of government land in the coming days.
The development comes barely three weeks after Uttarakhand Chief Minister Pushkar Singh Dhami said that his government was aware of mazars "coming up on encroached government land".
Uttarakhand's Head of Forest Force and Principal Chief Conservator of Forest Vinod Kumar Singhal confirmed that his department had already begun the exercise to identify all illegal religious structures in forest areas. On 6 June, Singhal wrote to all divisional forest officers (DFOs) to ensure that such structures do not come up on forest land.
"A report will be submitted to the government once complete details are available…. Information is being collected from all the forest divisions," Singhal said. Uttarakhand has more than 30 forest divisions.
Officials in the know about the development, meanwhile, are expecting that a comprehensive report is likely to be ready within a period of 14-30 days.
'Action will be taken against mazars'
At a function in Delhi on 22 May. Dhami had expressed concerns about the allegedly rising number of mazars, especially those constructed on encroached government land. "The government will not tolerate encroachments of its land and action will be taken against these mazars," he said at an event commemorating the 75th anniversary of the launch of the Rashtriya Swayamsevak Sangh's (RSS) magazines Organiser and Panchjanya.
Dhami also said that his government had launched a verification drive to identify "infiltrators" as Uttarakhand was witnessing "demographic shifts" in certain pockets. The chief minister had also announced that his state would make its 2018 anti-conversion law stronger, and that a five-member committee had been formed to draft a Uniform Civil Code (UCC) in the hill state.
The comments by Dhami were in line with the BJP manifesto for the state assembly polls held in February, that it would take steps to check alleged demographic changes in the hill districts.
In response to a query on why only one department was undertaking such a survey when illegal religious structures are allegedly present on other government land as well, the CMO official claimed that action in this respect is lined up for the future.
"This is the beginning of a big task taken up by the government. More is yet to come. It's being done in tune with the announcement made by the CM in Delhi. Currently, the forest department has been asked to conduct the survey as such religious structures are mostly located inside forest areas," the official said, adding that "illegal mazars and mosques constructed on other government land would also be addressed in the coming days".
"The government is committed to freeing its encroached land. Now that the CM has won the bypoll with a record margin, the Dhami government will set an example on how to free its encroached land."
After Dhami, the incumbent chief minister, lost his own seat during the assembly polls — despite his party's overall victory — he was re-elected to the House through a by-election in the Champawat constituency, which he won by more than 55,000 votes.
Push for expediting the survey
While the forest department was not given a deadline to table the report, there were instructions to expedite the process, said forest authorities.
Referring to Singhal's order, several forest officials informed ThePrint that instructions in accordance with the government order were issued to all the state's DFOs.
Chief Conservator of Forest and Chief Wildlife Warden Parag Madhukar Dhakate said that the forest department had already received government instructions to conduct a survey to identify illegal religious structures inside forest areas.
Source: The Print
Please click the following URL to read the full text of the original story:
https://theprint.in/india/governance/why-uttarakhand-govt-is-cracking-down-on-illegal-mazars-mosques-temples-churches-in-forests/999645/
--------
Prophet remarks row: Slap NSA against Muslim clerics provoking violence, demands Bajrang Dal
16th June 2022
GHAZIABAD: Bajrang Dal activists on Thursday staged a protest at district headquarters here chanting Hanuman Chalisa and demanding the slapping of the stringent NSA against Muslim clerics who are "provoking violence".
The National Security Act (NSA) allows preventive detention of an individual for months if the authorities feel that the individual is a threat to the national security, and law and order.
The Hindu outfit activists handed over a memorandum addressed to the President to the SDM (Sadar) Vinay singh and held a sit-in chanting Hanuman Chalisa.
Bajrang Dal convener Neeraj Singh Bajrangi said the NSA must be invoked against Muslim clerics and secular leaders who are spitting venom in their speeches and they must be expelled from the district.
"During the Hanuman Jaynti Yatra, stones were thrown from the mosques in various cities of the country. All Muslim outfits spreading hate and provoking people to violence must be banned," he said.
After Friday prayers, people coming out from mosques should also be monitored so that they do not spread communal violence, he said.
Source: New Indian Express
Please click the following URL to read the full text of the original story:
https://www.newindianexpress.com/nation/2022/jun/16/prophet-remarks-row-slap-nsa-against-muslim-clerics-provoking-violence-demands-bajrang-dal-2466381.html
--------
Efforts On to Identify Who Beat Up Muslim Brothers After Asking Their Names: Ranchi Police
JUNE 16, 2022
The police on Thursday said that efforts are on to find out the members of a group that allegedly asked two brothers, who were out to buy pizza, their names and assaulted them after coming to know they were Muslims on June 10 in Ranchi. The incident occurred hours after a violent protest against controversial remarks on Prophet Mohammad by BJP spokesperson Nupur Sharma who was suspended later. Two persons were killed and more than two dozen others were injured during the protest.
The father of the two men lodged a complaint and we registered an FIR on the night of June 10. We are trying to identify the persons involved in the attack, Chutia police station in-charge Venkatesh Kumar told PTI. According to the complaint, Md Zeeshan Ashfi (24) and his brother Faizan (20) went to buy pizza at around 8 pm from a local shop on Ranchi's Main Road when they were surrounded by a group of about 20 people near Sujata Chowk. They asked the two their names and assaulted the youths with sticks after knowing they were Muslims.
Source: News18
Please click the following URL to read the full text of the original story:
https://www.news18.com/news/india/efforts-on-to-identify-who-beat-up-muslim-brothers-after-asking-their-names-ranchi-police-5385649.html
--------
Karnataka Hijab Row: 19 Muslim Students On Verge Of Dropping Out From College
16 JUN 2022
Three months after Karnataka High Court ruled that Muslim girl students should abide by the decisions of the college development committees (CDCs) and wear prescribed uniforms without hijab, 19 students of government first grade college at Haleyangadi in Karnataka's Mangaluru have been skipping classes.
The students, who are adamant on wearing hijab in classrooms, are now on the verge of dropping out of the college as they have neither written examinations nor attended classes for the last three months.
Similar issues at university college of Mangalore, government first grade college at Uppinangady were solved after discussions with students and parents.
However, the 19 students at Haleyangadi college are facing loss of education after the college authorities strictly prohibited wearing of hijab inside the institution as per the High Court verdict on March 15.
Though the students say that the High Court order is only applicable to pre-university colleges, the Court clarified that the order is confined to all institutions where the CDCs have prescribed specific dress code or uniform.
Some students have made up their mind to discontinue studies though they still have a distant hope that the college authorities will reverse their decision, sources said.
College principal K Sridhar said the 19 girls, who are third year degree students, did not appear for the exams and skipped the new semester classes. Though they tried to convince the students to comply with the High Court order, they are insisting on wearing hijab, he said.
Source: Outlook India
Please click the following URL to read the full text of the original story:
https://www.outlookindia.com/national/karnataka-hijab-row-19-muslim-students-on-verge-of-dropping-out-from-college-news-202797
--------
Vishal Dadlani stands for Indian Muslims, Shashi Tharoor applauds
17th June 2022
Mumbai: Bollywood's most renowned singer and composer Vishal Dadlani took to Twitter recently to voice his support for the Muslims of India amid the ongoing Prophet remark row.
For the unversed, in the last week of May, BJP's national spokesperson, Nupur Sharma had insulted Prophet Mohammad during a prime-time news show conducted by Times Now Group Editor Navika Kumar. Following this demonstrations and protests by Muslims in India erupted across the country. Many instances of anti-Muslim crime and violence against Muslims have been coming in since then.
Taking the matter into consideration, Vishal Dadlani tweeted, "I want to say this to Indian Muslims on behalf of a majority of Indian Hindus. You are seen & heard, loved & treasured. Your pain is our pain. Your patriotism is not in question, your identity is not a threat to India or to anyone else's religion. We are one nation, one family."
Within a few minutes, Vishal Dadlani's comment has gone viral with many applauding him for his courage and bravery. Furthermore, Vishal Dadlani won politician Shashi Tharoor's approval who replied, "Warmly echoed, @VishalDadlani– shabash for speaking for the vast silent majority!"
Source: Siasat Daily
Please click the following URL to read the full text of the original story:
https://www.siasat.com/vishal-dadlani-stands-for-indian-muslims-shashi-tharoor-applauds-2350572/
--------
Court raps NIA, frees 4 in terror funding case
Jun 17, 2022
NEW DELHI: Discharging four accused in a terror funding case, a Delhi court has pulled up the NIA for booking A K Jain, one of them, under strict provisions of the UAPA just because illegal arms were allegedly recovered from his house, reports Usha Das.
"This reveals a sad state of affairs where the high-handedness of police officers makes a person suffer for the crime he has not committed," additional sessions judge Parveen Singh said, adding, "there is no evidence at all of the accused (Jain) of either being involved in the conspiracy or terrorist activities or activities related to terror funding," the judge said.
The court said Adish Kumar Jain could not have been made an accused in this case unless it was shown that evidence that was collected for the hawala transactions of this accused, some of which are on record, reflected that he was engaged in receiving or disbursing terror funds to some module of a terrorist organization or on behalf of terrorist organisation, however, there is not even an allegation of this kind against him.
When the court inquired from the NIA as to why this accused was arrayed as an accused in the case, the agency stated that he would not have been made an accused in the case but for the alleged recovery of illegal arms from his house.
"This is a very surprising submission... (making) a person suffer for the crime he has not committed as just by the reason of recovery of illegal arms/ weapons from his house, the person has been arrested and charge-sheeted under the stringent provisions of UAPA and has been claimed to be involved in terror activities," it said in an order on June 10.
It further said that Jain has been in custody since his arrest despite the fact that the only offence for which he could have been charge sheeted was under the Arms Act for alleged recovery of illegal arms.
"Apart from that, there is no evidence at all of accused Jain of either being involved in the conspiracy of present case or otherwise being involved in any terrorist activities or activities related to terror funding," the judge said.
According to the prosecution, on November 28, 2017, accused Shaikh Abdul Naeem was arrested from Uttar Pradesh, for his alleged involvement in raising funds from the main operatives of proscribed terrorist organisation Lashkar-e-Taiba (LeT) based in Pakistan, for terrorist activities in India.
During investigation, it was revealed that accused Bedar Bakht, Towseef Ahmad Malik, Mafooz Alam, Habib-ur-Rehnam and Amzad had allegedly provided shelter, logistics, mobile phones to Naeem, raised funds for him and had also facilitated him in engaging fake identity as Sonu Sohel Khan. It was further revealed during investigation that Abdul Samad, accused Dinesh Garg and Jain were allegedly involved in receiving, collecting and delivering funds received from Saudi Arabia.
The court discharged Samad, who turned an approver in the case, Garg, Jain and Gul Nawaz for all the offences, including sections under the UAPA.
The court noted that surprisingly they have also been chargesheeted for the offences punishable under sections 468 (forgery for purpose of cheating), 471 (forgery) IPC, sections under the Passports Act and Aadhar Act.
"There is neither any allegation nor any evidence that these accused had either committed or conspired to commit any of these offences. This reflects the callous manner in which the charge-sheet was prepared," it said.
The court, however, framed charges for criminal conspiracy and raising funds for terrorist activities against Naeem, Bakht, Malik, Habib-ur-Rehman and Javed.
Source: Times Of India
Please click the following URL to read the full text of the original story:
https://timesofindia.indiatimes.com/india/court-raps-nia-frees-4-in-terror-funding-case/articleshow/92263089.cms
--------
Mideast
Iran's Home-Made 'Zoljanah' Satellite Carrier under Launch Tests
2022-June-16
"Three launches of the Zoljanah satellite carrier were planned for research; one has so far been conducted and two others will be carried out later," Hosseini said on Wednesday.
The performance of the three-stage carrier, which uses compound fuel, can be evaluated in each launch, he said.
The satellite carrier weighs 52 tons and is 25.5 meters in length. It can carry loads of up to 220 kilograms at an orbit of 500 kilometers above the surface, Hosseini said.
Last week, the Iranian Space Agency said work has been underway to prepare seven more satellites for launch into the orbit.
The Islamic Revolution Guards Corps (IRGC) Aerospace Force successfully launched a new reconnaissance satellite named 'Nour-2' into the orbit in March.
'Nour-2' satellite was sent to the space on the back of the home-built launcher Qassed (messenger) and was placed into the orbit at an altitude of 500 km.
The satellite is tasked with reconnaissance, and was placed into the orbit after 480 seconds at the speed of 6.7 km/s.
'Nour-1', the first military satellite of Iran, was successfully launched and put into orbit by the Qassed carrier in April 2020. It was placed into the orbit at an altitude of 425km.
In July, the IRGC Aerospace Force released images taken by Nour-1, showing al-Udeid base in Qatar, which hosts thousands of US forces.
The images taken through mosaicking method by Nour-1 Satellite, which was launched successfully on April 22, were high resolution and showed the US biggest airbase in the Middle-East in Qatar which hosts nearly 13,000 American forces.
The IRGC launched the satellite aboard Qassed (Carrier) satellite carrier during an operation that was staged in Dasht-e Kavir, Iran's sprawling Central desert. The Launcher Qassed is a three-stage launcher using compound solid-liquid fuel.
Iranian officials have always stressed that the country's military and arms programs serve defensive purposes.
Source: Fars News Agency
Please click the following URL to read the full text of the original story:
https://www.farsnews.ir/en/news/14010326000309/Iran's-Hme-Made-'Zljanah'-Saellie-Carrier-nder-Lanch-Tess
--------
Iranian Intelligence Forces Arrest Element Connected with Detained French Spies
2022-June-16
The Iranian intelligence forces in the Northwestern province of West Azerbaijan announced the detention of a person who was linked with the espionage operations performed by the two French nationals in Iran.
They arrested the convict while trying to flee the country with the support of dissident groups.
The detainee had coordinated two French spies' actions who sought to foment chaos in the country last month.
Last month, Iran announced detention of two French nationals who practiced espionage operations and sought to foment chaos in the country.
The Iranian intelligence ministry said that its forces have arrested two French spies, Cécile Kohler, 37, and Jacqeus Paris, 69, for attempting to stoke chaos and social disorder in Iran during protests by teachers.
The two French nationals traveled to Iran on April 28 as tourists but turned out to be spies for the Western agencies.
The duo attempted to foment instability and social disorder earlier this month when some teachers took to the streets in peaceful protests to demand fair wages and better working conditions, according to the ministry.
In a video, released by local media, two French spies are shown entering Iran and participating in the protests.
In an audio file, which has poor quality, a woman and a man are heard talking about a "battle to gather majority" to produce a "revolutionary doc".
The video also features some photos of the French pair visiting activists in Iran who were imprisoned on spying charges or attempting to cause social disorder.
Some photos show that the two were linked with teacher's unionists, including Rasoul Bodaqi.
The video concludes that the French nationals' were arrested on charges of spying.
In January, Benjamin Brière, another French national, was sentenced to eight years in prison on spying charges after he had photographed "prohibited areas" with a drone.
In a relevant development in April, the Iranian intelligence ministry detained three agents cooperating with the Israeli spy agency, Mossad, in Sistan and Balouchestan province in Southeastern Iran.
The intelligence ministry said in a statement that the spies were involved in disseminating classified information and documents.
Source: Fars News Agency
Please click the following URL to read the full text of the original story:
https://www.farsnews.ir/en/news/14010326000591/Iranian-Inelligence-Frces-Arres-Elemen-Cnneced-wih-Deained-French
--------
Israel announces new entry permits for Palestinians in Gaza
16 June, 2022
Israel announced an extra 2,000 entry permits for Palestinians in Gaza Thursday, bringing the total number of permits for workers from the blockaded enclave to 14,000.
"Following a security assessment, the minister of defense has decided to raise the quota of entry permits for work and commerce in Israel by an additional 2,000," COGAT, the Israeli defense ministry body responsible for civil affairs in the Palestinian territories, said.
"All the latest civil measures regarding the Gaza Strip are dependent on the continued maintenance of stable security over time, and their expansion will be considered in light of the situation as evaluated," it said in a statement.
Israel has maintained a strict blockade on the Gaza Strip since 2007, when the Palestinian Islamist group Hamas seized power.
Only the Rafah crossing between Gaza and Egypt is outside Israeli control and it too has remained largely closed.
A recent World Bank report put the unemployment rate among Gaza's more than two million people at nearly 48 percent.
Work in Israel provides a lifeline for thousands of Gazans, who can earn far higher wages on Israeli farms and construction sites than they do in Gaza.
Source: Al Arabiya
Please click the following URL to read the full text of the original story:
https://english.alarabiya.net/News/middle-east/2022/06/16/Israel-announces-new-entry-permits-for-Palestinians-in-Gaza
--------
Israeli forces shoot dead 3 Palestinians in Friday morning operation
June 17, 2022
JERUSALEM: Israeli forces shot dead three Palestinians and wounded eight others early Friday during a military operation in the occupied West Bank, the Palestinian Health Ministry said.
The ministry did not say how the casualties occurred.
Palestinian media quoted witnesses as saying Israeli troops opened fire at a car in the northern West Bank town of Jenin and killed three passengers.
Heavy exchanges of gunfire were heard in videos circulated on social media before the incident involving the car. Afterward, footage on social media showed a bullet-riddled vehicle with bloodstains and residents inspecting it.
There was no immediate comment from the Israeli military, which carries out frequent overnight raids in Palestinian-controlled parts of the West Bank to arrested suspected and wanted Palestinian militants. Most of the arrest raids were in Jenin, the hometown of several Palestinian assailants who took part in a recent string of attacks that killed at least 19 Israelis.
Source: Arab News
Please click the following URL to read the full text of the original story:
https://www.arabnews.com/node/2105201/middle-east
--------
Arab World
Mohammed bin Salman, hard-charging heir reshaping Saudi Arabia
Jun 17, 2022
DUBAI: Saudi Crown Prince Mohammed bin Salman has shaken up his conservative kingdom with head-spinning reforms while quashing any threats to his status as de facto ruler -- a role he assumed five years ago.
The hard-charging heir has earned plaudits for allowing women to drive and envisioning an economy less dependent on oil, but he has also drawn widespread revulsion over the gruesome murder of journalist Jamal Khashoggi and other state abuses.
A towering man with a full-face beard, a deep growling voice and seemingly boundless energy, Prince Mohammed is known for his super-sized ambitions, from building the futuristic megacity known as NEOM to waging the seven-year-old war in neighbouring Yemen.
The brash 36-year-old, said to have a fondness for fast food and the "Call of Duty" video games, is also fabulously rich, owning a $500 million yacht, a French chateau and, according to officially denied reports, a $450 million Leonardo da Vinci painting.
Unlike other Saudi princes with British accents, sharp suits and Oxford degrees, he has embraced the country's Bedouin roots, usually donning a traditional robe and sandals, and treating friends and relatives to lavish roast lamb meals in luxury desert camps.
Having plotted his path to power from relative obscurity, he has overseen the biggest transformation in the modern history of Saudi Arabia, the world's top crude oil exporter and host of Islam's two holiest sites, Mecca and Medina.
Under his rule, the Islamic religious police have been de-fanged, cinemas have reopened, foreign tourists have been welcomed, and Saudi Arabia has staged a film festival, operas, a Formula One Grand Prix, professional wrestling and a huge rave festival.
Yet he has also jailed critics and, in a sweeping purge of the nation's elite, detained and threatened some 200 princes and businessmen in Riyadh's Ritz-Carlton hotel in a 2017 anti-corruption crackdown that tightened his grip on power.
His image was most severely tarnished by the brutal murder and dismemberment of Khashoggi inside the kingdom's Istanbul consulate in October 2018, which prompted an international outcry despite Riyadh's insistence that rogue agents carried out the killing.
"MBS is a hugely divisive character, praised by supporters as a long-awaited game-changer in a region aching for it and dismissed by foes as a brutal dictator in the making," wrote Ben Hubbard in "MBS: The Rise to Power of Mohammed bin Salman".
"He is determined to give Saudis a shining, prosperous future and exercises an unflinching willingness to crush his foes. Combined in different doses, those attributes will likely guide his actions far into the future."
- 'Mr Everything' - Prince Mohammed was born on August 31, 1985, as one of the hundreds of grandchildren of the country's founder, King Abdulaziz Ibn Saud. He grew up in a Riyadh palace with his mother, Fahda, one of his father's four wives, and his five brothers.
"As the sixth son of the 25th son of the founding king, there was little reason to expect that he would rise to prominence," wrote Hubbard. "And for most of his life, few people did."
He earned a law degree from Riyadh's King Saud University but never studied abroad, and soon worked as a special adviser to his father, the then-Riyadh governor.
When King Salman assumed the throne in early 2015, he named Prince Mohammed as defence minister.
Soon the young man also coordinated economic policy, oversaw the state oil company Saudi Aramco and supervised the kingdom's military intervention in Yemen.
Within a year, he held so many portfolios that diplomats called him "Mr Everything".
The prince -- now a father of three boys and two girls, who unlike other Saudi royals has only one wife -- reportedly worked 16-hour days and drew inspiration from Winston Churchill and Sun Tzu's "The Art of War".
His stunning ascent seemed almost Shakespearean. He replaced his elder cousin Prince Mohammed bin Nayef to become heir to the throne in 2017. Three years later Prince Nayef, along with a brother of King Salman, were reportedly detained.
Prince Mohammed has pledged to forge a "moderate" Saudi Arabia and wooed international investors for his wide-ranging Vision 2030 plan to diversify the oil-reliant economy.
"We want to live a normal life," he once told business leaders in Riyadh. "All we are doing is going back to what we were -- a moderate Islam that is open to all religions and open to the world.
"Seventy percent of the Saudi population is under 30 and, honestly, we will not spend the next 30 years of our lives dealing with extremist ideas. We will destroy them today."
- 'Fire hose of ideas' - As he rose to prominence, he toured the United States and charmed leaders in the White House and on Wall Street, in Silicon Valley and Hollywood.
New York Times writer Thomas Friedman recounted how in an interview that lasted late into the night, the prince "wore me out with a fire hose of new ideas for transforming his country".
Perhaps his most hyper-ambitious project is the $500 billion NEOM project on the Red Sea coast, to be powered by solar energy and staffed by robots, which the prince describes as a "civilisational leap for humanity".
Reflecting the hopes of the country's youthful population, Prince Mohammed has eased restrictions on women's rights, allowing them to drive, attend sports events and concerts alongside men, and obtain passports without the approval of a male guardian.
Along with the reforms, though, came a crackdown on dissidents, including intellectuals and women's rights activists, part of an apparent strategy to stamp out any trace of opposition before a formal transfer of power from King Salman.
Internationally, he has pursued a more assertive foreign policy, plunging the kingdom into the quagmire of regional rivalries: the Yemen war, hostility toward Shiite power Iran, a three-year blockade of Qatar until 2021, and the reported detention of Lebanon's prime minister for several tense days.
Prince Mohammed, who once publicly berated US president Barack Obama for criticising Saudi Arabia's rights record, forged a strong bond with Donald Trump and especially his son-in-law, Jared Kushner, which would serve him well after Khashoggi's death.
The prince faced renewed scrutiny of his human rights record under US President Joe Biden, who released an intelligence report that said MBS had "approved an operation" to capture or kill Khashoggi.
Source: Times Of India
Please click the following URL to read the full text of the original story:
https://timesofindia.indiatimes.com/world/middle-east/mohammed-bin-salman-hard-charging-heir-reshaping-saudi-arabia/articleshow/92271382.cms
--------
'So much at stake,' Biden's pick to be US envoy to Saudi Arabia says
16 June, 2022
President Joe Biden's nominee to be the next US ambassador to Saudi Arabia said Thursday that there was "so much at stake" in the relationship between Washington and Riyadh.
Michael Ratney said he was committed to a strong and sustainable US-Saudi partnership, adding that energy supplies would be a big part of his talks with the Saudi government. "Energy supplies and encouraging a Saudi energy policy that aligns with US priorities will be a major focus of my discussions with the Saudi government," he said at his nomination hearing in front of the Senate Foreign Relations Committee.
"If confirmed, I am committed to a strong and sustainable US-Saudi partnership that advances US interests and reflects US values," Ratney said.
He also said he would encourage the modernization project in Saudi Arabia and build on the "vital" counterterrorism cooperation.
Ratney will look to help Saudi Arabia defend its territory and deter Iran's "aggressive" behavior. Ending the war in Yemen and deepening engagement on human rights would also be priorities, Ratney said.
The Iran-backed Houthis in Yemen launched more than 400 cross-border attacks last year on civilian targets, endangering 70,000 US citizens and the Saudi population. Ratney said he wanted to help strengthen Saudi defenses through security cooperation and training, "demonstrating the durable American commitment to our partners and allies and to our values."
The Yemeni group's principal backers, Iran, pose a significant threat to US and Saudi interests, Ratney said. "We must work with our Saudi partners to counter Iranian threats to global energy flows, regional stability, and the lives of our fellow US citizens in the region."
Source: Al Arabiya
Please click the following URL to read the full text of the original story:
https://english.alarabiya.net/News/gulf/2022/06/16/-So-much-at-stake-Biden-s-pick-to-be-US-envoy-to-Saudi-Arabia-says
--------
Russia, Turkey, Iran call for calm in Syria's Idlib
16 June, 2022
Russia, Turkey, and Iran have agreed to make further efforts to ensure calm in Syria's Idlib de-escalation area, the three countries said in a joint statement after talks in Kazakhstan.
They "highlighted the necessity to maintain calm on the ground by fully implementing all agreements on Idlib" without specifying what that meant for Turkey's plans to conduct a military operation against the Kurdish-led YPG group there.
Ankara says it must act in Syria because Washington and Moscow broke promises to push the predominantly Kurdish group YPG 30 kilometers (18 miles) from the border after a 2019 Turkish offensive, and says attacks from YPG-controlled areas have increased.
Source: Al Arabiya
Please click the following URL to read the full text of the original story:
https://english.alarabiya.net/News/middle-east/2022/06/16/Russia-Turkey-Iran-call-for-calm-in-Syria-s-Idlib
--------
Saudi, US officials discuss ways to boost economic partnership
16 June, 2022
Saudi and US officials discussed ways to better an existing economic partnership between the two countries, the Saudi Press Agency (SPA) reported on Thursday.
The Saudi delegation was led by the Minister of Commerce, Dr. Majid bin Abdullah al-Qasabi alongside Princess Reema bint Bandar bin Sultan, Saudi Ambassador to the US.
They met with US Secretary of Commerce Gina Raimondo, where they discussed building a green economy, strengthening the role of women in business, developing small and medium enterprises (SMEs), and promoting innovation.
Other topics discussed included "hydrogen production, waste management, promoting innovations through protecting intellectual property, enhancing the knowledge economy based on artificial intelligence, cloud storage, data flow, developing SMEs, and the role of women and their participation in the economic development," SPA reported.
Al-Qasabi also held a meeting at Georgetown University to discuss cooperation opportunities.
The Saudi minister also met with President of the Export-Import Bank of the United States (EXIM) Reta Jo Lewis over "means to enhance Saudi-US economic partnership," according to the SPA.
These meetings came ahead of US President Joe Biden's visit to the Kingdom in July at the invitation of King Salman bin Abdulaziz.
The president is scheduled to meet with King Salman and Crown Prince Mohammed bin Salman.
Separately, Biden's nominee to be the next US ambassador to Saudi Arabia said Thursday that there was "so much at stake" in the relationship between Washington and Riyadh.
Michael Ratney said he was committed to a strong and sustainable US-Saudi partnership, adding that energy supplies would be a big part of his talks with the Saudi government.
Source: Al Arabiya
Please click the following URL to read the full text of the original story:
https://english.alarabiya.net/News/gulf/2022/06/16/Saudi-US-officials-discuss-ways-to-boost-economic-partnership
--------
Lebanon's Hariri hails life sentence against 2 Hezbollah members over father's assassination
Wassim Seif El Din
16.06.2022
BEIRUT, Lebanon
Former Lebanese Prime Minister Saad Hariri on Thursday hailed a life sentence slapped by a UN-backed court against two Hezbollah members in connection with the 2005 assassination of his father.
Hariri, the head of the Future Movement, said on Twitter that the conviction of the two Hezbollah members was the "clearest condemnation to the group [Hezbollah]" in the assassination of former Premier Rafic Hariri.
"After the conviction of Salim Ayyash in the crime of the assassination of martyr premier Rafic Hariri [...] the Appeals Chamber of the Special Tribunal for Lebanon unanimously sentenced two other Hezbollah members, Hassan Merhi and Hussein Oneissi, to life imprisonment," Hariri said.
He added that Hezbollah can't evade responsibility of handing over the convicts.
There was no comment, so far, from Hezbollah on Hariri's remarks or the court verdict.
Early on Thursday, the UN Special Tribunal for Lebanon sentenced in absentia two members of Hezbollah to life imprisonment for Hariri's assassination in 2005 along with 22 other people.
In 2020, the court also convicted in absentia Hezbollah member Salim Ayyash, whose whereabouts remain unknown.
Source: Anadolu Agency
Please click the following URL to read the full text of the original story:
https://www.aa.com.tr/en/middle-east/lebanon-s-hariri-hails-life-sentence-against-2-hezbollah-members-over-father-s-assassination/2615694
--------
Iran says last talks with Saudi Arabia 'positive'
Mohammad Rajawi
16.06.2022
TEHRAN, Iran
Iranian Foreign Minister Hossein Amir-Abdollahian on Thursday described the last round of talks between his country and regional arch-rival Saudi Arabia as "positive."
In a phone call with his Iraqi counterpart Fuad Hussain, Amir-Abdollahian said Tehran welcomes the outcome of the Iranian-Saudi talks in Baghdad, the semi-official Mehr news agency reported.
The top Iranian diplomat said Iraq intends to continue its efforts to facilitate the talks between the regional rivals to help the two countries restore their normal relations.
Since 2021, Baghdad has been hosting talks between Riyadh and Tehran to end their diplomatic rift and reach an understanding on the conflict in Yemen and Iran's nuclear file.
Iran and Saudi Arabia severed diplomatic relations in January 2016 following an attack on the Saudi Embassy in Tehran after Shia cleric Nimr al-Nimr was executed by Saudi authorities.
The relationship between the two rivals deteriorated further after Iran in September 2016 accused Riyadh of deliberately causing the death of around 400 Iranian pilgrims in a 2015 stampede in the Muslim holy city of Mecca.
Source: Anadolu Agency
Please click the following URL to read the full text of the original story:
https://www.aa.com.tr/en/middle-east/iran-says-last-talks-with-saudi-arabia-positive/2615620
--------
Head of Libya's High Council of State invited to meet rival in Egypt
16.06.2022
TRIPOLI, Libya
Head of the Tripoli-based High Council of State Khalid al-Mishri said Thursday he was invited to meet Libya's Parliament Speaker Aquila Saleh for talks in Egypt.
In a statement, al-Mishri said he was invited by UN special adviser on Libya, Stephanie Williams, to review the conflicting points in the country's political and constitutional path.
The High Council of State, which acts as a senate, is a rival to east Libya-based House of Representative (parliament).
"What is important is to find the other partner serious about reaching national consensus to end the transitional period in Libya," al-Mishri said.
The third and last UN-sponsored talks kicked off in Cairo on Sunday in an effort to reach consensus on the constitutional framework to hold Libya's long-awaited elections.
Source: Anadolu Agency
Please click the following URL to read the full text of the original story:
https://www.aa.com.tr/en/middle-east/head-of-libya-s-high-council-of-state-invited-to-meet-rival-in-egypt/2615533
--------
Qatar ruler receives message from Saudi king on bilateral ties
Yaqut Dandashi
16.06.2022
DOHA, Qatar
Qatar's Emir Sheikh Tamim bin Hamad Al Thani on Thursday received a written message from Saudi King Salman bin Abdulaziz on bilateral relations between the two Gulf neighbors.
The message was delivered by Saudi Ambassador Prince Mansour bin Khalid bin Farhan, who discussed with the Qatari ruler ways of boosting relations between Doha and Riyadh, the state news agency QNA reported.
The message came as US President Joe Biden plans to visit Saudi Arabia next month where he will hold a summit with the leaders of the Gulf countries as well as Egypt, Jordan and Iraq.
On Saturday, Biden announced that any trip to Saudi Arabia would be for a "larger meeting" on regional security.
In January 2021, relations between Doha and Riyadh witnessed positive steps after signing a reconciliation agreement in Al-Ula, Saudi Arabia, which brought down the curtain on the Gulf crisis that broke out in the summer of 2017.
Source: Anadolu Agency
Please click the following URL to read the full text of the original story:
https://www.aa.com.tr/en/middle-east/qatar-ruler-receives-message-from-saudi-king-on-bilateral-ties/2615480
--------
Egyptian leader affirms depth of country's strategic ties with EU
MOHAMMED ABU ZAID
June 16, 2022
CAIRO: Egyptian President Abdel Fattah El-Sisi affirmed that his country is "continuously working to deepen the partnership with the EU in order to achieve a qualitative leap in the relationship between the two sides."
In a joint press conference with European Commission President Ursula von der Leyen, El-Sisi said that the EU is a key partner for Egypt.
The Egyptian president also indicated that "his country is working to strengthen cooperation with the EU, especially in the field of energy," pointing out that an agreement was reached that will lay the foundations of a strategic partnership in the field of energy with Europe.
"The international community is going through a delicate circumstance and the language of dialogue must prevail to resolve disputes," he said, adding that he had discussed food security and high energy prices with the European Commission president.
El-Sisi that Egypt "has agreed with the EU to coordinate international efforts to mitigate the repercussions of the global food crisis."
In addition, an Egyptian-European statement stressed "the priority of promoting sustainable development, confronting climate change and environmental degradation, and ensuring energy security."
El-Sisi said that "the security of gas supplies is a common concern. Egypt and the EU will work together on the stable delivery of gas to the EU, and on the sustainable use of natural gas resources within the framework of long-term carbon reduction goals and measures related to managing and reducing methane emissions."
In this context, Egypt and Brussels welcomed the signing of the relevant memorandum of understanding between Egypt, Israel and the EU on June 15.
The statement said that "both Egypt and the EU realize that geopolitical realities and the current state of the energy market require accelerating and intensifying this partnership."
It added: "By working together as partners, Egypt and the EU will face common challenges in the security of energy supplies and diversification of energy sources."
In this regard, he said that "the EU and Egypt will intensify cooperation, focusing on renewable energy sources, hydrogen, work on energy efficiency, and the production of clean fuels, especially hydrogen, in an economically feasible manner."
The statement said that Egypt and the EU "realize that the full implementation of the 2030 Agenda for Sustainable Development and the Paris Agreement on Climate Change are essential pillars to make the world more resilient to future shocks, and that trade, investments and policy reform to support the implementation of these documents, based on their common principles, are the drivers of sustainable recovery and sustainable development."
Source: Arab News
Please click the following URL to read the full text of the original story:
https://www.arabnews.com/node/2105011/middle-east
--------
Europe
Swedish imam charged for incitement against Jews in sermon
16.06.22
An imam in Malmo, Sweden who during a sermon called Jews "the offspring of monkeys and pigs" has been charged with incitement to hatred by Swedish authorities.
According to Swedish news outlet STV, imam Basem Mahmoud said during an October 2020 sermon at Malmo's al-Sahaba mosque: "Everyone hears and sees exactly what the West takes for granted, what their masters the Jews, the descendants of monkeys and pigs, the enemies of Islam and Muslims, dictate to them."
The sermon was subsequently uploaded to Mahmoud's Youtube channel, where it was discovered by Swedish media.
Source: Israel National News
Please click the following URL to read the full text of the original story:
https://www.israelnationalnews.com/news/355029
--------
Over 800 mosques attacked in Germany since 2014: Rights group
16 JUNE 2022
More than 800 mosques in Germany have been the targets of threats and attacks since 2014, but in most of the cases, the crimes were not properly investigated, according to Brandeilig, an initiative of rights group FAIR International.
The group, which has founded Germany's first reporting center for attacks on mosques, recorded nearly 840 incidents of attacks, vandalism and threats between 2014 and 2022.
A detailed analysis of the crimes in 2018 revealed that the perpetrators remained unidentified in most of the attacks, fueling further attacks against Muslim worship sites by neo-Nazis or left-wing extremists.
Among the 120 attacks recorded against mosques in 2018, only in nine cases perpetrators could be identified.
"This rate is a cause for concern," Brandeilig's experts stressed, pointing out that in at least 20 cases, which included arson attacks, suspects intended to cause death or great bodily harm.
"In general, the police officers arrived on the scene very quickly and immediately started the investigation. Nevertheless, almost none of the incidents could be solved until today," the experts said.
- 'First, current danger to Muslims should be accepted by German authorities'
Sociologist and political scientist Yusuf Sari told Anadolu Agency: "In our opinion, one of the most important findings is that the mosque communities did not inform about this even though they had been attacked many times before."
"Additionally, half of the attacks are from the far right, and in most cases the perpetrators have not been caught.
"This means that the perpetrators still pose a threat to Muslims," he said.
"It is also important to note that communities are often left alone after an attack and receive no help, both spiritual and material," Sari noted.
He made suggestions for solutions to the problems mentioned in the report and explained his expectations from the German authorities: "As a first step, the current danger to Muslims should be accepted."
"In general, we expect the authorities to do more in the fight against anti-Muslim racism. Solidarity with Muslim communities should increase, and mosque communities should be supported, including financial support, after an attack.
"But one of the most important points is the elucidation of cases and the capture of the perpetrators, otherwise this would be an incentive for the perpetrators," he said.
"We, of course, recorded the updated numbers and attacks," Sari said, adding that they observe an increase in the number of attacks against mosques and Muslims.
- Need for change
"The presence of a very small number of suspects is alarming," he pointed out, mentioning that it was surprising that German authorities have captured a very small number of perpetrators to date.
"Something needs to change, especially at this point, if we want to tackle far-right and prevent people from being seriously harmed in the future," he stated.
"Attacks on mosques should not be underestimated under any circumstances," he added.
"We hope that we have made a small contribution to the issue of anti-Muslim racism with our report.
"We wish to increase solidarity with the mosque communities and we hope that the attacks against Muslims in Germany will decrease," Sari said.
Left-wing extremists and followers of the YPG/PKK terror group were behind several attacks targeting mosques, while majority of them were committed by right-wing extremists or neo-Nazi groups, according to the report.
Source: Yenisafak
Please click the following URL to read the full text of the original story:
https://www.yenisafak.com/en/world/over-800-mosques-attacked-in-germany-since-2014-rights-group-3622538
--------
New terrorism law takes effect in Sweden as of July 1
Atila Altuntaş
16.06.2022
STOCKHOLM
The anti-terror law, which was adopted by the Swedish Parliament on May 31, will come into force at the beginning of July, according to local media.
Swedish official news agency TT reported the new anti-terrorism law will enter into force as of July 1.
According to the law, attempts to harm a country with the aim of terrorism and to commit an intentional crime can be considered as a terrorist crime.
The maximum prison sentence of a person who is proven to have committed an act while being an active member of a terrorist group has been increased from six years to seven years.
The statute of limitations for simple terrorist crimes will be lifted.
Crimes such as funding terrorism, calling to disrupt public order, recruiting staff for a terrorist organization and providing terrorist training can be sentenced to one year to six years in prison. The crimes in question were punishable by six months in prison.
Swedish courts will be able to try and decide on all crimes, regardless of who committed the crime and where it was committed.
In a statement, the Swedish Intelligence Agency, SEPO, said that the increased penalties in the new law are a signal value for criminals.
The statement stressed the country should not be a haven for violence-prone individuals and extremists.
The Swedish Parliament had adopted the new terrorism law on May 31, which foresees an increase in penalties for terrorist crimes.
Sweden is under pressure from Türkiye to end its support for the PKK/YPG terror group if it wants to join NATO, with Ankara saying the bloc is a security alliance and that any potential members must take a clear stance against terrorism.
Source: Anadolu Agency
Please click the following URL to read the full text of the original story:
https://www.aa.com.tr/en/europe/new-terrorism-law-takes-effect-in-sweden-as-of-july-1/2615107
--------
Pakistan
All eyes on FATF as Pakistan hopes to come off 'grey list' today
June 17, 2022
The Financial Action Task Force (FATF), a global watchdog for combatting money laundering and terrorist financing, is expected to announce today (Friday) whether Pakistan will be removed from or retained on its increased monitoring list, also known as the "grey list", but the government is hopeful the outcome will be in the country's favour.
The four-day plenary session began in Berlin, Germany, on Tuesday. FATF officials will hold a press conference at 7:30pm today to share the outcome of the session, according to the watchdog's website.
Delegates representing 206 FATF members and observers are attending the plenary session. The observers include the International Monetary Fund (IMF), the United Nations, the World Bank, and the Egmont Group of Financial Intelligence Units.
Diplomatic sources earlier told Dawn that China and some other allies are quietly working to get Pakistan off the grey list latest during the latest plenary session.
Recent reports in the international media also mentioned this "quiet lobbying", led by China, and one Indian media outlet reported that the plenary session "is likely to decide to move Pakistan out from the list of countries under increased monitoring, commonly known as its grey list".
Several politicians, mostly from the PTI, and journalists posted on social media today that the FATF had removed Pakistan from the grey list. However, Minister of State for Foreign Affairs Hina Rabbani Khar, who is leading Pakistan's delegation in Berlin, cautioned that prejudging the outcome and speculative reporting should be avoided.
She pointed out that the plenary meetings were still ongoing and the FATF would issue a statement tonight after their conclusion.
She added that a press conference would be held at the foreign ministry on Saturday (tomorrow) in this regard.
A spokesperson for the government told BBC Urdu that the outcome was expected to be in Pakistan's favour according to information available at the moment. He clarified, however, that even if the country was removed from the list, it would take seven to eight months to "settle matters".
If Pakistan exited the list, a FATF team would visit the country so it "satisfy itself that work on its recommendations has been completed", the spokesperson added.
Pakistan has been on the grey list since June 2018.
Sources told Dawn that an April 9 judgement by an anti-terrorism court in Lahore could also help Pakistan in removing this stigma. The court sent Lashkar-e-Tayyaba chief Hafiz Saeed to prison for 33 years on terrorism charges.
Those who support the move to remove Pakistan from the list point out that the two cases that led to his imprisonment were filed by Pakistan's Counter Terrorism Department.
In its last plenary, held in Paris in March, the FATF noted that "Pakistan has completed 26 of the 27 action items in its 2018 action plan". The FATF encouraged Pakistan "to address, as soon as possible, the one remaining item, — investigating terrorism financing and targeting" senior leaders and commanders of UN-designated terrorist groups.
FATF acknowledged that Pakistan had also met six of the seven action plans it was asked to follow in June 2021 to counter money laundering.
For the latest plenary session, the Ministry of Foreign Affairs had prepared a presentation for the FATF plenary, showing how Pakistan has completed all the 27 tasks that it was given.
PTI's 'success'
As speculation mounted on Pakistan's possible exit from the list, members of the former PTI cabinet, claimed credit for the purported development.
Former finance minister Shaukat Tarin said the "removal" was another feather in the cap of Hammad Azhar, who was the former energy minister and also the government's top coordinator for efforts on anti-money laundering and counter terror financing.
"Another success of PTI govt. #FATF #ThankYouImranKhan," tweeted former human rights minister Shireen Mazari.
Senator Ejaz Chaudhry said he hoped Pakistan would exit the grey list today, terming it the result of the Imran Khan-led government's work.
Chaudhry feared that the incumbent government would take credit for it.
Source: Dawn
Please click the following URL to read the full text of the original story:
https://www.dawn.com/news/1695279/all-eyes-on-fatf-as-pakistan-hopes-to-come-off-grey-list-today
--------
PM Shehbaz to share details on PTI govt's deal with IMF soon
June 16, 2022
ISLAMABAD: Prime Minister Shehbaz Sharif on Thursday promised the nation that his government would release details regarding the previous PTI regime's deal with the International Monetary Fund (IMF) soon.
His message on Twitter comes a day after the government raised fuel prices by as much as nearly Rs60, with petrol reaching Rs233.89 — unprecedented in the country's history.
"Acutely aware of the impact that a fuel price hike causes. Govt is left with no choice but to raise the prices due to IMF deal that PTI govt signed. Will take the nation into confidence on the specifics of the IMF-PTI deal soon," wrote the prime minister.
"We will get out of these economic difficulties, InshaAllah," he added.
PM Shehbaz followed by criticising the past government's handling of negotiations with the global lender, saying: "I wonder whether those who struck the worst ever deal with IMF and took patently bad economic decisions have the conscience to face the truth. How can they pretend to be innocent when what the nation is going through is clearly their doing?"
"Details soon," he reiterated.
The surge in prices, although a highly unpopular move that has the nation fuming, had been a key demand of the IMF for a long time.
Finance Minister Miftah Ismail on Monday said that if the government does not abolish the subsidies on petroleum products by July (in effect raising the prices), then the country will default.
Speaking in Geo News programme "Capital Talk", the finance minister said the IMF has "insisted" on abolishing the subsidies on petroleum products.
In a bid to bring economic stability and revive the stalled multi-billion-dollar IMF programme, the government had increased the price of petrol by a whopping Rs60 per litre last month.
Additional measures needed, says IMF
Pakistan had signed a 39-month, $6 billion Extended Fund Facility with the IMF in July 2019. It received disbursements of about $3bn but further tranches were stopped when an agreement could not be reached with the previous government. The lender had expressed concerns over the status of some of its objectives, including fiscal consolidation.
IMF's resident representative on Monday said that additional measures will be needed to bring Pakistan's budget for FY2022-23 in line with the key objectives of its IMF programme.
The next tranche that Pakistan is to receive upon a successful review is $900 million, and a green light from the IMF would also open up other global funding avenues.
Source: Pakistan Today
Please click the following URL to read the full text of the original story:
https://www.pakistantoday.com.pk/2022/06/16/pm-shehbaz-to-share-details-on-pti-govts-deal-with-imf-soon/
--------
Bilawal pitches for engagement with India, says it serves Pakistan's interests
Jun 17, 2022
ISLAMABAD: Pakistan foreign minister Bilawal Bhutto Zardari stressed on engagement with India on Thursday, saying that it was the only way to influence policy-making in the neighbouring country.
"Does it serve our interests or do we achieve our objectives, whatever they may be, be it Kashmir, be it the rising Islamophobia, be it the Hindutva supremacist nature of the new regime and government in India? Does it serve our objective that we have practically cut all engagement?" Bilawal asked during his address at the Institute of Strategic Studies, an Islamabad-based think tank.
The FM said he believed that diplomatic, economic, cultural and political engagement was the only answer. "When I say that we're cutting our nose to spite our face, I mean that if we're not even going to try and engage on the basis of one issue or the other, then
how can we hope to impact or change the course of events," he asked, before narrating the list of issues, including Kashmir, that Pakistan has been raising against India time and again. "That I, as foreign minister of Pakistan, as the representative of my country, not only don't speak to the Indian government but I also don't speak to the Indian people — Is that the best way to communicate or achieve Pakistan's objective?" he asked.
He then referred to his sla- in mother former PM Benazir Bhutto's engagement with her Indian counterpart when she was first elected PM. "If at that point in time we had achieved economic engagement with India and our economic engagement on both sides had been to such a level. . . perhaps we would be in a position to more effectively influence Indian policy-making. . ," hesaid.
Source: Times Of India
Please click the following URL to read the full text of the original story:
https://timesofindia.indiatimes.com/world/pakistan/bilawal-pitches-for-engagement-with-india-says-it-serves-pakistans-interests/articleshow/92269188.cms
--------
Pakistan hikes fuel prices by 29% to secure IMF funding
Jun 17, 2022
ISLAMABAD: Pakistan's government has hiked fuel prices by up to 29%, removing fuel subsidies in an attempt to trim the fiscal deficit and secure critical support from the IMF for the cash-strapped economy. This is the third cut in fuel subsidies by the government headed by PM Shehbaz Sharif in about 20 days. The new prices came into effect from Wednesday midnight and showed a massive hike of Rs 24 per litre in petrol prices and Rs 59. 16 per litre of high-speed diesel (HSD) – the two products used by everyone directly or indirectly, finance minister Miftah Ismail said.
The latest rise came on top of an already Rs 60 increase in the prices of petroleum since May 25. The new petrol price has been fixed at Rs 233. 89 per litre, HSD at Rs 263. 31 per litre and kerosene oil at Rs 211. 47 per litre. He said the prices of all products had now been brought to their purchase price and the element of subsidy or price differential claim had been eliminated. "There is no more government loss on the sale of petroleum products," he said, hoping to conclude an agreement with the IMF for reviving loan support.
Source: Times Of India
Please click the following URL to read the full text of the original story:
https://timesofindia.indiatimes.com/world/pakistan/pakistan-hikes-fuel-prices-by-29-to-secure-imf-funding/articleshow/92267685.cms
--------
Security boost for Chinese living in Islamabad
Jun 17, 2022
ISLAMABAD: In the wake of increasing attacks on Chinese nationals living in the country, Pakistan's capital city of Islamabad has announced a slew of security measures to boost their safety. At a meeting held to review the performance of a cell established by Islamabad police for the security of foreigners, over 1,000 Chinese nationals in the capital will be urged to keep the police abreast of their movements at all times, Dawn newspaper reported.
Officials said that those involved in the CPEC projects are provided extra cover by security forces and paramilitary troops. It was also decided that either SHOs of police stations, security division or patrolling unit will provide security cover to the China nationals. They will also be responsible for patrolling around the residences of China nationals. CCTV cameras are to be installed around the residences as well as on the roads leading to their houses.
Source: Times Of India
Please click the following URL to read the full text of the original story:
https://timesofindia.indiatimes.com/world/pakistan/security-boost-for-chinese-living-in-islamabad/articleshow/92267170.cms
--------
MQM-P claims victory as violence mars by-poll in Karachi's NA-240
Imtiaz Ali | Imran Ayub
June 17, 2022
KARACHI: Marred by low turnout, mismanagement on part of the Election Commission and poor performance of the law-enforcement agencies, the by-election in Karachi's NA-240 turned into a deadly episode on Thursday.
Armed attacks, clashes between workers of rival parties and an assault on election camps left at least one man dead and over a dozen people injured amid complaints of rigging by the key contesting parties.
According to late-night unofficial results, Mohammad Abubakar of the Muttahida Qaumi Movement-Pakistan (MQM-P) won the by-election by securing 10,683 votes, defeating Tehreek-i-Labbaik Pakistan's (TLP) candidate Shehzada Shahbaz who bagged 10,618 votes. Muhajir Qaumi Movement's Syed Rafiuddin came third with 8,383 votes. The TLP rejected the results and decided to challenge the outcome in court.
Tensions prevailed right from the first hour of polling, when the parties raised objections against each other for harassing their respective workers. The situation, however, turned violent hardly an hour or two before polling was due to close. Three major parties — MQM-P, TLP and Pak Sarzameen Party (PSP) — were primarily involved in the violence, both as alleged perpetrators and victims.
MQM-P claims victory, TLP disputes result; rivals fight pitched battle in Landhi as law enforcers look on
First it was Korangi 2 1/2 Degree College where an activist was caught by closed-circuit television (CCTV) cameras stealing ballot paper books from one of the polling booths. After he was arrested, the TLP accused him of being an MQM-P worker, but the party denied the allegation.
Within a few minutes, workers on both sides — TLP and MQM-P — were seen engaged in a scuffle outside the polling station where a heavy contingent of police appeared helpless and unmoved. However, the real showdown began around 4pm when the intersection of Landhi No. 6 became a battleground.
First, it was a convoy of the PSP, led by senior party leader Anis Kaimkhani, which came under heavy fire at the main roundabout, followed by a TLP convoy led by its chief Allama Saad Rizvi.
Karachi police chief Javed Alam Odho told Dawn after initial findings: "There were reports of some irregularities at a Landhi No. 6 polling station. In the meantime, several workers of a religious party also arrived there. Contingents of the police rushed to the spot after receiving information. The police found the presiding officer of the polling station in connivance with one of the political groups and his matter was taken up with the ECP. When all this was going on, a senior leader of another party along with around 300-400 workers arrived there and forcibly entered the polling station. When both groups were returning amid a tense situation, violent episodes happened on the main road near the roundabout."
The free use of arms and intense firing in the presence of a heavy police contingent left around a dozen people injured, including former Sindh Assembly member and senior PSP leader Iftikhar Alam. All injured were shifted to Jinnah Postgraduate Medical Centre (JPMC) where 60-year-old Saifuddin died during treatment. Police surgeon Dr Summaiya Syed said they received one body and nine injured at the JPMC. Another injured person was moved to a private hospital on Stadium Road.
Indiscriminate, heavy and consistent firing sowed fear and panic in the densely populated neighbourhood, where many people were seen running for cover amid little or no action from law enforcement agencies.
Grim reminder
When the guns finally fell silent and the situation was brought under control by law enforcers, political parties continued to indulge in a blame game about who was responsible.
PSP chairman Mustafa Kamal blamed the TLP, calling it a "militant party" which had attacked his workers and harassed his voters after sensing defeat in the by-poll. The TLP spokesman, while rejecting the allegation, accused the PSP of bringing its whole city workforce to the constituency "with heavy arms and a plan of rigging."
MQM-P senior leader and Federal Minister Aminul Haq referred to a number of his party workers who were injured during the "daylong attacks" and claimed that the violence was staged to make the process controversial.
Source: Dawn
Please click the following URL to read the full text of the original story:
https://www.dawn.com/news/1695221/violence-mars-na-240-by-poll
--------
Sikh yatrees attend 'Akhand Bhog Sahib' to mark martyrdom of Guru Arjun
June 16, 2022
Thousands of Sikh yatrees from across the world attended 'Akhand Bhog Sahib' rites
to mark martyrdom day of Guru Arjun Dev G at Gurdwara Shri Dera sahib here on Thursday.
144 Sikh yatrees, including Sikhs from Canada, United Kingdom (UK) and the United States (US) had travelled from India to attend Jorr Mela. A 16-member Raagi group led by Sardar Sukhwinder
Singh, 144 Indian Sikh yatrees and a large number of pilgrims from Pakistan attended
the ceremony.
Chairman Roet e Hilal Committee Maulana Abdul Khabeer Azad and Chairman Evacuee Trust Property Board (ETPB) Habib-ur-Rehman Gillani attended the ceremony held under the auspices of the ETPB.
Bhog of Akhad Path was offered on this occasion after recitation from the Gurur Grantham Sahib to mark death anniversary of the fifth master Guru Arjun Dev. Hymns were also sung by the Raagi Group.
Speaking on the occasion, Maulana Syed Abdul Khabeer Azad said Islam puts special emphasis on the rights of minorities, adding that: "All minorities enjoy complete religious freedom and opportunities to self-aggrendizement in Pakistan".
He said his father started the mission of promoting inter-faith harmony from the platform of the Badshahi Mosque. He said: "It is our collective responsibility to promote inter-faith harmony and human dignity in the face of various challenges faced by the world".
Maulana Syed Abdul Khabeere said Pakistan is a bouquet made up of different flowers, adding that the white coloUr in the Pakistan flag represents minorities.
The ETPB Chairman Habib ur Rehman Gillani said Pakistani minorities enjoyed all rights in the light of the constitution of Pakistan.
He welcomed the followers of Sikh and Hindu religions across the world to Pakistan, adding that:" Our doors are always open for the pilgrims".
The chairman ETPB wished that more and more Sikh yatrees arrive from the neighbouring India and perform their religious rites at the shrines and gurdwaras.
Sardar Sukhwindar Singh said:" Pakistan is our second home and love and affection, we have been accorded, cannot be expressed in words".
He said, no doubt, the religious sites of Sikh religions were very well looked after in Pakistan and the Sikh nation across the globe was obliged to Pakistan for the favours.
Source: Pakistan Today
Please click the following URL to read the full text of the original story:
https://www.pakistantoday.com.pk/2022/06/16/sikh-yatrees-attend-akhand-bhog-sahib-to-mark-martyrdom-of-guru-arjun/
--------
Southeast Asia
State Govts Enable Discrimination, Moral Policing, Says Komuniti Muslim Universal, A Religious Group
Danial Azhar
June 16, 2022
PETALING JAYA: A religious group laments that "state-sponsored discrimination" against ethnic minorities of different faiths through laws and fatwas, or religious edicts, is facilitating intolerance.
Giving examples of how this intolerance was affecting the Muslim community, Hisham Muhaimi of Komuniti Muslim Universal said state governments had enabled the rise of vigilante groups to police Muslims.
He cited Skuad Badar, which operated in Sungai Petani, Kedah, as a prime example.
Skuad Badar refers to an anti-vice group in Sungai Petani that would raid budget hotels and target couples for allegedly commiting khalwat (close proximity).
"State governments, such as in Kedah, have created an enabling environment for intolerance to thrive.
"This has opened the doors for moral vigilante groups to police people when they have no right or authority to do so," he said at the launch of Sisters in Islam (SIS) and Merdeka Center's survey on Malaysian Muslim youth.
Hisham also cited PAS president Abdul Hadi Awang's decree in 2018 as a "dangerous" example of misusing religion.
Four years ago, Hadi said it was compulsory for Muslims to oppose and openly protest the ratification of the International Convention on the Elimination of All Forms of Racial Discrimination (ICERD).
Hisham said Malaysia must revamp its education system to teach youth about the constitution as well as the ethnic and religious rights enshrined in it. This, he added, was essential to ensure religious and ethnic harmony and tolerance within society.
He said that while the country prided itself on multiculturalism, it only celebrated the food and festivities of the different ethnicities but continued to shy away from the real issues or conflicts between the various cultures.
Hisham was commenting on the Malaysian Muslim youth survey conducted by Merdeka Center and SIS, which found, among other things, that 81% of the 1,216 respondents believed that Islam should be a priority in matters of public life.
Source: Free Malaysia Today
Please click the following URL to read the full text of the original story:
https://www.freemalaysiatoday.com/category/nation/2022/06/16/state-govts-enable-discrimination-moral-policing-says-religious-group/
--------
Govt's claim of looking after Muslims and Bumiputeras questioned
Danial Azhar
June 16, 2022
PETALING JAYA: The notion that the government looks after the welfare of Muslims and Bumiputeras is "wearing thin", says a research centre.
Merdeka Center programmes director Ibrahim Suffian said the government could no longer claim to protect the welfare of Muslims and Bumiputeras as many among them were struggling.
"We see this now with the increasing prices of goods and basic necessities.
"How can the government claim to look after Muslims and Bumiputeras when a large portion of these communities are suffering just as much as other ethnic groups in the country?" he asked at the launch of Sisters in Islam and Merdeka Center's survey on Malaysian Muslim youth.
Ibrahim said the government had resorted to providing subsidies and aid to those most in need rather than actively implementing measures to improve their condition of life.
"There is a big disconnect between the ideals the government preaches and the policies it actually implements."
He said it was evident from the political instability in the country that many politicians and political leaders put their own interests ahead of the people.
Source: Free Malaysia Today
Please click the following URL to read the full text of the original story:
https://www.freemalaysiatoday.com/category/nation/2022/06/16/govts-claim-of-looking-after-muslims-and-bumiputeras-questioned/
--------
Selangor Sultan says state PAS chief's statement after royal audience about Bon Odori inaccurate
By Radzi Razak
17 Jun 2022
KUALA LUMPUR, June 17 ― The Sultan of Selangor, Sultan Sharafuddin Idris Shah today said that Selangor PAS Commissioner Datuk Ahmad Yunus Hairi's statement after he was summoned for an audience to discuss matters pertaining to the Bon Odori festival was not accurate.
His Majesty's private secretary Datuk Mohamad Munir Bani said the part where Roslan said "His Majesty wanted to know our stance on the Bon Odori celebration. His Majesty gave his views and we also conveyed to His Majesty that we respect His Majesty's stand," is not accurate at all and clarified that this was not what happened during the audience.
Mohamad Munir said His Majesty only stated about His Majesty's stance not to restrict the Japanese cultural festival "Bon Odori" which will be held in Selangor since it is only cultural in nature.
"His Majesty also did not prevent any Muslim from attending it until an in-depth study was done on the festival whether it was religious or cultural in nature to avoid confusion among the community, especially the Muslim community," he said in a statement today.
Datuk Munir said other than Yunus, during the audience before His Majesty at Istana Bukit Kayangan Shah Alam on Tuesday evening, several members of the House of the Ruler of Selangor were also invited to witness the meeting, namely, the Chairman of the Selangor Islamic Religious Council, Tan Sri Abdul Aziz Mohd Yusof, Tengku Seri Wangsa Diraja Tengku Datuk Ramli Alhaj Tengku Shahruddin Shah and Datuk Setia Salehuddin Saidin.
Previously, Yunus had urged the Selangor state government on June 10 to prohibit Muslims from participating in the Bon Odori festival.
Source: Malay Mail
Please click the following URL to read the full text of the original story:
https://www.malaymail.com/news/malaysia/2022/06/17/selangor-sultan-says-statepas-chiefs-statement-after-royal-audience-about-bon-odori-inaccurate/12808
--------
Africa
Uganda's army says it discovers training facility for Islamist militia
June 16, 2022
KIKUBAJINJA, Uganda, June 16 (Reuters) - Uganda's military said on Thursday it had discovered bomb making material at a training facility for an Islamic State-allied rebel group around 60 kilometres west of the capital Kampala, and that three people had been detained.
Authorities blamed the Allied Democratic Forces (ADF), a militia based in the dense forests in neighbouring Democratic Republic of Congo, for a series of bombings in Kampala and elsewhere late last year which left at least nine people dead.
In one of the worst attacks, a suicide bomber blew himself up at the entrance of a police station in the centre of Kampala. Three minutes later two other suicide bombers detonated along a road that leads to the parliament.
The training facility was found at the home of a local man, army spokesman Felix Kulayigye said during a media tour of the village of Kikubajinja in Luwero district.
A tunnel used for training had been dug in one of the rooms, he said.
Security personnel had become suspicious after reports emerged from neighbours that "nobody was allowed to enter, nobody would be seen getting out," Kulayigye said.
Authorities recovered bomb making materials including metal, nails and wires as well as bullets and a pistol fitted with a silencer, he said.
Source: Reuters
Please click the following URL to read the full text of the original story:
https://www.reuters.com/world/africa/ugandas-army-says-it-discovers-training-facility-islamist-militia-2022-06-16/?rpc=401&
--------
Nearly 40 extremists killed in drone strikes in Niger: French military
16 June, 2022
French drone strikes killed nearly 40 extremists earlier this week who were traveling on motorcycles near Niger's border with Burkina Faso, France's military announced Thursday.
In a statement, the French military called the strikes a "new tactical success" for France's counterterrorism efforts in Africa's Sahel region, named Operation Barkhane.
"Intelligence obtained from Nigerien units in contact with the column confirmed that the motorcycles belonged to an armed terrorist group moving between Burkina Faso and Niger," Barkhane said in the statement.
"In close coordination with Niger's Armed Forces, the Barkhane force conducted several strikes against the column. Nearly 40 terrorists were neutralized."
Source: Al Arabiya
Please click the following URL to read the full text of the original story:
https://english.alarabiya.net/News/north-africa/2022/06/16/Nearly-40-extremists-killed-in-drone-strikes-in-Niger-French-military
--------
Morocco's king tests positive for COVID-19
16 June, 2022
King Mohammed VI of Morocco has tested positive for COVID-19 but has exhibited no symptoms, his doctor said on Thursday.
The king will be on sick leave for a couple of days, his doctor Lahcen Belyamani said in a statement carried by state media.
Professor Lahcen Belyamani recommended "a period of rest for a few days", according to a statement published by the official MAP news agency.
King Mohammed, who holds sweeping powers, has headed the regions longest-serving dynasty since 1999.
Source: Al Arabiya
Please click the following URL to read the full text of the original story:
https://english.alarabiya.net/coronavirus/2022/06/16/Morocco-s-king-tests-positive-for-COVID-19
--------
URL: https://newageislam.com/islamic-world-news/us-prophet-blasphemous-human-rights/d/127265
New Age Islam Islam Online, Islamic Website, African Muslim News, Arab World News, South Asia News, Indian Muslim News, World Muslim News, Women in Islam, Islamic Feminism, Arab Women, Women In Arab, Islamophobia in America, Muslim Women in West, Islam Women and Feminism