New Age Islam News Bureau
16 Jun 2020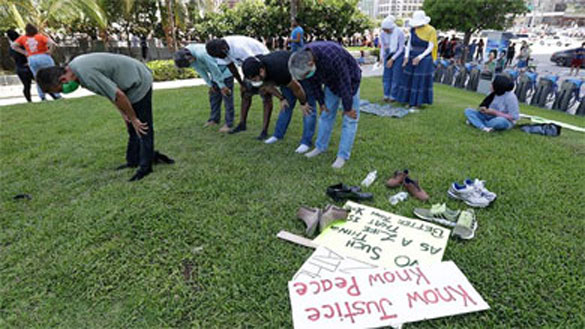 Muslim protesters pray before joining a demonstration in Miami, Florida [Wilfredo Lee/AP Photo]
----
• As Mosques in England Reopen, MPs Fear Rise in IslamophobiaAfter A Rise in Racism and Conspiracy Theories About Muslims
• The Quran Learning, With Translation, Made Mandatory for University Students, Except Non-Muslims, In Punjab, Pakistan
• Al Jazeera Anchor Attacks Muslim World League Chief's Call to Combat Anti-Semitism
• Turkey Planning to Set Up 2 Permanent Military Bases in Libya: Turkish Daily
• Iranian FM Stresses Productive Talks with Turkish Counterpart
• India Slams Pakistan For Raising Kashmir At UNHRC, Asks It To 'Introspect' Its Grave Human Rights Situation
North America
• US Muslims Join Calls for Police Reforms in Wake Of Floyd Killing
• Coronavirus: US Representative Ilhan Omar's father dies due to COVID-19
--------
Europe
• As Mosques in England Reopen, MPs Fear Rise in Islamophobia After A Rise in Racism and Conspiracy Theories About Muslims
• Experts see rupture in Russia's ties with Turkey after cancellation of talks
• Italy's top diplomat to visit Turkey on Wednesday
--------
Pakistan
• The Quran Learning, With Translation, Made Mandatory for University Students, Except Non-Muslims, In Punjab, Pakistan
• Pakistan does not meet minimum requirements of fiscal transparency, says US report
• Govt ready to face consequences in Isa case, counsel tells SC
• Three given jail terms by Paris court over 'Karachi affair'
• PM satisfied with virus testing kits, PPE availability
• Ex-envoy among six acquitted of terror financing
• Asad Umar criticised for morbid Covid comparison
--------
Arab World
• Al Jazeera Anchor Attacks Muslim World League Chief's Call to Combat Anti-Semitism
• Rioters should face tough response for 'acts of sabotage': Lebanon Prime Minister
• Arab Coalition intercepts Houthi missile targeting Saudi Arabia's Najran
• Arab Coalition intercepts, destroys Houthi drone targeting Saudi Arabia's Asir
• Arab Coalition downs Houthi aircraft launched towards Saudi Arabia's Khamis Mushait
• Iraqi PM visits Mosul on 5th anniversary of capture from Daesh
• Syria to launch new offensive in Idlib as Turkey deadline passes
• Work together to overcome global crisis, says Saudi energy minister
--------
Africa
• Turkey Planning to Set Up 2 Permanent Military Bases in Libya: Turkish Daily
• Nigeria's Boko Haram crisis: UN 'appalled' by twin jihadist attacks in Borno
• Tunisian party leader Abir Moussi: Muslim Brotherhood members receiving foreign funds
• Libyan parliament calls for probe into mass killings
• Libya: One dead from landmine planted by Haftar militia
• 'Turkey stands by Sarraj government, Libyan brothers'
--------
Mideast
• Iranian FM Stresses Productive Talks with Turkish Counterpart
• Whistle-Blower Discloses Saudi Army's Secret Jail in Eastern Yemen
• Iran Condemns US, Israel's Interference in IAEA's Affairs
• Spokesman Blasts S. Korea for Blind Obedience to US in Blocking Iran's Assets
• Coronavirus: Iran warns it may have to reimpose strict measures as cases rise
• Iran says extending UN Security Council arms embargo is a 'red line'
• Saudi-led coalition kills 11 in northern Yemen, launches 43 raids in 4 provinces
• UAE normalization with Israel poisonous stab in Palestinians' back: Hamas
• Iran to host virtual meeting on peace process in Syria: FM Zarif
• UAE finances anti-Turkey PKK terrorists in northern Iraq: Report
--------
India
• India Slams Pakistan For Raising Kashmir At UNHRC, Asks It To 'Introspect' Its Grave Human Rights Situation
• Delhi Police ask Delhi Minorities Commission Chairperson to Join Interrogation in His "Instigating Statements" On Social Media
• Pakistan releases Indian officials but claims they had fake currency on them
• 27 terrorists of JeM, LeT, Hizb killed in past 17 days: J&K DGP
• 3 terrorists killed in encounter in Jammu and Kashmir's Shopian
• Pakistan violates ceasefire along LoC in J&K's Kupwara
--------
South Asia
• Bangladesh Has 21 New Deacons, A Sign Of Growing Religious Vocations
• Traffickers Demand Ransoms for Rohingya Muslims Held at Sea
• Bangladesh archbishop critically ill with Covid-19
• Ghani issues stern order to security institutions after recently Kabul mosque bombings
• Taliban militants suffer heavy casualties in Kapisa clashes
--------
Southeast Asia
• All Non-Muslim Places of Worship Can Now Operate but With One-Third of Usual Capacity, Says Ismail Sabri
• End the numbers game and call for elections, urges Nazri
• Sarawak allows 24-hr business premises to operate fully from Wednesday
• Eric Paulsen no longer member of Communications and Multimedia Ministry consultative council
• In fight against COVID-19, Jokowi taps VP to deal with what he knows best: Religion
Compiled by New Age Islam News Bureau
URL: https://www.newageislam.com/islamic-world-news/us-muslims-join-calls-police/d/122137
--------
US Muslims join calls for police reforms in wake of Floyd killing
June 16, 2020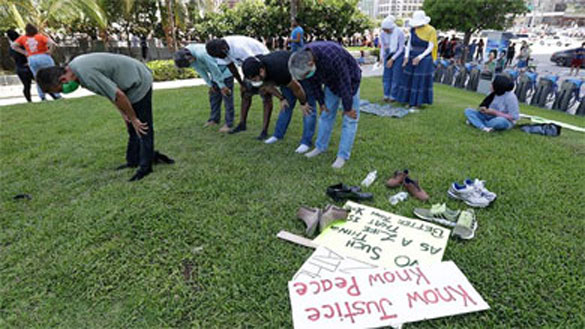 Muslim protesters pray before joining a demonstration in Miami, Florida [Wilfredo Lee/AP Photo]
----
In the wake of George Floyd's death in police custody, dozens of Muslim organisations in the United States have come together to call for reform to policing practices and to support Black-led organisations.
"The victimization of unarmed Black Muslims has a long and troubling history," said a coalition statement signed by more than 90 civil rights, advocacy, community and faith organisations and released on Monday. "As American Muslims, we will draw on our diversity, our strength, and our resilience to demand these reforms because Black lives matter."
Proposed changes include prohibiting racial profiling and manoeuvers that restrict the flow of blood or oxygen to the brain, such as chokeholds; making it legally easier for prosecutors to hold law enforcement accountable; and redirecting police funding "into community health, education, employment and housing programs".
The statement also calls for the establishment of "a federal standard that use of force be reserved as a last resort, only when absolutely necessary" and after exhausting all reasonable options.
"These demands are a floor for our groups and not a ceiling. Some would call for much more," said Farhana Khera, executive director of Muslim Advocates, one of the statement's co-conveners.
"We're also urging all American Muslims to call their members of Congress right now and to demand a stronger response from them."
Like members of other faith groups, many Muslims in the US have joined in the outrage unleashed after Floyd, an unarmed Black man, died after a white Minneapolis police officer pressed a knee to his neck.
Groups from multiple denominations across faiths have publicly called for action against racism and aligned with the goals of peaceful demonstrators.
In street protests, statements, sermons and webinars, US Muslims have rallied against racism and discussed reforms.
"Muslim American organizations are committed to advocating at all levels to put an end to excessive use of force which has led to the murders of countless Black Americans," said Iman Awad, legislative director of Emgage Action, one of the statement's signatories. "Our message is that we will continue to fight but most importantly uplift the work being done by our Black leaders."
Muslims in America are ethnically and racially diverse and Floyd's death has also reinvigorated conversations about the treatment and representation of Black Muslims in their own faith communities.
"I'm hopeful and heartened by the number and diversity of groups that have signed on," said Kameelah Rashad, president of Muslim Wellness Foundation, also a co-convener. "That says to me that there's at least recognition that we as a whole can no longer separate Islamophobia, anti-Black racism, surveillance, and violence. People are reconciling with the notion that means our struggles are intertwined."
Now, she said, is the time for action.
"It's vital that non-Black Muslims develop a respect for the resilience and resistance of Black people."
The statement said: "Black people are often marginalized within the broader Muslim community. And when they fall victim to police violence, non-Black Muslims are too often silent, which leads to complicity."
Moving forward, American Muslim communities must make space for Black-led organisations, Awad said.
Also, "we must commit to having leadership positions which reflect the diversity of our faith community," she said. "We cannot be successful until we have all voices represented at all levels within our organizational structures and our communities must do better."
The statement said the demands represent only a "down payment" on needed reforms.
"If this deep-seated discrimination cannot be done away with through reform, then these systems will need to be abolished and re-imagined entirely," the statement said.
https://www.aljazeera.com/news/2020/06/muslims-join-calls-police-reforms-wake-floyd-killing-200615151310921.html
--------
As Mosques In England Reopen, MPs Fear Rise in Islamophobia After A Rise In Racism And Conspiracy Theories About Muslims
15 Jun 2020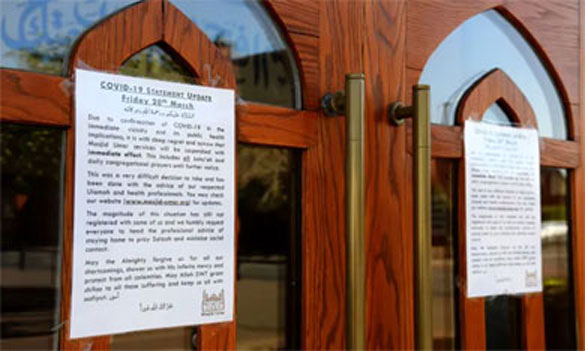 Notices informing worshippers of the closure of a mosque in Leicester in April. Photograph: Ross Kinnaird/Getty Images
-----
MPs are braced for a rise in Islamophobia as mosques start to reopen across England, after a rise in racism and conspiracy theories about Muslims and coronavirus.
Afzal Khan, the vice-chair of the all-party parliamentary group for British Muslims, received dozens of racist emails during Ramadan and the festival of Eid, and has seen false stories about Muslims increasing the transmission of coronavirus on social media.
"The journey of this is first the thoughts, then the words, then the action comes. We know in the past things have happened.
"It's true that a large number of people do participate [at mosques]. But they understand the risk. They are complying with [the rules] and there is no evidence to show that they are not and yet the narrative from the far right is the opposite."
Yasmin Qureshi, the shadow international development minister and one of the first female Muslim MPs, Tan Singh Dhesi MP and Wes Streeting MP, who are both vice-chairs of the APPG for British Muslims, also have concerns.
Streeting is calling on police to consider increasing security at mosques in their operational plans as lockdown eases across the UK.
Dhesi, the first Sikh MP to wear a turban in parliament, said mosques could be targeted, as well as gurdwaras. He said: "There have been attacks in the past, people have been cooped up at home, and there's been a distortion of what's going on through social media. They may feel very, very worked up.
"Communal elements are more common in certain faiths but there have been certain elements of the far right saying this is how the coronavirus is spreading. This is a dangerous narrative we need to call out," he said.
Racist emails were sent to Khan after he spoke out against Tommy Robinson and Britain First's TikTok accounts, which have since been banned.
The organisation Tell Mama, which supports victims of anti-Muslim hate, has so far recorded dozens of incidents of far-right groups blaming British Muslims for the spread of the virus.
The government allowed places of worship in England to reopen on 13 June for private prayer. However, there are calls for clearer guidance on what the new rules mean for congregational prayer – a primary feature of worship in a mosque.
The Muslim Council of Britain has offered extensive advice on how mosques can operate social distancing by limiting numbers and staggering entry times.
https://www.theguardian.com/news/2020/jun/15/mps-fear-rise-in-islamophobia-as-mosques-in-england-reopen-coronavirus
--------
The Quran Learning, With Translation, Made Mandatory for University Students, Except Non-Muslims, In Punjab, Pakistan
June 15, 2020
Ashfaq Ahmed
Dubai: In a surprise move, Governor of the Punjab Province of Pakistan Chaudhry Mohammad Sarwar has made the teaching of the Quran with translation mandatory in all universities in the province.
Governor Sarwar has issued the notification on Sunday making it mandatory for all the students in the universities (except non-Muslims) to learn the Quran with Urdu translation. The notification states that a student will not be awarded a degree if he or she does not study the Quran — the holy book of Muslims — with the Urdu translation.
"We have decided to make it compuslory to for the university students to learning the Quran with translation. It is a unanimous decisions of vice-chancellors of all the univerities in the province," Governor Sarwar tweeted in Urdu.
Notification
Governor Sarwar issued the notification in his capacity as the Chancellor of all the universities in the province. In Pakistan, Governor of a province also acts as Chancellor of universities in the province and has the authority to make decisions related to courses and regulations in any university in a province.
"Lecturers in all universities of Punjab will teach the Quran with translation to all students," said the notification. It added that the holy Book would be taught in addition to Islamic studies, which is already being taught at universities.
Governor Sarwar said that success in the world and the hereafter can only be achieved through proper implementation on the guidelines of the Holy Quran, Geo TV reported.
According to the notification of the committee, the Quran course may have equivalent to one credit hour per year as the relevant university feels appropriate.
The notification says that the assessment of the Quran course must require each candidate to pass/fail. The student may be further assigned a grade as in any other credit subject, if University feels necessary/appropriate. "As a substitute, the non-Muslim students may be offered the subject of Ethics.
Vice Chancellors agree
In April, the Punjab governor had formed a seven-member committee of vice-chancellors to submit recommendations on how to make the teaching of the Quran with translation compulsory in all universities in the province. All the vice-chancellors agreed to the proposal of the governor.
He told the media on Sunday that the learning of the Quran with translation has been made mandatory because the Book is a complete code of life and its better understanding with translation would help improve the lives of people.
Jamaat-e-Islami influence
Most universities in Punjab have great influence of students from Islami-Jamiat Talaba-- an Islamic students outfit of famus religious group Jamaat-e-Islami. It has been there long-standing demand to include Islamic studies and the Quran teachings in the univeristies.
In Pakistan, Muslims children start learning the Quran as they start attending the primary school. However, they are taught the Quran only in Arabic without translation.
"The Quran learning with translation should be made mandatory in the primary school instead of makign the university students attend the Quran classes. It seems the Governor Punjab has taken the decision to win support of the Islamic groups which are quite strong in the province, said a top official.
https://gulfnews.com/world/asia/pakistan/the-quran-learning-made-mandatory-for-university-students-in-punjab-1.72051304
--------
Al Jazeera anchor attacks Muslim World League chief's call to combat anti-Semitism
16 June 2020
Another Al Jazeera presenter is in the spotlight again after tweeting a video attacking the head of the Muslim World League's efforts to combat anti-Semitism.
Ahmed Mansour on Monday tweeted a recent speech of Dr. Mohammed Al-Issa, who is Secretary-General of MWL, in which the Saudi sheikh said that Muslims would stand "shoulder to shoulder" with Jewish people and Christians to build better interfaith relations with one another.
"The Secretary-General of the Jewish-Muslim World League calls for a new religion?!" Mansour tweeted in his attack of Al-Issa.
Samuel Tadros
@Samueltadros
Al Jazeera's incitement against any act of toleration towards non-Muslims in the Middle East is a serious problem and needs to be a key component in any U.S. conversation with Qatar https://twitter.com/amansouraja/status/1272457953266679808 …
A Mansour أحمدمنصور
✔
@amansouraja
أمينعامرابطةالعالمالإسلامىاليهودىيدعواإلىدينجديد؟!
Embedded video
246
10:29 PM - Jun 15, 2020
Twitter Ads info and privacy
225 people are talking about this
Al-Issa recently received an award for his efforts to combat anti-Semitism while attending a virtual conference from Mecca, Saudi Arabia, last Tuesday.
For all the latest headlines follow our Google News channel online or via the app.
"We in the Muslim World League are proud to should to shoulder with our Jewish brothers and sisters to build understanding, respect, love and interreligious harmony," said al-Issa, who was speaking at a virtual conference organized by the Combat Anti-Semitism Movement and the American Sephardi Federation.
In January, Sheikh al-Issa led an interfaith delegation to the Auschwitz-Birkenau Memorial site in Poland to commemorate the 75th anniversary of the liberation of the Nazi concentration and extermination camp by Soviet forces. The death camp was active during the Holocaust, in which Nazi German authorities killed around 6 million Jews.
The Qatari-owned channel has also been criticized over what its anchors share on social media. Mansour, an Egyptian television news presenter who has worked with Al Jazeera since 1997, has been known for making incendiary, often false, remarks in the past.
In 2017, Mansour caused controversy for a Facebook post in which he justified the destructive Hurricane Irma that hit Cape Verde and the Leeward Islands as a "display of God's greatness which many dare to deny."
In his post, Mansour invoked a verse of the Quran to justify Hurricane Irma's wrath, writing in the now-deleted post: "And He will show you His signs, and what signs of Allah will you deny?"
The Al Jazeera Media Network has long had disparities between its Arabic and English language news channels, with the former being accused of taking a more anti-Semitic and anti-Israeli editorial line.
Those editorial discrepancies were highlighted last May when the network's Arabic AJ+ platform claimed that Jews exploited the Holocaust, exaggerated the death toll, and that Israel is the genocide's "greatest beneficiary." Al Jazeera's Arabic network suspended the two journalists who worked on the controversial video produced on its AJ+ Arabic platform.
Al Jazeera has also long played host to Muslim Brotherhood spiritual leader Yusuf al-Qaradawi, who ran a long-standing program called "Sharia and Life." Al-Qaradawi has been criticized over his anti-Semitic rhetoric over the years, including an incident in which an app with an introduction written by the Egyptian-Qatari cleric launched by the European Council for Fatwa and Research (ECFR) in Dublin being banned by Google for making derogatory references to Jews.
Al Jazeera Arabic also ran a Friday sermon hosted by al-Qaradawi back in 2009 in which he advocated for the killing of Jews.
"Take the treacherous Jewish aggressors … They've spread too much tyranny and corruption on Earth. Oh God, take this Jewish Zionist band of aggressors and don't spare a single one of them," al-Qaradawi said in the sermon aired by Al Jazeera.
https://english.alarabiya.net/en/media/television-and-radio/2020/06/16/Al-Jazeera-anchor-attacks-Muslim-World-League-chief-s-call-to-combat-anti-Semitism.html
--------
Turkey planning to set up 2 permanent military bases in Libya: Turkish daily
15 June 2020
Turkey is reportedly planning to set up two permanent military bases in Libya following the Tripoli government's operation to retake areas seized by rebel forces under the command of renegade general Khalifa Haftar.
Citing military sources, Turkish newspaper Yeni Safak, reported earlier this week that Ankara was planning to set up a military base in the strategic Misrata port and also use the al-Watiya airbase, located south of the Libyan capital, Tripoli.
The report added that the Misrata facility would serve as a naval base with permanent assault and reconnaissance capabilities, where auxiliary aircraft could be stored.
Tripoli, it added, would allow Ankara to deploy anti-aircraft systems and drones to the al-Watiya airbase, which has played a key role in the Libyan government's 14-month counter-offensive against Haftar's forces.
Ankara will also cooperate in oil drilling and exploration activities with Tripoli, according to the paper.
"The tension and Greek provocations in Eastern Mediterranean require the presence of Turkish naval forces in Libyan territory, and that is why Misrata port will be a military base for Ankara," the paper wrote.
The internationally-recognized government in Tripoli receives backing from Turkey, while Haftar's rebel forces are supported by Saudi Arabia, Egypt, Russia, and the United Arab Emirates (UAE).
Haftar's forces began their offensive in April 2019 in an attempt to seize Tripoli and unseat the internationally-recognized government of Prime Minister Fayez al-Sarraj.
The Libyan government, however, launched a counter-offensive and has so far managed to retake most of the areas seized by Haftar's forces.
The news comes days after Sarraj paid a visit to Ankara, where he announced victory over Haftar during a presser with Turkish President Recep Tayyip Erdogan.
France: Turkey exploiting NATO
In another development, France — which is widely reported to lend support to Haftar despite its denials — has slammed Turkey's "aggressive" intervention in Libya, warning that it "cannot just stand by."
A French government official, who was speaking to AFP on the condition of anonymity, accused Paris' NATO ally of violating a UN arms embargo and sending half a dozen ships to Libya's coast.
"The Turks are behaving in an unacceptable manner and are exploiting NATO," the official added.
Earlier this week, French President Emmanuel Macron and his Turkish counterpart Recep Tayyip Erdogan held separate talks with US President Donald Trump.
The French official said that "exchanges will take place in the weeks to come on this subject with NATO partners."
Russia-Turkey talks postponed
Meanwhile, Turkey said a planned ministerial-level meeting with Russia on the Libya conflict had been delayed.
Turkish Foreign Minister Mevlut Cavusoglu and his Russian counterpart Sergey Lavrov decided to put off the talks during a phone call on Sunday, according to the Turkish Foreign Ministry.
"The two countries' deputy ministers will continue contacts and talks in the period ahead. Minister-level talks will be held at a later date," it said in a statement.
Pope urges end to Libya violence
Pope Francis on Sunday voiced concerns over the developments in Libya, calling for an "end to the violence" in the North African country.
The head of the Roman Catholic Church, during his weekly speech, urged political and military leaders in the country to take a path toward "peace, stability and unity."
The pontiff added that thousands of migrants, refugees, asylum-seekers and internally-displaced people are "more vulnerable to forms of exploitation and violence" in Libya.
"There is cruelty," he said. "We all have responsibility. No one can feel exempt."
Libya plunged into chaos in 2011 when a popular uprising backed by a NATO intervention led to the ouster of long-time dictator Muammar Gaddafi.
Since 2014, two rival seats of power have emerged in the North African country — the UN-recognized Sarraj government, and another group based in the eastern city of Tobruk, supported militarily by Haftar's rebels.
https://www.presstv.com/Detail/2020/06/15/627481/Libya-confict-Turkey-military-base-Khalifa-Haftar
--------
Iranian FM Stresses Productive Talks with Turkish Counterpart
Jun 15, 2020
"Productive talks with my friend Mevlut Cavusoglu and other senior officials in Istanbul," Zarif wrote on his twitter page on Monday.
He added that during the talks, they had in-depth exchange of views and made fruitful decisions on mutual cooperation as well as regional and global issues.
"Close consultations imperative. Next stop: Moscow. Neighbors always our priority," Zarif said.
Upon arrival in Turkey on Sunday night, Zarif underlined that Tehran and Ankara have very good and close relations in different fields, including political and economic areas.
"Relations with our neighbors, specially with Turkey, are a priority for us and our region in foreign policy," Zarif said upon his arrival in Turkey.
He reiterated that Iran-Turkey relations are close in various fields.
Zarif said that his visit to Turkey is a sign of Iran's policy of giving priority to developing cooperation ties with the neighboring and regional countries.
The Iranian foreign minister emphasized that he considered it necessary to have a visit to Turkey for bilateral issues and discuss the resumption of economic relations and energy cooperation with that country.
Zarif is heading a high-ranking delegation to Istanbul to examine ways for bolstering mutual cooperation.
The Iranian foreign minister embarked on a visit to Turkey and Russia on Sunday to help expand bilateral relations with the two countries and hold talks with senior officials there.
https://en.farsnews.ir/newstext.aspx?nn=13990326000920
--------
India slams Pakistan for raising Kashmir at UNHRC, asks it to 'introspect' its grave human rights situation
Jun 16, 2020
GENEVA: India on Monday ripped into Pakistan for raising the Kashmir issue at the United Nations Human Rights Council (UNHRC) here and expressed "serious concern" over Pakistan's audacity to accuse others of "effecting a state-sponsored genocide."
Exercising its Right of Reply after Pakistan raised Kashmir at the 43rd session of UNHRC, Senthil Kumar, the First Secretary of India's Permanent Mission called out Islamabad for misusing the rights forum and its mechanism and asked the neighbouring country to introspect on its grave human rights situations before extending unsolicited advice to anybody.
Drawing the attention of the Council to crimes against humanity in Pakistan, New Delhi stated that enforced disappearances, state violence, forced mass displacement, extrajudicial killings, army operations, torture camps, detention centres, and military camps are a regular feature in Balochistan.
Maintaining that India's decision to revoke Article 370 of the erstwhile state of Jammu and Kashmir in August year does not have any external ramifications, Kumar said that the people have marched ahead despite Pakistan's "nefarious attempt" to derail peace and prosperity.
"It's unfortunate that Pakistan continues to maintain its track record of misuse of the Human Rights Council and its mechanism. It's a matter of serious concern that Pakistan being the only country in South Asia of effecting a state-sponsored genocide would have the audacity to accuse others of it," Kumar said.
"It's questionable that a country of serious credibility issues would talk about human rights and self-determination. This country emerged out of religious fundamentalism and bloodshed and its history rigged with assassinations, coups and puppets running," he added.
Kumar elaborated on the human rights abuses and persecution faced by the minority communities in Pakistan. He talked about the misuse of Blasphemy in Pakistan to terrorize minorities and cited examples of systemic targeting of minorities through blasphemy laws.
"Systemic misuse of Blasphemy in Pakistan has terrorized the minorities in Pakistan. The recent fate of two Hindu girls in Sindh, one Christian girl in Lahore, one Ahmadi lady in Chaleki, two professors from Khairpur are the examples of systemic targeting of minorities through blasphemy laws. The state of Pakistan is well manifested in the impunity in the murder of 65 transgenders in Pakistan since 2015," Kumar explained.
"Enforced disappearances, state violence and forced mass displacements, harassment, extrajudicial killings, army operations, torture, kill-and-dumps, torture camps, detention centres, military camps are regular features in Balochistan.
India also pointed out that there was no information on the fate of 47,000 Baloch persons and 35,000 Pashtuns who have been missing till date. It added that sectarian violence has claimed over 500 Hazaras in Baluchistan and more than 100,000 Hazaras have fled Pakistan," he added.
https://timesofindia.indiatimes.com/india/india-slams-pakistan-for-raising-kashmir-at-unhrc-asks-it-to-introspect-its-grave-human-rights-situation/articleshow/76396899.cms
--------
North America
Coronavirus: US Representative Ilhan Omar's father dies due to COVID-19
16 June 2020
Father of Somalia-born US Representative Ilhan Omar died on Monday night of complications from the novel coronavirus, local media reported.
"It is with tremendous sadness and pain to say goodbye to my father," the Minnesota congresswoman tweeted late on Monday. "No words can describe what he meant to me and all who knew and loved him."
Omar and her father Nur Mohamed came to the United States as refugees in 1995 from Somalia during the country's civil war and eventually settled in Minneapolis, according to Politico.
Ilhan Omar
✔
@IlhanMN
إِنَّالِلّهِوَإِنَّـاإِلَيْهِرَاجِعُونَ
Surely we belong to God and to him shall we return.
It is with tremendous sadness and pain to say goodbye to my father, Nur Omar Mohamed. No words can describe what he meant to me and all who knew and loved him.
View image on Twitter
57.4K
8:47 AM - Jun 16, 2020
Twitter Ads info and privacy
10.9K people are talking about this
Omar was elected along with Michigan Representative Rashida Tlaib in November 2018 making them among the first two Muslim women to serve in the US Congress.
The Minnesota representative did not respond to Reuters request for a comment.
https://english.alarabiya.net/en/coronavirus/2020/06/16/Coronavirus-US-Representative-Ilhan-Omar-s-father-dies-due-to-COVID-19.html
--------
Europe
Experts see rupture in Russia's ties with Turkey after cancellation of talks
June 15, 2020
ANKARA: As Russia's foreign and defense ministers postponed at the last minute a planned visit to Turkey on Sunday to discuss the Libya and Syria conflicts, the reasons for the decision have become a topic of speculation.
On the same day, French President Emmanuel Macron harshly criticized Turkey's "aggressive" intervention in Libya, and accused Ankara of violating a UN arms embargo and dispatching several ships to the war-torn country.
Russian Foreign Minister Sergey Lavrov and Defense Minister Sergei Shoigu were set to visit Istanbul with a high-level delegation, a few days after Turkish President Recep Tayyip Erdogan held a phone call with his US counterpart Donald Trump.
Ankara "wants to use Libya as leverage in its overall bilateral relations with the US, and most likely intends to coordinate some aspects of the cease-fire agreement with Washington, and possibly to harmonize them with US interests in the area," Madalina Vicari, an expert on geopolitics and Turkey, told Arab News, adding that the US wants to prevent increased Russian influence in Libya.
Aydin Sezer, an Ankara-based expert on Turkey-Russia relations, said disagreements between the two countries about the roadmap to follow after the cease-fire were behind the decision to put off the talks.
"Russia wants to negotiate the Libya issue along with issues related to Syria and especially rebel-held Idlib province," he told Arab News.
"Therefore Russia wants to increase pressure on Turkey by bringing Iran to the negotiation table because Moscow and Tehran follow similar policies in Idlib, contrary to Turkish priorities."
Sezer said the situation of Syrian mercenaries fighting in Libya is a "red line" for the Kremlin and another point of contention between Moscow and Ankara.
"Russia accuses Turkey of not eradicating these terrorists in Idlib and exporting them to Libya," he added.
Sezer said Ankara and Moscow are negotiating ways to decrease Turkey's military footprint in Libya.
Turkish presidential spokesman Ibrahim Kalin recently said Ankara favors a political solution rather than a military one.
But Sezer said: "Turkey insists on keeping its military advisors in Libya until brokering a final peace, which is unacceptable to Russia for the moment."
Samuel Ramani, a researcher at Oxford University, said the postponement of the visit was Libya-related, although Russian airstrikes in Syria have rankled Turkey.
"I think Russia and Turkey want to meet on Libya when a deal of sorts can be signed. They want progress on intra-Libyan peace negotiations, and Moscow certainly would want Turkey to commit to a military de-escalation," he told Arab News.
Ramani said another failed meeting, following the walkout in January by eastern Libya strongman Khalifa Haftar, would be seen in Russia as a blow to its status as a diplomatic arbiter.
A source in Ankara said the Russian postponement may be related to a strategic move by Turkey to let Libya's Government of National Accord take some zones around the city of Sirte, the so-called oil crescent, rather than agree to a quick cease-fire.
"In the meantime, Iran feels uncomfortable with the Astana process (on Syria) turning into a Turkish-Russian project by sidelining Tehran and attacking Iranian militia in the region," said the source.
"Therefore, the ongoing dynamics in Syria may have indirect repercussions over bilateral negotiations on Libya."
https://www.arabnews.com/node/1690331/middle-east
--------
Italy's top diplomat to visit Turkey on Wednesday
Burak Dağ
15.06.2020
Italy's top diplomat will pay a visit to Turkey this Wednesday at the invitation of Turkish Foreign Minister Mevlut Cavusoglu, according to the Turkish Foreign Ministry.
Cavusoglu and Luigi Di Maio will discuss Turkish-Italian relations, Turkey's EU accession process, and the fight against COVID-19, said the ministry on Monday.
The talks will also cover current regional and international issues, it added.
Di Maio will be one of the first foreign ministers to visit Turkish soil since the coronavirus pandemic hit Europe and nearby regions several months ago, resulting in most foreign contacts being held via video link.
https://www.aa.com.tr/en/europe/italy-s-top-diplomat-to-visit-turkey-on-wednesday/1877844
--------
Pakistan
Pakistan does not meet minimum requirements of fiscal transparency, says US report
Jun 16, 2020
WASHINGTON: Pakistan does not meet the minimum requirement of fiscal transparency, an official US report has said, alleging the country did not adequately disclose all government-guaranteed debt obligations, including financing to state-owned enterprises for the China-Pakistan Economic Corridor projects.
In its annual "2020 Fiscal Transparency Report" issued on Monday, the US State Department said Pakistan was one of the countries that made no significant progress in meeting the minimum requirements of fiscal transparency.
Bangladesh is the other country from south Asia to figure in the list that also includes Saudi Arabia, Sudan and China.
During the review period, the government of Pakistan made its executive budget proposal, enacted budget, and end-of-year report widely and easily accessible to the general public, including online. The government published limited information on debt obligations, the report said.
"The government did not adequately disclose all government and government-guaranteed debt obligations, including financing to state-owned enterprises for China-Pakistan Economic Corridor Projects," it added.
Publicly available budget documents provided a substantially complete picture of most of the government's planned expenditures and revenue streams, including natural resource revenues, the report stated.
"The budget of the intelligence agencies was not subject to adequate parliamentary or other civilian oversight," it said, adding that the information in the budget was considered generally reliable and subject to audit by Pakistan's supreme audit institution.
While audit reports are made publicly available within a reasonable period of time, the reports did not provide substantive findings, recommendations or narratives on the completeness or correctness of government accounts, the State Department said.
It said Pakistan's fiscal transparency would be improved by making complete and timely information on government and government-guaranteed debt obligations publicly available, subjecting the intelligence agencies' budgets to parliamentary or other civilian oversight and including substantive findings and recommendations in the supreme audit institution's audit report on the government's annual financial statements.
In the report, the State Department concluded that of the 141 countries evaluated, 76, including India, met the minimum requirements of fiscal transparency.
"Two governments, Samoa and Togo, met minimum requirements in 2020 after not meeting minimum requirements in 2019. Sixty-five governments did not meet the minimum requirements of fiscal transparency. Of these 65, however, 14 governments made significant progress toward meeting the minimum requirements of fiscal transparency," it said
https://timesofindia.indiatimes.com/world/pakistan/pakistan-does-not-meet-minimum-requirements-of-fiscal-transparency-says-us-report/articleshow/76397013.cms
--------
Govt ready to face consequences in Isa case, counsel tells SC
Nasir Iqbal
June 16, 2020
ISLAMABAD: Federal government's counsel Dr Farogh Nasim on Monday informed the Supreme Court hearing challenges to the presidential reference against Justice Qazi Faez Isa that the government was ready to face the consequences of failure to prove misconduct but the fallout would be across the board.
"It seems as if the president, the prime minister and the former law minister are on trial when the judge should have been on trial," Dr Nasim said, emphasising that the government was ready to face the consequences but it would be on both sides.
The assertion came when Justice Syed Mansoor Ali Shah at the fag end of the hearing observed that there was no denying the fact that judges were accountable but so was the federal government and if the latter could not qualify the reference then the accountability would extend even further.
Justice Maqbool Baqar reiterated that this was a very serious matter as it would have serious consequences if the reference was quashed being based on malice. Referring to the government's insistence on the show-cause notice issued by the Supreme Judicial Council (SJC) to Justice Isa instead of Section 116 of the Income Tax Ordinance (ITO), Justice Baqar observed that if the very foundation of the reference was shaken, the entire structure would crumble.
Justice Umar Ata Bandial, who is heading a 10-judge SC bench hearing a set of petitions challenging the filing of the presidential reference, said the counsel was moving away from the reference, which was very specific and revolved around violation of the ITO, by going into deeper points regarding responsibilities of the office of the judge.
"We cannot allow any challenge to a judge on generality on the basis of surmises," Justice Bandial observed. He highlighted that no allegation of dishonesty or corruption had been attributed to the judge in the reference and no bar council or association had ever brought a complaint about corruption against Justice Isa.
Justice Bandial agreed that the judges were more accountable than others since they lived in the glasshouse, but asked the counsel to find out a solution since he was dissociating himself from Section 116 of the ITO which was the main allegation in the reference rather than dwelling at length to establish that the judges were the paragon of virtues.
Justice Bandial also reminded the counsel that he was yet to address the issue of malice which was of a different type in the 2010 Iftikhar Mohammad Chaudhry case than the present case, adding that Section 116 of the ITO, which the counsel was abandoning, did not impose obligation on the judge to disclose his wife's assets. "You are expecting a full court of 10 judges to give a judgement out of blue on this, which will be very unfair," he observed.
Dr Nasim cited the 2013 Asghar Khan case in which it was held that the judges were also holders of the public office and then referred to the Living Beyond Ostensible Means (Punishment) Regulation 1969 which stated that a person will deem to have assumed a style of living beyond his ostensible means if his wife or any of his children or dependent assumes a style of living beyond the ostensible means of the wife or children and suggests rigorous imprisonment of three years.
What is expected of the judge is to declare the expensive properties in the name of his wife since non-disclosure of the same will create a perception among the public about the undisclosed public assets.
A member of parliament disqualified to be the member under Article 63 of the Constitution for not declaring properties, the counsel argued, adding that the misconduct on the part of the judge could not be limited to the violation of any law.
Justice Bandial, however, said he was not impressed with the 1965 regulation since it was a draconian law.
The counsel explained that the martial law regulation was not the draconian law and referred to the 1993 Fauji Foundation case where it was recognised as a law. Besides, while pointing to Senator Raza Rabbani who was present in the courtroom, he contended that a democratically elected government had adopted this law by not deleting rather than keeping it under the 18th Constitution Amendment. Therefore, he argued, this was not the draconian law.
The counsel cited a number of judgements from India, Canada and other countries to establish that the judicial office was the office of public trust demanding that the slightest hint of impropriety should be avoided. "Caesar's wife must be above suspicion," the counsel contended, adding that the judiciary survived through public confidence and that the judge should withdraw himself from the office in case his credibility was clouded since he lost the command and respect among the public.
"A judicial scandal is more reprehensible than the scandal on the part of the legislators," the counsel argued and, while citing the judgements, contended that the criminal offence by the judge was enough to initiate disciplinary proceedings.
Justice Mansoor Shah asked if the Federal Board of Revenue (FBR) was obliged to provide tax record of a wife if the husband judge requested the revenue department to provide the same for some disciplinary case the judge was facing. In case the FBR refused to provide the tax record, the entire rule of proximity, which the counsel was propagating, would go, he observed.
The counsel argued that in order to keep the stream of justice pure and clean, it was necessary that the judge should be of a sterling character and should not be the man of kiln rather had a fighting faith, adding that the office of the judge should be an impregnable fortress from all surreptitious attempts be it economic, political, etc.
After the 1996 Al-Jihad Trust case, the superior court judge had singularly become the most powerful and respected office enjoying blind faith of the people since he was expected of enjoying unblemished integrity, the counsel said, adding that this respect in society had to be maintained at all cost since the entire society would crumble if the judiciary had no integrity left.
"It means you also recognise that the instant case is the case of independence of judiciary and how it is necessary that the judge should be fiercely independent," Justice Shah observed.
Full report at:
https://www.dawn.com/news/1563834/govt-ready-to-face-consequences-in-isa-case-counsel-tells-sc
--------
Three given jail terms by Paris court over 'Karachi affair'
June 16, 2020
PARIS: A Paris court on Monday found three former French government officials and three others guilty on charges involving millions of euros in kickbacks from arms sales to Pakistan and Saudi Arabia signed in 1994.
The court handed the men prison sentences of two to five years over the so-called "Karachi affair" which has dogged former prime minister Edouard Balladur, facing trial on charges he used the kickbacks to help fund his failed 1995 presidential bid.
They were the first convictions to emerge after more than a quarter-century of investigations named after the Pakistani city where a bus carrying French defence engineers was blown up in 2002, killing 15 people.
Al Qaeda was initially suspected of the attack, but the focus later shifted to the arms deals on suspicions the bombing may have been in retaliation for non-payment of promised bribes.
The three former aides are Nicolas Bazire, Balladur's former campaign manager; Renaud Donnedieu de Vabres, a former adviser to his defence minister Francois Leotard; and Thierry Gaubert, a former aide to then budget minister Nicolas Sarkozy who became president in 2007.
Bazire and Donnedieu de Vabres were sentenced to three years in prison, with the court saying Bazire "knew perfectly well" that 10.25 million francs (nearly 1.6 million euros) from dubious sources had landed in Balladur's campaign accounts.
Gaubert was handed a two-year sentence, as was Dominique Castellan, a former head of the international division of French naval defence contractor DCN (since renamed Naval Group).
Two Lebanese middlemen who acted as go-betweens for the bribes and kickbacks, Ziad Takieddine and Abdul Rahman El-Assir, were sentenced to five years in prison.
The two refused to appear at trial and warrants have been issued for their arrest.
The others convicted said they would appeal the ruling, and remain free men until then.
Paying bribes on arms deals was common practice when Balladur's government won contracts to sell submarines to Pakistan and frigates to Saudi Arabia in 1994.
Earning kickbacks on the deals, however, was banned.
Investigators suspect the French of having paid some 327m euros ($359m) in bribes to facilitate the deals, triggering some 13m euros in kickbacks.
Full report at:
https://www.dawn.com/news/1563852/three-given-jail-terms-by-paris-court-over-karachi-affair
--------
PM satisfied with virus testing kits, PPE availability
Syed Irfan Raza
June 16, 2020
ISLAMABAD: Expressing satisfaction over availability of coronavirus testing kits and Personal Protective Equipment (PPEs) in the country, Prime Minister Imran Khan on Monday directed provinces to impose "smart lockdowns" in areas having high number of cases of the deadly virus.
Presiding over a meeting to review Covid-19 situation here on Monday, the prime minister warned that coming few weeks would be crucial in terms of spread of the disease and urged the people to adopt preventive measures so that a balance could be maintained between economic activities and the government's Standard Operating Procedures (SOPs).
According to the Prime Minister's Office (PMO), the prime minister was apprised that smart lockdowns had been imposed across 20 big cities in the country including the federal capital where "hotspots" (places of cluster of patients) had been identified.
Although the prime minister directed the local leadership to review the situation in hospitals, the meeting did not discuss increasing complaints about shortage of beds for Covid-19 patients in both public and private hospitals.
Meanwhile, a source told Dawn that the prime minister did not take a serious notice that no further place for new patients was available in hospitals as cases were mounting and reaching close to 150,000 with 3,000 deaths.
"The prime minister directed provincial governments to impose smart lockdowns in sensitive areas keeping in view ground realities to maintain a balance between economic activities and preventive measures," said an official press release issued by the PMO.
Meanwhile, the National Command and Operation Centre (NCOC) for Covid-19 on Monday undertook a comprehensive review of Covid-19 clusters and hotspots across the country.
A total of 20 cities across the country have been identified as likely to see increase in the ratio/speed of infections which need restrictive measures for containment of the disease.
The same information is being shared with provinces by NCOC. In Islamabad G-9/2 and G-9/3 had more than 300 cases of Covid-19 and these areas were sealed along with busy Karachi Company.
New hotspots of the disease in Islamabad now being monitored and likely to be sealed include I-8, I-10, Ghauri Town, Bharakhau, G-6 and G-7.
Major cities witnessing rapid increase in coronavirus cases and having been identified for necessary restrictive measures include Karachi, Lahore, Quetta, Peshawar, Rawalpindi, Islamabad, Faisalabad, Multan, Gujranawala, Swat, Hyderabad, Sukkur, Sialkot, Gujarat, Ghotki, Larkana, Khairpur, D.G. Khan, Malakand and Mardan.
According to NCOC, it had adopted the Track, Trace and Quarantine (TTQ) strategy which was aimed at identifying clusters/hotspots of the disease to ensure targeted lockdowns in these areas. The TTQ strategy, it said, had been made to keep the spread of the disease in check as different sectors of economy open up.
The meeting was briefed in detail on operationalisation of additional oxygenated beds and ventilators, including procurement of these critical healthcare equipment by NDMA.
The meeting was further informed that a total of 2,150 additional oxygenated beds would become functional by the end July to meet additional requirements. Of these, 1,000 oxygenated beds will be functional by the end June and another 1,150 by the end of July.
The prime minister was informed that a total of 107 Covid-19 testing laboratories were operational in the country and more than 25,000 tests were being conducted on a daily basis in these laboratories. The number of total ventilators is said to be 4,800 and 1,600 more will be added soon.
The meeting was further informed that indigenous ventilators and N-95 masks were being manufactured and by the end of July 2000 more beds would be added to existing hospitals.
The prime minister took notice of non-availability of some medicines and injections being used for treatment of Covid-19 patients.
He asked the chairman of NDMA to ensure availability of all required medicines and injections in all hospitals.
Meanwhile, Prime Minister Khan directed the provincial governments to devise a joint strategy to control inflation since the basic objective behind the recent reduction in prices of petroleum products was to give relief to the people.
The prime minister issued the directive while chairing a meeting held to review prices of essential items.
Full report at:
https://www.dawn.com/news/1563853/pm-satisfied-with-virus-testing-kits-ppe-availability
--------
Ex-envoy among six acquitted of terror financing
Waseem Ahmad Shah
June 16, 2020
PESHAWAR: An anti-terrorism court on Monday acquitted former ambassador of the country to Afghanistan Rustam Shah Mohmand and five others charged by the counter terrorism department with financing the banned Al Qaeda terror outfit through bank accounts of an international non-governmental organisation (INGO) for three decades.
Judge Tariq Khan Yousafzai pronounced the acquittal of the accused before the conclusion of trial by accepting their application filed under Section 265-K of the Code of Criminal Procedure (CrPC).
The provision empowers the trial court to acquit an accused at any stage of the trial if there is no probability of his/her conviction on the basis of available evidence.
Apart from Rustam Shah Mohmand, who is also a former chief secretary, the accused included regional director of INGO Human Concern International Ali Nawaz and four other officials Mohammad Naeem, Shah-i-Room Khan, Mohammad Farooq Awan and Mohammad Tayyab.
Accused had requested ATC for acquittal before trial conclusion
Complainant in the case was CTD inspector Ilyas Khan, while the FIR was registered by the CTD police station on July 4, 2019, under Section 11-N of the Anti-Terrorism Act, which deals with the financing of terrorist organisations.
The CTD had arrested Ali Nawaz over terror financing but he was freed on the grant of bail by a court.
In the FIR, the complainant had charged some officials and board members of the INGO, including Ali Nawaz, Mohammad Farooq Awan, Shah Room and Mohammad Naeem.
The CTD had claimed that it had acted on information provided by the Federal Investigation Agency. According to it, the accused had diverted charity funds to terrorist outfits, including Al Qaeda, from Dec 1989 to the registration of the case.
Sahibzada Riazatul Haq and Batool Rafaqat were the counsel for Rustam Shah Mohmand, Shah-i-Room and Farooq, while lawyer Shabbir Hussain Gigyani represented the other accused.
The defence lawyers claimed that their clients were charged in a fake case as no evidence of that crime was available on record.
They said if the accused had funded Al Qaeda for three decades, how the security agencies could remain unaware of it.
The counsel said the CTD claimed that they had registered the case on the basis of inquiry conducted by FIA but there was nothing on the record to prove it.
They said the investigation officer in his statement before the court clearly declared that he had no evidence of any connection between the accused and any terrorist outfit including Al Qaeda.
The lawyers said the investigation officer also declared that he had not collected any evidence of how the so-called transfer of funds was taking place.
Shabbir Gigyani said the accused were highly respectable people, so implicating them in a false case was an injustice.
He said INGO Human Concern International functioning in the country for many decades had a good reputation and wasn't banned in the country due to commendable services.
Initially, Mr Rustam Shah was not charged in the case. He was named as an accused in Feb for being a former chairman of that INGO.
Full report at:
https://www.dawn.com/news/1563788/ex-envoy-among-six-acquitted-of-terror-financing
--------
Asad Umar criticised for morbid Covid comparison
June 16, 2020
ISLAMABAD: Planning Minister Asad Umar, who heads the National Command and Operations Centre (NCOC) to fight coronavirus pandemic, has sparked a new debate by indicating that Pakistan was doing better than India in terms of fatalities from contagious disease.
Hours after issuing a warning that the nationwide tally of coronavirus cases might double within the next two weeks and could reach 1.2 million by the end of July, the minister, in a tweet, shared a comparison between Pakistan and India that are totally different in size and population.
"Total cumulative deaths due to covid on 14th may : Pakistan 770, India 2,649. Cumulative covid deaths on 14th June : Pakistan 2632, India 9,485. Increase in deaths last month : Pakistan 242% India 258%. There is much we are still learning about covid spread and mortality," Umar tweeted.
However, leaders of the opposition Pakistan Muslim League-Nawaz (PML-N) and the Pakistan Peoples Party (PPP) criticised the minister for presenting such a comparison. They even pointed out that some countries had controlled the virus.
"What is needed from the government is not confusion but clarity of message on the growing dangers of Covid-19. Comparing with India is like saying 'we are better than the worst'," PML-N Senator Mushahid Hussain Sayed told The Express Tribune.
"And let's not get stuck in semantics of non-issues like 'lockdown' or 'smart lockdown'," he said. "Instead of quibbling over definitions, it's high time for the government to show determination that it has the capacity and will to fix the problem, which primarily means protecting lives and livelihoods of the people of Pakistan."
PPP Senator Mustafa Nawaz Khokhar said why didn't the officials learn anything if they were bent upon following other countries. "If we take worldwide mortality rate into account the figures quoted by Asad Umar paint a horrific picture. Tens of thousands dead! Isn't he the same guy who said more people die in road accidents than corona," he said.
"Why doesn't he compare Pakistan to Bangladesh or Vietnam? Both the countries successfully handled the pandemic. There is no government in Pakistan and God forbid we are heading towards a disaster," Khokhar added.
Ever since the Covid-19 hit Pakistan, political commentators had pointed out that Prime Minister Imran Khan and the members of the ruling party had time and again asked people not to compare the coronavirus situation in Pakistan with countries having stable economy, small geographical area and less population.
Over and over again, they said, the prime minister has urged people not to compare Pakistan with the US, Europe, China, Singapore, Taiwan, New Zealand etc, arguing that these were either powerful economies or their size was not even close to the size of Pakistan's metropolitan city – Karachi.
However, knowing that both Pakistan and India had no comparison in terms of size, population and economy, they noted, the planning minister compared the number of cases, total deaths, while the prime minister had even offered to share cash distribution programme with India – an offer that was rejected straightaway. "Our stimulus package is as large as the GDP of Pakistan," India's external affairs ministry spokesman Anurag Srivastava had said, responding to Imran's offer.
Soon after Umar's tweet, political analysts and social media users also started questioning the comparison, saying over 1 billion people live in India than in Pakistan and the mismanagement was leading to deaths in both the countries.
Full report at:
https://tribune.com.pk/story/2243375/1-asad-umar-criticised-morbid-covid-comparison/
--------
Arab World
Rioters should face tough response for 'acts of sabotage': Lebanon Prime Minister
15 June 2020
Lebanon's prime minister on Monday said there should be a tough response to the riots that have erupted in different parts of the country in recent days, saying they were "organized acts of sabotage" and not linked to protests fueled by a worsening economic crisis.
Hassan Diab spoke at a meeting of the country's top political and security officials to discuss the rioting, which has caused damage to public and private property.
On Thursday and Friday, rallies spurred by a dramatic collapse of the local currency against the dollar degenerated into violence, mainly in the capital, Beirut, and the northern city of Tripoli, Lebanon's second largest.
Diab said a firm decision should be taken to stop all acts of violence and to detain those involved.
"What is happening in the country is not normal," Diab said. He suggested an organized effort, "whether internal or external," to endanger the country's security, without providing evidence.
"What is happening carries many dangerous messages," Diab said. "Thugs are roaming the streets and destroying the country and its institutions while the state is watching."
President Michel Aoun, who headed the meeting, said the riots "are not acceptable anymore" and that security agencies should take preemptive measures.
One of the most serious attacks occurred on Friday night in downtown Beirut, when dozens of young men on motorcycles caused extensive damage to shops and set a local bank branch on fire.
On Monday, Interior Minister Mohammed Fahmi issued an order banning motorcycles in downtown Beirut between 5 p.m. and 6 a.m.
The Lebanese currency, pegged to the dollar for more than 20 years, has lost 60 percent of its value in recent weeks. Despite efforts to halt the slide, the Lebanese pound sold for more than 6,000 to the dollar on Thursday on the black market, down from 4,000 days before.
The dramatic collapse last week deepened public despair over the already troubled economy. Lebanon is heavily dependent on imports, and the dollar and local currency have been used interchangeably for years.
On Monday, the central bank began pumping dollars into the market to ease pressure on the pound. The dollar was selling on the black market for 4,500 pounds.
https://english.alarabiya.net/en/News/middle-east/2020/06/15/Rioters-should-face-tough-response-for-acts-of-sabotage-Lebanon-Prime-Minister.html
--------
Arab Coalition intercepts Houthi missile targeting Saudi Arabia's Najran
June 16, 2020
DUBAI: Arab Coalition said they have intercepted a Houthi ballistic missile targeting Najran city, southwest of Saudi Arabia, state news agency SPA reported on Tuesday.
The missile was targeting innocent civilians, Spokesman Col. Turki Al-Maliki said.
The Iran-backed militants have targeted Saudi Arabia with 313 ballistic missiles and 357 drones in total, he added.
On Monday, the Coalition said it would take "rigorous measures" to stop Houthi attacks on Saudi Arabia after intercepting drones launched by the militia towards Asir region.
The militants have targeted Saudi Arabia's Najran on Saturday with a ballistic missile, the attack was foiled by the Coalition.
https://www.arabnews.com/node/1690536/saudi-arabia
--------
Arab Coalition intercepts, destroys Houthi drone targeting Saudi Arabia's Asir
15 June 2020
The Arab Coalition has intercepted and destroyed a drone launched by the Houthi militia in Yemen targeting Saudi Arabia's southwestern city of Asir.
"The Houthi militias are trying to target civilians in a deliberate manner. We are implementing the necessary measures to protect civilians and will take strict measures to stop such violations by the Houthi militia," the coalition said in a statement.
The latest incident came on the same day that the Arab Coalition intercepted and destroyed a bomb-laden unmanned Aerial Vehicle (UAV) launched by the Iran-backed Houthi militia towards Saudi Arabia's Khamis Mushait that was deliberately targeting civilians.
Full report at:
https://english.alarabiya.net/en/News/gulf/2020/06/15/Arab-Coalition-intercepts-destroys-Houthi-drone-targeting-Saudi-Arabia-s-Asir.html
--------
Arab Coalition downs Houthi aircraft launched towards Saudi Arabia's Khamis Mushait
15 June 2020
The Arab Coalition intercepted and destroyed a bomb-laden unmanned Aerial Vehicle (UAV) launched by the Iran-backed Houthi militia towards Saudi Arabia's Khamis Mushait that was deliberately targeting civilians, the coalition's spokesperson Turki al-Maliki confirmed on Monday.
"Coalition forces have successfully intercepted and destroyed today, Monday, a bomb-laden UAV launched by the terrorist Iran-backed Houthi militia to deliberately target civilians and civilian objects in (Khamis Mushait)," al-Maliki said.
The attempted attack is an extension of the Houthis' terrorist attempts to target civilians in the Kingdom, he said, the latest of which was on the city of Najran on Saturday.
The repeated attacks on innocent civilians is a blatant violation of the customary International Humanitarian Law, he added.
Full report at:
https://english.alarabiya.net/en/News/gulf/2020/06/15/Arab-Coalition-downs-drone-launched-by-Houthis-towards-Saudi-Arabia-s-Khamis-Mushait.html
--------
Iraqi PM visits Mosul on 5th anniversary of capture from Daesh
15 June 2020
The Iraqi Prime Minister's office distributes images showing the new Prime Minister Mustafa Kadhimi visiting the northern city of Mosul on the occasion of the 5th anniversary of the capture of the city by the Daesh takfiri terrorist group. Iraqi forces announced the "liberation" of the country's second city Mosul on July 10, 2017, after a bloody nine-month offensive to end Daesh's three-year rule there.
https://www.presstv.com/Detail/2020/06/15/627532/Iraqi-PM-visits-Mosul-on-5th-anniversary-of-capture-from-IS-group
--------
Syria to launch new offensive in Idlib as Turkey deadline passes
15 June 2020
Syrian government forces have been preparing to launch an offensive against militants in Idlib after Turkey failed to live up to its commitments under a deal with Russia.
A senior Syrian field source said the Syrian army has sent big military reinforcements to contact lines with armed terrorist groups in Idlib countryside after its positions came under frequent attacks by militant groups.
The source told Sputnik Arabic that the movements of the militants have become "completely exposed to the monitoring units of the Syrian army".
Government forces, the source said, had destroyed the militants' armored vehicles and military equipment and foiled their attempts to attack army positions over the past week.
The source said an extended deadline given to Turkey by Russia in order to open the strategic M4 highway in Idlib in a peaceful manner had ended.
"It seems that the Turks are not serious in dealing with this matter, and they could not at least control the armed groups," the source said, adding the Turkish military's aid to the militants still continues.
Syria's government forces, the source said, are currently "putting the finishing touches to the military operation plan", in coordination with their allies.
The Syrian army's next goal is to regain control over some strategic areas, including Jabal al-Zawiya in Idlib and the rest of al-Ghaab Plain in Hama countryside.
The source declined to reveal the exact date for the start of the operation, but noted that "the Idlib offensive is just around the corner".
Idlib is home to several anti-government militant outfits receiving Turkish support. Late last year, Syria launched an anti-terror operation against the foreign-sponsored militants after they failed to honor a de-escalation agreement between Ankara and Moscow.
Idlib tensions mounted late in February after an airstrike by Syrian forces killed dozens of Turkish soldiers, whom Russia said were "in the battle formations of terrorist groups."
Shortly afterwards, Ankara waged its fourth incursion into Syria, dubbed Spring Shield, which escalated Idlib tensions.
Turkey has been manning a number of observation posts in Idlib since 2018, when it struck an agreement with Russia.
On March 5, Russia and Turkey, which support opposite sides in the Syrian conflict, came to an agreement on a ceasefire regime in Idlib, where Turkish aggression against the Syrian government had risked starting a war.
According to the agreement, joint Russian-Turkish patrols would secure a six-kilometer-wide corridor along the M4 highway connecting the two government-held provinces of Latakia and Aleppo.
Full report at:
https://www.presstv.com/Detail/2020/06/15/627494/Syria-launch-offensive-Idlib
--------
Work together to overcome global crisis, says Saudi energy minister
June 15, 2020
DUBAI: Policymakers, health officials and scientists met via a webinar from Riyadh to hear a stark message: Coronavirus disease (COVID-19) pandemic will continue to take a significant toll on the world's health and economic well-being.
Tedros Adhanom Ghebreyesus, director general of the World Health Organization, told a web forum at the King Abdullah Petroleum Studies and Research Centre (KAPSARC): "While the situation in Europe is improving, at a global level it is getting worse."
Saudi Energy Minister Prince Abdul Aziz bin Salman told the gathering: "On the economic front, the impact of the pandemic is unprecedented in scope and intensity," adding that in the Middle East the fall in demand for oil had "weakened the fiscal positions of the oil-exporting countries of the region."
The meeting was organized by the T20 — the "think tank" unit of the G20 summit to be held under Saudi Arabia's presidency later this year — and coincided with increased worries in global financial and energy markets about the outlook for the world's pandemic-ravaged economies.
In New York, markets opened to volatile trading after news of fresh virus outbreaks in China at the weekend. Risk adviser Ian Bremmer told Arab News the market falls were "recognition that the coronavirus trajectory is worse than widely expected."
The Vix index — a benchmark that measures the amount of volatility in Wall Street shares known as the "fear gauge" — rose 5 percent to its highest level in months.
Global oil markets were also under pressure, with Brent crude, the global benchmark, down 3 percent in European trading to below $38 per barrel as hopes faded for a resumption of energy demand in a quick V-shaped economic recovery. It recovered some of those falls later.
Prince Abdul Aziz told the T20: "The significant economic contraction and uncertain outlook due to the pandemic have exacerbated energy supply and demand imbalances, directly impacting the oil and gas sector."
Ghebreyesus said that the impact of the pandemic went beyond the disease itself, and that the Americas and South Asia were suffering a surge in new cases. It had taken the world more than two months to hit the level of 100,000 cases, but for the past two weeks that same number were occurring every day, he said.
The WHO leader warned against "complacency" as mass gatherings were allowed to take place in many parts of the world, and he appealed for "national unity and global solidarity" in the fight against the disease.
Prince Abdul Aziz opened the three-day T20 gathering with a plea for "experts from around the world to work together in a cooperative effort to overcome this unprecedented global crisis."
He applauded the work of OPEC+ and other oil- producing nations in bringing stability to oil markets.
Full report at:
https://www.arabnews.com/node/1690396/business-economy
--------
Africa
Nigeria's Boko Haram crisis: UN 'appalled' by twin jihadist attacks in Borno
14 June 2020
Dozens of soldiers and civilians are reported to have been killed in twin attacks by Islamist militants in north-eastern Nigeria's Borno state.
Fighters attacked Monguno, a garrison town where UN and other aid workers are based, and a village in Nganzai.
The UN said it was "appalled" by the raids that came days after at least 81 villagers were killed in Gubio.
A Boko Haram faction calling itself the Islamic State in West Africa (Iswap) says it is behind all three attacks.
The splinter group declared its loyalty to the Islamic State group four years ago.
What do we know about the attacks?
At least 20 soldiers and more than 40 civilians are said to have been killed in the two attacks.
People from Goni Usmanti village in Nganzai told the AFP news agency that militants shot dead 38 people and set a truck on fire with passengers inside.
Security sources and residents said at least 15 people, including nine soldiers, died in Monguno town, which is about 60km (37 miles) away.
Militants armed with heavy weapons including rocket launchers arrived in Monguno, a base for many international non-governmental organisations, on Saturday morning, overrunning government forces in the area.
In a statement, the UN confirmed that "non-state armed group operatives" entered Monguno in the late morning.
"Several" civilians, including a four-year old girl, were killed, it said, while at least 37 other civilians were injured.
Although vehicles were set ablaze and an unexploded missile found outside the main humanitarian facility, it was not seriously damaged.
"Protective security measures deployed at the humanitarian hub prevented any harm to the over 50 aid workers who were in the facility at the time of the attack," the UN said.
Reports say hundreds of civilians were injured in Nganzai and the local hospital was overwhelmed, forcing some of the injured to lie outside awaiting help.
The militants then distributed letters to residents, in the local Hausa language, warning them not to work with the military or international aid groups, the BBC's Chris Ewokor reports from the capital, Abuja.
Iswap does not usually target civilians unless they are working with Western aid agencies, or suspected of providing information to the army.
What has the reaction been?
"I am relieved all staff are safe and secure, but I am shocked by the intensity of this attack," said Edward Kallon, UN humanitarian co-ordinator in Nigeria.
The Nigerian military said that its forces had "successfully repelled" the attack on Monguno and killed 20 jihadists.
It did not mention any casualties among soldiers and civilians or the attack in Nganzai.
More than 100,000 of Monguno's residents are people who have been displaced from their homes by the 10-year conflict in the region.
https://www.bbc.com/news/world-africa-53041886
--------
Tunisian party leader Abir Moussi: Muslim Brotherhood members receiving foreign funds
16 June 2020
The head of Tunisia's Free Destourian Party (Free Constitutional Party) bloc Abir Moussi said a draft list to add more countries and groups to the country's terror list has been rejected by the representative of the Muslim Brotherhood bloc.
Moussi described the meeting on Monday to discuss the list ended in chaos after members of the pro-Muslim Brotherhood bloc in parliament, primarily led by the Ennahda party, refused to move the list forward to a plenary parliament session, she said during an interview with Al Arabiya and Al Hadath channels.
"In fact, the meeting witnessed a lot of confusion on the part of the representative of the Muslim Brotherhood's bloc and a strong desire not to pass this draft motion to the plenary session, and therefore, the meeting witnessed attempts to convince us that these lists do not have any benefit and that this list will contribute to the division of the Tunisian people and that it is not a priority for parliament," Moussi said during her interview with the network.
For all the latest headlines follow our Google News channel online or via the app.
Moussi accused the ruling Ennahda party of having links with terrorism and called for an investigation into the party, adding that the current motion by her party's bloc in parliament threatens the Islamists in parliament who stand to benefit from "external funds" to their movement from outside the country.
"This party [Ennahda] exists in the political arena and enters the elections based on the fallacy that it leads, and this fallacy means that this party presents itself as a civil party, as a Tunisian party, as a party that has no relations with the Muslim Brotherhood, and all the organizations associated with it," Moussi said.
"We want, through this proposed list and through these discussions, and through this motion to designate, to break with these fallacies and to clarify to the public opinion the relationship that links this party to the Muslim Brotherhood and its terrorist crimes, and suspicious movements across the world," she added.
Full report at:
https://english.alarabiya.net/en/News/north-africa/2020/06/16/Tunisian-party-leader-Abi-Moussi-Muslim-Brotherhood-members-receiving-foreign-funds.html
--------
Libyan parliament calls for probe into mass killings
Mucahit Aydemir
16.06.2020
TRIPOLI
Libya's parliament asked the international community Monday to conduct a probe after more than 100 bodies were discovered in the city of Tarhuna, the last stronghold of warlord Khalifa Haftar, which was liberated by the Libyan army on June 5.
Its Defense and National Security Commission said in a statement that they demand legal action against Haftar and his militias.
Calling on human rights organizations and the International Criminal Court, the statement said they should take action and bring the murderers to justice.
Libya announced that it had discovered 106 bodies, including those of women and children, at a hospital in Tarhuna soon after the city was liberated from Haftar's forces.
The internationally recognized Libyan government has been under attack by Haftar's forces since April 2019, with more than 1,000 killed in the violence.
Full report at:
https://www.aa.com.tr/en/africa/libyan-parliament-calls-for-probe-into-mass-killings-/1878258
--------
Libya: One dead from landmine planted by Haftar militia
Mucahit Aydemir
16.06.2020
TRIPOLI
At least one civilian was killed early Tuesday from a landmine planted by militias loyal to warlord Khalifa Haftar as they were withdrawing from residential areas south of the capital Tripoli.
According to a statement issued by the press office of the Burkan Al-Ghadab (Volcano of Rage) Operation, the explosion killed one and injured another in a car on Tripoli's airport road.
Data compiled by Anadolu Agency based on Libyan army figures showed that at least 31 civilians have died and 40 others have been wounded by landmine explosions in the last 10 days.
The Turkish Armed Forces had started clearing the areas where Haftar's militias planted bombs and landmines while withdrawing at the request of the Libyan government for the safe return of civilians to their homes.
The Libyan army has recently inflicted heavy blows on the renegade commander's forces and liberated Tripoli and Tarhuna from his militants.
The internationally recognized Libyan government has been under attack by Haftar's forces since April 2019, with more than 1,000 killed in the violence.
The government launched Operation Peace Storm in March to counter attacks on the capital and recently regained strategic locations, including Al-Watiya airbase.
Full report at:
https://www.aa.com.tr/en/africa/libya-one-dead-from-landmine-planted-by-haftar-militia/1878254
--------
'Turkey stands by Sarraj government, Libyan brothers'
Burak Bir
15.06.2020
Turkey's ruling party spokesman on Monday reiterated that the country stands by the Sarraj government and Libyan brothers.
Turkey continues to stand by the Sarraj government and Libyan brothers and all help, from military support to other areas, will be given upon President Recep Tayyip Erdogan's order, said Omer Celik, spokesman for the Justice and Development (AK) Party, after a party board meeting.
The Libyan army has recently inflicted heavy blows to the renegade commander and liberated the capital Tripoli, and city of Tarhuna from his militants.
The internationally recognized Libyan government has been under attack by Haftar's forces since April 2019, with more than 1,000 killed in the violence.
The government launched Operation Peace Storm in March to counter attacks on the capital and recently regained strategic locations, including Al-Watiya airbase.
Libya's government was founded in 2015 under a UN-led agreement, but efforts for a long-term political settlement failed due to the military offensive by Haftar's forces.
Referring to the recent regulation regarding the use of privately owned property within the British Sovereign Bases on Cyprus island, Celik stressed: "No one should even think about infringing on the rights of Turkish Cypriots in the British base areas."
In these areas, not only Greek Cypriots, but also Turkish Cypriots have rights, he added.
On Friday, Turkey's Foreign Ministry said the regulation once again ignored the Turkish Cypriots.
In 2014, a regulation regarding the use of privately owned property within the British Sovereign Bases was signed between the Greek Cypriot administration and the UK, and it has entered into force.
Britain operates two military outposts -- called Sovereign Base Areas -- in Southern Cyprus at Akrotiri and Dhekelia.
"While clearly demonstrating our guarantee of peace in the Aegean and the Eastern Mediterranean, we see the constant sabotage of Greece or Greek Cypriots as childish diseases," he added.
In 1974, following a coup aimed at the annexation of Cyprus by Greece, Ankara had to intervene as a guarantor power. In 1983, the Turkish Republic of Northern Cyprus was founded.
Full report at:
https://www.aa.com.tr/en/africa/turkey-stands-by-sarraj-government-libyan-brothers/1877934
--------
Mideast
Whistle-Blower Discloses Saudi Army's Secret Jail in Eastern Yemen
Jun 15, 2020
Mujtahid revealed on his twitter page that the secret jail is in Hadhramaut in Eastern Yemen, adding that a report by the former detainees indicates that "hundreds and maybe thousands of people are kept in this prison and a number of them have died under torture and a number of others have become disabled".
He added that the jail's conditions are not even a good place for keeping animals, noting that it is not under the supervision of the Saudi or Yemeni judiciary or international bodies.
"Those who have revealed the secret jail, ask the legal bodies, the world parliaments and international courts to force the Saudi army to go under the international supervision," Mujtahid said.
Saudi Arabia and a number of its regional allies launched a devastating campaign against Yemen in March 2015, with the goal of bringing the government of former president Abd Rabbuh Mansour Hadi back to power and crushing the Ansarallah movement.
The US-based Armed Conflict Location and Event Data Project (ACLED), a nonprofit conflict-research organization, estimates that the war has claimed more than 100,000 lives over the past five years.
The UN says over 24 million Yemenis are in dire need of humanitarian aid, including 10 million suffering from extreme levels of hunger.
https://en.farsnews.ir/newstext.aspx?nn=13990326000907
--------
Iran Condemns US, Israel's Interference in IAEA's Affairs
Jun 15, 2020
"We warn that using political criteria in dealing with the tasks and rights of countries in the IAEA will result in nothing but the breakdown of trust and the growth of instability in the global arena," Rabiyee told reporters in Tehran on Monday.
He also warned the IAEA Board of Governors against falling under Washington and Tel Aviv's pressure.
Rabiyee criticized politicization of the International Atomic Energy Agency's reports on Iran's nuclear activities under the influence of the United States and the Israeli regime, reiterating that the Islamic Republic carries out a peaceful transparent nuclear program.
"We firmly emphasize that we are meeting all our international commitments, as confirmed by the 17 positive reports of IAEA in recent years, and we are carrying out most transparent activities," he said.
Rabiyee said that the Islamic Republic of Iran has given the highest level of access that a country can give to the IAEA, adding, "We have always been prepared to provide the Agency with the necessary access to (to our facilities) in accordance with previous valid agreements and international regulations."
He noted that Iran will continue its measures according to the same routine and requirements, calling on the IAEA to set its requests within the framework of the body's statutes.
Rabiyee lambasted politicization of the international bodies' reports over Tehran's nuclear activities, saying, "We expect the members of the IAEA's Board of Governors to support the independence of this international body against the US' bullying."
In relevant remarks on Friday, Iranian Ambassador and Permanent Representative to Vienna-Based International Organization Kazzem Qaribabadi said the US and its allies plan to continue forging obstacles against the country during the upcoming IAEA Board of Governors meeting, slated for June 15 on verification of Nuclear Deal's Implementation by Tehran.
The United States has always been seeking to undermine the mechanism and methods adopted by various international organizations including the IAEA, Qaribabadi said through an Instagram post.
He added that the IAEA Board of Governors will hold its June 15 meeting online due to conditions caused by coronavirus epidemic.
At the meeting, IAEA Director General Rafael Mariano Grossi will give report on verification of implementation of the July 2015 Joint Comprehensive Plan of Action (JCPOA) by Iran, the envoy reiterated.
Full report at:
https://en.farsnews.ir/newstext.aspx?nn=13990326000713
--------
Spokesman Blasts S. Korea for Blind Obedience to US in Blocking Iran's Assets
Jun 15, 2020
"Unfortunately, South Korea has allowed interference of certain streams in half-a-century-old good and intimate relations with Iran and these relations are being distorted by the meddling of third-party states," Mousavi told reporters in a press conference on Monday.
He described South Korea's "blind obedience" to the US and blocking Iran's assets under the pretext of the US pressures as "unacceptable".
"They are not entitled to block the Iranian nation's assets for a long time, under this pretext," Mousavi underlined.
He said that the foreign ministry in cooperation with the Central Bank of Iran (CBI) and other bodies will adopt all the necessary legal and diplomatic measures to guarantee the Iranian nation's rights.
Last week, Iranian President Hassan Rouhani called on the CBI to pursue ways of releasing Iran's assets and properties that have been withheld in Seoul under US pressures.
Rouhani made the remarks in a phone talk with the Governor of CBI Abdolnasser Hemmati, adding that blocking CBI's resources by South Korea has been carried out in obedience to the anti-humane policies of the US government and within the framework of maximum pressure against the Iranian nation.
He ordered the CBI to follow up the issue in cooperation with the foreign ministry through bilateral political means and legal course of financial institutions and international communities.
"South Korea's prevention of Iran's access of CBI assets for purchasing basic commodities, medicine and humanitarian items is never acceptable," President Rouhani underlined, and added, "And we expect the South Korean government to remove this limitation soon."
Last Wednesday, the CBI censured South Korea over illegally keeping the country's funds, and stressed that it could resort to legal moves to get back the money.
Hemmati said that the South Korean banks have prevented Iran's access to the money to purchase foods and medicines, while these are exempt from US sanctions.
It is terrible to see the South Korean banks ignoring their commitments, common international financial agreements, and deciding to politicize the issue in a obedience of US illegal sanctions, Hemmati added.
Iran's chief banker said that Tehran and Seoul have worked on a special commercial vehicle, similar to what has been agreed upon with the EU, which would allow Iran to complete humanitarian dealings using the money locked in South Korean banks.
Full report at:
https://en.farsnews.ir/newstext.aspx?nn=13990326000323
--------
Coronavirus: Iran warns it may have to reimpose strict measures as cases rise
15 June 2020
Iran warned Monday it may have to reimpose tough measures against the novel coronavirus to ensure social distancing, as it reported more than 100 deaths for a second straight day.
Health ministry spokeswoman Sima Sadat Lari said 113 new fatalities took to 8,950 the total number of COVID-19 deaths since the country's outbreak began in February.
She also said another 2,449 people had tested positive for the virus in the past 24 hours, taking the Islamic republic's overall caseload to 189,876.
Iran's government shut schools, postponed major public events and barred inter-city travel to stop the virus's spread in March before gradually easing restrictions from April.
Official figures have shown a rising trajectory in new confirmed cases since early May, when Iran hit a near two-month low in daily recorded infections.
Government spokesman Ali Rabiei on Monday bemoaned the lack of social distancing among people at holy sites and on public transport.
"In the (Tehran) subway, although 90 percent of passengers use masks, social distancing is not being observed," he told a news conference.
"In some provinces, we have reached the peak of the disease, but that does not mean a new peak.
"The gradient of the death toll is still not sharp", with a slight decline in Tehran, but increase in some other provinces, Rabiei said.
"If we find that the spread of the virus is out of control... then we will definitely apply strict decisions again."
Iran had on Sunday reported 107 deaths from the COVID-19 illness – the first time the tally has surpassed 100 since April 13.
According to Lari, five of Iran's 31 provinces are currently classified as "red" – the highest level on Iran's color-coded risk scale.
Full report at:
https://english.alarabiya.net/en/coronavirus/2020/06/15/Coronavirus-Iran-warns-may-have-to-reimpose-strict-measures-as-cases-rise-.html
--------
Iran says extending UN Security Council arms embargo is a 'red line'
15 June 2020
The UN Security Council would cross a "red line" if it extended its arms embargo on Iran due to expire this October, foreign ministry spokesman Abbas Mousavi warned on Monday.
Extending the arms embargo on Iran "is one of our red lines, and we hope no one crosses this red line," the semi-official Tasnim quoted Mousavi as saying.
The US in 2018 withdrew from the Iran nuclear deal that sought to prevent Tehran from developing nuclear weapons in exchange for relief from economic sanctions. As part of that deal, a UN arms embargo on Iran expires on October 18.
US efforts to extend the arms embargo on Tehran are "illegal," Mousavi said.
"Our talks with the remaining parties to the Iran nuclear deal, especially Russia and China, are ongoing," he added.
Full report at:
https://english.alarabiya.net/en/News/middle-east/2020/06/15/Iran-says-extending-UN-Security-Council-arms-embargo-is-a-red-line-.html
--------
Saudi-led coalition kills 11 in northern Yemen, launches 43 raids in 4 provinces
15 June 2020
Eleven civilians have been killed in airstrikes by the Saudi-led coalition in northern Yemen, local media reports say.
The US-backed aggression force launched dozens of air raids on four provinces across the country on Monday.
Coalition warplanes targeted in two airstrikes a citizen's car in Shida border district of Sa'ada Province, according to Yemen's Arabic-language al-Masirah television network.
In a similar incident last Wednesday, a citizen's car was hit in Kitaf district in the same province, killing three civilians.
Yemen's official Saba Net news agency said the coalition had for 78 times violated a ceasefire agreement in the strategic western province of Hudaydah and that its warplanes had waged 43 raids on four Yemeni provinces over the past 24 hours.
A military official in Yemen told Saba that the coalition launched a raid on the district of Haradh in the northern province of Hajjah, three raids on al-Zaher district in Sa'ada, five raids on Khab and al-Sha'af districts in the northern province of Jawf, and 34 raids on the Majzar district of Yemen's central province of Ma'rib.
The coalition claimed on April 8 that it was halting military strikes in support of the United Nations (UN)'s peace efforts and to avoid the further spread of the new coronavirus in Yemen. However, shortly after the announcement, coalition warplanes struck positions at several Yemeni regions.
Supported militarily by the United States, Britain, and other Western countries, Saudi Arabia and a number of its regional allies launched a devastating war on Yemen in March 2015 in order to bring former Yemeni President Abd Rabbuh Mansur Hadi back to power and crush the Houthi Ansarullah movement.
The invaders have also enforced an all-out aerial, naval, and land blockade on the impoverished country.
The US-based Armed Conflict Location and Event Data Project (ACLED), a nonprofit conflict-research organization, estimates that the war has claimed more than 100,000 lives over the past five years.
More than half of Yemen's hospitals and clinics have been destroyed or closed at a time when Yemenis are in desperate need of medical supplies to fight the COVID-19 pandemic.
At least 80 percent of the 28 million-strong population is also reliant on aid to survive in what the United Nations has called the world's worst humanitarian crisis.
The United Nations has warned that Yemen could suffer one of the worst coronavirus outbreaks in the world.
Full report at:
https://www.presstv.com/Detail/2020/06/15/627521/Saudi-airstrikes-Yemen-Sa'ada--
--------
UAE normalization with Israel poisonous stab in Palestinians' back: Hamas
15 June 2020
The Palestinian Islamic Resistance Movement, Hamas, has severely censured attempts by the United Arab Emirates to normalize relations with the Israeli regime, warning that such efforts amount to a "poisonous stab" in the back of the Palestinian nation.
On Monday, Hamas spokesman Abdel-Latif al-Qanoo called for a unified Arab position in order to stop all forms of normalization and to end what he described as "cacophonous voices" out of the UAE, especially after it was revealed that a number of Emirati officials have participated in several meetings on normalization with the Tel Aviv regime.
Qanoo also lambasted the presence of UAE's Minister of State for Foreign Affairs Anwar Gargash in the annual American Jewish Committee Virtual Global Forum 2020, which opened on Sunday and will run through June 18, as well as an op-ed written by Emirati Ambassador to the US Yousef al-Otaiba in Hebrew-language Yedioth Ahronoth daily newspaper, which promoted normalization with Israel.
"Normalization is equal to a poisonous stab in the back of the Palestinian nation and their enormous sacrifices. This [bid by the UAE] is also a dangerous turn in the course of efforts made to normalize ties with the Zionist regime," the top Hamas official said.
Qanoo stressed that normalization with the Israeli regime "is one of the most serious issues in [US President Donald Trump's so-called] deal of the century, which aims to liquidate the Palestinian issue."
Trump's so-called peace plan on the decades-old Israeli-Palestinian conflict envisions Jerusalem al-Quds as "Israel's undivided capital" and allows the Tel Aviv regime to annex settlements in the occupied West Bank and the Jordan Valley. The plan also denies Palestinian refugees the right of return to their homeland, among other controversial terms.
The plan was immediately rejected by all Palestinians. It has triggered waves of protest rallies around the globe as well.
Otaiba was among three Arab ambassadors who attended Trump's January unveiling of his Middle East plan.
Back in May, Yemen Scholars Association, in a statement, condemned attempts by a number of Arab states to normalize relations with the Israeli regime, holding Saudi Arabia and the United Arab Emirates responsible for any negative repercussions of such bids.
The group reiterated the Islamic nature of al-Aqsa Mosque and the Israeli-occupied city of Jerusalem al-Quds, emphasizing that Zionists are neither welcome there nor have the right to occupy even an iota of the places.
It stressed the need for solid support for resistance movements in Palestine and Lebanon in the face of the Zionist threat.
Full report at:
https://www.presstv.com/Detail/2020/06/15/627512/UAE-normalization-with-Israel-amounts-to-toxic-stabbing-in-Palestinians-back-Hamas
--------
Iran to host virtual meeting on peace process in Syria: FM Zarif
15 June 2020
Iran's Foreign Minister Mohammad Javad Zarif says the Islamic Republic will soon host a virtual conference on the situation in Syria and the Arab country's peace process as agreed by the three guarantor countries in the Kazakh capital.
Zarif made the remarks while speaking in a joint press conference with his Turkish counterpart, Mevlut Cavusoglu, in Istanbul on Monday.
"This meeting will be held to help realize peace in Syria within framework of the Astana agreement," Iran's foreign minister said.
Foreign Ministers of Iran, Russia and Turkey in April emphasized the need to continue consultations and coordination among the three guarantors of the Astana process as the most effective format for the settlement of the crisis in Syria.
Iran's Zarif, Russia's Sergei Lavrov and Turkey's Cavusoglu conferred on a range of issues, including the situation in the militant-held province of Idlib in northwestern Syria, the Syria Constitutional Committee, the need for the lifting of unilateral sanctions amid the coronavirus pandemic, the humanitarian situation in Syria and repatriation of refugees to the Arab country.
A first deal was signed in Kazakhstan's capital Nur-Sultan, formerly called Astana, arranging for the creation of de-escalation zones across Syria, including in parts of Idlib. The second one that came about in the Russian resort city of Sochi allowed Ankara to bring in a small number of forces to man the observation posts to reinforce de-escalation.
Ankara has, however, been found in default of both the deals by failing to separate terrorists from what it calls "moderate" opposition groups in the Idlib zone and by sending thousands of troops and heavy military hardware into the province in an unprecedented incursion to back the militants.
Elsewhere in the presser, Zarif said he had held talks with his Turkish counterpart about the latest developments in Syria, Afghanistan and Yemen, adding, "Turkey is trying to [help] establish peace in Yemen... Turkey wants a peaceful solution to [the crisis] in Yemen without any war or conflict."
The top Iranian diplomat also noted that he had exchanged views with Cavusoglu about the resumption of bilateral trade relations, which have been suspended following the deadly coronavirus pandemic.
Zarif expressed Tehran's readiness to boost medical cooperation with Ankara and said the two sides have succeeded in containing the coronavirus.
He further noted that the Turkish people would soon benefit from Iran's gas export to Turkey, which would be in line with the agreements reached between the two countries.
He added that Turkish President Recep Tayyip Erdogan will pay an official visit to Tehran, but did not provide a date for the visit.
Zarif added that the two countries' officials will sign trade agreements during Erdogan's visit, without giving further details.
Turkey opposes unilateral sanctions against Iran: Cavusoglu
The Turkish foreign minister, for his part, expressed his country's opposition to the unilateral US sanctions against Iran.
"We are against the unilateral sanctions imposed against Iran," he said.
The US returned the sanctions against Tehran in 2018 after leaving a historic nuclear agreement between Iran and major world powers. Washington's departure and snapback of the bans came although the deal, officially known as the Joint Comprehensive Plan of Action (JCPOA), has been ratified by the United Nations Security Council as a resolution and notwithstanding the JCPOA's multilateral nature.
Ever since quitting the deal, Washington has been trying to scare other countries of the world into abiding by its coercive measures, warning they would face punitive action if they failed to do so.
Commenting on Syria, Cavusoglu stressed the importance of developing cooperation with Iran to help solve the crisis in the Arab country.
He also emphasized that Turkey would hold more consultation with Russia about lasting ceasefire in Libya, saying the Turkish and Russian presidents have agreed on joint action to put an end to violence in the North African country.
Turkey is reportedly planning to set up two permanent military bases in Libya following the Tripoli government's operation to retake areas seized by forces under the command of renegade general Khalifa Haftar.
Citing military sources, Turkish newspaper Yeni Safak, reported earlier this week that Ankara was planning to set up a military base in the strategic Misrata port and also use the al-Watiya air base, located south of the Libyan capital, Tripoli.
Libya plunged into chaos in 2011 when a popular uprising backed by a NATO intervention led to the ouster of long-time dictator Muammar Gaddafi.
Full report at:
https://www.presstv.com/Detail/2020/06/15/627496/Zarif-Mevlut-Cavusoglu-Istanbul-Astana-Libya
--------
UAE finances anti-Turkey PKK terrorists in northern Iraq: Report
15 June 2020
A report says the United Arab Emirates has allegedly provided financial support to the anti-Turkey PKK militant group in Iraq's northern semi-autonomous Kurdistan region.
A security source at the Kurdish Regional Government (KRG) told the London-based al-Araby al-Jadeed newspaper that the authorities had imposed limitations on money transfers coming from the UAE.
The source said any money transfers exceeding $1,000 coming from the UAE to the region's foreign exchange companies and banks required a "proof of approval" from security authorities.
The move comes amid reports that the UAE has provided financial support to anti-Turkey Kurdish militants in recent months.
The source, who asked not to be named, said the new measure will be applied to all exchange companies in Erbil, Duhok and Sulaymaniyah.
The PKK, designated as a terrorist group by Turkey, the United States and European Union, took up arms against the Turkish state in 1984. More than 40,000 people have been killed in the conflict, focused in southeast Turkey.
On Sunday, Turkey's Defense Ministry announced the country's fighter jets had bombed the positions of Kurdish militants in northern Iraq .
Relations between Turkey and the UAE have been strained since Ankara sided with Qatar after Saudi Arabia, the UAE, Bahrain and Egypt severed diplomatic ties with Doha in June 2017 and imposed a series of economic sanctions against the tiny sheikhdom, accusing it of sponsoring terrorism and destabilizing the region.
Qatar has rejected the claims while maintaining that it is paying the price for its independent foreign policy.
Ankara and Abu Dhabi are also at odds over the situation in Libya, where the two countries support opposing sides of the conflict.
Full report at:
https://www.presstv.com/Detail/2020/06/15/627484/UAE-finances-PKK-Iraq
--------
India
Delhi Police ask Delhi Minorities Commission Chairperson to Join Interrogation in His "Instigating Statements" On Social Media
Jun 15, 2020
NEW DELHI: A Special Cell of Delhi Police on Monday sent a notice to Delhi Minorities Commission chairperson Zafarul Islam Khan asking him to join the interrogation within two days in a case related to his "instigating statements" on social media.
Khan was earlier asked by Delhi Police to submit the laptop or mobile, with which he had posted the objectionable letter on social media.
"Delhi Police Special Cell has sent a notice to Zafarul Islam Khan, chairperson of Delhi Minorities Commission; has asked him to join interrogation within 2 days, in connection with his instigating statement on social media," Delhi Police said.
Delhi high court had last month directed that no coercive measures should be taken against the Khan in connection with the FIR registered over his alleged seditious statements on social media.
Meanwhile, Delhi high court while hearing a batch of petitions against Khan over his remarks had asked the Delhi government to conclude the process under the provisions of the Delhi Minorities Commission Act against him in accordance with the law.
According to the plea in the high court, Khan had, in a tweet dated April 28, allegedly made "aggressive communal and anti-national utterances" on a social media platform.
https://timesofindia.indiatimes.com/city/delhi/delhi-police-ask-zafarul-islam-khan-to-join-interrogation-in-instigating-statement-case/articleshow/76387149.cms
--------
Pakistan releases Indian officials but claims they had fake currency on them
Jun 15, 2020
NEW DELHI: Two staff of the Indian high commission in Islamabad while out on official work in the Indian mission's car were "abducted" by Pakistan agencies early morning Monday. After they were interrogated for several hours, reports emerged from Islamabad claiming they had been arrested for a road accident by the police.
The two non-diplomatic staff (names withheld) were finally released in the evening but not before Pakistan authorities claimed to have seized Pakistani Rs 10000 in fake currency from them. Indian authorities denied that the two men were carrying any fake currency and expressed apprehension that they were held for hours on trumped-up charges only to manufacture a case for declaring them persona non grata (PNG). The Indian staff also had injury marks on their bodies, sources said.
As reported by TOI Monday, Pakistan's ISI had subjected Indian officials to aggressive tailing and intimidation since May 31 and India only on Friday had registered a formal protest accusing Pakistan of violating the Vienna Convention and the 1992 bilateral Code of Conduct for diplomats.
The Indian high commission got the two staff medically examined in the night to ascertain if they received any serious injury during the questioning which lasted for almost 12 hours. Pakistan media reports claimed that the two were roughed up by a mob which caught them fleeing from the accident spot. The government had earlier expressed fear that Indian staff could be detained on false charges and tortured. There were conflicting reports in Pakistan media about how the accident occurred.
Official sources here didn't rule out the possibility of Pakistan declaring the two Indian staff as PNG for carrying fake currency on them. Pakistan agencies have been looking to enforce reciprocity, as a source said, after India detained two Pakistan officials here on May 31 for espionage and expelled them the next day.
The Indian mission quickly took up the matter with Pakistan foreign office in the morning and, later in the day, MEA called in Pakistan charge d'affaires Syed Haider Shah and asked the country to release the Indian officials and return their car. The government also asked him to ensure Indian officials were not harassed or interrogated.
All Indian staff in Islamabad, and their counterparts here, are generally covered by diplomatic immunity and it's waived only in cases of heinous crime.
"Pakistan charge d'affaires was summoned to the Ministry of External Affairs and demarched on the reported arrest of two officials of the High Commission of India in Islamabad as reported in the Pakistani media," said an official source.
The demarche also said that the responsibility for the safety and security of the concerned diplomatic personnel lay squarely with the Pakistani authorities.
"Pakistan side was asked to return the two officials along with the official car to the High Commission immediately," said the source.
Full report at:
https://timesofindia.indiatimes.com/india/pakistan-releases-indian-officials-but-claims-they-had-fake-currency-on-them/articleshow/76393848.cms
--------
27 terrorists of JeM, LeT, Hizb killed in past 17 days: J&K DGP
Jun 15, 2020
JAMMU: Director General of Jammu and Kashmir Police Dilbag Singh on Monday said 27 terrorists have been killed by security forces in the past 17 days, causing frustration among terrorists who are now targeting innocent people.
"Ensuring peace (in Kashmir), we have killed 27 terrorists in the past 16 to 17 days. These terrorists belonged to LeT (Lashkar-e-Taiba), JeM (Jaish-e-Mohammed) and Hizb (Hizb-ul-Mujahideen). They have been frustrated. They are now targeting innocents," Singh told reporters in Doda district.
The DGP, who was in a security review meeting in Doda district, said these terrorists are hitting innocent and soft targets. This has not only annoyed the government but also the people of the Kashmir Valley, he said.
On being asked about the lack of security to a Kashmiri Pandit sarpanch, who was shot dead by terrorists in Anantnag district last week, he said security is subject to the daily drill.
"The concerns of the people, who feel insecure, are being addressed. Individual security is subject to the review of the security review committee of the union territory. They are examining this issue," Singh said,
He said that Doda will soon be free from terrorism as only one terrorist is alive in the district.
"Only one militant is surviving in Doda district. Soon we will eliminate him too and the district will become militancy free," he said.
The DGP also hit out at Pakistan for aiding and abetting terrorists by infiltrating them into Jammu and Kashmir to continue violence.
"Large number of militants, including top commanders, have been killed in the past five months. But they (Pakistan) try to increase the pitch of violence by carrying out infiltration into J&K,' he said.
Singh said that launchpads were not even closed during winters.
"They tried to infiltrate terrorists in winters too. First batch of terrorists was sent to this side in March itself from Keran. They were killed within five days. They carried out infiltration bids in Poonch-Rajouri and the International Border (IB). They too were neutralised," he said.
Full report at:
https://timesofindia.indiatimes.com/india/27-terrorists-of-jem-let-hizb-killed-in-past-17-days-jk-dgp/articleshow/76392232.cms
--------
3 terrorists killed in encounter in Jammu and Kashmir's Shopian
Jun 16, 2020
Three terrorists were killed in a gunfight that broke out in Jammu and Kashmir's Shopian district early Tuesday after police and army launched a joint operation in Turkuwagan village.
The army spokesperson said two AK-47 and one INSAS rifle have been recovered from the encounter site, which is 400 to 500 metres away from army's Rashtriya Rifles camp.
This is the fourth encounter in the district in less than 10 days. As many as 19 terrorists have been killed in the previous encounters that took place in south Kashmir's Shopian district.
https://www.hindustantimes.com/india-news/encounter-breaks-out-in-jammu-and-kashmir-s-shopian/story-4ZI4oODR9p84GPR0KH4OTM.html
--------
Pakistan violates ceasefire along LoC in J&K's Kupwara
Jun 16, 2020
SRINAGAR: Pakistani troops violated the ceasefire by resorting to unprovoked firing towards Indian positions along the Line of Control (LoC) in Tangdhar sector of Jammu and Kashmir's Kupwara district on Tuesday, a defence spokesperson said.
The Indian Army gave a befitting response to the Pakistani aggression, he said.
"On 16 June 2020, in the morning hours, Pakistan initiated an unprovoked Ceasefire Violation (CFV) along the LoC in Tangdhar (in north Kashmir's Kupwara district) by firing mortars and other weapons," defence spokesperson Col Rajesh Kalia said.
There have been no reports of any casualties so far.
https://timesofindia.indiatimes.com/india/pakistan-violates-ceasefire-along-loc-in-jks-kupwara/articleshow/76397462.cms
--------
South Asia
Bangladesh has 21 new deacons, a sign of growing religious vocations
06/15/2020
Dhaka (AsiaNews) – The Catholic Church in Bangladesh has been blessed recently with 21 new deacons, whilst three seminarians currently studying abroad will ordained in the near future.
Bangladesh is a Muslim majority country with a small Christian community. Catholics number around 390,000. The Major Seminary of the Holy Spirit in Banani (Dhaka) is the country's only seminary and currently has 125 seminarians.
Some of the newly ordained deacons study at Holy Spirit Seminary. Six seminarians were ordained at the Holy Cross Scholasticate in Rampura (Dhaka). Other seminarians are from six other Dioceses.
In Bangladesh's history, this is the first time that 24 seminarians become deacons almost at once. For some priests, they come as blessings from the Almighty God.
Two of the seminarians ordained to the deaconate come from the Diocese of Barisal. Father Anol Terence D 'Costa, a priest in Barisal, took part in the training programme for deacons.
"The Catholic Church seems blessed because young people are attending the seminary to become priests," he told AsiaNews. "This is a good sign. The country's religious vocation is good. We are very happy."
It seems that the contribution of parents, teachers, priests and nuns is also good. "Young people are getting a proper education from their family, priests and nuns; for this reason, they choose to join the religious life."
Father Anol notes that the ordination of deacons generally takes place every year at the Major Seminary of the Holy Spirit in Dhaka. But owing to the pandemic and the lockdown, this year it took place in the dioceses where the seminarians come from.
"Now the deacons will help the priests in their own diocese, in accordance with the directives of their bishops," said Father Anol." We are helping the needy during this coronavirus pandemic, and the deacons will be involved in this work, including family visits and pastoral care."
Some newly ordained deacons spoke about how they discovered their religious vocation and feelings. One of them, Lanard Rozario, hails from Tumilia, a parish in the Archdiocese of Dhaka.
"My parents and relatives encouraged me to be a priest," he said. "Their encouragement helped me decide to enter the seminary and today I have become a deacon and I am very happy. What I wished in life has come true," he added.
Deacon Richard Babu Halder's story is similar. He hails from Narikelbari, a parish in the Diocese of Barisal. Speaking to AsiaNews, he said "I wanted to be a priest since childhood. Now I hope to become one as I reach the final stage. My mother and grandmother encouraged me a lot."
"I looked at the holy life of a local priest, Father Sylvester, and was inspired to become a religious." Father Sylvester dedicated his life to Almighty God, as a servant of Jesus Christ, and so "I shall work for all people of faith and take care of their spiritual life."
Seminarian Anil Ignatius Marandy was ordained deacon in the Diocese of Rajshahi. In addition to providing pastoral care in the parish, he wants to devote himself to prisoners, workers and children. Bishop Gervas Rozario of Rajshahi celebrated his ordination Mass.
"As deacons you will have to be in the service of what falls within your responsibility," Bishop Rozario said in his homily. "You will have to work according to what God needs. You don't need to make us happy; you must be faithful to God." The bishop expressed his best wishes to the newly ordained deacons.
The number of male religious vocations in the Catholic Church of Bangladesh is adequate. But in this super modern era of globalisation female vocations are on the decline.
Some priests and nuns from Bangladesh work abroad as missionaries. Others will do the same in the future.
Thirty years ago, the country's Catholic Church received the help of several international missionary groups such as PIME, the Xaverians, and the priests and nuns of the Holy Cross. Few of the latter are left whilst local priests and nuns are now the majority.
http://www.asianews.it/news-en/Bangladesh-has-21-new-deacons,-a-sign-of-growing-religious-vocations-50348.html
--------
Traffickers Demand Ransoms for Rohingya Muslims Held at Sea
June 15, 2020
About a dozen Rohingya refugees living in camps in Bangladesh told the Thomson Reuters Foundation they had received phone calls from traffickers demanding money to stop relatives from being abandoned at sea and, in some cases, raped or killed.
More than a million mostly Muslim Rohingya reside in camps in Bangladesh, with the majority having fled a 2017 army-led crackdown in largely Buddhist Myanmar.
With the refugees fearful of returning to Myanmar and frustrated with life in the camps, smugglers and traffickers have capitalized by charging for places on boats to Malaysia - a favored destination for Rohingya seeking better lives.
Long viewed as a smuggling issue, where people willingly pay to cross borders illegally, activists said examples of extortion of the Rohingya were instead a sign of human trafficking which involves individuals being exploited through force or deception.
"I don't know if she is alive or dead," said Abdul Hakim, a Rohingya refugee, who last saw his 17-year-old sister in March before she left their camp to take a boat destined for Malaysia.
"A broker called me from the ship a month after she left and asked me to pay 100,000 taka ($1,180) if I wanted her to stay alive and enter Malaysia. We already paid 45,000 taka for the journey through loans. Where will I get so much money?"
None of the 12 families interviewed by Reuters said they had been able to meet the ransom demands.
Hundreds of Rohingya are estimated by aid agencies to be stranded at sea, with Malaysia refusing to accept them after tightening its borders due to coronavirus and Bangladesh saying last week it was not in a "position to take any more Rohingya".
Last week, Malaysian authorities detained 269 Rohingya when they tried to enter the country on a damaged boat. In April, a trawler that was at sea for weeks after it failed to reach Malaysia returned to Bangladesh with 396 starving Rohingya.
Survivors of recent failed boat crossings have recalled overcrowding, beatings, and people dying of hunger and thirst, and charities fear violence and deaths will increase as traffickers take advantage of the impasse to demand ransoms.
"We interviewed at least 30 family members ... from 14 Rohingya camps who were asked to pay by traffickers if they wanted to see their relatives alive," said Jishu Barua, anti-trafficking lead for the charity Young Power in Social Action.
"There could be more (examples of ransom demands)," he said.
Police superintendent Iqbal Hossain said he was not aware of such extortion but urged the Rohingya to report any incidences.
"We will definitely take steps to prevent this," he said by phone from Cox's Bazar, the region that hosts the refugee camps.
"SIMILAR TO SLAVERY"
Aid agencies said a growing number of Rohingya in Bangladesh had taken boats headed for Malaysia in recent months due to calm seas and fears over COVID-19 in the camps at Cox's Bazar, which have recorded at least 35 cases and three deaths since mid-May.
A recent Interpol report said smuggling by sea had tripled from March to April, but did not provide any specific figures.
"The sudden increase was likely due to the fear of COVID-19 contagion in refugee camps fostered by migrant smugglers to boost demand for their services," the global police body said.
John Quinley III, senior human rights specialist at Asia-focused charity Fortify Rights, said traffickers had treated Rohingya as property through exploitation "similar to slavery".
The group said it had documented several cases since April where Rohingya families were pressured to pay ransoms, often more than double the original fee agreed upon for the journey.
The United Nations' migration agency (IOM) said it had also received reports from Rohingya in the camps about being charged "a fee" to prevent their relatives being stranded at sea. The IOM said it was unclear whether paying the fee had any impact.
The Bangladesh government said it was working to prevent trafficking in the camps, and its coastguard had reported rescuing about 750 Rohingya from traffickers since 2019.
"We have to find the syndicates, this (trafficking) has to be addressed," said Mahbub Alam Talukder, the country's refugee commissioner who oversees the camps in Cox's Bazar.
Mobina, whose 17-year-old son headed for Malaysia more than two months ago, said the teenager wanted to study abroad and was desperate to leave their camp to make something of his life.
Full report at:
https://iqna.ir/en/news/3471709/traffickers-demand-ransoms-for-rohingya-muslims-held-at-sea-%C2%A0
--------
Bangladesh archbishop critically ill with Covid-19
June 15, 2020
A Catholic archbishop in Bangladesh has tested positive for Covid-19 and is in a critical condition in a private hospital in capital Dhaka.
Holy Cross Archbishop Moses M. Costa of Chittagong Archdiocese in southeastern Bangladesh has been admitted to Square Hospital.
Father Leonard C. Rebeiro, vicar general of the archdiocese, issued a statement on June 14 to confirm the case.
"Dear clergy, religious and lay faithful, Archbishop Moses M. Costa of Chittagong was admitted to Square Hospital with serious ailments on June 13. During admission his sample was collected for a Covid-19 test and the report came positive today. We request your special prayers and sacrifices for speedy recovery of Archbishop Costa," the statement read.
Archbishop Costa, 70, is the first known case among senior Catholic clergy in Bangladesh to be infected with the novel coronavirus.
It comes after two high-profile Covid-19 deaths in Bangladesh. Muhammad Nasim, 72, a ruling Awami League MP and former minister of health and home, died on June 13. He was followed by Sheikh Abdullah, 75, incumbent state minister of religious affairs, who died on June 14.
Archbishop Costa was appointed bishop of Chittagong in 2011 and became an archbishop when Pope Francis elevated Chittagong, known as the cradle of Catholicism in Bangladesh, to an archdiocese in 2017. He served as bishop of Dinajpur from 1996 to 2011.
Archbishop Costa is secretary-general of the Catholic Bishops' Conference of Bangladesh and chairman of the Catholic Bishops' Healthcare Commission.
Prayers for a speedy recovery
The news about his illness sent shockwaves among Bangladeshi Christians at home and abroad. Hundreds posted on social media platforms like Facebook to express their concern and promising to pray for his speedy recovery.
Chittagong was among the first of the eight Catholic dioceses in Bangladesh to issue Covid-19 health guidelines and closed all churches for public liturgy even before Bangladesh declared a nationwide shutdown from March 26.
Bangladesh lifted the shutdown on May 31 and since then all dioceses except Chittagong have opened churches for public liturgy including Masses.
An official from Chittagong told UCA News that the decision not to resume services was prompted by fast-growing Covid-19 cases in the port city recently.
"Archbishop Costa maintained strict lockdown measures since March, but we are shocked to know he has been infected. Now we are afraid for ourselves as we had interactions with him," the official told UCA News on condition of anonymity.
All Chittagong Archdiocese staff have been advised to stay in isolation at home and to continue working from home, the official added.
Chittagong, Bangladesh's financial hub and second-largest city, has seen a rapid increase in coronavirus cases in recent weeks. Its Kotwali area has been marked as a hotspot.
The Muslim-majority country had recorded 87,520 confirmed cases and 1,171 deaths from Covid-19 as of June 14.
More than 30 people from the minority Christian community have been infected and five have died in recent weeks.
Full report at:
https://www.ucanews.com/news/bangladesh-archbishop-critically-ill-with-covid-19/88397
--------
Ghani issues stern order to security institutions after recently Kabul mosque bombings
15 Jun 2020
President Mohammad Ashraf Ghani issued stern order to the security institutions to ensure the security of religious scholars following a series of deadly mosque bombings in Kabul city.
Presidential spokesperson Sediq Sediqqi said President Ghani issued the new order during a meeting of the cabinet of ministers.
Sediqqi further added that President Ghani ordered the security institutions to adopt further necessary steps to ensure the security of religious scholars and figures.
President Ghani emphasized that ensuring the security of religious scholars is the top priority of the government together with the security of the citizens of the country.
This comes as two separate explosions killed prominent religious figures in Kabul city during the recent weeks in Kabul city.
An explosion in Wazir Mohammad Akbar Khan mosque, located in the diplomatic part of the city, killed Mawlavi Ayaz Niazi, one of the prominent scholars and prayer leaders of the country.
Full report at:
https://www.khaama.com/ghani-issues-stern-order-to-security-institutions-after-recently-kabul-mosque-bombings-08901/
--------
Taliban militants suffer heavy casualties in Kapisa clashes
15 Jun 2020
The Taliban militants suffered heavy casualties during the clashes with the Afghan security forces in North-eastern Laghman province of Afghanistan.
The 201st Silab Corps in a statement said the Taliban militants launched attacks against the public uprising forces in Tagab district late on Sunday night.
The statement further added that the militants attacked the security posts of the public uprising forces in Jangali, Sheikhan, Khayatan, Qataran, Khalifagan and Saleh areas of the district.
The public uprising forces effectively responded to the attack with the support of the Afghan military forces who were deployed in the area, killing at least 5 militants.
According to 201st Silab Corps, the security forces also wounded 8 Taliban militants during the clashes.
Full report at:
https://www.khaama.com/taliban-militants-suffer-heavy-casualties-in-kapisa-clashes-08900/
--------
Southeast Asia
All non-Muslim places of worship can now operate but with one-third of usual capacity, says Ismail Sabri
15 Jun 2020
PUTRAJAYA: All 5,230 non-Muslim places of worship can now operate, says Datuk Seri Ismail Sabri Yaakob.
The Senior Minister said the time and days of operation are as per their normal operating schedule before the movement control order (MCO) was imposed.
However, these places are expected to ensure that the standard operating procedure is adhered to by the worshippers such as social distancing and taking temperature before joining the congregation.
"These houses of worship can only take in one-third of their usual capacity and attendees must download the MySejahtera application," he said on Monday (June 15).
Ismail Sabri said while this is general approval given by the Federal Government, it would be up to the respective state governments to decide on when the places of worship start opening their doors," he said.
https://www.thestar.com.my/news/nation/2020/06/15/all-non-muslim-places-of-worship-can-now-operate-but-with-one-third-of-usual-capacity-says-ismail-sabri
--------
End the numbers game and call for elections, urges Nazri
Minderjeet Kaur
June 16, 2020
PETALING JAYA: Former minister Mohd Nazri Aziz has urged the ruling Perikatan Nasional (PN) coaliton to call a snap general election once the coronavirus crisis is under control.
Nazri said the rakyat were uneasy with the present "ping pong game" of PN and the opposition Pakatan Harapan coalition both claiming to have the majority support among MPs.
This game has to stop, he said.
"One day it (the numbers) are in my court and the next day, it is in your (PH) court then it is in my (PN) court. Let's stop this uncertainty and let's have the general elections," he told FMT.
Nazri also declared his support for prime minister Muhyiddin Yassin, who is PPBM president.
In 2018, after the general election that brought Pakatan Harapan to power, he had openly shown support for PKR president Anwar Ibrahim.
He said PH may not have the numbers or they would have called for a press conference to show the statutory declarations of MPs supporting them.
Nazri, who is Padang Rengas MP, said there should be a general election at parliamentary and state levels. There was also a lot of uncertainty at the state level, especially in Sabah after former chief minister Musa Aman was cleared of all corruption charges recently.
"He is probably stronger (now after the court case). He is the rightful chief minister in the first place," he added. The present chief minister is Warisan president Shafie Apdal who is aligned to ex-prime minister Dr Mahathir Mohamad.
Nazri hoped that there would be an agreement among PPBM, Umno and PAS on seat distribution for the elections, as all three parties are Malay-based and may be eyeing the same seats.
"Let's make sure PN has a good majority and then we can stop this ping pong game once and for all."
The three Malay parties must champion the interests of the Malays as "it has been shown that if the Malay Muslim interest is not taken care off, as with PH, see what happened (to them)," he said, referring to the collapse of PH less than two years after forming a government.
Full report at:
https://www.freemalaysiatoday.com/category/nation/2020/06/16/end-the-numbers-game-and-call-elections-urges-nazri/
--------
Sarawak allows 24-hr business premises to operate fully from Wednesday
15 Jun 2020
KUCHING, June 15 — All 24-hour business premises in Sarawak will be allowed to operate fully from Wednesday, said State Disaster Management Committee (SDMC) chairman Datuk Amar Douglas Uggah Embas.
The deputy chief minister said the permission was given on condition the guidelines and standard operating procedure (SOP) during recovery movement control order (RMCO) were strictly adhered to.
"In Sarawak, all 24-hour business premises can begin operation on Wednesday so as to give them time to prepare, in terms of the new SOP," he said at the daily SDMC press conference in the old Sarawak State Legislative Assembly building here today.
Apart from that, non-Muslim houses of worship will also be allowed to reopen from June 20 and detailed the SOP can be obtained from Sarawak's Unit For Other Religions (Unifor).
Full report at:
https://www.malaymail.com/news/malaysia/2020/06/15/sarawak-allows-24-hr-business-premises-to-operate-fully-from-wednesday/1875785
--------
Eric Paulsen no longer member of Communications and Multimedia Ministry consultative council
16 Jun 2020
BY KENNETH TEE
KUALA LUMPUR, June 16 — Human rights lawyer Eric Paulsen is no longer a member of the Communications and Multimedia Ministry's consultative council.
In a brief statement today, the ministry said his departure will not affect the functions of the council, which was formed on June 9.
"The council will continue its role in discussing and advising the ministry in its approach and policies for communication and multimedia issues in line with the objectives of the ministry," the statement issued by the ministry's corporate communications unit said.
The statement did not specify if Paulsen had resigned or been removed but it is believed that Paulsen's exit was attributed to his alleged anti-Islam views.
Yesterday, Umno Youth chief Asyraf Wajdi Dusuki accused Paulsen of being known for statements that allegedly insulted Islam and Muslims as a whole and urged Saifuddin to clarify the basis of Paulsen's appointment.
Similarly, Pasir Mas MP and deputy PAS Youth chief Ahmad Fadhli Shaari also urged Muslims to oppose the appointment of Paulsen as a member of the council.
It was reported yesterday that Deputy Communications and Multimedia Minister Datuk Zahidi Zainul Abidin claimed that he was unaware of Paulsen's appointment as a member of the council.
Zahidi claimed that Saifuddin had decided on Paulsen's appointment without prior consultation, Malaysiakini reported.
Aside from PAS and Umno, calls against Paulsen's new role were also made by Saifuddin's Parti Pribumi Bersatu Malaysia (Bersatu) counterparts.
Full report at:
https://www.malaymail.com/news/malaysia/2020/06/16/eric-paulsen-removed-as-member-of-communications-and-multimedia-ministry-co/1875903
--------
In fight against COVID-19, Jokowi taps VP to deal with what he knows best: Religion
Galih Gumelar
June 16, 2020
When President Joko "Jokowi" Widodo tapped Indonesian Ulema Council (MUI) chairman Ma'ruf Amin as his running mate in the 2019 presidential election, the motivation was clear from the beginning: He picked a politician who had strong Islamist credentials and could appeal directly to a majority of the Muslim population.
As the country is battling COVID-19, President Jokowi has given the Vice President the authority to deal with all things pertaining to religion in the fight against the pandemic.
So it was par for the course when, during a Cabinet meeting last week, Ma'ruf requested that fresh funds be earmarked for pesantren (Islamic boarding schools) before these institutions reopen.
The septuagenarian said the funding was needed for disinfecting faculties at Islamic boarding schools, improving their sanitation and conducting rapid tests on students before they go back to class.
"Islamic schools with boarding facilities are safer in the context of COVID-19. In schools where they don't have boarding facilities, students can freely go in and out," Ma'ruf said as quoted by news wire Antara.
In late May, when the government was concerned that large congregations of Muslims celebrating Idul Fitri could lead to a spike in coronavirus cases, President Jokowi tapped Ma'ruf to deliver a statement urging Muslims not to conduct Idul Fitri prayers in mosques or on open soccer fields.
Also, when the government decided to cancel this year's haj due to COVID-19, Ma'ruf became the spokesperson to respond to concerns from thousands of Muslims in the country who feared they could lose their only chance to travel to the Holy Land.
Ma'ruf, however, has kept a low profile in government public relations, prompting many to question his presence during the COVID-19 pandemic.
In February, a public opinion poll conducted by Jakarta-based pollster Indo Barometer found that 50.4 percent of around 1,200 respondents were not satisfied with Maruf's performance during his first three months in office.
The public's doubts about Maruf's role in the administration only grew larger during the COVID-19 pandemic, with the hashtag #MarufAminNgapain (What is Ma'ruf Amin doing?) becoming a trending topic on Twitter on March 11, one week after President Jokowi announced Indonesia's first COVID-19 cases.
In social media, many poke fun at Ma'ruf over his perceived absence to this day. "Work is hard, but if I don't work people will think I am Ma'ruf Amin," Twitter user Feby wrote using her handle @abcdefby.
Responding to that criticism, vice presidential spokesman Masduki Baidlowi said Ma'ruf had been hard at work and, just like any other government official today, continued to work from home and regularly held online meetings with government ministers and other officials.
In recent days, Masduki said, the Vice President had returned to work at his office in the State Palace and had joined the Friday prayer at the Baiturrahman Mosque inside the premises last Friday.
"We have to admit that the Vice President has rarely made public appearances, especially during the pandemic, but that is because he has been working every day from morning to afternoon and actively chairing coordination meetings to craft policies to mitigate the impact of COVID-19," Masduki told The Jakarta Post.
In recent weeks, Ma'ruf has upped his game in public relations with regard to COVID-19 policies, by couching more and more of his messages in religious terms.
Speaking to reporters, Ma'ruf said that during the pandemic Muslims in the country could seek solace in faith by promoting the principles of iman (faith), imun (immunity), aman (Safety) and Amin (Amen).
On the issue of policies, Ma'ruf has continued to tout massive testing, social distancing and intensive treatment of COVID-19 patients as the key areas for the government to focus on. He added that the government would prepare a list of regulations aimed at revitalizing the sharia finance business, which may have suffered because of the pandemic.
"The Vice President is a simple man. He keeps working and won't have problems with people continuing to judge his performance," Masduki said. "He doesn't go after popularity and did not hire a buzzer to improve his standing in social media," he said.
Indonesia Political Review executive director Ujang Komarudin said the public had unrealistic expectations of Ma'ruf by comparing him with his predecessor, Jusuf Kalla, who was not only more outspoken but also known for his hands-on approach.
Kalla, having served in the past as chairman of the Golkar Party, as a coordinating minister in former president Megawati Soekarnoputri's Cabinet and as vice president to president Susilo Bambang Yudhoyono and Jokowi, is a looming figure in national politics.
During his five-year tenure with President Jokowi, Kalla would often weigh in on current issues, even some that did not directly concern his office.
Ma'ruf was mainly known as an Islamic cleric before entering politics, and his most prominent position was the MUI chairmanship.
Paramadina University political communication expert Hendri Satrio said the public should not be too harsh in its judgement of Maruf, simply because President Jokowi himself appeared to have no problem with Maruf's performance -- so far.
It is also likely that the public would continue to criticize Ma'ruf even if he would become more popular than the President, as this could be seen as an indication of a conflictual relationship.
Full report at:
https://www.thejakartapost.com/news/2020/06/15/in-fight-against-covid-19-jokowi-taps-vp-to-deal-with-what-he-knows-best-religion.html
--------
URL: https://www.newageislam.com/islamic-world-news/us-muslims-join-calls-police/d/122137
New Age Islam, Islam Online, Islamic Website, African Muslim News, Arab World News, South Asia News, Indian Muslim News, World Muslim News, Women in Islam, Islamic Feminism, Arab Women, Women In Arab, Islamophobia in America, Muslim Women in West, Islam Women and Feminism