New Age Islam News Bureau
2 Feb 2014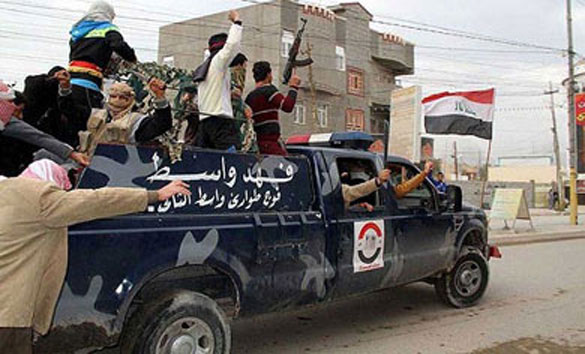 Photo: Iraq says 50 Al-Qaeda linked fighters killed in Anbar, (File Photo)
-------------
North America
• US Media Call CIA Saudi Arabia's Personal Shopper
• Islam's Holiest Site 'Turning into Vegas'
• US denies it sought direct negotiations with Syria in Geneva
• Kerry tells Iran: US sanctions still stand; McCain accuses Tehran of 'cheating'
• US responds to Israel uproar, says Kerry never called for boycott
Arab World
• Assad forces kill 169 people across Syria
• Iraq says 50 Al-Qaeda linked fighters killed in Anbar
• Air raids on Syria's Aleppo kill 85 Saturday: monitor
• Video shows beheading of man in Syria by al-Qaida rebels
• Al-Qaeda fighters kill rival rebel leader in Aleppo
• Army Kills Non-Syrian Militants, Foils Infiltration Attempt from Lebanon
• Explosion kills three in Hezbollah stronghold near Syria
• Iraqi army prepares to storm Falluja
• Assad 'armed to the teeth,' stockpiling weapons of mass destruction
• Salafist Call won't endorse El-Sisi as presidential candidate: Borhamy
• Syrian Opposition Activist: US to Continue Supporting Terrorism
Pakistan
• TTP lists Imran Khan, Sami ul Haq in 5-member committee
• 5 Ulema Apprehended For Provoking Public Sentiments
• No room in law for talks with terrorists
• Imran distances himself from Taliban
• Swabi police raid school occupied by militants
• Bilawal's Mohenjodaro fest may damage delicate ruins: Experts
Mideast
• 78 people killed in northern Yemen clashes
• West unfreezes first $500 mln of Iran's assets
• Palestinians erect another 'village' in Jordan Valley
• Turkish president praises Rome for preserving history
• Row over demand for Palestinians to recognise Israel as 'Jewish state'
• UN failure in Syria like Bosnia, Rwanda: Turkey
• Yemen Shia rebels overrun tribal strongholds
• Terrorist Groups in Syria Treat over 700 of Injured Members in Israeli Hospital
India
• Cyber Warfare: Pakistani Hackers Claim Defacing Over 2,000 Indian Websites
• India set to ease visa restrictions for 180 countries except Pakistan
South Asia
• 'Pakistan's rocket attacks' will negatively impact bilateral relations, warns Karzai
• AL MP assault: 54 Jamaat-Shibir men held
• Translate best creations of Bangla into foreign languages
Southeast Asia
• Malaysian Muslims Reach Out To Christians with Oranges, Flowers
• Don't cross the line, M'sian ministers tell hate-mongers
• Sabah and Sarawak folk stick to 'Allah' in Christian prayers
• Anwar's Kajang campaign faces first roadblock from Selangor Islamic authorities
• Don't cross the line, M'sian ministers tell hate-mongers
Africa
• Boko Haram suspected after cleric killed in Nigeria
• Surrendered Central African rebels flee
• Government retakes Machar's hometown: S. Sudan's rebels
• Larijani Felicitates Tunisian Counterpart on Constitution Approval
• Unexploded munitions a threat in Sudan's Darfur
Europe
• Russia to continue providing humanitarian aid, spiritual support to Syria
• UN delegation eyes Mali peacekeeping challenge up close
• Karzai unlikely to sign Afghan-US security agreement: Rasmussen
• NATO to reject demand for withdrawal of tactical nuclear weapons from Europe
Compiled by New Age Islam News Bureau
URL: https://www.newageislam.com/islamic-world-news/new-age-islam-news-bureau/us-media-call-cia-saudi-arabia-s-personal-shopper/d/35553
----------
North America
US Media Call CIA Saudi Arabia's Personal Shopper
February 02, 2014
TEHRAN (FNA)- Saudi Arabia bought ballistic missiles from China in 2007 in a hitherto unreported deal that won Washington's quiet approval on condition that CIA technical experts could verify they were not designed to carry nuclear warheads, a well-placed intelligence source said.
The solid-fueled, medium range DF-21 East Wind missiles are an improvement over the DF-3s the Saudis clandestinely acquired from China in 1988, experts say, although they differ on how much of an upgrade they were, Newsweek reported.
Jeffrey Lewis, director of the James Martin Center for Nonproliferation Studies at the Monterey Institute of International Studies, told Newsweek the newer missiles, known as CSS-5s in NATO parlance, have a shorter range but greater accuracy.
They can also be fired much more quickly.
The poor accuracy of the old DF-3s rendered them impotent during the first (Persian) Gulf War as a counter-strike to Saddam Hussein's Scuds, according to a 1996 memoir by Saudi Prince Khaled bin Sultan, then-commander of the Riyadh's Air Defense Forces. King Fahd declined to fling them at Iraq because the likely result would have been mass civilian casualties, and "the Coalition's air campaign being waged against Iraq was sufficient retaliation," Khaled claimed in a contribution to Desert Warrior.
When that war ended, the Saudis went looking for something better. In China, they likely found it. But unlike in 1988, when they royally annoyed Washington with their secret acquisition of DF-3s, this time they decided to play nice. And the CIA was their assigned playmate.
http://english.farsnews.com/newstext.aspx?nn=13921113001221
----------
Islam's Holiest Site 'Turning into Vegas'
World Bulletin / News Desk
Feb 2, 2014
The residents of Mecca are beginning to refer to their city as Las Vegas. Over the past 10 years the holiest site in Islam has undergone a huge transformation, one that has divided opinion among Muslims all over the world.
Once a dusty desert town struggling to cope with the ever-increasing number of pilgrims arriving for the annual Hajj, the city now soars above its surroundings with a glittering array of skyscrapers, shopping malls and luxury hotels.
To the al-Saud monarchy, Mecca is their vision of the future – a steel and concrete metropolis built on the proceeds of enormous oil wealth that showcases their national pride.
Yet growing numbers of citizens, particularly those living in the two holy cities of Mecca and Medina, have looked on aghast as the nation's archaeological heritage is trampled under a construction mania backed by clerics who preach against the preservation of their own heritage.
Mecca, once a place where the Prophet Mohamed (peace be upon him) insisted all Muslims would be equal, has become a playground for the rich, critics say, where naked capitalism has usurped spirituality as the city's raison d'être.
Few are willing to discuss their fears openly because of the risks associated with criticising official policy in the authoritarian kingdom. And, with the exceptions of Turkey and Iran, fellow Muslim nations have largely held their tongues for fear of diplomatic fallout and restrictions on their citizens' pilgrimage visas. Western archaeologists are silent out of fear that the few sites they are allowed access to will be closed to them.
But a number of prominent Saudi archaeologists and historians are speaking up in the belief that the opportunity to save Saudi Arabia's remaining historical sites is closing fast.
"No one has the balls to stand up and condemn this cultural vandalism," says Dr Irfan al-Alawi who, as executive director of the Islamic Heritage Research Foundation, has fought in vain to protect his country's historical sites.
"We have already lost 400-500 sites. I just hope it's not too late to turn things around."
Sami Angawi, a renowned Saudi expert on the region's Islamic architecture, is equally concerned. "This is an absolute contradiction to the nature of Mecca and the sacredness of the house of God," he told the Reuters news agency earlier this year. "Both [Mecca and Medina] are historically almost finished. You do not find anything except skyscrapers."
Dr Alawi's most pressing concern is the planned £690m expansion of the Grand Mosque, the most sacred site in Islam which contains the Kaaba – the black stone cube built by Ibrahim (Abraham) that Muslims face when they pray.
In the eyes of Wahabis, historical sites and shrines encourage "shirk" – the sin of idolatry or polytheism – and should be destroyed. When the al-Saud tribes swept through Mecca in the 1920s, the first thing they did was lay waste to cemeteries holding many of Islam's important figures.
They have been destroying the country's heritage ever since. Of the three sites the Saudis have allowed the UN to designate World Heritage Sites, none are related to Islam.
Those circling the Kaaba only need to look skywards to see the latest example of the Saudi monarchy's insatiable appetite for architectural bling. At 1,972ft, the Royal Mecca Clock Tower, opened earlier this year, soars over the surrounding Grand Mosque, part of an enormous development of skyscrapers that will house five-star hotels for the minority of pilgrims' rich enough to afford them.
To build the skyscraper city, the authorities dynamited an entire mountain and the Ottoman era Ajyad Fortress that lay on top of it. At the other end of the Grand Mosque complex, the house of the Prophet's first wife Khadijah has been turned into a toilet block. The fate of the house he was born in is uncertain. Also planned for demolition are the Grand Mosque's Ottoman columns which dare to contain the names of the Prophet's companions, something hard-line Wahabis detest.
For ordinary Meccans living in the mainly Ottoman-era town houses that make up much of what remains of the old city, development often means the loss of their family home.
http://www.worldbulletin.net/headlines/128093/islams-holiest-site-turning-into-vegas
---------
US denies it sought direct negotiations with Syria in Geneva
Reuters | Feb 2, 2014
WASHINGTON/BEIRUT: Washington denied claims by Syria's foreign minister on Saturday that American diplomats had sought to negotiate directly with their Syrian counterparts at last week's 'Geneva 2' peace conference in Switzerland.
State department spokeswoman Jen Psaki said the United States had offered to connect with Syrian officials "on a staff level" through the United Nations and joint special representative Lakhdar Brahimi.
"At no point did the United States offer to negotiate directly with the Syrian regime," she said, adding that the United States had made similar offers throughout the conflict.
Psaki was responding to a query from Reuters after Syrian foreign minister Walid al-Moualem said the Americans had requested direct negotiations in Montreux, the Swiss city where talks began on January 22 before moving to Geneva.
"We refused to do so before secretary of state John Kerry apologizes for what he said at the conference," Moualem told reporters aboard the Syrian government delegation's flight back to Damascus.
In the comments published by Syria's national news agency SANA, Moualem did not specify what Kerry had said that required an apology.
But Psaki said such a gesture would not happen.
"At no point will secretary Kerry ever apologize for speaking the truth about the brutality the Assad regime has inflicted on the people of Syria," she said.
A contentious week-long first round of talks began with uncompromising speeches, by Kerry and Moualem among others, and repeatedly seemed on the verge of collapse before the two sides even entered the same room.
The conference adjourned on Friday with no progress towards ending the civil war and the government unable to say whether it will return for the next round of negotiations beginning on February 10.
http://timesofindia.indiatimes.com/world/us/US-denies-it-sought-direct-negotiations-with-Syria-in-Geneva/articleshow/29737929.cms
---------
Kerry tells Iran: US sanctions still stand; McCain accuses Tehran of 'cheating'
February 02, 2014
MUNICH - The foreign ministers of the United States and Iran held rare private talks in Germany on Sunday to discuss the next stage in efforts to reach a definitive agreement to end a decade-old dispute over Iran's nuclear program.
US Secretary of State John Kerry and Iranian Foreign Minister Mohammad Javad Zarif met on the sidelines of the Munich Security Conference to talk about nuclear negotiations between six world powers and Iran that will resume in Vienna on Feb. 18.
The talks will aim to settle the nuclear dispute after Iran agreed, under a landmark preliminary deal last November, to halt its most sensitive nuclear operations in return for winning some relief from sanctions.
In his talks with Zarif, Kerry stressed the importance of both sides negotiating in good faith and Iran abiding by its commitments under the November interim accord, a US State Department official said.
The United States and European Union suspended some sanctions on Iran under the interim deal, but Kerry made clear to Zarif that the United States will continue to enforce other sanctions.
There was no immediate comment from Iran on the talks.
Kerry and Zarif have met several times since Iranian President Hassan Rouhani, a relative moderate, was elected last June, leading to a thaw in ties with the West after years of confrontation and hostile rhetoric.
EU foreign policy chief Catherine Ashton, who coordinates the nuclear talks with Iran on behalf of the United States, Russia, China, Britain, France and Germany, welcomed the meeting between Kerry and Zarif.
"It is incredibly important that as the international community now looks to build towards the comprehensive talks, that the dialogue is taking place and that we're working out how to develop a comprehensive approach to this," she told reporters in Munich.
But Republican US Senator John McCain sounded a cautious note, saying Iran had a long record of deception, and accusing Iran of cheating.
"Rouhani bragged to one of his media outlets how he had deceived the Americans and negotiators when he was a negotiator," he told the Munich conference.
"Construction continues around Arak (heavy water reactor), the centrifuges, 19,000 of them continue to spin, and most importantly implicit in this agreement is the right to enrich.
"There are three components to nuclear weapons - warhead, delivery system and the material itself. They are continuing and cheating on the first two without any constraint whatsoever," he said.
Zarif said in an interview on Saturday that Iran was not prepared to give up research on centrifuges used to purify uranium as part of a final nuclear deal.
Asked how long he thought it would take to reach a final agreement, Zarif said: "It's just the beginning of the negotiations for a final agreement. It is the first step of the final step and I expect it to take some time."
"We are ready because we believe it is in our interests and we have no other intention. So theoretically it shouldn't be that difficult. The detail may be a bit more difficult to achieve, so we will see," Zarif told Reuters and The International Media Associates, a television production company.
http://www.jpost.com/Iranian-Threat/News/Kerry-tells-Iran-US-sanctions-still-stand-340088
----------
US responds to Israel uproar, says Kerry never called for boycott
February 02, 2014
With Israeli politicians pouncing on US Secretary of State John Kerry for allegedly encouraging a boycott against Israel, the State Department issued a statement Sunday urging that Kerry's words be portrayed "accurately."
State Department spokeswoman Jen Psaki said that Kerry has a "proud record of over three decades of steadfast support for Israel's security and well-being, including staunch opposition to boycotts.
Just last year, while briefing Foreign Ministers at an EU conference in Vilnius on his peacemaking efforts, he urged them to refrain from implementing these types of measures."
Psaki said that at the Munich Security Conference on Saturday Kerry "spoke forcefully in defense of Israel's interests, as he consistently has throughout his public life. In response to a question about the peace process, he also described some well-known and previously stated facts about what is at stake for both sides if this process fails, including the consequences for the Palestinians. His only reference to a boycott was a description of actions undertaken by others that he has always opposed."
Full report at:
http://www.jpost.com/Diplomacy-and-Politics/US-responds-to-Israel-uproar-says-Kerry-never-called-for-boycott-340097
----------
Arab World
Assad forces kill 169 people across Syria
World Bulletin / News Desk
Feb 2, 2014
Almost 170 people, including 11 children and nine women, were killed in attacks staged by President Bashar Assad's regime across Syria on Sunday, says the Syrian Network for Human Rights.
The organization said that 105 had died in Aleppo, 35 in Damascus, 11 in Hama, eight in Daraa, four in Quneitra, two in Deir az-Zor and Homs and one each in Lattakia and Idlib.
SNHR claimed 24 of the dead had been tortured by regime forces, and many of them died in Syrian regime forces' barrel bomb attacks on opposition-held regions.
Meanwhile, the Local Coordination Committees of Syria reported that Syrian army helicopters had dropped 40 barrel bombs on Aleppo, killing and wounding dozens of people.
During the attacks, many buildings were damaged and demolished, said Ahmed Mohammed Ali, the media manager of Local Coordination Committees of Syria (LCC).
Full report at:
http://www.worldbulletin.net/headlines/128098/assad-forces-kill-169-people-across-syria
-----------
Iraq says 50 Al-Qaeda linked fighters killed in Anbar
World Bulletin / News Desk
02 February 2014
The Iraqi Defense Ministry announced that its military forces killed over 50 fighters from the al-Qaeda-linked Islamic State in Iraq and the Levant (ISIL) group between Saturday and Sunday in the city of Ramadi, the capital of the violence-ridden western province of Anbar.
"With the support of…Anbar's tribesmen and local police, the Armed Forces have conducted major operations last night and this morning killing over 50 from the ISIL terrorist group," said a statement by the Defense Ministry on Sunday.
Full report at:
http://www.worldbulletin.net/todays-news/128105/iraq-says-50-al-qaeda-linked-fighters-killed-in-anbar
-----------
Air raids on Syria's Aleppo kill 85 Saturday: monitor
February 02, 2014
Regime air raids using explosives-packed barrels on the northern Syrian city of Aleppo killed at least 85 people on Saturday, a monitoring group said.
"At least 85 people were killed, including 65 civilians, 10 of whom were children," when government helicopters dropped barrel bombs on rebel-held areas of Aleppo, the Syrian Observatory for Human Rights said Sunday.
Full report at:
http://www.hurriyetdailynews.com/air-raids-on-syrias-aleppo-kill-85-saturday-monitor.aspx?pageID=238&nID=61864&NewsCatID=352
----------
Video shows beheading of man in Syria by al-Qaida rebels
Reuters | Feb 2, 2014
BEIRUT: Rebels in Syria with ties to al-Qaida have decapitated a man believed to have been a pro-government Shi'ite fighter, an amateur video of the public beheading posted to the Internet on Saturday showed.
The Syrian Observatory for Human Rights, a monitoring group which posted the video, said the beheading was conducted by the Islamic State in Iraq and the Levant (ISIL), a foreign-led group fighting to overthrow President Bashar al-Assad and establish an Islamic emirate in Syria.
Full report at:
http://timesofindia.indiatimes.com/world/middle-east/Video-shows-beheading-of-man-in-Syria-by-al-Qaida-rebels/articleshow/29742877.cms
----------
Al-Qaeda fighters kill rival rebel leader in Aleppo
February 02, 2014
Attack likely to further exacerbate rebel infighting even as Syrian government forces continued their intense shelling of opposition-held areas in the city
Al-Qaeda fighters killed the leader of a rival Islamic brigade in a twin car bombing near Syria's northern city of Aleppo, an attack likely to further exacerbate rebel infighting even as government forces continued their intense shelling of opposition-held areas of the city on Sunday.
Syrian aircraft bombed buildings, burying people underneath rubble in the Bab Neirab area, said the Aleppo Media Centre. It wasn't immediately clear how many casualties there were.
The bombings came after military aircraft dropped barrels packed with explosives over rebel-held areas on Saturday, killing dozens, including an attack that killed 34 people in the rebel-held neighbourhood of al-Bab, said the Britain-based Syrian Observatory for Human Rights. The group collates the country's war death toll.
Full report at:
http://www.thehindu.com/news/international/world/alqaeda-fighters-kill-rival-rebel-leader-in-aleppo/article5645450.ece
----------
Army Kills Non-Syrian Militants, Foils Infiltration Attempt from Lebanon
February 02, 2014
TEHRAN (FNA)- A Syrian army unit in cooperation with border guard personnel on Sunday foiled militants' attempt to infiltrate from Lebanon into Tal al-Na'imat in Qseir Southern countryside, killing 6 militants, among them Lebanese militant Mohammad Abdel-Razaq al-Daher.
Army units destroyed militants' hideouts in the village of al-Zara in Homs countryside, killing scores of militants, among them Saudi militants Mohammad al-Mashhadani and Alaa al-Mashhadani, Lebanese militants Ali Jarbou, Duraid Safwan and Waled al-Owishat, and Jordanian militant Khalifa Hamdan al-Naser, Syrian Arab News Agency reported.
http://english.farsnews.com/newstext.aspx?nn=13921113001238
---------
Explosion kills three in Hezbollah stronghold near Syria
February 02, 2014
A suicide car bomber killed three people at a petrol station in a stronghold of the Shi'ite militant Hezbollah movement on Lebanon's northern border on Saturday, the latest sign that Syria's civil war is spilling over into its small neighbor.
The blast occurred in the town of Hermel at the northern end of the Bekaa Valley, an area populated mainly by Shi'ite Muslims among whom Hezbollah draws its support.
Lebanon's National News Agency (NNA) cited witnesses who said the perpetrator entered the gas station and asked to buy fuel before detonating the bomb, leaving a meter-deep hole in the ground and setting the station and nearby cars on fire.
Full report at:
http://www.jpost.com/Middle-East/Explosion-kills-four-in-Hezbollah-stronghold-near-Syria-340051
----------
Iraqi army prepares to storm Falluja
World Bulletin / News Desk
Feb 2, 2014
Iraqi security forces are preparing to storm Falluja and break a month-long standoff with armed groups who are in control of the city, senior security officials and troops said.
Anti-government fighters, among them insurgents, overran two cities in the Sunni-dominated western province of Anbar on Jan. 1. against a backdrop of deteriorating security across the country.
At least 12 people were killed in bombings across Iraq on Saturday, mostly in the capital Baghdad, just 70 km (40 miles) away from Falluja, a city currently surrounded by the army.
Prime Minister Nuri al-Maliki had held off an all out assault on the city to give local tribesmen a chance to expel them, but security officials told Reuters a decision had been made to enter Falluja by 6 p.m. (1500 GMT) on Sunday.
Full report at:
http://www.worldbulletin.net/headlines/128081/iraqi-army-prepares-to-storm-falluja
-----------
Assad 'armed to the teeth,' stockpiling weapons of mass destruction
February 02, 2014
The Sunday Times quoted both Israeli and Russian sources as claiming that Syrian President Bashar Assad is stockpiling weapons of mass destruction in Alawite enclaves on the western coast of Syria.
According to the Times, these sources report that the work has been ongoing despite the first round of peace talks between Assad's regime and the rebels, held last week in Geneva. The talks are largely seen as having been inconclusive.
One source stated that Assad has turned over only four percent of the regime's chemical weapons and that the regime will miss this week's deadline to send all toxic agents for destruction abroad.
Full report at:
http://www.jpost.com/Home/Assad-armed-to-the-teeth-stockpiling-weapons-of-mass-destruction-340081
----------
Salafist Call won't endorse El-Sisi as presidential candidate: Borhamy
February 02, 2014
The deputy head of Egypt's Salafist Call, Yasser El-Borhamy, says the movement and its political arm, the Nour Party, will not support the presidential candidacy of army chief Abdel-Fattah El-Sisi should he decide to run for president.
Speaking to Lebanese paper As-Safir in an extended interview, El-Borhamy, who has voiced regular support for Egypt's ongoing transitional roadmap, says the Salafist Call and Nour Party have no plans so far to field a presidential candidate.
"Like in the first round [of last year's presidential elections] when we supported Abdel-Moneim Abul-Fotouh, we will settle on only one candidate in the coming polls," he was quoted as saying.
Full report at:
http://english.ahram.org.eg/NewsContent/1/64/93189/Egypt/Politics-/Salafist-Call-wont-endorse-ElSisi-as-presidential-.aspx
----------
Syrian Opposition Activist: US to Continue Supporting Terrorism
February 02, 2014
TEHRAN (FNA)- Syrian opposition activist Safvan Akash acknowledged that the US will never stop its support for the militant groups fighting against the Damascus government in Syria.
Speaking to FNA, Akash, a member of the Executive Office of the Syrian Opposition Coordinating Council, pointed to the US military support for militant groups fighting against President Bashar Al-Assad, and said, "Washington will never cease its supports for the militant groups in Syria."
Full report at:
http://english.farsnews.com/newstext.aspx?nn=13921113001199
----------
Pakistan
TTP lists Imran Khan, Sami ul Haq in 5-member committee
February 2, 2014
DERA ISMAIL KHAN / ISLAMABAD: The Tehreek-e-Taliban Pakistan (TTP) on Saturday proposed the names of senior political and religious leaders for a committee to converse with the government's dialogue committee on its behalf, members of the Taliban's proposed committee told The Express Tribune.
The five member committee include Pakistan Tehreek-e-Insaf (PTI) chief MNA Imran Khan, Jamiat Ulema Islam-Samiul Haq group (JUI-S) chief Maulana Samiul Haq, Jamiat Ulema Islam-Fazal's (JUI-F) Mufti Kifayatullah, Jamaat-e-Islami (JI) provincial chief Professor Mohammad Ibrahim, and the former cleric of Lal Masjid Maulana Abdul Aziz.
Full report at:
http://tribune.com.pk/story/666445/peace-talks-ttp-lists-imran-khan-samiul-haq-in-5-member-committee/
----------
5 Ulema Apprehended For Provoking Public Sentiments
February 02, 2014
RAWALPINDI - Police apprehended five religious scholars belonged to different schools of thought and locked them up in Adyala Jail under 16 MPO (Maintenance of Public Order), informed sources here on Saturday.
The arrested Ulema, who would remain in the jail for 15 days, identified as Qari Shakeel, Maulana Saqib Ali, Maulana Rashid and two others, sources added.
According to sources, the five religious scholars were taken into custody by the police on the instructions of District Coordination Officer (DCO) Sajid Zafar Dall, who in the light of reports of intelligence agencies and Special Branch, ordered their arrest.
Full report at:
http://www.nation.com.pk/editors-picks/02-Feb-2014/5-religious-scholars-apprehended
----------
No room in law for talks with terrorists
2014-02-02
ISLAMABAD: The government faces a moral dilemma as it gets ready for talks with the Tehreek-i-Taliban Pakistan, one of the 60 outfits officially banned and declared as terrorist organisations.
The government keeps on saying that negotiations with the TTP would be held within the framework of the Constitution, but experts believe that there is no room in the Constitution to enter into a dialogue with terrorist groups.
Asked if the government was considering lifting a ban on TTP before the start of talks, Information Minister Pervez Rasheed told Dawn there was no such possibility and the status quo would be maintained.
Full report at:
http://www.dawn.com/news/1084316/no-room-in-law-for-talks-with-terrorists
----------
Imran distances himself from Taliban
2014-02-02
ISLAMABAD: Commenting on reports that the outlawed Tehreek-i-Taliban Pakistan (TTP) has nominated him for negotiations, Pakistan Tehreek-i-Insaf (PTI) chairman Imran Khan has said the militant group should select its own representatives for the peace talks.
He said in a statement issued on Saturday that the PTI had full faith in the four-member committee formed by the government for the talks.
"However, we will discuss in our core committee meeting on Monday how the PTI can be of assistance to further the dialogue," he added.
PTI information secretary Dr Shireen Mazari said the party hadn't been contacted by the Taliban to ask its chairman to become a member of its committee for peace talks with the government.
http://www.dawn.com/news/1084317/imran-distances-himself-from-taliban
----------
Swabi police raid school occupied by militants
February 02, 2014
Police in Khyber Pakhtunkhwa city of Swabi raided a school occupied by militants on Saturday, killing four people.Fifty militants were rounded up following the gunfire, which lasted more than four hours. A massive amount of arms and ammunition were recovered from the school.District Police Officer Sajjad Khan said the police received solid information that a group of terrorists based in Khanpur area of tehsil Razaar are planning to carry out subversive activities in the district. He further said the terrorists stayed inside a government primary school at night, which was cordoned off by the police from all sides.
Full report at:
http://www.nation.com.pk/national/02-Feb-2014/swabi-police-raid-school-occupied-by-militants
----------
Bilawal's Mohenjo Daro fest may damage delicate ruins: Experts
Associated Press | Mohenjodaro | February 02, 2014
Folk dancers and singers wearing traditional multi-coloured dresses gathered Saturday at one of the world's most ancient archaeological sites in southern Pakistan for a festival that organizers say aspires to promote peace in a nation where political violence has left some 40,000 dead in recent years.
The festival at Mohenjo Daro aims to publicize the cultural heritage of the country's south. But it drew controversy when some archaeologists said the event, sponsored by a top Pakistani politician, poses a threat to the site's unbaked brick ruins dating to the 3rd millennium BC.
Full report at:
http://indianexpress.com/article/world/asia/bilawals-mohenjo-daro-fest-may-damage-delicate-ruins-experts/
---------
Mideast
78 people killed in northern Yemen clashes
World Bulletin / News Desk
Feb 2, 2014
At least 78 people were killed and 160 others injured in one day of clashes between Shiite Houthi militants and tribesmen in the northern Yemeni province of Amran, a tribal source said.
The violence broke out in the Huth district on Friday and continued to rage until Saturday, leaving 63 Houthis and 15 tribesmen dead and 163 others injured, including 110 Houthis.
According to the source, tribal fighters captured six areas in the district.
Friday's violence erupted only a few days after a ceasefire was brokered between the tribesmen and the Houthis after another round of deadly clashes on Wednesday left three Houthis dead.
Full report at:
http://www.worldbulletin.net/headlines/128067/78-people-killed-in-northern-yemen-clashes
-----------
West unfreezes first $500 mln of Iran's assets
Feb 2, 2014
The first $500-millioin tranche of Iran's assets in Western banks has been unfrozen, Iranian Deputy Foreign Ministry Abbas Araqchi told reporters on Sunday.
"The first tranche worth $500 million has been transferred to a Swiss bank. Everything has been done in accordance with the existing agreement," he said.
Iran clinched the interim deal in November with the P5+1 group - Britain, China, France, Russia, the United States and Germany - and began implementing the agreement on January 20.
Under the agreement, which is to last six months, Iran committed to limit its uranium enrichment to five percent, halting production of 20 percent-enriched uranium.
In return, the European Union and the United States have eased crippling economic sanctions on Iran.
Full report at:
http://voiceofrussia.com/news/2014_02_02/West-unfreezes-first-500-mln-of-Irans-assets-7444/
-----------
Palestinians erect another 'village' in Jordan Valley
February 02, 2014
Palestinian activists have started building a Palestinian makeshift village in the Jordan Valley – the second in two days – as a way of confronting Israeli settlement building in the occupied region.
"Around 70 activists from the West Bank refugee camps started building Al-Awdah village near Beesan's checkpoint in the northern Jordan Valley," Yasser Abu Kishk of the Popular Committee to Resist Settlement told Anadolu Agency.
"This is a symbolic action for the eventual return of Palestinian refugees to their lands from which they were forced to leave in 1948," Abu Kishk said.
Full report at:
http://www.worldbulletin.net/headlines/128087/palestinians-erect-another-village-in-jordan-valley
-----------
Turkish president praises Rome for preserving history
February 02, 2014
Turkish President Abdullah Gül has spoken in awe of Rome's success in preserving its historical sites, following his return from a visit to Italy.
"Rome, which is called the Eternal City, is the richest open-air museum in the world," Gül wrote on Twitter on Feb. 1, enclosing photographs with each of his messages.
"The centuries-old magnificent buildings, squares, streets were preserved in a way that there is not a skyscraper or a shopping mall," he said.
Full report at:
http://www.hurriyetdailynews.com/turkish-president-praises-rome-for-preserving-history-.aspx?pageID=238&nID=61880&NewsCatID=338
----------
Row over demand for Palestinians to recognise Israel as 'Jewish state'
February 02, 2014
In the port of Jaffa, Israeli Arab fishermen pick the last of their catch from green nets as the surrounding restaurants serve up seafood to tourists and local diners.
Prior to the creation of the state of Israel in 1948, this was a predominantly Arab city. Since 1950, it has been part of Tel Aviv and is now mostly Jewish. Muslims and Christians make up about a third of Jaffa's population.
Many residents working or relaxing in the winter sun naturally steer clear of difficult political conversations about the Israel-Palestinian peace talks.
However there is a clear division when they are pressed for an opinion on the Israeli prime minister's demand for recognition of the country as a "Jewish" state.
Full report at:
http://www.bbc.co.uk/news/world-middle-east-25983130
----------
UN failure in Syria like Bosnia, Rwanda: Turkey
February 02, 2014
Turkey's Foreign Minister Ahmet Davutoglu lashed out Sunday at the world community's failure to end the bloodshed in Syria, saying that one day a UN chief will apologise for it.
"The international system is failing like it failed in Bosnia for three years, like it failed in Rwanda for many years," Davutoglu told the Munich Security Conference (MSC).
He pointed out that as the UN has apologised over its failure to act on time in Bosnia, "one day another UN secretary general will go to Homs, will go to Yarmuk and will apologise".
What started with 2011 street rallies against President Bashar al-Assad has spiralled into a bloody conflict that has killed over 130,000 people and drawn in regional players and jihadists.
Full report at:
http://english.ahram.org.eg/NewsContent/2/8/93271/World/Region/UN-failure-in-Syria-like-Bosnia,-Rwanda-Turkey.aspx
----------
Yemen Shia rebels overrun tribal strongholds
February 02, 2014
Shia Huthi rebels have overrun strongholds of powerful tribes in northern Yemen, witnesses said Sunday, in a major advance following weeks of combat that have left scores dead.
The rebels have been pushing out from their stronghold in the mountains of the far north to other areas nearer the capital to expand their hoped-for autonomous unit in a promised federal Yemen.
The Huthis seized the town of Huth and Khamri village -- the seat of the Hashid tribal chief, as tribal defence lines crumbled, local sources and witnesses said.
The Huthis "completely took over the regions of Huth and Khamri," rebel spokesman Mohammed Abdulsalam told AFP by telephone.
Full report at:
http://english.ahram.org.eg/NewsContent/2/8/93236/World/Region/Yemen-Shia-rebels-overrun-tribal-strongholds.aspx
----------
Terrorist Groups in Syria Treat over 700 of Injured Members in Israeli Hospital
February 02, 2014
TEHRAN (FNA)- The Israeli army has set up a field hospital on the Golan Heights to treat injured militants who belong to the terrorist groups in Syria.
These groups have treated over 700 of its injured militants in that hospital, according to Israeli media outlets, Al-Manar reported.
The Zionist regime's army prevented the media outlets from broadcasting the activities of the field hospital yet allowed the Second Channel to prepare a report about it in order to promote the "humane Israeli step towards the Syrians."
Full report at:
http://english.farsnews.com/newstext.aspx?nn=13921113001187
---------
India
Cyber warfare: Pakistani hackers claim defacing over 2,000 Indian websites
February 2, 2014
KARACHI: Pakistani hackers have claimed responsibility for hacking over 2,000 Indian websites on the country's Republic Day, confirming reports published by the Indian media earlier this week.
"Hackers defaced more than 2,000 Indian websites – 2,118 to be exact – on Republic Day (January 26) in what is being termed as 'a major cyber attack'," The Hindu reported on January 29. According to the report, the attackers' internet protocol (IP) address was traced to Pakistan.
"Most of the defaced websites were attacked by Pakistani hackers using the handles 'StrikerRude', 'KashmirCyberArmy', 'PakCyberExpert', 'HUnterGujar' and the operation was named as '#OP26jan'," the newspaper cited the Global Cyber Security Response Team, Bangalore as saying. The websites targeted included that of the Central Bank of India.
Hackers, who claimed they were involved in the cyber attack, said three Pakistan-based hacking groups were responsible and said the act was meant as a 'protest for the rights of Kashmiris'.
Full report at:
http://tribune.com.pk/story/666537/cyber-warfare-pakistani-hackers-claim-defacing-over-2000-indian-websites/
----------
India set to ease visa restrictions for 180 countries except Pakistan
February 2, 2014
NEW DELHI: Tourists travelling to India from up to 180 countries will no longer have to queue up at their local consulates to obtain visas under reforms expected to be approved this week, local media reported Sunday.
Most foreigners currently have to wait several weeks before learning whether they will be allowed to enter the country after submitting their applications at visa processing centres, a major deterrent for potential visitors.
But India's intelligence agencies have now given their backing to proposals that would allow tourists to apply online and then wait only three days before receiving the green light, the Indian Express reported.
Full report at:
http://tribune.com.pk/story/666617/india-set-to-ease-visa-restrictions-pakistani-citizens-not-included-in-the-changes/
----------
South Asia
'Pakistan's rocket attacks' will negatively impact bilateral relations, warns Karzai
February 1, 2014
ISLAMABAD: Afghan President Hamid Karzai warned that "Pakistan's rocket attacks" into Afghanistan will have a negative impact on bilateral relations between the two countries, the Afghan state media reported Saturday.
Karzai's remarks came after the governor of Kunar province Shuja Malek Jalala claimed that a rocket from Pakistan on January 31 had hit a house in Marwari district, killing three and wounding five others, including children.
Jalala, however, had not mentioned who fired the rocket.
The governor had also alleged that 17 rocket attacks had been carried out last month, further stating that no one got hurt in the attacks.
"President Karzai strongly condemned Pakistan's rocket attack on Marwari district of Kunar province," Afghan state Bakhtar News Agency reported.
Full report at:
http://tribune.com.pk/story/666257/pakistans-rocket-attacks-will-negatively-impact-bilateral-relations-warns-karzai/
----------
AL MP assault: 54 Jamaat-Shibir men held
February 02, 2014
A total of 54 activists of Jamaat and Shibir have been detained for assaulting Awami League MP Abu Reza M Nezamuddin Nadvi in Lohagara upazila, Chittagong in nightlong drives.
Lohagara police station Officer-in-Charge Mohammad Shahjahan confirmed the Dhaka Tribune about the detentions.
On Friday, MP Nezamuddin faced humiliation while attending a religious programme in Chunati area. Water bottles and some other objects were hurled at him.
The MP was later escorted off the premises by police.
A case was filed against Jamaat-Shibir men with Lohagora police station on Saturday regarding the matter.
http://www.dhakatribune.com/assault/2014/feb/02/al-mp-assault-54-jamaat-shibir-men-held#sthash.fY7PGIEI.dpuf
----------
Translate best creations of Bangla into foreign languages
February 02, 2014
Prime Minister Sheikh Hasina yesterday urged all concerned to present the best creations of Bangla language to the world through their translation into foreign languages.
She said her government was trying to get Bangla enlisted as one of the official languages of the United Nations. "For this, we need your all-out support," she told the audience at the capital's Bangla Academy ground where she inaugurated the Amar Ekushey Boi Mela.
The month-long book fair marking the 1952 Language Movement is taking place on the academy premises and on a part of the Suhrawardy Udyan to accommodate more stalls this year.
Full report at:
http://www.thedailystar.net/city/translate-best-creations-of-bangla-into-foreign-languages-9557
----------
Southeast Asia
Malaysian Muslims Reach Out To Christians with Oranges, Flowers
February 02, 2014
Against a backdrop of heightened religious and racial tension, a group of Malaysians handed out oranges, goodies and flowers at the Kajang Holy Family Church to foster ties between Muslims and non-Muslims.
Ally Hazran Hashim and his friends handed out the goodies following morning mass today.
"I am practising what my religion taught me. Islam is peace. I believe if you do things with good faith, people will see it in good light. We are creating love," he said.
He hoped that the small gesture of love would be an eye-opener for Muslims and others and inspire them to do the same.
Full report at:
http://www.themalaysianinsider.com/malaysia/article/muslims-reach-out-to-christians-with-oranges-flowers
----------
Don't cross the line, M'sian ministers tell hate-mongers
February 02, 2014
Sarawak state leaders have warned those inciting hate and seditious remarks through blogs and online social media to not cross the line and risk political stability and racial unity in the country.
Deputy Home Minister Dr Wan Junaidi Tuanku Jaafar said although freedom of expression may be practised in the country, Internet users on blogs and social networks should not cross the line and incite hate and anger.
He was commenting on anti-Christian and anti-East Malaysian sentiments expressed on Facebook in a page called "Semenanjung Malaysia Anti Sabah and Sarawak" which mocked Christianity and East Malaysians. It contained photographs mocking Christianity, including one of a frog nailed to a cross which has angered many Sabahans and Sarawakians.
Full report at:
http://www.thejakartapost.com/news/2014/02/02/don-t-cross-line-msian-ministers-tell-hate-mongers.html
---------
Sabah and Sarawak folk stick to 'Allah' in Christian prayers
February 02, 2014
As the "Allah" row rages, Sabah and Sarawak folk, fed up with Putrajaya's broken promises, are resolute that they would defy any prohibition on their right to use the word in their worship.
They also hit out at Datuk Seri Idris Jala for allegedly betraying Christians from Sabah and Sarawak and who had remained silent on the issue.
Jala was instrumental in the Najib administration crafting a 10-point solution which was signed in 2011.
The 10-point solution, among others, allowed for the import and use of Bibles in all languages, including Malay and Indonesian Bibles where the word "Allah" is used.
Full report at:
http://www.themalaysianinsider.com/malaysia/article/sabah-and-sarawak-folk-stick-to-allah-in-christian-prayers
----------
Anwar's Kajang campaign faces first roadblock from Selangor Islamic authorities
February 02, 2014
PKR top leader Datuk Seri Anwar Ibrahim's attempt at meeting Kajang voters before the start of official campaigning hit a snag last Friday when he was barred from giving talks at mosques in the state.
It is learnt that Anwar was barred from giving the tazkirah (a short speech before the Friday sermon) at the Impian Saujana mosque in Kajang on orders from the Selangor Islamic Affairs Council (Mais), the body which regulates mosques in the state and which comes under the purview of the Selangor Sultan.
Anwar was supposed to give the tazkirah before a Friday sermon delivered by PKR information chief Dr Muhd Nur Manuty.
"But after subuh prayers on Januari 30, the mosque's caretaker told us that they were pressured by MAIS to stop the event. So the mosque committee did not dare go ahead with the plan.
Full report at:
http://www.themalaysianinsider.com/malaysia/article/anwars-kajang-campaign-faces-first-road-block-from-selangor-islamic-authori
----------
Africa
Boko Haram suspected after cleric killed in Nigeria
February 02, 2014
A Muslim cleric who had previously criticised Boko Haram has been shot dead with his wife and child in northern Nigeria, locals and his family said on Sunday.
Unknown gunmen opened fire on Adam Albani's car at about 10:30 pm (2130 GMT) on Saturday in the city of Zaria, as he drove home from teaching a theology class.
Suspicions will likely fall on Boko Haram for carrying out the shooting, as Albani, 54, had criticised the group and given his support to the Nigerian military campaign against them.
His theology class was in the Tudunwada area of Zaria, where soldiers had carried out raids on two suspected militant hideouts in the past.
Local resident Mohammed Usman said Albani's wife and son were hit, while the gunmen appeared to have dragged the cleric from the car and shot him at close range.
Full report at:
http://english.ahram.org.eg/NewsContent/2/9/93249/World/International/Boko-Haram-suspected-after-cleric-killed-in-Nigeri.aspx
----------
Surrendered Central African rebels flee
February 02, 2014
Around 200 rebel fighters in the Central African Republic who surrendered to African Union troops at the weekend in the key town of Sibut fled overnight, a military source said on Sunday.
"Unfortunately they fled in the night. They've gone to Kaga Bandoro," an officer in the African Union force (MISCA) told AFP.
Kaga Bandoro is some 160 kilometres (100 miles) north of Sibut, the town which had been held for several days by former members of the mainly Muslim Seleka rebellion -- causing terrified residents to flee -- before it was recaptured by MISCA troops on Saturday.
It is thought the rebels fled because of fear of revenge attacks by members of the anti-balaka Christian militia. They had initially agreed to be held by peacekeepers.
Full report at:
http://english.ahram.org.eg/NewsContent/2/9/93265/World/International/Surrendered-Central-African-rebels-flee.aspx
----------
Government retakes Machar's hometown: S.Sudan's rebels
February 02, 2014
South Sudan government forces have recaptured Leer, the hometown of nominal rebel leader Riek Machar in the northern oil-producing state of Unity, a spokesman for the rebels said on Sunday.
Government soldiers and allied militia "advanced on Leer town on February 1, 2014 destroying everything on their path. (President Salva) Kiir's forces burned down the whole of Leer town and the entire surrounding villages," a statement from rebel spokesman Lul Ruai Koang said.
There was no independent confirmation that Leer had changed hands.
But medical charity Doctors without Borders (MSF, Medecins sans Frontieres) reported on Friday that a team of its local health workers had taken "several dozen of the most seriously ill patients from Leer hospital with them into the bush, fearing for their safety".
Full report at:
http://english.ahram.org.eg/NewsContent/2/8/93268/World/Region/Government-retakes-Machars-hometown-SSudans-rebels.aspx
----------
Larijani Felicitates Tunisian Counterpart on Constitution Approval
February 02, 2014
TEHRAN (FNA)- Iranian Parliament Speaker Ali Larijani, in a message on Sunday, to his Tunisian counterpart Mustapha Ben Jaafar congratulated him on the approval of the Arab country's news constitution.
"This great success is surely an important step for the establishment of democracy and beginning of a new era in the consolidation of the achievements of the Tunisian nation's historic revolution," Larijani said in his message.
The Iranian parliament speaker underlined that interactions between Iranian and Tunisian parliaments will play an important role in the consolidation of historical bonds between the two nations.
Full report at:
http://english.farsnews.com/newstext.aspx?nn=13921113000878
---------
Unexploded munitions a threat in Sudan's Darfur
AFP | Feb 2, 2014
EL FASHER (Sudan): From aircraft bombs to cluster munitions and grenades, the Ordnance Disposal Office of the international peacekeeping force in Sudan's war-torn Darfur has found and destroyed them all.
But for every piece of unexploded weaponry the ODO eliminates, worsening fighting means that other munitions will take their place, posing a threat to farmers and peacekeepers alike.
"Those areas where we assess this year, for example, as free, next year or next month could be contaminated again because of some conflict," says Steven Harrop, a British Royal Air Force veteran who is a safety adviser to the 30-member ODO.
Full report at:
http://timesofindia.indiatimes.com/world/rest-of-world/Unexploded-munitions-a-threat-in-Sudans-Darfur/articleshow/29756315.cms
-----------
Europe
Russia to continue providing humanitarian aid, spiritual support to Syria
Feb 2, 2014
Russia has confirmed its intention to continue providing humanitarian assistance to the Syrian people. The firm commitment to support the destitute Syrian people was declared in Moscow to primate of the Greek Orthodox Patriarchate of Antioch, Patriarch John X. The head of one of the most ancient Patriarchates of the Orthodox world has spent almost a week in the Russian capital and met not only with spiritual leaders of Russia, but also with representatives of the political and social elite of the country.
For his Beatitude the Patriarch of Antioch and all the East John X it is the first trip to Russia after the accession to the Patriarchal throne, and it is not just a courtesy visit. He arrived in Moscow at a difficult time for his flock. It is for three years now that bloody clashes, which daily claim the lives of hundreds and thousands of civilians, are under way in Syria. The Middle East region is recognized today as one of the most dangerous for Christianity: the genocide of the followers of Jesus Christ's teachings has become almost the norm. There are hundreds of thousands of dead, starving and refugees. The Patriarchate of Antioch almost does not expect assistance from Western countries. On the contrary, Russia and Russian Orthodoxy remain one of the last hopes for the Church of Antioch in general and for Syria in particular. And first of all this is due to the long warm relations between the two Patriarchates, Patriarch John X stresses.
Full report at:
http://voiceofrussia.com/2014_02_01/Russia-to-continue-providing-humanitarian-aid-spiritual-support-to-Syria-4228/
--------
UN delegation eyes Mali peacekeeping challenge up close
February 02, 2014
A year after French troops sent Islamic militants scattering in Mali, a UN Security Council delegation is in the African country to weigh the challenges faced by the undermanned, African-led peacekeeping mission there.
Gerard Araud, France's top representative on the Security Council and the head of the delegation, told reporters after arrival late Saturday in the capital Bamako that the delegation was to visit through to Monday, "with the aim of backing stabilisation in the country and action".
He did not say who else was in the delegation. However, the US representative on the Security Council, Samantha Power, said on her twitter feed she was also part of it.
Power tweeted that the delegation wanted to "help support the (Malian) people as they stand up to extremists and pursue democracy".
Full report at:
http://english.ahram.org.eg/NewsContent/2/9/93259/World/International/UN-delegation-eyes-Mali-peacekeeping-challenge-up-.aspx
----------
Karzai unlikely to sign Afghan-US security agreement: Rasmussen
February 02, 2014
The NATO Secretary General Anders Fogh Rasmussen expressed doubts regarding president Hamid Karzai's intention to sign the bilateral security agreement between Kabul and Washington before Afghan elections.
While speaking to reporters during the annual Munich Security Conference, Rasmussen, said president will most probably leave the choice of signing the bilateral security agreement to his successor.
Full report at:
http://www.khaama.com/karzai-unlikely-to-sign-afghan-us-security-agreement-rasmussen-3386
----------
NATO to reject demand for withdrawal of tactical nuclear weapons from Europe
Feb 2, 2014
NATO Secretary General Anders Fogh Rasmussen said that Russian demand to the Alliance for the withdrawal of tactical nuclear weapons from Europe as a condition for negotiations on the reduction of these weapons is unacceptable.
"We need progress in the reduction of non-strategic nuclear weapons," - said the NATO Secretary General on Saturday at the Munich Security Conference.
"Here in NATO, we are ready for negotiations on transparency of these weapons, and I urge Russia to negotiate with us," - said Anders Fogh Rasmussen.
Full report at:
http://voiceofrussia.com/news/2014_02_01/NATO-to-reject-demand-for-withdrawal-of-tactical-nuclear-weapons-from-Europe-3505/
--------
URL: https://www.newageislam.com/islamic-world-news/new-age-islam-news-bureau/us-media-call-cia-saudi-arabia-s-personal-shopper/d/35553