New Age Islam News Bureau
9 Sept 2013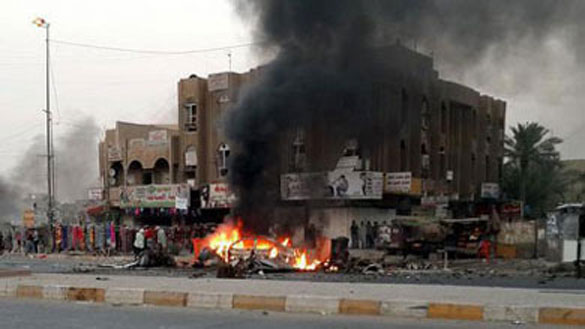 Flames rise from a vehicle at the site of a car bomb in Talibiya in Baghdad on September 3, 2013. (AFP)
--------
North America
• US magazine terms Karachi 'most dangerous megacity' in the world
• Syria vote tests pro-Israel groups' influence in US
• Post 9-11 Veterans Oppose U.S. Military Strikes in Syria
• Kerry writes Hasina, Khaleda for dialogue
• Obama tries to sell Syria war with help of TV blitz
• Kerry says Syria needs political solution - but after strikes
• Israel, Palestinians 'remain steadfast' on peace talks, says Kerry
• Obama Wants Regime Change in Syria, It's Not Just About the WMD
Mideast
• Strong Arab Sunni bloc doesn't see Israel as enemy
• Kurdish rebels stop withdrawing forces from Turkey: report
• Israel approves entry of 5,000 Palestinian workers
• Hamas aims to open naval military academy in Gaza
• Yemen separatists to return to national dialogue
• 'Colonies to remain in future Palestinian state'
• Israel deploys Iron Dome system near Jerusalem
Arab World
• Al-Qaeda affiliate claims attacks against Shi'ites in Baghdad
• Non-Muslim UAE expats advised to write will or face family disputes
• Assad thanks Putin for support during G20 Summit
• 2 Grand Mosque minarets being pulled down for Mataf expansion
• Report: Syrian opposition fighter group could revive al-Qaeda
• Egyptian Jihadist group claims responsibility for interior minister attack
• Assad warns US will 'pay the price' if it attacks Syria
• Mubarak-era minister Moussa to head Egypt's constitution panel
• Saudi diplomat kidnapped in Yemen
South Asia
• "The people have again said a resounding 'no' to Gayoom, as they did in 2008″: Nasheed
• Four Bangladesh bloggers charged with defaming Islam
• Maldives' Ex-Leader: Anti-Islamic Label Cost Votes
• China tells Washington to return to UN on Syria, urges caution
• Karzai says NATO air strike 'killed civilians'
Africa
• Tunisian security forces 'kill two jihadists'
• North Africa's widening arc of jihad
Pakistan
• Political leaders discuss negotiations with terrorists
• Mamnoon takes oath as President of Pakistan
• Speakers call for isolation, banishment of Ahmadis
• Talks in advanced stage: Govt may move Baradar to Turkey, Saudi Arabia
• Four dead, 11 injured in Balochistan violence
• Militant attack in Kohat kills two policemen, injures several
• Another FIR against Musharraf, another headache for police
• Clash in Khyber Agency: Five peace committee members dead
• Recitation of Quranic verse: SC moved to disqualify Aitzaz
• PTI govt to reach its logical end soon: Fazl
India
• SC declines to take note of Muzaffarnagar riots
• Joint action with US proposed to nab Dawood Ibrahim: Shinde
• Muzaffarnagar riots: 4 BJP MLAs, Cong leader booked for inciting mob
• BSF plans to deploy UAVs to keep eye on Indo-Pak border
Southeast Asia
• Muslim rebel attack shuts down Philippine city
• Yudhoyono against Attack on Syria
• 4,000 fighters ready to strike in East Malaysia, claim Filipino rebels
Europe
• UN nuclear chief says resolution over nuclear Iran is 'essential and urgent'
• French police detain 4 suspected of robbing restaurant to finance jihad in Syria
• Dubai and London are well placed to capitalise on global interest in Islamic Finance
• US leaves door open to new UN vote on Syria strike
• UN body told chemical weapons use 'gravest' crimes
• Russia, Syria push for UN chemical experts return
• UAE happiest Arab country: UN report
Compiled by New Age Islam News Bureau
URL: https://www.newageislam.com/islamic-world-news/new-age-islam-news-bureau/us-magazine-terms-karachi--most-dangerous-megacity--in-the-world/d/13424
----------
North America
US magazine terms Karachi 'most dangerous megacity' in the world
September 8, 2013
A US magazine 'Foreign Policy' has termed Karachi "the most dangerous megacity" in the world.
In a piece on Karachi's role in the global trade of methamphetamine — an illegal psychostimulant – Foreign Policy cited a murder rate of 12.3 per 100, 000 residents, "some 25 percent higher than any other major city".
Commenting on the recent pace of change in Karachi, the report states:
"From 2000 to 2010, Karachi's population grew more than 80 percent. That's roughly equivalent to adding more than New York City's entire population in just a decade."
The article says that "gangs tied to political parties have long operated in the poorer parts of the city, running extortion rings and land-grab schemes", asserting that these factors have helped turn conditions in the city to one of the most fertile hotbeds for meth trade.
http://tribune.com.pk/story/601668/us-magazine-terms-karachi-most-dangerous-megacity-in-the-world/
----------
Syria vote tests pro-Israel groups' influence in US
AP | Sep 9, 2013
WASHINGTON: Of all the interests backing President Barack Obama's call for Congress to authorize military strikes on Syria, perhaps none is more concerned about the prospect of a "no" vote than America's pro-Israel lobby, which is finding it difficult to overcome widespread opposition to the use of force.
Considered to be some of the most influential lobbyists on Capitol Hill, officials with several pro-Israel groups say they are running into rare resistance from lawmakers, even among staunch Israel advocates on whose support they could almost unquestionably count in the past.
The administration has sought and won support for the vote from most of the major pro-Israel groups that traditionally have been most effective in promoting legislation to enhance Israel's security.
Among those that have released public statements and made private calls to lawmakers to urge them to vote "yes" are The American-Israeli Public Affairs Committee, or AIPAC, the Anti-Defamation League and the Simon Wiesenthal Center.
"There is no question that it is very challenging," said an official from one, who spoke on condition of anonymity because he is not authorized to speak publicly on behalf of the organization. "It is an extremely challenging environment right now."
The crux of their argument is that inaction will undermine American credibility in limiting the development and use of weapons of mass destruction with a direct impact on Israel's security, particularly as it relates to Iran and its nuclear program.
Israel regards Iran as an existential threat, and preventing Tehran from developing nuclear weapons is its primary national security concern. Iran says its program is for peaceful purposes.
Lobbyists also acknowledge that a US military strike could risk Israel becoming a retaliatory target of Syrian-backed Hezbollah or other groups acting on Assad's behalf. But they say that risk is smaller than the risk of letting Assad go unpunished.
"This critical decision comes at a time when Iran is racing toward obtaining nuclear capability," AIPAC said in its statement. "Failure to approve this resolution would weaken our country's credibility to prevent the use and proliferation of unconventional weapons and thereby greatly endanger our country's security and interests and those of our regional allies."
"AIPAC maintains that it is imperative to adopt the resolution to authorize the use of force and take a firm stand that the world's most dangerous regimes cannot obtain and use the most dangerous weapons," it said.
The Anti-Defamation League urged Congress to "act swiftly to add its voice to hold (Assad) accountable for the wanton slaughter of his own citizens".
"Any nation that violates international norms and obligations which threaten the peace and security of the world must face the consequences of those dangerous acts," it said.
In making their case for military action to punish Syria for using chemical weapons, Obama and his team have gone out of their way to court the support of American Jews by drawing parallels between Syrian President Bashar Assad's use of poison gas and the gas chambers of Nazi Germany.
Visiting the Great Synagogue of Stockholm on a trip to Sweden last week, Obama alluded to the connection while paying tribute to Raoul Wallenberg, the Swedish diplomat credited with saving at least 20,000 Jews during the Holocaust.
"Because he refused to stand by, Wallenberg reminds us of our power when we choose not simply to bear witness, but also to act," Obama said.
He later added: "I cannot think of a better tribute to Raoul Wallenberg than for each of us, as individuals and as nations, to reaffirm our determination to live the values that defined his life and to make the same choice in our time."
Secretary of state John Kerry has invoked the phrase "never again" — a direct reference to international vows to prevent a repeat of the Holocaust, and even compared Assad to Adolf Hitler, something that even the pro-Israel groups backing the administration have shied away from; at least so far.
Despite winning universal condemnation of Assad for using chemical weapons, the administration has found its arguments are not convincing sceptical lawmakers and their war-weary constituents that military action is a moral imperative.
"I think Israel has a strong natural defence and I think they can do well in any battle. But I don't want to involve Israel in a battle because they have so many enemies around them that I'm fearful it can spin out of control,'' Senator Rand Paul, R-Ky, told Sean Hannity of Fox News last week.
Officials with several pro-Israel groups say they are encountering the same problem, which is compounded by pure political motivations, especially among Republicans, for opposing Obama's request.
They said they will continue to lobby in the days ahead — AIPAC is bringing some 250 pro-Israel activists to Washington next week to push for the authorization — but they have also told the White House that only a powerful and direct personal appeal from Obama himself is likely to have an impact.
"The idea that the pro-Israel community is a magic wand that can make this vote happen is a conspiracy theory," said Josh Block, a former AIPAC spokesman who now heads The Israel Project. "It's not born out of reality."
"But, certainly when supporters of the US-Israel relationship and experts in the region who have real credibility join with the president and other voices in the foreign policy and human rights community, it matters," he said.
Of course, Republicans are not the only ones opposing the authorization.
Many of the president's Democratic supporters are deeply conflicted over the use of force.
"I think every member of Congress' perception is coloured by what happened in Iraq," said Representative Bruce Braley, D-Iowa, who is seeking a Senate seat in 2014 and is leaning against authorizing force. "If Iran responds to our sending cruise missiles into Syria by launching an attack into Israel, and then Israel retaliates, and Hezbollah retaliates against Israel, I have a hard time seeing how the United States avoids getting drawn into a broader regional conflict."
This divide also is apparent among Israel-centric organizations.
J Street, the relatively recent arrival to the Israel-related lobbying scene that has promoted peace with the Palestinians as its major issue, condemned the use of chemical weapons but stopped far short of the other groups in offering explicit support for Obama's call.
"As President Obama and world leaders contemplate the appropriate course of action, we are cognizant that there are no easy or clear-cut solutions," it said. "Any action taken should aim to minimize the loss of civilian life, deter the further use of chemical weapons and avoid regional spillover."
http://timesofindia.indiatimes.com/world/us/Syria-vote-tests-pro-Israel-groups-influence-in-US/articleshow/22433403.cms
--------
Post 9-11 Veterans Oppose U.S. Military Strikes in Syria
September 09, 2013
NEW YORK - September 6 - In the wake of a horrific attack on Syrian civilians, President Obama and a bipartisan team of hawkish congress members are rushing the US towards military intervention in Syria. The post 9/11 veterans who make up Iraq Veterans Against the War (IVAW) remember all too well the lead up to wars that sent many service members on repeated deployments to the Middle East, Afghanistan, and surrounding countries. Now these veterans call for diplomacy and an alternative to military strikes that will inevitably lead to more civilian deaths and a destabilized region.
As veterans of wars that witnessed the immense loss of civilian lives, the hypocrisy of a foreign policy that claims the moral authority to "save" a population suffering under civil war through military strikes is not lost on them. As two-time Iraq veteran Joyce Wagner says, "I cannot fathom the logic of saving children by bombing their country. Iraqi children are still suffering the consequences of our bombs and of chemical agents used by the United States." Veterans are increasingly finding themselves speaking out with urgency to call on congress to resist this drive to war and address our needs at home.
Iraq Veterans Against the War and its partners in Iraq have been fighting for the Right to Healafter more than ten years of occupation, violence, and trauma. This partnership of communities impacted by recent wars has been working to expose both health damages and birth defects caused by toxic chemical munitions used by the U.S. military inside of Iraq along with highlighting the psychological effects of repeated deployments to combat zones.
Seasoned Marine combat veteran and Board member, Vince Emanuele sees fundamental problems in the White House's approach, "After decades of militarism abroad and austerity at home, it's time to radically change the reckless, criminal, and morally bankrupt foreign policy of the United States. As veterans know from firsthand experience, so called 'surgical strikes' in Syria will only lead to increased civilian casualties and violence, not stability and peace. We need more diplomacy, and less war."
Alongside the majority of the American people this community of veterans reject the Administration's march to war and demand that all diplomatic avenues are pursued and that the Syrian people have a right to self-determination. They aim to remind their political leaders what they can not soon forget: war does not save people, and it doesn't make Americans safer.
http://www.commondreams.org/newswire/2013/09/06-1
----------
Kerry writes Hasina, Khaleda for dialogue
September 09, 2013
Kerry has made the requests in separate letters that were delivered to their offices on Sunday
The US Secretary of State John Kerry has requested Prime Minister Sheikh Hasina and Leader of the Opposition Khaleda Zia to hold dialogue to find a way forward towards credible elections.
"Secretary Kerry has written to the Prime Minister and to Begum Zia. He has encouraged them to engage in constructive dialogue to find a way forward towards free, fair and credible elections," Kelly S McCarthy, an official of the US embassy in Dhaka, told the Dhaka Tribune on Monday.
Kerry has made the requests in separate letters that were delivered to their offices on Sunday.
http://www.dhakatribune.com/bangladesh/2013/sep/09/kerry-writes-hasina-khaleda-dialogue-polls
----------
Obama tries to sell Syria war with help of TV blitz
Yashwant Raj , Hindustan Times
September 09, 2013
How do you sell a new war to a war-weary country? Through TV, which has never pushed anyone here to any degree of weariness. Obama administration took its Syria case to the airwaves on Sunday. Obama's chief of staff Denis McDonough began the day hitting Sunday morning talk shows –
Meet the Press and Face the nation – selling the Syria war.
His boss, President Obama, followed with six back to back interviews.
Actually, Obama kicked off TV onslaught on Saturday, focussing his weekly televised address, which goes live on the networks, on the Syria war.
Full report at:
http://www.hindustantimes.com/world-news/americas/Obama-tries-to-sell-Syria-war-with-help-of-TV-blitz/Article1-1119394.aspx
----------
Kerry says Syria needs political solution - but after strikes
September 09, 2013
US Secretary of State John Kerry said Monday that the solution to the Syrian conflict must be political not military as Washington began a crucial week in its bid to persuade a sceptical public and Congress of the need for strikes.
Kerry made an impassioned defence of President Barack Obama's push for action against the Assad regime, saying that this was not the time for the world to fall "silent" and action was essential to stop innocent people from being gassed.
Full report at:
http://www.hurriyetdailynews.com/kerry-says-syria-needs-political-solution---but-after-strikes.aspx?pageID=238&nID=54092&NewsCatID=359
----------
Israel, Palestinians 'remain steadfast' on peace talks, says Kerry
8 September 2013
U.S. Secretary of State John Kerry was to meet Palestinian president Mahmoud Abbas in London on Sunday, having earlier insisted that Israelis and Palestinians were determined to pursue direct peace talks.
Kerry and Abbas, who have met regularly over the last six months, were to kick off their latest talks at 7:30 pm (2030 GMT), according to the US State Department, but no details were due to be released to the press.
Full report at:
http://english.alarabiya.net/en/News/middle-east/2013/09/08/Israel-Palestinians-remain-steadfast-on-peace-talks-says-Kerry.html
----------
Obama Wants Regime Change in Syria, It's Not Just About the WMD
09 September 2013
According to Marcy Wheeler, we are definitely headed for Syrian regime change, or at least the attempt. In anice piece of analysis, Wheeler puts together two pieces from Congressional testimony:
We're already militarily supporting the rebels.
The punishment-bombing (she calls it a "spanking") of al-Assad's forces won't interfere with that ongoing support, and by implication, the two are intended to work together.
Full report at:
http://truth-out.org/news/item/18674-obama-wants-regime-change-in-syria-its-not-just-about-the-wmd
----------
Mideast
Strong Arab Sunni bloc doesn't see Israel as enemy
By YAAKOV LAPPIN
September 09, 2013
A powerful Middle Eastern axis of Sunni states has taken form in the region, which "does not view Israel as a sworn enemy" and has successfully kept extremist jihadi terrorism at bay, Maj.-Gen. (res.) Amos Gilad said on Sunday.
Speaking before the Institute for Counter-Terrorism's international summit in Herzliya, Gilad, who is director of the Political-Military Affairs Bureau at the Defense Ministry, said that Israel "won't ever be accepted as a formal member" of the Sunni axis, but that the states that make it up all view the US as the sole superpower and that their regional policies are indirectly beneficial for Israel.
Full report at:
http://www.jpost.com/Defense/Amos-Gilad-Strong-Arab-Sunni-bloc-doesnt-see-Israel-as-enemy-325553
----------
Kurdish rebels stop withdrawing forces from Turkey: report
September 09, 2013
ANKARA - Turkey's Kurdish rebels have stopped withdrawing its fighters from Turkish territory, accusing Ankara of inaction over the peace process, a pro-Kurdish news agency reported on Monday.
In a statement cited by Firat News, the Kurdistan Workers Party (PKK) armed movement said "the Turkish government's attitude of not progressing on the Kurdish question was behind this situation," but vowed to respect the ceasefire with Turkish forces.
http://www.saudigazette.com.sa/index.cfm?method=home.regcon&contentid=20130909179844
----------
Israel approves entry of 5,000 Palestinian workers
Mohammed Mar'i
September 09, 2013
RAMALLAH – The Israeli government on Sunday approved the entry of 5,000 new Palestinians for work on Israel.
The Israel's Radio said that the government allowed the Israel employers to hire the 5,000 workers in the fields of construction and agriculture.
The report said that the government took the decision as a good-will gesture in order to facilitate the resumption of peace talks and "to strengthen (Palestinian President) Mahmoud Abbas."
Full report at:
http://www.saudigazette.com.sa/index.cfm?method=home.regcon&contentid=20130909179788
----------
Hamas aims to open naval military academy in Gaza
By KHALED ABU TOAMEH
September 09, 2013
Hamas is planning to open a naval academy soon in the Gaza Strip, Hamas Interior Minister Fathi Hammad announced on Sunday.
He said that the new institution, which would be part of the police academy, would be an "extension of all marine sciences which benefit the society in civilian and other affairs."
This is the first time that Hamas has talked about opening a naval academy in the Gaza Strip. Before the Islamist party seized control over the coastal enclave in 2007, the Palestinian Authority had a small police force in the area.
Full report at:
http://www.jpost.com/Middle-East/Hamas-aims-to-open-naval-military-academy-in-Gaza-325576
----------
Yemen separatists to return to national dialogue
September 09, 2013
Sana'a: Yemen southern separatists agreed on Sunday to return to national reconciliation talks after receiving assurances the future of their region will be discussed, the United Nations and an opposition chief said.
Representatives of the Southern Movement, an umbrella group of various factions from the former independent South Yemen, will return to the talks on Monday, UN envoy Jamal Benomar told reporters in Sana'a.
Full report at:
http://gulfnews.com/news/gulf/yemen/yemen-separatists-to-return-to-national-dialogue-1.1228982
----------
'Colonies to remain in future Palestinian state'
September 09, 2013
Occupied Jerusalem: A Palestinian official offered the first detailed peek at the renewed peace negotiations.
The anonymous Palestinian official said Israel proposes leaving dozens of colonies and military bases in the West Bank and seeks a Palestinian state in provisional borders. An Israeli official said Sunday some of the information the Palestinians have leaked is incorrect or distorted.
The official spoke on condition of anonymity as both sides said they wouldn't brief the media. Meanwhile, speaking in Paris during a meeting with Arab League officials, US Secretary of State John Kerry said that Israel and the Palestinians are determined to push forward with peace talks.
Full report at:
http://gulfnews.com/news/region/palestinian-territories/colonies-to-remain-in-future-palestinian-state-1.1228815
---------
Israel deploys Iron Dome system near Jerusalem
Sep 9, 2013
Israel deployed its Iron Dome missile defence system near Jerusalem Sunday, an AFP correspondent said, as the United States lobbied for domestic and international support for military strikes against Syria.
The correspondent said the battery was set up west of the city. A military spokeswoman would not comment on the deployment, saying only that "defence systems are deployed in accordance with situation assessments".
Full report at:
http://www.hindustantimes.com/world-news/restofasia/Israel-deploys-Iron-Dome-system-near-Jerusalem/Article1-1119317.aspx
--------
Arab World
Al-Qaeda affiliate claims attacks against Shi'ites in Baghdad
9 September 2013
An al-Qaeda affiliate has claimed responsibility for a series of car bombs that killed around 60 people in predominantly Shi'ite districts of the Iraqi capital last week.
The Islamic State of Iraq and the Levant, which was formed earlier this year through a merger between al-Qaeda's Syrian and Iraqi branches, said it had carried out the attacks in response to the Shi'ite-led government's tightening security measures.
Sunni Islamist groups including al Qaeda, which view Shi'ites as non-believers, have been regaining momentum in Iraq, invigorated by a conflict in neighboring Syria which has brought sectarian tensions across the Middle East to the boil.
Full report at:
http://english.alarabiya.net/en/News/middle-east/2013/09/09/Al-Qaeda-affiliate-claims-attacks-against-Shi-ites-in-Baghdad.html
----------
Non-Muslim UAE expats advised to write will or face family disputes
By Nada Al Taher
September 09, 2013
Abu Dhabi/Dubai: Non-Muslims living in the UAE should make a will in case of death or undergo time-consuming procedures to ensure that the inheritance scheme is implemented according to their own country's laws, experts said.
Failure to do so may result in family disputes, according to a report by the Ministry of Interior's monthly publication, 999 Magazine.
Only about 10-20 per cent of expat residents in the UAE have taken legal steps towards asset distribution, according to the report.
Full report at:
http://gulfnews.com/news/gulf/uae/general/non-muslim-uae-expats-advised-to-write-will-or-face-family-disputes-1.1228755
----------
Assad thanks Putin for support during G20 Summit
By JPOST.COM STAFF
09/09/2013
Syrian President Bashar Assad thanked his Russian counterpart Vladimir Putin for supporting Syria during the G20 Summit last week, AFP reported.
"The president asked me to pass on his thanks to Putin for his position during and after the G20 summit," Foreign Minister Walid al-Muallem said on behalf of Assad.
Syrian officials are meeting with Russian diplomats in Moscow to discuss Syria's options in the event that the United States chooses to carry out a much-debated military strike.
The US and Russia have butted heads recently over Syria's alleged use of chemical weapons in their bloody civil war.
Full report at:
http://www.jpost.com/Middle-East/Assad-thanks-Putin-for-support-during-G20-Summit-325598
----------
2 Grand Mosque minarets being pulled down for Mataf expansion
September 09, 2013
MAKKAH – Work on the demolition of two minarets close to Al-Umrah Gate of the Grand Mosque started on Sunday so as to facilitate the ongoing expansion of the mataf (circumambulation area around the Holy Ka'aba).
Electricity to the minarets has been disconnected. Engineers and technicians from the company, which is implementing the expansion of the Grand Mosque and the mataf, have started removing loudspeakers, lamps and electrical appliances from the minarets.
Full report at:
http://www.saudigazette.com.sa/index.cfm?method=home.regcon&contentid=20130909179837
----------
Report: Syrian opposition fighter group could revive al-Qaeda
9 September 2013
A weakened al-Qaeda has the potential for resurgence in Syria, as the turmoil of civil war could help revive one of the group's branches, a report by a U.S. think tank said on Monday.
A report named Jihadist Terrorism: A Threat Assessment by the Bipartisan Policy Center's Homeland Security Project, said that the right set of circumstances in the unstable Middle East region could revive the network, according to Reuters news agency.
Full report at:
http://english.alarabiya.net/en/News/middle-east/2013/09/09/Syrian-rebel-group-could-revive-al-Qaeda-.html
----------
Egyptian Jihadist group claims responsibility for interior minister attack
8 September 2013
An al-Qaeda-linked group based in Egypt's Sinai Peninsula claimed responsibility for a failed assassination attempt that targeted the country's interior minister last week, a statement on militant Islamist forums said.
"God has allowed your brothers in Ansar Beit al-Maqdis [the Sinai-based group] to shatter the security organization of the murderer Mohammed Ibrahim through a martyrdom operation," the group said in the online statement carried by AFP.
Full report at:
http://english.alarabiya.net/en/News/2013/09/08/Jihadist-group-claims-bomb-targeting-Egypt-minister.html
----------
Assad warns US will 'pay the price' if it attacks Syria
AFP | Sep 9, 201
WASHINGTON: Syrian President Bashar al-Assad warned Washington on Monday to brace for retaliation if US forces attacked his war-torn country, as he denied using chemical weapons against his people.
"You're going to pay the price if you're not wise. There are going to be repercussions," Assad told CBS television's "This Morning."
"It's an area where everything is on the brink of explosion. You have to expect everything."
He also warned of the risks of possible chemical attacks by rebels or "terrorists" if there was outside intervention in Syria.
Full report at:
http://timesofindia.indiatimes.com/world/middle-east/Assad-warns-US-will-pay-the-price-if-it-attacks-Syria/articleshow/22438207.cms
--------
Mubarak-era minister Moussa to head Egypt's constitution panel
Reuters | Sep 8, 2013
CAIRO: Amr Moussa, a stalwart of the government of Egypt's veteran autocrat Hosni Mubarak, has been selected to chair the committee entrusted with amending a constitution pushed through by the deposed Islamist president, Morsi.
Despite promising an inclusive approach, the army-backed government included only two Islamists on the crucial committee, neither from Morsi's Muslim Brotherhood, now the target of a sweeping security crackdown after more than a year in power.
Full report at:
http://timesofindia.indiatimes.com/world/middle-east/Mubarak-era-minister-Moussa-to-head-Egypts-constitution-panel/articleshow/22421154.cms
--------
Saudi diplomat kidnapped in Yemen
September 09, 2013
A Saudi diplomat held hostage in Yemen for 18 months has urged his family to organise demonstrations asking the government to meet al Qaeda demands to free detained women and Muslim clerics as the best way to get him freed from captivity. He made the appeal in a recording posted online
late on Sunday, the fourth such statement by Abdullah al-Khalidi since militants seized the Saudi vice consul in the southern Yemeni port city of Aden in March 2012.
Khalidi, who wore a white robe and headdress in the video, told his family that arranging meetings with Saudi princes and officials would not ensure his release.
Full report at:
http://www.hindustantimes.com/world-news/restofasia/Saudi-diplomat-kidnapped-in-Yemen/Article1-1119619.aspx
--------
South Asia
"The People Have Again Said a Resounding 'No' To Gayoom, As They Did In 2008": Nasheed
By Mariyath Mohamed | September 9th, 2013
The Maldivian Democratic Party (MDP) on Sunday night held the first political gathering since the election to rally its supporters, ahead of the upcoming run-off election on September 28.
Thousands of people attended the rally near the tsunami monument in Male. The MDP had confidently predicted a first round victory on Saturday, campaigning to the slogan 'Ehburun' (one round), but a split vote between three rival parties left the party just 4.55 percent short of the goal.
"I assure all of you that this man – myself – is not a person who will run out of options. This man, God willing, is not someone who will get tired. This man is not someone who will step back. We will go forward, forward, swiftly forward. God willing, we will win this election," Nasheed said, beginning his address.
"We very clearly know the political realities of this country, and the hopes and sentiments of the citizens. The people have once again said a loud, resounding "no" to those who had led the long 30 year rule (of Progressive Party of Maldives (PPM) leader and former president Maumoon Abdul Gayoom)," he said.
"Even back in 2008, people said a loud 'no' to them. However, they were behind a coup d'état which ruined our Maldives. Everyone in this country has no doubt today that the people have said no to that dirty and foul act. The people want an MDP government, the people want development," Nasheed continued.
"The people do not want to relive the experience of PPM's 30 year rule. The people do not want torture in the jails. The people do not want religious scholars to be put under arrest. The people do not want to be banished or jailed for long periods, under article 38 [of the penal code], as a result of a word they may utter or a gesture they may make. The people do not want President Maumoon," Nasheed said.
"The people do not want PPM. The people do not want Abdulla Yameen. The PPM is a party of 50,000 votes. They can continue to remain that way."
"In the interests of their party, they may hold discussions with other politicians. But as I see it, the tails will be knotted amongst themselves. It will not be an alliance made among the citizens. The citizens are allied with the citizens. MDP is allied with the citizens. God willing, we will win this election for you," Nasheed continued.
"God willing, they cannot topple this man again. Even if they do, God willing, we will get up again even more quickly. We will get up and sprint forward. God willing, we will complete this race," he asserted.
"Do not get worried. Do not be anxious. Take a seat. Be comfortable. We will smoothly take this ship and moor it at peaceful shores. We can do this. We can easily win this election, and today the whole of the country knows this."
Nasheed further stated that the party's competitors, and friends who did not vote for the party, had not thought that the party could "gather such an overwhelming majority", saying the results had left them astounded.
"They could not sleep last night, nor will they be able to sleep tonight. We will go ahead to win this election."
"The people have seen how the 30 year regime was led. The people have seen the complete life of the candidate competing against me. You've also seen my life. Now you can weigh them, measure them against each other, and evaluate them. All of you gathered here, and all citizens, very clearly know what the people will decide. The decision of 95,000 citizens, this was not a mistake."
"It was because of of 'baaghee' [traitor] Mohamed Waheed that we could not complete our five year term in government. What we faced last night was also because of this baaghee, Mohamed Waheed. God willing, now we are free of him. There is nowhere to go with the 10,000 votes he was able toget," Nasheed said of his former Vice President and incumbent President Mohamed Waheed Hassan.
Nasheed also alleged that people from the PPM and Jumhoree Alliance were approaching MDP campaign managers in various islands, and himself, and expressing an interest in working together for the second round. He stated that these included former ministers who had served in Gayoom's cabinet.
"The people do not want to crawl into an oil well, they want a roof over their heads. The people want to be able to get medical assistance when needed. To be able to educate their children in their islands. When boredom sets in, to have options of ridding themselves of it, to have options for their children to engage in exercise and physical activities," he stated. "This vision is to be seen in the MDP manifesto."
"The people do not want a government filled with nepotism. They do not want the leader's wife or her family to continuously interfere and influence the government's activities," Nasheed said, continuing to criticise his opponents.
"The biggest challenge that Gayoom faced in his long 30 years is that he had to maintain a family-led government. He just was never able to move out of that. The people of the Maldives felt the bitterness of this. The people understand the benefits of having freedom of expression, freedom of assembly and the freedom to carry out peaceful political activity. [They understand] the quite fond hope that this country is getting because of this system – that we can develop, that this country is rich in natural resources and that we do not have to live isolated and impoverished is very much clear to the people of this country." he said.
"I assure the Maldivian people that, God willing, I will not go home without winning this election. This man will not get tired. This man will not step back. We will go forward, forward, swiftly forward," Nasheed said, concluding his speech.
In addition to MDP presidential candidate and former President Mohamed Nasheed, Chairperson Reeko Moosa Manik, Speaker of Parliament Abdulla Shahid and a number of MPs spoke at the rally.
The MDP won the most number of votes, winning 45.45 percent in an election with 88.44 percent voter turnout. Progressive Party of Maldives (PPM) will be contesting in the second round – scheduled for September 28 – having won 25.35 percent of the votes.
The Jumhoree coalition's candidate Gasim Ibrahim came third with 24.07 percent, with incumbent President Mohamed Waheed Hassan receiving just 5.13 percent of the votes.
http://minivannews.com/politics/the-people-have-again-said-a-resounding-no-to-gayoom-as-they-did-in-2008-nasheed-65121
----------
Four Bangladesh Bloggers Charged With Defaming Islam
AFP, Bangladesh
September 09, 2013
Four Bangladeshi bloggers are facing up to seven years in jail after they were charged in court Sunday with defaming Islam and the Prophet Mohammed, a prosecutor told AFP.
The four men, who deny the charges, were arrested earlier this year in the wake of nationwide protests in which Islamic groups demanded the execution of atheist online commentators.
Judge Zahirul Haque, sitting in a court in the capital Dhaka, said the bloggers were being charged under the country's Internet laws, senior public prosecutor Shah Alam Talukdar told AFP.
"They have been indicted... with defaming Islam, the Prophet Mohammed and other religions through their Internet writings. They spread malice against all religions," he said.
Talukdar said if found guilty the bloggers, who are free on bail, could be sentenced to seven years in jail under the country's ICT (Information Communication Technology) laws.
"All four have claimed to be atheists," he added.
There has been vociferous debate between staunch atheists and fundamentalists in Bangladesh's social media for years, but it took a deadly turn in February when an anti-Islam blogger was murdered.
That came amid massive rallies in the capital in which secular groups demanded the hanging of leading Islamists accused of war crimes during the 1971 war of liberation.
Islamist groups have since staged nationwide demonstrations, with their demands including the prosecution -- and execution -- of atheist bloggers.
In May, at least 38 people were killed as police broke up a protest by thousands of religious hardliners in some of the country's fiercest street violence for decades.
Rights groups have called on the government to drop the charges against the bloggers, saying the men are caught in the battle between Islamists and the secular government.
The government has said it is determined to ensure communal harmony in the deeply conservative country where 90 percent people are Muslims.
Five students of an elite university have been arrested in connection with the February blogger murder, while a little known Islamic group has been blamed for masterminding the crime.
http://english.alarabiya.net/en/News/asia/2013/09/08/Four-Bangladesh-bloggers-charged-with-defaming-Islam.html
---------
Maldives' Ex-Leader: Anti-Islamic Label Cost Votes
September 09, 2013
By KRISHAN FRANCIS Associated Press
The first democratically elected president of the Maldives said Sunday that his rivals portraying him as anti-Islamic may have turned some voters against him and possibly denied him a simple majority in the presidential election.
Mohamed Nasheed emerged the clear leader in Saturday's election, receiving 45 percent of the votes, but fell short of the more than 50 percent needed in the first round to avoid a Sept. 28 runoff against Yaamin Abdul Qayyoom, a brother of the Maldives' former autocrat Maumoon Abdul Gayoom.
Nasheed's rivals have long accused him of working with Jews and Christians and of trying to undermine Islam in the 100 percent Muslim nation. He was ousted from power midway through his first term last year, plunging the Indian Ocean archipelago into political uncertainty.
"Some used religion as a campaign strategy, manipulating it to a large extent, and it did affect a few voters," Nasheed told reporters.
The religious issue featured prominently in the election campaign, with writings on walls in Male, the capital, reading "Pope Anni." Nasheed is known as Anni among Maldivians.
He also said that even though the election was largely peaceful, turnout in some areas was higher than the number of registered voters. He said he asked the Elections Commission for an explanation.
Nasheed, who in 2008 won the country's first multiparty election after 30 years of autocracy, said a decision would be made soon whether to contest the results in court.
Transparency Maldives, an independent election monitoring group, said that there were minor complaints of voting irregularities, but that they would not affect the result.
Qayyoom received 25 percent of Saturday's vote, while businessman Qasim Ibrahim was a close third with 24 percent and incumbent President Mohamed Waheed Hassan got 5 percent, according to Elections Commission results released Sunday.
More than 211,000 of the Maldives' 240,000 eligible voters turned out.
The country, known for its luxurious island beach resorts, has been in political turmoil since Nasheed resigned last year after weeks of public protests and slipping support from the military and police. He later said he was forced to resign at gunpoint by mutinying security forces and politicians backed by the country's former autocrat.
Though a domestic commission of inquiry threw out his claim, Nasheed has repeatedly dismissed as illegal the government of Hassan, his former vice president.
Despite winning the most first-round votes Saturday, Nasheed may still face a battle getting over the finish line as the third- and fourth-place finishers were also his bitter critics and are likely to throw their support to Qayyoom.
However, Nasheed may benefit from the fact that some Maldivians remember the human rights issues of the three-decade dictatorship and fear returning there.
"Now I am 40 and I know what happened (in the 30 years), said an airport worker, Ali, who only gave one name.
http://abcnews.go.com/International/wireStory/maldives-leader-anti-islamic-label-cost-votes-20192950
-----------
China tells Washington to return to UN on Syria, urges caution
By REUTERS
09/09/2013
BEIJING - China urged the United States to proceed with extreme caution and return to the United Nations to discuss Syria after Washington said it was not seeking Security Council approval for action in response to a chemical weapons attack last month.
Washington and Paris say forces loyal to President Bashar Assad were behind the attack in which more than 1,400 are estimated to have been killed, and that they are considering air strikes to try to deter him from using such weapons again.
Full report at:
http://www.jpost.com/Middle-East/China-urges-US-to-seek-UN-council-on-possible-Syria-strike-325590
----------
Karzai says NATO air strike 'killed civilians'
September 09, 2013
KABUL — President Hamid Karzai has condemned a NATO air strike in Afghanistan's lawless east that Afghan officials say may have killed up to eight civilians, the latest evidence of friction between the president and his international backers.
Karzai's office also lashed out on Sunday at the senior US diplomat for Afghanistan and Pakistan, James Dobbins, after Dobbins referred to the Afghan conflict as a "civil war".
"President Hamid Karzai termed the attack on women and children against all internationally agreed principles and strongly condemned it," Karzai's office said in a statement.
Full report at:
http://www.saudigazette.com.sa/index.cfm?method=home.regcon&contentid=20130909179810
----------
Africa
Tunisian security forces 'kill two jihadists'
Monday, Two members of the extremist group Ansar al-Sharia were killed on Monday by Tunisian security forces, an interior ministry source said.
"Two jihadist terrorists with Ansar al-Sharia were killed and two others arrested on Monday morning in a northern suburb (of Tunis) during an ongoing sweep by the anti-terrorist squad," a source at the ministry told AFP.
Full report at:
http://english.alarabiya.net/en/News/middle-east/2013/09/09/Tunisian-security-forces-kill-two-jihadists-.html
----------
North Africa's widening arc of jihad
Oussama Romdhani
September 09, 2013
If outside military intervention has managed to extinguish the jihadist brush-fires in Northern Mali, a wider arc of terror seems to be radiating in northward and eastward directions, in and out of the larger North Africa region.
With the swearing-in of Ibrahim Boubacar Keïta as president last Wednesday, Mali has achieved the closest thing to a new lease on the future. Jihadist formations which had taken over northern Mali were no match for the French troops of Operation Serval and their West African allies. Pro al-Qaeda groups, such as al-Qaeda in the Islamic Maghreb (AQIM), Ansar al-Dine and the "Movement for Oneness and Jihad in West Africa" (MUJAO) were prevented from descending on Southern Mali and for the moment, forced to lie low.
Full report at:
http://english.alarabiya.net/en/views/news/africa/2013/09/08/The-widening-arc-of-jihad.html
----------
Pakistan
Political leaders discuss negotiations with terrorists
September 9, 2013
ISLAMABAD: Prime Minister Nawaz Sharif said on Monday, during the much awaited All Parties Conference (APC), that holding negotiations with terrorists was their own decision, Express News reported.
He added that America will maintain its strategic standing in Afghanistan, saying that it is not realistic to hope that the United States will leave Afghanistan by 2014.
Pakistan Tehreek-i-Insaaf (PTI) chairman Imran Khan said keeping negotiations side by side with fighting terrorism is not a wise move. He added that sending the army to tribal areas was a big mistake and it is important to clarify to the people that this war on terror is their own war.
Full report at:
http://tribune.com.pk/story/601864/prior-to-apc-imran-khan-briefly-meets-kayani-nawaz/
----------
Mamnoon takes oath as President of Pakistan
2013-09-09
ISLAMABAD: President-elect Mamnoon Hussain took oath of office on Monday as the 12th head of state. The oath was administered by Chief Justice Iftikhar Muhammad Chaudhry at a ceremony held at the Presidency in the federal capital.
Hussain, who was the candidate of the Pakistan Muslim League – Nawaz (PML-N) which swept the May 11 general elections, had received a clear majority of votes against Justice (retd) Wajihuddin, the presidential nominee of the Pakistan Tehrik-i-Insaf (PTI), June 30 presidential poll.
Full report at:
http://www.dawn.com/news/1041673/mamnoon-takes-oath-as-president-of-pakistan
---------
Speakers call for isolation, banishment of Ahmadis
September 9, 2013
LAHORE: Several clerics called for further persecution of the Ahmadi community at conferences held on Saturday night to mark the 39th anniversary of the passage of the Second Amendment, which declared Ahmadis to be non-Muslims.
The speakers branded Ahmadis enemies of Pakistan, called for their social and economic boycott, and demanded that they be banned from taking up any government or military jobs. The Jamaat-i-Ahmadia had asked its members to stay away from the gatherings and be extra careful in their movements on the day.
Full report at:
http://tribune.com.pk/story/601720/second-amendment-anniversary-speakers-call-for-isolation-banishment-of-ahmadis/
----------
Talks in advanced stage: Govt may move Baradar to Turkey, Saudi Arabia
September 9, 2013
ISLAMABAD: Pakistan is considering transferring Mullah Abdul Ghani Baradar, the former deputy commander of the Afghan Taliban, to another country as part of efforts to the reconciliation process in Afghanistan.
Over the last few months, Islamabad, Kabul and Washington have been quietly discussing the fate of Mullah Baradar – who was once considered the most influential Taliban leader after Mullah Muhammad Omar – a senior official told The Express Tribune on Sunday.
Full report at:
http://tribune.com.pk/story/601773/talks-in-advanced-stage-govt-may-move-baradar-to-turkey-saudi-arabia/
----------
Four dead, 11 injured in Balochistan violence
SYED ALI SHAH
2013-09-08
QUETTA: Four people were killed on Sunday, including two policemen, in two seperate incidents of violence in Balochistan, officials said.
In one incident, at least two people were killed and another ten injured in a powerful blast on Sariab road area of Quetta, police said.
Muhammad Riaz, a police official told Dawn.com unknown militants had planted an improvised explosive device on a cycle, which was parked on the road side.
The strength of blast damaged shops and windows of nearby homes and moving vehicles on Sariab road.
Full report at:
Police and levies reached the spot and have started an investigation into the incident.
http://www.dawn.com/news/1041445/four-dead-11-injured-in-balochistan-violence
----------
Militant attack in Kohat kills two policemen, injures several
2013-09-09
KOHAT: At least two policemen were killed and several persons injured during an attack at the District Police Officer's (DPO) office in Kohat on Monday, DawnNews reported.
Security sources told Dawn.com that militants hurled a hand-grenade at the DPO's office in Kohat after which an exchange of fire took place between policemen and the attackers. Two policemen and as many militants were killed whereas seven persons were injured in the attack.
Full report at:
http://www.dawn.com/news/1041638/militant-attack-in-kohat-kills-two-policemen-injures-several
----------
Another FIR against Musharraf, another headache for police
MUNAWER AZEEM
2013-09-09
Since his arrival in the country early this year, former president Gen (retired) Pervez Musharraf has become a major headache for Islamabad police.
In April, he was arrested in Benazir Bhutto and Nawab Akbar Bugti murder and the judges' detention cases and kept at his farmhouse in Chak Shahzad after declaring it a sub-jail.
However, except the Bugti murder case, he has been granted bail in the other two cases.
Though the trials of the two murder cases are being conducted in Rawalpindi and Quetta, the capital police have dragged their feet in the investigation of the judges' detention case under adjudication in an anti-terrorism court.
Full report at:
http://www.dawn.com/news/1041550/another-fir-against-musharraf-another-headache-for-police
----------
Clash in Khyber Agency: Five peace committee members dead
September 9, 2013
BARA TEHSIL: Clashes between the peace committee and militants in Bara Tehsil of Khyber Agency killed five committee members while militants have kidnapped several others, Express News reported Monday.
On September 8, a suspected militant was killed and two security officials injured in a fire fight and bomb blast in North Waziristan Agency.
Full report at:
http://tribune.com.pk/story/601843/clash-in-khyber-agency-five-peace-committee-members-dead/
----------
Recitation of Quranic verse: SC moved to disqualify Aitzaz
2013-09-09
ISLAMABAD: A petitioner has requested the Supreme Court (SC) of Pakistan to disqualify Senator Aitzaz Ahsan for incorrectly reciting a Surah (verse) from the Holy Quran.
Television footage aired on Sunday showed the Pakistan People's Party leader 'incorrectly' reciting the Quranic verse during a reception ceremony in Lahore for former president Asif Ali Zardari. The videos showed Ahsan trying to recite Surah Ikhlaas twice, but failing to do so correctly.
Full report at:
http://www.dawn.com/news/1041649/recitation-of-quranic-verse-sc-moved-to-disqualify-aitzaz
----------
PTI govt to reach its logical end soon: Fazl
2013-09-09
CHARSADDA: The government of Pakistan Tehreek-i-Insaf in Khyber Pakhtunkhwa would reach its logical end soon, said Jamiat Ulema-i-Islam chief Maulana Fazlur Rehman here on Sunday.
He, however, ruled out the possibility of initiating a no-confidence move against the provincial government or imposition of governor's rule in Khyber Pakhtunkhwa.
Talking to journalists during his visit to the district to offer condolence to MNA Maulana Gohar Shah on the demise of his brother Engineer Hameedullah, the JUI chief said that fake mandate of PTI in the province was not acceptable to them. He said that PTI failed to materialise its slogan of 'change'.
Full report at:
http://www.dawn.com/news/1041590/pti-govt-to-reach-its-logical-end-soon-fazl
----------
India
SC declines to take note of Muzaffarnagar riots
IANS | Sep 9, 2013
NEW DELHI: The Supreme Court on Monday declined to entertain a plea urging it to take cognizance of the ongoing communal violence in Uttar Pradesh's Muzaffarnagar district and intervene to stop the killings of innocent people.
As senior counsel MN Krishnamani sought the court's intervention informing it that unofficially more than 100 people have been killed in the riots, a bench of Chief Justice P Sathasivam and Justice Ranjana Prakash Desai said: "You are approaching us as if state government is not aware of it and no action is being taken."
"If in one corner of the country, something is happening, we need not take (its) cognizance," Chief Justice Sathasivam said as Krishnamani, who is also the president of the Supreme Court Bar Association, sought to impress upon the court on the urgency of the situation and need for its intervention.
Full report at:
http://timesofindia.indiatimes.com/india/SC-declines-to-take-note-of-Muzaffarnagar-riots/articleshow/22437660.cms
--------
Joint action with US proposed to nab Dawood Ibrahim: Shinde
PTI | Sep 9, 2013
MUMBAI: The Indian government has proposed joint action with the United States to arrest fugitive gangster and country's most wanted terrorist, Dawood Ibrahim, Union home minister Sushilkumar Shinde said here on Monday.
"We have arrested some most wanted terrorists (of late) and have killed a few on the border. As far as Dawood (Ibrahim) is concerned, we are in touch with (US agency) the FBI," Shinde said, talking to reporters here.
Full report at:
http://timesofindia.indiatimes.com/india/Joint-action-with-US-proposed-to-nab-Dawood-Ibrahim-Shinde/articleshow/22436252.cms
--------
Muzaffarnagar riots: 4 BJP MLAs, Cong leader booked for inciting mob
Sep 09 2013
Muzaffarnagar/Lucknow : Curfew on Monday remained in force in riot-hit areas of Muzaffarnagar where the death toll climbed to 28 even as 200 persons were arrested and cases registered against 1000 persons, including four BJP MLAs and a former Congress MP.
Under fire over the violence, the Uttar Pradesh government transferred Saharanpur DIG DD Mishra and SHO, Phugana, Omveer. Violence-hit Muzaffarnagar falls in Saharanpur range.
"The death toll in the violence has reached 28 so far. SHO, Phugana, Omveer has been removed from the post as most of the violence was witnessed in the area...We are also cancelling arms licenses in Phugana, Shahpur, Dhaurakalan as they were misused during the violence", ADG, Law and Order, Arun Kumar told reporters in Muzaffarnagar.
Full report at:
http://www.indianexpress.com/news/muzaffarnagar-riots-4-bjp-mlas-cong-leader-booked-for-inciting-mob/1166646/
---------
BSF plans to deploy UAVs to keep eye on Indo-Pak border
Sep 09 2013
New Delhi: The Border Security Force (BSF) will soon deploy unmanned aerial vehicles (UAV) along the border with Pakistan to maintain heightened vigil, said a senior officer. A standard operating procedure is being drafted with the Indian Air Force (IAF) to finalise the modalities of using the UAVs.
The surveillance machines, which will be flying at an altitude of 10,000-12,000 feet, will capture images and relay real-time information on the movement of infiltrators, if any, anywhere near the border, said the officer.
Full report at:
http://www.indianexpress.com/news/bsf-plans-to-deploy-uavs-to-keep-eye-on-indopak-border/1166446/
---------
Southeast Asia
Muslim rebel attack shuts down Philippine city
September 09, 2013
A group of 100 heavily-armed Muslim rebels opposed to peace talks launched a major attack that shut down a bustling southern Philippine city Monday, authorities said.
Followers of Moro National Liberation Front (MNLF) leader Nur Misuari entered the coastal area of Zamboanga city by boat at dawn, triggering clashes that left at least one soldier dead and six wounded, the military said.
Fighting later spread to the city itself, with the rebels taking 20 civilian hostages to thwart government forces.
"The main target by the MNLF in encroaching Zamboanga City is to raise their banner of independence at city hall," city mayor Isabelle Climaco-Salazar said.
Full report at:
http://www.dhakatribune.com/asia/2013/sep/09/muslim-rebel-attack-shuts-down-philippine-city
----------
Yudhoyono Against Attack on Syria
By Primus Dorimulu
September 9, 2013.
St. Petersburg, Russia. President Susilo Bambang Yudhoyono has written letters to US President Barack Obama and four other leaders of the UN Security Council in an attempt to persuade them not to attack Syria.
In addition, the president has also written a letter to UN Secretary General Ban Ki-moon.
"There are peaceful ways of addressing this conflict if the UN Security Council announces a cease fire," Yudhoyono told journalists before leaving Russia late on Saturday. He arrived in Jakarta on Sunday after a three-country visit, culminating in Russia for the Group of 20 summit.
Full report at:
http://www.thejakartaglobe.com/news/yudhoyono-against-attack-on-syria/
----------
4,000 fighters ready to strike in East Malaysia, claim Filipino rebels
SEPTEMBER 09, 2013
The Moro National Liberation Front (MNLF) has activated some 4,000 foreign-trained Tausug fighters embedded in Sarawak and Sabah in Malaysia, group spokesman Emmanuel Fontanilla told The Philippine Star yesterday.
Fontanilla said the mobilisation of the fighters was to protect Tausugs, who he claimed have been the subject of a crackdown by Malaysian authorities recently.
According to the Philippine daily, he said the MNLF fighters were in addition to the Sulu Sultanate Army led by Agbimuddin Kiram, the brother of Sulu Sultan Jamalul Kiram III, leading the armed struggle to reclaim their ancestral land in Sabah.
Full report at:
http://www.themalaysianinsider.com/malaysia/article/moro-rebels-claim-4000-trained-fighters-mobilised-in-sabah-sarawak
----------
Europe
UN nuclear chief says resolution over nuclear Iran is 'essential and urgent'
By REUTERS
09/09/2013
VIENNA- The UN nuclear chief told Iran on Monday it was "essential and urgent" for it to address concerns about suspected atomic bomb research, signalling his hope that the new government in Tehran will stop stonewalling his inspectors.
Yukiya Amano was addressing a session of the UN agency's 35-nation board, the first since relative moderate Hassan Rouhani took office as Iranian president in early August, raising cautious optimism of progress in the nuclear dispute.
Full report at:
http://www.jpost.com/Middle-East/UN-nuclear-chief-says-resolution-over-nuclear-Iran-is-essential-and-urgent-325614
----------
French police detain 4 suspected of robbing restaurant to finance jihad in Syria
BY THE ASSOCIATED PRESS
September 09, 2013
PARIS - French authorities have detained four suspected extremists accused of robbing a fast food restaurant in order to finance their planned travel to fight alongside Islamic extremists in Syria.
Prosecutor's office spokeswoman Agnes Thibault-Lecuivre says the four men, all French citizens, are being held on suspicion of preparing a terrorist act, as well as armed robbery of a Quick hamburger restaurant Wednesday in the suburbs of Paris.
Full report at:
http://www.belfasttelegraph.co.uk/news/world-news/extremists-held-in-terror-swoop-29559022.html
----------
Dubai and London are well placed to capitalise on global interest in Islamic Finance
By Dominic Jermey
September 9, 2013
In January this year, His Highness Shaikh Mohammad Bin Rashid Al Maktoum, Vice President of the UAE and Ruler of Dubai, revealed his vision to position Dubai as the Global Capital of the Islamic Economy, and two months later, the UK Government launched the UK's first Islamic Finance Task Force to cement London's status as the western hub for Islamic finance by showcasing the UK as the preferred choice for the Muslim world to invest in and do business with. Two initiatives, but one shared vision around the importance of Islamic finance.
Full report at:
http://gulfnews.com/business/banking/dubai-and-london-are-well-placed-to-capitalise-on-global-interest-in-islamic-finance-1.1228966
--------
US leaves door open to new UN vote on Syria strike
Reuters | Sep 9, 2013
PARIS: The United States left the door open on Sunday to seeking a United Nations security council resolution that could endorse punishing Syria for a chemical weapons attack last month and indicated Arab countries were seeking a tough response.
Speaking to reporters after meeting Arab foreign ministers, US secretary of state John Kerry said many were leaning toward supporting a G20 statement — already signed by 12 nations, including Saudi Arabia — that called for a strong international response following an Aug. 21 chemical attack in Syria.
Full report at:
http://timesofindia.indiatimes.com/world/middle-east/US-leaves-door-open-to-new-UN-vote-on-Syria-strike/articleshow/22427885.cms
--------
UN body told chemical weapons use 'gravest' crimes
September 09, 2013
The U.N. human rights chief has told the 47-nation Human Rights Council that there is little doubt that chemical weapons were used in Syria, but she did not say which of the combatants was suspected of using them.
U.N. High Commissioner for Human Rights Navi Pillay opened the council's month-long session telling diplomats that "all the circumstances and responsibilities remain to be clarified." She added that the use of chemical weapons is "one of the gravest crimes that can be committed."
Full report at:
http://www.thehindu.com/news/international/world/un-body-told-chemical-weapons-use-gravest-crimes/article5109756.ece
--------
Russia, Syria push for UN chemical experts return
September 09, 2013
Russian and Syrian foreign ministers say they will push for the return of United Nations inspectors to Syria to continue their probe into the use of chemical weapons.
Sergei Lavrov said after Monday's talks with his Syrian counterpart Walid al-Moallem that Moscow will continue to promote a peaceful settlement and may try to convene a gathering of all Syrian opposition figures who are interested in peaceful settlement.
Full report at:
http://www.thehindu.com/news/international/world/russia-syria-push-for-un-chemical-experts-return/article5109642.ece
--------
UAE happiest Arab country: UN report
IANS | Sep 9, 2013
DUBAI: The United Arab Emirates (UAE) has been ranked the happiest Arab country and 14th happiest globally, according to the United Nations's 'World Happiness Report'.
Vice-president and prime minister of the UAE and ruler of Dubai Sheikh Mohammed bin Rashid Al Maktoum has lauded the achievement of happiness for Emiratis, which he described as an approach followed by the founding fathers of the UAE, a vision in all government sectors, levels and institutions as well as a manner of work that governs all of our policies and decisions.
Full report at:
http://timesofindia.indiatimes.com/world/middle-east/UAE-happiest-Arab-country-UN-report/articleshow/22434926.cms
--------
URL: https://www.newageislam.com/islamic-world-news/new-age-islam-news-bureau/us-magazine-terms-karachi--most-dangerous-megacity--in-the-world/d/13424