New Age Islam News Bureau
14 Oct 2017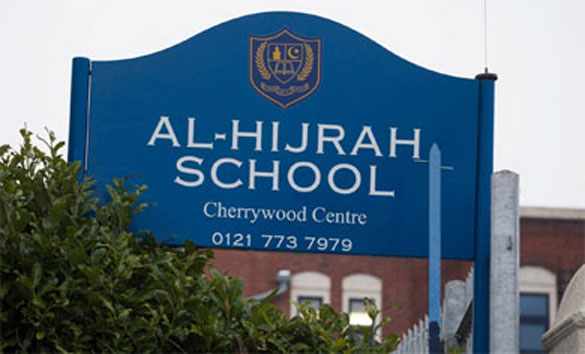 Al-Hijrah school in Birmingham CREDIT: ANDREW FOX
----
• US Lawmaker Concerned Over Human Rights Violations in Pakistan
• ISIS Training 2,000 Rohingyas to Carry out Suicide Attacks in Nagaland, Claim Police
• Islamic School's Gender Segregation Is Unlawful, UK Court Of Appeal Rules
• US To Follow Up On Gaza Situation Following Hamas, Fatah Reconciliation
• New U.S. Afghan Strategy Fails to Recognize Taliban's Theocratic Ideology, Critics Say
Pakistan
• US Lawmaker Concerned Over Human Rights Violations in Pakistan
• Country's Ideology, Geological Borders in Danger, Says Siraj
• Iran recruits Afghan and Pakistani Shiites to fight in Syria
• Karachi least safe in 60 world cities: report
--------
India
• ISIS Training 2,000 Rohingyas to Carry out Suicide Attacks in Nagaland, Claim Police
• Terror Financing: ED Attaches Assets worth Rs 5 Lakh in Karnataka
• Top Lashkar terrorist among 2 killed in J&K's Pulwama
• J&K police identify 5 Hizbul militants for two Kashmir bank robberies
--------
Europe
• Islamic School's Gender Segregation Is Unlawful, UK Court Of Appeal Rules
• Isis Fanatic Promises Future Wife to Commit Knife Attack As A Wedding Present
• Brother of Toulouse terrorist goes on trial for aiding attacks
• Muslim students in UK's Chapel Hill build an app to document 'Islamophobia' on campus
• UNESCO selects France's Azoulay as new chief, edging out Qatar's Kawari
• Clumsy French spy sends text message to the radical Islamist he was keeping tabs on
--------
Mideast
• US To Follow Up On Gaza Situation Following Hamas, Fatah Reconciliation
• NATO Chief Concerned About Iran Missile Programme
• Iran Warns to Give Tough Response to US Threats to IRGC, N. Deal
• US Treasury places Iran's Revolutionary Guards under sanctions
• Turkey's Erdogan says no problem with Russian S-400 purchases
• One student killed, 2 wounded in Istanbul gun attack
--------
North America
• New U.S. Afghan Strategy Fails to Recognize Taliban's Theocratic Ideology, Critics Say
• After The Edmonton Attack, Don't Forget The Good Work Many Muslims Canadians Are Doing
• Trump's use of Arabian Gulf provokes Rouhani
• Trump strikes blow says he has decided to decertify Iran nuclear deal
• Democrats say Trump's new Iran strategy 'grave mistake
--------
Southeast Asia
• Stopping Religious Exclusivism in Malaysia from Taking Root
• DPM: Balanced physical, spiritual development needed to attain developed status
• Police arrest Penang CM's officer on Islamic matters for sedition
• Philippines military gunning for Malaysia's most wanted terrorist
--------
South Asia
• Foreigners among Several ISIS Militants Killed, Wounded In Nangarhar Operations
• Myanmar Army Opens Probe amid Reports of Killings, Abuse of Rohingya Muslims
• Bangladesh wants UN involvement to end Rohingya crisis: Quader
• Taliban leader among 5 killed as A-29s pound their hideouts in Mirza Olang
• Minister to Propose Joint Spy Initiative; Discuss Rohingya Crisis at Asean Defense Meeting
--------
Arab World
• Over 90 Percent of Syrian Territory Liberated from ISIL Terrorists
• Kurdish VP: Thousands of Troops Sent To Kirkuk to Face 'Iraq Threat'
• Islamic State Jihadists Surrender in Iraq as Others in Syria Vow to Fight 'Till the End'
• Iraq forces retake positions from Kurds in disputed Kirkuk
• 6 Egyptian soldiers killed in Sinai attack
• Iraqi forces take down Kurdistan flag in southern Kirkuk
• ISIS 'caliphate' crumbles as 100 militants surrender in Syria's Raqqa
• Bahrain supports US policy and calls for curb of Iran's expansionist agenda
• Saudi Arabia the first country welcoming Trump strategy towards Iran
• Lebanese judge issues arrest warrant for former Libya PM over Sadr abduction
• Syrian forces advance on Daesh-controlled Dayr al-Zawr
• Bahrainis stage protest against potential normalization of ties with Israel
--------
Africa
• Detained Migrants in Libya 'In Disastrous Conditions'
• Boko Haram fighters surrender in northern Cameroon
• South Africa's Muslim community files plea as mortuaries run out of space
• Niger: Pentagon Blames Islamic State in Deadly Attack on U.S. Forces
Compiled by New Age Islam News Bureau
URL: https://www.newageislam.com/islamic-world-news/us-lawmaker-concerned-human-rights/d/112887
--------
US lawmaker concerned over human rights violations in Pakistan
OCTOBER 14, 2017
In Sindh, there are forced conversions of Sindhi girls belonging to the minority communities, Mr. Sherman said.
An influential US lawmaker has expressed concern over human rights violations and forced conversions in Pakistan's Sindh province, saying elements of the government or military "see an opportunity" in making their opponents disappear.
In the past year, the UN Human Rights Committee, Amnesty International, Human Rights Watch, and the State Department's own Report on Human Rights have all noted serious concerns about extra—judicial and targeted killings and disappearances in Pakistan and, particularly in Sindh, Congressman Brad Sherman said.
"Human rights abuses of this type cannot go unanswered.
Activists disappear under suspicious circumstances. It is our obligation to speak out and demand accountability," Mr. Sherman, the Ranking Member on the Asia and the Pacific Subcommittee and the founder and chair of the Sindh Caucus, said on the floor of the House of Representatives on Thursday.
These disappearances and other violations of human rights should be a major topic of conversation in all bilateral discussions between the US and Pakistan, he said, ahead of the visit of US Defence Secretary James Mattis and Secretary of State Rex Tillerson to Islamabad in the weeks to come.
"Elements of the Pakistani government or military see an opportunity to simply make their opponents disappear," Sherman alleged, citing a few high-profile cases of disappearances.
The people of Sindh face religious extremist attacks. The Islamic State (ISIS) terror group, for example, claimed responsibility for an attack on a Sufi shrine in Sindh province in which nearly 80 people were killed.
"Yet the government has not acted to protect religious minorities and, in general, has not acted to protect the people of Sindh from Islamic extremism," he said.
In Sindh, there are forced conversions of Sindhi girls belonging to the minority communities, Mr. Sherman said.
While the numbers are unclear, reports suggest that every year perhaps 1,000 girls and young women in Pakistan, including many in Sindh, are forcibly converted upon a marriage, not of their choice, to Muslim men, he alleged.
"The Pakistani government has not done enough to stop this practice, and reform measures have been circumvented and not enforced," Mr. Sherman added.
http://www.thehindu.com/news/international/us-lawmaker-concerned-over-human-rights-violations-in-pakistan/article19859507.ece
--------
ISIS Training 2,000 Rohingyas to Carry out Suicide Attacks in Nagaland, Claim Police
OCTOBER 13, 2017
The intelligence branch of Nagaland Police has highlighted a major security threat that Rohingya pose to the national security. The report also said that Rohingya are most likely to attack Nagaland.
According to the report by the Nagaland Intelligence sources, the Rohingya rebels are in contact with the Imam of Dimapur and have also started to collecti huge amount of arms and ammunition from Bangladesh.
According to officials, as many as 2,000 Muslims have volunteered to take up arms against the Nagas, if the latter try to drive them out.
The Imam is planning to attack Hebron and Kehoi camps post which it will be convenient for them to capture Nagaland. Around 20 ISIS terrorists have entered Nagaland and are training the volunteers.
Suicide bomb attacks and bomb blasts are likely throughout Nagaland.
The authorities have directed to track the movement of Muslims in Dimapur.
Highlighting the gravity of the Rohingya influx, BSF Inspector General (RETD) V. K. Gaur stated that the forces deployed for refugee camps restrict the entry of genuine global relief agencies to make shift refugee camps.
However, several radical Islamic organisations are active inside the camps.
Gaur said, "It is believed that Pakistan's Jamaat-ud-Dawa (JuD), elements from Al Quaida, Jamat e Islami, Chhatra Shibir, ISI and some other Islamist groups have infiltrated the camps as relief workers for distributing relief material from Islamic countries."
"They have picked up a significant number of young refugees for arms training. It is learnt that during the night such people are whisked away in vehicles of security forces to three districts including Bandarban and Khagrachari. Needless to say that there are several elements in armed forces who are supporters of ISI and oppose Indo- Bangladesh amity," he added.
140 vulnerable spots have been identified along 4096 km long Indo- BD border from where Muslim Rohingya can cross over to India.
According to the former BSF IG Gaur on April 1, 2004, the Bangladesh Police seized sophisticated firearms including 27,020 grenades; 840 rocket launchers, 3000 rockets, 2,000 grenade-launching tubes; 6,392 magazines; and 11,40,520 rounds of assorted ammunition. The consignment was to be delivered to insurgents of North-East India and the radical religious outfits of Bangladesh.
Also Read: Inside Bangladesh's 'Dangerous' Plan To Build World's Biggest Refugee Camp For 8 Lakh Rohingyas
The Rohingya, a Muslim ethnic minority, are denied citizenship under a 1982 Myanmar citizenship law. The Myanmar government recognizes them as illegal immigrants from Bangladesh.
A crackdown by the Myanmar's Army, launched in response to attacks by the Rohingya militants on August 25, has pushed vast numbers of refugees from the stateless Muslim minority across the Bangladesh border. The violence has incubated a humanitarian crisis on both sides of the border.
Lately, dead bodies of Hindu Rohingya killed mercilessly by the Rohingya Muslims were exhumed in Myanmar.
https://www.indiatimes.com/news/india/at-least-2-000-rohingya-muslims-joins-isis-to-attack-nagaland-reports-331603.html
--------
Islamic School's Gender Segregation Is Unlawful, UK Court Of Appeal Rules
13 October 2017
Richard Adams
Schools in Britain will no longer be able to substantially segregate boys and girls, after the court of appeal ruled that a co-educational faith school in Birmingham had caused unlawful discrimination by separating the two sexes.
The court overturned a ruling by the high court last year involving Al-Hijrah school, a voluntary-aided mixed-sex state school that had been strongly criticised by Ofsted school inspectors for failing to uphold British values.
On appeal, Ofsted argued that the school had breached the 2010 Equalities Act by strictly segregating pupils from the age of nine, teaching them in different classrooms and making them use separate corridors and play areas. The segregation policy was also applied to clubs and school trips.
About 25 other mixed schools in England have similar rules and they now face having to overhaul their policies in the wake of the ruling by Sir Terence Etherton, the master of rolls, Lady Justice Gloster and Lord Justice Beatson.
Ofsted said it would now look closely at the other schools with similar policies, which includes several Orthodox Jewish and Christian faith schools.
"Ofsted's job is to make sure that all schools properly prepare children for life in modern Britain," said Amanda Spielman, Ofsted's chief inspector, after the ruling was announced. "Educational institutions should never treat pupils less favourably because of their sex, or for any other reason.
"This case involves issues of real public interest and has significant implications for gender equality, Ofsted, government, and the wider education sector. We will be considering the ruling carefully to understand how this will affect future inspections."
Rebecca Hilsenrath, the chief executive of the Equality and Human Rights Commission, said: "We welcome today's confirmation by the court of appeal that it is unlawful for a mixed school to segregate girls and boys completely. Socialisation is a core part of a good quality education, just as much as formal learning and, without it, we're harming children's life chances right from the start."
The appeal court judges said segregation had been tacitly approved by the Department for Education and Ofsted in the past, so the schools involved should be treated sympathetically and given time to adjust their policies.
"The relevant central government authorities should not pivot in the way they have gone about this without recognising the real difficulties those affected will face as a consequence," the judges said in their ruling.
The ruling applies only to co-educational schools. Single-sex schools are given a specific exemption from discrimination claims related to admissions under the Equalities Act, although it is unclear if the provisions would extend to arguments that both sexes suffer from the absence of the other.
In ruling that Al-Hijrah had unlawfully discriminated against its pupils, the court stated: "An individual girl pupil cannot socialise and intermix with a boy pupil because, and only because, of her sex; and an individual boy pupil cannot socialise and intermix with a girl pupil because, and only because, of his sex. Each is, therefore, treated less favourably than would be the case if their sex was different."
In her dissenting judgment, Gloster argued that the evidence showed that the school's segregation was a greater practical harm for girls than for boys. "What possible justification could there be for always requiring girls to wait for their mid-morning snack until such time as the boys had finished theirs?" Gloster wrote.
The National Secular Society welcomed the court ruling as "an important blow" for gender equality. Stephen Evans, its campaign director, said: "Our society is often too slow to condemn discrimination when it comes cloaked in religion, particularly Islam. But gender apartheid is an assault on women's rights and dignity."
The victory for Ofsted follows an extended tussle with the school through the courts, originating in an inspection by Ofsted last year that put the school into special measures.
The school's lawyers argued in court that the segregation was one of its defining characteristics. They said the policy was clear to parents who wished to send their children there and to previous Ofsted inspectors, who had never raised it as a concern.
But the justices ruled that the motivation for the discrimination was irrelevant, including religious or parental satisfaction.
https://www.theguardian.com/education/2017/oct/13/islamic-school-gender-segregation-unlawful-court-of-appeal
--------
US to follow up on Gaza situation following Hamas, Fatah reconciliation
13 October 2017
The US Department of State said it will closely follow up on the humanitarian situation in Gaza after rival Palestinian factions Hamas and Fatah signed a reconciliation deal on Thursday.
A US Department of State spokesperson welcomed the Palestinian authority's efforts to assume administrative responsibilities in Gaza and said the deal is an important step that will help deliver humanitarian aid to residents in Gaza.
According to the deal brokered by Egypt, Hamas and Fatah will complete Gaza handover by December 1.
https://english.alarabiya.net/en/News/middle-east/2017/10/13/US-to-follow-up-on-Gaza-humanitarian-situation-following-Hamas-Fatah-reconciliation.html
--------
New U.S. Afghan Strategy Fails To Recognize Taliban's Theocratic Ideology, Critics Say
October 13, 2017
The United States is inviting a "permanent jihad" by ignoring the ideological origins of the Taliban's threat, critics of the Afghan strategy of the last two administrations say.
The Trump administration's new strategy for what has become the longest war in U.S. history calls for additional troops and training for Afghan forces, but also opens the door for talks with the Taliban.
Erik Prince, the founder of the private military firm Blackwater, referred to the new Afghanistan strategy as "kind of Obama-lite." Prince who had proposed a plan to privatize the war effort in Afghanistan was reportedly barred from a final meeting at the White House before President Trump announced his administration's strategy on Aug. 21.
Army Gen. Joseph Votel, the commander in charge of U.S. troops in Afghanistan, said he favors seeking peace talks with the Taliban.
"Our focus is to put pressure on the Taliban to make that a viable option for them, that they need to come to the table," Votel told reporters at Central Command headquarters on MacDill Air Force Base near Tampa.
"Some tribal or militia leaders may be willing to negotiate," former White House counterterrorism adviser Sebastian Gorka said according to a report in the Washington Free Beacon.
"Others in the Taliban had actually sworn bayat loyalty oaths to the Islamic State and they will never compromise with the 'infidel,' whoever our president may be."
Gorka added that "Afghanistan is not a 'problem' for America to solve. The president instinctively knows this. It matters for only one reason: its territory must never again be used to launch mass casualty attacks against U.S. citizens in America. That objective will not be met by negotiating with theocratic fundamentalists."
Michael Waller, vice president of the Center for Security Policy, also believes that negotiating with the Taliban will fail, the Free Beacon reported.
"Sixteen years after invading Afghanistan, we find ourselves considering a way out to let the Taliban re-take the land and political space that we fought so hard to win," Waller said.
"This is because the Defense Department no longer has an official definition for 'victory.' There was never a strategic plan for victory in Afghanistan. The Defense Department's own official dictionary doesn't mention the word 'victory' in its 387 pages." Waller added that ideological jihadists will not negotiate as nation states do.
"If we negotiate with the Taliban, we will show our intractable enemies that with enough determination, they can grind down the U.S. military. If we provide that example, we invite a permanent jihad against us."
"So any negotiation for us to withdraw from Afghanistan will result in an ultimate strategic victory for the Taliban and its foreign backers," he said. "It will prove the hardiness of the Taliban-al Qaeda model over that of the Islamic State. There is no alternative for the United States but total destruction of the Taliban and its foreign sponsors."
"This is a lighter but almost as expensive version," Prince said. "Remember, the Pentagon now is spending as much as when they had five times as many troops in the country. It's horrendous how they've lost control of the spending. That's what makes this so unsustainable."
Prince has encouraged the Trump administration to use contractors instead of U.S. military forces in Afghanistan.
The plan would have sent 5,500 private military contractors to embed with Afghan forces at the battalion level. They would be supported by a 90-plane private air force, The New York Times reported of the plan in July.
Prince presented the proposal to former chief strategist Steve Bannon, national security adviser H.R. McMaster and former chief of staff Reince Priebus.
McMaster reportedly opposed the plan, as did Defense Secretary Jim Mattis, but Bannon was rumored to be in favor.
Marine Corps Gen. Joseph Dunford, chairman of the Joint Chiefs of Staff, told Congress earlier this month that President Barack Obama "drew down our advisory effort and combat support for the Afghan forces too far and too fast."
"As a result, the Taliban expanded territorial and population control and inflicted significant casualties on the Afghan army and police, while we lost campaign momentum," Dunford said.
http://www.worldtribune.com/new-u-s-afghan-strategy-fails-to-recognize-talibans-theocratic-ideology-critics-say/
--------
Pakistan
Country's ideology, geological borders in danger, says Siraj
14-Oct-17
KHUSHAB: Jamaat-e-Islami (JI) Pakistan chief Senator Sirajul Haq has said that the official committee tasked to trace the elements behind the alteration in the oath about Khatm-e-Nubuwat had not submitted its report so far which clearly proved that the government itself was involved in the matter. Addressing a large public meeting at Jauharabad, in Khushab district, on Friday, Sirajul Haq said that neither the country's ideology nor its geographical borders were secure in the presence of the incumbent rulers. He said the Qadianis were behind the Fall of Dhaka and they were still busy in conspiring against this country. The JI chief said that the Hindus, Sikhs and the Christians living in the country were respectable citizens but the Qadianis had committed the crime of denying the finality of Prophet Muhammad (PBUH), which could not be condoned. He said that Punjab Chief Minister Shehbaz Sharif had counseled Nawaz Sharif to drop the ministers and legislators who had abolished the Khatm-e-Nubuwat oath. He said that now a minister in Shehbaz Sharif's cabinet was speaking the mind of the Qadianis. He said it was Shehbaz Sharif's test: whether he would kick out the minister or not. Sirajul Haq said that fortunately, JI MNA Tariqullah had detected the change and promptly pointed it out otherwise the conspirators would not have been exposed so quickly. He deplored that the rulers were still taking dictation from the US and dancing to the tunes of the "international establishment". He said the same ruling junta had freed CIA agent Raymond Davis by paying billions in blood money and handed over Dr Aafia Siddiqui to the enemy. He urged the masses to support the JI against the ruling junta.
JI Punjab chief Mian Maqsood Ahmed and local JI leaders also addressed the gathering, at which hundreds of people announced joining the party.
http://dailytimes.com.pk/pakistan/14-Oct-17/countrys-ideology-geological-borders-in-danger-says-siraj
--------
Iran recruits Afghan and Pakistani Shiites to fight in Syria
Kathy Gannon
Oct 13, 2017
ISLAMABAD — Thousands of Shiite Muslims from Afghanistan and Pakistan are being recruited by Iran to fight with President Bashar al-Assad's forces in Syria, lured by promises of housing, a monthly salary of up to $600 and the possibility of employment in Iran when they return, say counterterrorism officials and analysts.
These fighters, who have received public praise from Iran's supreme leader Ayatollah Ali Khamenei, even have their own brigades, but counterterrorism officials in both countries worry about the mayhem they might cause when they return home to countries already wrestling with a major militant problem.
Amir Toumaj, Iran research analyst at the U.S.-based Foundation for the Defense of Democracies, said the number of fighters is fluid but as many as 6,000 Afghans are fighting for Assad, while the number of Pakistanis, who fight under the banner of the Zainabayoun Brigade, is in the hundreds.
In Afghanistan, stepped-up attacks on minority Shiites claimed by the upstart Islamic State group affiliate known as Islamic State in the Khorasan Province could be payback against Afghan Shiites in Syria fighting under the banner of the Fatimayoun Brigade, Toumaj said. Khorasan is an ancient name for an area that included parts of Iran, Afghanistan, Pakistan and Central Asia.
"People were expecting blowback," said Toumaj. IS "itself has its own strategy to inflame sectarian strife."
Shiites in Afghanistan are frightened. Worshippers at a recent Friday prayer service said Shiite mosques in the Afghan capital, including the largest, Ibrahim Khalil mosque, were barely a third full. Previously on Fridays — the Islamic holy day — the faithful were so many that the overflow often spilled out on the street outside the mosque.
Mohammed Naim, a Shiite restaurant owner in Kabul issued a plea to Iran: "Please don't send the poor Afghan Shia refugees to fight in Syria because then Daesh attacks directly on Shias," he said, using an Arabic acronym for the Islamic State group.
Pakistan has also been targeted by the IS in Khorasan province. IS has claimed several brutal attacks on the country's Shiite community, sending suicide bombers to shrines they frequent, killing scores of devotees.
In Pakistan, sectarian rivalries routinely erupt in violence. The usual targets are the country's minority Shiites, making them willing recruits, said Toumaj. The most fertile recruitment ground for Iran has been Parachinar, the regional capital of the Khurram tribal region, that borders Afghanistan, he said. There, Shiites have been targeted by suicide bombings carried out by Sunni militants, who revile Shiites as heretics.
In June, two suicide bombings in rapid succession killed nearly 70 people prompting nationwide demonstrations, with protesters carrying banners shouting: "Stop the genocide of Shiites."
A Pakistani intelligence official, who spoke on condition of anonymity because he is not authorized to speak to the media, said recruits are also coming from northern Gilgit and Baltistan. Recruiters are often Shiite clerics with ties to Iran, some of whom have studied in seminaries in Iran's Qom and Mashhad cities, said a second Pakistani official, who also spoke on condition he not be identified because he still operates in the area and exposing his identity would endanger him.
Yet fighters sign up for many reasons.
Some are inspired to go to Syria to protect sites considered holy to Shiite Muslims, like the shrine honoring Sayyida Zainab, the granddaughter of Islam's Prophet Muhammed. Located in the Syrian capital of Damascus, the shrine was attacked by Syrian rebels in 2013. Others sign up for the monthly stipend and the promise of a house. For those recruited from among the more than 1 million Afghan refugees still living in Iran it's often the promise of permanent residence in Iran. For Shiites in Pakistan's Parachinar it is outrage at the relentless attacks by Sunni militants that drives them to sign up for battle in Syria, said Toumaj.
Mir Hussain Naseri, a member of Afghanistan's Shiite clerics' council, said Shiites are obligated to protect religious shrines in both Iraq and Syria.
"Afghans are going to Syria to protect the holy places against attacks by Daesh," he said. "Daesh is the enemy of Shias."
Ehsan Ghani, chief of Pakistan's Counterterrorism Authority, told The Associated Press that his organization is sifting through hundreds of documents, including immigration files, to put a figure on the numbers of Pakistanis fighting on both sides of the many Middle East conflicts, including Syria. But it's a cumbersome process. — (AP)
"We know people are going from here to fight but we have to know who is going as a pilgrim [to shrines in Syria and Iraq] and who is going to join the fight," he said.
Pakistan's many intelligence agencies as well as the provincial governments are involved in the search, said Ghani, explaining that Pakistan wants numbers in order to devise a policy to deal with them when they return home. Until now, Pakistan has denied the presence of the Islamic State group in Pakistan.
Alireza Nader, a senior policy analyst at the U.S.-based RAND Corp., said Afghan and Pakistani recruits also provide Iran with future armies that Tehran can employ to enhance its influence in the region and as protection against perceived enemies.
Despite allegations that Iran is aiding the Taliban in Afghanistan, Nader says battle-hardened Shiite fighters are Tehran's weapon should relations with an Afghan government that includes the radical majority Sunni religious movement deteriorate.
"Once the Syrian civil war dies down Iran is going to have thousands, if not tens of thousands of militia, under its control to use in other conflicts," he said. "There is a potential of Iran getting more involved in Afghanistan using militia because Iran is going to be really concerned about security on its border and it would make sense to use a proxy force."
Full report at:
http://www.phillytrib.com/news/iran-recruits-afghan-and-pakistani-shiites-to-fight-in-syria/article_d1bb2bf6-8bb3-525b-a7be-0585041852ad.html
--------
Karachi least safe in 60 world cities: report
October 14, 2017
KARACHI: Karachi has been named amongst the least safe of 60 major cities of the world by the Economist Intelligence Unit (EIU) — the research and analysis division of The Economist Group — in a report released earlier this week.
Karachi was rated at the last rank in the list of 60 cities, which shows Tokyo, Singapore and Osaka are the top three safest cities in the world.
"The 2017 Safe Cities Index retains the four categories of security from the 2015 version — digital, health, infrastructure and physical," said the EIU in its executive summary of the report. The report specifically mentioned Karachi for being rated last. "Although it [Karachi] performs poorly across all of the categories, it was dragged down by a very low level of personal security (60th)," it said. "This is a reflection of a number of factors, but the main reason is that among the cities in the index, it experiences by far the most frequent and most severe terrorist attacks."
The fresh report came as a grim reminder of the study carried out and released by the EIU in August declaring the least liveable cities of the world. In that report Karachi maintained its 134th rank in the list of 140 cities, only managing to fare better than Port Moresby, Dhaka, Tripoli, Lagos and Damascus.
"Dhaka, Yangon and Karachi are at the bottom of the list," said the fresh EIU report. "Of the 10 cities at the bottom of the overall index, three are in South-East Asia (Manila, Ho Chi Minh City and Jakarta), two are in South Asia (Dhaka and Karachi) and two are in the Middle East and Africa (Cairo and Tehran)."
Regarding rising security concerns, it says that with the spread of closed-circuit television (CCTVs) and webcams around cities, technologies such as artificial intelligence and data analytics can greatly enhance the capabilities of law enforcement agencies to combat urban crime and terrorism.
"In many respects it's the very success of cities, in their role as global social and economic hubs, that makes them more vulnerable," said the report. "As rural residents head for the city in developing countries and wealthy global capitals draw in international talent, vast demographic shifts are creating cities with previously unimagined population sizes. In 2016, there were 31 megacities — cities with more than 10m inhabitants. This is projected to rise to 41 by 2030."
Full report at:
https://www.dawn.com/news/1363601/karachi-least-safe-in-60-world-cities-report
--------
India
Terror financing: ED attaches assets worth Rs 5 lakh in Karnataka
October 13, 2017
The Enforcement Directorate on Friday said it has attached assets worth Rs five lakh in Karnataka in connection with a money laundering probe in a terror financing case involving the banned outfit Indian Mujahideen (IM). The central probe agency said the attachment, issued under the provisions of the Prevention of Money Laundering Act (PMLA), includes a residential property in Mangalore "belonging to the persons involved in terror financing" who were also "linked" to a Pakistani.
The ED said that a person named Dheeraj Sao got cash deposits in his bank accounts from various parts of the country for a commission. "After keeping his commission, he (Sao) used to transfer the remaining amounts to bank accounts of persons associated with terror outfit Indian Mujahideen such as Zubair Hussain, Aysha Banu, Raju Khan and others," it alleged.
The agency said it tracked the crime money and found that Banu and Hussain had acquired a residential property at Panjimogeru in Karnataka's Mangalore. "All the accused were linked to Pakistani national Khalid and as per his directions had opened accounts in various banks to receive money and transfer the same to members of terrorist outfit IM after deducting their commission.In all these accounts, mostly cash money had been deposited by unknown persons from various locations in India other than the home branch and the cash deposits were withdrawn immediately through ATMs and used for terror activities," the ED said.
The ED said it is probing the people involved and their links further.
http://indianexpress.com/article/india/terror-financing-ed-attaches-assets-worth-rs-5-lakh-in-karnataka-4889080/
--------
Top Lashkar terrorist among 2 killed in J&K's Pulwama
Oct 14, 2017
NEW DELHI: Top Lashkar-e-Taiba (LeT) terrorist Wasim Shah, wanted in connection with several terror attacks, and his aide were gunned down on Saturday by the security forces in an encounter in the Pulwama district of Jammu and Kashmir.
"The police and Army had received information about terrorists hiding in Litter village of Pulwama district. The area was cordoned off and a search operation was launched," Defence Ministry spokesman Colonel Rajesh Kalia said.
The encounter started when the terrorists opened fire at the security forces.
"During the encounter, both terrorists were eliminated," the official said, adding that their bodies were recovered and the operation called off.
According to the police, the two terrorists were identified as Wasim Shah and Hafiz Nasir Ahmad Mir.
Security forces also recovered one AK-47, one AK-56 and six AK magazines from the site.
Shah, a resident of Shopian, was wanted for many attacks on security forces and political workers in south Kashmir. He was variously described as a category 'A' or 'A++' terrorist by Army and police officials and carried bounty of Rs 10 lakh.
Full report at:
https://timesofindia.indiatimes.com/india/2-terrorists-killed-in-jks-pulwama-operation-underway/articleshow/61076326.cms
--------
J&K police identify 5 Hizbul militants for two Kashmir bank robberies
By Mir Ehsan
October 14, 2017
THE Police blamed Hizbul Mujahideen militants for two bank robberies in south Kashmir's Shopian and Anantnag districts in the last two days and identified five local militants as being responsible for the incidents.
Police said that the militants were recognised from CCTV footage inside the bank branches and from human intelligence network. Approximately Rs 7 lakh was stolen from two branches of J&K Bank when unidentified gunmen barged into Ratnipora branch in Shopian and Marhama branch in Anantnag district.
Hizbul Mujahideen spokesperson Burhanuddin denied the allegations and said that the outfit does not believe in bank robberies as it is un-Islamic and unethical. "Robbing banks is not the work of militants. Honesty, truth and serving Kashmiri people is our core trait," he said, adding that the police are trying to tarnish the image of militants.
Shopian SP Ambarkar Shriram Dinkar said that approximately Rs 1.98 lakh were stolen from the Ratnipora branch in Shopian on Friday morning. "We have identified three militants — Zubair Ahmad, Abas and Ishfaq. They are affiliated with Hizbul Mujahideen.''
Police have released CCTV footage of the robbery where gunmen are seen trying to damage CCTV cameras before fleeing.
Full report at:
http://indianexpress.com/article/india/jk-police-identify-5-hizbul-militants-for-two-kashmir-bank-robberies-4889511/
--------
Europe
Isis Fanatic Promises Future Wife To Commit Knife Attack As A Wedding Present
By Jack Moore
10/13/17
A British supporter of the Islamic State militant group (ISIS) told his future wife that he would commit a knife attack as a wedding present, it was revealed in court on Thursday.
Ummariyat Mirza, a 21-year-old British national from Birmingham, Britain's second city, is on trial in London with his wife Madihah Taheer. Both are accused of plotting extremist attacks.
The pair argued about which had the most radical beliefs, and Taheer allegedly purchased a training knife and a life-size dummy for her husband for him to practice and prepare for an attack before he purchased a real $160 knife. She told him that she had a list of people she wanted him to "kill." Her husband replied, saying that on their wedding day he would "kill 'em all."
"Give me the list, the only thing that stops me is we are not married. I will defo, I'm not joking," he wrote to his wife.
She told him that she would not give him the list unless he "put a ring on it."
Both were intent on killing, the messages showed. Mirza said he wanted to attack someone and stab them dozens of times "brutal and fast," according to The Times. Taheer said that idea was "so satisfying" and that she wanted to also "kill in some way."
Mirza bragged about how he was more conservative than his wife and had shown her the ways of radical Islamism. "I'm more radical than you," he said to her in a text message.
"I introduced you to ISIS, and twitter and Jihad. You're my student," he added. "Remember who brought you into this organisation. Don't forget the one who helped you to your position."
Prosecutor John McGuinness said: "There is no doubt that Mirza did intend to commit terrorist acts in the U.K. and that he engaged in conduct in preparation for carrying out his intention."
He continued: "He conducted online research on potential targets and victims of terrorist acts and on the means of committing such acts. Second, he purchased a training knife and then a real, and lethal knife."
Britain is dealing with one of the worst cases of homegrown radicalization in Europe, behind France and Germany, and it has suffered four ISIS-claimed attacks since the beginning of the year.
They were a car-ramming attack on Westminster bridge in March, a suicide bomb blast at an Ariana Grande Manchester concert in May, a van-ramming and knife attack in London Bridge in June and a partial explosion on a subway train in West London in September.
The attacks killed 35 people and wounded dozens more. In another extremist attack, a man ran down Muslims outside a mosque in north London in June, killing one.
The threat level in Britain remains at 'severe,' meaning that an attack is likely. Some 800 British nationals travelled to fight for ISIS in Iraq and Syria, officials estimate that more than half of those have returned to the country.
http://www.newsweek.com/isis-supporter-wanted-commit-knife-attack-wedding-gift-his-future-wife-683969
--------
Brother of Toulouse terrorist goes on trial for aiding attacks
14 October 2017
The older brother of a French jihadi who killed Jewish schoolchildren and soldiers in 2012 says he had no idea what his sibling was plotting.
Abdelkader Merah testified Friday for the first time in his trial for alleged complicity with his brother Mohammed's three attacks in and near Toulouse.
Merah is the chief surviving suspect because Mohammed died in a shootout with police.
He said he was with his brother the day he stole the motor scooter used in the killings, but didn't report the theft to police because he didn't want to be a snitch.
"I'm not Mohammed Merah, I am Abdelkader Merah. There is a big difference," he insisted to the court.
The brother of one of the seven victims said he was upset by what he perceived as Merah's "cold expression" in the courtroom.
The attacks, which he carried out in the name of Al-Qaeda, were the first in a wave of jihadist assaults in France that resumed in 2015 with the shootings at satirical magazine Charlie Hebdo and a massacre at a Paris concert hall.
The Islamic State terror group claimed the attack as the work of one of its "soldiers," though a source close to the investigation said there was as yet no solid evidence linking the man to the group.
Abdelkader Merah, 35, is the first person to be tried over the spate of killings.
Reacting to his brother's actions in 2012 Abdelkader Merah had declared himself "proud," saying that "every Muslim would like to give his life to kill his enemy."
He is accused of helping to facilitate his brother's attacks, in particular by helping him steal the scooter used in three separate shootings.
He is being tried alongside 34-year-old Fettah Malki, accused of giving Mohamed Merah a bulletproof jacket, an Uzi submachine gun and ammunition.
Neither of the accused denies helping Merah obtain materials but claimed they were unaware of his intentions.
Abdelkader Merah faces a possible life sentence while Malki could get 20 years in prison.
Nicknamed "Bin Laden" in his neighborhood, Abdelkader Merah was known to intelligence services for his ties to radical Islamists in Toulouse.
Full report at:
https://www.timesofisrael.com/brother-of-toulouse-terrorist-goes-on-trial-for-aiding-attacks/
--------
Muslim students in UK's Chapel Hill build an app to document 'Islamophobia' on campus
October 13, 2017
For the students and residents of Chapel Hill, Islamophobia is more than just the violent shooting; it's an everyday experience which impacts the lives of the Muslim residents there, a UK publication reported.
Hamza Butler, the former vice-president of UNC Chapel Hill's Muslim Student Association had envisioned a kind of network of support and safety, and thus manufactured the Project Mawla. The project is an open-source, Web-based application released last December that allows students and residents of Chapel Hill to document anti-Muslim incidents.
Inspired the work of Ida B Wells, whose documentation of lynchings helped expose rampant racial violence in America at the turn of the century, Project Mawla is a "counterpoint to the systemically supported notion that Islamophobia neither exists nor affects the livelihood of American Muslims," according to its website. The app is currently run by UNC Chapel Hill's Muslim Student Association, one of the largest student groups on campus with over 300 members.
The app is currently run by UNC Chapel Hill's Muslim Student Association, one of the largest student groups on campus with over 300 members.
Muslim workers in Canada file complaint for being fired because of 'Islamophobia'
"Hate doesn't just come out of nowhere," said Fatema Ahmad, a member of the North Carolina–based advocacy group Muslims for Social Justice and a 2009 Duke University graduate. "Individual racist action does not just naturally happen without a system of cultural and institutional racism that surrounds people and allows someone to feel emboldened enough to commit a brutal murder like that."
Butler, a 2016 UNC graduate, had been friends with Deah Barakat. He'd visited Barakat's apartment the week before the Chapel Hill shooting and said he remembered hearing about his neighbor and that he had previously threatened Barakat with a gun.
"It's very troubling that it's the first place my mind went, when usually things like that should be shocking and so sudden you can't even assume an explanation," he said. "But looking within the context of racism and Islamophobia, it was like seeing a tape recorder play again and knowing that these were the usual factors involved."
Americans still view Muslims the most negatively out of all other religious groups. After 9/11, hate crimes against Muslims were 17 times more common, and in 2011 they were still six times as common as they were before 2001.
In 2015, the number of hate crimes began to rise again, and in 2016, there was a 197 per cent increase in anti-Muslim hate groups.
"The reality is that anti-Muslimness is connected to other systems of violence," Butler said. "When you treat hate crimes as isolated events, and when you create these high standards for them to prove, it completely takes away any foundation to prove something like that."
As a result 52 per cent of all violent victimizations were not reported to the police between 2006 and 2010 according to the Bureau of Justice Statistics.
Rather than reporting crimes to police, Project Mawla allows Muslims to report incidents to the Chapel Hill Muslim community. "It creates that space in which you're going to your Muslim community and not the police or other state institutions."
Because of this, the app not only documents incidents but, in doing so, helps educate locals about the prevalence of Islamophobia in their community.
Project Mawla also allows people to document disturbing incidents that don't necessarily meet the definition of crimes: "No experience of mistreatment is 'too small.' No narrative of suffering, unweighted," reads the website's homepage.
That could mean being asked to prove that you are Muslim in order to be excused from an exam to celebrate a holiday, as Butler had to, or being made to feel like the token Muslim for classes that mentioned the Middle East, as UNC graduate Nicole Fauster experienced.
Islamophobia holding back UK Muslims in workplace: study
In addition to educating people on Islamophobia, Project Mawla hopes to track and analyze the information gathered from the app to help other communities respond to incidents like these and to eventually publish a report with an interactive map of anti-Muslim incidents.
Full report at:
https://tribune.com.pk/story/1530292/muslim-students-uks-chapel-hill-build-app-document-islamophobia-campus/
--------
UNESCO selects France's Azoulay as new chief, edging out Qatar's Kawari
13 October 2017
The United Nations' cultural agency selected former French culture minister Audrey Azoulay as its new chief on Friday, handing her the keys to revive UNESCO's fortunes after the United States pulled out.
Azoulay, 49, former French culture minister, defeated her Qatari rival by two votes in a cliffhanger election. She came from behind after six rounds of voting to defeat Hamad bin Abdulaziz Al-Kawari, also a former culture minister, by 30 votes to 28 after he failed to pick up support from other Gulf states that are part of a Saudi-led coalition blockading Qatar.
The decision will now be put forward for approval to UNESCO's 195 members on November 10.
A sudden announcement on Thursday that the United States was quitting over perceived anti-Israel bias meant that whoever wins the top job would inherit a body in turmoil, with huge questions over its future funding and mission.
"In this time of crisis we need more than ever to support, strengthen and reform UNESCO and not leave it," Azoulay told reporters, saying she would modernize the organisation.
"If I'm confirmed...the first thing I will do is to restore its credibility, restore the faith of its members and its efficiency so it can act."
Azoulay, who will replace Irina Bokova, a Bulgarian who has led the body since 2009, will have to try to restore the relevance of an agency born from the ashes of World War Two, but increasingly hobbled by regional rivalries and a lack of money.
"Congratulations" France will continue to fight for science, education and culture in the world," President Emmanuel Macron tweeted.
Political background
The 45-year-old, a former minister under President Francois Hollande, has the political background, and knows the cultural and communications' sectors well having dedicated much of her career to them.
She also has the ardent backing of Macron, who had lobbied for her actively overseas during the last few months, and has made education one of his top priorities. He has also pushed for more multlilateralism at a time when the United States has pushed back.
Officially known as the United Nations Educational, Scientific and Cultural Organization, Paris-based UNESCO is best known for designating and protecting archaeological and heritage sites, from the Galapagos Islands to the tombs of Timbuktu.
Most of its activities are uncontroversial, but when it comes to, say, resolutions about how religious sites should be run in Jerusalem, every word is studied for accusations of bias.
The United States is meant to provide a fifth of UNESCO's funding, but had already been withholding that since 2011 when the body admitted Palestine as a full member. It announced its departure on Thursday accusing UNESCO of anti-Israeli bias. Israel itself followed.
Full report at:
https://english.alarabiya.net/en/News/world/2017/10/13/French-former-culture-minister-to-head-UNESCO-.html
--------
Clumsy French spy sends text message to the radical Islamist he was keeping tabs on
13 October 2017
A member of the French intelligence services has landed himself in hot water after sending a text message containing information on a radical Islamist he was spying on, to the target himself.
Anyone who has accidently sent a text message to the wrong person might have some sympathy with a member of the French intelligent services who landed himself in trouble with his bosses this week.
The man, who works for the central territorial intelligence services (SCRT) had been keeping tabs on a suspected Islamist extremist.
He wanted to send a text containing important intelligence on his target to a colleague.
But the spy got all his phone numbers mixed up and accidentally sent it to the very suspect he had been closely monitoring.
The "target" was reportedly quick to respond to the message, reminding the spy of how incompetent he had been. And to make matters worse he was able to warn those he had been contact with that they too were probably being listened to.
The gaffe angered those at France's main internal intelligence services the DGSI who were also spying on the suspect.
The man under surveillance was suspected of preaching an extremist version of Islam in the greater Paris region of Ile-de-France.
French media who picked up the story this week, described it as a "monumental blunder" as they asked the question: "How could this have happened?"
Full report at:
https://www.thelocal.fr/20171013/blundering-french-spy-sends-text-message-to-islamist-he-was-keeping-tabs-on
--------
Mideast
Nato chief concerned about Iran missile programme
Oct 14, 2017
BRUSSELS - Nato chief Jens Stoltenberg on Friday refused to intervene in the row over the Iran nuclear deal, but said the alliance had concerns about Tehran's "continuous development of missile capabilities".
US President Donald Trump is set to "decertify" the landmark 2015 agreement which curtailed Iran's nuclear programme in return for sanctions relief, leaving lawmakers to decide whether to withdraw completely.
Stoltenberg refused to be drawn on whether he thought the deal was working, but stressed that compliance with its conditions was essential if it was to have any meaning.
"It is not for Nato to make assessments about compliance, that's for nations that are part of the agreement and the IAEA to make that kind of assessment," he told AFP in an interview.
And he reiterated Nato concerns about issues not covered in the deal, in particular Iran's ballistic missile programme.
"The nuclear deal covers the development of nuclear weapons but it doesn't cover missile programmes and we are concerned about the continuous development of missile capabilities of Iran," he said. Trump has derided the agreement as "the worst deal" and accused Tehran of not living up to the "spirit" of it, but UN inspectors say Iran is meeting the technical requirements of its side of the bargain. International allies, particularly the EU, have lobbied for it to stay, arguing that it is effective.
Nato warns against N Korea military action Nato chief Jens Stoltenberg told AFP on Friday that a military intervention against North Korea would have "devastating consequences", after US President Donald Trump said diplomatic efforts had failed. Stoltenberg, who will visit South Korea and Japan in the coming weeks as a show of support, stressed that Washington had the right to defend itself and its allies, but called for greater diplomatic efforts. "The use of military force will have devastating consequences, I think nobody really wants that, therefore we need to continue to push for a negotiated solution," Stoltenberg said in an interview at Nato HQ in Brussels.
"The US has the right to defend itself, to defend its allies, but at same time I am absolutely certain no one wants a military solution, so we still see a united effort to try to step up the pressure against North Korea."
Trump met his national security team on Tuesday and discussed a "range of options" to respond to Pyongyang's repeated recent nuclear and ballistic missile tests.
The meeting came days after Trump, who last month threatened to "destroy" North Korea, said on Twitter that years of talks with Pyongyang had achieved nothing and "only one thing will work".
The United States and South Korea will kick off a major navy drill in the Sea of Japan and the Yellow Sea in a show of force against the North next week and there has been a flurry of military hardware movement in the region in recent days.
Earlier this week two supersonic US heavy bombers flew over the Korean peninsula, staging the first night-time joint aviation exercises with Japan and South Korea, the latest in a series of flyovers.
Stoltenberg stressed that Nato was "not planning any military presence in that part of the world" and no such request had been received from Tokyo or Seoul.
But the growing range and accuracy seen in the North's missile tests has prompted the 29-nation alliance to review its missile defence system, which has been partially operational from a base in Romania since last year.
"Our experts are working on technology, on how to improve our systems," Stoltenberg said.
http://nation.com.pk/international/14-Oct-2017/nato-chief-concerned-about-iran-missile-programme
--------
Iran Warns to Give Tough Response to US Threats to IRGC, N. Deal
Oct 14, 2017
"Any action by the US administration or Congress against the IRGC will constitute a strategic mistake and will draw the indignation of the Iranian people and a strong and unified reciprocal reaction. The US President will have to bear full responsibility for all consequences of his rogue behavior," said the statement that was issued few hours after Donald Trump's speech about his administration's strategy towards Iran.
"The hostile policies of the United States and its regional allies, especially the Zionist regime, as well as the transfer of hundreds of billions of dollars worth of arms into the region that have turned the region into a tinderbox require the Islamic Republic of Iran not to be complacent about the country's defense needs," it added.
Elsewhere, the statement touched the country's missile program, and vowed that there won't be any deal or compromise over Tehran's weapons program. "Our missiles are strictly designed to carry conventional warheads and their range and precision are proportionate to our security environment and threat perception. It will continue with full force in accordance with our national defense program and is not, nor will it ever be, negotiable."
Regarding the nuclear deal, Tehran said the Joint Comprehensive Plan of Action (the JCPOA) is "a valid international instrument and an outstanding achievement in contemporary diplomacy. It cannot be renegotiated or altered".
Here is the full text of the Islamic Republic of Iran's statement:
In the name of God, the Compassionate, the Merciful
Statement of the Islamic Republic of Iran
13 October 2017
Since the victory of the Islamic Revolution in 1979, Iranian foreign policy has been developed and implemented based on principles of international law and international rules and conventions; respect for sovereign equality of all states and non-interference in internal affairs of others have formed the cornerstone of relations with other countries. After decades of dictatorship, dependence on foreign powers - especially the United States - and constant interference of those powers in Iran's internal affairs, the Iranian people, with their newly-established democratic government, had hoped to be able to finally build ties with neighbors based on equality and fraternity, free from political, economic and military rivalries; to form a peace-seeking nation that sought to replace enmity and bloodshed with friendship and cooperation. By contrast, the United States and its allies in the Persian Gulf region have persistently refused to accept realities of Iran and the region, and have vainly attempted to thwart the Iranian peoples' quest for democracy and self-determination.
From the very first days of the Islamic revolution, the United States adopted a hostile, interventionist and destabilizing approach towards Iran's newly-established government -- with the aim of overthrowing it. The United States' bleak record -- staging several coup attempts, harboring terrorists, openly supporting Saddam Hussein during the imposed war against Iran -- even his use of chemical weapons against Iranians, aiding secessionist plots, downing an Iranian civil airliner, and hundreds of other conspiracies against the Islamic Republic of Iran and its people — is undeniable. Even before the Islamic Revolution, the United States sponsored a coup against the democratically-elected government of Iran in 1953, thereby showing its constant historic enmity with democracy and its support for dictators.
Terrorist groups -- that have found safe haven in and plotted against the Iranian people from the United States over the past 38 years-- murdered 17000 Iranians in the first few years following the Islamic Revolution. The Islamic Republic of Iran, while successfully establishing the highest standards of stability and security at home, has provided its advisory services to the people and security forces of Iraq and Syria, playing an indispensable role in combating terrorism, thwarting the Takfiri campaign to take over Damascus, Baghdad and Erbil, and helping uproot these groups from Iraq and Syria. The constructive role of our armed forces in combating terrorist groups — which the current US president himself cited during his campaign as having been created by the US — has been instrumental in eradicating this scourge. It is unfortunate that, instead of discarding terrorism as a tool and joining Iran's genuine counter-terrorism efforts, the United States continues to misportray these constructive efforts as destabilizing.
The role of the Islamic Revolutionary Guard Corps (IRGC) in the frontlines of combating terrorism in the region is irrefutable. The Corps, a branch of Iran's armed forces, has an impeccable track record of containing Takfiri terrorism, restoring gradual tranquility for the people of the region as well as safeguarding national sovereignty and territorial integrity of Iraq and Syria. The Revolutionary Guards are regarded as national heroes for their role in the defense of Iranian territory against Saddam Hussein' army. Any action by the US administration or Congress against the IRGC will constitute a strategic mistake and will draw the indignation of the Iranian people and a strong and unified reciprocal reaction. The US President will have to bear full responsibility for all consequences of his rogue behavior.
The United States has defined its interest in generating and aggravating regional disputes, and exacerbating conflict and insecurity to fuel an arms race and create bigger markets for its weapons. On the other hand, Iran has identified its regional interests with good-neighborliness, and peace and stability in the highly sensitive Persian Gulf region. This is in clear contrast with the publicly stated position of the current president of the United States, who in his campaign, publicly considered the war between Iran and Iraq as serving US interests, and more recently openly made his visit to the region contingent upon the sale of hundreds of billions of "beautiful weapons"—tools of destruction that are currently being used against defenseless children and the elderly in Yemen.
The crises in our region, including in Afghanistan, Iraq, Syria, Yemen and Bahrain, are rooted in occupation, illegal military interventions, and hegemonic designs of the United States in the region. In contrast, the Islamic Republic of Iran firmly believes that its national security interests can only be secured through dialogue, confidence building and multilateral cooperation within the region, and we are determined to actively contribute to the promotion of effective regional cooperation for peace and security. Iranian proposals for political settlements to end the horrifying wars in Yemen and Syria have been welcomed by the international community, and Iran has played a constructive role in every international initiative aimed at ending regional conflicts. Iran has also cooperated with Russia and Turkey effectively to de-escalate the violence in Syria, and stands ready to contribute actively to joint efforts with the United Nations Secretary General and other responsible countries - including other permanent members of the Security Council - and the European Union, to put an end to conflicts and violence.
The hostile policies of the United States and its regional allies, especially the Zionist regime, as well as the transfer of hundreds of billions of dollars worth of arms into the region that have turned the region into a tinderbox require the Islamic Republic of Iran not to be complacent about the country's defense needs. During the war imposed on us by Saddam Hussein's regime, not only did the United States and its regional allies provide military, intelligence, logistical, economic and political assistance to Saddam, and offer their support and maintained their silence during his chemical weapons attacks campaign, they also did everything in their power to interdict the acquisition of even the most basic defensive capabilities by Iran. Through that experience we learned that in order to protect our people, safeguard our independence and security and defend our national honor, we must rely on indigenous capacities and not hesitate in developing the capability to meet the country's legitimate defense needs. It is in this framework that Iran's missile program has a purely defensive and deterrent character. Our missiles are strictly designed to carry conventional warheads and their range and precision are proportionate to our security environment and threat perception. It will continue with full force in accordance with our national defense program and is not, nor will it ever be, negotiable. When US allies in the region, whose combined population is far less than Iran, each spend exponentially higher sums on their military than Iran, why shouldn't Iran -- that has attacked no one in almost 300 years but has been the victim of aggression supported by the US and its regional partners -- acquire necessary tools of deterrence in the face the constant threats by aggressors?
The antagonistic policies of the United States against Iran have also extended to the realm of advanced science and technology in past few decades. The United States has imposed restrictions that bar scientific and technological exchanges while also imposing sanctions in these fields. These actions serve no purpose but trying to hold back our technological development and prolong dependence on advanced powers. The efforts of our young scientists to acquire the knowledge for the development of a peaceful nuclear program has from its outset been met with propaganda, sanctions, cyber attacks and even the assassination of our scientists. Iran has repeatedly stated that it wishes to utilize nuclear energy peacefully, and that we view weapons of mass destruction— including nuclear weapons— as disruptive to peace and security, and as such they will never have a place in our military doctrine. The International Atomic Energy Agency's report and conclusion in 2015, rejecting accusations of Possible Military Dimensions (PMD), acknowledged the peaceful nature of Iran's nuclear activities.
Iran has demonstrated its good will by entering into and its conclusion of nuclear negotiations with the P5+1 to resolve a fabricated crisis, and we have proven our fulfilment of our undertakings by the good-faith implementation of our commitments in accordance with the JCPOA. In contrast, the United States' fulfilment of its commitments has been lackluster and deficient from the very beginning, and in several cases—especially during the current administration—it has violated both the spirit and the letter of the JCPOA. The Islamic Republic of Iran has officially registered with the Joint Commission those violations, including failures in lifting of sanctions and policies preventing the establishment of an atmosphere necessary for normalization of trade and economic relations with Iran. The claim by the president of United States regarding Iran's non-compliance has no international relevance or credibility, since the IAEA, as the sole authority to conduct such monitoring and verification, has repeatedly confirmed Iran's full compliance with its commitments under the JCPOA. This proves once again that the United States is not a reliable negotiating partner.
The JCPOA is a valid international instrument and an outstanding achievement in contemporary diplomacy. It cannot be renegotiated or altered. The nuclear deal is not a bilateral agreement that can be annulled by unilateral action, but a deal endorsed by the international community and incorporated as a part of Security Council Resolution 2231. Other JCPOA participants, as well as the rest of the international community, should not allow the president of the United States to continue to mock and undermine the deal. The Islamic Republic of Iran will not be the first to withdraw from the deal, but if its rights and interests in the deal are not respected, it will stop implementing all its commitments and will resume its peaceful nuclear program without any restrictions.
Today, the United States is more isolated globally than ever before and the veracity of Iran's policies and positions have become evident to the international community. The world has witnessed that over the past several weeks, most countries have been unified in supporting the JCPOA and the Islamic republic and rejecting US policies. The international community views Iran as a responsible actor endeavoring to promote peace and will not give any credence to rogue actors further isolating themselves every day by withdrawing from one or another international agreement and organization.
Full report at:
http://en.farsnews.com/newstext.aspx?nn=13960722000042
--------
US Treasury places Iran's Revolutionary Guards under sanctions
13 October 2017
The US Treasury Department announced on Friday that Iran's Revolutionary Guard has been placed on the US sanctions list.
The new sanctions included four entities, including a Chinese company, for its relationship with the Revolutionary Guards.
US president, Donald Trump said his new strategy towards Iran would start by imposing sanctions on the Revolutionary Guard, who he described as a corrupt entity that has benefited from Iran's wealth to spread chaos.
He said the Revolutionary Guard "is taking over a large part of the Iranian economy ... to finance the war and terrorism abroad," asking the Treasury to take "tougher sanctions" against them.
Despite that, Trump did not classify the group as a "terrorist organization".
The Treasury Department on Friday named three Iranian companies as part of the fight against the proliferation of weapons of mass destruction and because of their support for the Iranian military and Revolutionary Guards. It also targeted a fourth company based in China.
"The IRGC has played a central role to Iran becoming the world's foremost state sponsor of terror. Iran's pursuit of power comes at the cost of regional stability, and Treasury will continue using its authorities to disrupt the IRGC's destructive activities," said Treasury Secretary Steven Mnuchin.
"We are designating the IRGC for providing support to the IRGC Quds Force, the key Iranian entity enabling Syrian President Bashar al-Assad's relentless campaign of brutal violence against his own people, as well as the lethal activities of Hezbollah, Hamas, and other terrorist groups."
He added: "We urge the private sector to recognize that the IRGC permeates much of the Iranian economy, and those who transact with IRGC-controlled companies do so at great risk."
Earlier on Friday, US Secretary of State Rex Tillerson said US President Donald Trump would not ask Congress to re-impose sanctions on Iran.
Tillerson said Trump would give the US Treasury broad powers to impose "specific" sanctions on Iran's Revolutionary Guards.
But Tilerson said that Tramb's declaration of non-ratification of Iran's commitment to the agreement does not mean America's withdrawal from it.
"Trump wants Congress to tighten policy toward Iran by requiring it to allow more access to its nuclear sites," he said.
This will put Congress on the front line, where House representatives will have 60 days to decide whether or not to re-impose sanctions that have been lifted since 2015.
Tillerson said he discussed with his Iranian counterpart the possibility of concluding a new agreement that includes the ballistic missile program.
"We believe that the agreement is weak and does not provide answers to many important questions," he said.
"What we propose is what we think is the best way to improve this agreement, and if we cannot, we can withdraw from the agreement," he said.
Tillerson confirmed that the president's message would be "Let us try to improve this agreement." The US administration wants to abolish the timetables set out, under which the Iranian nuclear program is gradually lifted starting from 2025.
On the other hand, Tillerson announced that Trump would impose targeted sanctions on officials of Iran's Revolutionary Guards, but would not classify them as a terrorist organization.
"We have seen that there are certain risks and complexities associated with the classification of a whole country's army as a terrorist organization," he said.
Instead, sanctions would be imposed "targeting the funding structures themselves, specific individuals, and penalizing persons who support such activities".
Mattis says eyeing 'provocative' Iran actions
US Defense Secretary Jim Mattis said on Friday he had not yet seen any provocative actions from Iran following President Donald Trump's speech outlining a more confrontational approach to Iran and added there had been no change in US military posture so far.
"Right now, we keep an eye on the potential for more provocations from the Iranians but right now we have not seen that," Mattis told reporters on board a military plane.
Full report at:
https://english.alarabiya.net/en/News/world/2017/10/13/US-Treasury-places-IRGC-under-sanctions-.html
--------
Turkey's Erdogan says no problem with Russian S-400 purchases
13 October 2017
Turkish President Tayyip Erdogan said there was no problem with the country's planned purchase of Russian S-400 surface-to-air missile systems and talks have also been held on the S-500 system, Haberturk and other newspapers reported on Friday.
His Foreign Minister Mevlut Cavusoglu was quoted on Monday as saying NATO member Turkey could seek a deal to acquire a missile defence system with another country if Russia does not agree to joint production of the defence shield.
Speaking to reporters as he returned on his plane from a trip to Ukraine and Serbia, Erdogan said there would be no joint production in the first stage of S-400 purchases, but in the second stage "God willing we will take joint production steps", Haberturk reported.
"In our talks with (Russia President Vladimir) Putin we are not thinking of stopping with the S-400s. We have had talks on the S-500s too," he added, referring to a missile system currently under development.
Ankara's decision to buy the S-400s has been seen in some Western capitals as a snub to NATO, given tensions with Moscow over Ukraine and Syria, while the deal raised concern because the weapons cannot be integrated into the alliance's defences.
Full report at:
https://english.alarabiya.net/en/News/middle-east/2017/10/12/Swiss-open-criminal-case-against-ex-FIFA-official-Valcke-beIN-CEO.html
--------
One student killed, 2 wounded in Istanbul gun attack
Oct 13, 2017
A man in Turkey has shot dead a female student and wounded two other students in a school in Istanbul.
The 21-year-old attacker opened fire on the three students - two males and a female - near a school close to the Güzelyalı Train Station in the main city's Pendik district on Friday.
The assailant, who has been detained, was named as Mustafa Y.
After carrying out the attack, Mustafa entered the school where he reportedly wanted to commit suicide by cutting his wrist, but was persuaded by authorities to surrender.
The 17-year-old student who lost her life was named Helin P.
The two male students wounded in the attack were taken to hospital for treatment.
Security is tight in Turkey which is on high alert after being hit by multiple terror attacks in past years, and has made thousands of terror-related arrests.
Full report at:
http://www.presstv.com/Detail/2017/10/13/538487/Asia-Middle-East-Turkey-Istanbul-Shooting
--------
North America
After the Edmonton attack, don't forget the good work many Muslims Canadians are doing
OCTOBER 13, 2017
Abdulahi Hasan Sharif: he had a Muslim name, he carried an ISIS flag, but rest assured, nothing he did was Islamic.
On September 30, Sharif was part of a terrorism investigation in Edmonton. The 30-year old extremist stabbed a police officer on crowd control duty outside the Commonwealth Stadium during a game attended by over 30,000 people.
A few hours later he made a second appearance, this time recklessly driving a U-Haul truck in a wild chase down through the streets of Edmonton, hitting four pedestrians and injuring many more.
This is a gruesome act of terrorism and must be condemned with the strongest of words.
Sharif was a Somalian national with refugee status in Canada. Like most cases of extremism and radicalization, Sharif was known to have an unstable past.
In 2011, Sharif was ordered deported from the United States back to Somalia after being detained in an immigration jail in California. After fleeing Somalia and claiming refuge in Canada, Sharif was investigated in 2015 by the RCMP Counterterrorism group in Edmonton, as an individual who "espoused extremist ideology".
Although refugee acts of violence are still minimal in Canada, it is vital that as we see the influx of refugees migrating to the west from war-stricken countries, we measure the effectiveness of our security and vetting process.
The leader of the Ahmadiyya Muslim Community, his Holiness, the Caliph of Islam, Mirza Masroor Ahmad, has in fact, endorsed and called for heightened security measures from war-stricken nations to uphold the safety of the public.
He says, "All genuine refugees should be allowed to settle until peace is restored in their home countries… However, it is also important that the authorities remain vigilant and monitor the refugees to ensure that extremists are not allowed to settle under the guise of asylum."
Bingo.
Lack of proper integration can create a deeper systemic issue for refugees, which can cause a negative chain reaction.
The way I see it, there's a negative feedback loop at play. Following the settlement of thousands of refugees, occasionally they face subtle resentment by local citizens.
Local citizens become hostile towards new immigrants, which leads refugees to become subtly displaced and marginalized members of society. This makes them easy targets for extremist ideological recruiters, who utilize a deceptive and cunning strategy to target these disenfranchised youths and sell them the false notion of fighting for the cause of Islam.
This is why solidarity during the times of animosity is very important. As Prime Minister Trudeau puts it, "We cannot – and will not – let violent extremism take root in our communities. We know that Canada's strength comes from our diversity, and we will not be cowed by those who seek to divide us or promote fear."
It is important now, more than ever, that as Canadians we show the world how to respond to terrorism; by helping and embracing our Muslim neighbors, by peacefully taking to the streets and by standing in solidarity with those affected. We must stand united by collectively condemning extremists who are tirelessly working so hard to divide us.
This is the methodology that can be employed to eradicate extremism and help build a culture of love and compassion, in pursuit of creating a progressive society.
Islam as a religion forbids all forms of terror and extremism. The Holy Qur'an teaches that killing even one innocent person is akin to killing all of mankind.
Just because the perpetrator of this violent act was carrying an ISIS flag, does not mean that he represents the over 1 billion peaceful Muslims around the world.
The frustration is developed from the notion that the 500+ schools the Ahmadiyya community has built, 50+ charity organizations we've established, and here in Canada, the 1 million pounds of food we raised for local food banks, all goes down the drain because a lone-wolf, previously monitored and suspicious refugee, commits an atrocious act in the name of Islam.
And so, it's unfortunate that this time there was an ISIS flag in the car, but remember, irrespective of what flag is in the car – we stand in solidarity against all gruesome acts of violence and extremism together.
Jari Qudrat is on the Executive Committee of Muslim Writers of Canada
http://www.torontosun.com/2017/10/13/after-the-edmonton-attack-dont-forget-the-good-work-many-muslims-canadians-are-doing
--------
Trump's use of Arabian Gulf provokes Rouhani
14 October 2017
During US President Donald Trump's new Iran strategy speech on Friday, he referred for the first time to the 'Arabian Gulf' and not the 'Persian Gulf' as the US administration has been accustomed to in the past.
"The Iranian regime is hindering navigation in the Arabian Gulf and the Red Sea, and Iranian missiles are threatening US allies in the region," Trump said.
President Trump's use of Arabian Gulf instead of Persian provoked the Iranian regime to such an extent that the Iranian president, Hassan Rouhani, issued a response to the US president.
"We should also study geography to find out how a president has not yet learned the name of the famous, historical and global Gulf: the Persian Gulf, which, unfortunately, the American warships are constantly coming and going," President Rouhani said in his official response. "He should have at least asked his military advisors how they write the name of this Gulf in their maps. Therefore, they need to study geography more".
Full report at:
https://english.alarabiya.net/en/News/world/2017/10/14/Trump-s-use-of-Arabian-Gulf-provokes-Rouhani.html
--------
Trump strikes blow says he has decided to decertify Iran nuclear deal
13 October 2017
President Donald Trump on Friday announced the major shift in US policy in a speech in which he detailed a more aggressive approach to Iran over its nuclear and ballistic missile programs and its support for extremist groups in the Middle East.
Trump angrily accused Iran of violating the spirit of the landmark 2015 nuclear deal, blaming it for a litany of malign behavior and hitting its main military wing with anti-terrorism sanctions.
He accused Iran of "not living up to the spirit" of the nuclear agreement and said his goal is to ensure Tehran never obtains a nuclear weapon.
"We will not continue down a path whose predictable conclusion is more violence more terror and the very real threat of Iran's nuclear breakout," Trump said.
But Trump, breaking with a campaign pledge to rip up the agreement, said he was not yet ready to pull the US out or re-impose nuclear sanctions.
US Congress told: Fix deficiencies
Instead, he kicked the issue to Congress and the other nations in the seven-country accord, telling lawmakers to toughen the law that governs US participation and to fix a series of deficiencies in the agreement. Those include the expiration of several key restrictions under "sunset provisions" that begin to kick in in 2025, he said.
If Congress reimposes the sanctions, the United States would in effect be in violation of the terms of the nuclear deal and it would likely fall apart. If lawmakers do nothing, the deal remains in place.
Congress is more likely to take up legislation proposed by two Republican Senators that would set new restrictions on Iran, including reimposing US nuclear sanctions if Tehran were deemed to be within one year of developing a nuclear weapon.
Trump directed US intelligence agencies to probe whether Iran might be working with North Korea on its weapons programs.
The president, who took office in January, had reluctantly certified the agreement twice before but has repeatedly blasted it as "the worst deal ever." It was negotiated under his predecessor, former President Barack Obama.
Trump warned that without the fixes, he would likely pull the US out of the deal and snap previously lifted sanctions back into place. Without improvements, he said in a White House speech, "the agreement will be terminated."
"It is under continuous review, and our participation can be canceled by me as president at any time," he said in a speech from the White House.
"We'll see what happens over the next short period of time and I can do that instantaneously," he told reporters when asked why he did not choose to scrap the deal now.
Sanctions against Revolutionary Guards
Trump also gave the US Treasury Department authority to impose economic sanctions against people in the Islamic Revolutionary Guards Corps or entities owned by it in response to what Washington calls its efforts to destabilize and undermine Iran's opponents in the Middle East.
Congress will now have 60 days to decide whether to put the accord's previous sanctions back into place, modify them or do nothing. Any decision to re-impose sanctions would automatically kill America's participation in the deal.
Ahead of Trump's speech, Secretary of State Rex Tillerson and other US officials offered details of the president's new stance. Tillerson said Trump will ask lawmakers to come up with legislation that would automatically re-impose sanctions that were lifted under the deal should Iran cross any one of numerous nuclear and non-nuclear "trigger points."
Those "trigger points" would include violations of the deal involving illicit atomic work or ballistic missile testing, support for Syrian President Bashar Assad, Lebanon's Hezbollah movement and other groups that destabilize the region, human rights abuses and cyber warfare, Tillerson said.
Sunset clauses
The European parties to the accord - Germany, France and Britain - along with the other parties, Iran, Russia and China, have ruled out reopening the deal. But some, notably France, have signaled a willingness to tackle unresolved issues in supplementary negotiations.
Among those issues are the expiration of several restrictions on advanced nuclear activity under so-called "sunset clauses" that will allow Iran to begin ramping up its enrichment capabilities after 10 years, the end of an arms embargo and the eventual easing of demands for a halt to its missile program.
In the speech, Trump hoped to "recruit" the Europeans into joining his broad strategy, particularly by punishing the Revolutionary Guard, which he and his national security team believe is fomenting instability, violence and extremism throughout the Middle East and beyond, according to one official.
In anticipation of Trump's announcements, Republican legislators have drawn up a new version of the law replacing the current 90-day timetable with "semi-annual" certifications, according to drafts seen by the Associated Press this week.
Senate Foreign Relations Committee chairman Bob Corker said in a statement on Friday that his panel had agreed to fresh certification criteria to include items that are also the province of the UN nuclear watchdog and require the US intelligence community to determine if Iran is carrying out illicit activity in facilities to which the International Atomic Energy Agency has not had access.
Full report at:
https://english.alarabiya.net/en/News/world/2017/10/13/Trump-says-he-has-decided-to-decertify-Iran-nuclear-deal.html
--------
Democrats say Trump's new Iran strategy 'grave mistake
Oct 14, 2017
US Congressional Democrats have blasted President Donald Trump's decision not to recertify the 2015 multinational nuclear agreement with Iran, saying the new policy is "a grave mistake" that endangers US interests and undermines American credibility.
Trump's decision Friday not to certify the deal for a third time immediately provoked the dismay of Democrats and signaled they would remain committed to protecting the deal that the US agreed to when it was struck in 2015 with Iran and other world powers.
"President Trump's refusal to recertify is a grave mistake that threatens America's security and our credibility at a very critical time," House of Representatives Minority Leader Nancy Pelosi said at a news conference Friday afternoon.
Pelosi, who represents California's 12th congressional district, argued that Iran has been in compliance with the agreement. "The president, I think, is being frivolous with this," she said.
'Dangerous' move
Senator Ben Cardin, a ranking member on the Senate Foreign Relations Committee, lashed out at Trump's decision, calling it "dangerous."
"This is one of the most dangerous and consequential decisions the President has made imperiling US national security."
'More about campaign promises'
Senator Bob Menendez, a senior member of the Senate Foreign Relations Committee, said that while he opposed the original nuclear, he believes Trump's decision to not recertify it is "more about campaign promises and less about our national security interests."
"Not certifying now does nothing but create uncertainty among our allies and embolden an already belligerent Iran," Menendez, one of most outspoken critics of Iran in the Senate, said in a statement.
Senator Chris Murphy said a war could be triggered in the Middle East or the Korean Peninsula if Trump terminates the deal.
"If the Iran agreement falls, war will become much more likely – both in the Middle East and on the Korean Peninsula – and American lives will be put at risk," Murphy said in a statement on Friday.
It will 'isolate' US
Former US Vice President Joe Biden said Trump's decision will "isolate" the US and "goes against reason and evidence."
"Unilaterally putting the deal at risk does not isolate Iran," Biden said in a statement posted on Facebook. "It isolates us."
"This decision will cost us leverage. It will weaken our unity with our allies. It will damage our credibility," Biden said in the extensive post.
Defense Secretary James Mattis said at a Senate Armed Forces committee hearing this month that remaining in the Iran nuclear deal is in the best interest of US national security, something Biden cited in his post.
Trump said Friday that he has refused to recertify the nuclear agreement and warned he might ultimately terminate it, in defiance of other world powers and undermining a landmark victory of multilateral diplomacy.
Trump's speech signaled a major shift in US policy and detailed a more confrontational stance toward Iran over its civilian nuclear and ballistic missile programs.
Speaking from the White House, Trump said he will choose not to certify that Tehran is complying with the 2015 nuclear agreement known as the Joint Comprehensive Plan of Action (JCPOA).
The International Atomic Energy Agency (IAEA) has recently reported that Iran is complying with the agreement.
Trump is required by a 2015 law known as the Iran Nuclear Agreement Review Act (INARA) to certify every 90 days whether or not Iran is complying with the nuclear deal. He has certified the deal twice since coming to office.
If he argues that Iran is not in compliance, that could cause an American withdrawal from the international pact.
While Trump did not pull Washington out of the nuclear deal, he gave the US Congress 60 days to decide whether to reimpose economic sanctions against Tehran that were lifted under the pact.
Reimposing sanctions would put the US at odds with other signatories of the accord such as the UK, France, China, Russia and Germany, as well as the European Union.
Full report at:
http://www.presstv.com/Detail/2017/10/14/538526/US-Congressional-Democrats-Iran-nuclear-deal-Trump
--------
Southeast Asia
Stopping religious exclusivism in Malaysia from taking root
Oct 14, 2017
The Sultan of Johor, Ibrahim Iskandar, recently condemned a laundrette in Muar for its "Muslim-only" services. He demanded its owner apologise and discontinue the discriminatory practice, which undermines his people's generally tolerant, harmonious and moderate outlook.
This is not the first time the Sultan has voiced his concerns regarding exclusivist attitudes. Previously, he cautioned the Malays not to imitate the Arabs by ignoring their cultural heritage. He had also asked the federal Islamic department Jakim to explain its overblown annual budget of RM1 billion (S$320 million).
Malaysia's Council of Rulers, which is made up of all nine sultans in the country, echoed the Sultan of Johor's unease, urging Malaysians to uphold the country's cherished multicultural, inclusive and tolerant values.
Many applauded the Malay rulers' intervention. To have a group with such royal stature rejecting exclusivism will definitely put the brakes on divisive behaviour of certain religious elites. The rulers are the heads of Islam in their respective states and they have authority over appointments in religious councils and departments. The rulers also determine who becomes the mufti (chief religious scholar) of each state and whether fatwas (religious rulings) can be enforced.
Yet, to develop a more inclusive society, a top-down intervention would not suffice without grassroots support. We do not want Muslims to tolerate non-Muslims (and vice versa) because of their fear of the law, or because their leaders said so, but because they truly understand the essence of upholding diversity and freedom found in Islam. Thus, society should also give the intellectuals and activists the space to develop critical ideas.
Restricting grassroots intellectual inputs means shutting the doors to progress, as society is exposed only to ideas promoted by those in power whom they are familiar with.
Society must be aware that there are groups promoting ideas that are relevant for modern needs. Ideas associated with laws, governance and the economy have to evolve to meet the contemporary context of a multiracial and multi-religious Malaysia. Dichotomising Islamic ideas from non-Islamic ones is no longer the right approach in this modern day and age when Muslims and non-Muslims live alongside one another, abiding by the social contract embodied in the modern-day Constitution.
Unfortunately, such progressive ideas that are relevant to the times we live in are being silenced.
The way that groups promoting alternative views have been treated of late is a cause for concern. The Home Affairs Ministry has banned several books including one by G25, a group initiated by 25 prominent Malays (mostly former senior civil servants).
The banned book, Breaking The Silence - Voices Of Moderation: Islam In A Constitutional Democracy, was characterised as a "threat" to public order, even though the book's contributors include internationally renowned academics, activists and Islamic scholars. The book is mainly arguing for Islam's place in the Malaysian Constitution.
Civil society groups have also been told to toe the line. Women's rights group Sisters in Islam is facing a legal battle to reverse an edict issued by the Selangor Islamic Religious Council declaring the organisation "deviant".
Recently, Dr Ahmad Farouk Musa, the head of another organisation with progressive views, the Islamic Renaissance Front (IRF), was questioned by the Federal Territories Religious Department for organising a talk by Turkish intellectual and writer Mustafa Akyol. The IRF had invited Mr Akyol to speak on freedom of conscience, but it was stopped because he had not attained proper accreditation from the religious authorities in Malaysia.
In the same vein, novelist and academic Mohd Faisal Musa had had many of his books banned, again for promoting ideas which the religious authorities are not comfortable with.
As we laud the Malay rulers' check on the religious elites, it is also important that Malaysian elites allow intellectual discourse to develop from the ground up. This will enrich society with progressive ideas, allowing people to compare these ideas with intellectual developments from the West and the region, and broaden their minds to look beyond books they are familiar with.
For instance, to ascertain whether Islam is in sync with democracy, some political activists refer only to writings of Muslim thinkers from the Middle East, such as Tunisia and Egypt, declaring Western contributions as secular and not in line with Islamic traditions. The need to refer to Muslim scholars in the Middle East for such justification is puzzling, when Muslim thinkers in Indonesia and Malaysia have for decades participated in the electoral process, embracing democracy and considering it in line with Islamic principles. The way the democratic process is operationalised is open for debate, of course. This mode of thinking is certainly the work of an exclusivist mind.
In fact, many revivalist Muslims today believe there is a pristine Islamic system that is far superior to modern-day democracies. Such a dichotomy only feeds into the notion of Islamic and non-Islamic systems, with the more extreme forms taking the form of Islamic caliphate, and the implementation of hudud laws (punitive Islamic laws which include punishments such as amputation, stoning and whipping).
It is also worrying that the push to enhance ACT 355 Syariah Courts (Criminal Jurisdiction Act 1965) by Parti Islam SeMalaysia and Umno leaders may further deepen the Muslim and non-Muslim divide.
Going forward, Malaysia's political elites should emulate the leadership of their Malay rulers by speaking up against divisive ideas. They must also lead by example by participating in civil politicking, and thwarting the growing resentment between Muslims and non-Muslims in the country.
http://www.straitstimes.com/opinion/stopping-religious-exclusivism-in-malaysia-from-taking-root
--------
DPM: Balanced physical, spiritual development needed to attain developed status
October 14, 2017
DUNGUN, Oct 14 ― Deputy Prime Minister Datuk Seri Ahmad Zahid Hamidi today called on Malaysians to balance physical and spiritual development to help realise Malaysia's aspiration to become a developed nation by 2020.
He said the spiritual shield should be built as a defence in combating numerous social ills which would eventually demolish the morals of society.
"We must return to religion..regardless of what religion we profess.. we must strengthen our morals and minds in line with the latest developments. This is important.
"There are states, districts and areas where we have poured plenty of investments in terms of development and provision of numerous facilities but we lose our foothold as a consequence of merely giving progress which is only outwardly in nature, this is what we want to transform," he said.
He said this when launching the Terengganu-level Expresi Negaraku programme and National Sports Day at Dataran Merdeka, here today.
Also present were Communications and Multimedia Minister Datuk Seri Dr Salleh Said Keruak and his deputy, Datuk Jailani Johari and Terengganu Menteri Besar, Datuk Seri Ahmad Razif Abdul Rahman.
Ahmad Zahid said the Expresi Negaraku programme was an example which could interpret balanced physical and spiritual development with the involvement of the government, private sector and the people.
He said the programme could highlight icons who had successfully transformed themselves and were contributing positively to society after being involved in negative activities.
On a lighter note, he gave popular comedian Nabil as an example, saying: "For example Nabil, if in the past he was known as a 'Mat Rempit' but now he is addressed as Haji Nabil, and his attitude currently, is increasingly liked by society," he said.
Ahmad Zahid, who is also Home Minister, said a balanced society, could ensure sustainable development for a long period of time.
Full report at:
http://www.themalaymailonline.com/malaysia/article/dpm-balanced-physical-spiritual-development-needed-to-attain-developed-stat#XB8xWaLoqM1gzJyC.97
--------
Police arrest Penang CM's officer on Islamic matters for sedition
BY OPALYN MOK
October 13, 2017
SEBERANG PERAI, Oct 13 ― Wan Ji Wan Hussin, information officer to the Penang chief minister, was arrested at 2.45pm today, just after Friday prayers outside Masjid Sembilang in Seberang Jaya.
Penang police chief Datuk Chuah Ghee Lye confirmed the arrest.
"Wan Ji will be investigated under Section 4(1) of the Sedition Act," he said.
The 35-year-old popular preacher was taken to the Central Seberang Perai police headquarters for further investigation and will be taken to the Dang Wangi police station in Kuala Lumpur after that.
Wan Ji was appointed as information officer last month to assist the Penang chief minister's strategic adviser Datuk Saifuddin Nasution Ismail to counter Islamic-related matters in the state.
In a statement, Saifuddin Nasution said Wan Ji had been arrested after delivering a sermon at the mosque.
Full report at:
http://www.themalaymailonline.com/malaysia/article/police-arrest-penang-cms-officer-on-islamic-matters-for-sedition#kkAbAtU2WS1QFwv1.97
--------
Philippines military gunning for Malaysia's most wanted terrorist
Zam Yusa
October 13, 2017
KOTA KINABALU: Getting Malaysia's most wanted terrorist Mahmud Ahmad is a priority, the Philippine military said on Thursday.
The military believes Mahmud is still alive and fighting government troops, along with a dwindling force of militants in besieged Marawi city, southern Philippines.
Benar News quoted regional military chief Lt General Carlito Galvez as saying that Mahmud had eluded his troops and had dug in, along with local militant leaders Isnilon Hapilon and Omar Maute.
"Mahmud is alive, along with Hapilon and Omar. But our troops are determined to neutralise them as we are making our final push. Mahmud is among six to eight foreign militants still on the frontline.
"Getting Mahmud is a priority," Galvez was reported as saying by Benar News.
Mahmud reportedly received training at an al-Qaeda camp in Afghanistan under Osama bin Laden while studying at Pakistan's Islamabad Isla­mic University in the late 1990s.
He returned to Malaysia to lecture at Universiti Malaya. After being exposed as a militant by Malaysian police in 2014, he fled to southern Philippines.
In June, Mahmud was reported to have died of wounds sustained in fighting but there was no report of his body being found then.
General Eduardo Año of the Philippine military had earlier been reported as saying that Mahmud had died on June 7 after being wounded in the fighting in Marawi in May.
But he is apparently still alive, as he had been sighted by hostages who were rescued last month.
Another Malaysia militant in Marawi, Muhammad Joraimee Awang Raimee, was confirmed by the authorities to have been killed. However, his body has not been found yet.
Ranao joint task force deputy commander Col Romeo Brawner Jr was yesterday reported as saying that many bodies of suspected terrorists, including foreigners, had been found.
However, according to reports, a number of the recovered bodies have not been identified, a lengthy process that is being helped by investigators from the US, which has a US$5 million bounty on Hapilon.
Sources familiar with forensic science told FMT that only "a body DNA'ed or physically and positively identified can be used to confirm 100% that a person is dead."
When contacted, Malaysian police chief Mohamad Fuzi Harun told FMT that they had yet to receive word of Joraimee's body being found.
Full report at:
http://www.freemalaysiatoday.com/category/nation/2017/10/13/philippines-military-gunning-for-malaysias-most-wanted-terrorist/
--------
South Asia
Foreigners among several ISIS militants killed, wounded in Nangarhar operations
Oct 13 2017
Several militants affiliated with the Islamic State of Iraq and Syria (ISIS) terrorist group, including some foreigners were killed in the latest counter-terrorism in Nangarhar province of Afghanistan.
The provincial police commandment of Nangarhar in a statement said the operations were conducted in Haska Mina district, jointly by the Afghan national defense and security forces.
The statement further added that the militants were targeted in Gagar and Payeen areas of the district, leaving six of them dead and two others wounded.
The operations were conducted with the support of the Air Power, the police commandment said, adding that two foreigners were among those killed.
No further details were given regarding the identities of the foreign insurgents and it is yet not clear to which county they belong to.
However, the majority of the foreign fighters of the terror group are comprised of the Pakistani nationals who have travelled mainly from Orakzai Agency.
In the meantime, the police commandment of Nangarhar said the local residents and security personnel have not suffered any casualties in the operations.
According to the police commandment, the operations against the terrorist groups were launched several days ago and are being taken forward by the Afghan army, commandos, national police, border police, and local police forces along with the intelligence operatives.
The anti-government armed militant groups have not commented regarding the report so far.
http://www.khaama.com/foreigners-among-several-isis-militants-killed-wounded-in-nangarhar-operations-03635
--------
Myanmar Army Opens Probe Amid Reports of Killings, Abuse of Rohingya Muslims
Oct 14, 2017
Yangon. Myanmar's military has launched an internal probe into the conduct of soldiers during a counteroffensive that has sent more than half a million Rohingya Muslims fleeing to Bangladesh, many saying they witnessed killings, rape and arson by troops.
Coordinated Rohingya insurgent attacks on 30 security posts on Aug. 25 sparked a ferocious military response in the Muslim-majority northern part of Rakhine state that the United Nations has said was ethnic cleansing.
A committee led by military Lieutenant-General Aye Win has begun an investigation into the behaviour of military personnel, the office of the commander in chief said on Friday (13/10), insisting the operation was justified under Buddhist-majority Myanmar's constitution.
According to a statement posted on Senior General Min Aung Hlaing's Facebook page, the panel will ask, "Did they follow the military code of conduct? Did they exactly follow the command during the operation? After that (the committee) will release full information."
Myanmar is refusing entry to a UN panel that was tasked with investigating allegations of abuses after a smaller military counteroffensive launched in October 2016.
But domestic investigations - including a previous internal military probe - have largely dismissed refugees' claims of abuses committed during security forces' so-called "clearance operations".
Thousands of refugees have continued to arrived cross the Naf river separating Myanmar's Rakhine state and Bangladesh in recent days, even though Myanmar insists military operations ceased on Sept. 5.
Aid agencies now estimate that 536,000 people have now arrived in Cox's Bazar district, straining scarce resources of aid groups and local communities.
About 200,000 Rohingya were already in Bangladesh after fleeing persecution in Myanmar, where they have long been denied citizenship and faced restrictions on their movements and access to basic services.
Myanmar's de facto leader, Aung San Suu Kyi, has pledged accountability for human rights abuses and says Myanmar will accept back refugees who can prove they were residents of Myanmar.
The powerful army chief has taken a harder stance, however, telling the US ambassador in Myanmar earlier this week that the exodus of Rohingya - who he said were non-native "Bengalis" - was exaggerated.
Full report at:
http://jakartaglobe.id/international/myanmar-army-opens-probe-amid-reports-killings-abuse-rohingya-muslims/
--------
Bangladesh wants UN involvement to end Rohingya crisis: Quader
October 13, 2017
Road Transport and Bridges Minister and Awami League General Secretary Obaidul Quader today said Bangladesh wants United Nations involvement in discussion with Myanmar for repatriation of the Rohingyas.
"We don't want to sit with Myanmar bilaterally to return its forcibly displaced people. Rather, we want UN involvement in ending the crisis," he said after collecting relief goods and cash money for Rohingya people from different organizations and individuals in front of a hotel in Cox's Bazar.
Quader added that the regional and international sanction could force Myanmar to solve the Rohingya crisis.
AL Organizing Secretary Enamul Haque Shamim, Relief and Social Welfare Secretary Sujit Roy Nandi, AL Relief Sub Committee Chairman AFM Fakhrul Islam Munsi, lawmakers Saimum Sarwar Kamol and Asheq Ullah, Chittagong Development Authority Chairman Abdus Salam, Deputy Commissioner Mohammad Ali Hossain, AL district unit President Sirajul Mostafa and General Secretary Mujibur Rahman, among others, were present at the function.
http://www.thedailystar.net/rohingya-crisis/bangladesh-wants-un-involvement-end-myanmar-rohingya-crisis-AL-obaidul-quader-1475977
--------
Taliban leader among 5 killed as A-29s pound their hideouts in Mirza Olang
Oct 12 2017
At least five Taliban militants were killed in the airstrikes of the Afghan Air Force in northern Sar-e-Pul province of Afghanistan.
The 209th Shaheen Corps of the Afghan national army in the North said the A-29 fighter planes pounded the hideouts of the Taliban insurgents in Mirza Olang area of Sayad district.
According to the Shaheen Corps, a local leader of the group identified as Mullah Syed Ahmad was among those killed.
At least two Taliban insurgents were critically wounded in the airstrikes, the Shaheen Corps added.
The Taliban insurgents group has not commented regarding the report so far.
Sar-e-Pul is among the relatively volatile provinces in northern parts of the country where insurgents belonging to Taliban as well as the terrorist networks, including ISIS are actively operating in some of its districts.
The Taliban insurgents took control of the strategic Mirza Olang a couple of months ago, taking hostage hundreds of the local residents.
The group also committed horrific crimes against the local residents and brutally murdered scores of people.
Full report at:
http://www.khaama.com/taliban-leader-among-5-killed-as-a-29s-pound-their-hideouts-in-mirza-olang-03634
--------
Minister to Propose Joint Spy Initiative; Discuss Rohingya Crisis at Asean Defense Meeting
Oct 14, 2017
Jakarta. Defense Minister Ryamizard Ryacudu said he will discuss the possibility that some Rohingya Muslims might be susceptible to joining terrorist groups in the region and propose his intelligence initiative, "Our Eyes," at the 11th Asean Defense Ministers Meeting, or ADMM, in the Philippines later this month.
"We must not take the Rohingya situation lightly. If we don't handle it well, they are likely to join [terrorist groups] [...] If they find that they are not accepted here nor there, there's a likelihood that they will [radicalize]," Ryamizard told reporters in Jakarta on Friday (13/10).
More than 500,000 Rohingya, mostly Muslims, have fled from Myanmar to Bangladesh after a violent crackdown by Myanmar security forces in response to Rohingya militant attacks in August.
The Rohingya are denied citizenship and are regarded as illegal immigrants from Bangladesh, despite claiming roots in Myanmar that go back centuries.
According to a report from Reuters, Myanmar's army chief reaffirmed the government's insensitive stance on the issue and said that the Rohingya are not native to Myanmar, and did not address accusations of misconduct and abuse perpetrated by Myanmar security forces.
The plight of the Rohingya is one of the most pressing challenges facing the region.
Indonesia, Malaysia and the Philippines launched coordinated air patrols on Thursday as part of a trilateral effort to intensify the ongoing fight against Islamic militants in the southern Philippine city of Marawi.
The three countries launched their joint maritime patrols earlier in June, following the stronghold of Islamic militants and increasing violence in Marawi, which has reportedly breached a death toll of 1,000.
According to Ryamizard, the security cooperation will be expanded in the near future in the form of joint land patrols.
He also emphasized the need to increase effectiveness by incorporating "strong intelligence" to deal with the increasing threat of terrorism and radicalism in the region, in reference to Indonesia's "Our Eyes" proposal, which he said will be proposed during the meeting with his Asean counterparts this month.
Full report at:
http://jakartaglobe.id/news/minister-propose-joint-spy-initiative-discuss-rohingya-crisis-asean-defense-meeting/
--------
Arab World
Over 90 Percent of Syrian Territory Liberated from ISIL Terrorists
Oct 13, 2017
The infographic in the Krasnaya Zvezda (Red Star) newspaper showed that 92 percent of land is now free from terrorists.
During the past week, Russian warplanes made 517 sorties and destroyed 1,260 ISIL's objects, according to the media outlet.
The war in Syria has been on since 2011. A security vacuum let the ISIL seize large swathes of land and proclaim an Islamic caliphate in the zones under its control.
Russia launched a military operation in Syria in September 2015 to provide air support for Syrian government forces, driving militants away from much of Syrian territories.
http://en.farsnews.com/newstext.aspx?nn=13960721000170
--------
Kurdish VP: Thousands of Troops Sent To Kirkuk to Face 'Iraq Threat'
13 October 2017
Kurdish authorities have sent thousands more troops to the oil region of Kirkuk to confront "threats" from Iraq's central government, the vice president of the autonomous Kurdistan region said on Friday.
Tens of thousands of Kurdish soldiers were already stationed there and another 6,000 have arrived since Thursday, Kosrat Rasul said, amid mounting tensions between the northern territory and Baghdad.
Iraq's government has taken a series of measures to isolate the region since Kurds held a Sept 25 referendum on independence, including banning international flights from going there and calling for a halt to its crude oil sales.
Iraqi Prime Minister Haider al-Abadi has repeatedly said he has no plans to go further and actually attack the territory.
But the Kurdistan Regional Government (KRG)'s Security Council expressed alarm late on Thursday at what it said was a significant Iraqi military build-up south of Kirkuk "including tanks, artillery, Humvees and mortars".
"Tens of thousands of Kurdish Peshmerga and security forces are already stationed in and around Kirkuk," Rasul said on Kurdish TV channel Rudaw. "At least 6,000 additional Peshmerga were deployed since Thursday night to face the Iraqi forces' threat."
The Kurds have repeatedly called for negotiations following the referendum in which an overwhelming majority voted for independence.
Full report at:
https://english.alarabiya.net/en/News/middle-east/2017/10/13/Kurdish-VP-Thousands-of-troops-sent-to-Kirkuk-to-face-Iraq-threat-.html
--------
Islamic State Jihadists Surrender in Iraq as Others in Syria Vow to Fight 'Till the End'
13 Oct 2017
Staring imminent defeat in the face has been a turning point for many Islamic State (ISIS/ISIL) jihadists in Iraq and Syria, driving hundreds of them to surrender in the liberated town of Hawija while others continue to strive towards martyrdom as their only acceptable end in the group's "capital" Raqqa.
Referring to Raqqa, Col. Ryan Dillon, a spokesman for the U.S.-led coalition, stressed to Reuters that the alliance would not back any negotiated withdrawal of ISIS fighters who claim to have surrendered.
Some ISIS jihadists tried to pose as fleeing civilians, Kurdish news outlet Rudaw recently warned, adding that Peshmerga troops have been forced to shoot some of the terrorists after they opened fire first.
Nevertheless, the U.S.-led coalition and local forces are trying to figure out how to safely get civilians out of ISIS-held territory.
"The coalition would not be party to a negotiated settlement. [But] we're jumping ahead of anything that's being discussed right now … as [the Raqqa Civil Council] try to get civilians out," the U.S. colonel told Reuters.
U.S.-led coalition troops and their allies have reportedly liberated nearly 90 percent of the Syrian city of Raqqa, considered the de-facto capital of the jihadist group's ever-dwindling caliphate.
Last week, more than one thousand ISIS militants surrendered to Iraqi Kurdistan's Peshmerga troops after fleeing the U.S.-backed fight to liberate the terrorist group's so-called "last" remaining stronghold in northern Iraq (town of Hawija).
ISIS jihadists wholly ignored their pledge to become a martyr as they voluntarily turned themselves over to the U.S.-allied Peshmerga troops.
Meanwhile, in the Syrian city of Raqqa, once considered the terrorist group's de-facto capital, many ISIS terrorists want to stay behind and fight.
Reuters learned from Col. Ryan Dillon, a spokesman for the U.S.-led coalition, that ISIS fighters "are expected to fight to the death, but some local militants have surrendered recently as U.S.-backed forces close in on their last strongholds."
"Up to 400 militants are believed to remain in a small part of Raqqa surrounded by the Syrian Democratic Forces (SDF) alliance of Kurdish and Arab militias," indicated the coalition spokesman. "The foreign fighters [in ISIS], we fully expect them to fight till the end – there's a hardcore of [foreign] fighters."
The U.S.-backed SDF, led by the Kurdish People's Protection Units (YPG), expects to conquer Raqqa within days, a few years after ISIS seized it in 2014.
One prominent quality among ISIS fighters appears to be that once an ISIS-controlled city is on the brink of defeat, the group's leaders are among the first to flee after telling their followers to stay and fight.
"We have seen a rate of four to five ISIS fighters surrendering a week, including emirs – local leaders within Raqqa – over the past month," noted Col. Dillon, referring to the attrition rate.
Full report at:
http://www.breitbart.com/national-security/2017/10/13/islamic-state-jihadists-surrender-iraq-others-syria-vow-fight-till-end/
--------
Iraq forces retake positions from Kurds in disputed Kirkuk
Oct 14, 2017
KIRKUK - Iraqi forces Friday retook positions controlled by Kurdish peshmerga fighters since 2014 in the oil-rich province of Kirkuk amid a bitter row with the Kurds over a vote for independence last month.
A senior Kurdish official said thousands of heavily armed fighters had been deployed to defend themselves "at any cost" against the Iraqi operation and called for international intervention.
Ethnically divided but historically Kurdish-majority Kirkuk is one of several regions that peshmerga fighters took over from the Iraqi army in 2014 when Islamic State (IS) group swept through much of northern and western Iraq. Baghdad is bitterly opposed to Kurdish ambitions to incorporate the oil-rich province in its autonomous region in the north and has voiced determination to take it back.
The Iraqi army and the peshmerga have been key allies of the US-led coalition in its fights against IS and the threat of armed clashes between them poses a major challenge for Western government.
"The Iraqi armed forces are advancing to retake their military positions that were taken over during the events of June 2014," an army general told AFP by telephone, asking not to be identified.
Speaking from an area south of the provincial capital Kirkuk, the general said federal troops had retaken "Base 102" west of the city after peshmerga fighters withdrew during the night without a fight.
The peshmerga's Kirkuk commander, Jaafar Sheikh Mustafa, said his forces had withdrawn from areas they had recently entered during fighting against IS in the west of the province. "We withdrew to our lines in the area around Kirkuk and we will defend the city in the event of an attack," he said. "If the Iraqi army advances, we will fight."
Kurdish media said the peshmerga had withdrawn from around 72 square kilometres (28 square miles) of territory. Sheikh Mustafa said there had been an attempt to negotiate an agreed disengagement of forces through Iraqi Prime Minister Haider al-Abadi but it had been overruled by field commanders. A top aide to Iraqi Kurdish leader Massud Barzani vowed the peshmerga would defend their positions "at any cost".
"Thousands of heavily armed peshmerga units are now completely in their positions around Kirkuk," Hemin Hawrami said. "Their order is to defend at any cost."
The Kurdish authorities accused the Popular Mobilisation Forces (PMF) - paramilitary units dominated by Iran-trained Shiite militia - of massing fighters in two mainly Shiite Turkmen areas south of Kirkuk in readiness for an attack.
Hawrami urged the international community to intervene and call on the Iraqi prime minister to "order PMF to pull back if he can or if they listen to him".
Iraqi Kurdish premier Nechirvan Barzani urged Grand Ayatollah Ali Sistani, Iraq's highest Shiite religious authority, to intervene to prevent "a new war in the region" and called for dialogue with Baghdad.
A legislator close to Abadi said Iraqi special forces, police and PMF fighters were advancing "to retake control of the oil fields taken by the peshmerga when IS entered Iraq". It was "logical for the peshmerga to withdraw" in the face of the advance, said Jassem Jaafar.
The PMF issued no statement but it published photographs of one of its fighters making a victory sign in front of a Kurdish flag. Hadi al-Ameri, head of the Iran-backed Badr group which is part of the PMF, called on the peshmerga to withdraw, saying it is the Iraqi army's "duty" to retake those positions.
The surge in tensions comes two weeks after Kurdish voters overwhelmingly backed independence in a non-binding referendum that the federal government condemned as illegal.
The September 25 polls were held in the three provinces that have long formed an autonomous Kurdish region as well as several other Kurdish-held areas, including Kirkuk. On Friday, Iraqi President Fouad Massoum, a Kurd, was in Kurdistan for talks with Kurdish officials, sources there said.
The Kurdistan Regional Security Council said its intelligence reports suggested that Iraqi troops and armour were preparing to take over the Kurdish-held oil fields, an airport and a military base.
The Kurds export an average of 600,000 barrels of oil per day under their own auspices, of which 250,000 bpd come from the three fields they control in Kirkuk province.
Abadi has repeatedly denied any intention of ordering an assault on his own people but tensions have been high on the front line for days.
On Friday, residents in Kirkuk city queued at petrol stations with jerry cans to fill up while other civilians took up arms and deployed on the streets.
One of them, Khasro Abdallah, vowed "to defend Kirkuk to the death".
Full report at:
http://nation.com.pk/international/14-Oct-2017/iraq-forces-retake-positions-from-kurds-in-disputed-kirkuk
--------
6 Egyptian soldiers killed in Sinai attack
Oct 14, 2017
CAIRO - Six Egyptian soldiers were killed in a "terrorist" attack in restive North Sinai, where militants are active, the army's spokesman said on Friday. "Terrorist elements attacked a security post in El-Arish with hand grenades and firearms," Tamer el-Rifai wrote on his Facebook page. "The assailants fled and many were killed and wounded," he said, without giving further details. A militant insurgency in the Sinai Peninsula has killed hundreds of troops and policemen since the army ousted Egypt's elected Islamist president Mohamed Morsi in 2013, with an Islamic State group affiliate claiming responsibility for many attacks. –AFP
http://nation.com.pk/international/14-Oct-2017/6-egyptian-soldiers-killed-in-sinai-attack
--------
Iraqi forces take down Kurdistan flag in southern Kirkuk
14 October 2017
An Iraqi military official said on Friday that the Iraqi army has demanded Kurdish troops out of the military base and oil reserves in Kirkuk governorate.
They have also taken down the Kurdistan region's flag South of Kirkuk, he added.
Footage shared on social media by the Emergency Response Division showed Iraqi forces taking down the flag.
Iraqi forces entered the area seeking to reduce Peshmerga-controlled areas outside Kurdistan's borers, said the official.
Oil reserves
Kirkuk is known to hold about 10 percent of Iraq's oil reserves.
Similarly, the Kurdish state sees Kirkuk as a Kurdish city in history which changed over the years during Baghdad's Arabization.
The city has been a hotspot for Iraqi-Kurdish conflict especially after Kurdistan voted for independence in the referendum last month.
According to an article in the Washington Post, Kirkuk's Governor Najmaldin Karim said that Baghdad gave them "an ultimatum."
Targeted infrastructure
He continued saying: "There were troop movements of Shiite militias. Some of them were disguised as the federal police; they were with elements of the army. They moved toward our vital infrastructure, power plants, gas and oil fields."
Also, a member of the city council in Taza Southern Kirkuk, Irsan Shukur, said that Peshmerga commanders agreed to leave the area without an armed conflict.
Full report at:
https://english.alarabiya.net/en/News/middle-east/2017/10/14/Iraqi-forces-take-down-Kurdistan-flag-in-Southern-Kirkuk.html
--------
ISIS 'caliphate' crumbles as 100 militants surrender in Syria's Raqqa
14 October 2017
Some 100 fighters from ISIS handed themselves over to US-backed fighters in the northern city of Raqqa Friday as fighting continued with remaining gunmen in a pocket inside the city.
Omar Alloush of the Raqqa Civilian Council did not give details how the 100 fighters surrendered but said fighting is still ongoing in parts of the city that was once the de facto capital of ISIS's self-proclaimed "caliphate."
US-backed fighters of the Syrian Democratic Forces have been on the offensive in Raqqa since early June and have so far captured more than 80 percent of the city under the cover of airstrikes by the US-led coalition.
Smaller control
"There are still fighters but the area they control is getting smaller," said Mohammed Khedher of Sound and Picture Organization, which tracks atrocities by ISIS in Iraq and Syria.
Earlier Friday, scores of civilians including women and children fled the last few remaining neighborhoods held by the ISIS in Raqqa, ahead of an anticipated final push by US-backed fighters seeking to retake the city.
A new video that emerged Friday shows desperate, terrified residents emerging from destroyed districts, some of them collapsing on the ground in exhaustion as they arrive. They seemed to be taking advantage of a slowdown in the fighting and airstrikes by the US-led coalition amid efforts to ensure the safe evacuation of an estimated 4,000 civilians who remain trapped in the city.
The coalition has said that ISIS militants are holding some civilians to use as human shields, preventing them from escaping as the fight enters its final stages. The city, on the banks of the Euphrates River, has been badly damaged by the fighting, and activists have reported that over 1,000 civilians have been killed there since June.
Petrified residents
The video released by the Turkey-based Kurdish Mezopotamya Medya on Friday showed clearly petrified residents running toward safety, some clutching babies or wounded people.
"This is my husband, we are civilians!" one woman cried, fearing that fighters from the US-backed force known as the Syrian Democratic Forces would take him away. Some of the arriving men were searched before being allowed in while others kissed the ground in relief.
"God is stronger than them (ISIS)," shouted another woman, clutching what appeared to be a large Quran in her hand.
Another elderly man hobbled out on crutches, begging for water. After drinking from a bottle handed to him, he collapsed on the ground in exhaustion.
Gunfire could be heard in the background.
SDF fighters have been on the offensive in Raqqa since June 5 and have so far captured more than 80 percent of the city that was the de facto capital of ISIS.
Full report at:
https://english.alarabiya.net/en/News/middle-east/2017/10/14/100-ISIS-fighters-surrender-in-Syria-s-Raqqa.html
--------
Bahrain supports US policy and calls for curb of Iran's expansionist agenda
14 October 2017
The State of Bahrain welcomed all efforts to prevent Iran from financing terrorist militias and commended the strategy introduced by US President Donald Trump toward Tehran.
The Bahraini government said in a statement that it is one of the countries most affected by the expansionist policy of the Iranian Revolutionary Guards.
"The Kingdom of Bahrain welcomed the US strategy announced by President Donald H. Trump, President of the United States of America, in which he stressed that Iran is the largest state sponsor of terrorism," the statement read.
The government of Bahrain said in their statement that President Trump's announcement on the Iranian nuclear agreement and decision to impose sanctions on the Iranian Revolutionary Guard is a confirmation of the importance the US is giving for combating terrorism and all those who support it, ultimately making the region and the world safer and more stable.
"While praising the policy of President Trump and his keenness to prevent chaos by countering Iran's attempts to export terrorism, the Kingdom affirms that it is one of the countries most affected by the expansionist policy of the IRGC, that aims to undermine our societies by disseminating and supporting extremist ideas and acts of terrorism," the statement read.
Full report at:
https://english.alarabiya.net/en/News/gulf/2017/10/14/Bahrain-supports-US-policy-and-says-it-s-most-affected-by-Iran-s-expansionist-policy.html
--------
Saudi Arabia the first country welcoming Trump strategy towards Iran
13 October 2017
The Kingdom of Saudi Arabia (KSA) expressed welcome and support of the resolute strategy announced by US President Donald Trump towards Iran and its aggressive approach, praising his vision in this regard and commitment to work with the US allies, in the region, in order to face common challenges, particularly Iran's aggressive policies and actions, in the region, according to the Saudi Press Agency (SPA).
The Kingdom of Saudi Arabia has previously supported the nuclear agreement between Iran and the 5 + 1 powers, in the belief that it is necessary to limit proliferation of weapons of mass destruction, in our region and the world, the KSA statement stressed, hoping that would prevent Iran from acquiring nuclear weapons, in any way and in order to achieve security and peace, in the region, the statement added.
However, Iran had exploited the economic benefits of lifting the sanctions and used them to continue to destabilize the region, especially through its ballistic missile development program and support of terrorism, in the region, including Hezbollah and the Houthi militias, in Yemen, the statement pointed out.
Tehran's flagrant violation
Iran has not only done so in flagrant violation of the resolution, but also it transferred such potentials and experience to its client militias, including Houthi militia, which used the missiles to target the Kingdom of Saudi Arabia, hence exposing falsity of Iranian claims that the development of these capabilities is only for defensive reasons, the statement emphasized.
To the contrary, the statement indicated that Iran in continuation of its aggressive approach, through its Revolutionary Guard and Houthi militia, repeatedly targeted international navigation passageways, in the Red Sea and the Arabian Gulf, in addition to Iran's continuing cyber-attacks against the Kingdom and other region's countries.
Full report at:
https://english.alarabiya.net/en/News/gulf/2017/10/13/Saudi-Arabia-the-first-country-welcoming-Trump-strategy-towards-Iran.html
--------
Lebanese judge issues arrest warrant for former Libya PM over Sadr abduction
Oct 13, 2017
Lebanese investigative Judge Zaher Hamadeh has issued an arrest warrant for former Libyan Prime Minister Abdessalam Jalloud over the disappearance of the country's prominent Shia leader Imam Musa al-Sadr and his two companions in the North African nation nearly 40 years ago.
On Friday, Hamadeh found Jalloud guilty and tried him in absentia for the cleric's abduction, Lebanon's state-owned National News Agency (NNA) reported.
Jalloud was the prime minister of Libya between 1972 and 1977, and operated alongside slain dictator Muammar Gaddafi as second-in-command. He disappeared from public view in 1995. He is the last surviving leader of Libya's 1969 September Revolution.
The Lebanese parliament speaker says he strongly believes that Sadr is still alive, calling for collective efforts to find out about the fate of the cleric and his companions.
Speaking at a ceremony marking the 39th anniversary of Sadr's disappearance in Beirut, Nabih Berri called on Lebanese media outlets to follow up on the clergyman's fate, stressing that Lebanese judicial officials were also looking into the case.
The fact-finding mission formed to inquire about the case has however been unable to visit Libya due to violence and political instability in the North African country, the top Lebanese legislator argued.
Imam Musa al-Sadr was a highly revered Shia cleric of Iranian descent, who founded the Lebanese Amal (Hope) Movement in 1974. He came to Lebanon in 1959 to work for the rights of Shia Muslims in the port city of Tyre, located about 80 kilometers (50 miles) south of Beirut.
The prominent Shia cleric (pictured below) disappeared on August 31, 1978, during an official visit to the Libyan capital Tripoli.
He was accompanied by Sheikh Mohammad Yaqoub and journalist Abbas Badreddine.
Lebanon still holds former Libyan officials responsible for the disappearance of the trio.
Since Gaddafi was deposed and killed in 2011, Lebanon and Iran have repeatedly called on the Libyan government to launch an investigation into Sadr's disappearance.
Hannibal Gaddafi, the son of the Libyan dictator, is currently in custody in Lebanon, facing charges of withholding information regarding Sadr's case.
Full report at:
http://www.presstv.com/Detail/2017/10/13/538476/Lebanese-judge-issues-arrest-warrant-for-former-Libya-PM-over-Imam-Musa-Sadr-abduction
--------
Syrian forces advance on Daesh-controlled Dayr al-Zawr
Oct 13, 2017
Syrian government forces have pushed deeper into the country's troubled city of Mayadin as they are joined by allied fighters from popular defense groups in major operations to drive Daesh militants from the strategic eastern province of Dayr al-Zawr.
Syria's official news agency SANA reported on Friday that army units had carried out intensive operations against Daesh hideouts in Mayadin, located about 44 kilometers southeast of the provincial capital city of Dayr al-Zawr, advancing into the western neighborhoods of the city, namely al-Baloum, the Industrial Area and al-Madajin.
The report added that Syrian army troops had also managed to establish full control over al-Tibeh village, which lies in the vicinity of Mayadin.
Furthermore, scores of Daesh terrorists were killed and injured as Syrian army units engaged in fierce clashes with the Takfiris in Hatla village as well as al-Orfi and al-Sinaa areas on the outskirts of Dayr al-Zawr.
Syrian Air Force fighter jets and artillery units also struck Daesh positions in the towns of Diban, Muhasan, al-Jeneinah, Hawijah Sakr, al-Hussainiyah, al-Boleel, Boqruss Tahtani and Boqruss Foghani as well as al-Hamidiyah and al-Hawiqah districts, killing a number of extremists and destroying their vehicles.
Later on Friday, Syrian forces could wrest complete control over the highway linking Mayadin to the city of Bukamal near the border with Iraq.
Daesh overran large parts of Dayr al-Zawr province, including its many oil fields, in mid-2014 as it seized swathes of land in Syria and neighboring Iraq.
Full report at:
http://www.presstv.com/Detail/2017/10/13/538465/Syrian-forces-advance-on-Daeshcontrolled-Dayr-alZawr
--------
Bahrainis stage protest against potential normalization of ties with Israel
Oct 13, 2017
People in Bahrain have held protest rallies to voice their anger at Manama's reported plans to normalize ties with the regime in Israel.
On Thursday, protesters took the streets in several villages and towns, chanting "No to Normalization!"
The Bahraini February 14 media network shared footage showing Bahraini citizens, walking over the Israeli flag.They also condemned the United States, Tel Aviv's closest ally, chanting, "The US is the great Satan."
The protester also slammed the Manama regime for the arrest of miniors amid its crackdown on political dissent and opposition activists.
The protests, however, turned violent, with reports of clashes between the protesters and regime forces.
The demonstrations come amid reports that Israel is on the path to normalize diplomatic ties with Bahrain as the two sides draw closer.
On September 23, unnamed Western and Bahraini officials told the Middle East Eye news portal that an official announcement of the establishment of relations could happen as soon as next year.
Bahrain has no formal diplomatic relations with Israel. However, a trickle of Israeli tourists and businessmen have been known to visit the Persian Gulf island of 1.4 million people in recent years.
Israeli media said last month that Bahrain's King Hamad bin Isa Al Khalifa had called for an end to the Arab boycott of Israel, and that he intended to allow citizens from his kingdom to visit Israel.
Also when former Israeli president Shimon Peres died in 2016, Bahrain was the only Persian Gulf country to publicly mourn his death.
Full report at:
http://www.presstv.com/Detail/2017/10/13/538441/Bahrain-Israel-boycott
--------
Africa
Detained migrants in Libya 'in disastrous conditions'
Oct 13, 2017
Thousands of previously Europe-bound asylum seekers held in Libyan detention centers are said to be in dire conditions and in need of urgent medical help.
"The situation is very tragic... disastrous. There's a lack of support," Abdulhameed Muftah Frida, the head of the al-Hamra detention center in Gharyan, said on Thursday.
About 5,800 migrants have been transferred to the center since fighting broke out last month in the coastal city of Sabratha, a hub for human trafficking to Europe. About 2,000 people have already been sent from Gharyan to other centers in the capital, Tripoli.
A local armed group in a Libyan coastal city west of Tripoli has reportedly been halting refugee boats from setting out across the Mediterranean over the past months.
United Nations (UN) agencies have been trying to provide support for the thousands of mainly sub-Saharan African migrants now stranded.
Many have been taken to centers, some of which are notorious for widespread abuse and poor conditions.
Meanwhile, humanitarian workers have limited access to those centers.
Muftah said 70 percent of the migrants who are brought to his center are in need of medical attention and the center cannot to meet their needs.
"We appeal to all international organizations and the Libyan state to consider the humanitarian condition of these migrants," Muftah added.
He further said there were many children and some pregnant women in the center, several of whom had gone into labor since arriving.
UN High Commissioner for Human Rights Zeid Raad al-Hussein, who visited Libya on Tuesday, raised the issue of the migrants with Libyan authorities.
Libya has turned into a scene of rampant militancy since the NATO military intervention of 2011, which came amid an uprising against longtime dictator Muammar Gaddafi.
Back in April, the UN's International Organization for Migration (IOM) raised the alarm over the climbing number of refugees passing through Libya, who were being traded in so-called slave markets before being held for ransom and subjected to malnutrition and sexual abuse.
http://www.presstv.com/Detail/2017/10/13/538455/Libya-detained-migrants-disastrous-conditions
--------
Boko Haram fighters surrender in northern Cameroon
14 October 2017
MOZOGO, Cameroon: Nearly 60 men who said they were captured by the Boko Haram Islamist group and forced to fight for them in Nigeria have surrendered to authorities in northern Cameroon.
After spending two years with Boko Haram, the men decided to flee with their families and hand themselves in, according to several men who had surrendered and spoke to journalists at a ceremony in the town of Mozogo on Friday.
A total of nearly 400 people originally from Cameroon — 58 men, 86 women and 244 children — said they had been taken hostage by Boko Haram fighters during attacks on their villages and taken to Nigeria, where they were forced to join the jihadist group.
The men told reporters they had fought for Boko Haram and were laying down their arms of their own will.
They surrendered at the border with Nigeria to a village vigilante group formed to combat the jihadists. The vigilantes then handed them over to the authorities.
Ousmane Kouila, head of the group, said they had been out on patrol in the border area when they met the fleeing Boko Haram fighters. "They said they were returning, and that they were surrendering," he said.
The local governor went to meet them and ordered them to be moved away from the border to avoid any reprisals by Boko Haram.
"We are counting on them to also convince others who are hesitating (to surrender) and there are a lot of them they tell us," said Midjiyawa Bakari, governor of the Far North region.
Authorities would provide the escapees with psychological help, he said.
"They have been through brainwashing, perhaps also having taken an oath on the Qur'an or made a blood pact," the governor said, adding they needed help with "all they must have endured" in the hands of Boko Haram.
Boko Haram's Islamist insurgency began in 2009 and has claimed at least 20,000 lives and forced more than 2.6 million from their homes.
Full report at:
http://www.arabnews.com/node/1177446/world
--------
South Africa's Muslim community files plea as mortuaries run out of space
14 October 2017
Dead Muslim bodies continue to accumulate as mortuaries in Cape Town, South Africa face a backlog.
The families concerned contacted the Muslim Judicial Council which has written to the Western Cape MEC for Health Nomafrench Mbobo to request a meeting.
"We've had queries from two families who asked us to assist them with retrieving bodies [of deceased family members]'" spokesperson for the MJC Mishka Daries said.
"With Islamic [belief] the body preferably needs to be buried within 24 hours after the person has died. It's taken quite a while and the families have been waiting for two or three days now. We have inquired with the provincial minister of health to engage in a meeting to ask how we can expedite the process."
The provincial health department released a warning statement on Wednesday informing the public of delays in finalising post mortems' as its Forensic Pathology Services (FPS) in the metropolis was handling high caseloads.
"This has resulted in us being unable to prioritise cases'" the statement read.
"Cases will now be allocated and autopsies performed in chronological order. We do recognise that the time of bereavement is a stressful and difficult period and for this reason, we are doing everything we can to speed up but also streamline the process." Daries believed the rise in gang violence in the city is the reason for the spike in the number of cases.
"We're waiting for a response from the department of health'" she said. "The bodies of the families that called us may only be released in the next four to five days."
Full report at:
https://www.pakistantoday.com.pk/2017/10/13/south-africas-muslim-community-files-plea-as-mortuaries-run-out-of-space/
--------
Niger: Pentagon Blames Islamic State in Deadly Attack on U.S. Forces
12 OCTOBER 2017
By Carla Babb And Salem Solomon
The Pentagon said Wednesday that Islamic State fighters were responsible for an attack in southwestern Niger that killed four American soldiers, as new details suggested local villagers might have played a role in the ambush.
Army Lieutenant Colonel Michelle Baldanza, a Pentagon spokeswoman, told VOA that IS militants ambushed U.S. and Nigerien forces during the October 4 firefight that also killed four of Niger's security personnel.
U.S. Army Special Forces, also known as Green Berets, had just completed a meeting with local leaders and were walking back to their vehicles when they were attacked, according to a U.S. official, who spoke to VOA on the condition of anonymity because the investigation was ongoing.
The soldiers said the meeting ran late, and some suspected that the villagers were intentionally delaying their departure, the official said.
Niger's defense ministry has confirmed the firefight occurred near the village of Tongo Tongo in the Tillaberi region. Eight other Niger troops were wounded in the attack, and two American troops were wounded and airlifted to Germany for medical treatment.
Defense Secretary Jim Mattis told reporters Wednesday that the patrol had been "hit hard" in an area where enemy forces had not operated and that French planes with bombs attached were overhead within 30 minutes of the ambush.
"I completely reject the idea that that [the response] was slow," Mattis said.
Strategic ally
Niger is a key U.S. ally in the fight against terrorism and is situated in a dangerous region of the Sahel plagued by multiple extremist groups and traffickers, said Lisa Mueller, an assistant professor of political science at Macalester College in Minnesota and an expert on politics in the area.
Under President Barack Obama, the U.S. built drone bases in Niger's capital, Niamey, and in the northern town of Agadez. The U.S. has about 800 service members in Niger to provide support for the U.S. Embassy and counterterrorism training for government forces battling Islamist militant groups.
"The United States has provided support for the military of Niger, especially in the way of training forces to combat multiple terrorist groups that have encroached into Niger from several of the country's borders," Mueller said.
Niger faces threats from Nigeria-based Boko Haram along its southern border and Algeria-based al-Qaida in the Islamic Maghreb along its porous borders to the west and north. Pockets of Islamic State fighters operate in the west.
"Really, from almost all sides, Niger is facing attacks from armed extremist groups," Mueller said. "And, because the government of Niger has been a strong ally to the counterterrorism efforts, it's been natural for the United States to station its counterterrorism forces in that country."
Caught off guard
Army Colonel Mark Cheadle, U.S. Africa Command spokesman, said in a conference call last week that the military was "resolved and stalwart in our efforts to go after those who attacked us."
The Pentagon also said it was re-evaluating its force protection measures in the region.
"We will look at this and say: Was there something that we have to adapt to now? Should we have been in a better stance?" Mattis said. "We're not complacent. We're going to be better."
Mueller, who has traveled and conducted research in Niger, said radicalism in the country is mostly imported from surrounding countries, but that could change.
"Islam in Niger has, for generations, been very tolerant, been very resistant to radicalization, especially compared with societies elsewhere in the Sahel," she said.
Full report at:
http://allafrica.com/stories/201710120098.html
--------
URL: https://www.newageislam.com/islamic-world-news/us-lawmaker-concerned-human-rights/d/112887
New Age Islam, Islam Online, Islamic Website, African Muslim News, Arab World News, South Asia News, Indian Muslim News, World Muslim News, Women in Islam, Islamic Feminism, Arab Women, Women In Arab, Islamophobia in America, Muslim Women in West, Islam Women and Feminism