New Age Islam News Bureau
4 Jan 2018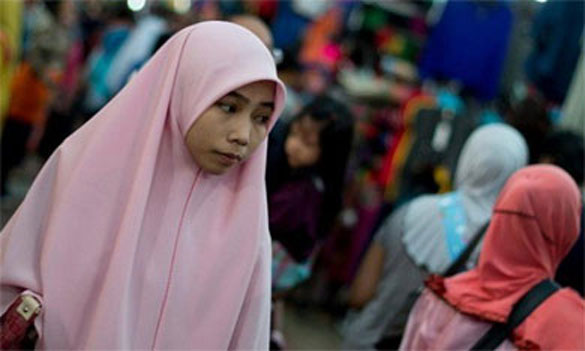 Malaysia's opposition party calls the silence over the headscarf ban a sign of Islamophobia. PHOTO: AFP
-----
• US Is Frustrated at Pakistan's Behaviour of 'Supporting' Terror Groups: US NSA
• 'From Our Bases, You Attacked Afghanistan 57,800 Times', Says Pak F.M to US
• ISIS SHOCK warning: Terror network are not 'DEFEATED' and still a 'THREAT' to UK
• Assam Muslims Struggle To Overcome 'Migrant' Stigma
• High-End Hotels in Muslim-Majority Malaysia Are Banning Headscarves
North America
• US Is Frustrated at Pakistan's Behaviour of 'Supporting' Terror Groups: HR Mcmaster
• Texas Mosque Leader Apologizes For 'Muslims Will Kill the Jews' Sermon
• CIA, Mossad have orchestrated recent violent riots in Iran: Analyst
• Trump threatens to withhold US aid to Palestinians
• Niagara imam named to the Order of Canada
• Windsor Muslims pen letter asking police why Islamic-themed graffiti is not a hate crime
--------
Pakistan
• 'From Our Bases, You Attacked Afghanistan 57,800 Times', Says Pak F.M to US
• Call To Establish 'Global Sharia Finance Authority' To Promote Islamic Banking
• Faizabad Sit-In Was An Attack On Muslims By Muslims: SC
• Council of Islamic Ideology to Ensure Implementation of Recommendations
• Pakistan attaches great importance to its ties with Iraq, Netherlands: president
• American statements detrimental to Pak-US relationship: cabinet
• Afghan refugees granted sixth extension for their stay in Pakistan
• Political parties to march on Islamabad for Fata-KP merger
• Effects of anti-Haqqanis actions will be visible soon: Army
• Three TTP terrorists gunned down
• Seven years later, a liberal Pakistan remains a distant dream
--------
Europe
• ISIS SHOCK warning: Terror network are not 'DEFEATED' and still a 'THREAT' to UK
• How These Muslim, Jewish and Christian Musicians Play Beyond Barriers
• German academy launches project to document Arab and Islamic heritage
• UK retains ban on 6 anti-India groups
• Erdogan to visit France, explore improvement of EU ties
• France: Macron urges dialogue with Iran, slams strong rhetoric
--------
India
• Assam Muslims Struggle To Overcome 'Migrant' Stigma
• VHP Meet to Discuss Ram Temple, Islamic Terrorism Love Jihad, and 'Gau-Raksha'
• AIMPLB Thanks Those Seeking Triple Talaq Bill Be Sent To Select Committee
• 'Love Jihad' Or Love-Struck? Kerala Home Department Says Conversions to Islam Mostly For Romantic Reasons
• Rajya Sabha Din Holds up Fate of Triple Talaq Bill, Drowns Minister's Speech
• Hindu Outfits Hold Rally against 'Love Jihad' In Mangalore
• BSF jawan killed in ceasefire along India-Pakistan International Border
• J&K: BSF kills Pakistani intruder, foils infiltration attempt in Arnia district
• Madrasa Leaves: Teachers' Body Writes To CM Yogi Adityanath Over Less Holidays
--------
Southeast Asia
• High-End Hotels in Muslim-Majority Malaysia Are Banning Headscarves
• Indonesian Ulema Urge Vaccination against Diphtheria Outbreak
• PAS: Assemble as you wish, but don't touch on Islam, Malays
• Putrajaya bans books because it wants 'monopoly on religion'
• Indonesia launches cyber agency to tackle extremism, fake news
• Najib: Malaysia will continue to help its Muslim brothers
• Married Couple Drops Lawsuit against Jawi over Khalwat Raid
--------
Mideast
• Turkish Child Marriage Religious Document Sparks Anger
• Pro-Government Rallies in Iran after Days of Protest, Unrest
• EU censures Israel's 'terrorist' death penalty bill as 'inhuman'
• Israeli forces kill Palestinian teen in occupied West Bank
• Trump threats to cut aid cheap political blackmail, Hamas says
• Palestinians say won't be 'blackmailed' after Trump threat
• Turkish President Stresses Importance of Stability in Iran after Recent Unrests
• Iran's Reza Pahlavi: US should clear way for tech companies to help Iranians
• Trump says Iranians will see US support at 'appropriate time'
• Norway suspends arms exports to UAE over Yemen War
--------
Africa
• A Pastor and an Imam Once Tried To Kill Each Other — Now They Work To Heal Nigeria
• Suicide Blast Kills 14 in Nigeria Mosque
• Al-Shabaab kills 5 police officers in northern Kenya
• Nigeria: Boko Haram Threatens to Attack Media Houses in Nigeria
• Nigeria: Muric Tackles Nigerian Govt for Declaring Jan 1 Holiday While Ignoring 1st Muharram
--------
Arab World
• Iraqi Kurdistan Offers Olive Branch to Ankara with Renewed Anti-Terror Commitment
• Syrian Regime Has No Respect For Human Life, Says Opposition
• Report Says 23 Civilians Killed Near Damascus, Mainly From Russian Air Strikes
• Syrian Army Launches Heavy Offensive against Terrorists in Eastern Damascus
• Syrian Army Opens New Front to Hit Terrorists in Southeastern Idlib
• SDF Withdraws from Positions to Allow ISIL to Escape Battlefields in Eastern Syria
• Syrian Army Grants Amnesty to Tens of Militants in Hasaka
• Senior FSA Commander Killed in Clashes with Syrian Army in Hama
• Syrian Army Liberates over 65 Regions in Anti-Terrorism Operation in Hama, Idlib
• At least 7 Russian planes destroyed by shelling at Syrian air base
• Russian helicopter crashes in Syria, both pilots killed
• Saudi-led coalition: Houthis a constant threat to Yemeni people
• Yemen coalition ambassadors condemn Iran for fuelling crisis with militias
--------
South Asia
• Noor Warns Of Civil Uprising or Negotiations Fail with the Govt
• Afghan Soldiers and Militants Suffer Casualties in Laghman Clash
• Pak-US tensions to negatively affect Afghan situation, claims Pak army
• 6 civilians killed, wounded in Helmand IED explosion
• NSC and Afghan intelligence dismiss Noor's allegations as baseless
• Deadly ISIS attacks foiled in Kabul city, 13 suspects arrested
• US drones target Taliban insurgents in Nangarhar province
Compiled by New Age Islam News Bureau
URL: https://www.newageislam.com/islamic-world-news/us-frustrated-pakistans-behaviour-supporting/d/113814
--------
US Is Frustrated at Pakistan's Behaviour Of 'Supporting' Terror Groups: US NSA
Jan 4, 2018
WASHINGTON: US National Security Adviser HR McMaster has said that US President Donald Trump is frustrated at Pakistan's behaviour as it continues to provide support for terror groups, it goes after terrorist insurgent groups, "really, very selectively, and uses others as an arm of their foreign policy".
He was referring to Trump's tweet in which he accused Pakistan of "deceit and lies".
The US president stated, "The US has foolishly given Pakistan more than $33 billion in aid over the last 15 years, and they have given us nothing but lies and deceit, thinking of our leaders as fools. They give safe haven to the terrorists we hunt in Afghanistan, with little help. No more!"
In an interview with Voice of America, he said, "Well, I think the tweet speaks for itself. I mean, the president's frustrated, and he values what we hope would be a partnership with Pakistan. But he's frustrated at Pakistan's behaviour in that it continues to provide support for these groups, it goes after terrorist insurgent groups, really, very selectively, and uses others as an arm of their foreign policy."
"The president has great sympathy for the Pakistani people and in particular, how much they've suffered at the hands of terrorists who have victimised so many Pakistanis with mass murders, with that horrible mass murder in a school a few years ago. I mean, so, he empathises with the Pakistani people, and he wants to see the Pakistani government go after these groups less selectively."
"This is not a blame game, as some would say. This is really our effort to communicate clearly to Pakistan that our relationship can no longer bear the weight of contradictions, and that we have to really begin now to work together to stabilise Afghanistan. And in a way, that would be a huge benefit to Pakistan, as well."
"What's frustrating at times is we see Pakistan operating against the interests of its own people by going after these groups only selectively, by providing safe havens and support bases for Taliban and Haqqani network leadership that operate out of Pakistan as they perpetuate hell in portions of Pakistan and in Afghanistan."
Speaking about if any other country will give aid to Pakistan to compensate for the cuts made by the US, he said, "Well, I don't think … who's going to step in now, I think, and want Pakistan to continue its support for terrorist groups like the Haqqani network, for groups like the Taliban? I mean, certainly it's not in China's interest. China has a terrorist problem on its southern border, a terrorist problem that does have connections back into Pakistan."
"It's not going to be any other country in the region, certainly, who will want Pakistan to continue this, really, pattern of behaviour that we've seen, where it goes after these groups only selectively, while it sustains and supports others who act as an arm of its foreign policy. So, I think we're confident that … I mean, Pakistan doesn't want to become a pariah state. Pakistan is a country with tremendous potential — human potential, economic potential. So, what we really would like to see is Pakistan act in its own interest and to stop going after these groups only selectively, and to stop providing safe havens and support bases and other forms of support for leadership."
Responding to another question, he said, "Well, I think it would just be unwise for any Pakistani leader — I can't imagine a Pakistani leader using nuclear weapons to extort or for blackmail. That's the day when Pakistan …
Well, I mean, does Pakistan want to become North Korea? Doesn't look too appealing a model to me. So, I think Pakistan could be on a path to increase security and prosperity, or it could be on a path to replicating North Korea. I think that's an easy choice for Pakistani leaders."
https://www.pakistantoday.com.pk/2018/01/04/us-is-frustrated-at-pakistans-behaviour-of-supporting-terror-groups-hr-mcmaster/
--------
'From Our Bases, You Attacked Afghanistan 57,800 Times', Says Pak F.M to US
Jan 4, 2018
Shailaja Neelakantan
NEW DELHI: "You ask what we've done?... From our bases you carried out 57,800 attacks on Afghanistan...thousands of our civilians and soldiers became victims of the war initiated by you," said Pakistan's foreign minister Khawaja Asif, in a series of emotional tweets that were a response to Donald Trump accusing his country of "lies and deceit".
Pakistan's foreign minister repeatedly talked of Pakistanis' sacrifices. And directly in response to Trump's words, said his own version of the US President's "No more!"
"Our forces are fighting an unusual war, there is an unending saga of sacrifices. Now, history teaches us not to blindly trust the US. We are feeling sorry they are not happy, but we will not compromise on our dignity anymore," said Asif.
Asif began his series of tweets by taking a shot at former dictator Pervez Musharraf, the man in charge of Pakistan when the 9/11 terror attacks occurred in New York.
"A ruler surrendered in a single phone call, our country, we went through the worst bloodbath," said Asif, about the military dictator Musharraf.
Asif implied that if anyone was a fool it was Pakistan for getting involved in the US's war. He was talking about Trump saying in his first tweet of 2018 that Islamabad plays Americans for fools.
"The United States has foolishly given Pakistan more than 33 billion dollars in aid over the last 15 years, and they have given us nothing but lies & deceit, thinking of our leaders as fools. They give safe haven to the terrorists we hunt in Afghanistan, with little help. No more!," tweeted Trump, bright and early on January 1, 2018.
Trump's blistering words didn't go down well with anyone in Pakistan. Asif, in fact, responded almost immediately to Trump's tweet, also on Twitter.
"Will let the world know the truth...(the) difference between facts & fiction," said Asif on Monday.
Then, a day and half later, he expanded on what he believes is the truth.
"We stood by you, considered your enemy our own. We filled Guantanamo Bay," said Asif, talking about the detention camp which was opened on January 11, 2002.
Pakistan's foreign minister is referring to his country's cooperation in helping the US find terrorists and war criminals and dispatching them to the prison established by then US President George W. Bush's administration during its 'war on terror', an international military campaign to hunt down "a radical network of terrorists and every government that supports them."
As per a February 2017 report in The New York Times, Afghans were the largest group (29 percent) in Guantanamo, followed by Saudi Arabians (17 percent), Yemenis (15 percent) and Pakistanis (9 percent).
Asif said not only did Pakistan find terrorists for the US, it also opened itself up for operatives of the now-disgraced Blackwater, a firm of private military contractors.
"We issued tens of thousands of visas as a result of which the networks of Black Water spread across our country. And for the past four years, we have been cleaning up (their) rubbish," said Asif.
https://timesofindia.indiatimes.com/world/pakistan/from-our-bases-you-attacked-afghanistan-57800-times-says-pak-foreign-minister-to-us-in-series-of-emotional-tweets/articleshow/62360963.cms
--------
ISIS SHOCK warning: Terror network are not 'DEFEATED' and still a 'THREAT' to UK
Jan 3, 2018
By ABIGAIL MORRIS
ISIS is still a threat to the UK, the Royal Air Force officer in charge of the British air campaign against the grotesque terror network has warned.
Islamic State, also known as Daesh, still poses a threat to the UK, Air Commodore Roddy Dennis told Forces News.
He warned that ISIS has not been beaten yet and operations will continue "for some time" against the extremist group.
Iraq's Prime Minister announced in December that the war against Islamic State was over and that Iraqi troops were now in complete control of the Iraqi-Syrian border, which contained the last few areas IS held.
Air Commodore Dennis said: "We are operating in Iraq and we're there on the invitation of the government of Iraq so, of course, we want to see that progress.
"But I think he was quite clear with his announcement that there was the liberation of Iraq but Daesh aren't defeated yet."
The RAF officer added that ISIS are still a threat to the UK.
He said: "They still present a threat to the UK so operations are continuing and I think they will for some time."
The terror group was defeated in Iraq and removed from their headquarters in Syria last year.
The jihadist group had seized large swathes of Syria and Iraq in 2014 when it proclaimed a "caliphate" and imposed its rule over some 10 million people.
The UK has launched airstrikes and trained Iraqi forces in the battle against ISIS since Britain got involved in the fight in 2014.
Air Commodore Dennis added that British forces are "absolutely focused" on defeating the extremist group.
He said: "We're absolutely focused, as this awful terrorist organisation that they are, to do whatever we can as part of a whole government effort to defeat Daesh and really remove that threat from the UK."
https://www.express.co.uk/news/world/899701/ISIS-news-Islamic-State-IS-Daesh-Iraq-Syria-Forces-UK-terror-threat
--------
Assam Muslims struggle to overcome 'migrant' stigma
Jan 4, 2018
GUWAHATI: Despite repeated disclaimers that the National Register of Citizens (NRC) is a work in progress, members of the minority community in the state have not been able to rest easy. Faced with the prospect of either not making it to the NRC or continuing to live with the "illegal migrant" stereotype even if they do, all they can now is wait and hope.
"My family and I passed another test of citizenship. This, I am hopeful, is the last test I had to appear to prove my citizenship," Mazedur Rahman, 50, a social activist from the Muslim-majority Barpeta district in lower Assam, said.
Rahman has been working for the rights of the marginalized Muslim community in lower Assam for decades. To him, the challenge the community faces is not so much proof of citizenship as the stereotypes it has to live with. "Will the inclusion of Muslims in the NRC free them of the Bangladeshi tag? The problem that persists is that of perception. Despite being genuine citizens, most members of the community have faced the stigma of being branded Bangladeshi," Rahman said.
The pattern the NRC update process has followed does not help assuage such fears. Verification has been much slower in the minority-dominated districts of the Barak Valley, central and lower Assam, with just 44% names from Nagaon in central Assam and 39% from Barpeta in lower Assam making the cut. Authorities have attributed this to the problem of "influx" in these regions, which has slowed down the verification process since a more rigorous process of scrutiny needs to be followed.
In contrast, 90% of applicants from the Assamese-majority districts of upper Assam found place in the first draft, much higher than the state average of 57%.
"My name was not there in the first draft. I know my name and that of many others will find place in the next draft because we are genuine citizens. For years, we have gone through the suffering of being looked down upon as Bangladeshis. We are restless to clear this hurdle and see our names on the citizenship list, ending the debate once and for all," a Muslim farmer from Guinelguri village in Barpeta, who did not want to be named, said.
For economically disadvantaged sections, already at the intersection of various forms of marginalization, the challenge is even greater.
Kathmandu-based human rights activist Anjuman Ara Begum, who has family in Assam, said the NRC should not end up widening fissures. "Members of the Muslim community from economically disadvantaged sections are most vulnerable. If the 'Bangladeshi' stigma persists even after their names are included in the NRC, it will be a new challenge for the community. That should not be allowed to happen," she added.
The state government and NRC authorities have been reiterating that people whose names did not figure in the first draft need not panic as no genuine Indian citizens will be left out in the updated NRC.
https://timesofindia.indiatimes.com/city/guwahati/assam-muslims-struggle-to-overcome-migrant-stigma/articleshow/62361253.cms
--------
High-end hotels in Muslim-majority Malaysia are banning headscarves
January 3, 2017
A number of five-star hotels in Malaysia are disallowing female front desk staff from wearing headscarves, reported Forbes.
While the ban also applies to displays of other religious apparel, a headscarf is the most common thing someone might wear to work in the Muslim-majority country.
The issue first came to light in November after a labour non-profit told Malaysian media that hotel clerks were being told to remove their headscarves.
Concern has been expressed on both a social and political level. "I don't really think wearing a headscarf is a hindrance to performing front desk jobs, so the ban is curious," says Oh Ei Sun, a Malaysian-born international studies instructor at Singapore Nanyang University.
Sun also pointed out certain airlines which allows flight attendants to wear headgear which have religious symbolism.
The issue has gained political traction ahead of parliamentary elections in the country. The country's opposition Malaysian Islamic Party claims Muslims are being denied the right to practice Islam in the country according to a report. The report adds that regional leaders of the dominant United Malays National Organisation party have suggested the hotels shut down.
"The objective of a political party would be to frame the issues it purports to champion as the issues which concern most people," says report author Prashant Waikar, Malaysia Program research analyst at the S Rajaratnam School of International Studies in Singapore.
The headscarf issue is "primarily a reflection of how Malaysian political parties maneuver," he says.
Hotels, however, seem to be going about business as usual. The ban is international "standard operating procedure" and not discriminatory, Malaysian Association of Hotels chairman Cheah Swee Hee told The Malaysian Insight in November.
Hotels in other countries have similar restrictions on religious apparel too. In May last year, the European Court of Justice (ECJ) ruled that European Union (EU) countries have a legal right to ban "visible religious symbols," reported Al Jazeera.
Malaysia's opposition party calls the silence over the headscarf ban a sign of Islamophobia.
The country, however, is known for moderate Islam when compared to Muslim countries in the Middle East, such as Saudi Arabia. Malaysia also values its ethnic diversity. Moreover, alcohol is often available at high-end hotels.
Malaysian Muslims don't rely only on apparel to follow Islam or live only according to their religion, Waikar suggests. "In Malaysia, it is normal to see Muslim women in a headscarf," he says.
First ever hijab-wearing Barbie unveiled
"It would, therefore, be unsurprising if there were substantial numbers of Muslims who were unhappy about the in-effect headscarf restriction. But to somehow argue that their relationship with Islam is reducible to their attire is nonsensical. Why would one assume that they somehow orientate their lives through Islam and Islam alone?" he added.
https://tribune.com.pk/story/1599584/3-high-end-hotels-muslim-majority-malaysia-banning-headscarves/
--------
North America
Texas mosque leader apologizes for 'Muslims will kill the Jews' sermon
By Jessica Chasmar
January 3, 2018
A Texas mosque leader has apologized after he was accused of inciting violence in a sermon he gave last month that declared "the Muslims will kill the Jews."
Raed Saleh Al-Rousan, imam and founder at the Tajweed Institute in Houston, said he respects all human life, including the Jewish people, and is "completely opposed" to anyone who would "commit, call for, or threaten violence against civilians."
His apology comes nearly a month after he gave an impassioned sermon responding to President Trump's decision to formally recognize Jerusalem as the capital of Israel.
"Trump was mistaken," Mr. Al-Rousan said Dec. 8, according to a clip translated by the Middle East Media Research Institute (MEMRI).
The imam reportedly said: "My brothers, the Prophet Muhammad brought the good tidings, when he said: 'Judgment day will not come until the Muslims fight the Jews. The Muslims will kill the Jews, and the Jews will hide behind the stones and the trees, [which] will say: Oh Muslim, oh servant of Allah, there is a Jew hiding behind me, come and kill him … This is the promise of Allah.'"
The Anti-Defamation League deemed Mr. Al-Rousan's speech anti-Semitic and violent.
"When you have an Imam preaching this kind of hatred, that this is incitement to violence against the Jewish community," ADL Regional Director Dayan Gross told a local ABC affiliate.
Mr. Al-Rousan apologized in a pair of statements last week, saying he was "mortified" to learn that his remarks were being interpreted as supporting "the very things I despise."
"Regarding my sermon on Dec. 8th, 2017 it must be understood that I unequivocally affirm and uphold the dignity, sanctity and value of all human life, including – of course – people of the Jewish faith," he said. " I must also state in no uncertain terms that I am absolutely and completely opposed to and disgusted by all forms of terrorism, all terrorists, and I oppose anyone who would commit, call for, or threaten violence against civilians."
Mr. Al-Rousan said he intends to work with the Jewish community "to alleviate any fears" and "combat hatred in all forms, most especially anti-Semitism and anti-Muslim bigotry."
https://www.washingtontimes.com/news/2018/jan/3/texas-mosque-leader-apologizes-muslims-will-kill-j/
--------
CIA, Mossad have orchestrated recent violent riots in Iran: Analyst
Jan 3, 2018
The recent protests in Iran were partly orchestrated by American and Israeli intelligence agencies, with clear signs of Western interference in the ensuing violent riots, says a political analyst and author in Chicago.
"Everyone should be suspicious when something like this happens, especially when the western media and western officials, especially [US President Donald] Trump jump all over these things, and bash Iran, blame Iran for mistreating its people and so on and so forth," Stephen Lendman told Press TV on Wednesday.
"I believe what is happening is the protests were orchestrated by the CIA, I believe complicit with Israel's Mossad," Lendman said.
The violence is "a clear tip-off that foreign interference is behind what's happening," he added.
Since Thursday, groups of Iranian protesters have staged demonstrations in several cities over rising prices and economic hardships, which are partly the result of years-long illegal US-led economic sanctions against the country.
The peaceful protests turned violent when groups of participants, some of them armed, vandalized public property and launched attacks on police stations and government buildings.
Over a dozen people have been killed in the ensuing violence, according to state media reports.
In a series of tweets on Wednesday, Trump again expressed his support for rioters in Iran, saying they are finally taking action against the country's government.
"Such respect for the people of Iran as they try to take back their corrupt government. You will see great support from the United States at the appropriate time!" the full Twitter post reads.
In a tweet on Tuesday, Trump called the Iranian government "brutal and corrupt" and said that the United States is "watching" its actions, shortly after the Leader of the Islamic Revolution announced that Iran's enemies were encouraging violence in the country.
Iranian officials say Trump's support for rioters in Iran shows Washington's scheme to hatch a new act of sedition against the Islamic Republic.
Leader of the Islamic Revolution Ayatollah Seyyed Ali Khamenei said on Tuesday that Iran's enemies have been using various tools to harm the Islamic establishment.
Full report at:
http://www.presstv.com/Detail/2018/01/03/547744/CIA-and-Mossad-have-orchestrated-recent-protests-in-Iran-Analyst
--------
Trump threatens to withhold US aid to Palestinians
03 January 2018
President Donald Trump threatened Tuesday to cut aid to Palestine following an embarrassing diplomatic defeat at the United Nations.
"We pay the Palestinians HUNDREDS OF MILLIONS OF DOLLARS a year and get no appreciation or respect," Trump said on Twitter.
"They don't even want to negotiate a long overdue peace treaty with Israel. We have taken Jerusalem, the toughest part of the negotiation, off the table, but Israel, for that, would have had to pay more. But with the Palestinians no longer willing to talk peace, why should we make any of these massive future payments to them?"
The threat comes on the same day that the U.S. withheld $225 million in aid to Pakistan over terrorism concerns.
Nikki Haley, the U.S.'s UN envoy, appeared to foreshadow the announcement earlier Tuesday when she told reporters at the UN's New York headquarters that Trump "doesn't want to give any additional funding, or stop funding, until the Palestinians agree to come back to the negotiation table".
Last month, the U.S. was met with international opposition at the United Nations when the international body overwhelmingly rebuked Washington for its Dec. 6 decision to recognize Jerusalem as Israel's capital. Only a handful of states stood with the U.S. in the 128-9 vote despite Washington's threat to cut aid to countries that voted against it.
Haley called the resolution "not helpful to the situation".
Trump's Jerusalem decision is widely seen as undercutting the long-held understanding that the city's status would be resolved as a result of Palestine-Israel negotiations. It resulted in widespread condemnation, including from close allies in the west, and sparked demonstrations in Israel and Palestine.
Palestinian President Mahmoud Abbas said the move effectively disqualified Washington from serving as an effective intermediary in peace talks.
Israel considers Jerusalem to be its "undivided" capital after occupying the whole of the city in 1967, but Palestinians have long sought the city's east as the capital of their state.
Full report at:
http://www.worldbulletin.net/america-canada/197468/trump-threatens-to-withhold-us-aid-to-palestinians
--------
Niagara imam named to the Order of Canada
January 3, 2018
Almost 60 years ago, Fuad Sahin looked at Canada and the principals it stood for and decided it was the place he wanted to live.
That faith in his adoptive country has been a continuous thread for Sahin, who emigrated to Canada in 1958 and moved to Niagara in 1966.
That faith was repaid in kind as 2018 dawned, with Sahin being named a member of the Order of Canada by Gov. Gen. Julie Payette.
The Niagara-on-the-Lake resident earned his place in the prestigious for his work within the Muslim community, as well as being the founder of the International Development and Relief Foundation.
Sahin is one of 125 appointments made to the Order by Payette on Dec. 29, including 86 new members, and promotions within the order for 35 officers and four companions.
Established in 1967, the Order of Canada, one of our country's highest civilian honours, recognizes outstanding achievement, dedication to the community and service to the nation, said a release announcing the awards.
Close to 7,000 people from all sectors of society have been invested into the order over the years, says the release.
"Their contributions are varied, yet they have all enriched the lives of others and have taken to heart the motto of the order: … They desire a better country."
Appointments are made by the Governor General on the recommendation of the Advisory Council for the Order of Canada.
Sahin, an admirer of former prime minister Lester B. Pearson — specifically his work in the United Nations during the Suez Crisis — said he is proud of that long-ago decision to come to Canada.
"One thing I did — I came to Canada by choice … I chose Canada because, well, I knew about the history and geography of Canada before I came," he said.
Sahin said he is grateful for the reception he received when he arrived in the country in the late 1950s. He said Canada recognized human rights and was accepting of his religion.
"They were so wonderful, they recognized my religion, my needs, they offered me all the facilities I needed to practise my religion and that was wonderful, and the amount of respect they showed me was unbelievable," he said. "I'm very grateful."
His work to help develop the Muslim community in Canada includes organizing various Muslim associations, building the first Niagara mosque in Niagara Falls in 1984, and continuing to educate future generations of Muslims.
He said there was only one other Muslim family when he first came to Niagara in 1966. Currently, he is the imam of the Islamic Society of Niagara Peninsula.
"Well, my influence has been through all Canada … I've been able, with some help of members of community, to organize all the Muslim communities in all the big cities across Canada," Sahin said.
While he began his time in Canada as an interning resident in Kingston, Sahin has since become a known advocate for his religion.
"I was invited to speak to different churches and schools and associations, to tell them what Islam is," he said.
Said St. Catharines MP Chris Bittle, "He laid the foundation for a community that's grown … he helped build mosques, helped develop the community as a peaceful, constructive members of our community and he has woven that community into the fabric of St. Catharines,"
Sahin said he's happy to see how the Muslim community has grown.
"Gradually the number increased, and now we have to least three to four mosques in Niagara Falls and some more in St. Catharines," he said. "The children have really been very well-educated, and the people have been very responsible."
But, Sahin said he credits much of his work to his wife, Solmaz.
"I couldn't carry on all these functions without her help — the constant help and sacrifice she made."
He also said he's especially proud of young Muslims who are participating in Canadian life, excelling with universities and the workforce.
"They're becoming doctors and lawyers and teachers and accountants — you name it. We are really a central, beautiful part of the Canadian community."
Sahin's constant goal has been to create an inclusive society by "interface dialogue" with other religions, particularly Christianity.
It's a goal he has consistently espoused over the years, including in 2009 when he was honoured by the community not long after being invested in the Order of Ontario.
"We, as Canadian citizens, have a duty to make this wonderful country better," he said in an interview with The Standard in January 2009. "To help each other regardless of race or religion. We have to always remember what a special place we live in."
Today, Sahin recalled that after the 9/11 terrorist attacks, Muslims in Niagara Falls gathered and he and members of the Christian community spoke "to bring people together to live together."
In addition to his work helping develop the Muslim community in Niagara and Canada, Sahin has continued involvement in IDRF since founding it in 1984.
According to its website, IDRF is "a Canadian registered charitable organization dedicated to empowering the disadvantaged people of the world."
Sahin said the organization has helped people all over the world but the most important work was "providing dignity to many in the world who are missing it."
Bittle also said Sahin's impact reached beyond Niagara.
"He was one of the trailblazers and I know he's a highly respected individual within the local Muslim community," Bittle said. "He's ensured the good works are being done across the world. So, he's a leader in this community, a highly respected individual and it was great to see him get recognized by the Governor General for his outstanding contribution to Niagara, to Canada, and to the world."
Full report at:
http://www.stcatharinesstandard.ca/2018/01/03/niagara-imam-named-to-the-order-of-canada
--------
Windsor Muslims pen letter asking police why Islamic-themed graffiti is not a hate crime
Jan 03, 2018
Hate crime charges are still possible in connection with a spree of Islamic-themed graffiti sprayed across Windsor, according to police.
A 49-year-old man was arrested in December and charged with 16 counts of mischief for allegedly painting messages, including the words "Sharia now" and "Islam executes drug dealers" at bus shelters and on the windows of CBC and other media organizations across the city.
"A hate crime actually requires the consent of the attorney general for any proceedings," explained Sgt. Steve Betteridge. "That file has been sent to the crown for review and the crown is responsible for screening files and it's within their discretion to recommend charges only in circumstances where they deem it appropriate."
The explanation from police follows an open letter to the force penned by Ahmed Khalifa, who gathered signatures from the Imam of the Windsor Mosque, representatives of the Windsor Islamic Youth Council and other community members.
"We, the undersigned, a concerned group of Muslim community leaders and community members leaders and community members at large, request that the Windsor Police Service re-consider the nature of the charges," it reads. "These statements play on the irrational fear of Islam as vindictive and un-Canadian."
The letter goes on to state community members are concerned other people could be "influenced and emboldened by the misinformed messaging of the vandalism."
It also raises worries the relationship between the police service and Muslim community "will suffer if the impact and intent of these incidents are not recognized."
Khalifa delivered the letter to police Wednesday and called for a discussion with members of the force about the incidents and how they have hurt Muslims in Windsor.
"I see it as more of strengthening the communications, strengthening that tie with the Windsor Police Services and the Muslim community," he explained. "I don't see it as a rift."
Khalifa argues the fact the graffiti seems to target just Muslims strengthens claims the incidents could be a hate crime.
Full report at:
http://www.cbc.ca/news/canada/windsor/graffiti-widsor-muslim-windsor-1.4472166
--------
Pakistan
Call to establish 'Global Sharia Finance Authority' to promote Islamic banking
January 04, 2018
LAHORE - The speakers at '1st World Islamic Economics & Finance Conference' observed that Islamic banking is growing globally, as its annual growth rate is 15 to 20 percent and its volume has crossed the level of one trillion US dollars.
The conference was attended by known economists from UAE, Australia, UK, America, Saudi Arabia, Indonesia, Malaysia etc. The conference was organised by Minhaj University Lahore in collaboration with Islamic Development Bank, Jeddah & Islamic Research, and Training Institute. On the first day different sessions were arranged.
Besides Dr Tahir Ul Qadri, Prof Dr Masood ul Alam Ch, Prof Ishaq Bhatti, Vice chancellor Dr Aslam Ghouri and International Scholars from different universities presented their research papers.
The 1st World Islamic Economics Conference (WIEFC 2018) was aimed at bringing together leading International and local academicians, scientists and researchers of Islamic Economics and Finance to exchange and share their experiences and research results on all aspects of Islamic Economics & Finance . It also provided a premier interdisciplinary platform for researchers, practitioners and educators to present and discuss the recent development and innovations, trends, and concerns as well as practical challenges encountered and solutions adopted in the fields of islamic banking, economics, and finance industry around the world.
The speakers said that WIEFC 2018 was also aimed at enabling Islamic Finance to converge and grow itself as an economic system whilst equipping leaders with breakthrough insights to navigate the complexity of the global financial system.
Head of Pakistan Awami Tehrik Dr. Tahir Ul Qadri, addressing the opening session of 2 days Conference, said Pakistan is one of those countries where Islamic banking is constantly growing. Its growth rate can boostt further if different obstacles that Islamic banking sector is facing are removed including differences among different Islamic Schools of Thoughts.
"Islamic Banking has potential to play active central role in international financial system, but various local laws and explanations of different Islamic Schools of thoughts are standing in its way which needs to be removed, so Islamic Banking Sector could meet requirements of whole world and extend its role in global economy. Differences among Islamic Schools about banking and their discriminatory application must be replaced with universally acknowledged code which would ensure lasting development."
Dr Tahir Ul Qadri sid that Muslim world needs to form her economic identity on the basis of sound and stable economic foundations. He said Islamic Banking sector is currently under influence of different schools of thought; different Fatwa councils make their rules, regulate and enforce them. Regional Banks follow their own schools of thoughts accordingly. At times rules set by one school of thought may not be acceptable for another country or region. This situation of major hitch in the growth of Islamic banking globally hence must be removed.
"Islamic scholars, bankers and economists should join hand to eradicate these obstacles by formulating uniform rules applicable internationally." He said Islamic Banking can play leading role in interest-free banking; to achieve these goal Islamic scholars would have to understand the needs and requirements of contemporary world. He said to ensure growth of Islamic Banking sector we need the rule of "coping others", instead of negating others; and this can be achieved by forming "Global Sharia Finance Guidance Authority" represented by scholars of all Schools of thought, wherein none of the scholar would power to veto any banking product. He said if school of thought allows one Banking service, other rejects; to overcome this phenomenon we would have to entrust powers to "Global Sharia Finance Guidance Authority", to get rid of finitude, we have to follow the rule of "coping others". He said rules formulated by "Global Sharia Finance Guidance Authority" would be applicable in all Islamic Banks at regional as well as international level, thus eradicating monopoly of a single school of thought in any region.
https://nation.com.pk/04-Jan-2018/call-to-establish-global-sharia-finance-authority-to-promote-islamic-banking
--------
Faizabad sit-in was an attack on Muslims by Muslims: SC
JANUARY 4, 2018
ISLAMABAD: The Supreme Court on Wednesday observed that the recent sit-in staged by a religious party at Faizabad in the federal capital was an 'attack on Muslims by Muslims'.A two-member bench of the apex court, comprising Justice Mushir Alam and Justice Qazi Faez Isa, while hearing the suo motu case on disturbance to public life due to the protests, sought details from the attorney general on the number of lives lost and the damages caused during the sit.
During the hearing, the defence and interior ministries, Punjab government and Pakistan Electronic Media Regulatory Authority (PEMRA) submitted their respective reports on the protest before the court.
"How much damage was caused by the protest?" Justice Isa asked Attorney General Ashtar Ausuf. The court was told that an estimated damage of Rs 139.5 million was caused. The attorney general also informed the court that nine people in Punjab and three in Sindh lost their lives. He said that 194 police officers were injured in Islamabad but no security official was killed during the protest.
Justice Faiz asked whether all those who were killed were Muslims.
"This was an attack on Muslims by Muslims," Justice Isa said. "It caused harm to the identity of Islam. This is not the first incident, but we hope it is the last one where an attempt is made to paralyse the state," Justice Faiz said.
The Supreme Court also expressed dissatisfaction over the performance of the Inter-Services Intelligence (ISI) to monitor the Faizabad sit-in.
The court asked the top spy agency whether a cell to monitor such activities existed in the ISI or not, and if it did then was the top agency's representative aware of who the protesters were, what the working of the group was like and the issues. "You are a top agency … don't make a joke out of the country," remarked Justice Qazi Faez Isa.
The bench also inquired about the financial sources and income of protesters. The court also questioned the employment status of TLY chief Khadim Hussain Rizvi, who was heading the protest. "What is his source of income and address? Should we summon the ISI chief to get answers if you [the representative] don't have a coherent answer?"
Justice Isa remarked that while the ISI was doing a lot, it was doing nothing for the people of Pakistan. "Pakistan did not come into being due to the army … it was the struggle of the common people," he said.
Full report at:
https://dailytimes.com.pk/173758/faizabad-sit-attack-muslims-muslims-sc/
--------
Council of Islamic Ideology to Ensure Implementation of Recommendations
Jan 4, 2018
ISLAMABAD: In order to get the recommendations of the Council of Islamic Ideology (CII) implemented, the council is all set to start lobbying parliamentarians to ensure that the implementation is completed on time, it emerged on Wednesday.
CII is a constitutional body that advised the parliament on whether or not a certain law was repugnant to Islam. However, new CII Chairman Qibla Ayaz is all set to start lobbying and engage parliamentarians to ensure the implementation of the CII recommendations.
The council remained controversial in Muhammad Sherani's tenure due to his close association with Jamiat Ulema-i-Islam-Fazl (JUI-F) and for being considered a hardliner due to his rigid views.
Qibla Ayaz was appointed on the council's chairman post on November 4, 2017. His liberal and progressive religious leanings allowed him to envision the future of the council as a think tank. "The world has become a global village and there are many challenges facing the country on both the external and internal levels. Therefore, CII will start a 'Future Study' programme that will play the role of a think tank," he said.
In an informal meeting with journalists, the CII chairman said that since the past one year or so, the council had failed to conduct any meetings as the top post was left vacant during the same time period.
Before joining the CII as chairman, Ayaz had held several important positions in the University of Peshawar, including the Islamic and Oriental Studies Department dean. Talking about the future of the council, he said that CII would become a think tank through which various issues would be highlighted, including problems being faced by non-Muslims in Pakistan and abroad and the status of transgender in the country.
"In the next couple of weeks, the world will see CII as an active and vibrant forum which will hold several discussions and seminars on minority rights, especially transgenders, and the state of madrasa education system in the country," the chairman informed.
He also announced that on January 17, the council would take up Transgender Persons (Protection of Rights) Bill, 2017, which was referred by the Senate Functional Committee on Human Rights. The bill was drafted by a national task force constituted by the federal ombudsman and approved by the Senate Functional Committee on Human Rights in December last year.
Several sections were recommended in the proposed bill which included giving transgenders equal rights in property, proper job quotas and other facilities. The council would give its recommendation after holding a detailed discussion over the bill.
Responding to a question, Ayaz said that the opinion and recommendations of the female members of the parliament would be taken up on priority basis. It merits mention here that earlier Dr Samia Raheel Qazi had expressed her concerns over the working of the council for ignoring her 'point of view'.
Full report at:
https://www.pakistantoday.com.pk/2018/01/03/cii-starts-lobbying-parliamentarians-to-ensure-implementation-of-recommendations/
--------
Pakistan attaches great importance to its ties with Iraq, Netherlands: president
Jan 4, 2018
ISLAMABAD: President Mamnoon Hussain said Wednesday that Pakistan attached great importance to its relations with Iraq and the Netherlands, and is keen to further expand ties with both the countries in all sectors, including trade, education and culture.
He said this during a meeting with the outgoing Ambassador of Iraq Dr Ali Al-Rahmani and Ambassador-designate to Netherlands Shujjat Ali Rathore, who called on him separately here at the President House.
The president emphasised that resumption of air links with Iraq was a priority for Pakistan, which would benefit the people of both the countries in terms of trade and tourism. It would bring the people of the two countries closer and also give them an opportunity to have better understanding of each other, he added.
He underlined that Pakistan desired to enhance cooperation with Iraq in several sectors, including trade, education and culture. He highlighted that Iraq and its capital Baghdad had extraordinary importance in the Islamic history, as besides Madina, Baghdad was the other city where Muslims used to travel for educational purposes.
The president underscored Pakistan's strong resolve to eradicate extremism from the region, while adding that the country had also made great strides in this connection over the past few years.
He stated that Pakistan and Iraq were connected through great historical and religious links, which further deepened the existing relations between the two countries. He called for increasing the exchange of trade delegations to ensure increased people-to-people contacts between the two countries.
While appreciating the interest of Iraq in China Pakistan Economic Corridor (CPEC), the president said that the project would be a game changer for the entire region. The outgoing ambassador apprised the president that Iraq was interested in CPEC and planned to initiate several projects related to the energy sector.
Full report at:
https://www.pakistantoday.com.pk/2018/01/03/pakistan-attaches-great-importance-to-its-ties-with-iraq-netherlands-president/
--------
American statements detrimental to Pak-US relationship: cabinet
Iftikhar A. Khan
January 04, 2018
ISLAMABAD: The federal cabinet on Wednesday observed that recent statements by the American leadership were detrimental to the Pakistan-US relationship that had developed over generations.
"Pakistan has rendered huge sacrifices, both in terms of loss of precious human lives and substantial damage to the economy as a result of partnering in the global war against terrorism. Achie­vements made by Pakistan in curbing the menace of terrorism have been acknowledged throughout the world," reiterated the cabinet.
Foreign Minister Khawaja Asif briefed a meeting of the cabinet presided over by Prime Minister Shahid Khaqan Abbasi on the background of the American statements and the discussion held at the 17th meeting of the National Security Committee (NSC) on Tuesday.
The cabinet unanimously endorsed the stance of the NSC which had expressed deep disappointment over the statements of the US leadership.
Publication of census results
The cabinet removed the last hitch in the way of early delimitation essentially linked with timely general elections by approving the official publication of block-wise census results.
Informed sources told Dawn that this became possible by last-minute inclusion of the item in the agenda of the cabinet's meeting on direct intervention by Prime Minister Abbasi after he received a communication from Chief Election Commissioner retired Justice Sardar Muhammad Raza.
They said the CEC's communication received on Monday sought the prime minister's intervention in timely publication of the provisional census results, without which the Election Commission of Pakistan (ECP) was unable even to commence the already delayed delimitation exercise whose completion had become an ever challenging task with each passing day.
"A prompt action by your good self will greatly help ECP surmount the hurdles causing delay in delimitation process and embark upon the journey to conduct of general elections 2018 as per schedule," the CEC's letter reads.
He had invited the prime minister's attention to the challenges confronting the ECP in preparations for the elections and the circumstances having the potential to impact the conduct of elections in a timely manner.
The CEC also referred to a letter he had written to the law secretary, asking him to take all steps for necessary legislation to amend Article 51 of the Constitution. He recalled that the amendment had been passed by the National Assembly on Nov 15 and by the Senate on Dec 19 to allocate NA seats to the provinces.
He also mentioned the invocation of Article 220 of the Constitution by the ECP to seek assistance of the federal and provincial authorities, asking them to furnish within fortnight the prerequisites, which included publication of provisional results census being the backbone. "The results have not yet been published which enormously enhances the apprehension of the ECP with regards to timely completion of the task of delimitation. Let me stress that every day wasted in this regard is bound to test the timeline set for completion of delimitation in time," the letter said.
Cards for Afghan refugees
The cabinet considered a proposal for extension of proof of registration (POR) cards and tripartite agreement (Pakistan-Afghanistan-UNHCR) for Afghan refugees beyond Dec 31, 2017. After a detailed discussion on the proposal, the cabinet agreed to grant only a 30-day extension for POR cards and decided that the issue of early repatriation of Afghan refugees would be raised with the UN refugee agency and the international community.
"Pakistan's economy has carried the burden of hosting Afghan refugees for a long time and in the present circumstances cannot sustain it further," emphasised the cabinet.
The agenda item of approval of maximum retail prices (MRPs) of additional pack sizes of already registered drugs and approval of increase in MRPs of drugs under Para 8 and threshold limits of lower priced drugs under Para 11 of the Drug Pricing Policy-2015 were discussed at length and the cabinet accorded approval as per the said policy.
Full report at:
https://www.dawn.com/news/1380662/american-statements-detrimental-to-pak-us-relationship-cabinet
--------
Afghan refugees granted sixth extension for their stay in Pakistan
Sanaullah Khan
January 03, 2018
The federal cabinet on Wednesday granted a 30-day extension in the legal stay of Afghan refugees in Pakistan. This is the sixth extension given to the refugees by the government.
Nearly 1.4 million registered Afghans had lost their refugee status in Pakistan on Sunday after their Proof of Registration (PoR) cards expired on December 31.
The Ministry of States and Frontier Regions (Safron) had suggested to the Prime Minister's Secretariat that the refugees' stay should be extended until December 2018.
However, a meeting of the cabinet chaired by Prime Minister Shahid Khaqan Abbasi in Islamabad "agreed to grant only 30 days extension for PoR" card holders, read a press release issued after the meeting.
Examine: What is wrong with repatriating Afghan refugees?
After a detailed discussion on the proposal to extend the stay of Afghan refugees, the cabinet decided that the issue of early repatriation of the refugees will be raised with UNHCR and the international community.
"Pakistan's economy has carried the burden of hosting Afghan refugees since long and in the present circumstances cannot sustain it further," said the statement after the meeting.
Afghan refugees have already availed extension in their stay five times. The government had introduced PoR card system for the registered refugees to legalise their stay and protect them from harassment at the hands of law enforcement agencies. The card system was introduced with the assistance of UNHCR in 2009.
The government has commitments with UNHCR and Afghan government that there would be no forced return of refugees despite the expiry of PoR cards and would facilitate their return through the UN-sponsored voluntary repatriation programme.
Cabinet briefed on Trump remarks
At the outset of the meeting, Foreign Minister Khawaja Asif briefed the cabinet regarding the allegations levelled by US President Donald Trump against Pakistan in a tweet, and the discussion held during a meeting of the National Security Committee on Tuesday.
The cabinet unanimously endorsed NSC's stance at the end of the meeting. It observed that Trump's statements are "detrimental to the bilateral relationship between Pakistan and USA".
Full report at:
https://www.dawn.com/news/1380570/afghan-refugees-granted-sixth-extension-for-their-stay-in-pakistan
--------
Political parties to march on Islamabad for Fata-KP merger
January 04, 2018
PESHAWAR: A tribal jirga, including different political parties, has urged the federal government to announce merger of the Federally Administered Tribal Areas with Khyber Pakhtunkhwa till mid January otherwise the tribal people will march on Islamabad and start a sit-in in this regard.
The jirga meeting was held under the aegis of Jamaat-i- Islami, Khyber Pakhtunkhwa, at Peshawar Press Club on Wednesday, which was chaired by the party leader Liaquat Baloch. Senior minister Inayatullah Khan represented the KP government at the event.
A declaration was presented by JI leader Sahibzada Haroonur Rashid on the occasion, which called for taking necessary legal measures for merger of Fata with KP, abolition of FCR, extension of jurisdictions of the Peshawar High Court and Supreme court to the tribal region and repeal of Articles 246 and 247 of the Constitution to ensure all constitutional rights to the tribal people.
It also sought the representation of Fata in the provincial assembly before 2018 general elections.
It demanded holding of local bodies' elections in all the tribal agencies.
The statement called for implementation of Fata reforms recommended by Sartaj Aziz committee. It also demanded announcement of a rehabilitation package for internally displaced persons and reconstruction of the damaged infrastructure in tribal regions.
JI provincial chief Mushtaq Ahmad Khan, Fata chief Sardar Khan, ANP leader Abdul Lateef Afridi, PPP leader Akhunzada Chattan, PTI's Mohammad Iqbal Afridi, journalist Saleem Safi, QWP leader Asad Khan, JI MNA Tariqullah Khan and Peshawar High Court Bar Association president Arbab Usman were the keynote speakers at the jirga. Representatives of civil society, lawyers, political activists and tribal elders also participated in the meeting.
Liaquat Baloch said on the occasion that people of Fata had been kept deprived of all constitutional rights since inception of the country. He said that education and health facilities were not available to the people, which was a sheer injustice with them.
He stressed the need for Fata-KP merger to open a new chapter of development and progress in the region.
He said that majority of tribal people were in favour of the integration with KP.
Mr Baloch said that the demand for holding referendum or declaring Fata as a separate province was aimed at putting the Fata issue on the backburner and delaying the merger.
He clarified that his party had put four main conditions before JUI-F chief Maulana Fazlur Rahman for joining Muttahida Majlis-i-Amal. He said that the Fata issue was on top among the four conditions. He said that the Fata issue would be discussed in the next meeting of MMA.
"We are sincere on the Fata issue and would continue struggle till merger of the tribal region with KP," the JI leader said.
He, however, added that it was the democratic right of every political party to set own strategy for the upcoming general elections.
Commenting on the recent statement of US president, Mr Baloch called for forging unity to tackle any external threats.
He said that in fact the US was trying to hide its failure in Afghanistan.
Full report at:
https://www.dawn.com/news/1380699/political-parties-to-march-on-islamabad-for-fata-kp-merger
--------
Effects of anti-Haqqanis actions will be visible soon: Army
January 04, 2018
ISLAMABAD - Inter-Services Public Relations (ISPR) Director General Maj-Gen Asif Ghafoor made it loud and clear that any action by United States would invoke a response as per aspirations of the people of Pakistan.
In a brief comment on the recent tirade triggered by the US president's tweet against Pakistan, the ISPR DG said that Pakistan had taken actions against Haqqani Network and the effects of the action would be visible in due course.
Later talking to a private television channel, Maj-Gen Asif Ghafoor said that Washington should realise that the misunderstandings between Pakistan and United States could negatively affect the security situation in the region, particularly in Afghanistan.
Making it clear that Pakistan would never compromise on its prestige and integrity, the ISPR DG underlined the close relationship between US and Pakistan in the international pursuits against terrorism.
The ISPR chief also pointed towards the Indian background of US Ambassador to the United Nations Nikki Haley. "US should find out the elements which are aiming at deteriorating the US-Pakistan cooperation," he said.
Ghafoor said the new US policy for the region mentions that India would be provided with a lead role in security issues.
"We don't need a security guarantee from anyone. We are a responsible nation and will continue our role in establishing peace in the region."
The US has to realise that there is a context to our relations with India and we have unresolved issues," he said. "It would be impossible to establish peace in the region without resolving these issues," Ghafoor said.
He further said that Pakistan has actively cooperated with the coalition forces in Afghanistan and the efforts should be enhanced to bring peace in Afghanistan.
The ISPR chief maintained that India played a very negative role in connection with bringing peace in Afghanistan as well as the region. He alleged that India used the Afghan soil against Pakistan and supported terrorism in the country, which is evident from the arrest of Kulbhushan Jadhav.
Meanwhile, in another development, Chief of Army Staff (COAS) General Qamar Javed Bajwa visited North Waziristan Agency (NWA).
The COAS laid floral wreath at Shuhada Monument in Miranshah. General officer commanding Miranshah gave detailed briefing about security situation, rehabilitation of TDPs and progress on socio-economic development projects in the agency.
The COAS also visited newly-constructed border forts and fencing along Pak-Afghan border. Gen Bajwa appreciated efforts of the formation for speedy and quality work for border security measures.
Commander Peshawar Corps Lieutenant General Khalid Nazir Butt was present during the visit.
General Bajwa also visited home of Muhammad Ali Khan at Gharh Khel, Karak. Mr Ali has 8 sons; three of them lance naik Khurshid FC KP, naib subedar Umer Daraz FC KP and havaldar Sher Daraz Pak Army, have laid their lives for motherland in various operations.
Three are presently serving in FC KP and Pak Army while two live with them at home. Besides his own sons, his two nephews sepoy Hazrat Ali and sepoy Lal Marjan both army soldiers have also sacrificed their lives for the country while four nephews are presently serving in Army. The COAS paid rich tributes to the proud family for their great sacrifices and said, "Till the times we have such great parents and such brave sons no threat can deter Pakistan." Gen Bajwa said, "No amount of care can return the value of their patriotism and sacrifices which is leading us to a peaceful and stable Pakistan."
Full report at:
https://nation.com.pk/04-Jan-2018/effects-of-anti-haqqanis-actions-will-be-visible-soon-army
--------
Three TTP terrorists gunned down
January 04, 2018
KARACHI - Three terrorists killed during a joint venture by the Rangers troops and Counter Terrorism Department's personnel were associated with the Ustad Aslam group of the Tehreek-e-Taliban Pakistan (TTP).
According to the details, at least three terrorists were killed during a late night operation in Qaimkhani Colony area, Baldia Town when the Rangers and CTD police in a joint venture raided at their possible hideout, adding that the three terrorists were killed during an alleged encounter while few of their comrades had been managed to escape under the cover of fire.
The Rangers and CTD police had also claim to have recovered two suicide jackets, arms and ammunitions. Two Rangers troops and one CTD personnel were also wounded in the exchange of fire. Later, bodies of deceased terrorists were shifted to morgue for identification purpose where they were identified as Abdul Kareem Swati alias Mufti, Muhammad Ahmed alias Maulvi Abdullah and Yousuf alias Shahzada alias Noman Burmi. Rangers spokesperson while confirming the identifications of the killed militants said that the terrorists killed were associated with the Ustad Aslam group of TTP and they were wanted in several heinous cases of terrorism.
Sources in the CTD said that they were the trained militants and were plotting for major terror activities in Karachi, adding that the killed militants were linked to the militants killed during an encounter with the Rangers in Urdu Bazaar area last year in which three militants, a woman and a minor child were killed while some of the militants had been managed to escape.
Full report at:
https://nation.com.pk/04-Jan-2018/three-ttp-terrorists-gunned-down
--------
Seven years later, a liberal Pakistan remains a distant dream
Ailia Zehra
JANUARY 4, 2018
Today marks the seventh death anniversary of former Punjab governor Salmaan Taseer. Taseer was killed by one of his bodyguards who later confessed to the crime and said he disagreed with Taseer's opposition to Pakistan's blasphemy law. The murderer Mumtaz Qadri was executed in 2016.
Thousands of Qadri supporters took to the streets against his execution and vowed to avenge his 'murder'. His funeral drew huge crowds and his tomb is reportedly under construction near Rawalpindi. It all goes to show that bigotry is deep-rooted in the society today and the bigots are not only in great numbers but also far more organised than progressive voices.
Last year in November, religious fanatics from a newly formed extremist group Tehreek-e-Labbaik staged an anti-government sit-in in Islamabad. The said group's entire politics till date is based on glorification of convicted murderer Mumtaz Qadri, yet no action had been taken against them despite the fact that glorification of a terrorist is crime under Pakistan's anti-terrorism act.
Salmaan Taseer died for a liberal Pakistan, but seven years after his death, the eradication of extremism remains a distant dream. What is worse is that the state not only lacks the will to tackle the rise of extremism, but also appears to have a soft corner for religious fanatics.
'Blasphemy'-related violence claimed several other lives after Taseer's death, but the state is yet to present a narrative against this form of violence. From the murder of Shama and Shehzad in Kot Radha Kishan who were burnt to death in a brick kiln over allegations of blasphemy, to Mashal Khan's brutal lynching over accusations of blasphemy on social media, the mindset that led to the killing of Salmaan Taseer continues to thrive in the country.
The best way to pay tribute to Salmaan Taseer is to support justice for Aasia Bibi and all other victims of Pakistan's blasphemy law
Salmaan Taseer stood up for blasphemy convict Aasia Bibi's right to fair trial, but she still awaits justice. The extremist groups have time and again threatened to launch countrywide protests in case Aasia Bibi is released. The misuse of blasphemy law against which Salmaan Taseer raised his voice continues unabated even today. The progressive elements of the country need to better organise themselves in order to confront this hateful mindset. It is clear that the government cannot be counted on for doing something about the extremist threat. The citizens and activists will have to find a way out themselves.
Full report at:
https://dailytimes.com.pk/173805/seven-years-later-liberal-pakistan-remains-distant-dream/
--------
Europe
How These Muslim, Jewish And Christian Musicians Play Beyond Barriers
By Ben Schamisso
April 26, 2017
A group of Muslim, Jewish and Christian musicians have been celebrating their musical heritage together for almost two decades by performing each other's repertoires. They're called The Salaam-Shalom Music Project. The name means "peace" in Arabic and Hebrew.
"When you learn music, you actually deepen your own feelings and you begin to understand things that may have just seemed foreign or different before," said Lori Lippitz, the project founder.
The musicians are from the U.S., Middle East and Eastern Europe. And they perform folk songs in Arabic, Hebrew, Urdu, Yiddish, Russian and French.
"Instead of obsessing on developing a specific kind of music repertoire, it's more a potluck of bringing everybody together, and bringing different music styles together," explained Joey Spilberg, the group's bassist.
"Divisions are everywhere," vocalist Yasmin Ali said. "I hope that by seeing people collaborating on stage and finding commonality in a very beautiful and harmonious way, they can just take something from that and apply it in their own lives. "
"There are very serious problems that are causing Jews and Muslims to be confronting each other, specifically in Israel and Palestine," Lippitz said. "No one is making light of that or saying that it's easy to solve. But there really isn't such a great deal of difference in us as people."
"It's not enough to see the news and feel sorry about it and turn the TV off," said Amro Hosny Helmy, vocalist and oud player. "We need to say something; We need to do something. I do what I know: I play music."
"I grew up in a very traditional Muslim community," Ali said. "My parents are amazing, but they grew up in a community where they were told not to openly embrace everyone, unfortunately. They had to fight hard to overcome those prejudices, and they did."
"We were raised with the belief that no matter who is in front of you, you treat them like they're just like you. If you are comfortable in your life, find ways to become uncomfortable and to grow from it," Ali said.
"I belong to the Jewish community," Lippitz said. "And it pains me when I see factions of my community — small factions — creating walls where there are no walls, creating stereotypes about 'them' and 'those people,' about people they don't know anything about."
"But how can you get to know people in the Muslim communities of Chicago, for example, unless you have a reason to get together with them. And this is a reason," Lippitz said. "The reason is: We're playing their music. They're playing our music. We're dancing together. I mean, what could be better?"
https://www.newsy.com/stories/listen-how-these-interfaith-musicians-play-beyond-barriers/
--------
German academy launches project to document Arab and Islamic heritage
January 3, 2018
The Saxon Academy of Sciences in Leipzig, Germany has launched a digital platform to document millions of books and manuscripts from the Arab and Islamic world, Al-Jazeera reported today.
The platform named "The Arab Library" was launched earlier this week, providing researchers and academics access to rare and original historical texts. The project is scheduled to run until 2036, with the possibility of its work being extended if demand exists.
A budget of €7.5 million ($9 million), funded by the German federal government and local authorities in various states, was allocated to the initiative, which is being supervised by Dr Freena Kalim, a professor of Arabic and Islamic Studies at Leipzig University.
"This project is a huge tool to help scientists and researchers in the field of Arabic studies and Islamic sciences," Kalim said in a statement. "Arab literature has been inherited for about 1,400 years, and the culture of books in the Arab-Islamic civilization is rich, vibrant, diverse and unlike any other."
The collection features literature, religious texts, encyclopedias, dictionaries, news briefings and books on poetry, travel and nature. Most of the library derives from the period between the twelfth and nineteenth centuries, one that was classified as a phase of decline of the Arab-Islamic culture after its golden age in Andalusia.
Whilst the entirety of all texts is not accessible, descriptions of the books, including their authors, time and place of publication, and notes made on the original copies are detailed. Additionally, all materials are presented in their native Arabic, alongside English and German translation.
Kalim emphasised that the material would shed more light on the social and political variables of people during the reign of the Mamluks and subsequently the Ottomans in Egypt, Syria and Anatolia.
Full report at:
https://www.middleeastmonitor.com/20180103-german-academy-launches-project-to-document-arab-and-islamic-heritage/
--------
UK retains ban on 6 anti-India groups
Jan 03, 2018
Six groups involved in activities related to Jammu and Kashmir and Khalistan remain on Britain's list of banned organisations - called "proscribed" terrorist entities - according to the latest update that names 74 groups operating in and across various countries.
New Delhi has often asked London to clamp down on groups allegedly indulging in anti-India activities from British soil.
The International Sikh Youth Federation, banned in 2001, was removed from the list in March 2016. The current list includes Babbar Khalsa, which the Home Office describes as "a Sikh movement that aims to establish an independent Khalistan within the Punjab region of India".
The six groups include four related to Jammu and Kashmir: Harakat-Ul-Jihad-Ul-Islami (proscribed in October 2005), Harakat Mujahideen (proscribed in March 2001), Jaish-e-Mohammed and splinter group Khuddam Ul-Islam (JeM proscribed in March 2001 and KuI proscribed in October 2005), and Jamaat Ul-Furquan (proscribed in October 2005).
Also named in the list is Indian Mujahideen (proscribed in July 2012), described as an organisation that "aims to establish an Islamic state and implement Sharia law in India using violent means".
Under Britain's Terrorism Act 2000, proscription makes it a criminal offence to belong, or profess to belong, to a banned organisation in the UK or overseas, or to invite support for a proscribed organisation (and the support is not restricted to the provision of money or other property).
Full report at:
http://www.hindustantimes.com/world-news/uk-retains-ban-on-6-anti-india-groups/story-HAXGKKhtyCq5FW7yD6V7LN.html
--------
Erdogan to visit France, explore improvement of EU ties
Jan 3, 2018
Turkish President Recep Tayyip Erdogan is to visit France this week for talks with his French counterpart, Emmanuel Macron, to explore an improvement of ties with the European Union and discuss regional issues.
The two will meet at the Elysee Palace in Paris on Friday, with talks expected to cover a range of issues from bilateral and Turkish-EU ties and trade to the developments in Syria and Palestine.
Macron reportedly intends to raise the issue of the human rights situation in Turkey. Key EU member states have engaged in quarrels with Ankara during the past year and a half over Turkey's crackdown on perceived putschists after a failed coup in July 2016.
Earlier in the week, Macron's office released a statement on the upcoming visit, saying that the meeting between the two would be a follow-up to "regular conversations of recent months" and would include "a particular focus on the Syrian file" as well as Palestine.
Turkey has been involved in a peace initiative for Syria with Iran and Russia in Kazakhstan's capital of Astana. Another peace initiative, on the auspices of the United Nations, has been ongoing in Geneva. Some Western countries want the focus to be on the Geneva peace talks and away from the Astana negotiations, which has progressed comparatively better.
Separately, Erdogan's spokesman Ibrahim Kalin has described France as a "leading ally" ahead of the visit and expressed optimism that the upcoming talks would further boost their relationship.
Two EU member states, namely Germany and Austria, have had the most strained relationship with Turkey. Berlin and Vienna have most strongly criticized the large-scale crackdown following the abortive coup in Turkey. Austria has even called for an end to EU accession talks with the Turkish government.
Macron of France has, in contrast, underlined the need to "avoid ruptures" with Turkey, which he has described as an "essential partner." Turkey is a NATO member state.
Erdogan recently praised Macron — as well as the German leadership — for supporting Muslim nations in denouncing a decision by the US to declare Jerusalem al-Quds as the "capital" of Israel.
Full report at:
http://www.presstv.com/Detail/2018/01/03/547676/Turkey-Erdogan-France-Macron-EU-ties
--------
France: Macron urges dialogue with Iran, slams strong rhetoric
4th Jan 2018
By Hajer M'tiri
PARIS (AA): French President Emmanuel Macron on Wednesday called for maintaining dialogue with Iran, warning that bellicose statements by the U.S., Israel and Saudi Arabia towards Tehran could have severe consequences.
"The tone of recent comments by the U.S., Israel and Saudi Arabia on the wave of demonstrations in Iran is almost pushing us into war," Macron told journalists during his annual New Year's address at the Elysee Palace.
The French leader called for maintaining balance. "Otherwise, we will end up surreptitiously rebuilding an 'axis of evil'."
Macron said it was necessary "to increase international pressure on Iran" but not "break off dialogue".
"It takes a regional strategy to look at how to limit Iranian action" in the region. "But if we break off all dialogue with Tehran, we risk engaging in a conflict of extreme brutality," he said.
Macron said he would visit Iran, but only after the situation there returns to normal and respect for freedoms is restored.
Full report at:
http://muslimnews.co.uk/news/middle-east/france-macron-urges-dialogue-iran-slams-strong-rhetoric/
--------
India
VHP Meet to Discuss Ram Temple, Islamic Terrorism Love Jihad, and 'Gau-Raksha'
Jan 3, 2018
LUCKNOW: The Vishwa Hindu Parishad (VHP) will deliberate on the status of the Ayodhya title suit with respect to the hearing which will be resumed in the Supreme Court in February. At the meeting of its Kendriya Margdarshak Mandal to be held in Allahabad during Magh Mela on January 19, it will also discuss the cases being heard in other courts. It will also hold a huge conference of saints and seers from all over the country a day later.
VHP brass will be remained present at the Magh Mela venue on January 19 and January 20 to prepare a roadmap for activities in future and deliberate on Islamic terrorism, love jihad, 'gau-raksha' and cleanliness of the Ganga.
VHP spokesperson Sharad Sharma said that the meeting of Margdarsak Mandal was a part of the annual event. The meetings are held twice in a year — in January and June in Prayagraj and Haridwar respectively — to discuss on 'dharm-sanskriti' and issues affecting the nation. The two-day event will focus on the security of temples and `maths' in southern states and atrocities committed against Hindus in Pakistan and Bangladesh.
The decisions taken in the `dharm-sansad' in Udupi, Karnataka in November to start a nationwide programme between March 18 and March 31 for construction of Ram Temple will be discussed, too.
The carving work which is being done on the stones for Ram temple construction at Ayodhya will also be reviewed.
https://timesofindia.indiatimes.com/city/lucknow/vhp-meet-to-discuss-ram-temple-islamic-terrorism/articleshow/62355043.cms
--------
AIMPLB thanks those seeking triple talaq bill be sent to Select Committee
January 3, 2018
The All India Muslim Personal Law Board (AIMPLB) on Wednesday thanked those parties in the Rajya Sabha that
pressed for sending the bill against triple talaq to a select committee and hoped that they will stick to their stand.
"AIMPLB is thankful to the parties and MPs in the Rajya Sabha who pressed for sending the bill to the select committee for removing all its shortcomings," board's spokesman Maulana Khalilurrehman Sajjad Nomani told PTI. "We hope that these parties will stick to their stand…We also hope that the allies of the BJP-led NDA will express their views on the issue in the Rajya Sabha in accordance with the voice of their conscience," Nomani said.
"The BJP is ignoring shortcomings in the bill which will make the issue of divorce more complex…We condemn the BJP in the strongest of words over its stance in this regard," he said. "In its present form, the difficulties of Muslim women will increase manifold… This bill is not only against the Constitution but also the Supreme Court verdict of August 22, 2017," Nomani said.
Full report at:
http://indianexpress.com/article/india/aimplb-thanks-those-seeking-triple-talaq-bill-be-sent-to-select-committee-5010495/
--------
'Love jihad' or love-struck? Kerala home department says conversions to Islam mostly for romantic reasons
03 Jan, 2018
'Love' is the major factor behind conversions to Islam in the southern Indian state of Kerala, according to the state home department. The department has zeroed in on the reason for the conversion after scrutinising over 7,200 cases of conversions during the period from 2011 to 2016.
The investigation conducted with the help of Central intelligence agencies could not find any evidence to support the allegation by certain Hindu groups that the conversions were part of an organised move to convert Hindu girls to Islam. The Hindu organisations had alleged that some Muslim outfits had pressed trained youths to trap Hindu girls by feigning love. They called the operation 'love jihad'.
The allegation got credence after it was found that 21 people who left Kerala in June 2015 to join the Islamic State (IS) included five Hindus and Christians, who had converted to Islam.
The National Investigation Agency (NIA), which is investigating the case, found that the youths who hailed mostly from Kasargod and Palakkad districts in the state had landed in the IS front in Afghanistan.
The investigation into conversions was ordered by the government after the Sangh Parivar took it up and unleashed a nationwide propaganda. The investigation report said the driving force behind the conversions recorded in the state during the six-year period was love.
The investigation showed that as many as 61 percent of the 7,229 cases analysed by them had embraced Islam for the sake of love. The probe report cited family problems (12 percent), poverty (8 percent), social reasons (8 percent) and mental disturbances (7 percent) as the other key reasons for conversion.
The investigation revealed that only a small percentage of people had converted due to faith in Islam. A significant finding of the investigation is that a lion's share (82 persons) of the converts were Hindus. Christians, who constitute about 18 percent of the state's population, accounted for 17.9 percent of the conversions.
Another important finding of the investigation is that 64 percent of those who changed their faith during the six-year period belonged to economically backward sections. About 35 percent are from middle class. None from affluent sections of Hindu and Christian communities joined Islam.
The report states that 74 percent of those who converted to Islam are below the age of 35. As many as 40 percent are between the age of 18 and 25. Thirty-five percent of the converts have not completed their school education. The percentage of those who have completed school education is 45 percent. Eleven percent are graduates and 4 percent postgraduates.
About 65 percent of those who have converted to Islam hailed from nuclear families. Thirty-two percent of them came from joint families. Thrissur district in central Kerala accounted for the maximum number of conversions, followed by Palakkad.
Contrary to the home department finding, the NIA that investigated a few cases of conversion in the state had found an "organised effort" behind the conversions. In a status report filed before the Supreme Court two months ago, the agency said that five women they examined as part of the investigation had claimed that they were lured to convert to Islam.
The report said that there was a common thread behind the cases they investigated. The NIA had picked 30 out of 89 cases referred to them by the Kerala Police for scrutiny. The agency took up the cases after Supreme Court asked them to investigate the case of Akhila Asokan alias Hadiya, a 25-year-old Hindu woman, who converted to Islam and married a Muslim man.
Rahul Easwar, a writer and social activist, said he chose to agree with the findings of the Kerala home department. He told Firstpost that the probe report identifying economic factor as one of the reasons for conversion had supported his position that the major reason for conversion from Hinduism to Islam was the lack of social support system in the Hindu community.
"Muslims can turn to the jamat and Christians to the church for help whenever they face a crisis in their life. The temples where the Hindus go have no provision to offer any such aid. A poojari in a temple does not have time even to listen to the woes of the faithful. If such people take refuge in another faith they cannot be blamed," said Rahul, who is the grandson of the supreme priest of the famed Sabarimala hill shrine.
The activist said the Hindus were vulnerable to conversion since they also lacked spiritual orientation and religious education as the Christians and Muslims. The Sunday schools in the churches and the madrasa classes in the mosques on Fridays lay a strong religious foundation to Christians and Muslims.
"The temples have no such communions to fathom the spirituality of the faithful. The Hindus come together only during the annual festivals in the temples. Unfortunately, these festivals have turned out to be carnivals these days," Rahul said.
He said the Hindu community could not blame others for the conversions. "Conversions will continue if the community does not reform itself. The need of the hour is inner strengthening. Unfortunately, the leaders of the community are trying for organised polarisation," he said.
Full report at:
http://www.firstpost.com/india/love-jihad-or-love-struck-kerala-home-department-says-conversions-to-islam-mostly-for-romantic-reasons-4285741.html
--------
Rajya Sabha din holds up fate of triple talaq Bill, drowns minister's speech
by Abantika Ghosh
January 4, 2018
Rajya Sabha failed to decide Wednesday if the Muslim Women (Protection of Rights of Marriage) Bill — which criminalises triple talaq — should be referred to a select committee. After deputy chairman P J Kurien's order to clear the lobbies for a vote, BJP members crowded the aisles and shouted, while there was order on the Opposition benches. Kurien eventually adjourned the House for the day.
The visitors' gallery was lined by women in burqas and the treasury benches by shouting, gesticulating ministers.
Earlier, Leader of the House Arun Jaitley used the rule book to argue that amendments moved by Anand Sharma (Congress) and Sukhendu Sekhar Roy (Trinamool) for sending the bill to a select committee were not admissible as procedure had not been followed; besides, the committee proposed by Sharma had no BJP member. "In Tuesday's BAC (business advisory committee) meeting when the matter of referring the bill to a select committee was discussed, the government had not agreed to it. That is why BJP names were not on the list," Roy explained after the House had been adjourned.
However, Kurien ruled that both amendments had been allowed by chairman Venkaiah Naidu.
Jaitley quoted from a Supreme Court judgment on instant triple talaq to stress the urgency of the bill. When Kapil Sibal (Congress) pointed out that Jaitley had quoted from a minority judgment and he was privy to the details as he had represented the All India Muslim Personal Law Board in the case, ministers Ravi Shankar Prasad, Piyush Goyal and Smriti Irani were on their feet. Law Minister Prasad's voice could be heard over the din: "He represented personal law board he should not be allowed to speak on the bill as there is a conflict of interest." Irani said: "You sit against the rights of Muslim women. With what conscience do you sit in this House?"
Prasad did not get an opportunity to speak on the bill. No sooner had he introduced it than Roy moved his amendment, followed by Anand Sharma. When Prasad said he had not made his speech, Leader of the Opposition Ghulam Nabi Azad said a minister can speak before introducing a bill, not after. Kurien ruled that out as a mere technicality.
Prasad began, "Mahilaon ki izzat, khwateinon ki…" but his voice was drowned. At one point he accused the Opposition of deliberately blocking the bill. Azad said the Opposition is keen that a good bill is passed, but the BJP's anti-Dalit stance had to be highlighted. As Kurien threatened to adjourn, Azad said: "Don't adjourn, let's have division." It was a full House thanks to a BJP whip and the Opposition's determination to see a vote through — the plan was to ensure a headcount 25 more than on the Treasury benches.
His speech blocked, Prasad said: "Why is the Congress party having double standards? Does the Congress stand for the rights of women? I would like to know this." Sharma challenged the government to bring the Women's Reservation Bill if it is as committed to women's welfare as it claims to be.
When the House assembled after lunch, it was adjourned after protests from BSP members who wanted business to be suspended to discuss violence against Dalits.
Full report at:
http://indianexpress.com/article/india/rajya-sabha-din-holds-up-fate-of-triple-talaq-bill-drowns-ministers-speech-5010689/
--------
Hindu outfits hold rally against 'Love Jihad' in Mangalore
January 3, 2018
Hindu organisations Vishwa Hindu Parishad, Bajrang Dal and Durgavahini women's wing on Wednesday began a 15-day awareness programme in Mangalore against 'Love Jihad', the organisers said. They took out a rally from the Sri Laxmi Narayana Temple here to mark the start of the programme.
Love Jihad is a term used by sections of Hindu activists to describe marriages between Hindu women and Muslim men, who they claim seek to propagate Islam.
The organisers said workers of the three outfits would visit colleges, work places and homes in the district to distribute pamphlets to create awareness on "Love Jihad".
Awareness programmes would be conducted in each ward, committees formed in parts of the coastal district and monthly meetings held to prevent young girls becoming 'Love Jihad' victims, they said.
VHP working president M B Puranik and Bajrang Dal convenor Sharan Pumpwell led the rally. The issue of religious conversions figured in the "Dharma Sansad", a conclave of Hindu seers, mutt heads and VHP leaders on November 26 last year at Udupi.
Full report at:
http://indianexpress.com/article/india/hindu-outfits-hold-rally-against-love-jihad-in-mangalore-5010401/
--------
BSF jawan killed in ceasefire along India-Pakistan International Border
Jan 3, 2018
JAMMU: A Border Security Force jawan was killed when Pakistan violated ceasefire agreement along the International Border (IB) in Jammu's Samba sector on Wednesday.
Head constable R P Hazra, who turned 51 on Wednesday, was fatally injured when Pakistani forces "sniped" him from across the border around 4pm. He had celebrated his birthday with fellow jawans just before he was shot.
Official sources said that the Indian forces retaliated "strongly and effectively" to the violation.
Hazra, originally from West Bengal, was born January 3, 1967. He was taken to the district hospital where doctors declared him dead on arrival. He is survived by his wife, 18-year-old son and 21-year-old daughter.
In another breach, Pakistan troops resorted to unprovoked heavy firing on forward Indian posts along Line of Control (LoC) in Balakote of Poonch District.
Earlier Pakistan Army had initiated unprovoked firing on Indian Army posts in Nowshera sector of Rajouri district in the early hours on December 31 in which one Army officer was killed.
Full report at:
https://timesofindia.indiatimes.com/india/bsf-jawan-killed-in-ceasefire-along-india-pakistan-international-border/articleshow/62356992.cms
--------
J&K: BSF kills Pakistani intruder, foils infiltration attempt in Arnia district
January 4, 2018
A Pakistani intruder was killed as Border Security Force (BSF) personnel foiled a major infiltration attempt from across the international border in Arnia sector during wee hours of Thursday. The infiltration bid came barely a few hours after Pakistani Rangers resorted to firing along the international border in Samba and Hiranagar sectors on Wednesday evening. A BSF head constable R P Hazra was killed at a forward post in Rajbagh area in the fire from across the border.
Giving details, sources said that BSF personnel noticed movement of a group of 4-5 terrorists near the barbed wire fence under the cover of thick fog in the area. The BSF personnel opened fire killing one of them, while others managed to flee back to Pakistan side.
Full report at:
http://indianexpress.com/article/india/jk-bsf-kills-pakistani-intruder-foils-infiltration-attempt-in-arnia-district/
--------
Madrasa Leaves: Teachers' Body Writes To CM Yogi Adityanath Over Less Holidays
January 4, 2018
The Teachers' Association of Madaris Arabia on Wednesday wrote to Chief Minister Yogi Adityanath, demanding that he reconsider the move to reduce the number of holidays alloted to state-recognised madrasas for the year 2018.
According to the calendar issued by UP Madrassa Board Registrar Rahul Gupta, the holidays during several non-Muslim festivals, including Christmas, Diwali and Dussehra, have been increased. On the other hand, 46 holidays given on Ramzan have been reduced to 42. Also, 10 holidays at the discretion of madrasa managers have been scrapped.
Full report at:
http://indianexpress.com/article/india/madrasa-leaves-teachers-body-writes-to-cm-yogi-adityanath-over-less-holidays-5010707/
--------
Southeast Asia
Indonesian Ulema Urge Vaccination against Diphtheria Outbreak
January 04, 2018
Serang. The Banten branch of the Indonesian Ulema Council, or MUI, issued a statement on Wednesday (03/01) urging Muslim parents to get their children vaccinated against diphtheria as an outbreak of the disease continues all over Indonesia.
A.M. Romly, the head of MUI Banten, said the provincial administration has been working hard to provide vaccination for everyone from age one to nineteen.
"[Diphtheria] threatens people's lives, so getting vaccinated is necessary to keep them safe," Romly said, as quoted by Antara news agency.
Controversy about whether or not vaccination is "halal" (permitted) for Muslims has been going on for some time in Indonesia.
Government health officials said they have had to deal with parents resisting vaccination for their children.
The Health Ministry declared diphtheria outbreaks in 20 provinces across Indonesia, including Banten, in November 2017.
Diphtheria is a serious bacterial infection that affects the mucous membranes of the nose and throat and may cause difficulty breathing, paralysis and even death in serious cases.
http://jakartaglobe.id/news/indonesian-ulemas-urge-vaccination-diphtheria-outbreak/
--------
PAS: Assemble as you wish, but don't touch on Islam, Malays
4 January 2018
PETALING JAYA: MCA and Gerakan are free to hold their assembly this weekend in a bid to garner Chinese support, as long as they don't make scapegoats out of Islam and Malays, PAS has said.
PAS vice-president Idris Ahmad (pix) said it was most important that the two Barisan Nasional (BN) component parties show respect for the Malays and Muslim community in the country by not touching on issues regarding them at the gathering.
"It's their right to assemble, that's normal. But we hope that in trying to get voters' support, they don't speak on issues that are of the interests of Islam and the Malays. Don't victimise these groups.
"If they want to champion the Chinese community, or talk on common issues like corruption, by all means. But don't make Islam and Malay scapegoats to gain support," he told theSun today.
Idris was commenting on a joint assembly by MCA and Gerakan that will take place this Saturday at Wisma MCA, in a bid to strengthen the good working relationship between the parties.
PKR secretary-general Datuk Saifuddin Nasution Ismail said he believed the assembly was forced to be held in order for the two parties to address their "declining popularity" following poor performances in the last two general elections.
"If you look at BN component parties, these two, who are supposed to be the main parties alongside Umno and MCA, received the worst beating, in terms of the number of seats won.
"So they have to showcase that supposedly both MCA and Gerakan have recovered, which I feel they will still fail, because the rakyat have rejected them," he said when contacted.
Saifuddin said he was also confident that the assembly would make no difference in attracting non-Malay votes, claiming that the opposition still offer a much stronger pull for these voters.
Meanwhile, DAP chairman Tan Kok Wai said the assembly was only an election gimmick to showcase their "ungenuine unity", claiming that the parties have been doing the same prior to the past GEs as well.
He said if MCA and Gerakan were genuine about attracting votes, they should speak out against the rampant corruption and abuses of power in the government, as well as against the condoning of racial politics and religious extremism in the country.
Full report at:
http://www.thesundaily.my/news/2018/01/04/pas-assemble-you-wish-don't-touch-islam-malays
--------
Putrajaya bans books because it wants 'monopoly on religion'
4 Jan 2018
THE recent ban on Islamic books is because bureaucrats want to maintain a "monopoly" on religion to protect their vested interests, said former de facto law minister Zaid Ibrahim.
The DAP leader, who was recently slapped with a ban on one of his books, said Putrajaya wanted a "monopoly" on religion and will rebuff any challenge to it.
Islamic institutions like Jais (Selangor Islamic Religious Department) and Jakim (Malaysian Islamic Development Department) have big budgets, he said.
"Islamic institutions in this country have a lot of money and when you have a lot of money, you have a lot of officers, a lot of directors.
"You have a lot of perks. You have to defend all these things. You have an interest to keep it going and to make sure others don't talk about it," Zaid told The Malaysian Insight.
He then described the ban of certain Islamic books as a symptom of a government that wished to maintain its monopoly on Islamic issues.
"They would say Islam is threatened. It's not that Islam is threatened. It is their budget that is threatened."
Last October, Home Ministry secretary-general Alwi Ibrahim announced that 22 publications were banned in Malaysia because their content could be detrimental to public order, alarm the public, breach existing laws, damage public morals and harm public interest.
Among the banned publications were 10 translations of the Quran in Bahasa Melayu, English, Chinese, Arabic and Korean which did not include the original texts.
Alwi said in a statement the publications could "harm or confuse their readers, especially the younger generation, and are not suitable reading materials for the public".
Zaid said: "Islam is a very simple, but the bureaucrats want to make it difficult.
"The political parties also want in on this big business. So, they monopolise religion. So, the politicians and the bureaucrats want a monopoly on this product called Islam. They don't want anyone else to talk about it. So, they ban books to protect their interests.
"Because if you look at Malaysia, the signs are here. You expel lecturers or teachers attending forums. Not only that, you have institutes of research with people who are supposed to be interested in knowledge and they are the ones who say we should arrest the teachers and liberals."
On October 3, the ministry also announced the banning of five books with Islamic content by Turkish author Mustafa Akyol, and two Malaysians – Ahmad Farouk Musa and Faisal Tehrani.
Zaid, who resigned from the Barisan Nasional government in 2008, said the bans show a continuing "trend".
"It is a very unfortunate development. It is worrying. We have people who are afraid of ideas. These people are dangerous.
"We're not talking about spirituality here. Because spirituality is something you cannot measure. But these people behave like they're God's spokesmen.
"It is a sign that something bad is about to happen when you start banning books."
Zaid defended his own book, which was banned last month.
"The book is not about anything difficult. It's about public policy. It's how they bring religion into politics and the ramification of that. It shouldn't be sensitive or prejudicial to public order."
On December 19, the Home Ministry banned Zaid's book, Assalamualaikum: Observations on the Islamisation of Malaysia.
The ban order, issued in accordance with the Printing Presses and Publications Act 1984, was signed by Home Minister Ahmad Zahid Hamidi on December 4.
Zaid will be filing a judicial review, adding that previously he believed the ban was recommended by Jakim, and that ministry officials may not have read the book before issuing the order.
"I don't think politicians read any book. And it's not just politicians that decide (what gets banned). It's the bureaucrats, the Islamic civil servants in certain institutions. They are the ones who push for the bans.
"I'm not saying no books should be banned. There are books that perpetuate hatred or racist agenda. Books that threaten the security of society. Yes (they should be banned). But you must give your reasons. You must be given the opportunity to talk about the book. The process can't be (done in) one day after somebody just signs an order."
Full report at:
https://www.themalaysianinsight.com/s/30726/
--------
Indonesia launches cyber agency to tackle extremism, fake news
January 3, 2018
JAKARTA: Indonesia launched a new cyber security agency Wednesday as the world's biggest Muslim majority country moves to tackle online religious extremism and a flood of fake news on social media.
Millions of Indonesians are going online for the first time just as concern about Internet hoaxes reaches a fevered pitch.
One of the most high-profile cases in recent times was a false claim circulating on social media in December that Beijing was seeking to wage biological warfare against Indonesia.
The viral hoax prompted the Chinese embassy to issue a statement saying that the reports were "misleading".
On Wednesday, Indonesian president Joko Widodo named Major General Djoko Setiadi, former chairman of the country's encryption agency, to lead the new body.
Setiadi's Herculean task will include cracking down on terrorist networks which communicate online and combating online hate speech that has been blamed for driving fundamentalism in a country once praised for its religious pluralism.
"We will control cyberspace," Setiadi said Wednesday.
"Our technology will not only be able to detect, but also to penetrate [terrorist] networks."
Chief Security Minister Wiranto, who like many Indonesians goes only by one name, added: "We need this body to help maintain security nationally, regionally and globally."
Last week, Indonesia said it was adding some 600 more personnel to the ranks of its counter-terrorism police in a bid to crack down on Islamic State-inspired groups and other militants.
The archipelago nation has long struggled with Islamic militancy and attacks, including the 2002 Bali bombings that killed 202 people, mostly foreign tourists, in the country's worst-ever terror attack.
A sustained crackdown weakened the most dangerous networks but the emergence of IS has proved a potent new rallying cry for radicals.
Hundreds of Indonesian radicals flocked to fight with IS, sparking fears that weakened extremist outfits could get a new lease of life.
Meanwhile, more than 150 million out of 255 million Indonesians are now estimated to be Internet users.
The explosion in the number of Internet users comes amid global concern about the spread of fake news, with some critics claiming a flood of false stories circulating online may have helped Donald Trump win the US presidential election.
Still, some worry that Indonesia's new cyber agency could threaten privacy rights.
Full report at:
https://www.nst.com.my/world/2018/01/321202/indonesia-launches-cyber-agency-tackle-extremism-fake-news
--------
Najib: Malaysia will continue to help its Muslim brothers
1 Jan 2018
KUALA LUMPUR: Malaysia will continue to help its Muslim brothers in Palestine and Myanmar, said Prime Minister Datuk Seri Najib Tun Razak (pic). However, he said, Muslims in Malaysia, as well as worldwide, should unite to end the suffering and oppression against their brothers in the two countries.
"May Allah unite our hearts and continuously shower us blessings of peace and stability on Malaysian soil, so that we can continue to use our influence as a model Islamic country to defend Muslims who are oppressed, wherever in the world, Insya-Allah," he said in his blog www.najibrazak.com on Monday.
The Prime Minister said throughout 2017, Malaysia continued to be blessed by Allah, remained prosperous, peaceful and harmonious, as well as continued to be a model Islamic country that was influential and vocal in defending Islam and Muslims worldwide.
On the Jerusalem issue, he said Malaysia strongly condemned and would never agree with efforts by the United States to recognise it as the capital of Israel.
Apart from that, Najib said the suffering and oppression faced by the Rohingya in Myanmar also touched the hearts of Muslims in the country and Malaysia strongly criticised and had brought the issue not only at the Asean level, but also globally.
He said Malaysia continued to provide aid to ease the suffering of the Rohingya community, apart from opening its doors for them to share the peace and stability enjoyed by Malaysians in the country, as well as sending aid to the Rohingya refugees in Bangladesh and Myanmar.
"In February 2017, Malaysia, through a non-governmental organisation (NGO) Yayasan Ikhlas sent a financial aid of RM172,500 though a Bangladeshi NGO for Rohingya refugees staying at the Kutupalong and Balukhali refugee camps in Bangladesh.
"Subsequently, in September 2017, Deputy Prime Minister Datuk Seri Dr Ahmad Zahid Hamidi coordinated the sending of humanitarian aid, worth RM4mil, comprising goods and equipment, also for the Rohingya refugees in the border of Bangladesh," he said.
Najib said 12 tonnes of food aid and essential items, such as disposable napkins, towel, rice and biscuits were sent to the Rohingya refugees in Bangladesh through the humanitarian aid mission by the Malaysian Armed Forces, the Prime Minister's office and iM4U voluntary organisation.
He said the Malaysian Consultative Council for Islamic Organisation (MAPIM) and several Islamic organisations from Malaysia also sent aid, in the form of food and medicine, worth RM200,000, to 140,000 Rohingya refugees in Bangladesh.
Apart from that, he said, the Malaysian Medical Relief Society (Mercy Malaysia) also opened a mobile clinic at the Rohingya refugee settlement at Thangkhali and Kutupalong camps, and also provided food aid.
"Besides the sending of humanitarian aid, the government also set up a field hospital, costing RM3.5mil, which has 50 beds and can accommodate 150 patients at a single time, as well as equipped with surgery room, X-Ray room and special room for mothers and children at the Rohingya refugee camp at Cox's Bazar, Bangladesh.
Full report at:
https://www.thestar.com.my/news/nation/2018/01/01/najib-malaysia-will-continue-to-help-its-muslim-brothers/
--------
Married couple drops lawsuit against Jawi over khalwat raid
BY IDA LIM
January 4, 2018
KUALA LUMPUR, Jan 4 — A Muslim couple today withdrew their high-profile lawsuit against the Federal Territories Islamic Religious Department (Jawi) over a raid and their arrest a year ago for khalwat or close proximity.
Mohd Ridhuan Giman, 34, unexpectedly told the Kuala Lumpur High Court today that he wished to discontinue the lawsuit.
"With permission,I wish to withdraw from this case," he said, noting that he is facing three charges in the Shariah court which he has to focus on.
"There is a lot of costs I have to bear. Because of the cases I was sacked and I am working freelance and my income is also not fixed," he said.
Justice Datuk Nordin Hassan repeatedly confirmed with Mohd Ridhuan of his intentions, and asked him what his wife intended to do with the lawsuit.
"Actually I was not able to contact her," Mohd Ridhuan said, but confirmed that the wife was also "not interested" in continuing the lawsuit.
The 26-year-old wife, Siti Sarah Maulad Abdullah, was not present in court today.
Senior federal counsel Kamal Azira Hassan, who represented Jawi and the six others sued, asked that the court award legal costs of RM10,000.
Kamal Azira further asked for an apology from the couple for filing the lawsuit, saying: "Since the first and second plaintiffs want to withdraw the action against the defendants, but the damage has been done to the institution by the filing of the lawsuit."
He pointed out that the lawsuit against Jawi received wide circulation in social media including over the Whatsapp platform and also received widespread media coverage.
Nordin noted that the case had yet to be heard on its merits and could "go either way", where it could favour the couple or Jawi.
He then said: "I am striking out the case that was brought by the plaintiffs against the defendants because the plaintiff and the wife wants to withdraw voluntarily, it was confirmed by the plaintiff."
The judge acknowledged the extensive work carried out and costs borne by those sued by the couple, saying: "However I find the decision to withdraw this case was due to financial problems and not merits as this case has yet to be heard by the court, therefore I impose cost of RM3,000."
The judge did not order the duo to issue an apology.
Today was initially fixed to be the start of a three-day hearing for the lawsuit.
Prior to the start of the hearing, lawyer Adam Luqman Amdan told the court that the legal team wanted to discharge themselves from representing the couple.
Adam Luqman explained to the judge that he was able to contact his clients, but said lawyers faced "difficulties" in obtaining certain documents from them, such as the couple's employment and medical reports.
"In terms of testimony, I can say that the first and second plaintiffs are not on good terms anymore, so I have difficulty to ask them to give testimony," he said, noting that it was hard to get the married couple together to have them verify details of the case.
"I was not able to get a single version of facts that is absolute for me to present for hearing," he said.
He also told the judge that he had informed Siti Sarah of today's hearing, but that the latter was unable to come.
Adam Luqman's application for him and his colleague Yusfarizal Yussoff to be discharged was heard before the husband stepped forward to withdraw his case.
When met later, the lawyer told reporters that neither the husband nor the wife had informed him of their intentions to drop the case.
Last February 17, the couple and the husband's mother had filed a lawsuit against two Jawi enforcement officers, the Jawi chief religious enforcement officer, Jawi director, Jawi, the Prime Minister's Department and the government of Malaysia over the raid on January 8 of a budget hotel room.
They sued for wrongful arrest, wrongful confinement, trespass to person, violation of privacy, tort of abuse of office and violation of the duo's rights to personal liberty and freedom of movement under the Federal Constitution's Articles 5 and 9.
The couple had sought for general damages for the injury to their reputation, aggravated damages, exemplary damages, a court order instructing Jawi to drop the investigation, as well as an unconditional apology in the form of a letter to the them and in at least two Malay-language newspapers.
It is understood that the mother had previously withdrawn from the lawsuit.
In the defence statement filed last year by Jawi and the others sued, they denied the couple's allegations, asserting that the January 8 raid and arrest was valid and in accordance with the law.
They said the raid was based on a public tip-off about a suspected khalwat case, asserting that the couple had during the raid failed to present evidence that they were married and refused to cooperate.
Among other things, they said Jawi enforcers did not carry out "assault and battery" on the couple during the raid, and said they could produce photos and video recordings — which they said were taken for investigation purposes — to show the situation then.
Full report at:
http://www.themalaymailonline.com/malaysia/article/married-couple-drops-lawsuit-against-jawi-over-khalwat-raid#3ZBVpCt3AFzrjrzD.97
--------
Mideast
Turkish child marriage religious document sparks anger
3 January 2018
Turkey's main opposition party has called for a parliamentary inquiry after the directorate of religious affairs said that, under Islamic law, girls as young as nine could marry.
The comments by the Diyanet prompted an outpouring of anger on social media from Turkish women's groups.
The directorate insisted it was only defining points of Islamic law.
Turkey's legal age of marriage is 18 but the practice of underage weddings in religious ceremonies is widespread.
Turkish law also allows 17-year-olds to marry with the consent of their parents or guardian, or 16-year-olds in exceptional circumstances with court approval.
Pious versus secular in modern Turkey
The current outcry was started by a statement on adolescence posted online by the Diyanet, the state body which administers religious institutions and education.
It said that, according to Islamic law, the beginning of adolescence for boys was the age of 12 and for girls the age of nine. On the same website, it said that whoever reached the age of adolescence had the right to marry.
Thirty MPs of the main opposition Republican People's Party (CHP) called on the government to launch an investigation into child marriage.
Murat Bakan, CHP's MP for Izmir, said on Twitter: "The Turkish Civil Code clearly states that adulthood begins at the age of 18. Early marriages violate children's rights, women's right's, human rights. As CHP MPs we ask parliament to investigate child marriages."
In a later statement, the Diyanet said it was only defining Islamic law and that it did not approve of early marriages.
"Forcing a young girl to marry someone before they obtain the psychological and biological maturity, and before they gain the responsibility to make a family and become a mother, would not comply with Islam which puts consent and will as a condition in a marriage," it said.
"Our directorate has never approved early marriages in the past, and it never will."
Correspondents say that, despite the directorate's assurances, distrust of the body still remains among secular groups.
In recent years Turkey has seen increasing tension between supporters of its secular constitution and those who favour religious conservatism.
In 2016 the government withdrew a bill that pardoned men convicted of sex with underage girls if they had married them.
Critics said it would legitimise statutory rape and encourage the practice of taking child brides.
The bill had sparked street protests across Turkey and was condemned abroad.
http://www.bbc.com/news/world-europe-42558328
--------
Pro-government rallies in Iran after days of protest, unrest
By Nasser Karimi and Jon Gambrell
January 3, 2018
TEHRAN, Iran (AP) — Tens of thousands of Iranians took part in pro-government demonstrations in several cities across the country on Wednesday, Iranian state media reported, a move apparently seeking to calm nerves after a week of protests and unrest that have killed at least 21 people.
While the rallies showed support among Iran's 80 million people for its clerically overseen government, smaller and smaller towns in the Iranian countryside appear to be experiencing the unrest that has already swept through urban areas, according to protesters' online videos.
Official and semi-official media did not immediately offer new details of the unrest Wednesday. Demonstrators' videos corresponded with The Associated Press reporting from outside of Iran, though individual protesters themselves remain unreachable. The protests for now also appear to remain leaderless.
The protests, the largest seen in Iran since its disputed 2009 presidential election, began on Dec. 28 in Mashhad, Iran's second-largest city and a bastion for hard-liners. While initially focusing on Iran's flagging economy and rising food prices, they've morphed into demands for wholesale change in Iran's theocratic government.
On Wednesday, state TV reported that demonstrations took place in dozens of cities and towns, including Ahvaz, the capital of the oil-rich province of Khuzestan, the Kurdish town of Kermanshah in the country's west and Qom, the religions capital of Shiite Islam in Iran.
Demonstrators carried pre-printed signs and Iranian flags, with state TV offering a swooping helicopter shot in Ahvaz to show their scale. Ahvaz and the wider Khuzestan province is home to many ethnic Arabs and has seen unrest amid the protests.
In Qom, state TV cameras focused on the Shiite clerics taking part, many wearing the black turbans identifying them as direct descendants of the Prophet Muhammad.
The English-language Press TV broadcast Wednesday's pro-government rallies live, saying they sought to "protest the violence that has taken place over the last few nights in cities." State TV said in Farsi that the demonstrations served as an "answer to the protests" by "servants of the U.S." as the pro-government demonstrators called the protesters.
The rallies come after Iran's Supreme Leader Ayatollah Ali Khamenei on Tuesday blamed days of protests across the country on meddling by "enemies of Iran."
"Look at the recent days' incidents," Khamenei said. "All those who are at odds with the Islamic Republic have utilized various means, including money, weapons, politics and (the) intelligence apparatus, to create problems for the Islamic system, the Islamic Republic and the Islamic Revolution."
Khamenei avoided identifying any foreign countries, although he promised to elaborate in the coming days. Undoubtedly high on his list is the United States, where President Donald Trump has tweeted his support for the protests for several days. Some demonstrators carried signs showing Trump's face covered with a bright red "X."
Iran's government has since shut down access to Telegram and the photo-sharing app Instagram, which now join Facebook and Twitter in being banned, in an attempt to slow the unrest.
The Trump administration called on Iran's government to stop blocking Instagram and other popular social media sites. U.S. Undersecretary of State Steve Goldstein said Instagram, Telegram and other platforms are "legitimate avenues for communication."
The head of Tehran's Revolutionary Court also reportedly has warned that arrested protesters could potentially face the death penalty.
"Obviously one of their charges can be Moharebeh," or waging war against God, Iran's semi-official Tasnim news agency quoted Mousa Ghazanfarabadi as saying. Moharebeh is punishable by death in Iran.
Later Wednesday, Turkish officials said Iran's President Hassan Rouhani told his Turkish counterpart Recep Tayyip Erdogan that he hopes the protests that have hit Iran "will end in a couple of days." Officials in Erdogan's office said the two had a telephone conversation on Wednesday during which Erdogan stressed the importance of stability and calm.
A statement from Rouhani's office quoted the president as saying: "Iranian police's wise, calming presence in recent limited unrest indicates that we fully trust the security and stability in our country."
However, activist video showed unrest in Noor Abad, in Lorestan province, some 360 kilometers (225 miles) southwest of Tehran.
Full report at:
https://www.washingtontimes.com/news/2018/jan/3/pro-government-rallies-iran-after-days-protest-unr/
--------
EU censures Israel's 'terrorist' death penalty bill as 'inhuman'
Jan 4, 2018
The European Union (EU) has condemned the preliminary endorsement of a bill at the Israeli parliament, which would ease conditions for courts to sentence what they call "terrorists" to death, saying the measure is "incompatible with human dignity."
The death penalty "constitutes inhuman and degrading treatment, does not have any proven deterrent effect and allows judicial errors to become irreversible and fatal," a statement released by the EU read on Wednesday.
The statement came hours after the Israeli parliament (Knesset) in a narrow 52-49 vote approved the first draft of a bill that would make it easier for military courts to impose a death sentence against those involved in murders or "terrorist operations." The motion proposed by the regime's minister for military affairs, Avigdor Lieberman, seeks to amend the current law and wants it replaced by a simple majority decision of the judges.
At the moment, the death penalty in Israel can only be imposed if a panel of three military judges passes sentence unanimously. Should the amendment bill becomes law, a "terrorist" could be sentenced to death if two of the three judges agree to it.
Israeli Prime Minister Benjamin Netanyahu, a strong supporter of the bill, had told the Knesset ahead of the vote that death penalty is "justice in extreme situations."
Opposition lawmaker Tzipi Livni spoke out against the bill, calling it "reckless, 100 percent politics."
The bill does not mention any specific ethnicity, but it seems to be targeted at the Palestinians, mostly young ones, whom the regime calls "terrorists" for launching alleged stabbing attacks against Israeli military personnel.
Palestinian officials have not yet commented on the controversial bill.
The regime in Israel has been emboldened by the US's decision last month to recognize the entire of Jerusalem al-Quds, both its east and west, as Israel's "capital," outraging Palestinians and triggering warnings across the world. The UN resoundingly rejected that policy shift in a General Assembly vote.
Earlier this week, the Israeli parliament adopted a law that makes it more difficult to cede parts of Jerusalem al-Quds to Palestinians, who want the eastern section of the occupied city as the capital of their future state.
Full report at:
http://www.presstv.com/Detail/2018/01/04/547781/Israel-death-penalty-bill-Palestinians
--------
Israeli forces kill Palestinian teen in occupied West Bank
Jan 3, 2018
Israeli military forces have shot dead a Palestinian teenage boy in the central part of the occupied West Bank during clashes in protest at US President Donald Trump's recognition of Jerusalem al-Quds as the capital of Israel.
The Palestinian Ministry of Health announced in a statement that 17-year-old Musab Firas al-Tamimi sustained serious gunshot wounds on Wednesday as dozens of people staged a demonstration in Deir Nidham village, located approximately 23 kilometers (14 miles) northwest of Ramallah.
He succumbed to his wounds after he was taken to hospital by the Palestine Red Crescent Society medical staff.
On December 6, Trump announced his decision to recognize Jerusalem al-Quds as Israel's capital and relocate the US embassy in Israel from Tel Aviv to the occupied city.
The dramatic shift in Washington's policy vis-à-vis the city triggered demonstrations in the occupied Palestinian territories, Iran, Turkey, Egypt, Jordan, Tunisia, Algeria, Iraq, Morocco and other Muslim countries.
On December 21, the United Nations General Assembly overwhelmingly voted in favor of a resolution that calls on the US to withdraw its controversial recognition of Jerusalem al-Quds as Israeli "capital."
In an attempt to avert the resolution, Trump had warned that "we're watching," threatening reprisals against countries that backed the measure, which earlier faced a US veto at the UN Security Council.
Israel, however, rejected the world body's resolution while thanking Trump for his decision to move the US embassy from Tel Aviv to Jerusalem al-Quds.
Jerusalem al-Quds remains at the core of the Israeli-Palestinian conflict, with Palestinians hoping that the eastern part of the city would eventually serve as the capital of a future independent Palestinian state.
In a series of tweets on Tuesday, Trump said the US pays "the Palestinians HUNDRED OF MILLIONS OF DOLLARS a year" and yet gets "no appreciation or respect."
"But with the Palestinians no longer willing to talk peace, why should we make any of these massive future payments to them?" he asked.
Hanan Ashrawi, a member of the executive committee of the Palestine Liberation Organization, stated on Wednesday that "Palestinians' rights are not for sale. By recognizing occupied Jerusalem al-Quds as Israel's capital, Donald Trump has not only violated international law, but has also singlehandedly destroyed the very foundations of peace and condoned Israel's illegal annexation of the city."
Full report at:
http://www.presstv.com/Detail/2018/01/03/547732/Israeli-forces-kill-Palestinian-teen-in-occupied-West-Bank
--------
Trump threats to cut aid cheap political blackmail, Hamas says
Jan 3, 2018
The Palestinian Islamic resistance movement, Hamas, has described the recent threats by US President Donald Trump to cut off financial aid to the United Nations Relief and Works Agency for Palestine refugees (UNRWA) and the Palestinian Authority as "cheap political blackmail."
Hamas spokesman Fawzi Barhoum, in a statement released on Wednesday, said the threats are indicative of the "barbaric and immoral American manner in dealing with the just Palestinian cause and the rights of the Palestinian people."
He further stressed the need for unity among various Palestinian political factions, and formation of a united front in the face of Trump's positions on Palestine.
Barhoum then called for stronger Arab, Islamic and international support for Palestinians' rights, and stiffer opposition to the policies of Washington and Tel Aviv.
In a series of tweets on Tuesday, Trump said that the US pays "the Palestinians hundred of millions of dollars a year" and yet gets "no appreciation or respect."
"But with the Palestinians no longer willing to talk peace, why should we make any of these massive future payments to them?" he added.
Hanan Ashrawi, a member of the executive committee of the Palestine Liberation Organization, stated on Wednesday that "Palestinians' rights are not for sale. By recognizing occupied Jerusalem al-Quds as Israel's capital, Donald Trump has not only violated international law, but has also singlehandedly destroyed the very foundations of peace and condoned Israel's illegal annexation of the city."
Ashrawi added, "We will not be blackmailed. President Trump has sabotaged our search for peace, freedom and justice. Now he dares to blame the Palestinians for the consequences of his own irresponsible action!"
On December 6, Trump announced his decision to recognize Jerusalem al-Quds as Israel's capital and relocate the US embassy in Israel from Tel Aviv to the occupied city.
The dramatic shift in Washington's policy vis-à-vis the city triggered demonstrations in the occupied Palestinian territories, Iran, Turkey, Egypt, Jordan, Tunisia, Algeria, Iraq, Morocco and other Muslim countries.
On December 21, the United Nations General Assembly overwhelmingly voted in favor of a resolution that calls on the US to withdraw its controversial recognition of Jerusalem al-Quds as Israeli "capital."
In an attempt to avert the resolution, Trump had warned that "we're watching," threatening reprisals against countries that backed the measure, which earlier faced a US veto at the UN Security Council.
Israel, however, rejected the world body's resolution while thanking Trump for his decision to move the US embassy from Tel Aviv to Jerusalem al-Quds.
Full report at:
http://www.presstv.com/Detail/2018/01/03/547712/Trump-threats-to-cut-aid-cheap-political-blackmail-Hamas-says
--------
Palestinians say won't be 'blackmailed' after Trump threat
January 04, 2018
RAMALLAH - Palestinian leaders said Wednesday they will not be "blackmailed" after US President Donald Trump threatened to cut aid worth more than $300 million annually, his latest provocative move that could upturn years of careful diplomacy.
Relations between Trump's White House and the Palestinians were already tense after the US president's recognition of Jerusalem as Israel's capital last month.
The December 6 announcement concerning the disputed city led Palestinian president Mahmud Abbas to say the United States could no longer play any role in the Middle East peace process. Trump's threat in a tweet on Tuesday to try to force the Palestinians into negotiations caused further outrage, though Israeli ministers lauded it.
The Palestinians rely heavily on international aid, with many analysts, including Israelis, saying such assistance helps maintain stability in a volatile region. The European Union is also a major contributor.
"We pay the Palestinians HUNDRED OF MILLIONS OF DOLLARS a year and get no appreciation or respect," Trump tweeted.
"They don't even want to negotiate a long overdue peace treaty with Israel. We have taken Jerusalem, the toughest part of the negotiation, off the table, but Israel, for that, would have had to pay more. "But with the Palestinians no longer willing to talk peace, why should we make any of these massive future payments to them?" It was not immediately clear whether Trump was threatening all of the budget, worth $319 million in 2016, according to US government figures.
The United States has long provided the Palestinian Authority with much-needed budgetary support and security assistance, as well as an additional $304 million for UN programmes in the West Bank and Gaza.
UNRWA, the UN agency for Palestinian refugees, said so far it had not been informed by the United States of any changes in financing. Israel receives more than $3 billion in military aid per year from Washington.
Abbas's spokesman said they were not against negotiations, but that talks should be "based on international laws and resolutions that have recognised an independent Palestinian state with east Jerusalem as its capital".
"Jerusalem is the eternal capital of the state of Palestine and it is not for sale for gold or billions," Nabil Abu Rudeina told AFP. Senior Palestinian official Hanan Ashrawi said in a statement that "we will not be blackmailed".
"President Trump has sabotaged our search for peace, freedom and justice," she said. "Now he dares to blame the Palestinians for the consequences of his own irresponsible actions!"
However, several Israeli ministers voiced support for Trump, with the country's right-wing government having seized on the US president's backing to push ahead with initiatives seen as dealing further blows to remaining hopes for a two-state solution.
Culture and Sport Minister Miri Regev, from Prime Minister Benjamin Netanyahu's Likud party, said "you cannot on the one hand receive $300 million in American aid per year and at the same time close the door on negotiations".
Trump came to office boasting that he could achieve the "ultimate deal" that secures peace in the Middle East, something that has eluded presidents since the late 1960s.
For most of the past half century the United States has been seen as the indispensable - if sometimes imperfect - arbiter of the peace process.
Trump's actions are likely to cast that further in doubt. He has heaped pressure on Palestinians to do a deal, threatening to close the de facto "embassy" in Washington in addition to recognising Israel's contested claim on Jerusalem and now threatening aid.
Efforts to harness improved Arab-Israel relations to push a peace deal have been at least temporarily derailed by Trump's Jerusalem recognition, breaking with decades of US policy.
The decision sparked almost universal diplomatic condemnation and deadly protests in the Palestinian territories.
On Wednesday, a 17-year-old Palestinian was shot dead in clashes with the Israeli army near Ramallah, according to the Palestinian health ministry. Fourteen Palestinians have been killed since Trump's Jerusalem declaration, mainly in clashes with Israeli forces.
The declaration also prompted Abbas - 82 and facing the prospect of entering the history books as the leader who "lost Jerusalem" - to cancel a planned meeting with Vice President Mike Pence.
Christian and Muslim leaders in Egypt took similar steps.
Pence was forced to delay a December visit to the Middle East until later this month, and aides on Tuesday rejected rumours of further delays.
"As we've said all along, the vice president is going to the Middle East in January," said Pence spokeswoman Alyssa Farah.
Full report at:
https://nation.com.pk/04-Jan-2018/palestinians-say-won-t-be-blackmailed-after-trump-threat
--------
Turkish President Stresses Importance of Stability in Iran after Recent Unrests
Jan 03, 2018
During the phone conversation, Erdogan voiced support for the Iranian president's statement warning Iranians not to violate laws while exercising their right to protest.
Rouhani thanked Erdogan in return, expressing the hope that the protests would end in a couple of days.
Economic protests started in a number of Iranian towns last week, but soon turned into small riots each comprising a few hundreds in recent days.
Hundreds of thousands of Iranian people in different cities and towns poured to the streets on Wednesday morning to condemn the recent riots and chaos in the country and show support for the Islamic Revolution.
President Rouhani on Monday lashed out at certain countries, specially Saudi Arabia, for their attempts to foment unrests in Iran, and promised the nation to accelerate efforts to resolve the economic problems.
Addressing chairpersons of the Iranian parliament's different commissions in Tehran, President Rouhani said that the enemies are angry with Iran's different successes and achievements, including the 2015 nuclear deal, effective fight against terrorist groups and expansion of ties with different world states.
"These have angered our enemy. Our unity was a bullet (arrow) in their eyes and our progress and success in the world of politics and against the US and the Zionist regime was not bearable to them. Our success in the region was not bearable to them," he said.
"They (the Saudis) have blatantly said that we will create problems in Tehran," Rouhani said.
He also vowed that his government will double efforts to resolve the country's economic problems, unemployment, air pollution and inflation.
His remarks alluded to Saudi Arabia's then deputy crown prince who said in an interview last year that dialogue between his nation and Iran is impossible because of what he called as the latter's "extremist ideology".
Mohammed bin Salman, the Saudi Crown prince, who served as Riyadh's defense minister and second in line to the throne at the time, claimed that his country is a primary target for Iran and charged that Iran sought to control of the Islamic world. "We won't wait for the battle to be in Saudi Arabia," Prince Mohammed said, "instead, we'll work so that the battle is for them in Iran."
Full report at:
http://en.farsnews.com/newstext.aspx?nn=13961013001083
--------
Iran's Reza Pahlavi: US should clear way for tech companies to help Iranians
4 January 2018
The Trump administration should encourage US technology companies to provide communication services to Iranians as they protest their country's clerical rulers, said Reza Pahlavi, the last heir to the Iranian monarchy.
In an interview with Reuters on Wednesday, Pahlavi also criticized the Trump administration's ban on travel to the United States by most Iranians, calling it "ridiculous".
Anti-government protests have gripped Iran for nearly a week in the most sustained challenge to the Islamic Republic's clerical elite in almost a decade.
Pahlavi has lived in exile for nearly four decades, since his father, the US-backed shah, was overthrown in the 1979 Islamic Revolution.
The opposition to Iran's clerical government is atomized, with no clear recognized leader. But some demonstrators have in recent days chanted slogans in favor of Pahlavi's grandfather, Reza Shah, breaking a longstanding taboo.
Pahlavi said he wants to see Iranians "determine their own fate out of their own free will," and praised US President Donald Trump and members of his cabinet for speaking in support of Iranian protesters.
But he said they also should take steps to ensure that Iranians have access to communication and social media tools, which they have used to share videos and messages documenting protests and clashes with security forces.
Iran, which bars the use of major social media platforms, also has restricted access to the Telegram messaging app, and Iranian users in recent days have reported major hurdles in accessing the internet.
"We need more than lip service. We need to see concrete actions," Pahlavi said. "This has to be immediate ... As we speak, the regime is attempting yet again to try to shut down whatever it is, whether it's Instagram or Telegram."
There is a precedent for this type of US intervention. In 2009, amid mass protests over a disputed election, an Obama administration official asked Twitter executives to delay scheduled maintenance so Iranians could continue to use the service to communicate.
Technology experts have documented numerous examples of commercial services being denied to Iranians, often because of concerns about running afoul of US sanctions.
Activists have urged tech companies to loosen their Iran policies, but say the Trump administration could expand exemptions to make clear that some services are allowed.
State Department spokeswoman Heather Nauert said in a news briefing on Tuesday that the United States wants to see Iranians have access to social media and other tools. But when asked if Google was "over-interpreting" US sanctions on Iran by blocking access to one of its services there, Nauert said she had "no idea."
The State Department did not immediately respond to a request for comment on what discussions if any it has had with tech companies.
Exemptions To Sanctions
The Obama administration approved exemptions to US sanctions that allowed for providing chat, email, social networking, photo sharing, web browsing, blogging and other personal communication services.
Twitter and messaging service Signal did not immediately respond to requests for comment. Facebook and Google declined to comment.
"The policies of these companies are not really clear," said Amir Rashidi, an internet security researcher at the Center for Human Rights in Iran, a non-governmental organization based in New York.
Pahlavi critiqued the Trump administration's decision to ban nearly all Iranian travelers and immigrants from the United States as part of a broader travel ban targeting several mostly Muslim countries.
"Iranian diplomats still can travel (here) but innocent Iranians who in fact work and have built this country are barred from coming," said Pahlavi, who lives in the United States. "Why? Because they're under the so-called ban. That's ridiculous."
Full report at:
https://english.alarabiya.net/en/News/middle-east/2018/01/04/Iran-s-former-Crown-Prince-US-should-clear-way-for-tech-companies-to-help-Iranians.html
--------
Trump says Iranians will see US support at 'appropriate time'
3 January 2018
President Donald Trump said on Wednesday the United States would throw its support behind those protesting in Iran at an "appropriate time," his latest in a string of tweets since anti-government protests erupted last week against Tehran.
"Such respect for the people of Iran as they try to take back their corrupt government. You will see great support from the United States at the appropriate time!" Trump wrote in a post on Twitter.
https://english.alarabiya.net/en/News/middle-east/2018/01/03/Trump-says-Iranians-will-see-US-support-at-appropriate-time-.html
--------
Norway suspends arms exports to UAE over Yemen War
Jan 3, 2018
Norway has suspended arms exports to the United Arab Emirates (UAE) over concerns that the weapons could be used in the deadly Saudi-led military campaign against Yemen, in which Abu Dhabi has played an active role.
Under the existing circumstances, permits for arms export to the UAE have been temporarily revoked and no new licenses will be issued, the Norwegian Foreign Ministry said on Wednesday.
So far, there has been no evidence about the use of Norwegian-manufactured weapons in the war on Yemen, but the UAE's involvement in the military campaign could involve that risk, the ministry noted.
According to Statistics Norway data, Norwegian arms exports to the UAE rose from $5 million in 2015 to $9.7 million in 2016.
Abu Dhabi has served as the key ally of Saudi Arabia in the latter's military offensive against Yemen which was launched in 2015 to restore the former Riyadh-allied government. Emirati Elite Forces have been fighting on the ground in Yemen since then.
In June 2016, American news website The Daily Beast published an investigation bankrolled by the Bureau of Investigative Journalism NGO, which said militants backed by the United Arab Emirates (UAE) had reportedly kidnapped and tortured hundreds of people in southern Yemen.
The probe said the militants, who would fight under the banner of the Elite Forces, had separated the men away from their homes and brought them to a secret prison compound in southern Yemen, where they were tortured.
Earlier in 2016, the United Nations had likewise reported an increase in forced disappearances in the country's south.
Local rights activists and the abductees' families told the investigators that the situation at al-Riyyan Airport - used for incarceration - compared to that of the notorious US-run prisons such as Guantanamo Bay in Cuba and Abu Ghraib in Iraq.
According to various reports, Abu Dhabi holds notable sway in southern Yemen and looks to be trying to expand its leverage there by lending support to southern separatist groups.
At least 13,600 people have been killed since the onset of the Saudi-led war against Yemen in 2015. Much of the Arabian Peninsula country's infrastructure, including hospitals, schools and factories, has been reduced to rubble.
The Saudi-led war has also triggered deadly cholera and diphtheria epidemics nationwide.
According to the World Health Organization's latest count, the cholera outbreak has killed 2,167 people since the end of April and is suspected to have infected 841,906.
Full report at:
http://www.presstv.com/Detail/2018/01/03/547705/yemen-UAE-norway
--------
Africa
A pastor and an imam once tried to kill each other — now they work to heal Nigeria
March 10, 2014
But now Pastor James Wuye and the Imam Muhammad Ashafa work side by side trying to heal the divide between Nigeria's Christians and Muslims. They are the heads of the Interfaith Mediation Centre, which is housed in a brick building here in Kaduna along the frontline that straddles the Muslim neighborhoods to the north and the Christian neighborhoods to the south.
Once mortal enemies, the Christian pastor and the Muslim imam emerged in Kaduna in the 1990s, when they both served as religious fundamentalist street leaders who trained local militias to intimidate and kill the other side at a time when the religious conflict was first heating up. They lost a great deal in the process. Pastor James lost his right hand and many friends. Imam Ashafa lost family members and a beloved mentor.
In long interviews with Pastor James and the Imam Ashafa, they described those years of battle and the deep hatreds, the long history and petty grievances that fueled them. They confessed that they were often targeting each other for death. They also described their own separate processes of spiritual transformation that led them to renounce violence and to find a way to begin to work toward reconciliation with the other side.
The young men and boys whom they once trained to kill, they now work to "deprogram" from the hatreds they have learned. They are now famous in Nigeria and are popularly known quite simply as "the pastor and the imam." They have a television talk show and make frequent international appearances to tell their story.
"To me, they are two brothers," said Kaduna's Governor Ramalan Yero.
"These two gentleman are working to ensure peace between Christians and Muslims not only in Kaduna and in Nigeria, but across the African continent. We see no reason why we cannot emulate these two gentlemen, and unite ourselves and have the same courage and wisdom they have in doing what they are doing," the governor added.
The pastor and the imam's joint efforts recently culminated in an international peace conference over which the governor presided. They served as hosts of the fourth annual International Forum for Cities in Transition which wass organized by the University of Massachusetts-Boston at the end of November. It was a six-day conference that brought together some 50 delegates from divided cities in Lebanon, Kosovo, Bosnia, Iraq, Northern Ireland, Israel-Palestine and elsewhere.
The delegates came with practical lessons they've learned in helping their own cities reach out across sectarian and religious divides to find workable systems of governance, policing and education. The core idea, which was developed in the life-long work of author, activist and UMass professor Padraig O'Malley, is for these municipal leaders to meet and share their stories and to learn from each other.
Kaduna was chosen as the seat of the international gathering because, thanks in large part to the pastor and the imam, Kaduna has earned a reputation as a vanguard in efforts at reconciling the Christian and Muslim sides of the community.
But it wasn't always that way.
Pastor James gestured with his artificial right hand as he remembered back to the darkest days of the 1990s when Kaduna was launching into a religious conflict. He spoke of orchestrating attacks by dispatching Christian youths specifically to attack Ashafa's men. He remembered plotting to kill him. Instead, a Christian militia ended up killing several of the imam's cousins and throwing the imam's beloved mentor, a Sufi sheikh, down a well and burying the body with stones.
That image of violence and depravity was hard to square with the beautiful Sunday morning services at his church where families came together in their brightly colored Sunday best and swayed to the rocking sound of the gospel song, "What a Mighty God We Have."
Sitting cross-legged on the green carpet inside the mosque where he now serves as imam, Ashafa stroked his grey beard and waited for the call to prayer to end. He stopped to pray and then returned to tell his side of that violent past. Specifically, he remembered a time in 1992 when he dispatched a gang of his young men to kill the pastor for what he had done to his family and mentor.
"I was full of vengeance. I decided I had to eliminate him, eliminate his group because they had committed an unforgivable sin," remembered Imam Ashafa.
He remembered being disappointed, he said, when he found out the pastor survived, though the pastor did lose his right hand in the attack when it was severed by a machete.
But later in 1992, a sermon by a local imam started to change his heart, Imam Ashafa said. The sermon was about the Prophet Mohammed's journey to Taif when the prophet said to the angel Gabriel, "My Lord, forgive my people; they do not know what they are doing."
And the sermon went on to quote the Quran; chapter 41, verses 36 to 42, which Imam Ashafa summarized as, "Turn the evil to that which is good … No one will have the courage to do this except the people of perseverance … If you do that the worst of enemies will become the best of friends."
"Then and there I became a free man," Imam Ashafa said, explaining that soon after he went to Pastor James and visited him in the hospital where he was caring for his sick mother. He asked the pastor for forgiveness.
Pastor James was weary and remembered not trusting the sudden change of heart on the part of Imam Ashafa.
But then Pastor James began a transformation of his own in the mid1990s at a conference sponsored by the American Christian fundamentalist and televangelist Pat Robertson. Even though Robertson is one of the most virulently anti-Muslim preachers in the world, there was a fellow pastor at the conference who pulled Pastor James aside, saying "You can't preach the gospel of Jesus with hatred in your heart."
"That was my turning point, that was when I was changed and when I really opened up to the idea of forgiveness and of trying to work together to stop the killing," said Pastor James.
But it took a further three years, until 1998, before he said he could genuinely feel a sense of forgiveness for Imam Ashafa.
Eventually, the two men began working together. And in the 15 years since, then have formed an intense relationship, a deep friendship and a productive partnership through the Interfaith Mediation Centre. They often joke that they are like an old, married couple now.
"Not everything goes smoothly between husband and wife, there are moments of tension," explained Imam Ashafa.
"But what keeps us going is a spiritual commitment to God, that we want to make the world a better place," he added.
The imam said, "I am not a Christian and I don't want to be a Christian. James is not a Muslim and he doesn't want to be a Muslim. But understanding that religion is about building bridges, that article of faith, that principle in the Abrahamic tradition, is what keeps us going."
https://www.pri.org/stories/2014-03-10/pastor-and-imam-once-tried-kill-each-other-now-they-work-heal-nigeria
--------
Suicide blast kills 14 in Nigeria mosque
January 04, 2018
KANO: Fourteen worshippers were killed on Wednesday when a suicide bomber attacked a mosque on Nigeria's border with Cameroon, civilian vigilantes said.
The suspected Boko Haram militant blew himself up amid worshippers inside the mosque in Gamboru at around 5am, shortly before morning prayers.
"Fourteen bodies have been pulled out of the rubble," said Umar Kachalla, a civilian militiaman, who said the mosque had been destroyed.
"Only the muezzin has survived and we believe more bodies are buried under the debris," said Kachalla. "The death toll will likely rise."
An hour earlier, a patrol of vigilantes spotted four suspected suicide bombers on the outskirts of the town and arrested one of them after a chase, said a second vigilante, Shehu Mada.
"Two of them turned back and fled while the fourth disappeared into the darkness and we believe it was he who attacked the mosque," Mada said.
Boko Haram's eight-year insurgency against the government of Nigeria has spilled into neighbouring Niger, Chad and Cameroon, killing around 20,000 people and displacing more than 2.6 million.
In August 2014, the group seized Gamboru, a trading hub along with neighbouring town of Ngala.
Nigerian troops retook both towns in September 2015 with the help of Chadian forces following months-long offensives.
Despite the recapture of the area, Boko Haram fighters continue to launch sporadic attacks, laying ambush on troops and vehicles as well as attacking and abducting farmers.
Full report at:
https://www.dawn.com/news/1380657/suicide-blast-kills-14-in-nigeria-mosque
--------
Al-Shabaab kills 5 police officers in northern Kenya
03 January 2018
Somali-based al-Shabaab militants killed five police officers Tuesday and burnt a police vehicle in the town of El-Wak close to the Kenya-Somali border.
"We lost five security officers in the attack while on patrol on Elwak-Kotulo road. A team responding to the attack was also attacked and their lorry burnt." Mandera South Deputy County Commissioner Daniel Bundotich told local media.
Bundotich said three of the slain officers were police reservists while the other two were administrative officers.
The militants had "waylaid the unsuspecting patrol team. It was an ambush", said a police officer with knowledge of the attack who spoke to Anadolu Agency on condition of anonymity due to restrictions on speaking to the media.
The attack comes less than a week after the militants attacked and burnt two police stations in Garissa county in northern Kenya.
Full report at:
http://www.worldbulletin.net/africa/197466/equatorial-guinea-says-it-thwarted-coup
--------
Nigeria: Boko Haram Threatens to Attack Media Houses in Nigeria
3 JANUARY 2018
By Nwafor Sunday
In a bid to stop certain information in circulation against Jamatu Ahlis sunnah lil daawati wal jihad group, Boko haram as it is widely known has in a new video clip threatened to attack some media houses in Nigeria.
Among these media include, Punch, Daily Sun, Vanguard, Guardian, Nation, Tribune, and National Accord.
The reason for their planned attack according to the clip include, misinforming the public's about their operation, lies, dishonouring their prophet, 'Mohammad', others.
See the Full transcription
"This is a message from the public awareness department of the Jamatu Ahlis sunnah lil daawati wal jihad, a group engaged in jihad in Nigeria.
"We wish to explain about the attack we carried out on Thisday Newspapers. Some of the reasons why we decided to attack some Media Houses, especially Thisday, were because the paper was used in dishonouring our prophet, Mohammad (SAW) during a beauty pageant in Kaduna in November 2002.
"At that time, some people who called themselves leaders of Muslims came out to say they have forgiven those who committed the offence.
"But based on our knowledge, we know that no one has the power to forgive anyone for an offence that God himself has given judgement, especially on an offence that has to do with dishonouring Prophet Muhammad (SAW).
"No one has the power to forgive this type of offence, and the judgement is for such persons to be killed.
"This lady that committed this crime, the judgement on her is to be killed at any opportunity; and the media house is also supposed to be driven out of existence whenever there is a chance to do so.
"We are just getting the opportunity to attack the media house, and we are hoping to continue these attacks until we drive them out of existence.
"It is our hope that Allah (SWT) will help his religion.
"We know that any genuine Muslim must have been deeply touched by the Thisday incident.
"Thisday newspaper is also leading in helping the government in fighting us, alongside other media houses that we will mention soon.
"Some of the offences of Thisday and other media outlets include: firstly, during the botched attempt to rescue some kidnapped foreign nationals in Sokoto; these media houses asked us if we have anything to do with the kidnap and we said we have nothing to do with it, yet these media houses reported that we were responsible for the incident, that was a lie against us.
"Secondly, when we sent a video of our leader, Abubakar Shekau, the media houses reported things that our leader did not say, such as that in response to the president's threat to finish us in three months, we have also threatened to finish the government in three months. But the truth is, nowhere in the video did our leader said what they attributed to him.
"Thirdly, on the purported arrest of Abu Qaqa by the SSS, we have come out to tell them that the person arrested was not Abu Qaqa,yet the media continue to potray us as liars, and even said that our leader had ordered for Abu Qaqa II to be executed, and we are now searching for Abu Qaqa III.
"Recently too, they came out with another lie that one Mohammed Awwal Kontagora was the Abu Qaqa II that was executed, and that even his parents confirmed it, that was just a big lie to convince the world.
"The media also said that we have killed the father of Abu Darda, so as to pass a message to him, because he had leaked our secrets after his arrest by security agencies, and they wanted him to know that he is one of our targets.
"These are all lies, and they are many.
"These media houses have committed a lot of offences that is detrimental to Islam, and we don't have the power to forgive them. We will take revenge on them by God's grace, some of these media houses have been categorized into three groups.
"The first group is the likes of Thisday whose offences are big.
"The second group we will also attack soon are Punch, Daily Sun, Vanguard, Guardian, Nation, Tribune, and National Accord, which are all newspaper houses.
"There is also VOA Hausa radio. All these media houses we will attack them including their staff and offices, by God's grace.
"VOA Hausa for instance have recently started campaigning for people to support the government against us by exposing us,
"The next group that are on the verge of joining this list who if they are not careful we will attack very soon include, Leadership, Daily Trust, People's Daily and RFI(Radio France international)
"There is an online medium known as Saharareporters who have their office in New York, and who have made their site as a platform for attack against Islam. So we are warning them to stop making their site an avenue for attacking Islam, otherwise we will find a way of attacking them too.
"We resorted to using this medium to send our message instead of the normal tele-conference because of the fear by journalists; which made them refuse to conduct the conference.
"We are grateful to God for the success recorded on the attack on Thisday, and we hope to continue such attacks.
"Finally, the government has now resorted to arresting our wives and children and also demolishing our houses, like they did in Biu recently, that is why we have also resolved to start attacking government schools, especially, tertiary ones.
"We promise to demolish 500 buildings for any one of our houses that the government destroys.
"We have already started with Gombe and Kano."
Full report at:
http://allafrica.com/stories/201801040068.html
--------
Nigeria: Muric Tackles Nigerian Govt for Declaring Jan 1 Holiday While Ignoring 1st Muharram
3 JANUARY 2018
Rights group, Muslim Rights Concern, has urged the Nigerian government to declare the first day of the Islamic calendar, 1st Muharram, public holiday just as the first day Gregorian calendar, January 1, has been earmarked.
In a statement sent to PREMIUM TIMES, MURIC's Executive Director, Ishaq Akintola, said the measure would help reassure muslims that they are being fully integrated into the Nigerian project.
"It is time for FG to add 1st Muharram to the number of Muslim holidays," Mr. Akintola, a professor, said. "This will bring the total number of holidays enjoyed by Muslims to four only while Christians still continue to enjoy five.
"Finally, we advise FG and the Ministry of Internal Affairs to interact with the Nigerian Supreme Council for Islamic Affairs (NSCIA) for the exact date of 1st Muharram this year and declare it as a holiday.
"For Nigerian Muslims to feel a sense of belonging, FG must close the gap between Christians and Muslims. There must be a conscious effort to fully integrate Muslims into the Nigerian project otherwise we may be sitting on a keg of gun powder. Justice is the soul of peace and whoever denies one can never enjoy the other."
As usual and since colonial days into Nigeria's post-independence period, the Federal Government declared today, 1st January 2018, as a public holiday.
The Muslim Rights Concern (MURIC) observes that today's holiday fully consolidated the two-day Christmas holiday and enabled Nigerian Christians to kick off the 2018 Christo-Western Gregorian calendar.
However, conscious Nigerian Muslims, particularly stakeholders in the welfare of Muslims as well as the growth and development of Islam in Nigeria, approached today's holiday with mixed feelings. First and foremost, we express happiness for our Christian neighbours who were able to spend the day giving full practice, expression and manifestation of their faith. On the other hand, we experienced a feeling of despair, isolation and marginalization.
Our feeling of marginalization arises from the reality of the Nigerian situation which has conditioned Muslims in the country for religious segregation and subjected them to spiritual apartheid.
Here we are today, enjoying January 1st holiday which was declared by the Federal Government (FG) of Nigeria in recognition of the Christo-Western Gregorian calendar. But the same FG which recognizes this Christian calendar is yet to declare 1st Muharram a public holiday in recognition of the Islamic calendar despite several petitions and appeals to it dating back to the 60s. Surprisingly, some people still complain that Nigeria is Islamised!
For the avoidance of doubts, only two of the world's nine calendars have either survived or remained relevant to us in Nigeria. The first was the Egyptian calendar which came into existence ten thousand years ago. This was followed by six other ancient calendars, namely, the Babylonian, Hebrew, Mayan, Chinese, Greek and Roman calendars.
Due to human errors in the Roman calendar discovered by Numa Pompilius (715 - 673 B.C.) and Julius Caesar in 46 B.C., the Council of Nicea of 365 C.E. came up with its surgical abracadabra by moving back the Roman calendar by four days. Thus March 25, 365 C.E. became March 21.
But even this historical razzmatazz was not good enough for Pope Gregory XIII (1502 - 1585) when he discovered on Thursday, October 4, 1582 that the equinox fell on March 11 instead of March 21. By royal fiat, Pope Gregory quickly slashed off ten days from the year 1582 and the next day, a Friday which would have been October 5, 1582 became Friday, October 15, 1582. It is this Gregorian calendar, which was a product of gymnastic make-belief, that the Western world uses till today. It was this same calendar, a sheer hocus-pocus that the British Christian colonialists forced on Nigeria.
Why is FG granting holiday for a false god of Rome and denying same for Allah the Creator of all things (Qur'an 2:29), the Judge of all Judges (95:8), Master of all masters (51:58) and the King of Kings (3:26).
We do not wish to be misunderstood: we are not agitating for the cancellation of anything which FG has given its over-pampered favourite, whether 1st January is based on falsehood and idolatory tendency or not is not our business, let them continue to enjoy it. But give us our day for crying out loud!
Fortunately MURIC has successfully resisted the collective amnesia which is rampant among Nigerians. We recall the torments suffered by Nigerian Muslims under colonial rule. The most relevant of these inhuman treatments was the denial of holidays for Muslims on their festival days.
Although the colonialists declared holidays for Easter, Christmas and 1st January, they bluntly refused to give any Muslim festival an equal status. Muslims were therefore forced to go to work on Id al-Fitr and Id Al-Kabir days. While Maulud an-Nabiyy was an anathema to the colonial master, 1st Muharram was blue murder.
Whereas Nigerian Muslims were able to secure public holidays for some of its festivals in post-colonial period by dint of struggles and determination, 1st Muharram remains a pipe dream till today. The question on the lips of Nigerian Muslims today, 1st January, 2018 as Nigerian Christians savour the sweet sensation of the holiday and relish in the euphoria of spiritual fulfillment is, "When will our own come? When will the Nigerian state treat Muslims as complete human beings? For how long shall we remain second class citizens?"
Research reveals that 1st January is in honour of Janus, the Roman god of gates whom the Romans believed protected them from invasions. This is an incontrovertible fact. Why should FG force us to idolize the false god of Rome? MURIC charges FG to drop its colonial garb and to don a truly nationalistic identity. On the contrary, the Islamic hijrah calendar is divine (Qur'an 9:36; 2:189; 10:5 and 17:12).
Nigerians enjoy a total of eight (8) public holidays in a year. These are Christmas Day, Boxing Day, New Year Day, Good Friday, Easter Monday, Id al-Kabir, Id al-Fitr and Maulud an-Nabiyy. Five (5) of the eight holidays belong to Christians (Christmas Day, Boxing Day, 1st January, i.e, New Year Day, Good Friday and Easter Monday). Only three (3) holidays belong to Muslims, viz, Id al-Kabir, Id al-Fitr and Maulud an-Nabiyy.
It is time for FG to add 1st Muharram to the number of Muslim holidays. This will bring the total number of holidays enjoyed by Muslims to four only while Christians still continue to enjoy five. This year's 1st Muharram is likely to fall on Tuesday, 11th September, 2018 or thereabouts.
Finally, we advise FG and the Ministry of Internal Affairs to interact with the Nigerian Supreme Council for Islamic Affairs (NSCIA) for the exact date of 1st Muharram this year and declare it as a holiday.
Full report at:
http://allafrica.com/stories/201801030119.html
--------
Arab World
Iraqi Kurdistan offers olive branch to Ankara with renewed anti-terror commitment
4 January 2018
ANKARA: The Kurdistan Regional Government (KRG) is reportedly attempting to recover its relations with Turkey by contributing to Ankara's anti-terrorism efforts.
According to Turkish press reports, Irbil is planning to establish security along its border with Turkey, often used by Kurdistan Workers' Party (PKK) terrorists to infiltrate Turkey from northern Iraq and conduct terror attacks. As a practical step, the KRG has some plans to declare security zones in regions near Turkish borders.
Consequently, civilians will not be permitted to cross into the security zones, and those trying to enter these zones will be considered terrorists and be prevented from crossing.
Northern Iraq has been a long-time hub for terrorist activities against the Turkish state. In early November 2017, Turkish security forces clashed with PKK terrorists who were trying to cross the border from northern Iraq, resulting in the death of eight Turkish soldiers.
The bilateral ties between the KRG and Turkey shattered following the independence referendum the KRG held on Sept. 25, 2017, despite all regional and international warnings against it.
After the referendum, international flights to Iraqi Kurdistan were canceled at the request of Baghdad, but Turkey did not close its land border with the region.
And now, with the deteriorating economic conditions in Iraqi Kurdistan, its lose of control of the oilfields in Kirkuk and the high rate of unemployment leading to protests in Sulaymaniyah last month, the Irbil government has become obliged to reconcile with regional countries.
Galip Dalay, research director at Al-Sharq Forum in Istanbul, thinks that apart from this latest step, it is plausible to expect a gradual mending of ties between Turkey and Iraqi Kurdistan.
"The fact that the KRG leadership has visited Europe through Turkey points to such a prospect," Dalay told Arab News.
In the first two weeks of December, KRG officials, including Prime Minister Nechirvan Barzani and Deputy Qubad Talabani, paid visits to France and then to Germany by crossing by land into Turkey, and then taking a flight from there to discuss regional issues, including the fight against Daesh and the deadlock on Irbil-Baghdad relations.
Nevertheless, Dalay noted that this rapprochement process between Irbil and Ankara would be slow and gradual, and a swift recovery of relations is unlikely.
"Beside foreign policy projections, Turkey's domestic politics will define the momentum of such a rapprochement. In this respect, if KRG's recent decision is materialized, this will contribute to giving a positive momentum to the relationship," he said.
Ali Semin, a Middle East expert from Istanbul-based think-tank Bilgesam, said this latest move by Irbil to forge a relationship with Turkey is the outcome of the isolation of the KRG following the independence referendum, both regionally and internationally.
According to Semin, the KRG cannot afford further deterioration with Turkey under its current international isolation, and the decrease in Turkish investments in the region has further contributed to its economic difficulties.
But the plan is not feasible without adequate human resources, he said.
"Currently Irbil, due to the dire economic state of the region, cannot pay the salaries of its Kurdish Peshmerga forces and civil servants. So such a plan will mostly fail unless it is supported by Turkey's contributions with its own soldiers or launching a military training camp in this region, similar to Bashiqa camp in Mosul," Semin told Arab News.
Although it was later considered by Iraq's central government a move against "national sovereignty," Turkish troops have been stationed in Bashiqa in northern Iraq following an invitation by Baghdad in 2014 with the mission of training Peshmerga forces in the fight against Daesh.
Semin also noted that the KRG began seeing the PKK as an imminent security threat to itself after the terror group recently declared autonomy in five regions in northern Iraq.
Turkey has recently launched sweeping aerial operations against PKK hideouts following the terror group's recent attacks from northern Iraq to Turkish territories with rocket launchers.
"The KRG leadership is also concerned that central government's security forces might conduct an operation in the region if the PKK gains regional clout," Semin noted.
http://www.arabnews.com/node/1218726/middle-east
--------
Syrian regime has no respect for human life, says opposition
4 January 2018
JEDDAH: The Syrian regime's relentless shelling and air raids show that it has no respect for human life or the rules of war, opposition spokesman Yahya Al-Aridi told Arab News on Wednesday.
The regime is amassing elite forces for a major assault on an army base on the outskirts of Damascus, in which at least 200 troops are believed to be besieged by rebels, Reuters reported.
Since Sunday, opposition fighters have expanded their control of parts of the base in Harasta. They are well entrenched, and the trapped troops might be used as bargaining chips "if they remain alive," Al-Aridi said.
The likely outcome of the showdown is unclear, "but the regime can claim no victory or control, as it has been saying," he added. The opposition Free Syrian Army (FSA) "is the major power" besieging the base, he said.
In four days of heavy airstrikes, 38 civilians have been killed and at least 147 people injured. Five civilians were killed on Tuesday. The regime and its supporters "don't care about a political solution," Al-Aridi said.
Bahia Mardini, a UK-based Syrian journalist and human rights activist, told Arab News: "We believe passionately in the elimination of terrorism and the defeat of all terrorist groups in Syria — whatever name they go by — but we must spare civilian lives."
She added: "The regime and its Russian allies mustn't be allowed to use terrorism as an excuse to kill civilians and maintain their deadly siege." Despite the regime's scorched-earth policy, Syrians continue to reject violence, Mardini said.
Full report at:
http://www.arabnews.com/node/1218751/middle-east
--------
Report says 23 civilians killed near Damascus, mainly from Russian air strikes
4 January 2018
At least 23 civilians were killed Wednesday in the Syrian opposition redoubt of Eastern Ghouta, near Damascus, with the majority of victims perishing in Russian air raids, a monitor said.
The Britain-based Syrian Observatory for Human Rights told AFP that 18 people were killed by Russian strikes in the town of Misraba, while the remainder died in shelling from government forces. Observatory head Rami Abdel Rahman said three children and 11 women were among those killed.
Eastern Ghouta, a small enclave east of the capital Damascus, is controlled mostly by rebels from the Jaish al-Islam group. Russia first launched bombing raids in 2015 in support of Syrian President Bashar al-Assad's beleaguered forces.
Full report at:
https://english.alarabiya.net/en/News/middle-east/2018/01/04/Report-23-civilians-killed-near-Damascus-mainly-from-Russian-air-strikes.html
--------
Syrian Army Launches Heavy Offensive against Terrorists in Eastern Damascus
Jan 03, 2018
The sources said that the army units, supported by artillery units and the army aircraft, kicked off fresh attacks against terrorists in the Vehicles Management Center near the town of Harasta in Eastern Damascus.
The sources further said that the army men engaged in a tough battle with terrorists after arrival of fresh troops and more military hardware and recaptured lost lands.
They went on to say that the army forces captured four more buildings and moved towards al-Barazi hospital, adding that the army men have captured a number of terrorists in recent clashes at the Vehicles Management Center.
The sources said that terrorist-run medical centers in Harasta and Arbin are now home to a large number of the injured militants.
Field sources reported earlier today that the entire members of a group of terrorists of Al-Nusra Front (Tahrir al-Sham Hay'at or the Levant Liberation Board) were killed after their attack on the Syrian Army troops' positions was repelled in Eastern Damascus.
The sources reported that a group of Al-Nusra terrorists that were planning to penetrate into a government building in the town of Harasta in Eastern Ghouta were hit hard in the army soldiers' ambush operation.
The sources said that the entire 40 members of the group were killed in the ambush.
Full report at:
http://en.farsnews.com/newstext.aspx?nn=13961013001330
--------
Syrian Army Opens New Front to Hit Terrorists in Southeastern Idlib
Jan 03, 2018
The sources said that the army men have launched a fresh operation against terrorists to capture the key region of Sinjar after imposing full control over al-Zarzur, Sham al-Hawa and Um al-Khalakhil in Southeastern Idlib.
The sources further said that the army soldiers are 14 km away from Sinjar from their last position in al-Zarzur.
Military sources confirmed earlier today that the Syrian Army troops have thus far freed over 65 regions in their operations against the Al-Nusra Front (Tahrir al-Sham Hay'at or the Levant Liberation Board) in Northeastern Hama and Southeastern Idlib in their push towards the Abu al-Dhohour airbase.
The sources reported that the army men pushed Al-Nusra back from the village of Um al-Khalakhil North of the village of Rasm Sham al-Hawa.
Full report at:
http://en.farsnews.com/newstext.aspx?nn=13961013000884
--------
SDF Withdraws from Positions to Allow ISIL to Escape Battlefields in Eastern Syria
Jan 03, 2018
The sources reported that the SDF has retreated from its positions in Hawi Hajin in Eastern Deir Ezzur to give way to the ISIL to move from the small town of Qaranij towards other ISIL-held villages on the Eastern bank of the Euphrates River.
Local sources reported earlier today that the SDF have released over 25 ISIL members, and started a fresh wave of arrests against civilians in camps under their control in Raqqa province.
The sources said that the SDF has freed 26 ISIL members that had been previously captured in the town of Ein Issa in Northern Raqqa.
The sources further said that SDF has, instead, started arresting civilians in a camp near Ein Issa.
Full report at:
http://en.farsnews.com/newstext.aspx?nn=13961013001041
--------
Syrian Army Grants Amnesty to Tens of Militants in Hasaka
Jan 03, 2018
The sources said that the army has granted amnesty to 68 gunmen that had handed over their weapons to the army men and joined peace in Hasaka.
The sources added that they gunmen returned to normal life in the Northeastern province.
The Russian Defense Ministry announced in its latest report last month that militants in four more regions laid down arms and joined peace with the Syrian Army troops.
The ministry's report said that the total number of regions, towns and villages that joined the nationwide reconciliation plan stands at 2,311 after representatives of militants in four more regions endorsed the peace agreement with Damascus.
The ministry added that peace talks with the gunmen are underway in the provinces of Aleppo, Damascus, Hama, Homs, Idlib and Quneitra.
http://en.farsnews.com/newstext.aspx?nn=13961013000687
--------
Senior FSA Commander Killed in Clashes with Syrian Army in Hama
Jan 03, 2018
The sources said that Abub Suweilah, a senior field commander of Jeish al-Nasr, was killed in the Syrian army men's operation in Northeastern Hama.
The sources added that the army attacks have inflicted major losses on the militants in the region.
Military sources confirmed earlier today that the Syrian Army troops have thus far freed over 65 regions in their operations against the Al-Nusra Front (Tahrir al-Sham Hay'at or the Levant Liberation Board) in Northeastern Hama and Southeastern Idlib in their push towards the Abu al-Dhohour airbase.
The sources reported that the army men pushed Al-Nusra back from the village of Um al-Khalakhil North of the village of Rasm Sham al-Hawa.
Full report at:
http://en.farsnews.com/newstext.aspx?nn=13961013000653
--------
Syrian Army Liberates over 65 Regions in Anti-Terrorism Operation in Hama, Idlib
Jan 03, 2018
The sources reported that the army men pushed Al-Nusra back from the village of Um al-Khalakhil North of the village of Rasm Sham al-Hawa.
The sources further said that over 65 villages, towns, settlement and regions have thus far been liberated in the army soldiers' operation in Hama and Idlib since October 22.
Local sources reported on Tuesday that nine terrorist groups operating in Northern Syria have set up a joint operation room to face the Syrian Army troops' rapid advances in Southern Idlib.
The sources said that the terrorist groups of the Al-Nusra Front (Tahrir al-Sham Hay'at or the Levant Liberation Board), Ahrar al-Sham, al-Turkistani party, Jund al-Malaham, Jeish al-Ahrar, Jeish al-Izzah, Jeish al-Nasr, Jeish Idlib al-Hor and Nouralddeen al-Zinki have set up a joint operation room to confront the Syrian army advances in Southern Idlib.
Full report at:
http://en.farsnews.com/newstext.aspx?nn=13961013000482
--------
At least 7 Russian planes destroyed by shelling at Syrian air base
4 January 2018
At least seven Russian planes were destroyed by rebel shelling at the Hmeymim air base in Syria on Dec. 31, Russian daily Kommersant reported late on Wednesday, citing two sources.
In the single biggest loss of military hardware for Russia since it launched air strike in Syria in autumn 2015, more than 10 servicemen were wounded in the attack by radical militants, the report said.
At least four Su-24 bombers, two Su-35S fighters and an An-72 transport plane, as well as an ammunition depot, were destroyed by the shelling, Kommersant said on its website, citing two "military-diplomatic" sources.
Kommersant said the Russian defense ministry had not commented. Reuters was not able to immediately reach the ministry.
Earlier on Wednesday, the ministry said a Mi-24 helicopter had crash-landed in Syria on Dec. 31 due to a technical fault and two pilots died.
Full report at:
https://english.alarabiya.net/en/News/middle-east/2018/01/04/At-least-7-Russian-planes-destroyed-by-shelling-at-Syrian-air-base.html
--------
Russian helicopter crashes in Syria, both pilots killed
3 January 2018
A Russian helicopter crashed in Syria on New Year's Eve killing both pilots following a technical fault, Moscow's defense ministry said Wednesday.
The Mi-24 military helicopter was flying to Hama, northwestern Syria, and there was no firing from the ground, agencies quote the ministry as saying.
"Both pilots died in a hard landing 15 km (nine miles) from the air base," the ministry said, adding that a technician had been injured and taken to another air base at for emergency treatment.
The investigative blog Conflict Intelligence Team (CIT) quoted a post from Forumavia aviation forum saying the helicopter had tripped over power line wires and crashed while escorting a convoy.
The post did not specify whether the helicopter was escorting a humanitarian convoy or combat unit and the defense ministry did not give any further details.
Russia became involved in the multi-front conflict in September 2015, when it began an aerial campaign in support of President Bashar al-Assad's military.
Russia's Defense Minister Sergei Shoigu last month said the military had completed the partial withdrawal from Syria ordered by President Vladimir Putin, but Russia will maintain a presence in the country, including three battalions and two bases.
Full report at:
https://english.alarabiya.net/en/News/middle-east/2018/01/03/Russian-helicopter-crashes-in-Syria-both-pilots-killed-.html
--------
Saudi-led coalition: Houthis a constant threat to Yemeni people
4 January 2018
RIYADH: Houthi militias are a constant threat to the Yemeni people, and "have been in contact with the Iranian regime since 1994," Col. Turki Al-Maliki, spokesman for the Saudi-led coalition, said Wednesday.
At a press conference in Riyadh, he showed through videos that the coalition continues to accurately target the Houthis and their arsenal of weapons, and avoid civilians.
The Houthis are hiding ballistic missiles in deep caves in the Sanaa mountain of Nahdain, and coalition forces are monitoring the area round-the-clock, he added.
The Houthis have fired 86 ballistic missiles at Saudi Arabia, and the latest attempt was thwarted, Al-Maliki said.
He described as incorrect a statement by the UN humanitarian coordinator in Yemen, Jamie McGoldrick, that the coalition campaign has been a "failure."
All of Shabwa province is now liberated, and the coalition is fighting to oust the Houthis from the remaining 20 percent of Al-Jouf, Al-Maliki said.
While the Houthis are recruiting child soldiers, the coalition has launched a unit to help these children recuperate and reintegrate into civilian life, he added.
Saudi Arabia has provided the Yemeni people with aid by air, land and sea, and all ports are open and receiving humanitarian aid, he said.
Former Yemeni President Ali Abdullah Saleh lost his life protesting the Houthi presence, Al-Maliki added.
Full report at:
http://www.arabnews.com/node/1218756/middle-east
--------
Yemen coalition ambassadors condemn Iran for fueling crisis with militias
4 January 2018
RIYADH: The ambassadors and military attaches of coalition countries seeking to restore the legitimate government in Yemen, in a meeting in Riyadh on Wednesday renewed their condemnation of Iran for its interference in Yemen by arming militias in flagrant violation of UN resolutions.
Speaking to reporters after a meeting at the Foreign Ministry, Mohammad Al-Jaber, the Saudi ambassador to Yemen, said: "During the meeting, coalition representatives reviewed the developments and the efforts to restore full legitimacy in Yemen at the political, military and humanitarian levels, including coordination and consultation with effective international parties.
"The representatives agreed to continue full coordination among the coalition countries in the humanitarian, political and military fields until the legitimate government controls all parts of Yemen," he added.
All representatives at the meeting expressed their strong condemnation of the Iran-backed Houthi rebels' heinous acts of killings and terrorizing innocent civilians, as well as indiscriminate assassinations of Yemeni politicians in Sanaa, Al-Jaber said.
They also condemned the Houthi militias' continuous besieging of cities, recruiting children and violating international humanitarian law.
Moreover, the ambassadors condemned the Houthis' continual threatening of the Kingdom by launching ballistic missiles at its cities, as well as threatening the safety and security of the sea routes.
During the meeting, the ambassadors renewed their condemnation of Iran for backing the militias, for its interference in Yemen which is fueling the crisis, and for providing the Houthis with weapons, ammunition and ballistic missiles in flagrant violation of the UN Security Council resolutions 2216 and 2231, he said, adding they also condemned the Houthi militias' continuous rejection of a political solution and the efforts of the UN Special Envoy to Yemen Ismail Ould Cheikh Ahmed.
Moreover, the coalition representatives reaffirmed their support for the efforts of the UN special envoy to Yemen to reach a political solution based on three references — the Gulf Initiative, outcomes of the Comprehensive National Dialogue and Security Council Resolution 2216.
They also stressed the continued cooperation and coordination between the coalition countries and the UN envoy, including his proposal for Al-Hodeida Port within the framework of the sought-after peaceful solution.
Joining him, the coalition's spokesman, Col. Turki Al-Malki, said the legitimate government, which now controls about 85 percent of the territory, is being coordinated to restore full legitimacy.
During the meeting, the representatives reaffirmed their continued support to provide safe passage and facilitate the entry of humanitarian aid and commercial shipments to all areas of Yemen with no exception.
He said the humanitarian work in territories under the legitimate government is progressing well, but in Houthi-held territories there are problems as the relief shipments are sometimes looted by rebels.
Concerning humanitarian efforts, the coalition representatives expressed their strong condemnation of the Houthi militias for disrupting humanitarian assistance that has led to a deterioration of the situation in the war-hit country.
The representatives also highlighted the humanitarian efforts of the King Salman Humanitarian Aid and Relief Centre (KSRelief) in providing assistance in coordination with international relief organizations.
The dean of the diplomatic corps and ambassador of Djibouti, Diaa-Eddin Saed Bamakhrama, after the meeting told Arab News: "Ambassador Al-Jaber presented political files on developments at the meeting with the ambassador of Yemen, whereas KSRelief presented humanitarian developments and the military side from the Kingdom, and Yemen explained about the situation, exuding hope that the coalition will soon find a good solution to the Yemen crisis.
Full report at:
http://www.arabnews.com/node/1218776/saudi-arabia
--------
South Asia
Noor warns of civil uprising or negotiations fail with the govt
Jan 03 2018
The chief executive of Jamiat-e-Islami Ata Mohammad Noor has warned of civil uprising if the ongoing negotiations fail to put an end to ongoing controversies between him and the government.
Speaking during a gathering in Mazar-e-Sharif city, Noor said the first round of talks between Jamiat-e-Islami and the government of national unity has been organized.
Noor further added that he will prefer negotiations but warned that he will invite the people for a civil uprising if the negotiations ended without any breakthrough.
He once again reiterated that he is the governor of the northern Balkh province and will remain as the governor until the end of the unity government's term.
This comes as efforts are underway to introduce the new governor of the northern Balkh province after the presidential office announced the approval of Noor's resignation from the Balkh government leadership.
Noor admitted that he submitted his resignation but he had several demands before stepping down and none of them has been met by the government while his resignation has been approved.
Speaking during another gathering nearly two weeks ago Noor had said none one can dismiss him as the governor of Balkh province by issuing a decree, insisting that the political party he is representing is one of the main sides which played a key role in the formation of the government of national unity.
https://www.khaama.com/noor-warns-of-civil-uprising-or-negotiations-fail-with-the-govt-04186
--------
Afghan soldiers and militants suffer casualties in Laghman clash
Jan 03 2018
The Afghan national army soldiers and the anti-government armed militants suffered casualties during a clash in eastern Laghman province of Afghanistan, the local officials said Wednesday.
According to a statement released by the governor's office, the clash took place late on Tuesday in the vicinity of Alingar district in Basram area.
The statement furhter added that two senior commanders of the anti-government armed militants identified as Abdul Rahman Muslima nd Tor Gul were killed along with another member of the group identified as Jalaluddin.
At least three militants were also wounded during the clash, the governor's office added.
According to the provincial officials, the two senior militant commanders had a key role in the destructive activities in this province including roadside bombings, murder of the civilians, coordinated attacks on security check posts, and several other types of terrorist activities.
The officials are saying that Abdul Rahman had sustained injuries on several other occasions as well but had survived and resumed his insurgency related activities.
In the meantime, the local officials are saying that an Afghan soldier also lost his life during the clash and three other were wounded.
Full report at:
https://www.khaama.com/afghan-soldiers-and-militants-suffer-casualties-in-laghman-clash-04185
--------
Pak-US tensions to negatively affect Afghan situation, claims Pak army
Jan 04 2018
The Pakistani military officials have warned that the growing political tensions between Islamabad and Washing could negatively affect the security situation in Afghanistan.
A spokesman for the military of Pakistan Gen. Asif Ghafoor has said that the two countries are still allies but he insisted that the country will never compromise on its prestige and integrity.
He made the remarks during an interview with a private TV channel and once again raised concerns regarding the key role given to India in the new South Asia strategy of Washington.
Gen. Ghafoor alleged that India played a very negative role in connection with bringing peace in Afghanistan as well as the region.
He went on to claim that used the Afghan soil against Pakistan and supported terrorism in the country, which is evident from the arrest of Kulbhushan Jadhav.
This comes as the US President Donald Trump on Monday criticized Pakistan in strong words for harboring the terrorist groups despite receiving billions in aid to support the counter-terrorism efforts in Afghanistan.
"The United States has foolishly given Pakistan more than 33 billion dollars in aid over the last 15 years, and they have given us nothing but lies & deceit, thinking of our leaders as fools. They give safe haven to the terrorists we hunt in Afghanistan, with little help. No more!" Trump said in a Twitter post on Monday.
Full report at:
https://www.khaama.com/pak-us-tensions-to-negatively-affect-afghan-situation-claims-pak-army-04188
--------
6 civilians killed, wounded in Helmand IED explosion
Jan 04 2018
At least two civilians were killed and four others were wounded in an explosion triggered by the roadside bomb explosion in southern Helmand province of Afghanistan.
The officials are saying that the incident took place on Wednesday afternoon in the vicinity of Washir district.
According to a statement released by the governor's office, a civilian hatchback type vehicle carrying passengers struck with an Improvised Explosive Device (IED) planted by the Taliban insurgents.
The statement further added that the incident took place at around 2 pm local time and as a result two civilians were killed and four others were wounded
The Helmand governor Hayatullah Hayat said he was saddened with the loss of the civilian lives in the explosion and condemned the use of IEDs by the Taliban on highways and roads.
He also instructed the relevant authorities to assist with the victims of the incident particularly with the treatment of those wounded in the explosion.
The anti-government armed militant groups including the Taliban insurgents have not commented regarding the report so far.
The anti-government armed militant groups frequently use explosives materials for the roadside bombings and car bombings to target the government staff and security personnel.
Full report at:
https://www.khaama.com/6-civilians-killed-wounded-in-helmand-ied-explosion-04187
--------
NSC and Afghan intelligence dismiss Noor's allegations as baseless
Jan 03 2018
The National Security Council of Afghanistan and the Afghan Intelligence or National Directorate of Security dismissed the allegations by Ata Mohammad Noor as baseless.
The Office of the National Security Council (NSC) in a statement said it rejects the allegations against the Office of the National Security Council as alleged during a gathering in Mazar-e-Sharif city on Tuesday.
The statement further added that the NSC office has no guesthouse in the mentioned address and the information provided are baseless.
The Afghan Intelligence, National Directorate of Security (NDS), had earlier also rejected the allegations by the chief executive of Jamiat-e-Islami.
The statement by NDS states that the guesthouse mentioned during gathering belongs to the new governor of Balkh province and that the VIP protection unit has the security responsibility of the compound.
The statement further added that the intelligence has no links or work with the guesthouse of Engineer Daud.
This comes as Noor claimed Tuesday that certain circles belonging to the government intelligence are attempting to spark chaos and destabilize Balkh province.
Speaking during a gathering and among his supporters in Balkh province, Noor said some circles belonging to the intelligence department have started to distribute weapons among the people.
Full report at:
https://www.khaama.com/nsc-and-afghan-intelligence-dismiss-noors-allegations-as-baseless-04184
--------
Deadly ISIS attacks foiled in Kabul city, 13 suspects arrested
Jan 03 2018
The Afghan Intelligence, National Directorate of Security (NDS), says the Afghan intelligence operatives have managed to foil a series of deadly attacks plotted by the ISIS terrorist group in Kabul city.
According to a statement released by NDS, a group of at least thirteen insurgents have been arrested in connection to the attacks plots by the intelligence operatives.
The statement further added that the ISIS suspects were rounded up during an operation in Kabul city as they were busy plotting the future attacks.
NDS also added that a number of foreign insurgents are also among those arrested but did not give any further information regarding their identities.
The anti-government armed militant groups including the ISIS insurgents have not commented regarding the report so far.
This comes as dozens of people were killed or wounded in a coordianted suicide attack in Kabul city last week.
The Islamic State of Iraq and Syria (ISIS) terrorist group loyalists in Afghanistan claimed responsibility for the attack on a cultural center and news agency in Kabul.
The Ministry of Interior says a group of insurgents launched the attack on Thursday mornign leaving at least 41 dead and nearly 90 others wounded.
Full report at:
https://www.khaama.com/deadly-isis-attacks-foiled-in-kabul-city-13-suspects-arrested-04183
--------
US drones target Taliban insurgents in Nangarhar province
Jan 02 2018
The US forces based in Afghanistan have carried new airstrikes on Taliban targets in eastern Nangarhar province of Afghanistan with the local officials saying at least seven militants including two ISIS insurgents were killed during the raids.
The provincial government media office in a statement said Monday at least five Taliban insurgents were killed in an airstrike conducted in Bati Kot district.
The statement further added that the airstrike was carried out earlier today in the vicinity of Ambar Khan area of the district.
According to the provincial government, some weapons and ammunition belonging to the Taliban insurgents were also destroyed in the airstrike.
In another airstrike in Achin district of Nangarhar, at least two militants affiliated with the ISIS terrorist group were killed and some of their weapons were destroyed, the Nangarhar governor's office added.
The anti-government armed militant groups including the Taliban and ISIS insurgents have not commented regarding the reports so far.
Earlier, at least five militants affiliated with the Islamic State of Iraq and Syria (ISIS) terrorist group were killed in a similar airstrikes in Achin district.
Full report at:
https://www.khaama.com/us-drones-target-taliban-insurgents-in-nangarhar-province-04172
--------
URL: https://www.newageislam.com/islamic-world-news/us-frustrated-pakistans-behaviour-supporting/d/113814
New Age Islam, Islam Online, Islamic Website, African Muslim News, Arab World News, South Asia News, Indian Muslim News, World Muslim News, Women in Islam, Islamic Feminism, Arab Women, Women In Arab, Islamophobia in America, Muslim Women in West, Islam Women and Feminism