New Age Islam News Bureau
24 March 2014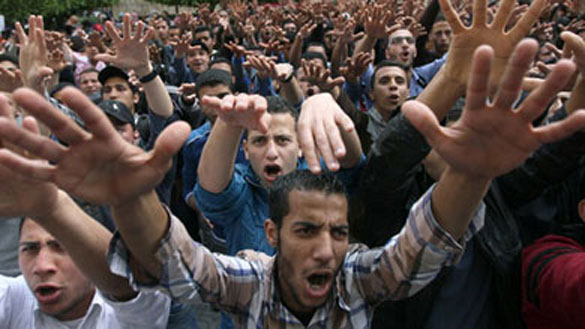 Egyptian students from Cairo University, supporters of ousted Islamist president Mohamed Morsi, demonstrate inside the grounds of their campus in the capital Cairo, on March 19, 2014. (AFP Photo/Mohamed El-Shahed)
-----------------
Pakistan
• US Has No Right to Impose New World Order: Jamaat-e-Islami
• Minorities resolve to fight for Jinnah's Pakistan
• Pakistan facing blowback of Jihad-centric policies: Abdul Malik
• Shahbaz stresses on women role in progress of Pakistan
• NYT report on al-Qaeda link to ISI censored in Pak
• Govt-TTP talks to discuss recovery of Shahbaz Taseer, Haider Gilani
• Success of talks with Taliban to restore peace: PM
• Nullahs in Islamabad serve as safe routes for criminals, militants
• Altaf calls for end of feudal system
• Timeframe must for talks with Taliban, says Leader of Opposition
Mideast
• 20 Yemen soldiers killed 'in Al Qaida attack'
• Twitter, Facebook and YouTube must obey Turkish laws: PM Erdoğan
• Turkish President Gül steps in for ending Twitter blackout
• Israel closes embassies all over the world as diplomats go on indefinite strike
• Palestinians forced to demolish own homes
• Racist slurs scrawled in Jerusalem Arab area
• Turkey as ideal Muslim democracy far from reality: analysts
Africa
• Blast near hideouts of Islamic extremists' kills 32 in Nigerian village
• Somalia: Eight Elders Assassinated by gunmen linked to al Shabab
• If re-elected, Bouteflika to give Algeria 'democracy'
• Major Moroccan banks, BMCE, BCP, plan Islamic offshoots – sources
Europe
• Attack Queen at Sports Events: Qaida Magazine Encourages Readers To Build Their Own Car Bomb
• Sharia law to be adopted into UK legal system for first time
• Chechen leader opens $10m new mosque in Israeli Arab village
• Ofsted cracks down on school that faced takeover by Muslim fanatics
• Despite UN resolution, Syria's war foes hinder aid access to civilians
South Asia
• Afghanistan furious over speculated US 7 billion military aid to Pakistan
• Afghanistan insists foreign hand in hotel attack, despite Taliiban claim
• Maldives ruling coalition gets majority in parliamentary polls
• EU delegation to meet Khaleda today
• Jamaat-e-Islami Rahman Nizami verdict any day
Arab World
• 529 Muslim Brotherhood members sentenced to death in Egypt
• Lebanon's Tripoli clashes leave 26 dead over 12 days
• New wave of jihadists makes Qaeda look soft
• Iraq attacks kill at least seven: Officials
• Assad's cousin reportedly killed near Turkish border
• Syrian rebels seize key village on Turkish border
• Doha denies differences with Riyadh over Syria
• Arab ministers approve summit resolutions, avoid rifts
• Egypt considering importing weapons from Russia: Interior minister
North America
• Muslim family 'forcibly' removed from Empire State Building for praying – lawsuit
• US police kill more innocents than terrorists despite sinking crime rates
• Civil rights groups appeal ruling allowing NYPD to spy on Muslims
• Kerry hopes Crimea won't hit Russian cooperation on Syrian weapons
India
• 'ISI executed Kabul Indian Embassy attack, US couldn't stop it'
• Befriended JeM chief, worked as arms dealer for Taliban: Sobhraj
• Singapore deports Indian man for Syrian links
Southeast Asia
• Indonesia Raising 'Blood Money' for Domestic Worker on Death Row in Saudi Arabia
• Islamic Peoples Forum attempts to stop church construction
Compiled by New Age Islam News Bureau
URL: https://www.newageislam.com/islamic-world-news/new-age-islam-news-bureau/us-has-no-right-to-impose-new-world-order--jamaat-e-islami/d/66248
------------
Pakistan
US Has No Right to Impose New World Order: Jamaat-I-Islami
Mar 24, 2014
KARACHI - To commemorate the Pakistan Day 2014, Jamaat-i-Islami Karachi organised a "Tahaffuz e Pakistan" convention with the theme revival of the Two-Nation Theory, here on Sunday.
Tens of thousands of people from every walk of life gathered at the 'Nishtar Park' to show their interest and support for the Two-Nation Theory. Addressing the convention, JI Pakistan leader Munawar Hassan in his address said that this is the spirit which pushed thousands of people to come forward and participate in the convention. He praised the services of Quaid-i-Azam Muhammad Ali Jinnah and said that during last six decades, selfish leaders took the country backwards in the name of democracy as well as dictatorship.
"If Prime Minister Nawaz Sharif would honour his mandate and promises we would support him as we supported PML-N, while he was moving forward for talks with the Taliban elements."
JI Amir said that during the tenure of PPP, their leaders remained engaged in plundering national wealth and usurping rights of the poor masses. After enjoying five long years of rule in center and provinces, now the PPP has started to chant the muntra of military action. He also urged Nawaz Sharif to tackle seriously those Ministers attempting to sabotage talks with the TTP.
He urged the government to revise the foreign policy in the interest of Pakistan. He also urged the government to get out of the so called war on terror and to refuse the new world order, being imposed on the world by the United States. He also raised the point of profit and interest and asked Nawaz Sharif to get rid of interest-based system. JI Amir also said that Nawaz Sharif did not get the mandate for friendship with India without resolving the issue of Kashmir. He made it clear that JI is not against friendship with India and any other country but betraying the people of Kashmir would not be allowed.
Renowned intellectual, scholar and JI leader Prof Ibrahim said that Pakistan was established to run the system according to the teachings of Holy Quran and Sunnah.
He said that peace and prosperity are the ultimate blessings of the Islamic system.
Meraj-ul-Huda Siddiqui, JI Sindh Amir stated the day remind us that Muslim Ummah possesses a distinguished identity from the entire global community.
Engineer Hafiz Naeem ur Rehman, JI Karachi Amir, highlighted the sacrifices of the people for freedom of Pakistan and the ideology of "Laillaha illLalah" behind the establishment of Pakistan.
He criticised the minor group which trigged the problems, society was facing in the present era.
He made it clear that JI would follow its peaceful policies to bring a peaceful revolution in the society with the help of society members and stakeholders.
On the occasion, ideological student wing of JI, Islami Jamiat Talaba's Nazim e Aala Zubair Hafeez said that the event has been organised to recall and refresh the oath, being a nation we took on March 23rd, 1940.
http://www.nation.com.pk/karachi/24-Mar-2014/us-has-no-right-to-impose-new-world-order-ji
------------
Minorities Resolve To Fight For Jinnah's Pakistan
March 24, 2014
LAHORE- Pakistan came into being with the efforts of and leadership of Quaid-e-Azam Muhammad Ali Jinnah who had vision of Pakistan being a welfare state where the rights of minorities would be protected and they would have opportunity to grow and develop.
In a statement issued here on Sunday Dean of Lahore Cathedral Church Rev Shahid Miraj said minorities played their due role in the freedom struggle and stood shoulder to shoulder with their Muslim brethren at all times. "Pakistan Day this year was on Sunday. Special prayers were offered for the peace and prosperity of the country in all churches. At the Cathedral Church too special prayers were held and we believe God Almighty would bless this country," the reverend said.
"Pakistanis are hard working and tolerant people. We should all strive to make Pakistan as envisioned by Quaid-e-Azam. The struggle that began on March 23, 1947 has not ended. It still continues today as we work hard for making Pakistan as was envisioned by the father of the nation," Shahid Miraj said.
http://www.nation.com.pk/lahore/24-Mar-2014/minorities-resolve-to-fight-for-jinnah-s-pakistan
---------
Pakistan facing blowback of Jihad-centric policies: Abdul Malik
March 24, 2014
QUETTA: Chief Minister Balochisan, Abdul Malik Saturday emphasized that the country was suffering from the consequences of Jihad-centric policies spreading over the past 30 years.
The Balochistan CM said this while giving an interview in Geo News programme 'Jirga' hosted by Salim Safi.
He said Pakistan, Iran, Afghanistan and India will have to review their (foreign) policies for the sake of establishing peace in the region.
http://www.thenews.com.pk/article-142044-Pakistan-facing-blowback-of-Jihad-centric-policies:-Abdul-Malik
-----------
Shahbaz stresses on women role in progress of Pakistan
March 24, 2014
LAHORE: Chief Minister Punjab Shahbaz Sharif has stated that if the metro bus project could be launched in 11 months, the obsolete system could also be changed, Geo News reported.
Addressing the convocation of Lahore College of Women University here Monday, Shahbaz Sharif asked the girls to play their due role after completing their studies. He said the country could not progress if educated women spend time at home to drink coffee.
CM Punjab announced to open the doors of treasury for the university, which make its place in the first 500 universities of the world.
Shahbaz further said happiness could not be brought by playing drums, adding that hardworking was key to happiness.
http://www.thenews.com.pk/article-142225-Shahbaz-stresses-on-women-role-in-progress-of-Pakistan
------
NYT report on al-Qaeda link to ISI censored in Pak
New York Times | March 24, 2014
An article about Pakistan's relationship to al-Qaeda, and its knowledge of Osama bin Laden's last hiding place within its borders, was censored from the front page of about 9,000 copies of the International New York Times in Pakistan on Saturday, apparently removed by a local paper that has a partnership to distribute The Times.
An image of the front page — with a large blank space where the article appeared in other editions — traveled rapidly around social media on Saturday. A spokeswoman for The New York Times said that the decision by the partner paper, The Express Tribune, had been made "without our knowledge or agreement."
The partner was recently the subject of an attack by an extremist group, she said. "While we understand that our publishing partners are sometimes faced with local pressures," she said, "we regret any censorship of our journalism."
Full report at:
http://indianexpress.com/article/world/world-others/nyt-report-on-al-qaeda-link-to-isi-censored-in-pak/
------------
Govt-TTP talks to discuss recovery of Shahbaz Taseer, Haider Gilani
2014-03-24
ISLAMABAD: Rustam Shah, one of the state-committee's members for peace talks with Tehreek-i-Taliban Pakistan (TTP), said Monday that the government had completed its homework for pursuing talks with the banned militant organisation, DawnNews reported.
Rustam added that the government team was planning to hold direct talks with the Taliban tomorrow and had the weather not turned for the worse, then the meeting could have taken place today.
Full report at:
https://www.dawn.com/news/1095264/govt-ttp-talks-to-discuss-recovery-of-shahbaz-taseer-haider-gilani
------------
Success of talks with Taliban to restore peace: PM
2014-03-24
RAWALPINDI: Prime Minister Nawaz Sharif is optimistic about talks with the outlawed Tehreek-i-Taliban Pakistan and says its success will restore peace in the country.
Speaking at the ground-breaking ceremony of the Rawalpindi-Islamabad Metro Bus Project here on Sunday, he said direct talks with the militants would begin in a couple of days. But he said nothing about the place where the two sides would meet.
"Interior Minister Chaudhry Nisar Ali Khan is working day and night on the proposed dialogue between the TTP and the government which will take place in a day or two," he said.
The prime minister expressed the hope that the dialogue would end militancy and extremism. "After restoring peace we will lead the country to development," he said.
Full report at:
https://www.dawn.com/news/1095200/success-of-talks-with-taliban-to-restore-peace-pm
------------
Nullahs in Islamabad serve as safe routes for criminals, militants
2014-03-24
Terrorists and criminals have found new and safer routes to enter our fortified capital. No longer are they entering Islamabad from the conventional routes where police checkposts have cropped up at various points.
Several nullahs pass through various sectors of the federal capital, including the heavily-guarded Red Zone. Besides the rural areas, nullahs and streams provided a safe passage to criminals as well as militants as police vigilance there is next to naught.
The capital police have set up over 60 checkposts in the city and mounted regular patrolling but all their efforts have proved futile to arrest militants.
Full report at:
https://www.dawn.com/news/1095187/nullahs-in-islamabad-serve-as-safe-routes-for-criminals-militants
------------
Altaf calls for end of feudal system
Mar 24, 2014
LONDON- Muttahida Qaumi Movement (MQM) Chief Altaf Hussain has said, that his party had been striving to liberate the country from the outdated feudal system in the light of Pakistan's Resolution.
In a statement on the occasion of Pakistan's Day today, Hussain said that freedom is a blessing, adding that living nations not only values their independence, they protect its ideological and theoretical basis. "Time demands that an atmosphere of unity, religious harmony, sectarian tolerance and brotherhood should be promoted," he said.
http://www.nation.com.pk/national/23-Mar-2014/altaf-calls-for-end-of-feudal-system
------------
Timeframe must for talks with Taliban, says Leader of Opposition
March 24, 2014
MARDAN - Leader of the Opposition in National Assembly Syed Khursheed Shah on Sunday said that timeframe was necessary for negotiations with Taliban.
"In democratic history dialogue is initiated through politicians but Nawaz governmen
http://www.nation.com.pk/national/24-Mar-2014/timeframe-must-for-talks-with-taliban-says-khursheed
------------
Mideast
20 Yemen soldiers killed 'in Al Qaida attack'
Mar 24, 2014
Aden: Gunmen in Yemen killed 20 soldiers and wounded six on Monday when they attacked a checkpoint in Hadramawt province in the southeast, military sources said, with one blaming Al Qaida.
"Twenty soldiers were killed in the armed attack on an army checkpoint" near Reida, 135 kilometres east of the provincial capital Mukalla in the south, Saba said.
Security sources earlier put the toll at eight dead and six wounded, with one source saying the assault bore all the hallmarks of Al Qaida in the Arabian Peninsula (AQAP).
One source said the assault was carried out by gunmen aboard several vehicles.
"The attackers would appear to be in Al Qaida," he said.
Yemen has seen regular attacks on its security forces, usually blamed on AQAP, which remains active in the south and east despite several military campaigns to crush it.
On March 18, a suspected Al Qaida suicide car bombing at a military intelligence headquarters killed one person and wounded 13.
Full report at:
http://gulfnews.com/news/gulf/yemen/20-yemen-soldiers-killed-in-al-qaida-attack-1.1308002
------------
Twitter, Facebook and YouTube must obey Turkish laws: PM Erdoğan
Mar 24, 2014
Turkish Prime Minister Recep Tayyip Erdoğan has escalated his salvo against the "double standards" of Twitter, while also defiantly warning Facebook and YouTube to "obey Turkish laws."
"Twitter obeys the American Constitution, British, German, Chinese, and Russian [laws]. But when it comes to Ukraine, when it comes to Egypt, when it comes to Turkey, it speaks about freedom," Erdoğan said during a massive electoral rally in Istanbul March 23.
"We are not a third world country. Twitter, Facebook and YouTube should respect the Turkish Constitution and obey Turkish laws," he said, to the cheers of hundreds of thousands of Justice and Development Party (AKP) supporters in a brand new giant rally area in Yenikapı, constructed by filling the Marmara Sea.
Full report at:
http://www.hurriyetdailynews.com/twitter-facebook-and-youtube-must-obey-turkish-laws-pm-erdogan.aspx?pageID=238&nID=63986&NewsCatID=338
------------
Turkish President Gül steps in for ending Twitter blackout
Mar 24, 2014
President Abdullah Gül has stepped in to end the Twitter blackout, saying his office is in talks with the U.S.-based microblogging site for the establishment of a "healthy dialogue" for a quick resolution of what he described as "this bitter situation." Gül, who was the first to break the government-imposed block on Twitter to express his disturbance through his account, suggested that the blanket shut down of websites or social media was not legal.
"I visited Silicon Valley in 2012. I held meetings with companies like Facebook, Twitter and Google. There, I met with the owner of Twitter, Dick Costello. When this problem emerged, I instructed my advisors to start a dialogue," Gül told reporters on March 23, ahead of his departure for the Netherlands. He also said that he had spoken over the phone with a number of Turkish ministers and had information in hand from senior bureaucrats on the government's move to block the use of Twitter in Turkey.
Full report at:
http://www.hurriyetdailynews.com/turkish-president-gul-steps-in-for-ending-twitter-blackout.aspx?pageID=238&nID=63963&NewsCatID=338
------------
Israel closes embassies all over the world as diplomats go on indefinite strike
Mar 24, 2014
Employees of Israel's Foreign Ministry went on an all-out strike Sunday for the first time in the country's history over a dispute surrounding workers' salaries and conditions.
The dispute has been going on for nearly two years. Seven months of negotiations ended on March 4, when workers rejected a proposal by the Finance Ministry.
Israeli ambassadors abroad will not go to work, no consular services will be available, and Israel will not be represented at any international gatherings during the strike. Even the Foreign Ministry's political leadership and management will be locked out.
The strike is indefinite and will affect everyone, including employers bringing foreign workers to Israel for work, immigrants, and anyone who wants to travel to Israel – including foreign dignitaries.
Full report at:
http://rt.com/news/israel-diplomats-indefinite-strike-717/
------------
Palestinians forced to demolish own homes
Mar 24, 2014
Occupied East Jerusalem - For the past two months, Hamzah Abu Terr has slept on the floor of his home. He gave his bed to his three small children whose room he was forced to destroy earlier this year, to avoid large demolition fines issued by the Israeli municipality.
"I had no choice," said Hamzah, sitting on the couch at his home in East Jerusalem next to his eldest daughter. "It was either my hands or their bulldozers."
The single father received a demolition order in 2001, after the extension - a kitchen and bedroom - to his one-room house was deemed illegal by the Jerusalem municipality. He spent the next 12 years fighting the order in Israeli courts, paying more than 100,000 shekels ($28,775) in fees and fines. He even had to sell his now ex-wife's jewellery.
Full report at:
http://www.aljazeera.com/indepth/features/2014/03/palestinians-forced-demolish-own-homes-israel-201432094848315964.html
------------
Racist slurs scrawled in Jerusalem Arab area
Mar 24, 2014
Israeli police have said that vandals have slashed car tyres and sprayed a bus with hate graffiti in a predominantly Arab neighbourhood in Jerusalem, the latest in a series of similar incidents.
Police spokeswoman Luba Samri said 34 cars were found damaged early on Monday in Beit Hanina in East Jerusalem.
She said one bus had "non-Jews in Israel = enemies" scrawled on it in Hebrew.
Samri said police were investigating the incident and searching for suspects.
Local residents told AFP news agency that security cameras at the site showed a group of men committed the crime, which bore the hallmarks of a "price tag" attack, a euphemism for hate crimes that generally target Palestinians.
Full report at:
http://www.aljazeera.com/news/middleeast/2014/03/racist-slurs-scrawled-jerusalem-arab-area-20143247576799169.html
------------
Turkey as ideal Muslim democracy far from reality: analysts
Mar 24, 2014
Turkey as a model Muslim democracy is very far from reality, with analysts asserting that chaos is currently in control of the nation. One expert believes that for the US, Ankara, Turkey has changed from ally to enemy. Should Erdogan's AK Party fail to win in the upcoming local elections next week, this could pave the way for a course correction from the side of the opposition.
The very notion that Turkey is a picture perfect Islamic democracy that "Arab Spring" nations could take after is a complete and utter mess. The Twitter block that Prime Minister Recep Tayyip Erdogan's government put on, was recently extended to Google this past Saturday, since the popular search engine was used as a way to getting around the ban, according to Hurriyet Daily News, a Turkish news outlet.
Full report at:
http://voiceofrussia.com/2014_03_24/Turkey-as-ideal-Muslim-democracy-far-from-reality-analysts-assert-chaos-controls-nation-2508/
---------
Africa
Blast near hideouts of Islamic extremists' kills 32 in Nigerian village
Mar 24, 2014
Hospital and local government officials say an explosion at a village market near hideouts of Islamic extremists in northeast Nigeria has killed 32 people.
Local government officials said 29 people died at the scene at Ngurosoye village. The explosion happened on Thursday and because of poor communications it is only now that word of it is getting out. The military has cut cell phone service in the area. Ngurosoye is near the Sambisa forest in Borno state bordering Cameroon where the military has been carrying out aerial bombardments and ground assaults on camps of Islamic militants.
A hospital official said three of the injured died at the hospital on Friday and Saturday. The death toll could rise with some victims seriously injured. Most victims were traders.
http://english.ahram.org.eg/NewsContent/2/9/97418/World/International/Blast-kills--in-northeast-Nigerian-village.aspx
------------
Somalia: Eight Elders Assassinated by gunmen linked to al Shabab
Mar 24, 2014
Eight traditional elders were shot and killed near Burhakaba town after their car was stopped by suspected gunmen linked to al Shabab, according to residents.
The elders were heading to their original destination of Lower Shabelle region as they transported from Baidoa town, where they attended the six-region administration forming process that ended last month with the election of Madobe Nunow as the new president of Somalia's South West state.
Full report at:
Shababhttp://allafrica.com/stories/201403241207.html?aa_source=sptlgt-grid
------------
If re-elected, Bouteflika to give Algeria 'democracy'
Mar 24, 2014
ADRAR, Algeria: Algerian President Abdelaziz Bouteflika's campaign chief promised on Sunday that constitutional changes would create a "broad democracy" if the ailing incumbent wins re-election next month.
Former Prime Minister Abdelmalek Sellal gave scant details of the long-promised changes as he opened the re-election campaign with a speech in the southern desert town of Adrar.
Sellal was one of six senior regime figures who fanned out across the vast North African country to campaign on behalf of the president, who is too sick to take to the hustings himself.
Full report at:
Shababhttp://www.arabnews.com/news/545006
--------
Major Moroccan banks, BMCE, BCP, plan Islamic offshoots - sources
March 24, 2014
Two of Morocco's biggest banks, BMCE (BMCE.CS) and BCP (BCP.CS) are preparing to launch Islamic subsidiaries as the Moroccan parliament discusses a bill regulating Islamic banks and sukuk issues, banking sources said.
Parliament's approval will be the last step before fully-fledged Islamic banks can be established in Morocco, whether they are subsidiaries of domestic banks or foreign owned, a measure which could attract more Gulf Arab investment.
Morocco's central bank has also started talks with a body of Islamic scholars on establishing a central sharia board to oversee the country's developing Islamic finance industry.
Full report at:
Shababhttp://www.reuters.com/article/2014/03/23/us-morocco-banking-idUSBREA2M0F620140323
-----------
Europe
Attack Queen at Sports Events: Qaida Magazine Encourages Readers to Build Their Own Car Bomb
Kounteya Sinha,TNN | Mar 24, 2014
LONDON: Britain's most important citizen - the Queen, the country's most important sporting events - Wimbledon, English Premiere League matches and horse race at Cheltenham and the country's most revered hotel - The Savoy in London are now the target of jihadis returning to UK from Syria.
Al-Qaida has urged "lone wolf" jihadists returning from Syria to carry out bomb attacks at sporting events in Britain specially those attended by the Queen.
Wimbledon fortnight and FA Cup matches are right on top the hit list as al-Qaida calls for "maximum carnage".
The terror group recommends that such operations be carried out either by a "martyrdom bomber" or with explosives linked to a timer or a remote device.
An English-language publication, produced by al-Qaida outlines a list of possible targets in Britain, America and France.
Full report at:
Shababhttp://timesofindia.indiatimes.com/world/uk/Attack-queen-at-sports-events-Qaida-magazine/articleshow/32577371.cms
------------
Sharia law to be adopted into UK legal system for first time
Mar 24, 2014
Sharia principles are to become enshrined in the UK legal system for the first time, with The Law Society publishing guidelines for drawing up documents according to Islamic rules, which would exclude non-believers and encroach on women's rights.
The new guidelines were produced by The Law Society earlier this month. Under the guidance, High Street solicitors will be able to write Islamic wills which will have the power to exclude non-believers completely and deny women an equal share of an inheritance.
"The male heirs in most cases receive double the amount inherited by a female heir of the same class. Non-Muslims may not inherit at all, and only Muslim marriages are recognized," states the document.
Full report at:
http://rt.com/news/sharia-law-uk-legal-713/
------------
Chechen leader opens $10m new mosque in Israeli Arab village
Mar 24, 2014
ABU GHOSH, Israel: The president of Russia's republic of Chechnya has inaugurated a new, $10 million mosque in an Arab village in Israel.
Ramzan Kadyrov said on Sunday that it was an honor to visit "this good and holy land" during a stop in the village of Abu Ghosh.
Isa Jabar, the village's mayor, says Chechnya donated $6 million for the mosque. He says some villagers trace their ancestry to 16th century Chechnya and the Caucus region.
The mosque was built in the Ottoman Turkish style, the favored architectural style in Chechnya. It features four minarets, making it the only mosque of its kind in Israel.
Abu Ghosh, near Jerusalem, enjoys good ties with its Jewish neighbors and is a popular culinary destination for Israelis.
http://www.arabnews.com/news/545011
------------
Ofsted cracks down on school that faced takeover by Muslim fanatics
Mar 24, 2014
A school at the centre of an alleged takeover plot by Islamist hardliners could now face strict government sanctions following a snap Ofsted inspection.
Park View Academy in Birmingham has been condemned in recent weeks for increasing 'Islamisation', hosting extremist preachers during assemblies and apparently encouraging girls to cover their hair.
Yesterday it emerged that the Education Funding Agency had launched a separate probe into the school over the misuse of public funds to pay £70,000 for playground loudspeakers to summon pupils to Islamic prayers.
Whistleblowing teachers have claimed the school is in the hands of a group of extremists who infiltrated the governing body, forcing non-Muslims out and replacing them with hardliners.
Full report at:
http://www.dailymail.co.uk/news/article-2587304/Birmingham-state-school-probed-amid-claims-70-000-spent-playground-speakers-call-pupils-Islamic-prayers.html
------------
Despite UN resolution, Syria's war foes hinder aid access to civilians
Reuters | United Nations | March 24, 2014
The United Nations accused Syria's government and rebels of hindering aid access, suggesting both sides could be violating U.N. Security Council demands that emergency relief reach civilians caught in the crossfire of the three-year civil war.
A month after the 15-member council achieved rare unity to unanimously approve a resolution demanding rapid, safe and unhindered aid access, including across borders, U.N. chief Ban Ki-moon said the situation "remains extremely challenging."
In Ban's first report to the council on the implementation of the Feb. 22 resolution – obtained by Reuters on Sunday – he said 175,000 people remain besieged by government forces and 45,000 people trapped by opposition groups in several areas.
Full report at:
http://indianexpress.com/article/world/middle-east-africa/despite-un-resolution-syrias-war-foes-hinder-aid-access-to-civilians/2/
-----------
South Asia
Afghanistan furious over speculated US 7 billion military aid to Pakistan
Mar 24, 2014
A report in the Washington Post claiming that Pakistan is set to receive approximately 7 billion US dollars in military hardware from departing US troops has angered Afghan officials, while reigniting old Durand Line wounds.
A report in the Washington Post claiming that US military authorities have been in discussions with their Pakistani counterparts to hand over approximately 7 billion US dollars worth of military hardware to Afghanistan's neighbour has stunned and enraged much of the Afghan media, reigniting old Durand Line wounds.
Despite Afghan National Security Forces (ANSF) and NATO troops fighting insurgencies in Afghanistan side-by-side in the last decade, a source in the report claims Pakistan is close to securing nearly 1,600 mine-resistant ambush-protected (MRAP) vehicles and other modern military hardware which Afghan forces were hoping to receive.
Full report at:
http://www.pakistantoday.com.pk/2014/03/24/foreign/afghanistan-furious-over-speculated-us-7-billion-military-aid-to-pakistan/
------------
Afghanistan insists foreign hand in hotel attack, despite Taliiban claim
March 24, 2014
KABUL: Afghanistan's presidency says its spy agency believes that a foreign intelligence service, and not the country's main militant groups, was behind the attack on a Kabul hotel last week that killed nine people, including two children and four foreigners.
A statement from President Hamid Karzai's office said the spy agency briefed Afghanistan's top security officials.
In that briefing the agency said: "The attack on the Serena Hotel was a direct attack by an intelligence service outside the country."
It did not specify which country was purportedly responsible for the assault, but Afghanistan routinely accuses Pakistan of sending militants across the border to wage attacks. Pakistan did not immediately comment on the allegations.
Full report at:
http://www.thenews.com.pk/article-142183-Afghanistan-insists-foreign-hand-in-hotel-attack,-despite-Taliiban-claim
-----------
Maldives ruling coalition gets majority in parliamentary polls
IANS | Mar 23, 2014
MALE: Maldives President Abdulla Yameen's party, with the help of its coalition partners, has attained majority in parliament in elections held over the weekend, an official said here on Sunday.
The Maldivian parliamentary elections, which were held amidst the controversial removal of the head and deputy of the country's Elections Commission, concluded largely peacefully on Saturday.
Vote counting gave the opposition Maldivian Democratic Party (MDP), led by former president Mohammad Nasheed, who was controversially ousted from power in 2012, a slim lead initially but it was soon overtaken by Yameen's Progressive Party of Maldives (PPM), Xinhua reported.
Of the 85 constituencies, 34 seats were won by PPM while its coalition partners Jumhoory Party (JP) bagged 15 seats and the Maldives Development Alliance (MDA) five seats. Nasheed's MDP secured only 24 seats and lost its majority in parliament.
Full report at:
http://timesofindia.indiatimes.com/world/south-asia/Maldives-ruling-coalition-gets-majority-in-parliamentary-polls/articleshow/32559788.cms
------------
EU delegation to meet Khaleda today
Mar 24, 2014
A European Union parliamentary delegation will call on BNP Chairperson Khaleda Zia at her Gulshan office this evening, party sources said.
The January 5 post-polls situation, BNP-led 19-party combine's demand for a fresh election soon, the alliance's anti-government movement and the country's human rights situation may come up in the meeting, according to BNP insiders.
The meeting will begin around 6:30PM, Syrul Kabir Khan, a staff of BNP chairperson's media wing told The Daily Star.
The four-member EU delegation arrived here yesterday to assess the post-January 5 general election scenario, human rights situation and progress of workers safety in readymade garment industry.
Full report at:
http://www.thedailystar.net/eu-delegation-to-meet-khaleda-today-17050
--------
Jamaat-e-Islami Rahman Nizami verdict any day
Mar 24, 2014
A tribunal in Dhaka will deliver its verdict any day in the war crime case against Jamaat-e-Islami Ameer Motiur Rahman Nizami as the trial proceedings concluded today.
The International Crimes Tribunal-1 (ICT) headed by its chairman Justice M Enayetur Rahim kept the case waiting for verdict after both the prosecution and the defence concluded their submissions.
In the closing arguments, the prosecution appealed to the three-member panel to hand the Jamaat leader capital punishment for his crimes against humanity during the liberation war of the country.
While the defence sought his acquittal claiming that the prosecutors have failed to prove the charges brought against Nizami.
The tribunal earlier on November 13 kept the case waiting for verdict any day. However, it faced some changes in the schedule after the chairman post of Tribunal-1 fell vacant on December 31 last year as Justice ATM Fazle Kabir went into retirement.
The government on February 23 appointed Justice Rahim, a High Court judge, as chairman of the ICT-1 who decided to take some fresh arguments from both the prosecution and the defence on the trial.
Full report at:
http://www.thedailystar.net/nizami-verdict-any-day-17062
------------
Arab World
529 Muslim Brotherhood members sentenced to death in Egypt
A court in southern Egypt has convicted 529 supporters of ousted Islamist President Mohammed Morsi, sentencing them to death on charges of murdering a policeman and attacking police.
The court in Minya issued its ruling on Monday after only two sessions in which the defendants' lawyers complained they had no chance to present their case.
Those convicted are part of a group of 545 defendants on trial for the killing of a police officer, attempted killing of two others, attacking a police station and other acts of violence.
More than 150 suspects stood trial, the others were tried in absentia. Sixteen were acquitted.
The defendants were arrested after violent demonstrations that were a backlash for the police crackdown in August on pro-Morsi sit-ins in Cairo that killed hundreds of people.
http://indianexpress.com/article/world/middle-east-africa/egypt-court-sentences-529-morsi-supporters-to-death/
------------
Lebanon's Tripoli clashes leave 26 dead over 12 days
Mar 24, 2014
Tripoli: Twenty-six people, most of them civilians, have been killed in 12 days of clashes between pro- and anti-Damascus fighters in Lebanon's second city Tripoli, a security source said on Monday.
Snipers from both sides were still deployed in flashpoint areas of the northern port city, as the fighting subsided on Monday for the first time in nearly two weeks.
Tripoli has seen intense sectarian clashes since the war in neighbouring Syria erupted three years ago, with gunmen from the Sunni district of Bab Al Tebbaneh battling fighters in the Alawite area of Jabal Mohsen.
Full report at:
http://gulfnews.com/news/region/lebanon/lebanon-s-tripoli-clashes-leave-26-dead-over-12-days-1.1308057
------------
New wave of jihadists makes Qaeda look soft
Pramit Pal Chaudhuri, Hindustan Times
March 24, 2014
Al Qaeda chief Ayman al Zawahiri has a problem: he is seen as too moderate. Hard to believe, but al Qaeda and its late founder Osama bin Laden are being seen by today's jihadis as not hardline enough. As a consequence, says Alon Lund, editor of Carnegie's Syria in Crisis website, "The movement is purging itself, with the most extreme elements seceding from the al Qaeda school of thought."
Two recent events were striking
One was the refusal of the al Qaeda affiliate Islamic State of Iraq and Levant (ISIL) to obey a Zawahiri diktat that it limit its activities in Syria and leave them to another terror group Jabhat al Nusra. In February, al Qaeda officially declared that "ISIL is not a branch of (al Qaeda), we have no organisational relationship with it, and the group is not responsible for its actions." This is the first known repudiation by al Qaeda of one of its member bodies. ISIL, notes a UN report on al Qaeda issued last month, had already changed its name from al Qaeda in Iraq."
Full report at:
http://www.hindustantimes.com/world-news/post-moderate-osama-era-jihad-gets-worse/article1-1199040.aspx#sthash.8lM4w9Hd.dpuf
-----------
Iraq attacks kill at least seven: Officials
Mar 24, 2014
At least seven people were killed on Sunday in a series of attacks in Iraq, most of which were concentrated in predominantly Sunni areas north of the capital, officials said.
The latest unrest is part of a sustained surge in bloodshed that is Iraq's worst since 2008, when it was emerging from a brutal sectarian war, and which has left more than 2,000 people dead already this year.
It has primarily been driven by anger in the minority Sunni Arab community, which alleges it is unfairly targeted by the Shiite-led government and security forces, as well as spillover from the civil war in neighbouring Syria.
Full report at:
http://english.ahram.org.eg/NewsContent/2/8/97375/World/Region/Iraq-attacks-kill-at-least-seven-Officials.aspx
-----------
Assad's cousin reportedly killed near Turkish border
Mar 24, 2014
Rebels have killed a cousin of Syrian President Bashar al-Assad during fierce clashes for a town near the country's border with Syria, the Syrian state media has reported.
Assad's forces have already lost control of most border crossings with Turkey during the three-year civil war but had held on to Kasab, gateway to the coastal province of Latakia that has remained an Assad stronghold.
Full report at:
http://www.hurriyetdailynews.com/assads-cousin-reportedly-killed-near-turkish-border.aspx?pageID=238&nID=63996&NewsCatID=352
------------
Syrian rebels seize key village on Turkish border
Mar 24, 2014
Syrian rebels on March 24 overran a key village on Turkey's border as Syria's air force launched raids along the frontier a day after Ankara's jets shot down a regime warplane.
The Syrian Observatory for Human Rights said that the rebels were now in full control of Kasab, the first border crossing with Turkey seized by opposition fighters in sensitive Latakia province, President Bashar al-Assad's heartland.
"The rebel fighters are in control of Kasab's main square. There is fighting on the edges of Kasab, but the rebels are in control of the village now," said Observatory director Rami Abdel Rahman.
Full report at:
http://www.hurriyetdailynews.com/syrian-rebels-seize-key-village-on-turkish-border.aspx?pageID=238&nID=64000&NewsCatID=352
------------
Doha denies differences with Riyadh over Syria
Mar 24, 2014
DOHA: Qatar dismissed reports of rivalry with Saudi Arabia over efforts to end Syria's war, saying the two countries had "the highest level of coordination."
The Qatar News Agency said Foreign Minister Khaled Al-Attiyah, speaking at a public forum in Brussels on Saturday, "denied the rumors" about a dispute between Riyadh and Doha over Syria.
"We have the highest level of coordination with the Friends of Syria and in particular with Saudi Arabia," QNA cited Al-Attiyah as saying.
Admirers of Qatari policy in Syria say Saudi Arabia tends to support the same armed groups as Qatar.
http://www.arabnews.com/news/545111
------------
Arab ministers approve summit resolutions, avoid rifts
Mar 24, 2014
Arab League foreign ministers said they agreed on the draft resolutions Sunday for a summit in Kuwait this week, despite deep rifts among member states.
"There was no tension whatsoever in the meeting. Host country Kuwait in fact has smoothed relations," Iraq's Foreign Minister Hoshyar Zebari told reporters at the end of a one-day meeting.
"The subject of the ... withdrawal of ambassadors was never mentioned at all," he said.
"There were no controversial issues or problems, and the atmosphere was very positive," he said, declining to answer if efforts will be made to heal the rifts.
Full report at:
http://english.ahram.org.eg/NewsContent/2/8/97376/World/Region/Arab-ministers-approve-summit-resolutions,-avoid-r.aspx
------------
Egypt considering importing weapons from Russia: Interior minister
Mar 24, 2014
Interior Minister Mohamed Ibrahim said on Sunday that Egypt was facing an arms supply problem and was considering importing weapons from Russia.
"There is a problem because there has been a stifling of arms imports from the United States and the European Union" after the ouster of president Mohamed Morsi last summer, Ibrahim told a group of journalists at a meeting.
The interior minister, who was appointed by the Muslim Brotherhood's Morsi and kept his position after his ouster, also told journalists that security forces had managed to foil an attempt to bomb the railway in the town of Shabin El-Kom in Menoufiya "before a train passed through."
Full report at:
http://english.ahram.org.eg/NewsContent/1/64/97361/Egypt/Politics-/Egypt-considering-importing-weapons-from-Russia-In.aspx
------------
North America
Muslim family 'forcibly' removed from Empire State Building for praying – lawsuit
Mar 24, 2014
Security guards at the Empire State Building in New York City forcibly removed a Muslim family who, without disturbing any tourists, had knelt down and begun to pray on the skyscraper's observation deck, according to a new lawsuit.
Fahad Tirmizi, his wife Amina, and the couple's two children were visiting the popular attraction on July 2 at 11:00 p.m., a time when the family's "religious beliefs require them to recite the evening prayers wherever they may be at the time," according to a lawsuit filed in Manhattan District Court on Tuesday.
They "walked over to an isolated area of the Observatory where they began to pray silently" when two security guards approached, the complaint states. One of them allegedly "put his hands" on Mr. Tirmizi and "menacingly poked" at his chest, loudly asserting that they were not allowed to pray there.
Full report at:
http://rt.com/usa/muslim-family-forcibly-empire-state-193/
------------
US police kill more innocents than terrorists despite sinking crime rates
Mar 24, 2014
Police officers in the United States killed an estimated 587 people in 2012 alone, tallying more than 5,000 over the course of the past decade, an activist non-for-profit called Justice Policy Institute has revealed. The death toll caused by police brutality, they say, is far higher than the number of people who died in roughly the same span as a result of events classified by Washington as terrorism.
Crime in America has been steadily going downwards for years, dropping around 20 percent between 1987 and 2011. At the same time, police work has become increasingly safer, with deaths from gunfire among officers sinking by 33 percent over the past few years. Nevertheless, militarization in the law enforcement has surprisingly taken up in numbers as budget spending doubled, soaring from 40 billion dollars in 1982 to over 100 billion in 2012.
What is more, the ranks of state and local police personnel swelled from 603,000 to 794,000 between 1992 and 2010, which is about two-thirds as many officers as the entire active-duty US military, according to the Federal Bureau of Justice Statistics.
Full report at:
http://voiceofrussia.com/news/2014_03_24/US-police-kill-more-innocents-than-terrorists-despite-sinking-crime-rates-7926/
------------
Civil rights groups appeal ruling allowing NYPD to spy on Muslims
Mar 24, 2014
Muslim Advocates and the Center for Constitutional Rights on Friday (March 21) appealed a federal judge's ruling that affirmed the right of the New York City Police Department to spy on Muslims based on their faith and ethnicity.
Last month, Newark U.S. District Judge William Martini rejected charges of illegal spying, stating that any harm suffered by the plaintiffs was not because of the spying program but because of news reports that revealed the secret program in 2011.
The appeal was filed with the 3rd U.S. Circuit Court of Appeals in Philadelphia.
"The message of the decision is that it's OK to spy on Muslim Americans," said lead plaintiff Syed Farhaj Hassan who enlisted in the U.S. Army in 2001 and served in Iraq in 2003. "It's a slap in the face to American Muslims who have served this country, served their community, and served their families by being peaceful citizens here."
Full report at:
http://www.cair.com/press-center/american-muslim-news/12417-civil-rights-groups-appeal-ruling-allowing-nypd-to-spy-on-muslims.html
------------
Kerry hopes Crimea won't hit Russian cooperation on Syrian weapons
Mar 24, 2014
THE HAGUE, March 24 (Reuters) - U.S. Secretary of State John Kerry said on Monday he hoped the Crimea crisis would not harm cooperation with Russia on international efforts to destroy Syria's chemical weapons.
Syrian President Bashar al-Assad's government agreed to destroy its chemical weapons arsenal as part of a U.S.-Russian agreement negotiated after a chemical attack last August that killed hundreds of people around Damascus.
"All I can say is I hope the same motivations that drove Russia to be a partner in this effort will still exist," Kerry told reporters in The Hague, where he was due to attend a summit of the G7 leading industrialised nations.
Full report at:
http://www.trust.org/item/20140324083143-2d9o9/?source=hpbreaking
------------
India
'ISI executed Kabul Indian Embassy attack, US couldn't stop it'
Press Trust of India | Washington | March 24, 2014
The 2008 terror attack on the Indian Embassy in Kabul was sanctioned and monitored by senior officials of Pakistan's ISI, a book by senior journalist Carlotta Gall has said.
The suicide car bomb attack on the embassy on July 7, 2008, had left 58 people — including two top Indian officials — killed and over 140 injured.
"The embassy bombing was no operation by rogue ISI agents acting on their own. It was sanctioned and monitored by the most senior officials in Pakistani intelligence," writes Gall in The Wrong Enemy: America in Afghanistan 2001-2004, which will be out next month.
The then Bush Administration, that received advance intelligence information, mainly through intercepts of phone calls, could not prevent the deadly attack, wrote Gall, who covered the Af-Pak conflict for 10 years.
Full report at:
http://indianexpress.com/article/world/asia/isi-excecuted-kabul-indian-embassy-attack-us-couldnt-stop-it/
-----------
Befriended JeM chief, worked as arms dealer for Taliban: Sobhraj
Press Trust of India | New Delhi | March 24, 2014
Serial killer Charles Sobhraj, a Frenchman of Indian and Vietnamese parentage, who has served long jail terms in India and other countries, has claimed that he worked as an arms dealer for Taliban after befriending JeM chief Masood Azhar in Tihar prison and was even associated with the CIA.
Sobhraj, 70, lodged in central jail of Kathmandu since 2003, said the Taliban needed to sell heroin to buy arms and he had helped the terror group with his contacts.
Recounting his stay in Tihar, Sobhraj said he started working as an arms dealer to the Taliban after coming in contact with Azhar, blamed for masterminding the attack on India's Parliament.
Full report at:
http://indianexpress.com/article/india/india-others/befriended-jem-chief-worked-as-arms-dealer-for-taliban-sobhraj/
-----------
Singapore deports Indian man for Syrian links
Press Trust of India | Singapore | March 24, 2014
Singapore has deported an Indian-origin man for radicalising and helping a compatriot go to strife-torn Syria and have launched a probe into his journey "with the intention to undertake violence".
The Singapore Ministry of Home Affairs deported Gul Mohamed Maracachi Maraicar, 37, for radicalising Haja Fakkurudeen Usman Ali, 37, and helping him to go to Syria. Gul is a permanent resident of Singapore and had worked there as a system analyst.
Ali, who worked as a supermarket manager and became a citizen of Singapore in 2008, allegedly left the country last November to fight against forces loyal to Syrian President Bashar al-Assad, the Ministry said Saturday. Officials were informed of his trip only once he left Singapore. The ministry, however, refused to comment on the investigation and deportation of Gul, a report in The Sunday Times said.
http://indianexpress.com/article/india/india-others/singapore-deports-indian-man-for-syrian-links/
-----------
Southeast Asia
Indonesia Raising 'Blood Money' for Domestic Worker on Death Row in Saudi Arabia
Mar 24, 2014
Jakarta. Time is running out for Satinah Binti Jumadi Ahmad, an Indonesian domestic worker sentenced to death for murdering her employer in Saudi Arabia.
Satinah, 41, of Ungaran, Central Java, is scheduled for beheading on April 4 if the Indonesian government fails to fork over the "blood money" requested by the deceased's family. The central government has been in negotiations with the family of Nura al-Garib since Satinah was sentenced to death in 2010, reaching an agreement in July of last year to pay Rp 21 billion ($1.84 million) in diyat — an Arabic compensation paid to the families of victims in lieu of harsher sentences by the oil-rich kingdom's draconian justice system.
The account is currently Rp 3 billion short, said Indonesian singer Melanie Subono — who has led the charge to raise funds for the imprisoned domestic helper. The pop singer has backed fundraising efforts for Satinah since writing about the woman on her blog last week. The woman's plight has since inspired a Twitter hashtag (#SaveSatinah) and a social media campaign as the clock ticked down to her scheduled execution.
Full report at:
http://www.thejakartaglobe.com/news/indonesia-raising-blood-money-domestic-worker-death-row-saudi-arabia/
------------
Islamic Peoples Forum attempts to stop church construction
Mar 24, 2014
Over 100 members of the Islamic Peoples Forum (FUI) staged a protest in front of the construction site of the St. Stanislaus Kostka Catholic Church in Kranggan, Bekasi, on Saturday, demanding a halt to the ongoing construction project, which they claimed did not have a valid building permit for a house of worship.
The protestors threatened to demolish the half-completed building in an attempt to stop the project because the building permit, issued by Bekasi Mayor Rahmat Effendi, was annulled by the Administrative Court in Bandung on Thursday.
The protest, which lasted for two hours, was dispersed by riot police that were deployed to safeguard the construction site.
Wawan, a spokesman for the Catholic community in Kranggan, said the community was alarmed about the increasingly violent actions of protestors.
Full report at:
http://www.thejakartapost.com/news/2014/03/24/fui-attempts-stop-church-construction.html
------------
URL: https://www.newageislam.com/islamic-world-news/new-age-islam-news-bureau/us-has-no-right-to-impose-new-world-order--jamaat-e-islami/d/66248