New Age Islam News Bureau
12 Jan 2019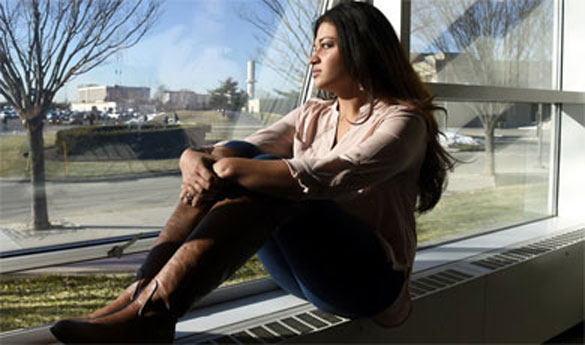 FILE - In this Feb. 2, 2016, file photo, Naila Amin, 26, looks out from a classroom window at Nassau Community College in Garden City, N.Y. According to data provided to The Associated Press, the U.S. approved thousands of requests by men to bring child and teenage brides from another country. "My passport ruined my life," said Naila Amin, a dual citizen from Pakistan who grew up in New York City. She was forcibly married at 13 in Pakistan and applied for papers for her 26-year-old husband to come to the country. "People die to come to America. I was a passport to him. They all wanted him here, and that was the way to do it." (AP Photo/Kathy Kmonicek)
------
• US Govt Approved Thousands of Child Bride Requests
• Pope Francis's Advocacy for Islam Could Destroy Europe
• South Jakarta Launches 'Maghrib Mengaji' To Lure Teenagers to Mosques
• MbS Continues Despotic Rule, Consults Khashoggi Hit Squad Leader: Report
• Atheism grows in Turkey as Recep Tayyip Erdogan urges Islam
• Photographer Shahidul Alam's Jamaat-e-Islami Connection
• MANUU Join Hands with UNFPA to Empower Madrasa Students
• Hundreds Mark Jesus Baptism at Historic Jordan Site
North America
• US Govt Approved Thousands of Child Bride Requests
• 'People who look like me': US Muslims celebrate Tlaib and Omar victories
• Congresswoman Tulsi Gabbard, Who Met Syria's Assad, Will Run For US Presidency
• Pompeo: US to host Iran-focused world summit next month in Poland
• US blocks Israeli sale of used F-16s to NATO member Croatia over upgrades
• Teenager Captured With ISIS Fighters Is From Trinidad, Not the U.S., Officials Say
---------
Europe
• Pope Francis's Advocacy for Islam Could Destroy Europe
• Muslims Debate First Mixed-Gender Mosque in France
• Russia Accuses BBC of 'Promoting Terrorist Propaganda'
• German Hacker Spread Right-Wing, Anti-Muslim Views On Internet
• Acting honourably is expensive, as UK govt is now discovering
---------
Southeast Asia
• South Jakarta Launches 'Maghrib Mengaji' To Lure Teenagers to Mosques
• West Looks At Arab Countries as Entirety of Muslim World: Anwar Ibrahim
• China Intensifies Lobbying to Thwart Criticism of Muslim Detentions
• Royal call for expansion of mosque roles and activities
• Uyghurs' heartfelt message to the Malaysian people
• Smoking is Haram; Jakim's sermon reminds Muslims in defence of ban
---------
Arab World
• MbS Continues Despotic Rule, Consults Khashoggi Hit Squad Leader: Report
• The Forgotten Tour: US Band That Rocked Saudi Arabia
• US-led coalition withdrawing equipment from Syria
• Syria says Israeli fired missiles toward Damascus, hit airport warehouse
• Western-backed White Helmets still in Jordan, active in Syria provocations: Russia
• Syria shoots downs 'most of Israeli missiles' fired towards Damascus: State media
---------
Mideast
• Atheism grows in Turkey as Recep Tayyip Erdogan urges Islam
• Israeli Forces Kill Palestinian Woman, Injure 25 in Gaza
• Hamas Says Egypt To Fully Reopen Gaza Border Despite PA Pullout
• Turkey orders arrest of more than 100 military suspects over Gulen ties
• France tells Iran to stop ballistic missile work designed for nuclear weapons
• Coalition destroys Houthi military communications network in Yemen
• Yemen: 15 civilian casualties in Houthi rocket attack
• Houthi drone control centre destroyed in Yemen as US condemns Lahaj attack
• Turkey vows operation against Kurdish militia, when time is right
---------
South Asia
• Photographer Shahidul Alam's Jamaat-e-Islami Connection
• 10 Taliban militants killed, 2 key group members in Special Forces operations
• Dozens killed as Taliban attack troops in four provinces
• India emphasizes on an Afghan-led and Afghan-owned peace process
• Taliban's intelligence chief, senior ISIS-K leader killed in coalition airstrikes
• Myanmar upholds jail sentence for Reuters reporters
• Karzai lauds Pakistan, China for peace efforts in Afghanistan
---------
India
• MANUU Join Hands with UNFPA to Empower Madrasa Students
• Army major, soldier martyred in IED blast in J&K's Nowshera
• MEA junks Pakistan claim of role in Karachi attack
• Karachi Chinese consulate attack: India rejects Pakistan's allegations, calls them 'fabricated and scurrilous'
• India Slaps Cases Against Critics Of Plan To Grant Citizenship To Non-Muslims
---------
Africa
• Hundreds Mark Jesus Baptism at Historic Jordan Site
• UN Chief Guterres: Libya's Militias Should Not Run Prisons
• Buhari has no plan to Islamise Nigeria
• 12 civilians killed in jihadist attack in Burkina Faso
• After seizure of drug shipment, Libya says Turkey sabotaging security
• US says airstrike in Somalia kills 6 al-Shabaab extremists
---------
Pakistan
• Pakistani Muslim Leaders in a Step to Defeat Extremism
• China Declares Region Bordering Pakistan Open Place
• Pakistan kills 2 'terrorists' in raids on militant hideouts
• In A First, Sikh Appointed At High-Profile Pakistan Post
• Pak initiates demolition drive against Mojahirs in Karachi, claims MQM chief
• 'PM to appear before NAB whenever summoned'
• 119 killed in terror incidents in Balochistan last year: IG
• Two terrorists killed in Balochistan
Compiled by New Age Islam News Bureau
URL: https://www.newageislam.com/islamic-world-news/us-govt-approved-thousands-child/d/117441
---------
US govt approved thousands of child bride requests
January 12, 2019
WASHINGTON: Thousands of requests by men originally from other countries, including Pakistan, to bring in child and adolescent brides to live in the United States were approved over the past decade, according to government data obtained by AP news agency. In one case, a 49-year-old man applied for admission for a 15-year-old girl.
The approvals are legal: the Immigration and Nationality Act does not set minimum age requirements. And in weighing petitions for spouses or fiancées, US Citizenship and Immigration Services goes by whether the marriage is legal in the home country and whether the marriage would be legal in the state where the petitioner lives.
Take a look: 21pc girls in Pakistan become victim of child marriage, WHO reports
But the data raises questions about whether the immigration system may be enabling forced marriage and about how US laws may be compounding the problem despite efforts to limit child and forced marriage. Marriage between adults and minors is not uncommon in the US, and most states allow children to marry with some restrictions.
There were more than 5,000 cases of adults petitioning on behalf of minors and nearly 3,000 examples of minors seeking to bring in older spouses or fiancés, according to the data requested by the Senate Homeland Security Committee in 2017 and compiled into a report.
Some victims of forced marriage say the lure of a US passport combined with lax US marriage laws are partly fuelling the petitions.
"My passport ruined my life," said Naila Amin, a dual citizen from Pakistan who grew up in New York City. She was forcibly married at 13 in Pakistan and applied for papers for her 26-year-old husband to come to the country.
"People die to come to America," she said. "I was a passport to him. They all wanted him here, and that was the way to do it."
Amin, now 29, said she was betrothed to her first cousin Tariq when she was just eight and he was 21. The petition was eventually terminated after she ran away.
She said the ordeal cost her a childhood. She was in and out of foster care and group homes, and it took a while to get her life on track.
"I was a child. I want to know: why weren't any red flags raised? Whoever was processing this application, they don't look at it? They don't think?" she asked.
There is a two-step process for obtaining US immigration visas and green cards. Petitions are first considered by USCIS. If granted, they must be approved by the State Department. Overall, there were 3.5 million petitions received from budget years 2007 through 2017.
Over that period, there were 5,556 approvals for those seeking to bring in minor spouses or fiancées, and 2,926 approvals by minors seeking to bring in older spouses, according to the data. Additionally, there were 204 approvals of applications by minors seeking to bring in minor spouses.
Petitions can be filed by US citizens or permanent residents.
"It indicates a problem. It indicates a loophole that we need to close," said Republican Sen Ron Johnson of Wisconsin, the chairman of the Senate Homeland Security Committee.
In nearly all the cases, the girls were the younger person in the relationship. In 149 instances, the adult was older than 40, and in 28 cases the adult was over 50, the committee found.
Among the examples: in 2011, immigration officials approved a 14-year-old's petition for a 48-year-old spouse in Jamaica. A petition from a 71-year-old man was approved in 2013 for his 17-year-old wife in Guatemala.
There are no nationwide statistics on child marriage, but data from a few states suggests it is far from rare. State laws generally set 18 as the minimum age for marriage, yet every state allows exceptions.
Most states let 16- and 17-year-olds marry if they have parental consent, and several states including New York, Virginia and Maryland allow children under 16 to marry with court permission.
Fraidy Reiss, who campaigns against coerced marriage as head of a group called Unchained at Last, researched data from her home state of New Jersey. She determined that nearly 4,000 minors, mostly girls, were married in the state from 1995 to 2012, including 178 who were under 15. "This is a problem both domestically and in terms of immigration," she said.
Reiss, who says she was forced into an abusive marriage by her Orthodox Jewish family when she was 19, said that often cases of child marriage via parental consent involve coercion, with a girl forced to marry against her will.
"They are subjected to a lifetime of domestic servitude and rape," she said. "And the government is not only complicit; they're stamping this and saying: Go ahead." The data was requested in 2017 by Johnson and then-Missouri Sen Claire McCaskill, the committee's top Democrat. Johnson said it took a year to get the information, showing there needs to be a better system to track and vet the petitions.
"Our immigration system may unintentionally shield the abuse of women and children," the senators said in the letter.
USCIS didn't know how many of the approvals were granted by the State Department, but overall only about 2.6 per cent of spousal or fiancée claims are rejected.
Separately, the data show some 4,749 minor spouses or fiancées received green cards to live in the US over that same 10-year period.
The country where most requests came from was Mexico, followed by Pakistan, Jordan, the Dominican Republic and Yemen. Middle Eastern nationals had the highest percentage of overall approved petitions.
https://www.dawn.com/news/1456975/us-govt-approved-thousands-of-child-bride-requests
---------
Pope Francis's advocacy for Islam could destroy Europe
Jan 12, 2019
January 11, 2018 (Turning Point Project) – Two young Scandinavian women who were hiking in the Atlas Mountains in Morocco were found dead in mid-December in their tent. The ISIS terrorists later posted a video of themselves decapitating one of the victims.
The mother of one of the women told reporters, "Her priority was safety. The girls had taken all precautionary measures before embarking on this trip."
"Except," as Robert Spencer commented in Jihad Watch, "that it no doubt didn't even occur to them that what they thought they knew about Morocco's religion and culture might be inaccurate and designed to whitewash Islam, leaving them ill-informed about a threat that they actually did end up facing."
If one depended on the European media and European schools for one's knowledge of Islam, one would indeed come away with a misleading picture of Islam. But the same could be said of Catholics who rely on Church pronouncements about Islam. Ever since the Second Vatican Council, Church leaders have presented a smiley-faced version of Islam which emphasizes the commonalities with Catholicism and leaves out the alarming elements.
Over the last six years, the chief proponent of this bowdlerized view of Islam has been Pope Francis. He has reassured Christians that Islam is opposed to violence, advised Muslim migrants to find comfort in the Koran, and has portrayed terrorists as betrayers of true Islam.
More significantly, he has become perhaps the world's foremost spokesman for an open-borders, let-everyone-in policy toward immigration. Seemingly indifferent to the increasingly dangerous situation created by jihad-minded Muslims in Europe, Francis has encouraged a welcoming attitude toward all while scolding opponents of mass migration as fearful and xenophobic.
In short, Pope Francis has acted as an advocate for Islam. He has portrayed it as a religion of peace, the moral equivalent of Catholicism, and a force for good. A number of people, however, now feel that the pope has seriously misled Christians about the nature and goals of Islam and Islamic immigration. Like the teachers and other cultural elites who left the two Scandinavian women "ill-informed about a threat that they actually did end up facing," Pope Francis, by whitewashing Islam, has left millions of Christians unprepared for the escalating threat that is now facing them.
The analogy between the misinformed Scandinavian friends and misinformed Europeans breaks down in one respect: No one forced the young women to travel to Morocco. They went there of their own accord. It's one thing to invite yourself into the high mountains of Morocco and take your chances, but it's quite another thing altogether to invite Morocco into Europe and let ordinary Europeans bear the consequences. This is what the European elites – with much encouragement from Francis – have done.
The combination of high Muslim birth rates, mass Muslim migration, and European concessions to Islam's blasphemy laws has set Europe on a course toward Islamization. Islamization, in turn, will spell dhimmitude for Christians. As the Islamic influence grows, Christians will be subject to increasing restrictions on the practice of their faith, perhaps even to the point of persecution. It's possible that Christianity in Europe will be exterminated.
Is Francis Naïve about Islam?
The pope has done much to promote the cause of Islam – so much so that he has been praised by Islamic leaders for his defense of their faith. The questions that then arise are these: Is Francis aware of the possibility that Islam will become dominant in Europe? Is he aware that this may spell the end of European Christianity? And if he is aware, does he care?
For a long time, I thought that Francis was simply naïve regarding Islam. His counterfactual statements about Islam and his Pollyannaish view of mass Muslim migration must, I thought, be the result either of blissful ignorance or of bad advice from "experts," or a combination of both.
Now, however, I have my doubts. The catalyst for these doubts is Francis's approach to the current sex-abuse crisis. I originally supposed that he was naïve about this, too: perhaps he didn't realize the full extent of the problem or the full extent of the cover-ups, or perhaps he wasn't aware of the numerous lavender networks in seminaries, in dioceses, and in the Vatican itself. But in light of recent revelations, it no longer seems possible to give him the benefit of the doubt. In several cases, he not only knew of the crimes and cover-ups, but took steps to protect and/or promote those involved. Francis seems determined to push through a revolution in doctrine and morals – what he calls "a radical paradigm shift" – and it doesn't seem to matter that the men he has chosen to help him achieve his goals are the ones most deeply implicated in the scandals. By all accounts, Pope Francis is a "hands-on" pope who knows exactly what he wants, carefully calculates his moves, and leaves little to chance.
Why, then, should we suppose Francis is completely naïve about the extent of the threat from Islam and from Islamic immigration? It's difficult to imagine that he isn't fully aware of the widespread persecution of Christians in Muslim lands. And it's just as difficult to think that he's ignorant of the Islamic crime wave on his own doorstep – the escalating incidence of rape, riots, and terrorist attacks in Europe. Does he really believe that such things have nothing to do with Islam?
Unless one assumes that Francis is ignorant of history and out of touch with current events, one must entertain the possibility that – to repeat a favorite slogan of his – he wants to "make a mess" in Europe.
But why? Why risk the damage to the Church that would surely follow on the Islamization of Europe? Doesn't Francis care about the Church? Increasingly, it seems that he does not. This is to say that he doesn't have much use for the "old" Church – the one that was handed down by the apostles, and which has now become too narrow and tradition-bound to suit his liberal tastes.
The Fluid Church of the Future
What he does care about is the new Church of the future – a Church of openness, inclusiveness, and fluidity. Led by the Spirit and free of bothersome dogma, this liberated Church would be able to adjust to the changing needs of the times. If one reads between the lines, this is what Francis and those around him seem to desire.
Indeed, one needn't bother to read between the lines. In the words of Fr. Thomas Rosica, a media advisor to the Vatican: "Pope Francis breaks Catholic traditions whenever he wants because he is free of disordered attachments." Moreover, "Our Church has indeed entered a new phase. With the advent of this first Jesuit pope, it is openly ruled by an individual rather than by the authority of Scripture alone or even its own dictates of tradition plus Scripture."
And this is from Francis himself speaking at a conference on Church closings:
The observation that many churches, which until a few years ago were necessary, are now no longer thus, due to a lack of faithful and clergy ... should be welcomed in the Church not with anxiety, but as a sign of the times that invites us to reflection and requires us to adapt.
Translation: Francis is not particularly concerned about church closings. Perhaps he even thinks of them as a blessing, i.e., a necessary end to the old order of things that will clear the way for the construction of the new order.
What is this new order? In many respects, it resembles the new world order envisioned by politicians and academics on the left. Like them, Francis has a dim view of national borders and national sovereignty, and, like them, he has an almost unquestioning belief in the benefits of international institutions. One gets the impression that Francis would be quite content to let the U.N. run the world, despite the fact that the U.N. is increasingly run by leftists and Islamists. For example, Francis has praised the U.N.'s Global Compact for Migration because he believes that immigration should be governed globally rather than by individual nations.
How does this relate to Christianity and Islam? Just as Francis seems to favor a one-world government, he also seems to be drawn by the vision of a one-world religion. He hasn't said so in so many words, but he has given several indications that he envisions an eventual blending of religions. This would not be the "one flock, one shepherd" Church that Christ spoke of but something a bit more diverse.
One way to achieve this unity in diversity is by deemphasizing doctrine. Doctrinal differences are, after all, the main dividing line between different faiths. Thus, by downplaying the importance of doctrine – something he has done fairly consistently throughout his papacy – it's probable that Francis hopes to smooth the path to interreligious harmony. Just as Francis disapproves of borders between nations, it's quite likely that he looks upon borders between religions as artificial and unnecessarily divisive.
Indifferentism
This is speculation, of course, but it's not sheer speculation. As George Neumayr points out in The Political Pope, Francis frequently shows signs of indifferentism – i.e., the belief that all religions are of equal value. For example, when speaking of the murder of Fr. Jacques Hamel by two jihadists, he drew a moral equivalence between Islam and Christianity, saying, "If I speak of Islamic violence, I must speak of Catholic violence."
Other signs of his indifferentism are not difficult to find. In 2014, he told a group of Protestants, "I'm not interested in converting Evangelicals to Catholicism. I want people to find Jesus in their own community." On another occasion, he criticized Pope Benedict's "ordinariate" for Anglicans interested in becoming Catholics by saying that they should remain "as Anglicans." On still other occasions, he has waxed enthusiastic about Martin Luther and the Protestant Reformation.
Ironically, several examples of his indifferentism can be found in Evangelii Gaudium – ostensibly an exhortation to evangelize. Although the document urges us to spread the joy of the Gospel, it provides a number of reasons why we shouldn't bother. The main reason given is that we already share so many ethical and spiritual values with other faiths that there's no point in converting non-Catholics.
Thus, Evangelii Gaudium leaves the impression that Jews shouldn't be evangelized (an impression that was later explicitly confirmed by the Vatican). Moreover, Francis also seems to exempt Muslims from any need to convert. As I wrote previously in Crisis:
After reading Evangelii Gaudium's positive assessment of Islam, one could be forgiven for concluding that the conversion of Muslims is not an urgent matter. And, indeed, there is no suggestion in the document that Muslims should be evangelized. At the most, Christians should dialogue with Muslims about their "shared beliefs."
Rather than converting others, Francis seems more interested in learning from them. In Evangelii Gaudium and in numerous talks, he frequently extols the "richness" and "wisdom" of other cultures. Whereas Christ commanded his apostles to "Go therefore and make disciples of all nations...," Francis's message is more along the lines of: "Go therefore and learn the wisdom of other cultures." Francis's attitude toward evangelization can perhaps be summed up in something he said to atheist journalist Eugenio Scalfari: "Proselytism is solemn nonsense."
If this is the case, then Pope Francis probably has no desire to convert the Muslims streaming into Europe. After all, like Evangelicals, Muslims can also "find Jesus in their community." Of course, it's not the same Jesus, but perhaps the resemblance is close enough for someone with scant interest in doctrinal differences. Exactly what, then, does he have in mind by encouraging mass migration into Europe? One possibility, as I suggested earlier, is that he envisions a kind of multicultural blending of religions. But in order for this to happen, it would be necessary for the respective faiths to dilute their doctrinal positions. Pope Francis seems quite willing to do this on the Catholic side. He has already made substantial concessions to the Chinese communist government on the appointment of bishops. He seems willing to alter Church teachings in order to build bridges with the LGBT "community" and other sexual revolutionaries. And, in general, he prefers to be guided by the prompting of the Spirit rather than by the teachings of the Church.
Moreover, he seems more concerned with political and humanitarian goals than with the goal of getting to heaven. As George Neumayr has noted in The Political Pope, when awarded the Charlemagne Prize, Francis "used his acceptance speech not to call for the restoration of Christianity, but for the spread of a 'new European humanism.'" And, as Francis sees it, the main obstacle to achieving these humanitarian goals is the fundamentalist Christians who refuse to integrate with Muslim migrants and, in general, fail to adapt to changing times. Perhaps he thinks that a flood of migrants will force fundamentalists to encounter the "other" and come to terms with their "otherness."
But what about fundamentalist Muslims? A harmonious world religion dedicated to humanitarian ends would require not only a watering-down of Christianity, but also a considerable moderation of Islam. Both in terms of percentages and in absolute numbers, there are far more fundamentalist Muslims in the world than fundamentalist Christians. Francis has acknowledged the existence of fundamentalist Muslims, but he claims that they do not represent "authentic" Islam, and he seems to believe, contrary to much polling data, that they are only a small minority. "All religions have these little groups," he once said.
A Self-Fulfilling Prophecy?
Whether or not he believes that fundamentalists are a small minority, he seems to have a rough strategy for facilitating the emergence of a more moderate Islam. This strategy is to claim that Islam is already – and always has been – a moderate and peaceful faith. Most notably, he asserted in Evangelii Gaudium that "authentic Islam and the proper reading of the Koran are opposed to every form of violence."
The strategy Francis seems to be employing is referred to by sociologists as a self-fulfilling prophecy. The idea is that if you express high expectations for others, they will endeavor to live up to the expectations and thus fulfill your "prophecy." But, according to Robert K. Merton, the sociologist who coined the term, "the self-fulfilling prophecy is, in the beginning, a false definition of the situation." But the false definition or assumption can evoke "a new behavior which makes the original false conception come true."
Sometimes self-fulfilling prophecies work and sometimes they don't. A lot depends on the awareness of the subject. Young children are more susceptible to such influence, while adults who understand what is being attempted are less so. I recall reading an article on a radical Islamic website which accused Pope Francis of using just such a strategy. I don't remember if the author used the term "self-fulfilling prophecy," but he did complain that the pope was deliberately painting a false but pleasing picture of Islam in order to win Muslims over to a moderate view.
In any event, the self-fulfilling prophecy strategy seems an awfully slender reed upon which to stake the future of the world. For decades now, global leaders have been assuring us that Islam means peace, that violence has nothing to do with Islam, and that the vast majority of Muslims are moderate. Yet most of the evidence suggests that the Western "prophecy" about Islam's pacific nature is not working. With some notable exceptions, moderates have been losing ground, while fundamentalists are in the ascendancy.
Just as he has little anxiety about the wave of church closings, Francis seems to have little anxiety about the Islamization of Europe. Indeed, as evidenced by his encouragement of mass migration, he seems to have no objection to Islamization.
Either because he truly believes the false narrative that Islam is a religion of peace, or because he believes that the self-fulfilling prophecy strategy will create a more moderate Islam, Francis seems to be at peace with the fact that Islam is spreading rapidly.
Whatever he has in mind, it seems that Pope Francis is betting against the odds. A few weeks ago, those two young Scandinavian women mentioned earlier took a similar gamble when they embarked on a camping trip in Morocco. They were betting their lives on the assumption that the whitewashed narrative of Islam that they had no doubt learned in school and university was the correct one. They lost the "bet." They had – to borrow a line from Casablanca – been "misinformed" about the situation in Morocco.
Whether Francis has been misinformed about Islam or whether he has adopted a strategy of misinformation, he is taking a huge gamble – not only with his own life, but with the lives of millions. When the religion of Muhammad meets the religion of indifferentism, which seems more likely to prevail?
https://www.lifesitenews.com/opinion/pope-franciss-advocacy-for-islam-could-destroy-europe
---------
South Jakarta launches 'Maghrib Mengaji' to lure teenagers to mosques
January 12, 2019
Amid rising conservatism in the country, South Jakarta Mayor Marullah Matalio wants the teenagers in his area to be more religious to prevent them from getting involved in deliquency.
He decided to initiate a program called Maghrib Mengaji (Quran recital after maghrib prayer) in order to promote local mosques for teenagers. The program aims to increase people's religious spirit and prevent "social maladjustments" from happening, with mosques serving as "safe houses" for the people.
"Young people may get involved in brawls and drug abuse. This program aims to invite them to mosques where they can be safe," he told The Jakarta Post on Friday.
Marullah said the program, which he started in August last year, was part of a mental and spiritual counseling program directed not only at teenagers, but also adults. He claimed to have had the idea following a message conveyed by Jakarta Governor Anies Baswedan to revive local traditions.
"Quran recitals after maghrib prayer are actually a long-time tradition among our people. The spirit of the Quran recital tradition has died down these past few years, so we are reviving it," he said.
Although there has been no direct order from the city administration, the program, through which recitals are held once a week in 65 subdistricts in South Jakarta, has received funding support starting this year.
The Jakarta administration allocated Rp 500,000 (US$35.52) from its city budget for each of the 65 subdistricts every week, totaling Rp 1.43 billion for the program this year. Marullah said the funds were used to employ ustad(Islamic teachers).
Mosques located within a subdistrict take turns hosting the program.
The program had started to bear fruit, claimed 60-year-old West Cilandak subdistrict resident Agus Salim. He noticed there were no longer crowds of young people racing with motorcycles or hanging around the streets of West Cilandak in the past months.
"At least 200 people have joined the program. Not only teenagers, but parents can also join," said Agus, a caretaker of Darul Ihsan Mosque, commending the recital program.
Similar activities such as subuh (dawn prayer) at mosques have also gained popularity in recent years, with local clerics encouraging people to go to mosques and perform subuh together.
Anies expressed his support for the Maghrib Mengaji program.
"Morally, every good action is worth supporting. We will support any morally good activities," he told reporters at City Hall on Friday.
Anies' support for the program can be tracked back to conservative Muslim groups who threw their weight behind him during the 2017 Jakarta gubernatorial elections. In politically charged Islamic movements, such as the 212 movement, which arose during the campaign period, many Islamic preachers encouraged voters to elect a Muslim leader, which was a direct jab at then- Jakarta governor Basuki "Ahok" Tjahaja Purnama, a Christian of Chinese descent.
Observers had also highlighted that Anies and his running mate Sandiaga Uno claimed victory in the election by riding the waves of religious conservatism.
In an apparent move to appease his voters, Anies had also revoked a previous ban to hold religious gatherings at the National Monument (Monas) Park in Central Jakarta.
Jakarta Mental and Spiritual Education Bureau head Hendra Hidayat, however, insisted that the Maghrib Mengaji program was not created based on Anies' order, but solely the initiative of the South Jakarta mayor.
"There is no governor instruction for the program. So this depends on residents' awareness in each area. This is actually an old program that is being revived," he said on Friday. (ars)
https://www.thejakartapost.com/news/2019/01/12/south-jakarta-launches-maghrib-mengaji-to-lure-teenagers-to-mosques.html
---------
MbS continues despotic rule, consults Khashoggi hit squad leader: Report
Jan 11, 2019
Despite facing worldwide controversy after the assassination of dissident journalist Jamal Khashoggi, reports have shown that Saudi Crown Prince Mohammed bin Salman has continued his despotic practices, regularly consulting the killing's alleged mastermind Saud al-Qahtani.
American and Saudi sources informed on the matter say that many of the prince's current decisions are in line with advice gained from his former aid Qahtani, reported the American daily newspaper The Washington Post on Thursday.
"Domestically, he feels very confident and in control. As long as his base is secure, he feels that nothing can harm him," says an American source who recently met the prince.
"He's completely unchastened by what has happened," read the report quoting a British researcher highly informed on Saudi politics.
Qahtani, who was fired from his position after being blamed for Khashoggi's murder, allegedly advises bin Salman on a regular basis.
The former aid is said to be the architect of the kingdom's social media campaign against Muslim preachers, intellectuals and critics of the Riyadh regime.
Qahtani has also been reported to be deeply involved in Riyadh's cyber espionage and dissident intimidation activities.
Observers believe many recent intimidation campaigns taking place against Riyadh's opposition have also been designed by Qahtani.
On Thursday, a Twitter campaign emerged claiming to expose "facts" against Khashoggi and Omar Abdulaziz, a popular dissident activist living in Canada.
A well produced video also surfaced on social media titled "Qatar System Exposed," alleging that Khashoggi was involved in a plot to "create a new destabilizing Arab Spring to unsettle Arab countries, mainly, Saudi Arabia."
Khashoggi, an outspoken critic of bin Salman, entered the Saudi consulate in Istanbul in October, but never came back.
The Saudi kingdom, after denying the murder for several days, ultimately admitted that Khashoggi had been murdered in the consulate after an interrogation by rogue operatives had gone wrong.
Top Turkish officials have tied the case to the highest levels of Saudi leadership. Riyadh has denied accusations that the prince ordered the murder.
Last week, a Saudi court held its first hearing on Khashoggi's case in which Saudi Arabian prosecutors are seeking the death penalty for five of the 11 suspects.
The Office of the United Nations High Commissioner for Human Rights, however, rejected the trial as "not sufficient" and not meeting the requirements of an independent and international inquiry.
https://www.presstv.com/Detail/2019/01/11/585527/Qahtani-MbS
---------
Atheism grows in Turkey as Recep Tayyip Erdogan urges Islam
Jan 12, 2019
According to a recent survey by the pollster Konda, a growing number of Turks identify as atheists. Konda reports that the number of nonbelievers tripled in the past 10 years. It also found that the share of Turks who say they adhere to Islam dropped from 55 percent to 51 percent.
"There is religious coercion in Turkey," said 36-year-old computer scientist Ahmet Balyemez, who has been an atheist for over 10 years. "People ask themselves: Is this the true Islam?" he added. "When we look at the politics of our decision-makers, we can see they are trying to emulate the first era of Islam. So, what we are seeing right now is primordial Islam."
Balyemez said he grew up in a very religious family. "Fasting and praying were the most normal things for me," he said. But then, at some point, he decided to become an atheist.
Diyanet, Turkey's official directorate of religious affairs, declared in 2014 that more than 99 percent of the population identifies as Muslim. When Konda's recent survey with evidence to the contrary was published, heated public debate ensued.
The theologian Cemil Kilic believes that both figures are correct. Though 99 percent of Turks are Muslim, he said, many only practice the faith in a cultural and sociological sense. They are cultural, rather than spiritual, Muslims.
Kilic said Muslims who regularly pray, go on pilgrimages or wear veils could generally be considered pious, though, he added, being true to the faith means much more than just performing rituals or opting for certain outerwear. In his view, "judging whether a person is religious should also be based on whether he or she subscribes to certain ethical and humanitarian values." When only taking into account people who practice Islam, he said, "no more than 60 percent of people in Turkey can be considered Muslim."
"The majority of Muslims in Turkey are like the Umayyads, who ruled in the seventh century," Kilic said. "The prayers contained in the Koran reject injustice. But the Umayyads regarded daily prayer as a form of showing deference towards the sultan, the state and the powers that be."
In Turkey, Kilic said, the relationship between organized religion and the state endures. "Regular prayers have become a way to signal obedience toward the political leadership," he said. "And prayers in mosques increasingly reflect the political worldview of those in power."
Kilic said a lack of belief did not, of course, mean the lack of a moral compass. "Some atheists are more ethical and conscientious than many Muslims," he said.
For nearly 16 years under Recep Tayyip Erdogan, first as prime minister and since 2014 as president, Turkish officials have increasingly used Islam to justify their politics — possibly increasing the skepticism surrounding faith in government. "People reject the predominant interpretation of Islam, the sects, religious communities, the directorate of religious affairs and those in power," he said. "They do not want this kind of religion and this official form of piousness." This, Kilic said, could help explain why so many Turks now identify as atheists.
'Questioning their faith'
Selin Ozkohen, who heads Ateizm Dernegi, Turkey's main association for atheists, said Erdogan's desire to produce a generation of devout Muslims had backfired in many ways. "Religious sects and communities have discredited themselves," she said. "We have always said that the state should not be ruled by religious communities, as this leads to people questioning their faith and becoming humanist atheists."
Ozkohen cited the unsuccessful coup in 2016, in which followers of the preacher and religious scholar Fethullah Gulen are accused of rising up against Erdogan, a former ally of the theologian's. The coup, she said, was a clash between opposing religious groups — which was followed by a major crackdown by Erdogan. "People have noticed this and distanced themselves," she said. "Those who reflect rationally on this turn to atheism."
As a result, Ozkohen said, "today, people are more courageous and willing to openly say they are atheists." But the government continues to coerce people to conform to perceived religious standards. "Pressure is exerted in the neighborhoods and mosques," she said. "And the most visible sign of this is that in 2019, schoolchildren are still obliged to study religion."
https://www.dw.com/en/atheism-grows-in-turkey-as-recep-tayyip-erdogan-urges-islam/a-47018029
---------
Photographer Shahidul Alam's Jamaat-e-Islami connection
Jan 12, 2019
Controversial photographer Shahidul Alam has succeeded in drawing attention of the local and international media as well as several individuals and rights groups. Being suggested by Al Jazeera English Service, Shalidul Alam organized school children last year and engaged them into a movement under the banner of road safety. Earlier, the Qatar-based broadcast network had suggested him to engage school children in a movement and even ignore "minor losses" [clearly hinting about getting some school children killed in arranged road accident] with the nefarious agenda of emerging as the "godfather of Bangladeshi journalists." Ultimate agenda of Al Jazeera and Pakistani spy agency Inter Service Intelligence (ISI) were shifting the movement of the school children into an anti-government movement, thus portraying Prime Minister Sheikh Hasina and her government are repressers of children.
Accordingly, Alam organized the school children by inviting them through the social media, and had successfully held number of demonstrations in Dhaka, the capital city of Bangladesh thus putting the government into serious discomfort.
According to documents obtained by this newspaper, Shahidul Alam has been maintaining relations with a Bangladeshi handler of Pakistani ISI. He also, on document, has branded ISIS (Islamic State) kingpin Abu Bakr Al Baghdadi as a 'creation of Mossad'.
Several dubious individuals including Arundhati Roy, a known India-hater novelist and defender of Islamist militants, including those based in Jammu and Kashmir are amongst few front ranking promoters and supporters of Shahidul Alam. Arundhati has been actively working with the dangerous agenda of disintegrating India.
It may be mentioned here that, Shahidul Alam gave an interview with Al Jazeera in August, 2018 where he clearly incited riot by calling upon the students to start an anti-government movement. A case under ICT (information and communication technology) Act was filed against him for trying to oust an elected government.
Following his arrest, an orchestrated campaign in his defense continued at home and abroad, which was allegedly organized by Jamaat-e-Islam. Amnesty International gave him 'Prisoner of Conscience' title recognizing his 'contributions' in 'defending freedom of expression'. But, in reality Shahidul's interview with Al Jazeera had nothing to do with freedom of expression.
This newspaper also has received documentary evidence pertaining Shahidul's indecent private life, which is not being published for the time being.
A few weeks back, pro-Caliphate Hizbut Tahrir had started pasting posters in Dhaka demanding the case against him to be withdrawn. However, when a Hizbut man with Al Qaeda connection was arrested while coordinating this campaign, Shahidul quickly contacted Hizbut Tahrir asking them to deny the pasting of such posters by publishing a statement on the website of this notorious militant group. Subsequently Shahidul started propaganda stating Israeli security agency Mossad and Indian RAW were behind pasting of posters.
Sitting in Britain, Jamaat-e-Islami's leader Barrister Abdur Razzak has been spending lavishly in buying support for Shahidul Alam. Due to Razzak's efforts, individuals like British Labour Party MP, Rupa Huq has been openly working in favour of Shahidul Alam.
Although, for many years, Shahidul has been pretending to be a secularist, in reality, he has deeper ties with notorious pro-Sharia groups like Jamaat. This newspaper has obtained specific evidence of Shahidul Alam's connections with militancy-linked Jamaat-e-Islami. Amongst these evidences, there are several photographs where Shahidul is seen sitting with Mujibur Rahman Monju, former president of the student wing of Jamaat. In the picture, he is seen to be smiling proudly declaring his affiliations with this militancy-linked group. The photograph itself proves Shahidul Alam's affection for the war criminals. It also clearly shows his claim as secularist to be false.
https://www.weeklyblitz.net/news/photographer-shahidul-alams-jamaat-e-islami-connection/
---------
MANUU Join Hands with UNFPA to Empower Madrasa Students
Jan 11, 2019
Hyderabad: Maulana Azad National Urdu University today took a leap forward towards its mandate of reaching the unreached by entering into a partnership with United Nations Population Fund (UNFPA) to implement a pilot project on Adolescence Education Program (AEP) in Madrasas of Bihar.
A formal launching ceremony of the project was held today morning at Conference Hall, Administrative Building, MANUU Campus.
Dr. Mohammad Aslam Parvaiz, Vice-Chancellor presided over and exchanged the documents with Mr Venkatesh Srinivasan, Assistant Representative, UNFPA in India.
Addressing the gathering Dr. Aslam Parvaiz described the project as a new beginning for MANUU. The endeavour to empower Madrasa students is part of MANUU's mandate, he said. Collaboration with UNFPA shall continue to streamline the marginalized sections. Inclusion and dissolution is important for smooth functioning of the society, Dr. Aslam Parvaiz remarked.
Mr. Venkatesh Srinivasan expressed the need to engage educational institutions with national bodies and professional organizations. He offered more collaborative ventures to MANUU including a new project on Media with the involvement of Department of Mass Communication and Journalism.
Dr. M A Sikandar, Registrar, described the pilot project as a mission and in complete consonance with University's mandate.
AEP aims at the training, capacity building and lifelong learning of adolescents studying at Wastania level (classes 6-8) Madrasas in four districts of Purnia division namely Kishanganj, Araria, Purnia and Katihar. The Purnia division has a very high concentration of Muslim population and represents one of the highly backward regions of Bihar commonly known as Seemanchal.
Earlier, Dr M. Vanaja, Project Coordinator, welcomed the guests. Prof. Mohd Shahid, Project Director, briefed about the proposal. He submitted that MANUU is keen into the project by the virtue of the exigency to get into such projects to empower Muslim community, more especially, to adolescent Muslims. He explained the demography of Purnia Division which is considered as one of the backward regions of Bihar. Dr Nadeem Noor, UNFPA, Patna, conceptualized the whole situation of marginalized communities in the country and the associated stigma of mainstreaming Indian Muslims. In the context he expressed his views on taking adolescent students of Madarsas to the extent where they can develop life skills for active citizenship.
Prof. Faiz Ahmad, Project Coordinator, proposed the vote of thanks.
Deans, Directors, Heads of the Departments, Faculty Members and Students of MANUU beside the representatives from UNFPA, Jamia Millia Islamia and Bihar State Madrasa Education Board were present.
https://www.siasat.com/news/manuu-join-hands-unfpa-empower-madrasa-students-1455299/
---------
Hundreds mark Jesus baptism at historic Jordan site
January 12, 2019
WADI AL-KHARRAR: Hundreds of Catholic worshippers attended a special mass Friday on the banks of the Jordan River in an annual pilgrimage to the site where many believe Jesus was baptised.
Before the ceremony started on the Jordanian side of the river, dozens of priests filled jugs at the water's edge as scouts played music.
Some 1,500 people attended the ceremony at the Church of Saint John the Baptist, an AFP photographer said, some 50 kilometres (30 miles) from the capital Amman.
The mass was led by Archbishop Pierbattista Pizzaballa, apostolic administrator of the Latin Patriarch of Jerusalem.
"By celebrating today in this holy place, the place of the baptism, we we are celebrating the presence of Jesus among us," said Pizzaballa, urging Christians worldwide to visit the site.
During the ceremony the priests dipped their fingers in the water they drew from the Jordan River and used it to bless the congregation, emulating the baptism of Jesus.
"Jordan is a unique example of coexistence, security and stability in the region," Pizzaballa said, urging worshippers to pray for peace in the region.
Wadi al-Kharrar, or Bethany Beyond the Jordan, is where biblical historians believe Jesus was baptised by his cousin, John the Baptist, and began his public ministry.
A ceremony held by Pope John Paul II at Wadi al-Kharrar in 2000 was taken by Jordanians as confirmation that this was the original baptismal site.
Another site on the Israeli-occupied western bank of the Jordan River is also venerated.
The remains of several churches, baptismal pools and a sophisticated water reticulation system – some dating to the Roman era – have been discovered in Wadi al-Kharrar.
In 2015, UNESCO added the site to its World Heritage List.
Tens of thousands of pilgrims from around the world visit Wadi al-Kharrar and other sites in Jordan of interest to Christians each year.
Christians represent six percent of Jordan's mostly Muslim population of 9.5 million. --AFP
https://www.nst.com.my/world/2019/01/449657/hundreds-mark-jesus-baptism-historic-jordan-site
---------
North America
'People who look like me': US Muslims celebrate Tlaib and Omar victories
11 January 2019
CRYSTAL CITY, Virginia – Ilhan Omar had four hours to decide whether to run for Congress.
Last June, Keith Ellison, then a representative for Minnesota and the first Muslim elected to Congress, made a late-hour entry into the state's attorney general race, leaving his congressional seat wide open.
Omar, a 36-year-old who fled the civil war in Somalia in 1991 and lived with her family for four years in a Kenyan refugee camp before they were resettled in the US, was already serving as a member in Minnesota's state House of Representatives.
But with little time and no consultation with her family, she decided to run for the 5th district because, in the end, she said she couldn't trust that any of the other candidates would fight as hard as she would in Congress.
Her children first heard the news from their teachers, and her father who was in the hospital learned she was running from a nurse.
"So in true fashion, no one really gave me permission to run but myself," Omar told several hundred supporters at the Council on American-Islamic Relations (CAIR) congressional reception in a Hyatt Regency ballroom on Thursday evening.
Last week, Omar and Rashida Tlaib, representative from Michigan's 13th district, became the first Muslim women ever to be sworn into Congress, joining the most diverse freshman class in US history.
Thursday's event - billed as a congressional reception which also included newly re-elected Representative Andre Carson of Indiana - was for all intents and purposes a celebration of their historic victories.
"I am delighted really at this particular time in our nation's history for there to be two unapologetic, unbought progressive leaders from the Muslim community who are women representing us in Congress," said Omar.
"By our sheer presence in Congress, we say as Muslim women that we are in charge of our lives, our destiny. We decide where and how we show up."
Tlaib, 42, the daughter of Palestinian immigrants, talked about a recent encounter with an 11-year-old girl in California who was wearing a blazer.
'"I'm trying to look like you'," the girl told Tlaib. "And I said, Girl, forget Congress, run for president. She said uh-huh. Our young women are now believing that their place is on the House floor, that their place is in the White House. That's what we are doing."
A throng of fans, including several sets of mothers and daughters and a handful wearing traditional Palestinian thobes like the one Tlaib wore in her swearing-in ceremony, rushed the stage after their speeches, hoping to get photos with the congresswomen. "My daughter really likes Ilhan. She's the future of America," said Keyzer Ozer, who helps run the Turkish American Community Centre in Lanham, Maryland.
Ozer said her daughter feels particularly connected to Omar because they both wear hijabs, something that she said has made them at times a focus of discrimination which she hopes the congresswomen will help change.
"I know other American families have the same problems, but we are feeling we have double problems," she said. "Because we are showing we are Muslims, we are getting double."
Abdia Mohammed, a Virginia resident who recently retired after working 18 years at the World Bank, said she had left Somalia in 1981 to live in the US - and also sees herself in Omar.
"These are just unthinkable things that are happening. I'm so excited to see these women that I meet here – there is a change," she said. "People who look like us are sitting in the Congress – people who look like me."
https://www.middleeasteye.net/news/people-who-look-me-women-celebrate-victories-first-muslim-congresswomen-1580744009
---------
Congresswoman Tulsi Gabbard, who met Syria's Assad, will run for US presidency
12 January 2019
Democratic congresswoman Tulsi Gabbard, an Iraq war veteran who met dictator Bashar al-Assad in Syria during the country's devastating civil war, said Friday that she is launching a US presidential bid.
"I have decided to run and will be making a formal announcement within the next week," Gabbard told CNN.
If elected, the 37-year-old lawmaker would be the youngest president in US history. She is the first Hindu member of Congress and its first Samoan American.
"There are a lot of reasons for me to make this decision. There are a lot of challenges that are facing the American people that I'm concerned about and that I want to help solve," she said, citing health care access and climate change among them.
Gabbard sits on the House Foreign Affairs Committee, where she is able to influence US foreign policy.
"There is one main issue that is central to the rest, and that is the issue of war and peace," Gabbard added. "I look forward to being able to get into this and to talk about it in depth when we make our announcement."
Gabbard was born in American Samoa and was raised in Hawaii, where she is known to surf.
The previous Democratic president, Barack Obama, was also raised in Hawaii, and is the only president who was born in the island state.
Gabbard's announcement comes ahead of what is expected to be a wave of high-profile candidates throwing their hats in the ring.
Senator Elizabeth Warren has formed an exploratory committee for a presidential bid, and last week took a high-profile trip to the early voting state of Iowa.
Former Vice President Joe Biden and progressive Senator Bernie Sanders, whom Gabbard supported over Hillary Clinton in the 2016 Democratic primaries, are also mulling entering the race.
Julian Castro, a former mayor of San Antonio who served in Barack Obama's cabinet as housing secretary, says he will announce his 2020 plans on Saturday.
Gabbard drew heavy criticism when she met secretly with Assad in Damascus in 2017 during a fact-finding mission that also took her to the decimated city of Aleppo. She also met with refugees and Syrian opposition leaders.
"Originally, I had no intention of meeting with Assad, but when given the opportunity, I felt it was important to take it," Gabbard said when her trip became public.
"I think we should be ready to meet with anyone if there's a chance it can help bring about an end to this war, which is causing the Syrian people so much suffering."
Full report at:
https://english.alarabiya.net/en/News/world/2019/01/12/Congresswoman-Tulsi-Gabbard-who-s-met-Syria-s-Assad-will-run-for-US-presidency.html
---------
Pompeo: US to host Iran-focused world summit next month in Poland
11 January 2019
The United States plans to host a global summit focused on the Middle East, particularly Iran, next month in Poland, US Secretary of State Mike Pompeo told Fox News in a report published on Friday.
In an interview with the news network, Pompeo said the international gathering would be held February 13 to February 14 in Poland to "focus on Middle East stability and peace and freedom and security here in this region, and that includes an important element of making sure that Iran is not a destabilizing influence."
Full report at:
https://english.alarabiya.net/en/News/middle-east/2019/01/11/Pompeo-US-to-host-Iran-focused-world-summit-next-month-in-Poland.html
---------
US blocks Israeli sale of used F-16s to NATO member Croatia over upgrades
Jan 11, 2019
The United States has blocked the Israeli regime's sale of 12 used F-16 jet fighters to Croatia in a deal worth $500 million over demands that Tel Aviv removes electronic modifications it has made to the war planes.
"Israel has officially informed us that it cannot get an approval from the United States for delivery of the planes to Croatia," Croatia's Defense Minister Damir Krsticevic announced in a Thursday press conference in the capital Zagreb following a meeting with a visiting Israeli delegation.
According to Croatian media reports, the problem came up because the war planes had been refitted with Israeli technology, depriving American weapons makers the opportunity to update and service the decades-old fighter jets.
The US reportedly insisted that the Israeli regime must strip the jets of the upgrades it had made -- including electronic and radar systems – prior to transferring the aircraft.
Croatia, however, declined to purchase the planes without the Israeli modifications, declaring that it will cancel the order for the F-16 Barak combat aircraft, which were to replace the NATO member's aging fleet of Soviet MiG21 jetfighters.
"Israel failed to overcome the opposition of the United States to the sale of 12 planes to Croatia, and the $500 million deal will apparently be canceled," the Croatian Defense Ministry emphasized in a statement.
"Unfortunately, we have not been able to realize the deal because of problems that could not have been expected and are not under the control of the countries," said the chief of Israeli war ministry, Udi Adam, in the press briefing in Zagreb on Thursday. Eager to sell the planes, Israeli Prime Minister Benjamin Netanyahu reportedly even raised the issue with US Secretary of State Mike Pompeo during their meeting in Brazil earlier this month.
Despite all efforts, however, the State Department blocked the transfer of arms to the Balkan nation. It did not provide comments on the report because it was on furlough due to the persisting US government shutdown.
Moreover, a senior Israeli official told the US-based Axios news outlet that former Pentagon Chief James Mattis had rejected a personal request from Netanyahu to give the acquisition his personal approval.
Apart from the Israeli regime, several other countries also participated in the bidding process for the warplane deal, including Greece, South Korea and Sweden.
Meanwhile, Croatia's Prime Minister Andrej Plenkovic announced earlier this week that Zagreb would not accept any other deal except the original Israeli offer which it accepted last March.
"The agreement on buying the planes has not been signed, so there is no financial damage to our budget," Plenkovic said during a cabinet session on Thursday.
Full report at:
https://www.presstv.com/Detail/2019/01/11/585488/US-Croatia-Israel-used-F16-arms-deal-Defense-Minister-Damir-Krsticevic-State-Department
---------
Teenager Captured With ISIS Fighters Is From Trinidad, Not the U.S., Officials Say
Jan. 11, 2019
A 16-year-old boy who was captured on the battlefield in Syria this week with fighters for the Islamic State is not American, but is instead from Trinidad and Tobago, according to American officials and the boy's sister.
The teenager was taken from the Caribbean nation to the war zone when he was 12 by his mother, who converted to Islam after becoming romantically involved with a radicalized man, Sarah Lee Su, the boy's older sister, said in a phone interview.
After a four-year silence, she heard from them for the first time last month, when her mother contacted her on Facebook Messenger and sent a series of audio recordings that said the two were alive and pleading for help. She said they were hiding somewhere in Syria.
"I need money to help us get out of here," Gailon Su, the mother, said in one of the recordings she sent to her daughter, which was shared with The New York Times. "If not me, your brother. He is innocent."
The American-backed militia that announced the boy's capture on Wednesday said he was among three American citizens apprehended in recent days in the battle zone fighting for the Islamic State, which is also called ISIS. But Pentagon and State Department officials said only one of the three — Warren Christopher Clark, 34, a former substitute teacher from Texas — was an American.
On Friday, two American officials said that Mr. Clark would soon be transferred to F.B.I. custody. He will be flown to the United States, where he will face federal charges in Houston, the officials said.
The 16-year-old, who was erroneously identified in a news release from the American-backed militia as Soulay Noah Su, an American citizen, is actually Su-lay Su from Trinidad, the boy's sister said. She recognized him in a photo released by the militia, the Syrian Democratic Forces, she said.
A team led by Hany Farid, a Dartmouth College computer science professor, used facial identification software to compare the photo with images of Su-lay posted on social media and concluded with "high confidence" that the two were the same person.
Ms. Su, 23, said her mother and brother had fallen under the sway of a Trinidadian man who eventually persuaded them in 2014 to travel to the budding ISIS caliphate. "Once they got to Syria," Ms. Su said, "they told me that this guy took their documents and destroyed them, and said, 'You are now going to stay here and die.'"
In the audio recordings Gailon Su sent to her daughter, she said, "Everyone wants to be blaming me, that I did bad things to my children. I just married a man."
According to a database maintained by Simon Cottee, a University of Kent criminologist, the mother and son were part of a group of 10 people taken to Syria by Anthony Hamlet; also included were Mr. Hamlet's second wife, two of his daughters and three other boys, Mr. Cottee said.
After departing in September 2014, Mr. Hamlet appeared in ISIS propaganda, including in a photo spread in the terror group's online magazine and in a video in which he is shown on his stomach, peering through the scope of a rifle.
"In my research on ISIS in Trinidad, one of my most striking findings is the block nature of the migrations to Syria and Iraq," said Mr. Cottee, who is working on a book on jihadists from Trinidad, which has one of the world's highest per capita rates of recruitment to ISIS. Mr. Cottee first noticed the captured teenager had a similar name to one in his database on Wednesday.
"It wasn't just individuals going," he said. "It was entire families looking to remake their lives in the so-called caliphate."
Little is known about the mother and son's time in Syria and the mother's current whereabouts is unknown.
The boy's Facebook timeline, which is sparse, reveals only a handful of photos that speak to possible military activity. Of greater interest to him appear to be posts about flashy hightop sneakers. Because Su-lay was 12 when his mother took him to Syria, "He didn't have any say or agency in the matter," Mr. Cottee said. "So he is a victim as much as a perpetrator in the Syrian jihad."
The posts by his mother on her Facebook page, identified as authentic by her daughter, indicated more agency in her own radicalization as well as a willingness to support her son's exploration of military activities.
In a post in 2013, a year before they left for Syria, Su-lay's mother congratulated him on his excellent grades. A year later, she liked a photo that her son had posted, presumably from Syria, of a mounted rifle. The following year, she liked a photo showing him in what appeared to be military fatigues.
But in one of the final messages she sent to her daughter last month, Ms. Su said she did not want her son to fight.
Full report at:
https://www.nytimes.com/2019/01/11/world/middleeast/teenager-isis-syria-trinidad.html
---------
Europe
Muslims Debate First Mixed-Gender Mosque in France
January 9th, 2019
In France, a Muslim progressive researcher has recently announced establishing the first mixed-gender mosque in France where all Muslim women and men can pray next to each other. In much of the Muslim world men and women are spearated into two halls.
Kahina Bahloul, a Muslim woman who was born for an Algerian father and a French mother, has established an association for Muslims in France and it is called: "Tell Me About Islam." The association aims to discuss controversial debates that are not discussed among Muslims.
Bahloul was the first to suggest the idea of a mixed-gender mosque in France where is doing her PhD on Islamic studies.
In an interview with French Radio Monte Carlo Doualiya, Bahloul said the mosque is going to be named "Fatima Mosque" and it is the first of its kind in France.
Bahloul also confirmed the mosque idea was first inspired by the "discrimination" Muslim women are facing when praying in mosques where they are seperated in a different room than men. However, Muslim women should not be any less than men when performing religious rituals.
Accordingly, the proposed project will also emphasize other interpretations of Quran to reflect more intolerant and less radical image about Islam in the world.
The mosque will not be mixed-gender only, but it will also welcome non-hijabi women to pray without covering their heads despite all criticism this idea had received.
Between supporters and critics, Bahloul's idea had stirred wide controversy among the Muslim world.
Many had fiercely criticized it suggesting it breaks Islamic taboos and this is only part of a "conspiracy theory" that is targeting Islam and Muslims.
Fatmia Mosque will not be the first-of-its-kind around the world. In Germany, Ibn Rushd-Goethe mosque has been part of a growing movement known as inclusive Islam. It was first set up in 2010 and was known for allowing men and women to pray together and rejects burqa and niqab.
https://www.albawaba.com/loop/muslims-debate-first-mixed-gender-mosque-france-1236460
---------
Russia accuses BBC of 'promoting terrorist propaganda'
Jan 11, 2019
Russia's media regulator says it has found material on BBC websites that were promoting terrorist propaganda, shorty after it launched an investigation into the activities of the British public broadcaster.
The media regulator, Roskomnadzor, said in a statement that it was investigating whether the broadcaster was in violation of "Russia's strict anti-extremism legislation."
"To date, material has been uncovered which transmits the ideological principles of a terrorist group," it said.
The regulator said it has found quotes from Abu Bakr al-Baghdadi, the Daesh terrorist group's leader, in news reports on the BBC Russian service website.
Russia does not forbid quoting individuals considered "terrorists," but any mention of the Daesh terrorist group has to come with the disclaimer that the group is banned in the country.
Roskomnadzor opened its probe into the activities of BBC World News channel and BBC websites in December in response to a decision by British media regulator Ofcom, which has accused Russian broadcaster RT of breaking the rules in some of its news and current affairs programs.
Back then, the BBC said that it "works in Russia in full compliance with the country's laws and regulations to deliver independent news and information to its audiences."
Ofcom had earlier accused RT of breaking broadcasting rules by allegedly failing to preserve due impartiality in seven news and current affairs programs over a six-week period.
It has launched a number of investigations to check the output of RT, formerly known as Russia Today.
RT rejected the allegations, saying the British regulator had not paid "due regard" to its broadcasting rights.
The state-sponsored British broadcaster has already been accused by Iran of seeking to undermine the country's security.
An Iranian diplomat, Zahra Ershadi, said last November that the Islamic Republic was the target of a media war which is planned, organized and funded by hostile governments.
She made the remarks in response to comments made by the UN Special Rapporteur on Freedom of Opinion and Expression, David Kaye, after he publicly criticized Iran for allegedly restricting the activities of BBC Persian.
Full report at:
https://www.presstv.com/Detail/2019/01/11/585465/Russia-Roskomnadzor-BBC-ofcom-terror-Daesh-ISIS
---------
German hacker spread right-wing, anti-Muslim views on Internet
12 Jan 2019
BERLIN: A 20-year-old student who disclosed the private data of nearly 1,000 politicians and others in one of Germany's biggest data breaches had expressed rightwing and anti-Muslim views on the Internet, German media reported on Friday.
Using the Internet handle "r00taccess", the student, identified as Johannes S., said "Islam is filth: we don't live in the 6th century" and discussed the return of Adolf Hitler's Nazi party, weekly news magazine Der Spiegel reported on Friday.
German officials this week said the student, who lived with his parents in the central state of Hesse, had confessed to the breach.
They said he had described himself as frustrated about the utterances of politicians, but right-wing material was not initially found in a search of his home.
However investigators have now found that he engaged in repeated right-wing posts on the Internet and was part of a right-leaning community of "hack-tivists", Spiegel reported.
No comment was immediately available from the German interior ministry. The Frankfurt prosecutor's office, which is handling the case, could not be reached.
Spiegel said the suspect claimed in another posting that the far-right Alternative for Germany (AfD) party would not be able to rid Germany of migrants, and it would take the ultranationalist National Democratic Party (NPD) "to clean up properly."
Germany's Constitutional Court in 2017 ruled that the NPD resembled Hitler's Nazi party, but ruled against banning it because it was too weak to endanger democracy.
Spiegel said authorities had opened three investigations of the student in recent years on suspicion that he was trying to illegally obtain data and falsify evidence, cases that were still pending in the courts.
A 19-year-old witness interviewed in the case, Jan Schuerlein, told broadcaster ARD that he helped lead authorities to the suspect because he had posted on the Internet about an earlier police raid. By pinpointing the date, authorities were able to identify the suspect.
"He is definitely a little oriented to the right, but not right-wing extremist," Schuerlein told ARD. "But he had a big problem with the migrants and migrant policy."
Full report at:
https://www.channelnewsasia.com/news/world/german-hacker-spread-right-wing--anti-muslim-views-on-internet-11112576
---------
Acting honourably is expensive, as UK govt is now discovering
Farrukh Dhondy
Jan 12, 2019
"The silly old fool
Was once a silly young fool.
The strength of the strong and silent
Resides in keeping their mouths shut….. "
From More Proverbs of Bachchoo-ka-adda
Acting honourably can be expensive — as the government of the UK has known for some time and the British media is now trying to hold it to account for so doing.
Take the case of one Abu Qatada, an Islamicist cleric of Jordanian origin and Salafist conviction who was expelled from Jordan, spent some time spreading his vile bile in Pakistan and landed up in Britain in 1993 on a false UAE passport. He was given leave to remain on honourable, human rights grounds.
Abu Qatada is not a great advocate of human rights himself. Consider some of his pronouncements:
In 1995 he issued a "fatwa" stating that it is justified to kill Muslims who deny the faith and to kill their families also. In 1997, from the safe haven of a house in Acton, for which the British State paid the rent, he announced to his followers that Islam deemed it legitimate to "kill Jews, including Jewish children."
In October 1999, he gave a speech at London's Four Feathers mosque saying "American citizens should be attacked, wherever they were — and there is no difference between English people, Jews and Americans."
He has made no direct mention of the Hindu, Sikh, Zoroastrian or other faiths. Even so, in an Al Qaeda magazine published in Syria, he attacks Shia Muslims: "Allah exposes our enemies from amongst the filthy Shias and their beloved friends from among the polytheists." I don't think that latter term was intended as a description of ancient Greeks. He probably meant Hindus.
There is and has been for decades a British law against instigating the murder of groups or inciting religious hatred. It distinguishes between criticising religious doctrine and hate crime. I can, for instance, say that I don't believe that Jesus was born of a virgin. What I can't say is "kill all Christians at the church doors on Sunday". If I did, inspector Abdul of the Yard will undoubtedly knock on my door and make urgent enquiries.
Despite all his nasty nonsense, Abu Q was not only left free to preach by the British State, the secret services and police, he and his family were housed and kept in comfort by welfare payments to the estimated tune of nearly a million pounds.
Nevertheless, he was arrested by the police on three occasions, detained for periods of time under anti-terrorist detention laws and released by the courts on each occasion.
There is a body of opinion which believes that Abu Q made a deal with Britain's MI5 despite his involvement in international terrorist acts — or because of them. His messages and recordings were found in the Hamburg flat of one of the 9/11 bombers. Even if there was no such deal, it is likely that the secret services allowed him his freedom so that they could trace his contacts and communications with terrorists here and abroad.
Leaving him free or frequently arresting him and releasing him without charge may have been a way of pacifying public opinion as his incendiary activities and opinions were widely known and caused widespread disquiet.
No government can openly say that they are letting such a person loose so they can gather information about his active associates through keeping him under surveillance.
Having entered the country on a false passport, Q applied for asylum on the grounds that he had been tortured in Jordan and if he was sent back would be subject to the same treatment.
By granting him political asylum, was the UK state acting honourably — honouring its commitment to not send people, however nasty, to countries where they may be tortured? The UK Home Office did, in the case of Abu Q, plead some such honourable thing, even though it emerged that it had earlier colluded with the US to send several individuals captured in Afghanistan to Libya, where they were provenly subjected to torture.
Far be it from me, gentle reader, to concoct conspiracy theories or even pretend to know what MI5 and the Home Office were up to with this honourable stance. In keeping Abu Q free, they were assisted by the fact that, when he was threatened with deportation as the media began to question why he was still at liberty to preach murder, he appealed to the European Court of Justice. That court upheld his appeal on the grounds that he would be tortured in Jordan and so must remain in the UK.
Were MI5 and the Home Office, which threatened the deportation, defeated by the European Court or was it a clandestine victory as they must have known how the ECJ would rule and enable Q to remain as the main conduit to the detection of terrorist communications and plans?
Finally, in 2013, public opinion prevailed and Theresa May, then still home secretary, negotiated a deal with Jordan. Q would be sent there after a treaty specifying that he wouldn't be tortured was signed. The treaty must have offered Jordan something in return but what it specified was that the UK would pay £200, 000 each year for doctors and social servants to check on Quasimodo's — sorry, Qatada's — health.
Now investigations have turned up the fact that apart from this regular good-riddance payment, the UK government spent £1.9 million on Q's deportation procedures. The honourable thing to do?
Is "honour" in this and so many instances a pragmatic tool?
When Julius Caesar was murdered and Brutus made his speech justifying the assassination, Mark Anthony, with his tongue slipping firmly into his cheek, said "Brutus is an honourable man." And of course, Brutus's honourable stance cost him dearly.
Full report at:
http://www.asianage.com/opinion/120119/acting-honourably-is-expensive-as-uk-govt-is-now-discovering.html
---------
Southeast Asia
West looks at Arab countries as entirety of Muslim world: Anwar Ibrahim
January 12, 2019
Stating that there is no conflict between Islam, modernity and democracy, Malaysia's Prime Minister-in-waiting Anwar Ibrahim pointed to India, saying that in the world's largest democracy with the second-largest Muslim population, Muslims have accepted democracy. Addressing a discussion on issues affecting the 'Muslim world' organised by the Islamic Forum for the Promotion of Moderate Thought, Ibrahim said the idea of "inclusivity" is central to his mind.
Referring to the eruption of the issue of temple demolitions in Malaysia in 2008, Ibrahim said he and his party had taken the position of compensating the Hindu community and rebuilding the temple. "It was an issue of justice and tolerance. I was here in India soon afterwards and there were around nine media houses pounding on this issue at me, but I could stand on a moral high ground. My stand was that no temple should be demolished in Malaysia and it is also expected that the same principle be followed across the world," he said, adding, "Though I didn't mention any specific mosque here."
"We can stand on a high ground only if we are seen to be morally coherent and consistent, which unfortunately is not the case, both in Muslim and non-Muslim countries," he said.
Asked if there exists a conflict between Islam and modernity, Ibrahim said these are questions framed by the West, which show a lack of understanding of Muslim societies. "There is no conflict whatsoever. There are texts on Islamic modernity and we talk about democracy compatible with Muslim. This a narrative created in Washington and London. Indonesia, which has the largest Muslim population in the world, is a democracy. In India, which has the second-largest Muslim population, Muslims have accepted democracy. We have Turkey and Malaysia and well. This idea stems from not actually understanding Muslim society and by looking at the Arab countries as the entirety of the Muslim world," he said.
Former chair of National Minority Commission, Tahir Mahmood, however, asked how there can pluralism in a country with a state religion, pointing particularly at Malaysia. Admitting that there have been excesses against religious minorities in Malaysia, Ibrahim said they were "nothing" compared to other countries, "including this (India)".
"We do not have a state religion. Islam has been said to be the religion of the federation while respecting worship of all other religions. Six per cent of our cabinet are Indians. Our Chief Justice is Christian, Minister of Finance Buddhist… It's the actualisation of ideals which is important," he said.
https://indianexpress.com/article/india/west-looks-at-arab-countries-as-entirety-of-muslim-world-anwar-ibrahim-5534384/
---------
China Intensifies Lobbying to Thwart Criticism of Muslim Detentions
Jan. 11, 2019
China has escalated efforts to repel foreign criticism of its policing, mass detentions and forcedassimilation measures targeting Muslims in the restive Xinjiang region, stepping up diplomacy and public-relations efforts.
Chinese diplomats have petitioned several governments in their capitals against attacking Beijing's Xinjiang policies at the United Nations, according to diplomats briefed on the matter.
Beijing has also arranged choreographed visits to the region for selected foreign diplomats and reporters—many from Muslim-majority nations friendly with China—while rebuffing Western requests for similar trips. But the stage-managed tour "raised more questions than it answered" for some diplomats, said a diplomat familiar with the trip. Activists and diplomats said China's goal is to beat back Western-led accusations of rights abuses against Xinjiang's chiefly Muslim Uighur ethnic group, and head off criticism from Muslim-majority countries, where public anger is starting to simmer over Beijing's repression of Islam.
China has struggled for decades to curb separatist sentiment in Xinjiang, a mountainous frontier abutting Central Asia that 11 million Turkic-speaking Uighurs—nearly half the region's population—regard as their homeland.
After an increase in antigovernment violence and terrorism in Xinjiang in recent years, President Xi Jinping launched a high-intensity security campaign that U.N. officials said may have placed as many as one million Uighurs and other Muslims in internment camps, where they were subjected to political indoctrination.
The clampdown has sparked an international outcry and accusations of human-rights abuses.
China has defended its methods as vital and effective for defeating extremism.
As scrutiny intensified, Beijing deployed publicity and diplomatic pressure to contain the fallout.
After months of denying the existence of a mass-detention program, Chinese officials switched to forcefully defending their Xinjiang policies, describing the camps as vocational schools and crediting them for containing extremism.
The government has proclaimed that minority cultures and religious activities are flourishing in Xinjiang. State media scaled up English-language coverage of economic development in the impoverished region, touting a reduction in poverty and growing tourist arrivals. On the diplomatic front, Chinese officials have been pressing Western governments for weeks to avoid public criticism of its Xinjiang policies at the U.N. Human Rights Council in Geneva. The discussions started ahead of a November meeting on China's human-rights policies—a regular peer-review discussion at the council—with the U.K. and the European Union among those approached by China, diplomats said. Following that meeting, where more than a dozen Western countries raised concerns about China's treatment of its Muslim minorities in Xinjiang, Chinese efforts accelerated.
In December, Chinese diplomats made formal representations to at least three countries—one Asian and two European countries, including Belgium—and used informal conversations in other European capitals to try to avert future public criticism, European and Asian diplomats said. In the case of Belgium, there was repeated outreach by Chinese officials about their concerns, a European diplomat said.
Diplomats described the outreach as a pre-emptive campaign to pressure governments against requesting a special session of the Human Rights Council to discuss Xinjiang. The council can convene special sessions to discuss rights abuses and emergencies if 16 of its 47 members agree. Recent special sessions have focused on the plight of Rohingya Muslims in Myanmar and the Syrian crisis.
European diplomats said convening a special session against China would be a last resort and hadn't been seriously considered. Only about seven Western governments are council members at any one time. The U.S. quit the Human Rights Council last year.
While many countries try to ward off criticism at the Human Rights Council through diplomatic lobbying, Beijing's overtures signal heightened concern about widening international backlash over Xinjiang, activists and diplomats said.
"This is China's default mode with U.N. human-rights mechanisms: to ensure that they do not robustly address China-related issues," said Sophie Richardson, China director at Human Rights Watch.
China's Foreign Ministry defended Chinese policies in Xinjiang as necessary for fighting terrorism and extremism, while decrying foreign criticism as biased and ill-meaning.
"Xinjiang affairs are China's internal affairs and we will never allow any external forces to make irresponsible remarks or interfere," the ministry said. "Chinese diplomats are duty-bound to firmly defend the country's sovereignty, security and territorial integrity."
Late last year, a group of 18 Western ambassadors in Beijing—led by the Canadian envoy—wrote to Xinjiang's Communist Party chief to ask for a meeting to discuss the treatment of Uighurs and other minorities, but didn't get a response, according to people familiar with the matter.
In December, U.N. High Commissioner for Human Rights Michelle Bachelet and Germany's human-rights commissioner, Bärbel Kofler, said Beijing hadn't acceded to their requests to visit Xinjiang.
A Chinese Foreign Ministry spokesman told reporters this week that all parties, including U.N. officials, would be welcome in Xinjiang as long as they "abide by Chinese laws and comply with relevant procedures."
Last month, the Foreign Ministry arranged a Xinjiang tour for 12 diplomats, mainly from Beijing's neighbors and partners. Most of them are Muslim-majority countries, including Pakistan, Kazakhstan, Malaysia and Indonesia, where public anger has started to bubble over Beijing's treatment of Muslims. Many of their governments share close economic ties with Beijing.
The itinerary for the three-day trip included a meeting with Xinjiang's governor, Shohrat Zakir, and visits to mosques, an industrial zone, a police station and three "vocational-education and training centers," the government's label for re-education camps holding Uighurs.
Uighur residents appeared to have been coached to give standard replies to visitors' queries, while visitors were closely watched by chaperones throughout the trip, according to diplomats.
China's Foreign Ministry said the tour was meant to boost understanding and cooperation. The Xinjiang government didn't immediately respond to questions.
At the vocational centers, several trainees told diplomats that they volunteered for training as a way to rid themselves of "extremist thoughts" and acquire work skills, diplomats familiar with the trip said. They said security cameras appeared to have been removed from the classrooms the diplomats visited, leaving bare mountings on the walls.
Full report at:
https://www.wsj.com/articles/china-intensifies-lobbying-to-thwart-criticism-of-muslim-detentions-11547230366
---------
Royal call for expansion of mosque roles and activities
12 January 2019
IPOH, Jan 12 — Acting Yang di-Pertuan Agong Sultan Nazrin Shah today called for the many roles and activities hitherto confined within mosques to be carried out in various new premises outside the mosques to enhance the image of the house of worship.
He said, however, that such efforts would not make the role of mosques any less important.
Sultan Nazrin Shah said the passage of time and development of civilisation had made the way of life of the people more complex and incurred the need to address the rising number of the 'ummah' (community).
"In the early stage of the era of Islamic development, the mosques played various roles, functioning as the centre of governance, administration, judiciary, character development, knowledge, culture and civilisation, and organising various welfare, social and community relations activities.
"Much of the time at mosques was filled with various activities, more than that for prayers," said Sultan Nazrin Shah, who is the Sultan of Perak, at the Golden Jubilee celebration of the Sultan Idris Shah II Mosque, known also as the Perak State Mosque, here.
Sultan Nazrin Shah said the responsibility of enhancing the image of mosques rested with those who were prepared to accept the trust and to be appointed as members of the mosque committees and as mosque officials.
"Mosques which are ready in terms of physical development must be nurtured with meaningful content development, shaped by people sincere, devoted and committed to Islamic development," he said.
He said the people entrusted with the duty of managing and enhancing the image of mosques would be doing an injustice to the Muslim community if they failed to fulfill their responsibility with sincerity, devotion and commitment.
Referring to the Sultan Idris Shah II Mosque, Sultan Nazrin Shah said it was accorded recognition as the Perak State Mosque and officially opened on Nov 15, 1968, by the 33rd Sultan of Perak, Sultan Idris Iskandar Al-Mutawakil-Allallahi Shah II.
"The mosque is 50 years old. During that passage of time, the mosque underwent various phases of renovation and physical expansion, along with the development of various activities," he said.
Sultan Nazrin Shah expressed his gratitude to all who had played various roles and provided contributions to enhance the image of the mosque over the past 50 years.
Full report at:
https://www.malaymail.com/s/1711761/royal-call-for-expansion-of-mosque-roles-and-activities
---------
Uyghurs' heartfelt message to the Malaysian people
Jan 12, 2019
In October 2018, Malaysia released 11 Uyghur refugees to Turkey, after dropping immigration-related charges. This welcome decision marked the end of an arduous journey to freedom for the men. It also demonstrated Malaysia's leadership in standing up for the rule of law, in the face of interference from China, which pressed strongly to have the men returned.
If Malaysia had agreed to China's demands, the refugees would certainly have disappeared into China's massive network of detention camps for Uyghurs, which Amnesty International says are run like "wartime concentration camps."
The Malaysian government did the right thing. Remarking on the Uyghur refugees, Prime Minister Dr Mahathir Mohamad said simply: "They have done nothing wrong in this country, so they are released." In interviews last year, prime minister-in-waiting Anwar Ibrahim forthrightly expressed his concern about the disturbing reports of Uyghur internment.
Since 2017, China has engaged in an all-out assault on Uyghur cultural practices and religious belief. The goal, according to the New York Times, is to "remove any devotion to Islam." In August 2018, the UN expressed its alarm over reports that government had interned a staggering one million or more Uyghurs. In December, the US State Department released estimates that possibly more than two million people have been taken away. Children are being forcibly separated from their relatives and placed in orphanages to be raised by the state.
The scale of torture, deaths and enforced political indoctrination in the camps are "unprecedented as a human rights atrocity in China", according to Georgetown university Professor James Millward. German scholar Adrian Zenz, testifying before the US Congress, described what is happening as "a monstrous crime against humanity, on a scale and level of sophistication that has rarely been witnessed in modern history".
Camp survivor Mihrigul Tursun told US legislators how she had endured interrogation for days on end, sleep deprivation, and a starvation diet of one small piece of bread each day. When subjected to repeated electric shocks, she said, "I thought that I would rather die than go through this torture, and begged them to kill me."
Shocking crimes
Civil society and politicians in other Muslim-majority countries are beginning to condemn these shocking crimes against humanity. In Indonesia, legal aid organisation Paham Indonesia, leading legislators from the Golkar and Gerindra parties, and the Indonesian Ulema Council (MUI) have all strongly protested the Chinese government's ruthless treatment of the Uyghur people.
Muslims in Western states have also expressed alarm. Nihad Awad, the leader of America's largest Muslim civil liberties organisation, said: "The international community must take immediate action to address the brutal, systematic repression being inflicted on Xinjiang's Muslim population. Reports of mass violations of human rights should not be ignored or excused."
Uyghurs need Malaysians' help to end this nightmare. Malaysia's active civil society should play a vital role in arousing public concern. Taking the lead, the Malaysian Bar Council has already pointed out the repression facing Uyghurs in China in addressing the case of the 11 refugees. In July, Tenaganita called for "protection and compassion" for Uyghurs, saying that they "are now one of the most persecuted groups in the world".
It is natural and right for Malaysians to express brotherhood and sisterhood with Uyghurs who are suffering for their faith. And as multi-faith society, Malaysia can be a leader in giving voice to the principle of human dignity for all.
Uyghurs also urge Malaysia to take a strong stance as an influential member of the Organisation of Islamic Cooperation (OIC). The OIC has been slow in responding to the Uyghur crisis. But in early December, the OIC's Independent Permanent Human Rights Commission heard an extensive briefing on the plight of the Uyghurs in China, and stated its concern about their treatment. This represents a beginning. The Malaysian government should seize the opportunity to activate the OIC's duty, as the collective voice of the Muslim world, to stand up against the persecution of Muslims in China, including Uyghurs, Kazakhs, Kyrgyz, and Hui.
The 11 Uyghur refugees released in October are now safe from their persecutors. Although these men face formidable challenges in building a new life in Turkey, they are able to freely practise their faith and live with dignity. Malaysia's role in protecting them from persecution was critical.
Full report at:
https://www.malaysiakini.com/news/459895
---------
Smoking is Haram; Jakim's sermon reminds Muslims in defence of ban
January 11, 2019
PETALING JAYA: The Friday sermon at mosques in the federal territories today reminded Muslims of fatwas declaring cigarettes, shisha and vape as haram, as a smoking ban imposed by the health ministry at restaurants nationwide enters its 11th day.
The sermon prepared by the Malaysian Islamic Development Department (Jakim) defended the ban, saying it was to protect the health of the majority of Malaysians who do not smoke.
"This effort is clearly aimed at protecting the public, especially the non-smokers, from being exposed to the dangers of cigarette smoke and to cultivate a culture of no smoking among Malaysians," it said.
It reminded Muslims of several decisions by the fatwa committee of the National Council for Islamic Affairs, which declared smoking haram.
"The ban on smoking was done based on three main reasons: smoking harms the health of smokers, it harms the surrounding people and the environment, and it is a waste of money, time and energy."
It warned Muslims not to treat the problem lightly.
"Studies show that a person who smokes only inhales up to 30% of the smoke from his cigarette, while 70% of the remaining (smoke) permeates into the air.
"This excess smoke threatens the rights of the majority. Islam forbids its followers from doing something that will harm themselves and others," the sermon added.
It said smokers should seek help through various treatment programmes by the health ministry, adding that people should "always persuade and advise" smokers to kick the habit.
The ban on smoking at eateries nationwide came into effect on Jan 1.
The health ministry said it would refrain from issuing summonses on those violating the ban in the first six months of the year.
Those who light up can be fined up to RM10,000 or jailed up to two years. Restaurant operators who fail to display no-smoking signs face a fine not exceeding RM3,000 or jail time of up to six months. They can also be fined RM5,000 or jailed for six months if they allow smoking on their premises.
The ban applies to eateries in shop lots and on private land or any other place that serves food such as food trucks, food stalls and rooftop restaurants.
Full report at:
https://www.freemalaysiatoday.com/category/nation/2019/01/11/smoking-is-haram-jakims-sermon-reminds-muslims-in-defence-of-ban/
---------
Arab World
The forgotten tour: US band that rocked Saudi Arabia
January 11, 2019
RIYADH: A series of photos of the US band Starbuck on tour in Al-Ahsa in the 1970s has been doing the rounds on Twitter. And by the looks of it, they had a rockin' good time.
Starbuck was formed in Atlanta, Georgia, in 1974 and rose to fame with their 1976 hit "Moonlight Feels Right," which reached No. 3 on the US Billboard Charts.
Oil giant Aramco invited the band to perform in Saudi Arabia in 1978 to entertain the American geologists it employed. Their tour lasted two weeks, during which time they played at Aramco outposts along the Kingdom's east coast.
Although pictures from the tour were posted eight years ago on Facebook, they grabbed attention when they were posted to Twitter in early January by Mohammed Al-Khalifah (@desertlover79), who is well known for posting vintage photos of Saudi, particularly the Eastern Province.
Al-Khalifah came across them while searching for old photos of his home region of Al-Ahsa. In the first two days they were on Twitter, the photos had garnered over 700,000 views.
The photographs were first shared on Facebook by Davie Holifield, daughter of Starbuck's lead guitarist Darryl Kutz. On a tribute page to the late musician, Holifield has posted more than 800 photographs chronicling her father's life, including those of the band's Saudi tour.
"My father was a career musician and we had so many photos we wanted to share with friends, relatives and fans of all of the bands he was in. When he died suddenly of a heart attack at age 46, we were devastated. So we started the page as a place to share his photos," said Holifield.
The album dedicated to the Saudi Arabian tour contains almost 200 photos of the various band members, mostly taken by Kutz. And judging by their quality, he could have made it as a photojournalist if he hadn't been a musician.
The pictures feature the pristine beaches of Ras Tanoura, the blooming bougainvillea trees of the Aramco compound in Dhahran, and the magnificent rock formations at Jabal Qarah. The pictures also show the members of Starbuck, along with their interpreters — Mohammed and Alawi.
Kenny Crysler, Starbuck's drummer, expressed how fondly he remembered the trip. "As you can see from the beautiful pictures that Darryl took, we really had a good time visiting and experiencing the country," he said. "Everyone we met seemed to really appreciate our being there. It was quite an adventure being able to just walk around and visit some of the old towns."
According to Crysler, the band mainly stayed in Dhahran, though he recalls visiting several different towns during the tour. Kutz's photos show them taking one of Aramco's F-27 planes during their stay, and Crysler recalls them taking planes to get around.
"I remember flying to one concert and, shortly after taking off, Darryl had a problem with his inner ear and we had to land. We left Darryl on the ground and then flew to the next concert venue. Darryl was able to make friends and somehow get a ride to the concert without speaking the language. He was amazing at making friends wherever we happened to be," Crysler said.
As the photos continue to gain traction on Twitter, there have been numerous responses from people pleased to see the region in the spotlight.
"These are beautiful. Long live Al-Ahsa!" tweeted one user.
"Weird to think that when these pictures were taken, 70% of Saudis weren't even born yet," pointed out another.
Holifield hopes that the pictures will help her father's memory — and that of the band — live on. "Maybe others who remember that trip will get to see them," she said. "And as for my father, we miss him terribly, but we love being able to keep him alive in the memories from those days."
http://www.arabnews.com/node/1434161/saudi-arabia
---------
US-led coalition withdrawing equipment from Syria
12 January 2019
The US-led coalition battling ISIS said on Friday that it had started the pullout process but US officials later clarified that only equipment, not troops, had exited the country.
US President Donald Trump's announcement last month that he had decided to withdraw the 2,000 US troops there stunned allies who have joined Washington in the battle against ISIS militants in Syria. Senior US officials were shocked too, among them Defense Secretary Jim Mattis, who quit in protest.
US Colonel Sean Ryan, a coalition spokesman, said the coalition "has begun the process of our deliberate withdrawal from Syria."
"Out of concern for operational security, we will not discuss specific timelines, locations or troop movements," Ryan said.
After media reports suggesting the departure of US forces had begun, US officials told Reuters that no troops had yet withdrawn and stressed that the battle against ISIS was continuing as US-backed forces try to capture the group's last remaining pockets of territory in Syria. The three US officials spoke on condition of anonymity due to the sensitivity of the issue.
But the US officials confirmed that equipment was being moved out of Syria, a sign that despite mixed messages from Washington preparations for a withdrawal of troops was proceeding apace.
Residents near border crossings that are typically used by US forces going in and out of Syria from Iraq said they had seen no obvious or large-scale movement of US ground forces on Friday.
Separately, Syrian state news agency SANA said Israeli warplanes fired a number of missiles toward the Damascus area on Friday, triggering Syrian air defenses that shot down most of them. "The results of the aggression so far were limited to a strike on one of the warehouses at Damascus airport," SANA quoted a military source as saying.
Syria upheaval
The US decision has injected new uncertainties into the eight-year-long Syrian war and spurred a flurry of contacts over how a resulting security vacuum will be filled across a swathe of northern and eastern Syria where the US forces are stationed.
On the one hand, Turkey aims to pursue a campaign against Kurdish forces that have allied with the United States, and on the other the Russia- and Iran-backed Syrian government sees the chance to recover a huge chunk of territory.
US national security adviser John Bolton suggested on Tuesday that protecting Washington's Kurdish allies would be a precondition of the US withdrawal. That drew a rebuke from Turkish President Tayyip Erdogan who called his comments "a serious mistake".
US Secretary of State Mike Pompeo, who has been touring the Middle East this week to reassure allies of Washington's commitment to regional security, said on Thursday the withdrawal would not be scuppered despite the Turkish threats.
The Kurdish groups that control the north have turned to Moscow and Damascus in the hope of striking a political deal that will stave off Turkey and shield their autonomy in the north.
Russia, which has deployed forces into Syria in support of the Damascus government, said it had the impression that the United States wanted to stay despite the announced withdrawal of US troops, RIA news agency reported.
Russia urges Damascus-Kurdish dialogue
Maria Zakharova, a Russian Foreign Ministry spokeswoman, said it was important for Syrian Kurds and the Syrian government to start talking to each other in light of the US withdrawal plans.
She also said the territory previously controlled by the United States should be transferred to the Syrian government.
"In this regard, establishing dialogue between the Kurds and Damascus takes on particular significance. After all, the Kurds are an integral part of Syrian society," Zakharova said.
Turkey views the US-backed YPG Syrian Kurdish militia as an extension of the Kurdistan Workers' Party (PKK), which has waged a 34-year insurgency in Turkey for Kurdish political and cultural rights, mostly in southeastern areas near Syria.
A Kurdish politician told Reuters last week the Kurds had presented Moscow with a road-map for a deal with Damascus. Syria's deputy foreign minister said on Wednesday he was optimistic about renewed dialogue with the Kurds.
Foreign Minister Jean-Yves Le Drian of France, which is part of the US-led coalition, welcomed what he believed was a slower withdrawal by the United States after pressure from its allies.
"President Macron spoke to him (Trump) several times and it seems that there has been a change that I think is positive," he said in a television interview on Thursday.
Full report at:
https://english.alarabiya.net/en/News/middle-east/2019/01/12/US-led-coalition-withdrawing-equipment-from-Syria.html
---------
Syria says Israeli fired missiles toward Damascus, hit airport warehouse
12 January 2019
The Syrian state news agency said Israeli warplanes fired a number of missiles toward the Damascus area on Friday, triggering Syrian air defenses that shot down most of them.
"The results of the aggression so far were limited to a strike on one of the warehouses at Damascus airport," the SANA news agency cited a military source as saying. The attack took place at 11:15 p.m. (2115 GMT), it said.
Israeli warplanes last struck targets in Syria on Christmas Day.
In that incident, Israeli aircraft flying over Lebanon fired missiles toward areas near Damascus, hitting an arms depot and wounding three soldiers.
Israeli drones and warplanes were heard flying Friday afternoon over Lebanon.
Full report at:
https://english.alarabiya.net/en/News/middle-east/2019/01/12/Syrian-media-Sound-of-explosions-heard-in-Damascus.html
---------
Western-backed White Helmets still in Jordan, active in Syria provocations: Russia
Jan 12, 2019
Russia has warned that members of the White Helmets volunteer organization are still in Jordan after their withdrawal from Syria as their Western sponsors are reluctant to resettle the so-called aid workers.
Russia's Foreign Ministry spokeswoman Maria Zakharova told a media briefing on Friday that the White Helmets had been promised shelter in European countries, but "the matter has not been resolved so far."
"Clearly, the West is not ready to welcome those who were involved in serious crimes," she added.
The White Helmets claims to be a humanitarian NGO, but it has been accused of working with anti-Damascus terrorists and staging false-flag chemical weapons attacks in Syria.
Syrian President Bashar al-Assad described the White Helmets as "a branch of al-Qaeda and al-Nusra" militant outfits and a "PR stunt" by the US, the UK and France.
Western countries decided last year to rescue White Helmets members amid stepped-up territorial gains made by the Syrian army against Takfiri terrorists.
Last July, hundreds of White Helmets volunteers and their family members were evacuated from Syria to Israel and then to Jordan, to be resettled later in the UK, Canada, and Germany.
Elsewhere in her remarks, Zakharova said that a group of White Helmets still remains in Jordan.
"They are actively participating in provocations staged in Syria, and they also cooperated with terrorists," she noted.
The Russian official further stressed that the White Helmets' sponsors are afraid of the threat posed by the group to their own citizens.
"Supporting instigators in a foreign country is one thing, but welcoming them on your own territory is quite another matter, as it creates threats for your citizens," she said. "It is also possible that once out of the Middle East, some White Helmets members would be ready to tell the truth about their activities in Syria. Their sponsors are definitely not interested in that."
The White Helmets was founded in Turkey in 2013 by former British MI5 officer James Le Mesurier.
Since its establishment, the group has received at least $55 million from the British Foreign Office, $23 million or more from the US Office of Transition Initiatives and untold millions from Qatar.
UK-made arms uncovered in Syria
Separately on Friday, the Syrian government forces discovered weapons and munitions, some of them manufactured in the UK, and vehicles belonging to the White Helmets during a clean-up operation in the western countryside of Damascus and Quneitra provinces.
Full report at:
https://www.presstv.com/Detail/2019/01/12/585552/Russia-Syria-White-Helmets
---------
Syria shoots downs 'most of Israeli missiles' fired towards Damascus: State media
Jan 11, 2019
Syrian air defenses have managed to destroy most of the missiles fired by Israeli warplanes toward the capital Damascus, Syrian state media say.
"The results of the aggression so far were limited to a strike on one of the warehouses at Damascus airport," the Arab country's SANA news agency reported, quoting an unnamed military source as saying.
The source further said that the aggression occurred at 11:15 p.m. local time on Friday, adding, "Eight enemy targets spotted in the skies of Damascus exploded."
According to the military source, the Syrian air defenses were "immediately" engaged overnight after a number of Israeli fighter jets came "from the direction of the Galilee (and) fired several missiles towards the vicinity of Damascus."
SANA further quoted an unnamed Ministry of Transport official as saying that the Damascus International Airport traffic was normal and that it was not affected by the Israeli aggression.
The Israeli regime launches airstrikes on the Syrian territory from time to time, aggressive moves usually viewed as attempts to prop up terrorist groups that have been suffering defeats at the hands of Syrian government forces.
In October, Moscow equipped Damascus with the advanced S-300 surface-to-air missiles, days after Israeli fighter jets attacked Syrian targets using a Russian surveillance plane flying nearby as a shield and hence misleading the Syrian air defenses to shoot it down.
Since then Israel has been very careful with its operation over Syria.
Full report at:
https://www.presstv.com/Detail/2019/01/11/585529/Syria-Israel-warplanes-airstrike-missile
---------
Mideast
Israeli forces kill Palestinian woman, injure 25 in Gaza
Jan 11, 2019
Israeli forces have killed a Palestinian woman and injured at least 25 people during protests along the border between the besieged Gaza Strip and the occupied territories.
Ashraf al-Qedra, the spokesman for the Gaza Health Ministry, said Aml Moustafa Ahmed, 43, was killed by Israeli fire during protests east of the Gaza Strip on Friday.
He added that the Israeli forces also shot and wounded at least 25 other people during the clashes. Two journalists and a paramedic were also injured after they were hit by tear gas bombs.
Tensions have been running high near the fence separating Gaza from the occupied territories since March 30, which marked the start of the protests.
Palestinian protesters demand the right to return for those driven out of their homeland.
The clashes in Gaza reached their peak on May 14, the eve of the 70th anniversary of Nakba Day, or the Day of Catastrophe, which coincided this year with Washington's relocation of the US embassy from Tel Aviv to occupied Jerusalem al-Quds.
More than 240 Palestinians have so far been killed and over 20,000 others wounded in the renewed Gaza clashes, according to the latest figures released by the Gaza Health Ministry.
Gaza has been under Israeli siege since June 2007, causing a decline in living standards as well as unprecedented unemployment and poverty.
Separately, the Palestinian Health Ministry in the occupied West Bank announced that Israeli forces seriously injured a Palestinian man in the city of al-Khalil (Hebron) on Friday.
The ministry's brief statement came after initial reports said that the man was killed.
The Israeli military had claimed that the man was trying to stab Israeli soldiers near Kiryat Arba settlement.
About 600,000 Israelis live in over 230 illegal settlements built since the 1967 Israeli occupation of the Palestinian territories of the West Bank and East Jerusalem al-Quds.
Palestinians want the West Bank as part of a future independent Palestinian state with East Jerusalem al-Quds as its capital.
The last round of Israeli-Palestinian talks collapsed in 2014. Among the major sticking points in those negotiations was Israel's continued settlement expansion on Palestinian territories.The Israeli military regularly opens fatal fire on Palestinians, accusing them of seeking to attack its personnel.
https://www.presstv.com/Detail/2019/01/11/585509/Gaza
---------
Hamas says Egypt to fully reopen Gaza border despite PA pullout
11 January 2019
Gaza's rulers Hamas said Thursday that Egypt plans to fully reopen its border crossing with the enclave, days after partially closing it amid infighting between Palestinian factions.
Forces loyal to Palestinian president Mahmud Abbas withdrew on Sunday from the Rafah border crossing, accusing rivals Hamas of interference. The crossing is the only way for Palestinians to leave Gaza that bypasses Israel.
Egypt has prevented Gazans from leaving the enclave since Abbas's Palestinian Authority withdrew its staff. An Egyptian security delegation visited Gaza on Thursday, meeting with senior Hamas officials including its head Ismail Haniya.
Khalil al-Hayya, deputy head of Hamas, told journalists the Egyptians "assured us that there will be no changes at the Rafah border and it will stay open". It was not immediately clear when the crossing would fully reopen.
Full report at:
https://english.alarabiya.net/en/News/middle-east/2019/01/11/Hamas-say-Egypt-to-fully-reopen-Gaza-border-despite-PA-pullout-.html
---------
Turkey orders arrest of more than 100 military suspects over Gulen ties
11 January 2019
Turkey ordered the arrest of more than 100 soldiers and former cadets over suspected links to the network of the US-based Muslim cleric who is accused of orchestrating a 2016 attempted coup, prosecutors and state media said on Friday.
Police operations targeting supporters of cleric Fethullah Gulen have been carried out regularly since the failed coup and have recently gained momentum. Gulen denies involvement in the attempt, in which 250 people were killed.
The Istanbul chief prosecutor's office said it ordered the arrest of 50 suspects - six of them officers and the rest military academy students expelled after the coup - in an investigation into people linked to Gulen in the military.
This operation, spread across 16 provinces, was focused on calls made over fixed phone lines, the statement said.
In the southern Adana province, prosecutors ordered another 52 soldiers arrested, 42 of them serving, in an operation spread across 20 provinces, state-owned Anadolu news agency reported.
It said colonels, majors, lieutenants and other serving officers were facing arrest over pay phone calls they made to other alleged Gulen-linked people. Many suspects have already been detained, it added.
More than 77,000 people have been jailed pending trial, while 150,000 civil servants, military personnel and others have been sacked or suspended from their jobs as part of the post-coup purges. Widespread operations are still routine.
Rights groups and Turkey's Western allies have voiced concerns over the crackdown, saying President Tayyip Erdogan has used the abortive coup as a pretext to quash dissent. The government has said the security measures were necessary due to the gravity of the threat Turkey faces.
The owner of a restaurant chain, who had been on the run for a year after an arrest warrant was issued for him on suspected links to Gulen, was detained in the Aegean coastal province of Izmir, Anadolu also reported on Friday.
Full report at:
https://english.alarabiya.net/en/News/middle-east/2019/01/11/Turkey-orders-arrest-of-more-than-100-military-suspects-over-Gulen-ties.html
---------
France tells Iran to stop ballistic missile work designed for nuclear weapons
11 January 2019
France on Friday called on Iran to immediately stop all activities linked to ballistic missiles that could carry nuclear weapons after Tehran said it could put two satellites into orbit in the coming weeks.
"France recalls that the Iranian missile program is not conform with UN Security Council Resolution 2231," Foreign ministry spokeswoman Agnes von der Muhll told reporters in a daily briefing.
"It calls on Iran to immediately cease all ballistic missile-related activities designed to carry nuclear weapons, including tests using ballistic missile technology."
Full report at:
https://english.alarabiya.net/en/News/middle-east/2019/01/11/France-tells-Iran-to-stop-ballistic-missile-work-designed-for-nuclear-weapons.html
---------
Coalition destroys Houthi military communications network in Yemen
12 January 2019
The Arab Coalition supporting the Yemeni legitimate government announced on Friday the destruction of a houthi communication center dedicated to control drones.
The coalition said that the militia had taken over the site of a Yemeni telecom company and turned it into an operational communications center and a base to control drones.
The coalition added that the destruction of the communications and control center was in accordance with international humanitarian law.
Full report at:
https://english.alarabiya.net/en/News/gulf/2019/01/12/Coalition-destroys-Houthi-military-communications-network-in-Yemen.html
---------
Yemen: 15 civilian casualties in Houthi rocket attack
11 January 2019
With the latest flare of violence - after the Houthi militias' bomb-laden drone attack on the Yemen's largest airbase killed six soldiers of the legitimate army - a rocket attack launched by the pro-Iranian militias late on Thursday killed and injured 15 civilians, including women and children, in Haradh district north of Hajjah governorate.
A local source said that the rocket attack targeted a civilian home, leading to the killing of four women, four children and the wounding of seven others.
Arab coalition strikes Houthis in Saada, Hajjah
The Arab coalition backing the Yemeni legitimate government released video footage of military strikes by its forces targeting the Houthi militias' armed activities and ammunition depots in both governorates of Saada and Hajjah.
The airstrikes targeted gatherings for the Houthis as well as vehicles loaded with weapons in the governorates.
Houthis kidnap five air force officers
In a related development, the pro-Iranian Houthi militias kidnapped five air force officers after storming their homes in Sanaa and took them to an unknown destination, according to a local news website.
The source added that the officers were working in the Yemeni air force until the Houthis took control in 2014, refusing to comply with the directives of the militias and to return to work for them despite the temptations and continuous threats.
Full report at:
https://english.alarabiya.net/en/News/gulf/2019/01/11/Yemen-15-civilian-casualties-in-Houthi-rocket-attack-.html
---------
Houthi drone control centre destroyed in Yemen as US condemns Lahaj attack
January 11, 2019
JEDDAH: A Houthi communications center controlling drones has been destroyed, the Arab coalition supporting the legitimate government in Yemen said Friday.
The location of the drone control center was formerly occupied by a Yemeni communications company but was then taken over by Houthi militia who turned it into an operations center.
On Thursday, six people were killed when the Houthis exploded a drone above a military parade in Lahaj province.
The United States on Friday "strongly condemned" the attack at Al-Anad Air Base, which jeopardizes a ceasefire for the port of Hodeidah agreed at talks in Sweden last month.
"This attack contravenes the spirit of the Hodeidah ceasefire and the progress made last month at the UN-led talks in Sweden," the State Department said. "We urge all sides to honor the commitments they made in Sweden to their fellow Yemenis by refraining from violence and provocative acts."
The escalation came after the UN envoy to Yemen, Martin Griffiths this week warned "substantial progress" was needed on the ground before full-blown negotiations could be launched on ending the civil war.
Britain on Friday presented a UN Security Council draft resolution that would expand the international observer mission monitoring the Hodeidah ceasefire and allow humanitarian aid to reach millions.
The council is expected to vote on the measure next week, diplomats said.
The mission would provide for the deployment of up to 75 monitors in the rebel-held city of Hodeida and its port along with the ports of Saleef and Ras Issa for an initial period of six months, AFP reported.
Secretary-General Antonio Guterres to "expeditiously" deploy the full mission, led by retired Dutch General Patrick Cammaert.
Full report at:
http://www.arabnews.com/node/1434071/middle-east
---------
Turkey vows operation against Kurdish militia, when time is right
January 11, 2019
ISTANBUL: Turkey's defense minister on Friday pledged to wage a campaign against a US-backed Syrian Kurdish militia, sharpening focus on a potential conflict the US has sought to prevent.
The comments from Hulusi Akar, on an unannounced visit to inspect troops stationed near the Syrian border directly opposite territory held by the US-backed Kurdish YPG, appeared to be aimed at both Washington and its Kurdish allies.
Turkey and the US, although NATO allies, are deeply divided over the implementation of President Donald Trump's plan to bring home about 2,000 troops stationed in Syria. The plan hinges on Turkish cooperation to secure a swathe of northeast Syria as the US departs.
While the pull-out has been clouded by mixed messages from both Trump and his administration, on Friday the US-led coalition against Daesh began the process of withdrawing, a spokesman said.
Trump's national security adviser, John Bolton, this week tried to make the case for guarantees that Turkey would not harm the YPG after the withdrawal. That earned a stiff rebuke from President Recep Tayyip Erdogan.
Turkey considers the YPG a terrorist organization and sees Washington's support for it against Daesh as a betrayal.
"When the time and place comes the terrorists here will be buried in the ditches they have dug, as was done in previous operations," Akar said in a speech to military personnel at a brigade command center in the province of Sanliurfa, referring to two other cross-border campaigns that Turkey has carried out in Syria.
Turkey views the YPG as an extension of the outlawed Kurdistan Workers Party (PKK), which has waged a three-decade insurgency in Turkey's largely Kurdish southeast. The Kurdish groups that control a vast swathe of northern Syria have now turned to Moscow and Damascus in the hope of striking a political deal that will stave off Turkey and shield their autonomy in the north.
Ankara has repeatedly expressed frustration over a deal with the US for the withdrawal of the YPG from the city of Manbij, just west of the Euphrates River.
"Before us we have Manbij on one side and the east of the Euphrates on the other," Akar said, underscoring the scale of a potential operation. "Important preparations and planning have been made in connection with this. Our preparations are continuing intensively."
Full report at:
http://www.arabnews.com/node/1434151/middle-east
---------
South Asia
10 Taliban militants killed, 2 key group members in Special Forces operations
11 Jan 2019
At least ten Taliban militants have been killed and two key members of the group have been arrested during the operations of the Afghan Special Forces in northern Faryab province of Afghanistan.
The 209th Shaheen Corps of the Afghan Military in the North issued a statement late on Thursday, stating that the Special Forces of the Afghan military conducted operations in various parts of Faryab province over the past two days.
The statement further added that ten militants of the Taliban group were killed, two others were wounded, and two key members of the group were arrested.
At least 17 landmines, 80 kgs of explosives, 2 rounds of 82mm artillery, an armored personnel carrier, and a large quantity of weapons and munitions have been confiscated while two opertaions center and six fighting positions of the militants have been destroyed.
The anti-government armed militant groups including Taliban have not commented regarding the operations so far.
https://www.khaama.com/10-taliban-militants-killed-2-key-group-members-in-special-forces-operations-03093/
---------
Dozens killed as Taliban attack troops in four provinces
Jan 10, 2019
Taliban militants have killed at least 32 members of security forces and pro-government militias during a series of coordinated attacks on checkpoints in four Afghan provinces.
Officials said the attacks took place in the northern provinces of Kunduz, Baghlan, and Takhar, and in the western province of Badghis early Thursday.
In Kunduz, at least 10 soldiers and police were killed and 11 others wounded in the clashes which also left 25 Taliban fighters dead, a local official said.
In neighboring Baghlan and Takhar provinces, local Afghan officials said the Taliban killed 16 members of pro-government militias, but also suffered heavy casualties.
In Badghis, six members of security forces were killed and 10 others wounded, spokesman for the provincial governor Jamshid Shahabi said.
Taliban spokesman Zabihullah Mujahid claimed responsibility for the attacks in a statement, saying dozens of Afghan troops had been killed and a large amount of ammunition and weapons seized.
On Monday, more than 20 Afghan security forces were killed as Taliban militants stormed security checkpoints in Badghis.
The attacks come even as the Kabul government has stepped up efforts to convince the Taliban to end the 17-year militancy amid Washington's failures on the battleground.
US State Department's special envoy Zalmay Khalilzad has said he had held "productive" meetings in Abu Dhabi with Afghan and international partners "to promote intra-Afghan dialogue towards ending the conflict."
Khalilzad said the Taliban seek an agreement on the withdrawal of foreign forces, while the US wants assurances from the militant group that its forces would not be attacked.
The talks are the latest in a flurry of diplomatic efforts aimed at putting an end to the war in Afghanistan which began with the US invasion 17 years ago.
The United States invaded Afghanistan in October 2001 after the September 11 attacks. US forces have remained bogged down there through the presidencies of George W. Bush, Barack Obama and now Donald Trump.
Full report at:
https://www.presstv.com/Detail/2019/01/10/585411/Afghanistan-Taliban-Kunduz-Baghlan-Takhar-Badghis-US
---------
India emphasizes on an Afghan-led and Afghan-owned peace process
12 Jan 2019
The Indian officials have reiterated New Delhi's stance regarding an Afghan-led and Afghan-owned peace process during a meeting with Ambassador Zalmay Khalilzad, the U.S. Special Representative for Afghanistan Reconciliation.
Raveesh Kumar, a spokesman for the Ministry of External Affairs of India told reporters that External Affairs Minister Sushma Swaraj reiterated New Delhi's position during a meeting Ambassador Khalilzad, making it "very clear" to the US that the peace and reconciliation in Afghanistan should be Afghan-owned, Afghan-led and Afghan-controlled, according to Economic Times.
Kumar further added "Essentially, both sides, we share perspectives on peace and reconciliation in Afghanistan. Mr Khalilzad briefed EAM and FS on their aspect as to how the US is trying to achieve peace and reconciliation in the country."
"This is connected to the comments made by the Army chief. Our position on Afghanistan has been very clear and very consistent. We have said in the past and we continue to do so that India supports the peace and reconciliation efforts in Afghanistan," he said.
"We support the process which is inclusive towards achieving this goal and there has been no change in that position," Kumar added.
Ambassador last week embarked on a new trip to four countries to discuss ongoing efforts regardig the reconciliation process in Afghanistan.
Full report at:
https://www.khaama.com/india-emphasizes-on-an-afghan-led-and-afghan-owned-peace-process-03097/
---------
Taliban's intelligence chief, senior ISIS-K leader killed in coalition airstrikes
11 Jan 2019
The intelligence chief of Taliban in northern Faryab province and a senior leader of the Islamic State of Iraq and Syria Khurasan (ISIS-K) in eastern Nangarhar province have been killed in separate airstrikes conducted by the coalition forces.
Informed military sources said Friday that an ISIS-K commander, Khetab Emir, was killed in a coalition air strike January 10, 2019.
The sources further added that Khetab Emir was a known attack coordinator who supplied explosives and logistical support to enable high-profile attacks in civilian populated areas across the country.
His death protects Afghan citizens from future violence and degrades the ISIS-K presence in Nangarhar province, the sources added.
In the meantime, the military sources are saying that the intelligence chief of Taliban, Qari Sebghatullah, was killed in a precision air strike January 10, 2019.
According to the sources, Qari Sebghatullah planned and coordinated attacks on Afghan security forces, government officials and civilians.
Another ISIS-K leader, the shadow governor of the group for Dara-ye Pech of Kunar was killed in another airstrike of the coalition forces on 10th of January, the sources said, adding that Abdul Karim was acting ISIS-K shadow governor for Kunar province.
Full report at:
https://www.khaama.com/talibans-intelligence-chief-senior-isis-k-leader-killed-in-coalition-airstrikes-03095/
---------
Myanmar upholds jail sentence for Reuters reporters
Jan 11, 2019
Myanmar's High Court has upheld a seven-year jail term against two Reuters journalists for breaking the Official Secrets Act, while reporting on the killing of Rohingya Muslims by the military in Rakhine state.
In September, Wa Lone, 32, and Kyaw Soe Oo, 28, were sentenced to seven years behind bars after being convicted of breaching a law on state secrets when they collected and obtained confidential documents.
The two have pleaded not guilty. They once told the court that two police officials had handed them papers at a restaurant moments before other officers arrested them. One police officer had also testified that the restaurant meeting was a set-up to entrap the journalists.
On Friday, High Court Judge Aung Naing described the prison sentence handed down by the lower court as "a suitable punishment."
"Action can be taken against them if, judging by their behavior and characteristics, it appears they will harm the national security and interests of the country," he said, adding that the defense had failed to prove the arrests were a set-up by authorities.
At the appeal hearings held last month, defense lawyers cited evidence of a police set-up and lack of proof of a crime. They emphasized that the lower court had wrongly placed the burden of proof on the defendants.
Speaking after the ruling, defense lawyer Than Zaw Aung said his team would discuss the option of making a further appeal to the supreme court with the two reporters, adding that "We are very disappointed with the judgment."
Commenting on the verdict, Reuters Editor-in-Chief Stephen J. Adler said, "Today's ruling is yet another injustice among many inflicted upon Wa Lone and Kyaw Soe Oo. They remain behind bars for one reason: those in power sought to silence the truth."
"Reporting is not a crime, and until Myanmar rights this terrible wrong, the press in Myanmar is not free, and Myanmar's commitment to rule of law and democracy remains in doubt," he said in a statement.
The European Union's ambassador to Myanmar, Kristian Schmidt, also denounced the ruling as a "miscarriage of justice and it gives us great concern for the independence of the justice system of Myanmar."
"I lost all my hope," a weeping Chit Su Win, the wife of reporter Kyaw Soe Oo, said after the ruling.
The journalists were detained in December 2017 after reporting on the killings of 10 Rohingya Muslims by the Myanmar military in the northwestern state of Rakhine during an army crackdown that began in August that year, which has forced more than 700,000 Rohingya to flee to neighboring Bangladesh.
Full report at:
https://www.presstv.com/Detail/2019/01/11/585504/Myanmar-Reuters-reporters
---------
Karzai lauds Pakistan, China for peace efforts in Afghanistan
Jan 12, 2019
BEIJING: Former Afghan President Hamid Karzai said that Pakistan and China have been making sincere efforts over the years for seeking a negotiated settlement of the Afghan issue.
Karzai who is currently in China echoed President Xi Jinping's opinion, saying that China has been a steadfast friend and a very good neighbour to the Central Asian nation.
"China has contributed to Afghanistan's well-being and stability, giving us economic assistance," he said. "We value very highly the decades of Afghan-China relationship, and especially China's contributions in Afghanistan in the past 18 years, which have been very significant. In their neighbour, they highly value the role of China and Pakistan in the peace process.
In an interview with the Chinese media, Karzai added that Afghanistan sees China as having an extremely important role in peace and reconciliation in the country as China has all three elements required for this role.
"China is a neighbour. China is a friend of both Afghanistan and Pakistan. China is a major world power," he said, adding that China has the capacity, means, and connections to contribute to Afghan peace and stability.
Karzai said that he believed that the trilateral dialogue mechanism between China, Afghanistan and Pakistan will play an important role in easing the situation in Afghanistan, improving relations between Afghanistan and Pakistan and promoting regional peace by controlling terrorism and extremism. The Afghan side welcomed the trilateral mechanism and appreciated the Chinese government's efforts to make it work.
"Since there is now a new effort by the United States to bring peace to Afghanistan, we hope that the US will seek China's assistance in this and work together with China, our other big neighbours, and major power Russia," he said. "So, the three joining hands will surely make contributions to Afghan peace and stability."
Karzai also spoke highly of the Belt and Road Initiative (BRI) proposed by Xi. Afghanistan was one of the earliest countries to support the initiative.
Chinese businesses have been involved in the mining and the oil and gas sectors in Afghanistan. In 2008, a consortium launched by China Metallurgical Group and Jiangxi Copper won the contract to recover resources from the Mes Aynak copper mine in Afghanistan, which Afghan authorities said contains the world's second-largest copper deposit.
Afghanistan welcomes China's investment in Afghanistan, and the country is seeking more Chinese involvement in the Afghan economy, he said.
Karzai also welcomed Xi's proposal to build a community with a shared future for mankind, saying that it is a "tremendously good vision".
"That is a vision that we all need, and that mankind needs," he said. "And surely China will find people in the international community all around the world, individuals and societies and governments, working together with it and helping achieve this goal."
Full report at:
https://www.pakistantoday.com.pk/2019/01/11/karzai-lauds-pakistan-china-for-peace-efforts-in-afghanistan/
---------
India
Army major, soldier martyred in IED blast in J&K's Nowshera
Jan 11, 2019
NEW DELHI: An Army major and a soldier were killed in an IED blast at Nowshera sector in Rajouri district of J&K, an official was quoted by news agency PTI.
An improvised explosive device was planted by suspected militants in foot-track along the LoC to target Army soldiers patrolling the borderline in Laam belt of Nowshera sector of Rajouri district, they said.
The blast resulted in injuries to two soldiers, including a major, the officials said, adding they were rushed to a hospital where they succumbed to injuries.
In another incident, terrorists lobbed a grenade at CRPF platoon near Lal Chowk, Srinagar on Friday evening. No loss of life or injury was reported from the attack.
Earlier today, a Junior Commissioned Officer (JCO) and a soldier were injured in an IED blast along the LoC in Jammu and Kashmir's Rajouri district.
An improvised explosive device was planted by suspected terrorists in foot-track along the LoC to target Army soldiers patrolling the borderline in Laam sector of Rajouri district.
Army soldiers have been alerted against IED blasts and attacks by the border action teams (BATs) of the Pakistan Army.
Also on Friday, an Army porter was critically injured when Pakistani troops continued ceasefire violations for the fourth consecutive day along the LoC in Rajouri and Poonch districts of Jammu and Kashmir, prompting the Indian Army to retaliate, officials said.
Pakistan troops resorted to firing and shelling along the LoC in forward areas in Nowshera and Poonch sectors, critically injuring an Army porter, they said. He has been hospitalised, the officials added.
Late on Thursday, an Army major and a BSF soldier were injured in shelling by Pakistan in Tarkundi forward area of Balakote sector.
The Pakistan Army violated ceasefire for a third consecutive day Thursday, inviting a strong retaliation from Indian forces.
"One Army major and a constable of BSF were injured as Pakistani troops violated ceasefire in Tarkundi forward area of Balakote sector late Thursday," an Army officer said.
Both of them were shifted to 166 Military hospital at Jammu and their condition is stated to be stable.
https://timesofindia.indiatimes.com/india/2-army-personnel-martyred-in-ied-blast-in-jks-naushera/articleshow/67491244.cms
---------
MEA junks Pakistan claim of role in Karachi attack
Jan 12, 2019
NEW DELHI: India has denied as "fabricated and scurrilous" Pakistani allegations that it was involved in an attack on the Chinese consulate in Karachi even as New Delhi asked Islamabad to stop supporting terrorism if it wanted to resume dialogue with India.
"Instead of maliciously pointing fingers at others for such terrorist incidents, Pakistan needs to look inwards and undertake credible action against support to terrorism and terror infrastructure in its territories," MEA spokesperson Raveesh Kumar said rejecting the allegations.
The Karachi police chief had on Thursday said the attack on the Chinese consulate in November 2018 was planned in Afghanistan with the help of Indian intelligence. The attack, by three armed terrorists, was claimed by the Baloch Liberation Army. It killed two police officers and two visa applicants at the mission.
https://timesofindia.indiatimes.com/india/mea-junks-pakistan-claim-of-role-in-karachi-attack/articleshow/67496082.cms
---------
Karachi Chinese consulate attack: India rejects Pakistan's allegations, calls them 'fabricated and scurrilous'
Jan 11, 2019
NEW DELHI: India denied Pakistan's allegations that it was involved in an attack on the Chinese consulate in Karachi, on a day when the MEA told Pakistan to stop supporting terrorism if they really wanted to start dialogue with India.
In a late evening statement, MEA spokesperson dismissed the allegations as "fabricated and scurrilous".
"Instead of maliciously pointing fingers at others for such terrorist incidents, Pakistan needs to look inwards and undertake credible action against support to terrorism and terror infrastructure in its territories," Raveesh Kumar said, rejecting the allegations.
The Karachi police chief on Thursday declared that an attack on the Chinese consulate in November 2018 was planned in Afghanistan with the help of the Indian secret service, RAW. The attack, by three armed terrorists, was claimed by the Baloch Liberation Army. It killed two police officers and two visa applicants at the mission.
Earlier, the spokesperson had used strong words to say that if Pakistan is serious about restarting dialogue with India, they have to stop supporting terrorism, said MEA on Thursday.
Responding to questions about Pakistan's PM Imran Khan saying India had blocked engagement, MEA spokesperson Raveesh Kumar said Khan's ministers were sharing platforms with international terrorists. As first reported by TOI on Wednesday, India had a five-point rejoinder to Imran's poser.
Kumar detailed how Khan's minister of religious affairs had shared a platform with Hafiz Saeed, while Pakistan's interior minister met Jamaat-ud-Dawa representatives as recently as December. If Pakistan is serious about restarting talks, they should take some steps to complete the trials against the perpetrators of Mumbai and Pathankot attacks.
Continuing, he said, "if they are serious about talks then why are they still allowing their territory to be used by terror groups, terrorist organizations and terrorists?" He pointed to the fact that JuD had opened centres in Pakistan Occupied Kashmir (POK) in collaboration with a prominent leader of PTI. "JuD and their NGO named Fala-e-Insaniyat they are no longer in the list of Pakistan's banned organizations after the Pakistan ordinance which proscribed them has lapsed. It clearly demonstrates that the explicit support which was being provided to banned organizations is still ongoing and there is no change in that."
Full report at:
https://timesofindia.indiatimes.com/india/karachi-chinese-consulate-attack-india-rejects-pakistans-allegations-calls-them-fabricated-and-scurrilous/articleshow/67493874.cms
---------
India slaps cases against critics of plan to grant citizenship to non-Muslims
January 11, 2019
GUWAHATI, India: Indian police on Friday said they are investigating an academic, a journalist and a peasant leader for possible sedition for publicly opposing a proposal to grant citizenship to non-Muslims from neighboring Muslim-majority countries.
Critics have called the proposal blatantly anti-Muslim and an attempt by Prime Minister Narendra Modi's Hindu nationalist Bharatiya Janata Party (BJP) to boost its Hindu voter base ahead of a general election due by May.
The cases have been filed amid a wave of protests in the BJP-governed northeastern state of Assam. A small regional party in India quit the ruling coalition on Monday in protest against the plan.
The Modi government is facing growing criticism for stifling criticism, including in the media. A television journalist in the region was jailed last month for criticizing the government on social media.
"We have registered a case against a few people based on certain statements that they made at a public rally in Guwahati," Deepak Kumar, a police official from Guwahati in Assam, told Reuters.
The three have not been charged.
Many people fear such a move could change the demographic profile of Assam, where residents have for years complained that immigrants from Bangladesh have put a big strain on resources.
Hiren Gohain, an 80-year-old academic, peasant leader Akhil Gogoi and journalist Manjit Mahanta have been accused of criminal conspiracy and attempting to wage a war against the government, Kumar said.
The bill, which seeks to give citizenship to Hindus, Sikhs, Jains, Buddhists, Christians and Parsis from Afghanistan, Pakistan and Bangladesh, has been passed by the lower house of the parliament.
Full report at:
http://www.arabnews.com/node/1433941/world
---------
Africa
UN chief Guterres: Libya's militias should not run prisons
11 January 2019
UN Secretary-General Antonio Guterres is urging the Libyan government to bring all prisons under its control and free from the grip of militias, some of whom run migrant-smuggling networks.
Guterres said in a report to the Security Council released Thursday that torture and arbitrary detention is widespread in Libya.
IN PICTURES: Attempt to smuggle Turkish weapons into Libya foiled
About 6,400 detainees are held in 26 official prisons but "thousands of others" are being held in facilities with little government control or "directly run by armed groups," said the report.
"I remain deeply concerned about widespread human rights violations and abuses committed in the context of detention and the prolonged arbitrary detention of thousands of men, women and children without due process," wrote Guterres.
Protect detainees
The government must protect detainees against torture and "all prisons must be under effective government control and free of any influence or interference of armed groups," he added.
Libya descended into chaos following the 2011 overthrow of Muammar Qaddafi that has seen a bitter rivalry emerge between two governments scrambling for control in the oil-rich north African country.
The United Nations backs the government in Tripoli but is working toward holding elections, possibly this year, to unite the country.
Guterres also reported that an increase in the number of migrants and refugees who were detained over the past six months was a result of more interceptions at sea and the closure of sea routes to migrants.
https://english.alarabiya.net/en/News/north-africa/2019/01/11/UN-chief-Guterres-Libya-s-militias-should-not-run-prisons.html
---------
Buhari has no plan to Islamise Nigeria
Jan 12, 2019
For those who portray President Muhammadu Buhari as a religious leader who came to Islamise Nigeria, something utterly impossible and impracticable, it should serve well to remind them once again that on the contrary, Buhari is a nationalist and a patriotic leader and has no such intention.
It is pertinent to offer definitions of religion and politics for easy understanding of my presentation here. Religion means a set of beliefs concerning the cause, nature and purpose of the universe or creation as a whole. It usually involves devotion and ritual observances and often contains a moral code governing the conduct of human affairs, though every religion has its own tenet or article of faith.
Politics implies exercising or seeking power in government or public affairs of a state, etc, and involves the state and its government or system of government. From the above, religion means containment of moral codes governing human affairs, while politics means seeking power in a government or public affairs of a state. As such, to my understanding, religion is a personal affair, and has nothing to do with government affairs in a secular country like Nigeria. No one can ever Islamize or Christianize this country. The adversaries of PMB know this very well but they are doing it out of envy or seeking relevance.
Those who accuse PMB of false, beguiled and concocted plot to Islamize Nigeria should note that most of Buhari's appointees are not Muslims. Even during his days as military head of state, it was so. These acrimonious lots affirmed that the real democracy as national ideology and Sharia as a usurping ideology are responsible for crises in Nigeria. They stated further that the nation is on the throes and paroxysm of Jihad. Without mincing words, let me ask these bigots; since Buhari came to power, has he done anything or said any word which indicate Sharia? Has he called any person to embrace Islam? Has he formed any group to embark on Jihad? Tell us the actions of Buhari or his administration which indicate application of Sharia. These so called elders once said that war and destruction could happen, and that threatens the cohesiveness of the Nigerian state. Well, this can be pretty true, because if PMB's government is not willing to offer them positions and take them out of irrelevance and isolation, they may resort to instigation and violence. They counted some agitations which are happening presently; e.g. herdsmen/farmers crisis, ethnic conflicts and so on. I ask again, are these agitations or conflicts new? Were they created by PMB or predate his administration?
One said Nigerians should carry weapons to protect themselves because he had lost confidence in our security agencies, especially the army. He accused them unjustifiably of lopsidedness. Even the recent honour bestowed on some Nigerians who happened to be Muslims including late Mashood Abiola and others was described as an attempt to Islamize Nigeria. What a shameless and naïve notion!
We now live in the 21st century, and it is even overdue for us to outgrow this vicious sentiment of religion. If in countries like Ghana, Chad, Niger Muslims and Christians are living in peace, why is it impossible in Nigeria? We ostensibly and seemingly are the leaders of Africa and are supposed to be exemplary and models to be copied. When Buhari came to power, the oil price was as low as $30. Pipeline vandals held sway, the world economy was in serious recession, our foreign reserve was deflated to an alarming point, our treasury was empty. With all these difficulties and hindrances, PMB has been able to extricate Nigeria from economic entanglement. Compare him to those who led this country when our economy was booming and flourishing vigorously. My compatriots, if we want to get rid of the bush rats invading our economy, do away with the jackals dishonestly scavenging in our houses, protect ourselves from bandits and burglars and if we want to surmount the night invaders who foray our treasury, if we want to cut out the bedbugs and lice sucking our blood, we must cling to Buhari tenaciously.
Full report at:
https://www.dailytrust.com.ng/buhari-has-no-plan-to-islamise-nigeria.html
---------
12 civilians killed in jihadist attack in Burkina Faso
January 12, 2019
Ouagadougou, Jan 12 (AFP) Twelve civilians were killed on Thursday during a jihadist attack in the north of Burkina Faso, which has been battling a wave of Islamist violence, officials said Friday.
The west African country declared a state of emergency in several provinces at the end of last year and on Thursday replaced its army chief as it struggled to put a stop to a spate of such attacks.
In the latest violence, gunmen attacked a village market in broad daylight, the security ministry said in a statement issued late Friday.
"Around 30 armed individuals perpetrated… a terrorist attack in the village of Gasseliki," it said, giving a toll of 12 dead and two wounded.
"A barn, a cart and six shops were also set alight," it added.
A local source told AFP that the attackers "ransacked stores and opened fire on people who had gathered for the weekly market".
Jihadist attacks began in northern Burkina Faso in 2015 but then spread to the east, near the border with Togo and Benin.
The country is part of the vast Sahel region and one of the poorest states in the world.
The region turned into a hotbed of violent extremism and lawlessness after chaos engulfed Libya in 2011, which was followed by an Islamist insurgency in northern Mali and the rise of Boko Haram in northern Nigeria.
Most attacks in Burkina Faso itself have been attributed to the jihadist group Ansarul Islam, which emerged near the Mali border in December 2016, and to the JNIM (the Group to Support Islam and Muslims), which has sworn allegiance to Al-Qaeda in the Islamic Maghreb.
Ansarul Islam emerged as violence spilled over from Mali, where radical Islamists seized key Sahara towns in 2012 before being ousted by French troops.
Smaller groups are also active, with the overall number of fighters estimated to be in the hundreds, according to security sources.
The groups are believed to be responsible for more than 270 deaths since 2015. The capital Ouagadougou has been hit three times and almost 60 people have died there.
The jihadists extend their hold gradually, forcing government workers and others who oppose them to flee. The violence has so far displaced some 40,000 people.
In the north, armed groups move freely through the country's porous borders.
The jihadists mainly target the security forces, but also attack government officials and local chiefs who oppose them.
Teachers are vulnerable due to the jihadists' fierce opposition to secular, French education, with their threats and attacks sparking the closure of hundreds of schools in the north and the east.
Full report at:
https://www.india.com/news/agencies/12-civilians-killed-in-jihadist-attack-in-burkina-faso-3522353/
---------
After seizure of drug shipment, Libya says Turkey sabotaging security
11 January 2019
In what is being described as the latest development related to reports of Turkish meddling in Libya, to sabotage security in the North African state, Libya's custom authorities seized a large quantity of drugs at Misrata port inside a 40-foot container.
This has come soon after the seizure of two ships coming from Turkey carrying weapons. These developments have raised warnings of a new stream of weapon supplies to the country from Turkey. Libyan sources said the ship traveled a long way from Turkey to India and then to Libya with eight million tablets of the drugs tramadol and Artine.
The Libyan National Army accused Turkey of sabotaging Libya's internal security and warned Ankara of possible preventive measures as well as strict accountability measures. On Monday, Libyan authorities said they seized a shipment of Turkish arms into Libya through the country's port of Misrata, the London-based pan-Arab newspaper Asharq al-Awsat reported.
Libya is split between the Government of National Accord, led by Fayez al-Sarraj in Tripoli and recognized by the UN, and the Tobruk government, led by General Khalifa Haftar, the de facto ruler of eastern Libya and head of the Libyan National Army.
As violence has continued, dozens of extremists and other armed militias have emerged in the country, and the local branch of ISIS is still active, though greatly diminished.
Full report at:
https://english.alarabiya.net/en/News/north-africa/2019/01/11/Libya-Turkey-tampering-with-country-security-after-seizure-of-drugs-shipment.html
---------
US says airstrike in Somalia kills 6 al-Shabaab extremists
2019-01-10
The United States military says it has carried out an airstrike in southern Somalia that killed six al-Shabaab extremists.
The US Africa Command statement on Wednesday says Tuesday's airstrike targeted an al-Shabab camp near Yaaq Braawe in the Bay region.
Two strikes on Monday near Baqdaad killed four al-Shabab members, and one on Sunday killed six al-Shabab members near Dheerow Sanle in Lower Shabelle region.
The US military says no civilians were injured or killed in any of these airstrikes.
The US carried out at least 47 such airstrikes last year in the Horn of Africa nation.
Full report at:
https://www.news24.com/Africa/News/us-says-airstrike-in-somalia-kills-6-al-shabaab-extremists-20190110
---------
Pakistan
Pakistani Muslim leaders in a step to Defeat Extremism
11/01/2019
The "Islamabad Declaration", which was signed by more than 500 Muslim religious leaders, publicly condemn terrorism, violence committed in the name of religion and fatwa (sacred edicts) widespread by radical Islamic clerics.
The Declaration was signed in Islamabad, the capital of Pakistan, during a gathering organized by the Pakistan Ulema Council (PUC). The initiative, according to observers, represents a turning point especially in the attitude towards religious minorities and Islamic sects the "Ahmadi".
The Muslim leaders proclaimed 2019 as a "Year to annihilate terrorism, extremism and sectarian violence from Pakistan", reiterating that "non-Muslim citizens must enjoy the same rights as everyone else".
Fr. Bonnie Mendes, a Pakistani Catholic priest of Faisalabad, former regional coordinator of Caritas Asia, reported January 8, 2019, by Fides News Agency acknowledged that "The Declaration of Islamabad is a step in the right direction. We need to develop it to improve the image of the country: this is the way forward: government and opposition must work together to legislate on good policies, while civil society, religious communities and all citizens must work together for the social, civil and cultural progress of our country."
It recognizes that Pakistan is a multi-ethnic and multi-religious country, and notes that "it is the responsibility of the government to ensure the protection of the life of non-Muslim citizens in Pakistan".
According to 'Zenit' news agency the Declaration condemns the murders committed "under the pretext of religious belief", observing that this "is contrary to the teachings of Islam" and states that "no Islamic sect must be declared unfaithful", noting that all citizens, whatever their religion or sect, "have the constitutional right to live in the country following their cultural and religious principles".
It establishes the right for religious groups to organize themselves autonomously and asks civil authorities to ban "any material inciting religious hatred" and to punish anyone that threatens "the sacred places of non-Muslims", implementing "the national action plan against extremism".
A human rights activist was reported by "Fides" saying: "We appreciate and acknowledge the efforts to stop extremism and contribute to tolerance, peace, justice, and equality in society. It is necessary to promote and spread this message to the communities."
https://www.newsbook.com.mt/artikli/2019/01/11/pakistani-muslim-leaders-in-a-step-to-defeat-extremism/?lang=en
---------
China declares region bordering Pakistan open place
January 12, 2019
ISLAMABAD: Chinese foreign ministry spokesman Lu Kang has announced that its far western region's Xinjiang is an open place. The spokesman this said in a briefing in Beijing. The region is bordering with Pakistan. He cautioned those who would visit to "abide by the purposes and principles of the UN Charter and refrain from interfering in others' internal affairs or undermining others' sovereignty." They should adopt an objective and unbiased attitude and avoid buying one-sided stories or making preconceptions. "We would like to remain in contact with the relevant UN agencies and meet each other halfway," he said.
Chinese Foreign Ministry Spokeswoman Hua Chunying also hit back against fifteen ambassadors to China who expressed concerns over Xinjiang in a November letter, calling their actions "rude and unacceptable." A small group of foreign journalists were taken to Xinjiang as part of China's plan to showcase the far western region's social and economic progresses amid increasing international criticism of a systematic crackdown against Muslim minority Uyghurs.
According to reports China recently took diplomats from a dozen countries, including Pakistan, with large Muslim populations to Xinjiang province where members of the Uyghur community have been interned in camps. Separately, a small group of foreign journalists were also taken to the far western region as part of Beijing's plan to showcase Xinjiang's "social and economic progress" amid increasing international criticism of a systematic crackdown against the Muslim minority community.
This was the first time that Beijing took diplomats and journalists to the province after acknowledging the existence of the camps late last year following months of silence against large-scale human rights violations against the Uyghurs. "The regional government invited diplomatic envoys as well as representatives of diplomatic envoys from Pakistan, Russia, Kazakhstan, Kyrgyzstan, Uzbekistan, Tajikistan, Indonesia, Malaysia, Afghanistan, India, Thailand, and Kuwait," the official news agency Xinhua said in a report on the visit.
"The diplomatic envoys visited local markets, farmers, educational institutes, mosques, factories, as well as vocational education and training centers," the report said. "Throughout the trip, they interacted with local vendors, students and workers in Xinjiang and learned about the region's progress in maintaining social stability, improving people's livelihood and developing the local economy," it added.
The diplomats were chaperoned to what the Chinese government calls vocational training institutes but rights groups and the UN have called re-education camps. At least a million Uyghurs are in those camps. "At a vocational education and training center in Kashgar, students study ethnic instruments, calligraphy, painting, law and many other skills. The envoys asked in detail about the students' life in the center and played ping pong and basketball with them," the Xinhua report said.
At the Moyu County Vocational Skills Education and Training Center, "students are studying the national language, national musical instruments, calligraphy and painting, legal knowledge and various employment skills in the classroom," Xinhua said. "The envoys asked the students about their study and life in detail, and watched the performances of the students."
The report said the envoys also visited Id Kah Mosque in Kashgar, the largest mosque in Xinjiang, and were briefed on the mosque and its facility improvements. Last August, a United Nations meeting on human rights was told that China had turned its northwestern province of Xinjiang into a "no-rights zone" and a "massive internment camp" for the Uyghur community.
In Xinjiang's Hetian district last month, the diplomats visited one of what the Chinese government calls vocational skills centers but which the United Nations and rights groups say are "re-education camps" interning as many as one million Muslims. At the Moyu County Vocational Skills Education and Training Center, "students are studying the national language, national musical instruments, calligraphy and painting, legal knowledge and various employment skills in the classroom," Xinhua said. "The envoys asked the students about their study and life in detail, and watched the performances of the students."
Full report at:
https://www.thenews.com.pk/print/417808-china-declares-region-bordering-pakistan-open-place
---------
Pakistan kills 2 'terrorists' in raids on militant hideouts
January 11, 2019
QUETTA, Pakistan: Pakistan's military says security forces have raided militant hideouts in the country's southwest, triggering shootouts that left two of the insurgents dead.
In a statement, the military says troops also seized a cache of guns, grenades, rockets, land-mines, explosives and communications equipment in Friday's operations.
It provided no further details, but militants and ethnic separatists who have been waging a low-level insurgency in the Baluchistan province often target security forces there.
Although Pakistan's government claims it has quelled the Baluch separatists' insurgency, violence has persisted in the province.
http://www.arabnews.com/node/1433876/world
---------
In a first, Sikh appointed at high-profile Pakistan post
Jan 11, 2019
AMRITSAR: For the first time in the history of Pakistan, a Sikh has been appointed the Public Relations Officer to the governor of Pakistan's Punjab province.
This is the first major decision to appoint a Sikh on a high-profile post by Pakistan after the groundbreaking ceremony of Kartapur Corridor by Prime Minister Imran Khan.
According to Pakistan media reports, Pawan Singh Arora, 29, has assumed charges in the governor house.
Earlier, he served as district information officer at Nankana Sahib. He was also part of social media team of Pakistan Punjab's governor. He had also been a content writer and a radio broadcaster.
Interestingly, Arora's appointment came days after Imran Khan's minority jibe at PM Modi.
Full report at:
https://timesofindia.indiatimes.com/india/in-a-first-sikh-appointed-at-high-profile-pakistan-post/articleshow/67493122.cms
---------
Pak initiates demolition drive against Mojahirs in Karachi, claims MQM chief
January 11, 2019
Pakistan has started an anti-encroachment drive in Karachi, targeting Mohajirs and rendering them homeless, jobless, and forcing them to slavery, Muttahida Qaumi Movement (MQM) chief Altaf Hussain said in his latest live address to the Mohajirs via social media.
"It is at the behest of the establishment and in active connivance with the country's apex court's Chief Justice, the provincial government and the local Metropolitan Corporation, homes and shops of the Mohajirs have been demolished in the garb of encroachments, while the fact is that they are the real owners of their homes and shops. In some cases they are the tenants for decades and have regularly been paying the rent to the authorities concerned such as the Metropolitan Corporation," Hussain said.
"The authorities could only remove only those takeaway stalls which created a nuisance and led to traffic gridlocks and impeded free movement of the people on pavements and on roads but the action can never be justified if the authorities with the use of state powers and means demolish decade-long-established shops and homes and offices," he added.
Hussain stated that the menace of encroachment is rampant all over Pakistan, but the establishment only punishes the Mohajirs. "Therefore, the actions are only seen and limited to Karachi which is a Mohajir dominated port city."
According to the MQM chief, the historical Urdu Bazar, and the Shoe Market, which date back to 1947 or the year when Pakistan was founded, adjacent to Karachi's Gandhi Garden, have also been demolished.
Due to the indiscriminate demolition drive, millions of Mohajirs have lost their businesses and homes, who are now living under the open sky and their children are facing acute starvation, the MQM chief noted.
"What tyranny and injustices the establishment and the Chief Justice have done to the Mohajirs are greater in volume and intensity than the Genghis Khan in history," Hussain remarked.
"Instead, they awarded a lease to the illegal occupant of Railways land in Peshawar," Hussain added.
The MQM leader further said that the ongoing demolition drive is a well-knit scheme manifested by 'the establishment' of enslaving the Mohajirs and to make Karachi city its colony.
"In fact, the ongoing demolition drive is as per an agreement with China with regard to China Pakistan Economic Corridor (CPEC) and the port city of Karachi would be converted into a Cantonment area," Hussain added.
Hussain at the same time also urged upon the Mohajirs that they should oppose the ongoing demolition drive and show their resistance or else they would be made slaves and their coming generation would be on the mercy of the establishment.
The MQM chief said that Pakistan Prime Minister Imran Khan is the ugliest Prime Minister in the history of the country and the U-Turn is a hallmark. "He had made tall claims to give five million homes to the homeless people and 10 million jobs, but he is rendering the Mohajirs homeless and jobless," he said.
Taking a jibe at Khan, Hussain stated that the Prime Minister is going from country to country begging for alms and charity. "In fact, there is no democracy in Pakistan but a straight 'Stratocracy.' Pakistan's military is controlling all institutions and media, including the government and the Parliament."
The MQM chief also attacked Pakistan's Army, saying that the military has already imposed an undeclared martial law in the country. Also, politicians and religious leaders are serving the military for their personal gains and interests.
"Leaders of two big parties, Asif Ali Zardari of Pakistan People's Party (PPP) and Nawaz Sharif of the Pakistan Muslim League-Nawaz (PML-N), oppose the military when they feel they are on the verge of destruction at the hands of the military," Hussain said.
In Pakistan, the MQM leader said, that every ethnic community is a traitor except the Punjabis. "Double standards have wreaked havoc on Pakistan and the country could not live to linger with this sheers discrimination," he said.
"Sindhis, Balochs, Pashtoons, Gilgitis and Baltistanis and the Mohajirs should unite for the freedom and that their unity is a call of the hour without which they would continue to suffer at the hands of the military establishment."
Full report at:
https://www.business-standard.com/article/news-ani/pak-initiates-demolition-drive-against-mojahirs-in-karachi-claims-mqm-chief-119011101297_1.html
---------
'PM to appear before NAB whenever summoned'
January 12, 2019
MULTAN: Foreign Minister Shah Mehmood Qureshi has said that the Pakistan Tehreek-i-Insaf (PTI) does not believe in the policy of conflicts in politics and that the government does not have the power to send someone to jail.
Talking to the media here on Friday, the minister said that the PTI government has only acted upon the decisions of courts. "Not even a single case was initiated against the leadership of PPP and PML-N during the PTI government. Rule of law prevails in the country and everyone is equal before it," he added.
Read: If opposition leader can appear before NAB, so can prime minister: NAB chief Javed Iqbal
He commented that Prime Minister Imran Khan will appear before the National Accountability Bureau whenever summoned.
He further said some elements were creating hurdles in the creation of south Punjab province by spreading baseless propaganda. In the past, funds for south Punjab were distributed among other provinces, but not anymore.
He further said that a civil secretariat for south Punjab will be made functional during the ongoing fiscal year, while a separate public service commission was also being established.
The foreign minister said that after coming into power the government's priority was to improve ties with countries that had strained during the tenure of the previous government. "We improved our relations with Saudi Arabia, and because of the improved foreign policies of the PTI government Riyadh gave Islamabad a financial package of $12 billion. The UAE and China also announced financial aid of $3bn and $2bn, respectively. Malaysian Prime Minister Mahathir Mohamad is also coming to Pakistan on March 23 along with a delegation of investors," he claimed.
He further said premier Khan is going to Qatar on Jan 22, adding that Doha had announced employment for 100,000 Pakistanis. The Foreign Ministry was actively promoting foreign investment in the country through economic diplomacy, he added.
Full report at:
https://www.dawn.com/news/1457066/pm-to-appear-before-nab-whenever-summoned
---------
119 killed in terror incidents in Balochistan last year: IG
Saleem Shahid
January 12, 2019
QUETTA: A total of 119 people — including 15 police personnel — were killed and 114 injured in terrorism-related incidents in Balochistan during 2018.
Twenty-five terrorists were also killed in encounters and 55 arrested in 1,245 intelligence-based operations (IBOs) in the province.
Inspector General of Police Mohsin Butt disclosed this while briefing reporters at his office on Friday.
He said that 1,245 IBOs and 1,869 combing operations were conducted under the National Action Plan across Balochistan in 2018 in which 55 terrorists were killed and 4,188 absconders and 5,449 accused were arrested. They belonged to 22 militant groups.
He said that another 898 suspects had been arrested during IBO operations.
IG Butt said that besides seizure of 21,103 weapons, 2,536kgs of narcotics were also recovered. He added that a total of 8,755 incidents of crimes — including 42 sabotage activities, 34 targeted killings and 11 sectarian killings — were reported in 2018 as compared to 9,490 in 2017.
He said the Balochistan police had started implementing recommendations of the Law and Justice Commission, headed by Justice Asif Saeed Khosa, from Jan 8 to hold police accountable and redress public complaints.
He said the commission's report would be formally launched on Jan 14 at the Islamabad High Court.
"The purpose of this exercise is to restore the trust of the public in the police force and bridge the gap between them, besides making police forces accountable so that overall improvement could be made in their capability," IG Butt told reporters.
In the recommendations, he said, there was an emphasis on redressing of complaints against police personnel such as delay in registration of FIRs — especially in criminal cases — or delay in arrest of accused in these FIRs.
He said separate cells had been established in all 33 districts of Balochistan. These cells would be equipped with all facilities, including internet, computers and phones, to receive public complaints via email. He said the complainants would receive feedback about their complaints at each stage.
In reply to a question, IG Butt said that 1,800 more recruitments would be made in the police force and 1,000 of them had been sent to Sindh for basic training, while the remaining 800 would be trained in Balochistan. He said there was sharp decline in crime and terrorist activities in Quetta due to deployment of the newly-introduced Eagle squad comprising 800 personnel.
Full report at:
https://www.dawn.com/news/1457079/119-killed-in-terror-incidents-in-balochistan-last-year-ig
---------
Two terrorists killed in Balochistan
Jan 12, 2019
RAWALPINDI: Two terrorists were killed in intelligence-based operations (IBOs), the Inter-Services Public Relations said in a press statement on Friday.
The Frontier Corps of Balochistan conducted IBOs, as part of Operation Raddul Fasaad, on suspected terrorist hideouts in Kalat, Kharan, Maiwand areas of Balochistan.
Weapons and ammunition, including sub-machine guns, an improvised explosive device (IEDs), grenades, mines, rocket-propelled grenade (RPG-7) and communication equipment were recovered.
https://www.pakistantoday.com.pk/2019/01/11/two-terrorists-killed-in-balochistan-ispr/
---------
URL: https://www.newageislam.com/islamic-world-news/us-govt-approved-thousands-child/d/117441
New Age Islam, Islam Online, Islamic Website, African Muslim News, Arab World News, South Asia News, Indian Muslim News, World Muslim News, Women in Islam, Islamic Feminism, Arab Women, Women In Arab, Islamophobia in America, Muslim Women in West, Islam Women and Feminism