New Age Islam News Bureau
16 Oct 2018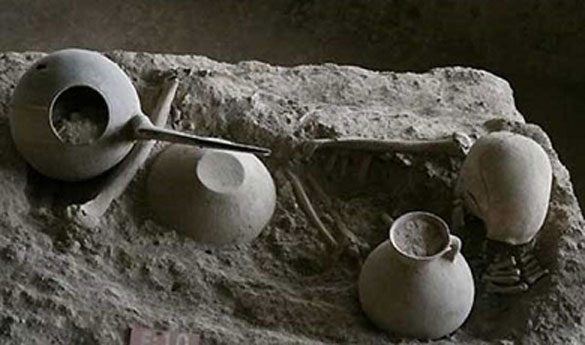 Photo: The American, French and Washington-backed forces have been excavating historical sites in Manbij region in Northeastern Aleppo to discover and steal the country's artifacts and precious metals, a Syrian media outlet reported on Monday.
-------
• Kerala Body Organises 'Protect Sharia' Conference Against Triple Talaq Ordinance, Women's Entry in Mosques
• Myanmar Buddhists rally to support military in crimes against Rohingya
• Widow Of Pakistani Politician Killed In Taliban Attack Wins His Seat
Arab World
• US, French Forces Plundering Northern Syria's Historical Artifacts, Wealth
• Remnants of ISIS exploit security gaps, adopt new military tactics in Iraq
• Infighting Reported Again among Ankara-Backed Terrorists in Afrin
• Northwestern Syria: Turkey Asks for More Time to Expel Terrorists from Demilitarized Zone
• Another Senior Terrorist Commander Killed by Unknown Raiders in Northwestern Syria
• US-Backed Militants Blackmailing Syrians by Asking for Ransom
• Egypt court upholds three-year prison sentence for ex-president
• Egypt says security forces kill 9 'terrorists' in Nile raid
• Assad regime renews threat to attack Idlib after militants refuse to pull out
--------
India
• Kerala Body Organises 'Protect Sharia' Conference Against Triple Talaq Ordinance, Women's Entry in Mosques
• Muharram and the Hobson-Jobson: Amazing India
• Prime Minister Modi ensured triple talaq has no place in country: Amit Shah
• Slain terrorist Wani was 'victim of relentless violence' in Valley: Mehbooba Mufti
• NIA probes hawala funding of mosque in Haryana allegedly by Lashkar-e-Taiba affiliate
• Two CRPF jawans injured in militant attack on security camp in J&K's Pulwama
• Jammu & Kashmir: Militants take police rifles, ammo from retired SSP's house
--------
South Asia
• Myanmar Buddhists rally to support military in crimes against Rohingya
• 13 militants killed in foreign forces airstrikes in Ghazni province
• 'Price of democracy': Afghans risking their lives to vote
• Rohingya family makes rare return to Myanmar from Bangladesh
• Samangan's Security chief, several soldiers killed in Taliban attack
• Militants killed, APCs recaptured in Afghan Special Forces operation in Kunduz
• The Islamic State group's failure in Myanmar and Thailand
• Afghan official: Taliban kill 7 policemen in country's north
--------
Pakistan
• Widow Of Pakistani Politician Killed In Taliban Attack Wins His Seat
• Speakers for forging harmony to weed out terror
• 'No U-turn, Mr Prime Minister!' Afghan immigrants demand PM Khan to fulfil citizenship promise
• Gen Hayat in Washington to attend military chiefs meeting
• Prosecution witness testifies in Perween Rahman murder case
• Fazlur Rehman escapes road mishap near Karak
• Naya Pakistan Housing Programme to include 10 cities in Punjab
• Complexities of Afghan peace dynamics
• Pakistan welcomes joint Saudi arabia-Turkey probe
• By-election results show PTI's failure to fulfil 'hollow' promises: JI
--------
Mideast
• Only Turkey can lead Muslim world, says Erdoğan
• Iran says US unilateral sanctions to violate basic human rights
• Experts: Sectarianism source of disunity in Muslim world
• Israeli forces wound dozens of Palestinian protesters in Gaza Strip
• Iran Warns of US Attempts to Reinvigorate Terrorist Groups to Syria
• Palestinian shot dead trying to stab Israeli soldier - military
• Yemen's President Hadi sacks PM over 'negligence of government'
• Children injured in Houthi mortar attack on civilian neighborhood in Hodeidah
• Houthi militias recruit 23,000 children, deprive over 4 mln from education
--------
Europe
• Jewish lobby in far-right German party denounced for anti-Muslim views
• Government Blocks Study into Radical Islam and Conversion in UK Jails
• Muslim Grand Mufti attacks gay teachers saying they 'suffer from a mental illness' and 'contradict nature'
• British man pleads guilty to sending 'Punish a Muslim Day' letters
• Australia open to recognizing Jerusalem as Israel's capital, moving embassy
--------
Southeast Asia
• The compassionate face of Islam
• French terror suspect from Salafi Jihadi bust killed in accident en route to KL
• Chinese leader visits region with Muslim population, draws the line for religion
• Will a Nobel Prize winner ever come from Malaysia?
• Court to decide child conversion case, first after Indira ruling
• Make a stand on Johor's Oktoberfest ban, MCA tells DAP
• Anwar returns to Parliament, vows to give Mahathir space
• Putrajaya urged to ratify UN declaration on religious freedom
• Muhammadiyah leader delivers speech in Kazakhstan
--------
Africa
• Christians Charged with 'Inciting a Muslim to Change Religion' in Algeria
• Libyan house of representatives announces support of Saudi Arabia
• Boko Haram kills another aid worker in northeast Nigeria
• Leaders take State to task after Mandera Al-Shabaab attack
--------
North America
• US needs to address humanitarian crisis in Yemen: Congressman
• Saudis preparing to announce Khashoggi died in interrogation: Sources
• In attempt to whitewash Saudis, Trump says 'rogue killers' involved in journo case
• US Justice Department designates Hezbollah 'transnational crime organisation'
• US midterms ads accuse Democrats of 'terror' ties
Compiled by New Age Islam News Bureau
URL: https://www.newageislam.com/islamic-world-news/us-french-forces-plundering-northern/d/116642
--------
US, French Forces Plundering Northern Syria's Historical Artifacts, Wealth
Oct 15, 2018
The Arabic-language al-Watan daily quoted local sources in Northeastern Aleppo as disclosing that the French and US forces and the Washington-backed militias have excavated a number of historical sites in Manbij, adding that they have sped up their excavation operation after unearthing gold and artifacts.
The daily further said that the US and French forces have found a large volume of gold in Tal Um al-Saraj and Tal al-Sayad in Manbij, adding that they have also discovered an ancient tablet in another excavation operation in an industrial zone in Manbij.
The paper went on to say that the foreign occupiers along with the local militias have stared excavation operation to unearth the precious metal that is made of lead.
Al-Watan added that Manbij has also been turned into a hub for smuggling historical artifacts looted by the occupiers and militants from Palmyra (Tadmur), Hasaka and Raqqa to Turkey, Iraq and Lebanon and later to other world states.
Local sources reported earlier this month hat the US-backed Syrian Democratic Forces (SDF) militias stole power masts near the small town of Tal Hamis in Northeastern Hasaka and transferred them to an unknown location.
The sources further said that people in Tal Hamis took to the streets and opposed the SDF move that caused the SDF to keep gunmen on alert and arrested a number of protestors.
The SDF later arrested manager of Tal Hamis power company, accusing him of encouraging people to demonstrate.
In the meantime, the SDF released a sum of 17 ISIL inmates from a SDF-run jail in Northeastern Hasaka.
http://en.farsnews.com/newstext.aspx?nn=13970723000481
--------
Kerala Body Organises 'Protect Sharia' Conference Against Triple Talaq Ordinance, Women's Entry in Mosques
October 15, 2018
Kozhikode: In a major show of strength, the largest Muslim organisation of Kerala, Samastha Kerala Jamiyyathul Ulama, held a 'protect Sharia' conference to protest against the Union cabinet's recent ordinance on triple talaq.
The conference, which was held at Kozhikode on Saturday, also passed a resolution against the cabinet ordinance with a million signatories. The resolution will be submitted to President Ramnath Kovind.
Lashing out at the Centre's triple talaq ordinance, the organisation's president Sayyid Muhammad Jifri Muthukkoya Thangal said the Modi government's intentions behind the move were not right.
"Centre's decision to pass triple talaq ordinance is motivated and hurried. The government is trying to target a particular community. It's unfortunate if the right to believe and practice a particular religion is denied," Jifri said, adding that the government and the court are duty bound to protect the freedom of religion.
"The SC ruling which says triple talaq is un-islamic is against what is mentioned in Islamic theological texts. Triple talaq is completely Islamic," Jifri added.
In September, the organisation had submitted a review petition to the Supreme Court challenging its decision to criminalise triple talaq.
Jifri Thangal claimed that Muslim scholars were not consulted on the triple talaq ruling.
Talking about women not being allowed to enter Sunni mosques, Jifri said the rule existed during the Prophet's time too.
The body has control on over 9,500 of the total 12,500 madrasas in Kerala. Around 12 lakh students are enrolled in these religious schools.
https://www.news18.com/news/india/kerala-body-organises-protect-sharia-conference-against-triple-talaq-ordinance-womens-entry-in-mosques-1909959.html
--------
Myanmar Buddhists rally to support military in crimes against Rohingya
Oct 15, 2018
Myanmar's extremist Buddhists rally in Yangon to voice support for the military's state-sponsored crackdown campaign against Rohingya Muslims, vowing to "fight back" any international attempt to bring their top generals to justice for the crimes they perpetrate against the country's unwanted minority community.
Several thousand anti-Muslim and pro-military Buddhists marched through Yangon on Sunday, holding portraits of Myanmar's military chief, General Min Aung Hlaing, who has been referred by the UN to the International Criminal Court (ICC) for prosecution over actions that could amount to genocide and crimes against humanity during the crackdown he has been leading against Rohingya Muslims.
Last year, extremist Buddhist monks rushed to help Myanmar's military, when it intensified its crackdown campaign against Rohingya Muslims in Rakhine State.
The campaign – which the UN described as the textbook example of ethnic cleansing campaign – has seen mass killings, torture, and gang rape of Rohingya Muslim as well as arson attacks against their homes and farms in Rakhine.
Rohingya trace their presence in Rakhine back centuries, but most people Buddhist- majority Myanmar see them as unwanted immigrants from Bangladesh, with the state denying the Muslims citizenship.
Since August 2017, around 700,000 Rohingya Muslims have fled their villages and crossed the border into Bangladesh, where they live in overcrowded camps with limited access to food, medicine and education.
Sunday's rally was staged weeks after the UN's fact-finding mission singled out Myanmar's military chief and five fellow senior generals in a report on the Rohingya crackdown case, and said they should be prosecuted at the ICC for committing the gravest crimes under international law against the Rohingya "with genocidal intent."
A month later, the ICC's chief prosecutor announced in September the launch of an inquiry into the Myanmar military's actions, which led to the deportations of hundreds of thousands of Rohingya Muslims into Bangladesh.
The Hague-based intergovernmental ICC serves as a court of last resort, which intervenes whenever national authorities are unable or unwilling to prosecute alleged crimes.
The participants in Sunday's demonstration appeared to be echoing the military chief's angry remarks last month that the UN had no "right to interfere in" what he described as Myanmar's domestic affairs.
During the rally, one of the speakers, reading from a prepared statement, said that "the people of Myanmar strongly denounce and condemn any intervention or intrusion by the foreign countries, international communities and various organizations which unrightfully manipulate our nation and our Myanmar armed forces."
A Buddhist monk, Wirathu, who was also addressing demonstrators, urged the international community to stay out of what he called Myanmar's national affairs.
"The day the International Criminal Court (ICC) comes to our country, that's the day R2P (responsibility to protect) comes to our country. That'll be the day that Wirathu picks up a gun," he said.
The Southeast Asian country is not a member of the ICC, but the membership of neighboring Bangladesh – which is bearing the brunt of Myanmar's crackdown -- is enough basis for the court's jurisdiction over the case, the tribunal says.
The Myanmarese government has blocked access to the ground zero of the violence, but massive evident have so far been collected by international observers, medics, and journalists have blown the lid of the crimes.
The results have brought Myanmar's de facto leader and onetime "democracy icon" Aung San Suu Kyi under fire for inaction, with critics saying she is effectively giving the green light to the army to keep up its criminal deeds by remaining tight lipped.
Those harsh criticisms prompted Canada to officially strip Suu Kyi of her honorary Canadian citizenship.
When UN report released in August, many even expected that it would lead up to the Nobel committee withdrawing the Peace Prize awarded to her back in 1991.
The Norwegian committee, however, argued that the prize had been awarded for achievements of the past and could not be therefore withdrawn.
https://www.presstv.com/Detail/2018/10/15/577036/Myanmar-Rohingya-Msuslim-Buddhists-genocide
--------
Widow Of Pakistani Politician Killed In Taliban Attack Wins His Seat
October 15, 2018
ISLAMABAD: The wife of a Pakistani politician killed in a Taliban suicide attack during campaigning won her husband's provincial seat in by-elections as the ruling party of new Prime Minister Imran Khan retained its slim majority in parliament.
Samar Bilour on Sunday won the provincial assembly seat in northwestern Khyber Pakthunkhwa province that her husband Haroon Bilour, a member of the anti-Taliban Awani National Party, had been scheduled to contest in July.
Haroon Bilour was killed along with 19 others in a suicide attack in Peshawar, the provincial capital, claimed by the Pakistani Taliban weeks before the July 25 polls. The attack prompted a delay in voting for that seat.
His father, senior ANP leader Bashir Bilour, was killed in a suicide bombing in the run-up to Pakistan's last election in 2013.
Sunday's by-elections were for 24 seats across the four provincial assemblies and 11 in the National Assembly. Most of the national parliamentary seats were open because Pakistan allows a candidate to run in multiple constituencies but only keep one seat. The ruling Pakistan Tehreek-e-Insaf (PTI) won four out of 11 parliamentary seats contested, retaining its slim majority in the National Assembly.
After Sunday's vote, the PTI and its coalition partners held a slim three-seat majority of 174 seats in the 342-seat parliament. Khan's ruling coalition in parliament elected him prime minister by 176 votes in August.
But the PTI lost two of the four constituencies originally won by Khan, while former Prime Minister Nawaz Sharif's opposition Pakistan Muslim League-Nawaz (PML-N) made marginal gains by adding four seats.
The PML-N's Shahid Khaqan Abbasi, who served as prime minister after Sharif was removed from office by the Supreme Court last year, was among those elected to parliament after missing out in the July elections.
Sharif, who was sentenced to 10 years in prison by an accountability court weeks before the July polls, said the run-up to the elections had been influenced by the military influencing the courts to bar a number of PML-N legislators.
The army and judiciary vehemently deny any interference in civilian politics.
https://www.ndtv.com/world-news/samar-bilour-widow-of-pakistani-politician-haroon-bilour-killed-in-taliban-attack-wins-his-seat-1932268
--------
Arab World
Remnants of ISIS exploit security gaps, adopt new military tactics in Iraq
15 October 2018
As the first anniversary of the Iraqi forces victory against ISIS nears, the terrorist organization's remnants are trying to exploit security gaps in some areas that are not very far from the capital Baghdad.
Doctor Hashem al-Hashemi, an expert in armed groups' affairs, said ISIS has adopted a new military tactic ever since its defeat in October last year and the declaration of victory against it later in December.
"After ISIS commanders (dispatched) their fighters to the desert and mountains in scattered areas in Iraq and Syria, the organization resorted to the so-called gang hybrid warfare and (adopted) the tactics of the ghost fighter," Hashemi said, adding that the aim is sowing chaos in areas with sectarian or ethnic diversity or finding areas that are fragile in terms of security.
He added that ISIS's new tactic also includes deploying fighters in areas of minorities.
Funding via abduction, theft
Commenting on the group's economic activity, Hashemi said the organization has begun relying on self-funding via theft, abduction and blackmail, adding that this means ISIS has lost its ability to receive foreign funding and to make money from the investments it had done by selling oil in Iraq and Syria.
According to some observers, ISIS smuggled around $400 million abroad from Iraq and Syria and it seeks to increase its resources via money laundering operations.
He noted that ISIS, which once controlled 48 percent of the Syrian territory and 32 percent of the Iraqi territory, now only controls 2 percent of Syria and its organizational capacity decreased from 32 states to just six.
ISIS's three diwans
Hashemi also said that ISIS's self-appointed caliph Abu Bakr al-Baghdadi eliminated more than nine diwans and kept just three, which are Diwan al-Jund (soldiery) that manages military affairs, a diwan for security and intelligence and a financial and administrative diwan.
Hashemi added that legitimate committees are no longer binding and only act as an advisory body, administrative and financial departments are decentralized and the organization's targets are selected by the security commander, and not the military commander.
Meanwhile, a security source in Diyala said the number of ISIS remnants in Diyala is no more than 70 armed men, adding that most of them are present in Hamrin Basin which is 55 kilometers northeast of Baqubah. He added that ISIS's activity decreased by 70 percent compared to this time last year.
https://english.alarabiya.net/en/News/middle-east/2018/10/15/Remnants-of-ISIS-exploit-security-gaps-adopt-new-military-tactics-in-Iraq.html
--------
Infighting Reported Again among Ankara-Backed Terrorists in Afrin
Oct 15, 2018
The sources said on Monday that Ahrar al-Sharqiyeh and Foj al-Mostafa militants engaged in heavy clashes in Afrin.
They added that a number of militants of both sides were killed and wounded, noting that the clashes erupted after differences over their share of the plundered properties.
The report also said that Ahrar al-Sharqiyeh has detained a number of members of Foj al-Mostafa terrorists, adding that the militants in the region are on alert.
Afrin has been the scene of daily infighting, murder and plundering of civilians' properties by militants after the Turkish army and its affiliated militia occupied the region.
A Kurdish media outlet reported on Sunday that Ankara-backed militants continue looting the infrastructural facilities and plants in occupied Afrin region and are engaged in daily infighting over their share of war booties.
Full report at:
http://en.farsnews.com/newstext.aspx?nn=13970723000927
--------
Northwestern Syria: Turkey Asks for More Time to Expel Terrorists from Demilitarized Zone
Oct 15, 2018
The Arabic-language al-Watan daily reported that Tahrir al-Sham Hay'at (the Levant Liberation Board or the Al-Nusra Front) terrorists and their allies have never retreated from demilitarized zone in Northern and Northwestern Syria mentioned in Sochi Agreement.
The daily further said that Tahrir al-Sham, Horas al-Deen and Turkistani Islamic Party have reinvigorated their positions and hidden their heavy weapons, adding that the terrorist groups have decided to remain in their strongholds in the demilitarized zone in Northeastern Lattakia, Northwestern Hama, Southeastern, Northern and Southern Idlib.
The paper said that Turkish Intelligence Service has thus far been unsuccessful in persuading Tahrir al-Sham to leave its positions in the demilitarized zone, adding that Ankara has called on Damascus via Moscow to delay any military operation and give more time to Turkey to do its undertakings with regard to the expulsion of the terrorists form the zone.
The daily said Turkey has not declared any specific date, but it can be estimated that the terrorists' withdrawal will last till the end of the current month.
Tahrir al-Sham said in a statement earlier today that it will never lay down weapons and will continue countering the Syrian Army several weeks after conclusion of the Sochi Agreement by Russia and Turkey to create a demilitarized zone in Southern Idlib, Northeastern Lattakia and Western Aleppo.
In the meantime, the Arabic-language al-Watan daily reported that there have not been any sign of withdrawal by the terrorists, "instead, they have been targeting army positions".
Full report at:
http://en.farsnews.com/newstext.aspx?nn=13970723000864
--------
Another Senior Terrorist Commander Killed by Unknown Raiders in Northwestern Syria
Oct 15, 2018
Abu Abdul Rahman Qoraba, a key field commander of Tahrir al-Sham, was killed after unknown assailants opened fire at him near the town of Sarmada near the border with Turkey.
In the meantime, Tahrir al-Sham stormed a base of rival ISIL terrorists near the town of Ma'arat Mesrin in Northern Idlib and seized their military equipment.
Local sources in Southern Idlib, meantime, reported that Tahrir al-Sham raided the village of Larouz in Jabal al-Zaviah and opened fire at people.
Tahrir al-Sahm killed a villager and arrested 11 more, including several teachers and transferred them to an unknown destination without any reason.
Militant-affiliated sources reported on Sunday that tensions were rising among various groups of militants in Northern and Northwestern Syria over the Sochi Agreement as the deadline for its implementation was looming.
The sources said that violent feuds erupted among terrorists over Tahrir al-Sham Hay'at retreat from the demilitarized zone in Northern and Northwestern Syria and start of a so-called Salvation Government in the region.
In the meantime, a commander of Free Syrian Army (FSA) said that one of the most difficult phases of implementing the Sochi Agreement is withdrawal of militants that are enlisted as terrorists from the demilitarized zone and then relocation of the terrorist groups in other regions in Idlib without their dissolution.
The FSA commander further said that another serious difference over the Sochi Agreement pertains to the administration of those territories remaining under terrorists' occupation in Northern and Northwestern Syria in the presence of a salvation government and the interim government in the region.
Full report at:
http://en.farsnews.com/newstext.aspx?nn=13970723000763
--------
US-Backed Militants Blackmailing Syrians by Asking for Ransom
Oct 15, 2018
The Arabic-language al-Manar reported that the SDF has arrested a number of children in the village of Um Zar near the town of al-Shadadi in Southern Hasaka, accusing them of cooperating with ISIL.
It further said that the SDF has forced the families of arrested children to pay a hefty amount of money for their release.
In the meantime, other units of the SDF broke into the residential units in the villages near the town of Ra'as al-Ein in Northwestern Hasaka and arrested tens of villagers, the TV Channel went on to say, adding that the SDF's move came after a number of forcefully-recruited people cut relations with the SDF.
Meanwhile, two SDF militants were killed after a bomb blast near their base in Ra'as al-Ein.
SANA reported on Saturday that tens of Hasaka residents poured into the streets in al-Nashvah neighborhood in Hasaka city, demonstrating against SDF-affiliated Asayesh security forces that prevented the school goers from going to centers that are still teaching the Damascus government's educational system.
It went on to say that the protestors opposed the Asayesh's measures in preventing public vehicles, including taxis and school transportation vehicles, from transferring the school goers to government-affiliated educational centers in different neighborhoods in Hasaka city.
SANA further said that the Asayesh was planning to cancel the Damascus government's educational system and imposed their own curriculum on the school goers, but faced strong popular resistance.
Full report at:
http://en.farsnews.com/newstext.aspx?nn=13970723000798
--------
Egypt court upholds three-year prison sentence for ex-president
15 October 2018
Egypt's main appeals court has upheld a three-year prison sentence for former president Mohammed Morsi, who is already jailed in other cases, over a conviction for insulting the judiciary.
The Court of Cassation upheld the same sentence for Morsi and 19 others on Monday, also fining the former president 1 million Egyptian pounds ($60,000) in the case. Morsi was accused of insulting a sitting judge during a speech he gave as president.
Morsi, Egypt's first democratically elected president, had a tumultuous year in office that ended with the army overthrowing him in 2013. Multiple cases against him are pending.
Full report at:
https://english.alarabiya.net/en/News/middle-east/2018/10/15/Egypt-court-upholds-three-year-prison-sentence-for-ex-president.html
--------
Egypt says security forces kill 9 'terrorists' in Nile raid
15 October 2018
Egypt says its security forces have killed nine "terrorists" in a raid on a cave hideout along the Nile River.
The Interior Ministry says Monday's dawn raid in central Egypt targeted men who were planning attacks on vital installations, resulting in a shootout that led to their deaths.
The statement did not mention if there were any survivors or if any wounded were taken prisoner, or if security forces suffered any casualties. It said assault rifles, improvised explosive devices, ammunition and supplies were seized.
Egypt has been battling an insurgency based in the Sinai Peninsula that intensified after the military overthrew an elected but divisive president in 2013. It launched a nationwide operation against the militants in February, but raids outside the Sinai have been rare.
https://english.alarabiya.net/en/News/middle-east/2018/10/15/Egypt-says-security-forces-kill-9-terrorists-in-Nile-raid.html
--------
Assad regime renews threat to attack Idlib after militants refuse to pull out
October 16, 2018
BEIRUT: The Assad regime renewed its threat on Monday to launch an offensive in Idlib province in northwest Syria after militants defied a Russia-Turkey deal for them to pull out.
The fighters failed to meet the Oct. 15 deadline for them to withdraw from a planned buffer zone around Syria's last opposition stronghold.
"Our armed forces are ready around Idlib to eradicate terrorism if the Idlib agreement is not implemented," Syrian Foreign Minister Walid Al-Moualem said at a press conference in Damascus with the Iraqi Foreign Minister Ibrahim Al-Jaafari.
"Idlib, as any other province, has to return to Syrian sovereignty. We prefer to have it through peaceful means, through reconciliation, but if not there are other options."
Al-Moualem said it was now up to Russia to judge whether the agreement, which averted a regime offensive last month, was being fulfilled. "We have to wait for the Russian reaction. Russia is monitoring and following the situation," he said.
When Idlib was recaptured from the opposition, the regime would turn its attention to territory held by the Kurdish-led and US-backed Syrian Democratic Forces, the minister said. "After Idlib, our target is east of the Euphrates," which must also return to Syrian sovereignty, he said.
Civilians in Idlib said they were concerned about an increase in violence if the Russian-Turkish accord collapsed. "We fear the deal's sponsors will fail to implement all its points, and that the bombardment and battles will return," one said.
The deal provides for a 15-20 km horseshoe-shaped buffer zone around opposition-held areas in Idlib and the neighboring provinces of Latakia, Hama and Aleppo.
The dominant militant force in the region is Hayat Tahrir Al-Sham (HTS), an alliance led by Al-Qaeda's former Syrian branch. The group has signaled that it would abide by the terms of the deal, although it has not explicitly said so.
"We value the efforts of all those striving — at home and abroad — to protect the liberated area and prevent its invasion and the perpetration of massacres in it," HTS said.
Elsewhere in Syria, the Assad regime on Monday reopened a vital border post with Jordan and a crossing into the Israeli-occupied Golan Heights.
Two white jeeps crossed into Israeli-occupied territory during a low-key ceremony to mark the reopening of the Quneitra crossing in the Golan, four years after it was closed when Syrian opposition forces seized nearby territory.
In the south, and three years after it too was closed, a black metal border gate opened at the Nassib crossing into Jordan as police and customs officials stood nearby.
The Jordan crossing was previously a major trading route, while the remote Quneitra post is used primarily by a UN force that monitors a cease-fire line separating Israeli-occupied parts of the Golan Heights from Syria.
Syrian businessman Hisham Falyoun, who lives in Jordan with his wife and children, was the first person to cross the border in his black Mercedes SUV.
Full report at:
http://www.arabnews.com/node/1388401/middle-east
--------
India
Muharram and the Hobson-Jobson: Amazing India
Saba Naqvi
Oct 15, 2018
Many strange things happen to religion and its practice in India. The 10th of Muharram has just passed on September 21 and we are still in the 40-day period during which the Indian Shia community organise majlis or gatherings where the tragedy of the Battle of Karbala is told, through some grand poetic narration, lament set to a tempo, mixed with religious sermon and culminating in "maatam" or beating of the chest in mourning.
For those who do not know Muharram has its origins in the struggle for the Khilafat in the Muslim world that took place right after the Prophet's death. Shias reject many of the Khalifas as they consider the succession to the Prophet to be the special right of his family. The gulf between Shias and Sunnis was cemented after the battle of Karbala in AD 680, where the Kaliph's army fought and killed the Prophet's grandson Hazrat Hussain and seventy-two of his companions and family members, including many women and children. This tragedy is the central theme of the Shia faith and Muharram is this period of mourning.
From the seventh to the tenth day of Muharram, numerous processions are taken out. Most readers also would not know that according to historical records these are among the oldest religious processions in the country. The main Bibi ka Alawa procession taken out by the Shias of Hyderabad on the tenth day of Muharram is, for instance, about four hundred years old and one of India's oldest religious processions. In contrast, processions on festivals like Ganesh Chaturthi and Durga Puja began only just over a 100 years ago although they are now very embedded in the contemporary religio-cultural lives of our country.
Muharram in India also has a curious link to the Hobson-Jobson, that wonderful book that lists all the words such as bungalow, verandah et all that entered the English language in the course of the British experience while ruling the Indian empire. The first Hobson-Jobson was written By Col Henry Yule and AC Burnell and published by John Murray, London, in 1903. The cover of the book describes it as "a glossary of colloquial Anglo-Indian words and of kindred terms, Etymological Historical, Geographical and Discursive". It's an amazing work that everyone interested in reading and writing should keep in their homes if only to pluck out English word invented in India.
Now guess where the title Hobson-Jobson comes from? The book describes it as 'an Anglo- Saxon version of the wailings of the Mohammedans as they beat their breasts in the processions of the Muharram and utter cries of "Ya Hussain!" 'Ya Hussain, Ya Hussain'.
Meanwhile, another process happens to Muharram in India. The Indian love of revelry has transformed Muharram, a time of mourning for Shia Muslims, into a celebration in many parts of the country. For those who are not religious purists, such as me, the process is quite fantastic and colourful.
This is particularly seen in Andhra Pradesh, large parts of which were ruled by the Shia Qutb Shahi dynasty and later by the Asif Jahi Nizams who continued to patronize Shia institutions and placed many Shia Muslims in powerful positions. The result was that some Shia customs got absorbed into the indigenous culture and, in the process, Muharram was transformed into a sort of local folk celebration. This discovery, made many years ago, was particularly fascinating for me given my exposure to the Shia Muslim culture of Awadh that I witnessed in the rambling but decaying haveli in the family village that now falls in Rae Bareli district, Uttar Pradesh.
In parts that now fall between Telangana, Rayalaseema and coastal Andhra Pradesh I had seen Muharram being 'celebrated' in several villages and towns. Some tribal communities such as the Lambadies, Gonds and Pardhies considered Muharram as important as Dussehra and Diwali, so much so that an entire body of Muharram folk songs in Telugu had evolved over the centuries. Moharram has therefore in that part of India fused into popular religion and local cultures.
I was told of this verse by Balaiah a Telugu folk poet:
Recite in the name of Allah, Then the Devata will bless you.
In the wonderful fusions that I was witnessing, Hindu devotionalism focused on Islamic motifs to create the uniquely Indian Muharram of the Deccan.
I was once sent this translation of a folk song that reveals how Muharram is also at the popular level considered a time of celebration when wishes are fulfilled and boons granted.
Moharram brings joy and pleasure, All sorts of people happily meet at leisure, And make offerings in their devotion. The eager folks coming in groups, Enjoy themselves in the moonlit night, Those with stomach aches, Those with eyesores. Each and everyone prays with devotion, And is relieved of the affliction;
Hassan and Hussain and the happy Imam, Qasim dulah's palanquin has started, Twelve Imams. The vows taken have been fulfilled, And the boon of pregnancy granted to the sterile.
From Hobson-Jobson to wish fulfillment and folk poetry, the uniquely Indian journey of identity and religion keeps moving on.
https://www.timesnownews.com/india/article/moharram-and-the-hobson-jobson-muharram-amazing-india-shias-sunnis-muslims-hyderabad-telangana-prophet-mohammed-battle-of-karbala/299516
--------
Prime Minister Modi ensured triple talaq has no place in country: Amit Shah
Oct 15, 2018
SATNA (MP): BJP chief Amit Shah on Monday said Prime Minister Narendra Modi has ensured that triple talaq has no place in the country despite facing opposition from the Congress which "never cared" for the honour of Muslim women.
Amit Shah was addressing an event, where a sizeable number of Muslim women were in attendance, ahead of the November 28 assembly elections in Madhya Pradesh.
"The Congress never cared for the honour of Muslim mothers and sisters.
It has no courage to deal with issues like triple talaq. Despite stiff opposition from the Congress, (Prime Minister) Modi has ensured that it (triple talaq) has no place in the country," Shah said.
The Muslim Women (Protection of Rights on Marriage) Ordinance was promulgated on September 19 under which instant triple talaq has been declared illegal and punishable with a jail term of three years for the husband.
Amit Shah said the BJP has encouraged women not just by words but by giving them important responsibilities, including as defence and external affairs ministers ministers, governors and chief ministers.
He said that the BJP had created a "record" in honouring women while the Congress had done nothing for them despite being in power for a long time.
"Not just by words, but Modi government has given them (women) space in the Union Cabinet by inducting nine women ministers including Nirmala Sitharaman as defence minister and Sushma Swaraj as external affairs minister," Shah said at the"kamal shakti samvad" function.
Swaraj has been given prime responsibility of establishing good relations with countries and enhancing trade with them, the BJP chief said.
He added that during the BJP rule, six women were appointed as governors of states, including that of Madhya Pradesh who earlier was Gujarat's first woman chief minister.
He hit out at the opposition party for "disrespecting" senior BJP leader, late Vijaya Raje Scindia, affectionately known as Rajmata, claiming that she had been "oppressed" and jailed.
He added that Scindia never gave up despite the Congress troubling her for long, and this had led to the "lotus (BJP symbol) blooming in the entire region".
Eulogising Scindia, the BJP chief said that the 'Rajmata' was like a mother to all party workers whom she constantly encouraged.
Her life is a lesson and an inspiration, Shah told the gathering.
Scindia was born on October 11, 1919 at Sagar in Madhya Pradesh and passed away on 25 January, 2001.
Full report at:
https://timesofindia.indiatimes.com/india/prime-minister-modi-ensured-triple-talaq-has-no-place-in-country-amit-shah/articleshow/66221621.cms
--------
Slain terrorist Wani was 'victim of relentless violence' in Valley: Mehbooba Mufti
Oct 15, 2018
SRINAGAR: Former Jammu and Kashmir chief minister Mehbooba Mufti on Monday described Hizbul Mujahideen terrorist Manan Bashir Wani, who was killed in a gun-battle with security forces, as a "victim of relentless violence in Kashmir".
The PDP president said this while demanding withdrawal of cases against three Aligarh Muslim University (AMU) students from the Valley who were booked after they allegedly tried to hold a prayer meeting for Wani on Friday.
"It will be a travesty to punish them (students) for remembering their former colleague (Wani) who was a victim of relentless violence in Kashmir," Mehbooba said in a tweet.
It will be a travesty to punish them for remembering their former colleague who was a victim of relentless violence in Kashmir. 2/2
— Mehbooba Mufti (@MehboobaMufti) 1539602678000
Twenty-seven-year-old Wani, who was pursing a Ph.D course in allied geology at the AMU, had quit the university and joined militant ranks in January.
The three Kashmiri students were booked for sedition for allegedly raising "anti-India" slogans and trying to hold a prayer meeting for the Hizbul 'commander', a day after he was killed in a gun battle with security forces in north Kashmir's Handwara area.
Mehbooba also asked the Centre to intervene in the matter.
"Pushing youth to the wall will be counter productive. Centre must intervene in withdrawing cases against students and AMU authorities must revoke their suspension," she said in another post on Twitter.
Pushing youth to the wall will be counter productive.Centre must intervene in withdrawing cases against students…
https://t.co/wOSFbqhq1Q
— Mehbooba Mufti (@MehboobaMufti) 1539602671000
Twenty-seven-year-old Wani, who was pursing a Ph.D course in allied geology at the AMU, had quit the university and joined militant ranks in January this year.
In the wake of the suspension of the three Kashmiri students, more than 1,200 students from Jammu and Kashmir studying at the varsity have threatened to leave for their homes on October 17, if the sedition charges against the three were not dropped.
In a letter to Proctor, AMU, students of Jammu and Kashmir, studying at the university said "no prayers or any relevant activity was observed and the directions of the AMU Proctor were duly followed".
"The tense situation as reported in the media caused a serious concern among the students at Aligarh Muslim University. The students at the University in panic were discussing the situation emerging in the valley at the Kennedy Hall Lawn, and were peacefully talking among each other. No prayers or any relevant activity was observed, and the directions of the AMU – Proctor were duly followed," the students said in the letter.
They said some non-Kashmiri people armed with lathis attacked the sitting students and caused massive disturbance and noisy scenes.
"However, the Kashmiri students dispersed immediately and no protest or law and order violation took place. Later, a vilification campaign against the students from Jammu and Kashmir was started by media that Kashmiri students violated the law and disturbed the peace in the campus. Though nothing of that sort had happened and the same was later confirmed by PRO AMU to the media," the letter read.
The students said they strongly condemn the "fabricated allegations and a systematic vilification campaign" against the students and the university.
"We take strong objection to fabricating cases against Kashmiri students and thereby attempting to jeopardize our career. We, the students from Kashmir are law abiding and did not breach the guaranteed freedom of speech, or act," they s adding peace at AMU campus has always been the first priority of all Kashmiri students.
Referring to the suspension of students by the university and subsequent sedition charges, the Jammu and Kashmir students refuted the allegations of violation of law and order and demanded an end to "defamation of highly educated Kashmiri scholars".
"We demand an immediate revocation of suspension orders/show cause notices and an urgent withdrawal of the sedition charges and relevant legal sections against AMU scholars. Imposing such sections is to threaten the Kashmiri students at the university and is a cause of serious concern. We cannot stay at the campus with the burden of these politically motivated and fabricated charges," they said.
The students threatened to surrender their degrees and leave for their homes if the suspension is not revoked and case withdrawn by Wednesday.
"In case, the suspension/show cause notices are not revoked immediately and sedition charges and relevant charges are not withdrawn, we the students from the state of Jammu and Kashmir at AMU will be forced to leave the campus en-masse on Sir Syed Day (17 October).
Full report at:
https://timesofindia.indiatimes.com/india/slain-terrorist-wani-was-victim-of-relentless-violence-in-valley-mehbooba-mufti/articleshow/66225308.cms
--------
NIA probes hawala funding of mosque in Haryana allegedly by Lashkar-e-Taiba affiliate
Oct 16, 2018
NEW DELHI: National Investigation Agency (NIA), which is probing a terrorfunding module of Falah-i-Insaniyat Foundation (FIF) that allegedly financed the construction of a mosque at Uttawar village in Palwal, Haryana, is also looking at the possibility of a larger network of similar persons/modules spread across the country through which FIF may be channeling terror funds into India.
NIA, TOI has learnt, is examining if other Indians visiting or working in Dubai or UAE were in touch with Pakistani nationals there who may be acting as conduits for FIF terror funds being pumped into India for allegedly carrying out terrorist activities. Mohammad Salman, a key accused arrested by NIA in the case and originally from Uttawar, had come in contact with one Kamran, a Pakistani businessman, during his two visits to Dubai. Kamran in turn was in touch with the deputy chief of FIF, a proscribed affiliate of Lashker-e-Taiba run by 26/11 mastermind Hafiz Mohammmad Saeed, and was acting as a conduit for sending terror funds via hawala route to India.
Apart from Salman, NIA arrested two hawala couriers in Delhi on September 25 — Mohd Salim, resident of Daryaganj and Sajjad Abdul Wani, resident of Srinagar. While Wani's premises in Srinagar were raided, he disclosed during his interrogation that he was only carrying funds for one Hilal Ahmed Rather. NIA later raided Hilal's office and residence at Lajpat Nagar and recovered Rs 18 lakh cash, six mobile phones, SIMs and some incriminating documents.
Salman, on his part, told his interrogators that he had used FIF funds received through hawala for construction of a mosque in Uttawar. NIA later conducted searches at the local mosque and recovered documents confirming that nearly Rs 70 lakh of the Rs 2-21/2 crore used to construct the mosque were FIF funds received through hawala route. The remaining, said a source, may have come by way of donations received from local members of the community.
The modus operandi was clear. Salman was cultivated by Kamran, by no means a big businessman in Dubai, to channel FIF funds into India. "The FIF angle is further confirmed by the fact that Kamran chose to send the funds not through the legitimate route but hawala," said an investigator. It is now being probed if there were similar persons located elsewhere in India who are in touch with FIF conduits in Dubai and UAE and were "cultivated" to channel FIF terror funds into India.
Full report at:
https://timesofindia.indiatimes.com/india/nia-probes-hawala-funding-of-mosque-in-haryana-allegedly-by-lashkar-e-taiba-affiliate/articleshow/66229990.cms
--------
Two CRPF jawans injured in militant attack on security camp in J&K's Pulwama
October 16, 2018
Militants fired upon a security force camp in Pulwama's Newa in South Kasmir late on Monday night. Two CRPF personnel were injured in the attack. A J&K police statement said the attack was "repulsed" by forces.
The injured jawans have been identified as Amit Kumar and Santosh Bharti of 183 BN CRPF. "Both have been hospitalised for medical treatment," the police statement added.
According to the police, a case has been registered and an investigation has been initiated in the matter.
https://indianexpress.com/article/india/jk-two-crpf-jawans-injured-in-militant-attack-on-security-camp-in-pulwama-5403770/
--------
Jammu & Kashmir: Militants take police rifles, ammo from retired SSP's house
by Adil Akhzer
October 16, 2018
Suspected militants fled with two weapons belonging to security personnel posted at a retired police officer's residence in Chadoora area of Budgam district in central Kashmir late Sunday night, the police said.
On Monday, a picture of weapons emerged on social media, with some claiming that they are the ones that were taken away. Police officials said they are probing veracity of the claims.
A senior police official said that militants entered the home of former J&K Police SSP Sheikh Ghulam Mohammed and took away two carbine rifles and a few magazines.
Additional Director General of Police Munir Khan told The Indian Express that the former police officer had allowed his security to go home and weapons were kept at the residence against the "advisory".
SSP, Budgam, Tejinder Singh said two security personnel were present in the house when the militants entered and that they are investigating the circumstances under which the militants took away the weapons. There has been no arrest in the case yet.
Full report at:
https://indianexpress.com/article/india/jammu-kashmir-militants-take-police-rifles-ammo-from-retired-ssps-house-5403650/
--------
South Asia
13 militants killed in foreign forces airstrikes in Ghazni province
Oct 15 2018
At least thirteen militants were killed in the airstrikes of the foreign forces in southeastern Ghazni province of Afghanistan, the Afghan Military said Sunday.
According to 203rd Thunder Corps of the Afghan Military in the Southeast, the coalition forces carried out airstrikes against the militants in Andar district, leaving 13 militants dead.
The source further added that the airstrikes targeted a mini truck and an armored personnel carrier of the militants.
The anti-government armed militant groups including Taliban militants have not commented regarding the report so far.
Ghazni is among the relatively volatile provinces in southeastern parts of the country where the Taliban militants and other militant and terrorist groups including ISIS loyalists are active in some of its districts and often carry out terrorist related activities.
https://www.khaama.com/13-militants-killed-in-foreign-forces-airstrikes-in-ghazni-province-06159/
--------
'Price of democracy': Afghans risking their lives to vote
October 16, 2018
KABUL: From a university student to a middle-aged housewife, Afghans planning to vote in the October 20 parliamentary election say they are willing to risk their lives for democracy.
Nearly nine million people have registered to vote, but far fewer are expected to turn out on polling day due to threats of violence and expectations for massive fraud.
Six people across the war-torn country explain why their vote matters.
Out with the old and in with the new is Omaid Sharifi's hope for the legislative election.
The 32-year-old artist, who is voting for the first time, wants to see a new generation of politicians take their seats in the next parliament.
Sharifi, co-founder of Kabul-based street art collective ArtLords, was inspired to vote by the large cohort of young, educated candidates among the more than 2,500 contesting the ballot.
"I am concerned (about security) but I think this is the price of democracy we have to pay," he said.
First-time voter Fatima Sadeqi wants to stop criminals, thieves and corrupt people from entering the next parliament.
The 55-year-old housewife and her eight family members plan to support the same candidate in the northern city of Mazar-i-Sharif.
"We are tired of poverty and insecurity," she said.
"I hope the new parliament is a better place, full of good people."
Shirin Agha wants his 10 children to grow up in a peaceful Afghanistan — and he is willing to die to help make that happen.
The 45-year-old potter in the eastern city of Jalalabad is a first-time voter and plans to back "a good Muslim and an honest person."
"I want the new parliament to bring fundamental changes to the economy, education and security so that our children can live in peace," Agha said.
"If my vote can bring these changes I will take any risk. I will either die or vote."
A sense of "duty and responsibility" is pushing English literature student Zahra Faramarz to vote — but she admits being "anxious" about security.
Faramarz's polling station is located in a heavily Shiite neighborhood of Kabul where the Daesh group has carried out devastating attacks in recent months.
But the 21-year-old said it was important to vote to ensure her community has a voice in the lower house.
"If we don't, someone else will select the candidates ... that is not good for us," she said.
After disappointing results in the previous two elections, Ghulam Farooq Adil hopes it will be third time lucky on October 20.
The 29-year-old public servant from the western city of Herat plans to vote for an "honest" candidate who can help bring peace to Afghanistan.
"I want the new parliament to come up with a solid plan to end the war," Adil said.
"I need to see changes, at least for the future of my son."
Abdul Karim believes voting is a religious obligation for Muslim men and women.
"They must vote," said the 85-year-old retiree in Kabul, who is voting for only the second time in his life.
But in return, the next parliament should "serve our nation, serve our land and provide" job opportunities for the poor, he said.
Full report at:
http://www.arabnews.com/node/1388476/world
--------
Rohingya family makes rare return to Myanmar from Bangladesh
2018-10-11
YANGON — A Rohingya family of five has returned to Myanmar from Bangladesh, sources said on Thursday, a rare development while a large-scale repatriation deal remains stalled.
More than 720,000 of Myanmar's stateless Muslim minority fled a brutal military crackdown in August last year, taking shelter in crowded camps in Bangladesh.
There they recounted tales of rape, murder and arson as villages in Rakhine state were burned to the ground.
United Nations investigators have said senior Myanmar military officials should be prosecuted for genocide, but the country has rejected these calls, insisting it was defending itself against militants.
Myanmar and Bangladesh signed a deal to bring back the Rohingya but many fear returning without guaranteed rights such as citizenship, access to healthcare and freedom of movement.
Authorities in Myanmar say more than 100 displaced Rohingya have returned in recent months though rights groups have questioned whether the returnees did so voluntarily.
The family of five "displaced people" came back to Rakhine state on Wednesday morning, state mouthpiece Global New Light of Myanmar reported Thursday.
Myanmar's government has trumpeted each return but Bangladesh insists that the official process has not commenced.
The Bangladesh government's Rohingya camp commissioner Mohammad Abul Kalam said he had only heard about the family leaving, but has not received official confirmation of their return to Myanmar.
"Anyone can go back if he/she wants," he said.
"But formal repatriation has not begun."
Abdur Rahim, a Rohingya camp leader in Bangladesh, said the family had been staying in the Balukhali camp in Cox Bazar district.
"They returned to their home...near Maungdaw township in Rakhine yesterday," he said.
UN agencies, which signed a deal with the Myanmar government to assess conditions on the ground in northern Rakhine, said they had carried out an initial survey in September of about two dozen villages.
Full report at:
http://saudigazette.com.sa/article/545381/World/Asia/Rohingya-family-makes-rare-return-to-Myanmar-from-Bangladesh
--------
Samangan's Security chief, several soldiers killed in Taliban attack
Oct 16 2018
The Security Chief of Samangan province Haji Khawani has been killed along with several police soldiers in an attack by the Taliban militants, the local officails said.
Provincial governor Abdul Rauf Ibrahimi confirmed the Security Chief of Samangan and his comrades were killed in an attack in Dara Suf district late on Monday night.
Ibrahimi further added that the Security Chief and his comrades had visited the district to help improve the security situation of the district when they came under attack.
According to Ibrahimi, the Haji Khawani and his comrades lost their lives after resisting the Taliban attack for several hours.
He did not disclose further information regarding the exact number of security personnel killed in the attack.
However, certain security sources are saying that Haji Khawani and at least 40 police soldiers have lost their lives.
Full report at:
https://www.khaama.com/samangans-security-chief-several-soldiers-killed-in-taliban-attack-06163/
--------
Militants killed, APCs recaptured in Afghan Special Forces operation in Kunduz
Oct 16 2018
At least 12 militants were killed and two Armored Personnel Carriers were recaptured along with several other military equipment during the operation of the Afghan Special Forces in northern Kunduz province of Afghanistan.
The 209th Shaheen Corps of the Afghan Military in the North in a statement said the operation was conducted in Aliabad district of Kunduz province.
The statement further added that two militants were also wounded while two others arrested during the same operation.
The Afghan forces also recaptured two Armored Personnel Carries, a soft skin vehicle, an Ak-47 rifle, a PKM machine gun, 3 radio sets, and a large quantity of munitions during the operation, the statement added.
Full report at:
https://www.khaama.com/militants-killed-apcs-recaptured-in-afghan-special-forces-operation-in-kunduz-06162/
--------
The Islamic State group's failure in Myanmar and Thailand
15 October, 2018
The rise of the Islamic State group [IS] shocked the world four years ago. The militants overtook the Iraqi city of Mosul and the Syrian city of Raqqa, then established franchises from Afghanistan to Libya. Prominent radicals as far as Nigeria and the Philippines pledged allegiance to the extremist group.
IS never bothered to establish itself in Myanmar and Thailand, where Muslims have long faced persecution and waged insurgencies. In both countries, Muslim rebels are fighting non-Muslim militaries that ignore human rights. Because IS intervened in similar conflicts in Kashmir and Mindanao, its absence in Myanmar and Thailand seems striking. Experts on Southeast Asia have offered a few theories.
"Several factors explain why IS's presence in Southeast Asia has been more limited, including the matters of time and effort," Dr Vanda Felbab-Brown, a senior fellow at the Brookings Institution and author of Militants, Criminals, and Warlords: The Challenge of Local Governance in an Age of Disorder, told The New Arab.
"IS's original proselytising effort focused on the Middle East. When it was rising, it put less effort into and focus on Southeast Asia."
Dr Zachary Abuza, a professor at the National War College and author of Militant Islam in Southeast Asia: A Crucible of Terror, believes the "most simple answer is racism."
He cited the Islamic fundamentalist screed Management of Savagery: The Most Critical Stage through Which the Ummah Will Pass, a how-to guide on insurgency popular with some commanders in al-Qaeda and IS as an example, describing the text as "very condescending toward Southeast Asians."
For their part, Muslim rebels in Myanmar and Thailand may have little interest in associating with a Western-labelled terrorist organisation led by Middle Eastern, Arab militants.
The Rohingya, Myanmar's largest Muslim minority, have tended to look for support from the international community. Rohingya insurgents show no signs of sympathising with IS.
Thai Malay insurgents portray themselves as engaging in a war of independence for the historical region of Patani. In the report Jihadism in Southern Thailand: A Phantom Menace, the International Crisis Group expressed doubt that IS could make inroads in Southern Thailand.
These insurgents' campaigns centre on local grievances and objectives, not the millenarian goal of establishing a worldwide caliphate.
This reality limits IS's capacity to build a following in Myanmar or Thailand. The Southeast Asians who did go so far as to appeal to IS in the early days of its caliphate rarely found a receptive audience in the militants' Raqqa-based leadership.
Read also: The Islamic State group is not finished – yet
"In 2014, when Southeast Asian groups started to pledge allegiance to the group, IS didn't need them," Abuza told The New Arab.
"IS was growing so quickly, and Southeast Asia was so peripheral. It took two years before IS even began to acknowledge the Southeast Asian groups' pledges of loyalty, and it showed no interest in declaring the establishment of an Asian province of the caliphate."
As IS's losses in Iraq and Syria began to mount, the militants started to rely more on their affiliates in Africa and Asia to continue dominating Western headlines.
"Southeast Asia is becoming more important to IS as it loses territory," suggested Abuza. He noted that the Battle of Marawi, during which IS overtook a Philippine city for five months, began after an American-led coalition retook most IS strongholds in Iraq and Syria.
Observers have noticed other signs that IS is re-prioritising Southeast Asia. In May 2017, the Royal Malaysia Police caught part of an IS cell that had been smuggling weapons from Southern Thailand to conduct attacks in Malaysia. The next month, then Commander of the Indonesian National Armed Forces General Gatot Nurmantyo admitted that IS had cells across Indonesia.
"In Afghanistan and places like Nigeria, the direction of working out the association came from local groups who had split off from their original organisations, such as the Taliban or Boko Haram, or were expelled by their mother organisation," Felbab-Brown told The New Arab.
"It was not so much that IS was successful in sending its emissaries into those locations – rather that local actors were reaching out. But with the outflow of former IS fighters from the Middle East, including to Southeast Asia, IS may intensify its proselytising there, whether under the IS label or local ones."
While IS will likely face challenges in Myanmar and Thailand, anecdotal evidence suggests that it may target both countries in the future.
In April, an unnamed Malaysian official told Channel NewsAsia that a Malay Thai rebel wanted to establish an IS cell in Southern Thailand. The Straits Times has also reported that IS is recruiting Malaysians to fight in Myanmar.
"IS is desperate to show its followers that it remains a global movement, capable of fighting the infidels," said Abuza.
Full report at:
https://www.alaraby.co.uk/english/indepth/2018/10/15/the-islamic-state-groups-failure-in-myanmar-and-thailand
--------
Afghan official: Taliban kill 7 policemen in country's north
October 16, 2018
KABUL, Afghanistan: An Afghan official says a Taliban attack on a security outpost in northern Samangan province has killed seven policemen, including a deputy provincial police chief.
The provincial governor, Abdul Latif Ibrahimi, says the attack occurred late on Monday in Dari Suf district.
Ibrahimi told The Associated Press on Tuesday that another five policemen were wounded in the attack. He says the attackers made away with two armored personnel carriers, a police vehicle and an ambulance.
There was no immediate claim of responsibility but in recent months, the Taliban have staged near-daily attacks on Afghan forces across the country.
Full report at:
http://www.arabnews.com/node/1388591/world
--------
Pakistan
Speakers for forging harmony to weed out terror
October 16, 2018
SIALKOT-The speakers stressed the need for promotion of national harmony for weeding out terrorism, militancy and extremism in the country, linking peace with political and economic stability.
They underlined individual and collective role in establishing durable peace in society. The speakers made the remarks while addressing the participants of a National Peace Conference held here at the auditorium of University of Sialkot (USKT) here on Monday.
Lahore-based veteran journalist Mujeebur Rehman Shami presided over the conference. Representatives of the Muslims, Sikh, Hindu and Christian communities also attended the conference. University of Sialkot (USKT) Vice Chancellor Dr Ejaz Qureshi, CEO Rehan Younas, Chairman BoG Faisal Manzoor and local senior journalists were also present on the occasion.
While addressing the participants, Sikh Community's Leader former MPA Sardar Ramaish Singh Arora said that every religion of the world gives the lessons of peace, love, affection, brotherhood, tolerance and respect for humanity. Mr Ramaish Singh Arora said that the minorities are playing active role in peace and national economic and political stability. Buner-Swat based Hindu Community's leader Dr Araish Kumar said that peace is vital national integrity and stability.
In his speech, Mujeebur Rehman Shami said that the entire Pakistani nation stands is united against terrorism and is ready to sacrifice their lives to defend the motherland against militancy, insurgency and extremism.
Addressing the participants, USKT CEO Rehan Younas paid glowing tribute armed forces of Pakistan for being at frontline in the battle for weeding out terrorism from Pakistan.
Chairman BoG USKT Faisal Manzoor said that the students and their teacher could also play their pivotal role in promoting national harmony for peace and national solidarity. Vice Chancellor Dr Ejaz Qureshi said that Pakistani nation is peace-loving and striving hard durable peace across the world.
https://nation.com.pk/16-Oct-2018/speakers-for-forging-harmony-to-weed-out-terror
--------
'No U-turn, Mr Prime Minister!' Afghan immigrants demand PM Khan to fulfil citizenship promise
Naseer Ahmad
October 16, 2018
KARACHI: On a recent Sunday Afghans living in the city held a big demonstration at the Karachi Press Club to echo their demand for the issuance of Pakistani national identity cards. Holding Pakistani flags and banners bearing pictures of Prime Minister Imran Khan, who had earlier revived their hopes of getting recognition of their nationality, they chanted slogans in favour of the Pakistan Tehreek-i-Insaf government and demanded that immediate measures be taken to get them out of the desperate situation of neither being here nor there.
The announcement made by the prime minister that Afghans and Bengali-speaking people living in Pakistan would be granted Pakistan's citizenship has kindled a ray of hope in members of the two communities. Since then their activists have been holding demos to draw the attention of the government towards their plight.
The unexpected announcement made at a fundraising dinner in Karachi has also provoked various political parties to issue statements, callously decrying the idea. Although the Muttahida Qaumi Movement-Pakistan has also shown its opposition to the move, Pakistan Peoples Party leaders have been more vocal on the issue, airing their views at every available forum. Lawyers in Larkana have also held a demonstration against permanent settlement of 'aliens' on Sindh's soil. The smaller, 'nationalist', groups have also found an opportunity to get their share of the limelight by taking to the streets or issuing statements.
Pak Sarzameen Party leader Syed Mustafa Kamal favours the grant of citizenship but apparently only to the Bengalis, most of who have settled in this part of the country even before the creation of Bangladesh in 1971. Neither they have any intention to go to Bangladesh, nor is that country keen to accept them as its citizens. Naturally, Bengalis and Burmese, fused together, consider this country their homeland.
Similarly, Afghans, accepted by Sindh as refugees after the invasion of their country by the Soviet Union in 1979, have taken firm roots here. Many of them have established their own businesses and built plazas in parts of Pakistan over the decades and do not fancy going back to the country of their origin, where the security situation is also unfavourable for such a consideration. Various international agencies have been helping repatriate them. The Japanese government has also announced $2.7 million aid for their repatriation. In fact, thousands have already been sent back to their country whether they liked it or not. Some of them are compelled by circumstances there to return to Pakistan and live here as illegal aliens.
The Jamaat-i-Islami, led by its chief Senator Sirajul Haq, has welcomed the prime minister's statement. The JI has consistently demanded grant of citizenship to both Afghans and Bengalis living in Pakistan.
The Awami National Party, whose supreme leader Khan Abdul Ghaffar Khan, reverently called Bacha (King) Khan, is buried in Afghanistan's city of Jalalabad, supports the idea of recognising the aliens as Pakistani. Backing the prime minister's statement, ANP chief Asfandyar Wali said at a press conference: "It is a normal practice all over the world that a child born in a country is given its citizenship. Pakistan should also grant citizenship to Afghans born here. This is a humanitarian issue and not a political one."
Imran Khan was reported having said: "The first thing I will do going back [to Islamabad], God willing, is that we will get those people from Bangladesh, who are perhaps living here for more than 40 years and their children have grown older, issued passports and national identity cards.
"And those Afghans whose children have grown older here, who were born in Pakistan, they would also be issued passports and ID cards," he continued. "When you are born in America, you get the American passport. It is the practice in every country in the world, so why not here? How cruel it is for them."
Unfortunately for the hapless communities, under obvious pressure from both allies and opponents, Mr Khan later said on the floor of the National Assembly that the final decision to grant citizenship to Afghans and Bengalis would be made only after taking all parties and "stakeholders" into confidence — a phenomenon unlikely to happen. Their dream seems be shattered on the cusp of realisation.
Parliament debate
The prime minister's statement on granting citizenship to the people of Bengali and Afghan origin in Pakistan sparked a debate in an assembly session.
The issue was raised jointly by the PPP and the Balochistan National Party-Mengal (BNP-M), one of the government allies, through a calling attention notice.
PPP's Nafisa Shah described the PM's statement as "insensitive" and said that he had "failed to take the feelings of the locals" of Karachi into consideration.
She said that the prime minister made the statement without realising the "sensitivities" of the metropolis, which she said had fought "civil wars" over resources. She also demanded that the government prepare data on refugees and immigrants living in the country before taking any major decision.
Former foreign minister Hina Rabbani Khar also lashed out at the premier over the statement, calling it "irresponsible".
"Prime Minister Khan must realise that after becoming premier, he does not represent only his party, but the entire country," she said. "He can take U-turns as his party's head, but not as the prime minister — on such important issues."
BNP-M chief Sardar Akhtar Mengal also opposed the proposal and called for a thorough debate on the issue. He lamented that the government was considering granting citizenship to Bengali and Afghan refugees on humanitarian grounds but the Baloch people were not even treated as humans in their own country.
He sarcastically remarked that illegal immigrants could continue to live in the country "simply by paying a Rs500 fine" and go on to accumulate property worth millions. In a previous session, Mr Mengal had walked out of the assembly during a debate on the same issue in the presence of the PM.
Responding to the arguments made by the PPP and BNP-M, Human Rights Minister Shireen Mazari said the government was ready to debate the issue before taking any decision. She said the PM had met Mr Mengal and assured him that the ruling PTI would consult all parties before arriving at a decision.
Dr Mazari also criticised the PPP, saying that the party had never bothered to collect data about the people living in Karachi despite being in power for more than a decade.
She further said that the Citizenship Act of 1951 granted citizenship status to people born in Pakistan.
"Whether you like it or not, it is the law that those born in Pakistan are Pakistani nationals," she said.
The issue was also debated in the Senate, where state minister for interior Sheheryar Khan Afridi stated that no decision would be "imposed without national consensus and the matter regarding granting nationality will be debated in parliament".
State minister for parliamentary affairs Ali Mohammad Khan's statement was more sugar-coated. He said: "This is our responsibility to help Muslim brothers in trouble." He recalled the sacrifices of the Bengalis in Karachi when they refused to migrate to Bangladesh after the fall of Dhaka in 1971 and opted to stay on in what was then West Pakistan. However, he also insisted that there should be a national consensus on the issue.
Is a national consensus possible on any disputed issue?
An appeal
Dear Khan Sahib, you are most people's last hope. They fear that if you fail, it will be gloom all around. Don't disappoint all of them, including those desperately trying to seek an identity. You have rightly said that it is "cruel" to deny them what is their right under our own Constitution. Condemned to live in slums with little amenities, these people face problems at every step. Without an identity card they cannot get a regular job. They cannot buy a train or plane ticket. They cannot have their children admitted to proper schools. I don't know how they solemnise their marriages without proper documents as the nikahnama needs ID card numbers.
Full report at:
https://www.dawn.com/news/1439229/no-u-turn-mr-prime-minister
--------
Gen Hayat in Washington to attend military chiefs meeting
October 16, 2018
WASHINGTON: Chairman Joint Chiefs of Staff Committee (JCSC) Gen Zubair Mahmood Hayat arrived in Washington on Monday to attend an international conference on countering violent extremist organisations.
Chairman of the US Joint Chiefs of Staff, Gen. Joseph F. Dunford, hosts this annual event, known as the Chiefs of Defence conference.
This two-day event would be the third Joint Staff-sponsored conference on counter-terrorism and is expected to be the largest to date. The first meeting was held on Oct 16, 2016, at Joint Base Andrews, Md, while the second was held at Fort Belvoir, VA. Both bases are close to the US capital.
Approximately 40 chiefs of defence attended the first conference while more than 70 participated in the second.
"This conference was a success in that we were able to gather more than 70 chiefs of defence from around the world for open, frank discussion on a range of topics related to violent extremism and the transregional threat it poses," said Gen Dunford while addressing the second meeting. "Their participation was a clear indication of the international community's commitment to countering the influence and impact violent extremism can have on the world."
The main purpose of this event is to promote "unity of effort as well as for improved cooperation and collaboration to counter violent extremism", Gen Dunford said.
Although a multilateral event, the conference also provides opportunities to the delegations to hold separates meetings on the sidelines.
Pakistan's participation in the conference dispels the impression that the country is facing a growing isolation in the international community because of its differences with the United States over Afghanistan.
Full report at:
https://www.dawn.com/news/1439293/gen-hayat-in-washington-to-attend-military-chiefs-meeting
--------
Prosecution witness testifies in Perween Rahman murder case
October 16, 2018
KARACHI: An antiterrorism court on Monday recorded the statement of a prosecution witness in a case pertaining to the murder of renowned social activist Perween Rahman.
Five detained accused — Raheem Swati, his son Mohammad Imran Swati along with three co-accused Ayaz Shamzai alias Swati, Amjad Hussain Khan and Ahmed Khan alias Ahmed Ali alias Pappu Kashmiri — have been charged with her murder.
Ms Rahman, head of the Orangi Pilot Project, who devoted her life to the development of impoverished neighbourhoods across the country, was gunned down near her office in Orangi Town on March 13, 2013.
On Monday, the matter was fixed before the ATC-XIII judge to record testimonies of the prosecution witnesses, including a private citizen. The West range DSP Khalid produced two witnesses; a private citizen and a policeman.
The private witness had his statement recorded. However, the prosecution gave up the second witness, who had already had his testimony recorded earlier that one of the accused, Imran Swati, was arrested in his presence.
After recording the statement of the witness, the judge directed DSP Khalid and the investigating officer to produce the remaining prosecution witnesses on the next date and fixed the hearing for Oct 22. The prosecution has listed 29 witnesses in the investigation report, but hardly nine of them had testified before the court, as others were reportedly not turning up due to security threats. The remaining witnesses included nine private citizens.
The court had recently dismissed bail applications of Raheem Swati, the main accused charged with planning and executing the murder, and his son Imran Swati, who has been charged with concealing information about the accused persons.
A case was registered under sections 302 (premeditated murder) and 34 (common intention) of the Pakistan Penal Code at the Pirabad police station.
Later, Section 7 of the Anti-Terrorism Act, 1997 was incorporated in the case on the directive of the Supreme Court that had also ordered a judicial inquiry into the case by the then district and sessions judge (West), Ghulam Mustafa Memon.
Arrest warrants for policemen
Meanwhile, another antiterrorism court has issued non-bailable warrants for arrest of the police officials who were not turning up to record their testimonies in a case pertaining to the alleged sectarian killing of four clerics.
The detained accused Syed Farhat Abbas Zaidi has been charged with killing the clerics Dilshakur, Mohammad Umer, Ansar and Imran near Siddiq-i-Akbar Masjid in Scout Colony, Mobina Town in 2012.
The ATC-VI judge, who is conducting trial in the judicial complex inside the central prison, issued arrest warrants in sum of Rs25,000 each for former inspector Changez Khan, inspector Abbas Ali Kolachi, sub-inspector Ghulam Mustafa Shah and constables Badaruddin and Imtiaz.
The judge directed the IG police Sindh to ensure presence of inspector Changez Khan, who had been dismissed from service, as he was not appearing despite issuance of summons in the case, which is pending since 2012.
It also directed the investigating officer to arrest and produce inspector Kolachi and the two constables on the next date. The hearing was adjourned till Oct 22.
Full report at:
https://www.dawn.com/news/1439226/prosecution-witness-testifies-in-perween-rahman-murder-case
--------
Fazlur Rehman escapes road mishap near Karak
Oct 16, 2018
As many as seven persons were reported injured in a road mishap that took place near Karak where a police vehicle in the convoy of Maulana Fazlur Rehman collided with a passenger bus.
According to reports, the Jamiat-Ulema-e-Islam-Fazl (JUI-F) chief's convoy was returning to Islamabad from Bannu on Monday after congratulating MMA's winning candidate Zahid Akram Durrani in NA-35 Bannu by-election.
The police vehicle, which was part of the convoy, crashed into a bus which was going to Karachi from Peshawar.
Seven individuals, comprising cops and passengers, were injured in the road accident. The injured were admitted to DHQ Hospital in Karak.
Full report at:
https://www.pakistantoday.com.pk/2018/10/15/fazlur-rehman-escapes-road-mishap-near-karak/
--------
Naya Pakistan Housing Programme to include 10 cities in Punjab
Oct 16, 2018
The Federal government on Monday added ten cities from Punjab to the residential project Naya Pakistan Housing Programme.
The cities which are being included in the housing project are Lahore, Kasur, Sialkot, Jhelum, Bahawalpur, Layyah, Multan, Vehari, Rahim Yar Khan and Gujranwala.
THE PROJECT:
Last week, announcing the launch of the housing scheme, the premier had said that five million houses will be constructed over the next five years under the 'Naya Pakistan Housing Project'.
"We want to build houses for those who ordinarily do not even dream of owning a house, as they fall in low-income group and barely manage to find a shelter," PM Imran had said.
The premier, vowing that he will supervise the project himself, had expressed confidence that the programme would not only provide affordable housing to the poor but also create employment opportunities in the country.
Full report at:
https://www.pakistantoday.com.pk/2018/10/15/naya-pakistan-housing-programme-to-include-10-cities-in-punjab/
--------
Complexities of Afghan peace dynamics
Farooq Awan
OCTOBER 16, 2018
Afghanistan is known for its ethnic divide which affects almost all of its affairs. From fight against the Taliban to share in the government, from armed forces to local police, economy to education, Afghanistan is plagued by ethnicity from head to toe.
Afghanistan's population is made up of nearly 50 distinct ethnic groups. Mysteriously, accurate numbers are not available even after the presence of data conscious US-led NATO in the country for over 17 years. Four of these ethnic groups account for a large majority: the Pashtuns (38-48%), Tajiks (20-25%), Hazaras (16-20%) and Uzbeks (4-8%). Of these only the Pashtuns are sub-divided on tribal lines. Pashtuns are known for Pashto language, Tajiks and Hazaras speak Darri or Afghan Persian whereas Uzbeks are mostly Turkic speaking.
The ethnic divide is traced to the word Afghan itself, commonly used as synonym of Pashtun, thus translating Afghanistan to the land of Pashtuns. Pashtuns controlled political power for most of Afghanistan's history as a state, with the result that their traditions and cultural precepts tended to be equated with the national identity of Afghanistan. Pashtuns have ruled the country for most of the time less two Tajiks tenures of Habibullah Kalakani (Bacha Saqqa) in 1929 and Burhan ud Din Rabbani from 1992-1996.
Afghan parliamentary elections are scheduled to be held on October 20, 2018. These elections have previously been delayed for more than three years. There are issues of security, mismanagement and corruption which are likely to haunt the elections, but above all is the ethnic rift. An important thing about the elections is that these are based on nonparty system wherein the individuals are directly elected by the people and political parties do not have a role in the process. This is the aspect which further aggravates Afghan polarization based on ethnicity. One of the important and interesting aspects regarding ethnicity in Afghanistan is that it is divided between north and south of Afghanistan. North is linked with Central Asia but southwestern characteristics are similar to Western Pakistan.
Afghan political leaders often use ethnic and group identity in their pursuit of power and resources by reinterpreting history around symbols of ethnic or religious differences, especially during the civil wars. The differences of the Taliban and Ahmad Shah Massoud's forces, as well as the historically rooted anti-Pashtun sentiments among Hazaras, Uzbeks, and Tajiks, are all used by political factions at appropriate occasion. Likewise, Pashtun aversion to acceptance of a Tajik dominated central government proved convenient to the Taliban's quest for power.
In November 2017, a leaked letter from a police commander requested officer recruits for a new antiriot force in the capital Kabul only from Hazara, Uzbek and Pashtuns, leaving out country's second-largest ethnicity: the Tajiks. The letter was leaked, published in the Afghan press and circulated on social media, sparking uproar and provoking new accusations of systemic ethnic favoritism in the administration of President Ashraf Ghani.
The province of Ghazni which was recently attacked and captured by Taliban for short time tells us another story. The province is the only place in Afghanistan which has been subdivided into three constituencies based on ethnic lines. According to the Independent Election Commission (IEC) decision, one constituency is Hazara-dominated with small pockets of Pashtun minorities, while the other two are Pashtun-dominated with pockets of Hazara and Tajik minorities. This leaves Hazaras with a weak chance of getting even four seats out of the 11 reserved for the province, while they arguably make up half of the population.
Keeping the internal dynamics at one side, it is also quite depressing for the rest of the world that the US/NATO forces having the best brains and state-of-the-art technologies for tackling the adverse and severe conflicts like this have failed to stop Taliban from conquering more than 40% of Afghan territory. The US is obviously a major player in Afghanistan and thus onus to understand Afghan sentiment lies on its shoulders.
People of Afghanistan are also war-weary like those of the US. The conflict has rightly been termed as an open wound of human suffering and a strategic headache for the foreign troops deployed in Afghanistan, but there is a dire need to carve out more humanistic approach towards the common Afghans to achieve domestic and regional peace and stability.
Hence, the role of the international community should primarily be to facilitate an environment and circumstances conducive for afghan public to enhance their social stature, besides the economic growth of Afghanistan. Afghan's security strategy requires adequacy and the Afghan government should be the authority of what resources it needs.
Full report at:
https://dailytimes.com.pk/310788/complexities-of-afghan-peace-dynamics/
--------
Pakistan welcomes joint saudi arabia-Turkey probe
October 16, 2018
ISLAMABAD - Pakistan Monday welcomed efforts of Saudi Arabia and Turkey to jointly investigate the disappearance of Saudi journalist Jamal Khashoggi and expressed the hope that the two brotherly countries will be able to address the matter.
The Foreign Office spokesman responding to a query about Pakistan's stance on the issue said "we understand that the investigation was ongoing and it would therefore be appropriate to await the outcome." He said Pakistan has close and fraternal relationship with both Turkey and Saudi Arabia .
Earlier, Turkish police Monday searched the Saudi consulate in Istanbul for the first time since journalist Jamal Khashoggi went missing, as US President Donald Trump floated the idea that "rogue killers" could be to blame for his disappearance.
Khashoggi, a Saudi national and US resident who became increasingly critical of powerful Crown Prince Mohammed bin Salman, has not been seen since he walked into the Istanbul consulate to sort out marriage paperwork on October 2. Turkish officials have said they believe he was killed - a claim Saudi Arabia has denied - with the controversy dealing a huge blow to the kingdom's image and efforts by its youthful crown prince to showcase a reform drive.
Trump despatched Secretary of State Mike Pompeo to the kingdom for what the State Department described as "face to face meetings with the Saudi leadership" to find out what happened. Until now, Riyadh has not allowed Turkish investigators to search the consulate - officially Saudi territory - with reports both sides were at odds over the conditions.
But late Monday evening - after Turkish authorities placed high iron barriers in front of the consulate - a motorcade of six cars drew up and Turkish police and prosecutors entered the premises. Some police were in uniform while other officials were in suits carrying printers and files, an AFP correspondent said.
Dozens of media organisations - some of whom had set up tents - have kept a constant vigil outside the consulate in the expectation that the search would finally begin. A Saudi delegation had entered the consulate one hour before the Turkish police arrived and appeared still to be inside as the search was conducted.
'NO KNOWLEDGE'
Trump's comments came after a telephone conversation with King Salman, father of the crown prince, the first such talks since the crisis erupted. "Just spoke to the King of Saudi Arabia who denies any knowledge of whatever may have happened 'to our Saudi Arabian citizen'," Trump tweeted.
Riyadh's most recent comments have focused on having no knowledge of any killing or denying any such order had been given. "The denial was very, very strong," Trump later told reporters at the White House. "It sounded to me like maybe these could have been rogue killers. Who knows?"
The search came after Turkish President Recep Tayyip Erdogan and King Salman also had their first telephone talks since the controversy erupted, in what appeared to be a conciliatory conversation according to official readouts. While lurid claims have appeared in Turkish media - including that Khashoggi was tortured and dismembered - Turkey's leadership has so far refrained from pointing the finger directly at Riyadh in public comments.
King Salman emphasised the importance of the Turkey-Saudi relationship and said no-one should be able to "undermine the strength of this relationship," Saudi's official media reported.
'DAVOS IN DESERT' UNRAVELS
The controversy has troubled Saudi's traditional Western allies - who are key arms suppliers to the kingdom - and also undermined efforts by Mohammed bin Salman to present himself as a modernising ruler. An investment conference seen as a platform for the crown prince and dubbed the "Davos in the Desert" which was scheduled to take place in Riyadh next week, has been hit by a string of prominent cancellations.
Business barons including British billionaire Richard Branson and Uber CEO Dara Khosrowshahi, as well as media powerhouses Bloomberg and CNN, have pulled out of the Future Investment Initiative (FII). And in a major new blow for the event, JPMorgan Chase CEO Jamie Dimon and Ford chairman Bill Ford also cancelled plans to attend as well as Larry Fink, the head of investment giant BlackRock, and Steve Schwarzman of Blackstone.
A section on the glitzy event website with pictures of the speakers has now been taken down. US Treasury Secretary Steven Mnuchin said he still plans to attend but would "take (it)... into account" if more information came out next week.
Saudi stocks have also been hit, suffering days of heavy losses, but made a strong comeback on Monday with the Tadawul All-Shares Index (TASI) rising over four percent. Trump has threatened the kingdom with "severe punishment" if it is shown that Khashoggi was killed inside its Istanbul mission.
Full report at:
https://nation.com.pk/16-Oct-2018/pakistan-welcomes-joint-saudi-arabia-turkey-probe
--------
By-election results show PTI's failure to fulfil 'hollow' promises: JI
October 15, 2018
Jamaat-e-Islami (JI) Secretary General Liaqat Baloch has said that by-elections results all over the country are a great setback for the Pakistan Tehreek-e-Insaf (PTI).
In a statement, the JI secretary general said that the ruling party had lost the seats vacated by the Prime Minister (PM) Imran Khan although the opposition party candidates had to contest on an uneven electoral field. He further said that the government should review its policies.
He said that the government should consider the results of the by-election as a warning as the price hike, unemployment, the fiery statements of the ministers and the wrong decisions of the government were adding to the wrath of the public.
Addressing the participants of the JI central workshop at Mansoora, Liaqat Baloch said that the state of Madina could not be built in the presence of the interest-based economic system.
Full report at:
https://nation.com.pk/15-Oct-2018/by-election-results-show-pti-s-failure-to-fulfil-hollow-promises-ji
--------
Mideast
Only Turkey can lead Muslim world, says Erdoğan
Oct 15 2018
Turkish President Recep Tayyip Erdoğan has talked up his country's credentials as a leader for the world's estimated 1.8 billion Muslims, calling Turkey "the only country that can lead the Muslim world," Islamist pro-Erdoğan newspaper Yeni Şafak reported on Tuesday.
"Turkey, with its cultural wealth, accretion of history and geographical location, has hosted diverse faiths in peace for centuries, and is the only country that can lead the Muslim world," Yeni Şafak quoted Erdoğan as saying during a meeting with Turkish provincial religious officials.
The Ottoman Empire once ruled large swathes of the world's predominantly Muslim regions from its capital in Constantinople, the city now called Istanbul, and was known during certain periods as a safe haven for diverse religious groups.
The Ottoman sultans laid claim to the title of Caliph of Muslims, though the Caliphate was abolished by the founder of the Turkish Republic, Mustafa Kemal Atatürk, in March 1924.
In recent years, Erdoğan's administration has taken a more active role in engaging with Muslim countries, and the Turkish president led the 59 member states of the Organisation for Islamic Cooperation in protest against Israel's killing of Palestinian activists this year as the OIC's rotating term president.
However, Turkey's relations with important OIC members including Egypt and Saudi Arabia have been soured in recent years by disputes over Turkey's support for the political Islamist group the Muslim Brothers, and for its support of Qatar, another state Saudi Arabia and its allies have accused of supporting the group.
Its most recent spat with Saudi Arabia has come after Saudi journalist Jamal Khashoggi disappeared after entering his country's consulate in Istanbul this month. Turkey says it has uncovered evidence the journalist was killed by a hit team sent by Riyadh. https://ahvalnews.com/islam/only-turkey-can-lead-muslim-world-says-erdogan
--------
Iran says US unilateral sanctions to violate basic human rights
Oct 15, 2018
Iran's envoy to the United Nations has slammed Washington's 'morally wrong' measures against other countries, saying that unilateral sanctions amount to collective punishment and violate basic human rights.
Gholamali Khoshroo on Monday regretted that the US "is addicted to sanctions" and sees it "as a tool in its toolbox in pursuance of its own national interests."
"The morally wrong and ethically unjustified unilateral measures not only defy the rule of law at the international level but also infringe upon the right to development and lead to the violation of basic human rights," Khoshroo said.
He made the remarks in an address to the Sixth Committee of the 73rd Session of the United Nations General Assembly on 'Report of the Special Committee on the Charter of the United Nations and on the Strengthening of the Role of the Organization'.
The Iranian envoy further noted that Tehran welcomes a report by the Special Rapporteur on the negative impact of unilateral coercive measures on the enjoyment of human rights, particularly where it says unilateral sanctions, aggravated by secondary sanctions seeking the "economic isolation" of the target country, amount to discrimination against the innocent population of the country concerned."
"Coercive measures often lead to collective punishment of innocent civilians and violation of human rights," he noted, blasting the US' measures against the Islamic Republic, which have hit innocent civilians on the contrary to what American officials claim.
US President Donald Trump announced in May that Washington was pulling out of the nuclear agreement which lifted nuclear-related sanctions against Iran in exchange for restrictions on Tehran's nuclear program.
The US administration reintroduced the previous sanctions while imposing new ones on the Islamic Republic. It also introduced punitive measures — known as secondary sanctions — against third countries doing business with Iran.
A first round of American sanctions took effect in August, targeting Iran's access to the US dollar, metals trading, coal, industrial software, and auto sector. A second round, forthcoming on November 4, will be targeting Iran's oil sales and its Central Bank.
US policies weakening UN
Khoshroo also took a swipe at Washington's use of threats against other countries as a tool of foreign policy, saying that the manifestation of the 'surprising' trend can even be traced in the UN.
"Threatening to cut financial aid to those countries who voted in favor of a UN resolution or warning them against the possible consequences of their vote in the General Assembly by saying 'the US taking the names' is just one example of visible offense to the UN principles," he said.
"One thing is clear. This trend is weakening the organization, not strengthening it, and runs counter to the very objective of the Charter Committee establishment," Khoshroo warned.
Full report at:
https://www.presstv.com/Detail/2018/10/15/577121/Khoshroo-Iran-US-Sanctions-UN
--------
Experts: Sectarianism source of disunity in Muslim world
Oct 16, 2018
Sectarianism is the main source of disunity and conflict among Muslim society, particularly in the Middle East, experts said yesterday.
Speaking at a conference organized by Istanbul Sabahattin Zaim University's Center for Islam and Global Affairs (CIGA) Dr. Nader Hashemi from the University of Denver said that in order to have a better Muslim world, Muslims should think about how to "de-sectarianize" the Middle East.
The theme of the conference was "Fault Lines and Perils Facing Muslim Societies: The Challenges of Sectarianism, Secularism, Nationalism, and Colonialism."
According to Hashemi, the political context of the Middle East necessitates the political mobilization and manipulation of sectarian identities in order to survive.
"Authoritarianism is the [political] context that allows sectarianism to flourish," Hashemi explained, adding that in order to combat sectarianism, the opposite of this political context is needed, which is, in Hashemi's opinion, democracy."We need to name and shame whoever perpetuates sectarianism," he said.
In the conference, religious pluralism, interreligious dialogue, democracy and a good functioning secular state are seen as the main tools to overcome the sectarianism within the Muslim community.
Focusing on the historical background of sectarianism in the Muslim world, it was further argued that the last two decades have witnessed the rise of Shiite powers all over the Middle East.
"Sunni rulers have viewed with much anxiety the new 'Shiite crescent' that extends from Iran to Lebanon," said Dr. Ahmad Mousalli from the American University of Beirut, indicating that this is the main reason why the Syrian crisis became more of a regional problem rather than a local one, as it was seen as an opportunity to weaken the Shiites and replace them with a Sunni government.
Saudi Arabia and Iran have been the two main actors of sectarian conflicts in the Middle East for some time. Saudi Arabia overwhelmingly represents the ideology of Salafism, which is a branch of Sunni Islam that aims to imitate the actions of the early followers of the Prophet Muhammed as closely as possible. The country historically sees itself as the leader of the Muslim world since its territory includes the birth place of the Islam. Iran, on the other hand, is directed by Shiite policies, especially since 1979 when the Islamic Revolution of Iran took place, forming a theocracy that aims to spread its ideology to the outside world. Representing opposing sides of Islam, the two countries have been engrossed in a rivalry that has surfaced in almost every regional crisis, including the Syrian civil war, in which they support opposing sides.
Dr. Mehmet Ali Büyükkara from Istanbul Şehir University, on the other hand, focused on the theoretical aspect of sectarianism and said that in order to overcome sectarianism-related problems, two main theories exist: modernist and post-modernist.
According to Büyükkara, modernists, who are also supported by the nationalists, argue that Muslims should turn to the main religious sources while leaving the sects behind.
"Nationalists used this approach while establishing nation-states to get rid of religious thoughts that might be rivalries [to the nationalist ideas]," he said.
"They combined it with the secularism," Büyükkara added.
However, he argued that, although this idea suggests that if sects are diminished sectarian conflicts would also disappear, there is no such a thing, since this approach only makes the sects angry against the states.
Stating that sectarian thoughts are both power and weakness for the Muslims, Büyükkara said that both the inner and outer political powers use sectarian differences to fuel conflicts within the Middle East.
The international conference was held by the Center for Islam and Global Affairs (CIGA) at Istanbul Sabahattin Zaim University - in cooperation with the Alwaleed Center for Muslim-Christian Understanding at Georgetown University in Washington D.C., and the College of Islamic Studies at Hamad Bin Khalifa University in Doha, Qatar.
Full report at:
https://www.dailysabah.com/politics/2018/10/16/experts-sectarianism-source-of-disunity-in-muslim-world
--------
Israeli forces wound dozens of Palestinian protesters in Gaza Strip
Oct 15, 2018
Israel soldiers have wounded dozens of Palestinians who had held a protesting rally along the northern coast of the besieged Gaza Strip in a bid to break the decade-long blockade on the impoverished sliver.
Hundreds of peaceful protesters had gathered in the area on Monday afternoon while dozens of others participated in a boat protest setting off from the Gaza seaport against the siege, but Israeli navy fired rounds and tear gas canisters at both groups.
According to a brief statement by Gaza Health Ministry, at least 60 people were wounded in the raid near the maritime border with the occupied territories, 24 of whom by live bullets.
Furthermore, Israeli military boats opened fire on ambulances and medics, who had rushed to help the wounded, other reports said.
The demonstration on Monday was the 12th naval march, with the participation of 25 fishing boats, against the crippling blockade of the enclave.
In August, the Palestinian Union of Agricultural Work Committees (UAWC) announced in a report that Israeli attacks against Palestinian fishermen in the Gaza Strip prevent "fishermen from practicing their fishing work and accessing their livelihood resources."
Israel imposed a limit of three nautical miles on fishing in the waters off the Gaza shore until August 2014, when Palestinian fishermen were allowed to go out six miles.
Back in July, however, Israel reduced the fishing area to only three nautical miles as part of punitive measures against Gazans over the launch of incendiary balloons from the Palestinian coastal sliver into the occupied territories as part of ongoing protests against the decades-long Israeli occupation.
Over the past few years, Israeli troops have carried out over a hundred assaults on Palestinian boats, arresting dozens of fishermen and confiscating several boats.
Israel has imposed movement restrictions on the Gaza Strip since the early 1990s. Restrictions intensified in June 2007 when Israel imposed a land, sea and air blockade on Gaza, citing security concerns.
Around two million Palestinians in Gaza remain locked in and are prevented from having free access to the remainder of Palestine and the outside world. The blockade has also undermined the living conditions in the coastal enclave and fragmented its economic and social fabric.
Tensions have been running high near the fence, separating Gaza from the occupied territories, since March 30, which marked the start of a series of protests dubbed "The Great March of Return." Palestinian protesters demand the right to return for those driven out of their homeland.
The deadly clashes in Gaza reached their peak on May 14, the eve of the 70th anniversary of Nakba Day, or the Day of Catastrophe, which coincided this year with Washington's relocation of the US embassy from Tel Aviv to occupied Jerusalem al-Quds.
Full report at:
https://www.presstv.com/Detail/2018/10/15/577108/Israel-Gaza-naval-protest
--------
Iran Warns of US Attempts to Reinvigorate Terrorist Groups to Syria
Oct 15, 2018
"Iran's presence in Syria is an issue between the two countries' governments and the US is not entitled to comment on that. The US will fail in this case too," Foreign Ministry Spokesman Bahram Qassemi told reporters in a press conference in Tehran.
"The US is opposed to anyone who fights against terrorism and likes Syria to return to a situation in which the terrorists are present and grow. The US is not interested in stability and peace in Syria and improvement of the Syrian people's living," he added.
Qassemi said that the US interference and presence in Syria without the permission of the country's government is illegal and against all international laws, adding that Washington has shown that it moves in line with increasing instability and insecurity and assistance to the terrorist groups in Syria.
Iran has been offering military advisory support to Syria and Iraq at the request of their government, enabling their army to speed up gains on various fronts against terror outfits.
Full report at:
http://en.farsnews.com/newstext.aspx?nn=13970723000853
--------
Palestinian shot dead trying to stab Israeli soldier - military
15 October 2018
Israeli soldiers shot dead a Palestinian who tried to stab one of them in the occupied West
Bank on Monday, the military said.
The incident occurred at a bus stop along a main highway near the large Jewish settlement of Ariel.
"A Palestinian attempted to stab a soldier at the site. Our troops fired at him and he was killed. There were no casualties among our forces," the military said in a statement.
There was no immediate Palestinian comment. Israel's Shin Bet internal security service said the assailant, whom it did not name, was a resident of the West Bank village of Biddya and had no record of anti-Israeli activity.
Biddya was the home village of a 47-year-old Palestinian woman who died of a head injury on Friday caused by what her husband said were rocks thrown at their car by Israeli settlers.
The Shin Bet statement, in its reference to Biddya, made no mention of Friday's incident, which Israeli police are investigating.
Palestinians began a wave of knife and car-ramming attacks in the West Bank and in Israel in 2015, after peace talks with Israel collapsed. Such incidents have become more sporadic.
Full report at:
https://english.alarabiya.net/en/News/middle-east/2018/10/15/Palestinian-shot-dead-trying-to-stab-Israeli-soldier-military.html
--------
Yemen's President Hadi sacks PM over 'negligence of government'
15 October 2018
Yemen's president sacked Prime Minister Ahmed bin Dagher, blaming him for the economic crisis rocking the war-torn country, a statement carried by SABA state news agency said on Monday.
President Abd-Rabbu Mansour Hadi appointed Maeen Abdulmalik Saeed as the new premier, it said, adding bin Dagher would face investigation over the "negligence of his government".
Full report at:
https://english.alarabiya.net/en/News/gulf/2018/10/15/SABA-Yemen-s-president-sacks-prime-minister-bin-Dagher.html
--------
Children injured in Houthi mortar attack on civilian neighborhood in Hodeidah
15 October 2018
Civilians, including children, were seriously injured following a Houthi mortar attack on their neighborhood in Hodeidah, Yemen on Monday, according to Saba News Agency.
Eye witnesses said that the Houthi attack caused the destruction of several houses and the injury of dozens of the neighborhood's residents, including children.
The reported serious injuries were in the victims' heads and other different parts of their bodies.
https://english.alarabiya.net/en/News/gulf/2018/10/15/Children-injured-following-Houthi-missile-on-civilian-neighborhood-Hodeidah-.html
--------
Houthi militias recruit 23,000 children, deprive over 4 mln from education
15 October 2018
The Houthi militias' military recruitment of children has increased after many of their members have been killed and many others refuse to fight on their frontlines and on behalf of Iran.
The Houthis have so far recruited more than 23,000 children in a stark violation of international agreements and laws that protect children's rights. Of those, 2,500 children have been recruited since the beginning of 2018.
The children are trained to use light, medium and heavy weapons and then deployed on battlefronts. The Houthis thus deprive them of an education after pressuring their parents and guardians to send the children to battlefields.
The Houthi militias have also pushed more than two million children to work as a result of the war. More than 4.5 million children have been deprived of an education, and in the past two years alone, 1.6 million children could not enroll in schools.
The Houthis have also shelled and partially or completely destroyed 2,372 schools and used more than 1,500 other schools as prisons and military barracks.
King Salman Humanitarian Aid and Relief Center has rehabilitated several Yemeni children who were recruited by the Houthis and involved in the fighting.
Full report at:
https://english.alarabiya.net/en/News/gulf/2018/10/15/Houthi-militias-recruit-23-000-children-deprive-over-4-mln-from-education.html
--------
Europe
Jewish lobby in far-right German party denounced for anti-Muslim views
October 15, 2018
PARIS (RNS) — A small group of German Jews has launched a lobby group within the far-right Alternative for Germany party, prompting a swift rejection from the country's established Jewish organizations and accusations that the move was an anti-Muslim ploy.
The founding of the 24-member "Jews in the AfD" group on Oct. 7 seems like a contradiction given the party's staunch nationalist views that include playing down Germany's Nazi past, including the Holocaust, and the close ties some members have to anti-Semitic movements.
But it highlights one of the party's main policies — opposition to accepting mostly Muslim immigrants in Germany — through its accusation that the newcomers are deeply anti-Jewish. A wave of about a million new immigrants in 2015, many of them from Islamic countries, has been decisive in boosting support for the AfD.
The AfD, founded in 2013 as an anti-European Union protest party, won 12.6 percent of the national election a year ago. It is now the largest opposition party in the Bundestag (parliament). The party has used this platform to challenge many of the country's postwar taboos.
"You're not getting a kosher certification from us!" said Dalia Grinfeld, head of the Jewish Students Union in Germany (JSUD), which rallied about 250 demonstrators in Frankfurt to protest against the new group.
Sergey Lagodinsky, a Russian-born Jewish lawyer living in Berlin, called the group "the worst Jewish joke in a long time."
The JSUD was one of 17 Jewish organizations, including the influential Central Committee of Jews in Germany and the country's General Rabbinical Conference, that issued a joint statement denouncing the new AfD lobby.
Other Jewish groups, including the World Jewish Congress, have added their support to the statement, bringing the total of signatories to 42.
"The AfD openly agitates against Muslims and other minorities in Germany … trying to present Muslims as enemies of the West and of the Jews," said the statement, titled "No Alternative for Jews."
"Muslims are not the enemies of the Jews!" the statement says. The enemies of all democrats in this country are extremists, regardless of whether they have extreme right, radical left or radical Muslim views."
Chancellor Angela Merkel's decision to open Germany's borders to the waves of migrants marching across Europe in 2015 changed the country's political landscape and sapped support for her Christian Democratic party and its Social Democratic coalition partners.
The AfD and the Bavarian-based Christian Social Union, a Merkel ally that has moved strongly to the right to counter the AfD's challenge to its voter base, have used fear of Islam, a few sex crimes committed by migrants and concern about the cost of caring for the newcomers to stoke mistrust of Muslims.
The AfD denies it is anti-Semitic. But prominent members openly play down the Holocaust and appeal to German pride. One has minimized Nazi crimes as only "bird droppings in 1,000 years of successful German history" and another called Berlin's Holocaust memorial "a shameful monument."
At the launch of the Jewish group in Wiesbaden, the deputy head of the new lobby, Wolfgang Fuhl, called the AfD "an extraordinarily pro-Israel party, probably the most pro-Israel party in the Bundestag."
The national party supported Jerusalem as Israel's capital (link in German) and its Berlin chapter wants to outlaw the annual pro-Palestinian "al-Quds Day" march in the German capital, said Fuhl, a former member of the board of directors of the Central Committee of Jews in Germany.
To applause from the audience, Fuhl added: "I'd like to have my Germany of 2012 back again."
The group's manifesto unveiled at the meeting added another reason it thinks Jews should see the AfD — best known for its opposition to Muslim immigration — as an ally.
It said mass migration threatened Jews because Muslims were brought up with anti-Semitic views and the AfD was "the only party in Germany that tackles the issue of Muslim hatred of Jews and doesn't make excuses for it."
Petr Bystron, an AfD deputy in the Bundestag who is not Jewish, enthusiastically congratulated the new group at its launch.
"The simple existence of your association is a slap in the face to all the liars and hypocrites who constantly try to link us in the AfD to anti-Semitism," he said.
Josef Schuster, president of the Central Council of Jews in Germany, said in several media interviews that Jews who supported the AfD "simply have not recognized" the party's ulterior motives.
"The AfD is a party that agitates first of all against refugees, migrants and Muslims, but saying 'the enemy of my enemy is my friend' does not work," he said.
The party could actually end up limiting religious freedom, he warned.
"If you look at the party platform of the Bavarian AfD," he said, "they not only want to ban circumcision and kosher butchering, they also attack the Christian churches fiercely."
Germany has gained a reputation in recent decades as an attractive country and an estimated 200,000 Jews now live there. Anti-Semitic crimes have been rising, but police say most incidents are the work of far-right extremists, not Muslim migrants.
"AfD leaders know that Jews don't even make up two-tenths of 1 percent of all eligible voters," Munich's liberal Süddeutsche Zeitung newspaper commented. "But the AfD is appealing to a group of potential non-Jewish voters 100 times bigger than that. They are the many undecided conservative voters who don't see themselves as right-wingers."
A few token Jews could make the party more acceptable to voters who resent Muslim migrants but are put off by the AfD's open flirting with anti-Semitism, it said.
AfD deputy national leader Beatrix von Storch, who once caused an uproar by tweeting about what she called "barbaric Muslim rapist hordes" in Germany, has even said Muslims would be welcome to form their own lobby in the party if they wanted.
Lamya Kaddor, a German-born Muslim writer, dismissed such lobbies in the AfD as "a tragedy at the voters' expense." They made as much sense as "Satanists in the Protestant Church" or "Tops Chefs at McDonald's," she wrote.
The Jewish lobby in the AfD is not the party's first bid to attract religious voters.
It already has a "Christians in the AfD" group, whose 125 or so members have little influence in policymaking. Its first chairperson quit the AfD last year, saying she did not want to be a "fig leaf" for the radical right-wing faction in the party.
In public debates with Catholic and Protestant clerics, group members have failed to convince the audience that the biblical command "love thy neighbor" did not apply to people who came from far away.
In a packed church in Berlin last year, the start of a debate between an AfD Christian and the city's Protestant Bishop Markus Dröge was held up by protesters who sang the American civil rights hymn "We Shall Overcome."
https://religionnews.com/2018/10/15/jewish-lobby-far-right-german-party-denounced-anti-muslim-views/
--------
Government Blocks Study into Radical Islam and Conversion in UK Jails
15 Oct 2018
The Ministry of Justice has blocked a study examining why so many convicts and prisoners in the UK are converting to Islam and turning to extremism.
A so-called "corporate culture" in the government department was blamed for the move, with officials allegedly worried about what the academic study might unearth or reveal.
Many of the UK's homegrown extremists have converted to Islam in jail, including the Westminster terrorist attacker Khalid Masood, with some prisons allegedly controlled by Islamic gangs and prisoners forced to covert for their own protection.
The proposed three-year study was supported by Max Hill, the independent reviewer of terrorism laws, but the prison service did not want outsiders studying such a sensitive area, The Times reports.
"The scale of radicalisation should not be overestimated but in certain prisons it is certainly growing," a source told the newspaper.
Adding: "The corporate culture of the service is defensive and they will have been concerned about what this proposed project will discover."
Others sources claimed that the study could have revealed that inmates are converting because of cultural pressure and to get better food and avoid gang violence.
Matthew Wilkinson, the principal investigator, said: "Prison governors want our independent research to discover what is actually happening on their prison wings; not what is feared or suspected to happen."
The number of Muslim in jails in England and Wales has increased from 5,500 in June 2002 to 12,894 at the end of June this year.
Earlier this year, it was revealed that 228 inmates in Britain had been locked up for terrorist offences – with 82 percent of those being classed as holding Muslim views.
In late 2015, the Prison Officers Association (POA) found that a growing number of non-Muslims are being forced to pay a "protection" tax, or "jizya" unless they convert to Islam.
The former chief inspector of prisons Nick Hardwick later warned that Islamic extremists are increasingly using British jails to recruit inmates as potential terrorists.
The POA has admitted that there is a "real problem" with inmates being radicalised with prison sources adding that imams with extremist views were being allowed to preach in British prisons because of a "shambolic" vetting system.
Counter-extremism think tank Quilliam said at the time: "We are aware of several individuals employed by the prison service who have links to extremist groups.
Full report at:
https://www.breitbart.com/europe/2018/10/15/government-blocks-study-radical-islam-conversion-uk-jails/
--------
Muslim Grand Mufti attacks gay teachers saying they 'suffer from a mental illness' and 'contradict nature'
16 October 2018
Australia's most senior Muslim cleric has claimed gay teachers 'contradict nature' and suffer from 'mental illness'.
Sheikh Taj El-Din Hilaly made the claims as he weighed into the debate about whether religious schools should have the right to exclude homosexual teachers because they did not reflect school values.
Sheikh Hilaly backed moves to support such religious freedom and said same-sex-attracted teachers should 'not impose their lifestyle on the rest of society'.
The controversial Sunni Muslim leader, who in 2006 described immodestly dressed women as 'uncovered meat', told The Australian through a translator schools should not be 'a club for those seeking to satisfy their desires'.
'We are a free democratic society that believes in diversity and human rights and we reject constrictions on the rights of others even if they are afflicted with abnormal practices that contradict nature,' he said.
'In such cases, we must respect their humanity and deal with the issue as a mental illness that requires care and treatment.'
Sheikh Hilaly's made his remarks in Arabic after Prime Minister Scott Morrison, a Pentecostal Christian, and Labor leader Bill Shorten, a Jesuit Catholic, both said they would like to remove anti-discrimination exemptions for religious schools.
Mr Morrison has indicated he wants to remove loopholes that allow faith-based schools to expel openly-gay students while Mr Shorten has gone further and announced he wanted to also ban such discrimination against gay teachers.
The government has yet to release in full the religious freedom review by former federal attorney-general Philip Ruddock which reportedly recommended removing the right of faith-based schools to expel gay students.
Sheikh Hilaly ascension to his former role as Grand Mufti was last month challenged by the Australian National Imams Council and the United Muslims of New South Wales.
They issued a media release in September questioning how Muslims at Logan, south of Brisbane, had bestowed the title on him.
Of the 17 electorates across Australia, that last year voted no to same-sex marriage in a postal vote survey, nine were Labor electorates in western Sydney.
Full report at:
https://www.dailymail.co.uk/news/article-6279651/Muslim-Grand-Mufti-says-gay-teachers-suffer-mental-illness-contradict-nature.html
--------
British man pleads guilty to sending 'Punish a Muslim Day' letters
15 OCTOBER, 2018
LONDON — A British man arrested this summer on suspicion of sending racist letters across England urging a "Punish a Muslim Day" and offering points for acts of violence has pleaded guilty to soliciting murder and 13 other offenses.
The man, David Parnham, 35, of Lincoln, England, entered his plea Friday (Oct 12) at the Central Criminal Court in London. Parnham, who local reports said worked for the Lincoln City Council, had waged a two-year campaign of terror since 2016, police said, sending "malicious" letters and "highly offensive" packages to scores of people and organisations.
The letters and packages, some with suspicious white substances, were sent to mosques, Muslim members of Parliament and Queen Elizabeth, among others. The letters urged people to commit violence against Muslims to earn an escalating number of points.
The letter said that people would be awarded for harming Muslims on April 3 for a series of offenses — 25 points for pulling off a woman's headscarf, 500 points for murdering a Muslim, 1,000 for bombing a mosque and 2,500 for a nuclear attack on Mecca.
According to the BBC, Parnham was caught because his DNA and fingerprints were recovered from some of the letters, including one sent to Dylann Roof, the white supremacist on death row for massacring nine black churchgoers in Charleston, South Carolina, in 2015.
Mr Sajid Javid, now the British home secretary, was among those who received a letter in March. At the time, Mr Javid was the housing secretary in Prime Minister Theresa May's government.
British officials in the Palace of Whitehall, where Parliament meets, received packages — some containing a sticky irritant — and some offices were evacuated and sealed off. The substance was later found not to be harmful. But the mailings shook up communities, and the Metropolitan Police of London warned Britons to be vigilant.
Counterterrorism officials, assisted by the Lincolnshire Police, arrested Parnham in June, police said in an emailed statement. He was detained after a raid at his home and at offices in Lincoln, The Lincolnite news site reported.
On Friday, Parnham pleaded guilty to a raft of charges, including five counts of staging hoaxes involving noxious substances, a charge tied to an anti-terrorism act; seven counts of "sending letters with intent to cause distress or anxiety"; one count of staging a bomb hoax; and one count of "soliciting to murder."
A 2017 post at the University of Sheffield by Parnham urged attacks on ethnic minorities and allegedly claimed that he would donate 100 pounds, about S$180, to charity for each killing, the BBC reported. Prosecutors said the letters amounted to soliciting murder, and, after his plea, he faces a life sentence, the BBC said.
"The abusive, racist and threatening language used in the letters has caused major distress," Detective Chief Superintendent Martin Snowden, the head of counterterrorism in the northeast of England, said in a statement.
"Many Muslim communities strongly believed there was a real threat to their safety which understandably caused fear, offense and worry," he added.
Parnham will be held in jail until next month, when he will be sentenced.
Some of the letters included a picture of a person being decapitated with a sword bearing a swastika insignia, according to local news reports. In a letter sent to former Prime Minister David Cameron, Parnham wrote, "Allah is Great."
Some communities in Britain began campaigns to counter the letters, with initiatives such as Protect a Muslim Day.
But the letters spread to the United States via social media. They spurred police and local officials to announce increased security measure or to urge vigilance.
"Our message must be just as loud," Mr Eric Adams, the borough president of Brooklyn, New York, was quoted as saying by Newsweek in April. "Not punish a Muslim, let's embrace a Muslim, let's embrace a Christian, let's embrace a person of Jewish faith, let's embrace the diversity that this city has to offer."
The latest British government statistics showed that more than 80,000 hate crime offenses were reported in 2016-17, and that hate crimes based on religion had risen 35 per cent compared with the previous year.
In February, Darren Osborne, 48, was found guilty of murder for driving a van into Muslim worshippers outside the Finsbury Park Mosque, in North London, in June 2017, killing one person and wounding nine others.
The trial raised questions about the radicalising influence of far-right groups in Britain, especially after Osborne admitted that he had also hoped to kill Mr Jeremy Corbyn, leader of the opposition Labour Party, as well as the mayor of London, Mr Sadiq Khan, at a different location.
Full report at:
https://www.todayonline.com/world/british-man-pleads-guilty-sending-punish-muslim-day-letters
--------
Australia open to recognizing Jerusalem as Israel's capital, moving embassy
16 October 2018
Australia will reconsider its support for Iran's nuclear deal and is open to recognizing Jerusalem as Israel's capital and shifting its embassy there, Australia's Prime Minister said on Tuesday.
The status of Jerusalem is one of the thorniest obstacles to a peace deal between Israel and the Palestinians.
Israel regards all of the city, including the eastern sector that it annexed after the 1967 Middle East war, as its capital while the Palestinians, with broad international backing, want East Jerusalem as the capital of a future state that they hope to establish in the occupied West Bank and the Gaza Strip.
https://english.alarabiya.net/en/News/world/2018/10/16/-Australia-PM-open-to-shifting-Israel-embassy-to-Jerusalem.html
--------
Southeast Asia
The compassionate face of Islam
THROUGH MANY WINDOWS
14 Oct 2018
MUSLIMS should welcome the announcement by Datuk Dr Mujahid Yusof Rawa, the Minister in the Prime Minister's Department in charge of religious affairs, that it will be the government's policy to promote compassionate Islam.
Actually, I believe there is only an "Islam" whose teachings are primarily compassionate, a blessing and merciful. Anyone who reads the Quran will know that it describes itself as a "healing and a mercy to those who believe" (Al Isra (17) verse 82).
In fact, the Holy Prophet Muhammad himself is described in the Quran as rahmatan lil Alamiin for the whole world and the creations (Al Anbiya (21): verse 107).
Essentially, rahmah means love or affection and is often understood to mean the love of God for mankind and His creations where He has provided everything they need to develop and live on this earth. In other words, the Quran guides mankind to understand and appreciate this rahmah through its guidance.
Dr Mujahid also pointed out the use of state resources to confront "public sins" and "private sins" to show, I believe, that any use of religious enforcement powers must be tampered with common sense and compassion.
I believe real scholars of Islam know that there is an abundance of literature that discourages the deliberate attempt to expose private sins.
For reasons which I cannot understand, Dr Mujahid has been exposed to irrelevant criticisms by some Muslim religious experts implicit within which is the assumption that he is ignorant of the discourse in these matters.
I would have thought that this would have been an opportunity for religious experts to exercise husnuzan (benefit of the doubt) and to embrace the idea of promoting the compassionate face of Islam.
Unfortunately, this was not so, and sadly, this exposed their mentality for the judgement of the public, especially by the thinking Muslims.
For the past many decades, Islam has come across as a repressive, non-tolerant, exclusive and even violent religion.
We are familiar with the Islamophobia, Islam bashing and even Muslims oppressing other Muslims in the name of the faith in some societies.
There has even been a perception for the past decades that some Muslim religious experts will not speak up against universal injustice (irrespective of the religion of the victims) unless it fits into their interpretation of the "religion" of Islam.
Increasingly, the loud religious experts are being seen as becoming irrelevant in this challenging new millennium where thoughts and technology are no longer the same even compared to just 30 years ago.
Even Muslims are beginning to realise that some of the so-called religious experts are nothing more than those schooled in some fiqh or in simple language Islamic law as if life is made up of only law.
Their contributions in the larger scheme of life appear to be minimal at best.
They are also perceived as being dictatorial with their views rather than persuasive with sound arguments. Hence, the general fear about religious experts being given political power.
Such perceptions, admittedly, are unfair to the more rational, sincere and dedicated Muslim scholars who have contributed much to the growth of Islamic literature.
It is also unfair to the image of Islam and to Muslims in general.
Hence, the need to reverse the negative narratives about Islam by some of these Muslim religious experts themselves.
Which face of Islam is the Muslims projecting is an important question that needs to be addressed.
Undoubtedly, fiqh is nonetheless important in the life of Muslims but one must also know that the teachings of Islam are beyond that.
The greater part of the 6,236 verses of the Quran is devoted to religious and moral themes while there are only about 350 "legal" verses in the Quran.
It is common knowledge among Muslims who read the Quran that for every punishment mentioned in the Quran, God provides for the forgiving of the wrongdoer.
This forgiveness part, however, has not been sufficiently highlighted such that Islam is wrongly presented as a rigid and punitive religion.
Muslims cannot continue to pretend that all is well within the Muslim world. It is not – legally, economically, socially, politically and so on.
Today, it is a tough challenge to identify a model Muslim country where there is truly justice, good governance and a place where anyone, whether Muslim or non-Muslim would like to go to and live.
These are major issues and ongoing debates among the Muslims but one that needs to be honestly addressed. I would probably touch on some of these issues in another article.
For now, I would like to state my support for the policy of projecting the compassionate face of Islam.
Malaysian Muslims must reclaim Islam by determining which "face of Islam" they want so long as it is consistent with the teachings of the Quran and most authentic Sunnah.
For more than twenty years now, a small group of us have started a movement to encourage the birth of compassionate citizens in our country because we believe that educated citizens alone cannot guarantee collective happiness.
In this world, all of us undergo various kinds and degrees of sufferings and challenges just to live whether in our personal, professional or public lives. All of us need to learn and acquire the skills of being compassionate so that we can be collectively happy.
Compassion is the experiencing of another person's suffering accompanied by our action to remove that suffering.
For example, we know a person who is poor, we not only sympathise but we take actions to alleviate that person's poverty in some way, not by merely giving him a token charity.
In the enforcement of laws, we use our power of enforcement in the most compassionate way possible, and not harshly.
It should never be the state's role to merely punish the offender (and often their innocent families) when the state itself is in some way responsible for the crime occurring.
Likewise, a dogmatic or aggressive approach to religion bereft of compassion will also push some people away from God.
Why would anyone want to follow a religious expert who is always condemning others and appear to play God by insisting that only his interpretation and understanding of whatever he has read is the ultimate understanding?
Do others not have a right to evaluate his understanding and even to evaluate his level of cognitive abilities?
So let Muslims take heed of the principle of husnuzan and the teaching of the Quran that we hear all views and take the best there from.
https://www.thestar.com.my/opinion/columnists/through-many-windows/2018/10/14/the-compassionate-face-of-islam-it-should-never-be-the-states-role-to-merely-punish-the-offender-or/
--------
French terror suspect from Salafi Jihadi bust killed in accident en route to KL
15 Oct 2018
KUALA LUMPUR: A French terror suspect, who was among the students detained from the Salafi Jihadi learning centre in Perlis, died in a road mishap en route to Kuala Lumpur.
Mickael Alain Louvier suffered injuries to his head and chest in the accident at KM428.3 of the North-South Expressway near Bukit Beruntung at about 3.27pm last Friday (Oct 12).
It is learnt that the accident occurred when one of the tyres of a van transporting Lourvier and other terror suspects burst, causing the driver to lose control of the vehicle.
Sources said Louvier was being transported from Perlis along with three other French terror suspects from the same learning centre.
"All of them were rushed to the Sungai Buloh Hospital, Kuala Kubu Baru Hospital and Selayang Hospital for treatment," a source told The Star.
Two police personnel, who suffered serious injuries, are still being treated at Sungai Buloh Hospital and Selayang Hospital.
"The rest of the policemen suffered multiple but not life-threatening injuries, while three other terror suspects also suffered light injuries," the source said.
The remains of Louvier were transported to Bukit Ketri in Perlis, where a funeral was held at the Masjid Mahmudiah Muslim Cemetery on Sunday (Oct 14), another source said.
Louvier and the other three French terror suspects were among eight men detained for terrorist links with groups in Yemen.
They had allegedly had been planning to spread Salafi Jihadi extremist teachings in the region by making Malaysia its central hub.
Under the guise of an Islamic Learning Centre in Perlis, the cult aims to recruit new members and promote their teachings, which permit the killing of non-Muslims and even Muslims who do not follow their ways.
Full report at:
https://www.thestar.com.my/news/nation/2018/10/15/french-terror-suspect-from-salafi-jihadi-bust-killed-in-accident-en-route-to-kl/
--------
Chinese leader visits region with Muslim population, draws the line for religion
Oct 15, 2018
Sinicisation of religion must be upheld to promote ethnic solidarity, a top Communist Party of China (CPC) leader said during a visit to the country's remote northwestern region of Xinjiang, home to millions of Muslim Uyghurs.
Sinicisation could be broadly defined as increasing the influence of Chinese, or the culture of the majority Han community, on non-Chinese ideas and entities within China.
President Xi Jinping has talked about sinicising religions in China since taking over the CPC leadership in 2012.
The focus has largely been on Islam and fast-spreading Christianity within China.
The leader You Quan said "…sinicisation on religion must be upheld to promote ethnic solidarity and religious harmony" during a visit to the Xinjiang Uyghur Autonomous Region (XUAR).
You is a member of the CPC central committee secretariat, one of the top decision-making bodies of the party, and he is head of the party's powerful United Front Work Department.
"The Party's leadership over religious work must be upheld," You was quoted by official news agency, Xinhua, as saying, and adding that "the infiltration of religious extremism must be guarded against".
You visited mosques and scripture schools and talked with government officials, party cadres and people from religious circles
"You also expressed his hope that people in religious circles can inherit and carry forward the fine traditions to love the motherland and their faith, lead religious believers to follow the right faith and abide the law and contribute to the healthy development of Islam," the report said.
You's statement comes within days China legalising the controversial re-education camps in Xinjiang as "vocational training institutes", where inmates influenced by religious extremism will be reeducated and transformed, amid mounting international pressure.
Until last month, Beijing had denied the existence of the camps in the face of mounting criticism that said that the hundreds of thousands of Uyghur men and women had been interned without any legal recourse.
Beijing has repeatedly blamed Islamic separatists for the sporadic unrest between the Uyghurs and the ethnic Han majority, which has led to the deaths of many in the past several years.
Full report at:
https://www.hindustantimes.com/world-news/chinese-leader-visits-region-with-muslim-population-draws-the-line-for-religion/story-fD0bLtYmrTLqgRmx9d1c4M.html
--------
Will a Nobel Prize winner ever come from Malaysia?
Joe Samad
October 16, 2018
There is a sign at the Stockholm Nobel Museum which says "Nobel calling you". It is a message to humankind that there are those with "Nobel potential" out there waiting to be discovered.
The Nobel Prize shows that ideas can change the world. Visiting the museum during my recent trip to Europe was very inspiring. The museum charts the struggles of prize winners in their fields and pursuit to make the world a better place.
The countries that have won the most Nobel Prizes are the US, UK and Germany. The only Asian country in the top 10 ranking is Japan, with 26 wins. Going by religion, only 0.8% of the winners between 1901 and 2000 were Muslims. Atheists, agnostics and freethinkers all fared better. As of 2015, only 12 Nobel Prize laureates were Muslims. Seven of them were awarded the Nobel Peace Prize, while only three were awarded prizes for the sciences. Perhaps this indicates that the Muslim world has not been at peace and has not devoted enough time and space for the sciences to develop. Islamic literature, too, is stifled if it strays from the "true religion" as interpreted by the men of state.
The current exhibition focuses on the life and struggle of 1964 Nobel Peace Prize winner Martin Luther King. As I looked at the exhibit, two things went through my mind: the Malay preoccupation with religion and our own struggle to overthrow a callous and corrupt regime led by Muslim leaders.
Religion is certainly important in our spiritual life, but the abuse of religion creates a disenchanted society which pushes people, especially the youth, towards atheism and free thinking. We can look to Christianity in Europe for a lesson. Tourism in Europe revolves around old town heritage sites – churches, castles and palaces. Many great churches are now museums, with some even converted into casinos, private homes or bed and breakfasts. Devoid of spirituality and worshippers, they display statues made of gold, beautiful stained glass, valuable paintings and paraphernalia of papal power.
One can only ponder how the churches became so rich, built gravity-defying architecture through great engineering skills, but lost their congregations over the years. These ancient churches now compete with each other to get the highest rating, not from God, but from TripAdvisor. The St Nicholas church I visited in Prague, for example, has a 4.5-star rating.
Is Islam in Malaysia heading in the same direction? Glancing through the issues which took place while I was away, Muslims appear preoccupied with the topics of underage marriage, LGBT, moral policing and punishments for personal transgressions. These are divisive issues, and any statements contrary to a conservative Muslim mind are labelled as liberal.
But the social ills of bored Muslim youth, manifested in Mat Rempits, terrorist cells and drug abuse, show that religious conservatism is not the answer to society's growing problems. You can allocate big budgets through Jakim for Islamic and moral education, but the results indicate the opposite. Our solution is always to use the big hammer rather than to reason through dialogue and with empathy, thus driving believers further away from God.
The Sabah mufti's recent suggestion to lower the minimum age of marriage to 14 for girls runs contrary to the universal belief that everyone has the right to education, and that advancement in education is the key to a developed society. Muslim women are still treated as objects, and how they dress or cover up is the main criteria for judging their religiosity.
Education is a key factor in the development of sciences. Martin Luther King knew the importance of education and fought for equal opportunities for the blacks in a segregated community. The sciences can contribute to the advancement of medicine, for example, but marrying girls off at a tender age does not contribute to anything but the satisfaction of men. And banning Islamic literature published by the likes of moderate group G25 puts the Muslim intellect in a straitjacket.
Mustafa Akyol reasoned that Muslims were quite successful a millennium ago because they formed a cosmopolitan civilisation that did not shy away from being open to different cultures. Muslim intellectuals were confident about their faith and hence did not see a problem in learning from non-Muslim sources of knowledge and synthesising these with Islam. However, today's common Muslim mind, including the intellectual Muslim mind, is quite insular and focused on protecting the Islamic mental sphere from the influences of the outside world. The result is a defensive culture that refuses to engage with new ideas. That is why Martin Kramer, an American historian, argues, "Had there been Nobel Prizes in 1000, they would have gone almost exclusively to Muslims."
Full report at:
https://www.freemalaysiatoday.com/category/opinion/2018/10/16/will-a-nobel-prize-winner-ever-come-from-malaysia/
--------
Court to decide child conversion case, first after Indira ruling
16 October 2018
KUALA LUMPUR, Oct 16 — The High Court here is expected to decide today whether a Buddhist man can nullify the conversion of his two children into Islam, which was done without his consent under allegedly dubious circumstances.
Today's verdict will be the first for a judicial review against the unilateral conversion of children, following the Federal Court's landmark ruling in January that overturned the conversion of Hindu mother M. Indira Gandhi's three children into Islam.
Last month, the Court of Appeal decided that Shah Alam-based ethnic Chinese businessman Tan (not his real name) had sole custody of his converted children. His lawyer Honey Tan (no relation) is hopeful this will positively affect the decision today.
"Strictly speaking, the High Court is bound by Indira Gandhi's decision. If it doesn't apply the principles in Indira's case, it will have to state the particular facts of this case that distinguishes it from Indira's case.
"If it does depart from the principles laid down in the Indira case, the whole issue of unilateral conversion will once again be open and bring great uncertainty to our society," Honey told Malay Mail in a brief interview yesterday.
She also pointed out that the senior federal counsel has not objected to the judicial review, and the Attorney General's Chambers is bound by the decision.
Despite that, husband Tan's legal hurdles may yet be over, as the ex-wife filed an appeal to the Federal Court last week over the appellate court's decision on custody.
The Court of Appeal had ruled Tan will have sole guardianship, custody, care and control of their daughter and son, reversing an earlier decision by the High Court in Shah Alam. The ex-wife must also return the RM30,000 costs paid by the appellant under the previous order by the High Court.
Based on court documents sighted by Malay Mail, the ex-wife will argue whether several definitions of "the best interest of child" are "necessarily rebutted or displaced" in favour of the other parent, by the mere act of the other parent converting the child.
The ex-wife also wishes to argue whether the landmark Indira ruling took into account "appropriate interpretation" of the Federal Constitution, and that the Guardianship of Infants Act 1961 states that parents have "equal" rights and authority, and not "joint".
No date has been set yet for this appeal in the Federal Court.
Tan has previously claimed purported "hidden hands" behind his ex-wife's decisions, saying she has not had to pay a sen to her numerous lawyers over the years ― and a party may have been bankrolling her.
In today's case, Tan seeks to invalidate the 2016 unilateral conversion to Islam and certificates of conversion of his two children, who were born in a civil marriage when his now ex-wife was still a Buddhist.
The names of the family, including the father and mother aged 46 and 42 respectively, cannot be disclosed due to a court order.
The lawsuit filed on June 14, 2016 is against five respondents, namely the Federal Territories Islamic Religious Department (Jawi) director-general, the Federal Territories Registrar of Muslim Converts, the education ministry director-general, the government of Malaysia, and the Muslim convert mother.
Full report at:
https://www.malaymail.com/s/1683260/court-to-decide-child-conversion-case-first-after-indira-ruling
--------
Make a stand on Johor's Oktoberfest ban, MCA tells DAP
15 October 2018
By Jamny Rosli
KUALA LUMPUR, Oct 15 — Johor DAP executive councillors should make their views known on Mentri Besar Datuk Osman Sapian's decision to ban Oktoberfest from being held in the state.
Its chairman Ling Tian Soon said in a statement today that such a move will determine whether the Johor state government will respect non-Muslim rights, and if it is heading down a path of moderation or extremism.
"Now that Pakatan (PH) helms the federal government administration, the Johor mentri besar has openly said that Oktoberfest will be banned. What is the stand of Johor DAP executive councillors then?" he asked.
Ling reiterated that DAP secretary-general and former Penang chief minister Lim Guan Eng had previously lambasted the former BN government for not allowing Oktoberfest to be held in Kuala Lumpur, claiming that such a move was a violation of non-Muslim rights.
"Will they defend their party secretary-general Lim Guan Eng's stand, or compromise with Johor mentri besar's decision to not allow Oktoberfest be held?" he said.
Previously, Osman announced that the Johor government will not issue any permit for Oktoberfest to be celebrated in the state.
Full report at:
https://www.malaymail.com/s/1683149/make-a-stand-on-johors-oktoberfest-ban-mca-tells-dap
--------
Anwar returns to Parliament, vows to give Mahathir space
OCTOBER 15, 2018
Anwar Ibrahim made a triumphant return to the Malaysian Parliament on Monday as a lawmaker, then said he was in no rush to return to the Cabinet and would give Prime Minister Mahathir Mohamad space to run the country.
"I stand by my earlier decision that I don't intend to serve any positions. I'm happy with this position [as an MP]," he said at a press conference in Parliament in Kuala Lumpur.
Anwar said plans to eventually make him the eighth prime minister were not a priority at the moment, as the PM – his former mentor then fierce rival – needed to be given some freedom to lead the government.
"That is very important because some key fundamental decisions have to be made by Dr Mahathir and the Cabinet," he said. These related to government policies and to reverse flawed decisions of the previous Barisan Nasional administration, adding that they were issues he needed to support.
MPs applauded as Anwar took the oath of office following his victory in a byelection for the seat of Port Dickson. It was a staggering comeback, given he was an opposition leader languishing behind bars not long ago.
The former deputy premier's remarkable political resurrection was triggered by his alliance's shock election victory in May, which toppled the government of Najib Razak.
Following the triumph, Anwar was pardoned and released from jail, where had been imprisoned since 2015 on widely criticized sodomy charges, and is now the presumptive successor to the country's leadership, AFP reported.
Mahathir, 93, has pledged to hand power to Anwar within two years. The deal was struck when the pair, whose up-and-down relationship has long loomed over Malaysian politics, formed an unlikely alliance to take on the government of Najib Razak.
Anwar needed to be elected as an MP again to succeed Mahathir, and he cruised to a thumping victory in Saturday's poll in Port Dickson, where his opponents included a former aide whose sodomy accusations landed him in jail.
It is the first time that Mahathir – who, during a first stint as premier, sacked Anwar and had him thrown in jail – and his former foe have been in the same government since the 1990s.
Anwar, 71, wearing a traditional black Muslim cap, brushed aside questions about when he will become premier.
After their fallout, Anwar became a prominent opposition leader at the head of a reformist alliance. But Mahathir himself turned on the party he once headed as corruption allegations mounted against Najib, and later teamed up with Anwar.
Since his defeat, Najib has been charged over the alleged plundering of state fund 1MDB. He denies any wrongdoing.
Uighurs 'did nothing wrong'
Mahathir, meanwhile, said on Monday that 11 ethnic Uighur Muslims who fled to Malaysia after breaking out of a Thai jail last year were freed because they did nothing wrong.
The Uighers were sent them to Turkey after Malaysia disregarded a request by China for them to be handed over to Beijing.
"They have done nothing wrong in this country, so they are released," Mahathir told reporters. It was the government's first comments since the men were released.
Muslim leaders in Malaysia, as well as representatives of other nations, are thought to have urged the new Mahathir government not to send the Uighurs back to China, because of concerns they would face severe persecution or even death if returned.
Full report at:
http://www.atimes.com/article/anwar-returns-to-parliament-vows-to-give-mahathir-space/
--------
Putrajaya urged to ratify UN declaration on religious freedom
October 16, 2018
KUALA LUMPUR: A DAP parliamentarian today urged Malaysia to sign and ratify the United Nations Declaration on the Elimination of All Forms of Intolerance and of Discrimination Based on Religion or Belief, which will allow for religious freedom in the country.
P Kasthuriraani (PH-Batu Kawan) said Malaysia needed to uphold the principles of human rights contained in the Universal Declaration of Human Rights, in which Article 18 states that everyone has the right to freedom of thought, conscience and religion.
This includes freedom to change his religion or belief, and freedom, either alone or in community with others and in public or private, to manifest his religion or belief in teaching, practice, worship and observance.
"Today, Malaysia is on Tier Two of the US Commission on International Religious Freedom report. A few recommendations have been made to ensure the freedom to practise one's religions and beliefs will continue to grow, respected and follows the rule of law.
"On the issue of freedom of religion and beliefs, I wish to raise two issues which are yet unresolved, which are the usage of the Kalimah Allah and the ownership of religious materials.
"Even though these are sensitive issues, they need to be addressed. As the minister said, we need to start from home. If reforms to these cannot be done at home, how do we promote, or be defenders or promoters of human rights in other countries?" she questioned in her debate on the motion tabled by Foreign Minister Saifuddin Abdullah in the Dewan Rakyat today.
Kasthuriraani said USCIRF had also made recommendations for the abolition of the Sedition Act, which has been used as a weapon to intimidate Malaysians who wish to ask on issues deemed sensitive, such as the freedom of religion and beliefs.
"Another recommendation is the need to stop the arrests of individuals who practise Shia, Ahmadiyah and Baha'i (beliefs), in accordance with Article 11 of the Federal Constitution which states that Islam is the religion of the federation, and that other religions can be practised in peace and harmony anywhere in the federation.
"The Pakatan Harapan government must give support to public institutions such as the judiciary, the Attorney-General's Chambers, enforcement, shariah courts, so that all those who live in Malaysia, even if they are not Malaysians, can experience this freedom," she added.
The usage of Kalimah Allah and the ownership of religious materials remain a contentious and unresolved issue. It was reported that the High Court had deferred its ruling three times on whether Christians can use the word "Allah" in publications for the purpose of religious education within their own community.
A decision is, however, expected to be delivered at the end of this month, on Oct 29.
Ten years ago, customs officials seized eight CDs, titled "Cara Hidup Dalam Kerajaan Allah", "Hidup Benar Dalam Kerajaan Allah" and "Ibadah Yang Benar Dalam Kerajaan Allah", upon Sarawakian Jill Ireland's arrival at the then Low-Cost Carrier Terminal (LCCT) in Sepang.
The Melanau Christian subsequently filed for a judicial review to reclaim the CDs and seek several declaratory reliefs.
In 2014, the High Court ordered the home ministry to return the CDs to Ireland, but declined to issue the declarations as it was bound by a Federal Court ruling.
The following year, the Court of Appeal upheld the ruling but ordered the High Court to hear Ireland's application for the relief sought.
She is now seeking a declaration that her constitutional right to practise her religion was violated by the imposition of a restriction or ban on the import of educational materials.
In another case, the Federal Court ruled in 2014 that the Catholic Church's Herald newsletter could not use "Allah", the Arabic word for God, in its Bahasa Malaysia section.
Chief Justice Tun Arifin Zakaria chairing a seven-member panel delivered a 4-3 majority decision against the church.
Full report at:
https://www.freemalaysiatoday.com/category/nation/2018/10/16/putrajaya-urged-to-ratify-un-declaration-on-religious-freedom/
--------
Muhammadiyah leader delivers speech in Kazakhstan
October 11, 2018
Muhammadiyah chairman Haedar Nashir called on Muslims around the world to prevent the negative impacts of globalization in a speech at an international congress of religious leaders held in Kazakhstan from Oct. 10 to 11.
Haedar said Islam was not against globalization, acknowledging many of its benefits.
The Muslim leader, however, argued that globalization had brought negative impacts to the world and Islam could play a role in easing them.
"Religion should be a source of inspiration for globalization that brings common good, and at the same time, it must also serve as a reminder for humanity to not engage in destructive actions," he said as quoted in a press release.
Muhammadiyah, he said, had been taking part in the peace process in southern Philippines, where conflict was brewing between government forces and Muslim armed groups. The organization, he added, had also been working to help quake survivors in Nepal and Rohingya refugees in Myanmar and Bangladesh.
"Muhammadiyah urges its members in particular and Muslims around the world to present a progressive Islam that caters to the present needs of modernity and to help prevent the negative impacts of globalization from occurring."
Representatives from 82 countries attended the fourth Congress of the Leaders of World and Traditional Religions in Kazakhstan. They comprise leaders of Muslim, Christian, and Hindu organizations as well as representatives of international organization such as the United Nations Alliance of Civilization (UNAOC) and UNESCO.
Full report at:
http://www.thejakartapost.com/news/2018/10/11/muhammadiyah-leader-delivers-speech-in-kazakhstan.html
--------
Africa
Christians Charged with 'Inciting a Muslim to Change Religion' in Algeria
15 Oct 2018
Algerian authorities have set a court date to try five Christians accused of "inciting a Muslim to change his religion," a criminal offence, and "performing religious worship in an unauthorized place."
The five Christians have been ordered to appear in court in the province of Bouira, in Algeria's Kabylie region, on Tuesday, November 6, to answer the charges against them.
The accusations against the Christians concern Algeria's Law 03/2006, commonly known as Law 03/06, which governs non-Muslim worship.
The Christians will argue that the 03/06 law is itself unconstitutional, since it contravenes Article 42 of the Algerian constitution, which guarantees freedom of belief, opinion and worship.
Charges were brought against the Christians after a 40-year-old Muslim woman, whose husband had converted to Christianity, accused them of proselytism in July, 2018.
Together with other members of her family, the woman filed a complaint against her Christian husband and against a Christian family that had tried to mediate a conflict between her and her husband, accusing them of wanting to pressure her "to become a Christian."
The woman alleges that the family took her to church tried to persuade her to leave Islam for the Christian faith.
Observers suggest that the trial of the five Christians forms part of a broader crackdown on the minority Christian community. Muslim authorities have closed six churches in the Maghreb country since November, 2017 – three of which were later reopened – as well as a Christian bookshop and day-care center. Dozens of other churches have received notifications ordering them to close.
The Algerian Christian community is requesting prayer for the four believers, that God will intervene to strengthen and support them.
The defendants were slated to appear at court on October 9, but the hearing was postponed to November 6.
In a separate case, authorities have charged a Christian from the eastern city of Tizi Ouzou, 29-year-old Idir Hamdad, with "illegal importation of Christian materials." Hamdad, who works with the Église Protestante du Plein Évangile (the Full Gospel Protestant Church) had previously been tried and acquitted, but the prosecutor appealed the decision.
Hamdad, who was first arrested in April, 2016, when returning home after attending a workshop abroad, was accused of carrying items with Christian inscriptions – crucifixes, key rings and scarves — in his bag.
One of the greatest Christian saints, the fourth-century bishop of Hippo, Saint Augustine, was from north Africa and his diocese was located in present-day Algeria.
Algeria is now 99.75 percent Muslim, and 0.25 percent "other religions," including the nation's 100,000 Christians.
https://www.breitbart.com/national-security/2018/10/15/christians-charged-with-inciting-a-muslim-to-change-religion-in-algeria/
--------
Libyan house of representatives announces support of Saudi Arabia
16 October 2018
A statement issued by the Libyan house of representatives on Monday assured the country's support of Saudi Arabia in the face of the recent campaign against the kingdom.
The statement called on not promoting rumors around the disappearance of Saudi national Jamal Khashoggi.
A number of Arab states including Egypt, UAE, Kuwait, Sudan, and others, in addition to the Arab League and the Organization of Islamic Cooperation, have announced their support to the kingdom.
https://english.alarabiya.net/en/News/gulf/2018/10/16/Libyan-house-of-representatives-announces-support-of-Saudi-Arabia.html
--------
Boko Haram kills another aid worker in northeast Nigeria
October 16, 2018
ABUJA: Daesh-allied Boko Haram militants have killed another kidnapped female aid worker in northeast Nigeria, the government said, a month after one of her colleagues was murdered.
Three female health workers were kidnapped during a Boko Haram raid on the remote town of Rann, in Borno state, on March 1 that killed three other aid workers and eight Nigerian soldiers.
Two of the kidnapped women, Hauwa Liman and Saifura Khorsa, worked for the International Committee of the Red Cross (ICRC), while the third, Alice Loksha, worked for the UN children's agency, UNICEF.
There had been no news of the trio until last month when the ICRC said it had received footage of Khorsa's killing from the Daesh-backed Boko Haram faction Islamic State West Africa Province (ISWAP).
ISWAP then threatened to kill Liman and Loksha, as well as a 15-year-old Christian schoolgirl Leah Sharibu who was kidnapped from the town of Dapchi, in Yobe state, in February.
The ICRC last weekend appealed for the captives' release and for the militants to show mercy, as they were "doing nothing but helping communities" in the conflict-riven region.
But Nigeria's Information Minister Lai Mohammed announced the latest death as a deadline expired and said the government was "shocked and saddened" at the unjustified killing, calling it "dastardly, inhuman and ungodly."
He did not initially identify the victim but later added in a tweet that he "commiserated with the family of Hauwa Liman."
The ICRC said it did not have official confirmation, adding: "We desperately hope not. We will provide an update when we have accurate information.
"This situation is heartbreaking, and our thoughts remain with her family," it added.
Mohammed said: "It is very unfortunate that it has come to this. Before and after the deadline issued by her abductors, the federal government did everything any responsible government should do to save the aid worker.
"As we have been doing since these young women were abducted, we kept the line of negotiations open all through. In all the negotiations, we acted in the best interest of the women and the country as a whole.
"We are deeply pained by this killing, just like we were by the recent killing of the first aid worker.
"However, we will keep the negotiations open and continue to work to free the innocent women who remain in the custody of their abductors."
More than 27,000 people have been killed in northeast Nigeria since the Boko Haram insurgency began in 2009, while nearly two million others remain homeless.
Nigeria's military and government maintain the Islamist rebels are weakened to the point of defeat but fighters from the Daesh-backed faction have conducted repeated raids on military bases in recent months.
ISWAP split from the faction led by long-time Boko Haram leader Abubakar Shekau in August 2016 in protest at the latter's indiscriminate targeting of civilians in raids and suicide bombings.
Analysts tracing the conflict believe the switch from attacking "hard" government and military targets to killing hostages is the result of a hard-line takeover of the IS-backed faction.
Boko Haram has used kidnapping as a weapon of war during the conflict, abducting thousands of women and girls, and forcing young men and boys to fight in their ranks.
Full report at:
http://www.arabnews.com/node/1388491/world
--------
Leaders take State to task after Mandera Al-Shabaab attack
OCTOBER 15 2018
Less than a week after two teachers were killed in an Al-Shabaab raid at Arabia Boys Secondary School, the local leadership is now blaming the national government for the runaway insecurity in the area.
Mr Omar Maalim, Mandera East MP and a former deputy governor, has attributed the many attacks in the area to the government's failure to provide the needed personnel to Arabia.
"Arabia is a gazetted sub-county in Mandera, but since its elevation last year we are yet to have functional offices that come with the new status," he said, adding that the Interior ministry has ignored Arabia.
DELAYED POSTING
Arabia and Kotulo, in a gazette notice dated June 21, 2017, were announced new sub-counties in Mandera, but only Kotulo has a deputy county commissioner.
"A sub-county has a deputy county commissioner with all the needed security offices," he said.
Mr Abdiaziz Dakat, Arabia MCA, blamed the delayed posting of government officials into the area for the rising insecurity.
"Once a deputy county commissioner is posted here, it will mean all other offices will be available and Arabia will be able to tackle her own issues without relying on Mandera East," he said.
The only police post at the Kenya Somalia border town has been attacked twice by the militants who easily cross in from Somalia.
"We shall have an OCPD and fully functioning security teams that shall oversee our security," said Mr Dakat.
ROADS CLOSED
Through NGCDF, offices have been built in the town ready for occupation. "Those who need government services like birth certificates and other documents cannot get them in Mandera East because it is known that Arabia is a sub-county," he said.
The national government closed the Mandera-Omar Jillow-Arabia road to public use in 2015 after a bus plying the route was attacked by Al-Shabaab leaving 28 people dead. "The government cannot close the roads forever when it has the power
Full report at:
https://www.nation.co.ke/counties/mandera/State-on-the-spot-after-Mandera-attack/1183298-4806584-136ldjiz/index.html
--------
North America
US needs to address humanitarian crisis in Yemen: Congressman
Oct 15, 2018
Republican Congressman Ted Yoho has said that the United States should address the humanitarian crisis in Yemen amid rising tensions with Saudi Arabia, which has launched a war of aggression against the country.
"When you look at the refugees around the world, we're at an all-time world high of worldwide refugees displaced from their countries. It's over 70 million people. We haven't seen these numbers ever before in our history. This is more than World War Two," Yoho, a member of the House Foreign Affairs Committee, told Hill.TV on Monday.
"What's going on in Yemen is adding to that immensely, and then the famine, and then these people don't have any food," the Representative for Florida's 3rd congressional district added.
"This is something that I think we as a world population need to look at this and see what each country can do to alleviate this kind of conflict, and then, more importantly, bring it to a solution, so these people aren't displaced, and start getting these people back in their countries with functional governments," he continued said.
The comments come after the United Nations said on Sunday that Yemen could be facing the worst famine in 100 years, amid reports that Saudi jets are deliberately targeting the war-torn country's food supply.
Saudi Arabia and some of its allies, including the United Arab Emirates, Morocco, and Sudan, launched the brutal war in an attempt to reinstall former president Abd Rabbuh Mansur Hadi and crush the country's popular Houthi Ansarullah movement, which has played a significant role, alongside the Yemeni army, in defending the nation.
The United States is supporting this Saudi war of aggression.
Some 15,000 Yemenis have so far been killed and thousands more injured as a result of the bloody campaign which has also left a record 22.2 million Yemenis in a dire need of food, including 8.4 million threatened by severe hunger, according to UN statistics.
Yemeni Health authorities announced last week that 1 in 3 Yemeni children suffer from severe malnutrition and that 8,000 dialysis patients may face death if the Saudi blockade persists in the war-torn country.
The United Nations has warned that 13 million people in the war-torn country are facing starvation.
https://www.presstv.com/Detail/2018/10/15/577103/US-needs-to-address-humanitarian-crisis-in-Yemen
--------
Saudis preparing to announce Khashoggi died in interrogation: Sources
Oct 15, 2018
The Saudi Arabian government is working on a report that would include admitting to the murder of dissident Saudi journalist Jamal Khashoggi during an interrogation that went wrong in the monarchy's consulate in the Turkish city of Istanbul, sources say.
The report could implicate those involved in the possible murder operation to portray it as done without clearance and transparency, one source told CNN on Monday.
The news could itself affect the content of such a report before its release and might even be a part of the Saudi crisis management through its sources.
Another source, meanwhile, cautioned that the report is being prepared and subject to change.
According to Democratic Senator Bill Nelson, it "sounds like they've concocted a cover story."
Turkish prosecutors have also asserted that they have the "evidence of killing" at the Saudi consulate.
"They have found evidence that supports their suspicions that Jamal Khashoggi was killed inside the Saudi consulate," a source at the Attorney General's office, speaking on the condition of anonymity, told Al Jazeera.
"This is a significant step forward after several days of an impasse," he added.
According to The New York Times, Saudis are trying to develop a scenario that would shield Saudi Crown Prince Mohammed Bin Salman from involvement in the embarrassing event.
Turkish media has previously released the identities of Saudi operatives, who had apparently travelled from Riyadh to Istanbul on two private jets and entered the Saudi mission on October 2, when Khashoggi was last seen while entering the building.
Full report at:
https://www.presstv.com/Detail/2018/10/15/577119/Saudis-to-admit-journalist-died-in-interrogation
--------
In attempt to whitewash Saudis, Trump says 'rogue killers' involved in journo case
Oct 15, 2018
At a time that international pressure is being piled up on the Saudi government over the disappearance of dissident journalist Jamal Khashoggi, US President Donald Trump has made new remarks seen by analysts as an effort to whitewash Saudi rulers in the case so that Washington would not lose its hefty arms deal with the kingdom.
Speaking to reporters following a phone call with Saudi Arabia's King Salman on Monday, Trump suggested that "rogue killers" may be responsible for whatever happened to the missing Washington Post columnist, Jamal Khashoggi.
Noting that he did not "want to get" into King Salman's mind, Trump said, "it sounded to me like maybe these could have been rogue killers."
"We're going to try getting to the bottom of it very soon, but his was a flat denial," he added.
Trump further noted that during the phone call, the Saudi King had "firmly denied any knowledge" of the disappearance of the dissident journalist.
Trump's remarks come after he initially issued stern warning to Saudi rulers on Friday, threatening them with "severe consequences" if it turned out that Riyadh was behind Khashoggi's disappearance, but noted that he had no decision to revoke Washington's huge arms deal with Riyadh over the case as Washington would be "punishing itself" if it halted weapons sales to Saudi Arabia.
Trump's remarks have prompted analysts to conclude that the incumbent US administration puts trade with Saudi Arabia, especially maintaining its arms deal with the kingdom, way above the value of human life, as a result of which the US leader is trying to curry favor with the Saudi rulers by washing their hands of the possible killing of the dissident journalist.
Earlier on Monday, Salman ordered an internal probe into Khashoggi's disappearance while a joint Turkish-Saudi team was set to search the consulate.
Trump said in a tweet he had spoken with the Saudi king regarding the missing journalist and that he was sending American Secretary of State Mike Pompeo to meet with the king immediately.
Trump threatened at the weekend "severe punishment" for Riyadh if it turned out the prominent critic of Saudi authorities and a legal resident of the United States had been killed in the Saudi consulate in Istanbul.
Saudi Arabia, in turn, threatened to retaliate.
Saudi Arabia said it would react by manipulating oil prices, doing away with major US weapons deals and reconsidering its intelligence ties with Washington.
"It will not be strange that Riyadh would stop buying weapons from the US. Riyadh is the most important customer of US companies, as Saudi Arabia buys 10 percent of the total weapons that these US companies produce, and buys 85 percent from the US army, which means what's left for the rest of the world is only five percent; in addition to the end of Riyadh's investments in the US government, which reaches $800 billion," Saudi Arabia's al-Arabiya news network reported on Sunday.
"If US sanctions are imposed on Saudi Arabia, we will be facing an economic disaster that would rock the entire world. Riyadh is the capital of its oil, and touching this would affect oil production before any other vital commodity. It would lead to Saudi Arabia's failure to commit to producing 7.5 million barrels. If the price of oil reaching $80 angered President Trump, no one should rule out the price jumping to $100, or $200, or even double that figure," it added.
Khashoggi's case highlights how much is at stake in US-Saudi relations, and in the president's own ties to the Saudis.
Major US military contractors, including Lockheed Martin Corp and Raytheon Co, are among the beneficiaries of Washington's cozy ties with Riyadh and would suffer huge losses if contracts with Saudi Arabia are suspended.
In recent days, Democrats and Republicans in Congress have demanded severe consequences if Saudi Arabia is proven to be behind the disappearance of Khashoggi.
Full report at:
https://www.presstv.com/Detail/2018/10/15/577101/Saudi-government-rogue-killers-Jamal-Khashoggi-arms-deal
--------
US Justice Department designates Hezbollah 'transnational crime organisation'
Joyce Karam
October 15, 2018
In the latest US escalation against Hezbollah, the Justice Department designated the Lebanese armed group a "transnational crime organisation" on Monday, a move which will enable broader scrutiny into its role outside Lebanon.
Hezbollah was one of five groups designated by the Department of Justice in an announcement made by US Attorney General Jeff Sessions. The other groups included Latin American gangs and cartels.
A new task force directed by Mr Session's deputy Rod Rosenstein will be appointed to tackle these "transnational crime organisations" (TCO). The task force will "develop a plan to take these groups off our streets for good," Mr Sessions said.
A subcommittee on Hezbollah will be led by assistant US attorney Ilan Graff. Mr Graff is already overseeing the prosecution of two alleged members of Hezbollah's external security organisation, Mr Sessions said, "the first such operatives to be charged with terrorism offenses in the United States."
The subcommittee will staffed by members of the Hezbollah Financing and Narcoterrorism Team created by the Justice Department last January. Within 90 days the subcommittee will provide recommendations to Mr Sessions on how to prosecute Hezbollah.
The TCO designation aims to give the Department of Justice tools to pursue Hezbollah's overseas network, especially in Latin America, and aims to pressure governments in countries where Hezbollah operates to cooperate with the United States.
According to US website Politico, US investigators believed Hezbollah was collecting $1 billion a year "from drug and weapons trafficking, money laundering and other criminal activities."
The Justice Department announcement came the week after the Senate unanimously passed the "Hezbollah International Financing Prevention Amendments Act of 2017" (HIFPAA) and the "STOP Using Human Shields Act" (known as STOP), both of which enabled increased sanctions on the group.
The HIFPAA's passage in its amended form targets foreign individuals and companies that voluntarily provide financial, material or technological support to Hezbollah and its affiliates and targets Hezbollah's transnational activities. It asks the US President, who is expected to sign it in the coming days, to report to Congress every 120 days on these activities. That report would cover money laundering and narcotics activities across Latin America, the African continent or Asia and Europe.
Full report at:
https://www.thenational.ae/world/the-americas/us-justice-department-designates-hezbollah-transnational-crime-organisation-1.780959
--------
US midterms ads accuse Democrats of 'terror' ties
Oct 16, 2018
A number of midterm campaign ads have attempted to link Democratic candidates in tight Congressional races to "terrorism".
Slated for November 6, the midterm elections are largely viewed as a referendum on President Donald Trump. Voters will decide all 435 seats in the House of Representatives, 35 seats in the Senate and 39 governorships in US states and territories.
Although campaign ads attacking opponents' records are common from candidates on all sides of the political spectrum, a number of ads - many funded by a leading Republican Super PAC - have drawn backlash from watchdogs, factcheckers and rights groups.
Most recently, California Republican Duncan Hunter, who has been indicted on charges of violating campaign finance laws, has drawn criticism over ads his campaign ran attacking his opponent's Palestinian background.
Hunter, who has held California's 50th district's House seat for the last decade, was indicted in August on charges of using upwards of $250,000 of campaign funds for personal purposes.
In late September, Hunter was leading Ammar Campa-Najjar, the Democratic challenger and former Obama White House aide, by eight points. But a more recent poll, conducted by University of California, Berkeley for the Los Angeles Times, shows Hunter's lead thinning, putting the Republican at 49 percent and Campa-Najjar at 47 percent.
With the race tightening, the increasingly embattled Hunter's campaign released controversial ads attacking Campa-Najjar, a 29-year-old Palestinian-Mexican-American progressive.
In one ad last month, Hunter inaccurately implied that Campa-Najjar was a "radical Muslim" who sought to "infiltrate" Congress.
The Republican incumbent also called Campa-Najjar a "security threat", attempting to link the Democratic challenger to his deceased grandfather, who was involved in planning the deadly 1972 Munich Olympics attack on Israeli athletes.
A Washington Post article fact-checking Hunter's claims deemed them false.
Campa-Najjar, who was born 16 years after his grandfather, Muhammed Yussef al-Najjar, was killed by Israeli agents, says he was raised by his Mexican mother and identifies as a Christian.
Hunter's spokesperson had not replied to Al Jazeera's request for comment at the time of publication.
"There are two candidates in this race: One of us was indicted by the FBI, the other one was cleared by the FBI to work at the White House," Campa-Najjar recently told voters, as reported by Vox.
Trump campaigned on promises to crack down on Muslims, pledging to stop Muslims from entering the US and at one point proposing a database to monitor Muslim Americans. After entering office, Trump introduced a controversial travel ban that blocked entry to the US for citizens of several Muslim-majority countries.
Accusations of 'terrorism' links
Hunter's attacks on Campa-Najjar are part of a broader wave of Republican ads alleging their challengers are linked to "terrorism".
In Ohio, Representative Steve Chabot, an outspoken supporter of Trump's travel ban, has attempted to link his opponent, Aftab Pureval, to "terrorism" owing to the 36-year-old Democratic challenger's former employment at a law firm that settled terrorism-related lawsuits against Libya.
Pureval was not involved in the settlements, which were approved by Congress, the New York Times reported.
Many other ads, which have been produced by Republican Super PAC, the Congressional Leadership Fund, have also been criticised by fact-checking watchdogs and civil rights groups.
In New Jersey, the Congressional Leadership Fund targeted Tom Malinowski for arguing that Guantanamo Bay detainees should receive due process while he was Washington director of Human Rights Watch.
In one ad, the Super PAC claimed Malinowski "criticised America for waging war against al-Qaeda".
In September, Monmouth University released a poll putting Malinowski eight points ahead of his Republican opponent, incumbent Leonard Lance in the state's 7th district.
And in Virginia, Abigail Spanberger, a former undercover CIA operative, was targeted over her former part-time teaching job at the Islamic Saudi Academy in Alexandria.
"Spanberger doesn't want us to know that she taught at an Islamic school nicknamed 'Terror High,' a terrorist breeding ground," the ad claims.
She currently leads her incumbent Republican opponent, Dave Brat, 47 percent to 42 percent in Virginia's 7th district House race.
A spokesman for Spanberger's campaign dismissed the ads in a statement to local media, saying they were "laughable considering Abigail's record of service in law enforcement, at the CIA and in our community".
Super PACs are barred from directly coordinating with campaigns.
Full report at:
https://www.aljazeera.com/news/2018/10/midterms-ads-accuse-democrats-terror-ties-181015180851233.html
--------
URL: https://www.newageislam.com/islamic-world-news/us-french-forces-plundering-northern/d/116642
New Age Islam, Islam Online, Islamic Website, African Muslim News, Arab World News, South Asia News, Indian Muslim News, World Muslim News, Women in Islam, Islamic Feminism, Arab Women, Women In Arab, Islamophobia in America, Muslim Women in West, Islam Women and Feminism