New Age Islam News Bureau
12 Jan 2015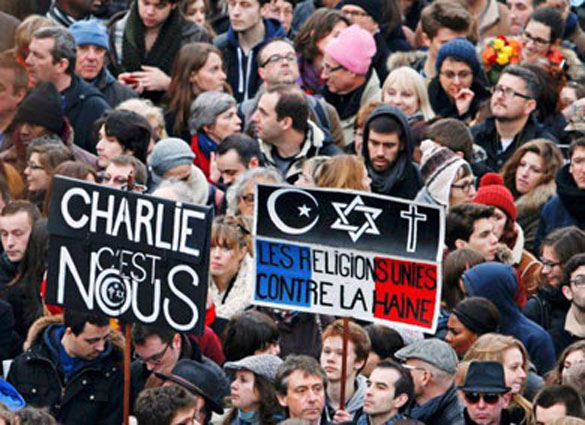 People carrying placards showing solidarity with the victims of the terror attacks in France and calling for peace between different faiths during Sunday's Paris rally
------------
Arab World
• US Airstrike in Syria Kills over 50 Civilians
• Syrian Army Uncovers Tunnel Network in Jobar, Kills Scores of Militants
• 15 ISIL Terrorists Killed in Iraqi Airstrikes in Ramadi
• Peshmerga Forces Kill ISIL Militant Notorious for Beheading Captives
• Increase In Hate Incidents Against Muslims Last Month: OIC
• Syria: Arab Media Keeping Mum on Army's Dazzling Victories
• Militants Agree to Surrender to Army in Homs Countryside
• Dubai sees significant rise in new Muslims
Africa
• Morocco Snubs Paris March Due To Presence of Prophet Cartoons
• Nigeria 'Needs Same Support as France' After Boko Haram Attacks
• Veteran Algerian al-Qaeda militant hails Paris killings
Pakistan
• Military Courts Will Save Future of Nation: Zardari
• Five Terrorists to Be Executed Tomorrow
• Gunmen Kill 7 Pakistani Troops in Baluchistan
• Pak courts offer army the power it used to seize
• 'India using Afghan soil to attack Pakistan': Sartaj Aziz
• After deadly Taliban attack, Army Public School reopens today
• General Sharif welcomes the students of Army Public School Peshawar in person
• New policy for unregistered Afghans being worked out
• 'Quaid-i-Azam Apparel Park will be most modern project of its kind'
Europe
• Jihadism Born in a Paris Park and Fuelled in the Prison Yard
• Muslim Man Hailed For Life-Saving Courage during Paris Siege
• France Did Not Want Netanyahu, Abbas at Paris Rally
• J.K. Rowling Slams Rupert Murdoch over Anti-Islam Tweets
• Paris Terror Attacks Fuel Tensions over Place of Islam in Germany
• Sarkozy: Immigration 'not linked to terrorism but complicates things'
• Mosque attacked in Germany second time
• France deploys 5,000 police officers to protect Jewish schools in Paris
• German anti-Islamists seize on terror fears with new rally as Merkel meets Davutoğlu
South Asia
• China Says 6 Attackers Killed In Latest Xinjiang Violence
• Contempt Rule against Tajul, 5 Jamaat Men in Bangladesh
• Maldives President: Paris Massacre Demonstrates "Profound Need to Counter Radicalism"
• CEO Abdullah to visit Pakistan for discussing fight against terrorism
• First phase of Biswa Ijtema ends with prayer for peace on earth
• Dozens of children among 98 Rohingya smuggling victims found in Thailand
Mideast
• Netanyahu in Paris: Our Common Enemy is Radical Islam
• Turkish PM Says Islamophobia Should Prompt Similar Reaction as Paris Rally
• Turkey provides 1.5 million ID cards for Syrian refugees
• Main opposition head says Turkey has become 'harbour for terrorist sleeper cells'
North America
• Fox News Mocked After Guest Says Birmingham Is 'Totally Muslim'
• No 'Credible' Intel Al-Qaeda Behind Paris Attacks: U.S.
• Kerry aims to 'accelerate' Iran nuke talks
• Iran eclipses U.S. as Iraq's ally in fight against militants
• US working with India to strengthen fight against terror
• Gunman's video raises questions of affiliations: Did al-Qaida and IS coordinate Paris attacks?
India
• No Talks with Militant Outfits Indulging In Violence: Home Minister
• Maharashtra DGP: To Stop Radicalisation Start with Inclusive Housing, Madrasa Reform
• 'Bengali Indian Muslims' Look at Us as Guardian: BJP
• Arrest a surprise, he's innocent, says terror suspect's father
Australia
• Hizb ut-Tahrir Australia Says 'Selective Moral Outrage' Over Massacre Is Disproportionate
Southeast Asia
• Quelling Criticism by Calling It an Insult to Islam
• Emulate Jews to Beat 'Infidel' West: Datuk Zaid Ibrahim
• Police Detain another Alleged Terror Suspect in Sulawesi
Compiled by New Age Islam News Bureau
URL: https://www.newageislam.com/islamic-world-news/new-age-islam-news-bureau/us-airstrike-in-syria-kills-over-50-civilians/d/100975
----------
Arab World
US Airstrike in Syria Kills over 50 Civilians
Jan 12 2015
A US airstrike killed at least 50 Syrian civilians late last month when it reportedly targeted a headquarters of the ISIL in Northern Syria, a new report said.
According to a report provided by an eyewitness, the civilians were killed in the town of al-Bab, close to the Turkish border, when the US aircraft struck on the evening of December 28, MINA reported.
http://english.farsnews.com/newstext.aspx?nn=13931022000256
----------
Syrian Army Uncovers Tunnel Network in Jobar, Kills Scores of Militants
Jan 12 2015
Syrian troops continued their offensive operations against the Takfiri groups in Jobar area in Damascus countryside, uncovering a network of tunnels connecting a number of buildings in the area.
A senior army official, speaking on condition of anonymity, said that the tunnel network had been around 200 meters long, and that one of the tunnels terminated in a small chamber where militants kept abductees who were forced to dig down, while two other tunnels terminated in bases where the armed groups planned their operations.
He added that too many rebels who were holed up in the tunnels were killed during the operation.
Syria has been the scene of insurgency since 2011 when certain western powers and their regional allies voiced loudly that Syrian protests have no diplomatic solution and they started supplying the country's opposition groups with their arms and funds.
In 2014, specially after victory of President Bashar al-Assad in the country's presidential election, the army has gained upper hand in its anti-terrorism campaign, and has been partly successful in sealing borders with Turkey and Jordan.
http://english.farsnews.com/newstext.aspx?nn=13931022000762
----------
15 ISIL Terrorists Killed in Iraqi Airstrikes in Ramadi
Jan 12 2015
Iraqi bombers hit the targets of the ISIL Takfiri group in the Western city of Ramadi, Anbar province, leaving at least 15 terrorist dead.
The Iraqi warplanes launched deadly strikes against the positions of the terrorist group in Zankoura area, and managed to kill many militants, including top commanders.
The security in Iraq has drastically deteriorated since June 10, when bloody clashes broke out between Iraqi security forces and the ISIL. The latter later took control of the country's Northern city of Mosul and seized swathes of territories in Nineveh and other predominantly Sunni provinces.
The country's army and popular forces have, in a series of operations, started massive attacks against terrorists to liberate occupied areas, mainly Tikrit and Mosul.
The ISIL Takfiri terrorists currently control shrinking swathes of Syria and Iraq. They have threatened all communities, including Shiites, Sunnis, Kurds, Christians, Ezadi Kurds and others, as they continue their atrocities in Iraq.
Senior Iraqi officials have blamed Saudi Arabia, Qatar, and some Persian Gulf Arab states for the growing terrorism in their country.
The ISIL has links with Saudi intelligence and is believed to be indirectly supported by the Israeli regime.
http://english.farsnews.com/newstext.aspx?nn=13931022000244
----------
Peshmarga Forces Kill ISIL Militant Notorious for Beheading Captives
Jan 12 2015
Kurdish Peshmarga fighters killed an ISIL militant notorious for his public beheadings in the town of Shingal, media report said.
Muadh Hamad al-Ris, 21, had appeared in numerous videos beheading captured Syrian and Iraqi soldiers, Rudaw reported.
His brother Muhammad Hamad al-Ris, another ISIL militant, was also believed to have been killed in Syria last month.
Al-Ris was a Saudi national who joined the ISIL terrorists in Syria along with 34 other men from the town of al-Tamir in Saudi Arabia.
http://english.farsnews.com/newstext.aspx?nn=13931022000373
----------
Increase in hate incidents against Muslims last month: OIC
12 Jan, 2015
KUALA LUMPUR: Hate incidents targeting Muslims in Europe have taken on an alarming note in many countries in the region last month, according to the Organisation of Islamic Cooperation (OIC)'s Islamophobia Observatory.
It noted that incidents in France, Sweden and Germany were statistically high and is cause for serious concern with regard to the significant number of casualties.
"In the United Kingdom, the reported number of Muslim women suffering hate crimes increased by 10 per cent, while offensive insults and threats against Muslims in general has doubled, especially through social media," said an OIC statement issued in Jeddah on Sunday (Jan 11).
Meanwhile in Sweden, five Muslims were injured in an arson attack targeting a mosque in the city of Eskilstuna. The statement added that Muslim communities in Austria had suffered intense hate crimes such as assault against imams (Islamic leaders), pig's heads discarded at mosques or schools, graffiti drawn at walls of mosques and several attacks against women wearing headscarves.
http://www.channelnewsasia.com/news/world/increase-in-hate/1584890.html
----------
Syria: Arab Media Keeping Mum on Army's Dazzling Victories
Jan 12 2015
The Arab media affiliated to the countries supporting terrorism in the region and the West are trying hard to boost the morale of the terrorists in Syria by censuring the Syrian army's achievements.
The media outlets of the western countries and the Persian Gulf littoral states continue their efforts to ignore the recent victories of the Syrian army across the country in a bid help the terrorists forget their major defeats throughout Syria.
In the last 24 hours, a large number of Takfiri militants were killed in fierce clashes between the Syrian army forces and armed groups on the outskirts of Homs province.
The army soldiers stormed the hideouts of the militants in the areas of Ein Hussein al-Janoubi, Talbiseh, Hilaliya and Tal Abu in Homs province, killing and injuring scores of them.
Also, the militants suffered major losses in the areas of al-Rami, Sermin, Abu al-Duhour, al-Mestriha, and Bayaet al-Sekhneh in Idlib countryside, as the army made gains in the province.
Elsewhere, the Syrian army continued to gain the upper-hand over the Takfiri groups, and managed to inflict heavy casualties on the militants in Lattakia province.
Full report at:
http://english.farsnews.com/newstext.aspx?nn=13931022000682
----------
Militants Agree to Surrender to Army in Homs Countryside
Jan 12 2015
As the Syrian army continues marching on different parts of Homs countryside, militants fighting against the Damascus government in Al-Wa'ar town agreed to end their hostilities and sign a ceasefire agreement with the government in the coming days.
A local source told FNA that the Syrian army and the terrorists have agreed to sign a comprehensive deal very soon.
The Syrian army has laid a complete siege on the terrorists in Al-Wa'ar town to prevent them from fleeing the region.
Also in the past 24 hours, foreign-backed militants suffered major losses in the Eastern countryside of Homs province as the Syrian Army expanded its offensive operations.
The army soldiers targeted the gathering centers of the rebels in Rajm al-Qasser area in the central province, leaving scores of them dead and injured.
Full report at:
http://english.farsnews.com/newstext.aspx?nn=13931021000643
----------
Dubai sees significant rise in new Muslims
12 Jan, 2015
Dubai — Hosting more than 200 nationalities and being an epitome of peaceful coexistence that allows freedom of religion to all, the Emirate of Dubai saw a significant rise in the number of new Muslims in 2014.
Up to 2,815 residents and visitors from 91 nationalities converted to Islam last year as compared to 2,269 in 2013 – an increase of 546 persons, according to a top official of the Islamic Affairs and Charitable Activities in Dubai (IACAD).
Dr Omar Al Khatib, Executive Director for Islamic Affairs Sector, IACAD, said last week that the majority of the fresh converts were women. "The new converts comprised 2,047 women and 768 men."
The conversions were the fruit of tireless integrated work from all sections, and staffers of the department who spare no effort to show and reflect the merciful teachings of Islam, he added.
Full report at:
http://www.khaleejtimes.com/nation/inside.asp?section=nationgeneral&xfile=/data/nationgeneral/2015/January/nationgeneral_January91.xml
---------
Africa
Morocco Snubs Paris March Due To Presence of Prophet Cartoons
12 January 2015
Morocco's Foreign Minister Salaheddine Mezouar snubbed the mammoth march against extremism through Paris on Sunday due to the presence of "blasphemous cartoons depicting the Prophet", the ministry said.
He nevertheless went to the Elysee Palace to present the country's "sincere condolences to the French president and to the French government following the despicable attacks in France this week."
http://english.ahram.org.eg/NewsContent/2/8/120066/World/Region/Morocco-snubs-Paris-march-due-to-presence-of-Proph.aspx
-----------
Nigeria 'needs same support as France' after Boko Haram attacks
Jan 12 2015
A Nigerian archbishop called Jan. 12 for the same international support to tackle Boko Haram as France has received since it was hit by Islamist attacks last week.
"I see the very positive response of the French government tackling this issue of religious violence after the killing of their citizens," said the Roman Catholic Archbishop of Jos in central Nigeria, Ignatius Kaigama.
"We need that spirit to be spread around, not just when it happens in Europe, (but) when it happens in Nigeria, in Niger, Cameroon and many poor countries, that we mobilise our international resources to confront the people who bring such sadness to many families," he told BBC World Service radio.
Kaigama was speaking after another bloody weekend for Nigeria in which three female suicide bombers, including one thought to be as young as 10, killed at least 23 people in the restive northeast.
Full report at:
http://www.hurriyetdailynews.com/nigeria-needs-same-support-as-france-after-boko-haram-attacks-.aspx?pageID=238&nID=76816&NewsCatID=357
----------
Veteran Algerian al-Qaeda militant hails Paris killings
12 January 2015
Veteran Algerian militant and former al-Qaeda fighter Mokhtar Belmokhtar praised a deadly assault on a French satirical newspaper and urged Muslims in the West to carry out similar attacks, a monitoring service said on Monday.
In a statement distributed on militant online forums, Belmokhtar said such strikes were justified by what he called Western aggression, including French military action, against Islamist armed groups in Africa's Sahel-Sahara region.
The SITE monitoring service said his statement was distributed by the al Mourabitoun Islamist group, formed in 2013 by fighters loyal to Belmokhtar and a militant armed force known as the Movement for Unity and Jihad in West Africa.
Seventeen people were killed in three days of violence that began on Wednesday with a shooting attack by militant Islamists in Paris on the political weekly Charlie Hebdo, known for its satirical attacks on Islam and other religions.
In January 2013, militants led by Belmokhtar raided Algeria's Amenas gas plant near Libya's border, killing 40 oil contractors, most of them foreigners, in a four-day siege that ended when Algerian forces stormed the facility.
http://english.alarabiya.net/en/News/middle-east/2015/01/12/Veteran-Algerian-al-Qaeda-militant-hails-Paris-killings.html
----------
Pakistan
Military courts will save future of nation: Zardari
Jan 12 2015
LAHORE: Former president and Pakistan People's Party (PPP) Co-Chairman Asif Ali Zardari said on Sunday that the military courts would save the future of the coming generations from terrorism.
Zardari said that the situation prevailing in the country demands political wisdom from all political parties of the country. Addressing a meeting with PPP's divisional coordinators and district presidents at the Bilawal House, Zardari said the current situation demands that "we act within our senses rather than losing our tempers". He said his party's workers are brave enough to fight for the country and do not underestimate his party. "It is not the right time to conduct large public gatherings," Zardari said, adding that the Pakistan People's Party is not a limited company that would be disbanded.
Zardari said that taking oath of office from the former president and military ruler Pervez Musharraf was the need of the situation and was done in the national interest. He added that the policy of reconciliation was adopted in taking oath from Musharraf. Among those present in the meeting were PPP Punjab President Mian Manzoor Ahmad Wattoo, General Secretary Tanveer Ashraf kaira, Central Vice President Sherry Rehman and Samsam Bukhari, Nadeem Afzal Chan, Nawab Sheroser, Tasleem Qureshi, Chaudhry Manzoor, Samina Khalid Ghurkhi and other party's district presidents. The meeting discussed the country's overall situation and the party's organisational matters. Later, Manzoor Wattoo met Zardari alone. The former president also met with PML-Q's Chaudhry brothers and discussed the 21st Constitutional Amendment and the overall law and order situation.
http://www.dailytimes.com.pk/punjab/12-Jan-2015/military-courts-will-save-future-of-nation-zardari
----------
Five terrorists to be executed tomorrow
Jan 12 2015
SUKKUR/FAISALABAD: Three terrorists belonging to banned outfits at Central Jail Sukkur and two convicts at Faisalabad jail sentenced in the Musharraf attack case will be hanged tomorrow (Tuesday).
The three terrorists at Central Jail 1 in Sukkur, Muhammad Shahid Haneef, Muhammad Talha, and Khalil Ahmed were all involved with the murder of Zafar Hussain Shah, Director of Ministry of Defence in the vicinity of Gulbahar Jail in Karachi in 2001.
According to jail authorities, all three will be hanged at 6:30am on Tuesday.
Two accused convicted of orchestrating the murder attempt on former military ruler General Pervez Musharraf, Nawazish Ali and Mushtaq Ahmed, at District Jail Faisalabad will also be hanged Tuesday morning.
http://www.thenews.com.pk/article-171579-Five-terrorists-to-be-executed-tomorrow--
----------
Gunmen kill 7 Pakistani troops in Baluchistan
12 Jan, 2015
Gunmen attacked a checkpoint in south-western Baluchistan province, killing seven paramilitary soldiers, an official said.
Abdul Haleem said the attack took place early on Monday in the mountainous Mekhtar region in Lorali district, about 250 kilometres northeast of Quetta, the provincial capital.
http://www.thehindu.com/news/international/south-asia/gunmen-kill-7-pakistani-troops-in-baluchistan/article6780720.ece
---------
Pak courts offer army the power it used to seize
Declan Walsh,NYT News Service | Jan 12, 2015
LONDON: After Taliban gunmen massacred dozens of schoolchildren in Peshawar last month, Pakistan's two most powerful men convened an emergency meeting at army headquarters. Their body language, captured in a government-released photo, was revealing: Prime Minister Nawaz Sharif looked glum and ill at ease, while the man beside him, Gen. Raheel Sharif, the army chief, lectured confidently.
To many Pakistanis, the symbolism was rich and unambiguous. After a tumultuous year, Mr. Sharif's government may still be hanging on, extending a nearly seven-year stretch of civilian rule. But otherwise, Pakistan's generals are back in the driver's seat.
Under General Sharif, who took his post in late 2013 and is not related to the prime minister, the army has transformed its fortunes: triumphing over the government in a series of bruising public clashes, bringing unruly critics in the news media to heel, and winning broad support for a drive against Islamist militants in their tribal stronghold.
Full report at:
http://timesofindia.indiatimes.com/world/pakistan/Pak-courts-offer-army-the-power-it-used-to-seize/articleshow/45847541.cms
----------
'India using Afghan soil to attack Pakistan': Sartaj Aziz
12 Jan, 2015
India is using Afghan soil to carry out attacks on Pakistan, Sartaj Aziz, Adviser to Prime Minister Nawaz Sharif on National Security and Foreign Affairs, claimed on Sunday.
Speaking on a DawnNews programme, Faisla Awam Ka, he said, "India's stance has been non-cooperative since the formation of the Modi-government."
He added that the Indian involvement" had reduced after Pakistan and Afghanistan stepped up cooperation and agreed not to let their territory be used to launch attacks on the other.
"The stance of the previous governments in India was subtle, but the Modi-led government said that if Pakistan is to maintain good ties with India, then it should compromise on Kashmir," he said.
He added that India wanted resumption of dialogue on its own terms "which were not acceptable to Pakistan."
http://www.thehindu.com/news/international/south-asia/india-using-afghan-soil-to-attack-pakistan-sartaj-aziz/article6780830.ece
---------
After deadly Taliban attack, Army Public School reopens today
Jan 12 2015
PESHAWAR: The terror-hit Army Public School (APS), along with several other government and private educational institutions resumed their activities on Monday (today) in Khyber Pakhtunkhwa after obtaining no-objection certificates (NOC) from the provincial government.
The schools which were able to fulfill the criteria set by the government were issued NOCs whereas some institutions which failed to make arrangements such as installation of CCTV cameras and higher boundary walls across the campus boundaries were not issued NOCs.
"Schools with not enough security arrangements would not be allowed to reopen," KP Information Minister Mushtaq Ghani had said on Jan 8. Government monitors would assess security measures taken at the schools, he had added.
Senior Superintended of Police Dr Mian Mohammad Saeed told Dawn that officials of different police stations had inspected 1,440 schools in Peshawar. Out of these, only 118 schools were given NOCs, he said. Security arrangements at 1,380 schools are not satisfactory, he said, adding that such schools had been issued a security advisory.
Full report at:
http://www.dawn.com/news/1156533/after-deadly-taliban-attack-army-public-school-reopens-today
----------
General Sharif welcomes the students of Army Public School Peshawar in person
Jan 12 2015
Peshawar- Chief of Army Staff (COAS) General Raheel Sharif visited the Army Public School today, that reopened 26 days after a deadly attack by militants in which around 140 children were killed.
The COAS, along with his wife, met parents and students besides attending the school assembly. General Raheel and the children sang the national anthem and a prayer 'Lab pe aati hai duaa ban ke tamanna meri.'
He appreciated the courage of students and their parents.
"Everyone is in high spirits…this nation is unbeatable," he was quoted as saying by the ISPR.
COAS Raheel Sharif and his wife welcomed the children returning to school and also met their parents. Army Public School Peshawar was attacked by terrorists on December 16. Since then winter vacations of schools across the country were extended due to security threats. However, schools throughout the country reopened today.
Many children were crying while remembering their school mates. The army chief said that the morale of the entire nation is high. He added that terrorism will be wiped out from the country.
http://nation.com.pk/national/12-Jan-2015/general-sharif-welcomes-the-students-of-army-public-school-peshawar-in-person
---------
New policy for unregistered Afghans being worked out
Jan 12 2015
PESHAWAR: The federal government has hinted at devising a new policy for unregistered Afghan nationals residing across the country as the police in Khyber Pakhtunkhwa and political administrations in tribal agencies are gearing up for launching a drive against undocumented Afghans.
Official sources said that the ministry of state and frontier regions (Safron) had informed home secretaries and commissioner of the Afghan refugees of the four provinces through a letter last week that policy regarding unregistered Afghans was being devised at the earliest.
The new policy would be conveyed to the provinces for implementation very soon, the letter said. Officials said that approximately over two million Afghan nationals had been residing in Full report at:
http://www.dawn.com/news/1156519/new-policy-for-unregistered-afghans-being-worked-out
----------
'Quaid-i-Azam Apparel Park will be most modern project of its kind'
Jan 12 2015
LAHORE: Punjab Chief Minister Muhammad Shahbaz Sharif has said that Quaid-i-Azam Apparel Park, which will be the most modern project of its kind in South Asia, is being set up near Motorway and will result in provision of all necessary facilities to textile and garments sector under one-roof.
He said that the project will generate thousands of job opportunities as well as increase exports, resulting in strengthening of national economy. He said that the best facilities would be available to investors and industrialists in Quaid-i-Azam Apparel Park. He said that process of industrialization would accelerate due to the setting up of state-of-the-art Quaid-i-Azam Apparel Park, costing billions of rupees.
He was presiding over a high level meeting to review the progress on Quaid-i-Azam Apparel Park project. The meeting gave formal approval to handing over the management and development work of Apparel Park project to Punjab Industrial Estate Development and Management Company. Speaking on the occasion, the Chief Minister said that Pakistan is an agrarian country and the goal of progress and prosperity could be achieved through development of agro-based industry.
Full report at:
http://www.dailytimes.com.pk/punjab/12-Jan-2015/quaid-i-azam-apparel-park-will-be-most-modern-project-of-its-kind
----------
Europe
Jihadism Born in a Paris Park and Fuelled in the Prison Yard
12 Jan, 2015
PARIS — They jogged together or did calisthenics along the hilly lawns and tulip-dotted gardens of Buttes-Chaumont, the public park in north-eastern Paris built more than a century ago under Emperor Napoleon III. Or they met in nearby apartments with a janitor turned self-proclaimed imam, a man deemed too radical by one local mosque because of his call for waging jihad in Iraq.
The group of young Muslim men, some still teenagers, became known to the French authorities as the Buttes-Chaumont group after the police in 2005 broke up their pipeline for sending young French Muslims from their immigrant neighbourhood to fight against American troops in Iraq. The arrests seemingly shattered the group, and some officials and experts were sceptical that members ever posed a threat to France.
But the shocking terror attacks last week in Paris have now made plain that the Buttes-Chaumont network produced some of Europe's most militant jihadists, including Chérif Kouachi, one of the three terrorists whose three-day rampage left 17 people dead and who was killed by the police.
Other alumni from the group have died in Iraq or remained committed to radical Islam, including a French-Tunisian now aligned with the Islamic State who has claimed responsibility for a handful of assassinations in Tunisia, including the July 2013 murder of a leading left-wing politician.
"They were considered the least dangerous," Jean-Pierre Filiu, a professor of Middle East studies and specialist on French Islamic terror cells, said of the Buttes-Chaumont group. "And now you see them really at the forefront."
Now French authorities, while still piecing together how such violent attacks could have been staged in the capital, must also be concerned by the possibility that other home-grown groups may be passing unnoticed — or may be similarly underestimated.
The attacks suggest the prospect of a potent intermingling among some members of the original Buttes-Chaumont group and other extremists. Their meeting place, apparently, was the French prison system.
Full report at:
http://www.nytimes.com/2015/01/12/world/europe/jihadism-born-in-a-paris-park-and-fueled-in-the-prison-yard.html
----------
Muslim Man Hailed For Life-Saving Courage during Paris Siege
12 Jan, 2015
At a kosher supermarket in Paris, a quick-thinking Muslim employee hides several Jewish shoppers in the basement before sneaking out to brief police on the hostage-taker upstairs. In the town of Dammartin-en-Goele, a poker-faced businessman fools a pair of gunmen into believing they're alone in the building before being allowed to leave unharmed.
In the days after the bloody end of twin French hostage crises Friday, stories of life-saving courage are beginning to filter out. One of the most striking is the story of Lassana Bathily, a young immigrant from Mali who literally provided police with the key to ending the hostage crisis at the supermarket.
Bathily was in the store's underground stockroom when gunman Amedy Coulibaly burst in upstairs, according to accounts given to French media and to a friend of Bathily's who spoke to The Associated Press. Bathily turned off the stockroom's freezer and hid a group of frightened shoppers inside before sneaking out through a fire escape to speak to police. Initially confused for the attacker, he was forced to the ground and handcuffed.
Once police realized their mistake, he provided them with the key they needed to open the supermarket's metal blinds and mount their assault.
Full report at:
http://english.ahram.org.eg/NewsContent/2/9/120050/World/International/Muslim-man-hailed-for-lifesaving-courage-during-Pa.aspx
---------
France Did Not Want Netanyahu, Abbas at Paris Rally
PTI | Jan 12, 2015
JERUSALEM: France apparently wanted to keep the Israel-Palestinian conflict out of the Paris march but Israeli domestic politics seems to have prevailed as the two leaders participated in the largest demonstration of people's unity against terrorism in Europe.
Israeli Prime Minister Benjamin Netanyahu and Palestinian Authority (PA) President Mahmoud Abbas had their closest encounter in years on Sunday when they joined world leaders to march against terrorism in Paris after 17 people were killed in three days of attacks.
Wary that the unity march against terror could get entangled in diversionary issues like Jewish-Muslim divide or Israel-Palestinian conflict, the French government wanted to keep both Netanyahu and Abbas out of the solidarity show.
Israel's Channel 2 earlier reported that the French foreign ministry preferred that Netanyahu would not join the march because "his arrival could raise difficulties".
Ha'aretz Online later in a report claimed that French President Francois Hollande even conveyed a message to the Israeli Prime Minister over the weekend asking him not to come for the march, citing an Israeli source who was privy to the contacts between the Elysees Palace and the PMO here.
Hollande's national security adviser (NSA) Jacques Audibert reportedly contacted his Israeli counterpart Yossi Cohen and said that the French president would prefer that Netanyahu not attend, the source was quoted as saying.
Audibert is said to have explained that Hollande wanted the event to focus on demonstrating solidarity with France and to avoid anything liable to divert attention to other controversial issues, like Jewish-Muslim relations or the Israeli-Palestinian conflict.
The French NSA had expressed hopes that the Israeli premier would understand the difficulties his arrival might pose and would announce that he would not be attending.
The source reportedly said that one of the French concerns which was not conveyed to representatives of the Israeli government was that Netanyahu might take advantage of the event for election campaign purposes and make speeches, especially about the Jews of France.
Full re port at:
http://timesofindia.indiatimes.com/india/France-did-not-want-Netanyahu-Abbas-at-Paris-rally/articleshow/45854845.cms
----------
J.K. Rowling slams Rupert Murdoch over anti-Islam tweets
Jan 12 2015
Media mogul Rupert Murdoch has come under scrutiny for tweeting that Muslims must be held responsible for last week's terror attacks in France.
Murdoch took to his Twitter to say that those who practice Islam "must be held responsible" until "they recognise and destroy their growing jihadist cancer."
Many responded to Murdoch's words with criticism, saying it's unfair to blame an entire population for the actions of a handful. One such person who took notice of his words was J.k Rowling, author of the Harry Potter series.
"I was born Christian. If that makes Rupert Murdoch my responsibility, I'll auto-excommunicate," she said on Twitter.
She sarcastically went on to taking the blame for the Spanish Inquisition, "all Christian fundamentalist violence," and even reproached televangelist Jim Bakker
http://www.dawn.com/news/1156534/jk-rowling-slams-rupert-murdoch-over-anti-islam-tweets
---------
Paris Terror Attacks Fuel Tensions Over Place of Islam in Germany
12 Jan, 2015
BERLIN—The two-year-old Alternative for Germany built itself into a potent political force with a push to get Germany to quit the euro. After the Paris attacks, though, one of the party's leaders says it is likely to focus more on the role of Islam in the country.
More of the political debate has to focus on whether Muslims are prepared to integrate into German society, the upstart party's co-chairman, Konrad Adam, said Sunday.
"The question is are they capable of this? Do they want this?" Mr. Adam said, referring to what he described as deep-seated historical differences between Muslim and Western culture. "This question will be asked completely anew."
In the aftermath of the Paris terrorist shootings, Germany's own tensions over the place of Islam in Europe appear to be building.
Mr. Adam's call—as well as a series of competing protests and vigils across the country—are putting a spotlight on cultural and political divisions within German society that have long remained in check. Though Germany's political mainstream has voiced solidarity with the country's four million Muslims—the country's largest religious minority—a growing populist opposition is taking a different tack in the wake of last week's deadly violence in Paris.
Full report at:
http://www.wsj.com/articles/paris-terror-attacks-fuel-tensions-over-place-of-islam-in-germany-1421026619
----------
Sarkozy: Immigration 'not linked to terrorism but complicates things'
12 January 2015
Former French president Nicolas Sarkozy said Monday in the wake of Paris terror attacks that immigration, "if it is not linked to terrorism... complicates things".
"The question of immigration will be the subject of an extremely deep debate because we cannot continue like this. Immigration, which we have such problems coping with, creates the problem of integration, which creates communitarianism," where people identify with their own community. And people like those who carried out the attacks which killed 17 people last week can conceal themselves within this communitarianism.
http://english.ahram.org.eg/NewsContent/2/9/120084/World/International/Sarkozy-Immigration-not-linked-to-terrorism-but-co.aspx
----------
Mosque attacked in Germany second time
World Bulletin / News Desk
12 January 2015
A mosque that is currently under construction, named Suleymaniye Mosque, in the German suburb of Dormagen was attacked once more after the first time attacked on December 22, 2014.
The second attack in three weeks, anti-Muslim and racist slogans as well as a swastika were painted on the walls of the mosque. Turkey's Dusseldorf consolate Alaattin Temur visited the mosque after the second attack and received information from the officials.
Condemning the racist and Islamophobic attack on the mosque, chairperson of the Turkish-Islamic Union for Religious Affairs Prof. Dr. Nevzat Yasar Asikoglu said the first attack on the mosque took place on Dec. 20, 2014 and authorities were asked to take necessary steps to provide protection for the place of worship.
"However, this is really sad that an attack took place for the second time," Asikoglu said.
In a statement, the union also said that such kinds of attacks created worry and fear among the Muslim community in Germany.
Full report at:
http://www.worldbulletin.net/world/152726/mosque-attacked-in-germany-second-time-photo
----------
France deploys 5,000 police officers to protect Jewish schools in Paris
AFP | Jan 12, 2015
PARIS: France will deploy nearly 5,000 security forces and police to protect the 700 Jewish schools in the country, as Prime Minister Manuel Valls said that the gunman who attacked a kosher supermarket probably had an accomplice.
Amedy Coulibaly, who killed a policewoman in southern Paris then four Jewish shoppers in a hostage drama, probably received help from someone else, Manuel Valls said, pledging "the hunt will go on".
Interior minister Bernard Cazeneuve promised to boost security at Jewish institutions, telling parents of a Jewish school to the south of Paris that soldiers would also be posted as reinforcements.
Full report at:
http://timesofindia.indiatimes.com/world/europe/France-deploys-5000-police-officers-to-protect-Jewish-schools-in-Paris/articleshow/45852402.cms
---------
German anti-Islamists seize on terror fears with new rally as Merkel meets Davutoğlu
Jan 12 2015
Germany's growing anti-Islamic movement is set to hold a new rally Jan. 12, this time condemning the jihadist attacks in France, in a move slammed as an attempt to exploit the bloodshed.
Leaders of the so-called "Patriotic Europeans Against the Islamisation of the Occident" (PEGIDA) have asked participants to wear black armbands and observe a minute's silence for "the victims of terrorism in Paris."
Euphemistically dubbed "evening strolls" by the group, Monday's march in the eastern city of Dresden is expected to ride a wave of fear and revulsion at the killings of 17 people in France to beat last week's record attendance of 18,000.
However counter protests are gaining momentum, with 35,000 people turning out Saturday in Dresden against the anti-Islamic group.
The latest PEGIDA demonstration comes after a firebombing early Jan. 11 against a tabloid in the northern city of Hamburg that had reprinted cartoons of the Prophet Mohammed from the French satirical paper Charlie Hebdo.
Full report at:
http://www.hurriyetdailynews.com/german-anti-islamists-seize-on-terror-fears-with-new-rally-as-merkel-meets-davutoglu.aspx?pageID=238&nID=76810&NewsCatID=351
--------
South Asia
China says 6 attackers killed in latest Xinjiang violence
12 January 2015
China says police shot and killed six would-be bombers in the latest violence in the far northwestern region of Xinjiang.
The official TS News website said police were called to a business district in the town of Shule on Monday morning. It said a man was shot and killed after he charged police with an axe and attempted to detonate an explosive device.
The website said another five suspects with bombs were also shot and killed in a clean-up operation. No others were injured.
No word was given on the identity of the suspects, although at least 400 people have been killed in and outside the region over the past two years in violence blamed on radicals among Xinjiang's native Uighur ethnic group
http://indianexpress.com/article/world/asia/china-says-6-attackers-killed-in-latest-xinjiang-violence/#sthash.QzKoIp0v.dpuf
----------
Contempt rule against Tajul, 5 Jamaat men in Bangladesh
Jan 12 2015
The International Crimes Tribunal has issued a rule of contempt of court against five Jamaat-Shibir activists and a lawyer of Jamaat-e-Islami.
Tribunal 1 issued the rule against them for calling 'hartal' programme over the verdict of war crimes convict ATM Azharul Islam.
The tribunal directed them to give explanation by January 28.
The respondents are Azhar's defence counsel Tajul Islam, Jamaat's acting ameer Maqbul Ahmed, acting nayeb-e-ameer Mohibur Rahman, acting secretary general Shafiqur Rahman and its student wing Chhatra Shibir President Abdul Jabbar and General Secretary Md Atikur Rahman.
On December 30, Jamaat-e-Islami called a two-day countrywide shutdown for December 31 and January 1, protesting the death penalty to its leader ATM Azharul Islam for war crimes during the 1971 Liberation War.
http://www.dhakatribune.com/law-rights/2015/jan/12/contempt-rule-issued-against-6-jamaat-shibir-men#sthash.c4VQCbqK.dpuf
----------
Maldives President: Paris Massacre Demonstrates "Profound Need to Counter Radicalism"
Jan 12 2015
In a message of sympathy towards the victims of the France attacks, President Abdulla Yameen has said the massacre of 12 cartoonists demonstrates "yet again the profound need to counter radicalism and to promote tolerance and moderation, which are the true values of Islam".
On January 9, two masked gunmen armed with AK-47 assault rifles forced themselves into the Paris offices of French publication Charlie Hebdo, killing 12 cartoonists including the editor before escaping by car.
The message addressed to the French President, H.E Mr. Francois Hollande, condemned the "massacre at the Charlie Hebdo office in Paris, and other barbaric acts of terrorism unleashed on France in the last few days by a radical group of terrorists".
Charlie Hebdo has a history of controversy due to its publication of satirical cartoons depicting Prophet Mohamed, which is strictly forbidden in Islam as it is believed to be akin to idolatry.
Full report at:
http://minivannews.com/society/charlie-hebdo-massacre-demonstrates-profound-need-to-counter-radicalism-says-president-yameen-92072
----------
CEO Abdullah to visit Pakistan for discussing fight against terrorism
Jan 12 2015
Pakistani media reports that Pakistan and Afghanistan are getting closer in the fight against terrorism.
Pakistani media says to discuss joint efforts against terrorism the Chief Executive Officer (CEO) of Afghanistan's Unity Government Abdullah Abdullah will visit Pakistan.
In the meantime Lt. General Rizwan Akhtar, the chief of Inter-Services Intelligence (ISI), Pakistan's premier intelligence agency has arrived in Kabul to meat Afghan leaders.
According to the information provided by the presidential palace here in Kabul, Lt. General Rizwan Akhtarhere has met Afghan President Mohammad Ashraf Ghani and has discussed the War on Terror and peace process with him.
Full report at:
http://www.khaama.com/ceo-abdullah-to-visit-pakistan-for-discussing-fight-against-terrorism-2699
----------
First phase of Biswa Ijtema ends with prayer for peace on earth
Jan 12 2015
With the prayer for peace on earth and seeking divine blessings of the Almighty Allah, the first phase of Biswa Ijtema concluded yesterday through the Akheri Munajat.
The Munajat, conducted by Indian Muslim scholar Maulana Mohammad Saa'd, began at 11:15am and ended at 11:48am. Before that, the sun came out shining bright giving devotees a great relief from cold.
Pin drop silence prevailed as the sea of devotees raised their hands to the Almighty for his mercy during the prayer.
Maulana Mohammed Saa'd in his speech in Urdu and Arabic called upon the Muslims to uphold Islamic values in everyday life and dedicate themselves for the service of Islam.
Meanwhile, the stream of Ijtema goers continued till yesterday morning amid the countrywide blockade. Finding no transport, many walked miles to participate in the concluding prayer.
Muslims from the capital and the nearby areas of Tongi, Gazipur, Savar and Uttara also participated in the Akheri Munajat.
Full report at:
http://www.dhakatribune.com/bangladesh/2015/jan/12/first-phase-biswa-ijtema-ends-prayer-peace-earth#sthash.min82DUf.dpuf
----------
Dozens of children among 98 Rohingya smuggling victims found in Thailand
12 Jan, 2015
(Reuters) - Dozens of children were among 98 suspected Rohingya trafficking victims from Myanmar discovered in pickup trucks in southern Thailand, police said on Monday, as more checkpoints were set up in the region to combat the trade.
Two Thai drivers suspected of trafficking the Rohingya, a mostly stateless Muslim minority from western Myanmar, were being interrogated, said Police Captain Somporn Thongchee, a deputy inspector for Hua Sai district, where the group was found.
Police intercepted five vehicles, including three pickup trucks, at a checkpoint in Hua Sai district in Nakhon Si Thammarat province, around 700 km (435 miles) from Bangkok on Sunday and discovered dozens of "very thin and tired men, women and children".
Of the group, 42 were boys and girls under the age of 14. One of the Rohingya was dead.
"This is our first discovery of a group of Rohingya which suggests that smuggling in this region might have increased in recent years," said Police Captain Somporn Thongcheen.
They were being held in a government shelter in Hua Sai. If police follow the usual routine, they will be sent back to Myanmar or could languish in a shelter for months before the government decides what to do with them.
http://www.reuters.com/article/2015/01/12/us-thailand-trafficking-idUSKBN0KL0LB20150112
----------
Mideast
Netanyahu in Paris: Our Common Enemy is Radical Islam
12 Jan, 2015
Prime Minister Binyamin Netanyahu said on Sunday he appreciated the "very firm position" taken by French leaders against "the new anti-Semitism and terrorism" in France.
"Our common enemy is radical, extremist Islam -- not normal Islam," Netanyahu said at the Grand Synagogue in Paris, after briefly joining other world leaders in a march against extremism through the capital that drew up to 1.6 million people, according to AFP.
"Israel is today at Europe's side, but I would like Europe to be on Israel's side too," Netanyahu said.
"Those who killed and massacred Jews in a synagogue recently in Israel and those who killed Jews and journalists in Paris are part of the same global terror movement," he added, referring to a November attack in Jerusalem.
"We must condemn them in the same way, we must fight them in the same way."
"Although the various factions of Islamic extremism are involved in their own local bloody conflicts, including among themselves, they are all driven from the same ambition: to impose a dark despotic regime on the world, to take humanity a thousand years backward. They trample anyone who does not share their beliefs, and at the top of the list are their fellow Muslims, but their greatest hatred is reserved for Western culture, the same culture that respects freedom, equal rights, all the things they so despise," said Netanyahu.
"Therefore, it is no coincidence that radical Islam has been seeking to destroy Israel since its inception - because Israel is the only Western democracy in the Middle East, because Israel is the only place where Christians, women and minorities are truly safe, the only place which respects human rights in general.
Full report at:
http://www.israelnationalnews.com/News/News.aspx/189801#.VLRc4tLF84U
----------
Turkish PM says Islamophobia should prompt similar reaction as Paris rally
Jan 12 2015
Turkish Prime Minister Ahmet Davutoğlu on Jan. 11 hailed the unprecedented rally against terror in Paris as a "strong message to the world," while adding that he would expect a similar reaction to attacks on Muslims and Islamophobia.
Davutoğlu joined dozens of other world leaders at the march in Paris to mourn the victims of the three days of terror by Islamists that began with the slaughter of 12 people at the offices of satirical magazine Charlie Hebdo.
"It is a message to the whole world that everyone must confront the threat of terror," Davutoğlu told reporters at the Turkish embassy in Paris in televised comments.
"We would expect the same sensitivities to be shown to attacks on mosque or Islamophobia," he added, after attending the rally that mobilized over a million people in Paris alone.
He praised a comment by French President Francois Hollande that "these fanatics [who carried out the attacks] have nothing to do with Muslim religion" as being of the "utmost importance."
Full report at:
http://www.hurriyetdailynews.com/turkish-pm-says-islamophobia-should-prompt-similar-reaction-as-paris-rally-.aspx?pageID=238&nID=76811&NewsCatID=338
----------
Turkey provides 1.5 million ID cards for Syrian refugees
Jan 12 2015
Turkey has provided some 1.5 million Syrian refugees with biometric IDs, according to data provided by the Interior Ministry and the Disaster and Emergency Management Presidency (AFAD).
Deputy Prime Minister Numan Kurtulmuş had earlier said that some 1.2 million Syrians, fleeing the civil war in their homeland, have been registered.
The identity registrations include fingerprints and personal data, which will also be used in the provision of aid, job offers, education, and social opportunities to displaced people.
Full report at:
http://www.hurriyetdailynews.com/turkey-provides-15-million-id-cards-for-syrian-refugees-.aspx?pageID=238&nID=76788&NewsCatID=341
----------
Main opposition head says Turkey has become 'harbor for terrorist sleeper cells'
Jan 12 2015
Main opposition Republican People's Party (CHP) head Kemal Kılıçdaroğlu has claimed that Turkey has become a center for terrorist organization "sleeper cells."
"Turkey has become a center harboring terrorist organizations' sleeper cells. Ministers have started to make statements saying 'watch out for sleeper cells' one after another," said Kılıçdaroğlu in an interview with daily Hürriyet.
"The people who are saying this did not come to power just yesterday, they are the ones who have ruled for 12 years," he added.
Kılıçdaroğlu said the government had allowed the country to drift into a "terror swamp," claiming that the government "built its foreign policy on supporting terrorist organizations."
"For these reasons [Prime Minister Ahmet] Davutoğlu cannot govern the country. At this point [after] 12 years in power, there is a problem-making government, not a problem-solving government. The problems they make not only worry their citizens inside [the country], but are also a reason for anxiety in the modern world. There are great worries about Turkey," the CHP leader said.
Full report at:
http://www.hurriyetdailynews.com/main-opposition-head-says-turkey-has-become-harbor-for-terrorist-sleeper-cells.aspx?pageID=238&nID=76806&NewsCatID=338
----------
North America
Fox News mocked after guest says Birmingham is 'totally Muslim'
12 January 2015
The British city of Birmingham is a "totally Muslim" place where "non-Muslims just simply don't go," a supposed terrorism expert told Fox News this week, sparking a flurry of mocking memes on social media.
Steve Emerson's statements led the Twitter hashtag #foxnewsfacts to trend worldwide as social media users poked fun at the comments.
"In Britain, it's not just no-go zones, there are actual cities like Birmingham that are totally Muslim where non-Muslims just simply don't go in," he said.
"Parts of London, there are actually Muslim religious police that actually beat and actually wound seriously anyone who doesn't dress according to Muslim, religious Muslim attire," he added before stating that in Birmingham "Muslim density is very intense … the police don't go in, and where it's basically a separate country almost, a country within a country."
Show host Jeanine Pirro replied: "You know what it sounds like to me, Steve? It sounds like a caliphate within a particular country."
The comments led social media users to react jokingly in light of the official statistic that just 21.8% of the city's population are Muslim, according to the Birmingham City Council.
http://english.alarabiya.net/en/media/television-and-radio/2015/01/12/Fox-News-mocked-after-guest-says-Birmingham-is-totally-Muslim-.html
----------
No 'credible' intel Al-Qaeda behind Paris attacks: U.S.
12 January 2015
The United States has yet to determine the party behind this week's deadly attacks in Paris, U.S. Attorney General Eric Holder said Sunday.
"At this point, we don't have any credible information that would allow us to make a determination as to which organization was responsible," Holder said in an interview from Paris with ABC's "This Week."
Brothers had training in Yemen?
On Sunday, two senior Yemeni sources said both brothers who carried out the attack against satirical weekly Charlie Hebdo travelled to Yemen via Oman in 2011 and had weapons training in the deserts of Marib, where al-Qaeda has a presence.
This is the first confirmation by Yemeni officials that both Cherif and Said Kouachi, who carried out one of the bloodiest Islamist attacks on the West in years, had visited Yemen where al-Qaeda's deadliest franchise, AQAP, is based. U.S., European and Yemeni sources had previously confirmed a visit by Said Kouachi.
Full report at:
http://english.alarabiya.net/en/News/world/2015/01/11/U-S-says-no-credible-intel-Al-Qaeda-behind-Paris-attacks.html
----------
Kerry aims to 'accelerate' Iran nuke talks
12 January 2015
U.S. secretary of State John Kerry said on Monday he hoped to speed up progress in the Iran nuclear talks during his Geneva meeting with his Iranian counterpart next week, Agence France-Presse reported.
Kerry told reporters he will hold talks with Iranian Foreign Minister Mohammad Javad Zarif in Geneva, hoping to "accelerate the process to make greater progress."
"The meeting is calculated to take stock, number one, and to provide direction to our teams, number two, and to hopefully be able to accelerate the process to make greater progress," Kerry was quoted by Reuters news agency as saying.
A third deadline is looming to reach a deal on reining in Iran's suspect nuclear program by July 1.
Global powers leading the talks, known as the P5+1, are to meet again at a lower level from January 18 hoping to nail down the final thorniest issues to seal a deal.
Following an interim accord in November 2013, two deadlines for a final deal have been missed.
Full report at:
http://english.alarabiya.net/en/News/middle-east/2015/01/12/Kerry-aims-to-accelerate-progress-in-Iran-nuclear-talks.html
----------
Iran eclipses U.S. as Iraq's ally in fight against militants
12 January 2015
In the eyes of most Iraqis, their country's best ally in the war against the Islamic State of Iraq and Syria (ISIS) group is not the United States and the coalition air campaign against the militants. It's Iran, which is credited with stopping the extremists' march on Baghdad.
Shiite, non-Arab Iran has effectively taken charge of Iraq's defense against the Sunni radical group, meeting the Iraqi government's need for immediate help on the ground.
Two to three Iranian military aircraft a day land at Baghdad airport, bringing in weapons and ammunition. Iran's most potent military force and best known general - the Revolutionary Guard's elite Quds Force and its commander Gen. Ghasem Soleimani - are organizing Iraqi forces and have become the de facto leaders of Iraqi Shiite militias that are the backbone of the fight. Iran carried out airstrikes to help push militants from an Iraqi province on its border.
Full report at:
http://english.alarabiya.net/en/perspective/analysis/2015/01/12/Iran-eclipses-U-S-as-Iraq-s-ally-in-fight-against-militants.html
----------
US working with India to strengthen fight against terror
TNN | Jan 12, 2015
NEW DELHI: US secretary of sate John Kerry said on Monday that the US is working with India to strengthen its fight against terrorism.
Speaking at the Vibrant Gujarat summit, Kerry said that "during my discussion with PM Modi and other officials, we reviewed the progress of our economic relationship and how to take it ahead."
"The US investment in India have risen from $2.4 billion to $28 billion," John Kerry said.
Kerry also said that he had discussions with PM Modi as President Obama is visiting India. "Obama is really happy to be the first US President to be visiting India twice," Kerry said.
"I am impressed with what I have seen during the Vibrant Gujarat summit," the US secretary of sate said. Gujarat has an opportunity to gain significantly from the fresh impetus in Indo-US ties, John Kerry said. "PM Narendra Modi has built a reputation by building efficiency, trying to make decisions faster, by streamlining bureaucracy. It be extrapolated to rest of India," John Kerry said.
"The US will work towards PM Narendra Modi vision to supplying 24/7 electricity to India," Kerry said.
John Kerry also said that "we are committed to work with India to reach a landmark climate change agreement in Paris at the end of this year."
http://timesofindia.indiatimes.com/india/John-Kerry-US-working-with-India-to-strengthen-fight-against-terror/articleshow/45850596.cms
----------
Gunman's video raises questions of affiliations: Did al-Qaida and IS coordinate Paris attacks?
AP | Jan 12, 2015
PARIS: Two days after his death, a video emerged on Sunday of one of the Paris gunmen pledging allegiance to the Islamic State group, while his two fellow militants have claimed to be from al-Qaida — a fiercely rival extremist organization.
That seeming contradiction has raised questions about the connections among the three French attackers, whether they acted with the direct involvement or knowledge of the networks, and whether their friendship allowed them to put aside the rift between the groups.
The Islamic State group does not cooperate with al-Qaida's militants and actually fights them for territory in a side conflict of Syria's civil war.
In video verified by the SITE Intelligence Group, Amedy Coulibaly said he had worked in coordination with Said and Cherif Kouachi, the "brothers from our team," who carried out the massacre at the satirical newspaper Charlie Hebdo on Wednesday.
"We did things a bit together and a bit apart, so that it'd have more impact," he said in fluent French, adding that he had helped the brothers financially with "a few thousand euros" for the operation. The video also showed him doing pushups, and featured automatic rifles, pistols and ammunition. He spoke beneath the black-and-white flag used by many Islamic militants.
Coulibaly explained why the publication and his target _ the kosher supermarket _ were selected.
Full report at:
http://timesofindia.indiatimes.com/world/europe/Gunmans-video-raises-questions-of-affiliations-Did-al-Qaida-and-IS-coordinate-Paris-attacks/articleshow/45847286.cms
------------
India
No talks with militant outfits indulging in violence: Home Minister
12 January 2015
Union Home Minister Rajnath Singh Monday categorically said there will be no talks with those militant outfits that indulge in violence though doors are open for parleys with others.
"Doors are open for discussions. Talks we will have but under no circumstances we will have talks after the militants indulge in violence. We will not talk with such extremist groups under the Narendra Modi government," asserted the Home Minister addressing the closing ceremony of the 19th National Youth Festival here.
Appealing to the North East region based insurgent outfits to stop their violent activities, the Home Minister said, "they do not understand the poor people's problems. The poor are being massacred and the youth cannot remain silent but have to fight them, however, powerful they are."
"Those groups indulging in violence, division of people and extortion have to be shunned. I seek your help to fight violence and insurgency," Singh said.
http://indianexpress.com/article/india/india-others/no-talks-with-militant-outfits-indulging-in-violence-rajnath/#sthash.Ilz7HVzn.dpuf
----------
Maharashtra DGP: To Stop Radicalisation Start with Inclusive Housing, Madrasa Reform
12 January 2015
Eight months after four youths from a distant Mumbai suburb travelled to Iraq and Syria to join Islamic State (IS) jihadists, Maharashtra's Director General of Police Sanjeev Dayal has proposed what would be India's first structured plan to counter the appeal of extremist ideology among Muslim youth.
Speaking at the Idea Exchange programme of The Indian Express, Dayal said he recently presented the proposal to Chief Minister Devendra Fadnavis.
Acknowledging the challenges posed by rising radicalisation of young Muslims, the DGP has proposed a proactive government role and a holistic policy involving multiple government departments including health, education and housing for a gamut of schemes and programmes that can tackle "various contributory factors pushing people away from the mainstream".
This would include, for example, programmes for more inclusive patterns of housing, an outreach programme for the mainstreaming of madrasa education and dealing with even the perceived grievance that minority-dominated areas are victims of wilful municipal neglect.
Dayal said he has cited the Singaporean law mandating mixed ownership in all housing complexes through a fixed percentage of Malay, Chinese and Indian owners. He said while it may not be possible to replicate the model entirely, it could offer insights into government-mandated mixed housing. "At least in government-subsidised properties, can we not say there should be a percentage of housing for minorities?" said Dayal.
Fadnavis is reportedly "very positive" about the suggestions and senior government officials said the BJP-Shiv Sena government in Maharashtra is now applying its mind on drafting the plan.
selected.
Full report at:
http://indianexpress.com/article/india/india-others/how-to-stop-radicalisation-maharashtra-dgp-says-start-with-inclusive-housing-madrasa-reform/99/#sthash.UFV8FsKe.dpuf
----------
'Bengali Indian Muslims' look at us as guardian: BJP
12 January 2015
Claiming that "Bengali Indian Muslims" of West Bengal are different from "illegal migrant Muslims", the BJP has said that the former look to the party as their guardian.
"In West Bengal, Bengali Indian Muslims do not feel any insecurity. They have a lot of faith in BJP, because we support them morally and emotionally. They feel B JP is the right party and (Prime Minister Narendra) Modi the right leader," said Sidharth Nath Singh, BJP secretary in charge of the state.
The BJP, which has launched an aggressive campaign in West Bengal to "uproot" the ruling Trinamool Congress (TMC) government, has been targeting the "Bengali Indian Muslims" as its key support base.
According to him, Bengali Muslims feel that "Bangladeshi migrants" have eaten into their welfare scheme share. He added that consecutive governments and main political parties — the CPM, Congress and TMC —never addressed the issue as they looked to the migrants as a vote bank. So, the BJP started working with them, said Singh. "We have been supporting them against atrocities committed by Bangladeshi infiltrators," he added.
Singh argued that the recent 'ghar wapsi' controversy has not had any impact on the party's increasing influence among the minority community in Bengal, where Muslims constitute 25-30 per cent of the population. "People have realised that it has nothing to do with the BJP. There are certain groups working on it and the blame cannot be put on the BJP. BJP has nothing to do with them," he said.
selected.
Full report at:
http://indianexpress.com/article/india/india-others/bengali-indian-muslims-look-at-us-as-guardian-bjp/#sthash.s5XBbjdE.dpuf
---------
Arrest a surprise, he's innocent, says terror suspect's father
12 Jan, 2015
Khaja Sayeedi, the father of Riyaz Ahmed, the terror suspect arrested by the Central Crime Branch of the Bengaluru police, said that the arrest of his son had surprised him.
Ahmed had been arrested on Saturday night at the Mangaluru airport, before he was scheduled to board a flight to Dubai.
Ahmed was working at a hardware shop there. Sayeedi said that he had come home on December 8. Ahmed's wife had delivered a baby girl 18 days ago. He was married 18 months ago. Ahmed had been living in Dubai for the last 10 years after completing Islamic education.
Sayeedi claimed that his son was innocent and that he never indulged in such activities and that he had been arrested without any reason.
Suspect's mother ill
He said that Ahmed had last spoken to him on the phone at 10.30 pm and was supposed to board a flight at 11.30 pm. Sayeedi said that the health of Ahmed's mother Fazeela deteriorated after they came to know of his arrest. Ahmed has two sisters and a brother.
Sayeedi said that his son may have been arrested due to wrong information given by someone.
http://www.deccanherald.com/content/452981/arrest-surprise-hes-innocent-says.html
----------
Australia
Hizb ut-Tahrir Australia says 'selective moral outrage' over massacre is disproportionate.
12 Jan, 2015
Charlie Hebdo magazine insulted Allah and the "selective moral outrage" over the Paris massacre is disproportionate when compared with the countless more people killed every day, the Australian branch of a pan-Islamic organisation says.
People are killed every day around the world in numbers and in circumstances that should put the events in France in perspective.
Refusing to condemn the slaughter, Hizb ut-Tahrir Australia said: "Muslims do not need to be lectured about the sanctity of human life. We especially do not need to be lectured by the greatest criminals of the modern age." It included US President Barack Obama and Israeli Prime Minister Benjamin Netanyahu among the 'criminals'.
Most Muslim leaders in Australia have deplored the massacre but Hizb ut-Tahrir issued a media release under the headline: 'We will not abandon our Prophet'.
It criticised the unprecedented "scale and tenor of the political response" to the Charlie Hebdo "incident", saying the outpouring was encouraged by the political class and this "reinforces Europe's desire to intensify its constant pressure on Muslims".
"People are killed every day around the world in numbers and in circumstances that should put the events in France in perspective," it said.
Full report at:
http://www.smh.com.au/national/charlie-hebdo-attack-panislamic-group-hizb-uttahrir-australia-says-selective-moral-outrage-over-massacre-is-disproportionate-20150112-12mho6.html
----------
Southeast Asia
Quelling Criticism by Calling It an Insult to Islam
Jan 12 2015
The French gunmen who slaughtered 12 people, including four cartoonists and two policemen, in the Charlie Hebdo attack last week said they were doing it to avenge those who insulted Islam and to avenge Prophet Muhammad.
They couldn't trade ink with ink, relying on spraying bullets to end criticism.
This trend of being heavy-handed in handling critics, albeit without gunfire, has been going on for some time in Malaysia where criticism and dissent are being labelled as insults to Islam.
Even a Muslim touching a dog is considered an insult to Islam.
Lawyers for Liberty executive director Eric Paulsen is now the latest person being accused of insulting Islam for his tweet that said Malaysia's Islamic Development Department had been promoting extremism through Friday sermons.
Paulsen is now facing a barrage of criticism for his tweet and has received death threats apart from being investigated under the Sedition Act 1948. He lodged a police report today over the death threats.
Full report at:
http://www.themalaysianinsider.com/malaysia/article/quelling-criticism-by-calling-it-an-insult-to-islam#sthash.vmM6OOjw.dpuf
---------
Emulate Jews to Beat 'Infidel' West: Datuk Zaid Ibrahim
12 Jan, 2015
KUALA LUMPUR, Jan 12 — To beat the West, Muslims could follow after the Jews and build up their economic strength instead of resorting to violence, Datuk Zaid Ibrahim said today, in the wake of the Charlie Hebdo shootings by Islamic extremists.
The former de facto law minister pointed out that the Jews, who have been persecuted throughout history and suffered the Holocaust, did not kill Christians in retaliation but set up banks and financial institutions, took control of the media and established top-ranking universities like Harvard and Yale instead.
"They believed that the West could only be conquered by money and education, and now the Chinese are following the same formula successfully," Zaid said in a statement sent to Malay Mail Online.
"I am all for defeating the West and the infidels who are insulting us, but we Muslims must position ourselves better by building better economies and wealthier countries," he added.
Three terror suspects descended on the Paris office of satirical French weekly Charlie Hebdo, which had published several cartoons of Prophet Muhammad, on January 7 and gunned down 12 people, including the magazine's staff and police officers.
Altogether, 17 victims have died along with three suspected terrorists after a hostage-taking standoff last Friday that marked the end to the deadliest attack that France has witnessed in 50 years.
Full report at:
http://www.themalaymailonline.com/malaysia/article/emulate-jews-to-beat-infidel-west-zaid-tells-muslims#sthash.C5gCAMP9.dpuf
----------
Police Detain Another Alleged Terror Suspect in Sulawesi
Jan 12 2015
Jakarta. The National Police's anti-terror unit Densus 88 has arrested another suspected terrorist in Central Sulawesi as part of a crackdown on the East Indonesia Mujahideen (MIT).
The man, who was identified as Imran, is the seventh alleged terrorist that has been targeted by the elite police squad since Saturday.
"The suspect, Imran or Legenda, has been on our wanted list for a long time," National Police spokesman Sr. Comr. Agus Rianto said on Monday.
Imran, who is believed to be a member of MIT led by the fugitive Santoso, was arrested at 7 a.m. local time at his home in Tabalu village, Poso. Police said he was apprehended without a fight.
Police suspect Imran served as a courier for Santoso and another MIT leader, Daeng Koro, and was responsible for hiding the two terror suspects. Police also believe he helped organize a meeting between Santoso and his wife.
Terror fugitive Santoso is the former leader of the Poso wing of Jamaah Ansharut Tauhid (JAT) while Daeng Koro — a police deserter who goes by the aliases Abdul Salam and Sabawas — is Santoso's right-hand man.
On Saturday Densus officers shot dead one terrorism suspect and arrested five others in separate operations targeting the MIT in Sulawesi.
http://thejakartaglobe.beritasatu.com/news/police-detain-another-alleged-terror-suspect-sulawesi/
----------
URL: https://www.newageislam.com/islamic-world-news/new-age-islam-news-bureau/us-airstrike-in-syria-kills-over-50-civilians/d/100975