New Age Islam News Bureau
21 May 2019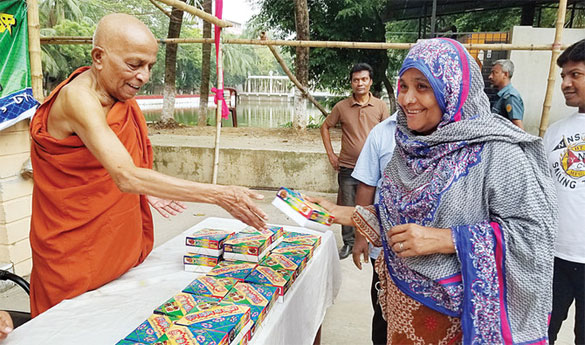 Local residents have praised the generosity of Dhaka's Buddhist monastery in distributing Bangladeshi iftar items. (AN photo)
-------
• Urs of Sufi Saint in Pulwama Promotes Love and Harmony
• Taste Of Kindness: Buddhist Monks Serve Iftar at a Dhaka Monastery
• US, Taliban Blame Each Other For Acting against Afghan Peace
• Ex-Fatah Prince, East Jerusalem Lawyer Indicted For Attempted Terror Attacks
• Muslim Members of Congress Host Ramadan Feast at the Capitol
• Trump Says War Will Mean 'Official End of Iran,' Warns 'Never Threaten the United States Again'
• One of U.K.'s Most Prolific Extremist Cells Is Regrouping
India
• Urs of Sufi Saint in Pulwama Promotes Love and Harmony
• NIA searches homes of suspects who allegedly conspired to free terrorists
• PDP activist succumbs to injuries after militant attack
• How Jamaat drives terror, shapes politics in Kashmir
• Tamil Nadu: NIA searches homes of 10 who 'planned to form terror gang'
• Pakistan names Moin-ul-Haque as new envoy to India
--------
South Asia
• Taste Of Kindness: Buddhist Monks Serve Iftar at a Dhaka Monastery
• US, Taliban Blame Each Other For Acting against Afghan Peace
• 16 militants killed in S. Afghan airstrikes
• 2 Ansar Al Islam militants held
• Airstrikes kill 9 Taliban militants in Zabul and Farah provinces
• Special Forces storm IED manufacturing facilities of Taliban in Kandahar
• NDS Special Forces kill 4 ISIS militants including 2 foreigners in Nangarhar
• Sri Lanka president vows to eliminate extremist threat
--------
Mideast
• Ex-Fatah Prince, East Jerusalem Lawyer Indicted For Attempted Terror Attacks
• World Food Programme Considers Ending Aid to Houthi-Controlled Areas in Yemen after 'Interference'
• Yemen's government forces arrest key al-Qaeda leader
• Yemen's Houthi Group Says Will Target UAE, Saudi Vital Military Facilities
• Palestinian gov't says it was not consulted about US-led economic conference
• Arab Coalition: Houthis tried to target civilian site in Saudi Arabia's Najran
• Saudi Arabia intercepts Houthi missiles heading toward Mecca, Jeddah
• Yemeni forces dismiss Saudi claim about targeting holy city of Mecca
• Fresh Saudi strike leaves four civilians dead, nearly dozen injured in Yemen
--------
North America
• Muslim Members of Congress Host Ramadan Feast at the Capitol
• Trump Says War Will Mean 'Official End of Iran,' Warns 'Never Threaten the United States Again'
• The 'American Taliban' will be free after 17 years. Is the U.S. ready to welcome him back?
• Trump: 'I will not let Iran have nuclear weapons'
• Reward of $5,000 offered for information in mosque arson
• Iranian FM Zarif says Trump's 'genocidal taunts won't end Iran'
• Trump says wants to talk with Iran 'if they are ready'
• Turkey launches anti-misinformation campaign in US
• Israel is responsible for Hamas – and for Gaza's suffering
--------
Europe
• One of U.K.'s Most Prolific Extremist Cells Is Regrouping
• Sajid Javid: New espionage bill will tackle threats
• Violence Involving ISIS Prisoners Leaves Dozens Dead in Tajikistan
• Christchurch attacker charged with terrorism
• Britain tells Iran: Do not provoke the United States or Trump will retaliate
• Accused Christchurch mosque shooter also charged with terrorist act
• Scholars highlight Islamophobia in Netherlands
• UK: Muslim community hosts public iftar in London
• Britain considers banning travel to Syria and west Africa
--------
Southeast Asia
• Indonesia's Joko Widodo Wins Second Term As President
• Richard Malanjum In Six Landmark Court Cases
--------
Africa
• Three killed in suspected Islamic State attack outside Libyan oilfield
• Boko Haram kills two in IDP camp as residents observe Sahur meal
• Burkina Faso Wracked by Escalating Violence
• Kenya, Cameroon Militaries Fighting Terrorism through Development
• 'Dispute' over leading Sudan's governing body dominated talks: Protest leader
• Libyan National Army bans access to Libya's western ports
--------
Arab World
• Reeling in Syria, Iraq, Islamic State Tries to Surge Online
• Syria ex Al-Qaeda group seeks rivals' help to fight regime
• Iraqi military destroys Islamic State camp in Anbar
• Islamic State militants set fire to 12 houses in Mosul
• Iraq accuses ISIS of setting fire to hundreds of acres of farmland
• UN team unearths 12 mass graves in Iraq probe of ISIS crimes
• Egyptian security forces kill 12 suspected militants after bus bombing
• Russia says it repelled an attack on its main Syrian air base: RIA
• Russian air strikes kill 10 civilians in northwest Syria
• 12 suspected extremists killed in Egypt raids: ministry
--------
Pakistan
• Imran Khan Blames Opposition Parties for Pakistan's Economic Woes
• Chinese envoy, army chief discuss regional security
• Firdous slams 'convict' Maryam for chairing meetings of lawmakers
• Nawaz seeks release from jail on medical grounds
• 'Facilitator' of Data Darbar suicide blast captured
Compiled by New Age Islam News Bureau
URL: https://www.newageislam.com/islamic-world-news/urs-sufi-saint-pulwama-promotes/d/118663
--------
Urs of Sufi saint in Pulwama promotes love and harmony
20 May 2019
Reverberating with the verses of Holy Quran, the shrine of Saint Hazrat Mir Syed Hussian Andrabi, located in the Murran village of Pulwama became the abode of peace and tranquility as people cutting across religious lines came to attend the urs of holy saint.Devotees offered special prayers to the saint and prayed for the fulfillment of their wishes.As a part of the celebration, Sufi scholars and Imams, the worship leader of a Mosque threw light on the life, religious services, teachings and spiritual strength of the saint, who devoted his entire life to preach Islam and spread love and brotherhood. With its eclectic emphasis on tolerance and peaceful coexistence, Sufism has been guiding the life of Kashmiris for nearly 700 years. Forming an integral part of people ethos for the last several centuries, even today the Sufi traditions play an important role in their lives and connote them with an understanding of the world in all its spiritual dimensions. The teachings of Sufi saints still reverberate in every nook and corner of the state and continue to inspire people to live in peace and harmony. Saint Hazrat Mir Syed Hussian Andrabi was also one among these Sufi saints whose message of oneness and brotherhood is still preached by the residents here. After the commemoration of Urs, the holy sacrament is also distributed among devotees irrespective of their caste and community. The holy celebration clearly indicates that the lesson of Humanity and compassion that was once propagated by the Sufi saints is still having its roots deeply embedded in the culture and traditions of Jammu - Kashmir.
https://in.news.yahoo.com/urs-sufi-saint-pulwama-promotes-133900528.html
--------
Taste of kindness: Buddhist monks serve iftar at a Dhaka monastery
May 21, 2019
DHAKA: As the clock strikes 6 p.m., Shudhhanondo Mohathero hurries to the kitchen to alert his army of 15 monks that they have less than 40 minutes until iftar.
Soon, people will begin queuing outside the Dharmarajika Bouddha Bihar, a Buddhist monastery in Dhaka, where Mohathero hands out free food packs to fasting Muslims who are too poor to buy a meal to end their fast.
It is a tradition that 89-year-old Mohathero started 10 years ago when he assumed responsibility for the temple's upkeep.
"Since the early days of the monastery, we have received tremendous support in celebrating different Buddhist festivals from our Muslim friends. So I thought it's time to do something in return," Mohathero told Arab News.
Built in 1951, the monastery, which is located in Basabo in the eastern part of Dhaka, has been involved in various social welfare activities. Since the start of Ramadan this year, almost 200 food packs have been doled out every day, with plans to double the number by the end of the month. The 15 monks who live in the monastery prepare the food boxes for iftar.
At a cost of around 80 cents, which is funded by the temple, each box contains traditional Bangladeshi iftar items such as puffed rice, boiled and seasoned chickpeas, jilapi (a deep-fried sweet pastry), beguni (deep-fried eggplant) and dal bora (a fried item with smashed lentils and dates).
"In previous years, our junior monks used to prepare iftar at the monastery. This year, however, we are starting to outsource the items due to the sheer volume," Mohathero said.
The monastery's generosity has not gone unnoticed by the fasting Muslims.
"I have been receiving iftar from the monastery for three years. Since my husband works as a daily-wage laborer, this iftar has made our lives very comfortable," Asma Khatun, a local resident, said.
Another devotee, Sharif Hossain, said that iftar from the monastery "is like a divine blessing."
"After losing all my properties in a river erosion, I moved to Dhaka just a few months ago and started living in a slum. I can finally feed my family with the iftar provided by the monks," he said.
Talking about his experience being part of a project that builds communal harmony, Prantar Borua, an apprentice monk at the temple, said: "We feel proud and happy to be doing such an extraordinary thing. It's a small contribution to the community, but it's the best we can do at this moment."
The monastery's generosity has won praise from the Bangladesh authorities, too.
"It's a nice initiative from the Buddhist community, especially at a time when the world is experiencing many hate crimes and interreligious conflicts. It upholds the spirit of religious harmony," Abdul Hamid Jomaddar, joint secretary of the Religious Affairs Ministry, said.
"Our government believes in the coexistence of different religions, which is the beauty of this secular land," he added.
http://www.arabnews.com/node/1499796/world
--------
US, Taliban Blame Each Other for Acting Against Afghan Peace
May 19, 2019
Ayaz Gul
ISLAMABAD —
Taliban and American military officials have taken to social media to accuse each other of acting against peace building efforts in conflict-torn Afghanistan.
The spar between the two adversaries via Twitter comes as American and representatives of the insurgent group are engaged in a months-long dialogue to try to bring an end to the Afghan war. But the talks have failed to deter the Taliban from ceasing or reducing battlefield hostilities. Deadly battles between Taliban insurgents and U.S.-backed Afghan security forces in recent days have killed and wounded hundreds of people, including civilians.
Taliban spokesman Zabihullah Mujahid tweeted late Saturday that Washington, and not his group, is opposed to peace efforts. He reiterated the Taliban's traditional stance that the U.S. military intervention in Afghanistan is to be blamed for the 17-year-old war.
"So long as you occupy our country through forces & and plots, no true Afghan will seek peace but will want to force you out," the insurgent spokesman tweeted. He was responding to reported remarks by U.S. military spokesman Col. Dave Butler that the Taliban is hurting Afghans who want peace in the country.
Mujahid urged Butler to speak only for the Americans and "think about ways of ending your occupation" rather than trying to represent Afghans.
"You know this not true. The Afghan people know this is not true. You have the opportunity to reduce violence but you chose not to," Butler responded. "The Taliban is choosing to ignore the will of the people and bring harm to this country. Peace is the right way," he added.
Butler's comments prompted Mujahid in a subsequent tweet to ask the U.S. military spokesman whether it was not true that American forces were "forcefully" based in Afghanistan and dropped "countless bombs" and imprisoned thousands of Afghans.
"The people you claim you're fighting for want peace. You know the truth. You are not even in this country but sending Afghan sons to die while you attack the pride of the people — the Afghan Security Forces. You claim to fight us but only attack Afghans," Col. Butler responded in a tweet early Sunday.
Zabihullah (ذبیح الله م )
@Zabihullah_4
#Reaction:
A spokesman for occupying American forces @USFOR_A said that US & all Afghans want peace but the #Taliban do not want peace.
They should realize that IEA has not intervened in & occupied US but contrarily, the US has intervened & occupied our country.
150
6:31 PM - May 18, 2019
Twitter Ads info and privacy
66 people are talking about this
He did not elaborate but Afghan and American officials have long alleged Taliban fighters use sanctuaries in Pakistan to orchestrate cross-border insurgent activities. Officials in the neighboring country reject the charges and blame Afghan refugee populations near the border areas for serving as hideouts for insurgents.
The United States and its allies invaded Afghanistan in 2001 to dislodge the Taliban from power for sheltering al-Qaida leaders blamed for plotting the 9/11 attacks on American cities.
https://www.voanews.com/a/us-taliban-blame-each-other-for-acting-against-afghan-peace/4923481.html
--------
Ex-Fatah Prince, East Jerusalem Lawyer Indicted For Attempted Terror Attacks
MAY 21, 2019
Former Fatah's al-Aqsa Martyrs Brigade commander Zakariya Zubeidi and east Jerusalem lawyer Tareq Barghut have been indicted in the IDF West Bank Courts for multiple recent attempted terrorist attacks in which they allegedly fired on Jews in the vicinity of Ramallah in the West Bank.
Zubeidi was separately indicted for a wide range of 24 criminal charges involving murders, attempted bombings and other terrorist activities from the Second Intifada to the present.
The indictment of each man is explosive.
Zubeidi at points has been considered among the most powerful strongmen in the Palestinian Authority and was given amnesty for his role as one of the leaders of terrorism during the Second Intifada. Barghut is a well-known lawyer for Palestinians and is certified as an Israeli lawyer.
The arrest of him and his wife in February led the entire legal community defending Palestinians in the IDF West Bank Courts to strike, bringing the entire system to a halt.
While not unprecedented, it is highly unusual for Israel to arrest top Fatah officials or a lawyer for Palestinians, who are generally considered off limits.
Zubeidi, who was once considered a "symbol of the Intifada," renounced militancy over a decade ago, and was awarded clemency by Israel after he agreed to give up arms.
A source close to Barghut indicated to The Jerusalem Post that he will not contest many of the shocking allegations of attempted shootings, but will try to reduce some of the charges and otherwise obtain a favorable plea deal by explaining the emotional strain he was under.
The announcement came from the Shin Bet (Israel security agency) on Monday that said, "Intelligence gathered by the Shin Bet pointed to the involvement of Zakariya Zubeidi and Tareq Barghut in a series of attacks in the Beit El area."
The two were arrested on February 27 during an operation by the agency and IDF forces before a new impending attack they were planning.
Barghut has been employed as an attorney in the PA's Ministry of Prisoner's Affairs and there have been indications that part of what led to his arrest was internal Palestinian tensions, possibly leading to a fellow Palestinian informing on his alleged double-life as a lawyer and a terrorist.
Until Monday, colleagues of Barghut had dismissed the allegations against him as fake news being used by the occupation to persecute Palestinians.
But the indictment against Barghut told a story of a veteran lawyer who became distraught with the IDF West Bank Courts, the Israel Prisons Service and the general day-to-day treatment he witnessed Palestinian security-defendants getting from Israel, and eventually snapped in 2016 after decades as a normative lawyer.
The indictment itself has indications of already potentially reduced charges, describing firing 13 bullets at an IDF vehicle in which no one was injured as a lesser charge, instead of attempted murder.
"ZUBEIDI FLAGRANTLY and violently violated his commitment and was involved in several terrorist attacks after he agreed to cease all terrorist activities," the Shin Bet said in a statement.
According to the statement, Zubeidi will be put on trial for all the terrorist activity in which he was involved – both from his past, for which he was given a conditional amnesty (amnesty on condition he not revert to terrorism), and for more recent activities with Barghut.
While there were injuries, no one was seriously injured by Barghut's attacks.
The Shin Bet investigation alleges that the two carried out two shooting attacks – on November 7 and on January 5 – toward buses traveling on the road adjacent to Beit El.
The indictment stated that in the January 5 incident, bus driver Mustafa Abu Ahul was lightly injured and crashed the bus as a result of the 20 bullets shot by Barghut.
As part of their preparations for the attacks, the Shin Bet said that the defendants carried out reconnaissance of the area designated for the attack, monitored the targets for the attack, and collected information.
The agency also alleges that the two carried out another shooting attack on December 27, when they opened fire on a bus that went up to Psagot, but were unable to hit it because of the weather conditions. They also planned to carry out another attack on February 19 in the same area.
According to the Shin Bet, Barghut admitted that he carried out another shooting attack even before starting to work with Zubeidi, on November 19, 2016.
That attack was on a police car in the Zeitim crossing near Jerusalem, which caused damage but no injuries.
The indictment said that Barghut and Zubeidi carefully swapped their Palestinian license plate on their car with stolen Israeli license plates each time they traveled through Israel.
During the investigation, the M16 weapons and the magazines with which the attacks were carried out were confiscated by security forces.
"This was a serious case involving a senior official in the Palestinian Prisoners' Ministry and an Israeli lawyer" in the same office who used a Palestinian Authority vehicle to perpetrate terror, a senior Shin Bet official said. "The intelligence and operational activities of the security forces, immediately after the attacks and in the weeks that followed... led to the exposure of the cell and the prevention of serious terrorist attacks in the future."
Most of the wider murder and terrorism charges against Zubeidi date back to the Second Intifada.
https://www.jpost.com/Israel-News/Ex-Fatah-prince-East-Jerusalem-lawyer-indicted-for-attempted-terror-attacks-590164
--------
Muslim members of Congress host Ramadan feast at the Capitol
By Julie Zauzmer
May 20, 2019
While Rep. Ilhan Omar fasts during Ramadan from food and water — and even, she is quick to point out, from coffee — her responsibilities as a congresswoman often keep her from breaking her daily fast at a celebratory iftar meal. Sometimes, she said, it's a quick bite to eat after the sun sets and then back to the House floor for a vote or to a committee meeting.
But not on Monday. On this night, halfway through the month-long holiday of Ramadan, Omar enjoyed a buffet of food as she and two other Muslim members of Congress hosted some fellow members for a traditional Ramadan meal.
The congressional iftar, hosted at the Capitol, was a night for Omar (D-Minn.), Rep. Rashida Tlaib (D-Mich.) and Rep. André Carson (D-Ind.) to explain their faith to their colleagues. Of course a break-the-fast meal in the halls of Congress included a hefty serving of politics alongside the naan and kebabs.
Your "religion gives you values and inspiration," Sen. Richard J. Durbin (D-Ill.) said of the Muslim faith, before he pivoted to current affairs. "We will stop this white supremacist, white nationalist rhetoric that's so hateful, so divisive, so deadly, as we've seen in Charlottesville."
House Majority Leader Steny H. Hoyer (D-Md.), like many, also mixed religion and politics. "The Bible doesn't tell me to love my neighbor if they're Christian, if they're straight . . . The Bible tells me to love my neighbor."
The three Muslim members of Congress invited about 100 guests, including clergy of other faiths and Muslim activists. A guest of honor was Khizr Khan, who gained notoriety in 2016 when then-candidate Donald Trump mocked him after he spoke at the Democratic National Convention about his son's death in the U.S. military and his wife, who stood beside him, did not.
Monday night, Omar recalled Trump's comments about Khan's wife, Ghazala, "Maybe she wasn't allowed to have anything to say" as a Muslim woman.
"Little did they know they were going to get the two loudest Muslim women in the country" in Congress, she joked of herself and Tlaib. Both women were elected in 2018. Along with Carson, who has been in Congress since 2008, the three represent the largest number of Muslims ever to serve in Congress at once.
"They say that we have three in Congress," Carson joked. "It's really three plus AOC," a reference to Rep. Alexandria Ocasio-Cortez (D-N.Y.). He jested about getting the New York congresswoman, who is Catholic and has referred to the importance of her faith in her policymaking, to repeat the Muslim statement of faith.
Ocasio-Cortez, in turn, showed her knowledge of Islam when she came to the microphone and talked about attending Friday prayers, or jumah, in her district, which includes a substantial Muslim population in the Bronx and Queens.
After an imam led a prayer to mark the end of the fast, guests flocked to the food at the congressional iftar. (Alex Wong/Getty Images)
"When Ilhan prays, when I pray, when Rashida prays, when Ayanna [Pressley] prays, when Jan Schakowsky prays, I believe those prayers all go to the same place — up," Ocasio-Cortez said. In an interview afterward. She said Schakowsky, a 74-year-old Illinois representative who has been in Congress since 1998, has been instrumental in behind-the-scenes conversations with younger women, especially on the subject of religion.
Tlaib and Omar have been repeatedly accused of anti-Semitism by critics. Schakowsky, who is Jewish and speaks about her personal connection to Israel, has helped mediate debate about the contentious subject, along with Rep. Andy Levin (D-Mich.) and the progressive Jewish organization Bend the Arc, Ocasio-Cortez said.
"They've been so key in connecting these dots. So much of this quote-unquote controversy is stirred up by folks who are not from either of these communities," she said. "That's not what it's about. It's about learning from each other, not turning on each other."
All eight members of Congress who spoke at the gathering were Democrats. Eric Naing, a spokesman for the organization Muslim Advocates, which sponsored the event, said that Republican members had also been invited.
For the non-Muslim attendees, the Muslim members of Congress as well as activists and an imam explained a bit about the meaning of the holiday, during which Muslims don't eat from sunup to sundown.
"It's about developing understanding for the kind of struggles others go through when they go without. It's about having deeper empathy," Omar said.
In an interview with a Washington Post reporter afterward, she said her own awareness of her hunger during long days fasting while serving in Congress has motivated her to introduce a bill increasing access to free school lunches.
"What better time to put policy into practice?" she said.
https://www.washingtonpost.com/religion/2019/05/21/muslim-members-congress-host-ramadan-feast-capitol/
--------
Trump says war will mean 'official end of Iran,' warns 'never threaten the United States again'
May 21, 2019
President Trump fired a social media broadside at the Iranian regime Sunday afternoon, vowing that war between Washington and Tehran would result in "the official end of Iran" before warning, "[n]ever threaten the United States again!"
Trump tweeted hours after a rocket landed less than a mile from the U.S. Embassy in Baghdad's heavily fortified Green Zone, the first such attack since September. An Iraqi military spokesman told reporters the rocket appeared to have been fired from east Baghdad, which is home to several Iran-backed Shiite militias.
Tensions between the U.S. and Iran have risen in recent weeks after the Trump administration ordered warships and bombers to the Middle East earlier this month to counter threatened attacks against U.S. interests by Iran or Iranian-backed forces.
The U.S. also ordered nonessential staff out of its diplomatic posts in Iraq days after Secretary of State Mike Pompeo visited Baghdad told Iraqi intelligence that the United States had been picking up intelligence that Iran is threatening American interests in the Middle East. Two Iraqi officials told the Associated Press that Pompeo had offered no details of the alleged threat.
Trump appeared to have softened his tone in recent days, saying he expects Iran to seek negotiations with his administration. Asked on Thursday if the U.S. might be on a path to war with Iran, the president answered, "I hope not."
The U.S. Navy said Sunday it had conducted exercises in the Arabian Sea with the aircraft carrier strike group ordered to the region to counter the unspecified threat from Iran. The Navy said the exercises and training were conducted Friday and Saturday with the USS Abraham Lincoln aircraft carrier strike group in coordination with the U.S. Marine Corps, highlighting U.S. "lethality and agility to respond to threat," as well as to deter conflict and preserve U.S. strategic interests.
The USS Abraham Lincoln has yet to reach the Strait of Hormuz, the narrow mouth of the Persian Gulf through which a third of all oil traded at sea passes.
On the Iranian side, the head of the country's elite Revolutionary Guard, Gen. Hossein Salami, was quoted Sunday as saying Iran is not looking for war. But he said the U.S. is going to fail in the near future "because they are frustrated and hopeless" and are looking for a way out of the current escalation. His comments, given to other Guard commanders, were carried by Iran's semi-official Fars news agency.
Also Sunday, Saudi Arabia's minister of state for foreign affairs told reporters that the kingdom "does not want war in the region and does not strive for that ... but at the same time, if the other side chooses war, the kingdom will fight this with all force and determination and it will defend itself, its citizens and its interests."
Adel al-Jubeir spoke a week after four oil tankers— two of them Saudi— were targeted in an alleged act of sabotage off the coast of the United Arab Emirates and days after Iran-allied Yemeni rebels claimed a drone attack on a Saudi oil pipeline. The Saudis have blamed the pipeline attack on Iran, accusing Tehran of arming the rebel Houthis, with which a Saudi-led coalition has been at war in Yemen since 2015. Iran denies arming or training the rebels, who control much of northern Yemen, including the capital, Sanaa.
"We want peace and stability in the region, but we won't stand with our hands bound as the Iranians continuously attack. Iran has to understand that," al-Jubeir said. "The ball is in Iran's court."
Saudi Arabia's King Salman, meanwhile, has called for a meeting of Arab heads of state on May 30 in Mecca to discuss the latest developments, including the oil pipeline attack. The state-run Saudi news agency reported Sunday that U.S. Secretary of State Mike Pompeo called Saudi Crown Prince Mohammed bin Salman to discuss regional developments. There was no immediate statement by the State Department about the call.
An English-language Saudi newspaper close to the palace recently published an editorial calling for surgical U.S. airstrikes in retaliation for Iran's alleged involvement in targeting Saudi Arabia's oil infrastructure.
The current tensions are rooted in Trump's decision last year to withdraw the U.S. from the 2015 nuclear accord between Iran and world powers and impose wide-reaching sanctions, including on Iranian oil exports that are crucial to its economy.
Iran has said it would resume enriching uranium at higher levels if a new nuclear deal is not reached by July 7. That would potentially bring it closer to being able to develop a nuclear weapon, something Iran insists it has never sought.
https://www.foxnews.com/politics/trump-war-iran-never-threaten-united-states
--------
One of U.K.'s Most Prolific Extremist Cells Is Regrouping
By Ceylan Yeginsu
May 18, 2019
LONDON — Even as fellow European countries worry about hardened Islamic State fighters returning from Syria and Iraq, Britain has another problem: the re-emergence of a homegrown militant cell, Al Muhajiroun, one of Europe's most prolific extremist networks, which was implicated in the London bombings of 2005.
After those attacks, the British government passed a raft of counterterrorism laws and embarked on a crackdown against Islamist extremists. Many were sentenced to prison or restricted to halfway houses for 10 years and sometimes more.
But on Monday, a co-founder of Al Muhajiroun, Anjem Choudary, was photographed near his East London home wearing a long white robe and a black electronic ankle tag. Government officials confirmed that Mr. Choudary, one of the country's most notorious radical Islamist preachers, had been released from a probation hotel after serving more than half of a lengthy prison term for inciting support of the Islamic State.
He remains under close monitoring, but he has begun the gradual process of becoming a free man. And he is not the only one.
Having served their time, many members of Mr. Choudary's old network are being released from detention. Far from chastened, they have begun to remobilize, vowing to take on far-right extremists and renew their decades-long campaign to eliminate democracy in Britain and establish a caliphate ruled by Shariah law, according to interviews with a handful of former members.
Founded in 1996, Al Muhajiroun, which has used various names over the years, has spent years effectively taunting the British security forces through its ability to continue operating despite being banned in 2006 for its links to terrorism. After a period of dormancy, the group is now remobilizing by continuing to change its name, adopting lower-profile tactics, using encrypted apps and meeting in secret locations.
According to former members, areas where the network is regrouping include East London; Luton, a town north of the British capital; and the surrounding county of Bedfordshire.
"Muslims are being attacked all over the world," said Laith, a former member of Al Muhajiroun who would only give his middle name for fear of prosecution. "Our mission is much more urgent now, and with Anjem and the other brothers out of jail, it's time to regroup and come out harder than before."
For the British authorities, the possibility of the group's re-emergence is a deep concern. This month, Andrew Parker, the director general of MI5, Britain's domestic counterintelligence and security agency, issued a rare public warning about the continued risks of extremist networks and emphasized the threat posed by groups sympathetic to the Islamic State.
"In the U.K., there remain individuals who are inspired" by Islamic State propaganda, he wrote in the newspaper The Evening Standard, "despite having shown no interest in traveling to Syria."
The security services have expressed particular alarm at the prospect of a newly energized Al Muhajiroun network trying to recruit members as some ISIS fighters and sympathizers attempt to return to Britain after the fall of the Islamic State's so-called caliphate in Iraq and Syria. Britain has taken a tough line against potential returnees, canceling the passports of more than 150 people.
David Videcette, a British former counterterrorism detective, said British citizens who had joined the Islamic State would pose a clear risk if they returned.
"Suddenly, we are going to have trained fighters who perhaps have the motivation to carry out martyrdom attacks, exposed to a historical network of radicals," he said.
For now, Mr. Choudary is prohibited from speaking in public or connecting with his old network. But several former members said that his release from prison, along with that of other figures, had emboldened the group, which was linked to 25 percent of all Islamist terrorism-related convictions in Britain between 1998 and 2015.
"Some activists have started to meet again and are testing the waters as they re-engage with their activism," said Michael Kenney, an associate professor of international affairs at the University of Pittsburgh, who spent years embedded with the group as part of the research for his book, "The Islamic State in Britain."
It is hard to overstate the role Mr. Choudary has played in motivating Islamic extremists. This month, for instance, the BBC reported that one of the attackers behind the Easter Sunday bombings in Sri Lanka, Abdul Lathief Jameel Mohamed, was radicalized by Mr. Choudary after attending his sermons during a one-year study abroad program in 2006.
"No other British citizen has had so much influence over so many terrorists as Choudary," said Nick Lowles, the chief executive of a British anti-racist watchdog group, Hope Not Hate, which he says has identified 120 Islamist militants with links to the imam.
A representative of the British Home Office, which has responsibility for monitoring extremist groups, said that the government was aware of the potential threat posed by Mr. Choudary and Al Muhajiroun, and had rigorous procedures in place to handle it.
"When any terrorist offender is released from prison, we know about it and have robust covert and overt powers to investigate and manage any threat they may pose," the government representative said. "Those released on license remain subject to close monitoring and strict conditions, which if breached can see them go back to prison."
Most of those who were senior members of Al Muhajiroun said that they remained under strict surveillance, with their electronic communications monitored, which was confirmed by the Home Office. As a result, they say they carry out their activities discreetly and avoid any mention of or association with the group's former name.
The activists say they have shifted their recruitment tactics from provocative public preaching and demonstrations to secret internet forums and smaller group meetings in inconspicuous locations. If the group uses a name that has not been identified as that of a terrorist outfit, then the gatherings are legal.
Most members of the group abide by what they call a "covenant of security" that prohibits attacks on non-Muslims in their country of residence. But it is a matter of individual choice.
In recent years, group members have become increasingly influenced by foreign radical groups like Al Qaeda and the Islamic State, inspiring them to carry out the attacks on and near London Bridge in 2017 and the murder of a British soldier, Lee Rigby, in the capital in 2013.
For many years, Mr. Choudary, a former lawyer whose preaching emphasized a jihadist ideology in which the West was accused of victimizing Muslims, managed to stay out of prison even as the authorities shut down many members of his broader network.
"Decrease and destruct, that was their tactic, and I have to admit it worked," said Mohammed Shamsuddin, who was recruited to Al Muhajiroun by Mr. Choudary more than 20 years ago.
Sipping on a latte at a juice bar in a town in northwestern England, Mr. Shamsuddin said that the authorities could no longer crack down in the same way.
"Now, all the guys you arrested 10 years ago are being released into the open," he said, "and they are healthier and stronger than before, and it's come at a time when the police are stretched and Brexit is destroying the country."
Many of the senior activists of the network who are now regrouping were monitored under the government's Terrorism Prevention and Investigation Measures Act of 2011. That legislation provides the framework for a program that restricts the movements of individuals suspected of involvement in terrorism-related activities, through the use of electronic tags and overnight house arrest.
Some, however, said that being placed under the program's restrictions had been more like a long vacation.
"It was amazing," said a man who was subjected to the restrictions, flashing a picture of a brick property with a garden. "I was placed in a four-bedroom house by myself in the nicest part of Ipswich," a town in eastern England.
"If anything, I got a good rest after years of hard work, got my energy back," he said, speaking on the condition of anonymity because he was not legally allowed to talk about the program. "They spent all that money to achieve what in the end? I'm back on Twitter, back on Facebook, back with my brothers. I'm back in society, doing my thing."
Some activists in the network denied that Mr. Choudary had encouraged acts of terrorism, claiming that he had directed their energy into an ideological struggle, not a violent one.
"The British government made a big mistake by putting Anjem in jail," said Abdulla Muhid, a 42-year-old former member of Al Muhajiroun. "He believes in the covenant of security and was able to control the youth as they were getting their education from a learned person. Now, everyone is freelancing, getting radicalized through the internet."
It is not clear how many activists belong to the network formerly known as Al Muhajiroun. Even during the group's peak years in the late 1990s to early 2000s, it never had more than 200 dedicated members, according to Mr. Kenney of the University of Pittsburgh.
It is also unclear whether Mr. Choudary will reassert his leadership when his license conditions end in 2021. There have been group members who have challenged his leadership in the past, and some of those who are still active in the network suggested that he had been replaced. Still, many said that they were eagerly awaiting his return.
"People are waiting for Anjem to come out; they are waiting for that spark," the activist who recently emerged from the restriction program said.
"These monitoring programs will do one of two things to you," he added. "Either they will break you or make you hard-core. For me, I'm now rested and feeling more hard-core. I'm ready."
https://www.nytimes.com/2019/05/18/world/europe/uk-extremist-cell-anjem-choudary.html
--------
India
NIA searches homes of suspects who allegedly conspired to free terrorists
May 20, 2019
The National Investigation Agency on Monday carried out searches at ten locations in Tamil Nadu in connection with an alleged conspiracy to form a terror group by some youths to facilitate the escape of jailed terrorists, officials said.
The search operations were carried out in Salem, Ramanathapuram and Cuddalore districts.
Earlier in January a case was registered against eight suspects for a conspiracy against India with the support of the Islamic State (IS), NIA sources said.
"We have received information that the eight have planned to facilitate the release of jihadis lodged in Indian prisons," an NIA official said.
The raids were carried out at the residences of Sheikh Dawood, Mohammed Riyaz, Sadhik, Mubharis Ahmad, Rizwan, Hameed Akbar and Rasheed in Ramanathapuram, Salem, and Chidambaram.
"During the raid, the NIA has retrieved three laptops, three hard disks, 16 mobile phones, eight sim cards, five memory cards and one card reader. The NIA has also seized two knives and a large number of incriminating documents from the houses of 10 charged with raising funds to wage armed struggle and to facilitate the escape of terrorists from jail," the NIA official said.
No one was arrested.
The search operations came after the interrogation of Riyas Aboobacker, a resident of Muthalamada in Palakkad district of Kerala. The 29-year-old Aboobacker was arrested during the investigation after the Easter bombings in Sri Lanka in April had admitted to planning a suicide bomb attack in India.
The NIA has already searched the offices and premises of Popular Front of India and Tauheed Jamaat at eight locations in Tamil Nadu on May 2. They were in connection with the Indian links of the Sri Lankan Easter bombings which killed more than 250 people.
https://www.hindustantimes.com/india-news/nia-searches-homes-of-suspects-who-allegedly-conspired-to-free-terrorists/story-gFXTq9n85Eo3kMbvbCxkWJ.html
--------
PDP activist succumbs to injuries after militant attack
May 20, 2019
SRINAGAR: A Peoples Democratic Party activist, who was shot at by suspected militants in Jammu and Kashmir's Kulgam district, has succumbed to injuries at a hospital here on Monday, an official said.
Mohammad Jamal, who was shot at inside his residence at Zungalpora village on Sunday night, succumbed to injuries at the SKIMS hospital, the official said.
PDP president and former chief minister Mehbooba Mufti condemned the killing of her party worker.
"Heartbreaking. Party workers in Kashmir put their neck on the line & have to suffer for their beliefs," Mufti tweeted. "Ironic that such mindless violence is justified in the name of Islam in the month of Ramzan. Shame on these cowards who call themselves Muslims."
Former IAS officer-turned-politician Shah Faesal and CPM leader M Y Tarigami also condemned the killing.
"The reckless killing of civilians at the hands of both the parties involved in the conflict continues unabated. Whether a civilian is killed by the bullet from one side or the other side, it is loss of precious human life," Tarigami said in a statement.
Full report at:
https://timesofindia.indiatimes.com/india/pdp-activist-succumbs-to-injuries-after-militant-attack/articleshow/69411451.cms
--------
How Jamaat drives terror, shapes politics in Kashmir
May 21, 2019
ANANTNAG/NEW DELHI: Over a month after the February 14 Pulwama suicide bombing, a young PhD student was one among the six militants arrested for an abortive terror strike on a CRPF convoy along the Jammu-Srinagar highway. The doctoral youth, Hilal Mantoo, was an active member of Jamiat-ul-Tulba (JuT), the student wing of Jamaat-e-Islami (JeI), the pro-Pakistan religious organization which got banned in a massive crackdown following the Pulwama attack.
However, Mantoo's political affiliation surprised no one in Kashmir. "It is almost a given in Kashmir that every native militant would have either direct or indirect link with the Jamaat. Hizbul Mujahideen, after all, is the armed wing of Jamaat even as it has never been officially admitted. Hizb commander Burhan Wani whose killing exposed the new age militancy in the valley, was also raised in a Jamaat household," a senior police officer in Kashmir told the TOI.
Though the official footprint of JeI is small with just over 5600 members and is considered to be mostly a south Kashmir network, but its influence on militancy and politics in the valley with a population of around seven million Kashmiri Muslims, has been wide and deep. Incidentally, out of 5600 members, around 2500 are in the northern district of Baramulla. "Jamaat which
believes in the establishment of Islamic Caliphate, rule of Sharia and Kashmir's right to be part of Pakistan has shaped not just the separatist narrative but also radicalized youth to the extent that they are the most readily available cadre for militant organizations in the valley today," a CPM activist in Anantnag told TOI.
Kashmir's JeI was established by Sa'aduddin and Maulana Ahrar, a year after Maulana Maududi founded Jamaat-e-Islami in Lahore in 1941. Historically, Kashmir's JeI has been aligned with Pakistan's JeI, which is separate from Jamaat-e-Islami-Hind, though all claim to be extensions of Maududi's Jamaat.
The bond between JeI Kashmir and JeI Pakistan, according to Pakistani journalist Arif Jamal, strengthened in 1983 after three years of secret meetings and negotiations in Kashmir, Pakistan and Saudi Arabia. In his book Shadow War, Jamal mentions that it was at the behest of Pakistan's military dictator Gen. Zia ul Haq, who had employed the services of JeI amir of Pakistan occupied Kashmir (PoK), Maulana Abdul Bari to reach out to JeI Kashmir's founding 'amir' (chief) Sa'aduddin for his support to waging a proxy war against India.
The outcome of this strategic partnership, led to Muslim United Front (MUF), an umbrella group of Kashmiri Islamists especially Jamaat, coming together to contest the 1987 assembly elections on the plank of right of Kashmir to secede from India. Only five
MUF candidates (independents) won but the vote share of Jamaat in the valley had risen from 6.6 percent in 1983 to 31.9 percent in 1987 and NC's declined from 59 percent to 49 percent.
The allegations of rigging and the subsequent clashes, became the turning point in Kashmir's political history. Even as most data scientists are unanimous that the MUF candidates including Jamaat would not have bagged more than 9 to 17 seats, the rigged election became the raison d'être for Kashmiri Islamists and separatists to take up arms against the Indian state in 1988-89.
"Jamaat in Kashmir grew slowly and steadily despite repression perpetrated against it by Sheikh Abdullah and his party. But it became powerful with its militant arm Hizbul Mujahideen that decimated the pro-independence militant group JKLF," an activist of JKLF in downtown Srinagar said.
Apart from that, Jamaat 'rukun' (members elected after a very rigorous process) work quietly and through a very broad network of its 350 mosques, 400 schools and 1000 seminaries across the state. "Hundreds of Jamaat members and supporters are employed by almost every governmental institution," a young civil servant in J&K secretariat said.
However, Jamaat became powerful especially after the PDP led by the Muftis came into existence. "The PDP, which was essentially formed by the former Congress leaders and cadre in Kashmir, pandered to Jamaat and Hizbul to fight the elections.
From symbolism like Mehbooba Mufti wearing green scarves and abaya to the 'healing touch policy' for militants, PDP did everything to get Jamaat's vote share," an NC politician in Srinagar said.
Some PDP members in private conversations admit that the politics of reaching out to Jamaat turned out to be a pyrrhic victory.
"In the last 20 years, PDP tried to mainstream Jamaat but actually the reverse happened. JeI infiltrated into the entire state machinery and made it impossible for the PDP to function as a mainstream party. Almost on a daily basis, there used to be requests from JeI network to either drop cases against militants and their ground workers, stone-pelters or release them. The alliance with the BJP particularly caused widespread anger after it became apparent that Modi's approach was quite divergent from that of Vajpayee's BJP. There was very little room for negotiations and accommodation of each other's interests," a young PDP leader in Anantnag said.
The result was the eruption of new age militancy which brought Kashmir to a standstill after Hizb commander Burhan Wani's killing in an encounter in 2016. South Kashmir, the bastion of Jamaat, has remained the biggest hub for all terror groups since.
"After the PDP led coalition government due to BJP's withdrawal, the Modi government intensified the crackdown against Hurriyat and Jamaat. As a result, the participation in the parliamentary elections was at a record low and abysmally poor," a former PDP worker from Tral said.
Out of JeI's 600 office bearers, while around 500 were "bound down" and then released, 100 were arrested under UAPA law and PSA, a senior police officer said. Though most have been bailed out, some remain in either police or judicial custody. "Yet, they remain operational on the ground, thanks to their wide network," he said.
Full report at:
https://timesofindia.indiatimes.com/india/how-jamaat-drives-terror-shapes-politics-in-kashmir/articleshow/69420818.cms
--------
Tamil Nadu: NIA searches homes of 10 who 'planned to form terror gang'
May 21, 2019
The National Investigation Agency (NIA) on Monday carried out searches at 10 locations in parts of Tamil Nadu in connection with a case initially registered by Tamil Nadu Police against 10 people for their alleged plans to form a terrorist gang, raise funds, collect arms for a terrorist attack.
Three laptops, three hard discs, 16 mobile phones, eight SIM cards, two pen drives, five memory cards and one card reader, besides two knives and a "large number of incriminating documents", were seized, the NIA stated in a release.
The search operations were carried out at homes of the accused at Muthupet in Thiruvarur, Keelakarai and Devipattinam in Ramanathapuram, Lalpet in Cuddalore, and Salem.
The case relates to a group of 10 from different parts of Tamil Nadu who had formed a WhatsApp group named 'Shahadat Is Our Goal'. The case was registered in April 2014 at Keelakarai police station under Unlawful Activities (Prevention) Act and Arms Act. Nine of the 10 accused have been arrested, one person is absconding.
Full report at:
https://indianexpress.com/article/india/tamil-nadu-nia-searches-homes-of-10-who-planned-to-form-terror-gang-5739387/
--------
Pakistan names Moin-ul-Haque as new envoy to India
by Shubhajit Roy
May 21, 2019
Pakistan on Monday named Moin-ul-Haque, its envoy to France, as its next High Commissioner to India, a month after his predecessor Sohail Mahmood took charge as Foreign Secretary of Pakistan.
Confirming the major appointments, Pakistan Foreign Minister Shah Mahmood Qureshi said Naghmana Hashmi, career diplomat, was being sent to China. She will replace Masood Khalid, the incumbent envoy to China, after completion of his tenure.
Qureshi tweeted: "After consulting the Prime Minister, I am happy to announce following appointments. I wish the newly appointed officers good luck & hope they represent Pakistan with utmost dignity and effectiveness."
Haque's appointment comes at a time when ties between India and Pakistan will be a challenge for the new government in Delhi, with the relationship between the sides deteriorating over the past few years and reaching a new low after the Pulwama terror attack and the subsequent face-off after the retaliatory Balakot air strikes.Much will depend on Haque's diplomatic skills to bring the ties back on track after the Indian election outcome on May 23.
Haque, who joined the Pakistan Foreign Service in 1987, has never served in India, although that has not been the criterion in the recent past: his predecessors Mahmood and Abdul Basit had also not served in India before their appointment as High Commissioner.
Haque started out as a desk officer for Bangladesh in 1989-90, and then trained in French language in France. Over the years, he has served in Brussels, New York, Colombo, Vancouver and Ankara.
He was Chief of Protocol from 2013 to 2015, and then became Additional Secretary (administration) in Pakistan's Foreign Ministry – considered to be an influential position within Pakistan's Foreign Service.
In the Foreign Ministry, he has served in the personnel division, the OIC summit cell, has had two stints in the Foreign Secretary's office – as deputy director from 1997 to 1999 and then, as director or chef de cabinet from 2005 to 2007 – and has been Director General (Europe).
Full report at:
https://indianexpress.com/article/india/moin-ul-haque-pakistan-names-new-envoy-to-india-5739369/
--------
South Asia
16 militants killed in S. Afghan airstrikes
2019-05-18
KABUL, May 18 (Xinhua) -- Sixteen Taliban militants were killed following airstrikes in two Afghanistan's southern provinces, Afghan Ministry of Defense said Saturday.
In one incident, 14 Taliban militants were killed and two vehicles loaded with explosives were destroyed after Afghan Air Force struck a Taliban position in Maywand district of Kandahar province Friday night, the ministry said in a statement.
Two militants were killed following an airstrike on outskirts of Tirin Kot, capital of neighboring Uruzgan province on Friday, according to the statement.
The statement came as daily violence and clashes have been continuing in the country.
Warring sides in Afghanistan typically exaggerate the casualties of the opposite side and it is difficult to verify the figures by them with independent sources.
http://www.xinhuanet.com/english/2019-05/18/c_138069404.htm
--------
2 Ansar Al Islam militants held
May 20, 2019
Rapid Action Battalion (Rab) today claimed to have arrested two active members of banned militant outfit Ansar Al Islam from Fatulla upazila of Narayanganj.
The arrestees were identified as Abu Said, 24, and SM Mahadi Hasan alias Golam Rabbi, 26, Lieutenant Colonel Kazi Shamsher Uddin, commanding officer of Rab-11, told The Daily Star.
They were arrested during a drive at Masdair Bhuiyarbag area of the upazila last night, he said adding that the law enforcers also seized a laptop and a number of books that provoke extrimism from the spot.
Full report at:
https://www.thedailystar.net/country/news/2-ansar-al-islam-militants-held-1746280
--------
Airstrikes kill 9 Taliban militants in Zabul and Farah provinces
21 May 2019
The security forces have carried out separate airstrikes targeting Taliban militants in southern Zabul and western Farah provinces in the past 24 hours.
Informed military sources said Monday that an airstrike killed a Taliban fighter in Qalat district of Zabul province.
The sources further added that a similar airstrike kill 8 Taliban figthers in Bala Bolok district of western Farah province.
The anti-government armed militants including Taliban have not commented regarding the airstrikes so far.
Both Zabul and Farah are among the relatively volatile provinces in west and southern parts of Afghanistan.
Full report at:
https://www.khaama.com/airstrikes-kill-9-taliban-militants-in-zabul-and-farah-provinces-03431/
--------
Special Forces storm IED manufacturing facilities of Taliban in Kandahar
20 May 2019
The Afghan Special Forces have stormed the IED manufacturing facilities of Taliban in southern Kandahar province killing at least ten militants.
"Afghan Special Forces conducted an operation in Shah Wali Kot district killing 10 Taliban fighters, detaining 3 others and destroying a small weapons cache," informed military sources said Monday.
In the meantime, provincial Police Chief of Kandahar Gen. Tadin Khan has said two IED manufacturing facilities of Taliban were also destroyed in the operation.
Gen. Tadin Khan further added that the Special Forces killed 9 Taliban militants and arrested three others during the same operation.
The anti-government armed militants including Taliban have not commented regarding the operation so far.
This comes as the security situation in some remote parts of Kandahar has deteriorated during the recent months.
Full report at:
https://www.khaama.com/special-forces-storm-ied-manufacturing-facilities-of-taliban-in-kandahar-03429/
--------
NDS Special Forces kill 4 ISIS militants including 2 foreigners in Nangarhar
20 May 2019
The Special Forces of the National Directorate of Security (NDS) conducted a night raid against ISIS militants in eastern Nangarhar province killing at least four militants including two foreign nationals.
The provincial government media office in a statement said the raid was conducted late on Sunday night in the vicinity of Chaparhar district.
The statement further added that the NDS Special Forces also destroyed a hideout of the terror group during the same operations.
The Special Forces of NDS also confiscated a PKM machine gun, two Ak-47 assault rifles, a hand grenade, ammunition magazines, munitions, explosives and some other military kits and destroyed them in the area, the provincial government added in its statement.
The anti-government armed militants including ISIS sympathizers have not commented regarding the operation so far.
Nangarhar is among the relatively calm provinces in East of Afghanistan but the security situation in some of its remote districts have deteriorated during the recent years.
Full report at:
https://www.khaama.com/nds-special-forces-kill-4-isis-militants-including-2-foreigners-in-nangarhar-03428/
--------
Sri Lanka president vows to eliminate extremist threat
20 May 2019
Sri Lanka's president marked the 10th anniversary of the end of a protracted war with Tamil rebels Sunday by vowing to crush extremist militants responsible for Easter bombings that killed 258 people.
Maithripala Sirisena said Sri Lankan security forces and intelligence units could use their experience in defeating separatist Tamil guerrillas a decade ago to meet the new challenge from religious extremists.
The government has blamed a local terrorist group for the April 21 attacks against three churches and three luxury hotels that also left 500 injured and shattered a fragile decade-long peace in the island of 21 million people.
"With experience from a war that lasted over three decades, we are now compelled to meet a completely different threat," Sirisena told a commemoration ceremony.
"We have been able to arrest all those who were behind the Easter attacks. Some have been killed in confrontations," he said.
"This gives me confidence that we can completely eliminate the threat of international terrorism."
Muslims account for 10 percent of the population in the mainly Buddhist nation, which has been under a state of emergency since the attacks that were also claimed by ISIS.
Army chief Mahesh Senanayake said the military was paying tribute to around 28,000 soldiers who died in the war that ended on May 18, 2009 with the killing of Tamil Tiger leader Velupillai Prabhakaran.
Some 5,000 government troops and police are also listed as missing since the end of the insurgency.
Sri Lankan forces have been accused of killing about 40,000 Tamil civilians in the final months of the conflict, a charge successive governments have denied. Nearly 16,000 others are also reported missing, according to the newly established Office of Missing Persons.
The official remembrance ceremonies in Colombo took place a day after members of the 2.5-million-strong Tamil community mourned their war dead in the northeastern coastal district of Mullaittivu where the rebels mounted their unsuccessful last stand.
Hundreds of Tamils gathered at a public park Saturday to light lamps and offer flowers before a makeshift memorial showing photographs of hundreds of men and women who went missing, in many cases after.
Full report at:
https://english.alarabiya.net/en/News/world/2019/05/20/Sri-lanka-president-vows-to-eliminate-terrorists-threat--1683.html
--------
Mideast
World Food Programme considers ending aid to Houthi-controlled areas in Yemen after 'interference'
May 20, 2019
LONDON: The World Food Programme (WFP) is considering suspending aid delivery in the areas under the control of Yemen's Houthi group because of fighting, insecurity and interference it its work, the agency said on Monday.
"Humanitarian workers in Yemen are being denied access to the hungry, aid convoys have been blocked, and local authorities have interfered with food distribution," the WFP said in a statement. "This has to stop."
The highly unusual threat from the UN agency, which is feeding more than 10 million people across Yemen, reflected what it said were "obstacles that are being put in our way".
"We face daily challenges due to the unrelenting fighting and insecurity in Yemen. And yet, our greatest challenge does not come from the guns, that are yet to fall silent in this conflict - instead, it is the obstructive and uncooperative role of some of the Houthi leaders in areas under their control."
Negotiations with Houthi leaders to open up access to hungry people had not yet brought tangible results, WFP said, although some had made positive commitments.
"Unfortunately, they (Houthi leaders) are being let down by other Houthi leaders who have broken assurances they gave us on stopping food diversions and finally agreeing to a beneficiary identification and biometric registration exercise."
WFP's threat of a partial pullout comes after fighting around Hodeidah marred an apparent diplomatic breakthrough by U.N. envoy Martin Griffiths, who got the Iranian-aligned Houthis to agree a unilateral withdrawal of their forces from Hodeidah and two other ports earlier this month.
http://www.arabnews.com/node/1499721/middle-east
--------
Yemen's government forces arrest key al-Qaeda leader
20 May 2019
Forces loyal to the Yemeni legitimate government backed by the Arab coalition say they have captured a key al-Qaeda leader in the southwestern province of Taiz.
The military said in a statement that special forces had arrested Bilal Muhammed Ali al-Wafi on Saturday in the mountain area of Habashi.
Al-Wafi, in his 30s, is a key member of al-Qaeda in the Arabian Peninsula, or AQAP, and has helped to carry out several deadly attacks including the 2012 bombing of a Yemeni military parade that killed dozens of troops.
The US designated al-Wafi as a terrorist in 2017.
Full report at:
https://english.alarabiya.net/en/News/gulf/2019/05/20/Yemen-s-government-forces-arrest-key-al-Qaeda-leader.html
--------
Yemen's Houthi group says will target UAE, Saudi vital military facilities
MAY 20, 2019
CAIRO (Reuters) - Yemen's Houthi group said targeting Saudi Aramco's installations last week was the beginning of military operations against 300 vital military targets, Houthi-controled SABA news agency said on Sunday, citing a source in the movement's military.
Targets included vital military headquarters and facilities in the United Arab Emirates, Saudi Arabia, as well as their bases in Yemen, SABA quoted the source as saying.
Full report at:
https://www.reuters.com/article/us-yemen-security-houthi/yemens-houthi-group-says-will-target-uae-saudi-vital-military-facilities-idUSKCN1SP0PZ
--------
Palestinian gov't says it was not consulted about US-led economic conference
20 May 2019
The Palestinians have not been consulted about a US-led conference in Bahrain next month designed to encourage international investment in the West Bank and Gaza Strip, Palestinian Prime Minister Mohammad Shtayyeh said on Monday.
Washington announced the conference on Sunday, describing it as the unveiling of the first part of President Donald Trump's long-awaited Israeli-Palestinian peace plan.
"The cabinet wasn't consulted about the reported workshop, neither over the content, nor the outcome nor timing," Shtayyed told Palestinian ministers in the presence of reporters.
He did not immediately say whether Palestinians would attend the June 25-26 event in Manama, which US officials have predicted will include representatives and business executives from Europe, the Middle East and Asia, as well as some finance ministers.
Shtayyeh reiterated Palestinians' core demands for a two-state peace deal with Israel, which include gaining full control of the occupied West Bank and Hamas-ruled Gaza, as well as East Jerusalem. Israel calls Jerusalem its indivisible capital and said it might declare sovereignty in its West Bank settlements.
The Trump administration has said its still-secret peace plan would require compromise by both sides. Since being shunned by the Palestinians, it has cut back on US aid for them, contributing to economic hardship in the West Bank and Gaza.
Full report at:
https://english.alarabiya.net/en/News/middle-east/2019/05/20/Palestinian-PM-We-have-not-been-consulted-about-US-led-conference-in-Bahrain.html
--------
Arab Coalition: Houthis tried to target civilian site in Saudi Arabia's Najran
21 May 2019
Yemen's Houthi militias attempted to hit a civilian site in the Saudi border province of Najran with a bomb-laden drone, Arab Coalition spokesman Colonel Turki al-Maliki said, warning that there would be a "strong deterrent" to such attacks.
The state-run Saudi Press Agency quoted al-Maliki describing the Houthis as the "terrorist militias of Iran." He did not mention any casualties.
The attack on Najran comes as Iran quadrupled its uranium-enrichment production capacity amid tensions with the US over Tehran's atomic program, nuclear officials said Monday, just after President Donald Trump and Iran's foreign minister traded threats and taunts on Twitter.
Full report at:
https://english.alarabiya.net/en/News/gulf/2019/05/21/Arab-Coalition-Houthis-attempted-to-target-civilian-site-in-Najran.html
--------
Saudi Arabia intercepts Houthi missiles heading toward Mecca, Jeddah
20 May 2019
The Arab Coalition has confirmed that the Royal Saudi Air Defense had intercepted aerial targets early Monday morning over the cities of Jeddah and Taif.
According to eyewitnesses, the two Houthi ballistic missiles were intercepted over Taif, one heading for Mecca and the other for Jeddah.
The Kingdom's air defense forces were able to destroy the ballistic missiles.
In light of the attack, the Yemeni government said that it strongly condemns the Houthi attempt to target Mecca, adding that the attack on the holy site is "a full-fledged terrorist act".
According to an Al Arabiya correspondent, the fragments of the missile landed in Wadi Jalil, which extends to Mecca, noting that this is the second time the Houthi militias attempt to target the holy city.
Earlier in March, Yemen's Houthi militias warned they could launch attacks against the capitals of Saudi Arabia and the United Arab Emirates.
"We have aerial photographs and coordinates of dozens of headquarters, facilities and military bases of the enemy," Houthi militia spokesman Yahya Saree had said in comments carried by the militia's Al-Masirah channel.
"The legitimate targets of our forces extend to the capital of Saudi Arabia and to the emirate of Abu Dhabi," he said.
Full report at:
https://english.alarabiya.net/en/News/gulf/2019/05/20/Saudi-Arabia-intercepts-Houthi-missile-heading-towards-Mecca.html
--------
Yemeni forces dismiss Saudi claim about targeting holy city of Mecca
May 20, 2019
The spokesman for the Yemeni armed forces has categorically dismissed allegations spread in Saudi media about the firing of a Yemeni ballistic missile toward the holy city of Mecca.
"The Saudi regime is trying, through these allegations, to rally support for its brutal aggression against our great Yemeni people," Brigadier General Yahya Sare'e said in a posting on Facebook on Monday.
Saudi-owned al-Arabiya TV reported that Saudi air defenses shot down a ballistic missile over the city of Taif, 65 kilometers east of Mecca, in the early hours of Monday. Another missile was launched at the port city of Jeddah, on the other side of Mecca. The first one had been directed toward Mecca, it said, without giving evidence.
The Yemeni official, however, stressed that by leveling such claims, the Saudi regime is trying by to rally support for his brutal aggression on its southern neighbor.
"The Saudi regime is again trying to exploit the religious status of Mecca to cover up its crimes against the Yemeni people," Sare'e said, adding, "We will not hesitate to announce our military operations and we do not need to wait for incorrect judgments about our goals and the timing of our operations."
On May 14, the Houthi Ansarullah movement conducted a retaliatory drone attack on pumping stations of the Saudi state oil company Aramco. The resistance movement said the operation was the first in a series targeting 300 vital spots. The group said military headquarters and facilities in Saudi Arabia and the United Arab Emirates are also on the list.
Following the attack, Saudi Arabia stopped pumping crude oil on the major pipeline across the country.
Full report at:
https://www.presstv.com/Detail/2019/05/20/596436/Yemen-Saudi-Arabia-Mecca-Taif--Jeddah-Brigadier-General-Yahya-Saree
--------
Fresh Saudi strike leaves four civilians dead, nearly dozen injured in Yemen
May 20, 2019
At least four civilians have been killed when Saudi military aircraft carried out an airstrike on Yemen's northwestern province of Hajjah as the Riyadh regime presses ahead with its bombardment campaign against its southern neighbor.
Saudi fighter jets conducted the aerial assault against a vehicle as it was traveling along a road in the Mustaba district of the province on Monday afternoon, leaving four people dead and eleven others injured, unnamed local sources told Yemen's Arabic-language al-Masirah television network.
Earlier in the day, two people lost their lives and a child girl sustained injuries when Saudi-backed militiamen loyal to Yemen's former president Abd Rabbuh Mansur Hadi shelled a house in the Qa'atabah district of the southwestern Yemeni province of Dhale.
The development came only a few hours after Yemeni soldiers and allied fighters from Popular Committees struck a battle tank belonging to Saudi-paid militiamen in the same Yemeni district, killing scores of the mercenaries in the process.
Yemeni troops and their allies have launched a major offensive to retake the town of Qa'atabah from the grip of Saudi-sponsored forces.
A Yemeni military source, speaking on condition of anonymity, said the operation has led in the recapture of more than 70 percent of the town, destruction of dozens of cars and armored vehicles belonging to Saudi mercenaries as well as deaths and injuries of more than 150 militiamen.
Saudi Arabia and a number of its regional allies launched a devastating campaign against Yemen in March 2015, with the goal of bringing the government of Hadi back to power and crushing the Houthi Ansarullah movement.
The US-based Armed Conflict Location and Event Data Project (ACLED), a nonprofit conflict-research organization, estimates the the Saudi-led war has claimed the lives of over 60,000 Yemenis since January 2016.
Full report at:
https://www.presstv.com/Detail/2019/05/20/596433/Fresh-Saudi-strike-leaves-four-civilians-dead-nearly-dozen-injured-in-Yemen
--------
North America
The 'American Taliban' will be free after 17 years. Is the U.S. ready to welcome him back?
By Alex Horton and
Michael Brice-Saddler
May 20, 2019
John Walker Lindh's eyes, dark and wild, were ubiquitous across magazine covers and cable news channels, alongside militants in Afghanistan, after he was captured in November 2001. He was a long-haired guerrilla with a California address — a traitor to some, a misguided kid sucked into Islamic jihad to others.
Dubbed the "American Taliban," Lindh was sentenced to 20 years in prison after pleading guilty to supporting militants who harbored al-Qaeda as it planned the attacks of Sept. 11, 2001. But in a surprise move to some, Lindh will be released from federal prison on Thursday, three years early, federal officials said.
Lindh and other incarcerated American supporters of Islamic militants present a quandary with growing urgency: Is the United States prepared to try to rehabilitate extremists and foreign fighters, and welcome them back into society?
"There is very close to nothing in terms of de-radicalizing programs at the federal level," said Bennett Clifford, a research fellow at George Washington University's Program on Extremism. "The current model is hoping long prison sentences for material support of terrorism will be a deterrent."
The Federal Bureau of Prisons is stymied by budget constraints, a sprawling corrections bureaucracy and a top-down approach that focuses on traditional rehabilitation, such as turning away prisoners from gang activity or drugs, Clifford told The Washington Post.
About 500 federal prisoners been sentenced for terrorism-related crimes, and about a fifth will be released within five years, 62 of them U.S. citizens, researcher Kevin D. Lowry wrote in the Journal for Deradicalization in 2018.
With Lindh's release, and with inmates who have Islamic State ties nearing the end of their sentences, there may be a new focus on culling extremist beliefs before prisoners head back into civil society. But time is nearly up for many. "The offenders about to be released would receive resources at the end of their sentence," Clifford said.
John Walker Lindh is bound to a stretcher after his capture in 2001. (Getty Images)
Federal officials have signaled interest in expanding recidivism-prevention and reintegration efforts, although it amounted to one paragraph in the White House's 2018 counterterrorism strategy and focused on radicalization in prison.
There are some breakthroughs. The U.S. District Court for Minnesota, which has had an influx of Islamist terrorism suspects, has pioneered efforts to focus on deradicalization from extremist beliefs, efforts that include civic education, family involvement and mental health counseling for inmates, Lowry wrote.
Those models were adapted from European programs and include efforts to combat white-supremacist beliefs. But there is no similar national program within federal prisons, Lowry noted.
Lindh will be monitored for three years by federal probation officials, the Bureau of Prisons said.
His early release is opposed by Sens. Richard C. Shelby (R-Ala.) and Maggie Hassan (D-N.H.), who wrote a letter Friday to the Federal Bureau of Prisons requesting details about agency efforts to prevent recidivism from militants released from its facilities.
"We must consider the security and safety implications for our citizens and communities who will receive individuals like John Walker Lindh, who continue to openly call for extremist violence," the letter reads.
https://www.washingtonpost.com/national-security/2019/05/20/american-taliban-will-be-free-after-years-is-us-ready-welcome-him-back/?utm_term=.ae51081d1ff5
--------
Trump: 'I will not let Iran have nuclear weapons'
05/19/19
President Trump said in a Sunday night Fox News interview that he doesn't want to go to war with Iran but emphasized he will never allow the nation to develop nuclear weapons.
"I will not let Iran have nuclear weapons," Trump told Fox News host Steve Hilton. "I don't want to fight. But you do have situations like Iran, you can't let them have nuclear weapons — you just can't let that happen."
Trump has reportedly grown frustrated with the hard-line approach toward Tehran taken by national security adviser John Bolton and Secretary of State Mike Pompeo and wishes to negotiate directly with Iranian leaders, but escalated his own rhetoric earlier Sunday afternoon, warning that a military engagement would mean "the official end of Iran."
Tensions have risen between the two countries in recent weeks, with Bolton announcing a carrier group would be deployed to the Persian Gulf in response to unspecified acts of aggression by Iran, while Iran announced it will scale back some of its commitments under the 2015 nuclear deal on the anniversary of Trump's announcement the U.S. would withdraw from the deal entirely.
Full report at:
https://thehill.com/homenews/administration/444502-trump-i-will-not-let-iran-have-nuclear-weapons
--------
Reward of $5,000 offered for information in mosque arson
21 May 2019
A $5,000 reward has been announced for information leading to the arrest and conviction of whoever set fire to a Connecticut mosque.
The Boston division of the Bureau of Alcohol, Tobacco, Firearms, and Explosives said Monday it was offering the reward to help solve the arson case. The fire May 12 damaged two floors of the Diyanet Mosque in New Haven.
The mayor said last week that authorities found an incendiary device or material was used to start the blaze.
Full report at:
https://english.alarabiya.net/en/News/world/2019/05/21/Reward-of-5-000-offered-for-information-in-mosque-arson.html
--------
Iranian FM Zarif says Trump's 'genocidal taunts won't end Iran'
20 May 2019
Iran Foreign Minister Mohammad Javad Zarif said Monday the "genocidal taunts" of US President Donald Trump will not "end Iran", amid a spike in tensions between the two countries.
"Iranians have stood tall for millennia while aggressors all gone. Economic terrorism and genocidal taunts won't 'end Iran'," Zarif wrote on Twitter.
https://english.alarabiya.net/en/News/world/2019/05/20/Iran-FM-Zarif-says-Trump-s-genocidal-taunts-won-t-end-Iran-.html
--------
Trump says wants to talk with Iran 'if they are ready'
May 20, 2019
US President Donald Trump says he is willing to engage in negotiations with Iran "if they are ready" amid Washington's unilateral pressure against Tehran.
Trump made the comments to reporters in Washington, DC, as he departed the White House for an event in the US state of Pennsylvania.
"If they call, we would certainly negotiate but that's going to be up to them. I'd only want them to call if they're ready. If they're not ready, they don't have to bother," he said.
The US commander in chief further downplayed what he has been trumpeting as "Iran's threat" to the region and the US interests.
"We have no indication that anything's happened to or will happen, but if it does, it will be met obviously with great force. We'll have no choice," he claimed.
The Republican president also repeated the Unites States' empty threats against Iran.
"I think Iran would be making a very big mistake if they did anything. If they do something, it'll be met with great force but we have no indication that they will," he said.
Trump earlier dismissed reports that he was trying to initiate negotiations with Iran in the wake of US withdrawal from the Iran nuclear deal, tightening sanctions against Tehran and even blacklisting the Islamic Revolutionary Guard Corps (IRGC).
"Iran will call us if and when they are ever ready. In the meantime, their economy continues to collapse - very sad for the Iranian people!" Trump claimed in a tweet.
Full report at:
https://www.presstv.com/Detail/2019/05/20/596467/No-indication-of-Iran-threat-Trump-admits
--------
Turkey launches anti-misinformation campaign in US
Vakkas Doğantekin
20.05.2019
We are going to create awareness about Turkey's policies and theses in a series of panels in the U.S., said Presidential Communications Director Fahrettin Altun in a tweet.
Altun said his office is launching a three-day campaign of panels "Turkey-U.S. Relations: Same Origin/New Vision" from May 21 to 24 in line with Turkey's understanding of effective global diplomacy.
The panels will be held at the U.S. House of Representatives in Washington D.C. and New York's Harvard Club.
Full report at:
https://www.aa.com.tr/en/americas/turkey-launches-anti-misinformation-campaign-in-us/1483004
--------
Israel is responsible for Hamas – and for Gaza's suffering
Ali Adam
May 20, 2019
In the past few weeks, Trump administration officials, western politicians and media commentators have been on the verbal offensive against Hamas, holding it entirely responsible for the suffering of Gazan Palestinians. While the militant group has been an important contributing factor to the grim realities this population is forced to endure, citing it as the sole cause absolves Israel of its 12-year blockade of the Gaza Strip. It also completely ignores the state's role in Hamas's rise and its continued dominance.
After recent escalations between Israel and Hamas, Aluf Benn, editor-in-chief of the liberal Haaretz newspaper, wrote that if he ever interviewed Yahya Al Sinwar, the head of Hamas in Gaza, he would ask: "Why not try something different and recognise Israel?" He argued that Hamas launching rockets into Israel would never improve Gaza's economic and humanitarian situation, but that recognition of the Israeli state could. Certainly, an end to the violence would be to everyone's benefit, but recognition of Israel would do neither Gaza nor Hamas any good at all.
To grasp this, one has to look back to 1993. Back then, the Palestine Liberation Organisation renounced violence and recognised Israel, but the Israeli state met its moves towards peace with further entrenchment of its occupation and a ramping up of its aggression against ordinary Palestinians. Twenty-six years on from the Oslo Accords, matters have only worsened – regardless of the good intentions of the vast majority of the Palestinian people. For instance, despite having pushed for Palestinians to end violent resistance and recognise Israel since the 1970s, Mahmoud Abbas, the current leader of the PLO, is now routinely painted as an arch-terrorist.
Hamas's present position of power cannot be understood without a full appreciation of Israel's role in it. In the 1990s, Palestinians cheered in support of the Oslo Accords. Hamas did not enjoy even a fifth of Fatah's popularity. However, the group was gradually emboldened as Israel began to renege on the terms of the agreement. At that point, Yasser Arafat, then PLO leader, refused to hold new Palestinian elections in the belief that frustration over a peace process that he had promised would bring freedom and justice, but had only brought marginalisation and misery, would result in angry votes being cast for Hamas.
Later, in 2006, exhausted and disheartened Palestinians – many of whom had placed olive branches on Israeli tanks and military Jeeps after the signing of the Oslo Accords – did end up casting their ballots for Hamas. However, it is worth remembering that they did not want Hamas in the past and, looking at the polls, it appears that they do not want them now.
As a Palestinian who lives in Gaza, I wish Hamas would disappear tomorrow. Its rule, filled with despair and division, has been nothing short of a disaster for Palestinians. This could not have happened without the complicity and active support of Israel. Hoping that it would weaken the increasingly moderate and credible Fatah and PLO, the Israeli state actively encouraged Hamas's emergence in the late 1980s. It then invigorated the movement when it betrayed the Palestinians' hopes of peace and freedom in the wake of the Oslo Accords. Now, it is happy to help the group to maintain its control over Gaza. Prime Minister Benjamin Netanyahu has gladly admitted that he has allowed Qatari money to reach Hamas, in order to relieve the pressure that the blockade has placed on the movement. In addition to this, he has said that he will not hand Gaza over to Mr Abbas.
The truth is that Israel has always opposed an equitable peace with the Palestinian people. While its leaders may demonise Hamas to their allies, the truth is that Israel is solidly in favour of the status quo. It wants Hamas to remain in control of Gaza, because it ensures that Gaza will remain sundered from the West Bank, which, in turn, destroys any prospect of a Palestinian state.
Full report at:
https://www.thenational.ae/opinion/comment/israel-is-responsible-for-hamas-and-for-gaza-s-suffering-1.864038
--------
Europe
Sajid Javid: New espionage bill will tackle threats
20 May 2019
Foreign spies in the UK might have to add their names to a register under a new espionage bill, Home Secretary Sajid Javid has said.
It would aim to tackle threats from hostile states, he said in a speech at New Scotland Yard in London.
He also said Syria and parts of west Africa could be designated as banned countries, with Britons who travelled there breaking the law.
The new bill would update the Official Secrets Act and the laws on treason.
He has also appointed Jonathan Hall QC as a watchdog to monitor the new terror laws.
A register would act as a deterrent to spying and make it easier to take action against those involved, Mr Javid said.
The home secretary said the tempo of terrorist activity was increasing, with 19 plots foiled in the UK in two years.
Are you a spy?
No, the proposed Foreign Agents Register isn't an attempt to get spies to cough up - that would be ridiculous.
The purpose, it appears, is to regulate legitimate political and government lobbying by people acting on behalf of overseas states and interests and ensure it's carried out in a more transparent way.
Suspicion would inevitably fall on those who don't register; they'd face prosecution. Equally, those who have made a declaration but don't comply with the rules could also face sanctions.
The US has had similar legislation for more than 80 years and in December 2018 Australia introduced a "Foreign Influence Transparency Scheme" with a register available to see at the click of a button.
Although the home secretary's plans are at an early stage, it's hoped they could help the authorities identify and take action against those intent on undermining the country's way of life through tactics of subversion and disinformation.
The changes come after Britons in Syria asked to return to the UK.
Shamima Begum - who had her UK citizenship revoked by Mr Javid in February - was found in a Syrian refugee camp after leaving London to join the Islamic State group when she was 15.
Mr Javid said people travelling to, or remaining in, certain areas of Syria without good reason could face up to 10 years in prison.
UK terrorism threat: How has it changed?
Speaking to senior security figures in central London, Mr Javid set out for the first time how he expects to use the new Counter-Terrorism and Border Security Act.
He said there were "real gaps" in legislation concerning so-called 'hostile states'.
He said: "I've asked my officials to work closely with the police and intelligence agencies to urgently review the case for exercising this power in relation to Syria, with a particular focus on Idlib and the north east.
"Anyone who is in these areas without a legitimate reason should be on notice."
The north-western Syrian province of Idlib is the last remaining stronghold controlled by forces opposed to President Bashar al-Assad.
Mr Javid said police and security services "have worked tirelessly" to identify people intending to join the Islamic State group overseas and prevent them from leaving the country.
He told the House of Commons in February that 900 people people from the UK were estimated to have joined the Islamic State group in Syria and Iraq.
Of those, 40% were estimated to still be somewhere in the region, 40% to have returned, and 20% to have been killed in battle.
Mr Javid also emphasised the importance of international co-operation in combating terrorism.
"As these threats become more global we all rely on an international system of defence, policing, security and intelligence - a safety net based upon co-operation and unity," he said.
"These structures rely upon free, democratic nations to pool information, co-ordinate law enforcement action and surrender suspected criminals across borders."
'Long time coming'
Sir Peter Fahy, former counter-terrorism lead for the Association of Chief Police Officers said the changes had been "a long time coming" but there would be complications over who it covered.
Sir Peter agreed there was a "tremendous need" to reassure allies, adding: "The world is a very uncertain place at the moment... the whole issue about Brexit, this issue about Huawei and the situation with Iran is creating tension with the United States.
"People involved in counter-terrorism will be looking to see if that does affect the level of co-operation."
https://www.bbc.com/news/uk-politics-48329418
--------
Violence Involving ISIS Prisoners Leaves Dozens Dead in Tajikistan
May 20, 2019
DUSHANBE, Tajikistan — Three guards and 29 inmates were killed in an outbreak of violence involving Islamic State militants at a high-security prison in Tajikistan, the Justice Ministry said on Monday.
The ministry said rioting broke out late Sunday at the prison in Vakhdat, about six miles east of the capital, Dushanbe, after militants armed with knives killed the guards and five fellow prisoners. Security forces responded to the violence, killing 24 militants and restoring order at the prison, which holds 1,500 inmates, the ministry added.
Two of the prisoners who were killed were senior members of the Islamic Renaissance Party of Tajikistan, an Islamist party outlawed by the government of President Imomali Rakhmon in 2015. Another was a prominent Tajik cleric who had been convicted on charges of calls to overthrow the government.
One of the instigators of the riot was Bekhruz Gulmurod, a son of Gulmurod Khalimov, a Tajik special forces colonel who joined the Islamic State, also known as ISIS or ISIL, in 2015 and, according to the Justice Ministry, has since been killed in Syria. The fate of Bekhruz Gulmurod after the riots was not publicly known.
Hundreds of people from Tajikistan, an impoverished former Soviet republic of nine million, are believed to have joined Islamic State, which at one point controlled large swathes of land in Syria and Iraq.
The group, which has now lost its territorial holdings but continues to pose a threat, claimed responsibility for another prison riot in Tajikistan in November, an uprising that followed a deadly attack by its followers on Western tourists in Tajikistan in July 2018.
The country, which borders Afghanistan, fought against Islamists allied with nationalists and liberal democrats in a civil war in the 1990s that killed tens of thousands of people.
Full report at:
https://www.nytimes.com/2019/05/20/world/asia/isis-prison-riot-tajikistan.html
--------
Christchurch attacker charged with terrorism
21 May 2019
The man accused of shooting dead 51 Muslim worshippers in the Christchurch mosque attacks was formally charged with terrorism for the first time on Tuesday, New Zealand police said.
"A charge of engaging in a Terrorist Act under section 6A of the Terrorism Suppression Act 2002 has now been filed against Brenton Tarrant," police said in a statement.
They said that in addition to the terror charge, Tarrant now faces 51 charges of murder and 40 of attempted murder over the March 15 attacks in the South Island city.
"The charge will allege that a terrorist act was carried out in Christchurch," police said in a statement.
New Zealand Prime Minister Jacinda Ardern has characterized the mosque killings a well-planned "terrorist attack" since the day Tarrant, a self-described white supremacist, allegedly carried them out.
But until now the charges against him were less expansive, as New Zealand's Terrorism Suppression Act was only introduced in 2002 and is untested in the courts.
Police said the decision to lay the terror charge was made after consultations with prosecutors and government legal experts.
Tarrant, a 28-year-old Australian, is currently in a high security prison undergoing tests to determine if he is mentally fit to stand trial.
His next court appearance is scheduled for June 14.
Police said they had met survivors and victims' families Tuesday to explain the additional charges.
Full report at:
https://english.alarabiya.net/en/News/world/2019/05/21/Christchurch-attacker-charged-with-terrorism-.html
--------
Britain tells Iran: Do not provoke the United States or Trump will retaliate
20 May 2019
Britain told Iran on Monday not to underestimate the resolve of the United States, warning that if American interests were attacked then the administration of President Donald Trump would retaliate.
"I would say to the Iranians: Do not underestimate the resolve on the US side," Foreign Secretary Jeremy Hunt told reporters on the sidelines of the World Health Assembly in Geneva.
"They don't want a war with Iran. But if American interests are attacked, they will retaliate. And that is something that the Iranians needs to think about very, very carefully."
Full report at:
https://english.alarabiya.net/en/News/world/2019/05/20/British-FM-Hunt-Solution-is-for-Iran-to-pull-back-from-destabilizing-activities.html
--------
Accused Christchurch mosque shooter also charged with terrorist act
May 21, 2019
WELLINGTON: New Zealand police said on Tuesday they were charging the man accused of murder in shootings at two Christchurch mosques in March with engaging in a terrorist act.
The charge, which came under the country's terrorism suppression legislation, was filed against Brenton Tarrant, police said in a statement.
The man, a suspected white supremacist, faces 51 charges of murder and 40 of attempted murder. He is next due to appear in court in June.
http://www.arabnews.com/node/1499971/world
--------
Scholars highlight Islamophobia in Netherlands
Abdullah Asiran
20.05.2019
A group of scholars and lawyers have drawn attention to rising Islamophobiac tendencies in the Netherlands.
In a book titled Target Mosque [Mikpunt Moskee], 12 academics and legal experts have jointly documented concerns within the Muslim community over aggressive actions against mosques.
"The freedom of religion for Muslims in the Netherlands is under lot of pressure," Ineke Van der Valk, a researcher at the University of Leiden and one of authors told Anadolu Agency.
Published under the aegis of the Research Center of the Islamic Foundation of the Netherlands (ISN), the book talks about issues concerning the Muslim community and attacks against places of worship.
"In recent years, we have seen aggressive actions against mosques," said Van der Valk, who specializes in racism, extremism, ethnic relations and diversity in multicultural societies.
"There are concerns within the Muslim community due to such actions," she added.
She said that prosecutors so far have begun legal proceedings against in 27 cases of arson and vandalization in mosques, but only a couple of attackers were charged of discrimination.
"We hope that there will be more awareness among judges and thereby improvement of legal process on this issue."
She further said that while authorities are accepting applications for the construction of new mosques, but the process of granting permits is very slow.
Van der Valk stressed that politicians were paying little attention towards attacks on mosques. She said: "Our goal is to warn politicians and insist that they act against attackers to prevent aggressive actions against Muslims all over."
She expressed the need to uphold democracy in the society at the highest level, while protecting fundamental rights of citizens. "We are trying to bring research works and reports, highlighting Islamophobia and discrimination, to the attention and agenda of the European Union."
Full report at:
https://www.aa.com.tr/en/europe/scholars-highlight-islamophobia-in-netherlands/1482689
--------
UK: Muslim community hosts public iftar in London
Muhammad Mussa
20.05.2019
LONDON
A London Muslim community hosted an open iftar, a fast-breaking meal, for the public on Sunday night in which both Muslims and non-Muslims were in attendance.
The communal dinner was hosted by the charity Muslim Outreach and the Kingston Muslim Association in Kingston Upon Thames in south west London and saw up to a hundred people turn up to take part in the fast-breaking.
"My dear brothers and sisters, I'd like to welcome you here today to this special event and join us in experiencing one of the Prophetic traditions in this holy month of Ramadan," said Shaykh Abdus-Samad, the imam of Kingston Muslim Association.
"We all know Ramadan to be a month in which we abstain from food and drink but I assure you it is more than this. It is a month in which we become closer to God through patience, reflection and, of course, acts of kindness to those around us whether they are Muslim or non-Muslim," the imam added.
During the event, guests had the opportunity to learn a brief history of some of the most important prophets of Islam, many of whom were followed by in Christianity and Judaism, and were told of other important aspects of the holy month of Ramadan.
Shortly after the call to prayer, a variety of food was served. From Moroccan chicken and couscous to lamb shawarma and Pakistani samosas as well as an assortment of desserts and fruits, members of the community were able to experience through food the different cultures that reside in the London borough.
"I always thought Muslims just didn't drink or eat," said Isaiah, a medical student studying at Oxford University. "But after today I've learnt that Ramadan represents a deeper spiritual meaning to those who observe it," he added.
Isaiah was also impressed at how the Muslim community were able to retain their energy throughout the day and provide iftar for a large gathering in the evening before going to the mosque for the lengthy night prayer.
"I'm not a Muslim but I try and fast some days in Ramadan to experience what my Muslim neighbors experience," said Alex, a local resident. "But I've never attended an iftar and so I'm very happy to be here, this completes my experience of fasting," he added.
"I do hope that our community continue to hold events like this. Unfortunately, Muslims in the U.K. are misrepresented by the media and so I believe the only way we can learn about them is by experiencing what they experience and iftar is one such example," Alex said.
Full report at:
https://www.aa.com.tr/en/europe/uk-muslim-community-hosts-public-iftar-in-london/1482675
--------
Britain considers banning travel to Syria and west Africa
Taylor Heyman
May 20, 2019
The UK's Home Secretary is considering banning British citizens from travelling to Syria and parts of West Africa under terrorism legislation, he told security officials on Monday.
The new power granted to Sajid Javid early this year as part of the Counter-Terrorism and Border Security Act enables the government to stop Britons from travelling to or staying in designated regions. Those who flout the rules risk up to ten years in prison.
It comes as two Britons who had planned their journey to Syria on TripAdvisor were jailed for 14 years on Monday for preparing to join ISIS.
Safwaan Mansur and Hanzalah Patel, both 22, had visited Turkey twice and taken bus trips to the Syrian border before they were arrested and returned to the UK to face charges.
Presently, Mr Javid is consulting with legal experts on using the new power to apply to British citizens in Syria, particularly Idlib and the north-east portion of the country as well as parts of West Africa in a bid to stop Britons joining terrorist groups.
"Anyone who is in these areas without a legitimate reason should be on notice," he said.
Mr Javid said if the changes came into effect, they would not hinder humanitarian efforts in the two regions. The legislation makes exceptions for humanitarian and UN work, court appearances, attending family funerals and journalistic efforts as well as any activity deemed a "reasonable" reason for travel.
"The police and security services have worked tirelessly to identify those intending to travel overseas and join Daesh," he said.
"They have seized passports at the border and prevented them from leaving the country."
This work, as well as co-operation with other governments around the world, helped to foil 19 major terrorist attacks in the last two years, he said.
Speaking about Britons already in ISIS territory as members of the organisation, Mr Javid said he was prepared to use the right to strip people of their citizenship again, as he did with UK teenager Shamima Begum.
"When we assess that someone poses a real threat, we will work to stop them from returning. Sometimes, to do that I have to deprive people of their British nationality," he said.
"I continue to do so to keep this country safe."
Mr Javid said he wanted to "reassure" anyone of dual citizenship or immigrant background that depriving a citizen of their statehood is "never a step that is taken lightly" and "they have nothing to fear".
He also expressed his support for bringing ISIS members to justice in the countries where they have committed crimes.
Full report at:
https://www.thenational.ae/world/europe/britain-considers-banning-travel-to-syria-and-west-africa-1.863868
--------
Southeast Asia
Indonesia's Joko Widodo wins second term as president
May 21, 2019
JAKARTA: Indonesia's Joko Widodo has been re-elected as president of the world's third-biggest democracy, the elections commission said early Tuesday, beating rival Prabowo Subianto, a retired general who has vowed to challenge any victory for the incumbent leader.
The commission was expected to announce the official results of the April 17 poll on Wednesday in the Southeast Asian nation of 260 million.
But amid fears about unrest and street demonstrations in response to the final count, the final tally was released early with little advance notice.
Widodo and his vice-presidential running mate Ma'ruf Amin won the election by a 55.5 percent to 44.5 percent margin over Subianto and Sandiaga Uno, the elections commission said.
"This ruling was announced on May 21... and will be effectively immediately," the commission's chair Arief Budiman said in a live streamed announcement that was broadcast on major media.
Widodo, 57, had been widely predicted to win according to unofficial results.
His challenger Subianto, 67, has vowed to challenge any victory for Widodo, alleging widespread voter fraud, and warned that it could spark street protests across the world's biggest Muslim majority nation.
Some 32,000 security personnel were being deployed across the capital Jakarta, including in front of the General Elections Commission's downtown office which has been barricaded with razor wire.
Tensions have also been heightened after police said Friday that they have arrested dozens of Islamic-State linked terror suspects, including some who planned to detonate bombs at political demonstrations when election results were to be announced.
Last month, Indonesia held its biggest-ever election, a massive one day poll featuring more than 190 million registered voters and a record 245,000 candidates vying for the presidency, parliamentary seats and local legislator positions.
This year's campaign was punctuated by bitter mudslinging and a slew of fake news online – much of it directed at the presidential contenders.
Widodo held off declaring victory after the unofficial results last month as Subianto insisted he was the archipelago's next leader.
Subianto lost a 2014 presidential bid to Widodo which he unsuccessfully challenged in court. -- AFP
https://www.nst.com.my/world/2019/05/490157/indonesias-joko-widodo-wins-second-term-president
--------
Richard Malanjum in six landmark court cases
21 May 2019
KUALA LUMPUR, May 21 — While most Malaysians remember Tan Sri Richard Malanjum as the first east Malaysian to be appointed chief justice, the top judge who retired recently has also been praised for upholding the Federal Constitution.
Retired Court of Appeal judge Datuk Hishamudin Yunus recently told Malay Mail that Malanjum is a "fearless and staunch defender of the integrity of the Federal Constitution and fundamental liberties."
He highlighted five of Malanjum's most significant court rulings which he said "made important contributions to the positive developments of constitutional law", and also noted that he does not hesitate to write dissenting or separate judgments when he considers it his judicial duty to do so.
The dissenting/separate judgments at the Federal Court
1. The Lina Joy case (2007)
What was this case about: A woman named Lina Joy, who had renounced Islam and embraced Christianity, applied to remove the word "Islam" from her identity card. The National Registration Department (NRD) refused her application, insisting that she must produce a certificate of apostasy issued by the Shariah court.
The case went through the High Court, the Court of Appeal and even the Federal Court, where the NRD's position was upheld.
The Federal Court's decision was a 2-1 ruling, with Malanjum disagreeing with then Chief Justice Ahmad Fairuz Sheikh Abdul Halim and fellow judge Alauddin Mohd Sheriff.
In Hishamudin's words: "Justice Richard Malanjum, however, in his dissenting judgment held that the refusal of the National Registration Department to remove the word 'Islam' from Lina Joy's identity card is unconstitutional as it is against Article 8 of the Federal Constitution (that prohibits laws that discriminate, except in permitted circumstances). The Regulations requiring Muslims to declare their religion when applying for identity cards discriminates against them, as non-Muslims, in applying for identity cards, are not required to state his/her religion.
"Justice Richard Malanjum further held that the insistence by the National Registration Department for a certificate of apostasy from the Federal Territory Syariah Court was not only unlawful but also unreasonable, as the Syariah Court in the Federal Territory had no statutory power to adjudicate on the issue of apostasy.
"Moreover, apostasy is not an issue that is exclusively within the realm of the Syariah Court. The issue of apostasy involves complex questions of constitutional importance and thus the civil court should not have declined jurisdiction to hear the application."
2. The Herald case (2014)
What was this case about: The home minister in January 2009 banned the Catholic Church's internal newsletter Herald from using the Arabic word for God, "Allah", in its Bahasa Malaysia section.
The High Court ruled the ban to be unlawful and unconstitutional, while the Court of Appeal reversed the decision by ruling the home minister had the power to impose the ban as a condition for the renewal of Herald's publication permit.
In June 2014, the Federal Court in a 4-3 decision rejected the Catholic Church's bid for leave to appeal the Court of Appeal's decision, where the majority of judges cited the Federal Constitution's Articles 4(3) and 4(4) when ruling that laws cannot be made invalid by way of "collateral attack", Hishamudin explained.
Malanjum was one of the three Federal Court judges who disagreed with the majority's ruling, and Hishamudin highlighted the points made by Malanjum:
"As one of his grounds he pointed out that It was an undisputed fact that the Herald newsletter (that contained the word 'Allah') had been in circulation for the past 14 years before the imposition of the Minister's decision; and that there was no evidence shown of prejudice to public order during that period; and that the use of the word 'Allah' was not prohibited in other publications such as the Al-Kitab and the Sikh Holy Book.
"According to Justice Richard Malanjum, there were merits in the applicant's contention that the Minister's decision contravened Article 11(1) and (3) of the Federal Constitution, and therefore leave to appeal to the Federal Court ought to be granted (whereas in this case leave to appeal to the Federal Court was refused by the Federal Court)."
3. Public Prosecutor vs Koh Wah Kuan (2007)
What was this case about: Koh was a child accused of intentionally killing his tuition teacher's daughter and was found guilty of murder.
Acting under Section 97(2) of the Child Act 2001, the trial court ordered Koh to be detained at the pleasure of the Yang di-Pertuan Agong. The Court of Appeal struck down Section 97(2) for being in violation of the doctrine of separation of powers, which is one of the basic features of the Federal Constitution, Hishamudin explained.
The Federal Court reversed the Court of Appeal's decision, with Malanjum writing a separate judgment that gave different reasons from the four other Federal Court judges for the same ruling.
Hishamudin explained that the four other judges had held that a law made by Parliament could not be struck down for violating the doctrine of separation of powers, as the Federal Constitution did not have provisions expressly setting out the doctrine.
Hishamudin described the majority judgment as adopting a literal interpretation of the Federal Constitution's Article 121, which he said was an interpretation "inconsistent" with the spirit of the Constitution.
In Hishamudin's own words regarding Malanjum's "bold but separate judgment":
"In this case Justice Richard Malanjum maintained that notwithstanding Article 121 of the Federal Constitution, the judicial power of the judiciary remains intact in the Constitution; that the jurisdiction and powers of the courts cannot be confined to federal law; and that the doctrines of separation of powers and the independence of the judiciary are basic features of our Constitution."
Having provided a brief recap of the cases where Malanjum made his differing opinions known, Hishamudin said it was "no surprise" that Malanjum had upon appointment as chief justice wasted no time in advising Federal Court and Court of Appeal judges of their duty to do the same.
Hishamudin said Malanjum had advised the judges that they have a "judicial duty to deliver dissenting or separate judgments, whenever the judges in deciding over a case are of the firm opinion that they do not agree with the majority decision; instead of merely concurring with the majority just for the sake of convenience or expediency."
The unanimous rulings at the Federal Court
4. Sivarasa Rasiah vs Badan Peguam Malaysia (2010)
Why this case was important: Malanjum was part of the three-member Federal Court panel chaired by then judge Datuk Seri Gopal Ram, who delivered the unanimous ruling in this case.
With this "historic landmark decision", Hishamudin said the Federal Court took a "bold step forward" in relation to the judiciary's role in protecting fundamental liberties, especially the constitutional right to freedom of speech.
"The Federal Court held that Parliament could not impose a restriction on freedom of speech in any manner it deemed fit; and that any restriction imposed on freedom of speech by Parliament must be a reasonable restriction," Hishamudin explained.
"The Federal Court also went further to hold that the fundamental rights guaranteed by Part II of the Federal Constitution form part of the basic structure of the Federal Constitution, thereby giving recognition for the first time, but albeit partially, to the doctrine of basic structure as enunciated by the Supreme Court of India in the landmark case of Kesavananda Bharati v State of Kerala," he said, describing this as a "remarkable development in the law" in contrast to the apex court's previous position in Loh Kooi Choon v Government of Malaysia.
5. M. Indira Gandhi vs Pengarah Jabatan Agama Islam Perak and others (2018)
What this case was about: Hindu mother M. Indira Gandhi had challenged her Muslim convert ex-husband's unilateral conversion to Islam of their three children born in a civil marriage, succeeding in the High Court before the Court of Appeal reversed it.
Hishamudin said the Federal Court had in this landmark case "correctly overturned" the Court of Appeal's majority judgment, when ruling in Indira's favour by holding that the children's unilateral conversion to Islam was unlawful and invalid due to the ex-husband and the Perak religious authority's breaching of the provisions in the Administration of the Religion of Islam (Perak) Enactment 2004.
Hishamudin described the Federal Court's unanimous decision here as yet another "bold and historic" judgment of the apex court, noting that Malanjum sat in the five-man panel where the judgment was delivered by then judge Tan Sri Zainun Ali.
Hishamudin highlighted the Federal Court's ruling that the conversions were unconstitutional for breaching the Federal Constitution's Article 12(4) and how the apex court[d] now correctly interpreted the word "parent" in the provision to mean both a child's father and mother if they are both still alive. The interpretation of the word "parent" was a crucial point to determine if both parents' consent are required for the conversion to Islam of a child born in a non-Muslim marriage.
"Secondly, the Federal Court in its landmark judgment rightly seized the opportunity to clarify the limits of the jurisdiction of the Syariah Court," Hishamudin said, describing it as a long overdue move as the Shariah courts' jurisdiction limits had been much misunderstood following the Article 121(1A) amendment in 1988.
Hishamudin said even civil court judges had misunderstood this by erroneously declining jurisdiction over matters in favour of the Shariah court, but said the apex court in Indira's case has now made clear that the Shariah courts' jurisdiction must be provided for under the relevant state laws and is limited to items listed constitutionally under the states' jurisdiction.
The Federal Court also ruled that Article 121(1A) is not a blanket exclusion of the civil courts' jurisdiction whenever a matter related to Islamic law arises, and that the civil courts' inherent powers of judicial review and interpretation of the Constitution or laws cannot be removed by Article 121(1A), he said.
Hishamudin also noted the Federal Court ruling reaffirmed several "constitutional law principles of great importance", namely that judicial power is vested exclusively in the civil High Courts via Article 121(1) and that features of the Constitution's basic structure such as judicial power and particularly the power of judicial review cannot be removed by Parliament via a constitutional amendment.
Hishamudin said these five judgments are part of Malanjum's legacy which he will be remembered for.
George Varughese, the immediate past president of the Malaysian Bar who was in office during Malanjum's tenure as chief justice, said the latter's dissenting judgment in PP v Koh Wah Kuan "where he defended the doctrines of separation of powers and independence of the judiciary" was "outstanding."
6. The double presumption case (2019)
Varughese also told Malay Mail that another landmark ruling by Malanjum was the Federal Court's April 5, 2019 decision in two drug trafficking cases, where the double presumption of guilt in the Dangerous Drugs Act (DDA) was held to be unconstitutional for violating Articles 5(1) and 8(1) of the Federal Constitution.
What the cases were about: Two foreigners were separately found with drugs hidden inside their bags.
The trial judges had in both cases ruled that the presumption that they have possession and knowledge of the drugs (under Section 37 DDA) applies since their custody and control of the drugs were proven, and that the presumption that they were trafficking in drugs (under Section 37(da) DDA) also applies since the drug's weight exceeded the weight listed in the DDA.
The two foreigners were convicted of drug trafficking which carries the mandatory death penalty, and had appealed unsuccessfully at the Court of Appeal before further appealing to the Federal Court.
Quick history: The Federal Court had in the drug trafficking case of Muhammed Hassan v Public Prosecutor (1998) found that the presumption of possession under Section 37(d) cannot be used to invoke the presumption of trafficking under Section 37(da) as it would be harsh and oppressive against the accused.
Parliament then introduced Section 37A under the DDA which came into force in February 2014 to overcome the effect of the 1998 court ruling, with this new provision saying that a presumption may be used together with another presumption.
What the Federal Court said in its unanimous ruling delivered by Malanjum:
The apex court explained that Section 37A of the DDA allows for a double presumption, where an accused is presumed to have possession and knowledge of the drug under Section 37(d) once the prosecution proves that they had custody and control of the drug, with this "deemed possession" then used to invoke a further presumption of drug trafficking under Section 37(da) if the drug quantity is more than the weight limit in DDA.
This means the prosecution only needs to prove the accused's custody and control of the drug and the drug's weight to make a prima facie case for drug trafficking, with the accused then placed under legal burden to disprove the "double presumptions" on a balance of probabilities.
The Federal Court said this legal burden is a "grave erosion to the presumption of innocence" covered under the Federal Constitution's Article 5(1), which provides that no person shall be deprived of his life or personal liberty except in accordance with the law.
The Federal Court said the application of the "double presumptions" carries a real risk of an accused being convicted of drug trafficking in circumstances where there remains a significant reasonable doubt in relation to the offence's main elements, noting that the use of presumed possession to invoke presumed trafficking was a "grave departure" from the general rule that the prosecution has to prove an accused's guilt beyond reasonable doubt.
The Federal Court struck down Section 37A for being unconstitutional due to its severe incursion of the accused's right under Article 5(1) and for failing to meet the requirement under Article 8(1) to be proportionate.
Full report at:
https://www.malaymail.com/news/malaysia/2019/05/21/richard-malanjum-in-six-landmark-court-cases/1754810
--------
Africa
Three killed in suspected Islamic State attack outside Libyan oilfield
MAY 18, 2019
BENGHAZI (Reuters) - Two guards and a soldier were killed and four other people were kidnapped early on Saturday in a suspected Islamic State attack targeting Libya's Zella oilfield, a security source said.
The death toll was confirmed by the National Oil Company (NOC) which condemned the attack in a statement on Saturday evening.
The attackers struck at an entrance gate to the field, which lies near the town of Zella about 760 km (470 miles) southwest of the capital, Tripoli, before fleeing, according to the source and local residents who asked not to be named.
Islamic State claimed responsibility for the attack through its Aamaq news agency later on Saturday.
The Zella field belongs to Zueitina Oil Company, which pumped 19,000 barrels per day on average in the last quarter of 2018 across all its fields.
An engineer told Reuters workers at the field were safe and facilities had not been damaged.
Libya's NOC chief said on Saturday continued instability in the country could cause it to lose 95 percent of oil production.
Speaking in Saudi Arabia ahead of a ministerial panel gathering on Sunday of top OPEC and non-OPEC producers, Mustafa Sanalla also confirmed the Zella attack.
Islamic State has been active in Libya in the turmoil since the overthrow of Muammar Gaddafi in 2011. The militant group took control of the coastal city of Sirte in 2015 but lost it late in 2016 to local forces backed by U.S. air strikes.
In the last two years, the group has targeted three state institutions in Tripoli, home of the U.N.-backed government of national accord led by Prime Minister Fayez Serraj.
Saturday's assault took place as general Khalifa Haftar's Libyan National Army (LNA), which is allied to a rival administration in eastern Libya, mounts an offensive to control Tripoli.
https://www.reuters.com/article/us-libya-oil-attack/two-guards-killed-in-suspected-islamic-state-attack-outside-libyan-oilfield-idUSKCN1SO0CP
--------
Boko Haram kills two in IDP camp as residents observe Sahur meal
May 19, 2019
Boko Haram jihadists on Saturday killed two people and injured a dozen others in an pre-dawn attack on a refugee camp in northeastern Borno State, aid agency and militia sources told AFP Sunday.
The militants sneaked into Madu Musaha camp, in Dikwa Town at around 3:30 am and opened fire on residents who were eating Sahur before sunrise ahead of their Muslim Ramadan fast.
Dikwa which lies 90 kilometres (56 miles) from the state capital Maiduguri is home to more than 70,000 displaced people who live in several camps where they rely on food and humanitarian assistance from aid agencies.
An aid agency member of staff in the town, who spoke on condition of annonimity, said militants "burst into the camp from the rear and opened fire on the internally displaced persons".
"The gunmen escaped before troops responded", they added, with the swift attack sending refugees and aid staff scurrying away.
Civilian Joint Task Force, an anti-Boko Haram militia group in the town, said the attack was "brief and unexpected", ending before they or the military arrived at the scene.
It was not clear whether the militants stole any food or supplies from the camp during the attack.
In August 2014 Boko Haram seized Dikwa but it was retaken seven months later with the help of Chadian forces, allowing residents to return.
Yet attacks persist from jihadists hiding in remote areas, targeting civilians, displacement camps and troops protecting the town and nearby villages.
Later on Saturday, Boko Haram fighters in three trucks and several motorcycles stormed into Lassa village in Askira Town, Borno State, stealing food and burning shops, local residents said.
"Boko Haram attacked around 8:00 pm (1900GMT) and headed to the market", Lassa resident Musa Yohanna said.
"They broke into shops and carted away food supplies before setting fire to the shops," he added.
Residents fled the scene with the jihadists making no attempt to pursue them, another resident, Barnabas Adams said, adding there were no known casualties.
The militants had left to their Sambisa Forest hideouts before troops arrived in the village, he said.
Full report at:
https://punchng.com/boko-haram-kills-two-in-idp-camp-as-residents-observe-sahur-meal/
--------
Burkina Faso Wracked by Escalating Violence
By Sarah Maslin Nir
May 18, 2019
DAKAR, Senegal — A mission to rescue kidnapped tourists that went fatally awry. A church burned to the ground, the priest shot at Sunday Mass. A day later, another attack; four more Christians dead.
The fury that hit Burkina Faso this month left a dozen people dead and laid bare the yearslong unraveling of a once-stable country.
It is now wracked with near-daily violence from extremists pouring over its northern border with Mali and Niger, restive farmers and herdsmen battling for land, and militias bent on vengeance for each attack.
And as violence by Al Qaeda and violent groups tied to the Islamic State has moved from Mali and Niger to Burkina Faso, fears are rising that the unrest could spread even farther south, putting the entire Gulf of Guinea at risk.
The terrorists appear to have shifted their goals from stoking conflict between farmers and herders to inducing a similar divide between Muslims and Christians, Burkina Faso's president, Roch Marc Christian Kaboré, said recently.
"These terrorists have reorganized their way of operating," Mr. Kaboré told a conference of Christian leaders in the capital, Ouagadougou, on Tuesday, according to local news reports.
"They have developed their mode of operation," he said, "seeking first to create an intercommunity conflict, and today an interreligious conflict."
On April 29, gunmen killed a Protestant pastor and five parishioners. On May 12, six Catholics were shot to death and their church burned. The next day, four other Catholics were killed.
On May 10, two French soldiers died in a French-led military operation to rescue four tourists, including one American, who had been kidnapped 10 days earlier in neighboring Benin and taken by their captors though Burkina Faso en route to Mali.
Attacks against civilians were once rare in Burkina Faso, a landlocked country of about 20 million people, about 60 percent of whom are Muslim and 30 percent Christian.
In 2015, it was a model of stability for the region when after nearly 30 years of semi-autocratic rule by President Blaise Compaoré, the country held peaceful, democratic elections to select Mr. Kaboré as its next president.
But the next year was scarred by violence when Al Qaeda militants attacked the Splendid Hotel in Ouagadougou, a place frequented by United Nations personnel and foreigners. Twenty-eight people were killed and more than 50 wounded.
Since then, militants from Mali and Niger have made incursions into Burkina Faso, bringing an ideology of secular intolerance and violence with them.
Hundreds have been killed in the past several years, and over 1,000 schools have been closed.
The violence is escalating: In the first quarter of this year, 186 people were killed, with more than 100 still unaccounted for, according to the United Nations, compared with 208 confirmed deaths last year.
"The trend is clear," said Metsi Makhetha, the United Nations' resident coordinator in Burkina Faso. The country had a successful democratic transition in 2016, and it had the political will and effort to put the country on the path towards a shared prosperity."
"But this optimism, three years later, is at risk," she added, "as the country has to grapple with an unprecedented humanitarian emergency."
Adding to the violence are skirmishes over land between the country's farmers and roving herders — a regional issue — as resources grow scarce because of climate change.
Terrorists have capitalized on and inflamed the breaches, which often pit local militias against one another. For the terrorists, the resulting destabilization is a recruitment tool.
Conflicts in Burkina Faso have now displaced over 170,000 people in the country, according to Ms. Makhetha of the United Nations, with 900,000 in need of urgent humanitarian aid.
Yet people there stress that despite the recent attacks, they believe their country remains tolerant. The violence, they say, is an imported scourge, born of an extremist reading of the Quran with roots in the Arab world that has bled over from their war-torn neighbors.
"In the villages and towns of Burkina Faso, the faithful of these two religions cohabit and have always lived together without problems," said Boureima Salouka, a journalist for Africanews Télévision, who believes that the strict, anti-Western version of Islam that Wahhabi extremists have increasingly pushed has not taken hold.
"That is why they proceeded with violence committed against the Muslims who are not of the same opinion as them, and now the other religions," Mr. Salouka said. "They want to create widespread chaos."
Particularly troubling about the recent spate of brutality is that the region of the attacks was seen as a safe haven for those fleeing extremism. The village of Dablo, where the attacks occurred on the Sunday, had been a refuge for about 9,000 displaced people, according to the United Nations.
Five years ago, Burkina Faso joined Niger, Chad, Mali and Mauritania in a military effort to fight extremism. The initiative is backed by the United Nations and supported by Western powers, including France, which has deployed about 4,500 troops across the region.
United States military officials, citing security concerns, would not say how many American troops are in the region, but said there were 7,000 American troops across Africa. In 2018, President Trump announced plans to pull out some of those troops.
In 2018, the United States provided $69 million in military and law enforcement assistance to Burkina Faso, military officials said.
Albert Ouédraogo, a professor at the University of Ouagadougou, said that even if Burkina Faso quashes the extremists, the battle cannot be won without a similar commitment by its neighbors, many of which are poor and lack preparation for such a mission.
Full report at:
https://www.nytimes.com/2019/05/18/world/africa/burkina-faso-violence-extremism.html
--------
Kenya, Cameroon Militaries Fighting Terrorism Through Development
May 19, 2019
YAOUNDE —
A delegation from the Kenyan military is sharing experience on how the Cameroon military engineering corps has taken over road construction projects in Boko Haram terrorism prone areas to use the example and develop areas of its territory threatened by Al-Shabab which they say is still a threat. The Kenyan delegation has been in Cameroon for several days.
A Cameroon military engineering corps compactor is constructing a portion of the road linking its northern border town of Kousseri to the Chadian capital Ndjamena and Borno state in northeastern Nigeria.
Colonel Jackson Kamgain, director of Cameroon military engineering corps, says they re-launched the World Bank-sponsored project in March 2018 after it had been abandoned for four years.
He said since independence in 1961, the Cameroon military engineering corps has participated actively in the development of all localities and insures that major projects in conflict zones are not abandoned unlike in many other countries where military engineering departments concentrate only on making access easy for troops in areas of war or conflicts.
The road project was interrupted in 2014 following an assault on the base camp of the Chinese road contractors in which 10 of their workers were kidnapped by suspected Boko Haram rebels. The kidnappers also stole 10 vehicles and a container of explosives. The workers escaped but road construction companies refused to resume work there for fear of the terrorists,
The government of Cameroon convinced project funders that its military engineering corps could construct the road even while the war against Boko Haram was raging. The World Bank provided about $125 million for the project, which is to be completed in 24 months.
General Mohamud Muhamed Ali, governor of Kenya's Marsabit region and head of the 17-man Kenyan delegation of military and officials from the ministry of transport, said they came to Cameroon to learn from the Central African state's experience.
"The military was challenged with a very very unique situation which is nor very normal in their line of duty. Because of serious level of insecurity where contractors have not been able to show any interest to undertake major construction work in the area infested by Boko Haram, they showed leadership and undertook that serious national project," he said.
Ali said the Kenyan government's plan to link the country with Somalia by constructing a link road to increase trade between the two countries has been facing threats from the al-Qaida-linked al-Shabab insurgency.
In April 2019, the International Crisis Group reported that since 2015, al-Shabab has conducted over one hundred small-scale assaults in the north east of Kenya, killing dozens of soldiers and police, mostly with roadside bombs.
Kenyan General James Gitiba, who was also in Cameroon, said African militaries will contribute more to reducing pain and suffering in the continent's several conflict zones if they also embrace development initiatives that go beyond simply fighting enemies.
"Most militaries in Africa are known for the various basic function of enhancing mobility which is basically clearing a route for the troops to pass and also survivability. So for Cameroon this is a milestone and I think I could also urge other friendly countries to come here and learn," he said.
Full report at:
https://www.voanews.com/a/kenya-cameroon-military-fighting-terrorism-through-development/4923493.html
--------
'Dispute' over leading Sudan's governing body dominated talks: Protest leader
20 May 2019
A "dispute" over who should lead Sudan's new governing body was the key sticking point in overnight talks between army rulers and protesters, a protest leader said Monday.
The latest negotiations started Sunday evening following international pressure to install a civilian-led administration, a key demand of thousands of demonstrators who have spent weeks camped outside Khartoum's army headquarters.
Meetings in the early hours of Monday ended without agreement, but the ruling military council announced the talks would resume Monday evening.
A prominent protest leader who was involved in the Sunday night talks said they had revolved around who would lead the new governing body.
"The dispute over the presidency of the sovereign council and participation between the civilian and military still exists," said Satea al-Haj, from the umbrella protest movement the Alliance for Freedom and Change.
The Alliance, which led the nationwide campaign that toppled longtime autocrat Omar al-Bashir last month, has been at loggerheads with the military over the makeup of the new body, set to rule Sudan for a three-year transitional period.
"The military council is still insisting that the president of the sovereign council should be from the military," he said. "They are justifying it by saying the country faces security threats."
The protest movement insists that the head of the body should be a civilian and that the council should have a majority of civilian members, a demand backed by major world powers, al-Haj said.
"The international community and the African Union will not accept to deal with a military government," he added. "The people (of Sudan) also want a civilian government."
However, he said Sunday night's talks were "positive" overall, and the ruling military council has said they will resume at 9:00 PM (1900 GMT).
Military council spokesperson Lieutenant General Shamseddine Kabbashi said the "structure of the sovereign authority" had been discussed during the night and that a "final deal" would be agreed later on Monday.
Previous rounds of talks have seen the generals and protest leaders agreed on key issues including a three-year transition period and the creation of a 300-member parliament dominated by lawmakers from the protesters' umbrella group.
Full report at:
https://english.alarabiya.net/en/News/middle-east/2019/05/20/-Dispute-over-leading-Sudan-s-governing-body-dominated-talks-Protest-leader.html
--------
Libyan National Army bans access to Libya's western ports
20 May 2019
The Libyan National Army (LNA) said it has banned access to all western ports in Libya since Sunday evening, a move that aims to prevent a coalition of forces allied with Libya's Government of National Accord (GNA) from receiving arms from Turkey.
The move comes after GNA forces received a shipment of Turkish armored vehicles and arms on Saturday. The shipment arrived amid the GNA's efforts to stop the Libyan National Army (LNA), led by Khalifa Haftar, from advancing toward the capital, Tripoli.
"In accordance with the commander-in-chief's [Khalifa Haftar] decision to cut off supplies for militias in the western region, the chief of staff of the Libyan naval forces, Maj. Gen. Faraj al-Mahdawi, announced the mobilization of all naval forces and announced a complete naval ban on all sea ports in the western region," the Military Information Division of the General Command of the Libyan Arab Armed Forces said in a statement on their Facebook page.
Full report at:
https://english.alarabiya.net/en/News/north-africa/2019/05/20/Libyan-national-army-imposes-naval-ban-on-ports-in-West-Libya.html
--------
Arab World
Reeling in Syria, Iraq, Islamic State Tries to Surge Online
May 17, 2019
Jeff Seldin
While Islamic State fighters in Syria and Iraq have largely been forced underground, the terror group's other fighters along with its media operatives appear intent on surging, combining an increase in attacks with ramped-up output on social media.
The strategy comes as little surprise to U.S. officials who have long warned the fight against IS would not end with the collapse of its self-declared caliphate in March.
But the wave of propaganda, following the deadly Easter Sunday bombing in Sri Lanka and the release of a new video from IS leader Abu Bakr al-Baghdadi, seems to be making an impact.
"ISIS media, like Nashir News, has upped its production," according to Chelsea Daymon, a terrorism and security researcher at American University, using an acronym for the terror group.
"Among supporters, there's been a lot of chatter about the [Islamic] state being back," she said. "The Sri Lanka attacks as well as the Baghdadi video have provided a lot of moral support for them."
Analysis by the SITE Intelligence Group shows that in the past several weeks IS has claimed responsibility for attacks in at least 13 countries, not including Syria and Iraq.
New provinces
Additionally, it has announced new provinces in Pakistan and India, both of which had previously been categorized under the Afghan-centered IS-Khorasan province.
Just a few weeks earlier, IS announced the creation of a Central African province, praising an attack on army barracks in the Democratic Republic of Congo, killing three soldiers.
Analysts say the heavy focus on areas outside the terror group's collapsed caliphate is no accident.
"It seems ISIS, via its propaganda approach, are trying to convince that they are far from physically defeated," Raphael Gluck, co-founder of Jihadoscope, a company that monitors online activity by Islamist extremists, told VOA.
Gluck said much of the terror group's online activity appears to be picking up on the themes laid out by IS leader Baghdadi in his video, released April 29, when he called on followers to exhibit "steadfastness" in what he described as a "battle of attrition."
"Editorials and articles in its weekly newspaper suggest a newer guerrilla-style approach, wearing down enemies by carrying out smaller attacks," Gluck said, adding there are also lots of suggestions that the self-declared caliphate is "gone but not forever."
"Photo essays that used to appear more frequently are appearing less often but nevertheless showing daily life — marking the end of a day of Ramadan fasting, executing enemies — perhaps the sort of propaganda that makes some wonder: Are they really all that defeated and so landless?" he said.
More execution images
IS and IS-affiliated outlets have likewise played up Baghdadi's call for vengeance.
"There's a big uptick in execution images," said American University's Daymon, talking about both official and semiofficial sources of IS propaganda.
"For a long time, there was a lack of photo reports on executions, but stuff has gotten more gruesome," she said. "Violent images send a message of power and vengeance."
IS supporters are likewise trying to project their strength on venues like Telegram.
One poster shared by the IS-linked Muharir al-Ansar showed French President Emmanuel Macron handcuffed in an orange jumpsuit as an executioner with a knife looms behind him.
Others showed Russian President Vladimir Putin dead and promised imminent attacks against the U.S. and Britain, seemingly minimizing IS's losses in Syria, Iraq and in places like Libya and Afghanistan, where its cells have been repeatedly targeted by the U.S. and coalition partners.
But even if IS followers are not capable of making good on such threats, analysts say it may not matter because the target audience is not the West but rather potential IS adherents.
All of this, said Michael S. Smith II, a terrorism analyst and teaching fellow in Johns Hopkins University's Global Security Studies program, "can have a cumulative effect of demonstrating Islamic State is a viable enterprise that remains worthy of support."
https://www.voanews.com/a/reeling-in-syria-iraq-islamic-state-tries-to-surge-online-/4922341.html
--------
Syria ex Al-Qaeda group seeks rivals' help to fight regime
17/05/2019
The head of Al-Qaeda's former Syria affiliate has urged rival fighters allied to Turkey to take up arms against regime forces to ease the pressure on the jihadist bastion of Idlib.
The northwestern region has come under increasing fire by the Damascus regime and its ally Russia in recent weeks, despite a months-old buffer zone deal intended to shield the area from any government offensive.
Syria's former Al-Qaeda affiliate Hayat Tahrir al-Sham (HTS) controls most of Idlib province as well as parts of neighbouring Aleppo, Hama and Latakia provinces.
HTS chief Abu Mohammed al-Jolani, in a video released Friday on the group's messaging app Telegram, said fighters backed by Turkey "could help us by launching an operation in Aleppo, for example".
"Dispersing the enemy and opening up new fronts is in our interest," he added.
Jolani's call comes days after he urged supporters to "take up weapons" to defend Idlib.
Turkey, a longtime backer of Syria's rebels, supports various groups in Idlib to differing degrees and has actively sought to unify them.
Ankara also operates monitoring posts in Idlib, positioned in a horseshoe-shape around the edges of rebel territory, and has troops deployed to the east in Aleppo province.
Full report at:
https://www.france24.com/en/20190517-syria-ex-al-qaeda-group-seeks-rivals-help-fight-regime
--------
Iraqi military destroys Islamic State camp in Anbar
by Mohammed Ebraheem
May 18, 2019
Baghdad (IraqiNews.com) – The Iraqi Defense Ministry announced on Saturday that a camp of the Islamic State terrorist group was destroyed in Anbar province.
The camp was used by Islamic State militants for the purposes of training and storing ammunition and explosive charges, Ayn Al Iraq news website quoted the ministry as saying in a press statement.
The army troops also destroyed several terrorist hotbeds and seized a large cache of ammunition there, the statement read.
Iraq declared the collapse of Islamic State's territorial influence in Iraq in November 2017 with the recapture of Rawa, a city on Anbar's western borders with Syria, which was the group's last bastion in Iraq.
Full report at:
https://www.iraqinews.com/iraq-war/iraqi-military-destroys-islamic-state-camp-in-anbar/
--------
Islamic State militants set fire to 12 houses in Mosul
by Mohammed Ebraheem
May 18, 2019
Baghdad (IraqiNews.com) – An Iraqi security source said on Saturday that the Islamic State terrorist group burned several houses at a village in Mosul city.
"Islamic State terrorists have set fire to 12 houses at the village of Tel Rumman in western Mosul, and then fled the scene into an unknown location," the source told Alsumaria News TV channel.
The source explained that the security forces cordoned off the area and took strict measures.
Last week, an Iraqi mayor and five of his family were killed by Islamic State militants at the same village. The mayor was living at one of the burned houses. The mayor's wife and one of his relatives were moved to a Mosul hospital, suffering from sever wounds.
Former Iraqi prime minister Haider al-Abadi announced in July 2017 liberation of the second largest Iraqi city of Mosul from IS militants, who had captured it in 2014. More than 25,000 militants were killed throughout the campaign, which started in October 2016.
The campaign was backed by paramilitary troops and a U.S.-led international coalition.
Full report at:
https://www.iraqinews.com/features/islamic-state-militants-set-fire-to-12-houses-in-mosul/
--------
Iraq accuses ISIS of setting fire to hundreds of acres of farmland
Mina Aldroubi
May 19, 2019
Iraq's Ministry of Commerce accused ISIS on Sunday of destroying hundreds of agricultural fields across the country, raising fears that the extremist group is stepping up activity.
The group allegedly set fire to 500 acres of wheat and barley farms in the eastern province of Diyala on Saturday and destroyed further further fields in the northern province of Nineveh.
Local media reported that the burning of fields was part of an extortion racket in which ISIS members demanded money from farmers.
"We call for the urgent protection and security of civilians and their land," the trade and interior ministries said in a statement.
The ministries called on security forces in Nineveh to intervene to prevent such attacks from occurring in the near future.
Since its rise in 2014, ISIS has sabotaged hundreds of wells, destroyed orchards, and stolen machinery and livestock, Human Rights Watch reported last December.
An Iraqi member of parliament Raad Dahlaki urged the government to compensate farmers for their loss.
Earlier this month, ISIS fighters carried out several attacks in western Mosul, according to security officials. The insurgents burned down several houses in the village of Ibrahimia, west of Mosul, that caused dozens of families to flee.
An unidentified group of armed men shot dead five members of an Iraqi family in an attack on their house in southern Mosul on 5 May.
Security officials said that ISIS fighters were involved in the attack on a house of a village community supervisor in the Hammam Al Alil area, according to a statement by the interior ministry.
Although there was no immediate claim of responsibility, ISIS fighters are active in that area.
In a separate incident, gunmen attacked a grain silo in the northern Iraqi town of Shirqat last Thursday, killing a guard and setting fire to a vehicle.
It comes as Iraqi forces launched a new security operation on Saturday to hunt down remaining ISIS sleeper cells near the Syrian border.
Iraqi forces recently cleared 10 villages in the district of Al Baaj, west of Mosul, Major General Najem Al Jubouri said.
The official said that military operations will continue until areas in the Nineveh province and the Syrian border are secure.
At its height in 2014 and 2015, ISIS ruled over a self-proclaimed "caliphate" that spanned one third of Iraq and Syria and attracted followers from all over the world.
Although Iraq declared victory over the terrorists in December 2017, the group continues to carry out attacks across the country.
Full report at:
https://www.thenational.ae/world/mena/iraq-accuses-isis-of-setting-fire-to-hundreds-of-acres-of-farmland-1.863482
--------
UN team unearths 12 mass graves in Iraq probe of ISIS crimes
20 May 2019
A UN team investigating the massacre of Iraq's Yazidi minority and other atrocities has excavated 12 mass graves and is collecting witness accounts that could be used in Iraqi and other national courts, according to a UN report seen by AFP on Monday.
The Security Council agreed in 2017 to establish the UN probe to ensure ISIS faces justice for war crimes in Iraq and Syria – a cause championed by Nobel Peace Prize winner Nadia Murad and international human rights lawyer Amal Clooney.
In the report sent to the council, the head of the team, British lawyer Karim Asad Ahmad Khan, said efforts were focused on three initial investigations: the 2014 massacre of Yazidis, crimes committed in Mosul from 2014 to 2016, and the mass killing of Iraqi military recruits in the Tikrit area in June 2014.
The team began work in October, with the first mass grave containing ISIS victims unearthed in March and April in the Murad's home village of Kojo in Sinjar in northwest Iraq.
Ahmad Khan said "progress had been slower than hoped" in the investigation and stressed the need to establish "clear and effective channels" to use the evidence in Iraqi proceedings.
The Iraqi government had resisted calls for the UN probe despite evidence of more than 200 mass graves in Iraq containing victims of ISIS, who swept across northern Iraq in 2014.
Murad is among thousands of Yazidi women who were taken hostage and held as sex slaves, while hundreds of men and women are believed to have been executed by ISIS.
The United Nations has described the massacre of the Yazidis by ISIS militants as a possible genocide.
As well as excavations of mass graves, the 48-member team has "engaged first-hand with survivors and witnesses" and has put in place a witness protection program, said the report sent to the council on Friday.
Full report at:
https://english.alarabiya.net/en/News/middle-east/2019/05/20/UN-team-unearths-12-mass-graves-in-Iraq-probe-of-ISIS-crimes.html
--------
Egyptian security forces kill 12 suspected militants after bus bombing
20 May 2019
Egyptian security forces have killed 12 suspected extremist militants in Cairo, the Interior Ministry said on Monday, a day after an explosion targeting a tourist bus injured at least 12 people.
A rudimentary device containing nails and pieces of metal detonated on the perimeter of the Grand Egyptian Museum near a bus carrying 25 South African tourists from the airport to the pyramids district.
The Interior Ministry did not say whether the suspected militants were connected to Sunday's attack, but said its forces killed the suspects during raids on their hideouts in the 6th of October and Al Shorouk districts, where it said members of the militant group Hasm were planning a series of attacks in the country to create an "atmosphere of chaos."
Egypt accuses the group, which emerged in 2016 and has claimed several attacks, of being a wing of the outlawed Muslim Brotherhood. Egypt's oldest Islamist movement denies this and says it seeks change through peaceful means only.
The ministry said the suspects were killed in gunbattles, but did not elaborate on the suspects' identity or whether there had been any casualties or injuries among the security forces.
Weapons and explosives were found at the scene of the shootouts, the ministry said.
A Reuters investigation in April found that Egyptian security forces had shot dead hundreds of suspected militants in what the Interior Ministry said were gun battles, but which bereaved families said were extrajudicial executions.
A Reuters analysis of the ministry statements showed that deadly shootouts often followed an attack by militants. For example, in December 2018, a day after the deadly bombing of a Vietnamese tourist bus in Giza, the ministry announced that its forces had killed 40 people in three separate incidents.
Human rights organizations have accused Egypt of carrying out extrajudicial executions and of trying civilians in military courts as part of the crackdown.
President Abdel Fattah el-Sisi has said that the matter of human rights should be treated in the context of regional turbulence and the struggle against terrorism. Strong security measures, he has said, are needed to stabilize Egypt after the turmoil that followed the country's 2011 uprising.
Full report at:
https://english.alarabiya.net/en/News/middle-east/2019/05/20/Egyptian-security-forces-kill-12-suspected-militants-after-bus-bombing.html
--------
Russia says it repelled an attack on its main Syrian air base: RIA
20 May 2019
Russia's Ministry of Defense said on Monday that it had repelled a drone and missile attack on its main air base in Syria over the weekend and accused former Nusra Front militants of being behind the assault, the RIA news agency reported.
Air strikes by Syrian regime ally Russia have killed 10 civilians including five children in a northwestern bastion, a monitor said Monday, hours after Moscow announced a ceasefire there.
https://english.alarabiya.net/en/News/middle-east/2019/05/20/Russian-Defense-Minister-Al-Nusra-attacked-Hmeimim-air-base-.html
--------
Russian air strikes kill 10 civilians in northwest Syria
20 May 2019
Air strikes by Syrian regime ally Russia have killed 10 civilians including five children in a northwestern extremist bastion, a monitor said Monday, hours after Moscow announced a ceasefire there.
Clashes between regime forces and extremists raged Monday on the edge of the region held by Syria's former Al-Qaeda affiliate, following the deadly air raids overnight, the Syrian Observatory for Human Rights said.
The Idlib region controlled by Hayat Tahrir al-Sham is supposed to be protected from a government offensive by a September buffer zone deal, but regime and Russian bombardment has increased there since late April.
The Observatory said Russian air strikes overnight killed five children, four women, and one man in the town of Kafranbel in Idlib province.
The air strikes hit near a hospital in the town, knocking it out of service, the Britain-based monitor said.
An AFP correspondent saw five homes on the edges on the town that were destroyed or damaged after the strikes.
Survivors picked through the debris to save the belongings they could, the reporter said, while a young man covered in dust from head to toe leant against a wall, shell-shocked after his father was killed.
Umm Wasel narrowly missed the air strike on her home after relatives invited her over to break her daily fast of the Islamic month of Ramadan with them.
"I came back at night to find my home devastated," said the 72-year-old, dressed in a long red robe and a black scarf covering her hair.
People "had thought I was under the rubble," she said.
The Observatory said six other civilians also died in bombardment by regime forces in other parts of the Idlib region on Sunday.
The extremist stronghold includes most of Idlib province as well as parts of neighbouring Aleppo, Hama and Latakia provinces.
Fighting raged in the north of Hama province between loyalists and extremists from early Monday, the Observatory said, after relative respite in bombardment over the past three days.
Russian aeroplanes pounded the south of Idlib province, while government aircraft targeted the north of Hama province with machine guns, missiles, and crude barrel bombs, the monitoring group added.
The deadly Russian air strikes come after Russia on Sunday said Syrian armed forces had "unilaterally ceased fire in the Idlib de-escalation zone" from May 18 at midnight, but that fire of loyalists had continued.
Russia and rebel ally Turkey inked a buffer zone deal to protect the Idlib region of some three million people in September, but regime fire has increased there since HTS took control in January.
Full report at:
https://english.alarabiya.net/en/News/middle-east/2019/05/20/Russian-air-strikes-kill-10-civilians-in-northwest-Syria.html
--------
12 suspected extremists killed in Egypt raids: ministry
May 20, 2019
CAIRO: Twelve suspected militants were killed Monday in police raids near Cairo, Egypt's interior ministry said, a day after a bomb blast injured 17 people including tourists near the Giza pyramids.
Security forces "carried out a raid against an apartment in the 6th of October district used for making explosive devices... These forces were shot at and responded, which left seven dead among the group," which has ties to the Muslim Brotherhood, the ministry said in a statement.
In another such raid in Cairo's Al-Shorouk neighborhood against the militant Hasm group, an armed affiliate of the Muslim Brotherhood, the ministry said five suspected extremists were killed in an exchange of fire.
Weapons and ammunition were seized in the two apartments, the interior ministry said.
"As part of the ministry's efforts to tackle the Muslim Brotherhood terrorist organization, information reached national security services" of attacks being prepared by Hasm, the ministry said.
The statement did not directly link the raids to Sunday's attack in which a roadside bomb hit a tourist bus near the famed Giza pyramids.
There was no claim of responsibility.
It came months after three Vietnamese holidaymakers and their Egyptian guide were killed when a roadside bomb hit their bus near the pyramids in December.
Egyptian authorities led a crackdown on Muslim Brotherhood members after the military overthrew president Muhammad Mursi in 2013.
Full report at:
http://www.arabnews.com/node/1499541/middle-east
--------
Pakistan
Imran Khan blames opposition parties for Pakistan's economic woes
20th May 2019
ISLAMABAD: Pakistan Prime Minister Imran Khan has hit out at the opposition parties which gathered in Islamabad for an Iftar-dinner, holding them responsible for the country's record foreign debt and economic woes.
In a show of unity, Pakistan Muslim League-Nawaz (PML-N) leader Maryam Nawaz met the chairman of Pakistan People Party (PPP) Bilawal Bhutto at an Iftar-dinner hosted by him here on Sunday.
It was for the first time that Maryam came face-to-face with Bilawal whose slain mother Benazir Bhutto was a strong rival of now-jailed ex-prime minister Nawaz Sharif but later the two joined hands against military ruler Pervez Musharraf.
The Iftar-dinner was also attended by other opposition leaders, including Awami National Party leader Asfandyar Wali, Pashtunkhwa Milli Awami Party (PkMAP) Chairman Mehmood Khan Achakzai among others.
"These people [opposition leaders] have gathered under the guise of safeguarding democracy. In fact, they are the reason for the country's present crises," Khan said.
Khan said that the Pakistan Tehreek-e-Insaf government assumed charge in the toughest of times when the country's debt was at a historic high.
He said that the nation is hopeful for the country's progress and he will prove that Pakistan will be at the top in the region.
"We inherited Pakistan in the most difficult circumstances with a record foreign debt and a huge economic deficit.
But I will prove that Pakistan will emerge as the fastest growing country in the whole region.
"However, we will bring the country back on the path to progress by working tirelessly," he told the audience at a fundraiser.
Cash-strapped Pakistan last week reached an agreement with the International Monetary Fund on a bailout package under which the cash-strapped country will receive USD 6 billion over three years.
The country is seeking this money to bail itself out from a severe balance-of-payments crisis that threatens to cripple the country's economy.
The latest deal would be the 22nd bailout package since Pakistan became a member of the IMF in 1950.
http://www.newindianexpress.com/world/2019/may/20/imran-khan-blames-opposition-parties-for-pakistans-economic-woes-1979507.html
--------
Chinese envoy, army chief discuss regional security
May 21, 2019
ISLAMABAD: Chinese Ambass­ador Yao Jing on Monday met Army Chief Gen Qamar Bajwa for a discussion on regional security.
In a brief statement on the meeting, the Inter-Services Public Relations, the media affairs wing of the armed forces, said: "Mr Yao Jing, Ambassador of China to Pakistan, called on General Qamar Javed Bajwa, Chief of Army Staff [COAS], at the GHQ today".
"During the meeting matters of mutual interest, including regional security situation, were discussed," it further said.
The meeting took place ahead of Chinese Vice President Wang Qishan's visit to Pakistan over the next few days. The Chinese vice president is one of the leading figures in China's foreign affairs.
Pakistan and China closely coordinate their positions on regional matters. They have been cooperating for peace in Afghanistan, a process that has made little progress so far, and the developing situation in the Middle East is also of concern to both countries.
China at the start of this month lifted technical hold on the listing of Jaish-e-Mohammad chief Masood Azhar by UNSC Sanctions Committee leading to his proscription as a global terrorist.
China has been concerned at the intensification of terrorist activity in Balochistan, particularly the recent attack in Gwadar, which is an important node in cross-regional connectivity and the central pillar of China-Pakistan Economic Corridor (CPEC).
Chinese foreign ministry spokesperson Geng Shuang had after the attack said: "We commend and thank the Pakistani security forces for safeguarding peace and stability in Gwadar and the security of Chinese personnel and institutions by taking swift measures to eliminate the terrorists."
Reaffirming confidence in the capabilities of Pakistani armed forces, he had said: "We believe the Pakistani government and military are capable of upholding its national security and stability."
Full report at:
https://www.dawn.com/news/1483550/chinese-envoy-army-chief-discuss-regional-security
--------
Firdous slams 'convict' Maryam for chairing meetings of lawmakers
Kalbe Ali
May 21, 2019
ISLAMABAD: Special Assistant to the Prime Minister on Information and Broadcasting Dr Firdous Ashiq Awan said on Monday that PML-N vice president Maryam Nawaz had little respect for the Constitution, otherwise being a convicted person she would not have entered the Parliament House.
Addressing the Meet the Press programme at the National Press Club, she warned that if the opposition parties tried to use force during their protest against the government then the latter would respond to them in the same coin.
"One woman who has been convicted by courts came to the Parliament House today and made a statement that she does not recognise Imran Khan as prime minister," Ms Awan said, adding, "Well I will only say to her that you do not believe in the courts, court's decisions, Constitution of Pakistan, our institutions, system and democracy."
She said Maryam Nawaz changed her narrative quite often but the reality is that she wants to leave the country. Even the Sharif brothers had different narratives.
"One [brother] has gone missing in London while the other has landed in the prison," the special assistant said.
Ms Awan said Maryam Nawaz was repeatedly saying "give respect to vote" though she actually meant "give respect to note". "This is all about protecting the huge amount of money stacked in fake bank accounts."
She acknowledged that the opposition had the right to protest but people had to see if such a protest was for public interest or the aim was to protect their corrupt deeds.
"This is unfair that a convicted person is chairing the meeting of elected parliamentarians; this is unfair, but they are abusing democracy to protect their wrongdoings," she said, adding that the media should ask them [the lawmakers] if it was legal to allow a convict to chair such meetings."
About the establishment of much talked-about `Pakistan Media Regulatory Authority', the special assistant said that no step would be taken without taking all the stakeholders into confidence.
"No laws and regulation will be formulated to curb media freedom or to put media workers' jobs at risk," she said.
The special assistant rejected the objections raised by the Pakistan Broadcasters Association (PBA) over the launch of new TV channels, saying it was not only an anti-competitive behaviour but also an attempt to contain the growth of media industry in the country.
"We will discuss the matter with the PBA as new channels will not only generate revenue for the government but will also create job opportunities for journalists," she added
The special assistant said that a settlement had been reached with those media houses where salaries had not been paid.
"Despite the fact that most of these advertisements were released by previous governments to be used against the PTI and its leadership, Prime Minister Imran Khan has issued directives that payments for these advertisements should be cleared," she said.
She said that first tranche of these payment would be released before Eid with the precondition that managements would also pay salaries to their employees.
She said the government does not want any confrontation with the media.
Full report at:
https://www.dawn.com/news/1483557/firdous-slams-convict-maryam-for-chairing-meetings-of-lawmakers
--------
Nawaz seeks release from jail on medical grounds
Malik Asad
May 21, 2019
ISLAMABAD: Former prime minister Nawaz Sharif on Monday filed in the Islamabad High Court a fresh petition seeking release from Kot Lakhpat jail on medical grounds in the Al-Azizia Steel Mills case.
A two-judge IHC bench comprising Justice Aamer Farooq and Justice Miangul Hassan Aurangzeb will take up the petition on Tuesday (today).
The petition sought suspension of Mr Sharif's seven-year sentence and subsequent grant of post-arrest bail on medical grounds. Citing medical reports, it claimed that the condition of the Pakistan Muslim League-Nawaz supreme leader was critical and he required a stress-free environment for his cardiac treatment as Mr Sharif, according to doctors, was suffering from numerous diseases that could prove to be a threat to his life.
Earlier this month, the Supreme Court had rejected Mr Sharif's review petition seeking bail on medical grounds and permission to go abroad for treatment and ordered him to surrender before the court as soon as his bail period ended. The apex court, however, suggested to the former premier's counsel to approach the appropriate forum to get any relief.
The fresh petition contended that the apex court had initially suspended the sentence for six weeks, allowing Mr Sharif to get medical treatment from the doctor of his choice. It said medical tests conducted during his bail suggested that "the multifarious diseases/ailments of the petitioner [Mr Sharif] are not only life threatening, the threat to the petitioner's life on account of these co-morbidities is bound to aggravate in case the petitioner is exposed to any physical or psychological stress".
The petition contended that for Mr Sharif's cardiac treatment, it was indispensable to take him to the same doctors who treated him. According to it, the former premier had undergone successful cardiac treatment in the United Kingdom.
The petition rejected a perception that the plea had any link to Mr Sharif's treatment abroad and the possibility of NRO-like deal, saying that "the propaganda launched by the government functionaries/political opponents of the petitioner, and a particular segment of the print and electronic media, to the effect that the petitioner is seeking bail on medical grounds for his treatment abroad, is actually seeking an NRO, is not only tantamount to contempt of court, it is also malicious and false to the knowledge of such politicians and TV anchors, and stands comprehensively refuted by the past conduct of the petitioner".
The petition recalled that when the accountability court had convicted Mr Sharif and awarded him 10-year sentence in the Avenfield properties reference on July 6 last year, he was in the UK but he flew back to Pakistan. During the bail, it argued, the conduct of the former premier remained good and he completely complied with the court's directive and surrendered after the expiry of the bail.
The petition said that if the IHC suspended the sentence and granted bail to Mr Sharif, he "is ready and willing to furnish bail bonds to the entire satisfaction of this Hon'ble court".
Full report at:
https://www.dawn.com/news/1483566/nawaz-seeks-release-from-jail-on-medical-grounds
--------
'Facilitator' of Data Darbar suicide blast captured
Asif Chaudhry
May 21, 2019
LAHORE: In a major operation, the Counter Terr­orism Department (CTD) of Punjab and Intelligence Bureau have arrested the "facilitator" of Data Darbar suicide bomber.
A senior official who is part of the joint operation told Dawn that law enforcement agencies arrested Moh­sin Khan, son of Beh­ram Khan, who belongs to Shab­qadar area in Charsadda.
Mohsin told investigators that Tayyabullah alias Raa­ki, a resident of Mohmand district in KP, had received suicide bom­ber Sadiqullah Momand, an Afghan national who entered Pakistan through Torkham on May 6, and escorted him to Lahore for the May 8 strike that left 12 people, including five elite force personnel, dead.
The facilitator (Mohsin), handler and the suicide bomber stayed in a house in Bhati Gate area before hitting the target.
The official said they had links with Hizbul Ahrar, a splinter group of the Tehreek-i-Taliban Pakistan/Jamaatul Ahrar (TTP/JUA), which had also claimed the responsibility of the attack.
Soon after the blast, multiple Joint Operation Teams (JOTs) comprising officers from CTD and IB were formed to work simultaneously upon various leads. The JOTs started following all possible leads. The investigators collected evidence from the crime scene on scientific lines to ascertain the identity of the bomber, the type and quantity of the explosives used, etc, the official said.
Interviews of victims, witnesses and suspects were also conducted. Investiga­tors also focused upon digital forensics.
Human intelligence sou­rces were activated throughout Lahore and other parts of the country, particularly in area around Data Darbar.
The investigations revealed that Mohsin, who had recently moved to Lahore in the garb of a labourer, was living in a room rented out by Noor Zeb in the Walled City, inside Bhati Gate, Lahore.
It also transpired that Mohsin had been radicalised by Tayyab during their stay in Saudi Arabia a few years back, the official said.
On the fateful morning of May 8, he said, Tayyab escorted the suicide bomber from Mohsin's place to a point near the blast site.
During arrest, the LEAs recovered from Mohsin a huge cache of explosives, and two portable MP3 players.
"This time the suicide vest and explosives were transported by hiding them inside the casings of portable electronic MP3 players to avoid being caught,' the official said.
Evidence showed that the handler Tayyab left the area soon after the blast. The CTD and officials of other LEAs have launched massive manhunt across the country for his arrest.
Full report at:
https://www.dawn.com/news/1483551/facilitator-of-data-darbar-suicide-blast-captured
--------
URL: https://www.newageislam.com/islamic-world-news/urs-sufi-saint-pulwama-promotes/d/118663
New Age Islam, Islam Online, Islamic Website, African Muslim News, Arab World News, South Asia News, Indian Muslim News, World Muslim News, Women in Islam, Islamic Feminism, Arab Women, Women In Arab, Islamophobia in America, Muslim Women in West, Islam Women and Feminism