New Age Islam News Bureau
3 Oct 2018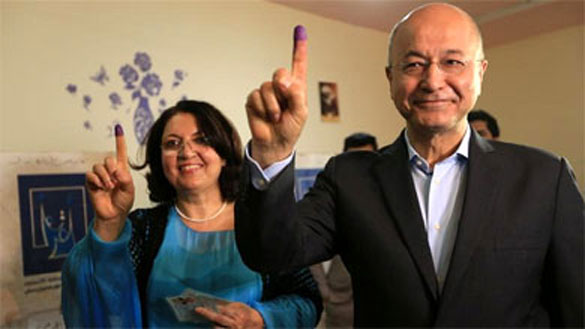 Salih is a former deputy prime minister of the Iraqi federal government [Reuters]
------
• Upset over Police Treating Son's Death as Suicide, Muslim Man in UP Embraces Hinduism with Family
• Radical Islamic Group Promoting Hezbollah in Bangladesh
• Parliament Elects Kurdish Politician Barham Salih President of Iraq
• French Police Raid Shiite Islamic Centre in 'Anti-Terror' Probe
• 'If You Don't Return…' Pakistan Chief Justice Warns Pervez Musharraf Of Dire Consequences
India
• Upset over Police Treating Son's Death as Suicide, Muslim Man in UP Embraces Hinduism with Family
• Muslim Outfits Drawing Plan to Step up Quota Demand
• AIMPLB Hails Talaq Verdict by Supreme Court, Opposes Govt Ordinance
• India should use its influence with Myanmar for reconciliation on Rohingya issue: UN secretary-general
• Terrorist hideout busted in J&K
• Madhya Pradesh Town Shows Way To Peace, Harmony
--------
South Asia
• Radical Islamic Group Promoting Hezbollah in Bangladesh
• Bangladesh's Catholic Youth Need Guidance
• Learning centre for Rohingya youngsters to be opened Wednesday
• Drone strikes target ISIS-K hideouts in Nangarhar province
• Suicide attack targets election campaign in Nangarhar province
• Maulana Sami propose talks between Afghan Ulemas, Taliban in a secret location
• ASEAN Urges Accountability for Violence in Myanmar's Rakhine
• Blast hits election rally in Afghanistan, kills 13
--------
Arab World
• Parliament Elects Kurdish Politician Barham Salih President of Iraq
• Has Iraq Descended Into Battleground For Shiite-On-Shiite Civil War?
• World Muslim Communities Council Tells Muslims to Integrate
• Tens of Ankara Forces, Allied Militants Killed, Wounded in Kurdish Attacks in Northern Syria
• Hundreds of Bodies of US Air Raid Victims Found in Mass Graves in Northeastern Syria
• More Terrorists Including Commander Killed in Infighting in Northern Syria
• Terrorists Reinvigorate Positions, Intensify Attacks on Syrian Army in Hama
--------
Europe
• French Police Raid Shiite Islamic Centre in 'Anti-Terror' Probe
• Jihadi 'Islamic State' Ring Spanning 17 Prisons Uncovered and Dismantled in Spain
• Ofcom probes UK-based Saudi-funded TV network for praising Iran attack
• Germany to end anti-Daesh air support next year: report
--------
Pakistan
• 'If You Don't Return…' Pakistan Chief Justice Warns Pervez Musharraf Of Dire Consequences
• S. Arabia Not To Be Made Part Of CPEC
• Pakistan kills seven militants in shootout near Afghan border
• Opposition in NA slams govt 'for accepting IMF conditions'
• 'Pakistan to be fourth most populous nation by 2030'
• Britain to work with Pakistan on its 'priorities'
• Jordanian king, COAS discuss regional security
• Saudi delegation visits Gwadar port, briefed on development projects
• 3 Levies personnel martyred in roadside blast in Balochistan's Awaran
• Tribal leaders ask Imran to provide three percent of NFC award for FATA
--------
Mideast
• Gaza Night Protests Israel's New Headache
• Israel's Planned Demolition of Khan Al-Ahmar Village War Crime: Amnesty International
• France announces asset freeze on Iranian intel service linked to bomb plot
• Saudi Arabia to deposit $200 million in Yemen central bank
• World knows Saudis support terrorists worldwide: Iran at UN
• Israeli soldiers fatally shoot elderly Palestinian farmer in central Gaza Strip
• Turkey will strengthen observation posts in Idlib, Erdogan says
--------
Southeast Asia
• China Mounts Propaganda Campaign To Make Its Muslim Detention Camps Seem Ok, Or Good Even
• Philippine Christians observe Israel-Palestine peace week
• Return of fugitive Indonesian cleric backed by hardliners
• Malaysia maintains position as Islamic finance global leader
• Global community must fight extremism
• Sarawak deputy chief minister seeks to meet non-Muslim leaders over religious issues
• Indonesia quake, tsunami death toll surges to over 1,200
--------
Africa
• Nigeria: Boko Haram Exposes the Cracks in Nigeria's Military Strategy
• OIC offers to help Nigeria end insurgency – Presidency
• US airstrike in Somalia kills 9 al-Shabaab extremists
--------
North America
• Trump: I Told Saudi King He Wouldn't Last Without US Support
• Mattis: Number of US diplomats doubled in Syria as ISIS nears defeat
• US policy on Iran is viewed through Israeli prism: Ex-Pentagon official
• US military presence in PG doesn't match Trump's rhetoric on Iran: Report
• US warns Iran after France alleges bomb plot
Compiled by New Age Islam News Bureau
URL: https://www.newageislam.com/islamic-world-news/upset-police-treating-sons-death/d/116557
--------
Upset over police treating son's death as suicide, Muslim man in UP embraces Hinduism with family
October 3, 2018
Dissatisfied over police treating his son's death as suicide rather than a murder, a Muslim man in Uttar Pradesh's Baghpat has embraced Hinduism along with 12 of his family members with the hope that the religion change might spur police to "properly investigate his son's murder", PTI reported.
Akhtar, a resident of Badarkha village under Chhaprauli police station area, converted to Hinduism Monday along with family members and subsequently submitted an affidavit to the area sub-divisional magistrate, testifying to their voluntary change of religion, officials said.
Confirming the incident, Baghpat District Magistrate Rishirendra Kumar said the family members changed their religion as they were not satisfied with the police probe into the death of Akhtar's son a few months ago.
Yuva Hindu Vahini (Bharat) state chief Shaukendra Khokhar said the family changed their religion amid requisite religious rituals, including a 'hawan'. He said Akhtar was upset after his son Gulhasan was "murdered". "Gulhasan's body, however, was hung to make it appear a suicide," he claimed.
Khokhar claimed Akhtar's family sought help from the members of their own community but they were "not very forthcoming and did not help them much". This prompted Akhtar and his family members to change their religion, he claimed.
Despite repeated assertions by the youth's family that he was murdered, the police concluded it to be a case of suicide, Khokhar said.
The family members wrapped saffron robes around their shoulders and chanted "Jai Shri Ram", he said. They also got their names changed, he said, adding that a 'hawan' and recitation of Hanuman Chalisa too was held at the Badarkha village Tuesday.
The members of Akhtar's family, who switched over to Hinduism include Nafisa, Zakir, Dilshad, Naushad, Irshad, and others, he said.
Baghpat District Magistrate Kumar said some people in Baraut tehsil voluntarily changed their religion and submitted affidavits. "These people were not satisfied with the probe into the death of one of their family members. The matter is being examined in consultation with the superintendent of police," he said.
SP Shailesh Kumar Pandey said he received information about some members of the Muslim community changing their religion. "The matter is being looked into," he said.
https://indianexpress.com/article/india/upset-over-police-treating-sons-death-as-suicide-muslim-man-in-up-embraces-hinduism-with-family-5383444/
--------
Radical Islamic group promoting Hezbollah in Bangladesh
October 3, 2018
Vijaya Laxmi Tripura
Secret activities of Hezbollah, a notorious radical Islamic militancy group have been detected by the investigative team of journalists of Blitz. This group is patronized by Bangladesh Khelafat Andolan (BKA), a radical Islamic party which was founded by an Islamist clergyman named Mohammed Ullah aka Hafezzi Huzur. Following the so-called Islamic revolution in Iran, BKA became an affiliate organization of the Iranian dictator Ayatollah Khomeini. Mohammed Ullah visited Iran at the invitation of Khomeini and this group had been receiving funding from Iran. BKA also has sent hundreds of Bangladeshis to Lebanon to join Palestinian terrorists including mega-terrorist outfit Hamas.
English meaning of Bangladesh Khelafat Andolan is Bangladesh Caliphate Movement. Similarly as ISIS, this group too demands proclamation of Caliphate in the country and denounces democracy. It is surprising as to how such an organization for registered as a political party in Bangladesh and even registration with the Election Commission. Moreover, the US Embassy in Dhaka as well as European missions are in total dark about anti-West, anti-Israel and nefariously antisemitic activities of BKA.
On investigation, it was revealed, Hezbollah has been operating a blog named CIRB-Hezbollah, from Bangladesh. Blitz team discovered a Facebook account of one Kazi Azizul Huq, who the International Affairs Adviser to BKA. Most disturbing fact is a large number of Jewish individuals are also on the friend list of Huq. It is anticipated that the Jews, who are on Kazi Azizul Huq's friend list might now know the real identity of this nefariously anti Israel individual.
On September 29, 2018 at 12:58 PM, Kazi Azizul Huq posted a photograph of Jeremy Corbyn with his comment stating, "A British Voice of Conscience who may help saving Britain.
"British children should be taught about the violent expansionist excesses of British imperialism, according Labour Party leader Jeremy Corbyn."
On the same day at 12:57 PM, Kazi Azizul Huq posted Ayatollah Khameini's statement along with his photograph, It says: "Today, the Iranian nation faces a vast enemy front due to its dedication to Islam, independence and lofty values. The Armed Forces should always be prepared to play their part should the need arise."
-Ayatollah Seyyed Ali Khamenei, Supreme Leader of Iran. September 28, 2016.
Most surprisingly, Huq tagged and shared this post with a number of Jewish individuals. A shrewd agent of Iran and Hezbollah, Kazi Azizul Huq has been fooling hundreds of Jewish individuals and had them as his Facebook friend.
This Facebook page not only promotes Iran, Palestine, Hezbollah, and Turkey's Recep Tayyip Erdogan, it also promotes tons of contents against the Bangladesh government. Extremely objectionable contents against Bangladeshi Prime Minister Sheikh Hasina, members of her family are posted in this Facebook page. Moreover, Kazi Azizul Huq has been consistently promoting former chief justice Surendra Kumar Sinha.
Huq also promotes a fugitive Bangladeshi named Shipan Kumer Basu in his page, as Basu most definitely is planted amongt the Jewish individuals by Hezbollah and enemies of the Jewish State. According to a credible source in India, Shipan Kumer Basu proclaims himself as an 'agent' of Mossad and cheating people in India. He has been living in India since 2016 to avert arrest in Bangladesh.
Kazi Azizul Huq has been vigorously promoting radical Islam, Erdogan, Hezbollah, Hamas and Iran in Bangladesh through his Facebook account, Blogs and Twitter.
When contacted, a senior official in an intelligence agency in Bangladesh told Blitz, Kazi Azizul Huq has been in prison a number of times in the past for his affiliation with several radical Islamic and jihadist groups. It said, Huq was a leader of the student front of Jamaat-e Islami during his student life. "He is basically a Jamaat man who had later turned into a propagandist of radical Islam and antisemitism", the source said.
https://www.weeklyblitz.net/news/radical-islamic-group-promoting-hezbollah-in-bangladesh/
--------
Parliament elects Kurdish politician Barham Salih president of Iraq
2 October 2018
Moderate Kurdish candidate Barham Saleh swept to the post of president of Iraq Tuesday evening in a parliamentary vote pitting Kurdish heavyweights against each other for the first time.
Saleh routed his main rival Fuad Hussein with 219 votes to 22, dealing a blow to Hussein's main backer, former Kurdish regional president Massud Barzani who was the architect of an ill-fated 2017 independence referendum.
Tuesday's poll follows a weekend parliamentary election in the Kurdish autonomous region, mired in economic crisis and still in shock from the fallout of the September 2017 plebiscite which sparked a punishing response from Baghdad.
Newly elected Iraqi President Salih has also named veteran Shiite politician Adel Abdul Mahdi as prime minister-designate and tasked him with forming a new government, two lawmakers told Reuters on Tuesday.
According to Iraq's constitution, Abdul Mahdi now has 30 days to form a cabinet and present it to parliament for approval.
Salih named Abdul Mahdi less than two hours after he himself was elected president.
The largely ceremonial role of president has been reserved for the Kurds since Iraq's first multi-party elections in 2005, two years after the US-led invasion that toppled dictator Saddam Hussein.
Under a tacit accord between the Kurdistan Democratic Party and the Patriotic Union of Kurdistan, the PUK would hold the federal presidency and the KDP the post of Iraqi Kurdistan's president.
But the Iraqi Kurdish presidency has been left vacant since KDP leader Massud Barzani resigned at the end of his mandate following the September 2017 referendum that he championed.
The vote for an Iraqi president was scheduled for Monday before being postponed due to the lack of a quorum.
In a first round of polling Tuesday, neither Saleh nor Hussein won the two-thirds vote necessary to win outright, forcing a second round.
Saleh, a 58-year-old moderate, has served both as Iraqi deputy premier and Kurdish prime minister.
He was part of an interim authority put in place by the United States following the 2003 invasion that ousted Saddam.
He later became deputy prime minister under Nuri al-Maliki then returned to the Kurdish regional capital Arbil in 2009 to become head of the Kurdistan government.
His rival for the post of president was the Hussein, a 72-year-old former chief of staff for Barzani and veteran of the opposition to Saddam.
Iraq's parliament has also chosen a speaker of the house.
https://english.alarabiya.net/en/News/middle-east/2018/10/02/Parliament-elects-Kurdish-politician-Barham-Salih-president-of-Iraq.html
--------
French police raid Shiite Islamic centre in 'anti-terror' probe
2018-10-02
Some 200 police officers raided the headquarters in northern France of a Shiite Islamic association and the homes of its leaders who are suspected of supporting "terrorist organisations", security sources said.
The operation against the little-known Centre Zahra France in Grande-Synthe, a suburb of the port city of Dunkirk, was staged as part of the "prevention of terrorism" procedures, regional authorities said in a statement.
A security source told AFP that 11 people had been arrested, while French authorities also froze the financial assets of the centre headed by Yahia Gouasmi, who is known for his anti-Zionist views and links to Iran.
Police have been closely following the activities of the Centre Zahra "because of the strong support by its leaders for several terrorist organisations and in favour of movements backing ideas that are contrary to the values" of France.
On its website, the association says its purpose since its foundation in 2009 has been "to make known the message of Islam through the eyes of the Prophet and his family".
Grande-Synthe is known as a magnet for migrants seeking to cross the English Channel to Britain, and as a draw for smuggling activity that often thrives where migrants congregate.
It was unclear whether Tuesday's arrests were linked to a suspected plot in France to bomb a gathering of Iranian opposition group the National Council of Resistance of Iran (NCRI) in June.
Police swooped on six people – including an Iranian diplomat – in Belgium, France and Germany after authorities revealed the alleged plot.
France is still on high alert after a wave of jihadist attacks since 2015 from which 246 people have lost their lives.
https://www.france24.com/en/20181002-france-police-shiite-islamic-grande-synthe-terrorism
--------
'If You Don't Return…' Pakistan Chief Justice Warns Pervez Musharraf Of Dire Consequences
Oct 3, 2018
Irked by former dictator Pervez Musharraf's failure to come back to Pakistan and face ongoing cases against him, Chief Justice Saqib Nisar on Tuesday warned that if the "courageous commando" does not appear soon, he may be forced to return in a disgraceful manner.
Chief Justice Nisar made the remarks when Musharraf's lawyer told the three-judge bench that his client "respects the court" but was unable to return due to his medical condition and reservations over the provision of security.
Musharraf, 75, who has been living in Dubai since 2016, is facing the high-profile treason case for suspending the Constitution in 2007. The former military ruler left for Dubai in March 2016 for medical treatment and has not returned since citing security and health reasons.
His lawyer Akhtar Shah told the court that there were no charges against the former president in the Lal Masjid operation case and demanded to know what the case against his client was.
He may not face any charges in the Lal Masjid case, but he is facing a treason case for which he must appear in court, replied Chief Justice Nisar.
If Musharraf returns voluntarily, he may be able to do so respectably otherwise he may be compelled to return under circumstances which are not "graceful", the top judge warned.
Chief Justice Nisar referred to Musharraf's background as an army commando to taunt him for showing cowardice.
"The commando who used to describe himself as a 'courageous commando' should today display that courage," he said.
"Why is the courageous commando not returning?" he asked.
The top judge told the lawyer that already the court had promised foolproof security to Musharraf and also best treatment in the country.
"I told you before that if he returns, he will be provided security," he said.
"I am giving you this assurance. It is the assurance of the highest court in the country," Chief Justice Nisar said. "As long as (Musharraf) is alive, it is his duty to appear before the court," he added.
He further said that it was not acceptable for a citizen to leave the country and not return while a case against them is underway in courts.
The chief justice also promised that the former military ruler would not be arrested upon his return, and that whatever the outcome of the cases, it would be strictly in line with the law.
The court ordered Musharraf's lawyer to submit his medical report within a week and adjourned the hearing until October 11.
Last week, Muhammad Amjad, a leader of the All Pakistan Muslim League (APML) - a political party floated by Musharraf in 2010 -- had said that the former president was "growing weaker rapidly" due to an unspecified illness and, therefore, could not return to Pakistan.
The former army chief has been declared an absconder due to his persistent failure to appear before a special trial court set up to try him in the case.
Last month, Pakistan's Supreme Court assured Musharraf that high-level security will be provided to him if he returns to the country to face the trial in the treason case.
The former president was indicted in March 2014 on treason charges for suspending the Constitution and imposing emergency which led to the confinement of a number of superior court judges in their houses and sacking of over 100 judges.
A conviction for high-profile treason carries the death penalty or life imprisonment.
Musharraf, who ruled Pakistan from 1999 to 2008, has been declared a fugitive in the Benazir Bhutto murder case and the Red Mosque cleric killing case.
https://www.dnaindia.com/world/report-if-you-don-t-return-pakistan-chief-justice-warns-pervez-musharraf-of-dire-consequences-2671031
--------
India
Muslim outfits drawing plan to step up quota demand
Oct 3, 2018
Nagpur: Amid state government's move to hold a special session of the legislature for passing a law on reservation for Marathas, leaders of outfits representing Muslims too are drawing plans to step their demand for a quota to the community.
Following protests by Marathas, chief minister Devendra Fadnavis had announced that a special session would be held by November. At the same time, he had also denied quota for Muslims on religious grounds.
On Sunday, a meeting was convened by the Bharitya Muslim Parishad and Maharasthra Mulsim Aarakshan Andolan (MAA), the outfits which have been spearheading the reservation campaign. Leaders of around a dozen other smaller outfits were invited to draw a strategy.
The meet was attended by representatives of Congress and the All India Majlis-e-Itehadul-Muslimeen (AIMIM), led by Asadudin Owaisi also. Apart from holding major rallies, it has been planned to hold smaller meetings within the community to create awareness about the issue. Holding huge rallies can also attract attention of the authorities. Instead, it has also been decided to keep a low profile but keep the issue alive, said Shakeel Patel, spokesperson of AIMIM in the region.
Javed Pasha of Muslim Parishad said if the government grants reservation to Marathas, the Muslim outfits will move the court seeking quota for the community as well. A state-level meeting of women activists has been planned at Bhadravati in Chandrapur by month end. Similar meetings will be held throughout the state. "We are not against reservations for Marathas but even Muslims should get the quota," he said.
Pasha said a couple of months ago, a rally was organized in Pune to revive the demand on major scale. This may happen in other cities too.
In 2014, the Congress-NCP government had passed a resolution for allowing quota for over 50 castes among Muslims.
It lapsed as a law was not passed and BJP had entirely ignored the issue, he said. Last year, when a Maratha rally was organized in Nagpur, the Muslim outfits made a show of strength by gathering in larger numbers.
https://timesofindia.indiatimes.com/city/nagpur/muslim-outfits-drawing-plan-to-step-up-quota-demand/articleshow/66045775.cms
--------
AIMPLB hails Talaq verdict by Supreme Court, opposes govt ordinance
Oct 3, 2018
All India Muslim Personal Law Board (AIMPLB) members hail Supreme Court verdict of abolishing instant Triple Talaq, but condemned the government's ordinance of declaring Triple Talaq illegal as a whole. They said they were looking at the legalities and were likely to take legal help.
Maulana Md Abu Talib Rahmani, AIMPLB member said that the ordinance, which they alleged 'passed through a backdoor', was contradictory. "It was quite pertinent when the Supreme Court struck down the instant Triple Talaq because even in Shariya or Islamic law, instant Triple Talaq is prohibited, but look at what the Central government has done. They have passed an ordinance which renders Talaq illegal and then separates the couple, sending the man to jail for three years. If Talaq is illegal, why do you separate them?," Rahmani said at a discussion session put up by Islah-E-Muasharah Committee on Tuesday.
He also said that the board was mulling legal action against the ordinance. "We are looking very closely into the possibilities of taking legal steps against the ordinance. We are consulting legal experts and we also believe that members of the Rajya Sabha who had opposed this earlier will support us," he added.
Talking about National Register of Citizens (NRC) implementation he said he supported the move if it was put in action in a fair manner. "It is correct that those who don't belong to this country should not be kept here but it is wrong to kick out people simply because they speak in Bengali. It is very unfortunate and we condemn it strongly," he said.
Full report at:
https://www.dnaindia.com/india/report-aimplb-hails-talaq-verdict-by-supreme-court-opposes-govt-ordinance-2670914
--------
India should use its influence with Myanmar for reconciliation on Rohingya issue: UN secretary-general
Oct 2, 2018
NEW DELHI: Asserting that those involved in violence against the Rohingyas should be held accountable, United Nations General Secretary Antonio Guterres on Tuesday said India can help in the crisis by supporting Bangladesh in humanitarian assistance and using its influence with Myanmar to bring about reconciliation.
He also said that to keep a population in such a "discriminatory situation" is "an invitation for terrorist groups" to exploit the situation.
The top UN official said India "is an absolutely essential component" of a future multi-polar world and that the country can also play a role of an "honest broker" in some of the on-going conflicts in the world.
In response to a question on the adoption of the Comprehensive Convention on International Terrorism (CCIT), proposed by India in 1996, he said the reason for the delay has been due to non-agreement on the definition of terrorism by countries.
After attacks by the Mynamarese security forces, Rohingyas, an ethnic minority in Myanmar that mostly resides in regions bordering Bangladesh, have fled the country.
According to the United Nations Office for Coordination of Humanitarian Affairs, over seven lakh people have fled Myanmar, and majority of them reside in Bangladesh. India has over 40,000 refugees scattered across the country.
"I have never seen a community so discriminated in the world as Rohingyas," Guterres, who arrived here on Monday on his maiden visit to India, said in response to a question on the issue. He was delivering a lecture on 'Global Challenges, Global Solutions' here.
He said the Rohingyas don't have access to health and education and there was deep rooted feeling of racism against them within the Myanmarese society.
Guterres recalled his visit to the country as the High Commissioner for Refugees, during which he said the president of Myanmar asked him to resettle Rohingyas in some other countries.
"To make them refugees is not my role. My role is to solve the problem of refugees. This shows how deeply rooted is the negative perception of the Rohingyas. This was intensified by some hate speech by some monks on social media. There are over one million people in Bangladesh. They were people burnt, raped."
"Even if there was a provocation, the reaction of the armed forces was brutal," he alleged.
Guterres stressed on political reconciliation so that the Rohingyas could go back to their country.
"What can India do? Support Bangladesh in helping these people because there is a huge humanitarian problem. Second, to pressure on Myanmar, the military in Myanmar for reconciliation and create conditions for these people to go back. These people will not go back in present circumstances," he said.
"There should be accountability to those crimes," he said on the treatment meted out to Rohingyas added "to keep a population in such a discriminatory situation is an invitation for terrorist groups" to exploit the situation.
In May, during the visit of external affairs minister Sushma Swaraj to Myanmar, India had offered to help in safe, speedy and sustainable return of Rohingyas. India has also been helping Bangladesh in providing humanitarian assistance to Rohingyas.
Responding to a question on why the CCIT could not be adopted, Guterres said there is no agreement on definition of terrorism and there were several complexities involved in it.
"The problem of definition of terrorism is (due to) several complexities. There are number of things which are complicated to have a common definition of terrorism. We have never managed to have it and we have never managed to have a true convention because of the definition," he said.
Guterres said India has been in the frontline of supporting CCIT and the UN fully supports India in this regard.
To a question on the UN Office of the High Commissioner for Human Rights report on alleged human rights abuses in Kashmir, which was rejected by India, he said the reports are not endorsed by the secretary general.
"I don't discuss reports about human rights commissioner. They have independence. The countries can agree or disagree with the reports. Their reports are not endorsed by the secretary general. The reports are done in a strictly independent way."
He said as a principle, he does not make any comment on reports of both the UN High Commissioner for Human Rights and High Commissioner for Refuges.
Responding to another question on communalism and religious fundamentalism, he said he "does not think India is in the worst situation" at all.
"I have always seen India as a country with extreme diversity. Of course, there are forms of extremism as any other parts of the world. I dont think that is the major problem that you face," he said.
Guterres said poverty and inequality are two major problems faced by the Indian society.
India can also play a role of an "honest broker" in some of the on-going conflicts in the world, he said, adding,"We need people and countries that all sides can respect. India does not have any specific agenda in many of these areas."
Full report at:
https://timesofindia.indiatimes.com/india/india-should-use-its-influence-with-myanmar-for-reconciliation-on-rohingya-issue-un-secretary-general/articleshow/66044634.cms
--------
Terrorist hideout busted in J&K
Oct 2, 2018
JAMMU: Army troops busted a suspected terrorist hideout in Jammu and Kashmir's Doda district on Tuesday and recovered a cache of arms, an official said.
Acting on a tip-off, a search operation was conducted in Kuddhar area of Bhagwah block and recovered arms, ammunition and explosive material, a defence spokesperson said.
The recoveries included two AK rifles, 355 rounds, and three magazines, one UBGL (underbarrel grenade launchers), four Chinese grenades and as many UBGL grenades, the spokesperson added.
https://timesofindia.indiatimes.com/india/terrorist-hideout-busted-in-jk/articleshow/66045534.cms
--------
Madhya Pradesh Town Shows Way To Peace, Harmony
October 3, 2018
Sonkach: About 1,000 people from all walks of life and religions marched in a Madhya Pradesh town on October 2, the 150th birth anniversary of Mahatma Gandhi.
The residents of Sonkach highlighted that peace and harmony are still a reality in India especially when some divisive forces try to inject hatred and revenge in society.
The peace rally was held under the auspices of the National Peace Movement and Rotary International.
As students, teachers, farmers, professionals, business men and religious leaders walked together to the tunes of band and patriotic songs. People lined up on both sides of the roads and showered on them flower petals as a sign of welcome and appreciation.
Religious and community leaders in the rally were garlanded at different places, especially in front of temples and mosques. Prominent among them was Divine Word Bishop Chacko Thottumarickal of Indore.
At some places people welcomed the rallyists with drinking water and sweets. Hoardings were put up at more than 30 locations with the message of peace and harmony.
The whole town wore a festive mood, said one of the organizers. He said the rally declared loudly that Mahatma Gandhi's ideals and principles are still relevant and powerful to unite the people of India.
The rally that started from Gita Bhavan near the bus stand took about an hour to reach Parinay Garden, the venue of a public meeting. People sat through the three-hour meeting. They listened to a dozen speakers who stressed the need for drawing inspiration from Gandhi to resolve world problems and establish a civilization of love.
The speakers also paid tribute to Lal Bahadur Shastri, India's second prime minister who contributed immensely to build a peaceful and prosperous India.
The speakers also highlighted the contribution of Universal Solidarity Movement (USM) in promoting peace and the transformation that is being brought about in the students through Enlightened Leadership training. All speakers lauded USM founder director Father Varghese Alengaden for taking the initiative to start National Peace Movement.
The Sonkach rally was the result of the National Peace Movement and the annual National Peace Conventions organized since 2015.
The USM believes in the dictum, "Light a candle instead cursing the darkness."
One of the goals of the National Peace Convention is to highlight Gandhi's contribution for building peace and his relevance for India and the world today. Hence the convention starts on January 30, Gandhi's death anniversary.
Full report at:
http://mattersindia.com/2018/10/madhya-pradesh-town-shows-way-to-peace-harmony/
--------
South Asia
Bangladesh's Catholic youth need guidance
October 3, 2018
Thousands of young people including Catholics in Bangladesh are searching for deeper meaning beyond friends, family and work. They are not satisfied with the current socioeconomic, political, cultural and religious maneuverings in the country.
The ways of addressing the issues of politics, education, unemployment and development are utterly distressing and discouraging for them. On the one hand, a good number of youth denounce religious fundamentalism, but on the other hand the rise of extremism among young students is alarming.
These days we see a lot of Christian youth organizations and movements, but they are not so active in organizing programs and activities. The vested interests of some group leaders are misleading the young. The overuse of modern technology and electronic devices is eating up a lot of time and talents of our youth. Many are getting involved in irresponsible and unhealthy relationships.
The Christian youth of Bangladesh are facing the negative impacts of a consumerist and materialistic worldview. At times they are misled and exploited by cynical leaders of our Christian society. There is a tendency to lead a meritocratic life among some young people.
As a result, they are not ready to take risks and make bold decisions. At times they are carried away by the ideals of the Muslim-majority youth group, but they hardly accept a sense of religiosity. They take the life of Christian faith quite casually and halfheartedly. That is why the practice of Christian faith and life among many of our young people is not so strong. Many are frustrated and give in to drugs and alcohol.
Young people have a key role in influencing and building the church in Bangladesh. Our Catholic institutions, movements and youth ministries have an important, progressive and peaceful role in forming active Christian leaders. In Bangladesh, often what the church provides is not holistic, and faith and action do not go hand in hand. On one side of the spectrum we encourage young people to build a personal relationship with Jesus, on the other side we encourage them to get involved in justice and action, but we often fail to give them the opportunity to reflect on how their service relates to their values and the Gospel.
We need to work with young people to find their mission in the world through both action and reflection. Pope Francis too tells us that we need to provide formation and education, which teaches critical thinking and encourages the development of moral values. The youth are not attracted to religious commitment due to the micro-family system, easy accessibility of money and the internet.
The Christian youth of today are torn between the values of the Gospel and worldly standards. They are divided in many groups, so the church should take more inter-denominational initiatives and activities
Some initiatives have been taken by the church, but giving youngsters a mere chance of serving food to the hungry, distributing relief materials, cleaning cemeteries, selling candlesticks or attending a youth program, rally, seminar, church event is not enough. The church needs to provide ongoing information and regular opportunities to listen and discern their mission and consider how they are living it through action. Only then can deep transformation take place.
The church must ask what the young are saying because if we are to ever understand how to work with young people in developing their mission in Bangladesh, we must listen.
Pope Francis himself is aware and accepts the fact that "some customs may be beautiful, but they no longer serve as means of communicating the Gospel. We should not be afraid to re-examine them."
The church needs our young to be engaged because they are struggling and many are suffering. Young people are needed in the church. But if we (the clergy and leaders) are called to deeper and more radical action through the Gospel, that can be missed if our church becomes too exclusive to a particular group of young people with particular interests. Pope Francis states: "The excluded are still waiting."
The "see, judge, act" method has had a significant impact on me and many students that I have worked with through the Magis Bangla movement. The exclusive mentality of our religious leaders may not help us in the process.
The young people of Bangladesh are also facing the impacts of the consumerist and materialistic lifestyle of the West. The pope hopes for a better world as a result of the efforts, desire to change and generosity of young people. He wants the youth to listen to the Holy Spirit and make bold choices by listening to Jesus. The Holy Father also can ensure on behalf of the church to listen to their voices, sensitivities and faith along with their doubts and criticism.
We can see and feel that young people are placed at the center of his attention and heart. That is why the Synod of Bishops this month has the theme "Young People, the Faith and Vocational Discernment."
The pope's invitation is clear to the youth. It is to hear the voice of God that resounds in their heart through the breath of the Holy Spirit. That will lead them to a new horizon like Abraham. The hopeful pope makes it clear that in the process of this journey of uncertainty, if they fall, God will extend His hand to pick them up.
https://www.ucanews.com/news/bangladeshs-catholic-youth-need-guidance/83406
--------
Learning centre for Rohingya youngsters to be opened Wednesday
OCTOBER 02, 2018
Dhaka, Oct 2 (UNB) - BRAC, with support from UNHCR, the UN Refugee Agency, will officially inaugurate the first two-storied temporary learning centre (TLC) in Kutupalong camp, aiming to create more space and educational opportunities for Rohingya youngsters to be able to learn.
Refugee Relief and Repatriation Commissioner Mohammad Abul Kalam, Joint Secretary, Development, at the Bangladesh Ministry of Primary and Mass Education Nesar Ahmed, acting Head of Operations and Sub office for UNHCR in Cox's Bazar Bernadette Castel-Hollingsworth, and head of BRAC Humanitarian Crisis Management Programme Mohammed Abdus Salam will attend.
The eye-catching building, painted bright red and yellow, will be able to house up to 240 students studying in two classrooms in three shifts each day - double the number of students who could normally attend a TLC within the physical space.
The design was created by two associate professors at BRAC University's architecture department, using local materials and technology, UNHCR said on Tuesday.
Across all the refugee settlements in Cox's Bazar, there are 540,000 children of school age (aged 3-24 years old) but only 160,552 have spaces in temporary learning centres, leaving a gap of 47% of youngsters aged 3-14 years-old without any access to education, and more than 97% of 15-24 year olds not attending any educational facilities.
Director of BRAC's education programme Dr Safiqul Islam said the two-storied design combats the space crisis in the camps.
"The culturally-sensitive design allows for a more learning enabling environment to ensure higher quality education. It is environment-friendly, and its construction and operation will not cause any further damage to the environment. It is also designed for purpose, and can be modified and relocated at any time".
UNHCR's education officer James Onyango said this is a creative and innovative way to tackle one major problem we face in the camps – inadequate physical space to guarantee access to educational opportunities for youngsters.
Full report at:
http://unb.com.bd/category/Bangladesh/1st-learning-centre-for-rohingya-youngsters-to-be-opened-wednesday/3384
--------
Drone strikes target ISIS-K hideouts in Nangarhar province
Oct 03 2018
A series of airstrikes were carried out on ISIS Khurasan (ISIS-K) hideouts in eastern Nangarhar province of Afghanistan, leaving at least six members of the group dead.
The 201s Silab Corps of the Afghan Military in the East in a statement said in the airstrikes were carried out Wazir Tangi area of Khogyani district by coalition forces.
The statement further added that the airstrikes left at least six ISIS militants dead, including a commander of the group identified as Sher Alam.
The security forces and local residents did not suffer casualties during the airstrikes, the 201st Silab Corps added.
The anti-government armed militant groups including ISIS loyalists have not commented regarding the airstrikes so far.
Nangarhar is among the relatively calm provinces in East of Afghanistan but the Taliban militants and ISIS loyalists have been attempting to expand their foothold and activities in this province.
Full report at:
https://www.khaama.com/drone-strikes-target-isis-k-hideouts-in-nangarhar-province-06079/
--------
Suicide attack targets election campaign in Nangarhar province
Oct 02 2018
A suicide attack targeted a gathering during an election campaign in eastern Nangarhar province of Afghanistan, leaving several people dead or wounded.
The local officials are saying the incident has taken place in the vicinity of Kama district and as a result at least 7 people have been killed and more than 20 others have sustained injuries.
The provincial public health directorate officials are saying that the dead bodies of at least 13 people have been shifted to the hospitals along with 30 others who have sustained injuries.
However, the a provincial council member says at least 14 people have died in the attack and 30 more are wounded.
The incident took place as a parliamentary candidate Nasir Momand had organized an election campaign in the area.
Full report at:
https://www.khaama.com/suicide-attack-targets-election-campaign-in-nangarhar-province-06078/
--------
Maulana Sami propose talks between Afghan Ulemas, Taliban in a secret location
Oct 02 2018
The Jamiat Ulema-e-Islam Sami (JUI-S) Chief Maulana Samiul Haq, also famous as the Father of the Taliban, has proposed talks between the Afghan Ulemas and the Taliban group in a secret location.
According to a statement released by Madrassah Haqqania, a delegation consisting of Afghan Ulemas and High Peace Council representatives, met with Maulana Sami during their visit to Pakistan on Sunday.
"As the Taliban consider you as a teacher, we want your mediation between the Taliban and Afghan government," the statement quoted members of the delegation as telling the JUI-S leader.
Samiul Haq proposed a meeting of the scholars and the Taliban at a secret location without involvement of the Afghan government, Pakistan and the US, according to Daily Times.
"I think the Afghan rulers, former mujahideen leaders and the Taliban must agree on one point that is the withdrawal of the US and NATO forces and to liberate Afghanistan," Samiul Haq told the Afghan scholars, according to the statement.
Full report at:
https://www.khaama.com/maulana-sami-propose-talks-between-afghan-ulemas-taliban-in-a-secret-location-06076/
--------
ASEAN Urges Accountability for Violence in Myanmar's Rakhine
October 03, 2018
Singapore. Southeast Asian foreign ministers urged Myanmar to give a commission of inquiry into the violence in Rakhine State full mandate to hold those who are responsible accountable, Singapore said on Tuesday (02/10).
The ministers, who met informally on the sidelines of the United Nations General Assembly last week, expressed grave concern over the violence, Singaporean Foreign Minister Vivian Balakrishnan told parliament, calling it "man-made humanitarian disaster."
Over the last year, more than 700,000 Rohingya Muslims have fled Buddhist-majority Myanmar to neighboring Bangladesh, according to UN agencies, following a military response to attacks on security posts by Rohingya insurgents.
UN investigators issued a report in late August accusing Myanmar's military of gang rapes and mass killings with "genocidal intent" in Rakhine and called for the country's commander-in-chief and five generals to be prosecuted under international law. Myanmar has denied most of the allegations in the report, blaming Rohingya "terrorists" for most accounts of atrocities.
"We expressed our grave concern with these alleged acts of violence... This is a man-made humanitarian disaster and something which should not be happening in this day and age," Balakrishnan said, referring to the meeting of the 10-member Association of Southeast Asian Nations, which includes Myanmar.
"The foreign ministers urged the Myanmar government that...an independent commission of inquiry...should be given a full mandate to investigate and to hold all those responsible fully accountable."
Myanmar established a commission of inquiry to probe allegations of human rights abuses in Rakhine in July which includes two local and two international members from Japan and the Philippines.
Asean, formed more than half a century ago, has historically struggled with challenges facing the region because it works only by consensus and is reluctant to get involved in any matter deemed to be internal to any of its members.
Its recent joint statements on Rakhine have focused on the importance of the repatriation of displaced persons to Myanmar and reconciliation among communities.
But amid the international condemnation, it appears to be taking a firmer stance on Rakhine.
Balakrishnan said that if left to "fester," the situation in Rakhine could lead to the spread of terrorism which would threaten "Southeast Asia and beyond."
"They [the Myanmar government] do need to do the right thing...for all the vulnerable, defenseless and innocent victims," Balakrishnan said.
Full report at:
https://jakartaglobe.id/international/asean-urges-accountability-violence-myanmars-rakhine/
--------
Blast hits election rally in Afghanistan, kills 13
Oct 2, 2018
A bomb attack has hit an election campaign rally in eastern Afghanistan, killing at least 13 people and wounding many more.
Nangarhar provincial governor's spokesman Ataullah Khogyani said an assailant blew himself up at the rally of parliamentary candidate Abdul Nasir Mohmmand in Nangarhar Province on Tuesday.
He added that at least 13 bodies were taken to hospitals while more than 30 people were injured.
Other officials said the death toll was expected to rise.
Campaigning for the October 20 legislative elections began on Friday, and security officials have warned of the danger of militant attacks during the campaigning season.
The polls were originally set to be held in 2015 following presidential elections the previous year but were repeatedly pushed back due to security fears and logistical problems.
Candidates will contest the 249 seats in the National Assembly for five-year terms. Regional elections will also be held in districts across Afghanistan.
"Elders were speaking at the meeting when there was suddenly a huge blast," said Sayed Humayoun, who was attending the meeting in Kama district, outside the provincial capital, Jalalabad.
"I was knocked unconscious, but when I opened my eyes, there were bodies scattered all around the blast area," he added, saying that he could see dozens of dead and wounded people on the ground.
Sohrab Qaderi, a member of the provincial council, said nearly 250 people were attending the rally. He also put the death toll at 30.
No group immediately claimed responsibility for the attack. Both the Taliban and Daesh terrorist groups are present in Afghanistan.
Full report at:
https://www.presstv.com/Detail/2018/10/02/575829/Afghanistan-election-rally-bomb
--------
Arab World
Has Iraq descended into battleground for Shiite-on-Shiite civil war?
2 October 2018
Following a messy election, Sadrists in Iraq have ripped down portraits of Iran's Supreme Leader Ayatollah Ali Khamenei enhancing prospects of Shiite-on-Shiite civil war, a report in the Economist has revealed.
According to the report, political tensions are turning violent and spilling out of the Green Zone and even though American and Iranian commanders battled in tandem against ISIS, they are now at loggerheads.
Following the general election in May, Iran wants a "Shiite house" comprising more than 200 of the parliament's 329 members drawn from a range of Shiite parties.
The report says that General Suleimani's rival bloc, known as al-Bina ("Reconstruction"), has 109 members and neither side has the majority to choose a president and prime minister.
According to the report, Iran is dangerously flexing its muscle in Basra, which is close to the Iranian border, and Iraqis who see Iran as their chief ally are fuming.
Dearth of pilgrims
On one hand, hoteliers in Iraqi cities hosting Shiite shrines bemoan the recent dearth of Iranian pilgrims while, on the other hand, Iraq's nationalist camp is feverish.
"Iran bara, bara!" ("Out, out, Iran!"), chant supporters of Shiite cleric Muqtada al-Sadr whose bloc won the most seats in the election. Massing for Friday prayers in Baghdad's Sadr City, they castigate pro-Iranian militia leaders, whom they once cheered for repelling ISIS, saying they are worse than Saddam Hussein.
The report says that in the past, Iraq's senior Shiite clergy in Najaf, such as Grand Ayatollah Ali al-Sistani, would have mediated to end crises. But their authority has waned and the non-aligned Kurds have also watched from the sidelines.
"Few influential voices urge compromise. Militiamen and politicians alike predict a return to assassinations and a Shiite-on-Shiite civil war. And after months of merciful calm, the thud of car-bombs can be heard again on highways out of Baghdad," says the report.
https://english.alarabiya.net/en/features/2018/10/02/Has-Iraq-descended-into-battleground-for-Shiite-on-Shiite-civil-war-.html
--------
World Muslim Communities Council Tells Muslims to Integrate
October 2, 2018
While weak politicians in the west encourage extremism that is not the path Islam encourages, this is clear when reading anything from the Abu Dhabi-based World Muslim Communities Council. While in the west we are subject to all forms of extremist views the reality is Islam is a religion of peace and the types of behavior seen in Europe, Australia and the USA would simply not be tolerated in the Middle East.
Muslim minorities around the world have been urged to respect different cultures, embrace positive integration and have a sense of national belonging to the country they have migrated. These will help them to be accepted by majority communities in non-Muslim countries, members of the Abu Dhabi-based World Muslim Communities Council have said.
"Muslims are loving and peaceful people because that's what Islam teaches. Muslim communities in non-Muslim countries should get their fundamental rights and freedoms as religious groups and should be protected from all forms of religious and racial discrimination and hatred," said Dr Ali Rashid Al Nuaimi, chairman of the council's supreme committee. He was speaking during a Press conference to launch the council's executive work plan on Monday.
He said the council is keen on coordinating the efforts of Muslim minority institutions around the world. The council will help enhance the role of such institutions by encouraging Muslim minorities to contribute to the regeneration of their states and correct the stereotypes against Islam. "We want to help bridge the intellectual and cultural gap between the components of human society through lectures and dialogue," he said.
The council will help develop a platform for individuals to share experiences and work together.
Prof. Koutoub Moustapha Sano, a minister in the President's Office of Guinea, who is also a member of the council's higher committee, said: "Muslims should have a sense of national belonging to the nations they have migrated and should accept that it's their home.
"It's very important for people to accept one another and to have one's 'difference' recognised and supported in the public and private spheres for peaceful coexistence."
The World Muslim Communities Council was formed earlier this year following a two-day conference held in Abu Dhabi that was attended by representatives from more than 140 countries.
Full report at:
https://www.livetradingnews.com/world-muslim-communities-council-tells-muslims-to-integrate-108274.html#.W7RSwFQzazc
--------
Tens of Ankara Forces, Allied Militants Killed, Wounded in Kurdish Attacks in Northern Syria
Oct 02, 2018
Hawar news quoted members of the Kurdish People's Protection Units (YPG) as reporting that the Kurdish militias conducted 38 attacks on the Turkish army and its allied militants in Northern Syria in the last 30 days, killing 11 Turkish soldiers and officers and 63 more militants.
It further said that 37 Ankara forces, including 6 soldiers were injured in the attacks.
The Kurds managed to destroy a base, 6 military vehicles and a tank, Hawar news said, adding that the Kurdish militias also seized a large volume of arms and ammunition.
Local sources reported on Wednesday that a large number of civilians started leaving Afrin in Northwestern Aleppo for safer regions after the Turkish army and its allied militants intensified looting people's assets.
The sources said that local residents of Afrin started leaving their regions towards Aleppo city and the regions that were under the control of the Syrian Democratic Forces (SDF), as measures done by the Turkish army and Ankara-backed militants deteriorated security in the region.
Full report at:
http://en.farsnews.com/newstext.aspx?nn=13970710000873
--------
Hundreds of Bodies of US Air Raid Victims Found in Mass Graves in Northeastern Syria
Oct 02, 2018
The Arabic-language website of RT quoted Commander of Raqqa Civil Council Team Yaser al-Khamis as reporting that four mass graves, including 2,800 bodies of civilians, have been unearthed in Raqqa city.
In the meantime, a media activist reported that the bodies of a sum of 50 victims of US airstrikes were unearthed in al-Jamili, Hawar School, al-Amasi, al-Badou and Tejari 2 districts in Raqqa city in the last week.
Local sources in Raqqa reported last week that 9 more bodies of civilians killed in the US-led coalition attacks were found in al-Jamili district in Raqqa city.
Meantime, the Kurdish-language Hawar news quoted an official source in Raqqa civil council team as saying that the corpses of over 2,600 people, mostly women and children, have been unearthed in al-Rashid stadium, the city zoo, al-Qadim great mosque and al-Badou district since the liberation of Raqqa last October who were mostly buried by the ISIL in mass-graves.
Full report at:
http://en.farsnews.com/newstext.aspx?nn=13970710000776
--------
More Terrorists Including Commander Killed in Infighting in Northern Syria
Oct 02, 2018
Mohammad Rahal, a notorious commander of Tahrir al-Sham Hay'at (the Levant Liberation Board or the Al-Nusra Front) was gunned down by unknown attackers in the village of Ma'ardabsah South of the town of Saraqib in Idlib.
In the meantime, a number of gunmen of the al-Turkistani Islamic Party were killed after unidentified raiders opened fire at them in the village of Ashtabraq in Jisr al-Shughour region in Western Idlib.
Meanwhile, unknown raiders attacked a base of Tahria al-Sham in al-Lairamoun in Northern Aleppo, killing four terrorists and seizing their weapons.
On Monday, a number of gunmen were killed or wounded in a fresh round of clashes between the rival terrorist groups of Ahrar al-Sham and Tahrir al-Sham Hay'at in Idlib province.
Tahrir al-Sham and Ahrar al-Sham engaged in a tough battle in Southern Idlib that inflicted heavy casualties on both sides.
In the meantime, terrorists of the National Liberation Front and Tahrir al-Sham exchanged fire in a region between al-Habit and Kafr Ein, imposing several casualties on both warring sides.
Full report at:
http://en.farsnews.com/newstext.aspx?nn=13970710000513
--------
Terrorists Reinvigorate Positions, Intensify Attacks on Syrian Army in Hama
Oct 02, 2018
The Arabic-language website of Sputnik quoted a military source as reporting that Jeish al-Izzah forwarded a number of heavy military vehicles loaded with more equipment and fighters to Northern Hama to boost its positions in al-Latamina, Tal Othman and Wadi al-Jisat.
It further said that the army has been monitoring terrorists' movement in the region, targeting them by artillery fire and destroying three vehicles.
The Arabic Sputnik said that the terrorists conducted missile attacks on residential areas in regions that are under the army's control, including the small towns of Jourin and Foro in Northwestern Hama.
The news agency said that the army's artillery and missile units pounded terrorists' movements and positions in al-Sarmaniyah, al-Ziyarah and al-Mansourah region.
On Sunday, the artillery units, deployed in the village of al-Masasana in Northern Hama, shelled heavily terrorists' movements near the town of Latamina and inflicted heavy casualties on the terrorists, forcing the remaining of them to retreat towards their positions in Latamina.
In the meantime, other artillery units, stationed in the village of Baridij, pounded terrorists' movements West of the small town of al-Jisat, imposing major losses on the terrorists.
Full report at:
http://en.farsnews.com/newstext.aspx?nn=13970710000426
--------
Europe
Jihadi 'Islamic State' Ring Spanning 17 Prisons Uncovered And Dismantled in Spain
By Jason Lemon
10/2/18
A jihadi network claiming to have links to the Islamic State and spanning 17 prisons has been uncovered and dismantled in Spain.
In total, 25 prisoners have been questioned and connected to the organization, which worked in prisons to radicalize inmates. The majority of the suspects are Moroccans or Spanish citizens of Moroccan ancestry, Agence France-Presse reported. One was also Danish, and the remainder were Spanish citizens who had converted to Islam.
"Although the investigation began by focusing on an inmate in a particular prison, to date the illegal activity of the group extended to 17 prisons, which account for 55 percent of jails that house prisoners linked to jihadist terrorism," the European country's Interior Ministry said in a Tuesday statement, according to German broadcaster Deutsche Welle.
The Interior Ministry explained that the group's existence alone was a threat, but it was even more worrying as several radicalized members were set for release. Although the group did not reportedly have a "concrete plan" to launch a specific attack, those connected with the organization had a "belligerent state of mind towards prison staff."
Two of those connected to the jihadi group had been jailed in connection with the 2004 Madrid train bombings, an anti-terrorism source told the AFP. That attack left more than 1,800 people injured and 191 dead, becoming Europe's worst terrorist assault.
Previous research has shown that Europe's prisons are a prime location for jihadi groups to recruit and radicalize. One 2016 study found that more than half of the foreign fighters heading to the Middle East from Europe had previous criminal records, with about 27 percent being radicalized while in detention.
"Jihadism offered redemption for crime while satisfying the personal needs and desires that led them to become involved in it, making the 'jump' from criminality to terrorism smaller than is commonly perceived," said the report, which was published by the International Center for the Study of Radicalization and Political Violence (ICSR) at King's College in London.
The United Nations has also warned that prisons can often become "incubators for terrorism by constituting environments where violent extremism can thrive."
Estimates suggest that some 5,000 European nationals have traveled to Syria, Iraq and other destinations to join jihadi movements. As conflicts in Iraq and Syria wind down, many in Europe are concerned about what will happen when and if these individuals return home.
According to the ICSR report, the problem of radicalization is a "social problem" that is largely due to the existence of "a 'Muslim underclass' in the big European cities," who often reside in "ghettos." Young people in these communities who become disenfranchised from society may seek out alternatives and a sense of purpose with extremist groups.
https://www.newsweek.com/jihadi-islamic-state-ring-spanning-17-prisons-uncovered-dismantled-1149747
--------
Ofcom probes UK-based Saudi-funded TV network for praising Iran attack
Oct 2, 2018
The UK's media regulator Ofcom is investigating a TV channel based in the country with direct links to Saudi Arabia which condoned a recent terrorist attack in Iran that killed 24 people, including children.
"We are assessing this news program as a priority against our broadcasting rules," a spokesperson of Ofcom told the Guardian newspaper on Monday more than two weeks after Iran International aired an interview with the spokesman of a banned terrorist group which hailed the attack on a military parade in the southwestern Iranian city of Ahvaz.
Yacoub Hor al-Tostari, the spokesman of the al-Ahvaziyah terrorist group, appeared in an interview with Iran International praising the attack in Ahvaz.
There were earlier reports indicating that al-Ahvaziyah had claimed the responsibility for the attack in Ahvaz. However, the group later withdrew the claims. Daesh, a Takfiri terrorist group, which has almost been obliterated from its bastions in Iraq and Syria, claimed the responsibility. Iranian officials have taken Daesh directly accountable for the attack although they insist Ahvaziyah was also to blame for its criminal activities in the region.
Iran's ambassador to the UK, Hamid Baeidinejad, said after the attack that his embassy had lodged an official complaint with the British authorities against Iran International, a Farsi TV channel which is based in Chiswick, west London.
The station is believed to be directly supported by the royal Saudi court. The Guardian cited a source close to the Saudi government as saying that Iran International receives as estimated $250m (£192m) from the Saudi royal court each year.
"The money is coming from Saudi Arabia, it is from the royal court," the source told the newspaper on Tuesday.
Saudi Arabia has consistently supported terrorist organizations that have an abundant record of carrying out attacks against civilians in Iran.
Full report at:
https://www.presstv.com/Detail/2018/10/02/575861/UK-Ofcom-Saudi-TV-Ahvaz-terror-attack
--------
Germany to end anti-Daesh air support next year: report
02.10.2018
By Ayhan Simsek
BERLIN
Germany is planning to end its anti-Daesh air support mission next year, local media reported.
Chancellor Angela Merkel's cabinet decided on Tuesday to end participation in anti-Daesh flights in Iraq and Syria by Oct. 31, 2019, German press agency DPA said.
Since 2015, Germany has deployed six Tornado surveillance jets and a tanker aircraft in the region, to support the US-led global coalition fighting the terrorist group Daesh in Iraq and Syria.
Germany's parliament is expected to vote this month on a government proposal on the future of German military deployment in Iraq.
The government has already announced that it is willing to extend the military training mission in Iraq, which was set up in 2015, to train the local forces fighting Daesh.
Full report at:
https://www.aa.com.tr/en/europe/germany-to-end-anti-daesh-air-support-next-year-report/1270998
--------
Pakistan
S. Arabia not to be made part of CPEC
Khaleeq Kiani
October 03, 2018
ISLAMABAD: Pakistan said on Tuesday that Saudi Arabia would not be made part of the $50 billion China-Pakistan Economic Corridor (CPEC) framework and the kingdom's proposed investments would fall under a separate bilateral arrangement.
Speaking at a joint news conference with Infor­mation Minister Fawad Chaudhry, Minister for Planning and Development Khusro Bakhtiar said there was no decision to bring a third country, like Saudi Arabia, under the framework of the CPEC.
He was responding to a question about the possibility of Saudi Arabia becoming part of the Joint Working Groups (JWGs) or Joint Coordination Committee (JCC) on the CPEC between China and Pakistan. He said there could be many offshoots of the CPEC where third countries could be inv­olved in trilateral arr­ange­ment for infrastructure development, like China-Pakistan-Japan, China-Pakistan-Saudi Arabia or China-Pakistan-Germany.
"Saudi Arabia is not to become a collateral strategic partner in the CPEC. This impression is not true," he said, adding that the third country participation in the CPEC was not limited to Saudi Arabia but other countries could also become part of the business and investment ventures arising out of the CPEC. "The framework between China and Pakistan is bilateral and Saudi Arabia is not entering that framework as a third-party investor, rather the base of CPEC will be broadened and its pace will be expedited."
The planning minister expressed ignorance when asked how the cost of Main Railway Line (ML-I) had been reduced by $2bn from $8.2bn to $6.2bn as claimed by Railways Minister Shaikh Rashid Ahmed. "I have noticed this today that Sheikh Rashid is making some efforts [to reduce cost] but not to my knowledge. Nothing has come in front of me to suggest that the cost has come down."
He said it was however for the new government to adopt a new model on the basis of financial viability of the ML-1 on build, own and operate (BOT) model so that its loan repayment did not become a responsibility of the government like the previous government which procured loans and built projects on EPC (engineering, procurement and construction) contracts.
Interestingly, the previous government, during whose tenure Mr Bakhtiar was an MNA, had ann­ounced that the ML-1 would be built on BOT model.
In response to a question, Mr Bakhtiar said the CPEC portfolio currently stood at about $50bn, of which about $6bn was government-to-government loan and remaining in IPP mode mostly in the energy sector. About $29bn worth of projects were currently in progress.
He said the CPEC had far bigger potential than $50bn and would keep expanding with time as new projects come up but the previous government treated and played it like a T20 match instead of a five-day test series and focused mostly on projects which could be completed during its tenure.
The minister blamed the PML-N government for irresponsible governance and questioned where it lost $32bn low oil price bonanza. He said the economic growth of the previous government was based on borrowed money that led to increase the national debt.
He said the PML-N government did not pass on the benefit of low prices to the consumers and external debt amounted to 72pc of the GDP and total public debt went beyond Rs28 trillion. He was reminded that external debt was way below almost 31pc of GDP and he agreed.
Likewise, he said only 70,000 people in the country were direct taxpayers and return filers but when challenged said meant those earning income above Rs200,000 per month. He also claimed that the PTI government has banned all power projects on all imported fuels to shift focus on renewable energy sources and hydropower. When reminded that ban on power projects on imported fuels was imposed in May 2016, he said the project already completed and those in progress would go on but if such projects were planned but not started would not be allowed to take off.
He criticised the PML-N government for what he alleged painting artificial economic growth numbers when the losses of state-owned enterprises (SOEs) increased from Rs500bn in five years to Rs1trn and circular debt of the power sector jumping from Rs583bn in 2013 to Rs1.2trn now.
He said that previous two governments had mismanaged the country's economy to the extent that the present government has to set the direction in every field. He said the PML-N government is taking up the issue of slash in development spending but did not disclose truth to the nation that it is befooling the masses by stating higher allocation whereas actual utilisation was 34pc lower. He said total development spending was Rs661bn last year against an allocation of Rs1trn in the budget.
"They had neither resources nor the will to increase the spending but were showing higher allocation to befool the nation," he added. The previous government also included 343 unapproved schemes of Rs55bn in development schemes of the last budget which have been excluded from the budget.
https://www.dawn.com/news/1436506/s-arabia-not-to-be-made-part-of-cpec
--------
Pakistan kills seven militants in shootout near Afghan border
Oct 2, 2018
ISLAMABAD: Pakistani security forces killed seven militants in a firefight after insurgents crossed the Afghan border into Pakistan's restive tribal region, the military said on Tuesday.
Officials said the clashes erupted late Monday when militants attacked a Pakistani border post in North Waziristan tribal district.
"During (the) exchange of fire seven terrorists (were) killed while three (were) injured," the military said in a statement.
Violence in Pakistan has declined dramatically in recent years following a series of military operations along the northwestern border with Afghanistan, but militant groups are still able to carry out deadly attacks.
Pakistan's army launched a massive operation in 2014 to wipe out militant bases in North Waziristan and end the near decadelong insurgency that has cost thousands of lives.
The operation intensified after the Taliban massacred more than 150 people, the majority of them children, at a school in the northwestern city of Peshawar in December 2014.
In 2016, the Pakistani army claimed to have cleared the last militant stronghold in the country's northwest after a three-month long operation.
But analysts have long warned that Pakistan is not tackling the root causes of extremism, and that militants retain the ability to carry out spectacular attacks.
Full report at:
https://timesofindia.indiatimes.com/world/pakistan/pakistan-kills-seven-militants-in-shootout-near-afghan-border/articleshow/66043316.cms
--------
Opposition in NA slams govt 'for accepting IMF conditions'
Syed Irfan Raza
October 03, 2018
ISLAMABAD: The opposition in the National Assembly on Tuesday lashed out at the Pakistan Tehreek-i-Insaf (PTI) for allegedly accepting International Monetary Fund's (IMF) conditions for increasing gas, electricity and petrol prices.
The opposition rejected the 'mini-budget' presented by the government recently and claimed that marginalised classes had already been put under extra burden of taxes and inflation.
"Increase in the prices of gas... shows that the government has already accepted the IMF conditions," said former foreign minister Hina Rabbani Khar while speaking on the 'mini-budget'.
She said the government, during its first 40 days, had made the life of the poor more miserable than ever and had given benefits to the elite in the mini-budget.
Ms Khar said Prime Minister Imran Khan had promised to create 10 million jobs but soon after his party came to power, services of employees of state-owned organisations like the Utility Stores, National Highway Authority and Radio Pakistan were being terminated.
Responding to the opposition's allegations, Defence Minister Pervez Khattak said not a single government employee was being removed from service. "Members on the opposition benches are lying as nothing is being done against the poor and suppressed class of society," he added.
"No one is being removed from Radio Pakistan, NHA and Utility Stores. Similarly, the Khyber Pakhtunkhwa government is not removing any teacher in the information technology sector," he said.
In response to an allegation that the outgoing KP government had awarded many contracts to former PTI secretary general Jahangir Tarin, Mr Khattak, who has served as KP chief minister for five years, said not a single contract was given to Mr Tarin during his government in the province.
The defence minister said the previous KP government had brought reforms in police, education and health sectors in the province.
Mr Khattak agreed that a close relative of Prime Minister Imran Khan had been appointed as member of the board of governors of a state-run hospital.
"He is a world renowned Pakistani doctor based in the US. He does not receive salary and travels on his own expenses to attend meetings of the board," the minister added.
He said the PTI came to power because of its performance and service of the people, while the Pakistan Muslim League-Nawaz was rejected in the recent general elections.
"You (PML-N) will face worse defeat in the next polls," he maintained.
Mr Khattak spoke in response to a fiery speech delivered by Ibadullah Khan of the PML-N.
Minister of State for Communica­tions Murad Saeed rejected the opposition's allegations and levelled counter-allegations on opposition parties, especially the PML-N.
Rao Ajmal of the PML-N said the government had offered nothing to the farmers in the mini-budget. "Nawaz Sharif had fixed Rs5 per unit electricity tariff for the agriculture sector to support farmers, but this government has increased it to Rs8.3 per unit," he said.
He said the agriculture sector required 10 million bags of urea, but the government had allowed import of only 100,000 bags. He feared a huge reduction in wheat production due to shortage of urea.
Abdul Shakoor Shad of the PTI, who had defeated Pakistan Peoples Party chairman Bilawal Bhutto-Zardari in the July 25 election in PPP's stronghold Lyari, said the Sindh government had given nothing to his area where poor people had no basic facilities like water, electricity and gas and sanitation.
Full report at:
https://www.dawn.com/news/1436516/opposition-in-na-slams-govt-for-accepting-imf-conditions
--------
'Pakistan to be fourth most populous nation by 2030'
October 03, 2018
KARACHI: Due to poor effort by authorities in the field of family planning, Pakistan is bound to face greater challenges by 2030 when it would be the fourth most populous nation of the world, experts said on Monday.
"Pakistan is the sixth most populous country in the world. If it continues to grow with the same pace, it will be ranked fourth by 2030," said an expert while speaking at a panel discussion regarding family planning in the country organised by the Dow University of Health Sciences.
Take a look: Climate woes and population
Experts said the country lacked proper family planning, and the government's measures were not headed in the right direction.
Dr Talib Lashari of Sindh government's Costed Implementation Plan (CIP), gynaecologist Dr Shershah Syed, Dr Noreen Lalani, Dr Minhaj Qidwai, Prof Lubna Baig, Dr Ashfaq Shah, and Dr Nighat Shah spoke at the event.
Experts said ineffective measures resulted in a decrease in family planning to 34 per cent from 35pc last year.
The participants of the panel discussion stressed on the need for women's education, adding that due to lack of awareness 35pc of women expired during pregnancy.
They said child death rate is 10pc, which was much higher than that of neighbouring countries. Some 9pc people adopted traditional methods for family planning.
Experts said without proper education of family planning, it was impossible to meet the ambitious targets set out by authorities. They highlighted the issue of early marriages and 80pc rate of teenage pregnancy which was one key factor behind growing population.
Experts added that the absence of women in decision making was one of the key reasons behind poor family planning.
Often, many people did not even bother to plan their families while in developing countries desire to have a male child was yet another cause of overpopulation.
Besides, low-quality services and unavailability of stock of contraceptives led to poor family planning.
Experts said incorrect perceptions and unfounded worries regarding family planning might be significant barriers in controlling the growing population.
They added that due to the population increase, 54pc of infants were born premature who suffered from various health issues afterwards.
However, 75pc of population was aware of family planning among which 50pc were females but no practical implementation on better family planning was properly observed.
"This growth in population results in increased poverty and causes higher mortality rates of mothers and infants than in neighbouring countries. Besides, this also creates hurdles in educational grounds as is evident from the fact that 25 million children are unable to go to school," said a panellist.
Discussants said as growing population created problems in education and health sectors, it also harmed the country on social grounds.
To achieve targets of family planning, there should be regular workshops and seminars for female students of medical colleges, they said. It would also benefit students of other colleges as well as in this way students would get to know the importance, benefit and advantage of it.
Full report at:
https://www.dawn.com/news/1436426/pakistan-to-be-fourth-most-populous-nation-by-2030
--------
Britain to work with Pakistan on its 'priorities'
Sajid Iqbal
October 03, 2018
LONDON: British Home Secre­tary Sajid Javid has said he is looking forward to working with Pakis­tani authorities on their priorities.
He was responding to a journalist's question about the possible handing over of Muttahida Qaumi Movement-London chief Altaf Huss­ain and sons of former prime mini­ster Nawaz Sharif, who, accor­ding to the questioner, are wanted in their country and living in the UK.
"I had an excellent visit to Pakistan. It was really a good opportunity to strengthen our ties together. Britain has fantastic relations with Pakistan. With a new government there, we are looking forward to working with them (on all issues) including on their priorities. That is exactly what we are doing. We are working very hard on this," Mr Javid said.
He said Brexit would provide the two countries a chance to streng­then their ties. "After Brexit we are going to be working with Pakis­tan like so many other countries. Britain is going to remain a globally outward-looking country, our friendly relations with Pakistan are going to be even stronger, in terms of trade, in terms of people, in so many ways," he said.
In his speech to the party conference, he dwelt on his Pakistani heritage and narrated the story of his father's arrival in Britain. "Let me tell you about another story. A story that started in the 1960s. Abdul-Ghani Javid left Pakistan and landed in Heathrow. He spent what little he had on a coach ticket…had his first night here in Birmingham, then continued up north to Lancashire to find work in a cotton mill.
"After standing outside the mill for weeks, he got that first job, and started a family. Eventually, there were seven of us living in a two-bedroom flat…on what the papers called 'Britain's most dangerous street'.
"That's my story. And if you'd have told me back then what I'd be doing now…I'd have told you that it was less believable than any TV drama," he said.
Full report at:
https://www.dawn.com/news/1436478/britain-to-work-with-pakistan-on-its-priorities
--------
Jordanian king, COAS discuss regional security
October 03, 2018
ISLAMABAD: Chief of the Army Staff (COAS) General Qamar Javed Bajwa on Tuesday called on Jordanian King Abdullah Ibn Al Hussein and discussed with the latter regional security situation and bilateral cooperation.
According to the Inter-Services Public Relations, King Abdullah II expressed desire to enhance cooperation between the two countries in multiple fields, including security, defence production and education.
The COAS assured King Abdullah II that Pakistan had highest regard for Jordan and would welcome any positive initiatives. The king awarded the medal 'Order of the Military Merit' to Gen Bajwa in recognition of his services for improving defence and security relations between the two countries.
Earlier, soon after arriving in Jordan on a three-day visit, Gen Bajwa met Lt Gen Mahmoud Abdul Haleem Farihat, chairman of the joint chiefs of staff of Jor­danian armed forces, and offered cooperation in areas of training and joint exercises.
https://www.dawn.com/news/1436517/jordanian-king-coas-discuss-regional-security
--------
Saudi delegation visits Gwadar port, briefed on development projects
Ismail Sasoli
October 02, 2018
A six-member Saudi delegation on Tuesday visited Gwadar, where it was briefed on different developmental activities and projects being executed under the China-Pakistan Economic Corridor (CPEC), officials said.
Led by Ahmad Hameed Al-Ghamdi, adviser of Saudi Arabia's Ministry of Energy, Industry and Mineral Resources, the delegation visited different departments of Gwadar port and the port's free zone.
During their visits, the Saudi team was given a briefing on CPEC projects linked to Gwadar port and projects being implemented by the Gwadar Development Authority.
They were also apprised of the facilities and security arrangements extended to investors by the Government of Pakistan, officials at the port told DawnNewsTV.
Also read: Senate questions CPEC partnership offer to Saudi Arabia
The Saudi team showed interest in investing in Gwadar and expressed satisfaction over the facilities and security situation in the area.
During the visit, Al-Ghamdi was quoted as saying that there are historical, religious and brotherly relations between Saudi Arabia and Pakistan.
"Saudi Arabia stood with Pakistan in difficult times in the past and will do so in the future as well," the Saudi official told his Pakistani counterparts.
He added that the Saudi government is keen about contributing to the development process in Pakistan.
The Saudi delegation is in Pakistan on a four-day visit. At the conclusion of its visit, Islamabad and Riyadh are expected to sign four memoranda of understanding (MoUs) for oil and mineral sector investment and trade cooperation that would ultimately extend the Chinese Belt and Road Initiative (BRI) from Gwadar to Africa through Oman and Riyadh.
Full report at:
https://www.dawn.com/news/1436385/saudi-delegation-visits-gwadar-port-briefed-on-development-projects
--------
3 Levies personnel martyred in roadside blast in Balochistan's Awaran
October 02, 2018
At least three Levies personnel were martyred when a roadside bomb hit a security convoy in Balochistan's Awaran district on Tuesday.
Eight members of the paramilitary force were also wounded in the explosion, according to Ahmed Jan, a senior Levies official.
Jan said the bomb was remotely detonated. No one immediately claimed responsibility for the attack.
The Balochistan Levies is a force in charge of maintaining law and order in the tribal areas of the province.
The incident comes weeks after armed men opened fire at security officials in Balochistan's Killa Saifullah district, leaving two Levies personnel martyred and another injured.
Full report at:
https://www.dawn.com/news/1436380/3-levies-personnel-martyred-in-roadside-blast-in-balochistans-awaran
--------
Tribal leaders ask Imran to provide three percent of NFC award for FATA
October 3, 2018
ISLAMABAD: Tribal leaders on Tuesday asked Prime Minister Imran Khan to provide three per cent of the National Finance Commission Award (NFC) for Federally Administered Tribal Areas (FATA) as soon as possible.
This demand was presented before the PM by a delegation of parliamentarians from the FATA region led by Muneer Khan Orakzai in a meeting in Islamabad. Governor Khyber Pakhtunkhwa Shah Farman was also present on this occasion.
Imran assured them to soon give them three per cent of share from the NFC after devising a mechanism of providing this allocation a constitutional protection.
The parliamentarians asked him to form a policy for the residents of FATA regarding possession of weapons. This should be noted that the previous government had approved the amendment in the policy of commercial import of weapons.
They also asked the premier to increase the number of members of provincial assemblies in FATA areas from 16 to 24.
Imran said development in tribal areas was the top priority of the government and the government was striving to complete the merger process without any further delay.
He said the tribal people had faced many difficulties and concerned officers should set their direction to play their due role in solving such problems.
The prime minister said tribal people had the right on the minerals and these should be spent on the construction and development of the area.
Full report at:
https://www.pakistantoday.com.pk/2018/10/03/tribal-leaders-ask-imran-to-provide-three-percent-of-nfc-award-for-fata/
--------
Mideast
Gaza night protests Israel's new headache
October 03, 2018
GAZA: It's nearly 10 p.m. when young Palestinian men begin banging drums and chanting songs, while others attach incendiary devices to balloons — all closely watched by Israeli snipers on the border.
For six months, Palestinians have gathered regularly along the fence between the Gaza Strip and Israel for often violent daylight demonstrations against Israeli policies.
But in recent weeks they have deployed a new tactic: "Night confusion units."
Protests can go on until the early hours.
Organizers say they aim to force the Jewish state to ease its crippling decade-long blockade of Gaza, but residents in nearby Israeli communities say their lives are being destroyed.
An Israeli military official, who did not want to be named, said the night protests do not pose a new challenge. "Our soldiers, including our snipers, have night vision equipment," he said.
"There are a few dozen, sometimes a few hundred demonstrators (at night)... they burn tires, throw incendiary bottles and sometimes grenades and do not represent a more important threat than the daytime demonstrations."
One recent night, AFP watched as several hundred protesters gathered a few dozen meters from Israeli soldiers — separated by the fence — near Rafah in southern Gaza.
In a tent slightly further into the strip, young men inflated dozens of white balloons inscribed with "I love you." They then attached flaming devices to the balloons, and launched them toward Israeli territory. Others hurled primitively built sound grenades; the booms resonated across the border.
"We will not stop launching incendiary balloons until we break the siege on Gaza," said Abu Anas, one of the orchestrators of the night's activities.
Anas insisted the movement was independent of Hamas.
Saqer Al-Jamal, 22, said he and fellow protesters believe Israeli soldiers fear their actions.
"The goal is to confuse the occupation and send our message to the settlers nearby that there is no sleep until we achieve our demands of lifting the siege and returning to our country," he said.
Rony Kissin, spokeswoman for the Israeli community of Kerem Shalom located next to the Gaza border, called the night protests a "nightmare."
"Now they've started to throw sound bombs and it's very, very scary," Kissin said.
"The children are very afraid of it. It's very dangerous. It is really like a weapon."
http://www.arabnews.com/node/1381626/middle-east
--------
Israel's planned demolition of Khan al-Ahmar village war crime: Amnesty International
Oct 2, 2018
Amnesty International has censured Israel's plans to demolish a Bedouin village in the occupied West Bank and forcibly transfer its residents as the Tel Aviv regime presses ahead with its land expropriation policies in the occupied territories irrespective of great international outcry.
"After nearly a decade of trying to fight the injustice of this demolition, the residents of Khan al-Ahmar now approach the devastating day when they will see their home of generations torn down before their eyes," Saleh Higazi, Deputy Director for the Middle East and North Africa at Amnesty International, said.
He added, "This act is not only heartless and discriminatory; it is illegal. The forcible transfer of the Khan al-Ahmar community amounts to a war crime. Israel must end its policy of destroying Palestinians' homes and livelihoods to make way for settlements."
Some 180 residents of Khan-al Ahmar village face being forcibly evicted and transferred by the Israeli army.
Israeli authorities have reportedly offered the villagers a choice of two possible destinations: a site near the former Jerusalem al-Quds municipal garbage dump, near the village of Abu Dis, or a site in the vicinity of a sewage plant close to the city of Ariha (Jericho).
Israel's Supreme Court has twice ruled in favor of demolishing the entire village of Khan al-Ahmar, first on May 24 and again on September 5 this year.
The demolition order includes the village's school, which is constructed from rubber tires and provides education for some 170 children from five different Bedouin communities.
Israeli officials allege that Palestinian structures there have been built without the relevant building permits and pose a threat to residents because of their proximity to a highway.
Critics, on the other hand, maintain that building permits are nearly impossible to obtain for Palestinians in Israeli-controlled areas of the West Bank and the demolition is meant to clear the way for new settlements.
The Ramallah-based Palestinian Authority has submitted a new complaint over the Israeli "war crime" against Khan al-Ahmar village at the International Criminal Court (ICC).
Saeb Erekat, Secretary General of the Palestine Liberation Organization (PLO), said on September 11 that the dossier "included a focus on the war crimes facing Khan al-Ahmar, specifically the crimes of forcible displacement, ethnic cleansing and the destruction of civilian property."
He added that the PLO had also asked ICC Prosecutor Fatou Bensouda to expedite a preliminary probe into other Israeli war crimes.
Full report at:
https://www.presstv.com/Detail/2018/10/02/575834/Israels-planned-demolition-of-Khan-alAhmar-village-war-crime-Amnesty-International
--------
France announces asset freeze on Iranian intel service linked to bomb plot
2 October 2018
France announced Tuesday that it had frozen assets belonging to two Iranian men and Iran's ministry of security and intelligence.
The decree announcing the asset freezes, published in the government gazette, identified one of the men as Assadollah Asadi, the same name as an Iranian diplomat who has been arrested over an alleged plot to bomb an Iranian opposition group in France in June.
Searches took place Tuesday morning at the headquarters of a Muslim Shiite associatio, named Zahra Center, in Grande-Synthe (northern France) and the homes of 12 of its leaders in the context of a "prevention of terrorism" operation.
Three people were taken into custody during this operation, including illegal possession of firearms, according to a source close to the case cited by Agence France-Presse.
Eleven people were detained by the police and the funds of the intelligence service were frozen for a period of six months.
Some 200 police officers participated in these searches carried out in the premises of the Zahra Center, located in the suburbs of Dunkerque.
On its website, the association aims to "make known the message of Islam through the eyes of the Prophet and his family." It organizes conferences, prayer gatherings and broadcasts many messages, including videos.
Full report at:
https://english.alarabiya.net/en/News/middle-east/2018/10/02/France-announces-asset-freeze-on-Iranian-intelligence-service.html
--------
Saudi Arabia to deposit $200 million in Yemen central bank
2 October 2018
Saudi King Salman bin Abdulaziz Al Saud instructed that $200 million be deposited in Yemen's central bank account as financial support.
This comes in continuation of the Kingdom's support for the Yemeni people and its interest in achieving economic stability in Yemen and strengthening the country's currency value.
This will contribute to reducing the economic burden on the Yemeni people, and it is the latest addition to the previous $3 billion in Saudi deposits at the Central Bank of Yemen, reported the Saudi Press Agency.
https://english.alarabiya.net/en/News/gulf/2018/10/02/Yemeni-army-confirms-death-of-Houthi-leader-40-fighters.html
--------
World knows Saudis support terrorists worldwide: Iran at UN
Oct 2, 2018 08
Iran has hit out at Saudi Arabia for its false terror support accusations against Tehran, saying it is no secret to the world that the Riyadh regime, itself, backs terror groups worldwide as ex-US secretary of state, Hillary Clinton, once confirmed in a leaked memo.
Abbas Golroo, Iran's representative to the United Nations General Assembly, delivered a speech to the Assembly in condemnation of Saudi Foreign Minister Adel al-Jubeir, who recently took the podium at the same body to level a fresh set of allegations against the Islamic Republic.
Jubeir spoke of what he called Iran's "terrorist activities and aggressive behavior" and claimed that achieving peace in the Middle East required "deterring Iran's expansionist and destructive policies."
Golroo dismissed the Saudi minister's claims as "strange and outlandish."
"Everyone knows that the one responsible for terrorist attacks in the Middle East, North Africa and Europe is the kingdom of Saudi Arabia. We are all aware that they are the main supporters of Daesh and al-Qaeda," he stated.
The senior Iranian diplomat further reminded the Saudi regime of WikiLeaks' release in 2009 of a memo which Clinton had compiled, saying the then American secretary of state "is said to have stated that Saudi Arabia is the greatest donor to terrorist groups around the world."
Additionally, he cited the Justice Against Sponsors of Terrorism Act (JASTA), a law that allows US citizens to sue Saudis in American courts for the country's involvement in the September 11, 2001 terrorist attacks.
Golroo pointed to Iran's assistance to regional nations in their fight against terror groups, saying the Islamic Republic's counter-terrorism efforts are well known to the world.
The official further highlighted Riyadh's backing for Washington's pressure campaign against Iran, saying such hostile policies are "nothing new." The kingdom, he said, moves to destabilize the region by pumping petrodollars and propping up the terrorists whenever it sees its interests at stake.
History, Golroo added, remembers Saudi Arabia's hostility towards regional nations and governments, including its support for former Iraqi dictator Saddam Hussein's carnage of Iranian people during the eight-year war on Iran in 1980s.
The Iranian diplomat also referred to the crimes the Saudi regime – along with a coalition of its allies – has been perpetrating against the Yemeni nation, showing the Assembly photos of the Yemeni children, who were killed in one of the Saudi military's air raids that hit a school bus back in September.
"Everyone knows very well. It is an open secret that the Yemeni nation, this noble and oppressed nation, is suffering as a result of the direct machinations and maneuvers of Saudi Arabia," he added.
"The minister of foreign affairs of Saudi Arabia is accusing my country of destabilizing the region as if the kingdom of Saudi Arabia was a strong proponent of stability. May I ask whether the destruction of Yemen, the murder of women and children of Yemeni civilians is lending something to stability?" he exclaimed.
"You say that you're defending the Arab identity," the Iranian representative said, addressing the Saudis. "Should Arab identity be used as a cause or pretext to carry out proxy wars…You're not defending the Arab identity. You're killing the Arab identity with your dollars. You have no pity for anyone in the Arab World. You have no pity for any Arab people, including those, who are supposedly you allies."
Golroo also rejected Saudi claims that Yemen's popular Houthi Ansarullah movement is defending the country with Iran-made ballistic missiles, saying it would have been impossible to deliver such hardware to Yemeni forces due to Saudi Arabia's all-out blockade of the Arabian Peninsula state.
Full report at:
https://www.presstv.com/Detail/2018/10/02/575805/Iran-Saudi-Arabia-terrorism
--------
Israeli soldiers fatally shoot elderly Palestinian farmer in central Gaza Strip
Oct 2, 2018
Israeli military forces have shot and killed an elderly Palestinian farmer in the central part of the Gaza Strip as anti-occupation rallies continue unabated along the border between the besieged coastal enclave and Israeli-occupied territories.
Gazan Health Ministry spokesperson Ashraf al-Qidra said the 78-year-old Palestinian, identified as Ibrahim al-Arrouqi, was transported to Al-Aqsa Martyrs Hospital in Deir al-Balah, located over 14 kilometers (8.7 miles) south of Gaza City, where he succumbed to his grave injuries.
Palestinian sources, requesting anonymity, said the elderly man had been shot in the back, while working in his land east of Maghazi refugee camp.
More than 195 Palestinians have been killed by Israeli forces ever since anti-occupation protest rallies began in the Gaza Strip on March 30. Approximately 21,000 Palestinians have also sustained injuries.
The Gaza clashes reached their peak on May 14, on the eve of the 70th anniversary of Nakba Day (Day of Catastrophe), which coincided this year with the US embassy relocation from Tel Aviv to occupied East Jerusalem al-Quds.
On June 13, the United Nations General Assembly adopted a resolution, sponsored by Turkey and Algeria, condemning Israel for Palestinian civilian deaths in the Gaza Strip.
The resolution, which had been put forward on behalf of Arab and Muslim countries, garnered a strong majority of 120 votes in the 193-member assembly, with 8 votes against and 45 abstentions.
The resolution called on UN Secretary General Antonio Guterres to make proposals within 60 days "on ways and means for ensuring the safety, protection, and well-being of the Palestinian civilian population under Israeli occupation," including "recommendations regarding an international protection mechanism."
Full report at:
https://www.presstv.com/Detail/2018/10/02/575868/Israeli-soldiers-fatally-shoot-elderly-Palestinian-farmer-in-central-Gaza-Strip
--------
Turkey will strengthen observation posts in Idlib, Erdogan says
October 03, 2018
ANKARA: Turkey will strengthen its observation points in Syria's northwest and work with Russia against radical groups, President Tayyip Erdogan said on Tuesday.
Speaking to members of his AK Party in Parliament, Erdogan also said that Turkey will hold a summit with Russia, Germany and France in October or November to discuss Syria, adding that Turkey will continue to seek a solution with the Syrian people, not the Russian-backed Syrian regime.
Meanwhile, the Syrian foreign minister said in remarks broadcast Tuesday that the Iranian ballistic missiles attack on militants in eastern Syria the previous day was part of "legitimate" cooperation between the two countries to combat terrorism.
Walid Al-Moallem's comments came during a wide-ranging interview with the Beirut-based Al-Mayadeen TV.
Iran's Revolutionary Guard launched six ballistic missiles as well as drone bombers into eastern Syria's Deir Ezzor province on Monday, targeting Daesh militants it blamed for an attack on a military parade in Iran last month.
The strikes were the second time Iran had used cross-border missiles inside Syria.
Last year, Iran also struck militant positions in Deir Ezzor's town of Mayadeen and following another attack, in Tehran, that was blamed on Daesh.
But Monday's strikes come after Syrian regime forces and allied Iranian-backed militias gained control of the strategic border town of Boukamal late last year, likely improving Iran's intelligence and capabilities in the area.
The strikes were also seen as threat to Iran's regional adversaries at a time when Tehran's nuclear deal with world powers unravels.
"The Iranian missiles are in the framework of combatting terrorism," said Al-Moallem.
The Syrian regime and its allies, as well as the US-led coalition are separately battling Daesh, which still controls a sliver of land along Syria's border with Iraq.
The Britain-based Syrian Observatory for Human Rights, which monitors the war in Syria, said the strikes killed eight people in Hajin, a town still controlled by Daesh. It was not clear if all the killed were militants, the Observatory said, adding that one of the missiles hit a house that had been seized by Daesh.
The US military's Central Command acknowledged that Iranian forces conducted "no-notice strikes" in the area Monday and said it was assessing the damage. The coalition said no coalition forces were in danger.
Separately, Iran has struck a deal with Damascus to build a 400 million euro ($460 million) power plant in Syria's coastal city of Latakia, a potentially lucrative deal for Tehran to deepen its economic role after years of fighting in the Syrian conflict. Shunned by Western powers, the Syrian regime is looking to states such as Iran, Russia and China to play a major role in rebuilding the country, as the war heads toward its seventh year.
Iran has provided critical military support to the Syrian regime, helping it regain control of swathes of the country. Iran experts say Tehran is now looking to reap a financial dividend.
Iran's Minister of Energy Reza Ardakanian was quoted as saying by the semi-official ISNA news agency that a memorandum of understanding was signed on Tuesday.
The project is to be launched next year, IRNA reported.
"Iranian private firms are keen to participate in energy projects in Syria and reconstruct its electricity grid," Ardakanian was quoted as saying by IRIB news.
In 2017, Iran and Syria signed an agreement to repair Syria's power grid. The agreement involved restoring the main control center for Syria's electricity grid in the capital Damascus.
Ardakanian said he was hopeful that a second credit line would be launched between the two countries.
Full report at:
http://www.arabnews.com/node/1381636/middle-east
--------
Southeast Asia
China mounts propaganda campaign to make its Muslim detention camps seem ok, or good even
October 3, 2018
BEIJING/GENEVA (Reuters) - China is mounting an increasingly sophisticated counterattack to criticism of its policies in the restive, heavily Muslim region of Xinjiang, courting foreign media and running opinion pieces abroad as it seeks to spin a more positive message.
Beijing has faced an outcry from activists, scholars, foreign governments and U.N. rights experts over mass detentions and strict surveillance of the mostly Muslim Uighur minority and other Muslim groups who call Xinjiang home.
The United States is even looking at sanctions on senior Chinese officials and companies linked to allegations of human rights abuses there, which would further ratchet up tension amid their blistering trade war.
China says Xinjiang faces a serious threat from Islamist militants and separatists and has rejected all accusations of mistreatment in an area where hundreds have been killed in recent years in unrest between Uighurs and members of the ethnic Han Chinese majority.
Officials say they are putting some people through "vocational" style courses to rein in extremism, and have denounced hostile foreign forces for sowing misinformation.
In an opinion piece last week in the Jakarta Post entitled "Xinjiang, what a wonderful place," China's ambassador to Indonesia, Xiao Qian, wrote that religious rights were respected and protected there and attacks were "anti-religion in nature".
He added, "But regrettably, a few institutions and people from the West pursue double standards, deliberately distorting the facts, speculating on the so-called 're-education camps' and misrepresenting (the) Chinese government's efforts to prevent religious extremism and promote deradicalisation."
China's ambassador to Britain, Liu Xiaoming, has also written to the Financial Times and the Economist to defend its policy on Xinjiang.
Privately, however, China has not been so willing to discuss Xinjiang with foreign diplomats, say two diplomats who have attended meetings with Chinese officials.
"They just shut you down," said one of the diplomats.
Putting its side
Last month, the Chinese government invited a small group of foreign reporters to a briefing on the sidelines of a U.N. human rights meeting in Geneva, to put its side of the story in unusually strong and outspoken terms.
Li Xiaojun, publicity director at the Bureau of Human Rights Affairs of the State Council Information Office, which is the office of the Chinese cabinet's spokesman, denied mistreating Muslims in Xinjiang, and said China was trying to avoid the problems of radicalization Europe had experienced.
"Look at Belgium, look at Paris, look at some other European countries," Li said, referring to recent terror attacks in these locations blamed on Islamic extremists. "You have failed."
Government officials at the Geneva event were accompanied by five Chinese academic experts, who all remained silent when asked if they had any criticism of China's human rights record.
The five said they had not been to Xinjiang recently.
Asked how they knew about conditions there, Wang Xiaolin, a professor at Shanghai's Fudan University, said there were a lot of information channels, such as television broadcasts, social media, and information shared by business people, tourists and academics and friends who traveled there.
It is hard to quantify whether anyone is paying attention to what China has been saying on Xinjiang. Ambassador Xiao's piece for the Jakarta Post was roasted by followers of the paper's Facebook and Twitter pages as Chinese "propaganda".
Asked about China's efforts to put its side of the story and whether its messaging had been effective, the Foreign Ministry said the region was stable and prosperous, with no attacks for more than a year.
"On Xinjiang matters, the Chinese people have the most right to speak," it said in a short statement sent to Reuters.
Foreign human rights groups and exiles have been unimpressed with China's defense, and held their own panel in Geneva.
"What we are seeing now in East Turkestan is more than just repression: it is an intentional campaign of assimilation by the Chinese government targeting the Uighur identity," said Dolkun Isa, president of the exiled World Uyghur Congress, using the term the community employs to refer to Xinjiang.
China has sought to cast its security crackdown in resource-rich Xinjiang - strategically located on the borders of Afghanistan, central Asia, India and Pakistan - as part of the wider global "war on terror".
All countries have a responsibility to protect their security and that of their citizens, Vice Foreign Minister Le Yucheng told the Financial Times in an interview published last week, whose transcript was released by the foreign ministry.
"The Chinese government will not permit Xinjiang to become a second Syria, Libya or Iraq," said Le, an increasingly influential voice in China's diplomacy, whom diplomatic sources in Beijing say is tipped as a possible future foreign minister.
"If upheaval in Xinjiang spreads outside the borders, it will affect the stability of central Asia and the Middle East, and maybe spread to Europe."
https://www.businessinsider.com/chinas-propaganda-campaign-to-rehab-muslim-detention-camps-image-2018-10?IR=T
--------
Philippine Christians observe Israel-Palestine peace week
October 2, 2018
Christian churches in the Philippines joined the observance of the World Week for Peace in Palestine and Israel.
The Sept. 21-28 event was highlighted by the celebration of the International Day of Peace, an initiative of the World Council of Churches.
"Commitment to peace is an imperative of our faith and an obligation," said Minnie Anne Calub, acting general secretary of the National Council of Churches in the Philippines.
She said Filipinos have a moral duty to "promote peace not just in our country but in places with so much violence."
"Our faith calls us to participate in the establishment of a meaningful and just social order," added Calub.
The Israeli-Palestinian conflict started in 1948 after the establishment of the state of Israel.
In 2017, Human Rights Watch reported that from January to November of the previous year Israeli security forces killed 62 Palestinians, including 14 children, and injured at least 3,494 others. Palestinian forces, meanwhile, killed at least 15 Israelis including 10 security officers.
Calub said churches in the Philippines have been praying for an end to hostilities.
Rommel Linatoc, ecumenical relations director of the council of churches, appealed to the international community to put more pressure on Israel to engage in "more sincere peace negotiations."
Romulo Tuazon of the Center for People Empowerment in Governance said Israel's continuing implementation of military rule over occupied Palestinian territories is an admission of its "failure to govern and failure to institute reforms in a peaceful way."
Father Chris Ablon of the Philippine Independent Church said Christian missionaries should serve as "ecumenical accompaniers" in Israeli-Palestinian conflict areas.
Full report at:
https://www.ucanews.com/news/philippine-christians-observe-israel-palestine-peace-week/83503
--------
Return of fugitive Indonesian cleric backed by hardliners
October 3, 2018
Members of Indonesia's hard-line Islamic Defenders' Front have called for their fugitive leader, Muhammad Rizieq Shihab, to be allowed to freely return to his homeland without facing arrest.
Shihab is an Hadhrami Arab Indonesian Sunni Muslim, opposed to Shia Muslims and various minority Islamic sects, who has also adopted anti-Christian stances.
The 53 year old fled to Saudi Arabia in July last year, purportedly to avoid blasphemy, sex and pornography charges.
As well as a police investigation, complaints were lodged by Christian and other groups in Indonesia.
On Sept. 29, about 10,000 of Shihab's followers staged a rally in Jakarta to support him.
They demanded that the Saudi government either allow him to return to Indonesia or extend his visa, which expired several months ago.
"We want him to come home," Novel Bamukmin, an official of the Islamic Defenders' Front told ucanews.com. "He is an Indonesian citizen whose rights must be protected."
Shihab and his family have tickets to fly to to Malaysia, but could not go there because Saudi officials had banned him from leaving the country, Bamukmin said.
Shihab left Indonesia after he was accused of having illicit sexual relations with a woman.
A charge relating to pornography was dropped in June this year when police acknowledged they lacked evidence on which to prosecute him.
In a recorded message from Saudi Arabia played during the recent Jakarta protest, Shihab said he did not know why he was being barred from leaving Saudi Arabia, but that he respected the decision.
None-the-less, the Muslim hardliner said he still hoped that the travel ban would soon be lifted.
Agus Sulistiyo, 34, a moderate Muslim in Jakarta, said he believed that Shihab should not return to Indonesia's "boiling" political atmosphere amid presidential and legislative election campaigning.
"His return would just cause conflicts," Sulistiyo said.
He added that Shihab was well known for provoking tensions through expressions of religious hatred and opposition to social pluralism.
Petrus Selestinus, a Catholic lawyer, said that even Shihab's supporters should accept that his current situation arose from application of the laws of Saudi Arabia and not from anything being done in Indonesia.
The Indonesian government would not intervene to seek a lifting of the Saudi travel ban because the matter was outside its jurisdiction, Selestinus told ucanews.com.
Indonesia's ambassador to Saudi Arabia, Agus Maftuh Abegebriel, said he had not received any official instructions from his government in relation to Shihab.
But he added that as Shihab's Saudi visa had expired, he would first have to leave the country before re-entering in any bid to get a new one.
Shihab's legal adviser, Sugito Atmo Prawiro, told the media that Shihab is seen in Saudi Arabia as a man forced to become a political fugitive for defending Islam.
Full report at:
https://www.ucanews.com/news/return-of-fugitive-indonesian-cleric-backed-by-hardliners/83512
--------
Malaysia maintains position as Islamic finance global leader
03 October 2018
KUALA LUMPUR, Oct 3 ― Malaysia has maintained its position as the global leader in Islamic finance and the sector has matured to become vibrant with a diverse set of industry players, said Deputy Finance Minister Datuk Amiruddin Hamzah.
He said Malaysia continued to be the main driver for the sukuk market and represented 51 per cent of the US$396 billion (RM1.63 billion) of total global outstanding sukuk last year, while continuing to lead in Islamic wealth management industry with 36.5 per cent of the global share as at end-2017.
"Since its inception over 30 years ago, Islamic finance has become more vibrant with diverse set of industry players which included legal, accounting, technology and rating companies, as well as commodity trading platforms.
"The financial institutions and professional ancillary service providers in Malaysia have vast experience and are instrumental in facilitating the growth of the industry beyond our national border," he said in his opening address at the Global Islamic Finance Forum 2018 here today.
"Malaysia also spearheaded a number of innovative developments in Islamic finance, with the aim to spur the vibrancy of this thriving industry, such as the issuance of the first Sustainable and Responsible Investment Sukuk (SRI) and Green Sukuk, the launch of the Investment Account Platform (IAP) and development of the Waqf Fund to develop the Muslim economy," he said.
Last year, Bank Negara Malaysia issued a strategic paper on Value-based Intermediation (VBI) which articulated strategies to strengthen the roles and impact of Islamic banks towards a sustainable financial ecosystem.
On this, Amiruddin said the industry's move towards embracing VBI would further strengthen Malaysia's leadership position, and advance the growth of Islamic finance towards generating positive, sustainable impact to the economy, community and environment. Meanwhile, he said the Malaysian economy remained fundamentally strong and resilient despite recent global events that posed downside risks to global economic growth as it was supported by sound domestic demand, as well as sustained global growth and trade.
Amiruddin said growth was expected to be sustained, supported mainly by private sector activity while positive labour market conditions and capacity expansion would continue to support robust private consumption and investment.
"The growth momentum will be supported by sustained global growth and trade momentum, private spending and household spending," he said.
The deputy minister said private sector spending was expected to benefit from continued positive spillovers from external demand as recent indicators pointed towards improvements in business and consumer sentiments.
Full report at:
https://www.malaymail.com/s/1678910/malaysia-maintains-position-as-islamic-finance-global-leader
--------
Global community must fight extremism
By Abe Radkin
October 2, 2018
WITH the rise of violent extremism worldwide has come the stereotyping of an entire religion. In many countries and across many borders, Muslims have been vilified for events they are just as outraged at.
Yet, instead of working together to foster a common understanding and mutual respect, we have seen otherwise liberal countries shut their borders and suppress culture.
At a time of extreme intolerance, it is increasingly important that we recognise the importance of working together toward shared global interests of peace and prosperity.
As an increasing number of Muslim-majority nations take a stand against extremism practiced in the name of their faith, people around the world are working across borders to promote cross-cultural understanding and tolerance.
At a time when so much of what we hear is about the ill in the world, we have a duty to celebrate the critical work that happens every day to ensure the "battle of ideas" in the global fight against extremism is not lost to those who preach violence rather than peace.
This is the work of the Global Hope Coalition, which shines a light on both the governments and the everyday heroes standing up to violence and intolerance in their countries and around the world—and those who are joining with them in the fight.
At this year's annual dinner they recognise those who have taken a stand against extremists invoking religion for the purposes of perpetrating terror.
Take for example Niger, a majority Muslim country, which is increasingly at the centre of a vast struggle for power in Africa's Sahel region.
After the retreat of the Islamic State (IS) in Iraq and Syria, Niger has seen a massive uptick in extremist threats as the Sahel region has become an active theatre for IS and jihadi terrorists.
Niger's government under the leadership of President Mahamadou Issoufou has been an outspoken critic of violent extremism in the name of Islam and has advocated a tolerant and peaceful vision of the religion.
The country has worked hard to build regional alliances against terrorist groups in the Sahel region.
At a time of great challenge, when many would retrench, Niger has worked to strengthen the rule of law and the country's constitutional institutions, while respecting the separation of powers.
Perhaps most heartening was the more than US$23 billion (RM95.29 billion) from donor countries pledged to Niger at a two-day "Niger Renaissance Conference" in Paris in Dec 2017.
Niger is not alone.
Muslim-majority countries are standing up to extremists and proving the actions of a select few do not define an entire religion.
But the global community's response has been inadequate.
Largely fueled by stereotypes created and driven by IS and al-Qaeda, Muslims have been demonised, attacked, and shut out of a number of otherwise tolerant nations.
Many global efforts to lift up anti-extremism efforts have been nebulously structured at best and ineffectual at worst.
And crucially, some wealthier western countries have failed to be shining beacons of tolerance and prosperity whose principles they were founded upon, and have instead hid behind thinly veiled xenophobia.
All that while continuing to expect fealty from Muslim allies.
This cowardice is not the answer — in any part of the world.
Instead of turning a blind eye to good faith efforts to stand up to common enemies, the global community must rally around them like they did for Niger in 2017.
That's why governments and heads of state are only one piece of the equation.
Equally important, but far less public, are the thousands upon thousands of individuals in towns and cities throughout the world working every day to stand up to extremism, fight intolerance, and work towards peace in their communities.
Just as the international community must rally around natural allies in this fight, so too must it uplift and encourage the everyday heroes and on-the-ground change makers — like, for instance, this year's Global Hope Hero and Omer Al-Turabi.
Omer is a prominent Sudanese author and academic who has become a leading voice among younger generations in the Arab world seeking peace and a liberal future for their countries.
Omer has faced tremendous obstacles in his efforts — yet, they have been unwavering in their efforts to win the battle for hearts and minds.
There are countless more like him, and that is why Global Hope's work is so important.
By providing resources and valuable organisation and networking opportunities to heroes just like these, progress can, and will, take shape.
The UN General Assembly gives us an annual opportunity to reflect on what can be accomplished by thoughtful and meaningful multilateral action.
Full report at:
https://www.nst.com.my/opinion/columnists/2018/10/417181/global-community-must-fight-extremism
--------
Sarawak deputy chief minister seeks to meet non-Muslim leaders over religious issues
03 October 2018
KUCHING, Oct 3 — Datuk Amar Douglas Uggah said he will soon call for a meeting of non-Islamic faith leaders to obtain input on religious issues for the attention and action of the state government.
The Sarawak deputy chief minister said these leaders could also use the meeting to raise problems they want to be addressed.
"It is our policy to help non-Islamic faiths as being assured by Minister Datuk Patinggi Abang Johari Openg of the state government," Uggah said at the handing over of cheques to churches of various denominations here.
He said it is also the state government's policy to allow unfettered faith practices.
Uggah said the chief minister recently agreed to set aside a three-acre site at Ong Tiang Swee Road here for the construction of the headquarters of Unit for Other Religions (Unifor), which was set up by his predecessor, the late Tan Sri Adenan Satem.
Uggah, who is also the minister in-charge of non-Islamic religions, urged leaders of non-Islamic faiths to submit their applications for funds or land for their houses of worships to Unifor.
He said the unit will process the applications before submitting them to the state government for consideration.
Full report at:
https://www.malaymail.com/s/1678901/sarawak-deputy-chief-minister-seeks-to-meet-non-muslim-leaders-over-religio
--------
Indonesia quake, tsunami death toll surges to over 1,200
Oct 2, 2018
More than 1,200 people are now known to have died in the quake-tsunami that smashed into Sulawesi, Indonesia said Tuesday, as police pledged to clamp down on looting by survivors taking advantage of the chaos.
There were reports of officers firing warning shots and tear gas to ward off people ransacking shops in Palu, a coastal city ravaged by a 7.5-magnitude quake and the tsunami it spawned.
Almost 200,000 people are in need of urgent help, the United Nations says, among them thousands of children.
Survivors are battling thirst and hunger, with food and clean water in short supply, and local hospitals are overwhelmed by the number of the injured.
Police said Tuesday that they had previously tolerated desperate survivors taking food and water from closed shops, but had now arrested 35 people for stealing computers and cash.
"On the first and second day clearly no shops were open. People were hungry. There were people in dire need. That's not a problem," said deputy national police chief Ari Dono Sukmanto. "But after day two, the food supply started to come in, it only needed to be distributed. We are now re-enforcing the law."
"There are ATMs. They are open," he added. "If people steal, we catch and investigate."
Despite official assurances, desperation was evident on the streets of Palu, where survivors clambered through wreckage, hunting for anything salvageable.
Others crowded around daisy-chained power strips at the few buildings that still have electricity, or lined up for water, cash, or petrol being brought in via armed police convoys.
"The government, the president have come here, but what we really need is food and water," Burhanuddin Aid Masse, 48, told AFP.
Rescue efforts have been hampered by a lack of heavy machinery, severed transport links, the scale of the damage, and the Indonesian government's reluctance to accept foreign help.
As if to remind the world of the tectonic fragility of Indonesia, a series of quakes hit the island of Sumba on Tuesday, albeit hundreds of kilometers from Palu.
The official death toll from the tragedy in central Sulawesi stood at 1,234, according to the government.
The Indonesian military is leading the rescue effort, but following a reluctant acceptance of help by President Joko Widodo, international NGOs also have teams on the ground in Palu.
Among the dead are dozens of students whose lifeless bodies were pulled from their landslide-swamped church in Sulawesi.
"A total of 34 bodies were found by the team," Indonesia Red Cross spokeswoman Aulia Arriani told AFP after the grim discovery, adding that 86 students had initially been reported missing from a Bible camp at the Jonooge Church Training Center.
Arriani said rescuers faced an arduous trek to reach the mudslide and retrieve the victims.
"The most challenging problem is traveling in the mud as much as 1.5 hours by foot while carrying the bodies to an ambulance," she said.
Indonesia is the world's most populous Muslim-majority nation but there are small pockets of religious minorities, including Christians, across the archipelago of 260 million people.
Urgent need
The United Nations Office for the Coordination of Humanitarian Affairs warned Monday that there were 191,000 people in urgent need of help after the quake-tsunami, among them 46,000 children and 14,000 elderly — many in areas that aren't the focus of government recovery efforts.
The dead — many yet uncounted for, or their bodies still trapped in the rubble of collapsed buildings — are also a source of concern for authorities.
In Indonesia's hot, equatorial climate, bodies quickly begin to rot and provide a breeding ground for deadly diseases.
At Poboya — in the hills above the devastated seaside city of Palu — volunteers have begun to fill a vast grave with the dead, with instructions to prepare for 1,300 victims to be laid to rest.
Trucks stacked with corpses wrapped in orange, yellow, and black bags are bringing their load to the site, where the bodies are dragged into the grave as excavators pour soil on top.
'Thank god I could see her again'
There were glimmers of hope among the countless tragedies.
Two people have been plucked from the 80-room Hotel Roa-Roa, Indonesia's search and rescue agency said, and there could still be more alive.
And for Azwan, who — like many Indonesians — goes by a single name, there was joy when he was reunited with his wife, Dewi, after 48 hours of fearing the worst as he searched hospitals and morgues.
The 38-year-old civil servant struggled to keep his emotions in check as he told how the couple had been reunited two days after Dewi had been swept away by the tsunami.
"I was so happy, so emotional — thank god I could see her again," Azwan told AFP.
But for some, the search yields only sorrow as they trudge around open-air morgues, where the dead lay in the baking sun — waiting to be claimed, waiting to be named.
Full report at:
https://www.presstv.com/Detail/2018/10/02/575812/Indonesia-tsunami-quake-death-toll
--------
Africa
Nigeria: Boko Haram Exposes the Cracks in Nigeria's Military Strategy
2 OCTOBER 2018
By Akinola Olojo
For nearly three years the Nigerian government has stuck to its claim that it has 'technically defeated' Boko Haram. Recently though, the terror group demonstrated its renewed audacity with strikes at hard (military) targets.
The government's response was to reorganise its key military leadership in the troubled north-east of the country - a strategy that appears largely cosmetic. The game changer is more likely to come from dealing with several blind spots in the military's approach to Boko Haram.
Altering military commanders each time there's a problem has been tried before, with little impact on the counter-terrorism effort. Over the last two years, leadership has changed on four occasions.
This time the most significant reshuffle was of the Theatre Commander overseeing the campaign against Boko Haram. The new head of Operation Lafiya Dole, Major General Abba Dikko, replaced Major General Rogers Nicholas who occupied the position for less than a year.
With the emergence of a Boko Haram faction that targets the military, creative solutions are needed
Beyond leadership, three top concerns undermine the army's current position. First, the military must investigate why a number of its bases have suffered attacks in close succession. Second, the use of intelligence must be deepened to include closer collaboration with local community actors who are familiar with the terrain in which Boko Haram operates. Third, the grievances of soldiers must be addressed to improve morale.
With regard to attacks, on 13 July Boko Haram insurgents ambushed a military convoy in Borno state, Nigeria. Then on 19 July soldiers were attacked as they escorted traders close to Nigeria's border with Cameroon. And on 21 July troops again fell victim to insurgents. Over a six-week period, four military bases were attacked, one of which was staffed by over 700 soldiers.
In addition to military targets, Boko Haram has launched deadly assaults on civilians. The extremist group's offensives have been relatively sophisticated - probably executed by the faction of Boko Haram led by Abu Musab al-Barnawi who has a penchant for targeting the military. Nigeria's army needs to investigate whether these attacks are the result of weak security at its bases, or because of Boko Haram's growing strength and tactical advantage.
The new military commander faces longstanding challenges when it comes to intelligence. While the rights of ordinary citizens must be safeguarded, the problem posed by Boko Haram's spies within communities should be recognised. More than ever, this issue merits attention in light of recent revelations by apprehended members of Boko Haram.
Altering Nigeria's military commanders each time there's a problem has been tried before
Some of these individuals infiltrate townships under the guise of various professions, like taxi drivers. Countering this is not easy, as the challenge of dealing with al-Shabaab and its 'Mata Hari' spy network involving sex workers in Kenya showed.
A closer working relationship is needed between the military and civilian groups who can provide critical information about Boko Haram's tactics. The Nigerian army realised this back in 2013 when it started working with the Civilian Joint Task Force, a network of vigilante groups supporting the security forces against Boko Haram. More of such alliances are needed, with a wider range of local actors, including Islamic clerics.
The army has made some progress in regard to the recovery of territory from Boko Haram. However, much more is needed to thwart the group. To consolidate military gains, grievances among troops on the ground must be attended to.
Part of the solution lies in dialogue to understand concerns of those on the battlefront. For instance, some units lament the delays in getting weapons and supplies when their detachments are under attack. Regrettably, these have been met with warnings by the authorities against soldiers accused of abandoning their posts when faced with insurgents.
To consolidate military gains against Boko Haram, grievances among troops must be attended to
Threatening battle-worn troops is counter-productive and echoes past mistakes. At the height of the Boko Haram insurgency in mid-2014, troops staged a mutiny and fired at the vehicle of an army major general. In August this year, soldiers protested at the Maiduguri airport in Borno state. The latest demonstration was over unjust redeployment and overextended periods of battle on the frontlines.
The boldness of Boko Haram to strike military targets will gain traction as the group discerns cracks in the Nigerian army's approach. With the emergence of a Boko Haram faction that targets the military, creative solutions will be needed that go beyond replacing army commanders. The extremist group is less concerned about who leads the Nigerian army's efforts than about exploiting the army's vulnerabilities.
As long as they persist, Boko Haram will exploit weaknesses in the military's situation. With a recognition that shifting leaders won't address the problems, and more attention to intelligence and troop morale, the army will suffer fewer setbacks. Until then, declaring that Boko Haram has been 'technically' defeated is not justifiable.
https://allafrica.com/stories/201810030092.html
--------
OIC offers to help Nigeria end insurgency – Presidency
September 28, 2018
By Seun Opejobi
The Organization of Islamic Cooperation (OIC) has pledged to help Nigeria tackle the Boko Haram insurgency.
OIC Secretary General, Youssef Ahmed Al-Othaimeen made the appeal during a bilateral meeting on Thursday with President Muhammadu Buhari, on the sideline of the 73rd UN General Assembly in New York.
A statement signed by Buhari's spokesperson, Femi Adesina and sent to DAILY POST disclosed that Buhari, "welcomed the pledge."
The President also "underscored the importance of education in purging the mind of wrong indoctrination, particularly on religion," he said.
Buhari also disclosed that the problem in Nigeria was aggravated by climate change and population explosion, emphasizing the need for the recharge of Lake Chad through inter-basin water transfer, "to take care of about 45 million people who depend on the lake for agriculture, animal husbandry, fishing, and many others."
The OIC scribe had told the Nigerian President that his organisation had passed a resolution, committing member states to support Nigeria in combating extremism.
He said that the body was ready to use its facilities and institutions to correct the wrong narrative that the Boko Haram insurgency was about Islam.
Full report at:
http://dailypost.ng/2018/09/28/oic-offers-help-nigeria-end-insurgency-presidency/
--------
US airstrike in Somalia kills 9 al-Shabaab extremists
2018-10-02
The US military says it has conducted an airstrike that killed nine al-Shabab extremists after its fighters attacked Somali government forces.
The US Africa Command statement says the airstrike on Monday was carried out about 40km northeast of the port city of Kismayo.
The statement says another extremist was wounded. It adds that according to its assessment, no civilians were injured or killed in the airstrike that was carried out in coordination with the Somali federal government.
The US military has carried out 24 airstrikes, including drone strikes, this year against the al-Qaeda-linked al-Shabaab, the deadliest Islamic extremist group in sub-Saharan Africa.
Full report at:
https://www.news24.com/Africa/News/us-airstrike-in-somalia-kills-9-al-shabaab-extremists-20181002
--------
North America
Trump: I Told Saudi King He Wouldn't Last Without US Support
Oct 3, 2018
President Donald Trump says he has warned Saudi Arabia's King Salman he would not last in power "for two weeks" without US military support.
"We protect Saudi Arabia. Would you say they're rich. And I love the King, King Salman. But I said 'King — we're protecting you — you might not be there for two weeks without us — you have to pay for your military,'" Trump said to cheers at a rally in Southaven, Mississippi on Tuesday.
Trump, however, did not say when he made such remarks to the Saudi monarch.
This comes a few days after the Republican president called on Riyadh to increase its military spending, with an eye on more weapons sales to the "rich" kingdom.
"I love Saudi Arabia. They are great, King Salman, I spoke with him this morning. I said, king, you have got trillions of dollars. Without us, who knows what's going to happen. .... With us they are totally safe. But we don't get what we should be getting," he said at a rally in West Virginia on Saturday.
Despite the harsh rhetoric, the Trump administration has maintained a close relationship with Saudi Arabia, which it sees as a bulwark against Iran's rising influence in the region.
Last year, Trump signed the largest arms deal in history with the country despite warnings that he could be accused of being complicit in the regime's war crimes in Yemen.
Trump flew to Saudi Arabia as his first stop on his maiden international trip as president in 2017, during which Saudi Arabia agreed to buy $110 billion worth of US weapons and signed "investment" deals worth billions more.
Analysts say Trump is milking wealthy Persian Gulf Arab countries and exploiting conflicts in the Middle East to boost US arms sales to the oil-rich states.
Saudi Arabia is the world's top oil exporter and the de facto leader of OPEC, which Trump has criticized for high oil prices.
Speaking at the United Nations General Assembly in New York last month, Trump said OPEC members were "as usual ripping off the rest of the world."
"We defend many of these nations for nothing, and then they take advantage of us by giving us high oil prices. Not good. We want them to stop raising prices, we want them to start lowering prices," Trump said.
Trump called King Salman on Saturday to discuss "stability of the oil market" as well as "developments in the Middle East region and the world," according to Saudi state news agency SPA.
https://www.presstv.com/Detail/2018/10/03/575896/US-Saudi-Arabia-Donald-Trump-King-Salman
--------
Mattis: Number of US diplomats doubled in Syria as ISIS nears defeat
2 October 2018
The number of US diplomats in Syria has doubled as ISIS militants near a military defeat, US Defense Secretary Mattis said on Tuesday.
The US-led coalition, along with local partners, has largely cleared the militant group from Iraq and Syria but remains concerned about its resurgence.
"Our diplomats there on the ground have been doubled in number. As we see the military operations becoming less, we will see the diplomatic effort now able to take (root)" Mattis said.
He did not give a specific number.
A US official, speaking on the condition of anonymity, said Mattis was referring to State Department employees, including diplomats and personnel involved in humanitarian assistance, and the increase was recent.
The United States does not have an embassy in Syria.
In a sign of the threat still posed by the militant group, security forces in northern Syria's Raqqa said on Sunday they had uncovered an ISIS sleeper cell, which was plotting large attacks across the devastated city.
Raqqa served as the de facto capital of ISIS's self-proclaimed caliphate until it was retaken by the Kurdish-led Syrian Democratic Forces (SDF) militia alliance last October.
In June, the SDF imposed a three-day curfew in Raqqa and declared a state of emergency, saying ISIS militants had infiltrated the city and were planning a bombing campaign.
"We are still in a tough fight, make no mistake about it," Mattis said.
He said troops would work after the defeat of ISIS to ensure that the militant group did not return.
Russia has held the balance of power in Syria, both on the battlefield and in the UN-led peace talks, for the past two years. It has helped Syrian President Bashar al-Assad recover huge amounts of lost territory without persuading him to agree to any political reforms.
But nine rounds of talks, most of them in Geneva, have failed to bring the warring sides together to end a conflict that has killed hundreds of thousands of people and driven millions from their homes.
Full report at:
https://english.alarabiya.net/en/News/middle-east/2018/10/02/Mattis-Number-of-US-diplomats-doubled-in-Syria-as-ISIS-nears-defeat.html
--------
US policy on Iran is viewed through Israeli prism: Ex-Pentagon official
Oct 2, 2018
The United States is exerting pressure on Iran to implement Israeli policy, according to a former Pentagon official.
"US policy toward Iran is really being looked at through an Israeli prism," former Pentagon security analyst Michael Maloof told Press TV in a phone interview on Tuesday.
He said the foreign policy of the United State of American was being led by President Donald Trump's neoconservative team of Israel-lovers.
The US foreign policy team comprised of US National Security Adviser John Bolton, Secretary of State Mike Pompeo, and US Ambassador to the United Nations Nikki Haley, who clearly want an American-Israeli military conflict with Iran, are running the policies, according to Maloof.
Trump's neoconservative foreign policy team seeks Tel Aviv's approval on any policy linked to Iran. "Anything that has to do with Iran has to be sanctioned by Israel for some reason," Maloof insisted, adding that was where the neoconservatives really flourished.
"They regard Iran as the number one enemy of Israel, and as the consequence, any US foreign policy toward Iran necessarily goes through Tel Aviv, " he said.
Instead of pursuing Americans' interests, the neoconservatives are making effort to implement Israeli policy.
Full report at:
https://www.presstv.com/Detail/2018/10/02/575864/US-policy-on-Iran-is-viewed-through-Israeli-prism
--------
US military presence in PG doesn't match Trump's rhetoric on Iran: Report
Oct 2, 2018
The United States military presence in the Persian Gulf has not been matching with President Donald Trump's anti-Iran rhetoric, according to military experts.
A report published on the Wall Street Journal website on Monday said American troops in the Persian Gulf were lesser in force than what US President Donald Trump's tough anti-Iran rhetoric would require.
Trump and his administration have been steadily ramping up their rhetoric on the threat posed by Iran; however, the US military has scaled back its presence in the Persian Gulf, according to officials and military experts cited by the Journal.
According to officials familiar with carrier deployments, there has been no US aircraft carrier strike group in the Persian Gulf since March -- the longest period of time in two decades that a carrier hasn't traveled those waters, the Journal reported.
Since US aircraft carrier Theodore Roosevelt left for the Pacific, its empty space has not been filled with the same level of air power, officials acknowledged.
US Defense Secretary Jim Mattis announced pulling four Patriot missile-defense systems out of the region from Jordan, Kuwait and Bahrain to ramp up military capabilities against Russia and China.
The report said the ships, planes and missiles in the ships pulled out from the region would be needed if there were to really be a military confrontation with Iran.
The under par US military presence could be attributed to either of two factors: a shortage of ships and equipment, Iran not posing a threat, said the Journal.
Empty talk
Experts say Trump's tough talk regarding Iran appears to be very powerful; however, in reality it is empty talk and mere rhetoric.
"If the rhetoric is not backed by a credible threat and a credible presence of American military power, then there is a danger that Iran will assess there is American mush, not American steel, behind the president's tough rhetoric," according to Mark Dubowitz, chief executive of the Foundation for Defense of Democracies.
Experts cited by the Journal believe that either the US military apparatus is too spread out -- addressing other threats -- that it lacks the capabilities to properly cover the alleged threat posed by Iran, or what is being hyped up as Iran being a regional threat is not real and does not exist.
According to the 2018 US national security strategy, Russia and China pose the greatest threats to the US and its interests across the globe.
Full report at:
https://www.presstv.com/Detail/2018/10/02/575854/US-Russia-Trump-China-Iran-Persian-Gulf
--------
US warns Iran after France alleges bomb plot
October 3, 2018
The United States, which has been intensifying pressure on Iran, on Tuesday issued a fresh warning after Paris accused Tehran's intelligence agency over a bomb plot.
"France taking strong action against failed Iranian terrorist plot in Paris – Tehran needs to know this outrageous behavior will not be tolerated," the White House's National Security Council tweeted.
State Department spokeswoman Heather Nauert told reporters the incident reinforced that Iran was "the world's top sponsor of terrorism."
France said Tuesday it was freezing assets of two suspected Iranian intelligence operatives over an alleged plot to bomb a rally in Paris three months ago.
The event was being held by the armed opposition group the People's Mujahedin of Iran (MEK), which Tehran considers a terrorist group but which Western powers have removed from its blacklists.
Iran immediately denied any involvement, as it did in July when the MEK accused it of being responsible.
The incident comes after President Donald Trump pulled out of an international agreement on curbing Iran's nuclear program, defying allies including France which says that the deal is working.
The Trump administration has vowed to curtail Iranian influence and criticised the Europeans for seeking to evade impending US sanctions on transactions with Iran.
European officials, and the administration of former president Barack Obama, pointed to divisions in Iran's government and hoped to strengthen moderates such as President Hassan Rouhani over elements in the security and clerical establishments that are deeply hostile to the West.
Full report at:
https://www.thenational.ae/world/mena/us-warns-iran-after-france-alleges-bomb-plot-1.776611
--------
URL: https://www.newageislam.com/islamic-world-news/upset-police-treating-sons-death/d/116557
New Age Islam, Islam Online, Islamic Website, African Muslim News, Arab World News, South Asia News, Indian Muslim News, World Muslim News, Women in Islam, Islamic Feminism, Arab Women, Women In Arab, Islamophobia in America, Muslim Women in West, Islam Women and Feminism