New Age Islam News Bureau
22 May 2019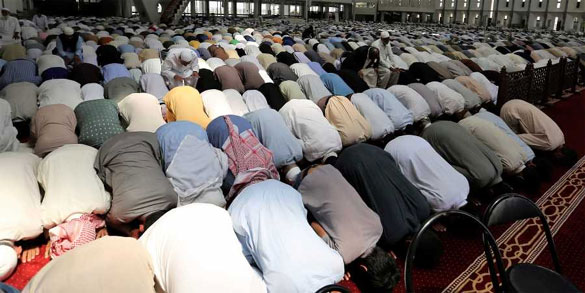 For representational purposes (File Photo | AP)
------
• Upset By Exit Poll Outcome, Top Darul Uloom Deoband Cleric Calls For Special Namaaz for Favourable Results
• Hindu-Muslim Divide Worsens In India: Because Of the Polarisation in the Past • Two Years Some Muslims Are Frightened and Thinking of Moving Away from their Villages
• A Resurgent Global Jihad Now Has More Reasons to Be Drawn To India than Ever Before
• Marawi's Ruins a Reminder of Islamic State's Devastating Reach
• Jihadist Outfit Jama'at Al Muslimin Spreading Wings in Britain and Bangladesh
• US Former Pastor Says He Converted To Islam 'Because Of Saudi Hospitality'
• Bilawal Wants Anti-Beggar Drive to Begin with PM Imran
• Muslims, Christians Share Iftar at Abu Dhabi Church
India
• Upset By Exit Poll Outcome, Top Darul Uloom Deoband Cleric Calls For Special Namaaz for Favourable Results
• Hindu-Muslim Divide Worsens In India: Because Of the Polarisation in the Past • Two Years Some Muslims Are Frightened and Thinking of Moving Away from their Villages
• A Resurgent Global Jihad Now Has More Reasons to Be Drawn To India than Ever Before
• Two terrorists killed in encounter in Kulgam
--------
Southeast Asia
• Marawi's Ruins a Reminder of Islamic State's Devastating Reach
• In Malaysia, Iftar Meal is a Time to Reconnect with Former Militants
• Widodo Re-Elected Indonesia's President in Race Shaped by Conservative Islam
• Grand Mosque, a trace of Islamic civilization in Surakarta
--------
South Asia
• Jihadist Outfit Jama'at Al Muslimin Spreading Wings in Britain and Bangladesh
• Sri Lanka Rejects Shariah University, All Madrasas Tobe Brought under the Umbrella of Sri Lanka's Education Ministry
• Russia Raises Alarm about Islamic Extremists In Afghanistan
'• Mother Of Satan' Bombs Show Foreign Hand In Sri Lanka Bombings: Investigators
• ISIS has amassed 5,000 fighters close to CIS border in North of Afghanistan: Russia
• 12 militants killed in N. Afghanistan
• In Sri Lanka, Muslims say Sinhala neighbours turned against them
• Special Forces kill Taliban shadow district chief's top commander in Herat
• Afghan Special Forces kill 18 Taliban militants in Kunduz, Ghazni and Herat provinces
• Explosion rips through the vehicle of Taliban shadow judge in Kunduz province
--------
North America
• US Former Pastor Says He Converted To Islam 'Because Of Saudi Hospitality'
• New Yorkers Stand with Congresswoman Ilhan Omar
• US Congress may act on Khashoggi murder, says fiancee
• US suspects Assad regime of new chemical attack
• Turkish delegation seeks stronger ties with US Congress
• US suspects Syria in new chemical attack and threatens reprisal
• Hundreds of US politicians ask Trump administration for Syria strategy
--------
Pakistan
• Bilawal Wants Anti-Beggar Drive to Begin with PM Imran
• Stashing Dollars at This Time Is 'Grave Sin', Mufti Taqi Usmani Says
• Iranian FM likely to visit Pakistan this week
• NAB allowed to grill Nawaz inside jail in vehicles case
• Dr Alvi's counsel given last chance to file reply
• Murad asserts Sindh govt's authority to transfer police, bureaucracy
• Pakistan condemns firing of ballistic missiles by Houthis towards Makkah
--------
Arab World
• Muslims, Christians Share Iftar at Abu Dhabi Church
• Saudi Arabia to Execute Three Prominent Scholars after Ramadan: Report
• Egypt's Street Iftar Comes with a Community Flavor
• Syrian asylum seeker in Denmark gets 12 years for ISIS bombing plot, stabbings
• UN team unearths 12 mass graves in Iraq probe of ISIS crimes
• Iraqi troops kill 3 Islamic State fighters in Salahuddin
• Egypt says 16 suspected militants killed in Sinai
• Iraq to send teams to Tehran, Washington to 'halt tension'
• Saudi cabinet calls on international community to stand firm against Iran regime
• Terrorists plotting chemical attack in Syria's Idlib, Aleppo: Russia
• Bahrain says conference co-hosted with US aimed at helping Palestinians
--------
Mideast
• Yemen's Houthi Rebels Launch Missiles towards Makkah and Riyadh
• Gaza's Islamic Jihad Re-Emerges, Looking to Iran
• The Latest: Iran presidents seeks wartime executive powers
• Officials say Iran quadruples production of enriched uranium
• Yemeni Forces Shoot Down Saudi-Led Coalition Drone
• Egypt orders autopsy of Palestinian who died in Turkish jail
• No one authorized to act on Palestinians' behalf at Bahrain confab: Hamas spox
• Israeli settler runs over, kills Palestinian man in occupied West Bank
• Houthis target Saudi civilian facility in Najran with explosives-laden drone
--------
Africa
• Islamic State Group Emerges As a Political Force In Western Africa
• Sudan Protest Group Calls for a General Strike as Talks Falter
• UN Warns Of 'Long and Bloody War' In Libya amid Offensive by Saudi-Backed Haftar
• Boko Haram kills two in Nigerian refugee camp attack
• UN chief: Somalia making progress but must tackle extremism
• 18 people killed as al-Shabaab attacks army base in Somalia
• Security Forces Arrest Terrorist Suspect West of Tunis
• UN envoy warns of 'long and bloody war' in Libya
• Somalia making progress but 'must tackle extremism'
--------
Europe
• France Doesn't Need Any Help from Britain in Policing Muslims
• Mosque in Scotland Vandalized With Racist Graffiti
• UK security services foiled 19 major terror attacks over past two years, says Sajid Javid
• Unique museum informs Australians about Islam
• Europe will not succumb to Iran ultimatums, says French finance minister
• Iran says ready to support nuclear deal 'just as France did'
• Terrorists may provoke US-Iran war: German FM
Compiled by New Age Islam News Bureau
URL: https://www.newageislam.com/islamic-world-news/upset-exit-poll-outcome-top/d/118674
--------
Upset By Exit Poll Outcome, Top Darul Uloom Deoband Cleric Calls For Special Namaaz For Favourable Results
21st May 2019
MEERUT: The exit poll results by various news channels have left a senior cleric at renowned seminary Darul Uloom Deoband upset. The Mufti has now made an appeal to all mosques to recite special prayers for "favourable" election results" on May 23, according to a media report.
"In the prevailing scenario it is very important to pray very hard for peace and prosperity of our country and for the protection of Muslims, mosques and teachers," Mufti Mehmood Hasan Bulandshahri was quoted by the Times of India as saying. The prayers must start three days before May 23, he added.
The top cleric has also appealed to those who have committed sins to atone. "There are too many temptations surrounding us. We must repent for our sins."
This move by the Mufti has been welcomed by the clerics in Deoband. "We welcome the suggestion and all Muslims must follow this religiously. We are very concerned with the outcome of election results," Maulana Ishaq Goar, a Deobandi cleric said.
Goar said that India must elect a government which would take everyone along and work to maintain brotherhood, peace and harmony in society. "Unfortunately, we have a few parties that do politics on the grounds of religion which is not right and they should go."
http://www.newindianexpress.com/nation/2019/may/21/upset-by-exit-poll-outcome-top-muslim-cleric-calls-for-special-namaaz-for-favourable-results-1979906.html
--------
Hindu-Muslim Divide Worsens In India: Because Of the Polarisation in the Past Two Years Some Muslims Are Frightened and Thinking of Moving Away from their Villages
May 21, 2019
NAYABANS, India — Muslims in Nayabans, an unremarkable village in northern India, say they remember a time when their children played with Hindu youths and people from either faith chatted when they frequented each other's shops and went to festivals together.
Such interactions no longer happen, many say, because of how polarized the two communities have become in the past two years and some are frightened and thinking of moving away — if they can afford it.
Muslim residents who spoke to Reuters said they thought tensions would only worsen if Prime Minister Narendra Modi's Hindu nationalist Bharatiya Janata Party (BJP) wins a second term in the current general election, as exit polls released on Sunday indicate is likely. Votes will be counted Thursday.
"Things were very good earlier. Muslims and Hindus were together in good and bad times, weddings to deaths. Now we live our separate ways despite living in the same village," said Gulfam Ali, who runs a small shop selling bread and tobacco.
Modi came to power in 2014 and the BJP took control of Uttar Pradesh state, which includes Nayabans, in 2017, partly on the back of a Hindu-first message. The state's chief minister, Yogi Adityanath, is a hardline Hindu priest and senior BJP figure.
"Modi and Yogi have messed it up," said Ali. "Dividing Hindus and Muslims is their main agenda, only agenda. It was never like this earlier. We want to leave this place but can't really do that."
He says about a dozen Muslim families have left in the past two years, including his uncle.
The BJP denies its policies have stoked community divisions.
At the end of last year, Nayabans, a village of wheatfields, narrow cemented streets, bullock carts and loitering cows, became a symbol of India's deepening divide as some Hindu men from the area complained they had seen a group of Muslims slaughtering cows, which Hindus regard as sacred.
Angry Hindus accused police of failing to stop an illegal practice and a Hindu mob blocked a highway, threw stones and burned vehicles. Two people were shot and killed — including a police officer.
Five months later many Muslims, who only number about 400 of the village's population of more than 4,000, say the wounds haven't healed.
And in a country where 14 percent of the population are Muslim and 80 percent Hindu, Nayabans reflects wider tensions in places where Muslim residents are heavily outnumbered by Hindu neighbors.
The BJP denies it is seeking to make Muslims second-class citizens or is anti-Muslim.
"There have been no riots in the country under this government. It's wrong to label criminal incidents, which we denounce, as Hindu-Muslim issues," BJP spokesman Gopal Krishna Agarwal said.
"The opposition has been playing communal politics but we believe in neutrality of governance. Neither appeasement of any, nor denouncement of any. Some people may be finding that they are not being appeased anymore."
Call to prayer
To be sure, villagers say Nayabans was not free of conflict in the past — attempts to build a mosque in 1977 led to communal riots in which two people were killed. But for the 40 years after that there had been relative harmony, villagers say.
Some Muslim residents said Hindu hardliners started asserting themselves more in the village after Yogi took office in March 2017.
The atmosphere worsened around the Muslim holy month of Ramadan in 2017 — Hindu activists demanded Muslims stop using a microphone in their madrasa, which also acts as a mosque, to call people to prayer, arguing it disturbed the whole community.
The Muslims reluctantly agreed to stop using the mike and speaker — even though they say it had been operating for many years — to keep the peace, but the move created deep resentment.
Some Hindus were unsympathetic.
"God knows what they are moaning about," said Hindu elder Om Prakash, a 63-year-old tailor. "There's peace here but we won't tolerate any mike there. That's a madrasa, not a mosque."
Islam requires the faithful to pray five times a day. Without the reminder of hearing the call, some Muslim residents say they risk missing prayer times.
"We can't express our religion in any way here, but they are free to do whatever they want," said Muslim law student Aisha, 21.
She said that Hindu men from the village often shouted anti-Muslim slogans during festival processions. At least a dozen Hindus in the village denied that was the case.
Aisha remembers when relations were better.
"Earlier they would speak very nicely to us, but now they don't," said Aisha. "If there was any problem at all, or someone was sick in the family, all the neighbors would come over and help – whether Hindus or Muslims. Now that doesn't happen."
"Empty out"
Sharfuddin Saifi, 38, who runs a cloth shop at a nearby market, was named in a complaint filed with the police by local Hindus over the cow incident last year.
After 16 days in jail, he was released as the police found he had nothing to do with the suspected slaughter, but said he found much had changed.
Hindus now shun his business. The money he spent on lawyers meant he had to stop going to Delhi to buy stock for the shop, which is largely empty. And he withdrew his 13-year-old son from a private school because he could no longer afford it.
"For someone who had never seen the inside of a police station or even dreamt of committing a crime, it's a big thing," he said of the trauma of his detention.
He often thinks about leaving the village, he says, but tells himself: "I have not done anything wrong, why should I leave?"
Carpenter Jabbar Ali, 55, moved to a Muslim-dominated area in Masuri, closer to Delhi, buying a house with money he saved from working in Saudi Arabia.
"If Hindus could kill a Hindu police inspector, in front of a police outpost, with armed guards alongside him, then who are we Muslims?" Ali said, recalling the December incident.
He still keeps his house in Nayabans and visits occasionally but said he feels much safer in his new home, where all his immediate neighbors are Muslims.
"I'm fearful here," he said. "Muslims may have to empty out this place if Modi gets another term and Yogi continues here."
Junaid, a round-faced 22-year-old with a goatee, comes from one of the most affluent Muslim families in the village. His father runs a gold shop in a town nearby.
Seated outside his home, he recalled playing sport together with Hindus.
"When we were young all the Hindus and Muslims used to play together, especially cricket – I played it a lot," he said. "Now we haven't played in at least a year."
He said he wanted to move to New Delhi soon to study at a university there. "Things are not good here," he said.
Some Muslims, however, say they are committed to remaining. Aas Mohammed, 42, the owner of a flourishing tiles and bathroom fixtures business in a nearby town, has decided to stay in the village, though he has a house on Delhi's outskirts.
Mohammed helped arrange a lawyer for Saifi after his arrest over the cow incident. He is now lobbying to have the microphone brought back and fighting a legal battle to get a new mosque built.
"I will fight on," he said. "I am not scared, but another term for Modi will make it very difficult for many other people to live here."
https://nypost.com/2019/05/21/under-modi-the-hindu-muslim-divide-worsens-in-india/
--------
A Resurgent Global Jihad Now Has More Reasons to Be Drawn To India than Ever Before
22 May, 2019
Indians can no longer be smug about the relatively few ISIS radicals it has had so far. A resurgent global jihad now has more reasons to be drawn to India than ever before.
The very fact that the ISIS has chosen South Asia as the region for staging its comeback, following the Easter bombings in Sri Lanka last month, raises many red flags for the subcontinent. A scorched ISIS is looking upon the large Muslim population in the country to replenish its depleted ranks.
In fact, ISIS' subsequent announcements of forming a so-called 'Wilayat Al Hind' (a fictitious ISIS province in India) and the appointment of a new leader (a certain Abu Muhammad Al Bengali) to lead the charge against India and Bangladesh indicate the group's sustained public relations offensive.
It may be easy for some critics to dismiss these announcements as bluster, but it would be unwise to entirely ignore the group's stated plan and intent.
Doctrinal dissonance
For a long time, security experts believed global jihadist organisations (al-Qaeda and ISIS) were not so keen on targeting the subcontinent for a variety of reasons.
Being Salafi-Wahhabi in orientation, global jihadists had to engage in a turf war with Pakistan-backed Hanafi-Deobandi terror groups (like the Taliban) already active in the region since the 1990s, with whom they had fundamental doctrinal differences.
Thus, al-Qaeda could never subsume independent-minded Taliban into its Salafist fold, even though many of its leaders like Abu Qatada and Abu Musab Al Zarqawi did not accept the Taliban 'emirate' as Islamic due to doctrinal differences.
Even ISIS (which is even more hardline in its religious orientation than al-Qaeda) has found it difficult to convert Hanafi terror groups in the Afghanistan-Pakistan region and Kashmir to its brand of jihadist Salafism. Global jihadist groups never found greater doctrinal discordance with potential jihadist allies in other parts of the world than they have in this region.
This is one of the main reasons why radicalisation of al-Qaeda and ISIS has not found much resonance in a largely Hanafi India, and is only more resonant in some southern provinces of the country, as well as in the Maldives and Sri Lanka, which have a sizeable Ahl-e-Hadeeth and Salafi population.
Narrative of ongoing 'crusades'
Al-Qaeda and ISIS never found India as critical to their global campaign against the West-led international order. Since the time of Bin Laden's fatwas of jihad in late-1990s, global jihadists identified 'crusading' Western powers as their primary adversary and have tried to gain religious legitimacy by projecting themselves as prophesied forces that would wage an apocalyptic war with the Christian West. India does not figure prominently in this narrative. Even, the recent Sri Lanka attacks were directed primarily against Christian worshippers and many Westerners staying in big hotels.
Moreover, apart from gaining recruits, India has been of little strategic value to global jihadists. From the beginning, al-Qaeda and ISIS have targeted failing states, preferably Muslim, to carve their own areas of influence from which to operate. Therefore, they have preferred to focus more on countries like Iraq, Syria, Yemen, Afghanistan, Pakistan, Libya, Somalia, etc. to spread their menace.
India's vigilant security agencies, a largely law-abiding Muslim population and a strong secular social fabric have hardly allowed global jihadists any prospect of growth.
ISIS' thin edge of the wedge
Taking cues from international media that have started to play up the so-called intolerance in Indian society, ISIS (as Tim Lister of CNN points out) feels tempted to test the fragility of Indian social fabric now. It feels India is fraying at the edges and may not withstand a fresh assault.
The terror group also believes it has a more ready audience in India for its brand of radicalisation, as young social-media savvy Muslims from small cities and villages come out of the atavistic Deobandi and Barelvi schools in much larger numbers. The resistance from Indian schools of Islam to the Salafi-jihadist discourse is thus easily breached, as ISIS can now directly reach out with its cutting-edge message of subversion in a communally fraught environment.
The situation in Kashmir is even more critical. There is a growing disillusionment within the Kashmiri population towards indigenous secessionist groups that have unsuccessfully led a 30-year long insurgency. Tapping on this resentment, the Jaish-e-Mohammad is training radical youth to a more advanced form of asymmetric warfare, which it has learnt from elements within the Pakistan military and its associates in al-Qaeda and ISIS.
The Pulwama attacks clearly point to a dangerous new form of terrorism in Kashmir, which bears the hallmarks of global jihadist operations. India can't afford to overlook it.
https://theprint.in/opinion/india-was-of-little-value-to-isis-thats-all-set-to-change-now/238361/
--------
Marawi's ruins a reminder of Islamic State's devastating reach
MAY 21, 2019
MARAWI CITY, Philippines (Reuters) - It had only been a week since Mohammad Ali Acampong finished renovating his house when bombs and bullets struck Marawi City.
Two years ago, pro-Islamic State militants took over in a bid to carve out their own "Wilayah", or province, forcing nearly 100,000 people to flee in what became the Philippine military's toughest and longest conflict since World War Two.
Acampong, a local government official, left his three-storey lakeside house with his family of eight.
"When the chaos began, our life suddenly became really difficult," Acampong, 42, told Reuters.
"We had a comfortable life before. Now we live in between shelters, enduring heat, the lack of water, the lack of everything."
Marawi was once one of the most picturesque cities in the Philippines.
About half of it is now charred concrete and skeletons of buildings, the effects of 154 days of air strikes and artillery by the military, and booby traps the rebels laid everywhere to keep them at bay.
The Acampongs now live in a tiny temporary housing unit on the city's outskirts, competing with thousands of families for water and other basic utilities.
At least 500 other families live in plastic tents, like Asnia Sandiman, 25, who produces made-to-order clothing with a government-issued sewing machine.
"The tent is fine until it rains and it gets so cold, or until the heat is so bad," Sandiman said.
"My deepest hope is that we are allowed to go back to Marawi but honestly, I would take any permanent address just to get out of here."
Hundreds of militants, 165 soldiers and at least 45 civilians were killed in the five-month conflict. President Rodrigo Duterte in October 2017 declared the city liberated, and its rehabilitation officially underway.
But there is little sign of progress.
Bangon Marawi (Rise Marawi), an inter-agency task force in charge of reconstruction, has a deadline of 2021 for rebuilding and remains confident of meeting that.
"We could only go as fast as legally possible. We can't make shortcuts," its field office manager, Felix Castro, said.
"It takes a while in the beginning but it will be quick once it starts."
ABANDONED CITY
Except for stray dogs and soldiers on guard, Marawi's commercial center has been abandoned. There is no sign of the promised rehabilitation.
Thousands of people are in limbo following a conflict that no one saw coming.
Most are jobless and dependent on relief goods, like Noronisah Laba Gundarangin, a mother of three, who lives with four other families in her sister's home.
The 73,000 pesos ($1,385) her family received from government agencies isn't enough for a small business. They have debts to pay and children to feed.
Gundarangin, 40, wonders what happened to all the help and money pledged by the international community when the war was in the spotlight. The authorities say not all of that has materialized.
"I know billions (of pesos) were donated to Marawi but they go through so much bureaucracy that by the time it reaches us, they are pennies," she said.
The task force commander, Eduardo del Rosario, on Monday said obstacles to progress were debris, unexploded ordnance and unsafe structures, but said those should all be cleared by November, with some construction to start in September.
While awaiting that, the task force has been allowing people to return to see the place they once called home. Now they call it "ground zero".
Acampong gave his consent for his house to be demolished. He returned recently and found a papaya tree growing in its place.
"It's painful because we had nothing to do with this war. We were just caught up," he said.
"Everything we've worked hard for, all the big and small investments, are now all gone."
"Every day, it's like this. Waiting and waiting, as if waiting for death."
https://www.reuters.com/article/us-philippines-security-marawi-widerimag/marawis-ruins-a-reminder-of-islamic-states-devastating-reach-idUSKCN1SQ2F9
--------
Jihadist outfit Jama'at al Muslimin spreading wings in Britain and Bangladesh
May 22, 2019
Salah Uddin Shoaib Choudhury
On May 20, 2019, Detective Branch (DB) of Bangladesh Police has arrested Yasin Muhammed Abdus Samad (43) in Dhaka from in front of Gawsul Azam mosque in Mohakhali area, who is the active cohort of the founder of a radical Islamic militancy group named Jama'at al Muslimin Bangladesh (JaM). Following his arrest, DB said, pro-Al Qaeda militancy group Jama'at al Muslimin Bangladesh was formed under active participation of British-Bangladeshi Yasin Muhammed Abdus Samad. By now, this group has expanded its activities within 17 countries in the world, including the United Kingdom. The elite force also arrested Tehzib Karim, who also is a member of JaM and went to Yemen in 2010 and met militancy kingpin Anwar al Awlaki. Tehzib's elder brother Rajib Karim took part in a jihadist attack on the British Airways. Since then, Rajib Karim has been serving 30-year's rigorous imprisonment in Britain. On the other hand, Yasin Muhammed Abdus Samad had connections with Mufti Jashimuddin Rahmani, kingpin of a Bangladesh-based militancy group named Ansarullah Bangla Team, which had been later renamed as Ansar Al Islam.
Activities of Jama'at al Muslimin Bangladesh came under the radar of Bangladeshi law enforcing and security agencies in 2005. Jihadists were getting organized under the disguise of a non-government organization named Research Center for Unity Development (RCUD).
Jama'at al Muslimin (Society of Muslims), popularly known as Takfir wal-Hijra (Excommunication and Exodus), alternatively "excommunication and emigration" or "anathema and exile", is a radical Sunni Islamist group led by Shukri Mustafa, which had emerged in Egypt in the 1960s as an offshoot of Muslim Brotherhood being inspired by Sayyid Qutb. The group was crushed by the Egyptian authorities after it kidnapped and murdered Muhammad al-Dhahabi, a former minister and Muslim scholar. Being crushed by the Egyptian authorities, this group once again started getting back to existence and has been expanding network in various parts of the world.
One of the key goals of JaM is ousting democratically elected governments in different parts of the world, including the Muslim nations. With this notorious plan, this group is gradually expanding network in a number of countries, including United Kingdom. In Britain, it is operating under the disguise of mosques. One such mosque is located at Northampton, where one of the attendees is none by Islamic State (ISIS) funder and convicted fraud and notorious criminal Md. Shahid Uddin Khan.
Md. Shahid Uddin Khan, along with his wife Farjana Anjum and daughters Shehtaz Munasi Khan, Parisa Pinaz Khan and Zumana Fiza Khan had entered United Kingdom with tons of dirty money and had even managed immigrant status under Visa Tier 1, vide VAF No. 511702.
On January 17, 2019, Dhaka residence of Md. Shahid Uddin Khan was raided by the members of the Counter Terrorism and Transnational Crime (CTTC) unit of Bangladesh Police.
CTTC, based on secret information, raided House No. 184, Road No. 2, Baridhara DOHS in Dhaka, Bangladesh on January 17, 2019. This house is owned by Md. Shahid Uddin Khan and was allegedly used as a warehouse for arms, explosives and propaganda materials of Islamic State (ISIS). During the raid, large volume of weapons, detonator, counterfeit Bangladesh currency notes and jihadist materials of ISIS were recovered by the CTTC unit.
Following this recovery, three separate cases against ISIS-funder Md. Shahid Uddin Khan, his wife Farjana Anjum, daughters and other accomplices were lodged. The cases are: Cantonment PS, Case no 10, Section-6(2)/7/11/12 of Anti Terrorism Act 2009 (amendment 2013); Cantonment PS, Case no 11, Section-25-A, Special Power Act 1974; and Cantonment PS, Case no 12, Section-19-A of Arms Act 1878.
One of the main reasons of ISIS-funder Khan's joining hands with Jama'at al Muslimin is his ambition of ousting the democratically elected government in Bangladesh. In addition to funding ISIS, Khans also have been donating fund to the activities of Jama'at al Muslimin.
https://www.weeklyblitz.net/news/jihadist-outfit-jamaat-al-muslimin-spreading-wings-in-britain-and-bangladesh/
--------
US Former Pastor Says He Converted To Islam 'Because Of Saudi Hospitality'
21 May, 2019
An American pastor turned Muslim preacher has said the friendly treatment he received while visiting Saudi Arabia led him to convert to Islam.
Samuel Earle Shropshire made the comments in an interview with semi-official Saudi news website Sabq published on Tuesday.
The 70-year-old explained that when he first travelled to Jeddah in 2011 to work as an editor for a new translation of the Quran he was wary due to the negative image portrayed of Muslims in the US media.
"I soon realised that reality was completely different from what I had seen in the media," he said.
"I saw good people, who take the initiative to greet people and are generous regardless of whether you are Muslim or not."
He added that hospitality he received in Jeddah coupled with his work on the Quran led him to embrace Islam.
"Saudis worship only one God and they have good morals," he said.
Shropshire, who now lives in Saudi Arabia, is the founder of non-profit organisation Muslim Voice for Peace & Reconciliation.
Saudi Arabia, which imposes a strict interpretation of Islam, is home to the two holiest sites in the religion - Mecca and Medina.
https://www.alaraby.co.uk/english/news/2019/5/21/us-ex-pastor-converted-to-islam-because-of-saudi-hospitality
--------
Bilawal wants anti-beggar drive to begin with PM Imran
May 22, 2019
Pakistan People's Party (PPP) Chairman Bilawal Bhutto-Zardari on Tuesday said that an anti-beggar drive should begin with Prime Minister Imran Khan instead of the poor people of the country.
Earlier in the day, Islamabad's deputy commissioner had said that the government had started a drive against the professional beggars in the Sectors F-10 and F-11 of the federal capital. Responding to his tweet, the PPP chairman said that the government wants to eliminate the poor instead of eliminating poverty.
He further said that if the government really wants to arrest professional beggars then they should start with "prime minister-select".
https://www.pakistantoday.com.pk/2019/05/21/bilawal-wants-anti-beggar-drive-to-begin-with-pm-imran/
JI announces countrywide protest against govt from June 15
Jamat-e-Islami (JI) on Tuesday announced a countrywide protest against the Pakistan Tehreek-e-Insaf (PTI) government from June 15.
The protest against rising inflation and soaring dollar price would begin from Faisalabad, said JI leader Liaqat Baloch.
He said that the protest would be a representation of the poor people's miseries. He also said that the government's attitude towards the opposition is meant to hide its negligence.
https://www.pakistantoday.com.pk/2019/05/21/ji-announces-countrywide-protest-against-govt-from-june-15/
--------
Muslims, Christians share Iftar at Abu Dhabi church
May 22, 2019
Ashwani Kumar
Senior chaplain Andy Thompson said the inter-faith gathering is a platform to celebrate the spirit of tolerance, peace and harmony.
St Andrew's Church Abu Dhabi hosted an Iftar where Muslims and Christians came together to mark the holy month of Ramadan.
Senior chaplain Andy Thompson said the inter-faith gathering is a platform to celebrate the spirit of tolerance, peace and harmony. "We have done this last year too. It is important that people pf both faiths get together in a relaxed setting to celebrate friendship. This is what it means to be in the UAE - a place where people from all over the world are working and living together. And yet, we rarely get a chance to meet and have fun together. We need to push back intolerance seen in the rest of the world and the UAE is leading the way. We are just joining the party," Thompson said.
Even though it is a one-off event, the church didn't have any difficulty setting an Iftar gathering as there were expert advices from Muslim 'ambassadors'. The church has a monthly gathering of Muslims and Christians where there is exchange of dialogues.
Monthly inter-faith gathering
Mohammed Anis, an 'ambassador', said the event is celebration of commonalities among all faiths.
"It's not just this Iftar. We have a monthly gathering 'scriptural reasoning' for past two years to share common scriptures. Muslims will take a scripture from the Bible and a Christian will take a scripture from the Quran, and there will be discussions. It's fruitful conversations as there are lots of similarities."
The 'ambassadors' took fasting Muslims from the gathering to pray at nearby mosque - Mary, Mother of Jesus Mosque.
Sabeel Abdhulrahiman was among the gathering with wife Harshath Beegum Sabeel and kids Adam Ihsan and Zara Sabeel. "This is the first time we are all breaking fast in a church. We are amazed by the hospitality and friendly atmosphere here."
As the hall was filled to capacity, the church had to open an additional hall to accommodate faithful. The Anglican church was established in 1968 and is marking 51 years.
https://www.khaleejtimes.com/ramadan-2019/muslims-christians-share-iftar-at-abu-dhabi-church-
--------
India
Two terrorists killed in encounter in Kulgam
May 22, 2019
SRINAGAR: Two terrorists were killed on Wednesday in an encounter with security forces in Kulgam district of Jammu and Kashmir, police said.
Acting on a credible input about presence of ultras in Gopalpora area of Kulgam, security forces launched a cordon and search operation, a police spokesman said.
"During the search operation, the hiding terrorists fired on the search party. The fire was retaliated, leading to an encounter," the spokesman said.
He said in the ensuing gun battle, two terrorists were killed and the bodies retrieved from the site of encounter.
"The identities and affiliations of the killed terrorists are being ascertained," he added.
The spokesman said arms and ammunition were recovered from the site of encounter.
https://timesofindia.indiatimes.com/india/two-terrorists-killed-in-encounter-in-kulgam/articleshow/69439511.cms
--------
Southeast Asia
In Malaysia, Iftar Meal is a Time to Reconnect with Former Militants
2019-05-21
Dressed in traditional Muslim garb – abaya or niqab for women, skull caps for men – the people entering a hotel banquet hall in Kuala Lumpur one recent evening looked like any other group gathering for iftar, the meal that breaks the day's fast during Ramadan.
But this was no ordinary group. It included one-time members of Jemaah Islamiyah, Darul Islam, Abu Sayyaf, al-Qaeda and the so-called Islamic State – men convicted of terrorism offenses and men detained under security laws, plus their relatives – 122 people in all.
The event has been hosted annually for 16 years by the Royal Malaysia Police to help authorities stay engaged with people once involved with or suspected of involvement in terror activities.
"We do have other programs, but it is not something that we hold on a grand scale like this. The other would be one-to-one visits, and sometimes we organize talks. It is difficult to conduct house visits to everyone, but we make sure we are contactable whenever they need us," Malaysia's counter terror chief Ayob Khan Mydin Pitchay told BenarNews.
The aim of all these efforts is to keep strong relationships with people who could be vulnerable to returning to violent activities and radical ideologies, he said.
"They had to deal a lot with public perception among others, family acceptance and financial aid as well. So we talk to their family, because family acceptance is important. Once they have that support, they will be able to stay focused and handle the pressure," Ayob said.
He described the iftar event as a reunion where ex-terrorists and former detainees get to meet not only with police officers but also with people they used to associate with in terror groups.
Asked if he was worried about hosting an event where such individuals could interact, Ayob said no.
"Those who are here have repented. They are no longer a threat," he said.
Only seven of more than 700 individuals arrested since 2001 for terrorism-related activities have relapsed, he said, citing police data.
"Our de-radicalization program is a success. Many have gone back to society and they live a normal life. Some had gone back, in fact they fled to Syria to join the caliphate, but it is an isolated case," Ayob said.
"Many regret their actions and believe that violence and extremism is not the way," he said.
'We are the only country'
People attending the event appeared uneasy around reporters and most declined to speak to the media.
One man, a government official detained by police for 28 days in 2014, gave a short interview to BenarNews on condition his name not be used.
The 32-year-old was arrested after he was believed to have attempted to flee the country to join militants in the southern Philippines. He was held under the Security Offenses (Special Measures) Act (SOSMA), which allows suspects to be detained up to 28 days without charges.
He was later released due to lack of evidence.
"I used to be detained under SOSMA. I see the law able to curb militant activities especially when it involves the country's security. Maybe what the government can do is to improve it," said the father-of-one. But he declined to say how.
He said his name had been added to a police watch list, requiring him to seek police consent before visiting any other countries.
"I do not know how long I will be on the list. I have no other comment on this matter," the man said.
Ahmad El-Muhammady, a senior lecturer with International Islamic University Malaysia, said that Malaysian police use an individualized approach to de-radicalizing extremists.
"The breaking fast event is one of the programs the police organize to engage with them," he said.
Ahmad, who participates in the rehabilitation efforts, claimed that Malaysia is the only country that uses this approach to get close to ex-terrorists.
"We are the only country. During Ramadan we invite them for breaking fast, during Eid we visit them and bring them some gifts, and when their children are entering school we help them with school shoes or a bag."
https://www.benarnews.org/english/news/malaysian/special-iftar-05212019150548.html
--------
Widodo Re-Elected Indonesia's President in Race Shaped by Conservative Islam
May 21, 2019
JAKARTA, Indonesia—President Joko Widodo was comfortably re-elected the leader of the world's largest Muslim-majority nation, after tacking rightward to win over an electorate that has shown signs of embracing a more conservative form of the faith.
An official vote count on Tuesday showed Mr. Widodo won 55.5% of more than 154 million votes cast in the April 17 election, an 11-point margin over his challenger, Prabowo Subianto, a former army general who lost to Mr. Widodo five years ago and has a record of latching onto Islamist...
Full report at:
https://www.wsj.com/articles/joko-widodo-wins-indonesian-presidency-by-a-wide-margin-11558408961
--------
Grand Mosque, a trace of Islamic civilization in Surakarta
May 21, 2019
Boy T. Harjanto
The sound of a drum from the mosque's verandah could be heard. It was near the juhur (midday) adzan (call to prayer), when many Muslims go to pray at the Surakarta Hadiningrat Grand Mosque.
The Grand Mosque was built by Sultan Pakubuwono III in 1763 and finished in 1768.
The mosque also serves as a venue for religious-related rituals such as Grebeg (an event to commemorate the birthday of Prophet Mohammad) and the Sekaten Festival (a week-long ceremony, festival and fair to celebrate the birthday of Prophet Mohammad), which are held in the compound.
The Surakarta sultan has a role as a religious leader in the sultanate.
All Grand Mosque staff have the same privilege as the courtiers.
The mosque is located on a 19,180-square-meter plot and its wall is as high as 3.25 meters.
Full report at:
https://www.thejakartapost.com/multimedia/2019/05/21/grand-mosque-a-trace-of-islamic-civilization-in-surakarta.html
--------
South Asia
Sri Lanka Rejects Shariah University, All Madrasas Tobe Brought under the Umbrella of Sri Lanka's Education Ministry
May 21, 2019
COLOMBO: Sri Lankan Prime Minister Ranil Wickremesinghe on Tuesday refused permission for a planned $10 million (SR37.5 million) Shariah university in one of the country's main cities.
And in the wake of the deadly Easter Sunday terror attacks on hotels and churches, the premier also announced that all madrasas would be brought under the umbrella of Sri Lanka's Education Ministry.
The latest moves by the Sri Lankan government follow widespread unrest on the island, with anti-Muslim riots having caused damage running into millions of dollars.
Wickremesinghe's orders came after a fact-finding report into the university compiled by MP Ashu Marasinghe. He recommended that the institution, being constructed at Batticaloa, in the Eastern Province, should be privately operated and titled Batticaloa Technology University. The new education complex is located close to the township of Kattankudy where suspected ringleader of the Easter Sunday suicide bombings, Zahran Hashim, lived and preached his messages of hate and violence.
The Sri Lankan government analyst's department said on Tuesday that DNA tests proved Hashim died in the attack at the Shangri-La hotel in Colombo.
President's Counsel, Ali Sabry, a prominent lawyer and political analyst, told Arab News on Tuesday that the premier's announcement was welcome.
"We don't need a Shariah university at this juncture when there is a lot of suspicions on various Islamic topics that need to be clarified by Islamic theologians following the suicide attacks by Muslim extremists," Sabry said. He stressed that the country's main focus should be on strengthening ways to ensure peaceful coexistence among all communities.
The Sri Lankan University Grants Commission had a set of guidelines to license new universities, and Wickremesinghe's latest recommendations would also be included among the requirements for a new university, Sabry added.
The prime minister's ruling on madrasas (Islamic seminaries) would provide more transparency on the activities of the institutions, he said. "Their curriculum and their co-curricular activities should maintain a common standard and these madrasas should prepare the students to make them fit into society instead of just learning Arabic and Islam only."
M.R.M. Malik, director of the Muslim Affairs Ministry in Colombo, told Arab News that currently all madrasas function under his ministry. "There are 317 madrasas throughout the island with an estimated 25,000 students. In addition to the local teachers, there are 38 Arabic teachers and 85 foreign students," he said.
Most of the teachers are from Egypt, Pakistan and India, while many of the overseas students studying at the madrasas are from Libya, Pakistan, Jordan and India.
Sri Lanka Muslim Council President N.M. Ameen told Arab News that the local community had never wanted a Shariah university. However, he said the proposed curriculum for the madrasas should be constructed in consultation with Islamic scholars and the Muslim community.
Meanwhile, Western Province Gov. Azath Salley, revealed that damage caused by anti-Muslim riots had reached nearly Rs900 million (SR19.2 million). The governor was speaking to Arab News following a visit to some of the worst-affected villages on the island.
"Speaking to the families of the vandalized properties, it's clear that an organized gang had attacked these earmarked properties owned by Muslims," said Salley. "One child, whose father was killed in his presence, is still in a state of utter shock and dismay." He added that turpentine oil had been poured on the face of the dead carpenter by his killers and set on fire.
The governor urged the authorities to bring the attackers to justice. He added that the government would provide compensation to victims of wrecked properties.
Police spokesman Ruwan Gunasakera said that more than 100 arrests had been made following the rioting, and that a curfew had been lifted and life was returning to normal.
http://www.arabnews.com/node/1500366/world
--------
Russia raises alarm about Islamic extremists in Afghanistan
May 21, 2019
MOSCOW — Russia's top security chief on Tuesday raised alarm about Islamic extremists massing on Afghanistan's northern border.
Alexander Bortnikov, chief of the main Russian intelligence agency FSB, said on a visit to Tajikistan that some 5,000 fighters of an Islamic State group affiliate have gathered in areas bordering on former Soviet states in Central Asia, saying that most of them fought alongside IS in Syria.
Bortnikov, in comments carried by Russian news agencies, called for tighter border control to prevent a spillover.
Russia has a significant presence in Central Asia including several military bases.
The IS affiliate in Afghanistan emerged in 2014 and refers to itself as the Khorasan Province, an ancient term for an area that includes parts of Afghanistan, Iran and Central Asia. It has pledged allegiance to the IS group in Iraq and Syria but consists mainly of disgruntled former Taliban and other insurgents from South and Central Asia.
Russia has been expressing concern about the IS insurgency spilling over into Central Asia for several years. But some experts say the Kremlin is exaggerating the number of extremists to justify its outreach to the Taliban. In recent years, Russia has emerged as an influential power broker in Afghanistan where it fought a disastrous war in the 1980s. Russian officials have been mediating between feuding factions, and even spoke for lifting international sanctions against the Taliban.
Full report at:
https://www.washingtonpost.com/world/asia_pacific/russia-raises-alarm-about-islamic-extremists-in-afghanistan/2019/05/21/a1c61e0c-7b9d-11e9-b1f3-b233fe5811ef_story.html?noredirect=on&utm_term=.9de6a5714b9f
--------
'Mother of Satan' bombs show foreign hand in Sri Lanka bombings: investigators
May 21, 2019
COLOMBO: One month after the Sri Lanka suicide attacks that killed more than 250 people, investigators have told AFP the bombers used "Mother of Satan" explosives favoured by the Islamic State group that are a new sign of foreign involvement.
Detectives said the back-pack bombs used in the April 21 attacks on three churches and three hotels were manufactured by local jihadists with Islamic State expertise.
They named the explosive as triacetone triperoxide, or TATP, an unstable but easily made mixture favoured by Islamic State militants who call it "Mother of Satan".
It was also used in the 2015 attacks in Paris, by a suicide bomber who hit the Manchester Arena in England in 2017 and attacks on churches in Indonesia one year ago.
Islamic State has claimed the Sri Lankan bombers operated as part of its franchise. But Sri Lankan and international investigators are anxious to know just how much outside help went into the attacks that left 258 dead and 500 injured.
"The group had easy access to chemicals and fertiliser to get the raw materials to make TATP," an official involved in the investigation told AFP.
Sri Lankan detectives say the National Thowheeth Jama'ath (NTJ), local militants blamed for the attacks, must have had foreign help to assemble the bombs.
"They would have had a face-to-face meeting to transfer this technology. This is not something you can do by watching a YouTube video," said the official, speaking on condition of anonymity.
Investigators had initially believed that C4 explosives -- a favoured weapon of Tamil Tiger rebels -- were used, but forensic tests found TATP which causes more burning than C4.
Police have also confirmed that 100 kilograms (220 pounds) of explosives found in January in the island's northwest was TATP.
They are checking the travel records of the suicide bombers as well as foreign suspects to see when and where bomb-making lessons could have been staged.
"It looks like they used a cocktail of TATP and gelignite and some chemicals in the Easter attacks. They were short of the 100 kilos of raw TATP that were seized in January," said the investigator.
Sri Lankan security forces have staged a series of raids since the bombings. Police spokesman Ruwan Gunasekera said Sunday that 89 suspects are in custody.
Army chief Mahesh Senanayake said last week that at least two suspects have been arrested in Qatar and Saudi Arabia, underscoring the international link.
On April 26, six militants, three widows of the suicide bombers and six of their children were killed at an NTJ safe house near the eastern coastal town of Kalmunai.
Police found large quantities of chemicals and fertilizer there that was probably meant to make bombs, authorities said.
The government has admitted that Indian warnings of the looming attacks in early April were ignored.
But President Maithripala Sirisena has said eight countries are helping the investigation. A US Federal Bureau of Investigation team is in Sri Lanka and Britain, Australia and India have provided forensic and technical support.
China offered a fleet of vehicles to bolster the mobility of the security forces tracking down militants.
The Sri Lankan who led the attacks, Zahran Hashim, was known to have travelled to India in the months before he became one of the suicide bombers.
Moderate Muslims had warned authorities about the radical cleric who first set off alarm bells in 2017 when he threatened nonMuslims.
He was one of two bombers who killed dozens of victims at Colombo's Shangri-La hotel on April 21.
Army chief Senanayake said Hashim had travelled to Tamil Nadu state in southern India and been in contact with Islamists there.
Hashim, one of seven bombers who staged the attacks, also appeared in an Islamic State group video that claimed responsibility for the attacks.
Another bomber who was meant to have hit a fourth hotel, has been named as Abdul Latheef Jameel who studied aviation engineering in Britain and Australia.
Authorities in the two countries are investigating whether he was radicalised whilst abroad.
Full report at:
https://timesofindia.indiatimes.com/world/south-asia/mother-of-satan-bombs-show-foreign-hand-in-sri-lanka-bombings-investigators/articleshow/69424303.cms
--------
ISIS has amassed 5,000 fighters close to CIS border in North of Afghanistan: Russia
21 May 2019
A top Russian security official has claimed that the Islamic State of Iraq and Syria (ISIS) terrorist group's offshoot in Afghanistan has amassed at least 5,000 fighters close to CIS border in North of Afghanistan.
The director of Russia's FSB Alexander Bortnikov made the remarks during a meeting with the ex-Soviet intelligence services in Dushanbe, according to Russia's RT Television network.
"Especially worrying is re-deployment of terrorist groups into northern provinces of Afghanistan," Bortnikov said.
He warned that 'Wilayat Khorasan', a local Islamic State affiliate, had managed to gather 5,000 fighters in the area.
A U.S. official had earlier told AFP that ISIS terrorists are heading to Afghanistan to continue their jihad and plot 'spectacular' attacks against the United States.
"We know some have already made their way back here and are trying to transfer the knowledge, skills and experience they learned over there," the official speaking on the condition of anonymity told AFP late in April.
Full report at:
https://www.khaama.com/isis-has-amassed-5000-fighters-close-to-cis-border-in-north-of-afghanistan-russia-03436/
--------
12 militants killed in N. Afghanistan
2019-05-21
KUNDUZ, Afghanistan, May 21 (Xinhua) -- A total of 12 militants have been killed as government forces launched cleanup operations against Taliban fighters in Khan Abad district of the northern Kunduz province on Tuesday, provincial government spokesman Esmatullah Muradi said.
The operations, according to the official, launched in the wee hours of Tuesday in parts of Khan Abad and the neighboring Aqtash district, and so far 12 insurgnets have been confirmed dead and over a dozen others sustained injuries.
No security personnel has been hurt, the official asserted.
Full report at:
http://www.xinhuanet.com/english/2019-05/21/c_138076998.htm
--------
In Sri Lanka, Muslims say Sinhala neighbours turned against them
by Lisa Fuller & Rukshana Rizwie
May 22, 2019
Kottaramulla, Sri Lanka - The stench of turpentine overpowered Jiffriya Ameer as she cradled her husband's head on her lap on the front porch of her home and watched the blood drain from the gaping wound on his head and neck. Her three children watched in horror as their father gasped for breath.
She screamed for help, but three police officers stood, looking on in disbelief, she said. The only vehicle which could take 49-year old Saleem Ameer to the hospital was engulfed in flames.
Minutes earlier, a Sinhalese mob had attacked Ameer with swords, fatally wounding him before pouring turpentine on his face.
"It was hard for me to believe the mob could commit such a heinous crime," she said.
In spite of a state of emergency being in place following the deadly Easter Sunday bombings, on May 12 and 13, Sinhala mobs rampaged through at least 24 towns in western Sri Lanka, looting and attacking Muslim properties with stones, swords and petrol bombs.
In addition to killing Ameer, the mobs wounded at least 14 other Muslims and destroyed over 540 Muslim-owned houses, shops, and mosques as well as nearly 100 vehicles, according to an assessment by local charities.
Authorities said that Buddhist hardline groups were likely to blame for the wave of anti-Muslim riots that swept the island in apparent retaliation for last month's bombings claimed by the Islamic State of Iraq and the Levant (ISIL or ISIS) group.
Armed navy personnel stood guard on a narrow dirt track that leads to Ameer's home in Kottaramulla, about 60km north of Colombo in western Sri Lanka. They are among hundreds of military and additional police who have been deployed in the region since the anti-Muslim riots.
Tainted peace
A month earlier, such a nightmarish scenario would have hardly seemed imaginable in Sri Lanka's northwest province, which had been largely unaffected by the sporadic ethnic violence seen in other parts of the country in the decade since Sri Lanka's civil war ended.
This week, Sri Lanka marked the 10th anniversary of the end of its 26-year civil war between the government forces and the separatist Liberation Tigers of Tamil Eeelam (LTTE), who fought for autonomy for the country's minority Tamil population.
Since the end of the war, tensions have increased between the majority Sinhala community, which constitute 75 percent of Sri Lanka's population, and Muslims, who at 9.7 percent consider themselves to be a distinct ethnic group in the country.
Last year, Muslim mosques and business were burned in an arson attack carried out by Buddhist mobs.
But the South Asian island nation has seen more violence in the last month than it had in the past decade.
Police spokesman Ruwan Gunasekara said he could not verify the number of properties that were damaged until their investigation was complete. However, he insisted that "no deaths were reported", although the local hospital and police in Kottaramulla confirmed Ameer's death.
Last month's deadly bombings, which killed over 250 people, ignited anti-Muslim sentiments and eventually sparked full-scale riots.
A local Muslim hardline group, the National Thowheed Jamath, was blamed for the coordinated attacks on three churches and three hotels on April 21, the worst attack in a decade.
Insecurity continues
In the towns hit by violence, both Muslims and Sinhalese said they still felt unsafe, despite the increased presence of the armed forces in the region.
Jiffriya's Sinhalese neighbour said he feared reprisal attacks, and pointed to the presence of naval officers as evidence of such a threat.
Meanwhile, many Muslims said they fear they could be attacked again.
In Thummadora, another affected town about 40km east of Colombo, Abdul Wahid Mohamed Risvi, a 44-year-old father of three, is terrified about the possibility of more violence.
"I haven't gone to work in a week because I cannot leave my children alone. I cannot sleep well either," he said.
Many Muslims also said they no longer trust the police or the military to protect them.
"Before the incident took place, we asked for protection from the local monks and the police," Aboo Haneefa Mohammed Ahsan, 26, told Al Jazeera in Thummadora. "They promised to provide security. But we were attacked anyway."
Gunasekara admitted that "some incidents were reported in some areas after curfew", but added that the "situation was brought under control" after the military was deployed.
The army investigated accusations of its complicity in the attacks after a video emerged on social media purportedly showing a soldier in Thummadora gesturing to a mob to attack a mosque. The army concluded that the soldier was merely adjusting an arm strap.
Acting army spokesman General Roshan Seneviratne told Al Jazeera that "no incidents took place wherever the army was deployed".
'We can't look at each other's faces'
Meanwhile, residents in the affected towns report their long-existing relationships with their neighbours have deteriorated.
"We maintained a good relationship with the Sinhala community before the incident. Now we can't even look at each other's faces," Ahsan said.
Victims have said people from their own neighbourhoods were also involved in some of the attacks.
Mohammed Thowfeek Abdul Kamil, 39, said the CCTV footage of a mob attacking his electronics store in Nikerapitiya revealed that most of the perpetrators were local men.
"I recognised them when I watched the video," he said.
However, Risvi said while some of the local Sinhala population in Thummadora joined in the attacks, there were others who tried to protect their Muslim neighbours, sometimes at great personal risk.
"When two elderly Muslim women walked into the town, a Sinhalese family came to the road and brought them into their home to protect them. Some Sinhalese also tried to dissuade the mobs from attacking," he said.
One Sinhalese women in Thummadora, who requested anonymity, warned three Muslim families of the impending attacks and hid them in her home. She said she was terrified for her own family's safety but saw it as her duty to protect her neighbours.
Full report at:
https://www.aljazeera.com/news/2019/05/sri-lanka-muslims-sinhala-neighbours-turned-190521064727363.html
--------
Special Forces kill Taliban shadow district chief's top commander in Herat
21 May 2019
The Afghan Special Forces conducted an operation in Shindand district of Herat province killing a top Taliban commander who was conducting insurgency under the leadership of the shadow district chief of Taliban.
The 207th Zafar Corps in a statement said Hafiz Daud who was in command of a group of 15 militants was killed in Zir Koh area of Shindand district.
The statement further added that Daud was operating under the commander of Mullah Samad, the shadow district chief of Taliban for Shindand district.
The Special Forces also arrested a Taliban fighter and confiscated a PKM machine gun, a RPG rocket launcher, two M-240, three Ak-47 rifles, the 207th Zafar Corps said, adding that a vehicle and two motorcycles were destroyed.
Full report at:
https://www.khaama.com/special-forces-kill-taliban-shadow-district-chiefs-top-commander-in-herat-03433/
--------
Afghan Special Forces kill 18 Taliban militants in Kunduz, Ghazni and Herat provinces
21 May 2019
The Afghan Special Forces carried out multiple counter-terrorism operations in Kunduz, Ghazni and Herat provinces of Afghanistan killing at least 18 Taliban militants.
Informed military sources said Tuesday that the operations were conducted in Khanabad of Kunduz, Deh Yak district of Ghazni and Shindand district of Herat province.
"An Afghan special forces raid in Khanabad district resulted in 7 Taliban fighters killed and a large amount of weapons and explosives destroyed," the sources said.
The sources further added that In Deh Yak district, an Afghan special forces operation resulted in 9 Taliban fighters killed, 6 detained and multiple weapons and explosives destroyed.
"In Shindand district, Afghan special forces completed a multi-day raid resulting in 2 Taliban fighters killed," the military sources said.
Full report at:
https://www.khaama.com/afghan-special-forces-kill-18-taliban-militants-in-kunduz-ghazni-and-herat-provinces-03443/
--------
Explosion rips through the vehicle of Taliban shadow judge in Kunduz province
21 May 2019
An explosion ripped through the vehicle of Taliban shadow judge in northern Kunduz province leaving at least one dead and another wounded.
The 217th Pamir Corps in a statement said the incident took place Tabra Kush area of the province targeting the vechile of Mawlavi Ezatullah, the shadow judge of Taliban in Kunduz.
The statement further added that the explosion critically wounded Mawlavi Ezat and his driver was killed.
The anti-government armed militants including Taliban have not commented regarding the incident so far.
Full report at:
https://www.khaama.com/explosion-rips-through-the-vehicle-of-taliban-shadow-judge-in-kunduz-province-03441/
--------
North America
New Yorkers stand with Congresswoman Ilhan Omar
Islam Dogru
21.05.2019
NEW YORK
New Yorkers of all colors, races, and religions on Monday rallied in support of U.S. Congresswoman Ilhan Omar, who has long been a victim of anti-Semitism allegations ever since she criticized a major lobbying firm working for Israel.
Organized by the Neturei-Karta International, an orthodox Jewish organization founded in Jerusalem, Palestine in 1938 to fight the ideology of Zionism and the state of Israel, the event provided an opportunity to thousands of Americans to gather at the iconic Times Square to send a message of support to Omar.
Protesters chanted anti-Zionist slogans and carried banners which read, "Criticism of Israel not anti-Semitism", "Falsely accusing people as anti-Semitic is a cause for anti-Semitism", "We support Ilhan Omar", "Zero tolerance for Islamophobia", and "State of Israel does not represent world Jewry" among others.
Rabbi David Feldman in his speech condemned attacks and provocations against Omar and said that American Jews do not agree with the proponents of Israel in demonizing the Somali-born, first-time Congresswoman.
Feldman added that just as Palestinians, Orthodox Jews are suffering from the regime of Israel and hoped for more courageous politicians like Omar in American politics.
The rally ended peacefully after protesters handed out leaflets.
Omar, 37, one of the first two Muslim women lawmakers elected to Congress this year, has faced a slew of Islamophobic attacks since taking office, including threats against her life.
https://www.aa.com.tr/en/americas/new-yorkers-stand-with-congresswoman-ilhan-omar/1483642
--------
US Congress may act on Khashoggi murder, says fiancee
Hakan Copur
21.05.2019
WASHINGTON
The fiancee of slain Saudi journalist Jamal Khashoggi said the U.S. Congress may act against Saudi Arabia over the killing of the Washington Post writer "in the times ahead".
In an interview with Anadolu Agency in Washington, where she attended a Congressional subcommittee meeting on the murder of her fiancee, Hatice Cengiz said many American lawmakers were not pleased with the U.S. response to the gruesome killing.
Cengiz met Khashoggi at a conference in Istanbul in 2018, and after numerous interactions, the two connected and Khashoggi asked for her hand in marriage, with plans to move to Washington.
Everything changed in early October last year when Khashoggi went to the Saudi Consulate in Istanbul for documents that would allow him to marry Cengiz.
Once he entered the consulate, he was subsequently killed. After offering a series of changing narratives to explain what happened, the Saudi government eventually admitted he died there but blamed the operation on a botched rendition attempt.
"There are some views on this issue at Congress, such as [passing a] resolution and [imposing] sanctions. They might come up in the times ahead. I got signals in this direction during my meetings at the Congress," she said.
"Many figures told me that 'the attitude of the U.S., in this case, is not enough. Because the murder is against the values that make America what it is. We need to fix this'," she said.
On Thursday, Cengiz pleaded with Congress to lead a new international investigation into his killing.
She poked criticisms at the stance taken by U.S. President Donald Trump's administration on Khashoggi's killing, telling a House Foreign Affairs subcommittee not enough was being done to hold those accountable for the act.
"The United States may begin an international probe within the Congress, which was our request. The judicial process in Turkey stuck. We cannot move forward anymore. If there is an international probe, we believe that a more effective result may be produced," said said.
'Human duty'
She said it was a duty of humanity to illuminate the murder.
"I found myself in an incredibly huge incident. While I was living in a very modest life, I happened to be a witness in a big murder," she told Anadolu Agency.
"This is a human duty, actually a moral duty. Even if it were not Jamal but anyone else, one thing that a person has to do is to defend his or her right," she said.
The official Saudi narrative has been met with international skepticism as well as stern criticism from U.S. lawmakers about the possibility that Khashoggi's murder could have been carried out without the explicit consent of Saudi Crown Prince Mohammed bin Salman.
But Trump and his top officials have rejected any role bin Salman played in the grisly murder.
Trump's own intelligence community determined with high confidence bin Salman ordered his killing.
Cengiz said there might have been a little bit more reaction if it was someone else but Trump at the presidency.
"Rather, Trump revealed a stance that protected Saudi Arabia. Many of the Democratic and Republican names I met in Congress were not very pleased with the attitude of the administration.
"Everyone [I met] at the Congress is indeed a little bit embarrassed about it. I felt that," she said.
Cengiz said she was positive, though, there would be some steps in the near future.
Full report at:
https://www.aa.com.tr/en/americas/us-congress-may-act-on-khashoggi-murder-says-fiancee/1483362
--------
US suspects Assad regime of new chemical attack
Umar Farooq
22.05.2019
WASHINGTON
The U.S. State Department on Tuesday issued a warning to the Bashar al-Assad regime on suspicion it could be conducting a new chemical weapons attack in northwest Syria.
"Unfortunately, we continue to see signs that the Assad regime may be renewing its use of chemical weapons, including an alleged chlorine attack in northwest Syria on the morning of May 19, 2019," department spokeswoman Morgan Ortagus said in a statement. "The United States continues to closely watch the military operations by the Assad regime in northwest Syria, including indications of any new use of chemical weapons by the regime," she added.
Ortagus' statement comes as the regime mounts a new offensive in northwestern Syria the U.S. warned would be a "reckless escalation" that could destabilize the region.
The move threatens to unleash a major humanitarian catastrophe with 180,000 civilians forced to flee in the last three weeks, according to the U.N.
At least 151 civilians have lost their lives in Idlib province since April 25, and more than 405 have been injured.
Some 1.5 million people currently reside in Idlib. Half of them are displaced from other parts of the war-torn country.
Turkey and Russia agreed last September to turn Idlib into a de-escalation zone where acts of aggression would be expressly prohibited.
The regime, however, has consistently broken the terms of a cease-fire there, launching frequent attacks inside the zone.
The U.N.'s emergency relief coordinator, Mark Lowcock, said a full military offensive by the regime could result in the worst humanitarian catastrophe of the 21st century.
Syria has only just begun to emerge from a devastating conflict that began in early 2011 when the regime cracked down on demonstrators with unexpected severity.
"We repeat our warning that if the Assad regime uses chemical weapons, the United States and our allies will respond quickly and appropriately," Ortagus said.
The department also pushed back against Russian allegations against the civil defense agency, White Helmets, that blames Moscow for helping run a disinformation campaign to blame others for the chemical weapons attacks in Syria.
Full report at:
https://www.aa.com.tr/en/americas/us-suspects-assad-regime-of-new-chemical-attack-/1483998
--------
Turkish delegation seeks stronger ties with US Congress
Umar Farooq
21.05.2019
WASHINGTON
The United States Congress plays an important role in the development of U.S.-Turkish relations and in the strategic partnership between the two countries, Turkey's deputy foreign minister said Tuesday.
Speaking at the House of Representatives, Yavuz Selim Kiran said Turkey is planning to host an increased number of U.S. congressional delegations to Ankara as well as establish more contacts on Capitol Hill.
"Our collective efforts to overcome existing problems should not be undermined by unconstructive legislative attempts," Kiran said.
"We consider Congress an important factor in our relations with the U.S. and hope to develop more constructive relations," he added.
Kiran went on to discuss a number of problems that have caused tensions between Washington and Ankara, including Turkey's procurement of Russia's S-400 missile defense system.
He was part of a delegation which included Cagri Erhan, a member of the Presidential Security and Foreign Policy Committee, and Turkish journalist Bora Bayraktar. The delegation arrived in the U.S. for a series of panels in Washington and New York aimed at increasing awareness on U.S.-Turkish relations as well as dispelling any misinformation on the subject.
Tensions between the U.S. and Turkey have reached a fever pitch in recent months with Turkey set to begin receiving the advanced S-400 Russian surface-to-air missile system which Washington said will jeopardize Turkey's role in the U.S. F-35 fighter jet program and which could trigger congressional sanctions.
The U.S. has already suspended deliveries of parts and services related to Turkey's receipt of the multi-million dollar fighter jets.
Following protracted efforts to purchase an air defense system from the U.S. with no success, Ankara decided in 2017 to purchase the Russian S-400 system.
U.S. officials advised Turkey to buy the U.S. Patriot missile system rather than the S-400s from Moscow, arguing that the Russian system would be incompatible with NATO systems and expose the F-35 to possible Russian subterfuge.
Turkey, however, has emphasized that the S-400 would not be integrated into NATO systems and would not pose a threat to the alliance.
"Our S-400 decision does not signify a strategic change of course. Turkey never thought of choosing an alternative to NATO. Our NATO membership is central in our defense planning and security policies," Kiran said.
"We have not always agreed on everything. But friends don't always have to agree on everything."
Full report at:
https://www.aa.com.tr/en/americas/turkish-delegation-seeks-stronger-ties-with-us-congress/1483921
--------
US suspects Syria in new chemical attack and threatens reprisal
May 22, 2019
The US on Tuesday threatened reprisals on the Syrian government after signs that it had carried out a chemical attack during its offensive in Idlib.
The State Department said it was assessing indications that the regime used chemical weapons on Sunday during its offensive on the most significant remaining holdout of extremist rebels.
"We are still gathering information on this incident but we repeat our warning that if the Assad regime uses chemical weapons, the United States and our allies will respond quickly and appropriately," State Department spokeswoman Morgan Ortagus said.
She also denounced Russia, the key ally of Damascus, for a "disinformation campaign" as it tried to blame other parties for chemical attacks.
"The Assad regime's culpability in horrific chemical weapons attacks is undeniable," she said.
Maj Gen Viktor Kupchishin, the head of the Russian military's Reconciliation Centre in Syria, said militants captured by Syrian troops spoke of a plan to stage fake chemical attacks in the towns of Saraqib and Jarjanaz and blame them on government forces. He claimed the militants had created a special "Chemical Wing" to produce and stockpile toxic agents.
The US continues "to see signs that the Assad regime may be renewing its use of chemical weapons, including an alleged chlorine attack in northwest Syria on the morning of May 19, 2019," a State Department statement said on Tuesday.
The State Department said the Russian allegations "are part of a continuing disinformation campaign by the Assad regime and Russia to create the false narrative that others are to blame for chemical weapons attacks that the Assad regime itself is conducting."
Russia and Turkey, the key ally of the rebels, in September reached an agreement that nominally protects Idlib amid fears for the safety of about 3 million people in the north-western area.
But Syria's former Al Qaeda affiliate, Hayat Tahrir Al Sham, has seized a large part of the province and adjoining areas, triggering a regime offensive that includes strikes by Syrian and Russian airplanes.
The Russian military said the former Al Qaida-linked militants in northwestern Syria launched an attack on Syrian government forces Tuesday, including with tanks.
Ms Ortagus said the offensive had destroyed hospitals, schools, homes and camps for the displaced.
"The regime's attacks against the communities of north-west Syria must end," she said.
"The United States reiterates its warning, first issued by President Trump in September 2018, that an attack against the Idlib de-escalation zone would be a reckless escalation that threatens to destabilise the region."
The warning came despite a trip to Russia last week by US Secretary of State Mike Pompeo, who was optimistic that the rival powers had found ways to work together on Syria.
About 180 civilians have been killed in the flare-up since April 30, the Syrian Observatory for Human Rights said from Britain.
The UN says that tens of thousands have fled their homes.
International inspectors say that Syrian President Bashar Al Assad's forces have carried out a series of chemical attacks in the course of the civil war, which has killed more than 370,000 people and displaced millions since 2011.
A sarin gas attack in April 2017 in the town of Khan Sheikhun killed 83 people, the UN said, leading Mr Trump to order a strike with 59 cruise missiles on a Syrian air base.
His action was a reversal from his predecessor Barack Obama, who had declared chemical weapons to be a red line but chose not to respond militarily.
Instead, the former president worked with Russia on a plan that aimed to remove the regime's chemical stockpile.
Full report at:
https://www.thenational.ae/world/the-americas/us-suspects-syria-in-new-chemical-attack-and-threatens-reprisal-1.864615
--------
Hundreds of US politicians ask Trump administration for Syria strategy
May 21, 2019
Hundreds of members of the US Congress signed a letter to President Donald Trump on Monday arguing that the United States should remain engaged with the conflict in Syria, saying they were "deeply concerned" about extremist groups in the country.
"As some of our closest allies in the region are being threatened, American leadership and support are as crucial as ever," said the letter, signed by nearly 400 of the 535 members of the House of Representatives and Senate.
Many US lawmakers, Trump's fellow Republicans as well as Democrats, have been deeply concerned about Syria policy since December, when Trump confounded his own national security team and allies with a surprise decision to withdraw all 2,000 US troops from Syria.
Mr Trump backtracked in February, agreeing to leave a small US presence to help keep pressure on ISIS during what the US military believes will be a critical stabilisation phase in Syria.
The lead signers of the letter were the Democratic chairman and ranking Republican of the House of Representatives Foreign Affairs Committee, Representatives Eliot Engel and Mike McCaul, and the Republican chairman and ranking Democrat on the Senate Foreign Relations Committee, Senators Jim Risch and Bob Menendez.
Full report at:
https://www.thenational.ae/world/the-americas/hundreds-of-us-politicians-ask-trump-administration-for-syria-strategy-1.864553
--------
Pakistan
Stashing dollars at this time is 'grave sin', Mufti Taqi Usmani says
May 22, 2019
Scholar Mufti Taqi Usmani said on Tuesday that purchasing dollars to hoard for the sake of profit is a 'grave sin' and disloyalty to the country in the present economic crisis.
In a social media post, Mufti Usmani said that those involved in the act of hoarding are 'cursed by Allah' as per some narrations of a Hadith.
In the last four business days, the dollar has risen by Rs9.60 against the Pakistani rupee. The US dollar continues its steep incline in Pakistan, reaching a new all-time high in the interbank and open market on Tuesday.
Muhammad Taqi Usmani
@muftitaqiusmani
Purchasing dollars to hoard and earn profit by the increase in its price is a grave sin and disloyalty to the country in the present economic situation. According to some narrations of a Hadith those involved in hoarding are cursed by Allah Taala.
2,670
1:16 AM - May 21, 2019
Twitter Ads info and privacy
1,302 people are talking about this
With an increase of Rs1.36, the dollar reached Rs151. In the open market, the rate increased to Rs153.
The rupee has been falling against the dollar following an agreement with the International Monetary Fund on a $6 billion loan with expected strict conditions including a "market determined" exchange rate.
https://www.pakistantoday.com.pk/2019/05/21/stashing-dollars-at-this-time-is-grave-sin-mufti-taqi-usmani-says/
--------
Iranian FM likely to visit Pakistan this week
May 22, 2019
Baqir Sajjad Syed
ISLAMABAD: Iranian Foreign Minister Mohammad Javad Zarif is expected to visit Islamabad later this week for consultations with the Pakistani leadership, a senior diplomatic source said on Tuesday. The visit will take place amidst Iran's escalating tensions with the United States.
The source said FM Zarif would meet civilian and military leaders during his daylong stay in Islamabad. He said Mr Zarif would discuss the regional situation during his meetings in Islamabad in addition to bilateral matters, especially border security.
The trip will come days before the Organisation of Islamic Cooperation's two-day summit in Makkah from May 30 to 31.
Saudi Arabia has, meanwhile, also scheduled an emergency summit of the Arab League. Saudi official newswire SPA said that King Salman had invited Arab League members to the meeting scheduled for May 30 to discuss the recent "aggression and their consequences".
Saudi Arabia, it is anticipated, would push for anti-Iran resolutions at both summits.
Mr Zarif would reportedly explain Iranian perspective on the developments in the region to Pakistani leaders.
In an interview with CNN on Tuesday, the Iranian foreign minister said the US was "playing a very, very dangerous game" by boosting its military presence in the region.
"Having all these military assets in a small area is in of itself prone to accidents," Mr Zarif said in a reference to the deployment of US aircraft carrier and bomber task force in the Middle East.
"Extreme prudence is required and the United States is playing a very, very dangerous game," he further said.
Mr Zarif last week travelled to Beijing as part of his outreach to regional countries, where his Chinese counterpart Wang Yi assured him that "China firmly opposes unilateral sanctions and the so-called 'long-arm' jurisdiction imposed by the United States on Iran".
Although Pakistan has not taken a definitive position on the crisis and has been hinting at neutrality, Foreign Office spokesman Dr Muhammad Faisal in his last weekly media briefing criticised the US for ratcheting up the tension.
Full report at:
https://www.dawn.com/news/1483795/iranian-fm-likely-to-visit-pakistan-this-week
--------
NAB allowed to grill Nawaz inside jail in vehicles case
Malik Asad
May 22, 2019
ISLAMABAD: An accountability court has allowed the National Accountability Bureau (NAB) to interrogate former prime minister Nawaz Sharif in jail for alleged misuse of vehicles purchased for a South Asian Association for Regional Cooperation (Saarc) conference.
The anti-graft watchdog in its application sought court permission to question the Pakistan Muslim League-Nawaz (PML-N) supreme leader inside the jail in connection with misuse of dozens of bulletproof vehicles purchased in 2016.
In the application, NAB alleged that the previous government purchased 34 bulletproof vehicles from Germany without paying import duties for the guests of the Saarc conference. According to the anti-graft watchdog, these vehicles were being used by Nawaz Sharif and his daughter Maryam Nawaz.
NAB informed the court that during the course of inquiry statements of former premier Shahid Khaqan Abbasi, former principal secretary to the prime minister Fawad Hassan Fawad and others had already been recorded. However, court permission was needed to question Nawaz Sharif inside the jail in this matter.
Judge Mohammad Arshad Malik of the accountability court granted the permission to NAB to interrogate the ex-premier in Lahore's Kot Lakhpat jail.
Meanwhile, the Islamabad High Court (IHC) issued notices to NAB and the superintendent of Kot Lakhpat jail while admitting for regular hearing a petition seeking suspension of the sentence handed down to Nawaz Sharif.
The IHC division bench comprising Justice Aamer Farooq and Justice Mohsin Akhtar Kayani took up the ex-premier's petition seeking release from jail on medical grounds.
Khawaja Haris Ahmed, counsel for Nawaz Sharif, produced his medical reports before the bench and asserted that the former prime minister was suffering from serious diseases that could put his life in danger.
He requested the court to suspend the seven-year sentence handed down to him and to grant Nawaz Sharif post-arrest bail on medical grounds, enabling him to receive medical treatment from a doctor of his own choice.
Full report at:
https://www.dawn.com/news/1483785/nab-allowed-to-grill-nawaz-inside-jail-in-vehicles-case
--------
Dr Alvi's counsel given last chance to file reply
May 22, 2019
KARACHI: The Sindh High Court (SHC) on Tuesday allowed more time, as a last chance, to the counsel for filing a reply on behalf of Dr Arif Alvi on a petition challenging his candidature for the presidency.
Azmat Rehan had filed a petition in August 2018 before the presidential election and impleaded the Election Commission of Pakistan (ECP) and others as respondents.
When a two-judge SHC bench headed by Justice Mohammad Ali Mazhar, took up the matter on Tuesday, Advocate Munawar Hussain requested for time to file a reply of Mr Alvi.
"As a last chance, two weeks time is granted and no further adjournment will be granted," the bench ordered and adjourned hearing till June 12.
Full report at:
https://www.dawn.com/news/1483712/dr-alvis-counsel-given-last-chance-to-file-reply
--------
Murad asserts Sindh govt's authority to transfer police, bureaucracy
May 22, 2019
KHAIRPUR: Chief Min­is­ter Syed Murad Ali Shah on Tuesday held out the assurance that all uplift schemes for the shrine of great sufi Saint Sachal Sar­mast would be approved and executed as per the com­mitment of his government.
All promises regarding funds and facilities for Daraza Sharif would be fulfilled, he added.
Mr Shah was speaking to the media while visiting the shrine on the second day of the 198th urs celebration of Sachal Sarmast in Daraza Sharif. He laid a wreath on the grave of the sufi saint and offered fateha.
The CM also distributed gifts among poor and needy persons.
In reply to a question, Mr Shah said that Sindh was indeed facing a financial crisis but his government was fully capable to over­come it.
When asked about the appreciation of US dollar and price hike in the coun­try, the CM Sindh it should better be asked from those at the helm of the affairs. He, however, commented that the situation was bound to add poor people's miseries.
He observed that the Pak­istan Tehreek-i-Insaf (PTI) government did not have control on economy, prices and other major issues. He said he could only pray that it was advised to focus on governance instead of other issues.
CM Shah also rejected allegations that transfers and postings in Sindh were being made on a political basis. He pointed out that in Punjab, four IGs were trans­ferred, and argued: "Were they transferred on a politi­cal basis?"
He also pointed out that the Sindh government also introduced the same Police Order 2002 which the PTI people believed was a better system. "Then why Sindh gov­ern­ment is being accu­sed of using political influ­ence and pressure tac­tics?" he asked.
He insisted that his government had the autho­rity to transfer not only police officers but also the entire bureaucracy.
"People elect a govern­ment for the very purpose, so that it could serves them," he said.
When his comment was sought on Railways Minister Shaikh Rashid's statement regarding spread of HIV/AIDS in Sindh, Mr Shah said you better ask this question without referring to Shaikh Rashid. He said his government was seriously concerned over such a large number of cases emerging in the province.
He said the government had already taken prompt and appropriate action in this regard.
He pointed out that specialists were there to deal with the situation while experts were looking into the spread of the diseases. Moreover, he added, the government was working on an effective awareness campaign to sensitise people on the causes and prevention of HIV/AIDS.
Regarding the Railways ministry, he said he came across some press reports suggesting that the Rail­ways was facing a Rs28bn deficit. It's up to Shaikh Rashid now if he could save it or let it sink, he remarked.
When asked about the oppositions forces' joining hands to launch a movement against the PTI government after Eid, the CM said that only top leaders of the opposition parties would decide what sort of protest it would be.
Full report at:
https://www.dawn.com/news/1483706/murad-asserts-sindh-govts-authority-to-transfer-police-bureaucracy
--------
Pakistan condemns firing of ballistic missiles by Houthis towards Makkah
May 22, 2019
ISLAMABAD: Pakistan on Tuesday said that it condemns firing of ballistic missiles towards Saudi Arabia's Makkah province by Houthi militants in Yemen.
Islamabad commended the vigilant Saudi defence forces for intercepting the projectiles, according to a statement issued by the Foreign Office.
"Pakistan reaffirms its solidarity with Saudi Arabia and reiterates its support against any threat to the security of the Kingdom," the FO further said in the statement.
On Tuesday, Saudi-owned media accused Yemeni rebels of targeting Islam's holiest city Makkah after Riyadh and its allies said they had intercepted two missiles over the kingdom.
The exiled Yemeni government, which is based in Saudi Arabia, echoed the claim but the Houthi rebels denied any such attack.
Imam-i-Kaaba, Sheikh Dr Abdul Rahman ibn Abdul Aziz Al Sudais, denounced the targeting of Jeddah and Taif in Makkah province with ballistic missiles, terming it an act of blatant aggression carried out by "a body with no principle or religion".
"These hostile acts are issued by a body with no principle or a religion. It is a blatant and flagrant aggression," said Sheikh Abdurrahman Al Sudais, who is also the head of the Two Holy Mosques in Saudi Arabia.
The Imam-i-Kaaba stressed that the hostilities were carried out by a body with no faith in the holy month of Ramzan. He praised the brave Saudi air defence forces that managed to monitor hostile targets soaring over prohibited areas in Jeddah and Taif and destroy them.
Full report at:
https://www.pakistantoday.com.pk/2019/05/21/pakistan-condemns-firing-of-ballistic-missiles-by-houthis-towards-makkah/
--------
Arab World
Saudi Arabia to execute three prominent scholars after Ramadan: Report
May 22, 2019
Saudi officials are reportedly set to sentence three imprisoned dissident scholars to death and execute them shortly after the holy Muslim fasting month of Ramadan as a brutal crackdown led by Crown Prince Mohammed bin Salman against Muslim preachers and intellectuals widens in the kingdom.
The London-based online news outlet Middle East Eye, citing two unnamed Saudi government sources, reported on Tuesday that the three men are Sheikh Salman al-Ouda, Sheikh Awad al-Qarni and Ali al-Omari.
Ouda is the assistant secretary-general of the International Union of Muslim Scholars, which the Riyadh regime has listed as a terrorist organization.
Saudi authorities detained the prominent cleric on September 7, 2017, and have held him in solitary confinement without charge or trial ever since. The officials have imposed travel bans on members of his family as well.
A family member has told Human Rights Watch that the distinguished cleric was being held over his refusal to comply with an order by Saudi authorities to tweet a specific text to support the Saudi-led blockade of Qatar.
Ouda, instead, posted a tweet, saying, "May God harmonize between their hearts for the good of their people," - an apparent call for reconciliation between the Persian Gulf littoral states.
Awda has been prevented from communicating with the outside world since October last year.
The trio is currently awaiting trial at the Special Criminal Court in the capital Riyadh. A hearing was set for May 1, but was postponed without setting a further date.
"They will not wait to execute these men once the death sentence has been passed," a source said on condition of anonymity.
A second source, requesting not to be named, said the beheading of 37 Saudi nationals in a single day on April 23 was used as a trial balloon to see how strong the international condemnation was.
"When they found out there was very little international reaction, particularly at the level of governments and heads of state, they decided to proceed with their plan to execute figures who were prominent," the source said.
Saudi Arabia has stepped up politically-motivated arrests, prosecution and conviction of peaceful dissident writers and human rights campaigners.
Saudi officials have also intensified crackdown in the country's Shia-populated Eastern Province.
Eastern Province has been the scene of peaceful demonstrations since February 2011. Protesters have been demanding reforms, freedom of expression, the release of political prisoners, and an end to economic and religious discrimination against the oil-rich region.
The protests have been met with a heavy-handed crackdown by the regime, with regime forces increasing security measures across the province.
https://www.presstv.com/Detail/2019/05/22/596561/Saudi-Arabia-to-execute-three-prominent-scholars-after-Ramadan-Report
--------
Egypt's street iftar comes with a community flavor
May 21, 2019
CAIRO: Hardly a street in Egypt is without its iftar table as families organize "mercy meals" for friends, relatives and neighbors during Ramadan.
A tradition that began to help the poor has been extended to include entire streets and neighborhoods, giving residents and friends a chance to meet, share old memories and instil community values in their children.
In Cairo, people compete to organize large iftar tables laden with food items.
Each year Moataz Aburiyeh plans an iftar table for friends and neighbors in the capital's central Abdin area.
"I consider it a great opportunity to see a lot of friends and talk about everything," 38-year-old Aburiyeh told Arab News.
The table contains all kinds of food. "On the table is meat, chicken, rice, salad and other items. I know the family and neighbors' preferences and I meet their taste," said Aburiyeh, who owns a men's clothing store.
Meanwhile, residents in Umm Reza, a village west of Cairo, organized an iftar table to gather all the people of the village for the second year in a row.
School teacher Khaled Kamal, who was behind the idea, said: "I suggested to residents that they gather during Ramadan and everyone welcomed the idea."
Villagers donated money for the gathering until they had raised more than 10,000 Egyptian pounds ($600).
"We let all the people of the village, including Christians, share the meal," said Kamal.
Another villager, Sayed Fouad, said: "The iftar was well organized and included hot meals consisting of meat, rice, vegetables, salad, pickles and damietta sweets."
National unity
For the past five decades, Christian clerics in Egypt have organized annual Muslim iftar meals to encourage national unity.
In the 1970s, the Coptic religious brotherhood began hosting Ramadan meals for Muslims, a move that was followed by the Justice and Peace association a decade later.
Pope Shenouda, the Coptic Orthodox Pope of Alexandria, promoted iftar meals to strengthen the church's connection with the Egyptian nation.
The Church of the Palace of Dupara in Tahrir Square in central Cairo has been organizing a breakfast table for several years, attended by Muslim and Christian leaders. The church is being supervised by a number of young men and women.
Coptic scholar Robert Al-Fares said: "The Christians of Egypt are organizing iftar to show that society has returned to a period of friendship and unified spirit.
"This is a positive phenomenon that confirms the end of a dark era of division between sects and religions," he said, referring to the rule of the Muslim Brotherhood in 2012 and 2013.
Full report at:
http://www.arabnews.com/node/1500351/middle-east
--------
Syrian asylum seeker in Denmark gets 12 years for ISIS bombing plot, stabbings
2019-05-20
A Syrian asylum seeker in Sweden has received a 12-year prison sentence for planning to explode one or more bombs in Copenhagen and stabbing random people with kitchen knives.
The Copenhagen City Court said Monday Moyed Al Zoebi, 32, acted on behalf of the Islamic State group. The court found him guilty last month.
The man had an accomplice, Dieab Khadigah, who was sentenced in Germany in July 2017 to a prison term of six and a half years.
After an internet chat, they were to gather in Copenhagen in November 2016 for the attack.
Full report at:
https://www.israelhayom.com/2019/05/20/syrian-asylum-seeker-sentenced-to-12-years-for-isis-bombing-plot-stabbings/
--------
UN team unearths 12 mass graves in Iraq probe of ISIS crimes
20 May 2019
A UN team investigating the massacre of Iraq's Yazidi minority and other atrocities has excavated 12 mass graves and is collecting witness accounts that could be used in Iraqi and other national courts, according to a UN report seen by AFP on Monday.
The Security Council agreed in 2017 to establish the UN probe to ensure ISIS faces justice for war crimes in Iraq and Syria – a cause championed by Nobel Peace Prize winner Nadia Murad and international human rights lawyer Amal Clooney.
In the report sent to the council, the head of the team, British lawyer Karim Asad Ahmad Khan, said efforts were focused on three initial investigations: the 2014 massacre of Yazidis, crimes committed in Mosul from 2014 to 2016, and the mass killing of Iraqi military recruits in the Tikrit area in June 2014.
The team began work in October, with the first mass grave containing ISIS victims unearthed in March and April in the Murad's home village of Kojo in Sinjar in northwest Iraq.
Ahmad Khan said "progress had been slower than hoped" in the investigation and stressed the need to establish "clear and effective channels" to use the evidence in Iraqi proceedings.
The Iraqi government had resisted calls for the UN probe despite evidence of more than 200 mass graves in Iraq containing victims of ISIS, who swept across northern Iraq in 2014.
Murad is among thousands of Yazidi women who were taken hostage and held as sex slaves, while hundreds of men and women are believed to have been executed by ISIS.
The United Nations has described the massacre of the Yazidis by ISIS militants as a possible genocide.
As well as excavations of mass graves, the 48-member team has "engaged first-hand with survivors and witnesses" and has put in place a witness protection program, said the report sent to the council on Friday.
Full report at:
https://english.alarabiya.net/en/News/middle-east/2019/05/20/UN-team-unearths-12-mass-graves-in-Iraq-probe-of-ISIS-crimes.html
--------
Iraqi troops kill 3 Islamic State fighters in Salahuddin
by Mohammed Ebraheem
May 20, 2019
Salahuddin (IraqiNews.com) – Three Islamic State militants were killed Monday during a military operation in Salahuddin province, north of the Iraqi capital Baghdad.
Safaa al-Saadi, the commander of Salahuddin Operations at al-Hashd al-Shaabi (Popular Mobilization Forces), said that the pro-government fighters, backed by security forces, launched a military operation to hunt for Islamic State remnants in Salahuddin province.
The troops killed three Islamic State terrorists during the operation, al-Saadi said, adding that the operation will go on "until all planned targets are totally secured."
The Islamic State group appeared on the international scene in 2014 when it seized large swathes of territory in Iraq and Syria, declaring the establishment of an Islamic "caliphate" from Mosul city.
Later on, the group has become notorious for its brutality, including mass killings, abductions and beheadings, prompting the U.S. to lead an international coalition to destroy it.
Full report at:
https://www.iraqinews.com/iraq-war/iraqi-troops-kill-3-islamic-state-fighters-in-salahuddin/
--------
Egypt says 16 suspected militants killed in Sinai
21 May 2019
Egypt's interior ministry said on Tuesday 16 suspected militants have been killed in North Sinai, where security forces have for years been battling a local affiliate of ISIS extremist group.
The militants were killed during police raids on their hideouts in the provincial capital el-Arish, the ministry said in a statement, without detailing when the raids took place.
Based on intelligence from the national security department, the ministry alleged the militants had been planning attacks on "important and vital facilities" as well as prominent figures in the city.
Egypt has for years been fighting an insurgency in North Sinai, which escalated following the 2013 military ousting of president Mohamed Morsi.
Since then, hundreds of police officers and soldiers have been killed in militant attacks.
In February 2018, the army launched a nationwide operation against the militants, focusing mainly on the turbulent North Sinai region.
Full report at:
https://english.alarabiya.net/en/News/middle-east/2019/05/21/Egypt-says-16-suspected-militants-killed-in-Sinai.html
--------
Iraq to send teams to Tehran, Washington to 'halt tension'
21 May 2019
Iraq will send delegations to Washington and Tehran to help "halt tension" amid fears of a confrontation between the United States and Iran in the Middle East, Prime Minister Adel Abdul Mehdi said on Tuesday.
He said there were no Iraqi groups that wanted to push toward a war, two days after a rocket fired in Baghdad landed close to the US embassy.
No one has claimed responsibility. US government sources said Washington strongly suspects Shiite militias with ties to Tehran were behind the rocket attack.
Iran has rejected allegations of involvement in attacks.
Abdul Mehdi, whose country has close ties to both Iran and the US, said that Iranian and US officials have informed Iraq that they have "no desire in fighting a war."
The Iraqi PM said that Baghdad is "playing a role to calm the situation but it is not a mediation." He said he will visit Kuwait on Wednesday to discuss regional issues.
Abdul Mehdi further added that Iraq is seeking alternatives for oil exports should Strait of Hormuz be closed amid the US-Iran tension.
The prime minister added that it is important to work with the Kurdistan Region of Iraq and Turkey over alternative oil export route.
US President Donald Trump said on Monday Iran would be met with "great force" if it attacked US interests in the Middle East.
Last Wednesday, the US has ordered the departure of 'non-emergency US government employees' from Iraq, the US Department of State said in a statement.
Full report at:
https://english.alarabiya.net/en/News/middle-east/2019/05/21/Iraq-to-send-teams-to-Tehran-Washington-to-halt-tension-.html
--------
Saudi cabinet calls on international community to stand firm against Iran regime
22 May 2019
Saudi Arabia's Council of Ministers said that the Kingdom called on the international community to shoulder its responsibilities by taking a firm stand against the Iranian regime to stop and prevent it from spreading destruction and chaos.
The council, which met on Tuesday evening during a session chaired by Saudi King Salman, reviewed a number of reports on developments in the region.
"Iran and its agents need to move away from its reckless behavior and spare the region the risks and not push them to undesirable consequences," a statement from Saudi Minister of Media Turki al-Shabanah published by the Saudi Press Agency read.
The Saudi Council of Ministers added that the peoples of the region, including Iran, have the right to live in security and stability.
Full report at:
https://english.alarabiya.net/en/News/gulf/2019/05/22/Saudi-cabinet-calls-on-international-community-to-stand-firm-against-Iran-regime.html
--------
Terrorists plotting chemical attack in Syria's Idlib, Aleppo: Russia
May 21, 2019
The Russian Defense Ministry says foreign-sponsored Takfiri terrorist groups have stockpiled a large number of chemical munitions in Syria's northwestern province of Idlib in preparation for a false-flag attack to implicate government troops and invent pretexts for possible foreign acts of aggression on the crisis-hit Arab country.
The ministry's Center for Syrian Reconciliation said in a statement released on Tuesday that the extremists have laced the weapons with nerve agents for this end.
"The militants plan to stage such provocations in the village of Jarjanaz, as well as in the town of Saraqib, where a group of children and adults — refugees from the southern provinces of Syria — have already been gathered. Similar preparations are underway in the west of Aleppo province", Maj. Gen. Viktor Kupchishin said at a daily briefing.
The center went on to say that militant groups, under the leadership of the Jabhat Fateh al-Sham Takfiri terror outfit – formerly known as al-Nusra Front, sought to attack the positions of Syrian army forces in al-Hobait village of Idlib province as well as the towns of Kafr Nabudah and Kafr Zita in the western-central province of Hama by means of tank shell and car bombs.
"Unfortunately, we continue to see signs that the Assad regime may be renewing its use of chemical weapons, including an alleged chlorine attack in northwest Syria on the morning of May 19," State Department spokeswoman Morgan Ortagus said in a statement. "We are still gathering information on this incident, but we repeat our warning that if the Assad regime uses chemical weapons, the United States and our allies will respond quickly and appropriately," she said.
On May 17, the center stated that it had received information from the local residents of the northwestern Syrian city of Saraqib that Jabhat Fateh al-Sham terrorists were getting ready to carry out a false-flag chemical attack to frame the Russian air force.
The sources added that the extremists were planning to film the alleged poisoning of civilians next to the fragments of Russian munitions later on, and subsequently publish the video on social media networks or hand it over to Western media outlets to create the false notion that Russian fighter jets have targeted residential neighborhoods in the area with chemical weapons.
On April 23, local sources, requesting not to be named, told Syria's official news agency SANA that Jabhat Fateh al-Sham terrorists and Western-backed White Helmets, who have been accused of cooperating with Takfiri militants and staging false-flag gas attacks, were preparing to stage chemical attacks in Idlib and Hama provinces. The United States has warned it would respond to any possible chemical weapons attack by Syrian government forces with retaliatory strikes, stressing that the attacks would be stronger than those conducted by American, British and French forces last year.
On April 14, 2018, the US, Britain and France carried out a string of airstrikes against Syria over a suspected chemical weapons attack on the city of Douma, located about 10 kilometers northeast of the capital Damascus.
Washington and its allies blamed Damascus for the Douma attack, an allegation rejected by the Syrian government.
Western governments and their allies have never stopped pointing the finger at Damascus whenever an apparent chemical attack takes place.
Full report at:
https://www.presstv.com/Detail/2019/05/21/596553/Terrorists-plotting-chemical-attack-in-Syrias-Aleppo-Russia
--------
Bahrain says conference co-hosted with US aimed at helping Palestinians
May 21, 2019
DUBAI: Bahrain said Tuesday a peace conference it is co-hosting next month with the US is aimed at helping the Palestinians, who have criticized the kingdom for failing to consult them about the event.
The conference "serves no other purpose" than to help the Palestinian people "through developing their abilities and enhancing their resources," said Foreign Minister Khalid bin Ahmed Al-Khalifa.
The kingdom "remains supportive of the brotherly Palestinian people in restoring their legitimate rights on their land as well as establishing an independent state with east Jerusalem as its capital," Bahrain's top diplomat said in a statement.
The White House announced Sunday it would co-host the June 25-26 conference with Bahrain focusing on economic aspects of the long-delayed US peace plan, with the declared aim of achieving Palestinian prosperity.
"We were not consulted by any party on the announced meeting to take place in Manama, Bahrain," Saeb Erekat, secretary general of the Palestine Liberation Organization, said in a statement.
"We have not mandated any party to negotiate on our behalf."
The Palestinians have boycotted the US administration since President Donald Trump broke with decades of consensus and recognized Jerusalem as Israel's capital in December 2017.
They consider the eastern part of the city the capital of their future state and have shown little interest in the US peace plan, which they fear will be heavily biased in favor of Israel.
Dubbed "Peace for Prosperity," the conference is expected to bring together leaders from several governments, civil society and the business sector.
Trump's office said the conference was a "pivotal opportunity... to share ideas, discuss strategies, and galvanize support for potential economic investments and initiatives that could be made possible by a peace agreement."
The Palestinians see this as offering financial rewards in exchange for accepting ongoing Israeli occupation.
Full report at:
http://www.arabnews.com/node/1500226/middle-east
--------
Mideast
Yemen's Houthi rebels launch missiles towards Makkah and Riyadh
May 20, 2019
Saudi Arabia intercepted two Houthi ballistic missiles launched towards Makkah and Riyadh on Monday after the Yemeni rebels said they planned to strike at hundreds of Saudi and UAE targets.
Air defences destroyed the missiles above the western cities of Taif and Jeddah, Saudi media reported.
Yemen's internationally recognised government condemned the rebel attack and accused Iran of ordering the strikes.
"The attempt to target Makkah will drag the region into a dangerous scenario. It also shows Iran's full control over the rebels," the government said in a statement.
"The attack on a Muslim holy site is a terror crime," it said.
The rebels have launched scores of missile attacks on Saudi Arabia in recent years. Monday's launches came a day after the Houthis' Saba news agency quoted a rebel military source as saying they planned to strike 300 Saudi and UAE targets, including military headquarters and bases in both countries and their bases in Yemen.
Last week, the Saudi Arabia reported that armed drones struck two oil pumping stations, after the Houthi-run Masirah TV said the rebels had launched drone attacks on Saudi installations.
The UAE's Minister of State for Foreign Affairs, Dr Anwar Gargash, said last week that the reservoir of confidence for the Houthis was empty and their latest moves had done little to refill it.
Yemen is, he said, another example of how Tehran's actions do not match its words.
Iran often says its ballistic missile programme is purely defensive, but Dr Gargash said the significant evidence of Iranian contribution to the Houthi missile programme showed this not to be the case.
The rebels, he said, did not have the technology two or three years ago to hit Saudi towns and cities, but now regularly launched attacks that damaged homes and killed civilians.
Meanwhile, forces loyal to Yemen's internationally recognised government said they had captured an Al Qaeda leader in the south-western province of Taez.
The military said special forces arrested Bilal Muhammed Ali Al Wafi on Saturday in the mountain area of Habashi.
Al Wafi, in his 30s, is a key member of Al Qaeda in the Arabian Peninsula, or Aqap, and has helped to carry out several deadly attacks, including the 2012 bombing of a Yemeni military parade that killed dozens of troops.
The US designated Al Wafi as a terrorist in 2017.
Al Qaeda has maintained a presence in the country throughout the chaos of Yemen's four-year civil war between the government, backed by Saudi Arabia, and the Iran-aligned rebels.
Saudi Arabia's Minister of State for Foreign Affairs, Adel Al Jubeir, said on Sunday that the kingdom wanted to avert war in the region but was ready to respond with "all strength" to attacks.
Riyadh accused Tehran of ordering the drone strikes on its oil pumping stations, which came two days after sabotage attacks on four oil tankers off the UAE coast – two of them Saudi, one Emirati and the other Norwegian. The UAE, Saudi Arabia and Norway are investigating the sabotage, which has not been claimed by any group. Iran has distanced itself from both sets of attacks.
"Although it has not affected our supplies, such acts of terrorism are deplorable," Saudi Energy Minister Khalid Al Falih said. "They threaten uninterrupted supplies of energy to the world and put a global economy that is already facing headwinds at further risk."
The attacks come as the United States and Iran spar over Washington's tightening of sanctions aimed at cutting Iranian oil exports to zero, and an increased US military presence in the Gulf over perceived Iranian threats to US interests.
https://www.thenational.ae/world/mena/yemen-s-houthi-rebels-launch-missiles-towards-makkah-and-riyadh-1.863838
--------
Gaza's Islamic Jihad re-emerges, looking to Iran
BySAMI MOUBAYED, DAMASCUS
MAY 20, 2019
The latest escalation in Gaza could be a blessing-in-disguise for the forgotten militant group Palestinian Islamic Jihad. Slipping into oblivion and irrelevance in recent years, the once formidable Islamist group joined its longtime ally Hamas in repelling Israeli attacks on the besieged Gaza Strip earlier this month.
No less than 600 rockets were fired, with Islamic Jihad boasting that at least one of them was its own production "tested on the Zionist enemy". The group added that two of its members were killed by the Israeli offensive.
Palestinian Islamic Jihad's participation in the operation, and its back-to-back statements about rockets and martyrs, was intended to remind the Palestinian street that the group was still in operation — and part of the Iran-led "Axis of Resistance", according to Palestinian political sources in Damascus informed about political machinations in the strip.
The group had slipped out of the public eye in recent years, due to the illness of its former secretary-general and its decision to keep a low profile in inter-Arab feuds. It refused to take sides with Turkey and Qatar as Hamas had done and stood clear from a confrontation with both states due to its strong relations with Iran.
Hamas on the other hand, parted ways with Damascus in mid-2011, putting its weight behind the Syrian opposition and specifically, behind the Muslim Brotherhood, which has been trying to topple the Syrian regime since 1964. Its offices were shut down, and its property confiscated after its Damascus-based chief Khaled Meshaal defected to Doha, believing that regime collapse in Syria was imminent.
Islamic Jihad remained quiet, maintaining low profile ties with Damascus while silently moving its activities to Hezbollah territory in Lebanon, where it was easier to operate and safer than wartime Damascus.
Strategic differences
Palestinian Islamic Jihad and Hamas differ in strategy, rather than ideology. Both are committed to an Islamic state and to the destruction of the Israeli state. In recent years, both have softened their end-objective, settling for the 1967 borders of Palestine, rather than the pre-Israel ones of 1948.
Palestinian Islamic Jihad is less affiliated with the Muslim Brotherhood of Egypt and commands more respect than its Islamic affiliate since — unlike Hamas — it has never had the chance to try or fail in government. Over the past 12 years, Hamas lost much of its former support within Gaza due to its inability to alleviate the day-to-day suffering of Palestinians. It also failed to lift the siege of Gaza, and thus, to provide jobs and wages to its constituency.
Palestinian Islamic Jihad is now aiming to remind Iran of its usefulness, hoping to attract financial assistance again that had nearly dried up since 2011. The Iranians were more focused on bankrolling Hezbollah in the Syrian battlefield than in supporting Palestinian or Iraqi affiliates not directly involved in that strategic conflict.
The militant group's new command, elected to office last September, seem to be intent on rectifying this. The new command is composed of nine people, who are mostly civilian writers and intellectuals, rather than military figures trained in guerrilla warfare. Five live abroad, making them automatically rejected by young Palestinians in Gaza, who complain that they know nothing of the hardships of the besieged strip.
So the latest military operation was Islamic Jihad's way of saying that they are still present inside Gaza, still aware of the people's grievances, and capable of defending them against Israeli aggression.
Put on hit list
The new Palestinian Islamic Jihad leader Ziad Nakhaleh (Abu Tarek) invested heavily in the Gaza operation — his premier feat since replacing Ramadan Shallah, the former secretary-general who led the movement since the assassination of its founder in October 1995.
Unlike Shallah, who studied banking and finance at Durham University in the UK and taught at the University of South Florida, the new chief was educated at the schools and institutes of Gaza, holding no higher than a teaching diploma. Both were natives of Gaza, but only Nakhaleh spent time in Israel jails — a total of 14 years — unlike Shallah, who led the movement from abroad, spending most of his time in Damascus.
Nakhaleh helped co-found Palestinian Islamic Jihad's military wing, the Quds Brigade, but was never among its commanders. He was arrested for his role in the first intifada and exiled to Lebanon, where he became friends with Hezbollah chief Hasan Nasrallah, and the Syrian government, which hosted him until 2011. Unlike Khaled Meshaal of Hamas, he refused to take sides during the Syrian conflict, and steered clear from the Muslim Brotherhood regime of Egypt, making sure to stand at arms-length from the Qataris and Turks, who were bankrolling the armed Syrian opposition.
In 2014, a $5 million reward was announced by the United States, for any person who helped in Nakhaleh's arrest. This month, he was placed on Benjamin Netanyahu's hit list, accused of being behind the escalation in Gaza. Far from defaming him, this was music to his ears, giving him additional credentials needed to shine in Gaza — and Iran.
One of Nakhaleh's worries, however, is his deputy Mohammad al-Hindi, who had his eyes set on Nakhaleh's post, seeing himself as far more worthy of the job. One of the early founders of the group, he expected to win last September's elections, but came in third after Nakhaleh and Akram Ajouri, the former military adviser to Fathi al-Shaqaqi and head of the group's military command in the West Bank. Hindi is still constantly trying to market himself as a leader-in-waiting, both in Tehran and Moscow, investing in his popularity in Gaza, which exceeds that of the new secretary-general.
Other figures are more cosmetic, like Khaled Batsh, an Islamic Jihad veteran who is popular for his social and charity work in the mosques of Gaza, or Abu Taha, a prominent writer and political analyst, and Walid Qitati, who holds a PhD in psychology from Aden University in Yemen. Topping them all, however, is the all-time Iran favorite Baha Abu Ata, who is not a member of the new command but surpasses all its members in popularity and influence.
Abu Ata has been singled out by the Israelis as the military mind behind the latest operation in Gaza, in his capacity as commander of the Quds Brigade. He is the new leadership's real asset in Gaza — the one person who all nine members are cuddling up to now, to prove worthy of still being part of the "Axis of Resistance". Abu Ata is very close to Hezbollah and also considered a strategic partner in jihad with Hamas' new leadership, Yehia Sinwar and Mohammad Deif, who in turn, are on good terms with the Syrians.
Palestinian Islamic Jihad does not seem to have the intention, let alone capability of toppling Hamas at present, but this could change if street demonstrations against the ruling organization persist and grow.
Full report at:
https://www.asiatimes.com/2019/05/article/gazas-islamic-jihad-re-emerges-looking-to-iran/
--------
The Latest: Iran presidents seeks wartime executive powers
May 22, 2019
DUBAI, United Arab Emirates – The Latest on developments in the Persian Gulf region and elsewhere in the Mideast amid heightened tensions between the U.S. and Iran (all times local):
11 a.m.
Iran's president has told a group of clerics that he is seeking expanded, wartime executive powers to better deal with an "economic war" triggered by the Trump administration's pullout from the nuclear deal and escalating U.S. sanctions.
The state IRNA news agency reported late Monday that President Hassan Rouhani cited the 1980s war with Iraq, when a wartime supreme council was able to bypass other branches to make decisions regarding the economy and the war.
The report didn't say what the new powers would entail but quoted Rouhani as saying that "today, we need such powers."
Rouhani says Iran is facing unprecedented problems in "banking and selling oil" but that the country "is united that we should resist the U.S. and the sanctions."
___
7 a.m.
Yemen's Houthi rebels say they launched a bomb-laden drone targeting an airport in Saudi Arabia that also has a military base inside of it.
The Houthi's Al-Masirah satellite news channel said early on Tuesday they targeted the airport in Najran with a Qasef-2K drone, striking an "arms depot" there.
A statement earlier Tuesday on the state-run Saudi Press Agency quoted Saudi-led coalition spokesman Col. Turki al-Maliki as saying the Houthis "had tried to target" a civilian site in Najran.
The New York Times last year reported that American intelligence analysts were based in Najran assisting the Saudis. The Pentagon did not immediately respond to a request for comment.
Full report at:
https://www.foxnews.com/world/the-latest-iran-presidents-seeks-wartime-executive-powers
--------
Officials say Iran quadruples production of enriched uranium
May 22, 2019
TEHRAN, Iran (AP) — Iran quadrupled its uranium-enrichment production capacity amid tensions with the U.S. over Tehran's atomic program, nuclear officials said Monday, just after President Donald Trump and Iran's foreign minister traded threats and taunts on Twitter.
Iranian officials made a point to stress that the uranium would be enriched only to the 3.67% limit set under the 2015 nuclear deal with world powers, making it usable for a power plant but far below what's needed for an atomic weapon.
But by increasing production, Iran soon will exceed the stockpile limitations set by the accord. Tehran has set a July 7 deadline for Europe to set new terms for the deal, or it will enrich closer to weapons-grade levels in a Middle East already on edge. The Trump administration has deployed bombers and an aircraft carrier to the region over still-unspecified threats from Iran.
Already this month, officials in the United Arab Emirates alleged that four oil tankers were sabotaged; Yemeni rebels allied with Iran launched a drone attack on an oil pipeline in Saudi Arabia; and U.S. diplomats relayed a warning that commercial airlines could be misidentified by Iran and attacked, something dismissed by Tehran.
A rocket landed Sunday near the U.S. Embassy in the Green Zone of Iraq's capital of Baghdad, days after nonessential U.S. staff were ordered to evacuate from diplomatic posts in the country. No one was reported injured. Iraqi military spokesman Brig. Gen. Yahya Rasoul told The Associated Press that the rocket was believed to have been fired from eastern Baghdad, an area home to Iran-backed Shiite militias.
The Iranian enrichment announcement came after local journalists traveled to Natanz in central Iran, the country's underground enrichment facility. There, an unidentified nuclear scientist gave a statement with a surgical cap and a mask covering most of his face. No one explained his choice of outfit, although Israel is suspected of targeting Iranian nuclear scientists.
The state-run IRNA news agency later quoted Behrouz Kamalvandi, the spokesman of the Atomic Energy Organization of Iran, as acknowledging that capacity had been quadrupled. He said Iran took this step because the U.S. had ended a program allowing it to exchange enriched uranium to Russia for unprocessed yellowcake uranium, as well as ending the sale of heavy water to Oman. Heavy water helps cool reactors producing plutonium that can be used in nuclear weapons.
Kamalvandi said Iran had informed the International Atomic Energy Agency of the development. The Vienna-based U.N. nuclear watchdog did not respond to a request for comment. Tehran long has insisted it does not seek nuclear weapons, though the West fears its program could allow it to build them.
Before Iran's announcement, Trump tweeted: "If Iran wants to fight, that will be the official end of Iran. Never threaten the United States again!"
Trump's remarks reflect what has been a strategy of alternating tough talk with more conciliatory statements he says is aimed at keeping Iran guessing at the administration's intentions. He also has said he hopes Iran calls him and engages in negotiations.
He described his approach in a speech Friday, saying, "It's probably a good thing because they're saying, 'Man, I don't know where these people are coming from,' right?"
But while Trump's approach of flattery and threats has become a hallmark of his foreign policy, the risks have only grown in dealing with Iran, where mistrust between Tehran and Washington stretch four decades. While both sides say they don't seek war, many worry any miscalculation could spiral out of control.
Iranian Foreign Minister Mohammad Javad Zarif soon responded by tweeting that Trump had been "goaded" into "genocidal taunts." Zarif referenced both Alexander the Great and Genghis Khan as two historical leaders that Persia outlasted.
"Iranians have stood tall for a millennia while aggressors all gone," he wrote. "Try respect - it works!"
Zarif also used the hashtag #NeverThreatenAnIranian, a reference to a comment he made during intense negotiations for the 2015 nuclear accord.
Trump campaigned on pulling the U.S. from the deal, which saw Iran agree to limit its enrichment of uranium in exchange for the lifting of economic sanctions. Since Trump withdrew America a year ago from the pact, the U.S. has re-imposed previous sanctions and come up with new ones, as well as warning other nations they would be subject to sanctions as well if they import Iranian oil.
British Foreign Secretary Jeremy Hunt told journalists in Geneva that Iran should not doubt the U.S. resolve, warning that "if American interests are attacked, they will retaliate."
"We want the situation to de-escalate because this is a part of the world where things can get triggered accidentally," Hunt said.
Meanwhile, Oman's minister of state for foreign affairs made a previously unannounced visit Monday to Tehran, seeing Zarif, the state-run IRNA news agency said. The visit by Yusuf bin Alawi comes after U.S. Secretary of State Mike Pompeo called Oman's Sultan Qaboos bin Said last week. Oman long has served as a Western backchannel to Tehran and the sultanate hosted the secret talks between the U.S. and Iran that laid the groundwork for the nuclear deal negotiations.
In Saudi Arabia, the kingdom's military intercepted two missiles fired by the Iranian-allied Houthi rebels in neighboring Yemen. The missiles were intercepted over the city of Taif and the Red Sea port city of Jiddah, the Saudi-owned satellite channel Al-Arabiya reported, citing witnesses. The Saudi Embassy in Washington later confirmed the interceptions.
Hundreds of rockets, mortar rounds and ballistic missiles have been fired into the kingdom by the rebels since a Saudi-led coalition declared war on the Houthis in March 2015 to support Yemen's internationally recognized government.
The Houthis' Al-Masirah satellite news channel denied the rebels had any involvement with this round of rocket fire.
Between the two targeted cities is Mecca, home to the cube-shaped Kaaba toward which Muslims pray. Many pilgrims are in the holy city for Ramadan.
Full report at:
https://apnews.com/e46d3bdff2bd48d9a6a87a6752e6be6f
--------
Yemeni Forces Shoot Down Saudi-Led Coalition Drone
May 21, 2019
The Air Defense units of the Yemeni Army and Ansarulah Popular Forces shot down a drone of the Saudi-Emirati coalition today.
The drone of the Saudi-Emirati coalition was operating in the Northwestern areas of Hays in al-Hudaydah Governorate, Arabic-language al-Masirah television network reported.
Saudi Arabia and its allies, including the United Arab Emirates, Morocco, and Sudan, launched a brutal war against Yemen in March 2015 in an attempt to reinstall Yemen's former president Abd Rabbuh Mansur Hadi.
The aggression initially consisted of a bombing campaign but was later coupled with a naval blockade and the deployment of ground forces to Yemen. Around 20,000 people have died since the war began, says Yemen's Health Ministry.
The Saudi-led war has also taken a heavy toll on the country's infrastructure, destroying hospitals, schools, and factories. The United Nations (UN) has said that a record 22.2 million Yemenis are in dire need of food, including 8.4 million threatened by severe hunger.
Despite Riyadh's claims that it is bombing the positions of the Ansarullah fighters, Saudi bombers are flattening residential areas and civilian infrastructures.
Full report at:
http://en.farsnews.com/newstext.aspx?nn=13980231000955
--------
Egypt orders autopsy of Palestinian who died in Turkish jail
21 May 2019
The Egypt Public Prosecution Office has decided to perform another autopsy on the body of Zaki Mubarak, the Palestinian man who was arrested in Turkey on spying charges and died in mysterious circumstances, with Ankara alleging his suicide and his family accusing Turkey of killing him.
Egypt's attorney general Nabil Sadeq has decided to investigate Mubarak's "murder" and ordered a re-examination of the body to identify the cause of death.
In a phone call with Al Arabiya, Zaki Mubarak's lawyer, Sharif Sudqi, said, "We saw that the corpse is in a very bad condition and has been subjected to brutal torture. He has been killed in a barbaric way. We requested a corpse dissection from the attorney general, even though we knew the legal hardships, since the crime has been committed outside Egypt and the victim is not Egyptian."
"I was in shock and amazement. I did not even recognize my brother," Mubarak's brother Zakaria said after receiving the body in Cairo. "His daughters were able to identify him through distinctive features," he added.
Mubarak's brother and lawyer both confirmed that the body will be on its way to Gaza as soon as the autopsy, which is scheduled for Tuesday evening in Cairo's Zeinhom morgue, is done.
Mubarak's body arrived in Cairo from Turkey on May 16, along with a medical report from the Turkish authorities written in Turkish, English, and Arabic, according to Sudqi.
"All three reports do not have a death certificate but include records of injuries and bruises," Sudqi told Al Arabiya.
"The report contradicted itself. It stated that the result of death was natural but at the same time, it said that the cause of death was due to several injuries. International courts will review all documents," Zakaria said.
Should the expected cause of death be proven, Sudqi says the case will be raised to the International Criminal Court, the European Court of Human Rights in France, and several other entities.
Hussam Toukan, a doctor delegated by the Palestinian embassy in Cairo, had earlier said that performing any new autopsy on the body "is not possible as the body was completely decomposed," in a short report that caused outrage among Mubarak's family members.
Zakaria said that Toukan's report did not help the family's quest for justice.
"The body is completely empty. Even the tongue does not exist," he told Al Arabiya from Cairo.
Full report at:
https://english.alarabiya.net/en/News/middle-east/2019/05/21/Egypt-s-attorney-general-orders-dissection-of-Palestinian-who-died-in-Turkish-jail.html
--------
No one authorized to act on Palestinians' behalf at Bahrain confab: Hamas spox
May 22, 2019
A spokesman for the Islamic resistance movement, Hamas, says Palestinians will not allow anyone to relinquish or trade their cause at a forthcoming US-led conference in Bahrain next month in support of US President Donald Trump's controversial proposal for "peace" between the Israeli regime and Palestinians, dubbed "the deal of the century."
"The insistence on convening the Bahrain conference, despite Palestinians' boycott, constitutes a violation of the decisions taken during the Arab League summit in Tunis, and an attempt to impose the American vision on the Palestinian nation," Sami Abu Zuhri said in a post published on his official Twitter page on Tuesday.
Earlier in the day, Palestinian Freedom Movement described the June 25-26 conference in Manama as a serious attack on the Palestinian issue, calling on Bahraini officials to reverse the "dangerous decision."
It also urged the Bahraini nation as well as the country's institutions and executive bodies to act effectively and pressure authorities to overturn the decision.
On Monday, Hamas called on Arab countries not to accept invitations to participate in the upcoming Bahrain workshop scheduled for late June, saying, "This is the beginning of the deal of the century."
"We call on Arab countries not to respond to invitations to participate in the workshop in Bahrain, and stand by the Palestinian nation by all means and tools...," the movement said in a statement.
Trump's "peace plan" has already been dismissed by Palestinian authorities ahead of its unveiling at the end of the holy fasting month of Ramadan and the formation of the new Israeli cabinet, most likely in June.
Speaking in the occupied West Bank city of Ramallah on April 16, Palestinian Prime Minister Mohammad Shtayyeh lashed out at the initiative, asserting that it was "born dead."
Full report at:
https://www.presstv.com/Detail/2019/05/22/596568/No-one-authorized-to-act-on-Palestinians-behalf-at-Bahrain-confab-Hamas-spox
--------
Israeli settler runs over, kills Palestinian man in occupied West Bank
May 21, 2019
An Israeli settler has run over and killed a Palestinian man in the northwestern part of the occupied West Bank.
Palestinian media say that the 45-year- old victim, identified as Abdul Hafiz Barham, was struck east of Qalqilya on Tuesday.
According to witnesses, the Palestinian man was taken to a hospital in Nablus, where he succumbed to his injuries.
Last month, a Palestinian female teacher also died in a run-over attack by an Israeli near the city of Bethlehem.
There have been a series of "hit-and-run" incidents targeting Palestinians in different parts of the West Bank over the past years, with most of them going uninvestigated by Israeli authorities.
Palestinian succumbs to Israeli-inflicted wounds
Meanwhile, a Palestinian man in Gaza has died weeks after being critically injured during clashes between Israeli troopers and Palestinian protesters participating in an anti-occupation rally along the border fence between the besieged strip and the Israeli-occupied territory.
Palestinian Ma'an News Agency reported that Mohammad Abduil-Javad succumbed to his wounds on Tuesday.
He was shot in the leg by Israeli forces during a "Great March of Return" protest rally east of Rafah City on April 24.
Tensions have been running high near the fence separating Gaza from the occupied territories ever since protest rallies began in the Gaza Strip on March 30 last year.
Full report at:
https://www.presstv.com/Detail/2019/05/21/596497/Israel-settler-runs-over-Palestinian-West-Bank-Qalqiliya
--------
Houthis target Saudi civilian facility in Najran with explosives-laden drone
May 21, 2019
RIYADH: Houthi militants had tried to hit a civilian facility in Saudi Arabia's southern border province of Najran with a drone carrying explosives, the Arab Coalition supporting Yemen's legitimate government said on Tuesday.
In a statement carried by the Saudi Press Agency (SPA), Colonel Turki Al-Maliki, the spokesman of the Saudi-led military coalition said the target was a vital facility.
"The Houthi-backed terrorist militia of Iran continues to carry out acts of terrorism that pose a real threat to regional and international security by targeting civilian objects and civilian facilities, as well as civilian citizens and residents of all nationalities," Al-Maliki said.
The statement did not mention casualties and gave no further details.
Earlier on Monday, Al-Maliki said Houthis fired two ballistic missiles toward the holy city of Makkah and Jeddah but both were shot down by Saudi air defense forces.
Full report at:
http://www.arabnews.com/node/1499936/saudi-arabia
--------
Africa
Islamic State group emerges as a political force in western Africa
May 20, 2019
STUTTGART, Germany — Islamic State militants in West Africa are gaining the upper hand, carving out a "proto-state" in northern Nigeria where government forces have been overwhelmed by attacks, U.S. military officials and security analysts say.
ISIS-West Africa, which broke away from the militant group Boko Haram three years ago, continues to launch high profile attacks that have placed the Nigerian military "under tremendous strain," according to Stuttgart-based U.S. Africa Command.
Now, the group appears to be building on its battlefield gains in northeast Nigeria and the borderlands in the Lake Chad region, from where they have launched cross-border attacks in places like Niger.
"Additionally, the group is also attempting to replace state institutions for the population under its control," said Samantha Reho, an AFRICOM spokeswoman, in an updated assessment of the terrorist group.
A concern is that the group's affiliation with the Islamic State has the potential to provide access to "funds, fighters, weapons, or other assistance from other components of the self-described Islamic State," Reho said.
AFRICOM's latest threat assessment echoes the findings in a new report by the International Crisis Group, which said ISIS-West Africa has succeeded in distinguishing itself from other militant groups and the Nigerian government itself when it comes to gaining the trust of local populations.
"It digs wells, polices cattle rustling, provides a modicum of health care and sometimes disciplines its own personnel whom it judges to have unacceptably abused civilians," said the ICG report released last week.
The militants also impose taxes, which are generally accepted by communities under the group's control, the report found. The focus on providing services has given a boost to recruitment and popular support that has resulted in a "jihadist proto-state," it said.
ISIS-West Africa is estimated to have between 3,500-5,000 fighters. Since last August, they have overrun dozens of Nigerian army bases and killed hundreds of soldiers.
AFRICOM, in its 2019 posture statement, acknowledged that Nigeria has faced "multiple setbacks" as it battles ISIS-West Africa, which "has seized military bases and materiel, including armored vehicles, weapons, and ammunition."
With the Nigerian military under increased pressure, members of a multinational task force composed of regional militaries need "to increase their commitments, resources, troop deployments," to counter the extremist group's momentum, AFRICOM said.
For its part, the command says it continues to provide training to regional militaries involved in the fight against militants. The U.S. military also plans to open a new drone base in neighboring Niger later this summer, from where it will be positioned to conduct more intelligence gathering missions.
Still, ISIS-West Africa's continued rise comes as the U.S. has reduced the number of special operations troops in the region, where four U.S. soldiers were killed during an ambush in Niger in 2017. The U.S. has cut about 300 counterterrorism troops, mainly in western Africa, in connection with a strategy shift that calls for more focus on great-power competition, AFRCIOM's Gen. Thomas Waldhauser said last month.
However, some analysts say the effort to counter the militant group's expansion will require more than just military power. Governments in the Lake Chad area need to find a way to deal with food and water shortages and access to health care if they are to compete with Islamic State's local appeal, the ICG report said.
"The deeper it (ISIS-West Africa) sinks its roots into the neglected communities of northeastern Nigeria, the more difficult it may be to dislodge," the report said.
https://www.stripes.com/news/africa/islamic-state-group-emerges-as-a-political-force-in-western-africa-1.581799
--------
Sudan protest group calls for a general strike as talks falter
22 May 2019
Sudan's main protet group called on Tuesday for a general strike, saying two late-night negotiation sessions with the military had failed to reach a deal on how to lead the country after the overthrow of former president Omar al-Bashir.
An alliance of protest and opposition organizations is demanding civilians head a new Sovereign Council meant to oversee a three-year transition towards democracy.
But the Sudanese Professionals Association (SPA) protest group said the army was still insisting on directing the transition and keeping a military majority on the council.
"Civilian power means that the structure is fully civilian with a civilian majority in all its parts," the SPA said in a statement. It said members should mobilize for a strike, without giving a date.
The impasse has hit hopes of a quick recovery from the political turmoil that ended al-Bashir's three-decade rule on April 11.
Britain, the United States, and Norway, who are working together on Sudan, urged all parties to quickly end the uncertainty and build consensus, warning against any outcome without a civilian-led government.
"This will complicate international engagement, and make it harder for our countries to work with the new authorities and support Sudan's economic development," they said in a statement.
Al-Bashir, the former Islamist general under whose rule Sudan was placed on a U.S. list of sponsors of terrorism, was ousted by the army after months of protests against soaring prices, cash shortages and other economic hardships.
Full report at:
https://english.alarabiya.net/en/News/middle-east/2019/05/22/Sudan-protest-group-calls-for-a-general-strike-as-talks-falter.html
--------
UN warns of 'long and bloody war' in Libya amid offensive by Saudi-backed Haftar
May 21, 2019
The United Nations special envoy for Libya has warned that the battle for Tripoli is "just the start of a long and bloody war," as militants loyal to Saudi-backed renegade general Khalifa Haftar continue an offensive to seize the Libyan capital.
"I am no Cassandra, but the violence on the outskirts of Tripoli is just the start of a long and bloody war on the southern shores of the Mediterranean, imperiling the security of Libya's immediate neighbors and the wider Mediterranean region," Ghassan Salame said while addressing the UN Security Council on Tuesday.
"Libya will descend into civil war, which could potentially lead to a Hobbesian all-against-all state of chaos or partition of the country," he added.
Salame, who is also the head of the UN Support Mission in Libya (UNSMIL), went on to say that many countries were supplying weapons to the internationally-recognized government in Tripoli as well as the militants loyal to Haftar. He called for immediate steps to cut off arms flows fueling the fighting.
Elsewhere in his remarks, the envoy urged the council to set up a commission of inquiry to "determine who has taken up arms" and prevent indicted war crime suspects from taking part in military operations.
Haftar's forces launched an offensive to take the Libyan capital and topple the globally-recognized Government of National Accord (GNA) on April 4. Forces loyal the GNA are currently defending the city.
On April 25, the International Committee of the Red Cross (ICRC) said that intensified fighting for control of Tripoli was turning the densely-populated residential areas of the city into "battlefields."
The 75-year-old Haftar has the loyalty of a group of armed militia and backing from Saudi Arabia, the United Arab Emirates, and Egypt.
Libyan forces loyal to the government based in Tripoli said on Sunday that they had received new weapons and armored vehicles to fight off the ongoing offensive to seize the capital. They published pictures on their official Facebook page of what appeared to be Turkish-made Kirpi combat vehicles.
According to the latest figures by the World Health Organization (WHO), more than 75,000 people have been driven from their homes in the latest fighting and 510 have been killed.
Full report at:
https://www.presstv.com/Detail/2019/05/21/596539/Libya-UN-Tripoli-Haftar-long-bloody-war
--------
Boko Haram kills two in Nigerian refugee camp attack
May 20, 2019
Abuja: Boko Haram jihadists on Saturday killed two people and injured a dozen others in an pre-dawn attack on a refugee camp in northeastern Borno State, aid agency and militia sources told AFP Sunday.
The militants sneaked into Madu Musaha camp, in Dikwa Town at around 3:30 am (0230GMT) and opened fire on residents who were eating before sunrise ahead of their Muslim Ramadan fast.
Dikwa which lies 90 kilometres (56 miles) from the state capital Maiduguri is home to more than 70,000 displaced people who live in several camps where they rely on food and humanitarian assistance from aid agencies.
An aid agency member of staff in the town, who spoke on condition of annonimity, said militants "burst into the camp from the rear and opened fire on the IDPs (internally displaced persons)". "The gunmen escaped before troops responded", they added, with the swift attack sending refugees and aid staff scurrying away.
Civilian Joint Task Force (CJTF), an anti-Boko Haram militia group in the town, said the attack was "brief and unexpected", ending before they or the military arrived at the scene. It was not clear whether the militants stole any food or supplies from the camp during the attack.
In August 2014 Boko Haram seized Dikwa but it was retaken seven months later with the help of Chadian forces, allowing residents to return. Yet attacks persist from jihadists hiding in remote areas, targeting civilians, displacement camps and troops protecting the town and nearby villages.
Later on Saturday, Boko Haram fighters in three trucks and several motorcycles stormed into Lassa village in Askira Town, Borno State, stealing food and burning shops, local residents said. "Boko Haram attacked around 8:00 pm (1900GMT) and headed to the market", Lassa resident Musa Yohanna said. "They broke into shops and carted away food supplies before setting fire to the shops," he added.
Residents fled the scene with the jihadists making no attempt to pursue them, another resident, Barnabas Adams said, adding there were no known casualties. The militants had left to their Sambisa Forest hideouts before troops arrived in the village, he said.
Full report at:
https://www.timesnownews.com/international/article/boko-haram-kills-two-in-nigerian-refugee-camp-attack/422196
--------
UN chief: Somalia making progress but must tackle extremism
May 22, 2019
UNITED NATIONS – U.N. Secretary-General Antonio Guterres says Somalia is making progress toward building a functioning state but must tackle violent extremism, terrorism, armed conflict, political instability and corruption.
He says in a report to the U.N. Security Council circulated Monday that these challenges "demonstrate the fragility of the gains made so far" and "threaten progress."
After three decades of civil war, extremist attacks and famine, Somalia established a functioning transitional government in 2012 and has since been working to rebuild stability.
Full report at:
https://www.foxnews.com/world/un-chief-somalia-making-progress-but-must-tackle-extremism
--------
18 people killed as al-Shabaab attacks army base in Somalia
20 MAY 2019
Mogadishu - Eighteen people were killed when Islamist terrorist group al-Shabaab attacked an army base in southern Somalia, a local official said Monday.
Among the dead were 14 militants and four soldiers, who had been manning the army base in Bakol province when al-Shabaab attacked with heavily armed vehicles in the early hours of Monday, Mohamed Abdi Toll, the governor of Bakol, told dpa via telephone.
"The terrorists attacked the army base from three different directions before overrunning it. ... The attack is over and our troops recaptured the base this morning, killing 14 militants," said Toll.
Al-Shabaab said on pro-insurgent radio station Andalus it had killed 10 soldiers, seized the base and looted military equipment and weapons.
Full report at:
https://www.iol.co.za/news/africa/18-people-killed-as-al-shabaab-attacks-army-base-in-somalia-23624527
--------
Security Forces Arrest Terrorist Suspect West of Tunis
20 May, 2019
A security patrol in Hai al-Tadamon in western Tunis arrested a dangerous suspect, who has been wanted for committing terrorist acts, according to Tunisian security sources.
They said the suspect had arrived in the capital from terrorist hideouts in the country's western mountainous areas to reach Hai al-Tadamon, a densely populated neighborhood west of Tunis, to visit his family.
The patrol arrested the suspect in an ambush and without resistance, sources added, crediting good planning for the success of the operation.
He is expected to be referred to the relevant judicial authority for investigation over the details of how he managed to reach Hai al-Tadamon, traveling hundreds of kilometers and evading intelligence services and patrols deployed at the entrances of most cities.
Counter-terrorism experts stressed that the arrest is an important security success, but more significantly, it revealed that besieged terrorist elements were falling one after to the other in the hands of military and security forces.
On May 13, national security forces in the central city of Bouhajla arrested a terrorist fugitive, who is facing a prison sentence of 30 years.
The Interior Ministry reported that a high-risk stake out allowed the forces to capture the suspect as he attempted to leave a terrorist hideout to visit his sick mother in Sidi Bou Zid city.
Full report at:
https://aawsat.com/english/home/article/1731081/security-forces-arrest-terrorist-suspect-west-tunis
--------
UN envoy warns of 'long and bloody war' in Libya
21 May 2019
The UN envoy for Libya warned Tuesday that the battle for Tripoli was "just the start of a long and bloody war" and called for immediate steps to cut off arms flows fueling the fighting.
Addressing the Security Council, Ghassan Salame said many countries were supplying weapons to the UN-recognized government in Tripoli and forces led by Khalifa Haftar.
Haftar launched an offensive on April 4 to seize the capital but his forces have been bogged down in the southern outskirts of Tripoli.
"I am no Cassandra, but the violence on the outskirts of Tripoli is just the start of a long and bloody war on the southern shores of the Mediterranean, imperiling the security of Libya's immediate neighbors and the wider Mediterranean region," Salame said.
Without immediate action to stop the flow of arms, "Libya will descend into a civil war which could potentially lead to a Hobbesian all-against-all state of chaos or partition of the country," he said.
His appeal came after the Tripoli-based Government of National Accord posted photographs at the weekend of dozens of Turkish-made armored vehicles that it said on its Facebook page were fresh deliveries for its fighters.
Pro-Haftar websites also posted photos and video footage of Jordanian-built armored cars they said were supplied to Haftar's Libyan National Army, based in the east.
The Security Council failed last month to agree on a draft resolution demanding a ceasefire in Libya and a return to political talks to end the conflict.
Russia refused to include any mention of Haftar's offensive on Tripoli while the United States said it needed more time to consider the situation, diplomats said.
The envoy urged the council to set up a commission of inquiry to "determine who has taken up arms" and prevent indicted war crimes suspects from taking part in military operations.
Full report at:
https://english.alarabiya.net/en/News/north-africa/2019/05/21/UN-envoy-warns-of-long-and-bloody-war-in-Libya-.html
--------
Somalia making progress but 'must tackle extremism'
May 21, 2019
NEW YORK: Somalia is making progress toward building a functioning state but must still tackle violent extremism, terrorism, armed conflict, political instability and corruption, the UN chief said in a new report.
Antonio Guterres said in the report to the UN Security Council circulated Monday that these challenges "demonstrate the fragility of the gains made so far" and "threaten progress."
After three decades of civil war, extremist attacks and famine, Somalia established a functioning transitional government in 2012 and has since been working to rebuild stability. But Guterres said that "the security situation remained volatile" between the mid-December and early May reporting period.
The militant group Al-Shabab, an Al-Qaeda affiliate, continues to be "the main perpetrator of attacks against government facilities, government officials and security forces as well as popular restaurants and hotels," he said.
Guterres said March and April witnessed "a significant increase of attacks in Mogadishu, where incidents involving improvised explosive devices occurred almost every day." In March, he said, there were 77 such attacks across the country, the highest single monthly total since 2016.
In addition, Guterres said, there was "a notable increase in mortar attacks, which demonstrated Al-Shabab's improved capacity to hit strategic targets with precision and accuracy."
And the militant group continued to carry out attacks using suicide vehicle-borne improvised explosive devices, he said.
At the same time, the secretary-general said, the reporting period saw an increase in security operations "and a large number of airstrikes targeting Al-Shabab training bases and assembly points" that were deemed to have degraded its operating capability and freedom of movement.
"They have also led, however, to increased Al-Shabab movement into urban centers, in particular Mogadishu, where their forces are less likely to be targeted from the air," he said. In addition to security threats, Guterres said large segments of the Somali population face poverty and a lack of food. He said the World Bank estimates in a forthcoming poverty and vulnerability assessment that 77 percent of Somalia's population is living below "the international extreme poverty line of $1.90 per day."
"Poverty is especially deep and widespread in rural areas and in internally displaced persons settlements," Guterres said.
"Almost 90 percent of households lack access to basic services, such as education and water and sanitation."
The United Nations launched an appeal Monday for $710 million to help 4.5 million drought-affected Somalis in the most severely affected areas of the country between now and the end of December. UN spokesman Stephane Dujarric noted that the 2019 UN humanitarian appeal for more than $1 billion for Somalia is only 20 percent funded.
Full report at:
http://www.arabnews.com/node/1500336/middle-east
--------
Europe
France doesn't need any help from Britain in policing Muslims
Malia Bouattia
21 May 2019
The UK government, it seems, is once again exporting its Cold-War-inspired propaganda – this time to France, according to documents seen by Middle East Eye.
The Research, Information and Communications Unit (RICU), which is based at the Home Office in London, has sought to "effect behavioural and attitudinal change" among British Muslims through various platforms, including social media and film - all the while failing to disclose the British government's involvement in such campaigns. And it's all in the name of countering terrorism.
RICU has already rolled out programmes in Tunisia, Morocco, Lebanon, Jordan, Algeria and Pakistan.
Influencing public opinion
While the details of RICU's operations in France are still unclear, other documents seen by MEE highlight that a key demographic target for its work is Muslims - mainly men, between the ages of 15 and 39.
If the nature of the project is similar to what has been done in the homelands of many of the Muslims who live in France, it will involve covert methods of supporting governments to influence public opinion.
In the cases of Tunisia, Lebanon and Morocco, the British Council stated that it had "succeeded in creating a platform where government and civil society can communicate more effectively to strengthen resilience and reduce radicalisation and recruitment by violent extremists".
One has to wonder how - given the French context - a project such as this can be launched. In France, the state's hostility towards, and overt isolation of Muslims, migrants and people of colour are well known.
The republic has shown throughout history that it is not interested in integrating Muslims; they are parked in ghettos outside of France's main cities, openly discriminated against at work, and pushed out of education and the public sphere by bans on hijabs and other religious symbols.
The "liberty, equality and fraternity" of the French state, and its aggressive, secular application of national values, are often depicted as being in direct opposition to Islam, and therefore to its Muslim population.
Shaping religious identity
On the other hand, the UK's counterterrorism practices attempt to shape religious identity among Muslims, pushing the notion of the "good" British Muslim who bows down to the state. Unless RICU's work seeks to strip them of their Muslim-ness entirely, it is thus difficult to imagine the French government launching a campaign about "French Muslims" who espouse the republic's values.
French President Emmanuel Macron proved this just last month, when he spoke about Muslim communities. "We must not hide ourselves when we talk about secularism. We do not really talk about secularism. We talk about the communitarianism that has settled in certain neighbourhoods of the republic," he said.
Vowing to resist political Islam, Macron noted: "We are talking about people who, in the name of a religion, pursue a political project." He also called for greater control of international funds that some organisations receive and the maintenance of the 1905 law on secularism.
His statements said it all. French secularism today is an open war on Muslims, their political life, and their place in the republic. It's hard to see how this can be softened through cultural and media intervention.
This war on Muslims is not only carried out rhetorically or through the law, but also via a large apparatus of physical repression, again justified under the cover of the war on terror. Since the 2015 Paris attacks, Islamophobia has continued to rise at an alarming rate, with a government that continues to legitimise the hatred.
Deepening the divide
The French state seeks to further marginalise an entire community and to use them as scapegoats when its own chickens come home to roost. Its counterterrorism methods are rooted in a desire to install a further divide between French society and Islam - the outcome of which will mean continued violence against Muslims.
It is perhaps unsurprising that Macron's speech on Muslim communities was also a response to the Yellow Vests and his plans to "deal with them". Dissent, political expression and social justice movements are effectively being treated as acts of terror.
RICU's work will likely further institutionalise racism in France, just as the Prevent agenda has done in the UK, while attacking the civil rights of all. The question remaining now is, how?
Will it do so - as we have seen in the UK and throughout the MENA region - by surreptitiously mobilising music, art and social media to normalise state repression and exclusion? Or will it do so in altogether new and different ways?
Either way, this is bad news for Muslims in France and everywhere.
https://www.middleeasteye.net/opinion/uk-exports-anti-muslim-propaganda-france
--------
Mosque in Scotland vandalized with racist graffiti
Muhammad Mussa
21.05.2019
LONDON
Police in Scotland are investigating an Islamophobic hate crime after racist and anti-Muslim comments were found spray-painted on the walls of a mosque Monday night.
The crime took place at the Elgin Islamic Centre in north Scotland around 11:00 p.m. A swastika symbol was sprayed on the walls as well as other racist and vulgar comments. Scottish police have described the incident as "completely unacceptable".
"Well, of course we're worried. I mean, if we don't say that, then we must be fools," Lansana Bangura, chairman of the mosque, told the BBC.
"We are worried. But at the same time, you know, you expect things like that to happen. But I hope it will not happen very often."
Bangura said reassuringly that such acts do not break the bonds that Scottish Muslims have built with their neighbors and that they have received support and backing from the non-Muslim community.
According to police, a white male between 30 and 40 years old with short brown hair was seen in the area at the time and they are searching for him as part of an investigation and have appealed to the public for information.
"Crimes of this nature are completely unacceptable. There is absolutely no place for it in our communities, and a number of inquiries are ongoing to establish who is responsible," said Detective Inspector Martin MacDougall.
The inspector also reassured the Muslim community that they are in regular contact with the mosque and that police patrols in and around the area will be increased while the investigation proceeds.
"I appeal to anyone with information about this incident to contact the police as soon as possible, particularly anyone who was in the area last night and saw any suspicious activity or people. Thank you to those who have assisted with our inquiries already," MacDougall added.
In a similar incident Tuesday in Essex, England, police are investigating a hate crime in which Islamophobic posters were put up on lamp posts that depicted a crusader on horseback chasing a pair of figures carrying AK-47s, including a burka-clad Muslim woman, with the caption "Islamists not welcome".
"We are aware of stickers placed in various locations around Rayleigh displaying messages including 'Islamists not welcome'. We are keen to speak to those responsible for them to discuss their intent. We are treating this as a hate incident," a spokeswoman for the Essex police told the Southend Standard newspaper.
The posters displayed a symbol representing the pan-European white nationalist group Generation Identity and also warned Muslims to "Stay back or we will kick you back". Initially, police did not treat the posters as a hate crime. But after being contacted by local newspapers, they reversed their decision.
Full report at:
https://www.aa.com.tr/en/europe/mosque-in-scotland-vandalized-with-racist-graffiti/1483787
--------
UK security services foiled 19 major terror attacks over past two years, says Sajid Javid
20 May 2019
UK security services have foiled 19 major terror attacks over the past two years, Home Secretary Sajid Javid has revealed.
During a speech in which he confirmed plans to look at designating parts of Syria and possibly West Africa as terror no-go zones for British citizens, Mr Javid described how "the tempo of terror activity is increasing".
The Home Office will also look to introduce new laws and refresh treason legislation to combat activity by hostile states' agents.
Mr Javid said: "Each and every day our security services fight against terror, from large international terrorist groups to radicalised individuals.
"And in the past two years they have foiled 19 major terrorist attacks - 14 of them Islamist and five of them motivated by extreme right-wing ideologies.
"But those are just the headline figures. For each attack prevented, there are dozens more that never have the chance to begin in the first place.
"And, despite this impressive work, the tempo of terror activity is increasing."
Mr Javid said he has asked Home Office officials and counter-terror police to "urgently review" the case for designating Syria as a terrorist hotspot, with a particular focus on Idlib province in the north-west of the country and others areas in the north-east.
He said: "Anyone who is in these areas without a legitimate reason should be on notice. I can also see that there may be a case in the future for designating parts of West Africa."
This could see Britons in those areas who are not aid workers or journalists, for example, face up to 10 years in prison.
The home secretary also unveiled proposals for fresh legislation to be presented by the government in a new espionage bill to combat the threat of hostile states following the Salisbury chemical weapons attack, which has been blamed on Russia.
Mr Javid claimed the March 2018 attack was a "sharp reminder" that the end of the Cold War was "not the end of the state-on-state threats that many had actually predicted".
Admitting there are "some real gaps in current legislation" to deal with hostile state activity, he said: "We have to ensure that we have the necessary powers to meet the current and evolving threats to the UK both domestically and overseas.
"Getting that right and having those right powers and resources in place for countering hostile states - it must be a post-Brexit priority."
A new espionage bill would "bring together new and modernised powers" and could include the adoption of a register of foreign agents - such as the US employs - as well as an update to the Official Secrets Act.
The government could also consider updating centuries-old treason laws.
"Our definition of terrorism is probably broad enough to cover those who betray our country by supporting terror abroad," Mr Javid said.
"But if updating the old offence of treason would help us to counter hostile state activity then there is merit to considering that too."
The Treason Act, which dates from 1351, was last used in the UK in 1945 to prosecute William Joyce (otherwise known as Lord Haw-Haw), a Nazi propagandist who assisted Germany during the Second World War.
Mr Javid revealed he shares some of the concerns of UK allies, such as the US and Australia, over allowing Chinese company Huawei access to telecommunications networks.
He said he would take these into account as the government makes a final decision on allowing the tech giant to supply 5G infrastructure.
Full report at:
https://news.sky.com/story/uk-security-services-foiled-19-major-terror-attacks-over-past-two-years-says-sajid-javid-11724717
--------
Unique museum informs Australians about Islam
21.05.2019
The Islamic Museum of Australia in Melbourne provides information on the history, life and identity of Muslims in the country.
Founded by Australian Muslim businessman Moustafa Fahour with the support of the Australian federal government, the museum is the first and only Islamic museum in the country.
Since opening in 2014, it has hosted more than 50,000 visitors.
Open six days a week, the museum organizes various conferences and events in different fields such as calligraphy, historical art, miniature painting, handicrafts and current events.
"We want them to experience and learn about the beauty of Islam," said the museum director, Maryum Chaudhry.
Chaudhry said visitors could learn more about the history of Islam in Australia and in the world, well-known Muslim scientists, the contributions of Muslims to Australia, and the basic concepts of Islam.
Underlining that they received positive feedback from visitors from Australia as well as from different countries of the world, she said most visitors do not have any prior knowledge of the Muslim community in the country.
"People are so positive on their experience. For many it is the first time they engaged with the Muslim community," Chaudhry said.
"They have walked away with new information and were inspired. They want to learn more and to come back again," Chaudhry added.
Full report at:
https://www.dailysabah.com/religion/2019/05/21/unique-museum-informs-australians-about-islam
--------
Europe will not succumb to Iran ultimatums, says French finance minister
21 May 2019
Europe will not succumb to ultimatums from Iran, French Finance Minister Bruno Le Maire said in Paris on Tuesday.
"I do not think that Europe will get drawn into this idea of an ultimatum," Le Maire told reporters.
Le Maire said Europeans were facing extremely strong pressure from the United States regarding trade with Iran, and that threats by Tehran to pull out of its nuclear deal with global powers were not helpful in that regard.
https://english.alarabiya.net/en/News/world/2019/05/21/Europe-will-not-succumb-to-Iran-ultimatums-says-French-finance-minister.html
--------
Iran says ready to support nuclear deal 'just as France did'
May 21, 2019
Iran says it is fully prepared to implement the 2015 nuclear deal exactly in the same way that France and its European partners did during the past year.
The remarks were made by Iranian Foreign Ministry Spokesman Seyyed Abbas Mousavi, in reaction to his French counterpart's statement, in which Iran was urged to continue to implement all of its obligations under the JCPOA, and to refrain from any measures that would put it in violation of its commitments.
Mousavi said on Tuesday that Tehran is prepared to fully support the Joint Comprehensive Plan of Action and do its best to implement it exactly like France and other European signatories.
He suggested that his sarcastic comment must be completely convincing for the French who claim to be supporting the nuclear agreement.
In a daily briefing on Tuesday, the French foreign ministry spokesperson said, "We reject any ultimatums and will assess Iran's compliance with its nuclear commitments in regard to its implementation of obligations set forth under JCPOA."
"In this regard, we reaffirm the crucial follow-up and monitoring roles played by the International Atomic Energy Agency. France is determined to see the JCPOA – central to the international non-proliferation and international security regime – implemented in full," the spokesperson said.
"Along with its European partners, France is continuing its efforts to preserve the economic benefits linked to the lifting of sanctions as provided by the Iranian nuclear agreement, as long as Iran respects all of its nuclear obligations," the French official noted.
On Saturday, France's ambassador to the United States, Gérard Araud, said on Twitter: "It's false to say that at the expiration of the JCPOA, Iran will be allowed to enrich uranium," adding that sanctions could be reimposed.
Iranian Deputy Foreign Minister Abbas Araqchi said Araud's comments were "a major violation of the object and purpose of the JCPOA," adding they needed "immediate clarification by Paris, or we act accordingly."
The work underway for the operational implementation of the INSTEX mirror company known as the Special Trade and Financing Institute (STFI) is moving forward in a positive way and should soon be completed, added the spokesperson.
Iran announced on May 8 that it will halt implementing some terms of the nuclear deal until parties to the deal other than US take action to mitigate the negative impacts of US decision in May 2018 to withdraw from the agreement.
The Islamic Republic says other parties to the JCPOA, particularly the E3 - France, Britain, and Germany - have failed so far to compensate for the US withdrawal and help Iran reap the economic dividends of the 2015 nuclear deal.
Iranian President Hassan Rouhani has set a two-month deadline for the parties to either do the necessary actions to save the JCPOA or face Iran resuming a nuclear enrichment program which had been suspended as part of the deal in return for lifting of international sanctions on Tehran.
Following Iran's decision, French Foreign Minister Jean-Yves Le Drian warned against a bellicose spiral of reactions on an international agreement on Iran nuclear activities.
On May 11, Le Drian warned that the chain of reactions on JCPOA could intensify into a "bellicose spiral".
The top French diplomat described Iran decision to suspend sale of excess uranium and heavy water as a "bad reaction" in response to a similar "bad decision" by Washington to not honor its commitments.
Full report at:
https://www.presstv.com/Detail/2019/05/21/596558/Iran-France-mousavi-JCPOA-nuclear-deal-europe
--------
Terrorists may provoke US-Iran war: German FM
Ayhan Şimşek
21.05.2019
BERLIN
Terrorist groups may use escalating tensions between the U.S. and Iran as an opportunity to provoke a war between the two countries, Germany's foreign minister warned Tuesday.
Speaking during a panel discussion in Hamburg, Heiko Maas described the situation in the Middle East as "extremely dangerous" and urged the two countries to calm down.
"This is a region where terrorist groups are active. Terrorists may launch attacks to escalate violence and provoke a war," he said.
"And it would not be only the U.S. and Iran participating in such a war, but this would rapidly put the entire region in flames."
Maas reaffirmed Germany's continued commitment to a diplomatic solution to resolve disagreements with Iran over its nuclear program and its influence in the region.
Recent weeks have seen steadily mounting tensions between Tehran and the Washington.
On Sunday, following a rocket attack near the U.S. embassy in Baghdad, President Donald Trump told Iran not to threaten the U.S., saying it will be Tehran's "official end".
"If Iran wants to fight, that will be the official end of Iran. Never threaten the United States again!" Trump tweeted, without elaborating.
Last week, the U.S. deployed a carrier strike group to the Persian Gulf, citing "intelligence" of an imminent Iranian attack on U.S. interests in the region.
Full report at:
https://www.aa.com.tr/en/americas/terrorists-may-provoke-us-iran-war-german-fm/1483939
--------
URL: https://www.newageislam.com/islamic-world-news/upset-exit-poll-outcome-top/d/118674
New Age Islam, Islam Online, Islamic Website, African Muslim News, Arab World News, South Asia News, Indian Muslim News, World Muslim News, Women in Islam, Islamic Feminism, Arab Women, Women In Arab, Islamophobia in America, Muslim Women in West, Islam Women and Feminism