New Age Islam News Bureau
16 Jan 2020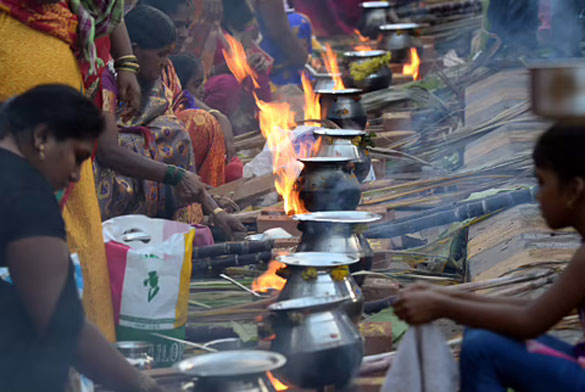 People celebrating Pongal. (Photo: INDRANIL MUKHERJEE/AFP/Getty Images)
------
• Cultural Festivals Must Be Celebrated Together, Says Cabinet
• Afghan Artist Encourages Tolerance through Artworks
• Muslim Council of Britain Welcomes Town Hall Motion to Adopt Islamophobia Definition
• India Plans Cuts to Imports from Malaysia, Turkey In Row Over Occupied Kashmir
• Saudi Arabia Named Most Improved Economy for Gender Equality: World Bank Report
• IRGC: Real Revenge to Expel US Troops from Region
• Islamic State's Mixed Fortunes Become Visible in Somalia
Southeast Asia
• Uproar in Muslim Majority Malaysia after Education Ministry Calls Pongal a 'Hindu Harvest Festival'
• Cultural Festivals Must Be Celebrated Together, Says Cabinet
• DPM Discloses Five-Year Plan to End Child Marriages in Malaysia
• Dong Jiao Zong Admits Learning Jawi Not a Process of Islamisation - Mujahid
• ICJ to rule next week on urgent measures in Rohingya genocide case
• Federal Court dismisses Muslim-convert mother's appeal bid against custody order of children
• Ripples of 1MDB complicate Malaysian ties to Gulf
• Thai Army Chief Signs Intelligence Pact with Indonesia
--------
South Asia
• Afghan Artist Encourages Tolerance through Artworks
• Ceasefire Necessary for Afghanistan Reconciliation and Peace Talks
• Taliban chief agrees to a brief 'ceasefire' for talks resumptions
--------
Europe
• Muslim Council of Britain Welcomes Town Hall Motion to Adopt Islamophobia Definition
• Trump Agrees With British PM Johnson on a 'Trump Deal' For Iran
• Government considers new law to ban the possession of terrorist propaganda
• Four children of ISIS couple could return to London if mother stays in Syria
• Time for Germany to outlaw all of Hezbollah
• One of Germany's senior Muslim diplomats, Murad Hoffman, returns to his Lord
• UN Security Council Reviews Situation In Occupied Kashmir
• Albania deports two Iranian diplomats citing 'serious threat'
• Cyprus rescues 101 Syrian migrants off coast
• European news agencies urge Egypt to free Anadolu Agency staff
--------
India
• India Plans Cuts to Imports from Malaysia, Turkey In Row Over Occupied Kashmir
• UP Chief Minister in Bihar Claims Muslim Population Increased In India Due To Privileges Given To Them, Contradicts Data
• States sponsoring terrorism must be taken to task: Chief of Defence Staff Gen Rawat
• Will have to deal with terror like US did after 9/11 attacks: CDS Bipin Rawat
• China-Pakistan alliance again comes up short on Kashmir at UN
• Top Hizb terrorist killed in J&K encounter
• End quota of Dalits embracing Islam, Christianity: VHP-backed body urges PM
• Suspected LeT member moves bail plea in Supreme Court
• Open to probe Davinder Singh's role in 2001 Parliament attack case: J&K DGP
• Amid US-Iran tensions, PM Modi tells Javed Zarif: India has strong interest in peace, stability in region
• Terrorists using encrypted mobile communications to reactivate cadre in Kashmir: Govt
• J-K: Hizbul militant, linked to BJP leader's murder, killed in encounter
• India can play a role in de-escalating tensions in Gulf: Iran's foreign minister
• S Jaishankar meets Iran foreign minister Javad Zarif
--------
Arab World
• Saudi Arabia Named Most Improved Economy for Gender Equality: World Bank Report
• ISIS Carried Out Attacks On Iraq-Syria Border Posts After US Suspended Operations
• Iraqi forces arrest prominent ISIS 'health official' south of Mosul: Interior Ministry
• Hezbollah Has Prepared for This Moment for Decades
• Intense fighting in Syria's Idlib kills 39: Monitor
• Egypt, Ethiopia, Sudan to finalize agreement on Blue Nile dam later this month
• UN official blames politicians for 'dangerous chaos' in Lebanon
• Regime air raids kill 9 civilians despite Idlib truce: Report
• Abu Dhabi Crown Prince arrives in Egypt to attend military base opening
• Saudi Arabia rejects Turkish military presence in Syria: Saudi FM
• 'This is your fault': UN blasts politicians over Lebanon chaos
• Egypt orders retrial of monks sentenced to death for bishop's murder
• Five PKK-affiliated militiamen killed as unknown aircraft strikes northern Iraq
--------
Mideast
• IRGC: Real Revenge to Expel US Troops from Region
• Western Media Misquote Iranian FM on Recent Protest Rallies after Plane Incident
• Iran Condemns US Expansion of Insecurity in Region
• Iran MP Urges UK to Apologize for Envoy's Illegal Behavior
• Iran Arrests Several Suspects over Downing of Ukraine's Plane
• First Gaza rockets against Israel since Soleimani killing
• Iran's supreme leader Khamenei to lead Friday prayers for first time since 2012
• Turkey, Russia talks over 'secure zone' in Syria's Idlib to enforce ceasefire: Turkey
• Iran's Zarif says 2015 nuclear deal 'among best deals': State TV
• Iran crown prince predicts regime will collapse within months
• Turkey's main opposition urges govt neutrality in Libya
• Israel carries out new airstrikes on besieged Gaza Strip
--------
Africa
• Islamic State's Mixed Fortunes Become Visible in Somalia
• Plan to Cut U.S. Troops in West Africa Draws Criticism from Europe
• How Libya Became the Ultimate Proxy Conflict
• 14 pro-Turkey Syrian militants killed in Libya: monitor
• Boko Haram: Borno village, Ngulde under attack
• 2019 saw record U.S. airstrikes in Somalia. Why is al-Shabab surging?
• Islamic State kills almost 100 soldiers in Niger
• Son of noted late Muslim preacher shot in South Africa
• Two soldiers killed as Sudan crushes revolt by security agents
• Turkey deploying 2,000 Syrian fighters to Libya: The Guardian
• Arab Parliament condemns Turkey sending troops to Libya
• Sudanese airspace open again after Khartoum 'rebellion' contained: Al-Burhan
--------
North America
• The FBI Can Unlock Florida Terrorist's iPhones Without Apple
• FBI Arrests Suspect in Neo-Nazi Swatting Ring That Targeted 'Hundreds'
• US expects UN sanctions on Iran to 'snap back into place': Treasury Secretary
• Trump administration slammed for lying over Afghan war
• 'Lying' Trump could spark war with Iran: Bernie Sanders
--------
Pakistan
• PM Imran Focusing On Nawaz Sharif Instead Of Inflation: Pakistan Muslim League-Nawaz
• PPP recommends Irfan Qadir for CEC: PML-N supports PPP's nominee
• Following Vawda's boot stunt, Pemra bans Kashif Abbasi's show for 60 days
• Rift in PTI's Karachi chapter surfaces in National Assembly
• Panel notified to solicit opinion on Nawaz's fresh reports
• Maleeha Lodhi meets Nawaz in London
Compiled By New Age Islam News Bureau
URL: https://www.newageislam.com/islamic-world-news/uproar-muslim-majority-malaysia-after/d/120808
--------
Uproar In Muslim Majority Malaysia After Education Ministry Calls Pongal A 'Hindu Harvest Festival'
Jan 16 2020
A letter issued by Malaysia's education ministry describing the harvest festival Pongal as a "Hindu religious festival" has resulted in an uproar among members of the Muslim majority country, Straits Times has reported.
The education department in a letter on 13 January called Pongal a "celebration for Hindu worshippers", which resulted in a backlash from many who claimed that Pongal is a "Tamil harvest festival" and has nothing to do with religion.
Following the outrage, the education ministry has clarified that the letter was based on Islamic Development Department (Jakim) guidelines and was meant to assuage concerned Muslim parents with regards to their children celebrating it.
The ministry added that it did not wish to prevent Pongal celebrations at school and sought to inculcate unity among the school children. It quoted the Jakim syariah expert panel to state that it is okay for Muslims to acknowledge and wish their friends and neighbours a happy Pongal without acknowledging their religion.
This comes a few days after a controversy had erupted over a government school in Selangor being forced to remove some Chinese New Year decorations.
https://swarajyamag.com/insta/uproar-in-muslim-majority-malaysia-after-education-ministry-calls-pongal-a-hindu-harvest-festival
--------
Cultural festivals must be celebrated together, says Cabinet
January 15, 2020
PUTRAJAYA: The Cabinet today decided that cultural celebrations should be participated and celebrated by all Malaysians as one united society, said Minister in the Prime Minister's Department (National Unity and Social Wellbeing) P Waytha Moorthy.
He said the decision was made at a meeting chaired by Prime Minister Dr Mahathir Mohamad after concerns were raised regarding the participation of Muslims in celebrating well-known cultural festivals of non-Muslims.
"Malaysia is well known for its diverse culture, so in the spirit of the Rukun Negara and true unity, we should all celebrate such festivals without prejudice or malice," he said in a statement here today.
Waytha said he and the Minister in the Prime Minister's Department for Religious Affairs, Mujahid Yusof, would be meeting various Muslim and non-Muslim religious bodies to provide a better understanding of the differences between traditional and religious celebrations.
It is hoped future explanations about such celebrations are more accurate, he said.
https://www.freemalaysiatoday.com/category/nation/2020/01/15/cultural-festivals-must-be-celebrated-together-says-cabinet/
--------
Afghan Artist Encourages Tolerance Through Artworks
15 Jan 2020
Ignoring discrimination and inspiring tolerance through paintings of people from different races but with the same colors on their faces and hairs by an Afghan artist took the attention of a vast majority of people.
Habib Olumi, a renowned Afghan artist, uses his artistic skill to encourage tolerance among people and societies. He began studying art in the United States, and his paintings and are now accessible in different sites and halls in Kabul and beyond, Tolonews reported.
According to Olumi's interpretation, all humans are equal, and discrimination in any type is wrong, whether it is in Afghanistan or other countries.
Variation and style are the primary elements that make his artworks stand out from others in Kabul. In addition to that, the profound message that he conveys through his paintings "ignoring discrimination and encouraging tolerance" adds extra value to his work.
Using the same color on the faces of people in his painting is a creative strategy. "People love the paintings because they can imagine their friends in one of those faces," he said.
Meanwhile, he makes excellent sculptures and can portray the beauties of Afghanistan on the walls. Painting the Buddhas of Bamiyan on a wall in a restaurant in Kabul is a clear example. He also has his painting collection in Bukhara Restaurant and other places across Kabul.
https://www.khaama.com/afghan-artist-encourages-tolerance-through-artworks-98798663/
--------
Muslim Council of Britain welcomes Town Hall motion to adopt Islamophobia definition
January 15, 2020
The Muslim Council of Britain (MCB) has welcomed a motion put forward by Cllr Humaira Garasia (Lab, Haggerston) calling for the Town Hall to adopt a parliamentary group's definition of Islamophobia.
The definition was announced by the All-Party Parliamentary Group (APPG) on British Muslims in December 2018, and became the centre of debate in May last year after the government rejected it, saying that its wording needed "further careful consideration".
If voted through, the motion would commit the Town Hall to endorsing and adopting the definition, as well as speaking out against the rise in recent years of racism targeting "Muslimness or perceived Muslimness".
MCB Secretary General Harun Khan said: "Islamophobia is rife across Britain, often perpetuated by elected politicians and the media, which then has real life implications for Muslims in terms of hate crime and abuse.
"It is the responsibility of everyone – particularly all levels of government – to take ownership over tackling Islamophobia. We welcome this motion calling on Hackney Council to adopt the APPG on British Muslims definition of Islamophobia, which has already been adopted by a number of local councils, political parties, academics and civil society organisations.
"We hope Hackney Council vote in favour of this motion to send a clear signal to Muslims and anti-racists in Hackney that this sort of bigotry will not be tolerated."
The APPG definition includes calling for the killing of Muslims, making mendacious, dehumanising or stereotypical allegations about Muslims, or accusing Muslims as a group of being responsible for real or imagined wrongdoing committed by other Muslims.
Examples of mendacious stereotypes cited in the motion include conspiracies about Muslim entryism in politics, the myth that Muslim identity has a unique propensity for terrorism, or claims of a 'Muslim takeover' or demographic threat.
Accusing Muslims of inventing or exaggerating Islamophobia or genocides perpetrated against Muslims is included in the definition, as well as accusations of divided loyalties between the Muslim community and their country of origin.
Over 14 per cent of Hackney's population is Muslim.
The full text of the motion, which was seconded by Cllr Caroline Woodley (Lab, Cazenove), including the complete definition, can be found here.
https://www.hackneycitizen.co.uk/2020/01/15/muslim-council-britain-welcomes-town-hall-motion-adopt-islamophobia-definition/
--------
India plans cuts to imports from Malaysia, Turkey in row over occupied Kashmir
January 16, 2020
India is planning to cut some imports from Turkey and widen curbs on palm oil from Malaysia to oil, gas and other products, government officials said, targeting the two Muslim-majority countries for their criticism of India's policy toward occupied Kashmir.
India, the world's biggest buyer of edible oils, has already effectively stopped importing palm oil from Malaysia by asking Indian importers to look elsewhere.
New Delhi is now planning to restrict buying of petroleum, aluminum ingots, liquefied natural gas, computer parts and microprocessors from Malaysia, the two government officials, who did not wish to be identified, told Reuters.
The government is also planning to cut imports of oil and steel products from Turkey, one of the officials said.
"Our government has not taken kindly the comments of Malaysia and Turkey and we will restrict trade from both the countries," one of the officials said.
The Indian Commerce Ministry did not reply to an email seeking comment.
Malaysian Prime Minister Mahathir Mohamad said recently that India was "invading and occupying the country" of Jammu and Kashmir and Turkey's Tayyip Erdogan had said Kashmiris are "virtually under blockade".
The Indian government withdrew the autonomy of occupied Kashmir last year to tighten its grip on the region, shutting down internet access and detaining activists and politicians.
India's Supreme Court last week ruled an indefinite shutdown of the internet in Kashmir was illegal.
Tension between India and Malaysia, the world's second-biggest producer and exporter of palm oil after Indonesia, further escalated after 94-year-old Mahathir criticised India's new citizenship law that critics say discriminates against Muslims.
Turkey meanwhile has sided with Pakistan on issues such as its membership of the Nuclear Suppliers Group, which oversees the export of goods that can be used for nuclear weapons manufacturing.
Turkey is also against the blacklisting of Pakistan by the world financial watchdog, the Financial Action Task Force, to curb its alleged financing of terror, something India has been lobbying for hard.
Indian trade data indicates that overall imports from both Malaysia and Turkey had already taken a hit last year.
https://www.dawn.com/news/1528671/india-plans-cuts-to-imports-from-malaysia-turkey-in-row-over-occupied-kashmir
--------
Saudi Arabia named most improved economy for gender equality: World Bank Report
15 January 2020
Saudi Arabia's economy made the biggest progress globally toward gender equality since 2017, according to a World Bank report released Wednesday.
The World Bank's "Women, Business and the Law 2020" study, which tracks how laws affect women in 190 economies, scored Saudi Arabia's economy 70.6 points out of 100, a dramatic increase from its previous score of 31.8 points.
Saudi Arabia was the country to make "the biggest improvement globally" since 2017 according to the World Bank press release, including advances in women's mobility, sexual harassment, retirement age and economic activity.
The study found the Kingdom enacted reforms in six out of eight indicators associated with women's economic empowerment, from June 2017 to September 2019.
"Saudi Arabia basically has become one of the leaders in the Arab world in terms of women empowerment," World Bank's Regional Director for the GCC Issam Abu Sulaiman said, according to the Saudi Press Agency.
2019 was a year of "groundbreaking" reforms that allowed women greater economic opportunity in Saudi Arabia, according to the study's findings.
Amendments were adopted to protect women from discrimination in employment, to prohibit employers from dismissing a woman during her pregnancy and maternity leave, and to prohibit gender-based discrimination in accessing financial services.
Saudi Arabia "also equalized the retirement age for women and men at 60 years, extending women's working lives, earnings, and contributions."
Under the study's mobility indicator, which measures a woman's freedom of movement, Saudi Arabia also made significant strides due to changes in guardianship laws.
In August 2019 it was announced Saudi Arabian women above 21 would no longer need permission from a male guardian to travel abroad or obtain a passport.
Princess Reema bint Bandar, Saudi Arabia's Ambassador to the US and the first Saudi female ambassador, said at the time the new developments for women were "history in the making."
Reema Bandar Al-Saud
✔
@rbalsaud
These new regulations are history in the making. They call for the equal engagement of women and men in our society. It is a holistic approach to gender equality that will unquestionably create real change for Saudi women. 3/4
1,309
7:38 AM - Aug 2, 2019
Twitter Ads info and privacy
1,050 people are talking about this
The report attributed the reforms to the "understanding that women play an important role in moving Saudi Arabia closer" to its Vision 2030 plan.
Spearheaded by Saudi Arabian Crown Prince Mohammed bin Salman, Vision 2030 aims to diversify Saudi Arabia's economy beyond oil and gas and to promote private sector growth and entrepreneurship. It includes the goal of increasing women's labor force participation from 22 percent to 30 percent.
https://english.alarabiya.net/en/News/gulf/2020/01/15/Saudi-Arabia-named-most-improved-economy-for-gender-equality-World-Bank-.html
--------
IRGC: Real Revenge to Expel US Troops from Region
Jan 15, 2020
"Targeting of US airbase 'Ain al-Asad' in Al-Anbar province in Iraq by the IRGC is the first move taken by Iran in retaliation to assassination of top Iranian commander General Soleimani," General Sharif said.
He noted that real revenge will be taken when the US military forces are fully expelled from the region.
General Soleimani was martyred in a targeted assassination attack by US aircraft at Baghdad International Airport last Friday. Pentagon also martyred Abu Mahdi al-Muhandis, deputy commander of Iraq's Popular Mobilization Forces (PMF), or Hashad al-Shabi, five Iranian, and five Iraqi militaries.
The strike brought the United States and Iran to the brink of war, with Tehran retaliating by launching missiles at military bases in Iraq housing American troops. On Wednesday, Iran fired more than a dozen missiles at two American military bases in Iraq in retaliation for Washington's assassination of Tehran's elite commander.
Iranian officials branded the airstrike an "act of international terrorism" and promised retaliation. Iran has time and again warned that it will not be the initiator of any war, but reserves the right to self-defense and will give a crushing response to any act of aggression by the United States.
https://en.farsnews.com/newstext.aspx?nn=13981025000602
--------
Islamic State's Mixed Fortunes Become Visible in Somalia
By Sunguta West
January 14, 2020
Islamic State's (IS) attempts to gain ground in Somalia and beyond have remained slow, five years after a splinter group from al-Shabaab emerged in a mountainous region in the northern state of Puntland and declared its allegiance to the caliphate.
The factions' leadership re-asserted that allegiance in November, swearing support to Abu Ibrahim al-Hashim al-Qurayshi, the new leader of IS. Al-Qurayshi was picked to lead the group following the death of Abu Bakr al-Baghdadi in a U.S. airstrike. Some analysts argue that the Somali faction is now a pivotal outpost for the group after its losses in Syria (Goobjoog News, November 4, 2019).
Shaykh Abdulqadir Mumin, a former al-Shabaab propagandist and imam, unveiled the faction in October 2015. A fiery preacher who had traversed Europe before returning to Africa, Mumin had assembled a group of 200 or so heavily armed fighters, and pledged allegiance to the late IS leader, al-Baghdadi. The announcement was made from a secret hideout in the Golis Mountains and Galgaga ranges near the border between Puntland and the semi-autonomous region of Somaliland (Intelligence Briefs, October 23, 2015).
IS' emergence occurred at a time when al-Shabaab was experiencing deep divisions and leadership struggles. Disillusionment with al-Shabaab seemed as if it would prompt many of its fighters to line-up to join IS (Quartz Africa, April 28, 2016). The group, however, has remained visibly static, or at least has enacted very minimal changes to its operations. Its presence is still focused in northern Somalia, with minimal expansion into Mogadishu. Although its exact military strength is not known, analysts estimate that it has between 200 and 300 active fighters, similar to its size in 2015. Some reports suggest that the group has increased its operations and is competing for space with al-Shabaab, but the latter has a much larger fighting force and has remained Somalia's most adept terrorist group since 2006 (Africanews, April 14, 2019).
IS has so far failed to expand, recruit more fighters, and gain territory, despite earlier predictions of an upward trajectory. The group has faced pressure from al-Shabaab as well as the Somali army, which has been backed by U.S. airstrikes. IS and al-Shabaab share common objectives but have frequently clashed over control of territory and religious authority. Al-Shabaab has described IS in Somalia as a disease that must be eliminated in order to stop frustrating the mujahedeen's objectives. The militant group has moved aggressively against the IS faction (Citizen Digital, December 28, 2018).
IS has also lost fighters and leaders in suspected U.S. airstrikes. The most significant victim of the targeted airstrikes was Abdulhakim Dhuqub, the IS branch's deputy leader, in April 2019. His vehicle was struck near Hiriro village in the Bari area of Puntland. Dhuqub was in charge of the faction's daily operations, including the planning of attacks and procurement (The East African, May 10, 2019). His death was followed by several other airstrikes in Puntland, including a drone strike in April that hit a base near the remote village of Ameyra about 150 kilometers south of Bossaso, Puntland State's business capital, and another that killed 13 in the Golis mountains. It is not clear if any lives were lost in this particular strike.
Despite being under relentless offensives by al-Shabaab and the Somali government, the group has managed to carry out several deadly attacks and has tentatively claimed responsibility for others in Puntland and the Somali capital, Mogadishu.
Its operations in Puntland have involved suicide attacks, armed assaults, and the brief capture of towns. In October 2016, the group captured the town of Qandala in Puntland's Bari region and declared it the seat of the Islamic Caliphate in Somalia. A month later, the faction was forced out by Puntland forces backed by US army advisors (Daily Nation, November 11, 2017). In February 2017, IS fighters stormed a village hotel in Bosasso, killing four guards. In May of the same year, the group carried out its first suicide attack at a checkpoint near the town killing five people (Garowe Online, February 8, 2017; Daily Nation, November 11, 2017).
The group's operations have been considerably more limited in Mogadishu. IS operations in the capital have mostly consisted of low-level assassinations, mainly targeting security forces.
Beyond Somalia, there has also been a visible attempt to expand into other countries in East Africa, including Kenya and Ethiopia. In September, Ethiopia's deputy army chief said the group had tried many times to establish a base in the country without success. The official warned that the group had recruited, trained, and armed many Ethiopians. Many of them were reportedly arrested, but a large number were still on the run (Africanews, September 23, 2019).
The developments in Ethiopia came one month after the Somali-based group said it would release jihadist materials in Amharic, a dialect widely spoken in Ethiopia. In doing so, IS aims to ignite a recruitment drive among the country's Muslim community amid ongoing ethnic and political unrest.
Despite its slow start, the group continues to pose a threat and is still eyeing regional expansion. With reports suggesting that the Somali faction is an important outpost for IS, its actions need to be closely monitored, particularly given its collapse in the Middle East and expansion elsewhere in Africa. Moreover, the faction could serve as IS' gateway into East Africa and a bridge for other IS groups in the region.
https://jamestown.org/program/islamic-states-mixed-fortunes-become-visible-in-somalia/
--------
Southeast Asia
DPM discloses five-year plan to end child marriages in Malaysia
BY RADZI RAZAK
16 Jan 2020
PUTRAJAYA, Jan 16 — Putrajaya is working on a five-year plan that it hopes will end the ongoing practice of marriages with minors, Datuk Seri Dr Wan Azizah Wan Ismail said today.
The deputy prime minister said the comprehensive plan was presented to the Cabinet on January 8 and has since been approved.
"The plan will be implemented over a period of five years from 2020 to 2025 covering short, medium and long term programmes or actions that will involve federal government agencies, state government agencies, non-governmental organisations and international organisations.
"To put it all in perspective, there are programmes and actions already in place by some agencies to improve the management of marriages involving minors," she said in her speech at the launch of the National Strategic Plan for Addressing the Causes of Underage Marriage here.
The plan covers not only Muslims marriages under the Shariah courts, but also non-Muslim and traditional or adat marriages involving the Orang Asli in the peninsula and the natives in Sabah and Sarawak.
The 18-page plan listed seven objectives, which it hopes to achieve through 16 strategies and 58 programmes that will be executed by 61 agencies.
Dr Wan Azizah, who is also women, family and community development minister, said the National Registration Department has taken steps to improve its procedures and guidelines for marriages below 18 since August 22 last year.
She said the Shariah Judicial Department of Malaysia has also developed a standard operating procedure for marriage applications involving minors that will be used as a benchmark for Muslim cases nationwide.
She said the Education Ministry had also introduced lessons on reproduction and social health in preschools.
She added that her own ministry, through its National Youth and Family Development Board, provides reproductive health services, including social counselling and health screening to teenagers who have had premarital sex.
Dr Wan Azizah said the government is working to collect data on underage marriages and divorces through a special inter-agency committee led by the Department of Statistics.
Last Friday, Attorney General Tan Sri Tommy Thomas disclosed that the government is studying a proposal to raise the minimum marriage age for Muslims from 16 to 18.
Last November, Dr Wan Azizah said Sarawak, Pahang, Terengganu, Perlis, Negri Sembilan, Kedah and Kelantan disagreed with the legal amendment to child marriage laws.
To date, only Selangor has amended its state enactment, while the Federal Territories have begun the amendment process. Penang, Sabah, Johor, Melaka and Perak have agreed to amend their laws, she added.
The Malaysian Islamic Development Department is finalising the amendment to the Islamic Family Law (Federal Territories) 1984, also known as Act 303, and is coordinating with state departments to increase the marriageable age among Muslims.
https://www.malaymail.com/news/malaysia/2020/01/16/dpm-discloses-five-year-plan-to-end-child-marriages-in-malaysia/1828536
--------
Dong Jiao Zong admits learning jawi not a process of islamisation - Mujahid
January 16, 2020
PUTRAJAYA: Chinese educationist groups Dong Zong and Jiao Zong (Dong Jiao Zong) today concurred that the proposed introduction of Jawi writing into the Bahasa Melayu subject at national-type schools is not intended to convert non-Muslim students into Muslims.
Minister in the Prime Minister's Department Datuk Seri Dr Mujahid Yusof said this conveyed to him during his meeting with representatives of Dong Jiao Zong and 11 Chinese and Tamil education-related organisations at his office here today.
He said they agreed that there was no motive of Islamisation in the move to introduce Jawi writing to non-Muslim students and accepted Jawi as part of the country's cultural heritage that should be respected by all parties, like the Chinese calligraphy, Tamil writing and those of other ethnic groups in the country.
"We also agree that there is no issue of Dong Jiao Zong against learning Jawi and that Dong Jiao Zong is not a racist organisation.
"The issue that was raised is on the method of implementing it, which requires constructive discussion among all parties," he said in a joint statement at a press conference shortly after the meeting.
Among those present at the one-and-a-half-hour meeting were United Chinese School Committees (Dong Zong) chairman Tan Tai Kim; Malaysian Association of Chinese School Teachers Association (Jiao Zong) chairman Datuk Ong Chiow Chuen; the Federation of Chinese Associations Malaysia (Huazong) deputy secretary-general Yong Yew Wei and the Global Organisation of the People of Indian Origin (GOPIO) president A. Ravendiran Arjunan.
Mujahid said all of them also agreed on the need for all races to collectively oppose any racist agenda to safeguard the harmony enjoyed by the people in the country and avoid racial animosity .
He said all parties also agreed on the need to unite to ease the tension on issues that touched on the sensitivity of others.
Meanwhile, Tan said the meeting was important as it provided an opportunity for them to give their views and stand on the matter , as well as other issues of concern to the public.
Full report at:
https://www.nst.com.my/news/nation/2020/01/556881/dong-jiao-zong-admits-learning-jawi-not-process-islamisation-mujahid
--------
ICJ to rule next week on urgent measures in Rohingya genocide case
January 16, 2020
The United Nations' top court said Wednesday it will deliver its decision next week on whether emergency measures should be imposed on Myanmar over alleged genocide against its Rohingya Muslims.
The ruling comes a month after Myanmar's civilian leader and Nobel peace laureate Aung San Suu Kyi traveled to The Hague to defend the bloody 2017 crackdown by her nation's army against the Rohingya.
The mainly Muslim African nation of The Gambia brought the case against Myanmar at the International Court of Justice after around 740,000 Rohingya fled over the border into Bangladesh, carrying accounts of widespread rape, arson and mass killings.
"The International Court of Justice... will deliver, on Thursday Jan. 23 2020, its order on the request for the indication of provisional measures made by The Gambia," the court said in a statement, adding that it would happen at 10:00 a.m. (0900 GMT).
The Gambian Ministry of Justice had announced the date on Twitter earlier Wednesday.
The Gambia brought the case against Buddhist-majority Myanmar with the backing of the Organization for Islamic Cooperation. Canada and the Netherlands have since also lent their support.
At the December hearing, The Gambia alleged Myanmar had breached the 1948 UN Genocide Convention, meaning that the case could go before the ICJ, the highest judicial organ of the United Nations.
It also said there was a "serious and imminent risk of genocide recurring" and called for urgent "provisional measures" to prevent Myanmar from committing any further atrocities or erasing any evidence.
It is not clear how specific the emergency measures would be, but enforcing them would likely prove difficult.
If the court rules in The Gambia's favor, this would be just the first step in a case likely to take years.
An estimated 600,000 Rohingya still live in Myanmar's western Rakhine state in what Amnesty International has branded "apartheid" conditions.
UN investigators have said Myanmar's actions amounted to genocide.
Suu Kyi admitted in her appearance before the court that the army may have used excessive force against the Rohingya, but said the case was based on "misleading and incomplete" claims, calling for it to be dropped.
The 74-year-old, once regarded as a rights icon in the West, also said the case risked reigniting the crisis.
ICJ judges have only once before ruled that genocide was committed, in the 1995 Srebrenica massacre in Bosnia.
Suu Kyi's defense of the generals was widely condemned in the West but proved popular at home with a public largely unsympathetic to the plight of the Rohingya.
Myanmar insists its own investigations will ensure accountability for any human rights violations but critics deride the domestic panels as toothless and partial.
Full report at:
https://www.thejakartapost.com/seasia/2020/01/16/icj-to-rule-next-week-on-urgent-measures-in-rohingya-genocide-case.html
--------
Federal Court dismisses Muslim-convert mother's appeal bid against custody order of children
15 Jan 2020
PUTRAJAYA, Jan 15 — The Federal Court here today denied a Muslim-convert mother's application for leave to appeal against the Court of Appeal's order in granting full custody of her two children to her ex-Buddhist husband.
A three-member bench comprising Datuk Mohd Zawawi Salleh, Datuk Abdul Rahman Sebli and Datuk Hasnah Mohammed Hashim unanimously dismissed the woman's appeal with RM10,000 costs.
Justice Zawawi who chaired the bench held that the woman had failed to meet the threshold requirement under Section 96 of the Courts of Judicature Act 1964.
He said the three legal questions posed by the woman's counsel Rohani Ibrahim were related to the facts of the case.
Earlier, the same court struck out the woman's application to adduce fresh evidence after she, through her counsel, withdrew the application. The court ordered her (the mother) to pay costs of RM3,000.
Justice Zawawi had said that the application to adduce fresh evidence was premature as the mother had not yet obtained leave to appeal to the Federal Court.
The 43-year-old mother converted to Islam in December 2015 and obtained custody of the two children in April last year.
She converted the children, then aged four and eight, on May 11, 2016, without the father's knowledge and consent.
On September 14, 2018, the Court of Appeal gave full custody to the father, a 47-year-old businessman, after allowing his appeal to set aside the Shah Alam High Court's ruling which gave custody to the mother.
The woman's appeal against the High Court's decision on October 16, 2018, to quash the conversion certificates of her children would be heard by the Court of Appeal on March 16.
Lawyer Honey Tan representing the father of the children said following the dismissal of the mother's leave to appeal, the children would remain with their father, with the mother having access to the children.
She said if there were material changes of circumstances, the mother can go back to the High Court to vary the custody order.
Full report at:
https://www.malaymail.com/news/malaysia/2020/01/15/federal-court-dismisses-muslim-convert-mothers-leave-to-appeal-bid/1828292
--------
Ripples of 1MDB complicate Malaysian ties to Gulf
By JAMES M DORSEY
JANUARY 16, 2020
Disclosures of taped phone calls between embattled former Malaysian prime minister Najib Razak and a person believed to be UAE Crown Prince Mohammed bin Zayed go a long way to explain Malaysian efforts to counter UAE and Saudi influence in the Muslim world.
The disclosures are the latest incident in what have been complex, if not strained, relations with the United Arab Emirates and Saudi Arabia since Prime Minister Mahathir Mohamad returned to office 19 months ago on the back of the 1Malaysia Development Berhad (1MDB) scandal.
The scandal involves the siphoning off of billions of dollars from the government investment fund, for which Razak is standing trial.
Strains in relations between Malaysia and Saudi Arabia and the UAE, the kingdom's closest ally, were on display last month when Mahathir convened in cooperation with Turkey, Iran and Qatar – countries with which the two conservative Gulf states are at odds – an Islamic summit that did not involve the Saudi-controlled, Riyadh-based Organization of Islamic Cooperation. The OIC groups 57 Muslim countries and is the usual convener of Islamic summits.
In line with the summit that called for Muslim nations jointly to confront problems Muslims face, Mahathir this week, in contrast to the Gulf states, condemned the killing in Iraq of Iranian General Qasem Soleimani in a US drone strike as a violation of international law.
Saudi Arabia and the UAE called for restraint in the wake of the killing but few in the two states mourned the commander's death.
Rejecting Saudi influence
Mahathir's critical view of Saudi Arabia and the UAE, rooted partly in their alleged associations with the 1MDB scandal, was evident almost from the moment he assumed office.
Mahathir appointed as defense minister Mohamed Sabu, known for his critical views of Saudi Arabia. Within a few months, Sabu closed the King Salman Center for International Peace (KSCIP), a Saudi-funded anti-terrorism center established together with the Malaysian Defense Ministry.
Similarly, Mahathir reappointed Seri Mohd Shukri as head of the Malaysian Anti-Corruption Commission (MACC). Shukri noted in one of his first statements that "we have had difficulties dealing with Arab countries [such as] Qatar, Saudi Arabia [and the] UAE."
Shukri initially resigned in 2016 as the government's anti-corruption czar because he had been pressured by Razak to drop his plans to indict the then prime minister.
Excerpts of tapes played by the MACC at a news conference this week suggested that Razak asked a person believed to be Emirati Crown Prince Mohammed to assist in unidentified ways to resolve the scandal and as a "personal favor" help his stepson, Riza Shahriz Abdul Aziz, evade charges of money-laundering.
The person Razak was speaking to on the tapes did not identify himself but was addressed by the prime minister as "Your Highness." The MACC believes on the basis of the context of the conversations that the voice is that of the UAE's de facto leader.
In the recordings, Razak advises the person that "it is important to resolve this impasse with respect to 1MDB … so that we put closure as soon as possible because it's embarrassing to both countries, embarrassing Malaysia and embarrassing the UAE as well as personalities close to you."
The person rejects a request by Razak to discuss the issue in person but delegates an associate to talk to the prime minister.
He "has the full authority from me and I really, genuinely, want to find a solution…. It's in our both interests, Mr Prime Minister, to solve it," the person said.
Dubai exile
It's not clear from the tapes whether the UAE actually stepped in to help Razak and his stepson out of their predicaments.
Approaching the UAE for help made sense for Razak not only because of the Gulf country's alleged links to the scandal but also because it has established itself as a financial and/or physical safe haven for politicians, businessmen and others while in office or positions of influence as well as those who have fallen into disgrace like former Pakistani president Pervez Musharraf and former Thai prime ministers Thaksin and Yingluck Shinawatra.
A Pakistani court last month sentenced Musharraf to death on charges of treason, though another court later overturned that verdict. Musharraf lives in Dubai, where he is receiving medical treatment.
Thaksin, who was toppled in a military coup in 2006, fled into exile in Dubai after escaping Thailand to evade serving a prison term for a conflict-of-interest conviction. Yingluck, Thaksin's sister, followed him in 2017 after being removed in 2014 by another military intervention and having been charged with negligence while serving as prime minister.
Political scientist Abdulkhaleq Abdulla, whose views are often seen as reflecting UAE government thinking, anticipating a possible change in relations, disparaged Mahathir and his election victory at the time.
Abdulla focused on Mahathir's age as well as the fact that he had forged an alliance with his former deputy prime minister and rival Anwar Ibrahim, an Islamist believed to be close to the Muslim Brotherhood, a bête noire of Prince Mohammed.
Full report at:
https://www.asiatimes.com/2020/01/opinion/ripples-of-1mdb-complicate-malaysian-ties-to-gulf/
--------
Thai Army Chief Signs Intelligence Pact With Indonesia
January 15, 2020
An intelligence-sharing agreement signed by the army chiefs of Thailand and Indonesia is unlikely to significantly help Thailand end a Muslim separatist insurgency in its deep south, analysts said Wednesday.
More than 7,000 people have died since the insurgency flared up in 2004.
The pact signed Tuesday in Indonesia's Aceh province extended a cooperation agreement launched in 2008. Thai army chief Gen. Apirat Kongsompong said it increases cooperation in tracking fugitives across borders and provides for the exchange of visits and training.
Apirat said he sought during his visit to understand how Indonesia reached a settlement with Muslim insurgents in Aceh province in 2005. He said he met with the former leaders of the Free Aceh Movement, which fought a bitter war for autonomy for decades.
Indonesia's peace agreement with the insurgents gave Aceh province a significant amount of autonomy, an approach that Thai authorities have not seriously considered. The insurgency is active in Thailand's three southernmost provinces, the only ones with Muslim majorities in predominantly Buddhist Thailand. Indonesia and Aceh province are predominantly Muslim.
Indonesian army chief Gen. Andika Perkasa Perkasa said Apirat also met the Wali Nanggroe — Aceh's symbolic head of state — to exchange views that "would be useful to apply in dealing with the insurgency in southern Thailand."
The director of a think tank monitoring the conflict said the Thai government is still focusing on military approaches to counter the insurgents and is paying less attention to social issues such as poverty and inequality that fuel the insurgency.
Srisompob Jitpiromsi, director of Deep South Watch, told The Associated Press that in 2017, Thai authorities began focusing suppression efforts on the most active insurgent group, the Barisan Revolusi Nasional to pressure it to join ongoing peace talks.
Srisompob said he doubted the extension of the pact with Indonesia would help Thai authorities engage with the BRN, which has closer links with Thailand's southern neighbor, Malaysia.
An independent scholar specializing in the southern insurgency, Rungrawee Chalermsripinyorat, said she believes Thailand's deal with Indonesia could signify that military suppression will remain the dominant mode of conflict management in the deep south.
"Judging from budget allocations, it seems that the government has given little importance to the formal peace dialogue," she said.
Full report at:
https://thediplomat.com/2020/01/thai-army-chief-signs-intelligence-pact-with-indonesia/
--------
South Asia
Ceasefire Necessary for Afghanistan Reconciliation and Peace Talks
16 Jan 2020
Peace for Afghans means the end of the prolonged violence that has deeply affected their lives for decades – which is why the emphasis is on a ceasefire to create a conducive environment for Afghanistan Reconciliation and peace talks.
Hamdullah Mohib, Afghanistan's National Security Adviser, on Wednesday at the Raisina Dialogue multilateral conference in New Delhi, said, "peace in our country is a long overdue, and Afghans demand it more than anything else." The persistent fear that they might be the next target of terrorist attacks has become a common threat.
He further added that a ceasefire is a suitable mechanism to bring everyone, including the government and our enemies around the negotiation table and to take their commitment for sustainable peace in Afghanistan and to maintain their part of a future deal.
Seeking a peaceful resolution to the violent circumstances is not just necessary for Afghanistan, but also plays a vital role in maintaining regional security – and these principles are enshrined in the UN Charter, and they have been the basis of international cooperation for generations.
The Afghan people and government stand ready and firmly engage in peace talks. Therefore, those who refuse to answer this call should prepare to face the full force of the Afghan nation, he said. According to a source close to the peace process, Zalmay Khalilzad, the US Special Representative for Afghanistan Reconciliation, is expected to meet Afghan leaders in Kabul once the Taliban finalize their position on the reduction of violence.
https://www.khaama.com/ceasefire-necessary-for-afghanistan-reconciliation-and-peace-talks-8978755/
--------
Taliban chief agrees to a brief 'ceasefire' for talks resumptions
16 Jan 2020
Taliban Chief, Mullah Haibatullah Akhund has agreed to a brief ceasefire for the peace talks resumption with the United States that may reach a deal signing stage this time.
US special envoy Zalmay Khalilzad has been pushing the Taliban to agree to a brief ceasefire before signing of the peace agreement.
Khalilzad paused the negotiations in Qatar last month after the Taliban attacked the Bagram airfield north of Kabul that killed at least two people and injured nearly 70 others.
The Taliban leadership council has held two meetings over the past few weeks to review Khalilzad's proposal and agreed to declare a ceasefire for 7 to 10 days, a Taliban official said.
A Taliban leader told media that a majority of the 'shura' members had agreed to the ceasefire and sent the recommendation to the supreme leader, who approved the proposal.
"The Qatar political office was scheduled to share the decision with Khalilzad in Qatar on Wednesday to get his response," he said.
Full report at:
https://www.khaama.com/taliban-chief-agrees-to-a-brief-ceasefire-for-talks-resumptions-987097675/
--------
Europe
Trump agrees with British PM Johnson on a 'Trump deal' for Iran
15 January 2020
US President Donald Trump said he agreed with a comment by British Prime Minister Boris Johnson that a "Trump deal" should replace the Iran nuclear deal.
"Prime Minister of the United Kingdom, @BorisJohnson, stated, 'We should replace the Iran deal with the Trump deal,'" Trump said in a posting on Twitter late on Tuesday. "I agree!"
Johnson, who has praised Trump as a great dealmaker, called on Tuesday for the president to replace the Iranian nuclear deal with his own new pact to ensure the Islamic Republic does not get an atomic weapon.
https://english.alarabiya.net/en/News/world/2020/01/15/Trump-agrees-with-British-PM-Johnson-on-a-Trump-deal-for-Iran.html
--------
Government considers new law to ban the possession of terrorist propaganda
14 JANUARY 2020
Anew law that would make it illegal to possess extremist material, such as videos of Isil beheadings, is being considered by the Government in the wake of 2017 London Bridge attacks, the Home Secretary has confirmed.
Khuram Butt, the ringleader of the atrocity, was known to have viewed terrorist propaganda online before launching the attack in which eight people were killed.
But at the victims' inquests last year, the Chief Coroner, expressed concern that gaps in the legislation made it difficult to act against those possessing and viewing such material.
Mark Lucraft QC, recommended the introduction of a new law that would ban material of the "most offensive and shocking character", putting it on a par with indecent images of children.
In her official response to the coroner's report, published on Tuesday, Priti Patel said: "The Government accepts this recommendation and is currently considering the necessity for a further offence of possessing the most serious extremist material which glorifies or encourages terrorism.
"The Government notes the Chief Coroner's comments regarding the evidence at the inquests, the existence of the offence for a person in possession of a prohibited image of a child, and the perception that the lack of a comparative counter-terrorism offence may sometimes prevent counter terrorism policing from taking disruptive action."
Ms Patel added: "Our operational partners must have the tools and powers they require to tackle terrorism. Consideration is ongoing between the Home Office and representatives from Counter Terror Policing HQ as to whether there is a gap in the current legislation from an operational perspective."
Eight people were killed and 48 others seriously injured when terrorists used a hired van to plough into pedestrians on London Bridge before attacking people at random around Borough Market on June 3 2017.
Butt, Rachid Redouane, 30, and Youssef Zaghba, 22, were shot dead by armed police who arrived on the scene just minutes after they went on the rampage.
The inquest heard that police and MI5 did not recognise the threat posed by Butt, despite his association with Islamic State fanatic Anjem Choudary and an appearance in the documentary The Jihadi Next Door.
He was a subject of interest in an active MI5 investigation at the time of the attack.
But the investigation into his activities was twice suspended due to pressure on resources and the authorities did not pass on tip-offs about his extremism, including one from a family member.
Full report at:
https://www.telegraph.co.uk/news/2020/01/14/government-considers-new-law-ban-possession-terrorist-propaganda/
--------
Four children of ISIS couple could return to London if mother stays in Syria
15 January 2020
The children of parents who fled the country in 2014 to join the so-called Islamic State (IS) in 2014 could be repatriated from a Syrian refugee camp if their mother agrees she won't return with them.
Both parents have been stripped of their British citizenship, but it is thought the four children still retain their right to a British passport.
According to reports, the Government will "urgently investigate" the return of the children from the camp they are in, which could lead to the return of dozens of children trapped in camps following the defeat of IS.
Mehak Aslam, form East London, joined the terrorist group with her husband Shahan Choudhury, who became an IS gravedigger and was later imprisoned.
Choudhary's family revealed that he became radicalised in Belmarsh prison, while on remand, after falling under the influence of followers of hate preacher Anjem Choudary while he was in prison. He spent eighteen months on remand but was acquitted. He began attending the hate preacher's sermons shortly after leaving prison.
Both have been stripped of their British citizenship.
Mohamed Aslam urged his daughter to sign a proposal from the Government which promised to begin investigating the process of the children's return.
He told ITV News he recognised the need for children to be raised by their parents but it was just not possible for his grandchildren.
"That's a hard reality but at least they'll be safe here - at least they'll be safe and secure," Mr Aslam said.
He said a fifth grandchild was killed in an explosion in Syria.
"She passed away - I can never forgive them (her parents) for that.
"They wanted to take this step for themselves - that's fine, that's their problem. Why involve the kids in this?"
An estimated 60 children whose parents joined IS are in Syrian refugee camps, with Whitehall long criticised over perceived inaction on their repatriation.
The Aslam and Choudhury families approached the Foreign Office for help after watching an interview with Shahan Choudhury last June.
Full report at:
https://www.lbc.co.uk/news/four-children-of-isis-couple-could-return-syria/
--------
Time for Germany to outlaw all of Hezbollah
JAN 14, 2020
The targeted killing this month of top Iranian general Qasem Soleimani brought forth calls for revenge from Iran and its terrorist proxies, including Lebanon-based Hezbollah. Those new threats should be the impetus for the German government to finally outlaw Hezbollah in its entirety.
Like most of the European Union, Germany recognizes only Hezbollah's military wing as a terrorist organization, allowing its political supporters to operate in the country unhindered. The partition stems from a desire in Germany to avoid alienating Hezbollah's powerful politicians in Lebanon's government. And yet those politicians wave the same flag and answer to the same chain of command as Hezbollah's terrorist fighters.
Hezbollah's secretary-general, Hassan Nasrallah, has promised revenge for Soleimani's death. This should raise concern everywhere Hezbollah operates. As head of Iran's Quds Force, Soleimani was the chief liaison between Iranian Supreme Leader Ali Khamenei and Hezbollah, as well as Iran's other terrorist proxies. He directly provided financial and military support to these groups, helping them become dominant powers in Lebanon, Syria, and Iraq.
Germany's parliament last month called on the government to declare Hezbollah in its entirety a terrorist organization, but the government has thus far rebuffed lawmakers. MP Benjamin Strasser, a key supporter of that parliamentary resolution, said that banning Hezbollah was in Germany's national interest. Not only is it in Germany's national interest, but continuing the status quo of recognizing only half the reality of Hezbollah is detrimental to that interest as Germany sends the message that there is bad Hezbollah and good Hezbollah. Promoting this division makes Germany culpable in providing Hezbollah with an operating base in Europe.
Hezbollah has not hesitated in the past to strike on the European continent. It is responsible for the 1985 hijacking of TWA Flight 847 traveling from Athens to Rome. It is implicated in the 2012 Bulgaria bus bombing. A Cypriot court in 2013 sentenced a Hezbollah operative to prison for planning attacks on Israeli targets. And supporters continue to wave the terror group's flags in European capitals during annual demonstrations for Quds Day, the anti-Israel rally instituted by the Iranian regime.
Yet Germany — and indeed much of the EU — has granted Hezbollah's supporters free reign under the guise of belonging to Hezbollah's political wing, denying the singular reality of Hezbollah. Hezbollah's leaders are themselves on record disputing this artificial division of Hezbollah. According to Hezbollah deputy leader Naim Qassem: "We don't have a military wing and a political one; we don't have Hezbollah on one hand and the resistance party on the other… Every element of Hezbollah, from commanders to members as well as our various capabilities, are in the service of the resistance, and we have nothing but the resistance as a priority." Qassem's message is clear: Hezbollah's politicians and its fighters share the same jihadist ideology and goals. Support for one side is support for the other.
Hezbollah has clearly demonstrated it has no compunction about striking inside Europe. Germany must no longer allow it the opportunity. The misplaced belief that designating the group in its entirety would damage relations with Lebanon provides a protective umbrella for the group's operations in Germany and throughout the European Union. With the exception of Israel, countries that have designated Hezbollah in its entirety still maintain full diplomatic relations with Lebanon. The United Kingdom and the Netherlands have both recognized Hezbollah for what it is. As a leading power of the European Union, Germany must take this step as well.
Fear of Hezbollah's political influence should not stop Germany from doing the right thing.
https://blogs.timesofisrael.com/time-for-germany-to-outlaw-all-of-hezbollah/
Kosovo Woman, Man Repatriated From Syria Charged With Terror
Jan. 14, 2020
PRISTINA, Kosovo — Kosovo prosecutors on Tuesday filed terrorism charges against an Albanian woman and a man for allegedly joining the Islamic State group in Syria.
A prosecutors' office statement said the defendant woman identified as V.K. and the man identified as F.D. left Kosovo in March 2015 to first go to neighboring Skopje, North Macedonia, and then to Turkey where they crossed the Syrian border to join IS until early 2019 when they handed themselves over to Kurdish forces.
In April, they were part of a group of 110 Kosovo citizens repatriated from Syria.
Both are charged with organization and participation in a terror group. If convicted, they could face prison sentences of up to 15 years.
Kosovo authorities say 30 of the country's citizens are still actively supporting terror groups in Syria.
Full report at:
https://www.nytimes.com/aponline/2020/01/14/world/europe/ap-eu-kosovo-terror-charges.html
--------
UN Security Council reviews situation in occupied Kashmir
Anwar Iqbal
January 16, 2020
UNITED NATIONS: The United Nations Security Council (UNSC) held a meeting on Wednesday on Jammu and Kashmir and reviewed the situation in the India-occupied valley.
Foreign Minister Shah Mehmood Qureshi, currently on a mission to defuse tensions between the United States and Iran, also reached New York on Wednesday afternoon and met UN leaders before proceeding to Washington.
His first meeting was with UN Secretary General Antonio Guterres, followed by a meeting with the President of the UN General Assembly, Tijjani Muhammad-Bande.
Although the UNSC meeting took place behind closed doors, Chinese Ambassador Zhang Jun spoke to journalists outside the chamber, confirming that the council had reviewed the situation in the occupied land.
"We had a meeting on Jammu and Kashmir," he said. "The Security Council heard a briefing from the secretariat on the situation."
The ambassador recalled that recently Mr Qureshi had written letters to the Security Council to pay attention to the situation in Jammu and Kashmir.
"The issue of India and Pakistan is always on the agenda of the Security Council," said the Chinese ambassador while pointing out that "recently, we have also seen some tensions."
Asked what China's position on the situation in Kashmir was, he said: "Our position is very clear." China recognises Kashmir as a territory disputed between India and Pakistan and openly supports Islamabad's demand for a plebiscite to enable the Kashmiri people to decide their own future.
The ambassador did not explain if the council discussed a report by the UN Military Observer Group over the situation along the Line of Control, as expected, or it was a different brief. Several civilians and soldiers have been martyred due to Indian aggression along the LoC and Pakistan has already warned the council that such violations could further aggravate the situation.
On Aug 16, the UNSC also considered the volatile situation in Kashmir, addressing the issue in a meeting focused solely on the dispute. This was the first such meeting since 1965.
The August meeting was held on China's request, which asked the world body to review the rising tensions between South Asia's two nuclear powers over the dispute. The issue had remained dormant since December 1971, when the UNSC held its last meaningful meeting on the Kashmir issue.
Another meeting of UNSC's five permanent members was called on China's request in December 2019 when the council asked the UN Military Observers Group in India and Pakistan (UNMOGIP) to submit a report on the situation in Kashmir. The council also agreed to hold a special meeting on Kashmir to consider the UNMOGIP report.
On Wednesday evening, Mr Qureshi left for Washington where he is expected to meet US Secretary of State Mike Pompeo as part of his efforts to reduce tensions between Iran and the United States.
The foreign minister has already visited Iran and Saudi Arabia where he urged the leaders of the two countries to exercise restraint.
Mr Qureshi raised the Kashmir issue in his meetings with UN leaders in New York, reiterating Pakistan's position tensions in Kashmir could lead to a larger conflict in the region. He also urged the United Nations to play its role in resolving this 72-year-old dispute.
New Delhi's recent annexation of occupied Kashmir has further aggravated the situation, as India placed the valley under a punishing lockdown to curb an expected backlash against the annexation.
New York's Kashmiri community has planned a major protest outside the UN building on Jan 26, which is India's Republic Day, to draw attention to India's illegal annexation and continued human rights violations in the occupied valley.
In a statement on August 8, the UN secretary-general voiced concern over the situation and said, "the position of the United Nations on this region is governed by the Charter of the United Nations and applicable Security Council resolutions."
Full report at:
https://www.dawn.com/news/1528599/un-security-council-reviews-situation-in-occupied-kashmir
--------
Albania deports two Iranian diplomats citing 'serious threat'
15 January 2020
Albania has ordered two Iranian diplomats to leave the country within 72 hours, saying that they pose "a serious threat" to Albania, local media reported on Wednesday.
The two diplomats are Mohammed Peimanemati, an adviser to the Iranian embassy in Tirana, and Seyed Ahmad Hosseini, Iran's cultural attaché in Albania.
Local reports say the two men were in direct contact with slain Iranian Revolutionary Guards commander Qassem Soleimani, who was killed in a US airstrike near Baghdad International Airport.
Albania is home to 3200 members of the People's Mujahedin of Iran (MEK) organization, an exiled opposition group.
Full report at:
https://english.alarabiya.net/en/News/world/2020/01/15/Albania-deports-two-Iranian-diplomats-citing-serious-threat-.html
--------
Cyprus rescues 101 Syrian migrants off coast
January 14, 2020
NICOSIA: Cyprus police said they rescued 101 Syrian migrants sighted on a boat off the Mediterranean island's southeast coast on Tuesday.
A patrol vessel located the 33-meter (100-foot) boat 18 nautical miles off the resort town of Protaras.
The migrants were brought to shore on an inflatable and their damaged boat anchored near a fishing harbor.
The migrants had said they set off from Mersin in Turkey, an eastern Mediterranean route often used by people smugglers.
The migrants — 88 men, six women and seven children — were being processed before transfer to a reception center outside the capital Nicosia.
Nicosia has warned Brussels it has come under pressure from increased migration flows, ranking it top in first-time asylum seekers in proportion to its population.
Cyprus is the first European Union member to permanently host the European Asylum Support Office to help cope with the spike in arrivals.
But the small EU member, located 100 miles (160 kilometers) from Syria, has not seen the same massive inflow of migrants as Turkey and Greece.
Syrian nationals accounted for 33 percent of first-time asylum seekers in Cyprus in the second quarter of 2019, EU figures show.
Full report at:
https://www.arabnews.com/node/1613196/world
--------
European news agencies urge Egypt to free Anadolu Agency staff
Havva Kara Aydın
16.01.2020
ANKARA
The European Alliance of News Agencies (EANA) Thursday called on Egypt to release Anadolu Agency employees detained in a raid on their office in Cairo.
"EANA Board considers that the Egyptian authorities should immediately release the detained journalists and inform the international public on what were the legal grounds of their initial arrest," the alliance said in a statement.
"EANA stands with its member, Anadolu Agency and its journalists," it added.
The statement also underlined that the raid was against the fundamental values of democracy and free journalism.
"Therefore, moving against these values is an extremely condemnable course of action," it said.
Egyptian police raided the Cairo office of Anadolu Agency late Tuesday and detained four employees.
Full report at:
https://www.aa.com.tr/en/europe/european-news-agencies-urge-egypt-to-free-anadolu-agency-staff/1704198
--------
India
UP Chief Minister In Bihar Claims Muslim Population Increased In India Due To Privileges Given To Them, Contradicts Data
15 Jan 2020
Addressing a rally in Gaya, Bihar organised by the BJP in support of the Citizenship (Amendment) Act, Uttar Pradesh Chief Minister Yogi Adityanath said defending the newly amended citizenship law that the Muslim community was given special rights since the partition in India. That is the reason the Muslim population has increased manifold in the country.
He criticised Pakistan for the alleged 'ill-treatment' towards the minorities and claimed that unlike Pakistan the Muslims are getting better facilities in India and that Prime Minister Narendra Modi and Union Home Minister Amit Shah should be 'honoured' and not attacked for bringing the CAA.
Adityanath said, "The Muslim population in India has increased manifold since 1947, it has gone up by seven to eight times. No one has any objection. If they, as citizens of the country, work for development, they are welcome. Their population has increased because they have been given special rights and facilities. All possible steps were taken to ensure their growth. But what happened in Pakistan?"
"Why the Hindu population has decreased in Pakistan since 1947?" he asked.
But the UP CM statement contradicts the 2011 census data which shows the fact that growth in the Muslim population is actually falling faster than the Hindu population growth rate. The Muslim population stands at 17.22 crore or 14.22% of India's total population.
The Muslim community has registered a 0.8 per cent growth to touch 17.22 crore between 2001 and 2011, up from 13.8 crores but the rate of growth is considerably lower than in previous decades, whereas Hindu population has shown a decline by 0.7 per cent at 96.63 crores during the period, the census data said.
UP Chief Minister Yogi Adityanath's claims that the non-Muslim population has drastically decreased in Pakistan also proves to be false when we look at the figures.
The BJP has been harping on this 'falsified' fact that the non-Muslim population in Pakistan has decreased from 23% to 3.7%. Even Home Minister Amit Shah while presenting the contentious Citizenship Amendment Bill argued that the "minorities in Pakistan were either persecuted or took shelter in India".
But the fact is that after Partition the first consensus took place in Pakistan in 1951 and the non-Muslim population stood at 14.20%. This non-Muslim population was also not evenly distributed in Pakistan. 23.20% non-Muslim population resided in East Pakistan and only 3.44% non-Muslim lived in West Pakistan. East Pakistan is today's Bangladesh.
So, when we discuss Pakistan's population, we have to focus on the West Pakistan which is Pakistan today. And in 1972 and 1981 consensus, the non-Muslim population in Pakistan showed a minuscule rise. In Pakistan, the non-Muslim population has since then been hovering around 3.50% and it was never 23% as is always claimed by the BJP and its leaders.
https://www.nationalheraldindia.com/india/yogi-in-bihar-claims-muslim-population-increased-in-india-due-to-privileges-given-to-them-contradicts-data
--------
States sponsoring terrorism must be taken to task: Chief of Defence Staff Gen Rawat
Jan 16, 2020
NEW DELHI: Chief of Defence Staff General Bipin Rawat on Thursday pitched for strong global action against states sponsoring terrorism, saying there is a need to take the bull by its horns and strike at the root cause.
In an address at the Raisina Dialogue, General Rawat also said there is a need to take a hardline approach in dealing with terrorism, the way the US went after terror groups after the 9/11 terror attacks.
"As long as there are states which sponsor terrorism, we will have to live with the menace. We need to take the bull by its horns and strike at the root cause," he said in an oblique reference to Pakistan.
"If we think war on terrorism is going to end, we are wrong," General Rawat said.
He said the countries which are sponsoring terrorism cannot be part of global fight against terror networks.
"You cannot have partners who are partnering global war on terrorism and yet sponsoring terrorism ... There has to be diplomatic isolation of those sponsoring terrorism. Any country which is sponsoring terrorism has to be taken to task," he said.
On containing radicalisation, the Chief of Defence Staff said it can be checked if right persons are targeted, adding there was a need to confront the "ideology of radicalisation".
Full report at:
https://timesofindia.indiatimes.com/india/states-sponsoring-terrorism-must-be-taken-to-task-chief-of-defence-staff-gen-rawat/articleshow/73290225.cms
--------
Will have to deal with terror like US did after 9/11 attacks: CDS Bipin Rawat
January 16, 2020
Chief of Defence Staff (CDS) General Bipin Rawat Thursday said the war on terrorism needs to continue and appealed to the international community to isolate nations that sponsor terror. "As long as there are states which sponsor terrorism, we will have to live with the menace. We need to take the bull by its horns. We've to bring an end to terrorism and that can only happen the way Americans started after 9/11," he said during an address at Raisina Dialogue 2020.
Rawat added that diplomatic isolation and blacklisting by the Financial Action Task Force (FATF) can be good measures to deal with terror. He also sought to put an end to online radicalisation "if we target the right persons. "We have to address the ideology of radicalisation," he said.
"Terrorism is here to stay so long as there are states that will sponsor terrorism and use terrorists as proxies, make weapons and funding available for them. The war on terror is not ending, it is something which is going to continue, we will have to live with it until we understand and get to the roots of terrorism," he said.
CDS Rawat also said that the only way to end terrorism is to wage a war against it as America did after the 9/11 attacks. "We have to bring an end to terrorism and that can only happen the way Americans started after 9/11, they said let's go on a spree on the global war on terror. To do that you need to isolate the terrorists, anybody who is sponsoring terrorism has to be taken to task."
Full report at:
https://indianexpress.com/article/india/cds-bipin-rawat-terrorism-raisina-dialogue-2020-6219142/
--------
China-Pakistan alliance again comes up short on Kashmir at UN
Jan 15, 2020
WASHINGTON: China made another bid on Wednesday to raise the Kashmir issue at a closed-door meeting in the UN Security Council on behalf of its client state Pakistan, only to be rebuffed by France and other permanent members who maintain the matter should be resolved bilaterally.
The visit this week to New York City and Washington DC of Pakistan's foreign minister Shah Mehmood Qureshi appeared to be the trigger for China to make a token effort in support of Islamabad, which has been trying furiously to work up some lather in the international community for its long-serving "cause." But there was no joy for the visiting minister as France took the lead role, as it did some months ago, in countering China's provocation and shutting out any extended debate.
Reacting to the development, India's permanent representative to United Nations Syed Akbaruddin said the outcome was on the expected lines. "We are happy that neither the alarming scenario painted by the representatives of Pakistan nor any of the baseless allegations made repeatedly by various representatives of Pakistan in UN fora were found to be credible," he added.
In any case, the matter was discussed informally and in camera in the "any other business" category, which means there would be no written records or resolutions about a matter that has long been a political and diplomatic weapon in the Pakistan-China arsenal. Both countries face internal strife.
"UNSC discussed #Kashmir in closed consultations. Russia firmly stands for the normalisation of relations between #India and #Pakistan. We hope that differences between them will be settled through bilateral efforts based on the 1972 Simla Agreement and the 1999 Lahore Declaration," Dmitry Polyanskiy, a Russian official at the UN, tweeted, expressing the views of a majority of UNSC members.
UNSC discussed #Kashmir in closed consultations. Russia firmly stands for the normalisation of relations between… https://t.co/N3ZFFIjskN
— Dmitry Polyanskiy (@Dpol_un) 1579111783000
In an effort to counter the Pakistan-China moves, India has gone about trying to show that things are largely normal in Kashmir and Ladakh with resumption of communication and travel, even if a few areas in the Valley are unsettled. Fears (and expectations from Pakistan) of large-scale insurrection and "genocide" have proved demonstrably false despite alarms about New Delhi's heavy-handedness and stray cases of violence.
India has prepared the ground well for demonstrating that normal life is returning to the region, taking a delegation of foreign envoys, including the US ambassador to India Kenneth Juster, to Kashmir, and announcing resumption of communication, including mobile telephony.
New Delhi has also taken a tough line with Malaysia and Turkey -- Pakistan's latest supporters on the issue after Islamabad lost ground in the Gulf and Arab world – with punitive measures that will cost them economically. Pakistan's fictitious and overwrought campaign about large scale insurrection, state violence, and genocide, has also not impressed major global powers, which continue to engage New Delhi economically and with high-level visits of the kind Islamabad doesn't see.
Absent such engagement, Pakistan has taken it upon itself to play the peacemaker between Iran and Saudi Arabia, both of which are disdainful of Islamabad, in an effort to get some diplomatic leverage.
Full report at:
https://timesofindia.indiatimes.com/india/china-pakistan-alliance-again-comes-up-short-on-kashmir-at-un/articleshow/73280688.cms
--------
Top Hizb terrorist killed in J&K encounter
Jan 15, 2020
TAMMU: A top Hizbul Mujahideen (HM) terrorist, Haroon Abbas Wani, was killed during a counter-insurgency operation in Jammu and Kashmir's Doda district on Wednesday. A massive hunt is underway for another terrorist who managed to escape from the encounter site.
An MBA graduate, Wani had been designated as an A++ category terrorist and had a reward against his name. He belonged to Furqaan Abad Ghat in Gatta belt of Doda district, officials said. "He had joined Hizbul Mujahideen in 2018 and was operating in the Kishtwar/Doda area along with other terrorists. He was part of a group involved in the killing of Parihar Brothers in 2018, weapon-snatching from Daleep Kumar — the PSO of DC Kishtwar — in 2019 and the killing of Sh Chanderkant and his PSO in 2019," a police spokesperson said.
Wani was the second youth to join HM ranks in Doda and posted his picture with an assault rifle on social media on September 1, 2018. Before Wani, Abid Hussain Butt from Sazan area of Doda had joined Lashkar-e-Taiba on July 1, 2018, and was killed in an encounter on July 25 in south Kashmir's Anantnag.
Braving tough hilly terrain and heavy snowfall, a joint team of Army's 10 RR and Doda Police launched a cordon-and-search operation in Doda's Gondana forest area on Tuesday evening, based on intelligence inputs. "By early Wednesday, the cordon was laid in Tantna village. On noticing security forces zeroing in on their hideout, the holed-up terrorists opened fire at the search party, triggering an encounter. In the ensuing firefight, Wani was killed while his accomplice managed to escape," said a senior police officer.
The second terrorist fled towards higher snow-bound areas and the security forces immediately launched a combing operation in the area to track him. "One AK-47 rifle, three magazines, 73 rounds, a Chinese grenade and a radio set were recovered from the encounter site," the officer added.
Full report at:
https://timesofindia.indiatimes.com/india/top-hizb-terrorist-killed-in-jk-encounter/articleshow/73280362.cms
--------
End quota of Dalits embracing Islam, Christianity: VHP-backed body urges PM
Jan 15, 2020
LUCKNOW: VHP-backed Akhil Bharatiya Sant Samiti has urged Prime Minister Narendra Modi to end reservation granted to Dalits and OBCs who have embraced Islam or Christianity.
In a letter to the PM dated January 9, general secretary of the Samiti Swami Jitendranand Saraswati said Dalits and OBCs were being converted into Christianity and Islam under a conspiracy. TOI is in possession of the letter.
"Dalits and OBCs are being asked not to change their names and avail benefits of reservation provided to them in the Constitution. We, therefore, request that the government
should carry out a campaign and deny benefits of reservation to converted Dalits," Saraswati said.
He said religious conversions amongst Dalits exposes the hypocrisy of Muslims and Christians who claim that they believe in social equality and that there is no casteism in their religions.
"Conversions are being carried out by missionaries who are working in pockets dominated by Dalits and Scheduled Tribes (STs). Missionaries are hatching a conspiracy to damage the social fabric of the country," he said.
"Petitioning the Supreme Court and seeking reservation for Dalit Muslims and Dalit Christians will deprive actual Dalits of their rights guaranteed to them in the Constitution," Saraswati said, adding that reservation was provided to lower caste Hindus to end inequality and discrimination.
The letter claimed that states like Andhra Pradesh, Telangana and Jharkhand conducted census of converted Dalits and 10 states curtailed religious conversion and discontinued benefits to Dalits who got converted.
Full report at:
https://timesofindia.indiatimes.com/city/lucknow/end-quota-of-dalits-embracing-islam-christianity-vhp-backed-body-urges-pm/articleshow/73269167.cms
--------
Suspected LeT member moves bail plea in Supreme Court
by Srinath Rao
January 16, 2020
A SUSPECTED member of the Lashkar-e-Taiba (LeT) earlier this week moved a bail application in the Supreme Court a month after the apex court cancelled his bail, resulting him in surrendering before a Mumbai court last month.
Nanded resident Mohammad Irfan Gaus was arrested along with four others in August 2012 by the state Anti-Terrorism Squad (ATS) and charged with conspiring to carry out terror strikes in Nanded and Hyderabad, possessing arms and influencing youngsters to take to violence.
After spending nearly seven years in jail, the Bombay High Court had granted Gaus bail last July, noting that the evidence placed before it by the National Investigation Agency (NIA) did not show reasonable grounds for believing that charges against him were true.
However, last November, the NIA filed a special leave petition before the SC, challenging the HC order. On December 3, 2019, a bench of Justice R Banumathi and Justice A S Bopanna stayed the HC order and also gave the NIA the liberty to re-arrest Gaus. The 32-year-old surrendered before the sessions court in Mumbai the next day and has been lodged at Arthur Road Jail since.
Full report at:
https://indianexpress.com/article/india/suspected-let-member-moves-bail-plea-in-supreme-court-6218805/
--------
Open to probe Davinder Singh's role in 2001 Parliament attack case: J&K DGP
by Arun Sharma
January 16, 2020
Days after one of its officers, Deputy Superintendent of Police Davinder Singh, was caught with two Hizbul Mujahideen militants, the J&K Police has recommended a probe by the National Investigation Agency (NIA).
"We have already recommended an NIA probe into the matter as things of wider magnitude may come out,'' Director General of Police Dilbag Singh said on Wednesday. While Davinder Singh has been suspended, the DGP said they had recommended his dismissal from service. He said they had also recommended that the gallantry medal awarded to Davinder Singh, by the erstwhile J&K state in 2018, should be taken back.
Responding to a question, the DGP said they were also open to a probe into Davinder Singh's alleged role in the 2001 Parliament attack. "If that issue also comes up during ongoing investigations, it can also be probed,'' he said.
In 2004, in a letter to his lawyer Sushil Kumar, Afzal Guru, then lodged in Tihar Jail for his involvement in the Parliament attack, had said that "DSP Davinder Singh", then posted with J&K Police's Special Operations Group at Humhama, had asked him to "take Mohammad", a Pakistani national identified as one of those who carried out the Parliament attack, "to Delhi, rent a flat for his stay and purchase a car for him".
Afzal Guru was convicted and hanged on February 9, 2013. Saying that the special investigation team would also probe Davinder Singh's possible involvement in criminal acts in the past, the DGP said: "We do not believe in sheltering anyone… we show no leniency towards anybody involved in such crimes, irrespective of one's rank or the organisation.''
The DGP said that following Davinder Singh's arrest, police had conducted searches at nearly half a dozen places. The investigations are going on, he said.
Meanwhile, the Jammu and Kashmir administration late Wednesday night forfeited the Sher-I-Kashmir honour for gallantry awarded to DySP Devinder Singh in August 2018. According to an order issued by Principal Secretary Home Shaleen Kabra, this has been done in view of arrest of the DySP while trying to assist terrorists travel outside J&K, which amounts to disloyalty and conduct that has brought the force into disrepute.
This came a few hours after DGP Dilbagh Singh said that they have recommended the government to take back the gallantry award given to the arrested DySP for his role into the terror attack in Pulwama district police lines.
Full report at:
https://indianexpress.com/article/india/jk-police-seek-nia-probe-into-arrested-dysp-davinder-singh-want-him-dismissed-6218444/
--------
Amid US-Iran tensions, PM Modi tells Javed Zarif: India has strong interest in peace, stability in region
January 15, 2020
Amid tensions between the US and Iran over the killing of top Iranian military commander Qassem Soleimani, Prime Minister Narendra Modi Wednesday told Iran's Foreign Minister Javed Zarif that India had a strong interest in peace, security, and stability in the region. Zarif met PM Modi on the sidelines of the 'Raisina Dialogue' in New Delhi
"The Foreign Minister shared his perspectives on the recent developments in the region. The Prime Minister mentioned India's strong interest in peace, security, and stability in the region," a statement by the Prime Minister's Office said.
The meeting between PM Modi and comes on the back of escalating tensions in the Gulf region, days after the killing of Soleimani, who was in charge of the Quds Force of Iranian Revolutionary Guard Corps (IRGC), in a US drone strike. Iran later launched ballistic missile strikes on two US military bases in Iraq in retaliation against the January 3 killing of Soleimani.
Following the killing of Soleimani, the MEA had said it would like the situation to de-escalate as soon as possible, underlining that "peace, stability, and security in this region is of utmost importance to India".
PM Modi also thanked Iranian leadership for the progress in the Chabahar project, including designating it as Special Economic Zone. Modi also reiterated India's continued commitment to developing strong and friendly relations with Iran.
"PM reiterated India's continued commitment to developing strong & friendly relations with Iran. He thanked Iranian leadership for the progress in the Chabahar project, including through designating it as Special Economic Zone," the PMO said. The Chabahar port is considered a gateway to golden opportunities for trade by India, Iran, and Afghanistan with central Asian nations.
India has longstanding diplomatic relations with both the US and Iran. Iran has been the largest exporter of oil to India, and India has developed the Chabahar port in southeastern Iran.
Earlier in the day, Zarif said India could play a role in "de-escalating tensions in the Gulf region as New Delhi is an important player". Even last week, Iran's Ambassador to India Ali Chegeni said Tehran would welcome any peace initiative by New Delhi to de-escalate tension with Washington.
Full report at:
https://indianexpress.com/article/india/pm-modi-iran-foreign-minister-us-qassem-soleimani-killing-6218462/
--------
Terrorists using encrypted mobile communications to reactivate cadre in Kashmir: Govt
January 15, 2020
Terror outfits are using encrypted mobile communications and Voice on Internet Protocol (VoIP) to plan infiltrations into India and reactivate their cadre in Kashmir, the Jammu and Kashmir government said on Wednesday.
This is a well established fact, government spokesman Rohit Kansal told reporters here.
"Sustained efforts are being made by terrorists to infiltrate from across the border, reactivate their cadre and scale up anti-national activities not only in the Kashmir division but also in some areas of the Jammu division by using Voice on Internet Protocol and encrypted mobile communications, and through various social media applications to coordinate and plan terrorist activities," he said.
VoIP is phone service over the Internet.
Kansal said in light of the constitutional changes made in relation to Jammu and Kashmir in August last year, a number of restrictions were imposed to prevent externally aided terrorists from disturbing peace and inflicting casualties on citizens.
The government on August 5 last year had revoked the erstwhile state of Jammu and Kashmir's special status and split it into union territories of Ladakh, and Jammu and Kashmir.
Since August 16, 2019, there has been gradual, consistent and progressive removal of restrictions, and most now stand removed, Kansal said.
"Landline and mobile telephones, SMS facilities have been made fully functional. Fixed-line broadband facility exists in the Jammu division while in the Kashmir Division, to facilitate the general public, students, etc, 844 e-terminals have been established, besides 69 special counters for tourists, apart from separate terminals for filling GST returns and application forms for various examinations," he said.
Kansal, who is principal secretary, planning and development, in the Union territory administration, said a number of government departments, including those related to essential services, and state-run hospitals have access to broadband internet services.
The spokesman said after carefully considering all aspects, taking into account the law and order situation, and potential threats to security, the competent authority has decided that all institutions providing essential services such as hospitals, banks and government offices, as well as trade, tourism and travel establishments in Kashmir will be provided broadband facilities.
Existing access and communication facilities in Kashmir will be further enhanced by establishing an additional 400 internet kiosks, Kansal said.
In addition, 2G mobile connectivity on postpaid mobiles for accessing white listed websites such as e-banking will be allowed in Jammu, Samba, Kathua, Udhampur and Reasi districts, he said.
Complying with the Supreme Court's directions issued on January 10, the government on Tuesday evening ordered restoration of 2G mobile internet services on postpaid connections in the five districts in the Jammu division and broadband facilities in both Jammu and Kashmir divisions only for institutions dealing with essential services and tourism, such as hospitals, banks and hotels.
The order, issued by Principal Secretary, Home, Shaleen Kabra late on Tuesday, however, did not restore mobile internet services for the Kashmir division.
"There shall be complete restriction on social media applications. The full details of facilitations as well as safeguards have already been outlined in the government order issued by the competent authority yesterday," Kansal said.
He said the government's endeavour has been and will remain to facilitate as much and as quickly as possible.
Full report at:
https://indianexpress.com/article/india/terrorists-using-encrypted-mobile-communications-to-reactivate-cadre-in-kashmir-govt-6218394/
--------
J-K: Hizbul militant, linked to BJP leader's murder, killed in encounter
January 16, 2020
In a major success against militancy in the Chenab Valley region of the Union Territory of Jammu and Kashmir, police and security forces on Wednesday morning killed a wanted Hizbul Mujahideen militant in hilly Doda district.
The slain militant has been identified as Haroon Abbas Wani, an MBA who had quit his job with a pharmaceutical company in Jammu to join terror ranks in September 2018, sources said. The police had announced a cash award of Rs 15 lakh on his head only three months ago.
Giving details, sources said that following a tip-off about the presence of some militants outside Gundana village near Doda, it cordoned off the area leading to an encounter in the morning. During the encounter, Haroon was killed, they said, adding other militants managed to escape. However, operation to track down absconding militants was in progress, they added.
Haroon, a close associate of the Hizbul Mujahideen commander Jahangir Saroori, one of the longest surviving militant in the UT, was wanted by police and security in connection with the killing of senior BJP leader Anil Parihar and an RSS functionary Chanderkant Sharma among four people, besides some incidents of weapon snatching in Kishtwar.
Full report at:
https://indianexpress.com/article/india/j-k-hizbul-militant-linked-to-bjp-leaders-murder-killed-in-encounter-6217970/
--------
J-K: Hizbul militant, linked to BJP leader's murder, killed in encounter
January 16, 2020
In a major success against militancy in the Chenab Valley region of the Union Territory of Jammu and Kashmir, police and security forces on Wednesday morning killed a wanted Hizbul Mujahideen militant in hilly Doda district.
The slain militant has been identified as Haroon Abbas Wani, an MBA who had quit his job with a pharmaceutical company in Jammu to join terror ranks in September 2018, sources said. The police had announced a cash award of Rs 15 lakh on his head only three months ago.
Giving details, sources said that following a tip-off about the presence of some militants outside Gundana village near Doda, it cordoned off the area leading to an encounter in the morning. During the encounter, Haroon was killed, they said, adding other militants managed to escape. However, operation to track down absconding militants was in progress, they added.
Haroon, a close associate of the Hizbul Mujahideen commander Jahangir Saroori, one of the longest surviving militant in the UT, was wanted by police and security in connection with the killing of senior BJP leader Anil Parihar and an RSS functionary Chanderkant Sharma among four people, besides some incidents of weapon snatching in Kishtwar.
Full report at:
https://indianexpress.com/article/india/j-k-hizbul-militant-linked-to-bjp-leaders-murder-killed-in-encounter-6217970/
--------
S Jaishankar meets Iran foreign minister Javad Zarif
January 16, 2020
New Delhi: Iran Foreign Minister Javad Zarif met External Affairs Minister (EAM) S Jaishankar on Thursday.
Zarif had also met with Prime Minister Narendra Modi on Wednesday.
He had also attended a session on the sidelines of the Raisina Dialogue 2020 which is currently underway in the national capital.
https://www.siasat.com/s-jaishankar-meets-iran-foreign-minister-javad-zarif-1793713/
--------
Arab World
ISIS carried out attacks on Iraq-Syria border posts after US suspended operations
By Barbara Starr and Mohammed Tawfeeq
January 14, 2020
(CNN)ISIS has carried out two attacks on Iraqi border posts along the border with Syria following the US decision to suspend counter-ISIS missions in order to focus on protecting Iraqi bases and coalition forces amid tensions with Iran, according to a US defense official and Iraqi security officials.
On Monday night, ISIS militants carried out attacks on an Iraqi security border post near the Syrian border, killing one officer and wounding four others. An ISIS militant was also killed after Iraqi security forces clashed with them. ISIS used light weapons to attack the border post about 45 kilometers north of the al-Walid border crossing with Syria, Iraqi officials said.
On Sunday, a number of ISIS militants attempted to attack another security post near the Syrian border but fled the scene after Iraqi security forces fired back, the Iraqi security officials added.
"ISIS group is well known for exploiting the situation. We knew the group will take advantage of current tension between America and Iran," Iraqi military Col. Shaker al-Raishawi said.
Al-Raishawi and another Iraqi security official told CNN from Anbar Province on Tuesday that ISIS has increased its activity in the border area.
The increased ISIS activity comes follows the escalation of tensions between the US and Iran that has led to the suspension of anti-ISIS operations. Iran fired a number of missiles at two Iraqi bases housing US troops last week in retaliation for the American strike that killed top Iranian general Qasem Soleimani earlier this month. No US or Iraqi forces were wounded in the attack.
The US assesses the attacks were likely carried out by ISIS in an early sign the remnants of the terror group believes it can take advantage of the unsettled situation and uncertainty over whether US troops will stay in Iraq, the US official said.
Earlier this month, the Iraqi Parliament voted to force the government to work toward the removal of US and other foreign troops from the country. The US-led military coalition fighting ISIS has announced that it was temporarily halting counter-ISIS missions in order to focus on protecting Iraqi bases and coalition forces there from Iranian-backed militias.
Citing the recent attacks by the Kataib Hezbollah militia, which have resulted in the deaths of a US civilian contractor and Iraqi security forces, the US-led coalition said: "We are now fully committed to protecting the Iraqi bases that host Coalition troops."
"This has limited our capacity to conduct training with partners and to support their operations against Daesh and we have therefore paused these activities, subject to continuous review," the coalition said in a statement, using the alternative name Daesh for ISIS.
"We remain resolute as partners of the Government of Iraq and the Iraqi people that have welcomed us into their country to help defeat ISIS. We remain ready to return our full attention and efforts back to our shared goal of ensuring the lasting defeat of Daesh," the coalition said in its statement.
The separate NATO training mission in Iraq has also announced that it has suspended its efforts to train local security forces.
https://edition.cnn.com/2020/01/14/politics/isis-attacks-iraq-syria-border/index.html
--------
Iraqi forces arrest prominent ISIS 'health official' south of Mosul: Interior Ministry
January 15-2020
ERBIL (Kurdistan 24) – Iraqi security forces arrested a "prominent terrorist" in southern Mosul, the country's Interior Ministry announced on Tuesday.
The operation took place in the Tal Abata district, south of the city of Mosul, a statement from the Interior Ministry said.
"A force from the Nineveh Police Directorate, based on accurate information, was able to arrest a terrorist known by the acronym FZE in the Tal Abata district, south of Mosul city," the statement read.
According to the ministry, the suspect was allegedly working in the so-called Islamic State's health bureau and was in charge of medicine and ammunition for the terror group during its control of Mosul.
Elsewhere on Tuesday, at least four security forces at a border checkpoint between Iraq and Syria were wounded in an alleged Islamic State attack, the Iraqi military said.
Read More: ISIS attack on Syria-Iraq border wounds four guards, Iraqi military says
Iraq's Security Media Cell said in a statement that "ISIS terrorist gangs carried out an attack on a point belonging to the border guard forces north of the Al-Waleed port with Syria."
The Islamic State seems to be encouraged by US-Iran tensions in the region as the terror group continues to launch attacks and attempts to re-establish a foothold in Iraq.
Meanwhile, in the wake of escalating developments between the United States and Iran, the US-led Coalition against the Islamic State announced it was suspending operations against the terrorist group to focus on ensuring the security of the military bases in Iraq from which its troops operate.
Full report at:
https://www.kurdistan24.net/en/news/f1d349cd-124a-4148-b748-60a848f0a070
--------
Hezbollah Has Prepared for This Moment for Decades
By Brian Katz
January 14, 2020
"What is just retribution?" So asked Hezbollah leader Hassan Nasrallah in a speech on January 5, two days after the United States killed Iranian Quds Force commander Qasem Soleimani and Iraqi Popular Mobilization Forces (PMF) commander Abu Mahdi al-Muhandis in a drone strike in Baghdad. With no American official "on par with Soleimani or Muhandis," in Nasrallah's estimation, the answer was to retaliate against "the American military presence in our region." American civilians shouldn't be harmed, he said, but "the U.S. bases, the U.S. warships, every American soldier and officer" in the Middle East would all be fair game.
Hezbollah is unlikely to pick a fight with the United States by itself. The group has its own tensions with Israel to worry about, and huge domestic protests jeopardize its political grip on Lebanon. It also suffered heavy losses in Syria, where it fought hand-in-glove with Iran to prop up President Bashar al-Assad. But not wanting a war isn't the same as being unwilling to fight one. Hezbollah has been preparing for this day for decades, building up military, terrorist, and cyber capabilities in Lebanon, the Middle East, and around the world in order to strike back at the United States and anyone else who might join a war against Iran and its allies. Now, because of its ideological commitment to and military interdependence with Iran, the group may have no choice but to enter a conflict with the United States.
Last week's Iranian missile attack on two Iraqi bases that host U.S. forces was Tehran's initial, symbolic, and overt response to Soleimani's death. The full response will unfold in the coming months and years—and will likely feature Hezbollah in a starring role. Playing to its strengths and avoiding a direct conventional confrontation with the United States, the Quds Force and its Hezbollah partner may attempt to orchestrate a regional campaign of asymmetric attacks across the Middle East and possibly outside of it. Their goal will be to disrupt, threaten, and restrict the operations of U.S. soldiers, diplomats, and intelligence officers to the point that the benefits of their presence in the Middle East no longer outweigh the costs.
BROTHERS IN ARMS
Since its founding by the Iranian Quds Force in the early 1980s, Hezbollah has forged and sought to balance two identities. The first is as a Lebanese actor, with a powerful military, political, religious, and socioeconomic apparatus capable of advancing its domestic goals and empowering its Shiite constituents. The second is as a proxy turned ally of Iran, loyal to its so-called axis of resistance, which includes the Syrian regime, Hamas, and various regional Shiite militias such as the PMF. But balancing both identities has been difficult. Over the decades, tensions among Iran, the United States, and Israel have periodically flared, and Hezbollah has found itself walking a narrow line, seeking to support Iran militarily without provoking a U.S. response that would threaten its achievements in Lebanon. In 2006, cross-border attacks between Hezbollah and Israel escalated into a devastating Israeli air and ground campaign in southern Lebanon and Beirut. Since then, the group has sought to avoid unnecessary hostilities with Israel. Instead, it has focused on deterrence by building up an arsenal of advanced missiles and issuing measured, proportional responses to Israeli strikes.
But the magnitude of the Soleimani strike—which killed both Hezbollah's Iranian patron and the commander of the PMF, the group's closest Iraqi ally—may necessitate retaliation. And dependence on Iran will not be the only impetus for such action. Hezbollah will likely feel the need to demonstrate resolve to its constituents and its adversaries. The group may already fear that the United States and Israel are gearing up to attack it, in which case it will likely seek to deter both countries by reminding them of its asymmetric capabilities.
A Hezbollah campaign against the United States could take many forms, but it will likely consist of a series of calculated acts of violence that escalate over time. The aim will be to constrain U.S. freedom of action and deter U.S. attacks on the scale of the Soleimani strike. Hezbollah could employ military, terrorist, intelligence, cyber, and information tools, and it could do so overtly or covertly across multiple domains, depending on its strategic messaging objectives or need for plausible deniability. The scope and severity of the attacks will be calibrated to the intensity of the perceived threat from the United States and Israel, and the targets will be surprising but logical in hindsight.
Such attacks are likely to begin on Hezbollah's home turf in Lebanon, where the most logical target would be the U.S. military presence. Scores of U.S. troops are deployed to multiple bases across the country to train and assist the Lebanese Armed Forces. Instead of attacking these forces directly and risking a devastating response, Hezbollah could use deniable rocket fire to disrupt U.S. air operations, and IEDs—which it could blame on Sunni militants—to restrict U.S. movements on the ground. In addition, it could use cyber and electronic attacks to jam U.S. communications and expose the identities of U.S. intelligence officials and their Lebanese sources. Then, using propaganda and disinformation on social media, it could mobilize swarms of "spontaneous" protestors to keep U.S. diplomats and intelligence officers confined to their compounds. Hezbollah could also attempt to kidnap or assassinate U.S officials, but unless tensions escalate dramatically, it will likely hold these options in reserve for the short term.
In addition to effectively neutralizing the United States in Lebanon, Hezbollah might begin to attack U.S. interests across the Middle East. Farther away from its constituents and core interests, the group will be more willing to take aggressive military action. Working together with the Quds Force, Hezbollah will seek to demonstrate the reach of the axis of resistance and to overextend U.S. forces. The group has fighters in Syria, Iraq, and Yemen that it can call on to carry out similar deniable attacks against U.S. forces and installations. It can also work with other members of the axis, such as the Iraqi PMF, the Houthis in Yemen, and thousands of loyal Syrian, Afghan, and Pakistani Shiite fighters, to conduct more overt attacks. These fighters have experience on the battlefield and growing weapons arsenals. They are also loyal to the Iranian and Hezbollah commanders who trained and equipped them—and will be willing to fight and die for the axis after Soleimani's martyrdom. Through a steady campaign of attacks on U.S. facilities, communications, and—especially if tensions escalate—personnel, these allied Shiite forces will make it increasingly difficult for the United States to operate across much of the Middle East.
Hezbollah, of course, holds another regional card to play: the threat it poses to the United States' closest regional ally, Israel. As Iran's forward defense in the Levant, the group is trained, organized, and armed primarily for conflict with Israel, whether a direct one such as the 2006 war or a regional one between Iran and Israel in which Lebanon becomes a main front. Hezbollah almost certainly doesn't want a confrontation with Israel, particularly with U.S.-Iranian tensions on the rise, but it stands ready for one nonetheless. The group has a formidable precision missile and drone arsenal capable of striking not only Israeli targets but also U.S. facilities in Israel, as well as U.S. Navy ships operating in the Mediterranean. Short of this dire and—unless all-out war erupts between the United States and Iran—unlikely scenario, Hezbollah could leverage its deep ties to Palestinian militants such as Palestinian Islamic Jihad and Hamas for smaller-scale but still deadly attacks inside Israel.
Hezbollah could also elect to retaliate outside of the Middle East, likely with a terrorist attack. The group's terrorist arm, the External Security Organization (ESO), maintains perhaps dozens of cells across five continents. Hezbollah built this organization patiently, over decades, with Iranian support, in anticipation of a day like today, when the Iranian or Hezbollah leadership would have a sudden need to retaliate or demonstrate their ability to fight on a global battlefield at the time and place of their choosing. As the U.S. intelligence community assessed last year, Hezbollah "most likely maintains the capability to execute a range of attack options against U.S. interests worldwide."
Hezbollah and Iran may have already concluded that Soleimani's killing justifies a spectacular, deadly, and quasi-deniable terrorist response. They calculated as much in 1992 when, in retaliation for an Israeli attack on then Hezbollah leader Abbas Musawi, the group drove a truck bomb into the Israeli Embassy in Buenos Aires, Argentina, killing 29 people and wounding hundreds. Hezbollah and Iran could also decide to hold these global assets in reserve for the dire contingency of an all-out war. Either way, the ESO will likely bide its time while the United States is on heightened alert and search for vulnerable U.S. facilities in countries outside the Middle East where local security forces are weak and where groups like the Islamic State or al Qaeda can be blamed for an attack. If tensions continue to escalate, the ESO may attempt to strike directly at the U.S. homeland, where it is known to maintain operatives.
UNPREDICTABLE ENEMY
A campaign of retaliatory strikes against the United States, either in the Middle East or elsewhere, would come with risks for Hezbollah. The United States and its allies are on heightened alert after the Soleimani strike, and they may detect and thwart any operation the group attempts. Hezbollah and Iran's other partners and proxies in the axis also probably fear U.S. retaliation and may seek to lay low in the immediate term, despite Iran's desire for vengeance. Hezbollah may be especially motivated to do so because hundreds of thousands of Lebanese citizens are currently protesting their government and Hezbollah's role within it as the country's economy disintegrates. Provoking a destructive war with the United States right now could eviscerate public support for the group's political wing.
Full report at:
https://www.foreignaffairs.com/articles/united-states/2020-01-14/hezbollah-has-prepared-moment-decades
--------
Intense fighting in Syria's Idlib kills 39: Monitor
16 January 2020
Intense fighting between pro-government forces and extremist-led fighters in Syria's Idlib province killed at least 39 fighters overnight, a war monitor said Thursday.
Government and allied forces took two villages in their advance towards the key town of Maaret al-Numan, the Syrian Observatory for Human Rights said.
https://english.alarabiya.net/en/News/middle-east/2020/01/16/Intense-fighting-in-Syria-s-Idlib-kills-39-Monitor.html
--------
Egypt, Ethiopia, Sudan to finalize agreement on Blue Nile dam later this month
16 January 2020
Ministers from Egypt, Ethiopia, and Sudan have agreed to reconvene in Washington later this month to finalize an agreement on a giant hydropower dam on the Blue Nile that sparked a diplomatic crisis between Cairo and Addis Ababa.
The ministers met in Washington this week and agreed to fill the $4 billion Grand Ethiopian Renaissance Dam (GERD) in stages during the wet season, taking into account the impact on downstream reservoirs, the US Treasury Department, which hosted the meeting, said in a statement.
https://english.alarabiya.net/en/News/middle-east/2020/01/16/Egypt-Ethiopia-Sudan-to-finalize-agreement-on-Blue-Nile-dam-later-this-month.html
--------
UN official blames politicians for 'dangerous chaos' in Lebanon
15 January 2020
Lebanese politicians are to blame for the country's economic collapse, a senior UN official said on Wednesday, rebuking a ruling elite that has failed to draw up a rescue plan for a country hit by more violent protests.
With banks tightly limiting access to cash, lenders were targeted overnight by demonstrators in Beirut's Hamra district. Bank facades and ATMs were smashed and dozens of people wounded in confrontations with police.
On Wednesday afternoon, angry protesters lit fires on a main thoroughfare in central Beirut, briefly closing it.
Heavily indebted Lebanon has struggled since the government was toppled by the resignation of Prime Minister Saad al-Hariri in October as a result of protests against corruption and bad governance that are root causes of the economic problems.
Political rivalries have obstructed a deal on a new cabinet as the crisis hits ordinary people: the Lebanese pound has lost around half of its value while anger at banking controls has led to rows and violence in branches.
"Another day of confusion around the formation of a government, amidst the increasingly angry protests and free-falling economy," Jan Kubis, UN special coordinator for Lebanon, wrote on Twitter. "Politicians, don't blame the people, blame yourselves for this dangerous chaos."
Kubis appeared to credit central bank governor Riad Salameh, saying he had sought "extraordinary powers to at least somehow manage the economy while those responsible watch it collapsing."
Salameh asked for extra powers last week, saying he wanted to standardize banking controls. The finance ministry has asked him to specify what those extra powers were.
Full report at:
https://english.alarabiya.net/en/News/middle-east/2020/01/15/UN-official-blames-politicians-for-dangerous-chaos-in-Lebanon.html
--------
Regime air raids kill 9 civilians despite Idlib truce: Report
15 January 2020
Regime air strikes on Syria's last major opposition bastion killed nine civilians on Wednesday, hitting a vegetable market despite a fresh Russian-backed truce, a war monitor said.
At least 20 other civilians were wounded in the raids that struck a bustling area of Idlib city, capital of the rebel-held province of the same name, said the Syrian Observatory for Human Rights.
https://english.alarabiya.net/en/News/middle-east/2020/01/15/Regime-air-raids-kill-9-civilians-despite-Idlib-truce-Report.html
--------
Abu Dhabi Crown Prince arrives in Egypt to attend military base opening
15 January 2020
Abu Dhabi Crown Prince Sheikh Mohammed bin Zayed Al Nahyan arrived in Egypt Wednesday to attend the opening of the new Bernice military base.
He was received by Egyptian President Abdel Fattah al- Sisi upon his arrival.
"We join our brotherly Egyptian people [in celebrating] their national and developmental and cultural achievements," the Crown Prince said in a tweet.
https://english.alarabiya.net/en/News/middle-east/2020/01/15/Abu-Dhabi-Crown-Prince-arrives-in-Egypt-to-attend-military-base-opening-.html
--------
Saudi Arabia rejects Turkish military presence in Syria: Saudi FM
15 January 2020
Saudi Arabia rejects Turkish military interference in northern Syria, said the Kingdom's Foreign Minister Prince Faisal bin Farhan, while speaking at a session of the Arab Parliament in Egypt on Wednesday.
He also said the Arab region is undergoing political and economic changes while stressing the importance of non-interference in the internal affairs of countries.
Prince Faisal also pointed to Saudi Arabia providing more than $14 billion to help "our brothers" in Yemen.
https://english.alarabiya.net/en/News/gulf/2020/01/15/Saudi-FM-calls-for-non-interference-in-internal-affairs.html
--------
'This is your fault': UN blasts politicians over Lebanon chaos
NAJIA HOUSSARI
January 15, 2020
BEIRUT: The UN accused Lebanese politicians on Wednesday of standing by while the country descends into chaos, after an overnight rampage by mobs targeting bank buildings in an upmarket area of Beirut.
Security forces fired tear gas outside the central bank to disperse protesters who pelted them with stones and fireworks. One man hurled a car battery at the glass facade of a bank as another hit it with a metal pole. Other smashed security cameras and ATM machines, and wrenched traffic lights and parking meters from the ground.
In five hours of clashes in Hamra, nearly 50 internal security officers and up to 40 protesters were injured, and 59 people were arrested. The violence was the worst since protests against government corruption and financial hardship began in October, and came amid a continuing stalemate and sectarian political squabbling over a new government.
"Another day of confusion around the formation of a government, amid the increasingly angry protests and free-falling economy," said Jan Kubis, UN special coordinator for Lebanon.
"Politicians, don't blame the people, blame yourselves for this dangerous chaos."
As the protest movement nears the start of its fourth month, banks have become a prime target of demonstrators who accuse them with driving Lebanon toward its worst economic crisis since the 1975-1990 civil war.
Banks have arbitrarily capped the amount of dollars customers can withdraw or transfer abroad. Most have limited withdrawals to about $1,000 a month, and others have imposed even tighter curbs.
"I have been coming here for the past three days and could take only $300 ... we are begging, working 55 years to come and beg at the end," one woman on Hamra Street said ion Wednesday.
Hamra shopkeeper Mohammad Al-Rayyes said: "I was expecting what happened yesterday. Unfortunately the chaos is because of the politicians.
A security guard at Franasbank, who was off duty on Tuesday night, spoke to Arab News as he watched a new surveillance camera being installed outside the bank. "Even if I were here, what could I have done?" he said.
"The security forces could not face them, they had to use tear gas. This is the first time something like this has happened on Hamra Street. Even in the days of the war, banks operated normally and no one attacked them."
Passers-by were dumbfounded by the scenes. "What happened aims to make the revolution look bad," said one, Mohammed. "Those who smashed and assaulted public and private property are not peaceful protesters. This is not how we respond to banking restrictions."
Another woman described the scene as a "battlefield." She said: "Destroying private property does not benefit the revolution."
Full report at:
https://www.arabnews.com/node/1613431/middle-east
--------
Egypt orders retrial of monks sentenced to death for bishop's murder
January 15, 2020
CAIRO: Egypt's highest civilian court on Wednesday ordered a retrial of two monks sentenced to death for murdering a bishop at a Coptic Christian monastery, two judicial sources said on Wednesday.
The 2018 killing of 64-year-old Bishop Epiphanius, at Saint Macarius Monastery in the desert, rattled Egyptian Coptics who make up about 10 percent of the predominantly Muslim population.
Wael Saad, known by his monastic name Isaiah Al-Makari, and Ramon Rasmi Mansour, known as Faltaous Al-Makari, were convicted by a criminal court last year. Both had pleaded innocent.
Prosecutors said Saad, who had a history of differences with superiors, struck the bishop three times in the back of the head with a steel pipe while Mansour stood guard outside.
But the judicial sources told Reuters the cassation court abolished the death sentence after an appeal from the monks and will hear the case itself next April. Its rulings are final.
At the first trial, prosecutors and witnesses said Saad had been investigated for breaking monastic rules, including by trying to buy and sell land. He was defrocked in 2018.
Full report at:
https://www.arabnews.com/node/1613661/middle-east
--------
Five PKK-affiliated militiamen killed as unknown aircraft strikes northern Iraq
15 January 2020
At least five members of an Izadi militia group affiliated with the Kurdistan Workers' Party (PKK) militant group have been killed when an unidentified aircraft struck their vehicle in Iraq's northern province of Nineveh.
The media office of the Iraqi Joint Operations Command (JOC) said in a brief statement that the aircraft conducted an airstrike at 11:35 a.m. local time (0835 GMT) on a vehicle belonging to the Sinjar Protection Units (YBS), also known as Shingal (Sinjar) Resistance Units, in Hitteen area near the town of al-Shimal, which is also known as Sunony and is located some 110 kilometers (68 miles) west of Iraq's northern city of Mosul.
A security source from the Nineveh Operations Command, speaking on condition of anonymity, later told Arab-language Mawazin news agency that YBS commander, Zardosht Shingali, had been killed in the strike, noting that Turkish fighter jets were involved in the attack.
Back on November 20 last year, an unknown aircraft bombarded the YBS headquarters in Khanna Sour district near the Kurdish-populated town of Sinjar.
The JOC said in a statement at the time that the aerial assault completely destroyed the command center, leaving 20 YBS members dead and injured.
The YBS, formerly called King Peacock, is an Izadi militia group formed in Iraq in 2007 to protect the Izadi community in Iraq in the wake of attacks by Takfiri terrorists.
Full report at:
https://www.presstv.com/Detail/2020/01/15/616273/Five-PKK-affiliated-militiamen-killed-as-unknown-aircraft-strikes-northern-Iraq
--------
Mideast
Western Media Misquote Iranian FM on Recent Protest Rallies after Plane Incident
Jan 15, 2020
Addressing the Raisina Dialogue 2020 in New Delhi, India, on Wednesday, Zarif touched on the recent protest rallies after the Ukrainian plane downing by an air defense unit near the capital, Tehran, last Wednesday which happened due to human error.
"In the past few days, some in Iran who believed that they had been lied about the cause of the Ukrainian plane crash have staged demonstration…but the reality is that if you look at similar cases and draw a comparison, this issue has even been revealed very soon since there have been incidents [in other parts of the world] for which no one has admitted responsibility until two years or ten years later, but our Armed Forces were so brave to admit the responsibility of this incident very soon, yet our people are angry about the two or three-day period [which took for the Armed Forces to scrutinize the case and declare the cause] as they expected their government to reveal the issue" even in a shorter period, he said.
Some western media outlets, including the BBC, Washington Post and AP, misquoted Zarif's comments, claiming that the Iranian foreign minister has said that "the Iranians were lied" about the incident.
Iran's Judiciary Spokesman Gholamhossein Esmayeeli announced earlier this week that a number of arrests had been made in connection to the recent incident of a Ukrainian passengers plane near Tehran.
"Thorough investigations have been launched and a number of individuals have been arrested by the country's judiciary," Esmayeeli said without elaborating on the exact number of arrested.
He noted that special commissions had been set up by the General Staff of the Armed Forces to investigate the tragedy.
"The Judiciary Organization of Iran's Armed Forces has been tasked with probing the data on the aircraft's black boxes with the help of experts from the General Staff of the Armed Forces and the Civil Aviation Organization of Iran as well as electronic warfare professionals," the judiciary spokesman added.
The General Staff of the Iranian Armed Forces said in a statement on Saturday that the Ukrainian Boeing 737 plane was shot down as a hostile object due to human error at a time of heightened US threats of war.
The statement said an expert investigation by the General Staff of the Iranian Armed Forces after the Ukrainian airline company's Boeing 737 incident has found that flight 752 of the Ukrainian airlines has been shot down as a hostile flying object that was approaching a sensitive IRGC center and was shot down due to human error few hours after Iran's missile attack on the US and as Iran's military was expecting attacks by the US army.
A Boeing 737 plane carrying 180 passengers and crew, mostly Iranians, crashed shortly after takeoff from Imam Khomeini Airport in Tehran early Wednesday, leaving no survivors.
Islamic Revolution Guards Corps Aerospace Force Commander Brigadier General Amir Ali Hajizadeh took responsibility for the Ukrainian plane incident, and said the delay in releasing information about the human error which caused the Ukrainian plane incident was because of investigations to scrutinize the case.
"The delay in releasing information was not aimed at hiding the issue but it is the routine drill that the General Staff should study the case (first); and all information was collected on Friday morning after studies and what had happened became clear then," General Hajizadeh told a press conference in Tehran on Saturday.
He added that the incident was the result of flawed functioning of the military sector and the civil aviation officials are not responsible for the incident, reminding that the civil aviation officials were denying the air defense shooting because they were not informed of the military secrets.
General Hajizadeh elaborated on the happenings which led to the downing of the Ukrainian passenger plane, saying that after the IRGC's retaliatory strikes against the US bases in Iraq, all Iranian air defense systems were on high alert to be prepared for any possible response from the US, and the operator of the air defense system which fired at the plane has mistaken the plane with a cruise missile and due to the short time he had to hit the target and inability to contact the higher ranking officials made the decision on his own.
The Iranian General said that he was informed of hitting a target near Tehran on Wednesday morning and he had speculated that the Ukrainian plane was mistakenly targeted but was not sure, adding that the General Staff of the Iranian Armed Forces formed a team to scrutinize the incident and quarantined all those involved or related to the incident to keep the investigations intact and unaffected as required by the protocols.
https://en.farsnews.com/newstext.aspx?nn=13981025001149
--------
Iran Condemns US Expansion of Insecurity in Region
Jan 15, 2020
Addressing the Raisina Dialogue 2020 in India, Zarif said unpleasant developments over the last two weeks were the reflection of US view toward issues.
The United States has never brought peace and stability to the region, and the events in Afghanistan prove this claim, the top diplomat added.
He highlighted that assassination of General Soleimani and increase of tensions in the region are reflection of US' ignorance and arrogance.
The US assumed that after assassination of a respected commander, people of Iran and Iraq would dance in the streets, he added.
Iranian officials say an estimated number of 25 million Iranians took to the streets for the funeral procession of the assassinated General.
While General Soleimani traveled to Iraq to make the situation calm after killing of 25 members of the Iraqi parliament and armed forces, US accused him of waging war against US, he noted.
Elsewhere in his remarks, Zarif referred to paragraph 123 of the nuclear deal, saying Europeans are independent nations but they did not comply with their commitments.
This is while, Iran has been fully committed to the deal, he said.
He noted that Europeans gave no response to letters from Iran, foreign companies have left Iran meaning that Europeans have violated the JCPOA and let US bully.
Iran is not an issue in the JCPOA but it is a member of the deal, Zarif said adding that accordingly Iran will be ready to reverse to its full compliance if Europeans are committed.
Iran has fully implemented its commitments, he said adding that Europe and the US have breached their commitments under the JCPOA.
They have not implemented eleven commitments namely in banking, financial, trade and plane sectors.
Iran reduced some of its commitments based on the JCPOA articles and after giving enough opportunity to Europeans, he said.
He went on to say that US' presence in Iraq has no benefit for economy of the country, adding that Iraqis are after expelling US from their country.
Referring to Trump's threat with regard to targeting cultural centers in Iran as a war crime, Zarif said Iran targeted US' bases for its self-defense.
The foreign minister said that Iran is an advocate of reducing tension and preventing further weapons of mass destruction in the region.
So, Tehran agrees Moscow on proposal made by the Russian Foreign Minister Sergei Lavrov to form a joint security mechanism for the Middle East region, Zarif noted.
"Our region" needs hope for the young generation [to be encouraged] to come back to their homelands, Zarif stressed.
US President Donald Trump confessed that he has spent billions of dollars in the Middle East but gained nothing, Zarif noted.
Zarif also talked about the behavior of the US president, saying that Trump simply violates the international regulations.
Trump says if the Iranian people require food or medicine, they have to do what the US tells them, Zarif added, stressing that the US Secretary of States Mike Pompeo has also repeated such remarks, but he should hire a powerful lawyer.
In a meeting with Syrian Prime Minister Imad Khamis in Tehran on Tuesday, Iranian President Hassan Rouhani said that the US has never been after defending or respecting the interests of the regional countries, adding that Washington is only seeking its own interests in the Middle East as the White House explicitly voiced its decision to steal oil from wells in Syria.
"Today, the Americans' interference in the affairs of other countries and their attempts to capture Syria's oil wells have clearly revealed that they have never been concerned about the interests of regional nations and will not be so in the future," Rouhani added.
He expressed gratitude to the Syrian government and nation for their sympathy with the Iranians over the US assassination in early January of top Iranian commander Lieutenant General Qassem Soleimani, who is a "great and highly-revered martyr not only among the Iranian people but among all freedom-seeking nations in the region and the entire world."
Rouhani noted that General Soleimani became a target for Washington because he had supported the oppressed peoples in the region and thwarted plots hatched by the United States and other enemies against the Iranian people.
"We will never forget this big crime of the US and believe that regional nations should not rest until bringing an end to the US military presence in the region and evicting these invaders," the Iranian president pointed out.
Elsewhere in his remarks, Rouhani urged Iranian and Syrian officials to accelerate the implementation of bilateral agreements and reiterated the Islamic Republic's firm determination to further improve Tehran-Damascus relations.
He emphasized that Iran would keep supporting the oppressed nations in the face of the global arrogance as it has stood by the Syrian government and nation in their fight against terrorism.
Rouhani said Iran, Syria and other countries must continue their cooperation until achieving a final victory over terrorism and expelling foreign occupying forces from Syria and returning Syrian refugees to their homeland.
The Syrian prime minister, for his part, offered his condolences to Iran over the martyrdom of General Soleimani and said his loss was a major disaster for all freedom-seeking nations in the world.
Khamis added that Iran's missile attack on a US base in Iraq in retaliation for Soleimani's assassination conveyed a clear message to regional and international nations and countries, and showed the enemies that arrogance has no place in the region any longer.
On Tuesday, Former Commander of the Islamic Revolution Guards Corps Major General Mohsen Rezayee said the Islamic Resistance Front in the region will not give a break to its activities until a complete US pullout from the region.
"The nations of the Resistance Front have got closer than any time in the past and the activities of the Islamic Resistance Front will go on till the expulsion of American troops and forces from the region," said Major General Rezayee, on the sidelines of a ceremony for commemorating the hero of anti-terrorism fight in the region, Lieutenant General Mohsen Rezayee, who was brutally assassinated by the terrorist army of the US at Baghdad International Airport on January 03.
The ex-commander highlighted the assassination as a historical turning point that has brought the two nations of Iran and Iraq, once again closer to one another.
He named General Soleimani and Deputy Head of PMF Abu Mahdi al-Muhandis as heroes of fighting terrorism and defending Islam and Quran as the common grounds between Iran and Iraq, and added that these commonalities have further solidified the ties between the two nations.
"It proves that Iran-Iraq ties are not based on interference in the internal affairs of one another but on friendship and brotherhood," he underlined.
General Soleimani was martyred in a targeted assassination attack by US aircraft at Baghdad International Airport last Friday. Pentagon also martyred Abu Mahdi al-Muhandis, deputy commander of Iraq's Popular Mobilization Forces (PMF), or Hashad al-Shabi, five Iranian, and five Iraqi militaries.
The strike brought the United States and Iran to the brink of war, with Tehran retaliating by launching missiles at military bases in Iraq housing American troops. On Wednesday, Iran fired more than a dozen missiles at two American military bases in Iraq in retaliation for Washington's assassination of Tehran's elite commander.
Full report at:
https://en.farsnews.com/newstext.aspx?nn=13981025000955
--------
Iran MP Urges UK to Apologize for Envoy's Illegal Behavior
Jan 15, 2020
The Iranian lawmaker denounced the 'unconventional' behavior of Macaire who was arrested on Saturday.
"His measure has been awkward, unconventional, and unprofessional; no ambassador does such a thing," Motahhari said on Wednesday.
"It is not clear why he had participated in the gathering," he said.
Condemning UK Secretary of State Dominic Raab who had threatened Iran with imposing sanctions due to the arrest, Motahhari highlighted, "The UK should not act as a claimant, rather it should apologize."
The Iranian Foreign Ministry categorically condemned Macaire's meddlesome behavior in Tehran where the envoy was arrested for provoking anti-government protests, cautioning that the next case of such destructive and illegal behaviors will be responded more harshly.
The Foreign Ministry issued a strongly-worded statement on Monday where it urged Britain's embassy in Tehran to immediately end all types of meddlesome and provocative activities, warning that in case of repetition of such a behavior, the Ministry of Foreign Affairs will adopt measures tougher than summoning the ambassador.
In the statement, the Foreign Ministry pointed to apprehension of the British ambassador to Tehran for taking part in an illegal gathering, saying it was clear interference in the internal affairs of Iran and against all principles that govern diplomatic relations.
Referring to the latest remarks by UK Foreign Minister Dominic Raab, who threatened Iran with more sanctions, the statement said, "It is clear that the British regime, on the basis of a wrong calculation, is still sticking to anti-Iran illusions and seeks to increase tensions in the region and in its relations with Iran."
"British leaders must know that their accusations against Iran cannot hide their blindfolded subservience to the US regime and shameless inability of Britain to fulfill its commitments as per the JCPOA (the 2015 nuclear deal between Iran and major world powers) and even the fact that it has refrained from paying hundreds of millions of pounds in arrears to the Iranian nation due to its fear of the United States," Iran's Foreign Ministry said.
Pointing to Britain's colonial background in the Middle East, it added that it is time that British envoys stopped interfering in other countries' internal affairs and ended fueling the flames of domestic conflicts.
"Britain needs to give up such disgraceful measures," the statement said.
On Saturday, a senior police official told local media that Macaire was arrested during a mourning vigil which turned into a protest in front of the Amir Kabir University in downtown Tehran where he was organizing and provoking people.
Local media cited "informed sources" as saying that Macaire had been holding secret meetings inside a shop opposite the main gate of the Amir Kabir University to monitor the developments that led to the protest on Saturday.
The UK Foreign and Commonwealth Office had commented on the arrest of its ambassador in Tehran, terming it as being against international norms.
Some parliamentarians urged the Ministry of Foreign Affairs to take the necessary measures against the UK ambassador's move, which they said is "against all international norms".
Macaire was summoned by the Iranian Foreign Ministry on Sunday to receive an official protest note due to his unusual behavior and participation in an unlawful gathering held in front of the Amir Kabir University in downtown Tehran on Saturday night.
Full report at:
https://en.farsnews.com/newstext.aspx?nn=13981025000836
--------
Iran Arrests Several Suspects over Downing of Ukraine's Plane
Jan 15, 2020
"Thorough investigations have been launched and a number of individuals have been arrested by the country's judiciary," Esmayeeli said without elaborating on the exact number of arrested.
He noted that special commissions had been set up by the General Staff of the Armed Forces to investigate the tragedy.
"The Judiciary Organization of Iran's Armed Forces has been tasked with probing the data on the aircraft's black boxes with the help of experts from the General Staff of the Armed Forces and the Civil Aviation Organization of Iran as well as electronic warfare professionals," the judiciary spokesman added.
The General Staff of the Iranian Armed Forces said in a statement on Saturday that the Ukrainian Boeing 737 plane was shot down as a hostile object due to human error at a time of heightened US threats of war.
The statement said an expert investigation by the General Staff of the Iranian Armed Forces after the Ukrainian airline company's Boeing 737 incident has found that flight 752 of the Ukrainian airlines has been shot down as a hostile flying object that was approaching a sensitive IRGC center and was shot down due to human error few hours after Iran's missile attack on the US and as Iran's military was expecting attacks by the US army.
A Boeing 737 plane carrying 180 passengers and crew, mostly Iranians, crashed shortly after takeoff from Imam Khomeini Airport in Tehran early Wednesday, leaving no survivors.
Supreme Leader of the Islamic Revolution Ayatollah Seyed Ali Khamenei in a message on Saturday extended his condolences again on the death of the Ukrainian plane's passengers, and ordered the Armed Forces to take the needed measures to find faults and flaws that have led to the bitter incident and prevent repetition of similar incidents in future.
In his message, the Leader renewed his most heartfelt sympathy and condolences to the bereaved families of the victims, and reiterated his "order to the General Staff of the Armed Forces to probe into possible faults and flaws in this painful accident," Ayatollah Khamenei said.
He also underscored the need for the relevant Iranian directors and officials to launch the necessary follow-ups to prevent repetition of such incidents in future.
Also, Iranian President Hassan Rouhani extended condolences to the families of those killed in the Ukrainian plane incident, and promised that all those who have been guilty in the unforgivable mistake of shooting down the jet will be prosecuted.
"The Islamic Republic of Iran deeply regrets this disastrous mistake... My thoughts and prayers go to all the mourning families. I offer my sincerest condolences," Rouhani said in a statement on Saturday.
The president stressed that "the terrible catastrophe should be thoroughly investigated, and those responsible for this unforgivable mistake will definitely be identified and prosecuted".
Full report at:
https://en.farsnews.com/newstext.aspx?nn=13981025000437
--------
First Gaza rockets against Israel since Soleimani killing
16 January 2020
The Israeli militay said four rockets were fired Wednesday from Hamas-controlled Gaza, the first since Israel's ally the US killed top Iranian general Qassem Soleimani.
"Four rockets were just fired from Gaza at Israel. Two rockets were intercepted mid-air by the Iron Dome aerial defence system," the military tweeted.
It did not say where the other two rockets landed.
The Israeli military responded in the evening by targeting Hamas installations, it said.
Israeli fighter jets "struck a number of Hamas terror targets in the northern Gaza Strip" including a weapons manufacturing site and a military compound, the military said in a statement.
Witnesses in Gaza told AFP that a Hamas base had been hit near the sea, without causing casualties.
The fire from the Palestinian territory was the first since the January 3 assassination in a Baghdad drone strike of Soleimani, a key figure in Iran which supports Hamas.
Prime Minister Benjamin Netanyahu last week warned Israel would strike a "resounding blow" if attacked by Iran.
Full report at:
https://english.alarabiya.net/en/News/middle-east/2020/01/16/First-Gaza-rockets-against-Israel-since-Soleimani-killing.html
--------
Iran's supreme leader Khamenei to lead Friday prayers for first time since 2012
15 January 2020
Iran's supreme leader Ali Khamenei will lead the main weekly Muslim prayers in Tehran this week, state news agency IRNA reported on Wednesday.
Khamenei is officially the imam of Tehran but usually delegates the task of leading Friday prayers to others.
The last time he led Friday prayers at Tehran's Mosalla mosque was in February 2012, on the 33rd anniversary of the Islamic revolution and at a time of crisis over the Iran nuclear issue.
https://english.alarabiya.net/en/News/middle-east/2020/01/15/Iran-s-supreme-leader-Khamenei-to-lead-Friday-prayers-for-first-time-since-2012.html
--------
Turkey, Russia talks over 'secure zone' in Syria's Idlib to enforce ceasefire: Turkey
15 January 2020
Turkey and Russia are discussing the establishment of a 'secure zone' within Syria's northwestern Idlib region where Syrians displaced by fighting can shelter during the winter, Turkish Defense Minister Hulusi Akar said on Wednesday.
Syrian government attacks in the region were continuing despite a ceasefire which came into effect three days ago, Akar told reporters in Ankara, and Turkey was reinforcing an observation post which has been surrounded by Syrian forces.
The minister said Turkey has not received an official request regarding a call by the Iraqi parliament on Jan. 5 for the withdrawal of foreign troops.
https://english.alarabiya.net/en/News/middle-east/2020/01/15/Turkey-Russia-talks-over-secure-zone-in-Syria-s-Idlib-to-enforce-ceasefire-Turkey-.html
--------
Iran's Zarif says 2015 nuclear deal 'among best deals': State TV
15 January 2020
Iran's Foreign Minister Mohammad Javad Zarif said on Wednesday the country's 2015 nuclear agreement with world powers was among the "best deals" he could envisage.
Zarif made the comment during a speech in New Delhi, aired by Iranian state television, where he is attending a security conference.
British Prime Minister Boris Johnson called on Tuesday for US President Donald Trump to replace the deal with his own new pact to ensure Iran did not get an atomic weapon.
Trump said in a tweet he agreed on the need for a "Trump deal".
On the protests which erupted in Iran this month, Zarif said they were because people were "lied to" about the cause of a commercial plane crash.
Iran said Tuesday that authorities have made arrests in the accidental shooting down of the Ukrainian passenger plane, which killed all 176 people on board.
Full report at:
https://english.alarabiya.net/en/News/middle-east/2020/01/15/Iran-s-Zarif-says-2015-nuclear-deal-among-best-deals-State-TV.html
--------
Iran crown prince predicts regime will collapse within months
16 January 2020
The heir of Iran's deposed monarchy predicted Wednesday that the clerical regime will collapse within months and urged Western powers not to negotiate with it.
Reza Pahlavi said that major protests which erupted in November and again this month, after the accidental downing of a Ukrainian passenger jet, reminded him of the uprising that ousted his father in early 1979.
"It's just a matter of time for it to reach its final climax. I think we're in that mode," the former crown prince told a news conference in Washington, which he lives near in exile.
"This is weeks or months preceding the ultimate collapse, not dissimilar to the last three months in 1978 before the revolution," he said.
While exiled activists have routinely predicted the fall of the regime, Pahlavi said that Iranians could "smell the opportunity for the first time in 40 years this time."
The 59-year-old heir to the Peacock Throne, who has not been to Iran since he was a teenager, cited as evidence what he called an easing of fear among protesters and the growing distancing of self-described reformists from the Islamic regime.
In an address to the Hudson Institute, Pahlavi largely supported President Donald Trump's "maximum pressure" campaign that has sought to isolate the Iranian regime through severe sanctions, saying that past negotiations have failed.
"It has long been time to recognize that this is not a normal regime and that it will not change its behavior," Pahlavi said.
"My compatriots understand that this regime cannot be reformed and must be removed."
Iranians "expect the world to show more than just moral support. They expect not to be thrown under the bus in the name of diplomacy and negotiation."
Pahlavi, whose Western-oriented father was closely allied with the United States, has played down prospects for restoration of the monarchy.
He says instead that he wants to support a broad coalition of Iranians who will replace the regime with a secular democracy.
Full report at:
https://english.alarabiya.net/en/features/2020/01/16/Iran-crown-prince-predicts-regime-will-collapse-within-months.html
--------
Turkey's main opposition urges govt neutrality in Libya
January 16, 2020
ANKARA: Turkey's main opposition leader on Tuesday urged Ankara to play a mediation role in Libya between the country's two rival camps, rather than siding with the Government of National Accord (GNA) headed by Fayez Al-Sarraj.
"We've … urged the government not to follow the Syria policy in Libya. We told them not to support one side, but try to mediate between the fighting parties. Turkey has … followed this policy between Iran and Iraq, for instance," said Kemal Kilicdaroglu, leader of the main opposition Republican People's Party (CHP).
He also urged the government to mend ties with other countries in the region, especially Syria, Israel and Egypt.
"Rather than trying to assume the role of an honest broker, the government has preferred to take part in regional conflicts, which has caused great damage to Turkey," Kilicdaroglu said, citing the Syrian conflict.
Turkey backs Al-Sarraj's Tripoli-based government against forces loyal to Gen. Khalifa Haftar, who is based in eastern Libya.
Ankara recently sent military advisers to Libya to reinforce its support to the GNA, in return for a controversial maritime agreement in Mediterranean waters.
Turkish President Recep Tayyip Erdogan has threatened a large-scale military intervention after he obtained parliamentary approval.
Ariz Kader, an independent researcher on regional conflicts, said Kilicdaroglu is urging the government to become a mediator because this is what the Turkish public wants to hear.
"Erdogan is trying to save his last Muslim Brotherhood ally in North Africa. It's something he can't say outright without giving up the game," Kader told Arab News.
Unal Cevikoz, the CHP's deputy chairman responsible for foreign relations, said the deterioration in Ankara's ties with regional countries such as Israel and Egypt undermines Turkey's role as an honest broker, especially in the Middle East and the eastern Mediterranean. Deploying troops abroad is also triggering accusations of neo-Ottomanism, he added.
Turkey does not currently have ambassadors in Syria, Israel or Egypt due to tensions with those countries. Ankara began explicit contacts with Damascus at the level of spy chiefs only two days ago.
"To assume a mediation role, Turkey should begin by prioritizing the role of the UN in the Libyan crisis rather than insisting on hard-power capabilities, which only serves to escalate the conflict even further," Cevikoz told Arab News.
To regain its reliability in the eyes of the international community, Turkey has to drop its policy of taking sides in regional conflicts, said Cevikoz, a former ambassador to the UK.
Meanwhile, Erdogan warned on Tuesday that Turkey will not refrain from "teaching a lesson" to Haftar if his forces continue to attack the people and government in Tripoli.
Full report at:
https://www.arabnews.com/node/1613846/middle-east
--------
Israel carries out new airstrikes on besieged Gaza Strip
15 January 2020
Israeli warplanes have carried out several airstrikes in the Gaza Strip, targeting a number of areas in the north and the northwest of the coastal enclave.
Palestinian media reported on Wednesday night that one of the airstrikes targeted a position belonging to the Palestinian resistance movement Hamas. The attack caused an explosion and material damage to the nearby buildings.
Another attack targeted areas in Jabalia and Beit Lahia in Gaza's north.
Meanwhile, the Israeli military claimed that the attacks were in response to a rocket launch by Palestinians. It also announced that it had intercepted two of the alleged four incoming projectiles via Iron Dome missile system.
Last month, Israeli warplanes, choppers, and navy boats conducted a series of attacks on the Gaza Strip, targeting several positions in the north, west and south of the besieged enclave.
The attacks were reportedly aimed at the positions of the Hamas, including its "military complexes."
There were no immediate reports of casualties from Gazan authorities as the sites were empty.
Gaza has been under Israeli siege since June 2007.
Full report at:
https://www.presstv.com/Detail/2020/01/15/616295/Israel-air-strike-Palestine-Gaza-Hamas
--------
Africa
Plan to Cut U.S. Troops in West Africa Draws Criticism From Europe
By Helene Cooper
Jan. 14, 2020
BRUSSELS — A Pentagon proposal to greatly reduce American forces in West Africa faced criticism from allies on Tuesday, with French officials arguing that removing United States intelligence assets in the region could stymie the fight against extremist groups.
American officials said they were proceeding nonetheless.
While no final decision has been made on how many troops will be transferred from Africa and the Middle East as the Pentagon refocuses its priorities to confront "great powers" like Russia and China, America's top military officer said the United States needed to shift its forces to better counter China in particular.
Gen. Mark A. Milley, the chairman of the Joint Chiefs of Staff, acknowledged that the proposal was "causing some anxiety." But he said that the United States needed to seriously re-examine its military footprint in Africa, and the Middle East and Latin America after that, given the heightened focus on China.
General Milley's comments came ahead of a NATO military chiefs' meeting in Brussels, where he also sought to lay out the United States' rationale for killing Iran's top military commander, Maj. Gen. Qassim Suleimani this month. The killing of General Suleimani, who was the head of Iran's Islamic Revolutionary Guards Corps' Quds Force, has raised questions from America's military allies about whether commanders of sovereign countries are now fair game for drone strikes.
The Pentagon is also asking Europe to do more in the Middle East. After the killing of General Suleimani, Mr. Trump called for NATO to step up efforts to train Iraqi forces to fight the Islamic State in their country — a point that General Milley elaborated on at the NATO meeting on Tuesday.
One way European allies could help in Iraq, he said, was to provide ballistic missile defense systems at bases that house troops from the American-led coalition that has been fighting the Islamic State. Iran fired several ballistic missiles at two such bases in Iraq last week, though no one was killed.
In Africa, the Trump administration wants European allies, particularly the French, to pick up a bigger share of the battle against extremist Islamist organizations like the Islamic State, Al Qaeda in the Maghreb and Boko Haram.
The Pentagon's discussions of a large-scale pullback from West Africa include abandoning a recently built $110 million drone base in Niger and ending assistance to French forces battling militants in Mali, Niger and Burkina Faso.
President Emmanuel Macron of France, in his own meeting with leaders of five West and Central African nations on Monday, pledged to send a further 220 French troops to the region, supplementing the 4,500 who are already there. Mr. Macron had called the meeting in an effort to persuade the African leaders to make clear publicly that they wanted the French forces to remain.
With the Pentagon expected to make its initial decision about Africa this month, the United States' plans have already drawn criticism from lawmakers, allies and military officials, and could eventually affect most global missions. About 200,000 United States forces are stationed abroad, a similar number to when President Trump took office with a promise to conclude the nation's "endless wars."
Responding to General Milley's comments on Monday, an aide to Mr. Macron told the news agency Agence France-Presse that American contributions to the fight against Islamic extremist groups in West Africa were "irreplaceable."
General Milley said that no final decision had been made, and that the Pentagon was reviewing American force posture all over the world. (United States military officials said that Africa was first because it begins with "A.")
The Pentagon says that the overhaul of African deployments will be followed by one in Latin America and that drawdowns will occur in Iraq and Afghanistan, as it has outlined in recent months.
But the killing of General Suleimani, which has sharply exacerbated tensions between Washington and Tehran, could undermine the Pentagon's plans. Since that killing, it has sent thousands of additional troops to the region to protect against possible strikes from Iran.
https://www.nytimes.com/2020/01/14/world/africa/milley-troops-withdraw.html
--------
How Libya Became the Ultimate Proxy Conflict
By Karl Maier
January 14, 2020
Want to receive this post in your inbox every day? Sign up for the Balance of Power newsletter, and follow Bloomberg Politics on Twitter and Facebook for more.
Once again, a U.S.-backed toppling of a longstanding dictator has led to a power vacuum and widespread violence that's been exploited by a revolving door of militant groups.
The scenario that unfolded in Iraq after the 2003 U.S. invasion is replaying in Libya, where warring factions are battling for control of the capital, Tripoli.
The conflict has killed more than 2,000 people, forced tens of thousands to flee and opened up the oil-rich country to traffickers of African migrants to Europe. It's been a mess since NATO helped oust dictator Moammar Qaddafi in 2011.
The latest attempt to secure a negotiated end to the war — by Russia and Turkey, which back opposing sides — failed when military commander Khalifa Haftar left Moscow yesterday without signing a deal.
It comes at a delicate moment for mainly Muslim areas of north and west Africa. Fighters allied to Islamic State and al-Qaeda are moving through Libya to carry out attacks in a wide area.
French and UN forces have been unable to stem the tide. With anti-French sentiment growing, President Emmanuel Macron yesterday coaxed West African leaders into publicly backing his nation's intervention.
But as long as the fighting in Libya continues, militants there can use it as a staging post to spread violence across ever greater swathes of Africa.
Global Headlines
Iowa debate | The stage will be smaller, the spotlight brighter and the stakes higher for the seventh Democratic presidential debate tonight in Des Moines — the last before the Iowa caucuses next month. Six candidates — Joe Biden, Elizabeth Warren, Bernie Sanders, Pete Buttigieg, Tom Steyer and Amy Klobuchar — will gather for a televised event that comes amid growing rifts between and within the party's moderate and progressive flanks.
Cory Booker announced yesterday he was ending his campaign, vowing in a text message to supporters to "never abandon my faith in what we can accomplish when we join together."
Making nice | Donald Trump's administration has lifted its designation of China as a currency cheat, saying the nation has made "enforceable commitments" not to devalue the yuan and has agreed to publish exchange-rate information. It follows a bruising three years of tit-for-tat tariffs and comes as the U.S. and China are set to sign a phase-one trade agreement tomorrow that's expected to include a commitment from Beijing to respect American intellectual property.
Chinese President Xi Jinping is exuding confidence on the eve of the trade deal signing.
Trial prep | With his impeachment trial expected to begin next week, Trump has yet to settle on either his defense strategy or the team that will represent him in the Senate. The president has sent conflicting signals about key aspects of the trial, including how long it should last and whether witnesses should testify, Jordan Fabian and Josh Wingrove report. The House is likely to vote tomorrow on impeachment managers named by Speaker Nancy Pelosi.
Huawei decision | Prime Minister Boris Johnson hinted his government will let Chinese tech giant Huawei supply some equipment for the U.K.'s 5G broadband networks, even in the face of strong pressure for a ban from the U.S. While Washington says intelligence-sharing could be at risk, British officials argue there's nothing the U.S. knows about the company that Britain does not. Despite Trump's backlisting, Huawei broke into the top 10 recipients of U.S. patents last year, helping propel China to the fourth spot.
Rivals circling | Angela Merkel is batting away the next generation of German conservatives as they vie for the spotlight toward the end of her long chancellorship. But despite speculation she might be forced out early — this time by Markus Soeder, the head of her Bavarian sister party — Merkel is holding firm, and recent polls suggest she's still the most popular politician after 14 years in power, Patrick Donahue and Arne Delfs report.
What to Watch
Iran has arrested a number of people allegedly linked to the Jan. 8 downing of a Ukrainian passenger jet, and the country's president called on the judiciary to form a special court and fully investigate the disaster.
Johnson faces his first battle of Brexit's next stage, after the European Commission warned that a trade deal this year must include a fisheries accord.
The European Union's new trade chief, Phil Hogan, will be in Washington for the next three days and is due to meet U.S. Trade Representative Robert Lighthizer and other officials amid frayed ties.
Tell us how we're doing or what we're missing at balancepower@bloomberg.net.
Full report at:
https://www.bloomberg.com/news/articles/2020-01-14/how-libya-became-the-ultimate-proxy-conflict-balance-of-power
--------
14 pro-Turkey Syrian militants killed in Libya: monitor
2020-01-15
DAMASCUS, Jan. 14 (Xinhua) -- A total of 14 pro-Turkey Syrian rebels were killed during the fighting in Libya, a war monitor reported on Tuesday.
The Syrian Observatory for Human Rights said that the bodies of 14 slain Syrian militants arrived in Syria on Tuesday, it said.
These fighters were sent there to join the forces led by the UN-backed government to fight against the eastern-based army led by Khalifa Haftar.
The Britain-based watchdog said 1,600 Turkey-backed Syrian rebels have so far been sent from Syria through Turkey to Libya.
The Turkey-backed rebels opened four centers in the northern Syrian city of Afrin to recruit fighters to be sent to Libya, it said.
http://www.xinhuanet.com/english/2020-01/15/c_138705091.htm
--------
Boko Haram: Borno village, Ngulde under attack
By Maina Maina
January 14, 2020
Reports reaching DAILY POST in Maiduguri, Borno State capital revealed that Ngulde, a village in Biu local government area of Borno state in the northeast Nigeria is currently under Boko Haram attack.
Locals, who fled to Biu and managed to call relatives in Maiduguri, said the attackers came in several vehicles and were shooting sporadically.
This is coming barely 48 hours after the insurgents attacked Gajiram in Nganzai local government area of Northern Borno, killing 11 people and injuring 20 others. Those injured are currently receiving treatment in Maiduguri.
https://dailypost.ng/2020/01/14/boko-haram-borno-village-ngulde-under-attack/
--------
2019 saw record U.S. airstrikes in Somalia. Why is al-Shabab surging?
By Max Bearak
January 15, 2020
NAIROBI — Just as soon as the U.S. military closed out a year in which it struck al-Shabab militants more times than ever — at a pace of just over one airstrike per week — the Somali militant group carried out its most brazen and successful attack on U.S. forces in its history, killing one soldier and two private contractors, and destroying six aircraft at an airstrip in Kenya.
It was symbolic of the greater U.S. effort against al-Shabab: Since the Trump administration loosened rules of engagement in Somalia in March 2017, leading to a more aggressive use of airstrikes, the group has staged nearly 900 attacks on civilians alone, not counting hundreds more against U.S., Somali, Kenyan and other armed forces.
"The rate of al-Shabab's attacks, at least against civilians, is higher now than before," said Hussein Sheikh-Ali, a former national security adviser to the Somali president who took part in discussions with Pentagon officials as they weighed changing their rules of engagement in 2017.
Nearly 2,000 Somali civilians have probably been killed by al-Shabab since that change, according to data from the Armed Conflict Location & Event Data Project, or ACLED, a nonprofit research group that aggregates reports of violence. Al-Shabab continues to control almost the entirety of rural southern and central Somalia, while staging such regular attacks on the capital, Mogadishu, where residents know any trip into the city center could be their last.
Al-Shabab is not at its strongest point. In 2011, before a 20,000-strong African Union force intervened, and before the United States ramped up its airstrikes, al-Shabab controlled every city in southern Somalia and appeared on the verge of taking Mogadishu. The group's goal is still the same, however: to chase away, or at least outlast, foreign troops in Somalia, clearing the way for a broader takeover in which it could impose a strict version of Islamic law.
Kenyan officials said they foiled an al-Shabab attack and no Kenyans died. Locals tell a different story.
In the past few years, the group has repeatedly demonstrated its ability to make powerful explosives and destabilize Somalia's fledgling government. Since its inception in 2006, the group has carried out more than 10,000 attacks in Somalia and nearly 300 in Kenya. More than 20 have been killed by al-Shabab in Kenya in just the past six weeks.
"Al-Shabab has had to adapt. But adapt it did," said Ken Menkhaus, a Somalia scholar who has given expert testimony to successive U.S. Congresses. "It has fully penetrated local governments and institutions, has a robust network of informants and operatives, extorts 'taxes' from all Somali citizens and instills fear of assassination in anyone who considers opposing them."
According to ACLED data, al-Shabab's tactics have shifted slightly but significantly since March 2017, when the rules of engagement were loosened. In the years before, around 70 percent of al-Shabab attacks could be classified as "battles" with government-aligned armed forces. In the years since, that number has dropped to about half, with a marked uptick in the use of bombs, which more typically target civilians.
To some observers, the shift indicates a resilience that more and more airstrikes won't be able to counter. Instead, they say, it has opened up the U.S. military to scorn from the Somali public, who are feeling the brunt of al-Shabab's attacks.
"By making it a 'kill as much as you can' strategy, it has become hard to avoid collateral damage and civilian casualties whether by the airstrikes themselves or because they provoke al-Shabab," said Sheikh-Ali. "I believe that this strategy will not in any way affect al-Shabab's short- or long-term capabilities. The U.S. is just playing whack-a-mole. Somali people don't take this strategy seriously anymore."
As part of the thousands of troops that the United States has stationed across East Africa, 500 are on the ground on a small number of bases within Somalia. Beyond planning airstrikes, their mission, according to U.S. Africa Command, is mostly to train the Somali national army, to assist with intelligence gathering and to occasionally accompany Somali troops in ground raids.
About 300 U.S. soldiers and military contractors are stationed in Kenya, bolstering the missions in Somalia. The al-Shabab attack Jan. 5 on an airstrip used by those U.S. forces was a major setback because of American casualties and the loss of high-value equipment.
Col. Christopher Karns, a U.S. Africa Command spokesman, also acknowledged in an email to The Washington Post, that some of the attackers escaped.
The White House has not commented publicly on the deaths of the three Americans in that attack, nor has the president done so independently. The U.S. military has been unusually outspoken in its public response, which included sending its top brass in East Africa to the base adjoining the airstrip that was attacked.
"Al-Shabaab is ruthless and must be dealt with before the network expands its reach to other places, to include their stated desire to strike U.S. citizens on the U.S. homeland," said Gen. Stephen J. Townsend, the commander of U.S. forces in Africa, in a statement last week. "This al-Qaida-aligned terrorist network has demonstrated an ability to conduct external attacks previously and will continue to do so unless they are countered where they reside."
During the Obama administration, airstrikes were reserved for high-value targets and they killed al-Shabab's leader and co-founder, Ahmed Abdi Godane, as well as its top explosives expert. Other airstrikes targeted meetings where more than 100 suspected al-Shabab fighters might have been present.
"Airstrikes are only one means and not the ultimate solution," said Karns. "They do create organizational confusion in the ranks of al-Shabab and offer additional effects. Diplomacy, development and defense all need to come together to truly counter the influence and dismantle al-Shabab."
The African Union's force in Somalia had intended to draw down over the course of this year, but many experts expect that mission to be extended given how strong al-Shabab continues to be. Somalia is planning national elections this year, which are expected to be targeted relentlessly by al-Shabab.
Sheikh-Ali and Menkhaus said that although the Pentagon's airstrike-heavy strategy doesn't seem to be tipping the scale, foreign intervention can only achieve so much in Somalia, and the only way the country will overcome the threat from al-Shabab is with a government stronger than the weak and notoriously corrupt one it has now.
Full report at:
https://www.washingtonpost.com/world/africa/2019-saw-record-us-airstrikes-in-somalia-why-is-al-shabab-surging/2020/01/15/be9bc808-30c2-11ea-971b-43bec3ff9860_story.html
--------
Islamic State kills almost 100 soldiers in Niger
BY CALEB WEISS
January 14, 2020
On Thursday, at least 89 Nigerien soldiers were killed in a massive assault on a military base near the borders with Mali. Following several days of silence, the Islamic State has officially claimed the raid.
On Jan. 9, the Nigerien military base at Chinagoder, which sits on the border with Mali, was targeted by dozens of jihadists from the Islamic State's group in the region.
While the Islamic State's claim of responsibility stated that it killed over 100 soldiers, it otherwise did not present any new information. The statement repeats the local reporting that the jihadists were able to briefly overrun the base after a sustained firefight.
And while the group's death toll is indeed exaggerated, it is not distorted by that much.
Initially, Nigerien officials downplayed the attack, reporting 25 soldiers dead and that the majority of the jihadists were also killed. In the days following, however, Niger has progressively raised the death toll which now stands at 89 soldiers dead.
Nigerien authorities have also maintained that 67 jihadists were also killed in the assault. Though photos released by the Islamic State purportedly from the attack have directly contradicted this claim.
The photos show the jihadists raiding the base before briefly occupying it. The Islamic State's men can be seen capturing weapons and equipment, as well as standing over the dead bodies of several Nigerien soldiers.
The attack marks one of the deadliest, if not the deadliest, jihadist assault on Nigerien forces. This follows last month's raid on the military base at Inates, which left 71 soldiers dead.
The jihadist group also claimed today the Dec. 26 ambush on Nigerien troops near Sanam, which killed 14 soldiers.
Combined the three Islamic State attacks have killed at least 174 Nigerien soldiers in just over a month.
In response, Nigerien President Mahamadou Issoufou has reorganized the leadership of military in order to reformulate its strategy.
The new military leadership has also announced a new offensive to begin against the Islamic State in the region, though it is unclear when or how it will progress. Past offensives have so far failed to stymie the spread of jihadist violence.
In addition to the new claims from Niger today, the Islamic State also released a video via its Amaq News Agency of its men firing rockets at a Burkinabe military near near Arbinda in Burkina's Soum region.
That region has also seen an increase in jihadist violence from both the Islamic State and al Qaeda in recent years.
While al Qaeda's Group for Support of Islam and Muslims (JNIM) is still the dominant jihadist actor inside Mali and large parts of Burkina Faso and Niger, recent Islamic State attacks in the region have demonstrated its growing capabilities.
The Islamic State has also afforded more attention to its growing branch in Sahel, with it just releasing a major video on the region last week. And last year, the Islamic State's central leadership reorganized the so-called 'Islamic State in the Greater Sahara' into its 'West Africa Province' branding.
Full report at:
https://www.longwarjournal.org/archives/2020/01/islamic-state-kills-almost-100-soldiers-in-niger.php
--------
Son of noted late Muslim preacher shot in South Africa
Hassan Isılow
16.01.2020
JOHANNESBURG
A South African activist and son of a deceased prominent Muslim preacher is fighting for his life in a hospital after he was shot outside a court in the coastal city of Durban on Wednesday.
Police colonel Thembeka Mbele said 65-year-old Yousuf Deedat -- son of Sheikh Ahmed Deedat -- was shot in the head as he walked towards the Verulam family court on the outskirts of Durban with his wife.
Mbele said an unknown suspect opened fire, wounding Deedat in the head. He was later rushed to a hospital for medical attention, while the suspect fled in a motor vehicle in an unknown direction.
"He is in critical condition in a local hospital. While his injuries remain severe, we remain hopeful for Deedat's recovery," Deedat's family said in a statement late Wednesday.
They also requested the family's privacy be respected during the traumatic experience.
Sheikh Ahmed Deedat, who died in 2005, was a prominent South African Muslim missionary who held several interfaith public debates with evangelical Christians.
He was known across the world as a respected public speaker and writer who published several widely-distributed booklets on Islam and Christianity.
He was the founder of the Islamic Propagation Centre International, which aims for Islam to be heard and understood across the world.
The late Deedat was awarded the King Faisal International Prize in 1986 for his 50 years of missionary work.
Full report at:
https://www.aa.com.tr/en/africa/son-of-noted-late-muslim-preacher-shot-in-south-africa/1704127
--------
Two soldiers killed as Sudan crushes revolt by security agents
15 January 2020
Sudan said Wednesday that two soldiers were killed as government forces crushed a rebellion launched by agents of the country's long-feared security agency against a restructuring plan.
On Tuesday, gunfire broke out Khartoum at two Khartoum bases of the Directorate of General Intelligence Service, formerly known as the National Intelligence and Security Service, after some of its agents rejected a retirement plan proposed by the country's new authorities.
NISS agents were at the forefront of a crackdown on protesters during a nationwide uprising that led to the ouster of former Sudanese President Omar al-Bashir last April.
Late on Tuesday, troops from the regular army and from the paramilitary Rapid Support Force (RSF) stormed the bases amid heavy gunfire.
"We decided to storm the bases to end this rebellion... We have now taken control of these bases," Sudan's chief of staff Lieutenant General Osman Mohamed al-Hassan told reporters early on Wednesday.
"We lost two soldiers and four others including two officers have been wounded."
Government spokesman Faisal Mohamed Saleh said the rebellion was launched by some NISS agents who rejected the amount of money allotted for taking retirement.
"We will not allow any coup against the Sudanese revolution," said the chairman of Sudan's ruling council, General Abdel Fattah al-Burhan, speaking alongside the chief of staff.
"We will protect this transition term and anyone who tries to disturb the security and stability of citizens will be defeated."
Since August, Sudan has been ruled by the joint civilian-military body headed by Burhan, with day-to-day affairs run by Prime Minister Abdalla Hamdok's government.
The ruling body is tasked with overseeing a transition to civilian rule as demanded by the protesters who ended Bashir's 30-year rule.
Burhan's deputy, RSF commander General Mohamed Hamdan Daglo, has blamed the former NISS chief for the rebellion.
"What happened today is a plan by Salah Ghosh and some other officers," Daglo told reporters in the South Sudanese capital of Juba.
Full report at:
https://english.alarabiya.net/en/News/middle-east/2020/01/15/Two-soldiers-killed-as-Sudan-crushes-revolt-by-security-agents.html
--------
Turkey deploying 2,000 Syrian fighters to Libya: The Guardian
15 January 2020
Turkey has already sent 650 Syrian rebel fighters to Libya, the Guardian newspaper reported citing Syrian sources all three countries, while another 1,350 fighters crossed into Turkey ahead of another deployment to Tripoli.
According to the Guardian's sources, Turkey initially deployed 300 fighters from the Syrian National Army (SNA), an umbrella group of rebels supported and funded by Ankara and formally known as the Free Syrian Army. Those men had left Syria through the Hawar Kilis military border on December 24, with another deployment of 350 fighters on December 29.
Turkey has also sent its own intelligence agents alongside the foreign fighters who are already in Libya, Al Arabiya sources confirmed earlier this month.
Al Arabiya's sources also said that Turkey has provided the UN-recognized Government of National Accord with night vision devices as well as mine and explosives detectors in preparation for the arrival of Turkish military units.
Turkish President Recep Tayyip Erdogan has ordered Turkish military units to start moving to Libya to support Fayez al-Sarraj's UN-recognized Government of National Accord (GNA), based in Tripoli.
The GNA led by al-Sarraj is fighting a civil war against an alternative government based in the eastern city of Benghazi whose forces are led by General Khalifa Haftar. The GNA relies on a plethora of militias, including Islamist and terrorist groups, formed in and after the 2011 uprising against longtime dictator Qaddafi.
Full report at:
https://english.alarabiya.net/en/News/north-africa/2020/01/15/Turkey-deploying-2-000-Syrian-fighters-to-Libya-The-Guardian.html
--------
Arab Parliament condemns Turkey sending troops to Libya
15 January 2020
Arab leaders jointly condemned Turkey for sending troops to Libya during a session of the Arab Parliament, the legislative body of the Arab League, in Egypt on Wednesday.
Turkey's decision to send troops was a fragrant violation of international law, said a statement from the Arab Parliament.
Embattled Turkish President Recep Tayyip Erdogan announced that Turkey would begin sending troops to prop up Libya's Government of National Accord (GNA) on January 5. The UN-recognized GNA is fighting a war against the Libyan National Army (LNA), led by Gen. Khalifa Haftar.
https://english.alarabiya.net/en/News/north-africa/2020/01/15/Arab-Parliament-condemns-Turkey-sending-troops-to-Libya.html
--------
Sudanese airspace open again after Khartoum 'rebellion' contained: Al-Burhan
January 15, 2020
KHARTOUM: The chairman of the Sovereignty Council of Sudan Abdel Fattah Al-Burhan said on Wednesday that Tuesday's security operation in the capital of Khartoum was a "rebellion" and that the situation had been detained.
Sudan said it had reopened its airspace on Wednesday after an armed revolt from within its security forces shut down the capital's airport for hours and left at least two people dead.
"All headquarters are under the army's control and the airspace is now open," Al-Burhan said.
In a press conference Al-Burhan announced that life had "returned to normal," following the stand-off between the armed forces and rogue intelligence officers which saw heavy gunfire in the capital. The officers had fired shots in the air to demand better severance benefits and to show resistance to government policies.
Al-Burhan added that the armed forces would "not allow any coup to occur," adding that it was a "shame that weapons were raised in the faces of the people."
He said a joint investigation committee had been formed to look into the events in Khartoum, and that those responsible for protests and providing weapons would be investigated in order to prevent "disturbing the security of Sudan."
The army quickly crushed the short-lived mutiny with "minimal losses," according to General Mohamed Othman Al-Hussein, its chief of staff said on Wednesday. The clashes killed two people and injured four others, including two officers, he added.
Full report at:
https://www.arabnews.com/node/1613656/middle-east
--------
North America
The FBI Can Unlock Florida Terrorist's iPhones Without Apple
By Mark Gurman
January 15, 2020
The FBI is pressing Apple Inc. to help it break into a terrorist's iPhones, but the government can hack into the devices without the technology giant, according to experts in cybersecurity and digital forensics.
Investigators can exploit a range of security vulnerabilities -- available directly or through providers such as Cellebrite and Grayshift -- to break into the phones, the security experts said.
Mohammed Saeed Alshamrani, the perpetrator of a Dec. 6 terrorist attack at a Navy base in Florida, had an iPhone 5 and iPhone 7, models that were first released in 2012 and 2016, respectively. Alshamrani died and the handsets were locked, leaving the FBI looking for ways to hack into the devices.
"A 5 and a 7? You can absolutely get into that," said Will Strafach, a well-known iPhone hacker who now runs the security company Guardian Firewall. "I wouldn't call it child's play, but it's not super difficult."
That counters the U.S. government's stance. Attorney General William Barr slammed Apple on Monday, saying the company hasn't done enough to help the FBI break into the iPhones.
Apple in New Clash With U.S. Over Access to Terrorist's IPhones
"We are helping Apple all of the time on TRADE and so many other issues, and yet they refuse to unlock phones used by killers, drug dealers and other violent criminal elements," President Donald Trump wrote on Twitter Tuesday.
The comments add to pressure on Apple to create special ways for the authorities to access iPhones. Apple has refused to build such backdoors, saying they would be used by bad actors, too.
Indeed, Strafach and other security experts said Apple wouldn't need to create a backdoor for the FBI to access the iPhones that belonged to Alshamrani.
Neil Broom, who works with law enforcement agencies to unlock devices, warned that the software version running on the iPhone 5 and iPhone 7 could make it more difficult to break into the handsets. But it would still be possible.
"If the particular phones were at a particular iOS version, it might be as easy as an hour and boom, they are in. But they could be at an iOS version that doesn't have a vulnerability," he said.
On Tuesday, a Department of Justice spokesman said he didn't have any update on the government's efforts to unlock the device. Apple referred to comments it made on Monday.
Apple Says It's Helping FBI Investigate Florida Terrorist Attack
Still, new vulnerabilities and exploits are uncovered all the time. Apple and security firms such as Cellebrite play a cat-and-mouse game nowadays. The iPhone maker releases a new device or a new version of its iOS operating system that locks everything down. Then security firms and researchers start probing, and often find ways to hack into the handsets after several months. Those exploits sometimes turn into tools that the FBI and police can use to access data on iPhones.
Broom said U.S. agencies work with security firms, including Cellebrite, that would "bend over backwards" to help the government in hopes of winning big contracts.
"Our technology is used by thousands of organizations globally to lawfully access and analyze very specific digital data as part of ongoing investigations," Cellebrite, owned by Japan-based Sun Corp., said in a statement. "As a matter of company policy we do not comment on any ongoing investigations." In 2016, Bloomberg News reported that Cellebrite helped the FBI break into an iPhone belonging to a shooter behind an attack in San Bernardino, California. The company has declined to confirm its participation.
The Behind-the-Scenes Fight Between Apple and the FBI
GrayKey is offered by Grayshift, a firm based in Atlanta that counts former Apple software security engineer Braden Thomas among its staff. Grayshift didn't respond to a request for comment on Tuesday.
A new security flaw known as "Checkm8" affects chips in iPhones released between 2011 and 2017, according to Strafach and other researchers. That includes the iPhone 5 and iPhone 7.
"With the Checkm8 vulnerability, you should be able to get a forensically sound image of the file system, unless they had a crazy long passphrase," Strafach said.
The iPhone 7 includes the Secure Enclave, a dedicated chip for storing fingerprint data and other sensitive information on the device, but even that could be breakable, he said.
"It's simply a question of whether the government will pay a contractor to get into these phones," Strafach added. "If it can't be done with the Checkm8 vulnerability, they can pay a contractor to do it."
The Checkm8 flaw may support updated hacking tools from Cellebrite. The Israel-based company offers a "UFED Physical Analyzer," a special "Touch2" tablet and software for PCs called "4PC" to law enforcement agencies and other customers. That all costs about $15,000
, according to Broom. There's often an annual maintenance fee of more than $4,000
, too, Broom said.
The FBI would likely also need other tools to unlock the iPhones, such as Grayshift's GrayKey or Cellebrite Premium, a special on-premise service for law enforcement agencies. Those could cost $100,000
to $150,000
, according to Broom.
"They already have these tools around the country. So they wouldn't be paying anything more to break into these phones, they could just be waiting for a certain exploit like Checkm8 to become available," Broom said.
Japanese Pinball Maker Tied to IPhone Hack Set for Terror Fight
On Monday, Apple said it has provided "all of the information" it has related to the device, via internet-based services such as iCloud.
However, some data of potential interest to the FBI would only be available on the iPhones. For instance, iMessage texts are encrypted when stored in the cloud, but they are often readable on the devices.
This won't end the standoff between the FBI and Apple, though.
It is becoming more difficult for firms like Cellebrite to hack into iPhones as the devices get more sophisticated, said Yotam Gutman, marketing director at cybersecurity company SentinelOne.
Breaking into an iPhone 11, the latest Apple smartphone, would be a lot harder, if not impossible, Strafach said.
https://www.bloomberg.com/news/articles/2020-01-14/the-fbi-can-unlock-florida-terrorist-s-iphones-without-apple
--------
FBI Arrests Suspect in Neo-Nazi Swatting Ring That Targeted 'Hundreds'
By Mack Lamoureux
Jan 14 2020
In the summer of 2018, Andrea Rovenski was on the tail end of a Spyro 2 speedrun when, unknown to her, a contingent of armed police officers started organizing outside of her house in Maryland.
Seeing light reflections on her wall and hearing the muffled sound of someone yelling into a megaphone, Rovenski, a streamer by the name Cyberdemon531, looked outside, saw the authorities, and knew exactly what was happening—she was being swatted. Someone had called 911 pretending to be Rovenski, claiming she had a hostage in the basement.
"I go outside and what I see is maybe five or six police cars and 10 to 15 riot cops," Rovenski told VICE. "They all have assault rifles and they're all pointed at me. You know, my arms are up and, you know, it's horrifying."
Rovenski, a transgender streamer who had been doxed previously, was familiar with the idea of swatting—lying to authorities about a dangerous situation in the hopes of getting someone raided by armed officers—but her mother was not. After Rovenski was tackled to the ground by police her mom came to the door and was swarmed by the cops. Rovenski said police weren't kind to her mother's disability, preventing her from getting on the ground easily and manhandled her. In Rovenski's livestream from the event, you can hear her mother screaming.
The experience left the two rattled and Rovenski's mother with nightmares. Less than two months later Rovenski's mother suffered a stroke—something Rovenski believes is connected to the extremely stressful event—and never fully recovered.
Over a year and a half later, on January 10, 2020, the FBI arrested John William Kirby Kelley in connection to an online neo-Nazi network tied to "hundreds of swatting calls." The 19-year-old is charged with conspiracy to transmit a threat and faces five years in prison if convicted. Kelley's alleged role in the network was finding and researching potential victims.
One of those victims is alleged to be Rovenski.
Do you have information about far-right extremists? We'd love to hear from you. You can contact Mack Lamoureux securely on Wire at @mlamoureux, or by email at mack.lamoureux@vice.com
The network Kelley is tied to is an Internet Relay Chat (IRC) called "Deadnet"—a previously accessible chatroom that, according to a criminal complaint filed by an FBI agent, now exists on the dark web. The users were also connected to DoxBin, a dark website that hosted "the personally identifiable information of potential and past swatting targets." The group used Deadnet to organize and share its swatting exploits and seemingly built a community around the practice—if the person listed on the site was swatted, the group would put a gun next to their name. It would use VPNs and anonymous Google Voice accounts for the calls. Police were able to link "hundreds" of swatting incidents to the group via the use of the moniker "kasey" or "kayla" in the dummy emails, the discussions in the Deadnet chat, and who had control of the Google Voice account when the calls were made. The criminal complaint makes it clear that others involved in the Deadnet chat are under investigation.
The group selected its targets with intent to watch a livestream of the police raid. According to the complaint, Kelley allegedly used the alias of "carl" on Deadnet, and would help identify targets and conduct research to "determine their physical location to direct a swat response to the location of a live video feed." A staggering table included in the complaint shows the group made enough phone calls in 33 days to affect 134 different law enforcement communities all across North America.
The criminal complaint makes it clear that the group exists in the far-right ecosystem. One individual told law enforcement "he and the other co-conspirators were white supremacists and are sympathetic to the neo-Nazi movement." After searching Kelley's belongings, police found "recruiting materials for Siege and Atomwaffen." Siege is a collection of writings by influential neo-Nazi James Mason and Atomwaffen is an infamous neo-Nazi group linked to several recent murders. Kelley was also found with "bumper stickers glorifying school shootings" as well as photos of weapons. As Brian Krebs reported last summer, one of the members of the Deadnet channel and DoxBin claims they run SiegeCulture, an extreme-right site strongly tied to Atomwaffen.
At times the group is alleged to have targeted minorities in their swatting calls. These include a November 3 swatting of a predominately African American church in Kelley's town in which a member is said to have called up police and say they had planted three pipe bombs in the church and was going to shoot everyone inside. Rovenski says she was targeted because she is transgender.
Swatting has been around in some form since the 70s but grew with popularity in the internet age when phone number spoofing and protection of identifying information became easier. In 2017 a man named Andrew Finch was shot and killed by police after being swatted by people he was playing Call of Duty with. The person responsible for the call was sentenced to 20 years in prison. Rovenski says whether swatting ends in tragedy or not comes down to who is on responding to the call.
"It depends on who's on duty and the police force, what their day has been like," said Rovenski. "You know if someone was in a bad mood, theoretically, I could have been shot in the street."
Joshua Fisher-Birch of the Counter Extremism Project, a U.S.-based terrorism watchdog, told VICE doxing and swatting are common "intimidation tactics" used "to target racial, ethnic, or religious groups, harm opponents, or to try to prevent journalists from covering them."
"These measures can be preventative or retributive, but have the effect of telling an intended target that they're vulnerable," said Fisher-Birch. "In recent years, swatting has been used by members of online gaming communities, and it's no surprise that members of the extreme right, some of whom are members of similar gaming communities or are 'extremely online,' would use the same tactic."
Kelley appears to have been incredibly careless with hiding his identity, according to the criminal complaint. The FBI investigation into Kelley began in November 2018 when the user carl suggested that his group "swat" his school, Old Dominion University in Virginia, as he didn't want to go to class in the morning. Kelley allegedly called the school saying he was "armed with an AR-15 and had placed multiple pipe bombs within the campus." Later in the evening, only two and a half hours after the initial call, Kelley is alleged to have accidentally called the school he just swatted. The accidental call spurred suspicion in the campus police and they compared the threat with the voice apologizing for calling. Finding the two voices were similar, and having Kelley's actual number on file, the campus police decided to visit Kelley.
Kelley also allegedly kept proof of the crimes. When police searched Kelley's property after his mistaken call they found numerous hard drives that contained evidence of swatting. The complaint states that documents seized during a search of Kelley's room "show countless examples of swatting activity over an extended period of time." Within these documents were videos of the swatting, logs of Deadnet, and a video of Kelley explaining why he used his moniker. The other users on Deadnet were none too pleased with the incident.
"First step, DON'T BOMB THREAT YOUR OWN SCHOOL," wrote a Deadnet user after Kelley's visit by police. "You hear that carl?"
One of the videos police found among Kelley's belongings focused on the doxing of Rovenski. The criminal complaint says that in video researching her information and chronicling the call and complaint Kelley recorded his full screen, which "show numerous identifying items" such as being logged into his school email and blackboard account. When asked how it felt that the video the young man made gloating about her dox may very well be used as evidence against him, Rovenski was blunt.
Full report at:
https://www.vice.com/en_us/article/3a8b8k/fbi-arrests-suspect-in-neo-nazi-swatting-ring-that-targeted-hundreds
--------
US expects UN sanctions on Iran to 'snap back into place': Treasury Secretary
15 January 2020
The United States believes international sanctions on Iran will be swiftly reimposed now that France, Britain, and Germany have formally triggered a mechanism to help enforce Iran's nuclear agreement, Treasury Secretary Steven Mnuchin said on Wednesday.
"I've had very direct discussions - as well as Secretary Pompeo has - with our counterparts," Mnuchin told CNBC. "I think you saw the E3 did put out the statement and have activated the dispute resolution. And we look forward to working with them quickly and would expect that the UN sanctions will snap back into place."
https://english.alarabiya.net/en/News/middle-east/2020/01/15/US-Treasury-says-there-is-no-question-that-Iran-sanctions-are-working.html
--------
Trump administration slammed for lying over Afghan war
16 January 2020
A senior US official has slammed the Trump administration for "classifying information that shows the war on Afghanistan is going badly," including data on Afghan troop casualties and assessments of the Taliban's strength.
John F. Sopko, the special inspector general for Afghanistan reconstruction, told Congress "when we talk about mendacity, when we talk about lying, it's not just lying about a particular program. It's lying by omissions. It turns out that everything that is bad news has been classified for the last few years."
Sopko said US officials have "lied to the public during the 18-year Afghan war by exaggerating progress reports and inflating statistics to create a false appearance of success," according to the Washington Post.
He told Congress "there's an odor of mendacity throughout the Afghanistan issue . . . mendacity and hubris. The problem is there is a disincentive, really, to tell the truth. We have created an incentive to almost require people to lie."
The special inspector general for Afghanistan reconstruction, SIGAR, said US officials falsely claimed major gains in Afghan life expectancy that were statistically impossible to achieve, the Washington Post said.
"US officials have lied in the past about the number of Afghan children enrolled in schools even though they knew the data was bad," Sopko added.
Sopko was summoned to Congress to testify in response to a series of articles that revealed how US officials failed to tell the truth about the Afghan war, hiding evidence the 18-year Afghan war had become unwinnable.
Since 2001 invasion, the US has spent more than $132 billion to modernize Afghanistan — more than it spent to rebuild Europe after World War II, the Post said.
Several US lawmakers expressed shock that the Afghan war strategy was fundamentally flawed.
House Foreign Affairs Committee Chairman, Eliot L. Engel (D-N.Y.) said "It's a damning record. It underscores the lack of honest public conversation between the American people and their leaders about what we were doing in Afghanistan."
The US invaded Afghanistan after the September 11, 2001 attacks under the banner of the so-called "war on terror" thousands of kilometers away from its own borders.
The invasion deposed the Taliban, but the group has never ceased its operations across Afghanistan, and has vowed to keep up its attacks until the withdrawal of all US forces.
Full report at:
https://www.presstv.com/Detail/2020/01/16/616312/Trump-administration-Afghan-war
--------
'Lying' Trump could spark war with Iran: Bernie Sanders
15 January 2020
Democratic presidential candidate Bernie Sanders has said he is concerned that US President Donald Trump is peddling lies that could spark a war with Iran which would be worse than the Iraq War.
"What we have to face as a nation is that the two great foreign policy disasters of our lifetimes were the war in Vietnam and the war in Iraq. Both of those wars were based on lies," Sanders said at Tuesday night's Democratic presidential primary debate.
"And right now, what I fear very much is we have a president who is lying again and could drag us into a war that is even worse than the war in Iraq," he added.
PoliticusUSA
@politicususa
Sanders says he is worried that Trump is lying and could drag us into a war with Iran. #DemDebate
Embedded video
16
7:45 AM - Jan 15, 2020
Twitter Ads info and privacy
See PoliticusUSA's other Tweets
Sanders, who has risen to near the top of polls of the Democratic field in early voting states, has opposed the Iraq War and is speaking against the Trump administration's warmongering against Iran.
Tensions between the US and Iran have skyrocketed in recent weeks after the US military carried out an airstrike on the order of Trump at Baghdad's international airport January 3, assassinating General Soleimani and the second-in-command of Iraq's Popular Mobilization Units (PMU), Abu Mahdi al-Muhandis, as well as eight other companions. Iran responded by launching missiles at Iraqi military bases that house US troops.
US officials have made confusing remarks about what prompted Trump to order the assassination.
After the president claimed that the strikes were conducted to prevent an "imminent" attack, Secretary of State Mike Pompeo said the operation was part of a "bigger strategy of deterrence."
Pentagon Chief Mark Esper, on the other hand, said he there was "no intelligence forewarning of imminent attacks on embassies," contradicting Trump.
Even, more recently, Trump and other US officials have pointed to Soleimani's past actions to justify the strike, without elaborating on what those alleged actions were.
On Monday, the president, in a tweet, alleged any imminent threat Soleimani posed "doesn't really matter because of his horrible past!" after NBC News revealed that Trump had authorized the US military to assassinate General Soleimani seven months ago.
The officials told NBC News that former US National Security Adviser John Bolton had urged Trump to sign off on an operation to kill Soleimani after Iran shot down a US drone that had violated Iranian airspace in June.
Full report at:
https://www.presstv.com/Detail/2020/01/15/616264/'Lying'-Trump-could-spark-war-with-Iran:-Bernie-Sanders
--------
Pakistan
PM Imran Focusing On Nawaz Sharif Instead Of Inflation: Pakistan Muslim League-Nawaz (PML-N) Spokesperson Marriyum Aurangzeb
Faizan Hashmi
Jan 16, 2020
ISLAMABAD (UrduPoint / Pakistan Point News / Online - 15th January, 2020) Pakistan Muslim League-Nawaz (PML-N) spokesperson Marriyum Aurangzeb Wednesday said Prime Minister Imran Khan immediately summoned Nawaz Sharif's medical reports but never asked for any record concerning inflation.
The PML-N leader bashed the incumbent government and asked whether it has controlled the price hikes and controlled the development rate by staging drama on the health of Nawaz Sharif.Marriyum Aurangzeb commented that the medical reports of PML-N supremo Nawaz Sharif - over which such an issue was created - were already submitted to the Punjab government.
https://www.urdupoint.com/en/pakistan/pm-imran-focusing-on-nawaz-sharif-instead-of-810716.html
--------
PPP recommends Irfan Qadir for CEC: PML-N supports PPP's nominee
January 16, 2020
LAHORE: The Pakistan People's Party (PPP) Wednesday recommended the name of former attorney general for Pakistan Irfan Qadir for the post of Chief Election Commissioner (CEC). Sources familiar with the matter told the media that the Pakistan Muslim League Nawaz (PML-N) had also indicated support for Mr Qadir. Reportedly, the political parties which earlier had dispute for selecting the members of the Election Commission of Pakistan (ECP) have now agreed upon certain names.
https://www.thenews.com.pk/print/599101-ppp-recommends-irfan-qadir-for-cec-pml-n-supports-ppp-s-nominee
--------
Following Vawda's boot stunt, Pemra bans Kashif Abbasi's show for 60 days
Sanaullah Khan
January 16, 2020
Pakistan Electronic Media Regulatory Authority (Pemra) has banned the broadcast of anchorperson Kashif Abbasi's programme 'Off the Record' on ARY News for 60 days following Pakistan Tehreek-i-Insaf (PTI) minister Faisal Vawda's outlandish stunt on the show.
On Tuesday night, Federal Minister for Water Resources Faisal Vawda appeared on Abbasi's show alongside senior PPP leader Qamar Zaman Kaira and PML-N Senator Javed Abbasi, during which he used a boot to heap scorn on the PPP and PML-N for voting in favour of the recently passed Army Act in parliament.
The next day, as criticism poured in from opposition leaders as well as people on social media, Vawda said that Prime Minister Imran Khan was "not happy" over his action. While appearing in a Geo TV programme in the evening, he took responsibility of the incident but made it clear to anchor Hamid Mir that he would not apologise for bringing the boot to a live TV show.
Meanwhile, Pemra banned the broadcast and rebroadcast of Abbasi's show effective from today (January 16).
According to Pemra, during the programme under discussion, one of the panellists (Vawda) "performed [a] very unethical act" while starting his arguments on the subject being discussed.
"Subsequently, arguments made by Mr Vawda were not only extremely frivolous and derogatory but also an attempt to debase a state institution," the notification dated Jan 15 read.
"Whereas, role of programme host Mr Kashif Abbasi was quite unprofessional who actually did not intervene or stopped (sic) that unethical act performed by one of the panellists during a live show rather took the entire incident casually and kept smiling/cherishing such occurrence," it said, adding the media body was taking this action under Section 27(a) of the Pemra Ordinance 2002 as amended by Pemra (amendment) act 2007.
Section 27(a) of the ordinance states: "Broadcasting or re-broadcasting or distributing any programme or advertisement if it is of the opinion that such particular programme or advertisement is against the ideology of Pakistan or is likely to create hatred among the people or is prejudicial to the maintenance of law and order or is likely to disturb public peace and tranquillity or endangers national security or is pornographic, obscene or vulgar or is offensive to the commonly accepted standards of decency."
Subsequently, the media regulatory body said that Abbasi's appearance is also banned for the 60-day period. According to Pemra, Abbasi cannot conduct his show, appear on ARY News or any other television channel as a guest/analyst or expert.
Pemra said the content aired during the live programme "appears to be a wilful attempt to debase and demean a state institution by dragging it unnecessarily in a debate".
"The act of the host is also in violation of clauses 3(l)(e,j), 4(7)(b), 4(10), 5, 13 and 17 of Electronic Media (Programmes and Advertisements) Code of Conduct, 2015, read with Section 27(a) of Pemra Ordinance 2002 as amended by Pemra (Amendment) Act 2007," the notification stated.
As per Pemra, in case of non-compliance by the television channel, action can be taken under Pemra laws "which may result in suspension/revocation of satellite TV channel conferred to M/s ARY Communication Pvt Ltd ARY News".
What went down
Vawda appeared on ARY News' 'Off the Record' on Tuesday night. Mid-programme, while discussing PML-N supremo Nawaz Sharif, Vawda pulled out a boot and plonked it on the desk in front of the guests. Both Abbasi and Kaira eventually left the show in protest.
During the show, while responding to a question regarding Nawaz's health, Vawda said that "shameless" people stoop to any level.
He said that no deals were being made.
"In order to save your theft and to escape the country [...] you laid down and gave respect to the boot. You have announced this," he said as he pulled out an actual boot. "In every programme, I will keep this with me, this is today's democratic N-League."
"You [the PML-N] should have given it respect earlier like we have been doing," he said, referring to the boot he was holding.
The host, Abbasi, joked that he thought Vawda was pulling out a gun, a reference to an earlier stunt by Vawda, but in fact he had "pulled out something even more dangerous".
"You are talking against them (armed forces' personnel) even when they embraced martyrdom. Today, when it comes to their loot and plunder Maryam Nawaz and Nawaz Sharif should hold this (the boot) and tell the people that we will respect the boot and do everything (to save us)," Vawda said.
The PTI minister did not spare PPP and asked why it took back the amendments it had proposed earlier in services chiefs' legislation.
A visibly offended Kaira said that Vawda meant that the PPP and the PML-N had voted for the Army Act not on the request of the PTI government but under the pressure of the army. Vawda clarified that this was not what he was saying.
"He came with a lot of fervour and put the boot here and created a mockery of the army," Kaira said.
At one point, Abbasi asked Vawda who the boot belonged to, to which he said: "Ask them (PPP and PML-N)". He eventually removed the boot, in response to which Kaira wryly remarked that he should leave it on the table.
Opposition lashes out
PML-N spokesperson Marriyum Aurangzeb, while speaking to Dawn on Wednesday, said that Vawda's stunt did not dignify a response.
However, former law minister and PML-N leader Rana Sanaullah, while appearing on another TV show on Tuesday night, said that the entire nation was witnessing activities of "jokers", adding that "the government wanted to make a joke of the army as an institution".
PPP leader Sherry Rehman also condemned Vawda's behaviour. "This can't be normalised, no matter what the point of the parody," she said in a tweet. "Disappointed and disgusted that public discourse has sunk to this level."
"It is everyone's right to critique another's actions but this, this plumbs new depths. Cheap thrills just got a whole lot cheaper," she added.
Clips of the PTI minister's stunt were circulating on social media on Wednesday morning, with trends such as #PTIDisrespectArmy, #FaisalVawda and #Kashif Abbasi trending on Twitter.
Full report at:
https://www.dawn.com/news/1528667/following-vawdas-boot-stunt-pemra-bans-kashif-abbasis-show-for-60-days
--------
Rift in PTI's Karachi chapter surfaces in National Assembly
Amir Wasim
January 16, 2020
ISLAMABAD: At a time when the ruling Pakistan Tehreek-i-Insaf (PTI) is busy wooing its estranged allies, the internal differences within the party's Karachi chapter surfaced on the last day of the National Assembly session on Wednesday as its three MNAs from the Sindh capital protested over the attitude of Maritime Affairs Minister Ali Zaidi, who belongs to the same city.
Angry over the minister's response to their calling attention notice regarding "the delay in construction of a 45-kilometre bridge to connect Karachi Port with Port Qasim", all the three MNAs rushed to the minister's seat to lodge their protest and threatened to stage a walkout from the assembly.
At first, Mr Zaidi expressed annoyance over the members' act of bringing the matter to the floor of the assembly and then he taunted them by claiming that the three MNAs had sought his help in getting the party ticket for contesting elections.
The rift within the PTI surfaced at a time when there were reports regarding formation of groups in the party's Sindh chapter and when the ruling party is in dialogue with the Muttahida Qaumi Movement, Grand Democratic Alliance and other allies to remove their concerns over "non-implementation of the formula" agreed at the time of formation of a coalition at the Centre.
Taking the floor to respond to the calling attention notice moved by Faheem Khan, Attuallah and Muhammad Akram Cheema, the minister remarked that had these members discussed the issue with him privately he would have satisfied them, but since they had brought the matter to parliament he was ready to respond on the floor of the house.
When the members expressed their dissatisfaction over the minister's response and Mr Cheema asked the minister not to run the affairs on an ad hoc basis, Speaker Asad Qaiser directed Mr Zaidi to maintain coordination with the three members.
Upon receiving the directives from the chair, Mr Zaidi stated that the MNAs could have contacted him personally, but they preferred to choose the assembly floor.
"I have not changed my phone number," the minister said, adding that he had the same phone number on which these MNAs used to call him for seeking party tickets.
This response angered the MNAs who went to Mr Zaidi's chair and protested over his remarks. One of the protesting members was heard saying "we have not got the party ticket on charity".
They said they would not let the minister speak, if he continued to taunt them in this manner.
Some treasury members rushed to the protesting MNAs to prevent an ugly incident and prevented them from staging a walkout.
Earlier, responding to the calling attention notice, the minister informed the assembly that a detailed study had been carried out to address Karachi's transport problems.
Mr Zaidi said the members of the Maritime Advisory Council, which had been established to strengthen the maritime sector, were working without any financial benefit. He said his ministry was awaiting a green signal from the Ministry of Defence and other departments concerned to start some projects because of their location in the sea near the border.
MNA Attaullah drew the attention of the minister to the lack of basic facilities in Karachi South, where the port is situated. He alleged that the condition of the KPT Hospital was bad. The residents of a number of localities, including Machchar Colony and Shershah, did not even have drinking water facility.
He said that despite generating billions of rupees for the country, the people of the area did not have basic facilities.
The minister, however, said the problems in the areas like Machchar Colony and Sikand­ar­abad were because of encroachments.
Earlier, during the question hour, another PTI MNA from Rajanpur Sardar Riaz Mazari alleged that 21 people of his constituency had got jobs in Pakistan Railways without merit and after paying Rs150,000 each.
Parliamentary Secretary for Railways Farrukh Habib said that the member had made a serious allegation and promised to look into the matter and take action against those found involved in the alleged scam.
Later, speaking on a point of order, Aliya Kamran of the Muttahida Majlis-i-Amal (MMA) talked about the worst situation in Balochistan due to recent cold wave and heavy snowfall. She criticised the performance of the National Disaster Management Authority, stating that the NDMA should have used a helicopter as air ambulance to help the people trapped in the disaster.
She said Prime Minister Imran Khan had travelled to Azad Kashmir after the weather-related incidents, but he had not visited Balochistan "as it is not a part of Pakistan".
Full report at:
https://www.dawn.com/news/1528611/rift-in-ptis-karachi-chapter-surfaces-in-national-assembly
--------
Panel notified to solicit opinion on Nawaz's fresh reports
Zulqernain Tahir
January 16, 2020
LAHORE: As the fresh medical reports of former premier Nawaz Sharif are expected to be received by the Punjab home department on Thursday (today), the health department has notified a 14-member medical board to solicit its opinion on the matter to decide whether to give him extension in his stay abroad or not.
"The earlier 14-member medical board headed by Services Hospital Principal Dr Mahmood Ayaz has been re-notified to examine the fresh medical reports of Mr Sharif. We expect to receive Mr Sharif's fresh 'detailed' medical reports from the home department (on Thursday) and the board may take a couple of days to give its opinion on the matter," Punjab Health Secretary Nabeel Awan told Dawn.
He said it would be the same board that examined Mr Sharif before his departure to London for treatment.
According to Punjab Health Minister Dr Yasmin Rashid, Nawaz Sharif's (fresh) medical reports have been submitted to the Pakistani High Commission in London and the Punjab government will receive the same on Thursday.
Earlier, the Punjab government rejected Mr Sharif's medical reports submitted to it on Dec 23 for extension in his stay abroad on the expiry of the four-week period allowed by the high court to visit London for medical treatment. With his application, Mr Sharif attached his medical reports, but the Buzdar administration sought fresh reports after his London cafe photo went viral on Monday last.
Mr Sharif's personal physician Dr Adnan Khan in a tweet on Wednesday said: "Former PM #NawazSharif's LATEST medical report dated 13/01/2020 notarized, attested & authenticated under seal by the Notary Public, Foreign & Commonwealth Office (FCO-UK) & High Commission for Pakistan, London, UK. Similarly, Scans & Investigations are legally authenticated too."
Meanwhile, Advocate Amjad Pervez, a lawyer of Mr Sharif, filed his fresh medical reports to the additional registrar (judicial) of the Lahore High Court declaring "the health of client is still not well."
Mr Pervez said the reports were duly attested by Pakistan High Commission in London where Mr Sharif had gone to have treatment with a conditional permission granted by the court. According to the reports, "Mr Sharif is receiving treatment for the stability of his platelets. He is also a patient of hypertension, diabetes and kidney disease."
The lawyer said the reports prepared by the London's doctors had not so far advised Mr Sharif about air travel.
The court had allowed Mr Sharif to travel abroad initially for a period of four weeks allowing bail to him on medical grounds. The lawyers of Sharif were directed to keep filing fortnightly medical reports.
Reacting strongly to the comments of ruling PTI leaders and the premier, Mr Sharif's son Hussain Nawaz said: "Prime Minister Imran Khan is doing politics on my father's health to cover up his government's failures on every front. All medical reports of Nawaz Sharif are submitted on time."
A leading cardiac surgeon has termed the ex-PM's stay in the UK 'vital' for his health management. Dr David Lawrence, a cardiac surgeon who is known for performing minimally invasive chest surgery and lung cancer surgery, penned a letter [report] detailing Mr Nawaz's medical history from 2003 to 2019 as well as his current treatment plan.
"The stability of healthcare management is of vital importance for the patient, hence he [Nawaz] should remain under the care of his healthcare providers in the UK until his diseases are adequately addressed," said Dr Lawrence.
The PML-N has invited Punjab Health Minister Yasmin Rashid to London to verify facts about the health of Mr Sharif by herself.
Full report at:
https://www.dawn.com/news/1528558/panel-notified-to-solicit-opinion-on-nawazs-fresh-reports
--------
Maleeha Lodhi meets Nawaz in London
Jan 16, 2020
LONDON: Dr Maleeha Lodhi, Pakistan's former representative to the United Nations in New York, called on former Prime Minister Nawaz Sharif to inquire about his health and to condole the death of Begum Kulsoom Nawaz.
Dr Lodhi arrived at the Avenfield apartments on Wednesday noon and stayed inside for about an hour.
A source said that Lodhi asked the former premier about his health and wished him recovery. The source said that she offered condolences to Nawaz over the death of Kulsoom who succumbed to cancer here at the Harley Street in September 2018.
Dr Lodhi was picked by Hussain Nawaz Sharif's driver on the way out from Avenfield flats and dropped to her place in central London. Sources said that Dr Lodhi asked Mr Sharif about his health but no politics was discussed.
Lodhi was not available to comment but she was seen leaving the apartment block and family sources confirmed that the meeting took place. "This was a courtesy call focused only on Nawaz's health," said the source.
It may be noted here Lodhi was first appointed by the Pakistan Muslim League-Nawaz government as Pakistan's permanent envoy to the UN and later cosied up to Imran government.
Full report at:
https://www.pakistantoday.com.pk/2020/01/15/maleeha-lodhi-meets-nawaz-in-london/
--------
URL: https://www.newageislam.com/islamic-world-news/uproar-muslim-majority-malaysia-after/d/120808
New Age Islam, Islam Online, Islamic Website, African Muslim News, Arab World News, South Asia News, Indian Muslim News, World Muslim News, Women in Islam, Islamic Feminism, Arab Women, Women In Arab, Islamophobia in America, Muslim Women in West, Islam Women and Feminism