New Age Islam News Bureau
12 Oct 2018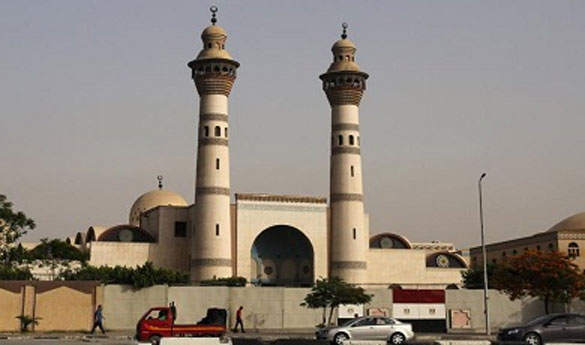 Photo: Winds of change. A general view of al-Azhar University in Cairo. (Reuters)
--------
• Al-Azhar's education move a blow to extremism
• Naya Pakistan housing scheme will create 6 million jobs: PM Imran
• China's War On Islam: Dolkun Isa Escaped Xinjiang and Interpol to Defend Uyghur Existence
India
• UP Govt Cancels Recruitment of 4,000 Urdu Teachers, Muslim Clerics Cry Foul
• Muslim artisans bridge the divide
• This Bihar Ramlila has prominent characters, from Sita to Shiva, played by Muslims
• US, UK universities changing mindsets of Muslim students: Mumbai attack mastermind and LeT chief Hafiz Saeed
• PhD scholar-turned-militant Manan Bashir Wani killed in Kupwara encounter
• Lashkar training cadre in deep sea diving, India on alert for attacks from sea: Officials
• Ayodhya issue: Mosque at disputed site against Islamic principles, says Shia Waqf Board chief Wasim Rizvi
• Aligarh Muslim University suspends 3 students for trying to hold prayer meet for killed Hizbul Mujahideen terrorist Manan Wani
--------
Arab World
• Al-Azhar's education move a blow to extremism
• Egypt condemns 17 to death for Islamic State church attacks
• Remains of More US Victims Found in Raqqa
• Ankara-Affiliated Militants Killed in Kurdish Operations in Afrin
• US-Led Coalition Attacks in Deir Ezzur Still Take Toll from Civilians
• Egyptian Commander of Tahrir Al-Sham Killed in Northern Syria as Tensions Hike
• Terrorists Violate Sochi Agreement by Continued Offensives on Army Positions in Hama
• Russia condemned for calling Syrian White Helmets a 'threat'
• Iraq, coalition forces arrest suspected members of ISIS funding network
• US-backed militants in Syria say holding 900 Daesh militants
• Putin: Terror fight remains absolute priority in Syria, world
--------
Pakistan
• Naya Pakistan housing scheme will create 6 million jobs: PM Imran
• Dr Arif Siddiqui exposes influence of Jewish and Christian wives on Muslim rulers
• FATF slams Pakistan for failing to plug terror funding
• Pak body wants judge out for criticising ISI
• Pakistan police seize ancient Buddhist sculptures
• Parliamentary panel to probe massive surge in foreign debt
• Pakistan is modern democratic state: Fawad Chaudhry
• Three soldiers martyred, five injured in S Waziristan blast
• September terror attacks left 34 dead in KP, Balochistan: report
• Taliban allow ICRC to resume operations
--------
Southeast Asia
• China's War On Islam: Dolkun Isa Escaped Xinjiang and Interpol to Defend Uyghur Existence
• Malaysia rejects China's plea, frees 11 Uighur Muslims
• PAS Sarawak wants Muslim communities to shun Miri's beer festival
• Avoid working where alcohol is served, Mujahid tells Muslims
• Anwar Ibrahim bids to return to heart of Malaysian politics
• Defying China, Malaysia releases Uighur detainees to Turkey
--------
South Asia
• Human Capital Index: Bangladesh outshines India, Pakistan
• Rohingya family makes rare return to Myanmar from Bangladesh
• Children among 9 killed, wounded in separate IED explosions
• Several dead as airstrikes target gathering of Taliban leaders in Wardak
• U.S. airstrikes inflict casualties on Taliban, destroy 3 APCs in Faryab
• Rohingya refugee camp murders blamed on rivalry, grudges
--------
Mideast
• Istanbul to host int'l conference on 'Muslim Ummah'
• Internal conflicts, assassinations, and tank attacks between Houthis on the rise
• UN envoy 'no longer acceptable' for Palestinians
• Turkish Army Continues Reinvigorating Positions in Idlib
• Erdogan says Turkey-US deal on Syria's Manbij delayed but 'not dead'
• Demilitarized zone around Syria's Idlib set up, Turkey says
• All govt. branches must join forces to confront US bans, solve economic issues: Leader
• German ambassador summoned over extradition of Iranian diplomat to Belgium
• Israel set to worsen prison conditions for Palestinian inmates
• Turkey, Kuwait sign 2019 military cooperation agreement
• Israel destroys Hamas attack tunnel from Gaza
--------
Africa
• Nigerian troops kill 76 Boko Haram militants
• UN approves 'final' extension of Sudan peace mission
• Jordan reshuffles cabinet with focus on economic growth
• El-Sisi wants return of Egypt militant held in Libya
• Somalia's Shabaab claims it killed five foreign spies
• Burkina Faso attacks open new front in France's anti-terror fight
--------
North America
• Turkish officials have evidence proving Khashoggi was assassinated: Report
• US senator calls for arms sales halt to Saudi Arabia
• Pompeo says no more US reconstruction aid to Syria until Iran troops withdraw
--------
Europe
• Bosnian Muslim wartime commander charged with crimes against Serbs
Italy's security approach to Islam
• German lawmakers slam AfD party for anti-Islamic motion
• Calls increase on British museum to cancel Saudi embassy event
• Leading Bahraini cleric Sheikh Qassim re-hospitalized in UK
• Terror suspect who fled Britain 'executed' in Somalia
• Mike Pompeo offers US support as Belgium questions Iran diplomat
• Astronauts destined for ISS make emergency landing in Kazakhstan after takeoff malfunction
Compiled by New Age Islam News Bureau
URL: https://www.newageislam.com/islamic-world-news/up-govt-cancels-recruitment-4000/d/116614
--------
UP Govt Cancels Recruitment of 4,000 Urdu Teachers, Muslim Clerics Cry Foul
October 11, 2018
Lucknow: The Yogi Adityanath-led BJP government in Uttar Pradesh has stalled the recruitment process of 4,000 Urdu teachers which was initiated by the erstwhile Samajwadi Party government.
Additional Chief Secretary of Basic Education Department Prabhat Kumar said that there were enough Urdu teachers in primary schools and that the additional recruitment wasn't required.
The Akhilesh Yadav government had announced a total of 16,460 posts for assistant primary teachers in the state on December 15, 2016, out of which 4,000 posts were reserved for Urdu teachers.
However, their recruitment was put on hold as soon after the BJP came to power in 2017.
Muslim clerics find this decision as a veiled attack on the Urdu language.
"This step is a setback for Urdu language and as well as Urdu teachers," Maulana Khalid Rasheed Farangi Mahali told News18. "The government should reconsider its decision. Urdu is like any other Indian language and should not be looked upon only as the language of Muslims."
This is not for the first time the Muslim community is dissatisfied with the BJP government in the state. The Yogi government's decision to register and geo-tag all madrassas across the state through a GPS-based service was met with resentment. Also, on August 15, the state ordered monitoring the tri-colour hoisting in madrasas through video cameras.
https://www.news18.com/news/india/yogi-govt-cancels-recruitment-of-4000-urdu-teachers-muslim-clerics-cry-foul-1905729.html
--------
Al-Azhar's education move a blow to extremism
30/09/2018
CAIRO - Al-Azhar has approved new school curricula that reflects provisions stated in the constitution regarding education, Egyptian Education Minister Tarek Shawki said.
The constitution recommends that education curricula focus on national identity and recognises that there should be a balance between modernising educational materials and upholding cultural heritage. Schools should offer activities that deepen notions and cultures of citizenship and tolerance.
Egyptian and foreign experts collaborated in developing the new curricula and class materials, creating up-to-date content that includes Egypt's cultural heritage. It was designed so learners become rooted in their cultural heritage, aware of the challenges of modernity and can distinguish between tolerance and hatred.
Al-Azhar's action reflects a further aspect of the changes in the ideological atmosphere at the institution. In the face of great pressure from the authorities and public outcry and accusations of encouraging extremism, al-Azhar leaders have accepted the need to change and moved towards adopting attitudes and ideas in line with modern times.
The move might also reflect a more comprehensive strategy inside al-Azhar to update its leadership and departments after a long period of stagnation. During that period, al-Azhar at best kept silent regarding key events and issues in Egypt and that silence was seen as encouraging extremist thought. Al-Azhar's silence reflected poorly on the spread of tolerance in Egyptian society.
The removal of Abbas Shuman as al-Azhar vice-president tasked with reforming curricula indicates a link between al-Ahzar's approval of the modernised standards and the firing of important figures inside al-Azhar who had opposed revising the traditional curricula and materials, even though some of those books were based on traditional reference works that encourage intolerance and hatred.
Not only have curricula been reformed but the new standards are to be used in both public schools and al-Azhar's religious schools. For many, this step is an acceptable alternative to stripping al-Azhar from its status as an independent educational institution and placing its schools and educational programmes under the oversight of the Ministry of Education. Al-Azhar had opposed such a move because it would be tantamount to stripping it of its religious authority and power.
In the new educational reform, religion is considered as a subject of study rather than the basis of studies. Study of religion has become a separate subject to teach religious concepts, the advantages of compassion and tolerance between faiths and the necessity of respecting the ideas and beliefs held by others without discrimination.
Education specialist Tarek Noureddine said modern curricula are the gates to social tolerance because they teach students to base interactions on mutual respect and goodwill, rather than on exclusion because of differences in beliefs, ideologies and cultures. When educational institutions refuse to let go of unproductive and outdated curricula, social peace is at risk.
Noureddine said fighting intellectual narrow-mindedness begins with adopting a modern educational system that refuses to be backward-looking and combats extremists. Graduates of that system would believe in freedom of thought, creativity and peaceful coexistence.
Among the concepts included in the educational reforms were religious tolerance, globalisation, citizenship, intercultural learning and communication and family education based on respecting society and the environment. The new curricula promote the idea of treating the other as a human being irrespective of his or her religious background and encourage basing social relations on goodwill, fraternity and solidarity rather than on religious affiliations.
Until recently, curricula and textbooks in Egypt contained lessons encouraging hatred and punishment by beheading or burning. As public outrage grew, those lessons were removed but educational curricula were basically untouched. Efforts to reform educational programmes and remove religion as the foundation of all education had been met with heavy resistance by al-Azhar scholars who saw the changes as an attempt to bring down the religious institution.
Some elements inside al-Azhar had attacked the traditional curricula as extremist. A group calling itself "Pro-civil State Azharites" said "the reference books and curricula inside al-Azhar are the source of religious extremism." It pointed out lessons in secondary-education textbooks used in al-Azhar schools that contained notions including executing religious offenders such as fornicators and those who do not pray.
Observers noted that al-Azhar's compliance with the educational reforms was the result of government pressure. Government institutions had concluded that wiping out intolerance and extremism must start with education and educational institutions regardless of their leanings. The observers said the official adoption of modern curricula that value treating all members of society with respect and kindness represents a painful blow to extremist ideologies.
Nadia Mohammed, the mother of two children attending al-Azhar schools in Cairo, said: "The fact that al-Azhar implemented the new curricula in its schools is a revolution against hatred." She said she had felt that al-Azhar's educational programmes were exclusively addressed to Muslims and that everyone else was considered second-class citizens. She said she considered moving her children to state schools.
Mohammed said: "Modernising curricula at al-Azhar and state schools was a defeat for extremists since teaching children the values of tolerance will make them moderate in their thinking and they will refuse to support the actions of those religious currents that demean the Copts and all enemies, for example."
https://thearabweekly.com/al-azhars-education-move-blow-extremism
--------
Naya Pakistan housing scheme will create 6 million jobs: PM Imran
Oct 12, 2018
ISLAMABAD: Prime Minister Imran Khan on Thursday said the Naya Pakistan Housing Programme will be Pakistan Tehreek-e-Insaf (PTI) government's "most ambitious and a landmark" initiative in which six million jobs will be created, raising the demand in 40 industries.
Launched by PM Imran on Wednesday, five million houses will be constructed over the next five years under the residential project.
Taking to Twitter on Thursday, the prime minister said: "We have launched our most ambitious, landmark housing policy of building five million homes in five years."
"This will provide affordable houses for our less privileged strata of society, plus six million jobs, create demand in 40 industries directly involved in house building and attract foreign direct investment (FDI)," he added.
NAYA PAKISTAN HOUSING PROJECT:
Earlier on Wednesday, PM Imran had said that the government wants to build houses for those who ordinarily do not even dream of owning a house, as they fall in low-income group and barely manage to find a shelter.
"Our target is to build five million homes in five years. The homes are to be made for the common man, who earns Rs10,000 to 25,000 a month," PM Khan had said.
The premier, vowing that he will supervise the project himself, had expressed confidence that the programme would not only provide affordable housing to the poor but also create employment opportunities in the country.
"The project will also attract local and foreign investment", he had said.
"A special housing authority would be established in three months to serve as one window for all construction-related formalities. A task force would look after the housing project until then," he had added.
In its initial stages, the mega-project will be launched in seven cities, including Muzaffarabad, Sukkur, Quetta, Gilgit-Baltistan, Dera Ismail Khan, Faisalabad and Islamabad.
The prime minister had said the government would remove obstacles to home ownership and that this would include working with the Law Ministry to draft legislation to make this possible.
The prime minister had said that the data of the 'kaachi abadis' (slums) would also be collected and added estimates say that 40 per cent land in Karachi and most precious land in Islamabad were encroached due to illegal construction. He said that after reviewing international models, high-rise buildings, having all basic facilities would be constructed and the owners would have full property rights.
He had expressed hope that the provinces, particularly Punjab, would also emulate the trend set in by the federal government.
The prime minister mentioned the trend for the borrowing of house building loans in other countries and said that in the United States, almost 80 per cent people construct houses through loans, in Malaysia 33 per cent, India 11 per cent, Bangladesh 3 per cent, while in Pakistan only 0.25 per cent.
https://www.pakistantoday.com.pk/2018/10/11/naya-pakistan-housing-scheme-will-create-6-million-jobs-pm-imran/
--------
China's War On Islam: Dolkun Isa Escaped Xinjiang and Interpol to Defend Uyghur Existence
October 11th, 2018
By Ty Joplin
For most of his life, Dolkun Isa had been a wanted man.
A Uyghur from Xinjiang, a province in northwestern China, Isa is one of the most prominent voices in the international community advocating for Uyghur and Kazakh rights; minority groups that are now being systematically monitored and jailed en masse.
China considers him a terrorist and has been seeking his arrest for decades. Until February of this year, Isa had a red notice put out against him by Interpol, which called for him to be found and extradited to China on terror-related charges, despite being a peaceful dissident.
He is the President of the World Uyghur Congress, and has traveled the world speaking at international forums, parliaments and special committees all in the hopes of drawing awareness to China's attempts at erasing his history and cultural heritage.
News began surfacing last year that China was detaining Uyghurs and forcing them into detention and re-education centers that are functionally concentration camps. But as Isa's lived experience shows, China has been trying for decades to tightly control Uyghurs in Xinjiang, attempting the impossible task of disappearing an entire ethnicity.
Isa spoke with Al Bawaba about his upbringing and life on the run from Chinese authorities, and his struggles to reach his family, who are stilled trapped in Xinjiang.
Dolkun Isa's birth as a Uyghur doomed him to a life of being watched, interrogated and arrested. From infancy on, he was labeled an enemy of the state.
Isa was born in 1967, a year after Mao Zedong had announced the Cultural Revolution that sought to unify the identity and ideology of all Chinese citizens under the banner of the Chinese Communist Party. Because Uyghurs spoke their own language and largely practiced Islam, they were outliers from the ideal Chinese citizen formulated by Mao, and so they were targeted.
Isa remembers hearing of Uyghur intellectuals being jailed by the thousands, and China preventing Uyghur cultural texts from being published. Imams, as local figureheads whose religious beliefs stood against Mao's secular project, were publicly humiliated. A paramilitary student group who called themselves Red Guards burned Qurans and vandalized mosques throughout Xinjiang.
"During the 10 years [of the Cultural] Revolution time, all the religious freedom and all the Uyghur language writings [were] forbidden," Isa says.
After the Revolution subsided in 1976, Uyghurs were targeted less but still faced residual pressures to assimilate into a mainstream Chinese identity. They reforged parts of their culture that were effectively outlawed: namely being able to practice their faith and speak their language.
In the 1980s, Isa enrolled in Xinjiang University to study Physics. In our conversation, he was quick to note that Han Chinese students were able to graduate in four years whereas Uyghurs took five: they were forced to take a year-long language course in Chinese. All their university textbooks were written in Chinese. The professors however, spoke Uyghur when their students were Uyghur.
While studying, Isa grew politically conscious of the two-tiered society in which he lived that privileged Han Chinese over Uyghurs. He also noticed that many Uyghurs were illiterate and were not receiving adequate education from Chinese schools.
"I established a students' union, a scientist students' union" organized around educating Uyghurs, Isa says. Members of his student union would spend the Summer and Winter breaks in between their university courses to teach Uyghurs how to read and write.
This was stopped by China in 1988.
"In 1988, I had a big discussion with a high-level government officials," who told him to dissolve his union, which was deemed politically radical. In protest, Isa organized a demonstration against Uyghur discrimination on June 15. The next day, he was placed under house arrest for four months and expelled from Xinjiang University. He was set to graduate just a few months after the demonstration.
Speaking Uyghur and teaching others to do the same, in the eyes of China, was effectively a form of anti-Chinese militancy.
Further convinced that the Uyghur identity was under a serious threat by China's repressive policies, Isa began an underground publishing firm, printing and distributing important Uyghur cultural texts. "I made [a] small business," out of the secret publishing firm, because it was one of the only publishers producing texts that explored Uyghur history, he explains.
China had banned such books from being released, so Isa set about finding and re-printing copies of them.
After Chinese authorities found this and shut it down, Isa moved to Beijing and engaged in a different kind of civil resistance: fighting China's erasure of Uyghur identity by cooking. He opened up a restaurant and served traditional Uyghur cuisine in a popular eating district in Beijing, which he ran for two years.
"A lot of Western students, foreign students came to my restaurant," apparently unaware there was such a thing as a Uyghur.
"I wanted to practice my English, and I had conversations with them and I explained to them [about Uyghur cuisine], because most of the students and foreign tourists had no idea who the Uyghurs are, you know?" Many came inside expecting to find the typical Chinese dishes, but were surprised to find items on the menu like laghman, naan and yutaza bread, lamb soup called shorpa and dapanji.
In talking with the tourists and students, "I explained to them that we are Uyghur, we are not Chinese and in history, we had an independent country," Isa says.
"Then slowly, Chinese police began persecuting me." He was regularly visited by Chinese authorities, who interrogated him.
By this time, Isa sensed his life was in danger. "In 1994 I escaped."
"In China, corruption is very high," Isa adds, explaining that he was able to bribe officials to forge him a passport, which he used to fly to Turkey. After this, Isa would never be able to go back to Xinjiang, his home province, or anywhere else in China.
A "Terrorist" Abroad
Isa spent two years studying politics at Gazi University, and then moved to Germany in 1996, which he has now claimed as his newfound home.
Shortly after arriving in Germany, Isa deepend his involvement in Uyghur activism by helping to establish the World Uyghur Youth Congress and the World Uyghur Congress. He didn't know that he was considered a terrorist back in China, and that Chinese authorities sent a red notice to Interpol for his arrest, which was approved by the international policing agency.
He only found out in 1999, when he was invited to the United States to speak at a conference in Washington D.C. When he went to the U.S. consulate in Frankfurt to apply for a U.S. Visa, he was taken by U.S. officials and German police when they saw there was a notice for him to be arrested and extradited to China for terrorism charges. "They asked me 'well, did you kill someone?'"
"Then I was a little bit worried, but I was a political asylum seeker," Isa recalls. But after a few hours of waiting, Isa was told by German authorities that they would protect him from extradition to China, but that he should not travel to any country with an extradition agreement with China or else he would be at risk of being sent back to China and likely never be heard from again.
Though the red notice made him cautious, he traveled the world speaking at international conferences; sometimes to countries that had extradition agreements with China. Isa said he felt safe for the most part, and traveled to them anyway, but had one close call in South Korea.
In 2009, Isa flew to South Korea to attend the annual World Forum for Democratization in Asia, but was barred from leaving the airport.
"I was detained in South Korea for four nights and four days," and ultimately, he was denied entry into the country, but according to him, he was almost sent back to China.
He suspects he was about to be flown to China, but at the last minute, representatives from the U.S. state department and German foreign ministry intervened and saved him, flying him out of South Korea and back to Germany, where was a citizen at this point.
"South Korea, I thought was a democratic country. I was invited by one of the international human rights organizations," Isa says.
He's faced continual difficulty in speaking at U.N. assemblies.
In addition to being denied entry into India, he was prevented from entering an event for the United Nations Permanent Forum on Indigenous Issues (UNPFII), without any explanation from the U.N.
He was also barred from entering another UNPFII event at the U.N. headquarters in New York in 2018, again with no explanation but all fingers pointing to Chinese meddling. In a video recorded outside the building, an outraged Isa accused China of trying to monopolize the U.N. and push out vocal minority rights activists like him from speaking out about China's repressive policies. By this point, the red notice against Isa had been redacted by Interpol and he was no longer an internationally wanted man.
"It is completely wrong. All the democratic nations, democratic countries [should] speak up loudly. Don't let China continue influenc[ing] the United Nations," he says in the video.
Despite finding relative safety in Europe, the rest of Isa's family is still trapped in Xinjiang and he has been unable to communicate with them since the crackdown began last year.
This summer, Isa found out that his 78 year-old mother died while inside one of the concentration camps, but only received the news 24 days after she passed. "I had no idea what was happening with her," he says, noting that the last time they talked was in April 2017.
Investigative journalists with Radio Free Asia told him that she had died, but did not know further details. As a detainee in the camps, China suspected her of supporting terrorism.
So far, almost 40 people have reportedly died in the concentration camps, and up to three million have been detained.
What happens inside the camps is often sealed inside; the little information shedding light on what happens inside is leaked out by former detainees or gleaned from opaquely worded government documents.
Uyghurs are often detained without notice by communist party officials, taken to either a detention or re-education center, and held there indefinitely. Reports of physical abuse, solitary confinement and suicide attempts have begun to surface from within the camps, which are rapidly expanding to meet China's goals of neutralizing the entire region of its restive minority groups.
Isa notes that after the last conversation with his mother last April, he has lost all contact with the rest of his family, who all live in Xinjiang and may be in the camps.
"I know my younger brother was detained in the beginning of March last year. Since then, I didn't get any news from him. My older brother is a professor; I hear he's detained as well."
Nearly every Uyghur in the world has family members in camps, but the whole region has a blackout imposed on it. Family members outside cannot communicate with loved ones inside and vice versa; all communication is blocked.
Uyghurs are required to install an app on their phone that filters content China considers disruptive or radical. The social scoring system China has introduced to its entire population has been especially punitive for Uyghurs and other Muslim groups. They are routinely barred from renting, traveling outside the country, taking out loans or even buying certain products like knives or particular books.
he entire region of Xinjiang, as Isa sees it, is a jail.
"It's an open jail. We can completely say it's an open-air jail."
What incenses Isa the most is not necessarily that China is escalating its assimilationist policies against the Uyghurs, but that it is doing so in full view of the world with impunity. The international community has been largely silent on the matter, save for a few E.U. parliamentarians and U.S. politicians, who have spoken out against the repression but stopped short of implementing punitive policy measures to deter China.
"Most of the Islamic world, nearly all, [are] just silent," Isa says, thinking of Muslim-majority countries that have been eerily silent regarding the mass detention of fellow members of the global Muslim community.
Some are even supportive of China. Pakistan appears happy to receive critical development aid from China without raising concerns of the China's treatment of its own Muslims.
Mr. Isa has pleaded with international Islamic organizations to condemn the systemic violence incurred against Muslims in Xinjiang, but has not received responses from them regarding plans of actions.
Isa's political evolution is a living example of how state projects to forcibly shape and assimilate minority groups can backfire.
Rather than giving up his ethnic roots and cultural traditions to conform, Isa has risked his life to preserve them. In a more general sense, the decades-long project of assimilating Uyghurs into a Han Chinese identity has actually explicated those ethnic differences it has sought to eliminate. By targeting mosques, Qurans and the Uyghur language, they have become as politically strategic as they are culturally precious.
Simply living as a Uyghur is now a form of political resistance, and Isa stands at the vanguard of that resistance.
"We're talking about the life of around three million people. This is the 21st century. After World War II, world leaders gathered together saying 'never again.' But it's happening again now," Isa says.
"China has started a war against Islam."
https://www.albawaba.com/news/chinas-war-islam-dolkun-isa-escaped-xinjiang-and-interpol-defend-uyghur-existence-1198398
--------
India
Muslim artisans bridge the divide
Oct 12, 2018
For the past 20 years, two Muslim septuagenarians have been travelling from Meerut to Mohali to make effigies of Ravana, Meghnad and Kumbhakarna for the Dasehra celebrations. This year as well, Vakeel Ahmed (75) and Mohammad Ilias (70) are on the job, along with 13 other members of their team.
This year, they are preparing a 75 feet tall Ravana effigy for the Dasehra celebrations to be held at the Phase 8 ground here. Ilias said before they leave for Meerut every year, organisers book them for the next year. "We receive so much love here that we are unable to decline their request," says Ilias.
Vakeel and Ilias remain associated with the team each year while other members keep changing. The duo say they feel it is an honour to have the opportunity of being a part of a Hindu festival.
"We are proud that we are spreading the message of peace, love, brotherhood and harmony," says Vakeel Ahmed.
Back in Meerut, these artisans are involved in all types of decoration works be it flower decorations in temples, weddings or preparing sets for shoots of movies and music videos.
Ilias's 20-year-son Shoib, who also accompanies them, said they spend around a month each year here for the preparation of effigies and leave for Meerut a day after Dasehra.
The duo claim that their work is the best in the tricity as they bring with them the best artisans from Meerut. Every item is handmade and is carefully crafted wherein the detailing is given proper attention, said Ilias.
'It's an honour to be part of Hindu festival'
Vakeel and Ilias remain associated with the team each year while other members keep changing. The duo say they feel it is an honour to have an opportunity of being part of a Hindu festival. "We are proud that we are spreading the message of peace, love, brotherhood and harmony," says Vakeel Ahmed.
Effigy of 'corruption' also to be burnt
For the past few years, it has been a trend to burn a fourth effigy during the Dasehra celebrations. This year, the fourth effigy will signify corruption and will also be burnt along with those of Ravana, Meghnad and Kumbhakarna. While Ravana's effigy will be 75 feet tall, Kumbhakarna's will be 70 feet and Meghnad's will be 65 feet.
https://www.tribuneindia.com/news/chandigarh/muslim-artisans-bridge-the-divide/667015.html
--------
This Bihar Ramlila has prominent characters, from Sita to Shiva, played by Muslims
Oct 12, 2018
The stage is set for the Ramlila — the dramatic re-enactment of the life of Hindu god Lord Ram performed in the run-up to Dussehra — in this small Bihar village, with Muslims plentiful among the performers, organisers and the audience.
Sheikh Mumtaz Ali, the director, has taken his routine place on stage with a mike in hand, chanting 'chaupais' (verses) of Hindu epic, the Ram Charit Manas, to prompt the characters for their next dialogues. His son, Akleem (19) is playing the role of Sita.
On Wednesday, the second day of holy Navaratri —the nine nights leading up to Dussehra -- the artistes are enacting the birth of Lord Ram and his three brothers.
Chants like 'Siyavar Ram Chandra Ki Jai' (Victory to Lord Ram, the husband of Sita) rent the air as spectators cheered the characters on stage, leaving any outsider oblivious to the fact that the crowd contains were many Muslims, from Sato Awanti village and around, who have been devotedly traveling miles since years to participate and watch the Ramlila.
The Ramlila at Sato Awanti village, situated 190 km from Patna in Kaimur district, is a long-standing exemplification of the region's composite culture.
Villager elders said that Ramlila was started in the village in 1982 with efforts of the then sarpanch, Jamaluddin Ansari and Master Nurul Ansari. Though being devout Muslims, they revered Ram Charit Manas and its teachings, and listening to the epic poem, they believed, brought a positive change in a person, his family and eventually, the society.
"They called a meeting of villagers and expressed their desire to start a Ramlila. The idea was welcomed by people of both the communities who agreed to provide all help," Ramlila 'sanrakshak' (patron) Suresh Singh recalled.
It was not easy to arrange the resources, stage, costumes, decoration and other necessary things in a remote village having no irrigation and electricity facilities those days. Still, the Ansaris and others struggled hard and did the shopping for all essential things from Varanasi and adjoining places before they kicked off the annual festival.
In the first show in 1982, Khursheed Alam played Ram and Jamaluddin Ansari played Kumbhakaran, while martial arts experts Khalifa Sadruddin Ansari and Shahabuddin Ansari directed and supervised the war scenes, a responsibility they are still fulfilling 36 years later.
The Ramlila is organized from 5 pm to 7.30 pm for a fortnight in the Hindu month of Ashwin and ends on Dussehra with the coronation ceremony of Lord Ram. People of both communities contribute every year and always try to give their best show, Singh said.
Of the crowd at the Ramlila, at least 35 percent are Muslims and their participation is increasing every year. This year, apart from director Mumtaz Ali and his son Akleem Sheikh playing Sita, Taukeer Ansari is acting as Kumbhakaran, Azad Ansari is enacting the character of Sumitra, Imran Ansari is playing Kaikeyee while Afzal Ansari is playing Lord Shiva.
Nurul Hoda Ansari forces the audience to break into laughter in his role of Uttanpaada (comedian). Just not elders, Muslim children too are actively involved and play role of soldiers of Lord Ram and Ravana's armies.
Meanwhile, Guddu Tiwary plays Lord Ram, Yashwant Singh his younger brother Lakshman while Amit Singh is set well in the role of Hanuman. With his gruff and roaring voice, Ishwar Chandra Singh epitomizes the role of Ravana.
"Hindus of the village provide all help in organizing Muharram and Yome Paidayeesh. We celebrate Eid and all festivals together. I become surprised to read news about communal hatred in other parts of the country. How can a man hate another when we are creatures of one almighty father", says Akleem.
"Mutual sharing, understanding and respect for each other's religion are the unique selling point of our village with a population of around 7,000 people. Here we live like one family and do not allow anyone to spread hatred," said the Ramlila manager, Jhabloo Upadhyay, a teacher by profession.
Full report at:
https://www.hindustantimes.com/india-news/this-bihar-ramlila-has-prominent-characters-from-sita-to-lord-shiva-played-by-muslims/story-ysEprmSoW2exq3DdY4RAZM.html
--------
US, UK universities changing mindsets of Muslim students: Mumbai attack mastermind and LeT chief Hafiz Saeed
Oct 12, 2018
Lashkar-e-Taiba (LeT) chief Hafiz Mohammad Saeed has blamed universities in the United States and the United Kingdom for changing the mindset of Pakistani students.
In his recent address at Markaz Al Qadsiya in Lahore, Saeed said the Jews and Christians are using their puppeteer Muslims for implementation of their policies in the Muslim World.
While criticizing the rulers in Pakistan, who entered politics after studying in US and UK universities, Saeed said, "Jew professors (in the U.S.) are giving PhD degrees to Pakistanis after changing their thoughts about Islam. When they realised that the person, upon returning to Pakistan, will work and think as per their system, they offer them big degrees. Foreign-educated people are in great demand in the country; they easily get higher posts in different government offices and ministries. If Pakistan to be a Madina-like welfare state; then it can`t be made possible by those educated by the Jews and Christians."
Saeed urged Imran Khan`s government to evolve a new policy on tackling the above-mentioned issues with the help of enforcing laws in accordance with Shariat of Islam, Quran and Hadith. He also criticized the US and urged Pakistani rulers to stop following their orders which have created chaos in Pakistan.
Hafiz Saeed is heading Jamaat-ud-Dawa (JuD), which is believed to be the front organisation for the LeT, a terror organisation responsible for carrying out the Mumbai attack that killed 166 people.
It has been declared as a foreign terrorist organisation by the U.S. in June 2014.
Full report at:
http://zeenews.india.com/world/us-uk-universities-changing-mindsets-of-muslim-students-mumbai-attack-mastermind-and-let-chief-hafiz-saeed-2147757.html
--------
PhD scholar-turned-militant Manan Bashir Wani killed in Kupwara encounter
Ashraf Wani
October 11, 2018
Two militants, including scholar-turned- militant Manan Bashir Wani, were shot dead during an encounter between terrorists and security forces at Handwara in Jammu and Kashmir's Kupwara district on Thursday morning.
The second militant who was killed was identified as Ashiq Hussain Zargar. Soon after the news of the encounter broke, violent clashes erupted in parts
of Kupwara and Handwara.
Wani, 27, was a PhD scholar at Aligarh Muslim University before he joined the militant ranks of the Hizbul Mujahideen in January 2018.
People's Democratic leader and former Jammu and Kashmir Chief Minister Mehbooba Mufti called Wani's death a loss. She urged all political parties to facilitate a solution to end the bloodshed through dialogue with all the stake holders, including Pakistan.
Mirwaiz Umar Farooq, chairman of the All Parties Hurriyat Conference, called for a complete shutdown on Friday to observe Wani's "martydom".
The encounter broke out in the early hours of Thursday at Shartgund Bala village in Handwara following a specific intelligence about presence of Wani, along with two others, officials said.
The exchange of fire continued till 11 am with a lull at around 9 am, when the police initiated search operations at the encounter site. However, search operations were suspended within 15 minutes of starting as militants resumed firing.
The police have recovered arms and ammunitions of the slain militants.
Army commander Lt General AK Bhat said, "The militant groups will try harder to infiltrate in next two months."
A top officer in the security grid said on the condition of anonymity: "Manan was an militant ideologue. The scholar turned militant's open letter had influence[d] many youth to pick up guns."
A source said that at the time of crucial urban body polls and upcoming panchayat polls, the death could have a huge negative impact.
Full report at:
https://www.indiatoday.in/india/jammu-and-kashmir/story/2-hizbul-mujahideen-militants-gunned-down-in-encounter-in-j-k-s-kupwara-1366450-2018-10-11
--------
Lashkar training cadre in deep sea diving, India on alert for attacks from sea: Officials
Oct 12, 2018
The Indian Navy and the Coast Guard, defending the country's 7,517 kilometer long coastline, have been put on alert against attacks on ports, cargo ships and oil tankers by Pakistan-based terrorist group Lashkar-e-Taiba (LeT), which has been building its sea strike capabilities since June this year, Pakistan watchers and counter-terrorism officials in India said on condition of anonymity.
Jaish-e-Mohammed (JeM), another Pakistan-based Islamist terror group targeting India, has also started a rigorous training programme that involves swimming and deep diving techniques, according to these officials.
LeT's naval ambitions aren't new, although they are closer to fruition now than they have ever been. According to the officials, it first came to light during the interrogation of 26/11 accused David Coleman Headley by the National Investigation Agency in 2010 with the jihadist naming a certain Yaqoob as head of the terror group's marine wing; he also added that the 10 gunmen involved in the Mumbai terror attack on 26/11 were trained by Pakistan Navy deep sea divers or frogmen.
Mumbai was attacked from the sea with the terrorists entering the Indian exclusive economic zone (EEZ) on the Al Hussaini, a trawler registered with the Baluchistan Fisheries Department. The Lashkar gunmen then commandeered Indian boat M V Kuber to bring them off the Mumbai coast, completing the final leg of their journey using inflatable boats. The attack left 164 people dead and 304 injured.
Inputs available with the Navy and Coast Guard show that LeT's front organisations including Falah-e-Insaniyat Foundation, Al Dawa Water Rescue, Life Line Water Rescue and Rescue Mili Foundation have been imparting training in deep water diving techniques to cadres at swimming pools and canals at various locations in Sheikhpura, Lahore and Faisalabad in Punjab since June 2018, the officials pointed out.
Based on the inputs, the officials said that India's assessment is that LeT cadres could hijack cargo ships or oil tankers on high seas and then strike at Indian ports or infiltrate suicide attackers through sea and inland water channels.
The aquatic training includes down proofing, where the hands and feet of the swimmer are tied so that only a form of breast stroke is used to keep afloat. Those selected using this rigorous regime are then trained for deep diving in inland estuaries and deep sea by specialised instructors.
Equipment used in training includes complete neoprene suit sets, weight belts, open air circuit breathing apparatus, and Gemini or Zodiac dinghies with powerful outboard motor engines.
Although in a nascent stage as compared to Lashkar, the Pakistan deep state's other hand, the Jaish-e-Mohammed, has also been preparing its cadre in Bhawalpur on using sea or water channels infiltration and strike purposes.
Full report at:
https://www.hindustantimes.com/india-news/india-on-alert-for-terror-attacks-from-sea/story-Z3sbBaWORD4X6R0QZqymaN.html
--------
Ayodhya issue: Mosque at disputed site against Islamic principles, says Shia Waqf Board chief Wasim Rizvi
October 12, 2018
Days after terming the Babri Masjid as "a blot on India's landscape", Shia Waqf Board chairman Wasim Rizvi has once again raked up the issue of Ram Janambhoomi. Rizvi on Thursday cited a fatwa by top Iranian shiite cleric Ayatollah Sistani to allege that a mosque on a disputed site is not permitted according to the principles of Islam.
Rizvi said that he had sought a fatwa from the cleric on whether Maulanas and Mauvlis can expel someone from Islam. He said that the Iranian cleric has clearly stated that Maulana and Maulvi have no authority to expel anyone from Islam. Rizvi said this while rejecting the last month's announcement by a few Muslim clerics that he has been expelled from Islam for making objectionable statements.
According to a report in Aaj Tak, Rizvi had put up a question to Sistani whether a mosque can be constructed on a disputed piece of land. The cleric had responded saying, "As per the Islamic principles, it is not permitted."
The development comes a few months after a Kanpur-based resident had claimed that he had asked Sistani whether the Waqf Board can give away the property owned by it to people of other religion for religious purpose. In his response, according to the Indian citizen, Sistani had said that "it is not possible".
Rizvi said that Sistani's fatwas are accepted worldwide and therefore, "Muslims should not comment on the Ayodhya issue now".
Last week, Rizvi had said that it is a crime to call "that (Babri Masjid) blot a mosque". He said that the ASI had during the excavation process found a platform of bricks underneath the pillars of the mosque. "The Babri Masjid was made using the rubbles of the temple."
He also called on the involved parties to reach an agreement on the issue and let the Hindus construct a temple on the site. "There is still time… mullas of Babri should accept their mistake and follow practising the teachings of Prophet Mohammed," Rizvi said.
This is not the first time when Rizvi has openly advocated for a Ram Temple at the disputed 2.77 acres of land in Ayodhya. On several occasions, he had publicly supported the Hindus and called for constructing of a temple in Ayodhya and a mosque in Lucknow. Last year, the Shia Waqf Board had even passed a resolution to extend support for a Ram Mandir temple in Ayodhya.
Full report at:
https://www.financialexpress.com/india-news/ayodhya-issue-mosque-at-disputed-site-against-islamic-principles-says-shia-waqf-board-chief-wasim-rizvi/1346470/
--------
Aligarh Muslim University suspends 3 students for trying to hold prayer meet for killed Hizbul Mujahideen terrorist Manan Wani
Oct 12, 2018
Aligarh: Aligarh Muslim University Registrar Dr Abdul Hamid on Thursday informed that Hizbul Mujahideen terrorist Manan Wani was rusticated from the University and that the varsity had no knowledge of his know-how ever since.
Speaking to ANI, Hamid said, "Hizbul Mujahideen terrorist Manan Wani who was killed in Handwara encounter on Thursday was once a student at AMU but he was rusticated from the University. AMU had nothing to do with him now." He also underscored that three students have been suspended after a group of them attempted to gather inside the university premises following the death of the terrorist.
"Few students tried to hold a gathering today over his death but we have given a clear message that no anti-national activity will be tolerated in AMU. We did not allow them to gather and 3 students were also suspended," Hamid said.
Full report at:
https://www.firstpost.com/india/aligarh-muslim-university-suspends-3-students-for-trying-to-hold-prayer-meet-for-killed-hizbul-mujahideen-terrorist-manan-wani-5365381.html
--------
Arab World
Egypt condemns 17 to death for Islamic State church attacks
Oct 11, 2018
An Egyptian military court on Thursday sentenced 17 people to death over a series of suicide bombings of churches claimed by the Islamic State group that left dozens dead.
Another 19 people were handed life prison terms and 10 were sentenced to between 10 and 15 years, judicial and security officials said.
Seventy-four people were killed in the attacks in 2016 and 2017 in Cairo, Alexandria and the Nile Delta city of Tanta targeting Coptic Christians, who make up about 10 percent of Egypt's predominantly Sunni Muslim population.
Christian sites of worship across Egypt have been repeatedly targeted in attacks claimed by IS, prompting the authorities to impose a state of emergency.
A suicide attack on December 11, 2016 on the Saint Peter and Saint Paul church killed 29 in the heart of Cairo The following April, 45 people were killed as Christians gathered to celebrate Palm Sunday in the cities of Tanta and Alexandria.
Since the military overthrow of Islamist president Mohamed Morsi in 2013, hundreds of police officers, soldiers and civilians have been killed in jihadist attacks.
In November last year, suspected IS militants killed more than 300 Muslim worshippers in a gun and bomb assault on a mosque in the Sinai Peninsula.
The Egyptian army is waging a major operation focused on the Sinai aimed at wiping out IS.
https://www.dnaindia.com/world/report-egypt-condemns-17-to-death-for-islamic-state-church-attacks-2674394
--------
Remains of More US Victims Found in Raqqa
Oct 11, 2018
Media activists reported on Wednesday that the corpses of 8 people were unearthed from a mass grave in Panorama in the Southern parts of Raqqa city.
They added that at least 20 bodies have been found in the past 2 days, noting that they belong to the civilians killed in the US airstrikes and attacks by the Washington-backed Syrian Democratic Forces (SDF) when the region was occupied by the ISIL.
A Russian media outlet reported on Tuesday that more than 1,500 victims killed in the US air raids and its allied militants were buried in the largest mass grave in Raqqa city in Northeastern Syria,.
The Arabic-language website of Russia's state news agency, RT, reported that the largest mass grave of civilians is in Panorama in Raqqa city with over 1,500 bodies of victims killed in the US air raids or in the Washington-backed militants' attacks when the city was under ISIL's rule.
In the meantime, the Kurdish-language Hawar news reported that Raqqa Civil Team has thus far discovered 11 mass graves, adding that excavations have completed in 8 mass graves.
Full report at:
http://en.farsnews.com/newstext.aspx?nn=13970719000641
--------
Ankara-Affiliated Militants Killed in Kurdish Operations in Afrin
Oct 11, 2018
The Kurdish-language Hawar news reported on Thursday that the Kurds have detonated two bombs in the vehicles carrying the Ankara-backed militants in Shieh and Rajou regions of Afrin, killing 3 of them.
Also, the Kurdish snipers killed one of the militants of Sultan Murad terrorist group in the village of Deir Baltou in Jandaris region, the report added.
Meantime, the Kurdish forces could infiltrate into one of the military points of Jabhat al-Shamiyeh in the village of Mariman in Shara region, killing 4 Ankara-backed militia men, it concluded.
Sources affiliated to the Syrian Democratic Forces (SDF) disclosed on Wednesday that tensions were likely to intensify between the Turkish army and Kurdish militias in Northeastern Syria as the SDF was reinvigorating positions and the US provided more logistic back-up for the Kurds.
The sources claimed that the US Army handed over 7 heavy construction machinery to the Manbij Military Council in Northeastern Aleppo to use them for fortifying positions.
In the meantime, commander of the Council underlined that his forces have taken all the necessary security measures to protect all entrances and roads to Manbij against any threat by the Turkish army.
Full report at:
http://en.farsnews.com/newstext.aspx?nn=13970719000736
--------
US-Led Coalition Attacks in Deir Ezzur Still Take Toll from Civilians
Oct 11, 2018
Local sources in Eastern Deir Ezzur reported on Thursday that the US-led coalition fighter jets targeted the town of al-Sha'afah, killing at least 4 civilians, including a child, and injuring a number of others.
They added that some of the wounded are in critical conditions, raising the possibility for increased toll.
In a similar case last Wednesday, several civilians, including women and children, were killed in the US-led coalition's airstrikes on a region in Southeastern Deir Ezzur.
Local sources in Southeastern Deir Ezzur reported that the US-led coalition fighter jets targeted the town of al-Souseh, killing at least 4 members of a family.
They added that the US warplanes attacked a house in al-Souseh, leading to the death of the members of a family, including a woman and a child, and injuring a number of others.
Also, in August, several civilians were killed in the US fighter jets' attacks on Eastern Deir Ezzur.
Local sources in Eastern Deir Ezzur reported at the time that the US warplanes attacked the town of al-Souseh, killing 3 civilians and wounding a number of others.
Full report at:
http://en.farsnews.com/newstext.aspx?nn=13970719000351
--------
Egyptian Commander of Tahrir Al-Sham Killed in Northern Syria as Tensions Hike
Oct 11, 2018
Sources affiliated to the terrorists reported on Thursday that one of the military commanders of Tahrir al-Sham namely Abu Laith al-Misri has been killed by unknown assailants in the town of Kafr Nobl in Southern Idlib.
Also reports from Northern Idlib said that one of Jeish al-Ahrar terrorist group's commanders, Abu Yazan, was also killed after a bomb was detonated in his car.
Meantime, local sources in Southern Idlib reported that a number of militants were killed in clashes between Tahrir al-Sham and Jeish al-Tahrir in Jarjanaz region in the Eastern parts of Ma'arat al-Na'aman.
Media activists also reported that tensions and clashes among the terrorist groups have increased in the past two days, adding that tens of civilians, including children, have been killed and wounded during this and similar cases of infighting.
In a relevant development on Wednesday, a Saudi commander of Tahrir al-Sham Hay'at who was also a senior aide to the ringleader of the terrorist group Abu Mohammad al-Joulani, was gunned down by unidentified attackers in Idlib province.
The Arabic-language al-Manar TV Channel reported that Abu Yusef al-Jazrawi, a Saudi field commander of Tahrir al-Sham, was killed after unknown gunmen opened fire at him near the village of Ma'aratah in Southwestern Idlib.
It further added that al-Jazrawi was a security advisor to Abu Mohammad al-Joulani, Tahrir al-Sham's Chief commander.
Full report at:
http://en.farsnews.com/newstext.aspx?nn=13970719000269
--------
Terrorists Violate Sochi Agreement by Continued Offensives on Army Positions in Hama
Oct 11, 2018
The Arabic-language website of the Russian state-run news agency, Sputnik, reported on Wednesday that snipers of Horas al-Din terrorist group launched heavy attacks on the army points near the town of Ma'an in Northern Hama.
It added that Jeish al-Izza terrorists stationed near the town of al-Latamineh also used 23-mm artillery to attack the army positions in Zalaqiyat.
Horas al-Din and Jeish al-Izza has several times in the past few days underlined opposition to the Sochi agreement.
Syria's Arabic-language al-Watan newspaper also reported that the Syrian army pounded the terrorists' moves and strongholds near the towns of Murak and al-Latamineh, leaving heavy damages and tolls among the militants.
In a relevant development on Monday, the Syrian army troops repelled heavy offensives of Tahrir al-Sham Hay'at (the Levant Liberation Board or the Al-Nusra Front) and other terrorist groups in Northern Hama, inflicting major losses on the terrorists.
The army's artillery and missile units pounded the movements of a group of al-Turkistani Islamic Party near the village of al-Mansourah and Tal Waset North of al-Ghaab Plain in Northern Hama, killing and wounding a number of terrorists and forcing their remaining pockets to retreat.
In the meantime, the Arabic-language al-Watan daily reported that Tahrir al-Sham terrorists, deployed in Southeastern Idlib, launched missile attacks on army positions in the village of Jorin in Western al-Ghaab Plain.
Full report at:
http://en.farsnews.com/newstext.aspx?nn=13970719000253
--------
Russia condemned for calling Syrian White Helmets a 'threat'
12 October 2018
Russia was denounced at the United Nations Thursday after describing the Syrian rescue volunteers known as the White Helmets as a "threat" and demanding their removal from the war-torn country, diplomats said.
"(The) presence of White Helmets is a source of threat," the Russian representative said in a closed meeting of the UN Security Council called by Moscow, according to a diplomat present at the talks.
"We call on western countries to move the White Helmets from Syria. Terrorists should be removed. (It's) not a good idea to have them in civilized society," the diplomat quoted the Russian envoy as saying.
Moscow's representative specifically highlighted their presence in Idlib, Syria's last major rebel stronghold, according to another diplomat speaking anonymously.
Founded in 2013, the Syria Civil Defense, or White Helmets, saves those wounded in attacks on rebel zones.
Russia does not consider members present in Syria's rebel areas to be rescue workers and has already accused them several times in the past of being linked to terror groups.
According to several diplomatic sources, the United States, Britain and France reacted with fury and dismay.
The US condemned the "outrageous and false accusations of Russia. The White Helmets are a humanitarian organization. Russia continues to spread false information," according to the sources.
Britain meanwhile called on the Russians to "stop wasting the council's time" while France said it was "surprised and dismayed," adding that the group has "saved hundreds of people."
Forces loyal to President Bashar al-Assad have retaken large parts of Syria from opposition fighters and extremists since Russia intervened in September 2015.
Moscow's demands to the Security Council came as a planned buffer zone in northwest Syria was cleared of heavy armaments and a new deadline loomed for the tougher task of Turkey convincing extremists to pull out.
Full report at:
https://english.alarabiya.net/en/News/middle-east/2018/10/12/Russia-condemned-for-calling-Syrian-White-Helmets-a-threat-.html
--------
Iraq, coalition forces arrest suspected members of ISIS funding network
11 October 2018
A joint task force of US coalition and Iraqi special forces have arrested 10 suspected members of a network that provided funding for ISIS in the capital Baghdad and the northern city of Erbil, the coalition said on Thursday.
The task force conducted raids from October 7-9 and arrested suspected members of the Rawi financial network, which operated as a "financial facilitation group" for the militants, the coalition said in a statement.
"The arrests deal a major blow to ISIS's capacity to threaten and terrorize civilians," said Major General Patrick B. Roberson, commander of Special Operation Joint Task Force- Operation Inherent Resolve.
"This demonstrates that those who assist in, sponsor, or provide financial, material or technological support to ISIS will face severe consequences."
Full report at:
https://english.alarabiya.net/en/News/middle-east/2018/10/11/Iraq-coalition-forces-arrest-suspected-members-of-ISIS-funding-network.html
--------
US-backed militants in Syria say holding 900 Daesh militants
Oct 11, 2018
A US-backed Kurdish militant group says it is holding around 900 foreign members of the Daesh terrorist group in Syria.
Militant spokesman Nuri Mahmud said on Thursday the so-called People's Protection Units (YPG) had rounded up thousands of Daesh members during the last few years.
"Around 900 Daesh terrorists are in our jails... from 44 countries," said Mahmud whose tally is a sharp rise from the figure of 520, given by another Kurdish official last month.
Nuri said Kurdish authorities have repeatedly called on the home countries of the militants to take them back. "Most countries have been flouting their responsibility," he added.
Syrian Kurds also hold 550 women and around 1,200 children from the families of Daesh members, he said.
A King's College London study earlier estimated that around one fifth of Daesh's militants were residents or nationals of Western Europe.
In June, the Daily Telegraph said the so-called Syrian Democratic Forces (SDF), a Western-backed coalition of mainly Kurdish militants, had released foreign Daesh elements, including Europeans, back to the Takfiri terrorist group through secret prisoner swap deals.
The daily cited people with knowledge of the talks between the two sides and relatives of those detained as saying that the SDF had struck three agreements with Daesh to exchange terrorists and their families with its own captured members.
Senior officials in Damascus have accused Washington of using Kurdish militias, now that other US-backed militant outfits have lost ground on the battlefield.
Last September, Syrian Foreign Minister Walid al-Muallem said that American aircraft in Syria were transporting Daesh terrorists to other places presumably to be later used in those areas.
The US has been conducting airstrikes against what it says are Daesh targets inside Syria since September 2014 without any authorization from the Damascus government or a United Nations mandate.
The US and its allies have repeatedly been accused of targeting and killing civilians and drawn criticism over their failure to destroy Daesh, which they claim to be fighting.
Full report at:
https://www.presstv.com/Detail/2018/10/11/576736/Syria-Kurd-YPG-SDF-Nuri-Mahmud
--------
Putin: Terror fight remains absolute priority in Syria, world
Oct 11, 2018
The Russian leader says fighting global terrorism, especially in Syria, remains an "absolute priority" for his country, emphasizing that any solution to over seven years of crisis in the Arab state should guarantee its sovereignty and territorial integrity.
Syria's official SANA news agency cited Vladimir Putin as saying on Thursday while receiving the credentials of 23 new envoys to the Russian capital, Moscow.
The president further said Moscow was seeking a solution to the Syria crisis, which would protect its "sovereignty, independence and territorial integrity."
Touching on Syria's reconstruction process in the post-crisis era, Putin expressed hope that the world community would join forces to rebuild the country when the terrorists are uprooted.
Efforts are underway to facilitate the recovery of Syrian economy and infrastructure as well as the return of those displaced by violence to their homeland, added the Russian head of state.
Russia – along with Iran and Turkey – has been serving as a mediator of a fruitful peace process, which has brought the Syrian government and armed opposition groups to the negotiating table in Astana, Kazakhstan, since January last year.
The peace process has sharply reduced the violence in Syria, paving the way for Damascus government forces, backed by its Russian and Iranian allies, to liberate almost all areas from the grip of foreign-backed terrorists.
Counter-terrorism efforts in Syria are now focused on the northern province of Idlib, which serves as the last major terrorist stronghold in the country.
Besides Russia, Iran has also voiced readiness to help speed up Syria's reconstruction process as the Middle Eastern state seems to be on the verge of full victory against terrorists.
In August, Tehran sent a delegation of experts from several ministries to Syria to lay the ground for a post-war "transformation" in their economic ties. Those talks focused on a series of agreements previously signed between the two sides, including during a May visit to Damascus by the Iranian minister of roads and urban development.
Full report at:
https://www.presstv.com/Detail/2018/10/11/576720/Russia-Putin-Syria-Terrorism-Reconstruction
--------
Pakistan
Dr Arif Siddiqui exposes influence of Jewish and Christian wives on Muslim rulers
Oct 11, 2018
In this video, Dr Arif Siddiqui has exposed Muslim rulers and Jewish influence on them because of their Jewish, Christian and foreigner wives.
He says women have always been used for wealth and power. Hassan-i Sabbah used hashish to enlist the aid of young men into his private army known as assassins (aschishin – or follower of Hassan). They carried out Fedayeen attacks. In the First World War Margarethe better known as Mata Hari, a nude dancer played the role of double agent for France and Germany.
He says Jews have always used the youth and beauty of women for Zionist domination. He cited the examples of Sylvia Raphael the Mossad agent and Victorian nano. He says Jews have always been using wealth and women for accomplishing their plan for greater Israel.
Dr Siddiqui says, Many Muslims rulers were influenced by their Jewish, Christian and foreigner wives and helped in Jewish domination. He gave the example of the former president of Turkey, Mustafa Kamal Ataturk, Iranian monarch Mohammad Reza Pahlavi, former president of Egypt Gamal Abdel Nasser, Iranian Prime Minister Amir Abbas Hoveyda, Emir of Afghanistan Habibullah Khan, Maharaja Bhupinder Singh of Patiala, Nawab Raza Ali Khan of Rampur etc.
He says Jehan Sadat former First lady of Egypt, wife of Anwar Sadat former president of Egypt, was a Jew. Suha Arafat wife of Yasser Arafat was also a Jew woman. She played an effective role in bringing Yasser Arafat close to freemason. Zalmay Mamozy Khalilzad US ambassador to Afghanistan was also the husband of Jewish lady.
Siddiqui further claims many politicians in Pakistan also had foreign or non-Muslim wives. Liaquat Ali Khan's second wife Rana was Christian before her marriage. Third governor general Ghulam Mohammad has Secretary Ruth Borell. Pakistan's ex-President Iskandar Mirza's second wife Naheed Mirza was the wife of Iranian ambassador. Iskandar Mirza belonged to the progeny of Mir Jafar II. 3rd prime minister of Pakistan Mohammad Ali Bogra married Aliya Saadi. 5th prime minister of Pakistan Husseyn Shaheed Suhrawardy supported the stance taken by Israel, France and Britain on the Suez Canal issue instead of supporting Egypt. He was the husband of Vera Alexandrovna a Zionist Russian woman.
7th prime minister Malik Firoz Khan's wife Viqarunnisa's name was Victoria. And she was an Australian. A British call girl Christine Keeler admitted her relations with Ex-president Gen. Ayub Khan. Zulfikar Ali Bhutto's wife Nusrat Asfahani was an Iranian. His son Murtuza Bhutto married Ghinwa Bhutto a Lebanese dancer. Wife of Parvez Musharraf Saheba Musharraf was a Qadiani.
https://www.siasat.com/news/dr-arif-siddiqui-exposes-influence-jewish-and-christian-wives-muslim-rulers-1419246/
--------
FATF slams Pakistan for failing to plug terror funding
Oct 12, 2018
Not impressed with Pakistan's efforts to combat terror financing, a delegation of the Financial Action Task Force has asked it to do more to strengthen its legal framework to avoid being blacklisted by the watchdog, a media report said on Thursday. Dawn reported that FATF's Asia Pacific Group delegation was not impressed with the progress made by Pakistan so far as it found the legal framework insufficient, and the institutional arrangements weak.
https://timesofindia.indiatimes.com/world/pakistan/fatf-slams-pakistan-for-failing-to-plug-terror-funding/articleshow/66172304.cms
--------
Pak body wants judge out for criticising ISI
Oct 12, 2018
ISLAMABAD: A constitutional body in Pakistan on Thursday recommended the removal of a high court judge for his scathing remarks against the country's powerful spy agency ISI, the first such case in nearly five decades.
The Supreme Judicial Council recommended to remove Islamabad high court Justice Shaukat Aziz Siddiqui, who was facing a case of alleged misconduct over his controversial speech targeting the ISI. Justice Siddiqui while addressing the Rawalpindi District Bar Association on July 21 had alleged that the ISI was manipulating judicial proceedings to constitute panel of judges to get favourable decisions.
The army had asked the CJ of Pakistan Mian Saqib Nisar to take notice of the remarks after IHC CJ Anwar Kansi rejected the allegations against Siddique.
Full report at:
https://timesofindia.indiatimes.com/world/pakistan/pak-body-wants-judge-out-for-criticising-isi/articleshow/66172302.cms
--------
Pakistan police seize ancient Buddhist sculptures
Oct 11, 2018
PESHAWAR: Pakistani police have seized several ancient Buddhist sculptures that smugglers were attempting to smuggle out of the country.
The police seized the artifacts from a passenger vehicle on way to Gilgit Biltistan from Abbotabad district of Khyber Pakhtunkhwa.
The seized artifacts included four big and eight small sculptures of Buddha.
DSP Abbotabad Cantonment told media on Thursday that they had received a tip-off that artifacts stolen from an archaeological site would be smuggled to Northern areas. Acting on the information, police started searching vehicles on a check post at Muslimabad area.
During checking, police intercepted a vehicle and recovered 11 sculptors of Buddha hidden in a luggage loaded on the roof of the vehicle.
Police has arrested one person.
https://timesofindia.indiatimes.com/world/pakistan/pakistan-police-seize-ancient-buddhist-sculptures/articleshow/66169089.cms
--------
Parliamentary panel to probe massive surge in foreign debt
Syed Irfan Raza
October 12, 2018
ISLAMABAD: The federal cabinet on Thursday decided to form a parliamentary commission to conduct an inquiry into the surge of the country's foreign debts from Rs6,000 billion to Rs30 trillion during the last 10 years.
A meeting of the cabinet, presided over by Prime Minister Imran Khan, agreed that responsibility should be fixed on those people who were responsible for the fast-increasing foreign debts.
"If we are getting more loans to retire previous loans obtained by our predecessors, we should know why the amount of loans went so high in the last 10 years and for which purposes it was used," the prime minister said.
Similarly, the cabinet decided to initiate an inquiry into mega development projects like the New Islamabad Airport, which had been completed at a cost of over Rs100bn against its initial cost of Rs38bn, Information Minister Fawad Chaudhry told a press conference after the cabinet meeting.
"We know who benefited in this contract."
"The prime minister and the cabinet have decided that a thorough audit of the project should be conducted, including a performance audit," the minister said. Referring to the collapse of a boarding bridge at the newly-built airport the other day, he said the incident had raised questions on the quality of the construction work.
Indirectly blaming the previous Pakistan Muslim League-Nawaz government, Fawad Chaudhry said the Pakistan Tehreek-i-Insaf (PTI) government knew which construction company had been assigned the contract. "Ishaq Dar Sahib, Munir Sahib, everywhere you look, you will find one of their people."
The cabinet also accorded approval to the appointment of heads of Pakistan International Airlines (PIA), Privatisation Commission and Baitul Maal.
The information minister said the cabinet approved appointment of serving Air Marshal Arshad Khan as PIA chairman. "Mr Arshad is a seasoned officer of the air force and it is expected that he will manage to overcome increasing losses in the organisation," he said.
The government had also initiated a process to appoint permanent chief executive officer of the national flag career, which would take some time, the minister said.
"The finance minister has also prepared a plan for the restructuring of the PIA which will be unveiled by him after his return from a foreign visit," Mr Chaudhry said, adding no employee of the PIA would be laid off.
As per other decisions of the cabinet, Muhammedmian Soomro has been appointed chairman of the Privatisation Commission and PTI leader Aun Abbas head of the Baitul Maal.
Exit Control List
The cabinet also decided to revisit Exit Control List (ECL) which carries names of 3,000 people, including those who are said to be innocent and politically victimised.
The information minister said several people among the 3,000 had filed applications for removal of their names on the ground that they had been placed on the list due to political victimisation or personal differences.
Responding to a question, Mr Chaudhry claimed that neither former prime minister Nawaz Sharif nor any of his family member had filed any appeal for removal of their names from the ECL.
Housing scheme
The National Database Registration Authority (Nadra) has claimed that the Naya Pakistan Housing Programme had received a significant response not only from the country, but also other parts of the world. As many as 150,000 application forms had been downloaded on Thursday, Nadra said in a press release. The applicants will have to pay Rs250 registration fee at the time of submission of the forms to the prescribed Nadra offices and the authority will start receiving forms from Oct 22 simultaneously from all districts of the country.
Under mortgage financing model, the information minister said, state land would be used as the collateral on which houses would be constructed. This way, the banks will also have a safety net (to recover credit if need be).
He claimed the government was not investing any money in the housing programme.
Tax reforms
Mr Chaudhry said it had been found that 89 per cent of taxes levied on cigarettes, amounting to around Rs77 billion, were paid by two companies only. "The remaining companies are illegally selling cigarettes," he said and promised a crackdown on those companies soon.
Similarly, the tax collected from paint companies shows that only two or three companies are paying tax and the rest are not.
Full report at:
https://www.dawn.com/news/1438432/parliamentary-panel-to-probe-massive-surge-in-foreign-debt
--------
Pakistan is modern democratic state: Fawad Chaudhry
Oct 12, 2018
ISLAMABAD: Federal Minister for Information and Broadcasting Chaudhry Fawad Hussain on Thursday said that Pakistan is a modern democratic state where judiciary was independent, civil society highly vibrant and media pro-actively playing its role of watchdog.
He said this in a meeting with Swedish Ambassador of Human Rights Annika Ben David and Swedish Ambassador Ms Ingrid Johansson who had called on him in the federal capital.
He said that the current dispensation believed in freedom of expression and highly valued human rights as enshrined in the constitution of Pakistan. He said that Pakistan attached great importance to its relations with Sweden as they were based on commonality of views and shared interests of democratic pluralism.
The information minister said that Prime Minister (PM) Imran Khan had always referred Scandinavia as a model in regards to the establishment of a welfare state, therefore we would like to learn from the Scandinavian system of governance, particularly in the areas of local government.
He said that Pakistan Tehreek-e-Insaaf (PTI) was the only political party which vigorously raised its voice on the important subject of the environment. He said that the PM's initiative Clean and Green Pakistan was aimed at the provision of clean drinking water, clean environment and proper sanitation.
Fawad said that northern areas of Pakistan are the epitome of natural beauty and has eight of the ten top mountain peaks of the world. He invited Swedish filmmakers to shoot the scenic beauty of the area.
He said that the media enjoys unprecedented freedom in Pakistan and the government would continue to support the growth of free and independent media. The security situation in the country has also improved due to the Pakistan Army's operation in troubled areas.
"Due to the improved security situation, the people including media persons feel more secure and business and investment environment has also gained momentum. The Right to Information Act has been implemented and the whistleblower act is being formulated as the government believes in openness and transparency in affairs of the governance," he added.
Ambassador Annika Ben David said that Sweden highly regards the values of democracy and human rights and would like to enhance cooperation with Pakistan in these areas.
She said that Sweden is keen to further strengthen its trade ties with Pakistan and promote business contacts between the two countries. She also appreciated the increased participation of women in various fields and said that gender equality is a thing that benefits the whole society.
Full report at:
https://www.pakistantoday.com.pk/2018/10/11/pakistan-is-modern-democratic-state-fawad-chaudhry/
--------
Three soldiers martyred, five injured in S Waziristan blast
Oct 12, 2018
At least three soldiers lost their lives and five others were wounded in a roadside bomb blast in South Waziristan near the Pak-Afghan border on Thursday, officials said.
The soldiers were reportedly carrying out routine search operations in Makeen Tehsil of South Waziristan district when the explosion took place, local officials told AFP.
While there was no immediate claim of responsibility for the bomb attack, the military has been battling Taliban and Al Qaeda linked militants in the region for years.
Violence across the country has declined in recent years following a series of military operations along the border with Afghanistan, but militant groups are still able to carry out deadly attacks.
There have been a number of fatal assaults in recent months in the northwest, as well as in Balochistan.
The army launched an operation in mid-2014 to wipe out militant bases in the area and end the near decade-long insurgency that has cost thousands of lives.
The operation was intensified after the Taliban massacred more than 150 people, the majority of them children, in the attack on the Army Public School (APS) in Peshawar in December 2014.
Full report at:
https://www.pakistantoday.com.pk/2018/10/11/three-soldiers-martyred-five-injured-in-s-waziristan-blast/
--------
September terror attacks left 34 dead in KP, Balochistan: report
Oct 12, 2018
A total of 34 lives were claimed in 17 terrorist attacks in September, while 35 incidents of violence of different types were noted which claimed the lives of 67 people and injured 32 others, reports in the local media have informed.
The statistics were revealed in a monthly terror report compiled by the Pakistan Institute of Peace Studies (PIPS), an independent, non-profit, non-governmental research and advocacy think-tank.
The report stated that of the 17 reported terror attacks, 10 took place in Khyber-Pakhtunkhwa (KP) and seven in Balochistan while no terror attack was reported in any other region of the country.
Of the 34 people killed in these attacks, 18 were security and law enforcement personnel —nine army soldiers and nine levies officials, accounting for the main targets in 59 percent of all attacks across the country. At least seven civilians were also killed along with nine militants in the retaliatory fire following some of the attacks.
The Tehreek-e-Taliban Pakistan (TTP), Jamaatul Ahrar and local Taliban groups were reportedly involved in the 10 reported incidents of terror in KP which claimed 22 lives and injured nine others.
In Balochistan, Baloch nationalist insurgents stepped up attacks in September after a month of relative calm.
As many as 12 people lost their lives while as many were injured in the seven attacks reported from Balochistan. The attacks were allegedly perpetrated by different Baloch insurgent groups, including the Baloch Liberation Army (BLA) and the Baloch Republican Army (BRA).
A total of 11 cross-border attacks were noted in September 2018, including nine from across the Indian and two from the Afghan border. These attacked killed six people and injured one.
Full report at:
https://www.pakistantoday.com.pk/2018/10/11/september-terror-attacks-left-34-dead-in-kp-balochistan-report/
--------
Taliban allow ICRC to resume operations
Tahir Khan
OCTOBER 12, 2018
ISLAMABAD: Afghan Taliban said on Thursday that they had allowed the International Committee of the Red Cross (ICRC) to resume activities in Afghanistan after the aid agency addressed their reservations in talks in Qatar.
The Taliban announced in August that they would not allow safe passage to Red Cross staff working in Afghanistan because of their "failure to check maltreatment" of prisoners in the infamous Pul-i-Charkhi jail.
Daily Times had reported on September 18 that political representatives of the Afghan Taliban were involved in talks with the officials of the ICRC in Qatar to resolve differences over the ICRC working in the war-shattered country.
"The ICRC and the Taliban officials held two-day talks in Doha, Qatar, and discussed the reservations of the Islamic Emirate. The ICRC officials promised positive measures regarding the Taliban reservations and both sides reached an agreement on the activities of the ICRC in Afghanistan," Taliban spokesman Zabihullah Mujahid said. Taliban call themselves as the Islamic Emirate, the name they would use during their 1996-2001 rule.
Taliban have restored their security commitment with the ICRC and directed all members to pave the way for the ICRC's smooth activities across Afghanistan and also to protect its staffers and goods, Mujahid said in a statement.
Taliban earlier said hundreds of their prisoners had been languishing in Pul-i-Charkhi jail but the ICRC demonstrated "blatant negligence" and failed to take notice of hunger strike by thousands of inmates in August.
A Taliban official had earlier told Daily Times that the meeting with the ICRS was only limited to the issue of prisoners and had nothing to do with peace negotiations.
"The ICRC has been seeking meeting with the Islamic Emirate to solve the problem. These are routine meetings to explore ways on how to facilitate foreign aid agencies in areas under the control of the Islamic Emirate," he said, requesting not to be identified.
Taliban had alleged that hundreds of prisoners had gone into coma in jail in August and their lives were severely threatened but the ICRC did not address their concerns.
"The International Red Cross has neither made any arrangements to treat the prisoners nor provided proper medical care to patients. Therefore, the Islamic Emirate of Afghanistan announces the withdrawal of security commitment that had given to the International Red Cross for their activities in Afghanistan," the Taliban had said last month.
Taliban sources earlier said that release of prisoners was also one of the issues during their talks with the Americans in Qatar.
Representatives of the Taliban office and senior US officials met in July in their first meeting that mainly focused on confidence building measures and the possible agenda for the official talks.
Removal of the Taliban leaders from the UN Security Council's sanctions list and reopening of the Taliban office were also among agenda items, according to the Taliban.
A second meeting was scheduled to take place in September; however, a Taliban official said the meeting could not take place apparently due to the appointment of Zamlay Khalilzad as special representative for Afghanistan reconciliation, who will now supervise the dialogue with the Taliban.
Full report at:
https://dailytimes.com.pk/309246/taliban-allow-icrc-to-resume-operations/
--------
Southeast Asia
Malaysia rejects China's plea, frees 11 Uighur Muslims
October 11, 2018
KUALA LUMPUR, Malaysia (AP) — Malaysia has released 11 ethnic Uighur Muslims after dropping charges against them for entering the country illegally and rejecting China's request that they be deported back to Beijing, their lawyer said Thursday.
Fahmi Abdul Moin said the 11 men flew out of Kuala Lumpur late Tuesday and have arrived in Turkey.
The men were part of a group that was detained in Thailand in 2014. They bolted from their Thai prison last November by using blankets to climb out of their cells and made their way to Malaysia. Their release, which came under a new Malaysian government that unexpectedly won general elections last May, appeared to be a departure from the country's past norm of forcibly repatriating Uighur Muslims to China despite concerns it could endanger their lives.
Fahmi said prosecutors agreed to drop the charges against the men after defense lawyers made an appeal on humanitarian grounds. He said the men wanted to go to Turkey, as they claimed they were from Turkistan and there is a large Uighur community in Turkey.
Home ministry officials couldn't immediately be reached for comment.
China has insisted that Uighur refugees be sent back, saying that some Uighurs, a Muslim minority from the restive western region of Xinjiang, are extremists who have ties to foreign terror groups. It has given little evidence to support that.
https://www.indiatvnews.com/ap/world-news-malaysia-rejects-china-s-plea-frees-11-uighur-muslims-471038
--------
PAS Sarawak wants Muslim communities to shun Miri's beer festival
11 October 2018
MIRI: Muslims must stay away from attending the "Neon Beer Fest Miri 2018" beer festival that was being held starting today until Sunday at the beach of Coco Cabana here.
Sarawak PAS Commissioner Jofri Jaraiee said the festival would bring more harm than good as consuming excessive alcohol could lead to a lot of social problems that not only would affect the festival goers but others too who did not attend the festival
"For example, when they are drunk, they will get dizzy and lose their memory and can cause fights between one another and can also cause an accident when they drive the vehicle in a drunken state," he said in a statement here today.
In addition, he said, the biggest beer festival in Miri City was not in line with the culture and customs of the locals, especially Muslims here.
"Alcohol consumption has been banned by religions, either Islam or Christian or Buddhism. In the Quran, Muslims can refer to Surah Al-Maidah verse 90 while Christians can also refer to the Gospel, Proverbs 20: 1 and Ephesians 5:18," he said.
He said even Buddhist scholars themselves like Master Hsing Yun in his book The Five Precepts says if one takes a little liquor, it is also prohibited.
Meanwhile an Imam, the person who leads a prayer in a mosque, has lodged a police report at Miri Central Police Station at 4.25pm today urging the relevant authorities including the police to prevent Muslims from attending the event.
Abdullah Gani, who is an imam from Darul Ehsan Mosque, claimed that he lodged the report after discussion and agreement with Non-Governmental Organisations (NGO), mosque committee members from Lutong and Piasau as well as member of the public.
"We have held a discussion with them today and after careful consideration I, representing the Muslim communities here, want relevant authorities including Jabatan Agama Islam Sarawak (Jais) to prevent Muslim attending the festival,"he said.
To avoid misconception, he said, the police report was intended to remind the police or authorities to act against Muslims attending the festival and not against the organiser of the festival.
Full report at:
http://www.thesundaily.my/news/2018/10/11/pas-sarawak-wants-muslim-communities-shun-miris-beer-festival
--------
Avoid working where alcohol is served, Mujahid tells Muslims
Faiz Zainudin
October 11, 2018
KUALA LUMPUR: The minister in charge of Islamic affairs today advised Muslims to avoid working in outlets that sell alcohol to steer clear of situations in which they may be forced to handle such beverages.
Mujahid Yusof Rawa said Islam forbids its adherents from having anything to do with alcohol, adding that religious scholars had said it was haram or prohibited for Muslims to be involved in grape-pressing, even if they do not consume the wine.
"If you know that your work place deals with such matters (selling alcoholic beverages), you should be wary.
"If you decide to take the job, you must know that it will include serving customers who buy alcohol," he said at a dialogue here last night.
He was asked to comment on a video of a patron at a convenience store in Johor Bahru, who berated the cashier for refusing to scan an alcoholic beverage. The cashier had said she was not allowed to handle such drinks, and that she had just performed ablution.
Mujahid also urged social media users not to share the video, saying it concerned an issue that was sensitive to Muslims.
Full report at:
https://www.freemalaysiatoday.com/category/nation/2018/10/11/avoid-working-where-alcohol-is-served-mujahid-tells-muslims/
--------
Anwar Ibrahim bids to return to heart of Malaysian politics
by Kate Mayberry
Port Dickson, Malaysia - On a soggy evening in a small town just south of Kuala Lumpur's international airport, Anwar Ibrahim fires up the crowd.
Bounding up to the stage he talks mostly in Malay, peppering his speech with English and delighting the mainly Chinese crowd with a few words of Mandarin.
He tells them he will fight for all Malaysians, regardless of where they come from: "We are all family."
The few hundred-strong crowd, seated beneath a giant canopy next to shuttered shops, claps and cheers.
Pardoned of a sodomy conviction that put him behind bars for a third time in 2015, Anwar is taking his first steps back to power, standing in a specially engineered by-election on Saturday that could eventually allow him to take over from Mahathir Mohamad - his ally-turned-nemesis-turned-ally - and become Malaysia's eighth prime minister.
"If [Anwar] wins, it brings him back into the political mainstream of Malaysia," said Keith Leong, head of research at the KRA Group in Kuala Lumpur. "It allows him to be in contention to succeed Mahathir. [But] if he loses, it will be a significant blow to his credibility and his claim on the premiership."
While the by-election in Port Dickson appears to be Anwar's to lose - the representative who stepped down to allow Anwar to contest won a 17,710 majority in May's general election - any margin of victory will be closely watched given the potential implications for the country's leadership.
"[A] convincing victory is a necessary, but not sufficient condition for a smooth transition and political stability," said Wong Chin Huat, a political scientist at the Penang Institute.
"Necessary because a weak victory for Anwar will invite some to try blocking his ascendance and the succession battle will be wide open. Not sufficient because it depends on the arrangement between Mahathir and Anwar. There needs to be a clear division of labour between Mahathir and Anwar."
Rebuild the nation
The two men gave little away when they campaigned together in the seaside town earlier this week. It was the first time they had appeared together at a political rally in more than 20 years - when Mahathir sacked and jailed his one-time protege.
Thousands turned out for the event, according to the local Star newspaper. "I hope that we can work together," the paper quoted Mahathir saying. "Not for Anwar. Not for Mahathir, but for our beloved country and the Malaysians who entrusted us with this opportunity to rebuild the nation."
A multicultural country of more than 30 million people, Malaysia's population is mostly Malay Muslim, but has substantial communities of ethnic Chinese and Indian, as well as numerous indigenous people. Government policies that favour the Malays have left many minorities feeling bitter, while some worry that increasing religious conservatism risks further undermining national cohesion.
Analysts say Anwar, who got his break in politics in the 1970s as leader of the Muslim Youth Movement of Malaysia, known by its Malay acronym ABIM, may be best placed to tackle the issue.
"Religion has become so divisive as a factor in Malaysian society," said Kee Thuan Chye, author of a forthcoming book on the May election, The People's Victory. "He will have to moderate it and he is the best person to do that because of his Islamic credentials. If he's to do this country a favour then he must use this credibility to bring about a Malaysia that is less fundamentalist in its approach to Islam."
It was those religious credentials that persuaded Mahathir, then in his first stint as premier, that Anwar would be a useful ally. In the 1980s, he persuaded the man US officials had called a "firebrand" and had already served time in prison under the Internal Security Act, to join him in the ruling party. Under Mahathir's tutelage Anwar rose quickly, becoming education minister, then finance minister and finally deputy prime minister and heir apparent.
'It will be like before'
Over a breakfast of thosai (an Indian pancake) and curry, in a voice made hoarse by days of campaigning, Anwar urges local residents to vote - there are some 75,000 people in the constituency with seven candidates on the ballot - and promises to work hard for everyone.
Thaharma Kamaurddin, 67, a retired airline pilot, is finishing up his breakfast with a friend at a nearby table. He jumps up to shake Anwar's hand, almost missing the chance in the crowd of supporters and security.
"From what I hear and see, I think he will bring the races together and that's what we want," he says. "It will be like before."
Across town, Stevie Chan, 51, is taking a break from campaigning at a park by the waterfront. The independent candidate has worn out one pair of shoes already in his bid for election.
Chan threw his hat into the ring because he believes that Anwar should have waited for a seat to become available rather than deliberately triggering an election by having a loyal party member resign. While not illegal under Malaysian election law, Chan believes the move is unethical.
A Pakatan supporter in the May election, he says he is committed to the coalition's reform agenda, but he has doubts about the myths that he says have grown up around Anwar.
"The tragic hero and all that," Chan said. "I don't buy these things. I don't like all that."
A prime minister-in-waiting during Malaysia's boom years of the 1990s, Anwar's spectacular fall from grace came in the midst of the Asian Financial Crisis in 1998. Thousands of Malaysians poured onto the streets of Kuala Lumpur when he was sacked and accused of sodomy, demanding reform. His appearance in court with a black eye - the result of a beating from the then chief of police - only fed their anger and hunger for change.
After a lengthy and lurid trial that was criticised internationally, Anwar was eventually found guilty and jailed.
It was only once Mahathir had resigned that Anwar was freed. Thousands thronged his house in an upmarket Kuala Lumpur suburb on the night in 2004 when he returned home, an early indication that while Anwar had been gone, he had not been forgotten. Unable to return to politics until 2008, he took up teaching in universities overseas.
'Willing to run the gauntlet'
New sodomy allegations emerged in 2008, but that didn't stop Anwar from standing for election and becoming leader of the opposition, where he called for political reforms.
Acquitted of the charges four years later after the High Court found the DNA evidence unreliable, it seemed the case had gone away. But in 2014, the decision was suddenly overturned and Anwar found himself facing five years in prison. The country's top court upheld the verdict in 2015 and he was once again out of politics and behind bars.
"He had an opportunity to leave and do anything he wanted, but he chose to stay in Malaysia and to make that choice speaks volumes of his character," observed Charles Allers, author of The Making of a Muslim Democrat, a biography of Anwar that was published in 2011.
"They had put him in jail once and could do it again. Knowing that was a possibility he was still willing to run the gauntlet whatever the personal cost might be."
Anwar remained imprisoned throughout the 2018 election, but as his party's de facto leader, his support was crucial to the coalition's decision to stand behind Mahathir.
Brought together by a joint determination to oust former prime minister Najib Razak, now on trial in connection with billions of dollars that went missing from state fund 1MDB, the two reached a pact. Anwar would back Mahathir while the 93-year-old would ensure Anwar was pardoned and released from jail. He also agreed to step down within two years to allow the younger man to take over.
After so many decades in the tumult of Malaysian politics, it seems Anwar's time may finally have arrived.
"This is the most historic by-election in the history of Malaysia," Lim Kit Siang, a veteran of Malaysia's long struggle for democracy, told the crowd as Anwar said his goodbyes.
Full report at:
https://www.aljazeera.com/news/2018/10/anwar-ibrahim-bids-return-heart-malaysian-politics-181011132559519.html
--------
Defying China, Malaysia releases Uighur detainees to Turkey
11 OCTOBER, 2018
KUALA LUMPUR — Malaysia has freed from detention 11 ethnic Uighur Muslims who fled to the South-east Asian nation after a Thai jailbreak last year, and sent them to Turkey, their lawyer said on Thursday (Oct 11), in disregard of China's request to hand them to Beijing.
The move is likely to strain ties with China, already tested since Tun Dr Mahathir Mohamad became prime minister after a stunning election victory in May and cancelled more than US$20 billion (S$27.6 billion) worth of projects awarded to Chinese companies.
Prosecutors dropped charges against the Uighurs on humanitarian grounds and they arrived in Turkey after flying out of Kuala Lumpur on Tuesday, their lawyer, Fahmi Moin, said.
"The charges were withdrawn because the attorney general's chambers agreed to the (appeal) from our side," he told Reuters.
Malaysia's immigration department, home ministry and the attorney general's office did not immediately respond to requests for comment. China's foreign ministry did not immediately respond to a request for comment.
The men were detained and charged with illegally entering Malaysia after last November's daring prison break, by punching holes in a prison wall and using blankets as ladders.
In February, Reuters reported that Malaysia was under great pressure from China to deport the men there, citing sources.
Some Western missions sought to dissuade it from sending them to China, which has been accused of persecuting Uighurs.
Beijing accuses separatist extremists among the Uighur minority of plotting attacks on China's Han majority in the restive far western region of Xinjiang and elsewhere.
China has been accused of rights abuses in Xinjiang, torture of Uighur detainees and tight controls on their religion and culture. It denies wrongdoing.
Over the years, hundreds, possibly thousands, of Uighurs have escaped the unrest by travelling clandestinely via South-east Asia to Turkey.
The Uighurs in Malaysia were part of a group of more than 200 detained in Thailand in 2014.
Although they identified themselves as Turkish citizens and asked to be sent to Turkey, more than 100 were forcibly returned to China in July 2015, sparking international condemnation.
In February, Malaysia said it was considering China's request to extradite the 11 men. In the past, it has sent some detained Uighurs to China.
Their detention came as Malaysia drew closer to China under former prime minister Najib Razak, but 93-year-old Dr Mahathir, in his second stint as premier, has been vocal in backing Muslim communities against persecution.
Full report at:
https://www.todayonline.com/world/defying-china-malaysia-releases-uighur-detainees-turkey
--------
South Asia
Human Capital Index: Bangladesh outshines India, Pakistan
October 12, 2018
A child born today in Bangladesh would be more productive than his peers in India and Pakistan, as the country fared better than its larger regional competitors in a new World Bank ranking.
Bangladesh has outpaced both the South Asian average and the lower middle-income average in all criteria, except for stunting, in the first Human Capital Index (HCI) prepared by the World Bank.
Students in Bangladesh scored 368 on a scale of 625, with the highest representing advanced attainment and 300 representing the minimum attainment.
Additionally, Bangladesh ranked 106th among 157 countries that were used by the WB for the list. Sri Lanka topped the list among South Asian countries, with a ranking of 72. Nepal was placed at 102, India at 115, Afghanistan 133, and Pakistan 134.
The HCI reflects the productivity as a future worker of a child born today, compared with what it could be if he or she had full healthcare access and complete, high-quality education, on a scale from zero to one, with one as the best possible score.
It said a child born in Bangladesh today would reach only 48 percent of their full potential unless they enjoyed complete education and full health.
In India, a child will be 44 percent productive and in Pakistan 39 percent. Sri Lanka tops South Asian countries with children reaching 58 percent productivity, followed by Nepal with 49 percent.
In Bangladesh, stunting (impaired growth and development of children) and quality of education holds back a child from achieving their full potential, the WB report said.
The index, launched yesterday at the World Bank-IMF Annual Meetings in Bali of Indonesia, shows that 56 percent of children born today across the world will lose more than half their potential lifetime earnings because governments are not currently making effective investments in their people to ensure a healthy, educated, and resilient population ready for the workplace of the future.
The rankings, based on health, education and survivability measures, assess the future productivity and earnings potential for citizens of the WB members, and ultimately those countries' potential economic growth.
Singapore topped the list, followed by South Korea, Japan and Hong Kong, while African countries fared the worst in the rankings, with Chad and South Sudan taking the two lowest spots.
According to the report, in Bangladesh, 97 percent of children are likely to survive to the age 5 and about 87 percent of 15-year olds are likely to survive to the age 60.
This statistic is a proxy for the range of fatal and non-fatal health outcomes that a child born today would experience as an adult under current conditions.
Furthermore, a child who starts school at the age of four will complete schooling by their 18th birthday. The country performs well in gender equity. A girl has a higher human capital than a boy.
But, with about 36 percent children stunted, there is no room for complacency.
About the healthy growth, the WB said 64 out of 100 children were not stunted. However, some 36 out of 100 children are stunted and at risk of cognitive and physical limitations that can last a lifetime.
AB Mirza Azizul Islam, a former adviser to a caretaker government, told The Daily Star that through this report Nobel Laureate Amartya Sen's remark on development of Bangladesh had come true as Bangladesh was ahead of India in the HCI.
Bangladesh performed better than India and Pakistan due to growth acceleration and improvement of health and education sector in the last few years, said Islam.
It is also a contribution of women empowerment as the female involvement is increasing in income generating activities, he noted.
A country score of 0.5 means that individuals -- and the country as a whole -- are forgoing half of their future economic potential. Calculated over 50 years, this translates into deep economic losses: a 1.4 percent annual loss in GDP growth.
The study report gives policymakers compelling evidence that delivering better outcomes in children's health and learning can significantly boost the incomes of people -- and of countries - with returns far into the future.
Human capital -- the knowledge, skills, and health that people accumulate over their lives -- has become a key factor behind the sustained economic growth and poverty reduction rates of many countries in the 20th century, especially East Asia.
In a statement, World Bank Group President Jim Yong Kim said, "For the poorest people, human capital is often the only capital they have."
"Human capital is a key driver of sustainable, inclusive economic growth, but investing in health and education has not gotten the attention it deserves. This index creates a direct line between improving outcomes in health and education, productivity, and economic growth. I hope that it drives countries to take urgent action and invest more and more effectively in their people.
"The bar is rising for everyone," Kim added.
"Building human capital is critical for all countries, at all income levels, to compete in the economy of the future."
On the World Bank's statement, Finance Minister AMA Muhith said: "Over the last decade, our government has consistently improved human capital and created better opportunities for our population. We have reduced child and maternal mortality, and the fertility rate."
He said Bangladesh was among a few developing countries to have achieved gender parity in school enrollment. This progress is reflected in the Human Capital Index.
About the performance of Bangladesh, Qimiao Fan, country director of the WB for Bangladesh, Bhutan, and Nepal, said: "Bangladesh's strong track record of poverty reduction and development shows that with the right policies and actions, further progress is possible."
https://www.thedailystar.net/southeast-asia/world-bank-human-capital-index-bangladesh-ahead-of-india-pakistan-1645657
--------
Rohingya family makes rare return to Myanmar from Bangladesh
11 Oct 2018
YANGON: A Rohingya family of five has returned to Myanmar from Bangladesh, sources said Thursday (Oct 11), a rare development while a large-scale repatriation deal remains stalled.
More than 720,000 of Myanmar's stateless Muslim minority fled a brutal military crackdown in August last year, taking shelter in crowded camps in Bangladesh.
There they recounted tales of rape, murder and arson as villages in Rakhine state were burned to the ground.
United Nations investigators have said senior Myanmar military officials should be prosecuted for genocide, but the country has rejected these calls, insisting it was defending itself against militants.
Myanmar and Bangladesh signed a deal to bring back the Rohingya but many fear returning without guaranteed rights such as citizenship, access to healthcare and freedom of movement.
Authorities in Myanmar say more than 100 displaced Rohingya have returned in recent months though rights groups have questioned whether the returnees did so voluntarily.
The family of five "displaced people" came back to Rakhine state on Wednesday morning, state mouthpiece Global New Light of Myanmar reported Thursday.
Myanmar's government has trumpeted each return but Bangladesh insists that the official process has not commenced.
The Bangladesh government's Rohingya camp commissioner Mohammad Abul Kalam said he had only heard about the family leaving, but has not received official confirmation of their return to Myanmar.
"Anyone can go back if he/she wants," he said.
"But formal repatriation has not begun."
Abdur Rahim, a Rohingya camp leader in Bangladesh, said the family had been staying in the Balukhali camp in Cox Bazar district.
"They returned to their home ... near Maungdaw township in Rakhine yesterday," he said.
UN agencies, which signed a deal with the Myanmar government to assess conditions on the ground in northern Rakhine, said they had carried out an initial survey in September of about two dozen villages.
Full report at:
https://www.channelnewsasia.com/news/asia/rohingya-family-makes-rare-return-to-myanmar-from-bangladesh-10817462
--------
Children among 9 killed, wounded in separate IED explosions
Oct 11 2018
At least nine civilians including children were killed or wounded in separate Improvised Explosive Device (IED) explosions in southeastern Ghazni and Paktika provinces.
The 203rd Thunder Corps of the Afghan Military in the Southeast in a statement said at least three children lost their lives in an explosion triggered by an IED planted by the Taliban militants in Orgun district of Paktia province.
The statement further added that another IED planted by the militants in Moqor district of Ghazni province went off targeting a civilian vehicle which left one civilian dead and five others wounded.
The Taliban militants and other militants often use improvised explosive device as the weapon of their choice to target the security forces and government officials.
However, in majority of such attacks the ordinary civilians are killed while in some cases the Taliban militants are themselves blown up in premature explosions.
Anti-government elements must immediately end the indiscriminate and disproportionate use of all improvised explosive devices (IEDs) in areas frequented by civilians, said UNAMA in a special human rights report released few days earlier.
Full report at:
https://www.khaama.com/children-among-9-killed-wounded-in-separate-ied-explosions-06135/
--------
Several dead as airstrikes target gathering of Taliban leaders in Wardak
Oct 11 2018
Several Taliban militants including their high ranking leaders were killed during the operations of the Afghan armed forces in central Maidan Wardak province.
The Afghan Intelligence, National Directorate of Security (NDS), in a statement said the intelligence opertives conducted a special operation in Syedabad district with the support of the air forces.
The statement further added that 21 militants including some high ranking leaders of the Taliban and Haqqani network were killed during the operations.
The key Taliban leaders killed during the operations include Taliban's shadow intelligence chief Mawlavi Naqibullah also famous as Majid, Taliban leader in charge of looking after the disabled militants Mawlavi Abdul Rahman, Haqqani network leader Mawlavi Saif Ur Rehman, Mawlavi Samad, Taliban's shadow district chief for Syedabad, Taliban's commander for Tangi area of Syedabad Mawlavi Syedullah, and Taliban commander in charge of a group of 15 militants Mullah Naqi,b NDS said.
At least 15 other militants were also killed during the operations and 2 others sustained injuries, NDS added in its statement.
Full report at:
https://www.khaama.com/several-dead-as-airstrikes-target-gathering-of-taliban-leaders-in-wardak-06136/
--------
U.S. airstrikes inflict casualties on Taliban, destroy 3 APCs in Faryab
Oct 11 2018
The U.S. forces carried out airstrikes on a hideout of the Taliban group in northern Faryab province of Afghanistan, leaving at least 13 militants dead or wounded and destroying three armored personnel carriers.
The 209th Shaheen Corps of the Afghan Military in the North in a statement said the airstrikes were carried out at around 11:00pm local time on Wednesday in Ghormach district.
The statement further added that ten Taliban militants were killed during the airstrikes and three others sustained injuries.
According to 209th Shaheen Corps, a commander of the Taliban group identified as Qari Nasir, also famous as Ansar, was among those killed.
The airstrikes also destroyed three Armored Personnel Carriers equipped with heavy weapons, the 209th Shaheen Corps added in its statement.
Full report at:
https://www.khaama.com/u-s-airstrikes-inflict-casualties-on-taliban-destroy-3-apcs-in-faryab-06133/
--------
Rohingya refugee camp murders blamed on rivalry, grudges
October 12, 2018
Personal grudges, group rivalry and crime have been blamed for at least 19 mysterious murders in Rohingya refugee camps in Bangladesh's Cox's Bazar over the last 13 months.
Muhammad Nikruzzaman, chief government officer at Ukhiya, Cox's Bazar, puts the murders down to long-standing personal disputes within the Rohingya refugee community.
"As far as I can see, the murders occurred over personal enmity between Rohingya and it started in Rakhine," said Nikaruzzaman. "In one case, a man stabbed another man to death who he accused of killing his brother back home."
One Mazi, the title of an appointed community leader in the camps, blamed rivalry within the camps.
"There are several rival groups active in the camps ... agents of the Burmese government who oppose repatriation and those who want to go back," Sirajul Huq, 47, a Mazi in Kutupalong camp told ucanews.com.
"We are not sure if any Mazi are involved with groups, but we suspect the rivalry between the groups might be a cause of the violence and the killings."
One of the most brutal attacks was on June 18 when 35-year-old community leader Arifullah was stabbed to death at a busy road outside the Balukhali camp, Reuters reported.
Police said a group of men surrounded Arifullah and stabbed him at least 25 times. Arifullah spoke English and had worked for international agencies in Myanmar and had met foreign delegates visiting the camps.
His wife said Arifullah had been a critic of the Arakan Rohingya Salvation Army (ARSA) but police investigators said at the time they had no evidence to link the attack to the militant group. ARSA denied any involvement in the killing and said other "armed groups" were trying to malign its name.
Police have bolstered security at the camps to over 3,400 personnel to protect the total refugee population which is put at 1 million.
Police also believe that the murders could be connected to Bangladeshi human- and drug-trafficking networks, according to a report in the Dhaka Tribune.
Afruzul Haque Tutul, who until mid-August was deputy police chief of Cox's Bazar, said gangs were extorting "huge money" from refugees desperate for land, food and shelter.
Tutul said few officers spoke the Rohingya language, further hampering inquiries and fear of reprisals had kept mouths shut.
"That is why Rohingya do not come forward. They are scared. In your town, if criminals or terrorists or robbers were there, you will definitely be scared," Tutul told the Dhaka Tribune.
Community leader Sirajul Huq said he could not give a reason for the murders. But he added: "I can tell no outsider was involved. The clashes occurred over repatriation and doing businesses in the markets of the camps."
More than 720,000 Rohingya Muslims were forced to flee their homes in Myanmar's northern Rakhine State from August 2017 after the military launched a brutal crackdown in response to militant attacks on security posts.
Full report at:
https://www.ucanews.com/news/rohingya-refugee-camp-murders-blamed-on-rivalry-grudges/83585
--------
Mideast
Istanbul to host int'l conference on 'Muslim Ummah'
11.10.2018
By Gulsum Incekaya
ISTANBUL
An Istanbul university will host the second edition of the "International Conference on the Muslim Ummah" between Oct. 14 and 16 that will bring together 20 international scholars.
The conference, to be organized by Istanbul Sabahattin Zaim University (IZU) at its Center for Islam and Global Affairs (CIGA), aims to discuss problems across the Muslim world.
The theme of the conference is "Fault lines and Perils Facing Muslim Societies: The Challenges of Sectarianism, Secularism, Nationalism, and Colonialism."
"These are some of the problems that exist in the Muslim societies that cause tension and upheaval, and we are trying to analyze and understand them and offer solutions," Sami Al-Arian, the director of CIGA, told Anadolu Agency.
Al-Arian, who also teaches courses on politics and Islamic civilization at the university, said nationalism in Pakistan, Bangladesh, and India, as well as nationalism within the context of the Arab world, will be discussed during the conference.
He said the conference will also discuss as to how colonialism affected the Middle East, and "settler colonialism in Israel/Palestine."
https://www.aa.com.tr/en/todays-headlines/istanbul-to-host-int-l-conference-on-muslim-ummah-/1278589
--------
Internal conflicts, assassinations, and tank attacks between Houthis on the rise
11 October 2018
Assassinations have become common between Houthi militias, majorly caused by internal divisions and splits between top leaders.
Those who split from the militias are said to be killed directly in assassination attacks or through blowing up their houses.
Militias in Sanaa attacked the house of Doctor Abbas Mohammed Zaid and stole documents and devices from him.
Abbas Mohammed Zaid is the brother of the 14th most wanted man by the coalition forces supporting the legitimate government in Yemen - Hassan Mohammed Zaid, the minister of sport in the Houthi government that is not recognized internationally, and one of the Houthi leaders.
The Zaid family is considered a supporter of Abdul-Malik al-Houthi, and it helped him enter Sanaa in September 2014.
Conflicts and splits have been increasing within the Houthi leadership lately, the biggest such incident happened a few days ago, when Abdul-Malik al-Houthi had a bloody confrontation with the mufti of the Houthi militias in Saada and Majz district specifically.
Houthi militias attacked the house of the mufti with tanks, missiles, and mortar bombs, killing more than 30 people, injuring dozens, and blowing up houses owned by supporters of the mufti.
The Houthi militias are also suppressing demonstrations that went out recently in Sanaa complaining about the plunging living standards, as soaring prices put basic commodities out of reach of many people.
Full report at:
https://english.alarabiya.net/en/News/gulf/2018/10/11/Internal-conflicts-assassinations-and-tank-attacks-between-Houthis.html
--------
UN envoy 'no longer acceptable' for Palestinians
12 October 2018
The Palestinian leadership will no longer work with the UN peace envoy, a senior official said Thursday, accusing him of overstepping his role by seeking a deal between Israel and the extremist movement Hamas.
Ahmed Majdalani, a member of the Palestine Liberation Organization's (PLO) executive committee, said it had informed the UN secretary general that envoy Nickolay Mladenov was "no longer acceptable" to the Palestinian government.
Mladenov had "gone beyond his role" in seeking agreements between Israel and rival Palestinian faction Hamas, which controls Gaza, he said, adding that his actions impacted "Palestinian national security and the unity of our people."
There was no immediate comment from Mladenov or confirmation from the United Nations.
"After the Palestinians said 'no' to Israel and 'no' to the Americans, they are now saying 'no' to the UN as well," Israel's ambassador to the United Nations Danny Danon said in a statement. "In this decision, Abu Mazen (Palestinian president Mahmoud Abbas) is continuing to lead the Palestinian Authority to international isolation, which ultimately harm the Palestinians."
Mladenov, alongside Egypt, has been seeking a long-term truce agreement between Hamas and the Jewish state, without including Abbas's internationally recognized government in the indirect negotiations.
The talks have stalled, partly due to pressure form Abbas, but on Tuesday a smaller UN-brokered agreement was reached for Qatar to finance fuel deliveries to Gaza for six months.
Abbas's government was not involved in that deal and Mladenov's strategy has angered Palestinian politicians.
The Palestinian Authority headed by Abbas has semi autonomy in parts of the occupied West Bank but lost control of Gaza to Hamas in a near-civil war in 2007.
The international community has since worked with the PA.
Full report at:
https://english.alarabiya.net/en/News/middle-east/2018/10/12/UN-envoy-no-longer-acceptable-for-Palestinians-.html
--------
Turkish Army Continues Reinvigorating Positions in Idlib
Oct 11, 2018
The Arabic-language Turk Press claimed that the Turkish army has sent a military convoy to Northern Syria after the terrorist groups evacuated their heavy weapons from the demilitarized zone.
It added that the convoy consisted of 20 trucks, carrying 20 cement blocks, that entered the Turkish army-held regions in Idlib province.
The report said that each cement block is four meters long, and added that the Turkish army will continue sending military convoys to the regions under its supervision in Idlib.
The Turkish media have reported evacuation of heavy weapons from demilitarized zone as the Syrian media sources said that Tahrir al-Sham Hay'at (the Levant Liberation Board or the Al-Nusra Front) has demanded Turkey delay its retreat from the weapons-free zone mentioned in the Sochi Agreement until October 20.
The Arabic-language al-Watan newspaper quoted sources close to the terrorist groups in Aleppo and Idlib on Wednesday as saying that Tahrir al-Sham has not evacuated its heavy weapons from the demilitarized zone, adding that they have hidden their tanks, artilleries and missile-launchers.
They added that Tahrir al-Sham has informed the Turkish intelligence agency that it will not withdraw from the weapons-free zone because of a lack of agreement on areas to be held by the Ankara-backed militants which are due to host Tahrir al-Sham.
According to the report, Tahrir al-Sham has called for continued negotiations and demanded Turkey to hold talks with Russia to give militants some more time for withdrawal until October 20.
Full report at:
http://en.farsnews.com/newstext.aspx?nn=13970719000723
--------
Erdogan says Turkey-US deal on Syria's Manbij delayed but 'not dead'
11 October 2018
The deal between Turkey and the United States regarding the northern Syrian town of Manbij is delayed "but not completely dead", President Tayyip Erdogan was quoted as saying by Hurriyet newspaper on Thursday.
Erdogan made the comments to reporters on Tuesday on the flight back from his visit to Hungary.
Asked about the trial of US evangelical pastor Andrew Brunson in Turkey, Erdogan said he was not in a position to interfere with the judiciary because Turkey is a state of law.
Meanwhile, extremists and Turkish-backed militants have withdrawn most heavy weapons from territory around Syria's last major opposition stronghold ahead of a deadline, a monitor said.
The weapons pullback is the first major test of a truce deal brokered by government-backed Russia and opposition militants-backer Turkey last month to avoid what the United Nations warned would be the appalling humanitarian consequences of a major government offensive.
Full report at:
https://english.alarabiya.net/en/News/middle-east/2018/10/11/Erdogan-says-Turkey-US-deal-on-Syria-s-Manbij-delayed-but-not-dead-.html
--------
Demilitarized zone around Syria's Idlib set up, Turkey says
11 October 2018
Turkey's defense ministry said on Wednesday the demilitarized zone in Syria's Idlib has been formed and heavy weapons have been withdrawn, following an agreement by Russian and Turkish leaders in Sochi last month.
The agreement dictated that heavy weapons, tanks, rocket systems and mortars of all opposition groups would be withdrawn by October 10, and the zone will be monitored by coordinated Turkish and Russian patrols.
Under the deal agreed last month between Turkey and Syrian President Bashar al-Assad's ally Moscow, militants will be required to withdraw by the middle of this month from the zone, and heavy weaponry must be withdrawn from the 15-20 km buffer zone by October 10.
Russia's Foreign Ministry said on Wednesday over 1,000 militants had left the zone.
Asked about Turkish reports that all heavy weapons had been removed, Russian Foreign Ministry spokeswoman Maria Zakharova told reporters that around 100 heavy weapon units had been withdrawn from the zone, but gave no further details.
Full report at:
https://english.alarabiya.net/en/News/middle-east/2018/10/11/Demilitarized-zone-around-Syria-s-Idlib-set-up-Turkey-says.html
--------
All govt. branches must join forces to confront US bans, solve economic issues: Leader
Oct 11, 2018
Leader of the Islamic Revolution Ayatollah Seyyed Ali Khamenei has called on all branches of the government to join forces to counter the negative impacts of brutal American sanctions against the Iranian nation.
Ayatollah Khamenei made the remarks on Wednesday night in a meeting with the heads of Iran's executive, legislative and judicial branches over economic issues.
The Leader underlined the need for unity and "convergence" among the three branches of the government and other institutions to step up efforts towards overcoming the economic challenges currently facing the nation.
"There is no deadlock and no irresolvable problem in the country," emphasized Ayatollah Khamenei, assuring that the country "will definitely overcome the internal difficulties imposed" against it with the determination of people and authorities.
Dividing the economic problems into "internal challenges of the country's economy" and "the issues arising from cruel US sanctions," the Leader called on the authorities to find "wise solutions" to the existing hardships and "to frustrate the enemy" in its attempts to use sanctions as a tool to influence the country.
"The soaring prices and the drop of purchasing power of those lower-income Iranians have put pressure on them," Ayatollah Khamenei said.
"To solve certain key economic issues, including those gripping the banking system, liquidity, employment, inflation and the budget planning process, you need to take decisive and practical decisions," the Leader told the officials, urging them to get help from economic experts and businessmen to that effect.
Iran's national currency has lost much of its value since the beginning of the year, especially after US President Donald Trump abandoned a nuclear deal with Tehran and announced new sanctions on the Islamic Republic.
A sharp rial drop resulted in a jump in inflation rates as consumer prices grew.
Full report at:
https://www.presstv.com/Detail/2018/10/11/576691/Iran-Leader-Ayatollah-Khamenei-economic-woes-US-Sanctions
--------
German ambassador summoned over extradition of Iranian diplomat to Belgium
Oct 10, 2018
Iran has summoned the German ambassador to protest Berlin's extradition of an Iranian diplomat to Brussels over his alleged link to a planned July attack against the terrorist Mujahedin Khalq Organization (MKO) in France.
Foreign Ministry Spokesman Bahram Qassemi said Wednesday that the director general for Europe affairs at the ministry met Michael Klor-Berchtold to convey the Islamic Republic's strong opposition to the arrest, detention and extradition of the Iranian diplomat and said the move was part of a manufactured plot by those opposing Iran-Europe relations and was planned by the MKO itself.
It was stressed during the meeting that "this ploy is in line [with efforts] to damage Iran-Europe ties," and was a show to compensate for the failures of the terrorist group as well as those of the Israeli regime, Qassemi said.
He added that the treatment of the Iranian diplomat was in contravention of the accepted rules of diplomatic law, and said Tehran demanded the immediate repatriation of the diplomat.
Qassemi said that to "help protect the basic fundamentals of international law and to fight various forms of terrorism, the Islamic Republic of Iran reserves its right to follow up on the issue through legal and political channels and will implement a proper decision in due time."
Germany extradited to Belgium an Iranian diplomat suspected of plotting a bomb attack in France, prosecutors said on Tuesday.
Back in June, Belgian authorities said that the Iranian diplomat had been arrested along with a 38-year-old man and a 33-year-old woman, suspected of plotting a bomb attack on the MKO meeting in Paris attended by US President Donald Trump's lawyer, Rudy Giuliani, and several former European and Arab ministers.
They added that Belgian police intercepted the two suspects in Belgium with 500 grams of the homemade explosive TATP and a detonation device found in their car.
The diplomat, 46-year-old Assadollah A, was arrested in Germany, suspected of having been in contact with the two arrested in Belgium.
Three other people were also arrested in France in connection with the case, two of whom were released.
Senior Iranian officials have dismissed the claims against the diplomat, saying they were part of a plot to harm Iran-Europe ties as the two sides seek to bolster cooperation.
Qassemi once again on Wednesday voiced Iran's deep regret and dissatisfaction over the German government's extradition and pledged the Islamic Republic's determination to the plot behind the diplomat's arrest and extradition.
Iran "will firmly and through diplomatic channels follow up on the case of this diplomat, who has fallen prey to a plot by those opposing further constructive ties between Iran and Germany and other European countries, until the truth will out and until the clarification of the terrorist groups' malicious move," he said.
Full report at:
https://www.presstv.com/Detail/2018/10/10/576628/Iran-summon-German-ambassador-diplomat-extradition-Belgium
--------
Israel set to worsen prison conditions for Palestinian inmates
Oct 12, 2018
Israel is set to heavily lower prison standards for Palestinian inmates, a decision that is likely to ignite a new wave of protests both inside and outside of Israeli prisons.
A committee established by Israeli Public Security Minister Gilad Erdan to explore ways to downgrade quality of life for Palestinian prisoners into a bare minimum is about to hand in the results of its studies, Israeli media reported Thursday.
Upon forming the committee in June, Erdan said his objective was to pressure Hamas and other Palestinian resistance groups to hand over the remains of Israeli soldiers they hold in the Gaza Strip.
The committee would recommend a drastic cut in the number of family visits for prisoners and revoke their permissions to buy meat, fish, fruits and vegetables from outside the prison.
The inmates will also lose their right to cook food inside the jail cells while authorities would also take away their food grinders and blenders.
Israeli prison officials would also recommended in the report that Tel Aviv limit the number of television channels the inmates could choose from.
The status of "ward spokesperson" would also be removed in the new approach, meaning that the prisoners' representative would only be allowed to raise a certain range of issues with prison officials.
Meanwhile, the Israeli Knesset is looking forward to pass a bill that can increase minimum jail sentences of 40 years to more than 60 years for alleged "terror suspects," the Israeli media reported.
Israel's right-wing party Yisrael Beiteinu, headed by minister of military affairs Avigdor Lieberman, is pushing for a separate bill that eases the use of death penalty by courts for such cases.
Israel's cruel treatment of Palestinian detainees in recent years has led to mass hunger strikes by inmates as a last-ditch effort to raise international awareness and force Israeli officials to change the conditions.
Last year, hundreds of Palestinian inmates heeded a call by popular prisoner Marwan Barghouti to go on a hunger strike.
The protest went on for 40 days before Israeli authorities agreed to strike a deal with the inmates. According to prisoners, the deal only met 80 percent of their demands.
Full report at:
https://www.presstv.com/Detail/2018/10/12/576746/Israel-Palestinian-prisoners-downgrade-Erdan
--------
Turkey, Kuwait sign 2019 military cooperation agreement
Oct 11, 2018
Turkey and Kuwait have signed a joint defense plan for 2019 aimed at boosting military cooperation between the two Middle Eastern countries.
"The signing of this plan is a continuation of the joint military coordination aimed at achieving greater harmony, exchange of experience and uniting efforts between Kuwait and Turkey," Kuwait's official news agency, KUNA, on Thursday quoted a statement by the army's Moral Guidance Department as saying.
The agreement was signed during a ceremony by top military officials from both countries in the Kuwait City on Wednesday, KUNA added.
According to Turkey's state-run Anadolu news agency, which also confirmed the news, the Turkish-Kuwaiti Cooperation Committee had held a series of meetings in the Kuwaiti capital on October 9 and 10.
Last year, the two countries signed agreements in several areas during Turkish President Recep Tayyip Erdogan's visit to Kuwait and Kuwaiti Prime Minister Jaber al-Mubarak al-Sabah's visit to the Anatolian country.
Turkey has strong diplomatic, economic and military ties with the Persian Gulf countries of Qatar and Kuwait, but its relations with the United Arab Emirates, Saudi Arabia and Bahrain deteriorated after the trio, plus Egypt, abruptly cut off ties with Doha last year and targeted the Persian Gulf state with an all-out economic blockade, accusing it of supporting terrorism, among other things. Doha rejects those allegations as baseless.
The bilateral agreement comes as the United States has recently announced its decision to withdraw four of its advanced Patriot missile systems from Kuwait, Jordan and Bahrain, a move that would considerably weaken air defense protection for the trio.
Full report at:
https://www.presstv.com/Detail/2018/10/11/576734/Turkey-Kuwait-military-cooperation-agreement-US-Patriot
--------
Israeli army destroys Hamas tunnel running from besieged Gaza Strip
Oct 11, 2018
The Israeli military says it has destroyed a tunnel running from the southern part of the Gaza Strip into the occupied territories, which it claimed was dug by the Palestinian Hamas resistance movement with the aim of carrying out attacks.
Israeli military spokesman Lieutenant-Colonel Jonathan Conricus told reporters on a conference call that the tunnel was around one kilometer in length (less than a mile), and originated from the city of Khan Yunis, located about 25 kilometers south of Gaza City.
Conricus added that the tunnel extended around 200 meters (650 feet) into the occupied territories, claiming that the Israeli army had been monitoring its construction for several months.
He declined to elaborate on how the tunnel was destroyed, but said "combat engineering means" were used.
Conricus called it a "complex tunnel system with various connections and branches," noting that it was equipped with electricity and communication hardware.
The senior Israeli military official said Hamas had used new methods in building the tunnel, and the techniques seemed intended to evade Israel's detection methods.
Over the past few months, the Israeli military has employed technology to detect and destroy tunnels without bombing them. It has filled tunnels with material to make them unusable.
he military has also been building an underground wall around the blockaded Gaza Strip to stop tunnel digging. Work on the massive project is expected to be completed by the end of 2019, Conricus said.
The destruction of the tunnel comes as nearly 200 Palestinians have been killed by Israeli forces ever since "The Great March of Return" protests began in the Gaza Strip on March 30. Over 21,600 Palestinians have also sustained injuries.
The Gaza clashes reached their peak on May 14, on the eve of the 70th anniversary of Nakba Day (Day of Catastrophe), which coincided this year with the US embassy relocation from Tel Aviv to occupied East Jerusalem al-Quds.
On June 13, the United Nations General Assembly adopted a resolution, sponsored by Turkey and Algeria, condemning Israel for Palestinian civilian deaths in the Gaza Strip.
The resolution, which had been put forward on behalf of Arab and Muslim countries, garnered a strong majority of 120 votes in the 193-member assembly, with eight votes against and 45 abstentions.
The resolution called on UN Secretary General Antonio Guterres to make proposals within 60 days "on ways and means for ensuring the safety, protection, and well-being of the Palestinian civilian population under Israeli occupation," including "recommendations regarding an international protection mechanism."
Full report at:
https://www.presstv.com/Detail/2018/10/11/576723/Israeli-army-destroys-Hamas-attack-tunnel-from-besieged-Gaza-Strip
--------
Africa
Nigerian troops kill 76 Boko Haram militants
11.10.2018
By Rafiu Ajakaye
LAGOS, Nigeria
At least 76 Boko Haram militants were killed as Nigerian troops thwarted an attack in the restive northeast region, an official said on Thursday.
John Agim, defense spokesman in capital Abuja, told Anadolu Agency that militants launched an attack on the troops in Metele area of northeastern Borno state, seemingly the last stronghold of the insurgency now in its tenth year.
"Our men in the 157th Battalion had an encounter with the Boko Haram terrorists earlier this week. The troops overpowered the terrorists with superior firepower and killed 76 of them while dozens others escaped.
"Sadly, we lost seven of our gallant [soldiers] in the attack while 16 others sustained injuries and are being given adequate medical attention," he said.
https://www.aa.com.tr/en/africa/nigerian-troops-kill-76-boko-haram-militants/1279186
--------
UN approves 'final' extension of Sudan peace mission
October 12, 2018
NEW YOR: The UN Security Council on Thursday approved a final extension of its peacekeeping mission in the disputed Abyei region between Sudan and South Sudan — unless the two sides make progress on border demarcation and other benchmarks.
In its unanimous decision, the Security Council extended for six months the United Nations Interim Security Force for Abyei but said "this shall be the final such extension unless the parties take the specific measures."
It repeated a previous warning that the situation in Abyei and along the Sudan-South Sudan border "continues to constitute a serious threat to international peace," and called on the two countries to show concrete progress on border demarcation and monitoring, as well as other benchmarks.
Abyei is an area of about 4,000 square miles (10,500 square kilometers) contested since Sudan split into two countries in 2011.
There have been tensions between the Arab Misseriya and Ngok Dinka peoples of the region.
Sudan and South Sudan years ago agreed to take steps for setting up an administrative structure for Abyei but the Security Council in May, when it last renewed UNISFA's mandate, expressed disappointment that "few steps" had been taken in that direction.
Full report at:
http://www.arabnews.com/node/1386396/world
--------
Jordan reshuffles cabinet with focus on economic growth
11 October 2018
Jordanian Prime Minister Omar al-Razzaz announced a cabinet reshuffle on Thursday that officials said consolidates the grip of technocrats charged with speeding up IMF-guided reforms crucial to rejuvenating economic growth.
Razzaz, a former World Bank economist, was appointed by King Abdullah in June to replace Hani al-Mulki, who resigned to defuse a crisis that saw some of the largest protests in years over IMF-driven austerity measures, including tax hikes.
Razzaz downsized the 29-member cabinet to 27 ministers, and removed the health and higher education ministers over alleged nepotism scandals, in an apparent bid to calm widespread discontent over rising economic hardship and corruption. But he kept the key interior, finance and foreign ministry portfolios unchanged.
Razzaz, seen as a better communicator than Mulki, has promised to restore public trust in a country where many blame successive governments for failing to deliver on pledges of reviving growth and curbing corruption.
Razzaz disappointed public opinion and activists when he was first appointed by installing old-guard conservatives and tribal figures in his cabinet who held sway in previous administrations.
Razzaz has already angered unions and civic bodies by reintroducing a modified, IMF-inspired tax bill that makes only cosmetic changes to one that brought down Mulki. But opponents have so far stopped short of calling for new street protests.
Full report at:
https://english.alarabiya.net/en/News/middle-east/2018/10/11/Jordan-reshuffles-cabinet-with-focus-on-economic-growth.html
--------
El-Sisi wants return of Egypt militant held in Libya
October 11, 2018
CAIRO: Egypt's President Abdel Fattah El-Sisi asked Thursday for a suspected extremist leader and former Egyptian special forces officer captured this week in Libya to be handed over to his country.
Forces of Libyan military strongman Khalifa Haftar, who supports an administration vying for power with Libya's UN-backed unity government, have said they arrested Hisham el-Ashmawy on Monday in the eastern city of Derna.
"We want him to serve time in prison," El-Sisi said in a televised speech on the sidelines of a military conference.
A spokesman for Haftar's forces, who are backed by Egypt and the United Arab Emirates, said Ashmawy was an alleged member of the Islamist extremist group Ansar Beit Al-Maqdis and wanted over the attempted assassination of an ex-interior minister in September 2013.
Ashmawy left the Egyptian army in 2012 and joined Ansar Beit Al-Maqdis, based in the eastern Sinai Peninsula.
He is believed to have gone to Libya in 2013, before Ansar Beit Al-Maqdis pledged allegiance to the Daesh group in November 2014.
Full report at:
http://www.arabnews.com/node/1386226/middle-east
--------
Somalia's Shabaab claims it killed five foreign spies
October 11, 2018
Somalia-based Al Shabab militants have claimed to have executed five men they said were spies working for US, British and Somali intelligence services, a monitor that tracks extremists reported on Wednesday.
The five men, aged between 22 to 36, were killed in the southern Somali town of Jilib on Tuesday, the US-based Site Intelligence Group said, publishing a translation of a Shabab statement.
The statement said that before they were killed, several of the men admitted to transmitting information that led to attacks against Shabab militants.
Shabab, an Al Qaeda affiliate, is fighting to overthrow the internationally backed Somali government in Mogadishu.
Somalia collapsed into civil war in 1991 that destroyed state institutions and has been wracked by the Shabab insurgency since 2006.
The Shabab were forced out of the capital by African Union troops in 2011 but still control parts of the countryside and carry out attacks against government, military and civilian targets seemingly at will in Mogadishu and regional towns.
Last week, UN sanctions monitors said that the group's militants run a tax system that rivals the federal government in sophistication. The taxation of illicitly exported charcoal and other tolls netting the group tens of millions in revenue annually.
The monitors said that domestic revenue generation by Al Qaeda-affiliated Al Shabab "is more geographically diversified and systematic" than that of Somalia's federal government.
Due to the militants' provision of receipts, the taxation system is "accountable and predictable", in contrast to the network of checkpoints manned by the government's armed forces in some parts of the country.
Despite controlling far less territory than it did at the height of a decade-long insurgency, "the group's "ability to carry out complex asymmetric attacks in Somalia remains undiminished", the monitors wrote.
Al Shabab's most lucrative checkpoint is about 160 km north-west of the capital Mogadishu on the road to Baidoa, the monitors said, citing an Al Shabab defector who reported that the location earns the group approximately $30,000 per day, or $10 million a year.
Illicitly exported charcoal, much of which transits Iran and ends up in barbecues and shisha pipes in the UAE, generates millions in revenue.
"The charcoal trade continues to be a significant source of revenue for Al Shabab, generating at least $7.5 million from checkpoint taxation," they wrote.
Full report at:
https://www.thenational.ae/world/africa/somalia-s-shabaab-claims-it-killed-five-foreign-spies-1.779720
--------
Burkina Faso attacks open new front in France's anti-terror fight
2018-10-11
An alarming increase in deadly jihadist attacks has led to expanded French military action in Burkina Faso, a marked shift after years of reticence by the west African nation to call in help from its former colonial master.
Until now France's 4 500-member Barkhane anti-terror force in West and Central Africa has intervened mainly in Mali, while focussing on training in Burkina Faso and the other nations of the G5 Sahel military alliance - Chad, Mauritania and Niger.
But over the past two weeks, more than 20 members of Burkina Faso's security forces have been killed in the country's restless north and east.
After rebels raided a police station in the north last week, officials asked Barkhane's command for air strikes, which killed around 10 of the attackers as they fled.
It also deployed two attack helicopters to the suspected rebel haven in the heavily forested Pama region last weekend after a Burkinabe soldier was killed by an IED, military sources said.
The new theatre for operations highlight the challenges facing France as it tries to contain the jihadist threat in the region, which has taken a toll on economic growth and helped fuel the wave of migrants fleeing toward Europe.
Paris's strategy has been based on trying to build up local African forces in the stuttering G5 Sahel alliance, but the growing instability in Burkina now looks likely to draw its troops into more frontline fighting.
French Defence Minister Florence Parly sought to put a positive spin on the prospect of deeper French involvement last week during a visit to Chad.
"A pragmatic and constructive step has been taken," she said.
New strain?
The new front could put further strain on the Barkhane force, whose command was taken over two months ago by General Frederic Blachon.
Yet officials are playing down such risks for now, pointing to the rapid air responses possible from the Barkhane air base in Niger's capital of Niamey.
"A plan can be adapted," Blachon said recently, adding that Burkina Faso's government "will have the same support that we give to others in the G5."
"We always maintain sufficient intervention capacity to lend support" outside Mali, a senior military officer said in Paris, requesting anonymity to discuss military strategy.
Burkina's requests for help underline the worsening security situation in the country due to the state of the country's armed forces and the difficulty in containing numerous armed jihadist groups operating in the region.
Since the 2014 ouster of Burkina leader Blaise Compaore, who used elite forces as his personal guard, the government has been wary of giving the military too big a role in a country scarred by several coup attempts.
But the attacks are now jeopardising President Roch Marc Christian Kabore's vow to improve security, education, health and drinking water in the country's Sahel region.
French officials have made no secret of their concerns about the violence, and the risk of contagion to countries further south like Ghana and Ivory Coast.
Special forces
Paris has for years stationed special forces in the Burkina capital Ouagadougou, who intervened after twin attacks last March on the French embassy and Burkina's military headquarters which left eight soldiers dead.
That attack was claimed by the Group to Support Islam and Muslims (GSIM), one of several prowling across the vast desert expanses of the Sahel.
But French forces are still trying to identify the insurgents operating with increasing boldness in the country's east.
"It appears they are not with Ansarul Islam," a jihadist group based in the country's north which has carried out several attacks against the army along the 1 000km border with Mali, a Barkhane intelligence officer said.
Full report at:
https://www.news24.com/Africa/News/burkina-faso-attacks-open-new-front-in-frances-anti-terror-fight-20181011
--------
North America
Turkish officials have evidence proving Khashoggi was assassinated: Report
Oct 12, 2018
Turkish officials have shared contents of video and audio recordings that reportedly contain evidence supporting claims that a Washington Post contributor was murdered by the Saudi government with the Trump administration.
The Washington Post reported Thursday night that recordings of Saudi consulate officials in Turkey obtained by Turkish investigators and shared with their US counterparts detail how Jamal Khashoggi was tortured, killed, and dismembered by a Saudi Arabian security team at the country's consulate in Istanbul.
It is unclear whether the US has been given direct access to the recordings, the Post reported, but US officials confirmed that the Trump administration was made aware of their contents.
"You can hear his voice and the voices of men speaking Arabic," one person with knowledge of the recordings told the Post. "You can hear how he was interrogated, tortured and then murdered."
"The voice recording from inside the embassy lays out what happened to Jamal after he entered," the Post's source added, while a second official told the newspaper that Khashoggi could be heard on the recording undergoing beatings from his captors.
Khashoggi's disappearance has evolved into a full-fledged international diplomatic crisis for the Saudi government, led by Crown Prince Mohammed Bin Salman. Salman cast himself as a progressive reformer, but the disappearance and possible murder of a critical voice against his government has thrown Salman's relationship with foreign leaders and organizations into question.
The New York Times, The Economist and a number of notable journalists announced Thursday that they would withdraw from an international media event in Riyadh, Saudi Arabia, later this month as a result of the Khashoggi's disappearance.
President Trump indicated Thursday that his administration was investigating Khashoggi's disappearance. "I have to find out what happened. I mean, I do have to find out. And we're probably getting closer than you might think. But I have to find out what happened," the president said in an interview on Fox News.
Earlier news noted that Trump was not willing to sour relations with the Saudis over the incident.
It is widely believed that Khashoggi was assassinated by Saudi operatives and his dismembered body was flown from Turkey to Saudi Arabia in two jets.
https://www.presstv.com/Detail/2018/10/12/576749/Khasshoggi-Turkey-Saudi-Arabia-Washington-Post-Trump-Crown-Prince-Mohammed-bin-Salman
--------
US senator calls for arms sales halt to Saudi Arabia
11.10.2018
U.S. Kentucky Senator Rand Paul on Wednesday demanded a halt in military support to Saudi Arabia until a Saudi journalist who disappeared in the Consulate in Istanbul was "returned alive".
Jamal Khashoggi has been missing since Oct. 2, when he visited the Saudi Consulate in Istanbul, amid speculation that he was killed by Saudi authorities.
In an article in The Atlantic, Paul said that he intended to introduce legislation to "cut all funding, training, advising, and any other coordination" with and to the Kingdom until Khashoggi is confirmed to be alive.
"The regime must be held accountable for Jamal Khashoggi," he said.
Slamming the Saudi "oppressive regime", Paul expressed "deep disappointment" with his fellow senators for not taking measures earlier.
"No amount of oil business or arms deals justifies our collusion with a regime that sponsors jihadism around the world," he said.
He also criticized the OPEC nation's "reckless" actions in the Yemen conflict.
Saudi authorities have yet to give a clear explanation on the fate of Khashoggi as several countries -- particularly Turkey, the U.S. and the UK -- press for clarification.
According to his fiancée Hatice Cengiz, Khashoggi first arrived at the Saudi Consulate in Istanbul on Sept. 28. After being told his documents would be ready in a week, Khashoggi went to London and returned to Istanbul on Oct. 1.
Khashoggi called the consulate and was told "that documents are being prepared" and he could come to the consulate. He went to the diplomatic building on Oct. 2 with Cengiz but was not seen after entering it.
Full report at:
https://www.aa.com.tr/en/americas/us-senator-calls-for-arms-sales-halt-to-saudi-arabia-/1278909
--------
Pompeo says no more US reconstruction aid to Syria until Iran troops withdraw
11 October 2018
The United States will refuse any additional reconstruction assistance to war-torn Syria so long as Iranian troops are present in the country, Secretary of State Mike Pompeo said Wednesday.
Speaking to a pro-Israel group, Pompeo vowed to press forward with President Donald Trump's push to isolate Iran, while talking of imposing "some of the harshest sanctions in history."
"The onus for expelling Iran from the country falls on the Syrian government, which bears responsibility for its presence there," Pompeo told the Jewish Institute for National Security of America.
"If Syria doesn't ensure the total withdrawal of Iranian-backed troops, it will not receive one single dollar from the United States for reconstruction," Pompeo said.
Pompeo's remarks come as the Trump administration shifts its reasoning for US involvement in Syria's brutal civil war, which a war monitor says has killed close to 365,000 people since 2011.
The United States has some 2,000 troops in Syria, mainly training and advising rebels, after former president Barack Obama authorized the mission to defeat ISIS.
Pompeo said that fighting ISIS "continues to be a top priority" but listed rolling back Iran as another.
National security adviser, John Bolton, said last month that US troops would stay "as long as Iranian troops are outside Iranian borders."
Iran, ruled by Shiite Muslim clerics, and Russia are the primary supporters of Syrian President Bashar al-Assad in his bloody campaign against largely Sunni Muslim rebels and ISIS.
Pompeo did not make similar demands for a withdrawal by Russia, which has long considered Syria a major ally.
Full report at:
https://english.alarabiya.net/en/News/middle-east/2018/10/11/Pompeo-says-no-more-US-reconstruction-aid-to-Syria-until-Iran-troops-withdraw.html
--------
Europe
Bosnian Muslim wartime commander charged with crimes against Serbs
11 Oct 2018
SARAJEVO: Bosnian Muslim wartime commander Atif Dudakovic and 16 senior members of his unit were charged on Thursday with carrying out atrocities against Serbs in western Bosnia during the 1992-95 war.
The 65-year-old was also charged with war crimes against fellow Muslims who were members of, or supported, a rival faction in the area during the conflict, Bosnia's state prosecutor's office said in a statement.
Dudaković has regularly dismissed all the accusations as politically motivated.
Bosnia has been ruled by Serb, Croat and Muslim nationalist parties for the most part since the end of the war in which more than 100,000 died. It remains deeply divided along ethnic lines and steps towards reconciliation have been small.
Dudaković was a general in the Bosnian Muslim-dominated army who commanded the 5th Corps operating in the Bihac enclave, which was surrounded and besieged by the Bosnian Serb forces from 1991-1995.
After the war, he served as the general commander of the army in Bosnia's autonomous Bosniak-Croat Federation, which was later merged in the country-wide armed forces.
"The defendants are accused of the murder of more than 300 Serbs, most of them civilians, mainly elderly, as well as soldiers who had surrendered or were detained," the statement said.
The prosecutors said that bodies of a number of the victims were found in several mass and individual graves after the war, while the search for the others was still under the way.
Part of the indictment refers to crimes committed against Muslims led by renegade leader Fikret Abdic, who had set up a breakaway province around the western town of Velika Kladusa.
Abdic himself was jailed for 20 years in 2002 for war crimes against Muslims loyal to the Bosnian government by a court in Croatia, which later reduced his prison term to 15 years and released him in 2012.
Dudakovic and another 11 members of his Corps were arrested in April on war crimes charges but were later released with restrictions on their movement.
The prosecutors said they will invite 447 witnesses and present more than 1,100 documents as evidence. Bosnia's state court needs to confirm the indictment.
https://www.channelnewsasia.com/news/world/bosnian-muslim-wartime-commander-charged-with-crimes-against-serbs-10817720
--------
Italy's security approach to Islam
October 11, 2018
Muslims represent the second largest religious community with approximately 1.4 million adherents in 2017 (3,1 percent of the whole Italian population). While Islam and Muslims were not a priority issue for Italian policy-makers for decades, the post-9/11 context led politicians to intervene more and more in Muslims' daily life and worship. Between 2005 and 2017, Italian politicians made a set of rules aimed at regulating and controlling Muslims in Italy. Mostly motivated by security and counter-terrorism priorities, these policies tend to treat Muslims as internal enemies instead of viewing them as common citizens and potential partners in the public policy-making process. This situation has even further deteriorated these last months with the refugee crisis and the formation of the far-right/populist "Salvini-Di Maio" coalition government in the spring of 2018.
Initially, Article 8 of the Italian Constitution allows the representatives of each non-Catholic religious community to sign an agreement with the Italian state in order to regulate their mutual relations and support. Currently, it is only the Catholic Church that has benefited from a specific status since 1929. For other religious groups, any demand for agreements or accords with the state is followed by a long political and administrative process, and should be finally approved by both the government and the Parliament. Religious groups that are beneficiaries of such accords are the Catholic Church, the Confederation of Methodist and Waldensian Churches, the Seventh-day Adventists, the Assemblies of God, Jews, Baptists, Lutherans, Mormons, the Orthodox Church of the Constantinople Patriarchate, the Italian Apostolic Church, the Buddhist Union, the Soka Gakkai Buddhists, and Hindus. As for the Muslim communities, none of them are officially recognized by the Italian state.
Some argue that the Italian state aimed at filling this gap in 2005 by launching the "Consulta", which is an advisory body composed of 16 members of the Muslim community selected by the government. Yet, this project, initiated by Interior Minister Giuseppe Pisanu (Forza Italia), did not lead to any consistent actions. In fact, this first trial, in a way, is an example of a public policy that attempts to shape Muslim communities from the top down, without involving Muslim citizens in the decision making process. Moreover, the Italian state's security and counter-terrorism-oriented approach prevents it from adopting collaborative policies on Islam, namely, those that not only do not criminalize Italian Muslims but also aim at working with them hand-in-hand toward reaping mutual benefits.
A little more than a decade on, this biased approached was confirmed by two state-sponsored projects. In Jan. 2017, Interior Minister Angelino Alfano (from the New Centre-Right party, Nuovo Centrodestra) announced the creation of a new "Council of Relations with Italian Islam", another advisory body whose official mission is to "improve the integration of Muslims in the country". Its discourse and methodology are thus based on a security-oriented top-down approach. Angelino Alfano claimed that the Muslim members of the Council of Relations with Italian Islam would work towards the formation of what he called "an Italian Islam that would align the religion more with the country's Christian and humanist tradition". He also said the council aimed at further integrating Muslim immigrants, preventing extremism, training imams and validating the establishment of new mosques. The council is composed of so-called "academics and experts in Islamic culture" and it is to present proposals and recommendations on integration issues on a monthly basis.
One month after Alfano's announcement, in Feb. 2017, the National Pact for an Italian Islam" (officially, "the National Pact for an Italian Islam, the expression of an open and integrated community, adhering to the values and principles of the Italian legal system") was signed by Minister of Interior Marco Minniti (from the Democratic Party, Partito Democratico), the coordinator of the Council for Relations with Islam and nine Islamic organizations in Italy, among them the Union of Italian Muslim Communities (UCOII) -- the country's largest Muslim organization; Muslim Brotherhood-linked --, the Organization of the Rome's Grand Mosque (the biggest mosque in Europe), the Shiite "Ahl-Al-Bait" organization, the Muridiyya Sufi Brotherhood (of Senegalese origin), and the Albanian Muslim organization. The Italian government claims that these organizations represent more than 70 percent of Muslims in the country. Yet, this pact is not an agreement in the constitutional sense and does not provide advantages, such as public funds, the legal recognition of Islamic weddings, and giving Muslims days off for their religious holidays. Instead, the state is demanding that the Italian Islam's representatives make a series of commitments, including giving their consent to the state's training of imams, the management of the Islamic centers transparently, and the delivering of sermons in Italian. It should be noticed that such commitments have never been required of any other religious group in the country. The document also adds that the degree of respect shown to these commitments may pave the way for an official agreement between the state and Muslim communities.
The attempt to shape Muslims' worship and lifestyle is a fact of decentralized institutions, especially universities and municipalities. In Oct. 2017, following this pact, the University of Bari (Apulia Region) launched a one-year M.A. course with the declared goal of "preventing radicalization and terrorism for supporting interreligious and intercultural integration policy". The course also aims at training members of the police forces, the armed forces, the judicial power, as well as researchers, experts on national security, lawyers, journalists, university graduates from the fields of law, economics and humanities. The program deals with legal, political and strategic issues, with a specific focus on Islam. It also teaches surveying and risk prevention techniques, while investigating the sociological aspects and media profiles of the phenomenon that is terrorism.
Italian municipalities have also been making efforts to shape Muslims' daily lives in different ways. In 2016, the regional council of Veneto and Liguria adopted laws that made the construction of mosques harder and the use of Italian compulsory, and it made the building of new Muslim places of worship contingent on the holding of local referenda. The same year, the municipality of Florence even signed a kind of agreement with the local Muslim community for imams to deliver the Friday sermon in Italian, to keep mosques open for the entire public, and to inform it on local religious and cultural events.
Full report at:
https://www.yenisafak.com/en/world/italys-security-approach-to-islam-3463269
--------
German lawmakers slam AfD party for anti-Islamic motion
11.10.2018
By Ayhan Simsek
BERLIN
Lawmakers from different parties heavily criticized the far-right Alternative for Germany (AfD) party on Thursday over its controversial motion demanding a ban on the Quran.
Chancellor Angela Merkel's Christian Democratic Union (CDU) accused the AfD of distorted generalizations about Islam and stereotyping Muslims as violent.
"Your allegations are malicious, discriminating and also destructive. What you are trying to achieve is not social peace but discrediting Islam and its believers," CDU lawmaker Christoph de Vries said during a debate at the parliament.
Merkel's coalition partner Social Democratic Party (SPD) also rejected the motion, saying that it was another attempt by the AfD to stigmatise Muslims.
"You are inciting hatred against Islam in a calculated political manoeuvre," said SPD lawmaker Lars Castellucci.
"The big majority of Muslims in this country stand for democracy, they are loyal to our country," he stressed.
The opposition Left Party lawmaker Christine Buchholz said AfD's leader Alexander Gauland was increasingly resembling Adolf Hitler.
"AfD is trying to denigrate Islam with the same methods used by anti-Semites against Jews," she said.
Buchholz accused the AfD conducting an anti-Muslim campaign by using passages from Quran, which were always taken out of context.
"The Left Party supports religious freedom of all people in this country," she stressed.
The far-right AfD's controversial motion, which was submitted to the Committee on Legal Affairs on Thursday for further debate, demands the government to take necessary measures to ban disseminating messages of the Quran.
The AfD scored record gains in federal elections last year and entered the parliament for the first time.
Full report at:
https://www.aa.com.tr/en/europe/german-lawmakers-slam-afd-party-for-anti-islamic-motion/1279109
--------
Calls increase on British museum to cancel Saudi embassy event
Oct 11, 2018
Human rights campaigners are becoming increasingly angry at a decision by Britain's Natural History Museum to host a reception for Saudi Arabia's embassy, saying the NHM should definitely cancel the event over growing concerns about Kingdom's rights violations.
"The Saudi authorities have a contempt for human rights, and events like this will undoubtedly be regarded as an endorsement. It's time for the Museum to take a stand," said Andrew Smith, from the Campaign Against Arms Trade, on Thursday, hours before the NHM was to host the reception for Saudi Arabia Day.
The call for scrapping the event comes amid a global outrage about Saudi Arabia's alleged killing of a prominent anti-government journalist in a diplomatic mission in Turkey. Jamal Khashoggi have been unaccounted for since he entered the Saudi consulate in Istanbul on October 2. Many, including Turkish authorities, believe the journalist was killed inside the consulate. Saudis have denied the allegations.
Smith said the NHM's hosting of the Saudi embassy event would be an endorsement of Riyadh's gross human rights violations, adding that the museum "should not be hosting a regime which has been accused of killing journalists and is inflicting a humanitarian catastrophe on the people of Yemen".
More than 15,000 people have been killed in a relentless Saudi military campaign on Yemen over the past three years. Riyadh has defied international calls for stopping the illegal operation.
Amnesty International UK's foreign affairs expert Polly Truscott also urged the UK authorities not to send any of its officials to the event which he said "might appear to dignify human rights violations"
Full report at:
https://www.presstv.com/Detail/2018/10/11/576715/UK-museum-Saudi-embassy-event-rights-violations
--------
Leading Bahraini cleric Sheikh Qassim re-hospitalized in UK
Oct 11, 2018
Bahrain's most prominent Shia cleric, Ayatollah Sheikh Isa Qassim, will undergo a second surgery on his eye on Thursday in a hospital in the British capital, London.
The team tasked with caring for the Sheikh released a statement on Thursday asking Bahrainis and Sheikh Qassim supporters to "pray to God Almighty to heal him and that the surgery be successful and that God grants him good health and wellness."
They also revealed that this latest surgery is "complicated and accurate and needs a longer period and more accurate follow-ups."
The latest operation follows on from two other "successful" procedures which were carried out by doctors also in London.
Sheikh Qassim left his home country for England on July 9 after doctors emphasized the need for his immediate transfer to a specialized hospital to prevent further deterioration of his health.
The Sheikh was initially hospitalized in Bahrain after his health began to deteriorate following a lengthy spell living under regime-imposed house arrest.
Sheikh Qassim is the highest religious authority on the island of Bahrain and is the spiritual leader of Bahrain's main Shia opposition group, the Al-Wefaq National Islamic Society. He has been an outspoken critic of the Manama regime's policies.
A regime court convicted the Sheikh last year for allegedly collecting illegal funds and money laundering. He was sentenced to one year in jail, suspended for three years.
He was also ordered to pay $265,266 in fines in a ruling which sparked widespread outrage and demonstrations across Bahrain. Sheikh Qassim and his supporters strongly rejected all the allegations.
The cleric was also stripped of his Bahraini citizenship on June 20, raising fears that after his stay in London he may not be allowed to return to the country.
The Al-Wefaq opposition party, which has been banned in Bahrain, recently announced a boycott of the kingdom's upcoming parliamentary elections.
At an opposition press conference, held in London on Tuesday, opposition figures publicly urged for a boycott denouncing the elections as "a sham."
"Nothing can be gained from these elections or this parliament. It is just legitimizing all the crimes committed against the people of Bahrain. Today we have more than 4,500 political prisoners which is the largest number in relation to population in the world," said Jawad Fairooz, a former-Bahrain MP and Chairman of Salam for Democracy and Human Rights, while speaking to Press TV.
Full report at:
https://www.presstv.com/Detail/2018/10/11/576709/UK-Bahrain-cleric-Qassem-hospital-surgery
--------
Terror suspect who fled Britain 'executed' in Somalia
Paul Peachey
October 11, 2018
A terror suspect who fled Britain disguised as a woman in a burka has reportedly been killed by Al Shabaab militants in Somalia for spying.
The man, identified as Mohamed Ahmed Mohamed, was among five people shot dead in a public execution for espionage on behalf of Britain, the United States and Somalia, according to Al Shabaab officials.
Officials said that he travelled to the country to help establish ISIL but was arrested in 2015 as a suspected spy for MI6, the UK intelligence agency, and tortured while he was in prison, the Voice of America reported.
An Al Shabaab court in the town of Jilib, 350 kilometres southwest of the government-held capital Mogadishu, convicted the men on Tuesday and they were executed by firing squad in a square. Some of the men were accused of hiding homing devices to help US forces target airstrikes against the group's leaders.
"Five of them were publicly shot to death this afternoon after they admitted espionage before the court," Mohamed Abu Abdalla, Al Shabaab's governor for the Jubba regions, told Reuters.
Mr Mohamed, 32, came to public attention in Britain in 2013 after he fled from a mosque in west London, disguised as a woman, while he was being monitored by the security services.
He was one of a handful of terror suspects subject to tight monitoring rules because he had previously received training and fought overseas for the Al Qaeda-linked group in Somalia. Mohamed was supposed to report daily to a police station and wear an electronic tag that tracked his movements, but he cut it off and walked away.
He had been suing the British government at the time of his flight after claiming that British officials were involved in their torture when he was arrested with another man in Somaliland in 2011.
Following the unsuccessful nationwide hunt for Mr Mohamed, officials believed that he headed to Somalia to join the extremist group. Little was heard of him until his apparent execution after officials claimed that he had been a ringleader for pro-ISIS factions within the group.
Neither Britain's Foreign Office nor Mr Mohamed's lawyers returned calls for comment.
Experts say that spying claims are routinely used against fellow militants to resolve power struggles within the group. Al Shabaab's influence in the country has declined after being pushed out of the capital by African Union peacekeepers in 2011.
Full report at:
https://www.thenational.ae/world/europe/terror-suspect-who-fled-britain-executed-in-somalia-1.779747
--------
Mike Pompeo offers US support as Belgium questions Iran diplomat
Damien McElroy
October 11, 2018
The Iranian diplomat extradited by Germany to Belgium has undergone questioning in prison near Antwerp over his alleged role directing a plot to bomb an opposition rally featuring high profile Western politicians including Rudy Giuliani.
Assadollah Assadi, who worked as station manager in Vienna for Tehran's Ministry of Intelligence and Security (MOIS), was sent to Belgium on Wednesday. All four people connected with the cross-border assassination attempt – the rally was held near Paris in June – are now in custody in Belgium, where prosecutors are building a case for trial later in the year.
Mike Pompeo, the US Secretary of State, welcome the latest developments including the German decision to proceed with extradition after Austria waved diplomatic immunity requirements.
"The scale of this plot, which involved arrests of numerous suspects across Europe – including in Belgium, France, and Germany – reminds us that Iran remains the world's leading state sponsor of terrorism," Mr Pompeo said. "This plot also lays bare Iran's continued support of terrorism throughout Europe.
"We support our European allies in exposing and countering the threat that Iranian-backed terrorism poses around the world. The United States will continue working with our partners and allies to confront the threat posed by the Iranian regime."
In a display of its anger, Iran's foreign ministry summoned the German ambassador on Wednesday to protest the extradition. In its latest denial of orchestrating the plot, Tehran said the extradition was the result of "a fabricated conspiracy by enemies of Iran and European relations".
Belgian anti-terrorism prosecutors announced on July 2 that they had foiled the plot after receiving intelligence tip offs. Mr Assadi was held within days near the German city of Aschaffenburg on a European warrant alleging his involvement in the plot to bomb the rally. His arrest came after Amir Saadouni, 38, and his wife Nasimeh, 34, a couple with Iranian roots, was stopped in Belgium and authorities reported finding powerful explosives in their car. Brussels requested the extradition of both Mr Assadi and a man identified as Merhad A who was detained in Paris.
Belgian police believe Merhad is an accomplice of a husband and wife team caught in possession of 500 grammes (about a pound) of the powerful explosive TATP and a detonator.
Members of the Iranian opposition movement NCRI claim that Mr Assadi played a pivotal role as head of intelligence for Europe since 2014 and had previous experience in handling explosives and demolition.
Full report at:
https://www.thenational.ae/world/mike-pompeo-offers-us-support-as-belgium-questions-iran-diplomat-1.779682
--------
Astronauts destined for ISS make emergency landing in Kazakhstan after takeoff malfunction
October 11, 2018
Russian and American astronauts destined for the International Space Station safely made an emergency landing after an engine malfunction during takeoff on Thursday.
A Russian rescue mission found both members of the crew alive and well about 12 to 15 miles outside a small city in central Kazakhstan.
An issue with the booster rockets shortly after takeoff meant the crew had to make an emergency landing, freefalling instead of using propulsion.
The crew contained American astronaut Nick Hague and Russian cosmonaut Alexey Ovchinin.
Both of the astronauts feel "good, as well as possible after experiencing such g-forces."
Footage from inside the rocket show the two men being shaken at the moment the fault occured, their arms and legs flailing.
A transport plane dropped a team of paratroopers to the site to make first contact with the crew, while helicopters were dispatched to pick up the astronauts.
Astronauts already on the International Space Station were preparing to welcome two new members to the satellite station, but have since changed their plans.
The crew launched at 12:40 (UAE time) from the Baikonur Cosmodrome in Kazakhstan. But eight minutes after takeoff, Nasa tweeted there was an issue with the booster.
There's been an issue with the booster from today's launch. Teams have been in contact with the crew. Updates: https://t.co/mzKW5uV4hS
— NASA (@NASA) October 11, 2018
They later clarified that the issue caused the boosters to switch off. The spacecraft was able to separate with the booster and return to earth using the backup ballistic descent mode.
Russia immediately suspended all manned space launches and set up a state commission to investigate what had gone wrong.
Ballistic descent subjects astronauts to a heavy g-load and is only used in emergencies. The module lands at a steeper angle than they would in a normal landing.
Rescue crews are expected to reach the crew at approximately 14:30 (UAE time).
The spacecraft was a Russian Soyuz MS-10 and it was on expedition 57/58 to the International Space Station.
Full report at:
https://www.thenational.ae/world/astronauts-destined-for-iss-make-emergency-landing-in-kazakhstan-after-takeoff-malfunction-1.779417
--------
URL: https://www.newageislam.com/islamic-world-news/up-govt-cancels-recruitment-4000/d/116614
New Age Islam, Islam Online, Islamic Website, African Muslim News, Arab World News, South Asia News, Indian Muslim News, World Muslim News, Women in Islam, Islamic Feminism, Arab Women, Women In Arab, Islamophobia in America, Muslim Women in West, Islam Women and Feminism