New Age Islam News Bureau
19 Feb 2019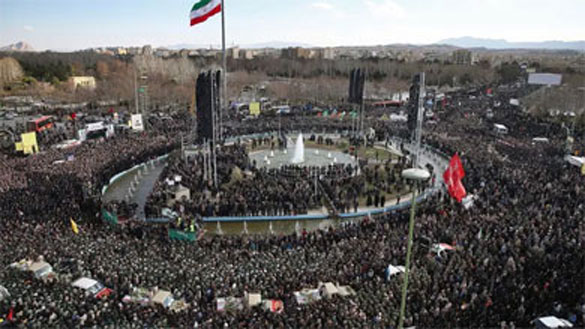 Mourners in Isfahan attend a mass funeral on Feb. 16, 2019 for those killed in suicide car bombing earlier in the week. (AP)
-----
• UP: Dargah Ala Hazrat Shares Grief of Pulwama Martyrs' Families, Says Bloodshed of Innocents is Against Islam
• Why This Hindu-Muslim Wedding In Lucknow, India, Is Not 'Love Jihad'
• India Wants Masood Azhar on UN Blacklist, Saudi-Pak Joint Statement Is A Snub
• Iran: Will 'Immediately Intervene' If Pakistan Doesn't Eliminate Terrorists
• US Calls upon Pakistan to Let Masood Azhar Be Placed On UN Terror List
• Marry Young, It's Better than Free Mixing of Sexes, Says PAS Man
• Muslim World League Aims to Bridge Gap between Nations 'Through Dialogue'
• Russia Adopts 'Moral' Stance on ISIS Children
• Jamaat e Islami Bangladesh re-branding as Freedom and Justice Party
• Pak Seeks Urgent UN Intervention to De-Escalate Fresh Tensions with India
India
• UP: Dargah Ala Hazrat Shares Grief of Pulwama Martyrs' Families, Says Bloodshed of Innocents is Against Islam
• Why This Hindu-Muslim Wedding In Lucknow, India, Is Not 'Love Jihad'
• India Wants Masood Azhar on UN Blacklist, Saudi-Pak Joint Statement Is A Snub
• Saudi Crown Prince Arrives Today, New Delhi, Riyadh to Set Up Strategic Partnership Council
• Jaish-e-Mohammed Leadership Wiped Out in Less Than 100 Hours of Pulwama Terror Attack, Says Army
• Saudi Arabia's position on Jammu and Kashmir, terror has evolved: India
• No due process, Pakistan should free Kulbhushan Jadhav, India tells World Court
• Hurriyat leader Mohammad Abass Ansari wants security cover withdrawn
• RSS wing wants 'hurdles' for Chinese firms in country
--------
Mideast
• Iran: Will 'Immediately Intervene' If Pakistan Doesn't Eliminate Terrorists
• Israeli Forces Attack Worshipers, Reseal Al-Aqsa Mosque Gate
• Yemeni army kills 20 Houthi militants, injures several others in Dhale governate
• Yemen government, Houthis to start first phase of Hodeidah pullout
• Iran arrests three 'terrorists' for suicide bomb attack
• Coalition: Saudi Arabia has supported Yemen with more than $13 bln
• Iran slams deadly terrorist attack on army checkpoint in Egypt's Sinai
• UAE buys $1.8 billion US arms amid Yemen war
• Israel's freeze of Palestinians' money amounts to piracy: PLO official
--------
North America
• US Calls upon Pakistan to Let Masood Azhar Be Placed On UN Terror List
• US illegitimate presence in Syria contributes to instability: Lavrov
• US Army says still backing Saudi-led war on Yemen
--------
Southeast Asia
• Marry Young, It's Better than Free Mixing of Sexes, Says PAS Man
• Malaysians Are Still Mired In Religious Controversies despite Knowing That It Will Not Augur Well
• Business as usual in Semenyih for PAS and Umno
--------
Arab World
• Muslim World League Aims to Bridge Gap between Nations 'Through Dialogue'
• US Takes ISIL's Gold Treasure Out of Eastern Syria after Agreement with Terrorists
• Saudi Arabia Calls Iran World's Chief Sponsor of Terrorism
• Saudi official fires back after Iran blames attack on Riyadh
• Saudi Arabia, Pakistan affirm Palestinians' right to establish own state
• Two police officers killed after terror suspect blows himself up near Al-Azhar Mosque in Cairo
• Twin bombing kills 24 in Syria's Idlib
• US-backed force won't release extremists, but warns they could escape
• Commander: US cannot back forces who align with Syria's Assad
• New report reveals Saudi minister Jubeir's links with Mossad
--------
Europe
• Russia Adopts 'Moral' Stance on ISIS Children
• British minister: ISIS bride must answer for time in Syria
• ISIS Smuggler: Sleeper Cells and 'Undead' Suicide Bombers Have Infiltrated Europe
• Iran denies claims of 'commitments' to UK on Yemen
• US attempted to create new Mideast dividing lines at anti-Iran Warsaw forum: Russia
--------
South Asia
• Jamaat e Islami Bangladesh re-branding as Freedom and Justice Party
• 45 militants killed, wounded in Zabul province in past one week: officials
• 9 militants killed, wounded in Ghazni province: 203 Thunder Corps
• U.S. peace efforts not aimed at seeking ways for exit from Afghanistan: Khalilzad
• 2 militants killed while placing an IED in a graveyard in Kandahar
• Afghanistan and U.S. envoy agree on new working method for peace process
--------
Pakistan
• Pak Seeks Urgent UN Intervention to De-Escalate Fresh Tensions with India
• Pakistan offer full support for any investigation in Pulwama attack: Imran Khan
• Roadmap for $21bn Saudi investment finalised
• CTD police fails to arrest men behind Defence car blast
• Taliban postpone meetings in Pakistan over travel curbs
--------
Africa
• Cameroon Yet to Build Planned Rehab Centers for ex-Boko Haram Fighters
• Boko Haram: 35,000 flee Nigeria for Cameroon
• Boko Haram kills two soldiers in Borno
• Sudanese vendor killed after police fired tear gas at Khartoum rally
• Boko Haram kills 2 soldiers in NE Nigeria: Security sources
• '1,000 terrorists returned to Tunisia in 7 years'
Compiled by New Age Islam News Bureau
URL: https://www.newageislam.com/islamic-world-news/up-dargah-ala-hazrat-shares/d/117793
--------
UP: Dargah Ala Hazrat Shares Grief of Pulwama Martyrs' Families, Says Bloodshed of Innocents is Against Islam
February 19, 2019
New Delhi: Dargah Ala Hazrat in Uttar Pradesh's Bareilly on Monday urged the government to 'end terrorism' in wake of the Pulwama terror strike and reiterated that bloodshed of innocents is against the teachings of Islam.
The Dargah released a statement that read, "There is no place for terrorism in Islam, and the Muslims do not give shelter to any terrorist".
Further condemning the Pulwama terrorist attack in south Kashmir on Thursday, Sajjad Nusheen Subhan Raja Khan said, "The incident of Pulwama embarrassed the humanity. I appeal to the government to end the terrorism."
Expressing condolences to the families of 40 CRPF martyrs, Dargah's spokesperson Nasir Qureshi added, "Our dargah supports the martyrs' families in their grief. Those are shedding the blood of innocents are the enemies of Islam and they are defaming our religion across the world."
The Dargah's directives read that the Muslim community should be united against those perpetuating terrorism.
As many as 40 CRPF personnel were blown to bits and five others injured on February 14, Thursday, when an explosive-laden SUV rammed their bus in Pulwama. Soon after the attack, Pakistan harboured terrorist outfit Jaish-e-Mohammad (JeM) took responsibility for the terror strike. The convoy of 78 buses, in which around 2,500 CRPF officers and jawans were travelling from Jammu to Srinagar, came under attack around 3:15pm last Thursday.
https://www.india.com/news/india/up-dargah-ala-hazrat-shares-grief-of-pulwama-martyrs-families-says-bloodshed-of-innocents-is-against-islam-3580154/
--------
Why This Hindu-Muslim Wedding In Lucknow, India, Is Not 'Love Jihad'
February 18, 2019
Bobby Naqvi
At a time when marriages of Hindu-Muslim couples invite the anger of right-wing organisations and lead to violence in India, a high-profile interfaith wedding on Sunday evening in Lucknow has invited chuckles.
The wedding at Taj Vivanta hotel in the capital of northern India's Uttar Pradesh state was attended by senior leaders of Bharatiya Janata Party, including the state Governor Ram Naik, BJP general secretary Ram Lal, central minister Mukhtar Abbas Naqvi and several ministers of the BJP government in UP.
"Shriya Gupta weds Faizan Kareem," read a sign at the hotel lobby directing guests to the pool side wedding on Sunday evening.
Marriages of Hindu girls to Muslim boys or vice versa are not uncommon but in recent years such weddings have created a political storm and led to violence. The BJP and its affiliated outfits accuse Muslims youths of luring Hindu girls and label such relationships as "love jihad". The term love jihad is used to spread fears that Muslim youths seduce Hindu girls in order to convert them to Islam, a concern which officials in several states have dismissed as social media rumours. In the last five years, the police have investigated such claims and found no evidence of forced conversion of Hindu girls.
In the last five years, love jihad has dominated political and social media discourse and in one such case, it was investigated by National Investigative Agency, India's top counter-terror agency. The NIA investigated 11 interfaith marriages in Kerala and the agency did not find found any evidence of forced conversions.
The most prominent case of Hadiya (formerly Akhila Ashokan), a 24-year-old Hindu woman, who converted to Islam and married Shafin Jahan, had dominated headlines last year after the Kerala High Court annulled her marriage. Following the NIA investigation in October last year, the Supreme Court upheld the marriage and said Hadiya had the right to choose her partner.
However, love jihad continues to be a controversial term and the right wing outfits have violently attacked interfaith couples in several states. In several cases across the country, interfaith couples have approached police and courts, seeking protection from rightwing elements.
Reacting to the high profile interfaith wedding in Lucknow, a journalist said: "Where is love jihad brigade now, the RSS outfits had recently attacked a couple in Agra."
The bride Shriya Gupta is a Lucknow girl and schooled in Loreto convent, a Catholic institution. She is the niece of BJP leader Ram Lal, a powerful general secretary of the BJP, a party that has spearheaded campaign against interfaith marriages during elections. Shriya's husband, Faizan Kareem is the son of Dr Wijahat Kareem and Dr Surheeta Chatterji Kareem, who is a Congress leader in the state.
"A wedding is a private matter and I can't say much but one cannot overlook the hypocrisy of the politicians," he added. "I hope that people who get provoked by this love jihad bogey are able to see through hypocrisy of the political class."
"It looks like what is good for the goose is not good for the gander. A Muslim friend married a Hindu girl in Lucknow only to be hounded by the police and rightwing elements for months on end. The cops would not just raid his house every few days in the middle of the night, they would conduct similar unauthorised searches in the homes of his friends and relatives," recalled Indian expat Mohsin, 45. "The couple lived in fear. The girl was 24 years old at the time of her marriage but her parents lodged a police complaint saying she was a minor. The police knew she wasn't and would refuse to listen or reason with us," he said.
In 2017, Facebook drew sharp criticism after a user from Bangalore posted a list of 100 interfaith couples, inviting Hindus to hunt them down. The controversial post was taken down after widespread criticism.
https://gulfnews.com/world/asia/india/why-this-hindu-muslim-wedding-in-lucknow-india-is-not-love-jihad-1.1550485509809
--------
India Wants Masood Azhar on UN Blacklist, Saudi-Pak Joint Statement Is A Snub
by Shubhajit Roy
February 19, 2019
A day before Saudi Crown Prince Mohammed bin Salman lands in Delhi for a bilateral visit, Riyadh signed off on a joint statement with Pakistan Monday where they said there was a need to avoid "politicisation of the UN listing regime" — an apparent reference to India's efforts to list Jaish-e-Mohammad chief Maulana Masood Azhar as a "global terrorist".
Jaish has claimed responsibility for the terrorist attack in Pulwama, the single bloodiest attack in Kashmir in the last three decades of militancy. The issue of Azhar's listing and how China has been blocking Delhi's efforts to designate Azhar as a global terrorist — at Pakistan's behest — is a key issue the Indian Foreign Secretary has been highlighting in his meetings with envoys from G-20 countries, including Saudi Arabia.
There was no official response from the Ministry of External Affairs but the Saudi-Pakistan joint statement clearly belies India's expectations.
It puts a stamp of approval on Pakistan's narrative that India is trying to politicise the UN listing process.
Hours before the joint statement, the Ministry of External Affairs Secretary (economic relations) T S Tirumurti, who handles ties with the country, said that the Kingdom has shown "greater understanding" of India's terrorism-related concerns and has agreed to work with India in countering this global menace.
"The Kingdom of Saudi Arabia has strongly condemned and denounced the terrorist attack on Indian security forces in Pulwama on 14 February. We appreciate Kingdom's cooperation in security and counter terrorism areas over the years. During the visit of PM Modi to Saudi Arabia in 2016, an MoU on cooperation in exchange of intelligence related to money laundering and terrorism financing was signed," understanding of our terrorism-related concerns and also agreed to work with India in countering this global menace," Tirumurti said on Monday.
But the joint statement did not reflect these sensitivities as it not only praised Pakistan's "achievements" in the war against terrorism but was also seen to be backing Islamabad on the listing regime.
"The Kingdom of Saudi Arabia and the Islamic Republic of Pakistan reiterated their commitment to continue combating extremism and terrorism and expressed their deep appreciation for the achievements and sacrifices made by the two sides in the war against terrorism.
They also applauded the martyrs who sacrificed their lives in order to confront this serious scourge and called on the international community to shoulder its responsibilities to join all international efforts to combat global terrorism. They also underlined the need for avoiding politicization of UN listing regime," the joint statement said.
The Saudi Crown Prince "praised openness and efforts of Prime Minister Imran Khan for dialogue with India and the opening of the Kartarpur crossing point for Sikh pilgrims, the joint statement said.
It also pointed out to the "efforts exerted by both sides, stressing that dialogue is the only way to ensure peace and stability in the region to resolve outstanding issues".
https://indianexpress.com/article/india/pulwama-attack-india-wants-jem-masood-azhar-on-un-blacklist-saudi-pak-joint-statement-is-a-snub-5590181/
--------
Iran: Will 'immediately intervene' if Pakistan doesn't eliminate terrorists
18 February 2019
Chief of General Staff of Iranian Armed Forces, Major General Mohammad Bagheri, warned on Monday that Tehran will intervene if terrorist presence in Pakistan is not addressed and eliminated "immediately".
The Iranian news agency, IRNA, quoted Bagheri as saying that if training camps and their activities in some areas of Pakistan continue "for any reason whatsoever," Iran will immediately intervene.
Bagheri said that the country will exercise this option if "it needs to" as it is Tehran's "international and legitimate right" as per the United Nations Charter.
"Pakistan bears great responsibility in terms of defending its borders and purging neighboring lands with Iran from terror groups," he said.
Bagheri said that terrorists set up secret bases in Tehran. He also accused Saudi Arabia and the United Arab Emirates of training, equipping and organizing these groups in order to destabilize Iran.
Commenting on last week's suicide car bomb, that killed at least 27 members of the Revolutionary Guard, Bagheri said that talks with Pakistani leaders have already started.
He said that a team of Pakistani officials visited Iran and discussions are taking place with the Pakistani leadership.
"We asked the Pakistani authorities to either purge the territories where terrorist groups are stationed or to allow Iranian forces to enter these (areas) and confront them," Bagheri said.
He said that the Pakistani army started an operation in the Balochistan region on Sunday but added that these efforts may not yield the desired results. As a result, Iran and Pakistan continue to discuss ways to ensure security.
During another meeting with the country's armed forces personnel in Qom, Bagheri spoke of Iran's capability to tackle such threats.
He said that all of Iran's borders are secure and the country's military and defense units are ready to respond to any threat even if it is kilometers away from its borders.
https://english.alarabiya.net/en/News/world/2019/02/18/Iran-threatens-to-immediately-intervene-if-terror-continues-from-Pakistan-side.html
--------
US calls upon Pakistan to let Masood Azhar be placed on UN terror list
February 19, 2019
WASHINGTON: The United States is urging Pakistan not to oppose moves to put Jaish-e-Mohammad and its leader Masood Azhar on a UN list of global terrorists, diplomatic sources told Dawn.
"This message has been conveyed to Pakistani officials in Islamabad and to Pakistani diplomats in Washington," one of the sources said.
Earlier this week, India urged the international community to support its move to place Jaish and its leader on a UN list of terrorists that would also require Pakistan to take punitive action against both.
However, the Indian media reported on Monday that New Delhi "would only push" for this "if China indicated its support".
In the past, China blocked several Indian moves to achieve this target.
India once again sought international support for its move after this week's terrorist attack in Pulwama that killed more than 40 Indian soldiers.
But a Chinese official indicated on Friday that while Beijing strongly condemned the terrorist attack in Pulwama, it was not yet ready to support India's UN moves against Jaish and Masood Azhar.
"Given China's statement, India is unlikely to push the Azhar ban in the UNSC until they get a green light from China," The Times of India reported.
In Washington, however, the Pulwama attack generated great sympathy for India.
"We stand with India as it confronts terrorism. Pakistan must not provide safe haven for terrorists to threaten international security," tweeted US Secretary of State Michael Pompeo.
In a separate statement, the State Department called on "all countries to uphold their responsibilities pursuant to UN Security Council resolutions to deny safe haven and support for terrorists".
US National Security Adviser John Bolton telephoned his Indian counterpart Ajit Doval and then issued a statement, reminding all UN members, including Pakistan, to "uphold UNSC responsibilities to deny safe haven and support for terrorists".
But his statement did not include two key points that an Indian statement on the Doval-Bolton call attributed to him:
US support for India's "right to self defence" and offering "all assistance to India".
The words attributed to Mr Bolton were interpreted in India as indicating US support for any possible Indian military action against Pakistan.
But the points that the Indian media built its narrative on were also missing from US media reports on the Pulwama attack and its consequences.
Instead, the media pointed out that the attack had placed Washington "in an awkward position".
The media noted that Washington wants Islamabad's help to end the war in Afghanistan and senior US officials have cautiously praised Pakistan's help in recent months toward the Afghan peace process.
"President Trump's emphasis on a pullout from Afghanistan increases Pakistan's importance to US regional policy," one such report claimed.
"The US government might continue to condemn Pakistan for providing terrorist groups with a safe haven, but that would be the possible extent of its support for India," argued a Stanford scholar Asfandyar Mir in an article he wrote for The Washington Post.
"As important as the long-term India-US relationship may be in the eyes of US strategists, the needs of the conflict in Afghanistan — and Pakistan's role there — are likely to take precedence in the short run," he wrote.
https://www.dawn.com/news/1464757/us-calls-upon-pakistan-to-let-masood-azhar-be-placed-on-un-terror-list
--------
Marry young, it's better than free mixing of sexes, says PAS man
Minderjeet Kaur
February 19, 2019
PETALING JAYA: A Kelantan MP's view on teen pregnancy and underage marriage reveals the vast difference between some conservative Muslims and rights advocates in addressing the problems.
Che Abdullah Mat Nawi, a PAS MP representing Tumpat, the northernmost constituency in Kelantan which borders Thailand, blames teen pregnancies and baby-dumping on the authorities' failure to stop what he terms the free mixing of the opposite sexes.
"I see this a lot in Kuala Lumpur," he told FMT.
"They go riding on motorbikes but I know they are not married. They go to islands and beaches. They have babies, and then throw them away."
Abdullah disagrees with calls to raise the minimum legal age of marriage to 18, which have gained momentum following a series of cases of young girls married off to men twice or three times their age.
He also said getting married at a young age should not be seen as an obstacle for men and women to further their studies.
"How many people got married and still furthered their education? I got married when I was 23 years old. I did my masters in accounting when I was 32. I had four children already.
"So I don't think marriage stops anyone from continuing their education," said Abdullah, who is now the father of 12 children.
Yesterday, Muslim women's empowerment group Sisters In Islam criticised the Kelantan government for not supporting Prime Minister Dr Mahathir Mohamad's call to raise the minimum legal age for marriage to 18 years.
"We are disappointed that Kelantan and Terengganu have opted to retain child marriage in the states, with Kelantan citing last November that the practice is regarded as a 'necessity' in the state," it said.
Underage marriages have been widely debated in the media since June last year when a 41-year-old Kelantan man took an 11-year-old girl as his bride.
The following month, Deputy Prime Minister Dr Wan Azizah Wan Ismail said the government would amend the laws to raise the marriageable age for girls from 16 to 18.
Mahathir also reportedly urged state governments during a meeting of menteris besar and chief ministers in October to raise the minimum age for marriage to 18 years for both Muslims and non-Muslims.
Abdullah said the main problem was the free mixing of genders.
He said unmarried couples caught for khalwat, or close proximity, should be married off as they would become more responsible after that.
"To me, we should not stop kids from getting married yet allow them to mix around. It is better for them to get married," he said.
Abdullah also dismissed concerns that young parents would be unable to support their children.
"We believe we give birth and God gives sustenance. I have 12 children. I never worry about how I am going to feed the babies.
"Every time I have a baby, it is fed," he said.
https://www.freemalaysiatoday.com/category/nation/2019/02/19/1080405/
--------
Muslim World League aims to bridge gap between nations 'through dialogue'
February 18, 2019
WASHINGTON: The Muslim World League (MWL) aims to foster cooperation between Muslims and followers of other faiths and to clarify concepts of Islam to non-Muslims through dialogue, said MWL Secretary-General Dr. Mohammed Al-Issa.
He expressed these views during events hosted by the Washington Institute for Near East Policy and the National Council on US-Arab Relations (NCUSAR) during a visit to Washington, DC.
The meetings were attended by the heads of both organizations, as well as a number of religious, political and intellectual figures in the US, and covered a range of topics ranging from history to current affairs.
Al-Issa also said the MWL wants to enable relief and development work in impoverished or devastated parts of the world.
He sought to allay confusion in the West about certain concepts at both meetings, including distinctions between doctrinal strictness and intellectual extremism, the concept of "jihad," the "Ummah" (Muslim nation), the "Khilafah" (Caliphate), the meaning of "kufr" (disbelief) in Islam, the relationship between Muslims and other faiths, and whether Muslims hate Western culture. He also answered questions on the differences between Al-Qaeda and Daesh, both of which, he insisted, "remained dangerous" despite the former's "dormancy" and the latter's territorial losses.
Al-Issa also addressed historical discrepancies going back to the medieval period, pointing out that many Muslims in history referred to the Crusades as the "Frankish Wars," explaining that "the term emerged at the time because Muslims were certain that true Christianity would not act as such. These campaigns had also devastated Orthodox Christian villages."
On the historical and spiritual relationship between the East and the West, Al-Issa said: "The religious and cultural gap has not been addressed in many cases in the right way, producing a lack of understanding between the East and the West."
He also went some way toward addressing various interpretations in Islam, including of jihad (which he said did not imply the imposition of Islam through force, but instead championed fighting injustice, aggression and persecution against fellow Muslims) and the application of the "jizyah" on non-Muslims.
He was also asked to comment on the ascent of Muslim members of the US Congress, particularly the first female members, Rep. Rashida Tlaib and Rep. Ilhan Omar during the recent midterm elections. When asked if he had any advice for the pair, Al-Issa said: "Like all other members of Congress, they must perform their national duty and remain worthy of the trust of the American people."
http://www.arabnews.com/node/1454351/saudi-arabia
--------
Russia adopts 'moral' stance on ISIS children
Jonathan Brown
February 18, 2019
While Russian President Vladimir Putin is infamous for waging ruthless campaigns against terror groups at home and abroad, his conciliatory approach to children of ISIS has fallen under the spotlight in recent weeks.
Aa part of an ongoing programme to repatriate Russian children from Iraq and Syria, 27 children arrived in Moscow by plane from Iraq earlier this month.
The question of how foreign governments should deal with citizens who joined ISIS has become more pertinent in recent months as its members slowly trickled from the group's final stronghold in the Syrian desert following an assault by US-backed Kurdish and Arab troops, known as the Syrian Democratic Forces (SDF).
The Kremlin's approach to ISIS children, some observers say, may offer a solution to Western governments who have so far been content to see their citizens tried in Iraqi courts or held in Kurdish detentions centers.
"This is a rare example of Russia being ahead of Western democracies on a humanitarian issue," says Ekaterina Sokirianskaia, director of the Conflict Analysis and Prevention Centre. "Russia gets to say: 'we are morally superior. We treat children as victims.'"
Russian officials working on the repatriations from Iraq say the children do not pose any security threat and that they have been encouraged to reintegrate into normal life on their arrival home.
"They attend school and kindergarten. Volunteers work with them and talk to them about what they have been through, explaining how they have been indoctrinated," Kheda Saratova, an advisor to Chechnya leader Ramzan Kadyrov, told Agence France-Presse.
The group of children who arrived in February are among an estimated 200 to have been returned since reports of the programme first appeared in state-run media in late 2017. But according to Ms Saratova, some 1,400 are still stuck in Iraq and Syria.
A majority are being returned to predominantly Muslim republics in the North Caucasus region of Russia. More than 3,000 Russian citizens, many from Chechnya and Dagestan in southern Russia, are believed to have joined armed groups in Iraq and Syria and remain there today.
Novaya Gazeta, a Russian investigative newspaper, reported earlier this month that as many as 900 Russian speakers from the North Caucasus and Central Asia are holed up in Idlib in northwestern Syria, the last stronghold of rebel opposition to President Bashar Assad.
Until December last year, when 30 more children were returned, the program – which originally included women as well as children – was put on hold for nearly a year over what analysts said was a disagreement within the government over security concerns.
Alexander Bortnikov, the head of Russia's FSB intelligence service, noted last year that many women with children exiting conflict zones have been used by militants as suicide bombers or recruiters.
Mr Putin, however, has argued that the children are not responsible and that the Russian authorities have "no right" to leave them in Iraq and Syria.
In late 2017, the Russian president described efforts to return children as "a very honourable and correct deed".
For Ramzan Kadyrov, the strongman leader of the Chechen republic credited with kick-starting the programme, saving women and children serves as a welcome opportunity to rebrand his image as a ruthless authoritarian.
"It's very good for the image of Kadyrov. He seems somebody who doesn't just use violence against terrorists but who builds mosques and hands out humanitarian aid," Grigory Shvedov, who edits a Caucasus-focused news website Caucasian Knot, told AFP.
However, bringing the children back to Russia gives the authorities – and Mr Kadyrov in particular – greater control over what might otherwise be turned into a new generation of militants, according to Ms Sokirianskaia.
For Mr Kadyrov, "any Chechen out of his control is a potentially dangerous Chechen," she says.
https://www.thenational.ae/world/europe/russia-adopts-moral-stance-on-isis-children-1.827291
--------
Jamaat e Islami Bangladesh re-branding as Freedom and Justice Party
February 18, 2019
Finally several key figures of Jamaat e Islami Bangladesh (JIB) have started the process of giving the pro-militancy party a new shape by copying the tactics of Muslim Brotherhood. This was mentioned by Barrister Abdur Razzaq, Assistant Secretary General of JIB in an interview with vernacular daily the Prothom Alo. Razzak has recently 'resigned' from JIB in protest of the party's unwillingness in seeking apology for its nefarious role during the war of independence of Bangla-speaking in 1971. It may be further mentioned here that, prior to his 'resignation' from Jamaat e Islami, Razzaq was playing key-role in maintaining communications with the Western policymakers on behalf of this pro-militancy radical Islamic party. Although Razzaq's so-called resignation and subsequent expulsion of a couple of JIB leaders have generated enthusiasm within the anti-JIB forces, particularly the ruling Awami League, the reason behind this 'resignation' and 'expulsion' are part of the masterplan of re-branding the party and re-emergence of it under the banner of Freedom and Justice Party of Bangladesh, copying Muslim Brotherhood. Majority of JIB leaders are convinced, if they can rebrand the party by changing it from Jamaat e Islami to Freedom and Justice Party, it can eventually come to power in a Muslim dominated Bangladesh with a "landslide" victory in the general election, similarly as Turkish Islamo-fascist, Reception Tayyip Erdogan's Freedom and Justice Party (AKP).
Replying to a question by the Prothom Alo on the reason behind his earlier efforts in bringing reform within Jamaat e Islami, Razzaq said, "If you want to lead a country, you need to understand the realities of that country. You are doing politics and for that, you need to adopt policies of expanding your reach within the society to politically face other parties. Take the example of Muslim Brotherhood in Egypt. By re-branding it as Freedom and Justice Party, they succeeded in expanding its reach (in the society). Look into the history of AK Party in Turkey. They also have gone through reforms. Shouldn't they adopt such reforms, they wouldn't be able forming government through absolute majority in the election. They didn't come through power through any manipulation (electoral). I wanted to say, there should be reform in my party (Jamaat e Islami) as well".
Barrister Abdur Razzaq also hinted about creating space for women in getting key positions in a radical Islamic party like Jamaat for the sake of getting positive vibe from the Western policymakers.
As vernacular daily Prothom Alo reminded Barrister Razzaq about Jamaat e Islami's slogan saying 'Allah'r Ain Chai' (Want Allah's Law) and it's constitution stating total determination towards enforcing 'Allah's sovereignty', which is "referred as it's (Jamaat's) critics as radical Islam", Razzaq said, "Radical stands for terrorism. Jamaat believes in the politics of moderate Islam [dear readers, there is no such terminology called politics of moderate Islam in the book of political science]. Other Muslim nations [he must be referring to Egypt, Turkey, Iran Tunisia, Malaysia, Pakistan etc] have also adopted the same policy. Jamaat of 1947, 1971 and 2019 aren't same. Changes (in politics) have been taking place in other countries in the world. When Congress (Indian National Congress) was formed in 1880, it's leader was a Scottish (national). Later Subhash Chandra Bose, Jawaharlal Nehru and Indira Gandhi (became its leaders). Muslim League was established in 1906 under the leadership of Sir Salimullah. Salimullah's Muslim League and Jinnah's (founding father of Pakistan) Muslim League wasn't same. Taking realities into consideration, reform is essential. That reform must be implemented (with Jamaat e Islami)".
Reason behind Razzaq's abrupt resignation:
Although most of the political leaders from the two mainstream parties, such as Awami League and Bangladesh Nationalist Party are in awe at the sudden resignation of this prominent Jamaat e Islami leader, the reason behind it is completely strategic as Razzaq's resignation has started the process of r-ebranding of pro-militancy Jamaat e Islami into Freedom and Justice Party of Bangladesh. The reason behind this move is clear. Jamaat now wants to emerge as a mainstream party carrying the ideology of Bangladeshi nationalism mixed with Islam. It's allies in the world have suggested Jamaat to copy Reception Tayyip Erdogan in order to ultimately coming to power in the next general election.
While with the resignation of Razzaq, the ball of reform in Jamaat e Islami has started moving, it is strongly pursuing Western policymakers, especially the United States in exerting pressure on the ruling party in Bangladesh in holding another general election by the end of 2019. There already are clear indications of such pressure coming from the Trump administration as well as the United Nations within next few weeks. Meanwhile, a large number of 'renegade' leaders of Bangladesh Nationalist Party (BNP) are actively plotting of expelling Tarique Rahman and his imprisoned mother Khaleda Zia from party's top most positions by applying the constitutional provisions of the party. Once BNP is freed from Khaleda Zia and her son Tarique Rahman, it will disassociate it's alliance with Jamaat e Islami and join hands with Freedom and Justice Party of Bangladesh – meaning, a larger nexus of nationalists and Islamists are in the offing.
Anti Awami League bloc, particularly BNP and Jamaat have become enthusiastic at the recent Germany visit of Prime Minister Sheikh Hasina, where Chancellor Angela Merkel didn't meet her, though had been greatly expected by the Bangladesh side. Second reason behind anti-Awami League bloc's enthusiasm is following the letters from the House Foreign Relations Committee to President Donald Trump, United Nations as well Pentagon Commander's dossier. They have started believing, the ruling party in Bangladesh is gradually becoming isolated from the international community following the "questioned" general election of December 30, 2019.
https://www.weeklyblitz.net/news/jamaat-e-islami-re-branding-as-freedom-and-justice-party/
--------
Pak seeks urgent UN intervention to de-escalate fresh tensions with India
Feb 19, 2019
ISLAMABAD: Pakistan has sought the UN's urgent intervention to "defuse tensions" with India, the foreign office said Tuesday, following one of the worst terror attacks in Jammu and Kashmir in which over 40 Indian soldiers were killed.
On February 14, at least 40 Central Reserve Police Force (CRPF) personnel were killed in Kashmir's Pulwama district in a suicide attack claimed by Pakistan-based Jaish-e-Mohammad terror group.
The attack has heightened bilateral tensions with both New Delhi and Islamabad calling back their envoys.
Pakistan foreign minister Shah Mahmood Qureshi sent a letter to UN Secretary-General Antonio Guterres on Monday, seeking his help to reduce the tensions between the two countries, Pakistan Foreign Office said.
"It is with a sense of urgency that I draw your attention to the deteriorating security situation in our region resulting from the threat of use of force against Pakistan by India," Qureshi wrote in the letter.
India has rejected any third party intervention in the Kashmir issue and has maintained that all outstanding matters in Indo-Pak ties should be resolved bilaterally.
Qureshi, in his letter, said the Pulwama attack on Indian CRPF soldiers was ostensibly and even by Indian accounts carried out by a Kashmiri resident.
He said attributing the attack to Pakistan even before investigations was absurd.
He alleged that for domestic political reasons, India deliberately ratcheted up its hostile rhetoric against Pakistan and created a tense environment.
Qureshi wrote that India has also hinted that it may abandon the Indus Waters Treaty, asserting that it would be a grievous error.
"It is imperative to take steps for de-escalation. The United Nations must step in to defuse tensions," Qureshi said.
He said India must be asked to conduct an open and credible investigation in the terror attack.
"You may also consider asking India to refrain from further escalating the situation and enter into dialogue with Pakistan and the Kashmiris to calm the situation down," he wrote.
The foreign minister requested that the letter should be circulated to members of the Security Council and General Assembly.
Pakistan has repeatedly asked the UN to intervene in Kashmir. Former Pakistan Prime Minister Nawaz Sharif had also sought the US' intervention, saying America was the "most relevant" party to get involved in Kashmir issue.
The US, however, has time and again reiterated that it is for India and Pakistan to discuss and decide on the pace and scope of their bilateral relationship.
https://timesofindia.indiatimes.com/world/pakistan/pak-seeks-urgent-un-intervention-to-de-escalate-fresh-tensions-with-india/articleshow/68058362.cms
--------
India
Saudi crown prince arrives today, New Delhi, Riyadh to set up Strategic Partnership Council
by Shubhajit Roy
February 19, 2019
AS SAUDI Crown Prince Mohammed bin Salman arrives in India on a two-day visit on Tuesday, New Delhi and Riyadh will set up a "Strategic Partnership Council" at the ministerial level to deepen partnership in areas like political, security, trade, investment and culture.
After the bilateral meeting between Prime Minister Narendra Modi and the Crown Prince on Wednesday, the two sides are also expected to sign pacts in areas of investment, tourism, housing and information & broadcasting.
Both sides are also exploring the possibility of elevating the defence engagement with joint production and joint exercises, particularly joint naval exercises.
With the visit taking place in the backdrop of Pulwama terrorist attack last week and the Crown Prince's visit to Pakistan over last two days, the Ministry of External Affair's secretary (economic relations) T S Tirumurti, who handles the ties with the country, said that the Kingdom has shown "greater understanding" of India's terrorism-related concerns and has also agreed to work with us in countering this global menace.
"The Kingdom of Saudi Arabia has strongly condemned and denounced the terrorist attack on Indian security forces in Pulwama on February 14. We appreciate Saudi's cooperation in security and counter terrorism areas over the years. During PM Modi's visit to Saudi Arabia in 2016, an MoU on cooperation in exchange of intelligence related to money laundering and terrorism financing was signed. Saudi has shown understanding of our terrorism-related concerns and also agreed to work with India in countering this global menace," Tirumurti said on Monday.
India has been identified as one of the eight strategic partners with whom Saudi Arabia intends to deepen partnership in areas of political, security, trade, investment and culture.
The cooperation in defence will continue to be an important area of bilateral ties. "MoU on Defence Cooperation was signed in 2014 during the visit of the then Crown Prince Salman, the present King. Both sides are exploring the possibility of elevating this engagement with Joint Production and Joint Exercises, particularly Joint Naval exercises," Tirumurti said.
https://indianexpress.com/article/india/saudi-crown-prince-mohammed-bin-salman-arrives-today-new-delhi-riyadh-to-set-up-strategic-partnership-council-5590169/
--------
Jaish-e-Mohammed Leadership Wiped Out in Less Than 100 Hours of Pulwama Terror Attack, Says Army
February 19, 2019
New Delhi: A day after three Jaish-e-Mohammed terrorists, including the two masterminds of Pulwama terror attack, were gunned down in an encounter in south Kashmir, the security forces on Tuesday said that the Pakistan-based terror group's leadership has been eliminated within 100 hours of the February 14 terror attack.
"I would like to inform that in less than 100 hours of Pulwama terrorist attack, we eliminated have JeM leadership in the valley which was being handled by JeM from Pakistan," said Kanwal Jeet Singh Dhillon, Corps Commander of Chinar Corps, Indian Army.
The statement came at a joint press briefing by the Indian Army, CRPF and the Jammu and Kashmir Police, giving details of the 16-hour-long encounter in Pulwama on Monday and Thursday's terror attack on the CRPF convoy.
"The type of car bomb attack that took place in Pulwama on 14th Feb, happened after a long time in Kashmir. We will keep all options open to deal with these kinds of attacks," Dhillon added.
In a stern message to the youth in Kashmir joining militancy, Dhillon said that those who are picking guns will be eliminated. "Anyone who has picked up a gun will be killed and eliminated," he said.
"In a Kashmiri society, mother has great role to play. Through you, I would request the mothers of Kashmir to please request their sons who've joined terrorism to surrender and get back to mainstream. Anyone who has picked up gun will be killed and eliminated, unless he surrenders," Dhillon added.
Dhillon further warned that the infiltrators trying to enter Indian soil from across the border will be gunned down. "Our focus is clear on counter-terrorism operations. We are very clear that anyone who enters Kashmir Valley will not go back alive," he said.
The security forces also slammed Pakistan for providing safe havens to terror groups and confirmed the role of Pakistan Army in the dastardly terror attack that left 40 CRPF jawans dead.
"Jaish-e-Mohammed a child of Pakistan Army, it is being controlled by ISI and Pak Army. So, there is 100 per cent involvement of Pak Army in Pulwama terror attack," said Dhillon.
The Jammu and Kashmir lauded the families in the Valley for the fact that recruitment in militancy has dropped significantly. "There is a significant dip in recruitment, we have not seen any recruitment in the last three months. The families are playing a huge role in this. We would like to urge the families and the community in curtailing recruitment," said SP Pani, IGP Kashmir.
Three JeM terrorists, including two top commanders believed to be behind the Pulwama terror attack, were killed in a fierce 16-hour encounter, in which an Army major and four security forces personnel lost their lives in south Kashmir on Monday.
Two of the slain terrorists were identified as Kamran and Abdul Rasheed alias Ghazi, the so-called divisional commanders of Jaish-e-Mohammed for Pulwama, Tral and Awantipora areas of South Kashmir. The third one was Hilal, a resident of Pinglena in Pulwama, they said.
The Jammu and Kashmir Police had been on the lookout for Ghazi and Kamran after a suicide bomber belonging to the terror group drove his explosives-laden vehicle and detonated himself near a bus carrying CRPF jawans in Lethpora in Pulwama last week.
Full report at:
https://www.india.com/news/india/pulwama-terror-attack-jaish-e-mohammed-leadership-wiped-out-in-less-than-100-hours-of-feb-14-attack-says-indian-army-3580387/
--------
Saudi Arabia's position on Jammu and Kashmir, terror has evolved: India
Feb 19, 2019
NEW DELHI: Ahead of Saudi Arabia crown prince Mohammed bin Salman's arrival in India, the government said Monday that the Saudi position on not just terrorism but also on J&K had evolved to India's advantage. Salman, who is travelling East for the first time since taking over as the crown prince, will arrive in India Tuesday on a 2-day visit.
While he will land here directly from Riyadh, Salman's arrival in India will come only a day after his visit to Pakistan, a country India is seeking to isolate internationally for its ``complicity'' in the Pulwama terror attack. Salman didn't just announce investments worth $20 billion in Pakistan + but also declared in Islamabad that he was going to act as an ambassador of Pakistan in Saudi Arabia.
In what is unlikely to go down well with India, the Saudi-Pak joint statement even underlined the need for "avoiding politicization of UN listing regime". This seemed aimed at India's campaign to get JeM chief Masood Azhar banned by the UN.
The crown prince went on to praise "openness and efforts" of Pakistan PM Imran Khan for dialogue with India and the opening of the Kartarpur crossing point and the efforts exerted by both sides, stressing that "dialogue is the only way to ensure peace and stability in the region to resolve outstanding issues."
Official sources here said though that, if anything, it was Pakistan which needed to worry about India's growing ties with Riyadh which has seen the two countries considering enhancing defence ties and considering joint naval exercises. The government remained undeterred by reports that Salman had expressed solidarity with Pakistan in their attempts to combat terrorism, saying that it hoped the crown prince's visit to India will help it drive home the message that Pakistan needed to check cross-border terrorism.
These government sources said India had developed a relationship with Saudi Arabia independent of Riyadh's relations with Pakistan. ``The crown prince is not coming here to bail out Indian economy. India-Saudi ties have evolved and Riyadh, unlike in the past, no longer accepts Pakistan's narrative on terrorism or even J&K," said a source here on condition of anonymity.
The government expressed satisfaction over Saudi Arabia's condemnation of the Pulwama terror attack and said this was another sign that Riyadh now had a much better understanding of India's position on terrorism. The government is hoping that the joint statement to be issued after Salman's meeting here with PM Narendra Modi will be embellished by strong references to cross-border terrorism. It recalled the 2016 India-Saudi Arabia joint statement in which the countries called on all states to reject the use of terrorism against other countries and to cut off support to those perpetrating terrorism from their territories against other states.
"The Kingdom of Saudi Arabia has strongly condemned and denounced the terrorist attack on Indian security forces in Pulwama on 14 February. The Kingdom has shown greater understanding of our terrorism-related concerns and also agreed to work with India in countering this global menace," said MEA Secretary (Economic Relations) TS Tirumurti.
Tirumurti said India had been identified as one of the eight strategic partners with whom Saudi Arabia intended to deepen partnership in areas of political, security, trade and investment and culture. As part of this engagement, he said, India was finalizing the setting up of 'Strategic Partnership Council' between the two countries at Ministerial level.
Full report at:
https://timesofindia.indiatimes.com/india/saudi-arabias-position-on-jk-terror-has-evolved-india/articleshow/68053511.cms
--------
No due process, Pakistan should free Kulbhushan Jadhav, India tells World Court
by Shubhajit Roy
February 19, 2019
Arguing that a Pakistan military court's trial and sentencing of Kulbhushan Jadhav "hopelessly failed" to satisfy due process, India Monday urged the International Court of Justice (ICJ) at The Hague to annul Jadhav's death sentence and order his immediate release.
The four-day trial began Monday at the ICJ headquarters amidst heightened tensions between India and Pakistan in the wake of the Pulwama terror attack in Jammu and Kashmir, which killed 40 CRPF personnel.
Senior advocate Harish Salve, the lawyer representing India and Jadhav in the case at the ICJ, opened the hearing. The top UN court will hear Pakistan's submissions on Tuesday, followed by counters from both countries on Wednesday and Thursday.
India's demand to nullify the Pakistan military court's decision indicated a marked shift from its earlier plea, when it had sought consular access to Jadhav in May 2017. Then, New Delhi had asked for "immediate suspension" of the death sentence, ask Pakistan to annul the sentence and if that was not possible, then the ICJ should declare the decision as "illegal" and release Jadhav.
But on Monday, the Indian side forcefully asked the ICJ for "annulment" of Jadhav's conviction and his release forthwith putting the onus of annulment on the ICJ, and not Pakistan. "India seeks the relief of annulment of Jadhav's conviction and a direction that he be released forthwith," said Salve, adding that the "Military Courts of Pakistan cannot command the confidence of this Court and should not be sanctified by a direction to them to review and reconsider the case". This showed New Delhi's complete distrust of Pakistan's military courts.
Salve also submitted that India has established that Pakistan's conduct in not allowing consular access to Jadhav from the time of his detention up to his conviction and thereafter, is a gross violation of Article 36 of the Vienna Convention. He said that the Indian side gave 13 reminders for consular access, but Pakistan did not respond.
In his three-hour submission, Salve argued that Jadhav's trial by a Pakistani military court "hopelessly failed" to satisfy even the minimum standards of due process and requested the ICJ to declare it "unlawful". Pakistan's conduct does not inspire the trust that Jadhav will get justice in its court, he said.
He also said that the Pakistan Army court was amended to try civilians, staffed by military officials and is influenced by top Army officers.
These Army officers have "no judicial training" and the Pakistan side has not produced a "judgment" by the court, and there is "no evidence" against Jadhav, Salve said, adding that Jadhav's confessions were "coerced".
"Pakistani military courts are not independent and the proceedings before them fall far short of national and international fair trial standards. Judges of military courts are military officers who are a part of the executive branch of the State and do not enjoy independence from the military hierarchy. They are not required to have judicial or legal training or even a law degree, and do not enjoy any security of tenure, which are prerequisites of Judicial competence and Independence," he told the ICJ.
"Pakistan is embarrassed to disclose charges against Jadhav," Salve said adding that "allegations of torture" are common in these secretly-held Army courts. He also said that Jadhav's "incommunicado detention" has made a "mockery of safeguards" in the judicial system.
He argued that "Pakistan has not provided any credible evidence," and that "inhuman detention is a violation of universal rights". According to Salve, Pakistan did not inform Jadhav of his rights.
He said that Pakistan did not send any details of the probe conducted by the Joint Investigation Team before informing the Indian side of the death sentence handed to him. Jadhav had no lawyer during his trial either, he said.
According to Salve, Pakistan offered to allow Jadhav's family to visit him, the terms were agreed and the meeting was held on 25 December, 2017. "India was dismayed at the manner the meeting with Jadhav's family was conducted and wrote a letter on 27 December marking its protest," he said, saying that it was a "dehumanising attempt" by Pakistan.
Jadhav, a retired Navy officer, was arrested allegedly on March 3, 2016, and India was informed of this on March 25, 2016, when the Pakistan Foreign Secretary raised the matter with the Indian High Commissioner in Islamabad. On that day, India sought consular access to Jadhav at the earliest. New Delhi then moved the ICJ in May in 2017 against the "farcical trial" by the military court of Pakistan against 48-year-old Jadhav. He was sentenced to death on charges of espionage and terrorism in April 2017.
India first approached the ICJ on May 8, 2017, for the "egregious violation" of the provisions of the Vienna Convention on Consular Relations, 1963 by Pakistan by repeatedly denying it consular access to Jadhav. A 10-member bench of the ICJ had restrained Pakistan from executing Jadhav until adjudication of the case.
Full report at:
https://indianexpress.com/article/india/no-due-process-pakistan-should-free-kulbhushan-jadhav-india-tells-icj-world-court-5590166/
--------
Hurriyat leader Mohammad Abass Ansari wants security cover withdrawn
by Bashaarat Masood
February 19, 2019
A day after the government decided to withdraw the security cover of three separatist leaders in the Valley, Hurriyat leader Mohammad Abass Ansari has demanded that his security cover be taken away as well.
The government had decided to withdraw the security cover of separatist leaders Mirwaiz Umar Farooq, Bilal Gani Lone and Prof Abdul Gani Bhat.
Ansari, who heads Ittehadul Muslimeen, a constituent of the Mirwaiz-led Hurriyat Conference, has written to the J&K Police to withdraw his security cover.
Full report at:
https://indianexpress.com/article/india/hurriyat-leader-mohammad-abass-ansari-wants-security-cover-withdrawn-5590151/
--------
RSS wing wants 'hurdles' for Chinese firms in country
by Karishma Mehrotra
February 19, 2019
Pointing out that Beijing continues to block New Delhi's attempts to designate Masood Azhar as a global terrorist, Swadeshi Jagran Manch (SJM), the economic wing of RSS, on Monday urged Prime Minister Narendra Modi to ban Chinese companies in the country to prevent "economic gain of any nation or individual that directly or tacitly supports such terrorists".
Azhar is the chief of Jaish-e-Mohammad, which carried out last week's terror attack in Pulwama.
The SJM specifically called for banning Chinese telecom companies, 5G equipment, and social media apps such as TikTok and Helo, as alleged child pornography and "anti-national activities" are carried on on these platforms.
In a letter to the Prime Minister, the SJM stated, "It is widely known that the Chinese government continues to block our nation's attempts to designate the chief architect of these terror attacks as a 'global terrorist'. At such a time, we believe it is imperative that the government create similar hurdles for Chinese companies using India for their economic gain."
Ashwani Mahajan, SJM's national co-convener who wrote the letter, told The Indian Express that SJM discussed Chinese technology products with Union minister S S Ahluwalia about two months ago. He said Ahluwalia agreed with points he had raised and said the government has begun work on this. "But nothing has happened so far," Mahajan said. "They (Chinese tech firms) create new apps every day. The government has to frame new rules. We are hopeful that the government will listen to our advice."
The letter mentioned that the past two years have seen a large growth of Chinese social media and e-commerce companies in India, many of which have "various security risks".
A spokesperson of Bytedance, the Chinese firm that owns short-video and social media platforms TikTok and Helo, told The Indian Express "TikTok and Helo are committed to respecting local laws and regulations as well as maintaining a safe and positive in-app environment for our users in India. There is no basis for the incorrect claims raised by certain groups recently. We treat safety and security of our user data very seriously."
In its letter, the SJM used examples of a call by the Defence Ministry in 2017 to armed forces to uninstall more than 40 Chinese applications and probe Chinese UC Browser for sharing location of Indian users to Chinese servers and Chinese propaganda content to Indian users during the Doklam crisis.
A source from Bytedance said that the company's products that are not operating in China, such as Tik Tok and Helo, do not have any data stored in or routed back to China. Instead, the company works with third-party service providers to store data wherever the company has local offices, such as Singapore and the US, the source said.
A Bytedance spokesperson said, "We have robust measures to protect users against misuse, including easy reporting mechanisms that enable users and law enforcement to report content that violates our terms of use and community guidelines."
Full report at:
https://indianexpress.com/article/india/rss-wing-wants-hurdles-for-chinese-firms-in-country-pulwama-attack-masood-azhar-5590148/
--------
Mideast
Israeli forces attack worshipers, reseal al-Aqsa Mosque gate
Feb 18, 2019
Israeli regime forces have resealed one of the al-Aqsa Mosque's gates in the occupied old city of East Jerusalem al-Quds after a group of Palestinian protesters broke the lock and opened the gate for worshipers.
Palestinian Ma'an News Agency reported on Monday that Israeli soldiers had sealed off al-Rahma Gate (Gate of Mercy) with locks and iron chains a day earlier and prevented the Palestinian worshipers from entering the al-Aqsa Mosque compound.
The agency said the Israeli move sparked clashes between Palestinian youths and the Tel Aviv regime forces, which resulted in the detention of five Palestinians, including a woman.
Firas al-Dibs, spokesperson of the Islamic Waqf (Endowment) organization, said Israeli forces had installed the locks and chains at the gate in response to members of the organization performing prayers at the gate last Thursday.
The al-Rahma Gate is a big building that lays to the east of the al-Aqsa Mosque.
The building was sealed by Israeli authorities in 2003 as it was the headquarters of the Islamic Heritage Committee. Israel claimed at the time that the building was being used for political activities.
In 2017, an Israeli court ordered that the building be closed until further notice.
In a separate development on Monday, dozens of Israeli settlers raided the al-Aqsa Mosque compound through the Moroccans' Gate and performed acts deemed provocative by Palestinians at the mosque's courtyard.
This is while Israeli settlers stormed the holy site under tight protection of several groups of Israeli soldiers and special forces.
The al-Aqsa Mosque compound sits just above the Western Wall plaza and houses both the Dome of the Rock and the al-Aqsa mosque.
Tensions continue in the occupied Palestinian territories as part of the aftermath of US President Donald Trump's recognition of Jerusalem al-Quds as Israel's "capital" and relocation of the US embassy to the occupied city.
On December 21, 2017, the United Nations General Assembly overwhelmingly voted in favor of a resolution that calls on the US to withdraw its controversial policy shift.
Despite the vote, the US went ahead with the embassy transfer on May 14, triggering demonstrations in the occupied Palestinian territories, Iran, Turkey, Egypt, Jordan, Tunisia, Algeria, Iraq, Morocco and other Muslim countries.
Infuriated by Trump's move, Palestinian President Mahmoud Abbas boycotted his administration, saying Washington is no longer qualified to serve as the sole mediator in the decades-long conflict with Israel, and that an international mechanism should be devised to replace the US in the so-called peace process.
https://www.presstv.com/Detail/2019/02/18/588916/Israeli-forces-alAqsa-Mosque-gates-Maan-News-Agency
--------
Yemeni army kills 20 Houthi militants, injures several others in Dhale governate
February 18, 2019
DUBAI: The Yemeni army killed 20 Houthi militants, including a field commander, in clashes in the southern Dhale governate on Sunday, Saudi state-agency SPA reported.
Yemeni forces advanced towards Al-Mashhad market in Ab governate as the Arab coalition raided Houthi areas, killing several militants and injuring others east of Sanaa.
The attacks targeted Houthi reinforcements on their way to Nahm front, according to civilian reports on Yemeni Minister of Defense's official website "September Net."
Meanwhile, Yemeni tribesmen from Hajjah's Qeshar district destroyed Houthi militia gathering areas in the Darb Al-Maru area.
Full report at:
http://www.arabnews.com/node/1453996/middle-east
--------
Yemen government, Houthis to start first phase of Hodeidah pullout
February 19, 2019
NEW YORK: Yemen's government and the Houthi militias have agreed on the first stage of a mutual pullout of forces from the port city of Hodeidah, a key entry point for humanitarian aid, the United Nations said.
The Iran-aligned Houthi movement and the government agreed in talks in December to withdraw troops by Jan. 7 from Hodeidah under a truce accord aimed at averting a full-scale assault on the port and paving the way for negotiations to end the four-year-old war.
"The parties reached an agreement on Phase 1 of the mutual redeployment of forces," the UN spokesman's office said in a statement without giving details on what was agreed.
Under Phase 1, the Houthis would withdraw from the ports of Hodeidah, Saleef, used for grains, and Ras Isa, used for oil. This would be met by a retreat of Saudi-led coalition forces from the eastern outskirts of Hodeidah, where battles raged before a cease-fire went into effect on Dec. 18.
The Houthis occupy Hodeidah, the main entry point for the bulk of Yemen's commercial and aid imports, while Yemeni government forces loyal to President Abed Rabbo Mansour Hadi are massed on the outskirts.
The UN statement said the two sides also agreed "in principle" on Phase 2, entailing full redeployment of both parties' forces in Hodeidah province.
Two sources involved in the negotiations said both sides had yet to agree on a withdrawal timeline or on a mechanism for local forces to take over security at the ports and city.
"The UN is still discussing how to reduce the gap between the two sides on how to choose the forces that will control the city," one source told Reuters.
The parties could decide within 7-10 days on where they would reposition forces, said the other source, adding that Houthi fighters could pull back as far as 20 km from the port.
Disagreement on withdrawal had delayed opening humanitarian corridors in Yemen.
Under the first phase, the two sides agreed to reopen main roads linking Hodeidah to the Houthi-occupied capital Sanaa and in Yemen's third city of Taiz, said a UN source.
They also agreed to enable access to Red Sea Mills, which holds some 50,000 tons of World Food Program grain, enough to feed 3.7 million people for a month, the source said. Access to the site has been cut off since September due to fighting.
The Hodeidah truce has largely been respected but there have been intermittent skirmishes in flashpoints on the city's edges.
Full report at:
http://www.arabnews.com/node/1454401/middle-east
--------
Iran arrests three 'terrorists' for suicide bomb attack
18 February 2019
Iran's elite Revolutionary Guards said Monday it has arrested three "terrorists" involved in last week's deadly suicide bomb attack on security forces in southeastern Iran.
"Safe houses in Saravan and Khash were identified and eliminated, and the terrorists based in them were arrested," the force said on its official Sepah news agency.
"Three of the terrorists were arrested and 150 kilograms of explosives and 600 kilograms of explosive materials, as well as weapons and ammunition were confiscated," it said.
The Guards said the three arrested had "produced, guided and supported" the vehicle used in Wednesday's suicide bombing.
The bombing killed 27 members of Iran's Revolutionary Guards travelling on a bus in the volatile province of Sistan-Baluchistan, which straddles the border with Pakistan.
The attack was claimed by extremist group Jaish al-Adl.
Iran has provided Pakistani officials with "information on the terrorist groups' hidden and semi-hidden training centers", army chief-of-staff Mohammad Bagheri told Tasnim news agency.
Guards' commander Major General Mohammad Ali Jafari has accused Pakistan's army and intelligence agency of sheltering the extremists.
Full report at:
https://english.alarabiya.net/en/News/middle-east/2019/02/18/Iran-arrests-three-terrorists-for-suicide-bomb-attack.html
--------
Coalition: Saudi Arabia has supported Yemen with more than $13 bln
18 February 2019
Saudi Arabia has contributed more than $13 bln in support of Yemen since 2014, spokesman of the Arab Coalition supporting the legitimate government of Yemen Col. Turki al-Maliki said on Monday during a weekly press conference in Riyadh.
Al-Maliki confirmed that the coalition is working with the United Nations and international agencies to support the Yemenis, stressing that the coalition's efforts continue against both al-Qaeda and the Houthi rebels.
He pointed out that the coalition continues to provide support for international efforts to resolve the situation in Yemen, while the Houthis continue to fire ballistic missiles and lay naval and landmines.
According to al-Maliki, the Houthi rebels have violated the Sweden deal more than 1,400 times, while also deploying tanks and military mechanisms near schools and residential neighborhoods.
Al-Maliki attributes the rise of terrorist organizations in Yemen to the Houthi coup and the absence of legitimate government.
The spokesman also said that the qualitative military operations continue in Hadhramaut and other areas of Yemen.
Pictures and videos of the Iranian-made weapons and drugs confiscated from the Houthi rebels were also shown during the press conference, as well as confiscated weapons that belonged to al-Qaeda.
Other videos and pictures show the coalition's targeting of Houthi sites and machinery.
The coalition is actively seeking to eliminate and reduce the Houthi rebel's capabilities, while the Houthis continue to use Yemeni civilians as human shields, al-Maliki said.
He also denied reports on the arrival of US weapons to the Houthis and al-Qaeda in Yemen.
Al-Maliki confirmed that the coalition monitored the locations of the Houthis before attacking them with Apache helicopters. He showed a video documenting the accuracy of targeting the sites without harming civilians.
Full report at:
https://english.alarabiya.net/en/News/gulf/2019/02/18/Coalition-Terrorism-in-Yemen-caused-by-Houthi-coup-absence-of-legitimate-government.html
--------
Iran slams deadly terrorist attack on army checkpoint in Egypt's Sinai
Feb 18, 2019
Iran has strongly condemned a terrorist attack on an army checkpoint in Egypt's restive North Sinai region, urging collective cooperation among all countries to fight the scourge.
"Terrorism is a common threat to regional countries and the fight against this ominous phenomenon requires sincere determination and joint cooperation by all countries," Iranian Foreign Ministry Spokesman Bahram Qassemi said on Monday.
He also offered his condolences to the bereaved families of the victims.
Egyptian security forces on Saturday "eliminated" at least seven suspected members of a terror outfit affiliated to the Daesh Takfiri terrorist group in the North Sinai region during a counterterrorism operation, which also left 15 government forces either dead or wounded.
According to Egypt's military spokesperson Tamer el-Refai, the suspected militants were killed in an "exchange of fire" after they "attacked one of the security checkpoints in North Sinai."
He added that an officer was also killed in the clashes and "14 non-commissioned soldiers" sustained injuries.
Daesh terrorist group later claimed responsibility for the attack on its news outlet AMAQ.
Full report at:
https://www.presstv.com/Detail/2019/02/18/588914/Sinai-Qassemi-Egypt-Daesh-terrorism
--------
UAE buys $1.8 billion US arms amid Yemen war
Feb 18, 2019
The United Arab Emirates, Saudi Arabia's main partner in a Riyadh-led coalition invading Yemen, has bought around $1.8 billion worth of American arms at an Abu Dhabi military exhibition.
Monday marked the second day of the International Defense Exhibition and Conference (Idex), which is to last through Thursday.
During the day, the Emirates signed 5.73 billion dirham ($1.5 billion) worth of contracts with US arms giant Raytheon to buy its Patriot missile systems, said the exhibition's spokesman General Mohammed Al Hassani, AFP reported.
A day earlier, it had signed a 1.3-billion-dirhams ($353-million) contract with the company for the systems.
Respectively, the Emirati military awarded 5.87 and 4.97 billion dirhams worth of contracts to international companies over the first two days of the show. Those include Eos Defense of Australia, which specializes in making electro-optic systems.
"The value of deals during the five-day event is likely to exceed the 19.17 billion dirhams reached in 2017," Emirati daily The National reported, citing Idex organizers.
The coalition launched the war in March 2015 to restore Yemen's former Saudi-backed officials.
The World Health Organization says some 10,000 people have been killed since the coalition launched the war, but rights groups put the death toll at five times higher.
Besides contributing most to the war among the many other Saudi allies that compose the coalition, the Emirates also backs militants based in southern Yemen, who have been campaigning to break away from the rest of the country.
The US has been generously providing arms support for the kingdom and its allies over the course of the war. It also lends the coalition logistical assistance, including bombing coordinates. A US commando force is, meanwhile, deployed near the Saudi-Yemeni border to seek and destroy the arms caches belonging to Yemen's popular Houthi Ansarullah movement, which defends the country against the invaders.
Full report at:
https://www.presstv.com/Detail/2019/02/18/588921/UAE-buys-United-States-Patriot-Yemen-war-Saudi-Arabia
--------
Israel's freeze of Palestinians' money amounts to piracy: PLO official
Feb 18, 2019
A senior official from the Palestine Liberation Organization (PLO) says a recent approval of a controversial plan by Israel to freeze money transfers to the Palestinian Authority (PA) is an all-out "piracy and an illegal economic aggression."
Tel Aviv on Sunday invoked a law to deduce tax revenues relative to the amounts the Ramallah-based PA pays to the Palestinians languishing in Israeli jails or the families of those killed by the Israeli military. Hanan Ashrawi, a member of the PLO Executive Committee, on Monday described the move as "unlawful stealing of Palestinian tax revenues."
"This is an unlawful decision that once again confirms Israel's habitual theft of Palestinian land, resources and funds," Ashrawi said, adding, "By giving itself license to confiscate Palestinian revenues, Israel is committing yet another act of illegality and economic aggression. Palestine will not submit to political and financial extortion and will continue to seek accountability for Israeli crimes."
In early July last year, Israel's parliament (Knesset) passed a bill to withhold hundreds of millions of dollars in funds from the Palestinians over welfare payments given to prisoners and their families. The stipends benefit roughly 35,000 families of the Palestinians killed and wounded by Israel. The PA says the payments are a form of welfare stipend to the families who have lost their main breadwinner. The Israeli regime calls that "terrorist salaries."
Palestinian President Mahmoud Abbas has also defended such payments as an important function of his administration.
In a speech in June 2017, Abbas argued that "payments to support the families are a social responsibility to look after innocent people affected by the incarceration or killing of their loved ones."
"It's quite frankly racist rhetoric to call all our political prisoners terrorists," Abbas said, adding, "They are, in actuality, the victims of the occupation, not the creators of the occupation."
Elsewhere in her remarks, the PLO official accused the Israeli regime of taking anti-Palestinian decisions to score political points in the upcoming legislative elections scheduled for April 9.
"Candidates, including members of the Israeli Cabinet, are competing on who can exercise the highest level of cruelty against Palestinians in a clear expression of the racism and hatred that characterizes Israeli politics."
Ashrawi concluded by saying the Tel Aviv regime continues to abuse Palestinians in Israeli detention. "It has systematically demonized and dehumanized all Palestinian political prisoners to justify its crime."
Full report at:
https://www.presstv.com/Detail/2019/02/18/588890/Israel-Palestine-money
--------
North America
US illegitimate presence in Syria contributes to instability: Lavrov
Feb 18, 2019
Russian Foreign Minister Sergei Lavrov says the illegal presence of US military forces in Syria is a source of instability in the conflict-plagued Arab country, stressing that any solution to the Syria crisis must be in accordance with the UN Security Council Resolution 2254.
"We share stance on Syria. The Security Council Resolution 2254 has no alternative. It should be fully implemented, and in this context we have informed our interlocutors about the efforts taken in this direction by the guarantor states of the Astana peace process – Russia, Iran and Turkey, including the outcome of the February 14 summit of the Astana format in Sochi," Lavrov said during a joint press conference with his Omani counterpart Yusuf bin Alawi bin Abdullah in Moscow on Monday.
Resolution 2254 endorses a road map for a peace process in Syria. It calls for a nationwide ceasefire in the Arab country, the formation of a "credible, inclusive and non-sectarian" government within six months and UN-supervised "free and fair elections" within 18 months.
Moscow, Tehran, and Ankara have been mediating peace negotiations between representatives from the Damascus government and Syrian opposition groups in a series of rounds held in the Kazakh capital city of Astana and other places since January 2017.
Russia has also hosted parallel talks in the resort city of Sochi aimed at solidifying the three countries' cooperation towards returning peace and stability to Syria.
Elsewhere in his remarks, Lavrov noted that the presence of American troops in Syria is contributing to instability, and is impeding a political settlement of the nearly eight-year conflict in the country.
The top Russian diplomat went on to say that US forces are unlawfully deployed to al-Tanf region in southern Syria, training terrorists, who carry out acts of terror across Syria and prevent the return of displaced people in the Rukban refugee camp to their hometowns.
We, along with the Syrian government, are calling for this to take place. But the United States and the extremists, whom it sponsors and are in control of the camp, do not let people leave (the camp)," Lavrov said.
The senior Russian official also urged UN humanitarian envoys to "see that everything is far from being in order" in Rukban and report back their findings to the UN Security Council.
Russian officials have accused the US and Washington-backed militants of holding people in Rukban hostage.
"We call on the American command and leaders of illegal militant groups in the al-Tanf region to out an end to the forcible keeping of women and children, mostly affected by cold, illness and malnutrition in the camp. All of them will be given necessary assistance," Russian Defense Ministry spokesman Major General Igor Konashenkov said on February 15 as a humanitarian convoy of the United Nations and the Syrian Arab Red Crescent (SARC) delivered aid, including medical supplies and basic commodities, to Rukban.
Konashenkov added that Russia and Syria would jointly establish a temporary housing area for refugees from the camp.
The UN says about 45,000 people, mostly women and children, are trapped inside the Rukban refugee camp, where conditions are desperate.
Also in his remarks, Lavrov touched on Syria's suspension from the Arab League, emphasizing that Syria's return to the organization will contribute to a political solution to the Syria crisis and normalization of relations between Damascus and Arab countries.
The Arab League suspended Syria's membership in November 2011, citing alleged crackdown by Damascus on opposition protests. Syria denounced the move as "illegal and a violation of the organization's charter."
Alawi, for his part, underlined the need for a political settlement of the ongoing crisis in Syria, lauding Russia's efforts to work out a solution to the conflict and secure the return of all displaced Syrians back to their homeland.
Syria has been gripped by foreign-backed militancy since March 2011. The Syrian government says the Israeli regime and its Western and regional allies are aiding Takfiri terrorist groups wreaking havoc in the country.
https://www.presstv.com/Detail/2019/02/18/588899/US-illegitimate-presence-in-Syria-contributes-to-instability-there-Lavrov
--------
US Army says still backing Saudi-led war on Yemen
Feb 18, 2019
Despite the dire need for a ceasefire in Yemen, the United States Army says it is still providing support for the war, which Saudi Arabia and its allies are waging against the impoverished country.
The US continues to "provide support to the coalition," Major General David C. Hill, deputy commander of US Army Central, told AFP on the sidelines of a military exhibition in the Emirati capital Abu Dhabi on Sunday.
Hill was referring to a Saudi-led coalition, gathering many of the kingdom's allies, which have been pounding Yemen since March 2015 to restore its former Riyadh-allied government.
The general alleged that the US assistance was particularly meant "to help them....be discriminative in targeting and to minimize the risk of civilian causalities."
The World Health Organization says some 10,000 people have been killed since the coalition launched the war, but rights groups put the death toll at five times higher.
The US has been generously providing arms support for the kingdom and its allies over the course of the war. It also lends the coalition logistical assistance, including bombing coordinates. A US commando force is, meanwhile, deployed near the Saudi-Yemeni border to seek and destroy the arms caches belonging to Yemen's popular Houthi Ansarullah movement, which defends the country against the invaders.
Last November, Washington stopped providing aerial refueling for the coalition's warplanes. It only halted the support after the coalition grew independent of it.
The remarks by Hill come at a time when the United Nations is pushing for the implementation of a ceasefire in the western Yemeni province of Hudaydah, whose capital serves as the main point of entry for most of Yemen's imports.
The world body would be expanding the truce to the rest of the country if the high-stakes agreement holds. The Houthis, however, say the coalition has repeatedly violated the truce agreement.
Full report at:
https://www.presstv.com/Detail/2019/02/18/588859/US-Army-Saudi-Arabia-Yemen-war
--------
Southeast Asia
Malaysians Are Still Mired In Religious Controversies Despite Knowing That It Will Not Augur Well
February 19, 2019
Malaysians are still mired in religious controversies despite knowing that it will not augur well for the continued peace and co-existence in a multi-religious country like ours.
What is more appalling is that even those who proclaim themselves well-equipped with religious knowledge fall into the trap of being swayed by emotionalism and partisan views.
Such myopic understanding of religious norms and beliefs will only worsen the good and cordial rapport within our multi-religious community.
Recent cases of religious misgivings and intolerance in the country are a clarion call for all, especially the political masters and religious leaders, to nip the problem in the bud. Any efforts to sweep the issue under the carpet will only have serious implications.
Religious intolerance and its concomitant human carnage around the globe is a bitter testimony to the catastrophic outcome of myopic religious perspectives.
All major religions propagate and propose universally accepted values for the benefit of mankind. So why are we still bent on asserting our ego in matters relating to religion?
Adamant adherence to religious tenets and utter disregard for lofty universal spiritual values could be among the main reasons for this myopic inclination. World-renowned spiritualists and thinkers do not have any qualms seeing the common thread running through all the major religious traditions.
The magnanimous spiritual stalwarts realise that spiritually and intrinsically, all men are brothers, and that love and compassion are the common threads that bind human beings together.
To them, it does not make any difference if one is a Hindu, Muslim, Christian or a non-believer. They know that all are made from the same stuff and pulsate with the same life force. They know they are here to make their earthly existence more meaningful by co-existing peacefully with fellow human beings and other creatures.
After all, we breathe the same air and enjoy the same water. Are not the five elements of nature meant for our existence and co-existence? But we incessantly and unnecessarily dabble in petty religious concerns and issues that divide and destroy us. It is nothing but our ego that distracts us from seeing the common thread that knits us all together.
While there is a social need for us to hold on to our respective religions and religious beliefs, let's not forget the common spiritual link that helps bind us as one.
Malaysians must first believe, respect and trust one another. Religious diversity is healthy as long as egos and myopic viewpoints are kept at bay.
It is time that Malaysia, which is going through a major socio-political transformation, sees the need to inculcate broadmindedness and maturity, especially in religious thinking and reasoning.
This can only happen with concerted efforts from all stakeholders: religious and political leaders, NGOs, teachers and parents.
Indian philosopher S Radhakrishnan aptly says, "If mankind is to save itself, it must change the axis of its thought and life." In the same vein, if Malaysians are to save themselves from religious misunderstandings and intolerance, they must change their short-sighted religious views and sectarian outlook.
https://www.freemalaysiatoday.com/category/opinion/2019/02/19/forget-egos-look-for-common-threads-in-religion/
--------
Business as usual in Semenyih for PAS and Umno
19 February 2019
SEMENYIH, Feb 19 — PAS and Umno are working hand in glove to target Malay voters for the by-election here, leaving no stone unturned to ensure Barisan Nasional (BN) wins big on March 2.
The election directors of both parties meet each day to cover any eventualities or missed areas, making daily adjustments to the contest that is different from the recently-concluded Cameron Highlands parliamentary by-election in Pahang.
Semenyih area allows for fast and frequent campaigning, unlike the rough terrain and distance in Cameron Highlands that made this difficult.
For PAS and Umno, this battle is different because the Pakatan Harapan candidate is Malay-Muslim and the target voters are also Malay-Muslims. The two parties can no longer campaign solely on race and religion.
They have to use a different approach and inevitably touch on the ruling Pakatan Harapan government, its weaknesses and, more importantly, the underlying and unseen factor – DAP domination.
The unfulfilled promises in the PH manifesto are the main factors as bread-and-butter issues were the basis of the Pakatan manifesto.
And right now they have a new issue: Parti Pribumi Bersatu Malaysia (Bersatu) chairman Tun Dr Mahathir Mohamad's claims that the Islamist party has pledged not to support Umno in this by-election.
The issue has yet to take centre stage as speakers from both sides have yet to really delve into it, and the media has been frenzied over another matter: the purported plan to move a motion of no confidence against Prime Minister Dr Mahathir.
The timing cannot be worse than in the middle of a by-election contested by Dr Mahathir's party – the first by-election for the party that just left infancy and is learning to walk.
The media and social media are focussing so much on this that it clouded the real issues in the by-election here.
For the voters, it is their daily issues that are more important than political conspiracies.
Campaigners of both sides who are on the ground know this. They do not seem sidetracked by political rumours. They are busy working to win the hearts and minds of the target – the near 70 per cent Malay voters.
As of last night, BN candidate Zakaria Hanafi seemed to still be the favourite. Together with other local Umno and PAS leaders, they are holding low-profile campaign meeting with small voter groups.
Last night's campaign trail also saw PKR stalwart Datuk Seri Azmin Ali hitting hard at former Umno president Datuk Seri Najib Razak, who is campaigning on his own and is not listed in the BN or PAS campaign schedules.
The campaign trail is picking up speed as both sides move nightly and campaign house-to-house, a technique that has proven more effective than the nightly ceramahs.
Full report at:
https://www.malaymail.com/news/malaysia/2019/02/19/business-as-usual-in-semenyih-for-pas-and-umno/1724530
--------
Arab World
US Takes ISIL's Gold Treasure Out of Eastern Syria After Agreement with Terrorists
Feb 18, 2019
"The US troops in concordance with the ISIL terrorist group relocated big boxes packed with ISIL's gold treasure on several helicopters from al-Dashisheh region in Southern Hasaka," the SANA news agency quoted local sources in Eastern Deir Ezzur said.
The sources pointed to boxes containing 40 tons of gold ingots that the ISIL had hidden in the Eastern part of al-Shadadi city, and said that the ISIL had stolen the treasure of gold from the Iraqi city of Mosul and different parts of Syria.
The US troops reportedly took out a group of ISIL terrorist commanders from Eastern Syria in two heliborn operations in Hajin region of Eastern Deir Ezzur and al-Dashisheh in Southern Hasaka and they were directed to the place where the gold treasure was hidden.
In a relevant development earlier this week, the London-based Syrian Observatory of Human Rights (SOHR) said the Washington-backed militants were trying to find and seize millions of dollars and at least 40 tons of gold left behind by the ISIL terrorist group,
The SOHR reported that the ISIL terrorists had stolen about 40 tons of gold and millions of dollars from the population once under their control in Iraq and Syria, which was later transferred to Eastern Euphrates in Eastern Deir Ezzur.
"The US-led coaltion forces and the Syrian Democratic Forces (SDF) deliberately do not target the the areas under the control of the ISIL terrorists and commanders in Eastern Euphrates in Deir Ezzur as they are trying to locate this treasure by forcing the ISIL militants to speak about its location after surrendering," it quoted informed sources as saying.
They noted that part of the cash dollars and gold have been transferred from Turkey to the areas under the ISIL control by Turkish brokers and intelligence service who have close ties with the ISIL.
Meantime, an SDF Commander, Adnan Afrin, said that the ISIL is now under the siege of the SDF in an area no larger than one square kilometers in Eastern Euphrates.
In a relevant development on Tuesday, a prominent Syrian military expert revealed that Washington plans to transfer the remnants of the ISIL terrorists from Eastern Euphrates to other regions through Turkey and Iraq.
The Arabic-language website of Sputnik quoted Brigadier General Mohammad Issa as saying that less than 600 ISIL militants are stationed in a 4-km/sq region in Eastern Euphrates who will be soon evacuated from the region to foreign territories.
He added that the operations to transfer these militants will be conducted similar to the operations earlier carried out to evacuate the ISIL terrorists from Raqqa, saying that the US forces will transfer them via Iraq or Turkey to some other Arab states for future operations.
Issa questioned the US forces' claims of fighting against the terrorist groups along with the Syrian Democratic Forces (SDF), stressing that the Syrian army will soon move to retake control over this region.
Media reports said last Sunday that the US army had agreed with the ISIL on the latter's exit from areas under Washington's control in Eastern Euphrates.
The US-led coalition troops and the SDF had reached an agreement with the ISIL terrorists on the militants' retreat from areas under the control of the US and its allied forces, the Arabic-language al-Mayadeen TV news channel reported.
It pointed to the preparations by the ISIL to move its terrorists out of Eastern Euphrates, and said that the ISIL terrorists might be transferred to al-Anbar desert of Badiya al-Tanf in Western Iraq.
The report comes as the SDF claimed that it had started the final battle for uprooting the remaining elements of the ISIL from Eastern Euphrates.
Also the Arabic-language service of RT quoted media activists as saying on Saturday that the US-led coalition forces have carried out heliborne operations in the Eastern Badiyeh of Deir Ezzur.
It added that two US Apache helicopters have landed in Falitah region of Eastern Badiyeh of Deir Ezzur, taking away 7 big boxes whose contents were not known.
http://en.farsnews.com/newstext.aspx?nn=13971128000819
--------
Saudi Arabia calls Iran world's chief sponsor of terrorism
Feb 18, 2019
ISLAMABAD: Saudi minister of state for foreign affairs Adel bin Ahmed Al-Jubeir lashed out on Monday at Iran, calling it the "world's chief sponsor of terrorism" and accusing it of sponsoring terrorism for decades while blaming others for terrorist activities on its soil.
The minister, who was part of Saudi Crown Prince Mohammad bin Salman's visiting delegation, delivered an angry diatribe against Iran, his country's historical religio-political rival state in the region, in Islamabad while addressing a joint press conference with Pakistan foreign minister Shah Mahmood Qureshi.
"It is strange for the foreign minister of the world's chief sponsor of terrorism (a reference to Iran) to accuse others of engaging in terrorist activities," the Saudi minister said. He was responding to Iran's recent allegations that held Pakistan responsible for an attack that killed 27 members of Iran's Revolutionary Guards.
Accusing Tehran of sponsoring terrorism since the Iranian Revolution of 1979, Al-Jubeir said that Iran had established terrorist groups such as Hezbollah in Lebanon and the Houthis in Yemen. "Iran had been implicated in terrorist attacks that took place in other countries, including Saudi Arabia and the United States," he said.
The minister claimed that Iran was providing arms to terrorist groups and interfering in the affairs of other countries as well as "harbouring" terrorists of Al Qaeda, including Osama bin Laden's son.
"Saudi Arabia has been a victim of terrorism. We have been vigilant and unmerciful in going after the terrorists and those who support them and condone them," he said.
The minister added that Iran was going through several problems, including criticism from its people. "The Iranian regime was deflecting blame because it was facing pressure from its own people," he remarked.
About the strained relations between India and Pakistan, he said that Saudi Arabia's objective was to try to deescalate tensions between the neighbouring countries. "I hope both countries would be able to resolve their dispute peacefully," he said.
Full report at:
https://timesofindia.indiatimes.com/world/pakistan/saudi-arabia-calls-iran-worlds-chief-sponsor-of-terrorism/articleshow/68053217.cms
--------
Saudi official fires back after Iran blames attack on Riyadh
Feb 18, 2019
ISLAMABAD: A senior Saudi diplomat on Monday fired back after Iran initially blamed the kingdom for an attack last week that killed 27 members of Iran's elite Revolutionary Guard.
Adel al-Jubeir, the minister of state for foreign affairs, called Iran a "chief sponsor of terrorism," saying its allegations sought to divert the attention of the Iranian people from the country's own troubles.
"Saudi Arabia has been the victim of terrorism," he added, saying the kingdom would continue to be "unmerciful" in going after terrorists and those who finance and condone them.
The comments came as Saudi Crown Prince Mohammed bin Salman was concluding a two-day visit to Pakistan. Al-Jubeir, the kingdom's former foreign minister, is part of the prince's entourage.
Iranian officials had at first said that Saudi Arabia and the United Arab Emirates were behind Wednesday's bombing near the Pakistani border, but later said the attack was planned from "inside Pakistan." The militant Sunni group Jaish al-Adl, which claimed responsibility, is believed to operate from havens in Pakistan.
Pakistan has close ties to Saudi Arabia, which views Iran as a regional threat, and often balances between Riyadh and Tehran.
Pakistan's foreign minister Shah Mahmood Qureshi told his Iranian counterpart on Sunday that Islamabad would fully cooperate in the investigation into the attack on the Revolutionary Guard. Pakistan has also pledged to act if Tehran shares evidence against those linked to the attack.
On Monday, three Pakistani security officials said a search operation was underway in remote southwestern regions bordering Iran in an effort to arrest suspects linked to attacks in Pakistan and Iran. They said the security forces were searching areas where Tehran believed insurgents responsible for last week's attack might be hiding.
The officials said the operation began Sunday and was expanded after militants killed six Pakistani paramilitary troops in two attacks in the southwestern towns of Turbat and Loralai.
The officials, who spoke on condition of anonymity because they were not authorized to brief media, said Pakistani and Iranian officials have been in touch since the attack.
Gen Mohammad Hossein Bagheri, the head of Iran's armed forces, said the Pakistani army had launched an operation near the border. He urged Pakistan to confront armed groups or "let Iranian forces enter the battlefield."
On Sunday, Saudi Arabia signed agreements worth $20 billion to help Pakistan overcome its financial crisis.
Pakistan voiced support for the prince during the international outcry after the killing of Washington Post columnist Jamal Khashoggi by Saudi agents in October. The kingdom has long provided aid to Pakistan, and signed an agreement for a $6 billion assistance package after Pakistan's Prime Minister Imran Khan attended an investment conference that month that saw a wave of cancellations linked to the Khashoggi killing.
Pakistani President Arif Alvi on Monday conferred the country's highest civilian honor on the Saudi crown prince, who left Pakistan amid tight security. Khan drove the prince to the airport.
Prince Mohammad is expected to travel onward to neighboring India, which has warned Pakistan of a "crushing response" to the suicide bombing of a paramilitary convoy in Indian-controlled Kashmir that killed 41 people on Thursday.
In a joint statement Monday, Pakistan and Saudi Arabia reiterated their commitment to continue combating extremism and terrorism and promoting peace in Afghanistan.
Full report at:
https://timesofindia.indiatimes.com/world/pakistan/saudi-official-fires-back-after-iran-blames-attack-on-riyadh/articleshow/68051912.cms
--------
Saudi Arabia, Pakistan affirm Palestinians' right to establish own state
18 February 2019
Saudi Arabia and Pakistan expressed their hope in achieving a comprehensive and long-lasting peace in the Middle East in accordance with the Arab Peace Initiative. Both sides also stressed the need for the Palestinians to establish their own state based on the 1967 borders with Jerusalem as its capital.
In a joint statement on Monday released after the conclusion of Saudi Crown Prince Mohammed bin Salman's state visit to Pakistan, both countries also agreed that dialogue with India is the only way to ensure peace and stability in the region to resolve outstanding issues.
During the Saudi Crown Prince's visit, Saudi Arabia and Pakistan signed seven memorandums of understandings worth $20 bln across several sectors including oil, mining and energy.
"We believe that Pakistan has huge opportunity. In 2030, Pakistan will be next to really two huge economies. One, China will be the largest economy in 2030, and two, India will be the third largest economy in 2030. So Pakistan will definitely benefit from these neighbors if there is great leadership to put Pakistan in the right position," said the Crown Prince during a joint press conference with Pakistani Prime Minister Imran Khan.
For his part, Pakistan's Khan said that the seven MoUs signed would signify the start of "enhanced relationships" between Saudi Arabia and Pakistan.
He also offered the Crown Prince a special thanks for an earlier announcement confirming the release of 2,107 Pakistani prisoners in Saudi Arabia with immediate effect.
Earlier in the day, Saudi Crown Prince Mohammed bin Salman received Pakistan's highest civilian honor, the Nishan-e-Pakistan, from President Arif Alvi.
The two-day visit to Pakistan kicked off the Crown Prince's Asian tour that will include further visits to India and China. He is expected to land in India tomorrow.
Upcoming visit to India
Counter-terrorism and energy security are expected to top the agenda for discussions during the two-day trip.
Saudi ambassador in New Delhi said that Saudi Crown Prince Mohammed bin Salman's visit to India is a "historic opportunity" to expand collaboration in all sectors, according to Indian media outlets.
"India and Saudi Arabia have historically enjoyed close and friendly relations anchored in mutually beneficial partnership and extensive people to people contacts. In recent years, there has been significant progress in bilateral cooperation in key areas of mutual interest, including energy security, trade and investment, infrastructure, defense and security," a statement released by India's Ministry of External Affairs read.
"Our bilateral trade was $27.48 bln during the last financial year 2017-18, making Saudi Arabia our fourth largest trading partner. Saudi Arabia contributes significantly to our energy security needs by supplying about 20% of crude requirements to India," the statement added.
Full report at:
https://english.alarabiya.net/en/features/2019/02/18/Saudi-Arabia-Pakistan-affirm-Palestinians-right-to-establish-own-state.html
--------
Two police officers killed after terror suspect blows himself up near Al-Azhar Mosque in Cairo
February 18, 2019
CAIRO: Two police officers were killed when a terror suspect blew himself up after he was surrounded by police near Al-Azhar Mosque in Cairo on Monday.
The blast in the crowded Darb Al-Ahmar district also killed the bomber and injured three other policemen, the interior ministry said.
"As security surrounded the man and was set to arrest and control him, an explosive device in his possession went off," the ministry said in a press statement.
The explosion took place after police chased the suspect who they believe had planted a bomb near a security staff close to a mosque in Giza on Friday, the statement said. Security officers had been able to defuse that device.
Monday's explosion that took place near Al Azhar mosque at the heart of ancient Islamic Cairo damaged several shops.
"My shop's front and windows were destroyed," said Kareem Sayed Awad, a barbershop owner. "Not only that, but people have died. This is a tourist area and such incidents affect it."
Egypt's tourism industry has been struggling to recover from attacks and domestic instability that has hit the country in the years following a 2011 uprising that toppled longtime ruler Hosni Mubarak.
In December three Vietnamese tourists and their Egyptian guide died when a homemade bomb exploded on their bus on the outskirts of Cairo, near the famed pyramids in Giza.
Authorities have been seeking to lure tourists back by touting new archaeological discoveries and bolstering security around archaeological sites and in airports.
Tourism has slowly started picking up. The official statistics agency says tourist arrivals in Egypt in 2017 reached 8.3 million, up from 5.3 million the year before.
But that figure was still far short of the record influx in 2010 when over 14 million visitors flocked to the country.
Egypt has also for years been battling an Islamist insurgency, which deepened following military's ousting of Islamist president Muhammad Mursi in 2013.
The attacks have been mainly concentrated in the restive northern Sinai Peninsula but have also spread to the mainland.
In February 2018, security forces launched a major anti-militant operation focused on the Sinai Peninsula, aimed at wiping out a local affiliate of the Daesh group.
Full report at:
http://www.arabnews.com/node/1454336/middle-east
--------
Twin bombing kills 24 in Syria's Idlib
18 February 2019
A double bomb attack in Syria's extremist-held city of Idlib on Monday killed 24 people, including four children, a war monitor said.
The first blast was caused by a bomb planted under a car in the main city of the Idlib region, the Syrian Observatory for Human Rights said.
After ambulances arrived at the site, a motorcycle bomb then detonated, the Britain-based monitoring group said.
There was no immediate claim of responsibility for the attack, which the Observatory said also wounded at least 51, updating an earlier casualty toll.
Idlib, the last major part of Syria still outside the control of President Bashar al-Assad's regime, is held by an alliance led by Syria's former al-Qaeda affiliate, Hayat Tahrir al-Sham.
HTS took administrative control of the whole of the region last month, after overpowering smaller Turkey-backed factions.
The ISIS extremist group also has sleeper cells in the area.
A local office of the "Salvation Government", an administrative body created by HTS, is located on the street targeted by Monday's attack.
Idlib has been protected from a massive regime offensive since September by a buffer zone deal agreed by regime ally Russia and rebel backer Turkey.
But it has been hit by sporadic government shelling.
Full report at:
https://english.alarabiya.net/en/News/middle-east/2019/02/18/Twin-bombing-kills-17-in-Syria-s-Idlib-.html
--------
US-backed force won't release extremists, but warns they could escape
18 February 2019
US-backed force in north Syria said on Monday they would not free foreign ISIS detainees but countries must take responsibility for them, after US President Donald Trump said extremists would be freed unless Europe takes them back.
Abdulkarim Omar, co-chair of foreign relations in the Kurdish-led region, said around 800 foreign fighters were being held in prisons, along with around 700 wives and 1,500 children in camps for the displaced. Dozens more detainees and relatives were arriving by the day.
He described the detainees as a "time bomb", saying fighters could escape if the Kurdish-led autonomous area were attacked.
Full report at:
https://english.alarabiya.net/en/News/middle-east/2019/02/18/US-backed-force-won-t-release-extremists-but-warns-they-could-escape.html
--------
Commander: US cannot back forces who align with Syria's Assad
18 February 2019
The United States will have to sever its military assistance to the Kurdish-led Syrian Democratic Forces (SDF) battling ISIS if the fighters partner with Syrian President Bashar al-Assad or Russia, a senior US general said on Sunday.
The remarks by Army Lieutenant General Paul LaCamera, who is the commander of the US-led coalition battling ISIS in Iraq and Syria, underscore the tough decisions facing the SDF as the United States prepares to withdraw its troops from Syria.
Syrian Kurdish leaders have sought talks with Assad's state, hoping to safeguard their autonomous region after the withdrawal of US troops currently backing them.
They fear an attack by neighboring Turkey, which has threatened to crush the Kurdish YPG militia. Ankara sees the Syrian Kurdish fighters as indistinguishable from the Kurdish PKK movement that has waged an insurgency inside Turkey.
But LaCamera warned that US law prohibits cooperation with Russia as well as Assad's military.
"We will continue to train and arm them as long as they remain our partners," LaCamera said, praising their hard-won victories against ISIS militants.
When asked if that support would continue if they aligned themselves with Assad, LaCamera said: "No."
"Once that relationship is severed, because they go back to the regime, which we don't have a relationship with, (or) the Russians (...) when that happens then we will no longer be partners with them," LaCamera told a small group of reporters.
President Donald Trump's surprise December decision to withdraw all of the more than 2,000 US troops from Syria has triggered deep concern among US allies about the risk of a resurgence of ISIS.
With US-backing, the SDF has routed ISIS and is on the verge of recapturing the final bits of its once sprawling territory. But ISIS still has thousands of fighters, who, now dispersed, are expected to turn to guerrilla-style hit-and-run attacks.
On Friday, the four-star US general overseeing US troops throughout the Middle East, General Joseph Votel, told Reuters that he backed supporting the SDF as needed, as long as it kept the pressure on ISIS militants.
But LaCamera's comments make clear that the SDF may have to choose between backing from Assad, Russia or the United States.
Kurdish forces and Damascus have mostly avoided combat during the war. Assad, who has vowed to recover the entire country, has long opposed Kurdish ambitions for a federal Syria.
Earlier on Sunday, Assad warned the United States would not protect those depending on it, in reference to the Kurdish fighters.
"We say to those groups who are betting on the Americans, the Americans will not protect you," he said without naming them. "The Americans will put you in their pockets so you can be tools in the barter, and they have started with (it)."
Reuters has reported that Trump's decision was in part driven by an offer by Turkey to keep the pressure on ISIS once the United States withdrew.
But current and former US officials warn Ankara would be unable to replicate the SDF's success across the areas of Syria that the militias captured with US support including arms, airstrikes and advisers.
Brett McGurk, who resigned in December as Trump's special envoy to the US-led coalition against ISIS, warned last month that the SDF could not be replaced as the provider of stability in areas of Syria formerly held by the militant group. He also cautioned that Turkey, a NATO ally, was not a reliable partner in the fight in Syria.
Full report at:
https://english.alarabiya.net/en/News/middle-east/2019/02/18/-Commander-US-cannot-back-forces-who-align-with-Syria-s-Assad.html
--------
New report reveals Saudi minister Jubeir's links with Mossad
Feb 18, 2019
A prominent American website has revealed secret links between Saudi Minister of State for Foreign Affairs Adel al-Jubeir and Israel's spy agency Mossad that began in the nineties.
Jemma Buckley said in an article on The Odyssey Online that she had begun to collect information about Jubeir's relations with Mossad.
She described it as "the most controversial intelligence news scoop of the past 10 years," coming to light after former Israeli foreign minister Tzipi Livni rebuked Mossad for Jubeir's dismissal.
Buckley said ex-CIA officer Philip Giraldi provided her with significant information and "was especially helpful in revealing how Mossad made its first contact with Adel al-Jubeir."
According to Giraldi, the FBI first began monitoring Jubeir in 1990 when he became the spokesperson for the Saudi embassy in the United States.
A few years later, Mossad was suspected of attempts to recruit Jubeir, said Giraldi, a senior FBI agent.
According to the report, more inquiries found that while studying political science and economics at University of North Texas, Jubeir was approached by Kay Ann Mathews, a fellow student at the Faculty of Political Science and International Relations, in 1981.
Jubeir was introduced to Jewish businessmen and figures by Mathews, who had close ties to famous Israeli diamond merchants in the US, the report said.
"In a friendly FBI questioning in August 1998, she revealed that the first meeting between Adel al-Jubeir and a Mossad agent took place in October of 1995."
Jubeir cooperated with Mossad after being entangled in a web of affection for Kay and heavy financial debts to a number of Jewish businessmen in the US, the report said.
Ordered by Mossad, Kay began to drift from her relationship with Jubeir. "Evidence shows that his activities in the US Saudi embassy were fully controlled by the Mossad agent," the report said.
Buckley, along with several prominent authors, is working on "an in-depth investigation into al-Jubeir's life and secret relations to Mossad."
"Collecting this sort of information entails traveling back and forth between Saudi Arabia and Tel Aviv; interviewing retired Mossad experts and gathering field data may be dangerous, and I am starting to sense serious security threats," she noted.
Full report at:
https://www.presstv.com/Detail/2019/02/18/588871/Saudi-minister-Jubeir-Mossad
--------
Europe
British minister: ISIS bride must answer for time in Syria
February 18, 2019
ISIS bride Shamima Begum is likely to stand trial if she successfully returns to Britain from a displacement camp in northern Syria, the UK's Middle East minister has told The National.
Alistair Burt said that hundreds of Britons who travelled to Syria and Iraq to join the ranks of ISIS would be allowed to return amid a growing debate over how the 19-year-old and her new-born baby should be treated.
The UK government indicated at the weekend that Britain would be obliged to allow Ms Begum to return, while her baby could be taken from her by authorities to prevent a second generation of the family being indoctrinated to reject British values.
British minister: ISIS bride must answer for time in Syria
British minister says British foreign fighters cannot be stopped from returning to the UK
ISIS bride Shamima Begum is likely to stand trial if she successfully returns to Britain from a displacement camp in northern Syria, the UK's Middle East minister has told The National.
Alistair Burt said that hundreds of Britons who travelled to Syria and Iraq to join the ranks of ISIS would be allowed to return amid a growing debate over how the 19-year-old and her new-born baby should be treated.
The UK government indicated at the weekend that Britain would be obliged to allow Ms Begum to return, while her baby could be taken from her by authorities to prevent a second generation of the family being indoctrinated to reject British values.
Mr Burt said that Ms Begum could be assured of a fair trial despite a series of interviews given by the young woman in which she failed to denounce ISIS and told of how it did not "faze" her when she saw a decapitated head in a bin. She labelled life under ISIS control as relatively normal.
"If she makes her way to a border and makes her way back to the UK ... then she would be handled appropriately," he told The National in an interview at the British embassy in Abu Dhabi.
He said her ability to return to the UK had been made more difficult by the absence of any British consular services in Syria.
"There is no doubt that she will face a fair trial in the UK based on what she has done and no citizen, whatever they have done, need fear that they do not," he said.
Ms Begum, who was 15 when she fled to Syria to join ISIS with two schoolmates, was discovered in a displacement camp last week and gave birth to a boy on Sunday.
Her son has been called Jarrar, in memory of one of the two children Ms Begum lost during her time with ISIS.
She pleaded to be repatriated to the UK for the sake of her newborn child and asked for sympathy. Her husband, Dutch convert turned fighter Yago Riedijk, is currently being held separately by the UK's allies in Syria.
European governments are grappling with the difficulties of the returns of potentially thousands of their citizens who travelled to Syria and Iraq to fight for ISIS.
EU members have indicated that they wanted fighters accused of the most serious offences to be tried and sentenced in Syria and Iraq before being returned to the UK.
But officials have warned that the countries, particularly Germany, France and the UK, need to address the long-term demands to rehabilitate battle-hardened fighters amid fears of a similar "blowback" seen after the war in Afghanistan in the 1980s.
The comments by Mr Burt follow a series of statements by British ministers advocating a hardline approach towards British foreign fighters.
Defence Minister Gavin Williamson said in December 2017 that they should be hunted down and killed to ensure they never return to the UK. The Home Secretary Sajid Javid said the government could strip "dangerous individuals" of their citizenship.
In 2016, 14 people had their British citizenship withdrawn compared to 104 in 2017, in measures that were considered "conducive to the public good", according to a government report released in July last year.
But the situation of restricting returns has been complicated by the estimated 1,500 European children taken to war-stricken areas or born there to radicalised parents.
Mr Burt said they would likely need long-term care to prevent the emergence of a second generation of dangerous radicals bent on attacking their home country.
"Children born abroad is a difficult category because the children will have been entirely innocent of the events surrounding them.
"They may well have been badly damaged by what they have seen and efforts must be made to ensure in the future they've not suffered from that, so at the very least they don't feel a sense of grievance and become involved in terror or extremism themselves."
Ms Begum's lawyer has said she was being treated worse than a Nazi standing trial at Nuremburg.
Tasnime Akunjee said his client was traumatised and compared her current mental state to soldiers "in shellshock" during the First World War.
"The Nazis had the Nuremberg trials. They were given due process. This girl was a victim when she went out there at 15 years old. Our politicians are saying that she should be denied protections and due process that would have been granted to Nazis," Mr Akunjee told The Times.
He conceded that "what she's saying isn't helpful" but said she needed support and "will obviously have to be de-radicalised".
"The family are aware of how people feel. But it's their daughter and their grandson, who came into existence yesterday.
"She's a British citizen at the end of the day. There's an innocent child here, the baby. Bringing that child back into safety is a moral duty any state would have," he said.
Ms Begum was one of four girls from Bethnal Green in East London, who joined ISIS.
"She's a British citizen, she will have to face the music when she comes back," said Dal Babu, a former senior officer in London's police force. "But first we need to acknowledge and scrutinise the decisions made by police, the local authority and school that allowed them to go in the first place."
A fifth girl from Bethnal Green was stopped from travelling to Syria in 2014 but has not been prosecuted despite holding a vast collection of ISIS propaganda.
It was also alleged she was involved in a plot to attack a UK government building – a charge the then 15-year-old, and now adult, denies.
https://www.thenational.ae/world/europe/british-minister-isis-bride-must-answer-for-time-in-syria-1.827287
--------
ISIS Smuggler: Sleeper Cells and 'Undead' Suicide Bombers Have Infiltrated Europe
February 18, 2019
By Anne Speckhard, Ph.D
Europe is bracing for a new wave of jihadist attacks by terrorists affiliated with the so-called Islamic State, what "you might call ISIS 2.0," as Interpol chief Jürgen Stock recently told reporters. Some previously imprisoned jihadists are being released from jail, others are returning to Europe—and to prison—while still others, we have learned, have never been known to police and operate as "sleeper cells" waiting to be mobilized.
It is in the face of such concerns that U.S. intelligence chiefs have warned, despite President Donald Trump's assertions to the contrary, that ISIS is still far from defeated.
Last week, the International Center for the Study of Violent Extremism (ICSVE) interviewed 18 ISIS cadres held by the Kurdish People's Protection Units (YPG) closely allied with U.S. coalition forces in Syria. Two of the prisoners interviewed were former members of the ISIS intelligence operation known as the "emni," sometimes also written as "amni."
One of them, a Tunisian named Abdel Kadr, was a 35-year-old athletic-looking and obviously clever individual, who had illegally smuggled himself into Europe in 2008 and then managed to get legal residency, to live and work there, by marrying a German. Abdel Kadr claimed to have "found religion" and also, like many foreign fighters, to have been moved by the plight of Syrians assaulted by Bashar al-Assad's forces, which caused him to leave Germany for Syria in 2014, driving an ambulance loaded with humanitarian supplies.
Abdel Kadr ultimately joined and served ISIS until he was captured by the YPG last year. He appears to have had high-level access in ISIS and was open to discussing what he knows while also seeking not to incriminate himself.
Regarding the ISIS emni, Abdel Kadr says there are both internal and external emni networks in ISIS, the former enforcing security within the self-declared caliphate and the latter sending operatives outside of it, to be sleeper cells organizing attacks in Europe and globally. They are not police but intelligence operatives, he said. "They live 24 hours per day with a mask. They are chosen specially for this. They have their own houses, special families. They have been chosen specially, and many were sent back to Europe."
People smuggling
Prior to joining ISIS, Abdel Kadr had been a human and goods smuggler based in Germany, working between Turkey and Europe. He said he joined the Islamic State alongside his friend Dominic, a white German convert to Islam. Dominic wanted to return to Germany to work as an undercover operative for ISIS and, being fair-skinned with no known criminal history, he believed he could do so undetected. (He should not be confused with Dominic Musa Schmitz, a Salafi who wrote a book in German in 2016 about his disillusionment with Salafi Islam.)
"There are a lot of those who were trained by ISIS to go into Europe," said Abdel Kadr. The emni member who trained and facilitated many of them was also a white European, an Austrian who went by the kunya, or pseudonym, of Abu Musa al-Almani.
"He was in charge of Germany," Abdel Kadr explained. "He spoke around seven languages: German, Dutch, French, Arabic, and German with the accent of Austria. He was an Austrian native with long hair and a red beard," Abdel Kadr said. "He was from a wealthy family in Austria and a convert from Christianity. I met him in Syria, but he was moving everywhere." He was traveling back and forth via Turkey.
"I heard about this wave that they prepared for Europe," Abdel Kadr told us. "They asked me if I'd like to go back to Germany. They were saying to me if you want to go back don't worry about money, but they don't know how I think."
Abdel Kadr was content at that time inside ISIS doing business on the side and making considerable profits. And he had a ready excuse for begging off from such a mission. "I have seven pieces of shrapnel in my body," he explained. "If I pass through an airport they will catch me." Also, he looks like the Arab he is, and is liable to fall prey to profiling. "They were sending athletic guys who look European back into Europe," Abdel Kadr told us.
The ISIS emni asked Abdel Kadr to return to his former human smuggling trade. "They wanted me to make logistics and coordination because before I joined ISIS and came, I was smuggling people between Turkey and Greece." That was when Abdel Kadr was living in Germany with his German wife, making thousands of dollars smuggling Bengalis, Iranians, Pakistanis, Afghans who had already made their way into Turkey on into Europe. The back trails across the border were primitive and rough, he said, but he knew them. "Our bridge to cross the river was a tree we cut for that purpose."
ISIS intelligence "knew I was a people smuggler. All my German friends knew I was a smuggler," Abdel Kadr explained. "Abu Musa al-Almani, who was in charge of Germany, came to me in Raqqa with Dominic and asked me about the smuggling. He said, 'Dawlah [the State, ie. ISIS] needs you. The whole nation of Islam needs you.'"
The emni asked Abdel Kadr to help them smuggle trained operatives back into Europe following the routes from Turkey into Greece that he had previously exploited. Abdel Kadr claims he refused. "I took my injuries as an excuse to escape from this, I have a screw in my leg, shrapnel [from a bomb attack]. It took seven kilometers walking to get across to Greece. My role was five kilometers up to the tree [bridge]. Someone else took them inside, an Algerian guy."
Abdel Kadr claims that he told ISIS he was no longer fit enough to do it. It may be true that he refused, as he was at the time engaged in a smuggling and trade operation inside ISIS, enriching himself there, or he may in fact have re-engaged in his former trade but did not want to tell us.
The Undead
According to Abdel Kadr, when the emni was going to send a European back to attack they would first falsely announce inside ISIS, and on their external media, that he had been killed fighting or in a bomb attack. But later, it would be revealed that he was actually alive and had successfully attacked in Paris or Brussels, for instance, and had been "martyred" there.
In the case of most suicide attacks in Europe, according to Abdel Kadr, the death of the operative is announced by ISIS a few months earlier, when in fact, "they took them to a camp to train them. Then after you get a communiqué about their action in Europe. The communiqué on this date stated he died in France or Belgium, but for ourselves, seven or eight months before [we had heard] they were announcing his death."
The same was true of Dominic, according to Abdel Kadr. "ISIS said he was killed, but it wasn't true. He lived next to me and when I went to see his wife and children inside the ISIS area [in Tabqa, near Raqqa], they told me, 'He is not killed, but we don't know where he is.'" Abdel Kadr already knew Dominic's desire to return to Europe to serve ISIS.
"He's alive somewhere," Abdel Kadr told us. "Up to now, there is no communiqué [about his actions in Europe]." Abdel Kadr, who is imprisoned by the YPG and says he is now totally disillusioned with ISIS, claims to have tried to thwart any possible attack by Dominic by alerting German and European intelligence about his friend's "disappearance" and fake death announcement inside of ISIS.
"There are 1,000 partisans in Europe," Abdel Kadr claims. "They have a big plan to introduce hundreds of refugees from all nationalities of the world," he claims, saying ISIS was able to insert them into the refugee streams flowing into Europe. Many are sent to Europe with false passports. "They are processed by surgery, training and language and they send them as sleeping cells. In Turkey they give them hair transplants, surgically change their eyes, even the eye color." (Presumably that would be with contact lenses.)
At least two of the attackers who struck Paris in November 2015 had entered Europe among refugees and carried false papers.
In 2015, Harry Sarfo, a German whose family originally was from Ghana, and who'd grown up in Britain, working as a postman there before he joined ISIS, was pressured by the ISIS emni to train and return to attack in Germany. He told the authorities, and later Der Spiegel and The New York Times, about his training and knowledge of these ISIS emni activities.
ISIS was telling Europeans to book short vacations in resorts in the south of Turkey, take many pictures, and then come to train for a short time with ISIS to be sent back to join sleeper cells in Europe. Without overstaying their Turkish visas and with the strong alibi of the resort booking and pictures to confirm it, they passed suspicions if questioned by security about their activities.
Abdel Kadr confirmed that this indeed was happening. "They are able to bring a youth into ISIS and then back into his family without the knowledge of his parents. They send him home to Europe after one year in training with ISIS," he states. "There are some people who came with European faces for a short time and went back through Turkey," he explains. "Like my friend, Dominic. I think he's living in Europe," Abdel Kadr concludes.
When asked about this case and others like it, a high-level YPG security official explains that his organization is doing everything it can to stop such operations. The YPG says it has caught and now holds in its prisons over 3,500 foreign fighters, many of them Europeans.
But the Kurds feel frustrated knowing that these foreigners streamed in through Turkey, some of them received medical help inside Turkey when injured, and most of the logistical supplies and extra food supplies for ISIS were delivered across the Turkish border.
Although the YPG has provided the core ground force working with the Americans to defeat ISIS, President Trump's decision to withdraw some 2,000 U.S. troops providing logistical and other support leaves the organization in a vulnerable position. The Turkish government insists that the YPG is a branch of the Kurdish Workers Party or PKK, which Ankara and many other governments, including the U.S., deem a terrorist organization.
Full report at:
https://moderndiplomacy.eu/2019/02/18/isis-smuggler-sleeper-cells-and-undead-suicide-bombers-have-infiltrated-europe/
--------
Iran denies claims of 'commitments' to UK on Yemen
Feb 18, 2019
Iran has dismissed claims by British Foreign Secretary Jeremy Hunt that it has made special commitments to comply with the West's demands in order to end Saudi Arabia's ongoing war on Yemen.
"Iran has made no commitments to any party or country about Yemen," Iranian Foreign Ministry spokesman Bahram Qassemi said in a statement on Monday.
He made the remarks a day after Hunt claimed in an interview with London-based Saudi paper Asharq Al-Awsat that Iranian Foreign Minister Mohammad Javad Zarif had made certain promises to help end the conflict when they met in Tehran back in November.
Qassemi said Zarif had only discussed the ongoing international efforts to end the war and doubled down on Iran's position that no country other than Yemen should decide what is best for its people.
"Yemen is an independent country and it is up to the Yemenis to make decisions and Iran does in no way interfere with the country's internal affairs," Qassemi asserted.
"In this regard, Mr. Zarif has held numerous meetings and diplomatic conversations with his foreign counterparts in order to find a solution… or solutions… that could help ease the crisis and pave the way for the aggression to end and for a lasting ceasefire to take its place," he said.
Qassemi noted that Iran has been regularly contacting European countries, including France, Germany, Britain and Italy to facilitate peace talks and aid deliveries to the people of Yemen.
The Iranian diplomat said what Hunt meant by "commitment" was the same commitments that Yemen's warring sides agreed upon during the latest round of UN-brokered peace talks in the Swedish capital Stockholm in December.
Hunt implied in his interview that Zarif had agreed to convince Houthi Ansarullah fighters, who have been pushing back against Saudi aggressors, to evacuate Yemen's key port city of Hudaydah.
Saudi Arabia and its regional allies – including the United Arab Emirates – have long been bombing the city, seeking to cut the impoverished country's most important lifeline.
In Stockholm, both Houthis and Saudi-backed groups agreed to a ceasefire and an ultimate retreat from the strategic city as the first major step to end the deadly conflict, which has killed tens of thousands of Yemenis since its onset in March 2015.
Despite the Houthis' commitment to the truce, however, the Riyadh regime and its mercenaries have stepped up their attacks on Hudaydah in a bid to get the upper hand in negotiations.
'Stop arms deals with Saudi, allies'
During his interview, Hunt accused Iran of using Yemen "as a base to destabilize Yemen's neighbors," a claim that the Saudis and the West have repeatedly used to justify the war.
Qassemi advised Hunt and other Western leaders to "come to their senses" and start taking real steps towards peace by stopping their extensive arms deals with Saudi Arabia and the rest of the "aggressors."
The UK has licensed over £4.7 billion worth of arms exports, including missiles and fighter jets, to Riyadh since the deadly conflict began in 2015. Prime Minsiter Theresa May has so far faced down calls for a ban on the weapons sales despite the growing humanitarian disaster.
Full report at:
https://www.presstv.com/Detail/2019/02/18/588851/Iran-UK-Zarif-Hunt-Yemen-commitments-Qassemi
--------
US attempted to create new Mideast dividing lines at anti-Iran Warsaw forum: Russia
Feb 19, 2019
Russia has denounced a recent US-organized conference in Poland – which had a highly hostile anti-Iran agenda -- as yet another America-style attempt to create new "dividing lines" in the Middle East and impose its own "unilateral recipes" on the conflict-ridden region.
Russian Foreign Ministry spokeswoman Maria Zakharova said on Monday that the Americans used the meeting in Warsaw mainly to bring their allies closer together on the "destructive agenda of total counteraction to Tehran," which the US sought to portray as the "main source of instability" in the Middle East.
"Regrettably, it must be said that the conference in Warsaw was yet another illustration of the course of the US administration to create new 'dividing lines' in a Middle East already saturated with conflicts and contradictions," she said.
Zakharova also described a decision taken at the conference to create working groups on the Middle East issues as a fresh American attempt at solving regional woes unilaterally.
"The conference was planned and held not for the sake of serious discussion of the Middle East problems. Its main outcome is creation of several special working groups to discuss a number of global challenges and threats.... What is that, if not an attempt to launch a parallel process that will work on developing unilateral decisions?" she asked.
'Unilateral recipes for Mideast'
The Russian official further cited US President Donald Trump's yet-to-be-unveiled proposal on the Israeli-Palestinian conflict as an example of "unilateral recipes" for Middle East issues.
"This is the signature style of Washington that has been staking since long on imposing unilateral recipes, like the notorious 'deal of the century' [on the Palestinian-Israeli settlement]," the diplomat said.
She also condemned Washington's "practice of building coalitions based on common interests - like, for example, the designed 'Middle East NATO' on the anti-Iranian basis."
Such approaches, she added, "leads away from the goal of achieving long-term stabilization in the region" and "complicates prospects for the settlement of the conflict situations."
Zakharova stressed that Moscow's approach to resolving the Mideast is based on "truly collective" decision-making "developed under the auspices of the UN and complying with the norms and principles of international law, including those respecting the sovereignty, independence and territorial integrity of all countries."
The Warsaw meeting was held on February 13-14. The US had initially said the Warsaw forum would focus on the "important element of making sure that Iran is not a destabilizing influence."
Later, as officials from various countries indicated their refusal to participate, Washington claimed the meeting was "not a venue to demonize or attack Iran," in an apparent about-face.
The event has, however, been widely viewed as a failure for the US as most global leaders snubbed the meeting, making American Vice President Mike Pence sit and interact with foreign officials well below his diplomatic stature.
On the sidelines of the conference, which was supposed to discuss ways to promote "peace" in the Middle East, Israeli Prime Minister Benjamin Netnyahu startled the international community and even his allies in the White House by openly speaking of a "common" Israeli-Arab "interest" of "war with Iran."
Tehran slammed the confab as a "circus" and said the low levels of participation in the event and the attendees' reluctance to support any decision against Iran had turned the final statement of the event into "a useless document."
The US has stepped-up its pressure campaign on Iran under the Trump administration.
Full report at:
https://www.presstv.com/Detail/2019/02/19/588935/Russia-Iran-Warsaw
--------
South Asia
45 militants killed, wounded in Zabul province in past one week: officials
19 Feb 2019
The Military officials in South of Afghanistan are saying that 45 militants were killed or wounded during the operations in Zabul province in past one week.
The officials further added that over the last week the 205th Corps has aggressively pursued the Taliban in Arghandab and Mizan districts of Zabul. Clashes with the insurgents have been offensive operations towards the Taliban backed by the use of Afghan artillery.
"These recent clashes have resulted in 33 insurgents killed and 12 wounded. Additionally, during these operations against the Taliban, the 205th Corps discovered 45 IEDs along the roads which were cleared by the Army engineers," the officials said.
According to the military officials, these operations come on the heels of a large attack from the Taliban last week against an ANA checkpoint in Arghandab District which killed the soldiers manning that checkpoint.
The 205th Corps confirmed that over the last month, there were approximately 50 attacks against ANDSF, mostly check points. Of these attacks, less than 5 resulted in a loss of infrastructure and were reoccupied by friendly forces within 24 hours. Additionally, there were 25 attacks against ANDSF that were repulsed by the 205th Corps and mitigated by the use of offensive attacks against the Taliban and were solely fought and won by Afghan Forces.
General Iman Nazar, 205th Corps Commander said "Our brave Soldiers risk their lives every day to protect our country. They have adapted to recent Taliban attacks and offensively reacted to take the fight to the Taliban."
Rahmatullah Yarmal, Governor of Zabul said "The 205th Corps brigade in Zabul has seen recent attacks, but continue to fight and see success, with the support of the people, to make our province safe."
https://www.khaama.com/45-militants-killed-wounded-in-zabul-province-in-past-one-week-officials-03329/
--------
9 militants killed, wounded in Ghazni province: 203 Thunder Corps
18 Feb 2019
At least nine militants were killed or wounded during the operations of the Afghan armed forces in southeastern Ghazni province, the Afghan Military said Monday.
The 203rd Thunder Corps of the Afghan Military in a statement said at least 5 militants were killed and two others were wounded during the operations of the armed force in KokDalil and Kota Sangi areas of Andar district.
The statement further added that a clash also broke out between the armed forces and militants in Nawda area of Moqor district which left one militant dead.
The Afghan forces also discovered and defused 23 improvised explosive devices during the same operations, the 203rd Thunder Corps said in its statement.
The anti-government armed militants including Taliban have not commented in this regard so far.
Full report at:
https://www.khaama.com/9-militants-killed-wounded-in-ghazni-province-203-thunder-corps-03328/
--------
U.S. peace efforts not aimed at seeking ways for exit from Afghanistan: Khalilzad
18 Feb 2019
The U.S. Special Representative for Afghanistan Reconciliation Ambassador Zalmay Khalilzad has the objective of the United States is to ensure a lasting peace in Afghanistan through diplomatic channels in a bid to ensure that the benefits of two nations are secure.
Ambassador Khalilzad also added that the United States seeks bilateral cooperation with Afghanistan and efforts are underway to reduce the cost of the war.
He made the remarks during a meeting with President Mohammad Ashraf Ghani, members of the political parties, civil society organizations, youths, religious clerics and other government officials during a gathering in the presidential palace on Sunday evening.
He also added that the United States is serious to a peace process considering the central role of the Afghan government and Afghan people, insisting that the United States wants a lasting peace in which the achievements are preserved and that results in to the conclusion of 40 years of war.
Ambassador Khalilzad further added that the objective of the U.S. peace efforts is not to seek a way for exit but is focused on maintaining peace in Afghanistan and strengthening of bilateral relations with Afghanistan would be discussed after a peace deal is reached.
Assuring that no difference exists in the views of the Afghan government and the United States in peace process, Ambassador Khalilzad said all steps and efforts are in preliminary stage.
Admitting that the progress has been limited but hopeful, Ambassador Khalilzad said he is hopeful to have more progress in this regard in coordination with the government and people of Afghanistan.
He went on to explain that the U.S. delegation had discussions on four issues during the past meetings with the Taliban representatives, including circumstances surrounding the relations of Taliban with Al-Qaeda network, presence of U.S. forces, direct negotiations between Taliban and Afghan government, and an overall ceasefire.
Full report at:
https://www.khaama.com/u-s-peace-efforts-not-aimed-at-seeking-ways-for-exit-from-afghanistan-khalilzad-03327/
--------
2 militants killed while placing an IED in a graveyard in Kandahar
19 Feb 2019
At least two militants were killed as they were placing an Improvised Explosive Device in a graveyard in southern Kandahar province, the security officials said.
Provincial Police Chief Gen. Tadin Khan said the incident took place late on Monday in the vicinity of Arghandab district.
Gen. Tadin Khan further added that the militants were busy planting an Improvised Explosive Device in a graveyard when the explosives went off prematurely, leaving two militants dead.
The anti-government armed militants including Taliban have not commented regarding the incident so far.
The anti-government armed militants including Taliban often use Improvised Explosive Device as the weapon of their choice to target the security forces.
Full report at:
https://www.khaama.com/2-militants-killed-while-placing-an-ied-in-a-graveyard-in-kandahar-03330/
--------
Afghanistan and U.S. envoy agree on new working method for peace process
18 Feb 2019
Amid ongoing efforts to find a negotiated settlement to the ongoing conflict in Afghanistan, the Afghan government leaders and U.S. envoy for Afghanistan reconciliation have agreed on a new and clear working method regarding peace efforts.
President Mohammad Ashraf Ghani informed regarding the agreement during a gathering which was attended by Ambassador Khalilzad, representatives of the political parties, civil society, women, youths, private sector, and other officials.
In regards to the new agreement, President Ghani said information would be shared and persistent negotiations would be made regarding specific agenda based on which next steps would be taken.
He also added that necessary attention would be paid regarding the internal, regional, and international situation while dealing with peace process, emphasizing that the situation of the Islamic countries should also be considered and further negotiations should take place regarding the formation of a new framework.
President Ghani said the existing consensus should be further strengthened and in some places where a consensus does not exist must also be considered.
Full report at:
https://www.khaama.com/afghanistan-and-u-s-envoy-agree-on-new-working-method-regarding-peace-process-03326/
--------
Pakistan
Pakistan offer full support for any investigation in Pulwama attack: Imran Khan
BY ET ONLINE
FEB 19, 2019
Offering full support for any investigation in Pulwama attack, Pakistan Prime Minister Imran Khan today said that India has blamed Pakistan without any proof and if India has any proof about any wrongdoing it should give it to Pakistan for action.
"Pakistan offer full support for any investigation in Pulwama. I guarantee action on this," Imran said.
"India has blamed the Pakistan without any proof. Pakistan has nothing to gain from this attack. Pakistan is moving towards peace and stability," Prime Minister Imran Khan said in a address on Radio Pakistan.
"What would Pakistan gain from this? This is new Pakistan and new thinking that doesn't support terrorism," he said.
He also said that he didn't respond to the Pulwama attack because of important visit of Saudi Arabia's crown price to Pakistan.
Yesterday, Pakistan had sought the UN's urgent intervention to "defuse tensions" with India, the Foreign Office Pakistan has strongly rejected India's allegations and said that the JeM remains a proscribed entity in Pakistan since 2002 and the country was implementing its obligations on sanctions implementation.
On February 14, at least 41 Central Reserve Police Force (CRPF) personnel were killed in Kashmir's Pulwama district in a suicide attack claimed by Pakistan-based Jaish-e-Mohammad terror group.
The attack has heightened bilateral tensions with both New Delhi and Islamabad calling back their envoys.
In a tit-for-tat action, Pakistan Monday called back its High Commissioner from India for "consultations" amid heightened bilateral tensions after the Pulwama terror attack, days after New Delhi asked its envoy in Islamabad to return.
https://economictimes.indiatimes.com/news/politics-and-nation/pakistan-offer-full-support-for-any-investigation-in-pulwama-attack-imran-khan/articleshow/68059533.cms
--------
Roadmap for $21bn Saudi investment finalised
Khaleeq Kiani
February 19, 2019
ISLAMABAD: Pakistan is expecting $21 billion worth of seven memorandums of understanding (MoUs) signed with Saudi Arabia to come to fruition in three phases over the next six years.
The two sides have set up two major follow-up forums to ensure timely completion of feasibility studies and project implementation including the top level Saudi-Pakistan Joint Supreme Coordination Council (SPJSCC) and a Joint Working Group (JWG).
The SPSCC will be led by Prime Minister Imran Khan and Saudi Crown Prince Mohammed bin Salman bin Abdulaziz Al Saud while joint working group on energy would be led by Saudi Minister for Energy and Industry Khalid Al Falih and Petroleum Minister Ghulam Sarwar Khan.
Officials involved in two-day bilateral engagements said three initiatives of $7bn are expected to be completed in the first phase of 1-2 years (short-term). These include about $4bn Saudi investment in two regasified-liquefied natural gas (RLNG) based power plants in Punjab. The sale of two projects was, however, expected to go through the open bidding process even though the previous government had parked a major part of $1.5bn 'Saudi gift' in the Pakistan Development Fund to finance the two power plants.
Another $2bn investment is expected from ACWA Power within two years, mostly in renewable energy projects in the coastal areas of Balochistan and Chaghi wind corridor, based on feasibility studies to be conducted in the near future, officials said.
ACWA Power is a Riyadh-based developer, investor, co-owner and operator of a portfolio of power generation and desalinated water production plants in 10 countries including in the Middle East and North Africa, Southern Africa and South East Asia regions.
In addition, a $1bn investment from Saudi Fund for Pakistan is also expected in first two years as participation in projects like Diamer-Bhasha and Mohmand dams, Jamshoro and Jagran power projects.
The mid-term investment up to $2bn is anticipated in 2-3 years. These include smaller petrochemical projects and food and agriculture projects of $1bn each.
The long term (4-6 year) Saudi investment worth $12bn is expected in two major projects. These include $10bn oil refinery to be set up by Aramco and $2bn investment in Mineral Development.
The feasibility study for oil refinery and identification of mineral projects are yet to be made, officials explained, adding that the formal agreements on all these projects would be signed on a fast-track basis as soon as their feasibility studies are completed.
The two sides decided to set up the SPJSCC at the highest level to enhance bilateral economic and business relations in various fields in an institutionalized manner and resolve any hiccups at the very outset. The meetings of the council will be held in the two countries on an alternative basis.
The two sides agreed to make use of all available channels to promote bilateral trade, investment and promote communication between the two peoples and businessmen. The Joint Commission on Commerce and Trade, which is now part of the SPJSCC shall facilitate bilateral trade in specific sectors and products.
The two sides agreed to further strengthen measures to promote trade, participate in exhibitions and events, welcome business meetings from both countries, and encourage the private sector to take the lead in building a strong economic partnership between the two brotherly countries.
The two sides expected the total investment opportunities worth $20bn would increase the mutual investment and volume of bilateral trade.
A joint statement quoted Saudi side as expressing its appreciation for the initiatives taken to improve the conduct of business and facilitate foreign direct investment, and hoped the potential of the China-Pakistan Economic Corridor (CPEC) will contribute to the development and prosperity of the region.
In follow-up to the signing of MoUs, both sides agreed to have expeditious exchange of information to carry out feasibility studies and discussed other areas of cooperation including supply of petroleum products and LNG on a deferred payment basis.
Mr Falih said his country would look into some other mutually beneficial investment opportunities in energy sector of Pakistan.
Investor moot
Separately, a Pak-Saudi Investors Conference on the sidelines agreed to promote bilateral trade to its true potential as its existing size of $3.7bn was fall below the strength of brotherly relationship. Adviser to Prime Minister on Commerce, Textile and Industry Abdul Razzak Dawood and Saudi Commerce Minister Majid Bin Abdullah Al Qasabi co-chaired the conference.
Dawood said there were many untapped potential areas which should be explored for mutual benefit and take advantage of trade and investment opportunities like in agricultural, natural resources and human resource in Pakistan and logistic, mining and religious tourism in Saudi Arabia. He assured the guests that Pakistan would facilitate and provide a level playing field to Saudi investors.
He said Pakistan's economy was heading in the right direction but was facing energy shortage, when China came forward and decided to initiate investment in different energy generation projects under CPEC. He said the government was working on renewable energy policy to improve energy mix with alternate energy from existing 4pc to 30pc by 2025 to shift away from expensive oil and gas.
A statement quoted Mr Dawood as saying that Saudi investors and businessmen showed keen interest to invest in petroleum and energy generation sectors as the huge scope of investment were existing with lucrative rate of returns.
Saudi Minister for Commerce Majid Bin Abdullah Al Qasabi said Pakistan was a nation of passion and dedication, and the compass of bilateral relations was moving towards new direction.
Full report at:
https://www.dawn.com/news/1464742/roadmap-for-21bn-saudi-investment-finalised
--------
CTD police fails to arrest men behind Defence car blast
FEBRUARY 19, 2019
The Counter Terrorism Department (CTD) of the Sindh police, on Monday, declared the car explosion in Karachi's Defence Housing Authority (DHA) an 'A-Class' case and admitted its failure in arresting the men responsible.
In its report submitted before an Anti-Terrorism Court (ATC), the CTD officials said that the terrorists were planning a terrorist attack in the city by planting a bomb device in the vehicle and had now gone into hiding.
The CTD report said that the police had tried its best to arrest the culprits, further adding that the case will be re-opened as and when an accused will be arrested.
According to CTD officials, a car parked at an empty plot near Khadda Market, Defence Phase-V, exploded in the early hours of December 3, last year. The department registered a case against unknown persons with the state as complainant under sections of the anti-terrorism and the explosive acts. An improvised explosive device was used in the blase where the bomb was connected to six LPG cylinders kept in the car. Two explosive bags, weighing two and six kilogrammes respectively, were also found from the location, the report added. The car, which had caught fire in the explosion, was stolen from Jamshed Road area a few days ago.
https://dailytimes.com.pk/356183/ctd-police-fails-to-arrest-men-behind-defence-car-blast/
--------
Taliban postpone meetings in Pakistan over travel curbs
Tahir Khan
FEBRUARY 18, 2019
Afghan Taliban said on Sunday that meetings of their negotiation team with US special envoy Zalmay Khalilzad and Pakistan Prime Minister Imran Khan on February 18 in Islamabad had been postponed due to "travel curbs" on their leaders. Taliban spokesman Zabihullah Mujahid said earlier that Taliban political envoys would meet Khalilzad and Imran Khan in Islamabad on February 18
"The Islamic Emirate had planned participation of its members in talks with US negotiating team in the Pakistani capital of Islamabad which has been postponed due to inclusion of most of the members of our negotiation team in black list maintained by the US and the UN," a Taliban statement said. "It must be mentioned that responsibility for postponement of this event does not devolve upon the Islamic Emirate since we had made all arrangements," it said.
The statement rejected reports that the meetings were postponed by the Taliban or there had been other reasons.
Earlier, the Taliban had stated that they had received a formal invitation by the government of Pakistan for a meeting between their negotiation teams and United States in Islamabad.
A Pakistani official also confirmed cancellation of the meetings in Islamabad.
The Taliban spokesman had also stated that the next round of formal talks with the US envoy would resume on February 25 in Doha, the capital of Qatar as per the agreement reached during the previous meeting.
The Taliban negotiators and Khalilzad last met in Qatar in January and the Taliban political officials said both sides had agreed to discuss the issues of the withdrawal of the foreign forces and to prevent Afghanistan from being used against the US and other countries.
Taliban political spokesman Suhail Shaheen told the media this week that Afghan Taliban and the United States had constituted two joint working groups to devise a strategy about the withdrawal of the US-led foreign troops and to prevent Afghanistan from being used against other countries.
Shaheen said the joint groups would prepare reports for the next round of talks in Doha. Taliban last week announced a 14-member new negotiating team that includes six members from the Taliban powerful leadership council.
A Taliban statement said the negotiation team to be led by Sher Abbas Stanekzai also includes five senior members who were freed from the American prison at Guantanamo Bay in 2014.
The Taliban announced cancellation of the meetings in Pakistan a day after beleaguered Afghan government complained to the UN about the Taliban negotiation team's visit to Pakistan, reports said. Reports said the Afghan mission in the UN had handed over a letter to the UN Security Council's sanctions committee.
Full report at:
https://dailytimes.com.pk/355881/taliban-postpone-meetings-in-pakistan-over-travel-curbs/
--------
Africa
Cameroon Yet to Build Planned Rehab Centers for ex-Boko Haram Fighters
February 18, 2019
MORA, NORTHERN CAMEROON —
In Cameroon, many Boko Haram fighters have surrendered in recent months. But Cameroon lacks facilities to rehabilitate them.
Soldiers of the Multi National Joint Task Force fighting the Boko Haram insurgency, sing at their base in Mora on Cameroon's northern border with Nigeria as they train for eventual operations against the terrorist group.
At the same base, there are 87 Boko Haram fighters in custody. The fighters were captured a year ago, when they decided to lay down their weapons and be pardoned and rehabilitated as the government of Cameroon had promised.
Governor Midjiyawa Bakari of Cameroon's Far North region said the former fighters will remain at the base until a rehabilitation center is constructed for them.
Lack of funding
He said they have acquired a 13 hectare land that and are waiting for the central government in Yaounde to provide funds so that they can develop it.
He said Boko Haram fighters that are still reluctant to come out of the bushes or fear that they may be arrested by the Cameroon military and detained should have confidence in the government. He said anyone who comes back will be socially and economically reintegrated and treated as Cameroonians who were simply deceived but have realized that they were wrong and are returning to develop their country.
In December, Cameroon created a committee to disarm and reintegrate separatist fighters in its English speaking regions and Boko Haram terrorists who put down their weapons.
The centers for the separatists have been created in the towns of Bamenda and Buea. The centers for ex-Boko Haram fighters are yet to be built.
That may be why some former Boko Haram fighters are bypassing the government program altogether.
Joehim Kawamza, a 37-year-old former Boko Haram fighter, waters his maize farm here in Mora. He escaped from Nigeria in December 2017 and refused to go to the official rehabilitation center, choosing instead to reunite with his family.
No trust
He said he did not trust the government rehabilitation program. He said unlike some of his peers who are being kept as prisoners in military camps, he has rebuilt his life with the aid of a United Nations and government-backed program that trained him and gave him fertilizers and maize to grow.
He said he and his family will no longer be hungry this year as he has stocked enough maize and groundnuts to keep them going. He said last year, he was treated as an outcast until some white humanitarian workers came, trained them and gave them maize to plant and take care of their families.
He said it is his wish to use the knowledge he got from the U.N. program to empower people who joined or were kidnapped by Boko Haram.
Cameroon's government has said it wants to help former fighters like Kawamza -- but first wants to ensure they have definitively broken with Boko Haram before giving them assistance and training to earn a living.
https://www.voanews.com/a/cameroon-yet-to-build-planned-rehab-centers-for-ex-boko-haram-fighters/4791847.html
--------
Boko Haram: 35,000 flee Nigeria for Cameroon
February 19, 2019
No fewer than 35,000 Nigerians have fled to Cameroon to become refugees in recent weeks following the escalation of the Boko Haram insurgency in the North-East, Médecins Sans Frontières has claimed.
MSF, also called Doctors Without Borders, in a statement said the latest migration followed an increase in violence around Rann in Borno State.
According to the statement, many of the Nigerian refugees in the Cameroonian village of Goura urgently need food, shelter and water.
The MSF said it had launched an emergency response to take care of the refugees.
The statement quoted MSF's deputy programme manager for emergencies Dr Silas Moussa as saying, "They (refugees) left on foot very early in the morning — women, children and elderly people.
"When they fled, they had to leave elderly and sick relatives behind. They brought along what possessions they could, but in Goura they have nothing to drink and nowhere to sleep. They have been left to fend for themselves."
The statement added, "The refugees have been staying in a large, informal camp in Goura since late January. Most are sleeping in the open, even though it is sandstorm season and the temperature drops sharply at night.
Full report at:
https://punchng.com/bharam-35000-flee-nigeria-for-cameroon/
--------
Boko Haram kills two soldiers in Borno
February 18, 2019
Two Nigerian soldiers were killed and six others injured when Boko Haram jihadists attacked a military post near the Cameroon border, security sources told AFP Monday, days before rescheduled presidential elections.
Fighters loyal to long-time factional leader Abubakar Shekau launched the attack on Sunday evening some 15 kilometres (nearly 10 miles) from the town of Banki.
Nigeria's President Muhammadu Buhari came to power on a pledge to defeat the Islamist militants but despite his repeated claims that they have been weakened to the point of defeat, attacks persist.
His failure to end the violence is again a polling issue as Buhari seeks re-election this weekend.
"We lost two soldiers to Boko Haram terrorists who attacked Alpha Company location…" a military officer in Banki said on condition of anonymity.
"Six soldiers were also injured in the attack," he said. The account was backed by a civilian militia member in the town.
The injured troops were evacuated to a hospital in Mora, across the border in Cameroon.
Banki is 130 kilometres (80 miles) southeast of Maiduguri, the Borno state capital, and houses some 45,000 people displaced by the conflict in a sprawling camp.
Boko Haram has launched several attacks in and around Banki, targeting troops and the displaced.
Last month two soldiers were killed and seven civilians injured in an ambush on a convoy of traders under military escort in Chachile village.
Boko Haram has in recent months stepped up attacks against military targets which have been blamed on or claimed by IS-affiliated Islamic State West Africa Province.
On Saturday, four soldiers and five jihadist fighters were killed when ISWAP fighters attacked a base in the town of Buni Yadi, in nearby Yobe state, the military said.
Five civilians were killed and 11 injured in the crossfire.
The conflict, which began in 2009, has killed more than 27,000 people and left 1.8 million homeless in northeast Nigeria.
Full report at:
https://punchng.com/boko-haram-kills-two-soldiers-in-borno/
--------
Sudanese vendor killed after police fired tear gas at Khartoum rally
18 February 2019
A Sudanese vendor died Sunday after riot police fired tear gas at an anti-government rally in the capital, medics said, as protesters pressed on with a campaign against President Omar al-Bashir's rule.
Scores of protesters took to the streets in Khartoum's northern suburb of Bahari chanting anti-government slogans, but they were quickly confronted by riot police.
The vendor selling fruit in Bahari died in the hospital after inhaling tear gas fired by riot police to disperse the rally, a medic, relatives and a doctors' committee linked to the protest campaign said.
"He was brought to hospital but doctors were unable to save him. He died from inhaling tear gas," the medic said, without revealing his own name for security reasons.
Protesters chanted "freedom, peace, justice," as they rallied in Bahari, witnesses said.
"We will not give up. We will continue protesting," said Afra, a demonstrator who gave only her first name for security reasons. "When we keep on demonstrating, more and more people will join us."
As darkness fell later, demonstrators rallied in the capital's eastern district of Burri, site of regular protests for nearly two months now.
Protesters chanted "freedom, freedom," before riot police fired tear gas at them, a witness said.
Deadly clashes during protests have rocked the east African country since December 19 after a government decision to triple the price of bread.
The demonstrations quickly escalated into nationwide rallies against Bashir's iron-fisted rule, with protesters calling for him to resign after three decades in power.
Officials say 31 people have died in protest-related violence so far, while Human Rights Watch says at least 51 have been killed.
Bashir has remained defiant, insisting that the only way to change the government is through the ballot box.
Full report at:
https://english.alarabiya.net/en/News/north-africa/2019/02/18/Sudanese-vendor-killed-after-police-fired-tear-gas-at-Khartoum-rally.html
--------
Boko Haram kills 2 soldiers in NE Nigeria: Security sources
Feb 18, 2019
Two Nigerian soldiers have been killed and six others injured when Boko Haram militants attacked a military post near the Cameroon border, security sources say, days before rescheduled presidential elections.
Fighters loyal to long-time factional leader Abubakar Shekau launched the attack on Sunday evening some 15 kilometers (nearly 10 miles) from the town of Banki.
Nigeria's President Muhammadu Buhari came to power on a pledge to defeat the extremist militants but despite his repeated claims that they have been weakened to the point of defeat, attacks persist.
His failure to end the violence is again a polling issue as Buhari seeks re-election this weekend.
"We lost two soldiers to Boko Haram terrorists who attacked Alpha Company location," a military officer in Banki said on condition of anonymity.
"Six soldiers were also injured in the attack," he said. The account was backed by a civilian militia member in the town.
The injured troops were evacuated to a hospital in Mora, across the border in Cameroon.
Banki is 130 kilometers (80 miles) southeast of Maiduguri, the Borno state capital, and houses some 45,000 people displaced by the conflict in a sprawling camp.
Boko Haram has launched several attacks in and around Banki, targeting troops and the displaced.
Last month, two soldiers were killed and seven civilians injured in an ambush on a convoy of traders under military escort in Chachile village.
Boko Haram has in recent months stepped up attacks against military targets.
The militancy, which began in 2009, has killed more than 27,000 people and left 1.8 million homeless in northeast Nigeria.
Full report at:
https://www.presstv.com/Detail/2019/02/18/588894/Nigeria-Boko-Haram-militants-soldiers-Cameroon-border-Muhammadu-Buhari
--------
'1,000 terrorists returned to Tunisia in 7 years'
9.02.2019
Tunisia's Center for Global Security Studies said Monday that 1,000 "terrorists" had returned to the country from conflict zones from 2011 to October 2018.
Mokhtar Ben Nasr, head of the center's executive committee, told reporters that Tunisian authorities had prevented 17,000 people from leaving the country for conflict zones such as Syria, Iraq and Libya.
He said the total number of Tunisians in the conflict zones was 3,000, adding many of them had died and some of them had fled to various regions to find safe havens.
Many terrorists had returned to the country in secret ways, he noted.
Nasr stressed that the number of terrorists in the mountains of Tunisia had been greatly reduced.
Two weeks ago, a terrorist group of four had returned to the country upon the request of Tunisian authorities, Nasr said, adding members of the group are currently going through the judicial process.
The discussion was raised after U.S. President Donald Trump urged European states late Saturday to "take back" hundreds of foreign Daesh terrorists captured in Syria and prosecute them.
"The United States is asking Britain, France, Germany and other European allies to take back over 800 ISIS fighters that we captured in Syria and put them on trial," Trump said on Twitter, using another name for Daesh.
Full report at:
https://www.aa.com.tr/en/africa/1-000-terrorists-returned-to-tunisia-in-7-years/1396624
--------
URL: https://www.newageislam.com/islamic-world-news/up-dargah-ala-hazrat-shares/d/117793
New Age Islam, Islam Online, Islamic Website, African Muslim News, Arab World News, South Asia News, Indian Muslim News, World Muslim News, Women in Islam, Islamic Feminism, Arab Women, Women In Arab, Islamophobia in America, Muslim Women in West, Islam Women and Feminism