New Age Islam News Bureau
21 Sept 2019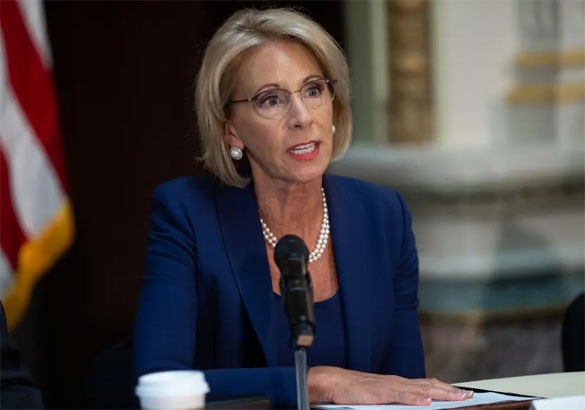 US Secretary of Education Betsy DeVos proposes new rules about campus sexual assault and harassment (SAUL LOEB/AFP/Getty Images)
------
• US: 2 Muslim Men Face Religious Profiling, Removed From Flight Because Crew Felt Uncomfortable
• Healing Each Other With Love: In Kodagu, A Hindu And Muslim Donate Over 1.5 Acres Of Agricultural Land For The Rehabilitation Of Flood Victims
• Indonesia To Vote On Banning Sex Outside Marriage, Outlawing Same-Sex Relationships: A 'Disastrous' Move For Minorities, Human Rights Groups Say
• Idlib Faces a Fearsome Future: Islamist Rule or Mass Murder
• Hezbollah's Nasrallah Says Iran Would Destroy Saudi Arabia In Any War
• Somalia: About 5,000 Sufi Fighters Join Army
• US Welcomes Imran's 'Unambiguous' Stance on Kashmir
• Fastest-Growing UK Terror Threat 'From Far-Right'
North America
• United States Administration Threatens To Cut Funding From University Course For Teaching The Positive Aspects Of Islam
• US: 2 Muslim Men Face Religious Profiling, Removed From Flight Because Crew Felt Uncomfortable
• New Jersey man charged with scouting terrorist targets in Manhattan for Hezbollah
• American Airlines mechanic shared 'disturbing' ISIS videos, told agents he had 'evil side,' prosecutors say
• At UN Trump to tout leadership as US seeks to tackle Iran and China
• US imposes sanctions on Iran's central bank: Trump
• State Department: ISIS scaring Taliban into peace talks with US
--------
India
• Healing Each Other With Love: In Kodagu, A Hindu And Muslim Donate Over 1.5 Acres Of • Agricultural Land For The Rehabilitation Of Flood Victims
• Mehbooba Mufti Seeks Details on Detainees since August 5, Daughter Writes To Govt
• Inscriptions on Babri Entrance Counter Temple Claims, SC Told
• Muslim Party Presents Key Evidence Of Babri Masjid Construction
• AMU To Have A Chair on RSS' Favourite Mughal — Dara Shikoh
• Hurriyat leader Mirwaiz Umar Farooq, 6 others sign bonds to secure release
• Trump to Meet Pak PM Imran on Monday, PM Modi on Tuesday In New York
• Not every Kashmiri potential stone-pelter or terrorist: Iltija Mufti
• SC seeks response from J&K on plea challenging detention of five persons
--------
Southeast Asia
• Indonesia To Vote On Banning Sex Outside Marriage, Outlawing Same-Sex Relationships: A • 'Disastrous' Move For Minorities, Human Rights Groups Say
• Seven states against increasing minimum marriage age to 18
• Indonesia's President Halts Bill That Would Ban Sex Outside Marriage
• For China's Embattled Uighurs, a Bank Transfer Abroad Can become A 'Terrorism' Ordeal
• Minister: 'Buy Muslim Products' campaign not wrong
• Raudhah Ville's 'Islamic City' model no threat to national unity, minister
• Minister dismisses misinformation about Dr M's remarks on Dr Zakir Naik
• Indonesia Condemns Statement by UN Experts on Papua Unrest
--------
Arab World
• Idlib Faces a Fearsome Future: Islamist Rule or Mass Murder
• Hezbollah's Nasrallah Says Iran Would Destroy Saudi Arabia In Any War
• Al-Nouri Mosque restoration aims to revive spirit of Iraq's ruined Mosul
• Russia, China Block UN Humanitarian Resolution on Syria's Idlib
• CBS News goes inside Syrian refugee camp filled with ISIS supporters
• Attack on Saudi Oil Facilities Tests U.S. Guarantee to Defend Gulf
• Lebanon Concerned Over Possible Hezbollah Engagement in Regional War
• Idlib: Syrian Army Discovers Center for Producing False-Flag Chemical Attacks Videos by White Helmets
• Iraq: Minibus explosion outside Karbala kills 12, injures 5
• US man charged with scouting targets for Hezbollah
• Protests against Egypt's president erupt in capital Cairo, some other cities
--------
Africa
• Somalia: About 5,000 Sufi Fighters Join Army
• Nigeria kills 7 top Boko Haram commanders: Army
• At least 9 killed in suspected Boko Haram attack in NE Nigeria
• UN agency says 124 suspected cholera cases in Sudan
• Tunisia's Islamist Ennahda throws weight behind vote frontrunner
--------
Pakistan
• US Welcomes Imran's 'Unambiguous' Stance on Kashmir
• Kashmir Human Rights Situation Central Issue at UNHCR, Says FO
• JUI-F chief trying to use shoulders of PPP, PML-N: Firdous
• PM assures Saudi Arabia of support against any threat
• Kabul's 'irresponsible, unwarranted' statement on Durand Line runs afoul of Islamabad
• PM Imran to travel to US today for highlighting Kashmir issue at UNGA, other forums
• Pakistan Army major, sepoy martyred in IED explosion near Afghan border: ISPR
--------
Europe
• Fastest-Growing UK Terror Threat 'From Far-Right'
• France terror threat: Warning issued as 'homegrown jihadis' remain huge concern
• Interpol detects foreign terror suspects in Mediterranean
• UK's Conservative Party faces backlash over Islamophobic posts
--------
South Asia
• Prime Minister Hasina Says Rohingya Are "A Burden" For Bangladesh
• Afghan forces to receive more advanced rifles from the United States
• Afghanistan: US confirms drone attack that killed 30 farmers
• Death toll from Taliban bomb attack rises to 39
• Airstrikes kill 8 Taliban and ISIS militants; destroy weapons cache and a car bomb
• Special Forces detain 12 Taliban militants in Kabul, other provinces; destroy weapons caches
• Taliban militants suffer heavy casualties in Kandahar, Ghazni ad Badghis airstrikes
--------
Mideast
• IRGC ex-head: Iran will respond to US plots from Mediterranean to Indian Ocean
• Yemen's Iran-backed Houthis say Hodeidah 'escalation' violates Stockholm deal
• Zarif slams US-proposed 'Coalition for Peaceful Resolution' targeting Iran
• Iran Entrenches Its "Axis of Resistance" Across the Middle East
• 4 killed in bomb attack on passenger bus in SE Yemen
• Turkey: Ankara, Jakarta important Muslim democracies
• Israel's Netanyahu clings to power as coalition talks loom
• Yemen's Houthis announce plan to conditionally halt strikes against Saudi Arabia
• Israeli forces injure over 75 Palestinians in Gaza
• Saudi Arabia pressuring wealthy families to fund Aramco IPO after Yemeni strike
• Yemen's President Hadi appoints new ministers in government reshuffle
Compiled by New Age Islam News Bureau
URL: https://www.newageislam.com/islamic-world-news/united-states-administration-threatens-cut/d/119802
--------
United States Administration Threatens To Cut Funding From University Course For Teaching The Positive Aspects Of Islam
Alex Woodward
Sep 21, 2019
The Trump administration has threatened to disqualify a university-level Middle East studies programme from receiving federal funding for teaching the "positive aspects of Islam".
The US Department of Education has ordered that the programme run by the University of North Carolina at Chapel Hill and Duke University revise their course plans by 22 September or risk losing future funding.
The administration claims the course has "critical shortcomings and impermissible biases", with "very little serious instruction" on national security and instead "considerable emphasis" on the "positive aspects of Islam".
In a letter dated August 29 and sent to the programme's directors, the Department says course topics including Iranian art and film offer "little to no relevance" under the funding guidelines, nor do they "support the development of foreign language and international expertise for the benefit of US national security and economic stability". Instead, the course places "considerable emphasis on advancing ideological priorities", the Department has claimed.
The programme "should not be funded or subsidised in any way by American taxpayers" unless the courses "clearly demonstrate that such programmes are secondary to more rigorous coursework helping American students to become fluent Farsi speakers and to prepare for work in areas of national need", according to the letter.
The Department also accuses the programme of having a "lack of balance" in its discussion of Islam, "while there is an absolute absence of any similar focus on the positive aspects of Christianity, Judaism, or any other religion or belief system in the Middle East".
Education secretary Betsy DeVos ordered the investigation in June following a complaint from Republican North Carolina congressman George Holding alleging "severe anti-Israel bias and antisemitic rhetoric" at a consortium-hosted conference. The March conference discussed "Conflict Over Gaza: People, Politics, and Possibilities" at UNC.
The letter didn't confirm those allegations but asserted that the programme advances "narrow, particularized views of American social issues".
The US National Resource Centre programme was founded in 1965 to offer federal funding for language and culture programming for students entering careers in diplomacy and national security. The National Resource Centre awarded $22 million in grant funding to language courses at 40 universities last year; the Duke-UNC Consortium for Middle East Studies received $235,000 from federal grant funds last year.
Academics have warned that creeping political interest into academia could endanger other programmes that receive similar funds.
Henry Reichman, chairman of a committee on academic freedom for the American Association of University Professors, told the Associated Press that "the odour of right wing political correctness that comes through this definitely could have a chilling effect".
https://www.independent.co.uk/news/world/americas/us-politics/trump-islam-religion-university-program-education-a9112581.html
--------
US: 2 Muslim Men Face Religious Profiling, Removed From Flight Because Crew Felt Uncomfortable
September 21, 2019
Two Muslim men from Texas said that American Airlines profiled them and canceled their flight after crew members said that they didn't feel comfortable flying with the pair.
Abderraoof Alkhawaldeh and Issam Abdallah said that they filed a complaint with the US Department of Transportation against the Fort Worth-based airline, asking the federal agency to investigate the incident.
The men said that American Airlines discriminated against them on Saturday for appearing Muslim and Middle Eastern during a flight from Birmingham, Alabama, that was headed to Dallas-Fort Worth International Airport.
The pair said that flight attendants reported them because a crew member noticed Abdallah flush the toilet two times while in the airplane restroom, according to a letter the men's attorney sent to the DOT.
The men also waved to each other on the plane.
It was the most humiliating day of my life, said Abdallah, who spoke Thursday at the Dallas-Fort Worth chapter of the Council on American-Islamic Relations.
The passengers were put on a later flight. Alkhawaldeh and Abdallah were questioned and searched by the FBI and the Transportation Security Administration before they were cleared to board.
I have taken hundreds of flights and to be treated with such disrespect, suspicion, to be questioned in public and to be singled out and followed around in front of other airport customers I am really worried as to what my next flying experience will be, said Alkhawaldeh, adding that he flies with American often and is an AAdvantage Executive Platinum member, the company's highest frequent flier ranking.
American Airlines spokeswoman LaKesha Brown said the flight was canceled as a result of concerns raised by a crew member and a passenger.
American and all of its regional partners have an obligation to take safety and security concerns raised by crew members and passengers seriously, Brown said in a statement. She added that American is reviewing the incident and has reached out to the men to better understand their experience.
Saturday's flight was operated by independently owned Mesa Airlines, which handles some flights for American Airlines.
The safety and security of our customers is our top priority, and we are conducting a thorough investigation of this matter, Mesa spokesman Jack Heller said Thursday.
American Airlines has been criticized before over its treatment of passengers who are people of color.
The NAACP issued a travel advisory in October 2017 for American Airlines after a string of incidents in which black passengers said they were discriminated against on flights.
In June, a Miami doctor said that he was removed from an American flight for his Arab and Muslim appearance and for using a phone during takeoff.
He is now suing the airline in federal court. That same month, a black doctor and founder of a telemedicine service said that an American Airlines crew called her romper inappropriate and told her to cover up or risk being kicked off her flight back into the US from vacation in Jamaica.
On Thursday, Omar Suleiman, founder of the Yaqeen Institute for Islamic Research in Dallas, said the profiling of Muslims is increasing, particularly at airports and on planes.
Airports are a scary place for Muslims. Especially with the rhetoric of the president (Donald Trump), Suleiman said.
Most of the time people do not step forward to talk about their experiences, he added. Instead of just addressing this issue in isolation, American Airlines could use this opportunity to create protocols that stop this from happening all the time.
https://www.indiatoday.in/world/story/us-muslim-men-face-religious-profiling-flight-because-crew-feels-uncomfortable-1601532-2019-09-21
--------
Healing Each Other With Love: In Kodagu, A Hindu And Muslim Donate Over 1.5 Acres Of Agricultural Land For The Rehabilitation Of Flood Victims
August 20, 2019
In the face of terrible tragedy, the only glimmer of hope is often people coming together in solidarity and healing each other with love. Placing humanity ahead of religious differences, a Muslim man and his Hindu counterpart from Kodagu district have united to donate over 1.5 acres of agricultural land for the rehabilitation of flood victims.
According to Kodagu Deputy Commissioner Annies Kanmani Joy, the recent rains accompanied by flood in the Kodagu region have washed away over 5000 homes in several villages close to the Kaveri river, including Kondangeri.
It was then that 55-year-old Abdulla Haji came forward with an offer to part with 1.5 acres of his 6-acre agricultural land and donate it to the Kondangeri Masjid Committee, so that the government can put it to use.
"When a person sees the people around him suffering so much, it is only natural that he would go and help others. Although I'm a not a rich farmer, I'm in a position to help them. I hope that the bereaved people get some strength from God to overcome their losses and grief," Haji said.
As per Haji's proposal, the land is suitable for building permanent houses for the flood victims. But while the Masjid committee was considering the housing proposal, they soon realised that the construction site will face the problem of an inaccessible road.
"But without any hesitation, another Kondangeri resident, Lokesh, approached the Masjid committee and pledged that the Masjid may attach his part of land to the charitable cause and lay down a road towards the residential project," said Yusuf Haji, President of Kondangeri Muslim Jamath.
According to the Masjid authorities, most of the flood victims are labourers who've lost whatever little they had.
"Almost all the flood victims whose houses have been destroyed are labourers from coffee plantations. They had to forcibly leave their homes as the water level rose and in the process, they also lost their possession and valuables along with their home," said Yusuf.
While government authorities are engaged in the rehabilitation process, there is a lack of temporary relief centres built by the government at Kondangeri village. Hundreds of victims, including women and children, irrespective of their religious beliefs, have taken shelter in relief centres at the Kondangeri Masjid while mourning their losses.
"Haji was thoroughly involved in serving the needy at the Masjid when they had started coming to this shelter. We think he was overwhelmed by their losses and felt that it was necessary to look into providing the people with long-term solutions," Yusuf said.
This duo's decision was hailed by the local authorities who confided that the district was facing a shortage of land to rehabilitate the victims of floods and landslides.
"There is already an ongoing process undertaken by the district administration to identify government land that has been encroached by a few agriculturists. The process of its recovery will commence. In the meanwhile, the generosity of people like Lokesh and Haji is really commendable," Assistant Commissioner T Javare Gowda said.
This is not the first time that ordinary people in the flood and landslide prone coffee belt have rushed to help others. Last year, Abdul Latif of Suntikoppa had come forward and donated 2 acres of his estate land for the rehabilitation of victims.
https://www.thenewsminute.com/article/humanity-first-kodagu-hindu-and-muslim-donate-over-15-acres-flood-victims-107526
--------
Indonesia to vote on banning sex outside marriage, outlawing same-sex relationships: a 'disastrous' move for minorities, human rights groups say
By MURI ASSUNÇÃO
SEP 20, 2019
Indonesia is set to vote on an ultra-conservative penal code that would criminalize sex outside marriage, effectively outlawing same-sex relationships in the Southeast Asian nation.
The proposed legislation, an update to the country's criminal code which dates back to the Dutch colonial era, would also curb freedom of speech.
The 628-article bill was finalized by a parliamentary task force on Sept. 15, and a vote by the House of Representatives is expected later this month.
Human rights groups are sounding the alarm on the dangers of the legislation, and are urging President Joko Widodo to delay the passing of the bill, hoping to remove some of its provisions.
"Lawmakers should remove all the abusive articles before passing the law," Andreas Harsono, senior Indonesia researcher at the Human Rights Watch, said in a statement.
Indonesian human rights organizations claim that the rights of minority groups, such as LGBTQ individuals and women, as well as non-Muslims, non-Sunni Muslims and other religious minorities are in jeopardy.
The criminal law overhaul is fueled by religious conservatism, as the world's biggest Muslim majority country signals it could shift towards fundamentalism.
Besides making premarital, extra-marital and same-sex relations a crime, the legislation penalizes anyone who would show or offer contraception methods to minors under 18.
It also calls for the expansion of the country's existing blasphemy laws, which have been used against religious minorities in the past, such as Buddhists or Christians.
"Indonesia's parliament should be encouraging free speech and association, and limiting — not expanding — the Blasphemy Law," said Harsono. "The new criminal code is a precious opportunity that shouldn't be wasted to remove toxic laws from the books and build a better, rights-respecting Indonesia."
If the bill becomes law, it could be "disastrous not only for women and religious and gender minorities, but for all Indonesians," he added.
Indonesia's Minister of Law and Human Rights Yasonna Laoly, told CNN that the law would simply update the country's penal to align it with how Indonesians live today.
"We would like to change to our new penal code to focus more on Indonesian perspectives in the law. The reason is because there are some laws in the penal code that are not suitable for Indonesia any more," he said.
Robikin Emhas, the spokesperson for the Nahdlatul Ulama, a major Islamic organization, told Agence France-Presse that "even though the criminal code bill that will be ratified still has shortcomings, it's far better than the [one] today."
The bill is set to go to a parliamentary session on Tuesday, according to CNN.
But the vote is only a "formality," said Laoly. "All the parties in parliament have agreed," he added.
https://www.nydailynews.com/news/world/ny-indonesia-new-penal-code-punish-minorities-lgbtq-women-20190920-wfkeqfn5lrdmvpx37nxhu7xcja-story.html
--------
Idlib Faces a Fearsome Future: Islamist Rule or Mass Murder
By Elizabeth Tsurkov
September 19, 2019
In recent months, Hayat Tahrir al-Sham (HTS), the radical Islamist group that now controls Idlib—the last redoubt of Syria's armed opposition—has shown a growing willingness to compromise.
HTS was once as extreme as they come, with roots in al Qaeda. But with Syrian leader Bashar al-Assad's victorious Russian-aided forces bearing down, and mindful of the collapse of the ultra-hard-line Islamic State, the group's leaders are taking a more lenient, pragmatic approach to enlistment. The rank-and-file composition of the group has also changed. Through several rounds of infighting with more moderate rebel groups, HTS absorbed thousands of nonobservant Muslim fighters into its ranks from the defeated factions. In addition, it welcomed more moderate fighters who have been displaced from further south—much to the surprise of some of the new enlistees.
"In Damascus I was sure that HTS are like the Islamic State, that no one smokes among them and they dress in Islamic garb, but honestly, I didn't find any of that," said one HTS fighter called Mazen, who smokes cigarettes and crops his beard. Like many of the remaining regime opponents, Mazen is a sort of warrior-refugee—a former Free Syrian Army fighter from the southern suburbs of Damascus who was displaced to Idlib in 2018 and then joined Hayat Tahrir al-Sham because, he said, "it was the biggest thing in control of the region."
But for residents of Idlib in northwestern Syria, the organization's increasing willingness to engage with outsiders for the sake of expediency is little comfort. Because despite the group's ideological pragmatism, one thing has not changed: its authoritarian conduct. The group's internal security organ continues to kidnap opponents and occasionally executes them. Torture is rampant in its prisons.
"The internal security cadres in HTS are the most extreme," Suleiman, an Idlib-based journalist, told Foreign Policy in an interview. (All names of Syrians in this story were changed to protect them from retribution by Hayat Tahrir al-Sham and the Assad regime, and the interviews were conducted over the summer on WhatsApp, in Arabic.) "They routinely arrest people based on false denouncements without any proof." Even an HTS fighter named Abdullah admitted: "The people hate the internal security of HTS."
So only two bleak alternatives now face Idlib's 3 million residents: a gradual regime takeover or a long-term de-escalation deal that would ensure the protection of the region under HTS dominance. The first means death or imprisonment for many at the hands of a vengeful Assad. The second outcome would bring a new kind of harsh oppression.
Even as neighboring powers haggle over their future—earlier this week, Russian President Vladimir Putin, Turkish President Recep Tayyip Erdogan, and Iranian President Hassan Rouhani agreed to try to "de-escalate tensions" in Idlib province, although each is backing different groups—Assad's Russian-backed forces are moving in, already breaking the partial cease-fire announced last spring in Sochi, Russia.
Residents know that a regime takeover of all parts of Idlib would spell doom for many of them. In all previous regime offensives on rebel-held pockets, those refusing surrender at the end had the option of displacement to Idlib. Idlibis have nowhere left to go, and the Assad regime sees those who refused to surrender to it as terrorists and traitors. Interviews and conversations with residents of areas retaken by the regime describe the return of a highly paranoid and aggressive police state. Arrests are happening daily, fear is pervasive, and the population slipped back into the habit of informing on one another to curry favor with the regime. Those targeted for arrests are former activists, members of families that are known to have sided with the opposition, civil defense and medical personnel, rebels who have not joined regime forces, and defectors from the Syrian Army. Assuming a similar policy is adopted in Idlib, much of the region's 1.5 million original inhabitants will be in danger, as peaceful and armed opposition activity lasted there the longest, implicating many.
Thus, the regime regards much of the population in greater Idlib—whether locals or people displaced to it—as traitors and terrorists and will treat them accordingly: If it is unable to kill them on the battlefield, it will likely fill up its prisons with the area's inhabitants and then gradually notify the families that their relatives "passed away" in prison. According to a United Nations report on Syrian government prisons, the regime "has committed the crimes against humanity of extermination, murder, rape or other forms of sexual violence, torture, imprisonment, enforced disappearance and other inhuman acts."
That frightening prospect is inching closer to Idlib. In late April, the Russian Air Force, Russian-trained militias, and the Syrian Army launched a new offensive against Idlib and its environs, which are home to about 3 million people, half of them children. After an initial stalemate, since early August, regime forces were able to make relatively rapid gains. The ferocious air campaign, which repeatedly targeted hospitals, bakeries, schools and other vital infrastructure, coupled with regime ground advances, have led to the flight of over 630,000 people who are moving north, to the locked border with Turkey. At least 1,031 civilians have died in these strikes.
Prior to the end of April, as a result of Turkish and Russian negotiations in Nur-Sultan, Kazakhstan, and Sochi, the area witnessed a reduction in violence. Under the Sochi agreement, jihadi factions were to leave a demilitarized zone bordering the regime and allow the reopening of two highways passing through the region from regime-held Syria to the cities of Aleppo and Latakia. The rebels were also obligated to hold fire, as was the regime. Both the regime and the rebels failed to abide by the terms of the deal, but the cease-fire continued to hold—until it didn't.
To a certain degree, Russia and Turkey both have an interest in freezing the conflict in the region, which is why they are carrying out a new round of negotiations to de-escalate violence. Turkey wishes to avoid the flight of Idlib's residents across the border and even into northern Aleppo, an area under direct Turkish control. Turkish-backed local councils in those regions are refusing to register displaced persons from Idlib, making them essentially illegal residents of their own country. Turkish border guards routinely shoot and kill refugees attempting to cross into Turkey. Russia, for its part, also has an interest in de-escalation: It wishes to maintain its blossoming relationship with Turkey, and assaulting Idlib means dispersing thousands of jihadis across Syria, whereas they are now contained and focused on governance of Idlib.
Under pressure from Turkey to moderate, HTS in recent months has invited journalists and foreign researchers to visit Idlib under its protection, whereas its predecessor, the Nusra Front, routinely kidnapped foreigners for ransom. The group also allowed Turkey to establish observation posts in areas under its control, despite the opposition of hard-liners in its ranks. "We were against the entry of the Turks, but it was forced on us. If the Turks did not enter, the area was going to be bombed out, so we let them in to keep the population safe," Abu Iman, an HTS commander from Aleppo, told Foreign Policy.
But this relationship with Turkey rankles hard-line Islamist opponents of HTS. Mustafa, a fighter in an armed faction belonging to Hizb ut-Tahrir, whose members were assassinated and arrested by the group for opposing its willingness to work with outside actors, told Foreign Policy that "the commanders in HTS are not making decisions independently. They [HTS fighters] are restricted. … If the commander says to withdraw, they will, to appease the Turks." He said he intends to fight against HTS in this battle, since he sees its members as sellouts following foreign orders.
The infighting among various radical Islamist factions began taking place in 2016, after the Nusra Front changed its name and severed ties with al Qaeda. "Some people [inside HTS] got upset … and split to form Huras al-Din [al Qaeda's branch in Syria]. Some of them believed that Nusra deviated and began to follow the West," said Abdullah, a fighter who joined the organization when it was still the Nusra Front. "And concessions follow concessions … all of them due to pressures" to which HTS was subjected, he said.
This further erosion in the rebels' strength may now be leveraged by Turkey to pressure the organization to agree to cease-fire terms the faction previously refused, including the reopening of roads to Aleppo and Latakia, and a greater role for Turkey and Turkish-backed factions in the region, possibly in the form of a merger with more moderate factions. HTS and the other factions would then have to ensure that radical groups do not violate the cease-fire. Hossam, a member, of the organization, told Foreign Policy that the best solution for Idlib would be a long-term cease-fire. He expects his organization to be able to take care of the wayward factions, because "HTS today is the decision-maker."
"We are going to see a big round of infighting soon," said Mustafa, the Hizb ut-Tahrir fighter. "Turkey is going to give [HTS and more moderate factions] the order to eliminate Huras al-Din, Ansar al-Din, and Ansar al-Tawhid. Because the jihadi factions are not abiding by the [orders] of the Turkish guarantor."
The growing weakness of the opposition vis-à-vis Assad means that even ardent jihadis realize that the best outcome they can currently achieve is protecting Idlib—abandoning, for now, attempts to liberate the rest of Syria. The last month of fighting further weakened the opposition due to thousands of deaths and incapacitating injuries in the ranks of the rebels, and particularly among units adept at fighting under heavy airstrikes.
Abdullah al-Muhaysini, a Saudi cleric close to HTS's leadership, has justified focusing on the protection of Idlib alone. The training for new recruits and ongoing instruction by clerics has also changed, according to HTS fighters and commanders. "The clerics always give the advice not to be strict … don't argue with people … be nice with them," said Abu Iman, the commander. All HTS members interviewed by Foreign Policy said that commanders and clerics from the organization tell them that the goal is to bring down the regime, but they said that no details are provided on what type of regime will come next.
In the end, the stabilization of Idlib under HTS dominance and a greater Turkish role in the region would essentially create a new Gaza in Idlib: a besieged area, under a long-term cease-fire, dominated by an Islamist authoritarian organization that works to combat more extremist elements. This solution is hardly ideal for the region's traumatized inhabitants. But given the prospect of mass murder that awaits them if the regime takes over, this appears to be the best option available.
Elizabeth Tsurkov is a research fellow at the Forum for Regional Thinking focusing on Syria and Iraq. Twitter: @Elizrael
https://foreignpolicy.com/2019/09/19/idlib-faces-a-fearsome-future-islamist-rule-or-mass-murder-syria-civil-war-hayat-tahrir-al-sham/
--------
Hezbollah's Nasrallah Says Iran Would Destroy Saudi Arabia In Any War
20 September 2019
Lebanon's Hezbollah warned Saudi Arabia on Friday against betting on a war against Iran because it would destroy the country and urged Riyadh and the United Arab Emirates to halt the war in Yemen instead of buying more air defenses.
"Don't bet on a war against Iran because they will destroy you," Hezbollah leader Sayyed Hassan Nasrallah said in a televised speech. "Your house is made of glass and your economy is made of glass. Like the glass cities in the UAE," he said.
https://english.alarabiya.net/en/News/middle-east/2019/09/20/Hezbollah-s-Nasrallah-says-Iran-would-destroy-Saudi-Arabia-in-any-war.html
--------
Somalia: About 5,000 Sufi Fighters Join Army
by Mohammed Adow
19 Sept 2019
In central Somalia, about 5,000 Sufi fighters are signing up to join the national army.
In a surprise move two months ago, the group decided to have its fighters integrated.
So far, they are the only local group to go up against al-Shabab fighters and win.
Sufism is a mystical branch of Islam and has been widely practised in Somalia before the advent of Salafism in the country following the civil war that broke out in 1991.
https://www.aljazeera.com/news/2019/09/somalia-5-000-sufi-fighters-join-army-190919170826082.html
--------
US Welcomes Imran's 'Unambiguous' Stance on Kashmir
Sep 21, 2019
WASHINGTON D.C.: The US State Department on Thursday lauded Prime Minister Imran Khan's "unambiguous" and "important" statement, in which he warned citizens against joining the freedom movement in Indian occupied Kashmir.
During a speech on the eve of Torkham border inauguration on Wednesday, Prime Minister Imran said that anyone wanting to go and fight in occupied Kashmir would do a "great injustice" to the Kashmiris by undermining their legitimate cause.
"Such an act would be an act of animosity towards the Kashmiris," he had said, adding the Indian authorities were waiting for "any excuse" to crack down on the residents in the disputed Himalayan territory.
Acting Assistant Secretary for South and Central Asia Alice G. Wells, while welcoming the remarks, said via Twitter: "Pakistan's sustained commitment to counter all terrorist groups is critical to [regional] stability."
State_SCA
✔
@State_SCA
Applaud PM @ImranKhanPTI's unambiguous & important statement that militants from Pakistan who would carry out violence in Kashmir are enemies of both Kashmiris & Pakistan.We agree. Pakistan's sustained commitment to counter all terrorist groups is critical to reg. stability. AGW
4,067
00:34 - 20 Sep 2019
Twitter Ads information and privacy
1,777 people are talking about this
The statement by Wells comes ahead of the address by the Pakistan and Indian prime ministers at the UN General Assembly on Sept 27. Indian premier Narendra Modi will speak first, late Friday morning, while Prime Minister Khan will speak later in the afternoon.
Prime Minister Khan has already announced that he will highlight the Kashmir issue in his address, exposing the ethical and legal bankruptcy of India's Aug 5 decision to annex the occupied valley.
On the other hand, media reports have emerged that Prime Minister Narendra Modi will not talk about the Aug 5 action or its humanitarian consequences. Instead, he would repeat New Delhi's claim that Pakistan may send militants into the Valley to take advantage of the volatile situation.
Tensions have soared between the two nuclear-armed neighbors over Kashmir, since India stripped the occupied Valley of its special status on August 5.
New Delhi has repeatedly accused Pakistan of using proxy armed groups in Kashmir. However, independent Indian as well as international media reports have negated the claim.
https://www.pakistantoday.com.pk/2019/09/20/us-welcomes-pm-imrans-unambiguous-stance-on-kashmir/
--------
Fastest-Growing UK Terror Threat 'From Far-Right'
19 September 2019
The fastest-growing terror threat in the UK comes from far-right extremism, police have said.
Neil Basu, the UK head of counter-terrorism, said seven of the 22 plots foiled since March 2017 have been linked to the ideology.
He said far-right terrorism had gone from 6% of the caseload two years ago to 10% today, adding: "It's small but it's my fastest-growing problem."
But, he said, the biggest threat still came from jihadists.
Mr Basu, Assistant Commissioner for the Metropolitan Police, said some of the right-wing plots they disrupted were "designed to kill people" - and methods mimicked those seen in jihadist attacks, with some even using Islamic State materials.
Speaking at a briefing on Thursday, Mr Basu said about 10% of around 800 live terror investigations were linked to right-wing extremism.
Children as young as 14 have been involved in extremist activity, the briefing was told.
He also said the government's terrorism-prevention programme, Prevent, which aims to stop people being radicalised, has seen referrals nearly doubling since 2015/16 to 18%.
"Despite the increases, right-wing terrorism remains a relatively small percentage of our overall demand, but when nearly a third of the plots foiled by police and security services since 2017 relate to right-wing ideology, it lays bare why we are taking this so seriously," he said.
"As a proportion of our overall threat it's definitely increasing, whereas the Islamist threat is staying the same, albeit at a very high level."
Mr Basu added young people and those with mental health issues were particularly vulnerable to becoming radicalised.
Last week white supremacist Vincent Fuller, 50, was jailed for 18 years and nine months for stabbing 19-year-old Bulgarian Dimitar Mihaylov in what a judge called a "terrorist act".
Three other right-wing activists are due to be sentenced in London and Leeds on Friday.
But Mr Basu said police "can't arrest ourselves out of this problem" and called on the public to come forward if they fear a friend or family member is becoming radicalised.
"I have been called ridiculously idealistic, but I believe more than ever that evil triumphs when good people do nothing," he said.
Asked whether the police's approach to right-wing threats has changed in recent years, he said: "I would say that some of the criticism that we did not look at white supremacist, right-wing violence as terrorism in the past is probably justified."
He said investigations into the banned group National Action "have broken that organisation".
National Action was proscribed in 2016, becoming the first neo-Nazi group to be outlawed under terrorism legislation.
The briefing was also told the threat comes from a "spectrum" of right-wing ideologies.
They range from far-right groups that are anti-immigration and anti-Islam and so-called white nationalists through to neo-Nazi white supremacists, such as National Action and its spin-offs, System Resistance Network and Sonnenkrieg Division.
Since last year the Security Service MI5 has been working closely with counter-terrorism police to tackle the threat.
https://www.bbc.com/news/uk-49753325
--------
North America
New Jersey man charged with scouting terrorist targets in Manhattan for Hezbollah
By Devlin Barrett
September 20, 2019
A New Jersey man has been indicted on charges that he secretly worked for the terrorist group Hezbollah, scouting potential targets in New York, including Grand Central Terminal, the New York Stock Exchange and the Port Authority Bus Terminal.
Charges were announced Thursday against Alexei Saab, 42, and the FBI said he had been part of Hezbollah for more than 20 years. He also tried to kill a man in Lebanon under orders from one of his instructors, but the gun didn't fire, authorities said.
Court papers filed in Saab's case also show that U.S. officials have gotten significant cooperation from a former member of Saab's group who was arrested in 2017 and has since pleaded guilty.
Authorities charge that Saab was part of the Islamic Jihad Organization, described as a wing of Hezbollah tasked with "the planning and coordination of intelligence, counterintelligence, and terrorist activities." Officials said Saab was arrested in July, following several months of FBI interviews in which he allegedly made admissions about his work for Hezbollah.
A lawyer for Saab could not immediately be identified.
U.S. Sanctions hit Hezbollah hard
Court papers say Saab admitted he had been recruited into Hezbollah as a college student and had received explosives and military training from the group.
Saab first came to the United States in 2000. He became a U.S. citizen in 2008.
"Even though Saab was a naturalized American citizen, his true allegiance was to Hizballah, the terrorist organization responsible for decades of terrorist attacks that have killed hundreds, including U.S. citizens and military personnel," U.S. Attorney Geoffrey S. Berman said in a statement.
In 2003, Saab was allegedly instructed to "to surveil certain 'hot spots' in New York City and to report intelligence about them to the Islamic Jihad Organization. Saab then conducted surveillance and intelligence gathering for the IJO of dozens of locations in New York and elsewhere," including in Washington and Boston, according to court papers.
He was trained to look for "soft spots" in such targets — places where explosives could be placed very close to a target for maximum damage, authorities charge.
"Saab understood that the information he provided to the IJO would be used to calculate the size of a bomb needed to target a particular structure and the ideal location in which to place explosive devices to maximize damage," according to the criminal complaint filed against him.
Saab produced a seven- to 10-page report to his terrorist handlers that included a map of specific locations and a "detailed summary" of each location, including the U.N. headquarters, Rockefeller Center and the Statue of Liberty, according to the complaint. The FBI said Saab also scouted possible targets in Istanbul.
He is charged with conspiring to provide material support to a terrorist group, unlawful procurement of citizenship to facilitate terrorism and marriage fraud. He faces up to 25 years in prison on the most serious charge.
https://www.washingtonpost.com/national-security/new-jersey-man-charged-with-scouting-terror-targets-in-manhattan-for-hezbollah/2019/09/19/b2c2d0c4-db1a-11e9-bfb1-849887369476_story.html
--------
American Airlines mechanic shared 'disturbing' ISIS videos, told agents he had 'evil side,' prosecutors say
Sep 21, 2019
An American Airlines mechanic accused of sabotaging a plane in July reportedly told arresting agents he had an "evil side," a nefarious persona prosecutors sought to expose Wednesday as they presented alleged evidence of his Islamist sympathies -- and aspirations -- at a bail hearing in Miami.
Prosecutors said Abdul-Majeed Marouf Ahmed Alani allegedly displayed support for ISIS by making statements about wishing Allah would use "divine powers" to harm non-Muslims and sharing ISIS videos on his cellphone -- which he allowed the FBI to search. One of the videos showed a person being shot in the head, according to prosecutors.
Federal investigators said they also learned that Alani lied about taking a trip to Iraq in March to visit his brother and also sent $700 to someone in Iraq. Alani allegedly told an American Airlines co-worker in June his brother was kidnapped and became a member of the terrorist organization.
Alani, 60, worked as a mechanic for the airline when he allegedly sabotaged a Nassau-bound Boeing 737 with 150 passengers and crew aboard at Miami International Airport over stalled labor negotiations.
Prosecutors said Alani glued styrofoam inside the nose of the aircraft that disabled a part used to gauge airspeed and other critical flight data. Pilots detected the issue before takeoff, and a subsequent inspection discovered the problem.
Airport surveillance captured Alani, who walks with a limp, working on the plane's nose for about seven minutes. He was identified by co-workers.
After his arrest earlier this month, he told agents he acted "out of my evil side" and "wanted to do something to delay" the plane "to get overtime" for maintenance repairs, Assistant U.S. Attorney Maria Medetis told the judge Wednesday.
While Alani is not yet charged with a terror-related crime, Medetis said the potential links to the Islamic State give rise to the possibility that his actions had a darker purpose beyond what he insisted was a labor issue.
The judge ultimately denied Alani bail.
The defense has argued that prosecutors can't prove Alani intentionally put people in danger. They said Alani was an experienced mechanic who knew the alleged sabotage would ground the plane before takeoff.
However, Alani had been fired from Alaska Airlines in 2008 over several maintenance mistakes, some that led to Federal Aviation Administration investigations, according to court documents from his unsuccessful discrimination lawsuit that Business Insider obtained.
Full report at:
https://www.foxnews.com/us/american-airlines-mechanic-sabotage-plane-isis
--------
At UN Trump to tout leadership as US seeks to tackle Iran and China
21 September 2019
US President Donald Trump will tout US leadership and a collective approach to challenges while at the United Nations next week, said a senior administration official on Friday, as Washington seeks to use the gathering of world leaders to build support to take on Iran and call out China over rights abuses.
While Trump has questioned the value of the United Nations and scorned the importance of multilateralism as he focuses on an "America First" agenda, he will return for a third time to push religious freedom on Monday, address the General Assembly on Tuesday and discuss Venezuela on Wednesday.
"Obviously our overarching concern with Iran's escalatory violence is going to be a theme," the official said, speaking on condition of anonymity. "We welcome opportunities to discuss collective response."
The United States and its ally Saudi Arabia blame Iran for an attack last Saturday on the world's biggest crude oil processing facility and have said they will present evidence to back that up. Iran denies involvement in the attack. Yemen's Iran-aligned Houthi group, which has been fighting a Saudi-led military coalition since 2015, has claimed responsibility.
Trump has said he is considering how to respond and that military action is an option. The United States on Friday imposed another round of sanctions on Tehran.
Iranian President Hassan Rouhani is due to address the United Nations on Wednesday.
Last week Trump flirted with meeting Rouhani, but has since backed away from the idea. Iran's Supreme Leader Ayatollah Ali Khamenei has said Iran would never hold such one-on-one talks but could engage in multilateral discussions if Washington
returns to a 2015 nuclear pact.
Trump will meet at least a dozen leaders during his three days in New York.
Xinjiang
UN Secretary-General Antonio Guterres has made climate action his priority with a summit dedicated to tackling the crisis on Monday. But Trump is skeptical of global warming and he and US Vice President Mike Pence will host an event at the same time on religious freedom.
While it is not clear if Trump or Pence will make reference to any specific situations, US Deputy Secretary of State John Sullivan will host a separate event on Tuesday on the "human rights crisis in Xinjiang" in China, diplomats said.
The United Nations says at least 1 million ethnic Uighurs and other Muslims have been detained in Xinjiang. Beijing describes complexes in Xinjiang as "vocational training centers" helping to stamp out extremism and give people new skills.
"We know that some country is trying to make a fuss on issues relating to China, including the situation in Xinjiang," China's UN Ambassador Zhang Jun said on Friday.
"If they simply want to make the issue a political issue, definitely we have every right to defend ourselves and we are completely opposed to any such interference in China's internal affairs," Zhang said.
'Trust deficit'
Trump drew gasps during his first speech to the 193-member United Nations in 2017 with a threat to wipe out North Korea and then laughter last year with a boast about the achievements of his administration.
Though not specifically addressing Trump's speech on Tuesday, the administration official said he would "affirm America's leadership role in the rules-based international system, and the need to work collectively within the global community to address global challenges."
Trump would also assert "America's determination to uphold the sovereignty and independence of member states especially on issues of national security," the official said.
The message is being delivered at a time when some diplomats say US leadership in global institutions is waning and China's influence is growing. Since Trump took office, he has quit the UN Human Rights Council, the UN cultural agency UNESCO, a global accord to tackle climate change, the Iran nuclear deal and opposed a UN migration pact.
"We do think the United States will - in one way or another - come back to the right track because they will realize ... going back to multilateralism, going back to international cooperation does serve the fundamental interest of the United States," China's UN envoy Zhang said on Friday.
He told reporters the United Nations was at a crossroads and that the "biggest challenge facing the world is a deficit of trust, especially a deficit among major players."
The Chinese government's top diplomat, State Councillor Wang Yi, is due to address the United Nations next week, when more than 135 presidents and prime ministers and dozens of ministers were expected to attend the 74th UN General Assembly.
Full report at:
https://english.alarabiya.net/en/News/world/2019/09/21/At-UN-Trump-to-tout-leadership-as-US-seeks-to-tackle-Iran-and-China.html
--------
US imposes sanctions on Iran's central bank: Trump
Sep 20, 2019
US President Donald Trump has imposed sanctions on Iran's central bank in the latest round of Washington's anti-Iran measures.
Speaking to reporters at the White House on Friday, Trump did not provide any other details about the sanctions which came after the Trump administration accused Iran of being responsible of the attacks on two Saudi Aramco oil facilities on Saturday that knocked out more than half the kingdom's production.
Trump said they are the highest sanctions ever imposed on a foreign country by the United States. He spoke to reporters at the White House in Washington, DC alongside visiting Australian Prime Minister Scott Morrison.
US Treasury Secretary Steven Mnuchin told reporters at the White House that the bank was Tehran's last source of funds.
In response to the move, Iran's central bank governor Abdolnaser Hemmati described the new sanctions a sign of Washington's inability to exert "leverage."
"The US administration sanctioning the central bank again shows how empty their hands are in finding leverage against Iran," IRNA quoted Hemmati as saying.
Yemen's Houthi fighters have claimed responsibility for the attack on the Saudi oil facilities, but the United States has rejected the claim with Trump saying that Iran appears to be responsible for the strike.
Tehran, however, dismissed the allegation, saying Washington seems to be shifting from a failed campaign of "maximum pressure" to one of "maximum lying" and "deceit" against the Islamic Republic.
On Wednesday, Trump ordered Mnuchin to "substantially" increase economic sanctions on Iran.
"I have just instructed the Secretary of the Treasury to substantially increase Sanctions on the country of Iran!" Trump tweeted without providing any additional details on the move.
Later on Wednesday Trump said that the specifics of sanctions would be made public "over the next 48 hours."
Asked about a possible US war with Iran, Trump said on Friday the United States was always prepared and that a military strike was always a possibility.
However, Trump added that he wants a peaceful solution to the conflict following the weekend oil attacks.
The Trump administration has dialed back war rhetoric against Iran after Foreign Minister Mohammad Javad Zarif raised the prospect of "all-out war" if the United States carried out a possible military strike against the country.
Asked by CNN what the consequence of a US or Saudi military strike on Iran would be, Zarif said: "All-out war."
Full report at:
https://www.presstv.com/Detail/2019/09/20/606685/US-imposes-sanctions-on-Irans-central-bank-Trump
--------
State Department: ISIS scaring Taliban into peace talks with US
by Joel Gehrke
September 19, 2019
Taliban leaders have an interest in negotiating with the United States because of the risk that an Islamic State offshoot will establish a caliphate in Afghanistan, according to a senior diplomat.
"I think the Taliban appreciate ... that there is a cost to Afghanistan's development [imposed] by the ongoing war," Alice Wells, an acting assistant secretary of state, told the House Foreign Affairs Committee during a Thursday hearing. "And they also see, frankly, the rise of other terrorist groups who pose a threat to themselves and to the future of Afghanistan."
ISIS Khorasan is chief among a "vegetable soup" of terrorist groups that a unified Afghan government could confront if the Taliban and the U.S.-backed central government ever strike a peace deal. The ISIS affiliate, named for a historic region that stretches across multiple modern countries, has coalesced at the expense of the Taliban, despite an ongoing campaign of airstrikes from U.S. and NATO forces.
"That is a terrorist group that doesn't recognize Afghanistan as a nation state," Wells told lawmakers. "This is a group that focuses on [a] caliphate and borderless territory under the organization's control. That's a deep threat to all the people of Afghanistan, including the Taliban."
Secretary of State Mike Pompeo appointed Special Representative Zalmay Khalilzad to lead U.S. negotiations with the Taliban that are intended to foster a peace agreement and an eventual drawdown of American forces from Afghanistan. Khalilzad arranged an "agreement in principle" to cut the U.S. military presence in exchange for Taliban pledges to prevent al Qaeda from using Afghanistan as a staging ground and to set the table for unprecedented negotiations between the militant group and the U.S.-backed central government.
"We would assume a peace agreement would provide a unified government that would reflect the will of all of the Afghan people and that would allow a concentrated effort against what will be remnant terrorist forces in Afghanistan," she said.
Those talks were derailed by a Taliban attack that killed an American soldier, but Wells confirmed that U.S. officials are in "consultations" about how to proceed. The career foreign service officer was testifying instead of Khalilzad as part of a compromise that allowed the lead negotiator to brief the lawmakers in a classified setting before the hearing
"The Taliban do oppose the ISIS Khorasan group," she said. "They devote resources, significant manpower resources, to combat ISIS Khorasan. I think one of the reasons we put such an emphasis on peace is that we need Afghans to be united against ISIS Khorasan."
Some lawmakers and officials regard ISIS-K as a greater threat to the United States than the Taliban, one of the reasons why some Republican lawmakers are resisting President Trump's interest in withdrawing U.S. forces from Afghanistan."If we leave Afghanistan under the wrong conditions, which I think, frighteningly, we're actually on track to do, we're going to be back here anyway," Republican Illinois Rep. Adam Kinzinger told Wells.
Pentagon officials reported in June that ISIS Khorasan has gained territory one year after the State Department privately told the Washington Examiner that the organization had "grown stronger ... despite a really withering military campaign" by the U.S.
Full report at:
https://www.washingtonexaminer.com/policy/defense-national-security/state-department-isis-scaring-taliban-into-peace-talks-with-us
--------
India
Mehbooba Mufti seeks details on detainees since August 5, daughter writes to govt
Sep 20, 2019
NEW DELHI: Former Jammu and Kashmir chief minister Mehbooba Mufti has asked the government to provide, "preferably within three days", details about people detained since August 5, including children and women, and those who are lodged in jails outside the state.
Mufti, who is also under detention following the abrogation of special status given to Jammu and Kashmir under Article 370 and its bifurcation into Union territories, sent the communication through daughter Iltija who met her recently.
A letter seeking the information was written by Iltija, and was addressed to the Union home secretary and home secretary of Jammu and Kashmir. She said her mother has instructed her to seek the information.
"My mother Ms Mufti has been detained since the evening of August 5. I was able to meet her in the last week a few times in private ... In my meetings with her, my mother expressed concern at the number of detention and arrests that have taken place in the state in the aftermath of the recent constitutional orders issued by the President and the passage of the Reorganisation Act," Iltija said in the letter which was also posted on Mehbooba Mufti's Twitter handle.
She said her mother's Twitter handle is now operated by her with due authorisation.
Iltija said her mother, as the president of a major political party (PDP) and as the state's most recent chief minister, has instructed her to seek certain information from the government.
"The number of residents of the state of J&K who were detained/arrested or placed under house arrest on or after 05.08.2019. Please provide this information tabulated by district and police station, and their current status (eg. 'detained', 'released', 'under house-arrest' etc.)," reads her first question.
The letter also asked the government to provide the number of residents who are minors (under 18 years), children in the age group between 12 years and 15 years, children in the age group under 12 years; and women, who have been detained/arrested or placed under house arrest on or after August 5, 2019.
Mehbooba Mufti, through her daughter, also sought information on the number of detainees or undertrials who have been moved out of the state to jails and other detention centres outside the state, and the number of deaths reported from among those who have been detained/arrested or placed under house arrest and the details thereof.
"Accordingly, you are requested to kindly provide me with the following information, as soon as possible and preferably within three days. I am reiterating here that I am not a politician or a person with political party affiliations. I am doing this on behalf and for my mother who is a politician, and a president of a registered political party," Iltija wrote.
https://timesofindia.indiatimes.com/india/mehbooba-mufti-seeks-details-on-detainees-since-august-5-daughter-writes-to-govt/articleshow/71224578.cms
--------
Inscriptions on Babri entrance counter temple claims, SC told
Sep 21, 2019
NEW DELHI: Muslim parties on Monday told the Supreme Court that Persian and Arabic inscriptions at the entrance of Babri Masjid at Ayodhya, studied in detail by experts prior to its demolition in December 1992, deflates expansive argument of Hindu parties that it was never a mosque as Hindus worshipped at the disputed site from time immemorial.
Appearing for Muslim parties including Sunni Wakf Board before a bench of CJI Ranjan Gogoi and Justices S A Bobde, D Y Chandrachud, Ashok Bhushan and S Abdul Nazeer, senior advocate Rajeev Dhavan said the inscriptions also take one to irrefutable conclusion that it was built in 1528 on the orders of Mughal emperor Babur.
He said two judges of the Allahabad high court, in their 2010 verdict, had disbelieved the fact that the mosque was built on orders of Babur in 1528 "merely because of minor discrepancies in the interpretation of the inscriptions" and felt that there was a strong possibility of it being built by Aurangzeb in the 17th century.
Recounting an earlier question from the bench whether there existed any mosque with Sanskrit inscription, Dhavan said though he has not come across any such mosque personally, but there is definite information that such a mosque exists in Jaunpur. This was to counter the arguments of Hindu parties that since the rubble of demolished disputed structure had Sanskrit inscriptions, it could not have been a mosque.
During the arguments, which lasted for only two hours on Friday, Dhavan shared an interesting information with the bench and a large number of advocates as well as interested persons present in the courtroom. He said, "The religious importance of 786 to Muslims in India is immense. But it is not so outside. I once went to Jordan and talked to many locals there and asked them about the importance of 786. I was surprised to learn that they (the Jordanians) do not even know about the significance of the number 786."
"The number 786 is holiest for Muslims in India. But the Muslims in middle-east don't agree," he said. In 2013, Mumbai RTO had auctioned the registration number 0786 to a motorbike for Rs 31,000.
Full report at:
https://timesofindia.indiatimes.com/india/inscriptions-on-babri-entrance-counter-temple-claims-sc-told/articleshow/71227543.cms
--------
Muslim party presents key evidence of Babri Masjid construction
September 20, 2019
New Delhi: During the hearing of the Babri Masjid-Ram Janmabhoomi title suit, the Muslim party presented key evidences in support of the masjid existence. It also claimed that the Masjid was built according to Shariah and no temple was demolished to build it.
Dr Rajeev Dhavan argued over the signs found on the masjid which indicate that the structure was a masjid. He said Babur built Babri Masjid in 1528 which has two key evidences. First one is the Masjid mimbar and the second one is its main entrance. Besides that, the third evidence is that Islamic 'kalima' is inscribed inside the masjid. Rajeev Dhavan produced over 100 colour photos of the Babri Masjid before the court.
Meanwhile, the Supreme Court also closed a contempt of court case against Tamil Nadu based professor N Shanmugham after he tendered an apology for his conduct. Shanmugham had written to Dhavan threatening him over his appearance for Muslim parties in the Ayodhya case, prompting Dhavan to file a contempt plea before the Supreme Court.
A pointed query by a Supreme Court judge on Thursday, seeking clarification on the statement of a witness who deposed claiming to have witnessed worship of Lord Ram at the disputed structure prior to 1949, led to an aggressive reply from the Muslim parties' counsel.
The Nirmohi Akhara, one of the parties in the lawsuit, had claimed no regular namaz was offered at the disputed structure since 1934. Muslim parties told the court there was no documentary evidence on record to show that disputed structure was not being used as a mosque between 1934 and 1949. They cited the agreement between the imam and the trustee where the latter was paying certain amount to the former.
Justice Ashok Bhushan queried senior advocate Rajeev Dhavan, appearing for the Sunni Central Waqf Board, a witness had deposed that in December 1935 he had gone to Ayodhya along with his uncle when he was 12-13 years old and had the darshan at the Ram Janmabhoomi and other temples.
"When I first visited the Ram Janmabhoomi premises, the entire area appeared to me like a temple. In between 1935 and 1949, whenever I went to Ram Janmabhoomi temple, I had darshan of deity at all religious places, like Ram Chabutra, Chhaatthi worship place and Sita Rasoi. We also had darshan and made offerings to the deity at the sanctum sanctorum through grills. We kept the offerings near the grill", said the statement recorded as part in the Allahabad High Court judgement.
Dhavan said the witness was only 12-13 years old and his statement didn't hold any sanctity. It was also not a plausible evidence, as he was told this by his uncle, he submitted.
According to the Muslims parties to the dispute, idols were placed in the inner courtyard on the intervening night of December 22-23, 1949. Hindus prayed at the Ram Chabutra in the outer courtyard and no prayers were offered in the inner courtyard, they argued.
Justice Bhushan insisted that in his reply Dhavan should refer to the statement of this witness where he clearly mentioned having seen the deity at the birthplace in 1935. "I can see some kind of aggression in your statement," Dhavan replied to Justice Bhushan in a strong tone.
When Dhavan insisted that he was not twisting facts, Justice Bhushan said it was not about twisting facts rather being factually accurate.
Counsels of the Hindu parties criticised Dhavan's conduct in the court. The Chief Justice quipped that his brother judge hailed from the north-west part of the country and was not threatened. Appreciating Dhavan's command over history, Justice Gogoi asked him to continue with arguments. Dhavan apologised to the Bench and the Hindu parties' counsels.
Dhavan discredited the witness saying his evidence came after 1989 and it was in consonance with suit 5 filed by Devki Nandan Agarwal, claiming to be the next friend of the deity. He referred Agarwal as self-styled next friend.
"How can he be next friend? He never gave assistance to the temple", said Dhavan insisting Agarwal was appointed to the Ram Janmabhoomi Nyas. He told the court the Nyas movement started in 1985.
Full report at:
https://www.siasat.com/muslim-party-presents-key-evidence-babri-masjid-construction-1627666/
--------
AMU to have a chair on RSS' favourite Mughal — Dara Shikoh
RAHUL SAMPAL
20 September, 2019
New Delhi: The Aligarh Muslim University (AMU) has decided to establish a research chair in the name of Mughal Prince Dara Shikoh, whom the RSS recently hailed as the "epitome of Indianness".
AMU Vice-Chancellor Tariq Mansoor told ThePrint the university has decided to set up the research chair to further the cause of peace studies in the country. The proposal has already been approved by the institution's academic council. It is expected to get the finance committee's consent soon after which, the proposal will be submitted to the University Grants Commission (UGC).
Mansoor said the university will focus on Shikoh's call for Sanjhi Virasat (common heritage) in India so that a new opening is provided for long-lasting social harmony in the country. He added that AMU will work in tandem with senior RSS functionary Krishna Gopal, whose laudatory speech on Shikoh at a symposium had created a stir, with critics saying the RSS was attempting to create a binary of a 'good Muslim' and a 'bad Muslim'.
Syed Ali Naqvi, the chairman and co-ordinator of AMU's History department, told ThePrint that the university had been working on the Shikoh chair for three months. He added that it is among the two that the university has proposed to set up.
"Apart from it (Dara Shikoh chair) we have submitted another proposal to set up a chair in the name of AMU founder Sir Syed Ahmed Khan," Naqvi said. "We will appoint a professor within a month of receiving final consent on these proposals. We were working for about three months for setting up of this chair (on Dara Shikoh)."
Another AMU professor, who did not wish to be named, said the university would promote the integrity of the nation through the chair. "In today's vitiated atmosphere, people are being divided in the name of religion," he said. "That is why Dara Shikoh's ideology — where all religions are treated equally — becomes more relevant. We are furthering the cause of this research for greater integrity of the nation."
He also accused the BJP and the RSS of using Shikoh to show that they "respect all religions".
"The Sangh wants to take leverage out of Dara Shikoh's name and image. It wants to show that it respects all religions. In reality, this is not so," he said.
This will be the first instance of an educational institution starting an intellectual contemplation focused on Dara Shikoh rather than the other big names of the Mughal dynasty such as Humayun, Akbar or Shikoh's father Shah Jahan.
The Sangh's favourite Mughal
The RSS has recently propped up Shikoh as a liberal, tolerant Mughal ruler and an anti-thesis of his brother Aurangzeb, whom the Sangh views as an 'Islamic tyrant'.
Speaking at a symposium, 'Dara Shikoh: A hero of the Indian syncretist traditions', in New Delhi on 11 September, the RSS Sah Sarkaryavah (joint general secretary) Krishna Gopal said had Shikoh ruled in place of Aurangzeb, "Islam could have flourished more in India".
He also urged the Muslim community to follow Dara Shikoh's legacy and not "complain that there was an atmosphere of fear in the country".
Gopal also touched upon Shikoh's fascination with Hindu scriptures and his efforts to get them translated into Persian. "Dara was a prince, who translated the Upanishads into Persian. He discussed and debated it with intellectuals," Gopal said. "He knew the God was only one and there were different faiths to find him. Dara was never divisive. He understood the assimilative power of society and tried to establish compatibility while remaining a true Muslim."
Shikoh was the eldest son of Mughal Emperor Shah Jahan and his wife Mumtaz Mahal. He had three brothers, one of whom was Aurangzeb. Shikoh has enjoyed a reputation of being a benevolent and more tolerant leader and has seen a revival ever since the Sangh has regained prominence in Indian polity.
Full report at:
https://theprint.in/india/education/amu-to-have-a-chair-on-rss-favourite-mughal-dara-shikoh/294490/
--------
Hurriyat leader Mirwaiz Umar Farooq, 6 others sign bonds to secure release
Sep 20, 2019
SRINAGAR: Moderate Hurriyat leader Mirwaiz Umar Farooq was among seven individuals, detained following the abrogation of special status given to Jammu and Kashmir under Article 370, who have signed bonds to secure their release, official sources said on Friday.
However, People's Conference chairman Sajad Lone, PDP youth wing leader Waheed Para and former bureaucrat-turned-politician Shah Faesal have refused to sign the bonds.
Apart from Mirwaiz Umar Farooq, two leaders of the National Conference (NC), one each from the Peoples Democratic Party and People's Conference, and two others, whose political affiliations were not immediately revealed, signed the bonds, the sources said.
They are among 36 detainees who have been kept at the Centaur Hotel here after their detention.
The detainees, mostly politicians, were offered to be released by the Jammu and Kashmir administration on the condition that they sign the bond, which bars them from indulging in any political activity after their release, the sources said.
Unofficial estimates suggest more than a thousand people including politicians, separatists, activists and lawyers were detained after the August 5 decision of the central government.
Three former chief ministers -- Farooq Abdullah, Omar Abdullah and Mehbooba Mufti -- were among the detainees.
Some others numbering around 100 were sent to the jails outside Jammu and Kashmir.
Farooq has been detained under the stringent Public Safety Act while other politicians were mostly detained in different sections of the CrPC.
Full report at:
https://timesofindia.indiatimes.com/india/hurriyat-leader-mirwaiz-umar-farooq-6-others-sign-bonds-to-secure-release/articleshow/71223900.cms
--------
Trump to meet Pak PM Imran on Monday, PM Modi on Tuesday in New York
Sep 21, 2019
WASHINGTON: US President Donald Trump will meet Pakistan Prime Minister Imran Khan on Monday, a day after he joins Prime Minister Narendra Modi for the mega "Howdy Modi" event in Houston and will again hold a meeting with the Indian leader in New York on Tuesday, a senior official has said.
Both the meetings with the leaders of India and Pakistan would be held in New York on the sidelines of the 74th session of the UN General Assembly, a senior administration official told reporters on Friday in a preview of Trump's engagements in the Big Apple next week.
Trump is expected to arrive in New York on Sunday night after his participation with Modi at the "Howdy Modi" event in Houston where the two leaders will address over 50,000 Indian-Americans.
The US president will then travel to Ohio where he will be joined by Australian Prime Minister Scott Morrison.
"President Donald J Trump will be travelling to Houston for 'Howdy Modi: Shared Dreams Bright Futures' event. That will be the day wherein he will travel on to Ohio where he will be joined by Prime Minister Morrison of Australia where they will visit Pratt industry and celebrate US economic relationship with Australia," the official said.
On Monday (September 23), the first day of his stay in New York on the sidelines of the UN General Assembly session, Trump's first event will be the global call to protect religious freedom, the official said, describing it as a key event.
"After that the President is scheduled to meet with the following leaders. Prime Minister Khan of Pakistan, President (Andrzej Sebastian) Duda of Poland, Prime Minister (Jacinda) Arden of New Zealand, Prime Minister Lee (Hsien Loong) from Singapore, President al Sisi of Egypt and President Moon of S Korea," said the official who spoke on condition of anonymity.
On Tuesday (September 24), Trump will deliver his address to the UN General Assembly. After that, he will hold a number of bilateral meetings.
"Prime Minister (Boris) Johnson of United Kingdom, Prime Minister Modi of India, the UN Secretary General," the official said, adding that the president will also meet his Iraqi counterpart and end the day with a diplomatic reception.
With Modi-Trump meeting on Tuesday, the two leaders would be meeting for the fourth time in as many months. The meeting in New York is expected to set the tone of bilateral relationship between the two countries over the next few years.
Full report at:
https://timesofindia.indiatimes.com/world/pakistan/trump-to-meet-pak-pm-imran-on-monday-pm-modi-on-tuesday-in-new-york/articleshow/71229066.cms
--------
Not every Kashmiri potential stone-pelter or terrorist: Iltija Mufti
Sep 20, 2019
MUMBAI: Iltija Mufti, the daughter of former Jammu and Kashmir Chief Minister Mehobooba Mufti, on Friday attacked the Modi-led government for holding her mother and other state political leaders under preventive detention.
Speaking at the India Today Conclave here, she also said it is wrong to assume that every Kashmiri is a potential stone-pelter or a terrorist.
"Every Kashmiri is not a stone-pelter. We are as aspirational as others," she said.
Iltija also challenged the assertion that "political dynasties" had destroyed Kashmir over the years.
"The government pushes the narrative of some dynasties having destroyed Kashmir, because that serves its narrative," she said.
A host of political leaders continue to remain under detention in Kashmir, including three former chief ministers Farooq and Omar Abdullah and Mehbooba Mufti, after the state's special status was revoked last month.
"We hear about lynchings. I want to know how many people have been put under preventive detention over these lynchings," Iltija said.
Haryana is called the rape capital, she said. "Are you telling me that you are going to put all Haryanvi men under house arrest because they may be potential rapists," she added.
Her remarks came as the clampdown in Jammu and Kashmir completed 45 days. Restrictions were put in place in the state after the Centre moved to scrap Jammu and Kashmir's special status and to separate the state into two Union Territories.
The government says the restrictions are needed to maintain peace in Kashmir and to prevent untoward incidents.
Full report at:
https://timesofindia.indiatimes.com/india/not-every-kashmiri-potential-stone-pelter-or-terrorist-iltija-mufti/articleshow/71222482.cms
--------
SC seeks response from J&K on plea challenging detention of five persons
September 20, 2019
The Supreme Court on Friday issued a notice to the Jammu and Kashmir administration over a plea challenging the detention of five persons in Kashmir following the revocation of the state's special status under Article 370 on August 5.
The bench headed by Chief Justice Ranjan Gogoi asked Solicitor General Tushar Mehta, who was appearing for the Jammu and Kashmir administration, to file his response within two weeks
On reports claiming that people can't access the High Court due to the lockdown, CJI Gogoi said the court has received a report from the Chief Justice of Jammu and Kashmir which rejected the claim. He, however, added that the apex court has also received some conflicting reports.
On the last date of hearing, the petitioner counsel Senior Advocate H Ahmadi had told the court that they could not approach the J&K HC due to the shutdown. Court had taken a stern view of this and sought a report from J&K chief justice.
The bench also said it would entertain a petition regarding alleged detention of children in Kashmir as the plea has raised "substantial issues" regarding minors. During the hearing, the apex court directed the Juvenile Justice Committee of the Jammu and Kashmir High Court to file a report before it within a week.
Last week, while hearing a plea by child rights activist Enakshi Ganguly and former National Commission for Child Rights Chairperson Shanta Sinha, who highlighted the condition of children in J&K as reported in the media and sought the court's intervention, CJI Gogoi had asked senior advocate H Ahmadi why he hadn't moved the J&K High Court. Citing the lockdown, the counsel said this had made it difficult for people to access the court.
Citing the lockdown, the counsel said this had made it difficult for people to access the court. The CJI said it was a "serious matter. If people can't approach HC, we will have to do something about it". Asking the HC to file a report, the CJI observed that "if required, I will go personally and check".
Full report at:
https://indianexpress.com/article/india/sc-issues-notice-to-jk-admin-on-detention-of-children-asks-to-submit-report-in-a-week-6012667/
--------
Southeast Asia
Seven states against increasing minimum marriage age to 18
By Teoh Pei Ying
September 20, 2019
KUALA LUMPUR: The Malaysian Islamic Development Department (Jakim) is in the midst of amending the Islamic Family Law (Federal Territories) 1984 (Act 303) to increase the marriageable among Muslims age to 18 years old.
Deputy Prime Minister Datuk Seri Dr Wan Azizah Wan Ismail said the department was also coordinating with other states on a similar change involving their respective Islamic Family Law.
However, she said seven states had disagreed to the federal government's proposal to increase the minimum marriageable age to 18.
Dr Wan Azizah who is also the Woman, Family and Community Development Minister revealed that the states which rejected the change are Sarawak, Pahang, Terengganu, Perlis, Negri Sembilan, Kedah and Kelantan.
"We are taking action on the legal aspect, some states are amending the laws, some are agreeable and some are disagreeable.
"We are also developing strategies and plans to address the root causes of child marriage holistically that involves government and non-governmental agencies," she said, here, today.
Last October, Prime Minister Tun Dr Mahathir Mohamad issued a directive ordering all state governments to raise the legal minimum marriage age to 18 years for both Muslims and non-Muslims.
Thus far, Selangor, Sabah and Penang had agreed to increase the minimum marriage age from 16 to 18.
Dr Wan Azizah said an application for minors under the Law Reform (Marriage and Divorce) Act 1976 (Act 164) had also been tightened.
This, she said by adopting a standard operating procedure that takes into account the social and health aspects of the applicant.
On Tuesday, Indonesia, the world's most populous Muslim nation, had raised the minimum age at which women can marry to 19, in a ruling which is expected to curb child marriage in the Asean country.
Following the move, numerous Malaysian non-governmental organisations had urged the government to follow the republic's footstep.
On a separate matter, the deputy prime minister said foreigners who buy unsold luxury homes through the Malaysia My Second Home (MM2H) program would not be entitled to Malaysian citizenship.
She said the potential buyers would instead be offered a 10-year visa, with conditions attached.
"They will not be granted a MyKad or a Permanent Resident (PR) status document, just a visa for 10 years. This will be discussed at the cabinet level.
"However, the foreigners must sufficiently have liquid assets and are able to contribute to the country," she added.
Dr Wan Azizah also clarified that the campaign was open to all foreign nationals and was not limited to China and Hong Kong citizens only.
It was reported that Housing and Local Government Minister Zuraida Kamaruddin had proposed to promote RM100 billion worth of unsold high-end houses to buyers in China and Hong Kong.
Dr Wan Azizah was speaking to reporters after visiting Nour Shafinar Harun, widow of the late Major Mohd Zahir Armaya at her quarters in Wardieburn camp.
Zahir, 36, a commando of the 11th Special Forces Regiment, died after being shot during a demonstration in conjunction with the launch of the 5th Infantry Division and the 13th Infantry Brigade.
Dr Wan Azizah also handed over a RM5,000 contribution to Nour Shafinar.
Present was Army chief General Tan Sri Ahmad Hasbullah Mohd Nawawi and 21st Special Service Group commander Major General Datuk Hasan Ali.
https://www.nst.com.my/news/nation/2019/09/522946/seven-states-against-increasing-minimum-marriage-age-18
--------
Indonesia's President Halts Bill That Would Ban Sex Outside Marriage
By Richard C. Paddock and Muktita Suhartono
Sept. 20, 2019
JAKARTA, Indonesia — Sweeping legislation that would have criminalized sex between unmarried people, including gays and lesbians, was pushed back on Friday by Indonesia's president, Joko Widodo, days before it had been expected to pass.
The measure, aimed at overhauling Indonesia's penal code, had appeared likely to win approval next Tuesday from the country's outgoing Parliament, with Mr. Joko's blessing.
But after an outpouring of opposition to many of its provisions from rights activists, women's groups, legal experts and other Indonesians, Mr. Joko announced that he had asked lawmakers to drop the legislation and leave the matter for the next Parliament, which will be seated in October.
"After examining input from various groups who objected to some of the substance of the criminal bill draft, I concluded that there were still materials that needed further study," Mr. Joko told reporters at the presidential palace in Bogor, south of Jakarta.
For Islamists in Indonesia, which has the world's largest Muslim-majority population and an officially secular government, passing the bill would have been a major victory. Some had said that if Mr. Joko secured its passage, his name "would be written in history with golden ink."
Many of the wide-ranging bill's provisions — it had 628 articles — mirrored elements of Shariah, the Islamic legal code. It would have restricted access to contraception for minors, outlawed cohabitation without marriage, restricted freedom of speech, reduced the rights of religious minorities and imposed harsh punishment for insulting the dignity of the president.
A provision punishing sex outside marriage with up to a year in prison would have effectively banned gay and lesbian relations, although the bill did not spell that out. Indonesia does not allow same-sex marriages.
Indonesian Muslims are known as being relatively moderate, but intolerance has been on the rise for the last two decades. Around the sprawling archipelago, local governments have enacted more than 600 measures adopting aspects of Shariah, including requiring women to wear hijabs and imposing curfews on them unless they are accompanied by a male relative.
While the president has pulled the plug on the national legislation for now, similar measures are certain to be introduced after the new Parliament is sworn in.
"This is the slow-moving Islamization of Indonesia," said Andreas Harsono, senior Indonesia researcher at Human Rights Watch. "For the Islamists, this is the crown jewel of their advocacy."
The legislation would have taken effect in two years, once regulations had been drafted to implement it.
Opponents of the bill were particularly concerned about provisions that targeted reproductive rights, including restrictions on abortion and on providing contraception to anyone under 18.
The ban on consensual sex between unmarried adults would have applied to foreigners as well as Indonesians, and it would have been likely to discourage some Westerners from visiting at a time when the country is trying to attract more tourists.
And foreign investors, also much desired by the government, are likely to take such far-reaching legislation into account when deciding where to put their money. Some international companies, especially those with diversity policies protecting their workers, were concerned about how the bill would affect their employees in Indonesia who are gay or in nonmarital relationships.
"A change in the criminal justice law would obviously have a potential impact on the investment climate," said A. Lin Neumann, managing director of the American Chamber of Commerce in Indonesia, which represents nearly 300 American companies operating in the country.
Mr. Harsono of Human Rights Watch said the bill would also have restricted the rights of nonsanctioned religious groups and government critics.
It would have strengthened Indonesia's law against blasphemy, which protects the country's six officially recognized religions — Islam, Protestantism, Catholicism, Hinduism, Buddhism and Confucianism — but is most often invoked by Muslims.
The legislation also would have expanded the country's laws against treason, which is punishable by death, to include actions that could be considered political speech, he said.
Other articles would have prohibited insulting the president, the vice president, the government or state agencies.
Many of the proposals in the legislation have been discussed for years but had never made much headway in previous Parliaments.
But after April's presidential election, in which Mr. Joko easily won a second five-year term, the move to adopt the legislation gained steam.
Mr. Joko's vice-presidential running mate was Ma'ruf Amin, the 76-year-old head of the Indonesian Ulema Council, an influential body of Muslim leaders. In a letter to the president last month, the council urged Mr. Joko to approve the bill. The letter was signed by Mr. Ma'ruf, who will be sworn in as vice president next month.
Until Friday, the president seemed to be backing the legislation, which had advanced in Parliament with his apparent approval.
One lawmaker who supported the bill, Arsul Sani of the United Development Party, one of four Islamist parties in Parliament, said the legislation reflected a turn against Western ways of thinking.
"Indonesia has social values, moral values, also cultural values that are different from those in Western countries," said Mr. Arsul, who studied in Australia and Scotland.
Full report at:
https://www.nytimes.com/2019/09/20/world/asia/indonesia-extramarital-sex-penal-code.html
--------
For China's embattled Uighurs, a bank transfer abroad can become a 'terrorism' ordeal
By Anna Fifield
September 19, 2019
YINING, China — The Chinese state has come down not once, but twice, on Mayila Yakufu.
First, the 41-year-old insurance company worker was taken away for 10 months of "vocational training" in one of the internment camps China has set up in the mostly-Muslim Xinjiang region as part of an extensive campaign to strip the Uighur minority of its culture and language.
She was out for barely four months before the authorities picked her up again — this time for financing terrorism. Now, the single mother of three is in a prison for criminals, serving a sentence of unknown length.
"They are targeting us like the Nazi government targeted the Jews," said Mayila's cousin, Nyrola Elima, who lives in Sweden. "We just want to be able to live a normal life."
The Chinese campaign to forcibly assimilate the mostly-Muslim Uighur minority, whose culture and language is Turkic, into the Han ethnic majority is showing signs of entering a new phase.
Uighurs living abroad have started to hear reports of family members being arrested and jailed on suspicion of financing terrorism after sending money to relatives abroad. Those relatives have also had their savings and assets confiscated by the state, they say.
This new and alarming effort appears aimed at keeping Uighurs in China from having any contact with their family members beyond the country's borders, analysts say.
"This is the first I've heard of this," said Rian Thum, who specializes in Uighur history at the University of Nottingham and has been monitoring the crackdown in Xinjiang. "This shows that there has not been any letup or any softening of the policy of pursuing Uighurs who have any connection with the outside world."
Chinese authorities declared in July that their effort to "de-radicalize" the population of Xinjiang had been a success and that 90 percent of the people put into camps had been released — a claim analysts and activists say is highly doubtful.
For the past three years, Chinese authorities have taken somewhere between 1 million and 3 million people, mostly Uighurs and ethnic Kazakhs, into what Beijing calls "vocational training schools" designed to root out extremism in the majority-Muslim area. Western governments and human rights activists have condemned the camps and the broader operation to control Uighurs in Xinjiang, to no avail.
China celebrates 'very happy lives' in Xinjiang, after detaining 1 million Uighurs
The story of Mayila and her extended family in Yining — pieced together through interviews and documents — is just one of the many accounts of state-led pressures imposed on Xinjiang and is emblematic of new efforts targeting the Uighur minority.
The charges against Mayila appear to relate to money she sent to her parents, who had traveled to Australia in 2007 to see their son and his family in Adelaide, about 850 miles west of Sydney.
Then tragedy struck. Their son drowned in the sea on New Year's Eve. Her parents decided to stay in Australia to support their widowed daughter-in-law and take care of their grandchildren.
They opened a Uighur restaurant selling shish kebabs and noodles, and they started saving. After six years, they were ready to buy a house.
On June 23, 2013, they signed a contract for a three-bedroom, one-bathroom house in an Adelaide suburb for 377,500 Australian dollars, or about $259,000 at the current exchange rate. The settlement date was July 9, 2013, according to a copy of the contract provided by Marhaba Yakub Salay, Mayila's sister, who also lives in Adelaide.
Back in Xinjiang, Mayila got busy transferring the savings her parents had left behind — the proceeds of years of running trading businesses in Xinjiang and compensation for land sold to the Chinese government.
Because of Chinese banking regulations, Mayila split the transfer into three parts.
The first tranche arrived in Australia on July 2, 2013, with Mayila listed as the sender. The following day, two deposits were sent: One in an aunt's name and another in her uncle's name, according to bank statements. By July 9, the settlement date, Mayila's parents had enough to pay for the house in cash.
Mayila stayed in touch with her parents and her sister in Australia and her cousin Nyrola in Sweden.
Mayila was busy at home in Yining, near the border with Kazakhstan. She would bike to the markets early to sell walnuts, before going to her day job at China Life Insurance Co. She was so good at her work that the company awarded her a certificate with a red star.
At night, Mayila, who studied in a Mandarin Chinese school and university, would teach Uighur children the majority language.
China wages crackdowns on its Muslims. But Saudi Arabia stays quiet as it bolsters ties with Beijing.
To relax, she enjoyed watching "Modern Family" with her children. Among the characters on the sitcom is a gay couple, and Mayila liked the idea of supporting and accepting one another no matter what.
But in 2017, things began to change.
Chinese authorities started to sever links between Uighurs in Xinjiang and family members overseas. Officials began conducting spot checks of phones and then installing software so they could monitor electronic communications remotely.
"One by one, my old friends said goodbye to me through WeChat and deleted me," Marhaba said, referring to the social media app that is the lifeblood of communication in China. "I felt like my sister would delete me soon, too."
Sure enough, she did.
Chinese authorities have "created an atmosphere where any contact with relatives overseas or even in a different city is viewed with suspicion," said James Leibold, an academic at La Trobe University in Australia who has written extensively about the repression in Xinjiang.
The family later learned that Mayila had been taken to an internment camp.
Mayila's aunt and uncle — Nyrola's parents — took care of her children, a girl and two boys, and tried to keep them safe. Children of some interned Uighurs have been sent to orphanages.
Like many Uighur families, they kept their heads down to try to avoid more attention from the state.
In December 2018, Marhaba suddenly received a call from her sister. "We're good, we're all good. The Communist Party of China is looking after us very well," she recalled Mayila saying.
"We think she might have been in a police station and that someone had asked her to make the call," Marhaba said.
In April, four months after her release, Mayila went missing again. Marhaba contacted the Australian authorities, who made inquiries about the case.
Australia's Department of Foreign Affairs and Trade informed the family that Mayila had been arrested May 15 on suspicion of financing terrorist activities. This week, officials informed the family they had received an update from the Chinese embassy in Canberra.
Mayila "was prosecuted in July 2019 for allegedly financing terrorist activities and is currently in good health," an Australian official wrote in an email to Marhaba.
Such prosecutions in China almost always result in conviction, but the family has not been able to find out what sentence she received or to visit her. Officials in Yining and in Beijing did not respond to requests for comment or information.
Another Uighur living abroad, Halmurat Idriss, said his sister was also accused of financing terrorism. She wired $2,800 to his bank account in Turkey, where he moved in 2016 with his parents, his wife and their three children for the promise of work and a better life.
"That money was my parents' pension funds, and we needed it to survive because I did not have a job at that time," he said. His sister was detained over the transfer, he said, and he has not heard from her in three years.
The charge of "terrorism" has become a byword for any activity deemed to undermine the ruling Communist Party.
"The party-state uses the term 'terrorism' for anyone who opposed it, from the Hong Kong protesters to the Dalai Lama to Xinjiang," said Leibold. "I don't think we can take the party-state at face value when they use that term."
Mayila's cousin and sister say she has been held in prison for the past six months, with no access to lawyers or family members.
The authorities also confiscated all of Mayila's savings — the equivalent of about $56,000, Nyrola said. It was money she had saved from working three jobs. "They are now targeting people with money so that they can take it," Nyrola said.
U.S. Senate revives bill that could sanction China over treatment of its Muslims
Mayila's aunt and uncle continue to look after Mayila's children. Abide, 17, is a straight-A student who likes to sing songs by Taylor Swift and read Harry Potter books in English. Lutfulla has just started seventh grade and loves taekwondo. Mayila's youngest, Zikirulla, was born two months premature and is, in the words of his aunt, "smart but not strong."
All three of them go to Mandarin Chinese school in Yining, not schools taught in the Uighur language.
Mayila's aunt and uncle, 60-year-old Gulebaikeremi Maimutimin and 63-year-old Hasimu Tuoheti, live in constant fear that the children will be taken from them.
Last month, they received notices from the Public Security Bureau that they were being investigated on suspicion of helping finance terrorist activities and illegally possessing articles of extremism.
They trace this action to the fact that their names are associated with the money sent to Australia in 2013 for Mayila's parents' house.
"We can prove that this money didn't go to terrorist activities," Nyrola said, referring to the bank statements and the housing contract.
Full report at:
https://www.washingtonpost.com/world/asia_pacific/for-chinas-embattled-uighurs-a-bank-transfer-abroad-can-become-a-terrorism-ordeal/2019/09/19/eb6a8b1e-c3dd-11e9-b5e4-54aa56d5b7ce_story.html
--------
Minister: 'Buy Muslim Products' campaign not wrong
21 September 2019
ALOR GAJAH, Sept 21 ― The "Buy Muslim Products" campaign is not wrong if it does not boycott other products, said Entrepreneur Development Minister Datuk Seri Mohd Redzuan Yusof.
He said the racial tension that was stirred by the campaign was due to misunderstanding.
"It is not wrong for a campaign to buy Muslim or non-Muslim goods because it is up to the consumer's own decision making.
"It is not wrong to campaign, the choice is that of consumers whether to buy Muslim or non-Muslim products. This is an open market. We cannot force the people to buy," he told reporters at a walkabout programme with Tekun Nasional entrepreneurs yesterday. Also present were Tekun Nasional chairman Datuk Seri Muhamaad Suparadi Md Noor and its chief executive officer Datuk Adam Abd Ghani.
In another development, Mohd Redzuan said Malaysia should move forward in an effort to boost the country's halal market globally.
Full report at:
https://www.malaymail.com/news/malaysia/2019/09/21/minister-buy-muslim-products-campaign-not-wrong/1792775
--------
Raudhah Ville's 'Islamic City' model no threat to national unity, minister
11 September 2019
BY AZRIL ANNUAR
KUALA LUMPUR, Sept 11 — Housing and Local Government Minister Zuraida Kamaruddin today dismissed concerns regarding a planned Islamic township called Raudhah Ville, which is located in Cyberjaya.
Speaking to reporters today, she said that the residential project puts focus on universal values and that there are pockets of non-Muslims who have purchased properties there.
"Yes, (it shouldn't be a problem for national unity) because even though it's focussed on Islamic community, it goes on Islamic values which are universal values. So, there are no issues there because there are non-Muslims living there.
"So, it's okay. It's talking about cleanliness, making sure rubbish is thrown away into bins, composting and community living values," said Zuraida.
When asked if there should be a regulation on ethnic balance in urban areas, the Ampang MP dismissed such notion saying that there should not be any interference with the free market.
However, she does plan on implementing economic activity-based quotas on her public housing projects (PPR).
"At the moment I think it's a free market, it falls into place I don't think we need to have that. But my PPR homes probably there is a need for us to give quotas not by ethnic (lines) but by the economic groups — such as government servants, teachers..." "I want them to get into integrated living so that Malaysians can get more matured in integrated living," said Zuraida.
Located in Cyberjaya, Raudhah Ville is part of Bandar Raudhah which is a mega project jointly developed by PKNS and Raudhah City International Sdn Bhd.
The development is estimated to worth RM12.3 billion and has been going on since 2015. It aims to become the world's first modern Islamic city.
Full report at:
https://www.malaymail.com/news/malaysia/2019/09/11/raudhah-villes-islamic-city-model-no-threat-to-national-unity-minister/1789582
--------
Minister dismisses misinformation about Dr M's remarks on Dr Zakir Naik
20 September 2019
BY JERRY CHOONG
KUALA LUMPUR, Sept 20 — Foreign Affairs Minister Datuk Saifuddin Abdullah has urged certain parties to not speculate or make baseless allegations over Prime Minister Tun Dr Mahathir Mohamad's recent remarks on controversial Islamic preacher Dr Zakir Naik. He said such comments are cynical and misleading, as well as far from the truth, and thus, uncalled for.
"The Honourable Prime Minister was simply and truthfully stating the matter-of-fact about what transpired during his meeting with the Prime Minister of India, His Excellency Narendra Modi, on September 5, in Vladivostok, the Russian Federation," Saifuddin said in a statement.
The minister said he can vouch for the truth of the matter as he was personally present in the meeting between the two prime ministers, but also added that his Indian counterpart Subrahmanyam Jaishankar was not.
"Malaysia and India have strong and comprehensive relations for more than six decades. These strong multifaceted ties have been mutually benefiting the peoples of the two countries," Saifuddin said.
Indian press reported that Dr Mahathir and Modi discussed several issues on the sidelines of the 5th East Economic Forum in Russia, which included extraditing Dr Zakir to India where he is currently wanted for money laundering and inciting hate speech.
However on Wednesday, the prime minister maintained that although Modi mentioned Dr Zakir during their meeting, he did not make any extradition request.
Full report at:
https://www.malaymail.com/news/malaysia/2019/09/20/minister-dismisses-misinformation-about-dr-ms-remarks-on-dr-zakir-naik/1792673
--------
Indonesia Condemns Statement by UN Experts on Papua Unrest
BY NUR YASMIN
SEPTEMBER 20, 2019
Jakarta. Indonesia has condemned a press statement issued by five independent United Nations Human Rights Council special rapporteurs in which they expressed serious concern over recent development in Papua.
The five rapporteurs also urged the Indonesian government on Tuesday to drop all charges against human rights lawyer Veronica Koman, whom they said had been "subjected to harassment and abuse online for her work on alleged human rights violations in Papua."
Police have declared Veronica a suspect, accusing her of spreading false information and provoking unrest in Papua and West Papua by publishing reports on the protests and attacks against Papuan students in East Java.
Sporadic unrest in broke out in several cities in Indonesia's two easternmost provinces after racial animosity by hardline Muslims and members of the police and military against Papuan students in Surabaya, East Java, in August.
The government said false information and provocative content spread on social media, including by Veronica, had contributed to the unrest.
The government managed to restore order in Papua and West Papua after about two weeks of unrest.
"We welcome actions by the government against the racial incident, but we urge it to take immediate steps to protect Veronica Koman from any form of retaliation and intimidation and drop all charges against her," the special rapporteurs said in the press statement.
They also expressed concern that the authorities may revoke Veronica's passport, block her bank accounts and request Interpol to issue an international arrest warrant against her.
The rapporteurs advised the government to maintain full internet access in Papua, after blocking it between Aug. 21 and Sept. 4.
"We urge the government of Indonesia to recognize the rights of all protesters and to ensure the continuation of the internet service... Restrictions on the internet and access to information in general have a detrimental impact on the ability of individuals to express themselves, and to share and receive information," they said.
Indonesia's permanent mission to the United Nations in Geneva issued a statement expressing regret over the press release by the UN special rapporteurs.
"Limits on internet access were imposed in accordance with the law and the Constitution. The public interest and respect for freedom of speech were considered, especially to prevent the spread of hate speech and hoaxes, which triggered unrest in Papua," the mission said in the statement the Jakarta Globe received on Monday.
It added that Veronica was a suspect and had ignored several police summonses for questioning.
"[Her spreading of hoaxes and hate speech] is evidently unmatched with her self-proclamation as a human rights defender, but rather as an individual act that was intentionally spreading false news, which caused incitement and provocation resulting in the unrest," the mission said.
Police vs. Veronica
The East Java Police have, in response, refused to intervene in Veronica's case, said they would soon put her name on a list of wanted suspects.
"There should be no intervention. Indonesian law is sovereign," East Java Police spokesman Chief Comr. Frans Barung Mangera said on Wednesday, as quoted by Kompas.
Veronica has defended herself in a statement posted on her Facebook account on Sunday.
"The Indonesian police have overstepped their authority and gone over the top with exaggerations in an attempt to criminalize me," she said, adding that the government was unable to handle the prolonged conflict in Papua and thus made her the scapegoat.
"West Papua has for decades been among the most restricted regions worldwide. My criminalization is nothing more than the continuation of a longstanding strategy to prevent information leaking out to the rest of the world," she said.
Police have also expressed concern over multiple bank accounts in Veronica's name, which showed withdrawals of large amounts, some from Papua. However, she accused the police of abusing their powers by looking in her bank accounts.
Full report at:
https://jakartaglobe.id/context/indonesia-condemns-statement-by-un-experts-on-papua-unrest
--------
Arab World
Al-Nouri Mosque restoration aims to revive spirit of Iraq's ruined Mosul
September 21, 2019
DUBAI: Government officials and NGOs are taking the initiative to restore vital historical sites across the Middle East after years of destruction by militant groups.
The UN cultural agency UNESCO recently announced that the reconstruction of Al-Nouri Mosque — which was blown up by Daesh in June 2017 — in the Iraqi city of Mosul will start at the beginning of next year.
Launched in 2018, the mosque restoration plan will be the most eye-catching part of a $100 million UNESCO-led heritage reconstruction called "Revive the Spirit of Mosul."
The timeline of the restoration plan for the 12th-century mosque, famed for its leaning minaret, was finalized during a meeting in Paris between UNESCO and Iraqi government officials.
"What they call the Arab Spring is really the Arab Fall because many historic sites in Iraq, Syria and Libya have been erased," said Samir Saddi, founder and director of the Beirut-based architecture and design institute ARCADE.
"The destruction is very upsetting because it's not only about heritage itself as much as it is about these monuments and their meaning in social and religious life."
Saddi sees restoration in the Middle East as a costly, recurrent endeavor as extremists have repeatedly targeted historical monuments due to their importance to local communities.
"You can kill a person, but here you're erasing centuries of cultural and religious meaning. It's very important to restore these buildings," he said.
"What's also important is what should be done in terms of educating people and creating awareness on how to maintain these monuments."
Saddi said the challenge for the Middle East is not only restoration but also how to make sure this kind of destruction does not happen again, and how to preserve monuments and traditional architecture.
"It's really the biggest subject because you can restore the mosque, but what about the daily destruction of heritage in terms of habitat and nature?" he said.
Daesh leader Abu Bakr Al-Baghdadi declared a caliphate from Al-Nouri Mosque in the summer of 2014, only for his own fighters to blow it up three years later as Iraqi government forces closed in.
The mosque was not the first victim of Daesh's cultural nihilism. In January 2017, Daesh fighters destroyed the Roman theater in the Syrian city of Palmyra — a historical landmark dating back to the 2nd century AD — and other monuments in the area.
The Great Umayyad Mosque in Syria's largest city Aleppo was another target. The 8th-century mosque, a UNESCO World Heritage site, was demolished in April 2013.
"There are many sites across the Middle East and North Africa that are very rich in Roman, Greek, Byzantine and Islamic history," Saddi said.
"Daesh fighters knew what they were doing. They selected prominent sites and systematically destroyed them because this is how you really make the most damaging impact on people."
Al-Nouri Mosque is one of Iraq's many war-devastated historical places. Others include the ancient Assyrian city of Nineveh, located on the eastern bank of the Tigris River in Mosul, and Nimrud, the first Assyrian capital from over 3,000 years ago.
"Restoring such sites is vital because they're part of the history, culture and civilization of the area," said Rashad Bukhash, chair of the Architectural Heritage Society in the UAE.
"Al-Nouri Mosque is very old and went through different stages of restoration. It's important to keep these sacred buildings as part of Iraq's culture and part of human history."
The UAE is providing more than $50 million to finance UNESCO's "Revive the Spirit of Mosul" project, focusing on the restoration of Al-Nouri Mosque, with the EU providing another $24 million.
In addition, the UNESCO initiative will make funds available for the rebuilding of churches, schools, and a street in Mosul's Old City that was famous for its bookshops.
Bukhash said what will help in the restoration process is that Al-Nouri Mosque's complete documentation, drawings and photos have survived.
"People who lived and worked on it will help to rebuild the mosque exactly as it was. As a mosque where people prayed, it's important to restore it for history on the one hand, and to send a message to terrorists on the other hand that we're building history back no matter what they do," he said.
Saddi suggested an alternative to restoring devastated historical sites, such as building a museum nearby to tell their story.
"There is a continuous cycle of violence and reconstruction. The destruction of Al-Nouri Mosque is an act of extreme terror," he said.
"The mosque is partially destroyed, and we can't go back in time and pretend it didn't happen," he added.
"It should stay as it is today, but there should be a museum project to show what this mosque was, its history and relation to the community, when and why it was destroyed, who did this act of savagery and why, and how to avoid the repetition of these barbaric acts in the future."
Saddi said a museum for Al-Nouri Mosque as the main "artefact" would represent a much stronger statement than rebuilding it to its original state, which he believes will never match its original form.
"In other words, there is before and after. The Mosul population should remember the destruction by seeing it, but also by learning and gaining knowledge, hence the idea of an Al-Nouri Museum," he said.
Saddi spoke of the relevance of a project he is working on: A museum for changing times. "What's happening in the Arab world is a complete change, both social and economic," he said.
"My project is a museum for architecture in the Arab world — not modern but historical, traditional architecture that has disappeared," he added.
"When you go to Palmyra, you see an old city but only stones or arches. However, in Syria and Iraq you have entire community settlements that are disappearing, not just because of war but also because of development and because people are moving from rural areas to cities."
Saddi recommends preserving memories of such architecture, as well as research into their intrinsic value.
"We're now living in a period where sustainability is the key word. People are emigrating from the Middle East to Europe, leaving behind a lot of knowledge and know-how, so something should be done in that sense," he said.
"We should have a setup where you can understand how the built environment was done from Iraq to Morocco, the richness of our architecture and how it has been vandalized not only by war but also by modern developments. In other words, what's the future of our past?"
Mosul's future could well be riding on UNESCO's restoration project. Two years after Daesh was ousted, it is a city in ruins, still struggling with basic services such as electricity, water and health care.
The UN is working to restore private houses in the historic Old City, but most of its residents still reside in camps.
https://www.arabnews.com/node/1557471/middle-east
--------
Russia, China Block UN Humanitarian Resolution on Syria's Idlib
By Margaret Besheer
September 19, 2019
UNITED NATIONS - Russia and China joined forces Thursday to block adoption of a U.N. Security Council resolution aimed at establishing a cease-fire in northwestern Syria and gaining full access for humanitarian workers to the province of Idlib.
The two veto-wielding powers blocked the text put forward by drafters Belgium, Germany and Kuwait, who hold the Syria humanitarian file on the Security Council.
"We remain convinced that the council cannot stay silent and must act," German Ambassador Christoph Heusgen said. "That is why we have tabled this humanitarian resolution calling for a cessation of hostilities."
But Russia said the text was "doomed to failure" and ignored the need for fighting terrorists. Thursday's veto was its 13th on Syria since the conflict began in 2011.
The Syrian air force, with support from the Russians, has carried out months of airstrikes on Idlib, one of the last opposition strongholds in Syria. More than 3 million Syrians live in the province. It has become a haven not just for Syrians displaced from other parts of the country, but also for some fighters and members of terrorist groups who have sought havens there. It is those elements that the Syrians and Russians say they are seeking to eliminate.
"The phase of armed combat in the Syrian conflict has almost come to end," Ambassador Vassily Nebenzia said.
Council colleagues and the United Nations have said Russia and Syria must respect international humanitarian law and principles including distinction, proportionality and precaution in their military operations to avoid killing civilians and damaging hospitals and schools.
"The world knows that despite their denials, Russian and Syrian planes dominate the skies in northwest Syria, and so far, the Russian Federation has failed to comply with the U.N.'s deconfliction arrangements intended to keep civilians and hospitals safe," U.S. Ambassador Kelly Craft said. "We are disappointed that China has decided to be complicit in these activities and joined Russia in its decision to veto the resolution."
U.N. Secretary-General Antonio Guterres has created a board of inquiry to look into strikes on hospitals and schools in the area that were on a so-called deconfliction list to protect them from harm. They are due to begin work on Sept. 30.
Full report at:
https://www.voanews.com/middle-east/russia-china-block-un-humanitarian-resolution-syrias-idlib
--------
CBS News goes inside Syrian refugee camp filled with ISIS supporters
By HOLLY WILLIAMS
September 19, 2019
Al-Hol, Syria — A sprawling refugee camp in northeast Syria is described as a breeding ground for ISIS and a ticking time bomb. A few hundred U.S. allies guard the Al-Hol camp, where the strict laws of ISIS are followed.
The guards call the Syrian refugee camp the "Islamic State" because while they control the fence, inside, they said, ISIS is in charge. Ten thousand foreigners live there. They are wives and children of accused ISIS fighters. The men are mostly dead or in prison.
CBS News went inside and met women who wouldn't say where they come from, but sound British, and they defended ISIS terror attacks in Europe and the U.S.
"This is ISIS ideology, an eye for an eye, and a tooth for a tooth. That's what it is," one woman said.
When there's violence here, and there have apparently been several murders, it's almost impossible to find the perpetrators, because all of the women are covered.
In an ISIS propaganda video, women send a message from the camp. We're a ticking bomb, one says, just you wait and see. In another video, young boys chant that they'll crush the heads of non-believers.
There are no real schools there, but one guard said the entire camp is effectively an ISIS academy.
Many women said they're repentant. A pair from France and Belgium said they want to go home if their governments will have them, and said ISIS hardliners have threatened to burn their tents down at night.
But CBS News met women who don't want to go home. They came to the camp to live under Islamic law.
"We are in favor of what Alah sends upon us. If he says an adulterer should be stoned, then it's said and I have to accept it. That's it," one woman said.
Full report at:
https://www.cbsnews.com/news/islamic-state-syrian-refugee-camp-known-as-the-islamic-state-filled-with-isis-supporters-2019-09-19/
--------
Attack on Saudi Oil Facilities Tests U.S. Guarantee to Defend Gulf
By David D. Kirkpatrick and Ben Hubbard
Sept. 19, 2019
The oil-rich monarchies of the Persian Gulf have relied for decades on the promise of protection by the United States military, a commitment sealed by the rollback of the 1990 invasion of Kuwait and reinforced by a half dozen American military bases that sprang up around the region.
Now that commitment is facing its most serious test since the first gulf war: an attack last Saturday by a swarm of at least 17 missiles and drones that crippled Saudi Arabia's most critical oil installation and temporarily knocked out 5 percent of the world's oil supply.
Washington and Riyadh blamed Iran, despite its denials, and President Trump threatened that the United States was "locked and loaded." Yet despite months of such bravado, Mr. Trump has been hesitant to take military action that might risk an expanded conflagration. For better or worse, such a muted response could signal another turning point for the region.
"It is enormous," said Gregory Gause, a scholar of the region at Texas A&M University. "This is the most serious challenge since the invasion of Kuwait to the status of the United States as a great power that would protect the free flow of energy from the region, and unless there is a big change in the response from the Trump administration I think Gulf leaders will start to question the value of that security commitment."
Confounding expectations on all sides of the Persian Gulf, the attack and its aftermath have laid bare a cascade of revelations about the regional balance of power.
The stunning success of the attack has shown that billions of dollars in Saudi military spending has left the kingdom's central industry vulnerable, and it has demonstrated to the world that the increasing availability of low-flying cruise missiles and drones may have rendered many other defense systems perilously obsolete.
It has also shown the world a new side of Crown Prince Mohammed bin Salman, the hard charging and often impulsive de facto ruler of the kingdom: He, too, has been forced in this case to back away from immediate retribution against his nemesis, Iran.
If Iran carried out the attack directly, as Washington and Riyadh say, then it has taken a brazen step beyond its familiar strategy of working through allied militant groups to strike at its foes, evidently surprising the White House.
Seeking to exact a price from the United States for its sanctions on Iranian oil sales, Tehran may also now be emboldened to carry out further attacks, calculating that President Trump will balk at another war in the region. The attack on Saudi Arabia was just the latest in a string of recent attacks carried out by Iran or a proxy — including attacks on oil tankers and the downing of an American drone — with little or no cost to Iran.
And President Trump, focused on his re-election, has so far shown himself less willing to match Iran's escalation than his ferocious tweets about "obliteration" and "the official end of Iran" had suggested. He recently fired the adviser most hawkish on Iran, John R. Bolton, the former national security adviser. And instead of emphasizing the traditional American interest in the free flow of oil, he appears to have returned to a view he espoused before his election — "Saudi Arabia should fight their own wars," as he wrote in a tweet in 2014.
That Iran would seek in some way to attack Saudi oil production, though, was hardly unexpected. Experts had predicted for months that the Trump administration's "maximum pressure" campaign of sanctions against Iran's oil sales would drive it to lash out against the oil production of Saudi Arabia and the Arab Gulf States.
The rulers of those Arab states had previously accused President Obama of trying to pull back from the American commitment to the region. They faulted him for negotiating a 2015 deal with Iran to limit its nuclear program in exchange for relief from economic sanctions without further constraining its military or other activities. And the Gulf leaders were outraged when Mr. Obama called off a planned strike against Syria, an Iranian ally, for using chemical weapons against civilians.
Now some prominent voices in the Arab Gulf States accuse Mr. Trump of an even greater betrayal. "Trump, in his response to Iran, is even worse than Obama," said Abdulkhaleq Abdulla, a prominent political scientist in the United Arab Emirates.
Instead of reversing the perceived pullback as Gulf leaders had expected, Mr. Abdulla argued, President Trump let down his Arab partners by failing to respond more forcefully to Iranian aggressions.
The United States has said that Iran was behind naval mines that damaged five oil tankers in the Persian Gulf this spring, and in June Iran boasted of shooting down an American surveillance drone. Yet President Trump did little in retaliation for the tanker attacks and called off a planned airstrike against Iran in response to the downing of the drone.
"His inaction gave a green light to this," Mr. Abdulla said. "Now an Arab Gulf strategic partner has been massively attacked by Iran — which was provoked by Trump, not by us — and we hear Americans saying to us, you need to defend yourselves!"
"It is an utter failure and utter disappointment in this administration," he added.
Mr. Trump has not ruled out a military strike, and senior national security officials met Thursday to refine a list of potential targets should President Trump go that route. Still, he has made clear his opposition to another war, and has ordered new sanctions.
But Iran is already under acute economic pressure from the existing sanctions, which use the reach of the American financial system to try to choke off Iranian oil exports anywhere in the world. After pulling out of the 2015 nuclear deal, the Trump administration implemented the sweeping new penalties this spring to try to force Iran to accept a more restrictive agreement.
Iranian leaders have denounced the sanctions as "economic warfare," and they appear to have orchestrated an escalating series of attacks that threaten the flow of Persian Gulf oil in order to inflict some of the same pain on the United States and Washington's Arab allies.
"The Iranians do feel cornered," Professor Gause said, and that is why they appear to be taking more aggressive action than they have in the past. "This is an effort by Iran to break out of what they see as strangulation."
Defending the administration's policies, Secretary of State Mike Pompeo argued this week that the sanctions may have limited Iran's ability to strike with even more sophisticated missiles or drones.
"They'd have more complex ones but for the sanctions we put in place that have prevented them from getting access to money, most importantly, but also parts, spare parts, information technology," he told reporters on a trip to Saudi Arabia.
Iranian leaders have denied responsibility for the attack last weekend, but at the same time they have openly reveled in its success. It showed the United States "that playing with the lion's tail carries serious dangers and if they take action against Iran there will be no tomorrow for them," Brig. Gen. Hossein Dehghan of the elite Islamic Revolutionary Guard Corp boasted Thursday, Iranian news media reported.
The Iranians may have previously worried about Mr. Trump's threatening tweets and hawkish advisers, said Suzanne Maloney, an Iran scholar at Brookings Institution. "But now they see that he is not going to follow through on the bluff that he has carried out on behalf of the American people," she said.
Others analysts argued that the alarms from the Persian Gulf about an American retreat were overblown under President Obama and remain so under President Trump. American warships are patrolling the gulf to help protect tanker traffic. American satellite and surveillance drones patrol the skies. The many large American military bases deter invasions or other large-scale military actions.
But President Trump's combination of tough threats and a weak response "is the worst of both worlds," argued Jeremy Shapiro, research director of the European Council on Foreign Relations and a former State Department official in the Obama administration. "It would be foolish to counter this escalation with an escalation, but it was foolish to get into this position in the first place," he argued, leaving the Trump administration "to choose between an unwise escalation or a humiliating climb-down."
Experts on military technology said Saudi Arabia should not be faulted for failing to stop the attack. Like those of other countries, Saudi Arabia's defenses were designed to stop ballistic missiles. This attack appears to have been carried out with low-flying cruise missiles or drones that would escape detection by most radar systems.
"I don't think that there is any country that could have defended any better than Saudi Arabia did, and that includes the United States," said Peter Roberts, director of military sciences at the Royal United Services Institute, an international research institute.
Yet the attack appears to have caused some rethinking by Crown Prince Mohammed.
Soon after he was first named defense minister, in 2015, he plunged the kingdom into a military campaign in neighboring Yemen to drive from power a faction backed by Iran. Saudi media outlets proclaimed that the prince was asserting the kingdom's power and leading a new drive to roll back Iranian influence.
"The Iranians, they're the cause of problems in the Middle East, but they are not a big threat to Saudi Arabia," the prince boasted confidently to Time magazine in 2018. "Saudi Arabia's economy is double the size of the Iranian economy," he said, adding that Iran's army was "not among the top five" in the Middle East.
"We will work so that the battle is for them in Iran, and not in Saudi Arabia," he promised on a Saudi news channel.
Yet the damage to the oil installation was a painful lesson in the potential costs of a wider conflict, at a time when the Saudi military remains bogged down in Yemen and Prince Mohammed has been pushing for a public sale of the Saudi state oil company.
Full report at:
https://www.nytimes.com/2019/09/19/world/middleeast/saudi-iran-attack-oil.html
--------
Lebanon Concerned Over Possible Hezbollah Engagement In Regional War
20 September, 2019
The Lebanese are watching with great concern the developments in the region, most notably the attacks on Saudi Aramco's oil plants, the purported Iranian involvement and its serious repercussions.
The recent events have brought back to their mind a speech by Hezbollah Secretary General Hassan Nasrallah, when he put himself at the disposal of Iran's supreme leader, Ali Khamenei, and stressed that any military strike against Iran "will ignite the whole region and annihilate countries and peoples."
Amid the dangerous local and regional developments, the Lebanese State has kept silence about the possibility of Lebanon's involvement in a regional war, while no official stance was issued by President Michel Aoun or his political team, the Free Patriotic Movement, Hezbollah's main ally.
In this regard, the coordinator of the General Secretariat of the March 14 Forces, former MP Fares Soueid, said he was not surprised at Aoun's silence over the risks facing Lebanon due to Nasrallah's comments.
In comments to Asharq Al-Awsat, he said: "The bargain, which took place between the Christian team and Hezbollah, based on a Maronite-Shiite duality, considers that the alliance with Russia, Iran and the Syrian regime… is more important than Lebanon's interests and Arab affiliation."
"When President Michel Aoun goes to Moscow and thanks President Vladimir Putin for protecting minorities in the region, he means that he considers Christians just a frightened minority in need of protection. He found this protection with Hezbollah and Iran at the expense of the Arab interest," Soueid underlined.
Political forces and anti-Hezbollah figures consider Nasrallah's words as putting the state with all its constitutional institutions from the presidency to the parliament and government, under the authority of the Iranian supreme leader, and placing the fate of the Lebanese in the hands of Iran and the Revolutionary Guards.
Former Deputy Prime Minister Major-General Issam Abu Jamra (dissident from the FPM) blamed the forces that made the settlement with Aoun, especially Prime Minister Saad Hariri, and Lebanese Forces Party Leader Dr. Samir Geagea "responsible for Hezbollah's domination over the decision-making in Lebanon."
Full report at:
https://aawsat.com/english/home/article/1910891/lebanon-concerned-over-possible-hezbollah-engagement-regional-war
--------
Idlib: Syrian Army Discovers Center for Producing False-Flag Chemical Attacks Videos by White Helmets
Sep 20, 2019
The Arabic-language channel of Russia Today quoted a Syrian Army commander Abdolkarim Mayhob as saying that the Syrian Army troops found a very equipped and engineered underground base used by White Helmets to achieve their military goals.
Mahyoub also reiterated that the military base was not only considered for stationing 3,500 terrorists, but it was also equipped with studios that White Helmets used to make false-flag videos on alleged chemical attacks on Syrian citizens by the Syrian Army.
He also said that the Syrian Army troops also discovered different kinds of weapons, military equipment, helmets and gas masks as well as military uniforms from the base.
In a relevant development on Wednesday, Director of the Fund for Research of Problems of Democracy Maxim Grigoryev stated that members of the so-called civil defense group White Helmets have deliberately executed women and children for the purpose of disseminating false information about the situation in Syria.
"White Helmets, who style themselves as a non-governmental organization, systematically release vast amounts of false information about Syria," TASS news agency quoted Grigoryev as saying in Paris.
He added, "Thorough verification of all information allowed us to completely refute false information about chemical attacks, of which those disinformers regularly accuse the Syrian authorities."
Grigoryev further noted that volunteers are not part of the so-called White Helmets, and its members "get monthly fees for their services" and the group's co-founder James Le Mesurier has close ties with British special services.
He said images that regularly pop up on social networking sites confirm that White Helmets "are sometimes directly engaged in hostilities" against Syrian civilians alongside foreign-sponsored Takfiri terrorist groups.
Grigoryev highlighted that White Helmets, on certain occasions, have used the bodies of hostages executed by terrorists on their territories to take photos and make video records of a staged chemical attack.
"Some of them, including women and children, were deliberately executed for the purpose," he added.
The White Helmets group is known for its coordination with terror outfits in Syria to carry out staged chemical attacks aimed at falsely incriminating Syrian government forces and inventing pretexts for possible acts of aggression on army troops by a United States-led military coalition present in Syria since roughly 2014. The group has been involved in such attacks before.
Full report at:
https://en.farsnews.com/newstext.aspx?nn=13980629000482
--------
Iraq: Minibus explosion outside Karbala kills 12, injures 5
20 September 2019
Twelve civilians were killed on Friday in a bomb blast on a bus at the northern edge of the Iraqi Shiite holy city of Karbala, medical officials said.
"Twelve civilians have been killed and five wounded in an explosion on a bus at the main checkpoint for the northern entrance to Karbala", the city's health authorities said, adding the victims included women and children.
According to the officials, the blast occurred as the bus was passing through an Iraqi army checkpoint between Karbala and al-Hilla.
Security forces arrived quickly to the scene of the attack, which was not immediately claimed.
Attacks have been rare in Karbala in recent years, but sleeper cells of the ISIS, which Iraq declared victory against in late 2017, continue to carry out attacks across the country.
Full report at:
https://english.alarabiya.net/en/News/middle-east/2019/09/20/Iraq-Minibus-explosion-outside-Karbala-kills-9-injures-6.html
--------
US man charged with scouting targets for Hezbollah
20 September 2019
A US citizen was charged Thursday with transmitting information to Hezbollah for possible terrorist attacks in the United States, the Justice Department said.
According to prosecutors, 42-year-old New Jersey resident Alexei Saab, who became a naturalized US citizen in 2008, began training in 1999 with the Lebanese Hezbollah, which the US designated as a terrorist organization in 1997.
Saab became a member of the Hezbollah branch concerned with foreign operations - such as a 2012 attack on Israeli tourists at an airport in Bulgaria - and since his 2000 arrival to the US, Saab passed information to the group about possible targets in major American cities, such as New York's Empire State Building, Times Square, bridges, tunnels, and airports.
Outside the US, he attempted in 2005 to kill a man suspected of being an Israeli spy, the Justice Department said.
"Alexei Saab allegedly used his training to scout possible targets throughout the US," said New York US Attorney Geoffrey Berman in a statement.
"Even though Saab was a naturalized American citizen, his true allegiance was to Hezbollah, the terrorist organization responsible for decades of terrorist attacks that have killed hundreds," Berman said.
Saab faces nine indictments, including a charge related to supporting a terrorist organization, for which he could face 20 years in prison if convicted.
Prosecutors also accused Saab of entering into a "marriage fraud conspiracy" for the purpose of applying for citizenship for an unidentified spouse in 2012.
Saab could face 25 years in prison if convicted of offenses related to the fraudulent marriage charges.
Full report at:
https://english.alarabiya.net/en/News/middle-east/2019/09/20/US-man-charged-with-scouting-targets-for-Hezbollah-.html
--------
Protests against Egypt's president erupt in capital Cairo, some other cities
Sep 21, 2019
Hundreds of Egyptians have held rare protests against President Abdel Fattah al-Sisi in capital Cairo and several other cities.
The protests were held in central Cairo and several other Egyptian cities late on Friday with demonstrators shouting anti-government slogans, responding to an online call for a rally against government's alleged corruption.
Protests have become very rare in Egypt following a widespread crackdown on dissent under Sisi, who took power after ousting Egypt's first democratically-elected president, Mohamed Morsi, in 2013 through a military coup following mass protests against Morsi's rule.
Security forces moved to break up the crowds in the capital using tear gas in at least one location. But, according to witnesses and residents, many young people stayed on the streets in central Cairo, shouting "Leave Sisi," Reuters' reporters at the scene said.
Full report at:
https://www.presstv.com/Detail/2019/09/21/606706/Egypt-protest-Sisi-cairo-corruption-Morsi
--------
Africa
Nigeria kills 7 top Boko Haram commanders: Army
Olarewaju Kola
20.09.2019
MAIDUGURI, Nigeria
Nigerian forces say they have killed seven top Boko Haram commanders in a fierce battle around the Lake Chad region.
Col. Sagir Musa, an army spokesman, said the commanders were killed by counter-terrorism troops in an offensive against the group.
He said the combined efforts of "artillery and air bombardments" of terrorists' hideouts in the Lake Chad region, led to the killing of the commanders.
https://www.aa.com.tr/en/africa/nigeria-kills-7-top-boko-haram-commanders-army-/1589523
--------
At least 9 killed in suspected Boko Haram attack in NE Nigeria
2019-09-19
ABUJA, Sept. 19 (Xinhua) -- At least 9 people have been killed in an attack suspected to have been carried out by terror group Boko Haram in a village in Nigeria's northeast region.
Military sources who confirmed the attack said it occurred late Wednesday in Aljilati Ngomari village near Maiduguri, the capital of the northern state of Borno and stronghold of the outlawed group.
Four of the victims were killed with bow and arrows while five others were hacked to death with machetes, a military source, who requested anonymity, told Xinhua.
Lukman Rufai, a leader of the government-backed militia group, the Civilian Joint Task Force, said bodies of the victims were, thereafter, dumped in a nearby bush.
"Such silent killing tactics of using the bow and arrows, as well as machetes or knives, were likely deployed by the militants to prevent the people in the community from knowing what was happening at the time of the attack," said Rufai.
Bodies of the victims were brought back to the village early Thursday, set for burial, he said.
Full report at:
http://www.xinhuanet.com/english/2019-09/19/c_138404983.htm
--------
UN agency says 124 suspected cholera cases in Sudan
20 September 2019
The UN's humanitarian agency says that two of Sudan's southeastern provinces have reported 124 suspected cholera cases with seven deaths.
The UN Office for the Coordination of Humanitarian Affairs released a statement Friday saying that the provinces of Sennar and the Blue Nile were among Sudan's areas with the highest risk of cholera outbreak, following flash floods that swept the country in late August and affected water sanitation.
The statement adds that the current fatality rate stood at 5.6 percent but could be brought down below one percent with "proper treatment."
The OCHA says the outbreak can be contained if there is immediate action and funding.
Full report at:
https://english.alarabiya.net/en/News/middle-east/2019/09/20/UN-agency-says-124-suspected-cholera-cases-in-Sudan.html
--------
Tunisia's Islamist Ennahda throws weight behind vote frontrunner
September 21, 2019
TUNIS: Tunisia's influential Islamist-inspired party Ennahda said on Friday it will support law professor and political outsider Kais Saied in a presidential runoff against jailed media magnate Nabil Karoui.
"Ennahda has chosen to support the people's choice," party spokesman Imed Khemiri told AFP after last Sunday's first round of polling in which Saied finished ahead with 18.4 percent of the vote.
The surprise result of the election, contested by more than 20 candidates, thrust to the fore both Saied and Karoui, likewise from outside the world of traditional Tunisian politics.
Karoui came second with 15.6 percent, said the electoral commission ISIE, while Ennahda, a main force in Parliament, scored 12.9 percent with its first-ever candidate to run for the presidency, Abdelfattah Mourou.
The result was a major upset for Tunisia's political establishment, in place since the fall of late leader Zine El-Abidine Ben Ali eight years ago after mass protests that sparked the Arab Spring revolts.
Saied, a fiercely independent academic aged 61, advocates a radical decentralization of power, with local democracy and the ability to remove elected officials from office during their mandates.
He is also perceived as very conservative on social issues, and has defended the death penalty, criminalization of homosexuality and a sexual assault law that punishes unmarried couples who engage in public displays of affection.
Karoui, a 56-year-old media magnate, has been held in prison since Aug. 23 under investigation for alleged money laundering.
He remains eligible to run as long as any conviction does not also specifically deprive him of his civil rights, according to ISIE.
Full report at:
https://www.arabnews.com/node/1557461/middle-east
--------
Pakistan
Kashmir human rights situation central issue at UNHCR, says FO
Sep 21, 2019
ISLAMABAD: The Foreign Office (FO) on Friday said Islamabad has initiated a number of processes to keep a sustained focus on the human rights situation in Indian Occupied Kashmir (IOK).
The human rights situation in the occupied valley has become a central issue at the United Nations Human Rights Council (UNHRC), said FO Spokesperson Mohammad Faisal.
The spokesperson further said Pakistan will continue efforts to ensure that the proceedings at the UNHRC have an impact in the occupied valley.
Last month, New Delhi revoked occupied the valley's autonomous status and snapped communications for much of the Muslim-majority region. India's actions drew criticism from the UN human rights chief and rights groups, with Pakistan urging pressure on India.
In a diplomatic push, PM Imran Khan and Foreign Minister Shah Mahmood Qureshi have held telephonic and in-person conversations with world leaders, including US President Donald Trump, Saudi Crown Prince Mohammad bin Salman, and others.
The premier is headed to Washington DC to attend the United National General Assembly (UNGA) where he will highlight the Kashmir issue.
Earlier, FM Qureshi demanded an international investigation into the situation in the IOK while addressing the United Nations Human Rights Council gathering in Geneva. He warned of the risk of "genocide" in the Muslim-majority region.
A joint statement by Pakistan on behalf of over 50 countries at the UNHRC over the human rights situation in the occupied valley called for the "removal of restrictions, respect and protection of the Kashmiri people, implementation of the recommendations of UN's Kashmir reports and peaceful resolution of the Jammu and Kashmir dispute through the implementation of the UN Security Council resolutions."
https://www.pakistantoday.com.pk/2019/09/20/kashmir-human-rights-situation-central-issue-at-unhcr-says-fo/
--------
JUI-F chief trying to use shoulders of PPP, PML-N: Firdous
September 20, 2019
ISLAMABAD, Sep 20 (APP):Special Assistant to Prime Minister on Information and Broadcasting, Dr Firdous Ashiq Awan on Friday said that Jamiat-Ulema-e-Islam, chief Maulana Fazlur Rehman, was trying to use the shoulders of Pakistan Peoples Party and Pakistan Muslim League-N.
In the democratic system, everyone holds the right to stage sit-in or protest demonstration, she stated while talking to a private news channel program.
Expressing dismay over misusing the name of Islam, she said such political elements in the past had been clinching votes on the name of Islam, adding that these political figures were still gaining benefits by using card of Islam.
Full report at:
https://www.app.com.pk/jui-f-chief-trying-to-use-shoulders-of-ppp-pml-n-firdous/
--------
PM assures Saudi Arabia of support against any threat
September 21, 2019
ISLAMABAD: Pakistan and Saudi Arabia have reaffirmed the resolve to enrich their deep and multifaceted relationship as Prime Minister Imran Khan concluded his two-day official visit to the kingdom on Friday before heading to the United States to attend the UN General Assembly session from Sept 21 to 27.
During his separate meetings with King Salman bin Abdul Aziz Al Saud and Crown Prince Mohammad bin Salman in Makkah, the prime minister strongly condemned the recent attacks on oil installations in Abqaiq and Khurais and assured them of Pakistan's commitment against any threat to Saudi Arabia's security and territorial integrity.
Highlighting the dire human rights situation in India-held Jammu and Kashmir and the grave risks posed to peace and security by India's illegal and unilateral actions of Aug 5, Mr Khan called for urgent lifting of curfew in the valley and resolution of the Kashmir dispute in accordance with the UN Security Council resolutions.
He also laid emphasis on the Organisation of Islamic Cooperation's pivotal role in extending consistent support for the Kashmir cause.
The Saudi leadership expressed concern over the Kashmir situation and reiterated its steadfast support and solidarity for the Kashmir cause. It was agreed to continue to work together for peace, security and peaceful resolution of issues.
Prime Minister Khan was accompanied by Foreign Minister Shah Mehmood Qureshi, Adviser to the PM on Finance Dr Abdul Hafeez Shaikh, Special Assistant to the PM on Overseas Pakistanis Syed Zulfiqar Abbas Bukhari and other senior officials during his visit.
Extending a warm welcome to the prime minister, the Saudi leadership underscored that the relationship between Saudi Arabia and Pakistan was based on "real brotherhood".
On the bilateral relations, Mr Khan recalled the visit of the Saudi crown prince to Pakistan in February and noted that it had imparted a strong momentum to the growth trajectory of the relationship. The two sides reiterated the resolve to intensify bilateral trade, investment and people-to-people contact. Mr Khan also expressed gratitude for Pakistan's inclusion in the Road-to-Makkah project and hoped for its extension to other major cities of the country.
This was his fourth visit to Saudi Arabia over the past 13 months. During his last visit to the kingdom in May, he attended the 14th session of the OIC Islamic Summit.
PM performs Umrah
Prime Minister Imran Khan along with his wife Bushra Begum ­performed Umrah and prayed for the prosperity and stability of the ­country.
The PM also had the rare opportunity of entering the Holy Kaa'ba as the door was specially opened for him.
Later, when Mr Khan left for Madina, he was seen off at the airport by Jeddah Governor Prince Mashaal bin Majid Al Saud.
The prime minister will pay homage at Roza-i-Rasool (peace be upon him) and perform Nawafil at Masjid-i-Nabvi, according to a statement issued by the PM's media wing.
Saudi Arabia is among the founding members of the OIC Contact Group on Jammu and Kashmir. This year the two countries established the Saudi-Pak Supreme Coordination Council (SPSCC), co-chaired by the prime minister and the crown prince. Its next session is due to be held in February 2020.
UN General Assembly session
Meanwhile, Prime Minister Imran Khan will lead a Pakistani delegation during the week-long session of the UN General Assembly in New York.
Foreign Minister Qureshi will also attend the General Assembly session, interact with his counterparts from various countries and address important ministerial meetings, especially the OIC Contact Group on Jammu and Kashmir.
The prime minister will hold several bilateral meetings with his counterparts from various regions and participate in the UN summits on climate change, sustainable development, universal health coverage and financing for development.
Mr Khan will also attend and speak at the side events co-hosted by Pakistan and Turkey on countering hate speech, and on environmental protection and poverty alleviation, co-hosted by Malaysia and Pakistan.
A trilateral summit meeting of Pakis­­tan, Malaysia and Turkey will be held on the sidelines of the General Assembly.
Apart from these engagements, the prime minister will interact with cross-section of international media outlets, including meetings with editorial boards. The prime minister's speaking engagements at leading think tanks and meetings with heads of major rights organisations are also envisaged.
PM Khan will deliver his address to the UN General Assembly on Sept 27 to share Pakistan's perspective and position on the Jammu and Kashmir dispute and its current human rights and related dimensions, besides some other key contemporary issues. Overall, the key issue of Jammu and Kashmir would be emphasised through myriad engagements.
Full report at:
https://www.dawn.com/news/1506435/pm-assures-saudi-arabia-of-support-against-any-threat
--------
Kabul's 'irresponsible, unwarranted' statement on Durand Line runs afoul of Islamabad
Naveed Siddiqui
September 20, 2019
The Ministry of Foreign Affairs has termed its Afghan counterpart's renewed refusal to recognise the international border between Afghanistan and Pakistan as "irresponsible and unwarranted".
The Afghan foreign ministry's statement, issued on Friday in response to the opening of the 24-hour Torkham crossing by Pakistan earlier in the week, emphasised that Kabul "does not recognise the Durand Line as an official border between the two countries".
The statement issued by the Foreign Office in response pointed out that the "Pakistan-Afghanistan border is an internationally recognised, official border between the two countries in accordance with all relevant international laws and conventions".
The statement further highlighted that Pakistan believes the 24/7 opening of the new Torkham crossing point to be a "significant step forward to facilitate the people and traders of both sides".
"Such statements only serve to undermine the resolve for peace and cooperation between the two countries and should be avoided," the FO regretted.
The Afghan foreign ministry statement had issued a muted acknowledgement of Pakistan's move to open the Torkham crossing.
"The Torkham crossing in order to further help patients and facilitate trade between the Islamic Republic of Afghanistan and the Islamic Republic of Pakistan will operate round the clock," it said.
Prime Minister Imran Khan had formally inaugurated the border crossing on Wednesday.
Full report at:
https://www.dawn.com/news/1506324/kabuls-irresponsible-unwarranted-statement-on-durand-line-runs-afoul-of-islamabad
--------
PM Imran to travel to US today for highlighting Kashmir issue at UNGA, other forums
Naveed Siddiqui
September 20, 2019
Prime Minister Imran Khan — currently on a visit to Saudi Arabia — will reach the United States today to highlight the occupied Kashmir situation at the UN General Assembly session and other forums.
According to the Foreign Office, PM Imran will lead the Pakistan delegation during the high-profile week of the UN General Assembly Session in New York from September 21-27.
"The prime minister will deliver his address to the UNGA on Friday, September 27, and share Pakistan's perspective and position on the Jammu and Kashmir dispute and its current human rights and related dimensions," an FO statement said, adding that the premier will also articulate Pakistan's perspective on some key contemporary issues.
"Overall, the centrality of the Jammu and Kashmir dispute would be emphasised through myriad engagements," it added.
The FO said the prime minister would hold several bilateral meetings with his counterparts from various regions and participate in high-level UN summits on climate change, sustainable development, universal health coverage and financing for development.
"The prime minister will also attend and speak at side events co-hosted by Pakistan and Turkey on countering hate speech, and on environmental protection and poverty alleviation co-hosted by Malaysia and Pakistan," read the statement.
"A trilateral summit meeting of Pakistan, Malaysia and Turkey will be held on the General Assembly sidelines," it added.
According to the FO, the premier will also interact with a cross-section of international media outlets and hold meetings with editorial boards.
"The prime minister's speaking engagements at leading think-tanks and meetings with heads of major international human rights organisations are also envisaged," the FO said.
Foreign Minister Shah Mahmood Qureshi will also attend the UNGA session, interact with his counterparts from various countries, and address important ministerial meetings especially the OIC Contact Group on Jammu and Kashmir.
Full report at:
https://www.dawn.com/news/1506326/pm-imran-to-travel-to-us-today-for-highlighting-kashmir-issue-at-unga-other-forums
--------
Pakistan Army major, sepoy martyred in IED explosion near Afghan border: ISPR
September 20, 2019
A major and a sepoy of the Pakistan Army were martyred in an improvised explosive device (IED) explosion near the Pakistan-Afghanistan border in Mohmand tribal district, the military's media wing said on Friday.
Maj Adeel Shahid and Sepoy Faraz Hussain "fell victim to an IED planted by terrorists from across the border", the director general of the Inter-Services Public Relations (ISPR) tweeted.
The squad under the martyred officer was supervising fencing work in an area "which carried [a] critical infiltration route", the ISPR added.
Maj Adeel belonged to Karachi while Sepoy Faraz hailed from Kotli district of Azad Jammu and Kashmir.
The incident comes less than a week after four soldiers of the Army were martyred and one other was injured in two separate incidents of firing by militants near the Afghan border.
The first of those incidents had occurred in North Waziristan tribal district, where miscreants had opened fire on a routine patrolling party of security forces near the Abba Khel area of Spinwam tehsil, claiming the life of Sepoy Akhtar Hussain, 23. Two miscreants were also killed in the subsequent exchange of fire.
The banned Tehreek-i-Taliban Pakistan (TTP) had claimed responsibility for the ambush.
In the second incident in Dir, suspected terrorists had opened fire from across the Pak-Afghan border on Pakistani troops who were busy in border fencing. Three soldiers were martyred.
Following the attacks, the Foreign Office had summoned the Afghan Charge d' Affairs to lodge a formal protest against the firing incidents.
Pakistan has already fenced an over 900-kilometre-long portion of the Afghan border in an attempt to prevent movement of miscreants and terrorists between the two countries.
Full report at:
https://www.dawn.com/news/1506317/pakistan-army-major-sepoy-martyred-in-ied-explosion-near-afghan-border-ispr
--------
Europe
France terror threat: Warning issued as 'homegrown jihadis' remain huge concern
By ROMINA MCGUINNESS
Sep 19, 2019
However, M Nuñez warned the threat "has not diminished". He told FranceInfo radio: "Unfortunately, the threat level remains unchanged." The UK Foreign Office has also warned "terrorists are very likely to try to carry out attacks in France". M Nuñez said "homegrown" jihadists inspired by the Islamic State (Isis) group's ideology remained the biggest security threat to France, stoking fresh concerns over the organisation's ability to wield influence even after its territorial defeat in Iraq and Syria.
"The greatest threat is the so-called homegrown threat by radicalised individuals based in France. These are people who obey ISIS and are inspired by its propaganda," he said, adding that would-be jihadists were most likely to launch low-tech knife and vehicle attacks.
US-backed forces pushed Isis out its remaining territory in March.
Hundreds of foreign fighters are now being held in detention camps while western governments try and work out what to do with them.
France has so far refused to take back citizens who joined the group's so-called "caliphate," insisting adults captured in Iraq or Syria should face trial locally despite the risk of capital punishment.
states should "remain prudent" amid claims Isis has strengthened its insurgent capabilities in Iraq and is re-surging in Syria.
It is crucial for western governments to "track" their movements, he said.
The security chief's warning echoed a recent, alarming UN report on global terrorism, in which analysts said that Isis could launch a fresh wave of terrorist attacks before the end of the year, including those designed to "exacerbate existing dissent and unrest" in Europe.
UN experts on the Security Council Counter-Terrorism Committee said that Isis officials were currently focused on "adapting, consolidating and creating conditions for an eventual resurgence" despite their recent setbacks.
The group, though short on funds, is actively seeking ways to "reinvest in the capacity to direct and facilitate complex international attacks," the July report said.
"The current abatement of such attacks, therefore, may not last long, possibly not even until the end of 2019," according to the UN.
Isis, which is still worth between £40 million ($50m) and £240 million ($300m), is using propaganda to maintain its "virtual caliphate," the analysts added.
The report was based on the intelligence assessments of UN member states.
European governments believe that around 5,000 to 6,000 of their citizens travelled to Syria and Iraq to join extremist movements, most of them pledging allegiance to Isis.
About a third were killed, while another third are being held in detention or have moved elsewhere. More than 2,000 may have returned to Europe.
Paris and other European capitals are on high alert after a string of attacks in recent years by Islamist militants, most of them inspired by Isis.
Jihadists have killed more than 230 people in France since early 2015 and dozens more have lost their lives in attacks in London, Manchester, Barcelona and Brussels.
https://www.express.co.uk/news/world/1180146/france-news-france-terror-threat-ISIS-france-islamic-extremism-terrorist
--------
Interpol detects foreign terror suspects in Mediterranean
19 September 2019
Interpol says it has detected more than a dozen suspected "foreign terrorist fighters" crossing the Mediterranean Sea during a six-week operation.
The international police organisation carried out more than 1.2 million searches at ports in six countries between 24 July and 8 September.
Operation Neptune II focussed on busy tourist routes between North Africa and southern Europe.
It resulted in 31 active investigative leads, Interpol says.
In a separate development, France and Italy called for a new system to automatically redistribute migrants across the EU as the number of people entering Europe surged.
The current system, French President Emmanuel Macron said, was particularly unfair on Italy.
Only this week, hundreds of migrants arrived in Italy and Greece, many travelling by boat from Libya and Turkey.
What did Interpol say?
During the operation Interpol used its vast database to look for signs of illegal activity such as stolen travel documents and vehicles.
Officials from Algeria, France, Italy, Morocco, Spain and Tunisia carried out the searches at seven ports in the area.
"When information is shared between regions via Interpol's networks at the global level, every check, border control or random search is a potential break in a terror investigation," said Interpol's Secretary General Jürgen Stock.
"This is how Interpol acts as a global tripwire, by disrupting the movement of individuals linked to criminal and terrorist activities," Mr Stock added.
Full report at:
https://www.bbc.com/news/world-europe-49758650
--------
UK's Conservative Party faces backlash over Islamophobic posts
Sep 20, 2019
The UK's Conservative Party faces a backlash after the recent suspension of some of its members over their Islamophobic posts.
Government Minister, Kwasi Kwarteng, confirmed on Friday that action had been taken when those particular Conservative Party members were suspended, but the minister failed to elaborate on what specific actions they took.
More than 20 new cases were recently linked to Islamophobia, ranging from individuals "liking" Islamophobic pictures or statements on one or two occasions, to people who said they were Tory members regularly posting anti-Muslim content.
The news marks the latest to come from a surge in far-right, as well as mainstream, Islamophobic views in British politics.
The Guardian last month unearthed a 2007 essay written by current PM Boris Johnson, which further incited Islamophobic attitudes. He said that Islam has caused the Muslim world to be "literally centuries behind" the West.
Moreover last year, Mr. Johnson compared Muslim women wearing burqas to bank robbers and letterboxes.
A report by an independent monitoring group found that the number of anti-Muslim hate crimes reported across Britain increased by 593% in the week after a white supremacist killed worshippers at two New Zealand mosques earlier this year.
The real figures are likely to be higher. Only some hate crimes incidents are reported, with victims often feeling there is no point in complaining.
Islamophobic comments made by prominent figures are, according to them, a means of allowing the UK to end uncontrolled immigration.
Full report at:
https://www.presstv.com/Detail/2019/09/20/606667/Tories-face-backlash-over-Islamophobic-posts
--------
South Asia
Prime Minister Hasina says Rohingya are "a burden" for Bangladesh
by Sumon Corraya
Sep 21, 2019
Dhaka (AsiaNews) - The Rohingya refugees who fled violence in Myanmar are a burden for Bangladesh, this according to Bangladesh Prime Minister Sheikh Hasina (pictured) who spoke to the United Kingdom All-Party Parliamentary Group (APPG) yesterday.
Led by president Anne Main, British lawmakers presented the prime minister with the final report on their visit to Cox's Bazar refuge camps.
Since "the Liberation War in 1971 when an estimated 10 million Bangladeshis took shelter in India as refugees, we know pain and sufferings of refugees but now the Rohingya have emerged as a big burden for us and the local people have to face immense suffering for them," Sheikh Hasina said.
In recent weeks, some Bangladeshis have complained about the Rohingya, echoing people in Rakhine, the Myanmar state the Muslim minority left starting in August 2017.
In Cox's Bazar refugee camps, many refugees use cell phones and smartphones illegally; crimes have increased with robberies, murders, prostitution and drug trafficking.
Some Rohingya have been able to get away from the reception facilities and reach neighbouring towns where they have mingled with the local population in an attempt to obtain a passport and move to a third country.
Many claim that the refugees represent a threat to security since Islamist militancy is spreading increasingly among them.
On 9 September, the Bangladesh Telecommunications Regulatory Commission ordered all operators to shut down 3G and 4G services in the camps. The refugees report that the high-speed service was closed the following day.
A week earlier, the government had ordered the closure of all 3G and 4G services between 5 pm and 6 am. At present, 2G services seem to remain available but limited only to calls and text messages.
Activists and NGOs working in Cox's Bazar camps are urging the Bangladeshi government to lift the restrictions immediately.
http://www.asianews.it/news-en/Prime-Minister-Hasina-says-Rohingya-are-a-burden-for-Bangladesh-48060.html
--------
Afghan forces to receive more advanced rifles from the United States
20 Sep 2019
The Afghan National Defense and Security Forces (ANDSF) will receive more advanced rifles from the United States as per a new contract of the Department of Defense.
The Department of Defense in a statement said it has awarded a new contract worth $41,924,594 to Colt's Manufacturing Co. LLC, West Hartford, Connecticut for the production of M4 and M4A1 carbine rifles.
The statement further added that the company will deliver the rifles to Afghan armed forces and the armed forces of Bahrain, Djibouti, Federated States of Micronesia, Hungary, Jordan, Kuwait, Lebanon, Macedonia, Marshall Islands, Palau, St. Vincent and Grenadines, and Tunisia.
Furthermore, the Defense Department said Work locations and funding will be determined with each order.
Full report at:
https://www.khaama.com/afghan-forces-to-receive-more-advanced-rifles-from-the-united-states-04084/
--------
Afghanistan: US confirms drone attack that killed 30 farmers
Sep 21, 2019
The US forces in Afghanistan have admitted that a drone attack that killed at least 30 pine nut farmers in Nangarhar province on Thursday was conducted by them.
At least 40 others were injured in the attack in Wazir Tangi area of Khogyani district that was previously attributed to the West-backed Afghan government.
A spokesman for US forces in Afghanistan confirmed on Thursday that the drone attack was conducted by the US with the intention of destroying a hideout used by the fighters of the Islamic State of Iraq and the Levant (ISIL or ISIS) group.
"Initial indications are members of Daesh [ISIL] were among those targeted in the strike," Colonel Sonny Leggett, spokesman for the American-led coalition in Afghanistan said.
"However, we are working with local officials to determine whether there was collateral damage."
Sohrab Qaderi, a provincial council member in Nangarhar said on Thursday that the drone attack killed 30 workers in a pine nut field and at least 40 others were injured.
The defence ministry in Kabul confirmed the raid, but refused to share casualty details immediately.
Attaullah Khogyani, a spokesman for the provincial governor of Nangarhar confirmed the air raid.
"The government is investigating the incident. So far nine bodies are collected from the attack site near a pine nut field," he said.
Malik Rahat Gul, a tribal elder in Wazir Tangi, said the air raid happened at a time when tired workers, mainly daily wage earners, had gathered near their tent after harvesting pine nuts in a field nearby.
"The workers had lit a bonfire and were sitting together when a drone targeted them," said Gul.
Earlier this month, four brothers were killed in a raid by the CIA-trained and funded 02 Unit of the National Directorate of Security (NDS) spy agency.
Spike in Taliban attacks
Also on Thursday, at least 39 people were killed in Zabul province's Qalat city in a suicide car bomb blast claimed by the Taliban armed group.
Hundreds of people have been killed in the past several weeks, as the West-backed government forces and Taliban fighters have stepped up attacks since a peace deal between the armed group and the United States collapsed earlier this month.
The Taliban fighters wanted to target a training base for Afghanistan's powerful spy agency, NDS, in Qalat city but parked the explosives-laden truck outside a hospital gate nearby, a defence ministry source said.
Al Jazeera's Rob McBride, reporting from the capital, Kabul, said several women, children, health workers and patients in the hospital were critically injured in the blast.
"[The] truck bomb that drove up against an exterior wall of the NDS building detonated, but right next door was a provincial hospital that has taken the brunt of this explosion ... the death toll is likely to rise," he said.
The spike in Taliban attacks comes as Afghanistan prepares for the presidential election scheduled to be held on September 28.
The Taliban has warned that its fighters will step up their campaign against the Afghan government and foreign forces to dissuade people from voting in the presidential election.
"The government is still going ahead with its preparation for elections and trying to open up the number of polling stations," McBride said.
"As the Taliban say, they are still open to peace talks; the Afghan government is saying it has to resume only after elections."
More than nine million Afghans are expected to vote in the presidential election, for which the government has deployed more than 70,000 security forces across the country.
US President Donald Trump abruptly ended talks with the Taliban earlier this month for a deal on the withdrawal of thousands of American troops from Afghanistan in exchange for security guarantees from the Taliban.
Full report at:
https://www.aljazeera.com/news/2019/09/afghanistan-dozens-civilians-killed-drone-attack-190919072728303.html
--------
Death toll from Taliban bomb attack rises to 39
Sep 20, 2019
KABUL: The death toll from a massive Taliban bomb attack which flattened a hospital in southern Afghanistan earlier this week has risen to at least 39, officials said Friday.
The jump in the toll from the blast, which took place in the town of Qalat in Zabul province on Thursday, takes the total number of people killed in just three days of violence across the war-torn country this week to at least 91.
"The toll from the hospital attack in Qalat has jumped to 39 killed, 140 others wounded," Gul Islam Seyal, the spokesman for the provincial governor, told AFP.
Earlier, authorities had said the blast had killed 20 people.
Another official put the toll even higher Friday, at 41.
The surge in violence, with civilians paying the heaviest price, has come after US President Donald Trump called off talks with the Taliban that could have seen Washington begin withdrawing troops, and as the country gears up for a presidential election.
The insurgents responded to Trump's declaration that the talks were "dead" earlier this month by promising to continue fighting, and have vowed to target the September 28 polls.
But they also left the door open for talks to resume. The White House has said the talks will not continue if the violence does, but the Taliban have argued that the US is also killing people in Afghanistan.
Thursday's bloodshed began with the Qalat bomb near dawn.
Hours later, reports emerged of an air strike in eastern Nangarhar province said to have killed at least nine civilians.
"US forces conducted a precision strike against Da'esh terrorists in Nangarhar early (on September 19)," Col. Sonny Leggett, spokesman for US Forces-Afghanistan, said in a statement on Friday, using the Arabic acronym for the Islamic State militant group. "We are aware of allegations of the death of non-combatants and are working with local officials to determine the facts to ensure this is not a ploy to deflect attention from the civilians murdered by the Taliban at a hospital in Zabul earlier."
The strike came just hours after four people were killed on Wednesday when unknown gunmen and a suicide bomber stormed a government building in nearby Jalalabad, capital of Nangarhar.
On Tuesday, the Taliban killed nearly 50 people in two separate attacks -- one at a campaign rally for President Ashraf Ghani in the central province of Parwan, and the other in Kabul.
Full report at:
https://timesofindia.indiatimes.com/world/rest-of-world/death-toll-from-taliban-bomb-attack-rises-to-39/articleshow/71225484.cms
--------
Airstrikes kill 8 Taliban and ISIS militants; destroy weapons cache and a car bomb
20 Sep 2019
The security forces conducted airstrikes in four provinces in the past 24 hours killing at least 8 Taliban and ISIS militants.
The military officials said Friday that the security forces conducted an airstrike in Qarah Bagh district of Ghazni province which killed a Taliban fighter.
The officials further added that an airstrike in Charkh district of Logar destroyed a car bomb.
Furthermore, an airstrike killed 3 Taliban militants and destroyed a small cache of weapons in Imam Sahib district of Kunduz province.
Full report at:
https://www.khaama.com/airstrikes-kill-8-taliban-and-isis-militants-destroy-weapons-cache-and-a-car-bomb-04085/
--------
Special Forces detain 12 Taliban militants in Kabul, other provinces; destroy weapons caches
20 Sep 2019
The Afghan Special Forces arrested at least 12 Taliban militants during the operations in Kabul and other provinces.
The military officials said Friday that the Afghan Special Forces conducted multiple raids in Deh Yak district of Ghazni during which they arrested 4 Taliban militants.
The officials further added that the Special Forces also destroyed a small cache of weapons during the operations.
Furthermore, the Special Forces arrested 6 Taliban militants during an operation in Arghistan district of Kandahar province.
Full report at:
https://www.khaama.com/special-forces-detain-12-taliban-militants-in-kabul-other-provinces-destroy-weapons-caches-04083/
--------
Taliban militants suffer heavy casualties in Kandahar, Ghazni ad Badghis airstrikes
21 Sep 2019
The security forces conducted airstrikes in Kandahar, Ghazni and Badghis provinces, inflicting heavy casualties on Taliban militants.
The military officials said Saturday an airstrike in Arghistan district of Kandahar killed 10 Taliban militants and wounded 2 others.
The officials further added airstrikes in Andar district of Ghazni province killed 3 Taliban militants.
Full report at:
https://www.khaama.com/taliban-militants-suffer-heavy-casualties-in-kandahar-ghazni-ad-badghis-airstrikes-04086/
--------
Mideast
IRGC ex-head: Iran will respond to US plots from Mediterranean to Indian Ocean
20 September 2019
A top military advisor to Iran's Supreme Leader Ali Khamenei said on Friday that Iran will respond from the Mediterranean to the Indian Ocean against any US conspiracies, the semi-official Mehr news agency reported.
Maj. Gen. Yahya Rahim Safavi said that, "Thirty years after the Sacred Defence, the Islamic Revolution has become an invincible power in West Asia, and if the Americans are thinking of conspiring [against Iran], the Iranian nation will respond to them starting from the Mediterranean to the Red Sea and the Indian Ocean."
The "Sacred Defense" is a term used by the Iranian regime to refer to the eight-year-long war with Iraq. Iran celebrates "Sacred Defense Week" every year at this time of the year.
"The Americans should take [Hezbollah leader] Hassan Nasrallah's words seriously. Any anti-Iranian move will transform the region," added Safavi.
Nasrallah had reaffirmed his loyalty to Iran and Khamenei on September 10, and had stressed that he will not be on the fence if "Iran is involved in any war."
Safavi also praised Iran's military strength. "The Americans are well aware that we have a wise and brave leader, as well as powerful armed forces," claimed Safavi.
He also said that Iran is pursuing "the policy of creating peace and lasting security in West Asia," adding that "We hope that our regional and trans-regional enemies know that Iran does not intend to attack or invade any countries."
Safavi made other comments on topics ranging from Iran's regional role to US Secretary of State Mike Pompeo, who he accused of lying.
"The Supreme Leader is not [only] Iran's commander-in-chief, but he is the commander of the forces defending Palestine, Syria and Yemen," said Safavi.
"[US Secretary of State Mike] Pompeo was formerly the head of the CIA. their job is to deceive and lie," he added, presumably reacting to Pompeo blaming Iran for attacks on key Saudi oil facilities on September 14.
"The Americans know that the emerging power of the Islamic Revolution and the Resistance Front is on the rise, and that the power of their supporters is on the decline," he added.
Safavi also addressed US President Donald Trump and his administration's sanctions policy of maximum pressure, which aims to cut Iran off from international finance in response to Tehran's refusal to stop supporting terrorist organizations across the region.
US President Donald Trump will "suffer the same fate as the six presidents who came and went before him, all of whom failed in imposing their political will on the Iranian nation and government," he said.
"The patient Iranian nation will overcome these economic pressures and sanctions," aded Safavi.
https://english.alarabiya.net/en/News/middle-east/2019/09/20/IRGC-head-Iran-will-respond-to-US-plots-from-Mediterranean-to-Indian-Ocean.html
--------
Yemen's Iran-backed Houthis say Hodeidah 'escalation' violates Stockholm deal
20 September 2019
Yemen's Iran-backed Houthi militia said on Friday that the "escalation" north of Hodeidah violates the Stockholm deal, in reference to an Arab Coalition military operation.
The Arab Coalition launched a military operation north of the port city of Hodeidah against what it described as legitimate military targets, the coalition sources reported on Friday.
The coalition reported the destruction of four assembly sites for remote-controlled boats and naval mines.
A day earlier, the Arab Coalition had intercepted and destroyed an explosives-laden boat launched by Houthis from the port of Hodeidah.
Full report at:
https://english.alarabiya.net/en/News/gulf/2019/09/20/Yemen-s-Iran-backed-Houthis-say-Hodeidah-escalation-violates-Stockholm-deal.html
--------
Zarif slams US-proposed 'Coalition for Peaceful Resolution' targeting Iran
Sep 20, 2019
Iranian Foreign Minister Mohammad Javad Zarif has slammed the US' proposed "Coalition for Peaceful Resolution" seeking to "counter" Iran.
Zarif compared the US-backed initiative to a list of eight peace initiatives proposed by Tehran in a tweet on Friday.
Among the list were the Iran's recently proposed Persian Gulf region non-aggression pact, the 2017 Astana accord for Syria and a 2015 peace plan for Yemen.
Javad Zarif
✔
@JZarif
"Coalition for Peaceful Resolution"?
Iran's diplomatic iniatives:
'85 Security in Persian Gulf
'97 Dialogue Among Civilizations
'13 World Against Violence
'13 Syria Peace Plan
'14 Regional Dialogue Forum
'15 Yemen Peace Plan
'17 Astana Process
'19 Regional Non-Aggression Pact
2,736
10:23 AM - Sep 20, 2019
Twitter Ads info and privacy
1,002 people are talking about this
Zarif made the tweet a day after Washington said it was seeking to create an anti-Iran coalition. US Secretary of State Mike Pompeo had described the initiative as a "coalition aimed at achieving peace."
Washington's so-called "coalition" announcement came in response to an attack led by Yemeni Armed Forces against Saudi Arabia's oil facilities over the weekend.
The attack effectively halved the kingdom's oil production.
Washington and Riyadh rushed to blame Tehran for the air raids, prompting an outright rejection from Iranian officials.
Saudi Arabia and a number of its regional allies launched a devastating western-backed war on Yemen in March 2015, with the goal of bringing the government of former president Abd Rabbuh Mansur Hadi back to power and crushing the popular Houthi Ansarullah movement.
Resistance by Yemen's armed forces, led by Ansarullah, has, however, pushed the Saudi war to a stalemate, with Yemeni forces increasingly using sophisticated home-made weaponry in retaliatory strikes against the coalition.
Earlier on Friday, Zarif also slammed US hypocrisy regarding the war on Yemen, highlighting that Washington effectively valued oil more than the Yemeni lives lost amid the ongoing aggression against the country.
Javad Zarif
✔
@JZarif
Arab blood vs. Arab oil / A primer on U.S. policy:
- 4 yrs of indiscriminate bombardment of Yemen
- 100,000 dead Yemenis
- 20M malnourished Yemenis
- 2.3M cholera cases
= carte blance for culprits.
- Retaliatory Yemeni strike on oil storage tanks
= unacceptable "act of war"
7,471
2:44 AM - Sep 20, 2019
Twitter Ads info and privacy
3,731 people are talking about this
Zarif heads to New York despite visa delay
Iran's top diplomat made the remarks shortly before leaving Tehran to attend to the 73rd session of the United Nations General Assembly in New York.
Iranian President Hassan Rouhani is also scheduled to go to New York on Monday.
Zarif's departure comes after a long visa delay for the Iranian delegation had prompted wide speculation regarding possible cancellation of the foreign minister and the president's trip.
The US imposed sanctions on the Iranian foreign minister late July, with US Secretary of State Mike Pompeo claiming that the top Iranian diplomat is a "key enabler" of Iran's policies throughout the region and the world.
The move was seen as part of Washington's campaign of "maximum pressure" against Tehran in a bid to isolate and weaken the country after Trump withdrew from the Iran 2015 nuclear deal May last year, and re-imposed sanctions lifted under the landmark agreement.
Asked about whether Iranian officials would be banned from taking part in the UN General assembly on Wednesday, Pompeo had suggested that Washington may consider the measure.
"I would say this: if you're connected to a foreign terrorist organization, it seems to me it would be a reasonable thing to think about whether they ought to be prevented to attend a meeting which is about peace," he said.
Zarif, however, slammed his "novice counterpart's" remarks on Thursday, reminding him that Washington was obligated to issue the visas.
Javad Zarif
✔
@JZarif
.@SecPompeo tries to dodge US obligation to issue visas for UN delegates by resorting to self-arrogated designations.
history lesson, perhaps, for my novice counterpart:
Nelson Mandela was on U.S. Terrorist Watch List until 2008; 15 years after receiving Nobel Peace Prize.
3,604
3:42 PM - Sep 19, 2019
Twitter Ads info and privacy
1,590 people are talking about this
Despite Pompeo's earlier remarks, President Trump said he would "let them come" when asked about the matter on Thursday, raising speculation that the president was unaware of the visa issue.
"I've always felt the United Nations is very important. I think it's got tremendous potential. I don't think it's ever lived up to the potential it has, but I would certainly not want to keep people out if they want to come."
Zarif's departure on Friday also came shortly after UN Secretary-General Antonio Guterres said that the international body had intervened to solve the matter.
"We have been in contact with the host-state to solve all outstanding visa problems in relation to delegations and I hope that this will allow to solve the problem," he said.
Trump has repeatedly signaled his apparent willingness to meet with Iranian officials in a bid to "renegotiate" the 2015 nuclear deal, with some analysts floating the idea that a meeting could have taken place in the upcoming UN General Assembly.
Iranian officials have, however, dismissed any prospect of talks as long as the US doesn't adhere to the previously multilaterally-agreed nuclear deal.
Full report at:
https://www.presstv.com/Detail/2019/09/20/606651/Zarif-questions-USproposed-peace-coalition
--------
Iran Entrenches Its "Axis of Resistance" Across the Middle East
By Robin Wright
September 19, 2019
Spy Mountain, the moniker for Mt. Avital, rises high on the Biblical Golan Heights. Surveillance antennas are conspicuous atop a heavily fortified installation. It's Israel's forward observation post peering into Syria; it's also now the place from which Israel monitors Iran and its allies on the other side of the border. Roughly a kilometre away, on the Syrian side, is Sleeping Elephant Hill, nicknamed for its shape. In 2012, Iran's Revolutionary Guard and its Hezbollah allies set up a signals-intelligence post on the hill to monitor Israel. In 2015, they attempted to set up a more robust military presence nearby. An Israeli air strike took out their reconnaissance team, including the Revolutionary Guard general Mohammad Ali Allah-Dadi and Jihad Mughniyah, the Iranian-trained son of Imad Mughniyah, the assassinated first military commander of Hezbollah.
As it usually does, Iran temporarily stepped back, regrouped, and modified its tactics. In 2016, the Revolutionary Guard started shipping kits to convert short-range rockets into longer-range missiles, with precision guidance systems capable of hitting strategic targets in Israel, from an electricity grid to an airport or a desalination plant. "That's what's called a game-changer," Uzi Rubin, the former head of Israel's Missile Defense Organization, told me. "They converted a weapon of terror into a military weapon for war. They'd only need two hundred to stop Israel's ability to wage its own war."
By early 2018, the Revolutionary Guard had deployed at some forty military facilities in Syria, with their own headquarters, drone-control rooms, and training centers. At least a third of them were deployed to target Israel, not just to prop up the Syrian regime in its civil war, Israeli defense officials told me. Since early 2017, Israel has launched more than two hundred strikes against Iranian targets in Syria—the most recent in August—to contain the buildup.
On a sunny day last year, I looked across a peaceful plateau that surrounds Spy Mountain and Sleeping Elephant Hill. The area is green with farmland, apple and pear orchards, and vineyards for Golan wine. Most of the time, it's deceptively quiet. The Iranians are not visible. They now come and go dressed in Syrian military uniforms, a decoy tactic since Russia brokered a deal, a year ago, to keep Iran's personnel and weaponry eighty-five kilometres from the border, Israeli officials told me. They've also hired residents in the Golan to work for them, as part of a widening network of armed allies in Syria, not all of whom are Syrian. And their weapons transfers keep coming.
Tehran and Jerusalem may be a thousand miles apart, but Iran's so-called axis of resistance—which, by some counts, totals more than a hundred Shiite militias, with widely diverse manpower and matériel—has become entrenched across the Middle East, right up to Israel's borders with Syria and Lebanon. Iran's network spans half a dozen countries and has so fundamentally altered the region's strategic balance that no nation can take on Iran and its proxies without risking multiple military challenges, major loss of life, devastating damage to infrastructure, or instability rippling through other nations. That applies even to the United States, nuclear-armed Israel, or Saudi Arabia, which spent fifty-five billion dollars—or roughly five times—more on defense in 2017 than Iran did.
Iran is unlikely to win a conflict. But it could insure that others don't win, either, at least not in the classic sense of a decisive victory. If Israel tried to destroy Iran's ally in Lebanon, Hezbollah, "we would be able to destroy Beirut, but they would be able to destroy parts of Tel Aviv," Eran Etzion, the former head of policy planning at the Israeli Foreign Ministry, told me.
The same general principle applies to other countries contemplating military action against Iran after the September 14th attack on two Saudi sites that process more than half of the kingdom's oil production. The Trump Administration blamed Tehran. On Wednesday, Saudi Arabia's Ministry of Defense displayed parts of the weapons used in the attacks by eighteen unmanned drones and seven cruise missiles. Iran "sponsored" them, it claimed.
En route to Saudi Arabia, Secretary of State Mike Pompeo told reporters that the attack was "an act of war." In an interview with CNN on Thursday, the Iranian Foreign Minister, Mohammad Javad Zarif, shot back with a warning of "all-out war" with "a lot of casualties" if the United States or Saudi Arabia strikes Iran. "I am making a very serious statement that we don't want to engage in a military confrontation," he said. "But we won't blink to defend our territory."
Iran could respond to any strike on its territory by unleashing its allies elsewhere in the Middle East, as it did in the nineteen-eighties, when it aided proxies that bombed two U.S. embassies and the barracks of U.S. Marine peacekeepers in Lebanon. The attacks ended up forcing the Reagan Administration to withdraw its peacekeepers.
Iran's oldest, most sophisticated, and best-armed proxy is Lebanon's Hezbollah. Iraq has the largest collection of Iranian-backed militias—more than sixty. Some are decades old; others are new. Syria hosts a growing array of Iran-orchestrated warlords, gangs, and armed groups created during the chaos of its civil war. Iran also arms and trains Yemen's Houthi rebels, who claimed the September 14th attack on Saudi oil installations, and Hamas, which rules Gaza, and Palestinian Islamic Jihad. Among the more recent Iranian-mobilized militias are the Fatemiyoun, from Afghanistan, and the Zainabiyoun, from Pakistan. "Iran wants hegemony in the region not by re-creating the Persian Empire that occupied all lands to Egypt but, this time, by building up a satellite force across the region," Rubin told me. Last year, the U.S. National Defense Strategy, the first in a decade, concluded, "In the Middle East, Iran is competing with its neighbors, asserting an arc of influence and instability while vying for regional hegemony, using state-sponsored terrorist activities, a growing network of proxies, and its missile program to achieve its objectives."
The Trump Administration's "maximum pressure" campaign, aimed at squeezing Iran economically, and Israel's air strikes on Iranian targets in Syria, Lebanon, and Iraq have had limited impact, according to a report by the Center for Strategic and International Affairs. "There has been an increase in the overall size and capability of foreign forces that are partnered with the Islamic Revolutionary Guards Corps," Seth Jones, a former adviser to the commanding general of U.S. Special Operations Forces, wrote. "Iran's economic woes have not contributed to declining activism in the region."
What's shifted in recent years is Iran's ability to consolidate allies and proxies into a web or grid that can operate regionally. The Islamic Republic facilitates the movement of militias to bolster other allies. The Quds Force pulled Shiite militias from Lebanon, Iraq, Pakistan, and Afghanistan to fight in Syria. In 2014, it manipulated the transfer of militias from the Shiite-dominated region of southern Iraq to Sunni regions in the north, to fight isis. It has fostered offshoots of Hezbollah in Iraq, Syria, and the Gulf, albeit with mixed effectiveness. "What matters is that Iran can now connect the dots—from Lebanon to Syria to Iraq," an Israeli defense official told me.
Iran's allies in the axis of resistance have, in turn, entered politics, transforming armed movements into powerful players in governments that decide policy. They're altering the political status quo across the Middle East, too. Hezbollah emerged from the underground in 1992 to run for parliament in Lebanon, the most Westernized Arab country. Today, it has seats in parliament and also cabinet posts, and the Christian President is its hand-picked ally. By 2003, Iran had deepened its presence in Iraq through a network of Shiite militias commanded by Iranian-trained operatives. By 2014, a proliferating array of militias—with tens of thousands of fighters—merged into the Popular Mobilization Forces (P.M.F.) to fight isis after the Iraqi Army collapsed. The Baghdad government put them on its payroll. In 2016, Parliament made the P.M.F. an independent arm of Iraq's security forces. In 2018, militia leaders and politicos ran for parliament. They now constitute one of the strongest blocs and had a major role in selecting Iraq's latest Prime Minister.
In Yemen, the Houthis are a political movement—called Ansar Allah, or "Supporters of God"—and also a militia. In 2015, they seized control of Sana'a, the Yemeni capital, and ousted the government. The Houthis now rule much of northern Yemen. Iran's role in arming and training the Houthis has deepened since Saudi Arabia launched an air war against the Shiite rebels, four years ago. Iranian missiles and drones have allegedly been used in targeting Saudi installations. Under Iranian tutelage, Hezbollah has created a branch in Yemen.
Iran has even out-gamed Israel—despite Tehran's military limits, economic woes, and diplomatic challenges. "Israel is tactical. Iran is strategic. Israel is short-term, Iran is long-term," Etzion said. "Iran is the master of the indirect proxy war—and Israel is not."
From Iran's prism, it's a survival strategy—defensive rather than offensive. "Iran feels strategically lonely," Nasser Hadian, a U.S.-educated political scientist at the University of Tehran, told me. Strengthening Shiite minorities across the region—whether arming or politically empowering them—is Iran's ultimate line of defense. The common denominator is Iran's Quds Force and its commander, General Qassem Soleimani, a former bodybuilder turned military commander, who has become Iran's strategic puppeteer. He has been photographed with Shiite militias across the Middle East. Iran may now be able to count on more than a hundred and eighty thousand armed men in proxy forces in six countries—Lebanon, Syria, Iraq, Yemen, Afghanistan, and Pakistan—Jones wrote, in the C.S.I.S. report. That's an increase of up to fifty thousand since 2011.
Full report at:
https://www.newyorker.com/news/our-columnists/iran-entrenches-its-axis-of-resistance-across-the-middle-east
--------
4 killed in bomb attack on passenger bus in SE Yemen
2019-09-20
ADEN, Yemen, Sept. 19 (Xinhua) -- A roadside bomb explosion hit a passenger bus in Yemen's southeastern province of Hadramout on Thursday, leaving four people killed, a security official told Xinhua.
The Yemeni security official, who spoke on condition of anonymity, said that the roadside blast struck the civilian bus while it was traveling near the Saudi-Yemeni border post of Wadia in Hadramout province.
"An explosive device hit a traveling bus carrying 46 passengers near the Wadia crossing, killing four passengers and injuring 21 others, six of them seriously," the source added.
The Improvised Explosive Device (IED) was apparently planted to target a military convoy of the Saudi Arabia-led coalition that passed later through the same road, according to the official.
Earlier in the day, a roadside bomb blast struck a military patrol of the Saudi-led coalition forces in the historic town of Shibam in Hadramout province that's controlled by Yemeni government forces.
A Yemeni official based in Hadramout confirmed to Xinhua that the blast killed a Saudi army commander named as Abu Nawaf along with five of his bodyguards.
No one immediately claimed responsibility for the attacks in Hadramout. But militants of the Yemen-based al-Qaida branch are active in the region and often use roadside bombs to target government officials as well as Yemeni security forces.
Full report at:
http://www.xinhuanet.com/english/2019-09/20/c_138405685.htm
--------
Turkey: Ankara, Jakarta important Muslim democracies
Riyaz ul Khaliq
20.09.2019
Turkey and Indonesia are two important democracies in the Muslim world, Turkey's parliament speaker said Friday.
Speaking at reception of the 74th independence of Indonesia in Ankara, Mustafa Sentop said the two countries needed to strengthen their strategic partnership.
"Turkey and Indonesia need to increase the frequency of bilateral visits," Sentop said in his speech during the celebrations themed, "Advance human resource, advance Indonesia".
"Indonesia can contribute greatly to the regional and global peace," he added.
Sentop underlined that Turkish President Recep Tayyip Erdogan's upcoming visit to Indonesia in first few months of next year would further accelerate bilateral relations.
For his part, Indonesian ambassador Lalu Muhammad Iqbal said Turkey and his country had "millions of reasons to be close".
"Indonesia and Turkey are bound by destiny… We can easily find chemistry in our relations," he told the listeners including diplomats from various countries.
Iqbal identified education, tourism, industry, science, culture, defense as areas in which the two countries "cooperate closely" in bilateral and multi-lateral forums.
Noting that current bilateral trade volume stood at $1.6 billion as of 2018, he said: "It is far below our potentials…Together, we will be able to meet the target set out by our two leaders to reach $10 billion in the coming years."
70 years of diplomatic relations
Turkey and Indonesia will celebrate 70 years of diplomatic relations in 2020. The two countries set up formal diplomatic contacts in 1950.
On the occasion, Turkey's parliament speaker and Indonesia's ambassador jointly inaugurated the activities for the commemoration ceremony.
Turkish and Indonesian participants presented choreographed Indonesian traditional dance inspired by both Indonesian and Turkish Islamic Sufism.
A logo to mark the 70 years of bilateral relations was also unveiled.
A two-minute silence on the demise of former Indonesian President Bacharuddin Jusuf Habibie was also observed during the event.
Full report at:
https://www.aa.com.tr/en/asia-pacific/turkey-ankara-jakarta-important-muslim-democracies/1589773
--------
Israel's Netanyahu clings to power as coalition talks loom
September 20, 2019
Israeli Prime Minister Benjamin Netanyahu faced local media headlines on Friday suggesting power is slipping from his grasp after an election in which he trails his main rival with nearly all votes counted.
The right-wing leader failed on Tuesday, for the second time in five months, to secure a clear election victory and the centrist Blue and White party led by ex-armed forces chief Benny Gantz rebuffed his calls to join a unity government on Thursday.
Near-final results released on Friday by the Knesset's election committee showed Blue and White will be the largest single party in the new parliament with 33 of the 120 seats, with Netanyahu's Likud winning 31 seats, three less than it had before.
Israeli newspapers and commentators depicted the 69-year-old leader as in a weakened position, with headlines such as: "Himself Alone" and "Political Death Spasms".
Israeli president Reuven Rivlin will on Sunday start consultations with the parties about choosing a leader to put together a coalition.
There were only narrow differences in the two main parties' campaigns on many important issues, and an end to the Netanyahu era would be unlikely to bring significant changes in policy on relations with the United States, the regional struggle against Iran or the Palestinian conflict.
Palestinian elections?
Palestinian President Mahmoud Abbas appeared to see Israel's coalition drama as an opportunity for his government in the occupied West Bank to announce election plans.
Abbas told reporters outside Norway's parliament that he would issue a decree for elections across the West Bank, Gaza Strip and East Jerusalem when he returns to the Palestinian Territories following the UN General Assembly in New York.
Despite a long rift with Gaza's Islamist rulers Hamas, Abbas said his Palestinian Authority, which exercises limited self-rule in the West Bank, would be ready to accept a Hamas victory "because Hamas is a part of our people, we cannot exclude Hamas. They have a right to vote and to nominate themselves."
Some political analysts said Abbas was unlikely to follow through on his election pledge, pointing to difficulties holding a national vote across Gaza and the West Bank and East Jerusalem, each of which has a different ruling entity.
There have not been any national Palestinian elections for 13 years. Abbas was elected president in 2005 and Hamas won a 2006 parliamentary election, plunging Palestinian politics into a bitter power struggle from which it has not emerged.
Peace plan
One uncertainty is the timing of US President Donald Trump's long-delayed Middle East peace plan, which was expected soon after Israel's election, but could unsettle a weakened Netanyahu if released during complex coalition negotiations.
On Friday, Netanyahu met Trump's outgoing Middle East envoy Jason Greenblatt, a chief architect of the plan.
Many political analysts are waiting to see how Netanyahu tries to prolong his political survival, not least to claim a public mandate in the face of possible corruption charges that prosecutors may bring within months.
He denies wrongdoing, accusing his critics of mounting a witch-hunt. In his election campaign, Netanyahu pledged to annex large swaths of the West Bank, territory Israel captured in a 1967 war where Palestinians seek a state along with Gaza and East Jerusalem.
The move drew condemnation from world leaders as detrimental to achieving a lasting peace accord.
Gantz has urged redoubled efforts to restart peace talks with the Palestinians but stopped short of any commitment to the statehood they seek. He has spoken less concretely of Israel maintaining security control of the Jordan Valley.
Netanyahu and Gantz will now seek potential coalition allies, prominent among whom is the far-right former defence minister Avigdor Lieberman. He secured eight seats for his Yisrael Beitenu party, making him a potential kingmaker.
Increased turnout by Israel's 21-per cent Arab minority saw the Arab-dominated Joint List coalition grouping win 13 seats, making it the third largest grouping.
The religious parties representing Israel's Ultra-Orthodox communities, known as Haredim, remain a significant force, with Shas winning nine seats and United Torah Judaism eight seats.
Full report at:
https://www.dawn.com/news/1506328/israels-netanyahu-clings-to-power-as-coalition-talks-loom
--------
Yemen's Houthis announce plan to conditionally halt strikes against Saudi Arabia
Sep 20, 2019
Yemen's Houthi Ansarullah movement says it will stop launching retaliatory missile and drone attacks against positions inside Saudi Arabia if the Saudi-led military coalition, which has been pounding impoverished Yemen for the past several years, reciprocates the initiative in kind.
The Ansarullah's president of the Supreme Political Council in the Yemeni capital, Sana'a, Mahdi al-Mashat, made the announcement on Friday.
"We are announcing that we will stop targeting Saudi territories with drones and ballistic missiles and all kinds of targeting, and we will wait for the favor to be returned with a similar or even better one by (Saudi Arabia) announcing a halt to all sorts of air strikes against Yemeni territories," Yemen's Arabic-language al-Masirah television network quoted him as saying.
Mashat's comments came almost a week after Houthi fighters conducted drone and missile strikes on two of Saudi Arabia's oil facilities, in Abqaiq and Khurais. The attacks led to a halt in about 50 percent of the Arab kingdom's crude and gas production, causing a surge in oil prices.
Saudi Arabia and a number of its regional allies launched a devastating campaign against Yemen in March 2015, with the goal of bringing Yemen's former regime back to power and crushing the Houthi movement, which significantly helping the Yemeni army in defending the country against invaders.
The Houthi top official also called for serious negotiations to be held among all parties involved in the persisting conflict.
"I call on all parties from different sides of the war to engage seriously in genuine negotiations that can lead to a comprehensive national reconciliation that does not exclude anyone," Mashat said, while boasting the Houthi movement's rapidly improved military capabilities and "significant advancement" in air and missile defense.
He also warned that that the Houthis "would not hesitate to launch a period of great pain" if their call for peace was ignored.
The US-based Armed Conflict Location and Event Data Project (ACLED), a nonprofit conflict-research organization, estimates that the war has claimed more than 91,000 lives over the past four and a half years.
The war has also taken a heavy toll on the country's infrastructure, destroying hospitals, schools, and factories. The UN says over 24 million Yemenis are in dire need of humanitarian aid, including 10 million suffering from extreme levels of hunger.
The Houthis publicly took credit for the September 14 attacks against Saudi oil facilities, but the US swiftly blamed Iran.
Full report at:
https://www.presstv.com/Detail/2019/09/20/606702/Yemen-Houthis-Saudi-Arabia-strikes-oil-Iran-US
--------
Israeli forces injure over 75 Palestinians in Gaza
Sep 20, 2019
More than 75 Palestinians have been injured as the Israeli forces attacked anti-occupation protests near the fence between the besieged Gaza Strip and the occupied territories.
The Gazan Health Ministry said 74 protesters and two medics were injured during the 75th Friday of protests.
Ashraf al-Qedra, the spokesman for the ministry, said in a tweet that 48 of the wounded were hit by live ammunition fired by the Israeli troops.
Palestinians have been holding weekly rallies in Gaza since last year to protest the siege on the enclave and stress the right to return of the Palestinians who have been externally displaced by Israeli aggression since 1948.
At least 307 Palestinians have been killed by Israeli forces ever since the anti-occupation protest rallies began in the Gaza Strip on March 30, 2018. Over 18,000 Palestinians have also sustained injuries.
In March, a United Nations (UN) fact-finding mission found that Israeli forces committed rights violations during their crackdown against the Palestinian protesters in Gaza that may amount to war crimes.
Gaza has been under Israeli siege since June 2007, which has caused a decline in living standards.
Full report at:
https://www.presstv.com/Detail/2019/09/20/606690/Israeli-forces-injure-over-75-Palestinians
--------
Saudi Arabia pressuring wealthy families to fund Aramco IPO after Yemeni strike
Sep 20, 2019
Saudi Arabia is pressuring wealthy families to invest in the initial public offering (IPO) of Aramco after suffering substantial damage from a major Yemeni drone attack, according to reports.
Riyadh has drawn up a plan to "strong arm", "coerce" or "bully" the families into the project, according to the London-based international business daily The Financial Times.
Many of the targeted families were already being pursued as part of a so-called "anti-corruption" crackdown launched in 2017, when Saudi royal family were imprisoned in the Ritz Carlton hotel, some of which were tortured.
The report comes nearly a week after the Yemeni Armed Forces launched a major drone attack against Saudi Arabia's oil facilities, effectively halving the kingdom's oil production.
The latest attack also came as Saudi Arabia, the world's top crude exporter, had been accelerating preparations for a much-anticipated initial public offering of Aramco.
The IPO forms the cornerstone of a program envisaged by de facto ruler Crown Prince Mohammed bin Salman, a son of King Salman, to replenish the kingdom's once buoyant reserves which have dwindled amid falling oil prices and the protracted Yemen war.
JPMorgan, Goldman Sachs, Morgan Stanley and Credit Suisse are among Western financiers working on the IPO.
Full report at:
https://www.presstv.com/Detail/2019/09/20/606662/Saudi-Arabia-pressuring-wealthy-families-to-fund-Aramco
--------
Yemen's President Hadi appoints new ministers in government reshuffle
September 20, 2019
DUBAI: President Abd Rabbu Mansour Hadi issued a decree on Thursday evening appointing new foreign and finance ministers in a cabinet reshuffle to lead the key state institutions.
In a statement, the president's office, based in Saudi Arabia's capital of Riyadh, said that Hadi appointed Ahmed Obaid Al-Fadhli as governor of the Central Bank of Yemen, succeeding Hafedh Meyyad and Salem bin Breik as Minister of Finance, succeeding Minister Al-Fadhli.
The Yemeni president also appointed former ambassador Mohammed Abdullah Mohammed Al-Hadrami as Minister of Foreign Affairs, replacing Khalid Al-Yamani, who resigned last June.
Al-Fadhli becomes the fourth governor of the central bank since its relocation in Aden from the Houthi controlled capital, Sanaa.
Full report at:
https://www.arabnews.com/node/1557156/middle-east
--------
URL: https://www.newageislam.com/islamic-world-news/united-states-administration-threatens-cut/d/119802
New Age Islam, Islam Online, Islamic Website, African Muslim News, Arab World News, South Asia News, Indian Muslim News, World Muslim News, Women in Islam, Islamic Feminism, Arab Women, Women In Arab, Islamophobia in America, Muslim Women in West, Islam Women and Feminism