New Age Islam News Bureau
14 December 2020
Image © English Heritage
------
• Police in India Have Rounded Up Muslim Men and Disrupted Interfaith Marriage Ceremonies under New Laws Prohibiting So-Called 'Love Jihad'
• Pakistani Doctor, Dr Naqeeb Khalid Based In Toronto, Develops Smartphone-Based Covid-19 Test
• Hefazat-e-Islam Playing the Role That Jamaat-e-Islami Played During The 1971 Liberation War: Advisor to PM
• 'Ground-Breaking Reform' As Moroccan Schools to Teach Jewish History
• Hadi Plays Down Hindu Temple Demolition In PAS-Led Kedah, Insists Legal And Not Religious Problem
• Saudi Played Role in Morocco-Israel Normalization: Report
• Iran Says Morocco Israel Deal 'Betrayal of Islam'
• US Court Rejects Bail Plea of 26/11 Accused Tahawwur Rana
Europe
• United Kingdom Has Declared Pak Nobel Laureate Dr Abdus Salam's House in London a National Heritage Site
• Rights Groups Urge UK to Join Rohingya Case at ICJ
• French support for Haftar is shame: Libyan minister
• French FM ahead of Macron visit: Lebanon's collapse is like the Titanic's sinking
• Four Azerbaijan soldiers killed in areas near Nagorno-Karabakh region
• Turkish foreign minister recalls Bosnian War
• Azerbaijan criticizes OSCE Minsk group on Karabakh
• Italy legislature severs ties with Egyptian parliament
--------
India
• Police in India Have Rounded Up Muslim Men and Disrupted Interfaith Marriage Ceremonies under New Laws Prohibiting So-Called 'Love Jihad'
• Saudi Deported Indians For Protesting Against Narendra Modi's Anti-Muslim Register
• Pakistan violates ceasefire along IB, LoC
• Pakistan Made another Attempt To Push Terrorists Into Kashmir To Disturb Ongoing Polls: Jammu and Kashmir Police DGP
-------
Pakistan
• Pakistani Doctor, Dr Naqeeb Khalid Based In Toronto, Develops Smartphone-Based Covid-19 Test
• Thousands Gather in Pakistan, Seeking End to Imran Khan's Government
• My narrative is the same as Quaid-i-Azam's, says Nawaz at PDM's Lahore power show
• Pak Opposition alliance holds its final rally, announces long march to force PM Imran Khan to resign
• Impossible but Pakistan army wants to wipe out Mohajirs, says MQM founder
--------
South Asia
• Hefazat-e-Islam Playing the Role That Jamaat-e-Islami Played During The 1971 Liberation War: Advisor to PM
• Bangladesh govt approves primary list of 1,222 martyred intellectuals
• 83 Taliban Killed in MoD Operations
• Scores Busted over Multiple Charges across Afghanistan
• Miller Says Has 'Orders to Reduce U.S. Military Presence' in Afghanistan
-----
Africa
• 'Ground-Breaking Reform' As Moroccan Schools to Teach Jewish History
• Prominent Nigerian Cleric: Sheikh Zakzaky Still Imprisoned at Riyadh's Order
• Sudan's PM visits Ethiopia, as Tigray refugees top 50,000
• Nigerian authorities step up efforts to rescue kidnapped students
• At least 27 killed in latest Boko Haram attack in Niger
• Muslim scholars call for release of Nigerian cleric Sheikh Zakzaky
• Muslim scholars slam Morocco's normalization of ties with Israel
• Nigerian troops kill 20 Boko Haram terrorists
• Boko Haram kills at least 27 in southeast Niger
--------
Southeast Asia
• Hadi Plays Down Hindu Temple Demolition In PAS-Led Kedah, Insists Legal And Not Religious Problem
• Indonesia Arrests Firebrand Islamist Cleric For Breaching Coronavirus Restrictions
• Muis urges Muslims to take Covid-19 vaccine once available, found to be safe and effective
• What Hardline Islamic Cleric Rizieq Shihab's Return Means for Indonesian Politics
• Professor Wan Maseri's teachings to be referred to National Fatwa Council
• Indonesian police arrest top Al Qaeda-linked Jemaah Islamiah militant
--------
Arab World
• Saudi Played Role in Morocco-Israel Normalization: Report
• 'Fake News' In Lebanon Causes Anxiety, Panic For Those Bombarded With Misinformation
• UAE, Israel export credit agencies sign agreement following peace deal
• After Israel visit, Emiratis return to UAE with positive views of Palestinians
• One sheriff in town: Saudi Arabia launches 'mini Ritz' crackdown, sparks terror
• Explosion hits tanker off Saudi Arabia's Jeddah
• Turkish-backed militants attack areas in northeastern Syria
• US plan to blacklist Iraqi Badr Organization as terrorist meant to protect Israel: Official
• Syrian media: US military tankers smuggle crude oil from Hasakah to Iraq again
--------
Mideast
• Iran Says Morocco Israel Deal 'Betrayal of Islam'
• Iran jails British-Iranian researcher for 9 years for 'subversive' research work
• Iran forum postponed as journalist, diplomats withdraw over journalist's execution
• 'Business as usual with Iran' will be mistake: Israel's Netanyahu
• Hamas says armed struggle only way to confront 'Zionist enemy'
• Israeli forces arrest dozens of Palestinians in West Bank, al-Quds
• Palestinians condemn Israel-Morocco normalisation deal
• Turkey to send ambassador to Israel for first time in two years: Paper
• UAE, Bahrain envoys to US celebrate Jewish holiday
--------
North America
• US Court Rejects Bail Plea of 26/11 Accused Tahawwur Rana
• Biden's incoming national security aide condemns Iran's execution of journalist
• US officially removes Sudan from State Sponsor of Terror list: Embassy
• Israeli diplomat warns Biden against resuming UNRWA funding
• US confirms strike on Taliban in Afghanistan's Zhari
Compiled by New Age Islam News Bureau
URL: https://www.newageislam.com/islamic-world-news/united-kingdom-declared-pak-nobel/d/123753
--------
United Kingdom Has Declared Pak Nobel Laureate Dr Abdus Salam's House In London A National Heritage Site
Dec 13, 2020
Image © English Heritage
------
Islamabad: The United Kingdom has declared Pakistani Nobel laureate Dr Abdus Salam's house in London a national heritage site. Dr Salam, who was awarded the Nobel Prize for his contribution to the electroweak unification theory in 1979, has always remained an unpopular figure in Pakistan due to his Ahmadi faith.
A Blue Plaque has been installed on the house in Putney, which Dr Salam used as his base in London from 1957 until his death in 1996. "Abdus Salam 1926-1996, Physicist, Nobel Laureate and Champion of Science in developing countries, lived here," the plaque reads.
Dr Salam was a passionate promoter of science education in the developing world and had founded the International Centre for Theoretical Physics (ICTP) in Trieste, Italy, in 1964, where scientists from developing countries would be able to come regularly to interact with leaders in the field.
Dr Salam won accolades all over the world for his groundbreaking research in theoretical physics but became a victim of the narrow-mindedness of Pakistani society due to his faith. The Ahmadi community feels he was betrayed.
After his death, the local administration had asked the Ahmadi community to remove the word 'Muslim' from the inscription on his grave which said "the first Muslim Nobel laureate". The word had been painted over, and it now reads as "the first Nobel laureate."
https://timesofindia.indiatimes.com/world/pakistan/pak-nobel-laureates-london-home-now-national-heritage-site/articleshow/79710094.cms
--------
Police in India Have Rounded Up Muslim Men and Disrupted Interfaith Marriage Ceremonies under New Laws Prohibiting So-Called 'Love Jihad'
Hannah Ellis-Petersen South Asia correspondent
Mon 14 Dec 2020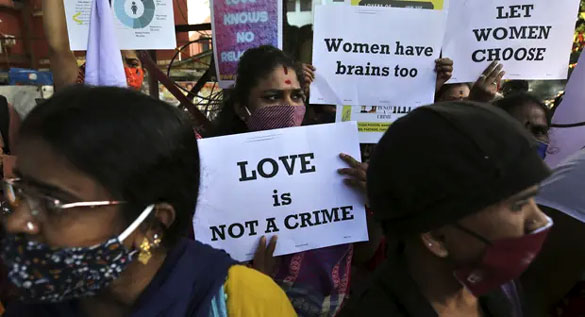 Protests in Bengaluru this month over the law prohibiting forced religious conversions. Photograph: Aijaz
--------
Police in India have rounded up Muslim men and disrupted interfaith marriage ceremonies under new laws prohibiting so-called "love jihad".
In the northern state of Uttar Pradesh, police have begun cracking down on marriages between Muslims and Hindus and have arrested at least 10 Muslim men under a law that prohibits forced religious conversions.
"Love jihad" is a Hindu rightwing conspiracy theory claiming that Muslim men lure Hindu women into marriage in order to force their conversion to Islam. Though the central government admitted in February it had no official records of any incidents of the practice, the theory has gained so much traction in India that it has been used to justify legislation enacted in Uttar Pradesh and is proposed in four other Indian states.
This week a marriage between two Muslims was stopped by police in Kushinagar, Uttar Pradesh, after a tipoff by a Hindu rightwing group. The police stormed the ceremony and arrested Haider Ali, 39, who was kept in custody overnight and alleged that the police tortured him for hours using a leather belt. It was only after the family produced evidence that his bride was Muslim by birth that they released Ali.
The Uttar Pradesh crackdown has fuelled fears that the "love jihad" law is being used to target Muslims and outlaw consensual interfaith marriage in Uttar Pradesh. No Hindus have been arrested under the new law.
A day after the law was enacted in early December, police in the city of Lucknow violently halted a wedding ceremony between a Hindu woman, Raina Gupta, and a Muslim man, Mohammad Asif, that was to include both Hindu and Muslim rituals. The families, who supported the union, said neither was going to convert religion, but the wedding was still prevented from going ahead.
In another case, a Muslim man, Owais Ahmad, was arrested last week and sentenced to 14 days judicial custody for allegedly trying to pressure a Muslim woman into converting to Islam and eloping in 2019, following a case filed by her father. The woman is now married to a Hindu man, and Ahmad said he had "no link with the woman".
A 27-year-old Muslim man, Rashid, and his brother were arrested last week in Moradabad. They had been attempting to register Rashid's marriage to a 22-year-old Hindu woman, Muskan Jahan, who had converted to Islam prior to the wedding. As the trio visited a lawyer, they were surrounded by members of a rightwing Hindu group, Bajrang Dal, who accosted them and brought them to the police station.
Rashid remains in jail in Uttar Pradesh on charges of forcible conversion of his wife, while Jahan was taken to a shelter by the police. Addressing the Bajrang Dal members as they surrounded her, Jahan denied any coercion. "I am an adult, I am 22 years old. I got married of my own free will," she said.
https://www.theguardian.com/world/2020/dec/14/muslims-targeted-under-indian-states-love-jihad-law
--------
Pakistani Doctor, Dr Naqeeb Khalid Based In Toronto, Develops Smartphone-Based Covid-19 Test
Amin Ahmed
14 Dec 2020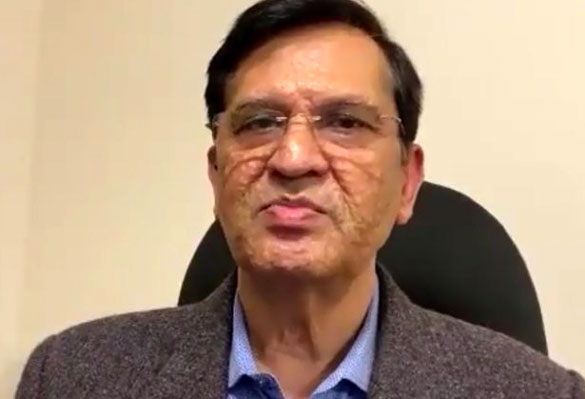 Dr Naqeeb Khalid. SCREENGRAB
----
ISLAMABAD: A Pakistani doctor based in Toronto has introduced an instant Covid-19 diagnostic test using a smartphone.
Pakistan High Commissioner to Canada Raza Bashir Tarar has congratulated Dr Naqeeb Khalid for his extraordinary achievement.
In a video conversation with Dr Naqeeb Khalid who led the development of smartphone-based diagnostic test for Covid-19 as Director of Medical Device Programme at the Montreal-based Two-Photon Research Inc., the high commissioner said the idea of the Covid test being displayed and communicated by the smartphone was novel and laudable.
He expressed the hope that such a quick, hassle-free, accessible and affordable invention would be of immense help to the humanity in overcoming the current pandemic and fighting viruses causing tropical diseases such as dengue etc.
The high commissioner said that clinical trials of the innovation would prove its efficacy for the Covid-19 test and pave the way for necessary approvals before being put to use at the mass level.
He conveyed his best wishes to Dr Naqeeb Khalid and his brother Najeeb Khalid who collaborated with him due to his background in a broad range of engineering and science disciplines.
Dr Naqeeb Khalid, who graduated from King Edward Medical University in 1983, before acquiring experience in invention of medical devices and systems, told the high commissioner that his innovation was based on a digital platform that displayed the result instantly on any smartphone and can also communicate or store the results along with time and GPS information.
A smartphone App will be available for download from the AppStore. "Instant, accurate and low-cost testing that does not rely on laboratory testing is essential in containing the pandemic and together with vaccines, we can control the Covid-19 outbreak and return our lives and economies to normal," said Najeeb Khalid.
https://www.dawn.com/news/1595661/pakistani-doctor-develops-smartphone-based-covid-19-test
--------
Hefazat-e-Islam Playing the Role That Jamaat-e-Islami Played During The 1971 Liberation War: Advisor to PM
December 13th, 2020
Hefazat-e-Islam is opposing a government plan to install statues of Sheikh Mujibur Rahman
Sajeeb Ahmed Wazed Joy has said that hardline group Hefazat-e-Islam, by opposing Bangabandhu's statue, is playing the role that Jamaat-e-Islami played during the 1971 Liberation War.
The son and ICT Advisor to Prime Minister Sheikh Hasina made the remarks while describing the achievements in the 12 years of the Awami League government's "Digital Bangladesh" initiative at a webinar on Saturday to mark the fourth Digital Bangladesh Day.
"We have been taking Bangladesh forward to transform it into a modern, developing country," he said.
"However, I'd like to conclude with a word of caution. There is a group that has raised its head in a bid to take the country backwards. They are threatening to transform Bangladesh into Afghanistan," added Joy.
"What do we call them? We call them Razakar. There was the Jamaat in 1971, and now Hefazat-e-Islam is becoming the new Razakar," he remarked.
Hefazat-e-Islam and other radical Islamic groups are opposing a government plan to install statues of Sheikh Mujibur Rahman in celebration of his birth centenary, citing that statues are forbidden in Islam.
Some political and cultural groups have responded by protesting against the Islamists' threat to tear down statues, and demanded arrest of Islamist leaders for their offensive remarks about Bangabandhu.
"They dared to vandalize the statue of the Father of the Nation Bangabandhu on his birth centenary. Attacking his statue means attacking the spirit of our independence. Those who stand against Bangladesh have carried out the attack," said Joy, grandson of Sheikh Mujibur Rahman.
"Will we slip back into being that old country? No, we won't let it happen as long as the Awami League is in power. I would like to say on behalf of the youth that we must eliminate this fundamentalist force."
"We, Bangladesh Awami League, liberated the country and modernized it. We've made Bangladesh a developing country by confronting all the challenges. We know how to deal with the Razakar," he furthered.
https://www.dhakatribune.com/bangladesh/2020/12/13/joy-hefazat-e-islam-becoming-the-new-razakar
--------
'Ground-Breaking Reform' As Moroccan Schools to Teach Jewish History
December 13, 2020
RABAT: Jewish history and culture in Morocco will soon be part of the school curriculum – a "first" in the region and in the North African country, where Islam is the state religion.
The decision "has the impact of a tsunami", said Serge Berdugo, secretary-general of the Council of Jewish Communities of Morocco.
It "is a first in the Arab world", he told AFP from Casablanca.
Prominent Nigerian Cleric: Sheikh Zakzaky Still Imprisoned at Riyadh's Order
For years, although the kingdom had no official relationship with Israel, thousands of Jews of Moroccan origin visited the land of their ancestors, to celebrate religious holidays or make pilgrimages, including from Israel.
But Morocco this week became the fourth Arab nation since August to announce a US-brokered deal to normalise relations with Israel, following the United Arab Emirates, Bahrain and Sudan.
Israeli Prime Minister Benjamin Netanyahu said liaison offices would be reopened in Tel Aviv and Rabat, which Morocco closed in 2000 at the start of the second Palestinian uprising, and full diplomatic relations would be established "as rapidly as possible".
Morocco confirmed the deal, saying King Mohammed VI had told outgoing US President Donald Trump his country had agreed to establish diplomatic relations with Israel "with minimal delay".
Inoculation against extremism
The decision to add Jewish history and culture to lessons was discreetly launched before the diplomatic deal was announced.
Part of an ongoing revamp of Morocco's school curriculum since 2014, the lessons will be included from next term for children in their final year of primary school, aged 11, the education ministry said.
The move aims to "highlight Morocco's diverse identity", according to Fouad Chafiqi, head of academic programmes at the ministry.
Morocco's Jewish community has been present since antiquity and grew over the centuries, particularly with the arrival of Jews expelled from Spain by the Catholic kings after 1492.
At the end of the 1940s, Jewish Moroccans numbered about 250,000 – some 10% of the population.
Many left after the creation of the state of Israel in 1948, and the community now numbers around 3,000, still the largest in North Africa.
Jewish presence in Moroccan culture now appears in the primary-level social education curriculum, in a section dedicated to Sultan Sidi Mohammed Ben Abdellah, known as Mohammed III.
The 18th-century Alawite ruler chose the port of Mogador and its fortress, built by Portuguese colonists, to establish the coastal city of Essaouira.
Under his leadership, the diplomatic and commercial centre became the only city in the Islamic world counting a majority Jewish population, and at one point had 37 synagogues.
"While there was a Jewish presence in Morocco before the 18th century, the only reliable historical records date back to that time," Chafiqi said.
Tolerance, diversity
Two US-based Jewish associations – the American Sephardi Federation and the Conference of Presidents of Major American Jewish Organizations – said they "worked closely with the Kingdom of Morocco and the Moroccan Jewish community" on the "groundbreaking" academic reform.
"Ensuring Moroccan students learn about the totality of their proud history of tolerance, including Morocco's philo-Semitism, is an inoculation against extremism," leaders of the two organisations said in a statement published on Twitter last month.
Also in November, Education Minister Said Amzazi and the heads of two Moroccan associations signed a partnership agreement "for the promotion of values of tolerance, diversity and coexistence in schools and universities".
The accord was symbolically inked at Essaouira's "House of Memory", which celebrates the historic coexistence of the city's Jewish and Muslim communities.
Among those present was Andre Azoulay, a member of the local Jewish community who is also an adviser to King Mohammed VI.
The king, Morocco's "Commander of the Faithful", has pushed for a tolerant Islam that ensures freedom of worship for Jews and foreign Christians.
In September 2018, at a UN roundtable, he emphasised the role of education in the fight against racism and anti-Semitism.
Morocco "has never erased its Jewish memory," said Zhor Rehihil, curator of Casablanca's Moroccan Jewish Museum – the only one of its kind in the region.
History teacher Mohammed Hatimi said introducing Jewish identity into Morocco's education programme would help nurture "future citizens conscious of their diverse heritage".
The move will also be part of a revision of the secondary school curriculum set for next year, according to Chafiqi from the education ministry.
https://www.freemalaysiatoday.com/category/world/2020/12/13/groundbreaking-reform-as-moroccan-schools-to-teach-jewish-history-and-culture/
--------
Hadi plays down Hindu temple demolition in PAS-led Kedah, insists legal and not religious problem
13 Dec 2020
BY SOO WERN JUN
KUALA LUMPUR, Dec 13 — Datuk Seri Abdul Hadi Awang asserted today that conflict between the PAS-led Kedah government and MIC over the demolition of a Hindu temple in the state has been resolved.
The Islamist party president also defended the state government's demolition of the temple in Taman Bersatu, Kuala Kedah on December 1.
"It has already been resolved according to laws," he told reporters at the PAS headquarters.
He said the party has "discussed with MIC" but did not elaborate on the outcome.
Hadi insisted the issue at stake was a legal matter and not a religious one, again without elaborating.
A public spat broke out between PAS and MIC, the Indian component party of ally Barisan Nasional, earlier this month.
MIC deputy president Datuk Seri M. Saravanan accused Kedah Mentri Besar Muhammad Sanusi Md Nor of breaking a promise to inform him if any temples were to be demolished in the state.
Penang Deputy Chief Minister ll P. Ramasamy said Sanusi has proven himself to be a racist and religious extremist who should not remain in power, as well as questioning the need to destroy temples to build motorcycle parks or futsal courts.
On December 5, Sanusi chided MIC and DAP leaders for making much noise over the temple demolition which he described as "a little trouble".
The mentri besar said the temple was demolished because it was built on gazetted land, denying that his decision was prompted by racial or religious prejudice.
https://www.malaymail.com/news/malaysia/2020/12/13/hadi-plays-down-hindu-temple-demolition-in-pas-led-kedah-insists-legal-and/1931552
--------
Saudi played role in Morocco-Israel normalization: Report
12 December 2020
Saudi Arabia has reportedly played a role in the recent US-mediated normalization agreement between Morocco and the occupying Israeli regime.
Citing unnamed diplomatic sources, Israel's Channel 12 TV reported on Friday that Riyadh was involved in the deal, without elaborating on details.
The report also said it was "very possible" that Saudi Arabia would be prepared to normalize relations with Tel Aviv soon.
In a sign of Saudi support, a prominent newspaper associated with the kingdom's royal family put the Morocco-Israel accord on its front page, according to the report.
Meanwhile, Israel's Channel 13 TV reported that Saudi Arabia was working together with the outgoing administration of US President Donald Trump to get several other countries to sign deals with Israel, possibly before president-elect Joe Biden takes office next month.
Saudi Crown Prince Mohammed bin Salman was following the matter closely in a bid to prepare the ground for an eventual Saudi-Israel deal, the report said, speculating that Oman and Indonesia would be next to establish ties with Israel.
On Thursday, Trump tweeted that Morocco had decided to normalize relations with Israel after Washington agreed to recognize Rabat's sovereignty over the disputed territory of Western Sahara.
Morocco became the fourth Arab country to take such a controversial step in the past few months.
In mid-September, Israeli Prime Minister Benjamin Netanyahu signed normalization pacts with Emirati Foreign Minister Sheikh Abdullah bin Zayed Al Nahyan and Bahrain's Foreign Minister Abdullatif Al Zayani during an official ceremony hosted by Trump at the White House.
The following month, Trump said Israel and Sudan had also established economic ties as a pathway toward normalized ties.
After Trump's announcement on Morocco's normalization with Israel, his son-in-law and senior adviser, Jared Kushner, said that an Israel-Saudi agreement was inevitable and that the only issue that had to be worked out was the timeframe.
"Israel and Saudi Arabia coming together and having full normalization at this point is an inevitability, but the timeframe… is something that has to be worked out," he told reporters, noting that such a deal would require "strong US leadership in the region."
Palestinians have condemned the normalization agreements with the Tel Aviv regime as a treacherous "stab in the back" of their cause against the Israeli occupation.
Morocco-Israel normalization 'betrayal' of Palestine
On Friday, Hossein Amir-Abdollahian, special assistant to the speaker of Iran's Parliament, denounced Rabat's decision to establish relations with Israel.
"Morocco announcing normalizing relations with the fake entity occupying Jerusalem al-Quds is a betrayal and a stab in the back of Palestinian resistance," he tweeted. "Certainly, the Zionists will have no place in the future of the region."
US to sell $1bn worth of weapons to Morocco
In a separate development on Friday, the White House notified Congress of potential weapons sales to Morocco worth $1 billion.
The deal includes four MQ-9B SeaGuardian drones as well as Hellfire, Paveway and JDAM precision-guided munitions, Reuters reported, citing sources familiar with the notification.
https://www.presstv.com/Detail/2020/12/12/640565/Saudi-Arabia-Israel-Morocco-normalization
--------
Iran says Morocco Israel deal 'betrayal of Islam'
12 Dec 2020
TEHRAN, Dec 12 — An adviser to Iran's supreme leader Ayatollah Ali Khamenei has condemned Morocco"s normalisation of ties with the Islamic republic"s arch foe Israel, calling it a "betrayal of Islam".
The kingdom on Thursday became the fourth Arab state this year to normalise relations with Israel, in a deal announced by outgoing US President Donald Trump.
In return, Washington fulfilled a decades-old goal of Rabat by recognising its sovereignty over disputed Western Sahara.
"The deal between the triangle of America, Morocco and the Zionist regime was done in exchange for Morocco's betrayal of Islam (and) the Palestinian cause, selling Muslims' honour to international Zionism," foreign policy adviser Ali Akbar Velayati said on his official website Friday.
He added that the normalisation of ties with Israel was "not a new thing" as the kingdom had maintained a liaison office in Israel in the past.
Morocco follows the United Arab Emirates, Bahrain and Sudan in what the Trump administration calls the Abraham Accords.
Blasting all four, Velayati said they will "witness popular uprisings in a not so distant future" as their "dependent, submissive and authoritarian" leaders are unmasked.
US recognition of Moroccan sovereignty over the Western Sahara has infuriated the pro-independence Polisario Front, which controls about a fifth of the vast region.
Rabat, which has close ties with Iran's regional rival Saudi Arabia, severed diplomatic relations with Tehran in 2018 accusing it of backing the Polisario, a charge Iran denied. — AFP
https://www.malaymail.com/news/world/2020/12/12/iran-says-morocco-israel-deal-betrayal-of-islam/1931390
--------
US court rejects bail plea of 26/11 accused Tahawwur Rana
Dec 14, 2020
WASHINGTON: A US court has denied the bail plea of Pakistani-origin Canadian businessman Tahawwur Rana, a key accused in the 2008 Mumbai terror attack and declared a fugitive by India, asserting that he has not negated the "risk of flight".
Rana, 59, a childhood friend of David Coleman Headley, was rearrested on June 10 in Los Angeles on an extradition request by India for his involvement in the Mumbai terror attack in which 166 people, including six Americans, were killed.
Pakistani-American LeT terrorist Headley was involved in plotting the 2008 Mumbai terror attack. He was made an approver in the case, and is currently serving a 35-year prison term in the US for his role in the attack.
Magistrate Judge Jacqueline Chooljian, the US District Court of Los Angeles, in his order on December 10 said that Rana "presented a robust bail package" and offered conditions that significantly mitigate the risk of flight.
But the "Court cannot find that he has negated the risk of flight" and as such granted the request of the US government to the continued detention of Rana.
Meanwhile, the US government in the court has supported India's request that the documents submitted by it in support of extradition of Rana be not made public.
The extradition documents presented by India apparently include information about Rana's involvement in the Mumbai terrorist attack that would be shared with him.
"Although the United States has no affirmative discovery obligations in extradition matters, in this case, it has agreed to provide Rana a document in its possession from an unrelated 'state court' proceeding in India. India has requested that the United States take steps to limit public dissemination of this document," US Attorney Nicola T Hanna said in a court submission on Friday.
Rana has informed the United States that he may seek to introduce materials provided as discovery and labelled "general discovery materials" and "sensitive discovery materials" in United States v Kashmiri, Case in opposition of the United States' Request for Extradition. These discovery materials are subject to a protective order issued in the Northern District of Illinois, it said.
In his December 10 order, the judge said Rana was currently facing multiple criminal charges emanating from India in connection with alleged conduct by him that at least to some degree overlaps with and formed a basis for federal criminal charges on which Rana was tried in Chicago and relates to the November 2008 terrorist attack in Mumbai.
Rana in his bail plea said that his health is in poor condition, including two heart attack while in custody and two weeks of illness early this year. Rana argued that he was not a danger to the community – which was opposed by the US government.
The judge noted that Rana did not perform any violent acts himself and instead provided material support to the Denmark plot by furnishing Headley with business cards, supporting his business cover, and providing him with logistical support for his travels and plots.
The nature of the offenses charged in India – which relate to the Mumbai attack – also weigh in favour of finding that Rana is a danger to the community, though the weight of the evidence on the same is far less conclusive, she wrote.
The conspiracy to commit murder and murder charges are obviously extremely serious and the letters filed by the government bring home the devastating impact the Mumbai attack had and continue to have on the victims and their families, the judge wrote.
The weight of the evidence presented to date against Rana on such charges is not overwhelming. The other two charges – Conspiracy to Commit Forgery for the Purpose of Cheating and the Conspiracy to Use as Genuine a Forged Document or Electronic Record – are far less serious in and of themselves – but the weight of the evidence presented to date against Rana as to those charges is far stronger, Chooljian wrote.
There is no question in the Court's mind that given Rana's significant foreign ties, particularly to Canada, and the potential death penalty awaiting him in India if he is extradited on and convicted of the most serious pending charges, that Rana is a flight risk, the judge wrote.
https://timesofindia.indiatimes.com/india/us-court-rejects-bail-plea-of-26/11-accused-tahawwur-rana/articleshow/79716383.cms
--------
Europe
Rights groups urge UK to join Rohingya case at ICJ
Büsra Nur Bilgiç Çakmak
12.12.2020
International human rights organizations on Friday urged the UK to support the genocide case against Myanmar at the International Court of Justice (ICJ) in The Hague.
"In September, the Netherlands and Canada said they were planning to make a formal intervention in the case. We now urge the British government to also throw its weight behind the case," said the statement issued by the human rights groups including the European Rohingya Council and Free Rohingya Coalition.
The groups added that it was becoming clear that the Myanmar government has no intention to follow the provisional measures set out by the court.
"More pressure from the international community is needed to end the ongoing genocide, and to assure accountability for the gravest of international crimes," it added.
In November 2019, Gambia filed the petition at the ICJ against Myanmar for failing to prevent or punish acts of genocide against Rohingya Muslims.
Earlier in January, the ICJ issued its "provisional measures" to Myanmar which required the Buddhist-majority country to prevent genocidal acts, ensure military and police forces do not commit genocidal acts, preserve all evidence of genocidal acts, and report on compliance with these provisional measures.
Myanmar is supposed to file the reports to the court after every six months. The first one was filed in May.
The Rohingya, described by the UN as the world's most persecuted people, have faced heightened fears of attack since dozens were killed in communal violence in 2012.
According to Amnesty International, more than 750,000 Rohingya refugees, mostly women, and children fled Myanmar and crossed into Bangladesh after Myanmar forces launched a crackdown on the minority Muslim community in August 2017, pushing the number of persecuted people in Bangladesh above 1.2 million.
Since Aug. 25, 2017, nearly 24,000 Rohingya Muslims have been killed by Myanmar's state forces, according to a report by the Ontario International Development Agency (OIDA).
More than 34,000 Rohingya were thrown into fires, over 114,000 more were beaten, and as many as 18,000 Rohingya women and girls were raped by Myanmar's army and police said the OIDA report, titled Forced Migration of Rohingya: The Untold Experience.
Over 115,000 Rohingya homes were burned down and some 113,000 others vandalized, the report added.
https://www.aa.com.tr/en/europe/rights-groups-urge-uk-to-join-rohingya-case-at-icj/2074607
--------
French support for Haftar is shame: Libyan minister
Gözde Bayar
12.12.2020
The military cooperation agreement between Turkey and Libya is open and declared, unlike the secret pact that warlord Khalifa Haftar has with his allies, the Libyan defense minister said on Friday.
"The military cooperation with Turkey is an open and declared agreement. It is not hidden as Haftar's alliances with his supporters," Salahuddin al-Namroush said in an interview with France 24, a Paris-based state-owned international news TV network.
"We hope that it [France] will change its attitude, but it is a shame that France has supported Haftar for years, "he said.
Underlining that it is not possible to accept Haftar because he is a war criminal, the defense minister said they are discovering new mass graves in Tarhuna and the south of Tripoli.
He said if forces loyal to Haftar continue to break the ceasefire, the internationally recognized Government of National Accord will withdraw from the agreement and fight against him.
With the support of mercenaries, Haftar attacked the south of Libya at a time when the Tripoli government respected the ceasefire agreement, he added.
Libya has been torn by civil war since the ouster of late ruler Muammar Gaddafi in 2011.
Based in the capital Tripoli and currently led by Prime Minister Fayez al-Sarraj, the Government of National Accord assumed office in 2015 under an UN-led agreement. But the efforts for a long-term political settlement have failed due to a military offensive launched by Haftar.
Al-Sarraj's government, which is also supported by Turkey, is recognized by the UN as Libya's legitimate authority.
Tripoli has been battling Haftar's militias since April 2019 in a conflict that has claimed thousands of lives.
https://www.aa.com.tr/en/europe/french-support-for-haftar-is-shame-libyan-minister/2074325
--------
French FM ahead of Macron visit: Lebanon's collapse is like the Titanic's sinking
13 December 2020
French Foreign Minister Jean-Yves Le Drian said Lebanon's political and economic collapse was like the sinking of the Titanic, only without the music.
"Lebanon is the Titanic without the orchestra," Le Drian told the daily Le Figaro in an interview published on Sunday. "The Lebanese are in complete denial as they sink, and there isn't even the music."
Le Drian's remarks set a pessimistic tone a little over a week before President Emmanuel Macron makes his third visit to Beirut since a massive port blast destroyed swathes of the city and killed 200 people in August.
Macron is losing patience with Lebanon's politicians as rival politicians mired in turf battles stand in the way of sweeping reforms that donors say are imperative for badly-needed financial aid to be released.
It is believed the Titanic's orchestra kept playing for as long as it could as the liner went down in the Atlantic Ocean in 1912, trying to help keep passengers calm amid impending doom. All the musicians perished.
https://english.alarabiya.net/en/News/middle-east/2020/12/13/French-FM-ahead-of-Macron-visit-Lebanon-s-collapse-is-like-the-Titanic-s-sinking
--------
Four Azerbaijan soldiers killed in areas near Nagorno-Karabakh region
13 December 2020
Four Azeri servicemen were killed when their units were attacked in areas adjacent to the breakaway Nagorno-Karabakh region, Azerbaijan's defense ministry said on Sunday.
Authorities in Armenia said six of their servicemen had been wounded in what they described as an Azeri military offensive, as the sides accused each other of violating a Russian-brokered ceasefire agreement.
https://english.alarabiya.net/en/News/world/2020/12/13/Four-Azerbaijan-soldiers-killed-in-areas-near-Nagorno-Karabakh-region
--------
Turkish foreign minister recalls Bosnian War
13.12.2020
The Dayton Peace Agreement brought "much-needed peace" to the people of Bosnia and Herzegovina after years of bitter fighting, Turkish Foreign Minister Mevlut Cavusoglu said in a video message on Saturday.
Participating in a virtual event organized by the Office of the High Representative in Bosnia and Herzegovina to commemorate the 25th anniversary of the Dayton Peace Accords, he said that the agreement ended the war and genocide in the country.
The peace agreement reached at Dayton city of US, on Nov. 21 1995 was formally signed in Paris, on Dec. 14. These accord ended the more than three-year-long Bosnian War.
"The achievements of Dayton have been remarkable. That said many things have changed in the last quarter-century. Therefore, we need to adapt to new realities. We need to have a better functioning system that will increase the welfare of all citizens of Bosnia-Herzegovina," said Cavusoglu.
He underlined that Turkey has a "strong commitment" to the territorial integrity and fundamental structure of Bosnia and Herzegovina as a single, sovereign state, comprising two entities and the Brcko District in the northern part of the country.
"The integrity, unity, and sovereignty of Bosnia and Herzegovina are crucial for Turkey. It is also a key element for maintaining peace and stability in the Balkans and beyond," said the Turkish foreign minister, adding that Turkey also supports efforts to improve regional cooperation for prosperity in the region.
Cavusoglu also stressed the support of Turkey in Bosnia-Herzegovina's progress towards Euro-Atlantic integration.
Urging the participants to look into the future, while not forgetting the past, the Turkish minister said that the suffering of innocent people during the siege of Sarajevo and the Srebrenica Genocide is still fresh in the minds.
"Justice and peace go hand in hand. Accountability serves as a strong deterrent for future crimes and also consolidates peace. Remembering the past and honoring those who lost their lives will remind us that we should protect peace at all costs," he said.
Ultra-nationalism brings sufferings
He emphasized that the language of hatred, intolerance, cultural and ethnic divisions, or ultra-nationalism brings nothing but suffering.
"Lessons learned from the pains of the past should guide us towards stronger cooperation in the region. We should appreciate our cultural differences. This is our richness," he added.
Noting that respecting the "other" is key for peaceful coexistence, Cavusoglu said that this is true not only for the Balkans but also for wider Europe and across the globe.
"The sufferings of 25 years ago must be a bitter reminder that rising xenophobia, racism, and Islamophobia especially in Europe must be prevented. This can only be achieved with strong political leadership that acts with wisdom rather than populism," he said.
He also pointed out that Turkey, as a member of the Peace Implementation Council Steering Committee, will continue to "fully support" the maintenance of peace and stability in Bosnia and Herzegovina.
"The future can be better when we are together," he concluded.
The role of High Representative was created under the General Framework Agreement for Peace in Bosnia and Herzegovina, usually referred to as the Dayton Peace Agreement. The brutal three-and-a-half-year war of Bosnia had resulted in around 100,000 deaths and one or worst human rights abuses in the recent past.
https://www.aa.com.tr/en/europe/turkish-foreign-minister-recalls-bosnian-war/2075074
--------
Azerbaijan criticizes OSCE Minsk group on Karabakh
Ruslan Rehimov
12.12.2020
Azerbaijan's president on Saturday said the Minsk group of Organization for Security and Co-operation in Europe (OSCE) has not yet played any role in resolving the Nagorno-Karabakh conflict which recently escalated after Armenian forces launched attacks on Azerbaijani civilians and security personnel.
Ilham Aliyev's remarks came amid an OSCE Minsk group meeting held in the capital Baku with the participation of the group's co-chairs France's Stephane Visconti and Andrew Schofer from the US, along with Personal Representative of the OSCE Chairperson-in-Office Andrzej Kasprzyk.
Aliyev said the status-quo in the region has changed and the Azerbaijani leadership resolved the decades-long conflict through force and diplomatic means.
Although the Minsk group of the OSCE produced ideas in an effort to resolve the dispute, these did not bear any fruit, according to the president.
Azerbaijan solved this problem on its own, Aliyev also said, adding that his country managed to beat Armenia on the battlefield.
The president further noted that Baku does not have any problem with the Armenian population living in the region, stressing that their living standards will rise under the Azerbaijani rule.
Karabakh conflict
Relations between the former Soviet republics have been tense since 1991 when the Armenian military occupied Nagorno-Karabakh, a territory recognized as part of Azerbaijan, and seven adjacent regions.
When new clashes erupted on Sept. 27, the Armenian army launched attacks on civilians and Azerbaijani forces and violated several humanitarian cease-fire agreements.
During the 44-day conflict, Azerbaijan liberated several cities and nearly 300 settlements and villages from the Armenian occupation.
The two countries signed a Russian-brokered agreement on Nov. 10 to end fighting and work toward a comprehensive resolution.
The truce is seen as a victory for Azerbaijan and a defeat for Armenia, whose armed forces have been withdrawing in line with the agreement.
https://www.aa.com.tr/en/azerbaijan-front-line/azerbaijan-criticizes-osce-minsk-group-on-karabakh/2074973
--------
Italy legislature severs ties with Egyptian parliament
Baris Seckin
12.12.2020
ROME
Italy's bicameral legislature or the Chamber of Deputies will suspend diplomatic relations with the Egyptian Parliament, an official said on Friday.
Speaking to Al Jazeera Arabic, Speaker of the Lower House Roberto Fico took note of the latest information about Italian student Giulio Regeni, who was found dead in Egypt about five years ago.
"We were astonished by what the prosecutors in Rome wrote because there are very serious accusations made against the Egyptian National Security Agency," Fico said, adding that there are grisly statements about Regeni's torture.
Regeni's body was found on the outskirts of Cairo in February 2016, bearing signs of torture believed to be the work of Egypt's security agency.
"We know he was followed for 40 days, abducted, and kept in room 13 of the Egyptian Interior Ministry, "said the speaker.
Stressing that the Italian people are angry, he added four members of the Egyptian National Security Agency appeared to have participated in Regeni's kidnapping and murder.
"As the House of Representatives, we will remain determined to close diplomatic relations with Egypt," he announced.
Giulio Regeni, a 28-year-old doctoral student studying in Egypt, vanished on Jan. 25, 2016 -- the fifth anniversary of a popular uprising that forced President Hosni Mubarak to step down after 30 years in power. Nine days later he body was found on a highway.
While Egyptian authorities deny any involvement in the student's death, observers have noted that the signs of torture on the young man's body were uncannily similar to those caused by Egyptian police torture.
https://www.aa.com.tr/en/europe/italy-legislature-severs-ties-with-egyptian-parliament/2074310
--------
India
Saudi Deported Indians For Protesting Against Narendra Modi's Anti-Muslim Register
December 11, 2020
Arab media has reported that Saudi Arabia deported a number of non-resident Indians (NRI) living in the Gulf state for protesting against the highly controversial register introduced by the far-right Hindu nationalist government of Prime Minister Narendra Modi.
Inspired by Shaheen Bagh Protests in India last year, where a group of mainly Muslim women organised a sit-in to demonstrate against the National Register of Citizens (NRC), a number of Indians living in Jeddah are said to have shown their solidarity by holding placards against the proposed registration bill.
The protest landed the NRIs in trouble. It's reported that they were arrested for violating rules that prohibit any kind of assembly and protest and repatriated back to India.
Gulf countries have zero tolerance towards any kind of protest, demonstration, or gatherings. But the protesters, some of whom were young, are said to have been unaware of this basic rule. Many also got into trouble for posting support on social media.
When the Modi government introduced the NRC it sparked outrage. Many say the move was an attempt by the Hindu nationalist government to change the face of India. Amongst the inflammatory steps taken by Modi following his re-election in May 2019 was the push for new legislation, the Citizenship Amendment Bill (CAB). This controversial move, which critics say threatens to demote the status of the country's 200 million Muslim citizens, sparked protests across the country.
In the Assam region of India almost two million people are said to have been excluded from the state's National Register of Citizens (NRC).
Around the same time, in October 2019, Saudi Arabia and India extended their partnership especially on security matters after a new Strategic Partnership Council was agreed during a visit by Crown Prince Mohammed Bin Salman to New Delhi.
https://www.middleeastmonitor.com/20201211-saudi-deported-indians-for-protesting-against-narendra-modis-anti-muslim-register/
--------
Pakistan violates ceasefire along IB, LoC
Dec 13, 2020
JAMMU: Pakistan violated the ceasefire along the International Border (IB) in J&K's Kathua district and along the Line of Control (LoC) in Poonch district on Sunday, resorting to heavy firing and shelling targeting forward posts and villages in the areas.
"The firing from across the IB in Pansar border outpost in Kathua's Hiranagar sector began around 10pm on Saturday. BSF troops manning the posts retaliated effectively," a BSF source said. The cross-border fire exchange continued till 3.45am on Sunday, triggering panic among civilians residing near the border, who were forced to spend the night in safety bunkers.
"Around 5.45pm, Pakistan opened unprovoked fire and shelled mortars along the LoC in Poonch's Degwar sector," Jammu-based defence spokesperson Lt Col Devender Anand said, adding that Indian troops retaliated with equal calibre.
Sources said there was no report of injury or damage on the Indian side in either breach of truce.
https://timesofindia.indiatimes.com/india/pakistan-violates-ceasefire-along-ib-loc/articleshow/79710081.cms
--------
Pakistan Made another Attempt To Push Terrorists Into Kashmir To Disturb Ongoing Polls: Jammu and Kashmir Police DGP
Dec 13, 2020, 10.17 PM IST
JAMMU: After two terrorists were killed and another was captured in Poonch district on Sunday, Jammu and Kashmir Police chief Dilbag Singh said Pakistan made another attempt to push LeT and JeM terrorists into Kashmir to disturb the ongoing District Development Council (DDC) polls.
The Director General of Police (DGP) complimented the joint team of police and army that gunned down the two infiltrating Pakistani terrorists and captured another.
"Another attempt (was made) by Pakistan to send in LeT-JeM terrorists to Kashmir to disturb the ongoing democratic process of grassroots level elections," Singh told PTI.
He said that it shows Pakistan's desperation due to huge participation of people in the ongoing elections.
The DGP said that three days ago the group of three terrorists crossed over from Pakistan and were on their way to Shopian. "On an input they were being chased by police. Day before yesterday, (security) parties reached the spot but could not launch operation due to snowfall. Today afternoon another move was made...," he said.
The terrorists were trapped in a snow-bound area in remote Chattapani-Dugran village and were asked to surrender but they refused and instead fired indiscriminately on the security forces in an attempt to break the cordon.
The security forces retaliated and killed two of them. Another terrorist was captured alive during the gunfight.
Both the Pakistani terrorists have been killed in the encounter, he said.
On November 19, four heavily armed terrorists were killed in an encounter with security forces at Nagrota when they were travelling to Kashmir in a truck with the aim of disrupting the DDC polls, police had said.
The terrorists had the backing of Pakistan and had infiltrated into Jammu and Kashmir for causing disturbances in the DDC elections that began on November 28.
https://timesofindia.indiatimes.com/world/pakistan/pakistan-made-another-attempt-to-push-terrorists-into-kashmir-to-disturb-ongoing-polls-dgp/articleshow/79709509.cms
--------
Pakistan
Thousands Gather in Pakistan, Seeking End to Imran Khan's Government
By Ayesha Tanzeem
December 14, 2020
LAHORE, PAKISTAN - The president of an alliance of opposition parties in Pakistan warned of a confrontation between the public and the military if the military decided to stop them from reaching the capital, Islamabad, to bring down the current government.
"Get out of the way of the people," he said, adding that he foresaw anarchy if the status quo continued.
Maulana Fazlur Rehman was in Lahore on Sunday, addressing a rally of the Pakistan Democratic Movement, an alliance of 11 opposition parties seeking to bring down the government of Prime Minister Imran Khan. The PDM announced it would march on the capital if Khan did not resign by end of January.
Rehman, the leader of an Islamist political party called Jamiat e Ulema e Islam, has been a critic of the current government since it was elected in 2018. His efforts to build an opposition alliance faced roadblocks until the formation of the PDM this past September.
Tens of thousands gathered for the rally from across the country in Pakistan's second-largest city, which is considered a trendsetter in Pakistani politics.
The idea of creating Pakistan out of British India was first presented in Lahore in 1940. In 1967, one of the country's largest political parties, the Pakistan People's Party, was formed in the same city. The current ruling party, Pakistan Tehreek e Insaaf, emerged as a mainstream national party after a successful rally in Lahore in 2011.
The opposition accuses leadership at the top of Pakistan's powerful military and one of the intelligence agencies, Inter Services Intelligence, of having rigged the last elections to install Khan. They say the military and intelligence leadership, therefore, share responsibility for the country's economic woes including rising inflation, lack of economic opportunities, and the poor growth rate of the economy.
"Is Imran Khan the only one responsible? Or those who stole your vote and brought him to power?" said Nawaz Sharif, a former prime minister who was ousted. His party, the Pakistan Muslim League Nawaz, the largest opposition party, is also part of the alliance.
The military denies its involvement in politics. Khan alleges the opposition is a group of looters and plunderers who stole the country's wealth when they were in power and are now complaining because they are being held accountable.
The opposition claimed the rally was successful in building up momentum for the upcoming march. Khan claimed otherwise.
"Pathetic. PDM spent so much money, time, effort & displayed utter callousness by endangering ppl's lives during COVID19 spike - showing the scant regard they have for citizens' safety & well-being," he tweeted after Sunday's rally.
Meanwhile local officials from Khan's party said the opposition failed to gather a large crowd. They also accused the PDM leadership of putting people's lives at risk during a pandemic.
"If corona cases rise in Lahore after today, the opposition leadership will be fully responsible," said Raja Basharat, the law minister of Punjab province.
Another member of the alliance, Bilawal Bhutto Zardari, the scion of slain former Prime Minister Benazir Bhutto who took over the reins of her Pakistan People's Party after her death, warned Khan that the time to have a dialogue with the opposition was over.
"I promise you this puppet, selected government is going home soon," he told the people in the rally.
Last week, Khan said that after a similar opposition rally in Multan, the hospital beds for COVID-19 patients were now 64% full. COVID-19 is the disease caused by the coronavirus.
"I appeal to everyone, I appeal to these political parties, your rallies will not damage the government, but you are putting people's lives at risk," he said, asking them to postpone their rallies for a couple of months.
The opposition said the government was only using the coronavirus as an excuse to break its momentum. Meanwhile, opposition leaders said all the other activity in the country, such as mass transit, shopping plazas, weddings, and even the government's own gatherings of hundreds, continued.
https://www.voanews.com/south-central-asia/thousands-gather-pakistan-seeking-end-imran-khans-government
--------
My narrative is the same as Quaid-i-Azam's, says Nawaz at PDM's Lahore power show
Javed Hussain | Dawn.com | Rana Bilal
14 Dec 2020
Leaders of the Pakistan Democratic Movement (PDM) on Sunday blasted the government and establishment at Lahore's Minar-i-Pakistan at the sixth power show which the alliance has termed as a "historic and decisive" one.
PML-N supremo Nawaz Sharif also addressed the crowd via video link and asked who was answerable for the government's failings.
"He (PM Imran) says I won't give an NRO. Who is asking you for an NRO? You and Aleema Khan got an NRO from Saqib Nisar yourself," said Nawaz.
"They say, don't take names? Tell me, what should we do? Is Imran Khan alone responsible for the predicament the country is in?"
Nawaz said that his "crime is that I speak the truth" and added that he was fighting for the people. He said that his "narrative" was the same as Quaid-i-Azam's. Nawaz once again lashed out at the armed forces, accusing them of being involved in political matters.
"Stop political engineering factories in agencies," said the former prime minister.
PML-N Vice President Maryam Nawaz thanked Lahore's residents for attending the public meeting in overwhelming numbers. Without naming the prime minister, Maryam said that someone had "challenged PDM in Pharoah's tone" to gather enough people to fill up Minar-i-Pakistan's grounds, adding that today, participants of the public meeting had filled up adjoining streets as well.
Referring to a gathering held by the PTI at Minar-i-Pakistan in 2011, Maryam alleged that the public meeting had been arranged by former ISI chief Shuja Pasha.
Maryam also spoke about the Panama Papers case and alleged that former chief justice Asif Saeed Khosa had told the incumbent prime minister to file an application "after which you (Imran) ousted Nawaz Sharif on the basis of an iqama through a fixed match".
The PML-N vice president also questioned PM Imran's offer for dialogue through the Parliament, asking who was behind the operations of the House. The incumbent premier will have to go, Maryam said, because he had ruined the country's economy and had "lied to the people every day".
She said Lahore welcomed Sindh, Khyber Pakhtunkhwa and Balochistan as a "real brother".
"No one is big or small, we are all equal," Maryam declared.
She said that for the past three years, the prime minister — whom she referred to as 'Tabedar (obedient) Khan' — had been saying that he will not grant an NRO. Maryam insisted that today, the prime minister was seeking an NRO from Nawaz Sharif and the people.
She urged the people to wear masks because "I value and care for your life" but said that it was important to attend public meetings because Covid-18 was "more lethal than Covid-19". The former prime minister's daughter expressed grief that seven patients in Peshawar's Khyber Teaching Hospital had died due to shortage in oxygen supply and question the PTI government's performance in the health sector.
PPP chief Bilawal Bhutto-Zardari, in his address, recalled that his grandfather Zulfiqar Ali Bhutto had founded the party in Punjab. PPP workers in Lahore, Bilawal said, went through torture but continued to support democracy.
He said that the country was suffering because of the "fake, incompetent and illegitimate government".
"Punjab's pag (turban) is on the head of the puppet of a puppet. Is this acceptable to Punjab?" he asked, adding that he neither accepted the prime minister nor his chief minister. He insisted that the PDM's "war is not for power but for the rights" of the people.
The PPP chief said that non-democratic forces termed as the establishment, which he refers to as the selectors, "have been conspiring against you (public) and have been forming governments of their choice". He said that the incumbent government was brought to power "through the umpire's signal".
"Selectors, listen, you will have to listen to the public's voice, you will have to accept their decision [...] the time for dialogue is gone, now there will be a long march," said a charged Bilawal.
"Stop making phone calls, stop trying to establish contacts. No differences can be created between us, we will reach Islamabad and chase your puppet out. Once he is gone, then there can be dialogue," said Bilawal.
The JUI-F chief also addressed the crowd and said: "The wounds inflicted by the rigging done by the establishment for this illegal government, the dirty role they played [to sieze] this illegal power are getting deeper."
Rehman further said that he wanted to "alert and caution the defence forces and their leadership [...] to move out of the people's way and let them reach Islamabad".
"In the coming days, I see anarchy in the country. We should handle matters before heading towards anarchy," he said.
'Who is responsible?'
Jamiat Ulema-i-Pakistan's (JUP) Awais Noorani, who was the first to address the crowd, told Prime Minister Imran Khan to submit his resignation and called upon PTI supporters to "rebel" against the ruling party.
Awami National Party Ameer Haider Khan Hoti also condemned the ruling PTI and said that about 80 years ago, Bacha Khan had started a non-violent struggle for his nation's rights but he was termed as a traitor.
Hoti declared that terrorism was "imposed upon the Pakhtun people" saying, "Pakhtun people were the ones who were killed and were defamed as well". He added that there were "conspiracies" to lead Afghan peace talks towards failure and efforts to "create misunderstandings between Afghanistan and Pakistan".
"I want to say that this is not our fight alone, this is of all of Pakistan's," he said. Hoti urged PDM leaders to stand by the Pakhtun people and vowed that he would continue to stand by the alliance for the "supremacy of the Parliament and Constitution and the respect for vote".
Balochistan National Party-Mengal's Sardar Akhtar Mengal started off his address by saying that the PDM public meetings were "funeral prayers of the dictators and the powers who, for 70 years, have treated the country's Constitution as their slave".
"I will only present a few drops of the blood flowing from our bodies and then you can decide if we are responsible for the distrubance in Balochistan today," he said. Mengal said that his party had been struggling against the khalayi makhlooq, against whom the people have gathered today.
"Who is responsible [for the cruelty and injustice over the past 70 years]? It is not them, but the politicians and [people of the] big province who have gathered in this venue today," Mengal said. "Had you controlled this dragon from day one, it would not have become this uncontrollable monster. This genie that is out of the bottle, it is your responsibility to control it."
Mengal said that 10,000 Baloch people were still missing, adding that all the people of Balochistan want was to be treated and respected as humans. He also spoke about provincial autonomy, saying that if "provinces were autonomous [in Pakistan] Bangladesh would not have been created". He said that in Gwadar people were being "divided like East Germany and West Germany" in the name of development.
Pakhtunkhwa Milli Awami Party chairman Mehmood Khan Achakzai called for a "Turkey-like revolution" in Pakistan and urged Maryam, Bilawal and Rehman to spearhead the movement. He said that he was striving for a Pakistan where no ethnicity would be superior to the other.
Jamiat-i-Ahle Hadees chief emir Professor Sajid Mir also spoke at the gathering and said he wanted to "commend the participants for holding a grand and memorable public meeting in the shadow of Minar-i-Pakistan despite the difficulties" created by the government.
He said that the "new Pakistan's government was in quarantine" and added that PDM shared the same narrative. Mir said that the "right to self govern should be returned to the public".
This was the first time in the recent history of the country that the PML-N held a public meeting at Minar-i-Pakistan, the first rally at this venue for the party's Vice President Maryam.
Similarly, it was PPP Chairperson Bilawal's first appearance at a political gathering at Minar-i-Pakistan. His late mother, former prime minister Benazir Bhutto, held a historic public meeting at Minar-i-Pakistan in 1986.
Lunch by PML-N
Arrangements were completed early on Sunday and leaders of the parties arrived in the city for the PDM's final power show of the first phase of its anti-government movement.
Upon arrival, Maryam hosted a lunch at party leader Ayaz Sadiq's residence in the city.
The lunch was attended by Bilawal and other opposition bigwigs, including Rehman, Balochistan National Party-Mengal (BNP-M) President Sardar Akhtar Mengal and Awami National Party (ANP) central general secretary Mian Iftikhar Hussain.
From there, the leaders left for Minar-i-Pakistan, the venue of the rally.
'Final push'
Earlier in the day, while speaking to reporters while leaving her Jati Umra residence, Maryam said that the public would now "bring down the roof" over the PTI government.
"I want to give a message to the entire Lahore that I am fully aware of your difficulties. People have not come out on the PDM's call; instead, it is the PDM that has come out on the people's call. The time has come to give the final push to [the PTI government]," she said, urging people from all sectors to come and attend the rally.
She said this government is "going and the era of Nawaz Sharif's services is coming".
In a tweet, she also advised the attendees to "wear a mask for your own safety and that of your dear ones, at all times, before, during and after" the rally.
Earlier, Bilawal's procession passed through Naseerabad where it was surrounded by party workers.
Rehman met leaders of his party, including Rashid Mehmood Soomro, Maulana Abdul Ghafoor Hyderi and former member of the National Assembly (MNA) Qamaruddin Soomro, at a hotel in Lahore.
The JUI-F leaders briefed Rehman about arrangements for the rally. "Today's rally at Minar-i-Pakistan will break all previous records," Rehman said.
Senior PML-N leader Khawaja Saad Rafique, while speaking to attendees at the rally, said that today was a "very important" day.
"We want to end interference in democracies. We want the supremacy of the Constitution and the law. Constant interference puts Pakistan's [progress] back by 20 years [...] When more than 150 resignations are received, how will they (the government) hold by-elections?" he questioned.
Meanwhile, PML-N deputy secretary general Ataullah Tarar said that volunteers have been assigned their duties and they have taken up their positions. "A historic rally is about to happen. The PDM will prove that it is an alliance of the parties representing the people," he said.
PML-N information secretary Marriyum Aurangzeb said that the day has come that the "selected and vote-stealing government" feared.
She said that people from not only Lahore but all over Pakistan were coming to the rally at Minar-i-Pakistan.
Next phase
The PDM is expected to announce the "decisive phase" of its struggle against the PTI-led government in today's public meeting.
A senior PML-N leader told Dawn that the next phase of its struggle would begin in January in which the PDM had planned 16 more rallies across the country before the final showdown — a long march on Islamabad and resignations from the national and provincial assemblies.
"We expect that some 'behind the scenes' development may take place in January before the PDM goes for a long march," he said.
The PDM has planned a long march in February if the PTI government does not buckle to the pressure exerted by the opposition alliance.
However, no consensus seems to be in sight over resignations from the national and provincial assemblies at the moment because PPP is still reluctant to say goodbye to the Sindh government.
This matter has been deferred for the time being and the PDM is concentrating on protest rallies.
The government, on the other hand, appears to have changed at the last minute its strategy to handle the rally. The government said it would not stop the people coming from other cities from joining the rally, giving an opportunity to the opposition parties to match Imran Khan's Oct 2011 public meeting at the same venue.
https://www.dawn.com/news/1595548/my-narrative-is-the-same-as-quaid-i-azams-says-nawaz-at-pdms-lahore-power-show
--------
Pak Opposition alliance holds its final rally, announces long march to force PM Imran Khan to resign
December 14, 2020
Pakistan's Opposition alliance on Sunday held its final anti-government rally in Lahore despite a ban on the gathering of more than 300 people owing to an increase in COVID-19 cases across the country, with top coalition leaders announcing a long march to Islamabad to force Prime Minister Imran Khan to resign.
Addressing the rally held at Lahore's Minar-e-Pakistan via video link, Pakistan Muslim League-Nawaz supremo Nawaz Sharif once again lashed out at the armed forces, accusing them of being involved in political matters.
"Stop political engineering factories in agencies," said the 70-year-old three-time former prime minister.
He has repeatedly blamed Army chief Gen Qamar Javed Bajwa and spy agency ISI chief Lt Gen Faiz Hameed for Pakistan's current situation.
"They say, don't take names? Tell me, what should we do? Is Imran Khan alone responsible for the predicament the country is in?" Sharif asked.
Sharif, who is entangled in a number of corruption cases, has been in London since November last year after the Lahore High Court granted him permission to go abroad for four weeks for treating the heart disease and an immune system disorder.
Pakistan's powerful Army has denied meddling in politics. Prime Minister Khan also denies that the Army helped him win the election in 2018.
"My crime is that I speak the truth," Sharif said, adding that he was fighting for the people.
He said that his "narrative" was the same as Quaid-i-Azam's, referring to Pakistan's founder Mohammad Ali Jinnah.
His daughter and PML-N Vice President Maryam Nawaz launched a frontal attack on ISI and judiciary for ousting her father and imposing 'inept and incompetent' prime minister on the country.
"Former chief justice Asif Saeed Khosa had asked Imran Khan (in 2016) to bring his petition related to Panama Papers and then ousted Nawaz Sharif (in 2017) based on an iqama (work permit) through a fixed match," 46-year-old Maryam said, referring to Sharif's disqualification as Prime Minister in 2017 by the Supreme Court in the Panama Papers case.
Three corruption cases – Avenfield properties, Flagship investment and Al-Azizia steel mills – were registered against the Sharif family by the anti-corruption body in 2017 following a judgment by the Supreme Court that disqualified him.
In her speech, Maryam named two former ISI chiefs — Gen Shuja Pasha and Gen Zaheerul Islam — for launching Khan in 2011 and organising his 2014 Islamabad sit-in to oust her father.
"Former ISI chief Gen Pasha launched Imran Khan in October 2011 at a rally in Minar-i-Pakistan and former ISI chief Zaheerul Islam sponsored Imran's Islamabad sit-in against the elected government of Nawaz Sharif in 2014," she said.
Maryam also claimed that a retired ISI Colonel is controlling Pakistan's lower and upper houses.
"In Islamabad, everyone knows that a retired ISI Colonel is running the Parliament (National Assembly) and Senate," she alleged.
Maryam also questioned why no action against Lt Gen Asim Saleem Bajwa, the chairman China-Pakistan Economic Corridor (CPEC), has been taken as yet for making billions and setting up a famous pizza chain.
She said the institutions should refrain from interfering in politics.
"Imran Khan is only interested in saving his job by serving his masters. This obedient Khan will have to go now," she said.
Terming Imran Khan a 'Pharoah', she said this selected premier has become a liability and even those who brought him to power are worried.
"The selectors now have realised how much incompetent and inept this man is. The time has come to get rid of him," she said.
Maryam urged supporters to answer the call for a march to Islamabad, while Pakistan People's Party Chairman Bilawal Bhutto-Zardari formally announced that the movement is now headed to Islamabad.
Jamiat Ulema Islam leader and PDM chief Maulana Fazlur Rehman said the march will take place late January or early February.
Earlier, a number of workers of the coalition parties reached Minar-i-Pakistan. They broke the locks of its main gate, placed chairs and installed lights for the much-hyped power show of the Opposition.
PDM's Minar-i-Pakistan public meeting was the last one in its first phase of rallies that had begun over two months ago.
The alliance has announced that all Opposition parties will resign from the national and provincial assemblies to pressure the Pakistan Tehreek-i-Insaf government to hold fresh elections.
Earlier, Punjab Chief Minister Usman Buzdar had asked the PDM to delay its rally in light of 'terror threat alerts' and the coronavirus situation.
Special Assistant to the Chief Minister on Information Dr Firdous Ashiq Awan said in a tweet the government had intelligence reports that there was a threat to the PDM rally.
"If any untoward incident takes place at the PDM rally, the Opposition parties will be responsible," she warned.
Police in Lahore had booked more than 3,000 workers of the PML-N for violating COVID-19 guidelines during this week's meetings held here by Maryam, he said.
The PDM has been formed against the Pakistan Army's interference in politics and installing "puppet" Prime Minister Khan through a manipulated election.
https://indianexpress.com/article/pakistan/pak-opposition-alliance-holds-final-rally-long-march-to-force-pm-imran-khan-to-resign-7103961/
--------
Impossible but Pakistan army wants to wipe out Mohajirs, says MQM founder
December 14, 2020
Muttahida Qaumi Movement (MQM) founder and leader Altaf Hussain on Sunday said that the Pakistani Army wants to wipe out the Mohajirs but asserted it will be impossible to wipe out millions of Mohajirs.
"The army wants to eliminate the Mohajirs, it can kill a few people but cannot wipe out the millions of Mohajirs... We will now work together with the Sindhi brothers for the rights and freedom of Sindh," he expressed these views while addressing the party workers and the people on Sunday and called for unity and solidarity of the permanent residents and the joint struggle for the independence of Sindh.
"We chose the word "Mohajir" for our identity. Now this is our identity which is a reality and cannot be denied," he added and further said that Zulfiqar Ali Bhutto in collaboration with the Army implemented quota system in Sindh on the basis of urban and rural.
"Foundation for segregation and division in Sindh was laid through this quota system and higher education and government jobs were denied to Mohajirs. Whether it is the Police or other government departments, the number of Mohajirs (employed) in it is negligible," he continued.
The MQM founder stated that "our elders" broke India in the name of Islam and made Pakistan but raised the question as to who got the benefit of making Pakistan.
"Jawaharlal Nehru (first Prime Minister of India) was ready to give 27 per cent share in power to the Muslims of India but those who migrated to Pakistan are not given even 2 per cent share," the founder pointed out.
While advocating for the independence of Sindh from the draconian rule of the Pakistani Army, the MQM founder said that the life and death of the Mohajir is associated with Sindh.
"I would advise the Mohajirs that we live in Sindh, our life and death is associated with Sindh, we became Sindhis on the basis of affiliation with it and we have to fight for the independence of Sindh together with our Sindhi brothers, we need the independence of Sindh and not the province," he said.
Hussain said that in 'independent Sindh' there will be equal rights for Mohajirs and Sindhis and Sindhi brothers will openly recognize the rights of Mohajirs and their rights and "if Mohajirs are not given equal rights then Sindh will be abused."
"If the Sindhis and Mohajirs do not recognize each other wholeheartedly, it will be the detriment of the motherland of Sindh," the founder said further.
https://www.business-standard.com/article/international/impossible-but-pakistan-army-wants-to-wipe-out-mohajirs-says-mqm-founder-120121400225_1.html
--------
South Asia
Bangladesh govt approves primary list of 1,222 martyred intellectuals
Dec 14, 2020
After 49 years of the Liberation War, the Bangladesh government has approved a primary list of 1,222 martyred intellectuals who made sacrifices for the nation in 1971, a Minister announced.
On Sunday, Liberation War Affairs Minister AKM Mozammel Huque said the list will be formally released this month.
Huque's announcement came a day ahead of country observing the Martyred Intellectuals' Day on Monday.
In separate messages on Sunday, President M. Abdul Hamid and Prime Minister Sheikh Hasina, paying homage to the martyred intellectuals.
Huque said the list was approved at the first meeting of the committee formed to compile it.
"The list is likely to be approved in the next meeting of the committee. An outline has already been prepared stating who will be considered as martyred intellectuals.
"In 1972, the lists of 1,070 martyred intellectuals were published. Later, the postal department released commemorative postage stamps of 152 martyrs. So, the number of martyred intellectuals we have received is 1,222. We have given approval of the lists," the Minister said.
A memorial erected in the memory of the martyred intellectuals in Dhaka's Mirpur area has been readied as national leaders and people from all walks of life will pay tributes.
The Pakistani Army and their Bengali-speaking collaborators belonging to the Jamaat-e-Islam killed a number of intellectuals from March 25, 1971, throughout the nine-month-long Liberation War.
They visibly engaged the infamous Gestapo like Al-Badr and Al-Shams forces on December 14, 1971 to carry out a systematic campaign to kill the most eminent academics and professionals like doctors, engineers and journalists to make the nation to a state of brainlessness just before the independence of Bangladesh.
The then Bangladesh government and victorious freedom fighters, however, came to know about their last brutal massacre only when the Pakistani troops surrendered on December 16, 1971, to the Indian Army.
The top accomplices of Pakistan Army belonging to Jamaat-e-Islami and its student wing Islami Chhatra Sangstha went into hiding to resurface years later.
Those who were exposed to the killers' wrath on December 14, 1971, included eye specialist Alim Chowdhury and Fazle Rabbi; journalists Shahidullah Kaisar, Sirajudddin Hossain, Selina Parveen; and littérateur Monier Choudhury.
Most of the victims were picked up from their residences in Dhaka, blindfolded and killed between December 10-14, 1971.
After assuming the state power in 2009, the ruling Awami League has brought the perpetrators of intellectuals killing and the war criminals of 1971 under justice.
Jamat chief (Amir) Matiur Rahman Nizami and Secretary-General Ali Ahsan Mohammad Mujahid and Assistant Secretary generals Abdul Qader Mollah and Mohammad Qamaruzzaman have already been executed on war crimes charges.
BNP founder Ziaur Rahman and his wife Khaleda Zia, incumbent chief of the BNP, had appointed the killers as ministers, who had later been convicted guilty of their crimes against humanity like genocide, rape and ethnic cleansing on 1971 by the International Crimes Tribunal (ICT).
"We have held the trial of war criminals and executed the court verdicts. I think it's necessary to equally try those who rewarded the war criminals, gave the national flag to their hands and made them ministers in independent Bangladesh," Hasina has said.
"The war criminals of 1971 carried out the genocide. But Zia and Khaleda, who empowered the killers as minister, lawmaker, ambassadors to enjoy state facilities as a politician are equally guilty." The Prime Minister said the trial of those who had directly been involved in genocide will continue.
"There is no mercy for them. They must be tried. And hatred will also be vented on the patrons." She said no genocide with so severity was committed in any other country across the world where so many people had been killed in a short time.
"There is no newspaper in the world that did not carry the news of this genocide." About Parliament's adoption of a resolution in 2017 to observe March 25 as Genocide Day, Hasina said they took the decision so that the nation and next generations do not forget the misdeeds of the Pakistani occupation forces and their local collaborators, including Razakars, Al-Badr and Al-Shams, who committed the genocide in 1971.
Elaborate programmes, including paying homage to Father of the Nation Bangabandhu Sheikh Mujibur Rahman; hoisting the national and black flags at half-mast and placing wreaths at the Martyred Intellectuals Memorial at Mirpur and Rayerbazar Killing Ground at Mohammadpur in the city, will take place on Monday.
The programmes marking the Martyred Intellectuals Day, however, will be observed in accordance with the health and hygiene rules imposed due to the coronavirus pandemic situation. —IANS
https://www.tribuneindia.com/news/world/bangladesh-govt-approves-primary-list-of-1-222-martyred-intellectuals-184161
--------
83 Taliban Killed in MoD Operations
By Mohammad Haroon Alim
14 Dec 2020
MoD said in a statement on Monday, that Taliban offensives were rebuffed in Zherai, Arghandab, Panjwai and Shahwali Kot districts of Kandahar province.
According to the MoD, 65 Taliban militants were killed, when they attacked ANDSF outposts on Sunday, during the skirmish a large amount of their weapons and ammunitions were destroyed as result of security forces' reciprocal attacks.
In a similar battle, Afghan National Army repelled Taliban attacks in Andar District of Ghazni province, as a result 18 Taliban fighters were killed and 12 others were wounded.
This clash had left, many of their vehicles destroyed, and additionally, a large number of militant's weapons were destroyed.
Meanwhile, Khalil Qarizada, a member of the Kunduz provincial council, said 10 security personnel were killed in the province last night.
He indicated, in a Taliban attack on security forces in the Imam Sahib district of the province last night 10 Afghan security members including the commander were killed and six others are wounded.
https://www.khaama.com/83-taliban-killed-in-mod-operations-897999/
--------
Scores Busted over Multiple Charges across Afghanistan
By Mohammad Arif Sheva
14 Dec 2020
AFGHANISTAN – Counter Narcotic Police of Afghanistan (CNPA) have arrested at least 11 suspects over drug trafficking charges across several provinces of the country, including capital city Kabul, said the Ministry of Interior Affairs in a statement Monday.
According to the statement, the suspects are apprehended in Kabul, Helmand, Parwan, Badakhshan and Samangan provinces.
"CNPA arrested 11 suspects over drug trafficking charges, after CNPA carried multiple operations in Kabul, Helmand, Parwan, Badakhshan & Samangan provinces," said the MoIA in a tweet.
"CNPA seized 200 tablet-K pills, one AK-47 assault rifle & some amount of illicit drugs," the tweet added.
Meanwhile, in a separate operation in Kabul city, the Afghan National Army (ANA) has arrested at least 15 people suspected of criminal activities across the city.
"ANP operations team has arrested 15 criminal suspects in Kabul City," said the MoIA in a tweet. "ANP seized three pistols & one vehicle as well."
This came at a time the country has tighten its security measure over growing number of armed robberies and kidnapping throughout Afghanistan.
https://www.khaama.com/scores-busted-over-multiple-charges-across-afghanistan-34534/
--------
Miller Says Has 'Orders to Reduce U.S. Military Presence' in Afghanistan
By Mohammad Arif Sheva
14 Dec 2020
KABUL, Afghanistan – The United States and NATO's Resolute Support forces commander in Afghanistan Gen. Scott Miller on Sunday said he "has orders to reduce the US military presence to 2,500", according to sources, part of which is "in line with US-Taliban agreement."
While Trump administration has repeatedly said the number of US forces in Afghanistan will be reduced from roughly 4,000 to 2,500 by mid-January, critique suggested early and "uncoordinated" decision could jeopardize the future of Afghanistan, including its international allies.
"We still have a force that's capable of providing the necessary support to the Afghan security forces. In some cases, it's a direct combat support," Miller said, assuring Afghan forces stability after the withdrawal.
"We still have our train, advice and assist mission that takes place and we certainly have the ability to protect our force as well as meet our counterterrorism commitments."
Addressing the growing tension throughout Afghanistan that targets Afghan scholars, journalists and civilians, Miller said, "I have talked with the Taliban about this. The violence is too high. The Taliban violence needs to come down. We have had many discussions about this."
"What we refer to is a historic opportunity, ongoing peace process, where representatives of the republic of Afghanistan are sitting down with the Taliban and we need to make sure that from the military and security standpoint, and to provide the confidence to the people of Afghanistan, that we give this the best opportunity to be successful," he added.
Taliban Eye Islamic System in Afghanistan: Intra-Afghan Negotiations
Intra-Afghan Negotiations Resume amid Violence Escalation across Afghanistan
Doha Yields Agreement on Ground Rules: Intra-Afghan Negotiations
This came at a time the Afghan and Taliban negotiating teams recently announced a breakthrough on procedural rules of the intra-Afghan negotiations in Qatari capital Doha, saying both teams are commitment for peace and stability in Afghanistan.
https://www.khaama.com/miller-says-has-orders-to-reduce-u-s-military-presence-in-afghanistan-35345/
--------
Africa
Prominent Nigerian Cleric: Sheikh Zakzaky Still Imprisoned at Riyadh's Order
2020-December-13
"A Federal High Court sitting in Abuja declared the detention of our leader as alien to any known Nigerian law. Hence, it ordered for his release, which the Federal Government contemptuously refused to obey. Therefore it is clear to all and sundry that Sheikh Zakzaky is in detention courtesy of the dictatorial tendencies exhibited by the ruling elites in the Buhari regime as instructed by their Saudi Wahabi masters," a senior cleric of the Islamic Movement of Nigeria, Sheik Abdulhamid Bello, said on Saturday.
Bello said that after five years, the movement will not forgive the Nigerian government over the Zaria massacre where many of its members were killed by Nigerian Army in December 2015.
The cleric said the catastrophic genocide against the innocent souls remained fresh in their memories and they would never forgive the President Muhammadu Buhari-led government.
"We come out in large numbers today to commemorate five years of this tragic persecution that has not been meted to any community in Nigeria apart from us by the Buhari regime," he added.
"How can we even forget this catastrophic genocide against innocent souls? Indeed till the end of time, Zaria massacre will continue to be remembered by generations to come, just like so many unfortunate massacres before it is being remembered; where the perpetrators are being cursed and the wrath of Allah invoked against them," Bello said.
"During those two days, they wiped out 39 families from existence, mercilessly butchered 193 children, murdered 297 women, 548 men and 23 pregnant women, set ablaze hundreds of vehicles in an utter show of barbarism and senselessness, mercilessly and inhumanely exhumed corpses of martyrs that were buried at Darurrahma burial ground," the cleric said.
He also accused the military of burying all the corpses of Shiite citizens in mass graves at Mando and other places in Kaduna State without the consent of their families and proper rites as recommended by their religion.
He added that most of them were buried alive with some of them begging for water to survive.
"Five years on after this massacre, the Federal Government has failed in justifying its inglorious action against the Islamic Movement in Nigeria," the cleric said.
Nigeria's military carried out the 2015 attack as part of a deadly state-ordered escalation targeting the movement that Abuja has branded as illegal.
During the attack, the 67-year-old was beaten and lost his left eye and his wife sustained serious wounds.
During the crackdown, the military also attacked the movement's members as they were holding religious processions, with the government alleging that the Muslims had blocked a convoy of the country's defense minister. The movement has categorically dismissed the allegations, and said the convoy had intentionally crossed paths with the he Islamic Movement of Nigeria (IMN) members to whip up an excuse to attack them.
Among Zakzaky's surviving children and supporters, concerns are mounting over his health. The 66-year-old cleric has lost vision in one eye and was in danger of "losing the second one," his lawyer, Femi Falana, told reporters. Zakzaky and his wife still have "pellets of bullets in their bodies," said Falana, which were sustained during their 2015 arrest.
https://www.farsnews.ir/en/news/13990923000674/Prminen-Nigerian-Cleric-Sheikh-Zakzaky-Sill-Imprisned-a-Riyadh%E2%80%99s
--------
Sudan's PM visits Ethiopia, as Tigray refugees top 50,000
13 December 2020
Sudanese Prime Minister Abdalla Hamdok on Sunday arrived in Ethiopia, his office said, amid a growing refugee crisis that has seen more than 50,000 Ethiopians flee conflict in the Tigray region into neighboring Sudan.
Ethiopian Prime Minister Abiy Ahmed greeted his Sudanese counterpart at Addis Ababa's airport, where Hamdok arrived with the acting Sudanese Foreign Minister Omar Qamar al-Din and top intelligence and military officials.
"I look forward to having productive discussions on political, humanitarian and security matters of common concern," Hamdok tweeted.
The visit came two weeks after the Ethiopian leader declared victory in the fight against the regional government in Tigray. However, clashes between Ethiopian federal and regional forces have continued.
The fighting, which started early in November, has threatened to destabilize Ethiopia, which is the linchpin of the strategic Horn of Africa, and its neighbors.
The conflict has alarmed the international humanitarian community since the eruption in violence has largely cut off from the world the Tigray region of 6 million people.
The UN refugee agency said more than 50,000 Ethiopians have fled into remote areas of Sudan, first straining the generosity of local communities and then challenging the capacity of humanitarian groups that have hurried to set up a system to feed, shelter and care for the refugees.
The influx of refugees adds to Sudan's economic and security burdens. The transitional government has already been struggling under the weight of decades of US sanctions and mismanagement under former ruler Omar al-Bashir, who was ousted from power last year.
Eastern Sudan, which borders Ethiopia's Tigray region, was the scene of bouts of tribal violence in recent months that claimed dozens of lives.
https://english.alarabiya.net/en/News/world/2020/12/13/Sudan-s-PM-visits-Ethiopia-as-Tigray-refugees-top-50-000
--------
Nigerian authorities step up efforts to rescue kidnapped students
14 December 2020
Nigerian authorities have stepped up efforts to rescue students abducted by armed men who raided a school in Katsina, the home state of President Muhammadu Buhari.
Gunmen on motorcycles staged an attack on the Government Science School at Kankara in Nigeria's north-western Katsina state late on Friday.
The bandits engaged security forces in a fierce gun battle, forcing hundreds of students to flee and hide in surrounding bushes and forest.
Aminu Bello Masari, the governor of Katsina State, said government forces had intensified their efforts to find and free any kidnapped students.
Masari noted the number of hostages was still unclear.
"The school has a population of 839 and so far, we are yet to account for 333 students," Masari told a federal government delegation in his office on Sunday.
He said many of the boys had managed to escape from the bandits' captivity and flee.
"We are still counting because more are still coming out of the forest," Masari said.
"Up till this moment, no one can give a precise figure of the children abducted," he said, adding that students who escaped confirmed some of their peers had been taken.
"Soldiers are currently in the bushes fighting the bandits. We will do all we can to ensure all the abducted children are reclaimed," he said.
National police spokesman Frank Mbas said "additional operational and investigative assets to support the ongoing search and rescue operations" had been deployed to the region.
Osama Aminu Maale, one of the abducted students who had managed to escape, said 520 students were initially kidnapped. "There were a total of 520 of us that were taken by the gunmen from the school."
"After they took us away we stopped inside the bus where they made the older students take a headcount. We counted 520," the 18-year-old student told AFP in a phone interview.
However, in a bulletin on Sunday, BBC quoted Buhari's spokesman Mallam Garba Shehu as saying that only ten children remained in the hands of the gunmen.
Buhari's spokesman cited eyewitnesses who reported that they had escaped from their abductors.
In the meantime, since the attack took place, all secondary schools in the state have been shut.
However, parents of students have converged on the secondary school, begging the authorities to secure the release of the boys who had not been able to escape.
UNICEF in a statement on Sunday said it "condemns in the strongest possible terms this brutal attack and calls for the immediate and unconditional release of all children and their return to their families."
The body said it was "deeply concerned about these acts of violence" against the teenagers.
"Attacks on schools are a violation of children's rights. This is a grim reminder that abductions of children and widespread grave violations of children's rights continue to take place in northern Nigeria," it said.
UN Secretary-General Antonio Guterres also condemned the kidnappers' attack and called for the students' release.
Guterres "reaffirms the solidarity and support of the United Nations to the Government and people of Nigeria in their fight against terrorism, violent extremism and organized crime," his office said in a statement on Sunday.
Buhari has urged security forces to arrest the gunmen.
"Our prayers are with the families of the students, the school authorities and the injured," he said.
He said on Saturday that military forces had located the position and exchanged fire with the kidnappers.
Katsina is among several areas in northwest Nigeria that have been repeatedly attacked by "bandits" who kidnap for ransom and rustle cattle.
The north and northeastern states of Nigeria have been wracked by years of violence involving clashes between rival communities over land, attacks by heavily-armed criminal gangs, and reprisal killings by vigilante groups.
In particular, Boko Haram and the West Africa Province (ISWAP) branch of the Daesh terrorist group have increasingly targeted loggers, herders and fishermen in their violent campaign, accusing them of spying and passing information to the military and the local militia fighting them.
Boko Haram last month took the lives of two dozen farmers working on their irrigation fields near Maiduguri in two separate incidents.
More than 30,000 people have been killed and nearly 3 million displaced in a decade of Boko Haram's violence in Nigeria, according to the UN Office for the Coordination of Humanitarian Affairs.
Boko Haram's violence has spilled over into the neighboring countries of Chad, Niger, and Cameroon, which have created a joint military force to fight the terrorists.
Violence by Boko Haram has affected 26 million people in the Lake Chad region and displaced 2.6 million others, according to the UN Refugee Agency.
https://www.presstv.com/Detail/2020/12/14/640688/Boko-Haram-Africa-Nigeria-Military-Kidnap-Students
--------
At least 27 killed in latest Boko Haram attack in Niger
13 December 2020
Terrorists from the Boko Haram group have killed at least 27 people in an attack of "unprecedented savagery" in southeast Niger, local officials said.
Other people were wounded and some more reported missing in the assault on Saturday evening in the village of Toumour in the Diffa region, said a senior local official.
Witnesses and other officials confirmed the attack, which came hours before municipal and regional elections went ahead across the country on Sunday.
"Some victims were killed or wounded by bullets, others were burnt inside their houses, consumed by the flames of an enormous fire set by the attackers," said the official.
Between 800 and 1,000 houses, the central market and numerous vehicles were also destroyed in the fire, he added.
Roughly 70 attackers arrived at Toumour at around 1745 GMT on foot, having swum across Lake Chad, said the official.
The attack itself lasted three hours, according to AFP.
"They first attacked the residence of the traditional chief, who only just managed to escape," he said.
"It was an attack of unprecedented savagery," said a local elected official who asked not to be named. "Nearly 60 percent of the village has been destroyed."
In November, Boko Haram terrorists killed at least 110 Nigerian civilians, including dozens of farm workers, and injured several others in the volatile northeastern state of Borno, according to the UN. Several women were also kidnapped in the raid.
Also in October, Boko Haram terrorists took the lives of at least 22 farmers working on their irrigation fields near Nigeria's Maiduguri in two separate incidents.
Northeastern Nigeria has been wracked by years of violence involving clashes between rival communities over land, attacks by heavily-armed criminal gangs, and reprisal killings by vigilante groups.
Boko Haram and the West Africa Province (ISWAP) branch of the Daesh terrorist group have increasingly targeted loggers, herders and fishermen in their violent campaign, accusing them of spying and passing information to the military and the local militia fighting them.
More than 30,000 people have been killed and nearly 3 million displaced in a decade of Boko Haram's violence in Nigeria, according to the UN Office for the Coordination of Humanitarian Affairs.
https://www.presstv.com/Detail/2020/12/13/640673/Niger-Boko-haram-terrorist-attack
--------
Muslim scholars call for release of Nigerian cleric Sheikh Zakzaky
13 December 2020
Yusef Jalali
Five years have passed since more than one thousand Muslims were killed in a massacre in the Nigerian city of Zaria.
The incident took place when the Nigerian army stormed a religious ceremony, organized by Nigeria's Islamic Movement, which represents the Shia Muslim minority in the country.
On the occasion of the fifth anniversary of the massacre, Iran's holy city of Qom held a webinar attended by Muslim scholars to commemorate the victims of the tragedy.
Not only has the Nigerian government refrained from paying compensation for the lives it has taken, it has also incarcerated followers of the movement and their leader Sheikh Ibrahim Zakzaky, whose health is deteriorating in prison. Scholars in Qom describe the Nigerian government as the puppet of Saudi Arabia, the US and Israel.
They say the Nigerian forces have continued the brutal assault against Sheikh Zakzaky's supporters ever since they publicly condemned Israel for its atrocities against the Palestinian people.
In 2016, Nigeria's federal high court ordered Zakzaky's unconditional release from jail following a trial, but the government has so far refused to set him free.
Zakzaky was charged in April 2018 with murder, culpable homicide, unlawful assembly and disruption of public peace, among other accusations. He has vehemently rejected all these accusations.
Sheikh Zakzaky was due to appear in court in September this year to face judgement on an application asking for the dismissal of the case against him, but the trial was adjourned to next January, something that observers say could put Sheikh's life at risk amid calls for his immediate release because of his deteriorating health in jail.
https://www.presstv.com/Detail/2020/12/13/640663/Muslims-Nigeria-Sheikh-Zakzaky-Zaria-massacre
--------
Muslim scholars slam Morocco's normalization of ties with Israel
12 December 2020
Muslim scholar groups have censured a move by Morocco to agree to normalize its relations with the Israeli regime, as the US-brokered agreement continues to draw condemnations from around the world.
The International Union for Muslim Scholars (IUMS) said in a statement that the normalization agreement "contradicts with the Moroccan people's support for the Palestinian people," Turkey's official Anadolu news agency reported on Saturday.
The Qatar-based group added that the Israeli regime still "occupies our al-Aqsa Mosque, Jerusalem [al-Quds], our blessed lands [in Palestine], and the Golan Heights of Syria, and still looks to swallow more."
US President Donald Trump announced on Thursday that Morocco had reached an agreement with Israel on the normalization of relations. Morocco thus became the fourth Arab country — after the United Arab Emirates (UAE), Bahrain, and Sudan — to reach such an agreement with the Tel Aviv regime since August.
The US secured the deal by agreeing to recognize Moroccan "sovereignty" over disputed areas in the Western Sahara.
Morocco annexed the vast Western Sahara region, a former Spanish colony, in 1975 and has since been in conflict with the Algeria-backed Polisario Front, a movement that seeks to establish an independent state in the territory and end Morocco's presence there.
Furthermore, the Arab Maghreb Scholars League (AMSL) called on Rabat to reconsider its provocative decision to establish diplomatic relations with the Tel Aviv regime, Anadolu reported.
The AMSL also called on Islamic governments to resist any internal or external pressure to give up on the Palestinian cause.
All Palestinian factions have condemned the normalization agreements with Israel, considering them a betrayal of their cause.
On Friday, a number of Palestinian resistance groups jointly condemned Morocco's normalization agreement with Israel.
Lebanon's Hezbollah resistance movement has also strongly condemned the agreement, stressing that the Arab countries having relations with Tel Aviv will soon regret their move.
https://www.presstv.com/Detail/2020/12/12/640576/Muslim-scholars-slam-Morocco%E2%80%99s-normalization-of-ties-with-Israel
--------
Nigerian troops kill 20 Boko Haram terrorists
Adam Abu-bashal
14.12.2020
At least 20 members of the Boko Haram terrorist organization were neutralized in an operation in northeastern Nigeria, the army said Sunday.
Army spokesman Col. Ado Isa said in a statement that the terrorists attempted to carry out an attack in the Askira-Uba local government area of Borno state.
He said one soldier was killed and two others wounded in the operation while four gun trucks of the terrorists were seized.
More than 30,000 people have been killed and nearly 3 million displaced in a decade of Boko Haram violence in Nigeria, according to the UN Office for the Coordination of Humanitarian Affairs.
According to the UN Refugee Agency, violence by Boko Haram has affected 26 million people in the Lake Chad region and displaced 2.6 million others.
https://www.aa.com.tr/en/africa/nigerian-troops-kill-20-boko-haram-terrorists/2075750
--------
Boko Haram kills at least 27 in southeast Niger
Fatma Esma Arslan and Kane Illa
14.12.2020
Boko Haram terrorists killed at least 27 people in southeastern Niger, local media outlets reported Sunday.
The armed attack was carried out in the early hours of Sunday in the village of Toumour in the Diffa region, said sources.
Nearly 800 homes and workplaces along with vehicles were also destroyed, it added.
The Diffa region was also attacked by Boko Haram on Friday, when two people were killed.
Located on the border with Nigeria, Diffa has been frequently attacked by Boko Haram since February 2015.
More than 20,000 people in the country have died in attacks carried out by Boko Haram since 2009, which have also displaced more than 2 million people.
Elections
On Sunday, local elections were held in Niger, which has nearly 7.5 million eligible voters. Voting started at 8 a.m. local time (0700GMT) and ended at 6 p.m. (1700GMT).
They voted in the country's 226 municipalities. The ruling Nigerien Party for Democracy and Socialism is the favorite.
While the results are expected to be announced within a few days, Niger will also hold presidential and general elections in two weeks to elect 171 deputies and the country's new president.
Current President Mahamadou Issoufou will not run for re-election after completing two terms. A total of 30 candidates will compete in the first round of the presidential vote.
https://www.aa.com.tr/en/africa/boko-haram-kills-at-least-27-in-southeast-niger/2075738
--------
Southeast Asia
Indonesia arrests firebrand Islamist cleric for breaching coronavirus restrictions
December 13, 2020
Afirebrand Indonesian Muslim cleric was arrested Sunday for allegedly breaching coronavirus restrictions after he held a series of sermons with tens of thousands of followers.
Rizieq Shihab's arrest came just days after Jakarta police shot dead six followers of his hardline Islamist group in a highway shootout.
Shihab will be detained for 20 days to prevent him from fleeing and destroying evidence, police said.
"Another reason for the detention is for him not to repeat the offence," National Police spokesman Argo Yuwono said Sunday.
If found guilty, he could face up to six years behind bars for breaching coronavirus rules.
Shihab was welcomed by tens of thousands of followers at Jakarta airport on his return from exile last month, in violation of a Covid-19 ban on gatherings.
As dozens who attended that gathering subsequently tested positive for the coronavirus, police summoned Shihab several times for questioning.
Indonesia has reported more than 600,000 coronavirus infections and over 18,500 deaths, with authorities imposing nationwide restrictions to curb the spread of the disease.
Despite those restrictions, Shihab held sermons, a celebration of the birthday of Islam's Prophet Mohammed, and his daughter's wedding -- all of which were attended by thousands of people.
The charismatic leader of the Islamic Defender Front (FPI), Shihab fled to Saudi Arabia shortly after police named him a suspect in a pornography case in 2017, and remained in exile for three years.
Since his return, he's called for a "moral revolution".
His FPI is notorious for targeting night clubs and other establishments it deems "immoral", and has also attacked minority Muslim sects it considers "deviant".
He was among the main figures behind mass rallies in 2016 against the then governor of Jakarta, Basuki Tjahaja Purnama, over allegations that he insulted the Koran.
Basuki, who is Christian, was sentenced to two years in prison for blasphemy.
https://www.indiatoday.in/world/story/indonesia-arrests-firebrand-islamist-cleric-for-breaching-coronavirus-restrictions-1749177-2020-12-13
--------
Muis urges Muslims to take Covid-19 vaccine once available, found to be safe and effective
Lester Wong
DEC 13, 2020
SINGAPORE - The Islamic Religious Council of Singapore (Muis) has urged Muslims to be vaccinated once a Covid-19 vaccine is available, and medically authorised as safe and effective.
In an irsyad- or religious guidance - issued on Sunday (Dec 13), Muis said a Covid-19 vaccine is permissible for use by Muslims as it is a basic necessity to protect lives in the context of a global pandemic.
"The objectives of introducing a Covid-19 vaccine and the processes involved in producing vaccines in general are largely aligned to established Islamic principles and values," it added, noting that Islam places great importance on the sanctity and safety of human life as well as the protection of livelihoods.
Muis pointed to a fatwa, or Islamic ruling, it issued in 2013 on the rotavirus vaccine, which considered vaccines to be a form of preventive treatment from diseases and encouraged in Islam.
"This is drawn from the Prophetic guidance that one should consume foods that offer some protection from illnesses," it added.
Muis' religious guidance comes on the back of concerns from Muslims in the neighbouring countries of Malaysia and Indonesia over the halal status of a Covid-19 vaccine.
The religious view of a Covid-19 vaccine must take a more holistic stance that "transcends the narrow view of halalness or permissibility of its ingredients", Muis said, setting out three areas that it said have been carefully considered.
First, vaccines are a critical necessity in saving lives and ensuring societies can function safely and cohesively.
A second important consideration is that any vaccine must not have any known adverse medical effects that will cause harm to those who take it.
On the permissibility of ingredients used in vaccines, Muis cited a 2015 ruling on the drug Heparin, a blood thinner which contains pig enzymes, as an example of a situation that permits the use of impure or prohibited substances for treatment as evident in some Prophetic traditions.
"The impure substances or prohibited items used in upstream processes would have undergone multiple layers of chemical processes such as filtration that would render them undetectable or negligible in the final product," Muis said.
"In such situations, the final product (drug or vaccine) is deemed permissible for Muslim use."
In a Facebook post on Sunday, Minister-in-charge of Muslim Affairs Masagos Zulkifli welcomed Muis' religious guidance and strongly encouraged Muslims to be vaccinated once the vaccines are available in Singapore.
"I am thankful to our religious leaders, who are highly knowledgeable, progressive, enlightened, and attuned to the concerns of our Malay/Muslim community in the context of the global pandemic," he said.
https://www.straitstimes.com/singapore/muis-urges-muslims-to-take-covid-19-vaccine-once-it-is-available-found-to-be-safe-and
--------
What hardline Islamic cleric Rizieq Shihab's return means for Indonesian politics
14 Dec 2020
JAKARTA, Dec 14 — Indonesian police arrested firebrand Islamic cleric Rizieq Shihab on Saturday on suspicion of violating coronavirus protocols after the staging of several mass gatherings since his return from self-exile in Saudi Arabia last month.
The arrest comes after six of his bodyguards were shot dead by police last week and raises further concerns about a boiling over of tensions between authorities and Islamist groups in the world's biggest Muslim majority nation.
Who is Rizieq Shihab?
As head of the hardline Islamic Defender's Front (FPI), Rizieq has for years cut a controversial figure in Indonesian politics.
He was jailed in 2008 for inciting violence and left Indonesia in 2017 after facing charges of pornography, and insulting state ideology. Those charges have since been dropped.
Formed in 1998, in the tumultuous months after president Suharto stood down, the FPI initially had close links to security forces and became notorious for raiding bars and brothels, as well as violence against minorities, and preventing a Lady Gaga concert. It has also been involved in humanitarian work after natural disasters.
But moving from the fringes it has increased its political sway and in 2016 Rizieq was a key figure in a mass movement against Jakarta's former Christian governor, Basuki Tjahaja Purnama, or Ahok, who was jailed for insulting Islam.
The huge 2016 rallies raised concern about a threat to Indonesia's pluralist tradition and its secular state. President Joko Widodo, known as Jokowi, also viewed them as among the biggest threats to his government.
In the weeks since his return, Rizieq has declared plans for a "moral revolution".
Why was Rizieq arrested?
After twice ignoring police summonses, Rizieq turned himself in and was arrested.
He was charged with obstruction of law enforcement, incitement of criminal acts and violation of the quarantine law. He could face a maximum six years in prison if convicted.
The charges relate to mass events including the tens of thousands of people who showed up to greet Rizieq at the airport and his daughter's well-attended wedding.
What happened in the shootout?
Police say they were tailing a convoy of Rizieq supporters after hearing the FPI was preparing to mobilise. Police say they acted in self-defence when they shot the six supporters dead after firearms were pointed at them.
The FPI has described the incident as an "extrajudicial killing" and said Rizieq and his entourage were unarmed and travelling to a dawn prayer when attacked by unknown assailants.
Amnesty International Indonesia and Indonesia Police Watch have called for an independent investigation, and Indonesia's human rights commission has since opened a probe.
How big a force Islam in Indonesian politics?
With nearly 90 per cent of the population Muslim, Islam has always been important in Indonesian politics. Every president has been Muslim and the 2016 rallies saw Islam take on an increasingly prominent political role.
In a move seen as an attempt to appeal to Islamic voters, Jokowi chose cleric, Ma'ruf Amin, as his vice presidential running mate in 2019 and after the election appointed his poll opponent, Prabowo Subianto, who had backing from Islamist groups, as defence minister.
What could happen now?
Political analysts say given an opposition vacuum, the pandemic and the first recession in 22 years, Rizieq could harness frustrations with the government and pose a threat.
The 55-year-old has already met with several key opposition figures and there is a sense that he could be a kingmaker in the 2024 election.
More immediately, the police clash has seen the FPI hail the dead as 'martyrs' and call for demonstrations.
According to sources and analysts the government grossly underestimated Rizieq's continued appeal and quickly understood it needed to carefully calibrate its response to Rizieq.
Despite a more vocal backlash from pluralists and moderate Islamic groups toward Rizieq this year, the fatal clash is unlikely to have met the careful approach the administration had been aiming for. — Reuters
https://www.malaymail.com/news/world/2020/12/14/what-hardline-islamic-cleric-rizieq-shihabs-return-means-for-indonesian-pol/1931775
--------
Professor Wan Maseri's teachings to be referred to National Fatwa Council
12 Dec 2020
KOTA BHARU, Dec 12 — Issues on the teachings of "Asmaul Husna Wan Maseri" which is alleged to be deviant from Islam will be referred to the National Fatwa Council for further evaluation and decision, said Deputy Minister in the Prime Minister's Department (Religious Affairs) Ahmad Marzuk Shaary.
According to him, the matter had previously been raised and discussed several times in the Religious Division of the Prime Minister's Department in post-cabinet meetings.
He said initial information found that there were deviations in terms of the beliefs of Ahli Sunnah Wal Jamaah in the teachings of "Asmaul Husna Wan Maseri".
"As we know, each state government has the power to issue a fatwa on a teaching whether it is misguided or not.
So far, the teaching was alleged to have surfaced in Pahang and a fatwa on it has been issued as a deviation from Ahli Sunnah Wal Jamaah.
Apart from that, several states had taken the same action, including the Federal Territories, "he told reporters after the Covid-19 Musaadah Contribution Presentation Ceremony at the Pengkalan Chepa Parliamentary Level here, today.
It is understood that the teachings allegedly founded by Professor Wan Maseri Wan Ahmad had now been declared as heretical and misleading in Terengganu, Negeri Sembilan and several other states.
Ahmad Marzuk said, his ministry wanted to advise the communities, which were not fully aware about any teaching being taught, to be careful.
The individual who was said to be spreading this teaching was also no longer a member of PAS and had been sacked even though she had previously been a candidate in the general election, "he said.
Commenting further, he said so far the Federal Territories Mufti Department and the Akidah (Faith) Division under the Malaysian Islamic Development Department (Jakim) had been entrusted to obtain more information from the individual concerned. — Bernama
https://www.malaymail.com/news/malaysia/2020/12/12/professor-wan-maseris-teachings-to-be-referred-to-national-fatwa-council/1931331
--------
Indonesian police arrest top Al Qaeda-linked Jemaah Islamiah militant
13 December 2020
Indonesian police said they have arrested one of the senior-most members of the Al Qaeda-linked militant group Jemaah Islamiah who is said to be behind the 2002 bombings on the resort island of Bali that killed over 200 people.
Jemaah Islamiah's stated aim is to build an Islamic caliphate in Southeast Asia.
Zulkarnaen, one of the commanders of the Bali attack, was arrested on Thursday by anti-terrorism police, spokesman Ahmad Ramadhan said in a statement on Saturday.
He said the officers met no resistance.
Reuters was unable to reach Zulkarnaen or find out whether he had any legal representation. According to a UN Security Council report, he also goes by the name Aris Sumarsono.
Zulkarnaen is believed to have been involved in making the bombs that were used in the Bali attacks and in the bombing of the J.W. Marriott and Ritz-Carlton hotels in Jakarta in 2009 that killed nine people.
Jemaah Islamiah's former leader Para Wijayanto was arrested in 2019.
Stanislaus Riyanta, a security analyst, said that Zulkarnaen's arrest could either weaken Jemaah Islamiah's operations or "spur them into action to prove their existence or seek revenge."
https://english.alarabiya.net/en/News/world/2020/12/13/Indonesian-police-arrest-top-Al-Qaeda-linked-Jemaah-Islamiah-militant
--------
Arab World
'Fake news' in Lebanon causes anxiety, panic for those bombarded with misinformation
Bassam ZaaZaa
14 December 2020
When a 40-year-old businesswoman read on WhatsApp a broadcast message that her Lebanese bank was announcing bankruptcy she almost had a heart attack.
Hala Mohammad had an uncomfortable feeling all night after seeing the unverified announcement, not knowing the fate of her savings and deposits.
Her friend, who had shared that image, and her friend's parents are clients of the same bank where Mohammad's husband also works.
The family had done business at the bank for decades and they were furious until the next morning when they confirmed that the message had been nothing but a rumor.
Rumors that ping from phone to phone can create panic and fear, and in Lebanon, social media users face such rumors on a daily basis.
The constant of barrage of unverified content can stress social media users out, especially when the news could potentially heavily impact their life.
Misinformation on a former prime minister's demise
In another instance, an image of former Prime Minister Salim al-Hoss surfaced nearly three weeks ago on WhatsApp and Facebook announcing his death. The image was picked up by various news websites.
However, al-Hoss was, and is, alive, and his grandson posted a picture of himself with the former prime minister hanging out on a balcony.
Storekeeper Mohammed Ebrahim said sharing misinformation on social media scares users and triggers mental stress, especially when the news is related to the already ailing economy of Lebanon.
"Last week my daughter received a WhatsApp image informing her that their exam had been cancelled. At first she was happy, but then she called her school and it turned out to be a rumor or what her classmates described [as] a joke," Ebrahim said.
Some Lebanese are fed up with the constant stream of unverified information flooding their phones.
"I have stopped sharing any unsourced or unverified news or rumors on WhatsApp because this has become a very stressful practice. We are fed up," Maha C., an artist, told Al Arabiya English.
Social media users are bombarded with factoids
Today, there is an onslaught of information on the internet, and social media users are often ill-equipped to distinguish what is real and what is fake. This can have polarizing effects on a society, and for individuals, some misinformation can be anxiety inducing.
"People are bombarded by too many so-called factoids every day that make it so hard to differentiate between fact and fiction," Mahmoud Ghandour, a certified hypnotherapist and corporate trainer, told Al Arabiya English.
Misinformation shocks recipients who end up not knowing how to deal with it and unable to check its credibility, expert on sociology of conflicts Samah Halwany said.
"Misinformation and fake news burdens recipients, who end up wanting to get rid of that burden by sharing it on social media. Recipients would immediately resort to social media as a mean to dismiss the stress and burden caused by the fake news and misinformation. When misinformation frightens recipients, the latter would want others to share that same feeling so they share the content on social media for others to be scared also," Halwany explained.
A recipient, who forwards to others misinformation received, realizes that others who see the misinformation will interact with it or share the content, according to Halwany, who said those recipients would feel that someone has given them attention or cooperated with them.
A psychological specialist at the Lebanese University Myrna al-Sayed said social media is a powerful tool that impacts the public, positively or negatively.
"Sometimes a rumor could be partly factual but is purposely manipulated by promoters/launchers to serve hidden motives or personal gains," she said.
Al-Sayed emphasized that those who launch rumors take advantage of insecurities and difficult circumstances facing the public and aim to irritate individuals, who are seeking information and explanation of some sort of event or phenomenon.
"When rumors are circulated, individuals turn skeptical due to the lack of political stability … meanwhile the recurrence of catastrophes triggers fear and stress among society members," said al-Sayed, who stressed that the rumors' launchers often do so for financial or commercial gains, amassing followers and likes on posts.
Sometimes individuals launch rumors to test the public's readiness to accept decisions or laws that are expected to be announced by policymakers, according to al-Sayed.
A neuro-linguistic-programming practitioner at Mind Your Power, Ghandour said they help patients, through hypnotherapy, erase any remnants of unwanted fake information that have been lodged in their subconscious.
"Minds are programed to process information they get even during sleep … so sleep ailments occur when the information is worrisome. We try our best during treatment to make people differentiate between truths and lies. We teach them how to triangulate (getting the same news from three different sources) any news that they get in order to ensure that they are true and creating a built in filter," he concluded.
Irresponsible and illegal
Al-Sayed said that it is irresponsible to knowingly spread such rumors, and those who make them up often aim to "incite sectarian and partisan strife amongst the public."
"They also enjoy destroying the psychological stability of others and breaking up internal morale," al-Sayed said, calling on society to combat rumors through awareness campaigns in coordination with mainstream media and pertinent authorities.
Lawyer Joceline al-Rai said the act of sharing misinformation is punishable by law, especially if it aims to tarnish the reputation of an individual, entity, or the state.
"A person, who spreads fake news or a rumor using any median, in a context that libels or defames a person, entity or the state or jeopardizes the country's unity and harmony could be tried and face an imprisonment or a fine according to a judge's discretion," al-Rai said.
https://english.alarabiya.net/en/features/2020/12/14/Lebanon-crisis-Fake-news-in-Lebanon-causes-anxiety-panic-for-those-bombarded-with-misinformation
--------
UAE, Israel export credit agencies sign agreement following peace deal
13 December 2020
The export credit agencies of the United Arab Emirates (UAE) and Israel have signed a cooperation agreement to develop economic relations between the two countries, UAE's state news agency WAM said.
The UAE's Etihad Credit Insurance and the Israel Foreign Trade Risks Insurance Corporation plan to jointly support exports, trade, and investment between the two countries, WAM said, after they agreed to normalize relations in August.
https://english.alarabiya.net/en/News/gulf/2020/12/13/Israel-relations-UAE-Israel-export-credit-agencies-sign-agreement-following-peace-deal
--------
After Israel visit, Emiratis return to UAE with positive views of Palestinians
Emily Judd and Jennifer Bell
13 December 2020
The first Emiratis who traveled to Israel have returned home with positive impressions of Palestinians, contrary to reports of tension between the two peoples following the UAE's normalization with Israel.
Direct commercial flights between the UAE and Israel began on November 26, allowing Emirati civilians like Ahmad Bin Harib and his friends to travel to Israel for the first time in history.
Harib, who visited Tel Aviv and Jerusalem, said his group received a warm welcome from both Israelis and Palestinians.
"Our interactions with the Palestinians were very positive. They welcomed us and greeted us when they knew we were from the UAE. They seemed really happy in meeting us," Harib said in an interview with Al Arabiya English.
"And we were extremely happy in meeting our Palestinian brothers," he added.
In awe of Al Aqsa
The highlight of Harib's trip was visiting the third holiest site in Islam, Al Aqsa, located in East Jerusalem. The site has long been the source of conflict between Israeli Jews and Palestinian Muslims due to Jewish claims to the land as the Temple Mount.
"The visit was extremely pleasant and welcoming from the Muslims, Christians, and Jews. I saw firsthand how they all live in unison – in contradiction to what is portrayed by some of the media outlets in the region," Harib said.
Bader Mubarak, part of a UAE senior delegation who visited Israel in October, said praying in Al Aqsa was "the most elating and breathtaking moment" of his trip.
Mubarak visited the cities of Jerusalem, Jaffa, Tel Aviv, and Haifa as part of a visit that aimed to discover high-tech innovation and business opportunities in Israel.
"We visited sites as old as history and interacted with Israelis as well as Palestinians. We didn't encounter any problems nor difficulties while being there," Mubarak said.
Dissenting voices
However, not all Palestinians have welcomed Emiratis following the UAE's normalization with Israel.
Last month, a Palestinian guard at the Al Aqsa compound, which includes the Dome of the Rock and five other mosques, harassed a group from the UAE. The video of the incident went viral on social media.
The Grand Mufti of Jerusalem has also issued a fatwa banning Emiratis from praying at Al Aqsa, which has been condemned by senior Muslim religious leaders around the world.
Emiratis planning their visit
Emiratis like May Al Badi are undeterred by the few hostile Palestinian voices and have plans to travel to Israel in the coming weeks.
A member of the UAE-Israel Business Council, Al Badi has long held a dream to visit Israel and began learning Hebrew last year. She is currently co-authoring a book on Emirati food for kosher households.
"I am planning to go as soon as possible," Al Badi told Al Arabiya English. "It has always been a dream of mine and I think the Abraham Accords have opened up a lot of opportunities - be it business opportunities, leisure opportunities or tourism opportunities."
"We are all very excited about this and I cannot wait to visit the country I have always wanted to go to," she added.
The UAE announced it would normalize relations with Israel on August 13, in exchange for the Israeli government's suspension of plans to annex Palestinian land.
In September, diplomatic ties were formalized during a signing ceremony of the peace agreement, known as the Abraham Accords, alongside fellow Gulf state Bahrain at the White House.
Since then, relations between the two governments and peoples have progressed at "breakneck speed," according to Israeli Prime Minister Benjamin Netanyahu, including the establishment of a UAE-Israel Business Council and a Hebrew language academy in the UAE.
Israeli delegations and civilians have already started traveling to the UAE, with some being welcomed by Al Badi.
"I have shown them Etihad museum, the Burj Khalifa, and hidden gems such as Emirati restaurants and cafes," she said.
"As an Emirati, I feel obliged to share knowledge about my country's culture and history. I can't wait to be the one who now experiences their culture," she added.
https://english.alarabiya.net/en/News/gulf/2020/12/13/After-Israel-visit-Emiratis-return-to-UAE-with-positive-views-of-Palestinians
--------
One sheriff in town: Saudi Arabia launches 'mini Ritz' crackdown, sparks terror
14 December 2020
Saudi Arabia has launched a new purported anti-corruption crackdown resembling the 2017 campaign, sparking further terror in the kingdom.
Reports say the new crackdown, which has targeted top-ranking military officials as well as low-key municipal, health and environment officials, aims to tighten Saudi Crown Prince Mohammed bin Salman (MBS)'s grip on power.
The drive emphasizes that "there is only one sheriff in town", French news agency AFP quoted an observer in Saudi Arabia as saying.
The crackdown is widely dubbed as a "mini Ritz" operation, a reference to the November 2017 clampdown that saw princes and tycoons rounded up and detained at the luxury Ritz-Carlton hotel in Riyadh over similar corruption charges.
The detentions had been ordered by Saudi Arabia's so-called Anti-Corruption Committee headed by bin Salman in a crackdown widely believed to be aimed at consolidating his power.
The recent crackdown has led to scores of detentions in recent months and the seizure of hoards of cash.
The official anti-corruption agency Nazaha said in its reports published on state media that it has caught bribe-seekers "red-handed" in live raids.
Last month, the crown prince told the advisory Shura Council that the alleged anti-corruption campaign had yielded 247 billion riyals ($66 billion) over the last three years in addition to assets, real estate and stocks worth billions more.
But the New York-based Human Rights Watch warned earlier this year of "unfair legal proceedings" in an opaque judicial system.
Some speculate that the purge is a cover to replenish state coffers amid a deep economic contraction.
One Saudi academic told AFP he suspects the "real targets are not the corrupt, but fines and new sources of revenue", noting that there is no transparency over how the government will utilize the seized cash and assets.
Others have suggested that the drive aims to root out security officials not deemed loyal enough to the rulers.
https://www.presstv.com/Detail/2020/12/14/640691/Saudi-launches-new-crackdown
--------
Explosion hits tanker off Saudi Arabia's Jeddah
14 December 2020
A shipping firm says an explosion has hit a fuel tanker off Saudi Arabia's Jeddah, a key Red Sea port and distribution center for oil giant Saudi Aramco.
The BW Group said in a statement that the ship suffered a blast early Monday after being hit by "an external source".
According to the report, the Singapore-flagged BW Rhine saw all 22 sailors on board escape without injury.
The firm warned it was possible some oil had leaked out from the site of the incident.
Dryad Global, a London-based maritime intelligence firm, also reported the explosion.
The United Kingdom Marine Trade Operations, which is linked to the British navy, called on ships in the area to "exercise extreme caution."
No one immediately elaborated on the cause. The Saudi authorities have yet to confirm the blast.
Last month, an explosion rocked a Greek-operated oil tanker docked at Saudi Arabia's southern port of Shuqaiq. The Riyadh-led military coalition blamed the attack on Yemen's Houthi Ansarullah movement, which has not commented on the incident.
This week's blast comes as Yemeni forces have been conducting retaliatory attacks against Saudi Arabia over the kingdom's bloody military campaign against their impoverished nation.
Last month, the spokesman for Yemen's Armed Forces, Brigadier General Yahya Saree, said that a distribution station operated by the Saudi Aramco oil company in Jeddah was targeted by the Quds-2 winged missile with high precision.
Saudi Arabia and a number of its regional allies launched their devastating war on Yemen in March 2015 in order to bring former president, Abd Rabbuh Mansur Hadi, back to power and crush the Ansarullah movement.
The US-based Armed Conflict Location and Event Data Project (ACLED), a nonprofit conflict-research organization, estimates that the war has claimed more than 100,000 lives over the past five years.
Riyadh and its allies have widely been criticized for the high civilian death toll as a result of their bombing campaign in Yemen.
The UN says more than 24 million Yemenis are in dire need of humanitarian aid, including 10 million suffering from extreme levels of hunger. The world body also refers to the situation in Yemen as the world's worst humanitarian crisis.
https://www.presstv.com/Detail/2020/12/14/640680/Explosion-hits-ship-Saudi-Arabia-Jeddah
--------
Turkish-backed militants attack areas in northeastern Syria
13 December 2020
Turkish-backed Takfiri militants have launched a series of artillery attacks in the northwestern Syrian city of Raqqah.
Syria's official news agency SANA reported that the attacks were carried out on the outskirts of the town of Ayn Issa on Sunday.
The militants have often launched raids to occupy homes, steal agricultural machinery, power generators and snatch other precious items in the region.
The Turkish government has been supporting the militants since they were deployed to northeastern Syria in October 2019, when the Turkish military launched a long-threatened cross-border invasion in a declared attempt to push militants of the Kurdish People's Protection Units (YPG) away from border areas.
Ankara views the US-backed YPG as a terrorist organization tied to the homegrown Kurdistan Workers' Party (PKK), which has been seeking an autonomous Kurdish region in Turkey since 1984.
Separately, SANA said three militants affiliated with the so-called Syrian Democratic Forces (SDF) were killed after their vehicles and positions came under attack in Syria's northeastern provinces of Hasakah and Dayr al-Zawr.
The SDF militants, who are patronized by the United States, also kidnapped a number of people, including a child, after raids in the towns of Shahel and Tayyana, located on the eastern countryside of Dayr al-Zawr.
Local Syrians complain that the SDF's constant raids have generated a state of frustration and instability, severely affecting their businesses and livelihood.
https://www.presstv.com/Detail/2020/12/13/640661/Turkish-backed-militants-Syria
--------
US plan to blacklist Iraqi Badr Organization as terrorist meant to protect Israel: Official
13 December 2020
A senior member of the Badr Organization, whose group is a part of the Iraqi Popular Mobilization Forces (PMU), also known by their Arabic name Hashd al-Sha'abi, has slammed Washington's attempts to classify his organization as terrorist, stressing that such measures are meant to protect the Israeli regime.
"We do not care about the White House's efforts to place the Badr Organization on the [so-called] US terror blacklist. Badr is an organization that has its own supporters and institutions. It is represented by a parliamentary faction and has more than 50 legislators in Fatah (Conquest) Alliance," Qusay al-Anbari, a spokesman for the organization, told Arabic-language al-Ahad news agency on Saturday.
He added, "Badr Organization is a part of the Iraqi political system and nation, and will not be affected by such evil plots. Everyone knows that the United States is working to protect the Zionist regime through various means, and is fighting resistance groups to prevent them from defending Palestine and the Arab world."
The remarks come as the US Congress is seeking to enact a new legislation that would designate the Badr Organization as a terror group, according to a copy of the bill obtained exclusively by the Washington Free Beacon newspaper.
The newspaper said that a member of the House Foreign Affairs Committee, Representative Joe Wilson, is leading such efforts.
Back on October 18, a political adviser to Iraqi officials and leading member of the State of Law Coalition said the United States is trying to eradicate Hashd al-Sha'abi by force and has even devised an action plan for such a purpose.
Saad al-Muttalibi told Arabic-language al-Nujaba television network in an interview at the time that not only had Iraqi authorities been informed of the plan, but also some political factions.
Muttalibi noted that a number of US state institutions have come to the conclusion that Hashd al-Sha'abi can only be removed from Iraq's arena by military force.
He went on to say that Washington intends to assassinate some high-ranking Hashd al-Sha'abi commanders and instigate clashes with other Iraqi armed forces as part of preparation for the total annihilation of the PMU.
Hashd al-Sh'abai fighters have played a major role in the liberation of Daesh-held areas to the south, northeast and north of the Iraqi capital Baghdad, ever since the terrorists launched an offensive in the country in June 2014.
Back in November 2016, the Iraqi parliament approved a law giving full legal status to the fighters. It recognized the PMU as part of the national armed forces, placed the forces under the command of the prime minister, and granted them the right to receive salaries and pensions like the regular army and police forces.
On March 27, the New York Times reported that the Pentagon had ordered a secret directive, which called on US military commanders to prepare a campaign against Kata'ib Hezbollah, which is part of Hashd al-Sha'abi.
But the United States' top commander in Iraq at the time, Lieutenant General Robert P. White, warned that such a campaign could be bloody and counterproductive.
https://www.presstv.com/Detail/2020/12/13/640655/US-bids-to-designate-Iraqi-Badr-Organization-as-terrorist-meant-to-protect-Israel-Official
--------
Syrian media: US military tankers smuggle crude oil from Hasakah to Iraq again
13 December 2020
A convoy of dozens of US tankers has left Syria's northeastern province of Hasakah for the neighboring Iraq laden with the Arab country's crude oil, as Washington continues looting Syria's energy resources.
Syria's official news agency SANA, citing local sources in the village of al-Sweidyia, reported that a convoy of 85 military vehicles and tankers departed Syria through al-Walid border crossing on Sunday, heading towards Iraqi territories.
The sources added that 16 armored vehicles belonging to the US military escorted the convoy until it reached the border crossing.
During recent months, the US military has increased smuggling Syria's oil through the Iraqi soil.
On December 9, local sources, requesting not to be named, told SANA that a convoy of 60 US military vehicles and tankers rumbled through al-Walid border crossing and headed towards western Iraq after being filled with crude from Rmeilan oil fields in Syria's Hasakah province.
The US first confirmed its looting of Syrian oil during a Senate hearing exchange between South Carolina Republican Senator Lindsey Graham and US Secretary of State Mike Pompeo in late July.
On July 30 and during his testimony to the Senate Foreign Relations Committee, Pompeo confirmed for the first time that an American oil company would begin work in northeastern Syria, which is controlled by militants from the so-called Syrian Democratic Forces (SDF).
The Syrian government strongly condemned the agreement, saying that the deal was struck to plunder the country's natural resources, including oil and gas, under the sponsorship and support of the administration of US President Donald Trump.
Syrian army finds Israeli-made weapons in southern region
Also on Sunday, Syrian government forces confiscated a large amount of weapons and ammunition, some of which are Israeli-made, in a southern region of the country.
The seized weapons were found in former strongholds of foreign-backed Takfiri terrorists, and included heavy and light weapons, some of which are Israeli-made, as well as an unmanned aerial vehicle.
Dozens of automatic rifles, sniper rifles, 23mm and 12.7mm machine guns, shoulder-launched missiles, rocket-propelled grenades of various calibers, and more than 300 metal bullet boxes were also among the confiscated weapons.
Syrian army has discovered several batches of weapons in the southern province of Dara'a and elsewhere across the country after defeating Takfiri terrorists.
Dara'a province holds major significance as it was the birthplace of the nine-year-old Syria conflict, and government troops are still finding weapons in that area as part of a wide-scale clean-up campaign that followed the liberation of Dara'a in 2018.
https://www.presstv.com/Detail/2020/12/13/640642/US-military-tankers-smuggle-crude-oil-from-Syria-Hasakah-to-Iraq-again
--------
Mideast
Iran jails British-Iranian researcher for 9 years for 'subversive' research work
13 December 2020
A court in Iran has handed a nine-year jail sentence to British-Iranian anthropologist Kameel Ahmady, after convicting him of conducting "subversive" research work, the semi-official news agency Tasnim said on Sunday.
Ahmady was also fined 600,000 euros ($727,000) - the sum Iranian authorities said he received for his research from institutions accused of seeking to topple Iran's Islamic government, Tasnim reported.
For all the latest headlines follow our Google News channel online or via the app.
There was no immediate official confirmation of the sentence, which was also reported by other Iranian news agencies and a human rights groups.
"Ahmady was accused of acquiring illicit property from his cooperation in implementing subversive institutions' projects in the country," Tasnim said.
Ahmady, an ethnic Kurd who had researched controversial issues such as child marriage and female genital mutilation (FGM) in Iran, was detained in August 2019 but released on bail three months later, according to human rights groups.
After his arrest, his wife told the New York-based Center for Human Rights in Iran that his work was independent and published with government approval.
Rights activists have accused Iran of arresting dozens of dual nationals to try to win concessions from other countries - a charge that the Islamic republic has regularly dismissed.
https://english.alarabiya.net/en/News/middle-east/2020/12/14/Iran-jails-British-Iranian-researcher-for-9-years-for-subversive-research-work
--------
Iran forum postponed as journalist, diplomats withdraw over journalist's execution
Yaghoub Fazeli
13 December 2020
A Tehran-based business forum that aimed to promote trade between Europe and the Islamic Republic was postponed a day before it was set to start after journalists and diplomats were successfully pressured to withdraw over the execution of Iranian dissident journalist Ruhollah Zam.
"The organizing committee of the Europe-Iran Business Forum has decided to take the exceptional step of postponing the conference, which was slated to take place on December 14-16 as an online event," the Europe-Iran Business Forum said in a statement.
For all the latest headlines follow our Google News channel online or via the app.
The statement did not say why the event has been postponed.
Meanwhile, the French Foreign Ministry tweeted that the French, German, Austrian and Italian envoys to Tehran will no longer attend the forum due to Iran's "barbaric and unacceptable" execution of Zam.
Earlier today, Iran summoned the envoys of Germany and France after the two European countries condemned Zam's execution.
Zam, who Iran convicted of inciting violence during anti-government protests in late 2017, was executed on Saturday, state media reported. He ran Amadnews, a channel on popular messaging app Telegram which had over a million followers.
Iranian agents reportedly captured Zam during a visit to Iraq in 2019. Iran's Islamic Revolutionary Guard Corps (IRGC) said at the time they had "trapped" Zam in a "complex operation using intelligence deception."
There had already been calls for a boycott of the forum due to Iran's human rights record, but these calls intensified following Zam's execution, with critics arguing that such events only benefit the Iranian regime and "normalize" its suppression of dissent.
Prior to the forum's postponement, Patrick Wintour, diplomatic editor at The Guardian who was on the speakers' list had tweeted that he would not attend the event in protest of Zam's execution.
"For those interested: after Iran's abhorrent execution of fellow journalist Ruhollah Zam, I am not chairing tomorrow's discussion with EU envoys based in Tehran on economic relations with Iran," Wintour tweeted.
In addition to European envoys, Iran's Foreign Minister Mohammad Javad Zarif and the European Union's foreign policy chief Josep Borrell were also scheduled to speak at the event.
https://english.alarabiya.net/en/News/middle-east/2020/12/13/Tehran-based-conference-cancelled-after-European-ambassadors-withdraw
--------
'Business as usual with Iran' will be mistake: Israel's Netanyahu
13 December 2020
Israeli Prime Minister Benjamin Netanyahu on Sunday said it would be a mistake "to go back to business as usual with Iran," signaling Israeli resistance to an expected push by President-elect Joe Biden to revive the international nuclear deal with Iran.
Netanyahu spoke at a press conference with Robert O'Brien, President Donald Trump's national security adviser.
But his comments appeared to be aimed at Biden, who has said the US will rejoin the nuclear deal if Iran agrees to strict adherence. The deal, which lifted sanctions on Iran in exchange for curbs on its nuclear program, has unraveled since Trump withdrew from it in 2018.
Netanyahu led an unsuccessful fight against the deal when it was negotiated by then-President Barack Obama in 2015 and welcomed Trump's withdrawal three years later.
Netanyahu says the deal will not prevent Iran from developing a nuclear weapon and fails to address other belligerent Iranian behavior, such as its support for proxies across the region and its development of a long-range missile program.
"As long as Iran continues to subjugate and threaten its neighbors, as long as Iran continues calling for Israel's destruction, as long as Iran continues to bankroll, equip and train terrorist organizations throughout the region and the world, and as long as Iran persists in its dangerous quest for nuclear weapons and the means to deliver them, we shouldn't go back to business as usual with Iran," Netanyahu said Sunday.
"We should all unite to prevent this major threat to world peace."
O'Brien arrived days after the US announced that Israel and Morocco were establishing full diplomatic relations — making it the fourth such deal between Israel and an Arab state brokered by the outgoing Trump administration.
O'Brien said the Trump administration's pressure campaign against Iran has been successful and said the string of agreements between Israel and Arab countries would cement what he called "the legacies of peacemakers" Trump and Netanyahu.
https://english.alarabiya.net/en/News/middle-east/2020/12/13/-Business-as-usual-with-Iran-will-be-mistake-Israel-s-Netanyahu
--------
Hamas says armed struggle only way to confront 'Zionist enemy'
13 December 2020
A top official of the Palestinian resistance movement, Hamas, says the movement believes that armed struggle is still the sole way of confronting the "Zionist enemy" while condemning recent moves by certain Arab countries to normalize ties with Israel.
The announcement was made by Naseem Yassin in a Sunday event during which the movement announced that it was canceling a ceremony planned to mark its 33rd establishment anniversary in the light of the ongoing pandemic of the deadly new coronavirus.
"Today, we recall the founder [of Hamas] martyr Sheikh Ahmed Yassin, who despite his suffering presented a patriotic model in sacrifice and working for the unity of Palestinians and armed struggle for Palestine," he added, as quoted by the Palestinian Information Center.
Sheikh Ahmed Yassin, the founder of Hamas, was assassinated along with a number of his guards on March 22, 2004, when an Israeli aircraft targeted them with Hellfire missiles as the 67-year-old leader was being wheeled out of an early morning prayer session held at a mosque close to his house in Gaza City.
The Hamas official further stated that the 33rd anniversary of Hamas comes at a time that the Palestinian cause is going through great challenges and the COVID-19 pandemic has also compounded the problems facing Palestinians in the Gaza Strip, which has been suffering from an immoral Israeli-imposed blockade from land, air, and sea since 2007.
The crippling blockade has caused a sharp decline in the standard of living as well as unprecedented levels of unemployment and unrelenting poverty in the densely-populated enclave.
Yassin added that Hamas still believes that armed struggle is the only feasible means of confronting the "Zionist enemy," while negotiations, normalization, and security coordination [with Israel] are mere illusions.
His remarks come as four Arab countries – namely the United Arab Emirates (UAE), Bahrain, Sudan, and quite recently Morocco – reached much-condemned US-brokered agreements with Israel on the normalization of relations.
Yassin also called on all Palestinians to strengthen the sense of solidarity throughout the Palestinian nation and to launch charitable initiatives to enhance the steadfastness of Palestinians in the face of all challenges and threats posed by the Tel Aviv regime.
Morocco, Israel normalization "poisonous stab" to Palestinian cause: Hamas
Separately on Sunday, Mahmoud al-Zahar, a co-founder of Hamas and a member of the group's leadership in the Gaza Strip, said the recent declaration of normalization of relations between Morocco and Israel is a "poisonous stab" to the Palestinian cause and the entire Muslim nation.
The top Hamas official, who is also the head of Hamas' parliamentary Change and Reform Bloc, made the comments during a speech he delivered at the Palestinian Legislative Council in Gaza City, the Palestinian Information Center reported.
US President Donald Trump announced on Thursday that Morocco had reached an agreement with Israel on the normalization of relations. Morocco, thus, became the fourth Arab country — after the United Arab Emirates (UAE), Bahrain, and Sudan — to reach such an agreement with the Tel Aviv regime since August.
The US secured the deal by agreeing to recognize Moroccan "sovereignty" over disputed areas in Western Sahara.
Morocco annexed the vast Western Sahara region, a former Spanish colony, in 1975 and has since been in conflict with the Algeria-backed Polisario Front, a movement that seeks to establish an independent state in the territory and end Morocco's presence there.
Al-Zahar described normalization of relations with the Israel as "a complete deviation by the normalizing regimes with the (Israeli) occupation from the values and constants of the Arab and Islamic nation."
The senior Hamas official also said that the so-called normalization is also a betrayal of the Moroccan martyrs who defended the land of the Holy City and who built it until one of the Jerusalem al-Quds neighborhoods and one of the gates of the al-Aqsa Mosque were named after them.
"Normalization is a reward to the Zionist occupation for its crimes against the Palestinian people and its aggression against the [Palestinian] nation. Israel exploits these deals to escalate its persistent aggression against Jerusalem and al-Aqsa, confiscate land, establish settlements, arrest women and children, demolish homes and besiege the defenseless Palestinian people", al-Zahar stressed.
He also appealed to all Moroccans to strongly protest against the crime of normalization and not accept the cheap bargain that Trump forged at the expense of the rights, constants, and sanctities of the Muslim nation.
"Normalization with the occupier in exchange for forfeiting one of the Muslim nation's sanctities is high treason and a crime against our religion and a political, human and moral crime aimed at liquidating the Palestinian cause and giving false legitimacy to the Zionist occupation of Jerusalem, Al-Aqsa, and Palestine," al-Zahar concluded.
https://www.presstv.com/Detail/2020/12/13/640664/Palestine-Hamas-armed-struggle-Israel-Yassin-Gaza-US-normalization-Morocco-
--------
Israeli forces arrest dozens of Palestinians in West Bank, al-Quds
13 December 2020
Israeli forces have arrested dozens of Palestinians, including teenagers, a child and a journalist, in the occupied West Bank and Jerusalem al-Quds.
According to the Palestinian Information Center, the arrests were made during raids on Saturday night and at dawn on Sunday.
The troops damaged property and terrorized residents, particularly women and children.
The report said the Israeli forces stormed the martyr Muhammad Ubaid neighborhood of Issawiya.
Tens of people also suffered from asphyxiation after tear gas canisters were fired by the forces.
Palestinian journalist Muhannad Qafisha was beaten and injured by several Israeli settlers from the Ramat Yishai and Beit Hadassah settlements in the center of al-Khalil. He was then arrested by the soldiers but later released on bail.
The Israeli regime frequently violates the rights of Palestinians. Palestinian youths, and even minors, are detained for long periods of time.
The Palestinian Prisoners' Society (PPS), a Palestinian human rights group, reported last month that the regime had detained at least 400 Palestinian children in the first 10 months of the current year.
"The Israeli authorities continue to hold 170 Palestinian children in their prisons," read the PPS report, which was issued on November 19.
In a statement at the end of 2019, the rights group said Israeli authorities had arrested more than 5,500 Palestinians in 2019, including about 890 children and nearly 130 women.
In 2015, Israel legalized the issuance of high prison sentences for children, in some cases up to life imprisonment. According to the PPS, Israel has arrested about 7,000 children since that year.
The detentions continue despite condemnation from all over the world.
https://www.presstv.com/Detail/2020/12/13/640662/Israel-Palestinians-West-Bank-Quds
--------
Palestinians condemn Israel-Morocco normalisation deal
13 December 2020
Palestinians in the Gaza Strip condemn the new normalization deal between Israel and Morocco, saying it will weaken the Palestinian cause.
The Hamas movement, which controls the Palestinian enclave, also condemns the deal and calls on the parliament of Morocco to "criminalise" the normalisation between the two countries.
https://www.presstv.com/Detail/2020/12/13/640650/Gaza-Israel-Morocco-deal
--------
Turkey to send ambassador to Israel for first time in two years: Paper
14 December 2020
Turkey has selected a new ambassador to send to Israel after Ankara recalled its envoys in 2018 over the killing of Palestinians in the Gaza Strip at the hands of Israeli forces, media reports say.
The candidate is the 40-year-old Ufuk Ulutas, the chairman for the Center for Strategic Research at the Turkish Foreign Ministry who formerly studied at the Hebrew University of Jerusalem, they said.
Last week, al-Monitor cited sources as saying that Ulutas, a non-career diplomat, is "very polished," "very clever" and "very pro-Palestinian".
According to the report, the move aimed to improve Ankara's relationship with the US.
The Times of Israeli on Sunday said it was not immediately clear if Israel was set to return its ambassador to Turkey.
Turkey recalled its ambassadors to Tel Aviv following the killing of dozens of Palestinian protesters by Israeli forces, and the inauguration of the US embassy in Jerusalem al-Quds in May 2018.
Ankara also expelled Israel's ambassador, Eitan Na'eh, and consul in Istanbul.
Israeli-Turkish ties have remained frosty despite the 2016 normalization deal.
In June 2016, Israel and Turkey reached an agreement on the normalization of their relations six years after an Israeli raid on a Gaza-bound Turkish aid flotilla killed 10 Turkish activists in high seas and sent their ties spiraling into a cycle of tensions in May 2010.
Ankara initially reacted with fury. It suspended its military ties with Israel and expelled the Israeli envoy from Ankara in September 2010 over Tel Aviv's refusal to apologize for the killings.
Turkey's President Recep Tayyip Erdogan recently condemned Israel's normalization deals with Persian Gulf Arab states.
https://www.presstv.com/Detail/2020/12/14/640697/Turkey-send-ambassador-Israel-
--------
UAE, Bahrain envoys to US celebrate Jewish holiday
13 December 2020
The Emirati and Bahraini envoys to the United States have joined a virtual event, hosted by the Israeli embassy in Washington, commemorating the third day of the Jewish holiday of Hanukkah.
Yousef al-Otaiba and Shaikh Abdulla bin Rashid bin Abdulla Al Khalifa, the ambassadors of the UAE and Bahrain to the US, participated at the candle-lighting ceremony on Saturday.
It came almost three months after Abu Dhabi and Manama signed normalization pacts with the occupying Israeli regime during an official ceremony hosted by US President Donald Trump at the White House.
"This year, I'm lighting the Hanukkah candles with you at the same time the Jewish community in the UAE are lighting their Hanukkah candles. Now that is peace," Otaiba said. "Next year, let us hope we can celebrate this holiday together in person."
"This year may look and feel a little different, as the COVID pandemic continues to impact our daily lives. But I'm still filled with hope. Hope that in 2021, will bring a brand new start for us," he added.
The Bahraini ambassador said, "In a time of hardship for us all, it was that flame of desire, that desire for peace, that prevailed."
"This year, may the hope for peace that exists in each of us burn brightly enough to illuminate the desire in others. As on the menorah, let our one candle be surrounded by others, radiating the light of hope on whatever shadows are cast by those wishing to perpetuate darkness and fear," he noted.
Israel's ambassador Ron Dermer said both envoys "played a critical role in forging that historic breakthrough," referring to the normalization deals.
"It was the year of the pandemic, but it was also the year of peace," he claimed.
Dermer also spoke to Moroccan Ambassador to Washington Princess Lalla Joumala Alaoui, agreeing to meet her soon to examine ways to promote Tel Aviv-Rabat ties.
On Thursday, Morocco became the fourth Arab state this year, after the UAE, Bahrain and Sudan, to announce it had agreed to forge formal diplomatic relations with Israel.
Palestinians have condemned the normalization agreements as a treacherous "stab in the back" in their struggle against the Israeli occupation.
https://www.presstv.com/Detail/2020/12/13/640620/UAE-Bahrain-Israel-Hanukkah
--------
North America
Biden's incoming national security aide condemns Iran's execution of journalist
Yaghoub Fazeli
14 December 2020
Iran's execution of dissident journalist Ruhollah Zam is a "horrifying human rights violation," US President-elect Joe Biden's incoming national security adviser Jake Sullivan said in a tweet on Sunday.
Zam's execution has drawn international condemnation, including from rights groups and the European Union.
"Iran's execution of Ruhollah Zam, a journalist who was denied due process and sentenced for exercising his universal rights, is another horrifying human rights violation by the Iranian regime," Sullivan said.
"We will join our partners in calling out and standing up to Iran's abuses," he added in the same tweet.
Also on Sunday, a Tehran-based business forum that aimed to promote trade between Europe and the Islamic Republic was postponed a day before it was set to start after several European envoys to Iran who were slated to speak at the forum announced their withdrawal over Zam's execution.
In addition to European envoys, Iran's Foreign Minister Mohammad Javad Zarif and the European Union's foreign policy chief Josep Borrell were also set to speak at the forum.
Zam, who Iran convicted of inciting violence during anti-government protests in late 2017, was executed on Saturday, state media reported. He ran Amadnews, a channel on popular messaging app Telegram which had over a million followers.
Iranian agents reportedly captured Zam during a visit to Iraq in 2019. Iran's Islamic Revolutionary Guard Corps (IRGC) said at the time they had "trapped" Zam in a "complex operation using intelligence deception."
https://english.alarabiya.net/en/News/middle-east/2020/12/14/Biden-s-incoming-national-security-aide-condemns-Iran-s-execution-of-journalist
--------
US officially removes Sudan from State Sponsor of Terror list: Embassy
14 December 2020
The US has officially removed Sudan from its State Sponsor of Terror list, said the US Embassy in Khartoum on Monday.
"The congressional notification period of 45 days has lapsed and the Secretary of State has signed a notification stating rescission of Sudan's State Sponsor of Terrorism designation is effective as of today (December 14), to be published in the Federal Register," the embassy posted on Facebook.
Sudan has been placed on the US terror list in 1993.
Posted by U.S. Embassy Khartoum on Sunday, December 13, 2020
Outgoing US President Donald Trump had announced in October that he would take Sudan off the list, which also includes North Korea, Iran, and Syria.
Sudan's new civilian-led government had advocated for the step following its rise to power after the fall of former President Omar al-Bashir and his military regime.
As part of a deal, Sudan agreed to $335 million to compensate survivors and victims' families from the twin 1998 attacks on US embassies in Kenya and Tanzania, carried out when al-Bashir was welcoming al-Qaeda, and a 2000 attack on the USS Cole off Yemen's coast.
According to the October announcement, once the compensation money was deposited, Trump was to sign an order removing Sudan from the terrorism list on which it has languished under heavy American sanctions for 27 years.
Sudan's transitional government, which took over last year following Bashir's overthrow, has also agreed to recognize Israel, a major goal for Trump, although Khartoum has sought to downplay the connection.
Sudan became the third Arab state - after the United Arab Emirates and Bahrain - to move to normalize relations with Israel this year. After Sudan, Morocco also established diplomatic ties with Israel.
https://english.alarabiya.net/en/News/world/2020/12/14/US-signs-to-officially-remove-Sudan-from-State-Sponsor-of-Terror-list
--------
Israeli diplomat warns Biden against resuming UNRWA funding
13 December 2020
A former Israeli regime ambassador to the United Nations has reportedly warned the incoming administration of US President-elect Joe Biden against funding the UN Relief and Works Agency for Palestine Refugees (UNRWA).
Ron Prosor, veteran Israeli diplomat who served as Tel Aviv regime's envoy to the UN until 2015 and to the UK prior to that, further called on Biden not to re-join two other UN agencies, namely the Human Rights Council (UNHRC) and UNESCO, arguing that US presence in such bodies even in dissent grants greater legitimacy to "science fiction" opinions critical of Israel, the UK-based Middle East Monitor (MEMO) reported Friday.
Prosor, who now heads the Tel Aviv-based Abba Eban Institute for International Diplomacy, made the remarks during a discussion with the American Jewish Committee (AJC) -- a major pro-Israel lobby group based in New York – in which he accused the UNRWA of prolonging what he referred to as Palestine-Israel conflict.
The veteran Israeli diplomat directly warned Biden not to go near UNRWA, insisting that the relief agency perpetuates the conflict by honoring Palestinian refugee status for generations, blatantly claiming that this sort of approach amounts to an "incitement" against the Israeli regime.
"The bottom line for the United States of America– the minute you are in something, let's say the Council on Human Rights, which I call the Council on Human Wrongs… the minute you are there, the decisions that they make, by the fact you are there, you are legitimizing those decisions," he claimed.
"So I think this is an important point for the US to make, in saying we cannot influence a decision, we cannot leverage anything in the Council on Human Rights or UNESCO, it's better for us not to be there to give it legitimacy," the Israeli diplomat then underlined.
Prosor further boasted that American Jews "put their shoulder to the wheel on the [1947] UN partition resolution" that forced the establishment of the Israeli regime, adding that we need to keep strengthening "the bond between Israel and the Jewish people."
The outgoing US President Donald Trump cut funding to UNRWA and withdrew from membership of the two other UN bodies – citing their "bias against Israel" as part of his anti-Palestinian policy of promoting the interests of the apartheid regime occupying Palestine.
However, Biden has pledged to resume US membership in the UNHRC and re-join other international bodies that Trump had abandoned. He also suggested that donations will resume for UNRWA, the report added.
According to the report, a number of US analysts have stated that the powerful pro-Israeli lobby group has already begun engaging with Biden's transition team in efforts to safeguard the anti-Palestinian interests of the Israeli regime.
"It is clear from Prosor's statements what the priorities of the lobbyists are going to be when Biden is in the White House," it added.
https://www.presstv.com/Detail/2020/12/13/640602/US-President-elect-Joe-Biden-Israeli-diplomat-UNRWA-Palestine
--------
US confirms strike on Taliban in Afghanistan's Zhari
Michael Hernandez
11.12.2020
WASHINGTON
The US military confirmed Friday carrying out an airstrike against Taliban militants it said were in the process of attacking an Afghan government checkpoint in Zhari district.
The strike took place on Thursday, Col. Sonny Leggett, the spokesman for US forces in Afghanistan, said, maintaining it is in line with an agreement the US struck with the Taliban to draw down hostilities.
"The Taliban's claim of civilian casualties are false," Leggett said on Twitter.
The Afghan Defense Ministry said the US strike resulted in the deaths of 38 Taliban fighters, and wounded an addition dozen.
"Additionally, 30 IEDs were discovered and defused by Afghan National Army, 205 Atalanta Corps during reciprocal attacks," the ministry said in a statement posted on its website.
The strike came the same day as the UN General Assembly adopted 130-1 an annual resolution on the situation in Afghanistan.
With the resolution the assembly "pledged its continued support to the country's Government and people as they rebuild a stable, secure and economically self-sufficient State," according to the UN.
https://www.aa.com.tr/en/americas/us-confirms-strike-on-taliban-in-afghanistans-zhari/2074161
--------
URL: https://www.newageislam.com/islamic-world-news/united-kingdom-declared-pak-nobel/d/123753
New Age Islam, Islam Online, Islamic Website, African Muslim News, Arab World News, South Asia News, Indian Muslim News, World Muslim News, Women in Islam, Islamic Feminism, Arab Women, Women In Arab, Islamophobia in America, Muslim Women in West, Islam Women and Feminism