New Age Islam News Bureau
27 January 2021
Then-US Vice President Joe Biden, left, and Palestinian Authority President Mahmoud Abbas, shake hands for the press at the presidential compound in Ramallah, West Bank, Wednesday, March 9, 2016. (Debbie Hill, Pool via
-----
• Afghan Govt's Negotiator Holding Peace Talks With The Taliban, Nader Nadery, Accuse Taliban Of Snubbing Talks
• AIMIM Chief Asaduddin Owaisi Pitches For Dalit-Muslim Unity
• Pak Govt Decides To Amend Constitution For Senate Election
• Israeli Occupation Of Arab Territories Threatens Regional Stability, Security: Syria To UNSC
• Israel Says Ambassador To Morocco Takes Up Post After 20 Years Of Embassy Closure
• Top Security Official: Iran Not to Recognize Movements Empowered with War in Afghanistan
• Moscow Says Washington Must First Return To Nuclear Deal For Iran To Comply
North America
• Under Biden, The United States Will Restore Aid To Palestine And Reopen Diplomatic Missions Shuttered Under The Trump Administration
• Canada Parliament Labels US Far-Right Proud Boys Group 'A Terrorist Entity'
• Texas wannabe ISIS terrorist pleads guilty to providing materials to brutal group
• NATO Secretary-General, US President Discusses 'Range of Challenges' in Afghanistan, Iraq
• US expanding military presence in Saudi Arabia amid high tensions with Iran
--------
South Asia
• Afghan Govt's Negotiator Holding Peace Talks With The Taliban, Nader Nadery, Accuse Taliban Of Snubbing Talks
• Pakistan Secretly 'Offers Facilities and ID Cards' to Afghans Near Durand Line
• 'Trade, investment should dominate Bangladesh-US ties'
• 2 Policemen Injured in Another String of IED Attacks, Kabul
• Taliban backs COVID-19 vaccination drive as Afghan government gets funding pledge
• New generation of Taliban emerging, MP says
--------
India
• AIMIM Chief Asaduddin Owaisi Pitches For Dalit-Muslim Unity
• Two soldiers injured in Kashmir terror attack
--------
Pakistan
• Pak Govt Decides To Amend Constitution For Senate Election
• Pakistan opposition backs out from talks with government
• PTI lodges foreign funding case against JUI-F
• China's outgoing consul general praises Shehbaz's performance as CM
• Govt notifies dress code on the heels of SC reprimand
• Land issues on Pak-Afghan border to be resolved: Langove
• Pakistan Taliban 'commanders' killed in northwest: Pakistani army
--------
Arab World
• Israeli Occupation Of Arab Territories Threatens Regional Stability, Security: Syria To UNSC
• Grazing cows lead to squabble on Lebanese-Israeli border
• US-led coalition military convoy targeted near Iraq's Samarra
• Qatar stresses resolve to boost already 'excellent' ties with Iran
• US attempts to destabilize region through supporting terrorism: Iraqi MP
--------
Africa
• Israel Says Ambassador To Morocco Takes Up Post After 20 Years Of Embassy Closure
• Ethiopia Says No Border Talks Until Sudan Leaves Contested Land Amid Rising Tensions
• Tunisian protester dies after police clashes, fuelling new confrontations
• UN special envoy arrives in Sudan
• Tunisians Protest Once Again Against Social Injustice And Police Abuse
• Nigerian police kill two Sheikh Zakzaky supporters in Abuja
• Kenya: KDF Guns Down Terror Suspect, Injures Dozens
--------
Mideast
• Top Security Official: Iran Not to Recognize Movements Empowered with War in Afghanistan
• Turkey Faces Mysterious Jihadi Enemies In Idlib
• Ending Houthi Sanctions Raises Iran Terror Threat, Critics Warn
• Are Yemen's Iran-backed Houthis firing warning shots across Biden administration's bows?
• Iran Urges US to Compensate for Mistakes toward Iran
• Iran, Russia Ink Cyber Security Agreement
• Iran sentences brother of country's senior VP to two years in prison for corruption
• Israeli troops shoot dead Palestinian in alleged knife attack in occupied West Bank
• 5 terrorists surrender to Turkish security forces
--------
Europe
• Moscow Says Washington Must First Return To Nuclear Deal For Iran To Comply
• UN report accuses Yemen govt of money laundering, Houthis of taking $1.8 bln in 2019
• US should place embargo on arms deliveries, logistical support to Saudi-led coalition: Houthi
• France hopes US will change attitude on Lebanon's Hezbollah: Elysee source
• Moscow, Tehran interested in complete restoration of JCPOA
• Germany's Far-Right AfD Braces For Surveillance
--------
Southeast Asia
• Five Men Arrested in Aceh over Alleged Links with the Islamic State
• Penang Hindu temple completes annual silver chariot journey for Thaipusam before dawn
• Indonesian virus cases surpass a million amid vaccine drive
Compiled by New Age Islam News Bureau
URL: https://www.newageislam.com/islamic-world-news/under-biden-united-states-restore/d/124157
--------
Under Biden, The United States Will Restore Aid To Palestine And Reopen Diplomatic Missions Shuttered Under The Trump Administration
26 January 2021
Then-US Vice President Joe Biden, left, and Palestinian Authority President Mahmoud Abbas, shake hands for the press at the presidential compound in Ramallah, West Bank, Wednesday, March 9, 2016. (Debbie Hill, Pool via
-----
The United States will restore aid for the Palestinian people, and it will reopen diplomatic missions shuttered under the Trump administration, a US official said Tuesday.
Under new US President Joe Biden, Washington will continue using the momentum from his predecessor to encourage more countries to normalize ties with Tel Aviv. But the Biden administration recognizes that normalization is "not substitute for Israel-Palestinian peace," acting US ambassador to the United Nations Richard Mills told the Security Council on Tuesday.
Meanwhile, Biden's Middle East policy will be "to support a mutually agreed, two-state solution, in which Israel lives in peace and security, alongside a viable Palestinian state," Mills said.
Former President Donald Trump unveiled a peace plan, which envisioned a disjointed Palestinian state that turned over key parts of the West Bank to Israel. It also sided with Israel on key contentious issues that have bedeviled past peace efforts, including borders and the status of Jerusalem and Jewish settlements, and attached nearly impossible conditions for granting the Palestinians their hoped-for state.
Nevertheless, Trump was able to broker normalization deals between Israel and four Arab states, which included the United Arab Emirates, Bahrain, Sudan and Morocco.
https://english.alarabiya.net/News/middle-east/2021/01/26/Under-Biden-US-will-restore-aid-to-Palestine-and-reopen-diplomatic-missions
--------
Afghan Govt's Negotiator Holding Peace Talks With The Taliban, Nader Nadery, Accuse Taliban Of Snubbing Talks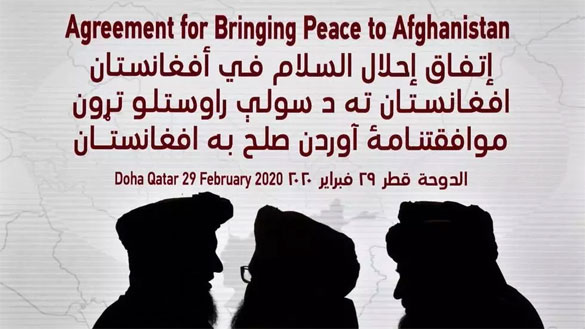 In this file photo taken on February 29, 2020, members of the Taliban delegation gather ahead of the signing ceremony with the United States in the Qatari capital Doha Giuseppe CACACE AFP/File
------
January 27, 2021
DOHA: Afghan government negotiators holding peace talks with the Taliban charged on Tuesday their opponents had been avoiding formal engagement for more than a week, an accusation the insurgents denied.
The two sides have been meeting in the Qatari capital Doha since September in a US-backed effort to contain the violence in their country, but the negotiations have already been interrupted by several long pauses.
"Peace and ending the violence are our people and government's top priority," tweeted Afghan government negotiator Nader Nadery.
"To achieve this noble goal, the (government) peace negotiation team is committed and present in Doha." His message added that no formal meetings had been held for nine days and said "the other side is not willing to engage in talks to end the conflict and save lives".
The Taliban rejected the suggestion they were putting off direct, formal engagement with the government side.
"Reports that the intra-Afghan talks have been delayed indefinitely are false, and the two teams are in touch with each other," said the spokesman for the Taliban's Doha office, Mohammad Naeem.
"No negotiations can be continuous and happening on a daily basis, since there may also be need for internal meetings."
'Further pressure'
Afghan government negotiators are pushing for a permanent ceasefire and to protect governance arrangements in place since the 2001 ouster of the Taliban in a US-led invasion following the September 11 attacks that year.
The talks have however been marred from the start by an increase in violence, and the country has seen a recent spate of high-profile targeted killings of officials, activists and journalists.
The negotiations follow a landmark foreign troop withdrawal deal signed in February 2020 by the insurgents and Washington.
The US agreed to withdraw all foreign forces within 14 months, in exchange for security guarantees and a Taliban pledge to hold talks with Kabul.
President Joe Biden's administration has however signalled it will review the US deal with the Taliban, including whether the insurgents have reduced attacks in keeping with the agreement.
https://www.dawn.com/news/1603866/afghan-govts-envoys-accuse-taliban-of-snubbing-talks
--------
Israeli occupation of Arab territories threatens regional stability, security: Syria to UNSC
27 January 2021
A senior Syrian official says the Israeli regime's continued occupation of Arab territories poses dire threats to the stability and security of the Middle East region, criticizing the UN Security Council for failure in its responsibility to end Tel Aviv's land grab.
Speaking at a virtual UN Security Council session on Tuesday, Syria's Deputy Foreign Minister and Permanent Representative to the United Nations Bashar al-Ja'afari said the Council has not managed over the past 54 years to bring Israel to account for its hostile acts against people in the occupied Arab lands due to the protection that some of the body's Western permanent members, particularly the US, provide to the regime.
Ja'afari added that Israeli authorities' disrespect for the international law and resolutions has reached an unprecedented level, as the regime presses ahead with its repeated acts of aggression against Syrian lands in a blatant violation of Security Council Resolution 350 and the 1974 Disengagement of Forces Agreement.
"The past few days have witnessed a sharp rise in the number of Israeli attacks against Syria, the most recent of which took place last Friday, when the regime perpetrated a new act of aggression near the city of Hama, claiming the lives of a couple and two children and wounding four others from the same family. A number of innocent civilians' homes were destroyed in the process as well," the Syrian diplomat added.
He further slammed Israel's arbitrary arrests of local Syrians in the occupied side of the Golan Heights, saying such a practice attest to the regime's crimes and human rights violations.
Ja'afari called on the UN Security Council to take a prompt measure to ensure the implementation of Resolution 497 and force the Israeli regime to stop its settlement expansion activities and repressive procedures against Syrian citizens in the occupied Golan Heights.
In 1967, Israel waged a full-scale war against Arab territories during which it occupied a large swathe of Syria's Golan Heights and annexed it four years later, a move never recognized by the international community.
Syria has repeatedly reaffirmed its sovereignty over the Heights, saying the territory must be completely restored to its control.
In March 2019, former US president Donald Trump signed a decree recognizing Israeli "sovereignty" over Golan during a meeting with Israeli Prime Minister Benjamin Netanyahu in Washington.
https://www.presstv.com/Detail/2021/01/27/643932/Israeli-occupation-of-Arab-territories-threatens-regional-stability-security-Syria-UN-envoy
--------
AIMIM Chief Asaduddin Owaisi Pitches For Dalit-Muslim Unity
Jan 27, 2021
Hyderabad: AIMIM chief Asaduddin Owaisi on Tuesday appealed for unity among the Dalit-Muslim community ahead of Bidar municipal elections, likely to be held in February. Addressing a gathering in Bidar, he said, ""Muslims should never compete with Dalits, instead, they should take Dalits along with them."
https://timesofindia.indiatimes.com/city/hyderabad/owaisi-pitches-for-dalit-muslim-unity/articleshow/80470232.cms
--------
Pak govt decides to amend Constitution for Senate election
Jan 27, 2021
ISLAMABAD: Pakistan Cabinet has decided to table a bill in Parliament to amend the Constitution for holding the Senate elections through open vote.
The decision was taken during the Cabinet meeting on Tuesday, presided over by Prime Minister Imran Khan.
"The government wants the (Senate) polls to be held in a transparent manner and without horse-trading. This is why we want Senate polls to be held through an open ballot," Information Minister Shibli Faraz told the media after the meeting.
He said that in the past, money was used in Senate elections and votes were bought making the House election a mockery. He asked what was the use of an upper house in which people come through purchasing of votes.
Faraz also said that people opposing the proposed move are forgetting that their own party had demanded open ballot in the past.
"The government will present a constitutional amendment bill in the parliament so that Senate polls are held through open ballot," he said.
Already the government petitioned to the Supreme Court, seeking direction to hold the upcoming Senate elections through open ballot. The decision is pending.
Meanwhile, Dawn newspaper quoted a Cabinet member as saying that Prime Minister Khan tasked his advisor parliamentary affairs Babar Awan to table a bill in the National Assembly for holding Senate elections through open ballot when the adviser was giving a briefing on the status of the government's reference in the Supreme Court.
Awan said the government had already laid two bills — Constitution Amendment Bill and Electoral Reforms Bill — in Parliament on the basis of which desired legislation could be done for an open ballot.
The Cabinet member said Awan had called a meeting of his ministry and its legislation branch to devise a roadmap on how to proceed with the matter in Parliament.
It has been proposed that since Senate polls could not be held through show of hand because every voter has to show his preference in the ballot paper. Therefore, to ensure open identity of the voter, the voter should be required to mention his name on the back side of the ballot paper, according to Dawn newspaper.
Senate elections will be held in the first half of next month and prime minister Khan's ruling Pakistan Tehreek-I-Insaf is wary that its own members may vote a gay party policy, according to Opposition parties that are against the move.
https://timesofindia.indiatimes.com/world/pakistan/pak-govt-decides-to-amend-constitution-for-senate-election/articleshow/80476374.cms
--------
Israel says ambassador to Morocco takes up post after 20 years of embassy closure
Tuqa Khalid
26 January 2021
Israel's new ambassador to Morocco arrived in Rabat on Tuesday to take up his post, as part of normalizing relations under the US-brokered Abraham Accord deals, the Israeli Foreign Ministry said in a statement.
The Ambassador David Guvrin arrived in Rabat along with his staff to begin working on further promoting bilateral ties between the two countries in all areas including: politicis, tourism, economy, and culture.
The Israeli embassy in Morocco had been shut in 2000 in solidarity with Palestinians.
Morocco became the fourth Arab country to forge deals with Israel, joining the UAE, Bahrain and Sudan. Israeli enoys along with Jared Kushner, former US President Donald Trump's son-in-law and architect of pan-Arab rapprochements with Israel, had visited Morocco late December and met with its king to iron out the details of upgrading ties.
The Israeli ministry also announced the opening of the Israeli consulate in Dubai on Tuesday and the appointment of Ilan Shtulman as new Consul General, two days after Israel inaugurated its embassy in Abu Dhabi and the UAE's cabinet approved establishing an Emirati embassy in Tel Aviv.
Israel's MFA also said its embassy in the capital of Bahrain Manama has been operational for several weeks.
In a first, Israeli Intelligence Minister Eli Cohen led a delegation to Khartoum, months after Sudan and the Jewish state struck a deal to normalize ties, an Israeli spokesman said on Tuesday.
Palestinians have been critical of the normalization deals, saying Arab countries have set back the cause of peace by abandoning a longstanding demand that Israel give up land for a Palestinian state before it can receive recognition.
https://english.alarabiya.net/News/middle-east/2021/01/26/Israel-says-ambassador-to-Morocco-takes-up-post-after-20-years-of-embassy-closure
--------
Top Security Official: Iran Not to Recognize Movements Empowered with War in Afghanistan
2021-January-27
"The Islamic Republic of Iran will never recognize a stream that wants to come to power through war in Afghanistan," Shamkhani said in a meeting with the head of Taliban's political bureau, Mullah Abdul Ghani Baradar, and his accompanying delegation in Tehran.
He stressed the need for participation of all ethnic groups in deciding Afghanistan's fate in a completely peaceful process.
Shamkhani described security of Afghanistan, specially in the provinces bordering Iran, as highly important, and underscored the need for Taliban's cooperation with the Afghan government to fight against any insecurity and confront the ISIL terrorist group's moves.
He referred to US record of atrocities and warmongerings in the region, and said, "The US does not seek peace and security in Afghanistan. The US strategy is to continue war and bloodshed among different groups in Afghanistan."
Shamkhani said that the US is seeking to stage a show of peace talks with the aim of creating a deadlock in the negotiations among various parties in Afghanistan to blame them for insecurity and instability.
Abdul Ghani Baradar, for his part, presented a report on the peace process in Afghanistan, and voiced regret about Trump's disloyalty to the implementation of the peace agreement.
"We do not trust the US and we will fight any stream that is the US mercenary," he added.
"We believe that all tribes and groups should participate and play a role in the future of Afghanistan," Mullah Abdul Ghani Baradar said.
He also emphasized the necessity for the establishment of security at Afghanistan-Iran border, and voiced Taliban's readiness to cooperate with Tehran in this regard.
Afghanistan's foreign ministry declared in a statement on Tuesday that it is informed of a delegation of Taliban group to Tehran to negotiate with Iranian officials on the Afghan peace process.
"The Government of the Islamic Republic of Iran has informed the Government of the Islamic Republic of Afghanistan about the visit of the Taliban delegation to Iran and has already requested and received the views of the Government of Afghanistan in this regard," the statement said.
Elaborating on the purpose of the Taliban delegation's visit to Iran, it said in addition to a declaration of its views, Tehran informs the Taliban on the existence of a regional consensus on immediate ceasefire and a comprehensive peace agreement within the framework of the Republic system and preservation of Afghanistan's constitutional values.
"Iran wants to ensure that the post-conflict Afghanistan is no longer a safe haven for the terrorist groups and remains a center of regional and international cooperation," the statement added.
It expressed the hope that the Taliban would comply with the legitimate demands of the Afghan people to stop the bloodshed and ensure lasting peace.
Iran's Foreign Ministry Spokesman Saeed Khatibzadeh said on Tuesday that a delegation of the Taliban group arrived in Tehran to negotiate with Iranian officials on the Afghan peace process.
Khatibzadeh said that Mullah Abdul Ghani Baradar and his accompanying delegation have come to Tehran upon the invitation of the Iran's foreign ministry.
"The Taliban delegation is scheduled to meet with senior Iranian diplomats to talk about the latest developments regarding the Afghan peace process and the related issues," he added.
In relevant remarks in December 2020, Iranian Ambassador to the UN Majid Takht Ravanchi said that his country supports the Afghanistan peace negotiations, stressing that Tehran places the interests of the Afghan people above all other interests.
Takht Ravanchi said during a meeting of the UN Security Council on Afghanistan on Thursday December 17 that Iran fully endorses the ongoing peace talks in Doha, noting that what is of the primary importance for his country are the national interests in Afghanistan.
https://www.farsnews.ir/en/news/13991108000341/Tp-Secriy-Official-Iran-N-Recgnize-Mvemens-Empwered-wih-War-in
--------
Moscow says Washington must first return to nuclear deal for Iran to comply
26 January 2021
Russia said Tuesday that the United States must lift sanctions against Tehran and comply with the Iran nuclear deal as a condition for the Islamic Republic to rejoin the accord.
Foreign Minister Sergei Lavrov said after talks with his Iranian counterpart that he hoped that "the United States returns to full compliance with the corresponding Security Council resolution, creating conditions for Iran to meet its obligations under the nuclear deal."
The Iran nuclear deal was agreed in 2015 between Iran, the United States, China, Russia, Britain, France and Germany.
It offered sanctions relief in exchange for curbs on Tehran's nuclear ambitions and guarantees it would not seek an atomic bomb.
The agreement largely fell apart after former US president Donald Trump unilaterally withdrew and ordered officials to reimpose tough penalties against Tehran as part of his administration's "maximum pressure" policy.
Iranian Foreign Minister Mohammad Javad Zarif echoed Russia's position Tuesday saying that if Washington lifts sanctions on Iran, "we will return to the full implementation of our obligations" under the agreement.
Washington has suggested it is prepared to rejoin the accord and President Joe Biden's pick for secretary of state, Anthony Blinken, said at a Senate confirmation hearing this month that Trump's policies had made Iran "more dangerous."
https://english.alarabiya.net/News/middle-east/2021/01/26/Iran-nuclear-deal-Moscow-says-Washington-must-first-return-to-nuclear-deal-for-Iran-to-comply
--------
North America
Canada parliament labels US far-right Proud Boys group 'a terrorist entity'
26/01/2021
Canada's parliament on Monday unanimously passed a motion calling on Prime Minister Justin Trudeau's government to designate the right-wing Proud Boys as a banned terrorist group.
The motion is purely symbolic, but the government has said authorities are monitoring the group and collecting evidence that could support the move.
Put forward by the fourth-ranked New Democrats, the motion states that the government should "use all available tools to address the proliferation of white supremacists and hate groups, starting with the immediate designating of Proud Boys as a terrorist entity."
Members of the Proud Boys, which was started by a Canadian who has since distanced himself from the group, were among Donald Trump supporters charged over the violent assault on the US Capitol earlier this month.
Its chairman, Enrique Tarrio, was also arrested in Washington over the torching of a Black Lives Matter banner taken from a church during violent protests in December.
In Canada, they first made headlines in 2017 when five navy members of the Proud Boys were disciplined for disrupting an indigenous ceremony in Halifax.
Canada lists dozens of banned terrorist organizations including Al-Qaeda, Hezbollah, the Taliban and the Islamic State group.
https://www.france24.com/en/americas/20210126-canada-parliament-labels-us-far-right-proud-boys-group-a-terrorist-entity?utm_source=iterable&utm_medium=email&utm_campaign=1937439_
--------
Texas wannabe ISIS terrorist pleads guilty to providing materials to brutal group
Jan 26, 2021
A 22-year-old Texas man pleaded guilty Monday to providing material support to ISIS, federal prosecutors said.
Jaylyn Christopher Molina, aka Abdur Rahim, of Cost, Texas, appeared in court in San Antonio before U.S. Magistrate Judge Richard Farrer.
Molina pleaded guilty to one count of conspiracy to provide material support to ISIS and one count of receiving child pornography.
The wannabe terrorist admitted that since May 2019, he conspired with 34-year-old South Carolina resident Kristopher Sean Matthews, aka Ali Jibreel, and others to provide services to ISIS.
These services included, among other things, administering an encrypted chat group for ISIS supporters, collecting, generating and disseminating pro-ISIS propaganda, attempting to recruit individuals to join the group, and disseminating bomb-making instructions.
Molina also pleaded guilty to one count of receiving child pornography. In September, federal authorities executing a search warrant of Molina's home where they seized his cell phone, which contained 18 images depicting child pornography.
If convicted, Molina faces up to 20 years in federal prison on the conspiracy charge and up to 20 years in federal prison on the child pornography charge. He remains in federal custody pending his sentencing.
Matthews, meanwhile, pleaded guilty in November to a conspiracy charge to provide material support to ISIS. He remains in federal custody, faces up to 20 years in federal prison. Sentencing is scheduled for 10:30 a.m. CST on March 4, 2021, before Chief U.S. District Judge Orlando L. Garcia in San Antonio.
https://www.foxnews.com/us/texas-man-isis-terrorist-pleads-guilty-provide-material-support?utm_source=iterable&utm_medium=email&utm_campaign=1937439_
--------
NATO Secretary-General, US President Discusses 'Range of Challenges' in Afghanistan, Iraq
By Mohammad Haroon Alim
27 Jan 2021
General Jens Stoltenberg, NATO Secretary-General has spoken to US President Joe Biden on "Range of challenges that NATO allies face, such as countering international terrorism" in Afghanistan and Iraq.
In a NATO stated on Tuesday, that Stoltenberg welcomed President Biden's focus on rebuilding alliances, stressing that NATO is a location where Europeans and Americans meet every day, adding that "together, we can face challenges that none of our nations can face alone".
"They agreed to work together on preparing the NATO Summit in Brussels later this year, where leaders will take decisions to make our strong Alliance even stronger," the statement read.
Both of the prominent figures discussed various challenges, like countering international terrorism, dealing with assertive Russia, and addressed implications for the security of the rise of China.
They affirmed their intention to work closely on global challenges such as climate change and the COVID-19 pandemic and stressed the need to maintain momentum for Defense spending for keeping the allied countries safe.
This comes at a time when Italian defense Minister Lorenzo Guerini visited Kabul on Tuesday and met with President Ashraf Ghani and Abdullah Abdullah, HCNR head.
Presidential Palace stated that Guerini discussed bilateral relations and the presence of Italian forces in Afghanistan, during the meeting he expressed his concerns over intensified violence and string of assassinations across Afghanistan.
Guerini also called for an immediate reduction and end to violence, the statement said.
According to the Presidential Palace Statement, "The Italian Defense Minister praised the valor and bravery of the Afghan Defense and Security Forces in the fight against terrorism and said Italy supports a peaceful, united and democratic Afghanistan. "Minister Guerini added that Italy remains committed to continuing its assistance with Afghanistan in various areas and in terms of the presence of Italian forces in Afghanistan within the framework of NATO Resolute Support Mission".
"President Ghani said people of Afghanistan and the world with a unified voice call for halting the violence and asserted Taliban must understand that protraction of the violence will prompt the people of Afghanistan and the world to mobilize against them," read the statement.
"President Ghani also extended gratitude to Italy's support for the development and economic programs in Afghanistan, particularly funding the fourth part of Khwaf-Herat railway project as well as its assistance within the framework of the NATO Resolute Support Mission", the statement concluded.
Meeting with NSA Hamdullah Mohib, Guerini agreed to the need for strengthening a unified, sovereign, and democratic Afghanistan, and protection of all rights of afghans including women's and minority rights.
The Italian Defense expressed his agreement on persevering decades of achievements in Afghanistan.
Head of High Council for National Reconciliation, Abdullah Abdullah also exchanged his views on bilateral relations, the peace process and thanked Italy for their continued support for Afghanistan.
https://www.khaama.com/nato-secretary-general-us-president-discusses-range-of-challenges-in-afghanistan-iraq-556655/
--------
US expanding military presence in Saudi Arabia amid high tensions with Iran
26 January 2021
The US military says it has been testing different ports and airbases on Saudi soil over the past year as options for the deployment of troops and equipment in the event of a conflict with Iran amid heightened tensions between the two sides.
US Navy Capt. Bill Urban, a spokesman for Central Command, said the evaluation of a Red Sea port in Saudi Arabia and additional two airfields began around a year ago under ex-president Donald Trump, following a 2019 attack against the state-owned Saudi Aramco oil processing facilities at Abqaiq.
The Aramco installations were targeted in air raids on September 14, 2019, which disrupted approximately half of the kingdom's oil capacity or five percent of the daily global oil supply.
"These are prudent military planning measures that allow for temporary or conditional access of facilities in the event of a contingency, and are not provocative in any way, nor are they an expansion of the US footprint in the region, in general, or in the kingdom of Saudi Arabia, in particular," Urban claimed, according to the Associated Press.
Following the Aramco attack, Saudi Arabia and the US immediately blamed Iran without providing any evidence. Iran denied the allegation. Yemen's popular Houthi Ansarullah movement later claimed responsibility.
UN Secretary General Antonio Guterres has also said the body's investigators were unable to independently confirm claims that the Islamic Republic was behind the attack.
Relations first turned sour between Tehran and Riyadh after the latter executed Sheikh Nimr al-Nimr, a prominent Shia cleric, on January 2, 2016, drawing widespread fury among Shia Muslims across the region and the world.
The execution was followed later in the day by an attack on the Saudi embassy in Tehran by angry protesters. Riyadh cut diplomatic relations with Tehran after the attack, and has since pursued a willful policy of hostility against the Islamic Republic.
In spite of numerous calls by Iranian leaders for dialog, Saudi Arabia overtly lobbied for former US President Donald Trump's so-called maximum pressure on Iran, which included severe economic pressure and military provocations.
Also, during Trump's four years in office, the US deployed the first troops into Saudi Arabia since the withdrawal of its forces from the kingdom in the aftermath of the September 11, 2001 attacks. Currently, some 2,500 American soldiers man fighter jets and Patriot missile batteries at Prince Sultan Air Base southeast of Riyadh.
Earlier this month, Saudi Arabia and the US concluded joint military exercises in a show of force that Riyadh claimed was "to maintain security and stability in the region."
The Saudi air force, the Royal Saudi Naval Force, the US Navy, the US Coast Guard and the US Air Force also conducted combined joint air operations in the Persian Gulf between December 17 and 18 last year.
https://www.presstv.com/Detail/2021/01/26/643907/US-weighing-more-military-presence-in-Saudi-Arabia
--------
South Asia
Pakistan Secretly 'Offers Facilities and ID Cards' to Afghans Near Durand Line
27 Jan 2021
The head of Nangarhar Provincial Council says Pakistan is planning to issue ID cards to Afghan tribal leaders living in districts near the disputed Durand Line.
According to Ahmad Ali Hazrat, head of Nangarhar Provincial Council, the Pakistani government had repeatedly made such offers to Afghans living near the Durand Line in the past.
He posted on his Facebook, that he has documents and evidence to substantiate his claim, but could not share it due to insecurity, he claimed hundreds of Afghans near the border were given Pakistani ID cards.
The Pakistani government had promised Afghans living close to the border, that they would be provided with scholarships and good facilities inside Pakistan, Hazrat indicated.
He also claimed that Pakistan by cutting the barbwires and underground construction of tunnels across the Afghan-Pak border is directly facilitating terrorist groups to easily enter Afghanistan.
On the other hand, Wajia Ul Rehman Shinwari, Nangarhar tribal chief said the Pakistani government has offered its promises of facilitating life and bringing electricity to the Afghans near the border, but were rejected by the people.
Pakistan so far have not commented in this matter.
https://www.khaama.com/pakistan-offers-facilities-and-id-cards-to-afghans-near-durand-line-3344433/
--------
'Trade, investment should dominate Bangladesh-US ties'
January 26th, 2021
Bangladesh diplomacy needs to be more proactive to buy time from Biden administration, which is pre-occupied by Covid-19 pandemic, for gains from Dhaka-Washington relationship, eminent personalities say
The relationship between Bangladesh and the United States, the largest economy of the world, should be dominated by trade and investment to benefit both the countries, eminent personalities said at a webinar on Tuesday.
They have also said that as the new administration under President Joe Biden is pre-occupied by the ongoing Covid-19 pandemic creating havoc across the US, the Bangladesh diplomacy needs to be more proactive in order to get time to make gains from the relations.
The Bangladesh Enterprise Institute, a think tank, organized the virtual program titled "Bangladesh-US Relations: Opportunities and Challenges" six days after the inauguration of the new American president, Joe Biden.
Foreign Minister Dr AK Abdul Momen attended the event as chief guest, while Private Industry and Investment Adviser to the Prime Minister Salman F Rahman was present as the guest of honour.
Foreign Secretary Masud Bin Momen, Bangladesh Ambassador to the US Shahidul Islam and US Ambassador to Bangladesh Earl Miller spoke as special guests as well.
BEI Distinguished Fellow Farooq Sobhan made the keynote presentation, while renowned academician Prof Rehman Sobhan and former foreign secretary Shamsher Mobin Chowdhury also participated in the program, moderated by retired ambassador and BEI President M Humayun Kabir.
The speakers said that, in today's world, almost every relationship was shaped based on economy, and Bangladesh should not be an exception.
They expressed optimism that the new US administration would do more to put pressure on Myanmar to take the Rohingyas back home with dignity.
Efforts must continue to enhance cooperation between Dhaka and Washington with respect to terrorism, violent extremism, climate change, security, defence, poverty alleviation and women empowerment, they added.
There has also been a demand to get the Generalized System of Preferences (GSP) restored and allow duty-free, quota-free access for Bangladeshi RMG exports to the US market.
There were suggestions for exploring the possibility of signing a free trade agreement between Bangladesh and the US.
The speakers also lamented for the fact that no US president had visited Bangladesh since 2000, and called for measures for another such visit soon.
Referring to the repatriation of a convicted Bangabandhu killer, now residing in US, the foreign minister said the return of Rashed Chowdhury to Bangladesh could be game changer in the Dhaka-Washington relationship.
In his keynote speech, Farooq Sobhan, also a former foreign secretary, said the new US president had identified his priorities, some of which concerned Bangladesh, and called upon the country's diplomats to play a proactive role in this regard.
Foreign Minister Momen said Bangladesh would continue making efforts to take the already good relationship to a new height.
Salman F Rahman said the development of trade and investment relationship would not only benefit Bangladesh but also will benefit the US.
He also stressed the need for projecting the positive image of Bangladesh on the face of the world.
On Indo-Pacific Strategy, Foreign Secretary Masud Bin Momen said Bangladesh might face a challenge with regard to balance its engagements with the US and China.
So Bangladesh will enter arrangements that are beneficial for the country, he said.
Bangladesh Ambassador in Washington Shahidul Islam said his mission was already trying to reach out to the new US administration.
US Ambassador to Bangladesh Miller also expressed his enthusiasm to move the relationship further.
He also laid emphasis on reinvigorating democratic institutions, good governance and human rights, and allowing civil society, journalists and trade unions to function.
https://www.dhakatribune.com/bangladesh/foreign-affairs/2021/01/26/trade-investment-should-dominate-bangladesh-us-ties
--------
2 Policemen Injured in Another String of IED Attacks, Kabul
By Mohammad Haroon Alim
27 Jan 2021
Kabul Police said Wednesday, that two policemen were injured in an explosion in Kabul city.
Ferdows Faramarz, a spokesman to central police HQ, said that a police Ranger type vehicle was targeted by a magnetic bomb at around 08:00 a.m in the Dispichary Area of PD15, Kabul.
According to Faramarz, both of the policemen were mildly and superficially injured and were taken for treatment.
Earlier, Kabul police told the media, at least one person was killed in a targeted magnetic IED explosion in PD5 of Kabul city.
Security officials told the media, that the explosion took place at around 11:15 a.m. before noon on Tuesday, in the Adeh-Ghazni area.
Reports indicated a personal Toyota station wagon type vehicle was targeted in the explosion.
No further details were provided about the identity of the victim, and an investigation is going into the incident.
No group or individual has yet claimed the responsibility for the
https://www.khaama.com/2-policemen-injured-in-another-string-of-ied-attacks-kabul/
--------
Taliban backs COVID-19 vaccination drive as Afghan government gets funding pledge
January 27, 2021
KABUL: The Taliban militant movement gave its backing on Tuesday for a coronavirus vaccination campaign in Afghanistan that has received a $112 million pledge from the World Health Organization's COVAX program.
The immunization drive will have to take place amid relentless violence in the country despite the government and the Taliban insurgents opening peace talks in September.
Taliban spokesman Zabihullah Mujahid said that the group would "support and facilitate" the vaccination drive conducted via health centers. Officials believe the insurgents would not target vaccine teams as they would not be going door-to-door.
Announcing the funding, an Afghan health official said the program would cover the 20 percent of the country's 38 million population.
The COVAX program is a global scheme to vaccinate people in poor and middle-income countries against the coronavirus. It aims to deliver at least 2 billion vaccine doses by the end of 2021 to cover 20 percent of the most vulnerable people in 91 poor and middle-income countries.
Afghanistan's Deputy Health Minister Waheed Majroh told journalists it was going to take six months to get the vaccines but authorities were in discussions to get them earlier.
Afghanistan has registered 54,854 infections and 2,390 deaths — but experts say cases are significantly underreported due to low testing and limited access to medical facilities in the war-torn country.
Aside from COVAX, the country has also received a pledge of 500,000 doses of the AstraZeneca vaccine from India, Dr. Ghulam Dastagir Nazari, head of the Expanded Programme on Immunization at Afghanistan's health ministry, said.
"The AstraZeneca brand which is manufactured in India will arrive soon in Afghanistan," Nazari said, adding that the government was only concerned about the WHO approval of the vaccine and that the pre-qualification process has already started.
An Indian government source confirmed that 500,000 doses had been set aside for Afghanistan and another official said the first batch of vaccines would land in February, though Kabul had not yet adopted the protocols to administer them.
The World Bank and Asian Development Bank have also said they would finance vaccines for another 20 percent of the population by the end of 2022, health ministry spokeswoman Masouma Jafari said.
https://www.arabnews.com/node/1799141/world
--------
New generation of Taliban emerging, MP says
January 26, 2021
"The first generation of the Taliban was reflecting brutality and violence and committed massacres against many Afghans, especially Shias," Ahmad Naderi tells the Tehran Times.
However, according to the MP, this was the first generation of the Taliban and observers must take into consideration recent changes in the Taliban's attitudes.
"Certainly, the Taliban, like many other movements, has changed, and the new generation of the movement is different from the previous generation," argues Naderi, a graduate of anthropology.
The following is the text of the interview:
Q: What did you mean when you said in a tweet that the Taliban is a genuine movement?
A: Sociology considers classical social movements as a phenomenon that has three components: Social actor, ideology, and social context.
According to the French sociologist Alain Touraine, these three components, if combined well, can raise the project level of a movement. So, we call it a genuine movement.
We have three types of social actors; assuming the movement to be a pyramid, we can see some actors play the role of leadership at the top of the pyramid. Meanwhile, some others are distributors, and the rest are the mass of people at the bottom of the pyramid.
Distributors actually act as mediators between the bottom of the pyramid and the top. We have this definition in the classical sociology of the social movement. Ideology is a vital component in any movement that can be communist, Islamic, or liberal, and so on. The social context also refers to the economic, cultural, or political context. A movement that has these three components is a genuine movement in the classical sociology of social movements.
When I say the Taliban is a genuine movement, I do not mean approval of this phenomenon; I just say the Taliban is a movement on the ground.
Nevertheless, the Taliban movement is a deep-rooted movement in Afghanistan enjoying a social background called the Pashtuns; however, the Taliban is not limited to the Pashtun people. There are various groups in the Taliban that are not necessarily Pashtuns. Therefore, from this perspective, the Taliban is a genuine movement. I do not make any positive or negative judgment.
Q: What is the Islamic Republic's stance on the Taliban?
A: The Taliban must be understood in a chronological context. It should be viewed from an anachronistic point of view, not synchrological. That is why we need to look at the Taliban as a historic phenomenon.
The first generation of the Taliban was reflecting brutality and violence and committed massacres against many Afghans, especially Shias.
It is said that Iranian diplomats were assassinated by the Taliban, but I very doubt it. According to some accounts inside and outside Iran, the Iranian diplomats were martyred in Mazar-e-Sharif but not by the Taliban. Rather, an intelligence service attributed to one of Iran's regional rivals engaged in terror operations to worsen the relationship between Iran and the Taliban at that time and even brought Tehran to the brink of war on the Taliban in Afghanistan.
These events pushed the Islamic Republic to decide entering Afghanistan territory. "I transferred two mechanized divisions to the Afghan border within 48 hours and we were ready to attack the Taliban on the Afghan soil," said former IRGC commander Rahim Safavi.
However, this was the first generation of the Taliban and their attitudes and behavior are not defensible. But is the Taliban a constant phenomenon that has not changed at either the structure or the agent level?
Certainly, the Taliban, like many other movements, has changed, and the new generation of the movement is different from the previous generation.
Besides, in the current situation, the only alternative that can stand against the global jihadists of ISIS is the Taliban.
We now see that the United States has several candidates for hosting ISIS, one of them is Afghanistan. The most important reason for sending ISIS terrorists to Afghanistan is its geopolitical and geostrategic position.
Afghanistan is located between regional and global powers: China, Russia, India, Iran, and Pakistan. These powers are seeking a serious position and contribution to the future world order.
Afghanistan is still important to the United States, and the deployment of ISIS in Afghanistan could disrupt the balance between regional actors. Who can stand in face of ISIS as a local player?
Certainly, the Taliban! Because they make up half of Afghanistan's society and have an ethnic social background inside Pashtun people.
Therefore, we must look at this issue from the perspective of national interests. I think the second generation of the Taliban can confront ISIS, and this creates a strategic link between the Taliban and the national interests of Iran, and also Russia and China.
Q: Do you expect that the Taliban has cut ties with its traditional supporters, including Saudi Arabia?
A: Unlike its new generation, the old generation of the Taliban had a strong connection with Saudi Arabia that no longer continues.
In other words, the Taliban has turned away from the ideology of Salafism and Wahhabism. I recommend you to watch Mohsen Islamzadeh's documentary film "Alone among the Taliban", which offers a brilliant account of what is going on inside the Taliban.
The documentary by Mohsen Islamzadeh was made in 2015 before Jurgen Todenhofer wrote: "My Journey into the Heart of Terror: Ten Days in the Islamic State". Islamzadeh went to the Taliban and produced this global documentary, which has been translated into multiple languages.
This documentary shows that the media representation of the Taliban no longer is true, at least in the new generation of the movement.
The violent Salafism that was rooted in the first generation of the Taliban due to close ties between Deobandiyya schools and Saudi Arabia has faded in later generations, according to the film.
Therefore, the Taliban has no significant ties with Saudi Arabia and even no longer has the former ties with Pakistan.
In the current situation, our relationship with the Taliban is based on the principle of "The enemy of my enemy is my friend." We and the Taliban have a common enemy, and that is the United States.
https://www.tehrantimes.com/news/457380/New-generation-of-Taliban-emerging-MP-says
--------
India
Two soldiers injured in Kashmir terror attack
Jan 27, 2021
SRINAGAR: Two soldiers were injured after terrorists attacked an army patrolling party in Kulgam district of south Kashmir on Wednesday, officials said.
According to details the attack was carried out by terrorists in the Wanpoh area.
The two injured soldiers were rushed to hospital. Additional forces have been brought in. The area has been cordoned off and a search operation was underway.
https://timesofindia.indiatimes.com/india/two-soldiers-injured-in-kashmir-terror-attack/articleshow/80475314.cms
--------
Pakistan
Pakistan opposition backs out from talks with government
Jan 26, 2021
Pakistan's Opposition alliance has backed out from holding talks with the Imran Khan government, widening political rift between the two sides.
A three-member government delegation, which had met the Opposition leaders on Friday, seeking better relations at least in Parliament, were to hold another round of talks with Opposition parties on Monday. However, following the Pakistan Muslim League-Nawaz (PML-N) parliamentary party's meeting in the Parliament House, which was also addressed by party's vice president Maryam Nawaz, the Opposition dropped the idea of holding the talks, the Dawn News reported.
Instead, it was all set to stage a protest during the National Assembly session if the treasury had managed to bring in the required number of members to the House after quorum was pointed out by a PML-N member. But the treasury side could not meet the quorum following which proceedings of the Lower House were adjourned till Tuesday, according to the paper.
It had been hoped that the government-opposition meeting on Monday would have lowered the political temperature, but instead, the gulf between both sides widened. The Opposition members even carried placards inscribed with anti-government slogans. They also placed portraits of their jailed leaders — Shahbaz Sharif, Khawaja Asif and Khursheed Shah — on their tables, facing the National Assembly Speaker. However, the Opposition did not stage a protest in the House after the proceedings stalled due to lack of quorum.
Pakistan Peoples Party (PPP) leader Syed Naveed Qamar said the Opposition did not go for the talks as the PML-N was busy in its parliamentary party meeting. "We cannot meet the government without PML-N," he was quoted as saying by the daily.
One other hand, Minister of State for Parliamentary Affairs Ali Mohammad Khan told Dawn that PPP members came for the meeting but not the PML-N representatives.
"It was decided in our (government-opposition) Friday's meeting that we will meet again on Monday but the opposition did not meet its commitment today," he added.
The state minister, however, hinted that the government planned to invite the opposition for another round of talks in the coming days. The 11-party Pakistan Democratic Movement (PDM) was formed in September last year with the objective to force the government to hold early elections.
The PDM held several big rallies last year and has also said that its lawmakers will resign and make Parliament dysfunctional if Prime Minister Imran Khan government does not resign by January 31.
However, Prime Minister Khan rejected the PDM's call to step down or call snap polls.
Khan, the former cricket captain of Pakistan, came to power in 2018 by winning the general election but the PDM alleged that the election was rigged by the establishment to ensure his victory.
https://www.wionews.com/south-asia/pakistan-opposition-backs-out-from-talks-with-government-359504
--------
PTI lodges foreign funding case against JUI-F
Saqib Virk
January 26, 2021
ISLAMABAD:
After having earlier filed foreign funding cases against the Pakistan Muslim League-Nawaz and Pakistan Peoples Party, the Pakistan Tehreek-e-Insaf (PTI) filed a foreign funding case against the Jamiat Ulema-e-Islam-Fazl (JUI-F) in the Election Commission of Pakistan (ECP) on Tuesday.
The petition, submitted by PTI Member National Assembly (MNA) Farukh Habib, includes the transcript of a TV interview of estranged JUI-F senior leader Hafiz Hussain Ahmed in which he spoke about party chief Maulana Fazlur Rehman receiving funding from Iraq and Libya.
"Several JUI-F leaders, including Maulana Fazlur Rehman, used to visit Libya and Iraq on a regular basis," the petition contends. It calls for action to be taken against the party according to the Election Act.
Talking to the media after submitting the petition, Habib said that the ECP has been asked to summon Fazl and Ahmed and inquire about the funding.
"The sources through which Fazlur Rehman made his properties will be revealed," the MNA said. "It will also reveal the source from where the anti-government campaign in the country was funded," he further maintained.
He added that the ECP has the power to summon Fazlur Rehman and take action, adding that the foreign-funded parties have come together.
"You don't care about Islam, you care about Islamabad," he said while referring to Fazl.
Also read: Imran received funds from India, Israel for 2018 polls: Fazl
Habib urged Fazl to explain his agenda for taking money from Iraq and Libya and "submit the receipts if your hands are clean".
"Nawaz Sharif took [funding] from Osama bin Laden in the name of the Islamic system and ending a woman's rule," Habib claimed. "Maryam Safdar should also come to the ECP with her receipts," the PTI MNA stated.
He further added that videos and petitions had also been submitted to the ECP today. Habib said that there was no objection to the proceedings of the scrutiny committee being public but this decision was to be taken by the ECP.
"If the PTI took action regarding foreign funding itself, it will then be accused of carrying out political revenge," he said. "It would be better that the Election Commission completes its work first, the rest of the institutions will then do their job," Habib said.
The ruling party's petition against JUI-F comes days after Fazl hollered at the Pakistan Tehreek-e-Insaf-led federal government.
"We do not believe in either Imran Khan or Israel," he bellowed, accusing the premier of having received funding from Israel and India for the 2018 general elections.
Addressing the rally at Quaid-e-Azam's Mausoleum on January 22, Fazl said that it was out of question to recognise a country that stands starkly against Pakistan.
Scrutiny committee meeting
Referring to the adjournment of today's meeting of the ECP scrutiny committee, owing to the absence of PTI's counsel Shah Khawar in the foreign funding case, Habib stated that Khawar will be present at the next hearing.
"He could not attend today's meeting owing to his engagement in the court today," the PTI MNA claimed.
Habib further stated that the PTI did not have a problem with the foreign funding case being heard openly, but added that it was decision to be taken by the ECP.
https://tribune.com.pk/story/2281418/pti-lodges-foreign-funding-case-against-jui-f
--------
China's outgoing consul general praises Shehbaz's performance as CM
January 27, 2021
LAHORE: The departing consul general of China in Lahore, Long Dingbin, on Tuesday praised former chief minister Shehbaz Sharif for what he called 'Punjab speed'.
In a farewell letter handed over by a leader of the Pakistan Muslim League-Nawaz to Shehbaz Sharif at a court hearing, the consul general said: "Your Excellency is an old friend of China and the Chinese people."
He went on to say: "China was deeply impressed by your devotion to the construction of CPEC (China-Pakistan Economic Corridor) on the position of the-then chief minister. You made the CPEC project in Punjab realised, which not only created impressive Punjab speed (for development) but embodied the profound bilateral friendship.
"The PML-N is always a great friend of Chinese Communist Party whether in power or as an opposition party."
Mr Long said he was sure that as the leader of the opposition in National Assembly Mr Sharif would continue to work as always to promote "the friendship of our two parties and our two people".
According to the PML-N leaders, Mr Sharif not only took the letter as a compliment to his efficiency, but evidence of honesty as well, and asked his personal staff to write back to the consul general and thank him for the kind words.
https://www.dawn.com/news/1603820/chinas-outgoing-consul-general-praises-shehbazs-performance-as-cm
--------
Govt notifies dress code on the heels of SC reprimand
January 27, 2021
LAHORE: A day after a Supreme Court judge chided Lahore's deputy commissioner for not wearing a proper outfit, the Punjab government on Tuesday notified a dress code to be observed by the officials during office hours and while appearing before the courts.
A directive issued by the welfare department states that the officers of the government of Punjab are required to adopt appropriate dress code during the office timings and appearing before the courts of law. The officers have been directed to be mindful of maintaining officer-like demeanour and grace which reflects prosperity and decency in consonance with their professional roles.
"All the male officers working under your administrative control may be instructed to observe a proper dress code i.e. lounge suit/smart casual with closed collar shirt and tie or shalwar kameez with waistcoat along with appropriate footwear. In case of female officers, the dress code should be in line with office decorum and norms while being reflective of the formal nature of official duties," says the directive issued to all divisional and deputy commissioners, all administrative secretaries and senior member Board of Revenue.
On Monday, Justice Mansoor Ahmad Malik of the SC at the Lahore registry admonished Deputy Commissioner Mudassir Riaz Malik for not properly dressing up during his appearance before a three-judge bench.
On a short notice, Punjab Chief Secretary Jawad Rafiq Malik also appeared before the court and assured the judges that the executive officers would be asked to strictly observe their dress during court appearances.
Justice Malik observed that the court did not want to hurt the feelings of anyone but to remind the officers of their responsibility. The judge said there was no law on the dress code of government officials but their outfit must be reasonable when they appear before courts.
https://www.dawn.com/news/1603805/govt-notifies-dress-code-on-the-heels-of-sc-reprimand?preview
--------
Land issues on Pak-Afghan border to be resolved: Langove
Saleem Shahid
January 27, 2021
QUETTA: Provincial Home Minister Mir Ziaullah Langove said on Tuesday that a mechanism would be evolved in consultation with the Afghan government for addressing the matter of lands belonging to villagers living on both sides of the Pak-Afghan border. Such pieces of land stand divided due to fencing by Pakistan to stop illegal crossing by citizens from both sides as well as to keep an eye on terror suspects.
The minister was presiding over a meeting here on Tuesday to review the fencing and land settlement issues.
Pakistan is erecting the fence along the Afghanistan and Iran borders to stop infiltration of illegal people into the country. It has completed over 80 per cent fencing of the Pak-Afghan border and around 30 per cent of the Pak-Iran border.
Additional Chief Secretary Home Hafiz Abdul Basit and Commandant Chaman Scouts Rashid briefed the meeting of the border situation and other related issues.
The meeting was informed that because the fencing, lands of several tribes on the border had been divided.
The home minister informed the meeting that the provincial government was aware that lands of various villagers living on both sides of the Pak-Afghan border had been divided due to fencing and ancestral lands of many tribes had gone into Afghanistan because of the fencing.
He, however, said that steps were being taken by the Afghan government to resolve the issue amicably in view of wishes of tribal elders.
He further said that the district administration and the Board of Revenue were jointly working and consulting people of all tribes to settle the issue permanently.
He said a report would soon be prepared and submitted to the provincial government on the issue.
The issues of dual citizenship identity cards and Afghan Taskira cards were also discussed.
https://www.dawn.com/news/1603825/land-issues-on-pak-afghan-border-to-be-resolved-langove
--------
Pakistan Taliban 'commanders' killed in northwest: Pakistani army
By Asad Hashim
25 Jan 2021
Pakistan's military says it has killed five members of the Pakistan Taliban group in two separate security operations in the northwestern North Waziristan district, including two senior members of different factions of the armed group.
In a statement released late on Sunday, the military said it had conducted security operations in the Mir Ali and Kaisoor areas of the district, which was once the headquarters of the Tehreek-e-Taliban Pakistan (TTP, or Pakistan Taliban).
"During IBOs [five] terrorists including two terrorist commanders Syed Raheem [also known as] Abid of TTP (AKK Group) and Saifullah Noor of TTP (Gohar Group) were killed," said the statement.
According to the statement, Raheem had been directly involved in 17 attacks against Pakistani security forces since 2007 and had been involved in a recent spate of targeted killings in the district.
Since last year, more than 50 people have been killed in targeted gun and improvised explosive device (IED) attacks in North Waziristan, according to media reports.
"[Raheem] was tasked by hostile agencies for target killing, recruiting new terrorists and organizing them," said the Pakistani military statement.
"He was involved in killing of four [tribal elders] in Mir Ali area, three engineers working in a company in North Waziristan and many IEDs attacks."
Raheem was also said to have been running two suicide bomber training centres in Mir Ali and the Wana region of neighbouring South Waziristan district.
Noor was said to be "directly involved in different IED attacks on Security Forces in Khaisoor".
Pakistan's military launched a major set of military operations in North Waziristan and its adjoining districts in 2014, successfully displacing the TTP from its erstwhile stronghold into neighbouring Afghanistan.
Violence and large-scale attacks have dropped significantly since 2017, but sporadic attacks on civilians and security forces by the TTP do still take place across the country.
Last year saw a particular spike in the number of targeted attacks on civilians and security forces in North Waziristan, prompting renewed security operations.
https://www.aljazeera.com/news/2021/1/25/pakistan-says-pakistani-taliban-commanders-killed-in-northwest?utm_source=iterable&utm_medium=email&utm_campaign=1937439_
--------
Arab World
Grazing cows lead to squabble on Lebanese-Israeli border
26 January 2021
Lebanese cattle herders from a village close to the border with Israel said several of their cows, which have grazed freely in the area for decades, were taken by Israeli soldiers, in what could become a new dispute between the two countries.
The herders from the border village of Wazzani say Israeli patrols crossed into a gray zone on Sunday between a technical fence that separates the two countries and the 'Blue Line' that constitutes the internationally recognized border, and started rounding up livestock, taking seven cows.
Lebanon and Israel are still in a formal state of war and have long contested their land and maritime borders.
Israeli Defense Forces did not immediately respond to a request for comment.
"For twenty years and more these cows are there, from the time of the grandparents of our grandparents and this is the first time that someone takes them," villager Kamal al-Ahmad, who lost three cows in the incident, told Reuters.
"I don't know if they did this as a challenge or what?"
A cow is worth around $2,000, meaning the loss of an animal is no small matter to the farmers who are already living through the tough reality of Lebanon's ongoing financial crisis.
The area near a river where the Wazzani cows graze is only around 200 meters away from Israel.
The two countries disagree over a border wall Israel started building in 2018.
A UN peacekeeping force monitors the boundary since Israel's military withdrew from south Lebanon in 2000, ending a 22-year occupation.
"We are aware of the alleged incident and we are in touch with both parties in relation to this issue," the UN Interim Forces in Lebanon (UNIFIL) spokesperson Andrea Tenenti, told Reuters by phone.
The two countries are also in a maritime dispute over an area in the sea on the edge of three Lebanese offshore energy blocks.
"God help these people, this is their livelihood," Ahmad al-Mohammed, the head of the Wazzani municipality, said of the herders.
Not far from Wazzani, in another border village called Mais al-Jabal, local teenager Hussein Chartouni complained earlier of the loss of one of his chickens to Israel - earning him the nickname in the village of 'Chicken Hussein'.
When one of his chickens wandered off behind the border barbed wire, it was snatched and never returned he said.
"I want my chicken," he told Reuters, using the phrase that has now become a hashtag on Twitter.
https://english.alarabiya.net/News/middle-east/2021/01/26/Grazing-cows-lead-to-squabble-on-Lebanese-Israeli-border
--------
US-led coalition military convoy targeted near Iraq's Samarra
27 January 2021
A US-led coalition military convoy has reportedly been targeted near the Iraqi city of Samarra in the northern province of Salahuddin.
Iraqi media said a bomb targeted the logistics convoy on Tuesday but gave no further detail on how the attack took place.
No casualties or damage were reported in the incident.
The attack came a day after a supply convoy of the US military was also struck by an improvised explosive device in the southern city of Nasiriyah in Dhi Qar province.
Over the past months, attacks on US convoys in the Arab country have become a regular occurrence and their intensity has been growing.
The attacks come amid rising anti-US sentiment, which has intensified since last year's assassination of a top Iranian anti-terror commander in Baghdad.
General Qassem Soleimani, the commander of the Quds Force of Iran's Islamic Revolution Guards Corps (IRGC), and his Iraqi trenchmate Abu Mahdi al-Muhandis, the deputy head of the Popular Mobilization Units, were targeted along with their companions on January 3 last year in a terror drone strike authorized by former US president Donald Trump near Baghdad International Airport.
Two days after the attack, Iraqi lawmakers approved a bill that requires the government to end the presence of all foreign military forces led by the US in the country.
Currently, there are approximately 3,000 American troops in Iraq.
https://www.presstv.com/Detail/2021/01/27/643926/US-military-convoy-Samarra-Salahuddin
--------
Qatar stresses resolve to boost already 'excellent' ties with Iran
26 January 2021
Qatar has reiterated its determination to bolster the already "excellent" ties with Iran, dismissing media speculation that a recent thaw in relations with Saudi Arabia could undermine Doha's ties with Tehran.
"Our relations with Iran and Turkey are excellent and we are happy to witness stability in the region," Qatari Foreign Ministry spokesperson Lolwah Al-Khater said in an interview, IRNA reported.
Al-Khater also thanked those who stood beside Qatar throughout the Saudi-led siege of the country, highlighting the necessity of preserving peace in the Persian Gulf.
Beginning on June 5, 2017, Saudi Arabia and its allies — the United Arab Emirates (UAE), Bahrain and Egypt — severed diplomatic relations with Qatar and laid a siege against the country. They demanded that Qatar reduce diplomatic relations with Iran, stop military coordination with Turkey and close Al-Jazeera, among other things.
The blockade failed to reach its goals, and instead, prompted Qatar to forge closer ties with Iran and Turkey, both of whom helped Qatar weather the economic pressure and reroute its flights.
Qatar and the quartet moved toward resolving the crisis earlier this month, reaching an agreement that would allow the resumption of commerce and travel between Saudi Arabia and Qatar for the first time since the siege was laid.
"The Persian Gulf crisis was of no benefit [to anyone], but rather, it was detrimental to everyone," Al-Khater said.
"Following the signing of the peace agreement on January 5th, Arab and Western media reported that the agreement may affect Qatar's relations with Turkey and Iran, but the Turkish and Iranian foreign ministries were the first who welcomed the agreement," she said, Mehr news agency reported.
In similar remarks on January 7, Qatar's Foreign Minister Sheikh Mohammed bin Abdulrahman Al Thani reaffirmed the importance of preserving ties with Tehran and Ankara, despite his country's reconciliation with Saudi Arabia and its allies.
"Bilateral relationships are mainly driven by a sovereign decision of the country... [and] the national interest," said the top Qatari diplomat in an interview with the Financial Times. "So, there is no effect on our relationship with any other country," he added.
Iran's Foreign Minister Mohammad Javad Zarif responded to Qatar's agreement with Saudi Arabia by congratulating Doha for the success of "its brave resistance to pressure and extortion."
In a tweet on January 5, Zarif also addressed other Arab countries of the region, noting, "Iran is neither an enemy nor threat. Enough scapegoating—especially with your reckless patron on his way out. Time to take our offer for a strong region. #HOPE."
He was referring to the Hormuz Peace Initiative (HOPE) that Iran presented to the United Nations in 2019 with the aim of promoting collective neighborly efforts to ensure the region's security, free from foreign interference.
Following the rapprochement with Saudi Arabia, Qatar called on member states of the Saudi-led Persian Gulf Cooperation Council (GCC) to enter talks with Iran and work to patch up the differences, saying Doha was ready to mediate such negotiations.
https://www.presstv.com/Detail/2021/01/26/643885/Qatar-voices-determination-to-bolster-Iran-ties
--------
US attempts to destabilize region through supporting terrorism: Iraqi MP
26 January 2021
An Iraqi legislator has warned against the Unites States' attempts to disrupt peace and security in the Middle East through supporting terrorism, saying Washington is even ready to set entire Iraq on fire so it can keep its military forces in the Arab country.
Karim Alaiwi, a legislator from the Fatah (Conquest) alliance and a member of the Security and Defense Committee in the Iraqi legislature, told Arabic-language Baghdad Today warned against the policies of new US President Joe Biden towards Iraq, reminding the government that Daesh terrorists started their activities during the reign of Democrats.
"The Daesh terror group became active during the former and current presidencies of the [US] Democratic Party. Washington's policy is to disrupt security and stability in the Middle East, especially in Iraq," Alaiwi said.
He added, "The United States has supported and financially sponsored most of terrorist operations in Iraq, and has protected leaders of the Daesh terrorist group in many parts of the country."
The Iraqi lawmaker highlighted that there are areas in Iraq where Daesh is still active, saying Washington is preventing military flights over those regions.
Washington, he said, is ready to "burn" entire Iraq so it will have a pretext to prolong its military presence in the Arab country.
Daesh has claimed responsibility for a rare twin bombing attack that tore through a busy area of central Baghdad on January 21, killing at least 32 people and wounding 110 others.
Yahya Rasool, the spokesman for the Iraqi Ministry of Defense, said one of the two bombers lured a crowd of people towards him in a market in the central Tayaran Square by feigning illness, only to detonate his explosives.
The second bomber struck as people helped victims of the first attack, Rasool added.
Iraq declared victory over Daesh in December 2017 after a three-year counter-terrorism military campaign.
The terror outfit's remnants, though, keep staging sporadic attacks across Iraq, attempting to regroup and unleash a new era of violence.
Daesh has intensified its terrorist attacks in Iraq since January 2020, when the United States assassinated top Iranian anti-terror commander Lieutenant General Qassem Soleimani and Abu Mahdi al-Muhandis, the deputy head of the Popular Mobilization Units (PMU), along with their companions in a drone strike authorized by former US president Donald Trump near Baghdad International Airport.
Following the assassinations, the Iraqi parliament approved a bill demanding the withdrawal of all foreign military forces led by the United States from the country.
The US began the drawdown under the administration of ex-president Donald Trump, but it has said a number of troops will remain in the Arab country.
https://www.presstv.com/Detail/2021/01/26/643869/US-attempts-to-destabilize-region-through-supporting-terrorism-Iraqi-MP
--------
Africa
Ethiopia says no border talks until Sudan leaves contested land amid rising tensions
26 January 2021
Ethiopia said Tuesday it would not engage in border talks with Sudan until Sudanese troops withdrew from contested land, potentially complicating efforts to defuse a dispute that has fueled deadly clashes in recent weeks.
The two Horn of Africa nations have long been at odds over the Al-Fashaqa region, where Ethiopian farmers cultivate fertile land claimed by Sudan.
Since early December Sudan has accused Ethiopian "forces and militias" of ambushing Sudanese troops along the border, while Ethiopia has accused Sudan of killing "many civilians" in attacks involving "heavy machine guns."
The two sides held border talks last month, and Sudan declared in late December that its army had restored control over all border territory that had been taken over by Ethiopian farmers.
Ethiopian foreign ministry spokesman Dina Mufti told a press conference Tuesday his country was committed to a "peaceful" resolution of the standoff but wanted Sudan to pull back.
"For us to negotiate, our precondition is Sudan returns to the previous land it controlled. They should return to the status quo, and then we can return to negotiation," he said.
In 1902, a deal to draw up the border was struck between Britain, the colonial power in Sudan at the time, and Ethiopia, but it lacked clear demarcation lines.
During a visit to Sudan last week, British Foreign Secretary Dominic Raab "pressed the need to secure a peaceful resolution through diplomatic means," his office said in a statement.
Raab also visited Ethiopia.
His trip came a week after Sudan alleged that an Ethiopian military aircraft had entered its airspace and banned aircraft from flying over the border zone.
The Al-Fashaqa region – which has seen sporadic clashes over the years – borders Ethiopia's troubled Tigray region where deadly conflict erupted in November between Ethiopia's federal and Tigray's regional forces.
The fighting sent some 60,000 Ethiopian refugees into Sudan.
Dina has previously accused Sudanese military officers of trying to take advantage of fighting in Tigray to press Khartoum's territorial claims in Al-Fashaqa.
The Sudanese-Ethiopian tensions come at a delicate time for the two countries, who along with Egypt have recently hit another impasse in talks over the massive Grand Ethiopian Renaissance Dam on the Blue Nile River.
https://english.alarabiya.net/News/world/2021/01/26/Ethiopia-says-no-border-talks-until-Sudan-leaves-contested-land-amid-rising-tensions
--------
Tunisian protester dies after police clashes, fuelling new confrontations
26 January 2021
A Tunisian protester injured during clashes with police has died in hospital, state media reported on Monday, leading to more violent confrontations between demonstrators and security services in the town of Sbeitla.
Haykel Rachdi's family told local media he was struck by a tear gas canister after joining the protests that erupted this month on the anniversary of Tunisia's 2011 revolution that introduced democracy.
The Public Prosecutor's office in Kasserine, the biggest city near Sbeitla, about three hours south of the capital, Tunis, has ordered an autopsy to determine the cause of Rachdi's death, the state news agency, TAP, said.
After news of his death, a group of young men tried to storm and torch the police station in Sbeitla, leading to more clashes, TAP reported.
It raised the temperature ahead of demonstrations over inequality and police abuses planned on Tuesday in Tunis and other cities and backed by rights groups.
At a protest in central Tunis on Saturday, demonstrators were stopped from accessing the main central boulevard, but hundreds marched through the city center chanting: "The people want the fall of the regime."
Although Tunisia has free elections and greater freedom of speech than its neighbors, its revolution has failed to deliver material benefits for most citizens with an economy that has faltered for years and declining public services.
https://english.alarabiya.net/News/north-africa/2021/01/26/Tunisian-protester-dies-after-police-clashes-fueling-new-clashes
--------
UN special envoy arrives in Sudan
27 January 2021
Mohamed Ali Fazari
The UN new special envoy to Sudan has arrived in the African country on Thursday to support Sudanese authorities through the political transition.
The United Nations allocated 34 million dollar to its Integrated Transition Assistance Mission in Sudan also known as UNITAMS for one year. It was announced by the UNITAMS national coordinator, Omer Al-sheikh Al-hussien with the arrival of the new representative of the Secretary-General of the mission Volker Peretz to Sudan.
The headquarters of the mission is in Khartoum with eight regional offices in Darfur and East Sudan and other regions.
Earlier this month the world body announced the appointment of German professor Volker Perthes as the new Special Representative to Sudan.
On June 3, the UN Security Council approved the establishment of a political mission in Sudan to support democratic transition and peace implementation, in response to a request by Prime Minister Abdallah Hamdok.
The UN representative to Sudan position had been vacant since June 2020. The aim of the mission has been to support authorities through the political transition that started with the ouster of former president Omar al-Bashir in April 2019.
https://www.presstv.com/Detail/2021/01/27/643923/Sudan-UN-special-envoy
--------
Tunisians Protest Once Again Against Social Injustice And Police Abuse
26 January 2021
People in Tunisia have once again taken to the streets to protest social injustice and police abuse, after more than a week of demonstrations despite a ban on gatherings over the coronavirus pandemic.
The protesters, in their hundreds, marched toward the heavily barricaded parliament in the capital, Tunis, on Tuesday as lawmakers were debating a controversial government reshuffle proposed by Prime Minister Hichem Mechichi.
Riot police blocked the demonstrators from gathering in front of the parliament, with reports saying the forces used water cannons to disperse the protesters.
"The government that only uses police to protect itself from the people — it has no more legitimacy," said Salem Ben Saleh, a protester at the Tuesday march.
"We are here today in protest at the ruling system, against the oppression, the injustice, and the corruption. They have been making calculations and adjustments but only for the benefit of power and only power, this is why we have come here against this corrupt system," said Rafiq Aly, another protester.
Some 30 civil society groups have called for the continuation of protests despite police violence, which has led to the death of a protester over the past week.
Tunisia has been witnessing a wave of protests against inequality and police brutality this month after a video went viral showing an officer mishandling a shepherd.
The latest demonstration came despite a ban on gatherings due to the coronavirus pandemic, which has exacerbated the North African country's economic and political crises.
The Tunisian prime minister announced a major cabinet reshuffle on January 16, amid the unprecedented economic crisis in the country, but the anti-government protests have since continued unabated.
A decade ago, Tunisia was beset by violence following a massive uprising, sparked after a fruit seller set himself ablaze in the central town of Sidi Bouzid following an altercation with a police officer. That uprising led to the downfall of long-time ruler Zine El Abidine Ben Ali.
The revolt inspired other revolutions in a host of Arab dictatorships across the Middle East and North Africa. However, Tunisia was the only nation among other
ab countries in the region that maintained a smooth, peaceful transition to democracy.
Since general elections in 2019, the political class in Tunisia has been more fragmented than ever and paralyzed by infighting.
https://www.presstv.com/Detail/2021/01/26/643913/Tunisians-protest-once-again-against-social-injustice
--------
Nigerian police kill two Sheikh Zakzaky supporters in Abuja
26 January 2021
Police in Nigeria have shot dead at least two protesters demonstrating against the continued detention of Sheikh Ibrahim al-Zakzaky and his wife, Mallimah Zeenat, who have been held for several years on trumped-up charges.
Many protesters also sustained injuries as the Nigerian security forces attacked a popular rally of Sheikh Zakzaky's supporters in the Maitama district of the capital, Abuja, the London-based Islamic Human Rights Commission (IHRC) reported on Tuesday.
The massive protest rally was organized on Monday and continued into Tuesday against Sheikh Zakzaky's arrest and trial.
The latest demonstrations erupted in response to the revelation that Zakzaky's wife has contracted COVID-19 while in police custody.
The rally also comes as Nigeria's Kaduna State Court adjourned the trial of the couple until March.
Those attending the protests called for the immediate and unconditional release of Zakzaky, who is the leader of the Islamic Movement in Nigeria (IMN).
The IHRC made the plea with Nigerian President Muhammadu Buhari on Thursday, reminding the illegal grounds on which the duo was being kept.
"Mallimah tested positive for COVID-19 this week in Kaduna state prison," the IHRC said, referring to the facility in the northwestern city of Kaduna where they are being kept. Their release, it added, is necessary "to protect them from the spread of COVID-19 in the country's jails."
IHRC chief Massoud Shadjareh also said, "It is nothing short of scandalous that justice continues to be denied to both Mallimah and Sheikh Ibrahim al-Zakzaky even after six years in custody during which the authorities have failed to bring any conviction and in which scores have been murdered in cold blood for protesting the injustice."
"How long is the international community going to allow the Nigerian government to continue murdering its own citizens?" he said.
More than five years have passed since hundreds of Muslims were killed in a massacre in the Nigerian city of Zaria. In 2015, at least 348 civilians were killed and 347 bodies were secretly buried, according to the official account. The real death toll is said to have been much higher.
The massacre took place when the Nigerian army stormed a religious ceremony, organized by the IMN, which represents the Shia Muslim minority in the country.
Not only has the Nigerian government refrained from paying compensation for the lives it took, it has also incarcerated followers of the movement and their leader, Sheikh Zakzaky, whose health is deteriorating in prison.
In 2016, Nigeria's federal high court ordered Zakzaky's unconditional release from jail following a trial, but the Nigerian government has so far refused to set him free.
Zakzaky was charged in April 2018 with murder, culpable homicide, unlawful assembly and disruption of public peace, among other accusations. He has vehemently rejected all those charges.
Sheikh Zakzaky was due to appear in court in September last year to face judgement on an application asking for the dismissal of the case against him, but the trial was adjourned to January this year, something observers said could put Sheikh's life at risk.
https://www.presstv.com/Detail/2021/01/26/643908/Nigerian-police-kill-two-Sheikh-Zakzaky-supporters-in-Abuja
--------
Kenya: KDF Guns Down Terror Suspect, Injures Dozens
24 JANUARY 2021
Security forces have shot dead a suspected terrorist and injured several others as the government turns the screws on Somalia-based militant group Al-Shabaab.
Special Operation Group (SOG), which is undertaking an operation in Banisa and Mandera North, gunned down the suspect and injured several others, according to a security brief.
"SOG team, which was conducting patrol operations at Ashabito, received information on the presence of Al-Shabaab militants in Ali Wol dam, about 14 kilometres north of Ashabito. The team responded immediately, where they encountered a group of five militants," reads the report.
The team gunned down one militant and recovered an AK-47 rifle, money and a hand set radio.
The SOG team drawn from the Kenya Defence Forces (KDF) spent the better part of yesterday tracking down other terrorists believed to have escaped with gunshot wounds.
"We're firmly on the ground and a lot is happening, including flashing out the enemy. We shall continue with our operation," said Mandera County Commissioner Onesmus Kyatha.
Senior security officers in Mandera are upbeat on winning the war the Al-Qaeda-linked terrorist group, which has successfully carried out attacks in the region in the past one month, is waging.
Police custody
At least five suspects are in police custody.
On Thursday, a court in Mandera allowed police to hold three suspects for 14 days as they conclude investigations. They were identified as Ali Ibrahim, Abdikarim Maalim Hassan and Edin Ibrein Dalacha.
Ibrahim and Hassan are reportedly Kenyan, while Dalacha is believed to be Ethiopian.
In a sworn affidavit, Mr Boaz Kurgat, a police officer, told the court a source indicated that Ibrahim was involved in an alShabaab attack on January 11, where a civilian vehicle was attacked and its occupants kidnapped.
He was arrested at Shimbir Fatuma township on arrival from Banisa.
Maalim was arrested at Dandu last Monday, while Edin Dalacha was picked up by security officers at Takaba on the same day.
Dalacha is suspected of supplying the terrorists in Mandera with foodstuff.
On January 15, police on patrol in Banisa at Wako Dadacha village battled the militants at a water point, leaving a civilian dead and another injured.
A security brief indicated that the militants used herders as a shield before escaping.
On January 8, Mandera Governor Ali Roba raised the alarm on the return of the militant group in the county.
He said the militants controlled more than a half the county and that all roads were being manned by the terrorists. The State dismissed the claims.
The spat between the governor and State agencies in Mandera was followed by a series of attacks, including an ambush on a bus in Banisa on January 11. The bus was heading to Nairobi
Non-locals on board
Three people were kidnapped on the same day after their vehicle was hit by an explosive along Banisa-Takaba road. The three were found alive a week later.
On January 12, militants stopped a bus plying the Mandera-Nairobi road immediately after entering Wajir County.
The militants, who claimed to be looking for non-locals on board, took Sh40,000 from the bus conductor as well as travellers' belongings.
On January 13, the militants vandalised a telecommunication mast at Darkale. They attempted to vandalise another mast at Didkuro in Mandera West on the same day.
https://allafrica.com/stories/202101250231.html?utm_source=iterable&utm_medium=email&utm_campaign=1937439_
--------
Mideast
Turkey faces mysterious jihadi enemies in Idlib
Fehim Tastekin
Jan 25, 2021
Obscure jihadist groups have stepped up attacks on Turkish forces in Syria's rebel-held province of Idlib, adding to Turkey's dilemmas amid the fragile status quo in the region.
Al-Qaeda-inspired groups such as Hurras al-Din stood out as potential troublemakers when Turkish forces began to reinforce their presence around the key M4 highway last year, coordinating with Hayat Tahrir al-Sham (HTS), the dominant rebel group in Idlib. Caucasian fighters, concentrated in Jisr al-Shughur and the Latakia countryside, were not seen as an immediate threat, though they share the jihadi ideology.
The attacks on the Turkish forces, however, have come from unexpected assailants.
A group calling itself the Khattab al-Shishani Brigade claimed the first three attacks, which targeted Turkish-Russian patrols along the M4 on July 14, July 17 and Aug. 25. "Shishani" means "Chechen" in Arabic and has become the hallmark of Chechen-led groups in Syria. After the July 14 car bomb attack, Russia said three of its soldiers were injured, while Turkey spoke only of damage to vehicles. A statement from the assailants, meanwhile, slammed the major jihadi groups in the region for inaction against the Turkish-Russian patrols. It contained quotes from al-Qaeda founder Osama bin Laden and referred to Russian soldiers as "crusaders" and Turkish forces and HTS as "apostates."
Then, on Aug. 27, a group called the Ansar Abu Bakr Al-Siddiq Squadron claimed a car bomb attack near a Turkish observation post near Jisr al-Shughur, lauding the suicide bomber who drove the vehicle. A second attack by the same group killed a Turkish soldier and wounded another near Ariha Sept. 6. The most recent attack claimed by the group targeted a Turkish outpost in the western Aleppo countryside Jan. 16. Its statement said a "sniper detachment" attacked "one of the main bases of the Turkish NATO army," while local reports said three soldiers were injured.
An equally obscure third faction, calling itself the Abdullah bin Unais Group, rained rocket-propelled grenades on Turkish forces Jan. 4-5 before attacking an HTS checkpoint Jan. 8. In its first ever statement, the group called HTS "apostate" and accused it of betraying Islam and the jihadi struggle against invaders.
The almost identical jargon of the three groups might suggest they are linked to a common center, but given their shared al-Qaeda ideology, the similarities in rhetoric are hardly unusual.
A number of radical factions in Idlib had openly objected to the Turkish-Russian patrols, initiated under a bilateral deal in March 2020, but they have kept quiet as the three aforementioned groups — all unheard of before — mounted their attacks. This brings to mind three possibilities. First, the new groups might be comprised of jihadists who defected from factions reluctant to confront Turkey. Such schisms have become commonplace in the Syrian war, but it is too early to conclude that those groups are really splinters acting independently. Second, the new names might be simply fronts for radical factions unwilling to openly antagonize Turkey. Finally, they might be a cover for Islamic State cells wary of brandishing their own flag in a region where they have made too many enemies.
Various Salafi jihadis — with or without links to IS — have advocated jihad against Turkey as part of internal debates, referring to Turkey as an "infidel" state and its government as unIslamic.
For groups bearing the "Shishani" tag, the war in Syria is not only about fighting "infidels" but also about score settling with Russia over a lost war in Chechnya. Turkey, however, has not faced any open enmity from the Chechens. They continue to see Turkey as a safe haven, despite Ankara's rapprochement with Moscow and a series of assassinations of Chechen exiles in Turkey, blamed on Russian intelligence or hit men from Chechnya's pro-Russian leader.
After the eruption of the Syrian war, Turkish intelligence dragged many Chechens along to Syria, where they earned a reputation as tough fighters. Despite their shift to jihadism, the Chechens have continued to set Turkey apart, never openly calling it an enemy. No doubt their attitude has had a pragmatic aspect, as many Chechens take refuge in Turkey or use it as a route from the Caucasus to Europe. The same goes for Uzbek, Kyrgyz and Uighur fighters in Syria.
For the jihadi groups in Idlib, Syrian government control of the M4 highway, which connects Latakia and Aleppo, would mean the end of the game. Jisr al-Shughur, the main base of foreign jihadis, lies on M4 as well. The Turkish-Russian patrols, which aim to reopen the road to traffic, caused a rift in jihadi ranks from the very outset. For those bent on resistance, opposing the patrols became synonymous with challenging the dominance of HTS, which chose to accommodate Turkey.
HTS had opted to collaborate with Turkey earlier — on the establishment of Turkish military observation posts. It had already triggered rows in jihadi ranks that erupted into armed clashes after Syrian forces took control of the M5 highway in February 2020 and Turkey and Russia agreed on joint patrols to reopen M4 the following month. The clashes saw HTS dismantle a joint operation center created by Hurras al-Din and four other al-Qaeda-inspired outfits in June.
The increasing attacks on the Turkish-Russian patrols amount to increased pressure on HTS, which claims to be the boss of the region. HTS' failure to rein in the attacks would change the rules of the game.
Following the attacks in early January, the Turkish forces set up a new checkpoint near Maarat Misrin and deployed vehicles equipped with explosive-detection systems on the M4. Continued assaults could force Turkey to take on the attacking groups, either directly or through its Syrian proxies.
Thus far, Turkey has done its best to avoid clashes with the jihadis, despite its commitment to uproot terrorist groups in two separate deals with Russia. It has maintained coordination with HTS and treated it as a "reasonable" group, although HTS remains on the list of terrorist groups and controls 90% of Idlib. By suppressing rival jihadi factions, HTS has served Turkey's interests. To demonstrate rapport with Turkey, the group even agreed to the circulation of Turkish liras in Idlib last summer.
Turkey's expanding military presence through dozens of checkpoints is, of course, a threat to HTS' territorial control in the region, but at the same time, constitutes a barrier against Syrian and Russian forces, a vital upside for the group.
Turkey continues to reinforce its presence around the M4, though it has evacuated all its observation posts along the M5 after they were surrounded by Syrian forces. On Jan. 18, Turkish forces deployed to the town of Qastun in the al-Ghab Plain, which forms the line of fire between Idlib and Hama. Several days earlier, they set up two checkpoints near Saraqib.
The deterrence that Turkey's military posture creates is dictating pragmatism on HTS. Accordingly, it feels compelled to rein in the attacks of radical groups, which threaten to disrupt the status quo. Still, such a strategy is not a guarantee of calm. Mutual salvos have never ceased since the cease-fire took effect last March. Moreover, continued attacks from Idlib on government-held areas could easily give Russia a pretext to squeeze Turkey and escalate operations in the region.
https://www.al-monitor.com/pulse/originals/2021/01/turkey-syria-russia-idlib-attacks-by-newly-sprung-groups.html?utm_source=iterable&utm_medium=email&utm_campaign=1937439_
--------
Ending Houthi sanctions raises Iran terror threat, critics warn
January 26, 2021
CHICAGO: The decision by US President Joe Biden to suspend some sanctions against the Houthi militia in Yemen has raised concerns about a possible escalation in Iran-backed terror attacks.
The US Treasury on Monday said that the sanctions — announced by former US secretary of state Mike Pompeo as one of the outgoing Trump administration's last acts — will be suspended for a month, pending a review by newly appointed Secretary of State Anthony Blinken.
The review is also expected to consider reversing the Houthi militia's designation as a terrorist organization.
However, Blinken did not issue a statement on the decision, which was leaked to some news media wire services, while all of Pompeo's public releases were removed from the State Department website and archived, removing them from public view.
According to some observers, Biden may be using the decision to encourage negotiations with Iran as his administration moves to restore the Joint Comprehensive Plan of Action (JCPOA) agreement that Trump terminated.
However, Jason Greenblatt, former Trump administration envoy to the Middle East, told Arab News that the suspension of Pompeo's sanctions will result in increased attacks against Gulf nations.
"These Iranian-funded terrorist murderers attack our friends and allies such as Saudi Arabia and cause tremendous suffering in Yemen," Greenblatt said, defending Pompeo's sanctions as "correct."
"This is similar to the situation in Gaza with Iran-funded Hamas and Palestinian Islamic Jihad attacking Israel and also being the cause of tremendous suffering to Palestinians. It is a mistake for the Biden administration to not call the Houthis what they are — terrorists, pure and simple."
The call to suspend the sanctions was made by NGOs and aid agencies working in the war-torn country, which feared they would be targeted for providing assistance.
Designating the Houthis as a "foreign terrorist organization" hampers humanitarian work, they argued.
However, supporters of the designation argue that lifting sanctions will allow Iran to expand its base in the Gulf, resulting in more terrorist attacks similar to the repeated Houthi missile and drone strikes directed at Riyadh last week.
The announcement riled many Iranian dissidents who have been victimized by Iran's ruling mullahs. Dissident leaders said they were shocked by the suspension and urged Biden to maintain the terrorist designation.
"The undisputed fact is that the Houthis are a creation of the Islamic Republic. The mullahs have been offering ideological, military and terrorist training to them since the early 1990s," one leader, who asked not to be identified, said.
"Iran provides the Houthis with huge caches of weaponry, missiles, drones and other lethal arms that have prolonged that deadly and tragic conflict. As such, lending legitimacy to the Houthis will only undermine the stability of the Middle East region and embolden the Houthis to engage in further aggression, the primary victims of which are the people of Yemen."
Biden campaigned on the promise to rejoin the JCPOA and restore relations with Iran in exchange for Tehran's promise to eliminate its stockpile of medium-enriched uranium and cut its stockpile of low-enriched uranium, but Trump and others accused Iran of secretly building its nuclear arsenal.
Greenblatt described the situation as a "battle of good versus evil," adding: "We don't help matters when we hide from the truth. We must stand with our friends and allies such as Saudi Arabia."
https://www.arabnews.com/node/1798976/middle-east
--------
Are Yemen's Iran-backed Houthis firing warning shots across Biden administration's bows?
January 27, 2021
LONDON: Was the object sighted high above Riyadh on Tuesday a stray projectile with no evident target or a warning shot across the bows of the Biden administration? That was the question uppermost in the minds of defense experts and political analysts, just three days after a "hostile air target" — assumed to be a ballistic missile — heading towards the Saudi capital was intercepted and destroyed.
Social media was abuzz on Tuesday with footage of smoke hanging over Riyadh, with residents describing how the windows of their homes were rattled by the impact of at least one explosion. By late evening, Yemen's Iran-backed Houthis had not bragged about a direct hit on the city of 7.68 million people. The militia's behavior ran true to recent form: it had denied involvement in Saturday's failed attack.
But the fact of the matter is, these could be the first significant attacks targeting a major Saudi city since the US State Department designated the Houthis as a "Foreign Terrorist Organization" on Jan. 19 — one of the final acts of the Donald Trump administration in its "maximum pressure" campaign against Iran and its proxies.
Without naming the Houthis explicitly, the Biden administration issued a statement after Saturday's incident, condemning the undeniable targeting of civilians. "Such attacks contravene international law and undermine all efforts to promote peace and stability," the State Department said.
To many political observers, the new Houthi approach is a complete no-brainer: Threatened with sanctions and political isolation, and desperate for potential concessions from Washington, the militia is trying to have its cake and eat it too by launching attacks on Riyadh and not claiming responsibility for them.
"There is no doubt that after evaluating the international response and noticing that a claim of responsibility would be counterproductive — especially after being classified by the State Department as "terrorists" — the Houthis tried to deny they were behind Saturday's attack," Hamdan Al-Shehri, a political analyst and international relations scholar, told Arab News.
"However, everyone knows that the Houthis, backed by Iran, are the ones who carry out such terrorist acts and use ballistic missiles and drones. They also tried to get on the new US administration's good side by denying what happened in the Kingdom. But everyone knows who is responsible for these actions."
According to experts, the Houthis have a strategy of swinging between bragging about targeting population centers and maintaining plausible deniability. In other words, they pick and choose whichever attitude suits their objectives, and those of its Iranian patrons, at any given time.
Put bluntly, the brazen strikes targeting Saudi Arabia's capital may not be routine tactical operations in a low-intensity conflict but rather reflective of a larger strategic decision by Iran to put President Joe Biden's foreign-policy team on notice.
The Trump administration withdrew the US from the Obama-era nuclear accord with Iran in May 2018 and reimposed a slew of economic sanctions on the regime in Tehran. The strategy was matched by a zero-tolerance approach to Iranian influence in Yemen, Iraq, Syria, Lebanon and Palestine.
The US Treasury on Monday suspended some of the terrorism sanctions that the State Department had imposed on the Houthis in President Donald Trump's waning days in office. Against this backdrop of apparent policy reviews, a flurry of attacks on Washington's regional allies and partners could very well be attempts by Tehran to test President Biden's resolve or, with luck, even kickstart dialogue.
"There is no doubt that Iran wants to test the new administration to know how serious it is regarding the Yemeni issue and the Iranian nuclear issue, and it wants to negotiate with more than one card," Al-Shehri told Arab News.
"It is as though to say: 'If you are willing to reduce the pressure on the nuclear issue, we will reduce the pressure on targeting Riyadh.' This is nothing but cheap and shameless political blackmail, and the world knows it."
"Cheap and shameless" is also one way to describe the Houthis' penchant for targeting civilian population centers, often hundreds of miles inside Saudi territory.
March 26, 2018, saw one of the biggest Houthi barrages, with Iranian-supplied ballistic missiles raining down on civilian areas in four Saudi cities. Three of them targeted Riyadh, while two were aimed at Jazan and the others at Khamis Mushayt and Najran.
Although Saudi air defenses intercepted all seven missiles, an Egyptian civilian was killed by falling debris and two others were injured. All of the attacks appear to have deliberately targeted populated areas.
"Launching indiscriminate attacks is prohibited by international humanitarian law," Amnesty International's Samah Hadid said at the time.
"A high death toll may have been averted, possibly due to the missiles being intercepted, but that doesn't let the Houthi armed group off the hook for this reckless and unlawful act. These missiles cannot be precisely targeted at such distances, so their use in this manner unlawfully endangers civilians."
Riyadh, which is roughly 850 km from the Yemeni border, was first attacked by the Houthis on Nov. 4, 2017, when an unguided ballistic missile targeted King Khalid International Airport — about 35 km northeast of the capital.
Although the missile was intercepted in flight, fragments fell inside the airport area. No one was hurt, but the result could have been catastrophic.
"An attack with an unguided ballistic missile such as the Burkan H2 from this range is indiscriminate since these weapons are not capable of the necessary accuracy to target military objectives," Human Rights Watch said at the time.
"When deliberately or indiscriminately directed toward populated areas or civilian objects, such attacks violate the laws of war, and may amount to war crimes."
A year earlier, in Oct. 2016, a missile, thought to have been a Burkan 1, was intercepted by Saudi air defenses just 65 km south of Makkah. The Houthis claimed at the time their intended target was Jeddah's King Abdulaziz International Airport.
Civilians have been in the Houthis' crosshairs since the very beginning of their takeover of Sana'a. In May 2015 there were repeated indiscriminate attacks with short-range rockets from northern Yemen into populated areas of southern Saudi Arabia, which left several civilians dead.
Fighting in Yemen escalated in 2015 when the Houthis overthrew the UN-recognized government of President Abed Rabbo Mansour Hadi. An Arab coalition, backed by the US, Britain and France, launched a military campaign to restore the legitimate government to power.
Since then, repeated attempts to reach a peace settlement have foundered, with the militia's representatives failing to attend UN-brokered talks in Geneva in Sept. 2018 and its combatants willfully ignoring the terms of the Stockholm and Riyadh agreements.
An April 2020 ceasefire announced by the coalition at the onset of the COVID-19 pandemic quickly fell apart when the Houthis resumed cross-border drone and missile strikes targeting Saudi Arabia.
The conflict, now in its sixth year, has left 112,000 dead and 24 million in dire need of humanitarian assistance.
https://www.arabnews.com/node/1799041/middle-east
--------
Iran Urges US to Compensate for Mistakes toward Iran
2021-January-27
Zarif wrote on his Twitter account on Tuesday that it is the US that has left the Joint Comprehensive Plan of Action (JCPOA) with no excuse, adding that if Washington wants to see Tehran's action, it should first make amends for the past mistakes.
He made it clear that Iran has stood firmly against the US sanctions for the past years, and it is the US which must show its good will first.
The Iranian foreign ministry on Monday dismissed the US Treasury Department's statement on the necessity for a revision of the Sunset clauses in the nuclear deal with the world power, stressing that Washington should stop demands and remove the illegal sanctions against the country.
"We have not seen anything new about the nuclear deal. Our position is the same as before, and we should witness the removal of sanctions and the effective implementation of the nuclear deal by the US and other parties to the deal. Nothing will happen from Iran's side until this happens and until we see the US adherence to Resolution 2231," Foreign Ministry Spokesman Saeed Khatibzadeh told reporters in a press conference in Tehran.
"If the other side returns to its commitments and removes the sanctions in full, and the situation returns to January 20, 2017, all of Iran's actions are reversible, and Iran will act accordingly. We will wait for action."
Khatibzadeh noted that Iran has heard lots of words from the Americans, saying, "If the new US administration wants to show that it is moving away from the previous administration's stances and returning to the implementation of its undertakings, it's now time to act."
Iran signed the JCPOA with six world states — namely the US, Germany, France, Britain, Russia, and China — in 2015.
Trump, a stern critic of the historic deal, unilaterally pulled Washington out of the JCPOA in May 2018, and unleashed the "toughest ever" sanctions against the Islamic Republic in defiance of global criticism in an attempt to strangle the Iranian oil trade, but to no avail since its "so-called maximum pressure policy" has failed to push Tehran to the negotiating table.
In response to the US' unilateral move, Tehran has so far rowed back on its nuclear commitments four times in compliance with Articles 26 and 36 of the JCPOA, but stressed that its retaliatory measures will be reversible as soon as Europe finds practical ways to shield the mutual trade from the US sanctions.
Tehran has particularly been disappointed with failure of the three European signatories to the JCPOA -- Britain, France and Germany -- to protect its business interests under the deal after the US' withdrawal.
On January 5, Iran took a final step in reducing its commitments, and said it would no longer observe any operational limitations on its nuclear industry, whether concerning the capacity and level of uranium enrichment, the volume of stockpiled uranium or research and development.
Meantime, Biden has recently said in a CNN article that he wants a renegotiation of the contents of the deal before he agrees to rejoin the agreement.
"I will offer Tehran a credible path back to diplomacy. If Iran returns to strict compliance with the nuclear deal, the United States would rejoin the agreement as a starting point for follow-on negotiations. With our allies, we will work to strengthen and extend the nuclear deal's provisions, while also addressing other issues of concern," he wrote, mentioning that he wants changes to the contents of the nuclear deal and guarantees from Tehran that it would be open for compromise to strike multiple deals over its missile and regional powers as well as a number of other issues that have been the bones of contention between the two sides in the last four decades.
In response, Iranian Foreign Minister Mohammad Javad Zarif had stressed that the US has violated the nuclear deal and is in no position to ask for any conditions for its return to the JCPOA, adding that it's Tehran that has its own terms to allow the US back into the internationally endorsed agreement.
The foreign minister has reiterated time and again that Tehran would not change even a single word of the agreement, and cautioned the US that it needs to pay reparations for the damage it has inflicted on Iran through its retreat from the nuclear agreement and give enough insurances that it would not go for initiating the trigger mechanism again before it could get back to the deal.
In relevant remarks earlier this month, Spokesman for the AEOI Behrouz Kamalvandi said his country enjoys the capability to produce 120 kg of uranium with 20% purity in 8 months, that's 4 months faster than the one-year period required by a recent parliament approval.
https://www.farsnews.ir/en/news/13991108000097/Iran-Urges-US-Cmpensae-fr-Misakes-ward-Iran
--------
Iran, Russia Ink Cyber Security Agreement
2021-January-26
The agreement signed in Moscow is a significant landmark in the bilateral relations between the two countries in the field of cybersecurity in the national and international arena and aims at the expansion of regional and international cooperation.
According to the new agreement, Iran and Russia will strengthen their cyber cooperation in terms of security, technical assistance, and the fight against cybercrimes.
Zarif, who arrived in Moscow on the second leg of his regional tour today met and held talks with Lavrov at the Russian foreign ministry.
The Iranian foreign minister also held talks with his Azeri counterpart Jeyhoun Bayramov, Azerbaijan's President Ilham Aliyev, and other high-ranking Azeri officials on Monday.
https://www.farsnews.ir/en/news/13991107000839/Iran-Rssia-Ink-Cyber-Secriy-Agreemen
--------
Iran sentences brother of country's senior VP to two years in prison for corruption
27 January 2021
Iran has sentenced the brother of the country's senior vice president to two years in prison on corruption charges, the website of the Iranian judiciary reported Tuesday.
According to the judiciary's spokesman, Gholamhossein Esmaili, the verdict for Mahdi Jahangiri, the brother of Eshaq Jahangiri, is final and cannot be appealed.
Mahdi Jahangiri was on the board of the Tehran Chamber of Commerce and was also the founder of the private Gardeshgari Bank.
Esmaili said charges against the banker included "professional currency smuggling" in the amounts of 607,100 euros and $108,000. Mahdi Jahangiri was also ordered to return the funds and fined four times the amounts in question.
Jahangiri was arrested in October 2017 and released on bail in March 2018, pending trial. Few details of the case have since emerged in public, though his brother Eshaq Jahangiri was quoted at the time of the arrest as saying that Mahdi's detention was "predictable" and "expected" and that he hoped "everyone will be treated equally in the quest for justice."
In October 2019, President Hassan Rouhani's brother, Hossein Fereidoun, was sentenced to five years on financial misconduct charges dating back to 2016.
The charges against Fereidoun were brought by officials who dominate Iran's judiciary. Iran has in the past jailed allies of former presidents on similar charges.
Tensions between Rouhani and Iran's judiciary escalated further after former President Donald Trump pulled America out of the 2015 nuclear deal and stepped up economic sanctions on Tehran.
https://english.alarabiya.net/News/middle-east/2021/01/27/Iran-sentences-brother-of-country-s-senior-VP-to-two-years-in-prison-for-corruption
--------
Israeli troops shoot dead Palestinian in alleged knife attack in occupied West Bank
26 January 2021
A knife-wielding Palestinian who attempted to stab Israeli soldiers near Nablus in the occupied West Bank was shot dead on Tuesday, the Israeli army and the Palestinian health ministry said.
In a statement, the army said that troops at a West Bank military post "spotted an assailant who attempted to stab two (Israeli) soldiers."
"One of the soldiers blocked the assailant's multiple stabbing attacks and the commander of the troops who was at the scene fired towards the assailant and neutralized him."
The statement added that Israeli forces suffered no casualties, while an army spokesperson told AFP that the alleged attacker had been killed.
The Palestinian health ministry confirmed that "a citizen" had been shot dead by the "occupation forces."
Israel has occupied the West Bank since the Six-Day War of 1967.
So-called lone-wolf attacks by Palestinians on the Israeli military are common in the West Bank. Some have involved firearms but most have been with knives.
https://english.alarabiya.net/News/middle-east/2021/01/26/Palestinian-Israeli-conflict-Israeli-troops-shoot-dead-Palestinian-in-alleged-knife-attack-in-occupied-West-Bank
--------
5 terrorists surrender to Turkish security forces
JAN 25, 2021
Turkish security forces convinced five terrorists to lay down their arms and surrender, the Interior Ministry announced late Sunday.
According to a statement by the ministry, four PKK and one far-left terrorist were persuaded into surrendering to Turkish forces in a coordinated effort between police and gendarmerie forces.
The terrorists joined the terror groups at different times between 1993 and 2015 and were active in Syria and Iraq, the statement noted.
The number of PKK terrorists who have surrendered through persuasion this year has reached 14, it added.
Separately, a member of the PKK's Syrian branch, the YPG, was being held in the town of Al-Bab in northern Syria on Sunday, an official statement said.
Local security forces continue their efforts to expose the terrorist group's activities, the governor's office in southeastern Turkey's southeastern Gaziantep province said.
The terrorist, identified by the initials A.E.M., was rounded up in Al-Bab in an operation by local security units and the governorship, which provides the Syrian town with consultancy services.
Al-Bab was previously ruled by Daesh terrorists who destroyed its infrastructure and displaced thousands of civilians. It is now a fully functioning town with a local council, schools, hospitals and a university thanks to Turkey's efforts.
The city was liberated four years ago in Operation Euphrates Shield carried out by the Turkish military and the Syrian National Army (SNA) – then called the Free Syrian Army (FSA).
Since 2016, Turkey has launched a trio of successful anti-terror operations – Euphrates Shield in 2016, Olive Branch in 2018 and Peace Spring in 2019 – across its border in northern Syria to prevent the formation of a terror corridor, enabling the peaceful settlement of residents.
In its more than 40-year terror campaign against Turkey, the PKK – listed as a terrorist organization by Turkey, the U.S. and the European Union – has been responsible for the deaths of 40,000 people, including women, children and infants.
https://www.dailysabah.com/politics/war-on-terror/5-terrorists-surrender-to-turkish-security-forces?utm_source=iterable&utm_medium=email&utm_campaign=1937439_
--------
Europe
UN report accuses Yemen govt of money laundering, Houthis of taking $1.8 bln in 2019
26 January 2021
Independent U.N. sanctions monitors accused Yemen's government, in a report seen by Reuters on Tuesday, of money-laundering and corruption "that adversely affected access to adequate food supplies" and said the Houthi group collected at least $1.8 billion in state revenue in 2019 to help fund its war effort.
The annual report to the U.N. Security Council on the implementation of international sanctions on Yemen coincides with U.N. officials saying that the country is on the verge of a large-scale famine with millions of civilians at risk.
The monitors said Saudi Arabia deposited $2 billion with the Central Bank of Yemen in January 2018 under a development and reconstruction program. The money was intended to fund credit to buy commodities - such as rice, sugar, milk and flour - to strengthen food security and stabilize domestic prices.
The U.N. investigation found that Yemen's Central Bank broke its foreign exchange rules, manipulated the foreign exchange market and "laundered a substantial part of the Saudi deposit in a sophisticated money-laundering scheme" that saw traders receive a $423 million windfall.
"The $423 million is public money, which has been illegally transferred to private corporations. Documents provided by the Central Bank of Yemen fail to explain why they adopted such a destructive strategy," according to the U.N. report.
The monitors said they view it as "an act of money-laundering and corruption perpetrated by government institutions, in this case the Central Bank of Yemen and the Government of Yemen, in collusion with well-placed businesses and political personalities, to the benefit of a select group of privileged traders and businessmen."
Yemen's government and the Central Bank did not immediately respond to a request for comment on the accusations.
The U.N. report said that in areas controlled by the Houthis the group was collecting taxes and other state revenue needed to pay government salaries and provide basic services to citizens. It estimates the Houthis diverted at least $1.8 billion in 2019, "a large portion" of which was used to fund their war effort.
The Houthis did not immediately respond to a request for comment on the accusations in the U.N. report.
U.N. officials are trying to revive peace talks to end the war as Yemen's suffering is also worsened by an economic collapse and the COVID-19 pandemic.
The U.N. monitors reported "there is a growing body of evidence that shows that individuals or entities within the Islamic Republic of Iran are engaged in sending weapons and weapons components to the Houthis" in violation of a U.N. arms embargo. Iran denies such support for the Houthis.
https://english.alarabiya.net/News/gulf/2021/01/27/UN-report-accuses-Yemen-govt-of-money-laundering-Houthis-of-taking-1-8-bln-in-2019
--------
US should place embargo on arms deliveries, logistical support to Saudi-led coalition: Houthi
27 January 2021
A member of the Supreme Political Council of Yemen has called on the new US administration to end logistical support for the Saudi-led coalition involved in a deadly military campaign against the Yemeni nation, and instead impose an arms embargo on Riyadh and its allies for their war crimes.
"America should place an embargo on sending weapons, besides aviation and logistical support to Saudi Arabia and its alliance over the aggression against Yemen. This is worth reviewing until February 26," Mohammed Ali al-Houthi wrote in a post published on his official Twitter page late on Tuesday.
On Monday, the new US Treasury Department issued a license authorizing transactions involving Yemen's Houthi Ansarullah movement for the next month, as Washington is reviewing a "terrorist" designation by the administration of former president Donald Trump which took effect on January 11 — nine days before US President Joe Biden took office.
The license allows all transactions involving the Houthi group or any entity in which it owns 50% percent or more — though not its blacklisted leaders — until Feb. 26, 2021.
The Treasury Department appeared to be trying to assuage the fears of companies and banks involved in commercial trade to Yemen, which relies mainly on imports.
Houthi added that any Yemeni assets that Washington has laid its hands on are money paid to allow the aggressor American-Saudi-Emirati coalition to continue murdering women and children and subjecting the country to starvation and destruction.
The Trump administration's last-minute "terrorist" designation appeared to be a desperate attempt to step up pressure on the popular Houthi movement after the Saudi regime failed to fulfill the objectives of over five years of war on Yemen, despite all the support it received from the US and other Western states.
The Houthi Ansarullah movement, backed by the Yemeni armed forces and allied popular groups, has been successfully defending Yemen against the Saudi aggression, leaving Riyadh and its allies bogged down in the county.
Trump had long overlooked and defended the Saudi-led coalition's acts of aggression in Yemen in favor of lucrative arms sales to the regime in Riyadh.
Biden has pledged to "end US support for Saudi Arabia's war in Yemen."
https://www.presstv.com/Detail/2021/01/27/643940/US-must-sanction-arms-deliveries,-logistical-support-to-Saudi-led-coalition-Houthi
--------
France hopes US will change attitude on Lebanon's Hezbollah: Elysee source
26 January 2021
The United States under new President Joe Biden needs to adopt a more realistic attitude towards the Iranian-backed Hezbollah to help break the political and economic impasse in Lebanon, a French presidential official said on Tuesday.
French President Emmanuel Macron has been spearheading international efforts to rescue Lebanon, once a French protectorate, from its deepest crisis since its 1975-1990 Civil War.
He has travelled twice to Lebanon since a huge explosion at the Beirut port in August devastated swathes of the capital, but no progress has been made to form a credible interim government.
While former US president Donald Trump's administration backed Macron's initiative, it opposed efforts to include the heavily armed Hezbollah that wields enormous power in Lebanon and which Washington brands a terrorist group.
"There is urgency in Lebanon and we think that there are priorities that we (France and the United States) can pursue together," the French official told reporters, speaking on condition of anonymity, saying Macron's first priority was putting together a viable Lebanese government.
"We don't expect a change in American attitude towards Hezbollah, but more American realism on what is possible or not given the circumstances in Lebanon," he said, without elaborating on what Paris wanted Washington to do.
It remains unclear how Biden's administration might tackle Lebanon. The 2015 US Hezbollah International Financing Prevention Act (HIFPA), which aimed to sever the group's global funding networks, was imposed during President Barack Obama's administration, in which Biden was vice president.
The French presidency official said there were no immediate plans to reschedule a trip by Macron to Lebanon after he put off a visit in December when he contracted COVID-19.
https://english.alarabiya.net/News/middle-east/2021/01/26/France-hopes-US-will-change-attitude-on-Lebanon-s-Hezbollah-Elysee-source
--------
Moscow, Tehran interested in complete restoration of JCPOA
27 January 2021
Marina Kortunova
Iran and Russia have called for the preservation of the 2015 Iran nuclear deal, saying it is up to the US to take the first steps by removing the sanctions if is sincere in its assertion that it wants to go back to the nuclear deal.
Iranian minister Mohammad Javad Zarif made a stop in Moscow for talks with his Russian counterpart Sergey Lavrov on mutual and international issues.
In a joint press conference, Foreign Minister Mohammad Javad Zarif said Iran will take proper action whenever the United States lifts the sanctions to pave the way for its return to the 2015 nuclear deal.
For his part, Russian Foreign Minister Sergei Lavrov said Moscow and Tehran share the same position on how to preserve the historic deal, adding that it was up to the United States to take the first steps by removing the sanctions.
Upon arriving in the Russian capital, the top Iranian diplomat said Trump's departure brought along "special circumstances" that required Tehran and Moscow "to coordinate their positions in this regard."
With the election of Joseph Biden, hopes for a more balanced approach from Washington and a return to the nuclear deal have been revived.
Zarif arrived in Moscow after paying a visit to Azerbaijan, where he sat down with Azeri President Ilham Aliyev.
Iran and Russia said they are determined to expand mutual ties and continue cooperation in regional stability and international security.
Iran and Russia said they are determined to expand mutual ties and continue cooperation in regional stability and international security.
https://www.presstv.com/Detail/2021/01/27/643928/Moscow-Tehran-JCPOA-restoration
--------
Germany's far-right AfD braces for surveillance
26/01/2021
Germany's domestic security agency is on the verge of announcing whether the far-right AfD will be placed under surveillance for posing a threat to democracy, dealing a potential blow to the anti-immigration party in a key election year.
After a two-year investigation and a report totalling over 1,000 pages, the Federal Office for the Protection of the Constitution (BfV) is to decide in the coming days if the Alternative for Germany (AfD) will be classed as a "suspected case" over its ties to right-wing extremism.
The classification would allow intelligence agents to shadow the party, tap its communications and possibly use undercover informants.
The anti-Islam, anti-immigration AfD has often courted controversy by calling for Germany to stop atoning for its World War II crimes. Senior figure Alexander Gauland once described the Nazi era as just "a speck of bird poo" on German history.
The BfV's decision comes at a sensitive time for the AfD. While it is the largest opposition party in parliament, it has seen its ratings fall as the pandemic has kept the spotlight firmly on Chancellor Angela Merkel's ruling coalition parties.
AfD leader Joerg Meuthen has vowed to take legal action if the BfV decides to begin surveillance, accusing the government-run agency of playing politics in what pundits have dubbed a "super election year" in Germany.
The AfD faces six regional elections this year and a general election on September 26, the first in over 15 years that won't feature Merkel.
The first regional test will come with state polls in Baden-Wuerttemberg and Rhineland-Palatinate on March 14, where support for the AfD is hovering around 10 percent.
- Radical 'Wing' -
The AfD started out at as an anti-euro outfit in 2013 before capitalising on public anger over Merkel's 2015 decision to allow in a wave of asylum seekers from conflict-torn countries like Syria, Afghanistan and Iraq.
The AfD took nearly 13 percent of the vote in the 2017 general election, allowing it to make its debut in the German Bundestag.
But the party has long been locked in an internal battle between an extremist faction and populist, conservative members who are wary of scaring off mainstream voters.
Germany's domestic intelligence service already placed a radical fringe of the party, known as The Wing, under surveillance last year over its association with known neo-Nazis and on suspicion of violating the constitution.
The faction, led by firebrand Bjoern Hoecke, dissolved itself last March but many of its 7,000 members remain active in the AfD.
"This gives rise to doubts about whether they really lost influence," Der Spiegel weekly said.
Hoecke, the AfD's leader in Thuringia state, famously referred to Germany's Holocaust Memorial in Berlin as "a monument of shame" and has called for a "180 degree reversal" in the country's remembrance culture.
The AfD's Thuringia branch and another one in Brandenburg have also been designated as "suspected cases" of right-wing extremism by the BfV.
The authorities' concern about the AfD has grown after the country suffered a string of right-wing, anti-Semitic attacks in recent years. The risk of violence from Germany's far-right scene is now considered the country's top threat.
AfD chief Meuthen has struggled to rein in the party's more radical figures, telling a congress in November that they would not win over voters by being "increasingly crude, aggressive".
He also rubbished comparisons of the current coronavirus restrictions with a "dictatorship", as AfD lawmaker Gauland had done.
Nevertheless, more than a few of the AfD's 35,000 members are believed to harbour extremist sympathies.
One of them, Andreas Kalbitz, was the head of the AfD in Brandenburg before he was kicked out for hiding his past membership in a neo-Nazi youth group.
"The AfD could be declared a suspected case because it is dominated by the radical wing of the party, whose influence has only grown in recent months," Hajo Funke, a political scientist at Berlin's Free University, told AFP.
As for the party's chances at the ballot box in 2021, Funke said "endless" infighting had left the AfD without clear policies, settling instead on "simply saying the opposite of whatever the government proposes".
https://www.france24.com/en/live-news/20210126-germany-s-far-right-afd-braces-for-surveillance?utm_source=iterable&utm_medium=email&utm_campaign=1937439_
--------
Southeast Asia
Five Men Arrested in Aceh over Alleged Links with the Islamic State
By: Farouk Arnaz
JANUARY 25, 2021
Jakarta. The Aceh Provincial Police have arrested five men, including a local civil servant, for alleged role in a series of terror attacks and suspected link with global terror network the Islamic State, a spokesman said on Monday.
The suspects are part of the home-grown militant group that carried out suicide bombing at a parking lot in the Medan Metropolitan Police headquarters, North Sumatra, on Nov. 13, 2019, Aceh Police spokesman Chief Comr. Winardy said.
They were arrested in separate raids on Wednesday and Thursday, he said.
"One of the suspects identified by initials S.J. is an employee of the East Aceh district government," Winardy said over telephone.
He said the suspects have managed to blend in with the community by living ordinary lives -- two of them work as construction workers, one sells fruit and another owns a café.
They were arrested during separate raids in provincial capital Banda Aceh, Langsa and Aceh Besar.
Authorities have blamed shadowy terror group Jemaah Ansharut Daulah for the November 2019 bombing that killed the sole bomber identified as Rabbial Muslim Nasution and injured six people.
When carrying out the attack, Rabbial wore the familiar jacket of a ride-hailing company to get through the police compound's check point.
JAD leaders have pledged allegiance to the Islamic State, police have said.
Police have arrested more than 30 suspects in connection with the attack. Among them is the alleged mastermind identified as Salman Alfarizih, who police said is the leader of JAD's local chapter in Medan.
Salman was arrested at his hiding place in East Aceh around two weeks after the blast.
Further investigation revealed information about terror plots and secret discussions among the group members after police retrieved data from a laptop belonging to a JAD member.
"This group carefully assessed their plan before launching every attack. Their goal was to inflict casualties, they didn't care if they were police officers or civilians," a senior investigator said at that time.
Some of the group members also talked about avoiding wearing striking Muslim outfits during their attacks.
A month before the Medan bombing, a couple believed to be JAD members carried out stabbing attack on then Chief Security Minister Wiranto during his visit to Pandeglang, Banten.
Wiranto survived the attack but he was admitted to hospital for a surgery.
https://jakartaglobe.id/news/five-men-arrested-in-aceh-over-alleged-links-with-is?utm_source=iterable&utm_medium=email&utm_campaign=1937439_
--------
Penang Hindu temple completes annual silver chariot journey for Thaipusam before dawn
27 Jan 2021
BY OPALYN MOK
GEORGE TOWN, Jan 27 — Despite the current Covid-19 lockdown, the Nattukotai Chettiar Temple was able to proceed with its annual Thaipusam silver chariot ceremony today after gaining approval from Putrajaya and the police.
Temple trustee Dr A. Narayanan said the 127-year-old chariot, which carries Lord Muruga holding the vel, departed the Kovil Verdi on Penang Street at 3am and arrived at the Nattukotai Chettiar Temple on Jalan Air Terjun at 5.55am without incident.
"Only 10 temple committee members were present throughout the procession and it was done according to strict SOPs," he told Malay Mail when contacted this morning.
He said the ceremony followed the health regulations to prevent the coronavirus from spreading set by the National Security Council (NSC) and that devotees were not allowed at the temple.
"Once the chariot arrived, we have committee members to bring it in and we closed the gates of the temple as per the SOPs," he said.
The chariot will make its way back to Penang Street on Friday.
Narayanan confirmed that the Hindu temple received approval to go ahead with the silver chariot ceremony from Human Resource Minister Datuk Seri M. Saravanan.
He said the temple committee had written to both the state and federal governments for approval to proceed with its annual silver chariot journey this year prior to the event as Penang was among the states under the strict movement control order that prohibits inter-district travel.
However, the Penang state executive council will only discuss their appeal today.
Penang Deputy Chief Minister II P. Ramasamy who is also the state Hindu Endowment Board (PHEB) chairman had yesterday said the board along with the Chettiar temple committee had agreed not to hold the procession this year due to the pandemic.
He said the decision to cancel the processions for both the silver and golden chariot was made by a joint committee comprising representatives of the NSC, State Health Department, police, immigration, customs and three members of the Nattukotai Chettiar temple.
"The Chettiar representatives including the present chairman, agreed with the decision to cancel the festival including the chariot procession," he said.
He stressed that the Penang state government and PHEB "are not in popularity game with the Hindus in Penang".
"We have to be responsible and honest in dealing effectively with the pandemic," Ramasamy said.
https://www.malaymail.com/news/malaysia/2021/01/27/penang-hindu-temple-completes-annual-silver-chariot-journey-for-thaipusam-b/1944381
--------
Indonesian virus cases surpass a million amid vaccine drive
January 26, 2021
JAKARTA: Indonesia passed more than one million Covid-19 cases on Tuesday, as the archipelago launches one of the world's biggest vaccine drives to clamp down on a soaring infection rate.
The Southeast Asian nation of nearly 270 million has recorded 1,012,350 virus cases and almost 29,000 deaths, according to official data.
But low testing rates mean the crisis is believed to be much bigger than those figures suggest.
Some hospitals are on the brink of collapse as they are overwhelmed with patients in one of Asia's worst-hit nations, public health experts warn.
"I think we hit one million cases of Covid-19 a long time ago," said Pandu Riono, a University of Indonesia epidemiologist.
"We are still climbing a mountain and we don't even know where the peak is. This is a never-ending climb."
There are reports of patients being unable to access intensive care units and isolation rooms due to high demand – a shortage underscored by an East Java city's move to outfit a train carriage to accommodate the sick.
The virus has killed more than 600 doctors, nurses and other medical workers, many outfitted with limited protection equipment, according to independent researchers.
"Hospitals are already collapsing," Riono said, adding that the government had "no management, no plan, no priorities, just trial and error".
Indonesia's government has been widely criticised for initially downplaying the pandemic and, later, for lacking a coherent crisis strategy.
The country of some 17,000 islands is now rolling out a huge vaccination drive with frontline workers and other high-risk groups among the first to get the jab, produced by China's Sinovac.
Officials had earlier said they would focus on inoculating the 18 to 59-year-old working population instead of prioritising the elderly, like many countries are doing.
But the health ministry later said some 25 million seniors would be targeted after doctors and other frontline workers if testing shows the Sinovac jab is safe for older people.
This month, Indonesian President Joko Widodo received the country's first Covid-19 jab on live television along with his health minister, several senior officials, as well as business and religious leaders.
Tests in hard-hit Brazil showed the Sinovac jab was highly effective in staving off moderate to serious virus cases.
But overall, it was only about 50% effective in preventing patients from contracting the disease.
Muslim-majority Indonesia's top religious body also approved the vaccine as halal – meaning permissible under Islam – in a move that could help convince wary citizens.
Previous vaccination drives have been met with resistance by some segments of the country's huge population, the world's fourth largest.
Indonesia is aiming to inoculate nearly 182 million people over the next 15 months.
The country has also signed deals for about 330 million vaccine doses from a string of pharmaceutical companies including AstraZeneca, Pfizer and Chinese suppliers.
https://www.freemalaysiatoday.com/category/world/2021/01/26/indonesian-virus-cases-surpass-a-million-amid-vaccine-drive/
--------
URL: https://www.newageislam.com/islamic-world-news/under-biden-united-states-restore/d/124157
New Age Islam, Islam Online, Islamic Website, African Muslim News, Arab World News, South Asia News, Indian Muslim News, World Muslim News, Women in Islam, Islamic Feminism, Arab Women, Women In Arab, Islamophobia in America, Muslim Women in West, Islam Women and Feminism