New Age Islam News Bureau
4 May 2014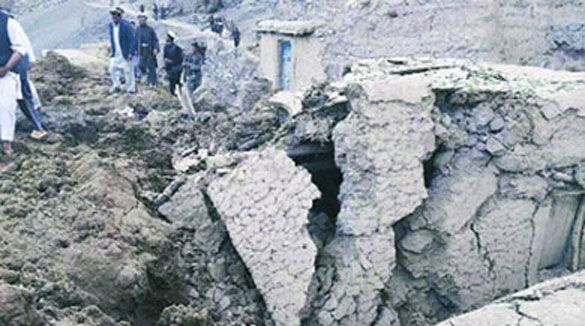 Afghan villagers gather at the site of a landslide at the Argo district in Badakhshan province Friday. (Reuters)
-----------
North America
• UN Official Urges More Efforts To Curb Muslim-Christian Violence In CAR
• U.S. says Iran nuclear talks are 'very substantive'
------------
Arab World
• Salafist Al-Nour party backs El-Sisi in presidential race
• Egypt sentences 102 as campaigning opens in presidential election
• Egyptian court jails 102 Mursi supporters for 10 years
• 4 perish in Egypt bomb attacks
• Egypt presidential candidates launch campaign
------------
Africa
• Libyan parliament fails to choose new PM
• 19 dead in Nigeria capital blast before top World Economic Forum summit
• Five Libya soldiers killed in Benghazi clashes
• Nigerian police say 276 abducted girls still missing
• Hundreds of exhausted illegals reach Sudan
• S Sudan leaders agree to direct peace talks
• Blast kills senior official in Somali capital
------------
India
• Soldiers patrol northeast India after 33 Muslims killed
• Pakistan's ISI planned terror attacks on US and Israeli consulates in India
------------
Pakistan
• Press Freedom Day: Protesters demand end to journalists' killing
• 13 'non-combatant' Taliban may be released
• Pakistan summons Middle East envoys to discuss Syria
• Blast targets FC vehicle in Bolan; one killed
• Sindh Rangers tasks special unit to probe MQM allegations
• JI accepts PTI invitation for protest movement
• Pakistan to launch Islamic Bond, says Ishaq Dar
• Pakistani security man killed near Afghan border area: ISPR
• PML-N govt to rid country of energy crisis, terror: Shahbaz
------------
South Asia
• More Than 2,100 Confirmed Dead, Over 4000 Displaced In Afghan Landslide
• Former warlord joins Abdullah in Afghan election
• Three killed, six injured in Afghan blasts
• Sri Lankan leaders seek action to stop harassment against Muslims
• 36 Jamaat-Shibir men held in Bogra, C'nawabganj
------------
Mideast
• Will cut hands of those who seek our demise: Israel minister
• No room for religious extremism in Iran: presidential advisor
• Israel mourns 23,169 casualties of war, terrorism
• Jerusalem fears trouble in Iran nuclear negotiations, Dermer says
• Palestinians smuggling sperm out of Israeli jails so wives can have babies
• Al-Qaeda confirms death of commander in Yemen
• Yemeni colonel shot dead in Aden, two hurt in bomb attack
------------
Europe
• Britain: Anti-Muslim campaign targets Birmingham schools
• Odessa's Muslims Fear Violence as Ukraine Falls Apart
------------
Southeast Asia
• Embrace of Atheism Put an Indonesian in Prison
• Perkasa: 'What more do non-Muslims want?'
• Hudud will drive rape survivors deeper into shadows, say women's groups
• Jokowi appoints PKB's Khofifah as spokesperson
Compiled by New Age Islam News Bureau
URL: https://www.newageislam.com/islamic-world-news/new-age-islam-news-bureau/un-official-urges-more-efforts-to-curb-muslim-christian-violence-in-car/d/76864
------------
North America
UN Official Urges More Efforts To Curb Muslim-Christian Violence In CAR
May 03, 2014
UNITED NATIONS - With rival Christian and Muslim militias stoking inter-communal violence, a senior UN relief official said on Friday that the international community has 'so far failed the people' of Central African Republic amid ethnic cleansing and thousands of deaths. At a Press conference, John Ging, the Director of UN humanitarian operations, appealed for more security forces and funding to prevent the country from splitting along religious lines.
Just back from Boda, a town located in the southern part of CAR, said that while the situation in the country is 'deteriorating at an alarming rate,' he was also struck by a profoundly worrying shift in the attitudes of the people since his last visit three months ago. 'When I was there before, the people were then identifying armed groups [either anti-balaka or Seleka rebels] as the problem. Now, the common refrain is that 'communities' are at fault: Christians and Muslims blaming each other. This is now the ugly face of the conflict,' he told reporters at a UN Headquarters Press briefing.
Fighting in CAR has taken on an increasingly sectarian nature following a 2012 rebel-led coup and has since become more brutal with reports of ongoing human rights violations and reprisal clashes between largely Christian anti-balaka and mostly Muslim Seleka rebels that have displaced hundreds of thousands of people both inside and outside the country, and left 2.2 million in need of humanitarian aid. 'This ethnic and religious dimension has resulted in the segmentation and segregation of communities. Ordinary people are being radicalised…manipulated [and] made to believe that segregation is the solution to the crisis,' Ging said, emphasising the abject fear in which the various communities are now living. Providing a stark example of this, he said that in Boda, the 24,000 Muslims – a minority in the town –feel they are under threat and that evacuation is the only way to be safe. Moreover, Christian leaders in the area were also urging that Muslim villagers be evacuated, compounding their fears and stoking intolerance. 'People are asking to be moved from their own communities.'
'Attempts at inter-communal dialogue have failed. Needless to say, evacuation and separation are not the solution,' said Ging, adding, however, that 'as humanitarians, we have to carry out these evacuations.' '
The basis for fear is real and the challenge on the security side is, at present, bigger than our capacity to deal with it, leaving the people with an impossible choice,' he said, whether to stay in their communities and possibly be killed, or to flee their homes with nothing.
Strife-riven Bossangoa, where 'all Muslims are gone now', some 2,000 having fled on their own and the rest, evacuated with the help of the UN, is a case in point.
And while deeply impressed by the 'outstanding leadership' in the Central African Republic in the face of such an overwhelming and multifaceted crisis, he said that at present, the Government's capacity 'is severely limited.' As such, it is now up to the international community to help prevent despair and hopelessness from further permeating communities around the country. The world must uphold its responsibility. 'If it does so, the situation can be turned around,' Ging said, recalling CAR's long history of inter-communal tolerance and cooperation. For example, he said that traditionally, the Muslim community was largely involved in CAR's trade and industry sectors and the fact that they cannot conduct their business freely is compounding the problems for all communities in the country.
'First and foremost, what we have to do is counter the fear that is gripping the population; they are consumed by fear and hopelessness and they see armed groups conducting attacks with impunity on both sides,' Ging said. He said the abiding sense of hopelessness is being fomented by armed groups, and ordinary people on all sides were becoming convinced that the ideology of ethnic cleansing 'which we have seen play out tragically' in other countries, is inevitable in the CAR…'and this is very worrying as it is a foundation for further atrocities.'
'This is where the international community comes in,' and, while expressing support for the African-led International Support Mission to the Central African Republic (MISCA) and French support troops known as Sangaris, he said that hose forces have limited resources and limited numbers and cannot provide country-wide protection. 'The only way people can even begin to contemplate rebuilding their lives is if there is real security,' he said, adding, that while people were very hopeful about the deployment of the newly-mandated UN peacekeeping mission in CAR: 'They need security now'. Beyond the security dimension, he urged a focus on the lack of funding. He recalled that a pledging conference in February generated some $200 million in pledges, but four months later, only $123 million had been provided. And this was only part of a total $500 million appeal. With the total appeal only 28 per cent funded, CAR was left short of medicine and food and other necessary humanitarian supplies, a dire situation made worse because the rainy season is beginning in earnest. 'We can't say that it's a forgotten crisis or that we don't know what is needed,' he said. 'The response has not been mobilised on the scale or in the timeframe needed to solve the problem.'
Ging reiterated that 'it is not enough to have a discussion about what's right or what's wrong in principle; it's what are we going to do in practice. So it is our duty to protect these people.'
'The international community must mobilise effective protection for people where they are – ensuring that CAR Government is present to create confidence, uphold the rule of law and end impunity. This is what the international community must support,' he said.
http://www.nation.com.pk/international/03-May-2014/un-official-urges-more-efforts-to-curb-muslim-christian-violence-in-car
------------
U.S. says Iran nuclear talks are 'very substantive'
03 May 2014
TEHRAN – The U.S. State Department says Iran and the six major powers are conducting the negotiations on Tehran's nuclear program "in good faith" and in a "very substantive way", though cautioning that there is no guarantee that the talks will lead to a comprehensive deal.
"The fact [is] that we are talking in a very business-like and substantive way about very detailed issues we've never talked at this level before – this is the best chance we've ever had to get this done diplomatically," said State Department deputy spokeswoman Marie Harf at her daily press briefing on Friday.
"We all are committed to getting this done. Does that mean we will? We have no idea… We're realistic about the chance that we will," she added.
She made the remarks in response to an article written by Iranian Foreign Minister Mohammad Javad Zarif in the recent issue of Foreign Affairs magazine in which he had expressed optimism about the negotiations, saying, "the unexpectedly fast pace of progress…so far augurs well for a speedy resolution of this unnecessary crisis."
Iran and the 5+1 group - the United States, France, Britain, Russia, China plus Germany – are leading negotiations to build on an interim deal struck in November, under which Tehran agreed not to expand its nuclear program for six months in exchange for limited sanctions relief. The agreement came into force on January 20. Iran and the major powers have set a July 20 deadline to clinch a long-term deal that would lead to a gradual lifting of all nuclear-related sanctions.
http://tehrantimes.com/politics/115492-us-says-iran-nuclear-talks-are-very-substantive
------------
South Asia
More Than 2,100 Confirmed Dead, Over 4000 Displaced In Afghan Landslide
Reuters | Mazar-i-sharif | May 3, 2014
Afghan officials gave up hope on Saturday of finding any survivors from a landslide in the remote northeast, putting the death toll at more than 2,100, as rescuers turned their attention to helping the over 4,000 people displaced.
Officials expressed concern the unstable hillside above the site of the disaster may cave in again, threatening the homeless as well as the U.N. and local rescue teams that have arrived in Badakhshan province, which borders Tajikistan.
"More than 2,100 people from 300 families are all dead," Naweed Forotan, a spokesman for the Badakhshan provincial governor said.
Villagers and a few dozen police, equipped with only basic digging tools, resumed their search when daylight broke but it soon became clear there was no hope of finding survivors buried in up to 100 metres of mud.
"Seven members of my family were here, four or five of them were killed … I am also half alive, what can I do?" said an elderly woman, her hair covered in a pink shawl.
The U.N. mission in Afghanistan said the focus was now on the more than 4,000 people displaced, either directly as a result of Friday's landslide or as a precautionary measure from villages assessed to be at risk.
Their main needs are water, medicine, food and emergency shelter, said Ari Gaitanis, a spokesman from the United Nations Assistance Mission in Afghanistan.
The impoverished area, dotted with villages of mud-brick homes nestled in valleys beside bare slopes, has been hit by several landslides in recent years.
PLEA FOR HELP
The side of the mountain above Ab Barak collapsed at around 11 a.m. (0630 GMT) on Friday as people were trying to recover belongings and livestock after a smaller landslip hit a few hours earlier.
Hundreds of homes were destroyed in the landslides that were triggered by torrential rain. Officials worry another section of the mountainside could collapse at any time.
The Afghan military flew rescue teams to the area on Saturday, as the remote mountain region is served by only narrow, poor roads which have themselves been damaged by more than a week of heavy rain.
"We have managed to get one excavator into the area, but digging looks hopeless," Colonel Abdul Qadeer Sayad, a deputy police chief of Badakhshan, told Reuters.
He said the sheer size of the area affected, and the depth of the mud, meant that only modern machinery could help.
NATO-led coalition troops are on standby to assist but on Saturday said the Afghan government had not asked for help.
"I call on the government to come and help our people, to take the bodies out," said a middle-aged man, standing on a hill overlooking the river of mud where his village once stood.
"We managed to take out only 10-15 people, the rest of our villagers here are trapped."
FREEZING
Hundreds of people camped out overnight in near freezing conditions, although some were given tents. Officials distributed food and water.
At least 100 people were being treated for injuries, most of them by medics who set up facilities in a stable building.
Seasonal rains and spring snow melt have caused devastation across large swathes of northern Afghanistan, killing more than 100 people before this latest disaster.
U.S. President Barack Obama said American forces were on standby to help.
"Just as the United States has stood with the people of Afghanistan through a difficult decade, we stand ready to help our Afghan partners as they respond to this disaster, for even as our war there comes to an end this year, our commitment to Afghanistan and its people will endure," he said.
About 30,000 U.S. soldiers remain in Afghanistan, although that number is falling as Washington prepares to withdraw all combat troops who battled Taliban insurgents by the end of this year.
Police said they had provided a security ring around the area, which has been relatively free of insurgent attacks. The Taliban said in a statement they were also willing to provide security.
http://indianexpress.com/article/world/world-others/at-least-350-dead-2000-missing-after-afghan-landslide/99/
------
Former warlord joins Abdullah in Afghan election
May 03, 2014
KABUL: A former Afghan warlord nicknamed "the bulldozer" joined front-runner Abdullah Abdullah's presidential campaign on Saturday, as deal-making hots up before the decisive run-off vote next month.
Gul Agha Sherzai, from Kandahar, won less than two per cent of the vote in the April 5 election, but is seen as able to deliver some support from Pashtuns, Afghanistan's largest ethnic group.
Abdullah, whose support is strongest in Tajik ethnic areas, came first by a large margin in the election, though he fell short of the 50 per cent threshold needed for outright victory, according to preliminary results.
"I, as a representative of my team, join Dr. Abdullah's team to bring security and welfare to the people of Afghanistan," Sherzai told a press conference with Abdullah.
"We have joined together for the country and the people."
Sherzai, a former governor of Kandahar and Nangarhar provinces, earned his nickname "the bulldozer" for pushing though major road and infrastructure projects — as well as for his forceful personality.
Abdullah and ex-World Bank economist Ashraf Ghani will compete in a head-to-head election scheduled for June 7.
Full report at:
http://www.dawn.com/news/1103945/former-warlord-joins-abdullah-in-afghan-election
------------
Three killed, six injured in Afghan blasts
IANS | May 4, 2014
KABUL: Three people were killed and six others wounded in two blasts in Afghanistan on Sunday, authorities said.
In one attack, a civilian was killed, and three civilian and a soldier were wounded when a sticky bomb attached to an army jeep detonated in northern Kunduz city, capital of Kunduz province, Xinhua reported.
Full report at:
http://timesofindia.indiatimes.com/world/south-asia/Three-killed-six-injured-in-Afghan-blasts/articleshow/34644086.cms
------------
Sri Lankan leaders seek action to stop harassment against Muslims
4 May 2014
Muslim parliamentarians in Sri Lanka have called for President Mahinda Rajapaksa to intervene in order to stop the continued hate campaign, intimidation and threats perpetrated against Muslims by some Buddist extremists of the Bodu Bala Sena and other allied organizations.
With the exception of A.H.M. Azwer and A.R.M.A. Cader, 16 out of the 18 legislators signed the petition sponsored by the Muslim Council of Sri Lanka (MCL).
Speaking to Arab News from Colombo, MCL President N.M. Ameen said that the campaign carried out against Muslims by the Bodu Bala Sena, Sihala Ravaya and Ravana Balakaya is alarming and dangerous.
"We have full confidence in our president and we believe he will take appropriate action to resolve this issue," he added.
The petition urges the president to immediately intervene to stop the harassment against Muslim IDP's who have lived in different parts of the country as refugees and as a "forgotten" people over the last 23 years.
"We, the Muslim parliamentarians, wish to bring to your Excellency's kind attention that these groups have been targeting Muslim places of worship, Halal food, the Muslim attire and now the resettlement of the Muslim lDPs who were expelled by the LTTE in 1990 in the worst act of ethnic cleansing in the history of our nation," the petition read.
These Muslim lDPs were labeled as "old lDPs" and did not even benefit from the resettlement scheme implemented by the government and international agencies including the cash grants provided by the UNHCR, it said.
Full report at:
http://www.arabnews.com/news/565366
------------
36 Jamaat-Shibir men held in Bogra, C'nawabganj
Law enforcers arrested 36 Jamaat-Shibir men, raiding different upazilas of Bogra and Chapainawabganj districts early yesterday.
The arrestees were wanted in a number of cases for vandalism, arson attacks and carrying out subversive activities in the districts during BNP-led alliance's hartals and blockades, police said.
Our Bogra correspondent reported that police arrested 14 Jamaat-Shibir men from different upazilas of the district early yesterday in the cases for vandalism and arson attacks during hatals and blockades last year.
During the drive, police also arrested over 100 people from the upazilas on various charges. They (police) also recovered hemp, phensidyl, and Indian spices worth TK. 4.5 lakh from their possession.
Police said they will produce the Jamaat-Shibir men along with other arrestees in courts today. They said drives to arrest the other accused in the cases for vandalism, arson attacks and obstructing police from performing their duties will continue.
According to our Chapainawabganj correspondent, a Joint team, comprising police Rab, and BGB men arrested 22 Jamaat-Shibri activists from Sadar and Shibganj upazilas of the district early yesterday.
Full report at:
http://www.thedailystar.net/country/36-jamaat-shibir-men-held-in-bogra-cnawabganj-22597
------------
Arab World
Salafist Al-Nour party backs El-Sisi in presidential race
3 May 2014
The Salafist Nour party announced Saturday its support for former army chief Abdel-Fattah El-Sisi to be Egypt's next president
The announcement comes after the party's supreme council, headed by its chairman; Younes Makhion held a meeting earlier on Saturday to discuss which of the candidates the party will support.
In a statement published by the party's Facebook page, Makhion revealed that El-Sisi was voted for by an overwhelming majority of members.
The Salafist party was officially established in the wake of the January 25 revolution by members of Egypt's largest Salafist group, 'The Salafist Call." In the first post-revolution parliamentary elections, the Salafist party garnered the second highest number of seats after the Muslim Brotherhood.
The one time ally of the Muslim Brotherhood, backed Morsi's ouster by endorsing a transitional roadmap -announced on 3 July by El-Sisi- that included amending the constitution and holding parliamentary and presidential polls by mid-2014.
The presidential elections, the first to be held since the ouster of Morsi, are scheduled to take place on 26-27 May with only El-Sisi and leftist politician Hamdeen Sabahi facing off.
http://english.ahram.org.eg/NewsContent/1/64/100391/Egypt/Politics-/Salafist-AlNour-party-backs-ElSisi-in-presidential.aspx
-------
Egypt sentences 102 as campaigning opens in presidential election
03 May 2014
An Egyptian court sentenced 102 Islamists to 10 years in prison Saturday for rioting as campaigning began for the upcoming presidential election.
The case in Cairo is one of several mass trials held in Egypt amid a crackdown against Islamists and supporters of toppled President Mohammed Morsi's Muslim Brotherhood group. Retired Field Marshal Abdel-Fattah el-Sissi, who led the July 3 overthrow of Morsi, is widely expected to win the coming May 26-27 presidential election on a wave of nationalist fervor sweeping Egypt.
His only opponent, leftist politician Hamdeen Sabahi, kicked off his campaign Saturday from the southern city of Assiut, promising to "achieve democracy, development and freedom for each Egyptian." Sabahi told journalists that he chose southern Egypt because he hopes to eliminate poverty and unemployment, as well as end previous policies that concentrated development on the capital and marginalized the south, where Islamists hold sway.
Supporters of el-Sissi have launched his election campaign on social networking sites, while posters around Cairo present him as a strongman in "the fight against terror" — referring to the wave of Islamic militant attacks that followed Morsi's ouster.
Morsi supporters sentenced to 10 years in prison
Meanwhile, a judge sentenced the 102 Islamists to prison on charges of violently rioting in a Cairo neighborhood and possession of weapons. Egypt's state news agency said the ruling puts the defendants under police surveillance for a period of five years when their prison sentences end. Two other defendants were sentenced to seven years in the case.
The prosecutors charged the defendants with gathering illegally with intent to inflict material and moral harm to others and public property, which led to one death.
Since overthrowing Morsi in July, the army-installed government has arrested thousands of his supporters and put them on mass trials, intensifying crackdown on dissent.
The Cairo court sentenced two others to seven years in prison.
Last week, another Egyptian court sentenced the leader of the Muslim Brotherhood Party Mohamed Badie and 682 supporters to death. The court issued the verdicts during a hearing in the southern province of Minya on Monday, April 28.
The same court also reduced the death sentences of 492 out of the 529 people it had already passed verdicts on in March to life imprisonment.
The action followed international outrage over the mass execution sentence.
http://tehrantimes.com/world/115497-egypt-sentences-102-as-campaigning-opens-in-presidential-election
------------
Egyptian court jails 102 Mursi supporters for 10 years
3 May 2014
CAIRO: An Egyptian criminal court has sentenced 102 defendants it describes as Muslim Brotherhood supporters to 10 years in prison each on charges of violent rioting in a Cairo neighborhood and possession of weapons.
Egypt's state news agency said the Saturday ruling puts the defendants under police surveillance for a period of five years after the end of their prison sentences. Two other defendants were jailed for seven years in the case.
The ruling is linked to demonstrations staged to protest the overthrow of Islamist President Muhammad Mursi by the military in July. Mursi's ouster followed days of mass demonstrations demanding his resignation.
The prosecutors charged the defendants with gathering illegally with intent to inflict material and moral harm to others and public property, which led to one death.
Last Monday, a court sentenced to death some 680 defendants in a mass trial, sparking an international outcry.
Among those sentenced to death is the Muslim Brotherhood's spiritual leader Mohammed Badie who also faces several other separate trials.
On Wednesday, Badie along with an ultraconservative preacher Safwat Hegazy and 19 others were sentenced to one year in prison for "insulting the court" in a separate case either by turning their back to the room or speaking in inappropriate manner.
The 21 were sentenced while standing trial with Mursi and 130 others, the majority of whom are being tried in absentia on charges of orchestrating prison breaks during the 2011 uprising which led to the ouster of Mursi's predecessor, Hosni Mubarak.
Hegazy was a key speaker at the main pro-Mursi sit-in dispersed by security forces last August. He had told protesters to hold their ground and promised to reverse the military's overthrow of Mursi.
Thousands of members of the now-illegal Brotherhood and supporters of the ousted president are in prison awaiting trial, along with liberal democracy activists who have spoken out against the military-backed government.
Egypt's Justice Minister has rebuffed international criticism of the mass trial, saying the judiciary is not a tool of executive authority and that rulings can be overturned upon appeal.
http://www.arabnews.com/news/564981
------------
4 perish in Egypt bomb attacks
3 May 2014
CAIRO: A bomb blast near a Cairo court killed one policeman on Friday, shortly after two suicide bombers struck in Egypt's restive Sinai Peninsula in near-simultaneous attacks that killed three people, including a soldier.
No one immediately claimed responsibility for the attacks but militants have carried out a series of bombings in recent months targeting Egyptian security forces and the military.
Friday's attacks came just weeks ahead of the country's key presidential elections — a vote in which the former military chief, Abdel-Fattah el-Sissi, is a front-runner. Militants have blamed el-Sissi for orchestrating a deadly crackdown on the country's Islamic Brotherhood.
Egyptian state TV said the mid-morning explosion in Cairo's eastern Heliopolis suburb targeted a traffic police post near the court. The state news agency MENA quoted police spokesman Abdel-Fattah Osman as saying that the blast was caused by a homemade bomb planted near the police post and that an explosives team was inspecting the site for more devices. Three policemen were also wounded in that bombing, the TV said.
In restive Sinai, two suicide bombers struck shortly after dawn in the town of El-Tor in the southern part of the peninsula.
Full report at:
http://www.arabnews.com/news/564891
------------
Egypt presidential candidates launch campaign
03 May 2014
Campaigning for Egypt's presidential election has opened as the country gears up for its first elections since Mohamed Morsi was ousted by the military last July.
Former army chief Abdel Fattah el-Sisi and leftist politician Hamdeen Sabahi are contesting the May 26-27 presidential poll, which is widely expected to see Sisi ascend to power.
Supporters of Sisi launched his election campaign on Saturday on social networking sites, with the 59-year-old using Twitter to say "stability, security and hope for Egypt will be achieved through our will and capabilities."
He later attended an interview with several local journalists, in which he wept at one point, the state-owned Ahram newspaper reported on its website.
"Sisi wept when he spoke about the messages he receives from the poor," the newspaper reported.
"I get messages from people who can't afford to eat, they say we don't eat but we accept that for your sake," it quoted Sisi as saying.
Full report at:
http://www.aljazeera.com/news/middleeast/2014/05/egypt-presidential-candidates-launch-campaign-201453185522698474.html
------------
Africa
Libyan parliament fails to choose new PM
May 4, 2014
TRIPOLI: Libya's parliament failed on Sunday to elect a new prime minister after several inconclusive votes, lawmakers in the North African country said.
Businessman Ahmed Maiteeq had emerged as front runner in the final vote but he failed to obtain a quorum in a separate confidence vote needed to confirm his appointment, lawmakers said.
Full report at:
http://timesofindia.indiatimes.com/world/middle-east/Libyan-parliament-fails-to-choose-new-PM/articleshow/34644250.cms
------
19 dead in Nigeria capital blast before top World Economic Forum summit
May 03, 2014
ABUJA: A car bombing at a bus station on the outskirts of Nigeria's capital killed at least 19 people and injured 80, officials said Friday, just weeks after Boko Haram Islamists attacked the same spot.
The explosion rocked the crowded Nyanya bus terminal just a few kilometres from central Abuja at roughly 8:00 pm (1900 GMT) on Thursday, 50 metres from the site of an April 14 bombing that killed at least 75 people. The April attack was the deadliest ever in Nigeria's capital and raised security concerns about a World Economic Forum (WEF) summit set for Abuja next week, which includes a visit from Chinese Premier Li Keqiang.
'Our existing security arrangements are robust,' WEF said in a statement about the conference dubbed the 'African Davos'.
Full report at:
http://www.nation.com.pk/international/03-May-2014/19-dead-in-nigeria-capital-blast-before-top-summit
------------
Five Libya soldiers killed in Benghazi clashes
May 03, 2014
BENGHAZI : Gunmen stormed police headquarters in Libya's second city Benghazi before dawn on Friday sparking fighting in several districts that killed at least five soldiers, medical and military sources said.
Special forces to intervened to try to evict the gunmen triggering fighting elsewhere in the eastern city that also wounded 11 people. The gunmen were trying to seize a vehicle packed with weapons and ammunition that the police had taken from them, a security source said.
Blasts and gunfire rocked the Mediterranean city for two hours from 0100 GMT, witnesses said. Friday's violence comes just days after a car bomb targeted a special forces barracks in Benghazi, killing two soldiers and wounding three. Benghazi was the cradle of the 2011 uprising that ended Moamer Kadhafi's four-decade rule and has since been plagued by violence that has killed dozens of members of the security forces, judges and foreigners.
The government has been struggling to consolidate control in the vast and mostly desert country, which is effectively ruled by a patchwork of local militias and awash with heavy weapons looted from Kadhafi's arsenals. The lawlessness has even extended to the capital. On Tuesday gunmen stormed the parliament building in Tripoli forcing lawmakers to postpone a vote for a new prime minister to replace Abdallah al-Thani who quit in April - after just five days in the job - saying he and his family had come under attack.
Full report at:
http://www.nation.com.pk/international/03-May-2014/five-libya-soldiers-killed-in-benghazi-clashes
------------
Nigerian police say 276 abducted girls still missing
May 03, 2014
MAIDUGURI: The number of kidnapped schoolgirls missing in Nigeria has risen to 276, up by more than 30 from a previous estimate, police said, adding that the actual number abducted by suspected Islamic extremists on April 14 was more than 300.
Police Commissioner Tanko Lawan said the number of girls and young women who escaped also had risen, to 53.
He told a news conference on Thursday night in Maiduguri, the northeastern capital of Borno state, that the figures kept increasing because students from other schools were brought into one school for final exams last month after all schools in Borno state were shut because of attacks by the extremists.
Communications are difficult with the military often cutting mobile phone service under a state of emergency and travelling is dangerous on roads frequently attacked by the militants.
"The students were drawn from schools in Izge, Lassa, Ashigashiya and Warabe A. and that is why, after the unfortunate incident, there were various numbers flying around as to the actual number of girls that were taken away," Lawan said.
Hundreds of women protested in at least three cities this week to express their outrage that the girls have not been found.
Full report at:
http://www.dawn.com/news/1103855/nigerian-police-say-276-abducted-girls-still-missing
------------
Hundreds of exhausted illegals reach Sudan
4 May 2014
DONGOLA, Sudan: Hundreds of exhausted illegal migrants reached the safety of a northern Sudanese town Saturday, an AFP journalist said, after human traffickers abandoned them in the desert with the loss of 10 lives.
A convoy of six Sudanese Army trucks delivered the migrants to Dongola after a journey of hundreds of kilometers following their rescue on the Sudanese-Libyan frontier by troops from both countries.
Full report at:
http://www.arabnews.com/news/565296
------------
S Sudan leaders agree to direct peace talks
03 May 2014
South Sudan's president Salva Kiir and rebel commander Riek Machar are both committed to holding direct talks to resolve the four-month conflict that has killed thousands, John Kerry, the US secretary of state, said.
Kerry, currently on a tour of several African countries, pressed the warring leaders to set a date for face-to-face talks, urging the UN Security Council to consider sanctions to stop attacks on civilians.
"Yesterday I was in South Sudan. I saw how a new nation and once hopeful vision for the future can be challenged by old grudges degenerating into violence," Kerry said on Saturday of the rivalry between the two men as he continued his African tour in Addis Ababa, Ethiopia's capital.
"I expressed my grave concerns to President Kiir about the deliberate killings of civilians on both sides of the conflict and he agreed to embark on negotiations to form a transitional government that can lead this new nation back from the abyss. I also called the former vice president Riek Machar and urged him to do the same," Kerry added.
"If both sides do not take bold steps to end the violence, they risk plunging South Sudan into greater desperation and even famine. They will completely destroy what they claim they are fighting for. In the days to come, I will continue my personal engagement with both sides."
The meeting, which would be the first face-to-face talks since the conflict erupted in December, is to be held in Ethiopia where both sides have previously held talks without success.
Full report at:
http://www.aljazeera.com/news/africa/2014/05/s-sudan-leaders-agree-direct-peace-talks-20145345932221723.html
------------
Blast kills senior official in Somali capital
03 May 2014
At least seven people including a prominent Somali official have been killed in a bomb attack by al-Shabab fighters in the capital Mogadishu.
The blast killed Abdikafi Hilowle, a police official and former secretary-general of the Mogadishu region, and wounded 25 people, medical officials said.
Police officer Mohammed Duale told the AFP news agency three policemen and four civilians were also among the dead.
Somalia's al-Shabab rebels claimed responsibility for the attack, branding Hilowle "an enemy of Allah" and accusing him of working with foreign intelligence services.
Al-Shabab's spokesman Abdiaziz Abu Musab told AFP "He was the enemy of Allah sought for crimes he committed against young Muslims, we are happy finally we killed him."
The spokesman warned "many others are on the list to be eradicated."
Security sources said the explosion may have been caused by a remote-controlled bomb attached to the car of Hilowle.
Full report at:
http://www.aljazeera.com/news/africa/2014/05/blast-leaves-several-dead-somali-capital-201453101256792931.html
------------
India
Soldiers patrol northeast India after 33 Muslims killed
May 4, 2014
Guwahati (India) (AFP) - Indian soldiers in armoured trucks patrolled streets in northeast Assam on Sunday after 33 Muslims were killed in carnage that police blamed on tribal separatists, as tensions remained high.
Thousands of families have fled their homes after separatists went on the rampage in two districts of the restive tea-growing region, shooting dead Muslims including women and children as they slept.
The violence comes during the final stretch of the country's mammoth general election that has seen religious and ethnic tensions flare and in which Hindu nationalist hardliner Narendra Modi was expected to win.
Police have blamed indigenous Bodo tribesmen for the violence on Thursday and Friday evenings in the region where Muslims have migrated from across the border with impoverished Bangladesh.
Police said the death toll rose overnight Saturday to 33 after a child died of her injuries in a hospital in the state's main city of Guwahati.
Assam Chief Minister Tarun Gogoi said those responsible would be punished as security forces including federal soldiers fanned out across Baksa and neighbouring Kokrajhar district to prevent further clashes.
"We are taking stern measures and have so far arrested more than 30 people," Gogoi said.
The victims were Muslim migrants whose community has been locked in staggered land disputes with Bodos in the remote state that borders Bhutan and Bangladesh.
Local media reported Bodos targeted Muslims as punishment for failing to support their candidate at the multi-phased election, but this could not be confirmed. Voting in Assam ended on April 24.
Full report at:
http://news.yahoo.com/soldiers-patrol-northeast-india-33-muslims-killed-095911878.html
------------
Pakistan's ISI planned terror attacks on US and Israeli consulates in India
May 4, 2014
NEW DELHI: Central security agencies have claimed that Pakistan's ISI had plans to carry out terror attacks on two foreign consulates in India with evidence for this reportedly given by a Sri Lankan national, arrested from Chennai, during his interrogation.
Official sources claimed on Sunday that Sakir Hussain, a Sri Lankan national, told his interrogators that he had been hired allegedly by an official in Pakistani high commission in Colombo as part of the ISI's alleged plans to conduct reconnaissance of US consulate in Chennai and Israeli consulate in Bengaluru.
Hussain was arrested on April 29 in a coordinated operation involving various countries including a southeast Asian nation.
He is reported to have told the interrogators that Pakistan's spy agency was planning to send two men from Maldives to Chennai and that he had to arrange for their travel documents and hideouts.
Full report at:
http://timesofindia.indiatimes.com/india/Pakistans-ISI-planned-terror-attacks-on-US-and-Israeli-consulates-in-India/articleshow/34632606.cms
------------
Pakistan
Press Freedom Day: Protesters demand end to journalists' killing
Syed Ali Shah
May 03, 2014
QUETTA: To mark the World Press Freedom Day, journalists marched on the roads of Quetta to mourn the killings of colleagues and voice for freedom of speech and expression on Saturday.
The members of Balochistan Union of Journalists (BUJ) staged a protest rally outside the Quetta Press Club to mark the International Press Freedom Day. The journalists were carrying placards and banners inscribed with slogans demanding the arrest of journalists' killers and compensation to the affected families.
The BUJ demanded functioning of the judicial commission already formed by Chief Minister Dr Abdul Malik Baloch to probe the killings of journalists in Balochistan, Pakistan's volatile and least developed province.
"We want the commission to probe the murder of our colleagues," Shehzada Zulfiqar, a senior official of the BUJ told Dawn.com.
More than 30 journalists have been killed in Quetta and other troubled parts of Balochistan during last more than seven years.
"The murderers are still at large, despite our repeated appeals," Zulfiqar said.
The protesters chanted full-throated slogans for freedom of expression and speech and demanded an end to impunity in the province, plagued by violent attacks by militants.
The rally turned into a protest demonstration outside Quetta Press Club where senior journalists addressed the protesting media men. They lashed out at law enforcers for their inability to bring the perpetrators of journalists' killings to book.
"We stand for freedom of expression, despite all odds," Khaliq Baloch, the Secretary General of QPC said.
Full report at:
http://www.dawn.com/news/1103946/press-freedom-day-protesters-demand-end-to-journalists-killing
------------
13 'non-combatant' Taliban may be released
May 04, 2014
MULTAN: Taliban Committee member Maulana Yousaf Shah says a list of 765 non-combatant Taliban prisoners has been handed over to the government out of which 13 inmates will be release in a couple of days.
Addressing a press conference here on Saturday, Shah said military and Taliban were attacking each other after end to ceasefire.
Putting the responsibility for discontinuity in ceasefire on dialogue committees, he said if members of both committees would have played their role actively the ceasefire would not have ended. "Now the committees are making sincere efforts for ceasefire as war is not in favour of anyone."
He said: "Taliban and the government are sincere in peace dialogue and those who are demanding military operation are enemies of the country and peace."
He said the Taliban and the government should exchange their demands in the form of drafts to continue peace dialogue.
Full report at:
http://www.dawn.com/news/1104051/13-non-combatant-taliban-may-be-released
------------
Pakistan summons Middle East envoys to discuss Syria
Mateen Haider
May 03, 2014
ISLAMABAD: Pakistan has summoned its envoys from key Middle Eastern countries to meet in Islamabad on May 4 for urgent consultations over situation in Syria in particular and Middle East in general.
"Yes envoys from Middle East would meet in Islamabad on Sunday, May 4 to discuss situation in the Middle East and current issues concerning the region and Pakistan," Foreign Office spokeswoman Tasneem Aslam told Dawn.com on Saturday.
She said issues related to Pakistanis living in Middle East would also come under discussion.
Pakistan's envoys from Saudi Arabia, Bahrain, UAE, Qatar, Iran, Turkey, Syria, Egypt and Yemen have been invited, the spokeswoman said.
Consul General in Jeddah and Consul General in Dubai – the two biggest Pakistani consulates in the Middle East – have also been invited to attend the conference.
Advisor to the Prime Minister on National Security and Foreign Affairs, Sartaj Aziz would address the opening session while several other key ministers are also expected to speak to the moot.
Full report at:
http://www.dawn.com/news/1103947/pakistan-summons-middle-east-envoys-to-discuss-syria
------------
Blast targets FC vehicle in Bolan; one killed
Syed Ali Shah
May 03, 2014
QUETTA: One Frontier Corps (FC) man was killed and another was injured in a bomb explosion in Balochistan province's Bolan district on Saturday, a security official said.
Khan Wasey, a spokesman for the FC, told Dawn that a security forces' vehicle was on routine patrolling when it was attacked in Bolan's Dhadar area in the morning.
"A loud and powerful explosion was heard in the area. It appeared to be a remote-controlled blast," Wasey said.
Full report at:
http://www.dawn.com/news/1103936/blast-targets-fc-vehicle-in-bolan-one-killed
------------
Sindh Rangers tasks special unit to probe MQM allegations
May 03, 2014
KARACHI: Taking the allegations levelled by the Muttahida Qaumi Movement into account, the Sindh Rangers has tasked a special unit to probe the party's claims that personnel from the paramilitary force were involved in the "extrajudicial killing" of four MQM workers, DawnNews reported.
A spokesman for the Sindh Rangers said in a statement that the unit would investigate the claims of the party and legal action would be taken against those found responsible of using the force's uniforms for the purpose.
The statement added that the Rangers have in the past arrested groups who used the force's uniforms to extort money out of the families of arrested men.
It said that the Rangers operated within the legal perimeters prescribed for them, adding that if citizens are witness to any incidents of kidnapping, they should call at 1101 to report these.
On Friday, the MQM accused Rangers of being involved in the "extrajudicial killing" of four party workers and warned of staging demonstrations on highways in Sindh if the killers were not arrested within 72 hours.
Addressing a press conference, MQM leader Dr Farooq Sattar appealed to Chief of Army Staff General Raheel Sharif to direct Corps Commander Karachi Lt Gen Sajjad Ghani to hold an inquiry into the killings.
Full report at:
http://www.dawn.com/news/1103923/sindh-rangers-tasks-special-unit-to-probe-mqm-allegations
------------
JI accepts PTI invitation for protest movement
May 04, 2014
ISLAMABAD: Jamaat-e-Islami (JI) has decided to support Pakistan Tehreek-e-Insaf (PTI) in its protest movement against 'mass rigging' in 2013 general election The campaign is set to start from May 11. Party sources said PTI Chairman Imran Khan telephoned JI's newly elected chief Siraj-ul-Haq and invited him to become part of the protest movement. The JI chief accepted the invitation and said that delegations comprising of leaders and workers of his party will participate in the rallies. Meanwhile, sources said, Siraj-ul-Haq has given green signal to office bearers in Islamabad, Karachi, Lahore, Khyber Pakhtunkhwa and FATA to take part in the protest movement.
http://www.dailytimes.com.pk/islamabad/04-May-2014/ji-accepts-pti-invitation-for-protest-movement
------------
Pakistan to launch Islamic Bond, says Ishaq Dar
May 04, 2014
LONDON/ISLAMABAD: Federal Finance Minister Senator Ishaq Dar on Saturday vowed Pakistan was issuing an Islamic Bond denominated in dollars for Islamic banking institutions and funds in near future.
In a meeting with a delegation led by Xavier Rolet Chief Executive Officer of the London Stock Exchange in London highlighting the success of Pakistan's Euro Bond issued in the international market, he said the response of the international investors was overwhelming and the subscription was 14 times of the amount originally intended.
Dar mentioned with the launch of the Euro Bond Pakistan has returned to the international bond market after seven years absence. Pakistan's recent dollar bond received bids totaling $7 billion, reflecting strong demand for Pakistan's sovereign paper.
He informed the group after initiating home grown economic reforms with successful implementation, Pakistan's standing in the international markets has improved considerably.
Over energy crisis he told the delegation the government was launching various energy projects and taking necessary steps to add around 10,000 megawatt generations to the national grid which would eliminate the energy shortfall in the next four years.
Elaborating further he maintained, the government has already managed to clear circular debt of Rs 500 billion within 45 days after in office.
World Bank has approved two concessionary loans to Pakistan after a period of five years and will provide $1 billion for energy and development reforms.
Full report at:
http://www.dailytimes.com.pk/business/04-May-2014/pakistan-to-launch-islamic-bond-says-ishaq-dar
------------
Pakistani security man killed near Afghan border area: ISPR
May 04, 2014
PESHAWAR: Firing from Afghanistan killed one Pakistani security person on Sunday at the Pak-Afghan border area near Bajaur tribal region, according to a statement issued by the Inter Services Public relations (ISPR).
It was not clear whether the cross-border firing was conducted by Afghan security personnel or militants.
"We don't have more information yet. We can only confirm that a security official was killed because of firing across the border in Bajaur region," said a senior military official when contacted for details.
At least five Pakistanis, including a woman, were killed and 25 other wounded when Afghan National Army personnel opened fire at a border village in Zhob district in September last year.
Full report at:
http://www.dawn.com/news/1104129/pakistani-security-man-killed-near-afghan-border-area-ispr
------------
PML-N govt to rid country of energy crisis, terror: Shahbaz
May 04, 2014
LAHORE - Punjab Chief Minister Shahbaz Sharif said that the government under the leadership of Prime Minister Nawaz Sharif would rid the country of energy crisis and terrorism.
Addressing a reception hosted by the PML-N office-bearers in London on Saturday, he said that every promise made with the people would be materialised at every cost. He said it is a matter of an honour that British Prime Minister David Cameron, Foreign Minister William Hague, Home Secretary Theresa May and Minister for International Development Justine Greening highly appreciated the Punjab government's performance. He said this is not mere a chance that Pakistan's international friends are extending their cooperating generously as they believe there is an honest and responsible government in power in the country which believes in transparency. Shahbaz thanked all the friendly countries for realising the problems being faced by the people of Pakistan.
The CM said that a year ago, when the PML-N came into power, the situation was worst as national economy had reached at the verge of disaster and corruption had ruined all the institutions. But after a year, the situation as well as all economic indicators has improved, he added. He said that due to increase in the value of Pak rupee against dollar, the burden of Rs800 billion of foreign loan has lessened.
Shahbaz said that the benefit of cut in petroleum prices has been provided to the people due to which the price-hike has also decreased. He said that foreign exchange reserves have improved and rate of tax collection has increased. He said that the skills development programme launched in the four districts of South Punjab with the cooperation of DFID is an encouraging step towards achieving the goal of self-reliance and self-sufficiency, under which more than 40,000 youth have been made skilful. He said the scope of the programme has been extended to 18 districts.
Full report at:
http://www.nation.com.pk/lahore/04-May-2014/pml-n-govt-to-rid-country-of-energy-crisis-terror-shahbaz
------------
Mideast
Will cut hands of those who seek our demise: Israel minister
PTI, May 4, 2014
JERUSALEM: As Israel prepares to pay tribute to 23,169 casualties of war and terrorism since 1860, the country's defence minister has pledged to pursue peace but warned to sever the hands of those who sought the Jewish nation's demise.
"Israel marks its 66th year of independence this week but unfortunately we have not reached the end of our travails and we have not reached tranquillity," he said.
Day of Remembrance for the Fallen Soldiers and Victims of Terrorism is Israel's official Memorial Day held every year on May 5.
Several events marking the Remembrance Day will start on its eve this evening after a minute-long siren across the country.
A two-minute siren will also be heard tomorrow at 11am across the country marking the start of official memorial ceremonies held at 52 military cemeteries.
The defence ministry today said that 57 recently fallen had been added to the casualty count since Remembrance Day of 2013, and that an additional 50 disabled army veterans have died due to their disabilities.
"We will not be deterred. We'll continue to seek peace, but we'll cut off the hand of those who seek our demise," Moshe Ya'alon, Israel's defence minister, was quoted as saying by the Jerusalem Post.
Full report at:
http://timesofindia.indiatimes.com/world/middle-east/Will-cut-hands-of-those-who-seek-our-demise-Israel-minister/articleshow/34643907.cms
------
No room for religious extremism in Iran: presidential advisor
03 May 2014
SHIRAZ – A presidential advisor said on Saturday that the revolution in Iran in 1979 was of an Islamic nature rather than a Shia one, and all ethnic and religious groups were involved in it, IRNA reported.
Hojatoleslam Ali Younesi, the advisor to the president for ethnic groups and religious minorities, also said the Islamic world is facing the serious threat of extremism.
"What is threatening the security of all Muslim nations is the emergence of violent and extremist groups which do violence and shed the blood of Muslims under the name of religion," Younesi said in a meeting with Sunni ulema in Shiraz.
He added some of the countries in the region which helped these groups are now repenting their acts but they cannot do anything.
The former intelligence chief went on to say that due to "cultural" and "religious" values there is no room for extremism in Iran.
Full report at:
http://tehrantimes.com/politics/115495-no-room-for-religious-extremism-in-iran-presidential-advisor
------------
Israel mourns 23,169 casualties of war, terrorism
05/03/2014
Israel is set to pay tribute to the 23,169 casualties of war and terrorism who have fallen since 1860. On Sunday evening, events marking the Remembrance Day for the Fallen of Israel's Wars and Victims of Terrorism will be held around the country.
A minute-long siren will ring out on Sunday at 8 p.m., marking the start of Remembrance Day. A two-minute siren will be heard on Monday at 11 a.m., marking the start of official memorial ceremonies held at 52 military cemeteries.
The Defense Ministry said 57 newly fallen had been added to the casualty count since Remembrance Day 2013, and that an additional 50 disabled IDF veterans have died due to their disabilities.
The number of bereaved family members stands at 17,038, of which 2,141 are orphans and 4,966 are IDF widows.
The Defense Ministry is preparing for the arrival of more than a million-and a-half people at military cemeteries across the country.
In a letter sent to bereaved families on Friday, Defense Minister Moshe Ya'alon wrote: "The air raid sirens that will piece the air on the eve of Remembrance Day will be the sign that transforms personal loss, which is so agonizing, to everyone's loss. It seems that there is no Israeli citizen who has not experienced bereavement, whether it's personal or through knowing friends who fell."
Soldiers who sacrificed everything leave a vacuum that will never be filled, Ya'alon said, adding that "it's difficult to describe in words the depth of the pain. How much they are missed. The feeling of missing them, which envelopes you, the family members, every day and every hour. The sorrow and grief, which envelop you day and night, and do not let up, filling up the whole land."
Israel marks its 66th year of independence this week, he said, "but unfortunately, we have not reached the end of our travails and we have not reached tranquility. We will not be deterred. We'll continue to seek peace, but we'll cut off the hand of those who seek our demise."
Full report at:
http://www.jpost.com/National-News/Weeks-after-fatal-Passover-eve-terror-attack-on-officer-police-to-mark-Remembrance-Day-351228
------------
Jerusalem fears trouble in Iran nuclear negotiations, Dermer says
05/04/2014
WASHINGTON – Israel fears a bad deal between world powers and Iran over its nuclear program is imminent, Ambassador Ron Dermer warned.
Speaking in Washington on Thursday, Dermer said negotiations in Vienna between Iran and the P5+1 – the US, Britain, France, Russia, China and Germany – risked leaving Iran "a threshold nuclear power" that would move them back from "two months, where they are today, to maybe two or three months further" from a nuclear weapon.
"They cheated in Natanz," Dermer told the audience, warning Western powers against extensive dismantlement of its sanctions infrastructure on Iran in exchange for time. "They cheated in Qom."
Dermer was speaking to the Foundation for Defense of Democracies (FDD), which held its annual forum and focused on threats permeating from the Middle East.
Also addressing the forum at the Mandarin Oriental hotel, Representative Ed Royce (R-CA), chairman of the House Foreign Relations Committee, spoke of what successful policy on Iran might look like.
"Failure is anything short of having a verifiable way to dismantle the nuclear weapons program," he said. "Failure would be allowing Iran to proceed with an [intercontinental ballistic missile] program."
He added that "success would have been to pass that legislation."
Royce was referring to legislation passed over the summer through the House of Representatives, by 400 to 20, to further sanction Iran's oil sector. FDD, a conservative think tank, was at the table in the drafting of the bill.
Two months after that legislation passed, direct talks began between Iran and the US in New York and continued in Geneva shortly thereafter.
Full report at:
http://www.jpost.com/Diplomacy-and-Politics/Jerusalem-fears-trouble-in-Iran-nuclear-negotiations-Dermer-says-351241
------------
Palestinians smuggling sperm out of Israeli jails so wives can have babies
4 May 2014
ASKAR REFUGEE CAMP, West Bank: Suad Abu Fayed and her husband have had no physical contact for more than 11 years. That is how long he has been in an Israeli prison.
And yet on a recent day, Abu Fayed cradled the couple's 9-day-old baby, Hurriyah — a daughter whose birth earned her a place in an unusual but growing group: Infants conceived over the past two years by in vitro fertilization, using sperm from Palestinian prisoners that has been smuggled out of Israeli jails.
The aim of the clandestine process, those involved say, is two-pronged: To help prisoners' wives have children while their husbands are behind bars and to chip away at one facet of Israel's control over Palestinian life.
Hurriyah's father, Samir Abu Fayed, 37, is serving an 18-year sentence for involvement in terrorist activities. He is a member of the Al-Aqsa Martyrs Brigades. Israel does not allow conjugal visits to Palestinian prisoners, and carefully screened relatives can meet with them only through glass dividers.
Full report at:
http://www.arabnews.com/news/565291
------------
Al-Qaeda confirms death of commander in Yemen
04 May 2014
Yemen's al-Qaeda branch has said that one of its local commanders died from wounds he suffered during an attack by the Yemeni army and US drones.
A Twitter account associated with the al-Qaeda in the Arabian Peninsula (AQAP) issued a message saying Ali bin Likra al-Kazimy had died on Saturday after a military attack on one of its camps in the town of Mahfad last week.
Government officials confirmed his death, reported the Associated Press news agency. The defence ministry also said that five suspected al-Qaeda members, including a commander of Chechen origin, and two soldiers were killed on Saturday in an army operation against fighters in the south.
AFP news agency reported that the fighting took place in Abyan province, and the Sanaj region.
The ministry named the foreigner as Abu Islam al-Shishani, who had reportedly fought against Russian forces in Chechnya before moving to Yemen to join AQAP.
On Friday, the defence minister announced that a foreign rebel commander, Abu Muslim al-Uzbeki, had been killed in clashes in Abyan province.
AQAP, regarded by the United States as the armed group's most dangerous franchise, has been the target of an intensifying drone war this year that has killed dozens.
The same day, another AQAP leader, Qassem al-Rimi, threatened to strike back at any party involved in the drone campaign and denied that foreigners made up the bulk of the group's fighters.
AQAP threats
The Yemeni army, backed by US drone strikes and supported by local tribes, recently launched a campaign to drive al-Qaeda out of the southern provinces of Abyan and Shabwa. But the security forces have also experienced setbacks since the operation began.
On Tuesday, fighters ambushed a military convoy, killing 15 soldiers and capturing 15, three of whom were later executed.
Full report at:
http://www.aljazeera.com/news/middleeast/2014/05/al-qaeda-confirms-death-commander-yemen-20145411442755197.html
------------
Yemeni colonel shot dead in Aden, two hurt in bomb attack
Reuters | May 4, 2014
ADEN, Yemen: Unidentified gunmen shot dead an army colonel in his car in Yemen's southern port city of Aden late on Friday and two soldiers were injured when a car bomb exploded in another major southern port on Saturday, security sources said.
The attacks follow dozens of others directed at security targets in the US ally in recent months, killing hundreds. The army is conducting a big operation against Islamist militants in the southern provinces of Shabwa and Abyan.
On Saturday the army seized control of a militant bastion in the southern area of al-Mahfad, a stronghold for the Islamists, killing four of its defenders and injuring a number of others, a military source was quoted as saying on the state news agency.
Western countries fear further destabilisation in Yemen could give more space to al-Qaida in the Arabian Peninsula (AQAP), the local branch of the global Islamist militant movement, to plot attacks on international targets.
AQAP and its local ally, Ansar al-Sharia, have been waging an insurgency in southern Yemen for more than three years, battling both government forces and local tribal militias.
Colonel Sanad Badr was shot dead in his car by unknown assailants on a major Aden street late on Friday, a local official said.
Full report at:
http://timesofindia.indiatimes.com/world/middle-east/Yemeni-colonel-shot-dead-in-Aden-two-hurt-in-bomb-attack/articleshow/34629496.cms
------------
Europe
Britain: Anti-Muslim campaign targets Birmingham schools
By Julie Hyland
2 May 2014
Sir Michael Wilshaw, Head of Ofsted (Office for Standards in Education, Children's Services and Skills), has taken personal charge of schools inspectorate investigations into 18 schools in Birmingham, England's second largest city.
It comes after a hysterical campaign led by the right wing Daily Telegraph into an alleged "Islamic take over" of schools, which has seen Education Secretary Michael Gove appoint Peter Clarke, a former leading anti-terrorist officer, to oversee inquiries and snap inspections.
There are suggestions that at least six schools could be rated "inadequate" by Ofsted—the trigger for head teachers and governors being removed. All the schools have majority Muslim intakes.
Birmingham council has launched its own inquiry covering 25 schools and last week announced a freeze on the recruitment of local authority school governors in the city, saying that current arrangements are "not fit for purpose."
The huge resources being devoted to the various inquiries is vastly disproportionate to the allegations, and has all the hallmarks of a politically contrived witch-hunt.
Almost everyone involved admits that the circumstances of the claims are extraordinarily murky. The inquiries are in response to an anonymous letter leaked to the local press. The letter, supposedly written by one Muslim extremist to another, under the heading "Operation Trojan Horse", outlines a campaign by Islamic fundamentalists to "take control" of Birmingham schools. It focuses on Park View Educational Trust, which runs three of the four schools allegedly targeted.
The four-page document apparently sets out plans to stir up "hardline" parents against teachers with allegations that that they are "corrupting their children with sex education, teaching about homosexuals, making their children pray Christian prayers and [carrying out] mixed swimming and sport."
The letter says this campaign—which it describes as "jihad"—has already been successful, having caused "a great amount of organised disruption", with the "result [we] now have our own academies and are on the way to getting rid of more head teachers and taking over their schools."
Full report at:
http://www.wsws.org/en/articles/2014/05/02/isla-m02.html
------------
Odessa's Muslims Fear Violence as Ukraine Falls Apart
By Sean Williams
May 3, 2014
"Ukraine for the Ukrainians" — it's the phrase that scares Youness, a Moroccan student at Odessa's National Medical University.
He's one of an estimated 30,000 Muslims in Ukraine's third largest city, where pro- and anti-Russian standoffs are reaching boiling point.
Odessa is a port city of some 1 million people. Like Crimea, which lies barely 50 miles across the Black Sea, it is a largely Russian-speaking city.
But only a third of its residents are ethnic Russians, meaning that a referendum of the sort that led to Crimea's annexation would not have the same result.
Watch all of VICE News' dispatches, Russian Roulette: The Invasion of Ukraine here.
That hasn't stopped thousands from taking to the streets in protest, either at the neo-Nazis who some feel have hijacked Kiev's interim government, or at Russian attempts to swallow Ukraine.
On Friday, at least 31 people died when a building they were in was set on fire during violent clashes between pro-unity and pro-Russia protesters.
This past week, the city's "Anti-Maidan" movement declared the establishment of the Odessa People's Republic. Roadblocks and barricades have already sprung up on the outskirts of town.
Bashar is a local of Syrian descent, who sells halal meat at Severny Market on one of those outskirts.
He said that teenagers are joining the anti-Maidan protests and roaming about, looking for trouble.
"They're a bunch of kids from 16 to 19 who are wearing helmets and carrying baseball bats. They are eager to play war and take part in fights with pro-Russians," he said. "They're not talking shit about Arabic people leaving. At least not for now. But I think if Russia comes here they certainly will. We don't want nothing like that here. We don't want Russia here. All the nationalists should calm down."
The Right Sector, Ukraine's ultra-nationalist paramilitary group, is also active in Odessa. Local cossacks unearthed an arms depot owned by members of the Right Sector containing Molotov cocktails and other munitions.
Supporters of Kiev have declared "full combat alert" in Odessa, warning of an "attack on the city."
Odessa's Connection to Islam
Odessa has a deep connection with Islam.
Full report at:
https://news.vice.com/article/odessas-muslims-fear-violence-as-ukraine-falls-apart
------------
Southeast Asia
Embrace of Atheism Put an Indonesian in Prison
By JOE COCHRANEMAY
3, 2014
JAKARTA, Indonesia — Growing up in a conservative Muslim household in rural West Sumatra, Alexander Aan hid a dark secret beginning at age 9: He did not believe in God. His feelings only hardened as he got older and he faked his way through daily prayers, Islamic holidays and the fasting month of Ramadan.
He stopped praying in 2008, when he was 26, and he finally told his parents and three younger siblings that he was an atheist — a rare revelation in a country like Indonesia, the world's most populous Muslim-majority nation. They responded with disappointment and expressions of hope that he would return to Islam.
But Mr. Aan neither returned to Islam nor confined his secret to his family, and he ended up in prison after running afoul of a 2008 law restricting electronic communications. He had joined an atheist Facebook group started by Indonesians living in the Netherlands, and in 2011 he began posting commentaries outlining why he did not think God existed.
"When I saw, with my own eyes, poor people, people on television caught up in war, people who were hungry or ill, it made me uncomfortable," Mr. Aan, now 32, said in an interview. "What is the meaning of this? As a Muslim, I had questioned God — what is the meaning of God?" He was released on parole on Jan. 27 after serving more than 19 months on a charge of inciting religious hatred.
Indonesia's state ideology, Pancasila, enshrines monotheism, and blasphemy is illegal. However, the Constitution guarantees freedom of religion and speech, and the country is 16 years into a transition from authoritarianism to democracy.
But Mr. Aan's case is one of an increasing number of instances of persecution connected to freedom of religion in Indonesia in recent years. Although Indonesia has influential Christian, Hindu and Buddhist minorities, every year there have been hundreds of episodes, including violent attacks, targeting religious minorities like Christians and Shiite and Ahmadiyah Muslims, as well as dozens of arrests over blasphemy against Islam. Numerous churches have been closed for lacking proper permits.
Full report at:
http://www.nytimes.com/2014/05/04/world/asia/indonesian-who-embraced-atheism-landed-in-prison.html?_r=0
------------
Perkasa: 'What more do non-Muslims want?'
BY BOO SU-LYNMay 3, 2014
KUALA LUMPUR, May 3 — The Chinese have received more, not equal, opportunities than the Bumiputeras in Malaysia, Perkasa said, as the debate over the alleged marginalisation of minority groups here raged on today.
Perkasa president Datuk Ibrahim Ali acknowledged Prime Minister Datuk Seri Najib Razak's remark this afternoon that the Chinese have been given a "fair share" of opportunities to succeed but insisted this was not the case.
To illustrate his point, he said that large Chinese-owned corporations like YTL and Berjaya, as well as tycoon Robert Kuok, were given "special treatment" by the government.
"All gambling licenses, entertainment, and alcohol belong to non-Muslims and Muslims cannot be involved in this 'haram' (sinful) business," Ibrahim told The Malay Mail Online.
"Even though Islam is the religion of the country, non-Muslims are allowed to do this 'haram' business. The Muslim does not protest.
"So what more do non-Muslims want?" he added.
Ibrahim's remarks appear to be a repeat of a similarly provocative sentence used as a headline in Utusan Malaysia shortly after Election 2013 last May.
On May 7 last year, two days after Barisan Nasional (BN) returned to power in Putrajaya with a diminished vote majority and poor support from the Chinese, the Malay-language daily splashed the incendiary words — "Apa lagi Cina mahu" — on its front page. The article, a commentary, thrashed the country's second-largest ethnic group for rejecting BN during the polls and also trained its guns on DAP, accusing the opposition party of racist politics.
Continuing his tirade today, Ibrahim also pointed out that the Chinese benefit when Bumiputera companies subcontract government contracts to Chinese-owned firms, a practice known as "Ali Baba".
Full report at:
http://www.themalaymailonline.com/malaysia/article/perkasa-what-more-do-non-muslims-want
------------
Hudud will drive rape survivors deeper into shadows, say women's groups
BY BOO SU-LYN AND IDA LIMMAY
3, 2014
KUALA LUMPUR, May 3 ― In a country where the vast majority of rapes go unreported, women's groups fear that implementing hudud law will push survivors further towards silence for fear of punishment under the Islamic penal code.
Sisters in Islam (SIS) and Women's Aid Organisation (WAO) said rape survivors would a risk of being charged with adultery or fornication under the Islamic criminal law ― punishable with death by stoning or 100 lashes - should they come forward to report their sexual assault.
"They're going to be afraid to come out and report," WAO executive director Ivy Josiah told The Malay Mail Online yesterday.
Josiah said she knew of a Muslim woman who was jailed for adultery after she asked the police to look for her missing boyfriend because she was pregnant.
The women's rights activist also said it was "completely discriminatory and despicable" to require four Muslim male witnesses to prove the crime of rape under hudud.
"Already rape is so underreported, and you're adding the burden that she has to go and get a male witness. Our Federal Constitution is very clear that there cannot be discrimination on the basis of gender," said Josiah.
"We need to have an understanding of rape. For every one report, nine go unreported," she added.
Full report at:
http://www.themalaymailonline.com/malaysia/article/hudud-will-drive-rape-survivors-deeper-into-shadows-say-womens-groups
------------
Jokowi appoints PKB's Khofifah as spokesperson
May 03 201
The Indonesian Democratic Party of Struggle's (PDI-P) presidential hopeful, and Jakarta governor, Joko "Jokowi" Widodo, has appointed former minister, and chairwoman of Indonesia's largest Islamic organization Nahdlatul Ulama (NU)'s women organization, Khofifah Indar Parawansa, as a spokesperson.
Jokowi revealed that he had formally requested Khofifah to assist him in the upcoming presidential election during a visit to the latter's residence in Surabaya, East Java, on Saturday.
Full report at:
http://www.thejakartapost.com/news/2014/05/03/jokowi-appoints-pkbs-khofifah-spokesperson.html
------------
URL: https://www.newageislam.com/islamic-world-news/new-age-islam-news-bureau/un-official-urges-more-efforts-to-curb-muslim-christian-violence-in-car/d/76864