New Age Islam News Bureau
30 May 2012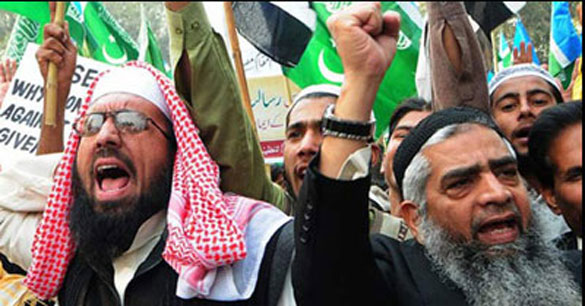 Pakistan
• UN official Raps Pakistan's Blasphemy, Parallel Justice System
• To curb forcible conversions Prevent newly converts from marrying immediately: Pak minority body
• Seven arrested, two explosive laden vehicles seized in Balochistan
• Pak's nuclear arsenal deterred India from carrying out attacks: Nawaz
• 'Bin Laden doctor' jailed for militant link, says court
• For Pakistani Truckers, NATO Route Row Is All About the Money
• Kidnapped Pakistani neurosurgeon killed in crossfire
• Pakistani cleric held for sentencing six to death for dancing
• Peace jirga for meaningful talks with Taliban
• SC directs Rehman Malik's lawyer to prove he's not British
• Pak former minister for religious affairs indicted in Haj corruption case
• Pak Army raids cricketer Umar Gul's house; brother arrested
• Nawaz Sharif paid no taxes during 2000-07: Imran Khan's party
• Taliban may get Dr Afridi killed in jail, warns ISI
Europe
• "Russian Wahhabi" Dvorakovsky jailed for 23 years
• Moscow: Islamic theologians ban to use terms jihad and Caliphate in political goals
• US, UK & 7 others expel Syrian envoys
• Friends suspected Norway killer Breivik was dejected, gay
• Breivik had no accomplices, Norwegian police say
• Patriarch thanks Kazakh authorities for fostering Muslim-Orthodox dialogue
• Orthodox faith has important moral mission - Kazakh President Nursultan Nazarbayev
• Criminal case opened against lawyer who called for introducing Sharia courts in Russia
• UN expert urges Pakistan to do more to ensure judicial independence
India
• At long last, Kashmiri Pundits find Valley safe
• Terrorism and talks with Pakistan can't go together: Sr. Indian Opp. Leader
Indian Blast victims laid to rest in Iraq
• Srinagar: 7 CRPF men injured in militant attack
• Alleged illegal detention of Kashmiri youth by UP ATS threatening to be a political controversy
• Sarabjit sends fresh mercy plea to Zardari
• Kabadiwallah helps lost kid find dad
South Asia
• Condoms and black magic Found at Maldivian Opp. Party's Protest Camp
• Afghan poppy blight may not harm heroin supply
• Former Maldivian President's nominee to Committee of National Inquiry accepted
• Taliban denies reports of Haqqani's death
• HRCM completes investigations into February 8 "human rights abuses", "terrorism"
• Maldivian President: National Defence Force "symbol of holiness of our nation"
• Afghanistan: 2 NATO Service Members Killed
vCivilian Casualties in Afghanistan Falling in 2012, U.N. Says
Southeast Asia
• 'Flirtatious' migrant Female workers to blame for abuse: Head of the Indonesian task force
• Stand-off as Islamic Police Enforce Dress Code in Indonesia's Aceh
• Child Protection Agency Wants Indonesia to Curb Condom Sales
• Malaysia: Ruling to include Islamic motifs in new Buildings excludes houses of worship
• Malaysian Publishing House Director detained over Irshad Manji's book
• Indonesia: 31-year-old man charged with mother's murder in S'pore
• TNI chief orders personnel to apologize over assaults
Mideast Asia
• Israel throws a cyber 'Flame' at Iran and West Asia
• Yemen army outflanks rebel-held Jaar: official
Arab World
• 19 killed in Syria violence: NGO
• Baghdad sees red once again—double-deckers, that is
• 22nd edition of Holy Quran Competition winners announced
• Islam is synonymous with peace: Saudi's Prince Al Waleed
• Russia, China baulk as West mulls armed action in Syria
• Kofi Annan urges Assad to 'act now' as West expels envoys
North America
• US Mosques Struggle against Sentiments
• Senator calls for striping Pakistan of all US aid
• Obama takes final call on nominations to secret 'kill list'
Africa
• 45 killed in a communal clash in Nigeria
• Sudan, South Sudan start first talks since conflict
Complied by New Age Islam News Bureau
Photo: UN official raps Pakistan's blasphemy, parallel justice system
URL: https://www.newageislam.com/islamic-world-news/new-age-islam-news-bureau/un-official-raps-pakistan-s-blasphemy,-parallel-justice-system/d/7482
-----------
Pakistan
UN official raps Pakistan's blasphemy, parallel justice system
May 30 2012
Islamabad: A UN special representative has expressed serious reservations about Pakistan's blasphemy law, weak prosecution and a parallel justice system functioning under the Federal Shariah Court.
Gabriela Knaul, the UN's Special Rapporteur on the independence of judges and lawyers, said Pakistani judges were often pressured to convict people accused under the controversial blasphemy law that calls for the death sentence for anyone insulting Islam.
Knaul, who was on an 11-day visit to Pakistan to examine the country's judicial system, told a news conference yesterday that lawyers too were reluctant to defend clients accused under the blasphemy law because of threats.
"I am especially concerned regarding cases brought under the so-called blasphemy law as it was reported to me that judges have been coerced to decide against the accused even without supporting evidence," she said.
"They are afraid of reprisals by local communities because of their interpretation of the law. Lawyers representing people accused of blasphemy are often targeted and unable to represent their clients", she said.
Knaul said it was a matter of concern that the blasphemy law was being misused to target women and deprive them of fundamental rights.
The controversial blasphemy law includes the death penalty for anyone insulting Islam, the Quran or Prophet Muhammad.
Rights groups have said that the law has often been misused to settle personal scores or family feuds against members of Pakistan's minority communities, especially Christians.
Last year, Punjab Governor Salmaan Taseer and Minority Affairs Minister Shahbaz Bhatti, a Christian, were assassinated after they spoke out against the blasphemy law.
Knaul said she was concerned that there were currently no women in Pakistan's Supreme Court and only two women in High Courts.
"Many stages of the justice system, starting with filing a case with police, to accessing lawyers and appearing and testifying before courts are gender-biased and therefore impede the full functioning of justice for women," she said.
While urging the government to provide better security to judges and lawyers, Knaul said judges, prosecutors and lawyers working on cases related to terrorism and organised crime are often the target of threats and attacks.
Expressing concern at the Federal Shariah Court, Knaul said: "I believe that the existence of two superior courts in the Constitution is problematic and leaves space for interpretations".
Knaul lauded the Supreme Court for taking up cases related to human rights abuses, such as the issue of "missing persons" or those detained without charge by security agencies, but called for clear criteria guiding the use of suo moto powers.
"I am concerned by the lack of clear criteria guiding the use of suo moto, which can undermine its own nature and may jeopardise other pending cases from being timely considered by the Supreme Court," she said.
Knaul released a preliminary report at the conclusion of her visit to Pakistan.
She was the first mandate holder of a Special Procedure of the Human Rights Council to undertake an official mission to Pakistan after 13 years.
She will present her final report at a session of the Human Rights Council in Geneva.
http://www.indianexpress.com/story-print/955681/
-----------
To curb forcible conversions Prevent newly converts from marrying immediately: Pak minority body
May 30 2012
Islamabad: Pakistan's National Commission for Minorities has recommended that the government enact a law whereby new converts from non-Muslim communities are prevented from marrying for at least six months after conversion, as part of measures to curb forcible conversions.
The recommendation from the newly-formed body of minorities was made against the backdrop of a nationwide controversy over allegations of the forcible conversion and marriage of three Hindu women from Sindh province, which has Pakistan's largest population of Hindus.
The National Commission for Minorities, during its second meeting yesterday, further recommended that a judicial magistrate, and not a police officer, should independently record the statements of converts.
Currently, after receiving a complaint from the family of a convert, police registers an FIR under Article 161 of the Criminal Procedure Code and a police officer records the statement that is produced in court in the form of a charge sheet.
However, minority communities claim statements recorded by a police officer are "mostly never based on facts", The Express Tribune said in a report.
There is a provision in Article 164 of CrPC under which a judicial magistrate can record the statement but the law is not implemented on the pretext that the magistrate is a judicial officer and should not record statements in cases that he has to ultimately decide.
The National Commission for Minorities, which is headed by the Minister for National Harmony, is a multi-party forum that includes two parliamentarians each from the Muslim, Hindu and Christian communities and one representative from the Sikh and Parsi communities.
It also includes the secretaries of Interior, Law, National Harmony and Capital Administration Development Division.
National Harmony Minister Akram Masih Gill, a Christian, said the Commission has sought recommendations from the Council of Islamic Ideology on its new proposal for barring the marriage of new converts for six months.
"There are some genuine cases where these girls convert to Islam. In some cases, there is a love affair... but in most cases the option of marriage is misused by the influentials to hide their crime.
"There are many reported cases where these girls were kept in illegal custody and repeatedly raped," Gill said.
The commission has further asked the government to ensure that the office of the chairman of the Evacuee Trust Property Board should be held by a non-Muslim.
The Board is responsible for managing the shrines and properties of minority communities.
Many of these properties have been encroached upon, illegally occupied or illegally allotted to influential people.
Sources told the daily that a draft bill on certain issues related to minorities was recently rejected by the Law Ministry on the ground that laws on these issues are already in place but were not being implemented.
According to a statement issued after yesterday's meeting, the National Commission for Minorities decided to send a draft of the Christian and Hindu Marriage Act to parliamentarians from minority communities and other stakeholders for their recommendations so that the bill can be finalised and presented in parliament.
http://www.indianexpress.com/story-print/955709/
-----------
Seven arrested, two explosive laden vehicles seized in Balochistan
May 30, 2012
QUETTA: The police have arrested seven suspects and seized two explosive laden vehicles from Kuchlak area, some 25 kilometers from the provincial capital at late night between Tuesday and Wednesday.
Police told APP that after receiving information, a police patrolling team headed by Station House Officer (SHO) Jalal Tareen intercepted two explosive laden vehicle near Railway Gate on Khuclak-Bostan road near Sahibzada petroleum service station within limits of police station Kuchlak and arrested seven suspects besides seizing these vehicles.
The vehicles were loaded with lethal explosives and weapons.
Bomb disposal squad teams have been called in to inspect the seized explosives.
The arrested suspects have been shifted to unknown destination and special investigation teams have been interrogating them.
The accused include Muhammad Khan, Mahmood Khan, Rehmatullah and Rafiullah.
The police while quoting preliminary investigation said that apparently, the accused wanted to smuggle the explosives and weapons to Quetta to commit an act of violence.
They, however, added that a timely action by the law enforcement personnel has save the metropolis from a great loss. The explosive materials were being transported from Zhob district to Quetta district, police added. Further probe was underway.
http://dawn.com/2012/05/30/seven-arrested-two-explosive-laden-vehicles-seized-in-balochistan/
-----------
Pak's nuclear arsenal deterred India from carrying out attacks: Nawaz
May 29 2012
Lahore: Pakistan's nuclear arsenal deterred India from carrying out any attacks and made the country's defence impregnable, former premier Nawaz Sharif has claimed.
"India could have attacked Pakistan many times but due to Pakistan being an atomic power, India could not gather the courage to do so," said Sharif, who heads the main opposition PML-N party.
Pakistan emerged as a nuclear power after conducting a series of nuclear tests in 1998, when Sharif was the premier.
Addressing a gathering yesterday to mark the anniversary of Pakistan's nuclear tests, Sharif said that conducting the atomic explosions during his tenure made the defence of Pakistan impregnable.
Since then, this capability has discouraged "enemies" from casting an evil eye on Pakistan, he said.
Sharif recalled that when India conducted its nuclear test in May 1998, he was on an official visit to Kazakhstan.
He said he had then immediately decided that Pakistan would conduct a nuclear test.
It took 17 days for Pakistan to successfully carry out its nuclear tests on May 28, 1998, he said.
Sharif said he had rejected a economic aid package of Rs 15 billion and decided to go ahead with the nuclear tests.
Pakistan, by becoming a nuclear power, broke the "beggar's bowl", he claimed.
"It was not easy to test the nuclear bomb and I waited for 17 days," Sharif said, adding Pakistan's security was strengthened by the explosions.
"I was told that I would be blown away if I gave a befitting reply to the Indian atomic explosions. I conducted the explosions, the nation did not make me explode but (former military ruler Pervez) Musharraf blew up my government," he said.
Sharif said President Asif Ali Zardari had a discussion with him to give indemnity to Musharraf when he decided to step down in 2008.
He said Zardari had shown no interest in "becoming the president back then" and took over the presidency through deception.
"I was shocked when he became the President and so were the people of Pakistan," he said.
He further said the PML-N did not vote for Zardari as the president.
The gathering was organised by the Nazria-e-Pakistan Trust, which is headed by Majid Nizami, the editor-in-chief of The Nation newspaper.
Nizami said the nuclear tests silenced threats that Pakistan's "arch enemy" India had begun to hurl immediately after its nuclear tests in 1998.
http://www.indianexpress.com/story-print/955263/
-----------
'Bin Laden doctor' jailed for militant link, says court
May 30, 2012
A Pakistani doctor was jailed last week for alleged links to a banned militant group - not for helping the CIA to track down Osama Bin Laden, the text of the trial court's judgement shows.
The BBC's Orla Guerin says the papers add a bizarre twist to the case.
It was originally thought that Shakil Afridi had been imprisoned for running a fake vaccination programme to gather information for US intelligence.
Dr Afridi was jailed for 33 years by the tribal court in a closed hearing.
His family have said the treason charges against him are baseless.
The text of the judgement - released on Wednesday - shows that Dr Afridi was convicted for providing support and medical treatment to members of the militant group, Lashkar-e-Islam.
The judgement says there is also evidence that he was involved with foreign intelligence agencies, and this should now be considered by other courts.
Dr Afridi was tried for treason in a controversial hearing behind closed dooors under Pakistan's tribal justice system.
Full report at:
http://www.bbc.co.uk/news/world-asia-18262360
-----------
For Pakistani Truckers, NATO Route Row Is All About the Money
May 30, 2012
KARACHI: Truck drivers who deliver supplies to Western forces in Afghanistan seethe whenever they recall a cross-border Nato air attack that killed 24 Pakistani soldiers last year.
Despite their anger, financial survival outweighs nationalist sentiment and the shame of helping what many see as the enemy.
The drivers hope that talks between the United States and Pakistan on reopening the routes, which were closed six months ago in protest over the raid, will soon produce a breakthrough.
They are eager to get back on the road, even though they will again risk running into attacks by Taliban militants who violently oppose the movement of goods to Nato through Pakistan.
Malik Abdul Raoof, 23, recalled how militants in dark clothes clutching AK-47 assault rifles often stopped and threatened him near the Afghanistan-Pakistan border.
"They asked 'why do you take supplies to the infidel Americans?'. They said 'you are an American informer'," he told Reuters at a massive makeshift truckers' parking lot that stretches for miles (km) along the coast in Pakistan's biggest city, Karachi.
"They made me recite Quranic verses, quizzed me on how Muslims pray. When they let me go they told me to grow a beard.
Full report at:
http://dawn.com/2012/05/30/for-truckers-nato-route-row-is-all-about-the-money/
-----------
Kidnapped Pakistani neurosurgeon killed in crossfire
May 30 2012
Islamabad : An eminent Pakistani doctor, who was kidnapped earlier this month, was killed today along with two other persons when a gun battle erupted after a police team tried to rescue him from his abductors in Sindh province.
Neurosurgeon Aftab Ahmed Qureshi was kidnapped from Karachi on May 12.
Police launched an operation in Hyderabad this morning to free Qureshi, triggering an exchange of fire between policemen and the kidnappers.
Besides the doctor, Assistant Sub-Inspector Kashif Khan and suspected kidnapper Muhammad Akhtar were killed, officials said.
Police arrested a woman and her son. They were living in the same bungalow where the kidnappers had held the doctor.
They were identified as Kamla Kumar and Ashok Kumar.
Qureshi was a renowned surgeon of Karachi and his abduction sparked a spate of protests by doctors and members of the Pakistan Medical Association and organisations of doctors, nurses and paramedics.
http://www.indianexpress.com/news/kidnapped-pakistani-neurosurgeon-killed-in-crossfire/955712/
-----------
Pakistani cleric held for sentencing six to death for dancing
May 29, 2012
Islamabad: Pakistan's police on Tuesday arrested a Muslim cleric accused of sentencing six people to death for singing and dancing at a wedding in north Pakistan.
"Police have arrested a cleric and his companion for issuing the death decree, but they totally denied it," local administration official Aqal Badshah Khattak told Agence France Presse (AFP).
Police said on Monday that clerics sentenced four women and two men to death after mobile phone footage emerged of them enjoying themselves at a village wedding in the mountains of Kohistan, 175 kilometre (110 miles) north of the capital Islamabad.
The men and women had allegedly danced and sung together in Gada village, in defiance of strict tribal customs that separate men and women at weddings.
But the cleric submitted an affidavit in court taking responsibility should any harm fall to the women and to ensure their safety, police said.
Full report at:
http://www.ndtv.com/article/world/pakistani-cleric-held-for-sentencing-six-to-death-for-dancing-218593
-----------
Peace jirga for meaningful talks with Taliban
May 29, 2012
PESHAWAR, May 29: Speakers at a two-day Qaumi Aman Jirga (peace jirga) have called for meaningful dialogue with disgruntled elements in Pakistan and Afghanistan to end the decades-long conflict and save the region from further devastation.
They said that withdrawal of foreign forces and non-interference were essential measures to establish lasting peace in Pakistan and Afghanistan. They blamed ordeal of Pakhtuns on lack of unity among them.
"We should talk to Taliban for the sake of peace," they suggested, adding if America could talk to Taliban, Pakistan government could also negotiate with insurgents in the Federally Administered Tribal Areas (Fata).
Veteran politician Afzal Khan Lala organised the jirga that was attended by delegates from Afghanistan, Pakhtun intellectuals from European countries, representatives of Awami National Party, Pakistan People's Party, Pakistan Muslim League-Nawaz, Jamiat Ulema-i-Islam-Fazl, Mazdoor Kisan Party, tribal elders and civil society groups.
Haji Din Mohammad, adviser to Afghan President Hamid Karzai, represented Afghanistan in the jirga. Jamaat-i-Islami, Pakistan Tehrik-i-Insaf and Pakistan People's Party-Sherpao boycotted the event.
Full report at:
http://dawn.com/2012/05/30/peace-jirga-for-meaningful-talks-with-taliban/
-----------
SC directs Rehman Malik's lawyer to prove he's not British
May 30 2012
ISLAMABAD: Rejecting documents submitted by Interior Minister Rehman Malik in the dual nationality case, the Supreme Court directed the minister's counsel to submit a certificate usually issued by the British government at the time of renouncing citizenship, DawnNews reported.
A three-judge bench comprising Chief Justice Iftikhar Mohammad Chaudhry, Justice Jawwad S. Khwaja and Justice Khilji Arif Hussain was hearing the case on a petition filed by Syed Mehmood Akhtar Naqvi.
During the hearing, Chief Justice Iftikhar said that Farahnaz Ispahani's National Assembly membership had been cancelled for holding dual citizenship and that the court could not provide the minister with special treatment.
Malik's counsel Azhar Chaudhry submitted documents pertaining to the minister renouncing his British citizenship.
Full report at:
http://dawn.com/2012/05/30/sc-directs-rehman-maliks-lawyer-to-prove-he-is-no-longer-british/
-----------
Pak former minister for religious affairs indicted in Haj corruption case
May 30 2012
RAWALPINDI: A special court on Wednesday indicted former minister for religious affairs Hamid Saeed Kazmi in the Haj corruption case, Dawn News reported.
Special Judge Central Khalid Shabbir indicted Kazmi, former director general (Haj) Rao Shakeel Ahmad and former joint secretary (Haj) Raja Aftabul Islam in the case.
The three pleaded not guilty before the court which subsequently adjourned the hearing to June 5.
The judge also issued summons for 10 witnesses to appear before the court at the June 5 hearing.
Speaking to media representatives outside the court, the indicted former minister said that he was disappointed with the developments and said he hoped that reality would come out in due time.
Kazmi added that Federal Investigation Agency (FIA) officials had said that they were under significant pressure from certain quarters.
Earlier on May 25, the court had rejected Kazmi's acquittal plea saying it was premature and could not be entertained at the stage.
Kazmi is accused of corruption in arranging residential accommodation for Pakistani Haj pilgrims in Saudi Arabia in 2010.
http://dawn.com/2012/05/30/hamid-saeed-kazmi-indicted-in-haj-corruption-case/
-----------
Pak Army raids cricketer Umar Gul's house; brother arrested
May 30 2012
Islamabad : Pakistan Army commandos raided cricketer Umar Gul's house in Peshawar and arrested his brother on charges of harbouring a wanted militant, according to a media report today.
The fast bowler's brother, Meraj, was arrested with two other men on charges of providing shelter to his uncle, Haji Daly, believed to be an active member of the banned Lashkar-e-Islam, it was reported.
A local resident said that a team of commandos raided the house yesterday.
Two paramedics, Younas and Shakil, were among those arrested. They were moved to an undisclosed location.
An official of the local police station claimed Haji Daly was injured in an operation by armed forces at Bara in Khyber tribal region, and had fled to Peshawar and lived with Meraj for several days before leaving the city.
Full report at:
http://www.indianexpress.com/news/pak-army-raids-cricketer-umar-guls-house;-brother-arrested/955627/
-----------
Nawaz Sharif paid no taxes during 2000-07: Imran Khan's party
May 30 2012
Lahore : Imran Khan's Pakistan Tehrik-e-Insaf party has presented what it says is "documentary proof" that PML-N chief Nawaz Sharif paid no taxes while he was in self-exile in Saudi Arabia during 2000-07.
Pakistan Tehrik-e-Insaf spokesman Shafqat Mahmood said the PML-N attempted to hide the truth regarding taxes paid by Sharif and his family during the period they were living in Jeddah after making a deal with the then military ruler Pervez Musharraf, who deposed the PML-N government in 2000.
"The fact is that during this period, Nawaz Sharif paid zero tax," Mahmood said.
Apart from evidence available with the Federal Board of Revenue, Sharif said in nomination papers filed in May 2008 for a parliamentary bypoll in Lahore that he did not pay taxes during the past three years.
Full report at:
http://www.indianexpress.com/story-print/955633/
-----------
Taliban may get Dr Afridi killed in jail, warns ISI
May 30, 2012
PESHAWAR: Pakistan's spy agency, ISI, has warned of a threat to the life of Dr Shakeel Afridi, sentenced to 33 years in jail by a tribal court for helping CIA hunt down Osama bin Laden. Intelligence sources said, Taliban may storm Peshawar Central Jail, where he is lodged, and abduct him or use a prison inmate to kill him.
With the US expressing outrage over Afridi's imprisonment and a terror attack imminent on Peshawar jail, Pakistani authorities are hammering out a plan to airlift Afridi to a fortified prison in Punjab province. "A fool-proof security plan has been laid out to shift the doctor. No time-frame has been finalized for security reasons," an official said.
The spy agency said Pakistani Taliban or al-Qaida is plotting a jailbreak to take out Afridi and hand him over to the gang lords or he may be killed in the barracks as most inmates are hostile towards him. The CM of Khyber Pakhtunkwa province Amir Haider Hoti has also been briefed.
http://timesofindia.indiatimes.com/world/pakistan/Taliban-may-get-Afridi-killed-in-jail-warns-ISI/articleshow/13654970.cms
---------
Europe
"Russian Wahabi" Dvorakovsky jailed for 23 years
May 24, 2012
Stavropol, May 24, Interfax - A court in Russia's southern Stavropol Territory has sentenced "Russian Wahabi" Viktor Dvorakovsky to 23 years in a high-security prison, an Interfax correspondent reported from the courtroom.
His accomplice Vladimir Skirko was given a six-year prison term.
Dvorakovsky, 24, a radical Islam supporter, was convicted of plotting a terrorist act, attacking officers of law enforcement agencies and illegally producing and storing explosives.
Skirko was found guilty of purchasing and possessing drugs.
After the verdict was announced, Skirko told journalists that he would appeal it.
Dvorakovsky's lawyer Vadim Lobanov, for his part, said that he and his client had not yet made a decision on this issue.
During the trial, Lobanov asked the judges to drop the charges of plotting a terrorist attack and attacking officers of law enforcement agencies because, the lawyer said, his client's guilt had not been proved.
The lawyer sought a minimum prison term for Dvorakovsky, who has young children.
The state prosecutor demanded a 25-year prison sentence for Dvorakovsky and nine years in prison for Skirko.
According to the Stavropol Territory Prosecutor's Office, Dvorakovsky converted to Islam in December 2008.
"He became convinced that he personally and Muslims as representatives of the Islamic faith were superior to other people who do not support Islam. He was also confident of the need to wage an armed fight against the Russian authorities in the North Caucasus, the local administration and Russian security services by terrorist methods," it said.
Dvorakovsky was placed on the wanted list after an improvised explosive device went off in a house rented by him in Pyatigorsk in March 2011. The man then escaped and made at least four more improvised explosive devices.
Dvorakovsky threw one of his bombs at police officers who stopped him in the village of Inozemtsevo during a routine security check on July 14, 2011. One of the policemen was injured.
Dvorakovsky tried to hurl two more explosive devices at police but they blew up in his hands, tearing off his right wrist.
http://www.interfax-religion.com/?act=news&div=9388
-----------
Moscow: Islamic theologians ban to use terms jihad and Caliphate in political goals
May 29, 2012
Moscow, May 29, Interfax - Muslim scientists from 23 countries of Islamic world condemned radicals at a theological conference held in Moscow.
"It was announced that participants in the conference aimed at adopting a collective theological conclusion to condemn radicalism and extremism in the complex of their manifestations and denounce the use for evil purposes the Islamic terms jihad (the struggle with vices), takfir (the accusation in non-belief) and khalifate (the Islamic state system), organizers of the forum told Interfax-Religion.
According to the participants, incorrect interpretation of these terms result in radicalization of many Muslims around the world, in wrong understanding that the main Muslim goal is armed fight to set up totalitarian political order under religious flags."
"This factor lies in the foundation of many conflicts in various regions of Muslim world - from Russian Northern Caucasus to Afghanistan and Somali," the interviewee of the agency said.
Summing up the conference, theologians adopted a fatwa (religious instruction) explaining that violence to representatives of other religions and ideologies as well as Muslims is not allowed, radical interpretations of Islamic legal provisions referring to human rights and freedoms, violations of law in the country of residence, announcing armed fight against bodies of state power and so on are not permitted.
Participating in the conference were several hundreds of leading Islamic theologians and Islam experts from Saudi Arabia, Kuwait, Qatar, Morocco, Jordan, Tunisia, Bahrain, Iraq, Egypt, Lebanon, Mauritania, Sudan, Afghanistan, Turkey, Iran, Albania, Switzerland, republics of the Central Asia, Azerbaijan and Russian muftis representing majority of the country's region.
http://www.interfax-religion.com/?act=news&div=9400
-----------
US, UK & 7 others expel Syrian envoys
May 30, 2012
PARIS: Governments around the world expelled Syrian ambassadors and diplomats on Tuesday, an unusual, coordinated blow to Syrian President Bashar Assad's regime following a gruesome massacre that the UN said involved close-range shootings of scores of children and parents in their homes.
The United States, Britain, Canada, Australia, France, Germany, Italy, Spain and the Netherlands took action Tuesday against Syrian diplomats. Britain's foreign secretary said the countries involved in Tuesday's expulsions would also push for tougher sanctions against Syria.
The move came after the killings Friday in Houla, a collection of farming villages in Syria's Homs province - one of the deadliest single events in a 15-month-old uprising against Assad that has killed thousands. A UN report on Tuesday said 49 children and 34 women were among the 108 people who died.
"This is the most effective way we've got of sending a message of revulsion of what has happened in Syria," Australian foreign minister Bob Carr said in Canberra.
http://timesofindia.indiatimes.com/world/europe/US-UK-7-others-expel-Syrian-envoys/articleshow/13654882.cms
-----------
Friends suspected Norway killer Breivik was dejected, gay
May 30, 2012
OSLO: Former friends of confessed Norwegian mass killer Anders Behring Breivik say he often came across as deeply depressed, expressed feminine tendencies and led some to believe he may be gay.
Three of the 33-year-old's former friends told the Oslo District Court on Tuesday that five years before the right-wing fanatic massacred 77 people in July, he moved back to live with his mother and ended all social contacts.
The friends, who did not want to be named, gave testimony during Breivik's trial as the defendant watched in an adjoining room.
Breivik killed 69 people in a shooting spree on Utoya island on July 22 after setting off a bomb in central Oslo that claimed eight lives.
http://timesofindia.indiatimes.com/world/europe/Friends-suspected-Norway-killer-Breivik-was-dejected-gay/articleshow/13653411.cms
-----------
Breivik had no accomplices, Norwegian police say
May 30, 2012
OSLO: Norwegian police said Wednesday they had ruled out that Anders Behring Breivik had accomplices when he killed 77 people last year, rejecting his claim to be part of a network prepared to strike again.
"We feel sure of this conclusion: no evidence in this case suggests any physical or psychological accomplices," Oslo police chief Kenneth Wilberg told the Oslo district court on the 27th day of the right-wing extremist's trial.
Breivik has insisted to police and in the 1,500-page ideological manifesto he posted online shortly before carrying out his twin attacks on July 22 that he was part of a pan-European organisation, the Knights Templar, established in London in 2002 to protect Europe from multiculturalism and a pending "Muslim invasion".
Full report at:
http://dawn.com/2012/05/30/breivik-had-no-accomplices-norwegian-police-say/
-----------
Patriarch thanks Kazakh authorities for fostering Muslim-Orthodox dialogue
May 29, 2012
Astana, May 29, Interfax - Patriarch Kirill of Moscow and All Russia wished Kazakhstan not to know any religious and ethnic conflicts.
"The Orthodox Church in Kazakhstan lives side by side and interacts with a large Islamic community. And the wise policy of the state led by the president is aimed at making Kazakhstan's two traditional religions, whose history dates back into the distant past, work together for the benefit of people," the patriarch said after a prayer service at the Assumption Cathedral in Astana.
These good fraternal relations should never be discontinued, "so that no mean people or forces could provoke inter-ethnic and inter-religious conflicts because people can only build and improve their lives when they work in solidarity," the Russian Patriarch said.
http://www.interfax-religion.com/?act=news&div=9402
-----------
Orthodox faith has important moral mission - Kazakh President Nursultan Nazarbayev
29 May 2012
Astana, May 29, Interfax - Kazakh President Nursultan Nazarbayev met on Tuesday with Patriarch Kirill of Moscow and All Russia, who has arrived in Astana to attend the fourth Congress of the Leaders of World and Traditional Religions.
At the meeting, the president and Patriarch discussed a broad range of issues concerning the spiritual and cultural cooperation between the two countries, and considered the agenda of the upcoming forum, the Kazakh president's press office said.
The Patriarch's attendance of the Congress of the World and Traditional Religions increases the forum's authority and importance as a unique dialogue platform, the Kazakh president said.
Full report at:
http://www.interfax-religion.com/?act=news&div=9401
-----------
Criminal case opened against lawyer who called for introducing Sharia courts in Russia
May 25, 2012
Moscow, 25 May, Interfax - Lawyer Dagir Khasavov, who called for Sharia courts to be introduced in Russia, is facing criminal charges of inciting hatred and animosity.
"Investigators have opened a case against Khasavov under Article 282 part one of the Russian Penal Code (inciting hatred or animosity)," the Russian Prosecutor General's Office spokesperson Marina Gridneva told Interfax.
Khasavov said in an interview with REN TV on April 24 that Muslims in Russia do not wish to go to secular courts and therefore should use sharia courts. Otherwise, "there will be bloodshed in Moscow and it will turn into a dead sea," he said.
The Prosecutor General's Office later found the lawyer's words to contain indications of extremism. The Russian Justice Ministry asked the Moscow Bar Association to strip Khasavov of Full report at:
http://www.interfax-religion.com/?act=news&div=9394
-----------
UN expert urges Pakistan to do more to ensure judicial independence
29 May 2012
A United Nations human rights expert today urged the Pakistani Government to address several remaining challenges to ensure the independence of the country's judicial system.
"The independence of the judicial system in Pakistan should be reinforced as a matter of priority so as not to lose the gains from the democratic transition," the UN Special Rapporteur on the independence of judges and lawyers, Gabriela Knaul, said in a news release.
Working in an unpaid capacity, independent experts, or special rapporteurs, are appointed by the Geneva-based UN Human Rights Council to examine and report back on a country situation or a specific human rights theme. Ms. Knaul's 11-day mission, which ended today, was the first one in 13 years to Pakistan by an independent expert of the Council.
While there, the Special Rapporteur met the country's Chief Justice as well as senior Government officials, judges, lawyers, academics, members of professional organizations, and representatives of civil society, the UN and international organizations.
The existence of two superior courts in the Constitution of Pakistan is "problematic and leaves space for interpretations which might be contradicting," the expert noted, referring to the country's Supreme Court and the Federal Shariat Court.
Full report at:
http://www.un.org/apps/news/story.asp?NewsID=42105&Cr=Pakistan&Cr1=
-----------
India
At long last, Kashmiri Pandits find Valley safe
29 MAY 2012
A slew of economic packages and gradual improvement in the security situation encouraged thousands of displaced Kashmiri Pandits to return to the Valley to pay obeisance at Khir Bhawani temple in Ganderbal district on Tuesday.
Jammu & Kashmir Chief Minister Omar Abdullah said his Government had sent a proposal to the Centre to enhance financial support for construction of houses for them.
The temple has been one of the most sacred places for Kashmiri Hindus. Over the past 12 years, the annual Khir Bhawani festival, known as Zestha Ashtami, has been an occasion for a visit.
During the armed insurgency of 1990s, the temple was almost deserted. The sprinkle of Kashmiri Pandits began to swell after 2000. The Pandits believe the colour of water at a spring in the temple enclave foretells the year's future.
Abdullah interacted with displaced members of the community and said sense of security and economic safeguards were basic elements to ease the return of Kashmiri Pandits. He said his Government was focusing on both these crucial aspects. "The peace and improved security situation is proving a catalyst," the CM added.
Sources said the Government has proposed to enhance monetary assistance from Rs 7 lakh to Rs 20 lakh. A slew of measures - a special employment package, construction of flats and economic packages to establish businesses and construct houses - have been planned. "Employment to the Kashmiri Pandit youth is an important step to help return of these families. The Government has implemented half of the employment package," Abdullah said.
Most of the newly-appointed youngsters have joined duty and received considerable backing and encouragement from the majority community. Even separatist leaders like hardliner Syed Ali Shah Geelani greeted them.
http://dailypioneer.com/nation/69176-at-long-last-kashmiri-pandits-find-valley-safe.html
-----------
Terrorism and talks with Pakistan can't go together: Sr. Indian Opp. Leader
May 30, 2012
WASHINGTON: Senior BJP leader and former external affairs minister Yashwant Sinha has criticised India's recent peace dialogue with Pakistan, saying terrorism and talks can't go together.
"Pakistan has to abide by the commitment it made to the then Prime Minister Atal Bihari Vajpayee in January 2004, that it would stop sponsoring terrorism across India only then there would be talks," Sinha said on Tuesday.
He was speaking to a small group of Indian Americans at an event organised by Foundation for India and Indian Diaspora Studies, a Washington-based Indian-American think-tank.
Pakistan, Sinha said, has continued to attack India through this undeclared war.
"We are still talking. We tend to forget. 26/11 has been forgotten. We keep on forgetting and we keep getting attacked," he said.
"Now there is absolutely no doubt about the involvement of the Pakistani Government and elements in the Pakistani Administration in terrorist acts against India," Sinha said.
The BJP's policy, he said, is to engage Pakistan but only on the condition it would stop state-sponsored terrorism against India.
http://timesofindia.indiatimes.com/india/Terrorism-and-talks-with-Pakistan-cant-go-together-Yashwant-Sinha/articleshow/13663799.cms
-----------
Indian Blast victims laid to rest in Iraq
May 30 2012
Pune: The last rites of the two Indians who died in an explosion on the Syria-Iraq border on Sunday took place in Iraq on Tuesday. Abbas Manaswala of Pune and Insiya Zakir Kothawala (7) of Nagpur, both from the Dawoodi Bohra community, were among a group of Indian pilgrims travelling to the holy city of Karbala in Iraq by bus when the blast killed them.
Family members of Manaswala are raising questions as to why the bus was allowed to travel despite a "red alert" issued in Iraq. "We read on internet that Iraqi forces were on high alert for several hours following clashes between the Syrian army and rebel forces near the border. The tragedy could have been averted if the bus had not been allowed to ply in such a situation," said Mohammed Jariwala, a nephew of Manaswala.
Jariwala said, "I got to know that the last rites of both the deceased took place in Iraq. It was not possible for us to bring the body to India, as getting a visa is time-consuming. Besides it involves a lot of money."
Manaswala was travelling along with his wife Saida, son-in-law Yusuf Jariwala, daughter Lubaina and grandson Burhanubin, who were all injured in the explosion.
Manaswala's nephew said their family members in India could not go to Iraq for the last rites owing to problems in procuring visa. He said he is in touch with the injured Yusuf Jariwala over phone.
"Getting visa to Iraq takes about eight to 10 days. We are praying that the injured get well soon. They should get the best of doctors for proper treatment. We came to know that some of the injured are in a critical condition," he said.
He said that so far no calls had come in from the Indian and the Iraqi governments. "We are being helped by the Bohra community in Iraq in this time of grief," he said.
Insiya Zakir Kothawala (7) of Nagpur was reportedly buried in Najaf, Iraq. She was travelling with her parents Zakir and Arwa Kothawala and 17-year-old sister, Rukayya. Zakir was injured in the left arm, while Arwa and Rukayya escaped unhurt.
Manaswala owned a hardware shop, Universal Bearing and Tools, in Pune's Ganesh Peth area and lived in Fatima Nagar. Insiya was a student of Class II in Nagpur's Centre Point School. The two families had left on May 24 for the pilgrimage through a private tour operator.
http://www.indianexpress.com/story-print/955547/
---------
Sarabjit sends fresh mercy plea to Zardari
May 30, 2012
AMRITSAR: Sarabjit Singh, Indian on death row in Pakistan, submitted a fresh clemency appeal to Pakistan President Asif Ali Zardari.
This is Sarabjit's fifth mercy petition. Sarabjit, lodged in Lahore's Kot Lakhpat jail, was sentenced to death after he was convicted under Pakistan Army Act in 1991 for alleged involvement in bomb blasts
in Lahore and Multan that killed 14 people.
"An atmosphere for Sarabjit's release was building up and that was why the fresh petition was filed," said Sarabjit's counsel Awaish Sheikh. Hopes of Sarabjit's early reunion with his family in India were rekindled after the release of Pakistani national Khalil Chishty by India.
Sheikh said Sarabjit is healthy and has asked the lawyer to convey news of his well-being to his family in India, adding that he would also take up the case of another Indian on death row in Pakistan,
Kirpal Singh, also lodged in Kot Lakhpat jail.
http://timesofindia.indiatimes.com/india/Sarabjit-sends-fresh-mercy-plea-to-Zardari/articleshow/13651855.cms
-----------
Alleged illegal detention of Kashmiri youth by UP ATS threatening to be a political controversy
May 29, 2012
LUCKNOW: The issue of two Kashmiri youth allegedly picked up by Uttar Pradesh's (UP) anti-terror squad (ATS) is all set to snowball into a political controversy with Muslim activists and organisations approaching the National Commission for Minorities (NCM) and are writing to chief minister Akhilesh Yadav to seek immediate intervention.
The allegations are that two Kashmiri students of Jamiatul Falah, a reputed Madrasa in Azamgarh, were picked up by UP ATS from Kaifiyat Express on Thursday morning ( May 24) at Aligarh Railway Station on grounds that they were indulging in anti-national activities. The two students Sajjad Ahmed Bhatt and Wasim Ahmed Bhatt are cousins and hail from Sopore in Baramulla district of Jammu and Kashmir. Sajjad was first year student of Arabic course while Wasim was in the second year.
Full report at:
http://timesofindia.indiatimes.com/india/Alleged-illegal-detention-of-Kashmiri-youth-by-UP-ATS-threatening-to-be-a-political-controversy/articleshow/13644135.cms
-----------
Kabadiwallah helps lost kid find dad
Dwaipayan Ghosh
May 30, 2012
NEW DELHI: For more than two years, Azad Hussain, a scrap dealer in Gurgaon , brought up little Aamir as his own son. The eight-year-old loved to sit on his lap and had even started calling his wife 'badi ammi' (elder mom). But his love for the boy did not detract Hussain from his duty — to find the boy's biological parents and restore him to them.
That moment came on Monday, when Hussain's two-year search led him to Iqbal Ahmed, a labour contractor in south Delhi's Savitri Nagar. Ahmed lost Aamir on May Day two years ago, when the boy climbed onto a JCB for a jaunt and was gone.
Aamir loves movies. But his own story would make for a dramatic script, beginning with the JCB ride near Mehrauli Road in the summer of 2010.
"Aamir often hitched such small rides on vehicles. In this case, no one noticed that he had travelled a long distance. Getting off at the Mehrauli bus stop, Aamir, then barely six years old, got confused and took a bus to Gurgaon. There, he desperately searched for a drain he believed would lead him back home. When he did not find it, he started crying,'' said additional DCP (south) Pramod Khuswah.
Full report at:
http://timesofindia.indiatimes.com/city/delhi/Kabadiwallah-helps-lost-kid-find-dad/articleshow/13655420.cms
-----------
Pandits flock to Kashmir valley to celebrate annual festival
May 29, 2012
Thousands of devotees on Tuesday thronged the temple of Ragnya Devi, a revered goddess of Kashmiri Pandits, to celebrate the annual festival of Kheer Bhawani.
Nestled in the shade of mammoth Chinar trees in this village in central Kashmir's Ganderbal district, the temple witnessed massive crowds of devotees, most of them Kashmiri Pandits, who made the journey from across the country.
Walking barefoot, the devotees carried rose petals and offered tribute to the goddess as men took a dip in the stream close to the shrine.
"I am so happy that I came here. I prayed for peace and harmony. I was glad to see young boys, both Muslims and Hindus, making arrangements for the festival of the Mata," said Santosh Kaw, a Kashmiri Pandit who is visiting the temple after 27 years.
Kaw, who lived in Chanapora locality of Srinagar, left the Valley for New Delhi in 1990 at the peak of militancy.
Full report at:
http://www.thehindu.com/news/states/article3469119.ece
-----------
Srinagar: 7 CRPF men injured in militant attack
May 30, 2012
In a daring attack, seven CRPF personnel were injured when suspected militants fired upon a patrolling party in Jammu and Kashmir capital Srinagar on early Wednesday morning.
It was after years of calm in old city's Shiraz Chowk, which houses CRPF's 82 Batallion in a defunct
cinema named Shiraz, that militants appeared on a motorcycle to fire upon the patrolling party at around 7 am.
"Seven CRPF personnel were injured in the firing. Initial reports say that one of the personnel is in serious condition," a police official told Hindustan Times.
A CRPF bunker installed in the heydays of militants was recently removed from the square. The attack assumes significance as Inspector General of Police SM Sahai has been repeatedly claiming the 'death of militancy' in Srinagar.
http://www.hindustantimes.com/India-news/Srinagar/Srinagar-7-CRPF-men-injured-in-militant-attack/Article1-863302.aspx
-----------
South Asia
Condoms and black magic Found at Maldivian Opp. Party's Protest Camp
By JJ Robinson
May 29th, 2012
Police raided the opposition Maldivian Democratic Party (MDP) protest camp at Usfasgandu this morning, after obtaining a search warrant from the Criminal Court and cordoning off the area from MDP demonstrators.
MDP MP Mariya Ahmed Didi was inside the cordon showing the warrant to a group of media representatives shortly after 8:00am, as dozens of police began to gather in the area.
Reasons for the search as stated on the warrant included: "suspected criminal activity", "damage to public property", and "suspected black magic performed in the area".
Under evidence, the warrant alleged that people in the Usfasgandu area verbally abused police officers and damaged a police vehicle on April 20, obstructed a Maldives National Defence Force (MNDF) exercise of May 9, and on May 25 "MDP protesters threw a cursed rooster at MNDF officers."
As blue-gloved officers from the Drug Enforcement Department (DED) arrived, a group of largely female protesters began to gather at the barricades set up near the STELCO building. The barricade was itself lightly manned by police, however a group of police stationed further back near the Dharubaaruge convention centre were equipped with riot shields, gas masks and rubber bullet guns.
The crowd was noisy and upset, but non-violent. An altercation erupted at the front between a group of women and several young men, whom protesters claimed had been sent by a government-affiliated party to provoke the crowd. Minivan News later observed one of these men being arrested by police after trying to break through the barricade.
Meanwhile, DED officers fanned out at the Usfasgandu site and began poking through plants and debris around the padlocked container under the main stage. A large group of police on the other side were picking through rocks along the seawall, while a police boat waited outside the harbour.
Media raced over to photograph the first discovery, retrieved from a nearby bush: cigarette butts and a brown substance wrapped in an MDP membership form. Police near the stage had meanwhile lifted up a wooden board and found a small plastic baggie containing the remnants of a dried substance.
A major find occurred after police broke open the container, searching through old paint tins and debris before reaching into a ceiling cavity, triumphantly producing a packet of condoms ('Moods' ultrathin).
The Usfasgandu area had been given to the MDP by the (MDP-dominated) Male' City Council, after it was evicted by police from its previous camp just metres down the road at the tsunami monument. Police at the time claimed the area was being used as a hub for criminal activity and assorted deviancy, and a similar raid uncovered beer and condoms. The camp was immediately dismantled by the police and MNDF, and walls were painted over grey to remove all trace of the MDP from the area.
The Usfasgandu raid this morning ends a stalemate between the Home Ministry – headed by former Justice Minister during Maumoon Abdul Gayoom's rule, Dr Mohamed Jameel – and Male' City Council.
The Housing Ministry initially sought to repossess the area from the Council, which refused to cooperate. The Home Ministry then instructed police to retake the area, who approached the Criminal Court for a warrant. The court initially denied this warrant, stating that the repossession was a civil matter and not within its jurisdiction.
Eight days later and Home Minister Jameel yesterday announced that the Ministry had received complaints of criminal activity in the area: "No complaints of any criminal activities had been raised with us at the time [of the original court order request]. But now many complaints have been received including criminal offences," he told local media.
Police Spokesperson Sub-inspector Hassan Haneef said that following a search of the area a decision would be taken on whether to shut down the site.
"If there is reasonable evidence of crimes being committed there, we would look to close the area," he said.
Male City Mayor Ali 'Maizaan' Manik was standing next to a cage full of crows – kept on the site by the MDP demonstrators to mock President Mohamed Waheed, who is caricatured as a crow on the popular Maakanaa Show.
"I'm too angry to talk right now," he told Minivan News, as police were left to pick through the area after media scurried to protect their cameras from the sudden downpour.
Back through the police barricades, one visibly upset protester expressed frustration at what he described as "a police state".
"We just want somewhere to peacefully protest," he said. "They are just going to plant something, like drugs or explosives, so they can blame us. What can we do? We are helpless."
An older man came up, put his hand on his shoulder, and led him out of the rain.
http://minivannews.com/politics/condoms-and-black-magic-police-raid-usfasgandu-38178
-----------
Afghan poppy blight may not harm heroin supply
May 30, 2012
Karzai, after meeting United Nations Office on Drugs and Crime Executive Director Yury Fedotov in Kabul, said while Afghanistan almost got the blame for supplying most of the world's opiates, it was unnamed others who 'get the benefit'
An Afghan poppy blight helping drive up heroin prices may not dent global opiate supply, the United Nations' anti-drug tsar said on Tuesday, as Afghan President Hamid Karzai lashed out at foreigners for their part in his country's drug trade.
Karzai, after meeting United Nations Office on Drugs and Crime Executive Director Yury Fedotov in Kabul, said while Afghanistan almost got the blame for supplying most of the world's opiates, it was unnamed others who "get the benefit". "The president stressed that drug trafficking and international terrorism were inextricably linked, and that most of those involved in the trafficking business are not Afghans," Karzai's office said in a statement.
Afghanistan supplies about 90 percent of the world's opium, from which heroin is made, and its poppy-driven economy helps fuel the decade-long war, lining insurgents' pockets with more than $100 million a year and earning traffickers billions more. Anti-drug watchdogs say drug-linked corruption is also pervasive within the government, with donors and law enforcement agencies pressing Karzai to do more to prosecute senior officials linked to trafficking syndicates, and confiscate millions of dollars received from their participation or bribes.
Eradication efforts - favoured by top opium consumer Russia but condemned by the United States - and a fungus that leaves the poppy bulb without the liquid form of raw opium are now threatening to give insurgents even more cash by cutting output and driving up the price. But Fedotov said it was still unclear how much impact the poppy blight would have this year and whether it would hit the crop as hard as a 2010 outbreak which slashed the harvest, with assessment still underway. "Stocks are huge. There is no expiration date almost - it might be 10 years. So if there is a dramatic decrease in the production of opium this year, I'm not sure that it would affect the final product, opium and heroin," he told reporters.
Opium can keep for years which is one of the reasons farmers prefer the crop as, unlike with foodstuffs, there is no danger of it going off on the way to market and once stored, it is rather like having money in the bank. In southern Helmand province, which is one of the country's six main poppy growing areas in the south, farmer Himat Yar said his two acre poppy crop had been decimated by blight. "My harvest was more than 100 kg last year, but was less than 10 kg this year," he said, speaking to Reuters in the province's arid Nawzad district. Jan Agha, 45, from Babaji district, said he had cultivated 33 acres of poppy, but only got only 120 kg of opium, which he said was not enough to even pay for his efforts. "People here say that foreigners have dropped a kind of powder to destroy our fields. No even our vegetables are full of disease," he said. The price of opium, meanwhile, has doubled to more than $320 a kg.
In 2011, the farm-gate value of opium production more than doubled from the previous year to $1.4 billion and now accounts for 10 percent of the economy, according to Fedotov's UNODC. Fedotov said his office was prodding Karzai's government to take steps to combat further price hikes, including education, development, jobs, and beefing up anti-narcotic laws. With foreign combat forces leaving by the end of 2014, and with much of their cash and air power expected to go with them, experts say the Afghan government needs to do much more to fight poppy cultivation. "President Karzai has assured me that he is committed to taking more active measures with regard to the drugs and organised crime," Fedotov said.
http://www.dailytimes.com.pk/default.asp?page=2012\05\30\story_30-5-2012_pg14_7
-----------
Former Maldivian President's nominee to Committee of National Inquiry accepted
By Daniel Bosley
May 29th, 2012
Confusion surrounds the appointment of former President Mohamed Nasheed's latest nominee to the Committee of National Inquiry (CNI). The government today confirmed its acceptance of Mariyam Manaal Shihab to the CNI before local media reported that the nominee had been withdrawn.
President's Office spokesperson Abbas Adil Riza told Minivan News at around 3:30pm this afternoon that Manaal's nomination had been deemed acceptable to the government.
"She fits the criteria set down by the government and the Commonwealth. The government welcomes the changes and the MDP's desire to move forward," said Abbas.
Abbas said that Manaal had been working as a legal consultant for the Ministry of Economic Development and was "well respected in her field". She is the daughter of Mohamed Shihab, former Speaker of the Majlis and Minister of Finance under the previous government.
When asked about the nomination at around 4:30, MDP International Spokesman Hamid Abdul Ghafoor said that he had heard about the matter but believed the nomination had happened in a "very direct" manner.
Full report at:
http://minivannews.com/politics/nasheed-nominee-accepted-reportedly-being-withdrawn-38233
-----------
HRCM completes investigations into February 8 "human rights abuses", "terrorism"
By Neil Merrett
May 29th, 2012
The Human Rights Commission of the Maldives (HRCM) has completed investigations into alleged police brutality and retaliatory "acts of terrorism" alleged to have been conducted by anti-government protesters on February 8, 2012.
Two separate investigations related to the conduct of both police and anti-government protesters on February 8 were today sent to authorities including the Prosecutor General's office and parliament. The completion of the investigations comes just 24 hours after the HRCM sent its findings concerning the controversial detention of Criminal Court Chief Judge Abdulla Mohamed to the same bodies.
HRCM member Jeehan Mahmoud said all but one of its investigations into the government changeover in February and the events that led up to it had now been completed. One more report into the alleged human rights abuses conducted by police on the day of February 7 was left to be completed, she added.
Despite not having yet seen the findings, representatives of the government-aligned Progressive Party of the Maldives (PPM) today welcomed investigations from national independent institutions such as HRCM. The now opposition Maldivian Democratic Party (MDP) meanwhile said it too would wait on the outcome of the investigations, but claimed that it remained sceptical about the independence of the investigation and the HRCM.
Nasheed investigation
Full report at:
http://minivannews.com/politics/hrcm-completes-investigations-into-february-8-%E2%80%9Chuman-rights-abuses%E2%80%9D-%E2%80%9Cterrorism%E2%80%9D-38242
-----------
Maldivian President: National Defence Force "symbol of holiness of our nation"
By Neil Merrett
May 28th, 2012
President Dr Mohamed Waheed Hassan has pledged to improve the welfare of Maldives National Defence Force (MNDF) personnel and their families as part of commitments to strengthen the nation's security forces.
Sections of the country's police and defence forces have come under criticism during the last few months from opposition politicians and their supporters over the alleged role both institutions played in bringing the new government to power.
The Maldivian Democratic Party (MDP) claims that Mohamed Nasheed, the country's first democratically elected president, was removed under "duress" on February 7 by mutinous elements within the police and MNDF following weeks of protests across the capital of Male' over the detention of a chief judge accused of corruption.
Despite the allegations, local media reported yesterday that President Waheed praised the ongoing role of the military in protecting the nation by land, sea and air. His government was also said to have committed to "strengthen and develop" the role of security forces across the nation, claiming that a "large majority" of the public supported the military's work on the transfer of power on February 7.
Full report at:
http://minivannews.com/society/mndf-%E2%80%9Csymbol-of-holiness-of-our-nation%E2%80%9D-president-waheed-38093
-----------
Taliban denies reports of Haqqani's death
May 30, 2012
KABUL: The Taliban on Wednesday denied reports of the death of Jalaluddin Haqqani, the founder of the Pakistani-linked Haqqani network which is regularly blamed for major attacks in Afghanistan.
"We strongly dismiss the reports that Jalaluddin Haqqani is dead. He's alive," Taliban spokesman Zabihullah Mujahid told AFP, attributing the reports to "government propaganda".
The Haqqanis, who are closely affiliated with the Taliban, are a key player in the insurgency against US-led Nato troops and Karzai's Western-backed government, particularly in eastern Afghanistan.
Full report at:
http://dawn.com/2012/05/30/taliban-denies-reports-of-haqqanis-death-2/
-----------
Afghanistan: 2 NATO Service Members Killed
May 30, 2012
KABUL, Afghanistan (AP) — An insurgent attack and a homemade bomb killed two NATO service members Wednesday in southern Afghanistan, the coalition said.
The deaths raised the number of coalition troops who have died in Afghanistan this year to 174. The coalition did not provide further details about the attacks.
Southern Afghanistan is the traditional heartland of the Taliban and has been the deadliest place for foreign forces since the Afghan war started in 2001. The U.S. poured tens of thousands of additional troops into the south in 2009 and 2010 in an attempt to reverse the Taliban's momentum.
While violence has fallen in some areas, frequent attacks still occur, posing a challenge for the U.S. as it attempts to hand over responsibility for security to Afghan forces and withdraw most of its combat troops by the end of 2014.
Elsewhere in Afghanistan, three district government employees were killed by a roadside bomb as they were traveling to work Wednesday morning in eastern Nangarhar province's Deh Bala district, said district chief Asrarullah.
Full report at:
http://www.nytimes.com/aponline/2012/05/30/world/asia/ap-as-afghanistan.html?ref=global-home&gwh=370EE69A2C2FACC7B18A1B9E624E2ED7
-----------
Civilian Casualties in Afghanistan Falling in 2012, U.N. Says
By ROD NORDLAND and ALISSA J. RUBIN
May 30, 2012
KABUL, Afghanistan — Civilian casualties in Afghanistan dropped significantly in the first four months of 2012 as a smaller proportion was attributed to coalition and Afghan forces compared to a year ago, the United Nations director in the country said on Wednesday.
At a news conference, Jan Kubis, the United Nations special representative to Afghanistan, said 579 civilian deaths and 1,216 civilian injuries had been recorded in the first four months of 2012. The combined figures represent a 21 percent reduction from the same period last year.
The U.N. said 9 percent of the casualties were attributed to pro-government forces, which includes both international troops and the Afghan security forces, and 79 percent to anti-government forces including the Taliban. Twelve percent of the casualties were unattributed. Last year, the international troops and Afghan forces were responsible for 14 percent of the casualties. The percentage caused by the Taliban remained almost unchanged.
Full report at:
http://www.nytimes.com/2012/05/31/world/asia/civilian-casualties-in-afghanistan-falling-in-2012-un-says.html?ref=global-home&gwh=77141127B1D049D5C3A1203D73F1AB62
---------
Southeast Asia
'Flirtatious' migrant Female workers to blame for abuse: Head of the Indonesian task force
Rabby Pramudatama
05/30/2012
A senior government official tasked with saving migrant workers who are on death row abroad made the shocking allegation that some of the workers, especially females, were to blame for their own misfortune.
Head of the government task force on migrant workers Maftuh Basyuni said that some Indonesian migrant workers were flirtatious with their employers, causing the latter to sexually harass them.
"Some of these workers are extremely flirtatious and it always takes two to tango. Maybe they are driven by their desires but the migrant workers' attitudes are surprising," Maftuh told a seminar in Jakarta on Tuesday.
Later The Jakarta Post approached Maftuh to confirm his statement and the former religious affairs minister and former ambassador to Saudi Arabia maintained that his comments were justified.
"Because of their flirtatious behaviour, the spouses of their employers get jealous and abuse them," said Maftuh.
President Susilo Bambang Yudhoyono established the task force in July 7, 2011, to provide assistance to migrant workers abroad facing legal troubles.
Yudhoyono also imposed additional duties on the task force to provide the maximum legal assistance to any Indonesians facing the death penalty overseas.
The remit for the task force expired on Jan. 7 this year but Yudhoyono decided to extend it until July 7.
There are 6.5 million Indonesians currently working overseas, some of whom are embroiled in legal problems.
Despite nearing the expiration of its term, the task force is still in the dark over how many migrant workers are in legal trouble abroad.
"The primary function of the task force is to collect data on how many Indonesian migrant workers are on death row. But this has been the biggest problem for us," task force spokesman Humphrey R. Djemat admitted.
Humphrey said that currently there were 206 migrant workers who might be facing the death penalty abroad.
He claimed that of these 206 cases the task force had managed to free 72 migrant workers from death row.
Data from the Manpower and Transmigration Ministry, however, says that currently there are 212 workers on death row with 37 acquittals.
The task force, in a press statement made available to the Post, said that the number of migrant workers in death row was 227.
Countries that have handed down death sentences to Indonesian workers include China, Malaysia, Iran and Saudi Arabia.
Manpower and Transmigration Minister Muhaimin Iskandar said the government was drafting a regulation that would end the practice of sending domestic workers abroad by 2017.
"We will do our best to provide comprehensive training so that they will be ready to enter more competitive industries when the time comes," Muhaimin said on Tuesday.
A number of NGOs condemned Maftuh's statement and demanded an apology.
"We urge the task force head to apologize publicly, especially to all those migrant workers, and their families, who are currently facing the death sentence," Thaufiek Zulbahary of Solidaritas Perempuan (Women's Solidarity) said in a joint statement issued on Tuesday.
http://www.thejakartapost.com/news/2012/05/30/flirtatious-migrant-workers-blame-abuse-govt-task-force.html
-----------
Stand-off as Islamic Police Enforce Dress Code in Indonesia's Aceh
Ahmad Pathoni
May 30, 2012
Banda Aceh. Religious police in Indonesia's Aceh province, where Islamic law is in force, stopped and reprimanded 53 people on Wednesday during a patrol to enforce the Muslim dress code, sparking a stand-off with some residents.
Sharia police in Aceh regularly carry out patrols to enforce the rule of Islamic modesty and a ban on unseemly contact between unmarried couples.
The operation by the Wilayatul Hisbah, as the Islamic police force is known, targeted women wearing shorts and tight pants as well as civil servants who shirked work, said Yustamin, head of enforcement with the Islamic police.
"All of them were let go after being advised to dress properly," said Yustamin.
Novi Yanti, a university student, said she protested because she was stopped and got an earful for wearing jeans, but her complaint was ignored.
"What have I done wrong? It's as if they had no important things to do," she said. "They had better deal with corruption." A housewife who was stopped for not wearing a headscarf lashed out at photojournalists who took her picture.
"They are just doing their job, madam," said Syamsuddin, a sharia police officer. "If you had not violated the rules, they wouldn't have photographed you."
Under Aceh's Islamic law, the sale of alcohol is banned across the province and gamblers are punished by caning.
Aceh, on the northern tip of Sumatra island, has imposed a form of Islamic law for a decade as part of special autonomy granted by the central government to pacify a clamor for independence.
It has been largely peaceful since the government and the Free Aceh Movement separatist group signed a peace pact in 2005.
http://www.thejakartaglobe.com/news/stand-off-as-islamic-police-enforce-dress-code-in-indonesias-aceh/521074
-----------
Child Protection Agency Wants Indonesia to Curb Condom Sales
May 30, 2012
Indonesia's Child Protection Commission (KPAI) urged the government to limit condom sales to approved stores, a move that would effectively pull the contraception out of convenience stores.
"Condoms are a halal product, but sales should be limited to prevent misuse by people who are not supposed to use it," KPAI Deputy Chairman Asrorun Ni'am Sholeh told Antara.
The criticisms of Asrorun, a former secretary with the Indonesian Council of Ulema (MUI), were backed by an employee of Bogor's Religious Affairs Ministry who argued that the prevalence of easy-to-get condoms had led to a surge in sexual activity in Bogor.
"Unlimited condom sales make it easy for people to buy them," Ita Rosita said. "The fact is, in the underpass that connects the Bogor Agriculture Institute and the Bogor Botanical garden, there were many used condoms because the underpass had not been used in a long time."
A mini market worker in Bogor said that condoms were flying off the shelves, bragging that "even junior high school students buy condoms here."
Asrorun said that he is sure the students bought the condoms for personal use, explaining that no parent would send their kid to the store to pick up condoms.
Condom use in Indonesia is already low by global standards. The nonprofit organization DKT Indonesia previously said that Indonesia's commercial condom market was about 120 million sales a year, half to one-third of what is should be for a nation of 240 million people.
Indonesia has one of the fastest-growing HIV epidemics in Asia, according to United Nations figures. According to the AIDS Prevention Commision (KPA) 76 percent of the nation's HIV/AIDS infections are transmitted through unsafe sex. The United States Center for Disease Control lists condoms as an effective barrier against the HIV virus.
Teen pregnancy is also an issue in Indonesia, where, according to a dubious survey conducted by the KPAI, 21.2 percent of girls between the ages of 14 and 18 have had at least one abortion. The same survey, which has been criticized for its unreliable data, claims that 62.7 percent of teenagers ages 14 to 18 had engaged in sexual intercourse.
http://www.thejakartaglobe.com/news/child-protection-agency-wants-indonesia-to-curb-condom-sales/521032
-----------
Malaysian Publishing House Director detained over Irshad Manji's book
30 May 2012
Shah Alam- The Selangor Islamic Religious Department (Jais) today raided a publishing house in Petaling Jaya and detained its director over the publication of the controversial book by liberal Muslim activist Irshad Manji.
Twenty Jais enforcement officers also confiscated 180 copies of the book 'Allah, Liberty and Love' from the premises in the 11.30am raid. Jais acting director Mohd Shahzihan Ahmad confirmed the seizure and arrest when contacted.
The company's director was arrested under Section 16(1)(a) of the Selangor Syariah Criminal Enactment for allegedly publishing contentious material against the syariah law.
He was later released on a RM1,800 bail with one surety by Syariah Magistrate's Court judge Shahrudin Selamat. Mohd Shahzihan also gave Jais two months to prepare its case against the company and its director.
The Home Ministry has banned the book and its translated version 'Allah, Kebebasan dan Cinta' as it contradicted the Quran and Hadith.
http://www.malaysia-chronicle.com/index.php?option=com_k2&view=item&id=33991:director-detained-over-irshad-manjis-book&Itemid=2
-----------
Indonesia: 31-year-old man charged with mother's murder in S'pore
05/30/2012
The elder son of Madam Mallika Jesudasan was charged in court with her murder on Tuesday.
Sujay Solomon Sutherson, 31, is said to have killed the 56-year-old public relations coordinator between 6.30pm and 10.40pm on Sunday.
Madam Jesudasan, who has two other children, was found with neck injuries in the family's flat in Block 248, Bukit Batok East Avenue 5.
Sutherson has been remanded at the Central Police Division for further investigation. He will be back in court next Tuesday. He faces the death penalty if found guilty of murder.
Relatives, friends and colleagues of Madam Jesudasan were saddened by the news on Monday that she had been murdered.
They said the divorced woman was kind and hard-working.
Madam Doris Lee, office manager at PR firm Communications DNA, where Madam Jesudasan last worked, said many of the staff members were shocked to hear about her death.
'Mallika was friendly and well-liked. She even made friends with people from neighbouring offices. She was also diligent in her work and didn't need to be spoon-fed.'
When Madam Lee came down with the flu recently, Madam Jesudasan took her to a pharmacy and recommended medication to her.
Full report at:
http://www.thejakartapost.com/news/2012/05/30/31-year-old-man-charged-with-mothers-murder-spore.html
-----------
TNI chief orders personnel to apologize over assaults
05/30/2012
Indonesian Military (TNI) Commander Admiral Agus Suhartono said he had ordered military officers who allegedly assaulted journalists in Padang, the provincial capital of West Sumatra, to apologize.
"The Marine personnel did not intentionally commit violence against the journalists. There has been a misunderstanding, particularly given that the family of one of the Marines ran a shop raided by local officers," Agus told the press at the Presidential Office on Wednesday.
"It was triggered by a feeling of sympathy that a shop run by one of the Marine's family had been damaged," he added.
Full report at:
http://www.thejakartapost.com/news/2012/05/30/tni-chief-orders-personnel-apologize-over-assaults.html
-----------
Malaysia: Ruling to include Islamic motifs in new Buildings excludes houses of worship
May 29, 2012
KOTA BARU, Malaysia - The Kelantan government has clarified that its ruling that new buildings in the state must include Islamic motifs does not cover houses of worship.
State Local Government, Tourism and Culture committee chairman Datuk Takiyuddin Hassan said the PAS-led government would be "very flexible when considering the need to build houses of worship".
"In the case of Kelantan Buddhist Association, I was instructed by Mentri Besar Datuk Nik Aziz Nik Mat to clarify the issue.
"Based on my checks with the records at the Kota Baru Municipal Council, I found that the association has yet to submit its building plans.
"The association's top officials admitted that the building plans was not submitted to the council for consideration, and therefore, this renders the matter a non-issue," Takiyuddin said here yesterday.
Full report at:
http://news.asiaone.com/News/AsiaOne%2BNews/Malaysia/Story/A1Story20120529-349012.html
---------
Mideast Asia
Israel throws a cyber 'Flame' at Iran and West Asia
May 30, 2012
AN UNPRECEDENTED cyber espionage worm considered the most sophisticated spyware virus yet may have been unleashed by Israel to hit Iran and other West Asian countries, with the possible aim of crippling Tehran's nuclear ambitions.
Security experts discovered the new data- stealing virus dubbed ' Flame' which they say has lurked inside thousands of computers across West Asia for as long as five years.
Russia- based internet security company Kaspersky Lab that uncovered the virus said it has attacked computers in Iran and elsewhere in the region and may have been designed to collect and delete sensitive information.
Israeli Vice- PM Moshe Ya'alon's comments justifying such a measure triggered speculations that Flame may have originated from his country. " Anyone who sees the Iranian threat as significant… it's reasonable ( to assume) he'll take various steps, including these, to harm it," Ya'alon told the army radio in an interview on Tuesday.
In Tehran, Iranian authorities admitted the malicious software dubbed Flame has attacked its systems and instructed to run an urgent inspection of all cyber systems in the country.
Iran's MAHER Centre, which is part of the Islamic Republic's communication ministry, said the virus has caused substantial damage and that massive amounts of data have been lost, Ynetnews reported. But Iran's telecommunications ministry also claimed it had developed software to clean this malware.
Kaspersky, one of the world's biggest producers of anti- virus softwares, said the bug had infected computers in Iran, West Bank, Sudan, Syria, Lebanon, Saudi Arabia and Egypt.
Flame is actively being used as a cyber weapon attacking entities in several countries, Kaspersky said in a statement, describing its purpose as cyber espionage.
The complexity and functionality of the newly discovered malicious programme exceed those of all other cyber menaces known to date, the statement said.
DECODING THE VIRUS
The virus contains about 20 times as much code as Stuxnet, which attacked an Iranian uranium enrichment facility, causing centrifuges to fail It has about 100 times as much code as a typical virus designed to steal financial information, Kaspersky Labs said Flame can gather data files, remotely change settings on computers, turn on PC microphones to record conversations, take screen shots and log instant messaging chats There is evidence to suggest the code was commissioned by the same nation/ nations that were behind Stuxnet and Duqu, which were built on a common platform
Mail Today
-----------
Yemen army outflanks rebel-held Jaar: official
Mohammed Mukhashaf
May 29, 2012
ADEN (Reuters) - Yemeni troops have captured rebel-held positions on the outskirts of the southern city of Jaar, a military official said on Tuesday, pushing ahead with a U.S.-backed offensive to remove Islamist militants from the country.
He said at least 10 militants had been killed in the fighting since Monday night and the Yemeni army was within 2-3 km (1-2 miles) of Jaar.
"Seizing this area will help us gain control of Jaar city," he told Reuters. "Our goal is to advance into the city."
Al Qaeda-linked militants seized large swathes of territory in southern Yemen last year as then-President Ali Abdullah Saleh grappled with protesters demanding his overthrow. Saleh quit last November in favor of his deputy, Abd-Rabbu Hadi Mansour.
The United States and its Gulf Arab allies have watched with mounting alarm as security deteriorates in Yemen, home to al Qaeda's Arabian Peninsula wing (AQAP), which Washington views as a serious threat.
Washington has stepped up air strikes using drones against people in Yemen it says may be plotting attacks against it. It has also renewed military training to help Yemeni security forces grow strong enough to reassert control over the country.
The military official said troops advanced at least one km towards Jaar in the past 24 hours. "The troops are continuing to shell the northern and central parts of the city".
Jaar residents said food supplies were running short and many were unable to flee the city because of heavy shelling.
Full report at:
http://www.chicagotribune.com/news/sns-rt-us-yemen-violencebre84s17b-20120529,0,334557.story
----------
Arab World
19 killed in Syria violence: NGO
May 29, 2012
At least 19 people were killed in violence today in Syria, where clashes between regime troops and rebels raged, monitors said, as envoy Kofi Annan held talks with President Bashar al-Assad.
In central Homs province, seven civilians were killed overnight, the Syrian Observatory for
Human Rights said. Three of them died when the army shelled the outskirts of restive Qusayr, while four died in the city of Homs.
One of those killed in Homs was filmmaker and photography student Bassel Shehade, who returned to Syria from the United States around three months ago, according to a Facebook page set up by activists.
Full report at:
http://www.hindustantimes.com/world-news/RestOfAsia/19-killed-in-Syria-violence-NGO/Article1-863084.aspx
-----------
Baghdad sees red once again—double-deckers, that is
May 30, 2012
BAGHDAD: Common across Baghdad in years past, red double-decker buses are again plying the Iraqi capital's traffic-choked streets after many were ransacked in the years of unrest following the 2003 invasion.
The brand-new red buses with long white and black stripes on their sides began limited operations on Saturday, making halting progress amid masses of taxis and pedestrians in central Baghdad.
They have metal floors and plastic seats that are comfortable enough, though somewhat cramped for taller passengers. Air conditioning keeps the buses cool in spite of the Baghdad heat, which will only worsen in the summer months.
One bus was packed with boisterous Iraqis who were pleased by the features, especially the air conditioning.
"With this comfort, I will stay here enjoying the air conditioning and won't get off until the electricity generators start working in our area," joked Kadhim Karim, a 31-year-old musician.
Full report at:
http://dawn.com/2012/05/30/baghdad-sees-red-once-again-double-deckers-that-is/
-----------
22nd edition of Holy Quran Competition winners announced
29 May 2012
By Abdulaziz al Jahdhami — MUSCAT — The Sultan Qaboos Centre for Islamic Culture announced the names of the winners of the 22nd edition of Sultan Qaboos Competition for Holy Quran Memorisation. The results were declared by Habib bin Mohammed al Riyami, Secretary-General of the Sultan Qaboos Centre for Islamic Culture, in a press conference held yesterday at the Islamic Sciences Institute, Muscat.
The competition comprises 5 levels of memorising the Holy Quran that are memorising the Holy Quran as a whole and reciting, memorising 24 consecutive parts of the Holy Quran with reciting one part, memorising 18 consecutive parts of the Holy Quran with reciting one part, memorising 12 consecutive parts of the Holy Quran with reciting one part and memorising six consecutive parts of the Holy Quran and reciting.
Full report at:
http://main.omanobserver.om/node/97009
-----------
Islam is synonymous with peace: Saudi's Prince Al Waleed
May 29, 2012
Terror acts are committed by few individuals who try to hijack Islam
Most Muslims are strongly against terrorism and only a few individuals are committing such acts and trying to hijack Islam, which is a synonym of peace, Saudi billionaire Prince Al Waleed bin Talal has said.
The Prince, one of the richest men on earth, said he believes that Islam has come under attack worldwide because of some bad groups within it, referring to the September 2001 deadly terror attacks on the United States.
"I am a very transparent person and I believe that Islam has been attacked not because of the religion itself but because there have been problems with the behavior of certain individual Muslims or small groups within our religion," he told the London-based Middle East magazine.
He said his latest project to set up an Islamic culture centre at the Louvre Museum in Paris is intended to promote the real spirit of Islam after funding similar projects at Georgetown, Harvard and other Western universities.
"Clearly the new initiative at the Louvre will feature Islamic culture and history and tell the while world that Islam is not at all what you see portrayed by the few who have attempted to hijack and kidnap it," he said.
Full report at:
http://www.emirates247.com/crime/region/islam-is-synonymous-with-peace-saudi-s-prince-al-waleed-2012-05-29-1.460623
-----------
Russia, China baulk as West mulls armed action in Syria
May 30, 2012
DAMASCUS: China on Wednesday restated its opposition to military intervention in Syria, as Russia sought to halt fresh UN Security Council action after a massacre of civilians sparked global fury.
The renewed support by Moscow and Beijing for the Damascus regime came as numerous Western nations, including the United States, Britain and France, expelled Syrian diplomats in the wake of Friday's massacre and after France floated the idea of armed intervention to protect civilians.
"China opposes military intervention in Syria and opposes regime change by force," foreign ministry spokesman Liu Weimin told reporters in Beijing.
Liu added that China urged all parties to implement UN-Arab League envoy Kofi Annan's ceasefire proposal in Syria and to seek to end the bloody crisis through negotiations.
With Russian and Chinese support, the UN Security Council on Sunday strongly condemned the Syrian government for using artillery in a massacre in the central town of Houla in which at least 108 people were killed.
Full report at:
http://timesofindia.indiatimes.com/world/middle-east/Russia-China-baulk-as-West-mulls-armed-action-in-Syria/articleshow/13667006.cms
-----------
Kofi Annan urges Assad to 'act now' as West expels envoys
May 30, 2012
DAMASCUS: International envoy Kofi Annan urged Syrian President Bashar al-Assad on Tuesday to "act now" to end 15 months of bloodshed, warning that the country had reached a "tipping point" as Western governments ordered out its top diplomats.
The apparently coordinated expulsion orders issued by the European Union, the United States and other governments, including Australia, Canada and Switzerland, was in response to the killing of at least 108 people, nearly half of them children, during an assault by pro-government forces last week.
Washington said it hoped the outcry over the deaths near the central town of Houla on Friday and Saturday would draw a change of heart from Damascus ally Moscow, which has previously blocked tougher UN action against Assad's regime.
"We are at a tipping point," Annan said after his talks with the Syrian leader aimed at rescuing his troubled peace blueprint, that was supposed to begin with a ceasefire from April 12 that has never taken hold.
Full report at:
http://timesofindia.indiatimes.com/world/middle-east/Kofi-Annan-urges-Assad-to-act-now-as-West-expels-envoys/articleshow/13650862.cms
----------
North America
US Mosques Struggle against Sentiments
29 May 2012
CAIRO – Amid opposition to building Muslim worship places, Muslims in the US city of DeKalb, Illinois, are struggling to get official permission to build a mosque to serve their community, assuring neighbours and officials on the true nature of the Islamic faith.
"Don't look at me just as a Muslim, look at me as an American," Mohammed Labadi, a businessman and Islamic Society board member, told USA Today.
It's time, he says, "to take the unfortunate stereotypes about Muslims out of the picture."
Like hundreds of fellow Muslims in Illinois, Labadi is waiting for a vote by the city council's members on Tuesday, May 29, on the request from the Islamic Society of Northern Illinois University to build a two-story mosque.
The mosque plan was unanimously approved by the zoning commission.
Yet, a growing animosity against Muslims and their worship places that followed the 9/11 attacks was threatening their dreams.
In the last five years, there has been "anti-mosque activity" in more than half of the US states, according to the American Civil Liberties Union.
The US has enacted a federal law in 2000 that meant to prevent zoning laws from discriminating against religious institutions.
But DuPage County, Illinois, and the city of Lomita, California, were both facing complains for "unlawful conduct and discriminatory practices," said Kevin Vodak, litigation director of the Chicago chapter of the Council on American-Islamic Relations.
All across the US, mosques have been facing fierce opposition recently.
At least 18 mosque projects — from Mississippi to Wisconsin — have found foes who battle to stop them from seeing light citing different pretexts, including traffic concerns and fear of terrorism.
Even more, some mosques were vandalized including a 2011 Wichita mosque arson case for which a $5,000 reward is being offered.
In multicultural New York, a proposed mosque near Ground Zero site has snowballed into a national public and political debate, with opponents arguing that the Muslim building would be an insult to the memory of the 9/11 victims.
Advocates, however, say that the mosque would send a message of tolerance in 9/11-post America.
Misinformation
Muslim leaders see the increasing sentiments against mosques as a direct result of misunderstanding and misinformation about the true nature of Islam.
"The level of knowledge about Muslims is pretty abysmal," Othman Atta, the Islamic Society's executive director, said.
"People, if they don't understand something, they tend to fear it."
Ebrahim Moosa, a Duke University professor of religion and Islamic studies, is worried that discrimination against Muslims is growing.
"Opposition to mosques," he says, "is not a misunderstanding, because reasonable people can talk and mutually educate."
Though many mosque opponents raise concerns about traffic and parking, Daniel Mach, director of the ACLU's freedom of religion program, says they can be "sham arguments" that mask anti-Muslim sentiment.
"I hope that eventually there will be greater acceptance for all faiths, including Islam," Mach says.
Since 9/11, US Muslims, estimated between six to eight million, have become sensitized to an erosion of their civil rights, with a prevailing belief that America was targeting their faith.
A report by CAIR, the University of California and Berkeley's Center for Race and Gender said that Islamophobia in the US is on the rise.
A US survey had also revealed that the majority of Americans know very little about Muslims and their faith.
A recent Gallup poll had found that 43 percent of Americans Nationwide admitted to feeling at least "a little" prejudice against Muslims.
http://www.onislam.net/english/news/americas/457312-us-mosques-struggle-against-sentiments.html
-----------
Senator calls for striping Pakistan of all US aid
May 30 2012
Washington : As the outrage in the US over sentencing of a Pakistani doctor who helped the CIA trace Osama bin Laden grows, a key Senator has called for stripping Pakistan of all the American aid.
Senator Rand Paul announced yesterday that he will introduce legislations in the Senate to strip Pakistan of all the US aid and to grant the Pakistani doctor Shakil Afridi US citizenship for his help in hunting down bin Laden.
"Pakistan must understand that they are choosing the wrong side. They accuse Dr. Afridi of working against Pakistan, but he was simply helping the US capture the head of al-Qaeda. Surely Pakistan is not linking their interests with those of an international terrorist organisation," Senator Rand Paul, said.
Paul, in a statement, said that his bills will have two purposes. The first bill will strip Pakistan of all foreign aid until Afridi's recent 33-year prison sentence is overturned and he is allowed to leave Pakistan.
The second bill would grant him US citizenship for his efforts.
"Foreign aid has been an abysmal failure precisely for this reason - we give the aid to governments who then turn and work against our national interest. That must end," Paul said.
Paul's bills will be introduced as stand-alone legislation when the Senate returns next week and he has announced his intention to secure votes as soon as possible on this "important" issue.
http://www.indianexpress.com/story-print/955626/
-----------
Obama takes final call on nominations to secret 'kill list'
May 30 2012
Washington : This was the enemy, served up in the latest chart from the spy agencies: 15 Qaeda suspects in Yemen with Western ties. The mug shots and brief biographies resembled a high school yearbook layout. Several were Americans. Two were teens, including a girl who looked even younger than her 17 years.
President Obama, overseeing a Tuesday counterterrorism meeting of two dozen security officials in the White House Situation Room, took a moment to study the faces. It was January 19, 2010, the end of a first year in office that culminated in a brush with catastrophe over Detroit on Christmas Day.
"How old are these people?" he asked, according to two officials. "If they are starting to use children," he said of al-Qaeda, "we are moving into a whole different phase." It was not a theoretical question: Obama has placed himself at the helm of a top secret "nominations" process to designate terrorists for kill or capture, of which the capture part has become largely theoretical. He had vowed to align the fight against al-Qaeda with US values; the chart, introducing people whose deaths he might soon order, underscored just what a moral and legal conundrum this could be.
Obama is the liberal law professor who was against the Iraq war, and then insisted on approving every new name on an expanding "kill list". When an opportunity for a drone strike arises it is Obama who has reserved to himself the final moral calculation. "He is determined he will make these decisions," said national security adviser Thomas E. Donilon. "His view is he's responsible for the position of the US in the world."
http://www.indianexpress.com/story-print/955467/
----------
Africa
45 killed in a communal clash in Nigeria
May 30, 2012
ABUJA: More than 45 people, including a village head and four policemen, were killed in an internecine clash between two local neighbouring communities in southeastern Nigeria, an official said on Tuesday.
More than 2000 people were also displaced and houses and churches destroyed on Monday when the fight broke out between two local communities, Ntan Obu and Ikpanya, which share boundaries with each other despite being in different states of Cross River and Akwa Ibom respectively.
Children between the ages of three to five and women were among the victims of the attack and the head of crimes of a police station was also killed.
"The remote cause, I can say, is the struggle by the people from the Ikpanya for the land belongs to the Ntan Obu," chairman of a local council Stephen Asuquo was quoted by local Vanguard newspaper as saying.
Asuquo also said the community head and four policemen were beheaded by the Fulani herdsmen who aided the Ikpanya villagers.
Police spokesman for Cross River state, Hogan Bassey confirmed the incident but could not give the exact figure of casualties.
Community sources said Ikpanya villagers attacked Ntan Obu people with the help of Fulani herdsmen who are the most itinerant people in the oil rich African country.
Nigeria has a population of 150 million with more than 200 ethnic groups and internecine clashes usually occur.
Early January, communal clash between two communities; Ezillo and Ezza in Ebonyi state led to the death of 66.
http://timesofindia.indiatimes.com/world/rest-of-world/45-killed-in-a-communal-clash-in-Nigeria/articleshow/13649940.cms
-----------
Sudan, South Sudan start first talks since conflict
May 30, 2012
ADDIS ABABA: Top negotiators for Sudan and South Sudan met on Tuesday for their first talks since deadly border fighting last month took them to the brink of war, even as Juba accused Khartoum of fresh air strikes.
Teams from both sides are in the Ethiopian capital for African Union-led talks which were stalled by heavy clashes last month, the worst fighting since the South won independence last July.
Khartoum stressed its "commitment to reach a negotiated settlement to all issues of differences" and promised "its full adherence to peace and stability between the two countries," it said in a statement released as talks began.
Sudan added it hoped the talks would mark a "new chapter" in relations "away from conflict and warring."
Southern President Salva Kiir said ahead of the talks that "amicable dialogue on the outstanding issues with Khartoum is the only option for peace."
The UN Security Council earlier this month ordered both sides to cease fighting and return to talks or face possible sanctions.
Idriss Mohammed Abdel Qadir from Khartoum and Pagan Amum from Juba began the talks mediated by former South African President Thabo Mbeki, and also attended by the US special envoy on Sudan, Princeton Lyman.
Full report at:
http://timesofindia.indiatimes.com/world/rest-of-world/Sudan-South-Sudan-start-first-talks-since-conflict/articleshow/13653823.cms
----------
URL: https://www.newageislam.com/islamic-world-news/new-age-islam-news-bureau/un-official-raps-pakistan-s-blasphemy,-parallel-justice-system/d/7482