New Age Islam News Bureau
08 September 2020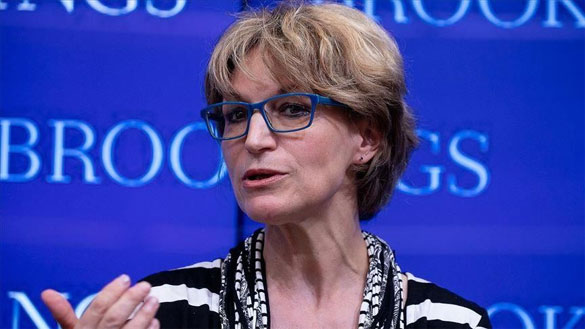 UN human rights investigator Agnes Callamard on Monday called the Saudi prosecutor's verdict on the 2018 murder of journalist Jamal Khashoggi in Istanbul a "parody of justice"
-----
• Saudi Scraps Death Sentences Over Khashoggi Murder, Jails 8
• Taliban Talks Will Be One of Hardest Peace Deals in History: Afghan VP Amrullah Saleh
• 'Say Jai Shri Ram', Killers of Aftab Alam in NCR Said, Police Deny Murder Was Hate Crime
• 'Big Shame': Turkey's Erdogan, European Court of Human Rights Meeting Under Fire
• Nearly 300 Rohingya Found on Indonesian Beach After Months at Sea
• Islamabad High Court Wants Imran Khan Briefed on Enforced Disappearances
• Indigenous Genocide Finding Hangs Over Canada's Myanmar Court Intervention
Europe
• UN Investigator Says Saudi Prosecutor Allowed High-Level Officials Behind Khashoggi Killing To Walk Free
• Turkey tops agenda of France's Macron, Greek PM talks at 'MED7' summit in Corsica
• UK backs German efforts to resolve east Mediterranean dispute between Greece, Turkey
• UK Supreme Court to hear extremist bride's citizenship case in November
• 'Turkey to continue supporting Gagauzia, Moldova'
--------
Arab World
• Saudi Scraps Death Sentences Over Khashoggi Murder, Jails 8
• Khashoggi Family Describes Final Verdicts in Murder Case As 'Fair Ruling'
• Iraqis in Karbala Hold Anti-US Rallies with Images of General Soleimani, Abu Muhandis
• Put Lebanon ahead of Iran and stop Arab interference, Geagea tells Hezbollah
• Arab Coalition destroys explosive-laden Houthi drone targeting Saudi Arabia
• Two SDF militants killed in northeastern Syria: SANA
• Another US logistic convoy hit by explosion north of Baghdad: Reports
• Saudi Arabia's Abha International Airport targeted again in Yemeni drone attacks
--------
South Asia
• Taliban Talks Will Be One of Hardest Peace Deals in History: Afghan VP Amrullah Saleh
• Taliban Office Says its Prisoners Not Fully Released
• Security Pact Reinforces "Militarization": Rahmani
• Narayanganj mosque blast: Titas suspends 8 officials, employees
• Kabul Hails EU, Canada Stance on Afghan Peace Process
• Kabul to push for ceasefire in talks with Taliban: Afghan official
--------
India
• 'Say Jai Shri Ram', Killers of Aftab Alam in NCR Said, Police Deny Murder Was Hate Crime
--------
Mideast
• 'Big Shame': Turkey's Erdogan, European Court of Human Rights Meeting Under Fire
• Israel planning to exploit COVID-19 to close al-Aqsa, says Palestinian cleric
• Iran's Judiciary Chief Condemns Sacrilege of Holy Quran, Islam Prophet
• Spokesman: G4+1's Violation of Resolution 2231 to End Iran's Partnership in N. Deal
• UAE Dissidents Association Opposes Inauguration of Israel's Embassy
• Turkey gives Daesh terrorist 40 life terms for 2017 Istanbul nightclub massacre
• Jordan slams continued Israeli violations against al-Aqsa Mosque complex
• EU warns Kosovo, Serbia over Jerusalem al-Quds embassy move
• Israel plans to construct almost 5,000 new settler units in occupied West Bank
--------
Southeast Asia
• Nearly 300 Rohingya Found on Indonesian Beach After Months at Sea
• To Help Uighur Muslims, Switzerland Should Negotiate China Trade Pact, Says NGO
• Sarawak NGOs want authorities to investigate Pasir Puteh MP over Bible remark
• Sabah has five potential chief ministers, but pundits see only a straight fight — Musa Aman vs Shafie Apdal
--------
Pakistan
• Islamabad High Court Wants Imran Khan Briefed on Enforced Disappearances
• Pakistan Drifting Away from US Towards China: Defence Analyst
• Pakistan Looking to Diversify Cooperation with S. Arabia: Khattak
• Pakistan says 5 militants killed in raid near Afghan border
• KP Assembly resolution terms report by British MPs a conspiracy
• 'Mastermind' of militant attacks among five killed in North Waziristan
• NA, Senate sessions slated for next week to get FATF bills passed
--------
North America
• Indigenous Genocide Finding Hangs Over Canada's Myanmar Court Intervention
• How An Islamic Terror Sheikh Ended Up Selling Meth In Orange County
--------
Africa
• West African Body Urges Mali Junta to Restore Democracy
• Turkey's Erdogan meets with head of Libya's GNA
• Tunisian officer stabbed to death, three 'terrorists' killed in firefight
• Car bomb explosion in Somalia leaves 5 soldiers dead, US officer injured
Compiled by New Age Islam News Bureau
URL: https://www.newageislam.com/islamic-world-news/un-investigator-says-saudi-prosecutor/d/122817
--------
UN Investigator Says Saudi Prosecutor Allowed High-Level Officials Behind Khashoggi Killing To Walk Free
07 September 2020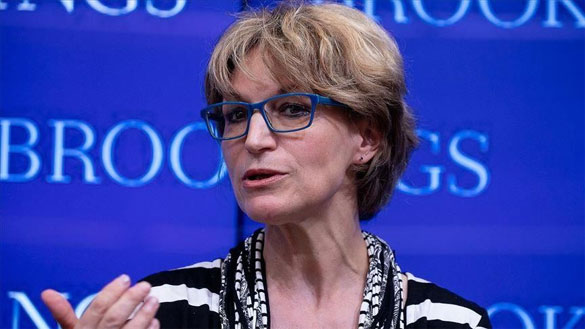 UN human rights investigator Agnes Callamard on Monday called the Saudi prosecutor's verdict on the 2018 murder of journalist Jamal Khashoggi in Istanbul a "parody of justice"
-----
A United Nations expert has rejected as "parody of justice" a Saudi court ruling that overturned the death sentence of convicts involved in the gruesome killing of dissident journalist Jamal Khashoggi in 2018.
A court in Saudi Arabia commuted in a final ruling on Monday the death sentence handed to the five people, with the official Saudi Press Agency saying five defendants had received 20-year sentences and three others had been sentenced to between seven to 10 years.
"The Saudi Prosecutor performed one more act today in this parody of justice. But these verdicts carry no legal or moral legitimacy," Agnes Callamard, the UN special rapporteur on extrajudicial, summary or arbitrary executions, said in a tweet later in the day.
#JamalKhashoggi: 1.The Saudi Prosecutor performed one more act today in this parody of justice. But these verdicts carry no legal or moral legitimacy. They came at the end of a process which was neither fair, nor just, or transparent. https://t.co/nt4n2CqS21
— Agnes Callamard (@AgnesCallamard) September 7, 2020
Callamard also denounced in a series of tweets the fact that "the high-level officials who organized and embraced the execution of Jamal Khashoggi have walked free from the start."
The UN official underlined that Saudi Crown Prince Mohammed bin Salman "has remained well protected against any kind of meaningful scrutiny in his country."
At an earlier stage of the trial in December, the court sentenced five people to death and three to jail, claiming that the killing was not premeditated but carried out "at the spur of the moment."
Khashoggi's fiancee calls Saudi verdict 'farce'
Hatice Cengiz, the fiancee of the slain Saudi dissident, also censured on Monday as a "farce" the court ruling that overturned the death sentences.
"The ruling handed down today in Saudi Arabia again makes a complete mockery of justice," Cengiz said in a statement posted on Twitter. "The international community will not accept this farce."
This is my statement in response to the ruling today. #Khashoggi pic.twitter.com/rPxzWhetb1
— Hatice Cengiz / خديجة (@mercan_resifi) September 7, 2020
The Saudi court did not reveal the identity of the eight convicts involved in the case.
"The Saudi authorities are closing the case without the world knowing the truth of who is responsible for Jamal's murder," Cengiz added. "Who planned it, who ordered it, where is the body? These are the most important questions that remain totally unanswered."
Khashoggi's sons, under alleged pressure from Riyadh, announced in May they had "pardoned" the killers of their father, a move dismissed at the time as "the antithesis of justice" by a UN expert, who concluded that Khashoggi was "the victim of a deliberate, premeditated execution" for which the Saudi kingdom was responsible.
Khashoggi, a former advocate of the Saudi royal court who later became a critic of bin Salman, was killed in the Saudi consulate in Istanbul on October 2, 2018, after he entered the perimeter to collect documents for his planned wedding. He had been falsely promised the documents.
The Washington Post, for which Khashoggi was a columnist, reported in November 2018 that the CIA had concluded that bin Salman personally ordered his killing.
Khashoggi's killing damaged the ties between Ankara and Riyadh, and tarnished the prince's international image.
Ankara has called Khashoggi's killing "premeditated murder," and has pressed the kingdom for information on his dismembered body's whereabouts.
Riyadh, which initially claimed Khashoggi left the consulate on the day, later admitted that he was killed, blaming the murder on a "rogue" group and putting 11 unnamed individuals on trial.
The Saudi crown prince accepted responsibility a year after the murder and said, "It happened under my watch."
https://www.presstv.com/Detail/2020/09/07/633553/Saudi-court-parody-Khashoggi
--------
Saudi Scraps Death Sentences Over Khashoggi Murder, Jails 8
Sep 7, 2020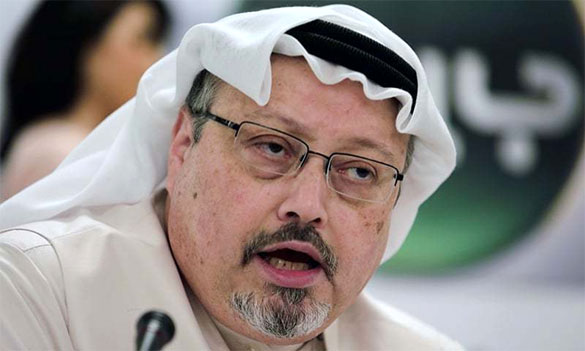 In this February 1, 2015 photo, Saudi journalist Jamal Khashoggi speaks during a press conference in Manama, Bahrain. — AP/File
-------
RIYADH: A Saudi court on Monday overturned five death sentences over journalist Jamal Khashoggi's murder in a final ruling that jailed eight defendants to between seven and 20 years, state media reported.
The ruling comes after Khashoggi's sons announced in May that they had "pardoned" the killers, paving the way for a less severe punishment in a case that triggered an international outcry.
The verdict, which drew fresh condemnation from campaigners, underscores Saudi efforts to draw a line under the October 2018 murder as the kingdom seeks to reboot its international image ahead of November's G20 summit in Riyadh.
"Five of the convicts were given 20 years in prison and another three were jailed for 7-10 years," the official Saudi Press Agency said, citing a spokesman for the public prosecutor.
None of the defendants were named in what was described as the final court ruling on the murder, which tarnished the global reputation of Crown Prince Mohammed bin Salman.
Khashoggi -- a royal family insider turned critic -- was killed and dismembered at the kingdom's consulate in Istanbul in October 2018, in a case that tarnished the reputation of the de facto ruler Prince Mohammed.
Khashoggi, a 59-year-old critic of the crown prince, was strangled and his body cut into pieces by a 15-man Saudi squad inside the consulate, according to Turkish officials. His remains have not been found.
Riyadh has described the murder as a "rogue" operation, but both the CIA and a United Nations special envoy have directly linked Prince Mohammed to the killing, a charge the kingdom vehemently denies.
Agnes Callamard, the UN special rapporteur on extrajudicial, summary or arbitrary executions, slammed Monday's ruling as "one more act today in this parody of justice".
"These verdicts carry no legal or moral legitimacy," Callamard wrote on Twitter. "They came at the end of a process which was neither fair, nor just, or transparent."
That view was echoed by other human rights campaigners.
"Since the beginning, there was never any intent to hold those responsible to account, only repeated attempts to cover it up," Ines Osman, director of the Geneva-based MENA Rights Group, told AFP.
"This verdict is the last nail in the coffin, saying 'the case is now closed'."
In December, a Saudi court exonerated two of the crown prince's top aides over the murder -- deputy intelligence chief Ahmed al-Assiri and the royal court's media czar Saud al-Qahtani.
Both aides were part of Prince Mohammed's tight-knit inner circle and were formally sacked over the killing.
Five unnamed people were sentenced to death in the December ruling while three others were handed jail terms totalling 24 years over the killing.
But the family's pardon paved the way for Monday's reduced sentences, including sparing the lives of the five unnamed people sentenced to death.
The Washington Post reported last year that Khashoggi's children, including his son Salah, had received multi-million-dollar homes and were being paid thousands of dollars per month by authorities.
Salah rejected the report, denying discussing a financial settlement with Saudi Arabia's authoritarian rulers.
https://timesofindia.indiatimes.com/world/middle-east/saudi-scraps-death-sentences-over-khashoggi-murder-jails-8/articleshow/77983149.cms
--------
Taliban Talks Will Be One Of Hardest Peace Deals In History: Afghan VP Amrullah Saleh
Emily Judd And Omar Elkatouri
07 September 2020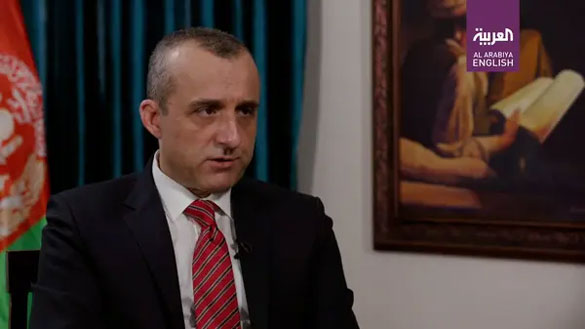 Afghan VP Amrullah Saleh
-----
Peace talks between Afghanistan's government and the Taliban are set to start in the next couple days, the Afghan vice president told Al Arabiya on Monday, adding that the negotiations will be one of the "most difficult" in history.
"This is going to be one of the most difficult peace negotiations of history. In certain ways this is going to be even more complicated than the Arab peace process," said Afghanistan Vice President Amrullah Saleh in an interview with Al Arabiya.
"A lot of blood has been shed and a lot of divisions have been created. Overcoming these divisions will not be easy," he added.
Reuters reported on Monday that peace talks have been delayed due to logistical issues.
A source told Reuters the Afghanistan government negotiating team may fly on Tuesday to Qatar, where the peace talks are set to be held.
Last month the Afghanistan government released 400 high-risk Taliban prisoners, a demand of the Taliban leadership.
Saleh said that if the Taliban backs out of peace talks following this action, it will be a "slap in the face."
"Should the Taliban find another excuse [to avoid peace talks], it will be a slap in the face to the international community who told us this is the last excuse, and it will be a slap in the face to peace itself," said Saleh.
Saleh, who described himself as being "politically on the opposite side of the Taliban," warned that the Taliban will try to "use violence to get more concessions."
"Each action they do will complicate the peace," he said.
While Saleh said the peace talks will be "extremely complicated," he believes it will be a beginning to the path of a comprehensive agreement between the government and the Taliban.
"Making peace with the Taliban does not mean surrendering to the Taliban," Saleh said.
"It means bringing two ways of life under one national ceiling."
https://english.alarabiya.net/en/News/world/2020/09/07/Afghanistan-VP-says-talks-with-Taliban-will-be-one-of-most-difficult-peace-negotiati
--------
'Say Jai Shri Ram', Killers of Aftab Alam in NCR Said, Police Deny Murder Was Hate Crime
Ismat Ara
Sep 08, 2020
Noida: On Sunday, at around midnight, 20-year-old Mohammad Sabir was told by the police that they had found the lifeless body of his father, Aftab Alam, tied to the side of his own car.
Sabir wasn't entirely surprised to hear this, he says. A few hours earlier, he had sensed that something was wrong when he received an unusual call from his father – who didn't utter a word after he picked up the phone. Sabir heard "drunk" men on the other end of the phone asking his father if he would like to drink. Alam said 'no', Sabir heard.
The men then asked him his name, according to Sabir. By then, having sensed that something was wrong, he began recording the call. In the audio file of the call available with The Wire, at 8:39 minutes, one of the men can be heard saying, "Jai Shri Ram bol, bol Jai Shri Ram".
The chant has become the rallying cry of violent Hindutva action and has preceded several lynchings.
Sabir heard no conversation after that. But 11 minutes later, at the 19:41 minute mark, one of the men can be heard saying, "Saans ruk gayi." 'He has stopped breathing.'
"My father had gone to drop one of his old clients at Bulandshahr yesterday at around 3 pm. He made the drop at around 7 pm and left for home. On the way he called me and told me to recharge his Fast Tag. I did that at around 7:30 pm and then after a while I got a call again, I think this was from near a toll booth. He had probably sensed that some men he had come across were not the right sort of people, so he called me and possibly put the mobile phone in his pocket," said Sabir.
Sabir recorded the call for the next 40 minutes, till his father's phone apparently switched off. He immediately went to the nearest police station, Mayur Vihar Phase I, and asked for help.
"Sub-inspector Sanjay sir helped me when I told him about the matter. He immediately started tracking my father's mobile phone and accessed the last location of the SIM card," said Sabir.
This 'last location' was near Badalpur police station, where the police found Aftab Alam's bruised, lifeless body. He was taken to a nearby hospital.
Sabir broke down upon recalling the sight of his dead father. "His tongue area was badly bruised, ears were bleeding, there was a big cut on his face. This is clearly a case of mob lynching," he said, using the phrase which has come to symbolise hate crimes in India. "But the police has only registered a robbery case."
Sabir added, "We are Muslims, but we have a right to live."
However, the Badalpur police station house officer denied that it was a case of "mob lynching" or "hate crime" and said that the case is being investigated.
The FIR, registered on the same night, charged the anonymous assaulters under sections 394 (voluntarily causing hurt in committing robbery) 302 (punishment for murder) and 201 (causing disappearance of evidence of offence, or giving false information to screen offender).
It is not clear how Alam came across the perpetrators or who and how many they were.
A devoted father, keen on sons' education
Aftab Alam was a resident of Trilokpuri, Noida had been working as a driver since 1996. Driving was his main livelihood. He has a wife, his three sons, ailing parents and two siblings, all of whom depend on him and Sabir financially.
During the lockdown, Alam had not stepped out due to fear of contracting and spreading the coronavirus, said his family. However, when a family friend, an old client, called him up to ask if he could drop them from Gurgaon to Bulandshahr in Uttar Pradesh, he could not refuse. Having earned no money during the lockdown and struggling to make ends meet, Alam thought that the trip would be a good idea.
Alam's younger sons, Mohammad Shahid, 19, and Mohammad Shajid, 17, along with Sabir, are bright students who had secured good marks in their board examinations.
Sabir is a third year B.Com student in the School of Open Learning, University of Delhi. Shahid and Shajid study at Ahlcon Public School in Mayur Vihar, and they scored 76% and 92% marks respectively in their Class 10 board examinations.
Alam's father, 65-year-old Mohammad Tahir, said, "Had it been a case of robbery, why wouldn't they take the car? They would have stolen the car and thrown his body out on the street. This was clearly a case of mob lynching. They only took the mobile phone."
Shahid is preparing for his NEET exams and said his father's only goal was to make sure that his children get a good education.
"I am a student who studies in a good school through the Economically Weaker Sections quota. Even during this health crisis, my father had managed to pay our fees with his minimal earnings. My brother, Shajid is preparing for the JEE next year," said Shahid.
"In his career as a driver, he never had one fight with anybody. He went to work, came back home, invested in his sons' education and that was it. He never even visited other people's houses because he spent all his time earning money for us," he added.
Pointing to the kitchen in his house, he said, "At this time, we are short of ration at home but look at my bookshelf. My father, despite not having enough money to manage food for the house, bought me books and notebooks worth Rs 1,800."
Shajid, the youngest son and the "brightest" according to the family said, "When we both got our Class 10 results, Shahid had secured lesser marks than me. But my father took out a note of Rs 1,000 and asked us to take Rs 500 each, without giving me preference for securing better marks. He showed faith in both of us and knew that he [Shahid] would also make him proud someday."
Alam's mother, 60-year-old Najmu Nisa wondered how the house would function now.
Alam's wife, Rehana Khatoon, 36, had only come to know of his death on Monday afternoon. Khatoon said she wanted justice for her husband. Consoling his mother Shahid said he would find a way of securing that. "I will speak to my teachers at school, they will come up with a solution. What has happened has happened. Now we will deal with what happens," the 19-year-old said.
https://thewire.in/communalism/jai-shri-ram-muslim-driver-lynched-death-uttar-pradesh
--------
'Big shame': Turkey's Erdogan, European Court of Human Rights meeting under fire
Emily Judd
07 September 2020
Exiled Turkish journalists and athletes are blasting a major international human rights organization for visiting Turkey and meeting with President Recep Tayyip Erdogan.
President of the European Court for Human Rights (ECHR) Robert Spano embarked on an official four-day visit to Turkey on Thursday, where he met Erdogan and other Turkish officials, before receiving an honorary degree from the University of Istanbul.
Victims of human rights violations by the Turkish government told Al Arabiya English the visit was a "slap in the face" and hypocritical.
The ECHR ranked Turkey as having the second highest number of human rights violations on its list of European countries last year, behind only Russia.
Prominent Turkish NBA star Enes Kanter, wanted in his native country for speaking out against what he calls Erdogan's "dictatorship," told Al Arabiya English that the ECHR should be the place where people who "suffer unlawfulness" in Turkey seek their rights.
But instead, the visit by the head of ECHR "legitimizes the Turkish government's unlawful actions at the highest level and casts a huge shadow on the impartiality of the institution he leads," Kanter said in an interview with Al Arabiya English.
Kanter also called on Spano to resign in a tweet.
The visit makes ECHR's "hypocritical stance … crystal clear," exiled Turkish journalist Bulent Kenes told Al Arabiya English on Monday.
Kenes, who was indicted on three life sentences plus 15 years in prison in Turkey after writing a column critical of Erdogan, said there has always been "huge suspicion" that ECHR is an accomplice to "crimes of the Erdogan regime."
Now the visit is evidence that ECHR has lost its credibility as being a refuge for those seeking justice, he said.
"It is a big shame for the judges at the European Court of Human Rights and especially for Spano," Kenes said.
Honorary degree from 'tainted' university
During his visit, Spano met Justice Minister Abdulhamit Gul and received an honorary doctorate from Istanbul University - an institution that both Kanter and Kenes say purged more professors than any other university in the country in the aftermath of the 2016 failed coup attempt against Erdogan.
Director of Human Rights Watch Turkey Emma Sinclair-Webb said it was "astonishing" that Spano would accept the honorary degree from a university that "summarily dismissed scores of academics... in an unlawful way."
The Turkish government began a campaign of repression against its critics in journalism, academia, and the military after the coup attempt on July 15, 2016.
During his acceptance speech, Spano said that "those in power cannot stifle freedom of speech," according to ECHR.
Over 6,000 academics have lost their jobs due to the Turkish government's crackdown since 2016, according to Turkey Purge, an independent group of Turkish journalists.
ECHR's message to Turkey
During his acceptance speech at Istanbul University, Spano mentioned the detention and conviction of Turkish former judge Alparslan Altan, who is currently serving an 11-year sentence for alleged involvement in the failed coup.
In 2019, the ECHR ruled Altan's detention was unlawful. The ruling did not change Turkey's stance.
In a 45-minute meeting with the Turkish president during his visit, Spano spoke to Erdogan about "the importance of the rule of law and democracy and in particular," according to the ECHR. A readout of the meeting was not released.
Exiled Turkish journalist Ahmet Donmez said he thinks Spano's visit is an insincere attempt to convince Erdogan to be more supportive of human rights.
"There are much more effective and more ethical methods of achieving this," Donmez told Al Arabiya English, adding that the visit "gives oxygen to Erdogan's dark rule."
Donmez narrowly escaped imprisonment in Turkey for his critical journalism of the country's top leader, after Erdogan filed a case of defamation against him.
Erdogan and other Turkish officials are now using the visit as "despicable propaganda material to further legitimize their violations of human rights," according to Imam Abdullah Antepli, a native of Turkey and former leader within the Gulen community, a religious movement that has been targeted by Erdogan.
"The ECHR president should immediately resign and the court should speed up numerous Turkish cases that are pending," Antepli, a professor at Duke University, said.
https://english.alarabiya.net/en/News/middle-east/2020/09/07/After-meeting-Turkey-s-Erdogan-European-Court-of-Human-Rights-under-fire
--------
Nearly 300 Rohingya found on Indonesian beach after months at sea
SEP 07, 2020
Almost 300 Rohingya who escaped squalid camps in Bangladesh and Myanmar, reached a beach in Indonesia early Monday after seven months at sea, U.N. officials said.
The migrants, including 181 women and 14 children, were spotted at sea on a wooden boat by locals who helped them land near Lhokseumawe city on Sumatra's northern coast, officials said.
Chris Lewa, director of the Arakan Project, a nongovernmental organization (NGO) that focuses on the Rohingya crisis, said the migrants may have been held at sea while traffickers extorted money from their families. "These people were actually kept hostage," she said. "They (the traffickers) said they wouldn't disembark until we're paid."
Thousands of Rohingya have become stranded in Aceh over the past five years after their boats drifted while en route to Muslim-majority Malaysia and other countries. Faced with a repatriation plan, many Rohingya Muslims have been trying to flee the worsening humanitarian conditions at refugee camps in Myanmar and Bangladesh. For years, Rohingya on both sides of the border have boarded boats organized by smugglers in the dry months between November and March, when the sea is calm. The perilous journey to Thailand and Malaysia, often undertaken in overcrowded, rickety vessels, has cost many lives. Despite this escape becoming more perilous as countries like Malaysia shut their borders and threaten to push refugees back out to sea to protect jobs and resources amid coronavirus lockdowns, scores of people have been killed in recent years as their overcrowded vessels have capsized or run out of water and food.
The landing comes after about 100 Rohingya, mostly women and children, arrived in the same area in June following what they described as a perilous four-month journey that saw them beaten by traffickers and forced to drink their own urine to stay alive.
Both groups that came ashore in June, and the latest arrivals, may have been part of an estimated 800 Rohingya who reportedly left southern Bangladesh earlier this year, Lewa said. About 30 migrants in the original group were believed to have died at sea, she added.
Around a million Muslim Rohingya live in cramped and squalid refugee camps in Bangladesh, next to their native Myanmar, where human traffickers run lucrative operations promising to find them sanctuary abroad.
Hundreds of Rohingya had set sail in early April but were pushed back by Malaysian and Thai authorities in the midst of the coronavirus pandemic, Lewa said. "This is the biggest (arrival) we have seen since 2015," Lewa said.
The persecution of Rohingya Muslims is one of the worst humanitarian tragedies of our time, but it is also the most overlooked. The Rohingya, described by the United Nations as one of the most mistreated communities in the world, have been facing systematic state aggression in the northern Rakhine state of Myanmar since the early 1970s. The Myanmar government has long been blamed for genocide against the minority Muslim community. U.N. investigators have accused Myanmar's military of carrying out mass killings and other atrocities against the Muslim minority with "genocidal intent" during a 2017 campaign that forced more than 730,000 across the border into Bangladesh.
https://www.dailysabah.com/world/asia-pacific/nearly-300-rohingya-found-on-indonesian-beach-after-months-at-sea
--------
Islamabad High Court Wants Imran Khan Briefed on Enforced Disappearances
Malik Asad
08 Sep 2020
ISLAMABAD: Chief Justice of the Islamabad High Court (IHC) Justice Athar Minallah on Monday expressed serious concern over rising number of enforced disappearances in the federal capital and directed the interior secretary to take up the issue with the prime minister in order to devise a policy for protection of the fundamental rights of the citizens.
Separately, another IHC bench comprising Justice Mohsin Akhtar Kayani summoned Interior Minister retired Brig Ijaz Shah in the case of missing person Abdul Quddus who has remained untraceable since Jan 1, 2020.
If the state and the courts cannot protect the right to life of a citizen, then there is no reason for them to continue, remarked IHC Chief Justice Athar Minallah while hearing a habeas corpus petition seeking the recovery of Securities and Exchange Commission of Pakistan (SECP) official Sajid Gondal after Interior Secretary Yousaf Naseem Khokhar told the court that the two police teams constituted to trace his whereabouts were clueless.
The habeas corpus petition was filed by Mr Gondal's mother, who is also a grandmother of four siblings, the eldest being 13 years old. The SECP official is stated to be the family's sole bread-earner who supports his elderly parents, a wife and four children.
Observes missing SECP official case is 'only the tip of the iceberg'
The IHC on Sept 5 issued a direction to the respondents including interior secretary, chief commissioner and Inspector General of Police, Islamabad Capital Territory to appear in person in case of failure to trace the SECP official.
On Monday, the court noted that the respondents appeared but failed to give satisfactory explanation for the failure of the state and its agents (i.e. public functionaries) to protect the fundamental rights of citizens by demonstrating a response that would visibly commensurate with the gravity of the alleged offence. "The officials, who have appeared today, prima facie, do not seem to appreciate the gravity of the alleged offence and its consequences, not only for the loved ones of the citizen who went missing three days ago, but the general public as well," the court observed.
The court observed there were some fundamental rights which were definitely not negotiable, nor could the violation thereof be ignored by a constitutional court. "Why is the alleged offence in the matter in hand so grave and shocking? It has happened in the Capital of Pakistan, spread over an area of 1,400 square miles only. The highest constitutional court of the country, this court, the seat of the Federal Government, the offices of the President, Prime Minister, Federal Ministers and headquarters of the intelligence agencies are situated in the capital. The police force is headed by the Inspector General who is assisted by several senior officers and their responsibilities are confined to 1,400 sq miles," the court order stated.
Justice Minallah pointed out that the administration of, and maintenance of law and order in the Islamabad Capital Territory was directly controlled and managed by the federal government.
The IHC chief justice observed that the court in the recent past had been inundated with petitions filed by loved ones alleging the abduction of their close relatives… it was obvious from the connected petitions that the ministries/agencies and other state organs were, directly or indirectly, involved in illegal real estate business.
"Their involvement in such illegal actions has seriously undermined the rule of law and the effective enforcement of fundamental rights. The abysmal state of governance, the lack of rule of law and impunity against crime is evident from the exponential increase of complaints/grievances and failure of the state and public functionaries to demonstrably and effectively discharge constitutional obligations and duties.
"The alleged abduction of citizens and failure on part of law enforcing agencies to trace their whereabouts and prosecute and punish the perpetrators of this most heinous crime appears to have become a norm. There is no accountability. It appears though the protectors of fundamental rights have become silent spectators to this most abhorrent violation of fundamental rights," the court stated.
It observed this had serious consequences not only for the victims, their loved ones but for every citizen because it eroded the rule of law and undermined confidence in the state's ability to protect their constitutionally guaranteed right to life and security. "The case in hand is only the tip of the iceberg," the order sated.
"This court has no hesitation in observing that there is no rule of law within the 1,400 square miles of the Islamabad Capital Territory for ordinary citizens and that there is an obvious impunity against serious crimes," the court observed.
Challenge for federal govt
The chief justice remarked that the case related to enforced abduction of Mr Gondal was a challenge and an opportunity for the federal government to restore the confidence of the people by ensuring that rule of law prevails and to demonstrably show its political will to put an end to impunity against crime, particularly against alleged abductions of citizens.
"Let this case be a challenge for the federal government to establish rule of law and demonstrate the will of the state not to tolerate violations of fundamental rights and to assure every citizen that protection of life and security of every citizen is their paramount duty," the IHC chief justice said, adding that this court expected that the federal government, led by the worthy Prime Minister, would ensure that rule of law was demonstrably restored in the Pakistan's capital by putting an end to impunity against crime.
Justice Minallah directed the interior secretary to brief the worthy PM and members of his cabinet regarding the abysmal state of law and order and the obvious impunity against crime within the 1,400 square miles area. The secretary is supposed to submit a report regarding decisions taken by the federal government and measures taken in the instant case. It is expected that copies of this order would also be placed before the PM and cabinet members in the next meeting of the federal cabinet.
If there is no visible progress in the instant case and the petitioner's son is not recovered, nor are his whereabouts traced before Sept 17, then the learned Attorney General for Pakistan shall appear before the IHC to assist the court in identifying the responsible functionaries and their accountability, the court ordered.
Interior minister summoned
Meanwhile, Justice Mohsin Akhtar Kayani of the IHC summoned minister for interior Ijaz Shah and attorney general for Sept 16 in another missing person case.
The Islamabad capital police have failed to recover missing person Abdul Quddus so far, as the law enforcement agency told the court that efforts were being made to find his whereabouts.
An FIR of the enforced disappearance of Mr Quddus was registered at the Karachi company police station on Jan 1, 2020.
https://www.dawn.com/news/1578448/ihc-wants-pm-briefed-on-enforced-disappearances
--------
Indigenous genocide finding hangs over Canada's Myanmar court intervention
Sep 06, 2020
Cries of the pot calling the kettle black are emerging after Canada joined an international genocide lawsuit against Myanmar because the national inquiry into missing and murdered Indigenous women and girls said Canada's Indigenous Peoples are genocide victims.
Canada and the Netherlands announced with great fanfare this week that they were joining the genocide application launched by Gambia against Myanmar at the International Court of Justice in The Hague as interveners.
Gambia filed the case last fall on behalf of the 57 Muslim countries in the Organization of Islamic Co-operation under the 1948 Genocide Convention.
More than 850,000 Rohingya Muslims have fled Rakhine state after being targeted by Myanmar security forces, who killed thousands while burning villages and engaging in ethnic cleansing and gang rape.
Foreign Affairs Minister François-Philippe Champagne and his Dutch counterpart Stef Blok said their countries were joining the case to assist Gambia with "complex legal issues" in the case.
But Bruno Gélinas-Faucher, a University of Montreal international law expert who has worked at the ICJ, said Canada's presence could cause delays and complications for the Gambian case because of an international legal axiom known as the "clean-hand" principle.
"There's a risk for Canada to be perceived as adopting a contradictory position of leading a very active foreign policy based on prevention of genocide abroad, and at home, not responding to fully for the calls for justice made by the [inquiry]," he said.
"I think there is a very important element for Canada not to be seen as putting forth this contradictory position in the world, and to be coherent — have a coherent foreign policy that is in line with its domestic policy as well."
Champagne: 'This is about genocide committed in Myanmar'
Gélinas-Faucher said it is likely Myanmar will raise the Canadian genocide finding in legal arguments that would seek to block Canada from gaining standing in the case. He said that could further brake the already slow-moving wheels of the international court and delay the case for as much as a year.
In June 2019, the landmark Canadian report on the victimizing of Indigenous women issued more than 200 recommendations and declared that violence against First Nations, Métis and Inuit women and girls was a form of genocide and that the crisis was "centuries in the making."
Champagne said in an interview that he's not concerned about Canada's position on Indigenous issues at home, and that he is content to let "legal experts debate legal issues."
"This is not about Canada. This is about genocide committed in Myanmar, and therefore I think Canada has every right to be standing side by side with a country like … Gambia, which is taking the leadership position and being supported by countries like the Netherlands and Canada," Champagne said.
Canada positioned to bring international expertise to case
Another leading international legal expert said Canada has little to worry about, and that it should be joining the case against Myanmar.
Errol Mendes, a University of Ottawa international law specialist who has served as a United Nations adviser, said there is much to distinguish Canada from Myanmar on the question of genocide.
"I hope our many attempts to reconcile with our Indigenous Peoples will set us apart from the type of actions in Myanmar that we have not seen since the Nazi regime, the Rwanda genocide and the Bosnian genocide," said Mendes.
"We are far from angels, but hopefully we are not in the same league of those that were involved in these genocides."
Canada also brings a lot of international expertise to the case because it helped create the Rome Statute that established the International Criminal Court, he said.
"We helped develop the Statute of the Court that includes express provisions on gender violence and rape as indicia of genocide," said Mendes, which he said is relevant in the case against Myanmar at the separate International Court of Justice because of the allegations of sexual violence against its military.
Gélinas-Faucher said Canada's feminist foreign policy does leave it well-suited to add value to the case against Myanmar. But the government will have to take concrete action to address the domestic genocide allegations contained in last year's inquiry report.
"It has to show clearly its commitment to implement fully the recommendations and one of the elements is they said they would create a task force to implement these recommendations, which we haven't seen yet," he said.
Champagne said Canada is consulting with Gambia and believes its feminist foreign policy has a role to play in the case.
"We've seen acts of genocide, systemic murder, sexual violence, torture," the minister said. "The international community is more seized now than ever with the plight of the Rohingya."
https://www.cbc.ca/news/politics/canada-myanmar-court-intervention-1.5714246
--------
Europe
Turkey tops agenda of France's Macron, Greek PM talks at 'MED7' summit in Corsica
07 September 2020
French President Emmanuel Macron will discuss the European Union's strained relationship with Turkey this week with Greek Prime Minister Kyriakos Mitsotakis, Macron's office said on Monday.
Macron and Mitsotakis will attend a 'MED7' summit on the French island of Corsica on Sept 10 along with the leaders of Portugal, Spain, Italy, Cyprus and Malta.
For all the latest headlines, follow our Google News channel online or via the app.
NATO allies Turkey and France have sharply different views on Syria, Libya and Ankara's dispute with Greece over energy resources in the eastern Mediterranean.
Paris and Ankara have traded barbs in recent weeks
https://english.alarabiya.net/en/News/world/2020/09/07/urkey-tops-agenda-of-France-s-Macron-Greek-PM-talks-at-MED7-summit-in-Corsica
--------
UK backs German efforts to resolve east Mediterranean dispute between Greece, Turkey
Layelle Saad and Omar Elkatouri
06 September 2020
UK Defense Minister Ben Wallace has thrown his support behind German efforts to mediate a dispute between Turkey and Greece over gas drilling rights in the Eastern Mediterranean Sea.
Tensions have escalated in recent weeks after Turkey dispatched ships to the Greek continental shelf. Turkey accuses Greece of snatching an unfair share of maritime resources while both Greece and Cyprus have accused Turkey of breaching their sovereignty by drilling in the waters.
For all the latest headlines, follow our Google News channel online or via the app.
German Chancellor Angela Merkel held talks with Turkish President Recep Tayyip Erdogan on Thursday, in a bid to bridge differences between Greece and Turkey and get the two disputing countries to talk.
However, it remains unclear whether technical talks can proceed due to disagreements over pre-conditions. An effort by NATO to get the two disputing parties together at the negotiating table fell flat after Greece refused to meet until Turkey withdrew its ships from Greek waters.
"I have taken a very strict view with them. We need Turkey and Greece to get behind German efforts to broker a mediation and de-escalation of this," Wallace said on Sunday during an exclusive interview with Al Arabiya.
Wallace stressed that the UK was "not here to take sides" and was interested in upholding international law.
Greece's refusal to hold talks has incensed Erdogan. On Saturday, he threatened Athens to either come to the negotiating table or face consequences.
"They will understand that Turkey has the political, economic and military strength to tear up immoral maps and documents," he said at a hospital's opening ceremony in Istanbul.
Erdogan's threat has worried European countries that tensions could spiral into a possible military confrontation.
"It is in no one's interest for the East Mediterranean to become a place of disagreement between two NATO allies," he added. "This is not what we want."
https://english.alarabiya.net/en/News/world/2020/09/06/UK-backs-German-efforts-to-resolve-east-Mediterranean-d
--------
UK Supreme Court to hear extremist bride's citizenship case in November
September 07, 2020
LONDON: The UK Supreme Court will hear arguments in November for and against the government's decision to remove the UK citizenship of a British-born woman who went to Syria as a schoolgirl to join Daesh.
The case of Shamima Begum has been the subject of a heated debate in Britain, pitting those who say she forsook her right to citizenship and is a security threat, against those who argue she should not be left stateless but rather face trial in Britain.
Begum, who was born to Bangladeshi parents, left London in 2015 when she was 15 and traveled to Syria via Turkey with two schoolfriends. In Syria, she married a Daesh fighter and lived in the capital of the violent extremist group's self-declared caliphate.
Britain stripped her of her citizenship after she was discovered in 2019 in a detention camp in Syria, where three of her children died. The government argued Begum was a threat to national security and should not be allowed to return.
But the Court of Appeal ruled in July that Begum should be let back into Britain to give her a chance to appeal against the removal of her citizenship, a ruling the government called "very disappointing."
Five Supreme Court justices will hear the government's appeal against the July ruling as well as Begum's appeal against the original decision to strip her of her citizenship during two days of hearings on Nov. 23 and 24.
Begum angered many Britons by appearing unrepentant about seeing severed heads and saying a suicide attack that killed 22 people in the English city of Manchester in 2017 was justified.
https://www.arabnews.com/node/1730996/world
--------
'Turkey to continue supporting Gagauzia, Moldova'
Dmitri Chirciu
07.09.2020
Turkey will continue to help Moldova and Gagauzia, Turkey's ambassador to Moldova said Monday.
Speaking to Anadolu Agency, Gurol Sokmensuer said that Turkish Foreign Minister Mevlut Cavusoglu's visit to Moldova last month confirmed once again both countries' will to strengthen their strategic partnership.
He cited Turkey's new consulate in Moldova's autonomous region of Gagauzia – an area with a large ethnic Turkic population – saying it will contribute to stronger bilateral relations.
"Our Consulate General will serve not only Gagauz Autonomous Region, but also Moldova's Leova, Cimislia, Causeni, Stefan Voda, Cantemir, Basarabeasca, Cahul and Taraclia regions."
Referring to medical aid and assistance, Sokmensuer said Turkey will deliver an X-ray device by the end of this year.
As part of its support to Moldova in its fight against COVID-19, Turkey last mont sent laptops and medical equipment to the Eastern European nation.
https://www.aa.com.tr/en/europe/turkey-to-continue-supporting-gagauzia-moldova/1965261
--------
Arab World
Khashoggi family describes final verdicts in murder case as 'fair ruling'
08 September 2020
The family of the late Saudi Arabian journalist Jamal Khashoggi described the final verdicts against eight people involved in the murder case as "fair rulings" as they "represent a deterrent to every criminal and offender, whoever they are."
"The crimes committed by those convicted are major crimes and the sentences include various prison sentences are just rulings that are accepted by the court that governs the law of God and public order," Mutassim Khashoggi, the lawyer for the family of the Saudi journalist, told Asharq al-Awsat newspaper.
For all the latest headlines, follow our Google News channel online or via the app.
"It is considered a deterrent for every offender, whoever they are. As a family, we have accepted from the beginning the application of Allah's law and his judgment. There is no court or agency in the world today that applies the law and ruling of God like the courts of the Kingdom of Saudi Arabia," the lawyer added.
Saudi Arabia's Public Prosecution issued its final verdicts on Monday against eight people for their involvement in the murder of the late journalist Jamal Khashoggi. Five people were sentenced to 20 years in prison for their involvement in the murder, the prosecution said, while three other defendants were given a prison sentence of seven to ten years.
Khashoggi – a well-known Saudi Arabian journalist – was murdered on October 20, 2018 at Saudi Arabia's consulate in the Turkish city of Istanbul. He had been visiting the consulate to complete paperwork related to his divorce.
https://english.alarabiya.net/en/News/gulf/2020/09/08/Khashoggi-family-describe-final-verdicts-in-murder-case-as-fair-ruling-
--------
Iraqis in Karbala Hold Anti-US Rallies with Images of General Soleimani, Abu Muhandis
Sep 07, 2020
The protestors carried images of martyred Commander of the Islamic Revolution Guards Corps (IRGC) Quds Force Lieutenant General Qassem Soleimani and Deputy Commander of Iraq's Popular Mobilization Forces (PMF) Abu Mahdi al-Muhandis who were martyred by the US in Iraq in January.
They condemned Washington's terrorist acts in Iraq, calling for the withdrawal of the American forces from their country.
The ralliers then entered the holy shrine of the third Imam of Shiites, Imam Hossein (AS), while chanting anti-US slogans and shouting Allah-o Akbar.
Lieutenant General Soleimani was assassinated in a US drone strike on Baghdad International Airport in Iraq on January 3.
The airstrike also martyred al-Muhandis. The two were martyred in an American airstrike that targeted their vehicle on the road to the airport.
Five Iranian and five Iraqi military men were martyred by the missiles fired by the US drone at Baghdad International Airport.
On January 8, the IRGC Aerospace Force started heavy ballistic missile attacks on US Ein Al-Assad airbase in Southwestern Iraq near the border with Syria and a US operated airbase in Erbil in retaliation for the US assassination of ant General Qassem Soleimani.
Ein Al-Assad is an airbase with a 4km runway at 188m altitude from sea levels, which is the main and the largest US airbase in Iraq. Early reports said the radar systems and missile defense shields in Ein Al-Assad failed to operate and intercept the Iranian missiles. Unofficial reports said the US army's central radar systems at Ein Al-Assad had been jammed by electronic warfare.
The second IRGC reprisal attack targeted a US military base near Erbil airport in Iraqi Kurdistan Region in the second leg of "Martyr Soleimani" reprisal operation.
Iraq said the attacks had not taken any toll from its army men stationed at these two bases. The US army had blocked entrance into Ein Al-Assad to everyone, including the Iraqi army.
It was the first direct attack on the US army ever since world war two.
The IRGC officials said none of the missiles had been intercepted.
Meantime, Iran announced in late June that it had issued arrest warrants for 36 officials of the US and other countries who have been involved in the assassination of the martyred General Soleimani.
"36 individuals who have been involved or ordered the assassination of Hajj Qassem, including the political and military officials of the US and other governments, have been identified and arrest warrants have been issued for them by the judiciary officials and red alerts have also been issued for them via the Interpol," Prosecutor-General of Tehran Ali Alqasi Mehr said.
He said that the prosecuted individuals are accused of murder and terrorist action, adding that US President Donald Trump stands at the top of the list and will be prosecuted as soon as he stands down presidency after his term ends.
https://en.farsnews.ir/newstext.aspx?nn=13990617000461
--------
Put Lebanon ahead of Iran and stop Arab interference, Geagea tells Hezbollah
Joseph Haboush and Omar Elkatouri
September 8, 2020
Iran-backed Hezbollah must hand over the decision over war and peace to the state, a senior Lebanese politician said Sunday, adding that it must stop unjustified interventions in Arab countries.
"It is time to take the initiative in making a difficult but correct decision to put yourself at the service of Lebanon and its people ... instead of the Islamic Republic of Iran," Lebanese Forces (LF) leader Samir Geagea said.
For all the latest headlines, follow our Google News channel online or via the app.
Speaking during a memorial ceremony commemorating fighters of the Christian militia-turned-political party, Geagea said Hezbollah needed to follow the suit of all other Lebanese political parties who gave up their weapons and pledged allegiance to the state.
Hezbollah is the only side in Lebanon, other than Palestinian factions, to keep their weapons following the 1975-90 Civil War. Initially supported to fend off Israeli aggressions and invasions, Hezbollah's weapons have been turned against Lebanese citizens on more than one occasion.
The group, designated as a terrorist organization by the United States and several European and Arab states, continues to fight alongside Syrian President Bashar al-Assad's forces in the neighboring war. It is also providing fighters and intelligence support in Iraq and Yemen against Arab states and interests, including Saudi Arabia.
"It is time to return to Lebanon … Hezbollah must stop its unjustified foreign intervention in more than one Arab country and stop playing the leading role of the Iranian project in the Arab region," Geagea said.
Hassan Nasrallah, the secretary-general, previously pledged allegiance to Iranian Supreme Leader Ali Khamenei and admitted to receiving funding and weapons from Tehran.
This has dealt a significant blow to Lebanon's ties with the Gulf and its traditional allies in the international community.
"Are you waiting for complete starvation?" Geagea asked, referring to Hezbollah's continued intervention in other countries' affairs.
"Hezbollah must hand off the decision of war and peace to the country," he said.
https://english.alarabiya.net/en/News/middle-east/2020/09/07/Put-Lebanon-ahead-of-Iran-and-stop-Arab-interference-Geagea-tells-Hezbollah
--------
Arab Coalition destroys explosive-laden Houthi drone targeting Saudi Arabia
Joanne Serrieh
September 8, 2020
The Arab Coalition intercepted and destroyed an explosive-laden drone launched on Tuesday toward Saudi Arabia by the Iran-backed Houthi militia, the official Saudi Press Agency reported.
For all the latest headlines follow our Google News channel online or via the app.
Spokesman for the Arab Coalition forces, Colonel Turki al-Maliki, confirmed in a statement carried by SPA that the drone targeting civilians had been intercepted and destroyed.
Cross-border attacks by Iran-aligned Houthi forces have escalated since late May, when a truce prompted by the coronavirus pandemic expired. In late June, missiles reached the Saudi capital Riyadh.
https://english.alarabiya.net/en/News/gulf/2020/09/08/Arab-Coalition-intercepts-destroys-Houthi-drone-targeting-Saudi-Arabia-
--------
Two SDF militants killed in northeastern Syria: SANA
07 September 2020
Two members of the Kurdish-led Syrian Democratic Forces (SDF), which enjoy Washington's support, have been killed in separate incidents of bomb and gun attacks in northeastern Syria, a report says.
The official news agency SANA, citing local sources, reported on Monday that the first fatality took place after a vehicle transporting SDF militants was hit by an improvised explosive device (IED) in the east of the city of Raqqah.
The other SDF militant was killed after a vehicle working in close cooperation with the US military came under fire by heavily-armed assailants in southern Hasakah.
The security situation has apparently been deteriorating in the areas controlled by the SDF in the provinces of Hasakah and Dayr al-Zawr.
The White House has long been providing the SDF with arms and militants. Washington says they are a key partner in the purported fight against the Daesh Takfiri terrorist group.
Many observers, however, see the support in the context of Washington's plans to carve out a foothold in Syria.
Such support has also angered Turkey, which views militants of the People's Protection Units (YPG), the backbone of the SDF, as a terrorist organization tied to the homegrown Kurdistan Workers' Party (PKK).
https://www.presstv.com/Detail/2020/09/07/633555/SDF-Syria-SANA
--------
Another US logistic convoy hit by explosion north of Baghdad: Reports
07 September 2020
An explosion has targeted a US-led coalition convoy carrying logistic supplies north of the Iraqi capital of Baghdad, the second such incident in three days.
The coalition vehicles were targeted by a bomb which exploded on Monday night along the al-Taji road, north of Baghdad, according to Iraqi media reports.
A statement by the Iraqi military says the blast took place when the vehicles were getting out of the Taji base and at the beginning of al-Shula highway.
It also said the explosion has had no casualties and just damaged one of the vehicles.
The blast came two days after a security member and a civilian were wounded in a roadside bomb explosion near a convoy of trucks belonging to the US-led coalition forces in the northwest of Baghdad.
The Saturday night's attack took place in al-Shula neighborhood when the roadside bomb went off near a vehicle belonging to an Iraqi security company contracted with the international coalition to escort its trucks in Iraq, the media office of the Iraqi Joint Operations Command said in a brief statement.
The blast resulted in the wounding of a security member from the Iraqi company and a civilian, the statement said.
No group has so far claimed responsibility for the attacks, but unidentified militant groups have frequently targeted convoys belonging to the US-led coalition forces in Iraq, which usually travel from neighboring Kuwait to the coalition bases in central and northern Iraq.
The Monday attack against the US convoy came a few hours after a march against the United States in the holy Iraqi city of Karbala.
The Iraqi people attending the march carried pictures of General Soleimani and Abu Mahdi al-Muhandis.
The demonstrators condemned the acts of terrorism committed by the US in their country, chanting slogans such as "The US is the biggest devil".
Carrying pictures of "the leaders of victory" as well as other resistance fighters, the protesters called for the expulsion of all American forces from the Arab country.
The protesters continued their march until they reached the holy shrines of Imam Hussein (AS, the grandson of Prophet Muhammad (Peace be upon Him), and his half-brother Hazrat Abbas (AS) in the holy city.
The Iraqi-US relations have witnessed rising tension since January 3 when a US drone struck a convoy at Baghdad airport, assassinating the former commander of the Quds Force of Iran's Islamic Revolution Guards Corps Lieutenant General Qassem Soleimani and Deputy Chief of Iraq's Hashd al-Sha'abi forces Abu Mahdi al-Muhandis.
Just two days later, Iraqi lawmakers unanimously passed a bill mandating the withdrawal of all foreign troops from Iraq.
Anti-American sentiments have been running high in Iraq following the January attack.
Iraqi resistance groups have pledged to take up arms against US forces if Washington fails to comply with the parliamentary order.
https://www.presstv.com/Detail/2020/09/07/633565/Iraq-US-convoy-explosion-baghdad
--------
Saudi Arabia's Abha International Airport targeted again in Yemeni drone attacks
08 September 2020
The Yemeni army has launched a series of retaliatory attacks against the Abha International Airport in Saudi Arabia's southwestern region of Asir, using a squadron of domestically-manufactured Sammad-3 (Invincible-3) combat drones.
The spokesman for Yemeni Armed Forces, Brigadier General Yahya Saree, said in a brief statement posted on his Twitter page on Tuesday that the unmanned aerial vehicles struck the designated targets with great precision, noting that the drone attacks halted air traffic for several hours.
He added that the airstrikes come within Yemen's legitimate right to respond to the Saudi-led coalition's devastating military campaign and all-out blockade.
Saree reiterated that Yemeni soldiers and allied popular fighters will continue to carry out such strikes deep inside Saudi Arabia as long as the Riyadh regime presses ahead with its deadly aggression and siege.
The development took place only two days after Yemeni army forces and their allied fighters struck the same Saudi airport.
Sana'a airport to stop operations due to Saudi-led blockade
Separately, Minister of Transport in Yemen's National Salvation Government, Zakaria al-Shami, roundly denounced the continuing Saudi-led naval and air blockade on his country, saying the Sana'a International Airport will soon stop its operations due to a lack of fuel.
Shami said all incoming flights by the United Nations and international humanitarian agencies to the airport will be suspended as of Wednesday because of the scarcity of oil derivatives needed to operate the facility.
"The coalition of aggression seeks to make up for its losses during ground operation by means of such acts. The continued detention of oil tankers and not allowing the vessels to offload their cargos at the port of Hudaydah have created a humanitarian catastrophe for Yemeni people, especially for patients receiving treatment in hospitals and newborn babies," he pointed out.
He further said thousands of Yemeni patients need to travel abroad to seek medical treatment, but they are unable to do so due to the airport's closure.
Shami then criticized the UN for its failure to lift the blockade on the Sana'a airport, noting that the closure of the airport is in violation of international conventions and treaties.
The Yemeni minister said the United Nations has not managed to carry out its obligations to establish a medical air bridge for Yemeni patients through the Sana'a airport.
Such a failure, he added, points to the lack of seriousness on the part of the international community and the UN to stop the appalling tragedy in Yemen.
Moreover, Chairman of Yemen's Civil Aviation and Meteorology Institute (CAMI), Mohammed Abdulkader, said officials at the Sana'a International Airport have no option but to close the airport to international flights due to the depletion of fuel.
Abdulkader noted that the Saudi-led military coalition has destroyed the airport's infrastructure as well as its communication devices and radar systems as part of attempts to paralyze air traffic management there.
The CAMI chief went on to censure the Saudi-led blockade on the airport as an illegal and inhumane measure, which has isolated Yemen and sharply restricted the free movement of millions of Yemenis.
Abdulkader also called for an end to the Saudi-led siege and a UN Security Council resolution that would help the airport operate civilian flights.
Saudi Arabia and a number of its regional allies launched the campaign against Yemen in March 2015, with the goal of bringing the government of former president Abd Rabbuh Mansur Hadi back to power.
The US-based Armed Conflict Location and Event Data Project (ACLED), a nonprofit conflict-research organization, estimates that the war has claimed more than 100,000 lives for more than the past five years.
The Houthi movement, backed by the armed forces, has been defending Yemen against the Saudi-led alliance, preventing the aggressors from fulfilling the objectives of their deadly campaign.
https://www.presstv.com/Detail/2020/09/08/633582/Saudi-Arabia-Abha-International-Airport-targeted-again-in-Yemeni-drone-attacks
--------
South Asia
Taliban Office Says its Prisoners Not Fully Released
By Mohammad Arif Sheva
08 Sep 2020
KABUL, Afghanistan – The Taliban's political office said a number of its detainees have not yet been released, which slows down the preparation for intra-Afghan talks to take place in Qatari capital Doha.
Mohammad Naeem Wardak, a spokesman for Taliban's political office, said in a tweet once the process of freeing its prisoners are done, they will be ready to sit with Afghans and negotiate on peace in the country.
Meanwhile, the Presidential Palace announced preparations for the intra-Afghan negotiations are being finalized and the delay is due to Taliban's unpreparedness for the talks.
Sources said the delay is due to issues within the leadership of the Taliban's negotiating team, adding demands are being made on both sides.
Recently, the Taliban announced a 21-member negotiating team led by the group's chief justice, Mawlawi Abdul Hakim, with former chief negotiator Abbas Stanekzai now serving as deputy.
"Technical issues and preparations are almost complete. We hope that the Taliban also finishes their preparations so that our delegation can travel (to Doha)," said Sediq Sediqqi, presidential spokesman, as quoted by local media.
"We have no problems. Everyone is ready for the trip," said Abdul Hafiz Mansoor, a member of the government negotiating team. "We have been waiting for the flight for the past few days, but we are told repeatedly that the Taliban's delegation in Qatar is not ready."
https://www.khaama.com/taliban-office-says-its-prisoners-not-fully-released-34534/
--------
Security Pact Reinforces "Militarization": Rahmani
By Mohammad Arif Sheva
08 Sep 2020
KABUL, Afghanistan – The speaker of the House of Representatives Mir Rahman Rahmani, in response to the government's draft on security pact, said Monday it promotes and reinforces "militarization", disregarding security bodies in the country.
In a plenary session of the parliament, Rahmani said the government should stop making unilateral decisions, which potentially affects relations between the executive and the legislature bodies of the government.
"The recent proposed security pact by the government has raised a number of serious concerns amongst the people and politicians, as it casts and reinforces militarization," he said. "This is while the people of Afghanistan do not have happy memories of militarization."
"Those who voluntarily work to apply security pact have discredited security institutions; and the government needs to strengthen these institutions, not those volunteers whose identities are still unknown and has worried our honorable people," he added.
Rahmani's remarks came a month after the government introduced a new security plan called the "Security Pact" to eradicate criminal offenses, prevent terrorist attacks and mobilize people to provide security in their areas.
Although security officials assess the plan functional, it caused a mixed of reaction among some, considering the "Security Plan" not as effective as it should be to address crimes in the country – mainly the Afghan capital Kabul.
https://www.khaama.com/security-pact-reinforces-militarization-rahmani/
--------
Narayanganj mosque blast: Titas suspends 8 officials, employees
September 07, 2020
The authority of Titas Gas Transmission and Distribution Company Limited has suspended its eight officials and staffers in connection with the blast in a Narayanganj mosque which has claimed 26 lives so far.
In two separate letters, the Titas authority suspended them for negligence.
The authority also issued show-cause notices against them.
https://www.thedailystar.net/country/news/narayanganj-mosque-blast-titas-suspends-8-officials-employees-1957377
--------
Kabul Hails EU, Canada Stance on Afghan Peace Process
By Mohammad Arif Sheva
07 Sep 2020
KABUL, Afghanistan – Kabul welcomed the statement issued by the Heads of Mission of the European Union and Canada on the imminent peace talks between the Afghan government and the Taliban delegation, Ministry of Foreign Affairs said in a statement Monday.
"The statement rightly identifies the historic opportunity that these talks represent," the statement read. "The Government of the Islamic Republic of Afghanistan is fully intending to seize the opportunity to end the conflict through negotiations."
"The Afghan Government is entering these talks with a spirit of goodwill and constructive intent, as evident in the release of the Taliban prisoners, which the statement recognizes as a goodwill gesture to build confidence, that goes beyond the Afghan Government's obligations," the Ministry elaborated.
Meanwhile, the Afghan government urged the Taliban to reciprocate by agreeing on a "ceasefire and agree to an immediate reduction of violence," adding the country visions all Afghans, including women, to thrive their fundamental rights.
"Afghanistan would like to thank the EU and other friendly nations for their unwavering support to the peace process in Afghanistan," the statement said.
______
[Earlier: Intra-Afghan Talks must Preserve 'Democratic and Human Rights': EU, Canada]
The EU Head of Mission in Kabul and the Ambassador of Canada said the upcoming Intra-Afghan talks must preserve the "democratic and human rights" of people in the country.
In a joint statement on Sunday, both representatives said achievements of the past two decades are "human rights, rule of law and democratic freedoms, including the increased respect for the rights and freedoms of women and girls" that should be considered during the peace negotiations.
"We especially urge for the full participation of women in all aspects of the negotiations," the statement said as quoted by local media.
It came at a time both the Afghan and Taliban delegation are preparing to hold Intra-Afghan talks that will determine not only the security but also the future of Afghanistan.
"There is no military solution to the conflict and the still unacceptably high level of violence is contrary to expectations of a meaningful peace process and the principles of the UN Charter," the statement read.
"We urge the Taliban to respect the desire of the citizens of Afghanistan and heed the UN Secretary-General's and the UN Security Council's unanimous call for an immediate unconditional, comprehensive, and nationwide ceasefire."
https://www.khaama.com/kabul-hails-eu-canada-stance-on-afghan-peace-process-345345/
--------
Kabul to push for ceasefire in talks with Taliban: Afghan official
06 September 2020
Afghan government negotiators will push for a ceasefire when talks begin with the Taliban, a top official said Sunday, signaling that the two foes could parley for a long time.
A date for the opening round of talks to be hosted in Doha has not been set, but both sides indicated that negotiations could begin soon after they wrapped up a controversial and months-long prisoner exchange last week.
For all the latest headlines, follow our Google News channel online or via the app.
The Taliban's seriousness about peace will be evident from the outset, when Kabul's negotiating team pushes for a permanent ceasefire, Vice President Amrullah Saleh said.
"The first test for the Taliban is (a) ceasefire," Saleh told Tolo News, the country's biggest private television network.
"If they accept the ceasefire, they are committed to peace. If not, they are not."
Saleh said the Afghan delegation would go to Doha after all logistical issues are sorted.
"We will not go until everything is in place... like desks, our flag and what to call each other," he said.
"It is a war of symbols now and we are not going to give up on it. We have to be assured that we are respected. We will not give in to any pressure."
Saleh said the start of the talks were delayed over opposition to the release of some militants.
"We had to reach an agreement with our allies about six blacklisted prisoners," he said, referring to France and Australia.
Paris and Canberra objected because of their links to the murders of French and Australian civilians and troops in Afghanistan.
Saleh said it was agreed that these prisoners "will be sent to Qatar for a specific period."
https://english.alarabiya.net/en/News/world/2020/09/06/Kabul-to-push-for-ceasefire-in-talks-with-Taliban-Afghan-official
--------
Mideast
Israel planning to exploit COVID-19 to close al-Aqsa, says Palestinian cleric
07 September 2020
Sheikh Ekrima Sa'id Sabri is a former Grand Mufti of Jerusalem al-Quds who has come out in denunciation of Israeli intentions for exploiting the coronavirus crisis to close the al-Aqsa Mosque compound to Muslim worshipers.
The cleric, who is currently heading the Higher Islamic Council in Occupied Jerusalem al-Quds, warned on Monday that the Palestinian people and the Department of Islamic Endowments in al-Quds would not allow the closure to happen.
The occupation is using the pandemic as a flimsy pretext to escalate the situation at al-Aqsa, carry out its plans, take the mosque's affairs off the hands of the Islamic Awqaf and shut it down, the preacher said.
He expressed regret that the mosque is no more a priority or has no spot on the agenda of the Arabs and Muslims, saying their "compass has deviated from Jerusalem al-Quds."
Israeli forces raided the house of Sheikh Sabri in April.
Soldiers accompanied by intelligence officers broke into the residence in al-Suwana neighborhood.
"Israel should not be allowed to take advantage of the coronavirus pandemic and attempt to impose new restrictions on al-Aqsa Mosque," the al-Aqsa preacher said at the time.
The mosque compound, which has remained closed for several months due to COVID-19, sits just above the Western Wall plaza and houses both the Dome of the Rock and the al-Aqsa Mosque.
According to an agreement signed between Israel and the Jordanian government after Israel's occupation of East Jerusalem al-Quds in 1967, non-Muslim worship at the compound is prohibited. However, Israeli settlers and lawmakers frequently violate the agreement, storm the compound and observe their religious rituals there.
Last month, Sabri denounced desperate attempts by a number of Arab states to normalize diplomatic relations with Israel, warning that such measures would encourage the Tel Aviv regime to further press ahead with its criminal acts of aggression against the Palestinian nation.
https://www.presstv.com/Detail/2020/09/07/633535/Israel-COVID-19-Aqsa
--------
Iran's Judiciary Chief Condemns Sacrilege of Holy Quran, Islam Prophet
Sep 07, 2020
Rayeesi made the remarks, addressing the Judiciary officials in Tehran on Monday.
He expressed regret and condemned sacrilege of Islamic sanctities in certain European states concurrent with the UAE's normalization of ties with Israel, and said, "They are part of a precise scenario compiled in a thinking chamber."
Rayeesi warned that the West and Israel want to damage Islam's power and might in the world, saying that such devilish acts will instead increase public hate for their plotters.
He said that sacrilege of the holy Quran is insult to all divine books and blasphemy against Islam's Prophet (PBUH) is insult to all prophets (PBUH) and mankind.
During an illegal gathering on August 28, supporters of right-wing Danish politician Rasmus Paludan, who leads the anti-Islamic group, Tight Direction (Stram Kurs), burned a copy of Holy Qur'an in the Southern Swedish city of Malmo.
Also, on September 1, the ill-reputed French Magazine Charlie Hebdo also republished blasphemous cartoons of the Prophet of Islam on the eve of the trial of suspects in a deadly attack on the paper's office five years ago.
Iranian Foreign Ministry Spokesman Saeed Khatibzadeh strongly condemned the insult to Prophet Mohammad (PBUH) by the ill-reputed French Magazine Charlie Hebdo, stressing that the move has injured the feelings of all Muslims in the world.
https://en.farsnews.ir/newstext.aspx?nn=13990617000985
--------
Spokesman: G4+1's Violation of Resolution 2231 to End Iran's Partnership in N. Deal
Sep 07, 2020
"If any side wants to violate the resolution 2231 or its undertakings based on the nuclear deal one way or another, Iran's response will be appropriate," Khatibzadeh said.
"Iran has clearly stated that violation of the resolution 2231 by the nuclear deal members means end of Iran's presence in the nuclear deal and they are aware of it and certainly will not play with the last chances for keeping the nuclear deal alive," he added.
US President Donald Trump, a stern critic of the historic deal, unilaterally pulled Washington out of the JCPOA in May 2018, and unleashed the "toughest ever" sanctions against the Islamic Republic in defiance of global criticism in an attempt to strangle the Iranian oil trade, but to no avail since its "so-called maximum pressure policy" has failed to push Tehran to the negotiating table.
In response to the US' unilateral move, Tehran has so far rowed back on its nuclear commitments four times in compliance with Articles 26 and 36 of the JCPOA, but stressed that its retaliatory measures will be reversible as soon as Europe finds practical ways to shield the mutual trade from the US sanctions.
Tehran has particularly been disappointed with failure of the three European signatories to the JCPOA -- Britain, France and Germany -- to protect its business interests under the deal after the United States' withdrawal.
On January 5, Iran took a final step in reducing its commitments, and said it would no longer observe any operational limitations on its nuclear industry, whether concerning the capacity and level of uranium enrichment, the volume of stockpiled uranium or research and development.
Now the US has stepped up attempts aimed at extending the UN arms ban on Iran that is set to expire as part of the Joint Comprehensive Plan of Action (JCPOA), which has been endorsed by Security Council Resolution 2231.
The US first sought to extend the Iran's arms embargo in a fresh UNSC resolution in contradiction to the contents of the Resolution 2231 in two attempts within a month, but failed.
The United Nations Security Council resoundingly rejected last month the second US bid to extend an arms embargo on Iran, which is due to expire in October.
The resolution needed support from nine of 15 votes to pass. Eleven members abstained, including France, Germany and Britain, while the US and the Dominican Republic were the only "yes" votes.
The United States has become isolated over Iran at the Security Council following President Donald Trump's withdrawal from the multilateral Iran nuclear deal 2018.
Iran had said that the US resolution would fail to gain the required support at the Security Council, pointing out that Washington has no legal right to invoke a snapback mechanism to reinstate sanctions against Tehran under the 2015 nuclear deal that the US unilaterally left in May 2018.
In relevant remarks in August, Iranian Foreign Minister Mohammad Javad Zarif said it is by no means justifiable for the US to use Dispute Resolution Mechanism with regard to UNSC Resolution 2231.
"US recourse to Dispute Resolution Mechanism in 2231 has NO LEG TO STAND ON," Zarif wrote on his Twitter page late Sunday.
"AmbJohnBolton has repeated today what he said on May 8, 2018, while National Security Advisor in the Trump administration," he noted, adding, "At least he is consistent—a trait notably absent in this US administration."
Zarif' tweet came in reaction to former US National Security Advisor John Bolton's article in Wall Street Journal where he criticized US' decision to trigger 'snapback mechanism' against Iran, saying, "The agreement [Joint Comprehensive Plan of Action]'s backers argue that Washington, having withdrawn from the deal, has no standing to invoke its provisions. They're right. It's too cute by half to say we're in the nuclear deal for purposes we want but not for those we don't."
https://en.farsnews.ir/newstext.aspx?nn=13990617000873
--------
UAE Dissidents Association Opposes Inauguration of Israel's Embassy
Sep 07, 2020
The association named in Arabic 'al-Rabetat al-Emaratiyat Le Moqavemat al-Tatbi'e' voiced deep regret about the decision to set up an Israeli mission in the UAE in the next few months.
"This measure is like stabbing the Palestinian nation in the back, a nation which is suffering the Zionist regime's non-stop violation of laws and attacks," a statement by the association said.
'Al-Rabetat al-Emaratiyat Le Moqavemat al-Tatbi'e' was founded in August by several prominent UAE dissident figures, including Saeed Nasser al-Taniji, Saeed Khadim bin Touq al-Mari, Ahmad al-Shaybah, Hamid Abdullah al-Nuaymi, Hamad Mohammed al-Shamesi and Ibrahim Mahmoud Al-e Haram.
The association is a civil institute which opposes normalization of ties with Israel in all forms, including in economic, sports, security, political and social fields.
In a statement, founders of the association have described the UAE's attempts to normalize relations with Israel as "betrayal".
US President Donald Trump on August 13, announced a deal brokered by his government between Israel and the UAE which he said would lead to full normalization of ties between the two.
Critics see the deal as the latest attempt by Trump to save his presidential campaign against the Democrat Joe Biden.
Palestinians have reacted with shock and dismay after Trump unveiled an agreement between the United Arab Emirates and Israel to normalize ties.
The deal pledges full normalisation of relationships between the two countries in the areas of security, tourism, technology and trade in return for suspending Israel's annexation plans in the West Bank.
Both the Palestinian leadership and public were caught by surprise when the announcement came.
"We absolutely had no prior knowledge of this agreement," Ahmed Majdalani, the Palestinian Authority's (PA) minister of social affairs, told Al-Jazeera, adding, "The timing and speed of reaching this agreement were surprising, especially that it came at a critical moment in the Palestinian struggle."
Former PA minister Munib al-Masri noted Sheikh Zayed bin Sultan Al Nahyan, who ruled Abu Dhabi for more than 30 years before his death in 2004, had always been a strong supporter of the Palestinians.
"The late Sheikh Zayed was a dear brother to me, I knew how much he was proud of his support for Palestine… I never imagined that in my lifetime I would see the day in which the UAE would simply sell the Palestinians out for the sake of normalisation," al-Masri said, noting, "It's very shameful. I can't believe it until now."
Other Palestinian officials announced though the news came abruptly, it was not much of a surprise.
"We were not surprised that much because the Emirati army was never on the borders ready to fight Israel," said Mustafa al-Barghouti, leader of the Palestinian National Initiative and member of the PA parliament.
"We've been seeing recent strange moves by the UAE such as sending direct flights to Israel, and there were leaks of secret accords between the two in terms of scientific and economic cooperation. It is clear that these were preliminary steps to absorb yesterday's shock," he added.
The PA and all Palestinian factions, including Hamas and the Islamic Jihad, issued official statements denouncing the UAE-Israel agreement. Palestinian leaders who spoke to Al-Jazeera called it a "stab in the back".
"We already knew that there has been normalisation going under the table, but to formalise and legalise it that way at this critical moment is shocking. It's a stab in our back and the back of all Arab nations," stated Majida al-Masri, former PA minister of social affairs.
Al-Barghouti emphasized the deal "doesn't introduce any change or progress, it's far from being genuine peace".
"This is an attempt to enforce the 'Deal of the Century' that aims to liquidate Palestinian national rights, it represents a denial of Palestinian, Arab and Islamic rights," he continued.
Palestinian leaders stated the deal was "a free gift to Israel" and was made to help the re-election of Trump and Israeli Prime Minister Benjamin Netanyahu.
"The UAE's position, in terms of its timing and essence, can only be understood as giving Israel leverage for free," said Wasel Abu Yousef, member of the PLO's Executive Committee and leader of the Palestine Liberation Front, adding, "There's no reasonable justification for it except that it gives more power to the occupation and increases its crimes against the Palestinians."
https://en.farsnews.ir/newstext.aspx?nn=13990617000640
--------
Turkey gives Daesh terrorist 40 life terms for 2017 Istanbul nightclub massacre
08 September 2020
A Turkish court has sentenced to life the main suspect in the 2017 New Year's Eve attack by the Daesh Takfiri terrorist group on a nightclub in the city of Istanbul.
On Monday, Istanbul's Heavy Penal Court No. 27 gave Abdulkadir Masharipov, an Uzbek national, the equivalent of 40 life sentences without parole for violating the Constitution and deliberately killing 39 people, including a police officer.
It also sentenced Masharipov to a total of 1,368 years for carrying an unlicensed weapon and the attempted murder of 79 people who escaped the assault with injuries.
The same tribunal further sentenced Ilyas Mamasaripov, one of the planners of the attack, to 1,432 years in prison for assisting the murders and attempted murders, among other offenses.
It said 48 other defendants were sentenced to jail terms of varying lengths for membership in a terrorist organization,while eleven other defendants were acquitted of charges.
Early on January 1, 2017, Masharipov opened fire with an automatic rifle at Istanbul's Reina nightclub, where hundreds were partying to celebrate the New Year. He threw stun grenades to allow himself to reload and shoot the wounded on the ground.
Among those killed were 12 Turkish nationals and 27 foreigners.
Daesh claimed responsibility for the attack at the time, saying it was an act of revenge for Turkey's military involvement in Syria.
Turkish police arrested Masharipov at a Daesh hideout in Istanbul after a 17-day manhunt, saying he had acted on the terror outfit's behalf.
He initially admitted guilt for the attack, but later pleaded innocent and disputed the evidence against him.
In his final words of defense on Monday, Masharipov asked to be acquitted, saying his initial testimonies had been taken under "torture and pressure." He is expected to appeal his conviction.
The indictment included requests from the families of the 39 victims as well as 122 others injured or mentally affected by the attack.
https://www.presstv.com/Detail/2020/09/08/633588/Turkey-court-Istanbul-Daesh-2017-attack
--------
Jordan slams continued Israeli violations against al-Aqsa Mosque complex
07 September 2020
Jordan has strongly condemned the ongoing Israeli violations against the al-Aqsa Mosque compound in the occupied Old City of Jerusalem al-Quds, the latest of which are the installation of loudspeakers by Israeli police on the walls of the sacred site and the arrest of employees of the Religious Endowments Authority.
Dhaifullah al-Fayez, a spokesman for Jordan's Ministry of Foreign Affairs and Expatriates, said in a statement on Monday that Israeli police actions are a violation of the legal and historical status quo of the religious site.
"The police actions are irresponsible tampering, unacceptable and constitute a provocation to the feelings of Muslims around the world and a flagrant violation of Israel's obligations as the occupying power under the international law," the statement noted.
Fayez then warned against the dire consequences of the Israeli regime's continued abuses, calling for an end to such practices and respect for the historical and legal status quo of al-Aqsa Mosque.
He emphasized that al-Aqsa Mosque entirely belongs to Muslims, and that the Jordan-run Religious Endowments Authority in Jerusalem al-Quds is the exclusive authority responsible for the mosque's affairs.
Fayez called on the international community to pressure Israel to stop its violations, which run against the long-standing status quo of al-Aqsa Mosque as well as the international law.
He noted that the Jordanian foreign ministry has demanded that Israel, as the occupying power, refrain from such violations and provocations, and respect the mandate of the Jordan-run authority responsible for overseeing the al-Aqsa Mosque compound.
On Sunday, Jordanian Minister of Endowment, Islamic Affairs and Holy Places Mohammed Ahmed al-Khalayleh denounced repeated attacks by Israeli military forces against the employees of the Religious Endowments Authority in Jerusalem al-Quds, and their constant summons for investigation.
Khalayleh stated that such bids are meant to intimidate the staff and seek to kill their devotion to work for the sacred al-Aqsa Mosque compound.
Palestinians have repeatedly warned of Israeli attempts to change the status quo of the al-Aqsa Mosque compound. Al-Aqsa Mosque is the third holiest site in Islam.
https://www.presstv.com/Detail/2020/09/07/633556/Jordan-slams-continued-Israeli-assaults-on-al-Aqsa-Mosque-complex,-employees
--------
EU warns Kosovo, Serbia over Jerusalem al-Quds embassy move
07 September 2020
The European Union has warned Serbia and Kosovo over their recent decision to relocate their embassies in the occupied Palestinian territories from Tel Aviv to Jerusalem al-Quds, stressing that the move could undermine the two countries' hopes to join the bloc.
"There is no EU member state with an embassy in Jerusalem [al-Quds]," the spokesperson for EU Foreign Affairs and Security Policy Peter Stano said at a news conference in the Belgian capital of Brussels on Monday.
"Any diplomatic steps that could call into question the EU's common position on Jerusalem [al-Quds] are a matter of serious concern and regret."
The EU is still committed to the so-called "two-state solution" to end the decades-long Israeli-Palestinian conflict, he said, adding that the bloc expects prospective members, specifically Serbia, to "align progressively" with its foreign policy positions.
Stano further said that "since Kosovo and Serbia identified EU accession or EU integration as their strategic priority, the EU expects both to act in line with this commitment, so the European perspective is not undermined."
The development comes as Serbian President Aleksandar Vucic and Kosovo Prime Minister Avdullah Hoti are to meet in Brussels for a second round of EU-brokered face-to-face talks to resolve disputes two decades after they went through a bloody war.
The two sides have been in EU-led talks for a decade to normalize their relationship, but little progress has been made.
Relations between Kosovo and Serbia took a turn for the worse when negotiations over an exchange of territory and border changes collapsed in 2018.
In an unexpected move on Friday, US President Donald Trump announced that Washington had brokered an agreement between Serbia and Kosovo to normalize economic ties.
The announcement surprised the Europeans, who are leading complex talks between the two countries on improving their long-strained relations.
From the deal, however, came out two unexpected decisions too. Serbia said that it would relocate its embassy from Tel Aviv to occupied Jerusalem al-Quds, some three years after Washington, in a highly provocative move, recognized the city as Israel's "capital."
Majority-Muslim Kosovo, for its part, vowed that it would recognize the occupying regime, adding that it would also set up its diplomatic mission in Jerusalem al-Quds after earning Israel's recognition.
The move comes as Kosovo desperately seeks to further legitimize its declaration of independence and statehood.
Kosovo declared independence from Serbia in 2008, after fighting a war in 1998-1999 that ended with a NATO intervention. Serbia, which refuses to accept its former southern province as an independent state, has so far blocked it from joining the United Nations and other international bodies.
Kosovo is, however, recognized by many countries as an independent state, including the United States and most members of the EU.
Last month, the US president also brokered an agreement between Israel and the United Arab Emirates that would lead to a full normalization of diplomatic relations between the two sides.
The highly controversial deal between Abu Dhabi and Tel Aviv has been widely condemned across the occupied Palestinian territories and the Muslim world.
The deal comes in the face of United Nations Security Council Resolution 478, adopted on August 20, 1980, which prohibits countries from establishing diplomatic missions in Jerusalem al-Quds.
https://www.presstv.com/Detail/2020/09/07/633552/EU-Kosovo-Serbia-embassy-Jerusalem-al-Quds-talks-diplomatic-ties
--------
Israel plans to construct almost 5,000 new settler units in occupied West Bank
07 September 2020
Israeli officials are planning to construct thousands of more settler units in the West Bank irrespective of an international outcry against the Tel Aviv regime's settlement expansion policies and its contentious plans to annex large parts of the occupied Palestinian territories.
The Israeli minister of military affairs and alternate prime minister, Benny Gantz, is reportedly seeking to approve the construction of some 5,000 new settler units, after more than six months during which such construction has been frozen, Israel's Channel 12 television network reported.
According to the report, which did not cite any sources, Gantz intends to convene the so-called Civil Administration Planning Committee next week to approve the construction.
Gantz has reportedly sent a letter to Prime Minister Benjamin Netanyahu's office with a request to assemble the committee.
The move is seen as a potential maneuver by the 61-year-old leader of the centrist Blue and White party to strengthen ties with settler leaders, who are currently fuming at Netanyahu, who purportedly suspended annexation plans and opted instead to normalize ties with the United Arab Emirates last month.
Israel and the UAE agreed to a US-brokered deal to normalize relations on August 13. Under the agreement, the Tel Aviv regime has purportedly agreed to "temporarily" suspend applying its own rule to further areas in the occupied West Bank and the strategic Jordan Valley that Netanyahu had pledged to annex.
While Emirati officials have described the normalization deal with the Tel Aviv regime as a successful means to stave off annexation and save the so-called two-state solution to the Israeli-Palestinian conflict, Israeli leaders have lined up to reject the bluff of Abu Dhabi's crown prince and de facto ruler of the UAE, Sheikh Mohammed bin Zayed Al Nahyan, that Israel's annexation plans were off the table.
Netanyahu has underlined that annexation is not off the table, but has simply been delayed.
The Palestinians have vehemently censured the UAE-Israel peace deal, which runs counter to a long-standing Arab consensus that any normalization of ties with the Tel Aviv regime has to come in the context of the settlement of the Israeli-Palestinian conflict and the establishment of a sovereign Palestinian state.
They say the UAE, as an important Arab player in the region, has stabbed fellow Palestinians in the back.
Israeli settler runs over, injures Palestinian child
Separately, a Palestinian child sustained moderate injuries after an Israeli settler ran him over in the southern part of the West Bank.
Palestinian sources said the victim was struck near Kiryat Arba settlement on the outskirts of al-Khalil, located 30 kilometers (19 miles) south of Jerusalem al-Quds, on Sunday evening. The Israeli driver fled the scene after the incident.
The sources added that Palestinian medical teams provided first aid to the injured child before taking him to hospital for further treatment.
There have been a series of "hit-and-run" incidents targeting Palestinians in different parts of the West Bank over recent months, with most of them going uninvestigated by Israeli authorities. Some of such events have resulted in fatalities.
More than 600,000 Israelis live in over 230 settlements built since the 1967 Israeli occupation of Palestinian territories of the West Bank and East Jerusalem al-Quds. All Israeli settlements are illegal under international law.
The UN Security Council has condemned Israel's settlement activities in the occupied Palestinian territories in several resolutions.
Palestinians want the West Bank as part of a future independent Palestinian state with East Jerusalem al-Quds as its capital.
https://www.presstv.com/Detail/2020/09/07/633527/Israel-plans-to-okay-almost-5,000-new-settler-homes-in-occupied-West-Bank-
--------
Southeast Asia
To help Uighur Muslims, Switzerland should negotiate China trade pact, says NGO
07 September 2020
Switzerland should renegotiate its six-year-old free trade agreement with China to bolster human rights protections for its Uighur Muslim minority, the Society for Threatened Peoples activist group said on Monday.
The demand to the Swiss government comes as France, the US and others also pressure China over the treatment of Uighurs in its far western Xinjiang region, as well as a Hong Kong security law that some contend infringes on rights in the former British colony.
UN experts and activists say at least a million ethnic Uighurs and other Muslims are held in detention centers in Xinjiang.
China calls them training centers helping to halt terrorism and extremism and teaching new skills.
"The current free trade agreement between Switzerland and China does too little to prevent forced labor products from reaching Switzerland and even receiving tariff concessions," the Germany-based Society for Threatened Peoples said in a statement with other groups, including the Uighur Association Switzerland.
Switzerland exported 21.4 billion Swiss francs ($23.41 billion) in goods to China in 2019, while importing goods worth 15.1 billion francs from China, official data show.
Switzerland struck its pact with China in 2014, saving Swiss companies and counterparts potentially hundreds of millions of dollars annually.
The Swiss State Secretariat for Economic Affairs said there were already mechanisms to address concerns like those being raised, without the pact being overhauled.
"The Free Trade Agreement Switzerland-China already has several indirect references to human rights, so a revision is not necessary," it said in a statement. "Human rights initiatives that have a link to the free trade agreement can be brought up in the agreement's mixed committee."
In a media interview a month ago, Swiss Foreign Minister Ignazio Cassis acknowledged "rising human rights violations" in China and said "if China abandons the 'one country, two systems' principle in Hong Kong, it will affect Swiss companies invested there."
The Chinese consulate in Switzerland did not respond to an email.
China's treatment of Uighurs and the Hong Kong security law may be discussed at the United Nations Human Rights Council regular session that opens Sept. 14.
https://english.alarabiya.net/en/News/world/2020/09/07/To-help-Uighur-Muslims-Switzerland-should-negotiate-China-trade-pact-says-NGO
--------
Sarawak NGOs want authorities to investigate Pasir Puteh MP over Bible remark
Monday, 07 Sep 2020
KUCHING, Sept 7 — Five local non-governmental organisations (NGOs) have asked the authorities to investigate Pasir Puteh MP Nik Muhammad Zawawi Nik Salleh over his remark in Parliament alleging that the Bible was distorted when debating the Road Transport (Amendment) Bill 2020.
The five NGOs — Persatuan Adat Asal Bidoyoh, Sarawak Dayak Iban Associaition (Sadia), YATT Society, Dayak Bukit Kelingkang and Sarawak Association for Peoples' Aspiration (Sapa) – made this call after lodging a police report against the Parti Islam SeMalaysia (PAS) MP at Mile 7 Police Station here today.
The NGOs demanded the authorities to conduct a proper investigation into the case and and prevent any person, especially political leaders to harp on religious sentiments.
Persatuan Adat Asal Bidoyoh secretary Alim Mideh opined the Pasir Puteh MP was a "big disgrace" to the Parliament and unfit to be an MP when he said that the Christians had no right to be offended by his statement, as what he had said was not an accusation, but a fact.
Alim said besides demanding for Nik Muhammad Zawawi to apologise and withdraw his unqualified statements, his association members also demanded Chief Minister Datuk Patinggi Abang Johari Tun Openg to ban Nik Mohammad from entering Sarawak.
Sadia secretary general Nicholas Mujah said the Pasir Puteh MP should not have spoken the way he had spoken because even among the Iban community, there were Christians, Muslims and Buddhists living together.
He said the Pasir Puteh MP's statement had caused a great concern to the Iban community because the community did not want to incite their own brothers and sisters in Sarawak and people from Peninsular Malaysia to hate one another.
"To us, we hope that the particular parliamentarian must at least show his respect and retract his statement. I think that is just good enough for the Iban community," he added.
YATT Society representative Freedy Misid said the Pasir Puteh MP's remark had really hurt many Christians in Sarawak who made up about 70 per cent of the non-Muslim population in the state.
"We from YATT, and I believe most Sarawakians, regardless of any faith and religion, we are not condoning this kind of issue that was brought up by Pasir Puteh MP from PAS," he said.
Dayak Bukit Kelingkang co-founder Lawrance Clement said his members, which comprised of Christians, Muslims and other faith were very angry with the Pasir Puteh MP's remark and hoped that it would be stopped.
Meanwhile, Sapa president Dominique Ng believed that Nik Muhammad Zawawi should not be protected under the parliamentary privilege at all especially when he touched on religious freedom and sensitivity.
He said protection should not be accorded to him even if he is an MP, because he must respect the law and all religions.
"Some more that statement coming from him came out of nowhere. It wasn't that somebody was attacking Islam or somebody was making comments that were inappropriate that he had to come to that response.
"It was something in connection with drunk driving. So, it is an uncalled for statement and what he had said has no place in Sarawak.
"So, it is an insult not only to the Christian faith, it is an insult to all other faiths. I'm a practicing Buddhist and I am here to support because what he said was out of the line," Ng stressed. — Borneo Post
https://www.malaymail.com/news/malaysia/2020/09/07/sarawak-ngos-want-authorities-to-investigate-pasir-puteh-mp-over-bible-rema/1900960
--------
Sabah has five potential chief ministers, but pundits see only a straight fight — Musa Aman vs Shafie Apdal
08 Sep 2020
BY JULIA CHAN
KOTA KINABALU, Sept 8 — As newcomer Parti Pribumi Bersatu Malaysia (PPBM) wrestles Umno to take on Warisan president Datuk Seri Shafie Apdal in the upcoming Sabah election, political analysts say there is only one real challenger who poses a major threat for the chief minister post — Tan Sri Musa Aman.
Musa was the sole Umno representative to retain a state seat in the election two years ago while PPBM is now working against its 2018 polls partner Pakatan Harapan (PH).
"I think at the end of the day, it has to be a Musa versus Shafie fight to see any real fight.
"Like it or not, Musa is the most viable candidate to go up against Shafie and any other fight won't be as meaningful," Singapore Institute of International Affairs senior fellow Oh Ei Sun told Malay Mail when contacted.
But the battle to lead Sabah could result in a dark horse winner. Old friendships and even familial ties are being tested.
State Umno chairman Datuk Bung Moktar Radin is being pushed to the fore by federal party leaders based in Kuala Lumpur while PPBM wants its Sabah liaison chief Datuk Hajiji Noor. However, the two parties are expected to nominate only one candidate as the next Sabah CM.
Musa's younger brother Datuk Seri Anifah Aman who was formerly with Umno is now leading Parti Cinta Sabah (PCS) and a local alliance front to take over the state government. Anifah has publicly asked Musa to step aside for younger leaders.
Malay Mail spoke with several political analysts who weighed in on the pros and cons of the top five potential contenders to be Sabah chief minister.
Datuk Seri Shafie Apdal
The Warisan Plus caretaker government is clear in its leadership. Shafie will be leading the coalition which consists of Parti Warisan Sabah, PH's PKR, DAP and Amanah and Sabah's United Progressive Kinabalu Organisation (Upko).
Pundits differ on Shafie's capability but they agreed that in a crowded playing field, he has the advantage.
University Malaysia Sarawak's Arnold Puyok believes that Shafie, despite having the experience, personal and public persona and a strong grassroots, is unable to carry out the state's aspirations as a leader.
"He hasn't been able to show that he has the leadership to initiate real reforms in the economy/state administration," Puyok told Malay Mail.
Oh said that Shafie has competency, but faced a lot of challenges that he could not see through.
"He is competent but faced a lot of changes in his term so far. His mandate has been cut short. He should have a full term to demonstrate his abilities," said Oh.
"Economically speaking — there is only so much he can do in this worldwide economic downturn and pandemic. Whoever is in government would have faced challenges in developing the state during this time. In that regard, he's been holding up. He's generally considered competent. No one saying he's incompetent. That's not in question," he said.
Oh said that Shafie has also done well to promote a multi-racial Sabah with policies that favour all the races.
He also noted that while Shafie has the support of the urban Kadazan, Dusun and Murut (KDM) Momogun communities, those same ethnicities spread out in Sabah's interior may be divided.
KDM is a political and cultural term used to describe several indigenous groups, which are sometimes lumped as non-Muslim Bumiputera communities.
"Carefully engineered racial insinuations are played up against Shafie and his party — they are touted as pirates or Suluk, so this is something he has to struggle against where PBS and STAR have long history with the KDM," Oh said, referring to two local based parties, Parti Bersatu Sabah led by Datuk Seri Maximus Ongkili, and Parti Solidariti Tanah Air led by Datuk Jeffrey Kitingan respectively.
Tan Sri Musa Aman
Musa was the longest serving chief minister of Sabah for 15 years right up to Election 2018. The sole assemblyman for Umno until the dissolution of the Sabah assembly, he was depicted in the brief years prior as ailing and hiding out in London while other Umno assemblymen left to join PPBM following GE14.
Musa's fall from grace and subsequent recovery has been remarkable. Initially struck with 46 corruption court charges, which has since been dropped under the new Perikatan Nasional federal government, he has seemingly made a full recovery — albeit still wielding a walking stick — so much so that all the initial Umno defectors, PPBM assemblymen and two other state lawmakers from PKR and DAP supported his bid to topple the Warisan state government.
"Musa has more Umno grassroots support and political and other resources, if compared to Bung. Put side by side, Musa has got a higher chance of winning. Some Sabahans might want him back because he is more familiar, with name recognition," said Oh.
Puyok said that Musa, even with a chequered history, has the experience, track record and commands respect among the state representatives.
"He may have difficulty expressing himself and his ideas but some have soft spot for him because he is more decisive and has the ability to 'monetise opportunities' for Sabah's economy," he said.
Umno is also touted to have better election machinery, evident from its victory during the Kimanis by election earlier this year. In comparison, PPBM might have to give way, despite technically having a bigger number of incumbents.
Datuk Bung Moktar Radin
Infamous for his parliamentary antics, Bung has strong grassroots support in his east coast and interior district of Kinabatangan. He has earned the favour of the national leadership for his loyalty when all other elected representatives deserted Umno for PPBM in late 2018.
He was named state Umno chairman and the party here was granted autonomy to groom a new generation of younger leaders.
"Bung has experience at the federal level, he networks with federal leaders so that's something in his favour.
But both analysts say that despite his following, he may not have the leadership to carry out the responsibilities of the chief minister post.
"He may be a good grassroots leader but lacks the temperament to be in the driver's seat," said Puyok.
Oh said that Bung was more of an entertainer in Parliament with his antics and tendency for jokes.
"He is more known as a clown. How to take someone like that seriously?" he said.
Datuk Hajiji Mohd Noor
The Sulaman incumbent generally flies under the radar but has a sizeable following among the Bajau community.
In Musa's absence, he has rallied the former Umno assemblymen and together joined PPBM and was named its state liaison chief. Likeable and with few black marks against him, he is seen as capable, but less as a leader on a bigger stage.
"He may have a lot of experience in state politics and understand the inner working of the Sabah civil service but he doesn't have the pull factor to enable him to gain the trust and support among various groups," said Puyok.
More to the point, PPBM in Sabah does not have a strong grassroots given that they are almost all former Umno representatives who won on Umno tickets and benefited from its well oiled machinery.
"If it's a match between Hajiji's PPBM vs Umno machinery, then PPBM is no match. If PPBM has no political capital to go against Umno, they will be wiped out in a one on one. But now they are up against Warisan as well, PPBM won't stand a chance," said Oh.
He said that in a match for a candidate, PPBM might eventually have to give in. There's no way most of them can win back their seat that they won on Umno ticket," he said.
"Hajiji may be a good grassroots leader, but he will make a mediocre CM," he said.
Datuk Seri Anifah Aman
The latest contender and a former Umno federal minister, Anifah has been charting his own political career for some time now, focusing on state rights and even getting together with Opposition leaders with the same agenda during his time under the Barisan Nastional government.
After being among the first Sabah leaders to leave Umno in September 2018, Anifah has remained partyless until recently when he took control of the little known Parti Cinta Sabah and announced grand plans to take over the state government.
A four-term MP for Kimanis, and a former federal foreign minister, Anifah has political resources and a political pedigree with moderate views and eloquence.
"But apart from his experience, what difference can he make? What alternative ideas and plans does he have for Sabah? He is a strong advocate of MA63 but others like Jeffrey Kitingan, Yong Teck Lee, etc have long fought for the same issue," said Puyok.
"It remains hard to see how he stands in the Sabah political arena against Warisan and PH because he's been in national politics all this while," said Oh.
"He's likely to win his seat but beyond that, I cannot see how his party will stack up.
Oh said that both Aman brothers, while similar in their leanings, have genuinely different approaches.
"If you ask whether their political journeys now are a ploy, I would say no. They have had these differences in approaches all this while.
"But if, when it comes to a tie breaker or a hung assembly on the night of the election, if you ask whether they will work together to form a coalition government, that's definitely possible. But if you're asking whether it's a premeditated ploy, I don't think so," he said.
For Oh, leaders like Shafie and Anifah present a more inclusive brand of politics in a country where race-based politics are the norm.
"This is not the usual style in Malaysia, it's nice to see. I think because of this, they might get more support from Sabahans," he said.
Analysts like Puyok and University Malaysia Sabah's Lee Kuok Tiung have pointed out that the contenders so far are familiar faces which should pave the way for younger leaders.
"All are orang lama — so it will be a challenge for them to get the support of the relatively younger segments of the electorates," said Puyok.
"Why can't they go beyond the usual faces? Anyone who has the capability, has the most seats should be given a chance to lead. Why should it be narrowed to these five?" said Lee.
https://www.malaymail.com/news/malaysia/2020/09/08/sabah-has-five-potential-chief-ministers-but-pundits-see-only-a-straight-fi/1901203
--------
Pakistan
Pakistan drifting away from US towards China: Defence analyst
Sep 7, 2020
ISLAMABAD: Amid the drastic change in US-Pakistan's relationship, China is the only hope for Pakistan for economic assistance, especially in the aftermath of the pandemic, said Ayesha Siddiqa, a defence analyst and South Asian politics scholar.
Speaking during an interview with The News International, Siddiqa said amid the fast-changing world dynamics wherein the coalition among the United States, India and Saudi Arabia gains strength, "Pakistan is drifting away from the US towards a potential alliance between China, Russia and perhaps Iran."
"The nature of US-Pakistan relations is changing drastically. Even though it has played a vital role in the US-Taliban negotiations, no one expects the continuation of American financial assistance to Pakistan. Islamabad joined the American alliance against the Taliban after 9/11," Siddiqa said.
"While the dominant narrative popularised by Islamabad was that it was forced into alignment, governments stuck to the narrow prism of extracting financial resources from the US, which also meant delivering reluctantly. The foreign policy debate in Pakistan is silent about our own responsibility in supporting the Taliban or keeping Osama bin Laden. Ultimately, the relationship collapsed at a point of overselling of our capabilities with limited capacity to deliver," she added.
The US-Pakistan relation has continued to be on a downhill as the latter has failed to take strong action against the terrorist groups emanating from its soil.
Due to the deteriorating ties, Siddiqa said, "China appears to be the only option. It may be Pakistan's only hope for economic assistance, especially in the aftermath of the pandemic... In the wake of the fast-changing world dynamics, as the coalition among the United States, India and Saudi Arabia gains strength, Pakistan is drifting away from the US towards a potential alliance between China, Russia and perhaps Iran."
She, however, noted that there are a lot of issues that still need to be worked out between these countries and Pakistan can benefit only "if it can do its homework and go beyond the idea of extracting limited benefits."
"There is an expectation that Pakistan and Iran will come close as a result of both being part of BRI, especially if Beijing and Tehran sign an agreement that is being talked about. Right now, we don't know if the agreement will get signed, but even if it does, I am not sure that we are domestically talking about the competition between Iran and Pakistan that will happen naturally. It was there even when both neighbours were once part of an American alignment," she said.
She further stated that Pakistan needs to improve its relations with its neighbours including India, Iran and Afghanistan.
While commenting on Pakistan's defence and foreign policy, Siddiqa said, "Pakistan's defence and foreign policy community lacks independent thinking and diversity of viewpoints. Over the years, alternative voices have been silenced. I was talking to a diplomat, who said that during her two postings to the country between 2016 and now, many people that she would talk to are no longer in the country. The security community that we have now comprising faculty at the known public sector universities and think tanks only preach to the choir by communicating dominant narratives of the establishment back to them through their reports. It is interesting to note that most of the think tanks are located on the Grand Trunk Road with little input from other parts of the country."
https://timesofindia.indiatimes.com/world/pakistan/pakistan-drifting-away-from-us-towards-china-defence-analyst/articleshow/77976902.cms
--------
Pakistan looking to diversify cooperation with S. Arabia: Khattak
08 Sep 2020
ISLAMABAD: Defence Minister Pervez Khattak has said that Pakistan values its ties with Saudi Arabia and is looking to diversify the cooperation between the two countries.
Mr Khattak was talking to Saudi envoy Nawaf bin Saeed Al-Maliky, who had called on him here on Monday.
"We consider Saudi Arabia as a confident and a trust-worthy friend and we would like to continue with the same pace and momentum," the minister said.
"The scope and scale of cooperation between the two countries is a very huge; therefore, we should further diversify our relations," he added.
The Saudi envoy has visited several key government figures ever since Foreign Minister Shah Mehmood Qureshi's criticism of the Saudi-led Organisation of Islamic Cooperation created a perception of rift in ties. He had met Mr Qureshi as well on Sept 1.
Army Chief Gen Qamar Javed Bajwa had visited Saudi Arabia last month for defence talks. His visit helped overcome the hiccup in ties.
Mr Al-Maliky said Saudi Arabia's relations with Pakistan were based on mutual trust.
He said the kingdom was deeply committed to working with Pakistan and its people to further expand these ties.
https://www.dawn.com/news/1578474/pakistan-looking-to-diversify-cooperation-with-s-arabia-khattak
--------
Pakistan says 5 militants killed in raid near Afghan border
Sep 7, 2020
PESHAWAR: Pakistan's military says security forces shot and killed a local militant commander along with four of his associates in a raid on Monday near the border with Afghanistan.
It identified the slain commander as Wasim Zakaria and said he was involved in multiple attacks on security forces. The military said he was also involved in the killing of Zubaidullah Khan, a federal housing official who was gunned down in May while visiting his village in North Waziristan to celebrate the Islamic festival of Eid al-Fitr.
North Waziristan served as headquarters for local and foreign militants until 2017, when the army said it had cleared the region of insurgents following several operations. The region still sees sporadic attacks, mainly targeting security forces.
https://timesofindia.indiatimes.com/world/pakistan/pakistan-says-5-militants-killed-in-raid-near-afghan-border/articleshow/77982000.cms
--------
KP Assembly resolution terms report by British MPs a conspiracy
Nisar Mahmood
September 8, 2020
KP Assembly resolution terms report by British MPs a conspiracy
PESHAWAR: The Khyber Pakhtunkhwa Assembly passed a unanimous resolution on Monday against a report by parliamentarians from the United Kingdom in favour of Ahmadi community, terming it a conspiracy against Pakistan and Muslims.
The report compiled by some members of the British Parliament titled 'Suffocation of the faithful' has blamed Pakistan for the exploitation of Ahmadis and cruelties against them under the state patronage, but it did not include Pakistan's version.
The resolution moved by Mufti Obaidur Rahman of Pakistan Muslim League-Quaid (PML-Q) and signed by members from the treasury and opposition reads, "The All-Party Parliamentary Group has blamed Pakistan for cruelties against Ahmadis under the state patronage and asked the UK government to make financial assistance to Pakistan conditional with acceptance of recommendations the report. It also demanded the government of Pakistan to amend laws in favour of Ahmadis and give them permission of preaching in the educational institutions, though Pakistan's point of view was not included in the report. This House recommends to the federal government and the Foreign Office to get the report withdrawn from the UK Parliament so as the conspiracy against Muslims and the sovereignty of Pakistan could be foiled, and if not rooted out, this conspiracy would not only hurt the emotions of Muslims all over the world but also would cause beginning of new fitnah in the country."
The resolution also condemned the incidents of discretion of Holy Quran and the publication of blasphemous sketches in Sweden and France. It said such attempts enjoyed the government's patronage, which is tantamount to declaring a war on Muslims.
"The French president instead of condemnation encouraged the move. This House reiterates that belief in Khatam-e-Nabuwwat, Namoos-e-Resalat and Ahl-e- Bait is part of our faith and [we] would sacrifice everything including our lives on it. The government should strongly lodge a protest with the Swedish and French government," the resolution added.
The House also unanimously adopted a resolution condemning the killing of a minor girl in Karachi and demanding early arrest of the culprits and awarding them exemplary punishment.
The resolution, moved by Riaz Khan of PTI and Sardar Hussain Babak of ANP reads, "A five-year-old girl belonging to a family from the Buner district was brutally murdered, her body mutilated and burnt in Karachi, which is extremely an inhuman act and the federal and Sindh government should take serious steps for the arrest of culprits and award them a severe punishment."
The assembly unanimously passed the Khyber Pakhtunkhwa delimitation of Local Councils (repeal) Bill, 2020; while the KP Appointment of Law Officers (Amendment) Bill, 2020 and Covid-19 (Prevention of Hoarding) Bill, 2020 were introduced in the assembly.
Speaker Mushtaq Ahmad Ghani had to adjourn the session till Tuesday (today) leaving the debate on discrimination in allocation of development funds as members from the Jamiat Ulema-e Islam protested against not allowing f Naeema Kishwar to speak on her amendment to the resolution against UK parliamentarians' report.
Despite the no permission by the speaker, she continued speaking and interrupted Sardar Babak's speech when he initiated the debate on development funds. Babak and JUI members also exchanged arguments.
https://www.thenews.com.pk/print/711795-kp-assembly-resolution-terms-report-by-british-mps-a-conspiracy
--------
'Mastermind' of militant attacks among five killed in North Waziristan
08 Sep 2020
PESHAWAR: The Inter-Services Public Relations (ISPR) on Monday confirmed that a mastermind of militant attacks along with four accomplices had been killed during an intelligence operation in North Waziristan tribal district on Sunday.
The ISPR said in a statement that 10 notorious terrorists were also arrested during the operation near Mirali. It said the deceased terrorist, Waseem Zakeria, was the mastermind of 30 attacks, including targeted killing of government officials and security forces personnel.
The ISPR said Zakeria was also involved in an attack on a military convoy near Hasokhel. He belonged to the Haider Khel area of Mirali sub-division. "Zakeria was mastermind of 30 attacks since 2019 and wanted by law enforcers," said the statement.
Zakeria was also believed to be involved in the assassination of Zubaidullah Khan, a CSP officer of the Federal Information Group, posted as director of the Pakistan Housing Authority in Islamabad.
Mr Khan was killed along with two others on the first day of Eid in Mirali in May this year. Gunmen riding a motorbike killed them when they were coming out of the mosque after offering Eid prayers.
The killing of the senior civil officer had raised concerns about the state of security in once-volatile North Waziristan which has seen an uptick in the number of attacks on security forces since the Zarb-i-Azb operation in June 2014.
A lawmaker from the tribal district told the Khyber Pakhtunkhwa Assembly last week that 200 people had lost lives to targeted killings since February 2018. There was, however, no official corroboration or denial of the claim by the lawmaker.
https://www.dawn.com/news/1578454/mastermind-of-militant-attacks-among-five-killed-in-north-waziristan
--------
NA, Senate sessions slated for next week to get FATF bills passed
Syed Irfan Raza
08 Sep 2020
ISLAMABAD: Prime Minister Imran Khan on Monday decided to hold fresh sessions of the National Assembly and the Senate on Sept 14 and 15, respectively, in order to get the Financial Action Task Force (FATF) and other important bills passed from the two houses.
The decision to call the fresh sessions was taken during a meeting between the prime minister and his adviser on parliamentary affairs Dr Babar Awan at the Prime Minister House.
Dr Awan called on the prime minister following the postponement of the Senate and National Assembly sessions scheduled for Monday.
According to a press release, various matters of importance came under discussion during the meeting.
"Now it has been decided that the fresh session of the National Assembly will be held on Sept 14 at 4pm and that of the Senate on Sept 15 at 10.15am," Dr Awan told Dawn. He said FATF-related and other bills would be tabled before the two houses for fresh legislation.
The PM's adviser said he had called a meeting of various ministries on Monday in which he directed the secretaries concerned to present all pending bills and ordinances relating to their ministries so that they could be extended by parliament before they lapsed.
PM discusses matter with parliamentary affairs aide
Asked why already convened sessions of the Senate and NA were shelved, the adviser said they were postponed due to devastation caused by the recent rains across the country. "Since many of our legislators are engaged in relief work, the government decided to postpone the sessions."
According to the press release, the prime minister and Dr Awan also reviewed the Karachi Transformation Plan, which was unveiled on Saturday.
Regarding the FATF-related bills, the PM's adviser said the government would not allow any delay in the passage of "bills of national interest".
In reply to a question about convening of a joint sitting of parliament to get the FATF-related bills passed if the opposition opposed them again, he said no date for the sitting had been decided so far.
Two days ago, Mr Awan had said the government was considering referring the Anti-Money Laundering (Second Amendment) Bill and the Islamabad Capital Territory Waqf Properties Bill — both rejected by the Senate — to the joint sitting of parliament.
Pakistan Peoples Party (PPP) chairman Bilawal Bhutto-Zardari said last week that he had asked the government to postpone the National Assembly session due to the uncertainty caused by the recent rains.
Under the 18th Amendment, if a bill passed by one house of parliament is rejected by the other, it can become a law only if it is passed by a joint sitting of the two houses.
The 104-member opposition-dominated Senate had rejected the two bills on Aug 25 through a voice vote after it objected to some of the provisions and linked its cooperation to retraction of remarks made by Leader of the House Dr Shahzad Waseem about certain leaders. These bills had been passed by the National Assembly only the previous day.
A day after rejection of the two bills, the opposition questioned the legality of the entire proceedings leading to the voting process and opposed convening of a joint sitting to resolve the matter.
The opposition has a thin majority of nine votes in the joint sitting, but the government is hopeful of getting the two bills passed.
Mr Awan said the government intended to bring the Anti-Terrorism Amendment (ATA) bill as per the demand of the opposition in the coming sessions of the two houses.
He said the government had previously planned to introduce a bill seeking an amendment to the Criminal Procedure Code (CrPC) to accommodate some conditions of the Financial Action Task Force to bring the country out of the grey list.
https://www.dawn.com/news/1578478/na-senate-sessions-slated-for-next-week-to-get-fatf-bills-passed
--------
North America
How an Islamic terror sheikh ended up selling meth in Orange County
Daniel Greenfield
September 7, 2020
The end of what law enforcement had called the most imminent Islamic terrorist plot since Sept. 11 came when Gregory Vernon Patterson left his cell phone behind at a gas station.
Patterson and his roommate, Levar Haley Washington, had joined Jamiyyat Ul-Islam Is-Saheeh, a prison Islamic terror group, and had been conducting a robbery spree to finance terror plots against the LAX airport, the National Guard and local synagogues during the High Holidays.
The shotgun robberies by the organization, whose name means "The Association of True Islam," were going well. The gang of criminal jihadis had pulled off 11 gas station heists in Los Angeles and Orange County to raise funds for their terror spree before Patterson dropped his phone during a robbery at a gas station in Torrance. The phone led authorities to the South Central apartment being used by Patterson and Washington, where they found Bin Laden posters and a target list.
The target list included LAX, which was convenient because Patterson already worked there.
Washington and Patterson were busted while trying to rob another gas station in Fullerton.
Patterson told cops that robbing gas stations was "part of a jihad against the U.S., particularly against American oil companies who are stealing from our countries," and that he wanted to die for Allah. The gas-station robberies had been meant to raise money to buy weapons and to provide training for Patterson, who had no criminal record, in how to be a terrorist.
Patterson and Hammad Riaz Samana, a Pakistani, had all attended the Jamaat-E-Masijudal mosque, where Washington had recruited the black convert and the Pakistani Muslim. The two terrorists swore allegiance to Washington and the shotgun robberies of gas stations began.
Washington, a former Crip, had done time in Folsom State Prison where he found a copy of the Koran, began calling himself Abdur Rahman and was recruited by a terror mastermind.
There were two unique things about the 2005 terror plot. As Daniel Pipes pointed out at the time, it was the first "large-scale" terror plot organized by Americans, not Muslim immigrants.
But it was also the first Islamic terror plot in America that was organized from prison.
Kevin Lamarr James, a Crips gang member, had been sent away for a decade for a robbery in 1996. A member of the Nation of Islam, James made the same journey as Malcolm X and many other black Muslims, away from the racist black nationalist UFO cult and to mainstream Islam.
On one hand, he had gotten a tattoo of Allah and on the other, the star and crescent of Islam.
The charismatic James created Jamiyyat Ul-Islam Is-Saheeh or JIS to spread true Islam, recruit prisoners and set off a wave of Islamic terrorist atrocities against American targets in California.
Members were told to swear an oath of secrecy and to wage war on infidels, especially Jews. In prison, they practiced Arabic, studied Islamic theology and trained in martial arts. Out of prison, they were told to blend into society and build the Caliphate in America through jihad.
By the time the robberies began, a jihadist group had been secretly operating in Folsom Prison for nearly a decade and was about to make the leap to carrying out attacks on the outside.
One of their target dates for a terror attack was the fourth anniversary of Sept. 11.
"This incident is the first in a series of incidents to come in a plight to defend and propagate traditional Islam in its purity," James, who had changed his name to Ahmed Binyamin Alasiri, allegedly declared in a press release for the attacks.
"We are not extremists, radicals, or terrorists. We are only servants of Allah."
But James hadn't picked the best servants for his deity. When Patterson left behind his phone, the authorities followed the trail right back to Folsom Prison and JIS's mastermind.
The four-man cell was charged with levying war against the United States.
But James was the one with the brains. While Washington, his patsy, was slapped with a 22-year prison sentence, his "sheikh," who had built an entire terror group in prison, denied everything and then claimed that he suffered from a really bad childhood.
"Your honor, I'm thoroughly embarrassed and appalled by my actions. I don't even recognize who I was three years ago. Never before in my life before meeting these people, did I believe in violence or targeting innocent civilians," the terror sheikh gushed.
Judge Cormac Carney, who would later illegally declare the death penalty to be unconstitutional, called James' missive "the most powerful letter I've ever received."
The naive judge was also impressed by all of James's prison college classes, and his evolution and repentance, and described him as a victim from a disadvantaged background.
In the portion of James's letter that Judge Carney read out loud in court, the terror mastermind vowed that "my country need never fear from me again."
That was in 2009.
He was freed in September 2019. And in August 2020, he was busted for selling meth.
James, now living in Orange County and officially being called Ahmed Binyamin Alasiri, had been selling nearly pure methamphetamine for thousands of dollars.
And all of this was going on while James was on supervised release.
The FBI had called the terror plot by Jamiyyat Ul-Islam Is-Saheeh "probably the one that operationally was closest to actually occurring."
"Americans watched so-called 'home-grown' terrorists unleash multiple bombings in the city of London. Some in this country may have mistakenly believed that it could not happen here. Today we have chilling evidence that it is possible," said Attorney General Alberto Gonzalez.
The terror plot had been aimed at military targets, as well as a number of Los Angeles congregations, including, allegedly, the ultra-progressive B'nai David-Judea, which would have been struck by armed gunmen pushing their way inside and opening fire on Yom Kippur.
The heavy security presence at Los Angeles synagogues, which includes heavily armed guards and bulletproof vests, is part of the legacy that James and his True Islam terror group left there.
James had built up a terrorist operation in prison backed by manifestos and operational documents making him the closest counterpart to the Blind Sheikh. Instead, he was given a lighter sentence because the same charismatic gang member turned preacher who had convinced hardened criminals from rival gangs to believe in him had turned a judge.
Selling meth may have been the alleged hobby of a newly freed criminal, or something more. Traffic in certain drugs, including methamphetamines, has been used by Islamic terrorist groups to finance their operations. It's unknown whether this is the case here, but the FBI, after Obama, is less likely to be looking for it or to even know what to be on the lookout for.
When Jamiyyat Ul-Islam Is-Saheeh fell afoul of the FBI in 2005, law enforcement was acquainted with the methodology, infrastructure and strategies of Islamic terrorists. During the Obama administration, a cultural revolution was waged against counterterrorism from the inside.
If James is up to anything these days, the FBI is unprepared and unready to find out.
Fifteen years later, the terror plot, once a major event, has been largely forgotten. And the same is true of most Islamic terrorist attacks except for Sept. 11. As the country enters another September and begins a countdown to 9/11, everything afterward is being forgotten.
During the Black Lives Matter riots, a white Muslim illegal alien stabbed a New York cop, grabbed his gun, and opened fire on other officers while shouting "Allahu Akbar." Despite wounding three cops and claiming "my religion made me do it," there's been little coverage.
In the midst of a pandemic and nationwide race riots, we should not forget that there is more than one threat vector. Islamic terrorists don't go away just because no one is paying attention. And the same prison system that helped produce the wave of BLM violence has also incubated Islamic prison terror cells like the one that plotted to kill Americans on another Sept. 11.
The Nation of Islam has been a feeder for both Islamic terrorism and Black Lives Matter violence. All three are deeply violent, bigoted and possessed of a feverish hatred of America.
Daniel Greenfield, a Shillman Journalism Fellow at the Freedom Center, is an investigative journalist and writer focusing on the radical left and Islamic terrorism.
https://www.jns.org/opinion/how-an-islamic-terror-sheikh-ended-up-selling-meth-in-orange-county/
--------
Africa
West African body urges Mali junta to restore democracy
Aurore Bonny
07.09.2020
An influential 15-nation West African bloc on Monday urged coup leaders in Mali to restore democratic institutions, according to a statement.
The call was made by Issoufou Mahamadou, Niger's president, at the 57th session of the extraordinary summit of the Economic Community of West African States (ECOWAS).
The socio-political crisis from last month's coup in Mali and the COVID-19 pandemic were the meeting's main themes.
"In Mali, the last legislative elections were contested following the proclamation in April 2020 of the final results by the Constitutional Court, which was the trigger for a protest movement that led to the coup d'état of Aug. 18, 2020, thus aggravating the political crisis," said Mahamadou, the bloc's current head, in his opening speech.
According to him, the sub-regional community has the duty to assist Malians in the rapid restoration of all democratic institutions. He also urged the military to join this effort.
"The military junta must help Mali. We hope that it will respond favorably to the measures taken by our community. Other strategic partners of the Malian people have the same hope. Let's not disappoint them," said Issoufou.
He also recommended deepening the vision of an ECOWAS of the peoples with the decisive step of electing the members of the ECOWAS Parliament by direct universal suffrage.
His other recommendations included consideration of all crises as opportunities to accelerate regional and continental integration and the development of strategic new reflection.
The latter aims at "an integrated, prosperous and peaceful Africa, led by its own citizens and representing a dynamic force on the international scene".
On the sub-regional fallout from COVID-19, the plan for a single currency called the Eco has been modified and will benefit from a new roadmap, announced Mahamadou.
"More generally, our summit must define the necessary guidelines for the development of a post-COVID-19 regional economic recovery plan, as all the programs have been negatively impacted by COVID-19," he said.
https://www.aa.com.tr/en/africa/west-african-body-urges-mali-junta-to-restore-democracy/1965957
--------
Turkey's Erdogan meets with head of Libya's GNA
06 September 2020
President Recep Tayyip Erdogan held closed-door talks with the head of Libya's Government of National Accord (GNA) on Sunday, as a meeting between delegates from the war-struck country's rival administrations kicked off south of the Moroccan capital.
Erdogan's meeting with Fayez al-Sarraj, the head of the GNA, took place in Istanbul, the Turkish presidency said, without giving details.
A picture from the meeting posted on the presidency's website showed Erdogan and Sarraj standing side-by-side, posing for the camera with neutral expressions.
For all the latest headlines follow our Google News channel online or via the app.
No statement was made to the media.
Meanwhile, delegates from Libya's rival administrations met for talks Sunday in Morocco, more than two weeks after the two sides announced a ceasefire.
Libya has been convulsed by political chaos and warfare for much of the period since the 2011 revolution that ousted Muammar Gaddafi.
Turkey backs the GNA against military general Khalifa Haftar, who is supported by Egypt, the United Arab Emirates and Russia. Ankara signed security and maritime deals with the GNA last year.
Last month, the two warring sides announced separately that they would cease all hostilities and hold nationwide elections, drawing praise from world powers after a series of fruitless initiatives in recent years to stop the conflict.
https://english.alarabiya.net/en/News/north-africa/2020/09/06/Turkey-s-Erdogan-meets-with-head-of-Libya-s-GNA
--------
Tunisian officer stabbed to death, three 'terrorists' killed in firefight
06 September 2020
Attackers with knives killed a Tunisian National Guard officer and wounded another Sunday before three assailants were shot dead in a firefight, the National Guard said, labelling it a "terrorist attack."
The attack took place in the tourist district of the coastal city of Sousse, the site of the worst of several extremist attacks in recent years, where 38 people, most of them Britons, were killed in a 2015 beachside shooting.
"A patrol of two National Guard officers was attacked with a knife in the center of Sousse," 140 km (80 miles) south of the capital Tunis, said National Guard spokesman Houcem Eddine Jebabli.
"One died as a martyr and the other was wounded and is hospitalized," he said, adding that "this was a terrorist attack."
For all the latest headlines follow our Google News channel online or via the app.
Security forces pursued the assailants, who had taken the officers' guns and vehicle, through the Akouda district of the city's tourist area of El-Kantaoui, said Jebabli.
"In a firefight three terrorists were killed," he said, adding that security forces "managed to recover" the car and two pistols the assailants had stolen.
Tunisia, since its 2011 popular revolution, has been hit by a string of extremist attacks that have killed dozens of security personnel, civilians and foreign tourists.
A suicide attack against security forces protecting the US Embassy in Tunis killed a Tunisian police officer and left several others wounded in March.
2015 was a particularly bloody year, with three major deadly attacks claimed by ISIS terrorist group.
An attack at the capital's Bardo museum in March killed 21 foreign tourists and a security guard.
Just three months later, 38 foreign tourists were killed in the shooting rampage at Sousse. And that November, a bomb blast on a bus in central Tunis killed 12 presidential guards.
While the situation has significantly improved since then, Tunisia has maintained a state of emergency.
Assaults on security forces have persisted, mainly in remote areas along the border with Algeria.
Tunisia has been praised as a rare success story among the 2011 Arab Spring popular uprisings that swept the region and brought down many autocrats, among them Tunisia's long-time president Zine El Abidine Ben Ali.
But the small Mediterranean country of about 11 million people is mired in an economic crisis, with the official unemployment rate at 18 percent, and in need of new assistance from the International Monetary Fund.
Last week Tunisia's parliament approved a new technocratic government led by Prime Minister Hichem Mechichi which faces the task of tackling deep social and economic woes in the North African country.
The 46-year-old premier pledged to revitalize the economy, including the crucial tourism sector, which had recovered after the extremist attacks but was then hit hard by the coronavirus pandemic.
https://english.alarabiya.net/en/News/north-africa/2020/09/06/One-Tunisian-national-guard-officer-killed-another-injured-in-terrorist-attack-
--------
Car bomb explosion in Somalia leaves 5 soldiers dead, US officer injured
07 September 2020
A car bomb explosion outside a military base in southern Somalia has left five Somali soldiers dead and a US officer seriously injured.
The Takfiri al-Shabab terrorist group has claimed responsibility for the attack, which took place on Monday in Jana Cabdalle village in the country's southern region of Jubbaland.
Mohamed Ahmed Sabriye, director of communications of Jubbaland state palace who confirmed the deaths, said the car bomb exploded outside the base of Somali special forces trained by the US called Danab.
The bomber detonated a vehicle packed with explosives at the entrance to a military base in Janay Abdalla, a village about 60 kilometres (37 miles) outside the southern port city of Kismayo.
However, al-Shabab claimed that more people have been killed in the attack.
"We attacked US and Somali forces called Danab in Jana Cabdalle village with a suicide car bomb. We killed four US officers, and 16 Somali forces which they trained," the military operations spokesman of the al-Shabab group, Abdiasis Abu Musab, said in a statement.
"We also wounded 12 Somali soldiers. We also destroyed 3 US armored vehicles."
Jana Cabdalle village is located some 60 km (around 40 miles) from the port city of Kismayu, which is the commercial capital of Jubbaland. The southern Somali region is still partly controlled by al-Shabab.
The al-Qaeda-linked al-Shabab militants have been waging an insurgency for more than a decade in Somalia.
Despite being ousted from large parts of the south and central Somalia, al-Shabab continues deadly attacks across the country, which has been ravaged by decades of war and poverty.
The militant group aims to oust the government in Mogadishu and drive out African Union peacekeeping troops. It has been carrying out militancy since 2006.
Al-Shabaab militants have fought successive Somali governments as well as neighboring governments in Uganda and Kenya, the latter of which sent troops to Somalia in 2011 to fight the Takfiri group as part of the African Union forces.
Somalia has faced instability and violence since 1991, when the military government was overthrown.
https://www.presstv.com/Detail/2020/09/07/633531/Somalia-car-bomb-explosion-military-base--soldiers-al-Shabab-militants
--------
URL: https://www.newageislam.com/islamic-world-news/un-investigator-says-saudi-prosecutor/d/122817
New Age Islam, Islam Online, Islamic Website, African Muslim News, Arab World News, South Asia News, Indian Muslim News, World Muslim News, Women in Islam, Islamic Feminism, Arab Women, Women In Arab, Islamophobia in America, Muslim Women in West, Islam Women and Feminism