New Age Islam News Bureau
15 Feb 2018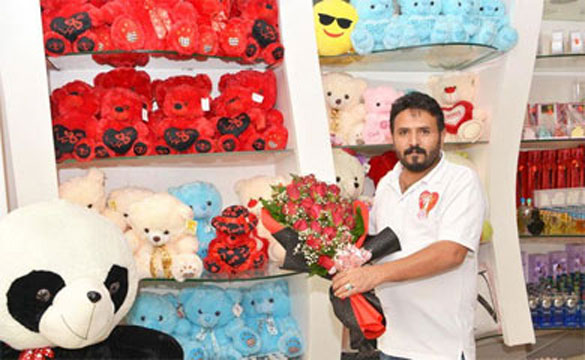 A florist in Jeddah freely sells roses to a customer on Valentine's Day. In previous years, the religious police confiscated roses on Feb. 14. (AN photo by Adnan Mahdali)
-----
• Un-Forbidden Love: Saudis Enjoy Second 'Religious Police-Free' Valentine's Day
• Pakistan Declares Hafiz Saeed 'Terrorist of Hearts' Ahead of Valentine's Day
• Al Rayan Debuts Sharia-Compliant Bond Backed By UK Mortgages
• Federal Territories Mufti: 'Haram' To Spoil Ballots, Abstain From Voting
• Libya's Supreme Court Blocks Legal Challenges to Draft Constitution
• Hassan Rouhani's Muslim Leadership Outreach in Strategic Hyderabad Visit
Arab World
• Un-Forbidden Love: Saudis Enjoy Second 'Religious Police-Free' Valentine's Day
• Egypt Arrests Ex-Presidential Candidate and Government Critic Abul Fotouh
• UAE to host world conference on Muslim minorities
• Jordan Ignores Iraq's Request for Extradition of Saddam's Eldest Daughter
• More Terrorists Killed in Rival Group's Infighting in Northwestern Syria
• More Kurdish Fighters Killed in Turkish Military Operation in Northern Syria
--------
Pakistan
• Pakistan Declares Hafiz Saeed 'Terrorist of Hearts' Ahead of Valentine's Day
• Pakistan Slipping Out Of US Influence, Say Intelligence Agencies
• Taliban gun down two FC men in Quetta
• JuD to move court against govt ban on FIF
• Senator warns against Pakistan being placed on terror watch-list
• 'Holding a public gathering is not terrorism': Imran appears before Islamabad ATC
--------
Europe
• Al Rayan Debuts Sharia-Compliant Bond Backed By UK Mortgages
• UK Rejects Return of Islamic State Fighters despite US Calls
• Muslim Leader Urges Macron Not to Meddle Too Much in French Islam
• Russia eyeing contract with Turkey for next batch of S-400s: Informed source
--------
Southeast Asia
• Federal Territories Mufti: 'Haram' To Spoil Ballots, Abstain From Voting
• DPM Tells Jakim, Authorities to Monitor Preachers
• FT Mufti backs call to review edict against transgenders
• Indonesia, Philippines Move Forward With Cooperation in Islamic Education
• Jokowi cements ties with Indonesia military in political shift
• Indonesian court indicts cleric accused of masterminding attacks
--------
Africa
• Libya's Supreme Court Blocks Legal Challenges to Draft Constitution
• French Forces Kill At Least 10 Extremists in Mali, Military Sources Say
• Boko Haram commander gets 60 years for terrorism
• Somali Forces Capture Sablale Town From Al-Shabaab
• Boko Haram: Nigerian govt has not achieved total victory – Shehu Sani
--------
India
• Hassan Rouhani's Muslim Leadership Outreach in Strategic Hyderabad Visit
• Another Sunni cleric, Syed Abdullah Tariq, backs Maulana Salman Nadwi
• Bengal: Hindu Outfit Calls for 'Ghar Wapsi', Shows 'Reconverted' Muslim Family
• Arrested Indian Mujahideen Terrorist Was Married To Nepali
• Indo Pak couple meet each other on Valentine's Day
• 'Attacks on Army, CRPF camps joint plan by LeT, Jaish'
• India Commends Iraq for Victory Over Islamic State; Assures Support for Relief, Economic Reconstruction
--------
South Asia
• Afghan Taliban Extend Olive Branch to American People
• Afghan Taliban Says They Want To Solve War through Dialogue
• Regional powers China, India battle for Bangladesh bourse
• Refugee repatriation: Myanmar hands over list of 508 Hindus, 750 Muslims to Bangladesh
• Suicide bomber arrested before attacking Lashkargh city with motorcycle bomb
• NATO aiming to deploy 3 thousand more troops to Afghanistan: Stoltenberg
--------
North America
• 'You Don't Sound American', TV Host Tells Muslim Blogger from Oklahoma
• Muslim Mayoral Candidate In Minnesota Receives Death Threat On Social Media
• Muslim Student 'Kicked Off Flight for Speaking Arabic' Sues Southwest Airlines For Racial Discrimination
• US pushes on Russia to use its leverage on Syria
• US secretary of state urges Iran to withdraw from Syria
--------
Mideast
• Yemeni Army Kills 40 Houthis Advancing Near Midi Front
• Saudi Forces Repel Houthi Border Incursion, Kills 25 Militants
• Houthis are 'at their worst,' commander who defected to Aden says
• Senior Houthi commander killed in Taiz, advances to liberate city continue
• US instrumental in Daesh, terrorism spread in Middle East: Iran
• Kuwaiti emir lauds Iran's role in fighting Daesh, developing Iraq's economy
• Seven Israeli soldiers wounded after running over landmine
Compiled by New Age Islam News Bureau
URL: https://www.newageislam.com/islamic-world-news/un-forbidden-love-saudis-enjoy/d/114293
--------
Un-forbidden love: Saudis enjoy second 'religious police-free' Valentine's Day
15 February 2018
JEDDAH: Saudis celebrated Valentine's Day and its message of love and peace in the absence of religious police after a fatwa permitting the celebrations was circulated via Twitter.
Gift and flower shops opened their doors without any hassle or confiscation from the religious police, who formerly banned florists from working on Valentine's Day and monitored the Kingdom's streets for any violations. This was confirmed by market visits by a number of Arab News reporters in different Saudi cities.
Speaking to Arab News, Sheikh Ahmed Qasim Al-Ghamdi, former president of the Commission for the Promotion of Virtue and Prevention of Vice in Makkah, endorsed Valentine's Day as a social celebration similar to the National Day and Mother's Day.
"All these are common social matters shared by humanity and are not religious issues that require the existence of a religious proof to permit it," he said.
Describing love as a natural feeling, the cleric said that Valentine's Day celebrated "a positive aspect of the human being."
Al-Ghamdi said the celebration of love was not limited to non-Muslims. "There are many worldly things that we deal with morally that may be of interest to non-Muslim communities and became more common among Muslim communities because of their popularity," he said, citing the Prophet as an example. "The Prophet dealt with many worldly things that came from non-Muslims."
He rejected the view that marking the day is an imitation of non-Muslims and said: "Even greeting peaceful non-Muslims in their special religious holidays is permitted without participating in a forbidden act that contradicts Islam."
Al-Ghamdi stressed his support for fatwas that permit the celebration of Valentine's Day and exchanging of gifts.
A fatwa issued on Feb. 13 by the fatwa secretary of Dar Al-Ifta Al-Misriya (Egyptian Religious Edict House), Ahmed Mamdouh, said: "There is no harm to allocate one day to show love to one another."
Tunisian Grand Mufti Othman Battikh also rejected the claim that Valentine's Day is solely a Christian tradition. "Anything that brings people closer together is good and desirable," he said, adding that Muslims can celebrate without departing from Islamic ethics.
Mohammed Al-Shahat Al-Jundi, a member of the Islamic Research Center, said that the celebration helps "maintain ties of kinship."
Al-Ghamdi described the current religious police as "very useful and conciliatory."
http://www.arabnews.com/node/1246766/saudi-arabia
--------
Pakistan declares Hafiz Saeed 'terrorist of hearts' ahead of Valentine's Day
Feb 15, 2018
ISLAMABAD – Pakistan on Monday endorsed the United Nations' list of banned terrorist organisations by designating the said outfits 'terrorists of hearts' in Pakistan, The Dependent has learnt.
The country-wide declaration was imposed after President Mamnoon Hussain amended the Anti-Terrorism Act (ATA) 1997, issued the amended Anti-Terrorism Ordinance 2018, and personally uttered under his breath that "Hafiz Saeed is a terrorist of hearts."
The development means that Hafiz Saeed's groups including Lashkar-e-Taiba and Jamat-along with the 27 other banned outfits on the aforesaid UN list, have now been declared terror groups of hearts.
Sources within the ruling Pakistan Muslim League-Nawaz (PML-N) confirmed that Hafiz Saeed has been conveyed by the government that he is being designated a terrorist of hearts, not terrorist.
"After Prime Minister of Hearts Nawaz Sharif and Finance Minister of Hearts Ishaq Dar, we also have a terrorist of hearts in Hafiz Saeed, to ensure that both the cabinet of hearts and anti-state elements of hearts continue to grow in unison in this state of the hearts," Information Minister Marriyum Aurangzeb told The Dependent.
Government officials have further confirmed that the announcement was deliberately made in the build up to Valentine's Day to making it more 'fitting'.
"Yes, the aim was to finalise it before Valentine's Day on February 14," said a senior official. "It had nothing to do with the Financial Action Task Force (FATF) meeting in Paris scheduled from the 18th to 23rd of this month.
https://www.pakistantoday.com.pk/2018/02/14/pakistan-declares-hafiz-saeed-terrorist-of-hearts-ahead-of-valentines-day/
--------
Al Rayan debuts sharia-compliant bond backed by UK mortgages
Feb 15, 2018
An Islamic bank has raised the first sharia-compliant bond backed by UK mortgages, highlighting the growing importance of Islamic finance for both capital markets fundraising and high-street lending in Britain.
The UK has sought to make itself a hub for Islamic finance in the western world, with the British government raising £200m through the first sovereign sukuk outside the Islamic world in 2014. However, Al Rayan Bank's deal is the first time a UK lender has blended sharia-compliant financing with securitisation, in which bonds are raised against assets such as mortgages.
Islamic financing prohibits lenders from charging interest on loans. Rather a lender agrees to invest in a project and then shares in the profits. In this case, the Birmingham-based lender offers its customers the Islamic finance equivalent of mortgages, known as home purchase plans. Technically the bank co-owns the house and rents the part it is not using to the customer.
The bank bundled nearly 1,700 of these home purchase plans together as security for its sukuk, which was issued through a special-purpose vehicle called Tolkien Funding Sukuk, named after author JRR Tolkien, a famous Birmingham resident.
"We operate in the perfect environment here in the UK," said Al Rayan's treasurer Amir Firdaus. "The government has allowed sharia banking to flourish."
Mr Firdaus added that the bank has written about £660m worth of home purchase plans to UK residents, with a further £250m worth on UK properties bought by Gulf buyers, and has seen zero losses on the loans. Al Rayan is ultimately owned by Qatari bank Masraf Al Rayan and the country's sovereign wealth fund.
Raising debt secured on mortgages provides the bank with a cheaper alternative to deposit funding. While other UK challenger banks have had access to the Bank of England's term-funding scheme — which provides cheap funding to banks and building securities — Al Rayan has not been able to tap this source of liquidity as it is not sharia compliant.
The availability of this cheap central bank funding has meant traditional high street lenders have had less reason to turn to the mortgage-backed bond market for funding. This has led to a recent dearth of "prime" residential mortgage-backed securities (RMBS), meaning that there was significant interest in Al Rayan's deal from traditional UK securitisation investors.
"Although it has some relatively specific features around how the mortgages are structured, when you look at the loan quality it is very much a UK prime RMBS deal," said Ben Hayward, a partner at TwentyFour Asset Management.
"If you can get comfortable with all that, then really it's about establishing the premium you need to get paid to reflect the fact it won't be as liquid as a typical prime deal from a UK lender."
Al Rayan raised its triple A-rated sukuk at 0.8 per cent more than Libor, the floating rate lending benchmark. This offered investors a significant premium to traditional mortgage-bonds, with Nationwide raising a prime RMBS bond at 0.37 per cent above Libor on the same day.
While Al Rayan's securitisation market debut saw strong demand, the bank's treasurer said a recent legal wrangle between energy company Dana Gas and its sukuk bondholders had unnerved some investors.
The United Arab Emirates-based company has disputed the validity of a sukuk it raised from international investors such as BlackRock and Goldman Sachs, because it says the structure of the deal is no longer sharia-compliant. Dana Gas is yet to back down in its stand-off with its lenders, despite two rulings against it in the English high court.
"Dana Gas is the most spoken investment," said Mr Firdaus. "For those that were not familiar with the sukuk market, it does spook them."
https://www.ft.com/content/65ec2fa0-1197-11e8-940e-08320fc2a277
--------
Federal Territories Mufti: 'Haram' To Spoil Ballots, Abstain From Voting
February 15, 2018
KUALA LUMPUR, Feb 15 — Federal Territories Mufti Datuk Zulkifli Mohamad al-Bakri has declared it "Haram (forbidden)" for Malaysian Muslims to spoil their votes or not vote in the general election.
In a statement on the mufti's official website issued recently, Zulkifli said voting is a mandatory duty for Muslims, according to the spirit of the constitution and law.
"We are inclined to say that it is haram to spoil your votes. Not voting and not registering as a voter is also equally haram," he said.
Zulkifli was responding to the growing campaign for voters to intentionally spoil their ballots for the 14th general election.
The movement is gaining traction, especially among youths who claimed to be disillusioned with the choices offered by both Barisan Nasional and Pakatan Harapan.
Zulkifli stressed that choosing a leader is crucial for the harmony of Muslims and Islam, and given the importance of the process, individuals must not spoil their votes.
"The orders given by a leader is Islam must be abided by," he said, adding that a leader is also crucial to unite Muslims in the country.
The 14th general elections must be called by June 24, but the prime minister may declare one before then.
http://www.themalaymailonline.com/malaysia/article/ft-mufti-haram-to-spoil-ballots-abstain-from-voting#8sTXf1YZ5C1lSeZd.97
--------
Libya's supreme court blocks legal challenges to draft constitution
14 February 2018
TRIPOLI: Libya's supreme court blocked legal challenges from lower courts to a draft constitution on Wednesday, paving the way for a possible referendum on the document and a move toward elections, a lawyer who helped draft the text said.
Establishing a constitutional framework is widely seen as a key step in efforts to stabilize Libya after years of anarchy following a 2011 uprising.
The oil-rich country has splintered in recent years into local fiefdoms, with competing parliaments and governments set up in the east and west of the country backed by rival armed alliances. The United Nations is hoping that elections can be held by the end of the year.
Members of a Constitutional Drafting Assembly (CDA) had voted last summer in favor of a draft constitution, but an administrative court in the eastern city of Bayda had ruled that the vote was invalid.
The supreme court effectively quashed the Bayda decision by declaring that administrative courts do not have the jurisdiction to rule on matters relating to the CDA, said Omar Naas, a CDA member.
The draft constitution could still face hurdles, including challenges in the supreme court, turnout or approval requirements set by the eastern parliament or House of Representatives (HOR) for a constitutional referendum, and the difficulty of holding a nationwide poll in a country where there are no national security forces.
Some of Libya's minorities have also said they were excluded from a lengthy and sometimes acrimonious drafting process.
But Naas said the text was for "all Libyans," and greeted the supreme court's decision as "historic."
"The next steps are for the House of Representatives to discuss and write the referendum law that will enable Libyans to decide their fate," he said.
http://www.arabnews.com/node/1246756/middle-east
--------
Hassan Rouhani's Muslim leadership outreach in strategic Hyderabad visit
Feb 15, 2018
HYDERABAD: Iranian President Hassan Rouhani's visit to Hyderabad and his proposed interaction with the city's Muslim elite is seen as a strategic move by Iran to emerge as a world leader of Muslims. Cultural and historical ties between Iran and Hyderabad are over 500 years old and dates back to the period of Safavid dynasty in Iran and Qutub Shahi regime in Hyderabad. There were times when rulers of Hyderabad were more affiliated to rulers of Iran rather than the mighty Moghul Empire in Delhi.
In fact, no other city in the world has been so much influenced by Iranian culture, history, heritage, fabrics, gardens, mansions, architecture, urban planning, customs and traditions and cuisine as Hyderabad. Everything that's considered Hyderabadi now is a blend of Indo-Iranian culture. According to city historians, the visit of Dr Hassan Rouhani to Mecca Masjid and other historical sites of Qutub Shahi era will strengthen the age-old relations between India and Iran.
Some local Muslim groups, however, feel the visit will help Iran consolidate its move to emerge as the world leader of Muslims. In fact, only Iran and Turkey have been raising the cause of Muslims, particularly the Palestinian issue.
'Hyderabad hub of Sunni-Shia bonhomie'
Turkey President Recep Tayyip Erdogan was hailed in the city as a world Muslim leader when he opposed the US decision to recognise Jerusalem as the capital of Israel. In this backdrop, the visit by the Iranian President gains significance.
Incidentally, Hyderabad is the only major city in India where Sunnis and Shias live in harmony. Sufism, which is widely practised in Hyderabad, was introduced to India through Iran. This Islamic school of mysticism has Iranian influence. Hyderabad has an Iranian consulate too.
Commenting on the proposed interaction with the Muslim elite and the address at the Friday congregation in Mecca Masjid, city historian and senior Shia scholar Allama Aijaz Farruq told TOIHyderabad is the most suitable place for Sunni-Shia and in fact, Hindu-Muslim unity. "There is no better place than Hyderabad for a visiting dignitary to address different sects and sub-sects of Muslims at one common platform," the Allama said.
According to nonagenarian Jeelani Pairak, who heads the World Qiraat Council, a body dedicated to holding competitions in the recitation of the Quran, the Iranian President has rightly chosen Hyderabad as the city is influenced largely by Iranian culture. "Delhi is influenced by Moghul culture, while Hyderabad owes its city planning and architecture and the extinct gardens to Iran," he adds. The state government made arrangements for the historic visit of Rouhani to Hyderabad. According to a statement, the President will visit Salarjung Museum and interact with people of Iranian descent.
https://timesofindia.indiatimes.com/city/hyderabad/rouhanis-muslim-leadership-outreach-in-strategic-hyderabad-visit/articleshow/62924423.cms
--------
Arab World
Egypt arrests ex-presidential candidate and government critic Abul Fotouh
15 February 2018
Egyptian police arrested on Wednesday a leading government critic and party leader Abdel Moneim Abul Fotouh, security officials said, while prosecutors remanded into custody another leading dissident.
Security officials suggested Abul Fotouh, a candidate in the 2012 presidential election, had ties with the outlawed Muslim Brotherhood.
He was arrested shortly after arriving from London where he gave interviews in which he was critical of the government. Five aides were also arrested, the officials said. Rights lawyer Gamal Eid told AFP that they were subsequently released, but Abul Fotouh remained in custody to be questioned om Thursday.
The arrests came after a statement by Abul Fotouh and several other politicians calling for a boycott of next month's election. President Abdel Fattah al-Sisi is expected to easily win the election after most rivals were sidelined or withdrew.
His most credible rival, former military chief of staff Sami Anan, was detained last month shortly after announcing his candidacy. The military said he was still enlisted and had no right to run in the election.
He is accused of fraud for registering on the voters' database, and incitement against the military.
Anan's top campaign aide Hisham Geneina, a former anti-corruption chief sacked by Sisi, was remanded into custody on Wednesday, a day after his arrest, for suggesting Anan possessed and could release documents damning to top state officials.
Medical attention
His lawyer Ali Taha told AFP that he did not know where Geneina was being held, and that he needed medical attention for injuries he sustained when a group of men attacked him in the street days earlier. Sisi was elected in 2014, a year after the former army chief ousted his unpopular Islamist predecessor Mohamed Morsi.
Abul Fotouh, once a leading member of Morsi's Muslim Brotherhood, had supported the mass protests against the Islamist that prompted the military to topple him. He has since been critical of Sisi who has been accused of clamping down on dissent.
Sisi's only remaining rival is a leader of a small party who had been a leading campaigner for Sisi until he abruptly announced his own candidacy. Critics said he did so to save Sisi the embarrassment of being the only candidate, in a throwback to referendums held by Egyptian autocrats instead of elections.
The government has rejected such criticism and the candidate, Moussa Mostafa Moussa, insists he is a serious contender. Former army general and prime minister Ahmed Shafiq had also announced he would stand in the election.
https://english.alarabiya.net/en/News/middle-east/2018/02/15/Egypt-arrests-ex-presidential-candidate-and-government-critic-Abul-Fotouh.html
--------
UAE to host world conference on Muslim minorities
February 14, 2018
Abu Dhabi: An international conference is set to be held in Abu Dhabi in May to address challenges and opportunities of around 500 million Muslims working and living in the West.
The conference will also explore ways for them to fulfil their role as both good Muslims and good citizens and encourage positive contribution within the society, organisers said on Wednesday.
"The International Conference on Muslim Minorities: Opportunities and Challenges, to be held on May 8-9, aims at spreading the culture of peace and tolerance between adherents of religions and cultures, and contributing to safeguarding the children of Muslim minorities against violence and extremism and defending the rights of these religious and cultural minorities according to international conventions and treaties," said Dr Ali Rashid Al Nuaimi, chairman of the Supreme Committee of the conference.
Dr Al Nuaimi said the event is very important and has a global dimension and comes within the framework of the initiatives sponsored by the UAE that serve all humanity.
"The world now lives in the context of globalisation in many aspects and the resulting human mobility between different continents and societies," Dr Al Nuaimi told a press conference in Abu Dhabi.
He pointed out that "each country has its own environment that is different from the other challenges faced, and some Muslim minorities went to other worlds and achieved successes, became an essential component and contributed to the development of the countries in which they live".
At the same time, "other minorities have faced challenges, and some have not been able to effectively integrate into their new societies", Dr Al Nuaimi explained.
The conference will bring together more than 400 leaders of Muslim minorities in more than 130 countries to review their experiences and challenges.
On the objectives of the conference, Dr Al Nuaimi said it will discuss setting a framework that will help Muslim minorities to play their active role in serving their countries and to highlight the bright image of Islam.
He stressed that the conference is an opportunity to find an incubator to study the challenges that Muslim minorities have faced over the years in order to make a difference that serves the future generations of these minorities and highlight the successful models.
"The event is unique as it is the first time in the history of Muslim minorities to meet in a single conference to discuss their issues and interact with each other," said Dr Mohammad Bashary, member of the Supreme Committee of the conference and secretary-general of the European Islamic Conference.
He added that the conference will discuss the development of a strategy to immunise the Muslims outside the Islamic world from falling into the trap of radicalisation, and how a Muslim becomes a good citizen in his community.
Main agenda
The World Conference on Muslim Minorities aims to improve the functioning of Islamic institutions in the world to play the role of intellectual and spiritual security for Muslim minorities and to encourage them to engage in building their societies and participate in their civil and cultural initiatives.
The conference seeks to achieve the civilisational existence of Muslim minorities through positive interaction with the rest of their societies, in addition to launching initiatives to combat extremism and hatred of the other, as well as strengthening the system of citizenship and social integration of these minorities.
The conference will discuss several issues, including the situation of Muslim minorities in the global context: opportunities and challenges, the growing phenomenon of religious extremism and Islamophobia, and their role in undermining social integration strategies and their impact on community peace.
The conference will also examine the role of Muslim minorities in promoting cultural pluralism in the societies in which they live, through the creation of a cultural discourse based on the basic principles of community security, recognition of the other, and the principle of cultural pluralism as a guarantee of privacy within the concept of citizenship.
Full report at:
http://gulfnews.com/news/uae/government/uae-to-host-world-conference-on-muslim-minorities-1.2173775
--------
Jordan Ignores Iraq's Request for Extradition of Saddam's Eldest Daughter
Feb 14, 2018
The Arabic-language al-Ray al-Youm newspaper quoted a Jordanian official as saying that Amman has ignored Baghdad's demand for Raghad's extradition for humanitarian reasons, noting that she is in Jordan as a guest and is not active in political arenas.
Reports surfaced this week that Baghdad has requested that Amman hand over Raghad.
Raghad fled to Jordan with her sister, Rana, and their children in July 2003.
Raghad has been on the Iraq government's most wanted list of members of the former ruling Baath party and Islamic State group members since 2006.
Full report at:
http://en.farsnews.com/newstext.aspx?nn=13961125001461
--------
More Terrorists Killed in Rival Group's Infighting in Northwestern Syria
Feb 14, 2018
The sources said that two Al-Nusra-affiliated groups engaged in heavy fighting in the town of Ma'arat al-Nu'aman in Southern Idlib, inflicting a number of casualties on both warring sides.
Field sources reported on Sunday that Abu Hazifah Homsi, a notorious Al-Nusra commander, was killed after a remote-controlled bomb went off in his vehicle on a road connecting the town of Ariha to the village of al-Mastoumah in Southern Idlib.
Full report at:
http://en.farsnews.com/newstext.aspx?nn=13961125001076
--------
More Kurdish Fighters Killed in Turkish Military Operation in Northern Syria
Feb 14, 2018
The army's statement said that 46 Kurdish fighters have been killed in the air and ground attacks of the Turkish army and allied militants in Afrin region in Northwestern Aleppo in last 24 hours.
It added that the total casualties of the Kurds in Operation Olive Branch in Northern Syrian stand at 1,485.
The Hawar news reported on Monday that the Kurdish fighters shot down a spying drone of the Turkish army in Qoudiyeh region in Afrin.
It added that the Turkish drone was a Beiraqdar pilotless aircraft, one of the most important products of the Turkish military industries.
Full report at:
http://en.farsnews.com/newstext.aspx?nn=13961125000826
--------
Pakistan
Pakistan slipping out of US influence, say intelligence agencies
Anwar Iqbal
February 15, 2018
WASHINGTON: Seventeen US intelligence agencies have warned Congress that Pakistan will continue to slip out of America's influence and into China's orbit in 2019, and will become a threat to Washington's interests in the South Asian region.
The review is part of an annual report that Director of US National Intelligence Daniel R. Coats presented to the Senate Intelligence Committee on Tuesday, underlining worldwide threat assessment of the American intelligence community.
The 17 agencies that jointly produced this report include Central Intelligence Agency, Defence Intelligence Agency, Federal Bureau of Investigation and National Security Agency.
Pakistan
In their report on Pakistan, the agencies warned that the country will continue to threaten US interests by "deploying new nuclear weapons capabilities, maintaining its ties to militants, restricting counterterrorism cooperation, and drawing closer to China".
The report claimed that Islamabad-backed militant groups will continue to take advantage of their alleged safe haven in Pakistan to "plan and conduct attacks in India and Afghanistan, including against US interests".
The agencies also warned Pakistan's perception of its "eroding position relative to India, reinforced by endemic economic weakness and domestic security issues, almost certainly will exacerbate long-held fears of isolation and drive Islamabad's pursuit of actions that run counter to US goals for the region".
In a brief assessment of Islamabad's nuclear programme, US intelligence agencies informed Congress that Pakistan continues to produce nuclear weapons and develop new types, including short-range tactical weapons, sea-based cruise missiles, air-launched cruise missiles, and longer-range ballistic missiles.
"These new types of nuclear weapons will introduce new risks for escalation dynamics and security in the region," the report added.
India-Pakistan Tension
US agencies also expect relations between India and Pakistan to remain tense, with continued violence on the Line of Control and "the risk of escalation if there is another high-profile terrorist attack in India or an uptick in violence on the Line of Control".
India-China Tension
The agencies informed Congress that in 2019, relations between India and China will remain tense and will possibly deteriorate further, despite the negotiated settlement to their three-month border standoff in August.
This "elevates the risk of unintentional escalation", the report added.
Afghanistan
The US intelligence community expects the overall situation in Afghanistan to "deteriorate modestly" this year in the face of persistent political instability, sustained attacks by the Taliban-led insurgency, unsteady Afghan National Security Forces (ANSF) performance, and chronic financial shortfalls.
The agencies warned that the National Unity government in Kabul "probably will struggle" to hold long-delayed parliamentary elections, currently scheduled for July 2018, and to prepare for a presidential election in 2019.
"The ANSF probably will maintain control of most major population centres with coalition force support, but the intensity and geographic scope of Taliban activities will put those centres under continued strain," the agencies assessed.
The agencies believe that Afghanistan's economic growth will stagnate at around 2.5 per cent per year, and Kabul will remain reliant on international donors for the great majority of its funding well beyond 2018.
Russia
US intelligence agencies see Russia as bringing pressure on Central Asia's leaders to reduce engagement with Washington and support Russian-led economic and security initiatives, and believe that "concerns about [the militant Islamic State group] in Afghanistan will push Moscow to strengthen its security posture in the region".
https://www.dawn.com/news/1389542/pakistan-slipping-out-of-us-influence-say-intelligence-agencies
--------
Taliban gun down two FC men in Quetta
FEBRUARY 15, 2018
QUETTA: Taliban militants shot dead four paramilitary soldiers in Quetta, where last month seven security men were killed in a suicide attack, police and the militant group said.
The Frontier Corps troopers were patrolling the residential neighborhood of Langoabad on motorcycles when they were fired on by gunmen also riding bikes, said Naseebullah Khan, Senior Superintendent of Police in Quetta. "The four men were shot in the head," Khan said, adding that handguns were used in the attack.
Tehrik-i-Taliban Pakistan (TTP) claimed responsibility for the attack.
Following the incident, security and rescue personnel reached the site, cordoned off the area and began search operation.
The bodies of the deceased were shifted to the Civil Hospital. The deceased officials have been identified as Aslam, Saeed, Shabbir and Amjad.
Police said they have recovered shells fired from a 9mm weapon and other evidence. An investigation is underway.
Balochistan in general and its provincial capital Quetta in particular witness frequent attacks by various militant and terrorist groups.
On January 28, a policeman was killed in Quetta's Hazarganji area in a targeted attack while on January 18, two Balochistan Constabulary officials were killed in Quetta.
Similarly, a police constable was shot dead by unidentified attackers on the city's Raisani Road on January 16.
A day earlier, on Jan 15, five Pakistan Army soldiers were killed in Kech, Balochistan, when their vehicle turned turtle after it was fired at.
Full report at:
https://dailytimes.com.pk/202235/taliban-gun-two-fc-men-quetta/
--------
JuD to move court against govt ban on FIF
Feb 15, 2018
LAHORE: Jamatud Dawa (JuD) Spokesperson Muhammad Yahya Mujahid on Wednesday expressed serious concerns over notification issued by the government to seize the assets of JuD and Falahe Insaniat Foundation (FIF) and said that the government was taking possession of the educational institutes, ambulances, dispensaries and other assets "to please India and America".
"Our relief activities in Balochistan, Sindh, Punjab and Kashmir have been severely affected. Relief and welfare projects among education and health have been made difficult to continue."
In his statement, he said that the JUD chief Hafiz Muhammad Saeed and other leaders had been detained without any reason last year. Now, the organisation's relief projects in the whole country were being closed by issuing a notification to seize assets. Thousands of poor, orphans, widows and needy had been affected. Hafiz Muhammad Saeed advised the activists to be patient in this critical situation.
Terming the CPEC and Pakistan's nuclear programme the hidden targets of India and the United States, he said that the action was being taken against JuD for the crime of raising their voice in favour of the Kashmiris and exposing the plots against Pakistan. India and the US want to silence everyone's voice that was being raised against the vicious plots.
He accused India of always disdaining the UN resolutions regarding Kashmir.
He called the new presidential ordinance conspiracy not only against the JuD but also against the whole nation. "Pakistani rulers are passing a presidential ordinance against the JuD and FIF, and are taking action against patriotic organisations and departments of the country."
"Seizing educational institutes, ambulances, dispensaries and other assets over Indian and American dictation, is cruel and abusive. In an independent and autonomous country, such measures – like those being taken by the Pakistani government – are not taken," he added.
Full report at:
https://www.pakistantoday.com.pk/2018/02/14/jud-to-move-court-against-govt-ban-on-fif/
--------
Senator warns against Pakistan being placed on terror watch-list
Feb 15, 2018
ISLAMABAD: Senator Farhatullah Babar on Wednesday warned against Pakistan being put on the watch-list as a country deemed noncompliant with terror-financing regulations of the UN which would deal a huge blow to the country's economy and called for the sincerity of purpose in matching the promises with the ground reality.
Speaking on an issue of public importance in the Senate, he said that the Financial Action Task Force (FATF) will meet in Paris early next week.
He said that the Paris meeting will consider Pakistan's compliance status with international regulations to choke financing infrastructure of terror organisations and will also consider a motion to place Pakistan on the terror-financing watch-list already moved by the US and some other European countries.
Expressing skepticism, he said that four days ago the President promulgated an ordinance amending the Anti-Terrorism Act 1997 so as to bring individuals and organisations listed by the UN Security Council in its ambit. It was followed by Cabinet's approval to the new Anti-Terrorism (Freezing and Seizure) Rules 2018, he added.
He further said that these were positive moves but the fact that the Ordinance had not been brought before the Parliament, as required under the Constitution and the law, has raised some serious doubts about the intent of the move.
"We must be sincere in honoring the pledges we make because in the past we made promises but did not follow up on them, prompting allegations of huge gap between pledges made and the ground reality," he said, "We must realise that the situation has changed and it is no longer possible to sidestep delivering on promises."
Senate Chairman Raza Rabbani also deplored that the ordinance issued by the President had not been placed before the Parliament.
Meanwhile, Finance Minister Rana Afzal said that Pakistan has prepared its reply to submit to FATF.
He said that the US and UK forced the other countries to join the motion because there was a conspiracy going on against Pakistan.
He further that being put on the watch-list would hurt Pakistan's economy badly as it would make it harder for foreign investors to invest in Pakistan.
Earlier, Advisor to the Prime Minister on Finance Miftah Ismail said that Pakistan was working with the international community for the nomination to be withdrawn.
"We are now working with the US, UK, Germany and France for the nomination to be withdrawn," he said, "We are also quite hopeful that even if the US did not withdraw the nomination that we will prevail and not be put on the watchlist."
Full report at:
https://www.pakistantoday.com.pk/2018/02/14/senator-warns-against-pakistan-being-placed-on-terror-watch-list/
--------
'Holding a public gathering is not terrorism': Imran appears before Islamabad ATC
Inamullah Khattak
February 15, 2018
Pakistan Tehreek-i-Insaf (PTI) Chairman Imran Khan on Thursday appeared before an Islamabad Anti-Terrorism Court (ATC) in the 2014 PTV attack cases.
Khan requested the court for interim bail and exemption from appearing during the proceedings.
During the hearing, presided over by judge Shahrukh Arjumand, Khan argued that holding a political gathering was not terrorism. "What type of democracy is this that for holding a political gathering, I have been charged with terrorism?" he asked.
The judge, however, told the PTI chief to address the court through his lawyer.
The hearing was adjourned to February 26.
In 2014, Khan and Pakistan Awami Tehreek Chairman Tahirul Qadri staged a major rally in Islamabad against alleged rigging in the 2013 election and the Model Town tragedy, which had seen as many as 14 people killed and 100 others injured when police attacked Qadri's residence during an 'anti-encroachment' operation.
Khan had threatened to shut down the entire country in what was perceived as a bid to topple the government. The protest had continued for a record 104 days.
On Sept 1, 2014, while the sit-in was still ongoing, Senior Superintendent of Police (SSP) Asmatullah Junejo had been beaten up by protesters on Constitution Avenue as they stormed the Pakistan Television (PTV) headquarters and the precincts of the Parliament.
A case had been registered against Khan, Qadri and others for torturing SSP Junejo and five other police officers. Arrest warrants had also been issued against the two leaders.
On Dec 7, 2017 the PTI chief requested that the cases regarding the storming of the PTV offices during the 2014 sit-in be transferred from an ATC to a civil court since it did not qualify as a terrorism case.
The request was rejected on Dec 11, 2017.
'I do not need protocol, I am a regular citizen'
Speaking to the media after appearing in court, Khan said: "I am a regular citizen of Pakistan and unlike 'royalty', I do not need protocol."
"Nawaz Sharif acts like he did nothing wrong after stealing millions of dollars from this country, he keeps making contemptuous remarks and keeps asking mujhe kyun nikala even though he knows what he has done," Khan claimed.
"I am convinced that our current prime minister is nothing except a puppet made to sit there so that corruption can prevail," the PTI chief alleged.
Speaking about the Lodhran election which was won by PML-N's candidate, Khan said that the fact that the young Ali Tareen managed to procure so many votes is a major accomplishment for someone contesting the election for the first time.
Full report at:
https://www.dawn.com/news/1389558/holding-a-public-gathering-is-not-terrorism-imran-appears-before-islamabad-atc
--------
Europe
UK Rejects Return of Islamic State Fighters Despite US Calls
Feb. 14, 2018
BRUSSELS (AP) — Britain's defense secretary says the U.K. does not want to take back two British Islamic State members caught in Syria despite U.S. appeals for countries to deal with citizens who've become foreign fighters.
Gavin Williamson said Wednesday in Brussels that the two, part of a notorious British cell dubbed the Beatles, "have turned their back on British ideas, British values."
He said: "Do I want them back in the United Kingdom? No, I don't."
U.S.-backed Syrian Democratic Forces are holding thousands of IS detainees, including hundreds of foreign fighters.
U.S. Defense Secretary Jim Mattis said Tuesday that "the important thing is that the countries of origin keep responsibility for them."
Williamson said that he and Mattis spoke early Wednesday but declined to say what possible solutions they had discussed.
https://www.usnews.com/news/world/articles/2018-02-14/uk-rejects-return-of-islamic-state-fighters-despite-us-calls
--------
Muslim Leader Urges Macron Not to Meddle Too Much in French Islam
Feb. 14, 2018
PARIS (Reuters) - A leading representative of French Muslims urged Emmanuel Macron not to meddle in the organization of France's second-largest religion, days after the president said he would try to redefine relations between Islam and the state.
The rebuke came from the leader of an organization set up 15 years ago in a bid to defuse concern about radical preachers and foster a more homegrown form of Islam that would fit better with France's traditional separation of church and state affairs.
"Everyone must stick to their role," Ahmet Ogras, president of the French Council of the Muslim Faith (CFCM), told Reuters in an interview.
"The Muslim faith is a religion and, as such, takes care of its own household affairs. The last thing you want is the state to act as guardian," said Ogras, a Frenchman of Turkish descent who has led the CFCM since mid-2017.
Macron, elected last May after a runoff victory over far-right leader Marine Le Pen, said in a Feb. 11 newspaper interview he planned to revisit the way Islam was overseen.
"What I'd like to get done in the first half of 2018 is set down markers on the entire way in which Islam is organized in France," he told the Journal du Dimanche. The priority would be to "bring back what secularism is all about".
Traditionally Catholic France is home to the largest Jewish and Muslim communities in Europe, with the latter estimated at five million out of a population of 67 million.
The official rule is strict separation between religion and state, with the former considered a strictly private matter. The rule that has been used to justify bans on the wearing of Muslim veils by public service employees as well as any wearing of fully concealing head-to-toe veils in public places.
Macron has been under pressure to deal firmly with radical preachers and mosques since a wave of attacks in which Islamist militants killed more than 230 people in France since 2015.
Emergency search-and-arrest powers introduced in the wake of the November 2015 attacks that killed 130 people in Paris have since been made permanent under tougher security legislation. Several mosques have been shut and imams expelled.
Macron's declarations in the Feb. 11 newspaper interview suggest he is considering a profound reorganization of the way in which the Islam faith is funded and its preachers schooled.
Back in 2003, Nicolas Sarkozy, interior minister at the time and president from 2007 to 2012, engineered an agreement among the country's main Islamic groups to create the CFCM.
Full report at:
https://www.usnews.com/news/world/articles/2018-02-14/muslim-leader-urges-macron-not-to-meddle-too-much-in-french-islam
--------
Russia eyeing contract with Turkey for next batch of S-400s: Informed source
Feb 14, 2018
Russia is considering signing a contract with Turkey to provide the NATO military alliance member with another batch of advanced S-400 missile defense systems, a government source has revealed.
Much to the disappointment of its Western allies, Ankara decided to push ahead with a $2.5 billion deal with Moscow last year to purchase four batteries of the cutting-edge anti-aircraft system.
A Russian military diplomatic source told the TASS news agency Wednesday that while the first batch was already being delivered, the two sides were already in talks for the second batch's delivery.
"After the delivery of the first batch concludes in May or June 2020, the parties plan to sign a new contract on the delivery of the second batch of the S-400 systems in 2021. The list of supplies will be similar to the one included in the first contract," the source said.
According to the source, the second contract would address Turkey's demands for technology transfer.
Apparently, Russia has agreed to allow some Turkish companies produce certain components of the S-400 systems, which the source said "are not of crucial importance."
Sergei Chemezov, the head of Russian conglomerate Rostec, said in December that Turkey would pay 45 percent of the cost in advance while Russia would provide loans to cover the remaining 55 percent.
The system, which entered service in 2007, is designed to destroy aircraft, cruise and ballistic missiles 400 km away and can simultaneously track 300 targets at a maximum altitude of 30 km. The S-400's missiles can also be used against ground targets.
In April, Russian Aerospace Force Deputy Commander-in-Chief Viktor Gumyonny said Russia had started to equip the system with missiles capable of destroying targets in outer space.
There is growing international interest in S-400 systems and China, Saudi Arabia and India have been named as the next buyers.
Full report at:
http://www.presstv.com/Detail/2018/02/14/552373/Russia-Turkey-S400-missile-deal-Rostec
--------
Southeast Asia
DPM tells Jakim, authorities to monitor preachers
BY YISWAREE PALANSAMY
February 15, 2018
PUTRAJAYA, Feb 15 — Religious authorities must pay closer attention to the teachings of preachers to ensure consistency with accepted interpretations of the hadith and Quran, said Deputy Prime Minister Datuk Seri Ahmad Zahid Hamidi.
Zahid, who is also home minister, said efforts to safeguard the proper readings of the Islamic holy book and the Prophet's teachings must extend beyond the written word.
He also urged the Home Ministry and the Malaysian Islamic Religious Development Department (Jakim) to closely monitor the spread of controversial claims regarding the hadith online.
"For example, using a hashtag which says true hadith, for instance," he said.
Such efforts were necessary to protect the Muslim community from efforts to cause internal rifts, he said in his opening speech at the Malaysia Hadith Regulation Discourse and Hadith Text Writing and Publication Guidelines programme here.
Zahid said his call was not to lay blame with any party, but merely an exhortation for all to return to Islam's true path.
http://www.themalaymailonline.com/malaysia/article/dpm-tells-jakim-authorities-to-monitor-preachers#SOyth1GLz7KddHC7.97
--------
FT Mufti backs call to review edict against transgenders
BY JONATHAN EDWARD
February 15, 2018
PETALING JAYA, Feb 15 — Religious authorities should revisit a fatwa (edict) declaring transgenderism as un-Islamic, according to Federal Territories Mufti Datuk Zulkifli Mohamad al-Bakri who said the phenomenon is not inherently wrong.
In a meeting with Pertubuhan Kesihatan dan Kebajikan Umum Malaysia (PKKUM) founder Elisha Kor Krishnan yesterday, Zulkifli also expressed his intention to work closely to help the group.
Citing Islamic teachings, he said there was a need to distinguish between men who impersonate as women (Mukhannath bi al-takalluf) and those who are born physically male but possess a female gender identity (Mukhannath min Kalqin).
"According to religious scholar, Imam An-Nawawi, there exist two types of Mukhannaths as mentioned above.
Mukhannath min Kalqin were born male by body but identified their gender as female, and they are not attracted to women.
"Since their identity is inert and not an impersonation, as long as they do not use their identity for immoral purposes, it is not a shame and they are accepted in Islam," he said.
However, Zulkifli stressed that Islam was clear in opposing those who dressed up as members of the opposite sex to commit immoral acts.
Elisha, whose organisation advocates transgender rights and other social issues, said despite the common notion, discrimination and criminalisation of the transgender community were a relatively new phenomenon.
"In 1982, the National Fatwa Council, the highest Muslim authority in Malaysia, banned sex reassignment surgery in the country, as it was considered 'un-Islamic'.
"Since then, transgender people have been criminalized for their very identity. This fatwa did not only affect Muslim transgender people but also non-Muslim transgenders," she said.
Elisha said the fatwa and similar policies by agencies such as the National Registration Department have inflicted hardship on the transgender community.
"Even non-Muslim transwomen who attained medical assistance and sex reassignment surgery outside Malaysia were not allowed to change their gender on their identification card.
"This despite having supporting documents from local and international medical institutions that specialise in gender, and even though they were revered by some widely recognized religions," she said.
Elisha expressed hope that with the help of professionals from both the medical and religious fields, it would be possible to find a solution to end the stigma and discrimination towards transgender community.
She also said a support group would be formed to help members of the community get access to basic needs in the country.
Full report at:
http://www.themalaymailonline.com/malaysia/article/ft-mufti-backs-call-to-review-edict-against-transgenders#OHsvk4e5sh3vp76c.97
--------
Indonesia, Philippines Move Forward With Cooperation in Islamic Education
February 14, 2018
Jakarta. Indonesia and the Philippines on Wednesday (14/02) held a workshop in Jakarta, as both countries seek to advance cooperation in furthering Islamic education as part of an effort to prevent the spread of radicalism.
"Education is the key to being free from ignorance and backwardness, to turn the youth into agents of peace and tolerance," Foreign Minister Retno Marsudi said during her opening speech.
She added that education is also crucial in preventing poverty, conflict and radicalism.
In January, Retno launched the Indonesia-Philippines cooperation in Islamic education during her visit to Davao City, as part of the government's commitment to help the Philippines fight against extremism in the aftermath of the siege in Marawi city last year.
The conflict, which took place between May and October, left more than 1,100 people dead and drove hundreds of thousands from their homes. It also raised concerns in Indonesia and Malaysia, both fearing that militants could flee the fighting to nearby Sulawesi and Maluku in Indonesia and Sabah in Malaysia.
By June, Indonesia, Malaysia and the Philippines held a trilateral meeting as a subregional response to the conflict, where the three countries agreed to cooperate on the joint development and implementation of counterterrorism measures and strategies.
The three countries also have conducted joint sea patrols in waters off North Kalimantan and in the Sulu Sea in March and June.
Retno said that this cooperation is a follow-up to what they had agreed on during the trilateral meeting, with possibilities to expand the cooperation to include Malaysia, and also other countries, to promote peace and tolerance.
Furthermore, she said this cooperation must aim to promote the true face of Islam as well as modern and high-quality Islamic education, while also involving relevant stakeholders from civil society, including religious leaders and religious organizations. "Islamic education institutions must equip students not only with Islamic values but also knowledge and skills to enable them to compete in the professional world," Retno said.
Therefore, the curriculum must be constantly updated to adjust to contemporary developments, while keeping true to the core identity of Islamic values, she added.
The government hopes the future of this cooperation will include exchanges between Indonesian and Philippine students and teachers, joint curriculum development and also professional development.
"It is also my hope that this workshop could come up with recommendations as a basis for the establishment of a memorandum of understanding on Islamic education," Retno said.
The workshop also aims to create a roadmap for Indonesia-Philippines cooperation in this field.
Full report at:
http://jakartaglobe.id/news/indonesia-philippines-move-forward-cooperation-islamic-education/
--------
Jokowi cements ties with Indonesia military in political shift
15 FEBRUARY, 2018
JAKARTA — Standing before thousands of soldiers, Air Chief Marshal Hadi Tjahjanto delivered a blunt message intended to resonate far beyond the army's strategic command headquarters in East Java.
The Indonesian military's neutrality in upcoming elections is "non-negotiable", he told 1,500 troops late last month at an army base in Malang.
"The politics of the TNI is the politics of the state," he added in using the acronym for Indonesian National Armed Forces.
Where his predecessor Gatot Nurmantyo was perceived as harbouring political ambitions and courted controversy with notions of a resurgent communist threat, the new chief has signaled the military is set to fall in behind President Joko Widodo at a critical juncture for Indonesia.
As the first president to come from outside the military and political elite, Mr Widodo last month moved to further shore up links with Indonesia's armed forces, appointing former TNI chief General Moeldoko as his chief of staff and former special forces commander General Agum Gumelar as an adviser.
"President Joko Widodo's recent appointments — during last month's mini-reshuffle — are clearly aimed at strengthening his ties with the military," said Mr Peter Mumford,South-east Asia director at Eurasia Group.
"Surrounding himself with more generals is part of the president's shift to a more conservative stance and image as he tries to widen his support base ahead of regional and local elections this year and the presidential vote in 2019."
GROWING ISLAMISATION
For Mr Widodo, known as Jokowi, the appointment of Mr Tjahjanto also provides a bulwark against the Islamic groups that last year lead a bitter campaign against Jakarta's then governor Basuki Tjahaja Purnama or Ahok, a Christian, and threatened to engulf the president.
Sectarian unrest is not only a risk for Indonesia's reform process but to Mr Widodo himself as he prepares for a long presidential campaign and seeks to woo hundreds of billions of dollars in foreign investment.
And while the world's biggest Muslim country faces a growing influence from radical Islam at home, Indonesia is also seen as crucial in efforts to contain regional security risks.
"Indonesia is hugely important in terms of countering the threat of terrorism, both because of the security risks within the country itself but also the potential for extremists in Indonesia to travel overseas, as has already occurred, to become foreign fighters, drawn into conflicts such as the insurgency in Marawi, Philippines last year," said Mr Mumford.
Within weeks of his appointment in December, Mr Tjahjanto moved swiftly to assert his authority over the ranks, purging dozens of senior officers who'd been recently appointed to high-ranking positions by his predecessor.
He also made a fresh appeal for the military to be given a greater role in the fight against terrorism.
In a letter to the parliamentary committee examining Indonesia's terrorism laws, he wrote that the current bill limits Indonesia's efforts.
"Although ties between the government and military are stable, this is essential but not sufficient to tackle terrorism and other threats," said Mr Mumford.
"The growing Islamisation of the political environment could make it harder to tackle terrorism if it prevents the parliament passing tough new anti-terror laws."
Mr Muhammad Syafi, a Gerindra lawmaker and the chairman of the committee, said the letter was "just a proposal" that can be accepted or rejected.
"But the TNI will not be involved in law enforcement because that is the responsibility of the police," he said in an interview.
While the military's influence in politics has waned since Suharto's 32-years in power ended in 1998, it remains a prominent fixture in Indonesian society — many former generals enjoy powerful roles in the country's political arena, including holding key positions in Mr Widodo's cabinet.
Twenty years since Suharto's fall, its push for more power is raising concerns the TNI wants to expand its presence in civilian life.
The Indonesian military has not responded to requests for comment.
But a senior official from the Security Ministry said that terrorism "continues to pose a serious threat" that no single law enforcement could deal with alone.
CRITICAL SUPPORT
Indonesia is set to hold simultaneous elections in 171 regions including 17 provinces across the country in June, followed by a long presidential campaign that starts in September and could take almost a year to conclude.
The potential for these polls "to inflame religious and ethnic tensions" means the loyalty of the TNI commander and his ability to work closely with other key security agencies "will be critical," said Ms Greta Nabbs-Keller, a Senior Research Associate at the University of Queensland's Centre for Policy Futures.
The former TNI commander was accused by some of trying to push his own political agenda.
"The combination of Nurmantyo's political proximity to hard-line Islamic groups, most obvious during the late 2016 anti-Ahok protests, and his xenophobic and proxy war discourse revealed a readiness to exploit social cleavages for personal political ambition," Ms Nabbs-Keller said.
Full report at:
http://www.todayonline.com/world/jokowi-cements-ties-indonesia-military-political-shift
--------
Indonesian court indicts cleric accused of masterminding attacks
FEBRUARY 15, 2018
JAKARTA (Reuters) - An Indonesian court indicted radical Islamic cleric Aman Abdurrahman on Thursday over allegations he masterminded from his jail cell a series of attacks in the Muslim-majority nation, including a deadly 2016 gun and suicide bomb assault in Jakarta.
Abdurrahman arrived in a Jakarta courtroom under police escort and at least a dozen heavily armed officers stood guard outside as prosecutors read out allegations against him.
According to the indictment document, he was on trial for "planning and/or mobilizing others to carry out terrorist acts ... to create an atmosphere of terror among the public".
Prosecutor Anita Dewayani told the court Abdurrahman had pledged allegiance to the Islamic State militant group in 2014 and then urged others to undertake a series of attacks.
She cited one alleged plot for a "Paris-style attack" targeting foreigners, particularly French and Russian citizens.
Dewayani read out the names of the victims of some of the attacks Abdurrahman is accused of masterminding, including one in January 2016 in which eight people were killed, including four attackers, after suicide bombers and gunmen attacked the heart of the Indonesian capital.
She also alleged he was behind a suicide attack last year that killed three police officers at a Jakarta bus station and the bombing of a church in Samarinda on Borneo island that wounded four children.
Abdurrahman, who wore orange prison clothes with a checkered scarf tied around his head, told the court he understood the charges and did not object to the indictment.
His lawyer was not immediately available for comment.
The cleric and ideologue is the founder of Islamic State-linked Jamaah Ansharut Daulah (JAD), a militant group in the world's most populous Muslim-majority country that the United States has designated as a "terrorist organization".
He was immediately re-arrested by police last year after serving time in prison for setting up a militant training camp in the Indonesian province of Aceh.
Abdurrahman had reportedly also managed to keep spreading his jihadist message on social media from jail.
"To put it generally, he is the mastermind behind many of the terrorist acts in Indonesia," prosecutor Dewayani later told reporters. The maximum penalty for such charges is the death sentence, she said.
Full report at:
https://www.reuters.com/article/us-ash-wednesday-pope/opening-lent-pope-urges-people-to-slow-down-rediscover-power-of-silence-idUSKCN1FY2OS
--------
Africa
French forces kill at least 10 extremists in Mali, military sources say
15 February 2018
BAMAKO: French air power on Wednesday killed at least 10 extremists in northeast Mali near the border with Algeria, local and foreign military sources said.
"French forces on Wednesday led at least one raid near Tinzaouatene, at the Algerian border, against the terrorists," a local Malian military source said.
"There were at least 10 deaths and two vehicles were destroyed."
A former colonel in the Malian army who had defected, who is close to the extremists' leader, was killed in the raid, according to an army statement.
"This was the base of the head of the network, Iyad Ag Ghaly, at Tinzaouatene, which was the main target of the operation," a foreign security source in Mali said.
The offensive was part of France's Operation Barkhane, active in Mali as well as four other former French colonies in west Africa — Mauritania, Niger, Chad and Burkina Faso.
These countries form the so-called G5 Sahel, a French-supported group that launched a joint military force to combat extremists last year.
The Malian source said the French force had been conducting operations in northeastern Mali for several days.
A foreign military source confirmed that "several" raids had been carried out in the region on Wednesday, killing at least 10 extremists.
Extremists linked to Al-Qaeda took control of the desert north of Mali in early 2012, but were largely driven out in a French-led military operation launched in January 2013.
However large tracts of the country remain lawless despite a peace accord signed with ethnic Tuareg leaders in mid-2015 aimed at isolating the extremists.
On Tuesday in neighboring Burkina Faso meanwhile, a policeman was killed and two were injured in an attack at a village near the eastern town of Fada N'Gourma, in a region that has largely escaped extremist unrest.
The assailants' identity was unknown.
Northern Burkina Faso has seen frequent attacks by suspected extremists, with two police killed late last month in the town of Baraboule.
http://www.arabnews.com/node/1246831/world
--------
Boko Haram commander gets 60 years for terrorism
14 February 2018
A 22-year-old Boko Haram commander has been sentenced to 60 years after a Nigerian court convicted him of carrying out terrorist activities, unlawful possession of arms, and other terrorism charges.
Abba Umar had been arrested in 2014 in a botched attempt to bomb a government school in the northeastern Gombe state, according to a statement on Wednesday by Saliu Isah, a justice ministry spokesman.
Isah said Umar was convicted Tuesday evening of all of the five counts brought against him: membership of a terrorist group (15 years); attempting to bomb a school (30 years); active involvement in an act of terrorism and possession of munitions (60 years); involvement in terrorism training (15 years); and failure to disclose the whereabouts of his senior commanders (7 years).
The terms would run concurrently from the day of his arrest, according to the ruling.
Umar would also undergo the government's deradicalization program, the statement added.
The statement said another Boko Haram militant, Mohamed Hussain, also bagged a 20-year jail term after he pleaded guilty to three-count charge: membership of a terrorist movement, the bombing of civilian and military targets in the northeastern states of Borno and Yobe.
"(Hussain) pleaded guilty to all the offences and was convicted and sentenced to 20 years of imprisonment to run concurrently in all the three count charges with no option of fine and the jail term runs from 13th February, 2018," the statement said.
The government on Monday resumed the mass trial of over 1,000 Boko Haram suspects at a heavily guarded maximum prison in the central Nigerian Niger state.
Full report at:
http://www.worldbulletin.net/africa/198829/boko-haram-commander-gets-60-years-for-terrorism
--------
Somali Forces Capture Sablale Town From Al-Shabaab
14th February 2018
Somali forces backed by AMISOM on Tuesday recaptured a town in the Lower Shabelle region as the military intensified attacks against Al-Shabaab fighters. Lower Shabelle governor, Ibrahim Adan said the forces launched a major offensive against Al-shabaab fighters, capturing Sablale town in Lower Shabelle region.
"Somali and AMISOM troops who advanced from Barawe town on Tuesday afternoon have managed to capture Sablale town. Al-Shabaab vacated the area before our forces reached the town," said Adan. The governor noted that the forces would proceed to secure other areas surrounding the town.
The latest attack came amid increased military operations in the region conducted jointly by African Union forces and the Somali National Army. Somali forces on Monday seized three villages in Lower Shabelle region from Al-Shabaab fighters but withdrew the captured areas citing that the military reached target of dismantling Shabab cells in the area.
Al-Shabaab reportedly arrested over 20 civilians for collaborating with Somali forces in Lower Shabelle region. The group retreated from Awdhiigle, Mubarak and Darisalam villages on Sunday before its fighters made a comeback. Sources say the locals had welcomed Somali forces who seized the villages in an operation against Al-Shabaab.
Full report at:
https://mareeg.com/somali-forces-capture-sablale-town-from-al-shabaab/
--------
Boko Haram: Nigerian govt has not achieved total victory – Shehu Sani
February 14, 2018
By Fikayo Olowolagba
Shehu Sani, the Senator representing Kaduna Central, says the fight against insurgent group Boko Haram is not over.
Recall that the Nigerian military recently claimed that the sect has been completely defeated.
But Sani insisted that until all hostages, including Chibok girls, are freed and attacks stopped, the federal government should not boast of complete victory over Boko Haram.
He further hailed the efforts of the military in battles against the insurgents saying progress has been made.
Shehu Sani on his Twitter page wrote "The military made sacrifices and achieved a lot in the battle against the insurgents and that is commendable.
Full report at:
http://dailypost.ng/2018/02/14/boko-haram-nigerian-govt-not-achieved-total-victory-shehu-sani/
--------
India
Another Sunni cleric, Syed Abdullah Tariq, backs Maulana Salman Nadwi
Arshad Afzal Khan
Feb 15, 2018
FAIZABAD: After Maulana Salman Nadwi's initiative for an out-of-court settlement of Babri Masjid-Ramjanambhoomi dispute, another senior Sunni cleric has come forward to support his move.
Syed Abdullah Tariq, who hails from Rampur and is a scholar of both Islam and Hinduism, has called Nadwi's initiative a 'courageous step' and has urged the Muslim community to unite and declare its support for him.
Talking to TOI, Tariq said, "The founder president of All India Muslim Personal Law Board, late Maulana Ali Mian in late 80s had convinced the then top Hindu clergy for an out-of-court settlement but was opposed by the board and the Babri Masjid Action Committee. Ali Mian was forced to to remain silent."
https://timesofindia.indiatimes.com/city/lucknow/another-sunni-cleric-backs-nadwi/articleshow/62924430.cms
--------
Bengal: Hindu outfit calls for 'ghar wapsi', shows 'reconverted' Muslim family
by Ravik Bhattacharya
February 15, 2018
Asking Hindus in the state to have more children to tackle the demographic imbalance in future, a Hindutva organisation on Wednesday gave the call of "ghar wapsi" — to "reconvert" Muslims — and presented 14 members of a Muslim family who have ostensibly "returned" to the Hindu fold at a rally in Kolkata on Wednesday. Four members of Hindu Samhati, an outfit established in Bengal about a decade ago, were arrested in the evening for physically assaulting mediapersons who tried to pose questions to the family after the rally at Rani Rashmoni Road in central Kolkata. Two journalists were injured in the incident. Chief Minister Mamata Banerjee condemned the assault on scribes and said strong action will be taken against those involved.
Addressing the crowd, Tapan Ghosh, chief adviser of Hindu Samhati, said, "Hussain Ali and his wife Moyna Bibi, as well as 12 family members, have been reconverted. Their ancestors were converted, and now we welcome them as Hindus on stage. Earlier we used to do this (conversion) secretly, but now we will do this in public." Emphasising that the family's address will not be divulged, Ghosh said, "I give a call of ghar wapsi [used by Hindutva organisations to refer to conversion from Islam to Hinduism]. When you return, initiate this movement in your districts and blocks — let us welcome all Muslims to Hinduism."
Ali and Moyna Bibi's family members, including children, were given Hindu Samhati's saffron flag on the stage, cheered by the crowd. Maj Gen G D Bakshi (retired) was among the guests on stage. State Urban Development Minister Firhad Hakim said, "Such organisations demean Hindu religion, just as the Taliban demeans Islam. The government will take proper action against those who beat up journalists."
Joint Commissioner of Police (Crime) Praveen Tripathi confirmed that four people from Hindu Samhati were arrested. During the rally, Ghosh called for Sealdah station to be renamed Shyamaprasad Mukherjee terminal, and demanded installing a statue of Netaji Subhas Chandra Bose near Parliament. Outfit's president, Debtanu Bhattacharya, criticised both the Trinamool Congress and the BJP for allegedly wooing Muslims.
Accusing the chief minister of "Muslim appeasement" even after "she was voted to power by Hindus", Bhattacharya said, "Mamata Banerjee claims that West Bengal has a 32 per cent Muslim population. But in districts with more than 50 per cent Muslims — such as Malda and Murshidabad — her party's performance is worse. They do not have Lok Sabha MPs there (from those districts). This proves she won with the help of Hindu votes."
Full report at:
http://indianexpress.com/article/india/bengal-hindu-outfit-calls-for-ghar-wapsi-shows-reconverted-muslim-family-5064373/
--------
Arrested Indian Mujahideen Terrorist Was Married To Nepali
February 15, 2018
NEW DELHI: Ariz Khan, an alleged Indian Mujahideen operative arrested by the Delhi Police, was married to a Nepali Hindu woman, who later converted to Islam, and had managed to get citizenship of Nepal through fake documents, police said.
Khan (32) had escaped from India to Nepal after the 2008 Batla House encounter and had settled in the Himalayan country. He was living the life of a school teacher there, a senior Delhi Police special cell officer said.
He had got the citizenship of Nepal through fake papers, he said.
There he married a Nepali Hindu woman who converted to Islam and assumed the name of Sara. The marriage happened four years ago, the officer said, adding that she was unaware of his involvements in terror activities.
"His wife did not know about his involvement with terror blasts and his work as an Indian Mujahideen (IM) terrorist. He had told her that there was a minor problem and he will deal with it," he said.
Khan was born in Uttar Pradesh's Azamgarh and studied there at different schools.
Initially, he and his elder brother Shariq Khan stayed with their uncle Dr Fakhre Alam and started studying at the Shibly National Nursery School from where he shifted to another school, the officer said.
He said that while living as a student in various localities in Azamgarh, Khan came in touch with radicals.
His friend Atif Ameen introduced him to the "Tameer-E-Millat" magazine, Jehadi audio cassettes of Maulana Masood Azhar, Islamic Tarane and videos of Palestine War, the officer said.
From April 2004 to May 2005, he stayed at his maternal uncle's house in Lajpat Nagar, Delhi. He took admission in B.Tech (Information Technology) at the SD College, Muzaffarnagar, where his elder brother was also studying, he said.
He however, failed in the second year of the course and dropped out.
After escaping from the Batla House encounter , he roamed around seeking shelter in Uttar Pradesh, Rajashtan and Maharashtra and most of his time was spent in buses and trains, the special cell officer said.
Later, he came in touch with a Nepali resident Nizam and with his help crossed the Indo-Nepal border from Bihar into the Himalayan country, he said.
He reached Birat Nagar and managed to procure a Nepali citizenship and passport.
Full report at:
https://www.ndtv.com/india-news/arrested-indian-mujahideen-terrorist-was-married-to-nepali-1812872
--------
Indo Pak couple meet each other on Valentine's Day
Yudhvir Rana
Feb 15, 2018
AMRITSAR: "Look, as promised we have met on the Valentines' day" this is what Indian and Pakistani lovebirds who fulfilled their dream of meeting each other on Valentines Day in India believed to have told the investigating agencies here.
Though both married, Vicky, a resident of Gwadar in Balochistan province of Pakistan and Geeta (name changed) from Baroda in Gujarat who had met on Facebook managed to meet on Valentines Day at Amritsar.
As soon as Vicky arrived from Pakistan as part of Hindu Jatha on February 12th, he disappeared which created panic among rest of Hindu jatha members who rushed to police.
"One of his relatives had taken him along with him to a hotel near Golden Temple, but now police have found him and he is back with us," said Mukesh Rana President Shri Guru Seva Welfare Trust, Karachi while talking to TOI on Wednesday.
He, however, said that there was a misunderstanding and Vicky was back with them now.
The sudden 'disappearance' of one of Pak Hindu pilgrim especially at a time when both nations are at loggerheads sent the security apparatus into a tizzy.
Deputy commissioner police Lakhbir Singh told that following the complaint, they traced Vicky from a hotel in the vicinity of Golden Temple. He informed that Vicky and the lady had met on Facebook and had planned to meet in Amritsar.
He informed that Vicky had joined rest of Jatha members adding that police was investigating the incident and if any anti-India activity was found they would take action accordingly.
Full report at:
https://timesofindia.indiatimes.com/india/indo-pak-couple-meet-each-other-on-valentines-day/articleshow/62924467.cms
--------
'Attacks on Army, CRPF camps joint plan by LeT, Jaish'
Bharti Jain
Feb 15, 2018
NEW DELHI: Investigations so far into the terrorist attack at an Army camp at Sunjuwan in Jammu and the bid to storm a CRPF camp at Karan Nagar in Srinagar a day later indicate that the two attacks were synchronised as part of a joint strategy by Jaish-e-Mohammed and Lashker-e-Toiba to hit security forces simultaneously in the two regions.
"It is rare for two fidayeen attacks on security camps to be staged simultaneously. The purpose of a fidayeen attack, which is usually made to stretch over 2-3 days as terrorists engage counter-forces with all the ammunition at their disposal, is to grab undivided media attention.
However, there was a departure this time with the Sunjuwan attack by Jaish-e-Mohammad terrorists followed by LeT's Karan Nagar strike just a day later," a senior J&K police officer told TOI. The agencies say Jaish and LeT commanders operating in south Kashmir areas like Tral and Pulwama decided to join hands and stage a fidayeen attack in Jammu region and immediately follow it up with another suicide strike at a CRPF camp in Srinagar.
While the Jammu mission was assigned to Jaish, LeT was chosen to execute the Srinagar strike. "The near-simultaneous strikes in Jammu and Kashmir regions were possibly to divide the attention of the agencies and counter-forces," said a senior officer of J&K police. All the five terrorists involved in the two strikes - 3 in Jammu and 2 in Srinagar - were Pakistanis.
While the Jaish trio has been identified as Qari Mushtaq alias Chhotu, Mohammed Adil alias Irfan and Mohammed Khalid alias Rashid, identity of the two LeT men who tried to unsuccessfully enter the CRPF camp in Srinagar is yet to be established. "But both the LeT terrorists were Pakistanis," said an officer.
Confirming the new Jaish-LeT collaboration in J&K, an official said: "Jaish and LeT, until now working independently and also seen as rivals, have of late come together and are coordinating operations within J&K. This is reminiscent of the LeT-Hizbul Mujahideen arrangement that has seen the Pakistan-based outfit rely on local Hizbul cadres and overground workers for logistical help," said the officer.
An intelligence officer pointed out that with both Jaish and Lashker taking a hit last year due to intensified intelligence-based operations by the J&K police and CRPF, their Pakistan-based leadership may have been instructed by ISI to join hands. "Even if they are seen as rivals, both outfits report to the same master. So if the master wants then to come together, they surely will," said the officer. Sources said there was prior intelligence about a meeting between Jaish and LeT commanders in Tral early this month.
Full report at:
https://timesofindia.indiatimes.com/india/attacks-on-army-crpf-camps-joint-plan-by-let-jaish/articleshow/62923968.cms
--------
India commends Iraq for victory over Islamic State; assures support for relief, economic reconstruction
Feb 15, 2018
New Delhi: India has assured its commitment to help war-torn Iraq in its rebuilding process while complimenting the nation for its victory over the Islamic State (IS) terror outfit.
"India responded to the need for humanitarian assistance even while the war was at its peak in Iraq among other things, in August 2016, we proposed to reconstruct the hospital in Karbala," Minister of State for External Affairs MJ Akbar said while speaking at the International Conference for Reconstruction of Iraq in Kuwait.
"India responded to the urgent needs of Iraq for relief and economic reconstruction both directly and as part of international efforts under UN auspices," Akbar said, adding that on the UN Secretary General's urgent appeal, India contributed $20 million for assistance to the Iraqi people.
He said that under this pledge, India provided milk food supplies through World Food Programme, and along with it, provided assistance to Iraqi school children and Iraqi refugees in Syria. It also trained Iraqi Foreign Service officers in diplomacy, and other Iraqi officials in information technology.
"In addition, India contributed $10 million towards the International Reconstruction Fund Facility for Iraq for investments, reconstruction and development in Iraq."
Akbar said that the conference offered an opportunity for the world to congratulate the people and government of Iraq for their historic victory over a "vicious contemporary menace" of Islamic State, and its allies, "who used a volatile fusion of false ideology and barbaric terrorism to become a regional epicentre of upheaval and violence against innocent civilians and legitimate government".
"We must win both the battle and the argument," he said, adding the answer to terrorism lies in security, prosperity and reaffirmation of sovereignty and "the three sustain each other, any indifference or complacency towards any side of this triangle will make the rehabilitation process infructuous".
On behalf of India, Akbar also also complimented all those nations which, directly or indirectly, came together to defeat the regressive and extremist forces that spread their tentacles far beyond Iraq.
Terming terrorism, fundamentalism and extremism the scourge of the 21st century, he said: "We must be united in our defence of pluralism and civilisation without ifs and buts. There is no 'good terrorism' or 'bad terrorism': all terror is an unmitigated evil. India has always supported a free, democratic, pluralistic, federal and unified Iraq."
Akbar also appealed to the international community for early adoption of the India-initiated Comprehensive Convention on International Terrorism (CCIT) in the UN.
He said India continued to assist Iraq in capacity building through training of Iraqi officials under the Indian Technical and Economic Cooperation programme and to broadbase services, also established a Consulate General office in Erbil.
Welcoming Baghdad's announcement that it was now open for investment, he said India would play its part with project-specific proposals.
Full report at:
http://www.firstpost.com/india/india-commends-iraq-for-victory-islamic-state-assures-support-for-relief-economic-reconstruction-4352175.html
--------
South Asia
Afghan Taliban Extend Olive Branch to American People
Tahir Khan
FEBRUARY 15, 2018
ISLAMABAD: In an open letter, Afghan Taliban on Wednesday offered peace negotiations to the American people and the Congressmen, asking them to press their leaders to end invasion, as President Trump's new strategy was failing to browbeat the insurgents.
On January 30, Trump had ruled out talks with the Taliban and declared to 'finish' them after a string of Taliban-claimed attacks killed nearly 125 people and injured about 300 others in Kabul.
The offer comes amid increased US airstrikes against the Taliban in southern and northern Afghanistan as Trump's administration is now mainly focusing on the use of force against the insurgents.
On Feb 6, the US Central Command said American forces had launched a series of precision strikes and a US Air Force B-52 Stratofortress dropped 24 precision guided munitions on Taliban fighting positions in northern Badakhshan province.
The US had earlier carried out strikes in southern Helmand, where the Taliban still control many areas.
The Taliban letter, however, insists that the US strikes have no impact and that civilians were killed in the attacks. "Only in past September – in accordance with Trump's new strategy – American forces used all their new powers and carried out 751 air strikes. You should ask your generals that despite using such force, have you retaken even a single inch of land from the Taliban or have they become even more powerful," the letter said.
The letter from the Taliban leadership was released in English, Pashto, Dari, Arabic and Urdu languages.
Afghan government has not offered comments on the letter, however, they have earlier insisted that Taliban are 'source' of what they call an imposed war.
"Your president and his military and political officials following his war policies still speak the language of war in Afghanistan. They intentionally release fake statistics for the sake of their vested interests and misguide you and the world by throwing dust in your eyes. The reality is that in contemporary world, the use of force and arms has been replaced by peaceful dialogue and wars cannot be won with lies," the letter reads.
"If you want peaceful dialogue with the Afghans specifically and with the world generally, then make your president and the war-mongering congressmen and Pentagon officials understand this reality and compel them to adopt a rational policy towards Afghanistan. This will be the most constructive step for the stability of your people, the Afghans as well as the whole world." The letter also drew attention of the US casualties in the Afghan war. "In this lopsided war and as confirmed by your own military authorities, 3,546 American and foreign soldiers have been killed, more than 20,000 American troops injured and tens of thousands more are suffering mentally."
The Taliban reminded the American people that their leaders had imposed a 'corrupt regime' on Afghanistan. "They are number one internationally in administrative and financial corruption and number one internationally in usurping of land and embezzling international aid."
Invitation: Meanwhile, the Taliban have invited Republican senator Rand Paul to visit their political office in Qatar for talks, days after the Taliban office said they had held a series of talks with Pakistan, China, Qatar and several other countries to discuss prospects of political settlement. "We invite the responsible US senator @RandPaul in his official capacity to visit our political office in Doha for mutual talks," a Taliban Twitter account said.
"We'll prove to Mr @Rand Paul, the immediate US withdrawal from AFG will bring peace to or country & will enhance international security," according to the Twitter account being handled by what it says 'authorized correspondent by Information Committee of Islamic Emirate of Afghanistan'.
Taliban call themselves as Islamic Emirate, the name they would use in their 1996-2001 rule.
The Taliban extended the invitation after the senator opposed the war in Afghanistan and told Fox News that the US spends some 50 billion dollars on Afghanistan every year, and that the money is wasted. He had also called for the withdrawal of all American forces from Afghanistan as 'there is no military victory there.'
A Taliban source told Daily Times that the Taliban political representatives had also held talks with some European countries as part of their consultation process.
https://dailytimes.com.pk/202231/taliban-extend-olive-branch-american-people/
--------
Afghan Taliban Says They Want To Solve War through Dialogue
Feb 15, 2018
KABUL: The Taliban said on Wednesday they want to end Afghanistan's war through dialogue but warned that their willingness to find peace did not mean they were exhausted and that their armed campaign would be sustained no matter how powerful the US opposition.
A more aggressive US strategy in Afghanistan, including a surge in air strikes, introduced by President Donald Trump in August has pushed the Taliban back from several district centers and two provincial capitals.
But the militants control large parts of the countryside and have responded to the more aggressive US strategy with two attacks in Kabul in the past few weeks, killing nearly 150 people.
The attacks have toughened both the US and Afghan government stand on trying to initiate talks to end nearly 17 years of war that neither side seems capable of winning.
The Taliban offer of dialogue came in a statement addressed to the American people.
"Our preference is to solve the Afghan issue through peaceful dialogue," the Taliban said.
In their statement, the Taliban did not mention a Jan 27 raid on a top Kabul hotel, in which more than 30 people were killed, nor a bomb attack on a crowded street a week later that killed more than 100. They claimed both attacks.
The Taliban, fighting to oust foreign forces and defeat the US-backed government, said the United States must end its "occupation" and accept the Taliban's right to form a government "consistent with the beliefs of our people."
The militants only mentioned the Afghan government to deride it on various grounds.
A government spokesman declined to comment on the statement and a spokesman for Afghanistan's NATO-led military mission was not immediately available for comment.
It was not too late for the American people to realise the Taliban can solve problems with every side "through healthy politics and dialogue", the militants said, adding the chances for dialogue were "not exhausted."
Preliminary talks on ending the war that kills thousands of people each year have stalled.
But low-level contacts between the government, international groups including the United Nations and groups close to the Taliban have continued even as the insurgency has escalated.
Progress has been blocked by the deep mistrust between the government and the Taliban.
The Taliban said their willingness to play a "constructive role in finding a peaceful solution" should not be taken as a sign of weakness.
"This can never mean that we are exhausted or our will has been sapped," they said.
Full report at:
https://www.pakistantoday.com.pk/2018/02/14/afghan-taliban-say-they-want-to-solve-war-through-dialogue/
--------
Regional powers China, India battle for Bangladesh bourse
February 15, 2018
DHAKA: India and China have launched rival bids for a large stake in Bangladesh 's stock exchange, officials said Thursday, as the Asian powers jostle for strategic influence in the region.
Dhaka Stock Exchange (DSE) chief executive Majedur Rahman confirmed India 's National Stock Exchange had offered 15 taka ($0.18) per share during a tender process this month for a 25 percent stake in the bourse 's 1.8 billion shares.
China 's Shanghai and Shenzen stock exchanges made a joint higher bid of 22 taka ($0.26) per share, or $122 million, and "also offered technical support worth nearly $37 million", Rahman told AFP.
A bourse official said the Chinese bid was approved by the board but it was rebuffed by Bangladesh 's financial regulators, sparking allegations of political meddling.
"The BSEC (Bangladesh Securities and Exchange Commission) declined to give the order to go ahead," the official said, speaking on condition of anonymity.
"It also asked the DSE to further scrutinise the proposals."
The BSEC declined to comment on whether the Chinese offer had been formally rejected.
But the regulator's executive director Saifur Rahman told AFP it could "always override the exchange's decisions".
"No final conclusion has been drawn yet. The auction process is still at an early stage," he said.
Local press has blamed political interference for the alleged favouritism toward India , despite the offer from the Mumbai-based stock exchange falling short of China 's more lucrative bid by nearly 50 percent.
The competing bids have exposed tensions in Bangladesh as it juggles growing interest from China against long-standing ties with India , its large and influential neighbour.
New Delhi threw its weight behind the 2014 elections that returned Prime Minister Sheikh Hasina to power, despite allegations from the opposition that the vote was rigged.
Prime Minister Narendra Modi's government has made big investments in Bangladesh and Indian companies have won lucrative multi-billion contracts in key sectors in recent years.
But increasingly it must counter China , which has courted India 's arch-rival Pakistan and strategic Indian Ocean nations including Sri Lanka and the Maldives.
Xi Jinping became the first Chinese president to visit Bangladesh in more than three decades when he touched down in Dhaka in October 2016 to sign deals worth more than $20 billion.
Full report at:
https://nation.com.pk/15-Feb-2018/regional-powers-china-india-battle-for-bangladesh-bourse
--------
Refugee repatriation: Myanmar hands over list of 508 Hindus, 750 Muslims to Bangladesh
Feb 14, 2018
Myanmar has handed over to Dhaka a list of 508 Hindus and 750 Muslims, verified as its residents in the first batch of refugees to be repatriated from Bangladesh under the recent deal between the two governments, a top Myanmarese diplomat has informed the UN Security Council.
This is part of the recent agreement between Myanmar and Bangladesh to repatriate Rohingya refugees from the latter. More than 680,000 Rohingya Muslims have fled to Bangladesh after Rohingya insurgents staged a series of attacks August 25 on the military. Myanmar does not recognise the Rohingya as an ethnic group. The government says they are Bengali migrants from Bangladesh living illegally in the Buddhist-majority country.
"In an effort to expedite implementation of the repatriation, Myanmar has provided to Bangladesh a list of 508 Hindus and 750 Muslims who have been verified as Myanmar residents, to be included in the first batch of repatriation," the Permanent Representative of Myanmar to the United Nations Hau Do Suan told members of the UN Security Council during an open hearing on Rohingya refugees on Tuesday.
In addition, on January 30, Myanmar ministry of Foreign Affairs has provided Bangladesh side with information relating to resettlement plan, provision of livelihood assistance, access to basic services, and safety arrangement for verified returnees, he said.
Suan said Myanmar and Bangladesh have made significant progress in their bilateral efforts for repatriation of displaced persons. Myanmar and Bangladesh had signed the MoU on the "Arrangement on Return of displaced Persons from Rakhine State" on November 23, 2017.
According to the Physical Arrangement, the repatriation process will commence on January 23, 2018, he said, adding that the returnees will be received at two reception centres, i.e Taung Pyo Letwe and Nga Khu Ya.
After one or two nights, the returnees will be temporarily accommodated at Hla Phoe Kaung transit camp before permanent settlement.
Full report at:
https://www.hindustantimes.com/world-news/refugee-repatriation-myanmar-hands-over-list-of-508-hindus-750-muslims-to-bangladesh/story-zFPE9cxp9Bdqzgaxj1GBgK.html
--------
Suicide bomber arrested before attacking Lashkargh city with motorcycle bomb
Feb 14 2018
A suicide bomber was arrested before he manage to carry out an attack using the a motorcycle packed with explosives in Lashkagah city, the provincial capital of Helmand province.
The provincial government media office in a statement said the would-be suicide bomber was arrested from the vicinity of Nawa district in Zhar Sahib area.
The statement further added that a motorcycle packed with explosives was also confiscated before the suicide bomber manages to take it to Lashkargah city for the attack.
The anti-government armed militant groups including the Taliban insurgents have not commented regarding the report so far.
This comes as a suicide bomber handed himself over to the security forces nearly ten days ago, shortly after he was deployed to Lashkargah city by the militant groups for an attack.
The Helmand governor's office in a statement said a suicide bomber who was sent by the Taliban group to carry out a suicide attack in Mukhtar area in Lashkargah city, has surrendered to the security forces.
Full report at:
https://www.khaama.com/suicide-bomber-arrested-before-attacking-lashkargh-city-with-motorcycle-bomb-04494
--------
NATO aiming to deploy 3 thousand more troops to Afghanistan: Stoltenberg
Feb 14 2018
The North Atlantic Treaty Organization (NATO) is aiming to increase the number of the international forces in the framework of the train, advise, and assist mission to close to 16,000 during the year 2018.
NATO Secretary General Jens Stoltenberg told reporters in Brussels on Tuesday that "At least twenty-eight Allies and partners are increasing their troop contributions to our training mission in Afghanistan."
Stoltenberg further added "We are aiming to have close to 16,000 personnel there this year. Up from around 13,000 last year."
"This is a clear sign of our continued commitment to Afghanistan's security," he added.
Stoltenberg had earlier said that the new international forces will train, advise, and assist the Afghan Special Operations forces.
This comes as the Afghan government and its international allies are optimistic regarding the growing capabilities of the Special Operations forces.
The officials are saying that the Special Forces have had major achievements and impacts in the fight against terrorism.
Full report at:
https://www.khaama.com/nato-aiming-to-deploy-3-thousand-more-troops-to-afghanistan-stoltenberg-04491
--------
North America
'You don't sound American', TV host tells Muslim blogger from Oklahoma
14 Feb 2018
An Iranian American Muslim fashion blogger was told on a US television network "you don't sound like an American" after she criticised US policy in the Middle East.
Hoda Katebi, 23, was invited onto Chicago's WGN News morning show to speak about her book, Tehran Streetstyle, but was caught off guard when one of the presenters asked her about nuclear weapons.
The interview began with a brief discussion of Katebi's childhood in Oklahoma, and her experiences wearing the hijab, or headscarf, in a conservative and predominantly white state.
But one of the presenters made a sharp turn to geopolitics, and asked: "Let's talk about nuclear weapons. Some of our viewers may say we cannot trust Iran. What are your thoughts?"
Katebi responded: "I don't think we can trust this country [the US]. When we see the legacy of this country and the violence that it has not only created but also created the capacity for, a lot of these weapons in the Middle East are completely brought in by the Unites States."
This exchange prompted the presenter to tell Katebi: "A lot of Americans might take offence to that. You're an American, you don't sound like an American when you say [this] … you know what I mean."
Iran does not have nuclear weapons. Under the terms of the landmark 2015 nuclear deal with the world's major powers, it agreed to roll back its nuclear programme, and allow regular inspections, in exchange for the lifting of sanctions.
Katebi, who studied international relations and Middle Eastern politics at University of Chicago, shrugged off the comment with a laugh – which she told the Guardian was prompted by the "absurdity" of the question.
"I don't think I would have gotten the same question if I was white – despite being born and raised in this country," she said.
Katebi said she had sensed a shift in attitudes towards Muslims in the US since the election of Donald Trump. "People now feel very confident in being able to voice Islamophobic opinions that might have kept to themselves before," she said.
A WGN spokesperson said: "WGN-TV anchor Robin Baumgarten spoke with Hoda Katebi this morning. Robin apologized to Hoda and they had a constructive dialogue about micro-aggressions. WGN, Robin and Hoda will be working together to use this as a teachable moment to encourage education and a deeper understanding of race, religion and identity struggles."
https://www.theguardian.com/us-news/2018/feb/14/muslim-blogger-hoda-katebi-chicago-wgn-news
--------
Muslim mayoral candidate in Minnesota receives death threat on social media
Feb 15, 2018
A woman who is running to become the first Muslim mayor of a city in Minnesota has complained to police after someone left an Islamophobic death threat on her website.
Regina Mustafa is among a number of people seeking to become mayor of Rochester, 100 miles south-east of Minneapolis. If she wins, in addition to being the city's first Muslim mayor should also be the first woman to hold the position.
She said that days after announcing her candidacy, someone posting as "Militia Movement" wrote on her website: "EXECUTE all muslims in America."
"I have no way of knowing if the person is nearby or across the country," Ms Mustafa told the Post-Bulletin. "These threats do have to be taken seriously."
She added: "It was more of a general threat to all Muslims in America, but since this person did take the time to search me out and leave this comment, I took it as a specific threat."
Ms Mustafa said she threatening words were left on a Google Plus posting she made last summer that included a photograph of her speaking at Peace Plaza in Rochester. She said she had reported it to the Rochester Police Department.
The city has a population of around 114,000 of which 12,000 are Muslims, the majority of them of Somali descent.
The Minnesota chapter of the Council on American-Islamic Relations (CAIR) also asked police to investigate. "We urge state and federal law enforcement authorities to investigate this implicit threat of violence targeting a member of a minority community seeking to take part in our nation's political process," said CAIR-MN Executive Director Jaylani Hussein.
He said his organisation had witnessed an unprecedented spike in hate incidents targeting American Muslims and members of other minority groups since the election of Donald Trump as President.
Ms Mustafa, who wears a hijab, said she largely felt welcome in the city despite occasional confrontations with strangers. She said she has had people shout at her from passing cars and on one occasion a man approached her as she sat in a coffee shop with her daughter and said to her "go home".
She said she was also subjected to threats after announcing a bid for Congress last year.
Captain John Sherwin of the Rochester Police Department told The Independent an officer was investigating the incident but said that because the threat was general and not specifically directed at Ms Mustafa it be difficult to prosecute. He said the threat she received last year was eventually passed on to the FBI who located the person responsible.
Ms Mustafa, who said she is legally blind, said she had great respect for the local police but was concerned they were not treating this as a direct threat.
"I'm concerned they're considering this as harassment," she said. "I've suffered harassment – I know what harassment is. This is a threat."
Full report at:
http://www.independent.co.uk/news/world/americas/us-politics/muslim-mayor-candidate-regina-mustafa-minnesota-death-threat-hate-speech-a8210551.html
--------
Muslim student 'kicked off flight for speaking Arabic' sues Southwest Airlines for racial discrimination
Feb 15, 2018
A Muslim student who was ejected from a Southwest Airlines plane after speaking Arabic has filed a lawsuit alleging racial discrimination.
Khairuldeen Makhzoomi was "publicly humiliated", searched and interrogated for hours after being removed from the flight before take-off at Los Angeles International Airport.
The American citizen, who came to the US as an Iraqi refugee, spoke in Arabic to his uncle in Baghdad during a brief phone call while waiting after boarding the plane in April 2016.
They discussed his excitement about talking to UN Secretary-General, Ban Ki-moon, during a dinner the previous day.
Minutes after hanging up the phone, Mr Makhzoomi said, he was "singled out" and removed from the flight by two police officers and Southwest employee Shoaib Ahmed.
According to the lawsuit, Mr Ahmed, who is also named as a defendant, said: "Why are you talking in Arabic? You know the environment is very dangerous."
Mr Makhzoomi, then a 26-year-old public policy student at the University of California at Berkeley, said he faced hours of questioning by local police and the FBI and was "invasively searched" before being released.
The student said one agent told him: "You need to be very honest with us with what you said about the martyrs. Tell us everything you know about the martyrs."
He was released soon after explaining his use of the word "inshallah", an Islamic phrase that translates literally as "God willing" that is often colloquially used to mean "hopefully".
But Southwest refused to rebook him on another flight and instead refunded his ticket. He later flew home on Delta Air Lines.
The lawsuit adds: "Southwest Airlines discriminated against and wrongfully removed Mr Makhzoomi from his flight for no reason other than for speaking in his native language. In doing so, the airline, by and through its agents and employees, intentionally violated Mr Makhzoomi's civil rights.
"Southwest was and is well aware of the prevalent stereotypes and sentiments associated with Islamophobia and knew or should have known that they cannot simply remove Arabic speaking passengers without having a valid reason or concern."
It said "no passenger or agent of Southwest actually observed any safety concerns or contentious communications... except for the fact that Plaintiff appeared to be Middle Eastern or Muslim".
Mr Makhzoomi, now a graduate student at Georgetown University in Washington DC, is seeking compensation and punitive damages for civil rights violations, discrimination and emotional distress.
He is receiving legal assistance from the Council on American-Islamic Relations, which said Mr Makhzoomi tried to resolve the dispute out of court but Southwest's response proved "unsatisfactory".
"We want to make sure that what happened to Mr Makhzoomi does not happen to others," said Zahra Billoo, executive director of the council's San Francisco Bay area office.
Southwest said it could not comment on active legal proceedings.
The airline has previously said its staff investigated "potentially threatening comments" made by Mr Makhzoomi. A spokesman added its crew followed proper procedure and that the "content" of Mr Makhzoomi's talk with his uncle, not the language, had prompted action.
He added: "Since that time, we have researched the event internally and also reached out to the customer.
Full report at:
http://www.independent.co.uk/news/world/americas/muslim-man-removed-flight-arabic-speaking-sues-southwest-airlines-racial-discrimination-a8210636.html
--------
US pushes on Russia to use its leverage on Syria
Feb 14, 2018
The United States has urged Russia to use its leverage over Syrian President Bashar al-Assad to end the conflict as the UN envoy warned of a "worrying and dangerous" moment in the nearly seven-year bloodshed.
"Russia can push the regime to commit to seeking a real peace in Syria," US Ambassador to UN Nikki Haley told a Security Council meeting on Wednesday regarding the worsening crisis in Syria.
Moscow and Washington support opposing sides in the Syrian conflict. Russia assists the Syrian government and has been carrying out an aerial bombardment campaign against terrorist positions in Syria.
"Now is the time for Russia to use that leverage," she said, to "push the Assad regime to do what it plainly does not want to do."
The US-led coalition has been conducting airstrikes against what are said to be Daesh targets inside Syria since September 2014 without any authorization from the Damascus government or a UN mandate.
The strikes, however, have on many occasions resulted in civilian casualties and failed to fulfill their declared aim of countering terrorism.
The US has around 2,000 military personnel in northern Syria supporting the SDF, which is an alliance of militias in northern and eastern Syria and largely dominated by the Kurdish People's Protection Units (YPG).
Following a confrontation between Israel and Iran, clashes involving US-led coalition forces and fighting escalating in many parts of the country, UN envoy Staffan de Mistura called for de-escalation.
"This is as violent and worrying and dangerous a moment as any that I have seen in my time as special envoy," said De Mistura, who has been the peace mediator since 2014.
The US-led coalition has repeatedly been accused of targeting and killing civilians. It has also been largely incapable of achieving its declared goal of destroying Daesh.
Full report at:
http://www.presstv.com/Detail/2018/02/14/552394/US-pushes-on-Russia-to-use-its-leverage-on-Syria
--------
US secretary of state urges Iran to withdraw from Syria
14 February 2018
U.S. Secretary of State Rex Tillerson on Wednesday demanded that Iran withdraw all its forces from Syria with a view to reducing regional tension.
Tillerson made the remarks at a joint press conference held with Jordanian counterpart Ayman Safadi in Amman.
Washington's top diplomat also voiced concern over recent escalations between Iran and Israel in Syria, urging Tehran to withdraw all its forces from the latter.
Citing Iran's influence on Lebanon's Hezbollah group, Tillerson said the U.S. supported a "free and independent" Lebanon in which all military forces remained under the control of the government.
Tillerson is scheduled to visit Beirut on Thursday where he plans to discuss democratization with Lebanese leaders.
The U.S. secretary of state also signed a memorandum of understanding with Safadi by which Washington will provide Jordan with $1.275 billion in annual aid over the next five years.
Full report at:
http://www.worldbulletin.net/america-canada/198831/17-confirmed-dead-in-us-school-shooting
--------
Mideast
Yemeni army kills 40 Houthis advancing near Midi front
14 February 2018
Dozens of Houthi militants were killed on Wednesday after fierce clashes with Yemen's national army supported by coalition fighters in the district of Midi west of Hajjah.
Al Arabiya correspondent in Yemen said that 40 elements of the Houthis were killed in raids by the coalition fighters in Midi Front, to support the movement of the National Army forces.
A military source confirmed that a number of sites and machinery belonging to the Houthis were accurately hit, especially in the western neighborhoods where the militias are still stationed.
The Yemeni army forces on Tuesday liberated several new strategic locations north of the southern province of Lahj, after clashes with the Houthi militia.
The Yemeni army tightened its control of the strategic mountain of Shivan in the Karash district of Qubaytah governorate north of Lahj province.
It will continue to advance towards the Al-Shuraijah area south towards Taiz governorate, amid huge losses among Houthi militants.
https://english.alarabiya.net/en/News/gulf/2018/02/14/Yemeni-army-kills-40-Houthis-gathering-near-Midi-front.html
--------
Saudi forces repel Houthi border incursion, kills 25 militants
15 February 2018
The Saudi military repelled a cross border attack by Houthi militias on the southern border town of Nahran late on Wednesday,
The operations carried out by the Saudi forces killed 25 Houthis and wounded others with a targeted bombardment by Saudi artillery guns.
Saudi Apache helicopters furthermore destroyed 3 military vehicles belonging to the Houthi militias.
Last Sunday, Saudi forces dealt with a similar attack by the militias, killing 17 members..
Houthi militias have been attempting to infiltrate the Saudi border to raise the morale of its forces, Arab Coalition sources said.
https://english.alarabiya.net/en/News/gulf/2018/02/15/Saudi-forces-repel-Houthi-border-incursion-kills-25-militants.html
--------
Houthis are 'at their worst,' commander who defected to Aden says
14 February 2018
Brigadier General Jamil al-Maamari who defected from the Houthis and went to Aden told Al Arabiya News Channel that the Houthis are "at their worst" and many officers in Sanaa await the right moment to get rid of them.
He added that the Houthis, who imposed a strict siege on Sanaa, were also restraining officers' and commanders' movement as they now suspect everyone.
Maamari, who had stayed in Sanaa following Houthi promises to end the Yemeni people's suffering and to achieve national partnership, said he defected because the Houthis did not keep their promises as the situation in Sanaa only became worse.
He added that the Houthis neglected state institutions, marginalized people and treated them unjustly and dragged young men into war.
Maamari noted that the Houthis do not trust commanders and only want them to act as their media front.
Full report at:
https://english.alarabiya.net/en/News/gulf/2018/02/14/Houthis-are-at-their-worst-commander-who-defected-to-Aden-says.html
--------
Senior Houthi commander killed in Taiz, advances to liberate city continue
14 February 2018
A senior Houthi field commander in Taiz was killed on Tuesday, along with four others the Yemen military media center stated.
Abu Taha al-Ghalisi was killed in an artillery shelling assault by the Yemeni army on Houthi positions.
Abu Taha, according to field sources, is responsible for leading the Houthi fronts north of the city of Taiz.
The Yemeni army supported by Arab coalition troops launched an attack on Tuesday.
Successive advances have been reported by Yemeni military officials in the operation to liberate the city from Houthi militias.
Full report at:
https://english.alarabiya.net/en/News/gulf/2018/02/14/Senior-Houthi-commander-killed-in-Taiz-advances-to-liberate-city-continue.html
--------
US instrumental in Daesh, terrorism spread in Middle East: Iran
Feb 14, 2018
The United States has played a key role in the expansion of Daesh and other terrorist groups across the Middle East, says an Iranian diplomat at the United Nations, condemning Washington's new accusation that Iran destabilizes the region.
Alireza Miryousefi, a spokesman for the Iranian mission to the UN, made the remarks on Wednesday, after US envoy to the world body Nikki Haley claimed during a Security Council session on Syria that the Iran was a "destabilizing" force in the war-torn country.
In a statement issued online, Miryousefi said Haley's "baseless" statement did little to undermine Iran's "sincere" efforts to de-escalate the situation in Syria in the face of Washington's "push to thwart" them.
"The US government has been instrumental in the growth of Daesh and terrorism in the Middle East," said Miryousefi. "Its misadventures and illegal interventions across the region, especially Iraq, Libya, Lebanon, Afghanistan and Syria, are destabilizing and have had disastrous consequences for these countries and the region."
Washington could not "cover up its destructive role" by putting the blame on other countries, Miryousefi asserted.
The Iranian diplomat also questioned America's unconditional support for Israel despite the fact that the Tel Aviv regime is the "primary" source of instability in the region due to its "illegal and aggressive practices."
Russia hits back at US
In her speech, Haley also lashed out at Russia for not using its leverage over Syrian President Bashar al-Assad to end the war.
Russian Ambassador Vassily Nebenzia rejected the charge, saying Russia was doing its part and it was the US and its allies that did not use their influence to stop the violence.
He also blasted Washington for the recent "unprovoked attack" on Syrian pro-government forces in Syria's Dayr al-Zawr province, which reportedly killed scores of people, including private Russian military contractors.
Syria in most 'dangerous, violent' times
Also addressing the UNSC meeting on Wednesday was the UN Syria peace mediator Staffan de Mistura, who said the conflict had reached its most perilous stage.
"I have been now four years (as) special envoy, this is a violent and worrying and dangerous a moment as any that I've seen in my time," he said of the conflict, which has killed hundreds of thousands of Syrians and displaced millions more since its onset in 2011.
After losing most of the Syrian territories in their control, Daesh terrorists are now largely concentrated in Eastern Ghouta and the northwestern province of Idlib.
Last week was one of the bloodiest ones over the past years as Syrian government forces continued its attacks to free those areas, where many suffer from malnutrition and lack of basic medical supplies.
"What we are seeing in Syria today not only imperils the de-escalation arrangements and regional stability, it also undermines the efforts for a political solution," he said, noting that the UN would continue its Geneva peace initiative, although it has failed to bear any fruit.
The UN special envoy also called on Iran, Russia and Turkey to use their regional influence in order to resolve the deadly conflict.
The three countries have been organizing peace talks for Syria in Kazakhstan's capital of Astana since January 2017. Together, they have been acting as guarantor states for the peace process.
Syria: US-led coalition defending terrorists
While addressing the meeting, Syria's envoy to the UN Bashar al-Ja'afari noted that de Mistura had refrained from mentioning the presence of US and Turkish forces on Syrian soil.
Jaafari stressed that so far 29 resolutions on Syria have been adopted by the council, all of which highlight all parties' commitment to Syria's sovereignty, independence and territorial integrity.
"We have the right to question the actions taken by the UN Security Council to guarantee these objectives set by the founders in order to achieve peace, security and stability in the world," he added.
He further added that the US, the UK and France have done all they could to destroy Syria by facilitating the movement of terrorists to Syria with the aim of toppling the government.
Full report at:
http://www.presstv.com/Detail/2018/02/14/552409/US-Daesh-Syria-Mistura-Iran-Miryousefi-Haley-Nebenzia-Syria-UNHC
--------
Kuwaiti emir lauds Iran's role in fighting Daesh, developing Iraq's economy
Feb 14, 2018
Kuwait's emir, Sheikh Sabah al-Ahmad al-Jaber al-Sabah, has praised Iran's role in fighting the Daesh Takfiri terrorist group, and the Islamic Republic's contribution to Iraq's stability and economic development.
The Kuwaiti emir made the remarks during a meeting with Iranian Foreign Minister Mohammad Javad Zarif in Kuwait City on Wednesday on the sidelines of an ongoing international conference aimed at raising funds for reconstructing Iraq.
Sheikh Sabah also expressed hope that regional countries would resort to talks to settle any possible differences or division between them.
Zarif, for his part, praised bids by the Kuwaiti emir to play a mediating role in regional conflicts, and expressed hope that such efforts would culminate in favorable results.
The two sides also underlined the need for the promotion of ties and direct consultations between the high-ranking officials of the two countries.
The three-day Kuwait International Conference for the Reconstruction of Iraq opened in Kuwait City on Monday with the focus on the reconstruction of Iraq and vital issues concerned following more than three years of war on Daesh that left many parts of the Arab country in ruins.
Iraqi Prime Minister Haider al-Abadi in December declared victory in the war against Daesh, which controlled as much as a third of Iraq's territory three years ago.
Kuwait's foreign minister said Wednesday that a total of $30 billion in pledges had been made at the summit. The pledges have come from 76 countries, numerous international funds and global organizations, added Sheikh Sabah al-Khaled al-Sabah.
Baghdad has said it needs far more donations, with officials noting Iraq is seeking between $80 and $100 billion to rebuild the country.
"We were hoping for more," Iraq's Foreign Minister Ibrahim al-Jaafari said, adding, "We are not disappointed, but the amount was less than expected."
Iraqi officials estimate that $17 billion of the needed funds have to go toward rebuilding homes alone. The United Nations estimates 40,000 homes need to be rebuilt in Iraq's second largest city of Mosul alone. The Daesh war reportedly led to the destruction of 147,000 housing units in the seven Iraqi provinces attacked by the militants.
Iran pledges to contribute to Iraq's reconstruction
On the sidelines of the Kuwait conference, Zarif also met with the Iraqi premier.
During the meeting, Zarif reassured the Iraqi prime minister that Iran would spare no efforts to contribute to Iraq's reconstruction as the Islamic Republic stood by the Iraqi nation and government in the war against terrorists.
Iran sees Iraq as an important political and economic partner, he added.
Abadi, for his part, praised Iran's role in the anti-Daesh fight and the purge of terrorists from his country's soil.
He also welcomed Iran's participation in the reconstruction of Iraq.
Earlier on Monday, Iranian Foreign Ministry Spokesman Bahram Qassemi also said that the Islamic Republic would continue to play a "supportive and constructive" role in Iraq's reconstruction and economic development.
Full report at:
http://www.presstv.com/Detail/2018/02/14/552363/Iran-Kuwait-Iraq-reconstruction-Zarif-Sheikh-Sabah--Daesh
--------
Seven Israeli soldiers wounded after running over landmine
Feb 14, 2018
At least seven Israeli soldiers have sustained injuries when a anti-tank landmine exploded under their military vehicle near the Jordan River in the occupied West Bank.
The Israeli army announced in a statement that the soldiers were on a routine mission to repair a fence around a minefield in the Qasr al-Yahud area, south of Ariha (Jericho) on Wednesday afternoon, when their car ran over the ordnance.
The statement added that the injured troopers have been taken to a hospital in Jerusalem al-Quds for medical treatment, and that the circumstances surrounding the blast are being investigated.
The development came less than a day after two Israeli soldiers were killed and 10 others injured in a fatal car crash.
The accident occurred on Tuesday night when a truck driver lost control of his vehicle and collided into a convoy of Israeli military jeeps on the Nizanei Oz Interchange on Highway 6, east of Netanya.
On September 27, 2017, two Israeli soldiers were killed and four others wounded when their reconnaissance vehicle flipped over during the course of a military exercise in Syria's occupied Golan Heights.
The Israeli military said in a statement that the accident occurred as the soldiers were conducting a maneuver in conjunction with other military vehicles.
The driver of the M109 self-propelled howitzer took a wrong turn, and was blurred by the headlights coming from a convoy of vehicles opposite their vehicle.
He tried to turn in the other direction, but by doing so he drove the vehicle over a drop in the road and it overturned into a ditch of 6-8 meters deep.
The Israeli military identified the dead as 22-year-olds Lieutenant Avshalom Armoni and Sergent Avinoam David Cohen.
Full report at:
http://www.presstv.com/Detail/2018/02/14/552369/Israeli-soldiers-wounded-landmine
--------
URL: https://www.newageislam.com/islamic-world-news/un-forbidden-love-saudis-enjoy/d/114293
New Age Islam, Islam Online, Islamic Website, African Muslim News, Arab World News, South Asia News, Indian Muslim News, World Muslim News, Women in Islam, Islamic Feminism, Arab Women, Women In Arab, Islamophobia in America, Muslim Women in West, Islam Women and Feminism