New Age Islam News Bureau
28 Feb 2013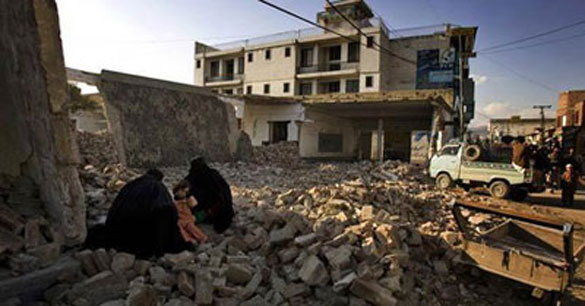 Europe
• UN Concerned Over Flogging Sentence to Alleged Rape Victim in Maldives
• Uzbek fans banned from face painting
• Danish Opponent of Islam Is Attacked, and Muslims Defend His Right to Speak
• Syrians fleeing war likely to soon pass million - UN
• Argentina's Congress Approves Pact with Iran to Probe Bombing
Mideast Asia
• Zionists want sectarian strife among Muslims: Iranian Leader
• Iranian Missile Experts Helping Hamas and Islamic Jihad
• Muslim politics without an 'Islamic state'
• Iran 'very optimistic' after nuke talks
• 2 Palestinians in Israeli Jail End Hunger Strike
• Construction of Disputed Turkish Dam Continues
• Lawmakers Introduce Bipartisan Measure to Toughen Iranian Sanctions
India
• Student Commits Suicide in Darul Uloom Deoband, Second In a Month
• Dawoodi Bohras' leader Syedna Mohammed Burhanuddin turns 102
• Gujarat: Year-long protest for displaced riot victims from today
• Intel links Hafiz Saeed to Hyderabad terror blasts
• For Bhatkal brothers, Darbhanga was Azamgarh-II
• Obama's half-brother Malik visits India, to help clean Yamuna
• 'Omar Abdullah's advice was ignored on Afzal Guru hanging'
• India, Iran must promote trade, economic links: Prez Pranab Mukherjee
• Pak govt releases 10 Indian prisoners including 7 fishermen
Pakistan
• Countrywide blackout in Pak triggered coup fears
• Militants bomb four schools in Mohmand tribal region
• Sunnis and Shias unite over land dispute
• Fazl stresses Army's role in Taliban talks
• Haqqani advice to Pak army: Look at borders, not politics
• Rehman Malik submits apology in SC over contempt case
• Jafria Alliance urges Swat-like operation in Quetta
• Pakistan's Hazaras to take up arms over attacks
• Punjab investigates how Malik Ishaq, sons obtained 11 arms licences
Arab World
• 47% of prisoners in Saudi Kingdom involved in drug crimes
• Bahrain Court Jails 7 Shiites for 10 Years, Acquits 13
• 11Al-Qaeda members detained in Istanbul, planned to attack synagogues and churches
• Irregular appointments of Imams in Riyadh under probe
• Egypt opposition to skip polls over transparency
• Arab spring rappers blast 'thieves of the revolution'
• Egypt to refute UN committee inquires about torture: Sources
• Syria rebels seize historic Aleppo mosque: NGO
• Odds rose as Egypt cabinet approves draft law on Islamic bonds
• Western Governments to Discuss Military Assistance to Syrian Rebels
• Mubarak planned to overthrow my father: Sadat's daughter
• Universities warned against dealing with non-Arab League bodies
Australia
• Four men found guilty of Sharia law whipping in Australia
North America
• U.S. vows to provide $60 mln in 'non-lethal' assistance to Syrian opposition
• US Congressman declares Dr Shakil Afridi an 'American hero'
• White House stonewalling drone inquiry: US lawmakers
• CAIR-WA Welcomes New County Policy Allowing Hijab in Jails, Courts
• US Congressman demands referendum in Balochistan
• Hagel committed to strategic partnership with India: Pentagon
South Asia
• Bangladesh Sentences Islamist Leader to Death for War Crimes
• Bangladesh admits presence Lashkar-e-Taiba in country
• Kabul demands control of Afghan militia in three months
• 3 newspapers abusing press freedom: Bangladesh Information Minister
• Maldives government clears India debt
• Bangladesh government blocked social networking website Facebook
• Rapes by Burmese security forces 'may cause more strife' in troubled region
• Afghan move against US Special Forces tied to abuse allegations
Africa
• Congo Rebels Sack Political Chief, Splits Undermine Peace Efforts
Southeast Asia
• Religious violence rising in Indonesia
• Muslims and Catholics are showing the way for inter-faith understanding in Malaysia
• Thailand, Muslim militants agree to peace talks
Compiled by New Age Islam News Bureau
Photo: Militants bomb four schools in Mohmand tribal region
URL: https://newageislam.com/islamic-world-news/un-concerned-flogging-sentence-alleged/d/10592
------------
Europe
UN Concerned Over Flogging Sentence to Alleged Rape Victim in Maldives
Feb 28, 2013
United Nations (UN) expressed deep concern over the sentence of flogging of a 15-year-old girl who has been allegedly subject to long standing sexual abuse.
Juvenile Court on Tuesday sentenced the minor to 100 lashes and eight months under house arrest after she admitted having had premarital sex in a separate case.
In a statement on Wednesday the UN noted that corporal punishment, including flogging, amounts to cruel, inhuman or degrading punishment or even to torture under international legal human rights obligations of Maldives.
"The approach to sexual abuse which has been adopted in numerous international human rights frameworks is that governments should implement prevention, prosecution of perpetrators, and protection measures to ensure that sexual abuse does not occur," the statement read.
"Where it has occurred, governments should put in place measures for rescue, rehabilitation, and reintegration of victims."
During a police probe into allegations that the girl had been raped by her stepfather, investigators uncovered evidence that she had had consensual sex with another man.
"Though she has been sentenced she will be lashed once she turns 18," a Juvenile Court official had told Haveeru.
"But the sentence will be enforced immediately if she wants it to be carried out now."
The child's stepfather faces up to 25 years in prison if convicted of rape and a murder charge, after he allegedly killed the baby which resulted from his alleged rape of his stepdaughter. Meanwhile her mother faces charges of concealing a crime.
The premarital sex charge against the teenager has been condemned by rights groups and the government has urged leniency towards the girl, saying she had been traumatised by being repeatedly raped by her stepfather.
http://www.haveeru.com.mv/news/47712
------------
Uzbek fans banned from face painting
28 Feb 2013
Uzbekistan has banned football fans from painting their faces or other parts of their body, according to a new code of conduct from the culture and sports ministry.
The new code published this week stipulates that football fans are not allowed "to paint their faces or other parts of their body" and cannot bring in animals or drink alcohol.
They must also not shout insults or carry defamatory posters, signs or symbols that could call for ethnic, racial or religious hatred.
The code, approved by the internal affairs ministry, obliges fans to go through a special police check against having firearms, explosives, sharp and oversized objects and hazardous liquids.
Fans who violate or do not obey the new code "will not be allowed in or will be evicted from the event without being refunded the ticket price", and furthermore "may face a punishment according to the law", the document says.
The code allows fans to bring flags, drums and banners detailing their size and type. But there was no explanation as to why the authorities object to face painting, which is popular at sports events worldwide.
Painting faces and body parts is not welcomed in Uzbekistan, a largely Muslim state. Uzbek state television recently dubbed tattoos as the sign of "moral degradation and one of the elements of pernicious Western mass culture." Football has become the most popular sport in the Central Asian nation of almost 30 million people, particularly after the country reached the Asia Cup semi-finals in 2011, and matches generally pass off without any untoward incidents.
The Uzbekistan football federation won the 2012 FIFA Fair Play Award for the good behaviour of the Uzbek national team and the country's club sides participating in AFC competitions during the past year.
http://www.hurriyetdailynews.com/uzbek-fans-banned-from-face-painting.aspx?pageID=238&nID=41978&NewsCatID=365
---------
Danish Opponent of Islam Is Attacked, and Muslims Defend His Right to Speak
By ANDREW HIGGINS
February 28, 2013
COPENHAGEN — When a would-be assassin disguised as a postman shot at — and just missed — the head of Lars Hedegaard, an anti-Islam polemicist and former newspaper editor, this month, a cloud of suspicion immediately fell on Denmark's Muslim minority.
Politicians and pundits united in condemning what they saw as an attempt to stifle free speech in a country that, in 2006, faced violent rage across the Muslim world over a newspaper's cartoons of the Prophet Muhammad. Since then, the newspaper that first printed the images, Jyllands-Posten, has been the target of several terrorist plots.
However, as Mr. Hedegaard's own opinions, a stew of anti-Muslim bile and conspiracy-laden forecasts of a coming civil war, came into focus, Denmark's unity in the face of violence began to dissolve into familiar squabbles over immigration, hate speech and the causes of extremism.
But then something unusual happened. Muslim groups in the country, which were often criticized during the cartoon furor for not speaking out against violence and even deliberately fanning the flames, raised their voices to condemn the attack on Mr. Hedegaard and support his right to express his views, no matter how odious.
The writer, who for several years edited a mainstream Danish daily, Information, is a major figure in what a study last year by a British group, Hope Not Hate, identified as a global movement of "Islamophobic" writers, bloggers and activists whose "anti-Muslim rhetoric poisons the political discourse, sometimes with deadly effect."
That Danish Muslims would rally to defend Mr. Hedegaard, a man they detest, suggests a significant shift in attitudes, or at least in strategies, by a people at the center of a European debate over whether immigrants from mostly poor Muslim lands can adjust to the values of their new and, thanks to a long economic crisis, increasingly wary and often inhospitable homes.
"They have changed their approach," said Karen Haekkerup, Denmark's minister of social affairs and integration. "It is a good sign that the Muslim community is now active in the debate."
When the news broke on Feb. 5 that Mr. Hedegaard had narrowly escaped an attack on his life, recalled Imran Shah of Copenhagen's Islamic Society, "we knew that this was something people would try to blame on us. We knew we had to be in the forefront and make clear that political and religious violence is totally unacceptable."
The Islamic Society, which runs Denmark's biggest mosque and played an important role in stirring up passions against the cartoons of Muhammad, swiftly condemned the attack on Mr. Hedegaard. It also said it regretted its own role during the uproar over the cartoon, when it sent a delegation to Egypt and Lebanon to sound the alarm over Danish blasphemy, a move that helped turn what had been a little-noticed domestic affair into a bloody international crisis.
Another Islamic organization, Minhaj ul Quran International, the Danish offshoot of a controversial group in Pakistan that has taken a hard line at home against blasphemy, added its own voice, organizing a demonstration outside Copenhagen's city hall to denounce the attack on Mr. Hedegaard and defend free speech.
"We Muslims have to find a new way of reacting," said Qaiser Najeeb, a 38-year-old second-generation Dane whose father immigrated from Afghanistan. "Instead of focusing on the real point, we always get aggressive and emotional. This should change. We don't defend Hedegaard's views but do defend his right to speak. He can say what he wants."
The response from native Danes has grown more equivocal over time, with some suggesting Mr. Hedegaard himself provoked violence with his strident views and the activities of his Danish Free Press Society, an organization that he set up in 2004 to defend free expression but that is best known for denouncing Islam.
"I think that Hedegaard wanted this conflict," Mikael Rothstein, a religious history scholar at the University of Copenhagen, said during a discussion on Danish television, adding that "brutal words can be as strong as the brutal physical act of violence."
Previously shunned by Denmark's intellectual and political elite, Mr. Hedegaard, who was uninjured in the attack and is living in a safe house under police protection, has been front-page news, even in newspapers that consider him a deliberately provocative racist, which he denies.
Surfacing last week from a safe house for a meeting in the Danish Parliament organized by his Free Press Society, Mr. Hedegaard received a standing ovation after a speech in which he said, "I don't have a problem with Muslims but do have a problem with the religion of Islam."
Asmat Ullah Mojadeddi, a medical doctor and the chairman of the Muslim Council of Denmark, a group set up after the cartoon crisis to counter radical Muslims prominent in the news media, described Mr. Hedegaard as a mirror image of reckless Muslims who shoot off their mouths heedless of the consequences.
"There are stupid people everywhere," Dr. Mojadeddi said. "Mr. Hedegaard is an extremist, and there are definitely extremist Muslims."
Hoping to take advantage of the furor stirred by the attack, a tiny but vociferous anti-Muslim outfit called Stop the Islamization of Europe organized a rally Saturday in central Copenhagen. Its leader, Anders Gravers, a xenophobic butcher from the north, fulminated against Muslims and the spread of halal meats, but only 20 people turned up to show support. There were many more police officers, on hand to prevent clashes with a larger counterdemonstration nearby.
Who tried to kill Mr. Hedegaard is still a mystery. In an e-mail, he wrote, "My attacker was an immigrant or descendant of immigrants — Arab or Pakistani. He spoke Danish with no accent."
Mr. Hedegaard described how a man dressed in a postal worker's jacket had come to his apartment building to deliver a parcel, and, "as I was standing with the package in my hands, he immediately pulled out a gun and fired at my head," he said. Though less than a yard away, the gunman missed and fled after a struggle, Mr. Hedegaard said.
The attack followed a failed ax attack in 2010 by a Somali Muslim on Kurt Westergaard, the artist who drew a cartoon of Muhammad with a bomb in his turban, and a foiled plot to behead journalists at the office of the newspaper that first published that cartoon and 11 others in September 2005.
Mr. Hedegaard and his Free Press Society championed the newspaper's right to publish. They also railed against those in Denmark who seemed to contend that the newspaper's lack of respect for Muslim sensitivities deserved much of the blame for the violent reaction in Muslim countries, which included attacks on Danish diplomatic missions in Syria, Lebanon and Iran.
Mr. Hedegaard has also fanned wild conspiracy theories and sometimes veered into calumny. At a private gathering at his home in December 2009, he declared that Muslims "rape their own children. It is heard of all the time. Girls in Muslim families are raped by their uncles, their cousins or their fathers."
The comments, recorded by a journalist, later appeared online and led to legal action under a Danish law that prohibits racist hate speech. Mr. Hedegaard was convicted but later acquitted by the Supreme Court.
In an e-mail, he did not deny making the remarks that led to his prosecution but said he had not given permission for them to be published.
He said he was skeptical that Muslims had changed their attitudes, or even could shift toward greater accommodation of European norms.
"There is no such thing as 'moderate' Islam, and there never has been," Mr. Hedegaard said. "There may be shades of opinion among Muslims, but as a totalitarian system of thought, Islam has remained unchanged for at least 1,200 years."
http://www.nytimes.com/2013/02/28/world/europe/lars-hedegaard-anti-islamic-provocateur-receives-support-from-danish-muslims.html?ref=europe&gwh=383BBF2BC4C0EE7AD851CC9463386214&_r=0
------------
Syrians fleeing war likely to soon pass million - UN
Reuters | Feb 28, 2013
UNITED NATIONS: More than 40,000 people a week are fleeing war-torn Syria and the total number of refugees will likely pass 1 million in less than a month, a senior U.N. official told the Security Council on Wednesday.
U.N. High Commissioner for Refugees Antonio Guterres said the U.N. agency as of Tuesday had registered 936,000 Syrians across the Middle East and North Africa, nearly 30 times as many people as April last year.
Full report at:
http://timesofindia.indiatimes.com/world/middle-east/Syrians-fleeing-war-likely-to-soon-pass-million--UN/articleshow/18721858.cms
------------
Argentina's Congress Approves Pact With Iran to Probe Bombing
February 28, 2013
BUENOS AIRES (Reuters) - Argentina's Congress approved early on Thursday a agreement with Iran to investigate the 1994 bombing of a Buenos Aires Jewish community center that Argentine courts have long accused Tehran of sponsoring.
Jewish leaders say the pact to set up a "truth commission" risks undermining the ongoing judicial investigation into the attack, which killed 85 people, but President Cristina Fernandez says it could shed new light on the case after years of deadlock.
Full report at:
http://www.nytimes.com/reuters/2013/02/28/world/middleeast/28reuters-iran-argentina-
------------
Mideast Asia
Zionists want sectarian strife among Muslims: Iranian Leader
February 27, 2013
Leader of the Islamic Revolution Ayatollah Seyyed Ali Khamenei says Zionists and other arrogant powers are determined to sow discord among Muslims.
"Creating discord and division in the Muslim Ummah is one of the obvious and planned objectives of the Zionists and other arrogant [powers]," Ayatollah Khamenei told the visiting Pakistani President Asif Ali Zardari on Wednesday.
Ayatollah Khamenei pointed to the opposition and hostilities towards the development of relations between Iran and Pakistan, saying both sides must decisively move past such oppositions.
Full report at:
http://www.presstv.ir/detail/2013/02/27/291116/zionists-sow-discord-in-muslim-ummah/#sthash.ubsieKtR.dpuf
------------
Iranian Missile Experts Helping Hamas and Islamic Jihad
AWR Hawkins
27 Feb 2013
A report indicates that "members of Iran's Revolutionary Guard Corps are currently in the Gaza Strip" helping Hamas and Islamic Jihad develop long-range missiles.
Moreover, earlier today, a Grad rocket was fired from Gaza to Ashkelon. The rocket was apparently fired by Islamic Jihad.
Full report at:
http://www.breitbart.com/Big-Peace/2013/02/27/Report-Iranian-Missile-Experts-Helping-Hamas-and-Islamic-Jihad#sthash.qXFUGt3Z.dpuf
------------
Muslim politics without an 'Islamic state'
February 28 2013
In the past decade, the idea that Turkey can be a "model" for other predominantly Muslim countries has been repeatedly discussed. In turn, though, many observers noted that things are not that simple. Every society has its own unique political experience, they reminded, and no "model" can really be replicated by a few political decisions.
Full report at:
http://www.hurriyetdailynews.com/muslim-politics-without-an-islamic-state.aspx?pageID=238&nID=41929&NewsCatID=411
------------
Iran 'very optimistic' after nuke talks
Feb 28 2013
Iran's foreign minister yesterday said that he was "very optimistic" about future talks with world powers about Tehran's nuclear programme after a "milestone" meeting in Kazakhstan.
"I am happy to say that the outcome of the meeting was positive, that it has been put on the right track and that it is moving in the right direction. So the process has started," Ali Akbar Salehi told reporters in Vienna.
Full report at:
http://www.thedailystar.net/newDesign/news-details.php?nid=270830
------------
2 Palestinians in Israeli Jail End Hunger Strike
February 28, 2013
JERUSALEM (AP) — Two hunger-striking Palestinian prisoners in an Israeli jail have ended their fast while two others have been hospitalized.
A spokeswoman for Israel's prison service, Sivan Weizman, said on Thursday that Tarek Qaadan and Jafar Ezzeldeen have started eating after fasting since Dec. 3.
Full report at:
http://www.nytimes.com/aponline/2013/02/28/world/middleeast/ap-ml-israel-
------------
Construction of Disputed Turkish Dam Continues
By SUSANNE GÜSTEN
February 28, 2013
ILISU, TURKEY — Mahmut Dundar raised a remote control toward a flat-screen monitor suspended from the ceiling of his office beside the Tigris River in southeast Turkey.
"These are live," he said, as he toggled between images of men and machines swarming over a dozen different building sites of the Ilisu Dam project.
Full report at:
http://www.nytimes.com/2013/02/28/world/middleeast/construction-of-disputed-turkish-
------------
Lawmakers Introduce Bipartisan Measure to Toughen Iranian Sanctions
By RICK GLADSTONE
February 28, 2013
As Iranian negotiators spoke in positive tones about their resumed nuclear negotiations with the big powers, Congressional lawmakers in Washington introduced legislation on Wednesday that would greatly expand the sanctions on Iran, amounting to what both supporters and critics said would be like a commercial trade embargo if fully carried out.
Full report at:
http://www.nytimes.com/2013/02/28/world/middleeast/lawmakers-offer-bill-to-toughen-
----------
India
Student Commits Suicide in Darul Uloom Deoband, Second In a Month
New Age Islam News Bureau
February 28, 2013
A student of Darul Uloom Deoband committed suicide on Wednesday. Abdul Basit was founding hanging from the ceiling of the bathroom of Assam Manzil in the seminary. The police have not found any suicide note. His class fellows said that he was depressed for a few days but the exact cause of his suicide has not yet been ascertained. On Wednesday the students found the body of Abdul Basit hanging in the bathroom on the second floor of the Asssam Manzil and informed the authorities. Police reached the spot and took the body in their custody. Forensic finger print experts also reached there.
Abdul Basit was said to be from Haridwar and was in Darul Uloom for the last two years. His teacher Qari Aftab said that he attended the classes till the previous evening but did not turn up for classes in the morning.
This is the second incident of suicide in Darul Uloom Deoband in one month. Earlier on February 2, a 17 year cook had committed suicide by cutting his throat with a butcher's knife. He was immediately rushed to a local hospital where he was declared brought dead.
------------
Dawoodi Bohras' leader Syedna Mohammed Burhanuddin turns 102
HT Correspondent, Hindustan Times
February 28, 2013
Murtaza Hotelwala, 40, a Dawoodi Bohra Muslim, has planted several saplings in his Grant Road home in honour of their spiritual leader Syedna Mohammed Burhanuddin, who will turn 102 on Saturday.
The community has embarked upon a green initiative to add 80,000 trees around the city.
"On Thursday, we will plant 102 trees at Rani Bagh zoo in Byculla to honour the Syedna for his 102nd birthday," said Mohammad Haidermota, chief coordinator of the green campaign.
Full report at:
http://www.hindustantimes.com/India-news/mumbai/Dawoodi-Bohras-leader-turns-102-on-Saturday/Article1-1018697.aspx
------------
Gujarat: Year-long protest for displaced riot victims from today
Feb 28 2013
Ahmedabad : An year-long protest demanding dignified rehabilitation for displaced riot victims will be launched from here on Thursday by an NGO headed by social activist Teesta Setalvad.
The protest will begin from Citizen's Nagar, Bombay Hotel area tomorrow, on the eleventh anniversary of the riots. Over 1,200 people, most of them belonging to minority
community, were killed and many of them rendered homeless during the riots.
Full report at:
http://www.indianexpress.com/news/gujarat-yearlong-protest-for-displaced-riot-victims-from-today/1081070/
-----------
Intel links Hafiz Saeed to Hyderabad terror blasts
By Abhishek Bhalla in New Delhi
Feb 28 2013
INTELLIGENCE agencies are looking at a possible Hafiz Saeed link to the recent Hyderabad blasts. They are probing if his presence at a meeting of Pakistan terror groups and his provocative utterances led to last week's attack that killed 16 people.
Presiding over a meeting of United Jihad Council, an umbrella organisation of all terror groups in Pakistan and Kashmir carrying out anti- India activities, Saeed, the mastermind of the 26/ 11 Mumbai attack, urged all groups to take revenge for Parliament attack convict Afzal Guru's execution.
Full report at:
Mail Today
------------
For Bhatkal brothers, Darbhanga was Azamgarh-II
Haidar Naqvi, Hindustan Times
Azamgarh, February 28, 2013
Long before its Azamgarh module was busted, the Indian Mujahideen (IM) set up a back-up cell which would keep them in business: Darbhanga.
Like Azamgarh, the place met the two key conditions - Muslim numbers and religious atmosphere. Over the last two years, 12 of the 13 IM men held for the attacks in Mumbai's Zaveri Bazar and Pune, are from Darbhanga. And the Darbhanga link is only too clear in the recent blasts in Hyderabad.
Full report at:
http://www.hindustantimes.com/India-news/uttarpradesh/For-Bhatkal-brothers-Darbhanga-was-Azamgarh-II/Article1-1018661.aspx
------------
Obama's half-brother Malik visits India, to help clean Yamuna
Ruchika Talwar
Feb 28 2013
New Delhi : A little more than two years after Barack Obama made a headline-grabbing visit to India, another, lesser-known Obama has made a quiet trip to the country and reached out to it in the name of the US president.
Malik Obama, the Kenyan older half-brother of Barack Obama, was in India last week as the chief guest at a convention organised by a spiritual leader in Vrindavan, Mathura, and even took part in an event to clean the Yamuna river as part of the convention.
Full report at:
http://www.indianexpress.com/news/obamas-halfbrother-malik-visits-india-to-help-clean-yamuna/1080870/
------------
'Omar Abdullah's advice was ignored on Afzal Guru hanging'
Express news service
Feb 28 2013
New Delhi : UPA ally National Conference on Wednesday criticised the government on the issue of hanging of Afzal Guru, saying the demand of Jammu and Kashmir CM Omar Abdullah to delay the execution to avoid law and order problem in the state was ignored.
Full report at:
http://www.indianexpress.com/news/omar-abdullahs-advice-was-ignored-on-afzal-guru-hanging/1080767/
------------
India, Iran must promote trade, economic links: Prez Pranab Mukherjee
Feb 28 2013
New Delhi : India and Iran must work together to further promote trade and economic links, increased people- to-people contacts between them and within the region, President Pranab Mukherjee has said.
Welcoming a Parliamentary delegation from the Islamic Republic of Iran at Rashtrapati Bhavan, the President said, "Throughout history, both countries have seen an inter-mingling of people and cultures."
Full report at:
http://www.indianexpress.com/news/india-iran-must-promote-trade-economic-links-prez-pranab-mukherjee/1081127/
-------------
Pak govt releases 10 Indian prisoners including 7 fishermen
ByYudhvir Rana, TNN | Feb 28, 2013
AMRITSAR: Pakistan government has released 10 Indian prisoners including 7 fishermen from Karachi's Landhi jail and from other jails of Punjab on Thursday. The released prisoners would reach Wagah(Pakistan) border on Friday from where they will be handed over to Indian authorities, informed Pakistan's former federal minister for human rights Ansar Burney on Thursday.
Full report at:
http://timesofindia.indiatimes.com/india/Pak-govt-releases-10-Indian-prisoners-including-7-fishermen/articleshow/18727801.cms
-------------
Pakistan
Countrywide blackout in Pak triggered coup fears
By Qaswar Abbas in Islamabad
Feb 28 2013
A MASSIVE power breakdown in Pakistan on Sunday night gave some anxious moments to its residents. Some thought of it as a prelude to a military takeover, while others suspected terrorist attacks. But, as it turned out later, the blackout was caused after a key power plant stopped functioning following a technical fault.
Full report at:
Mail Today
------------
Militants bomb four schools in Mohmand tribal region
Feb 28 2013
PESHAWAR: Suspected Taliban militants bombed four boys' schools in Pakistan's northwestern tribal belt on Thursday, officials said, in the latest attack by militants on government educational institutions.
No one was injured in the pre-dawn blasts in Mohmand tribal district, where officials said Taliban attacks have now destroyed more than 100 schools.
Full report at:
http://dawn.com/2013/02/28/militants-bomb-four-schools-in-mohmand-tribal-region/
------------
Sunnis and Shias unite over land dispute
By Shabbir Mir
February 28, 2013
GILGIT: In a rare show of sectarian harmony, Sunni and Shia elders from Hainzal village on Wednesday vowed to foil conspiracies aimed at severing their decades-old ties.
"We are aware of attempts being made by some elements to divide us, but we will never let it happen," Mohammad Bashir, a Shia elder, told journalists at the Gilgit Press Club.
The assertion follows Monday's clash during which two people from the village were shot and injured over a land dispute.
Full report at:
http://tribune.com.pk/story/513482/sectarian-harmony-sunnis-and-shias-unite-over-land-dispute/
---------
Fazl stresses Army's role in Taliban talks
2013/02/28
ISLAMABAD: Chief of the Jamiat Ulema-i-Islam-Fazl (JUI-F), Maulana Fazlur Rehman said on Thursday that talks with Pakistani Taliban militants would be useless without taking the military into confidence.
Peace in Pakistan's tribal region is closely linked to peace in neighbouring Afghanistan, Fazl said while addressing the all parties conference (APC) called by the JUI-F to discuss ways to restore peace in the militancy-hit tribal areas.
Full report at:
http://dawn.com/2013/02/28/fazl-stresses-armys-role-in-taliban-talks/
----------
Haqqani advice to Pak army: Look at borders, not politics
Shubhajit Roy
Feb 28 2013
New Delhi : Hussain Haqqani, Islamabad's former ambassador to Washington who resigned after the 'memogate' incident of 2011, Wednesday said his country's army needed to concentrate on defending Pakistan's borders, not on telling its politicians what to do inside.
"I want my army to succeed in the areas of responsibility for which they are raised... Armies are raised to defend frontiers... they are not raised to tell their political leaders what to do inside their country," Haqqani said during a talk on 'Democratic Pakistan — Vision and Reality' which he delivered at Jamia Millia Islamia.
Full report at:
http://www.indianexpress.com/news/haqqani-advice-to-pak-army-look-at-borders-not-politics/1080824/
------------
Rehman Malik submits apology in SC over contempt case
Feb 28 2013
ISLAMABAD: Federal Interior Minister Rehman Malik submitted on Thursday a written apology in court over the contempt of court case against Rehman Malik pertaining to corruption in Pakistan Steel Mills, DawnNews reported.
Rehman Malik submitted his unconditional apology in court and said that he had always respected the courts.
The federal minister further said that he should not be compared to Dr Tahirul Qadri and that there was no shame in admitting ones mistake after it is proven in court.
http://dawn.com/2013/02/28/rehman-malik-submits-apology-in-sc-over-contempt-case/
------------
Jafria Alliance urges Swat-like operation in Quetta
Feb 28 2013
ISLAMABAD: The Jafria Alliance has demanded of the government to launch a Swat-like operation in Quetta to save provincial capital from falling into the hands of extremists and terrorists.
Addressing a press conference here at the National Press Club, leader of Jafria Alliance Allama Abbas Kumaili said the police and administration in Balochistan were not only incompetent but also corrupt. "They have failed to execute their duties and are directly and indirectly protecting terrorists by not registering cases and presenting challans in courts." Allama Kumaili said.
Full report at:
http://dawn.com/2013/02/28/jafria-alliance-urges-swat-like-operation-in-quetta/
------------
Pakistan's Hazaras to take up arms over attacks
Feb 28 2013
QUETTA: Ismatullah holds an AK-47 and checks vehicles on the road. "Enough is enough. We have no trust in the security forces any more and we'll protect our community ourselves," says the teenage Shia student.
Extremist bombers killed nearly 200 people in Pakistan's southwestern city of Quetta in the two worst bomb attacks to strike Shia Muslims from the minority Hazara community, just weeks apart on January 10 and February 16.
Full report at:
http://dawn.com/2013/02/28/pakistans-hazaras-to-take-up-arms-over-attacks/
------------
Punjab investigates how Malik Ishaq, sons obtained 11 arms licences
By Asad Kharal
February 28, 2013
LAHORE: The Punjab government has decided to investigate how Ahle Sunnat Wal Jamaat chief Malik Muhammad Ishaq and his two sons were able to obtain 11 arms licences from the Balochistan and Sindh governments, despite being residents of Rahim Yar Khan in Punjab.
The provincial government is also seeking a reply from Interior Minister Rehman Malik on how Ishaq was allowed to travel abroad despite various cases pending against him under the Anti Terrorism Act, 1997.
Full report at:
http://tribune.com.pk/story/513649/provincial-govts-action-punjab-investigates-how-malik-ishaq-sons-obtained-11-arms-licences/
------------
Arab World
47% of prisoners in Saudi Kingdom involved in drug crimes
28 February 2013
About 47 percent of the estimated 47,000 inmates in the Kingdom's prisons are in jail for drug-related crimes, said Director General of Prisons Maj. Gen. Dr. Ali bin Hussain Al-Harthi.
Al-Harthi was responding to reports that over 70 percent of all prisoners have been incarcerated for trafficking and dealing in illicit drugs.
"This rate has been exaggerated. There are no more than 47 percent of all inmates charged with drug-related crimes," he was quoted as saying in local media.
Full report at:
http://www.arabnews.com/saudi-arabia/47-prisoners-involved-drug-crimes
------------
Bahrain Court Jails 7 Shiites for 10 Years, Acquits 13
February 27, 2013
Dubai. A Bahraini court on Wednesday jailed seven Shiites for 10 years after finding them guilty of attempting to murder policemen during protests, and acquitted 13 others, the attorney general said.
The 20, all males, had been accused of "intentionally attempting to kill policemen in the [Shiite] town of Sitra ... using petrol bombs" in mid-February last year, said attorney general Mhanna al-Shayji.
Full report at:
http://www.thejakartaglobe.com/international/bahrain-court-jails-7-shiites-for-10-years-acquits-13/574411
------------
11Al-Qaeda members detained in Istanbul, planned to attack synagogues and churches
28 February 2013
11 al-Qaeda members have been detained in Istanbul following a raid by Turkey's Special Forces, reported Sabah newspaper on Thursday.
The terrorists reportedly planned to launch attacks on the U.S. embassy in Turkey in addition to a number of synagogues and churches in the country.
Full report at:
http://english.alarabiya.net/articles/2013/02/28/268829.html
----------
Irregular appointments of Imams in Riyadh under probe
28 February 2013
The Ministry of Islamic Affairs, Endowments, Call and Guidance has recently launched an investigation into corrupt practices suspected to have been committed in one of its branches in the Riyadh province.
The ministry began the investigation following a directive from the National Anti-Corruption Commission (Nazaha) to look into the irregularities observed by the commission in the Wadi Dawassir branch of the ministry.
Full report at:
http://www.arabnews.com/saudi-arabia/irregular-appointments-imams-under-probe
------------
Egypt opposition to skip polls over transparency
February 27, 2013
Egypt's main opposition bloc has pulled out of elections due in April, expressing doubts over their transparency and rejecting a call from President Mohamed Morsi for dialogue.
With the gulf between the ruling Islamists and the opposition growing wider every day, US President Barack Obama told Morsi he had a "responsibility to protect" the democratic principles advanced by an uprising in 2011.
Full report at:
http://www.hindustantimes.com/world-news/africa/Egypt-opposition-to-skip-polls-over-transparency/Article1-1018611.aspx
----------
Arab spring rappers blast 'thieves of the revolution'
28 February 2013
Sitting on the fringes of upheaval in the Middle East, Lebanon's capital Beirut has become the scene of experimental music-making by Khat Thaleth, a group of rappers out to take the revolts that started during the Arab Spring to the next level. The collective has members from around the region - ranging from Tunisia, birthplace of the Arab uprising, to the Palestinian refugee camps of Lebanon - and vocalizes the realities of a new generation carrying the baggage of the past.
Full report at:
http://english.alarabiya.net/articles/2013/02/28/268815.html
--------
Egypt to refute UN committee inquires about torture: Sources
As new cases of torture surface, diplomatic sources say the continuation of Mubarak-era abuses may affect foreign aid and loans to Egypt
Dina Ezzat
28 Feb 2013
A strongly-worded letter requesting information about reports of systematic torture, at times leading to death, of Egyptian political activists has been sent to the Egyptian government by the Geneva-based Committee Against Torture.
The committee is the body charged with overseeing the commitment of governments to observe the terms of the UN Convention against Torture, which Egypt has ratified.
The letter referred to recent reports of torture by a number of activists, including some allegations of rape.
Full report at:
http://english.ahram.org.eg/NewsContent/1/64/65785/Egypt/Politics-/Egypt-to-refute-UN-committee-inquires-about-tortur.aspx
------------
Syria rebels seize historic Aleppo mosque: NGO
February 28, 2013
BEIRUT — Rebels seized control of the historic Umayyad Mosque in Syria's second city of Aleppo on Thursday after several days of fierce clashes that damaged the building, a watchdog reported.
State news agency SANA, meanwhile, said a car bomb exploded in a regime-held suburb of the central city of Homs, killing a number of people and wounding others.
In Aleppo, regime troops were forced to withdraw from the mosque at dawn, taking up positions in buildings around the landmark structure, said the Syrian Observatory for Human Rights.
Full report at:
http://www.saudigazette.com.sa/index.cfm?method=home.regcon&contentid=20130228154942
-----------
Odds rose as Egypt cabinet approves draft law on Islamic bonds
2013-2-28
Odds have been raised in Egypt as cabinet approved Wednesday a controversial draft law on sukuk (Islamic-sanctioned bonds) and referred it to the Shura Council, the country's temporary legislative authority, for review.
Isalmic-oriented sukuk has drawn controversy between the government that struggles for it and Egypt's religious authority al-Azhar, the world's reference for Sunni Muslims, which deems it against Islamic Sharia (law).
Full report at:
http://www.globaltimes.cn/content/764827.shtml
------------
Western Governments to Discuss Military Assistance to Syrian Rebels: Source
February 28, 2013
ROME (Reuters) - Western and Arab officials will meet representatives of the Syrian opposition in Istanbul next Monday to discuss military and humanitarian support for rebels fighting President Bashar al-Assad, a European diplomatic source said on Thursday.
The meeting aims to work directly with opposition structures to increase the level of support," the source said, adding that both civilian and military representatives of the Syrian opposition would attend.
Full report at:
http://www.nytimes.com/reuters/2013/02/28/world/europe/28reuters-syria-crisis-
------------
Mubarak planned to overthrow my father: Sadat's daughter
27 February 2013
Former Egyptian President Hosni Mubarak, whose regime was toppled in 2011, had planned to stage a coup against his late predecessor Anwar Sadat, the latter's daughter Ruqaya told Al Arabiya on Tuesday.
Mubarak, who served as Anwar's vice president, visited the Pentagon at the time without informing him, she said.
Full report at:
http://english.alarabiya.net/articles/2013/02/27/268700.html
---------------
Universities warned against dealing with non-Arab League bodies
28 February 2013
The Ministry of Higher Education has warned Saudi universities against dealing with the so-called "Arab Union for Voluntary Work," which claims of working under the umbrella of the Arab League.
The ministry said it has taken all precautionary measures against the organization.
"This organization has deceived universities in the Arab countries allegedly working under the guidance of the Arab League, exploiting its name and logo and illegally making contacts with a number of institutions and organizing conferences, to convince that its activities are sponsored by the League," the ministry stated.
Full report at:
http://www.arabnews.com/saudi-arabia/universities-warned-against-dealing-non-arab-league-bodies
------------
Australia
Four men found guilty of Sharia law whipping in Australia
Feb 28 2013
Melbourne: Four Muslim men were today found guilty by an Australian court of whipping an electrician 40 times with a cable, which they said was a punishment under Islamic law for drinking alcohol and using drugs.
Zakaryah Raad, Tolga Cifci, Wassim Fayad, and Cengiz Coskun were convicted of several charges relating to whipping Cristian Martinez, a convert to Islam, in July 2011.
The case is believed to be the first in an Australian court relating to such punishment being meted out under the pretext of sharia, or Islamic law.
Full report at:
http://www.indianexpress.com/news/four-men-found-guilty-of-sharia-law-whipping-in-australia/1081088/
------------
North America
U.S. vows to provide $60 mln in 'non-lethal' assistance to Syrian opposition
28 February 2013
The United States plans for the first time to provide non-lethal aid, including food rations and medical supplies, to opposition fighters battling the Syrian government, U.S. Secretary of State John Kerry said on Thursday.
He also said that the U.S. would more than double aid to the civilian opposition.
Speaking after talks with the Syrian opposition and the mainly European and Arab countries supporting them, Kerry said that the United States would give the civilian opposition an additional $60 million to help them boost their security measures. Kerry began talks on Thursday in Rome with Khatib to discuss bolstering aid for the rebels.
Full report at:
http://english.alarabiya.net/articles/2013/02/28/268832.html
---------
US Congressman declares Dr Shakil Afridi an 'American hero'
By Huma Imtiaz
February 28, 2013
WASHINGTON: US Congressman Dana Rohrabacher introduced a resolution in the House of Representatives declaring Dr Shakil Afridi a hero.
According to a press statement, the resolution expressed that Dr Afridi is an 'American hero' and should be immediately released from Pakistani custody.
The statement said that Americans owe Dr Afridi a debt for helping find former al Qaeda leader Osama bin Laden.
Full report at:
http://tribune.com.pk/story/513781/us-congressman-declares-dr-shakil-afridi-an-american-hero/
------------
White House stonewalling drone inquiry: US lawmakers
February 28, 2013
WASHINGTON: US lawmakers have accused the White House of rebuffing their inquiries into CIA drone bombing raids abroad and vowed to assert more congressional oversight over the secretive drone war.
Both Republicans and Democrats on the House Judiciary Committee on Wednesday denounced President Barack Obama's administration for refusing to share key documents or details of the killings by armed, robotic aircraft.
Full report at:
http://tribune.com.pk/story/513783/white-house-stonewalling-drone-inquiry-us-lawmakers/
------------
CAIR-WA Welcomes New County Policy Allowing Hijab in Jails, Courts
2/25/13
Muslim civil rights group launches new initiative to meet with sheriffs and police chiefs to discuss model policy, introduce Muslim leaders
(SEATTLE, WA, 2/25/13) - The Washington state chapter of the Council on American-Islamic Relations (CAIR-WA) today welcomed a new policy in King County that permits Muslim religious headscarves, or hijab, in all jails and courthouses.
Based on CAIR-WA's recommendations, King County has adopted a new policy that also requires pat downs to be performed by an officer of the same gender.
Full report at:
------------
US Congressman Rohrabacher demands referendum in Balochistan
Feb 28 2013
BRUSSELS: In an effort to shed light on the key role Balochistan plays in South Asia, the Unrepresented Nations and Peoples Organization (UNPO) convened a conference entitled "Global and Regional Security Challenges in South Asia: What Future for Balochistan", which took place at The Royal Society, London on 24 February 2013.
Full report at:
http://dawn.com/2013/02/27/us-congressman-rohrabacher-demands-referendum-in-balochistan/
-----------
Hagel committed to strategic partnership with India: Pentagon
PTI | Feb 28, 2013
WASHINGTON: In a damage control exercise after Chuck Hagel's comments on India's role in Afghanistan kicked up a storm, the Pentagon today said the new defence secretary is "strongly committed" to a strategic partnership with India and to fostering an "even closer" defence ties.
"Secretary Hagel is strongly committed to the US strategic partnership with India and to fostering an even closer defence relationship with India that builds upon the work of Secretary [Leon] Panetta, Deputy Secretary [Ashton] Carter, and their Indian counterparts," Pentagon spokesperson George Little told Washington Free Beacon.
Full report at:
http://timesofindia.indiatimes.com/world/us/Hagel-committed-to-strategic-partnership-with-India-Pentagon/articleshow/18731354.cms
--------
South Asia
Bangladesh Sentences Islamist Leader to Death for War Crimes
February 28, 2013
DHAKA (Reuters) - A Bangladesh tribunal sentenced an Islamist party leader to death on Thursday, the third verdict by the court set up to investigate abuses during the country's independence war, and two people were killed in protests by his supporters.
Delwar Hossain Sayedee, 73, vice-president of the Jamaat-e-Islami party, was found guilty of charges of mass killing, rape, arson, looting and forcing minority Hindus to convert to Islam during the 1971 war of independence from Pakistan, lawyers and tribunal officials said.
Full report at:
http://www.nytimes.com/reuters/2013/02/28/world/asia/28reuters-bangladesh-
---------
Bangladesh admits presence Lashkar-e-Taiba in country
Posted on: 28 Feb 2013
Dhaka: Bangladesh said Pakistan-based banned terror group Lashkar-e-Taiba is active in the country but law enforcement agencies have tracked down their network and kept them under "security vigil".
"We have already brought the LeT operatives under security vigil... with the cooperation of people," Home Minister Muhiuddin Khan Alamgir told newsmen after attending a function of police Detective School at Rajarbagh Police Lines. He added, "It is the moral and legal obligation of the government to uproot them totally".
Full report at:
http://post.jagran.com/bangladesh-admits-presence-lashkaretaiba-in-country-1362021852#sthash.JnNvJ3JQ.nIKcFWAd.dpuf
-------------
Kabul demands control of Afghan militia in three months
28 Feb 2013
President Hamid Karzai on Thursday gave US-led foreign forces three months to transfer control over armed Afghan militias to his government, following allegations of abuses by the militiamen.
The move appeared to be a further sign of Kabul's determination to take control of the 11-year war against the Taliban, and in particular of militias reportedly trained by the Americans and operating without Kabul's control.
Full report at:
http://www.hurriyetdailynews.com/kabul-demands-control-of-afghan-militia-in-three-months-.aspx?pageID=238&nID=42043&NewsCatID=356
------------
3 newspapers abusing press freedom: Bangladesh Information Minister
Feb 28 2013
Information Minister Hasanul Huq Inu yesterday accused national daily Amar Desh, Naya Diganta and Sangram of spreading propaganda against the youths' ongoing movement at Shahbagh.
"Ideologically, these newspapers are against the Liberation War and many of the owners and journalists of these dailies were instigators of genocide committed during the Liberation War in 1971," he said at a press briefing at the ministry.
Full report at:
http://www.thedailystar.net/newDesign/news-details.php?nid=270794
------------
Maldives government clears India debt
Ahmed Naif, Haveeru Online
Feb 28, 2013
Maldives government has cleared USD100 million in debt owed to India, Finance Ministry confirmed on Thursday.
Following the refusal by State Bank of India (SBI) to extend the period of the USD100 million in treasury bonds taken from the bank by the previous government, Maldives had paid USD50 million last December.
Full report at:
http://www.haveeru.com.mv/news/47708
------------
Bangladesh government blocked social networking website Facebook
Feb 28 2013
The government has blocked social networking website Facebook "to contain negative campaigns" centring the judgement in war crimes trial of top Jamaat-e-Islami leader Delawar Hossain Sayedee, according to official sources.
Full report at:
http://www.thedailystar.net/newDesign/latest_news.php?nid=45097
------------
Rapes by Burmese security forces 'may cause more strife' in troubled region
Francis Wade in Bangkok
26 February 2013
Teenage victim describes how at least 13 women were raped overnight in Arakan state, which has been focus of ethnic riots
At least 13 women, including teenagers, have been subjected to prolonged rape by Burmese security forces in a remote village in the western state of Arakan. Human rights groups have warned that the incident threatens to trigger further violence in a region where several waves of ethno-religious rioting since June last year have killed more than 1,000 people.
Full report at:
http://www.guardian.co.uk/world/2013/feb/26/burma-security-forces-rape-arakan
---------------
Afghan move against US special forces tied to abuse allegations
27 February 2013
KABUL: Two days after masked men burst in to Bibi Shereen's house and took her son away, villagers found his corpse - half-eaten by dogs - under a bridge in Afghanistan's volatile Wardak province.
"His fingers were cut off, he was badly beaten. His hands were swollen, his throat was slit," she told Reuters in her small mudbrick house.
"Why is the government not listening to our voices - why are they not stopping Americans from doing such things."
Full report at:
http://www.dailytimes.com.pk/default.asp?page=2013\02\27\story_27-2-2013_pg7_21
---------------
Africa
Congo Rebels Sack Political Chief, Splits Undermine Peace Efforts
February 28, 2013
KINSHASA (Reuters) - Rebels in eastern Democratic Republic of Congo have sacked their political leader, the group's military commander said, a sign of in-fighting likely to undermine regional efforts to end two decades of conflict.
The M23 rebellion is the latest uprising in Congo's mineral rich eastern borderlands. Last year the group inflicted a series of defeats on government forces, culminating in the brief seizure of the major town of Goma.
There has been little progress in Ugandan-hosted peace talks launched since the rebels withdrew from the town under international pressure.
Full report at:
http://www.nytimes.com/reuters/2013/02/28/world/africa/28reuters-congo-democratic- ----------
Southeast Asia
Religious violence rising in Indonesia
The Associated Press
February 28 2013
Indonesia's government, security forces and courts must do more to protect religious minorities from growing episodes of intolerance and violence, an international rights group said in a report Thursday.
Human Rights Watch cited a steady increase in brutal attacks over the past few years due to the government's failure to confront thuggish harassment against Christians, Shia Muslims and the Ahmadiyah, an Islamic sect. It also noted that discriminatory regulations have not only affected those minorities, but also Sunni Muslim communities in some Christian-dominated areas of eastern Indonesia.
Full report at:
http://www.thejakartapost.com/news/2013/02/28/report-religious-violence-rising-indonesia.html
------------
Muslims and Catholics are showing the way for inter-faith understanding in Malaysia
BY BOO SU-LYN
FEBRUARY 28, 2013
KENINGAU, Feb 28 — As the debate over who can use the word "Allah" to describe God simmers in Malaysia, a Sabah family where there are Muslims and Catholics are showing the way for inter-faith understanding.
Ustazah Nooraidah Hidayah Dakun, 45, and Catholic priest Father Francis Dakun, 44, were born to animist Dusun parents in Tambunan, but they and their 10 siblings willingly converted to Islam and Christianity during their teenage years. Their parents converted to Catholicism in 2000.
Full report at:
http://www.themalaysianinsider.com/malaysia/article/sabah-ustazah-catholic-priest-siblings-say-religion-bonds-them/
------------
Thailand, Muslim militants agree to peace talks
Feb 28 2013
KUALA LUMPUR: Thailand's government signed a breakthrough deal with Muslim insurgents for the first time ever Thursday, agreeing to hold talks to ease nearly a decade of violence in the country's southern provinces that has killed more than 5,000 people.
The agreement was announced in the Malaysian capital Kuala Lumpur between Thai authorities and the militant National Revolution Front, also known by its Malay-language name, Barisan Revolusi Nasional Melayu Pattani. It is seen as a positive step, but it is unlikely to end the conflict because several other shadowy guerrilla movements are also fighting in southern Thailand and they have yet to agree to talks.
Full report at:
http://dawn.com/2013/02/28/thailand-signs-breakthrough-deal-with-muslim-insurgents/
------------
URL: https://newageislam.com/islamic-world-news/un-concerned-flogging-sentence-alleged/d/10592