New Age Islam News Bureau
14 Nov 2014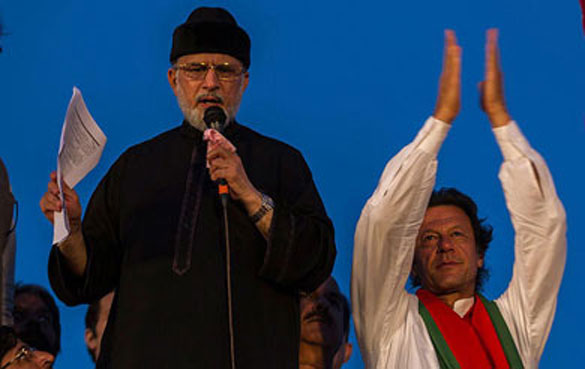 PTI Chairman Imran Khan and PAT chief Dr Tahir ul Qadri during a protest rally in Islamabad. -Reuters/File
----------
Europe
• UN Chief Urges End to Discrimination against Rohingya Muslims
• Britain to introduce new laws against jihadis returning to UK
• Spain plans to hold symbolic Palestinian vote
• Chechnya Confirms ISIL Senior Commander Al-Shishani's Death
• UN official wants international support in fight against Boko Haram
• French jihadist who spent 'dozens days' in Syria jailed for 7 years
Arab World
• Islamic State, Al-Qaeda Reach Accord in Syria
• 'We Must Combat Extremist Ideology' -Al Sisi
• Syrian Army Kills over 20 Al-Nusra Terrorists on Arsal-Qalamoun Barrens
• Syria airstrike kills nine, including children
• Iraqi forces drive Islamic State from refinery town of Beiji
• ISIS chief said to call for 'volcanoes of jihad,' after reports he was hurt in US strike
• Arbil deal to ease friction in fragmented Iraq
• 'Full-fledged war' across Egypt as navy attacked for first time, experts say
• Baghdad-Kurd deal eases threat to Iraq unity: Minister
• Maliki Urges Unity among Iran, Iraq, Lebanon to Prevent Fall of Syrian Gov't
Pakistan
• At Least 30 Suspected Militants Killed In North Waziristan Airstrikes
• Anti-Terrorism Court declares Imran, Tahir ul Qadri absconders
• Islamic State Footprints Surface in Parts of Bannu
• Taliban release details of Wagah border bomber
• KSA beheads 7th Pakistani in a month
• Pakistan, Afghanistan agree to promote bilateral ties
• Policeman killed in Quetta check post attack
• ASI killed, four injured in Karachi firing
• Punjab notes: space for religious diversity
• Imran, Qadri tried to derail Pakistan, not govt: Nawaz
India
• Indian Origin Jihadist Skips Bail, Flees UK for Islamic State
• AMU May Allow Undergraduate Girls Access to the Central Library
Mideast
• Hamas bombed Fatah officials' homes and faked ISIS claim of responsibility
• Israel lifts age bar on Jerusalem mosque prayers
• Turkey, US meet to discuss training of Syrian rebels
• Hamas: Jerusalem unrest could 'spark new explosion' in Israeli-Palestinian conflict
North America
• U.S. sends prosecutors abroad to track jihadists from Syria
• Hagel says air war against ISIS will intensify
• 'Hug a terrorist' event brings debate on Middle East conflict to McMaster University
• US says air strikes cutting militants oil revenues
• Steps agreed to lower Jerusalem tension: Kerry
• Iraq needs 80,000 good troops to retake lost territory: US general
Southeast Asia
• Najib defends 'moderation', says based on Islam
• Sarawak Christians ooze praise, but still uneasy, over Bible release
• No Religion on KTP, No Public Services: Pontianak Deputy Mayor
• Ending the Bible grab with no apologies, but a warning
South Asia
• War Criminal Razakar's brother was also a Razakar commander
• Prominent religious cleric shot dead in Herat province
• BNP leaders brief country's political situation to foreign diplomats
Africa
• Boko Haram invades two towns in northeast Nigeria
• Sudan warplanes bomb South Sudan border zones: Reports
Compiled by New Age Islam News Bureau
URL: https://www.newageislam.com/islamic-world-news/new-age-islam-news-bureau/un-chief-urges-end-to-discrimination-against-rohingya-muslims/d/100012
----------
Europe
UN Chief Urges End to Discrimination against Rohingya Muslims
Nov 14, 2014
The UN Secretary General Ban Ki-moon called for an end to discrimination against the Muslim Rohingya community, which has faced gross violation of fundamental human rights in Myanmar's Western state of Rakhine.
Speaking at a summit of the Association of Southeast Asian Nations (ASEAN) in Myanmar capital, Naypyitaw, on Wednesday, Ban stated that "Rohingyas should be given citizenship ... without any discrimination", press tv reported.
The UN chief further noted that he would press Myanmar President Thein Sein to allow the UN easier access to Rakhine State, where ethnic Rohingya Muslims face attacks and persecution.
"I also express my concern about the Rohingya population who face discrimination and violence. I encourage the president, I encourage the leaders of Myanmar to uphold human rights, take a strong stance against the incitements and ensure humanitarian access to Rohingya living in vulnerable conditions," the UN chief pointed out.
US President Barack Obama, also present at the ASEAN summit, lambasted Myanmar's government for its human rights violations, voicing deep concern over abuses in the ethnic areas of the Southeast Asian country.
Obama noted that those abuses include extra-judicial killings, rape and forced labor, which Muslim Rohingya are being subjected to.
Rohingya Muslims account for about five percent of Myanmar's population of nearly 60 million. They have faced torture, neglect, and repression since the country's independence in 1948.
According to the United Nations, the Rohingya are one of the world's most persecuted communities.
The Myanmar government has been repeatedly criticized by human rights groups for failing to protect the Rohingya Muslims.
http://english.farsnews.com/newstext.aspx?nn=13930822000470
--------
Britain to Introduce New Laws against Jihadis Returning To UK
Britain to seize jihadists' passports, stop them returning home
Nov 14, 2014
Prime Minister David Cameron on Nov. 14 outlined plans to seize passports from British jihadists and stop them returning from fighting overseas, while proposing landing bans on airlines that fail to comply with London's no-fly lists.
Some 500 radicalised Britons are estimated to be fighting in Iraq and Syria, both of which are facing a major offensive from the Islamic State of Iraq and the Levant (ISIL).
"We will shortly be introducing our own new Counter-Terrorism Bill in the UK," Cameron said in a speech to Australia's parliament before travelling to the G20 leaders' summit in Brisbane, adding that there was "no opt-out from dealing with this".
The bill will create "new powers for police at ports to seize passports, to stop suspects travelling and to stop British nationals returning to the UK unless they do so on our terms".
There would also be "new rules to prevent airlines that don't comply with our no-fly lists or security screening measures from landing in the UK," he said.
British media reports said the legislation would block individuals from returning from Syria and Iraq to Britain for at least two years unless they comply with strict measures.
These could include being escorted back to Britain and then facing prosecution, bail-style reporting conditions and deradicalisation courses.
Border guards and airport police would also be given new powers to seize passports from those they suspect of planning to travel abroad for terrorism, the reports said.
Australia is facing a similar scenario to Britain with at least 73 of its nationals having their passports cancelled to prevent them travelling to Iraq and Syria, as concerns mount that they could return home and commit violence.
At least 71 Australians are currently fighting in the two nations, the government says. At least 15 have been killed -- two of them as suicide bombers -- and Canberra recently passed a law criminalising travel to terror hotspots without good reason.
The new powers could cause legal wrangles over fears of civil liberty contraventions, but Cameron said they were necessary.
"We listen carefully to what the police and security services advise us," he said at a press conference.
"We think about the civil liberty implications, we think about the effect on other countries, but at the end of the day I make the choices on what I believe is necessary to keep the British public safe and I think this new power is important in that regard."
Cameron added that as well as handling the extremist threat, the root cause must be dealt with.
"It's not exclusion from the mainstream. Of course we have more to do, but we are both successful multicultural democracies where opportunities abound," he told parliament.
"And it's not foreign policy. No, the root cause of the challenge we face is the extremist narrative. So we must confront this extremism in all its forms.
"We must ban extremist preachers from our countries. We must root out extremism from our schools, universities and prisons.
"As we do so we must work with the overwhelming majority of Muslims who abhor the twisted narrative that has seduced some of our people."
Cameron acknowledged the growing problem of young Muslims being enticed by extremist material on Facebook, Twitter and other social media.
"There is a role for government in that. We must not allow the Internet to be an ungoverned space," he said.
"But there is a role for companies too. In the UK we are pushing companies to do more, including strengthening filters, improving reporting mechanisms and being more proactive in taking down this harmful material.
"We are making progress but there is further to go."
Last month, the European Union, Facebook and Twitter agreed to work together to combat online extremism and discussed steps to block gruesome beheading videos.
US Internet firms have sometimes been uneasy about blocking extremist material, seeing themselves as platforms rather than publications, and worrying about the implications for free speech, which is strongly protected under US law.
http://www.hurriyetdailynews.com/britain-to-seize-jihadists-passports-stop-them-returning-home.aspx?pageID=238&nID=74317&NewsCatID=351
----------
Spain plans to hold symbolic Palestinian vote
Nov 14, 2014
Spain's parliament plans to hold a largely symbolic vote next week on a resolution to recognize a Palestinian state.
The non-binding resolution, presented by the Socialist opposition party, will be debated in parliament on Tuesday, and it appears the governing conservatives will support it.
It would follow moves in other European countries intended to increase pressure for a two-state solution to the Israeli-Palestinian conflict.
Britain and Ireland approved similar motions last month. Sweden's new left-leaning government went a step further and officially recognized a Palestinian state on Oct. 30, prompting a strong protest from Israel, which swiftly withdrew its ambassador from Stockholm.
The efforts in Europe reflect growing international impatience with Israel's nearly half-century control of the West Bank, East Jerusalem and its blockade of the Gaza Strip.
http://english.ahram.org.eg/NewsContent/2/8/115492/World/Region/Spain-plans-to-hold-symbolic-Palestinian-vote.aspx
----------
Chechnya Confirms ISIL Senior Commander Al-Shishani's Death
Nov 14, 2014
The infamous red-bearded ISIL militant popularly known as Omar al-Shishani has been killed in Chechnya, the republic's leader Ramzan Kadyrov said.
Al-Shishani, born Tarkhan Batirashvili, is among the most recognizable members of the ISIL's leadership. The ethnic Chechen is from Georgia's Pankisi Valley, which was once considered a stronghold for militants, Times of Moscow reported on Thursday.
"Tarkhan Batirashvili, the enemy of Islam who called himself Omar al-Shishani, has been killed. (The same fate belies) anyone who even thinks about threatening Russia and the Chechen people," Kadyrov wrote on Instagram alongside a photograph of the supposedly dead militant. Kadyrov is known to favor Instagram as a means of communicating important information to the masses.
In a videotaped address to Russian President Vladimir Putin posted on the Internet in September, the ISIL members threatened to wage war on the North Caucasus.
Kadyrov dismissed the threat at the time, saying it was nothing more than a "childish threat."
In January, ahead of the Winter Olympics in Sochi, Kadyrov announced that Doku Umarov, widely considered Russia's enemy No. 1 in its battle against insurgency in the North Caucasus, had been killed.
http://english.farsnews.com/newstext.aspx?nn=13930823000098
----------
UN official wants international support in fight against Boko Haram
Nov 14, 2014
The UN's special representative for central Africa has called on increased international support in the struggle against Boko Haram, with thousands of Nigerians having fled and cross-border attacks on the rise.
"Deadly attacks by Boko Haram have gone beyond Nigeria's borders and now constitute a threat for neighbouring countries," Abdoulaye Bathily told reporters in the Gabon capital Libreville yesterday.
"Cameroon is one of the main victims," he added, referring to Nigeria's neighbour to the east.
Bathily said he was launching "an appeal to the international community to mobilise more in support of states' efforts in the battle against this terrorist group, whose atrocities have caused a worrying stream of refugees in neighbouring countries."
Between June and October, more than 17,000 Nigerians have arrived at a refugee camp in Minawao, northern Cameroon, he said.
Local officials and those from the UN refugee agency estimate between 4,000 and 5,000 new arrivals in the region each week, many of them women and children requiring immediate attention.
"If nothing is done urgently, it is very likely that a humanitarian disaster will follow that would further complicate the security challenges," said Bathily.
Boko Haram's five-year insurgency based in northeastern Nigeria has killed thousands and forced scores to flee their homes. Nigerian security forces have in turn been accused of major abuses, including extra-judicial killings and indiscriminate arrests.
The extremists have in recent weeks seized a growing amount of territory in Nigeria's northeast. The group has claimed to be fighting for the creation of an Islamic state and for the release of detained members.
http://indianexpress.com/article/world/world-others/un-official-wants-international-support-in-fight-against-boko-haram/#sthash.zRBh8VFP.dpuf
----------
French jihadist who spent 'dozens days' in Syria jailed for 7 years
14 November 2014
The first French jihadist to stand trial after returning from Syria, where his nicotine cravings got the better of him, was sentenced to seven years in jail Thursday.
Flavien Moreau travelled to the conflict-ridden country at the end of 2012 but says he only managed to stay "a dozen days" as he was unable to stand a strict ban on smoking imposed by the Islamist militants he was with.
On his return, he was placed under surveillance by French anti-terrorist authorities who eventually detained him in January 2013 after hearing him say he was looking for fake ID to go back to Syria.
The 28-year-old, who is of South Korean origin and was adopted at an early age by a French family, turned to crime as a teenager and spent time in and out of jail after being sentenced 13 times for offences such as armed robbery.
He converted to Islam after getting out of prison, quickly became radicalized, went to study Arabic in Egypt and eventually decided to go to wage jihad in Syria.
He told the courtroom that he found a smuggler who took him to a Syrian village controlled by Islamist militants where he bought a Kalashnikov and munitions.
But he denied having done any fighting, saying he had only taken part in surveillance and policing.
Full report at:
http://english.alarabiya.net/en/News/world/2014/11/14/French-jihadist-who-spent-dozens-days-in-Syria-jailed-for-7-years.html
----------
Arab World
Islamic State, Al-Qaeda Reach Accord In Syria
Nov 14, 2014
Two Syrian opposition figures say the Islamic State group and al-Qaeda's branch met last week and agreed to stop fighting each other and work together against their opponents.
The deal could be a heavy blow to Washington's strategy against the Islamic State group, relying on arming moderate rebel factions to push back extremists in Syria.
A prominent Syrian opposition official and a rebel commander say delegates from the two groups met in secret on November 2 in northern Syria and agreed to end months of fighting between them and cooperate on the ground. The two spoke on condition their names not be used for their own protection or because they were not authorised to release the information.
http://indianexpress.com/article/world/world-others/islamic-state-al-qaeda-reach-accord-in-syria/#sthash.XJmbujnI.dpuf
----------
'We must combat extremist ideology' -Al Sissi
Nov 14, 2014
Cairo: The rapid spread of terrorism, incorrect religious discourse and misinterpretation of the correct form of Islam is threatening the Arab world, Egyptian President Abdul Fattah Al Sissi warned on Thursday. Al Sissi received a media delegation from the UAE, attended by Dr. Sultan Ahmad Al Jaber, Minister of State and Mohammad Bin Nakhira Al Daheri, UAE Ambassador to Egypt.
Al Sissi said that he media has a very important role to play in combatting extremist ideology.
Speaking on cooperation between the UAE and Egypt, Al Sissi said that the cooperation between the two countries is a successful model for joint Arab work in thwarting serious regional threats.
The media delegation said that the helping hand offered by the UAE to Egypt is merely a reciprocation of the favour, as Egypt had long supported the UAE in its march in various fields, particularly health and education.
Full report at:
http://gulfnews.com/news/region/egypt/we-must-combat-extremist-ideology-al-sissi-1.1412307
----------
Syrian Army Kills over 20 Al-Nusra Terrorists on Arsal-Qalamoun Barrens
Nov 14, 2014
The Syrian army targeted the al-Nusra terrorists' concentration centers on the barrens of Flita in Qalamoun in Damascus countryside, killing more than 20 militants and injuring over 30 others.
The Syrian army also targeted al-Nusra sites in the area and destroyed more than 5 terrorist vehicles, Al-Manar reported Wednesday.
The Syrian warplanes struck a terrorist convoy on Flita barrens inflicting heavy losses upon the terrorists.
Media reports mentioned that al-Nusra commander in Qalamoun Abu Malek al-Talle was among the targeted terrorists.
http://english.farsnews.com/newstext.aspx?nn=13930822000413
--------
Syria airstrike kills nine, including children
13 November 2014
Activists say at least nine people were killed, including three children, in a Syrian government airstrike that targeted a rebel-held town near the capital Damascus.
The Britain-based Syrian Observatory for Human Rights said there were likely more dead in Friday's airstrike, because people were buried under the rubble in the town of Saqba.
Local activists on a Saqba Facebook group said the strike hit a residential building and published a series of videos showing the strike's aftermath. The videos appeared genuine and corresponded to The Associated Press reporting of the event.
Government forces have been pounding areas near Saqba for months as they try to repel rebels fighting to overthrow the rule of President Bashar Assad.
Copyright 2014 The Associated Press. All rights reserved. This material may not be published, broadcast, rewritten or redistributed.
http://english.alarabiya.net/en/News/middle-east/2014/11/13/Syria-airstrike-kills-9-including-children.html
----------
Iraqi forces drive Islamic State from refinery town of Beiji
Nov 14, 2014
Two Iraqi security officials say that government forces have driven out Islamic State militants from the entire oil refinery town of Beiji, north of Baghdad.
The officials say that Iraqi troops on Friday also lifted the Islamic State group's siege of the oil refinery, Iraq's largest.
The officials, reached by phone in Beiji, spoke on condition of anonymity because they were not authorized to talk to media.
Iraqi state TV also reported the "liberation of Beiji", quoting the top army commander there, Gen. Abdul-Wahab al-Saadi.
Islamic State extremists captured Beiji during their summer blitz across north and western Iraq. The Iraqi forces had collapsed in the face of that onslaught but have since partially regrouped and went on the offensive, with Beiji the biggest locality they have recaptured to date.
http://indianexpress.com/article/world/middle-east-africa/iraqi-forces-drive-islamic-state-from-refinery-town-of-beiji/#sthash.pB5jq1Qx.dpuf
----------
ISIS chief said to call for 'volcanoes of jihad,' after reports he was hurt in US strike
Nov 14, 2014
BEIRUT - Islamic State leader Abu Bakr al-Baghdadi called for attacks in Saudi Arabia, said his caliphate was expanding across the Arab world, and called for "volcanoes of jihad" in a speech purported to be in his name on Thursday.
Baghdadi also said a US-led military campaign against his group in Syria and Iraq was failing. Reuters could not independently confirm the authenticity of the speech, which was carried on jihadist websites.
There have been contradictory accounts out of Iraq following US air strikes on Friday about whether Baghdadi was wounded in a raid. The United States said on Tuesday it could not confirm whether he was killed or wounded in Iraq following a strike near the city of Falluja.
Full report at:
http://www.jpost.com/Arab-Israeli-Conflict/ISIS-chief-said-to-call-for-volcanoes-of-jihad-after-reports-he-was-hurt-in-US-strike-381761
----------
Arbil deal to ease friction in fragmented Iraq
Nov 14, 2014
The Iraqi government and the autonomous Kurdistan Regional Government (KRG) in the north of the country have reached a deal to ease tensions over Kurdish oil exports and civil service payments from Baghdad, Iraq's finance minister told Reuters on Nov. 13.
Hoshiyar Zebari said the central government had agreed to resume payments from the federal budget for Kurdish civil servants' salaries.
Zebari, who is a Kurd, described the step as a "major breakthrough" that would reduce friction between the KRG and Baghdad.
The deal was reached after talks between Iraqi Oil Minister Adel Abdel Mehdi and Kurdish Prime Minister Nechirvan Barzani in the Kurdish region on Nov. 13.
Baghdad stopped paying for KRG civil servant salaries in protest against the Kurds' exporting oil to Turkey independently.
Full report at:
http://www.hurriyetdailynews.com/arbil-deal-to-ease-friction-in-fragmented-iraq.aspx?pageID=238&nID=74325&NewsCatID=348
----------
'Full-fledged war' across Egypt as navy attacked for first time, experts say
Nov 14, 2014
A militant insurgency is turning into a full-fledged war across Egypt, experts said on Thursday, hours after the army announced an assault on a navy ship, the first of its kind.
The army said the "terrorist attack" on its boat in the early hours of Wednesday in the Mediterranean left five navy personnel injured, while eight others remain missing.
The military has been fighting Islamic extremists, originally based in the restive Sinai Peninsula, for a decade. But after the ouster of Islamist president Mohamed Morsi last year, and with jihadist groups spreading fast across the Middle East, attacks have spiked and spilled into the capital and other cities.
The attack, considered a strategic shift in militant attacks, comes less than three weeks after an attack on an army checkpoint in North Sinai left 31 troops dead, the highest single death toll for the military in decades.
Full report at:
http://english.ahram.org.eg/NewsContent/1/64/115474/Egypt/Politics-/Fullfledged-war-across-Egypt-as-navy-attacked-for-.aspx
----------
Baghdad-Kurd deal eases threat to Iraq unity: Minister
Nov 14, 2014
A preliminary deal between Baghdad and Iraq's Kurdish region on long-running financial disputes has reduced a threat to national unity, the oil minister said Friday.
Baghdad has long opposed the three-province autonomous region's independent export of oil, while Kurdish leaders have criticised Baghdad for withholding budget payments.
In a first move to end the disputes, the two sides agreed for Baghdad to pay $500 million to Kurdistan in exchange for the transfer of 150,000 barrels of oil per day to the federal government.
The crisis between the two sides "created a rift that threatens not only economic, security and political interests, but also threatens national unity," Oil Minister Adel Abdul Mahdi said in a statement.
The dispute was harming both sides, with Iraq losing oil revenue and the Kurdish region not receiving federal budget payments, Abdul Mahdi said.
Full report at:
http://english.ahram.org.eg/NewsContent/2/8/115517/World/Region/BaghdadKurd-deal-eases-threat-to-Iraq-unity-Minist.aspx
----------
Maliki Urges Unity among Iran, Iraq, Lebanon to Prevent Fall of Syrian Gov't
Nov 14, 2014
Iraqi Vice-President and former prime minister Nouri al-Maliki called on the Iranian, Iraqi and Lebanese officials to increase unity and cooperation to prevent the Syrian government's overthrow by the enemies.
Iran, Iraq and Lebanon should not let the Syrian government to be overthrown since the fall of the Damascus government will be the beginning of numerous problems for the entire regional countries, Maliki said in a meeting with the Guardian of the Holy Shrine of Imam Reza (PBUH) Ayatollah Abbas Va'ez Tabasi in the Northeastern city of Mashhad on Wednesday.
He also referred to the US futile attempts to maintain its military presence in Iraq under disguise and on the pretext of fighting ISIL just when the Iraqis were entering the reconstruction era of their country, and said the main objective of the new plot is intriguing a wide-scale dispute between the Shiite and Sunni Muslims in the region.
Full report at:
http://english.farsnews.com/newstext.aspx?nn=13930822000553
----------
Pakistan
At least 30 suspected militants killed in North Waziristan airstrikes
Nov 14, 2014
PESHAWAR: Jet strikes killed at least 30 suspected militants and destroyed a number of insurgent hideouts in the North Waziristan tribal region.
According to the Inter-Services Public Relations (ISPR), foreign militants were among the 30 who were killed when jet fighters carried out airstrikes in North Waziristan's Dattakhel area.
The area is off-limits to journalists, making it impossible to independently verify the exact numbers and identity the dead.
The latest airstrikes come as military operation Zarb-i-Azb is underway in the tribal region. The army has said that over 1,000 militants and 86 soldiers have already been killed in the assault so far.
The operation was initiated on June 15 following a brazen militant attack on Karachi's international airport and failure of peace talks between the government and Tehreek-i-Taliban Pakistan (TTP) negotiators.
The offensive has driven out over 800,000 residents from North Waziristan and the army says it has cleared 90 per cent of the tribal region.
http://www.dawn.com/news/1144454/at-least-30-suspected-militants-killed-in-north-waziristan-airstrikes
----------
Anti-Terrorism Court declares Imran, Tahir ul Qadri absconders
Nov 14, 2014
ISLAMABAD: An Anti-Terrorism Court (ATC) Judge Syed Kausar Abbas Zaidi on Friday declared Pakistan Tehreek-i-Insaf (PTI) Chairman Imran Khan and Pakistan Awami Tehreek (PAT) chief Tahir ul Qadri as absconders in a case relating to the attack on the Sept 1 attack on senior police officer SSP Asmatullah Junejo.
SSP Junejo was wounded on Sept 1 when PTI and PAT protesters penetrated law enforcers turf and stormed the PTV headquarters and the precincts of the Parliament.
Junejo was wounded following his arrival at the scene where he sought to lead his men in confronting the protesters. He was not wearing protective gear and raced ahead of his own squad of more than a dozen policemen and was surrounded and thrashed by the onrushing, stick-wielding protesters.
Full report at:
http://www.dawn.com/news/1144458/atc-declares-imran-qadri-absconders
----------
Islamic State footprints surface in parts of Bannu
Nov 14, 2014
PESHAWAR: Footprints of the militant group known as Islamic State have now also started appearing in Khyber Pakhtunkhwa's town of Bannu, days after similar reports of the extremist group's presence were received from other parts of the country.
Wall-chalking welcoming IS – which is also known by the names of Daish and the Islamic State of Iraq and Syria (ISIS) – have now appeared in various parts of Bannu city including its cantonment area.
Bannu borders North Waziristan tribal agency, known to be the Pakistani Taliban nerve-centre where the Pakistani military is carrying out Operation Zarb-i-Azb to flush them out.
"We welcome the head of Syrian Daish Group Abu Bakkar Al Bagdadi and pay him tributes," says the graffiti in Urdu language in various parts of Bannu district.
The message from little-known group 'Awami Baghi Group Bannu Waziristan' appears to endorse a reported threat alert issued earlier by the Balochistan Home Department that the group has recruited more than 10,000 fighters from Kurram tribal agency and Hangu district of Khyber Pakhtunkhawa.
Full report at:
http://www.dawn.com/news/1144256/islamic-state-footprints-surface-in-parts-of-bannu
----------
Taliban release details of Wagah border bomber
Nov 14, 2014
PESHAWAR - The outlawed Tehrik-e-Taliban Pakistan's wing Jamaatul Ehrar has released the details of their operative who purportedly carried out the deadly suicide bombing at the Wagah Border on November 2.
Ehsanullah Ehsan, spokesman for the militant group, told a private TV channel Thursday that 25-year-old Hanifullah alias Hamza carried out the attack that killed 60 people returning from the 'flag-lowering' ceremony at the Wagah Border gate, a display of military pageantry which attracts thousands of spectators and tourists every day.
The militants also released a photo of the alleged bomber.
Sources told that Hanifullah belonged to a bordering town in Mohmand tribal agency.
Ehsan further claimed that the banned outfit would also release a video of the attack, which they claimed to have carried out in retaliation to a military operation against Taliban militants and tribesmen in the remote Fata region bordering Afghanistan.
http://nation.com.pk/national/14-Nov-2014/taliban-release-details-of-wagah-border-bomber
----------
KSA beheads 7th Pakistani in a month
Nov 14, 2014
RIYADH - A Pakistani convicted of smuggling heroin became Thursday the seventh person from his country beheaded over the past month in Saudi Arabia for drug trafficking. The execution of Niyaz Muhammad Ghulam Muhammad was carried out in Riyadh after he was "tried and found guilty of attempting to smuggle a large amount of heroin," the official Saudi Press Agency reported. The latest case brings to 67 the number of foreigners and Saudis executed for crimes this year, despite international concerns.
http://nation.com.pk/national/14-Nov-2014/ksa-beheads-7th-pakistani-in-a-month
---------
Pakistan, Afghanistan agree to promote bilateral ties
Nov 14, 2014
ISLAMABAD: Pakistan and Afghanistan on Friday agreed to promote bilateral cooperation in economic and trade relations for the benefit of the two countries, said a report published on Radio Pakistan.
The agreement came during a meeting between the visiting Afghan President Ashraf Ghani and Finance Minister Ishaq Dar and Advisor to Prime Minister on National Security and Foreign Affairs Sartaj Aziz in Islamabad today.
Speaking on the occasion, Aziz said Pakistan accords great significance to its relations with Afghanistan.
He offered cooperation to Afghanistan in various sectors.
Ghani arrived in Islamabad on Friday for a two-day visit to the country.
He arrived at the Nur Khan airbase where he was received by Sartaj Aziz.
Ghani was accompanied by a high-level delegation comprising senior leaders, cabinet ministers, high-ranking officials and business representatives.
Full report at:
http://www.dawn.com/news/1144446/pakistan-afghanistan-agree-to-promote-bilateral-ties
----------
Policeman killed in Quetta checkpost attack
Nov 14, 2014
QUETTA: A policeman was killed on Friday when armed men attacked a checkpost in Quetta's Hana area.
Police sources told Dawn that four armed motorcyclists resorted to indiscriminate firing at a police checkpost in the Nasarabad area of Hana.
One of the four policemen deployed at the checkpost was killed in the attack. The deceased policeman was identified as Sultan Mohammad. The militants also snatched weapons from police.
Police said the assailants managed to escape unhurt from the crime scene.
Meanwhile, police personnel reached the spot as an investigation into the incident went under way.
Police termed the attack an incident of targeted killing, however, there was no immediate claim of responsibility for the attack.
The incident comes two days after militants killed five labourers in Quetta's Usman road area.
http://www.dawn.com/news/1144447/policeman-killed-in-quetta-checkpost-attack
----------
ASI killed, four injured in Karachi firing
Nov 14, 2014
KARACHI: An assistant sub-inspector (ASI) was killed and four others were injured on Friday in separate attacks on police personnel in Karachi.
The first incident took place in Lines Area where unidentified assailants opened fire at a police vehicle, resulting in the death of ASI Arshad Tanoli. Another policeman was also critically injured in the attack.
The inured policeman was shifted to the Aga Khan Hospital where his condition was said to be critical.
In a separate incident, a police vehicle was attacked with a grenade on M.A Jinnah road. One policeman and two civilians, including a father and a son, were injured.
Karachi, the largest metropolitan city of Pakistan, is riddled with targeted killings, gang wars, kidnappings for ransom, extortion and terrorism.
Targeted operations led by Rangers' forces with the support of police are ongoing in the city under a directive issued by the federal government against criminals already identified by federal, military and civilian agencies.
http://www.dawn.com/news/1144448/asi-killed-four-injured-in-karachi-firing
----------
Punjab notes: space for religious diversity
Nov 14, 2014
Punjab has historically been one of regions in the sub-continent that was most tolerant of diversity and supportive of plurality till recent times. It is here that we first encounter the phenomenon of ethnic, religious, social and cultural diversity clearly testified by ancient literature -- religious and secular.
The first verifiable source of what created conditions for the growth of immense diversity was the contact between urbanised Harappa people and nomadic Aryans way back in time. The mythopoeic description of the historical interaction between the civilised Harappa people and the unsophisticated Aryans is a narrative signifying the beginnings of a new society as diverse as the natural world that surrounded it.
Full report at:
http://www.dawn.com/news/1144364/punjab-notes-space-for-religious-diversity
----------
Imran, Qadri tried to derail Pakistan, not govt: Nawaz
Nov 14, 2014
LONDON: Prime Minister Nawaz Sharif said on Thursday that the protesting parties' efforts were in fact not against the government, but to derail the country.
Nawaz Sharif said attempts by the protesting parties – Pakistan Tehreek-e-Insaf (PTI) and Pakistan Awami Tehreek (PAT) – to put Pakistan's development process at halt have failed. Talking to media persons after addressing the Energy Roundtable Conference here, the prime minister said a stable and developed Pakistan was in the interest of all political parties and next governments. He pointed that energy was a major challenge for the country and stressed cooperation of all political parties to help the government to meet it.
He expressed hope that the government would overcome the energy crisis and mentioned the unprecedented support from China in several power projects. He said Germany had also shown interest in investment in relevant sectors in Pakistan. Nawaz Sharif said Pak-UK energy conference in London would be helpful in finding ways to resolve the shortage of electricity. He thanked the United Kingdom in organising the conference. Nawaz said Pakistan was blessed with infinite resources, and its population of 180 million people could bring a revolution of prosperity in the country.
Full report at:
http://www.dailytimes.com.pk/national/14-Nov-2014/imran-qadri-tried-to-derail-pakistan-not-govt-nawaz
----------
India
Indian Origin Jihadist Skips Bail, Flees UK for Islamic State
Nov 14, 2014
An Indian-origin Islamist activist facing trial on terrorism charges skipped bail and fled the country with his family on Wednesday, headed through Paris to the Islamic State, British media have reported. The escape, first revealed by The Daily Mail, came after Abu Rumaysah failed to surrender his passport, a condition of his bail, and has led to opposition charges of police incompetence.
Born Siddhartha Dhar, to family Indian diplomatic sources in London told The Indian Express was of Bihar-Bengal origin, Abu Rumaysah had been arrested in September along with nine others, on charges of inciting terrorism, as part of an ongoing investigation of the London-based pro-jihadist group al-Muhajiroun.
Indian diplomatic sources said authorities in the United Kingdom had not requested any information on Rumaysah's links, and there did not appear to be any connection between his radicalisation and his country of origin. The sources added that there was no recorded of Rumaysah having visited India in the past several years.
Full report at:
http://indianexpress.com/article/world/europe/indian-origin-jihadist-skips-bail-flees-uk-for-islamic-state/99/
----------
AMU May Allow Undergraduate Girls Access to the Central Library
MOHAMMAD ALI
Nov 14, 2014
The Aligarh Muslim University may allow undergraduate girls access to the central library.
In its reply to the Union Human Resources Development Ministry it said that it was considering the request by the undergraduate students for access to the library. The development comes days after Vice-Chancellor Zamiruddin Shah allegedly said that boys would overcrowd the central library if girl students were allowed access.
Rahat Abrar, the PRO, said: "An oral request was made on November 10 to the V-C by girls at the installation ceremony of the newly-elected Women's College Students' Union for access to the central library. This request is under consideration."
In its reply, the university has defended the rule which doesn't allow students of the Women's College to access the Maulana Azad Library, saying that the college has its own library.
Full report at:
http://www.thehindu.com/news/national/other-states/request-for-library-access-under-consideration-amu/article6596271.ece
--------
Mideast
Hamas bombed Fatah officials' homes and faked ISIS claim of responsibility
Nov 14, 2014
It was Hamas that bombed homes and vehicles belonging to Fatah officials in the Gaza Strip last Friday, making sure to forge a false claim of responsibility by the Islamic State in Gaza, a Western intelligence source speaking exclusively to The Jerusalem Post revealed on Thursday.
The incident – which caused damage but no injuries – was conducted by Hamas's armed wing, Izzadin Kassam, without a heads-up to its political leaders, the source said.
"We will not allow the return of internal conflicts, chaos and anarchy to the Gaza Strip," Hamas spokesman Eyad al-Bozom said after the blasts. "The security services will pursue anyone who had any connection to these criminal acts until they are brought to justice."
The intelligence source said such activities may form a pattern of operation conducted by Hamas when it wants to hurt its rivals without being blamed.
The source added that the explosion at the French Cultural Center in Gaza City on October 7 was the work of Izzadin Kassam. In that case as well, Hamas issued a false claim alleging Islamic State responsibility.
http://www.jpost.com/Arab-Israeli-Conflict/Fatah-Hamas-blame-each-other-for-blasts-targeting-homes-of-Fatah-officials-381107
-----------
Israel lifts age bar on Jerusalem mosque prayers
Nov 14, 2014
Men of all ages will be allowed to attend the main weekly Muslim prayers Friday at Jerusalem's flashpoint Al-Aqsa mosque compound for the first time in "months", a police spokesman said.
"No age limit on the Temple Mount, we're hoping things will be calm and quiet today," spokesman Mickey Rosenfeld told AFP.
He was using the Jewish term for the Old City holy site that has been the scene of repeated disturbances for months.
He added that "extra police units were deployed in Jerusalem this morning to prevent any incidents in and around the Old City."
Rosenfeld linked the decision to lift age restrictions to talks in Jordan on Thursday after which US Secretary of State John Kerry said steps were agreed between King Abdullah II and Israeli Prime Minister Benjamin Netanyahu to lower tensions at the mosque compound.
Full report at:
http://www.hurriyetdailynews.com/israel-lifts-age-bar-on-jerusalem-mosque-prayers-police.aspx?pageID=238&nID=74315&NewsCatID=352
----------
Turkey, US meet to discuss training of Syrian rebels
Nov 14, 2014
Military officials from the United States and Turkey are meeting for a third time to finalize discussions on equipping and training moderate Syrian rebels, as U.S. media outlets report that Washington is considering a shift in in its Syria policy.
The high-ranking military delegations from both countries will gather in the Turkish General Staff's headquarters in Ankara today and put in place the details on the training of Syrian militant groups that are fighting against the Islamic State of Iraq and the Levant (ISIL).
The parties are expected to make a final decision on how many and where militants will be trained in Turkey during the meeting. In the previous meetings, the training program was set to be kicked off at the end of December at a gendarmerie training center in Central Anatolian province of Kırşehir.
Full report at:
http://www.hurriyetdailynews.com/turkey-us-meet-to-discuss-training-of-syrian-rebels.aspx?pageID=238&nID=74309&NewsCatID=510
-------
Hamas: Jerusalem unrest could 'spark new explosion' in Israeli-Palestinian conflict
Nov 14, 2014
A spokesman for the armed wing of Hamas, the Izz a-Din al-Kassam Brigades, said on Thursday that actions by Israel could prove the "spark of a new explosion" in the region.
In his first public appearance since the end of Gaza's latest war, Abu Ubaida said that Israel was seeking confrontation by escalating its "assault" on Al-Aksa and the people of Jerusalem.
"The spark started in Jerusalem when the settlers burned the teen Mohammed Abu Khdeir and Gaza rose up to defend Jerusalem," Abu Ubaida told several thousand people, among them hundreds of Hamas gunmen and top officials, gathered at a rally in the southern town of Rafah.
"The continued blockade and the undermining of the reconstruction could be the spark of a new explosion and the Occupation (Israel) will feel the full wave of the explosion because the Occupation is the responsible for the delay and the undermining (of the long-term truce efforts)," he added.
Full report at:
http://www.jpost.com/Arab-Israeli-Conflict/Hamas-Jerusalem-unrest-could-spark-new-explosion-in-Israeli-Palestinian-conflict-381815
-----------
North America
U.S. sends prosecutors abroad to track jihadists from Syria
14 November 2014
Dozens of U.S. prosecutors are being sent to the Balkans, Middle East and North Africa to help track down jihadist fighters returning from Syria, the outgoing attorney general said Thursday.
Washington has repeatedly voiced concern about hardened Islamists emerging from war-torn Syria and using their Western passports to attack the United States and its allies.
Prosecutors and senior law enforcement advisors were being despatched to "key regions," Eric Holder said after meeting European officials in Washington.
"These personnel will provide critical assistance to our allies in order to help prosecute those who return from the Syrian region bent on committing acts of terrorism."
The cooperation includes "information sharing, investigations and prosecutions, and countering violent extremism."
A senior Justice Department official said about 70 prosecutors were working in several countries including Albania, Bosnia, Croatia, Kosovo and Serbia, as well as in North Africa and the Middle East.
Full report at:
http://english.alarabiya.net/en/News/middle-east/2014/11/14/U-S-sends-prosecutors-abroad-to-track-militants-from-Syria-.html
----------
Hagel says air war against ISIS will intensify
Nov 14, 2014
U.S. Defense Secretary Chuck Hagel said on Thursday the U.S.-led air war against Islamic State of Iraq and Syria (ISIS) will intensify and that the American people must prepare for a long and difficult struggle.
Hagel defended the U.S. strategy during a House of Representatives hearing, saying, "As Iraqi forces build strength, the tempo and intensity of our coalition's air campaign will accelerate in tandem."
"ISIL's advance in parts of Iraq has stalled, and in some cases been reversed, by Iraqi, Kurdish, and tribal forces supported by U.S. and coalition airstrikes," Hagel said.
He used the term ISIL, another acronym for the militant group.
"But ISIL continues to represent a serious threat to American interests, our allies, and the Middle East ... and wields influence over a broad swath of territory in western and northern Iraq and eastern Syria."
The testimony of Hagel and Army Gen. Martin Dempsey, the top U.S. military officer, comes just days after President Barack Obama asked Congress for a new $5.6 billion plan to expand the U.S. mission in Iraq and send up to 1,500 more American troops to the war-torn nation, the Associated Press reports.
Full report at:
http://english.alarabiya.net/en/News/middle-east/2014/11/13/Hagel-says-air-war-against-ISIS-will-intensify.html
----------
'Hug a terrorist' event brings debate on Middle East conflict to McMaster University
Nov 14, 2014
TORONTO – A controversial pro-Palestinian campaign was held at McMaster University in Hamilton, Ont. Thursday aimed at raising awareness of the civilian deaths in Gaza.
The event, called "Hug a Terrorist", was created by McMaster's Solidarity for Palestinian Human Rights (SPHR) group and is based on a viral video of the same named filmed in Toronto over the summer.
"This event was to bring awareness to the treatment of Palestinian children and how they have been portrayed by the Israeli government and media as 'terrorists,'" wrote SPHR in a Facebook post. "The word has been carelessly used to justify the murder of over 531 children this past summer as well as the deaths of each child (1 every 3 days) in Gaza and Palestine since the year 2000."
The latest conflict between Palestine and Israel has left more than 500 children dead and has injured more than 3,300 – most of them Palestinian- according to numbers from Amnesty International.
Full report at:
http://globalnews.ca/news/1671124/hug-a-terrorist-event-brings-debate-on-middle-east-conflict-to-mcmaster-university/
----------
US says air strikes cutting militants oil revenues
Nov 14, 2014
US air strikes are beginning to choke off the flow of oil revenues to Islamic militants, cutting their income by several million dollars a week, a top US official said Thursday.
Last month, top US Treasury official David Cohen said the Islamic State group, also known as ISIL, was earning about $1 million a day from the black market sales of oil from fields it has seized in Syria and Iraq.
"Because of the air strikes on the ISIL's mobile refineries as well as other military activity we have seen a decrease in... the revenue from the oil sales from about a million a day to several million dollars a week," Cohen told US lawmakers.
"There is some progress there," he said, adding "it is small steps that you can see over the time having a real impact."
The US-led coalition air strikes were "successfully impairing ISIL's ability to sell oil, and so its daily oil revenue has fallen."
Full report at:
http://english.ahram.org.eg/NewsContent/2/8/115496/World/Region/US-says-air-strikes-cutting-militants-oil-revenues.aspx
----------
Steps agreed to lower Jerusalem tension: Kerry
14 November 2014
Israelis and Palestinians agreed on Thursday to take steps to lower tensions in Jerusalem, U.S. Secretary of State John Kerry said, following a meeting in Jordan's capital Amman.
Jordan's King Abdullah II, U.S. Secretary of State John Kerry and Israeli Prime Minister Benjamin Netanyahu earlier held talks in Jordan.
The three-way meeting took place at King Abdullah II's palace in Amman and followed discussion between Kerry and Palestinian President Mahmud Abbas.
Kerry said "firm commitments" had been made to maintain the status quo at holy sites in Israeli-annexed east Jerusalem.
He said Israel and Jordan, which has custodial rights at the Al-Aqsa mosque in the Holy City, had also agreed to take steps to "de-escalate the situation" in Jerusalem and to "restore confidence."
Full report at:
http://english.alarabiya.net/en/News/middle-east/2014/11/14/Jordan-king-holds-talks-with-Kerry-and-Netanyahu.html
----------
Iraq needs 80,000 good troops to retake lost territory: US general
Nov 14, 2014
Iraq will need about 80,000 effective military troops to retake the terrain it lost to militants of Islamic State of Iraq and the Levant (ISIL) and restore its border with Syria, the top U.S. general said on Nov. 13.
"We're going to need about 80,000 competent Iraqi security forces to recapture territory lost, and eventually the city of Mosul, to restore the border," Army General Martin Dempsey, the chairman of the Joint Chiefs of staff, told a congressional hearing.
Dempsey said the request for more U.S. forces in Iraq would create centers to help train the additional troops needed.
Advisers with Iraqi ground troops
Dempsey also told lawmakers that he would consider sending American military advisers to accompany Iraqi troops if they advance against ISIL militants in the difficult terrain near Mosul and the Iraqi border with Syria.
Full report at:
http://www.hurriyetdailynews.com/iraq-needs-80000-good-troops-to-retake-lost-territory-us-general.aspx?pageID=238&nID=74318&NewsCatID=352
--------
Southeast Asia
Najib defends 'moderation', says based on Islam
Nov 14, 2014
Prime Minister Datuk Seri Najib Razak today refuted allegations by certain parties which linked the moderate stand of the government to liberalism.
He said the allegation was completely wrong as the moderate movement by the government was based on Islamic teachings as taught by Prophet Muhammad.
"The moderate movement is based on Islamic teachings as the Prophet said: Do good with sincerity and moderation, take the straight and moderate route so that you will reach the desired destination, heaven," he said in a PM's Radio Broadcast uploaded on his blog, NajibRazak.com, today.
Full report at:
http://www.themalaysianinsider.com/malaysia/article/najib-defends-moderation-says-based-on-islam-bernama#sthash.obpsyDdU.dpuf
----------
Sarawak Christians ooze praise, but still uneasy, over Bible release
Nov 14, 2014
Christian leaders in Sarawak lauded the return of Malay- and Iban-language Bibles seized by the Selangor Islamic Department (Jais) from The Bible Society of Malaysia (BSM) in January, but are uneasy over the condition set for their release.
The Bibles were released today to the Association of Churches in Sarawak (ACS) instead of the peninsula-based BSM on the condition that they were for distribution and use in Sarawak only.
Two Christian politicians in Sarawak said this failed to address the issue of Christians from the state who lived and worshipped in the peninsula.
Sarawak's Land Development Minister Tan Sri Dr James Masing said it violated the right of Christians from Sabah and Sarawak to freely practice the religion.
"They must be allowed to use the Bup Kudus in their places of worship anywhere in the peninsula. The Malaysian constitution is very clear on this," he said, referring to the Iban-language Bible.
The constitutional guarantee on the freedom of religion meant that any religion could be practised anywhere in Malaysia with no restrictions as to which state it can or cannot be practised in, Masing said.
Full report at:
http://www.themalaysianinsider.com/malaysia/article/sarawak-christians-ooze-praise-but-still-uneasy-over-bible-release#sthash.ly0PfuFk.dpuf
----------
No Religion on KTP, No Public Services: Pontianak Deputy Mayor
Nov 14, 2014
Jakarta. Residents of Pontianak in West Kalimantan who do not list their religion on identification cards will not be allowed to access public services, the city's deputy mayor has said.
In comments that are likely to inflame debate about religious freedom and the rights of minority groups, Sutarmidji said he would instruct the region's population agency and sub-district offices not to serve people who fail to put their religion on ID cards, known as KTP.
He said the religion column on the cards should not be omitted as it was required under current law.
Full report at:
http://thejakartaglobe.beritasatu.com/news/religion-ktp-public-services-pontianak-deputy-mayor/
----------
Ending the Bible grab with no apologies, but a warning
Nov 14, 2014
Christians in Sarawak should be grateful, one supposes, now that Selangor has returned 351 copies of Malay- and Iban-language Bibles that were seized more than 10 months ago.
The bibles that were seized by the Selangor Islamic Department (Jais) from The Bible Society of Malaysia (BSM) on January 2 were returned to Christians in Sarawak today through the Association of Churches in Sarawak (ACS) in a ceremony at the Selangor palace in Shah Alam.
They were handed to Sarawak Christians and not to the peninsula-based BSM as part of the condition that such material was not to be distributed in Selangor, especially among Muslims, a statement from the Selangor Islamic Religious Council (Mais) later said.
"This settlement is to respect each other's religious beliefs and maintain the sensitivity of various religions in the country," Mais chairman Datuk Mohamad Adzib Mohd Isa said in a statement today.
Full report at:
http://www.themalaysianinsider.com/malaysia/article/ending-the-bible-grab-with-no-apologies-but-a-warning#sthash.tqiEfLkc.dpuf
----------
South Asia
War Criminal Razakar's brother was also a Razakar commander
Nov 14, 2014
War criminal Zahid Hossain Khokon alias Khokon Razakar was not the only collaborator from his family; his elder brother was also a part of the Razakar force in Nagarkanda of Faridpur district during the Liberation War.
According to the verdict delivered by the first International Crimes Tribunal yesterday, Zahid's elder brother Zafor was a commander of the infamous Razakar force at Nagarkanda.
At that time, Zahid was a general member of the force, actively associated with many of the atrocities committed by the Pakistani occupation army during the nine-month Liberation War in 1971.
But Zafor got killed in a battle with freedom fighters in May 1971 in their locality. That could not hold Zahid back from committing atrocities in the area and collaborating with the Pakistani occupation army with an aim to break the spirit of the Bangalees.
ahid not only continued committing crimes against humanity throughout the duration of the war, he also went on to become a commander of the same Razakar force after his brother's death.
Full report at:
http://www.dhakatribune.com/bangladesh/2014/nov/14/khokon-razakar%E2%80%99s-brother-was-also-razakar-commander#sthash.MjbwoZns.dpuf
----------
Prominent religious cleric shot dead in Herat province
Nov 14, 2014
Unknown gunmen shot dead a prominent cleric in western Herat province of Afghanistan late on Thursday, local officials said.
The incident took place in the 12th police district of Herat city leaving the religious cleric Sheikh Azizullah Najafi critically wounded.
A local security official said Sheikh Najafi succumbed to his injuries after he was taken to hospital following the attack.
The official speaking on the condition of anonymity said Sheikh Najafi had received multiple shots in his head.
Sheikh Najafi was a prominent religious cleric who was also a member of the provincial council.
No group including the Taliban militants has so far claimed responsibility behind the incident.
This comes as another prominent religious cleric Mir Farooq Hussaini was shot dead in a similar attack in Herat province earlier this year.
http://www.khaama.com/prominent-religious-cleric-shot-dead-in-herat-province-8752
----------
BNP leaders brief country's political situation to foreign diplomats
Nov 14, 2014
BNP has once again sat with foreign diplomats in Bangladesh, to present its stand about the country's current political situation.
Ambassadors, chargé d'affaires and representatives of more than 30 countries attended the one-an-a-half hour meeting at a city hotel yesterday, party insiders said. The meeting began at 4:00pm and ended at 5:30pm, they said.
Ambassadors and representatives of United Kingdom, USA, European Union, France, Russia, China, Switzerland, Turkey, Singapore, Japan, Vietnam, Spain, Sweden, Canada, Kingdom of Saudi Arabia, South Korea, Denmark, the Netherlands, Norway, Nepal and some other countries attended the meeting, they added.
BNP acting secretary general Mirza Fakhrul Islam Alamgir, standing committee member Mahbubur Rahman, vice chairman Shamsher Mobin Chowdhury, advisers to the BNP chairperson Reaz Rahman and Abdul Awal Mintoo were present in the meeting.
Neither the diplomats nor the BNP leaders briefed the media about the meeting agenda.
http://www.dhakatribune.com/politics/2014/nov/14/bnp-leaders-brief-country%E2%80%99s-political-situation-foreign-diplomats#sthash.YdkxR9St.dpuf
---------
Africa
Boko Haram invades two towns in northeast Nigeria
14 November 2014
Scores of Boko Haram fighters on Thursday invaded two towns in northeast Nigeria's Adamawa state after hunters and civilian vigilantes reportedly ousted them from a key town, residents told AFP.
The Islamists raided Hong and Gombi, some 100 kilometers (62.5 miles) from the state capital, Yola, after they were pushed out of the commercial hub of Mubi, which they seized two weeks ago.
Boko Haram is thought to have captured more than two dozen towns in Yobe, Borno and Adamawa states in recent months, as part of its quest to establish a hard-line caliphate in the region.
But despite apparently losing control of Mubi, which the Islamists renamed Madinat ul Islam or "City of Islam" in Arabic the invasion of Hong and Gombi saw them move closer to Yola.
Thousands of residents have been taking refuge in the city from the violence.
The vigilantes had reportedly reclaimed the town of Maiha on Wednesday after a fierce battle in which scores of the insurgents were said to have been killed, although there was no official confirmation.
Full report at:
http://english.alarabiya.net/en/News/africa/2014/11/14/Boko-Haram-invades-two-twos-in-northeast-Nigeria-.html
----------
Sudan warplanes bomb South Sudan border zones: Reports
Nov 14, 2014
Sudanese warplanes have bombed South Sudan, wounding six civilians in areas bordering war zone regions where Khartoum is trying to crush rebel fighters, reports said Friday.
Claims of fresh bombing raids raises tensions between the former civil war foes, but also comes as Sudan's government holds peace talks with rebels.
South Sudan army spokesman Philip Aguer told the independent Radio Tamazuj that bombs were dropped on Wednesday in the Maban district of Upper Nile state, which hosts over 125,000 refugees who fled from fighting in neighbouring Sudan's Blue Nile state.
There was no immediate response from Sudan's army to AFP inquiries.
Khartoum officials are meeting in Ethiopia with rebels from war-torn Blue Nile and South Kordofan, with African Union mediator Thabo Mbeki calling for an "urgent" ceasefire.
Earlier this month the presidents of Sudan and South Sudan agreed to restart work to demarcate their contested border, a dispute that boiled over into war between the countries in 2012.
Full report at:
http://english.ahram.org.eg/NewsContent/2/8/115512/World/Region/Sudan-warplanes-bomb-South-Sudan-border-zones-Repo.aspx
--------
URL: https://www.newageislam.com/islamic-world-news/new-age-islam-news-bureau/un-chief-urges-end-to-discrimination-against-rohingya-muslims/d/100012