New Age Islam News Bureau
15 Sept 2018
• Ulema Should Be Conscious Of Allah Almighty When Issuing Religious Edicts: Imam of the Prophet's Mosque
• Sindh Appoints Country's First Non-Muslim Advocate General
• Court Orders Muslim Mum to Surrender Children's Custody to Buddhist Dad
• Indian Muslims Protest China's Detention of Uighur Muslims
Arab World
• Ulema Should Be Conscious Of Allah Almighty When Issuing Religious Edicts: Imam of the Prophet's Mosque
• ISIS Kills 20 US-Backed Fighters in Syria: Monitor
• Iran envoy: World should take MI6's Syria plot seriously
• Bahraini protesters show support for senior Shia clergyman
• Syria, Jordan in talks to reopen key border crossing, resume bilateral trade
• Defying dangers, Idlib residents protest Syria's Assad
--------
Pakistan
• Sindh Appoints Country's First Non-Muslim Advocate General
• Death Sentence in Blasphemy Case in Pakistan
• 'Pakistan paid dearly in fight against terrorism': France's Macron tells Imran
• Two Levies men martyred, three injured in Pishin blast
• Pakistani high commissioner to UK arrives in Islamabad to face inquiry
• UK legislators' team rejects plea for Ishaq Dar's deportation
• Turkey pledges to support Pakistan on Kashmir at UN
--------
Southeast Asia
• Court Orders Muslim Mum to Surrender Children's Custody to Buddhist Dad
• Indonesian Groups Call for Minority Religious Protections
• PAS lobs Shariah Bill hot potato at Pakatan
• PAS open to working with friends and foes, says Hadi
• PAS leader shocked Anwar, Mujahid against public caning
--------
India
• Indian Muslims Protest China's Detention of Uighur Muslims
• Ram Mandir Construction Will Begin This Year, Says Former BJP MP
• J&K: 5 LeT, Hizbul Terrorists Killed in Kulgam Encounter; Internet, Train Services Suspended
• Dawoodi Bohras a patriotic community, expanding trade through honesty: PM Modi
• Gurugram Mosque Remains Shut, Friday Prayers Peaceful Across City
--------
Europe
• Iranian Hackers behind Stolen Research from British Universities
• White Terror Suspects Overtake Asians in UK
• Russia for humanitarian corridors in Idlib, Lavrov says
• Germany wants Russia to avert Idlib offensive
• Russia's Putin concerned by terrorist moves in Syria's Idlib: Kremlin
--------
North America
• Not Enough Evidence to Expel Cadet after Quran Desecration, Canadian Military Says
• US: Pompeo rips Kerry for seeking to salvage Iran deal
• Muslim-Jewish conference organizer has South Florida ties
• $1.5M settlement for US Muslim workers fired in prayer dispute
• US imposes sanctions on Thai company it accuses of aiding Iran
• US studying possible Iran sanctions waivers: Pompeo
• US 'looking at situation' on China's Muslim crackdown
--------
South Asia
• Malaysia Aims to Play Bigger Role within ASEAN to End Rohingya Suffering
• Police arrests Jamaat leader for alleged sabotage planning in Bogra
• 5 dead as army helicopter crashes in West of Afghanistan
--------
Mideast
• Israeli Troops Kill Three Palestinians, Including Boy, In Gaza
• Situation in Yemen's Hodeida 'alarming', aid at risk: UN
• Yemen's information minister: Houthis broke into UN warehouses in Hodeidah
• Yemeni army, allies target Aramco oil refinery in Saudi Arabia's Jizan border region
• Secret doc reveals Israeli military unprepared for war
• UN's Yemen envoy pushes for new peace talks as fighting continues
--------
Africa
• Boko Haram Jihadis Kill Eight in NE Nigeria: Militia
• UN urges better atmosphere for Libya elections
• Al-Shabaab terrorists kill two in ambush in Garissa
Compiled by New Age Islam News Bureau
URL: https://www.newageislam.com/islamic-world-news/ulema-be-conscious-allah-almighty/d/116390
--------
Ulema Should Be Conscious Of Allah Almighty When Issuing Religious Edicts: Imam of the Prophet's Mosque
September 15, 2018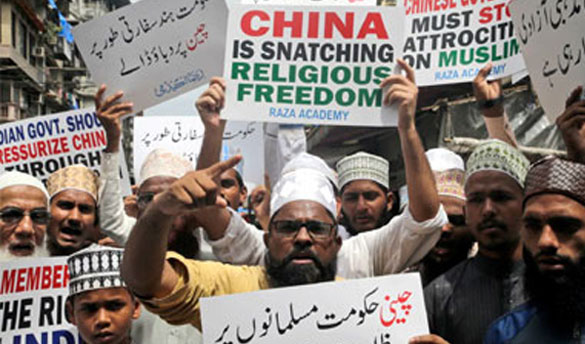 Indian Muslims shout slogans during a protest against the Chinese government, in Mumbai, India, Friday, Sept. 14, 2018. Nearly 150 Indian Muslims held a street protest in Mumbai, India's financial capital, demanding that China stop detaining thousands of members of minority Uighur Muslim ethnic group in detention and political indoctrination centers in Xinjiang region. Placards read "Chinese government must stop atrocities on Muslims," front, and "Indian government must put diplomatic pressure on China," top left. (Rajanish Kakade/Associated Press)
-----
MAKKAH/MADINAH – The Imam and Khateeb of the Prophet's Mosque in Madinah Sheikh Hussein Bin Abdulaziz Al-Asheikh said it is the duty of the religious callers (Du'aat) and Ulema to be conscious of Allah Almighty when issuing religious edicts.
They should know that issuing a fatwa (religious edict) is a serious matter and they should be sincere and truthful to Allah Almighty and be conscious of Him in public and private, Saudi Press Agency (SPA) quoted him as saying.
In his Friday sermon at the Prophet's Mosque, Al-Asheikh stressed that all ought to be cautious not to issue Fatwas individually in matters concerning the whole Ummah and the latest general developments where it is impermissible to be hasty.
He cautioned that it is necessary to observe deliberation, ponder on issues carefully, resort sincerely to Allah Almighty that He may guide the Ulema to the right decisions. They should take into consideration the rules and principles of the Shariah in benefiting the Ummah and preventing any harms as much as possible.
He further said that they should protect the Ummah's cohesion and unity. They should keep away from all that might affect their cohesion and unity.
Al-Asheikh said when there is a need to issue such fatwas, Muslims should resort to the well-established Ulema, with long experience. They should take into consideration and respect the collective fatwas that are issued by the Fiqh academies by the Ulema of the Ummah after meticulous field studies, long discussions by all and a correct vision of matters.
The whole process should be in conformity with the rules of jurisprudence (Fiqh) on giving religious opinion (Ijtihad) so that matters and conditions are improved for the betterment of the Ummah.
He considered neglecting these principles and not taking them into consideration as conducive to creating intellectual chaos leading to grave consequences, which the Prophet (peace be upon him) warned against.
Al-Asheikh reminded Muslims of the importance of the month of Muharram, during which they should do good deeds including fasting. He quoted the Prophet as stressing that fasting in Muharram comes second only to fasting during the holy month of Ramadan. Al-Asheikh said it is recommended to fast on the 10th of Muharram (Ashoura Day), which expiates the sins of a past year.
Al-Asheikh added that it is everybody's duty in this life to always be conscious of Allah and a person should fear none but Him. A person should work hard in doing deeds and keep away from committing sins. He should be sincere to Allah Almighty and seek to please Him. One should contemplate on his deeds and look into what will save him from the Hellfire and what might cause him punishment.
Al-Asheikh stressed that being conscious of Allah Almighty and fearing Him creates a society free from vice, sins and crimes. Its generations will be characterized by virtue and they will cooperate with one another in doing good deeds and being conscious of Allah.
Meanwhile, in his Friday sermon today, Imam and Khateeb of the Grand Mosque in Makkah Sheikh Maher Bin Hamad Al-Mu'aiqli stressed the importance of grabbing the opportunity and doing good deeds during the sacred months (Rajab, Dhul Qa'dah, Dhul Hijja and Muharram).
The way the reward for doing good deeds is multiplied during the sacred months, one should refrain from committing sins, as they become more serious during these months and the punishment is greater.
The good deeds include giving alms, observing Monotheism (Tawhid), performing obligatory prayers and increasing optional (Nawafil) prayers and fasting. He stressed that fasting in Muharram is one of the best deeds. It is second only to fasting during the holy month of Ramadan.
Meantime, worshipers performed their first Friday prayer of the Hijri year 1440H amid ample services placed at their disposal by the state agencies at the Prophet's Mosque in Madinah, in line with the directives of the Custodian of the Two Holy Mosques King Salman and Crown Prince Muhammad Bin Salman.
The worshipers included pilgrims, citizens and expatriates.
Worshipers thronged all the floors, courtyards and roof of the Prophet's Mosque since the early hours of Friday amid an atmosphere replete with security, comfort, stability, peace of mind, tranquility and devotion. The worshipers prayed that the new year would bring with it welfare, piety, victory, pride and would elevate the Ummah to a higher status.
In a related development, Saudi Press Agency (SPA) said the remaining pilgrims in Madinah, who totaled 195,569 on Thursday evening, are making preparations to return to their countries after performing Haj and visiting and praying in the Prophet's Mosque. – SPA
http://saudigazette.com.sa/article/543447/SAUDI-ARABIA/Issuing-a-fatwa-is-a-serious-matter-Sheikh-Hussein-Al-Asheikh
--------
Sindh appoints country's first non-Muslim Advocate General
by Usman Arshad
September 14, 2018
KARACHI – In a historic move, Sindh government has appointed country's first Christian Advocate General.
Salman Talibuddin was appointed as Advocate General Sindh on the terms and conditions as admissible under the rules with immediate effect, read the notification of his appointment.
Talibuddin is currently serving as an additional attorney general.
Previously, former advocate general Zameer Ghumro resigned from the post after remarks by Chief Justice of Pakistan (CJP) Mian Saqib Nisar.
Senior Pakistan People's Party (PPP) leader Senator Sherry Rehman lauded the appointment, emphasizing it as an instance of her party's position on empowering minorities.
https://en.dailypakistan.com.pk/pakistan/sindh-appoints-countrys-first-non-muslim-advocate-general/
--------
Court orders Muslim mum to surrender children's custody to Buddhist dad
Ho Kit Yen
September 14, 2018
PETALING JAYA: A Muslim convert mother, who converted her two children to Islam, has been ordered by the Court of Appeal to surrender custody of her children to her former husband, a Buddhist.
The court yesterday granted the husband full custody of the 10 year-old daughter and 6-year-old son, who were previously placed under their Muslim mother.
The woman's lawyer, Rohani Ibrahim, said the judges ruled there was merit in the former husband's appeal after considering various factors deemed serious after the divorce.
"The children are now back with their father," she said, when asked whether the woman had complied with the appeal court's order.
Rohani also said the woman accepted the court's decision.
"She believed that everything that happened must have a reason to it," she said, adding the woman was worried whether her children could adapt to their new environment.
Rohani also said they were considering whether to appeal against the custody order.
"We are trying to get the court's full judgment to understand how they came to the decision that favours the father," she said.
The High Court in Shah Alam granted full custody of the siblings to their mother in April.
She converted to Islam in December 2015, while she and her former husband were in the midst of a divorce.
She then took her children to convert them at the Federal Territories Islamic Religious Department in May 2016.
The former husband is still challenging the conversion of the children in another High Court.
He claimed that his former wife converted the siblings to Islam with the intention of getting custody of them.
The father is seeking a declaration that the children's certificates of conversion to Islam are null and void and that they were unlawfully converted.
The court has set Oct 16 to rule whether to allow the father to quash the conversion.
https://www.freemalaysiatoday.com/category/nation/2018/09/14/court-orders-muslim-mum-to-surrender-childrens-custody-to-buddhist-dad/
--------
Indian Muslims Protest China's Detention Of Uighur Muslims
Sep 14, 2018
About 150 Muslims protested in Mumbai, India's financial capital, on Friday to demand that China stop detaining thousands of minority Uighur Muslims in camps and political indoctrination centers in its Xinjiang region.
The protesters chanted "Down with China'" as they demonstrated outside a mosque after Friday noon prayers.
An organizer, Mohammed Saeed Nori, accused China of detaining many Muslims in camps and "snatching their religious freedom."
China has tightened restrictions over the instruction of Islam and the Uighur language in an effort to assimilate the minority group into the Chinese mainstream, which is dominated by the Han ethnic group. It says the process will bring economic benefits to Xinjiang's poor people.
China has denied operating the camps and said it is taking necessary measures to fight terrorism, religious extremism and separatism.
https://abcnews.go.com/International/wireStory/indian-muslims-protest-chinas-detention-uighur-muslims-57818558
--------
Arab World
ISIS kills 20 US-backed fighters in Syria: monitor
14 September 2018
At least 20 fighters from a US-backed force fighting the ISIS group were killed on Friday in an ISIS ambush in eastern Syria, a war monitor said.
"The fighters were advancing during a sandstorm, they were surrounded, ISIS members used explosives and opened fire," said the Britain-based Syrian Observatory for Human Rights.
The Kurdish-led Syrian Democratic Forces is waging an offensive around the town of Hajin in the province of Deir Ezzor, ISIS's last stronghold in the country's east.
The US-backed SDF had been closing in on the ISIS pocket for months before formally launching its offensive on Monday.
Since then, 53 militants and 37 SDF fighters have been killed in fierce clashes, according to the Britain-based Observatory.
The ISIS group once held nearly all of Deir Ezzor, but separate offensives last year by the SDF and Russian-backed regime forces left the militants clinging to a small area of territory near the Iraqi border.
The SDF estimates ISIS has some 3,000 fighters in its besieged holdout, many of them foreigners.
A senior US diplomat visited Kurdish-held territory in Syria last month and pledged Washington's lasting support.
"We are prepared to stay here, as the president (Donald Trump) has made clear, to ensure the enduring defeat of ISIS," Ambassador William Roebuck said, using an alternative acronym for ISIS.
The ISIS group once held swathes of territory across Syria and Iraq but has since seen its self-declared "caliphate" collapse.
The militants now control less than three percent of Syria and are mostly present in the vast Badiya desert, which lies between Damascus and the Iraqi border.
On Monday, ISIS fighters killed 12 Syrian regime fighters in an ambush in the southern province of Sweida. Eight militants were also killed, the Observatory said.
https://english.alarabiya.net/en/News/middle-east/2018/09/14/ISIS-kills-20-US-backed-fighters-in-Syria-monitor-.html
--------
Iran envoy: World should take MI6's Syria plot seriously
Sep 15, 2018
Iran's ambassador to the Netherlands has welcomed US Senator Richard Black's recent warning of a fake chemical weapons attack in Syria by Britain's MI6 spy agency to pin the blame on Damascus.
In a post on his official Twitter account, Alireza Jahangiri said Black's stance on a possible gas attack in Syria "proves" what has been declared repeatedly in the Organization for the Prohibition of Chemical Weapons (OPCW) meetings.
The international community, he added, should pay careful attention to the Republican senator's remarks in order to prevent "disasters like the Iraq war."
In an interview with Lebanon-based Arabic-language al-Mayadeen TV channel last week, Black warned that the MI6 was planning to stage a gas attack on the Syrian people to implicate the government of President Bashar al-Assad.
"Around four weeks ago, we knew that British intelligence was working towards a chemical attack in order to blame the Syrian government, to hold Syria responsible," he said.
In another interview with The Washington Post, the American senator reiterated his comments, stressing that the UK had no intention of carrying out the attack itself, but it was to direct militants, including members of the so-called White Helmets, to launch the assault.
"From what I can tell, they have been planning a fake attack, not a genuine one, but one where they actually move people out of a town and they have trained people to portray victims of a gas attack," he said. "And the plan is to use the White Helmets who have always been involved in these notorious deceptions, to portray an attack."
Black further noted that some of the previous chemical attacks in Syria were "British fakes, pulled off with help from ... White Helmets."
Late last month, Syria provided the UN with evidence revealing Takfiri terrorists' plot to carry out a chemical attack in the country in order to give the US a pretext for an act of aggression.
Similarly, Russia warned of militant attempts to once again stage a false flag gas attack as the Syrian army prepares for a liberation operation in Idlib Province, the last major terrorist bastion in the Arab country.
On April 7, an alleged chemical weapons attack hit the Damascus suburb town of Douma, just as the Syrian army was about to win the battle against militants there.
Western states blamed the Syrian government for the incident, but Damascus firmly rejected the accusation.
One week after the suspected gas attack, the US, Britain and France launched a coordinated missile strike against sites and research facilities near Damascus and Homs with the purported goal of paralyzing the Syrian government's capability to produce chemicals.
This is while Syria surrendered its entire chemical stockpile in 2013 to a mission led by the OPCW and the UN.
Russia and Syria say terrorists plan another false-flag chemical attack to give the US and its allies a pretext to attack the government which is preparing to retake Idlib.
Full report at:
https://www.presstv.com/Detail/2018/09/15/574162/Iran-Syria-MI6
--------
Bahraini protesters show support for senior Shia clergyman
Sep 14, 2018
Scores of people have held a protest in Bahrain to voice their support for distinguished Shia cleric Sheikh Isa Qassim, who has been stripped of his nationality by the ruling Al Khalifah dynasty, and condemn the ongoing crackdown on pro-democracy activists in the tiny Persian Gulf kingdom.
The protesters converged at the courtyard of Imam al-Sadiq Mosque in the northwestern village of Diraz, situated some 12 kilometers west of the capital Manama, following Friday prayers, carrying images of the 81-year-old cleric, who is the spiritual leader of the country's dissolved opposition bloc, al-Wefaq National Islamic Society.
They chanted slogans in support of the prominent Shia clergyman and against the ruling Al Khalifah regime.
The development came a day after regime forces took down banners and flags in commemoration of the martyrdom anniversary of Imam Hussein (PBUH), the third Shia Imam and the grandson of Prophet Mohammad (PBUH), in the same Bahraini village.
Manama regime has ramped up its repressive measures during the first month of the Islamic lunar calendar of Muharram, the tenth day of which is known as Ashura that marks the martyrdom anniversary of Imam Hussein (PBUH).
Bahraini regime forces have removed stalls set up to provide food and drinks to the mourners, and removed Ashura signs across the country.
Thousands of anti-regime protesters have held demonstrations in Bahrain on an almost daily basis ever since a popular uprising began in the country in mid-February 2011.
They are demanding that the Al Khalifah regime relinquish power and allow a just system representing all Bahrainis to be established.
Manama has gone to great lengths to clamp down on any sign of dissent. On March 14, 2011, troops from Saudi Arabia and the United Arab Emirates were deployed to assist Bahrain in its crackdown.
Scores of people have lost their lives and hundreds of others sustained injuries or got arrested as a result of the Al Khalifah regime's crackdown.
On March 5, 2017, Bahrain's parliament approved the trial of civilians at military tribunals in a measure blasted by human rights campaigners as being tantamount to imposition of an undeclared martial law countrywide.
Full report at:
https://www.presstv.com/Detail/2018/09/14/574124/Bahraini-protesters-show-support-for-senior-Shia-clergyman
--------
Syria, Jordan in talks to reopen key border crossing, resume bilateral trade
Sep 14, 2018
Syrian and Jordanian officials have started talks to reopen the key border crossing of al-Nassib after a three-year hiatus in a bid to re-establish bilateral trade and help revive the economy of war-torn Syria.
The first round of talks was held on Wednesday, with both countries agreeing to continue negotiations over the practical arrangements, from customs to security, in order to reopen the crossing in southern Syria, an informed source said Thursday.
"The meetings will continue to put a complete view of all the arrangements linked to reopening the crossings in the coming period," the source told Reuters.
Al-Nassib border crossing was closed in 2015 following attacks on the Jordanian security forces by foreign-backed terrorists, but the Syrian army managed to retake the vital route last July.
Jordan seeks to reactivate billions of dollars of annual transit trade between Europe and Persian Gulf markets across Syria.
Jordan's Foreign Minister Ayman Safadi said last month that his country wants to open its borders with Syria, but was waiting for a response from Damascus.
Another Jordanian official said the al-Nassib crossing could open by the end of this year.
The Syrian government also hopes that the reopening of the key crossing could help the war-torn country revive its economy and rebuild itself.
Efforts to restore peace and stability to Syria come as government forces have managed to purge terrorists and anti-government militants from most of the country, and are preparing for a full-scale offensive to retake the northwestern Idlib province, the last stronghold of foreign-backed terrorists.
Israel ends its 'humanitarian' aid for Syrians
As the Syrian army regains full control of the country's southwestern borders with the occupied territories, the Israeli regime has declared the end of what it called "humanitarian" aid it used to offer to Syria's "civilians".
What the Israeli army has described as its "humanitarian" assistance to "civilians" in its Thursday statement is indeed the arms and medical support it offered to the Takfiri terrorists in the occupied Golan Heights and elsewhere in Israel.
While Israel claims it always sought to stay out of the war in Syria, evidence shows the regime has been overtly and covertly supporting terrorist fighting against the Syrian government.
Full report at:
https://www.presstv.com/Detail/2018/09/14/574092/Syria-Jordan-border-Israel
--------
Defying dangers, Idlib residents protest Syria's Assad
September 14, 2018
BEIRUT: In cities and towns across Syria's last opposition-held province, Idlib, residents poured into the streets on Friday to demonstrate against President Bashar Assad's government in defiance of an expected offensive to retake the territory.
In the provincial capital, Idlib city, and in towns including Kafranbel, Dana, and Al-Bab, demonstrators filled the streets after noon prayers and chanted against Assad, raising the tri-color green, white and black flag that has become the banner of Syria's 2011 uprising, activists said.
The demonstrations were reported on the activist-run sites Aleppo Media Center, Orient News, and other social media pages.
Fridays have become the customary day for protests throughout the Arab world since the 2011 uprisings that swept through the region.
Assad's government and its backers, Russia and Iran, say Idlib is ruled by terrorists, and have threatened to seize it by force.
Wissam Zarqa, a university teacher in Idlib, said demonstrators were flying the tri-color flag to rebut the government line that Idlib is dominated by the Al-Qaeda linked Levant Liberation Committee group.
The province, population 3 million, is now the final shelter for close to 1.5 million displaced Syrians that fled fighting in other parts of Syria. Many say they will not return to government-ruled areas.
Government and Russian forces bombed towns and villages in the province earlier this week, killing more than a dozen civilians and damaging two hospitals. But the strikes eased on Wednesday amid talks between the opposition's main regional sponsor Turkey, and Russia and Turkey.
Turkish President Recep Tayyip Erdogan and his Russian counterpart Vladimir Putin are slated to meet Monday, said Turkish Foreign Minister Mevlut Cavusoglu.
"We will continue our efforts with Iran and with Russia. ... (and) on international platforms as well," said Cavusoglu in comments carried live on Turkish television.
Turkish media said the two leaders would meet in the Russian city of Sochi.
Turkey has warned strongly against military action, saying it would trigger a humanitarian catastrophe. Its military and defense chiefs visited border areas on Friday to inspect troop reinforcements sent to its Hatay and Gaziantep provinces.
Turkey has 12 military posts inside Idlib province, and activists reported on Thursday that Turkish reinforcements crossed over into Syria to fortify the installations.
The United Nations said that in the first 12 days of September, over 30,000 people have been internally displaced by an intense aerial bombing campaign. Most of the displaced headed toward the border with Turkey, according to the UN Office for the Coordination of Humanitarian Affairs, packing already overcrowded camps there.
Full report at:
http://www.arabnews.com/node/1372041/middle-east
--------
Pakistan
Death Sentence In Blasphemy Case In Pakistan
September 14, 2018
SAHIWAL: A man was sentenced to death and a Rs50,000 fine by Additional District and Sessions Court Judge Raja Safder Iqbal on Thursday in a blasphemy case registered with Yousafwala Police Station in 2015.
In case of default on fine payment, convict Arshad Sardar will undergo six months imprisonment.
Complainant Hanif Athar said Arshad Sardar, a faith healer of village 93/9-L, uttered blasphemous words about sacred religious personalities.
The case was registered on May 5, 2015.
https://www.dawn.com/news/1432813/death-sentence-in-blasphemy-case
--------
'Pakistan paid dearly in fight against terrorism': France's Macron tells Imran
September 15, 2018
ISLAMABAD: French President Emmanuel Macron late Thursday night acknowledged the "high price" Pakistan has paid in the fight against terrorism in a telephonic conversation with Prime Minister Imran Khan.
Congratulating the Pakistan Tehreek-e-Insaf (PTI) leader on emerging victor in the July 25 polls, Macron emphasised on the need to build and strengthen bilateral cooperation and linkages between Paris and Islamabad.
During the phone call, the French president also spoke of assistance in the fields of energy, water resources, and trade.
He also expressed his desire to work together with PM Imran on matters of mutual interest.
He also expressed Paris' desire to cooperate in the fields of energy, water resource management, trade, as well as, the economy. He also hoped both nations could join hands on issues of mutual interest on the global stage.
The French premier lauded Pakistan's efforts in fighting terrorism. He also condoled Imran on the deadly spate of terrorist attacks in the run-up to the country going to the polls back in July.
The PTI supremo thanked Macron for his call and expressed the desire to deepen bilateral relations into a lasting partnership. The PTI chief added that trade and investment ties between the two countries were on the rise. He also invited greater French investment in Pakistan.
Full report at:
https://www.pakistantoday.com.pk/2018/09/14/pakistan-paid-dearly-in-fight-against-terrorism-frances-macron-tells-imran/
--------
Two Levies men martyred, three injured in Pishin blast
SEPTEMBER 15, 2018
At least two levies personnel were martyred in a blast on the northern by-pass in the Pishin district of Balochistan, police said on Friday.
Another three Levies personnel were injured in the blast which targeted the vehicle of an assistant commissioner. The injured personnel have been taken to Quetta for treatment.
According to police, the remote-controlled bomb was planted on a motorcycle which was supposed to target the vehicle of assistant commissioner, who was not present in the vehicle. An investigation into the incident has been launched.
https://dailytimes.com.pk/298230/two-levies-men-martyred-three-injured-in-pishin-blast/
--------
Pakistani high commissioner to UK arrives in Islamabad to face inquiry
SEPTEMBER 15, 2018
Pakistan's High commissioner to UK Sahibzada Ahmed Khan who was called by foreign Ministry to explain his position over his 'inappropriate' appearance in a TV award ceremony in London has arrived Islamabad on Friday.
Highly placed official sources told Daily Times that Mr. Khan would appear before Foreign Minister Shah Mehmood Qureshi who took strong exception of his in appropriate conduct at award show last week in London.
The foreign ministry has sought an explanation letter from the high commissioner, and has been asked to give verbal and in writing reply to foreign Minister and foreign secretary.
Sources told Daily times that if his could not satisfy the foreign ministry, he is likely to be removed from high commissioner position and could be made OSD.
It was Sahibzada Ahmed Khan's first ambassador level coveted posting to UK.
Sahibzada Ahmed Khan before proceeding to London was serving as Chief of protocol at the foreign office and had been interacting with foreign leaders and top diplomats of various countries. He also served in New York and Toronto as Pakistani counsel General in the past.
Full report at:
https://dailytimes.com.pk/298228/pakistani-high-commissioner-to-uk-arrives-in-islamabad-to-face-inquiry-2/
--------
UK legislators' team rejects plea for Ishaq Dar's deportation
Sajid Iqbal
September 15, 2018
LONDON: A British parliamentary team has rejected a lobby petition demanding a parliamentary debate on the issue of deportation of former Pakistani finance minister Ishaq Dar, describing its contents as "libellous".
The petition started by an activist from the UK about a month ago has so far gathered around 82,000 signatures.
Under the UK parliamentary system, an individual or a group can highlight an issue of public importance through a lobby petition and get signatures to gather support for the cause. Once the petition gets over 100,000 signatures, the issue involved is debated in the House of Commons, the lower house of British parliament.
All such petitions are monitored by a team from the UK parliament for its content and behaviour of the groups and individuals launching and supporting it. The team can reject any petition if it finds that the information contained in the petition is libellous, false or defamatory at any stage during the process. In such a situation, the team informs all those who have signed the petition, explaining them the reason of its decision.
The team sent a similar email to more than 80,000 signatories of the petition demanding a debate on the issue of Ishaq Dar.
"We rejected the petition you supported — "Deport absconder Pakistan's Ex-Finance Minister Ishaq Dar back to Pakistan," said an email written by the team on Friday.
"It included confidential, libellous, false or defamatory information, or a reference to a case which is active in the UK courts," it added.
"In any case, we can't accept your petition because we're not sure exactly what you'd like the UK Government or Parliament to do," it further said.
"We think you would like the UK Government to extradite Ishaq Dar to Pakistan. The UK has no formal extradition treaty with Pakistan. Section 194 of the Extradition Act 2003 does allow special extradition arrangements in exceptional circumstances. However, under current law, an extradition process is initiated at the request of the government of the country in which the individual has been convicted of a crime. It would therefore be the Pakistani Gover­nment's responsibility to initiate such proceedings," it added.
The team also highlighted the standards or the petition and said that all the petitions must call for a specific action from the UK government or the House of Commons and must be about something that the government or the House of Commons is responsible for. The team said it rejected petitions that didn't meet the rules. "If we reject your petition, we'll tell you why. If we can, we'll suggest other ways you could raise your issue," it added.
"We publish the text of petitions that we reject, as long as they're not: defamatory, libellous or illegal in another way; about a case that is active in the UK courts or about something that a court has issued an injunction over," it concluded.
According to media reports, the petitions committee said it reviewed the online petition after getting 10,000 signatures for its consideration but rejected it on technical and legal grounds.
Full report at:
https://www.dawn.com/news/1433011/uk-legislators-team-rejects-plea-for-ishaq-dars-deportation
--------
Turkey pledges to support Pakistan on Kashmir at UN
Iftikhar A. Khan
September 15, 2018
ISLAMABAD: Turkey has assured Pakistan of complete support in its quest for a peaceful solution to the long-standing issue of Jammu and Kashmir.
"In the group, which has been formed over Kashmir in the UN, we will stand with Pakistan and try to make [its efforts] successful," the visiting Turkish Foreign Minister Mevlut Cavusoglu told a press conference he jointly add­ress­ed with his Pakistani counterpart Shah Mehmood Qureshi after a formal round of talks between the two sides on Friday.
He said it was Turkey's desire that the Kashmir dispute involving India and Pakistan was resolved in a peaceful manner.
Mr Qureshi welcomed Turkey's decision to support Pakistan's bid for a peaceful resolution of the Kashmir issue at the UN. He said: "At the United Nations, there will be a separate conference on Kashmir on the sidelines. It happens every year, but it is different this time because a new UN report has come out which sheds light on India-occupied Kashmir," he said.
There had certainly been a surge in people's interest in human rights abuses which were taking place in Kashmir, he added.
The Turkish foreign minister said: "In today's meeting, I discussed a lot of issues with FM Qureshi. The most important aspect of our discussion was on the [High-Level] Strategic [Cooperation] Council, the sixth conference of which, God willing, will take place in Pakistan, and we will do all we can to make it happen.
"We have strengthened our commercial ties, and [decided to facilitate] our companies that want to work in Pakistan. We have a unique relation, therefore, we should work together to further enhance our relations. The security issue for both the countries is important and so is the economic and military cooperation."
FM Cavusoglu said: "There is propaganda against Islam in Europe. We ran a campaign against the Netherlands caricatures, and thank God they shut it down."
He said Pakistan and Turkey had suffered the most hardships in the war against terrorism. He said Turkey would never forget Pakistan and its people's help" in the failed 2016 coup attempt.
"The Gulen movement not only damaged Turkey but it also caused destruction wherever it went," he said, adding that Pakistan helped Turkey on that front too.
The Turkish foreign minister congratulated FM Qureshi and Prime Minister Imran Khan on forming the new government in Pakistan. "Governments and people come and go, but real friendships cannot end," Mr Cavusoglu remarked. "This friendship should remain forever."
Mr Qureshi said: "In our meeting today we focused on enhancing our economic relations. [We discussed] ways to facilitate each other.
"Our relationship has been very strong. There is a mutual interest. We understand each other's sensitivities. Turkey has played a role in improving regional consensus and stability."
He said they also had a trilateral arrangement, which could be used to further improve regional stability and connectivity. "I got the chance today to thank the Turkish FM for supporting Pakistan's membership in Nuclear Suppliers Group. On the Netherlands caricature issue as well, Turkey supported us."
Mr Qureshi said the situation in Afghanistan, Iran and Kashmir were also discussed at the meeting.
Earlier while welcoming Mr Cavusoglu at Foreign Office, FM Qureshi said Pakistan and Turkey were brothers, friends and partners. The inseparable bond of common faith, history and culture had been reinforced by mutual trust and a sense of inter-dependence on critical issues, he said. The strength of Pakistan-Turkey relationship was not relative to time, situations or individual choices, as it was a relationship anchored in affection and solidarity among the people of the two nations, he added.
Both foreign ministers held a one-on-one meeting followed by talks between senior officials from both sides. Mr Qureshi noted that regular exchange of delegations and the presence of a number of institutional frameworks under the High-Level Strategic Cooperation Council were indicative of the close bilateral ties maintained at various levels. Pakistan and Turkey supported each other on all issues of core concern to both sides, he added.
While referring to the "heart-to-heart" and "Two Countries-One Nation" relationship, Mr Cavusoglu underlined that Pakistan would always have a special significance in Turkish foreign policy. He appreciated Pakistan's successful and strong action to subdue and defeat the menace of extremism and terrorism.
Both sides reiterated that Pakistan and Turkey were important members of the Muslim world. "Our people take pride in their faith and are determined to make collective efforts in confronting Islamophobia and other attempts to malign or distort the great message of peace and respect for humanity imbibed in the Holy Quran and repeatedly demonstrated in the life of our Holy Prophet (PBUH)," the two leaders said.
Full report at:
https://www.dawn.com/news/1433015/turkey-pledges-to-support-pakistan-on-kashmir-at-un
--------
Southeast Asia
Indonesian Groups Call for Minority Religious Protections
September 14, 2018
JAKARTA —
Interfaith and human rights groups gathered in Jakarta, Indonesia, this past week to show their support for Meiliana, an Indonesian Buddhist who was sentenced to 18 months prison in August for complaining about the volume of the call to prayer in the town of Tanjung Balai, North Sumatra.
The case has again brought the Muslim-majority country's controversial blasphemy laws to the fore, with religious minority groups concerned it signals further erosion of their rights amid rising Islamic conservatism.
In a declaration, the groups called for the release of Meiliana, saying she was "recently imprisoned for expressing her personal opinion peacefully." The statement was signed by Amnesty International, leading bodies representing Christian, Hindu and Confucian Indonesians, and the Alliance of Independent Journalists Indonesia.
In 2016, the now-44-year-old of Chinese ethnicity privately voiced to the son of an imam near her house that the call to prayer from the local mosque had become louder.
"Even if you look at the fundamental principles of the law, this is not blasphemy," said Rumadi Ahmad, a religious scholar and a senior member of Indonesia's largest Muslim organization, Nahdlatul Ulama, who was used as an expert witness in the case. "But many judges do not have a comprehensive understanding of the meaning of blasphemy."
Suhadi Sendjaja, the chairman of Buddhist organization Niciren Syosyu Indonesia, said, "This is a ruling not from Islamic authorities, but from a law issued by the president … it is not only for Chinese people, or for Christians, or Buddhists, but also for adherents of Islam."
In contrast to Meiliana's sentence, however, several hardline Muslims who attacked Chinese businesses and 12 Buddhist temples in Tanjung Balai in anger over her alleged blasphemy were sentenced to a maximum of two months behind bars.
Politicization of religion
Blasphemy has technically been illegal in Indonesia since 1965, when it was made a crime to criticize, be hostile to or adhere to "deviant" interpretations of one of the nation's six official religions: Islam, Christianity, Catholicism, Confucianism, Buddhism and Hinduism. Its use, however, has risen exponentially during Indonesia's democratic era — particularly since the presidency of Susilo Bambang Yudhoyono, who was elected in 2004. He served for 10 years.
Amnesty says at least 106 people were sentenced under blasphemy charges between 2005 and 2014. Prosecutions have disproportionately targeted minorities — particularly the Shia and Ahmadiyya communities that are considered "deviant" by the Sunni Muslim majority.
In May 2017, the country saw its most high-profile conviction yet — former Jakarta Governor Basuki "Ahok" Tjahaja Purnama. The widely popular ethnic Chinese Christian was sentenced to two years in prison after he was found to have insulted the Quran, following months of mass demonstrations by Muslim groups.
For Rafiqa Qurrata A'yun, a law lecturer at the University of Indonesia, the increased use of blasphemy laws in Indonesia is representative of the politicization of religion as a tool for the nation's "predatory politics."
"The Meiliana case reflects the rise of religious sentiments in the lead up to [North Sumatra's] gubernatorial election," she told VOA via email.
Protection of minorities
The U.S. Commission on International Religious Freedom's annual report for 2018 names Indonesia as one of 12 countries where violations of religious freedom are "systematic, ongoing and egregious," alongside Afghanistan, Iraq and Egypt.
"Indonesia's central government at times responded in a manner that supports religious freedom and related human rights, but provincial and local governments, as well as law enforcement, regularly exacerbated divisions and failed to prevent religious-based discrimination and violence," it said of the situation during 2017.
Irsyad Rafsadie, a researcher at the PUSAD Paramadina Center for the Study of Religion and Democracy, said local law enforcement across Indonesia is often reluctant to prosecute actors from the majority group for fear of further incensing communal tensions.
"Their rulings on perpetrators from the majority group are often not serious," said Irsyad, referring to the light sentencing of Islamic hardliners who attacked Buddhist temples in Tanjung Balai. "They proceed with prosecutions as a mere formality."
President Joko "Jokowi" Widodo said he "cannot intervene" in the case of Meiliana, but has suggested that she could appeal to Indonesia's Supreme Court.
A warning for Indonesia
Asked about the likelihood of Indonesia's blasphemy law being overturned, Rafiqa from the University of Indonesia said, "It would be very difficult because two judicial reviews have already been submitted and both of them failed." The conservative Constitutional Court denied a petition to repeal the law in July.
"This is a warning not just for Tanjung Balai or North Sumatra, but for all of Indonesia," said Rumadi of Nahlatul Ulama regarding the Meiliana case, suggesting that issuing a moratorium on the law could be a short-term solution. "There are signs there is narrowing space for tolerance," he added.
"I believe that tolerance is not enough. Tolerance still suggests distance," said Suhadi, the Buddhist leader. "We need acceptance."
https://www.voanews.com/a/indonesian-groups-call-for-minority-religious-protections/4571828.html
--------
PAS lobs Shariah Bill hot potato at Pakatan
15 September 2018
KUALA LUMPUR, Sept 15 — Datuk Seri Abdul Hadi Awang held up Barisan Nasional's past support for his bid to enhance Shariah sentences to pressure Pakatan Harapan to do the same.
After years of trying, Hadi's motion for a Bill to raise Shariah sentencing limits tenfold finally made it to Parliament in 2016 after an Umno minister at the time deferred the government's affairs to make room for the tabling.
Hadi then deferred the motion and did so repeatedly at later junctures, but now suggested that he intended to renew the controversial attempt.
"Previously, PAS found room to enhance the powers of the Shariah Court as the core of its legal implementation. So, PAS made efforts to amend Act 355 in Parliament since 2016," he said referring to his Bill on the Syariah Courts (Criminal Jurisdiction) Act 1965 also known as Act 355.
"Now it is upon the new government to determine the attitude to the Bill," he said in his opening speech at the PAS Muktamar that was attended by the senior leadership of Umno.
PAS and Hadi had initially presented the attempt as a means to introduce hudud, the Islamic penal code, in Kelantan and eventually Malaysia, but later retracted this to claim they were only seeking to enhance the powers of the Shariah courts.
The bid triggered a bitter row with former ally DAP, leading to the eventual collapse of Pakatan Rakyat, the precursor to the ruling Pakatan Harapan.
Prior to the general election, Umno had used Hadi's Bill to court the Islamist party, resulting in then law minister Datuk Seri Azalina Othman Said facilitating Hadi's tabling of his motion.
The ambition for hudud is emotive as Muslims are religiously obligated to support it; Muslim lawmakers in PH parties do not openly oppose the bid and couch their positions by either by saying it must be streamlined or that the country is not ready for Islamic penal law.
Non-Muslim opponents to hudud openly call it unconstitutional.
This consequently allows PAS to use its own attempt to burnish its own religious credentials while calling into question that of rival Muslim politicians who do not openly support this.
Hadi's remarks today suggest that this will again be a main pillar of his party's Opposition to the government.
Full report at:
https://www.malaymail.com/s/1672810/pas-lobs-shariah-bill-hot-potato-at-pakatan
--------
PAS open to working with friends and foes, says Hadi
September 15, 2018
KUALA TERENGGANU: PAS is adopting an approach of peaceful politics, with friends and foes alike, its president Abdul Hadi Awang said today.
Hadi said this was the way to increase the number of party members as well as supporters.
"PAS is consistent in its political approach with all quarters. We are taking a peaceful stance with the present federal government.
"We are also prepared to have political cooperation with all quarters to ensure Islam will lead any changes," he said in his policy speech at the opening of the 64th PAS muktamar at the Gong Badak indoor stadium here today, attended by all top PAS leaders and its members.
Also present were top Umno leaders, led by its president Ahmad Zahid Hamidi, MIC deputy president SK Devamany, as well as Gagasan Sejahtera leaders from its member parties Ikatan, Berjasa and Parti Cinta Malaysia.
The Marang MP said such cooperation was needed, pointing out that the Islamist party is facing challenges in standing firm on the basis of truth, in saving society using Islam, in facing Muslims ignorant about how to practise their religion, and non-Muslims buried in confusion and Islamophobia.
He said PAS was successful in "breaking the walls of ignorance", with the addition of new Muslim members and also the formation of the PAS supporters wing, with non-Muslims.
But he said these were still not enough as was proven in the recent 14th general election when secular parties garnered the majority support of non-Muslims as well as new voters, who were not mature or well versed in Islamic politics.
Hadi said the challenges were further compounded by discordant voices who challenged religious institutions, the royal institution and the rights of Bumiputeras.
PAS also faced active movements fighting for liberalism and same-sex relations, and also deviationist sects.
"They seem to be more open now and are moving freely without any inhibitions.
"These challenges warrant us to step up our preparations and plan strategic actions.
Full report at:
https://www.freemalaysiatoday.com/category/nation/2018/09/15/pas-open-to-working-with-friends-and-foes-says-hadi/
--------
PAS leader shocked Anwar, Mujahid against public caning
14 September 2018
KUALA LUMPUR, Sept 14 — PAS spiritual leader Datuk Hashim Jasin expressed shock today that former Muslim Youth Movement of Malaysia (Abim) president Datuk Seri Anwar Ibrahim and Middle East-educated Datuk Mujahid Yusof Rawa opposed public caning.
Hashim said, however, he was not surprised that Prime Minister Tun Dr Mahathir Mohamad criticised the recent whipping of two lesbian women in Terengganu under Shariah law that was carried out before about 100 people.
"But when former Abim president Anwar Ibrahim also questioned public caning, I was shocked," Hashim said in a speech at PAS Youth's 59th muktamar in Kuala Terengganu that was broadcast "live" on Facebook.
"I was also an Abim member, a strong supporter of Anwar. I defended him in the 70s. I can't believe he is like that.
"And what was more unbelievable was when the religious minister — who graduated from the Middle East from Al-Azhar, who is fluent in Arab and English, enough said about Malay — also questioned public caning."
PKR president-elect Anwar, who helmed Abim from 1974 to 1982, told reporters in Manila, Philippines, that he did not support the Terengganu public whipping that lacked due process and understanding.
Minister in the Prime Minister's Department Mujahid, who is from Parti Amanah Negara, called for a review of public caning sentences, saying the presence of "two or three officials" could also be considered "public".
Full report at:
https://www.malaymail.com/s/1672663/pas-leader-shocked-anwar-mujahid-against-public-caning
--------
India
Ram Mandir construction will begin this year, says former BJP MP
September 14, 2018
Nelanshu Shukla
Former BJP MP Ram Vilas Vedanti said that construction of Ram Mandir in Ayodhya will begin this year and the mosque will be built in Lucknow. He was speaking with media in Mumbai
"The temple construction will begin this year instead of 2019 and the mosque will be built in Lucknow. People of both, Hindu and Muslim community, are coming together for this purpose," he said.
Several leaders have made controversial statements about Ram Mandir even when the matter is being heard in Supreme Court.
UP deputy CM Keshav Prasad Maurya had said in August that the Central Government may bring in legislation for Ram Mandir construction if no option is left and if the party gets majority in Rajya Sabha.
State cabinet minister Mukut Bihari Verma sparked a controversy last week when he said that the Supreme Court is 'ours' while speaking with the media last week.
Reacting on Vedanti's statement, UP BJP spokesperson Rakesh Tripathi said, that all devotees of Lord Ram are eagerly waiting to see a grand Ram Mandir in Ayodhya. He said that he hoped the Supreme Court verdict will be positive.
However, All India Muslim Personal Law Board member and Lucknow Imam Khalid Rashid Firangi Mehli raised objections over the former BJP MP's remark.
"When the matter is being heard in the Apex court no political party or individual has any right to say when and where temple and mosque will be constructed. The issue has to be settled only in the Supreme Court" said Mehli while speaking to Mail Today.
Shia cleric Maulana Yasoob Abbas echoed the sentiment and said that only the decision of the top court will be acceptable on this issue and statements made by the BJP leaders have no value.
https://www.indiatoday.in/india/story/ram-mandir-construction-will-begin-this-year-says-former-bjp-mp-1340159-2018-09-14
--------
J&K: 5 LeT, Hizbul Terrorists Killed in Kulgam Encounter; Internet, Train Services Suspended
September 15, 2018
Kulgam (J&K): At least five Lashkar-e-Taiba and Hizbul Mujahideen terrorists were killed in an encounter on Saturday morning in Jammu and Kashmir's Kulgam. The encounter between the terrorists and security forces began late Friday night. As per the recent reports, all the five terrorists, holed up in a residential building in Kulgam's Chowgam area, have been neutralised.
Upon receiving a tip-off about the presence of militants, the security forces on Friday night cordoned off Chowgam village of Qazigund area and launched a search operation. "Immediately after the militants were trapped inside a house, they started firing at the security forces triggering the gunfight," police sources said.
"Firing exchanges have now ended, but searches are going on. The bodies of the three slain militants are yet to be recovered," sources said.
In view of the encounter, train services between Baramulla and Qazigund have been suspended, news agency ANI reported. Internet services in Kulgam and Anantnag has also been suspended. Most of them were involved in a series of terror acts including killing of two bank employees and many policemen.They were also reportedly involved in bank robberies and weapon looting.
The Kulgam encounter has come a day after a total of eight militants, three of them Pakistanis, were killed in three separate gun battles in Jammu and Kashmir, one of which also injured 12 police and paramilitary personnel and soldiers.
Full report at:
http://www.india.com/news/india/jk-four-let-hizbul-terrorists-killed-in-kulgam-encounter-train-services-between-baramulla-and-qazigund-suspended-3326386/
--------
Dawoodi Bohras a patriotic community, expanding trade through honesty: PM Modi
by Milind Ghatwai
September 15, 2018
Calling the Dawoodi Bohra community patriotic, Prime Minister Narendra Modi on Friday said they have always been committed to shanti (peace), sadbhaav (goodwill) and satyagrah (insistence on truth).
Speaking at Ashara Mubarak, commemoration of martyrdom of Imam Husain (SA), being organised in Indore, Modi said the community's spiritual head, Dr Syedna Mufaddal Saifuddin, preaches love and dedication for matrubhumi (motherland).
Modi said, "…Shanti, sadbhaav, satyragah aur rashtrbhakti ke prati Bohra samaj ki bhumika hamesha hamesha mahatavapurna rahee hai. Apne desh-se, apni matrubhumi ke prati prem aur samarpran ki seekh khud Sydena-saab apne pravachano ke madhyam se dete rahe hai (The Bohra community's role has always been important for peace, goodwill, truth and love for the country. Syedna always spoke about love for the nation, of love and sacrifice for the motherland in his teachings)." Follow Narendra Modi in Indore highlights
Modi praised the community for being honest, disciplined and law-abiding, and not resorting to deceit while augmenting trade, its main occupation. He said the Bohra community has established an ideal by proving how trade and business can grow by following rules and laws, and by being disciplined.
The Prime Minister said, "I have a special praise for you. Most of you are engaged in trade and business. You have set an example in how business can progress by following rules and laws and by being disciplined. Whereever you have gone, you have carved an identity for yourself and earned respect. Traders and businessmen are backbone of economy because they create job opportunities."
But, he said, "It's equally true that not all five fingers are alike. There are some people among us who treat deceit as business. In the last four years we have succeeded in sending the message that things will happen only according to rules. By bringing laws like GST, Insolvency and Bankruptcy Code we are providing incentives to honest businesses and Dawoodi Bohras have benefited from it the most.''
Referring to Imam Husain's martyrdom, Modi said he sacrificed his life for peace and justice and always raised his voice against injustice and pride. The ideals that he stood far are more relevant today than before, the Prime Minister said.
Talking about his government's policy initiatives, Modi said cellphone handsets and vehicles are being manufactured in large volumes in the country, thanks to the 'Make In India' initiative. He maintained that that there is record investment and the country is growing at more than 8 per cent, which is the highest among big economies. He said the country is now targeting double-digit growth and will achieve it despite the challenges. He also spoke on the national health protection mission that will be launched on September 25.
He said when he took over as Prime Minister in 2014, only 40 per cent households in the country had toilets and the number has now risen to nearly 90 per cent. He praised Indore and Bhopal for their success in cleanliness. He will address industrialists, celebrities and sportspersons, among others, through videoconferencing on Saturday.
Recalling his association with the Dawoodi Bohra community since his days as the Gujarat chief minister, Modi said he has attended many functions and feels like a family member. He said the community has presence in almost every village of Gujarat. He praised the community for practicing cleanliness and its contribution to the Swachh Bharat Mission and looking after its members with its initiatives such as hospitals, community kitchen, and housing. He also mentioned the community's contribution to the cause of environment and water conservation in Gujarat. He said Syedna Burhanuddin and Mahatma Gandhi met on a train and kept in touch with each other. The two used to discuss incidents and agitations. He recalled that the Mahatma had lived in Saifee Villa during the Dandi March and how the villa was later dedicated to the nation.
Full report at:
https://indianexpress.com/article/india/dawoodi-bohras-a-patriotic-community-expanding-trade-through-honesty-pm-modi-5357298/
--------
Gurugram mosque remains shut, Friday prayers peaceful across city
Sep 15, 2018
Amid rumours on Friday that the mosque in Sheetla Mata Colony, which was sealed by the MCG on Wednesday, might be unsealed, the district administration clarified that no such order has been issued.
The representatives of Muslim Ekta Manch and Gurgaon Nagrik Ekta Manch said they had met the divisional commissioner on Friday afternoon to seek his intervention in the matter.
"We told the divisional commissioner that the mosque was constructed in 2016 and is not under construction at present, as claimed by some civic officials. Documents were submitted as proof and he agreed to intervene," said Haji Shehzad Khan, chairman of the Muslim Ekta Manch.
The MCG had sealed the mosque and 10 other buildings in the area on the grounds that these had been built after a direction of the Punjab and Haryana high court in September 2016, which stayed new construction in the 300-metre radius of the Indian Air Force (IAF) ammunition depot in Sector 14.
"There is a provision in the law that if any authority seals a structure, and a satisfactory appeal is made against it, the authority can unseal it. This (sealing) has all been done as per the law," said Suresh, the divisional commissioner, said on Friday afternoon, after meeting the representatives of the Muslim Ekta Manch and Gurgaon Nagrik Ekta Manch.
A release by the district administration later in the evening said that "an appeal can be made in the court of divisional commissioner against the MCG's or the deputy commissioner's direction (to seal the mosque). Till now no appeal has been filed by any party before the divisional commissioner hence, the divisional commissioner has not issued orders to unseal any of the properties."
Suresh and deputy commissioner Vinay Pratap Singh did not respond to calls or text messages seeking comment on the issue in the evening.
An MCG official said, seeking anonymity, "The structures were sealed as per directions of the high court as such and cannot be unsealed on the directions of any official. It would amount to contempt of court."
The mosque, established in a three-storey residential building, was sealed a week after residents protested outside the mosque on September 5, against the newly installed loudspeaker on the premises, complaining that the call to prayer was loud and caused disturbance. They approached Gurugram police, which acted as a mediator, and asked the people present inside the mosque to lower the volume of speakers.
"The structure is clearly illegal as it has been constructed after the Punjab and Haryana high court's direction. If the district administration has decided to ignore this fact, then what precedent does it set for other illegal buildings in the area?" said Rajeev Mittal, spokesperson, Akhil Bharatiya Hindu Kranti Dal.
On Friday evening, the MCG issued a release on the 'illegal structures in the 300-metre restricted area' but did not make any direct comments on unsealing the mosque.
"Any new construction in the 300-metre radius of the IAF ammunition depot is restricted and action on either sealing or demolition has been continuous. Some new illegal structures have been identified, action against which will be taken in the near future. The district administration and the MCG, in compliance with the directions of the Punjab and Haryana high court, will continue their action," said Yashpal Yadav, the commissioner of MCG, in the release.
Law and order
Following the sealing, local Muslims had been sitting outside the mosque on a dharna. On Friday morning, around 11pm, Gurugram police officers dispersed the group to ensure law and order is maintained.
"We warned the people sitting on dharna that they were obstructing the right of way and that they can only assemble at designated spots. We also told them if they didn't comply, it would lead to arrests. They obliged without any resistance," said Sandeep Malik, assistant commissioner of police, Udyog Vihar.
"There were over 150 police officers on the spot to the ensure law and order is maintained," said Malik.
In anticipation of the Friday prayers, which were to be held in the afternoon, the district administration also deployed 36 duty magistrates at different spots in Gurugram to ensure namaz was offered peacefully.
In addition, Gurugram police detained 12 people belonging to right-wing outfits, including Yati Narsinghanand Saraswati, the national convener of the Akhil Bharatiya Sant Parishad.
"He had threatened to self-immolate. So, we detained him and 11 others under Section 107 (likely to commit breach of peace or public tranquillity) of the Criminal Procedure Code (CrPC), 1973. They were taken to the headquarters of deputy commissioner of police Kulvinder Singh and subsequently, released on bail," said Subhash Boken, public relation officer of Gurugram police.
Full report at:
https://www.hindustantimes.com/gurugram/gurugram-mosque-remains-shut-friday-prayers-peaceful-across-city/story-7ireBRJF0iDBM7uo8PBjkJ.html
--------
Europe
Iranian hackers behind stolen research from British universities
September 15, 2018
British universities including Oxford and Cambridge have fallen victim to Iranian hackers who stole sensitive research.
An investigation by The Telegraph newspaper has found both sensitive and relatively unimportant documents for sale on Farsi-language websites for at little as £2 (Dh 9.60).
The documents, which include details on cybersecurity and nuclear power plants, were stolen via an email phishing scam. The scam sends university email address holders fake emails which take their login details, which are then used to access and download files from academic databases, either randomly or to order on Whatsapp, Telegram or through a website.
Once stolen, the documents are then emailed to the buyer.
Universities in the UK were warned by the country's National Cyber Security Centre of the potential for Iranian hacks in March this year, but it seems many haven't taken this advice.
"Universities should be worrying about it," Dave Palmer, a former MI5 and GCHQ officer told The Telegraph.
"If you're doing stuff like working on the next helmet-mounted display for the fighter aircraft of the future, that is clearly of interest to adversarial states."
A spokesman for Cambridge University said: "We are aware of the issue. We are constantly updating our cybersecurity."
Edinburgh University, which has also has documents stolen, said it is currently replacing and improving its computer network.
The hacks come as new sanctions against Iran are due to come into force in November.
https://www.thenational.ae/world/europe/iranian-hackers-behind-stolen-research-from-british-universities-1.770313
--------
White terror suspects overtake Asians in UK
Sep 14, 2018
LONDON: The number of white terror suspects arrested by British counter-terrorism officers has overtaken Asians for the first time in over a decade, according to new figures released by the UK Home Office.
Indicating a growing threat from far-right extremism in the country, figures released on Thursday show a total of 351 arrests were made over the past year until June 2018 where terrorism-related activity was suspected, with 133 of them white and 129 recorded as Asian ethnic appearance.
This was the first time, since the year ending June 2005, that the proportion of white people arrested has exceeded the proportion of Asian people arrested, a Home Office statement noted.
White people arrested on suspicion of terrorism accounted for 38 per cent of terrorist-related arrests in the latest period – an increase of 4 percentage points on the previous year.
There were falls in the proportion of arrests of those of Asian ethnic appearance, down seven percentage points to 37 per cent, and those of black ethnic appearance, down two percentage points to 9 per cent, the Home Office said.
As part of wider data collated within the Home Office document titled 'Operation of police powers under the Terrorism Act 2000 and subsequent legislation', it emerged that the UK police had arrested 60 people who gave their "self-defined nationality" as Indians on suspicion of terrorist-related activity since September 2001, when such data collation began.
India ranks ninth among the UK's top nationalities for the number of such arrests over the last 17 years, with Great Britain (2,542), Alegria (186), Pakistan (165), Iraq (158), Afghanistan (89), Iran (84), Somalia (77), Turkey (76) and Ireland (44) completing the top 10.
"Since 11 September 2001 (when the data collection began), 60 per cent of those arrested considered themselves to be of British or British dual nationality," notes the Home Office.
The figures also reveal a total of 100 people went to trial in the year ending June 30 this year – an increase of 39 per cent on the previous year. Of those, 90 were convicted, the highest number since data collection began in 2009.
Out of the 92 individuals charged with a terrorism-related offence, 48 were prosecuted, and 46 of those were convicted and two were found not guilty.
"We may have seen a reduction in the number of arrests in the last 12 months, but we should put that in context by saying that we prevented 13 Islamist-related and four extreme right-wing plots since March 2017, so it certainly doesn't indicate a reduction in the threat we all face from terrorism," said Deputy Assistant Commissioner Dean Haydon, Scotland Yard's counter-terror police senior national coordinator.
The latest figures cover the use of anti-terrorism powers in Britain and reveal that 234 arrests were registered in the "international" category. This includes suspected activity linked to or motivated by terrorist groups abroad such as Islamic State (ISIS).
"There have been steady increases in recent years in the number of terrorist prisoners across all the types of ideologies covered, although the number of Islamist extremist prisoners saw a slight decrease, for the first time, of 4 per cent, to 178 in custody," the Home Office said.
Of those in custody, 82 per cent were categorised as holding Islamist extremist views, a further 13 per cent as holding far-right ideologies and 6 per cent other ideologies.
Full report at:
https://timesofindia.indiatimes.com/world/uk/white-terror-suspects-overtake-asians-in-uk/articleshow/65810133.cms
--------
Russia for humanitarian corridors in Idlib, Lavrov says
14.09.2018
By Ayhan Simsek
BERLIN
Russia is trying to facilitate creation of humanitarian corridors in Syria's Idlib to prevent civilian casualties, Russian Foreign Minister Sergey Lavrov said on Friday.
Speaking at a joint news conference with his German counterpart Heiko Maas following their meeting in Berlin, Lavrov said talks were underway between Russian and Turkish officials on the situation in Idlib.
"We are facilitating local negotiations, local agreements between moderate opposition groups and the Syrian government, same as it was in other de-escalation zones," Lavrov said.
"And we are also assisting in creating humanitarian corridors and safe havens for civilians," he added.
German Foreign Minister Maas warned that a large-scale military offensive by the Syrian regime would lead to a humanitarian disaster in Idlib, which is home to more than 3 million civilians.
He called on Russia to use its influence on the regime to avert a massive military attack, and prevent the use of chemical weapons by the regime.
"Russia has certain influence over the Syrian regime and we hope that this influence will be used," he stressed.
Earlier on Friday, Lavrov promised that they would take measures to prevent civilian casualties in Idlib, which is the last opposition stronghold in Syria.
"Whatever we do, we will try to keep in mind the issues and the interests of civilians in that area… a humanitarian corridor will be created in Idlib, just as we did in Homs and East Ghouta," he said, during a meeting of the German-Russian Forum.
"We will not act in the way the U.S.-led coalition acted in Mosul or in Raqqa when there were no negotiations about local cease-fires with opposition groups," he said.
Lavrov said the details would be discussed next week at a meeting between Russian and Turkish presidents.
Turkish President Recep Tayyip Erdogan and his Russian counterpart Vladimir Putin are expected to meet in the Russian city of Sochi on Monday.
Located near the Turkish border, Idlib is home to nearly two million internally displaced people, who fled from other cities following attacks by the regime forces.
Thousands of fighters from Aleppo and Eastern Ghouta were relocated to Idlib in the past years, as part of agreements between the conflict parties.
Full report at:
https://www.aa.com.tr/en/europe/russia-for-humanitarian-corridors-in-idlib-lavrov-says/1254932
--------
Germany wants Russia to avert Idlib offensive
14.09.2018
By Ayhan Simsek
BERLIN
Germany said on Friday it expects Russia to use its influence on the Syrian regime to prevent a large-scale military offensive in the last opposition stronghold of Idlib.
Ahead of a meeting with Russian Foreign Minister Sergey Lavrov in Berlin, German Foreign Minister Heiko Maas told German press agency DPA that recent developments in Syria will be one of the main topics of discussion at their meeting.
"We would convey to the Russian side our expectations that there should be no large-scale military offensive on Idlib, that there should be a political process in Syria and guarantees should be given to those people who fled from Syria but would like to return to the country," he said.
Maas underlined that Russia has a key role to play in averting the regime's military offensive on Idlib, which is home to more than 3 million civilians.
"It's about avoiding the worst case scenario, namely another a humanitarian catastrophe," he said.
Germany's top diplomat reaffirmed his country's strong support to UN-led efforts for a political solution, but underlined that Berlin's support to a reconstruction program in Syria would be conditional.
"If there would be a political solution in Syria, which would lead to free elections, then we would be ready to take responsibility for the reconstruction. It is in our interest to have Syria as a stable country," he added.
Maas was skeptical of Russia's recent proposals for the return of refugees to their home in Syria.
"This will not work, when people do not want to use such an opportunity, as they face persecution, imprisonment and expropriation risks," he said.
Maas also questioned a possible role for Syrian regime leader Bashar al-Assad in the future.
Full report at:
https://www.aa.com.tr/en/europe/germany-wants-russia-to-avert-idlib-offensive/1254776
--------
Russia's Putin concerned by terrorist moves in Syria's Idlib: Kremlin
Sep 14, 2018
Russian President Vladimir Putin has expressed his concern over terrorist activities in the northwestern Syrian province of Idlib, the RIA news agency cites the Kremlin as saying.
President Putin discussed the latest developments in Syria's last stronghold of militants with members of Russia's Security Council on Friday, Kremlin spokesman Dmitry Peskov was quoted as saying.
Syrian army troops are preparing to launch a full-scale military operation against different factions of militants that have practically held hostage the inhabitants of Idlib for a long time.
Syria and Russia have warned that the US, along with Britain and France, is gearing up for a new military attack against Syria as the army prepares for the liberation of Idlib.
On Wednesday, Syria's official news agency SANA quoted Russia's Defense Ministry as saying that the foreign-backed Takfiri militants have abducted 22 children with their relatives from Syria's Aleppo as well as a group of orphans to use them in a staged chemical weapons attack in Idlib to be blamed on the Syrian government.
Syrian Foreign Minister Walid al-Muallem said on Tuesday that the United States is using internationally-banned chemical weapons to invent a pretext for a military campaign against his conflict-plagued Arab country.
Speaking in an exclusive interview with English-language al-Hayat magazine, Muallem said it is not the first time that chemical attack claims have been used to justify an attack on Syria.
Both Damascus and Moscow, a close ally of the Arab country, have already submitted proofs and evidence to the United Nations and the Organization for the Prohibition of Chemical Weapons (OPCW) showing that terrorists in Idlib are preparing to set up another false flag chemical attack to frame Damascus and pave the way for the US-led coalition to attack Syrian government troops.
In an address to a key trilateral summit, hosted by Iranian President Hassan Rouhani and also attended by Turkish leader Recep Tayyip Erdogan, in Tehran on September 7, Putin said militants are preparing provocations, including the use of chemical weapons, in Idlib.
"The remaining groups of extremists are currently concentrated in the de-escalation zone in the province of Idlib. Terrorists are making attempts to disrupt the ceasefire, moreover, they are carrying out and preparing various kinds of provocations, including the use of chemical weapons," the Russian president said.
Russian Foreign Minister Sergei Lavrov also said in Berlin on Friday that Moscow would keep bombing targets of terrorists in Idlib Province if need be.
According to the Interfax news agency, Lavrov, however, emphasized that Russia would also create humanitarian corridors to allow civilians to flee.
The top Russian diplomat emphasized that his country's air force would strike terrorist weapons-making facilities as and when it found out about them.
Moscow would also encourage local reconciliation deals, he pointed out.
The Russian foreign minister also added that the Syrian government was not preparing a major offensive against the militant-held city.
"What is being presented at the moment as the beginning of a Russian-backed offensive by Syrian forces is not a faithful representation of the facts," Lavrov said, adding, "Syrian forces and we ourselves are simply reacting to the attacks coming from the zone of Idlib."
Addressing a press conference in Moscow on Thursday, Russian Foreign Ministry spokeswoman Maria Zakharova said her country is concerned about the attempts being made by the United States to prepare the global public opinion for new military aggression against Syria.
"Regarding the international political point of view, the most serious concern is using of a very serious range of opportunities by Washington: from statements by officials to comments by biased media, the goal seems to be the preparation of public opinion for … new aggression against Syria," she said.
Full report at:
https://www.presstv.com/Detail/2018/09/14/574116/Putin-Lavrov-Idlib-Dmitry-Peskov-Kremlin
--------
North America
Not enough evidence to expel cadet after Quran desecration, Canadian military says
SEPTEMBER 14, 2018
An officer cadet facing expulsion from the Canadian Forces for desecrating a Quran is being allowed to continue his studies at the Royal Military College in Saint-Jean, Que., but another student is still fighting to remain in uniform.
The two officer cadets are among three first-year students who were ordered expelled after defiling the Muslim holy book with bacon and what sources have said was semen during a cottage party last spring.
One left the college and military, but the other two appealed the decision.
Chief of military personnel Lieutenant-General Charles Lamarre says after officials took a second look, they determined there wasn't enough evidence to uphold the decision to expel one of them.
He and five others who were at the cottage when the Quran was desecrated can stay at the military college but have been issued written warnings, ordered to take counselling and put on probation.
"They're undergoing some pretty close scrutiny to ensure that the desired change to their behaviour has occurred and continues to occur," Lt.-Gen. Lamarre said.
The student still appealing his release isn't currently at the college, but Lt.-Gen. Lamarre says military officials are reviewing the case and will make a decision on whether or not to expel him soon.
"Does it mean that perhaps he could be reinstated in the Canadian Armed Forces?" Lt.-Gen. Lamarre said in an interview. "Potentially. But we are pretty sure about the investigations we've done on this."
The Quran desecration occurred when eight students from the Saint-Jean college headed out of town to a cottage during the Easter weekend. At one point, four went to sleep while the others stayed up and recorded the incident.
Military commanders became aware of what happened after videos of the incident were shown to other students who subsequently told college staff, at which point an investigation was ordered.
Sources tell The Canadian Press the investigation was hampered because the offending video was destroyed.
Lt.-Gen. Lamarre has previously said it was fortunate the footage was never posted to social media.
Desecrating a Quran is considered blasphemous by Muslims and has sparked violent protests in recent years, and the incident coincided with efforts by senior commanders to make the Forces more diverse and inclusive.
The Canadian military is currently conducting operations in several Muslim-majority countries, notably Mali and Iraq.
Thousands of angry Afghans tried to storm the U.S. military base at Bagram in February, 2012, when American forces burned hundreds of old Qurans that had been used by Taliban prisoners.
At least 41 people were killed, including several U.S. soldiers who were shot by Afghan National Army counterparts.
https://www.theglobeandmail.com/canada/article-not-enough-evidence-to-expel-cadet-after-Quran-desecration-canadian/
--------
US: Pompeo rips Kerry for seeking to salvage Iran deal
15.09.2018
By Michael Hernandez
WASHINGTON
Secretary of State Mike Pompeo admonished his predecessor Friday for holding meetings with senior Iranian officials about the Iran nuclear accord, saying John Kerry is "actively undermining U.S. policy."
"What Secretary Kerry has done is unseemly and unprecedented," Pompeo told reporters at the State Department. "He was telling them to wait out this administration. You can't find precedent for this in U.S. history and Secretary Kerry ought not to engage in that kind of behavior."
Kerry said earlier this week he met Iranian Foreign Minister Javad Zarif "three or four times" since he left office in early 2017, describing the meetings as normal activities for former top diplomats. He said the meetings focused on the Iran deal and other matters.
"What I have done is tried to elicit from him what Iran might be willing to do in order to change the dynamic in the Middle East for the better," he said during a radio news interview with Hugh Hewitt.
The former top diplomat did not deny in remarks to Fox News he counseled Iranian officials to "wait out" the Donald Trump administration.
Kerry's comments drew a stern rebuke from the U.S. president late Thursday when Donald Trump issued a tweet calling Kerry's meetings "illegal."
"John Kerry had illegal meetings with the very hostile Iranian Regime, which can only serve to undercut our great work to the detriment of the American people," Trump said.
Pompeo declined to say whether Kerry's meetings are legal, saying he would leave such determinations to others.
Trump unilaterally pulled the U.S. out of the 2015 Joint Comprehensive Plan of Action in May after the Obama administration spearheaded efforts to broker the accord, which saw Iran accept unprecedented curbs on its nuclear programs in exchange for billions of dollars in sanctions relief.
Full report at:
https://www.aa.com.tr/en/americas/us-pompeo-rips-kerry-for-seeking-to-salvage-iran-deal/1255236
--------
Muslim-Jewish conference organizer has South Florida ties
September 15, 2018
A group of 70 young professionals from 17 countries split evenly between Muslims and Jews recently came together in Essaouira, Morocco for an inaugural conference on Muslim-Jewish relations.
The conference was organized by the Muslim Jewish Interfaith Coalition, the Foundation for Ethnic Understanding and the Mimouna Association under the patronage of André Azoulay, senior advisor to Morocco's King Mohammed VI.
Rachel Delia Benaim, founder and director for the Muslim Jewish Interfaith Coalition, which has active staff members in New York, Miami, Washington, D.C., London, Brussels, Amsterdam, Milan, Tangier, Rabat, Tunis, Cape Town and Jerusalem, has South Florida ties. Benaim, 25, grew up in Boca Raton, where her parents currently live. She is Jewish and is an award-winning journalist and interfaith activist. Her family heritage lays in Gibraltar and Morocco.
For Benaim, one of her personal highlights from the forum in Morocco was an interfaith Friday night Shabbat prayer service in the synagogue where her great grandfather, her grandmother and their family prayed.
"To be there in an interfaith setting while re-sanctifying that space and that time was incredibly moving for me personally."
Benaim felt the conference was a greater success than she could've imagined. Participants joined in discussions and seminars that were aimed to provide them with a more nuanced understanding of the theological, cultural and deeply personal underpinnings of Judaism and Islam. The goal was to have them go back to their communities with a deeper understanding of the complexity of the issues that often separate Muslims and Jews, as well as with a deeper appreciation for the values and experiences that bring us together.
"I'm grateful that people showed up, that they engaged, that they shared with each other and that they walked away with a deeper understand of one another, with personal relations and with goals for larger coalition building in their community," Benaim said.
The conference centered around in-depth text-based sessions in its Beit Madrassa, which is a play on the Jewish beit midrash, and the Muslim religious school, a madrassa. Discussions centered around the complexity of Muslim-Jewish relations, spirituality and the Israeli-Palestinian conflict as it provided the opportunity for members of both faiths to meet one another and create meaningful relationships.
"So often in Muslim-Jewish interfaith work, faith is left out of the conversation," Benaim said. "Our forum bridges sacred text, belief and culture through a simultaneously text based and culturally immersive environment."
Rabbi Marc Schneier, FFEU's president, thought the conference was groundbreaking.
Full report at:
http://www.sun-sentinel.com/florida-jewish-journal/news/palm/fl-jj-boca-raton-conference-jewish-muslim-relations-20180919-story.html
--------
$1.5M settlement for US Muslim workers fired in prayer dispute
September 14, 2018
A US meatpacking company has agreed to pay $1.5 million (Dh5.5 m) to 138 Somali-American Muslim workers who were fired from their jobs at a Colorado plant after they were refused prayer breaks.
Cargill Meat Solutions also agreed to train managers and hourly workers in accommodating Muslim employees' prayer breaks at its Fort Morgan beef processing plant, the U.S. Equal Employment Opportunity Commission said Friday.
Kansas-based Cargill denies wrongdoing but agreed to settle to avoid further litigation, the federal agency said. The dispute dates back to the firings of the workers in late 2016 after management rescinded policies allowing Muslim employees to take short breaks for prayer.
In 2017, the agency found that the workers had been harassed and discriminated against for protesting the unannounced policy change that denied them opportunities for obligatory prayer. Hundreds of Somali-Americans work at the plant in Fort Morgan, northeast of Denver.
In a related announcement, a Teamsters union local that was supposed to represent the workers will pay them $153,000 to settle discrimination complaints.
The federal agency said it determined that Teamsters Local Union No. 455, based in Denver and in Fort Morgan, failed to advocate for the Muslim workers in their dispute with Cargill and even harassed them because of their race, religion and national origin. The workers were dues-paying union members.
Union officials denied wrongdoing. But the local unit agreed to pay the workers, undergo training in handling grievances, and publicise employee rights to be free of discrimination based on race or national origin.
"In its capacity as a bargaining representative for its members, labour unions have an obligation to represent their members regardless of race, colour, religion, sex, national origin, age or disability," Elizabeth Cadle, the federal agency's regional district director, said in a statement.
Like other U.S. firms that employ Muslim line workers at meatpacking and processing plants, Cargill managers must balance religious accommodations with demands of processing meat in an operation that frequently runs 24 hours. Managing possible disruptions not only slow production but can create safety issues for line workers.
"Providing our employees with religious accommodation is an important part of engaging and supporting our employees, and our policy has remained consistent for more than 10 years," Cargill Meat Solutions president Brian Sikes said in a statement.
The Council on American-Islamic Relations, a Muslim advocacy group, and Qusair Mohamedbhai, a Denver attorney who represented the workers praised the settlement.
Full report at:
https://www.thenational.ae/world/1-5m-settlement-for-us-muslim-workers-fired-in-prayer-dispute-1.770306
--------
US imposes sanctions on Thai company it accuses of aiding Iran
14 September 2018
The United States on Friday imposed sanctions against a Thai aviation company that it said was acting on behalf of Iran's Mahan Air, which it accused of ferrying troops and supplies into Syria in support of Syrian President Bashar al-Assad.
The fresh actions target My Aviation Company Ltd in Bangkok and modifies sanctions against Malaysia-based Mahan Travel and Tourism, a US Treasury statement said. Mahan Air is already under US sanctions.
"Mahan Air continues to fly into Syria every week, even as millions of innocent civilians in Idlib province are under threat of imminent attack from the murderous Assad regime and its backers in Iran and Russia," Treasury Secretary Steven Mnuchin said in a statement.
Full report at:
https://english.alarabiya.net/en/News/world/2018/09/14/US-Iran-related-sanctions-target-two-Thai-Malaysian-companies.html
--------
US studying possible Iran sanctions waivers: Pompeo
Sep 15, 2018
US Secretary of State Mike Pompeo says Washington is studying issuing possible waivers for countries and businesses that want to continue buying oil from Iran beyond November 4, the White House's designated deadline for them to halt oil imports from the Islamic Republic or face punishments.
"There are still a number of decisions pending before the November 4th deadline that we gotta make about waivers, potential waivers," Pompeo told a news conference on Friday.
US President Donald trump announced on May 8 that he was walking away from the Joint Comprehensive Plan of Action (JCOPA), a historic nuclear agreement reached between Iran and six world powers in 2015 under which Iran agreed to limit parts of its nuclear program in exchange for the removal of all nuclear-related sanctions.
The US leader said he was unsatisfied with the deal because it failed to stop Iran's ballistic missile program and control its influence in the Middle East region.
To force a new deal upon Tehran, Trump said that he planned to reinstate all of the previous sanctions on the Islamic Republic while also imposing "the highest level" of economic bans on the Islamic Republic.
Washington reinstated a series of unilateral sanctions against Iran on August 6, targeting Iran's purchases of dollars, its trade in gold and precious metals. November 4 is the declared date for a second wave of sanctions that will target the Islamic Republic's oil exports as well as its central bank.
Pompeo said the US was not going to change its position against Tehran in any case once the deadline arrives.
"Come November 4th, there will be a fundamentally different set of rules" for "anyone who deems it necessary to engage in economic activity with the Islamic Republic of Iran. It is a big important day," Pompeo said.
The US top diplomat claimed that many countries had already started to wrap up all of their trade ties to Iran.
While the rest of the JCPOA signatories—the UK, France, China, Russia and Germany, have insisted on continuing the deal in Washington's absence, they have not been able to guarantee future trade ties with Iran and obtain the necessary waivers that keep them safe from US penalties.
Full report at:
https://www.presstv.com/Detail/2018/09/15/574153/US-Iran-oil-sanctions-Pompeo-Trump-JCPOA
--------
US 'looking at situation' on China's Muslim crackdown
September 15, 2018
The United States is looking more closely at a crackdown by China on minority Muslims in the Xinjiang region, a senior US economic official said on Friday, as Washington considers imposing sanctions against Chinese senior officials and companies linked to allegations of human rights abuses.
"We are looking at the situation, and Global Magnitsky is a tool that we use to curb human rights abuses around the world," US Assistant Secretary of State Manisha Singh told a congressional hearing. Singh was responding to a question about possible sanctions against China for its treatment of ethnic Uighurs and other Muslims.
The Global Magnitsky Act allows the executive branch to impose visa bans and targeted sanctions on individuals anywhere in the world responsible for committing human rights violations or acts of significant corruption.
A UN rights panel said last month it had received credible reports that up to a million ethnic Uighurs may be held in extra-legal detention in Xinjiang, and called for them to be freed. The State Department this week acknowledged receipt of a letter from a bipartisan group of US lawmakers asking Secretary of State Mike Pompeo to impose sanctions on a number of China officials accused of overseeing policies in Xinjiang.
The officials include Chen Quanguo, Communist Party chief in Xinjiang and also a member of the party's politburo. Any sanctions decision would be a rare move on human rights grounds by the Trump administration against China, with which it is engaged in a trade war while also seeking Beijing's help to resolve a standoff over North Korea's nuclear weapons.
Acting against so senior official as Chen would be unprecedented and would greatly anger Beijing. On Tuesday, the State Department expressed deep concern over China's "worsening crackdown" on Muslims in Xinjiang, while US
Full report at:
https://www.thenews.com.pk/print/368674-us-looking-at-situation-on-china-s-muslim-crackdown
--------
South Asia
Malaysia aims to play bigger role within ASEAN to end Rohingya suffering
September 16, 2018
KUALA LUMPUR: The Pakatan Harapan (PH) ruling coalition in Malaysia continues to criticize Myanmar leader Aung San Suu Kyi's treatment of the Rohingya.
And the coalition senior leader Fahmi Fadzil told Arab News on Friday that Malaysia should play a bigger role within ASEAN to stop Myanmar atrocities.
Fahmi Fadzil, a member of Parliament from the People's Justice Party (PKR), told Arab News that he agreed with the PKR president. "The Malaysian government can and has to play a bigger role within the framework of ASEAN vis-a-vis Myanmar and the Rohingya humanitarian crisis," he said.
He added that ratifying the UN refugee convention would be "a progressive step toward fulfilling our commitment to universal human rights."
This week Anwar Ibrahim, who is in line to become Malaysia's next premier in the next two years, blasted Aung San Suu Kyi for her silence over the regime's mistreatment of Rohingya.
"Aung San Suu Kyi is a real, real disappointment," Anwar said during an interview at Bloomberg Television in Hong Kong.
Maria Chin, a PH member of Parliament, supported Anwar in criticizing Suu Kyi. "The new government is committed to taking care of the Rohingyas," she said, adding that the PH government would eventually ratify the UN refugee convention, but it would take time.
"It is not just the signing but adherence and change of mindset toward refugees and protecting their rights," she said.
The Rohingya are one of the most persecuted minorities in the world; many live in deplorable conditions and face human rights violations and abuse on a daily basis. A UN report released last month accused top military officers in Myanmar of war crimes amounting to genocide against the Rohingya.
"This problem is partly because of ASEAN. It has protected this regime even when it is under military rule from international pressure over human rights violations. That is why they can get away with it," said Debbie Stothard, the secretary-general of the International Federation for Human Rights.
The Myanmar government has intensified its grip over the Rohingya issue. This month, two Reuters journalists were jailed for reporting on the Rohingya crisis in Rakhine state. Last week, the Thai authorities stopped a conference organized by the Thailand Foreign Correspondent Club from discussing the Rohingya situation.
Eric Paulsen, legal director of Fortify Rights, told Arab News that he was optimistic about the new government. "Their policy on refugees, although still problematic, has developed over time and it is hopeful that in the new Malaysia, the government will take the leap to take the rights of refugees more seriously by ratifying the 1951 Refugee Convention," he said.
Lilianne Fan, of the Geutanyoe Foundation, told Arab News that Malaysia had the strongest stance in ASEAN on the Rohingya situation in response to the UN report. The Malaysia foreign minister urged the Myanmar foreign minister last month to hold those responsible accountable for war crimes against humanity under the UN Genocide Convention.
The view was not shared by Dina Zaman, cofounder of the Malaysia-based think tank Imam Research. "(ASEAN's) non-interference policy is still standing with the PH government. Malaysia doesn't want to play a stronger role because other countries such as Singapore and Australia do not want to accept any refugees," she said.
However, Malaysia's strong stance against the Myanmar's mistreatment of Rohingya does not tally with the way the new PH government handles the influx of refugees domestically.
There are more than 150,000 refugees in Malaysia, of which 100,000 are Rohingya refugees. Malaysia has never ratified the UN refugee convention, though the PH government has made it part of its election manifesto.
S. Arutchelvan, a politician from the Socialist Party of Malaysia, said that the new government was inconsistent on its refugee policy, adding that there were 60 refugees detained in Belantik camp with no access to UNHCR. "Malaysia is under pressure from civil society to ratify the convention, yet the government is still not very 'human rights'," he told Arab News.
Melissa Wong, a senior policy and research analyst at the Center For Public Policy Studies, told Arab News that the current refugee policy in Malaysia was short-sighted and did not cover the basic rights and protections for refugees. Malaysia is expected to be a "transit" for refugees to other countries.
"It remains to be seen whether refugee protection will be something the PH government will work toward during their term or whether it will remain just another weightless election promise," she said.
http://www.arabnews.com/node/1372261/world
--------
Police arrests Jamaat leader for alleged sabotage planning in Bogra
September 14th, 2018
At the time, five handmade bombs, some Jihadi books and five motorcycles were seized
A team of Detective Branch (BD) police along with Nandigram police have arrested a Jamaat-e-Islami leader from his house in Bogra, on the charge of allegedly planning sabotage.
Nandigram upazila Jamaat Amir Anwarul Islam was arrested along with 15 party activists on Friday.
At the time, five handmade bombs, some Jihadi books and five motorcycles were seized.
Nandigram police station OC Nasir uddin has confirmed the news. "Anwarul was having a secret meeting in his house, to plan sabotage, after getting a tip, the raid was conducted at his house" OC Nasir said.
The OC said it was a joint operation by Nandigram police and DB.
No case has been filed yet against the arrested Jamaat activists. The names of the activists have not been disclosed yet.
Full report at:
https://www.dhakatribune.com/bangladesh/crime/2018/09/14/police-arrests-jamaat-leader-for-alleged-sabotage-planning-in-bogra
--------
5 dead as army helicopter crashes in West of Afghanistan
Sep 15 2018
At least five people lost their lives after a helicopter belonging to the Afghan armed forces crashed in western Farah province of Afghanistan.
According to the local officials, the incident took place late on Friday evening while the helicopter was transporting security personnel.
Provincial governor's spokesman Nasir Mehri confirmed the incident and said the helicopter has crashed due technical issues.
Mehri further added that five people including security personnel and the pilot of the helicopter lost their lives in the incident.
The Ministry of Defense also confirmed the incident but added that an investigation is underway regarding the cause of the crash.
This comes as reports emerged earlier suggesting that the helicopter was attacked by the Taliban militants.
Full report at:
https://www.khaama.com/5-dead-as-army-helicopter-crashes-in-west-of-afghanistan-05957/
--------
Mideast
Israeli troops kill three Palestinians, including boy, in Gaza
14 September 2018
Three Palestinians, one of them a 12-year-old boy, were killed by Israeli fire Friday as thousands of protesters gathered along Gaza's perimeter fence with Israel, health officials said.
The Gaza Health Ministry said at least 80 Palestinians were wounded by live fire and that six of them were in serious condition.
The Israeli military said about 13,000 protesters massed at several points along the fence, some burning tires and hurling rocks, grenades and firebombs. An Israeli officer suffered light wounds from pipe bomb shrapnel.
At night fall, two tank shells hit a watchtower that had been set up by Hamas, the Islamic militant group in control of Gaza. The tower was about half a mile from one of the protest camps near the fence, and protesters left in a hurry as they heard the thud of the shells.
The Israeli military said in statement that aircraft and a tank struck two Hamas positions in response to the explosives thrown at troops on the border.
Gazans have staged near weekly demonstrations near the fence since late March, in part to protest a border blockade enforced by Israel and Egypt since 2007 when Hamas seized the territory. Hamas has led and organized the protests, but turnout has also been driven by growing despair over blockade-linked hardship, including lengthy power cuts and soaring unemployment.
Israeli soldiers have killed at least 131 Palestinians during the weekly protests since March, including 27 minors, according to the Gaza Health Ministry. A Palestinian sniper also fatally shot an Israeli soldier.
Israel contends it's defending its border and accuses Hamas of using the protests as a screen for attempts to breach the border fence to attack civilians and soldiers. Human rights groups have accused Israeli troops of excessive and unlawful use of force against unarmed protester.
Hamas and Israel came close to serious conflict earlier this summer as violence soared along the border.
The two sides have negotiated indirectly through Egyptian mediators to ease tensions in exchange for lifting some of the restrictions on the economically crippled Gaza Strip. But those efforts have stalled in recent weeks.
https://english.alarabiya.net/en/News/middle-east/2018/09/14/Second-Palestinian-killed-by-Israeli-fire-on-Gaza-border-ministry-.html
--------
Situation in Yemen's Hodeida 'alarming', aid at risk: UN
September 14, 2018
The UN warned Friday that shelling and air strikes in Yemen's Hodeida province have targeted humanitarian workers and infrastructure, threatening its ability to feed 3.5 million "very hungry people."
The World Food Programme (WFP) said it was "extremely concerned about the series of security incidents in Hodeida city these past few days in and around deconflicted sites critical for the humanitarian response in Yemen", describing the situation as "alarming".
The UN agency warned that "the conflict (is) threatening the continuity of humanitarian assistance to the city and surrounding areas where needs are among the highest in the country."
Fighting has raged in recent days close to the rebel-held port city, a crucial entry point for aid that the Saudi-led coalition alleges also serves as a key conduit for arms to the Iran-backed Huthis.
Alongside the threat of combat, civilians also face severe shortages of food, water and medicine in Hodeida province, according to the UN.
In August, WFP said it had provided emergency food assistance to some 700,000 of the around 900,000 people in the province considered to be at severe risk.
Agency spokesman Herve Verhoosel decried that a number of security incidences had been reported since Wednesday, including at the Red Sea Mill Silos, which mill a quarter of the agency's monthly wheat requirements in Yemen.
"The ongoing clashes could jeopardise the shipments of 46,000 tonnes of wheat expected to arrive to Hodeida within the next ten days," Verhoosel told reporters in Geneva.
Clashes near the mill "could impact our ability to feed up to 3.5 million very hungry people in northern and central Yemen for one month," he warned.
He said that a mortar shell launched by an unidentified armed group had also hit a WFP warehouse in Hodeida city "holding enough food to assist 19,200 very hungry people."
That attack injured a guard at the warehouse, he added.
Fighting has also been reported "in extremely close proximity" to WFP's offices and housing, Verhoosel said.
This, he said, "could potentially compromise the safety and security of 33 WFP staff in Hodeida city currently working round the clock to assist Yemenis suffering from acute hunger and malnutrition."
He said the agency was doing everything possible "to ensure the safety and security of our staff".
Full report at:
https://nation.com.pk/14-Sep-2018/situation-in-yemens-hodeida-alarming-aid-at-risk-un
--------
Yemen's information minister: Houthis broke into UN warehouses in Hodeidah
14 September 2018
Houthi militias have broken into UNICEF and World Food Programme (WFP) warehouses in the area of al-Hamadi in Hodeidah, which are normally used to store flour, and have filled them up with militiamen and armed vehicles, Yemen's information minister Muammar al-Iryani said.
Iryani stated that the Houthis' break-in was a result of the withdrawal of field commanders and fighters after intense battles in Hodeidah.
He further expressed his surprise over international silence following the incident that breaks international laws which state that international relief facilities should not be used for anything related to conflict.
This comes after the UN's envoy to Yemen Martin Griffiths said that he met with Houthi representatives in Muscat and discussed ways in which they can take part in future negotiations.
The Houthi Saba News Agency said that the leader of their delegation met with Griffiths in Muscat and looked into the reasons of the Houthis' absence from the Geneva peace talks last week.
Full report at:
https://english.alarabiya.net/en/News/gulf/2018/09/14/Yemen-Houthis-entered-international-relief-facilities-among-international-silence.html
--------
Yemeni army, allies target Aramco oil refinery in Saudi Arabia's Jizan border region
Sep 14, 2018
Yemeni army forces, supported by allied fighters from Popular Committees, have fired a domestically-designed and -developed ballistic missile at a strategic economic target in Saudi Arabia's southwestern border region of Jizan in retaliation for the Riyadh regime's devastating military aggression against their impoverished country.
A Yemeni military source, speaking on condition of anonymity, told Arabic-language al-Masirah television network that the short-range Badr-1 missile struck an oil refinery of the Saudi Arabian national petroleum and natural gas company, Aramco, in the region, located 967 kilometers southwest of the capital Riyadh, with great precision, on Friday evening.
Earlier in the day, Yemeni troopers and their allies had attacked a command center of Emirati military forces in the country's western coastal province of Hudaydah, using a domestically-built long-endurance unmanned aerial vehicle.
There were no immediate reports about possible casualties and the extent of damage caused at the site.
Separately, a Saudi-led Boeing AH-64 Apache attack helicopter crashed in Yemen's eastern province of Mahra.
An official of Provincial Supreme Security Committee, who asked to remain anonymous, said, "The Saudi-led helicopter crashed while conducting a reconnaissance mission over Tanhala Mountains."
He confirmed that the Saudi pilot and his assistant died as a result of the crash.
Saudi media outlets later identified the pair as Captain Saud bin Nasser bin Jaris and First Lieutenant Ahmed bin Abdulaziz al-Dabian.
Moreover, eight civilians lost their lives when Saudi warplanes bombarded Kilo 16 area in the al-Hali district of Hudaydah province.
Later in the day, Saudi fighter jets struck Yemeni fishing boats in waters off the Seven Brothers Islands, also known as the Sawabi Islands or Seba Islands, in the Bab el-Mandeb Strait, killing two people and injuring another.
Yemeni sources say the fate of the fourth fisherman remains unknown after the airstrike.
Saudi Arabia and a number of its regional allies launched a devastating military campaign against Yemen in March 2015, with the aim of bringing the government of former president Abd Rabbuh Mansur Hadi back to power and crushing the country's Houthi Ansarullah movement.
Some 15,000 Yemenis have been killed and thousands more injured since the onset of the Saudi-led aggression.
Full report at:
https://www.presstv.com/Detail/2018/09/14/574139/Yemeni-army-allies-target-Aramco-oil-refinery-in-Saudi-Arabias-Jizan-border-region
--------
Secret doc reveals Israeli military unprepared for war
Sep 14, 2018
A "secret" dossier has revealed that the Israeli military is unprepared to engage in new warfare, contradicting previous assertions issued by Tel Aviv to the contrary.
The document prepared by Major General Yitzhak Brick, the ombudsman of the Israeli military, harshly criticized the military's readiness for war, the daily Ha'aretz reported on Friday.
He sent his assessment to Israel's minister for military affairs Avigdor Lieberman and Chief of Staff Gadi Eisenkot and others last week, calling for the formation of an external investigative panel into the forces' preparedness.
Ha'aretz wrote that his demand for an inquiry reflected a deep concern over the state of the ground forces and a growing lack of trust in the Israeli military's ability "to investigate itself and correct what needs to be rectified."
Some Israeli lawmakers expressed shock at the revelation and expressed support for General Brick's call for a probe into the preparedness of the Israeli military.
The dossier "is a harsh report that details the problems stemming from massive cuts of thousands of officers and noncommissioned officers in recent years, whose shortcomings are felt in dealing with routine [operations] — and will be felt even more so during times of emergency," Knesset member MK Moti Yogev said.
The dossier was preceded by two detailed letters to Lieberman as well as others in which General Brick focused mainly on the military's manpower policies, describing a serious crisis that he said could have implications relating to the capabilities of the entire Israeli forces — particularly the ground forces — to fight a war, Ha'aretz added.
In an annual report released in late June, General Brick had cautioned that the Israeli military suffered from an acute shortage of doctors and psychiatrists, as well as the negative effect of cost-cutting measures.
The report had also found fault with the status of the forces' training, training exercises, and the state of the weaponry used by the ground forces.
The assessment contradicts Eisenko who had asserted in a letter earlier sent to the security cabinet and a Knesset panel that Israeli forces were at a high level of readiness for war.
Full report at:
https://www.presstv.com/Detail/2018/09/14/574094/Israel-army-unprepared-war-secret-dossier
--------
UN's Yemen envoy pushes for new peace talks as fighting continues
September 14, 2018
SANAA: The UN's Yemen envoy Martin Griffiths has met the country's Houthi rebels in a push for new peace talks, as fighting continued Friday around the strategic port city of Hodeidah.
Griffiths traveled to the Omani capital Muscat to meet the rebels after they refused to attend negotiations in Geneva last week.
Mohammed Abdulsalam, head of the Houthi delegation, and fellow rebel official Abdelmalak Al-Ajri discussed the reasons for their absence from Geneva with the United Nations envoy, the rebel-run Saba news agency said.
The first negotiations between Yemen's warring sides in two years were scheduled to start last Thursday, but a Yemeni government delegation left after the Houthis decided not to attend.
The rebels had accused the UN of failing to guarantee the return of their delegation from Switzerland to the Yemeni capital Sanaa and to secure the evacuation of wounded rebels to Oman.
This Thursday's discussions also covered the "necessary measures" needed for fresh talks set for "as soon as possible," Saba reported.
Hamid Assem, a member of the Houthi delegation, told AFP on Friday there had been no breakthrough.
"There has not been progress regarding the discussions while we have not received the guarantees," he said by phone.
Griffiths is also scheduled to visit the Yemeni capital Sanaa, held by the Houthis, and the Arab Coalition fighting to restore the legitimate government in Yemen.
The last talks between the Houthis and the Yemeni government, led by President Abedrabbo Mansour Hadi, took place in Kuwait in 2016.
Those negotiations faltered over power-sharing and the rebel withdrawal from key cities including Sanaa.
They collapsed after 108 days and the rebel delegation was subsequently stranded in Oman for three months due to a coalition air blockade.
After the failure of the Geneva talks, deadly clashes resumed around the Houthi-held port city of Hodeidah, a vital entry point for aid.
Sixteen rebels died in a coalition air strike in the far south of the city on Thursday evening, according to military and medical sources in the province.
Three pro-government fighters were killed the same evening when a military vehicle was hit by a shell to the east of Hodeidah city.
Over 60 people have died in fighting around Hodeidah since Wednesday, when Yemeni government forces said they seized two major supply routes into the port city.
The Houthis launched a counter-offensive on Thursday to retake the roads, which link Hodeidah to Sanaa, military sources told AFP.
"Sporadic fighting took place on Friday in various areas around the city," said a government military source.
The UN said Friday the situation around Hodeidah was "alarming" and threatened aid deliveries.
Full report at:
http://www.arabnews.com/node/1372091/middle-east
--------
Africa
Boko Haram jihadis kill eight in NE Nigeria: militia
September 14, 2018
KANO, Nigeria: Boko Haram gunmen killed eight people when they attacked two villages in restive northeast Nigeria in an attempt to steal livestock on Friday, local militia said.
The jihadists moved into Modu Ajiri and Bulama Kayiri villages in Borno state to take cattle and sheep but the villagers put up a fight to save their livestock.
"Fighting erupted when the villagers tried to stop the attackers," local militia spokesman Bunu Bukar Mustapha told AFP. "Eight people were killed in the fight and four others were injured," he said from the state capital Maiduguri, 90 kilometers (55 miles) away. The militants opened fire on the villagers who were armed with machetes, bows and arrows, cudgels and swords, he said. "The villagers were no match for the Boko Haram terrorists who came with guns," said militia leader Babakura Kolo, who gave a similar toll.
After the attack, the jihadists herded all the stolen livestock into the bush, he said. He said residents of the two villages had fled for fear of renewed attack by the insurgents.
Mustapha said the bodies of the victims were recovered by soldiers and militia who took them to the nearby town of Nganzai, some 10 kilometers away. Boko Haram has intensified attacks especially against military targets in recent months. On Wednesday, scores of Islamists attacked a military base in Damasak in the far north of Borno state.
They were repelled with aerial support after an hours-long battle. Boko Haram's nine-year insurgency has spilled over into neighboring Chad, Niger and Cameroon, killing thousands of people and displacing over two million.
http://www.arabnews.com/node/1372281/world
--------
UN urges better atmosphere for Libya elections
September 15, 2018
NEW YORK: The UN Security Council has urged all Libyans to improve the atmosphere for national elections in a resolution that avoids mentioning the Dec. 10 target date for voting in the restive North African nation.
Instead, the council resolution adopted unanimously notes UN envoy Ghassan Salame's call "for parliamentary and presidential elections to be held in Libya as soon as possible, provided the necessary security, technical, legislative and political conditions are in place."
Libya descended into chaos following the 2011 uprising that toppled Muammar Qaddafi, who was later killed. The country is now split between rival governments in the east and west, each supported by an array of militias. Salame said last week it has recently lurched from one emergency to another.
On Tuesday, missiles were fired at Libya's capital of Tripoli, including the city's only functioning airport, less than a week after a UN-brokered a cease-fire between rival armed groups. The resolution extends the mandate of the UN political mission in Libya until Sept. 15, 2019. It is has the task of supporting Libya's political transition, including the organization of elections, as well as human rights monitoring and delivering aid if requested.
On May 29, rival Libyan leaders met in Paris and tentatively agreed on a roadmap leading to parliamentary and presidential elections on Dec. 10. French President Emmanuel Macron, who hosted the conference that included Prime Minister Fayez Sarraj, head of Libya's UN-backed government in Tripoli, and Gen. Khalifa Haftar, whose forces dominate eastern Libya, has said elections are crucial to stabilize the country.
While France supports the Dec. 10 date for elections, the US, Italy and other European countries see that as too ambitious and are skeptical voting can be held that soon.
Last week, US Deputy Ambassador Jonathan Cohen warned at a Security Council meeting that "imposing false deadlines will backfire" and lead to worse divisions inside Libya.
Britain's UN ambassador, Karen Pierce, expressed the UK's support for holding elections this year, but said that "it will be necessary to ensure sufficient political, security and technical preparations are made so that they have the effect of uniting Libya."
"And it will be important to ensure a robust legal framework is in place and that there is sufficient political consensus to avoid exacerbating existing divisions in Libya," Pierce said.
The resolution adopted Thursday strongly backs Salame and recognizes his "key role" in consulting Libyan parties "to set the constitutional basis for elections and to adopt the necessary electoral laws."
The Security Council again called "on all Libyans to improve the atmosphere for national elections by all means possible."
These include working toward unification of Libya's rival military and economic institutions, unifying and strengthening national security forces under the authority of the civilian government, and unifying the Libyan Central Bank, it said.
Full report at:
http://www.arabnews.com/node/1372276/middle-east
--------
Al-Shabaab terrorists kill two in ambush in Garissa
September 14th 2018
Two people were Friday executed after thugs believed to be Al Shabaab militants stopped and profiled passengers in a bus heading to Garissa. Witnesses and police said the seven terrorists flagged down the bus at Handaro, which is between Ijara and Sangailu towns.
After directing the driver to stop, the militants ordered the passengers to produce their IDs and picked out three non-locals. "The passengers were then asked to recite the Muslim Shahada and the seven verses of Suratul Fatiha," a teacher, who witnessed said. He said only one of the three recited the verses and was set free. He later alighted at Bura East, some 100 kilometres from Garissa town. The two, one of them being the bus' turn boy and the other a casual labourer based in Masalani, had their hands tied before being slaughtered. The militants escaped into a bush after committing the heinous act. Military officers responded to the distress call by the passengers some minutes afterwards.
Full report at:
https://www.standardmedia.co.ke/article/2001295628/al-shabaab-terrorists-kill-two-in-ambush-in-garissa
--------
URL: https://www.newageislam.com/islamic-world-news/ulema-be-conscious-allah-almighty/d/116390
New Age Islam, Islam Online, Islamic Website, African Muslim News, Arab World News, South Asia News, Indian Muslim News, World Muslim News, Women in Islam, Islamic Feminism, Arab Women, Women In Arab, Islamophobia in America, Muslim Women in West, Islam Women and Feminism