New Age Islam News Bureau
4 Jan 2015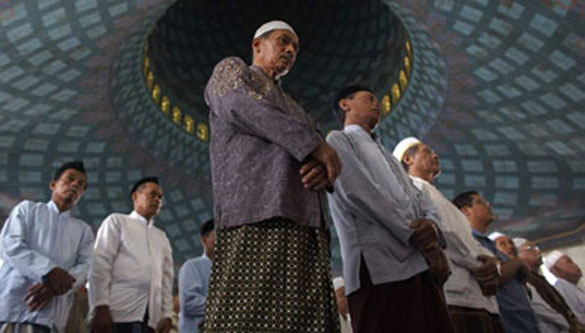 Ikim cited the Quranic verse 34 of chapter An-Nisa in her argument that Islam made it imperative for men to be breadwinners and said it was unacceptable for a husband to manage the home while earning nothing. ― Reuters pic
----------
Pakistan
• Ulema Decry 'Vilification Drive' Against Religious Seminaries
• Military Courts Won't Be Used Against Politicians, Madaris and Journalists
• Pakistan Strikes Kill 31 Militants, Drone Kills 7
• Lal Masjid's expansionism, militant links alarms agencies
• TMQ Worker Asked to Contact Police for Case against Tahir ul Qadri
• India does not understand the language of love and peace: Pak Defence Minister
• Action against TTP, its supporters launched
• ATC Issues Black Warrants For Four LJ Militants, Three Others
• Teachings of Prophet Muhammad (PBUH) remedy for all ills: Pak Punjab CM
• Multan to hang first death row inmate, January 7
Africa
• At Least 100 Dead in Burundi Attack By Rebel Group: Military Source
• New air strike on Libyan city Misrata, clashes near oil port
North America
• US Planes Supplying ISIL with Arms: Iraq MP
• Afghan, Iraq wars most expensive in US history
• US embassy issues threat warning for Indonesia's second city
• ISIS Releases New Propaganda Video to Prove 'Life in Mosul Is Business As Usual'
Arab World
• Peshmerga Locked In House-To-House Battles to Break ISIS Resistance
• Iraqi Airstrikes Kill 16 ISIL Terrorists in Southern Tikrit
• Muslim World League to Establish Islamic Centre in Maldives
• Politicians to blame for Iraq Sunni-Shiite strife: Maliki
• Sunni residents of Jalawla, Sadia seethe in sectarian rivalries
• New KSA Missions in Iraq to Boost Ties
• Mosul governor: 10,000 volunteers against ISIS
South Asia
• Maldives Adhaalath Party: Concerts Are Defying Islamic Teachings
• 34 insurgents killed in police operations
• NATO airstrike kills 18 Taliban insurgents in Paktika province
• Drone strike kills 7 Haqqani fighters in Khost
• Taliban leadership ask fighters to reduce civilian casualties
India
• Muslims Must Stop Demanding Reservation: Union Minister
• Terrorists may hijack Delhi-Kabul Air India flight, intelligence agencies warn
• Sushma Swaraj trashes Sartaj Aziz's 'white flag' claims
• Wireless intercepts indicate 'terror' boats were in touch with Pakistani army
Mideast
• More and More Israelis 'Renouncing' Their Citizenship
• Iran Reiterates: Rap Music Unwelcome In Islamic Republic
• Israel freezes Palestine tax funds over ICC bid
• Israel 'won't let its soldiers be dragged to the ICC', says PM Netanyahu
• Suspected al Qaeda militant kills senior Yemeni army officer
Southeast Asia
• Islam Forbids Men from Becoming Homemakers: Ikim
• Let public decide on Hamid's racially charged views, says ex-Bar Council chief
• Filipinos' name on terror list shocks compatriots
Europe
• Controversial Dutch Convert to Give Religious Lecture in the Maldives
• French Writer Sees France under Muslim Rule
• British journalist held hostage by ISIS narrates propaganda video
• EU to set up cell targeting militant propaganda
• British activists launch lawsuit over deadly raid on Gaza 'peace flotilla'
Compiled by New Age Islam News Bureau
URL: https://www.newageislam.com/islamic-world-news/new-age-islam-news-bureau/ulema-decry-'vilification-drive'-against-religious-seminaries/d/100843
------------
Pakistan
Ulema Decry 'Vilification Drive' Against Religious Seminaries
January 4th, 2015
LAHORE: The Tanzeemat-i-Madarisul Islamia (TMI), the central body of the religious educational institutions, has asked the government to stop a campaign against religious educational institutions under the cover of the Peshawar tragedy.
A meeting of the TMI clerics presided over by Jamaat-i-Islami chief Siraj ul Haq was held at Mansoora here on Saturday and declared that the seminary students were not only loyal to Pakistan but were also ready to lay down their lives for the country.
A declaration unanimously adopted at the meeting termed the Peshawar terrorist attack and bloodletting of innocent citizens a mischief of the last degree and noted that Islam did not permit the killing of innocent people, women, minors and the elderly even during the war.
The meeting fully supported the unanimous plan adopted by the political parties and the armed forces for wiping out terrorism and said this was the need of the hour for the internal security of the country and for the restoration of peace and stability.
The meeting said seminaries had nothing to do with terrorism or extremism in the country. Those charged with terrorism or sentenced by the courts on the charges of terrorism, only a few related to the seminaries.
It said: "The responsibility of any terrorist act of an individual having past link with a seminary cannot be placed on the seminaries in general."
It also demanded that the reference made to the seminaries in the National Action Plan and the official advertisement be dropped.
It demanded that the names of the seminaries should also be included in the list of the educational institutions receiving government grants.
Siraj ul Haq said a terrorist had no religion but the propaganda against seminaries was in fact the agenda of the West and the US to keep the humanity away from Islam. "We make it clear that any action against the mosques and the madrasas under the cover of terrorism will not be allowed," he said.
TMI President Mufti Munibur Rahman, Maulana Qari Muhammad Hanif Jaulandhri, Maulana Yaseen Zafar, Maulana Abdul Mustafa Hazarvi, Maulana Ghulam Muhammad Sialvi and Maulana Abdul Malik also attended the meeting.
http://www.dawn.com/news/1154948/ulema-decry-vilification-drive-against-seminaries
------------
Military Courts Won't Be Used Against Politicians, Madaris and Journalists
January 4th, 2015
ISLAMABAD: Interior Minister Chaudhry Nisar Ali Khan categorically said that the military courts would not be used against politicians, seminaries, businessmen, journalists and ordinary citizens, and stressed that only terror-related cases will be heard in these courts.
Addressing a press conference, Chaudhry Nisar clarified that military courts would not be used against common citizens; they would only hear terrorism-related cases in the country. "Special courts will not try politicians, media and businessmen", he said, adding, that the courts would operate under a formal framework.
"Going to a military court does not mean that a man will be hanged. The accused will be allowed to plead their cases accordingly."
The minister said that the Pakistan Army, police and security agencies would present terrorists before special courts where they would get full opportunity to defend themselves. "Suspects are acquitted from the military courts, if there is no evidence found against them, and there are many such examples," the minister clarified. "No one should have a misunderstanding in this regard."
He said that special courts headed by army officers would also work under laws, rules and regulations. "Terrorism will be rooted out from the country and the implementation of the National Action Plan is underway," he added.
Nisar said that as many as 60 banned organisations were working under different names in the country. He said that the funding of all banned outfits would be cut off. He said that the cases of 60 banned organisations would be sent to the special courts. The government is in contact with two brotherly countries only to stop the funding of unregistered seminaries.
The interior minister also emphasised that the country's normal judicial system would continue to function. He said that the establishment of special courts was not a 'no-confidence' in the judicial system of the country.
He said that Pakistan is passing through an extraordinary situation, demanding extraordinary measures.
"In a place where a war is going on, such steps are taken. The military courts function under a set of rules and regulations too. If someone is innocent, he will get justice in military courts too," he said, adding that in the US, military tribunals were formed after approval from the Supreme Court.
Nisar said that the federal government shared sensitive information and intelligence with provincial governments. The security of the provinces is the responsibility of the provincial governments, he added.
The interior minister said that Peshawar tragedy was not an intelligence failure, as timely alerts were issued to the provinces. He said that the provincial governments did not take required measures within the limited timeframe after they got the intelligence reports from the federal government.
Nisar lamented that intelligence was shared prior to the DI Khan jailbreak, while intelligence agencies had also warned of a possible terrorist attack prior to the Peshawar school massacre. "Provinces will have to take up security responsibilities, while terrorism incidents should not be used for political point-scoring," he said.
http://www.dailytimes.com.pk/islamabad/04-Jan-2015/military-courts-won-t-be-used-against-politicians-madaris-and-journalists
------------
Pakistan strikes kill 31 militants, drone kills 7
Jan 4, 2015
PESHAWAR, Pakistan: Pakistani airstrikes killed 31 militants and a suspected US drone strike killed another seven, officials said Sunday, as local troops pressed a six-month offensive in tribal regions along the Afghan border that have long been insurgent havens.
The airstrikes late Saturday in the Tirrah valley of the Khyber region destroyed four militant hideouts and a suicide bomber training center, said an army statement. The military said several would-be suicide bombers were among the dead, without providing further details.
The military says the operation in Khyber is aimed at militants who have fled a massive offensive in the neighboring North Waziristan region that was launched on June 15, 2014. The army says the offensive has resulted in the killing of 1,200 militants.
Last month's school massacre in Peshawar — in which 150 people were killed, mainly children — is believed to have been launched from Khyber. The attack prompted both Afghanistan and Pakistan to vow tougher action along the porous border.
Two Pakistani intelligence officials said US drone-fired missiles struck a militant compound in the Datta Khel area of North Waziristan early Sunday, killing seven militants and wounding four. The compound, some 300 meters (330 yards) from the Afghan border, was used by fighters loyal to the Pakistani Taleban commander Hafiz Gul Bahadur as well as Uzbek militants.
They said Bahadur's men, who frequently launch attacks in neighboring Afghanistan, and Uzbek fighters were among those killed in the strike. It was not immediately clear if Bahadur himself was in the compound at the time. The officials spoke on condition of anonymity because they are not authorized to speak to media.
The covert US drone program has eliminated several top militants but has also resulted in civilian casualties, making it extremely unpopular among Pakistanis, who condemn it as violation of their country's sovereignty.
http://www.arabnews.com/featured/news/684236
------------
Lal Masjid's expansionism, militant links alarms agencies
January 4th, 2015
ISLAMABAD: Security agencies have warned the government due to his links with known militant groups and his anti-government rhetoric that the resurgence of Lal Masjid cleric Abdul Aziz poses a security threat to the law and order situation in the capital.
They also stressed the need for a check on the growing number of madressahs in Rawalpindi and Islamabad who also have overt and covert links with militant groups.
A report entitled 'Activities of Maulana Abdul Aziz', forwarded to the interior ministry by the country's primary intelligence agency, says that the "Lal Masjid mafia" has links with militant groups and land grabbers and is currently reorganising the Ghazi Force militant group spawned by his own followers after the Lal Masjid operation.
"Activities of Maulana Abdul Aziz and Lal Masjid administration, if not checked / contained can subsequently create [a] serious law and order situation in [the] twin cities," the report said.
The report, a copy of which is available with Dawn, highlights the links between the Taliban and the Lal Masjid cleric, stressing the importance of the Taliban choosing Maulana Abdul Aziz as a representative on the committee formed to negotiate with the government on their behalf.
Intel report warns Abdul Aziz may be a law and order liability if his designs not checked
The report names "notorious land grabber" Taji Khokhar as someone who has been arranging land for the construction of seminaries, funded by the Lal Masjid administration, and also assists them with their court cases. The report also names property tycoon Malik Riaz and former MNA Shah Abdul Aziz of Karak as the controversial cleric's "sympathizers".
Dawn tried to contact Malik Riaz's spokesperson for a response to these allegations, but they did not care to comment.
The report says that Riaz is "financially supporting the [seminaries] of Maulana Abdul Aziz for payment of utility bills and supported the cleric in building a mosque in Bahria Town that has been renamed Jami Hafsa.
The former MNA Shah Abdul Aziz was arrested in 2009 for allegedly helping a Taliban militant escape from Islamabad. The man was said to be hiding in Maulana Abdul Aziz's G-6 residence.
'Lal Masjid mafia'
The report points out that a small all-girls seminary – the Jamia Syeda Summaya in Sector G-7/3 – is managed by the Lal Masjid administration and has already been renamed 'Jamia Hafsa'. "They are reportedly planning to grab Al-Falah Mosque, located adjacent to this seminary, as the management of Al-Falah Mosque has resisted and filed a case against them in court." Maulana Abdul Aziz is currently residing in the same Jamia Hafsa.
Similarly, the report refers to the construction of another Jamia Hafsa branch in the Mal Pur village, against the wishes of local residents.
Residents of Mal Pur had lodged a complaint with the Islamabad deputy commissioner, signed by 181 locals, saying that the Lal Masjid management were trying to disrupt the peaceful atmosphere of their village.
The complaint by the locals said, "First, they tried to grab Jamia Masjid Quba Ghausia, [but] as a result the mosque was sealed by the administration."
"Barelvis and Shias have been living here in peace for centuries, but the first thing they did was to create differences among our communities with the help of outsiders," said Sibtul Hassan Bukhari, a local political activist. "What can we do except file complaints with the authorities," he asked, rhetorically.
On the other hand, the authorities seem to prefer sticking to their traditional blame game, instead of acting as the situation demands.
ICT administration officials told Dawn that the issues such as the illegal expansion of madressahs or mosques in G-7 and other sectors is the purview of the Capital Development Authority (CDA).
"However, as far as the Mal Pur case is concerned, or any law and order situation related to Lal Masjid – we require policy guidelines from the interior ministry," the official said.
Incidentally, a CDA spokesperson told Dawn that all encroachments are cleared with the help of ICT administration and police.
"We will look into any illegal expansion by any mosque or madersa, but without the help of the police department, no action can be taken," he added.
Meanwhile, a former commissioner of Islamabad said that the situation has changed and the Lal Masjid cleric no longer enjoyed public sympathy.
"Al-Falah Masjid falls under the ICT's jurisdiction and the committees of all the mosques in Islamabad are registered with ICT," the retired commissioner said, adding, "If they failed to deliver anything now there will not be any more chances to establish the writ of law here."
Return of the cleric
On Friday, Maulana Abdul Aziz returned to lead the Friday congregation at the Lal Masjid and delivered a sermon demanding implementation of Sharia in the country.
With a heavy contingent of police and rangers personnel posted outside, Abdul Aziz presented a charter of demands, calling for the implementation of Sharia law in the country, the establishment of a strong committee of senior clerics to 'Islamise' existing laws of country and abolish traditions which, according to him, were un-Islamic.
http://www.dawn.com/news/1155014/lal-masjids-expansionism-militant-links-alarms-agencies
------------
TMQ Worker Asked To Contact Police for Case against Tahir ul Qadri
January 4th, 2015
LAHORE: An additional district and sessions judge directed a female member of Tehreek-i-Minhajul Quran (TMQ) to approach the police concerned first for the registration of a criminal case against organisation's heads for not paying her the promised money for participating in the 'Inqilab March' and Islamabad sit-in.
Hajan Momina of Kot Lakhpat had sought registration of an FIR against Dr Tahirul Qadri, his son Hassan Mahayudin, daughter Fatima and Pakistan Awami Tehreek (PAT) President Raheeq Abbasi for not paying Rs3,500 per day to her and other six women of a batch for joining the anti-government protest.
However, during the course of hearing, it transpired to the court that the petitioner did not file an application with the police concerned and directly approached the court.
Additional District and Sessions Judge Masood Husain disposed of the petition and directed the petitioner to file her application for registration of the FIR to the police first.
The judge also directed the Faisal Town station house officer to act on the petitioner's application in accordance with the law and lodge a case if any cognizable offence was committed.
Full report at:
http://www.dawn.com/news/1154940/tmq-worker-asked-to-contact-police-for-case-against-qadri
------------
India does not understand the language of love and peace: Pak Defence Minister
Jan 4, 2015
Pakistan Defence Minister Khawaja Mohammed Asif has said India wants to keep Pakistan engaged in a "low-intensity war" but his country is capable of replying to any aggression, Dawn reported on Sunday.
"India wants to keep us busy in a low-intensity war or low-intensity engagement on our eastern border," the defence minister said, adding that "they are pursuing the same tactics of keeping our forces busy on all fronts and the anti-Pakistan mentality of the Indian leadership is now fully exposed".
The Pakistani defence minister's reaction came after a 14-year-old girl, from Punjab province's Sialkot city, was killed on Saturday during exchange of fire between Pakistani para-military troops and India's Border Security Force (BSF) on the International Border (IB).
He said Prime Minister Nawaz Sharif had expressed a desire to have peace with India and all other neighbouring countries with sincerity, but India did not reciprocate Islamabad's goodwill gesture.
Full report at:
http://indianexpress.com/article/india/india-others/india-does-not-understand-the-language-of-love-and-peace-pak-defence-minister/#sthash.K0e4ePgo.dpuf
------------
Action against TTP, its supporters launched
January 4th, 2015
ISLAMABAD: Interior Minister Chaudhry Nisar Ali Khan said on Saturday that action had been launched against the outlawed Tehreek-i-Taliban Pakistan (TTP), its supporters and sympathisers
Speaking at a press conference, he said it had been decided in the National Action Plan that TTP operatives, their supporters, masterminds and financiers would be identified across the country. The federal intelligence agencies would cooperate with provinces to accomplish the task, he added.
Chaudhry Nisar said there were around 60 banned outfits, but all were not involved in terrorism. Some were operating under new names and some quietly operating with the same old names, he added.
The minister said funds of banned organisations would be blocked and legal action would be initiated against them. If they remain adamant, their cases would also be referred to military courts.
Full report at:
http://www.dawn.com/news/1154988/action-against-ttp-its-supporters-launched
------------
ATC issues black warrants for four LJ militants, three others
January 4th, 2015
KARACHI: An anti-terrorism court issued black warrants for the execution of seven condemned prisoners, including four militants of the banned Lashkar-i-Jhangvi.
The court issued warrants for the hanging of four LJ militants — Mohammad Shahid Hanif alias Mufti Shahid, Mohammad Talha Hussain alias Noman, Khalil Ahmed alias Hassan Jan and Mohammad Saeed —in two sectarian killing cases.
The black warrants were also issued for Al Qaeda's Zulfikar Ali for killing two policemen near the US Consulate General in Karachi, Behram Khan for murdering a lawyer in a courtroom of the Sindh High Court and Shafqat Hussain for killing a minor boy after kidnapping him for ransom.
The court asked the jail authorities to hang Shahid, Talha, Khalil, Behram and Zulfiqar on Jan 13, Shafqat on Jan 14 and Saeed on Jan 15.
The jail authorities approached the ATC-III for the hanging of death row prisoners submitting that they were sentenced to death by the ATC-III and later the Sindh High Court and the Supreme Court had upheld the convictions, while the President also turned down their mercy petitions.
Full report at:
http://www.dawn.com/news/1154910/atc-issues-black-warrants-for-four-lj-militants-three-others
------------
Teachings of Prophet Muhammad (PBUH) remedy for all ills: Pak Punjab CM
January 4th, 2015
LAHORE: Punjab Chief Minister Shahbaz Sharif has said that the Holy Prophet Hazrat Muhammad (PBUH) brought a revolution in the world through Uswa-e-Hasna and high character in a short period. He said that the Holy Prophet (PBUH) gave an exemplary socio-economic system to the world. He said that cruelty, excesses, injustice and lawlessness can be eliminated from the society by following the teachings of Holy Prophet (PBUH).
The Chief Minister said that Pakistan can be rid of all problems including terrorism and made a haven of peace by acting upon Uswa-e-Hasna. He said that the Holy Prophet (PBUH) has given the lesson of peace, brotherhood, respect to humanity, equality, tolerance and justice to all human beings and showed the path of peace to them by spreading Islamic teachings of tolerance, respect to humanity and co-existence.
Full report at:
http://www.dailytimes.com.pk/punjab/04-Jan-2015/teachings-of-prophet-muhammad-pbuh-remedy-for-all-ills-cm
--------
Multan to hang first death row inmate, January 7
January 4th, 2015
MULTAN: A death warrant was received by Multan Central Jail authorities today for Shabbir alias "Dr" alias "Fauji" for his involvement in the murder of a policeman.
The death row convict is set to be hanged on January 7 (Wednesday).
Hailing from Southern Punjab, Shabbir had reportedly exhausted all options to appeal his case, which led to his death warrant being issued.
This would be the first hanging at the Multan jail. There are nine more death row convicts present in the jail at this time.
3 to hang in Sukkur
Sukkur Central Jail authorities received the death warrants of three inmates who were convicted for the 2001 murder of then Karachi's Director Defence, Syed Zaffar Ali Shah.
The three convicts are set to hang early morning on January 13 (next Tuesday). Arrangements have been made for the families of the three inmates to visit them one last time.
Prime Minister Nawaz Sharif had approved the lifting of Pakistan's long-upheld moratorium on the death penalty after a Taliban attack in Peshawar killed 148 people, including more than 130 schoolchildren. A series of hangings have followed the decision, despite much global criticism. Only those death row inmates convicted on terror-related charges have been hung.
http://www.dawn.com/news/1155039/multan-to-hang-first-death-row-inmate-january-7
------------
Africa
At Least 100 Dead in Burundi Attack By Rebel Group: Military Source
January 4th, 2015
At least 100 rebels have been killed after a cross-border attack against the central African nation of Burundi from the Democratic Republic of Congo, a top military source told AFP Sunday.
A general in the Burundian army, speaking on condition that he not be named, said the attack by the unidentified rebel group had been defeated after five days of heavy fighting in the border area north of the capital Bujumbura.
"After five days of non-stop military operations, the armed group which attacked Burundi has been wiped out by our security forces. In total, we killed 105 of them and captured four, out of a total of the 121 who entered Cibitoke province from the DRCongo," the general said.
"We also seized a 60mm mortar, five rocket launchers, machine guns and more than 100 assault rifles," he said, adding the Burundian army had lost two soldiers.
There was no further confirmation of the claim, with the army declining to comment officially on the fighting while operations in the area were still in progress.
Burundian officials and witnesses said the group of unidentified rebels crossed into Burundi overnight Monday from DR Congo's eastern Kivu region, a chronically unstable and resource-rich area that is home to dozens of rebel groups.
Full report at:
http://english.ahram.org.eg/NewsContent/2/9/119440/World/International/At-least--dead-in-Burundi-attack-by-rebel-group-Mi.aspx
---------
New air strike on Libyan city Misrata, clashes near oil port
January 4th, 2015
Forces loyal to Libya's internationally recognised government on Saturday staged air strikes on the commercial port of Misrata, a western city allied to a group that holds the capital Tripoli, both sides said.
Fighting was also reported near the country's biggest oil export port located in the east, part of a struggle between troops loyal to two competing governments and parliaments.
The internationally recognised prime minister Abdullah al-Thinni has been forced to run a rump state in the east since a group known as Libya Dawn linked to Misrata took control of Tripoli last August and set up a rival government.
Full report at:
http://english.ahram.org.eg/NewsContent/2/8/119404/World/Region/New-air-strike-on-Libyan-city-Misrata,-clashes-nea.aspx
---------
North America
US Planes Supplying ISIL with Arms: Iraq MP
Jan 4, 2015
Iraqi Parliamentary Security and Defence Commission MP disclosed that a US plane supplied the Islamic State of Iraq and the Levant (ISIL) terrorist organization with arms and ammunition in Salahuddin province, pointing that an investigation shall be made in the coming few days.
MP Majid al-Gharawi stated that the available information pointed out that US planes are supplying ISIL organization, not only in Salahuddin province, but also other provinces, Iraq TradeLink reported.
He added that the US and the international coalition are "not serious in fighting against Da'ish (ISIL) organization, because they have the technological power to determine the presence of Da'ish (ISIL) gunmen and destroy them in one month".
Gharawi added that "the US is trying to expand the time of the war against Da'ish (ISIL) to get guarantees from the Iraqi government to have its bases in Mosul and Anbar provinces".
Salahuddin security commission disclosed on Saturday that "unknown planes threw arms and ammunition to Da'ish (ISIL) gunmen Southeast of Tikrit city".
http://english.farsnews.com/newstext.aspx?nn=13931014000690
---------
Afghan, Iraq wars most expensive in US history
January 4th, 2015
WASHINGTON: The wars in Afghanistan and Iraq have been the most expensive in US history, costing US taxpayers between $4 trillion and $6 trillion, says a report prepared by a Harvard University scholar.
In this report, reproduced by the Time magazine on Saturday, Harvard Kennedy School scholar Linda Bilmes says that her estimates include "all direct and indirect" war related expenditure.
Ms Bilmes, who is a former CFO of the US Department of Commerce, also included long-term medical care and disability compensation for service members, veterans and families, military replenishment and social and economic costs in her estimates.
Full report at:
http://www.dawn.com/news/1154968/afghan-iraq-wars-most-expensive-in-us-history
---------
US embassy issues threat warning for Indonesia's second city
January 4th, 2015
The US embassy in Indonesia warned Saturday of a potential threat against American interests in country's second biggest city Surabaya.
"The US Embassy has been made aware of a potential threat against US-associated hotels and banks in Surabaya, Indonesia," the embassy said in a statement published on its website.
"The US Embassy recommends heightened vigilance and awareness of one's surroundings when visiting such facilities," it added, without providing any further details.
Indonesia has waged a crackdown on extremist groups over the past decade following attacks against Western targets, including the 2002 Bali bombings -- a campaign that has been credited with weakening key networks.
Full report at:
http://english.ahram.org.eg/NewsContent/2/9/119409/World/International/US-embassy-issues-threat-warning-for-Indonesias-se.aspx
---------
ISIS releases new propaganda video to prove 'life in Mosul is business as usual'
ANI | Jan 4, 2015,
LONDON: An eighth propaganda video released by the Islamic State (IS) shows British hostage John Cantlie giving the viewers a tour of the Iraqi city of Mosul in order to prove that "life in Mosul is business as usual."
The documentary-style clip in English countered media claims that suggested that the city was "depressed" and "living in fear" and termed such reports "misleading," reported The Guardian.
Mosul, Iraq's second largest city, was captured by the IS in June during a blitz that saw more than 2,000 Shia prisoners and soldiers being killed by the terror group.
The eight-minute video shows the 43-year-old British journalist visiting a market, a hospital and a police station and aims to portray life in the bomb-hit city as "stable."
A Foreign Office spokeswoman said that the authorities are studying the contents of the video.
Cantlie was abducted by the IS more than two years ago and has appeared in a series of propaganda videos produced by the outfit.
http://timesofindia.indiatimes.com/world/us/ISIS-releases-new-propaganda-video-to-prove-life-in-Mosul-is-business-as-usual/articleshow/45750839.cms
---------
Arab World
Peshmerga locked in house-to-house battles to break ISIS resistance
Jan 04 2015
SHINGAL, Kurdistan Region – Peshmerga forces are locked in house-to-house battles with the Islamic State (ISIS) in Shingal, as they try to cut off the militants' supply line with heavy artillery.
Kurdish forces have fortified their positions on Mount Shingal itself and a number of hills around the Yezidi town, captured by ISIS in August. They have also dug trenches protected with sand bags facing the town.
"The militants fire back daily and hope to push the Peshmerga forces away," said a commander on the edge of the town. "But we will keep fighting until we clear every house," he added.
Several thousand Peshmerga forces launched a massive operation against ISIS last month, capturing more than 2,500 square kilometers, starting with the Kurdish Yezidi town of Sinune near the Syrian border and dozens of villages.
But the militants are deeply entrenched in Shingal, whose proximity to the ISIS stronghold of Mosul has provided the fighters with a steady supply of reinforcements.
On the front, Kurdish and ISIS snipers watch each other's movements closely, shooting at every opportunity.
Full report at:
http://rudaw.net/english/kurdistan/04012015
------------
Iraqi Airstrikes Kill 16 ISIL Terrorists in Southern Tikrit
Jan 4, 2015
Iraqi warplanes hit the targets of the ISIL Takfiri group in the Northern city of Tikrit, Salahuddin province, and claimed the lives of at least 16 terrorists.
Iraq's air force conducted several strikes against the Takfiri group in Saed Gharib area, Southern Tikrit, leaving several terrorists dead.
The security in Iraq has drastically deteriorated since June 10, when bloody clashes broke out between Iraqi security forces and the ISIL. The latter later took control of the country's Northern city of Mosul and seized swathes of territories in Nineveh and other predominantly Sunni provinces.
Full report at:
http://english.farsnews.com/newstext.aspx?nn=13931014000385
------------
Muslim World League to establish Islamic Centre in Maldives
January 4th, 2015
The Muslim World League (MWL) is to establish an Islamic centre in the Maldives, Minister of Islamic Affairs Dr Mohamed Shaheem Ali Saeed has announced.
The Makkah-based NGO's Deputy Secretary General Dr Adil bin Ali met with Shaheem today, with the minister telling local media that the Islamic Centre was to be based in Hulhumalé.
Haveeru reported that Shaheem had praised President Abdulla Yameen's efforts to enhance ties with fellow Islamic states, calling the establishment of an MWL office in the country "a great achievement".
The world league – founded in 1962 – currently operates centres in 21 countries throughout the world with the aim of "propagating the religion of Islam, elucidating its principles and tenets, refuting suspicious and false allegations made against the religion".
The organisation currently has an office in the Islamic Centre in the Maldives capital, Malé.
Shaheem was reported as telling Haveeru that Saudi Crown Prince Salman bin Abdulaziz had ordered Saudi institutions to work with the Maldives following his trip to the country earlier this year.
Full report at:
http://minivannews.com/society/muslim-world-league-to-establish-islamic-centre-in-hulhumale-91921
----------
Politicians to blame for Iraq Sunni-Shiite strife: Maliki
January 4th, 2015
Iraqi Vice President Nuri al-Maliki, who was widely criticised for sectarian policies during his time as premier, said Jan. 4 that politicians are to blame for the country's Sunni-Shiite strife.
"There is no problem between the Sunnis and the Shiites as communities, but rather between us the politicians - we think as Sunnis and Shiites, and we are driving people toward this doom, for which we will bear responsibility before God," he said.
Maliki himself pursued policies that marginalised and angered members of Iraq's Sunni Arab minority, especially during his second term as premier.
Sunni suspicion of the Shiite-led government was heightened by heavy-handed security operations in Sunni areas, and the arrest of senior Sunni politicians or their employees.
Sunni anger led to anti-government protests, which were targeted by security forces on multiple occasions, most disastrously in late December 2013 when the largest protest camp, located near Anbar provincial capital Ramadi, was demolished.
Full report at:
http://www.hurriyetdailynews.com/politicians-to-blame-for-iraq-sunni-shiite-strife-maliki.aspx?pageID=238&nID=76454&NewsCatID=352
------------
Sunni residents of Jalawla, Sadia seethe in sectarian rivalries
Jan 04 2015
SULAIMANI, Kurdistan Region – Sunni residents of Jalawla and Sadia accuse the Shiite militias, which played a role in the fight to liberate the towns from the Islamic State (ISIS), of now imposing their anti-Sunni rule.
"Whatever ISIS did is being repeated by the Shiites," said Riaz Saad, who left his hometown of Jalawla and is looking for work in Sulaimani, after giving up hope of a happy life in his hometown. He believes that sectarian rivalry will affect the lives of the townsfolk.
"Currently, Shiites are using the same tactics as ISIS to fight Sunnis and take revenge on them," Saad added. "The Shiites are not going to leave Jalawla and Sadia peacefully. The Sunni Arabs in these two towns will have to live in fear."
After fierce fighting that killed 144 Peshmerga and wounded 300, ISIS was driven out of the area. The Kurds entered the towns, but so did the Shiite militias. Their flags fly across the area.
Full report at:
http://rudaw.net/english/middleeast/iraq/020120152
---------
New KSA missions in Iraq to boost ties
Jan 4, 2015
A Saudi delegation is set to visit Iraq this week in order to prepare the ground for the reopening of the Saudi Embassy in Baghdad, 24 years after the Kingdom closed its diplomatic mission there.
Riyadh has also announced plans to set up a consulate in Erbil.
A technical committee from the Foreign Ministry will leave for Baghdad this week to coordinate with the Iraqi Foreign Ministry on the necessary arrangements for selecting appropriate buildings for both missions, said a report, published by SPA.
Osama Nugali, spokesman of the Ministry of Foreign Affairs, could not provide the exact date of the visit of the Saudi delegation.
Full report at:
http://www.arabnews.com/news/684216
------------
Mosul governor: 10,000 volunteers against ISIS
Jan 04 2015
ERBIL, Kurdistan Region - More than 10,000 people from the Sunni heartland of Nineveh province have volunteered to take part in the expected assault on the Islamic State (ISIS), its exiled governor said.
Earlier this week, while visiting a training camp for the volunteers, Atheel Nujaifi praised the Sunni volunteers and said the force is quite prepared for the offensive against ISIS. Nujaifi has been in Erbil since August when jihadists captured Mosul.
Following a coordinated attack last week, a number of villages were recaptured from ISIS. Forces from the Sunni tribes supported by the Peshmerga and US-led coalition airpower gained control of areas surrounding the town of Makhmour.
Full report at:
http://rudaw.net/english/middleeast/iraq/020120151
------------
South Asia
Maldives Adhaalath Party: Concerts Are Defying Islamic Teachings
January 4th, 2015
The Adhaalath Party is reported to have expressed concern at what it sees as "horrifying acts that defy Islamic teachings and social convention" taking place in the country.
"Entertainment activities and events are an important part of a society" read a statement obtained by Haveeru. "But these activities must abide by our religious and social traditions".
The comments follow controversy surrounding the New Year's eve 'Tourist Arrival Countdown Show', which eventually featured Indian artists 'Salim-Sulaiman' after Jamaican artist Sean Paul cancelled following an online death threat.
After Sean Paul's late cancellation, Minister of Tourism Ahmed Adeeb revealed that a second show would be held on January 8, with an announcement made at the conclusion of Wednesday's concert that US R&B artist Akon would be performing.
Following the online threats against Sean Paul – later denounced as a hoax by authorities – members of the Adhaalath Party, including the Islamic minister criticised the decision to invite the dancehall singer.
Full report at:
http://minivannews.com/politics/adhaalath-party-concerned-that-concerts-are-defying-islamic-teachings-91915
---------
34 insurgents killed in police operations
Jan 04 2015
Interior ministry of Afghanistan says to have killed 34 insurgents during clearance operations across the country.
A statement issued by the ministry on Sunday morning states that in confrontation with the security forces 12 other insurgents sustained injuries and two arrested.
The statement adds that the operations were mainly conducted in Faryab, Kandahar, Zabul, Khost, Paktika and Kapisa provinces in past 24 hours with the assistance from Afghan National Army (ANA) and National Directorate of Security (NDS) personnel.
According to the statement security forces also seized different types of weapons and ammunitions from the insurgents while defusing over thirty IEDs in Kandahar, Uruzgan, Farah, Helmand and Maidan Wardak provinces.
Improvised Explosive Device or IED is considered one of the biggest threats not only to government forces but also to the civilians
Taliban today issued a statement asking their fighters to take precautionary actions in preventing civilian casualties in their actions or they will be answerable to the group's leadership.
http://www.khaama.com/34-insurgents-killed-in-police-operations-2662
---------
NATO airstrike kills 18 Taliban insurgents in Paktika province
Jan 04 2015
At least 18 Taliban insurgents were killed following an airstrike by NATO-led coalition security forces in eastern Paktika province.
According to local government officials, the airstrike was carried out in Gayan district early on Saturday morning.
A local security official speaking on the condition of anonymity confirmed that 18 Taliban insurgents including foreign fighters were killed following the air raid.
The Taliban militants group has not commented regarding the incident so far.
Paktika is among the volatile provinces in eastern Afghanistan where anti-government armed militants are actively operating in its various districts and frequently carry out insurgency activities.
This comes as a suicide bomber was shot dead by Afghan national securty forces in Orgun district last week.
At least 57 people were killed and several others were injured after a suicide bomber targeted the spectators of a volleyball match in Yahya Khel district a month ago.
http://www.khaama.com/nato-airstrike-kills-18-taliban-insurgents-in-paktika-province-9205
---------
Taliban leadership ask fighters to reduce civilian casualties
Jan 04 2015
A statement issued online by the leadership of Taliban orders their fighters "Mujahideen" take precautionary actions to reduce civilian casualties.
The statement tells fighters to even be careful with animals and civilian properties.
According to the statement those failing to obey will be answerable to the Islamic Emirate.
Taliban's statement might be an answer to UNAMA's call which urged all sides to reduce civilian casualties.
UNAMA last month had expressed concerns over the increase of civilian casualties in Afghanistan.
The recorded civilian casualties last year was nearly 10, 000.
UNAMA stated in a report published last month that this was the highest number of civilian casualties ever recorded by the UN agencies in Afghanistan.
http://www.khaama.com/taliban-leadership-ask-fighters-to-reduce-civilian-casualties-2661
---------
Drone strike kills 7 Haqani fighters in Khost
Jan 04 2015
Seven fighters belonging to the terrorist group of Haqani Network were killed in a drone strike in eastern Khost province on Sunday.
Officials say that the air strike took place in Spera district where a drone fired at a vehicle of terrorists belonging to Haqani Network.
Seven insurgents were killed and their vehicle completely damaged in the attack.
Khost has a long border with North Waziristan where the group's leaders are believed to be hiding.
Today's airstrike happens a day after Afghan Intelligence agency also known as National Directorate of Security (NDS) arrested a suicide attacker and a commander of a terrorist group, both belonging to Haqani terrorist Network in eastern Laghman province.
The suicide attacker according to the NDS had planned to carry out a suicide attack in the city of Mehtarlam and the commander was assigned by Haqani network for terrorist activities in Laghman province.
Haqani network is blamed for several terrorist attacks not only in the border areas with Pakistan but also in Kabul.
http://www.khaama.com/drone-strike-kills-7-haqani-fighters-2660
---------
India
Muslims Must Stop Demanding Reservation: Union Minister
Mohammed Wajihuddin, TNN | Jan 4, 2015
MUMBAI: Union minister for minority affairs Najma Heptullah said on Saturday that Muslims should stop demanding reservation and should, instead, concentrate on empowering themselves with education and skills.
On her second trip to the city after she joined the Narendra Modi-led cabinet, she was speaking the media and Muslim activists at Sahyadri Guest House, Malabar Hill, on Saturday, Heptullah said, "I have always maintained that reservation is a crutch, which saps the energy to face challenges. Muslims will not get reservation as the Constitution doesn't allow quota on religious ground. I am a Muslim and a woman. Did I ever need reservation? The same applies to my fellow community members," said Heptullah, claiming ignorance of the grounds on which the BJP government in the state has brought in a bill for Maratha reservation (16%) while keeping mum on the 5% Muslim reservation in government jobs and education declared by the Congress-NCP government.
Full report at:
http://timesofindia.indiatimes.com/india/Muslims-must-stop-demanding-reservation-Najma-Heptullah/articleshow/45747002.cms
------------
Terrorists may hijack Delhi-Kabul Air India flight, intelligence agencies warn
Raj Shekhar,TNN | Jan 4, 2015
NEW DELHI: Intelligence agencies have warned that a Delhi-Kabul flight may be hijacked by terrorists.
The input is quite specific and also mentions that an Air India flight could be targeted.
A high alert has been sounded after the intelligence input. IGI airport has been alerted and stringent checks of even the staff members have been instructed.
The authorities have put in place multi-level checking and have issued strictures to ensure they are followed judiciously.
An additional ladder-point check has also been made compulsory. The security checks are expected to take more time now.
Sources said that the ground staff has been asked to thoroughly check all cabin baggage once the passengers boarded.
Full report at:
http://timesofindia.indiatimes.com/india/Terrorists-may-hijack-Delhi-Kabul-Air-India-flight-intelligence-agencies-warn/articleshow/45748546.cms
------------
Sushma Swaraj trashes Sartaj Aziz's 'white flag' claims
TNN | Jan 4, 2015,
NEW DELHI: Foreign minister Sushma Swaraj has strongly denied Pakistan's allegation that two Pakistani soldiers were killed by the Border Security Force after being called to a meeting on the border.
Swaraj wrote to Sartaj Aziz, adviser to the Pakistan Prime Minister on foreign affairs, that Islamabad had completely misrepresented the incident and pointed out that a routine BSF patrol had come under sniper fire.
"The minister stated that the incidents on December 31 in the Jammu sector commenced when a routine BSF patrol flying an identifying flag came under sniper fire from a Pakistan border post, which resulted in the death of one Indian security personnel and serious injuries to another," the MEA said.
Full report at:
http://timesofindia.indiatimes.com/india/Sushma-Swaraj-trashes-Sartaj-Azizs-white-flag-claims/articleshow/45746611.cms
------------
Wireless intercepts indicate 'terror' boats were in touch with Pakistani army
TNN | Jan 4, 2015
NEW DELHI: Electronic chatter shows that two Pakistani fishing boats, one of which sank after being intercepted by the Coast Guard in the Arabian sea in early hours of January 1, were in frequent touch with Pakistan army and Maritime Security Agency of Pakistan through a "contact".
Sources privy to the wireless intercepts, which led technical intelligence agency NTRO to alert the Coast Guard, claimed that the "contact" also talked to someone in Thailand on a frequent basis.
It was around 8.30am on December 31, that the Coast Guard received the first intercept about two "suspicious boats" headed towards Indian waters from Keti Bandar near Karachi. The Coast Guard then launched a Dornier reconnaissance aircraft, apart from diverting patrol vessel ICGS Rajratan towards the area.
One fishing boat was "positively identified" by the afternoon, while the other could never be traced. Then followed the "hot-pursuit" of the intercepted trawler with ICGS Rajratan firing warning shots at it, which finally ended in the boat sinking — with four people on board — around 365km from Porbander early on January 1.
Crew talked of 'finishing task'
"While the first boat was sinking, another intercept from the second boat talked about it heading back after finishing its task. They could have been involved in a mid-sea transfer of arms and ammunition," said a source.
Full report at:
http://timesofindia.indiatimes.com/india/Wireless-intercepts-indicate-terror-boats-were-in-touch-with-Pakistani-army/articleshow/45746442.cms
---------
Mideast
More and more Israelis 'renouncing' their citizenship
Jan 4, 2015
Increasing numbers of Israelis living in the United States and Europe are renouncing their citizenship, according to a report by the Israeli Ynetnews published on Sunday.
The report, citing data collected by the Administration of Border Crossings, Population, and Immigration and Israeli embassies abroad, found that the percentage of Israeli citizens giving up their passports rose by 65 percent in 2014.
The total number of citizens who submitted documents to renounce their nationality stood at 765, compared to 478 the previous year, according to the report.
Israel approved 635 such applications, it said.
Those submitting the requests often stated they had done so as they did not want to hold dual citizenship or because they sought another citizenship, requiring them to drop their Israeli one.
Full report at:
http://english.alarabiya.net/en/perspective/features/2015/01/04/More-and-more-Israelis-renouncing-their-citizenship.html
---------
Iran reiterates: Rap music unwelcome in Islamic Republic
January 4th, 2015
Iranian rap-lovers are in for a disappointment. The spokesman of the Ministry of Culture and Islamic guidance (Ershad), Hussein Noosh- Abbadi recently said that the regime sees "this kind of Western music as a problem for our traditional music."
All public concerts have to be approved by the ministry, and requests must go through a bureaucratic process that can take a few months. "This music encourages wild behavior that could have a detrimental effect on society" Noosh- Abbadi said.
He warned: "We don't want to have it and we will prevent any unwanted incidents normally associated with such concerts and other events."
For now and in the foreseen future, there is no real possibility that the Islamic regime will permit rap music concerts, in spite of a big underground music scene which includes this genre. In recent years, the Iranian regime arrested many Iranian rap band members and denied permission for concerts.
http://www.jpost.com/Middle-East/Iran-reiterates-Rap-music-unwelcome-in-Islamic-Republic-386613
---------
Israel freezes Palestine tax funds over ICC bid
January 4th, 2015
Israel has halted the transfer of tax revenues to the Palestinians following their bid to join the International Criminal Court, Israeli officials say.
They said $127m (£82m; €106m) collected on behalf of the Palestinian Authority last month would be held back.
The Palestinians submitted documents to join the ICC on Friday in a move opposed by both Israel and the US.
Senior Palestinian official Saeb Erekat condemned the Israeli measure, calling it a "new war crime".
"Israel is once again responding to our legal steps with further illegal collective punishments," Mr Erekat said.
Israel collects taxes on behalf of the Palestinians, and transfers about $100m (80m euros) per month, accounting for two-thirds of the authority's budget.
It is not the first time Israel has frozen the monthly transfers. It imposed a similar sanction in April 2014 after PA President Mahmoud Abbas applied to join a series of international treaties and conventions.
Full report at:
http://www.bbc.com/news/world-middle-east-30667440
---------
Israel 'won't let its soldiers be dragged to the ICC', says PM Netanyahu
January 4th, 2015
Israel will not permit its soldiers to be hauled in front of the International Criminal Court on potential war crimes charges, Prime Minister Benjamin Netanyahu said today.
"We will not let Israel Defence Forces (IDF) soldiers and officers be dragged to the International Criminal Court in The Hague," Netanyahu said at the start of the weekly cabinet meeting, two days after the Palestinians filed a controversial application to become a party to the court.
His remarks were made after Israel froze the transfer of half a billion shekels (RM446 million) in tax revenues to the Palestinian Authority in the first of what officials said would be a series of punitive steps following the Palestinian move.
Israel often freezes the transfer of funds as a punitive measure in response to Palestinian diplomatic or political developments it views as harmful.
"The Palestinian Authority has chosen to take a path of confrontation with Israel, and we will not sit idly by," Netanyahu warned, vowing to defend Israeli military personnel from possible prosecution by the court.
Full report at:
http://www.themalaysianinsider.com/world/article/israel-wont-let-its-soldiers-be-dragged-to-the-icc-says-pm-netanyahu#sthash.4hRKv4aX.dpuf
---------
Suspected al Qaeda militant kills senior Yemeni army officer
January 4th, 2015
ADEN, Yemen - A senior Yemeni army officer was shot dead on Sunday by an unidentified gunman in the southeastern province of Shabwa, Yemen's Defence Ministry said, in the latest attack on military personnel that authorities blame on al-Qaida.
The ministry said on its news website that Colonel Hamoud Hussein al-Dharhani was shot dead outside his house in the city of Ataq.
Shabwa served as a stronghold of al Qaeda and other Islamist militants in recent years, who used the province's rough desert terrain to set up hide-outs and training camps.
The ministry said the authorities were investigating the attack. Yemeni authorities blame al Qaeda for the killings of between 200 and 350 senior army officers in Yemen in the past three years.
Last week, an intelligence officer identified as Colonel Nasser Ahmed was shot dead while driving in the southern city of al-Bayda, while a general escaped a bomb attack on a road his convoy was travelling on near the city of al-Qatan in eastern Hadramout province.
Yemen has been in turmoil since 2011 pro-democracy protests forced long-ruling President Ali Abdullah Saleh to step down.
http://www.jpost.com/Breaking-News/Suspected-al-Qaeda-militant-kills-senior-Yemeni-army-officer-386611
---------
Southeast Asia
Islam Forbids Men from Becoming Homemakers: Ikim
January 4th, 2015
KUALA LUMPUR, Jan 4 — Islam prohibits its married men from being the homemaker in the family, the government's Malaysian Institute of Islamic Understanding (Ikim) has said, amid Putrajaya's efforts to discourage women from dropping out of the workforce to raise children.
Siti Fatimah Abdul Rahman, consultation and exercise unit leader in Ikim's centre for economic and social studies, said the Quran mandates the husband, not the wife, to provide for the household, the Sunday edition of local daily New Straits Times reported today
"Although there is no prohibition for wives to work and even if the wife earns 10 times more than the husband, he still has to provide basic sustenance for the family," Siti Fatimah was quoted saying in the New Sunday Times report.
The official from the government research centre cited the Quranic verse 34 of chapter An-Nisa in her argument that Islam made it imperative for men to be breadwinners and said it was unacceptable for a husband to manage the home while earning nothing.
Putrajaya is aiming to increase Malaysia's female labour force participation rate to 55 per cent this year from 52.4 per cent in 2013, even as the nation plans to reach developed status in just five years' time by 2020.
Full report at:
http://www.themalaymailonline.com/malaysia/article/islam-forbids-men-from-becoming-homemakers-says-religious-research-centre#sthash.ebkG1otC.dpuf
---------
Let public decide on Hamid's racially charged views, says ex-Bar Council chief
January 4th, 2015
Retired chief justice Tun Abdul Hamid Mohamad must be allowed to express his opinion, although his provocative views on race relations may be seen as destructive by many, former Bar Council chairman Ragunath Kesavan said.
Similar democratic space, he pointed out should also be accorded to the group of 25 prominent Malays (G25), comprising retired civil servants and influential leaders, who were on a different page from Abdul Hamid.
"I am extremely upset with the stand taken by Abdul Hamid, who once occupied the highest position in the judiciary," Ragunath said, referring to Abdul Hamid's role as the chief justice for nine months, from 2007 to 2008.
We (council) supported his elevation to be the top judge then because he gave the impression of a man of integrity," he said.
Full report at:
http://www.themalaysianinsider.com/malaysia/article/let-public-decide-on-hamids-racially-charged-views-says-ex-bar-council-chie#sthash.X10gPcEy.dpuf
---------
Filipinos' name on terror list shocks compatriots
Jan 4, 2015
A recent media report which indicates that two of the 29 alleged terrorists arrested by Saudi law enforcement officers this week are Philippine nationals has sent OFWs into a state of shock across the Kingdom.
A local daily report released on Saturday confirmed that after detaining a Malaysian expatriate in Saudi Arabia on terrorism charges, Saudi security men arrested two Philippine passport holders in the Kingdom.
Commenting on this news, various OFWs community leaders expressed their state of shock over the disclosure.
"It's quite alarming to note that the alleged involvement of those two Philippine passport holders who were on KSA's terrorist list," said Migrante-Middle East (M-ME) regional coordinator, John Monterona.
Full report at:
http://www.arabnews.com/saudi-arabia/news/684151
---------
Europe
Controversial Dutch convert to give religious lecture in the Maldives
By Minivan News | January 4th, 2015
Controversial Dutch convert Arnoud van Doorn, one of the people associated with distributing the anti-Islamic short film 'Fitna' is due to give a religious lecture in the Maldives, Minister of Islamic Affairs Dr Mohamed Shaheem has revealed
Van Doorn was formerly a politician with the far-right Dutch Freedom Party (PVV) and had assisted PVV leader Geert Wilders in distributing the short film 'Fitna', which argues that Islam promotes terrorism, anti-Semitism, and violence against women.
The film received international condemnation, being branded anti-Islamic by a number of organisations including the Muslim World League and the United Nations.
Speaking to Minivan News, Shaheem said today that van Doorn is due to give a lecture on his conversion to Islam sometime during this year, adding that "a man's past cannot be questioned after he converts to Islam".
Full report at:
http://minivannews.com/politics/controversial-dutch-convert-to-give-religious-lecture-in-the-maldives-91933
---------
French writer sees France under Muslim rule
January 4th, 2015
PARIS: French writer Michel Houellebecq poses during a photo exhibition last year. Although his new book has not even been released,
Mr Houellebecq — one of France's most provocative and widely translated writers — has been attracting comments with his latest novel, 'Submission', in which he imagines a France in 2022 under Muslim rule. To be published on Jan 7, the book is the sixth novel by the author of 'The Map and the Territory', which won France's top literary prize, the Prix Goncourt, in 2010.
http://www.dawn.com/news/1154967/french-writer-sees-france-under-muslim-rule
---------
British journalist held hostage by ISIS narrates propaganda video
January 4th, 2015
John Cantlie, the British journalist being held captive by Islamic State, is featured in the jihadist organization's latest propaganda video which was released online Sunday.
Cantlie is seen "reporting" on life in the northern Iraqi town of Mosul, where "business as usual" reigns.
The reporter narrates an eight-minute clip during which he visits various points in the city, Iraq's second largest.
The video is aimed at dispelling reports that the city has been suffering from economic hardships under the thumb of ISIS.
In the video, Cantlie looks haggard and weary. Unlike in previous clips, he is shown wearing civilian clothing.
http://www.jpost.com/Middle-East/WATCH-British-journalist-held-hostage-by-ISIS-narrates-propaganda-video-386603
---------
EU to set up cell targeting militant propaganda
Jan 4, 2015
The European Union plans to set up a cell of advisors in Belgium that member governments can tap to fight militant propaganda, a top EU official told a newspaper Saturday.
"The idea is for Belgium to welcome a cell of experts who can offer European countries immediate responses to a very serious communications problem," EU counter-terrorism chief Gilles de Kerchove told Le Soir newspaper.
Social media has become a powerful recruiting tool for militants, with the Islamic State of Iraq and Syria (ISIS) group posting several videos online showing grisly beheadings of Western hostages.
Full report at:
http://english.alarabiya.net/en/News/middle-east/2015/01/03/EU-to-set-up-expert-cell-to-fight-militant-propaganda-report.html
---------
British activists launch lawsuit over deadly raid on Gaza 'peace flotilla'
Jan 04 2015
Scotland Yard has been asked to investigate whether Israeli special forces who attacked a "peace flotilla" of ships in international waters killing 10 people committed war crimes. Lawyers acting for British activists have launched legal proceedings in the hope of prosecuting the Israeli soldiers in the UK.
Evidence passed to the Metropolitan Police names five Israeli military commanders alleged to have committed war crimes when the troops they commanded stormed the flotilla which was attempting to breach Israel's blockade of Gaza in May 2010.
Lawyers representing 13 of the 34 Britons on the Turkish-registered MV Mavi Marmara, the main civilian vessel in the fleet of six ships carrying humanitarian aid and construction materials, say some of the commanders had visited Britain since the incident and said the police now had evidence which should result in their arrest if they return. Identical legislation was used to arrest the Chilean dictator General Augusto Pinochet in the UK in 1998.
The Gaza Peace flotilla had been organised by the Free Gaza Movement and Turkish human rights and humanitarian relief groups. Their declared aim was to break the Israeli-Egyptian blockade of the Gaza Strip. The Mavi Marmara was on its way from Cyprus to Gaza when it was boarded by Israeli troops.
Full report at:
http://www.independent.co.uk/news/uk/home-news/british-activists-launch-lawsuit-over-deadly-raid-on-gaza-peace-flotilla-9955992.html
---------
URL: https://www.newageislam.com/islamic-world-news/new-age-islam-news-bureau/ulema-decry-'vilification-drive'-against-religious-seminaries/d/100843