New Age Islam News Bureau
29 Aug 2014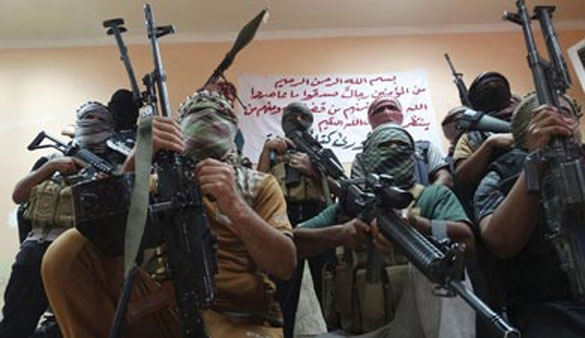 Tribal fighters carrying their weapons pose for photographs during an intensive security deployment to fight against ISIS in northwest of Baghdad. (File photo: Reuters)
-----------
Europe
• UK Terror Laws Leave Imams Afraid To Tackle ISIL
• UK Militant 'Would Be Honoured' To Perform Execution
• Austria Is 'Jihad Hub' Second Only To London
• With Gaza war, movement to boycott Israel gains momentum in Europe
• Prosecuting ISIS poses challenge to international justice
• Fijian UN Troops in Golan Used As Hostages by Syrian Rebels
Africa
• Boko Haram Declares Full Sharia; Beheads Christian Men, Forces Women To Marry
• BBOG claims Boko Haram has 50,000 members in its camp
• Libya's interim government resigns under pressure
India
• Pak Terror Groups Sent Recruits for ISIS 'Jihad': India Tells US
• US Labels Pak Money Exchanger 'Global Terrorist' For Funding Let
Arab World
• Iraqi Jet Fighters Kill Scores of ISIL Terrorists in Mosul
• Iraqi Sunnis who fought al-Qaeda not keen to quell ISIS
• Army Kills 12 ISIL Terrorists, Arrests Ringleader in Iraq's Babel
• Introduce Compulsory Military Service for All Saudi Men
• ISIS Leader Offers Marriage Grants To Militants
• Jihadists burn 3 Iraq oil wells as Kurds launch attack
• El-Sisi reiterates Libya bombing denial as US backtracks
• 'A Message in Blood': ISIS beheads Kurdish man in warning against backing US
• Saudi crown prince to discuss militant threat on French trip
• Two Morsi supporters get death penalty, 43 others life in jail
• Saudi mufti tells young Saudis not to heed call to jihad
Pakistan
• Imran, Qadri Agree to Army Chief's Mediation
• Reluctant Revolutionaries 'Bound to Stay' At Sit-Ins
• Two journalists among three shot dead in Quetta
• Did not ask army to mediate: PM Nawaz
• Prof Ajmal recovered after four-year abduction
• Opposition Leader pledges to stand by Constitution and Parliament
• PTI Senior Leader shocked' at Nawaz's speech
North America
• Man with ISIS Flag Threatens Chicago Cop with Bomb: Police
• US identifies citizens joining rebels in Syria, including ISIS
• Obama tamps down prospect of strikes in Syria
• Report: ISIS 'water boarded' Syria captives
• US flip flops on statement about Egypt, UAE role in Libya air strikes
• 'It would be an honour to join ISIS and become a citizen of the caliphate: Nidal Hasan
Southeast Asia
• Breakaway Moro group admits alliance with ISIS
• Philippine Muslim rebels oppose Islamic State 'virus'
• Malaysian Home Ministry monitoring travels of Muslim men of fighting age
• Enforced Muslim dress code at RTD turning Malaysia 'upside down', says Zaid
• Ban Ki-moon, SBY Call for Greater Tolerance at UN Forum in Bali
Mideast
• Thousands Placed In Religious Schools 'Against Their Will' In Turkey
• Global coalition needed to destroy Hamas, all Islamist terror, Steinitz tells US lawmakers
• Hamas leader Mashaal says latest Gaza conflict with Israel not the last
South Asia
• Hefazat-e-Islam: Blaming Hefazat for Faruqi Murder a Media Plot
• Nuristan high peace council chief shot dead in capital Kabul
Compiled by New Age Islam News Bureau
URL: https://www.newageislam.com/islamic-world-news/new-age-islam-news-bureau/uk-terror-laws-leave-imams-afraid-to-tackle-isil/d/98799
-----------
Europe
UK Terror Laws Leave Imams Afraid To Tackle ISIL
Aug 29, 2014
LONDON // British Imams are "terrified" of addressing the threat posed by ISIL, the country's largest Muslim association has warned, amid growing calls for mosques to do more to tackle extremism.
Many mosque leaders are reluctant to publicly raise issues like British militants fighting in Iraq and Syria, because of fears that they may fall foul of the UK's antiterrorism laws, according to the Muslim Council of Britain.
But UK terrorism experts say Imams have a duty to raise such issues to help discourage extremism, and need not fear the law so long as they are not inciting violence.
Talha Ahmad, chair of the membership committee at the MCB, said there is a widespread hesitation among mosque leaders to talk about issues like the Islamic State in Iraq and the Levant because of a lack of clarity regarding UK laws.
"At the moment, the mosque leadership are not prepared to speak openly on these issues because they are terrified of the antiterrorism legislation," he said.
"There's a fear that you may be seen as sympathetic to a terrorist group… There is a lot of unease, discomfort and perhaps even a lack of clarity on how the antiterrorism legislation applies."
Other sensitive topics — including Hamas, Palestine and Kashmir — are also generally avoided by UK mosque leaders, Mr Ahmad added. "I have not come across one Imam who is comfortable to talk about jihad," he said.
Fears over the radicalisation of UK Muslims have been heightened after a video emerged showing the killing of James Foley, an American journalist, apparently at the hands of a British Islamist militant.
The UK government is currently examining ways to boost its fight against extremism. Home secretary Theresa May is considering legislation to target those who spread incendiary views, but not classed as terrorists because they do not engage in violence.
Mr Ahmad urged the UK government to provide clarity on such issues, to encourage open debate in mosques and help Imams provide a counterbalance to those who may have been "brainwashed" by extremists elsewhere.
Dr Sheikh Ramzy, an Imam and director of the Oxford Islamic Information Centre, agreed that mosque leaders are reluctant to address political issues.
"They are not talking at all about terrorism, ISIL or any other radical groups," he said. "Maybe they don't want to be branded pro-this or pro-that, or get in trouble with the police."
Terror experts insisted that UK Imams have nothing to fear so long as they do not encourage violence.
"If you encourage people to violent jihad, that may be a breach of law," said Lord Carlile of Berriew, who served as the British government's independent reviewer of terrorism legislation from 2001 to 2011.
"But almost all Imams have absolutely nothing to fear if they discourage that activity. The law is absolutely clear about that," he added.
Yet Lord Carlile did acknowledge that there was a reluctance in mosques to speak on subjects that might arouse suspicion, such as ISIL.
"Imams are somewhat afraid to get involved in that issue at all because they believe that the elders of the mosque don't want them to get involved in political issues," he said. He cited evidence of this observed while performing his government work.
he UK has ramped up its anti-terror laws since September 11 and the attacks in London on July 7, 2005. But some Muslims have said they feel stigmatised by such legislation.
Lord Carlile added that mosques — like churches — should have a role in moral and ethical leadership, as well as the spiritual.
Earlier this week, he called on young professional Muslim leaders to take on key roles in mosques to boost the fight against radicalisation.
Muslim leaders and Imams are often "old, male and rather conservative in their approach", Lord Carlile told The Times newspaper. He claimed that younger people are more likely to have stronger leadership skills and hence should be in charge of mosques. Mr Ahmad of the MCB said a sweeping reform of mosques was not required, but acknowledged that mosques needed to become more inclusive to encourage greater participation of young Muslims.
"There are obviously some mosques that do not cater well for young people. And in some mosques there is clearly an issue of the older generation not being willing to make way," he said.
"But generally speaking, mosques are willing to have young people on board. The problem is that young professionals often do not have the time."
And until they find the time, Ahmad called on the government to provide clear guidance on the legislation, so Imams are less terrified of addressing terror.
foreign.desk@thenational.ae
http://www.thenational.ae/world/middle-east/uk-terror-laws-leave-Imams-afraid-to-tackle-isil#ixzz3Bhz7DDbz
-----------
UK Militant 'Would Be Honoured' To Perform Execution
29 August 2014
A British militant apparently fighting alongside extremists in Syria has claimed that he would be "honoured" to perform an execution similar to the murder of U.S. journalist James Foley, in a recent interview via video link with CNN.
CNN spoke to two masked men, Abu Anwar al-Brittani and Abu Bakar, who gave the interview from an unknown location this week.
For his part, al-Brittani said he would be "more than honoured" to perform a killing.
"I hope God gives me the chance to do such a thing as the brother did with James Foley. Whether it be someone like James Foley or a soldier of Bashar [al-Assad, the Syrian president] or a soldier of America.
"My hands are ready to do this task."
Foley was held captive for two years before his execution last week.
Abu Bakr told CNN's interviewer Atika Shubert that he would return back to Britain if "your countries don't stop attacking us.
"I am ready to take that step to come back if your armies, your countries don't stop attacking us."
The number of British men fighting in Syria and Iraq with extremists forces such as ISIS is roughly 500, CNN reported.
Muslims in the UK, including parents of those suspected to have joined extremist groups, said they would work with police and intelligence to help find these militants.
Chief executive of Britain's Ramadhan Foundation, Mohammed Shafiq, promised to help police and intelligence agencies find British-based extremists or those who return home from fighting for ISIS.
"As Muslims, we reject terrorism and the evil ISIS, they do not act in our name and we abhor anyone who supports them," he told the Metro newspaper.
"We stand ready to support the police and intelligence agencies in their work to defeat terrorism and protect our nation," he said.
Towards the end of the interview, al-Brittani comments on the Muslim Council of Britain's denouncement of ISIS. The body recently condemned ISIS' "psychopathic violence, whether it is on minorities, on civilians, or on fellow Muslims" in a statement posted on their website.
"ISIS does not speak for Islam, and has been repudiated by all Muslims," the statement read.
Al-Brittani retorted: "The Muslim council of Britain are apostates. They are not Muslims, they have always fought against Islam with the British government."
He ends by saying: "They have tried to stop young men going to Afghanistan, Iraq, Syria and they work in these so-called 'anti-extremist projects. They are not Muslims."
http://english.alarabiya.net/en/News/middle-east/2014/08/29/British-ISIS-militant-threatens-to-return-home.html
-----------
Austria Is 'Jihad Hub' Second Only To London
Aug 29, 2014
Vienna, Austria has been named as a hub for jihadists travelling to Syria, second only to London as "jihadists playground".
Der Standard reports that Austria is being used as a hub for the recruitment and organisation of European jihadists, who then travel through the Western Balkans to Syria.
Commenting on Austria's problem, an American national security expert this week wrote, "the British capital has been known as Londonistan for nearly twenty years among counterterrorism professionals, due to its notorious status as a major hub of the global jihad, thanks to lax British laws that have long permitted extremists to find sanctuary there. . While London deserves its reputation as a jihadist's playground, Vienna is running in second place, and has been for some time, though this is seldom realized outside Central and Eastern Europe."
Turkey also plays a role in the terrorist networks as it both shares a large border with Syria and is linked to Millî Görüs, a controversial movement to which Austria also has links.
Around 130 fighters traveled from Austria to Syria last year, of which only a quarter are understood to be legal Austrian residents. Around half hail from the Caucasus region, which others are mostly either Bosnian or Turkish.
Der Standard reports that Austria has not so far been effective at de-radicalising fighters returning from Syria. There is no social program for those wishing to leave the radical Islamic movement, and a telephone hotline for those wanting to leave has also been postponed repeatedly.
Equally concerning are reports on the tight restrictions on the intelligence services when investigating possible jihadists. The Austrian intelligence agency, the BVT, is not allowed to search social networks such as Facebook or Twitter to uncover possible activity unless it holds a court order permitting it to do so. Even then, if nothing is found that warrants further investigation the information can only be held for a maximum of six months.
John R Schindler, a professor of national security affairs at the US Naval War College explored the Austrian problem in a recent blog post entitled Vienna Calling: How Austria Became a Hub of Global Jihad. He slams the relaxed attitude of both the British and Austrian authorities in dealing with the problem, but concedes that they are starting to wake up to the problem.
In the comprehensive post, he includes a hard-hitting statement from BVT, which reads "Religiously motivated extremism and terrorism - above all of Islamic character - as well as Salafi-jihadi groups continue to present a great potential threat.
The number of young radicalized followers of violent Salafism continues to rise. In this context, the conflict in Syria is of urgent relevance for Austria, since systematic efforts are being made within [Austria] to radicalize and recruit people for the war in Syria.The conflict in Syria has become very popular among violent extremist Salafis. The spectrum of recruits to the conflict in Syria is broadly ethnically diverse. The motivation, however, seems to be uniformly jihadi."
Schindler also notes that the laws in Austria are not conducive to tackling the problem, as terrorism is defined very narrowly. He highlights "a typical case: a Turkish citizen who is said to have been the middleman for the arrested Chechens, a jihad facilitator who was helping them get to Turkey, has been reported to the police, but is still free."
The Austrian officials are long known to have taken a laissez-faire approach to underground networks and spying taking place within their country. Until now, their attitude has been to look the other way as long as it doesn't affect them. But with jihadist fighters now returning to Austria, officials are starting to grow more concerned about what this could mean for Austrian national security.
Although only five to ten percent of jihadists typically become directly involved with terrorist activities upon their return from the Middle East, many more act as founders of new radical cells and as proselytizers. As Schindler puts it, "The option of looking the other way and avoiding the issue, which has been the customary Austrian approach, is defunct."
http://www.breitbart.com/Breitbart-London/2014/08/27/Austria-is-A-Jihadist-Hub-Second-to-London
-----------
With Gaza war, movement to boycott Israel gains momentum in Europe
Steven Erlanger,NYT News Service | Aug 29, 2014
LONDON: A branch of Sainsbury's grocery store removed kosher products from its shelves, it said, to prevent anti-Israel demonstrations. The Tricycle Theater in north London, after hosting a Jewish film festival for eight years, demanded to vet the content of any film made with arts funding from the Israeli government. George Galloway, a member of Parliament known for his vehement criticism of Israel, declared Bradford, England, an "Israel-free zone."
Galloway, in comments being investigated by the police, said, "We don't want any Israeli goods; we don't want any Israeli services; we don't want any Israeli academics coming to the university or college; we don't even want any Israeli tourists to come to Bradford."
The war in Gaza and its aftermath have inflamed opinion in Europe and, experts and analysts say, are likely to increase support for the movement to boycott, disinvest from and sanction Israel, known as BDS.
"We entered this war in Gaza with the perception that the Israeli government is not interested in reaching peace with the Palestinians," said Meir Javedanfar, an Israeli analyst at the Interdisciplinary Center Herzliya, a private university. "Now, after the casualties and the destruction, I'm very worried about the impact this could have on Israel. It could make it very easy for the BDS campaign to isolate Israel and call for more boycotts."
Gilead Sher and Einav Yogev, in a paper for the Institute for National Security Studies in Tel Aviv, warn that Gaza means Israel pays "a much heavier price in public opinion and in erosion of support for its positions in negotiations with the Palestinians."
Daniel Levy of the European Council on Foreign Relations points to the debate over halting arms exports to Israel, which has been given new momentum in Britain and Spain by the asymmetry of the Gaza war.
"You're beginning to see the translation of public sympathy into something politically meaningful," he said. He noted two tracks — the governmental one, which distinguishes between Israel and the occupied territories, and the social one of academic, commercial and artistic boycotts.
But for all the new attention around the BDS movement, the economic impact has been small, experts say. The European Union, which has been looked to for leadership on the issue, does not support the idea.
Instead, the Europeans are drawing a legal distinction between Israel within its 1967 boundaries and Israeli towns and settlements that are beyond them in occupied land. Brussels regards all Israelis living beyond the 1967 lines, including those in East Jerusalem, as settlers living in illegal communities whose status can be regulated only through a negotiated peace agreement with the Palestinians.
In matters such as scientific cooperation, funding for research, import duties and labeling requirements, Brussels has sought a strong relationship with pre-1967 Israel, while demanding a different status for institutions and products from beyond the Green Line, the armistice lines that ended the 1967 fighting but did not fix borders or create a Palestinian state.
Martin Schulz, the president of the European Parliament, said before the Gaza conflict that "there is no boycott" of Israel by the European Union, citing trade and scientific cooperation. "The European Union defends the right of existence of Israel with all its means," he said. "The view that the Europeans are against Israel, I repeat it, is wrong."
Some members of the 28-nation European Union are closer to Israel than others, but the bloc is united on Israel within its 1967 boundaries.
"Our relationship with Israel is close and one of the best we have in the region, but only with Israel in its 1967 lines unless there is a peace agreement," said a senior European Union official who spoke on the condition of anonymity in keeping with diplomatic protocol. "We are clear, however, that what came under Israeli control in 1967 is not a part of Israel, so the settlements are illegal under international law and not helpful in the peace process."
To that end, the European Union has demanded that all products produced by Israelis beyond the 1967 lines be labeled differently, and they are excluded from the duty-free trade agreement the bloc has with Israel proper. Goods from settlements are imported, but under different labels and tariffs. "There is no question of a boycott," the European official said.
In an agreement last December on scientific exchanges and funding, known as Horizon 2020, Brussels insisted, despite fierce opposition from the Israeli government, on keeping Israeli institutions in the West Bank, like Ariel University, out of the deal. Since European funding is so important to Israeli academic institutions, the Israeli government gave in, attaching a legally meaningless appendix opposing the distinctions.
While some Israeli companies label goods produced in the West Bank as Israeli, the Europeans have tried to crack down, insisting that permits have a physical address attached and not simply an Israeli post office box. Goods can be labeled "West Bank" or as coming from a particular place, but cannot say "Made in Israel."
The European Union has gone considerably further than the United States, declaring that Israeli settlements over the Green Line are "illegal" under international law; the United States simply calls them "illegitimate" and "obstacles to peace."
Israel says its settlement activity is consistent with international law, although it accepts that some settlements are built illegally on privately owned Palestinian land and says that all will be resolved as part of a final deal with the Palestinians.
The United States also has no regulations requiring separate labeling of products from Israeli-occupied land.
The recent fuss over SodaStream and one of its spokeswomen, the actress Scarlett Johansson, was indicative of the passions raised. Oxfam insisted she quit SodaStream, which has a factory in the large West Bank settlement of Maale Adumim, or quit her work with Oxfam; Ms. Johansson chose to quit Oxfam. SodaStream defended itself by citing the number of jobs it was providing for Palestinians, who were being paid the same wages as Israeli workers.
The debate was indicative of shifting attitudes. During the period around the Oslo Accords, in the early 1990s, when peace seemed close and economic cooperation between Israel and the new, interim Palestinian Authority was considered an important part of a future relationship built on mutual dependency and confidence, factories in occupied territory were praised.
With the failure of Oslo to produce a Palestinian state, the tone has changed, and companies once seen by many as in the forefront of economic cooperation are now being seen by some as colonial occupiers undermining a future Palestinian state.
But the interconnection of Israel with the settlements is difficult to untie — every major Israeli bank has a branch in the settlements.
Some countries, like Britain, have gone further. Britain issued voluntary labeling guidelines in December 2009 "to enable consumers to make a more fully informed decision concerning the products they buy," according to the UK Trade and Investment agency, because "we understand the concerns of people who do not wish to purchase goods exported from Israeli settlements in the Occupied Palestinian Territories."
More troubling to Israel, in December the agency warned companies and citizens to be "aware of the potential reputational implications" of investments in settlement areas. "We do not encourage or offer support to such activities," it said.
But even these concerns should be distinguished from the organized BDS campaign against the state of Israel itself. Begun in 2005, the campaign is supposed to last, the Palestinian BDS National Committee says, until Israel "complies with international law and Palestinian rights."
Its three goals are "the end of Israeli occupation and colonization of Arab land and dismantling the Wall," "full equality" for "Arab-Palestinian citizens of Israel," and respect for the right of return of Palestinian refugees. Israelis see the first two as compatible with two states, but the third as the end of the Jewish state.
Then there is the associated effort at an academic and cultural boycott of Israel, which has attracted well-known figures like Stephen Hawking and Sinead O'Connor. Others defend artistic freedom or the unifying nature of culture, or believe, as the writer Ian McEwan said, "If I only went to countries I approve of, I probably would never get out of bed."
http://timesofindia.indiatimes.com/world/middle-east/With-Gaza-war-movement-to-boycott-Israel-gains-momentum-in-Europe/articleshow/41169687.cms
--------
Prosecuting ISIS poses challenge to international justice
Aug 29, 2014
International rights groups have condemned the brutality of the Islamic State in Iraq and Syria (ISIS), but how the group will be prosecuted for the alleged crimes it has committed remains unclear.
U.N. human rights chief Navi Pillay has said the crimes committed by ISIS would amount to crimes against humanity and war crimes under international law.
Prosecution of the group faces two main challenges, the inter-jurisdictional nature of their crimes, and the non-state status of the instigators.
Individual Criminal accountability
While ISIS's international legal personality is unclear, individuals from the group can be tried for the crimes linked to the group.
"Individuals are held accountable for the crimes they have directly committed or for certain crimes committed by those under their command, under the principle of superior responsibility," Cecile Aptel, Senior Legal Advisor to the U.N. High Commissioner for Human Rights, told Al Arabiya News.
Full report at:
http://english.alarabiya.net/en/perspective/analysis/2014/08/28/Prosecution-of-ISIS-poses-challenge-to-intenational-justice.html
-----------
Fijian UN Troops in Golan Used As Hostages by Syrian Rebels
Aug 29, 2014
UNITED NATIONS: Negotiations are going on for the release of 43 United Nations Disengagement Observer Force (UNDOF) peacekeepers in the Golan Heights who are being held hostage by Syrian rebels, the UN said Friday.
The UN said the captured soldiers are from Fiji and another 81 peacekeepers who are trapped in their positions are from the Philippines.
A UN press office said in a statement on Friday that the peacekeepers were seized "during a period of increased fighting beginning yesterday between armed elements and Syrian Arab Armed Forces within the area of separation in the Golan Heights."
"The United Nations is making every effort to secure the release of the detained peacekeepers, and to restore the full freedom of movement of the force throughout its area of operation," it said.
Full report at:
http://www.arabnews.com/featured/news/622121
-----------
Africa
Boko Haram Declares Full Sharia; Beheads Christian Men, Forces Women To Marry
Aug 29, 2014
Following the declaration of GWOZA town in the troubled north-eastern state of Borno as an Islamic Caliphate and the recent takeover of Madagali by the Boko Haram insurgents, the extremists have reportedly beheaded every Christian man available in the areas, while their wives have been forced into Islam and given out in marriage to the sect members.
The Director, Social Communications of the Catholic Diocese of Maiduguri, gave this revelation on Thursday, in an electronic statement to Journalists in Maiduguri, the Borno state capital.
According to the statements, the Islamist terrorist group, Boko Haram has advanced greatly in their rampage and killings, to the extent of declaring a Caliphate in Gwoza LGA of Borno State, a town bordering Borno and Adamawa states.
"As it is well known, the catholic diocese of Maiduguri covers the whole of Yobe, Borno and Adamawa States, the three states under strict emergency rule. Apart from the churches within Maiduguri that have great share of such attacks by the terrorists group, all the churches on the major road linking Maiduguri and Adamawa state have been shut down due to activities of the insurgents." The statement reads.
It further stated that, "St Timothy's Bama has been under siege since last year. The Parish Priest, Rev. Fr. Timothy Cosmas had long been relocated to a different Parish. At the early part of this year, St. Peter's Pulka was badly attacked. Thanks to God that, Fr. James John was luckily unavailable. The terrorists searched and wanted to kill the holy Priest of God.
"Lately, precisely on Friday, Augustn 22, 2014, the dreaded group had moved steadily and yet more boldly into Gwoza which is in Borno state and the neighbouring Madagali LGA in Adamawa State, declaring a caliphate.
Full report at:
http://dailypost.ng/2014/08/28/boko-haram-declare-full-sharia-beheads-christian-men-forces-women-marry-gwoza-madagali/
-----------
BBOG claims Boko Haram has 50,000 members in its camp
Aug 29, 2014
The Bring Back Our Girls, BBOG, campaign has said that the outlawed Boko Haram sect has about 50,000 members in its camp.
The group, which made this claim in Abuja on Wednesday said it was quoting Mr. Ahmad Salkida, a Nigerian journalist who is said to be very close to the camp of the Boko Haram.
It said, ''According to Mr. Ahmad Salkida, Boko Haram has up to 50,000 people in their camps, most of them are sad and willing to die–as suicide bombers. If we're not mindful our selfishness in not standing up now will consume us all. For these reasons and others, our advocacy must continue; we must continue telling the truth and demanding for it to be told."
The group called on its members and the general public not to relent until the abducted girls return home unharmed.
Full report at:
http://dailypost.ng/2014/08/28/bbog-claims-boko-haram-50000-members-camp/
-----------
Libya's interim government resigns under pressure
Agence-France Presse | Benghazi | August 29, 2014
Libya's toothless interim government, led by prime minister Abdullah al-Thani, announced it had tendered its resignation to the elected parliament, days after a rival Islamist administration was created.
The interim government, operating in the east of the country to avoid the Islamist militias which have a strong presence in Tripoli, said on Thursrday it "presented its resignation to the elected parliament", which is based in Tobruk, 600 kilometres east of the capital, also for security reasons.
The announcement came three days after Libya's General National Congress, officially replaced by the parliament elected in June, on Monday named pro-Islamist figure Omar al-Hassi to form a "salvation government".
The Islamist-dominated GNC convened in Tripoli following an appeal by Islamists groups which contest the legitimacy of the parliament based in Tobruk.
"The GNC dismissed Abdullah al-Thani as head of government and gave Omar al-Hassi a week to form a salvation government," GNC spokesman Omar Ahmidan told journalists in Tripoli on Monday.
Full report at:
http://indianexpress.com/article/world/middle-east-africa/libyas-interim-government-resigns-under-pressure/
-----------
India
Pak Terror Groups Sent Recruits for ISIS 'Jihad': India Tells US
August 29, 2014
India has informed the US that the Pakistan-based proscribed groups, including Lashkar-e-Taiba (LeT) and Jaish-e-Mohammed (JeM), were sending recruits to Syria and Iraq via Saudi Arabia and Turkey to join the Islamic State in Iraq and the Levant-led 'jihad'. New Delhi has also alerted Riyadh about this new challenge, with Saudi Arabia assuring India of all support.
South Block officials say that while India has diplomatically mentioned LeT's global terror presence to the Obama administration, New Delhi has alerted Washington about the Pakistan-based terror groups changing the theatre from Afghanistan and Kashmir to Iraq in support of Caliphate under Abu Bakr Al Baghdadi. According to the information available, LeT terrorists — who share the puritan Salafi ideology with the ISIS — used the Saudi Arabia route to enter Syria and Iraq until January this year.
Full report at:
http://www.hindustantimes.com/india-news/pak-terror-groups-sent-recruits-for-isis-jihad-india-tells-us/article1-1257663.aspx
-----------
US Labels Pak Money Exchanger 'Global Terrorist' For Funding Let
Express News Service | New Delhi | August 29, 2014
The US government has designated Pakistan-based Asma Money Exchangers, a money service provider and currency exchange business, and its owner Muhammad Iqbal, as global terrorists for allegedly providing financial support to terror outfit Lashkar-e-Toiba. The LeT is responsible for a series of terror strikes in India, including the 2008 Mumbai attacks.
"Muhammad Iqbal exploited the trust placed in him as a financial intermediary to help (the) LeT receive money through his business, Asma Money Exchangers (AME). Money service providers and other financial institutions must be careful gatekeepers, and keep terrorist money out of the international financial system," US Department of Treasury said in a statement issued on Wednesday.
Iqbal has been labelled a Lashkar conduit and "a founding member of Lashkar-affiliated NGO Falah-i-Insaniat Foundation's (FIF) governing board". According to Under Secretary for Terrorism and Financial Intelligence David S Cohen, the State Department "identified FIF as an alias of Lashkar in November 2010".
Full report at:
http://indianexpress.com/article/india/india-others/us-labels-pak-money-exchanger-global-terrorist-for-funding-let/
-----------
Arab World
Iraqi Jet Fighters Kill Scores of ISIL Terrorists in Mosul
Aug 29, 2014
Iraqi forces claimed the lives of a large number of Islamic State of Iraq and the Levant (ISIL) terrorists in a series of air strikes in the South of Mosul city.
"The army air forces shelled terrorists' hideouts in Jada'a area and killed several of them," a military source said, Alforat news agency reported.
The crisis in Iraq escalated after the ISIL militants took control of Mosul in a lightning advance on June 10, which was followed by the fall of Tikrit, located 140 kilometers (87 miles) Northwest of the capital, Baghdad.
Soldiers of the Iraqi army and Pishmarga have been engaged in heavy fighting with the militants on different fronts and have so far been able to push them back in several areas.
http://english.farsnews.com/newstext.aspx?nn=13930607000174
-----------
Iraqi Sunnis who fought al-Qaeda not keen to quell ISIS
29 August 2014
While Iraqi Sunni tribes were crucial in defeating al-Qaeda in 2005, they have not shown the same determination in battling the Islamic State of Iraq and Syria (ISIS) despite reports of them fighting the militant group.
Political observers say this is due to the disfranchisement of the Sunni population by outgoing Shiite Prime Minister Nouri al-Maliki.
"Malki's government and its Iranian allies suppressed the Iraqi Sunnis so much that ISIS was able to sweep through Sunni areas without much resistance at first because of resentment toward the premier," Walid Phares, an advisor to the U.S. Congress on the Middle East, told Al Arabiya News.
"ISIS is taking advantage and seizing more land, power, and eliminating Arab Sunni moderates in Iraq," Phares said.
Michael Pregent, an adjunct lecturer at the National Defense University in Washington, said the central government broke its promise to integrate 90,000 Sunnis who fought al-Qaeda into the security apparatus, and provide them with jobs.
"They helped get rid of al-Qaeda, but the government fired all of them and put a lot of their leaders in jail," Pregent, a former U.S. Army officer who was embedded with Iraqi Kurdish forces, told Al Arabiya News.
Full report at:
http://english.alarabiya.net/en/perspective/2014/08/29/Iraqi-Sunnis-who-fought-al-Qaeda-not-keen-to-quell-ISIS.html
-----------
Army Kills 12 ISIL Terrorists, Arrests Ringleader in Iraq's Babel
Aug 29, 2014
Iraqi Armed Forces carried out a series of operations in Northern Babel and killed 12 members of the Islamic State of Iraq and the Levant (ISIL) terrorist group.
"The army forces arrested the ringleader of the ISIL during the operations in Abed Wees area of Jurf al-Sakhar district of Northern Babel," the security advisor of Babel Governor Thamir al-Khafaji said, Iraqi News reported.
The crisis in Iraq escalated after the ISIL militants took control of Mosul in a lightning advance on June 10, which was followed by the fall of Tikrit, located 140 kilometers (87 miles) Northwest of the capital, Baghdad.
Soldiers of the Iraqi army and Pishmarga have been engaged in heavy fighting with the militants on different fronts and have so far been able to push them back in several areas.
http://english.farsnews.com/newstext.aspx?nn=13930607000119
-----------
Introduce Compulsory Military Service for All Saudi Men
Aug 29, 2014
I recently read a statement made by the Minister of the National Guard Prince Miteb Bin Abdullah Bin Abdulaziz which was published in local newspapers. Replying to a question from reporters during an inspection tour of National Guard units in the northern Rafha region, he announced that at least for the present time, there was no move underway to start conscription, which is the compulsory enlistment of people in some sort of national service, most often military service.
He said: "There has been a tremendous response from citizens to join the military by enrolling in military academies, colleges and training centers. The number of young men joining these institutes has exceeded the actual requirements for personnel of various sectors of the nation's military forces."
Full report at:
http://www.saudigazette.com.sa/index.cfm?method=home.regcon&contentid=20140829216293
-----------
ISIS Leader Offers Marriage Grants To Militants
29 August 2014
Islamic State in Iraq and Syria chief Abu Bakr al-Baghdadi, the self-declared Muslim Caliph, has ordered a "grant" to members of the radical group who wish to enter matrimony, according to reports Syrian Observatory for Human Rights reported.
The grant includes housing and a sum of $1200, Al Arabiya News Channel reported.
In July, ISIS, which advocates public stoning for adultery, opened a "marriage bureau" for women who want to wed the group's fighters in territory they control in Syria and Iraq.
"Will come knocking at their door"
The militant group's office reportedly operates from al-Bab, a town in Aleppo province of northern Syria, for "single women and widows who would like to marry ISIS fighters," the Syrian Observatory for Human Rights said.
Full report at:
http://english.alarabiya.net/en/News/middle-east/2014/08/29/ISIS-chief-declares-marriage-grant-for-.html
-----------
Jihadists burn 3 Iraq oil wells as Kurds launch attack
Aug 29, 2014
Retreating jihadists set three wells ablaze at a northern Iraq oil field Thursday as they battled Kurdish forces who launched a major attack nearby, officials said.
The Islamic State (IS) jihadists set the wells on fire before deserting the Ain Zalah field, which was seized by militants along in early August, an official from the North Oil Company said.
A colonel in the Kurdish peshmerga forces said they had launched a major attack that has seen the jihadists pushed back from several villages in the area of the oil field.
The officer and Nineveh provincial council chief Bashar al-Kiki both said that Kurdish forces had also taken control of Batana mountain, near Zumar.
Kiki said the strategic position would help the peshmerga retake the Zumar area from jihadists, and that the Kurdish forces are supported by US air strikes.
IS-led militants launched a sweeping offensive in June that overran large areas of Iraq, and turned their sights on Kurdish forces in the north earlier this month, driving them back toward Arbil, the capital of their three-province autonomous region.
Full report at:
http://english.ahram.org.eg/NewsContent/2/8/109462/World/Region/Jihadists-burn--Iraq-oil-wells-as-Kurds-launch-att.aspx
----------
'A Message in Blood': ISIS beheads Kurdish man in warning against backing US
Heather Saul,The Independent | Aug 29, 2014
ISIS has released a video apparently showing the beheading of a Kurdish man in Iraq as a warning to Kurds fighting the group in the country.
The video, entitled "A Message in Blood", was posted online hours after another video purporting to show the mass execution of up to 250 Syrian soldiers in the desert.
It shows a group of captured men, believed to be Kurdish fighters, in orange jumpsuits sat in front of an ISIS flag.
Kurdish "Peshmerga" fighters are trying to counter the militant's advances in northern Iraq. They are backed by US air strikes on Isis targets in the country.
Another man is then shown kneeling on the floor in front of a mosque with three militants behind him in Mosul, Iraq's second biggest city, which was overrun by Isis when their insurgency began.
Full report at:
http://timesofindia.indiatimes.com/world/middle-east/A-Message-in-Blood-ISIS-beheads-Kurdish-man-in-warning-against-backing-US/articleshow/41181681.cms
-----------
Saudi crown prince to discuss militant threat on French trip
29 August 2014
Saudi Arabia's crown prince will next week visit France and hold talks with French leaders that will touch on the threat posed by Islamic State of Iraq and Syria militants, presidency sources in Paris said Thursday.
Salman bin Abdul Aziz, who is also deputy prime minister and defense minister of Saudi Arabia, will meet President Francois Hollande on Monday and will be treated to an official dinner at the Elysee presidential palace.
The two are likely to touch on a $3-billion (2.3-billion-euro) package of French military equipment and arms for Lebanon's army that Riyadh has agreed to finance, as Beirut faces the threat of militants on its border with Syria.
Salman is also due to meet Foreign Minister Laurent Fabius on Wednesday for talks over the situation in Iraq and Syria, where jihadists have seized swathes of territory and are terrorizing Christians and other minorities.
Full report at:
http://english.alarabiya.net/en/News/middle-east/2014/08/29/Saudi-crown-prince-to-discuss-militant-threat-on-French-trip-.html
-----------
El-Sisi reiterates Libya bombing denial as US backtracks
Aug 29, 2014
Egyptian President Abdel-Fattah El-Sisi reiterated on Thursday that his country had no role in recent airstrikes on Islamist militias in the Libyan capital, Tripoli.
"Despite Egypt being one of the most harmed parties from the deteriorating political and security situation in Libya, it is committed to non-interference in internal Libyan affairs," El-Sisi was quoted as saying, by state news agency MENA, during a meeting with a congressional delegation visiting Cairo.
"Egypt is standing by the Libyan people and providing every support and assistance to the legitimate demands and needs in Libya."
The US State Department and the Pentagon said earlier this week they were aware that Egypt and the UAE undertook air raids in Libya.
But the State Department later backed off from its statement, with spokeswoman Jen Psaki saying the infromation she had was "inaccurate."
She said in a press briefing on Thursday that her comments "were intended to refer to countries that have been reportedly involved and not to speak to whether they were involved or their kind of involvement."
http://english.ahram.org.eg/NewsContent/1/64/109491/Egypt/Politics-/ElSisi-reiterates-Libya-bombing-denial-as-US-backt.aspx
-----------
Two Morsi supporters get death penalty, 43 others life in jail
Aug 29, 2014
An Egyptian court on Thursday sentenced two supporters of ousted Islamist president Mohamed Morsi to death and 43 others – including a minor – to jail terms from one year to life, in several cases relating to violence after Morsi's removal last summer, state-run news agency MENA said.
The Minya court – in Upper Egypt – also acquitted 28 others.
The sessions included a retrial for 23 defendants who were tried in absentia and sentenced to death and life in jail. Defendants in the case in Matay, Minya governorate, faced charges of attacking policemen and torching a police station.
The court also issued verdicts in six other cases, all in connection to retribution violence that broke out after the forceful dispersal of two main sit-ins held by Morsi supporters in Cairo and which left hundreds dead.
Full report at:
http://english.ahram.org.eg/NewsContent/1/64/109477/Egypt/Politics-/Two-Morsi-supporters-get-death-penalty,--others-li.aspx
-----------
Saudi mufti tells young Saudis not to heed call to jihad
Aug 29, 2014
(Reuters) - Saudi Arabia's Grand Mufti urged young people to ignore calls to jihad from people representing "deviant principles", the latest salvo in an anti-militant campaign by the kingdom's religious establishment.
Riyadh, the world's No. 1 oil exporter, is unnerved by the rapid advance in Iraq and Syria of Islamic State insurgents and fears this could radicalize some of its own citizens and eventually lead to attacks on the U.S.-allied government.
The word "deviant" is usually used in official and religious Saudi circles to refer to the Islamist militant ideology followed by al Qaeda, of which Islamic State is an offshoot.
Sheikh Abdulaziz Al al-Sheikh, the highest religious authority in the country, this month described the creed of al Qaeda and Islamic State as Islam's "enemy number one", a message echoed in Friday sermons across the country.
Full report at:
http://www.reuters.com/article/2014/08/28/us-saudi-security-idUSKBN0GS19M20140828
-----------
Pakistan
Imran, Qadri agree to army chief's mediation
August 29, 2014
ISLAMABAD - On the 14th day of their sit-ins, Chairman Pakistan Tehreek-e-Insaf (PTI) Imran Khan and Pakistan Awami Tehreek (PAT) chief Dr Tahirul Qadri postponed for another 24 hours their next plans of action on the intervention of Army Chief General Raheel Sharif who ensured them to broker a deal with the government.
The tensions and the speculations were high in the capital from the last Wednesday night after the talks between the two protesting parties - PTI and PAT and the government - faced a deadlock.
The situation remained tense from Thursday morning and even key federal ministers in front of the Parliament House humbly asked the protesting parties to call of their sit-in for the sake of the state and the system. The speculations were also rife in the capital that the government was considering to impose curfew in the Red Zone if the protesting parties announced any 'violent step' as part of their next plan of action.
However, the mood of the exhausted capital relaxed on Thursday night when PTI chief Imran Khan came on his custom-made container and said, "I have decided to postpone my next plan of action for 24 hours on the call of COAS General Raheel Sharif."
Full report at:
http://www.nation.com.pk/national/29-Aug-2014/imran-qadri-agree-to-army-chief-s-mediation
-----------
Reluctant Revolutionaries 'Bound To Stay' At Sit-Ins
Aug 29, 2014
ISLAMABAD: Not all the demonstrators on Constitution Avenue are there of their own free will. Indeed, there are many who want to leave but are compelled to stay on. This is especially true for the younger participants of the Pakistan Tehreek-i-Insaf and Pakistan Awami Tehreek's sit-ins, who have better things to do with their time than sitting around waiting on the world to change.
Najma Islam is a 19-year-old from Multan. She was sitting in the shade of some trees outside the Federal Board of Revenue building, books in hand.
She told Dawn she was preparing for her medical entry test, which was scheduled to be held on August 31. "I am very worried about how I'll perform, because I've been here for the past couple of weeks, when I could have been studying," she said.
Najma's father has been an ardent follower of Dr Qadri for nearly a decade now and made his entire family come to the march because "he had promised his leader".
Not all participants of sit-ins there of their own accord
"I obtained more than 80 per cent marks in my FSc exams and was enrolled in a tuition academy, preparing for the entry test when my father told me we had to go to Lahore for the long march. It was very difficult for me to study during the march. I could at least read my notes in the daylight, but at night, there was no light to read by," she said.
Full report at:
http://www.dawn.com/news/1128532/reluctant-revolutionaries-bound-to-stay-at-sit-ins
-----------
Two journalists among three shot dead in Quetta
August 29, 2014
QUETTA - A gunman opened fire on the offices of a domestic private news agency in Quetta on Thursday, killing three people including two journalists, officials said.
"A gunman entered the offices of the Online news agency and began firing indiscriminately, killing the bureau chief, named Irshad Mastoi, and accountant on the spot," Balochistan Home Secretary Akbar Hussain Durrani told AFP.
He said the third victim, a reporter, sustained serious injuries and died of his wounds in the hospital.
City police chief Abdul Razaq Cheema also confirmed the incident and casualties.
No group has claimed the attack and the motive remains unclear.
Police said unknown armed man barged into the news agency's office located at Jinnah Road and opened indiscriminate firing on the people present in there.
The assailant managed to escape from the scene after committing the crime.
Dead bodies of the victims were rushed to Civil Hospital in Quetta. A large number of journalists reached the hospital and chanted full-throated slogans against the cold-blooded murder of journalists.
Full report at:
http://www.nation.com.pk/national/29-Aug-2014/two-journalists-among-three-shot-dead-in-quetta
-----------
Did not ask army to mediate: PM Nawaz
Aug 29, 2014
ISLAMABAD: Prime Minister Nawaz Sharif said his government had not requested nor had the army asked to act as a mediator in helping resolve the political crisis in the country.
Speaking on the floor of the National Assembly, the prime minister said in his presence Interior Minister Chaudhry Nisar had received a telephone call regarding Imran Khan and Tahirul Qadri wanting to meet Army chief General Raheel Sharif. Prime Minister Sharif informed parliamentarians that he said if Khan and Qadri had requested a meeting the army chief should meet them.
"Even if I did not meet the army chief yesterday, he would still have played a role," Sharif said.
Full report at:
http://www.thenews.com.pk/article-158182-Did-not-ask-army-to-mediate:-PM-Nawaz-
-----------
Prof Ajmal recovered after four-year abduction
Aug 29, 2014
PESHAWAR: Vice Chancellor of Islamia College University Prof Ajmal has been recovered after four years after four years of abduction.
He was kidnapped on September 8 2010 when he was on his way to the university.
He is said to have been recovered from Shawal area of North Waziristan where the armed forces are conducting a large scale operation.
http://www.thenews.com.pk/article-158162-Prof-Ajmal-recovered-after-four-year-abduction-
-----------
Opposition Leader pledges to stand by Constitution and Parliament
Aug 29, 2014
ISLAMABAD: Opposition Leader in the National Assembly, Khursheed Shah in a fiery speech pledged to stand with the Constitution and Parliament like a brick wall.
Shah hoped that the resolution in support of the democratic system would be implemented by Parliament. Shah told Prime Minister Nawaz Sharif to stand firm and not compromise on democracy and the Constitution.
"We have sacrificed our leader and fought for democracy in the country," Shah said.
The opposition leader praised the role of the Pakistan Army and said they were called to Islamabad under Article 245.
In reference to the government's claim that PTI chairman Imran Khan and PAT chief Tahirul Qadri had sought meetings with Army chief General Raheel Sharif, Shah said the ISPR should issue a clarification regarding who had called for these meetings.
http://www.thenews.com.pk/article-158181-Will-stand-by-Constitution-and-Parliament,-says-Khursheed-Shah-
-----------
PTI Senior Leader shocked' at Nawaz's speech
Aug 29, 2014
ISLAMABAD: Pakistan Tehreek--Insaf (PTI) senior leader Shah Mehmood Qureshi said he was "shocked" at Prime Minister Nawaz Sharif's declaration that it was Tahirul Qadri and Imran Khan who requested a meeting with General Raheel Sharif.
Speaking to the media on Friday, Qureshi dismissed Nawaz's assertion, terming the government "confused". He stated that the government's stance was a 'volte-face' as compared to what was discussed yesterday.
The PTI leader said the party had responded to the government's negotiation offers in a positive manner. He said the party was open to talks even today.
Speaking shortly after the National Assembly session where Prime Minister Nawaz Sharif and Interior Minister Chaudhry Nisar Ali Khan said they have involved the army at the behest of protesting parties, Pakistan Awami Tehreek (PAT) chief Tahir-ur-Qadri said the government had "lied to the whole nation".
http://www.dawn.com/news/1128560/shah-mehmood-qureshi-shocked-at-nawazs-speech
-----------
North America
Man With ISIS Flag Threatens Chicago Cop With Bomb: Police
Aug 29, 2014
A man with the flag of Iraqi militant group ISIS waving from his car threatening to bomb police when he was pulled over on Chicago's Southwest Side on Wednesday morning, police say.
Emad Karakrah, 49, faces felony charges of disorderly conduct and aggravated fleeing, and a misdemeanor count of driving on a never-issued license, according to Chicago police. He was also issued three traffic citations.
Someone called police after seeing a "suspicious person" driving a silver Pontiac southbound in the 7700 block of South Kedzie at 9:18 a.m. with an ISIS flag waving out the window, according to a police report.
Officers tried to pull over the vehicle, but the driver took off, according to the report. The officers called for assistance, and another officer pulled the vehicle over after it drove through several red lights.
Full report at:
http://www.nbcchicago.com/news/local/Man-With-ISIS-Flag-Allegedly-Threatens-Chicago-Cop-With-Bomb--273125941.html#ixzz3BiUJcsEp
-----------
US identifies citizens joining rebels in Syria, including ISIS
Michael S Schmidt & Eric Schmitt,NYT News Service | Aug 29, 2014
WASHINGTON: US intelligence and law enforcement agencies have identified nearly a dozen Americans who have traveled to Syria to fight for the Islamic State, the militant group that the Obama administration says poses the greatest threat to the United States since al-Qaida before the Sept 11, 2001, attacks.
As Islamic State has seized large expanses of territory in recent months, it has drawn more foreign men to Syria, requiring more US and European law enforcement resources in the attempt to stop the flow of fighters, senior US officials said. And as a result of the increasing numbers of men, Islamic State is recruiting foreign women as jihadist wives.
Islamic State has become more attractive to would-be militants because, unlike al-Qaida, it has seized territory that it rules by strict Islamic law. "ISIS is able to hold itself up as the true jihad," a senior US official said, using the acronym for another name for Islamic State. "They're saying: 'Look at what we are doing, what we're accomplishing. We're the new face. We're not just talking about it. We're doing it.'"
Islamic State's attraction to some is based on its reputation for brutality. On Thursday, that reputation grew worse when it was revealed that it had waterboarded four hostages early in their captivity, including American journalist James Foley, who was beheaded this month.
Overall, US intelligence officials said the number of Americans who have joined rebel groups in Syria, not just Islamic State, had nearly doubled since January. The officials now believe that more than 100 Americans have fought alongside groups there since the civil war began three years ago.
Full report at:
http://timesofindia.indiatimes.com/world/us/US-identifies-citizens-joining-rebels-in-Syria-including-ISIS/articleshow/41164663.cms
---------
Obama tamps down prospect of strikes in Syria
Aug 29, 2014
President Barack Obama played down the prospect of imminent U.S. military action in Syria, saying "we don't have a strategy yet" for degrading the violent militant group seeking to establish a caliphate in the Middle East.
Mr. Obama spoke shortly before convening a meeting of his national security advisers on a range of Pentagon options for confronting the Islamic State group. However, he said his strategy would require more than military action and called for a regional strategy that includes political support from other countries in the region.
In blunt terms, the President said it was time for Middle Eastern nations to "stop being ambivalent" about the aims of extremist groups like the Islamic State.
"They have no ideology beyond violence and chaos and the slaughter of innocent people," Mr. Obama said, alluding to the group's announcement last week that it had killed American journalist James Foley. The militants also have threatened to kill other U.S. hostages.
The U.S. already is striking Islamic State targets in Iraq, and officials have said the president is considering similar action in neighbouring Syria in the wake of Foley's death. The militants have moved with ease between the two countries, effectively blurring the border.
"The suggestion has been that we'll start moving forward imminently and somehow Congress, still out of town, will be left in the dark," Mr. Obama said. "That's not what's going to happen."
Full report at:
http://english.alarabiya.net/en/News/2014/08/29/Report-ISIS-waterboarded-Syria-captives.html
-----------
Report: ISIS 'water boarded' Syria captives
29 August 2014
While U.N. Secretary General Ban Ki-moon reiterated his condemnation of yet another crime by the Islamic State of Iraq and Syria on Friday, the Washington Post reported that at least four Western hostages held by the militant group were waterboarded.
The hostages including murdered American journalist James Foley were waterboarded in the early part of their captivity in Syria, The Washington Post said Thursday.
Foley, whose recent execution at the hands of the extremists provoked revulsion, and the other kidnapped Westerners were waterboarded "several times," the newspaper said, citing people familiar with their treatment.
Sources involved in trying to free the hostages have confirmed to AFP that waterboarding was used on at least one hostage.
Full report at:
http://english.alarabiya.net/en/News/2014/08/29/Report-ISIS-waterboarded-Syria-captives.html
-----------
US flip flops on statement about Egypt, UAE role in Libya air strikes
Aug 29, 2014
The US State Department has backtracked on earlier claims that Egypt and the UAE carried out air raids on militia-allied Islamist targets in conflict-hit Libya.
Two days ago, State Department spokeswoman Jen Psaki said Washignton was aware of "air strikes undertaken in recent days by the UAE and Egypt" in Libya.
But on Thursday she told a regular press briefing that such information was imprecise.
"I had inaccurate information just two days ago, I believe, when I spoke to this," she told reporters in Washington.
"My comments were intended to refer to countries that have been reportedly involved and not to speak to whether they were involved or their kind of involvement," Psaki added, without giving details.
"So I would point you to any of the countries that have been reportedly involved and speak to them about what they'd like to say."
Full report at:
http://english.ahram.org.eg/NewsContent/1/64/109489/Egypt/Politics-/US-flip-flops-on-statement-about-Egypt,-UAE-role-i.aspx
-----------
'It would be an honour to join ISIS and become a citizen of the caliphate: Nidal Hasan
Aug 29, 2014
The former Army psychiatrist who killed 13 people in the 2009 shooting spree at Fort Hood has said it would be 'an honor' to join the caliphate in a letter to ISIS, it has been reported.
Nidal Hasan has apparently requested to be made a 'citizen soldier' of the caliphate in the letter to Islamic State leader Abu Bakr al-Baghdadi.
Hasan opened fire on his fellow servicemen and women on November 5, killing 13 and injuring 30 others.
He was shot and paralyzed from the waist down in the resulting gunfire and was sentenced to death last year.
Earlier this year FBI Director James Comey testified that he believed the shooting carried out by Hasan at Fort Hood in Texas was inspired by al-Qaeda.
The federal government has termed the attack an incidence of 'workplace violence,' saying that the home-grown Hasan didn't meet the legal definition of an international terrorist.
In an undated letter, obtained by Fox News, Hasan reportedly requests to be made a 'citizen' of the Islamic State.
Full report at:
http://www.dailymail.co.uk/news/article-2737475/It-honor-join-ISIS-citizen-caliphate-says-former-US-Army-psychiatrist-killed-13-shooting-spree-Fort-Hood.html#ixzz3BjaniheD
-----------
Southeast Asia
Breakaway Moro group admits alliance with ISIS
Aug 29, 2014
DAVAO CITY, Philippines—The Bangsamoro Islamic Freedom Movement (BIFM) confirmed Friday that it has forged an alliance with the Islamic State in Iraq and Syria.
However, Abu Misry Mama, BIFM spokesperson, said they have not sent any of their men to Iraq or Syria to fight alongside ISIS, or even to train there.
Earlier, former president Fidel Ramos said around 100 Filipino Muslims had gone to Iraq and Syria to train there and help ISIS in its campaign to put up a Caliphate.
ISIS or the Islamic State of Iraq and Syria is the successor Islamist militant group that emanated from Al Qaeda in Iraq.
"There is no truth to the reports that we have sent fighters to Syria and Iraq. We do not need to train there because our training grounds in Mindanao are enough already," Mama said in a telephone interview.
He said members of the BIFM's armed-wing, the Bangsamoro Islamic Freedom Fighters (BIFF), did not need foreign trainings.
"In fact, there are also no foreigners in our camps to train us because we can train on our own," Mama said.
But while denying the BIFM has sent fighters to Iraq and Syria, Mama said an alliance had indeed been formed between ISIS and BIFM.
He said the alliance between ISIS and the BIFM was finalized through the use of mobile phones and the Internet in July.
Full report at:http://globalnation.inquirer.net/109769/breakaway-moro-group-admits-alliance-with-isis#ixzz3BiTK9Rwp
-----------
Philippine Muslim rebels oppose Islamic State 'virus'
Agence France-Presse
Aug 29, 2014
MANILA, Philippines — The Philippines' largest Muslim rebel group has condemned extremist jihadists in Iraq and Syria, and vowed to stop the spread of their "virus" into the Southeast Asian nation.
After decades of armed rebellion that claimed tens of thousands of lives, the Moro Islamic Liberation Front (MILF) signed a peace agreement in March that commits it and the national government to share power in the area.
The MILF portrayed its moderate leadership as vital to stopping the savage ideology of Islamic State (IS) infecting the southern Muslim regions of the mainly Catholic Philippines.
"The MILF condemns barbarism and savagery whether done by other groups including the ISIS or even by its (MILF's) own members," the MILF said in an editorial posted on its www.luwaran.com website this week.
"Frankly, it is the power, moderating line, and influence of the MILF that hinders the birth of a truly strong radical group."
The MILF also said a planned Muslim autonomous region that is the centerpiece of the peace deal would be a bulwark against the ideology of the Islamic State, which is also known as ISIS.
The MILF urged President Benigno Aquino to approve a draft bill to create the autonomous region, which was submitted to him last week by a joint committee of rebel and government negotiators.
Full report at:http://globalnation.inquirer.net/110079/philippine-muslim-rebels-oppose-islamic-state-virus#ixzz3BiSV7WSN
-----------
Malaysian Home Ministry monitoring travels of Muslim men of fighting age
Aug 29, 2014
The Home Ministry and police are keeping tabs on the overseas travels by Muslim men of fighting age as fears grow of the threats posed by Malaysians returning home from the Middle East.
Deputy Home Minister Datuk Wan Junaidi Tuanku Jaafar, who said that Malaysia would never become a training ground or sanctuary for terrorists, estimated about "20, 20 plus" Malaysians are fighting in the Middle East.
It was estimated that some 12,000 foreign jihadists from 50 countries have gone to Syria and they are believed to be fighting for the Islamic State of Syria and Iraq (Isis).
"The truth is the police know all of them (Malaysians) who are fighting there," Wan Junaidi said after chairing a preparatory meeting of the 1KDN carnival in Kuching.
He said police took some time to track down and identify them because the jihadists were careful in covering their tracks when travelling abroad.
"They did not fly directly from Malaysia to their intended destination. They would go elsewhere first.
Full report at:
http://www.themalaysianinsider.com/malaysia/article/home-minstry-monitoring-travels-of-muslim-men-of-fighting-age-says-wan-juna#sthash.8XgZC9Jk.dpuf
-----------
Enforced Muslim dress code at RTD turning Malaysia 'upside down', says Zaid
AUGUST 29, 2014
KUALA LUMPUR, Aug 29 — Malaysia is being turned on its head when ministers and even regular government agencies demand that non-Muslims cover their heads and knees, in mimicry of Arabic culture, a former minister said.
Datuk Zaid Ibrahim voiced alarm in the wake of calls for Muslim stewardesses in Malaysia Airlines (MAS) to don the "tudung" to cover their heads aboard flights, which he observed was supported by Youth and Sports Minister Khairy Jamaluddin, an Oxford graduate.
"In this Islamic country, more and more of our Muslim ladies are thinking and behaving like the women of Saudi Arabia. They wear the tudung as a mark of their Muslim identity," he said in a blog post yesterday titled, "Leave MAS alone".
"Those who want to show their hair and wear a kebaya instead of the loosely-tailored baju kurung should be allowed to do so without attracting the threat of disciplinary action or even demotion," he added, referring to Malay-Muslim school teachers, civil servants and students.
Briefly the de facto law minister during the Abdullah administration, Zaid related with consternation that his lady Chinese friend had been admonished during a recent trip to the Road Transport Department (RTD) in Petaling Jaya by an official who barred her from entering dressed in shorts that showed her knees.
Full report at:
http://www.themalaymailonline.com/malaysia/article/enforced-muslim-dress-code-at-rtd-turning-malaysia-upside-down-says-zaid#sthash.Lsf5q6d0.dpuf
-----------
Ban Ki-moon, SBY Call for Greater Tolerance at UN Forum in Bali
Aug 29, 2014
Jakarta. United Nations Secretary General Ban Ki-moon called for peace and greater tolerance during his opening remarks of the Sixth Global Forum of the Alliance of Civilizations in Bali on Friday, as President Susilo Bambang Yudhoyono warned that the "hot peace" in the world today "will not get cool on its own."
"This country, Indonesia, is home to a quarter of a billion people representing a thousand separate ethnic groups living wisely, harmoniously, side-by-side resolving all differences of opinion through dialogue," Ban said. "Therefore it is most fitting that this Alliance of Civilizations is taking place in this country, Indonesia."
The UN's Global Forum of the Alliance of Civilizations was set up in 2009 to connect "governments, lawmakers, local authorities, civil society organizations, the media, and individuals devoted to promoting understanding across diverse communities."
The sixth forum is being held in Nusa Dua, in the south of the island, on Friday and Saturday.
"I am inspired by Indonesia's motto, Bhinneka Tunggal Ika, or "Unity in Diversity." This is the main theme of the Alliance of Civilizations," Ban said.
Full report at:
http://www.thejakartaglobe.com/news/ban-ki-moon-sby-call-greater-tolerance-un-forum-bali/
---------
Mideast
Thousands Placed In Religious Schools 'Against Their Will' In Turkey
Aug 29, 2014
Turkey's secondary education examination row has deepened, amid reports that thousands of students, including some non-Muslims, have been placed in Islamic vocational schools for the upcoming school year.
After the results for the national primary to secondary education (TEOG) examination were announced earlier this month, there were a number of reports that around 40,000 students had been placed in religious "Imam-hatip" schools against the will of their families.
Education Ministry Deputy Undersecretary Muhterem Kurt confirmed that a total of 9,802 students had been placed in schools far away from the districts where they live, but stressed that there was "no need to panic." Kurt told daily Milliyet that there would be an opportunity for re-allocation in mid-September.
According to the new system, students failing to get into their top-preferred school as a result of the exam are placed in schools nearest to their area. However, many claim that too many regular schools have been turned into Imam-hatip schools in recent years, making it difficult for some children to avoid a religion-focused education even if they do not want it.
Egitim-Sen, an education union, released a statement last week, calling on the Education Ministry to "take the objections into consideration" and to "not force any student to study in a type of school that they do not want."
Full report at:
http://www.hurriyetdailynews.com/turkeys-education-row-deepens-as-thousands-placed-in-religious-schools-against-their-will.aspx?pageID=238&nID=71036&NewsCatID=341
-----------
Global coalition needed to destroy Hamas, all Islamist terror, Steinitz tells US lawmakers
Aug 29, 2014
Hamas in Gaza must be seen as being part of the greater phenomenon of the militarization of Islamist terror groups that stretches from Iraq in the East to the heart of Africa in the West, Intelligence Minister Yuval Steinitz told a delegation from the House Armed Services Committee in Jerusalem on Friday.
"All of these Islamists act against the 'heretics' in the countries where they are present: against the Christians, the Yazidi minority, moderate Muslims, the Kurds, and of course the Jews and the Jewish state," Steinitz said.
The minister called for global cooperation to defeat Islamist terror.
"The US and the Western democracies, together with Israel and the moderate Arab regimes must create a broad coalition to destroy Hamas in Gaza, The Islamic State in Iraq, al-Nusra, Boko Haram and others who operate in the Middle East and around the world.
Steinitz thanked the eight-person US delegation for their consistent and unequivocal support of Israel during Operation Protective Edge.
The intelligence minister echoed the same ideas that Prime Minister Binyamin Netanyahu voiced when he met with the delegation including its chairman Rep. Buck McKeon (R-California) on Thursday.
Full report at:
http://www.jpost.com/Arab-Israeli-Conflict/Global-coalition-needed-to-destroy-Hamas-all-Islamist-terror-Steinitz-tells-US-lawmakers-372750
-----------
Hamas leader Mashaal says latest Gaza conflict with Israel not the last
Aug 29, 2014
DOHA - Hamas leader Khaled Mashaal said on Thursday the latest war between Israel and Hamas would not be the last round of conflict between the two, but a "milestone to reaching our objective."
"This is not the end. This is just a milestone to reaching our objective, we know that Israel is strong and is aided by the international community. We will not restrict our dreams or make compromises to our demands," Mashaal said at a news conference in the Qatari capital, Doha.
Mashaal said that Israel's siege on Gaza had failed. "This war was forced upon us," he said at the conference which centered on the results of the seven-week operation in Gaza, but added that it was an "important station on the way to liberation."
The war, he added, has brought Palestinians closer to "Jerusalem, the Aqsa Mosque and our holy sites."
Mashaal said that one of the most prominent aspects of the war was the "failure of the theory of deterrence" and moving the battle into the heart of Israel. "Their internal front has become insecure at a time when their intelligence capability has been weakened," he said, referring to Israel.
Full report at:
http://www.jpost.com/Arab-Israeli-Conflict/Hamas-leader-Mashaal-says-latest-Gaza-conflict-with-Israel-not-the-last-372688
---------
South Asia
Hefazat-e-Islam: Blaming Hefazat for Faruqi Murder a Media Plot
Aug 29, 2014
Chief of Islamist group Hefazat-e-Islam Bangladesh Shah Ahmed Shafi yesterday demanded arrest of the killers of Shaikh Nurul Islam Faruqi while he also criticised a section of media for implicating Hefazat with the killing deliberately.
In a statement issued, Shafi said: "Implicating Hefazat with the killing of Faruqi is a well-planned conspiracy to create confusion among the religious Muslims and create confrontational situation in the country."
He also urged all to play responsible role until the real culprits were brought to the book.
Presenter of religious programmes, Faruqi was also the Presidium member and international affairs secretary of Ahle Sunnat Wal Jamaat. Chittagong-based Ahle Sunnat last year also protested the 13-point movement of Hefazat.
In the statement, Shafi claimed that Hefazat's movement was to establish peace, order and justice, and that they did not believe in killing, terrorism and persecution.
He said the countrymen were deeply shocked at the killing of such an Islamic scholar.
http://www.dhakatribune.com/bangladesh/2014/aug/29/shafi-blaming-hefazat-faruqi-murder-plot#sthash.dSy6f8dS.dpuf
-----------
Nuristan high peace council chief shot dead in capital Kabul
Aug 29 2014
Unknown gunmen shot dead the provincial high peace council committee chief in capital Kabul late Thursday.
According to Nuristani high peace council committee members, Haji Abdul Halim was assassinated by gunmen riding motorcycle.
The officials further added that Haji Abdul Haleem was returning from the mosque after evening prayers when the gunmen opened fire on him.
A suspect has been arrested in connection to the assassination of Haji Abdul Haleem, the officials said.
Haji Abdul Haleem was a former commander of Hezb-e-Islami led by Gulbuddin Hekmatyar and was considered to be an effective high peace council member who had managed to encourage numerous Taliban militants to join peace process in Nuristan province.
No group including the Taliban militants has so far claimed responsibility behind the attack.
http://www.khaama.com/nuristan-high-peace-council-chief-shot-dead-in-capital-kabul-6611
-----------
URL: https://www.newageislam.com/islamic-world-news/new-age-islam-news-bureau/uk-terror-laws-leave-imams-afraid-to-tackle-isil/d/98799