New Age Islam News Bureau
5 Jan 2015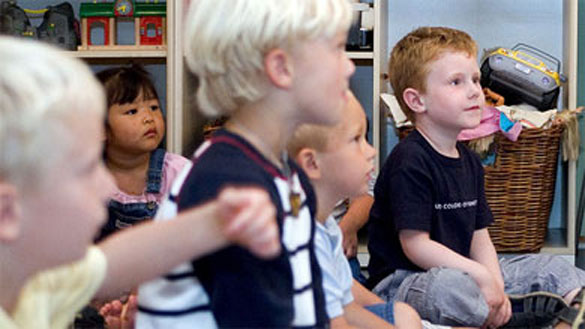 UK Toddlers, Reuters/Kristian Juul Pedersen
-----------
Europe
• UK Govt Wants Nurseries to Report Potential Terrorist Toddlers
• All Nations Should Recognize Islamic State as Terrorists - Russia
• France rules out intervention in Libya
• Greece: Unknown planes bomb oil tanker at Libyan port
• Western-backed Syrian opposition body elects new leadership
• Arrested terrorist planned attack on Athens prison, authorities say
Arab World
• Iraqi Forces Kill 26 ISIL Terrorists in Salahuddin
• Syrian Troops Kill 16 Militants in Idlib, Damascus
• Non Islamist activists included in Egyptian case against Brotherhood
• Egypt monitoring developments after nationals kidnapped in Libya: FM
• Tony Abbott discusses IS with Iraqis
• Syria wants coordination with Lebanon on new visa rules
• Security Officials: ISIL Losing War in Iraq
• Two Saudi border guards killed on Iraq frontier
• Two ancient tombs discovered in Egypt
Africa
• Boko Harem Storms Multilateral Military Base In Northeast Nigeria
• Every Nigerian has right to freedom of religion — Muhammadu Buhari
• Nearly 200 Christian churches destroyed in surge of violence
• Report: Libya peace talks delayed again
North America
• U.S. Aid Ignores LeT, JeM Rallies, Lakhvi Bail
• US Makes a Mockery of the Rule of Law on Palestine
• Kerry visit discussed as US Ambassador calls on PM Nawaz
Mideast
• Al-Qaida bombing in Yemen kills at least 6
• PA Seeks To Re-Submit Statehood Bid To UN Security Council
• First Palestinian ICC case to include Gaza war
• Israel says barrier to spare ancient Palestinian village
• Gulf-Iranian proxy war spills onto the football pitch
• Israel Arrests Palestinian Militants Inspired by Islamic State
South Asia
• Afghan President Concerned On Potential Threat of ISIS
• 2 Killed, 11 Injured In Zabul Suicide Attack
• Tarique: Do not leave street until Hasina is ousted
• 2 shot dead amid tensions in Bangladesh
• PM: Khaleda's confinement claim is a drama
• Tourism promotion concerts will show the world the true Malé: Adeeb
Pakistan
• Only Govt Can Decide About Qitaal: Jamaat-e-Islami
• Nation Stands United To Fully Uproot Menace of Terrorism: COAS
• Pakistani Pashtuns want end to conflict, at any price
• LHC acquits four death row convicts
• Blast at playground leaves five dead, 10 injured in Orakzai
• Altaf condemns attack on Salman Taseer's death anniversary vigil
• Jamiat Ulema-e-Islam-F expresses reservations over 21st Amendment
India
• Every Person Who Enters This World Is Muslim, MIM Chief
• Need To Bring Madrasas' Students to Mainstream: Chancellor MANUU
Southeast Asia
• Malaysia Has So Many Fatwas there's A Website to Keep Track Of Them
• Decentralisation of power entirely constitutional, says Zairil
• Nurul Izzah should not have been malicious, says NF Corp chief
Compiled by New Age Islam News Bureau
URL: https://www.newageislam.com/islamic-world-news/new-age-islam-news-bureau/uk-govt-wants-nurseries-to-report-potential-terrorist-toddlers/d/100862
Europe
UK govt wants nurseries to report potential terrorist toddlers
Jan 05 2015
It may become a "duty" of nurseries and elementary schools in the UK to track and report any child that shows signs of sympathy with terrorists or is a risk of potential radicalization, according to the government's plans aimed at preventing extremism.
A consultation document by the Home Office on ways to enhance the UK's anti-terrorism system, the so-called "Prevent" strategy, calls for senior management and governors to "assess the risk of pupils being drawn into terrorism," manifested through youths' extremist ideas that may breed terrorist ideology.
The nurseries should insure proper training of their staff to give them the "knowledge and confidence to identify" and "challenge extremist ideas which can be used to legitimize terrorism and are shared by terrorist groups," the document stated according to British media. "They should know where and how to refer children and young people for further help."
The new approach of identifying potentially dangerous toddlers should be implemented on non-discriminating basis according to the 39-page consultation document. The document is part of the Counter-Terrorism and Security Bill bundle currently being debated in the parliament. If the strategy is approved it will become a "duty" not only for nurseries but also for other learning institutions.
"Schools, including nurseries, have a duty of care to their pupils and staff. The new duty in the Counter-Terrorism and Security Bill, to have due regard to the need to prevent people from being drawn into terrorism will be seen in a similar way to their existing safeguarding responsibilities," a government spokesperson told The Independent.
Full report at:
http://rt.com/uk/219787-uk-toddler-terrorism-report/
------------
All nations should recognize Islamic State as terrorists - Russia
Jan 05 2015
Universal recognition of Islamic State and the Al-Nusra Front as terrorists will be a key step backed up by resolutions of the UN Security Council, Russia's Foreign Ministry said in a statement.
Russia itself has recently listed the Islamic State (also known as ISIL, or ISIS) and the Al-Nusra Front as terrorists, outlawing membership or any support for these organizations under threat of criminal prosecution.
In its statement, released Tuesday, the Foreign Ministry noted that Russia's steps were fully in line with the UN Security Council's resolutions 2170 and 2178 on threats to international peace and security created by terror attacks. As Russia had taken the most active part in the development of these resolutions, it now insists that they are strictly fulfilled, the ministry said.
"Russia's Foreign Ministry is calling upon all countries that have not yet done so to follow Russia's example and put the Islamic State and the Al-Nusra Front on national terrorist lists and ban their activities, as provided for by corresponding decisions of the UN Security Council.
Most world leaders now name the Islamic State as a major threat to humanity. Over the last six months, the group has killed 1,878 people in Syria, mostly civilians, according to British-based watchdog the Syrian Observatory for Human Rights (SOHR).
Around 80,000 militants are estimated to be currently fighting with the IS, and the group continues to recruit jihadists from all over the world. It is also considered the wealthiest of all terrorist organizations, having control of oilfields and refineries with an estimated net worth of $2 billion.
The Al-Nusra Front – a branch of Al-Qaeda operating in Syria and Lebanon – has been overshadowed by Islamic State, but it has also started to make threats to Western nations after the US-led airstrike campaign against ISIS.
http://rt.com/politics/218711-russia-islamic-state-terrorists/
------------
France rules out intervention in Libya
5 January 2015
French President Francois Hollande said Monday that his country would not intervene unilaterally in Libya, noting that there would have to be a "clear" U.N. mandate to end the crisis in the North African Country.
France had led the international military campaign that helped oust the regime of former strongman Muammar Qaddafi. But the country has since plunged in a civil war between former rebels.
"We are acting to contain terrorism in the south, but France will not intervene in Libya because it's for the international community to live up to its responsibilities," Hollande told French radio.
Asked if France would take action in a United Nations-mandated operation, Hollande said there would have to be a "clear mandate", "clear organization" and the "political conditions" would have to be in place.
"We're not yet going down that road," added Hollande.
The president of neighboring Niger said on Friday that a solution to the crisis in Libya was not possible without international intervention.
"I do not see how the armed terrorist militias can create the conditions for reconciliation among Libyans," said President Mahamadou Issoufou.
"An international intervention is essential to the reconciliation of all Libyans," including supporters of former dictator Moamer Khadafi, who himself was deposed and killed in 2011 after an international military intervention.
French Defence Minister Yves Le Drian recently visited the region and paid a surprise visit to northern Niger, to see a base being built to combat the growing flow of weapons and jihadists from Libya.
Le Drian said his visit demonstrated France's "determination... against the jihadists, terrorism and those who want to transform this ancient caravan route into a route of violence and trafficking."
http://english.alarabiya.net/en/News/middle-east/2015/01/05/Hollande-rules-out-French-intervention-in-Libya.html
------------
Greece: Unknown planes bomb oil tanker at Libyan port
5 January 2015
Two crew members were killed when unidentified military aircraft bombed a Liberian-flagged oil tanker anchored at the Libyan port of Derna, the Greek coastguard said on Monday.
The ARAEVO, owned by Athens-based Aegean Shipping Management, was carrying 12,600 tons of crude oil and had 26 crew members on board. Two other crew members were injured, the coast guard said. It did not provide further details.
http://english.alarabiya.net/en/News/middle-east/2015/01/05/Greece-Unknown-planes-bomb-oil-tanker-at-Libyan-port.html
------------
Western-backed Syrian opposition body elects new leadership
5 January 2015
Syria's Western-backed political opposition group, the National Coalition for Syrian Revolutionary and Opposition Forces, has elected a new presidential committee and a president widely seen as not tied to any of the body's international sponsors.
Despite having tenuous links with fighters on the ground and seen as out of touch with ordinary Syrians, the National Coalition remains one of the main parties in international discussions to find solutions to the almost four-year civil war.
Khaled Khoja takes over as president from Hadi al Bahra, who is considered to have close links with Saudi Arabia. Bahra served for one term and did not run for a second but will be in the political committee.
Full report at:
http://english.ahram.org.eg/NewsContent/2/8/119492/World/Region/Westernbacked-Syrian-opposition-body-elects-new-le.aspx
------------
Arrested terrorist planned attack on Athens prison, authorities say
5 January 2015
Greek authorities say fugitive terrorist Christodoulos Xiros, who was arrested Saturday near Athens, was planning a major operation against an Athens prison in order to free other convicted terrorists.
Greek police chief Dimitrios Tsaknakis told reporters that a search in the safe house Xiros used turned up extensive notes on approaching, and safely getting away from, Korydallos prison, in a western Athens suburb
Full report at:
http://english.ahram.org.eg/NewsContent/2/9/119478/World/International/Arrested-terrorist-planned-attack-on-Athens-prison.aspx
---------
Arab World
Iraqi Forces Kill 26 ISIL Terrorists in Salahuddin
5 January 2015
The Iraqi security forces killed 26 terrorists of the Islamic State of Iraq and the Levant (ISIL) group in Baiji in Salahuddin on Monday.
Full report at:
http://english.farsnews.com/newstext.aspx?nn=13931015000688
------------
Syrian Troops Kill 16 Militants in Idlib, Damascus
5 January 2015
Syrian troops killed about 16 Takfiri militants and injured 17 others in separate ambushes in Southern and Northern Syria, media report said.
The Syrian troops ambushed a group of extremists in the vicinity of the airbase of Abu al-Duhur in the Northwestern province of Idlib, killing 10 of them, including two leaders, al-Mayadeen TV reported.
Full report at:
http://english.farsnews.com/newstext.aspx?nn=13931015000481
------------
Non Islamist activists included in Egyptian case against Brotherhood
5 January 2015
Egyptian non-Islamist political activists whose names were included in a recent government ruling that ordered the seizure of the assets of over a hundred members of the blacklisted Muslim Brotherhood, say they were targeted by a "vindictive" move meant to intimidate them.
A state committee charged with identifying the Brotherhood's assets has ordered the seizure of funds and property of 112 people accused of belonging to the Islamist group. The list includes the names of at least four non-Islamist activists.
The decision was made public after one of those listed, local Brotherhood leader Ali Khafagy, laid hands on the decision's official documentation – dated December 17 – which has since gone viral on the internet. The decision was highly criticised, primarily because the non-Islamist activists belonged to groups that were highly critical of the Muslim Brotherhood during their rule.
Amr Ali, a leader of Egypt's April 6 Youth Movement and one of the non-Islamists listed, said he and other fellow activists have yet to be officially notified about the decision that they became aware of "from the media."
April 6 was one of the youth protest movements that helped mobilise street protests that culminated to the downfall of longtime autocrat Mubarak in 2011.
The group also took part in protests that led to overthrow of Islamist president Mohamed Morsi in 2013 and has since turned against the country's current regime, accusing it of rolling back freedoms won in the popular revolt.
"It's absurd and vindictive. We don't understand why our names have been included in a case against the Brotherhood," Ali told Ahram Online.
"It's clear that authorities aim to settle scores with known political activists who appear in media and have roles in mobilising opposition," he added.
Full report at:
http://english.ahram.org.eg/NewsContent/1/64/119461/Egypt/Politics-/Non-Islamist-activists-included-in-Egyptian-case-a.aspx
------------
Egypt monitoring developments after nationals kidnapped in Libya: FM
5 January 2015
Egypt's foreign affairs ministry said on Sunday it is closely monitoring the situation of 20 kidnapped Egyptians in conflict-stricken Libya.
The ministry, in a statement, said it is contacting several sides in Libya, including the legitimate Libyan government, heads of Libyan tribes, the Libyan Embassy in Egypt and notable Libyan personalities.
The statement reiterated its calls to Egyptians not to travel to Libya, amid ongoing unrest in the country.
Thirteen Coptic Christians were kidnapped on Saturday in Sirte, while another seven Coptic Christians were kidnapped in a separate incident last week.
The ministry added that it is monitoring the situation among "very complicated circumstances" and chaos, especially as there is no Egyptian presence in Libya. Egypt closed its embassy and consulate in Libya and recalled its staff for security reasons.
Several Coptic Christian Egyptians have been killed in Libya in recent years. In February, the bodies of seven Egyptian Christians who had been shot were found near the second city of Benghazi.
Full report at:
http://english.ahram.org.eg/NewsContent/1/64/119458/Egypt/Politics-/Egypt-monitoring-developments-after-nationals-kidn.aspx
------------
Tony Abbott discusses IS with Iraqis
5 January 2015
Australian Prime Minister Tony Abbott made an unannounced visit on Sunday to Baghdad, meeting with top officials to discuss ways his country can help Iraqi forces in their fight against the Islamic State group.
Abbott and Iraqi Prime Minister Haider al-Abadi discussed military cooperation between the two countries, including the training and equipping of Iraqi soldiers, state television reported. The Iraqi army collapsed last summer in the face of a blitz by extremists from the Islamic State group, which now holds about a third of Iraq and neighbouring Syria in its self-declared caliphate.
Full report at:
http://www.thehindu.com/news/international/tony-abbott-discusses-is-with-iraqis/article6754495.ece
------------
Syria wants coordination with Lebanon on new visa rules
5 January 2015
Syria's ambassador to Lebanon called for coordination with Lebanese authorities after Beirut announced plans to impose unprecedented restrictions on Syrians trying to enter Lebanon.
Beginning Monday, Syrians will require a visa to enter Lebanon, according to new regulations posted online by Lebanon's General Directorate of General Security. The move marks the most significant attempt by Lebanese authorities to stem the influx of some 1.5 million Syrians who have sought refuge in Lebanon from the civil war raging in their homeland.
For Lebanon, a country of 4.5 million, the flood of Syrian refugees has placed a tremendous strain on the country's economy, resources, infrastructure and delicate sectarian balance.
On Saturday, Syrian Ambassador Ali Abdel-Karim Ali said Damascus understands the new measures but that "the issue of Syrians entering and leaving needs coordination and integration between the concerned parties in the two countries," according to Lebanon's state news agency. The United Nations refugee agency is seeking clarification on several aspects of the rules, including how they will impact refugees already in Lebanon and whether people in immediate need of protection will still be allowed in, said Ron Redmond, a regional spokesman for UNHCR. Lebanon began imposing tighter restrictions on a more informal basis last summer. Since then, the number of refugee registrations in Lebanon has dropped by more than 50 percent, Redmond said.
Full report at:
http://indianexpress.com/article/world/middle-east-africa/syria-wants-coordination-with-lebanon-on-new-visa-rules/99/#sthash.DV3hnxLn.dpuf
------------
Security Officials: ISIL Losing War in Iraq
5 January 2015
Iraqi security forces backed by Shiite militias, Kurdish forces and Sunni Muslim tribesmen will drive the ISIL terrorists from all Iraqi lands before the end of 2015, Iraqi security officials and analysts said.
Iraqi security officials and analysts said the local and regional circumstances of the battle between Iraqi troops and ISIL Takfiri militants have changed in favor of Iraqi troops since June, Aljazeera reported.
Iraqi troops backed by Shiite militias and Kurdish forces recaptured the towns of Saadiyah and Jalawlaa over the last few months. These had been under the control of the Takfiri group since early August.
Full report at:
http://english.farsnews.com/newstext.aspx?nn=13931015000509
------------
Two Saudi border guards killed on Iraq frontier
5 January 2015
Two Saudi Arabian border guards including a senior officer were killed and a third was injured on the kingdom's frontier with Iraq following a "terrorist" attack, the Interior Ministry said on Monday.
The unidentified attackers opened fire at a border patrol near Arar, in the Northern Borders Province at about 4:30 am local time on Monday, the ministry said. When security officers responded, one of the attackers detonated an explosives belt, the ministry said in a brief statement carried by the official Saudi Press Agency.
Full report at:
http://english.alarabiya.net/en/News/middle-east/2015/01/05/Two-Saudi-border-guards-killed-on-Iraq-frontier.html
------------
Two ancient tombs discovered in Egypt
4 January 2015
Two ancient tombs were discovered in Egypt on Sunday, with one representing a symbolic burial site of the god Osiris while another is claimed to be a previously unknown pharaonic tomb.
The paper said Osiris' tomb was found complete with multiple shafts and chambers at Al-Gorna necropolis on Luxor's west bank, Ahram Online reported.
Antiquities Minister Mamdouh Eldamaty, speaking to the daily, hailed the discovery as important as the tomb was a small version of the design of the Osirion found in Abydos in the Upper Egypt city of Sohag.
The tomb, which consists of a large hall supported with five pillars, can be dated to the 25th Dynasty, the daily quoted Abdel Hakim Karar, head of Antiquities of Upper Egypt, as saying.
The paper quoted María Milagros Álvarez Sosa, head of the mission, as saying that part of the tomb was initially discovered by archaeologist Philippe Virey in the 1880s and that some attempts were made to sketch out the main structure in the 20th century. Osiris was a pivotal god to the ancient Egyptians and was usually identified as the god of the afterlife, the underworld and the dead.
Full report at:
http://english.alarabiya.net/en/life-style/art-and-culture/2015/01/04/Ancient-god-Osiris-tomb-discovered-in-Egypt.html
----------
Africa
Boko Harem storms multilateral military base in northeast Nigeria
Jan 05 2015
In another setback for Nigeria's counter-insurgency strategy, Boko Harem militants have overrun a key military base in the country's northeast. Witnesses said the militants had taken control on Saturday of Baga, a town near Nigeria's border with Chad, after troops fled the town leaving residents at the mercy of the attackers.
Baga is a garrison town for the Multi-National Joint Task Force that comprises troops from Nigeria, Chad, Niger, and Cameron. The troops are supposed to patrol the border area and go after Boko Harem, a violent Islamist movement that has paralyzed governance in much of Nigeria's Muslim-dominated northeast.
Nigerians living in the northeast, much of which is under a state of emergency, have long complained of government negligence and charged the military with neglecting its duties. The rout of a multilateral military base underscores the challenge to Nigeria's government ahead of a presidential election next month.
A local senator, Maina Maaji Lawan, told the BBC that militants stormed Baga from several directions early Saturday and that, far from defending the town on Lake Chad, the multilateral troops had run away. Residents escaped into the forest, he said.
Communications with the town were cut off and exact information about casualty numbers could not be confirmed, he said. "We are very dispirited," the senator added.
Confirming that the military had abandoned the base, he said people's frustration knew "no bounds" over the apparent fact that the military had not fought back.
"There is definitely something wrong that makes our military abandon their posts each time there is an attack from Boko Haram," the senator said.
Earlier in the week, Boko Harem abducted around 40 young men from a village in the surrounding province, Agence France-Presse reports. A resident told reporters that armed militants driving pickup trucks had ordered villages to attend a sermon, then began picking out men aged between 10 and 23. The village lies close to a forest where the group is believed to operate bases.
Full report at:
http://news.yahoo.com/boko-harem-storms-multilateral-military-northeast-nigeria-152110029.html
------------
Every Nigerian has right to freedom of religion — Muhammadu Buhari
Jan 05 2015
The All Progressives Congress (APC) Presidential Candidate retired Gen. Muhammadu Buhari yesterday said he believed every Nigerian should be free and secure to practice their different religion.
He said religion must never be used to gain unfair advantage, oppress or divide Nigerians as the country match towards general elections.
General Buhari also said contrary to erroneous impression that he was an Islamic fundamentalist, "All my life, I have expressed the belief that all Nigerians must worship God according to their wish."
He spoke at the 2015 interdenominational thanksgiving service hosted by Governor Babatunde Fashola and his wife, Abimbola Fashola, at the Lagos House ground.
"The duty of government is not religion but security for all Nigerians regardless of tribe or religion. These are our commitment on this day of thanksgiving. We shall all sit together like this, rejoice and thank God together for the Almighty God to give us the country of our dream," Buhari said.
At the service that was presided over by the General Overseer of the Redeemed Christian Church of God (RCCG) Pastor Enoch Adeboye and other clergy, Buhari said: "I am honoured to participate in this annual thanks giving service. This year's thanks giving service brings together all Nigerians from all state, Christians, Muslim and all religion in Lagos to thank the almighty God."
Full report at:
http://www.dailytrust.com.ng/daily/news/43571-every-nigerian-has-right-to-freedom-of-religion-buhari
------------
Nearly 200 Christian churches destroyed in surge of violence
Jan 05 2015
There was a surge of anti-Christian violence by Muslims around the world that included the destruction of nearly 200 Christian churches in Nigeria during a short period around October, according to a new report from the GateStone Institute.
The organization's Raymond Ibrahim, who has documented his discoveries in "Crucified Again: Exposing Islam's New War in Christians," released the assessment of the recent surge on Friday.
"In just two months, from August to October, nearly 200 Christian churches were destroyed in Nigeria by the Islamic organization Boko Haram and its Muslim allies, after their capture of towns and villages in the northeastern states of Borno and Adamawa," the report said. "In the words of Rev. Gideon Obasogie, the director of Catholic Social Communication of Maiduguri Diocese in Borno State, 'the group's seizure of territory in both states has seen 185 churches torched and over 190,000 people displaced by [Boko Haram.]"
Ibrahim noted that, "Also in October, the Center for the Studies of Global Christianity in the United States concluded that, 'About 100,000 Christians die every year because of their religious beliefs, that is to say one every five minutes. In addition, in many countries, many other religious minorities suffer violence and persecution. In countries such as Iraq, Syria, Nigeria, Cameroon, Sudan, Pakistan, Somalia and Egypt the Christian elderly, women, men and their children live in conditions of total insecurity. They are driven from their homes; put in prison for blasphemy, and brutally killed during liturgical celebrations, churches are burned. Girls are kidnapped and forced to marry.'"
Among the other incidents of Muslim violence against Christians during that October period that were uncovered by Ibrahim include:
A report from Arabic media described how a "homemade bomb" exploded next to the Evangelical Church of God in Minya in upper Egypt. The report said there were no casualties.
And in Germany, a "Coptic Christian church in the European nation was attacked and torched." According to the report, 'The mayor of Berlin condemned attacking and burning St. Athanasius and St. Shenouda Coptic Orthodox Church in Berlin by extremists…"
Then in Iraq, there were bombings that "hit and devastated the Church of the Resurrection near the town of Qaraqosh. The Christian place of worship was being used as a base for jihadis, who had broken off the cross from the building's roof."
In the Philippines, "A grenade attack on a church during worship service left two Christians – Felomina Ferolin, a 54-year-old nurse, and teacher Gina Cabilona, 39 – dead, and three others injured." According to the assembled information, "Two men on a motorbike fired a grenade launcher at the door of the United Church of Christ before fleeing."
And, according to Ibrahim's report, in the Sudan, the "air force dropped four bombs on an Episcopal Church … in the Nuba Mountains." A pastor reported the whole property was decimated.
Full report at:
http://www.wnd.com/2015/01/nearly-200-christian-churches-destroyed-in-surge-of-violence/#b1VoA0REKgERXvf4.99
------------
Report: Libya peace talks delayed again
5 January 2015
The second round of U.N. brokered peace talks proposed to end the escalating political crisis in Libya has been delayed and will not take place early this week as expected, diplomatic sources told Reuters on Monday.
Negotiators are still trying to identify an agreeable time and place to hold the talks, Reuters news agency reported.
"Consultations to hold the second round of dialogue continue with the parties to reach agreement on the timing and venue. So, not tomorrow," one diplomatic source told Reuters on condition of anonymity. Another diplomatic source confirmed the remarks.
It was not clear when, and if, the new dialogue would take place.
The new talks have been repeatedly delayed due to difficulties getting the parties to agree to meet. U.N. special envoy to Libya Bernadino Leon told the Security Council last month that the parties involved had agreed in principle to meet on Jan. 5.
Libya has had two governments and parliaments competing for legitimacy since a group called Libya Dawn seized the capital in August, installing its cabinet and forcing the government of recognized Prime Minister Abdullah al-Thinni to the east.
World powers fear the Libyan conflict will lead to civil war as former rebel groups that helped oust the country's former leader, the late Muammar Qaddafi, in 2011 fight for power and a share of its vast oil reserves.
Full report at:
http://english.alarabiya.net/en/News/middle-east/2015/01/05/Report-Libya-peace-talks-delayed-again.html
------------
North America
U.S. Aid Ignores LeT, JeM Rallies, Lakhvi bail
SUHASINI HAIDAR
Despite the fact that both the LeT and JeM have resurfaced visibly in the past year in Pakistan and the founders of both, Hafiz Saeed and Masood Azhar, have held public rallies in Pakistan in 2014, the U.S. Secretary of State has signed off on a certification that the Pakistan government has "prevented al-Qaeda, the Taliban and associated terror groups such as Lashkar-e-Taiba and Jaish-e-Mohammad from operating in the territory of Pakistan" for the year.
The certificate is a condition for the U.S. to disburse funds under the Kerry-Lugar Bill for civilian aid to Pakistan that was co-authored by Mr. Kerry in 2009. This year's grant of $532 million to Pakistan will be disbursed shortly.
However, in January 2014, the JeM held a public rally in Muzaffarabad, addressed via telephone by Masood Azhar from his home in Bahawalpur, in which he called for "dreaded revenge" against India. The JeM was set up by Masood Azhar after he was released by India in the wake of the hijack of a Kathmandu-Delhi Indian Airlines aircraft in December 1999. Azhar is also an accused in the 2001 attack on Parliament in New Delhi, and is a designated terrorist by the U.S.
Meanwhile, in December 2014, Hafiz Saeed, the LeT founder and leader of the Jamaat-ud-Dawa (which the U.S. State Department calls a "front organisation" for the LeT), held a massive two-day rally at Lahore's Minar-e-Pakistan that reportedly attracted more than a lakh participants, who were transported and housed with help from official authorities. During his speech, Mr. Saeed spoke of "Ghazwa-e-Hind" or war against India, and a few days later appeared on Pakistani TV stations blaming India for the Peshawar school massacre.
The State Department's certification has gone ahead despite these events, and the bail granted to 26/11 planner and LeT operations chief Zaki-ur Rahman Lakhvi in the Mumbai case. With the paperwork done, the U.S. Ambassador to Pakistan reportedly said he expected the $532 million to reach Pakistan "soon."
Full report at:
http://www.thehindu.com/news/national/us-aid-ignores-let-jem-rallies-lakhvi-bail/article6754119.ece
--------
US makes a mockery of the rule of law on Palestine
Jan 05 2015
The closing weeks of the year spelt disaster for US claims to uphold the rule of law in international relations. It countered three different efforts designed to affirm Palestinian rights.
On December 17, representatives of the 126 countries that have endorsed the Fourth Geneva Convention, which governs the rules of war and military occupation, met in Geneva at the invitation of the Swiss government. By consensus, the meeting passed a 10-point declaration reaffirming that the Convention was applicable to the territories occupied by Israel in 1967. After working behind the scenes for months to persuade the Swiss to cancel the session, the US was one of a small number of countries that declined to attend the meeting.
But the Fourth Geneva Convention was written and ratified by the international community at the end of the Second World War to ensure that the abuses that occurred during that war would not be repeated. It prohibits the annexation of occupied territory; the transfer by the occupying power of its population into the territory; and individual or mass forcible transfers and deportations of the territory's indigenous population. The Convention also prohibits altering the status of the occupied people's public officials; destruction of public property; all forms of collective punishment; administrative detention; violence, insults and intimidation of the occupied population; and the use of physical coercion and torture. It obligates the occupying power to respect the human and legal rights of the population under its control.
December's Geneva meeting called on Israel to "fully and effectively" respect the Fourth Geneva Convention. In the past, the US has affirmed its applicability to the occupied territories and there is indisputable evidence that Israel has repeatedly violated each of the convention's provisions in the past 45 years. The US attempts to block the Geneva meeting and its subsequent refusal to attend, calls into question its commitment to the convention.
December 2014's second US act of refusal to affirm Palestinian rights was kick-started the same day as the Geneva declaration. Jordan submitted an Arab League-endorsed resolution to the UN Security Council reaffirming Palestinians' right to self-determination. The resolution called for renewed negotiations, ending with a two-state solution. It also affirmed the need for a just, lasting and peaceful solution and set a deadline of "no later than 12 months".
As expected, the US called the resolution "deeply unbalanced" and "unconstructive". It said the deadlines did not take account of Israel's legitimate security concerns. The US lobbied the Arabs not to submit the resolution, then pressed other countries to oppose it or to abstain. Then, on December 30, it voted against it.
Full report at:
http://www.thenational.ae/opinion/us-makes-a-mockery-of-the-rule-of-law-on-palestine#full
------------
'Bro's in arms: Obama-Cameron 'special relationship' gets even friendlier
Jan 05 2015
David Cameron's relationship with Barack Obama may have just become even cozier. The UK Prime Minister says the US President now calls him "bro," which is more flattering than the "Yo, Blair,'" that George W Bush used to say, talking to Tony Blair.
The US and UK have had a so-called "special relationship" for decades, with leaders from the two countries often being on friendly terms. Margaret Thatcher remained in touch with Ronald Reagan long after they both left office. David Cameron is keeping this tradition going by being, on what would seem better-than-first name terms with his US counterpart.
Cameron confirmed the revelation to the UK newspaper, The Mail on Sunday, saying: "Yes, he sometimes calls me 'bro.'"
So what does the term "bro" actually mean? According to the Urban Dictionary, a popular online reference point for English slang, apart from being short for brother, "bro" is used as a friendly informal greeting between males.
The PM seemed almost blushing in talking about his bond with Obama, adding: "The president has said the special relationship is stronger than it has ever been privately and in public, and I agree," The Mail on Sunday quoted him as saying.
Full report at:
http://rt.com/uk/219751-cameron-obama-bro-relationship/
------------
Kerry visit discussed as US Ambassador calls on PM Nawaz
5 January 2015
ISLAMABAD: Prime Minister Nawaz Sharif on Monday met US Ambassador to Pakistan Richard Olson and expressed hope that all aspects of Pakistan-US ties would be discussed and cooperation would be reviewed during the upcoming strategic dialogue scheduled to take place in Islamabad on Jan 14.
The US envoy had called on the premier at the latter's official residence in the federal capital. During the meeting, matters relating to Pak-US relations with particular reference to the scheduled visit of US Secretary of State John Kerry came under discussion.
Finance Minister Ishaq Dar and Special Assistant to PM on Foreign Affairs Tariq Fatemi were also present at the meeting.
Full report at:
http://www.dawn.com/news/1155060/kerry-visit-discussed-as-us-ambassador-calls-on-pm-nawaz
------------
Mideast
Al-Qaida bombing in Yemen kills at least 6
Jan 05 2015
SANAA, Yemen (AP) — Al-Qaida militants bombed an office of Shiite Houthi rebels south of Yemen's capital Sunday, killing six Houthis and wounding 31, officials said.
Police said the bombing in Dhamar province, some 100 kilometers (62 miles) from Sanaa, targeted a local headquarters of the Houthi movement, which has seized a string of Yemeni cities, including the capital.
One of the dead was a journalist who worked for a Houthi-affiliated television station, they said, speaking on condition of anonymity because they were not authorized to brief journalists. Houthis have surrounded the area and were preventing people from taking photos.
Al-Qaida's local affiliate in Yemen claimed responsibility in a statement posted on its Twitter account.
Full report at:
http://news.yahoo.com/explosion-yemen-kills-least-5-shiite-rebels-133838500.html
------------
PA Seeks To Re-Submit Statehood Bid To UN Security Council
Jan 05 2015
REUTERS - Palestinian President Mahmoud Abbas said he was discussing with Jordan plans to resubmit to the United Nations Security Council a resolution calling for the establishment of a Palestinian state that failed to win enough votes last week.
Jordan remains a member of the Security Council while several other countries with revolving membership were replaced over the New Year.
The Palestinians hope these states will be more sympathetic to their resolution demanding an Israeli withdrawal from occupied territories and independence by 2017, although the veto-wielding United States would be all but certain to vote 'No' again, as it did on Dec. 30.
"We didn't fail, the UN Security Council failed us. We'll go again to the Security Council, why not? Perhaps after a week," Abbas told officials at a cultural conference in the West Bank city of Ramallah, the Palestinian seat of self-rule government.
"We are studying it, and we will study this with our allies and especially Jordan ... to submit the resolution again, a third time or even a fourth time."
In the UN vote on Tuesday, the Palestinian draft received eight votes in favor, including France, Russia and China, two against and five abstentions, among them Britain. Australia joined the United States in voting against the measure.
Full report at:
http://www.haaretz.com/news/diplomacy-defense/1.635324
------------
First Palestinian ICC case to include Gaza war
5 January 2015
The "crimes" Israel committed in the most recent Gaza war will be part of the first case the Palestinians plan on referring to the International Criminal Court, a Ramallah-based rights group said.
The case will be based on Israeli actions in the Occupied West Bank and the Gaza Strip from June 13, 2014, director of the Ramallah-based rights group Al-Haq Shawan Jabarin told Agence France-Presse.
Chief Palestinian negotiator Saeb Erakat confirmed Gaza would be one of the cases referred to the court, but also said there would be a file put together on Israeli settlement building on land seized during the 1967 Six-Day War.
"The main files will be the aggression against Gaza and the settlement file, since this is a continuous crime," Erakat said on Sunday.
Cases referred to the ICC need "a very specific geographic location and timeframe," Jabarin explained, adding that the same date had been selected by a U.N. commission probing alleged rights violations during the Gaza war and the period leading up to it.
On January 2, the Palestinians presented a formal request to join the Hague-based court in a move which opens the way for them to file suit against Israeli officials for alleged war crimes in the occupied territories.
The ICC can prosecute individuals accused of genocide, crimes against humanity and war crimes committed since July 1, 2002, when the court's founding treaty, the Rome Statute, came into force.
Full report at:
http://english.alarabiya.net/en/News/middle-east/2015/01/05/First-Palestinian-ICC-case-to-include-Gaza-war.html
------------
Israel says barrier to spare ancient Palestinian village
5 January 2015
Israel does not intend to build its separation barrier through the lands of a Palestinian village south of Occupied Jerusalem renowned for its ancient irrigation system, court documents showed Sunday.
Residents of Battir, which straddles the Green Line, had in 2012 petitioned Israel's supreme court against defense ministry plans to build the barrier adjacent to and in places through their Roman-era terraces.
The agricultural community in the West Bank was granted UNESCO endangered World Heritage status in June.
On Sunday, the court announced it was erasing the petition because the defense ministry had said it did not intend to build in Battir at this time.
"At this stage the defense minister's stance is that constructing the fence on this route, while stressing its security importance, is not a priority," the court said.
It stressed that the state would have to inform the petitioners at least 60 days in advance if they intended to renew any bid to construct the barrier there.
The Battir area is one of the last remaining openings to the West Bank from southern Jerusalem.
Israel says the barrier, which it began building after a wave of Palestinian attacks in 2002, is crucial for its security, while Palestinians see it as a land grab of territory they want for a future state.
Full report at:
http://english.alarabiya.net/en/News/middle-east/2015/01/05/Israel-says-barrier-to-spare-ancient-Palestinian-village-.html
------------
Gulf-Iranian proxy war spills onto the football pitch
Jan 05 2015
A Saudi-led proxy war against Iran playing out in Syria and Iraq has expanded onto the football pitch with a last-minute decision by the Palestinian national team to cancel a friendly against Iran.
The cancelation – officially on technical grounds – came as Iran was about to meet two of its Gulf nemeses, the United Arab Emirates and Bahrain, in politically loaded matches during the Asian Cup in Australia. It also highlights internal divisions among the Palestinians as Hamas, the Islamist group in control of Gaza, seeks to patch up its differences with Iran.
Iranian suspicion that the Palestinian cancelation days before the friendly was scheduled to take place is rooted in close ties between the Palestinian Authority on the West Bank headed by President Mahmoud Abbas and conservative Gulf states as well as Abbas' deteriorating relations with Hamas. Iranian officials and football analysts doubt the cancelation had anything to do with football.
The officials and analysts noted that the Palestinian squad had recently trained and played matches in the UAE and Saudi Arabia, whose relations with Iran have long been strained. The two Gulf states, alongside Bahrain, believe that Iran has sought to fuel discontent in their countries and is responsible for the popular uprising in Bahrain that was brutally suppressed in 2011 as well as unrest in Saudi Arabia's oil-rich, predominantly Shiite Muslim Eastern Province.
Full report at:
http://www.hurriyetdailynews.com/gulf-iranian-proxy-war-spills-onto-the-football-pitch.aspx?PageID=238&NID=76465&NewsCatID=364
------------
Israel Arrests Palestinian Militants Inspired by Islamic State
By Reuters
Jan 05 2015
Israeli forces have detained three Islamic State-inspired militants in the occupied West Bank, the first known Palestinian cell linked to the Syria- and Iraq-based insurgent group, the Shin Bet internal security service said on Sunday.
It said the three men, all in their early 20s and from Hebron, were arrested in November and told interrogators they planned to attack Israeli soldiers and a Jewish settler.
The Shin Bet statement described the three as "identifying with" Islamic State, but made no mention of them having left the West Bank to meet with members of the insurgent group.
A Shin Bet official said this was the first case Israel knew of in which Palestinians planned attacks in the name of Islamic State, whose bases in Syria and Iraq have drawn dozens of foreign volunteers, including Palestinians and Israeli Arabs.
Full report at:
http://forward.com/articles/212053/israel-arrests-palestinian-militants-inspired-by-i/#ixzz3NtU2HecJ
---------
South Asia
Afghan President concerned on potential threat of ISIS
Jan 05 2015
President Mohammad Ashraf Ghani has expressed concerns regarding potential threats by Islamic State of Iraq and Syria (ISIS) to Afghanistan.
The concerns by President Ghani comes as recent reports suggest the terrorist group is to make influence in Afghanistan and occupy parts of the country.
Ghani the CBS program "60 Minutes" that he was concerned about the Islamic State militant group and its potential threat to Afghanistan "because the past has shown us that threats, that networks change their form."
The Islamic State group is not believed to have operations in Afghanistan. However, insurgents belonging to a faction of the Hezb-e-Islami led by Gulbuddin Hekmatyar said earlier in September last year that they consider to join the Islamic State militants who are currently fighting in Syria and Iraq.
Full report at:
http://www.khaama.com/afghan-president-concerned-on-potential-threat-of-isis-daesh-9210
------------
2 killed, 11 injured in Zabul Suicide Attack
Jan 05 2015
Two civilians were killed and eleven injured in a suicide attack in southern Afghanistan's Zabul province on Monday.
Officials say the injured included seven civilians and four policemen.
Ghulam Sakhi Roghlewanai, Zabul's police chief says the target of the Suicide Attacker was the vehicle of the Security Officer Ghulam Jailani Farahi.
Full report at:
http://www.khaama.com/zabuls-deputy-police-chief-survived-suicide-attack-2665
------------
Tarique: Do not leave street until Hasina is ousted
5 January 2015
BNP Senior Vice-Chairman Tarique Rahman has urged the party leaders and activists to remain on streets until Prime Minister Sheikh Hasina is ousted through their movement.
The elder son of former premier and BNP chief Khaleda Zia made the remark in a programme at Atrium Hall in London on Sunday evening.
"Our only goal is to bring back democracy and rescue people from the clutches of the illegal government," Tarique said.
Calling upon the party men to continue the movement, Tarique said: "If the movement is halted, people and the country will be the sufferers."
He also urged the activists not to harm the people during the movement.
Tarique questioned the leaders and activists: "What will be your duty if anyone keeps you away from your mother? You should rescue her."
The BNP leader also suggested the party activists to disconnect each and every area of the capital and even the country.
Tension is prevailing across the country on apprehension of political anarchy and confrontation centring January 5.
BNP Chairperson Khaleda Zia is being confined inside her Gulshan party office since Saturday night. Four sand-laden trucks have been positioned on either side of Khaleda's office on Sunday night.
Full report at:
http://www.dhakatribune.com/politics/2015/jan/05/tarique-do-not-leave-street-until-hasina-ousted#sthash.mMdkc7Iq.dpuf
------------
2 shot dead amid tensions in Bangladesh
5 January 2015
Two men on a motorbike opened fire on a group of anti-government activists in north-western Bangladesh on Monday, killing two amid heightened tensions on the anniversary of a general election boycotted by a major opposition alliance in 2014, a local opposition leader said.
The shooting took place in Natore district, 160 kilometres northwest of Dhaka, which has remained largely cut off since Sunday, said Aminul Haque, a leader from the local unit of the Bangladesh Nationalist Party.
Police would not immediately confirm the identities of the dead, but Haque said they were activists from the party's student wing. The identities of the two men on the motorbike were not immediately known.
Full report at:
http://www.thehindu.com/news/international/south-asia/2-shot-dead-amid-tensions-in-bangladesh/article6756689.ece
------------
PM: Khaleda's confinement claim is a drama
5 January 2015
Ruling out BNP's allegation that Begum Khaleda Zia has been confined to her Gulshan office, Prime Minister Sheikh Hasina termed it as a drama.
She said the BNP chairperson staged such many dramas in the past.
"Khaleda Zia is not confined to her Gulshan office. Who has confined her? She can move to her residence any time," Sheikh Hasina said.
The PM made the statement while exchanging views with leaders of Bangladesh Chhatra League (BCL) at her official Ganobhaban residence here this evening.
The view exchange meeting was arranged on the occasion of the 67th founding anniversary of the BCL.
With BCL President HM Badiuzzaman Sohag in the chair, the function was also addressed, by BCL General Secretary Siddiqui Nazmul Alam.
Agriculture Minister Begum Matia Chowdhury was also present at the dais.
The premier said Begum Khaleda Zia has been staying at her Gulshan office as per her wish. "For this, bed and other furniture were kept ready from earlier. But she is now claiming that she has been confined there. Such dramas are nothing new for her. She staged such many dramas in the past," she said.
In this connection, Sheikh Hasina said police have stepped up her security following her request. "When police responded to her request, she is now claiming that she has been confined," Sheikh Hasina added.
Hasina said Begum Zia staged dramas in 1986 during the anti-Ershad movement. "She went underground at that time by calling upon the people to make revolt. But police found her at Hotel Purbani later and brought her out by breaking open the door of a room of the hotel."
Sheikh Hasina said at the same way, the BNP chairperson went into hiding two hours before the BDR mutiny in 2009.
Calling upon Begum Khaleda Zia to stop such dramas, the PM said the BNP chief plays hide and seek to harm the country, state and the people.
"Everybody knows your drama. So I would like to tell you to stop such dramas and killing of the people," she said, posing a question how she gave directives to kill people on the day of Eid-e-Miladunnabi?
Sheikh Hasina said the BNP-Jamaat is unleashing violent acts to destroy democracy and save the war criminals.
Full report at:
http://www.dhakatribune.com/politics/2015/jan/05/pm-khaedas-confinement-claim-drama#sthash.pPUTTBcj.dpuf
------------
Tourism promotion concerts will show the world the true Malé: Adeeb
5 January 2015
Minister of Tourism Ahmed Adeeb has told local media that performers are being invited to the Maldives in order to promote tourism, and that they have nothing to do with religion.
"While the entire world has started to see Malé City as a lair that harbours members of the Islamic State or extremist militants, foreign artists performing here will show the world what the situation here is truly like," he was quoted as telling Haveeru. "Maldives does not belong to the Islamic State," he continued.
Adeeb's comments follow continued criticism of music concerts held in the Maldives' capital, with US R&B singer Akon set to perform in the national stadium on Thursday (January 8).
A scheduled performance from Jamaican dancehall singer Sean Paul, as part of the 'Tourism Arrival Countdown Show', was cancelled following an online death threat. Indian artists Salim and Sulaiman Merchant stepped in at the last moment to headline the New Year's Eve show.
After a statement from the Adhaalath Party yesterday expressed concern that such concerts are defying Islamic teachings, the party's only MP Anara Naeem today tweeted that the government should rethink its policy.
"The current government should deeply consider stepping out of the musical universe," wrote the Makunudhoo constituency MP.
Full report at:
http://minivannews.com/politics/tourism-promotion-concerts-will-show-the-world-the-true-male-adeeb-91940
---------
Pakistan
Only Govt Can Decide About Qitaal: Jamaat-e-Islami
5 January 2015
ISLAMABAD: Amir Jamaat-e-Islami (JI), Siraj ul Haq Sunday said no individual, organization or party can decide about Qitaal; only the incumbent government has the authority to do so.
Speaking in Geo News programme 'Jirga' hosted by senior anchor Salim Saafi, the JI Amir said a struggle against any vice can be termed Jihad.
Full report at:
http://www.thenews.com.pk/article-170782-Only-govt-can-decide-about-Qitaal:-Sirajul-Haq
------------
Nation stands united to fully uproot menace of terrorism: COAS
5 January 2015
PESHAWAR: Chief of Army Staff (COAS), General Raheel Sharif on Sunday said following the Peshawar School terrorism act, entire nation stands united to fully uproot the menace of terrorism and extremism.
He was speaking at the Provincial Apex Committee meeting for KPK and FATA was held at Peshawar, said a statement of Inter Services Public Relations (ISPR).
Besides the COAS the meeting was attended by Governor KPK, Chief Minister KPK, senior Provincial Govt and FATA Secretariat Officials and Peshawar Corps Commander.
The Apex Committee is a newly formed mechanism to coordinate security and to implement the recently approved National Action Plan (NAP), at each province level.
The forum discussed the prevalent internal security situation in FATA and the Province in the context of National Action Plan and also reviewed the progress of ongoing operations Zarb-e-Azb and Khyber and return plan of TDPs.
Speaking on the occasion, COAS paid rich tributes to the resilience and sacrifices of the people of FATA and KPK province.
Full report at:
http://www.thenews.com.pk/article-170769-Nation-stands-united-to-fully-uproot-menace-of-terrorism:-COAS
------------
Pakistani Pashtuns want end to conflict, at any price
Jan 05 2015
ISLAMABAD AND PESHAWAR // Pashtuns in Pakistan's north-west are as angry as they are relieved that the government has finally declared a war-to-the-end against the Taliban after its massacre of 132 schoolchildren.
The nationwide shock at the December 16 school attack in Peshawar, the capital of Khyber-Pakhtunkhwa, was a reminder to Pashtuns that the vast majority of Pakistanis living in the mostly peaceful east have been oblivious to the conflict that has engulfed their region since 2007, when the militants declared war against the government.
The conflict had earlier simmered in the north-west tribal areas, bordering eastern Afghanistan, where Al Qaeda militants fled after the September 11, 2001 terrorist attacks on the United States.
The Pashtun are Pakistan's third largest ethnic group, numbering around 30 million of the country's 200 million population. In the western provinces of Khyber-Pakhtunkhwa and Balochistan, the group makes up the majority.
Full report at:
http://www.thenational.ae/world/south-asia/pakistani-pashtuns-want-end-to-conflict-at-any-price#full
------------
LHC acquits four death row convicts
5 January 2015
RAWALPINDI: The Lahore High Court's (LHC) Rawalpindi bench on Monday acquitted four death row convicts who were earlier handed the death penalty for their involvement in the suicide attack at Shah-i-Najaf Imambargah in Rawalpindi in 2002, which left 19 people dead and 35 injured.
The four convicts — Fazal Mohammad, Tahir Mehmood, Hafiz Naseer and Habibullah — were sentenced to death by an Anti-Terrorism Court (ATC) in Rawalpindi in 2004, following which they had filed an intra-court appeal.
Full report at:
http://www.dawn.com/news/1155058/lhc-acquits-four-death-row-convicts
------------
Blast at playground leaves five dead, 10 injured in Orakzai
5 January 2015
PESHAWAR: At least five people were killed and 10 others injured in a blast at a playground in Kadda Bazaar area of Kalya, the agency headquarters of the Lower Orakzai Agency on Sunday.
Official sources told Dawn.com that the blast occurred at Hussainia ground during a volleyball match. However, nature of the explosion could not be confirmed as yet. Political Tehsildar Khiasta Akbar said the blast appeared to be carried out through a planted device.
The political administration said that there was a match going on between Mani Khel and Farangi Kalley teams at the time of the explosion.
Full report at:
http://www.dawn.com/news/1155041/blast-at-playground-leaves-five-dead-10-injured-in-orakzai
------------
Altaf condemns attack on Salman Taseer's death anniversary vigil
5 January 2015
LONDON - Muttahida Qaumi Movement (MQM) chief Altaf Hussain on Monday condemned an attack on a vigil that was being held to mark death anniversary of martyred Salman Taseer.
He urged Punjab Chief Minister Shahbaz Sharif to arrest the attackers through the help of footage. Altaf said that the attackers who chanted slogans in favor of murderers wanted to foil Operation Zarb-e-Azb. He once again called on the authorities to eliminate Talibanisation. Earlier on Sunday, Some enraged people attacked the participants of a candle light vigil organised here to mark the death anniversary of former governor Salman Taseer.
Full report at:
http://www.dailytimes.com.pk/national/05-Jan-2015/altaf-condemns-attack-on-salman-taseer-s-death-anniversary-vigil
------------
Jamiat Ulema-e-Islam-F expresses reservations over 21st Amendment
5 January 2015
ISLAMABAD: The JUI-F has expressed its reservations over the 21st Amendment and will not support the bill when it is tabled in the National Assembly on Monday.
JUI-F chief, Maulana Fazlur Rehman said action against religion will not be allowed under the guise of terrorism.
The National Assembly will convene today (Monday) and is expected to approve two bills which will provide constitutional cover to special courts which will be formed to try terrorism suspects.
The 21st amendment to the Constitution would provide constitutional cover to trial of offences relating to terrorism by military courts while amendment to the Pakistan Army Act, 1952 would extend the jurisdiction of military courts to try terrorists.
The Constitution (21st Amendment) Act, 2015 shall remain in force for two years from the date of its commencement and shall cease to be part of the Constitution and shall stand repealed on the expiration of the period.
The 21st amendment to the Constitution would provide that the provisions of Article 175 shall have no application to the trial of persons under any of the Pakistan Army Act 1952, the Pakistan Army Act 1953, the Pakistan Navy Act 1961 and the Protection of Pakistan Act, 2014.
The Article 175 of the Constitution provides for establishment of the Supreme Court of Pakistan and high courts in the provinces.
The 21st amendment to the Constitution also provides for entering the Pakistan Army Act 1952, the Pakistan Army Act 1953, the Pakistan Navy Act 1961 and the Protection of Pakistan Act, 2014 in the first schedule of the Constitution.
The first schedule of the Constitution contains laws which are exempted from operation of Article 8 (1) and (2) of the Constitution. These articles are part of Chapter 1 of the Constitution relating to the fundamental rights.
Article 8 (1) of the Constitution says any law, or any custom or usage having the force of law, in so far as it is inconsistent with the rights conferred by this Chapter, shall, to the extent of such inconsistency, be void.
Full report at:
http://www.thenews.com.pk/article-170822-JUI-F-expresses-reservations-over-21st-Amendment--
--------
India
Every Person Who Enters This World Is Muslim, MIM Chief
Syed Mohammed,TNN | Jan 5, 2015
HYDERABAD: Taking strong objection to the recent mock anti-terror drill in which "terrorists" were made to wear skull caps and shout pro-Islamic slogans organized by the Gujarat police, Majlis-e-Ittehad ul Muslimeen (MIM) supremo Asaduddin Owaisi implied that deliberate attempts were being made to link terrorism with Islam.
Addressing a well-attended gathering on eve of Milad-un-Nabi at the vast grounds of party headquarters in Darussalaam, Owaisi said: "The Gujarat police think that we should be afraid of practicing our faith. Why are you linking terrorism with Islam? But the truth is Islam and Prophet Muhammad came to finish off terrorism. And as much as we are proud of our faith, we are proud of being Indian. There is an investment summit in Gujarat and they want to show that there is a war on terror in progress. But let it be clear, we have nothing to do with terrorism."
Owaisi said that though the party has severe political differences with the Bharatiya Janata Party (BJP) and Rashtriya Swayamsevak Sangh (RSS), this does not imply that the MIM would differ with them if the country's sovereignty is threatened. "We will speak in one voice indeed and fight for the borders of our country. But it is not in the interest of the country that Islam be vilified," Owaisi said.
Full report at:
http://timesofindia.indiatimes.com/india/Every-person-who-enters-this-world-is-Muslim-MIM-chief-Asaduddin-Owaisi-says/articleshow/45759717.cms
------------
Need To Bring Madrasas' Students to Mainstream: Chancellor MANUU
5 January 2015
There is a need to bring students of Madrasas to the mainstream, newly-appointed Chancellor of Maulana Azad National Urdu University Zafar Sareshwala said on Sunday, hailing Prime Minister Narendra Modi for his efforts for the progress of the country including that of the Muslims.
Gujarat-based businessman Sareshwala, who was recently appointed as the Chancellor of Hyderabad-based MANUU, said that "Prime Minister has been saying that the Muslim community can progress only through proper education and training. He has said it several times in Gujarat to educate Muslims and take them forward. He is seriously concerned about the community's progress."
Full report at:
http://indianexpress.com/article/india/india-others/need-to-bring-madrasas-students-to-mainstream-sareshwala/#sthash.twwrx2m4.dpuf
------------
Southeast Asia
Malaysia Has So Many Fatwas there's A Website to Keep Track Of Them
Jan 05 2015
BANGKOK, Thailand — All Muslims know pork, booze and premarital canoodling violates Islamic teachings. But in Malaysia, home to a rising tide of fundamentalist Islam, senior clerics are warning against more insidious dangers to the faith.
Such as death metal. And puppies. And Valentine's Day.
Malaysia is a bastion of Islam in tropical Southeast Asia. It's also a nation of mall-goers and Instagram addicts. Many in Malaysia see themselves as both devout and cosmopolitan. Their ethos extols mosques and skyscrapers alike.
But as Malaysia modernizes, its state-backed religious authorities are embarking on a spree of fatwas. Each is a decree based on interpretations of the Quran. The fatwas are typically seen as guidelines but police can potentially enforce them under Malaysia's Sharia laws.
These days, the fatwas keep piling up. Malaysia's conservative Muslims appear panicked by the corrosive influence of Western modernity. There's even an "e-fatwa" site to help the nation keep track of the 1,500-plus rulings.
Full report at:
http://www.globalpost.com/dispatch/news/regions/asia-pacific/141222/moderate-malaysia-has-so-many-fatwas-there-s-website-keep-
------------
Decentralisation of power entirely constitutional, says Zairil
5 January 2015
Rather than label him seditious over an article he wrote on decentralisation of federal powers, DAP Bukit Bendera MP Zairil Khir Johari has asked Umno mouthpiece Utusan Malaysia acquaint itself with the constitution.
The DAP assistant national publicity secretary said that decentralisation was entirely constitutional and provided for in the constitution.
He said that Parliament could delegate power to state authorities to legislate on matters that fell under federal purview.
Adding that this had been done in the past, Zairil cited the case of the Incorporation (State Legislatures Competency) Act 1962, which allowed state legislatures to create state corporations such as Selangor State Development Corporation, Penang Development Corporation and Menteri Besar Incorporated, despite this power clearly falling under the Federal Constitution.
"It is unsurprising for Utusan to take this line, as decentralisation would effectively reduce the powers of their masters, the current ruling party at the federal government.
"However, before simply labelling my proposal as seditious or against the Federal Constitution, they should first get acquainted with our country's highest law," said Zairil in a statement today.
Utusan Malaysia, through its Sunday editorial Bisik-bisik yesterday, had said that Zairil's article "Review our federalism contract" written more than two weeks ago which called for decentralisation of powers was seditious.
Zairil said today however that more power for the federal government simply meant that they would be able to dispense better patronage.
Full report at:
http://www.themalaysianinsider.com/malaysia/article/decentralisation-of-power-entirely-constitutional-says-zairil#sthash.oiKc0HN5.dpuf
------------
Nurul Izzah should not have been malicious, says NFCorp chief
5 January 2015
National Feedlot Corporation Sdn Bhd (NFCorp) executive chairman Datuk Seri Mohamad Salleh Ismail went on the attack against Lembah Pantai MP Nurul Izzah Anwar in his testimony at the High Court today.
Admitting that Nurul Izzah had every right to address public concerns regarding the Eco City project coming up within her constituency in Kg Abdullah Hukum, Salleh said, however, that "she should not have been malicious".
Salleh was testifying in his defamation suit against Nurul Izzah and Datuk Saifuddin Nasution, in his capacity as PKR secretary-general at the material time.
NFCorp is the second plaintiff in the suit filed in December last year, over a press conference held by Nurul Izzah and then PKR strategy director Rafizi Ramli, on the purchase of the eight properties in KL Eco City.
Salleh also testified that the PKR politician should have left his wife, Datuk Seri Shahrizat Abdul Jalil, out of her statement, instead of implying that as former MP for the constituency, Shahrizat would have known about the development plans and could have influenced her husband in the purchase of the eight properties.
Salleh, however, said that he was not aware that the occupants of the land in Abdullah Hukum where Eco City came up was not given enough compensation.
He also mentioned that the impact of the press conference on March 7, 2012 by PKR's Rafizi Ramli and Nurul Izzah had caused his wife to step down as a minister.
Salleh disagreed with a suggestion by the defendants' lawyer Joshua Kevin during cross-examination that even members of the Barisan Nasional coalition, including former prime minister Tun Dr Mahathir Mohamad, had asked Shahrizat to step down before the March 7 press conference.
Full report at:
http://www.themalaysianinsider.com/malaysia/article/nurul-izzah-should-not-have-been-malicious-says-nfcorp-chief#sthash.QKI1Ht46.dpuf
------------
URL: https://www.newageislam.com/islamic-world-news/new-age-islam-news-bureau/uk-govt-wants-nurseries-to-report-potential-terrorist-toddlers/d/100862