New Age Islam News Bureau
27 Sept 2015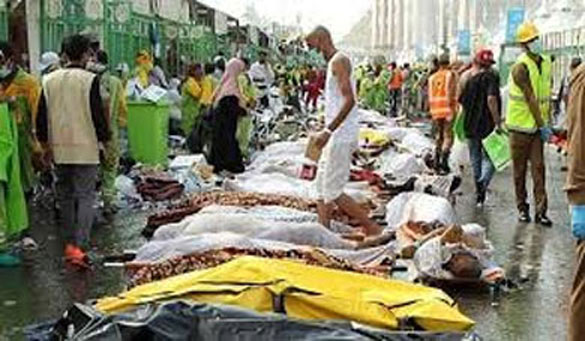 Saudi emergency personnel stand near bodies of Hajj pilgrims at the site where hundreds were killed and hundreds more were wounded in a stampede in Mina, near the holy city of Mecca on September 24, 2015. (Reuters)
Europe
• UK-Based Islamic Human Rights Commission: Saudis Not Capable Of Managing Hajj
• Corbyn Urges British PM to Intervene over Planned Execution of Saudi Protester
• France Announces First Air Strikes on Islamic State In Syria
• Blaze at giant London mosque
-------
Arab World
• Islamic State Adds 30,000 Recruits in Syria, US Estimates
• Hajj Stampede: Death Toll Rises to 769; Iran Wants Saudi Officials Tried In International Court
• Iraqi Forces Shoot Down ISIL Spy Drone in Anbar Province
• Tens of Soldiers Killed in Heavy Clashes with Dissident Tribes in Saudi Arabia's Najran
• Saudi Airstrikes Kill Seven Yemen Civilians
• Monitor: Militants Fire Shells at Syria's Foua in Violation of Truce
• Syrian Air Force Destroys Al-Nusra Front's Positions in Lattakia
• Saudi Arabia: Islamic State loyalist who killed cousin dies in shootout
• Anti-Kingdom propaganda by pro-Tehran media flayed
• General wounded in border gun battle dies
• Crown prince commends security forces' Haj efforts
• Islamic State suspect, Saudi soldier killed in shoot-out in desert north
• Artwork featuring Sylvanian Families toys being threatened by Islamic State terrorists is scrapped
• Iraq says Russia, Iran, and Syria cooperating on security issues in Baghdad
• Aircraft carrier is 'big stick' in fight against Islamic State
• Effort to retake key Iraqi city stalled – questions raised about strategy to fight Islamic State
-------
South Asia
• 35 Daesh Militants Killed In Clash with Security Forces in Nangarhar's Achin District
• Daesh Advancement in Afghanistan of Serious US Concerns
• Ghani Urges People to Support Govt in Ending Pakistan's Undeclared War
• Bill Gates wants Afghan government to put more efforts in fight against polio
• US military contractor to build 55 Mobile Strike Force vehicles for Afghan army
• Taliban commander killed while plotting an attack on Kabul
• US, China reaffirms long term support for Afghanistan
• MP Eng. Abdul Ghafar loses leg in Nangarhar blast
-------
Mideast
• Crush cause: 300 Iranians violated rule
• Israeli Forces Detain Two Palestinians in Hebron
• Palestinian Fishing Boat Destroyed by Israeli Navy off Gaza Shore
• Iran Dismisses Talks with US on Regional Issues
• Saudi Arabia should apologise for Hajj stampede: Iran's supreme leader Khamenei
• At UN, Iran's President Rouhani calls for investigation into Hajj stampede
-------
Pakistan
• Pakistan Ready to Facilitate Afghan-Taliban Peace Talks: Sartaj
• Pakistan Extending Training and Technical Support to Developing Countries: PM
• UN Summit: China-Pakistan economic corridor an 'inspiring model, says Nawaz Sharif
• Ministry confirms deaths of 18 Pakistani pilgrims in Mina stampede
• Sargodha death row convict claims he was 15 at time of crime
• Pakistan, Afghanistan only countries left on polio-endemic nations list
-------
Africa
• At Least 21 Killed In Attacks in Central African Republic Capital
• Is this the End of Boko Haram?
-------
North America
• Trump: GOP Rivals 'Want To Start WWIII Over Syria,' Should Let Russia Fight Islamic State
• Decision Not to Close Schools during Muslim Holiday Sparks Uproar in New Jersey
• Debate Challenge to Yale Heads over Study of Islamic Law and Civilization, $10 Million "Gift"
• DSU host Islamic terrorism debates
• 'Blue Bloods' recap: The Reagans investigate Muslim terrorist threat
India
• Death Toll of Indians in Haj Stampede Rises To 29
-------
Southeast Asia
• No Direct Link between Halal Certification and Islamic Terrorism, Senate Inquiry Told
• The evolution of political Islam in Malaysia
-------
Compiled by New Age Islam News Bureau
URL: https://www.newageislam.com/islamic-world-news/new-age-islam-news-bureau/uk-based-islamic-human-rights-commission--saudis-not-capable-of-managing-hajj/d/104726
----------
Europe
UK-based Islamic Human Rights Commission: Saudis Not Capable of Managing Hajj
TEHRAN (FNA) - The UK-based Islamic Human Rights Commission (IHRC) said Saudi Arabia is obviously not "capable" of managing the annual Hajj pilgrimage.
Referring to the recent Hajj tragedy in Mecca and previous incidents, the commission's Reza Kazem said that, "Things need to change" as it is clear that Saudi authorities are incapable of managing the Hajj, press tv reported.
"They are not able to manage this and it is important that we look at other structures and the ways of how … Muslim countries and organizations can get involved in managing this hajj event," said Kazem on Saturday.
The Saudis deny the "responsibility that they actually hold", and even blame the victims for the tragedy, he noted.
He added that an independent investigation must be launched into the whole incident and the reasons behind it.
A stampede during one of the last rituals of the Hajj season killed more than 2,000 people and left 2,000 wounded.
The stampede occurred during the ritual known as "stoning the devil" in the tent city of Mina, about two miles from Mecca.
Some 144 Iranians have also lost their lives in the incident, while 150 others have been wounded in the incident.
Meantime, sources revealed that the convoy of Saudi Arabia's Deputy Crown Prince and Defense Minister Mohammad bin Salman Al Saud caused panic among millions of pilgrims and started the stampede.
"The large convoy of Mohammad bin Salman Al Saud, the King's son and deputy crown prince, that was escorted by over 350 security forces, including 200 army men and 150 policemen, sped up the road to go through the pilgrims that were moving towards the site of the 'Stoning the Devil' ritual, causing panic among millions of pilgrims who were on the move from the opposite direction and caused the stampede," several Arab papers, including the Arabic language al-Dyar newspaper, disclosed on Thursday evening.
"That's why the ruler of Mecca has distanced himself from the case, stressing that the issue should be studied and decided by the King," it added.
No other source has yet confirmed the report, but observers said the revelation explains why two of the roads to the 'Stoning the Devil' site has been closed.
Eye witnesses said earlier that the Saudi police and security forces had closed two of the few roads to the stone column that were to be used by millions of pilgrims to do the 'Stoning the Devil' ritual today.
Saeed Ohadi, the head of Iran's Hajj organization, accused Saudi Arabia of safety errors and mismanagement.
He said for "unknown reasons" the paths had been closed off near the scene of the symbolic stoning of the devil ritual where the accident later took place.
"This caused this tragic incident," he told the Iranian state television.
Eyewitness accounts said that even after incident the Saudi security and military forces closed all paths leading to the scene and the bodies of pilgrims have piled up on each other.
http://english.farsnews.com/newstext.aspx?nn=13940705000600
---------
Corbyn Urges British PM to Intervene over Planned Execution of Saudi Protester
TEHRAN (FNA), Sep 27, 2015- British Prime Minister David Cameron must intervene to press his Saudi counterparts to halt the planned beheading and crucifixion of Ali Mohammed al-Nimr, Labor Party leader Jeremy Corbyn said.
Corbyn, in a letter to Cameron, raised the case of Ali Mohammed al-Nimr, who could be executed at any time after he was convicted for a crime he allegedly committed at 17, the Guardian reported.
Al-Nimr was arrested in 2012 for reportedly being involved in anti-al Saud protests in Qatif, in the country's Eastern province.
A group of independent United Nations human rights experts have urged the Saudi Arabian government to stop al-Nimr's execution, noting reports suggest he was tortured and subject to ill treatment which forced him to confess.
Corbyn told Cameron that al-Nimr had exhausted all his appeals and warned there was little time left to try to prevent a "grave injustice".
Corbyn, recognizing the hajj tragedy which has left more than 700 people dead, asked Cameron to raise al-Nimr's case "directly with your Saudi counterparts".
"I am, of course, aware of the terrible tragedy which has taken place in Saudi Arabia in recent days, and believe we should support the victims in any way we possibly can," he told cameron.
"However, Ali's case is especially urgent – the secrecy of the Saudi system means that he could face execution at any time, and even his family may only find out after the event.
"There is therefore no time to spare in taking this up with the Saudi authorities, if we are to prevent a grave injustice."
Corbyn, among other requests, asked for all information showing what considerations took place for the bid in relation to human rights concerns in Saudi Arabia and "which minister(s) were responsible for signing-off on it".
http://english.farsnews.com/newstext.aspx?nn=13940705000392
-------
France announces first air strikes on Islamic State in Syria
Sep 27, 2015
PARIS: France announced its first air strikes against the Islamic State group in Syria on Sunday, following its decision to expand its bombing campaign against the jihadists from neighbouring Iraq.
The president's office said the strikes hit targets identified during reconnaissance missions conducted over the past fortnight.
The operation to "fight the terrorist threat" of IS was coordinated with regional partners, a brief statement said.
http://timesofindia.indiatimes.com/world/middle-east/France-announces-first-air-strikes-on-Islamic-State-in-Syria/articleshow/49124632.cms
--------
Blaze at giant London mosque
Sep 27, 2015
LONDON: A blaze broke out Saturday at a London mosque which claims to be the largest in western Europe.
Ten fire trucks were sent to fight the blaze at the Baitul Futuh Mosque in Morden, southwest London.
The smoke could be seen across the city.
One man, said to be in his 40s, was taken to hospital after suffering from smoke inhalation, London Ambulance Service said.
The mosque was built for the Ahmadiyya Muslim community to provide people with a meeting place and venue to hold social religious events.
The 5.2-acre (2.1-hectare) complex was completed in 2003. There is space for at least 10,500 people to pray, according to the mosque's website.
The dome stands 75 feet (23 metres) above ground level.
"It is a very beautiful building and what has happened is very sad," said Stephen Alambritis, leader of the Merton Council local authority.
"There were no people at prayer at the time. It does seem that evacuation procedures worked.
"The congregation there, especially on a Friday, are very large and peaceful and they add very much to the community. This will be a blow to their operation but they will be back."
The fire affected around half of the ground floor, part of the first floor and a section of the roof.
London Fire Brigade said the blaze had hit administration buildings and the "mosque itself is thankfully unaffected."
http://timesofindia.indiatimes.com/world/uk/Blaze-at-giant-London-mosque/articleshow/49121609.cms
---------
Arab World
Islamic State adds 30,000 recruits in Syria, US estimates
By Eric Schmitt and Somini Sengupta NEW YORK TIMES SEPTEMBER 27, 2015
WASHINGTON — Nearly 30,000 foreign recruits have now poured into Syria to join the Islamic State, a doubling of volunteers in just the past 12 months and stark evidence that an international effort to tighten borders, share intelligence, and enforce antiterrorism laws is not diminishing the ranks of new militant fighters.
Among those who have entered or tried to enter the conflict in Iraq or Syria are more than 250 Americans, up from about 100 a year ago, according to intelligence and law enforcement officials.
Full Report at:
https://www.bostonglobe.com/news/world/2015/09/26/thousands-enter-syria-assist-militants-isis/zjxnMkrhbemU3RT4Zf8HpI/story.html
---------
Hajj stampede: Death toll rises to 769; Iran wants Saudi officials tried in international court
27 September 2015
The death toll in a crush at the annual Hajj pilgrimage outside Mecca rose to 769, Saudi Arabia said on Saturday, as arch-rival Iran said Saudi officials should be tried in an international court for what it called a crime.
The worst disaster to befall the Islamic event in a quarter of a century occurred on Thursday as two large groups of pilgrims arrived together at a crossroads in Mina, a few kilometres outside the holy city.
Full Report at:
http://www.dnaindia.com/world/report-hajj-stampede-death-toll-rises-to-769-iran-wants-saudi-officials-tried-in-international-court-2128992
-------
Iraqi Forces Shoot Down ISIL Spy Drone in Anbar Province
Sun Sep 27, 2015
TEHRAN (FNA)- The Iraqi army along with popular fighters shot down an ISIL drone in city of Ramadi in Al-Anbar province in Western Iraq.
A hostile surveillance aircraft operated by the ISIL was shot down by the Iraqi troops as it was flying over the Western parts of the Ramadi city on Saturday, the Iraqi media quoted police sources as saying on Sunday.
The drone was brought down after two sides exchanged heavy gunfire for hours.
The ISIL Takfiri terrorists currently control shrinking swathes of Syria and Iraq. They have threatened all communities, including Shiites, Sunnis, Kurds, Christians, Ezadi Kurds and others, as they continue their atrocities in Iraq.
Senior Iraqi officials have blamed Saudi Arabia, Qatar, and some Persian Gulf Arab states for the growing terrorism in their country.
The ISIL has links with Saudi intelligence and is believed to be indirectly supported by the Israeli regime.
http://english.farsnews.com/newstext.aspx?nn=13940705000357
-------
Tens of Soldiers Killed in Heavy Clashes with Dissident Tribes in Saudi Arabia's Najran
TEHRAN (FNA), Sep 26, 2015- Fierce clashes erupted between the Saudi army and opposition forces in the province of Najran in the Southern parts of the Arab country.
Early reports said tens of Saudi troops were killed in clashes with the tribal forces in Najran province, one of the tribal heads said Saturday.
No further detail has been revealed yet.
The tribes of Najran have declared war against the Saudi government since several months ago for the Riyadh government's aggression the Yemeni nation. The Najran's tribes say that Najran is part of Yemen and the Saudi regime has captured it by force.
Meantime, the local sources in Najran disclosed that the head of Hamzan tribe, Sheikh Ali al-Hamzani has been assassinated in the Southern parts of Najran.
Last Sunday, the Yemeni army and the Popular Committees gained control of several areas in the city of Al-Khubah in the Saudi province of Jizan.
The Yemeni forces seized several areas in Al-Khubah city, including Qamar, Al-Dhahira and West of Dar Al-Nasr towns, killing and injuring scores of Saudi troops on Sunday. Nine Saudi vehicles were also destroyed.
Saudi Arabia has been striking Yemen for 185 days now to restore power to Hadi, a close ally of Riyadh. The Saudi-led aggression has so far killed at least 6,225 Yemenis, including hundreds of women and children.
Hadi stepped down in January and refused to reconsider the decision despite calls by Ansarullah revolutionaries of the Houthi movement.
Despite Riyadh's claims that it is bombing the positions of the Ansarullah fighters, Saudi warplanes are flattening residential areas and civilian infrastructures.
http://english.farsnews.com/newstext.aspx?nn=13940704001281
-------
Saudi Airstrikes Kill Seven Yemen Civilians
TEHRAN (FNA), Sep 27, 2015- The latest Saudi air raids on Yemen claimed the lives of at least seven people, including 4 children.
On Saturday, Seven civilians, including four children and a woman, were killed in Saudi airstrike against a residential house in the Yemeni capital Sana'a.
Saudi fighter jets also targeted a number of localities in the province several times, including Sarf dam, a military police building and Beit al-Awzari area in the Bani al-Hareth district.
Similar assaults hit 12 times an educational center in the Sawadiyah district in the province of Bayda.
Saudi warplanes also pounded a pipeline in the province of Ma'rib, and bombed a camp that was set up for displaced people in the Sarwah district of the same province.
In the province of Hudaydah, Saudi fighter jets bombed an air defense site in Salif and a marine base in Kamaran Island multiple times. Warplanes also carried out five airstrikes against Mokha port in Taiz province.
There is still no word on the possible casualties of those raids.
Saudi Arabia has been striking Yemen for 186 days now to restore power to Hadi, a close ally of Riyadh. The Saudi-led aggression has so far killed at least 6,232 Yemenis, including hundreds of women and children.
Hadi stepped down in January and refused to reconsider the decision despite calls by Ansarullah revolutionaries of the Houthi movement.
Despite Riyadh's claims that it is bombing the positions of the Ansarullah fighters, Saudi warplanes are flattening residential areas and civilian infrastructures.
http://english.farsnews.com/newstext.aspx?nn=13940705000524
------
Militants Fire Shells at Syria's Foua in Violation of Truce
TEHRAN (FNA), Sep 27, 2015- Shells fired by militants hit the village of al-Foua in the Syrian Northwestern province of Idlib in violation of a recently enforced ceasefire, the Syrian Observatory for Human Rights said.
The militants fired at al-Foua and Kefraya late on Saturday. No immediate casualties has been reported.
Reports said on Tuesday that a cease-fire agreement covering the Syrian border town of Zabadani and two villages in the Northern province of Idlib between Hezbollah and the Syrian army on one side, and terrorist groups on the other, was extended until reaching an agreement.
Al-Manar TV channel said on Tuesday that the truce would continue until a final agreement was reached on the status of militants and civilians in Kefraya and Foua towns.
It is the third cease-fire to cover these areas in around a month.
The cease-fire, which went into effect at mid-Sunday covers also the villages of Madaya and Baqin, which are adjacent to Zabadani.
Hezbollah and Syrian forces have tightened the noose around terrorists in Zabadani region and Idlib province. The operation began in early July and is seen as an attempt to bolster control of land routes between Lebanon and Syria and sever rebel supply lines.
Zabadani is located 50 kilometers Northwest of Damascus and 12 kilometers Northeast of Lebanon's Masnaa border crossing.
Earlier this month, Israel attacked a position of the Syrian army in Zabadani that was used by government and Hezbollah's joint troops to pound terrorists.
The Israeli Air Force carried out airstrikes against an artillery position of the Syrian Army near the town of Zabadani, around 45 km (28 miles) from Syria's capital Damascus, a military source said at the time.
"The Israeli Air Force planes carried out airstrikes at an artillery position belonging to the Syrian army," the source said. "The artillery was used by the army to repel attacks from militants in the Eastern part of Zabadani."
The source added that terrorists attacked Syrian army positions on the East side of Zabadani on September 10. The Syrian military, supported by the artillery shelling, managed to repel the attack after a three-hour battle.
After the Israeli Air Force carried out the airstrike, militants reportedly launched a second assault attempt, also repelled by the government's forces, according to the source.
On September 6, military sources said that the Syrian Army and the Hezbollah, in their mop-up operations in Zabadani, uncovered one of the largest supply tunnels of rebel groups in Zabadani area.
The sources said that the Syrian Army's 63rd Brigade of the 4th Mechanized Division – in coordination with Hezbollah, the Syrian Social Nationalist Party (SSNP), and the National Defense Forces (NDF) – uncovered one of Harakat Ahrar Al-Sham's large supply tunnels that stretched from the Beit Al-Dalati neighborhood to the outskirts of Southern Zabadani.
The large tunnel unearthed by the Syrian army and Hezbollah was used by Harakat Ahrar Al-Sham militants to resupply and reinforce their embattled combatants that were completely surrounded by the Syrian Armed Forces and Lebanese Resistance near Zabadani's city-center.
http://english.farsnews.com/newstext.aspx?nn=13940705000674
-------
Syrian Air Force Destroys Al-Nusra Front's Positions in Lattakia
TEHRAN (FNA), Sep 27, 2015 - The Syrian air force pounded the positions of the Takfiri terrorists in the countryside of Lattakia, and killed tens of militants and injured dozens more.
The Syrian warplanes destroyed the hideouts of Al-Nusra Front terrorists in Abu Risheh, Sankufeh and Jub al-Ahmar in the Northern parts of Lattakia countryside.
The Syrian troops also destroyed DshK-equipped vehicles of Al-Nusra Front militants during their attack.
Several terrorists were killed and vehicles equipped with machineguns were destroyed in the strikes.
Also in the past 24 hours, Syria's Kurdish popular forces started fresh operations to seize back several areas in the Northern parts of Raqqa province.
The Kurdish forces' operations came as they have gained full control over the town of Ain Issa in Raqqa province.
The latest dispatches from Northern Syria said the popular forces are currently engaged in purging Hisha al-Shabal of terrorists.
Elsewhere, the foreign-backed Takfiri militants suffered heavy losses in military operations across the Syrian province of Aleppo over the past 24 hours.
The Syrian army targeted terrorists' movements and hideouts in Kafr Hamra village and the towns of Byanoun and Hreitan, field sources said, adding that a group of the terrorists were killed in the operations.
The army also killed scores of terrorists, and destroyed their vehicles in the villages of al-Ameriyeh and Khan Touman in the Southern countryside of Aleppo.
Meantime, local sources said that the Kurdish forces of the People's Protection Units (YPG) launched an attack on the headquarters of the ISIL in Jarabulus city North of Aleppo, near the border with Turkey.
The YPG forces have targeted several ISIL positions in Jarabulus with mortars and heavy artillery.
YPG fighter Nuraddin Gaban said that the Kurdish forces launched the attack from their bases in the villages of Zor Maghar, Nasiriya and Atto East of Jarabulus.
"Our shelling hit at least five ISIL targets in Jarabulus city on Friday, killing and injuring dozens of terrorists," he said.
The YPG leadership has deployed hundreds of fighters alongside the Euphrates River in the Eastern countryside of Jarabulus in preparation for storming the ISIL strongholds in the area.
"Our forces have made a remarkable advance towards Jarabulus city after liberating the Western countryside of Kobani. The anti-ISIL operations will continue until reassuring our people's safety from this terrorist group," Gaban added.
"We are ready to storm the city of Jarabulus and liberate it from the ISIL terrorists. We are waiting for orders from our leadership," the YPG member said.
Also, informed sources in the Eastern province of Deir Ezzur said that the Syrian forces launched massive operations against the ISIL terrorist group in the province, and cut their supplying line from Raqqa for several hours.
The sources said that the Syrian Army's 137th Artillery Brigade of the 17th Reserve Division, in coordination with the 104th Airborne Brigade of the Republican Guard, the National Defense Forces (NDF), and the Shaytat Tribesmen, launched a powerful assault on the village of Al-Khareetah in the Deir Ezzur Governorate's northeastern territories, where they targeted the ISIL main supply route the province and cut it for some hours.
Under intense pressure from the Syrian Armed Forces, the terrorist group sent a large wave of reinforcements from the Iraqi border-city of Al-Qa'im in order to forestall the advance and secure their main supply route along the Raqqa-Deir Ezzur Highway.
The sources confirmed there are still violent clashes near the Palmyra-Deir Ezzur Highway that leads to the ISIL-controlled city of Al-Sukhanah in the Homs Governorate's Eastern countryside.
Military sources said that the Syrian forces raided the ISIL Takfiri terrorists' strongholds in the Northern territories of Sweida, and killed more than 26 militants in the fighting areas.
Meantime, the sources said that the National Defense Forces (NDF) surprised the ISIL terrorists with a powerful assault on Al-Mu'az Hill in Northern Sweida, killing 26 militants and wounding some others.
According to military sources in the province, the National Defense Forces are attempting to cut off the ISIL main supply route to the province, while recapturing the hilltops in Northern Sweida.
http://english.farsnews.com/newstext.aspx?nn=13940705000327
------
Saudi Arabia: Islamic State loyalist who killed cousin dies in shootout
September 26, 2015
Saudi Arabia's state-run news agency says security forces killed an 18-year-old Islamic State loyalist and arrested his brother after they killed their cousin, who is a soldier, and three other people.
The Saudi Press Agency said Saturday that security forces launched a manhunt after a video emerged purportedly showing an IS loyalist shooting and killing a man in the desert.
SPA says the individual who was shot dead was a member of the armed forces, lured to the desert by his cousins on Thursday, the first day of the Muslim holiday of Eid al-Adha.
It says the two brothers killed two other citizens and a corporal.
Security forces tracked the brothers to a mountainous area, where the brothers opened fire. A soldier was killed in the operation.
http://indianexpress.com/article/world/world-news/saudi-arabia-islamic-state-loyalist-who-killed-cousin-dies-in-shootout/#sthash.lQz5Sxy8.dpuf
-------
Anti-Kingdom propaganda by pro-Tehran media flayed
MINA: Some UK newspapers have come in for intense criticism for publishing incorrect stories about the reasons for the stampede in Mina on Thursday.
Colin Freeman, the chief foreign correspondent for The Telegraph, was criticized on social media for a story alleging that "the deadly crush had been caused by police closing two road entrances because of a visit by VIPs to the nearby palace of King Salman."
In reality, the stampede took place on a street which is far from the palace. Journalists who are aware of the topography of the area laughed both at the spurious story and at the writer's ignorance.
"Rather than accepting wild allegations, he should have crosschecked with people on the ground concerning the location of Street No. 204 (where the tragedy occurred) and the location of King Salman's palace," said Jamil Radwan, an Egyptian journalist who is covering Haj. "The two are poles apart. Also, there is absolutely no VIP movement in that area," he reiterated.
In a statement to the media, Saudi Ambassador to the UK, Prince Mohammed bin Nawaf, said claims that the stampede had occurred because of VIP movements were completely false. "This is a malicious falsehood which has no basis whatsoever in truth. The vehicles of Saudi dignitaries do not travel through this area," he said and explained the source of the rumour.
"To the best of our knowledge, the rumor originated on Iranian state-controlled channels, Press TV and Lebanese Adiyar, which recently falsely claimed that 200 mosques were being built in Germany by Saudi Arabia for Syrian refugees."
He said it was unfortunate that mainstream British newspapers had accepted the story as true without checking the reliability of the sources.
Saudi security analyst Nawaf Obaid said: "It is a classic case of amateur journalism by certain UK media outlets. (They) have created a parallel fictional reality."
Prince Mohammed said that King Salman had ordered a full investigation into the cause of the catastrophe and as soon as the results are known, they will be made public.
Muslim World League chief also denounced Iranian criticism of Saudi Arabia.
"Irresponsible statements from some Iranian officials are aimed at harming Saudi Arabia and its leaders," said MWL Secretary-General Abdullah Al-Turki. "They want to harm Muslims who have faith in Saudi Arabia and its leadership which serves the two holy mosques."
"What kind of news story is that?" asked Saudi writer and educator Khaled Al-Awadh on his Twitter account in response to Freeman of The Telegraph.
British journalist Ismaeel Nakhuda said the majority of Western media had no idea about the geography of Haj sites and so they often made mistakes.
In response, some suggested that the opportunity should be used to educate journalists about Mina and the Haj rituals. "One radio station suggested (creation of) shopping malls in Mina," said a representative of the Council of British Hajis.
A Saudi, who tweets with the handle @nawaf442, posted a tweet in which he said: "Just for information: A stampede at a stadium in Sheffield, England, during a Liverpool vs Nottingham match, attended by 40,000 spectators resulted in 100 deaths." That tweet was reproduced 15,000 times.
A pilgrim from Pakistan, Mohammed Omar Ali Khan, said it was very unfortunate that some people and countries were indulging in politics over the dead bodies of the pilgrims.
"It is very shameful. May Allah give those countries guidance and lead them to respect the dead. I will forgive the media because they don't know about our rituals and the topography."
http://www.arabnews.com/featured/news/811966
-------
General wounded in border gun battle dies
Sunday 27 September 2015
JEDDAH: A brigadier general who was injured in a gun battle on the Saudi-Yemen border has died, the Armed Forces announced early Sunday.
In a brief statement carried by the Saudi Press Agency (SPA), the Armed Forces said Brigadier Ibrahim Omar Ibrahim Hamzi died in hospital for injuries he sustained "while carrying out his duties."
No details about the clash were given, but the Interior Ministry on Saturday said a Saudi Border Guards fought with hostile forces from the Yemen border on Friday evening.
The ministry's spokesman said that the clash was preceded by a land mine explosion that damaged vehicles carrying Saudi troops along the border in Jazan province. As reinforcements came to transport the troops from the damaged vehicles, they came under fire from the Yemen side and a colonel and a sergeant were killed.
Four others also sustained slight injuries, said the ministry, without mentioning if a high-ranking officer was among them.
A number of Saudi soldiers have also been "martyred" since March when the kingdom formed an Arab coalition to fight Shiite Houthi rebels in Yemen.
Saudi Arabia is leading a coalition of Arab countries in support of the internationally-backed government of Yemeni President Abedrabbo Mansour Hadi in its fight against Iran-backed Shiite Houthis and forces loyal to ousted Yemeni president Abdullah Saleh.
Coalition forces have in the past weeks started liberating parts from Yemen from the rebels, starting in the southern port city of Aden.
On Saturday night, Coalition jets bombarded rebel positions in the capital, Sanaa.
Around 70 people have been killed in Saudi Arabia from border shelling and skirmishes since the coalition campaign began. Soldiers have accounted for most of the border casualties.
The United Nations says nearly 4,900 people, including a vast number of civilians, have been killed in Yemen since late March.
http://www.arabnews.com/featured/news/811971
-------
Crown prince commends security forces' Haj efforts
Sunday 27 September 2015
MINA: Crown Prince Mohammed bin Naif, deputy premier, minister of interior and chairman of the Supreme Haj Committee, expressed pride toward the praise extended by Custodian of the Two Holy Mosques King Salman for the efforts made by security officers in serving the guests Allah despite the tragic accident of the stampede in Mina.
He pointed out that this does not in any way downplay the efforts they made, and prayed to God the Almighty to grant forgiveness to the deceased and that they rest in peace in paradise, and prayed for the injured to be blessed with a speedy recovery.
The crown prince was speaking during an inspection visit to the Haj Control and Command Centre at the headquarters of the Public Security in Mina.
The crown prince expressed his confidence in security sector members, stressing their efforts in performing their duties as best as possible.
Prince Mohammed bin Naif also followed up on security plans of the different Haj phases and gave directions to complete the remaining phases with utmost accuracy, especially the plans involving the Holy Sites and the Grand Mosque.
The crown prince was welcomed by Director of the Public Security and chairman of the Haj security committee Brig. Othman bin Naser Al-Mohrej, commander of Haj forces in the Makkah police, Maj. Gen. Abdulaziz bin Othman Al-Souli and Muhammad Al-Khelawi, commander of the Command and Control Center for Haj Security.
The crown prince checked the department of the Control and Command Center and was familiarized on the course of work and operations there, and the daily statistics monitored by the centre during this Haj season.
He also checked the television monitoring and computer departments, as well as the traffic department, the criminal security division and the other security sectors participating in the Haj operations this season.
Following the visit, the crown prince held a meeting with the leaderships of Haj security where he was briefed on the tasks assumed by the Haj forces, and all other traffic and security plans in place during the Haj.
http://www.arabnews.com/saudi-arabia/news/811946
-------
Islamic State suspect, Saudi soldier killed in shoot-out in desert north
Sep 27, 2015
One Saudi soldier and one suspected Islamic State militant were killed in a gun battle in northern Saudi Arabia between security forces and two brothers wanted in connection with several attacks last week, the Interior Ministry said on Saturday.
Islamic State has called on supporters to carry out attacks in Saudi Arabia and string of deadly attacks by its followers has fuelled concerns about a growing threat of militancy in the world's top oil exporter.
The two brothers were suspects in shootings that killed two civilians outside a police station and a soldier in separate incidents on Thursday. They were also wanted for allegedly killing their cousin, a member of the Saudi security forces.
Abdul Aziz al-Anzi, 18, was killed, while his brother Saad, 21, was wounded and captured in the shoot-out in the northern desert province of Ha'il, the Interior Ministry said.
In the worst attacks by the group in the kingdom to date, two suicide bombers killed 25 people at Shi'ite Muslim mosques in the east of the country in May.
Saudi authorities say they are cracking down on the militants and announced in July that it had detained 431 people suspected of belonging to the organization.
http://www.reuters.com/article/2015/09/26/us-saudi-security-idUSKCN0RQ0DW20150926
-------
Artwork featuring Sylvanian Families toys being threatened by Islamic State terrorists is scrapped
26 SEP 2015
A shocking artwork featuring the Sylvanian Families toys being attacked by ISIS ­terrorists has been scrapped – because of the threat from real-life ­fanatics.
The work, by an artist known as Mimsy featured the world-famous collectible animals being stalked by armed Jihadis called MICE-IS in seven scenarios including at a school, a maypole celebration and a beer festival.
One scene similar to the start of the beach massacre in Tunisia three months ago, in which 30 Britons died is not being published by the Sunday People.
Yet the work has not been censored by the gallery on taste grounds – but because police say they could be attacked over it.
Officers warned high-end Mall Galleries in London the artwork had "potentially inflammatory content" and they would face a £36,000 security bill.
Organisers of the show, Passion for Freedom, ­reluctantly removed it from its exhibition – designed to celebrate freedom of speech – and deleted the word "uncensored" from descriptions of the event.
Artwork showing Sylvanian Families terrorised by Isis banned from free speech exhibitionArt lesson: The Sylvanian Families toys are stalked at school
The female artist, who used the name Mimsy to avoid any retaliation herself, was furious.
She is reported to have said: "I'm aware of the very real threat to that freedom from Islamic fascism and I'm not going to pander to them or justify it like many people on the Left are doing."
Other works in the show, which was due to end on Saturday night, included a life-sized painting of a woman in a Hijab covered in chains.
http://www.mirror.co.uk/news/uk-news/artwork-featuring-sylvanian-families-toys-6524213
-------
Iraq says Russia, Iran, and Syria cooperating on security issues in Baghdad
Sep 27, 2015
BAGHDAD: Iraqi said on Saturday that its military officials are participating in intelligence and security cooperation in Baghdad with Russia, Iran and Syria to counter the threat from the Islamic State militant group.
A statement from the Iraqi military's joint operations command said the agreement came "with increased Russian concern about the presence of thousands of terrorists from Russia undertaking criminal acts with Daesh (Islamic State)."
Iraqi Foreign Minister Ibrahim al-Jaafari said in New York on Friday his country had not received any Russian military advisers to help its forces.
http://timesofindia.indiatimes.com/world/middle-east/Iraq-says-Russia-Iran-Syria-cooperating-on-security-issues-in-Baghdad/articleshow/49122125.cms
-------
Aircraft carrier is 'big stick' in fight against Islamic State
September 26, 2015 3:00 pm
ABOARD THE USS THEODORE ROOSEVELT IN THE PERSIAN GULF - Every day, the steam-powered catapult aboard this aircraft carrier flings American fighter jets into the sky, on missions to target the extremist Islamic State group in Iraq and Syria.
The USS Theodore Roosevelt, whose homeport is San Diego, California, is a key element of the U.S.-led coalition targeting the militants.
This island of steel in the Persian Gulf some 1,090-feet long is home to some 5,000 U.S. Navy airmen, sailors and Marine pilots, carrying some 70 aircraft involved in the fight against the extremists.
Coming in for landing on its 4.5-acre flight deck feels like nothing else; the plane's tail hooks catch trap wires and screech the aircraft to a halt in about two seconds - rushing so much blood to the heads of passengers and pilots that everyone briefly sees red.
"Ladies and gentlemen, welcome to the Big Stick!" crew members shout on arrival, referring to the 20-story tall aircraft carrier's namesake, the U.S.'s 26th president known for the saying: "Speak softly and carry a big stick."
Below deck is a complex set of passageways and tunnels, hangars and sailors' quarters, gyms and mess halls, engine rooms and offices.
Painted murals bear fighter squadron insignia, U.S. flags, the cartoon figure Popeye and other patriotic imagery.
Pilots onboard have flown missions into Iraq and Syria, part of more than 6,800 airstrikes carried out by the coalition since August 2014.
Some 20 percent of all coalition strikes come from aircraft launched from the nuclear-powered Roosevelt.
Though naval officers declined to discuss their operations in detail with an Associated Press team invited onboard, many missions now target the Islamic State-held city of Ramadi in Iraq to support local forces trying to retake it.
Each mission requires hours of preparation, those involved say.
"We don't just shoot from the hip, if you will," says Capt. Brandon "Wobbly" Wilkins, a Marine pilot. "And again we're not here to carpet-bomb the place and obliterate a nation. We're trying to do very specific things with our aircrafts to support the Iraqi mission."
http://www.fayobserver.com/military/aircraft-carrier-is-big-stick-in-fight-against-islamic-state/article_27e20286-a8a0-52e8-aa63-02d4664c7fda.html
-------
Effort to retake key Iraqi city stalled – questions raised about strategy to fight Islamic State
DAVID PUGLIESE, OTTAWA CITIZEN
September 26, 2015
A summer of stalemate in the effort to reclaim the Iraqi provincial capital of Ramadi, despite U.S.-backed Iraqi troops vastly outnumbering Islamic State fighters, calls into question not only Iraq's ability to win a test of wills over key territory but also the future direction of Washington's approach to defeating the extremist group, writes Robert Burns of the Associated Press.
The Ramadi standoff, with no immediate prospect of an Iraqi assault on the city, drags on even as the U.S. prepares to makeover its approach to countering IS in Syria and congressional Republicans cite Ramadi as evidence of a failed American strategy. Republican Sen. John McCain of Arizona, a leading critic, says it's clear the U.S. is not winning, "and if you're not winning in this kind of warfare, you are losing."
The Obama administration insists patience will pay off, even in Ramadi, where in May, IS won control against a much larger Iraqi force, shattering claims by U.S. military officials that the group was on the defensive across Iraq.
Afterward, Defense Secretary Ash Carter said the Iraqis, who had no U.S.-trained soldiers with them and had fled Ramadi, "showed no will to fight."
The loss of Ramadi carried special significance for veterans of the long U.S. war in Iraq. Dozens of U.S. troops were killed there during the counterinsurgency fight to restore Iraqi government control in 2006; hundreds more died in combat across Anbar province, of which Ramadi is the capital.
A Ramadi counteroffensive, announced in July, was supposed to mark a turning point for Iraqi troops, who have proved to be no match for the determined IS fighters. Instead it has sputtered, slowed by sectarian squabbles, debilitating summer heat and the extremists' use of improvised bombs to create what amounts to a minefield around Ramadi.
Over the past two months, the Iraqi government has added about 3,000 U.S.-trained Iraqi troops to the Ramadi operation, representing one-third of the total, U.S. officials say. U.S. officers in Iraq are working directly with Iraqi commanders to plan and executive the counteroffensive, but the Iraqis appear not to be in a hurry.
Instead of assaulting IS inside Ramadi, the Iraqis have struggled with a weekslong effort to isolate the city by cutting off IS routes for resupply and reinforcement. That has been stymied by disputes between Iraqi federal police and Popular Mobilization Forces, the Iranian-backed Shiite militias considered the most effective fighting force on the ground.
"We acknowledge that the Iraqis have not made any significant forward movement recently," Col. Patrick Ryder, a spokesman for U.S. Central Command, said Friday, adding that the U.S. is urging Iraqi leaders to press ahead.
The slow pace has revealed Ramadi as a microcosm of the obstacles facing both the Iraqis and their American partners, including the competition for power and influence in Shiite-dominated Baghdad, the role of Iranian-backed militias in the fight against IS, and the deep flaws in Iraq's security forces. As in Ramadi, the overall U.S.-led campaign against IS is stalemated, U.S. intelligence agencies believe.
The Obama administration believes a lasting solution to IS cannot be achieved by sending U.S. combat forces back to Iraq. The U.S. argues that the ultimate test is whether Iraq's own security forces can be fortified to take back their country. If they cannot, according to Gen. Martin Dempsey, who stepped down this past week as chairman of the Joint Chiefs of Staff, then Washington will have to come up with a "Plan B."
Some analysts doubt the plans for the Ramadi counteroffensive, noting that predominantly Sunni Ramadi is not the Shiite-dominated government's highest priority.
"The Iraqi army remains weak despite American military aid," Lina Khatib, a Middle East expert and research associate at the University of London's School of Oriental and African Studies, said by email. "It is simply not realistic to expect an army that almost crumbled just over a year ago in the face of the spread of IS to bounce back in such a short period of time."
She was referring to the devastating collapse of Iraq's army in Mosul in June 2014 and the fading expectation that Mosul, Iraq's second largest city, can be retaken before President Barack Obama leaves office in January 2017. Early this year, U.S. military officials said they expected an Iraqi counteroffensive in Mosul by May. Now there is talk of the city remaining in IS hands for the foreseeable future.
David E. Johnson, a retired Army colonel and senior historian at the RAND Corp., believes the trouble runs deeper than just giving the Iraqi army more time to absorb U.S. training.
"My view is that they're just not capable of doing what it's going to take" to recapture Ramadi, let alone succeed in the bigger challenge of retaking Mosul, Johnson said.
"Mosul is going to make Ramadi look like child's play," Johnson said.
Jim M. Dubik, a retired Army lieutenant general who headed U.S. training of Iraqi forces in 2007-08 and is now a professor at Georgetown University's Center for Security Studies, says the U.S. and the government of Prime Minister Haider al-Abadi should be acting with more urgency.
"I really fear that our current approach may not work in time," Dubik said. Al-Abadi is under enormous pressure not only from the Islamic State but also from inside his own government, including those who favor giving Iranian-backed militias a lead role in Ramadi. Until more Iraqis become convinced that al-Abadi will prevail on the political front, he is likely to struggle on the military front, Dubik said.
Marine Brig. Gen. Kevin J. Killea, chief of staff at the U.S. anti-IS command headquarters in Kuwait disputed the notion that the counteroffensive has stalled.
"There's movement on both sides every day," he said.
http://ottawacitizen.com/news/national/defence-watch/effort-to-retake-key-iraqi-city-stalled-questions-raised-about-strategy-to-fight-islamic-state
-------
South Asia
35 Daesh militants killed in clash with security forces in Nangarhar's Achin District
By KHAAMA PRESS - Sun Sep 27 2015
35 militants belonging to the militant group of Daesh have been killed in a clash with security forces in Achin District of eastern Nangarhar province.
Haji Ghalib, the governor of Achin District who reported the clash this morning told media before noon that there is no resistance in the area and that militants have been pushed back.
Full Report at:
Khaama.com/breaking-news-daesh-launch-coordinated-attack-on-security-posts-in-nangarhars-achin-district-3943
------
Daesh advancement in Afghanistan of serious US concerns
By ZABIHULLAH MOOSAKHAIL - Sun Sep 27 2015
Daesh in NangarharThe United States has been seriously concerned over the advancement of Daesh or the Islamic State militant group in Afghanistan.
According to a report published by Voice of America (VOA), a senior official of the US's State Department has said that the US is taking it seriously.
"It is unpredictable as yet how it might evolve. It is something that we are taking seriously."
Full Report at:
http://www.khaama.com/daesh-advancement-in-afghanistan-of-serious-us-concerns-3942
-------
Ghani Urges People to Support Govt in Ending Pakistan's Undeclared War
By KHAAMA PRESS - Sat Sep 26 2015
President Mohammad Ashraf Ghani expressed optimisms to achieve peace with the support of the people while calling the government's efforts as successful in regional and international level in obtaining their content regarding the reconciliation process.
In a meeting with the tribal elders and influential members of Kandahar, Paktia and eastern zone councils, President Ghani insisted that peace and stability have been one of the main demands of the people and said the government will achieve it with the help of the people.
President Ghani also added that Afghanistan has been facing Pakistan in an undeclared war during the past 14 years and the requested the Afghan people to assist the government in ending the ongoing war.
He said peace and stability could not be ensured through negotiations with the outsiders only.
Full Report at:
http://www.khaama.com/ghani-hopeful-to-achieve-peace-urges-people-to-support-govt-in-ending-pakistans-undeclared-war-1568
------
Bill Gates wants Afghan government to put more efforts in fight against polio
By ZABIHULLAH MOOSAKHAIL - Sun Sep 27 2015
CEO with GatesBill Gates, head of the Gates Foundation and Co-Founder of Microsoft wants Afghan government to take more strict efforts to eradicate polio virus from Afghanistan.
A statement issued by the office of Chief Executive Officer (CEO) Abdullah Abdullah on Sunday states that Gates praised the efforts of the government in fight against the polio virus but hoped that the National Unity Government would take more strict actions against it.
Full Report at:
khaama.com/bill-gates-wants-afghan-government-to-put-more-efforts-in-eradicating-polio-3946
------
US military contractor to build 55 Mobile Strike Force vehicles for Afghan army
By KHAAMA PRESS - Sat Sep 26 2015
The Afghan National Army (ANA) will receive 55 Mobile Strike Force vehicles under a contract by the US Department of Defense (DoD).
According to a statement by the Department of Defense, the vehicles would be built by Textron Marine & Land Systems.
"Textron Marine & Land Systems, New Orleans, Louisiana, was awarded a $56,176,864 firm-fixed-price foreign military sales (Afghanistan) contract for 55 Mobile Strike Force vehicles with related fielding hardware and field service representative services for system deprocessing," the statement said.
Full Report at:
Khaama.com/us-military-contractor-to-build-55-mobile-strike-force-vehicles-for-afghan-army-1569
--------
Taliban commander killed while plotting an attack on Kabul
By KHAAMA PRESS - Sun Sep 27 2015
A commander of the Taliban group was killed while planning an attack on capital Kabul during the Eid days, the Afghan intelligence said Sunday.
A statement by the National Directorate of Security (NDS) said the Taliban commander Qari Yousuf was killed along with his four men in central Logar province.
The statement further added that the eleven Taliban militants were also injured during the operation which was conducted in Khoshi district.
Full Report at:
http://www.khaama.com/taliban-commander-killed-while-plotting-an-attack-on-kabul-1570
-------
US, China reaffirms long term support for Afghanistan
By ZABIHULLAH MOOSAKHAIL, Sun Sep 27 2015
The United States and China have reaffirmed their long term support for Afghanistan.
The US's Secretary of State John Kerry and China's Foreign Minister Wang Yi appeared with CEO Abdullah Abdullah and Foreign Minister Salahuddin Rabbani in front of the media at the sideline of 70th UN General Assembly.
CEO Abdullah briefed the participants of the meeting about the progress Afghanistan made in the first year of the National Unity Government.
Full Report at:
http://www.khaama.com/us-china-reaffirms-long-term-support-to-afghanistan-3945
-------
MP Eng. Abdul Ghafar loses leg in Nangarhar blast
Sep 27 2015
Nangarhar HospitalMember of Parliament Eng. Abdul Ghafar has lost a leg in the blast on his vehicle in eastern Nangarhar province.
Sources at Nangarhar Regional Hospital say that Ghafar had a surgery with them after which he was sent to Kabul.
Doctor Najibullah Kamawal, head of the hospital said that Ghafar was sent to Kabul based on the request of his family members.
Full Report at:
http://www.khaama.com/mp-eng-abdul-ghafar-loses-leg-in-nangarhar-blast-3944
-------
Mideast
Crush cause: 300 Iranians violated rule
Sunday 27 September 2015
JEDDAH: As the probe into the stampede in Mina continues, an Iranian official has confirmed that a group of 300 Iranian pilgrims coming from the opposite direction caused the crush, according to media reports quoting Iranian sources.
Quoting the Iranian official, Asharq Al-Awsat, a sister publication of Arab News, said: "Violations began when a group of 300 Iranian pilgrims started moving from Muzdalifa straight to Jamarat, instead of first going to their camps as is generally practiced by Haj pilgrims, to wait for the time of movement of their group. Then they moved in the opposite direction on Street 203 where the painful incident took place."
As per the guidelines, this group did not wait for the stone-throwing ritual in Jamarat Al-Aqba in their camp until the fixed time. This group decided to return from the opposite direction which also coincided with the movement of other groups as per their set schedules for pelting pebbles, resulting in the tragedy, said the Sabq.org website citing Iranian sources.
They said the group of Iranian pilgrims waited for some time and did not move in the opposite direction. This increased pressure and pushed the pilgrims to exit on the road, which is no wider than 20 meters.
The Asharq Al-Awsat report said that there were cameras in Jamarat, which revealed the details of the incident and confirmed the Iranian group's wrong move. That actually was time for Turkish pilgrims to come out.
The sources said there is a set plan for Haj, which is implemented thoroughly with the help of government agencies and the Interior Ministry. But there are some groups who do not abide by this. This is what happened in the case of the 300 Iranian pilgrims who did not abide by their set schedule and came out in morning hours which was time given to other nationalities.
http://www.arabnews.com/news/811961
-------
Israeli Forces Detain Two Palestinians in Hebron
TEHRAN (FNA), Sep 27, 2015- The Israeli forces detained two Palestinians from Hebron district, local sources said.
The sources informed WAFA that forces detained Isam Masharqa after raiding and wreaking havoc on his home in the town of Dura to the South of Hebron.
The Israeli forces further stormed the town of Halhoul to the North, and detained Mahmoud Zama'areh and led him to an unknown destination.
The forces also stormed several neighborhoods in the Hebron area, where they set up military checkpoints at their entrances, obstructing Palestinian locals' movement.
According to the Council for European Palestinian Relations (CEPR), "Since 1967 when Israel occupied the West Bank, Gaza Strip and East Jerusalem, more than 650,000 Palestinians have been detained by Israel."
It said that, "Despite prohibition by international law, Israel detains Palestinians in prisons throughout Israel, far from their families, who almost never obtain the necessary permits to leave the Occupied Palestinian Territories to visit them."
Currently, there are an estimated 6,800 Palestinian prisoners being held in Israel, of which 10 are members of the Palestinian Legislative Council (PLC), said CEPR.
Under the Israeli military regulations, the Palestinians can be detained for up to 18 days without the Israeli military informing them of the reason for their arrest and without being brought before a judge. The army is also not obliged to inform the detainees' families of their arrest or the location of their detention.
After or within this period, the person is sent to an interrogation center, placed in administrative detention, or held in custody awaiting charge and trial.
"Lawyer visits can be prohibited for up to 90 days after the day of arrest for a Palestinian detainee. In contrast, a meeting between an Israeli detainee and his/her attorney can be delayed for a total of only 48 hours (for 'regular' violations) to 21 days (for 'security' violations)," it said.
http://english.farsnews.com/newstext.aspx?nn=13940705000592
------
Palestinian Fishing Boat Destroyed by Israeli Navy off Gaza Shore
TEHRAN (FNA), Sep 27, 2015- The Israeli navy destroyed a Palestinian fishing boat docked within the authorized nautical miles off Khan Younis shores, in Southern Gaza.
Local fishermen said on Saturday that an Israeli gunboat moved toward a Palestinian fishing vessel docked some three kilometers away from Gaza shores shortly before they smashed the vessel and sunk it, PIC reported.
The fishermen said the boat, owned by chairman of the fishermen syndicate in Khan Younis, Fouad al-Amoudi, and three other partners, was attacked while disembarked in the authorized fishing zone.
http://english.farsnews.com/newstext.aspx?nn=13940705000728
------
Iran Dismisses Talks with US on Regional Issues
September 27, 2015
TEHRAN (FNA)- Tehran rejected western media reports claiming that Iranian Foreign Minister Mohammad Javad Zarif and his US counterpart John Kerry discussed the regional developments in their recent meeting in New York.
"There were no negotiations on the regional issues in the meeting between the two countries' foreign ministers," Iranian Foreign Ministry Spokeswoman Marziyeh Afkham said on Sunday.
She said that Zarif and Kerry held talks on the nuclear issue and the measures that should be adopted since the first day of implementing the nuclear agreement reached between Tehran and the world powers on July 14.
"During the meeting, the two sides also discussed and exchanged views on methods to prevent the Iranian people's increasing distrust of the trend of the implementation the Joint Comprehensive Plan of Action (JCPOA)," Afkham said.
Iranian and US foreign ministers held a meeting on Saturday on the sidelines of the UN General Assembly conference in New York.
After the meeting, certain western media quoted Kerry as claiming that he saw an opportunity for progress this week towards ending Syria's four-year civil war as he met Zarif.
The reports came some days after Kerry, in an attempt to project the blame on others for the crisis in Syria which has exacerbated given Washington and its allies' support for the terrorists, invited Iran to play a constructive role in the Arab country.
After his comments, Afkham said Washington is seeking to blame others for its wrong policy in Syria.
"The US secretary of state's comments inviting Iran to play a constructive role in Syria is an attempt to project the blame of others and is against the realities of the crisis in Syria," Afkham told reporters in Tehran on Thursday.
Reminding that Iran had always stressed the need for providing the ground for Syrian-Syrian talks and comprehensive political agreement as the only way to stop the war and end the crisis, she said, "In our view, only those solutions that are based on realities and respect the Syrian people's will and determination will bear fruit in Syria."
Afkham described the policies of the US and its allies in Syria as an obstacle to a political solution to the Syrian crisis, and said, "Any plan and solution to end the crisis in Syria which doesn't prioritize fight against the terrorists and Takfiri and extremist groups is doomed to failure and setting any precondition for fighting against the terrorists and extremist groups means that the crisis will never end."
http://english.farsnews.com/newstext.aspx?nn=13940705000602
-------
Saudi Arabia should apologise for Hajj stampede: Iran's supreme leader Khamenei
September 27, 2015
Iran's supreme leader has said Saudi Arabia should apologise for a crush outside the Muslim holy city of Mecca that killed 769 worshippers performing the annual haj pilgrimage, Khamenei's website said on Sunday. "This issue will not be forgotten and the nations will pursue it seriously. Instead of accusing this and that, the Saudis should accept the responsibility and apologize to the Muslims and the victims' families," Ayatollah Ali Khamenei was quoted as saying.
Shi'ite Muslim Iran, which is locked in a series of proxy wars in Arab countries around the Sunni Muslim kingdom, says that at least 144 Iranians are among the dead. Over 300 other Iranians remain unaccounted for, including former ambassador to Lebanon Ghazanfar Roknabadi, Fars news agency reported. "The Islamic World has a lot of questions. The death of more than 1,000 people is not a small issue. Muslim countries should focus on this," Khamenei said. Other Iranians officials have also alleged the total death toll is more than 1,000. The tragedy happened when two large groups of pilgrims collided at a crossroads in Mina, a few kilometres east of Mecca, on their way to performing the "stoning of the devil" ritual at Jamarat. Iran has summoned the Saudi charge d'affairs three times to ask Riyadh for more cooperation over the incident. Iranian President Hassan Rouhani demanded an investigation into a crush in his speech at the United Nations on Saturday. Parliament is meeting behind closed doors to decide how Iran should pursue this incident legally.
http://indianexpress.com/article/world/world-news/saudi-arabia-should-apologise-for-hajj-stampede-irans-supreme-leader-khamenei/
-------
At UN, Iran's President Rouhani calls for investigation into Hajj stampede
September 27, 2015
Iranian President Hassan Rouhani used a major United Nations speech on Saturday to demand an investigation into a crush that killed more than 700 people at the annual Hajj pilgrimage in Saudi Arabia. The fact that Rouhani used a UN summit meeting on global development goals to reiterate Iran's outrage over the Hajj tragedy was a sign that Tehran does not intend to tone down criticism of its regional rival Saudi Arabia. Both Iran and the Saudis see themselves as leaders in the Muslim world. In his speech to the 193-nation UN General Assembly, Rouhani emphasized the need for an investigation into "the causes of this incident and other similar incidents in this year's Hajj." He described the crush as "heart-rending."
Saudi Arabia suggested on Friday pilgrims who ignored crowd control rules bore some blame for the incident. Saudi King Salman ordered a review of Hajj plans, and Health Minister Khalid al-Falih said an investigation would be conducted.
Iran has repeatedly voiced outrage at the deaths of 131 of its nationals at the world's largest annual gathering of people.
Saudi Foreign Minister Adel al-Jubeir accused Iran of playing politics with the tragedy.
"This is not a situation with which to play politics," he said before meeting US Secretary of State John Kerry. "I would hope that the Iranian leaders would be more sensible and more thoughtful with regards to those who perished in this tragedy and wait until we see the results of the investigation."
Rouhani suggested on Friday the tragedy may be a result of the Saudis transferring experienced troops to Yemen to fight Iranian-backed Houthi rebels, a military campaign that Tehran has repeatedly criticized.
Two weeks ago, 110 people died in Mecca's Grand Mosque when a crane working on an expansion project collapsed during a storm and toppled off the roof into the main courtyard, crushing pilgrims underneath.
Rouhani also told the UN summit on Saturday that the historic nuclear deal between Iran and the United States, Britain, France, Germany, Russia and China "has created suitable conditions for regional and international cooperation including in the field of environmental preservation."
http://indianexpress.com/article/world/world-news/irans-president-rouhani-calls-for-investigation-into-hajj-stampede-at-un/#sthash.p3Vjko3c.dpuf
-------
Pakistan
Pakistan ready to facilitate Afghan-Taliban peace talks: Sartaj
IRFAN HAIDER, 27 September 2015
ISLAMABAD: Adviser to the Prime Minister on National Security and Foreign Affairs Sartaj Aziz while attending a high level event on the sidelines of the United Nations (UN) General Assembly said the peace and prosperity of Afghanistan was essential for Pakistan's own security.
Sartaj reiterated Pakistan's solidarity with Afghan people and expressed hope that the Afghan peace process would be resumed soon, as this as this was an important pre-requisite for peace and stability in the country.
He said Pakistan was ready to facilitate peace talks, if the Afghan Government so desired.
Read: Afghanistan seethes at Taliban meetings 'held in Pakistan'
Sartaj stressed that Pakistan's efforts to persuade the Afghan Taliban to participate in peace talks should not, however, be interpreted as indirect endorsement of the current surge of violence in Afghanistan.
Full Report at:
http://www.dawn.com/news/1209303/pakistan-ready-to-facilitate-afghan-taliban-peace-talks-sartaj
-------
Pakistan extending training and technical support to developing countries: PM
IRFAN HAIDER — 27 September 2015
NEW YORK: Prime Minister Nawaz Sharif while addressing a high-level roundtable on South-South Cooperation at the United Nations (UN) on Saturday announced that Pakistan is extending training and technical support to developing countries in a number of diverse fields.
Nawaz informed UN General Secretary Ban Ki-moon and Chinese President Xi Jinping that Pakistan's Foreign Service Academy in Islamabad had been offering training facilities to African, Central Asian and other countries.
"Our Specialized Technical Assistance Programme for Africa dates back to 1986. It is an institutionalised and fully-funded programme," he said.
"Pakistan's Programme for Reconstruction and Rehabilitation in Afghanistan was started in 2002 with a financial commitment of $385 million. It was scaled up to $500m in 2013," Nawaz told the audience.
Full Report at:
http://www.dawn.com/news/1209302/pakistan-extending-training-and-technical-support-to-developing-countries-pm
-------
UN Summit: China-Pakistan economic corridor an 'inspiring model, says Nawaz Sharif
Pakistan Prime Minister Nawaz Sharif has termed the China-Pakistan Economic Corridor as an "inspiring model" of South-South cooperation, which will bring huge economic and development benefits to the two countries as well as to the entire region. Sharif arrived here on September 25 to participate in the UN Sustainable Development Summit and the General Assembly.
Full Report at:
http://indianexpress.com/article/world/world-news/un-summit-china-pakistan-economic-corridor-an-inspiring-model-says-nawaz-sharif/
-------
Ministry confirms deaths of 18 Pakistani pilgrims in Mina stampede
27 September 2015
MAKKAH: At least 18 Pakistani pilgrims are confirmed dead while 20 are reported injured after a stampede which killed more than 700 in Mina outside the holy city of Makkah on Thursday.
According to a list published by the Ministry of Religious Affairs, the deceased persons include Hafsa Shoaib, Zarin Naseem, Syeda Narjis Shahnaz, Bibi Zainab, Mahmood Arshad, Rasheedan Bibi, Zahid Gul, Dr. Ameer Ali Lashari and Makhdoomzada Syed Asad Murtaza Gillani, Abdul Rehman, Shehnaz Qamar, Islam Ahmad, Bushra Bibi, Muhammad Hasrat, Azeem Khan, Muhammad Idrees, Aamir Muhammad Malook and Gul Shahnaz.
Full Report at:
http://www.dawn.com/news/1209301/ministry-confirms-deaths-of-18-pakistani-pilgrims-in-mina-stampede
-------
Sargodha death row convict claims he was 15 at time of crime
27 September 2015
ISLAMABAD: Authorities are set to hang a man who says he was 15 when he was arrested for a murder he claims he did not commit, lawyers said on Saturday.
Ansar Iqbal says he was 15 when he and a friend were arrested 16 years ago for the murder of a neighbour, which the victim's family said was over an argument at a cricket match. Iqbal says police framed him because he was poor by planting two guns at his house.
The report does not give any further details of the murdered neighbour's relatives or the complainant in the case.
Pakistani law forbids the execution of juveniles, but courts have refused to examine Iqbal's school records and birth certificate because they say they were submitted too late, said Maya Foa of British legal aid group Reprieve.
Full Report at:
http://www.dawn.com/news/1209304/sargodha-death-row-convict-claims-he-was-15-at-time-of-crime
-------
Pakistan, Afghanistan only countries left on polio-endemic nations list
27 September 2015
LAGOS: As Nigeria celebrates news that polio is no longer an endemic in the West African country, Pakistan and its war-battered neighbour Afghanistan remain the only two countries where the disease is prevalent.
The World Health Organization (WHO) said Nigeria and Africa as a whole are now closer to being certified polio-free. It warned polio remains endemic in Pakistan and Afghanistan and that as long as the disease exists anywhere "it's a threat to children everywhere".
Full Report at:
http://www.dawn.com/news/1209300/pakistan-afghanistan-only-countries-left-on-polio-endemic-nations-list
---------
Africa
At least 21 killed in attacks in Central African Republic capital
Sep 27, 2015
BANGUI: At least 21 people were killed in the capital of Central African Republic on Saturday and around 100 others were wounded as Muslims attacked a mainly Christian neighbourhood, senior hospital officials and a government spokesman said.
The reprisal attack in Bangui came after a Muslim man was killed and his body found dumped in a street close to the airport, witnesses said. It is the worst violence this year in a city secured by French and United Nations peacekeepers.
Two years of violence in the landlocked country, which erupted after Muslim Seleka rebels seized power in the majority Christian country in 2013, has killed thousands of people and forced hundreds of thousands to leave their homes.
Full Report at:
http://timesofindia.indiatimes.com/world/rest-of-world/At-least-21-killed-in-attacks-in-Central-African-Republic-capital/articleshow/49122113.cms
---------
Is this the End of Boko Haram?
SOLOMON ANJIDE
During the last few days of President Jonathan's term there was robust military action supported by a multi-national task force waged against Boko Haram. This strengthened President Buhari as he assumed office by relocating the military central command center to Maiduguri where the group is predominantly located.
Presidents of neighboring countries and the G7 countries assured support and the US sanctions on the sale of arms to Nigeria which were enacted due to gross human rights violations by the Nigerian military are to be lifted. These actions were followed by some Boko Haram captured towns being recaptured by security forces. About 10.7 million mobile unregistered lines have been blocked in a renewed effort to curb the terrorists' use of cyberspace, the terrorist food and fuel supplies have been diminished and many terrorists have been captured. On August 15th President Buhari mandated the security chiefs to end the insurgency in 3 months. In spite of all these efforts occasional attacks by the terrorists still occur. Because President Buhari has more international support, has a military background as a general and has knowledge of Northern Nigeria where he is from, the war against the terrorists will be won.
Full Report at:
http://www.internationalpolicydigest.org/2015/09/22/is-this-the-end-of-boko-haram/
-------
North America
Trump: GOP rivals 'want to start WWIII over Syria,' should let Russia fight Islamic State
By Kellan Howell - The Washington Times - Saturday, September 26, 2015
GOP presidential front-runner Donald Trump shared more of his views on foreign policy Friday, telling an audience in Oklahoma his 2016 rivals want to "start World War III over Syria" and suggesting the U.S. let Russia take up the fight against the Islamic State in the region.
"They want to start World War III over Syria. Give me a break," Mr. Trump said at the State Fairgrounds in Oklahoma City, The Hill reported.
"You know Russia wants to get ISIS right," Mr. Trump said, using the acronym for the Islamic State of Iraq and Syria. "We want to get ISIS. Russia's in Syria. Maybe we should let them do it? Let them do it. What the hell are we, crazy?"
Full Report at:
http://www.washingtontimes.com/news/2015/sep/26/trump-gop-rivals-want-start-wwiii-over-syria-shoul/
------
Decision Not to Close Schools during Muslim Holiday Sparks Uproar in New Jersey
Tara John @tarajohn Sept. 26, 2015
The School District of Jersey City this week emphasized its "commitment to embracing diversity," after a vote not to close schools for the Muslim holiday of Eid al-Adha sparked protests in the local Muslim community.
The Jersey City Board of Education voted to not close schools during a meeting with parents last week on the basis that it will cause "undue hardship" to the thousands of non-Muslim parents who might not have any where to send their kids, NBC News reports.
"We feel alienated from the Board of Education, we feel alienated from this system," Omar Abouelkhair told NBC, while another Muslim parent told the board that: "'We're no longer the minority, that's clear from tonight. We're going to be the majority soon."
The board emphasized that students can continue to take days off for religious purposes without penalty, and that it would revisit its religious holiday policy later this year.
Eid al-Adha is one of the most important religious holiday for Muslims. New York City closed its schools for the holiday for the first time ever on Thursday.
http://time.com/4049794/jersey-city-eid-muslim-schools/
-------
Debate Challenge to Yale Heads over Study of Islamic Law and Civilization, $10 Million "Gift"
September 26, 2015 By Paul Sutliff
A Saudi Arabian banking and real estate CEO Abdallah S. Kamel, aka HE Sheikh Saleh Abdullah Kamel, right, gave a $10 million gift to create the Abdallah S. Kamel Center for the Study of Islamic Law and Civilization at Yale Law School, left.
On September 8, Yale University President Peter Salovey and Yale Law School Dean Robert C. Post announced it is accepting a $10 million gift to create the Abdallah S. Kamel Center for the Study of Islamic Law and Civilization at Yale Law School. What these two men did not say speaks volumes.
Saleh Abdallah (aka Saleh Abdullah) Kamel, is the father of Abdallah S. (aka Abdullah S.) Kamel, a known banker and financier of Al-Qaeda. The son Abdallah S. Kamel still works for his father at Dallah Al-Baraka Group, of Saleh's organizations that were investigated for funding Al-Qaeda. From 2001 to 2008 the FBI were investigating Saleh Abdallah Kamel as both a friend of Osama Bin Laden and as a financier of Al-Qaeda. Below is a list of Saleh Abdalla Kamel's businesses and transactions that were investigated by the FBI, Homeland Security, etc.:
Full Report at:
https://www.peoplespunditdaily.com/opinion/2015/09/26/debate-challenge-to-yale-heads-over-study-of-islamic-law-and-civilization-10-million-gift/
-------
DSU host Islamic terrorism debates
Sep 26, 2015
DOVER, Del. As a part of their Global Societies Program, Delaware State University is hosting a series of debates about radical Islamic terrorism.
So far the school has hosted four debates and they have two left. Dr. Raymond Tutu, an associate professor leading the discussions says the goal of these programs is to provide understanding, perspective, and raise awareness about the Islamic State. He says often times people don't have a clear understanding of what ISIS is.
Dr. Raymond Tutu says, "People are very much interested in the gender dynamic of the entire process. Some people are asking things like 'What is it that's attracting young people and young Muslims to a group like Isis?'."
The debates are open to students as well as the public. The next one will be on October 8th at 6 p.m. in Delaware State University's Bank of America Longwood Auditorium.
http://www.wmdt.com/news/more-local-news/DSU-host-Islamic-terrorism-debates/35488798
-------
'Blue Bloods' recap: The Reagans investigate Muslim terrorist threat
By Carole Glines September 26, 2015
The Reagan family endures a high stakes battle with Muslim terrorists bent on detonating bombs in New York City on the season six premiere of "Blue Bloods."
As the episode opens, New York Police Commissioner Frank Reagan (Tom Selleck) tells his father Henry (Len Cariou) that a suicide bomber has killed 56 people in Tel Aviv, Israel – and there's evidence that coordinated attacks around the world might include New York.
"This is the day I dread every day I'm on the job," a grim Frank sighs to his dad.
Cut to a gentleman's club where a stripper named Lacey is being bothered by a regular customer, a foreign man who gives her money for a lap dance and says, "This will be the last time you ever see me," and tells her he is looking forward to his 72 virgins in heaven.
"Everyone will know my name," he boasts.
Full Report at:
http://www.foxnews.com/entertainment/2015/09/26/blue-bloods-recap-reagans-investigate-muslim-terrorist-threat/
-------
India
Death toll of Indians in Haj stampede rises to 29
Sunday, 27 September 2015
The death toll of Indian pilgrims in last week's horrific stampede during Haj today rose to 29 as authorities identified seven more bodies among the victims of the worst incident in 25 years to strike the annual pilgrimage in Saudi Arabia.
Hajj Consulate in Jeddah identified the deceased as Mansurul Haque (Jharkhand), Anvar Janha (UP), F A Muneer Veetil, Amina Beevi, Abdul Rahiman Asarithodi, P V Kunhimon and Moiuddin Abdul Kader (all from Kerala).
Saudi authorities have put the total death toll from the stampede during Haj to 769. The number of injured stands at 934. At least 13 Indians were among those injured.
King Salman has ordered the formation of a committee to probe the deadly incident during the five-day pilgrimage in which around two million people from over 180 countries took part. From India, 1.5 lakh pilgrims performed Haj.
Haj is one of the five pillars of Islam that should be performed at least once in a lifetime by every Muslim who is financially and physically capable.
The stampede broke out after two massive lines of pilgrims converged on each other from different directions at an intersection close to the five-storey Jamarat Bridge in Mina for symbolic stoning of the devil.
It was the second major accident this year for pilgrims, after a construction crane collapsed on September 11 at Mecca's Grand Mosque, killing over 100 people, including 11 Indians.
http://www.dnaindia.com/india/report-death-toll-of-indians-in-haj-stampede-rises-to-29-2129110
-------
Southeast Asia
No direct link between Halal certification and Islamic terrorism, Senate inquiry told
September 26, 2015
The evidence was given by both the Australian Crime Commission and Australian Transaction Reports and Analysis Centre (AUSTRAC), the nation's anti-money laundering intelligence agency, at the inquiry's second hearing on Thursday morning in Sydney.
It is a common thread in the anti-Halal movement to allege links between certification and terrorist organisations, but intelligence and law enforcement agencies in Australia do not think it is the case.
Angela Jamieson is the national manager of compliance at AUSTRAC, which monitors the flow of money into and out of the country, flagging suspicious transactions and financial activity.
Full Report at:
http://www.abc.net.au/news/2015-09-24/senate-inquiry-no-direct-link-between-halal-certification/6801968
-------
The evolution of political Islam in Malaysia
September 26, 2015
MP SPEAKS I would divide the evolution of political Islam in Malaysia into three stages: Islamic revival/resurgence which culminated in changes in Umno and PAS in 1982, the emergence of PAS' progressive faction in 1998, and 'post-Islamism' of 2015.
I have always been reluctant to draw direct comparison between international trends in the discourse of political Islam and Islamic politics at home, because to a large extent, politics is local. However, international trends and labels are instructive as a window to observe domestic changes.
Of course, this is just my own perspective. In every stage of development of political Islam, there are counter forces and voices of resistance. One could say that the path of the discourse evolution is not a linear one, but has been a winding journey.
On the international front, the main political struggle within the Muslim fraternity from the early 20th century until about the 1960s was anti-colonialism and anti-Western sentiment. Politics within the Muslim community seemed to revolve around these themes.
Hence, the Islamist movement in those years was often combined with anti-colonialist and left-wing movements in many countries, with very few organisations actually using Islam as the basis for political action; often these organisations were weak.
In Malaysia, the first Islamic political party, Hizbul Muslimin, was founded in 1948 and banned by the colonial government in the same year. It was an offshoot of Parti Kebangsaan Melayu Malaya/ Parti Nasionalis Melayu (PKMM/ MNP). PAS was founded in November 1951 in Butterworth by ex-Umno clerics. Former premier Abdullah Ahmad Badawi's father and grandfather were among the founders of PAS.
In terms of political compass, Hizbul Muslimin was nominally right-leaning while PAS was left-leaning. In 1954, Umno barred its members from holding dual political party membership, and the majority of the original Umno clerics who had also joined PAS then chose to remain in Umno. The former president of the banned PKMM/ MNP, Dr Burhanuddin al-Helmy, became PAS president in 1956.
Full Report at:
malaysiakini.com/news/313604
--------
URL: https://www.newageislam.com/islamic-world-news/new-age-islam-news-bureau/uk-based-islamic-human-rights-commission--saudis-not-capable-of-managing-hajj/d/104726