New Age Islam News Bureau
8 Feb 2015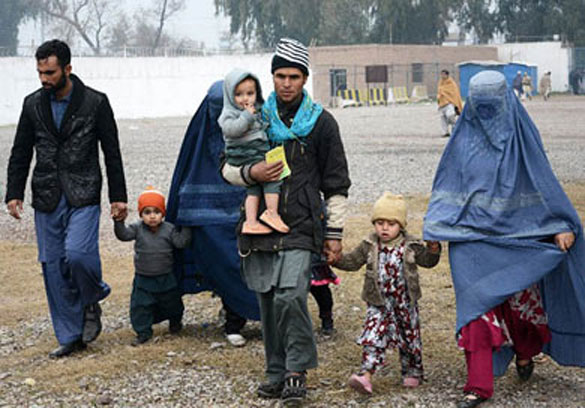 Afghans Flee Pakistan after APS Attack, A. Majeed—AFP
----------
Arab World
• UAE Sends F-16s to Jordan to Fight Islamic State
• Army Kills Tens of ISIL Terrorists in Northern Iraq
• Syrian Army Kills Scores of ISIL Terrorists in Hasaka, Deir Ezzur
• Egypt court sentences three to death on Al-Qaeda espionage charges
• Footage shows ISIS fighters accidentally blowing themselves up
• ISIL Terrorists Suffer Major Losses in Iraq's Kirkuk
• Kurdish Fighters Liberate Tens of Kobani Neighbouring Villages
• OIC, UN intervention urged to solve Kashmir dispute
• Halal tourism becoming popular
• Iraqi prisons allow Saudis to visit detained relatives
South Asia
• Pro-Taliban Radios Operating In Charkh: District Governor
• 2 Jamaat Men Shot In Comilla While Hurling Bomb
• Sheikh Hasina reaffirms: No surrender to militancy
• No dialogue with terrorists, says NHRC boss
• Japan seizes passport of journalist trying to visit Syria
• 'People will not let Khaleda go unpunished': Bangladesh Minister
• Return to democratic path, PM urges BNP
India
• VHP Wants Akbar's Fort in Allahabad to Be Replaced with Night Shelter
• Muslims Should Have As Many Children as Possible: J&K Separatist Leader
• Patriarch Hails India for Its Support to Syria
• South Asia tensions: US asks India to improve ties with neighbours
Pakistan
• Terrorism Threats for All Segments of Society: Pakistan Ulema Council
• 30,000 Afghans Left Pakistan after Army Public School Attack: IOM
• Dictatorship Ruins, Democracy Salvages Nations: Information Minister
• Set in motion: Military courts to take up a dozen cases next week
• Basit to make 'courtesy call' to Indian foreign secretary in bid to revive talks
• Pakistan raises Kashmir issue in Washington
• Trial of 12 terror suspects kicks off in military courts
• Atrocities like Peshawar school attack must be opposed with every fibre of our being: Kerry
Africa
• Tunisia Arrests 32 Militant Islamists Planning 'Spectacular' Attacks
• Nigeria delays elections as Boko Haram conflict spirals
• Libya's warring factions to resume talks next week, both sides say
• 8,700-strong Africa deployment to fight Boko Haram
Southeast Asia
• FT Islamic Council to Intervene In Dispute over 'Allah' CDs
• Mara to end rules curbing religious freedom in Sabah, Sarawak institutions
• President Joko Widodo Awarded Honorary Title in Brunei
• Jamil Maidan Flores: Truth Also a Casualty in Mindanao 'Mis-encounter'
Mideast
• ISIL Militant Surrenders in Turkey as PKK Opens Harassing Fire near Border
• More than 400 Rabbis petition against Palestinian home demolitions
• Blast in Sanaa as thousands protest Houthi takeover
• Political provocation worries delay ISIL attack case in central Anatolian city
• Hamas video shows group's pain over Egypt's decision to label its military wing terrorists
• Abbas establishes committee to gather complaints to bring to ICC
• Druse IDF soldier beaten 'for speaking Arabic' after leaving nightclub
Europe
• Prince Charles Voices Alarm at Radicalization
• Poll: Majority Says Japan's Middle East Aid Should Be Non-Military
• UK Independence Party in pickle over 'shechita,' 'halal'
• German Judge: Torching of Synagogue not motivated by anti-Semitism
• UNESCO dismisses reports that Palestinian poster collection nixed due to anti-Semitism
North America
• Kerry, Zarif Hold Surprise Iran Talks in Munich
• US consul says "Biji Obama" chants by Kurds in Kobane are important for them
• US-led coalition squeezing ISIL militants
Compiled by New Age Islam News Bureau
URL: https://newageislam.com/islamic-world-news/uae-sends-f-16s-jordan/d/101419
----------
Arab World
UAE sends F-16s to Jordan to fight Islamic State
8 February 2015
MMAN, Jordan: The United Arab Emirates said it ordered a squadron of F-16 fighters to Jordan, which an official said would participate in airstrikes on the Islamic State group after the UAE earlier suspended its involvement.
The UAE announcement, carried by the state news agency WAM, did not say what role the Emirati warplanes would play. An Emirati official, whose name was withheld as he is not authorized to speak to journalists, declined to elaborate.
Both Jordan and the UAE are members of a US-led military coalition against the militants.
Late last year, the UAE suspended its airstrikes after a Jordanian pilot crashed over northern Syria and was captured by the militants, US officials have said. The UAE, which hosts air bases used by American and coalition partners, has not commented on suspending its strikes.
The militants recently released a video showing them burning the Jordanian pilot, Lt. Muath Al-Kaseasbeh, to death while he was trapped in a cage. The images angered Jordan and the region.
Jordan has pledged harsh retaliation and said it would intensify strikes on Islamic State group targets. Starting Thursday, Jordanian jets have carried out daily attacks, according to the military and state media.
Jordan's interior minister, Hussein Al-Majali, told the state-run Al-Rai newspaper in comments published Saturday that Jordan will go after the militants "wherever they are."
The most recent airstrikes are "the beginning of a continued process to eliminate them and wipe them out completely," he said of the militants who control about a third of neighboring Syria and Iraq.
The heightened confrontation has raised concerns about possible Islamic State group attacks in Jordan.
The minister said security services have a tight grip and are ready for "anyone who wants to interfere in the security of Jordan." He urged Jordans to report suspicious behavior, particular in neighborhoods with large numbers of non-Jordanians.
http://www.arabnews.com/middle-east/news/701046
----------
Army Kills Tens of ISIL Terrorists in Northern Iraq
8 February 2015
The Iraqi army and Kurdish forces in a series of joint operations over the past 24 hours killed tens of Takfiri terrorists in three key provinces in Northern Iraq.
The Iraqi troops backed by Kurdish popular forces killed over 100 ISIL terrorists in Salahuddin, Nineveh and Kirkuk provinces in their operations on Sunday.
The Iraqi army, meantime, made major advances in the Northern parts of the city of Tikrit, killing at least 70 ISIL terrorists in the area.
Also on Saturday, the Iraqi air force bombed a concentration camp of the Islamic State of Iraq and the Levant (ISIL) terrorists in Tikrit in Salahuddin province, and killed 11 terrorists.
A security source said the airstrike resulted in the death of 11 terrorists, adding that it "caused a state of fear and panic among the ranks of the ISIL terrorists."
Last week, Iraqi Kurdish forces and police retook an oil field in Kirkuk province that was seized by the ISIL terrorists overnight, and freed 24 workers who had been taken captive, officers said.
"Peshmarga forces and police cleared the Khubbaz (oil) field a little while ago and were able to enter it after surrounding it for hours," police Brigadier General Sarhad Qader said of the fighting, adding that they also retook eight villages.
http://english.farsnews.com/newstext.aspx?nn=13931119000737
----------
Syrian Army Kills Scores of ISIL Terrorists in Hasaka, Deir Ezzur
8 February 2015
The Syrian army inflicted hefty losses on the ISIL Takfiri group in the countryside of Hasaka and Deir Ezzur provinces, killing dozens of the terrorists.
The army troops raided the strongholds of the ISIL terrorists in South of Hasaka, and managed to kill a large of them in the villages of al-Meilbieh, al-Khama'el, and Shura.
Also, the terrorists sustained a heavy toll in the Eastern province of Deir Ezuur, as the army continued to make more gains in al-Jafra and Howaijet Saker villages.
The ISIL Takfiri terrorists currently control a shrinking part of Syria and Iraq. They have threatened all communities, including Shiites, Sunnis, Kurds, Christians, Ezadi Kurds and others.
http://english.farsnews.com/newstext.aspx?nn=13931119000627
----------
Egypt court sentences three to death on Al-Qaeda espionage charges
8 February 2015
Cairo criminal court has reached a final verdict of the death penalty for three and punished a fourth defendant with ten years in jail on charges of spying for Al-Qaeda between 2008 and 2013.
The sentences were based on charges of belonging to Al-Qaeda and providing them with details concerning Egyptian army.
They were also charged with forming a terrorist group linked to Al-Qaeda that aims to threaten the freedom of Egyptian citizens, orchestrating attacks on the US and French embassies, and executing terrorist attacks in the Sinai Peninsula.
The four defendants are between 22 and 33 years old.
The three defendants who received capital punishment were tried in absentia.
The court had reached on 12 January an initial verdict of the death penalty for all four defendants before sending the rulings it to the Grand Mufti for review.
Egyptian courts have meted out in the last few months death penalty verdicts to hundreds of Islamists in cases in which defendants were accused of committing murder and other violent acts during attacks on security personnel that followed the ouster of Islamist president Mohamed Morsi in July 2013.
In some of these cases, judges ruled with mass death sentences against defendants.
http://english.ahram.org.eg/NewsContent/1/64/122490/Egypt/Politics-/Egypt-court-sentences-three-to-death-on-AlQaeda-es.aspx
----------
Footage shows ISIS fighters accidentally blowing themselves up
8 February 2015
Recent footage emerging online shows bungling Islamic State of Iraq and Syria (ISIS) fighters accidentally blowing themselves in combat.
In one video seen online, a fighter firing a mortar dies after the weapon explodes because he reloaded it too quickly.
In another, a militant detonates a bomb during a group picture with other militants. Another shows a fighter firing a Kalashnikov assault rifle, only to see it disintegrate before his eyes.
Since a gruesome video was released last week showing the burning to death of captured Jordanian fighter pilot Moaz al-Kasasbeh by militants, the clips have become popular online.
Some have been edited into compilations in the style of a U.S. home movie clip show – with game-show music as a soundtrack.
"These amateurs would find a way to nuke their own soldiers if given the chance," wrote on YouTube user.
http://english.alarabiya.net/en/variety/2015/02/07/Footage-shows-ISIS-fighters-accidentally-blowing-themselves-up.html
----------
ISIL Terrorists Suffer Major Losses in Iraq's Kirkuk
8 February 2015
The Iraqi army continued to make more gains in its fight against the ISIL Takfiri group in the Northern city of Kirkuk, killing a number of terrorists.
The army troops stormed the hideouts of the Takfiri group in the district of Hawija, and succeeded in leaving at least 10 militants dead and 8 others injured.
The ISIL Takfiri terrorists currently control a shrinking part of Syria and Iraq. They have threatened all communities, including Shiites, Sunnis, Kurds, Christians, Ezadi Kurds and others, as they continue their atrocities in Iraq.
Senior Iraqi officials have blamed Saudi Arabia, Qatar, and some Persian Gulf Arab states for the growing terrorism in their country.
The ISIL has links with Saudi intelligence and is believed to be indirectly supported by the Israeli regime.
http://english.farsnews.com/newstext.aspx?nn=13931119000348
----------
Kurdish Fighters Liberate Tens of Kobani Neighboring Villages
8 February 2015
Kurdish fighters, who regained control of the town of Kobani on the Syrian border with Turkey on January 26, expelled ISIL terrorists from tens of the neighboring villages in major offensives.
"The number of villages that the Kurdish People's Protection Units (YPG) have taken back from the ISIL since January 26 has exceeded 100," the Syrian Observatory for Human Rights said on Friday.
The loss of the border town is viewed as a major blow to the Takfiri terrorists, which started advancing on the town on September 16, 2014, in order to strengthen control over a long stretch of the Syrian-Turkish border.
The final battles for Kobani claimed the lives of more than 1,600 people, most of them from ISIL.
Full report at:
http://english.farsnews.com/newstext.aspx?nn=13931118000617
----------
OIC, UN intervention urged to solve Kashmir dispute
8 February 2015
Expressing solidarity with of Kashmiri people, Pakistani Ambassador Manzoor ul Haq urged the Organization of Islamic Cooperation (OIC), the UN General Assembly, and the international community to play their role in redressing the plight of the hapless Kashmiris.
The event, which was held at the Pakistan Embassy, was attended by prominent members of the Pakistani community, Kashmiris and the Saudi elite.
Prince Abdullah bin Sultan bin Nasser bin Abdulaziz was the chief guest on this occasion, while Fazal ur Rahman, a prominent Pakistani expatriate, was the guest of honor.
In their separate speeches delivered on the Kashmir Solidarity Day, a panel of speakers stressed on "a just and peaceful resolution of the Jammu and Kashmir dispute on the basis of the UN Security Council resolutions." A resolution was passed on the occasion that called for the immediate need to restore peace and security in "India occupied Kashmir."
The resolution called for the right to self-determination for Kashmiris, which is a revered principle of international law. "But even after more than 67 years, this right is being denied to Kashmiris despite the fact that it was promised to them by UN in its numerous resolutions," said the resolution.
Full report at:
http://www.arabnews.com/saudi-arabia/news/701276
----------
Halal tourism becoming popular
8 February 2015
A number of tourist companies offer programs and websites to familiarize tourist locations where Halal products are available. They are meant to help Muslim families, who are averse to pork and alcohol while travelling in different parts of the world, without compromising their religious beliefs and requirements.
Officials of travel and tourism companies that promote Halal tourism say they have launched a special online application, which enables Muslim tourists to locate tourist shops and places that provide Halal services in countries they visit.
Tourism expert Hassan Saqr, chairman of the board of directors of a tourism resort company, said the drive for Islamic tourism marketing is not limited to the travel and tourism agencies in the Kingdom or Muslim countries, but they have gained acceptance by the international tourist companies targeting Muslim tourists.
One of the major international tourism companies, for instance, lately launched a website for Halal tourism in English.
Full report at:
http://www.arabnews.com/saudi-arabia/news/701326
----------
Iraqi prisons allow Saudis to visit detained relatives
8 February 2015
The lawyer of Saudi detainees in Iraq conveyed Al-Nasriyah Prison Administration's message permitting Saudi families whose sons are detained in Iraq to visit them in prison.
Iraqi lawyer Hamid Ahmed told Al-Watan daily that the prison administration has no objection to families visiting their sons.
The latest news comes at a time when Saudi-Iraqi relations are improving. There was a political breakthrough between the leaderships of the two countries with the Kingdom taking the first steps toward opening its embassy in Baghdad after a closure of 25 years.
Ahmed said he paid a 3-hour visit on Thursday to Saudi detainees in the Iraqi prison, his first visit in several months. He said during the visit he met Abdullah Azzam and Badr Owfan, men who have been sentenced to death. He said both of them were in good health.
Ahmed said the demands of Azzam and Owfan include activating an agreement for the exchange of prisoners, permission to call and receive remittances from their families.
http://english.alarabiya.net/en/News/middle-east/2015/02/08/Iraqi-prisons-allow-Saudis-to-visit-detained-relatives.html
----------
South Asia
Pro-Taliban Radios operating in Charkh: District Governor
Feb 08 2015
Khalilullah Kamal, Governor of Charkh District in Logar province says that frequencies of Pro-Taliban radios are being received in his District that is running a propaganda war for Taliban.
Kamal says these radios are talking negative about Afghan government and positive about Taliban insurgents.
He said these radio frequencies are received from across the border (Pakistan) which emotionalizes people against Afghan Government and convince them to fight with Afghan National Security Forces (ANSF) in Taliban lines.
"These radios are insulting Afghan National Security Forces and convince people especially youths to join Taliban in the fight against Afghan Government", he said.
He further said that the coverage of these radios has extended recently and it is believed that Taliban have brought a system into Charkh District.
He added that he has reported this issue to the Governor House and Security Agencies and have requested them to locate the system and destroy it.
"My responsibility was to report it to the security agencies and the higher. But it is regretful that still they have not done anything against it", he said.
Governor House and Security officials have not commented on the reports yet but Cultural Department of Logar province has expressed unawareness about it.
http://www.khaama.com/pro-taliban-radios-operating-in-charkh-district-governor-29034
----------
2 Jamaat men shot in Comilla while hurling bomb
Feb 08 2015
Two Jamaat activists have been shot after they hurled crude bombs on a police van at Ludua village under the sadar upazila in Comilla early Sunday.
The injured are Belayet Hossain, 45, son of Abdul Halim, and Billal Hossain, 28, son of Abdul Hadi of Comilla. They were admitted to Comilla Medical College Hospital in the morning.
Police also recovered a petrol bomb and 12 crude bombs from their possession.
Nangolkot police Inspector Salah Uddin Ahmed said: "The criminals hurled crude bombs aiming the patrol police's vehicle when arrived in Ludua village at 2:30am. "
He said the policemen including OC Nazrul Islam were injured in the hand bomb attack.
"In retaliation, the law enforcers opened fired at them, leaving two Jamaat men injured with bullet."
Comilla Medical College Hospital Brother Samsuddin Miah said SI Ashraf admitted the duo wounded with bullets in their hands and legs around 5:20am.
http://www.dhakatribune.com/bangladesh/2015/feb/08/2-jamaat-men-shot-comilla-%E2%80%98gunfight%E2%80%99#sthash.9ijhP0BV.dpuf
----------
Sheikh Hasina reaffirms: No surrender to militancy
Feb 08 2015
Describing the recent activities of the BNP-Jamaat alliance as militancy, Prime Minister Sheikh Hasina yesterday categorically said her government will in no way give in to this menace.
"We will never surrender to militancy," she said addressing the inaugural ceremony of the International Rotary Peace Conference 2015 at city's Radisson Hotel.
The prime minister also said the whole nation would resist the terrorist activities of these ferocious hyenas. "We'll restore peace in the country defeating these bad elements and that's our promise…Inshallah we'll be successful," she reiterated.
Referring to the Bangali nation's historical uncompromising nature, the prime minister said history says that Bangalis never bow down to troublemakers.
"Bangalis are always invincible, we never bow down to injustice and we'll never bow down. This time we won't bow down our head to this injustice," she said.
In this connection, the prime minister said the Bangalis protected the dignity of their mother tongue through shedding blood in 1952, ousted the autocrat regime in 1969, and earned the country's independence in 1971 sacrificing 3 million lives.
She said the people of the country never saw killing people by hurling petrol bombs in the name of politics.
Full report at:
http://www.dhakatribune.com/politics/2015/feb/08/sheikh-hasina-reaffirms-no-surrender-militancy#sthash.zOxlGOQX.dpuf
----------
No dialogue with terrorists, says NHRC boss
Feb 08 2015
Condemning the ongoing violence unleashed across the country, Chairman of the National Human Rights Commission (NHRC) Mizanur Rahman yesterday said no dialogue can be held with terrorists who have been burning people to death.
"They (opposition parties) have been challenging the monopoly of power of the state through carrying out terrorist acts in the name of a movement. They have been challenging the foundation of the state which is tantamount to sedition and a criminal offence," said the NHRC boss in a seminar at Dhaka Reporters Unity.
Federation of Bangladesh Human Right Organisation (FBHRO) organised the seminar.
"The state will have to play its due role in getting rid of this terrorism. The government is responsible for ensuring safety and security of its citizens," Mizanur said.
Urging the government to ensure the basic rights of the citizens, he said it is the responsibility of the government to ensure that the common people do not face harassment in its attempt to ensure safety for people.
http://www.dhakatribune.com/bangladesh/2015/feb/08/no-dialogue-terrorists-says-nhrc-boss#sthash.wehUEFWJ.dpuf
--------
Japan seizes passport of journalist trying to visit Syria
8 February 2015
Japan has seized the passport of a journalist planning to travel to Syria following the brutal killing of two Japanese hostages by the Islamic State of Iraq and Syria (ISIS) group there, local media said Sunday.
It was the first time Tokyo had taken such a measure on the grounds it was needed to protect the passport-holder's life, the Asahi Shimbun and other news reports said.
They said the foreign ministry on Saturday confiscated the passport of Yuichi Sugimoto, a freelance photographer who had planned to enter Syria on February 27 to cover refugee camps among other places.
But the 58-year-old Japanese, who has covered conflict zones in Iraq and Syria over the years, said he had no plans to enter areas controlled by ISIS, Kyodo News reported.
"Tonight, an official with the foreign ministry's passport division came and took my passport," Sugimoto told the Asahi.
"What happens to my freedom to travel and freedom of the press?"
The passport confiscation came in the wake of the beheadings of journalist Kenji Goto and adventurer Haruna Yukawa by ISIS extremists.
http://english.alarabiya.net/en/media/television-and-radio/2015/02/08/Reports-Japan-seizes-passport-of-journalist-trying-to-visit-Syria-.html
----------
'People will not let Khaleda go unpunished': Bandesh Minister
Feb 08 2015
Health Minister Mohammad Nasim has said the people of the country would not let BNP chief Khaleda Zia go unpunished for her role in the "killing of innocent people."
He said: "None of the culprits, who are killing people by hurling petrol bombs, will not let go unpunished. And Khaleda Zia will be tried for ordering the killing of innocent people."
"The people of the country will try her for leading the nationwide sabotage that claimed the lives of more than 60 people," he added.
The coordinator of the Awami League-led 14-party grand alliance came up with the forewarning while addressing the pre-scheduled countrywide human chain, protesting the ongoing violence centring the BNP and its partners' political programmes.
The one-hour human chains was formed from 3pm to 4pm all over the country on Sunday, the 34th day of the non-stop blockade enforced by the BNP-led 20-party alliance.
In Dhaka, the demo was formed from Gabtoli to Sayedabad via Technical, Shyamoli, College Gate, Asad Gate, Russel Square, Green Road, Bashundhara City, Sonargaon Hotel, Banglamotor, Shahbagh, Matsya Bhaban, Kadam Foara, National Press Club, Purana Paltan, Nur Hossain Square, Gulistan, Bangabandhu Avenue, Mahanagar Natyamancha, Ittefaq Intersection, Rajdhani Super Market and Jatrabari.
The alliance's central leaders and lawmakers joined the chains standing at different points and intersections.
Full report at:
http://www.dhakatribune.com/politics/2015/feb/08/people-will-not-let-khaleda-go-unpunished#sthash.8st6Iymm.dpuf
----------
Return to democratic path, PM urges BNP
Feb 08 2015
Prime Minister Sheikh Hasina has called upon the BNP to practice democratic process, saying the party can go to power only under a democratic process, not over the cadavers of innocent people.
She said: "The BNP was in power and they have dream to go to power again. But they cannot go to power over the burned bodied of bus and truck drivers, children and innocent people. They must go under a democratic process."
The premier was addressing the officials of the Ministry of Religious Affairs during her visit to the ministry at Bangladesh Secretariat on Sunday.
She came to the ministry as part of her plan to visit every ministry to exchange views with the senior officials and give directives to them to bring dynamism in the activities of the ministry, reported BSS.
Full report at:
http://www.dhakatribune.com/politics/2015/feb/08/return-democratic-path-pm-urges-bnp#sthash.OC97bWyX.dpuf
----------
India
VHP Wants Akbar's Fort in Allahabad to Be Replaced with Night Shelter
8 February 2015
Kicking up a controversy, the Vishwa Hindu Parishad on Saturday said the fort built by Mughal emperor Akbar on the banks of the river Yamuna in Allahabad is a "symbol of subjugation of Hindus" and wanted the imposing structure to be replaced with a night shelter for poor pilgrims visiting to have a dip in the holy Sangam.
"During Muslim rule in India, countless temples were pulled down and replaced with mosques. These mosques were erected as symbols of subjugation of Hindus. The VHP had sought to remove only three of such symbols – at Ayodhya, Kashi and Mathura. The Fort situated nearby is another such symbol," VHP patron Ashok Singhal said.
Singhal was speaking at a 'Virat Hindu Sammelan' organised at Parade Ground in the vicinity of the Sangam and the fort, to mark the golden jubilee of the establishment of the Sangh Parivar outfit.
Full report at:
http://indianexpress.com/article/india/india-others/vishwa-hindu-parishad-wants-akbars-fort-in-allahabad-to-be-replaced-with-night-shelter/
----------
Muslims Should Have As Many Children as Possible: J&K Separatist Leader
8 February 2015
A separatist leader has asked Muslims in Jammu and Kashmir to marry more than once and have as many children as possible to preserve the Muslim-majority character of the state.
"We appeal well-to-do Muslims to marry more than once and have as many children as possible. The Quranic tenet of justice between wives is only in providing equal provision and not inclination of the heart," Mohammad Qasim, who is serving a life sentence on murder charges, said in a statement emailed by his party Muslim-Deenimahaz, on Saturday.
Qasim, husband of Dukhtaran-e-Millat chief Asiya Andrabi, said, "the settlement of refugees in Jammu and Kashmir was a ploy to change the Muslim-majority status of the state."
He said Kashmiri Muslims are themselves playing a part in their own destruction. Girls are being married late which implies less children-bearing capability. The excuse given for late marriages is that the youth (groom) should become economically stable," he said.
"Then after marriage, the birth control slogans like 'hum do hamaray do' and 'pehla abhi nahi, doosra kabhi nahi' are continuously pounded upon these couples," he said. Qasim said having less children due to fear of economic problems is nothing but ignorance.
He further claimed in the statement that almost seven per cent girls in Jammu and Kashmir are "facing Polycystic Ovarian syndrome" and are thus unable to bear children after they are of 23-24 years and almost "10 per cent boys suffer from depleted sperm count and mortality".
Qasim said it is surprising that despite having 80 per cent Hindu population in India, the Hindu leaders are asking women to bear at least five children.
http://indianexpress.com/article/india/india-others/muslims-should-have-as-many-children-as-possible-mohammad-qasim/
----------
Patriarch hails India for its support to Syria
8 February 2015
Patriarch of the Jacobite Syrian Orthodox Church Ingnatius Aphrem II has thanked the government of India for taking a stand in support of the people of Syria against extremism.
He, however, warned that India should be alert against the spread of religious extremism.
He said India was an example of religious tolerance and harmony.
But India was part of a world where there are increasing incidents of violence and extremism. The country should be watchful against the spread of such tendencies.
Young people tend to take to ideological or religious extremism and that is dangerous for the world, he added.
'Dangerous situation'
Describing the situation in Syria, he said violence against various communities was continuing and both Christian Muslim communities had faced extremist attacks. The situation was dangerous and difficult, he said pointing out that the clergy belonging to both the religions had been killed in the persisting violence.
He also expressed anguish that the world largely remained silent on the issue and said that two archbishops, from Aleppo, had been kidnapped more than a year ago and had not been traced so far. The more dangerous situation is that people were emigrating from their homelands. Many want to be smuggled into Europe. This is a disturbing situation, he said.
The Patriarch said he would meet the heads of India government in Delhi and express his gratitude for the stand taken by India vis-à-vis extremist violence in Syria.
The Patriarch said he would also convey his concerns over the attacks on places of worship.
http://www.thehindu.com/news/national/tamil-nadu/patriarch-hails-india-for-its-support-to-syria/article6870117.ece?ref=tpnews
----------
South Asia tensions: US asks India to improve ties with neighbours
February 8, 2015
ISLAMABAD / WASHINGTON: Amid persisting diplomatic tensions between India and Pakistan, the United States has asked New Delhi to take steps to improve relationships with its South Asian neighbours.
"We believe the [Obama's] visit to India was a very important one, and we believe that India should have good relationships with its neighbours as well and take steps to improve those relationships," State Department spokesperson Marie Harf told a weekly press briefing.
She was responding to a question regarding Pakistan's concerns over some Indo-US agreements signed during the recent visit of President Barack Obama to India. Harf described Washington's relationship with both Pakistan and India as strong and vital.
The comments come amid growing strain in Indo-Pak relations as New Delhi refuses to hold dialogue with Islamabad for resolving the Jammu and Kashmir dispute which, Islamabad says, is critical to normalisation of relations between the two nuclear-armed neighbours. Islamabad has also voiced serious concern over New Delhi's attempts to alter demography of the disputed Himalayan region.
Full report at:
http://tribune.com.pk/story/834893/south-asia-tensions-us-asks-india-to-improve-ties-with-neighbours/
----------
Pakistan
Terrorism threats for all segments of society: Pakistan Ulema Council
February 8, 2015
KARACHI – Pakistan Ulema Council (PUC) Chairman Hafiz Muhammad Tahir Mehmood Ashrafi has said that every individual and all political forces should exhibit strong determination against terrorism and extremism and should jointly struggle against them because these menaces have endangered all segments of the society.
He expressed these views while addressing a press conference at Karachi Press Club on Saturday. He said that the PUC has called "Piyam-e-Aman Convention" of representatives of different political and religious parties against terrorism and killings in Karachi on Sunday. He said that the Peshawar and Shikarpur tragedies and the violence in Karachi demand from all Pakistani to play active role to stop the bloodshed of innocent people.
He said that the PUC supported the National Action Plan (NAP) and introduction of the military courts to eliminate the menace of terrorism and extremism. He said that Madaris-e-Arabia have cooperated with the government for elimination of extremism and terrorism and will continue their cooperation in this regard. Some 90 per cent out of 18000 madaris associated with the Wafaq-ul-Madaris, and Taffuz-e-Madaris-e-Deeniya, are registered while 80 per cent conduct their audit themselves.
The PUC chairman has also expressed sorrow over killings in Karachi and said that the authorities should ponder over it and the violent incidents should be stopped. He said that the reconciliation council had played a significant role to maintain and promote inter-faith harmony during Muharram-ul-Haram.
He expressed hope that the reconciliation council will play its reconciliatory and effective role against terrorism during 2015, which has already been declared as the 'Year of Peace' by the PUC. Speaking about the "Piyam-e-aman Convention" he said that an important breakthrough against extremism and terrorism will be brought before the whole nation. PUC Central Secretary General Sahibzada Zahid Mehmood Qasmi, Sindh PUC President Maulana Tariq Madni, Punjab PUC President Maulana Hafiz Muhammad Amjad and others were also
http://www.dailytimes.com.pk/national/07-Feb-2015/terrorism-threats-for-all-segments-of-society-ashrafi
----------
30,000 Afghans left Pakistan after Army Public School attack: IOM
Feb 08 2015
KABUL: More than 30,000 Afghans living in Pakistan have returned home since the start of the year after coming under intense scrutiny following a Taliban massacre at the Army Public School Peshawar in December, the IOM said Sunday.
There are an estimated three million Afghan refugees living in Pakistan either officially or unofficially, most of whom left their country to escape conflict in the 1980s and 1990s.
But they are viewed with deep suspicion inside Pakistan and routinely accused by authorities of harbouring militants.
Richard Danziger, head of the International Organization for Migration (IOM) mission in Kabul, told AFP that out of the 30,599 Afghans who had left Pakistan since January, 1,817 had been deported while the rest had left of their own accord.
"They are mostly Afghans without papers who have been living in Pakistan for the past 20 to 25 years," he said.
The figure, which eclipses the 25,000 Afghans who returned from Pakistan over the entire year in 2014, was a result of the breakdown in relationships between the migrants and their host communities following the Peshawar attack, added Danziger.
"It all began after the attack on the school in Peshawar. Their lives became intolerable," he said.
Police raids on Afghan communities are commonplace and they often encounter prejudice during their daily lives.
Afghan authorities in January said they had arrested five people suspected of planning the attacks but they were not Afghan nationals.
"We're not sure if this phenomenon will pass soon or will last," added Danziger, who said most of the returnees came from eastern Nangahar, Laghman, Kabul and Kunar, as well as northern Kunduz.
Islamuddin Jureet, a spokesman for Afghanistan's ministry of refugees and repatriation, said officials from both countries would meet next week to discuss the situation.
"Afghan refugees have been living in neighbouring Pakistan for decades, and they were never involved in any terrorist attacks," he said.
http://www.dawn.com/news/1162313/30000-afghans-left-pakistan-after-army-public-school-attack-iom
----------
Dictatorship Ruins, Democracy Salvages Nations: Information Minister
February 8, 2015
ISLAMABAD: Information Minister Pervaiz Rashid said on Friday that democracy salvages nations while dictatorships have always ruined them.
Talking to the media after attending a seminar on interfaith harmony, the minister said that he was surprised to know that PTI Chairman Imran Khan has stated that Pakistan could not have a good dictator who could have transformed the nation.
The minister said the entire world knows that dictatorships have destroyed many countries and Germany under Hitler and Iraq under Saddam Hussein were two such examples.
He asked Imran to tell as to who was good dictator Hitler, Mussolini, Saddam or General Franco?
Pervaiz Rashid reminded that Pakistan was also dismembered during a dictatorship. He said that Imran used to be a supporter of a dictator and canvassed for him during the so-called referendum.
Earlier, addressing the seminar he said that Pakistan would soon become a peaceful and tolerant country and launch of Operation Zarb-e-Azb was the starting point of that process.
The minister said that in the past people of all religions and sects lived peacefully in Pakistan, but after the start of first Afghan war, hatred and intolerance started creeping in society.
"Name of religion was used by certain powers to win a war in our neighbourhood and curricula were changed at the behest of those powers," he said.
http://tribune.com.pk/story/834340/ideological-debate-dictatorship-ruins-democracy-salvages-nations-minister/
----------
Set in motion: Military courts to take up a dozen cases next week
February 8, 2015
ISLAMABAD: Military officers will formally begin hearing terrorism-related cases next week as the interior ministry has sent 12 cases for trial in the military courts, according to officials.
The move comes weeks after the government decided to set up military courts for speedy trial of suspected terrorists in the wake of the December 16 assault by Taliban gunmen on the Army Public School in Peshawar that had left over 150 students and staff dead.
The establishment of the military courts is part of the National Action Plan which also envisages a whole range of steps to eliminate terrorism from the country. Subsequently, parliament approved the 21st constitutional amendment to pave the way for the establishment of the military courts.
Full report at:
http://tribune.com.pk/story/834884/set-in-motion-military-courts-to-take-up-a-dozen-cases-next-week/
----------
Basit to make 'courtesy call' to Indian foreign secretary in bid to revive talks
Feb 08 2015
Pakistan High Commissioner to India Abdul Basit will call on the new Indian Foreign Secretary, S Jaishankar, next week to discuss the possibility of resuming bilateral dialogue, the Economic Times reported on Saturday.
Dialogue between the countries was suspended last year after the high commissioner's meeting with Hurriyat leaders.
According to sources, Basit is set to make a 'courtesy call' to the new foreign secretary. However, they believe that talks between the two countries could be revived on Jaishankar's advice to the Indian government.
The report added that a fresh round of dialogue between India and Pakistan could start once the People's Democratic Party (PDP) and the ruling Bharatiya Janata Party form the government in Indian-administered Kashmir. Some members of the PDP are allegedly in favour of dialogue with Pakistan.
Pakistan's former national security adviser Major General (retd) Mahmud Durrani also met NSA Ajit Kumar Doval and Jaishankar this week and may have brought a message from Prime Minister Nawaz Sharif, according to a source privy to the development. Durrani's meetings, sources believe, could have been efforts to normalize relations between the neighbouring countries.
Both Indian officials and Pakistan High Commussion dismissed the Durrani's meeting as a move to revive dialogue.
http://tribune.com.pk/story/834441/basit-to-make-courtesy-call-to-indian-foreign-secretary-in-bid-to-revive-talks/
----------
Pakistan raises Kashmir issue in Washington
Feb 08 2015
WASHINGTON: Pakistan raised the Kashmir issue in the US capital this weekend, urging India to work with it for resolving the long-standing dispute.
At a seminar at the Pakistan Embassy here, speakers warned India against changing the special constitutional status of the disputed territory and attempts to alter its demographics could have dangerous consequences. The seminar was the first Kashmir Solidarity Day event organised at the embassy in many years.
"The UN Security Council resolutions have the legitimacy of the international contract, accepted by both India and Pakistan before the international community," said Pakistan's Ambassador to the United States Jalil Abbas Jilani.
He said that denying the people of Kashmir what had been pledged to them by the United Nations would be a violation of this international contract.
Azad Jammu and Kashmir Minister for Electricity Raja Faisal Rathore asked the international community to alleviate the plight of the Kashmiri people suffering at the hands of Indian occupation forces.
http://www.dawn.com/news/1162279/pakistan-raises-kashmir-issue-in-washington
----------
Trial of 12 terror suspects kicks off in military courts
Feb 08 2015
ISLAMABAD: Pakistan's revamped counterterrorism strategy jointly mapped out by the political leadership and military command, as envisaged in the National Action Plan (NAP), lands in the implementation phase with military courts starting trial against a dozen alleged hardcore terrorists in nine military courts set up so far.
Initially, the military courts have received 12 such cases and the trial has begun, the military announced on Saturday.
According to Inter-Services Public Relations (ISPR) Director General Major General Asim Saleem Bajwa, the cases being tried by military courts were sent by the Interior Ministry after due scrutiny. These cases were forwarded (to Interior Ministry) by the provincial apex committees, he said on the social media.
"To begin with, 12 cases assigned to military courts. Legal process kicks off," the military spokesman said in a Tweet. Counterterrorism officials in an intelligence agency, requesting anonymity, shared with Daily Times that the terror suspects involved in Peshawar tragedy, who were arrested from Afghanistan last month, and that of Wagah border attack, are among the 12 suspects being put to trial. As many as 150 people, including 134 schoolchildren, lost their lives in Tehreek-e-Taliban Pakistan (TTP) attack on Army Public School (APS) in Peshawar on December 16, 2014. At least 60 people were reported dead in the TTP attack on Full report at:
http://www.dailytimes.com.pk/islamabad/08-Feb-2015/trial-of-12-terror-suspects-kicks-off-in-military-courts
----------
Atrocities like Peshawar school attack must be opposed with every fiber of our being: Kerry
February 8, 2015
MUNICH: Remembering the victims of Peshawar school attack, US top diplomat John Kerry on Sunday said there are no grounds of history, ideology, psychology, politics, economics advantage or disadvantage or personal ambition that justify the murder of children, the kidnapping and rape of teenage girls, or the slaughter of unarmed civilians.
"These atrocities can never be rationalized, they can never be excused, they must be opposed with every fibre of our being and they must be stopped, Kerry told the Munich Security Conference.
From the Sahel in western Africa, to Boko Haram in Nigeria as well as the militants in Iraq and Syria, Kerry said that "against this enemy, make no mistake, we are increasingly organising and fighting back effectively. The world cannot and will not cower in the face of this extremism."
An international coalition battling against Islamic militants in Iraq and Syria is beginning to win back territory and deprive the jihadists of key funds, Kerry said as he denounced the group's "new level of depravity".
Washington has rallied more than 60 countries in the fight against the Islamic State group, and while Kerry told the global security conference it would be a long battle, he said there were signs the strategy was working.
Full report at:
http://tribune.com.pk/story/835031/atrocities-like-peshawar-school-attack-must-be-opposed-with-every-fibre-of-our-being-kerry/
------------
Africa
Tunisia arrests 32 militant Islamists planning 'spectacular' attacks
8 February 2015
Tunisia arrested 32 militant Islamists, some of them returning from fighting in Syria, who planned "spectacular" attacks, officials said on Saturday.
News of the arrests came one day after a secular-Islamist coalition cabinet headed by Prime Minister Habib Essid took office. The new cabinet faces many challenges, including Islamist groups that emerged after a 2011 uprising.
"Counter-terrorism forces foiled plots to carry out spectacular attacks against vital installations, including the Interior Ministry, security stations and civilian buildings in the capital Tunis," said Mohammed Ali Aroui, a spokesman for the Interior Ministry.
"During the past three days, we arrested 32 terrorists from this group planning to attack targets in Tunis and other cities," he said, adding that the group included "several terrorists returned from fighting in Syria."
Aroui said troops killed Tunisian and Algerian militants in Mount Chaambi near the Algerian border.
Full report at:
http://english.ahram.org.eg/NewsContent/2/8/122474/World/Region/Tunisia-arrests--militant-Islamists-planning-spect.aspx
----------
Nigeria delays elections as Boko Haram conflict spirals
8 February 2015
Nigeria has postponed its presidential election on security grounds as the Boko Haram conflict intensifies, handing a potential lifeline to the ruling party as it battles a tough challenge from the opposition.
The six-week delay was announced Saturday after security chiefs said the military needed more time to secure areas under the control of Boko Haram, the Islamist extremists who have seized swathes of northeastern Nigeria.
Presidential and parliamentary elections will now be held on March 28 instead of February 14, said Attahiru Jega, chairman of the Independent National Electoral Commission (INEC).
Gubernatorial and state assembly elections will be held on April 11, he added.
Jega said security chiefs advised that the election should be postponed for six weeks as military operations in the northeast left troops unavailable to secure the vote.
"If the security of personnel, voters, election observers and election materials cannot be guaranteed, the lives of innocent young men and women and the prospect of free, fair and credible elections will be greatly jeopardised," he told reporters.
President Goodluck Jonathan has been locked in a tight race with the main opposition candidate, former military ruler Muhammadu Buhari.
Full report at:
http://english.ahram.org.eg/NewsContent/2/9/122484/World/International/Nigeria-delays-elections-as-Boko-Haram-conflict-sp.aspx
----------
Libya's warring factions to resume talks next week, both sides say
8 February 2015
Libya's warring factions will resume on Tuesday U.N.-sponsored talks inside the oil producer to defuse a power struggle between two governments, officials from both sides said on Saturday.
Libya has been in chaos since a NATO-backed revolt ousted Muammar Qaddafi nearly four years ago with two rival governments allied to armed groups fighting for legitimacy in a conflict Western powers fear might lead to full-scale civil war.
Libya's internationally recognized government under Prime Minister Abdullah al-Thinni and its elected House of Representatives are based in the east of the country after a group called Libya Dawn seized Tripoli last summer, set up its own administration and reinstated the old parliament.
Last month, the U.N. managed to bring some members of the factions to talks in Geneva but the Tripoli-based parliament known as General National Congress (GNC) wanted the dialogue to take place inside Libya.
Full report at:
http://english.alarabiya.net/en/News/middle-east/2015/02/08/Libya-s-warring-factions-to-resume-talks-next-week-both-sides-say.html
----------
8,700-strong Africa deployment to fight Boko Haram
8 February 2015
Five African nations on Saturday pledged to deploy 8,700 troops, police and civilians as part of a regional effort to fight Nigeria's Boko Haram militants.
"The representatives of Benin, Cameroon, Niger, Nigeria and Chad have announced contributions totaling 8,700 military personnel, police and civilians," the countries said in a statement after a meeting in Cameroon's capital Yaounde.
The news emerged from a three-day summit focusing on forging a strategy for battling the militants, who are engaged in a worsening six-year insurgency centered in northeastern Nigeria.
African Union leaders will submit the plan crafted by Western and African experts to the U.N. Security Council for approval.
Boko Haram's attacks have increasingly spilled over from Nigeria into neighboring nations.
Their first major attack in Niger on Friday triggered a forceful response from Chadian and Nigerien troops.
Full report at:
http://english.alarabiya.net/en/News/africa/2015/02/08/8-700-strong-Africa-deployment-to-fight-Boko-Haram--1449.html
-----------
Southeast Asia
FT Islamic council to intervene in dispute over 'Allah' CDs
Feb 08 2015
The Federal Territory Islamic Council (MAIWP) has applied to intervene in Putrajaya's appeal against a High Court ruling ordering the return of eight CDs containing the word "Allah" to Sarawakian Christian, Jill Ireland.
Court documents sighted by The Malaysian Insider revealed that MAIWP wanted to be made a party to the Court of Appeal proceedings as it wanted to assist the court on constitutional and Islamic matters.
Lawyer Annou Xavier, part of the legal team representing Ireland, confirmed that the council had served a notice on February 4 of its intention to intervene in the case.
However, The Malaysian Insider understands that lawyers for Ireland, a Melanau clerk, would likely oppose the council's request on the grounds it did not have any legal interest.
Judge Datuk Zaleha Yusof last July ordered the return of the CDs to Ireland, who had brought them in from Indonesia, but Putrajaya managed to obtain a stay to retain them on grounds of public interest.
In 2008, home ministry officials confiscated the CDs from Ireland at the then Low-Cost Carrier Terminal (LCCT) in Sepang after she had disembarked from a flight.
The CDs, which Ireland bought for personal use, had titles such as "Cara Hidup Dalam Kerajaan Allah", "Hidup Benar Dalam Kerajaan Allah" and "Ibadah Yang Benar Dalam Kerajaan Allah".
Full report at:
http://www.themalaysianinsider.com/malaysia/article/ft-islamic-council-to-intervene-in-dispute-over-allah-cds#sthash.ixji3x32.dpuf
----------
Mara to end rules curbing religious freedom in Sabah, Sarawak institutions
Feb 08 2015
Mara is to withdraw or rewrite all rules and regulations that restrict non-Muslim students from practising their religious faith in educational institutions under its purview in Sabah and Sarawak, the minister overseeing the federal government agency said today.
These include the Mara junior science colleges (MRSM) and Universiti Teknologi Mara (UiTM) in both states, said Minister of Rural and Regional Development Datuk Seri Shafie Apdal.
Shafie in a hastily called press conference this morning said there was no government policy on religious restrictions for Mara students, and if there were, "they were not right".
"If there is a rule, we will withdraw it," he said.
Mara, the abbreviation for Majlis Amanah Rakyat or Indigenous People's Trust Council, is under the purview of his ministry.
Shafie said a "misinterpretation" of the rules on non-Islamic religions might have cropped up because they were first drawn up in 1972 when MRSM colleges were first established in the peninsula. Then, in the context of the peninsula, there was no ambiguity to the students' religion as all Bumiputera students were Malays and Muslims.
The press conference was called after Sarawak Chief Minister Tan Sri Adenan Satem met Shafie last night.
Full report at:
http://www.themalaysianinsider.com/malaysia/article/mara-to-end-rules-curbing-religious-freedom-in-sabah-sarawak-institutions#sthash.QYhKC7oL.dpuf
---------
President Joko Widodo Awarded Honorary Title in Brunei
Feb 08 2015
Jakarta. Indonesian President Joko Widodo has been awarded with one of Brunei's highest honorary titles during a two-day state visit to the Southeast Asian nation.
Joko was given the award, named the Most Esteemed Family Order Laila Utama, by Brunei's Sultan Hassanal Bolkiah on Saturday night.
"It is an honor for me to be awarded the highest honorary title by Brunei Darussalam," Joko said, as quoted by the cabinet secretary's official website.
The president was in Brunei as part of a three-nation tour, which saw him touch down in Malaysia earlier in the week. He arrived in the Philippines on Sunday and will meet Philippine President Benigno Aquino on Monday.
During the visit Joko emphasized the importance of the two country's bilateral relationship and said it was the most stable among other Southeast Asian nations.
Sultan Hassanal Bolkiah asked Joko to consider opening a direct flight from Jakarta to Brunei's capital, Bandar Seri Begawan.
http://thejakartaglobe.beritasatu.com/news/president-joko-widodo-awarded-honorary-title-brunei/
----------
Jamil Maidan Flores: Truth Also a Casualty in Mindanao 'Mis-encounter'
Feb 08 2015
Here I am in Jakarta, away from the battle site of Mamasapano in Southern Philippines, where 44 members of the Philippine National Police Special Action Force (PNP-SAF) were killed in the morning of Jan. 25.
Yet I've a source who told me that he was persuading a friend to share with us a video clip taken by a person on the side of the Bangsamoro Islamic Freedom Fighters (BIFF). The clip, he said, showed some of the slain on the SAF side were unmistakably Caucasian.
I didn't think much of this until hours ago when I read a banner story of the Manila Times written by its chairman emeritus Dr. Dante Ang. The burden of the piece is that in the Mamasapano raid, codenamed Operation Wolverine, the main protagonists were American agents out to get the Malaysian terrorist Marwan and the BIFF leader Abdulbasit Usman. The PNP-SAF commandos were only security escorts to the agents.
Full report at:
http://thejakartaglobe.beritasatu.com/opinion/jamil-maidan-flores-truth-also-casualty-mindanao-mis-encounter/
----------
Mideast
ISIL militant surrenders in Turkey as PKK opens harassing fire near border
8 February 2015
Turkey's General Staff has announced that the outlawed Kurdistan Workers' Party (PKK) opened fire with an anti-aircraft gun in Şırnak, while a suspected member of the Islamic State of Iraq and the Levant (ISIL) surrendered with his weapons in Şanlıurfa, another southeastern Turkish province.
According to the statement posted on the General Staff's website, the PKK militants opened "harassing fire" at two military bases and one military team with a DShK heavy machine gun in the Uludere district of Şırnak near Turkey's border with Iraq on Feb. 6.
The attacks halted after Turkish soldiers returned fire, the statement added, while also noting that a PKK member surrendered to security forces in the same district.
In a separate incident on the same day, an ISIL member surrendered with his AK-47 assault rifle in the Suruç district of Şanlıurfa, near Turkey's border with Syria.
Five suspected members of ISIL have been captured in the southeastern Turkish province of Gaziantep over the past week. The alleged ISIL members were seized during security forces road inspections.
A Turkish citizen, on the other hand, had been arrested for being a member of ISIL for the first time in Turkey last month.
http://www.hurriyetdailynews.com/isil-militant-surrenders-in-turkey-as-pkk-opens-harassing-fire-near-border.aspx?pageID=238&nID=78027&NewsCatID=341
---------
More than 400 Rabbis petition against Palestinian home demolitions
8 February 2015
More than 400 Rabbis from around the world signed a petition the past week calling on Israeli Prime Minister Benjamin Netanyahu to stop the demolition of Palestinian homes in the occupied West Bank, a rights group said.
Rabbis for Human Rights (RHR) penned an open letter to the Israeli premier in which they said his decision conflicted with "international law and Jewish tradition."
Netanyahu ordered the demolition of more than 400 Palestinian homes in an area occupied by Israel in the West Bank on Friday claiming that they were illegally constructed by the EU, the Times of Israel reported.
"So far, over 400 rabbis and cantors from Israel, the USA, Canada, Britain and other countries have signed the call to Prime Minister Netanyahu to stop the practice of home demolitions," the letter said.
"Every year, hundreds of Palestinian homes are demolished due to discriminatory administrative plans created and implemented by the Israel military without significant Palestinian influence."
Full report at:
http://english.alarabiya.net/en/News/middle-east/2015/02/08/More-than-400-Rabbis-petition-against-Palestinian-home-demolitions-.html
----------
Blast in Sanaa as thousands protest Houthi takeover
8 February 2015
SANAA: A bomb exploded outside the republican palace in the Yemeni capital Sanaa on Saturday and wounded three militiamen guarding it, eyewitnesses said.
The attack raised tensions a day after the Houthi militant group dissolved Parliament and formally took power of the impoverished and strife-torn Arabian Peninsula country.
Once the home of the resigned Yemeni prime minister, the republican palace now houses Mohammed Al-Houthi, a top official in the Iranian-backed movement's military wing whose gunmen hold sway over much of Yemen.
There was no immediate claim of responsibility for the blast, but AQAP militants have repeatedly clashed with the increasingly powerful Houthis, raising fears of an all-out sectarian war.
Full report at:
http://www.arabnews.com/middle-east/news/701241
----------
Political provocation worries delay ISIL attack case in central Anatolian city
8 February 2015
A Turkish court has postponed the hearing for Islamic state of Iraq and the Levant (ISIL) militants who attacked Turkish gendarmes in the Central Anatolian province of Niğde, as the case was asked to be moved to another province over "political propaganda" concerns.
The court has demanded the hearing, which was planned to be held on Feb. 9, be moved to another province, citing a notice from the Police Department, which read the case "will be used as a propaganda tool by legal and illegal groups in the June 7 general elections and residents would be provoked rapidly."
This is the second delay of the hearing into the case of 11 suspects in the shooting attack that left three dead and five injured, including a Turkish gendarmerie soldier and a police officer, on March 20, 2014.
The first hearing of the case, which was scheduled for Jan. 12, was delayed to Feb. 9 over several reasons presented by the court.
All of the assailants, including German citizen B.X., Swiss citizen Ç.R. and Macedonian citizen M.Z., are suspected of being members of the al-Qaeda offshoot ISIL.
http://www.hurriyetdailynews.com/political-provocation-worries-delay-isil-attack-case-in-central-anatolian-city.aspx?pageID=238&nID=78051&NewsCatID=509
----------
Hamas video shows group's pain over Egypt's decision to label its military wing terrorists
09 Feb, 2015
Hamas has taken the Egyptian court's decision last week to declare its military wing, Izzadin Kassam, as a terrorist organization, quite personally.
On Saturday, Hamas's official media arm released a video showing just how betrayed they felt.
The movie begins with a soldier standing with an Egyptian flag waving in the background, with a narrator saying: "O Arab." The Egyptian soldier is then shot and the narrator says, "Your wound." Then a soldier appears with a Palestinian flag in the background, who is then shot as the narrator says, "My wound."
"Your wound, my wound, our wound is one," says the narrator as the two injured Arab soldiers grasp each others bleeding hands.
Then an Israeli soldier appears with the Israeli flag in the background: "your enemy, my enemy, our enemy is one," says the narrator as both Arab soldiers shoot bloody holes into the Israeli flag and Israeli soldier.
Full report at:
http://www.jpost.com/Arab-Israeli-Conflict/Hamas-made-an-awful-video-to-show-its-pain-over-Egypts-decision-to-label-its-military-terrorists-390328
------------
Abbas establishes committee to gather complaints to bring to ICC
09 Feb, 2015
Palestinian Authority President Mahmoud Abbas on Saturday issued a "presidential decree" calling for the establishment of a committee to oversee the cases that the Palestinians plan to bring against Israel at the International Criminal Court (ICC).
The 40-member committee, headed by chief PLO negotiator Saeb Erekat, would be formed in cooperation with Palestinian ministries and institutions, including NGO's.
The committee has been entrusted with "preparing files and documents, which the State of Palestine will present to the ICC through a technical committee headed by the Foreign Ministry."
The committee would hold consultations with the ICC and other relevant local and international institutions, as well legal advisors, lawyers and legal firms defending the Palestinians, Abbas's decree stated.
Abbas also decided to allocate a budget for the work of the committee, which will report to him directly.
http://www.jpost.com/Arab-Israeli-Conflict/Abbas-establishes-committee-to-gather-complaints-to-bring-to-ICC-390291
------------
Druse IDF soldier beaten 'for speaking Arabic' after leaving nightclub
09 Feb, 2015
Razzi Houseysa, a soldier serving in the IDF's Golani unit, was attacked on Friday night in a nightclub for "speaking Arabic," he says.
Houseysa, who Druse and is from Daliat el-Carmel, was on a vacation from the army and went on Friday night to the Ultrasound nightclub at Kibbutz Yagur. The party at the nightclub was for soldiers only and entrance was only granted when the soldier presented proof of his service.
After Houseysa left the party, he and his friends went to the parking lot. There, according to him, a group of youth attacked him with rocks and punched him until he lost conciousness. He woke up at Rambam Medical Center in Haifa.
Houseysa's cousin Amir told Maariv Online "his only sin is that he spoke with his friend in Arabic. It cost him a fractured face, surgery and the pain is unbearable," he said. He said Houseysa had not quarreled with anyone at the club and that the party went smoothly and without incident.
His cousin added that the attackers were able to escape.
http://www.jpost.com/Arab-Israeli-Conflict/Druze-IDF-soldier-beaten-for-speaking-Arabic-after-leaving-nightclub-390295
----------
Europe
Prince Charles voices alarm at radicalization
8 February 2015
Britain's Prince Charles said the numbers of vulnerable young Muslims being radicalized by "crazy stuff" on the Internet was "frightening," in an interview to be broadcast Sunday.
The heir to the throne also voiced concern about Christians fleeing the Middle East in droves, saying the situation might end with very few left in the cradle of the religion.
In a BBC radio interview, Charles said radicalization was "one of the greatest worries" and the issue could not be simply "swept under the carpet."
"It's the extent which this is happening is the alarming part," the 66-year-old said.
Speaking of "the values we hold dear," Charles said: "You'd think that the people who have come here, born here, go to school here would abide by those values and outlooks.
"But, the frightening part is that people can be so radicalized either through contact with somebody else or through the Internet and the extraordinary amount of crazy stuff which is on the Internet."
He added: "Some aspect of this radicalization is a search for adventure and excitement at a particular age."
The Prince of Wales said much of his own work with young people in deprived areas had been aimed at finding "constructive paths" for people to channel their energies.
"There are some really interesting examples of how people can be de-radicalized once they become radicalized because I think sometimes they find they are horrified by what it leads to," he said.
Full report at:
http://english.alarabiya.net/en/News/middle-east/2015/02/08/Prince-Charles-voices-alarm-at-radicalization-.html
----------
Poll: Majority Says Japan's Middle East Aid Should Be Non-Military
8 February 2015
A latest poll result showed that 57.9 percent of respondents in Japan think the country's aid for the Middle East countries should be limited to non-military.
The survey, conducted by Japan's Kyodo News Agency on Friday and Saturday, came one week after the Islamic State of Iraq and the Levant (ISIL) terrorist group posted an online video showing it had killed a Japanese hostage, Xinhua reported.
According to the survey, 57.9 percent of respondents believed Japan's support to those countries affected by ISIL violence should be non-military, while 16.6 percent said it should include logistical support to the US-led coalition fighting ISIL.
Some 11.2 percent said Japan should provide financial aid for the coalition's military operations against ISIL militants, with only 2.8 percent supporting Japan's direct involvement in the attacks.
The approval rating for Shinzo Abe's cabinet stood at 54.2 percent, up 1.4 percentage points from the previous survey on Jan 25.
Abe's Liberal Democratic Party was supported by 39.0 percent, down from 39.6 percent in the last survey, while 7.4 percent backed the main opposition Democratic Party of Japan, down from 8.1 percent. A total of 38.2 percent said they do not support any particular party.
Kyodo News polled 1,438 households nationwide by telephone randomly, receiving valid responses from 1,015 people.
http://english.farsnews.com/newstext.aspx?nn=13931119000968
------------
UK Independence Party in pickle over 'shechita,' 'halal'
09 Feb, 2015
LONDON – The United Kingdom Independence Party has got itself into a complete pickle over whether it will seek to ban shechita and halal methods of animal slaughter, a senior Jewish leader told The Jerusalem Post on Thursday.
Earlier this week, the party's National Executive Committee, acting independently of party leader Nigel Farage, unexpectedly decided to demand that in future all animals slaughtered in the UK must be stunned prior to being killed, a procedure forbidden under Jewish laws of shechita and not accepted by many Muslims following the rules of halal.
According to a party source, the change was initiated by one of its members, without consulting the party leadership, who pushed his arguments through, giving other committee members neither the time nor the opportunity to understand the ramifications.
Announcing its policy, the party said: "Animal and veterinary science has long concluded that cutting the throats of animals whilst they are fully conscious can cause significant distress and pain, and we see no reason why religious groups should not take into account the concerns of animal welfare when carrying out slaughter."
Full report at:
http://www.jpost.com/Diaspora/UK-Independence-Party-in-pickle-over-shechita-halal-390203
------------
German Judge: Torching of Synagogue not motivated by anti-Semitism
09 Feb, 2015
BERLIN – A German court in the city of Wuppertal convicted two German Palestinians on Thursday of an arson attack on a Synagogue but denied the crime was motivated by anti-Semitism, prompting Green Party deputy Volker Beck to urge the court to designate the act as anti-Semitic.
The Wuppertal court sentenced the two men, ages 24 and 29, to a suspended prison term of one year and three months. The two men, along with an 18-year-old juvenile, in July tossed Molotov cocktails at the synagogue in Wuppertal, a city in the state of North Rhine-Westphalia with a population of nearly 344,000. The court ordered all three to perform 200 hours of community service.
Beck said on Saturday the "attack on the Synagogue was motivated by anti-Semitism" and blasted the court for issuing a decision stating that the goal of the attack was to bring "attention to the Gaza conflict." Israel, last summer, was involved a 50-day war in the Gaza Strip.
Full report at:
http://www.jpost.com/Diaspora/German-Judge-Torching-of-Synagogue-not-motivated-by-anti-Semitism-390294
------------
UNESCO dismisses reports that Palestinian poster collection nixed due to anti-Semitism
09 Feb, 2015
A collection of Palestinian posters remains under consideration for inscription in UNESCO's Memory of the World Program, a representative for the organization said in dismissal of media reports that the nomination had been dropped for fear that it fueled anti-Semitism.
"The nomination has not been rejected. The nominator is requested to revise it," a representative of the United Nations Educational, Scientific and Cultural Organization said.
"It is absolutely normal for the committee to ask for revisions and improvements of the nominations to make them meet the program's selection criteria," the representative added.
The collection of 1,600 posters, many of which focus on Palestinian armed struggle against Israel, were submitted to UNESCO by American art curator Dan Walsh, and is now part of over 80 nominations of cultural documentary collections under consideration for inscription in the Memory of the World Program in 2015.
Some of the images in Walsh's submission titled, "Liberation Graphics Collection of Palestine Posters," depict pastoral, peaceful scenes. But many others advocate armed resistance as the road to Palestinian independence.
One PLO poster from 1984 states "Zionism = Racism." It shows three blue Stars of David, one of which has blood dripping through it. On the bottom are the words, "Expansion, Oppression, Occupation."
Full report at:
http://www.jpost.com/Arab-Israeli-Conflict/UNESCO-dismisses-reports-Palestinian-poster-collection-nixed-by-anti-Semitism-fears-390208
---------
North America
Kerry, Zarif hold surprise Iran talks in Munich
8 February 2015
Another extension to the deadline for reaching an agreement on Iran's nuclear program is in nobody's interest, although not reaching a deal would not be "the end of the world", Iran's Foreign Minister Mohammad Javad Zarif said on Sunday.
"I don't think if we don't have an agreement it will be the end of the world," Zarif told the Munich Security Conference, where he met U.S. Secretary of State John Kerry and German, Russian and British officials.
"But I do not believe another extension is in the interests of anybody as I did not believe this extension was either necessary or useful," he said, referring to the June 30 deadline for a deal to limit Iran's nuclear program in exchange for lifting sanctions.
Meanwhile, Iranian Supreme Leader Ayatollah Ali Khamenei said on Sunday he would go along with any nuclear deal with the six major powers if it did not go against the interests of his nation.
Full report at:
http://english.alarabiya.net/en/News/middle-east/2015/02/08/Kerry-in-second-round-of-nuclear-talks-with-Iran-FM.html
----------
US consul says "Biji Obama" chants by Kurds in Kobane are important for them
8 February 2015
Commenting on the "Biji Obama" chants by Kurds after the U.S. bombarded Islamic State of Iraq and the Levant (ISIL) targets in Syria's Kobane, U.S. Consul John L. Espinoza said it was important for them to see the support people gave to their fight.
"I cannot speak directly for the White House, but the fight against ISIL is very important for the U.S. We see defeating ISIL as being linked to us. Of course, it is very important for us that people who see our fight support us," said Espinoza, who is the U.S. consul in Turkey's southeastern province of Adana.
Kurdish forces recaptured Kobane, which is located on the Syrian side of the Turkey-Syria border, from ISIL militants on Jan. 26 after fighting for more than four months since the initial attack in September 2014. The air support of the U.S.-led coalition and the Peshmerga forces crossing to Kobane through Turkey were also effective in this victory.
Espinoza said their fight against ISIL would continue and they were discussing ways in which they could better continue the fight against the ISIL threat together with the coalition forces.
"As this threat constantly changes, we don't know how to fight against it tomorrow. Therefore, we need to assess the threat very well and struggle with it accordingly," said Espinoza, adding that in meetings they conducted, they learned the reconstruction of Kobane was very important and they were working on the topic together with the coalition forces and Turkey.
http://www.hurriyetdailynews.com/us-consul-says-biji-obama-chants-by-kurds-in-kobane-are-important-for-them.aspx?pageID=238&nID=78052&NewsCatID=359
----------
US-led coalition squeezing ISIL militants
8 February 2015
An international coalition battling against Islamic militants in Iraq and Syria is beginning to win back territory and deprive the jihadists of key funds, US top diplomat John Kerry said Feb. 8 as he denounced the group's "new level of depravity".
Washington has rallied more than 60 countries in the fight against the Islamic State of Iraq and the Levant (ISIL), and while Kerry told a global security conference it would be a long battle, he said there were signs the strategy was working.
Since August there have been 2,000 air strikes by the coalition, Kerry told the Munich Security Conference, saying it had helped to retake some 700 square kilometres in territory, or "one-fifth of the area they had in their control."
The US secretary of state did not specify whether the regained territory was in Iraq or Syria, but he added the coalition had "deprived the militants of the use of 200 oil and gas facilities ... disrupted their command structure.... squeezed its finance and dispersed its personnel."
"We are forcing them to change tactics," Kerry insisted, pointing to the defeat of ISIL in the Syrian Kurdish town of Kobane.
Full report at:
http://www.hurriyetdailynews.com/us-led-coalition-squeezing-isil-militants-kerry-insists.aspx?pageID=238&nID=78049&NewsCatID=359
----------
URL: https://newageislam.com/islamic-world-news/uae-sends-f-16s-jordan/d/101419