New Age Islam News Bureau
21 Jul 2015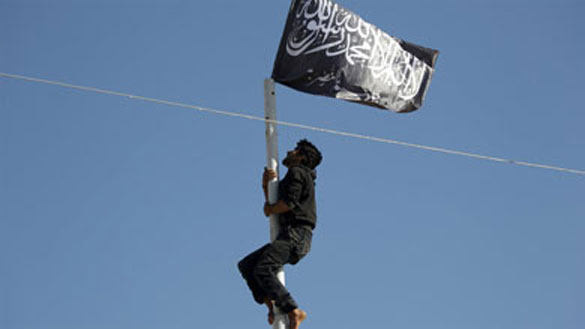 A member of al-Qaeda's Nusra Front climbs a pole where a Nusra flag was raised at a central square in the northwestern city of Ariha. (File photo: AP)
-----------
Arab World
• UAE Imposes Harsh Penalties for 'Religion-Incited Crimes'
• Abu Bakr al-Baghdadi bans gruesome execution videos?
I• slamic State group bans private Wi-Fi access in Raqqa in latest communications diktat
• Six foreign militants killed in Syria airstrike
• ISIS Leader Takes Steps to Ensure Group's Survival
• Syria extremists rain rockets on Shiite villages in Idlib
• Saudi-backed fighters battle to extend gains in Yemen's Aden
• Kurds make gains against ISIS in Syria's Hasakah
• Anti-ISIS coalition intensifies strikes in Syria, Iraq
• Islamic State claims rocket attack on Egypt navy vessel left ablaze after shootout
• Iraq shows off F-16 fighter jets delivered from US in fight against Isil
• GCC secretary-general condemns Iran's 'clear contradictions'
------
Mideast
• Syrian civil war spills into Turkey as suspected ISIL bombing kills 31 in Suruç
• Turkey denies turning blind eye to Islamic State as bombing stokes anger
--------
Africa
• Suspected Boko Haram fighters kill 23 in north Cameroon
• Two killed in suicide bomb in Northern Nigeria
• Violence as Burundi votes with president seeking re-election
• Four Italian construction workers kidnapped in Libya
-----
North America
• US authorities allege Oregon imam assisted radicals in Pakistan, America
• German former ISIS fighter denounces group as un-Islamic
• Iran vow to defy US "very disturbing": Kerry
• Plans of a Muslim cemetery sparks row in Texas town
• U.S., Nigeria will defeat Boko Haram, Obama vows
-------
Europe
• UN Security Council unanimously endorses Iran N-agreement
• New Zealand PM silent on David Cameron's push for airstrikes in Syria
-------
South Asia
• Former Kyrgyz MP held for aiding terrorists
• China holds Uighur who 'planned bomb attack'
• Peace, harmony felt in Xinjiang during Ramzan
-----
Pakistan
• Laying flowers on APS monument fails to bring peace to parents
• Khan of Kalat turns down govt's request to return to Pakistan
• US lauds PM Nawaz's outreach to India, Afghanistan
• UN military observers visit villages hit by Indian shelling
• Five MQM legislators fear coming to Karachi for NA session
• MQM's Qamar Mansoor sent on transit remand in Rangers custody
• Sindh Chief Minister takes up the cudgels for Rangers
• PML-Q asks Altaf Hussain to disown 'militant wing'
--------
India
• Yakub Memon to hang for Mumbai blasts,on July 30 at 7am in Nagpur Jail, Supreme Court rejects plea
• Escalating tensions: Fate of Indo-Pak peace talks hangs in the balance
• Indian corps commander warns 'elements in Pakistan' of 'unexpected damage'
Compiled by New Age Islam News Bureau
URL: https://www.newageislam.com/islamic-world-news/new-age-islam-news-bureau/uae-imposes-harsh-penalties-for-'religion-incited-crimes'/d/103975
------
Arab World
UAE Imposes Harsh Penalties for 'Religion-Incited Crimes'
BY AGENCIES, 21 July, 2015
DUBAI: The United Arab Emirates on Monday announced new legislation imposing harsh sentences, including the death penalty, for crimes related to religious hatred and extremism.
A presidential decree criminalises any act that stirs religious hatred and also prohibits discrimination "on the basis of religion, caste, creed, doctrine, race, colour or ethnic origin".
Offenders risk up to 10 years in prison or the death penalty if convicted of "takfirism" or Sunni Muslim extremism, according to the text of the decree distributed by the official WAM news agency.
Proponents of such ideology adopted by al Qaeda and other radical groups describe as infidels non-Muslims as well as Muslims who do not share their beliefs.
The oil-rich Gulf state last year brought in strict new legislation and listed 83 groups classified as "terrorist", including the Muslim Brotherhood.
UAE warplanes are taking part in the US-led international coalition waging a campaign of air raids against the Islamic State group in Syria and Iraq.
http://www.pakistantoday.com.pk/2015/07/21/foreign/uae-imposes-harsh-penalties-for-religion-incited-crimes/
--------
Abu Bakr Al-Baghdadi Bans Gruesome Execution Videos?
July 21, 2015
Zee Media Bureau
Baghdad: Islamic State leader Abu Bakr al-Baghdadi has issued a decree banning the gruesome execution videos by the group.
The barbaric propaganda execution videos have been banned by their leader as they can offend the youngsters, according to a report in the Daily Express.
The Islamic State will now reportedly show only the beginning and the end of the execution video.
Baghdadi's decree reveals a change in the tactics of the group whose gruesome execution propaganda videos have become synonymous with the Islamic State which even shows children beheading the victims.
Several videos have been released by the Islamic State since it took over large swathes of Syria and Iraq last year which shows different forms of executions including beheading, setting a Jordanian pilot on fire, drowning and killing prisoners locked in a car with a rocket launcher.
In one such shocking video, a young boy is seen decapitating a captive and then placing his head on the body.
http://zeenews.india.com/news/world/islamic-state-leader-abu-bakr-al-baghdadi-bans-gruesome-execution-videos_1633448.html
--------
Islamic State group bans private Wi-Fi access in Raqqa in latest communications diktat
By Louisa Loveluck
20 Jul 2015
The Islamic State of Iraq and the Levant (Isil) has banned private Internet use inside the Syrian city of Raqqa, forcing fighters to use public Internet cafés which can be monitored.
The extremist group distributed a leaflet in the city last week warning Internet providers that they had four days to cut off private Wi-Fi connections.
The document was published online on Sunday by a group of media activists known as Raqqa is Being Slaughtered Silently (RBSS). Its authenticity was later confirmed by a source with contacts inside the city.
"The following is obligatory on all Internet providers: the removal of Wi-Fi connections distributed outside of Internet cafés and private connections, including for Islamic State soldiers," the leaflet read.
After overrunning large swathes of Syria and Iraq last year, Isil is consolidating its brutal rule over between four and six million people. The group has tried to establish a monopoly over how life inside its territory is portrayed.
The ban on private Wi-Fi is the latest in a number of restrictions on communications that reflect Isil's growing concern about how information is released. It will also affect anti-Isil activists and potential defectors.
Activists regularly risk their lives to smuggle out news of the extremist group's atrocities, posting copies of the latest Islamic diktats online, as well as publishing regular updates about the US-led coalition air strikes that strafe the city.
These activists now face intense pressure. In recent months, Isil militants have arrested dozens of residents deemed sympathetic to RBSS or Eye on the Homeland, another media collective.
In some cases, the act of following one of the groups on social media is believed to have constituted reason enough for arrest.
In a chilling video released earlier this month, Isil militants executed two young men who had allegedly worked with RBSS. In the film's closing seconds, the face of the father of RBSS founder Hamoud al-Mousa flashed across the screen. Mohamed Mousa was killed by Isil in mid-June after 77 days in captivity.
The new restrictions are also understood to be aimed at disillusioned Isil militants who attempt to contact relatives back at home. Reports suggest that a growing number of foreign fighters are expressing discomfort at aspects of their life inside Isil's brutal army, even as new recruits continue to arrive from around the world.
Isil fighters have also been instructed to be more judicious in their social media postings. In an entry to his Tumblr account earlier this year, a Turkish-Dutch jihadist who goes by the alias Chechclear told followers that security concerns were preventing Isil fighters posting more photographs online.
"We have a media department for that and the last thing you want in (Isil) is taking pictures of everything," he wrote. "With drones in the skies and spies on the ground it would only raise suspicion."
In an attempt to counter Isil's propaganda, coalition pilots showered leaflets from the sky over the weekend with a message for those below.
They carried drawings of western backed Kurdish and Syrian rebel fighters walking through the streets with a single message at their feet: "Freedom will come," it read.
Other leaflet drops have included an image of a black-clad Isil fighter, sandwiched between the hands of a ticking clock. "You will lose your war," it said in colloquial Levantine Arabic. "It is time for your destruction, and zero hour draws very close."
In May, RBSS reported that Isil had imposed a curfew in order to prevent the messages being read by local residents.
Inside Raqqa, the extremist group's strict behavioral codes are plastered across billboards and printed on the back of trucks which cruise the streets. Male and female units of religious police are also on the prowl, doling out harsh punishments to residents deemed to be in breach of the extremist group's sharia-inspired rule.
http://www.telegraph.co.uk/news/worldnews/middleeast/syria/11750850/Isil-bans-private-Internet-access-in-Syrias-Raqqa.html
-------
Six foreign militants killed in Syria airstrike
By Staff writer | Al Arabiya News
Monday, 20 July 2015
A senior Tunisian member of the Islamic State of Iraq and Syria (ISIS) was alongside five other foreign militants were killed in an air strike near the northeastern city of Hasakah, the Syrian Observatory for Human Rights reported on Monday.
The Observatory, which gathers its information from an activist network on the ground, said the fighter jets hit a car carrying the foreign militants in a location near a village called Faouj al-Maylabeih in the southern countryside of the city, according to Reuters news agency.
The monitor said it was not clear whether the air strike in Hassakah province was carried out by the Syrian army or a U.S.-led coalition that is mounting a separate aerial campaign against ISIS in Syria.
The United States said earlier this month it had intensified an aerial campaign against ISIS in Syria.
Meanwhile, the Syrian army and militia fighting alongside it are mounting a separate campaign against ISIS in the region that borders Turkey to the north and Iraq to the east.
The ultra-hardline ISIS is fighting in Hassakah province against both pro-government forces and Syrian Kurdish fighters who have received air support from the U.S.-led coalition.
https://english.alarabiya.net/en/News/middle-east/2015/07/20/Six-foreign-militants-killed-in-Syria-airstrike-.html
--------
ISIS Leader Takes Steps to Ensure Group's Survival
By ERIC SCHMITT and BEN HUBBARD
JULY 20, 2015
WASHINGTON — The Islamic State's reclusive leader has empowered his inner circle of deputies as well as regional commanders in Syria and Iraq with wide-ranging authority, a plan to ensure that if he or other top figures are killed, the organization will quickly adapt and continue fighting, American and Iraqi intelligence officials say.
The officials say the leader, Abu Bakr al-Baghdadi, delegates authority to his cabinet, or shura council, which includes ministers of war, finance, religious affairs and others.
The Islamic State's leadership under Mr. Baghdadi has drawn mainly from two pools: veterans of Al Qaeda in Iraq who survived the insurgency against American forces with battle-tested militant skills, and former Baathist officers under Saddam Hussein with expertise in organization, intelligence and internal security. It is the merger of these two skill sets that has made the organization such a potent force, the officials say.
But equally important to the group's flexibility has been the power given to Islamic State military commanders, who receive general operating guidelines but have significant autonomy to run their own operations in Iraq and Syria, according to American and Kurdish officials. This means that fighters have limited information about the inner workings of the Islamic State to give up if captured, and that local commanders can be killed and replaced without disrupting the wider organization. Within this hierarchy, Iraqis still hold the top positions, while Tunisians and Saudis hold many religious posts.
The Iraqi government announced on Monday that it was beginning a major military operation to retake Anbar Province from the Islamic State.
Much of a new understanding about the leadership of the Islamic State, also known as ISIS or ISIL, has come from information about the organization's financial operations, recruiting methods and security measures found in materials seized during an American commando raid in May in eastern Syria. United States officials said gathering more insight on the Islamic State's shadowy leadership structure was a top priority.
Full Report at:
http://www.nytimes.com/2015/07/21/world/middleeast/isis-strategies-include-lines-of-succession-and-deadly-ring-tones.html?ref=world
-------
Syria extremists rain rockets on Shiite villages in Idlib
By AFP | Beirut
Tuesday, 21 July 2015
Syrian extremists, including al-Qaeda-affiliated fighters, have fired hundreds of rockets and mortar shells on two besieged Shiite-majority villages in the northwestern province of Idlib, a monitor said Tuesday.
At least seven people were reported killed in the shelling by the Army of Conquest alliance on the regime-held villages of Fua'a and Kafrayya on Monday and Tuesday, the Syrian Observatory for Human Rights said.
It was unclear if the victims were civilians or government troops, the Britain-based monitor said.
Hundreds more were wounded in the bombardment.
Fighting continued around the two villages on Tuesday, with opposition forces including Al-Qaeda affiliate Al-Nusra Front battling regime forces and fighters from Lebanon's Shiite Hezbollah movement.
Al-Nusra, like many of Syria's extremist groups, considers Shiite Muslims to be heretical.
The escalating clashes prompted concern in Damascus, where pro-regime militiamen and their families from the two villages held demonstrations asking to be sent there to defend them.
Most of Idlib province, including its provincial capital, is now held by fighters from the Army of Conquest and other extremist groups after a sweeping offensive earlier this year.
Fua'a and Kafrayya are among the few remaining outposts of regime control in the province, and are now completely besieged.
The Army of Conquest began an attack against the villages on July 15, saying it was retaliation for a regime offensive on Zabadani, the last extremist-held bastion along Syria's border with Lebanon, earlier this month.
It said the attack would "give you a taste in the north of what our people are tasting in Zabadani".
https://english.alarabiya.net/en/News/middle-east/2015/07/21/Syria-extremists-rain-rockets-on-Shiite-villages-in-Idlib.html
-------
Saudi-backed fighters battle to extend gains in Yemen's Aden
July 21, 2015
ADEN, Yemen (Reuters) - Yemeni fighters backed by Saudi-led air strikes battled to take back northern suburbs of Aden from Houthi opponents on Tuesday, residents said, a day after completing their capture of the centre of the strategic port city.
The country's dominant Houthi militia and its army allies traded artillery fire with Saudi-backed forces in the Dar Saad and al Alam areas, as Arab warplanes bombed the Iran-allied group.
Assisted by the air strikes, local anti-Houthi forces broke months of stalemate in Aden last week by suddenly seizing the airport and then driving the Houthis out of their last redoubt in the west of the city.
Saudi Arabia intervened in Yemen's war on March 26 in an effort to stop Houthi forces taking Aden, the last city nominally controlled by exiled President Abd-Rabbu Mansour Hadi's government. Riyadh says it wants to restore Hadi to power in the capital Sanaa, which the Houthis seized in September.
Almost four months of air raids and civil war have killed over 3,500 people in Yemen and deepened suffering in the already impoverished nation, especially in Aden which has seen heavy combat.
A Houthi artillery barrage killed 43 people and wounded 173 on Sunday in the Dar Saad district, underscoring the fragile grip of the anti-Houthi forces.
"We're in an operation to complete the extension of our control over the city of Aden and to confront the Houthi presence at its entrances," a leader in a local militia told Reuters by phone.
Hadi's administration and the Arab military alliance are seeking to secure the city and make it a base from which to challenge Houthi control over most of the rest of Yemen.
The president appointed a new governor for the city on Monday and sources among the local fighters said a technical team from the United Arab Emirates had arrived to repair the city's battle-damaged international airport.
Officials in the anti-Houthi forces say their offensive had been planned for weeks and benefited from training and arms deliveries from Saudi Arabia and the UAE.
The Emirates' official news agency WAM said on Tuesday that an officer from the country had been "martyred" in the service of the Arab campaign, but did not specify where.
The death of another UAE soldier was announced last week, and anti-Houthi militia sources said he died in Aden while advising the local fighters.
(Reporting By Mohammed Mukhashaf and Sandy Azmy; Writing by Noah Browning and William Maclean; Editing by Raissa Kasolowsky)
http://www.thestar.com.my/News/World/2015/07/21/Saudibacked-fighters-battle-to-extend-gains-in-Yemens-Aden/
-------
Kurds make gains against ISIS in Syria's Hasakah
By Tom Perry | Reuters
Monday, 20 July 2015
A Syrian Kurdish militia said on Monday it was in near full control of the northeastern city of Hasakah, expanding its sway at the expense of the Damascus government in the wake of an Islamic State of Iraq and Syria (ISIS) attack in the area.
Full control of Hasakah - which was split between the Kurds and Damascus until last month - would be a major gain for the autonomous Kurdish administration that is fighting ISIS in Syria in partnership with Washington.
ISIS launched a major attack on the city on June 25, focusing initially on government-held southern Hasakah.
The ensuing battle drew in the YPG, which held northern Hasakah, resulting in the U.S.-backed Kurds fighting ISIS in close proximity to government forces shunned by Washington.
YPG spokesman Redur Xelil said the city's defense was now entirely in his group's hands.
"The regime has collapsed. It could not protect the city and its continuation has become symbolic in limited positions only," he told Reuters.
The statement was at odds with state media reports indicating a strong performance by the Syrian army in the battle for Hasaka. State TV on Monday said the army had made progress against ISIS to the southeast of the city, encircling its fighters and killing a large number of them.
The YPG's Xelil said his group had deployed in the southern outskirts of Hasaka, meaning it controlled all routes in and out of the city and had encircled ISIS fighters inside.
The Syrian Observatory for Human Rights, a UK-based group that reports on the war using sources on the ground, echoed that assessment, saying the YPG had besieged ISIS forces from the south and were positioned to advance into the city.
Xelil said the YPG had also taken areas from Islamic State within the city itself in the last two days. The advances were ongoing. While the YPG held half the city before the ISIS attack, it now held "the overwhelming majority", he said.
Outposts
With the Syrian government seeking to shore up its control over the main population centers of western Syria, including Damascus, Hasaka city is one of five outlying areas where Assad has sought to preserve control in recent fighting.
Hasakah is the capital of surrounding province by the same name. Assad has lost control of two other provincial capitals - Raqqa and Idlib. The army and allied militia are fighting two rebel offensives aimed at capturing two more: Aleppo and Deraa.
The YPG and the Syrian government have mostly coexisted in predominantly Kurdish areas of Syria where a Kurdish administration has emerged since the uprising against Assad erupted in 2011.
The sides still share control of the city of Qamishli to the north of Hasaka, where the government controls an airport, though tensions have flared in the last few months. The YPG has denied claims it cooperates with government forces.
Hasakah is important in the fight against ISIS because it borders territory held by the group in Iraq.
Growing Kurdish sway in northern Syria has alarmed neighboring Turkey, which is worried about separatist sentiment among its own Kurdish minority.
The YPG, backed by U.S.-led air strikes, has seized wide areas of territory from ISIS this year, including the town of Tel Abyad at the border with Turkey.
Rami Abdulrahman, who runs the Observatory, said the YPG was advancing at the expense of the government and Islamic State in Hasaka, where he said the military's role was restricted to aerial bombardment and long-range artillery attacks: "The coming attack (against Islamic State in Hasaka) will be by the YPG."
Hasaka city was one of two areas where the YPG says ISIS used poison gas against YPG-held areas in late June.
https://english.alarabiya.net/en/News/middle-east/2015/07/20/Syria-Kurds-say-in-near-complete-control-of-Hasaka-city.html
-------
Anti-ISIS coalition intensifies strikes in Syria, Iraq
By Staff writer | Al Arabiya News
Tuesday, 21 July 2015
The United States and its allies targeted Islamic State of Iraq and Syria (ISIS) militants with nine air strikes in Syria and 14 in Iraq on Sunday, the U.S. military said on Monday.
In Syria, the strikes hit tactical units and fighting positions near Aleppo, Hasakah and Kobane, and minefields near Raqqa, the Combined Joint Task Force said in a statement.
U.S. President Barack Obama said last week the coalition was intensifying its campaign in northern Syria.
In Iraq, the air strikes destroyed tactical units, vehicles and fighting positions near eight cities, including Mosul, Fallujah and Ramadi, it added.
The strikes began in Iraq in August 2014, after ISIS captured Mosul and launched an offensive that seized areas of the country's western desert, threatening to approach Baghdad.
The campaign was later extended to Syria after President Barack Obama vowed to "degrade and ultimately destroy" the ISIS threat through strikes and increased support for Iraqi and Kurdish forces.
Coalition nations conducting airstrikes in Iraq include the U.S., Australia, Belgium, Canada, Denmark, France, the Netherlands, and the United Kingdom.
Coalition nations conducting airstrikes in Syria include the U.S., Bahrain, Jordan, Saudi Arabia, and the United Arab Emirates.
https://english.alarabiya.net/en/News/middle-east/2015/07/21/U-S-allies-target-ISIS-with-23-strikes-in-Syria-and-Iraq.html
--------
Islamic State claims rocket attack on Egypt navy vessel left ablaze after shootout
Richard Spencer By Richard Spencer, Middle East Editor
16 Jul 2015
Islamic State jihadists broke new ground by hitting an Egyptian warship in the Mediterranean Sea with a missile fired from shore in the northern Sinai peninsula.
The rocket could be clearly seen in photographs posted online by "Wilayat Sinai" or Sinai Province, the group's branch in the region, heading towards the coastal patrol vessel at near the Egyptian border with Gaza and setting it on fire.
It explodes with a flash that envelopes the boat, and leaves smoke pouring out. The navy patrol ship's crew along with two support boats were still attempting to put the flames out three hours later, before it was finally towed away.
The attack was also witnessed from the shore in Gaza, and led to an exchange of gunfire.
"The launch crew suspected the movements of some terrorist elements on the coast, so it chased them and exchanged gunfire, which led to the launch catching fire without loss of life," a statement by the military spokesman on his Facebook page said.
A small-scale insurgency by an al-Qaeda branch called Ansar Beit al-Maqdis has spiralled out of control since the army seized power in Egypt from the Muslim Brotherhood two years ago.
A hardline response, featuring the mass demolition of houses along the Gaza border and the targeting of villages known to be hide-outs of the insurgents has only drawn more recruits to the cause, and there are now regular attacks on military bases and convoys.
Most of the group declared allegiance to Islamic State of Iraq and the Levant last November. Around the same time, militants on board one or more fishing boats attacked another Egyptian patrol vessel, killing a number of crew.
This latest attack demonstrates the potential dangers of the group to vessels - not least in the Suez Canal, one of the world's most important shipping routes.
A rocket-propelled grenade attack on a Chinese cargo ship passing through the canal two years ago hit home but caused little damage. Thursday's attack suggests the group now has access to a more high-powered arsenal - most likely from the spread of arms from neighbouring Libya, bought with money provided by Isil.
The lack of loss of life will be a relief to the army, which has lost hundreds of men to the insurgency.
Earlier this month, Wilayat Sinai launched a major, multi-pronged attack on the police station in Sheikh Zuweid, the town at the heart of northern Sinai, along with a string of army checkpoints.
In gun battles that raged all morning, at least 21 soldiers were killed, the army later having to order journalists not to report claims in local media of much higher death counts.
Egypt's chief prosecutor was also killed in a bomb attack in the heart of Cairo last month.
http://www.telegraph.co.uk/news/worldnews/africaandindianocean/egypt/11744291/Egyptian-navy-vessel-ablaze-after-shootout-with-Sinai-militants.html
------
Iraq shows off F-16 fighter jets delivered from US in fight against Isil
By Telegraph 20 Jul 2015
The Iraq Air Force on Monday showed off the first four F-16 warplanes it has purchased from the US, at the Iraq Air Force's Balad base, north of Baghdad.
The F-16s are part of a squadron of 36 purchased by the government, which were delivered to Iraq the week before.
Iraq's new F-16 (APTN)
Today, the jets were paraded on the tarmac as part of a handover attended by Iraqi Prime Minister Haider al-Abadi, Minister of Defence Khalid al-Obeidi and Stuart Jones, the US Ambassador.
"These aircraft will give Iraqi security forces tremendous new capability to fight Daesh (Islamic State) and to defeat Daesh and to expel Daesh from Iraq," said Ambassador Jones.
"These F-16s now belong to the Iraqi security forces, to the Iraqi Air Force, and the air force is going to use them as they deem appropriate. These are first four and there are 32 more F-16s coming online."
Iraqi Defence Minister Khaled al-Obeidi speaks with the US ambassador to Iraq Stuart Jones (Reuters)
Iraq ordered 36 of the $65 million (£42m) Lockheed Martin Corp planes, but initial deliveries were delayed because of security concerns after Islamic State militants overran large areas of of the country last year, reported Reuters.
The new jets will boost Iraq's air force, which currently depends on several Russian-made secondhand Sukhoi jets.
Last week, a Sukhoi accidentally dropped a bomb over a Baghdad neighbourhood and killed at least 12 people.
http://www.telegraph.co.uk/news/worldnews/middleeast/iraq/11751549/Iraq-shows-off-F-16-fighter-jets-delivered-from-US-in-fight-against-Isil.html
--------
GCC secretary-general condemns Iran's 'clear contradictions'
By Staff writer | Al Arabiya News
Tuesday, 21 July 2015
The Secretary-General of the Gulf Cooperation Council (GCC), Abdel Latif al-Zayani, has expressed his surprise at the "clear contradiction" evident in the position of Iran's Supreme Leader and that of its President regarding the country's relationship with Arab states, the Saudi Press Agency reported Monday.
On Saturday, Iran's Supreme Leader, Ali Khamenei, said after the signing of a historic nuclear agreement with world powers that the deal does not imply any wider shift in Tehran's policies in the Middle East.
Iran's pragmatist President, Hassan Rouhani, struck a more conciliatory note than Khamenei on Saturday. Following a phone call with the ruler of the Gulf Arab state of Qatar on Saturday, Rouhani said the nuclear agreement would improve Iran's relations with its neighbors.
"No doubt, a deal will lead Iran to closer relations w/ neighbors, esp Qatar," Rouhani said on Twitter.
Abdel Latif al-Zayani said that Khamenei's statements are not helping "to build confidence" that would improve "cooperative relations based on the principles of good neighborliness and non-interference in [other country's] internal affairs."
Al-Zayani described the statements as an "unacceptable interference that is against international conventions."
He added that all GCC countries "will continue to protect their own interests" and that they will maintain their "positions" to ensure "stability and security in the region."
Under the landmark agreement reached last week, sanctions will be gradually removed in return for Iran accepting long-term curbs on a nuclear program that the West suspected of creating a nuclear bomb. Iran always denied it aimed to produce nuclear bombs.
https://english.alarabiya.net/en/News/middle-east/2015/07/21/GCC-secretary-general-condemns-Iran-s-clear-contradictions-.html
------
Mideast
Syrian civil war spills into Turkey as suspected ISIL bombing kills 31 in Suruç
July 20, 2015
TODAY'S ZAMAN WITH WIRES / ISTANBUL
An explosion on Monday outside a cultural center in the southeastern Turkish town of Suruç, which is near the country's border with Syria, killed at least 31 people and wounded more than 100, in what may have been a suicide bomb attack by Islamic State in Iraq and the Levant (ISIL) militants.
The explosion occurred at around 11:50 a.m. in front of the Amara Culture Center while a large number of Socialist Youth Association (SGDF) members, who came from İstanbul, Ankara, İzmir and Diyarbakır, were making a press statement regarding the reconstruction of the Syrian border town of Kobani. Turkish media reports said 300 people from the SGDF were preparing to travel to Kobani to help with the rebuilding.
An explosion has killed at least 28 people and injured scores in the southeastern Turkish city of Suruc near the Syrian border.
Video footage showed the blast coming from just behind the students as they gathered behind a banner declaring support for Kobani. (Photo: DHA)
There was no immediate claim of responsibility for the midday blast. Initial reports had said the explosion was a suicide attack and the bomber was reportedly a member of ISIL, and Turkish officials speaking to Reuters also said preliminary evidence suggested an ISIL suicide attack caused the blast. The Turkish newspaper Hürriyet's website, citing official sources, said the attack is suspected to have been perpetrated by a 18-year-old female ISIL supporter.
Interim Prime Minister Ahmet Davutoğlu also said initial findings suggest that ISIL is behind the attack. Initial findings point to a suicide bomb attack and Daesh [another name for ISIL]," Davutoğlu told a press conference on Monday.
"This is a terrorist attack by a suicide bomber. The target of this attack is Turkey," he said. Davutoğlu also called on all political parties to adopt a joint stance in the face of this attack. "I also want to make a call to our nation. Maintain your common sense," he added.
"We have convened with security officials and planned the steps that we will be taking," Davutoglu continued.
"Measures on our border with Syria will continue, and will be increased," he said.
The death toll was 31 as of Monday evening, according to Deputy Prime Minister Numan Kurtulmuş. A statement from the Interior Ministry said more than 100 people were injured and that the death toll may increase.
"We confirmed that it was a suicide bomber. ... However, whether the suicide bomber was an 18-year-old, how old the bomber is -- our teams and security forces have been working to find out. As the incident is so fresh, we don't have information about the identity of the bomber. Crime scene investigation teams and a large number of members of the security forces have been conducting an investigation to produce a result. We will share that information with the public when it comes," Küçük said.
President Recep Tayyip Erdoğan, who was in the Turkish Republic of Northern Cyprus (KKTC) to attend a ceremony marking the 41st anniversary of the 1974 Turkish military intervention, which is called Peace and Freedom Day on the island, called Turkish authorities to get information on the attack.
Speaking during a joint press conference in the KKTC, Erdoğan condemned those behind the terrorist attack in southeastern Turkey.
"Terror has no religion, no ethnicity, no nationality, no country. We always stated that an international struggle should be taken up against terrorism, we continue to express this," Erdoğan said in his remarks, which were broadcast live.
The Turkish media, citing Social Services Laborers Union (SES) Şanlıurfa branch official Dilşad Doğan, reported that the death toll was as high as 31 and that 35 people were seriously wounded in the incident.
An explosion has killed at least 28 people and injured scores in the southeastern Turkish city of Suruc near the Syrian border.
Television footage showed bodies lying beneath trees outside the building in the mostly Kurdish town of Suruç in southeastern Turkey, which lies some 10 kilometers (6.2 miles) from the Syrian border. Video footage showed the blast coming from just behind the students as they gathered behind a banner declaring support for Kobani. "We defended it together and we will rebuild it together", read one of the group's banners at the scene.
"I was behind a banner so I couldn't see the attacker, but we understand it was a suicide attack. I was thrown to the ground but I did not faint. I jumped up and began running before I even realized I was hurt," Edemen, a 22-year-old journalism student at Ankara University, said by telephone.
The blast also shattered the windows of nearby buildings. Police and ambulances were dispatched to the scene after the incident. Wounded people were taken to the Suruç State Hospital, while those in critical condition were sent to other hospitals in the Şanlıurfa city center.
"I saw more than 20 bodies. I think the number of wounded is more than 50. They are still being put into ambulances," one witness told Reuters by telephone, giving his name as Mehmet. "It was a huge explosion, we all shook."
Pervin Buldan, a senior lawmaker from the pro-Kurdish Peoples' Democratic Party (HDP) , said the blast happened as Turkish and Kurdish youths gathered at the cultural center ahead of a planned trip to the town of Kobani in Syria, which was finally secured by Syrian Kurdish fighters last month after a prolonged assault by ISIL militants.
An explosion has killed at least 28 people and injured scores in the southeastern Turkish city of Suruc near the Syrian border.
"Turkish and Kurdish youth had come to cross into Kobani, and there were three or four days of activities planned," she told Reuters, adding that HDP lawmakers were on their way to the scene.
A video posted on Facebook by one of the group of youth activists showed at least 20 people lying on the ground, some still alive. People milled about trying to comfort the wounded as others cried out. Smoke and dust rose from the ground.
Davutoğlu also asked Deputy Prime Minister Numan Kurtulmuş, Interior Minister Sebahattin Öztürk and Labor and Social Security Minister Faruk Çelik to go to the scene of the incident. The Republican People's Party (CHP) also sent a delegation to the town.
In a written statement released on the Peoples' Democratic Party (HDP) website, the party's Co-chairpersons Figen Yüksekdağ and Selahattin Demirtaş appeared to hold the Turkish government responsible for Monday's attack.
"All countries and regimes that ISIL and ISIL-like offensive troops take support from are partners in this brutality. Those who remain silent against ISIL, who don't dare to raise their voice, the authorities in Ankara who caress ISIL's head while uttering treats against the HDP are collaborators and accomplices in this," the statement declared.
The HDP leaders also called on Turkey's interim government to account for bombers walking freely on the streets of Suruç.
"The current government is responsible for the every intelligence and security gap," the HDP leaders stated.
Suruç is just across the border from Kobani, which was the scene of fierce battles between Kurdish groups and ISIL. Kobani was the ISIL group's largest defeat last year ever since the militants established control over large swathes of Iraq and Syria. The city has become a symbol of Kurdish resistance.
A second bomb went off Monday south of Kobani near a Kurdish militia checkpoint on the road to Syria's largest city, Aleppo, according to Idriss Naasan, a Kurdish official in Kobani. It caused minor damage and no casualties, he said.
The explosion comes weeks after Turkey deployed additional troops and equipment along parts of its border with Syria, concerned about the risk of spillover as fighting between Kurdish forces, Syrian rebel groups and government troops and the ISIL militants intensifies.
Turkey's leaders have said they do not plan any unilateral military incursion into Syria, but have also said they will do whatever is necessary to defend the country's borders.
Ankara fears any disorder in the border area could re-ignite an armed Kurdish separatist rebellion by the Kurdistan Workers Party (PKK) that has killed some 40,000 since 1984.
Turkey's Kurds have been enraged by what they see as Ankara's failure to do more to stop ISIL. The PKK has declared that it holds the government as responsible for Monday's attack, saying it had "supported and cultivated" ISIL against the Kurds.
http://www.todayszaman.com/national_syrian-civil-war-spills-into-turkey-as-suspected-isil-bombing-kills-31-in-suruc_394051.html
------
Turkey denies turning blind eye to Islamic State as bombing stokes anger
Tuesday, 21 July 2015
Agency: Reuters
Prime Minister Ahmet Davutoglu rejected accusations Turkey had in the past tacitly supported Islamic State militants operating from Syria and unwittingly opened the door to a suicide bombing that killed at least 32 people.
The blast on Monday tore through a group of university-aged students from an activist group as they gathered in the border town of Suruc ahead of a planned trip to help rebuild the nearby Syrian Kurdish town of Kobani.
Kobani has come under repeated assault from Islamic State and been a rallying point for Turkey's Kurdish minority, who have been enraged by what they see as the refusal of President Tayyip Erdogan and the ruling AK Party to intervene in a conflict played out within clear sight of Turkish military positions.
Thousands of foreign fighters have crossed through Turkey to join Islamic State over the past few years, fuelling accusations from the government's opponents that it is turning a blind eye. The United States and other Western allies have also urged Turkey, a NATO member which shares a 900 km (560-mile) border with Syria, to do more to tighten security on the frontier.
"Turkey and AK Party governments have never had any direct or indirect links with any terrorist group and have never showed tolerance to any terrorist group," Davutoglu told reporters in Sanliurfa province, where Suruc is located.
Authorities have carried out a string of raids in recent weeks to arrest Islamic State suspects. They have also blocked more than half a dozen Islamist news websites, prompting one group claiming allegiance to Islamic State to accuse Turkey of persecuting Muslims and declare: "Muslims might retaliate."
Anger among Kurds and their sympathisers has boiled over since the Suruc attack. The Kurdistan Workers Party (PKK) militant group, which has waged a three-decade insurgency against the Turkish state, said the AKP bore responsibility for the bombing, accusing it of backing Islamic State against Syria's Kurds.
In Istanbul, police fired tear gas and water cannon late on Monday at protesters chanting "Murderer Islamic State, collaborator Erdogan and AKP." At a similar protest in the southern port city of Mersin an attacker opened fire, wounding two people, local media said.
"INHUMANE AND BARBAROUS"
Pro-government media accused the Peoples' Democratic Party (HDP), which draws most of its support from Kurds, of seeking to exploit the Suruc attack by provoking Kurds to take up arms, an accusation its leader Selahattin Demirtas denied.
He told reporters it was "shameful" that his call to tighten security at HDP buildings after the "inhumane and barbarous massacre" had been portrayed as a "call to arms". "No matter how much they attack, without fuelling hatred and anger against each other, we will cultivate brotherhood and live in peace in this country," Demirtas said ahead of a party meeting in the capital Ankara.
There was a flurry of attacks overnight by Kurdish militants, although there was no immediate evidence they were linked to the bombing. The Turkish armed forces reported two attacks against its soldiers in the east on Monday night. In Igdir province, PKK militants closed a highway and opened fire on security forces, while in the town of Cizre, masked attackers threw homemade explosives at a barracks and opened fire with rifles.
Separately, gunmen opened fire on a police station in the Sultangazi district of Istanbul early on Tuesday. Nobody was hurt and it was not clear whether there was link to Suruc, although the pro-government Yeni Safak newspaper said a leftist group sympathetic to Kurds had claimed responsibility.
The identity of the Suruc bomber has not yet been revealed but some media reports said a man from the south-eastern province of Adiyaman was a prime suspect. Davutoglu said a suspect had been identified and his links were being investigated.
http://www.dnaindia.com/world/report-turkey-denies-turning-blind-eye-to-islamic-state-as-bombing-stokes-anger-2106672
------
Africa
Suspected Boko Haram fighters kill 23 in north Cameroon
Yaounde, Cameroon, AP
Tuesday, 21 July 2015
Residents of a village in the northern tip of Cameroon say suspected Boko Haram militants killed more than 20 people including multiple children in an attack Sunday night.
Pastor Edward Ngosu, a Nigerian missionary based in Kamouna village, said Monday there were only seven Cameroonian soldiers stationed in the village when more than 80 attackers arrived. He said all the soldiers could do was shoot in the air to try to scare off the attackers, who killed 23 people.
Nigeria-based Boko Haram, which this year became the West African franchise of the Islamic State of Iraq and Syria (ISIS) group, has targeted northern Cameroon repeatedly in retaliation for the country's participation in a regional military effort against the extremists.
https://english.alarabiya.net/en/News/africa/2015/07/21/Suspected-Boko-Haram-fighters-kill-23-in-north-Cameroon.html
-----
Two killed in suicide bomb in Northern Nigeria
Reuters | Jul 20, 2015
BAUCHI, Nigeria: At least two people were killed on Monday after a car suicide bomb detonated at a checkpoint on the outskirts of Damaturu, capital of Yobe state in northern Nigeria, witnesses and a hospital source said.
The checkpoint is along a major highway that connects the city with Borno state capital Maiduguri. The road and villages along it are frequently hit by bombs or raids by suspected members of Islamist jihadi group Boko Haram.
http://timesofindia.indiatimes.com/world/rest-of-world/Two-killed-in-suicide-bomb-in-Northern-Nigeria/articleshow/48146763.cms
-------
Violence as Burundi votes with president seeking re-election
By Agencies, 21 Jul 2015
Blasts and gunfire overnight marred Burundi's presidential election on Tuesday, which the opposition said it would boycott after President Pierre Nkurunziza sparked a crisis by seeking a third term in office.
At least two people – a policeman and a civilian – were killed in a string of explosions and gunfire overnight, with blasts and shootings heard as polls opened shortly after dawn in the capital Bujumbura, the epicentre of three months of anti-government protests.
Willy Nyamitwe, Nkurunziza's chief communications adviser, condemned the attacks as "terrorist acts" aimed at "intimidating voters".
President Pierre Nkurunziza is facing no serious competition during the election (Reuters)
Opposition and civil society groups have denounced Nkurunziza's candidacy as unconstitutional and a violation of a peace deal that ended a dozen years of civil war and ethnic massacres in 2006.
Around 3.8 million Burundians are eligible to vote between 06:00 (0400 GMT) and 16:00 (1300 GMT).
UN Secretary General Ban Ki-moon urged calm, calling on all sides to "refrain from any acts of violence that could compromise the stability of Burundi and the region."
Critics fear a win by the incumbent will be a hollow victory, leaving him ruling over a deeply divided nation.
"Despite a facade of pluralism, this is an election with only one candidate, where Burundians already know the outcome," said Thierry Vircoulon from the International Crisis Group, a think-tank that has warned the situation has all the ingredients to kick-start renewed civil war.
With the elections denounced by the opposition as a sham, the 51-year-old president – a former rebel, born-again Christian and football fanatic – is facing no serious competition.
Anti-Nkurunziza protests have been violently repressed, leaving at least 100 dead since late April.
Independent media has been shut down and many opponents have fled – joining an exodus of over 150,000 ordinary Burundians who fear their country may again be engulfed by widespread violence.
Medecins Sans Frontieres (MSF) said Monday around a thousand people were fleeing each day into Tanzania, crossing the border "through the forest ... many travelling in the dark on foot and without belongings."
In mid-May, rebel generals attempted to overthrow Mr Nkurunziza in a coup. After that failed they launched a rebellion in the north of the country.
Last-ditch crisis talks mediated by Uganda broke down on Sunday.
"The government has opted to isolate itself and go ahead with pseudo-elections," said Leonce Ngendakumana, a prominent opposition figure, after talks collapsed.
"They have refused to save Burundi from sliding into an abyss," said another opposition figure, Jean Minani.
A poor and landlocked former Belgian colony, Burundi is situated in the heart of central Africa's troubled Great Lakes region.
Analysts say renewed conflict in the country could reignite ethnic Hutu-Tutsi violence and bring another humanitarian disaster on the region.
The conflict also risks drawing in neighbouring states – much like in the war-torn east of Democratic Republic of Congo.
The last civil war in Burundi left at least 300,000 dead.
Nkurunziza's CNDD-FDD party scored a widely-expected landslide win in parliamentary polls held on May 29 that were boycotted by the opposition and condemned internationally as neither free nor fair.
UN electoral observers – the only international monitors in Tuesday's polls – said the last round of voting took place in a "climate of widespread fear and intimidation."
The results of parliamentary polls took a week to be announced.
The presidential elections are likely to be seen in the same light, diplomats said, meaning Mr Nkurunziza – whose nation is heavily aid-dependent – will probably also face international isolation.
http://www.telegraph.co.uk/news/worldnews/africaandindianocean/burundi/11752612/Violence-as-Burundi-votes-with-president-seeking-re-election.html
--------
Four Italian construction workers kidnapped in Libya
By AP, 20 Jul 2015
Four Italian construction workers have been kidnapped in Libya near an industrial complex owned by the Italian energy giant Eni in the western city of Mellitah, Italy's Foreign Ministry said on Monday.
A ministry statement said the four were employees of the Bonatti construction company.
The kidnapping occurred Sunday evening and family members had been informed overnight, Foreign Minister Paolo Gentiloni said in Brussels, adding that intelligence agents were working to get more information on the circumstances of the kidnapping.
The ministry noted it had closed its embassy in Libya on February 15 and urged Italians to leave the North African nation because of the dangers. Many Italians work in oil, gas and construction sectors in Libya, which was an Italian colony for much of the first half of the 1900s.
Libya has slid into chaos since the 2011 overthrow and killing of longtime dictator Moammar Gadhafi. It is now bitterly divided between an elected parliament and government cornered in the country's east, with little power on the ground, and an Islamist militia-backed government in the west that has seized the capital of Tripoli.
Foreigners are often taken hostage in Libya, either for ransom and of because of their Christian faith.
Some, like 10 Tunisian diplomats seized by gunmen from government-linked militias last month, were freed after demands were met. Last month, an Italian doctor kidnapped in January was also freed.
But others, like dozens of Ethiopians and Egyptian Christians who were seized by Islamic State extremists earlier this year, have been beheaded or shot dead in gruesome killings filmed and later broadcast by the group.
Most governments advise their citizens to avoid travel to Libya.
Hundreds of militias in Libya are aligned with either side or on their own, battling for power and turf in a lawless environment has allowed human traffickers and kidnappers to flourish. Libya is a huge gathering point for desperate migrants seeking to reach Europe and the smugglers who prey on them.
The UN envoy for Libya, meanwhile, has urged the Islamist-led government in Tripoli to sign a peace deal that would establish a unity government. Members of Libya's internationally recognized parliament, now based in the eastern city of Tobruk, and regional leaders initialed the unity accord in Morocco on July 11.
http://www.telegraph.co.uk/news/worldnews/africaandindianocean/libya/11750601/Four-Italian-construction-workers-kidnapped-in-Libya.html
-------
North America
US authorities allege Oregon imam assisted radicals in Pakistan, America
AP — July 21, 2015
PORTLAND: US authorities are seeking to revoke the citizenship of an imam in Oregon who they say tried to conceal past associations with radical Islamic groups.
Mohamed Sheikh Abdirahman Kariye raised money, recruited fighters and provided training for insurgent groups battling Soviet forces in Afghanistan in the 1980s, the US Department of Justice says in a complaint filed Monday in US District Court in Portland.
Government lawyers say Kariye for a time "dealt directly" with Osama bin Laden and Abdullah Azzam, the founders of Al Qaeda, and he recruited sympathisers in the United States and Pakistan for an Al Qaeda precursor known as Maktab Al Khidamat.
Kariye is also accused of being a founding officer and director of the now-defunct Global Relief Foundation, which authorities say provided assistance to terror groups including Al Qaeda and promoted radical jihad.
Federal authorities say Kariye failed to reveal those details in his application for citizenship, which was granted in 1998.
Attempts to reach Kariye through his Portland mosque and a former attorney were not immediately successful.
Born in Somalia, Kariye came to the United States on a student visa in 1982, according to the complaint. Between 1985 and 1988, he traveled to Afghanistan, where he went to a jihadist training camp and fought with the Afghan mujahedeen against the Soviets.
He helped process foreign fighters arriving in Pakistan for travel to training camps, authorities say, working directly with bin Laden and Azzam.
At some point, he was arrested for his involvement with the mujahedeen and spent four months in a Pakistani prison.
After returning to the United States in 1988, he applied for asylum and swore under oath that he hadn't left the country or been arrested.
The Soviets pulled out of Afghanistan in 1989, but the complaint alleges that Kariye returned to Pakistan in 1990 and worked for three years to recruit sympathisers and raise funds for Maktab Al Khidamat, the precursor of Al Qaeda.
He was listed as the Oregon point of contact on a 1994 flyer advertising a nationwide fundraising tour for Afghan jihad.
As the long-time leader at Portland's largest mosque, Masjed As-Saber, Kariye is a well-known figure in the city's Islamic community. It was not immediately clear Monday whether Kariye is still the mosque's imam. Local Muslims have known for years of the FBI's interest in him.
Kariye was arrested at Portland International Airport in 2002 by an FBI-led anti-terrorism task force. He pleaded guilty to using a fraudulent Social Security number and defrauding the state Medicaid program by lying about his income to receive state-funded health insurance.
A federal judge sentenced him to five years on probation.
In a 2003 affidavit, the FBI said it believed Kariye provided support to seven Muslims who tried unsuccessfully to join the Taliban in fighting US forces in Afghanistan. He was never charged.
Kariye was one of 10 people who in 2010 sued the federal government over their placement on the no-fly list. Eight others have since joined the case.
A federal judge in Portland ruled last year that the government must tell people what unclassified information was used to put them on the list, and if the information is classified, at least tell them the nature and extent of it.
Lawyers for the American Civil Liberties Union, which is representing Kariye and other plaintiffs in the case, filed a motion in April saying the government still hadn't provided them with enough information about their placement on the no-fly list.
http://www.dawn.com/news/1195477/us-authorities-allege-oregon-imam-assisted-radicals-in-pakistan-america
--------
German former ISIS fighter denounces group as un-Islamic
By Staff writer | Al Arabiya News
Tuesday, 21 July 2015
A former German ISIS fighter has denounced the militant group as un-Islamic in an interview with German media, reported the Telegraph.
The 26-year-old man, named Ebrahim B under German privacy laws, relayed his experiences in an interview before he stands for trial in August where he faces charges of being a member of a terrorist organization.
In the interview, that took place in a German prison, he described how he was recruited at a mosque in the city of Wolfsburg in northern Germany.
Ebrahim said the person who recruited him said "How can you sleep in peace, in the warm, with heating, while young Muslims are starving or women are being raped? What happens to you, when you die in Europe and not in an Islamist town? When you die in Europe, you go to hell."
He stated that "[ISIS] fool you," adding that "it's explained to you that you as a Muslim are allowed to marry four women. Who wouldn't want to have four women?"
He told reporters that he travelled to Turkey with a friend on May 28, 2014, before crossing the border into Syria. At first he was imprisoned over concerns that he was a spy, until his recruiter assured ISIS that he was there to join them.
A trained massage therapist before leaving Germany, Ebrahim claimed that ISIS members are given a choice, "you must immediately decide to either be a fighter or a suicide bomber. In a nutshell, when you go there, you're either dead or dead."
https://english.alarabiya.net/en/perspective/features/2015/07/21/German-ISIS-fighter-denounces-group-as-un-Islamic.html
-------
Iran vow to defy US "very disturbing": Kerry
Reuters | Jul 21, 2015, 01.10 PM IST
DUBAI: US secretary of state John Kerry said a speech by Iranian supreme leader Ali Khamenei on Saturday vowing to defy American policies in the region despite a deal with world powers over Tehran's nuclear programme was "very disturbing".
"I don't know how to interpret it at this point in time, except to take it at face value, that that's his policy," he said in the interview with Saudi-owned Al Arabiya television, parts of which the network quoted on Tuesday.
"But I do know that often comments are made publicly and things can evolve that are different. If it is the policy, it's very disturbing, it's very troubling," he added.
Ayatollah Khamenei told supporters on Saturday that US policies in the region were "180 degrees" opposed to Iran's, at a speech in a Tehran mosque punctuated by chants of "Death to America" and "Death to Israel".
"Even after this deal our policy towards the arrogant U.S. will not change," Khamenei said.
Several Gulf Arab states have long accused Tehran of interference, alleging financial or armed support for political movements in countries including Bahrain, Yemen and Lebanon.
Kerry said the US believed its Arab allies had the ability to confront Iranian interference in the region.
"I think President Obama's belief and our military assessments, our intelligence assessments, are that if they organise themselves correctly, all of the Arab states have an untapped potential that is very, very significant to be able to push back against any of these activities," he said.
http://timesofindia.indiatimes.com/world/middle-east/Iran-vow-to-defy-US-very-disturbing-Kerry/articleshow/48156675.cms
-------
Plans of a Muslim cemetery sparks row in Texas town
Seema Hakhu Kachru (PTI)
Houston, July 21, 2015: Residents of a small town in the US state of Texas are seeking to block plans to build an Islamic cemetery over fears that it could be the part of a wider "Muslim takeover", the latest manifestation of anti-Islamic sentiment in the country.
More than 100 residents packed a Farmersville City Council meeting last week to express their concern.
The proposed site in Farmersville, 64 km northeast of Dallas, was put forward by a local Islamic group.
Residents say the cemetery is part of a wider Muslim "takeover".
"The concern for us is the radical element of Islam," David Meeks, the pastor of Bethlehem Baptist Church, told The Dallas Morning News.
Meeks said he thinks the cemetery would be the first step toward a broader Muslim expansion in town.
Critics also have concerns over Muslim burial procedures and fear it could lead to a mosque being built.
The quiet town of 3,000 people is about 25 miles away from where two Islamic extremists were shot dead after attacking a controversial cartoon contest concerning Prophet Mohammed.
The sentiment reflects an anti-Muslim distrust that has been brewing over the last year in parts of Texas.
Alia Salem of the Council on American Islamic Relations of Dallas, tried to dispel locals' concerns.
"They are fearful of what they don?t understand and hopefully it?s an opportunity for us to come together and learn a little bit more about each other and hopefully dispel some of those misconceptions."
A final decision whether to press ahead with the scheme will be taken by the Farmersville city council. PTI NSA
http://indiatoday.intoday.in/story/muslim-cemetery-texas-town-usa/1/452878.html
-----
U.S., Nigeria will defeat Boko Haram, Obama vows
By Ben Wolfgang - July 20, 2015
President Obama on Monday reaffirmed his commitment to destroying the terrorist groups Boko Haram and the Islamic State, which have ramped up attacks in Nigeria and the Middle East, respectively, in recent days.
At the outset of a meeting with new Nigerian President Muhammadu Buhari, Mr. Obama pledged that the U.S. will aide the African country in its fight against Boko Haram. The organization, which has aligned itself with the Islamic State, has wreaked havoc across Nigeria over the past five years.
Just this month, Boko Haram reportedly gunned down nearly 100 people praying inside Nigerian mosques and also has unleashed car bomb attacks across the country. The group also is responsible for the kidnapping of more than 200 Nigerian schoolgirls last year, and Mr. Buhari has made stopping Boko Haram a top priority.
President Buhari comes into office with a reputation of integrity and a very clear agenda and that is to make sure that he is bringing safety and security and peace to this country. He is very concerned about the spread of Boko Haram and the violence that has taken place there and the atrocities that have taken place there and he has a very clear agenda of defeating Boko Haram and extremists of all sorts inside his country," Mr. Obama said. "And he has a very clear agenda with respect to rooting out the corruption that has too often held back the economic growth and prosperity of his country. On both these issues, we're looking forward to hearing more about his plans and how the United States can partner with Nigeria."
Mr. Obama also called Nigeria "one of the most important countries in the world" and praised its recent peaceful transition of power. Former Nigerian President Goodluck Jonathan left office in May.
The meeting with Mr. Buhari comes as the White House's foreign policy — particularly its efforts to combat terrorist organizations abroad — has been called into question. The administration continues to claim its fight against the Islamic State, which centers on airstrikes and the training of Iraqi security forces, has blunted the group's progress.
But Monday brought yet another reminder that the Islamic State is capable of carrying out attacks beyond the territory it controls in Iraq and Syria.
The Islamic State is believed to be behind a suicide bombing in the Turkish city of Suruc that killed 31 and wounded more than 100 others.
"We are face to face with a terrorism incident," Turkish Prime Minister Ahmet Davutoglu said. "We have the willpower to find and certainly punish those who are responsible."
The White House acknowledged that the Islamic State's reach seems to be expanding, but it defended its policy and said getting Middle Eastern nations to contribute more to the fight is critical.
"We have started to see some extremist activity in other countries that does seem to be related to [the Islamic State]. We continue to be concerned about that, and that's why … it's been so critically important for us to mobilize other countries in the region in support of our coalition's efforts," White House press secretary Josh Earnest told reporters just hours after the Suruc attack.
The Islamic State also is bent on expanding its reach into the U.S. Lawmakers fear more shootings such as the one at a military base in Chattanooga, Tennessee, last week could be on the horizon as terrorist groups actively recruit Americans via social media.
Federal officials are investigating whether the gunman in last week's shooting, Mohammad Youssuf Abdulazeez, has direct ties to al Qaeda, the Islamic State or other terrorist groups.
Key lawmakers already seem convinced Abdulazeez was radicalized via social media or by some other means.
"The new sort of threat that's out there over the Internet that's very hard to stop. We have 200,000 ISIS tweets per day that hit the United States," Rep. Michael McCaul, Texas Republican and chairman of House Homeland Security Committee, told ABC News Sunday. "The chatter is so loud and the volume so high that it's a problem that's very hard to stop and disrupt in this country. It's something we've been warning about over the last year. And unfortunately we saw it take place in Chattanooga."
http://www.washingtontimes.com/news/2015/jul/20/obama-us-nigeria-will-defeat-boko-haram/#ixzz3gWMf4cmJ
-------
Europe
UN Security Council unanimously endorses Iran N-agreement
MASOOD HAIDER — July 21, 2015
UNITED NATIONS: The UN Security Council unanimously adopted a resolution on Monday that endorsed the historic deal on Iran's nuclear programme.
All 15 members of the council voted for the resolution which endorsed the agreement reached last week in Vienna between Iran, on the one hand, and the US, Russia, China, France, Britain and Germany, on the other, after 18 straight days of negotiations.
"The draft resolution has been adopted unanimously," announced New Zealand's Foreign Minister Murray McCully, who was presiding over the meeting.
The resolution called for "full implementation on the timetable established" in the agreement and urged UN member countries to facilitate the process.
Under the accord, Tehran would curb for a decade its nuclear programme which western countries alleged was aimed at producing an atomic bomb. In return, the European Union and the US would relax economic sanctions they imposed on Iran.
Sanctions to end after major steps to curb nuclear programme
The resolution also provides a mechanism for UN sanctions to "snap back" in place if Iran fails to meet its obligations under the stipulation of the agreement.
Many key restrictions imposed on the Iranian economy, such as those related to the energy and financial sectors, could be lifted by the end of the year.
The resolution specifies that seven resolutions related to UN sanctions will be terminated when Iran has completed a series of major steps to curb its nuclear programme and the International Atomic Energy Agency has concluded that "all nuclear material in Iran remains in peaceful activities".
UN Secretary General Ban Ki-moon welcomed the adoption of the resolution.
In a statement, he said: "The resolution provides for the eventual removal of all nuclear-related sanctions against Iran. It guarantees that the International Atomic Energy Agency will continue to verify Iran's compliance with its nuclear-related commitments under the JCPOA.
"The United Nations stands ready to provide whatever assistance is required in giving effect to the resolution."
http://www.dawn.com/news/1195378/un-security-council-unanimously-endorses-iran-n-agreement
-------
New Zealand PM silent on David Cameron's push for airstrikes in Syria
ANDREA VANCE
Prime Minister John Key refuses to be drawn on a push for British forces to begin airstrikes on terror targets in Syria.
On Monday, his counterpart David Cameron told US media that Britain needs to "do more" in the battle against Islamic State. It came after it emerged his forces were already involved in coalition airstrikes over Syria.
His remarks provoked anger as MPs rejected an effort to join US attacks on Bashar Al Assad's government in 2013.
Key wouldn't say if the National-led Government supported Cameron's move.
"In a way he is probably talking to his own Parliament," Key said Tuesday morning.
"I think for a long time David Cameron has personally felt that actually the UK should be doing more and branching out, certainly in Syria. It's consistent with the view at one level that it is a very porous border. You can't just control Isil in Iraq because if you do they will pour into Syria and vice versa."
He added: "I wouldn't want to offer them advice or anything else. I think that it is important that every country that can play a part does...their numbers in Iraq aren't huge, they are bigger than ours but not massively bigger than ours. So, that's a matter for David Cameron."
About 140 Kiwi troops are stationed at Camp Taji, training Iraqi forces. "We are not looking to extend our mandate," Key said.
He was also lukewarm on calls for US-led coalition "boots on the ground" - sending ground troops in to fight Isis.
"I think they would be very reluctant to do that ... and the reason that the Americans are very reluctant to do that is because ... that would have a destabilising effect on the relationship between Iraq and Iran... I understand the frustrations but it's not just a matter of winning the tactical short term issues here with Isil. It's about the long term stability of the region."
Key also welcomed the UN Security Council endorsement of last week's Iran nuclear deal. Foreign Minister Murray McCully chaired the session which approved the lifting of sanctions in exchange for restrictions on Tehran's nuclear programme.
"You do have to say if not this, what else?" Key said. "It's good for, hopefully, peace and security in the region." - Stuff
http://www.stuff.co.nz/national/politics/70407692/john-key-silent-on-david-camerons-push-for-airstrikes-in-syria
--------
South Asia
Former Kyrgyz MP held for aiding terrorists
IANS India Private Limited/Yahoo India NewsBy Indo Asian News Service | IANS India Private Limited/Yahoo India News – 18 hours ago
Bishkek, July 20 (IANS) A former member of the Kyrgyzstan parliament was arrested on Monday on suspicion of aiding terrorists who were planning attacks in the capital Bishkek, the security service said.
The National Security State Committee (NSSC) said the former Ak Zhol party MP -- whose name was not disclosed -- was arrested at the Manas International Airport near Bishkek while trying to leave the country, Xinhua reported.
On Friday, the NSSC stopped terrorist attacks against those conducting prayers during Eid-ul-Fitr.
Four extremists were killed and seven arrested in the counter-terrorist mission.
"The detained ex-MP aided terrorists with funds and provided them with weapons," the NSSC said.
The NSSC also found that the former MP had direct contact with the Islamic State.
https://in.news.yahoo.com/former-kyrgyz-mp-held-aiding-terrorists-172405507.html
-----
China holds Uighur who 'planned bomb attack'
AFP | Jul 20, 2015
BEIJING: China has arrested a member of its mostly Muslim Uighur ethnic minority who planned a bomb attack after returning from a training camp in Syria, state media said on Monday.
State broadcaster CCTV's report was based on a prison confession from the man it identified as "Aikebaier", which a Uighur rights group dismissed as "propaganda".
CCTV said that Aikebaier had travelled to Syria via Turkey sometime after 2013 and received "bomb-making training".
It was not clear when he returned to China, but he was shown in a prison vest with a shaved head, saying that he planned an explosive attack on a shopping centre in the northern city of Shijiazhuang.
"I would like to say to my mother: please forgive me," he said, breaking into tears.
The report said the man had been "caught" but gave no details of when he was arrested, or what charges he faces.
Uighurs speak a Turkic language and many complain of religious and cultural discrimination in Xinjiang, their homeland in northwestern China, which has seen escalating violence in recent years.
Beijing blames the unrest on Islamist terrorist groups seeking independence for the region, although many analysts are sceptical.
Chinese state-run media have repeatedly cited unnamed sources linking Uighurs to jihadist violence in the Middle East, without giving evidence.
Dilxat Raxit, a spokesman for exiled group the World Uyghur Congress, slammed the CCTV report, implying that authorities had used coercion.
"For the sake of their family's safety, arrested Uighurs have no other choice than to become propaganda tools for the Chinese government," he said in a statement.
A number of Uighurs have attempted to flee China in recent years, in what rights groups say is an attempt to escape repression.
Thailand this month deported some 100 Uighurs to China, in a move which sparked protests in Turkey and was condemned by the United Nations refugee agency.
Chinese state media said that an unspecified number of those deported were travelling to "take part in jihad".
http://timesofindia.indiatimes.com/world/china/China-holds-Uighur-who-planned-bomb-attack/articleshow/48149036.cms
-------
Peace, harmony felt in Xinjiang during Ramzan
BY PAKISTAN TODAY
As Ramzan ended, researchers from Xinjiang academy of social sciences recently concluded a tour of the region to look into local Muslims' life during the holy month.
"It's been a very peaceful and harmonious Ramzan for Muslims. We should help the world understand the respect Chinese policies offer to ethnic minority groups and their religions," said Tomur Tursun, party secretary of the academy.
The government of the autonomous region made it clear before Ramzan that authorities should fully understand, respect and show consideration toward Islam, said Ma Pinyan, a researcher with the academy.
"Many shops around the mosques have been providing those who fast in the day with free fruit, desserts and meal," said Eli Hupur, another researcher with the academy who studies ethnic culture.
"The streets were busy even at midnight. On the brightly lit streets, we saw people on their way to visit their families and vendors selling fruit," he said.
Ramzan lasts from June 18 to July 18 this year. During this season of fasting and spiritual reflection, Muslims are not allowed to eat or drink from sunrise to dusk. It is widely observed by Xinjiang's ethnic minorities including Hui, Uygur, Kazakh, Uzbek, Tajik and Kyrgyz.
Xinjiang has over 10 million Muslims and more than 20,000 mosques.
Abdurahman, Imam of a mosque in the regional capital of Urumqi, said, the mosque usually receives 1,200 visitors daily, but during Ramzan the number has risen to over 3,000.
"The government has given us enough protection and respect," he said adding that the local government carried out fire and epidemic prevention work ahead of Ramzan.
Muslims from outside China are also feeling the peace of Ramzan in Xinjiang. At the International Grand Bazaar in Urumqi, capital of Xinjiang Uygur Autonomous Region, a dozen Turkish businessmen are selling specialties such as food, clothing, accessories and carpets.
Cihan Aydogmus, 38, has lived in Xinjiang for more than 10 years. He owns two carpet factories, one in Istanbul and the other in Kashgar. He is married to a Uygur woman and has two children.
"My wife is fasting, but I am not since I have been too busy with my business. People here decide by themselves whether to fast and whether to go to the mosque based on their own situations, without interference from others," he said.
"It is untrue that Ramzan in Xinjiang has restrictions. What I see here is a free and easy atmosphere," he said.
"Ten years ago, the living conditions in Istanbul and Urumqi differed greatly, but now people in Urumqi are better off and life here is no different from that in Istanbul, so I have decided to continue seeking my fortune here," he added. Source: Xinhua
http://www.pakistantoday.com.pk/2015/07/21/city/peace-harmony-felt-in-xinjiang-during-ramzan/
-----
Pakistan
Laying flowers on APS monument fails to bring peace to parents
JPESHAWAR: uly 21, 2015 BY WEB DESK
The politicians and members of civil society organisations visited Army Public School (APS) and laid floral wreaths on the monument there to pay homage to the killed students on the occasion of Eidul Fitr but the parents of the slain students called it just a photo session, according to sources.
The dejected parents said that instead of laying wreaths on the monument, those people should raise voice for the arrest of the officials, who collected security fee from them but failed to provide security to their children when terrorists attacked the school last year.
Qaumi Watan Party chairman Aftab Ahmad Khan Sherpao and Pakistan People's Party women wing leader Asma Alamgir and people belonging to different organisations visited Yadgar-i-Shuhada at APS and paid homage to the killed students.
http://www.pakistantoday.com.pk/2015/07/21/national/laying-flowers-on-aps-monument-fails-to-bring-peace-to-parents/
------
Khan of Kalat turns down govt's request to return to Pakistan
KARACHI: July 21,BY WEB DESK
A high level delegation of govt ministers and notables who went to meet Khan of Kalat have failed to persuade him to end his self-imposed exile and return to Pakistan.
Mir Ahmed Suleman Daud Khan was urged to come back and play his role in ending the ongoing insurgency and for the development of Balochistan.
The delegation, comprising Nawab Mohammed Khan Shahwani, Sardar Kamal Khan Bangulzai, Mir Kabir Mohammadshahi and Mir Khalid Lango and others, was sent by the provincial government.
A statement issued by the Khan of Kalat in London stated that according to the Balochi custom the delegation reported the situation in the insurgency-stricken Balochistan. They told the Khan that "the political, security, and economical conditions in Balochistan have gone from bad to worse", and that "there is no end to violence" there.
http://www.pakistantoday.com.pk/2015/07/21/national/khan-of-kalat-turns-down-govts-request-to-end-his-exile/
-------
US lauds PM Nawaz's outreach to India, Afghanistan
MATEEN HAIDER | IRFAN HAIDER — July 21, 2015
ISLAMABAD: US Deputy Secretary of State, Toney Blinken, has appreciated Prime Minister Nawaz Sharif's efforts to reach out to Pakistan's neighbours, India and Afghanistan, hoping that the initiatives would help bring peace and prosperity to the region.
Special Assistant to the Prime Minister on Foreign Affairs, Syed Tariq Fatemi, arrived in Washington on an official visit where he is expected to finalise Premier Sharif's expected visit to US later in October this year.
"Special Assistant to the Prime Minister (SAPM) on Foreign Affairs, Syed Tariq Fatemi, met US Deputy Secretary of State, Tony Blinken at the Department of State yesterday. Ambassador of Pakistan to the US, Mr Jalil Abbas Jilani, accompanied him, whereas Mr Dan Feldman Special Representative for Afghanistan and Pakistan assisted Mr Blinken," Foreign Office spokesman Qazi Khailiullah said in a statement.
During the meeting the Special Assistant and the Deputy Secretary reviewed the state of bilateral relationship between the countries and expressed satisfaction over its growing momentum and positive trajectory.
Both sides acknowledged that high-level interactions between the leadership of the two countries have contributed significantly in strengthening bilateral cooperation on economy, regional stability, and countering extremism and terrorism.
The Special Assistant briefed the Deputy Secretary of State on the Prime Minister's consistent policy of outreach to Pakistan's neighbours and his commitment to maintaining cordial relations with all its neighbors, including Afghanistan and India.
He also apprised the Deputy Secretary of State of the steps taken by the Government over the last two years to implement its economic agenda, while highlighting the progress made in achieving economic stability and investor confidence.
Mr Fatemi also briefed the Deputy Secretary of State about the ongoing law enforcement operations in the Federally Administered Tribal Areas (Fata) aimed at eliminating all militants from Pakistani soil.
He thanked the US for its continued support to Pakistan for its political and economic stability and its efforts to bring regional peace and harmony.
Deputy Secretary Blinken appreciated Pakistan's stabilising role in the region and the efforts made by Prime Minister Nawaz Sharif for reaching out to Pakistan's neighbours.
Mr Blinken also assured the Special Assistant of continued US engagement with the region and reiterated US support to Prime Minister's economic development plans with special focus on energy and countering extremism and militancy.
Pakistan's role in facilitating the reconciliation process between Afghan government and the Taliban was also lauded by the US side.
http://www.dawn.com/news/1195481/us-lauds-pm-nawazs-outreach-to-india-afghanistan
-------
UN military observers visit villages hit by Indian shelling
By Our Staff Reporter | 7/21/2015
ISLAMABAD: United Nations military observers visited on Monday villages near the Working Boundary that had been hit by Indian shelling last week.
`A team of United Nations Military Observers Group in India and Pakistan (UNMOGIP) today visited the most affected villages on Working Boundary near Sialkot due to Indian unprovoked shelling,` a military spokesman said.
The UNMOGIP observers visited the villages of Salehpur, Chaprar and Malane in the Chaprar Sector to observe damage caused by the Indian shelling and firing.
Three of four people killed in last week`s firing were from Malana and Salehpur villages.
During the visit the observers met the injured and inspected damagedhouses.
On Friday the army approached the UNMOGIP with a complaint against the latest ceasefire breaches along the Line of Control (LoC) and Working Boundary (WB) by India and urged the observers to investigate the violations.
Pakistan has continued to lodge complaints with UNMOGIP even though India refuses their peacekeeping mandate.
The ceasefire violations, meanwhile, continued during Eid holidays with India forces shelling villages in the LoC`s Nezapir sector.
Full Report at:
http://epaper.dawn.com/DetailImage.php?StoryImage=21_07_2015_001_004
------
Five MQM legislators fear coming to Karachi for NA session
ISLAMABAD: July, 21, 2015 BY WEB DESK
Fear of arrest has restricted at least five MNA's of Muttahida Qaumi Movement from coming to Karachi, as they had to attend the coming election of National Assembly.
Abdul Rasheed Godil, MQM's deputy parliamentary leader in the assembly, told a local media outlet from an unspecified location that he and four other MQM MNAs — parliamentary leader of party in the NA Dr Farooq Sattar, Salman Mujahid Baloch, Mohammad Rehan Hashmi and Kishwar Zahra — had gone underground.
These five MNAs were among 24 party activists and 150 unidentified people against whom a case was registered with the Godap Town police station for listening an allegedly offensive speech by MQM chief Altaf Hussain.
http://www.pakistantoday.com.pk/2015/07/21/national/five-mqm-legislators-fear-coming-to-karachi-for-na-session/
------
MQM's Qamar Mansoor sent on transit remand in Rangers custody
Karachi July 21, 2015BY STAFF REPORT
A judicial magistrate has sent Muttahida Qaumi Movement (MQM) Rabita Committee's Qamar Mansoor, who was detained during a Friday raid on Nine Zero, on a three-day-long transit remand in Rangers' custody.
Judicial magistrate district central on special duty remanded Mansoor on Sunday in response to the Rangers' request until courts re-open after gazetted Eid holidays.
The Rangers had to present Mansoor before the judicial magistrate within 24 hours of his arrest to justify his detention. The magistrate handed Mansoor to the Rangers and directed them to produce the MQM activist before Anti-Terrorism Court II after Eid in connection with preventive detention.
Mansoor and Rabita Committee in-charge Kaiful Warah were detained by the paramilitary force in a pre-dawn raid on the party's Nine-Zero headquarters in the early hours of Friday.
Warah was later granted a 'conditional release' as long as he "reported to the Rangers authorities after the culmination of given period", a Rangers spokesman said.
The two were apprehended for "arranging and facilitating" what Director-General Sindh Rangers Major-General Bilal Akbar called "hate speeches against peace of Karachi".
Friday's was the second raid by Rangers on Nine Zero this year.
http://www.pakistantoday.com.pk/2015/07/21/city/karachi/mqms-qamar-mansoor-sent-on-transit-remand-in-rangers-custody/
------
Sindh Chief Minister takes up the cudgels for Rangers
Karachi July 21, 2015 BY STAFF REPORT
Sindh Chief Minister Syed Qaim Ali Shah on Saturday said that there was no pressure on the Sindh government regarding Rangers deployment and powers in Karachi. He said the bill on the powers of Rangers and one-year extension would be approved by the Sindh Assembly.
Talking to media persons after offering Eid prayer and visit to Benazir Bhutto's shrine in Garhi Khuda Bux along with Sindh Assembly Speaker Agha Siraj Durrani and other MPAs, Qaim Ali Shah said that transfers and postings in Sindh were done in order to address the complaints of corruption and the same would continue in future as well.
The CM said that police and Rangers released several of the arrested due to lack of evidence and got many of them convicted. He said that hiring or firing of the officers was not apex committee's job. "The apex committee works for keeping law and order only," he said.
Moreover, Qaim Ali Shah said that some people were re doing propaganda to portray a negative image of the Rangers.
http://www.pakistantoday.com.pk/2015/07/21/city/karachi/shah-takes-up-the-cudgels-for-rangers/
-------
PML-Q asks Altaf Hussain to disown 'militant wing'
GUJRAT: 21 07 2015 BY WEB DESK
PML-Q leader and former prime minister Chaudhry Shujaat Hussain has called upon Muttahida Qaumi Movement (MQM) chief Altaf Hussain to disown what he termed the 'militant wing and mafia of his party' for the sake of peace and stability in Karachi, it was reported.
He told reporters that the military was committed to rooting out violence, militancy and sectarianism, which was a good omen.
He said sectarianism should also be wiped out from Punjab for which some bold, but unpopular, steps were needed.
He reiterated his offer of appearing first to such a commission so that the issue of levelling charges against politicians should be settled once and for all.
http://www.pakistantoday.com.pk/2015/07/21/national/shujaat-asks-altaf-hussain-to-disown-militant-wing/
-------
India
Yakub Memon to hang for Mumbai blasts, on July 30 at 7am in Nagpur Jail, Supreme Court rejects plea
IndiaToday.in uly 21, 2015
The Supreme Court on Tuesday rejected the curative mercy plea of 1993 Mumbai serial blasts convict, Yakub Abdul Razak Memon , clearing the way for his hanging expected on July 30. Memon was awarded the death sentence by a Special Terrorist and Disruptive Activities (TADA) court in Mumbai on July 27, 2007 for his role in the blasts, including arranging finances for carrying out the 13 serial explosions which left 257 dead and over 700 injured across the city on March 12, 1993.
Yakub Memon is set to be hanged in the Nagpur Central Jail on July 30, where he is currently lodged, following the rejection of his appeals against the death sentence by the apex court and by President Pranab Mukherjee. Memon is a key conspirator with India's most wanted man Dawood Ibrahim in the 1993 Mumbai serial blasts case and is one of the ten convicts awarded the death penalty by the TADA court.
Memon, 53, who had filed his second review petition before the Supreme Court, was visited by his cousin Usman Memon in jail on Monday, accompanied by a local lawyer, in a last legal attempt to escape the gallows. The blasts were allegedly planned and carried out by Dawood Ibrahim and his accomplice Tiger Memon. Yakub Memon, a chartered accountant, is the younger brother of Tiger Memon, who is reportedly in Pakistan.
A chartered accountant by profession, 53-year-old Memon had filed his second review petition before the Supreme Court even as the Maharashtra government made preparations for the hanging with the warrant issued last week. Subsequently, Memon - the brother of one of the main absconding accused Ibrahim alias Tiger Memon - appealed against the sentence in the Bombay High Court, Supreme Court and later filed a mercy petition with the president, followed by a review petition, and now a second review petition which is pending.
Leading criminal lawyer and a former defence lawyer in the same case, Majeed Memon had questioned the need for the state government's "hurry" in the matter even before the outcome of the second review petition. "Are they pre-empting the issue or are they already before-hand aware of the outcome of the review petition? They should have waited till the matter is finally decided," Majeed Memon, a top NCP leader and Member of Parliament, said last week.
Indian corps commander warns 'elements in Pakistan' of 'unexpected damage'
http://indiatoday.intoday.in/story/yakub-memon-to-hang-for-mumbai-blasts-supreme-court-rejects-plea/1/452914.html
------
Escalating tensions: Fate of Indo-Pak peace talks hangs in the balance
By Kamran Yousaf: July 21, 2015
ISLAMABAD: Rising tension on the borders has thrown the fate of crucial talks between the national security advisers of Pakistan and India in the doldrums with New Delhi reluctant to fix a date for the meeting.
During a recent meeting between Prime Minister Nawaz Sharif and his Indian counterpart Narendra Modi in the Russian city of Ufa, the two leaders had agreed to a meeting of their security advisers in New Delhi to discuss issues related to terrorism.
However, renewed tensions along the Line of Control in Kashmir and the working boundary in Sialkot, as well as the intrusion of an Indian 'spy' drone into Pakistani territory, may lead to the postponement of the crucial talks, a senior government official believes.
Four people have been killed by the firing of Indian border security forces on civilian populations on the Pakistani side in recent days. Five more have been left injured by the unprovoked attacks.
On Monday, a team of United Nations Military Observers Group in India and Pakistan (UNMOGIP) visited the villages most affected by Indian shelling. They visited Saleh Pur, Chaprar & Malane in Chaprar Sector in Sialkot and met wounded civilians and witnessed Indian atrocities on the civil population.
According to the understanding reached in Ufa, Prime Minister's Adviser on National Security and Foreign Affairs Sartaj Aziz would travel to New Delhi for talks with his Indian counterpart Ajit Doval, who would then make a reciprocal visit to Islamabad.
When contacted Foreign Office spokesperson Qazi Khalilullah said: "As of now I have no dates for the meeting." Another Foreign Office official said Islamabad would raise the issue of Indian involvement in the internal affairs of the country when the advisers meet. Premier Nawaz during the meeting in Russia had conveyed to Modi Pakistan's concerns over Indian intelligence agencies' involvement in fomenting violence, he added.
The official said Islamabad had 'compelling evidence' to prove that India's prime secret agency Research and Analysis Wing (RAW) was whipping up terrorism in Pakistan. He added that the alleged nexus between RAW and the Karachi-based Muttahida Qaumi Movement would also be taken up with India in the talks.
At a news conference last week, Sartaj Aziz confirmed that the premier had frank discussions with Modi about India's involvement in the internal matters of Pakistan. "Pakistan has been deeply concerned not only about hostile statements from Indian ministers but also about Indian interference in Pakistan, including continuing support for insurgency in Balochistan," he had said.
http://tribune.com.pk/story/923556/escalating-tensions-fate-of-indo-pak-peace-talks-hangs-in-the-balance/
--------
Indian corps commander warns 'elements in Pakistan' of 'unexpected damage'
DAWN.COM, July 21, 2015
Commander of the Nagrota-based Headquarters 16 Corps outside Jammu, Lt Gen KH Singh said, "There are certain elements across the border who want to create trouble on the Line of Control... we have to give them certain unexpected damage to so that they don't repeat it in future."
He claimed that the Pakistani Army shelled and opened fired on Poonch sector villages in India-held Kashmir's Jammu region on Saturday as Eidul Fitr celebrations were underway because the Indian Army had 'stopped terrorists from crossing the border' just a few days earlier.
"One girl was killed on the Pakistan side ─ we regret the incident. The Pakistani army also suffered major damages. They chose the Eid day to retaliate and targeted our civilian areas after Eid prayers," the Indian general said.
Over the past week, at least four Pakistanis were killed in three separate incidents of cross-border firing, and Pakistani troops had shot down a spy drone along the LoC.
The Pakistan Army registered a complaint with United Nations Military Observers group in India and Pakistan (UNMOGIP) against cease fire violations by the Indian Army along the LoC and Working Boundary, after which a fact-finding team visited Saleh Pur, Chaprar and Malane in Chaprar Sector near working boundary.
A day after firing took place along the LoC on Eid, the Foreign Office lodged a strong protest with India over what it said was the "offensive posture" of Indian security forces and a provocative act against the spirit of the Ufa understanding.
Foreign Office spokesman Qazi Khalilullah also said he regretted that the ceasefire violations by the Indian troops are being committed during the Eidul Fitr holidays as was done by them last year.
Tensions along the LoC began flaring up again despite an hour-long meeting between Prime Minister Nawaz Sharif and his Indian counterpart Narendra Modi on the sidelines of the Shanghai Cooperation Organisation (SCO) Summit in Ufa, Russia earlier this month.
During the meeting, the two leaders had agreed that both India and Pakistan have a collective responsibility to ensure peace and promote development. The meeting had been seen by analysts as a thawing of relations after peace talks between the two estranged neighbours remained suspended since January 2013.
http://www.dawn.com/news/1195482/indian-corps-commander-warns-elements-in-pakistan-of-unexpected-damage
-------
URL: https://www.newageislam.com/islamic-world-news/new-age-islam-news-bureau/uae-imposes-harsh-penalties-for-'religion-incited-crimes'/d/103975