New Age Islam News Bureau
2 May 2013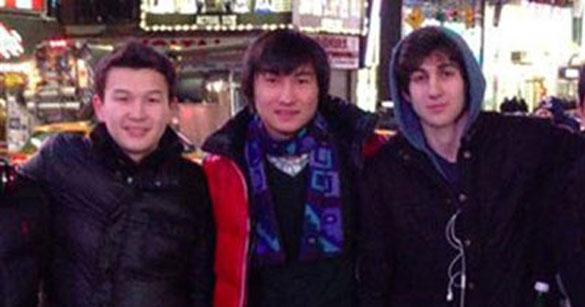 Reuters/Reuters - Boston marathon bombing suspect Dzhokhar Tsarnaev (R) poses with Azamat Tazhayakov (L) and Dias Kadyrbayev in an undated photo taken in New York. vk.com via REUTERS
----------
Europe
• UAE and Britain Fund Somalian Battle Against Sexual Violence
• Brahimi to quit as Syria peace envoy: Diplomats
Pakistan
• Musharraf arrested in Bugti murder case
• Pak's Punjab CM, Najam Sethi orders judicial inquiry into Sarabjit's death
• Military intends to back Qaeda candidates: AHRC
• JUI-F opposes use of force against terrorists
• Pak court allows police to interrogate Musharraf in Akbar Bugti case
• Taliban did not kill Benazir: Imran
• Man attacked with acid for 'having an affair'
• 'Moderates' join hands to fight 'conspiracies'
• PTI will stop military operations across country: Imran
• Pakistan, Afghan forces clash along border injuring soldiers
• Taliban try to fix Pakistan's poll by forgetting the Left
India
• All India Muslim OBC Organisation Conference to be held on May 4
• Maulana Vastanvi attends conference on Quranic teachings
• Two alleged SIMI activists acquitted
• Ishrat Jahan encounter: Court clears way for Gujarat top cop's arrest
• Senior separatist leader asks Pak to act against Sarabjit's attackers
• NBW against Akbaruddin in hate speech case
• Saudi Labour Ministry, Indian officials urge illegals to register
• India to send special plane to Pak to bring back Sarabjit's body
• Sarabjit's death has hurt people-to-people ties: Khurshid
• Militant hideout busted in Kishtwar district of J&K
• 270 Indians in Pakistan jails
North America
• Boston bombing: Three arrested men charged with undermining probe
• Americans Want U.S. to Keep Out of Syria Conflict: Poll
• US delegation lauds Pak role in fight against terror
• Obama hints at military action in Syria
• FBI releases photos of Benghazi attack trio
Southeast Asia
• Religious Intolerance Poisoning Indonesia
• Gun attack in Thailand's south leaves six dead
• BN hands Shah Alam Malays 'Chinese control Malaysia' pamphlets
• Violence, online attacks mar GE13, says rights watchdog
• Come home, vote to keep Islamic government: Nik Aziz
• Najib is world's 11th most popular political leader, first In Malaysia on social media
• Six Indonesians among FP's 500 Most Powerful People
South Asia
• Taliban bomb kills eight Afghan police: officials
• Nasheed's Party condemns use of Islam as "political weapon to sow discord"
• Bangladesh war crime court indicts British Muslim leader
• 4 Shibir men get life term jail for killing BCL man
• HRCM to investigate Immigration Department's promise of mass repatriation
• Drug Court sending addicts to jail after Detox centres reach capacity
• High Court overturns lower court ruling on Hajj quota controversy
Arab World
• Hezbollah decides to support Bashar al Assad, declares Sunnis takfiris
• Syrian troops reclaim rebel-held area in Homs
• Saudi universities have 'autocratic heads and poor infrastructure'
• Syria opposition denounces Hezbollah 'threats'
• Iraqi Kurd ministers, MPs to end boycotts
• Sars-like virus kills 5 Saudis: ministry
• Arab nations call for cooperation in fight against human trafficking
• Australian held on terror charges in Saudi Arabia
• Saudis enrol for Arabic, Islamic sciences at Moscow University
Africa
• Al-Shabab threatens to avenge Puntland killings of 13 suspected rebels
• Human rights 'fundamental' for Libya's transition – GNC HRC
• Shisha Smoking Makes Quiet Reappearance in Khartoum
• Bullets to babies, Somalia's war surgeons learn skills of peace
• Tunisian army, armed jihadists in border clash
• Chad: N'Djamena arrests follow 'failed coup'
Mideast Asia
• Turkey investigates use of chemical weapons in Syria
• Yemen parties coming closer on crucial issues
Compiled by New Age Islam News Bureau
URL: https://www.newageislam.com/islamic-world-news/new-age-islam-news-bureau/uae-and-britain-fund-somalian-battle-against-sexual-violence/d/11383
------------
Europe
UAE and Britain Fund Somalian Battle Against Sexual Violence
Awad Mustafa
May 2, 2013
The UAE and UK will provide £2million in funding to help fight the horrific levels of sexual violence in Somalia.
The announcement was made yesterday by Sheikh Abdullah bin Zayed, Minister of Foreign Affairs, and the British foreign secretary William Hague.
The funds come ahead of a major London conference on Somalia next week, with the battle against sexual violence on the agenda.
"The UAE applauds the UK's strong leadership in bringing countries together to tackle the unacceptable prevalence of sexual violence in conflict situations," Sheikh Abdullah said.
"Through this contribution, the UAE is delighted to be able to support the Somali government in its efforts to protect and empower women."
In the agreement, the UAE will match Britain's contribution of Dh5.7m to establish the Preventing Sexual Violence Initiative in Somalia.
"Women and girls in Somalia have suffered acutely from sexual violence as a result of the conflict," Mr Hague said.
"I am pleased that through the UK's close partnership with the UAE we can go some way to supporting the federal government of Somalia's efforts to address this issue and improve the lives of women and girls."
Decades of warfare and famine have turned Somalia into a lawless land where rape and other forms of sexual violence are disturbingly common.
More than a million people live as refugees, with the United Nations saying it recorded 1,700 cases of rape in camps last year, many carried out by members of the Somali security forces.
One of the most high-profile cases was that of Lul Ali Osman Barake, 27, a mother who went public about being raped by five men in uniform at a displaced persons camp last August.
After talking to the press she was arrested by police and given a one-year prison sentence for making false accusations, but was eventually set free on appeal.
"The victim was arrested instead of the rapists, so the rapists have been rewarded," Ms Barake told Britain's The Guardian newspaper last March.
Concerns have also been raised by Zainab Bangura, the UN special representative on sexual violence in conflict, who visited the Somalian capital of Mogadishu in April and raised Ms Barake's case.
Ms Bangura said 70 per cent of sexual violence was being carried out by men in uniform.
"This could be militia, it could be police, it could be soldiers," she said.
The Somalian president Hassan Sheikh Mohamud has pledged to stop rape and violence committed by what he described as "those few" of his security forces.
The £2 million will provide support to the government in providing training.
It will also help Somalia to act on recommendations on the PSVI from the UN team of experts when it visits the country this year.
amustafa@thenational.ae
http://www.thenational.ae/news/uae-news/politics/uae-and-britain-fund-somalian-battle-against-sexual-violence#ixzz2S7kevCNz
------------
Brahimi to quit as Syria peace envoy: Diplomats
The UN-Arab League envoy is reportedly frustrated at a lack of progress
1 May 2013
Syria peace envoy Lakhdar Brahimi is on the verge of quitting amid growing frustration at deadlocked international efforts to end the worsening conflict, diplomats said Wednesday.
Brahimi is "itching to resign but being persuaded to hang on for a few more days," said one UN Security Council diplomat. "He has told everyone that he wants to leave, there is little hope that he will stay," an Arab diplomat at the United Nations told AFP.
The 79-year-old former Algerian foreign minister was named in place of former UN leader Kofi Annan as the UN-Arab League envoy on August 17 last year. He recognized at the time that he faced an uphill battle.
Brahimi has been criticized by the Syrian opposition and President Bashar al-Assad's government said last week it would no longer cooperate with him.
Like Annan, before him Brahimi has been increasingly frustrated at the failure of the major powers to agree to a plan on ways to end the two-year-old conflict which has left more than 70,000 dead.
Russia has vetoed three UN Security Council resolutions seeking to increase pressure on Assad, while the United States, Britain and France have stepped up aid to opposition groups in recent months.
But the Arab League decision to recognize the opposition Syrian National Coalition as the legitimate government of Syria was the final straw for the veteran UN troubleshooter, diplomats said.
"He wants to resign because he feels that the Arab League has taken themselves in directions which is a bit different from the UN," said the Security Council diplomat.
http://english.ahram.org.eg/NewsContent/2/8/70521/World/Region/Brahimi-to-quit-as-Syria-peace-envoy-Diplomats.aspx
---------
Pakistan
Musharraf arrested in Bugti murder case
May 02, 2013
ISLAMABAD: Former president, General (Retd) Pervez Musharraf has been arrested in the Akbar Bugti murder case.
Earlier, the anti-terrorist court (ATC) Rawalpindi accepted a request of the Balochistan Police for inclusion of the in the investigation of the Akbar Bugti murder case.
A team of the Balochistan Police interrogated Musharraf at his farmhouse in Chak Shahzad which has been declared a sub-jail.
The interrogation lasted for four hours after which the five member team left the sub jail.
Pervez Musharraf has also been arrested in the judges confinement case and the Benazir Bhutto murder case.
http://www.thenews.com.pk/article-99288-Musharraf-arrested-in-Bugti-murder-case-
----------
Pak's Punjab CM, Najam Sethi orders judicial inquiry into Sarabjit's death
May 02, 2013
Pakistani authorities on Thursday ordered a judicial inquiry into the murder of Indian death row convict Sarabjit Singh, who died after being comatose for nearly a week following an assault by other inmates of Kot Lakhpat Jail. Najam Sethi, the caretaker chief minister of Punjab province, ordered the judicial inquiry. He directed officials to ensure that the probe was completed in 15 days.
"Chief Minister Najam Sethi has directed the Home Department to prepare terms of reference for a judicial inquiry into the murder of Sarabjit Singh. The inquiry would be completed within 15 days," a Punjab government spokesman told PTI.
The inquiry will be conducted by a High Court judge, state-run Radio Pakistan reported.
Sethi also directed authorities to beef up security for all foreign prisoners in jails across Punjab province, the spokesman said.
The Punjab government has formed an eight-member medical board headed by Umer Farooq Baloch to conduct an autopsy on Sarabjit's body.
The autopsy is expected to take two hours, said a doctor at Jinnah Hospital, where Sarabjit was being treated.
Sarabjit, 49, died at Jinnah Hospital at about 1 a.m. local time, officials said. He had been in a deep coma since he was assaulted by at least six prisoners within his barrack at Kot Lakhpat Jail on Friday.
Police on Thursday added murder charges to an FIR registered against two death row prisoners – Amer Aftab and Mudassar – booked for attacking him.
No action has been taken so far against officials of the jail for failing to provide adequate security to Sarabjit.
Sarabjit was convicted of alleged Militant hideout busted in Kishtwar district of J&K involvement in a string of bomb attacks in Punjab province that killed 14 people in 1990 and spent about 22 years in Pakistani prisons.
His mercy petitions were rejected by the courts and former President Pervez Musharraf.
The previous Pakistan People's Party-led government put off Sarabjit's execution for an indefinite period in 2008.
Sarabjit's family says he was the victim of mistaken identity and had mistakenly strayed across the border in an inebriated state.
http://www.hindustantimes.com/world-news/pakistan/Pak-s-Punjab-CM-orders-judicial-inquiry-into-Sarabjit-s-death/Article1-1053673.aspx
------------
Military intends to back Qaeda candidates: AHRC
2 May 2013
LAHORE: There have been some developments during the past two weeks that reveal that in the coming election, elements of the Taliban and al Qaeda have been offered seats in the parliament, the Asian Human Rights Commission (AHRC) said on Wednesday.
In a statement, the commission said that before the developments, the security agencies with the help of right-wing parties had also allowed 53 sectarian candidates to contest the election without passing through the sword of articles 62 and 63 of the constitution, which debar any candidate known to be involved in cases of sectarian violence, hate campaigns or having been charged with murder and killings through sectarian violence.
It said that the military officials remained busy in Bajaur Agency, Federally Administered Tribal Area (FATA), close to the Afghan border, to make a deal with the agents of al Qaeda for the coming election. During the time of filing the nomination papers, the military commander of Bajaur Agency, Brigadier Ghulam Haider, held a meeting with the local leadership of Jamaat-e-Islami (JI), who, in the past, had direct links with militants of al Qaeda. There are two National Assembly seats from Bajaur Agency, which were assured to the JI. In return, the JI and other Jihadi organisations will provide logistic support to those who want to join jihad in Afghanistan from the Pakistani side and extend 'melmastia', the traditional tribal hospitality, to Mujahideen coming back from Afghanistan. The commission said that other points of agreement are: the JI will not oppose any operation in Bajaur but rather support them; the JI will not oppose but rather help in constructing the road that connects Afghanistan with Pakistan; and the arrangement will remain intact between the two parties until a favourable government in Afghanistan is installed.
"The reasons for such developments are described as the US and allied forces are leaving Afghanistan next year, so the military has geared up its contacts with those political-cum-religious parties who could help in furthering the interests of Pakistan and the military to establish their major share as a stakeholder," the commission said in the statement.
"The interesting thing is that when the US and allied forces entered Afghanistan, the religious parties in Pakistan were brought into the power in 2002 election by then military dictator, General Musharraf. Now, when these forces are leaving Afghanistan, there are hectic efforts to bring fundamentalists again into the power, particularly in the province of Khyber Pakhtunkhwa (KP)."
Full Report at:
http://www.dailytimes.com.pk/default.asp?page=2013\05\02\story_2-5-2013_pg7_17
------------
JUI-F opposes use of force against terrorists
2 May 2013
DERA GHAZI KHAN: The JUI-F chief, Maulana Faz lur Rehman, has called for tackling terrorism through political means.
Addressing an election rally in Taunsa Sharif, some 85km from here, on Wednesday, he said the JUI-F was against the use of force against terrorists.
He blamed wrong polices of retired General Pervez Musharraf for the current wave of terror acts in the country.
The Maulana claimed that Gen Musharraf created an anti-Pakistan faction in Afghanistan by extending support to another, while "we organised an inter-tribe grand jirga against terrorism".
Full report at:
It was the first public meeting addressed by a party head in this region.
http://dawn.com/2013/05/02/jui-f-opposes-use-of-force-against-terrorists/
------------
Pak court allows police to interrogate Musharraf in Akbar Bugti case
PTI | May 2, 2013
ISLAMABAD: A Pakistani anti-terrorism court on Thursday allowed police officials to interrogate former President Pervez Musharraf over the killing of Baloch nationalist leader Akbar Bugti in a 2006 military operation.
Judge Chaudhry Habib-ur-Rehman of the anti-terrorism court in Rawalpindi accepted a request from Balochistan Police to include Musharraf in the probe into Bugti's death.
Musharraf was the army chief when the operation against Bugti was ordered.
Shortly after the court issued the order, a five-member team of Balochistan Police went to Musharraf's farmhouse, declared a sub-jail by authorities, to question him.
Musharraf is facing charges over the death of Bugti. A court in Balochistan had issued a warrant for his arrest over the killing in 2011.
In a related development, Aftab Ahmed Khan Sherpao, who was Interior Minister in Musharraf's regime, appeared in an anti-terrorism court in Quetta for the hearing of a case over Bugti's killing.
Sherpao asked the court to excuse him from personal appearances in future hearings for security reasons.
Full report at:
http://timesofindia.indiatimes.com/world/pakistan/Pak-court-allows-police-to-interrogate-Musharraf-in-Akbar-Bugti-case/articleshow/19832489.cms
------------
Taliban did not kill Benazir: Imran
May 2, 2013
Pakistan Tehreek-e-Insaf Chairman Imran Khan has said that former two-time prime minister Benazir Bhutto was not assassinated by the Taliban.
"Benazir was clearly killed by the people worried that she was going to come into power," he said in an interview with British daily Telegraph.
About recent reports suggesting that the PPP is open to offering Imran the prime minister's slot in a coalition government, the PTI chief ruled out any such deal. "How can you bring change by joining the status quo?"
Full report at:
http://tribune.com.pk/story/543378/taliban-did-not-kill-benazir-imran/
------------
Man attacked with acid for 'having an affair'
May 2, 2013
MULTAN: Two brothers attacked a man with acid in Muzaffargarh on Tuesday for allegedly having an affair with a girl from the neighbourhood.
One of the assailants was arrested. He told police that they had attacked the man "as a responsibility towards their neighbour".
The injured man was taken to a hospital, where he was reported to be critical. Doctors treating him told The Express Tribune that he had more than 50 per cent burns. They said his eyes and face were badly affected.
Mehmood Kot police said Muhammad Abdur Rauf, a resident of Gujarat Colony in Kot Addu, was alleged to have an affair with a woman in the nearby area of Sarwanwala village. They said he often used to visit her and was noticed by Tariq and Munir, the woman's neighbour. They said the two brothers had warned him against visiting the area.
On Tuesday night, they said, the two brothers and three unidentified men stopped Rauf and took him into a house, where they threw acid at him. They later threw him on a roadside.
Some passers-by heard Rauf shout for help and took him to a rural health centre, from where he was shifted to Nishtar Hospital in Multan. Doctors said the assailants had apparently used a lot of acid, possibly as much as a litre.
Full report at:
http://tribune.com.pk/story/543160/protecting-thy-neighbours-man-attacked-with-acid-for-having-an-affair/
------------
'Moderates' join hands to fight 'conspiracies'
By Razzak Abro
2 May 2013
KARACHI: Three 'moderate' political parties on Wednesday have vowed to resist all conspiracies underway to restrain them from contesting polls and aimed at promoting fundamentalist parties in the May 11 general election.
They continued reiterating their stance against 'conspiracies' through their joint appearances at different venues.
Leaders of the three parties gathered at residence of ANP's Senator Shahi Syed in the morning and later at the PPP's Secretariat in the evening. Late on Tuesday, they had also gathered at the MQM Headquarters, Nine-Zero.
The three 'enlightened' parties repeatedly accused the 'national and international establishments' for supporting the plan of blocking the way of three progressive parties in the forthcoming polls. They urged the people of the country foil the conspiracies by coming out on May 11 and casting votes in their favour. They also welcomed the statement of army chief General Ashfaq Parvez Kayani, saying that the three parties had been expressing the same opinion.
Senator Shahi Syed said that terrorists had hijacked the May 11 election and "it appears that they are conducting the polls, not the caretaker government". He said that the caretaker government and law enforcement agencies were not playing their roles. "It appears that elections are only being held in Punjab. It will be selection, not election," the ANP leader said. Shahi Syed also urged religious scholars of the country to give edict against the actions of the TTP in light of Islam. He warned that people would not accept election results if the three progressive parties had not been provided a level playing field.
Full report at:
http://www.dailytimes.com.pk/default.asp?page=2013\05\02\story_2-5-2013_pg1_1
------------
PTI will stop military operations across country: Imran
2 May 2013
LORALAI: Pakistan Tehreek-e-Insaf Chairman Imran Khan has said that after coming into power his party would end military operations in Balochistan, Khyber Pakhtunkhwa and other parts of the country, saying bullet is not the solution to any problem.
Speaking at a public rally here on Wednesday, he said that the PTI would transform the country into a welfare state where justice would be dispensed without any discrimination. He said local bodies' polls would be held in the country as soon as possible. "We would not allocate development funds to any MNA or MPA, but the problems would be resolved through local bodies," Imran added.
The PTI chief said that the biggest issue is terrorism, which would be dealt with mutual consultation. The PTI would implement same educational curriculum throughout the country. Imran said that the people would lay the foundation stone of "New Pakistan" on May 11. He urged the youth to come out of their homes on the election day and cast their votes.
Imran said PTI will focus on the resolution of the problems being faced by provinces and particular attention will be paid to resolution of the problems of the Baloch people. He said utmost efforts are being made to bring honest people to represent the masses in parliament. "We will introduce new local bodies system and pay special attention for the uplift of the education sector," he added. The education, water, transport and other basic needs would be met in the remote areas. The PTI chief said that May 11 will bring a new dawn in the country.
Imran seemed very optimistic about the solution of Balochistan issue. He said not only would he halt the military operation in Balochistan but would also recover missing persons and take action over killing of people and dumping of their mutilated bodies. He asked people to come forward and vote him into power on May 11. Tight security measures were seen in place during his visit to Loralai and Sibbi.
Full report at:
http://www.dailytimes.com.pk/default.asp?page=2013\05\02\story_2-5-2013_pg7_1
------------
Pakistan, Afghan forces clash along border injuring soldiers
2 May 2013
ISLAMABAD: An Afghan border policeman was killed and two Pakistani soldiers were wounded in an exchange of fire along the Pak-Afghan border late on Wednesday, officials from both countries said.
A senior Afghan official said hundreds of additional Afghan troops were sent to a disputed border gate after the exchange of fire, which lasted for more than two hours.
An Afghan official who declined to be named said that one Afghan was killed in several hours of artillery exchanges.
Pakistani authorities accused the Afghan National Army (ANA) of firing on one of its border check posts, injuring at least two security personnel.
A senior Pakistan security official in the country's northwest said ANA troops started firing at 10:00 pm local time, which triggered an exchange of fire that lasted for two hours on the Pakistan-Afghan border in the Mohmand tribal district.
"It was continuous fire on one of our check post that forced our troops to retaliate," the official told AFP.
"ANA was firing with small and heavy weapons. At least two of our security personnel were injured. We will raise this issue on the proper forum," the official said.
An administrative official in the Mohmand district along the Afghan border confirmed the exchange of fire and told AFP five ambulances had been sent to the area.
Full report at:
http://www.beta.dawn.com/news/795172/pakistan-afghan-forces-clash-along-border-injuring-soldiers
------------
Taliban try to fix Pakistan's poll by forgetting the Left
Syed Fazl-e-Haider
May 2, 2013
On April 16, a suicide attack in Peshawar at a political rally for the Awami National Party (ANP) killed at least 17 people - including two children, a journalist and six police officials - and injured more than 50. Tehreek-i-Taliban Pakistan (TTP) quickly claimed responsibility.
Sadly, this was not an isolated incident. There have been dozens of attacks on political parties and their candidates in the weeks leading up to May 11 elections. And this threatens to affect the outcome of the vote.
For the Pakistani Taliban, these general elections have become a threat to its radical agenda. The Taliban turned against the Muttahida Qaumi Movement (MQM) last year when the political party announced plans to hold a public referendum throughout the country urging people to vote on whether they want a Pakistan run by the Taliban, or the one envisioned by Mohammad Ali Jinnah, who wanted Pakistan to be democratic and progressive.
The ANP, one of the main political parties contesting the election, has lost over 700 of its activists, leaders and supporters to extremist attacks. In December, the Taliban killed Bashir Ahmad Bilour, the ANP leader and the second most senior member of the former provincial cabinet. Bilour was among nine people killed in a suicide bomb attack at another ANP meeting in Peshawar.
And last month, Bilawal Bhutto Zardari, chairman of the Pakistan Peoples Party (PPP), suddenly left the country for Dubai due to threats to his life. Bilawal's mother, the former Prime Minister Benazir Bhutto, was assassinated by the Taliban in December 2007 at a pre-poll rally in Rawalpindi.
Full report at:
http://www.thenational.ae/thenationalconversation/comment/taliban-try-to-fix-pakistans-poll-by-forgetting-the-left#ixzz2S7kKqxnW
------------
India
All India Muslim OBC Organisation Conference to be held on May 4
New Age Islam News Bureau, May 2, 2013
New Delhi: The leaders of all the OBC sections will come together to demand their legal and economic rights in a conference in New Delhi on May 4. The All India Muslim OBC Organisation which is hosting the conference has invited all the leaders of all the backward classes or sections to attend the conference to present their demand of the implementations of Ranganathan Commission recommendations and the census of OBC in the country. According to a press release, the deputy chief minister of Maharashtra and senior NCP leader Chhagan Bhujbal, BJP leader Gopi Nath Munde, CPI (M) leader Md Salim, CPI leader Atul Kumar Anjan and national Congress leader Zafar Ali Naqvi and NCP general secretary D. P. Tripathy will participate in the conference.
------------
Maulana Vastanvi attends conference on Quranic teachings
New Age Islam News Bureau, May 2, 2013
Maulana Vastanvi returned after attending a four day conference on Quranic teachings in Bahrain in which 300 religious scholars from more than 60 countries participated. Maulana Vastanvi read out his lecture on Quranic teaching in India in which he detailed the spread of Islam and the Quranic teachings in India and gave the details of the contributions of organisations in India in this field.
------------
Two alleged SIMI activists acquitted
New Age Islam News Bureau, May 2, 2013
Two activists of the banned organisation SIMI were acquitted on grounds of insufficient evidences against them. They had been arrested in 2001 on charges of illegal activities and were released after 12 years. The youths Badiuzzaman Khan and Jabir Khan belonged to Chalis Gaon in district Jalgaon of Maharashtra. They were arrested on charges of having links with the banned outfit SIMI. The police had filed charge sheet in the case in 2006 but during hearing, the public prosecutor M. S. Yule failed to substantiate the charges because of inefficient evidences. Therefore, based on the lack of incriminating evidence, the honourable judge Shrimant Chakkar acquitted them.
------------
Ishrat Jahan encounter: Court clears way for Gujarat top cop's arrest
May 02 2013
Ahmedabad : A special CBI sessions court on Thursday directed the additional chief judicial magistrate (ACJM), CBI court to issue the arrest warrant against IPS officer PP Pandey who is accused in the Ishrat Jahan encounter case.
Special Judge Gita Gopi set aside the order of ACJM that had rejected CBI's plea to issue the warrant.
The ACJM H S Khutwad had rejected CBI's application by saying, "the investigative officer has power to arrest if he wishes as the offence is cognisable one. Further in support of the application I don't find any justified circumstances or record to allow the present application and issue warrant as projected."
However, judge Gita Gopi observed that "The order passed by learned ACJM is found illegal and incorrect. It is against the provision of law, thus, required to be set aside."
"The judicial discretion which has been exercised is arbitrary and perverse and thus, the revisionist (CBI) has succeeded to bring to notice of this court that the interference is necessary in the interest of justice... The ACJM is directed to issue warrant of arrest," the judge has observed in the order.
Pandey who has ducked CBI notices twice (April 22 and April 24) is an accused in the fake encounter case where the Khalsa college girl from Mumbra, Ishrat Jahan was killed with her friend Pranesh Pillai alias Javed Sheikh and two others, Zeeshan Johar and Amjad Ali Rana on Full report at:
http://www.indianexpress.com/news/ishrat-jahan-encounter-court-clears-way-for-gujarat-top-cop-s-arrest/1110528/
-----------
Senior separatist leader asks Pak to act against Sarabjit's attackers
May 02, 2013
Senior separatist leader Shabir Ahmad Shah on Thursday asked Pakistan to act against the attackers of Indian prisoner Sarabjit Singh, who died in a Pakistani hospital after being comatose for nearly a week.
"Pakistan should act against those who were involved in attacking him (Sarabjit). Pakistan should lodge an FIR against them and act as per the law of the land," president, Democratic Freedom Party (DFP) Shabir Shah told reporters in Srinagar.
Shah said Pakistan must return Singh's body to his family so that they are able to conduct his last rites as per their customs.
Sarabjit died of cardiac arrest in a Lahore hospital in the wee hours of Thursday after being comatose for nearly a week following a brutal assault by fellow inmates in a high-security Pakistani jail.
Meanwhile, the separatist leader demanded the Indian government to return the mortal remains of Parliament attack convict Mohammad Afzal Guru, who was hanged and buried inside the Tihar jail on February 9, and also the body of Jammu Kashmir Liberation Front (JKLF) founder Mohammad Maqbool Bhat.
Bhat was hanged and buried inside the Tihar Jail in 1984 after he was convicted of murdering a police officer.
Full report at:
http://www.hindustantimes.com/India-news/Srinagar/Shabir-Shah-asks-Pak-to-act-against-Sarabjit-s-attackers/Article1-1053735.aspx
----------
NBW against Akbaruddin in hate speech case
May 2, 2013
A local court on Thursday issued a non-bailable warrant against Majlis-e-Ittehad ul Muslimeen (MIM) MLA Akbaruddin Owaisi for allegedly making a "hate speech" against a particular community.
Based on a private complaint of Kashimshetty Karunasagar, a practising advocate, the VII Additional Chief Metropolitan Magistrate court here issued the non-bailable warrant with a direction to Maddannapet police to produce Mr. Owaisi before it on May 9.
Mr. Owaisi's counsel Mohammed Azim filed an application in the court seeking recall of the non-bailable warrant.
"We have filed an application seeking to cancel the NBW. The court has posted the matter for tomorrow," Mr. Azim told PTI, adding that his client was ready to appear before the court.
Mr. Karunasagar had filed a complaint on December 28, 2012 in the court seeking registration of a case against Mr. Owaisi under Section 295-A (deliberate and malicious acts, intended to outrage religious feelings of any class by insulting its religion or religious beliefs), 153-A (promoting enmity between different groups on grounds of religion) and other relevant sections of the IPC.
Full report at:
http://www.thehindu.com/news/national/andhra-pradesh/nbw-against-akbaruddin-in-hate-speech-case/article4676864.ece
-----------
Saudi Labour Ministry, Indian officials urge illegals to register
2 May 2013
Indian workers who have travelled to Saudi Arabia legally will be allowed to regularize their visa status, get new jobs or to return to India if they choose to register with the Saudi authorities during the three-month grace period.
The offer was jointly agreed by Saudi and Indian officials during the first meeting of the working group here.
The joint panel was convened yesterday at the Saudi Ministry of Labour. The meeting was attended by Deputy Minister for Labour Affairs Ahmad S. Al-Humaidan, Deputy Minister for International Affairs Ahmed F. Al Fahaid and Deputy Minister for Labor Relations Ziyad I. Alsaigh. The Indian delegation to the meeting was led by Sibi George, minister and deputy chief of mission at the Indian Embassy.
George said that the joint panel discussed re-employment of overstaying Indian workers in Saudi Arabia by their taking advantage of the facilities offered by the Ministry of Labour including services of the newly set up mega-recruiting companies.
He urged Indians affected by the Nitaqat program and those overstaying in Saudi Arabia to register their names at the Ministry of Labour website www.redyellow.com.sa. The site is being visited regularly by various Saudi companies to look for Indian workers.
George said the ministry will "issue shortly a series of measures aimed at helping the expatriate workers to regularize their stay in Saudi Arabia or to return to their countries."
He said that the joint panel will continue discussions next week.
Full report at:
http://www.arabnews.com/news/450153
------------
India to send special plane to Pak to bring back Sarabjit's body
May 02 2013
India will send a special plane to Lahore to bring back the body of Sarabjit Singh, who died in a Pakistani hospital after being comatose for nearly a week.
"A plane will go to Lahore to bring back the mortal remains of Sarabjit Singh," home minister Sushilkumar Shinde told reporters in New Delhi.
The announcement came after Pakistan said that Sarabjit's body will be handed over to Indian authorities after "the early completion of all formalities".
Shinde, however, did not specify when the plane will fly to Lahore.
The home minister said New Delhi had tried its best to convince Islamabad to hand over the Indian who had been languishing in Pakistani jail for more than two decades.
"We have tried our level best. We tried at the Prime Minister's level, the external affairs ministry tried and I also personally took up his case with Pakistan's interior minister. But unfortunately we could not succeed," he said.
Full report at:
http://www.hindustantimes.com/India-news/newdelhi/India-to-send-special-plane-to-Pak-to-bring-back-Sarabjit-s-body/Article1-1053630.aspx
------------
Sarabjit's death has hurt people-to-people ties: Khurshid
May 02, 2013
Asserting that the death of Indian prisoner Sarabjit Singh has "hurt" people-to-people ties between India and Pakistan, external affairs minister Salman Khurshid on Thursday hoped that the tragedy will help understand the the cost of "hostility" between the two countries.
"For the present, I can only say that it is a terrible psychological and emotional setback to all of us and I believe to what we have been trying to do in terms of creating greater cohesion between people of India and people of Pakistan," he told reporters in New Delhi.
Khurshid said, "Governments can sometimes disagree, governments can sometimes sit together and talk but a sustainable and long-lasting relationship has to be between people and I think that today has been very, very sadly, in a very distressing manner, that is a relationship that has been hurt by this terrible tragedy."
The minister said, "I hope that this terrible event and this tragedy will contribute something to at least the understanding of the human element of the cost of hostility between our two countries."
Full report at:
http://www.hindustantimes.com/India-news/newdelhi/Sarabjit-s-death-has-hurt-people-to-people-ties-Khurshid/Article1-1053558.aspx
------------
Militant hideout busted in Kishtwar district of J&K
May 02 2013
In a joint operation, Army troops and police have busted a militant hideout and recovered a cache of ammunition and explosive material in Kishtwar district of Jammu and Kashmir.
A party of a Rashtriya Rifle battalion and J&K Police launched a search operation on Wednesday in General Area Chatru in Kishtwar district and busted the hideout, Defence spokesperson S N Acharya said on Thursday.
Full report at:
http://www.thehindu.com/news/national/other-states/militant-hideout-busted-in-kishtwar-district-of-jk/article4676123.ece
------------
270 Indians in Pakistan jails
May 02, 2013
There were 215 fishermen and 55 other Indian nationals in Pakistan jails as of January 1 this year, the ministry of external affairs (MEA) announced in New Delhi on Thursday.
The figures were according to the lists exchanged between India and Pakistan on January 1 each year, MEA spokesperson Syed Akbaruddin said at a press conference on a day that Indian prisoner Sarabjit Singh died in a Lahore hospital after being attacked by his fellow inmates.
http://www.hindustantimes.com/India-news/NewDelhi/270-Indians-in-Pakistan-jails/Article1-1053727.aspx
-----------
North America
Boston bombing: Three arrested men charged with undermining probe
Reuters | May 2, 2013
BOSTON/WASHINGTON: US authorities on Wednesday charged three men with interfering with the investigation of the Boston Marathon bombing, accusing two students from Kazakhstan of hiding a laptop computer and backpack belonging to one of the suspected bombers.
The third man, a US citizen named Robel Phillipos, was charged with making false statements to investigators.
The three were described as friends of surviving bombing suspect Dzhokhar Tsarnaev, 19. They were not charged with direct involvement in the April 15 Marathon bombings, which killed three people and injured 264.
Authorities charged the two Kazakhs, Azamat Tazhayakov, 19 and Dias Kadyrbayev, 19, with conspiring to obstruct justice by disposing of a backpack containing fireworks they found in Tsarnaev's dorm room.
Tsarnaev, who attended the University of Massachusetts at Dartmouth, is being held at a prison hospital where he is recovering from wounds sustained in a gun battle with police. His older brother, Tamerlan, died in the gunfight.
The three new suspects were scheduled to appear in federal court in Boston on Wednesday afternoon.
Kadyrbayev and Tazhayakov face a maximum sentence of five years in prison and $250,000 fine. Phillipos faces a maximum sentence of eight years in prison and a $250,000 fine.
Kadyrbayev's lawyer, Robert Stahl, said his client was "not a target" of the bombing investigation, but declined to comment on any other specifics. He said his client had "cooperated fully" with investigators and "wants to go home to Kazakhstan."
Cover-up allegation
Full report at:
http://timesofindia.indiatimes.com/world/us/Boston-Marathon-bombing-Three-arrested-men-charged-with-undermining-probe/articleshow/19825686.cms
------------
Americans Want U.S. to Keep Out of Syria Conflict: Poll
2 May 2013
WASHINGTON (Reuters) - Most Americans do not want the United States to intervene in Syria's civil war even if the government there uses chemical weapons, a Reuters/Ipsos poll showed on Wednesday, in a clear message to the White House as it considers how to respond to the worsening crisis.
Only 10 percent of those surveyed in the online poll said the United States should become involved in the fighting. Sixty-one percent opposed getting involved.
The figure favoring intervention rose to 27 percent when respondents were asked what the United States should do if President Bashar al-Assad's forces used chemical weapons. Forty-four percent would be opposed.
"Particularly given Afghanistan and the 10th anniversary of Iraq, there is just not an appetite for intervention," said Ipsos pollster Julia Clark.
The rebellion against Assad's government has resulted in 70,000 dead and created more than 1.2 million refugees since it erupted in 2011.
President Barack Obama has shied away from deep U.S. involvement, although he declared last year that the use or deployment of chemical weapons by Assad's government would cross a "red line."
Full report at:
http://www.nytimes.com/reuters/2013/05/02/world/middleeast/02reuters-syria-crisis-usa.html?ref=middleeast
----------
US delegation lauds Pak role in fight against terror
2 May 2013
RAWALPINDI: A five-member US Congress-ional delegation, led by Senator Joe Donnelly, called on Defence Secretary retired Lt Gen Asif Yasin Malik here on Wednesday.
The meeting, also attended by US Ambassador Richard Olson, discussed important issues relating to bilateral ties, said a press release.
The US team commended Pakistan's efforts, role and support in the war against terrorism.
Senator Donnelly also paid tribute to the spirit of sacrifice of the armed forces.
The meeting focused on matters relating to regional security. Both sides emphasised on improving security environment and overcoming security challenges along the Pak-Afghan border.
Full report at:
http://dawn.com/2013/05/02/us-delegation-lauds-pak-role-in-fight-against-terror/
------------
Obama hints at military action in Syria
2 May 2013
WASHINGTON/BEIRUT/AMMAN: President Barack Obama is signaling that he would consider US military action against Syria if his administration obtains "hard, effective evidence" of chemical weapons use by the Assad government.
But Obama made it clear he would prefer to have the backing of the international community before escalating American involvement in the Syria's fierce civil war.
In a White House news conference Tuesday, Obama appealed for patience, saying he still needs more conclusive evidence about how and when chemical weapons detected by US intelligence agencies were used. But if those questions get answered, Obama says he would consider options the Pentagon and intelligence community have readied for him in the event Syria crossed his chemical weapons "red line."
Syria's opposition yesterday denounced what it called "threats" by the head of Hezbollah, and warned against any intervention by the Lebanese group or by Iran in the Syrian conflict.
The speech was also criticized by Lebanese opposition leader Saad Hariri, who accused Hezbollah of "leading Lebanon to ruin" by intervening in Syria.
"The Syrians and the Lebanese hoped... that the Hezbollah leadership would stop their attacks on Homs and Damascus and take into account the gravity of the situation in the region," the Syrian National Coalition said in a statement.
"But they heard nothing but threats... and warnings against setting the region on fire and an admission of their interference in Syrian affairs," the key opposition movement said.
On Tuesday, Hezbollah chief Hassan Nasrallah acknowledged that members of the group are fighting inside Syria and suggested Iran and other states could intervene to support the Damascus regime against rebels.
Full report at:
http://www.arabnews.com/news/450088
------------
FBI releases photos of Benghazi attack trio
2 May 2013
The FBI has released photos of three men it says were on the grounds of the US consulate in Benghazi, Libya, when it was attacked last year.
The agency says those in the images may be able to provide information, but it did not say if they were suspects.
The 11 September assault killed the US ambassador to Libya Chris Stevens and three other Americans.
Full report at:
http://www.bbc.co.uk/news/world-us-canada-22377072
------------
Southeast Asia
Religious Intolerance Poisoning Indonesia
May 2, 2013
For the 13th year in a row, Indonesia has been included on a watchlist of countries with appalling religious freedoms.
The US Commission on International Religious Freedom said that Indonesia's tradition of pluralism had been strained in recent years by "ongoing sectarian tensions, societal violence and the arrest of individuals considered religiously deviant."
Dwindling religious tolerance in Aceh, which has adopted its own interpretation of Shariah law, is specifically highlighted in the report, including the closure of 29 churches and five Buddhist temples in the district of Singkil and the provincial capital, Banda Aceh, during the past year.
The report also mentions last November's attack on an allegedly heretical sect in Aceh's Bireuen district that killed the sect leader, Tengku Ayub Syakuban, and one of his students. None of the around 100 people participating in the attack have been arrested.
The impunity enjoyed by the people behind the Bireuen attack is not unique, with hard-line groups operating freely with few consequences, harassing religious minorities, destroying places of worship and pressuring local officials to detain and restrict those accused of blasphemy and proselytizing minority faiths, the report says.
Last month, the Surabaya District Court in East Java acquitted Rois Al-Hukama of orchestrating a deadly anti-Shiite rampage in Sampang district, Madura Island, that left two people dead in 2012.
A mob of 500 Sunni Muslims rampaged through a village in Sampang's Omben subdistrict on Aug. 26, hacking one Shiite Muslim to death and setting fire to more than 30 homes. Those who remained in the region, or refused to convert to Sunni Islam, were forced to live in spartan conditions in an unadorned sports complex. Nearly one year on, the community still lives in exile.
Although President Susilo Bambang Yudhoyono has publicly supported religious tolerance, members of his cabinet "sometimes send mixed messages on religious freedom," the report states.
Full report at:
http://www.thejakartaglobe.com/news/religious-intolerance-poisoning-indonesia/
------------
Gun attack in Thailand's south leaves six dead
2 May 2013
Six people, including a young child, have been killed in southern Thailand after a gun attack at a village shop, police say.
At least four gunmen fired bullets at the shop in Pattani province before escaping on motorbikes.
The attack comes days after a second round of peace talks between Muslim separatists and the Thai government.
More than 5,000 people have been killed since a separatist insurgency reignited in the Muslim-majority region in 2004.
A toddler was among those killed in the attack on Wednesday night. Another man was also injured, according to reports. All those killed were believed to be Buddhists.
A note left at the scene did not identify the group behind the attack, but said it was in retaliation for the deaths of some of their fellow members.
That may have been a reference to events nearly three months ago when 16 insurgents were killed during an attempt to overrun a Thai military base, says the BBC's Jonah Fisher in Bangkok.
Full report at:
http://www.bbc.co.uk/news/world-asia-22378486
---------
BN hands Shah Alam Malays 'Chinese control Malaysia' pamphlets
2 May 2013
SHAH ALAM, May 2 — Propaganda pamphlets titled "Malaysia A Chinese Country" were handed out by several Barisan Nasional (BN) workers to the largely Malay audience who turned up for Tun Dr Mahathir Mohamad's event in Selangor's capital city last night, where the former prime minister batted for Datuk Zulkifli Noordin ahead of Sunday's polls.
The Malaysian Insider too was given a copy of the four-page pamphlet bearing rival DAP's logo, which published an alleged account of a Chinese meeting in Ipoh on May 15, 1978.
"Let us together unite for self-profit and the business livelihood of the noble Chinese," the pamphlet said in Malay, padded with reference to several Malay proverbs.
"First we topple the country, then we subject through refined and effective means all our leaders who especially have this goal. Perhaps in 2 or 3 more elections we will gain power and split apart the Malay leadership," it added.
"I and the DAP leaders very much hope for all of us to unite to GRAB MALAY RIGHTS for the Chinese rights [sic], HELP our race by whatever methods. This success rests on the co-operation and understanding or our astute and noble race."
An addendum on the last page of the pamphlet claimed the account was translated from Chinese by a Chinese-looking Malay.
The anonymous translator also reminded the Malays to be wary of the threat to their position by the Chinese.
The pamphlet concluded by saying: "Are you willing to let this cursed race (Chinese) gain control arbitrarily; rouse the spirit to fight the infidels for the sake of our holy religion of Islam."
Full report at:
http://www.themalaysianinsider.com/malaysia/article/bn-hands-shah-alam-malays-chinese-control-malaysia-pamphlets/
------------
Violence, online attacks mar GE13, says rights watchdog
2 May 2013
KUALA LUMPUR, May 2 — Attacks have surged against party workers, supporters and web-based media reporting on the general election, and are threatening the democratic right of its citizens to vote, an international human rights organisation said today.
Human Rights Watch urged leaders from both sides of the political divide to rein in their supporters and the police to investigate the bullying and fear-mongering tactics fully and with impartiality even though it acknowledged that calls from both pacts have so far failed to curb the violence.
"Election violence threatens the right of all Malaysians to vote for the party of their choice," Phil Robertson, deputy Asia director at Human Rights Watch, said in a statement.
Violent acts have dogged the run-up to the long-awaited Polling Day on May 5, growing more frequent and malicious since formal campaigning kicked off on Nomination Day on April 20.
Party workers have been beaten while putting up party flags, a petrol bomb was thrown into the house compound of the daughter of Dr Xavier Jayakumar, the PKR candidate for the Sri Andalas state seat last week, setting her car on fire, and caretaker Penang Chief Minister Lim Guan Eng reportedly filed a police report last Thursday over a text message he received that threatened death against his wife and son if he was re-appointed chief minister.
An explosive device went off at Barisan Nasional's (BN) ceramah in Jawi, Penang last week, injuring one man while petrol bombs have also been lobbed at their operations centres in Penang, Selangor and Kedah last week.
Full report at:
http://www.themalaysianinsider.com/malaysia/article/violence-online-attacks-mar-ge13-says-rights-watchdog/
------------
Come home, vote to keep Islamic government: Nik Azizk
2 May 2013
KUALA LUMPUR, May 2 — Datuk Nik Abdul Aziz Nik Mat urged Kelantan folk living outside the state to return home for the May 5 polls, telling them last night to keep the PAS government in the east coast state while changing the federal government to Pakatan Rakyat (PR).
The PAS spiritual adviser was speaking during the launch of a campaign called "Jom pakat kelik undi" (Let's come home to vote together), attended by close to 5,000 PAS supporters in Kampung Baru here, mainly Kelantan folk living in Kuala Lumpur.
"We will vote on the 5th, after we vote we will form a government, and just not any government, but one based on Prophet Muhammad's teachings ... Remember this so it will not be hard for you to come back to Kelantan," Nik Aziz (picture) told the crowd.
He earlier stressed that only Islam held the answer for Muslims, not democracy, nationalism or communism. It was a message that had been repeated many times by the veteran statesman in recent weeks as he tried to convince Malay voters to choose his Islamist party.
Speaking in the Kelantan Malay dialect and peppered with pantun, guest speakers, including the PAS candidate for Titiwangsa, Ahmad Zamri Asa'ad Khuzaimi, touched on issues closest to the heart of Kelantan voters last night.
The speakers mocked the situation in Pasir Mas, where independent candidate Datuk Ibrahim Ali has joined forces with Umno after Barisan Nasional's (BN) candidate Che Johan Che Pa refused to contest the seat. PAS had backed Ibrahim in Election 2008.
Voters were told to not be afraid to vote for change, and warned that if they did not go home to vote, BN has allegedly readied phantom voters to take advantage of their names.
Among the speakers last night was also PKR president Datuk Seri Dr Wan Azizah Wan Ismail, who made the crowd laugh after confessing that she was not aware where her husband, de facto PR leader Datuk Seri Anwar Ibrahim, was currently during his stump yesterday.
The caretaker Kelantan mentri besar only arrived at 10pm together with state executive councillor Datuk Abdul Fatah Mahmood and former state assembly Speaker Datuk Nasaruddin Daud, escorted by a group of bikers.
Full report at:
http://www.themalaysianinsider.com/malaysia/article/come-home-vote-to-keep-islamic-government-nik-aziz-tells-kelantan-folk/
------------
Najib is world's 11th most popular political leader, first In Malaysia on social media
2 May 2013
KUALA TERENGGANU, May 1 — Datuk Seri Najib Tun Razak has been listed as the world's 11th most popular political leader and Malaysia's most popular based on the findings of an internet monitoring site, Sosialbakers.
Commenting on the report before attending the gathering of RELA members at the Islamic Civilisation Centre here Wednesday, the prime minister said 11 had always been his favourite number.
Meanwhile, Youth and Sports Minister Datuk Seri Ahmad Shabery Cheek said the report showed that Najib was popular among youths who increasingly engaged in social media.
"This reflects the prime minister is not only popular in Malaysia, but also around the world," he told Bernama.
Full report at:
http://www.themalaysianinsider.com/malaysia/article/najib-is-worlds-11th-most-popular-political-leader-first-in-malaysia-on-social-media/
------------
Six Indonesians among FP's 500 Most Powerful People
May 01 2013
As many as six Indonesians are among the world's 500 Most Powerful People, according to noted publication Foreign Policy magazine.
The six listed Indonesians include Susilo Bambang Yudhoyono, former president Megawati Soekarnoputri, Jakarta governor Joko "Jokowi" Widodo, former finance minister Agus Martowardoyo, Foreign Minister Marty Natalegawa and presidential spokesman Teuku Faizasyah.
Also found on the prominent list are Palestinian President Mahmoud Abbas, Japanese Prime Minister Shinzo Abe and German Counselor Angela Merkel.
A political analyst from the Indonesian Institute of Sciences (LIPI), Siti Zuhroh, praised the list saying that it could mean that Indonesian democracy was widely accepted by the international community.
"Yudhoyono's leadership is considered successful as he has been able to offer political stability in two-term presidential tenures. Jokowi can also be seen as successful person although he has yet to prove himself," she said.
Full report at:
http://www.thejakartapost.com/news/2013/05/01/six-indonesians-among-fp-s-500-most-powerful-people.html
------------
South Asia
Taliban bomb kills eight Afghan police: officials
May 02 2013
PULI ALAM, Afghanistan — A Taliban roadside bomb killed eight Afghan police Thursday in Logar province, outside the capital Kabul, officials said.
"One of the police vehicles hit an IED (improvised explosive device) in which eight local police were killed and their pick-up truck was totally destroyed," Rais Khan Sadeq, the Logar provincial deputy police chief, told AFP.
http://www.saudigazette.com.sa/index.cfm?method=home.regcon&contentid=20130502163986
------------
Nasheed's Party condemns use of Islam as "political weapon to sow discord"
By Ahmed Naish | May 1st, 2013
The former ruling Maldivian Democratic Party (MDP) has strongly condemned "irresponsible and misleading" political rhetoric against former President Mohamed Nasheed over his remarks on Islamic radicalism during an address to the Danish parliament.
"Misleading" statements were made in the media by political parties and "those wearing the hat of sheikhs to use religion as a weapon," the MDP said in a press release yesterday (April 30).
"The party believes that this is done to sow discord, unrest and chaos in this peaceful Maldivian land," the opposition party said.
The condemnation follows a statement by the religious conservative Adhaalath Party (AP) earlier this week accusing the MDP presidential candidate of labeling Muslims as "extremists," insulting Islam and allegedly portraying himself as "a warrior engaged in a mighty effort against Islam, to please the people of false religions."
The government-aligned religious party had reiterated its claim that former President Nasheed was pursuing "a secular agenda" with support and encouragement from "missionaries of false religions."
The self-titled 'National Movement' led by the Adhaalath Party meanwhile protested on the streets of Male' on Monday night (April 29) calling for Nasheed to be "hanged" for apostasy.
The movement was born out of the unofficial December 23, 2011 coalition of eight political parties – now part of the coalition government of President Dr Mohamed Waheed – and an alliance of NGOs that rallied at a mass gathering to "defend Islam" from Nasheed's allegedly liberal policies.
On the same night as the national movement's protest, former President Maumoon Abdul Gayoom contended that Maldivians faced a choice between a secular, anti-national ideology and an Islamic-nationalistic ideology best represented by his Progressive Party of Maldives (PPM).
In a thinly-veiled reference to the MDP, Gayoom accused the former ruling party of trying to impose Western secularism on the Maldives to "put the country in control of an anti-Islamic organisation."
The government-aligned PPM also claimed that Nasheed "shamed the nation" with his allegedly anti-Islamic remarks.
"A former president of a 100 percent Islamic nation speaking in such a fashion, insulting the religion of Islam and mocking Prophet Muhammed is a derogatory act that brings disgrace to the country in front of other Islamic nations," the largest party in the ruling coalition said in a statement.
"Reformation"
At a question and answer session following his lecture at the Denmark parliament last month, former President Nasheed said that the spread of radical Islam or Wahhabism throughout the Middle East and East Asia was "very worrying."
"This is not Islam necessarily but more a Hejaz or Saudi thinking – their culture. And it is an idea to impose that culture upon all Islamic societies. And I'm afraid that the spread of that thinking is very, very rapid, partly because we haven't stood up and given an alternative narrative," Nasheed explained in response to a question asking for his viewpoint on the struggle between "progressives and reactionaries" within Islam.
Nasheed added that moderates have not offered "a proper narrative that can counter the radical Islamic viewpoint."
Full report at:
http://minivannews.com/politics/mdp-condemns-use-of-islam-as-political-weapon-to-sow-discord-57267
------------
Bangladesh war crime court indicts British Muslim leader
2 May 2013
DHAKA: Bangladesh's war crimes court on Thursday indicted a Bangladesh-born British Muslim leader for his alleged role in the murder of top intellectuals during the country's 1971 liberation war.
"The court has taken into cognizance the charges of war crimes against Chowdhury Mueen-Uddin and issued a warrant to arrest him," International Crimes Tribunal registrar Nasiruddin Mahmud told AFP.
State prosecutor Syed Haider Ali told AFP Mueen-Uddin "has been indicted for crimes against humanity and genocide. The charges include the killing of the country's top intellectuals during the 1971 war of liberation".
The controversial court, called the International Crimes Tribunal, has already charged 12 people with war crimes and sentenced to death two people including the vice-president of the largest Islamic party, Jamaat-e-Islami.
Full report at:
http://dawn.com/2013/05/02/bangladesh-war-crime-court-indicts-british-muslim-leader/
------------
4 Shibir men get life term jail for killing BCL man
2 May 2013
A Chittagong court yesterday sentenced four pro-Jamaat Islami Chhatra Shibir activists to life term imprisonment for killing a Bangladesh Chhatra League leader.
The fugitive convicts are Muzahidul Islam Selim, Md Hamid, Rahamat Ullah, and Md Selim.
The court also fined Tk 10,000 each of them in default to suffer two more years in jail while acquitted four others.
Judge Reza Tareque Ahmad of Divisional Speedy Trial Tribunal pronounced the verdict, court sources said.
Full report at:
http://www.thedailystar.net/beta2/news/4-shibir-men-get-life-term-jail-for-killing-bcl-man/
------------
HRCM to investigate Immigration Department's promise of mass repatriation
By Neil Merrett | May 1st, 2013
The Human Rights Commission of Maldives (HRCM) has expressed concern over a pledge by immigration authorities to repatriate 10,000 "illegal" expatriates on the back of wider reservations at the treatment of foreign workers potentially trafficked into the country.
HRCM member Jeehan Mahmoud has told Minivan News that the commission was concerned not just over plans to repatriate a predetermined number of unregistered workers, but also whether they were being punished for the actions of employers or agents acting outside the law.
The concerns were raised as the Department of Immigration and Emigration announced yesterday (April 30) that 1,748 foreigners found to be working illegally in the country had been repatriated – the majority by their own request – during the year so far.
Immigration officials also announced commitments to send a further 10,000 unregistered workers back to their home nations during the remainder of 2013.
Immigration Controller Dr Mohamed Ali said that the repatriated workers had either come to the Maldives with sufficient funding to afford transportation back to their home countries, or that their fares were covered through previously paid "deposits".
Dr Ali did not however elaborate as to how the immigration department had devised the figure targeting the return of 10,000 unregistered workers to their respective countries.
He stressed that his department would be investigating and punishing employers and agencies responsible for bringing the now unregistered workers to the country if they had acted illegally.
"[The immigration department] will do that with vigour now," he said.
Dr Ali was reported in local media as adding that 146 foreigners alleged to have involvement in criminal cases were deported this year so far, with 85 illegal workers also sent back to their respective home nations.
"More foreigners come to us voluntarily as we toughen our approach towards them. Everything will be arranged for those who come to us voluntarily. Island Aviation now has direct flights to Dhaka," he told Sun Online, referring to the large number of Bangladesh nationals working in the country.
Dr Ali told Minivan News last week that while almost all foreign workers coming to the Maldives arrived under registered companies, some were finding themselves "illegally used" by employers due to "systematic abuse" of the visa system once here.
HRCM investigation
Responding to the immigration controller's pledge this week, HRCM member Jeehan said that the commission itself had not been consulted by the Immigration Department over its proposed crack down on unregistered workers.
Full report at:
http://minivannews.com/society/hrcm-to-investigate-immigration-departments-promise-of-vigorous-mass-repatriation-57269
------------
Drug Court sending addicts to jail after detox centres reach capacity
By Minivan News | May 1st, 2013
With government detox facilities at capacity the Drug Court is sending addicts to jail in the interim, prompting the Maldives' National Drug Agency to call on private businesses and NGOs to fill the gap.
Twenty-four men have been sent to prison for 90 days, or until space becomes available for treatment, in accordance with the Drug Act which states the court has the authority to do so if "rehabilitation centers are unable to facilitate treatment", according to local media.
All emergency medical detox centers are full nationwide – the Himmafushi Island, Villingili Island, Fuvamulah and Addu, National Drug Agency (NDA) Chairperson and State Health Minister Lubna Mohamed Zahir Hussain confirmed to Minivan News today (May 1).
"Rehab is not full, however detox is full for the next 14 days. Demand is so high that clients are waiting in prison," said Zahir.
"The Drug Court is sentencing too many people every day. There are so many – too many – cases. The court doesn't want to delay sentencing, so people eligible for rehab must wait in prison – for a maximum of three months," she added.
Zahir stated that 24 men currently in jail – awaiting the first phase of rehab, which is detoxification – will be moved to the drug rehabilitation center on Himmafushi island within two weeks. No women are awaiting detox, claimed Zahir.
"We are calling for help"
Zahir emphasised that current government regulations allow for the privatisation of rehabilitation centers and the NDA has requested bids for private companies in the government gazette, however no applications have been submitted thus far.
"We are looking forward to receiving applications. It's time the government opened international bidding to do so," declared Zahir.
"[The NDA] is open for discussions about opening a rehabilitation resort. A similar program to cabins in Chiang Mai, Thailand, which is a really good program.
"For example, foreigners can come to the island destination [for drug rehabilitation], the profits of which could be used to subsidise treatment for Maldivians," Zahir explained.
The private rehabilitation centers would be supplementary to the national treatment center for men and women, which is required by law, according to Zahir.
She also highlighted the need to strengthen aftercare programs in partnership with local communities. This is a particular challenge for NGOs who are working with drug addicts.
"Communities fail to understand the work NGOs are doing with drop-in clients. Awareness and education are needed, because NGOs are running into lots of problems with communities," said Zahir.
Full report at:
http://minivannews.com/politics/drug-court-sending-addicts-to-jail-after-detox-centres-reach-capacity-57295
------------
High Court overturns lower court ruling on Hajj quota controversy
By Ahmed Nazeer | May 1st, 2013
The High Court has overturned a lower court's ruling on the Hajj quota controversy, in which the Civil Court ordered the Islamic Ministry to reevaluate several unsuccessful bids presented by local Hajj groups offering pilgrimages this year.
The Maldives' quota of 874 pilgrims was divided among eight companies selected by the Islamic Ministry, while the tenders of Al-manasik Private Limited, Al-fathuh Hajj And Umra Group, Al-Safa Private Limited, Classic Hajj and Umra Private Limited were dismissed.
The Islamic Ministry previously told local media that the proposals were rejected because they had not followed the procedures, but were at first accepted by mistake and later dismissed when the ministry realised the proposals were not compliant.
The High Court ruling issued yesterday stated that if people were allowed to do things in violation of procedures, this would make way for corruption.
Full report at:
http://minivannews.com/society/high-court-invalidates-lower-court%E2%80%99s-ruling-on-hajj-quota-controversy-57273
----------
Arab World
Hezbollah decides to support Bashar al Assad, declares Sunnis takfiris
New Age Islam News Bureau
May 2, 2013
Beirut: Lebanese militant organisation Hezbollah has come out in support of Bashar al Assad and vowed to fight to save Assad's government at any cost. Hezbollah head Hasan Nasrallah has declared the opposition Sunni forces takfiris and said that the friends of Syria will not allow it to go into the hands of the takfiris (those who call others Kafirs), American and Israel. Speaking on Al Minar TV run by Hezbollah, Hasan Nasrullah said that even Iran will make military intervention to save Assad government. He warned that if the tomb of Hazrat Zainab in the south of Damascus was damaged, the situation may go out of control.
------------
Syrian troops reclaim rebel-held area in Homs
May 2, 2013
Syrian government troops battled their way on Thursday into the central city of Homs in a push to oust rebels from the country's third largest urban centre, activists said.
The Britain-based Syrian Observatory for Human Rights said troops loyal to President Bashar Assad regained control of the Wadi Sayeh district in the centre of Homs by early morning.
The neighbourhood is strategically important for the government forces as they try to dislodge opposition fighters from several of Homs' central districts that have been under rebel control for more than a year. There were no immediate details or reports of casualties from the latest fighting.
The crisis started with protests against Mr. Assad's regime in the impoverished suburbs of the major cities, but quickly spread around the country, descending into a full-scale civil war.
In recent weeks, regime forces have been on a counter offensive to reverse rebel gains in and around Aleppo, where the opposition controls whole neighbourhoods and large swathes of
Full report at:
http://www.thehindu.com/news/international/world/syrian-troops-reclaim-rebelheld-area-in-homs/article4676665.ece
-------------
Saudi universities have 'autocratic heads and poor infrastructure'
2 May 2013
Saudi universities, particularly those for women, have poor infrastructure and autocratic leadership, a women-education expert said.
Nouf Nasser Al-Tamimi, undersecretary for development and quality at Prince Salman bin Abdulaziz University, was speaking at an international conference in Dammam on the quality of domestic education.
Al-Tamimi said the problem has resulted in cost overruns and inefficiencies at universities.
"The buildings, equipment, scientific and human resources are a problem," said Al-Tamimi, adding that local universities are recruiting staff in all the wrong places.
She said "the single leadership prevailing at Saudi universities results in wasting of time, effort and funds."
"Any major project assumed by an official is wasted once he step down from the post, without achieving any given objectives and goals," she said.
Al-Tamimi said the new appointees often reject earlier projects and start a new one, resulting in a waste of resources. This problem can only be solved by "institutionalyzing the original base of work."
Other academics participating in the event said positive developments were taking place at local universities. They said that local institutes have proven their worth because many of them have been accredited by the National Commission for Academic Accreditation and Assessment (NCAAA).
Full report at:
http://www.arabnews.com/news/450155
------------
Syria opposition denounces Hezbollah 'threats'
Opposition in Syria condemns a statement by Hezbollah chief about a possible Iranian intervention to support the regime against rebel fighters
1 May 2013
Syria's opposition on Wednesday denounced what it called "threats" from the head of the Lebanese Shiite group Hezbollah, and warned against any intervention by the movement or by Iran in the Syrian conflict.
"The Syrians and the Lebanese hoped... that the Hezbollah leadership would stop their attacks on Homs and Damascus and take into account the gravity of the situation in the region," the Syrian National Coalition said in a statement.
"But they heard nothing but threats... and warnings against setting the region on fire and an admission of their interference in Syrian affairs," the key opposition grouping said.
On Tuesday evening, Hezbollah chief Hassan Nasrallah acknowledged that members of his group are fighting inside Syria and suggested Iran and other states could intervene to support the Syrian regime against rebel fighters.
President Bashar al-Assad has "true friends in the region who will not allow Syria to fall into the hands of the United States, Israel and 'takfiri' groups," he said.
Full report at:
http://english.ahram.org.eg/NewsContent/2/8/70489/World/Region/Syria-opposition-denounces-Hezbollah-threats.aspx
------------
Iraqi Kurd ministers, MPs to end boycotts
1 May 2013
Iraqi Kurdish ministers and MPs will end boycotts of parliament and the cabinet begun last month, the prime minister of the autonomous Kurdistan region said on Wednesday.
A meeting that included Kurdish political parties "decided to return the Kurdish ministers and representatives to Baghdad... and participate in sessions of the Iraqi cabinet and parliament," Nechirvan Barzani told a news conference in Arbil.
The boycotts began in March after Kurds objected that the new federal budget did not allocate enough money to pay foreign oil companies working in the region.
Kurdistan has signed oil contracts with various foreign firms without the approval of Baghdad, and complains that the federal government has not paid money owed to them.
For its part, Baghdad regards as illegal all contracts not made by the federal government.
Barzani's announcement came a day after he met with Iraqi Prime Minister Nuri al-Maliki in Baghdad.
In addition to the oil deals, Kurdistan and Baghdad are at odds over issues including a swathe of territory in northern Iraq that the region wants to incorporate over Baghdad's strong objections, and power-sharing.
Full report at:
http://english.alarabiya.net/en/News/middle-east/2013/05/01/Iraqi-Kurd-ministers-MPs-to-end-boycotts-.html
------------
Sars-like virus kills 5 Saudis: ministry
2 May 2013
RIYADH: Five Saudis have died of a new Sars-like virus during the past few days and two more are being treated in an intensive care unit, the health ministry said.
In a statement cited by the Saudi SPA agency late on Wednesday, the ministry said that all the deaths as well as the infections occurred in the Ahsaa province in the oil-rich eastern region of the kingdom.
Known as novel coronavirus or hCoV-EMC, the virus was first detected in mid-2012 and is a cousin of Severe Acute Respiratory Syndrome (Sars), which triggered a scare 10 years ago when it erupted in east Asia, leaping to humans from animal hosts.
hCoV-EMC stands for human coronavirus-Erasmus Medical Centre, after the Dutch health institution that identified it.
The health ministry said it is taking "all precautionary measures for persons who have been in contact with the infected people… and has taken samples from them to examine if they are infected."
However, the ministry gave no figures for how many people have been examined to see if they have the lethal disease.
Sixteen people have now died from 23 cases detected in Saudi Arabia, Jordan, Germany and Britain.
Full report at:
http://dawn.com/2013/05/02/sars-like-virus-kills-5-saudis-ministry/
------------
Arab nations call for cooperation in fight against human trafficking
The National staff
May 2, 2013
A human rights initiative that concluded in the capital yesterday called for enhanced cooperation and participation between Arab countries to fight human trafficking and empower workers.
The Arab Initiative to Build National Capacities to Combat Human Trafficking was organised by the Qatar Foundation for Combating Human Trafficking and the UN Office on Drugs and Crime.
Full report at:
http://www.thenational.ae/news/uae-news/arab-nations-call-for-cooperation-in-fight-against-human-trafficking#ixzz2S7juUzif
------------
Australian held on terror charges in Saudi Arabia
May 02, 2013
An Australian is being detained on terrorism-related charges in Saudi Arabia, foreign minister Bob Carr revealed on Thursday, with the man's brother claiming he has been tortured.
Shayden Thorne, 25, has been held in a jail outside Riyadh for almost 18 months, reportedly after a
laptop, which his family says he borrowed from a mosque, was allegedly found to have terrorist material on it.
"We know that he has been charged with terrorism-related offences, but that is all we've been informed of at this stage," Carr's spokeswoman told AFP.
Carr later urged a speedy resolution to the case.
"We want it resolved faster. It's been going on for too long," he told a media conference, adding that 50 representations had been made on Thorne's behalf to Saudi authorities.
"I make no comment on his innocence or guilt -- we can't do that, but we can make representations on his behalf," said the minister.
But he added: "You are subject to the law of the country you are in. Shayden has chosen to live there for 12 years and the laws of Saudi Arabia apply to him or anyone else in his position."
The Australian Broadcasting Corporation said the man's 23-year-old brother, Junaid Muhammed Thorne, was also jailed for several months after protesting against his brother's arrest, before being released.
It reported that his passport has been confiscated by Saudi authorities and he was in hiding, which Carr confirmed.
Junaid said Shayden, who is originally from Perth, had been tortured in prison.
"When he managed to see his lawyer, he told him that, yes, he was beaten very badly, that he was lashed with cables -- many, many sorts of torture was exercised on him," Junaid told ABC from Saudi Arabia.
Full report at:
http://www.hindustantimes.com/world-news/Australia/Australian-held-on-terror-charges-in-Saudi-Arabia/Article1-1053689.aspx
------------
Saudis enrol for Arabic, Islamic sciences at Moscow University
2 May 2013
More than 150 students have enrolled at the Prince Naif Department for Islamic Studies at Moscow University for the session 2012-2013, including 32 listed in Qur'anic sciences, 24 in ethics and 31 in Islamic cultural studies.
The Department offers four specialized subjects related to the Arabic language and Islamic studies within the College of Philosophy at the university.
The Arabic language degree has 64 students, with eight first-years, 12 second-year and 16 third-year students, while 16 have enrolled in Qur'anic interpretation and 12 in Islamic jurisprudence.
Full report at:
http://www.arabnews.com/news/450166
------------
Africa
Al-Shabab threatens to avenge Puntland killings of 13 suspected rebels
May 02 2013
MOGADISHU — Al-Qaeda-linked Somali militants who have dug into parts of the northern Puntland province pledged vengeance after authorities in the autonomous region executed 13 suspected rebels.
Puntland long avoided being caught up in successive insurgencies that have shattered Somalia but has slowly been infiltrated by Al-Shabab rebels squeezed out of former south-central urban redoubts in the Horn of Africa state.
Puntland officials say many of the insurgents have taken up positions in the mountains west of the port city of Bosasso.
Full report at:
http://www.saudigazette.com.sa/index.cfm?method=home.regcon&contentid=20130502163897
------------
Human rights 'fundamental' for Libya's transition – GNC HRC
May 02 2013
TRIPOLI — The General National Congress' (GNC) Human Rights Committee held its first official meeting this week, aimed at promoting a culture of human rights in Libya.
Congresswoman Amina Megheirbi, also the head of the new Human Rights Committee, told the Libya Herald that a phased strategy would be needed, to foster a society that valued and lived by principles of human rights. "A plan involving various actors will be necessary over a long period of time," she said.
Asked if the principles of human rights were being introduced in the school curriculums, Megheirbi said this would be a "must" in the near the future. She added that this should be done at a very young age, to help fill the knowledge vacuum of over 40 years.
Addressing attendees, Megheirbi said promoting a culture of human rights would lead to the creation of a state based on the rule of law, an important aim of the revolution.
Other high-profile speakers at the conference delivered messages on the importance of human rights in Libya's democratic transition.
Full report at:
http://www.saudigazette.com.sa/index.cfm?method=home.regcon&contentid=20130502163880
------------
Shisha Smoking Makes Quiet Reappearance in Khartoum
Reuters
May 01, 2013
KHARTOUM — For Sudanese businessman Mohamed Ali the tedium of the evening hours is finally over - his favourite shisha cafe in the capital Khartoum has reopened after a two-year break.
"I come here every day. I love to be here and smoke water pipe with my friends and socialize,'' said Ali, sitting at a table in a noisy shisha cafe on the top floor of a hotel.
Enormously popular across the Middle East and in North Africa, shisha smoking is frowned upon in conservative Muslim countries such as Sudan or Saudi Arabia on "morality'' grounds.
Khartoum city authorities revoked the licences of shisha cafes two years ago after radical preachers said the practice - which involves inhaling flavored tobacco, or shisha, through a water pipe also known as a hookah or arghila - not only damaged the health but also provided unmarried men and women an opportunity to mix.
Full report at:
http://www.voanews.com/content/sudan-khartoum-shisha-smoking/1652813.html
------------
Bullets to babies, Somalia's war surgeons learn skills of peace
2 May 2013
Not yet named but much loved by watchful parents, a newly born baby boy is a small symbol of change: a birth, not a death for Somalia's key war hospital.
After more than two decades of bloody civil war, Somalia remains a very dangerous place, but security has slowly improved, with Islamist fighters linked to al-Qaeda on the back foot despite launching a deadly bombing campaign.
For the surgeons of Medina hospital, whose specialized war wound operating theatres were set up shortly after the collapse of the government in 1991, that gradual reduction has meant they can start to focus on more everyday health problems for the first time, and not just bomb blasts or bullet wounds.
"Medina... is the thermometer of the temperature of the security in the city," said hospital director Mohamed Yusuf Hassan.
Surgeons now are tackling elective surgeries - scheduled operations, not emergencies - and the decrease in war wounds the Mogadishu hospital treats shows how the "situation has improved," he added.
While the war wounded last year made up almost all of the hospital's cases - 95 percent, Hassan estimates - that has now eased to around three-quarters.
"Step by step security is improving," Hassan said, adding he hoped that in the year ahead elective surgeries could rise to as many as half the hospital's cases.
In Somalia, however, improvements are relative.
In the emergency ward, a government soldier rests by the bedside of a colleague, shot in the belly last week.
Beds crowd even the corridor, with more than a dozen people all shot or wounded in recent attacks by Shebab Islamist extremists, or clashes between rival groups within the often violent city awash with guns.
But in the obstetrics ward, Shurkri Abdi recovers from a Caesarean section performed to deliver her seventh baby - and her first child born inside a hospital.
"I was living in the bush and I didn't expect to come to the hospital," Abdi said, her still unnamed child sleeping in a cot beside her. "But I fell down and my baby was in danger so they took me here."
For Nimo Abdi Hassan, the doctor who delivered the child, such cases signal a shift in Somalia's fortunes.
"War-wounded patients only used to be received here," she said. But since the number of cases involving gunshot wounds or shell injuries has fallen, staff are treating a greater variety of cases," she explained.
Full report at:
http://english.alarabiya.net/en/perspective/features/2013/05/02/Bullets-to-babies-Somalia-s-war-surgeons-learn-skills-of-peace.html
------------
Tunisian army, armed jihadists in border clash
A group that consists of more than 50 Salafi jihadists clash with Tunisian police in an area close to the Algerian borders
1 May 2013
Tunisian troops clashed on Wednesday with around 50 armed jihadists in the remote Mount Chaambi border region, a security source said, the first such operation since the revolution in January 2011.
"The group consists of more than 50 Salafi jihadists," the source told AFP, adding that they were well armed and some were veteran Islamist militants who had come from northern Mali.
An AFP journalist nearby reported hearing an exchange of gunfire in the area, close to Tunisia's border with Algeria, which was surrounded by soldiers and patrolled by helicopters.
The group is commanded by an Algerian and two Tunisians originally from the regional capital, Kasserine, the security source said.
On Monday, Tunisian forces began their hunt for the group holed up in the mountainous region. Authorities simply described them as "terrorists," refusing to give any further details because the operation was ongoing.
The gunmen laid homemade land mines in parts of the region which have already wounded around 10 soldiers and members of the national guard, some seriously, during the operation to flush them out.
The group originally consisted of 11 fighters for whom the Tunisian security forces have been searching since December, when they attacked the Bou Chebka border post and killed a member of the national guard.
"They then recruited some youths from Kasserine and men who had come from Mali," said the security source, without explaining how he got the information.
"Yesterday (Tuesday) we found grenades, military and homemade bombs, documents on how to make homemade bombs, coded documents, maps and mobile phones being used to make calls abroad," he added.
Unlike earlier in the week, Wednesday's operations were being carried out by the army, which has the only units capable of detecting land mines. The national guard, or auxiliary police, are playing a secondary role.
Bassem Haj Yahia, a guard who lost a leg after one of the bombs exploded, said the army was facing an organised and well-armed adversary.
"It's like they are installed in a small village where they have their hideouts, a training site and some equipment," he told private radio station Mosaique FM.
Full report at:
http://english.ahram.org.eg/NewsContent/2/8/70526/World/Region/Tunisian-army,-armed-jihadists-in-border-clash.aspx
------------
Chad: N'Djamena arrests follow 'failed coup'
2 May 2013
Several people including an opposition MP have been arrested in the Chad capital N'Djamena, in what the government has described as an attempted "destabilisation plot".
A government statement said a "small group" had been conspiring for more than four months.
Leaders of the alleged plot were being investigated by prosecutors, it added.
Chad has a long history of coups and revolts. Current President Idriss Deby himself seized power in a coup in 1990.
"A small group of ill-intentioned individuals attempted to carry out a destabilisation plot against the institutions of the republic," the government said.
It said that the country's security forces "neutralised" them, without specifying how many people were involved in the alleged action.
Full report at:
http://www.bbc.co.uk/news/world-africa-22377560
----------
Mideast Asia
Turkey investigates use of chemical weapons in Syria
1 May 2013
Turkey is testing blood samples taken from Syrian casualties brought over the border from fighting in recent days to determine whether they were victims of a chemical weapons attack, local government and health officials said on Wednesday.
The samples were sent to Turkey's forensic medicine institute after several Syrians with breathing difficulties were brought to a Turkish hospital on Monday in the town of Reyhanliin Hatay province along the Syrian border.
"We are taking the necessary precautions as we have received unconfirmed information on the use of chemical weapons,"Reyhanli Mayor Huseyin Sanverdi told Reuters.
"So far I have not received confirmation from medical institutions but there is a possibility that the weapons were used and we have to act with caution in case," he said.
Sanverdi said the hospital in Reyhanli had taken emergency measures on Monday following the claims but that those had now been lifted. He added that Monday's patients had been brought from Idlib province in northern Syria.
U.S. President Barack Obama on Tuesday said there was evidence that chemical weapons had been used during Syria's two year conflict, but that it was not yet known how the chemical weapons were used, when they were used and who used them.
Washington has long said it views the use of chemical weapons in Syria as a "red line", but wary of the false intelligence that was used to justify the 2003 war in Iraq, it has said it wants proof before taking action.
Britain last week confirmed it had "limited but persuasive" information showing chemical weapons use in Syria, including sarin, evidence that the Foreign Office now says is "physiological" - from the bodies of chemical attack victims.
A Foreign Office spokesman said it was likely that Syria, and not the rebels, would be behind any such attack, and Britain added that it was working with the United Nations to harden up evidence of whether chemical weapons had been used.
Fighting in Syria, now entering its third year, has intensified in the last month with government forces attempting to roll back rebel advances. Some 70,000 people have now been killed in the civil war.
Full report at:
http://english.alarabiya.net/en/News/middle-east/2013/05/01/Turkey-investigates-use-of-chemical-weapons-in-Syria.html
------------
Yemen parties coming closer on crucial issues
May 02 2013
SANA'A — Yemen's national dialogue conference is going ahead positively with chairpersons of work groups and members saying solutions become close to some key issues.
Nabila Al-Zubair, chairwoman of the Saada issue work group, said they have started discussing the understandings of the roots of the Saada issue presented by the political parties. She said the mini-committee on documentation was tasked to study the difference and convergence points of all understandings to have a united vision for solving this issue.
According to some Yemeni parties including the Nasserite General People's Organization and the Yemen Socialist Party, the Saada issue dates back to 2004 when the first war between the army and the Shiite Houthi group erupted in the northern Saada province along the border with Saudi Arabia.
The two parties said the wrong policies of the former regime that led to power vacuum as well as seeking to use the location of Saada for external agenda were key roots for this issue.
Other parties said the roots of the issue stemmed from the Houthi ambitions to expand geographically by force and armed rebellion.
Nonetheless, the Saada issue refers to the wars that killed and displaced many people and destroyed a lot of properties including homes and public facilities.
The people in Saada, mainly those loyal to the Houthi, argue that they are demanding a solution to this issue.
Ezi Wahb Allah Shoraim, a member of the Saada group, said after all political forces presented their understandings of the roots of this issue, a solution is almost very close.
"According to my reading to the understanding, I can say solving the Saada issue has become a matter of time," he said.
Full report at:
http://www.saudigazette.com.sa/index.cfm?method=home.regcon&contentid=20130502163879
------------
URL: https://www.newageislam.com/islamic-world-news/new-age-islam-news-bureau/uae-and-britain-fund-somalian-battle-against-sexual-violence/d/11383