New Age Islam News Bureau
2 May 2018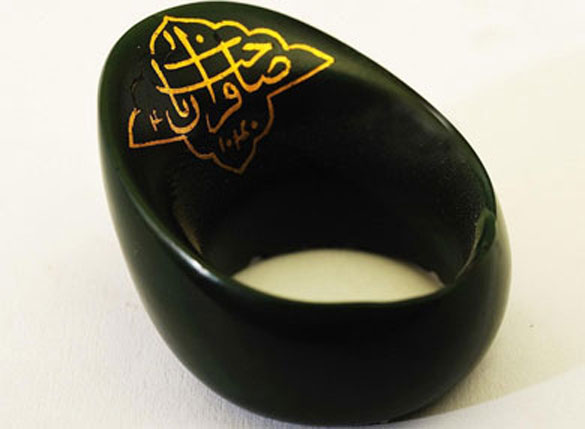 Archer's Ring in Dark Green Jade Belonging to Emperor Shahjahan, Which Is Inscribed With The Title Sahib-E-Kiran-E-Sani. 1630. (Supplied)
----
• U. S. Commission on International Religious Freedom Accused Indian Govt of Ignoring Religious Violence
• Exclusive Islamic Arts Gallery to Adorn Famous Museum in India's Hyderabad
• Egypt Blacklists Mursi, Qaradawi and Aboutrika Again For Five Years
• UNHCR Launches Global Zakat Platform to Help Syrian Refugees
• Jokowi Calls On Ulema to Unite To Spread Wasathiyah Islam
• Suicide Bombers Kill Over 60 at Nigeria Mosque, Market
India
• U. S. Commission on International Religious Freedom Accused Indian Govt of Ignoring Religious Violence
• Exclusive Islamic Arts Gallery to Adorn Famous Museum in India's Hyderabad
• In Muslim Wedding, Ram and Sita Grace Invitation Cards
• Javed Akhtar Slams Sufi Groups for Threatening Sona Mohapatra, Says Khusrau is Not Your Property
• 85 Muslim Families to Shun Polls in Arkalgud Taluk, Karnataka
--------
Arab World
• Egypt Blacklists Mursi, Qaradawi and Aboutrika Again For Five Years
• Grand Imam Al-Tayeb Stresses Necessity of Islamic World Unity
• U.S.-Backed Syrian Forces Resume Battle against Islamic State
• US-led Strikes on Syria's Hasakah Leave over Two Dozen Civilians Dead
• More American, French Military Convoys Arrive in Northern Syria
• Syrian Army Tightens Noose on ISIL in Southern Damascus
• Temporary Ceasefire Declared in Homs Province after Militants' Call for Talks
• Militants agree to leave Yarmouk Camp in deal with Syrian government
--------
Europe
• UNHCR Launches Global Zakat Platform to Help Syrian Refugees
• UK, not 9/11 behind South Asian Jihadism: Expert
• British ambassador to Israel filmed by Palestinian terrorist group during secret visit to Gaza border
• Why the 'lone jihadi' poses the greatest terror threat to this summer's World Cup in Russia
• UK reiterates support for Iran nuclear deal
--------
Southeast Asia
• Jokowi Calls On Ulema to Unite To Spread Wasathiyah Islam
• Muslim Accused of London Terror Plot Hoped To Join IS In the Philippines
• Indonesia, Iran exchange experiences in implementing Islam
• Attacking Nik Aziz's son will backfire on PAS, says Husam
• Filipino expats vow to stay in Kuwait despite workers ban
--------
Africa
• Suicide Bombers Kill Over 60 at Nigeria Mosque, Market
• Al-Shabaab Ranked As Africa's Deadliest Militant Group
• Muslim Group Warns Christians After Trump Tackles Buhari on Killings
• 9 die in attack on church in Central African Republic
• Malawi Muslims Query Catholic Bishops Silence On Albino Killing in Pastoral Letter After Priest Arrest
• KDF rescues 13 Kenyan youths from Al Shabaab
--------
North America
• US Says Israel's Files on Iran Nuclear Program Are 'New and Authentic'
• These Canadian Muslims Are Tackling Islamophobia With Kindness
• Man on a 'jihad' sentenced to life without parole for murder
• Majority Of U.S. Muslims Now Support Gay Marriage, While White Evangelical Christians Remain Opposed
• Pro-Trump Christian Extremist Prepares Serb Nationalists For New War With Muslims, Reports Reveal
--------
Pakistan
• CJP Takes Suo Motu Notice of Targeted Killings of Hazara Community Members
• Hafiz Saeed tries to woo Pakistani Sikhs ahead of elections
• Pak doctor who helped US kill Osama bin Laden may be freed next month
• Halal expenditure? Religious Affairs Ministry breaks rules to please Imam-e-Kaaba
--------
South Asia
• Photojournalist Killed in Kabul Left a Legacy of Images
• No Relief for Minorities in Bangladesh As Crisis Looms
• Myanmar urged to hold 'proper' probe into alleged atrocities against the Rohingya
• Myanmar ready to receive 'verified' Rohingya refugees, says Suu Kyi
• Taliban suffer heavy casualties in AAF airstrikes in Uruzgan province
• NDS Special Forces conduct night raid on Taliban leader's compound in Nangarhar
--------
Mideast
• Iran Wants Media to Address Muslim Issues
• Turkish Army Continues Clashes with Kurds in Hasaka
• Japan: Embassy will not be relocated to al-Quds
• Turkish police detain dozens of protesters in Istanbul on May Day
• Sudanese MPs urge withdrawal from Saudi-led coalition waging war on Yemen
• Knesset allows Netanyahu, Lieberman to declare war in 'extreme' situations
• Houthi disputes escalate as leader's affiliates are detained, eliminated
Compiled by New Age Islam News Bureau
URL: https://www.newageislam.com/islamic-world-news/u-s-commission-international-religious/d/115121
--------
U. S. Commission on International Religious Freedom Accused Indian Govt of Ignoring Religious Violence
May 1, 2018
The United States Commission on International Religious Freedom has accused the Indian government of doing little to prevent violence against religious minorities and socially poor Dalit people.
The commission's latest report, released April 25, said the government run by the pro-Hindu Bharatiya Janata Party (BJP) has not addressed the problem of sectarian violence despite government statistics showing that sectarian violence has increased sharply over the past two years.
It categorized India in its Tier 2 countries along with Afghanistan, Azerbaijan, Bahrain, Cuba, Egypt, Indonesia, Iraq, Kazakhstan, Laos, Malaysia and Turkey.
Tier 2 countries are those with at least one of the elements of the "systematic, ongoing and egregious" standard in a set of criteria the commission uses to gauge violations of religious freedom.
Ten countries including Pakistan are in the worst category.
The report noted that at least 10 Indians were lynched by Hindu groups in the name of cow protection.
"In 2017, religious freedom conditions continued a downward trend in India. India's history as a multicultural and multi-religious society remained threatened by an increasing exclusionary conception of national identity based on religion," the report said.
Hindu nationalist groups working to turn India into a Hindu-only nation stepped up their actions through violence, intimidation and harassment against non-Hindus and Hindu Dalit people. Both public and private actors pursued this effort, the report said.
About one third of state governments enforced "anti-conversion and/or anti-cow slaughter laws against non-Hindus, and mobs engaged in violence against Muslims or Dalits whose families have been engaged in the dairy, leather or beef trades for generations, and against Christians for proselytizing," stated the report.
A major reason for the poor rating was the strengthening of nationalist Hindu forces in an otherwise secular country, leading to a rise in vigilantism and violence against minority communities, particularly Muslims and Christians.
Even government records, presented on Feb. 6 in parliament, show increased sectarian violence. In 2017, 111 persons were killed and at least 2,384 injured in 822 communal clashes across the country.
In 2016, 86 persons were killed and 2,321 injured in 703 incidents. In 2015, there were 751 incidents.
Bishop Theodore Mascarenhas, secretary-general of the Indian Catholic bishops' conference, told ucanews.com that atrocities against religious minorities continue unabated. He cited a recent case of two Christian pastors being forcefully taken to a temple and having ash applied to their foreheads as a sign of accepting the Hindu religion.
"What makes matters worse is that those that were once called fringe groups are increasingly become emboldened as those in power do not speak against the mobocracy," the bishop said.
Hindu attacks against Christians doubled in 2017 from the previous year, according to the 2018 annual report of Persecution Relief, an ecumenical forum that records Christian persecution in India. The country recorded 736 incidents of attacks against Christians in 2017, up from 348 in 2016, it said.
Ghulam Ahmad Mir, leader of the opposition Congress party in India's Jammu and Kashmir state, said it was a worrying situation because of the impunity enjoyed by members of Hindu groups.
"Those involved in the heinous crimes of lynching roam scot-free and the government hasn't taken a single move since coming to power in 2014 to punish the culprits," he told ucanews.com.
The Indian government has rejected the findings of the U.S. commission.
"The report appears to be based on limited understanding of India, its constitution and its society. We take no cognizance of the report," External Affairs Ministry spokesman Vikas Swarup told reporters in New Delhi.
Hindus form 966 million or 80 percent of India's population of 1.3 billion. Muslims account for 172 million or 14 percent while Christians comprise 29 million or 2.3 percent.
https://www.ucanews.com/news/indian-govt-accused-of-ignoring-religious-violence/82186
--------
Exclusive Islamic Arts gallery to adorn famous museum in India's Hyderabad
1 May 2018
A rich Islamic collection, currently showcased in different galleries in the renowned Salar Jung Museum in Indian city of Hyderabad, will be housed in an exclusive Islamic Arts gallery, which is slated to open in the first half of 2019. At present, no museum in India has such a gallery dedicated exclusively to Islamic Arts.
Hyderabad's cultural icon, the Salar Jung Museum is a treasure trove of the artistic achievements of diverse European, Asian, and Far Eastern countries. The museum's Islamic collection is a panorama of historic, geographic, cultural and artistic diversity and has attracted immense attention from all over the world.
Nawab Mir Yousuf Ali Khan, Salar Jung III, fondly called Nawab Saheb, acquired major portion of this collection.
The museum's 46,000 artefacts, of which 15,000 are on display among the 38 galleries transcend space and time. Of these, 2,500 exhibits – which include 365 copies of the Holy Qur'an in Kufi, Naskh, Nasta'liq and Thuluth script – are categorized as Islamic Arts.
These are rare manuscripts and possess great antique, historical, social, cultural and linguistic values. This collection is strong in ceramics, carpets, glass, metalwares, armories, ivories and textiles, jade, porcelain and glass objects containing Quranic inscriptions and valuable manuscripts. All these items are being housed in an exclusive Islamic Arts gallery.
Talking about the idea behind having an exclusive Islamic Arts gallery, Dr. A. Nagender Reddy, Jt. Director, Salar Jung Museum, said the idea is "to bring to focus one of the largest Islamic art collection available at the museum. This will be on lines similar to the British Museum, V & A museums at London and The Met, New York.
"The gallery will attract more visitors from the Middle East. Showcasing Islamic Arts in a separate Gallery will give visitors a sense of history and the magnificent contribution of Islam and Muslims," he said.
Stunning collection
The Gallery is being set up at an estimated cost of Rs 50 million. Coming up on the 2nd floor of the museum's Eastern block covering 26,000 sq ft are 2,500 objects such as swords, textiles, manuscripts, Persian carpets, Holy Quran, jade, ceramics, porcelain and glass objects with Quranic inscriptions.
Quranic inscriptions come with an emphasis on works from Iran, Turkey and Egypt. The museum has a collection of copies of the Holy Quran in different calligraphic and writing styles, including Kufi and Nastaliq. As many as 365 rare copies of the Quran will be on display. There are also about 200 rosaries.
There are many items which are not yet displayed in Salar Jung Museum and some of these will find a place in the new Islamic Arts gallery. "The objects are being identified and documentation has been undertaken," Nagender said.
Dubbed as the first exclusive Islamic art gallery in India, the collection will give visitors a sense of Islamic history and the magnificent contributions of Muslims.
Precision planning and careful execution by experts since 2012 will give the upcoming gallery an artistic sophistication that is missing in many ancient art galleries in India.
An official note of Salar Jung Museum reads that "the art collection represents an outstanding legacy in terms of its sophistication and stories it narrate about Hyderabad's historical position and links".
Sharjah connection
The idea of an exclusive Islamic Arts gallery in Salar Jung Museum was conceptualized in 2009 when the museum conducted an exhibition, "Glimpses of courtly splendor – Indian Islamic Art" in Sharjah, UAE. However, it took three more years for the project to take off and will need another year before it becomes a reality.
The Salar Jung Museum also boasts one of the oldest folios of the Holy Quran on parchment in the Kufi script belonging to the ninth century representing rare calligraphy work. The miniature Holy Quran measuring 2cm x 3cm printed in 31 folios is simply awe-inspiring. All these will be shifted to the new gallery.
The Egyptian and Syrian collections and the 200-odd rosaries are also being shifted to the new gallery. Also, the archer rings of the Mughal emperor, Shahjahan, which are in dark green jade will find place in the Islamic art gallery.
At present, the museum artefacts are categorized as Indian art, Middle Eastern art, European and Far Eastern collection. "Now we want to present all the Islamic art at one place," Nagender Reddy added.
https://english.alarabiya.net/en/perspective/features/2018/05/01/Exclusive-Islamic-Arts-gallery-to-adorn-famous-museum-in-India-s-Hyderabad.html
--------
Egypt blacklists Mursi, Qaradawi and Aboutrika again for five years
1 May 2018
An Egyptian court has decided to blacklist former President Mohammed Mursi, preacher Yusuf al-Qaradawi, retired football player Mohamed Aboutrika and other Brotherhood figures again for five years, the official Al Waqaea Al Masreya newspaper reported on Monday.
The Cairo Criminal Court also decided to freeze the assets of those who have been blacklisted since January 12, 2017. The court has ruled in favor of blacklisting them again for five years pending an investigation into a new case.
In addition to Mursi, Qaradawi and Aboutrika, there are businessman Safwan Thabet, Pakinam El-Sharqawi, an advisor to the former president, the Brotherhood's Supreme Guide Mohammed Badie, Brotherhood official Khairat el-Shater and his children and others. The court ruled in favor of blacklisting them and freezing their assets again because terror operations relied on the funds which the Brotherhood and its officials provided.
Investigations have proven that these figures funded the purchase of arms, training Brotherhood members and preparing them to carry out terror attacks and spreading rumors.
https://english.alarabiya.net/en/News/middle-east/2018/05/01/Egypt-blacklists-Mursi-Qaradawi-and-Aboutrika-again-for-five-years.html
--------
UNHCR launches global zakat platform to help Syrian refugees
May 1, 2018
Abu Dhabi: With an aim to financially aid 60,000 Syrian refugee families living in Jordan and Lebanon, the UNHCR – the UN Refugee Agency – in partnership with Tabah Foundation announced on Tuesday the launching of its global zakat platform, with the donated money going straight to the families in need.
Leading Islamic scholars and institutions have lent their backing to the new initiative, including Dr Shaikh Ali Jumaa, former Grand Mufti of Egypt, Shaikh Abdullah Bin Bayyah, the president of the Forum for Promoting Peace in Muslim Societies, and the Senior Scholars' Council of Morocco. As part of the new programme, each family signed up will receive a direct cash assistance of $175 (Dh842.3) to help them cover their monthly living expenses.
"In today's world no mission is more important and more noble than finding ways to respond better to the burgeoning humanitarian emergencies that surround us. [Our goal] is to bring life saving aid more quickly and more efficiently, and to increase resources available to assist the victims of conflict and persecution," said Tobi Harward, head of UNHCR office in the UAE, speaking on the launch of the zakat platform.
"Governments, philanthropists, foundations, the private sector, UN agencies and the general public have a shared responsibility to come together in the service of humanity. [The] zakat initiative – the outcome of our partnership with Tabah Foundation – is a wonderful and noble example of this," he added.
Houssam Chahine, head of private sector partnerships for the UNHCR in the Mena region, said the direct cash assistance would give families more spending freedom and would cover up to 50 percent of their expenses.
"All families will receive the same amount of money which is fixed at $175 a month. That money will help them pay for things like their rent, some of their secondary healthcare costs and food expenses.
"It's not a very large amount of money but it can still provide a very big help to these families, meeting around 30 to 50 per cent of their expense needs. In Jordan, only 20 per cent of refugees live in refugee camps, and in Lebanon there are no refugee camps for Syrians, and so most of these refugees are living in urban areas having to face daily expenses like everybody else. This makes it very important to give them some type of financial assistance," he added.
Chahine said the programme would also be transparent in how it uses the donations, and emphasised that all of the money would be given to the families.
"UNHCR ensures 100 per cent of zakat contributions go directly to eligible refugees under the extreme poverty line, with no money taken off for overheads.
The new global platform makes fulfilling zakat obligations fast and simple for those wishing to help refugee families with their zakat, until these families become self-reliant.
"There is going to be an auditing process, Tabah Foundation will be involved with, making sure the money is being used right. We are also going to have quarterly reports published online so the public and those who have donated can see where the money is going," Chahine added.
Nour Al Deen Harthi, chief executive officer of Tabah Foundation, said the foundation hoped to make the programme a long term sustainable one, calling it a lifeline for refugees.
"Our co-operation with UNHCR over the zakat initiative is built on our two organisations' shared values and our mission to help humanity. Through this partnership, we provide UNHCR with technical expertise and knowledge that ensure the transparency and sustainability of this commendable Zakat initiative.
"There are many refugee families in need in the region, and the zakat initiative comes as a lifeline for the most vulnerable of them," Harthi added. The official zakat platform website is: zakat.unhcr.org
https://gulfnews.com/news/uae/society/unhcr-launches-global-zakat-platform-to-help-syrian-refugees-1.2214915
--------
Jokowi Calls On Ulema to Unite To Spread Wasathiyah Islam
May 2, 2018
Jakarta (ANTARA News) - President Joko Widodo (Jokowi) has urged ulemas to unite to spread Wasathiyah al-Islam, or Islam`s middle path, in the world.
"If all clerics unite based on a single stance to spread moderate Islam globally, I am optimistic that the axis of the global Wasathiyah Islam will become mainstream and give hope for the birth of a peaceful, safe, prosperous, and fair world and will also give rise to an Islamic movement to realize social justice," he stated at the Bogor Presidential Palace in West Java Province on Tuesday.
Jokowi voiced his views at the opening of the High-Level Consultation of World Muslim Scholars Summit on the Wasathiyah Islam, or Moderate Islam, and was attended by 50 Indonesian ulemas and 50 others foreign scholars from Yemen, Egypt, Iran, Morocco, Italy, the United States, and other countries.
Grand Syeikh of the Al-Azhar University in Cairo, Egypt, Prof. Dr. Ahmad Muhammad Ath-Thayeb was also present during the high-level consultation. The forum was initiated by Indonesian President`s Special Envoy for Inter-religious Dialogue and Cooperation and Civilization Din Syamsuddin.
"In addition to sharing our experiences, we should initiate a movement. The Wasathiyah Islam movement should be a worldwide phenomenon that can inspire leaders, clerics, youth, and Muslims to stand firm on the path of moderate Islam," he emphasized.
He stated that Indonesia welcomed the spirit of moderation in the great movement of the Islamic world.
"We welcome this high-level consultation forum in which we can share experiences in implementing and developing the value of tasamuh (tolerance), holding deliberations, and adopting the middle path in order to become pioneers for the benefit of mankind," he noted.
He believed that several other issues will also be discussed and agreed upon during the forum.
He also introduced Indonesia as a democratic country with the largest Muslim population in the world.
"Our Muslim nationals number at around 210 million of the total population of 260 million. Indonesia has 714 tribes, over 1,100 local languages, and 17 thousand islands. We live in diversity and have different religions, tribes, and cultures," he pointed out.
He expressed grateful that Indonesia was able to maintain brotherhood, tolerance, peace, and unity in diversity.
"Indonesia has the state foundation of Pancasila and the national motto of "Unity in Diversity." Diversity is the gift of God that must be maintained. Diversity is the source of strength that makes us a strong nation. However, as a very diverse nation, we must not neglect maintaining unity," he noted.
He asserted that Indonesia will continue to spread the doctrine that fosters peace and unity, prioritizes deliberations with tolerance and trust, and brings social justice.
https://en.antaranews.com/news/115566/jokowi-calls-on-ulemas-to-unite-to-spread-wasathiyah-islam
--------
Suicide bombers kill over 60 at Nigeria mosque, market
May 02, 2018
KANO - Suicide bombers killed more than 60 people at a mosque and a market in northeast Nigeria on Tuesday, in a twin attack bearing the hallmarks of Boko Haram and a day after US President Donald Trump pledged greater support to fight the militants.
The blasts, said to have been carried out by young boys, happened shortly after 1:00 pm (1200 GMT) in Mubi, some 200 kilometres (125 miles) from the Adamawa state capital, Yola.
Imam Garki, from the National Emergency Management Agency (NEMA), said a joint assessment with the police and Red Cross found that 26 people were killed and 56 were injured, 11 of them critically.
They were transferred to the Federal Medical Centre in Yola for treatment. But a medical source at the Mubi General Hospital said they had received 37 bodies, while a rescue worker involved in the relief operation said he counted 42 dead and 68 injured.
"These I saw with my own eyes. We were counting as they were being taken," said Sani Kakale.
Two local residents who attended funerals for the victims said the death toll was much higher - and could climb further.
"Before I left the cemetery I took part in the burial of 68 people. More bodies were being brought by families of the victims," said Muhammad Hamidu. "I think this is the worst attack Mubi has ever witnessed. The human loss is unimaginable."
Abdullahi Labaran added: "We left 73 freshly dug graves where each victim was buried. There are still unclaimed bodies at the hospital.
Conflicting death tolls are not unusual in Nigeria. The authorities have also previously played down casualty figures.
Suspicion for the attack immediately fell on Boko Haram, the militant group whose quest to establish a hardline Islamic state in northeast Nigeria has left at least 20,000 dead since 2009.
Mubi has been repeatedly targeted in attacks blamed on Boko Haram since it was briefly overrun by the militants in late 2014.
Nigeria's government and military have long maintained that the Islamic State group affiliate is a spent force and on the verge of defeat. But there has been no let-up in attacks in the northeast, particularly in Borno state, adjacent to Adamawa, which has been the epicentre of the violence.
Last Thursday, at least four people were killed when suicide bombers and fighters attempted to storm the Borno state capital, Maiduguri, raising fresh questions about security.
Nigerian President Muhammadu Buhari has been in the United States this week and met his US counterpart Donald Trump, who pledged more support in the fight against Boko Haram.
Nigeria has bought a dozen A-29 Super Tucano light fighter aircraft in a $496-million (413-million-euro) deal.
Trump indicated a further order for attack helicopters was also in the pipeline.
"These new aircraft will improve Nigeria's ability to target terrorists and protect civilians," Trump told a joint news conference with Buhari in Washington on Monday.
The sale of the aircraft was previously blocked by the Obama administration after the Nigerian airforce mistakenly bombed a camp for people displaced by Boko Haram, killing 112.
US military officials in Abuja have recently questioned Nigerian tactics faced with guerilla tactics from Boko Haram.
"How they think in terms of combat, in my opinion, is still thinking of things as conventional warfare," Lieutenant-Colonel Sean McClure, the US defence attaché in Abuja, told AFP last month.
In Mubi, local volunteer Habu Saleh, who was involved in the rescue effort, described the aftermath of the bombing as "chaos". Health workers from the hospital mobilised to attend to the victims, despite being on strike over pay and conditions.
Abdullahi Labaran said the first bomber mingled with worshippers who had gathered for prayers at the mosque at the edge of the market. He detonated his explosives "five minutes before the prayer started", he added.
The second bomber blew himself up among the crowds of worshippers, traders and shoppers as they fled the first explosion.
On November 21, 2017 at least 50 people were killed when a suicide bomber blew himself up in a mosque during early morning prayers in the Unguwar Shuwa area of Mubi.
In October 2012, at least 40 people were killed in an attack on student housing in Mubi that was widely blamed on Boko Haram.
In June 2014, at least 40 football supporters, including women and children, died in a bomb attack after a match in the Kabang area of the town.
https://nation.com.pk/02-May-2018/suicide-bombers-kill-over-60-at-nigeria-mosque-market
--------
India
In Muslim Wedding, Ram and Sita Grace Invitation Cards
01st May 2018
LUCKNOW: At a time when communal tensions are rife in Uttar Pradesh, a Muslim man transcended religious boundaries through a novel initiative and cemented his friendship with the Hindus of his village further. He got two sets of wedding invitations printed for his daughter's wedding. The card for his Muslim friends was a traditional Islamic one, while the invite for his Hindu friends had the image of the deities Ram and Sita exchanging wedding vows.
"It was a small gesture to express my respect for the sentiments of my Hindu brethren and their religion," said Mohammad Salim, of Sultanpur district in Central UP.
A resident of Baghsarai Village, Salim married his daughter Jahana Bano to Yusuf Mohammad, in a typical Muslim wedding, save for the unusual wedding card.
Asked if the groom's family had any objection to the pictures of Hindu deities on the wedding card, Salim's brother said, "Absolutely not. They also appreciated the gesture and were in agreement with us on this."
"It was a small step but a giant leap towards communal amity and harmony between the two communities in a village where both Hindus and Muslim have been living affably for ages," says Shyam Charan Tiwari of the same village who had attended the wedding.
Drawing attention to the prevailing divide on religious and caste lines, Salim said, "In such a scenario, if this gesture could bridge the gap between the two communities, I will repeat it in future for sure."
Salim got 350 cards printed for his Hindu friends who were pleasantly surprised on seeing it, and 400 cards for his friends and relatives in a traditional Muslim fashion.
http://www.newindianexpress.com/nation/2018/may/01/in-muslim-wedding-ram-and-sita-grace-invitation-cards-1808893.html
--------
Javed Akhtar Slams Sufi Groups For Threatening Sona Mohapatra, Says Khusrau is Not Your Property
May 1, 2018
New Delhi, May 1: Noted Bollywood lyricist Javed Akhtar on Tuesday slammed Sufi groups for threatening singer- Sona Mohapatra over her latest song. Taking to Twitter, Akhtar said, "In strongest possible words I condemn those regressive and reactionary organisations who are threatening Sona Mahapatra for making a music video of a Amir Khusrau ' Geet . These mullas should know that Amir Khusrau belongs to every Indian. He is not your property."
Earlier in the day, Sona Mohapatra lodged a complaint with the Mumbai police alleging Madariya Sufi Foundation has threatened her to remove her latest song, 'Tori Surat', from all platforms.
In a series of tweets, Mohapatra went on to explain what the Foundation was objecting to. She said, "I have received a threatening notice from the Madariya Sufi Foundation to remove my music video Tori Surat from all communication mediums. They claim that the video is vulgar, will flair communal tensions. I want to know whom to write in to in my response…"
The Foundation has also called Mohapatra a "regular offender", she said, claiming that they found a five-year-old video of hers singing a Sufiana Kalaam at Coke Studio, Piya Se Naina. It said her rendition was an insult to Islam "because I'm dressed exposing my body" & playing Westernised music.
Full report at:
http://www.india.com/news/india/sona-mohapatra-controversy-javed-akhtar-backs-sona-mohapatra-says-amir-khusrau-belongs-to-every-indian-3030193/
--------
85 Muslim Families to Shun Polls in Arkalgud Taluk, Karnataka
MAY 02, 2018
As many as 85 Muslim families residing in Ramanathapura in Arkalgud taluk have resolved to boycott the Assembly elections over not being granted government land to bury their dead.
The families, with 340 voters, have been fighting for a burial ground for 10 years. Whenever one of their kin dies, they have to bury the body in neighbouring villages.
The Ramanthapura Jameya Masjid Committee, which met on April 6, took a unanimous decision to boycott the elections. The meeting also took serious exception to Minister for Sericulture and Animal Husbandry A. Manju, MLA for Arkalgud, who had made a promise to grant land for burial ground but failed to keep it. With no land to bury the dead as per the customs of the religion, the senior members of the community wish to stay put with their children settled in other places, where burial grounds are available. The Hindu carried a report on the issue on January 20, 2017.
Munawar, president of the committee, said that in the past 10 years 15 people from the community have died. "Whenever a person died, we prayed that the residents of neighbouring villages would allow us to bury them. How long should we continue to be at the mercy of other villagers?" he asked.
Full report at:
http://www.thehindu.com/elections/karnataka-2018/85-muslim-families-to-shun-polls-in-arkalgud-taluk/article23741510.ece
--------
Arab World
Grand Imam Al-Tayeb stresses necessity of Islamic world unity
May 2, 2018
Grand Imam of Al-Azhar Ahmed Al-Tayeb asserted the necessity of the Islamic world's unity, "to remove all the obstacles and thorns that are sown from east and west," in his speech during the opening session of the high-level consultative meeting of global Islamic scholars to discuss moderate Islamic thought.
Al-Tayeb appealed to the Islamic world to wake up to the "plans and conspiracies" and to rely on the minds and arms of its people and to exploit God's natural resources to "break the path of the abusers and those who reject the will of the peoples and their destinies."
He further stressed on the importance of the centrality of Islam, saying, "it is a manifestation of the mercy of God on his creation."
Indonesian President Joko Widodo and several leading religious figures in the world attended the meeting that was held at the presidential palace in the Indonesian city of Bogor.
Al-Tayeb attended a bilateral meeting with the Indonesian president, in which both confirmed the distinguished relations between Indonesia and Egypt, and with Al-Azhar in particular, and that he looks forward to hearing the grand imam's speech at the opening of the conference.
https://dailynewsegypt.com/2018/05/01/grand-imam-al-tayeb-stresses-necessity-islamic-world-unity/
--------
U.S.-Backed Syrian Forces Resume Battle Against Islamic State
May 1, 2018
DEIR AL-ZOR, Syria/BEIRUT (Reuters) - U.S.-backed Syrian militias on Tuesday relaunched their offensive to seize the last territory Islamic State controls in the east near the border with Iraq.
The Syrian Democratic Forces (SDF), an alliance of Kurdish and Arab militias, had paused the battle after Turkey launched an assault in January against their northwestern Afrin region.
"We have rearranged our ranks," said Lilwa al-Abdallah, spokeswoman for the offensive in oil-rich Deir al-Zor province.
Islamic State militants stepped up attacks there in recent weeks in a bid to reorganize, she told a news conference at an oilfield on the eastern bank of the Euphrates river. "Our heroic forces will liberate these areas and secure the border...We welcome the support of the Iraqi forces."
Ahmed Abu Khawla, commander of the Deir al-Zor military council fighting under the SDF, said they were working with the Baghdad government and Iraqi army "through a joint operations room" to defeat the jihadists.
Joint efforts had increased, but neither side would cross the border, he told Reuters.
U.S. Defense Secretary Jim Mattis said last week that he expected a "re-energized" effort soon against the ultra-hardline militants in eastern Syria.
Syrian fighters, backed by U.S. air strikes and troops, have dealt heavy blows to Islamic State but the jihadists still hold a swathe of land along the desert frontier with Iraq. They are widely expected to revert to guerrilla tactics if they lose the last remnants of their once self-styled "caliphate".
The SDF alliance, spearheaded by the Kurdish YPG militia, has seized vast tracts of territory from Islamic State in north and east Syria. U.S. support for Kurdish forces there has infuriated Turkey, which sees the YPG as an extension of an outlawed Kurdish insurgency at home.
Ankara's offensive to expel the YPG from Afrin - where the United States has no presence - led to a pause in the campaign against Islamic State, the Pentagon has said.
Arab SDF militias redeployed 1,700 fighters from eastern fronts against Islamic State to help fight Turkish forces, which then captured Afrin in March.
Full report at:
https://www.usnews.com/news/world/articles/2018-05-01/us-backed-syrian-forces-re-launch-is-battle-in-east
--------
US-led strikes on Syria's Hasakah leave over two dozen civilians dead
May 1, 2018
More than two dozen civilians have lost their lives and scores of others sustained injuries when the so-called US-led coalition purportedly fighting Daesh Takfiri terrorist group carried out a series of airstrikes on Syria's northeastern province of Hasakah.
Local sources told Syria's official news agency SANA that 25 people were killed in the US-led aerial attacks against al-Fadhel village near al-Shaddadi town in the southern part of the province, located 650 kilometers (400 miles) northeast of the capital Damascus, on Tuesday.
The sources added that there were two elderly men among the deceased, noting that the fatalities mainly consisted of women and children.
The US-led airstrikes also damaged a number of houses and public properties in the targeted area.
The US-led coalition has been conducting airstrikes against what are said to be Daesh targets inside Syria since September 2014 without any authorization from the Damascus government or a UN mandate.
The military alliance has repeatedly been accused of targeting and killing civilians. It has also been largely incapable of achieving its declared goal of destroying Daesh.
On December 14, 2017, Syria's Ministry of Foreign Affairs and Expatriates stated that the US-led coalition was indeed targeting civilian facilities and providing Daesh terrorists with cover.
It noted that Daesh terrorists had been purged from most regions in Syria only through counter-terrorism operations conducted by government troops and allied fighters from popular defense groups.
The Syrian Foreign Ministry also criticized the so-called advocates of human rights and rule of law for turning a blind eye to the atrocities perpetrated by the US-led coalition in Raqqah and Dayr al-Zawr provinces.
Syrian army captures more areas in southern Damascus
Meanwhile, Syrian government forces, supported by allied fighters from popular defense groups, have liberated a number of areas in the country's southwestern province of Rif Dimashq from the clutches of Daesh Takfiri terrorists.
Lebanon-based Arabic-language al-Manar television network, affiliated with the Lebanese Hezbollah resistance movement, reported that Syrian troopers and their allies had retaken full control over a number of districts west of al-Hajar al-Aswad city, located just four kilometers south of Damascus, following bitter clashes with Daesh militants.
Dozens of militants arrive in Syria's Aleppo Province
Separately, dozens of militants from the so-called Hayat Tahrir al-Sham (HTS) Takfiri group and their families arrived in the al-Eis area of Syria's northern province of Aleppo ahead of their transfer to the militant-held neighboring province of Idlib.
SANA said some 200 foreign-sponsored Takfiri militants left Yarmouk Palestinian refugee camp late on Monday under a deal announced the previous day.
An unnamed official from Hayat Tahrir al-Sham later said the convoy that arrived in al-Eis included 108 militants, 17 women and 16 children.
Additionally, dozens of civilians arrived in al-Eis from various militant-controlled areas in Idlib.
They included five patients and 18 people from the besieged towns of al-Fu'ah and Kefriya, along with 42 people from the village of Ishtabraq.
Full report at:
http://www.presstv.com/Detail/2018/05/01/560305/USled-strikes-on-Syrias-Hasakah-leave-over-two-dozen-civilians-dead
--------
More American, French Military Convoys Arrive in Northern Syria
May 01, 2018
Orient news website reported that the American and French forces have deployed near Sajour River Northwest of the town of Manbij in Northeastern Aleppo.
Also, other sources reported that the Kurdish militias have been put on alert in the town of Manbij and have started to set up more checkpoints in and outside the town.
In the meantime, local sources in the town of al-Bab reported that the US and French forces have deployed in a region between the Kurdish positions and the regions held by the Turkey-led Euphrates Shield forces.
In a similar development last week, several units of France's Special Forces arrived in the Kurdish-controlled areas in Hasaka province in Northeastern Syria as foreign military troops are intensifying their movements in the region.
The French troops entered the US base in Ramilan region which is controlled by Kurdish fighters in Hasaka province, field sources said.
Full report at:
http://en.farsnews.com/newstext.aspx?nn=13970211000820
--------
Syrian Army Tightens Noose on ISIL in Southern Damascus
May 01, 2018
The army men engaged in fierce clashes with ISIL in several areas in Hajar al-Aswad region and imposed full control over several farms in the Southern and Southeastern directions of Hajar al-Aswad.
Also, other units of the army exchanged fire with ISIL in Yarmouk Refuge Camp.
Field sources said that tens of ISIL terrorists have been killed or critically wounded in the army's heavy artillery and missile fire and air raids in Hajar al-Aswad and Yarmouk.
The sources added that the remaining pockets of the terrorists fled the battlefield towards the depth of their positions in the region.
They went on to say that ISIL terrorists, deployed in the Southern parts of Yarmouk and Hajar al-Aswad are now under the army siege from the Northern, Southern and Western directions.
Yarmouk and Hajar al-Aswad were controlled by various terrorist groups from the ISIL to the Al-Nusra Front.
Other militants based in Yarmouk Camp agreed on Monday to leave for Northern Syria after reaching an agreement with the Syrian army as the government forces tightened their noose on the terrorists.
Terrorists agreed to leave the Yarmouk Camp for Idlib according to an agreement with the militants, field source said.
Around 5,000 of the besieged residents of Fua'a and Kafraya in Idlib countryside would be freed in two phases within the framework of the agreement.
Also, about 85 of abducted people, most of them women and children, in Ashtarbaq town in Jisr al-Shaquor region would be released by the militants.
Meantime, the Syrian army took the needed logistical measures for the exit of terrorists from Yarmouk Camp and freeing the besieged people of Fua'a and Kafraya.
Full report at:
http://en.farsnews.com/newstext.aspx?nn=13970211000496
--------
Temporary Ceasefire Declared in Homs Province After Militants' Call for Talks
May 01, 2018
A 24-hour-long ceasefire was declared in Northern Homs after the militant groups called for reconciliation talks and a Russian-Syrian delegation and representatives of the militant groups held a meeting in Dar al-Kabirah passageway.
In the meantime, field sources reported that the army has given a two-day ultimatum to the terrorists to surrender and leave Northern Homs for Idlib province or the town of Jarabulus in Northeastern Aleppo.
Also, the Arabic-language al-Watan daily reported that the Syrian Air Force pounded terrorists' positions in Northern Homs, including the town of al-Rastan and its outskirt, Talbiseh region and the villages of Deir Foul al-Majdal, al-Za'afaraneh and al-Qantou, inflicting major losses on the militants and forcing them to call for reconciliation talks with the army.
Field sources reported on Monday that the army had sent large military convoys to Northern Homs from Damascus.
They said that one of the convoys, comprising over 100 vehicles equipped with weapons as well as tanks, artillery cannons, ammunition and BMP vehicles, was sent to Homs via the Damascus-Homs highway.
Meantime, the Syrian Army's Special Forces who were engaged in the operations to liberate Eastern Ghouta and Qalamoun have now been sent to Northern Homs and Southern Hama to purge the Al-Nusra Front terrorists from there.
Full report at:
http://en.farsnews.com/newstext.aspx?nn=13970211000316
--------
Militants agree to leave Yarmouk Camp in deal with Syrian government
May 1, 2018
Takfiri militants have agreed to evacuate the Yarmouk refugee camp in southern Damascus along with their families as part of a deal with the Damascus government.
Under the deal, militants with the so-called Hayat Tahrir al-Sham and their families, who have been holed up in the Palestinian refugee camp of Yarmouk, would be given safe passage to the militant-held northwestern province of Idlib, Syria's official news agency SANA reported on Monday.
Some 5,000 people besieged in the towns of Kefraya and al-Foua'a as well as those who have been abducted from the village of Eshtabraq will then be released in two stages.
According to SANA, five buses transported 200 terrorists and their family members from the Yarmouk camp to Idlib on Monday.
Meanwhile, Daesh Takfiri terrorists have been blocking civilian evacuations from Yarmouk by launching mortar attacks on the route out of the area.
At least 22 people were injured as the Daesh terrorists fired mortars shells at al-Batykha roundabout on the vicinity of the al-Hajar al-Aswad district near Yarmouk Camp.
The evacuation deal comes nearly two weeks into the government's campaign to oust the Takfiri terrorists from the capital's southern suburbs after liberating the Damascus' Eastern Ghouta suburb.
Yarmouk was home to some 160,000 Palestinians before the Syrian conflict began in 2011. It was stormed by Daesh terrorists in 2015. According to the UN, some 3,500 Palestinian refugees are believed to have fled the embattled camp since the Syrian government launched a renewed offensive on April 19.
On Sunday, the Syrian state media said that the al-Qadam neighborhood next to the camp was retaken. Militant sources, cited by Reuters, said that the army was engaged in fighting with terrorists on the outskirts of Yarmouk camp, where up to 2,000 militants are encircled.
A deal has also been reached to evacuate militants from the areas of Yalda, Babila and Beit Sahem, also in southern Damascus, according to SANA. Under the deal, militants could choose between leaving the area with their families or handing over their weapons and staying.
The operation is a part of a larger effort to clear Damascus suburbs of militants by allowing them and their families to leave for other militant-held areas.
Full report at:
http://www.presstv.com/Detail/2018/05/01/560265/Syria-terrorists-Yarmouk-camp-evacuation-deal
--------
Europe
UK, not 9/11 behind South Asian Jihadism: Expert
May 2, 2018
LONDON: An expert on South Asia has claimed that the British leadership of the late 1970s and early 1980s and not the 9/11 tragedy was primarily responsible for the cross-fertilisation of violent extremism across the world.
Participating in a day-long conference on the theme of "Terrorism in Jammu and Kashmir" organised jointly by the European Foundation for South Asian Studies (EFSAS) and the University of Leicester United Nations Society, Dr. Paul Stott, who has written a number of books on jihadism, said terrorism in Jammu and Kashmir started with a visit to Pakistan in 1981 by then British Prime Minister Margaret Thatcher.
Dr. Stott, a lecturer at the University of Leicester and in the Centre for International Studies and Diplomacy at SOAS, University of London, revealed that Pakistan at that time was passing through a phase of aggressive Islamisation, and added that Prime Minister Thatcher's then meeting with Pakistan dictator General Zia-ul-Haq, was seen by observers and analysts in both countries as Britain's endorsement of "intense Islamisfication", and as a struggle against Communism in Afghanistan.
Coming specifically to the issue of the British-South Asian Jihadist nexus, Dr. Stott used the platform of the conference to give a detailed historic outline of the cross-fertilization of violent extremism in South Asia as well as in Europe.
He made references to the role played by established Islamist hate mongers such as Anjum Choudhury, who was one of the founders of the banned terrorist outfit Äl Magrib", and who was convicted for advocating support for the Islamic State of Iraq and the Levant (ISIL), more popularly known as the Islamic State (IS), or Abu Izzadeen, born Trevor Richard Brooks, the British spokesman for Al Ghurabaa, a British Muslim organisation banned under the Terrorism Act 2006 for the glorification of terrorism.
Brooks was convicted on charges of terrorist fund-raising and inciting terrorism overseas in 2008. He was imprisoned for four and a half years in 2006, but released in May 2009. In January 2016, he was sentenced to two years in prison for breaching the Terrorism Act 2000 by leaving the UK illegally.
A mention was also made of 27-year-old Khuram Shazad Butt, the man responsible for last year's London Bridge terror attack that claimed the lives of seven people and left 48 injured, and how he as a British citizen, had received training in Kashmir.
Dr. Stott further highlighted this British-South Asia jihadi nexus by making a mention of the 1993 UK speaking tour of Masood Azhar of the then Harkat ul-Ansar Islamist outfit, which received the support of leading British Deobandis. He said that during that visit Azhar promoted the concept of Jihad, which young Britons should undertake, and this in turn, resulted in the involvement of Omar Saeed Sheikh, a British national, kidnapping British tourists in New Delhi in 1994.
Dr. Stott said that in 1997, when the Muslim Council of Britain (MCB) was established, it exhibited a very deep Jamaat-e-Islami influence and openly supported the armed struggle in Jammu and Kashmir, and lobbied hard against UK counter-terrorism policies.
He said the first British suicide bomber in Afghanistan was Birminham-born Khalid Shaheed. He said that the suicide attack on an Indian Army base in Srinagar in the year 2000 was carried out by Mohammed Bilal, a resident of Birmingham, who was affiliated to the Jaish-e-Muhammad.
The 2002 kidnapping and murder American journalist Daniel Pearl in Karachi was the work of Omar Saeed Sheikh.
Dr. Stott used his lecture to provide a list of attacks and thwarted plots in the UK with connections to South Asia in general and Pakistan in particular, namely the Operation Crevice case in 2003, the London Transport Bombings (7/7) in 2005, the Botched 21/7 bombings, the Liquid Bomb Plot in 2006, the Exeter Restaurant bombing in 2008 and the 2009 Manchester Arndale Centre plot.
Following his extensive historical analysis, Dr. Stott posed a vital question -- When the Jihadists are defeated in Syria and Iraq, where will their attention turn to next? He expressed the fear that Jammu and Kashmir may possibly be the next battlefield for these hardened terrorists.
https://timesofindia.indiatimes.com/world/uk/uk-not-9/11-behind-south-asian-jihadism-expert/articleshow/63994862.cms
--------
British ambassador to Israel filmed by Palestinian terrorist group during secret visit to Gaza border
1 MAY 2018
Britain's ambassador to Israel was filmed by militants from Palestinian Islamic Jihad during a secret trip he made to the Gaza border to observe Israel's handling of Palestinian protests.
Wearing a bulletproof vest and helmet, David Quarrey travelled with a senior Israeli general to the Gaza border last week, where 48 Palestinians have been killed by Israeli troops since March.
The British diplomat's trip was not made public but members of Islamic Jihad, a Palestinian terrorist group, posted a video of Mr Quarrey and the Israeli commander filmed from inside Gaza.
The footage did not identify Mr Quarrey and was focused on General Yoav Mordechai, the Israeli military commander for the occupied Palestinian territories.
It showed Mr Quarrey and a group of Israeli officers standing on a sand berm on the Israeli side of the fence, watching the protests unfolding inside Gaza.
Palestinian factions sometimes film Israeli commanders to give the impression that they could be targeted by snipers. Both Mr Quarrey and Gen Mordechai left the area without incident.
The footage was published by Quds Media, a Palestinian media outlet linked to Islamic Jihad.
Israel's military invited Mr Quarrey to make the unusual visit - British ambassadors do not often don flak jackets and head to the edge of firing zones - after he raised concerns over Israel's use of live ammunition against Palestinian protesters.
Palestinians have been marching towards the border fence that separates Gaza from Israel every Friday since March 30 and in some cases have tried to damage the fence.
Israeli troops have killed 48 Palestinians and left another 2,600 needing hospital treatment after they were struck by live fire or injured by teargas and rubber bullets. Most of those killed have been unarmed.
"On Friday 27 April, Her Majesty's Ambassador to Israel undertook a short visit to the Israeli side of the border between Israel and the Occupied Gaza strip, after he raised concerns regarding the use of live fire by the IDF upon Palestinians on the Gaza side of the border," a Foreign Office spokeswoman said.
The Foreign Office said it was "deeply concerned" about the killing of Palestinians. It also accused Hamas, the Islamist militant group which controls Gaza, of "exploiting these protests for their own benefit".
"We call on all actors to abide by their obligations under international law. In particular, we urge Israelis to reconsider the use of live fire, and we urge the Palestinian leadership to maintain their calls for non-violent protests," a spokeswoman said.
Islamic Jihad is one of the smaller militant factions which operates in Gaza and is tolerated by Hamas. Both Hamas and Islamic Jihad are considered terrorist groups by the UK, US and EU.
Mr Quarrey has been Britain's ambassador to Israel since July 2015. He was previously the director of the Middle East and North Africa department and was Tony Blair's private secretary from 2004-2006.
Much of his tenure in Tel Aviv has focused on the Iran deal and tensions in the Middle East, as well as the growing trade and security relationship between Britain and Israel.
Full report at:
https://www.telegraph.co.uk/news/2018/05/01/british-ambassador-israel-filmed-islamic-terrorist-group-secret/
--------
Why the 'lone jihadi' poses the greatest terror threat to this summer's World Cup in Russia
May 2, 2018
Security experts have named "lone jihadi" attacks the biggest terror threat during the 2018 World Cup in Russia this summer.
Sunni Islamist militants, particularly Russian jihadists returning from conflict zones, are the primary source of concern for Moscow, according to a report released Tuesday by Jane's, the defense and security wing of IHS Markit.
The threat has been driven by Russia's military involvement in Syria and separatist militancy in its disputed Northern Caucasus region.
The Islamic State (ISIS) terrorist group has been encouraging would-be attackers to strike during the tournament, spreading propaganda material on its social media channels and via encrypted messaging platform Telegram.
One poster picked up on Telegram and shared on Twitter shows a militant wielding an AK-47 superimposed in front of a stadium and with Russian President Vladimir Putin in the sights of a target. The poster reads, "Putin: You disbeliever. You will pay the price for killing Muslims. Just terror."
Other posters display gruesome invocations of ISIS's practice of beheading its captives, with one showing a balaclava-clad militant standing beside a kneeling Lionel Messi, the Argentinian football champion, in Moscow's Luzhniki stadium.
Such propaganda and graphics are common practice for ISIS, which has used social media and elaborate digital campaigns to reach young recruits and followers around the world. So-called lone wolf attacks have been behind some of Europe's worst terror atrocities in recent years, and are expected to continue as they minimize the cost and organizational effort required of ISIS leadership.
Returning ISIS fighters
By 2017, an estimated 3,417 Russian nationals had left home to fight for ISIS and 400 had returned, according to Washington-based security consultancy the Soufan Group. That made Russia the largest exporter of foreign jihadis by country, ahead of Saudi Arabia, Jordan and Tunisia.
"Returning Russian jihadists pose a likely terrorism threat to security measures at the 2018 FIFA World Cup, motivated by their opposition to the military involvement of Russia and other World Cup participants in the Middle East, and towards Iran and Saudi Arabia," said Chris Hawkins, a senior analyst at Jane's Terrorism and Insurgency Centre (JTIC).
While many of the returning fighters will be able to be identified and detained or placed under surveillance by Russian authorities, JTIC calculates a "moderate risk" that clandestinely returned fighters will carry out attacks.
And due to their combat experience in Iraq and Syria, they will likely be "proficient in constructing and deploying viable improvised explosive devices (IEDs) and in military-standard weapon-handling," according to Hawkins.
Returning militants are, however, less likely to have easy access to the necessary weapons and military-grade explosives that would enable a mass casualty attack, he added. ISIS propaganda material encourages low-level tactics like the use of vehicles and knives.
The last few years in Russia have seen a number of terrorist attacks, most notably an explosion in the St. Petersburg metro that killed 15 people in 2017 and the downing of a Russian airliner in 2015 over the northern Sinai that killed 217.
Security measures in place
Facial recognition technology has been installed on 5,000 CCTV cameras across Moscow, which is cross-matched with images of wanted individuals from across government databases and social media. Other host cities have started to install CCTV cameras, and the measures should help in detecting and apprehending potential attackers before they strike, Hawkins said.
While deemed necessary in light of terror threats, civil society and human rights activists say the technology is also used by the Russian state to surveil political dissenters and opponents of Putin's government.
The Kremlin is also expected to intensify its counter-terror operations in the majority Muslim semi-autonomous Caucasus regions of Chechnya and Dagestan, attempting to mitigate threats emanating from militant groups there.
Full report at:
https://www.cnbc.com/2018/05/01/russia-world-cup-threatened-by-lone-jihadi-terror-attacks.html
--------
UK reiterates support for Iran nuclear deal
01 May 2018
The latest presentation by Israeli Prime Minister Benjamin Netanyahu shows the necessity of implementing a deal on Iran's nuclear capability, British foreign secretary said Tuesday.
Boris Johnson said Netanyahu's presentation on Iran's past research into nuclear weapons technology "underlines the importance of keeping the Iran nuclear deal's constraints on Tehran's nuclear ambitions".
Pointing out that the deal with Iran "is not based on trust about Iran's intentions", but "on tough verification", Johnson said the deal included "measures that allow inspectors from the International Atomic Energy Agency unprecedented access to Iran's nuclear programme".
Netanyahu claimed that Israeli intelligence services had obtained 55,000 pages of Iranian documents revealing how Tehran allegedly lied to the world after signing a landmark deal in 2015 to curb its nuclear program.
Iranian Foreign Minister Javad Zarif has dismissed the Israeli claims about its nuclear program as "baseless".
"The fact that Iran conducted sensitive research in secret until 2003 shows why we need the intrusive inspections allowed by the Iran nuclear deal today," Johnson said.
"The verification provisions in the Iran nuclear deal would make it harder for Iran to restart any such research.
"That is another good reason for keeping the deal while building on it in order to take account of the legitimate concerns of the US and our other allies," he added.
Johnson's statement followed an agreement by the U.K., France and Germany, which said the implementation of the nuclear deal with Iran is the "best way" of stopping Tehran from developing nuclear weapons.
British, French and German leaders "discussed the importance of the Iran nuclear deal as the best way of neutralizing the threat of a nuclear-armed Iran, agreeing that our priority as an international community remained preventing Iran from developing a nuclear weapon," according to a statement released following phone calls of Prime Minister Theresa May with French President Emmanuel Macron and German Chancellor Angela Merkel.
The weekend statement said the leaders were also "committed to continue working closely together and with the U.S. on how to tackle the range of challenges that Iran poses -- including those issues that a new deal might cover."
In July 2015, the EU and the P5+1 group of countries — China, Germany, France, Russia, the U.K. and U.S. — signed the Joint Comprehensive Plan of Action (JCPOA), also known as the Iran nuclear deal, with Tehran.
The accord stipulated a gradual lifting of anti-Iranian sanctions in exchange for Tehran curbing its nuclear program and allowing inspections to ensure that the nature of the program is peaceful.
Full report at:
http://www.worldbulletin.net/europe/201633/uk-reiterates-support-for-iran-nuclear-deal
--------
Southeast Asia
Muslim accused of London terror plot hoped to join IS in the Philippines
MAY 1, 2018
A Muslim convert accused of plotting a 'large-scale' vehicle attack in London also hoped to join so-called Islamic State in the Philippines.
Lewis Ludlow, aged 26, from Rochester in Kent was remanded in custody following a hearing at Westminster Magistrates' Court today (Tuesday, May 1).
The court was told he planned to target crowded and popular parts of the British capital, such as Madame Tussaud's and Oxford Street.
It was also alleged that he had sent cash to a Filipino jihadist called Abu Yaqeen in preparation for joining his ranks in the south of the country.
The ginger-haired Lewis refused to stand in court, declaring: "I'm not allowed to stand for anyone but God."
The accused wore a traditional black Muslim skull cap, a green t-shirt and prison-issue tracksuit bottoms in the dock.
He spoke to confirm his name, date of birth, address and his British nationality.
As the charges against him were read out, he said after each one: "I declare myself innocent of that charge."
Ludlow was arrested on April 18 by officers from Kent's Counter Terrorism unit, prosecutor Mark Dawson said.
He was later charged with two charges relating to Section 5 of the Terrorism Act 2006 and one contrary to Section 17 of the Terrorism Act.
Mr Dawson said: "Charge one relates with the defendant's intention to travel to the Philippines to join up with Daesh, the Islamic State.
"Charge two relates to the contact he has with Abu Yaqeen, a man in the Philippines to send money to the benefit of Islamic State fighters in the Philippines.
"And charge three relates to the defendant planning a large-scale, multiple-casualty vehicle-borne assault, perhaps in the Oxford Street area of London."
Ludlow was also accused of swearing an oath of allegiance to Islamic State and its leader Abu Bakr al-Baghdadi.
No bail application was made and he was remanded in custody. He will next appear before the Central Criminal Court on 11 May.
Ludlow is not the first British muslim convert to plan joining the Islamic State in the Philippines. In February last year, we reported on the case of Ryan Counsell, who was found guilty of planning to join Abu Sayyaf. The Nottingham supermarket worker had already booked flight tickets to Zamboanga and amassed a hoard of military kit when arrested.
http://philippineslifestyle.com/muslim-london-terror-jihad-philippines/
--------
Indonesia, Iran exchange experiences in implementing Islam
May 2, 2018
Bogor, W Java (ANTARA News) - Indonesian and Iranian Muslims can work together to exchange experiences in applying Islamic values and systems in social and family life, Iran's Vice President for Women and Family Affairs, Massoumeh Ebtekar, remarked.
"We have successes in Iran, and you have successes in Indonesia. We need to learn from those successes. But we should also take lessons from those to face challenges in Iran and in Indonesia," Ebtekar stated in an exclusive interview with Antara News Agency in Bogor on Tuesday.
Ebtekar is in Bogor, West Java, to attend the High-Level Consultation of World Muslim Scholars on Wasatiyyat (moderate) Islam (HLC-WS), which takes place from May 1 to 3, 2018. The event was opened by President Joko Widodo at the Bogor Palace.
According to her, the challenge for Indonesia and Iran is on how to practice the teachings of Islam in modern political systems and structures, and apply sharia in an evolving society.
"One important global issue is the intergenerational gap. The younger generation has different value systems, and they are influenced by social media. Social media is an important tool, but it could be a threat to our culture," Ebtekar explained.
She stressed that Indonesia and Iran should be able to work together to exchange experiences and strengthen positions, identities, cores, and value systems.
"For example, the social relationship in Islam is very important. The role of men and women in social sphere is very different compared to the western world where women are commercialized and commoditized. They are only obsessed with looks, which ultimately lead to sexual harassment," the vice president remarked.
While in Islam, she added, there are rules on dress code and how to behave in social life.
"We have different values and systems. If we can implement it, we can protect the dignity of men and women, as well as families that are very important in our society," she explained.
The vice president stressed that women have political and social roles, but they should be proud to be women and mothers.
Full report at:
https://en.antaranews.com/news/115573/indonesia-iran-exchange-experiences-in-implementing-islam
--------
Attacking Nik Aziz's son will backfire on PAS, says Husam
Faiz Zainudin
May 1, 2018
KUBANG KERIAN: Kelantan Pakatan Harapan (PH) chief Husam Musa said PAS leaders have come under pressure following the move by the son of the late Nik Abdul Aziz Nik Mat to stand as a candidate for the opposition coalition.
The former PAS vice-president said the decision by Nik Omar Nik Aziz, the second son of the late Kelantan menteri besar, had come as a shock to PAS, including its president Abdul Hadi Awang.
Husam said this was evident from Hadi's "extreme statement" in which he had compared Nik Omar's act to that of the son of Prophet Noah, described in Islamic texts as a disbeliever who went against his father.
Nik Omar, the brother of PAS' Bachok candidate Nik Mohamad Abduh, is standing in Chempaka, the state seat once represented by their father.
Husam said PAS' attack on Nik Omar by invoking religion would only backfire on the party.
"We are in the midst of a general election. What connection is there with the son of the Prophet Noah?
"Don't politicise to that extent, misusing religion for politics."
Husam said leaving PAS was not the same as leaving the Muslim faith.
"Who dares to say this?" he asked at a ceramah in Mulong last night.
Husam said PAS should have taken Nik Omar as its candidate.
He said PH did not announce Nik Omar's candidacy as it did not want to pit him against his brother Nik Abduh.
Full report at:
http://www.freemalaysiatoday.com/category/nation/2018/05/01/attacking-nik-azizs-son-will-backfire-on-pas-says-husam/
--------
Filipino expats vow to stay in Kuwait despite workers ban
1 May 2018
Filipino expat workers told Al Arabiya that they are vowing to stay in Kuwait despite a ban request from their president because they say there are no job alternatives back in their home country.
The Philippines on Tuesday welcomed an olive branch from Kuwait over their migrant labor row, days after President Rodrigo Duterte announced a permanent ban on Filipino workers going to the Gulf state.
The dispute, simmering for months, erupted last week when Kuwait expelled the Philippine ambassador over videos of embassy staff helping Filipino workers flee allegedly abusive bosses in Kuwait.
But the Kuwaitis sought to calm the crisis after Duterte said on Sunday that he was making permanent the departure ban in place since February, when a murdered Filipina maid was found in her employer's freezer.
Kuwait's Deputy Foreign Minister Nasser al-Subaih said on Monday the row was "largely a misunderstanding" and "we do not believe in escalation".
Philippine Foreign Secretary Alan Peter Cayetano welcomed that conciliatory message on Tuesday.
"This gesture on the part of Kuwait, a country with which we have a shared history and strong people-to-people ties, will allow us to move forward," Cayetano said in a statement.
"We affirm our friendship with the government of Kuwait and its people. The strength of that friendship will withstand this misunderstanding," he added.
Around 262,000 Filipinos work in Kuwait, nearly 60 percent of them domestic workers, according to the Philippine foreign ministry.
Duterte previously said workers returning from Kuwait could find employment as English teachers in China, citing improved ties with Beijing.
Full report at:
https://english.alarabiya.net/en/News/gulf/2018/05/01/Filipino-expats-vow-to-stay-in-Kuwait-despite-ban.html
--------
Africa
Al-Shabaab ranked as Africa's deadliest militant group
MAY 1 2018
Al-Shabaab is responsible for more than half the reported attacks carried out in Africa by militant Islamist groups during the past 12 months, a think tank associated with the US Defence Department said on Tuesday.
Shabaab also ranks as the deadliest insurgency on the continent. It killed 4,834 persons in the 12-month period ending on March 31, according to the Washington-based Africa Centre for Strategic Studies.
INCREASED ATTACKS
The intensifying violence in Somalia is consistent with an upsurge in attacks by militant Islamist groups in eastern, northern and western Africa, the think tank noted in an "infographic".
Nearly 3,000 attacks were reported in Africa in the past 12 months — a 38 per cent increase over the same period spanning 2016 and 2017.
Shabaab was able to step up its lethal actions despite a greater frequency of US drone attacks since President Trump's inauguration at the start of 2017.
A decade of counterinsurgency operations by African Union troops and Somali government forces have also failed to blunt Al-Shabaab's capacity to inflict heavy civilian and military casualties.
Shabaab launched an average of almost five attacks a day last year, most of them occurring either in Mogadishu or in rural areas. Its 1749 violent actions amounted to 58 per cent of the total attributed to Islamist groups in all of Africa.
Kenya and the four other African Union troop-contributing countries lost soldiers in Somalia last year, but their numbers are not known because the AU and the individual countries do not release a complete tally of fatalities.
A total of 10,535 Africans lost their lives as a result of militant Islamists' actions in the past 12 months, the think tank reported. That total, while greater than the number of fatalities in the previous 12 months, is substantially below the peak of 18,728 deaths reported in 2015.
https://www.nation.co.ke/news/Africa-deadliest-terrorist-group-revealed/1056-4539394-8htjdyz/index.html
--------
Muslim group warns Christians after Trump tackles Buhari on killings
May 1, 2018
By Ifreke Inyang
The Muslim Rights Concern (MURIC) has criticised US President, Donald Trump, over his comments on the killing of Christians in Nigeria.
During a joint press conference with President Muhammadu Buhari on Monday, Trump said the US will not accept the attacks on Christian communities in Nigeria.
In a statement issued on Tuesday, Ishaq Akintola, director, MURIC, said Trump's statement, "is prejudiced, parochial and unpresidential".
Akintola also claimed Trump, "is luring Nigerian Christians into bolder confrontation," with Muslims.
"It is sheer interference in the internal affairs of a sovereign nation. Trump has a bully's instinct," the statement read in part.
"If this is the same Trump who called African countries 'shithole', the same American president who threatened to wipe out North Korea, the same US leader who banned Muslims from entering his country, the same Republican who said, "Torture works, ok folks?", Nigerians must be wary of America's involvement in their affairs.
"We should remember that Nigeria did not get the required support from the moderate and cool-headed Barrack Obama in its war against terrorism. We should therefore not expect any from Trump who treats vulnerable nations with contempt and has no respect for African countries. Unless Nigerians unite, this country will become America's 'shithole'.
"Trump's comment on killings in Nigeria implies that he would prefer that it is Muslims alone who are being killed. We refuse to believe that a whole American president does not know the true situation on ground in this country. He who knows but pretends not to know has his own secret agenda. Nigerian Muslims are not intimidated by Trump's comment. We only sympathise with those who will be gullible enough to become Trump's 'suckers'. Posterity will judge us.
"Nigerian Christians should not allow themselves to be deceived by Trump's comment. The advanced countries of today will not compromise the secret of their technological advancement. Western countries will not teach us what will benefit our people. They will only teach us what will divide us in order to further render us debilitated, impoverished and helpless.
"Nay, they will give us fish but refuse to teach us how to fish. They will scatter us like wild oats and then give us weapons to kill ourselves. Then, under the guise of rendering humanitarian services, they will take over our land, our oil, our rich culture and force homosexualism and lesbianism down our throats but at that time, it will be too late to resist. Mark our words.
"Trump is only using religion to turn Nigeria into another Iraq. Just as former US President Bush used Sunni-Shiite dichotomy to destroy Iraq just to lay his hands on Iraq's oil field, Trump is also eyeing Nigeria's oil. His plan is to use Christian-Muslim divide to set Nigeria ablaze. But Nigerians should remember that decades after the invasion of Iraq, that country is yet to experience stability. Years after the killing of Ghadaffi, Libya is yet to find its feet. The guns are still booming in Syria and the world holds its breadth each time North Korea sneezes.
Full report at:
http://dailypost.ng/2018/05/01/muslim-group-warns-christians-trump-tackles-buhari-killings/
--------
9 die in attack on church in Central African Republic
May 1, 2018
At least nine people, including a priest, have been killed in an attack on a church in Bangui, the capital of the Central African Republic.
Pastor Moses Aliou said on Tuesday that dozens had also been wounded in the attack, which was carried out during the morning service in the Notre Dame de Fatima church.
Witnesses said assailants attacked the church, shooting and using grenades. The church-goers were trapped inside the compound. Police later opened a hole in a wall of the church building to allow people to escape, witnesses said.
"Filled with panic, some Christians began to flee until bullets and grenades begin to fall in the parish grounds, trapping those who remained in the compound," said Aliou.
The wounded were taken to Bangui's Community Hospital but it was not clear how many people died in the hospital and how many in the church attack itself.
Chancellor of the Archdiocese of Bangui Walter Brad Mazangue said the priest killed in the attack died as a result of shooting in the church. The priest was identified as Albert Toungoumale Baba. Thousands of Christians gathered near the church to protest the attack when Baba's body was being carried to the presidential palace.
The attack came near the site of clashes between United Nations peacekeepers and security forces of the Central African Republic on one side and criminal gangs on the other in the PK 5 neighborhood. A total of 21 people were killed during the fighting which came after UN and local forces tried to disarm the gangs.
Full report at:
http://www.presstv.com/Detail/2018/05/01/560331/Central-African-Republic-church-attack
--------
Malawi Muslims Query Catholic Bishops Silence On Albino Killing in Pastoral Letter After Priest Arrest
30 APRIL 2018
The Muslim Council of Malawi has questioned Catholic bishops in the country, under the umbrella of the Episcopal Conference of Malawi (ECM), for not talking about increased violence against albinos in the country in contents of its recent Pastoral Letter. The 16-page Pastoral Letter titled: 'A Call For A New Era In Malawi', read out in all Catholic churches Sunday--the fifth Sunday of Easter in the Catholic calendar-- has catalogued ills bedevilling the nation and echoes the issues raised in the Ccivil society groups' 10-point demand petition like the dwindling public service delivery, nepotism, lack of transformational leadership and others.
The Pastoral letter advises the citizens to look for honesty, transformational leadership, selflessness, servant leadership, decisive leadership, respects of the law, willingness to step down, above tribal/regional/ political interests; and God fearing as the qualities the citizens should consider.
But the Muslim community has accused Catholic Church for being mum albino attacks, apparently after a church's priest was arrested on suspicion of being involved in the abduction and brutal murder of Macdonald Masambuka, a young Moslem with albinism from Machinga.
Father Thomas Muhosha of Mulombozi Parish in Zomba was arrested and is being investigated by Police after he was mentioned as one of the people who took part in the brutal killing of Masambuka.
The body of 22 year-old Masambuka, who hailed from Nakawa village, Traditional Authority (T/A) Nkoola in Machinga was found on April 1 buried within the district after he was reported missing in March this year.
Police traced the body following confessions from initial suspects who had been arrested in connection to the crime.
"We feel that the Catholic Church could have included the missing and brutal murders of people with albinism. Just recently our Muslim brother late Masambuka was murdered and one of suspect is a Reverend Catholic Priest. The nation may wish to know that Machinga district has registered the highest number of killings of people with albinism. We are aware that if it was a politician of any political party, the Catholic Church would have advocated for impeachment even though not proven guilty in the court of law" reads the statement signed by National Chairman Sheikh Yasin Katungwe and Publicist Mulli Bwanali.
It adds: " We feel the Catholic Church could have assured Malawians through this Pastoral letter measures they have put in place to protect people with albinism ".
But the Episcopal Conference of Malawi suspedned the priest immediately after his arrest and also emphasized that the church condemns in its strongest terms any attacks on any human being.
Bishop George Tambala of the Zomba diocese distanced the church from Muhosha's alleged conduct saying the church defends the sanctity of human life and the killings of persons with albinism is a violation to that sanctity.
"The Catholic Church has always strongly condemned the killings of persons with albinism," said Bishop Tambala.
The bishops' justice and peace commission has also condemned their killing, which is linked to the practice of witch doctors.
It said the Catholic Commission for Justice and Peace (CCJP) has commented several times on the matter.
Across Africa - from Malawi, Tanzania, and Burundi in the east, to Cameroon in the west - albinos are targeted because it is believed they have magical powers or bring good luck. They are killed, and their body parts sold to be used in potions made by witch doctors.
CCJP commented that Malawi needs a multi-faceted approach to the problem, involving police, government, religious, and traditional leaders.
The pastoral letter was not read in some parishes due to various reasons. At Matawale Parish in Zomba for instance, the priest said the letter would be read next week. At Neno Parish it was not read as the priest was not available.
Full report at:
http://allafrica.com/stories/201805010319.html
--------
KDF rescues 13 Kenyan youths from Al Shabaab
May 2nd 2018
Security agencies are looking for three people they allege played roles in recruiting 13 youths from Kilifi and Lamu counties into Al-Shabaab in Somalia. The Kenya Defence Forces (KDF) says it rescued the youths in Ras Kamboni in Somalia, apparently stranded on the international border, and flew them to Malindi on Sunday. ALSO READ: Thousands left homeless as floods wreck villages The unidentified youths, all males aged between 18 and 34 years, were rescued after their parents filed reports with the police that their children had been lured into the terror group while looking for jobs. The youths were received by Malindi OCPD Matawa Muchangi at the Malindi International Airport on Monday afternoon. Kilifi County Commissioner Magu Mutindika was yesterday in Malindi to reunite the youths with their families and said two of the suspects were residents of Kilifi and Lamu. Details of the third suspect are still unknown. "One of the suspects is from Marereni and trades in fish, and it is said that he gave the youths Sh5,000 each with a promise of a better paying job in Kiunga," said Mr Mutindika. Avoid fake news! Subscribe to the Standard SMS service and receive factual, verified breaking news as it happens. Text the word 'NEWS' to 22840 He added that collaboration between KDF and their Somalia counterparts resulted in the youths' rescue while they were in transit to Somalia. "They took a boat from Malindi and were meant to continue with their journey by road once in Kiunga but the KDF and Somalia forces rescued them in Ras Kamboni," he said. Parents and guardians who had come to be reunited with their sons identified the man said to have lured their children as a renowned fishmonger in Marereni. "My older brother who is a fisherman had travelled with me to Kiunga to catch crabs only to receive a phone call from our brother saying he was suffering in Somalia," said Mr Saida Ngala at the police station. ALSO READ: Help us get these terror suspects, police ask Rose Kiraga, a resident of Marereni, who was filled with joy on seeing her son alive, said the suspect was once arrested after residents launched complaints that their sons were being taken to Somalia without their knowledge, but later released. A senior security officer on Monday told journalists that KDF had managed to rescue more than 1,100 youths since 2011.
https://www.standardmedia.co.ke/article/2001278888/kdf-rescues-13-kenyan-youths-from-al-shabaab
--------
North America
US says Israel's files on Iran nuclear program are 'new and authentic'
1 May 2018
US Secretary of State Mike Pompeo, until last week director of the CIA, said Monday that Israel's newly released package of intelligence on an Iranian nuclear weapons program was authentic and much of it was new to US experts.
Pompeo met Israel's Prime Minister Benjamin Netanyahu on Sunday at Israeli military headquarters and was briefed on the material, which was released as Washington's new top diplomat flew home.
"We've known about this material for a while and we certainly discussed this material yesterday when we were together," Pompeo told reporters on his plane.
"It's been something that's been in the works for a while. I know that there are people talking about these documents not being authentic. I can confirm with you, for you, that these documents are real, they are authentic."
Asked whether the United States had been aware for many years that Iran had a secret nuclear weapons program -- dubbed Project Amad -- before 2004, Pompeo said: "That's partly true. The existence of the Amad program ended roughly in December 2003, January 2004.
"It's accurate to say that the knowledge of that, the fact of that, has been known for quite some time, but there are thousands of new documents and new information," the top US diplomat added.
"We're still going through it, there's still a lot of work to do to figure out the scope and scale of it, but it is the case that there is new information about that program."
Supporters of the 2015 Iran nuclear deal, which President Donald Trump is expected to pull the US out from on May 12, have argued that Netanyahu's intelligence release deals simply with a historic Iranian program and does not prove they are in breach of the 2015 accord.
But Pompeo argued that it has some value in the current debate.
"This will, I think, spell out the scope and scale of the program that they undertook there, and I think that it makes clear that at the very least the Iranians have continued to lie to their own people," he told reporters.
"The Iranians have consistently taken the position that they've never had a program like this. This will belie any notion that there wasn't a program."
Pompeo said that Trump would have to determine whether the United States feels Iran is in violation of the deal, and said US translators and analysts are still trawling through the intelligence provided by the Israelis.
https://english.alarabiya.net/en/News/middle-east/2018/05/01/Israel-s-files-on-Iran-nuclear-program-are-real-Pompeo-says.html
--------
These Canadian Muslims are tackling Islamophobia with kindness
May 2018
In 2016, the Ritz-Carlton Hotel in Toronto played host to a glitzy event attended by Mayor John Tory and Ontario Premier Kathleen Wynne. Its aim? To recognize that Muslims are good citizens, too.
The event was put on by the Muslim Awards for Excellence, otherwise known as MAX, an organization that offers scholarship funding and mentorship opportunities in addition to its annual awards program. In launching MAX, Aazar Zafar, a portfolio manager in Toronto, set out with a very specific vision: to elevate the brand of Muslims in Canada by recognizing and motivating high achievement.
Despite growing up in a culturally diverse place, where his parents taught him that Christians, Muslims and Jews are all similar, Zafar encountered racism "because I was brown." He detected a shift after the terrorist attacks of 9/11, when he witnessed a growing cascade of negative stereotypes directed specifically at Muslims.
He also grew more attuned to the Muslim Canadians in his orbit who were doing good work. Zafar's father, who passed away in 2015, inspired in his son a desire to build bridges both within and beyond Muslim communities. "I've had amazing experiences growing up here, and I feel like it's my duty to help . . . to show that [Muslims] are here to be productive members of society," says Zafar. "We're saying that we're Canadian first and also Muslims, and we want to help build a better Canada."
While community celebrations like the MAX Gala are undeniably positive additions, it is curious that we've arrived at a place where the idea that Muslims are beneficial members of society isn't self-evident.
As Islamophobia simmers around the world, sometimes boiling over in acts of violence, Canada has been held up as a model of multicultural tolerance. Our
photogenic prime minister has handed out winter jackets to newly arrived Syrian refugees and has made pointed attempts to include visible minorities — including Muslims — in his cabinet.
But those cheerful moments don't tell the whole story. While Canadians often smugly consider themselves more tolerant than Americans and Europeans — especially with the confluence of U.S. President Donald Trump and Brexit — a 2016 poll by the Canadian Race Relations Foundation and the Canadian Institute for Identities and Migration found that less than half of Canadians held positive views of Muslims. The number of police-reported hate crimes against Muslims in Canada more than tripled from 2012
to 2015. In addition to the horrific 2017 attack on Muslim worshippers in Quebec City, mosques across the country have been vandalized, their windows smashed and walls covered in graffiti, or targeted by arsonists.
One mosque in downtown Toronto was singled out for a generic "anti-Islam" event in February 2017, when about a dozen protesters showed up to advocate for a ban on Islam and wielded signs conflating the religion with rape, beheadings, honour killings and pedophilia. A protester told the CBC that she was there because Muslims in Canada "don't want to follow the law of the country."
While these acts can be written off as bad behaviour committed by fringe elements, there's no doubt that some of the ideas behind them have been reinforced systemically. Last year, Canada's Parliament passed M-103, a non-binding motion against religious discrimination that specifically condemned Islamophobia, but members of the Conservative Party and the Bloc Québécois met the motion with considerable resistance. An Angus Reid Institute poll showed that only 29 percent of Canadians were in support of the motion.
These unfavourable views certainly weren't diminished by former prime minister Stephen Harper's legacy — or the suggestion during his re-election campaign in 2015 that the federal government would establish a "barbaric cultural practices" tip line. Two years later, then Conservative leadership hopeful Kellie Leitch went on to propose a "Canadian values test" for new immigrants that was suspected to target Muslims and widely criticized for stoking the fears of Canadians who believe they're engaged in a clash of civilizations. While Leitch wasn't successful, a majority of Canadians supported her idea.
In response, many Muslim Canadians are going on the offensive, engaging with their neighbours' anxieties — regardless of how inflammatory. Mosques across the country have opened their doors and encouraged Canadians to stop by with questions and concerns. Anti-
Islamophobia ads, declaring "Muslims are part of Toronto," were erected across the city's public transit hubs in 2016. And the Ahmadiyya Muslim Youth Association has launched an "Islam Understood" campaign, which has young Muslims going to door to door, holding open houses and hosting meet-ups in dozens of cities across the country in an attempt to demystify Islam and fight back against negative perceptions.
This is the central objective of its national program called Coffee & Islam, which was launched in 30 cities and towns across Canada in late 2017. Muslim volunteers show up, order lattes and field questions about Sharia law, the status of women or the true meaning of "jihad" when translated from its original Arabic.
James Sinclair is one of the organizers of the program. He often makes himself available to speak about his faith to individual Canadians who range from curious to skeptical to downright hostile. "For the most part, it's awesome conversation," says Sinclair, who radiates a patient goodness. In addition to discussing religion, "we talk about current events, sports — anything that might come up."
Sinclair is a self-described "cynical white guy from Nova Scotia." He grew up nominally Christian but felt compelled to explore other spiritual avenues. After converting to Islam four years ago, he joined a missionary path, embracing "an ethical life." But Sinclair's present mission involves a unique twist on proselytization: convincing his fellow Canadians thatmost Muslims do not espouse the sinister ideologies they may see reflected in the news. You know, the people who strap on suicide belts and walk into crowded markets, who keep women from driving or who fight to spread a violent caliphate across whole regions.
In 2016, he took part in a Canada-wide #MobileMuslims tour, driving a branded truck and trailer from Newfoundland to British Columbia to answer questions about Islam and challenge misconceptions. In Quebec City, they parked downtown, eager to engage with the steady flow of pedestrians — until a restaurateur came outside and started yelling obscenities, insisting that he didn't want anything visibly Muslim anywhere near his business.
Many people, upon being told that they couldn't park in front of a restaurant because the optics of their religion were bad for business, might be outraged. Few would recommend the dinner special to passersby — but that's exactly what Sinclair did. "As people came by
and we spoke to them, we would direct them into his restaurant," he says. "At the end of the day, the same guy who cursed us out invited us for dinner."
Sinclair likes to tell this story as a way to illustrate his belief that perceptions can be changed through acts of kindness and good character. And on the one hand, this anecdote is a touching example of how destructive misconceptions can be interrupted by a positive interaction. But on the other hand, there's something deeply humiliating about having to win the hearts and minds of fellow citizens when it comes to the right to simply park your vehicle on the street without persecution.
And many Muslim Canadians now find themselves in precisely this position: digging out of a deficit of negative prejudice, tolerating fundamentally dehumanizing situations, and working double time to disprove misconceptions about their faith and culture. Their efforts raise necessary questions about the unique expectation that all Muslims take responsibility for the actions of those who share their faith, and the role that marginalized groups can take — and whether or not they should take it — in counteracting negative stereotypes.
While all racialized groups in Canada struggle against less than favourable labels, few have generated the same levels of fear, resentment, condescension and disdain as Muslim Canadians. And there are no comparably explicit image-rehabilitation movements. Muslim Canadians are constantly working to overturn very specific and pervasive stereotypes. One burden placed on them is the ongoing expectation to denounce acts of violence committed by any individual or group that claims Islam anywhere in the world. Muslim Canadians have been denouncing violence ad nauseam since 9/11, and it hasn't made any difference in how people perceive them, says Azeezah Kanji, director of programming for the Noor Cultural Centre in Toronto.
Ayesha S. Chaudhry, Canada Research Chair in Religion, Law and Social Justice at the University of British Columbia, says these denunciations can be understandable acts of self-preservation by communities that don't "trust those around them to see them as a complex group of 1.8 billion people across the globe that actually don't have conferences and decide what they're going to do next week. It's this institutionalized and pervasive Islamophobia that keeps Muslims on the defensive."
All people have multiple identities — Canadian, Muslim, woman, daughter and professor, for example — and yet there's a strong temptation to see certain groups as a monolithic block. Chaudhry worries that Muslim Canadians assume a sort of complicity by even acknowledging the acts of Muslim extremists. "I don't have anything in common with them, and they don't represent me," she says. "But we have to decide when the external gaze decides that someone's behaviour reflects on me and demands ownership."
In her forthcoming book The Colour of God, Chaudhry explores this theme. "One of the things I talk about a lot is what it feels like to be part of a group that has to say, over and over again, 'Hey, I'm human,'" she says. "That I also behold beauty and like the smell of roses and can experience joy and have this varied and complicated life. Ultimately, when systemic racism and discrimination are enshrined, then an entire population of people is dehumanized."
Humanizing Muslim Canadians is what Shelina Merani, a comedian in Ottawa, describes as the aim of her standup routine. She typically starts off her sets by making a joke about how she's lucky her husband let her leave the house, and then might riff on the exoticism non-Muslims associate with her simple head covering: "People always ask me what I call the thing on my head in my culture. I say, 'It's called a scarf.'"
"With comedy, the impact can be huge because you're breaking down barriers just by being on stage," she says. "I want to demonstrate that I can be fully Muslim and fully western."
But while Merani describes her comedy as a positive way to challenge preconceived notions, she's also acutely aware of the limits of her talents when it comes to convincing other Canadians that she belongs. "I'm expected to renounce parts of my faith to be considered progressive," she says. "I do think some people would prefer that Muslims either stay in our ghettos and not reach out, or abandon much of our faith."
Some have linked the false choice between faith and national identity to statistics that indicate Muslims are struggling to reconcile the two. According to a 2016 survey from the Environics Institute, 83 percent of Muslims felt "very proud" to be Canadian (versus 73 percent of non-Muslims), but half of Muslims felt that their religious identity was more important than their national identity. That particular attachment to religious identity might be driven by another finding from the survey: a third of Muslims are inclined to believe that they will face more, not less, discrimination and stereotyping in the future.
Unsurprisingly, constant scrutiny takes a toll on social cohesion. And it's also exhausting for many Muslim Canadians, sick of being perceived as the dangerous "other" — the terrorist hostile to liberalism, the immigrant who refuses to integrate or the refugee who sucks up much-needed resources.
"There's a burden people place on Muslims to prove themselves not guilty, and it doesn't apply to other faith groups," says Ruba Ali Al-Hassani, a PhD candidate at Osgoode Hall Law School in Toronto and a founding member of the Canadian Association of Muslim Women in Law. "There's a constant pressure to prove yourself Canadian, aligned with 'Canadian values' — which is something we can't even define. . . . We have nothing to apologize for, and we need to be less defensive. It's sad because it should be assumed that we condemn violence, just like every other group in Canadian society."
When it comes to forging a path forward, it's fair to say that both individuals and institutions in Canada have been reluctant to examine their complicity with rising Islamophobia. "I think it's very important that we hold our political [leaders] to account for engaging in representations that perpetuate stigmas against Muslims, but that also downplay the dangers of racism and white supremacy," says Kanji. Those representations, she says, extend to the media, where the gaze lingers unduly on violence committed by Muslims, indulging an unfair narrative.
Chaudhry notes that there's a debate among Muslims about whether to even participate in this often-ugly discourse about the place of Islam in Canadian society, with some people refusing to engage and others fearing that not doing so will lead to further isolation and persecution. "But the conversation should be the other way around," says Chaudhry. "Instead of asking about the responsibilities of the marginalized, we need to ask about the responsibility of a pluralistic society to make sure that the negative narratives that surround marginalized groups are erased by curricular development, national education campaigns and systemic changes."
Al-Hassani wishes she could be more optimistic about the future. She notes the outpouring of goodwill in the aftermath of the Quebec City mosque attack, when people reached out and attended vigils, and most Canadians — regardless of assumed religious or cultural differences — came together to express their horror. But Crown prosecutors declined to file terrorism charges against the white nationalist shooter (murder charges were still applied), and less than a year later, Quebec's Bill 62 made it illegal for people wearing face coverings to give or receive public services — a move widely believed to target Muslim women.
"These events [such as the mosque attack] don't always bring us together," says Al-Hassani. And it's true that rising Islamophobia is a very visible strain of intolerance, testing the limits of inclusion in one of the world's most multicultural places. "Immigrants, refugees and visible minorities still have a lot to contend with," she says.
Full report at:
https://www.ucobserver.org/society/2018/05/canadian_muslims/
--------
Man on a 'jihad' sentenced to life without parole for murder
April 30, 2018
NEWARK, N.J. (AP) — A former Seattle resident who admitted killing four people on a self-proclaimed "jihad" to avenge U.S. foreign policy in the Middle East received a life sentence without parole Tuesday for the 2014 ambush of a college student sitting in his car at a traffic light in New Jersey.
Ali Muhammad Brown, 33, is expected to be extradited to Washington state to face charges in the three other killings.
On Tuesday, facing a courtroom packed with more than 100 friends and relatives of the victim, Brown initially apologized to the parents and then went off on a rambling monologue in which he repeatedly asked to be treated "as a human being, not a monster." That didn't sway state Superior Court Judge Ronald Wigler, who called Brendan Tevlin's murder "one of the most heinous, horrific, brutal crimes I have presided over" in eight years on the bench.
Brown's actions also didn't change U.S. policy but only "brought devastation and despair to a family who never did a thing to you," Wigler told Brown.
About a dozen of Tevlin's friends and relatives delivered victim impact statements, including his mother, Allison, who called Brown "a vile excuse for a human being." His sentencing "will end this portion of our nightmare," she added, but said the hole in their lives would remain.
The attack took place when Tevlin, a sophomore at Virginia's University of Richmond, was driving home from a friend's house, according to prosecutors. He was waiting at a traffic light less than 10 minutes from his home in the New Jersey town of Livingston, outside Newark, when Brown and two other men, following him in another car, jumped out and surrounded him.
Brown shot Tevlin through the passenger-side window, hitting him 10 times, and then shot him several more times as he tried to exit the car, Assistant Essex County Prosecutor Jamel Semper said Tuesday.
Ramiz and Lisa, who asked that their last names not be used due to a Facebook threat against Muslim and Hindu couples in India, are an interfaith couple in India's eastern city of Kolkata. A Muslim and a Hindu thought they could be a couple. Then came A new terrorist group is popping up in Syria and capitalizing on Will President Trump authorize another strike on Syria?
A few weeks after the murder, authorities found Brown hiding in nearby woods.
Ballistics tests later showed that the same gun was also used in three killings in Seattle, according to New Jersey prosecutors.
In court papers filed in Seattle in 2014, authorities said Brown described himself to detectives after his New Jersey arrest as a strict Muslim. Brown was said to have been angered by the U.S. government's actions in Iraq, Iran and Afghanistan, noting the deaths of innocent civilians and children as a result.
In a subsequent recorded interview in New Jersey, Washington authorities wrote, Brown described his idea of a "just kill," in which the target was men unaccompanied by women, children or elderly people.
During Brown's March plea, which occurred voluntarily and not as the result of a deal with prosecutors, he also took responsibility for fatally shooting Dwone Anderson-Young, 23, and Ahmed Said, 27, in Seattle in 2014 after they left a gay nightclub, and for the deadly shooting of Leroy Henderson, 30, in the Seattle suburb of Skyway. Brown said he killed the two in Seattle because he believed they were gay.
Full report at:
https://www.houstonchronicle.com/news/crime/article/Ali-Muhammad-Brown-seattle-jihad-isis-terrorist-12876719.php
--------
Majority Of U.S. Muslims Now Support Gay Marriage, While White Evangelical Christians Remain Opposed
By Jason Le Miere
5/1/18
Opposition to same-sex marriage has decreased across a broad swath of religious groups in the United States, with white evangelical Christians one of the few movements for which a majority remains in opposition. Three years on from the Supreme Court ruling that same-sex couples should be allowed to marry, the findings from the Public Religion Research Institute's 2017 American Values Atlas, published Tuesday, showed growing support for LGBT rights, including a majority of U.S. Muslims backing same-sex marriage for the first time.
Muslims, by a margin of 51 percent to 34 percent, favor same-sex marriage, compared to just four years ago when a majority, 51 percent, were opposed. There were similar results for black Protestants, with 54 percent opposing gay marriage in PRRI's 2014 American Values Atlas, compared with 43 percent in the latest findings.
Indeed, opposition to same-sex marriage is now limited almost entirely to white conservative Christians. Fifty-eight percent of white evangelical Christians and 53 percent of Mormons—an overwhelming majority of whom are white—are opposed to allowing gay couples to marry. The group with the most opposition, though, is Jehovah's Witnesses, a group which is 36 percent white, 32 percent Hispanic and 27 percent black in the U.S. Just 13 percent support the law.
As a whole, 63 percent of Americans now back allowing same-sex couples to marry, up from 52 percent four years ago. All major racial groups now have a majority in favor. Republicans, though, remain opposed, 51 percent to 42 percent.
In its platform ahead of the 2016 election, the Republican Party declined to soften its language on the right of same-sex couples to wed from four years previously when it called the act "an assault on the foundations of our society."
Since taking office, President Donald Trump has embraced white evangelicals with a series of policies, including signing a ban on some transgender people serving in the military. Yet, during his campaign, Trump criticized Islam, claiming that he would protect LBGT people against oppression.
Full report at:
http://www.newsweek.com/muslim-white-evangelical-gay-marriage-907627
--------
Pro-Trump Christian Extremist Prepares Serb Nationalists For New War With Muslims, Reports Reveal
By Cristina Maza
5/1/18
After being banned from Hungary, a militant Christian, far-right millionaire who has supported President Donald Trump has set his sights on the Balkans, where he is training far-right Serbian activists in information warfare and providing Serbs with military-style equipment, according to reports.
An investigation by the BBC and the Balkan Investigative Reporting Network demonstrated that Jim Dowson—a far-right millionaire who publicly backed Trump for president and was a financial supporter of the fascist British National party—is also closely linked to the Knights Templar International portal, a group of websites that promote anti-Muslim, Christian nationalism in Europe and deride ethnic minorities.
In February, Wired reported that the Knights Templar International uses dozens of Facebook pages and fake news websites to target British social media users with extremist messages and far-right memes. The Facebook pages claim that Europe's downfall is imminent and a war between Christians and Muslim unavoidable. Media groups tied to Dowson also spread conspiracy theories about former candidate Hillary Clinton and pro-Trump messages during the U.S. presidential elections in 2016.
The Knights Templar International was banned from Hungary last year for allegedly joining paramilitary groups that targeted refugees traveling to the European Union from the Middle East and Africa. Dowson himself was kicked out of the country in April last year for being a threat to Hungary's national security. He is currently appealing the decision.
Now, Dowson and the Knights Templar International, which is named after the Catholic military order founded in 1119, have set their sights on Serbia, the investigations published Tuesday revealed. Dowson and the Knights Templar are training far-right activists in Serbia on how to win an online propaganda war, and are producing propaganda videos from Serbia's capital Belgrade. The videos criticize billionaire philanthropist George Soros, warn of a Zionist infiltration of the Christian far-right and details work between Serbian nationalists in Kosovo and the Knights Templar International.
Further, Dowson has sent military-style equipment to Northern Kosovo, an area populated by ethnic Serbs that is technically part of Muslim-majority Kosovo.
Some experts say that the Balkans, with its history of nationalism and separatist conflicts, is an attractive region for populists and ideologues like Dowson who are looking to stir up sentiments about a clash of civilizations.
"We've known since the 90s that the broader Serb nationalist mythos about the Yugoslav Wars was very attractive to the Western far-right, constructing the conflict as a struggle between Christendom and Islam, a defense of Europe from 'invading' Muslim hordes," Jasmin Mujanovic, a Balkan analyst, told Newsweek.
"Given the broader resurgence of far-right sentiment in the West, anti-immigrant and Muslim sentiment especially, it's unsurprising that the Balkans would re-emerge as a central staging ground for both local and international reasons," Mujanovic continued.
Dowson, however, defended his work in the Balkans in an interview with British media on Tuesday. Speaking to the BBC, he argued that it is "ludicrous" to assert that he is stirring up tensions in the region.
"There has been several, several wars there," Dowson said when asked why he is stirring up tensions in Kosovo. "There was a Serbian, Christian politician murdered only the other week. They certainly don't need me to stir up tension there. There is tension there. It's a trouble zone.
"Being involved in giving civilian people protective clothing, just like the BBC gives to its employees when they're going to dangerous places, to save them from being killed by terrorists, is not stirring up tensions," Dowson said of his decision to send military-style protective body armor to Serbs in Northern Kosovo.
In a January interview with the right-wing radio show The Trump Phenomenon, however, Dowson described his plans to prepare militias for an imminent war between Christians and Muslims.
"One of the main things the Templars do in Europe, is that we pull together white people who are trying to kill each other," Dowson said during the interview about animosities between Catholic Croats and Orthodox Christian Serbs in the Balkans. "We do pull together Serbs, and Serbs and Croats, and Serbs and Hungarians…What we have to do is unite and fight the common danger that's facing us."
In the same interview, Dowson claims to have met with the right-wing Croatian writer Tomislav Sunic during a meeting in the city of Brno, Czech Republic.
Full report at:
http://www.newsweek.com/pro-trump-christian-extremist-prepares-serb-nationalists-new-war-muslims-907184
--------
Pakistan
CJP takes suo motu notice of targeted killings of Hazara community members
May 2, 2018
ISLAMABAD: Chief Justice of Pakistan (CJP) Saqib Nisar on Wednesday has taken a suo motu notice of the targeted killings of the members of Hazara community.
"Their killers are openly holding rallies," the top judge remarked during a hearing, noting that the Hazaras do not get admission in universities, cannot go to schools and hospitals.
"Are they not citizens of Pakistan," he observed.
CJP, whilst taking the suo motu notice, summoned a report from the law enforcement agencies, Balochistan government and Interior Ministry.
The CJP stated that the notice had to be taken as the Hazara community members feared for their lives and could not even reach out to the Supreme Court.
"Hazaras are scared and have thus not submitted a request to the apex court," he noted.
The chief justice stated that he will hear the case on May 11 in Quetta.
Earlier on Tuesday, Chief of Army Staff (COAS) General Qamar Javed Bajwa arrived in Quetta and held a high-level meeting with notables of the community along with senior civil and military officials, including Interior Minister Ahsan Iqbal.
Balochistan Chief Minister Abdul Qaddus Bizenjo, Home Minister Sarfaraz Bugti, Inspector General Police (IGP) Moazzam Jah Ansari, Inter-Services Public Relations (ISPR) Director General Major General Asif Ghafoor and Southern Command Commander Lieutenant General Asim Saleem Bajwa also attended the meeting.
Over the past few days, six persons have been killed and three wounded in Quetta.
The brother of a local mosque's imam was shot dead on April 27 on Toghi Road, followed by the targeted killings of two other people on Jamaluddin Afghani Road. All three people were Hazaras.
On April 29, three people were murdered by unknown attackers who fired at random on shops located on Jan Mohammad Road.
Later, a shutter-down strike was observed in several parts of the city and Hazara Democratic Party held a rally led by Ali Kohzad.
https://www.pakistantoday.com.pk/2018/05/02/cjp-takes-suo-motu-notice-of-targeted-killings-of-hazara-community-members/
--------
Hafiz Saeed tries to woo Pakistani Sikhs ahead of elections
May 1, 2018
LAHORE: Mumbai terror attack mastermind and Jamaat-ud-Dawah (JuD) chief Hafiz Saeed has met Pakistani Sikhs in a bid to woo them for furthering his anti-India agenda and seek their support for his newly formed political party in the upcoming general elections.
Saeed held a "special meeting" on Friday with a group of Pakistani Sikhs in Nankana Sahib where a large number of Sikhs reside.
The Milli Muslim League (MML) chief Saifullah Khalid accompanied Saeed to the meeting with Sikh leaders. The MML is the political face of JuD. It has so far not been registered by Pakistan's election commission on the objection of the Interior Ministry.
Saeed held the meeting with the Sikh group led by Pakistan Sikh Gurdwara Parbandhak Committee (PSGPC) secretary general Gopal Singh Chawla at the JuD office in Nankana Sahib, some 80 kms from Lahore.
"Sikhs are a brave community but atrocities are being committed against it in India," Saeed claimed.
He said the Pakistan government was not raising a voice because it wanted India's friendship.
"Pakistan is ready to sacrifice anything for the sake of seeking friendship with India," he claimed.
The JuD head, who carries a USD 10 million American bounty for his role in terror activities, is the mastermind behind the 2008 Mumbai terror attack in which 166 people were killed.
"We want the support of your community across the country," MML chief Khalid said.
The MML intends to field candidates in most constituencies in the country despite not being registered with the election commission.
General elections are scheduled to be held in Pakistan in July this year.
Full report at:
https://timesofindia.indiatimes.com/world/pakistan/hafiz-saeed-tries-to-woo-pakistani-sikhs-ahead-of-elections/articleshow/63985673.cms
--------
Pak doctor who helped US kill Osama bin Laden may be freed next month
Omer Farooq Khan
May 1, 2018
ISLAMABAD: The imprisoned Pakistani doctor who had helped the US forces to hunt down Osama bin Laden in Abbottabad seven years ago, is expected to be released from jail next month, his lawyer said.
Dr Shakil Afridi, a hero in the US and traitor for many in Pakistan, was arrested days after the US raid on bin Laden's compound on May 2, 2011. He was allegedly running a fake vaccine programme which helped the CIA confirm the al-Qaeda leader's presence in the backyard of the officer training academy of the Pakistan army in Abbottabad hill station. His detention has long been a source of tension between Pakistan and the US. Afridi's continued imprisonment is seen by Washington as Islamabad's reluctance to fight terror unequivocally.
Qamar Nadeem, Afridi's counsel told media that his client, who has received several remissions in sentence, will complete his jail term next month. Dr Afridi was never tried for charges of helping the CIA against bin Laden but was imprisoned by a tribal court for having alleged links to militants.
"Afridi was awarded a total of 33 years jail term on four different charges in which he was awarded 30 years on three counts while three years on one. However, after an approval of his appeal, 10 years of imprisonment had been remitted," Nadeem said. "If the total jail term and remissions of my client are taken into consideration, then he is likely to be freed next month," he added.
Last Friday, Afridi was moved from Peshawar prison to the high-security Adiala jail in the garrison city of Rawalpindi, sparking speculations that there were either threats to his life in Peshawar or he was being moved out of the country.
Full report at:
https://timesofindia.indiatimes.com/world/pakistan/pak-doctor-who-helped-us-kill-osama-bin-laden-may-be-freed-next-month/articleshow/63991739.cms
--------
Halal expenditure? Religious Affairs Ministry breaks rules to please Imam-e-Kaaba
BY OBAID ABBASI
ISLAMABAD: The Ministry of Religious Affairs (MoRA) has reportedly spent millions of rupees on the visit of Imam-e-Kaaba to Pakistan last month, in violation of Finance Division's rules prohibiting large-scale expenditures, Pakistan Today has learnt
Last month, Imam-e-Kaaba Al-Sheikh Saleh bin Muhammad al-Talib visited Pakistan and was given a VVIP protocol, residence at a luxury hotel and expensive gifts, all in violation of rules set forth by the Finance Division.
Sources said that though Imam-e-Kaaba returned to his country, ministry's officials, however, remained busy in arranging funds as the ministry had borrowed money for the trip. On the other hand, the administrative wing of MoRA has raised objections over the cost of expensive gifts handed out to the imam, and the matter has been referred to Finance Division.
Sources told Pakistan Today that the visiting imam's stay was arranged at a five-star hotel in Islamabad, costing Rs500,000 million, with over Rs200,000 was spent on meals, even though the Ministry of Finance had directed that the expenditure should not exceed Rs2500 per person of meals.
They also said that the gifts given to the visiting dignitary of Rs300,000 were also in violation of rules.
It is pertinent to mention here that the Prime Minister's Office separately gave expensive gifts to the dignitary, putting an extra burden on the national exchequer.
"The government is already facing a financial crunch but the government is spending millions on Saudi imam, putting an extra burden on the national exchequer," said a senior official of the ministry requesting anonymity.
Grand Mufti of Egypt Sheikh Shawki Allam also visited Pakistan last month and held several meetings with Pakistani officials.
Sources said that the government spent Rs4.5 million on official visits of both the dignitaries.
The irony of the matter, however, was that Minister for Religious Affairs Sardar Muhammad Yousaf was found unaware of the fact that the dignitary was a state guest.
Full report at:
https://www.pakistantoday.com.pk/2018/05/01/halal-expenditure-religious-affairs-ministry-breaks-rules-to-please-imam-e-kaaba/
--------
South Asia
Photojournalist Killed in Kabul Left a Legacy of Images
By MUJIB MASHAL
APRIL 30, 2018
KABUL, Afghanistan — Through the dark days of the 1990s civil war and the Taliban's oppressive rule, the Afghan photographer Shah Marai never left his country. As the bloodshed continued after the 2001 American-led invasion, he repeatedly expressed a feeling shared by so many Afghans caught in the devastating cycle: "There is no more hope."
Yet through it all, Mr. Marai, 41, continued to bear witness, focusing his camera on the profound human suffering that has become so routine, so forgotten.
On Monday, he was among the couple of dozen journalists in Kabul who had rushed to the site of yet another bombing, when a second attacker detonated his explosives amid the reporters and first responders. Altogether 25 people were killed, nine of them journalists.
The Afghan war has dragged on for so long that it has redefined seasons and reshaped conventional battle norms. Spring, everywhere else associated with the blooming of flowers, is seen here as a time when deaths pile up. No one — aid workers, police officers, shopkeepers, doctors — is spared. While wars usually have a front line, here the whole country has turned into one giant front line, the guarded capital, Kabul, suffering the highest number of casualties year after year.
Just a week ago, another attack killed 57 people lining up to register to vote.
This year's bloody Taliban spring offensive is particularly unsettling because it comes soon after the government made its most robust peace offer to date. Adding to the confusion is that a small element of the Islamic State, which appeared in the country in 2015, continues to claim attacks despite sustained military operations against the group.
From a family genetically predisposed to blindness, Mr. Marai, a father of six, rose to become the chief photographer in Kabul for Agence France-Presse. His income supported many relatives, including three blind brothers and two blind children. The youngest of his children, his only daughter, Khadija, was just 15 days old. He celebrated her birth by bringing a cake to the office.
Across town on Monday, Afghan journalists continued to report as they mourned, much of their reporting focused on the funerals of their own colleagues: a cameraman engaged to be married, recently forced to sell his bicycle for $80 to seek treatment for his ill mother; a young female radio reporter, the sole breadwinner of her family, who had just moved to a better-paying job so she could support her family and take part-time university classes.
Near the scene of the blast, a shaken television reporter, his assigned cameraman killed, stood in front of the camera of another colleague to give live updates. On a lush hilltop outside town, photographer colleagues of Mr. Marai who had survived the bombing with a stroke of luck briefly put down their cameras to shovel dirt on his grave.
"An incident doesn't begin with the explosion — it begins with the cries of a mother, a sister, a wife at a home where a man who left alive in the morning is brought back in a coffin three hours later, his body blown to pieces," Farahnaz Frotan, a reporter from ToloNews, wrote on Facebook after the funeral of a cameraman colleague. "All those who were blown to pieces today were men and women of work, from a generation full of dreams — a generation blown to pieces by suicide bombings."
Ms. Frotan posted a picture of her colleague's engagement ring, covered in blood.
Mr. Marai had gotten his professional start during the Taliban regime in the 1990s, when photography was largely banned. He began as a driver for Agence France-Presse and then slowly began to do photographic work, often in secret, when most news bureaus could not get a foothold in the country and relied on brave local residents like him.
After the fall of the Taliban in 2001, a new wave of optimism was clear in his work, as he covered elections and the rebuilding of a ravaged country.
But, like many Afghans caught in a pattern of violence that feels endless, Mr. Marai had lost hope in recent years.
After a brief period of relative calm, the war in Afghanistan has grown devastatingly violent, taking as many as 50 lives a day on all sides. Mr. Marai's work as a news photographer often meant rushing to the site of the latest suicide bombing, and then following funerals and shattered families.
Some of the losses were very close to home. In 2014, Ahmad Sardar, another A.F.P. journalist who had shared the newsroom with Mr. Marai for many years, was killed along with his family, all gunned down having a New Year's Eve meal at a restaurant. Just one of his young children survived, waking up from a coma only after the parents had already been buried.
As the most senior member of the agency team, Mr. Marai led the funeral arrangements and welcomed the mourners and friends who poured into the Agence France-Presse office, showing them Mr. Sardar's notebook on his desk, its pages open to scribbles of his final article about a rescued lion cub at the Kabul Zoo. When the surviving child, Abuzar, moved to Canada to live with relatives, Mr. Marai visited him to see how he was adjusting.
As the violence continued to intensify, the attacks growing deadlier, Mr. Marai arranged for two of his brothers, who were also spared the genetic blindness, to take the migrant trail and seek refuge in Europe.
"There is no more hope," he wrote in 2016 on his blog for Agence France-Presse. "Life seems to be even more difficult than under the Taliban because of the insecurity."
Mr. Marai's eldest son, who is blind, said he had asked his father many times to also leave for Europe. His mother had asked him to leave his risky job and become a shopkeeper instead.
Mr. Marai had just laughed.
On Monday, after the first bomb went off just before 8 a.m., Mr. Marai had coordinated with other photographer colleagues and rushed to the scene. The first attack hadn't been huge; it had killed four people.
Mr. Marai and other reporters, some distance from the security cordon set up around the site of the first blast, had climbed to a higher spot of the sidewalk when the second explosion went off.
"I heard a big bang behind me — it threw me to the ground," said Omar Sobhani, a Reuters photographer and a longtime friend of Mr. Marai who survived with injuries. "The first thing I saw was the body of Shah Marai, and I understood that he was dead."
When his coffin was unloaded for a couple of hours at home, it seemed small for a tall man. Women wailed and gathered around it.
"Who will look after us?" his mother said, speaking to his body. "I lost your brother and your father, but I never thought that I was a widow because you were with me. You were everything to me. You weren't just my son — you were my friend."
Mr. Marai's last post on his Facebook page was a picture of himself behind spring roses in full bloom. The caption read: "beautiful rose flowers in our garden."
His body was driven to a lush hilltop in his home district on the outskirts of Kabul, a place called Guldara, the Valley of Flowers. His blind brother and his blind son sat at the edges of the grave, unable to see. But the sound of mud flopping on the stones as the grave was sealed was loud and clear.
"The streets are colored in blood every day," said the imam in his final prayer, before everyone dispersed. "O oppressor — the pain of the loved ones left behind will one day destroy you for sure."
https://www.nytimes.com/2018/04/30/world/asia/shah-marai-afghan-photographer-killed.html
--------
No relief for minorities in Bangladesh as crisis looms
May 2, 2018
In some senses the term "minority" is disparaging as it denotes the weakness or powerlessness of a group. It also indicates that a group is inferior to another party and instills in that group a perpetual inferiority complex while implying it can expect to be further neglected and marginalized.
Yet being in a minority for many people and groups is an everyday reality, be it in a religious, ethnic, socio-economic or political sense.
Bangladesh has two major groups of minorities — religious and ethnic — who are visibly more weak and powerless, inferior and disenfranchised than the economically, politically and numerically dominant Muslim majority.
Some 90 percent of Bangladesh's 160 million plus population is composed of Sunni Muslims, most of whom follow a moderate form of Islam that promotes pluralism and harmony.
However a small but strong nexus of politically, administratively and financially influential Muslims still consider other faiths inferior to their own and believe they must be submissive and rely on the mercy of Muslims.
This mindset leads to sporadic abuses and violence against minorities, especially Hindus, the largest religious minority, who account for about 9 percent of the population.
Often, these abuses are evident in property disputes and politically motivated clashes, and they are sometimes laced with religious zealotry.
In most cases, episodes of violence against minorities derive from property disputes and politics.
In 1965, when Bangladesh was still a part of Pakistan, the government formulated an abusive law called the Enemy Property Act. This allowed the government to confiscate the properties of people deemed "enemies of the state."
It was a retaliatory act following the 17-day India-Pakistan war, and the prime targets of this dark law were those Hindus who fled to India during the conflict. They were quickly branded agents of India.
Millions of Hindus lost their property as a result of this and faced immense abuse at the hands of both the state and opportunistic Muslims.
After Bangladesh gained its independence in 1972 the law was renamed the Vested Property Act but its basic nature remained unchanged.
Many pundits believe the shrinking of the Hindu population from 22 percent in 1971 to nine percent today is a result of the violence and abuses related to this repressive law.
Minority groups and human rights groups called for change for decades, finally leading the Awami League government to repeal the law and enact initiatives to ensure the properties were returned to their rightful owners.
However, the nation's complex laws and justice system have hindered their return in many cases, leaving the victims feeling forlorn as they wonder whether justice will indeed prevail.
What is worrying is that the government does not seem interested in making this issue a priority.
Hindus and other religious minorities continue to face sporadic outbursts of political violence, often from hard-line Islamist parties.
This is largely due to their broad support for the ruling Awami League during local and national elections. This is the country's oldest and largest political party, which is nominally secular.
Before and after the 2001 and 2014 national elections, Hindus, Christians and Buddhists were attacked for lining up to vote for the party.
However, even though the party appears consider religious minorities a useful "vote bank" it has done little to empower them and bring about justice for those on the receiving end of violent attacks meted out by various groups including political parties and Islamists.
Moreover, Awami League activists were also found to have been complicit in the forcible seizing of properties from minorities and carrying out attacks against them in recent times.
In 2012, Islamic radicals went on an anti-Buddhist rampage that saw 19 temples and about 100 houses destroyed in Cox's Bazar, which is now home to refugee camps for hundreds of thousands of Rohingya Muslims from Myanmar.
An allegedly blasphemous post on Facebook is believed to have ignited the violence, and attackers hailed from local units of all the parties including the Awami League.
In 2016, similar mob violence saw several Hindu temples and dozens of houses torched and destroyed by Islamic radicals with the support of local Awami League activists in Brahmanbaria district.
That same year, three indigenous Christian Santal men were shot dead, dozens of houses were set on fire and thousands were evicted by a local sugar mill authority in Gaibandha district over a longstanding land dispute. The attackers drew support from local Awami League parliamentarians, administrative figures and the police, according to reports.
Since 2013, Hindus have fallen victim to a series of Islamist attacks after the nation's war crimes court started handing down life sentences and even the death penalty to Islamist politicians for their crimes against humanity during the 1971 war that ultimately led to the liberation of Bangladesh.
Meanwhile, Islamic radicals destroyed several Churches and Christian properties in old Dhaka back in 1997 over land dispute.
And in 2001, militants bombed a Catholic Church in Gopalganj district and killed 10 Churchgoers.
All of these incidents took place when the Awami League was in power. Cases were filed but none of them have yet been resolved or justice dispensed.
In all of the cases, investigations have been carried out but the reports have not yet been made public.
The Awami League and its archrival Bangladesh Nationalist Party (BNP) have minority representatives in top leadership posts. But they are merely "poster boys" who can hardly be expected to fully sympathize with those they claim to represent given their standing and wealth.
To all intents and purposes they seem more interested in keeping minority groups loyal to the party and retaining their own positions; any genuine concern about protecting the rights of their brethren is doubtful.
Bangladesh has about three million indigenous people belonging to some 45 ethnic groups. They are mostly Buddhists, with some Christians and Hindus.
In 1972, a year after Bangladesh broke free from Pakistan, the founding leaders penned the new nation's first constitution.
This recognized religious pluralism but those minorities who had also shed blood in the fight for freedom from oppression were largely forgotten.
This negligence led to their disempowerment. Many lost their forests, properties, local language, culture and traditions amid an onslaught of hegemony by the Bengali Muslim-led society.
In 2011, during an amendment to the charter, a number of leaders appealed to the Awami League-run government for recognition as "indigenous peoples" but their demands were refused.
Instead, they were branded "tribals" and "small ethnic groups," which many consider to be derogatory terms.
Abuse and violence against ethnic minorities remains rampant in both the plains and the hills of Bangladesh. In both areas, the disputes usually boil down to property and politics.
And now with a national election looming in December or January, minorities have reason to be fearful.
Elections and violence go hand-in-hand in Bangladesh and minorities often face the brunt of this amid a tug-of-war between political parties jockeying for power.
These minorities live in a constant state of crisis as they have few options to deal with the abuse and violence meted out by the majority.
Their hands are effectively tied as they can do little to influence the policies or decision-making process in this Muslim-majority country.
Full report at:
https://www.ucanews.com/news/no-relief-for-minorities-in-bangladesh-as-crisis-looms/82153
--------
Myanmar urged to hold 'proper' probe into alleged atrocities against the Rohingya
May 01, 2018
Myanmar must hold a "proper investigation" into alleged atrocities against the Rohingya, a UN Security Council envoy said today, after the highest-level diplomatic visit to an area from which 700,000 members of the Muslim minority have been driven out.
Refugees and rights groups say Myanmar's army and vigilantes systematically raped and murdered civilians and torched villages during "clearance operations" in Rakhine state ostensibly targeting Rohingya militants.
That campaign launched last August in the mainly Buddhist nation sparked the exodus of Rohingya into Bangladesh.
During the two-day trip to Myanmar, UN delegates travelled to Rakhine and also met both civilian leader Aung San Suu Kyi and Senior General Min Aung Hlaing, who heads an army accused by the UN of "ethnic cleansing".
"In order to have accountability there must be a proper investigation," Britain's UN ambassador Karen Pierce told reporters, after envoys had visited the Rohingya refugee camps in Bangladesh and also Rakhine.
There were two ways to establish a full probe, "one is an ICC (International Criminal Court) referral", she said. The other was for Myanmar's government to hold its own comprehensive inquiry.
Last month the chief prosecutor for the ICC asked judges to consider whether the court's jurisdiction extends to Myanmar, which is not a member of the panel.
Suu Kyi, pilloried outside her country for failing to speak up for the Rohingya, promised to "undertake a proper investigation" where evidence of atrocities was found, Pierce said.
"It doesn't matter whether it (a probe) is international or domestic, as long as it's credible," she added.
During his meeting late Monday with the UN envoys, Myanmar's army chief denied his forces had committed rape and other sexual abuses during the crackdown which he ordered.
"The Tatmadaw (army) is always disciplined... and takes action against anyone who breaks the law," he told the delegates, according to a posting late Monday on his official Facebook page.
Rohingya women and girls in Bangladesh have provided consistent accounts of sexual violence -- reports verified by conflict monitors -- but Min Aung Hlaing said his forces have "no such history of sexual abuse."
"It is unacceptable according to the culture and religion of our country," he said, adding anyone found guilty of crimes would be punished.
Speed up returns
Min Aung Hlaing also repeated the official line that Myanmar was ready to take back those refugees who could be verified as residents, as per a repatriation deal with Bangladesh.
Several months after the deal was signed, no refugees have returned. They demand guarantees of safety, the right to return to their original villages and the granting of citizenship.
Another UN diplomat warned it would take "two or three years" for the refugees to be repatriated as the current timeframe to implement the deal continues to slip.
"There is a need to speed up the process," said Mansour Ayyad Al-Otaibi, the Kuwaiti ambassador to the UN, adding conditions must be "safe and dignified" for return.
Bangladeshi accuses Myanmar of buying time by pretending to cooperate over repatriation for the benefit of the international community.
Myanmar says its neighbour has only handed back 8,000 repatriation forms so far, many of them incomplete, delaying the return process.
Full report at:
https://www.thedailystar.net/rohingya-crisis/myanmar-urged-hold-proper-probe-alleged-atrocities-against-rohingya-1570357
--------
Myanmar ready to receive 'verified' Rohingya refugees, says Suu Kyi
May 01, 2018
Myanmar State Counsellor Aung San Suu Kyi said Monday that her country was ready for the return of "verified" Rohingya refugees and sought more cooperation from Bangladesh for the repatriation to begin after delays since early this year.
During talks that lasted over an hour with a UN Security Council delegation, she also said violence in the area could recur "any time", an official release from her office said without further elaboration.
The Security Council team comprising representatives from the five permanent members and 10 non-permanent member states arrived in Naypyidaw on Monday afternoon for a two-day visit to investigate the Rohingya refugee crisis.
https://www.thedailystar.net/rohingya-crisis/myanmar-ready-receive-verified-rohingya-refugees-from-bangladesh-says-suu-kyi-unsc-1570327
--------
Taliban suffer heavy casualties in AAF airstrikes in Uruzgan province
May 01 2018
The Taliban militants suffered heavy casualties in the airstrikes of the Afghan Air Force in southern Uruzgan province, the military officials said Tuesday.
A source in the 205th Atal Corps of the Afghan Military in the South said the airstrikes were carried out in the vicinity of Tarinkot city.
The source further added that the airstrikes left at least 9 Taliban insurgents dead and 12 others wounded.
Uruzgan is among the relatively volatile provinces in South of Afghanistan where the anti-government armed militants are actively operating in a number of its districts, including the provincial capital Tarinkot.
The Taliban militants often attempt to carry out coordinated attacks on key districts of the province including Tarinkot city.
In the meantime, the Afghan forces have stepped up ground operations and airstrikes against the Taliban to suppress the militants of the group as they attempt to carry out large scale attacks as part of their spring offensive.
Full report at:
https://www.khaama.com/taliban-suffer-heavy-casualties-in-aaf-airstrikes-in-uruzgan-province-05045/
--------
NDS Special Forces conduct night raid on Taliban leader's compound in Nangarhar
May 01 2018
The Special Operations Forces of the Afghan Intelligence, National Directorate of Security (NDS), conducted a night operation on a compound of the Taliban group leader in eastern Nangarhar province of Afghanistan.
The provincial government media office in a statement said the raid resulted into the killing of the Taliban local leader along with five others.
The statement further added that the operation was conducted late on Monday night in the vicinity of Khogyani district.
The Taliban leader killed during the operation has been identified as Faridullah who was also famous as Zindani, the statement added.
According to the governor's office, at leat five other insurgents accompanying Faridullah were also killed during the operation.
In the meantime, the NDS Special Forces arrested two other individuals, Ezatullah and Hejratullah, on suspicion of having links with the Taliban group.
The local officials are saying that the raid resulted into the clearance of the area from the presence of the Taliban insurgents.
Full report at:
https://www.khaama.com/nds-special-forces-conduct-night-raid-on-taliban-leaders-compound-in-nangarhar-05043/
--------
Mideast
Iran wants media to address Muslim issues
May 2, 2018
Bogor, W Java (ANTARA News) - The Iranian Vice President for Women and Family Affairs, Massoumeh Ebtekar, has exhorted mainstream mass media to pay more attention to the Islamic world and the problems faced by Muslims.
"The situation in Palestine, Yemen and Myanmar is the oppression of the Islamic world. The media should address these issues and have an understanding of Islam," Ebtekar remarked in an exclusive interview with Antara News Agency in Bogor, West Java, Tuesday.
Ebtekar is in Bogor, West Java, to attend the High-Level Consultation of World Muslim's Scholars on Wasatiyyat (moderate) Islam (HLC-WS), which is taking place from May 1-3, 2018. The event was opened by President Joko Widodo at the Bogor Palace.
According to Ebtekar, the focus of mass media on issues in the Islamic world and the problems faced by global Muslims will be an awakening and help solve the crises.
She further emphasized the importance of holding meetings, as the world is facing issues of terrorism and aggression in the Islamic world, such as the ones in Palestine, Yemen and Myanmar.
"We have to choose between moderation and extremism, between security and insecurity, and between peace and war," the vice president said.
She asserted that the meeting of Muslim scholars and intellectuals from several countries, including Indonesia, in Bogor was important not only for the Islamic world but also for global peace.
"This is a significant event for the Muslim nations to engage in dialogue, address challenges and build an understanding of Islam," she noted.
Ebtekar was appointed by Iranian President Hassan Rouhani in August 2017. She is not a new name in the Iranian government. In the previous government, Ebtekar occupied the same position.
During his administration, Rouhani, who is a moderate cleric, has included several women in his cabinet.
https://en.antaranews.com/news/115569/iran-wants-media-to-address-muslim-issues
--------
Turkish Army Continues Clashes with Kurds in Hasaka
May 01, 2018
The Turkish army's snipers opened fire at the Washington-backed Kurdish militias in al-Mahatah neighborhood in the town of Ra'as al-Ein in Northern Hasaka, killing a Kurdish militant.
In the meantime, other units of the army targeted a Kurdish patrolling unit in Tal Halaf region in Ra'as al-Ein.
In a similar development last week, the Turkish army launched heavy offensives against one of the positions of Kurdish fighters in Hasaka province, killing a number of Kurds.
Field sources in Hasaka reported that the Turkish army pounded the Kurds' positions in Mayseloun district Northeast of Qamishli in Northern Hasaka and near the borders with Turkey with heavy artillery fire on Wednesday night, killing and wounding several of them.
Meantime, a huge blast occurred in one of the Kurds' arms and ammunition cache in Qamishli near the borders with Turkey.
Full report at:
http://en.farsnews.com/newstext.aspx?nn=13970211000583
--------
Japan: Embassy will not be relocated to al-Quds
May 1, 2018
Japanese Prime Minister Shinzo has announced that his country will not be moving its Israeli embassy to Jerusalem al-Quds.
While meeting Palestinian president Mahmud Abbas in Ramallah on Tuesday, Abe said that Japan will not move its embassy to Jerusalem."
According to the Palestinian official news agency Wafa, Abe also reasserted his support for the establishment of an independent Palestinian state within the framework of a so-called two-state solution.
Wafa also noted that Abbas thanked Abe for his country's support , while stressing Palestinians are "ready to cooperate for the success of any international effort to find a political process," as long as it was based on international law and the building of a Palestinian state.
Abe, currently on tour in the Middle East, is set to meet with Israeli Prime Minister Benjamin Netanyahu on Wednesday.
In April, a report said that US Treasury Secretary Steven Mnuchin will lead a delegation to the inauguration along with Ivanka Trump's husband Jared Kushner who is another top Jewish figure in the White House.
On December 6, US President Donald Trump defied global warnings and said Washington formally recognized al-Quds as the "capital" of Israel and would begin the process of moving its embassy to the occupied city, breaking with decades of American policy.
Trump's declaration has sent shockwaves throughout the Muslim world and even prompted warnings from Washington's allies in the West that it would bring more chaos to the region.
The United Nations General Assembly on December 21 overwhelmingly voted in favor of a resolution that calls on the US to withdraw its controversial recognition of Jerusalem al-Quds as the Israeli capital.
Full report at:
http://www.presstv.com/Detail/2018/05/01/560342/japan-palestine-quds-abe
--------
Turkish police detain dozens of protesters in Istanbul on May Day
May 1, 2018
Turkish anti-riot police in Istanbul have arrested over 50 people and placed a security lockdown on the Turkish metropolis as the city marked the International Labor Day, known as the May Day.
According to state-run Anadolu news agency, at least 52 people were detained as they were attempting to defy a ban on holding demonstrations in the city's key protest locations, including the Taksim Square, on Tuesday.
The annual workers' holiday in the Anatolian country has traditionally been a time that workers, unsatisfied with the working conditions, stage demonstrations, leading to confrontation between protesters and police. However, in recent years authorities have left nothing to chance by completely barring access to key protest areas.
The central Taksim Square was totally barricaded off by police, with aerial pictures showing the usually crowded urban space deserted apart from police forces.
The report added that the detainees were taken in buses to police stations for questioning, with reports saying that almost all shops were closed along the streets leading to the famous square and shopkeepers would have to wait until the evening for the potential customers to be allowed through.
Other reports said that demonstrators, who were seeking to defy the ban on rally in Taksim by marching towards the square, were roughly arrested, with police pinning the detainees to the ground.
Meanwhile, thousands of other people were participating in officially-allowed May 1 events in the Istanbul district of Maltepe at a vast meeting area, with similar gatherings formed across the country, including the capital Ankara and Turkey's third largest city of Izmir.
As Turkey prepares for snap parliamentary and presidential elections, slated to be held on June 24, political tensions escalate increasingly. President Recep Tayyip Erdogan intends to secure a thumping parliamentary majority and a second term as the head of state.
Rights campaigners and international organizations have expressed doubts about the legitimacy of the elections which would come under a renewed state of emergency in Turkey. The measure has been in place since a failed coup two years ago, allowing the government to jail or dismiss more than 200,000 people over suspected links to coup plotters.
Full report at:
http://www.presstv.com/Detail/2018/05/01/560304/Turkey-Istanbul-May-Day
--------
Sudanese MPs urge withdrawal from Saudi-led coalition waging war on Yemen
May 1, 2018
A group of Sudanese lawmakers has urged President Omar al-Bashir to withdraw the country's troops from a Saudi Arabian-led coalition waging war on Yemen.
The Alliance for Change, which comprises independent members of the Sudanese parliament, condemned as "unconstitutional" Sudan's participation in the Saudi-led coalition against Yemen, Radio Dabanga reported Monday.
"Dispatching Sudanese army soldiers and members of the Rapid Support Forces is an unconstitutional measure, and carried out without having been remitted to the parliament," the lawmakers said in a statement on Sunday.
"Sudan should not interfere in the affairs of other countries," Abulgasim Burtom, the chairman of the Alliance for Change, said. "The Interim Constitution of Sudan is clear: The president of the Republic has no right to decide to send an army [to fight] abroad."
Burtom stressed that Sudan "should opt for balanced relations with other countries that serve the interests of Sudan."
He also called on the government "to appropriately compensate the families of the troops who died and were wounded in Yemen."
The Saudi-led war was launched in March 2015 to reinstate a former regime that had been loyal to Riyadh. The Saudi-led coalition has failed to achieve that goal despite its disproportionately superior military power and has gotten bogged down in has been dubbed Saudi Arabia's Vietnam.
The Yemeni Ministry of Human Rights announced in a statement on March 25 that the Saudi-led war had left 600,000 civilians dead and injured during the past three years. Famine and cholera have also spread.
Domestic voices in Sudan have long urged a withdrawal from the Saudi-led coalition but those calls gained momentum after three senior Sudanese officers and scores of soldiers were killed during a battle in northern Yemen on April 10.
Sudanese President Omar al-Bashir has on several occasions stressed Sudan's intention to continue participation in the war on Yemen. However, Sudan's Akhbar el-Youm newspaper quoted informed sources as saying that there is a strong trend among the leaders of the state to withdraw Sudanese forces from Yemen amid mounted pressure.
Full report at:
http://www.presstv.com/Detail/2018/05/01/560284/Sudan-lawmakers-withdraw-troops-Yemen-war
--------
Knesset allows Netanyahu, Lieberman to declare war in 'extreme' situations
May 1, 2018
Israel's parliament (Knesset) has passed a controversial law that allows the prime minister to bypass the legislative chamber and declare war or order a major operation on his own after only consulting his minister for military affairs.
The legislation, which was approved by 62-41 votes on Monday, transfers responsibility for declaring war from the full Israeli cabinet to the smaller "security" cabinet.
It also states that in "extreme circumstances," military operations could be authorized by the premier and the minister of military affairs alone without a vote by cabinet ministers.
Israeli opposition lawmakers argued that the law effectively gives Prime Minister Benjamin Netanyahu free reign to go to war by removing all oversight.
Member of Knesset (MK) Eyal Ben-Reuven described the legislation as "severely harmful," saying it eliminates the broad discretion necessary to decide on declaring war.
"I think this is another distraction from Netanyahu's shaky legal situation," he added, referring to the corruption cases facing Netanyahu.
Another lawmaker Aida Touma-Suleiman also said prior to the approval of the law that it "will enable two people" to take the Israeli regime and all regional countries into war.
MK Ofer Shelah further accused members of the Israeli coalition of having voted "against their own opinions, in the matter of life and death" under pressure from Netanyahu.
"Netanyahu's contempt for everyone around him and for everything we've learned from our many wars has overtaken the recognition of many good and experienced Knesset members," he said.
The Israeli regime has a long history of waging wars and occupying sovereign states.
Israel has waged three wars on the Gaza Strip since 2008, including the 2014 offensive, which left more than 2,200 Palestinians dead.
The regime also launched two wars on Lebanon in 2000 and 2006, with reports suggesting the officials in Tel Aviv are getting ready for a third such offensive amid a rise in threats against the Arab country.
Meanwhile, the Tel Aviv regime frequently attacks military targets inside Syria in what is considered as an attempt to prop up terrorist groups operating in the Arab country.
Full report at:
http://www.presstv.com/Detail/2018/05/01/560255/Israel-Benjamin-Netanyahu
--------
Houthi disputes escalate as leader's affiliates are detained, eliminated
1 May 2018
Internal disputes among the Houthi militia have escalated recently amid an atmosphere of intimidation, suppression and accusations of treason.
Yemeni sources said on Monday that some prominent commanders affiliated with Saleh al-Sammad, the president of the so-called Supreme Political Council, and who was killed in an air strike in Hodeidah in April, were arrested while others were placed under house arrest.
The purpose is to get them out of the inner circle in favor of other conflicting factions. According to sources, Houthi commander Abu Ali al-Hakem arrested prominent commander Yahyha Mohammed al-Mahdi who is affiliated with Sammad.
Mahdi was transferred to Saada, the stronghold of Houthis in North Yemen, and has been detained in a mosque which the Houthis have turned into a prison. Mahdi's office director was also reportedly arrested and sent to a detention center in the Houthi-controlled island of Kamaran.
Sammad supporters
Sources said that commanders seen as part of Sammad's division are being eliminated following detention. They are often pursued, placed under house arrest and isolated from the posts which they were assigned by Sammad when he headed the supreme council.
They added that the conflict between Houthis' factions have escalated as each side aims to eradicate the other amid fears that this will turn into an armed conflict.
There are currently four factions at the forefront of this conflict. One of them is led by Mahdi al-Mashat, the brother-in-law of the Houthis' leader and who was appointed Sammad's successor.
Full report at:
https://english.alarabiya.net/en/News/gulf/2018/05/01/Internal-disputes-escalate-among-Houthis-as-leader-s-affiliates-get-detained.html
--------
URL: https://www.newageislam.com/islamic-world-news/u-s-commission-international-religious/d/115121
New Age Islam, Islam Online, Islamic Website, African Muslim News, Arab World News, South Asia News, Indian Muslim News, World Muslim News, Women in Islam, Islamic Feminism, Arab Women, Women In Arab, Islamophobia in America, Muslim Women in West, Islam Women and Feminism